We love using green colors in our homes because green gives a sense of relaxation and calmness. It is a lovely nature-inspired color that makes your home feel cozy and tranquil. However, people often skip green colors because they believe green is hard to pair with other paints in the same space.
Today, we are going to prove that this is wrong. You will discover a lovely and absolutely beautiful green color by Sherwin-Williams called Nurture Green.
We will tell you how this green works in different rooms and how it can react to light. Also, you will learn how to coordinate it and a lot of other helpful information.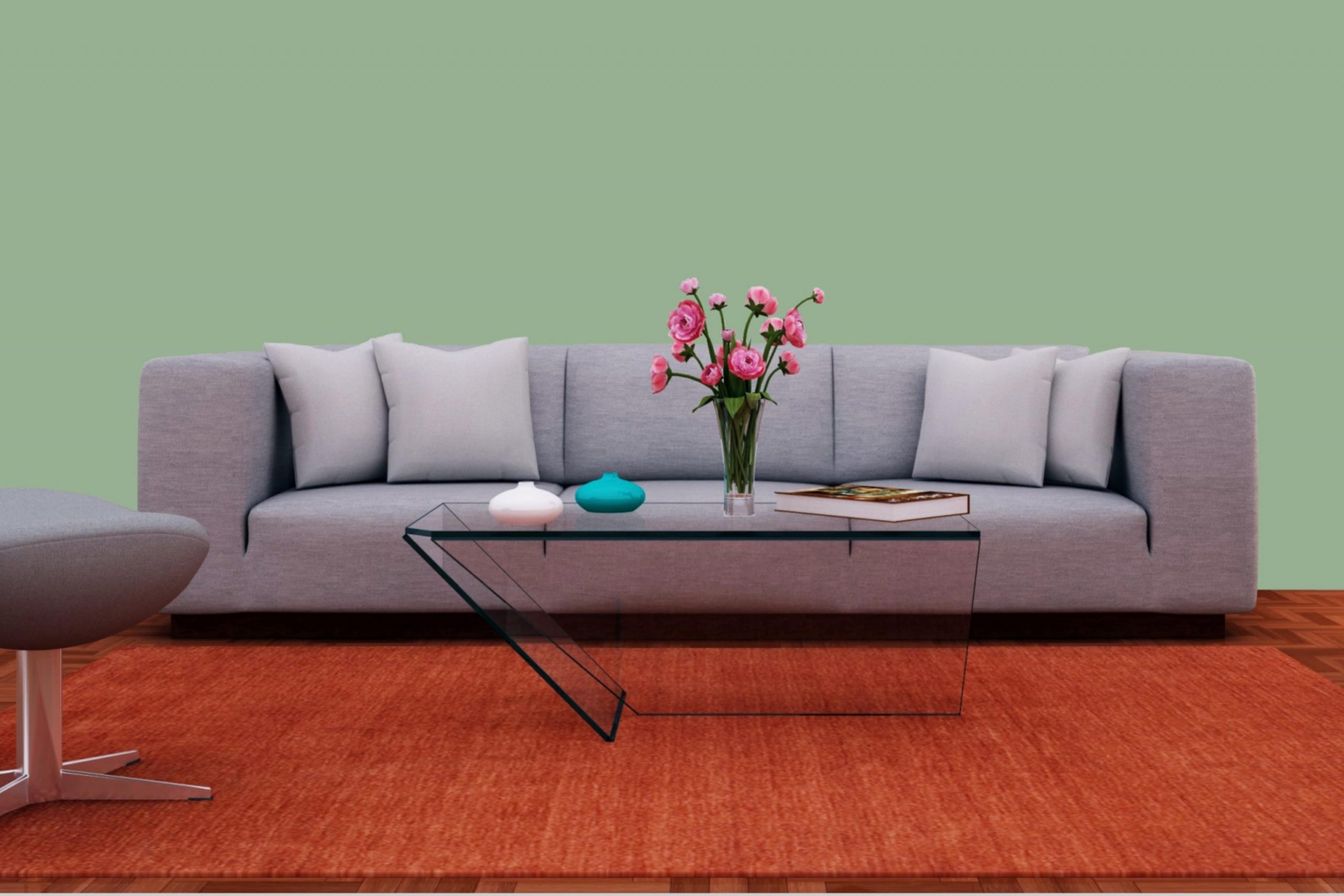 What Kind of Color Is Nurture Green SW 6451?
Nurture Green (SW 6451) color belongs to the Green color family or hue. As Encycolorpedia says, this green is considered a cool-toned color.
However, you should not expect it to read cold-green like cooler emerald greens, for example.
This color will not give off a reserved and emotionless hue. On the contrary, it will add a natural and fresh vibe to any room, but you must still sample it beforehand to ensure this color suits the space!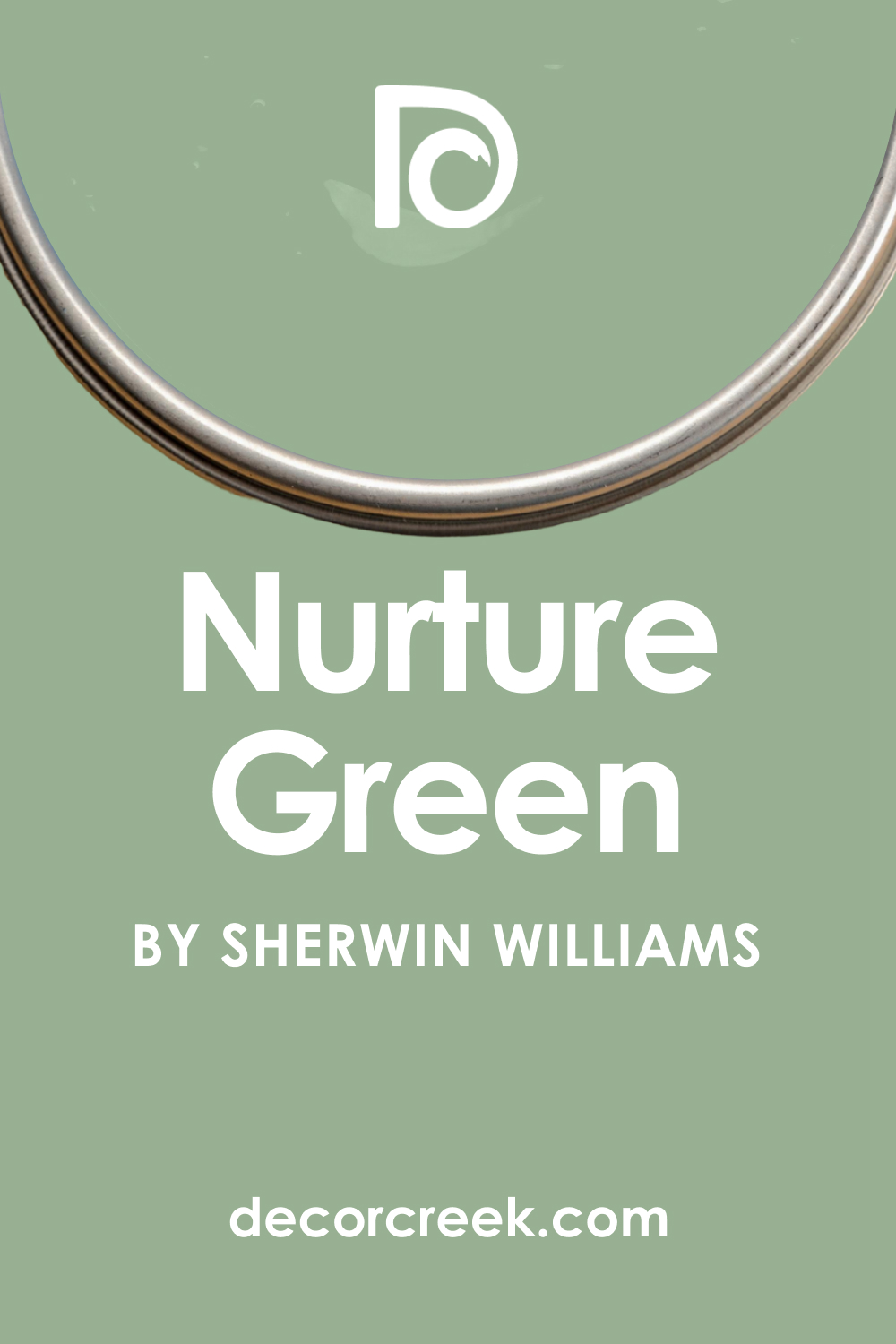 What Undertones Does Nurture Green SW 6451 Have?
Knowing undertones is a must if you want to achieve a harmonious palette in your home. The tricky thing about undertones is that they can often hide deep within the color, showing up under specific lighting conditions only. As a result, it is very likely that the color on your walls may read completely different from what you expected!
SW Nurture Green also has undertones, and they are yellowish. However, this yellow hue is not very prominent.
We would even say it's barely seen. Instead, this shade of green shows a cooler grayish undertone more noticeably.
But this mix of yellow and gray makes SW Nurture Green read so balanced without leaning too cold or too warm.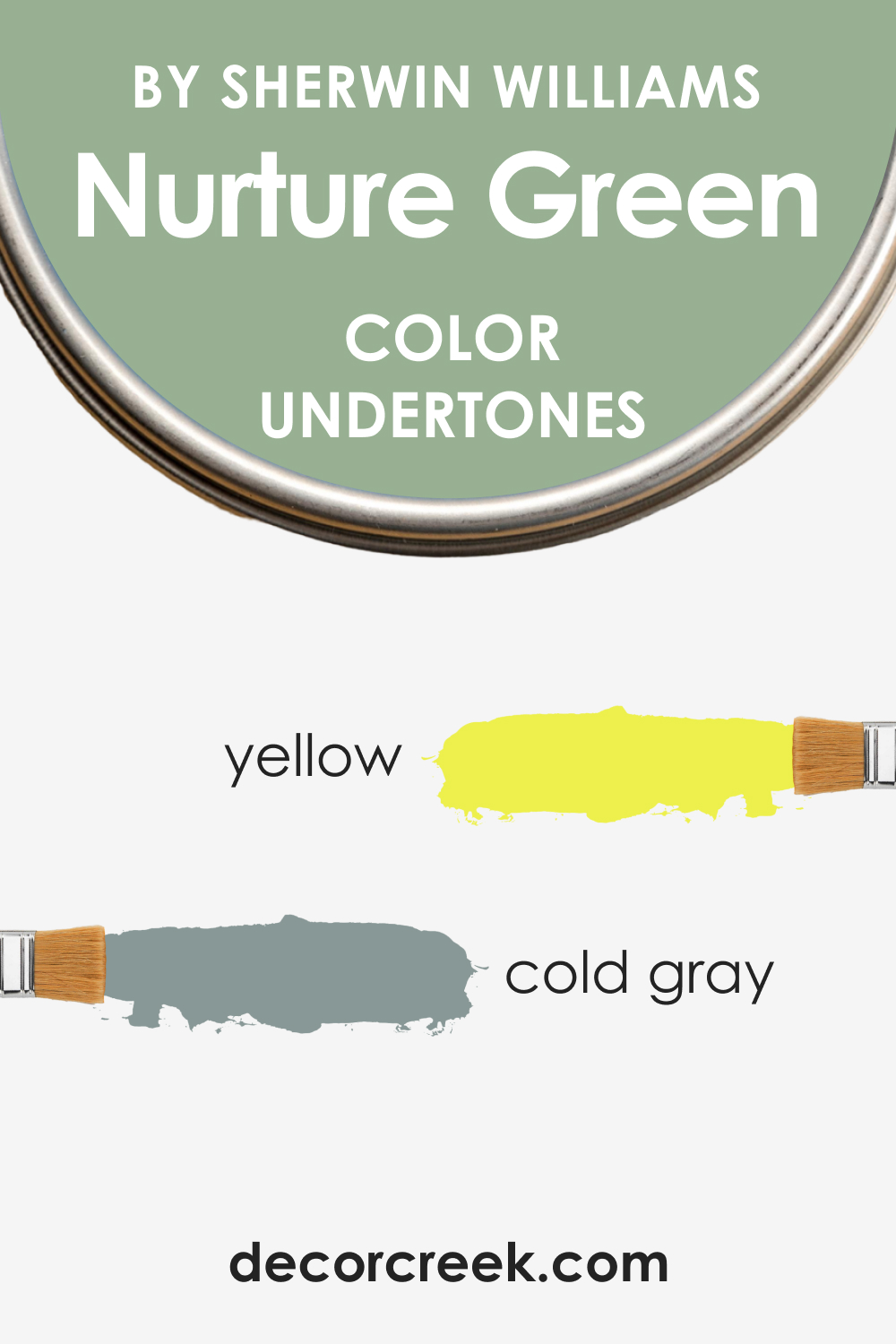 LRV of SW Nurture Green
Light Reflectance Value (LRV) indicates how light or dark a color will look on a scale of 0 (which is black) to 100 (which is pure white). The Nurture Green SW 6451 paint color has an LRV of nearly 23.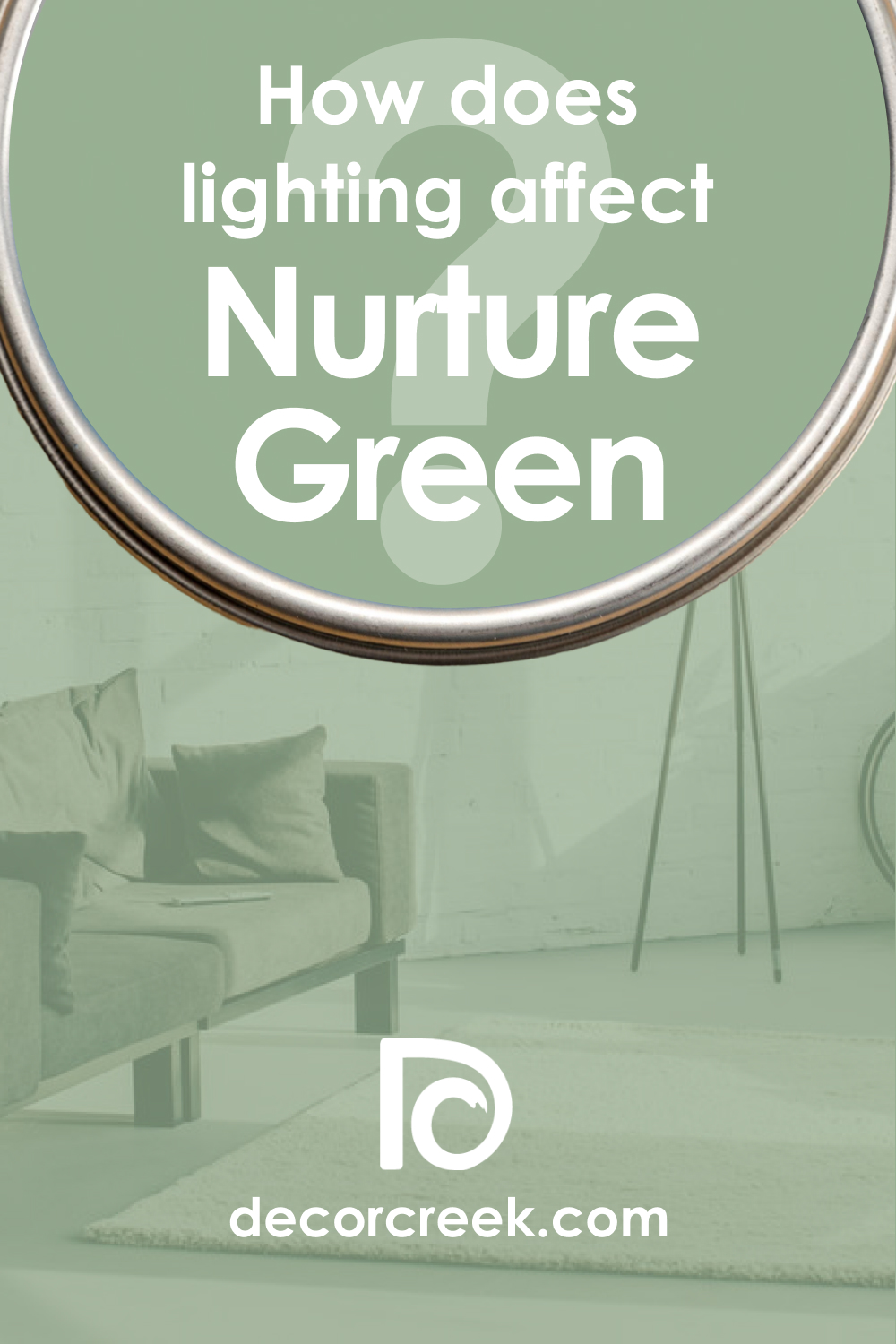 By LRV value, this green is a medium color with moderate reflectivity. Simply speaking, when you use this paint on your interior walls, it will reflect enough light without making the space seem moody or dark.
However, this color will hardly ever look washed out or make your rooms feel brighter. Generally, SW Nurture Green is a good color option for spacious and well-lit rooms. In an enclosed, small, or poorly-lit room, this paint color may read a bit deeper in tone than it is.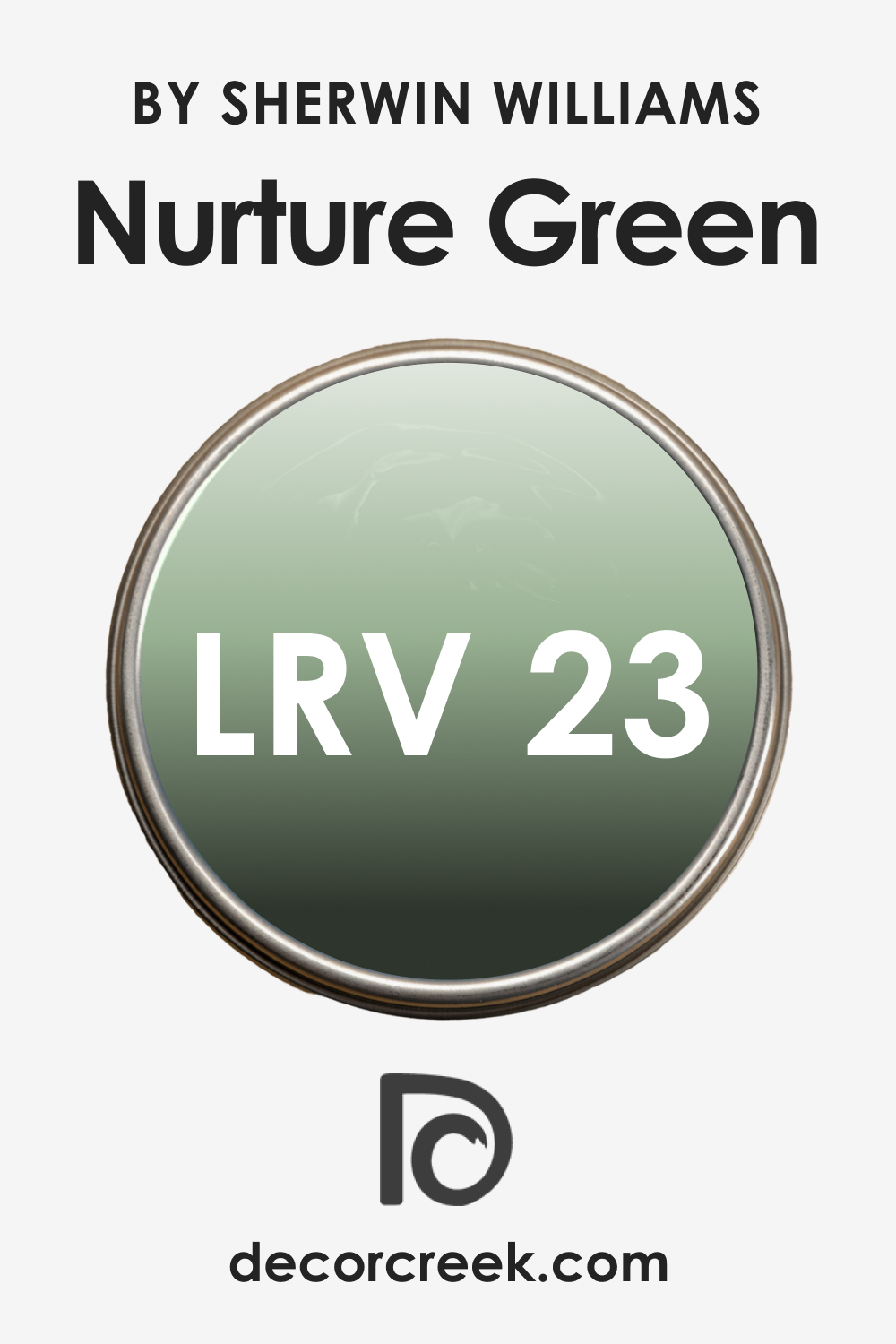 LRV – what does it mean? Read This Before Finding Your Perfect Paint Color
SW Nurture Green Coordinating Colors
Because of its complex undertones of yellowish and gray, this green color can be rather challenging to coordinate since you have to pick suitable colors considering their undertones as well.
Should you face any complications with that task, we have prepared a few coordinating colors for you to use.
Below, there are the best and optimal coordinating colors that will work with SW Nurture Green:
SW White Mint
SW Pure White
SW Pineapple Cream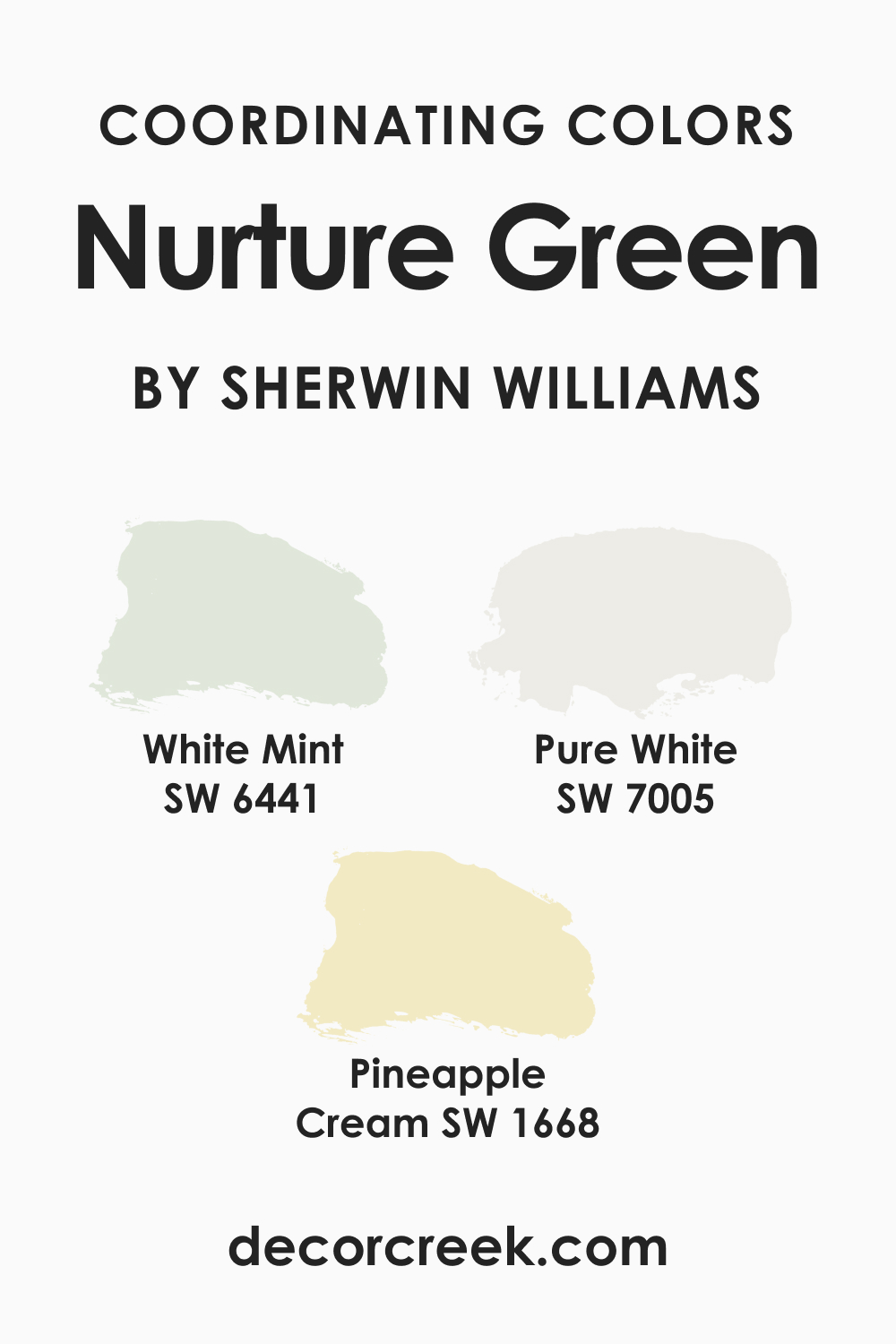 What Is the Best Trim Color to use With Nurture Green SW 6451?
Since SW Nurture Green is a cool-toned green, we recommend you stick to cooler whites on your trim and molding. This will allow you to make the space read homogeneous and properly coordinated.
For instance, SW High Reflective White will work great as a trim color for SW Nurture Green on your walls.
At the same time, avoid warmer and creamy whites since they will look imbalanced when paired with the Nurture Green color!
Colors That Go With SW Nurture Green
Green is typically pretty easy to pair with other colors even if you don't have proper knowledge of color theory. Most greens will work great with yellows, for example, and SW Nurture Green is not an exception.
You can use it with SW Friendly Yellow or SW Glad Yellow, or similar shades of yellow as an option.
However, don't be afraid to use brighter yellows too! Such vivid colors will also work well.
You might also want to try reds with SW Nurture Green should you want to add a bit of drama to your living space. For example, reds like SW Sierra Redwood will pair nicely with this cool-toned and natural-looking green.
Also, darker blue colors might work well enough with this cool-toned green. However, you must use these dark colors very carefully!
If you strive for a lighter color palette, you migth want to try lighter blues with greenish undertones .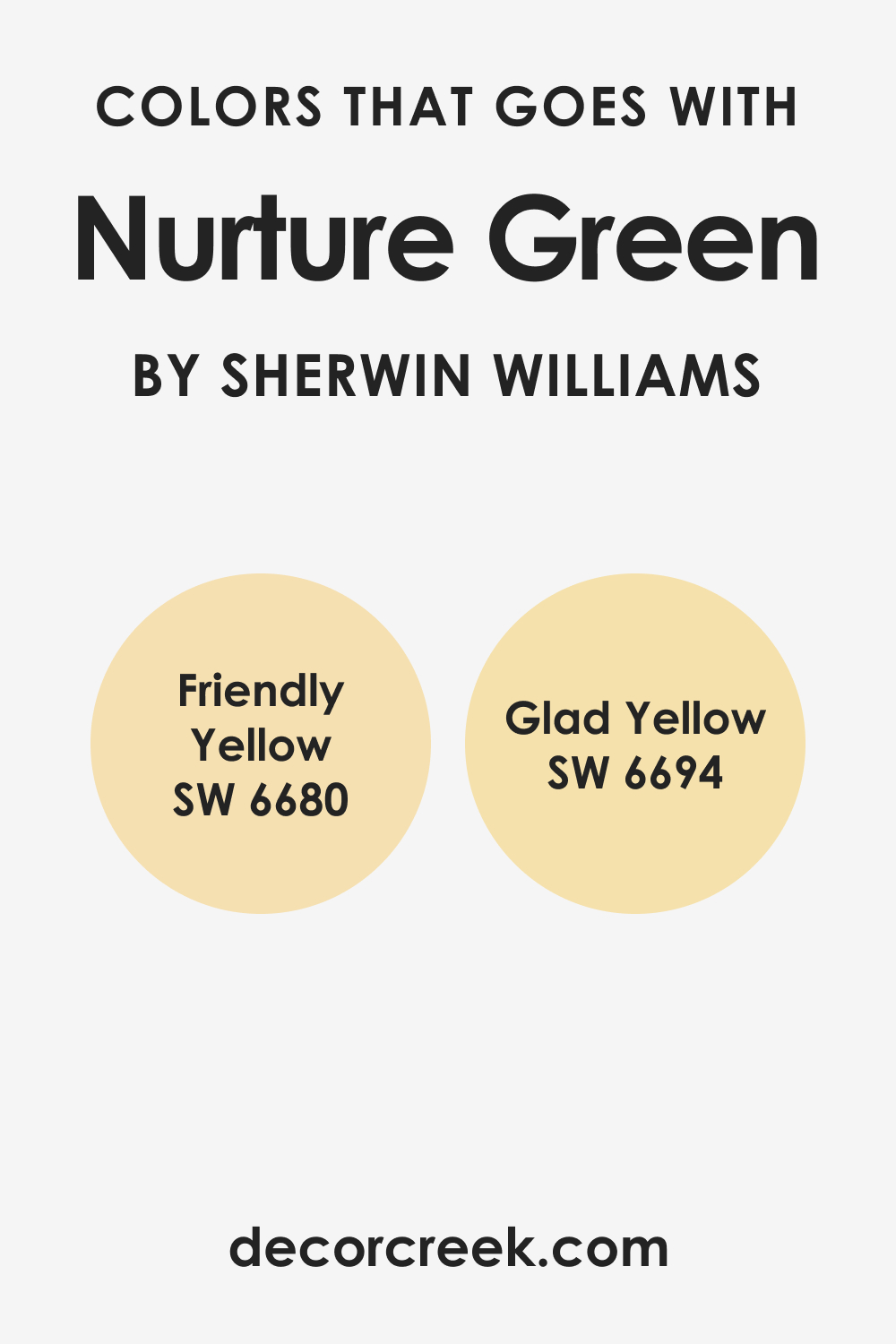 SW Nurture Green Similar Colors
When you know what similar colors your paint has, you can easily find the best color substitute should you need to adjust your home's palette a bit. We recommend you the following alternative green colors that can work perfectly well instead of the SW Nurture Green:
SW Laurel Green
SW Agate Green
SW Cloistered Garden
Valspar Rolling Glen
Behr Brookview
BM Seedling
However, note that none of these colors will be a 100% match! Some of them read a bit lighter or darker, plus these colors still differ a bit due to their LRV and undertones.
Nevertheless, they read extremely close to SW Nurture Green on the walls.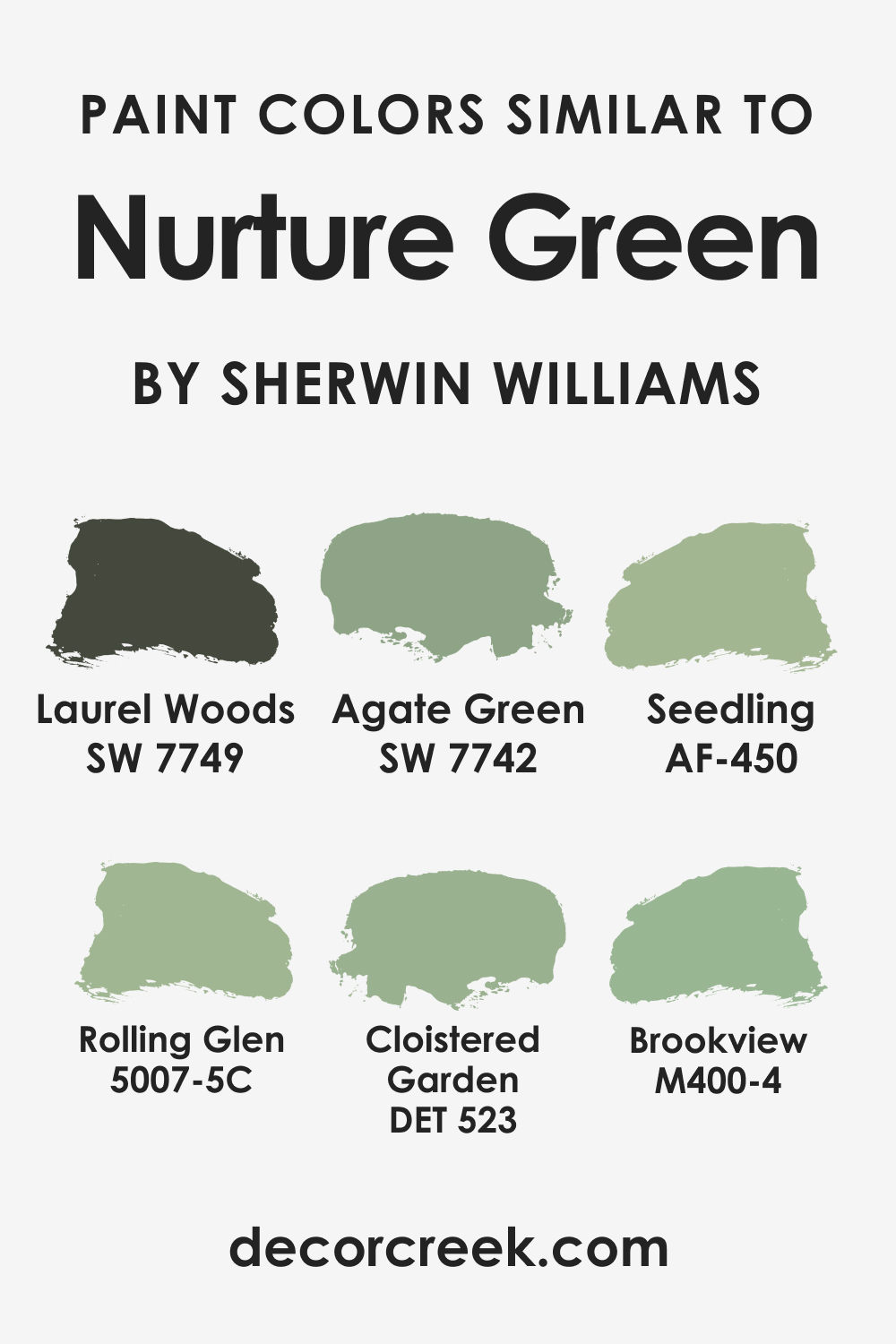 Comparing SW Nurture Green With Other Colors
It's a good idea to compare your wall color to other paint colors in order to understand it better. This is why we have prepared this brief guide for you below. Here we compare SW Nurture Green to several similar-looking greens. Read carefully to see what makes seemingly related colors distinct!
Nurture Green vs Easy Green
Compared to SW Nurture Green, SW Easy Green looks less saturated and a bit pale. This is because the LRV of SW Easy Green is 50, which is higher than the LRV of SW Nurture Green. As a result, SW Easy Green is more reflective, which makes it seem lighter.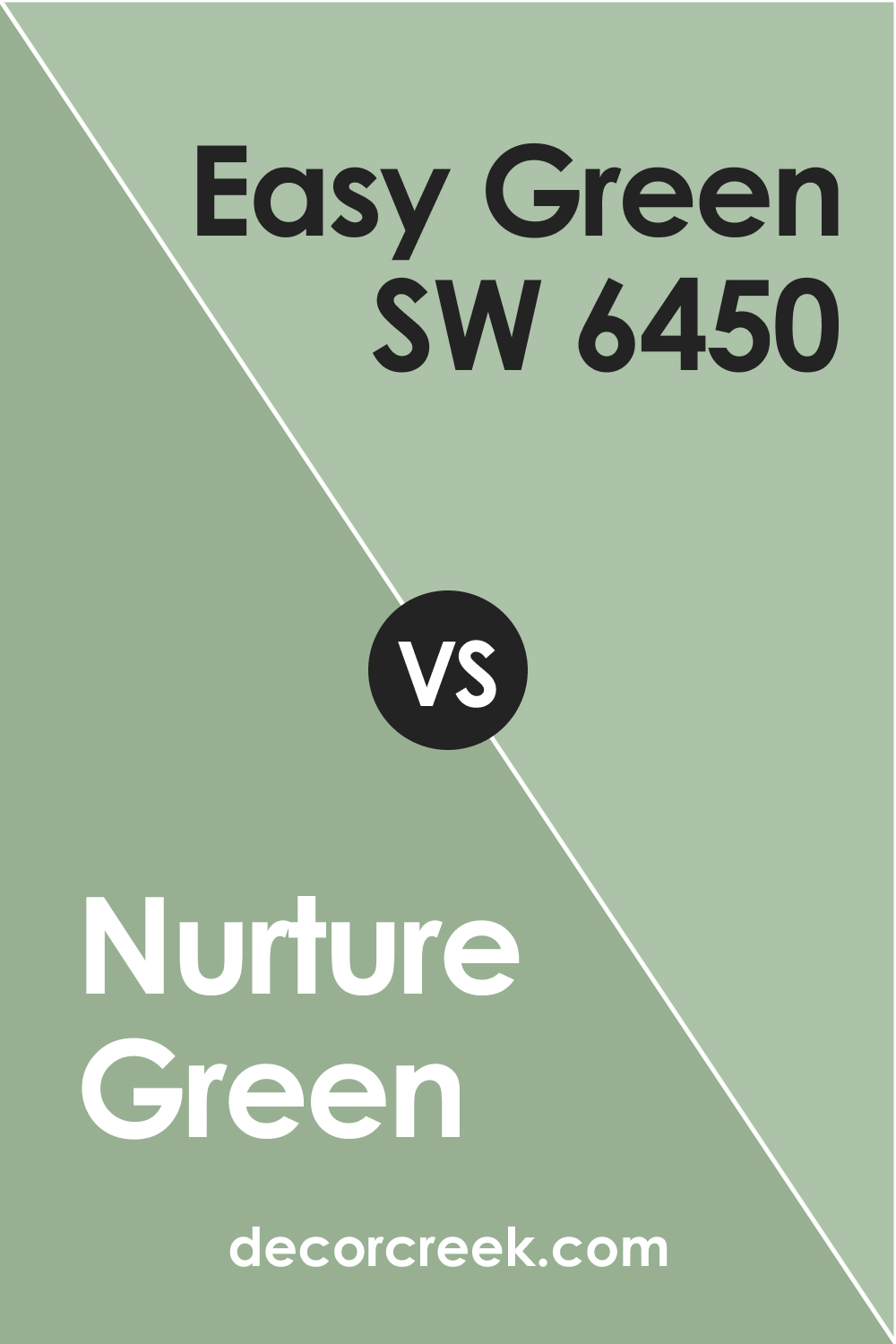 Nurture Green vs Relish
SW Relish has an LRV of 55, which means it is significantly brighter and more reflective than SW Nurture Green, with an LRV of almost 40. Although these colors can't be used together in the same room, you can use SW Relish if you need a lighter version of SW Nurture Green, and vice versa!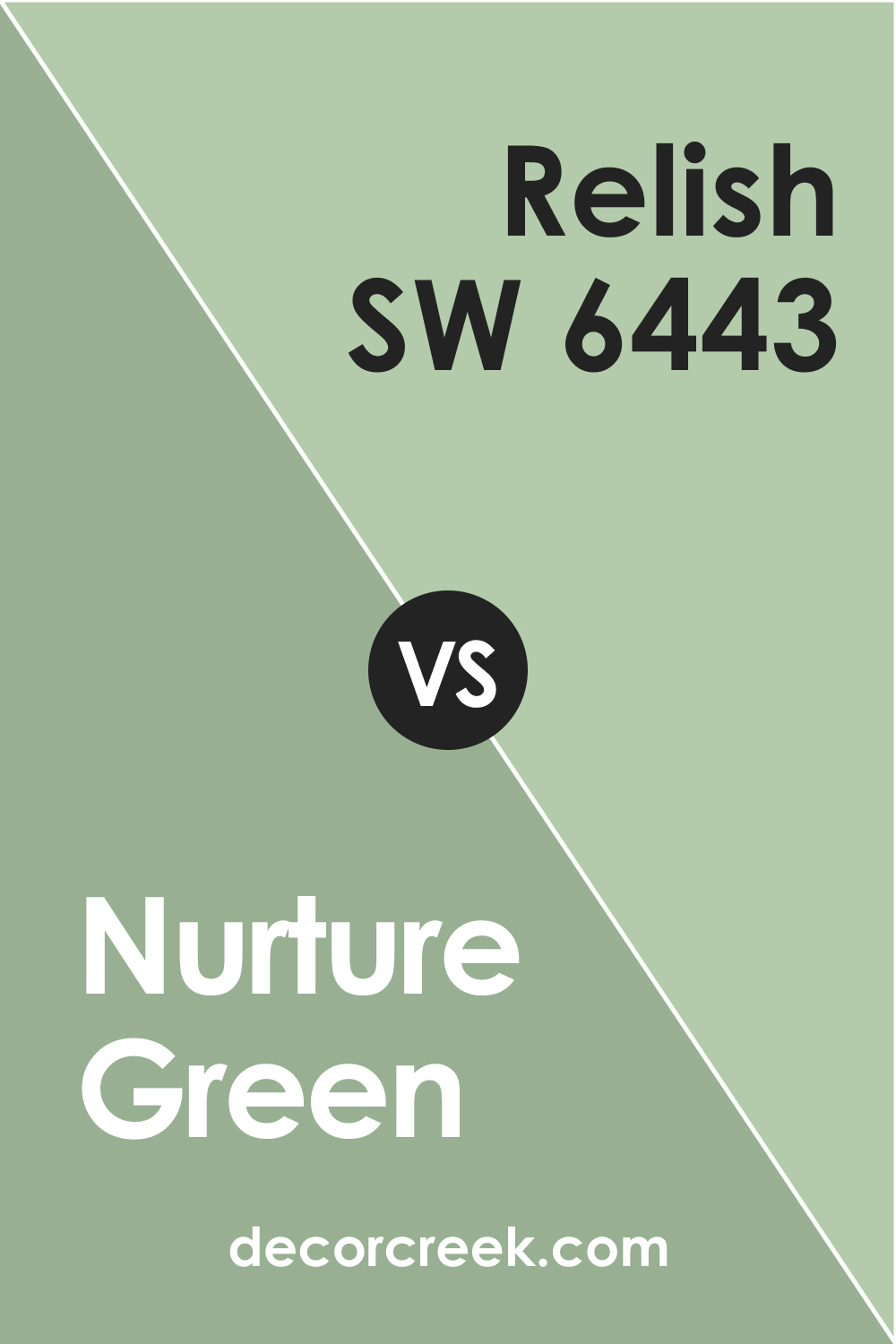 Nurture Green vs Supreme Green
The LRV of SW Supreme Green is 69, which places this green on the lighter side of the reflectivity scale. As a result, it reads pretty light and reflects a lot of light. Compared to it, SW Nurture Green looks deeper and shows a more intense green hue.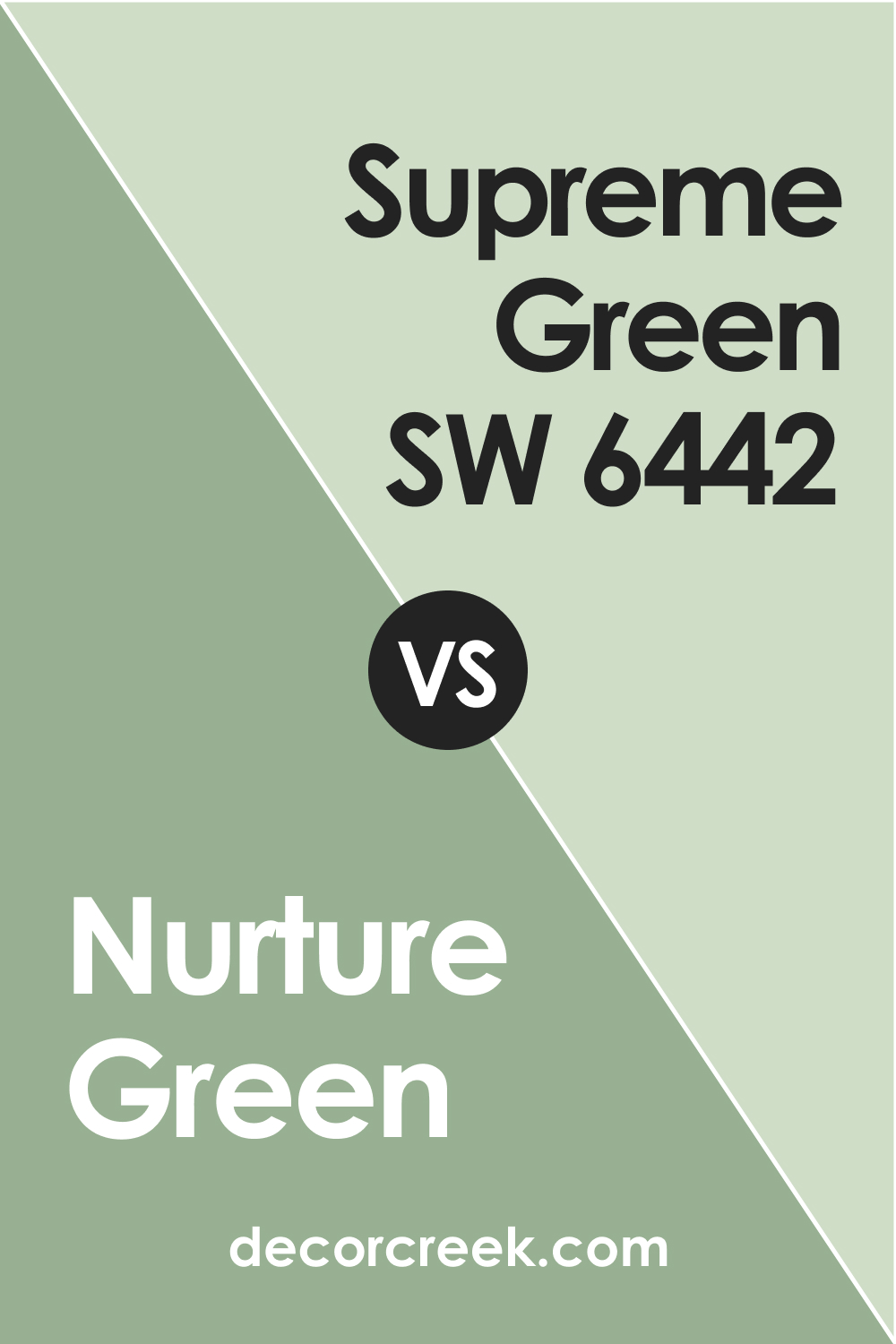 Nurture Green vs Baize Green
SW Baize Green has warmer yellowish-olive undertones and an LRV of 59. All this makes this green fairly light and reflective, as well as rather warm-toned. Compared to it, SW Nurture Green looks deeper and greener, with a cooler appearance.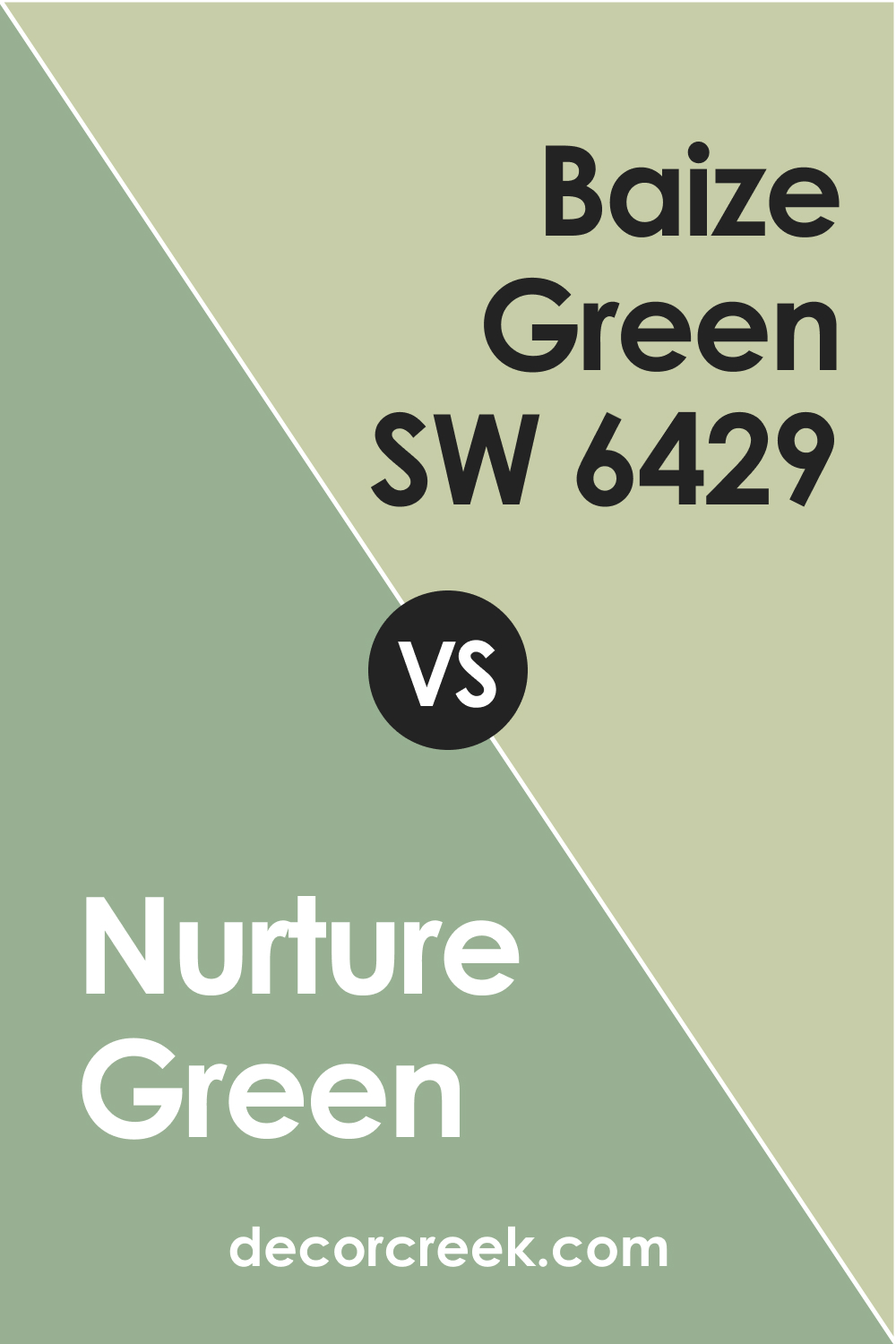 Nurture Green vs Jasper Stone
SW Jasper Stone is a cool-toned, nature-inspired green with gentle blue and gray undertones. The color has an LRV of 32, which places it closer to the dark colors on the scale. Unlike SW Jasper Stone, SW Nurture Green looks greener warmer although it's also a cool-toned green.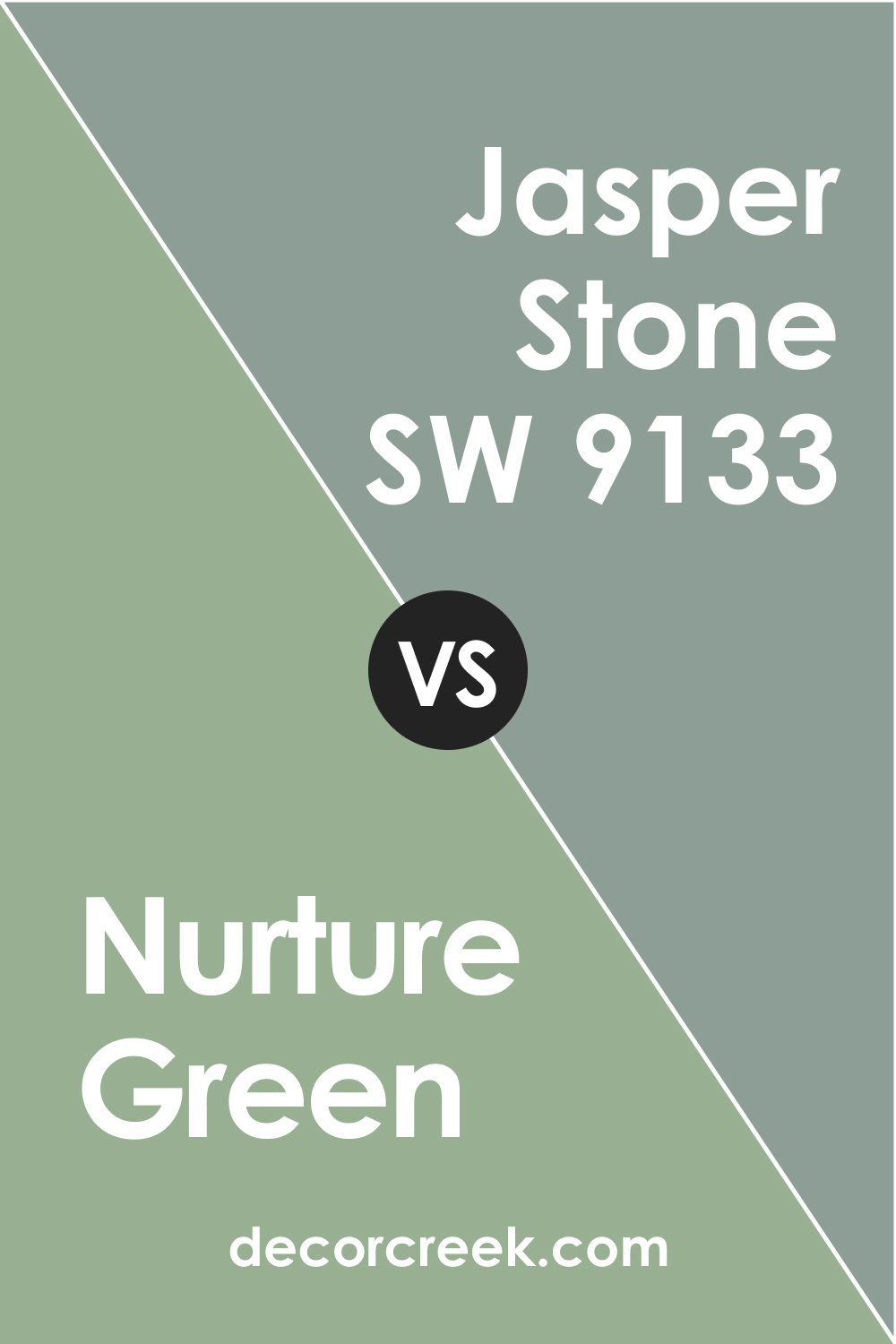 Where Can You Use SW Nurture Green In Your Home?
To use SW Nurture Green correctly in your home, we recommend you learn how it can work in different rooms and on different surfaces. This way, you will know for sure in what spaces it will do its best and where it should be avoided.
Nurture Green SW 6451 in the Living Room
To add your living room a nature-inspired vibe, this green can work perfectly well. However, note that it will read rather cool-toned on the walls, so if you strive for a more welcoming atmosphere, try to add warmer beiges and yellows to "warm up" the space a bit!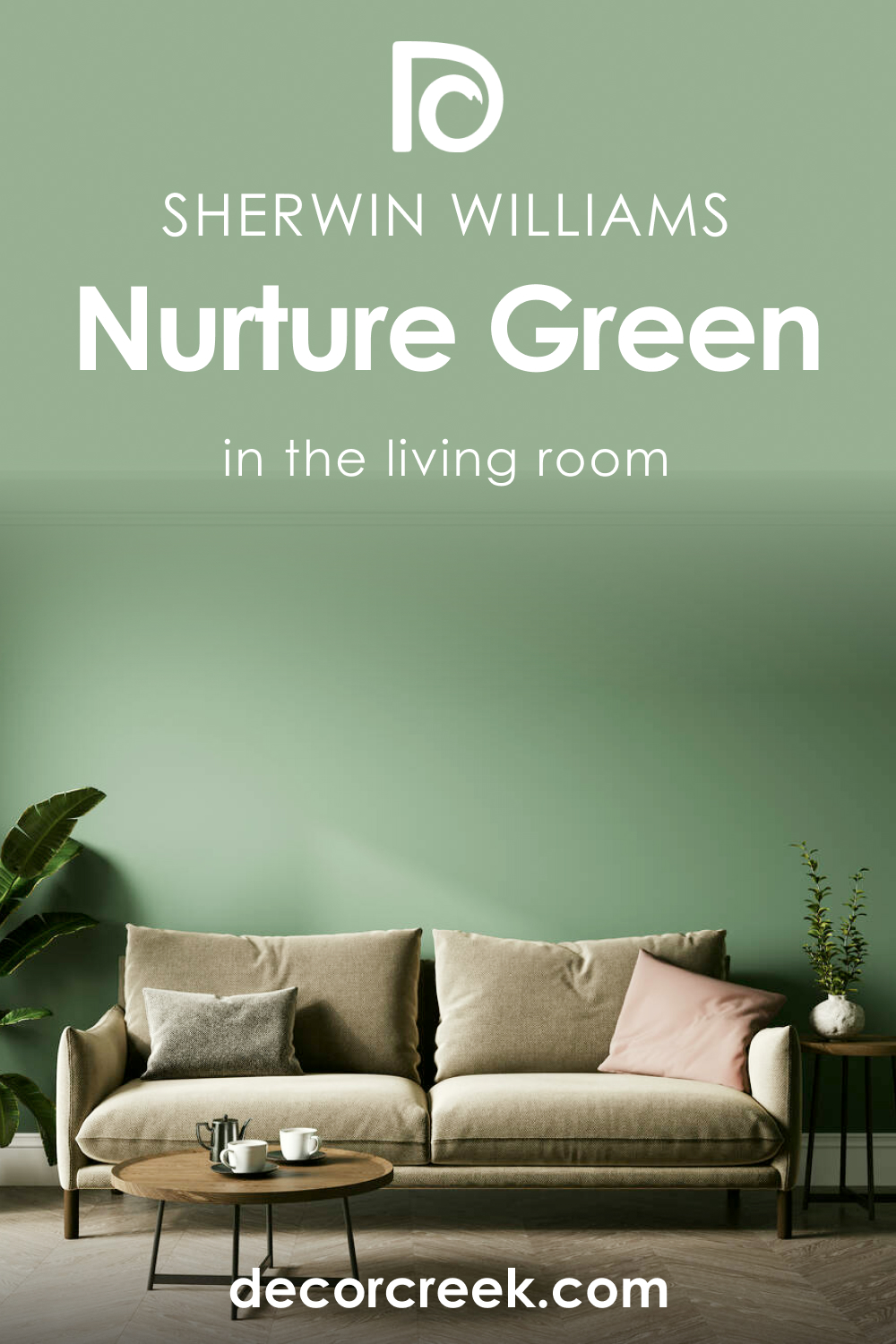 Nurture Green SW 6451 and Bedroom
Since this green gives off a tranquil and relaxing vibe, it can be a good color for your bedroom. Again, consider its LRV and undertones and coordinate it correctly! Otherwise, the room might look too cool and lifeless.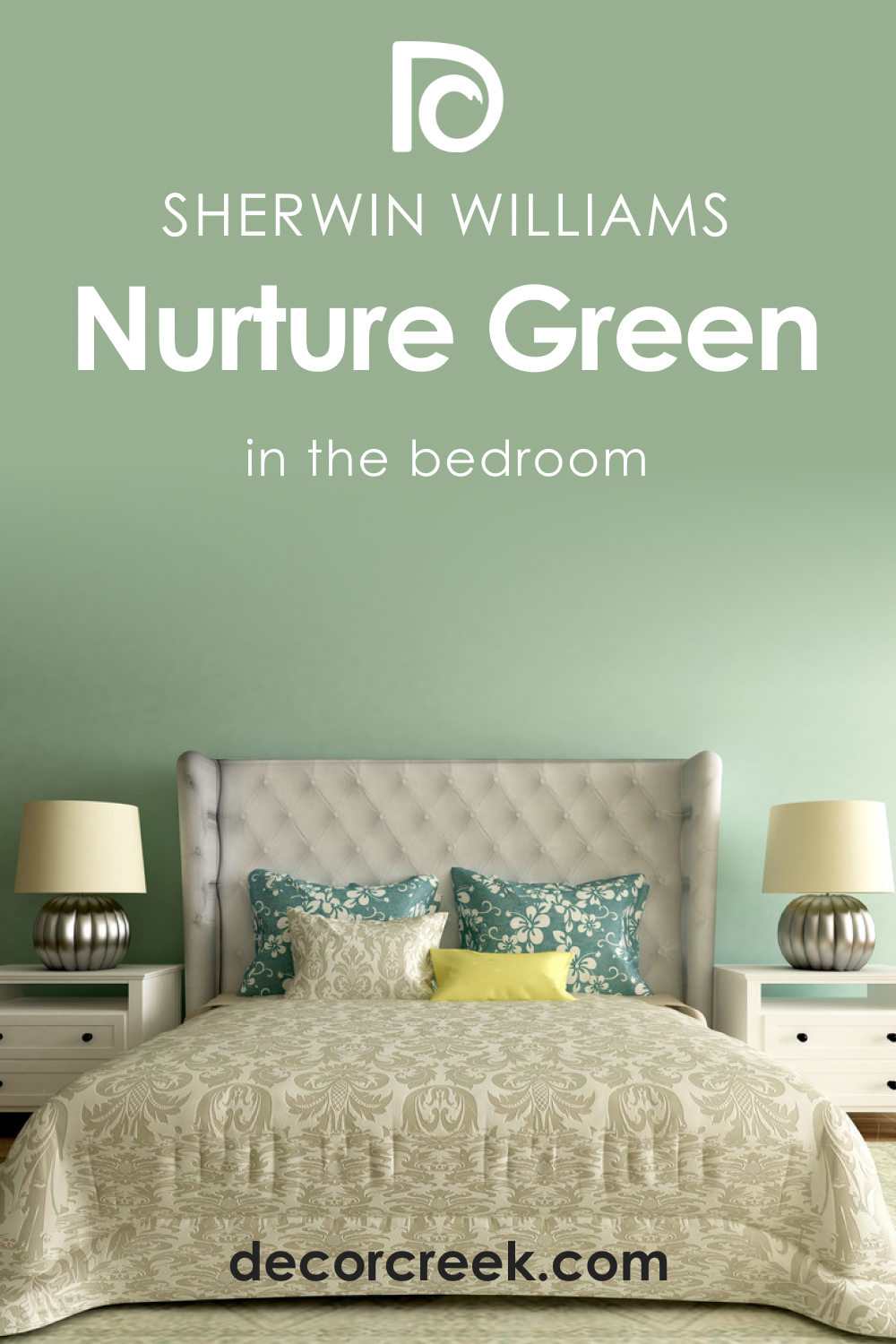 Nurture Green SW 6451 for the Kitchen
Green kitchens are not very popular, but if you still want to some green there, use SW Nurture Green on cabinets or paint your kitchen island with it (or both).
Leaving the walls white will not only highlight the natural beauty of this color, but also help you to avoid making the kitchen become overwhelmed with it!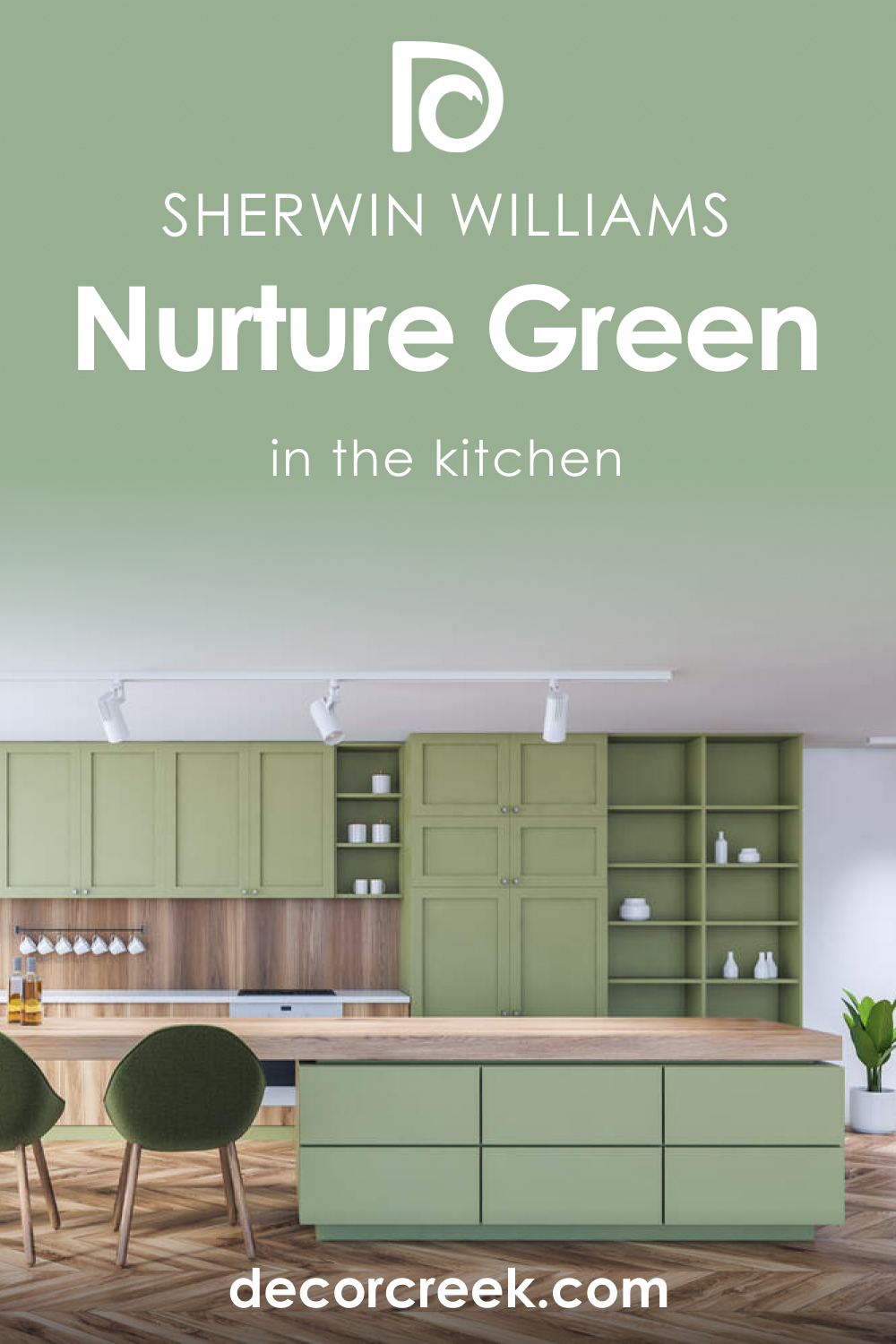 Nurture Green SW 6451 for the Bathroom
Since bathrooms typically have no windows and are pretty enclosed, we recommend you use this green very carefully and moderately there! Better use it on the vanity sink to create an eye-catching color accent rather than paint all the walls green!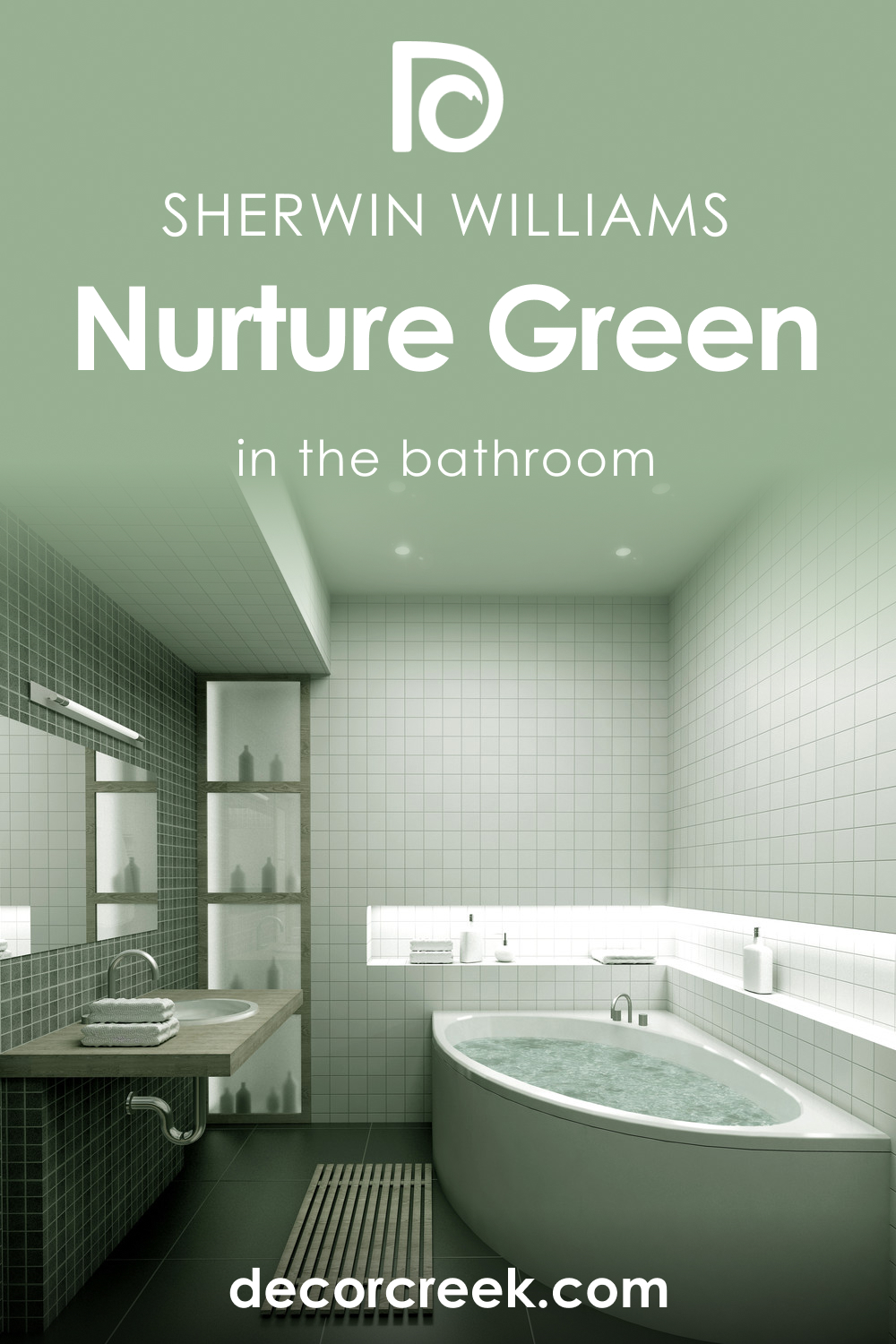 Nurture Green SW 6451 for the Exterior Use
SW Nurture Green can also work as an exterior paint color. However, you should be ready that in cold lighting, it may read cooler than it is. Also, in direct sunlight, this green may reveal a bit more of its yellowish hue. Nevertheless, it won't read warm.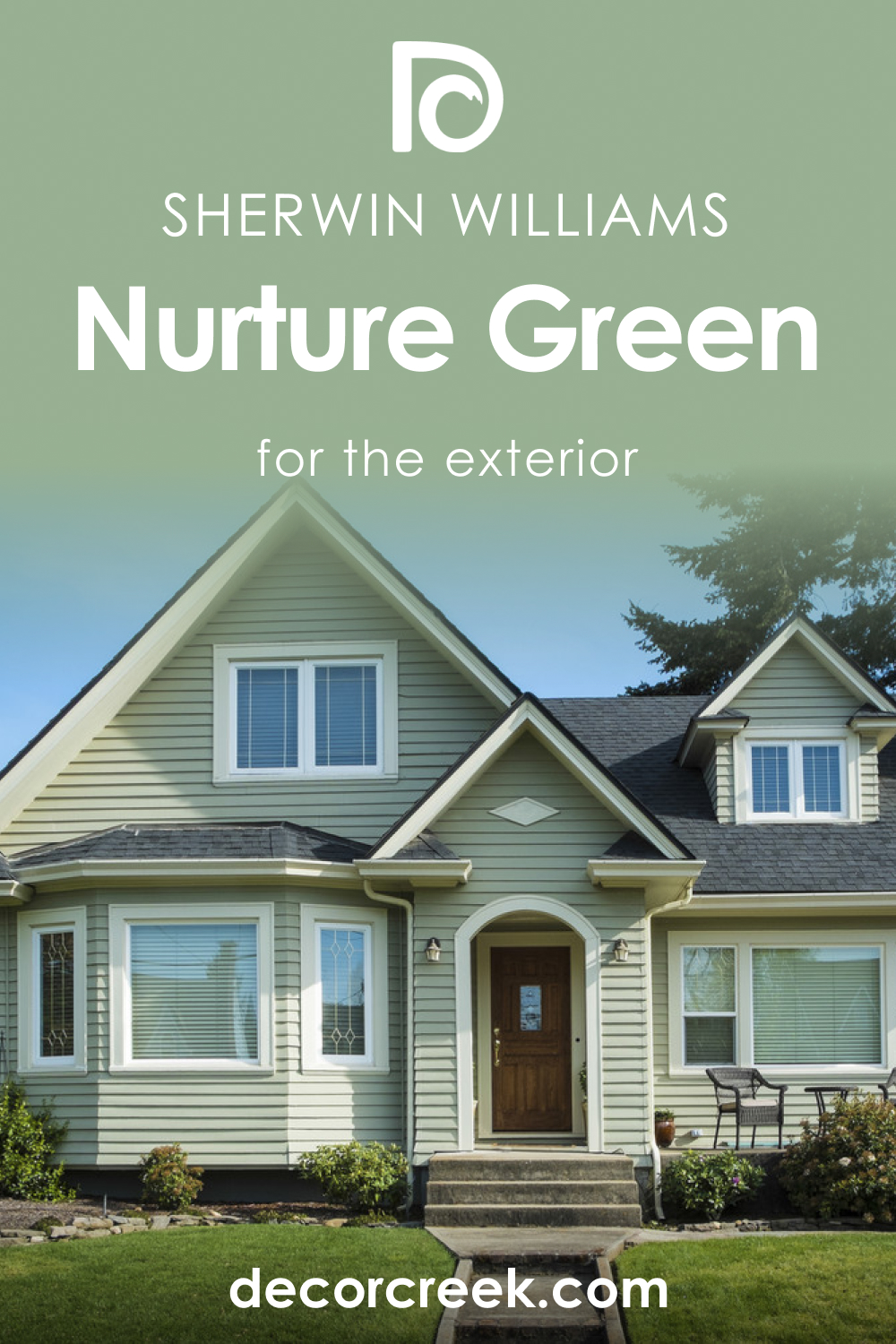 Now you know this paint color a bit better. SW Nurture Green may seem to be tricky and challenging to use, especially if you are a color theory newbie.
But at the same time, it can work lovely both indoors and outdoors if you know how to make it work!
Thanks to this article, now you have complete instructions for this beautiful and calming nature-inspired green by Sherwin-Williams.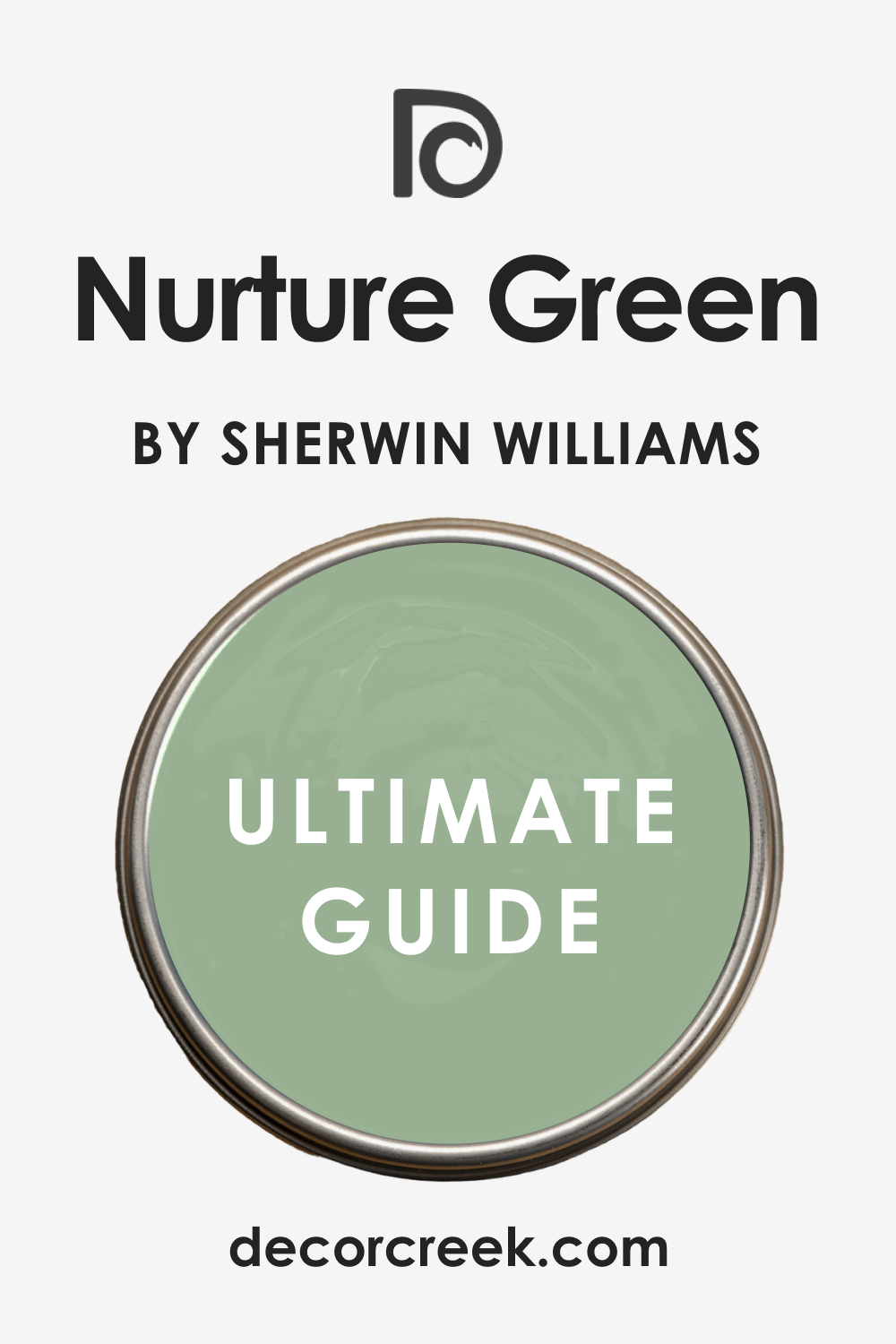 Frequently Asked Questions
⭐Is SW Nurture Green a neutral color?
No, this green color is cool-toned.
⭐Is SW Nurture Green a popular color for home interiors?
It's hardly the top color, but it is used quite often (more often than other greens).
⭐Is this green an interior color only?
No, it's not. SW Nurture Green can be used both indoors and outdoors.