There are plenty of blue colors out there, and each shade of blue is unique depending on its undertones and light reflectivity. This is why it might be challenging to choose the most suitable blue paint color for your home interior walls!
In this article, you will discover one of the blues by Sherwin-Williams called Charcoal Blue. We will tell you about this color's light reflectivity and undertones, as well as about its trim colors.
Also, you will learn how to use it correctly in different rooms depending on lighting conditions and the overall color palette of the space.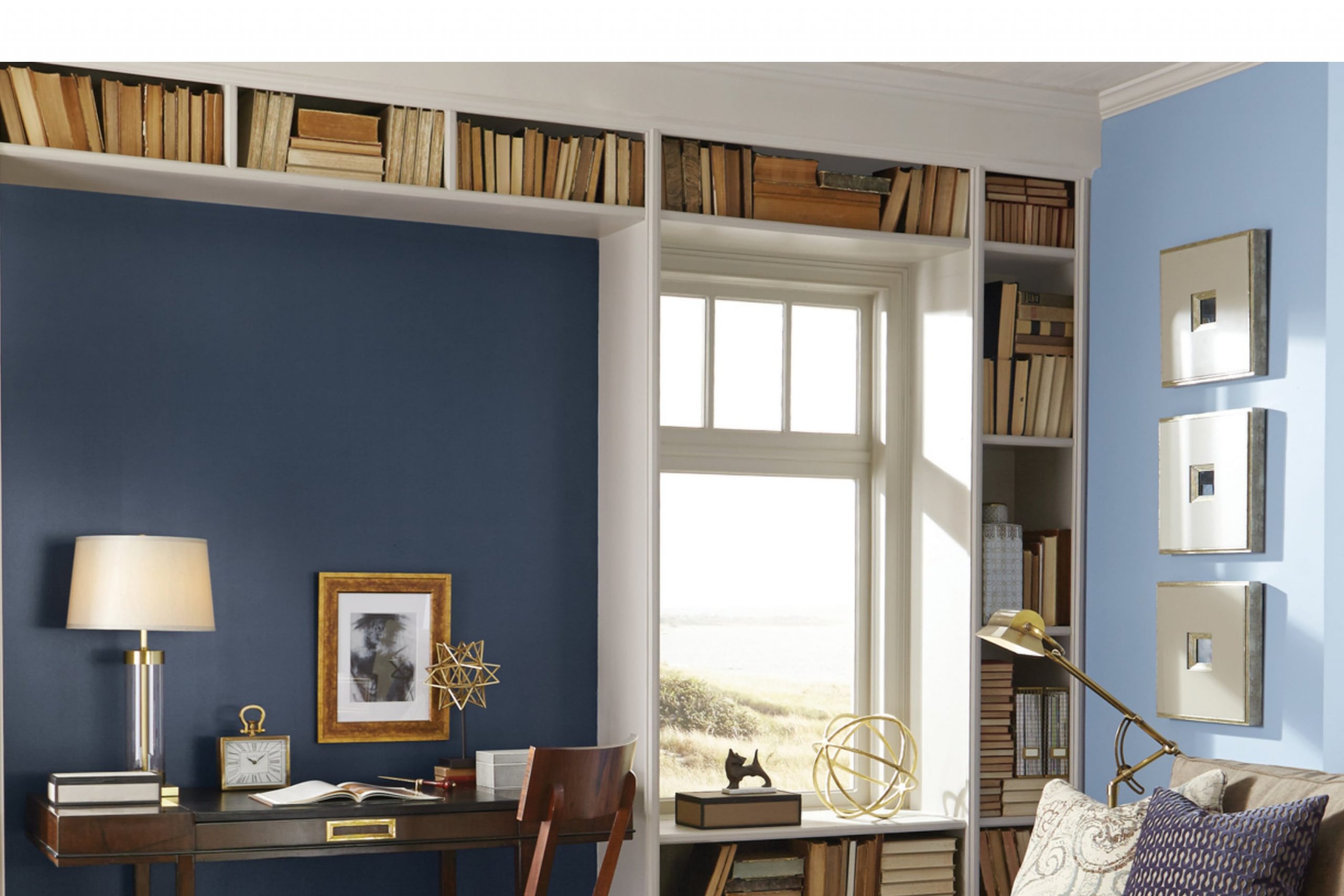 What Kind of Color Is Sherwin-Williams Charcoal Blue SW-2739?
First things first, you must know that SW Charcoal Blue is a dark, almost black shade of navy!
This is why it might not be an ideal color choice for you if you prefer brighter and more cheerful colors. But if you truly enjoy using deeper and more dramatic colors in your home, this blue might be your option!
As Encycolorpedia says, SW Charcoal Blue will make an elegant backdrop for wooden surfaces and textures (e.g., furniture or floors), as well as leather and metallic furnishings. With this color on interior walls, your home will get an elegant and sophisticated tone!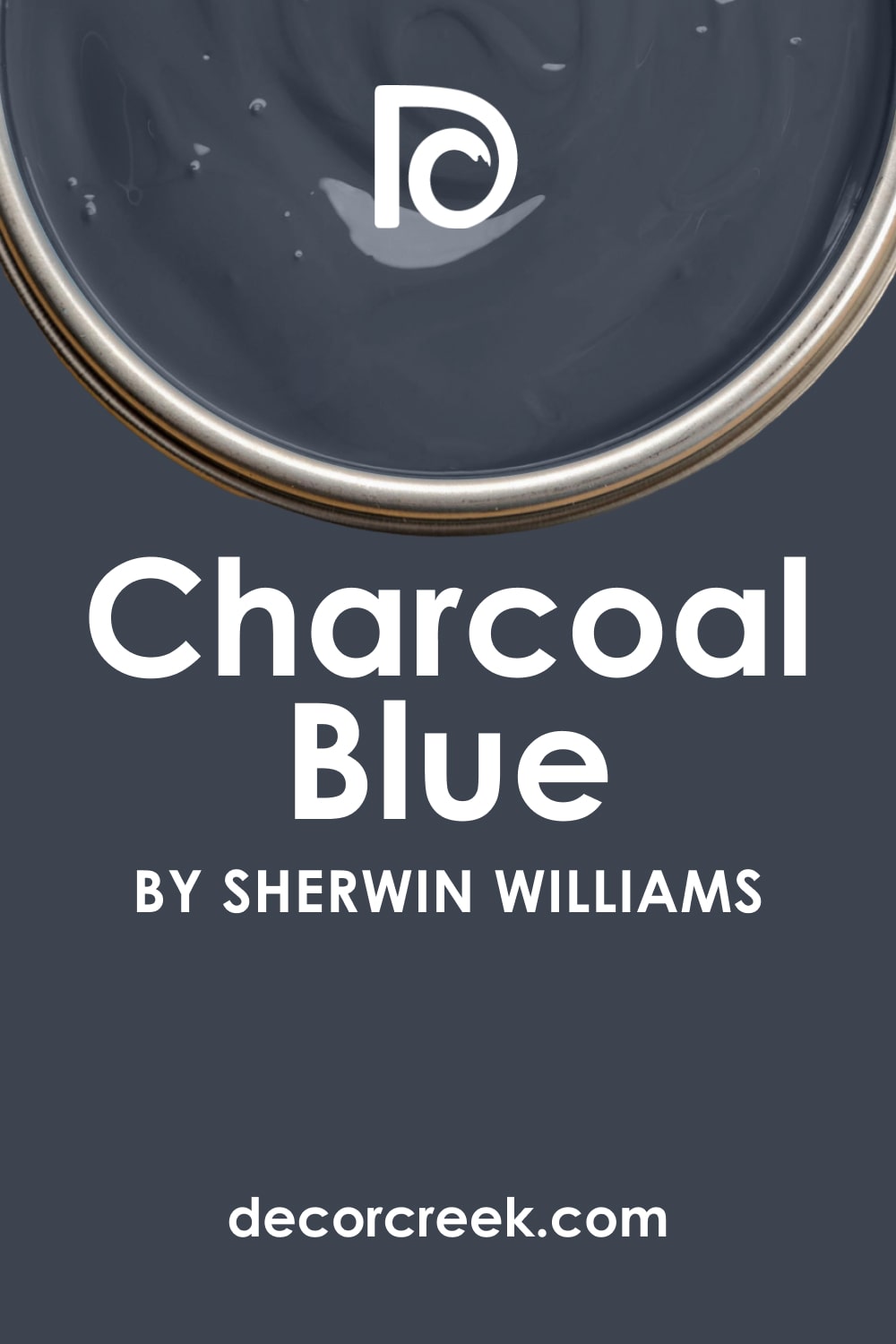 What Undertones Does Sherwin-Williams Charcoal Blue Have?
What makes SW Charcoal Blue so gorgeous? Perhaps, its undertones. This dark blue has gray and blue undertones, which makes it read rich instead of turning this color into a brighter version of navy!
However, you should use this dark and rich blue carefully since it can easily make a room read smaller than it is! To avoid the enclosure effect, we recommend using SW Charcoal Blue on an accent wall.
When done correctly, this color will create the perfect backdrop, especially for natural wood surfaces and white matte window frames.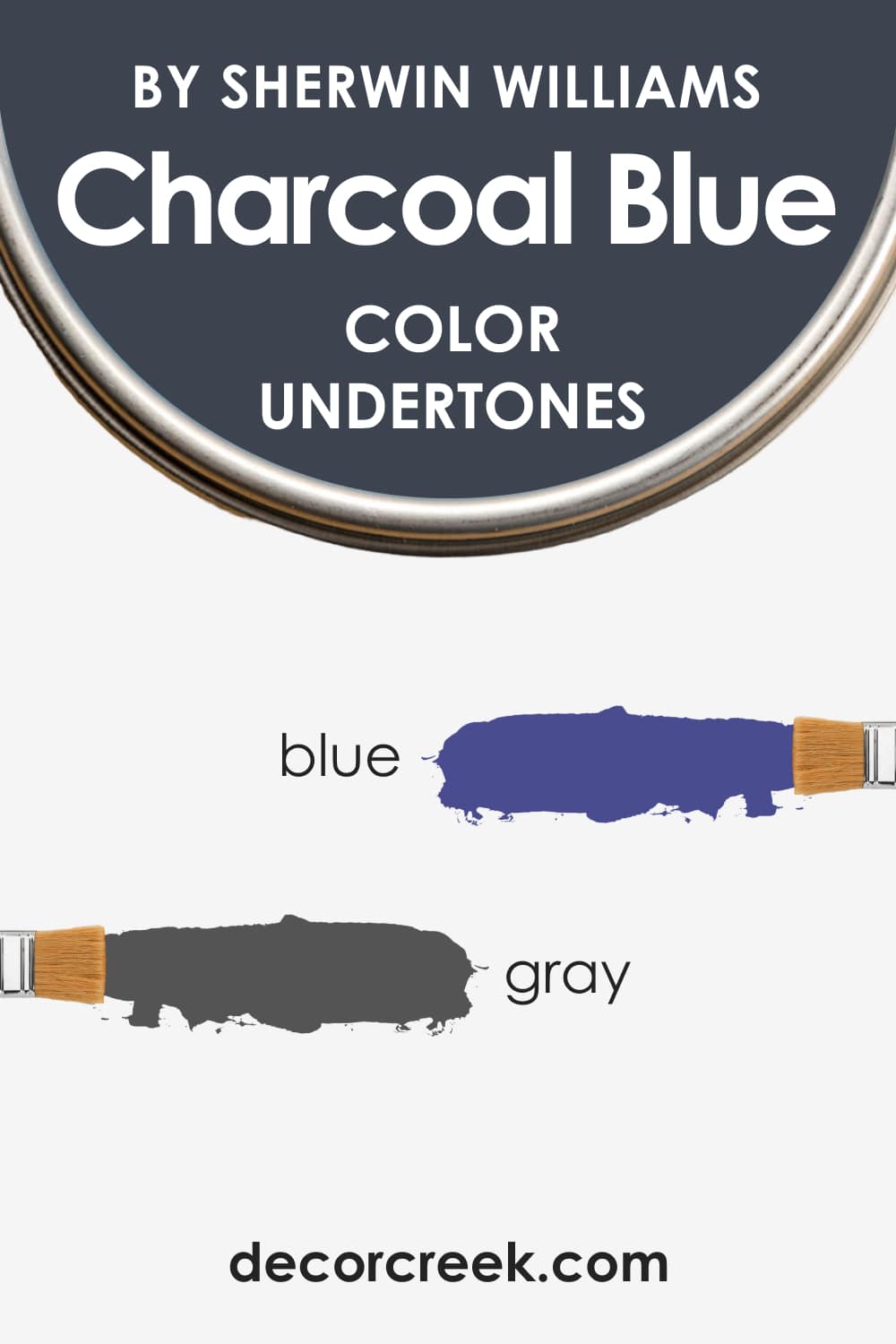 What Is the LRV of This Color?
LRV stands for the light reflectance value. This measurement shows how much light a color can reflect when it is applied to the wall. The higher the LRV rate, the lighter the color, and vice versa. The closer the LRV is to zero, the darker the color. If the LRV climbs up to reach 100, the color gets lighter.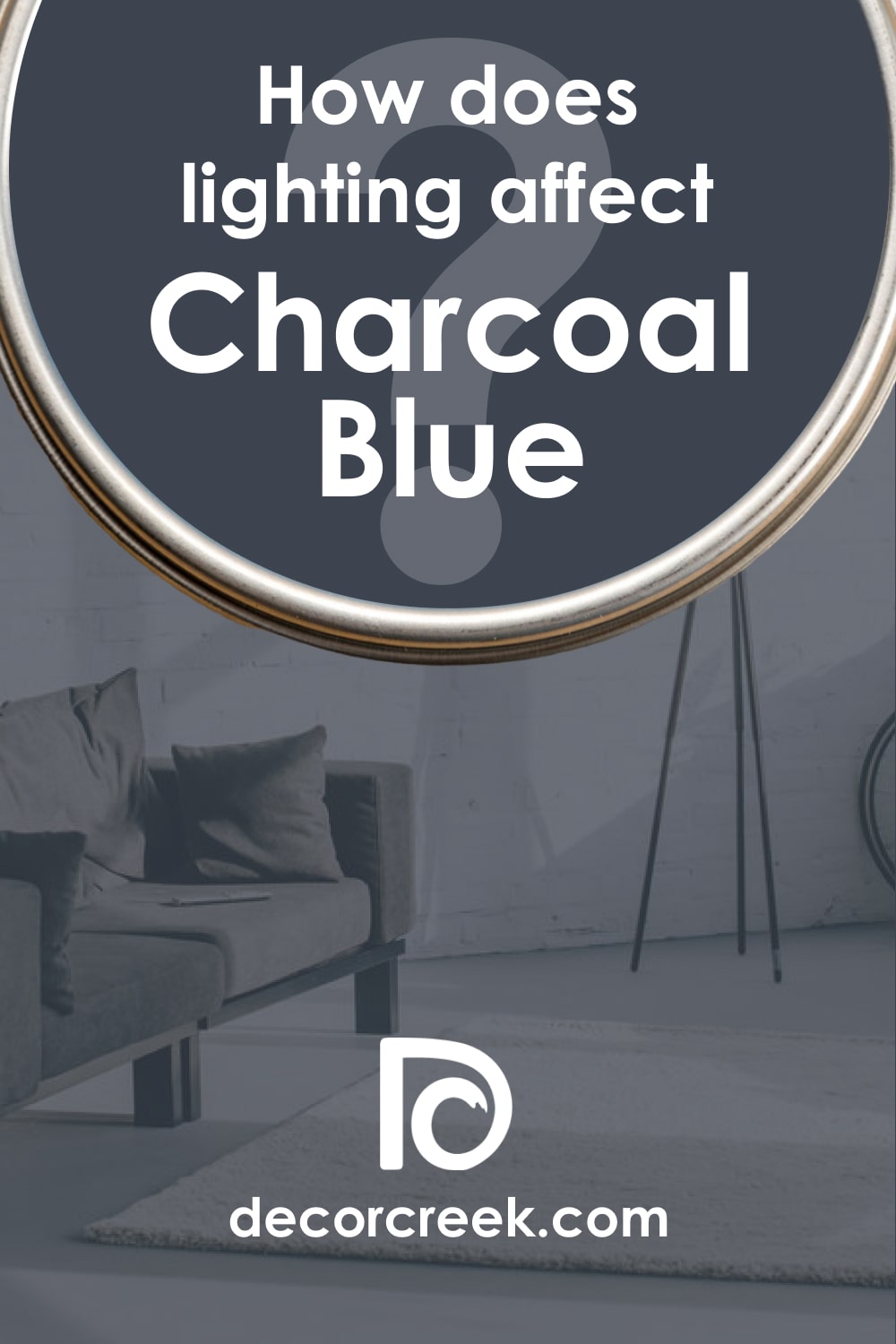 The LRV of SW Charcoal Blue is 6, which makes it a very dark paint color. In fact, it is so dark that sometimes can almost seem black! This is why it is essential to consider lighting in the room where you want to use it.
In rooms with poor or dim light, the Charcoal Blue paint will read nearly black, whilst in spaces with plenty of natural light, this blue color will reveal itself bluer and less dramatic.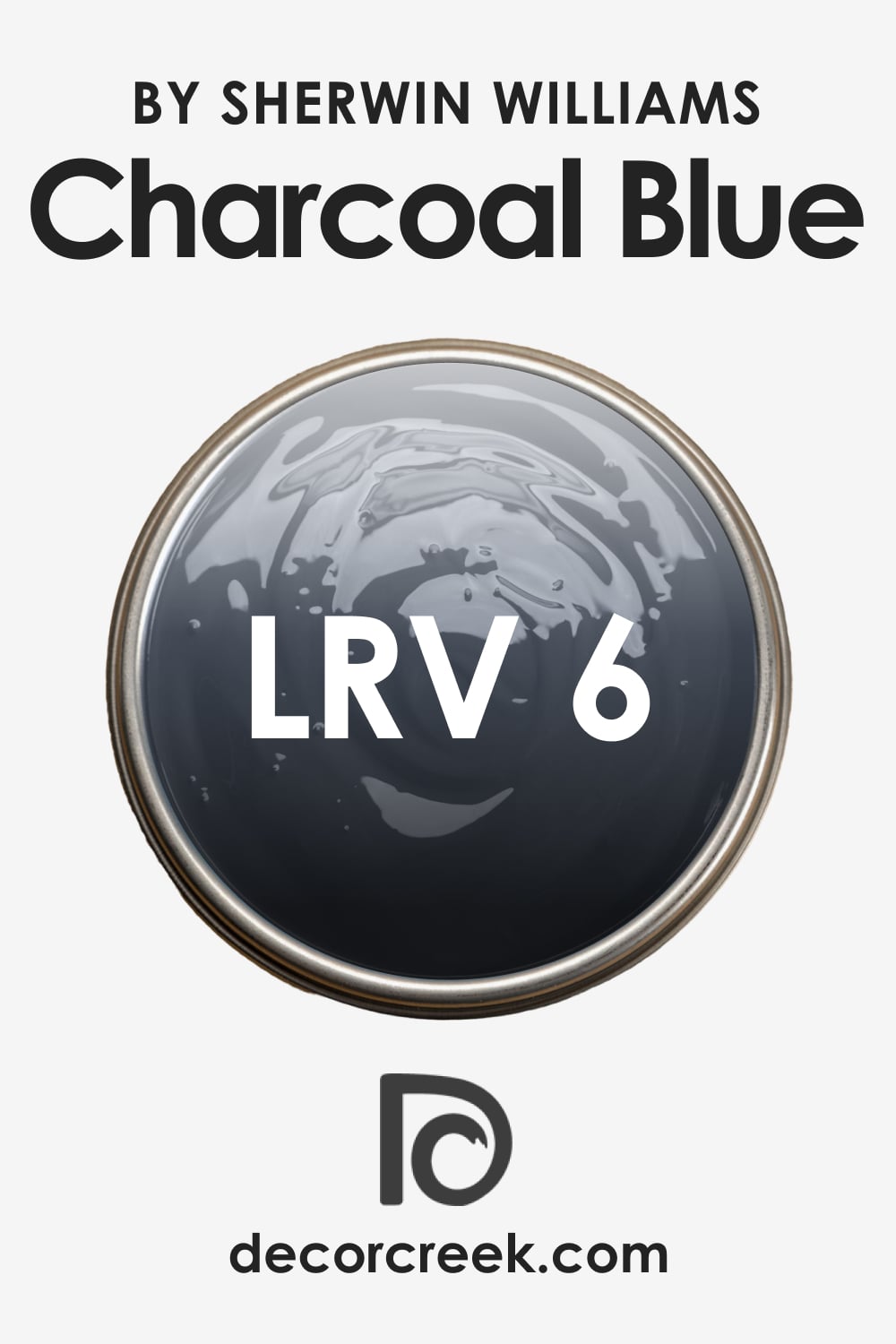 LRV – what does it mean? Read This Before Finding Your Perfect Paint Color
Is It a Warm or a Cool Color?
It's hard to call this shade of blue warm or cold. Instead, it's somewhere in between. The way this paint color looks in your room highly depends on how well it is lit and what colors surround it.
In rooms with cool-toned light (e.g., northern-faced rooms), SW Charcoal Blue may read cooler. In rooms with warmer daylight like the southern, this rich shade of navy will read warmer.
Coordinating Colors to Use With SW Charcoal Blue Paint Color
To make your living space read harmonious in color and welcoming, you should know how to combine different colors to make them work together.
But with such a dark color as SW Charcoal Blue, it might be challenging to find the correct coordinating colors that will reveal the beauty of this navy shade of blue!
Luckily, we are here to help you out! Below, you can find several options for coordinating colors to use with SW Charcoal Blue. With them, you will quickly find the most suitable paints to use.
SW Creamy
SW Gossamer Veil
SW Moonlit Orchid
For a monochromatic color palette, opt for the following blues:
SW Bracing Blue
SW Mineral Gray
SW Software
SW Gray Screen
Should you prefer more varied color schemes in your home, this complementary palette might suit you better:
SW Cadet
SW Samovar Silver
SW Virtual Taupe
SW Balanced Beige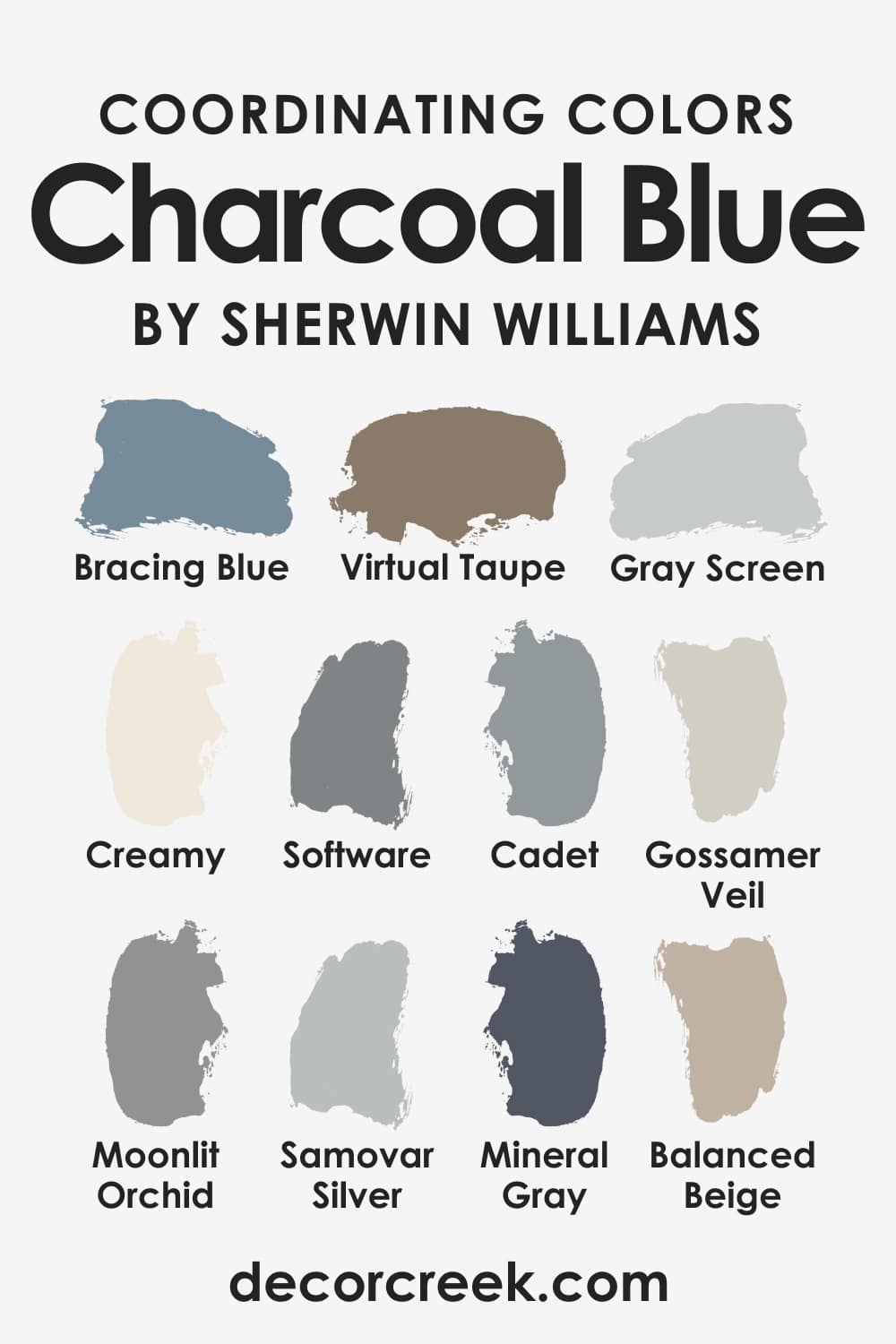 What's the Best Trim Color For SW Charcoal Blue?
White is considered the best and the most optimal paint color to use on trim and moldings. That's because white is very versatile and can pair well with most colors in the space. For SW Charcoal Blue paint, we would also recommend using whites on your trim. In particular, you might want to try these ones:
SW Pure White
SW High Reflective White
Generally, this dark and rich navy works equally well with crisper whites and softer whites. So, the trim color choice depends on whether you want a sharper contrast or a more delicate one.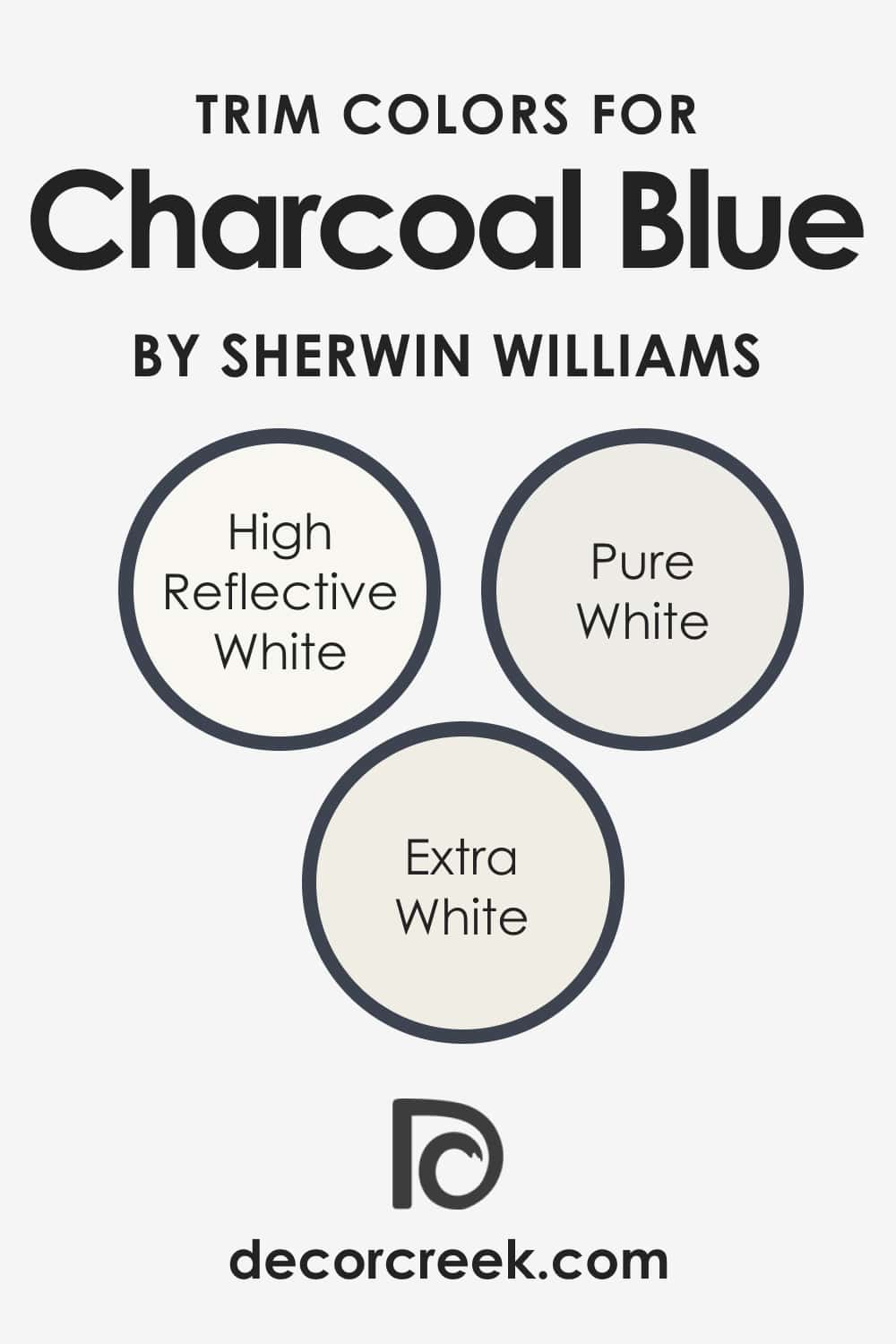 Similar Colors to Use Instead of SW Charcoal Blue SW-2739
In case you need to find the color that reads almost the same on your walls as the one you were going to use, knowing similar colors is essential. When you have a bunch of colors that can be used as substitutes, you can easier find the best-matching alternatives.
For SW Charcoal Blue paint, we would recommend using the following colors since they are the closest in tone with this blue:
Benjamin Moore Hale Navy
Sherwin-Williams Naval
Benjamin Moore Van Deusen Blue
Sherwin-Williams Indigo Batik
Benjamin Moore Newburyport Blue
Farrow & Ball Hague Blue
Sherwin-Williams Cyberspace
Of course, note that none of these blues is a 100% match! Each color on this list will vary slightly in tone or LRV.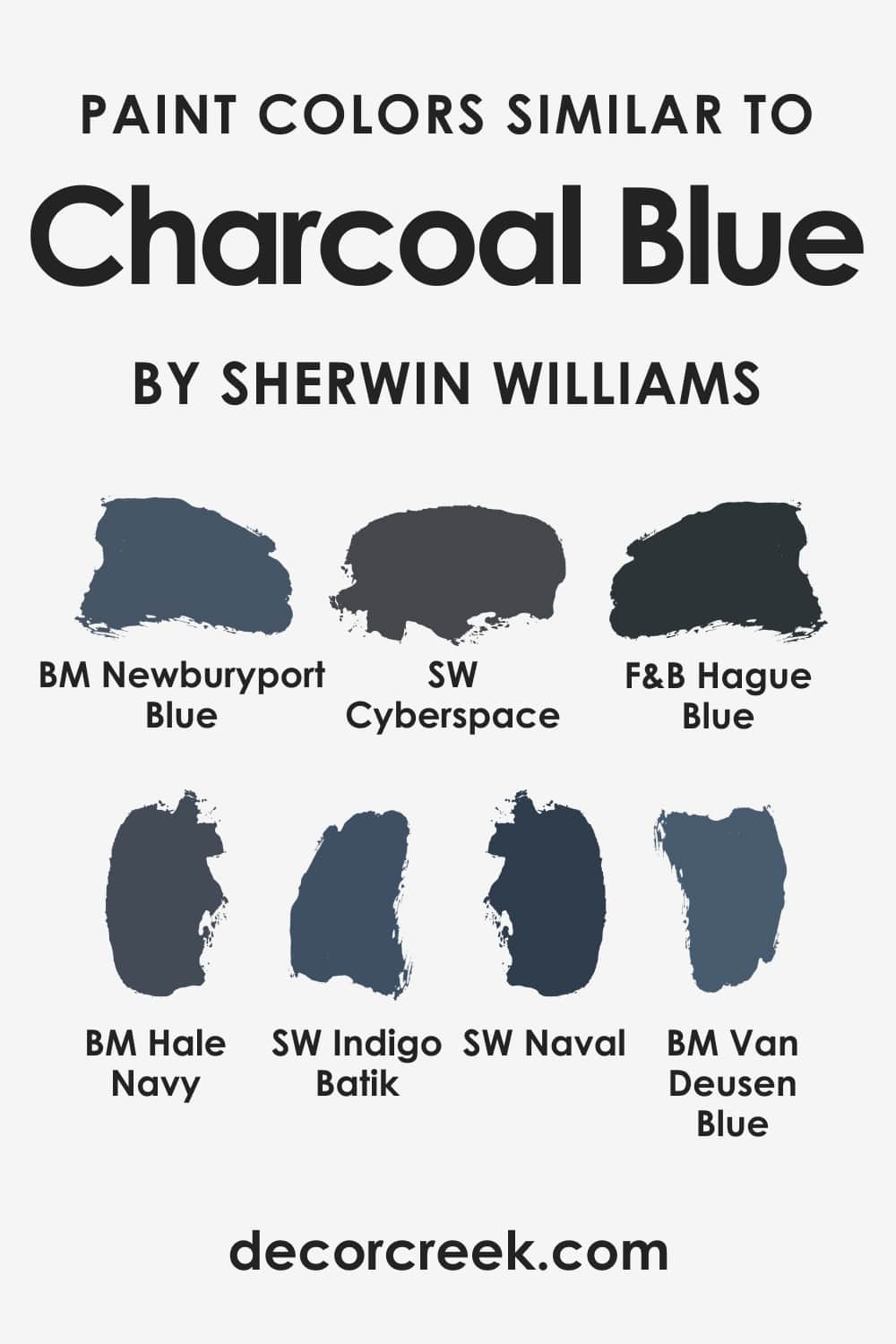 Colors That Go With SW Charcoal Blue
To be able to achieve a balanced color palette in your home, you should know what colors will work with the wall color best of all. For SW Charcoal Blue, for example, you might want to use one of the following paints:
SW Restrained Gold

SW Rock Candy

SW Morning Fog

SW Incredible White

SW Grandiose

SW Dry Dock

SW Merlot

SW Alaea

SW Wheat Penny
With this many colors at hand to choose from, you will make your space reading appealing and vivid.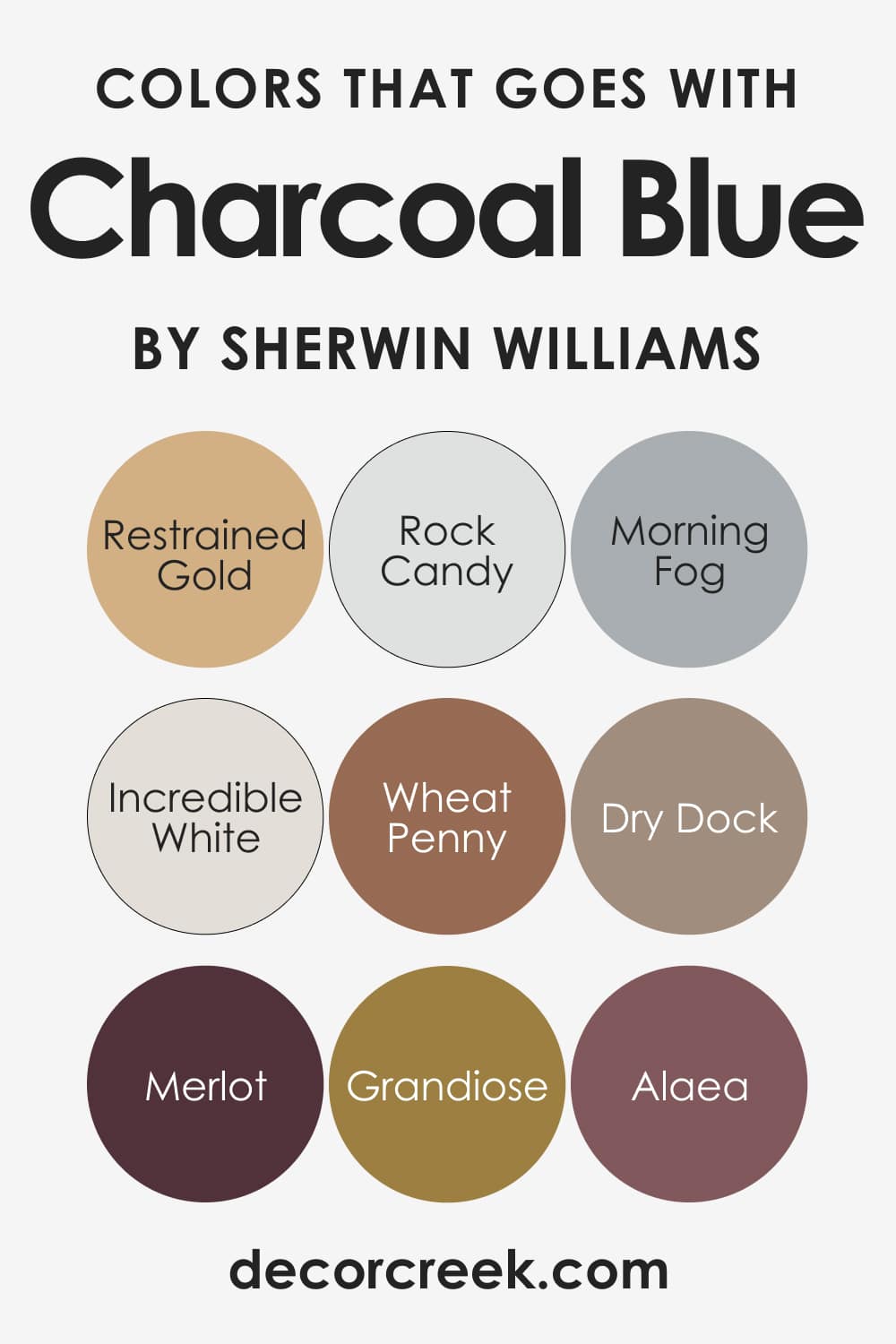 Comparing Sherwin-Williams Charcoal Blue Paint Color With Other Colors
To better understand what makes this shade of blue distinct from other similar colors, we suggest you read the description of SW Charcoal Blue and a few similar blues that look nearly the same.
Charcoal Blue vs Naval
Both colors are very dark, but if you look closer, you will see that SW Naval reads bluer, whilst its counterpart reveals its gray undertones more prominently. Generally, you might want to use the Naval color if you need a more profound naval blue on your walls.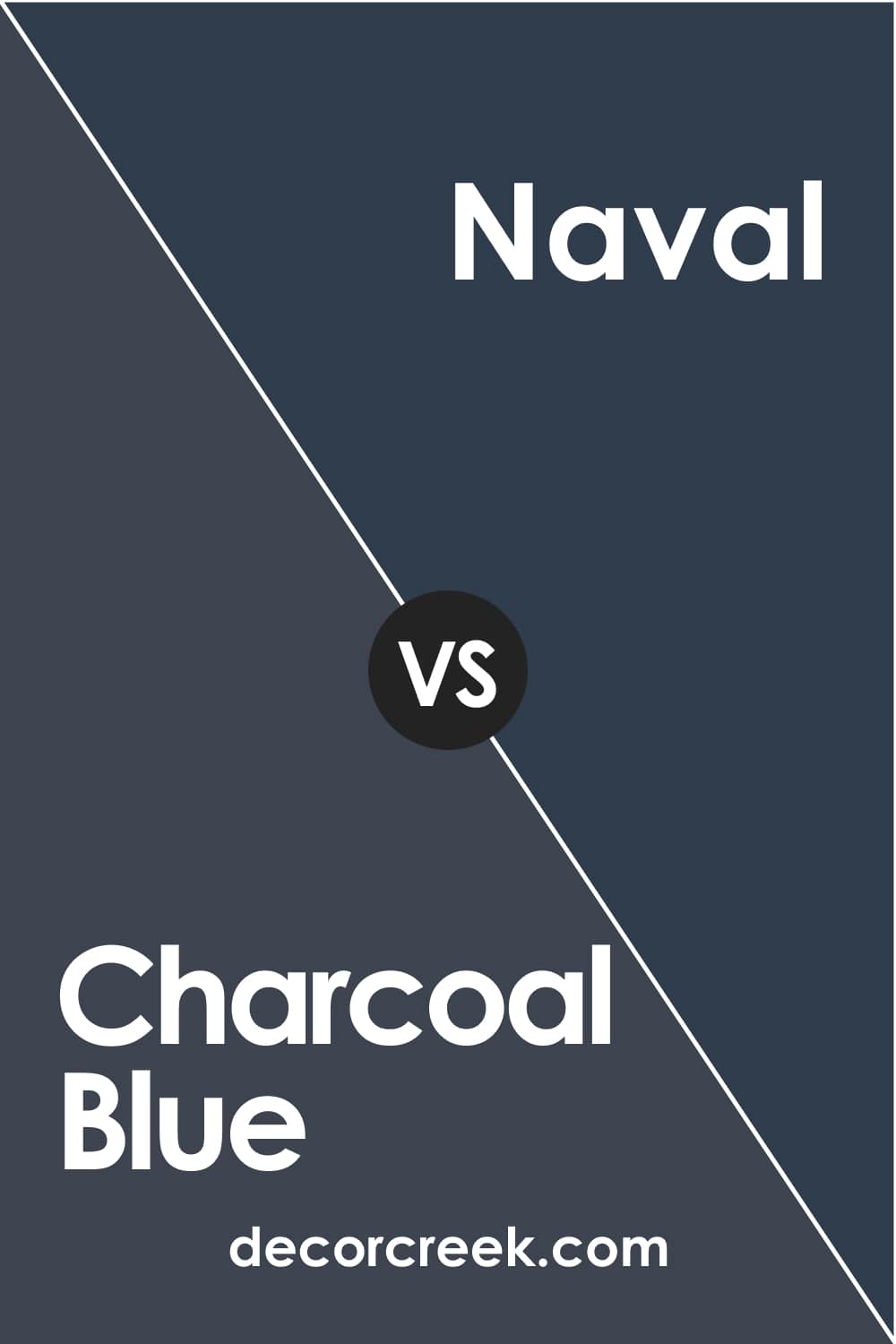 Charcoal Blue vs Hale Navy
This pair of colors read the opposite compared to the one described above. Here, SW Charcoal Blue reads darker, and the Hale Navy color reads bluer and a bit lighter. You might want to use them interchangeably, but they won't work together in the same room.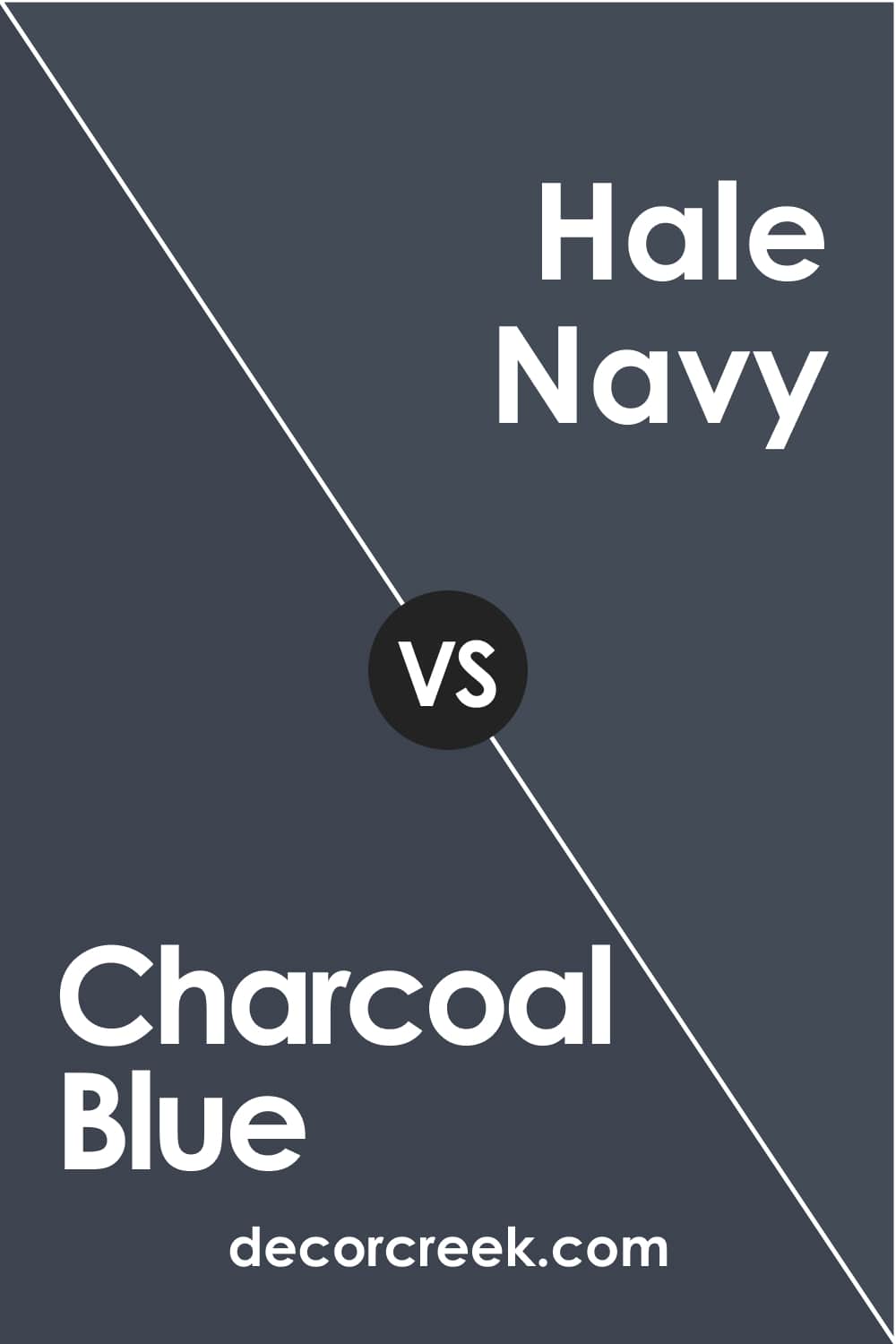 Charcoal Blue vs Sea Serpent
SW Sea Serpent has an LRV of 7, which is a bit more than the LRV 6 of Charcoal Blue. This is why these two blues read almost the same! As a result, you can successfully use them as substitute colors for each other. Just note that SW Sea Serpent has slightly greenish undertones.
Charcoal Blue vs Cyberspace
Cyberspace by Sherwin-Williams is a deep navy blue with strong gray undertones that are very prominent compared with the Charcoal BLue color.
In fact, SW Charcoal Blue looks bluer if you put it side by side with the Cyberspace blue!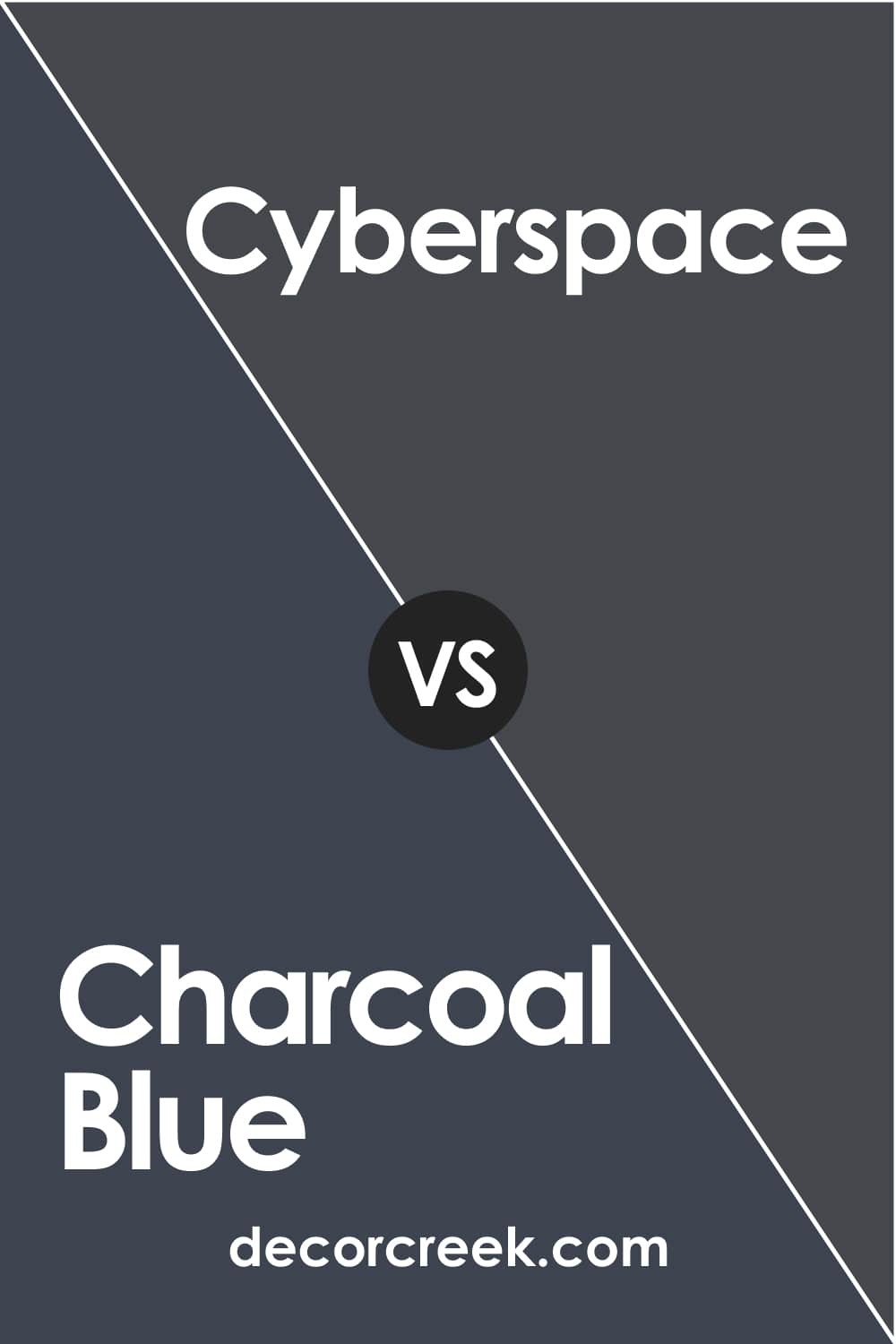 Charcoal Blue vs Anchors Aweigh
SW Anchors Aweigh is a bold navy blue color that reads dominating in space thanks to its depth. It's bold and cool-toned, looking deeply saturated. This makes it read darker than SW Charcoal Blue, revealing a more profound navy tone.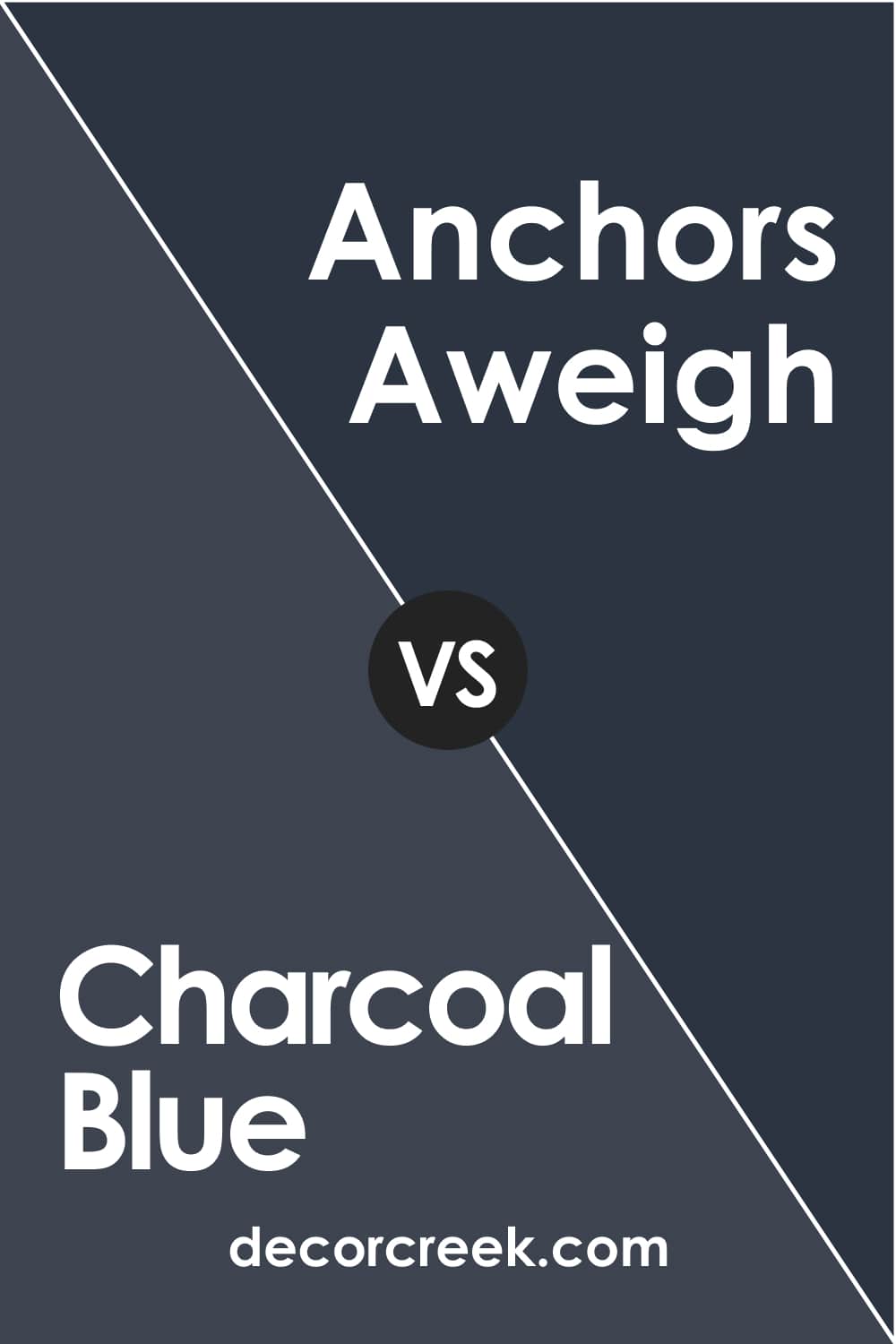 Where In Your Home to Use This Color?
Such dark colors as SW Charcoal Blue can be challenging to incorporate into home interiors due to their complex nature. This is why we recommend you learn how this dark and navy shade of blue might read in different rooms of your home.
Charcoal Blue SW-2739 in the Living Room
This color is surprisingly suitable for living rooms! Just ensure you use it on an accent wall if your living room is not very big. Except for that, it will read perfectly gorgeous on all the walls in a spacious and well-lit room with white trim and ceiling, leather furniture, and wooden textures!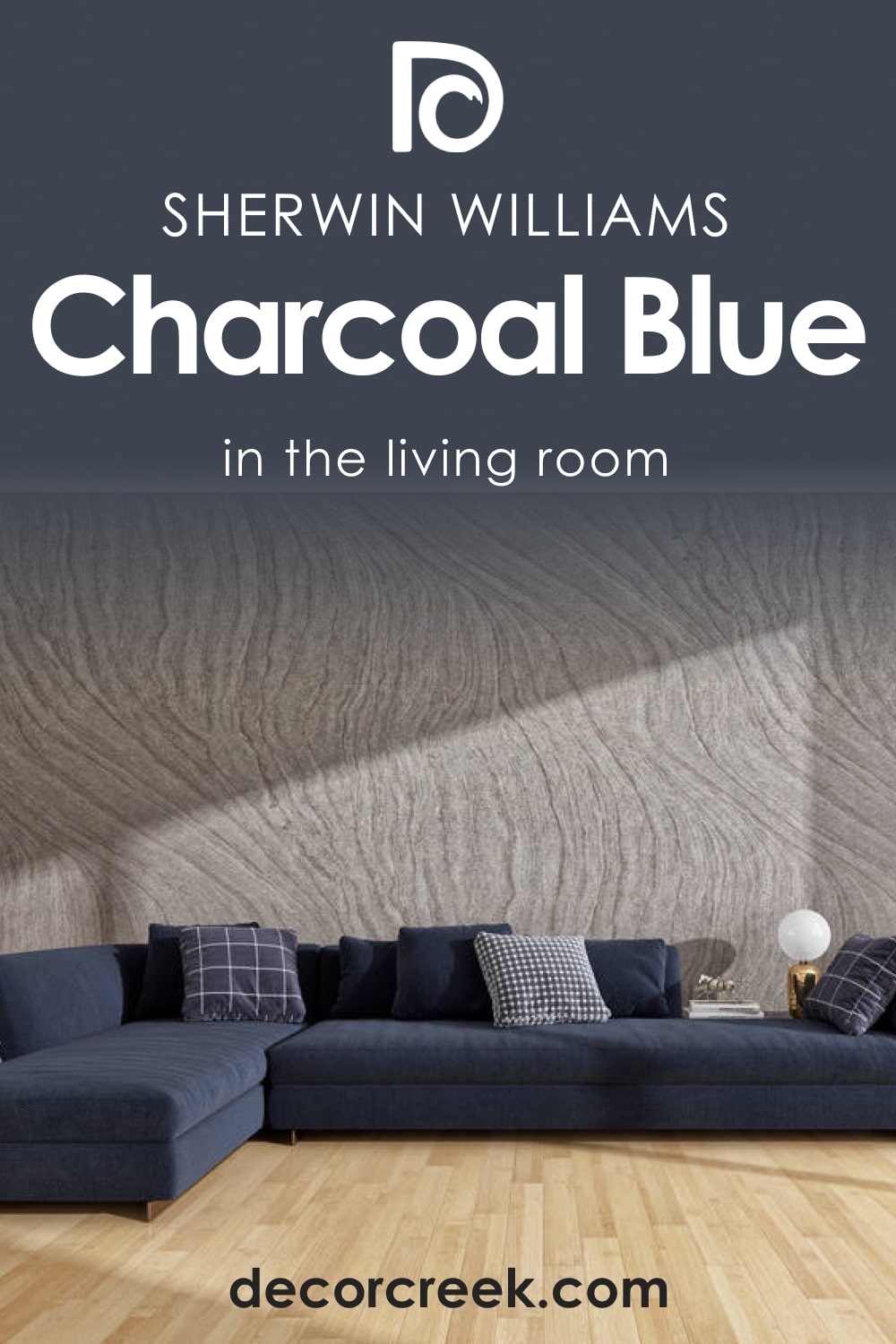 Charcoal Blue SW-2739 in a Bedroom
SW Charcoal Blue might be too dark to paint all your bedroom, but it will still work nicely on an accent wall. Ensure the room has plenty of light and use as much white as possible, and you will help this blue read less overwhelming.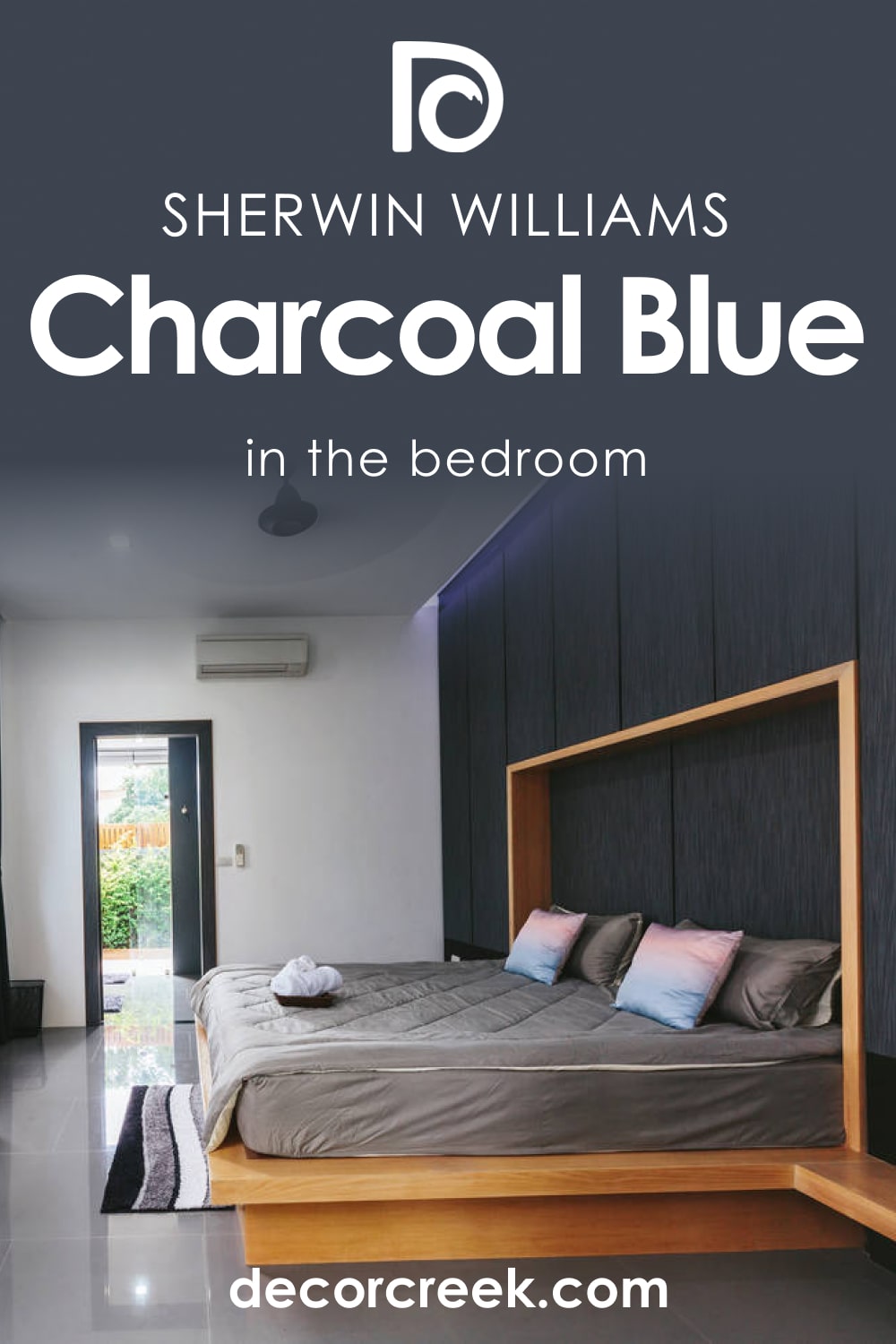 Charcoal Blue SW-2739 and Bathroom
On your vanity sink or drawers, this blue will read perfectly well. Pair it with white walls and tiles and golden-tinted hardware, and your bathroom will get a good doze of chic!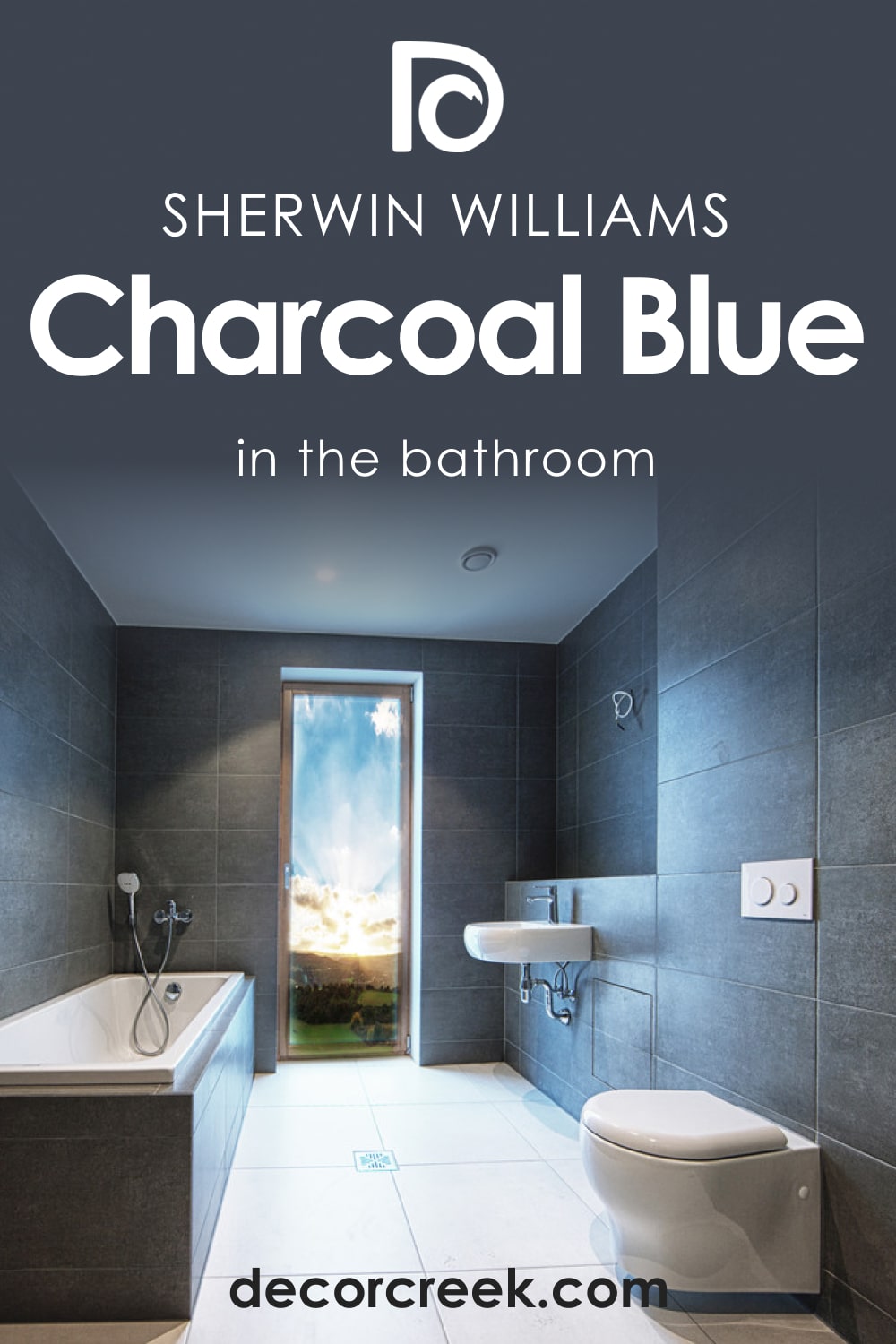 Charcoal Blue SW-2739 for the Kitchen
In the kitchen, this dark and navy shade of blue will look awesome on cabinets (upper or lower) or as an accent wall color. But if the size of the kitchen allows, don't hesitate to paint both cabinets and the wall!
Leave other walls white, and you will see how whiteness will highlight the natural beauty of this blue!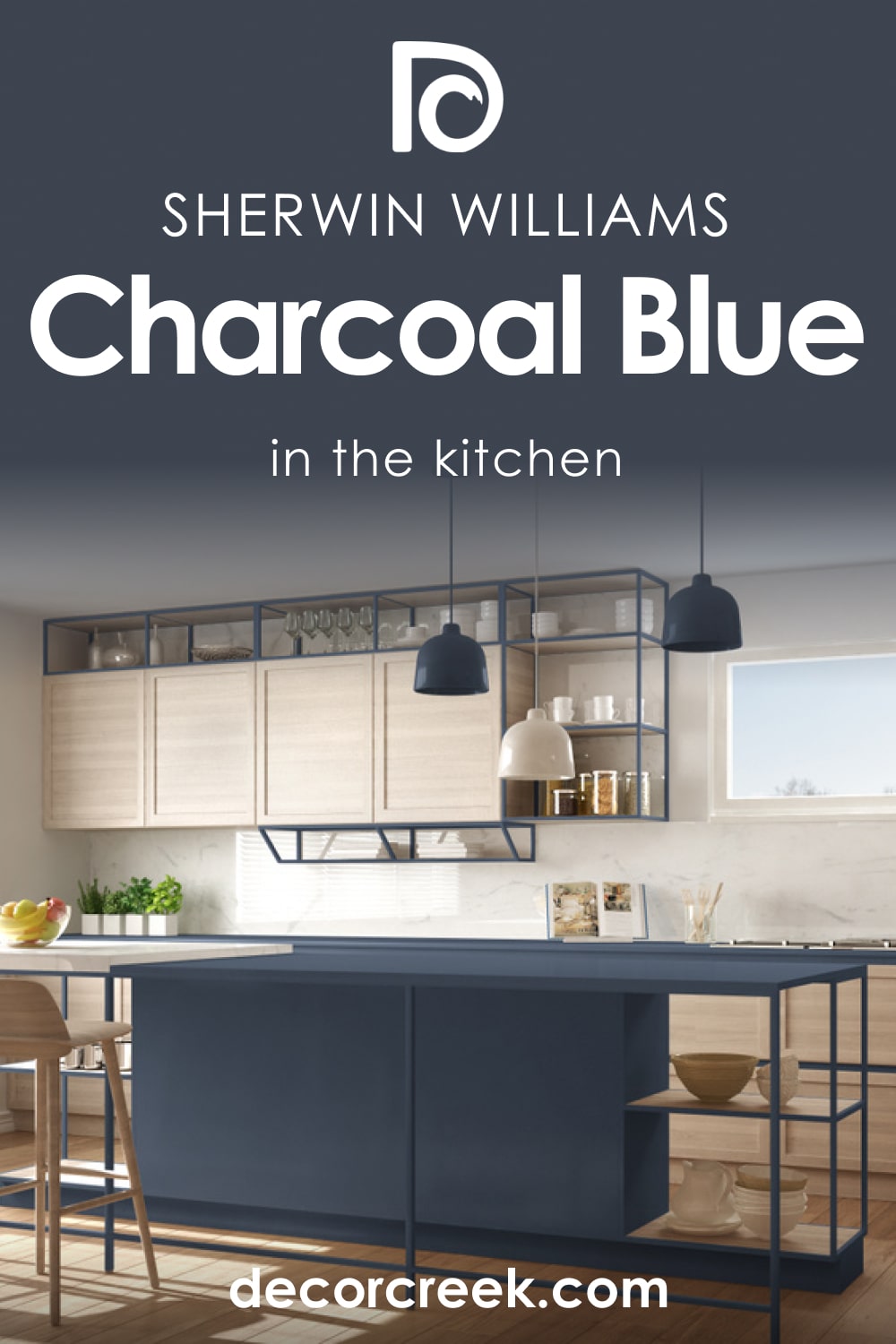 Charcoal Blue SW-2739 for the Exterior Use
SW Charcoal Blue reads well on exterior walls and on specific surfaces. E.g., you can use it to paint the front door only, painting the walls with another color. When you use this blue on the walls, leave the trim white, and vice versa. Both schemes will work great!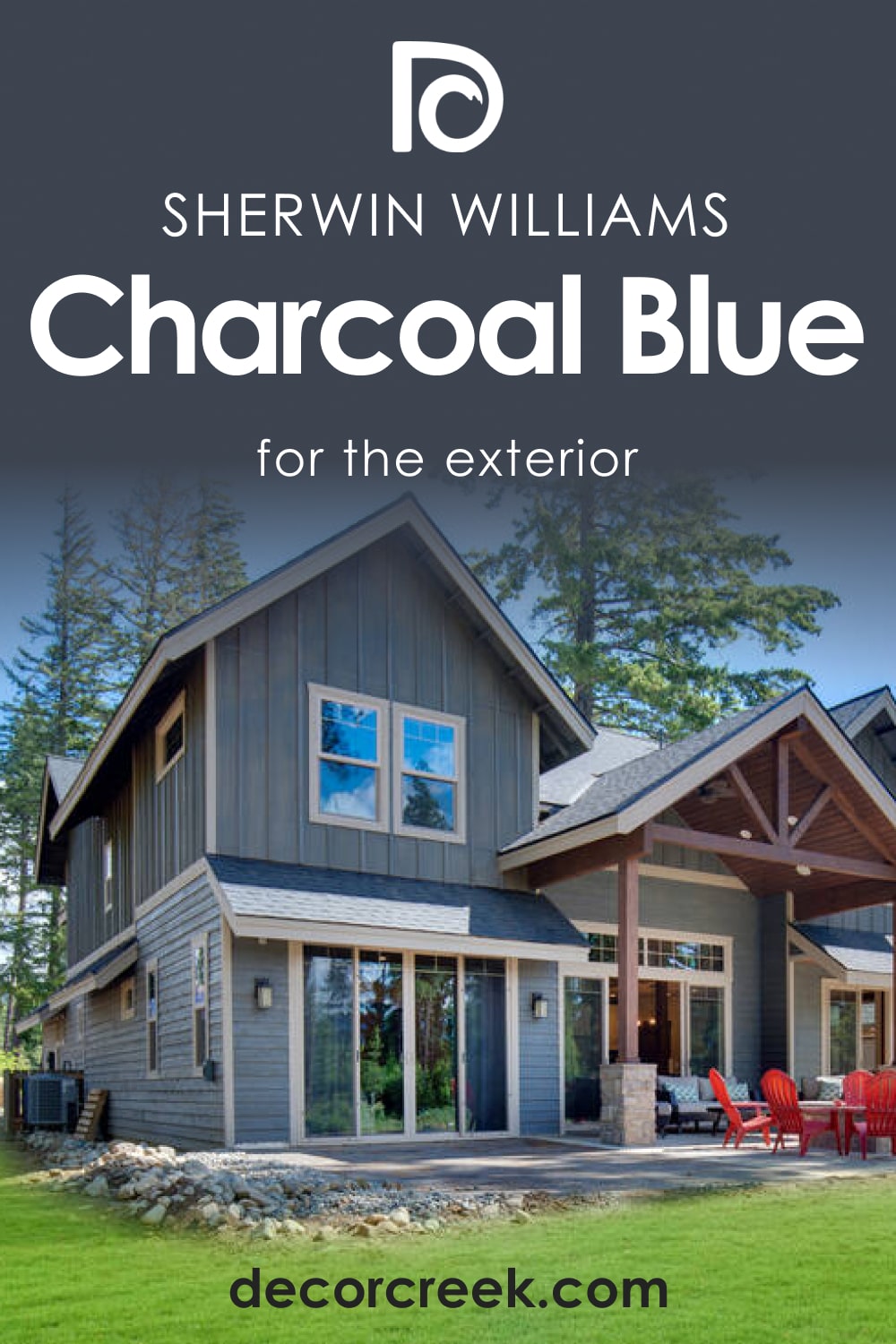 Well, now you way more about this gorgeous dark blue color! You know what kind of paint color SW Charcoal Blue is and how it works in different rooms. You know how it reacts to light and how it will read depending on the lighting conditions.
Also, you learned how to coordinate it and what colors will work best with this beautiful navy shade of blue.
With all the tips we shared on this color, you will find the best place for it in your home very quickly!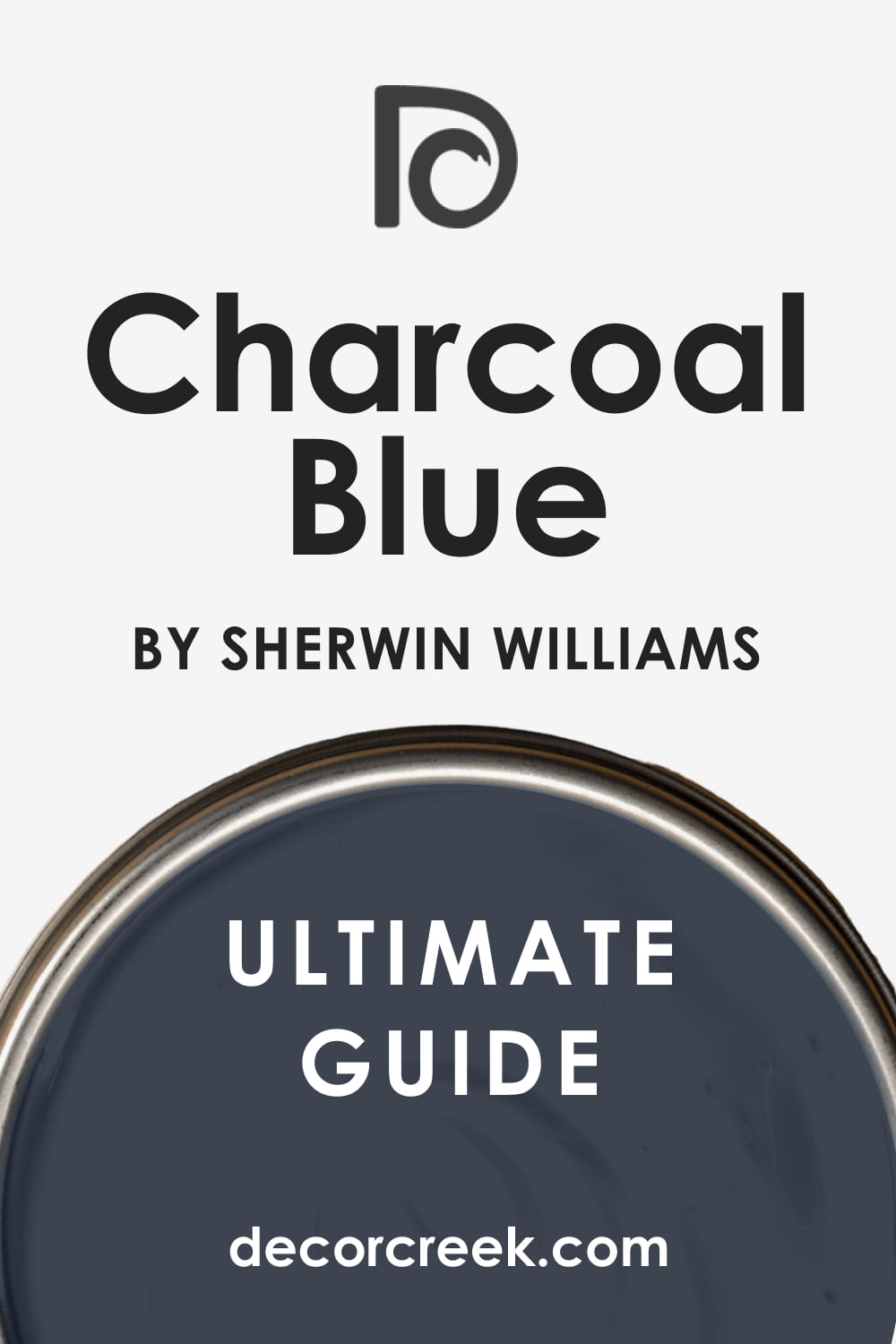 Frequently Asked Questions
⭐Does SW Charcoal Blue read black?
In some lighting conditions, this blue can look almost black indeed.
⭐Is SW Charcoal Blue the darkest blue possible?
No, there are darker shades of blue.
⭐Does SW Charcoal Blue work with yellow?
Absolutely! You can use muted yellows or brighter and more saturated ones.