Green is a popular color to use in our homes due to its calming and relaxing nature. This colors is perfect for refreshing space and adding serenity to it. But with the wide variety of shades of green, it can be difficult sometimes to choose the most suitable color for your home.
In this article, we will tell you about one of the greens by Sherwin-Williams called Clary Sage.
You will discover this color, including its undertones and light reflectance value. We will also tell you how it reacts to light and in what rooms it's best to be used.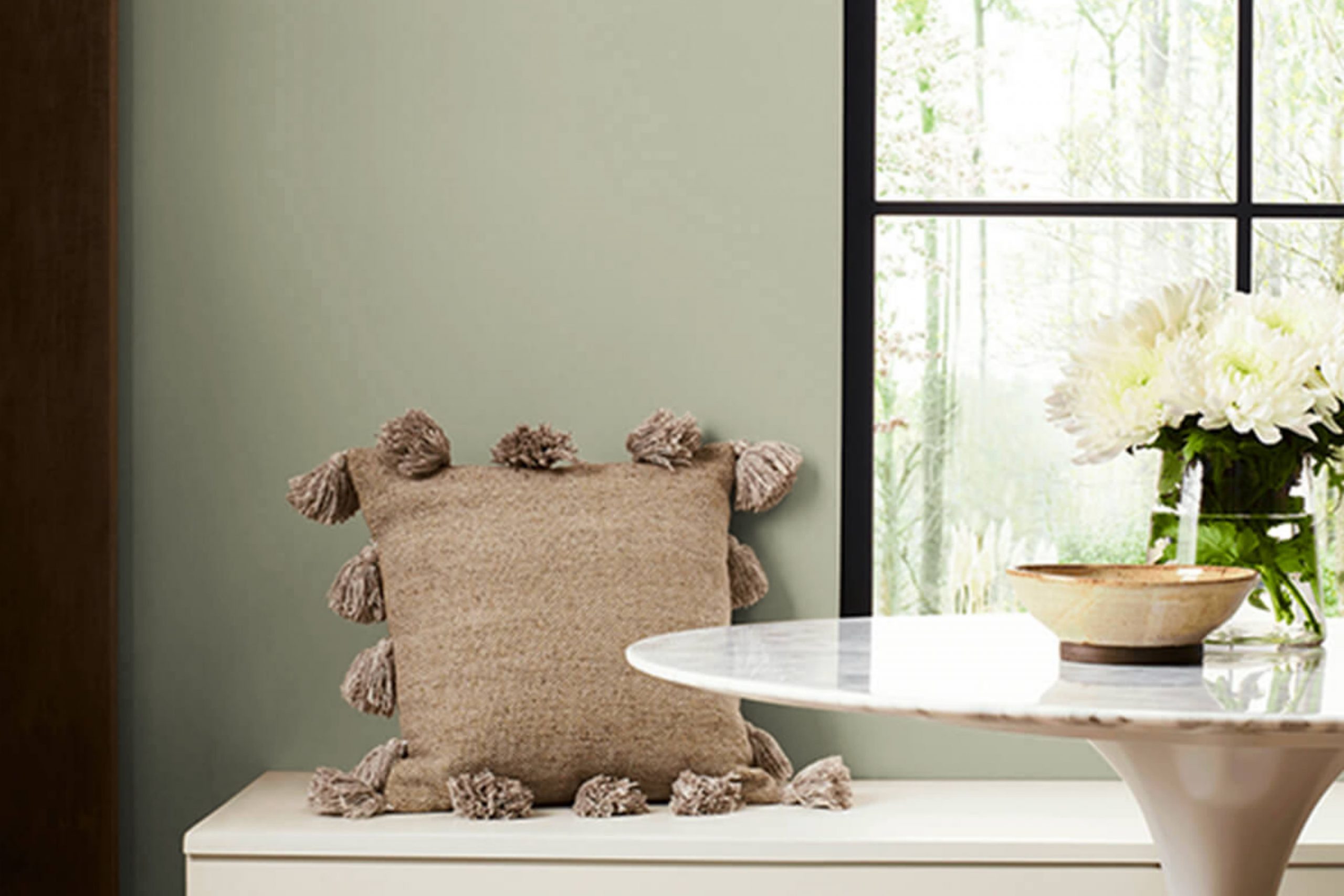 What Kind of Color Is Clary Sage SW-6178?
SW Clary Sage paint color is a soft and herbal shade of green. This hue reads very calming and is warmed by a slight yellow undertone. However, you won't see this green reading yellow! As Encycolorpedia says, it reads pleasantly muted and soft on the walls, looking a bit grass-green.
You might think that the yellowish hue in this color makes it very hard to use indoors, but in fact, SW Clary Sage is pretty versatile!
You just need to know how it works in different rooms and lighting conditions. This is exactly what we are going to discuss below. So read on!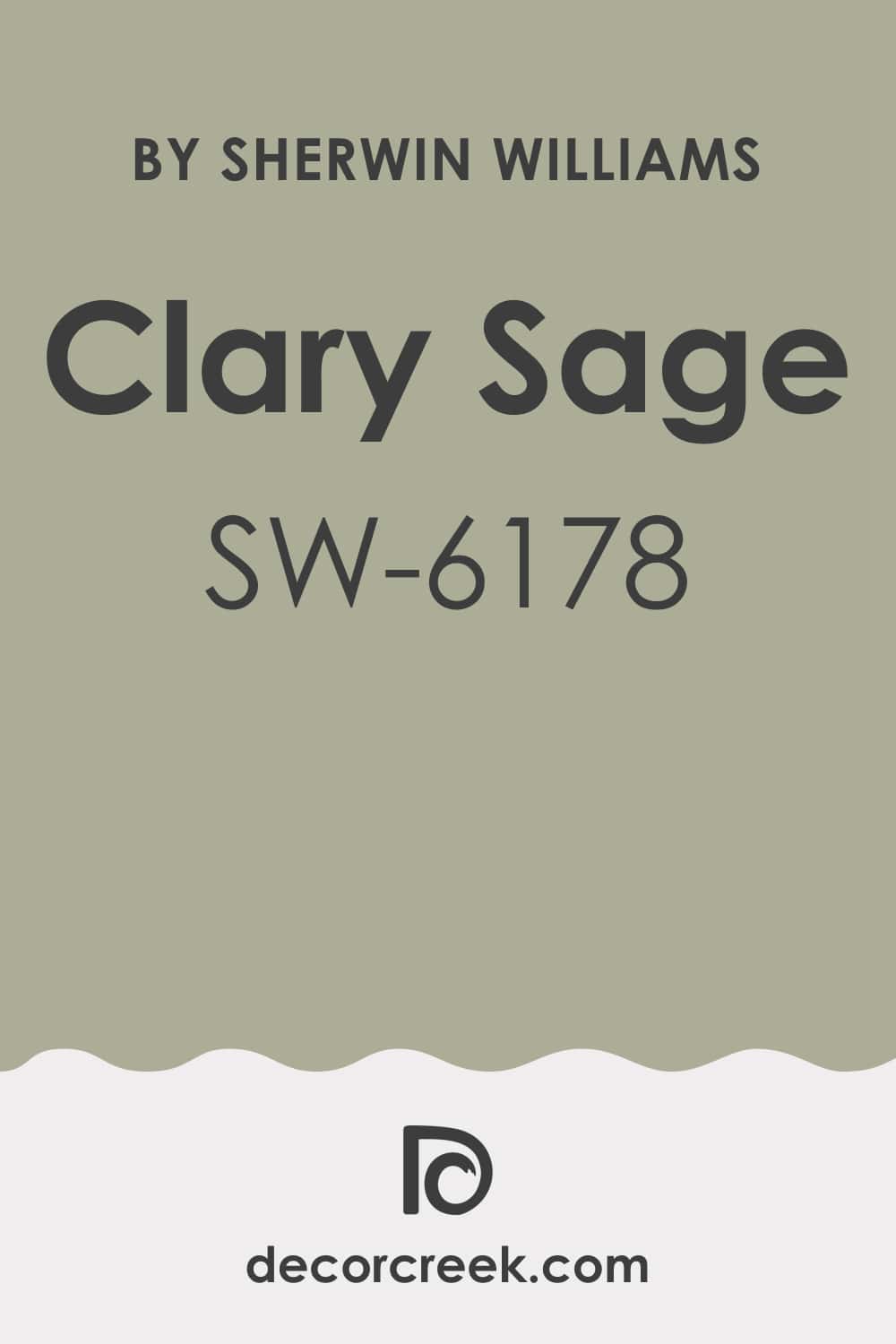 What Undertones Does Clary Sage SW-6178 Paint Color Have?
If you take a look at this soft and muted green, you will easily notice slight yellow undertones. However, this yellowness is not very prominent! Instead, it makes this muted and subdued sage green read very soft, calm, and relaxing. Also, this paint color has very slight gray undertones.
Thanks to such varied undertones, the Clary Sage color has enough depth to give it a sense of character. As a result, this green will help your home look unique and, at the same time, make your space feel quiet and calm.
Also, yellow-green undertones help this green to not read cool-toned or crisp, making it perfectly warm.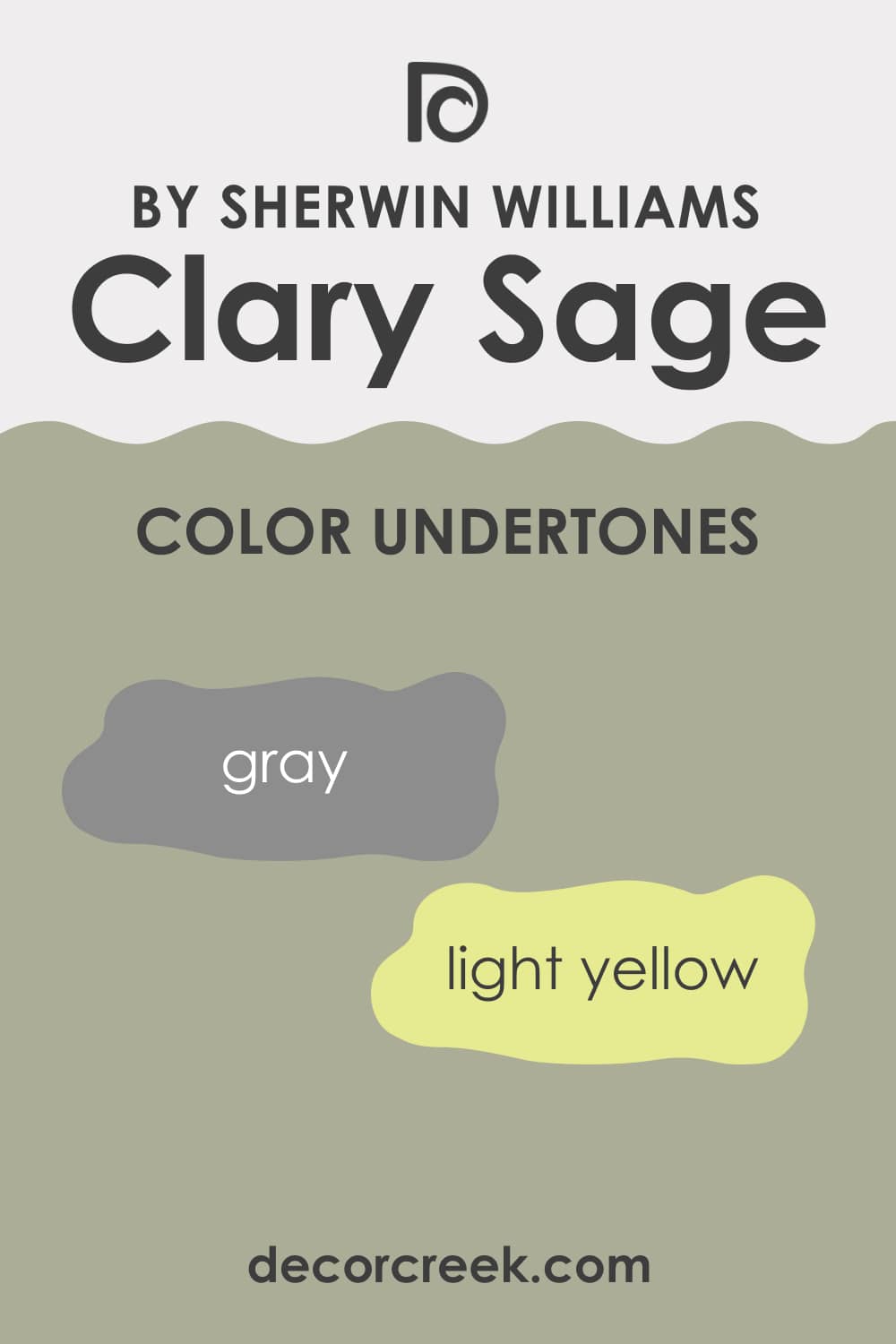 LRV of Clary Sage SW-6178
LRV means light reflectance value. This measurement shows the amount of light (in percentage) the color can reflect from the walls. The LRV scale ranges from zero to 100, where zero stands for black, and 100 means the purest white.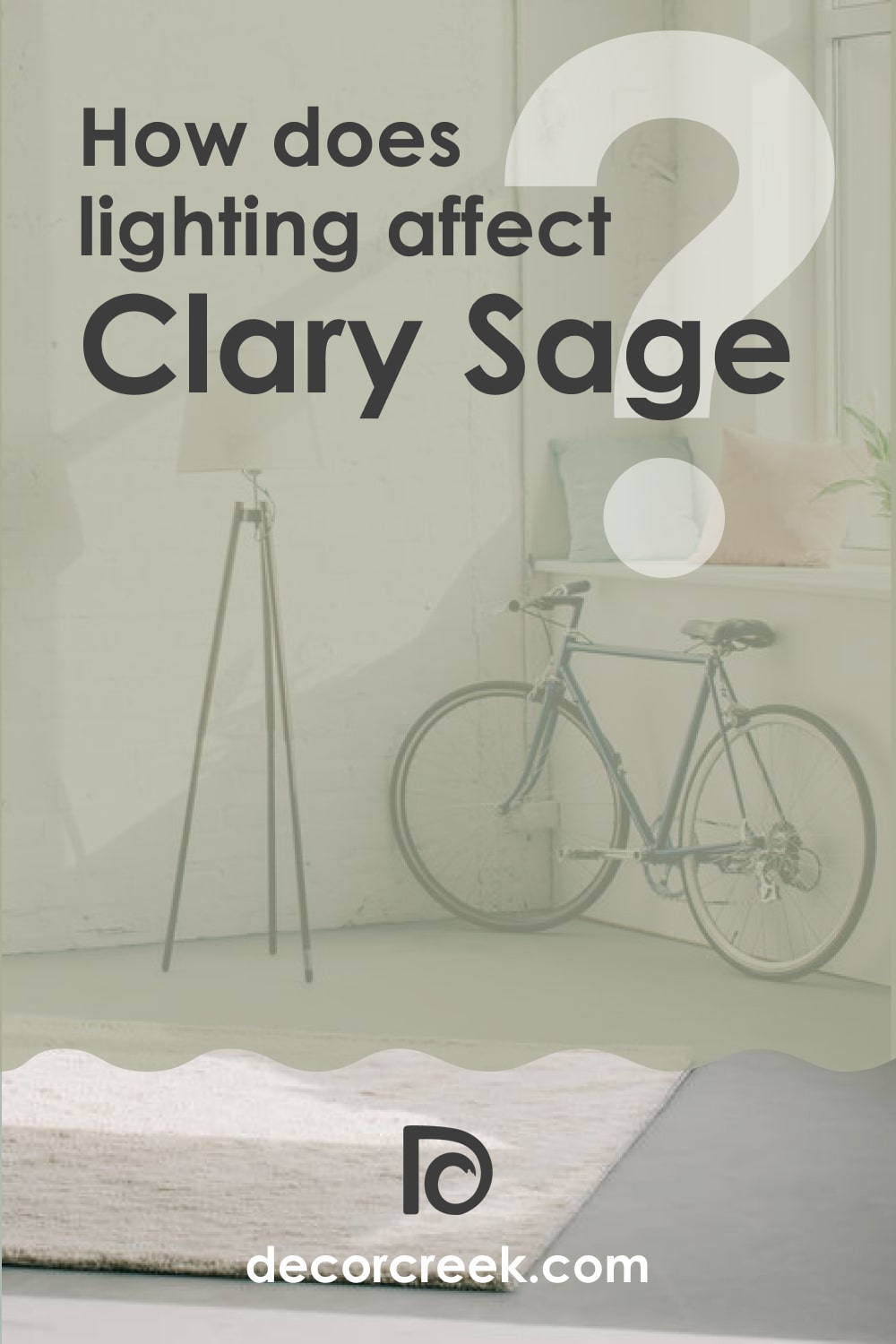 Speaking of SW Clary Sage, the LRV of this muted green is 41. It means this green is closer to the medium-dark end of the LRV scale. In space, it will read neither too dark nor very light.
We would rather say this shade of green looks refreshing and light enough no matter where you use it in your home.
However, you should always consider the lighting when using this color indoors! Since it has a medium reflectivity value, there must be enough natural light in a room.
The more light this green receives – the better it is for the space since it will read brighter and more refreshing. And remember that with the lack of light, SW Clary Sage may read rather dingy and dull!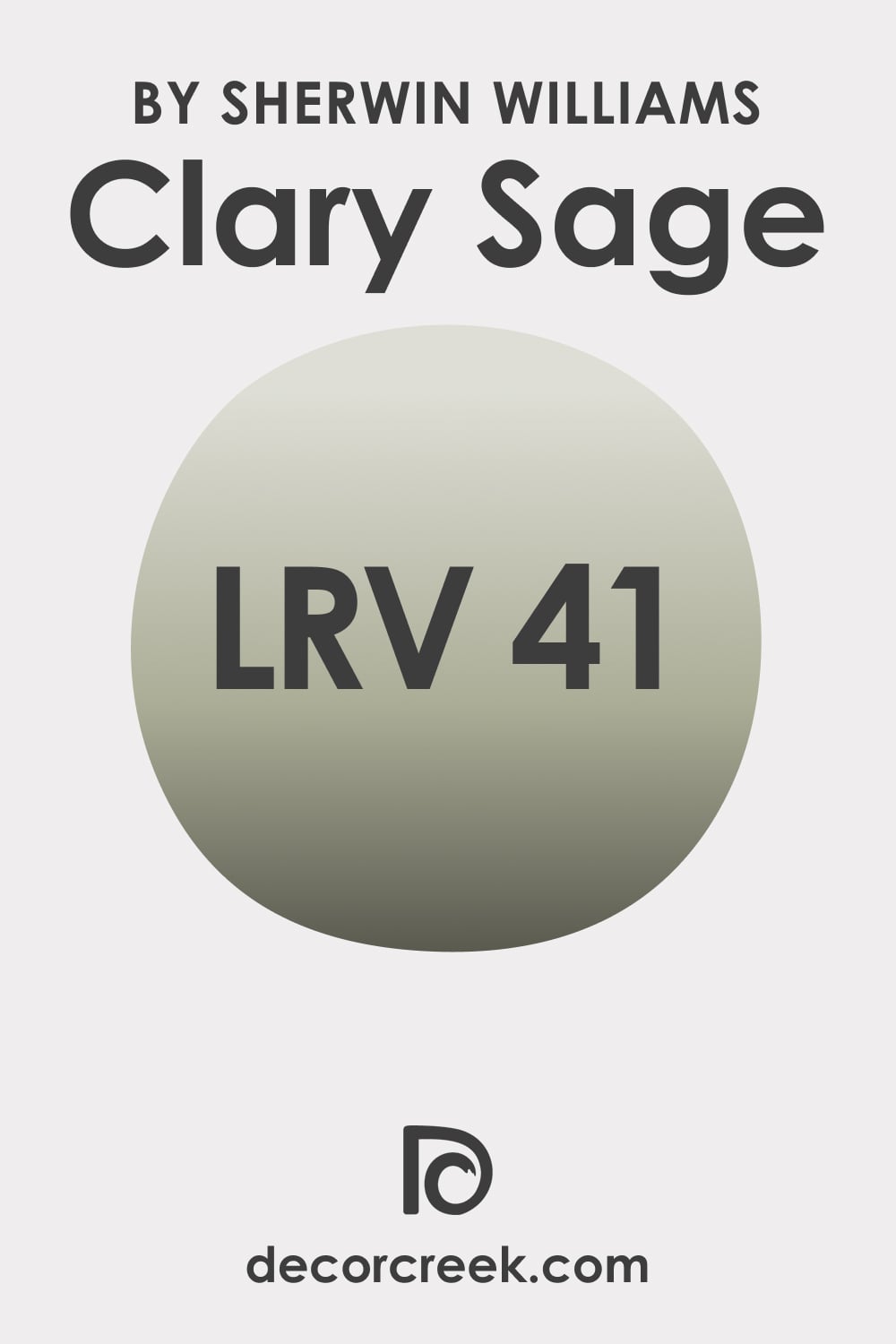 LRV – what does it mean? Read This Before Finding Your Perfect Paint Color
Clary Sage SW-6178 Coordinating Colors
Creating color palettes for your home can be a fun task to do, but at the same time, people often find it a challenging task. In any case, it's crucially important to choose the best-coordinating colors to compose a palette that looks suitable.
Speaking of greens, some of them are comparatively easy to deal with. But there are shades of green that require experimentation and patience if you want to make up the best color palette for your home.
For the Clary Sage green color, we recommend using the following colors for the monochromatic palette:
SW 9128 Green Onyx
SW 6179 Artichoke
SW 6180 Oakmoss
For a contrasting palette, consider using these colors instead:
SW 6413 Restoration Ivory
SW 7004 Snowbound
SW 6107 Nomadic Desert
In general, this sage green pairs best with creamy whites, lighter beiges, taupes, lighter greens, and metallic gold accents. For example, with such colors as the following ones:
SW Sagey
SW Dover White
SW Tumblin' Tumbleweed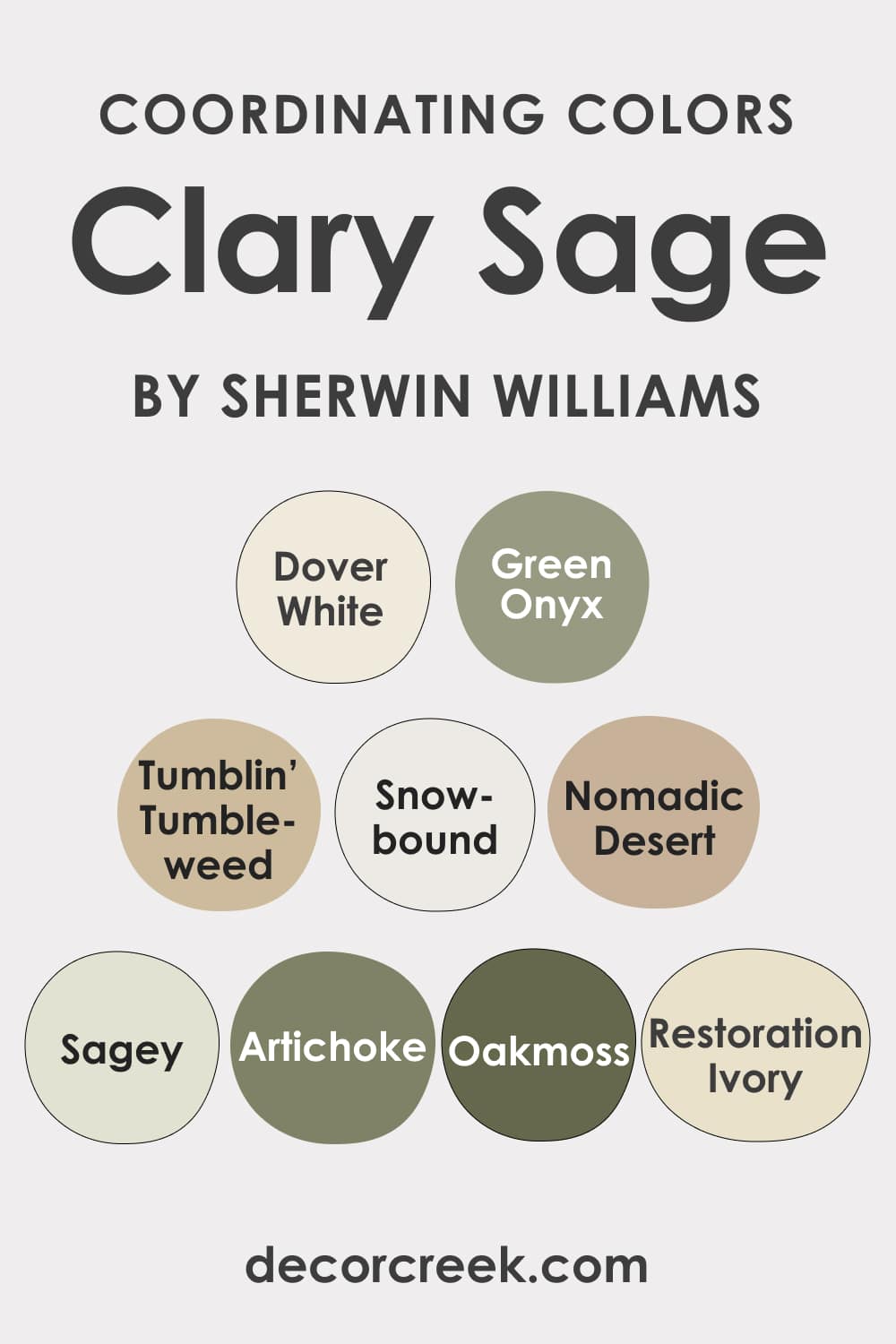 What Is the Best Trim Color for Clary Sage SW-6178?
White is a universal and optimal paint color to use on trim since it works well with any color on the walls. The only task you must complete when selecting the trim color is to pick the right shade of white and consider its undertones to match them with the undertones of the wall color.
For SW Clary Sage, white will also work best as a trim color. The most suitable shade sof white would be the following:
SW Pure White
This shade of green will always feel somewhat bold and dark in your home, but with the right white trim, you will be able to make the space read slightly brighter.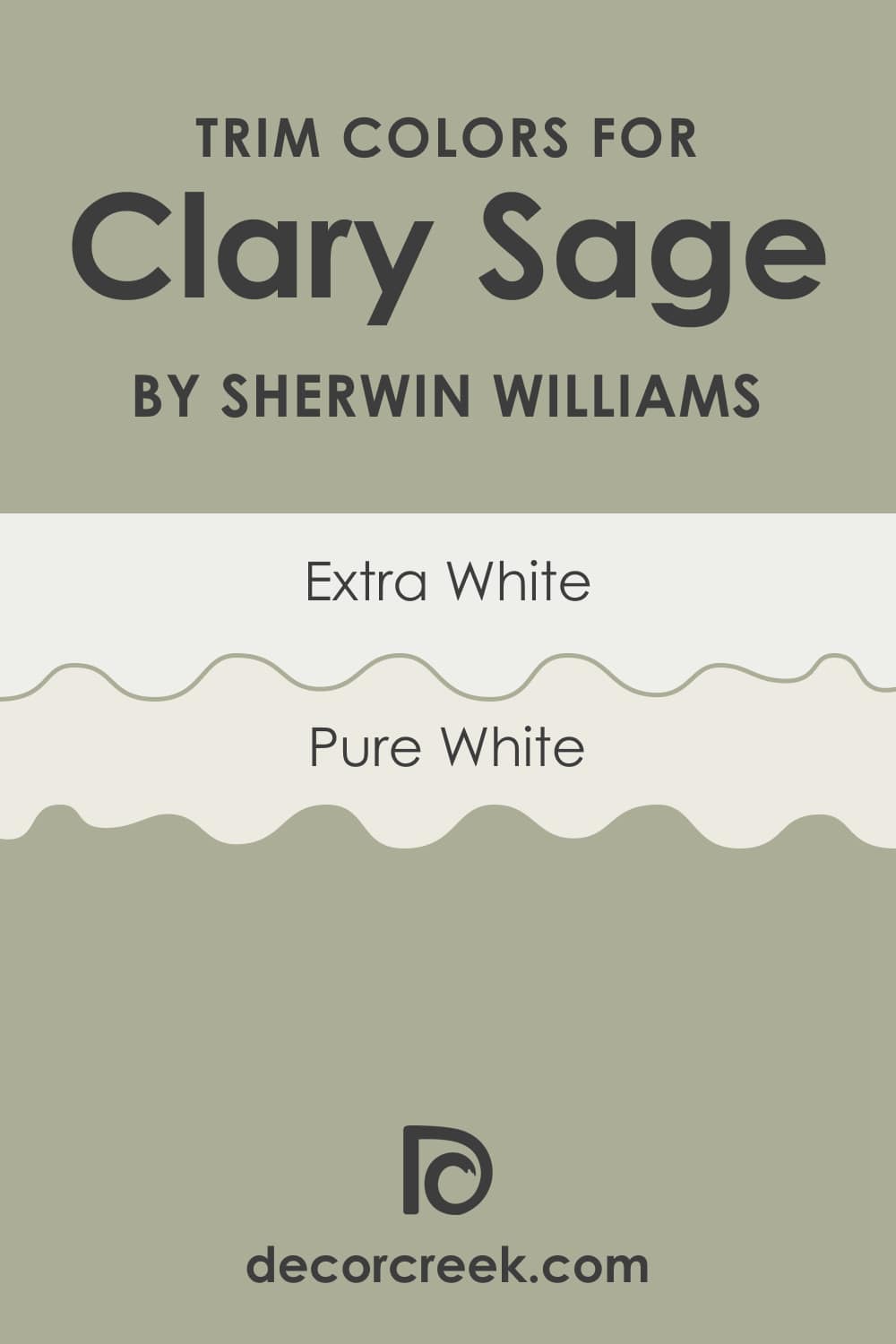 Colors That Go With Clary Sage SW-6178 Best of All
The key to a successfully selected and well-working color palette in your home is the correctly picked colors. Below, we have made a list of paint colors that work with SW Clary Sage best of all.
Here you can find muted and bolder shades of different colors, which means you will easily make up the desired palette and achieve the vibe you want in your home!
Benjamin Moore Hale Navy
Sherwin-Williams Snowbound
Sherwin-Williams Shoji White
SW Grecian Ivory
SW Roycroft Vellum
SW Silvermist
SW Spiced Cider
SW Tricorn Black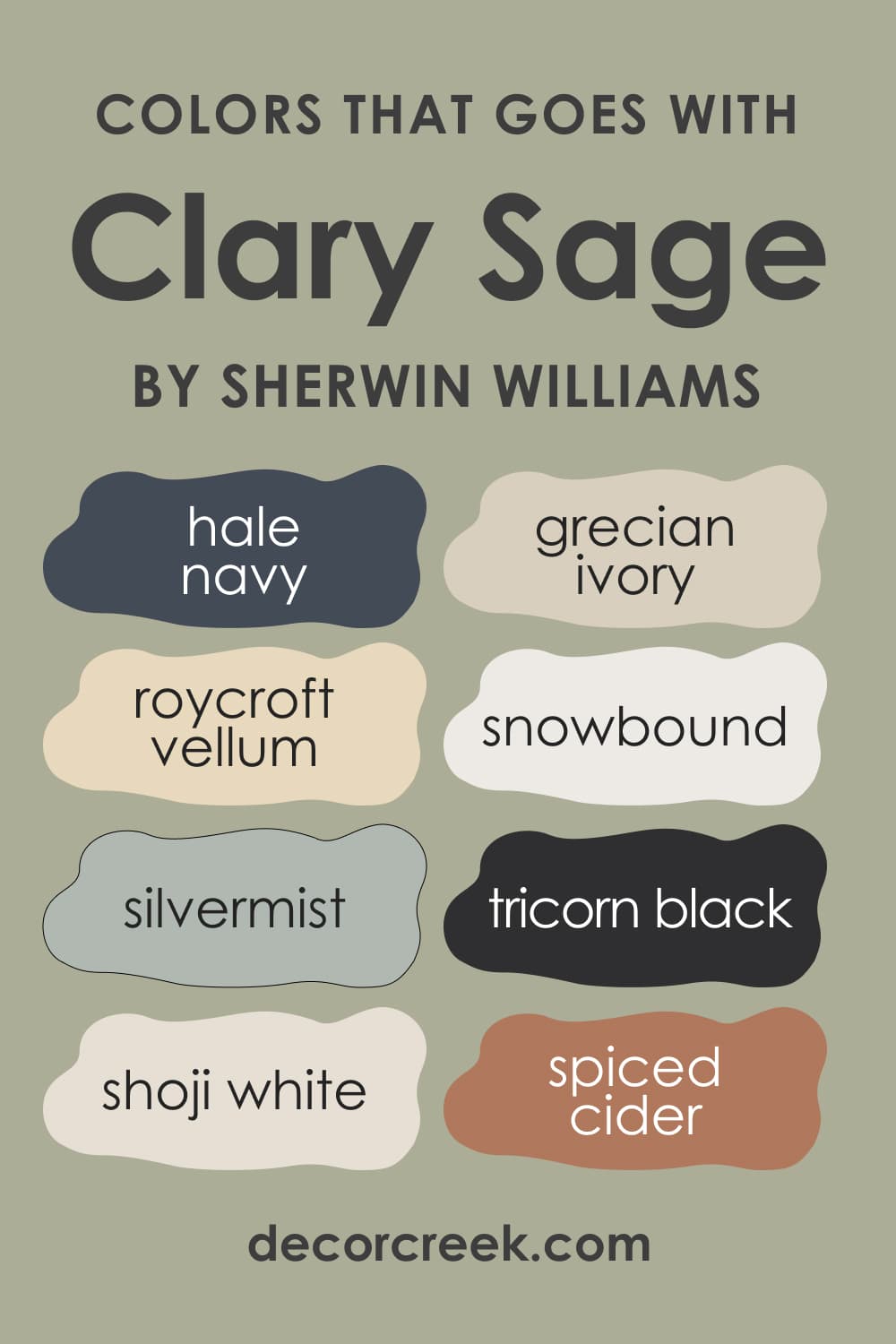 Clary Sage SW-6178 Similar Colors
Should you realize you need a slightly different shade of green that still reads the same as SW Clary Sage, it's good to have a few alternative colors to use as substitutes. Below, there is a list of such shades of green.
Sherwin-Williams Mindful Gray
Benjamin Moore Coventry Gray
Sherwin-Williams Dorian Gray
Benjamin Moore Metropolitan
SW Sage
BM Saybrook Sage
Each of them reads nearly the same as SW Clary Sage, but you must realize that there will be no 100% match anyway!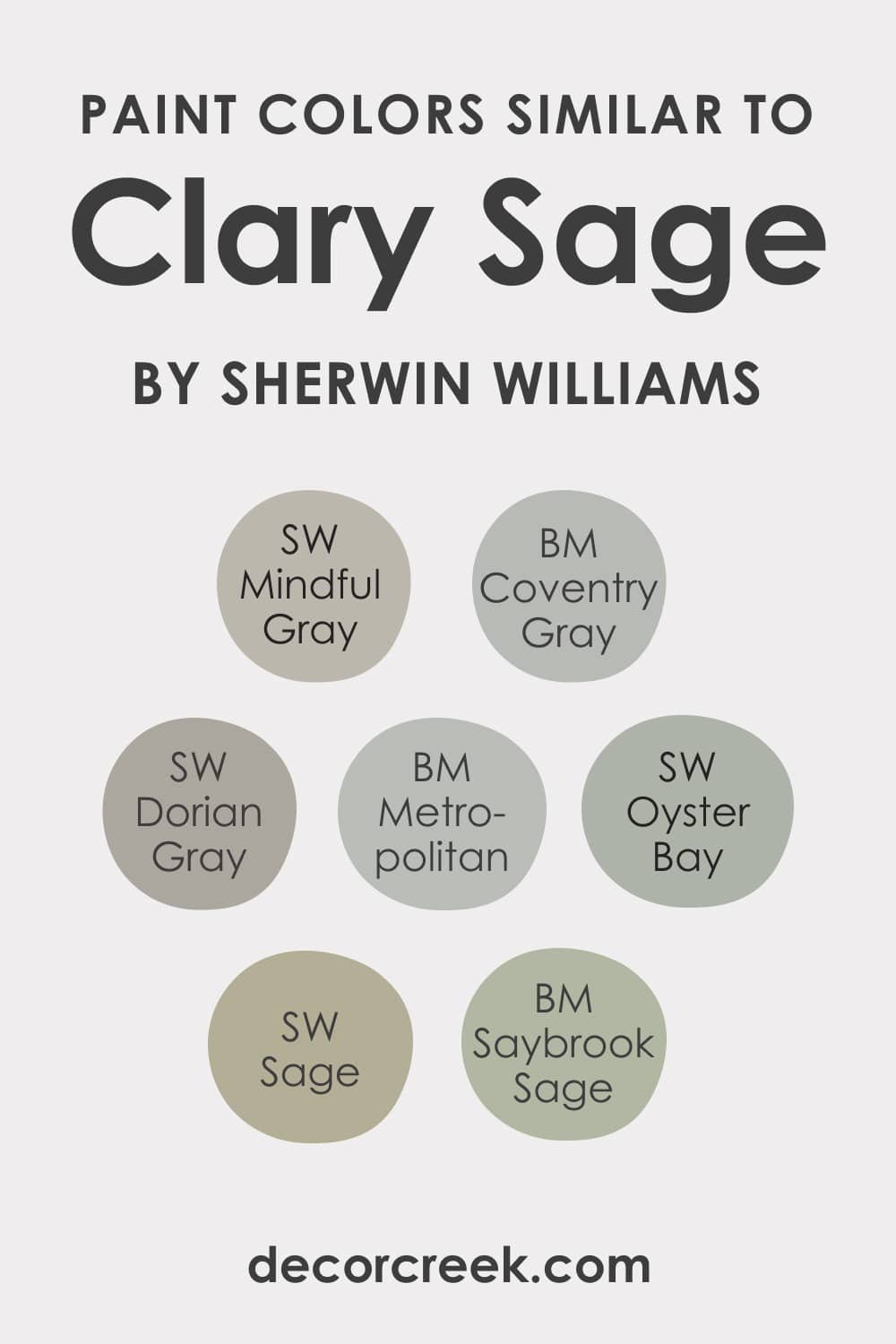 Comparing the Clary Sage Paint With Other Colors
To help you better see the difference between the Clary Sage green color and other colors that read almost the same, we have prepared a few comparative pairs of colors. Read on to find out what makes seemingly alike colors unique and distinct!
Clary Sage vs Evergreen Fog
These colors read differently. SW Evergreen Fog is neutral with green-gray undertones and a bit of blue. SW Clary Sage reads greener with a very slight yellowish hue. Both colors are muted, but due to deeper undertones, SW Evergreen Fog looks a bit darker.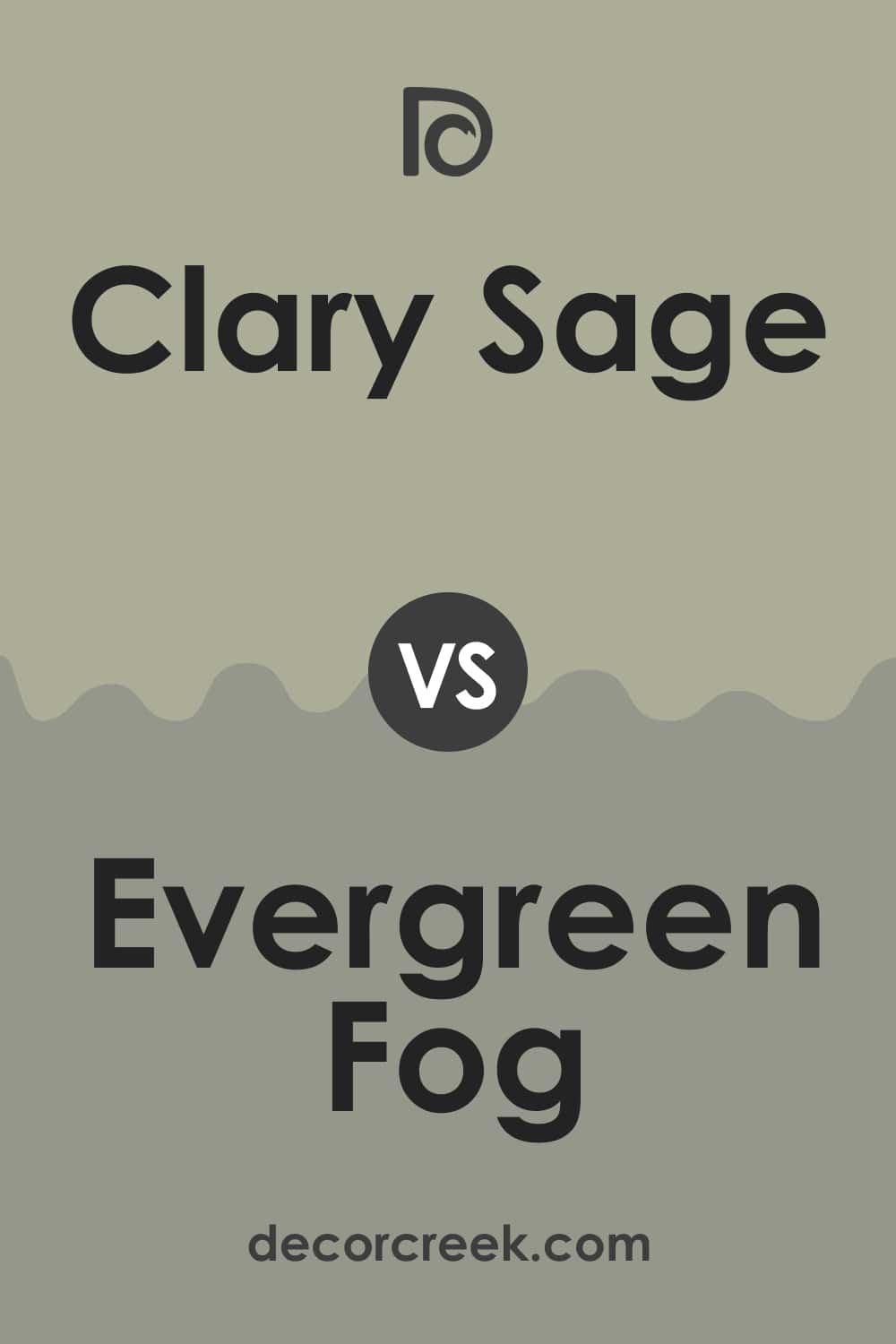 Clary Sage vs Oyster Bay
SW Oyster Bay reads slightly cool-toned and neutral with its bluish undertones, whilst SW Clary Sage looks much warmer, revealing its yellow undertones prominently. But due to the difference in undertones, these colors don't look harmonious together.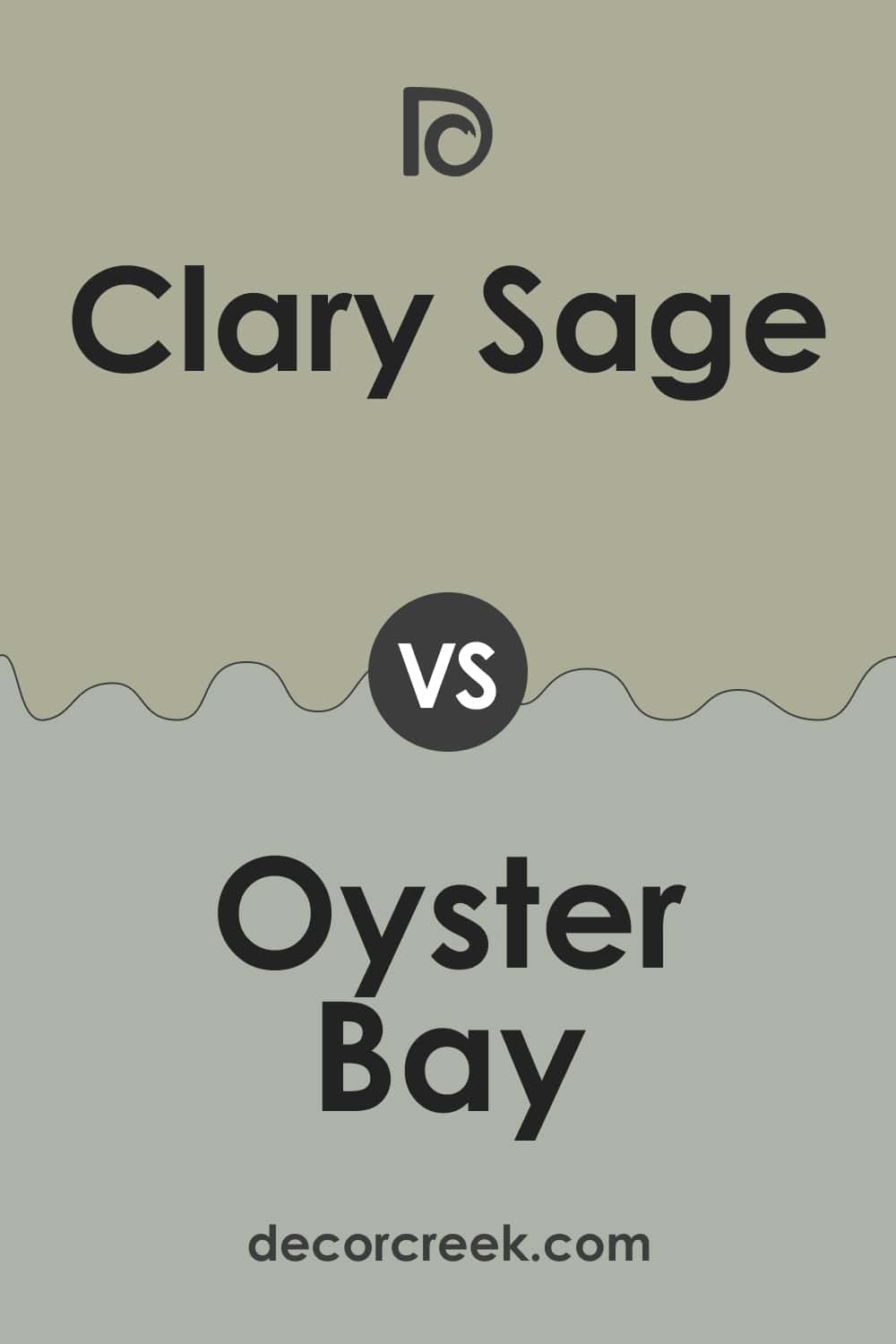 Clary Sage vs Softened Green
SW Softened Green is a neutral green color with very slightly seen gray undertones. On the walls, it reads light enough with a pleasant touch of warmth. Compared to SW Clary Sage, the Softened Green color looks lighter and less saturated, which makes it read as a paler version of SW Clary Sage.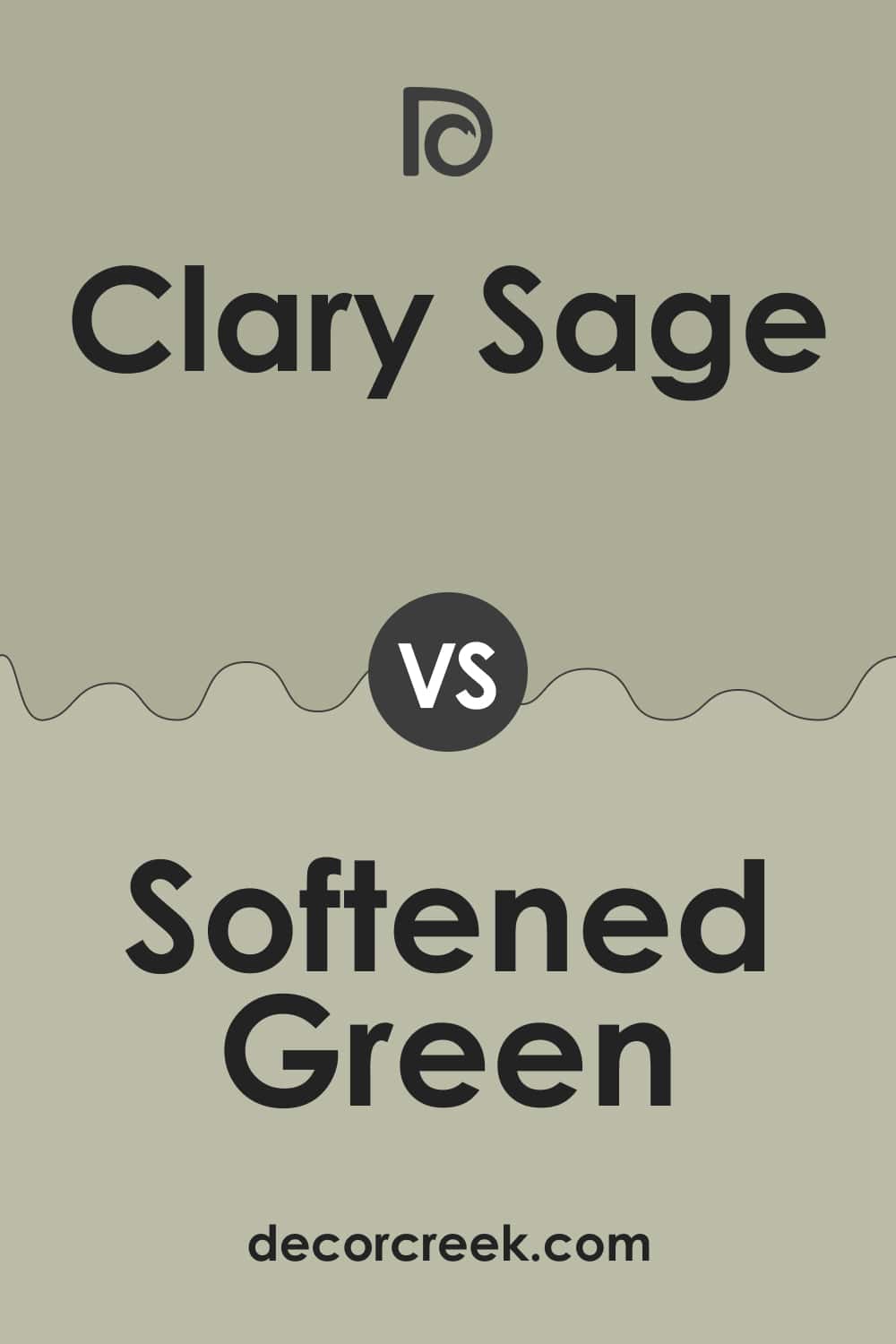 Clary Sage vs Green Onyx
SW Green Onyx is a muted and medium green with yellow-gray undertones. Due to warm undertones, this color reads friendly and relaxed, looking much greener and noticeably deeper than SW Clary Sage.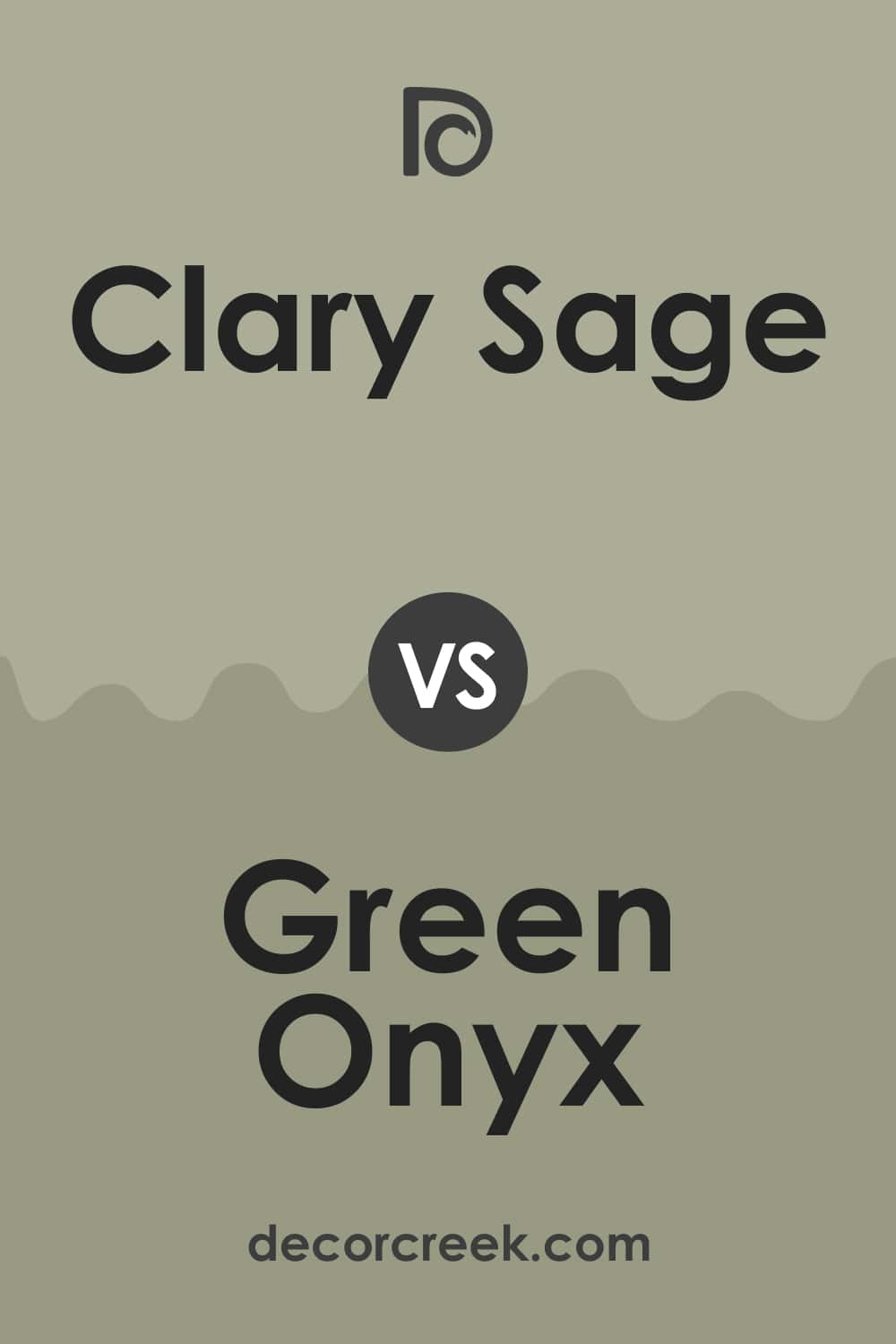 Clary Sage vs Artichoke
SW Artichoke reads much greener and significantly darker than SW Clary Sage. However, it doesn't read literally dark due to warm green undertones. Compared to SW Artichoke, the Clary Sage color looks much lighter and grayer.
Where to Use Clary Sage SW-6178 In Your Home
Despite its complex undertones of yellow and gray, SW Clary Sage is a very versatile green color! You can use it in different rooms with equal success. The only thing you must keep in mind is the way this color reacts to light, as well as its undertones. Below, you can see how exactly it may show itself in your home interiors.
Clary Sage SW-6178 in a Living Room
If you are looking for a color to make a statement in your living room, SW Clary Sage would be an ideal option for you. You can use this muted green on the accent wall or paint all the walls. In any case, the effect will be stunning!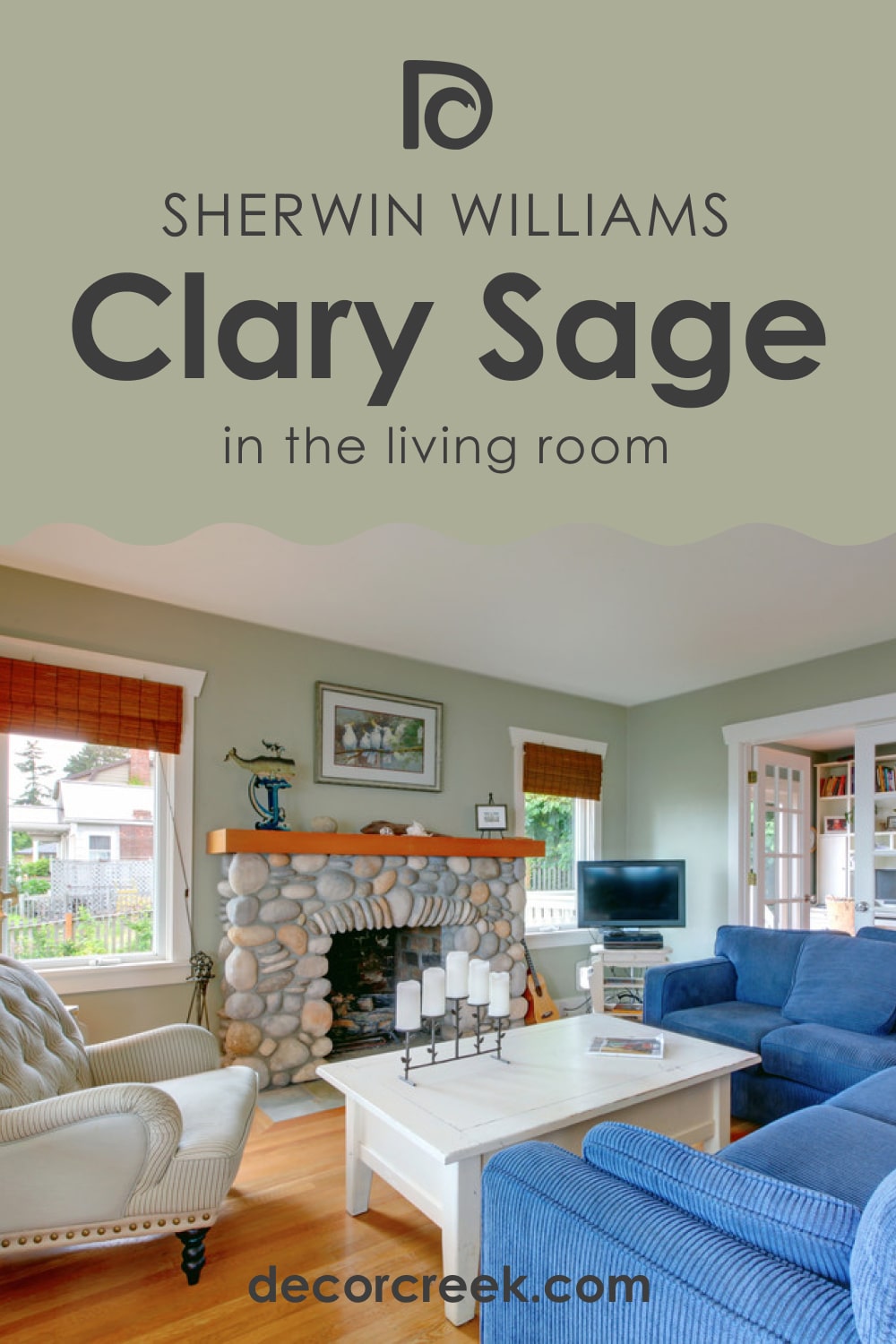 Clary Sage SW-6178 in a Bedroom
In your bedroom, you can definitely make the most use of this warm green paint color! For a smaller bedroom or bedroom with little light, paint the accent wall in this color. In a large and well-lit bedroom, it will work on all the walls.
If you add light green accents and burnt orange (e.g., on the throw pillows), you will highlight the warmth of this green. By adding whites, your bedroom will look brighter and lighter.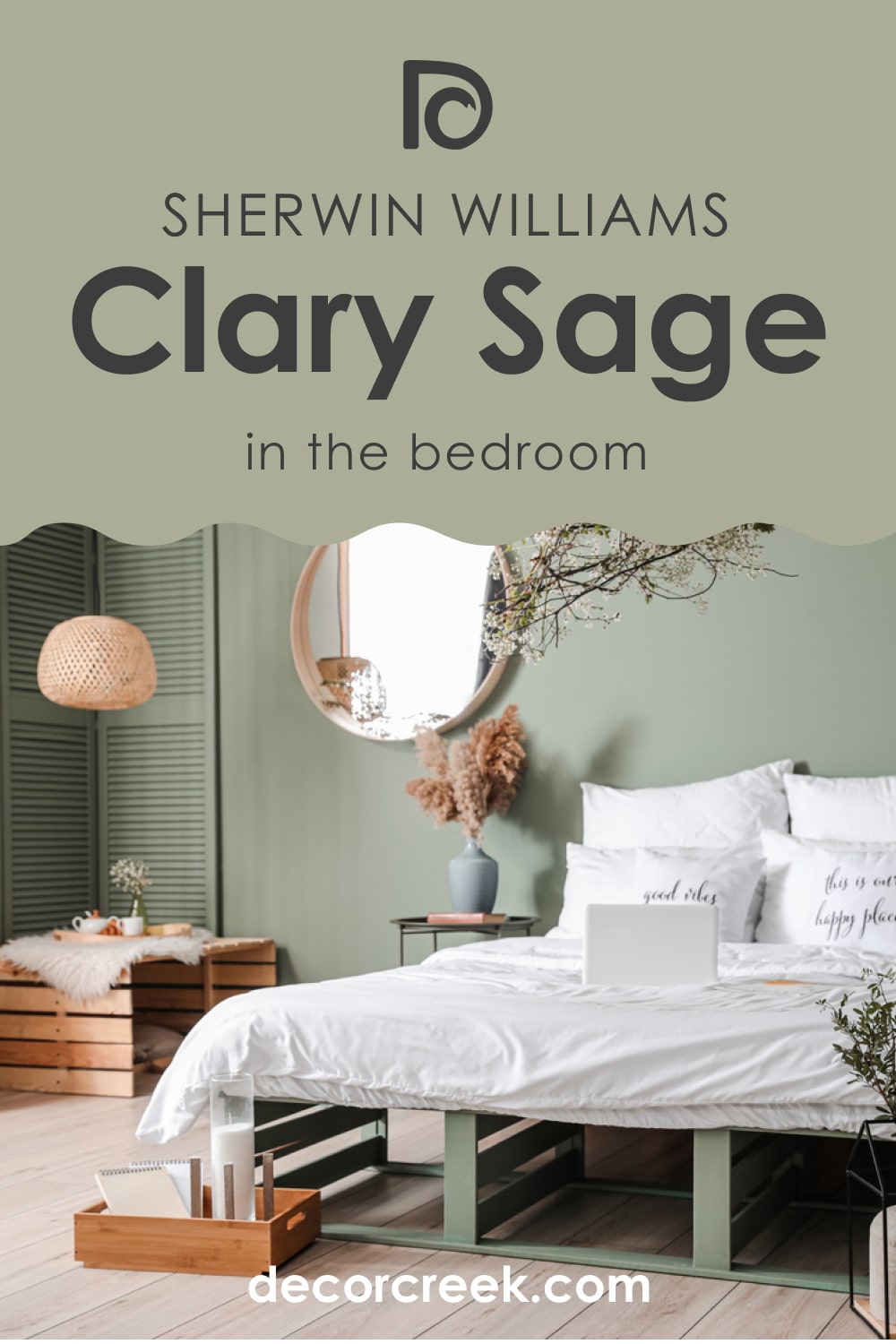 Clary Sage SW-6178 on the Bathroom
For bathrooms, we'd recommend you use this green moderately. It will work best on the accent wall or your vanity sink. Ensure the bathroom has enough white and is properly lit. Otherwise, this green can make it seem smaller and duller!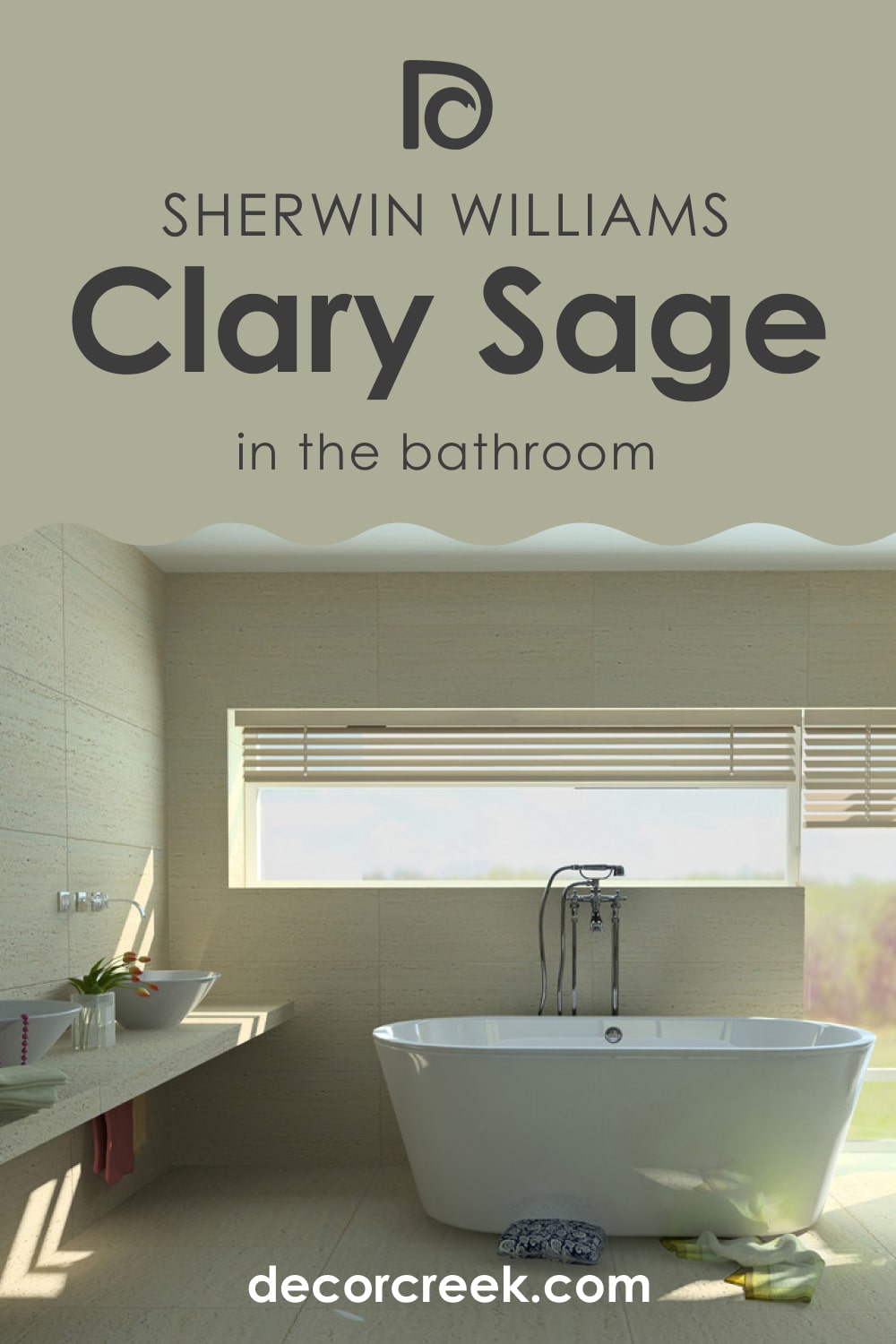 Clary Sage SW-6178 for the Kitchen
SW Clary Sage works remarkably well in kitchens! Pair it with creamy whites on the backdrop wall, or white backsplash tile, or choose yellow for more contrast. And don't hesitate to use this green with wooden textures on the furniture and shelves.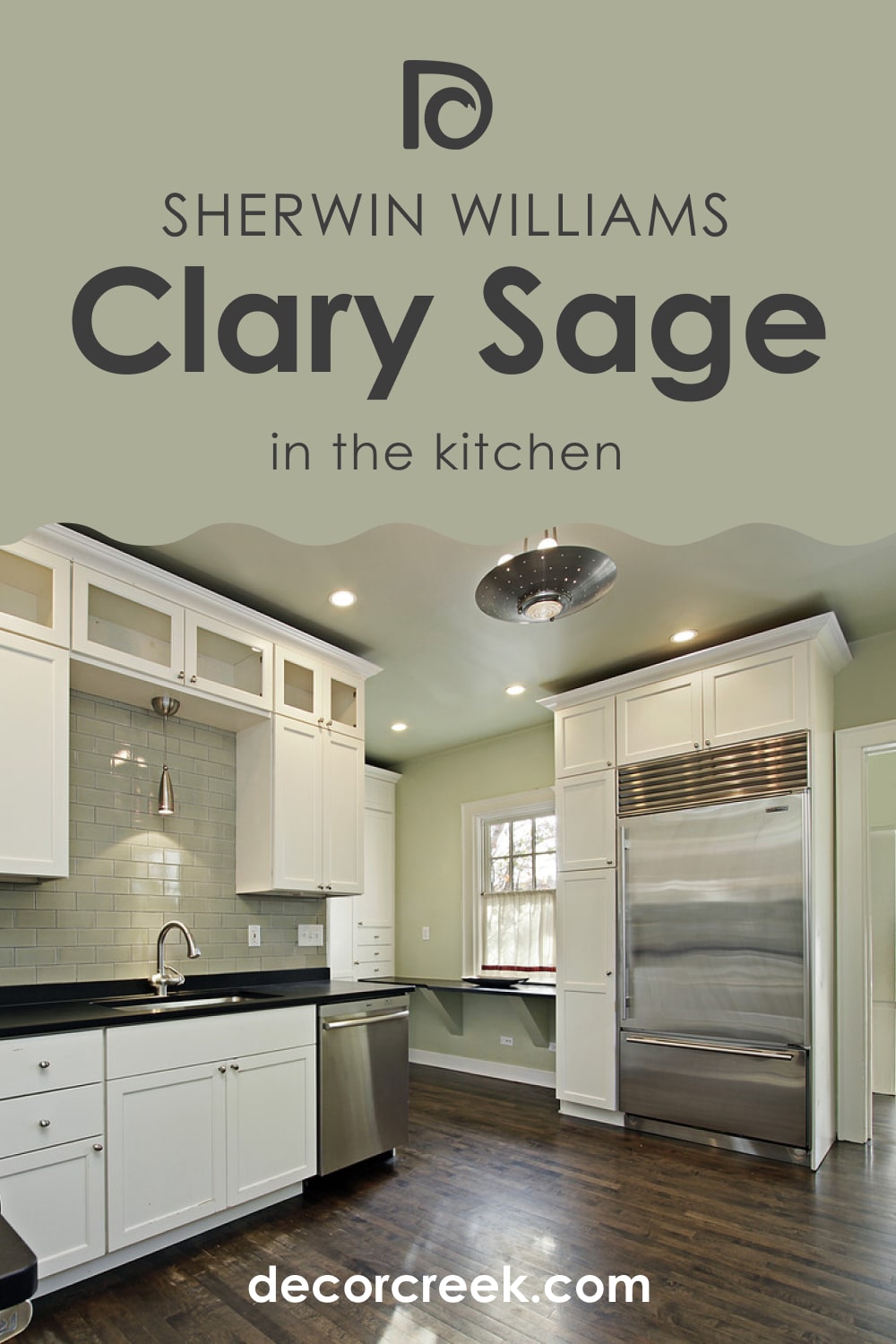 Clary Sage SW-6178 for the Exterior Use
SW Clary Sage works specifically well for the Coastal, Caribbean, transitional, traditional, and ranch-style homes. On any house, this paint will add a note of statement and style to your home.
It will also work nicely with gray tiles on the roof and crisp white paint on your trims and moldings, as well as the front door and window frames.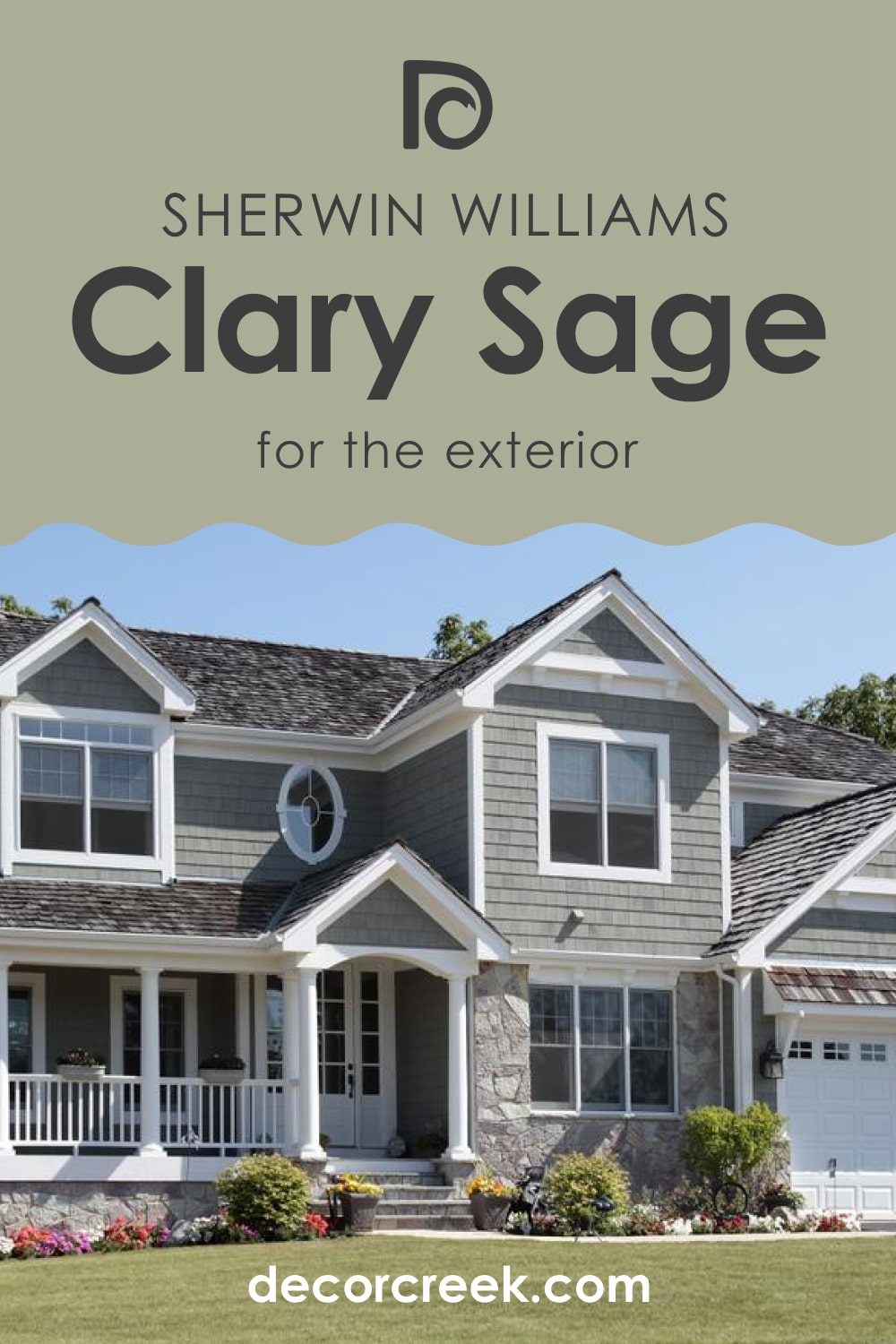 Now you know more about the Clary Sage color by Sherwin-Williams. We told you about its undertones and LRV and explained how it works in different rooms.
Also, you learned what colors to use to coordinate it and what color schemes are best for this muted and natural green.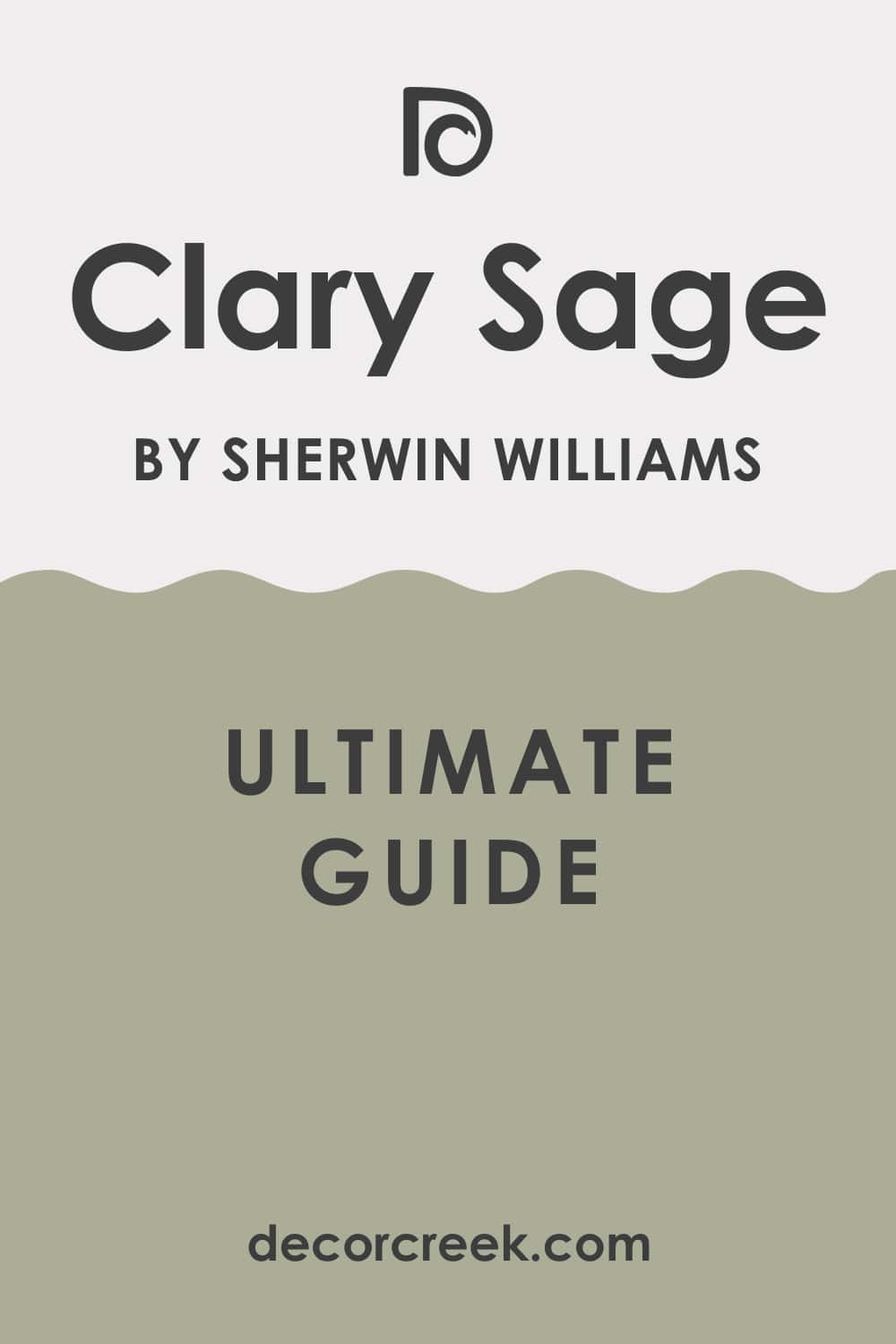 Frequently Asked Questions
⭐Does Clary Sage color read dark?
No, this shade of green doesn't read dark. But it can darken the space a bit if there's not enough light.
⭐Will SW Clary Sage pair with red?
Yes, this color can work with shades of red, but only if they are also muted and neutral.
⭐Is Clary Sage color warm or cool?
This green is warmed by slight yellowish undertones.