While green paint colors are used for creating a calming and relaxing atmosphere in our homes, darker shades of this color are often avoided. However, this is not because darker greens are so bad.
Homeowners try to stay away from too deep and dark greens simply because they don't know how to use such colors correctly in their homes!
Today, we are going to introduce you to one of the darkest greens. This color is called Billiard Green by Sherwin-Williams, and we will show you how beautiful it can be!
You will learn what undertones it has, how it works in different spaces, and how to coordinate it. As a result, you will never be afraid of dark green colors again!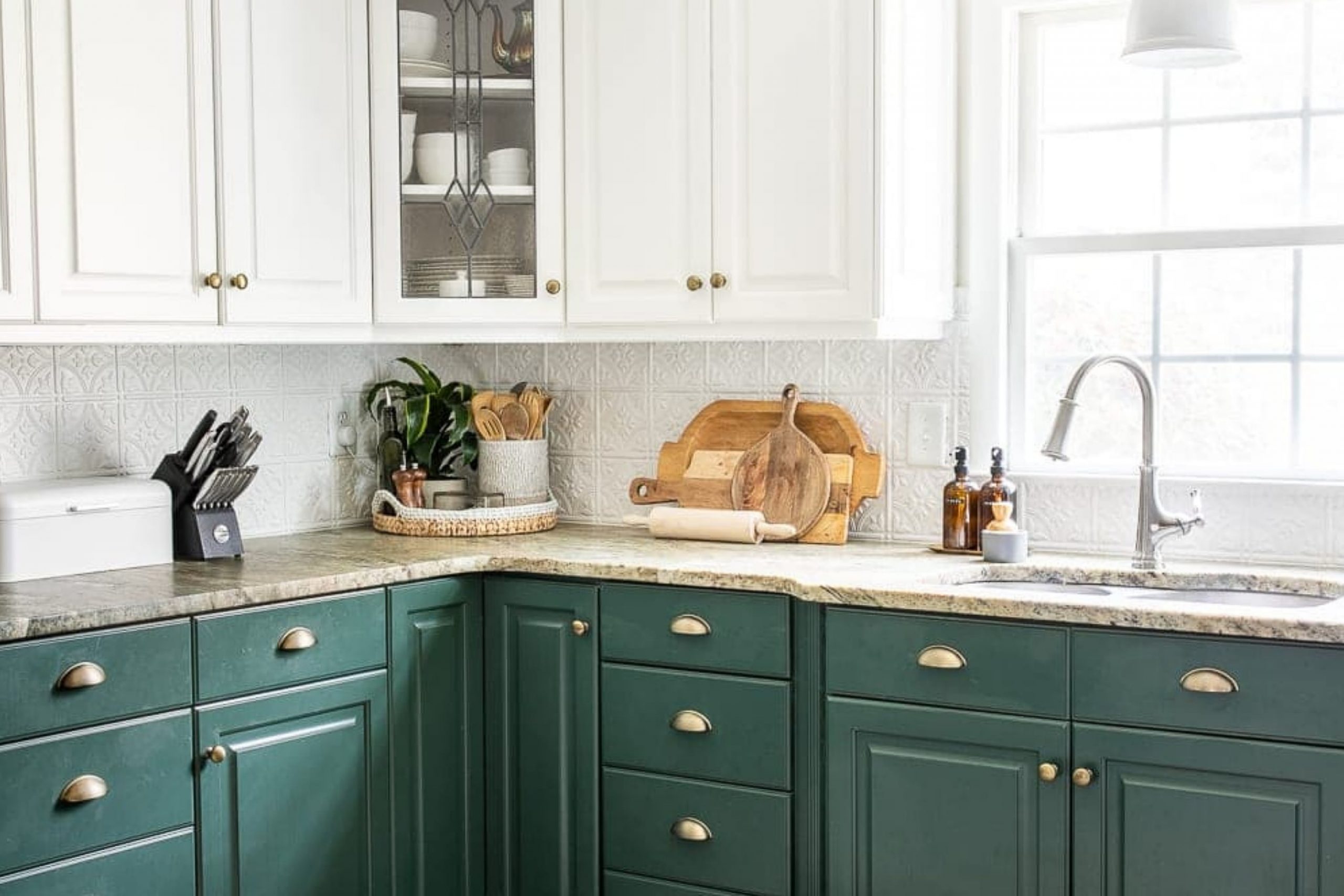 What Kind of Color Is Billiard Green SW 0016?
SW Billiard Green is a dark shade of green by Sherwin-Williams. Although it's not the darkest green possible, it still looks pretty deep and moody on the walls, which is why people often avoid using it in their homes.
However, this color does have its unique style! As Encycolorpedia says, SW Billiard Green is a dark, subdued, verdant green with a teal undertone that gives your home an elegant and noble vibe.
It looks perfectly rich and balanced in tone, which is why you should not be afraid that it might read too gloomy!
Nevertheless, it's still essential to keep its darker side in mind if you want to use this paint in your home. We recommend you always sample SW Billiard Green before using it on the walls! This way, you will see how it works in the space and how it pairs with other colors.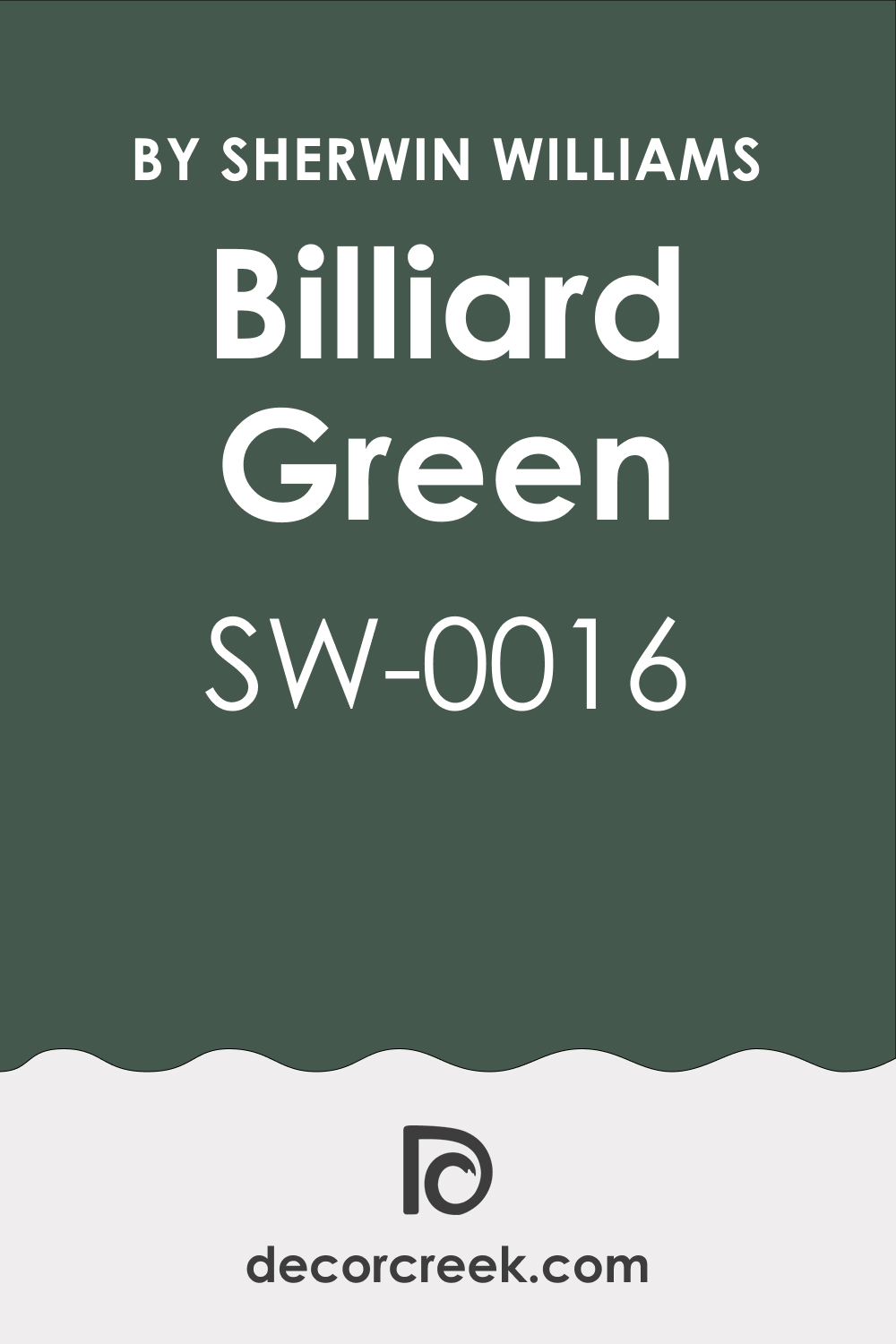 What Undertones Does SW Billiard Green Paint Color Have?
As we have already said above, SW Billiard Green has a teal undertone. Teal is a color that has features of both blue and green. With a teal undertone, SW Billiard Green reads pleasantly fresh and cool but with no crisp or cold hue.
Thanks to this cool-toned teal hue, SW Billiard Green looks balanced in tone, leaning neither too warm nor too cold on the walls. Of course, in some lighting, it may give off a slightly cooler hue, but we will talk about it later when discussing this color's LRV.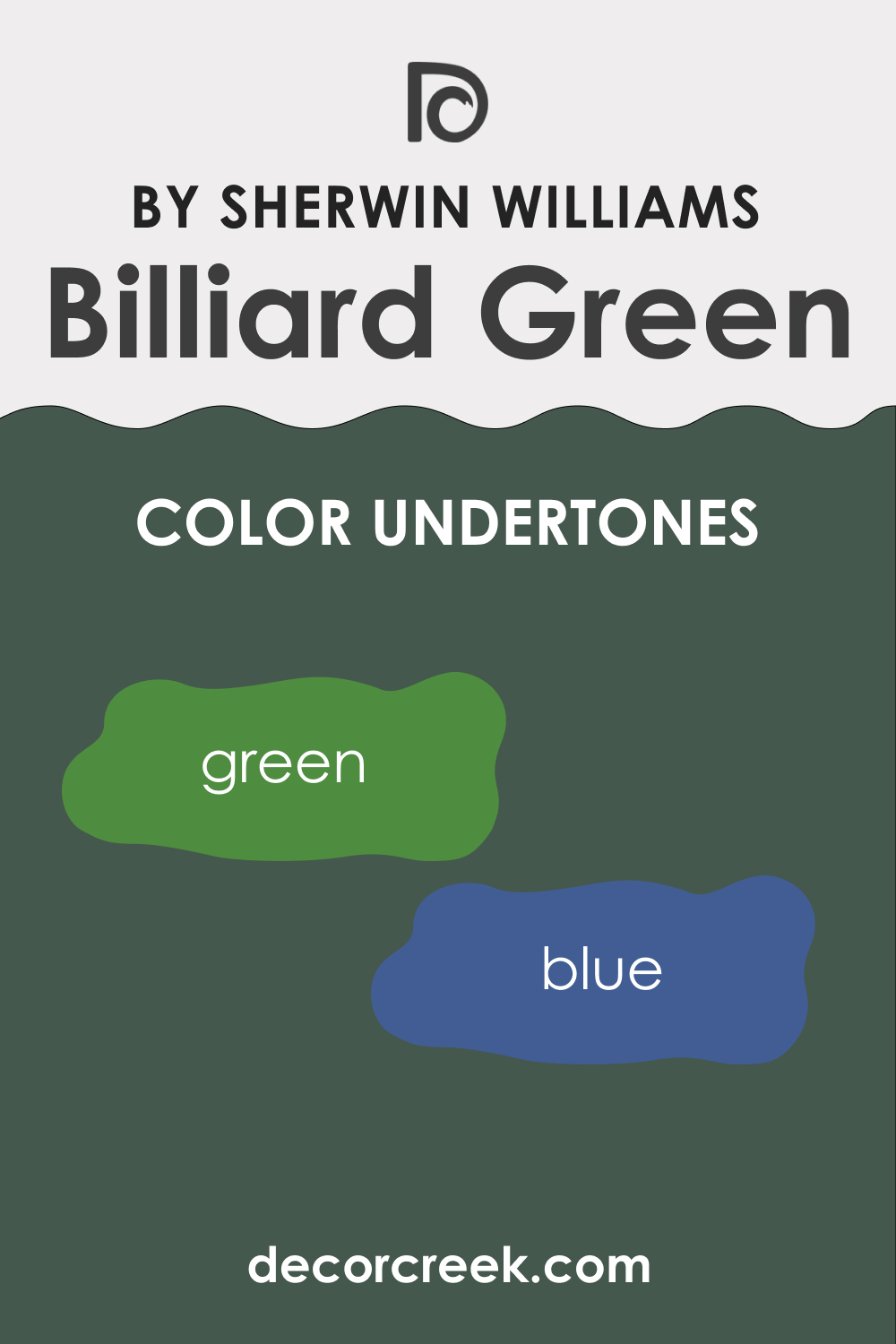 LRV of Billiard Green SW 0016 Paint Color
So, what is LRV? LRV stands for the light reflectance value. Simply speaking, this measurement shows how much light the color can reflect from the wall. The LRV scale ranges from zero to 100, where zero is black and 100 is pure white. The higher the LRV value, the lighter the color, and vice versa.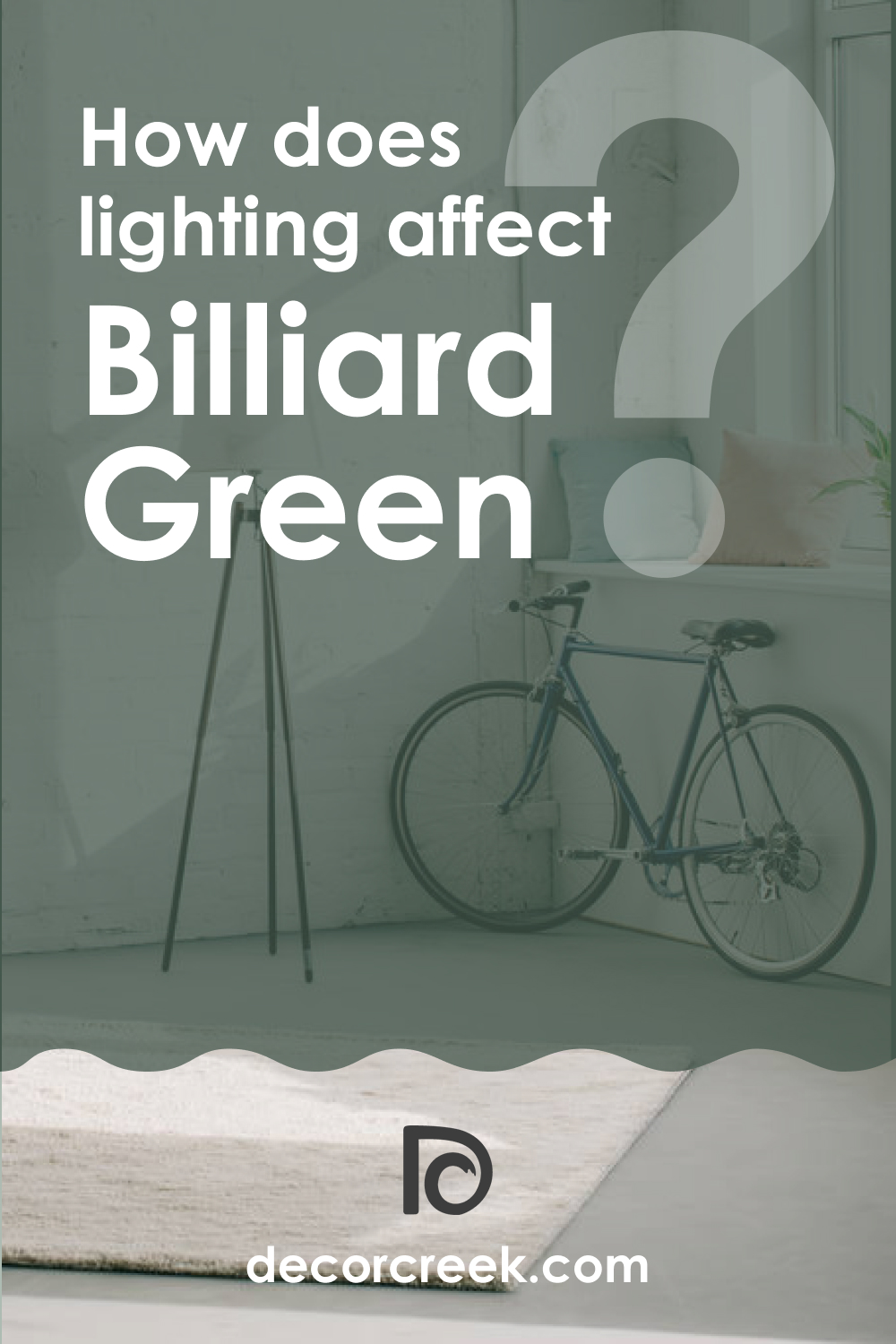 Speaking of SW Billiard Green, its LRV value is nearly 10, which surely places this green on the darker end of the light reflectance scale.
However, this LRV value of SW Billiard Green represents the exact amount of light that will be reflected from the surface painted in this color.
It means that SW Billiard Green will hardly ever look washed out way too dark. It will look exactly as it should, based on the lighting conditions in a room.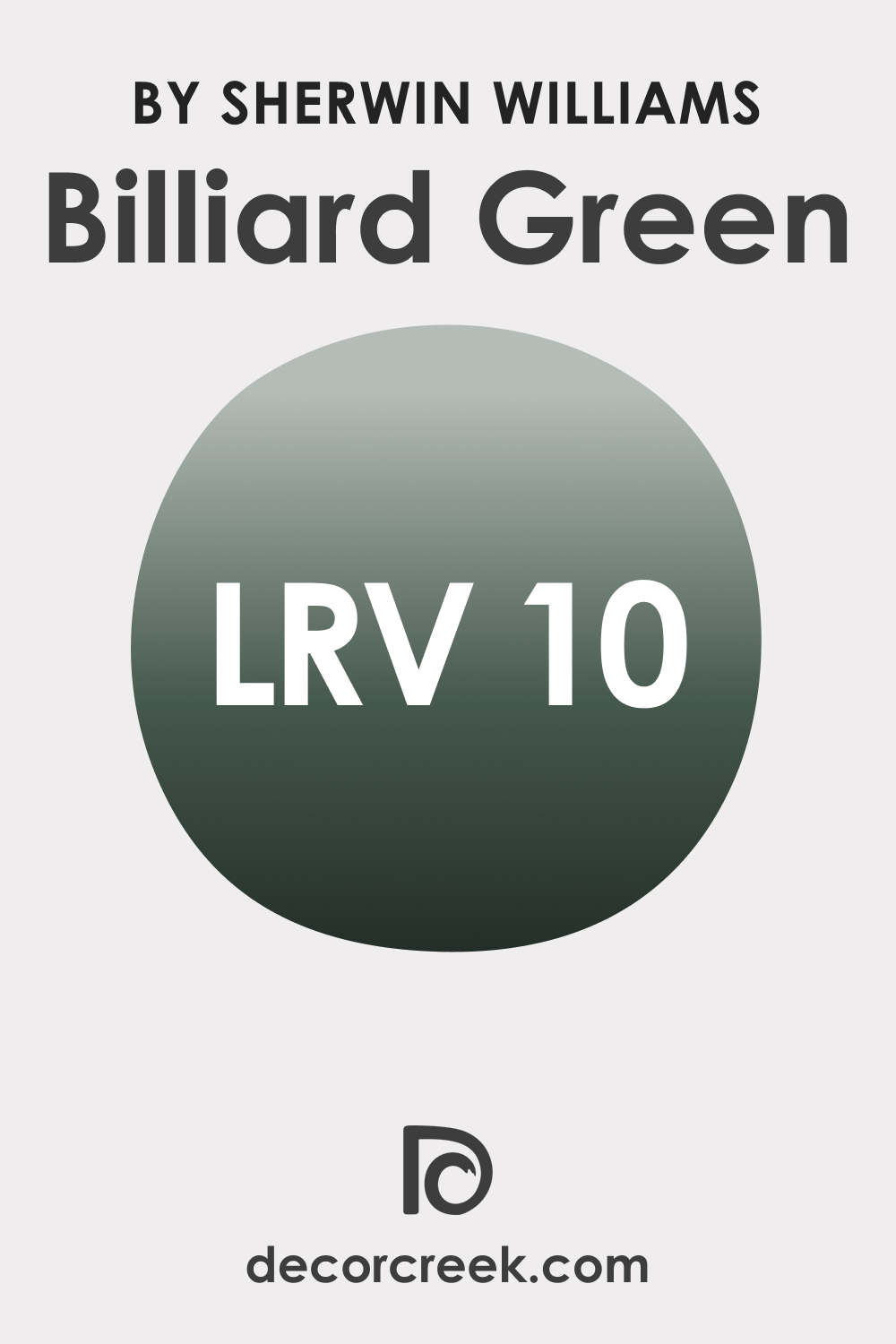 LRV – what does it mean? Read This Before Finding Your Perfect Paint Color
What Is the Best Trim Color to Use With Billiard Green SW 0016?
With this deep and rather dark green, white is the best color to use on trim and molding! White will highlight the beauty of the green hue and also help this green-teal color read somewhat lighter.
The good news is that you can pair this dark green with both warmer and colder whites. However, you should still avoid creamy whites and whites with yellow undertones.
Generally, we recommend using off-whites or neutral colors on your trim. In particular, consider the following options:
BM Chantilly Lace
SW Extra White
SW Pure White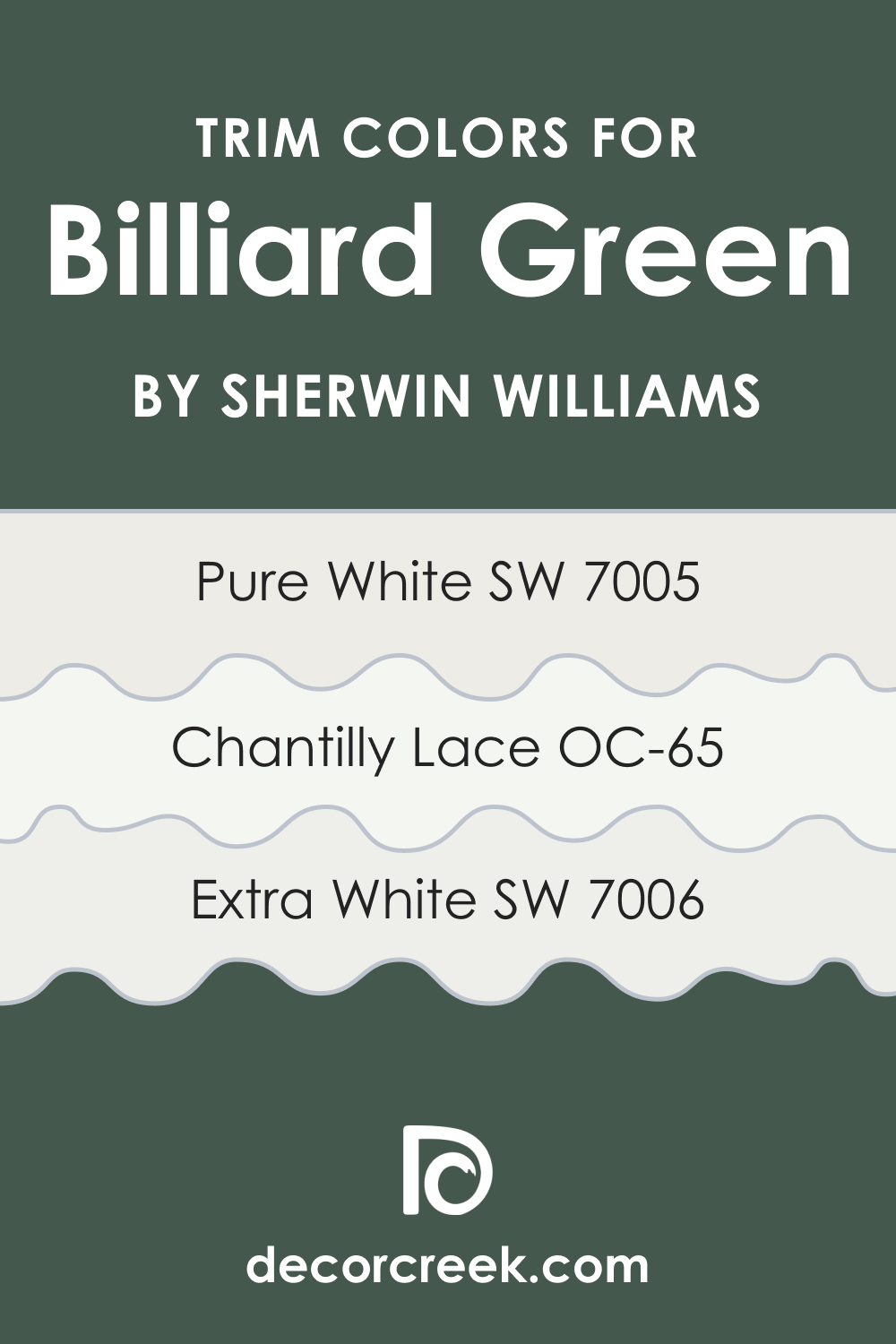 Colors That Go With Billiard Green SW 0016 Paint Color
Since we are talking about the green color, it will work exceptionally great with yellows, reds, and some shades of brown. Also, this color may read nicely with lighter green-blue colors.
For example, you might want to try one of the following paint colors to pair it with SW Billiard Green:
SW Anjou Pear
SW Daisy
SW Fun Yellow
SW Jalapeno
SW Sanderling
SW Antique Red
SW Cabbage Rose
With this selection of colors, you will easily create a varied and attractive color palette in any room that will incorporate SW Billiard Green perfectly well!
Coordinating Colors For Billiard Green SW 0016 Paint Color
To coordinate the wall color correctly, it's essential to know what colors can be used for this purpose. And even though SW Billiard Green is fairly easy to use, you might still find it challenging to select the optimal coordinating colors.
To help you out, we have prepared a couple of color ideas that you might want to consider for your home:
SW San Antonio Sage
SW Half-Caff
For the monochromatic color scheme, we recommend you the following color options to use with SW Billiard Green:
SW Verdigreen
SW Espalier
SW Julep
SW Waterfall
Should you prefer more contrasting color palettes in your home, consider using the following complementary colors instead:
SW Dard Hunter Green
SW Calico
SW Rambling Rose
SW Otter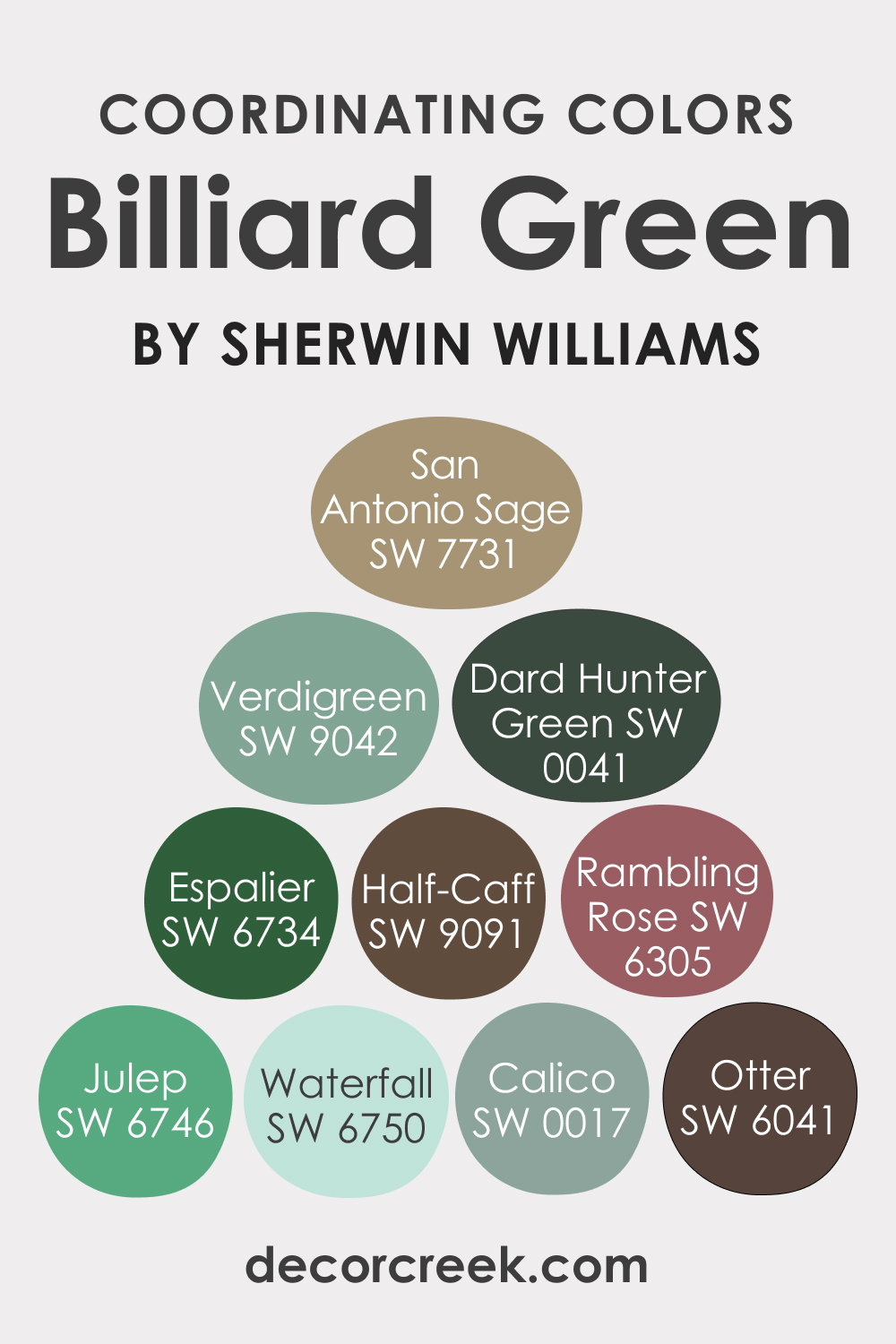 SW Billiard Green Similar Colors
If you don't have a deep understanding of the color theory, as well as a sharp eye for colors and their shades, it might be challenging for you to choose the colors that read the same or nearly the same as the paint you want to use on the walls.
However, knowing similar colors is a good thing since it can help you quickly change the wall color to adjust it to the overall palette in a room.
For SW Billiard Green with its teal undertones, we recommend using the following alternative colors:
Benjamin Moore Caldwell Green
Benjamin Moore Knoxville Gray
Benjamin Moore Tarrytown Green
Sherwin-Williams Rocky River
However, note that all of them will still slightly differ due to the distinctions in their LRVs and undertones.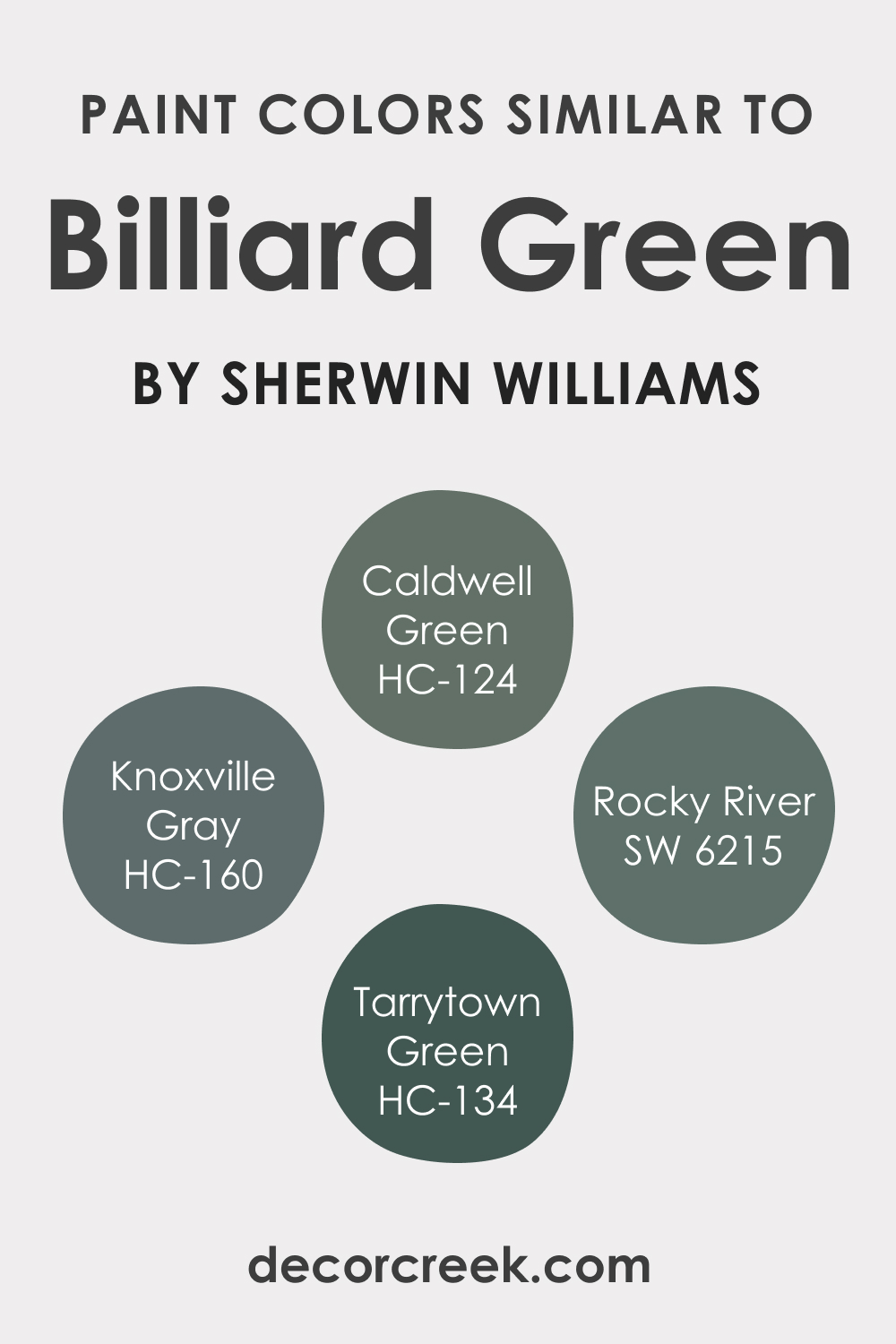 Comparing SW Billiard Green With Other Colors
Why is it recommended to compare different paint colors? Well, mostly because it helps you to define their unique features better and see the differences in undertones and LRV. Below, you can see what makes SW Billiard Green so unique compared to a few other colors.
Billiard Green vs Vogue Green
SW Vogue Green looks greener compared to SW Billiard Green. Also, SW Vogue Green has a warmer hue, whilst its teal-toned counterpart looks a bit cooler.
The only similar feature these colors share is their LRVs. The LRV of SW Vogue Green is 9, and SW Billiard Green has an LRV of nearly 10.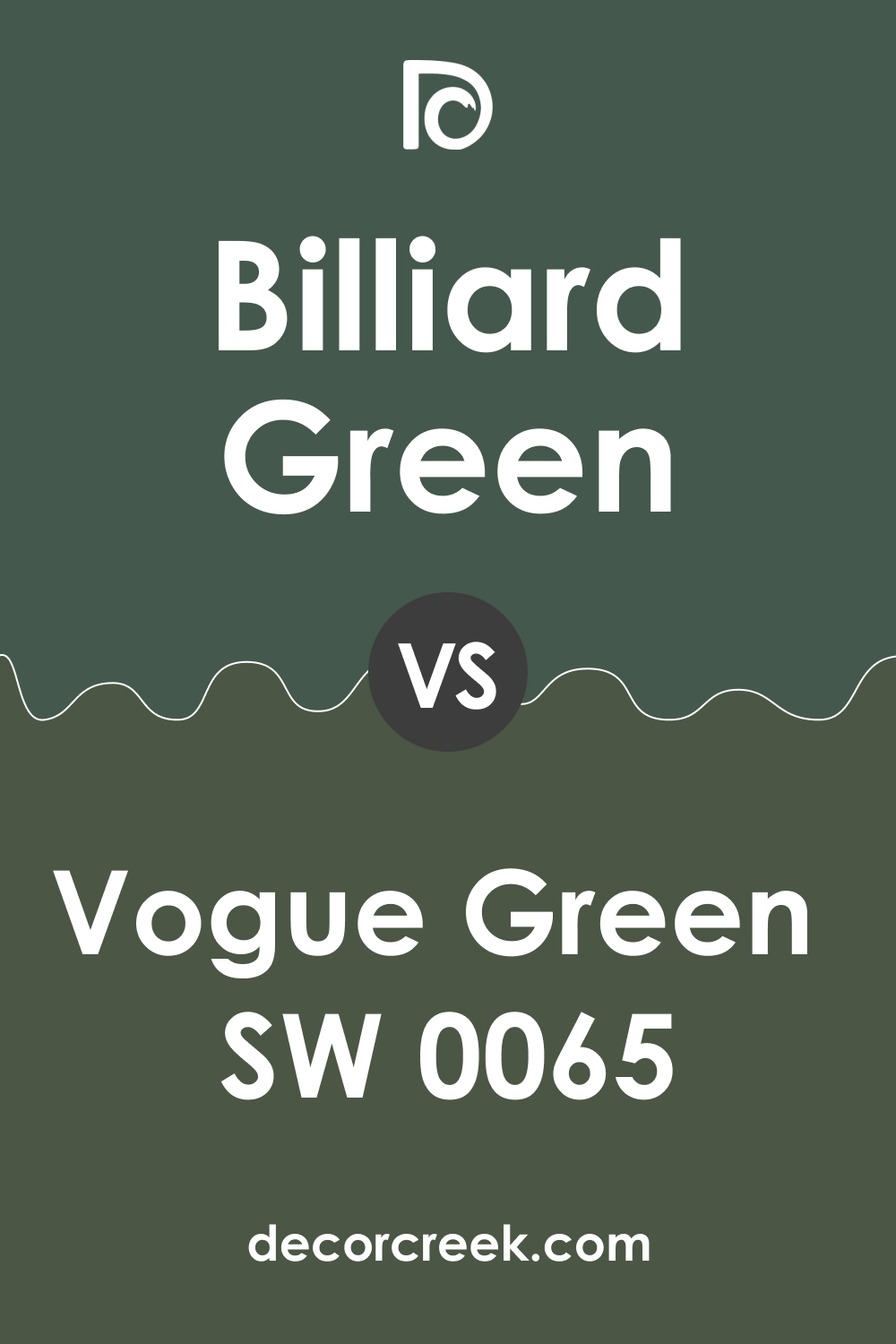 Billiard Green vs Rock Garden
SW Rock Garden, with its LRV of 9, looks warmer and greener than SW Billiard Green. Since their LRVs are very close to each other on the scale, these colors have almost equal light reflectivity.
But still, their hue differs. SW Rock Garden has a beautiful leafy green hue, while its counterpart reads noticeably cooler.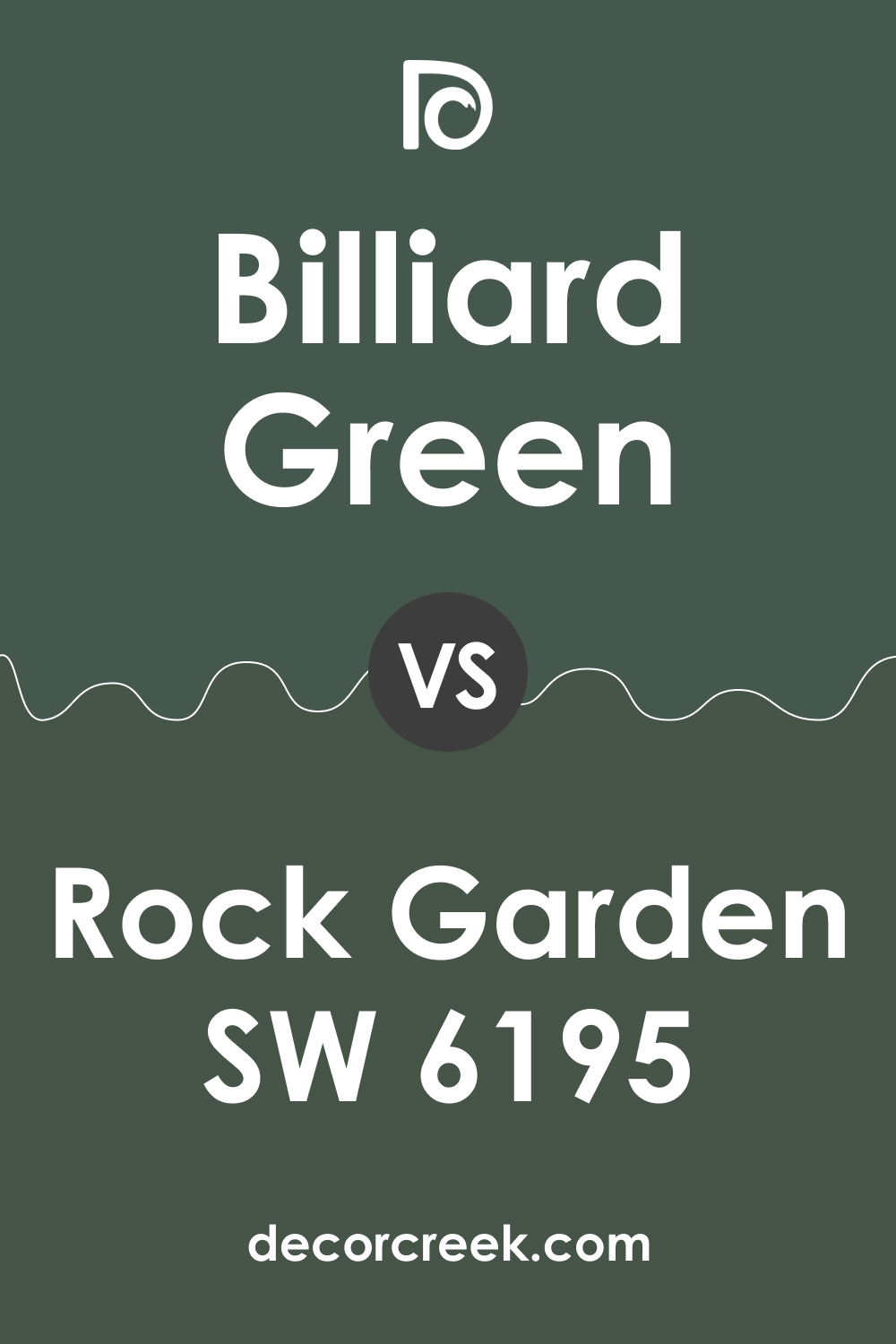 Billiard Green vs Courtyard
The LRV of SW Courtyard is 8, which means it's even darker than SW Billiard Green. However, this difference is pretty hard to notice because of the different hues these colors have. SW Courtyard looks greener and warmer than SW Billiard Green with its teal undertones.
Also, in certain lighting conditions, SW Courtyard may give off a noticeable yellowish hue!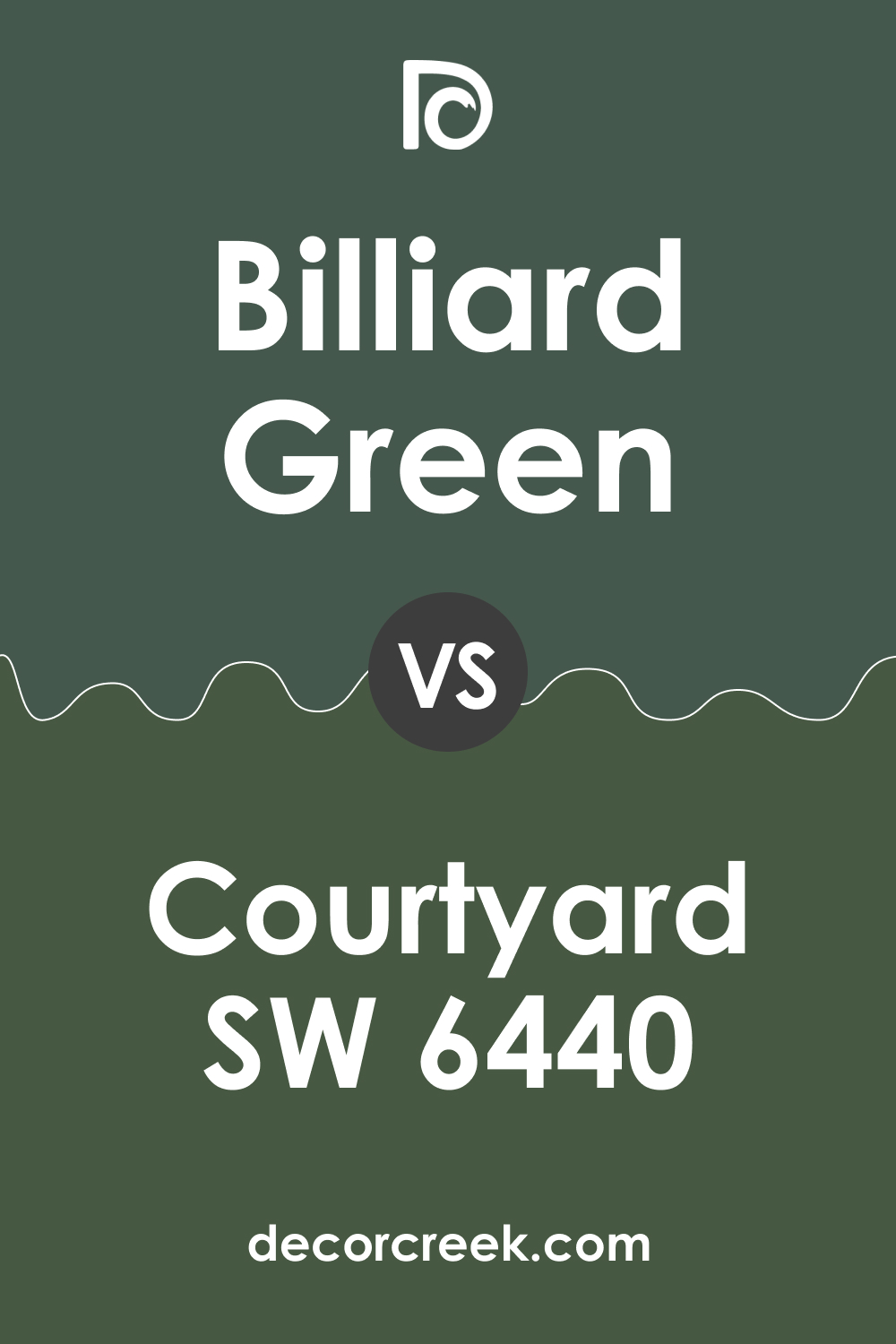 Billiard Green vs Secret Garden
SW Secret Garden has an LRV of 9, which makes this dark olive green very close to SW Billiard Green. However, SW Secret Garden reads significantly warmer, revealing a pronounced yellowish hue.
This yellowness makes SW Secret Garden differ from its counterpart, which looks much cooler.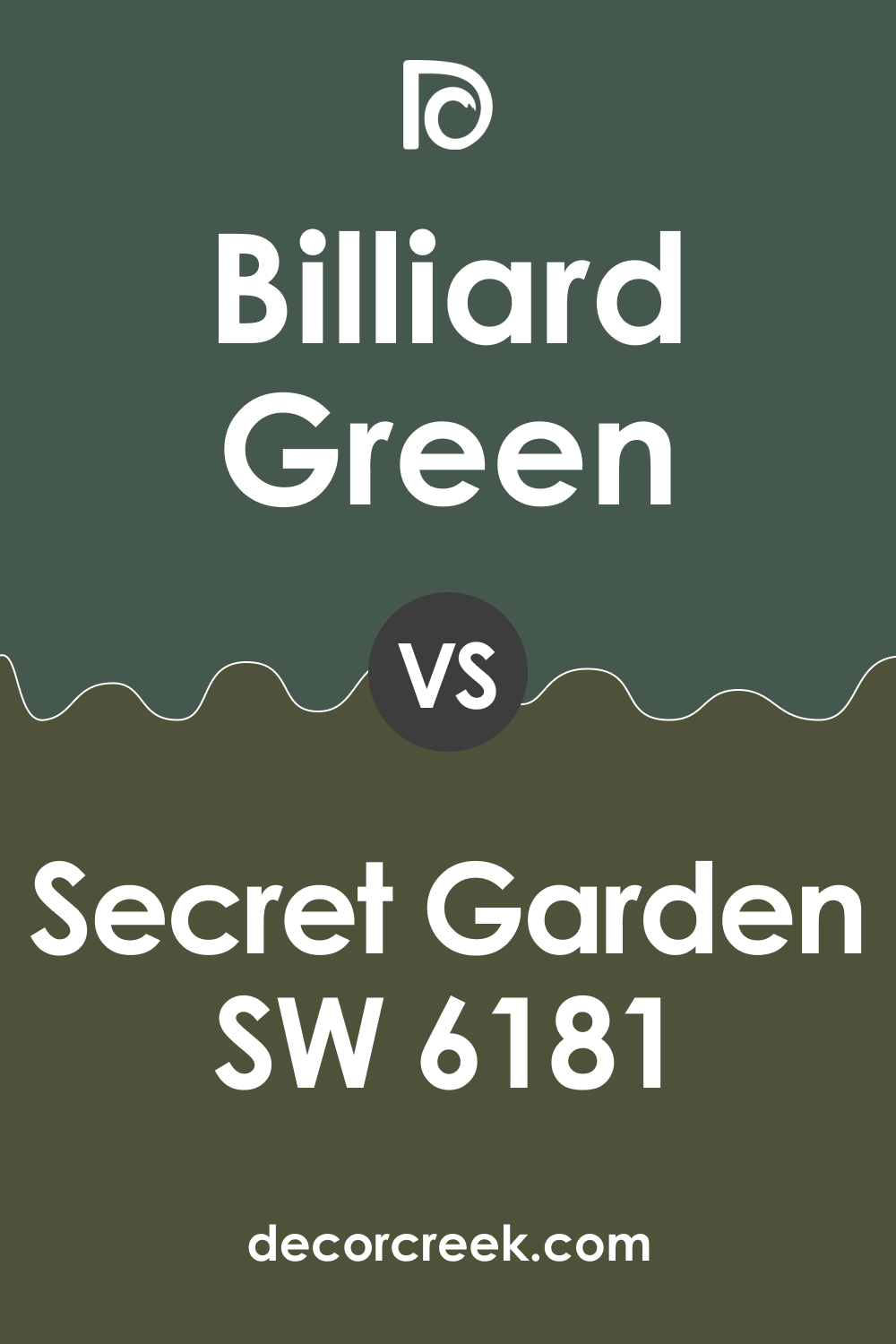 Billiard Green vs Rookwood Dark Green
These two colors do share some similar features. First of all, their LRVs are the same (both have an LRV of 10). This is why both greens reflect the same amount of light, reading exactly as they should on the wall.
Also, both colors share blue undertones because SW Rookwood Dark Green has just a touch of blue undertones.
However, SW Rookwood Dark Green still differs from SW Billiard Green. See, it is a very rich forest green, whilst SW Billiard Green is a cool-toned green that looks less rich in hue.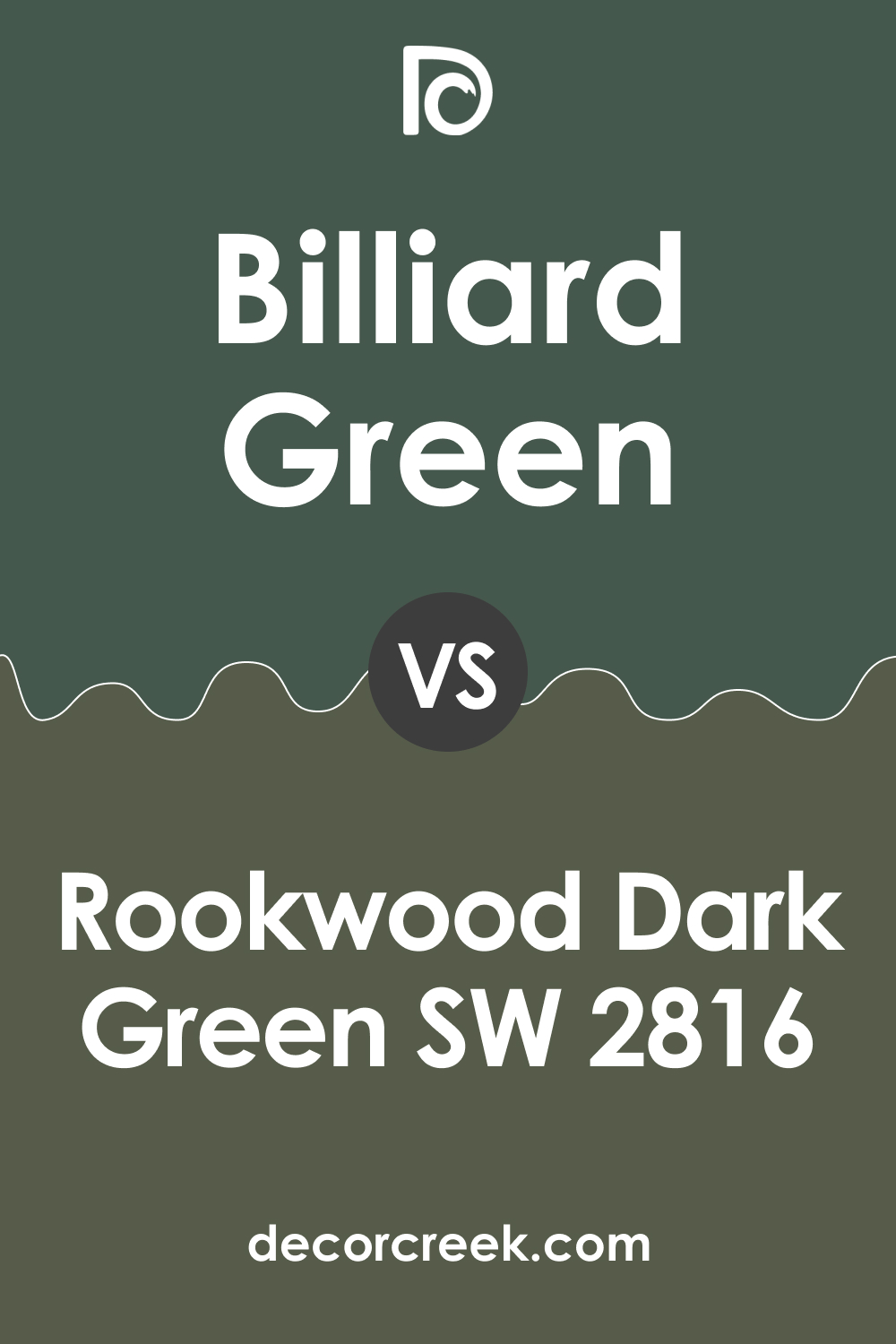 Billiard Green vs Foxhall Green
SW Foxhall Green has slate and yellow undertones that give this dark, complex green a mysterious vibe. Compared to it, SW Billiard Green looks less rich and gives off a cooler hue.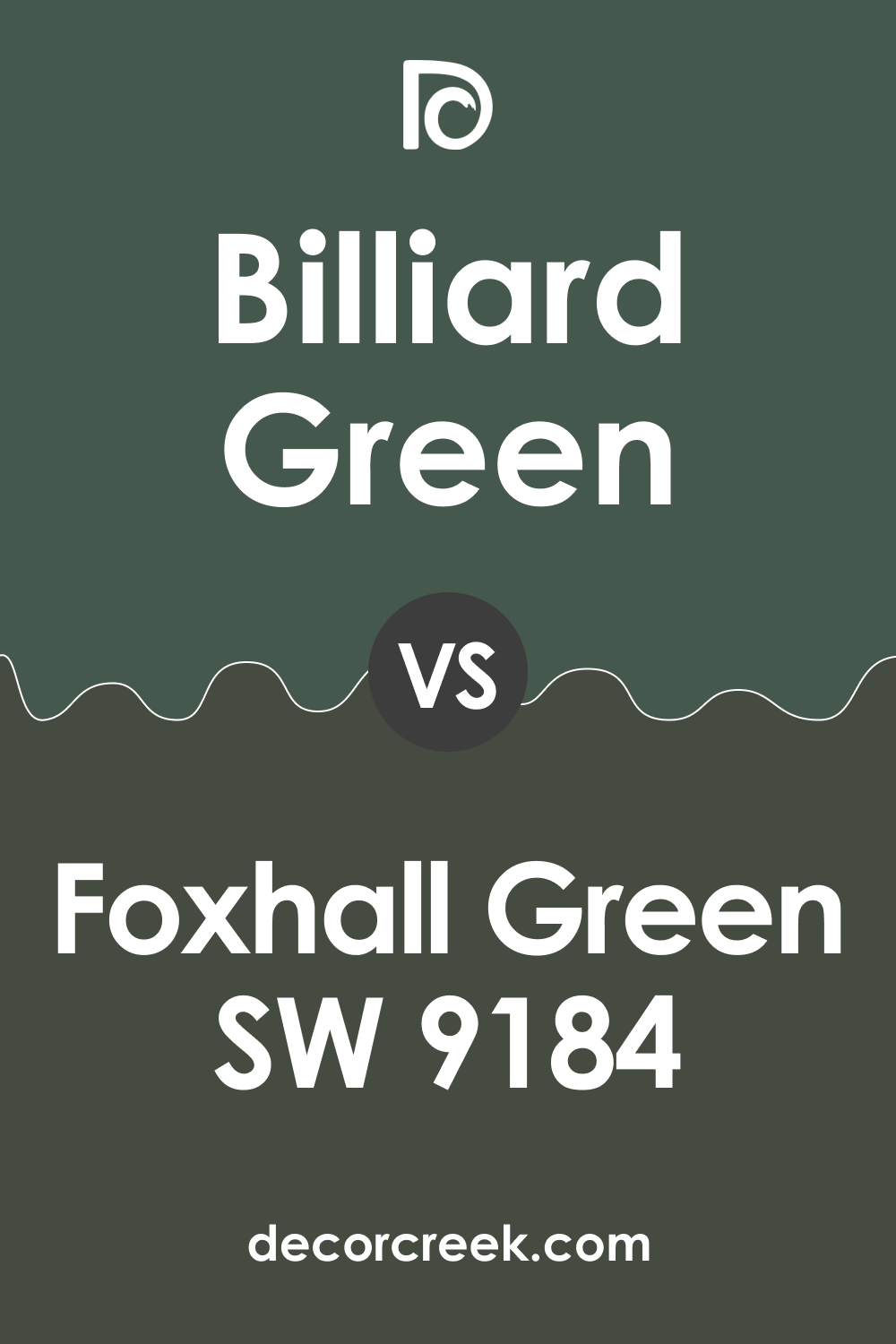 Where to Use SW Billiard Green In Your Home?
You might think that SW Billiard Green is very hard to use on interior walls due to its depth and dark nature. And to a certain point, it's true. But if you know how to coordinate it and how it reacts to light, using it will be much easier!
Below, we offer you a brief description of how this color may work in different rooms. It will help you better imagine what to expect from this color.
Billiard Green SW 0016 in the Living Room
In a living room, SW Billiard Green will create a classy and elegant atmosphere with its noble depth and rich hue. Thanks to its teal and cooler undertones, this green looks reserved and balanced, so it's a perfect color for homes that strive for an elegant and aristocratic vibe.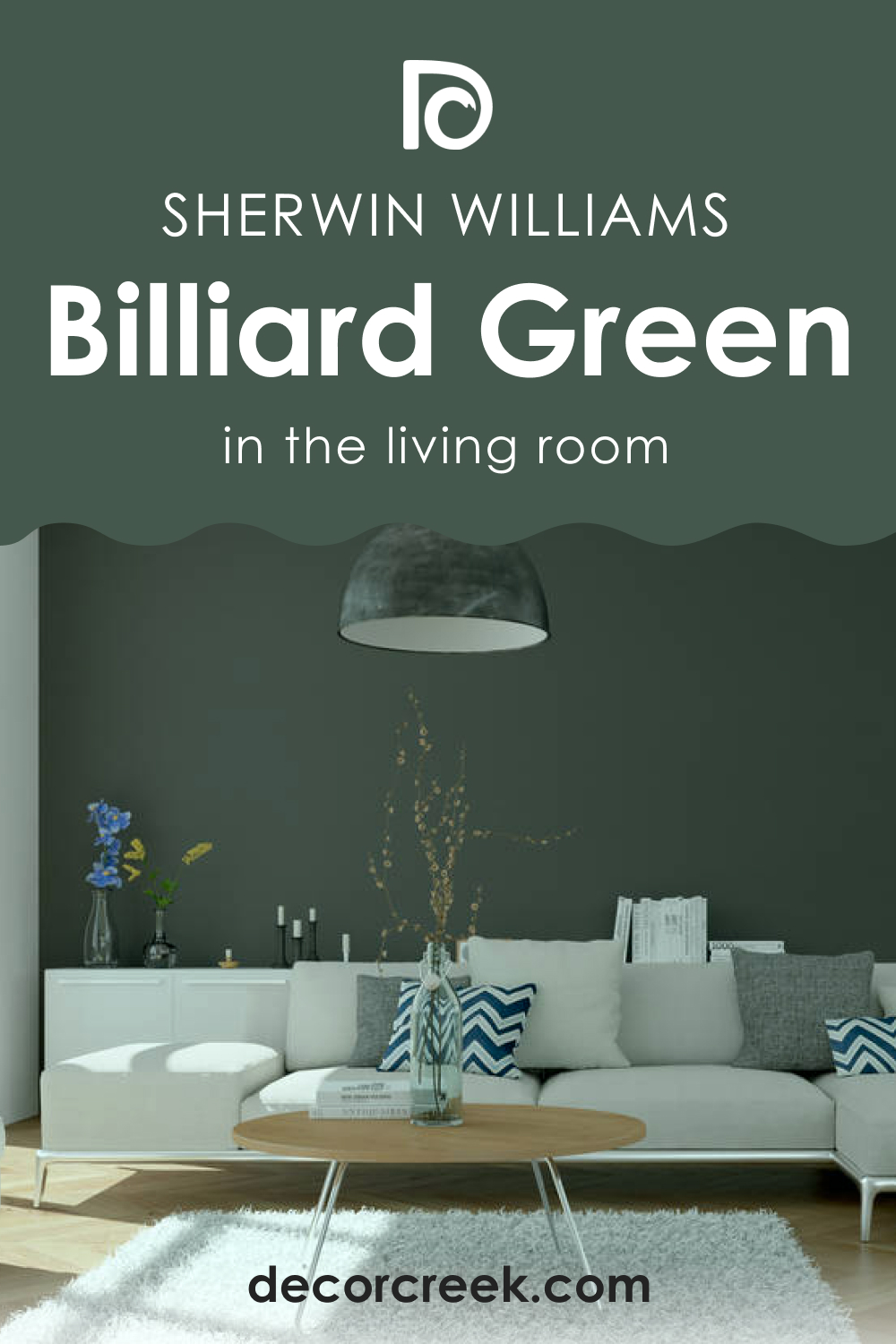 Billiard Green SW 0016 in a Bedroom
In your bedroom, it's best to limit the use of this color because it's way too dark for this room.
However, if your bedroom is very spacious and has plenty of natural light (and if you truly love dark-colored interiors), feel free to paint all the walls with this rich and majestic green!
However, remember to use enough whites to add some light to the space.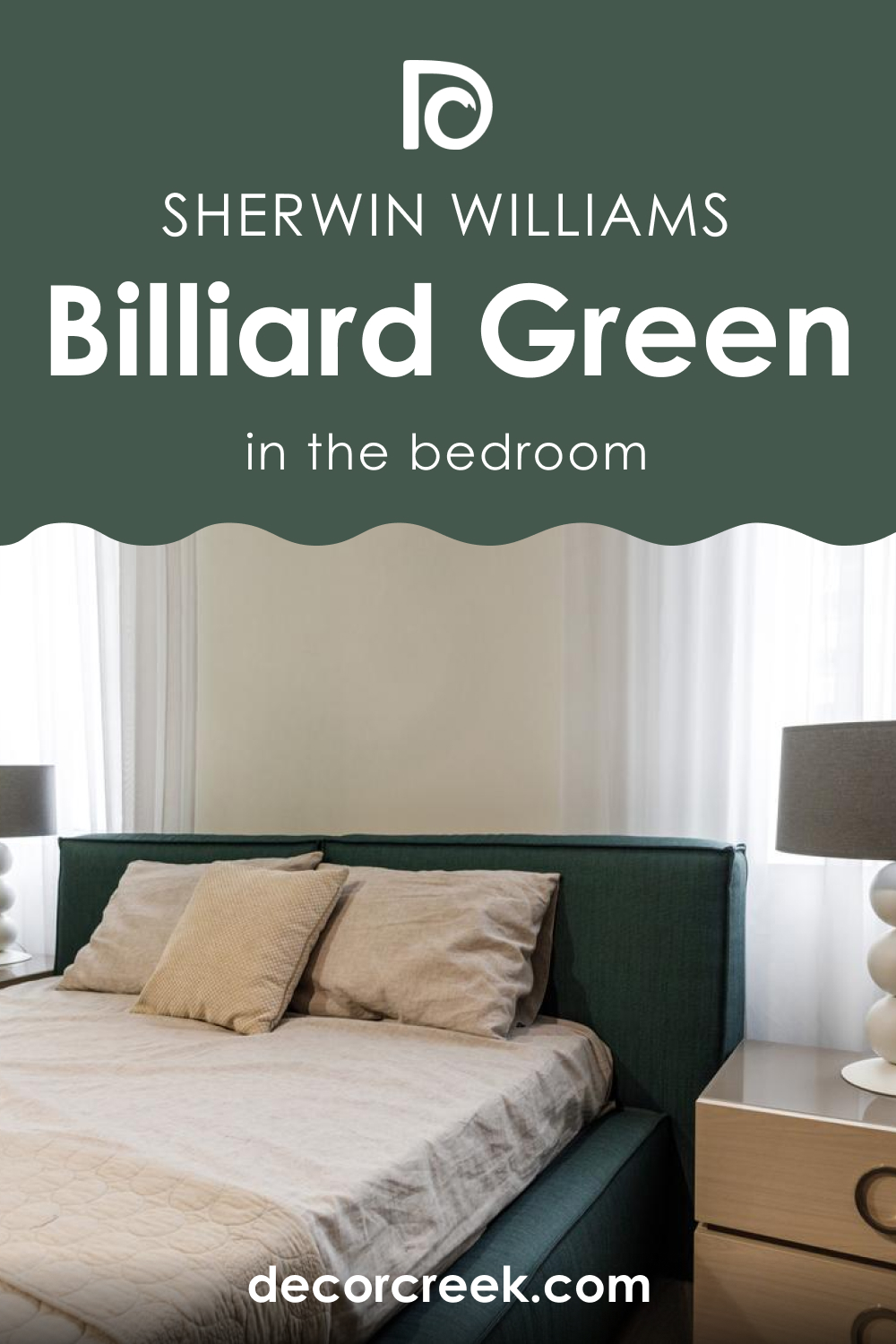 Billiard Green SW 0016 and Kitchen
In kitchens, SW Billiard Green works best on a kitchen island and cabinets (both lower and upper). Paired with white walls, this color will create an interesting and intriguing accent in the room, making your kitchen look unusual and unique.
Besides, SW Billiard Green works great with bronze kitchen hardware and pull handlers, as well as with marble and tiles. So you should not have any issues with it.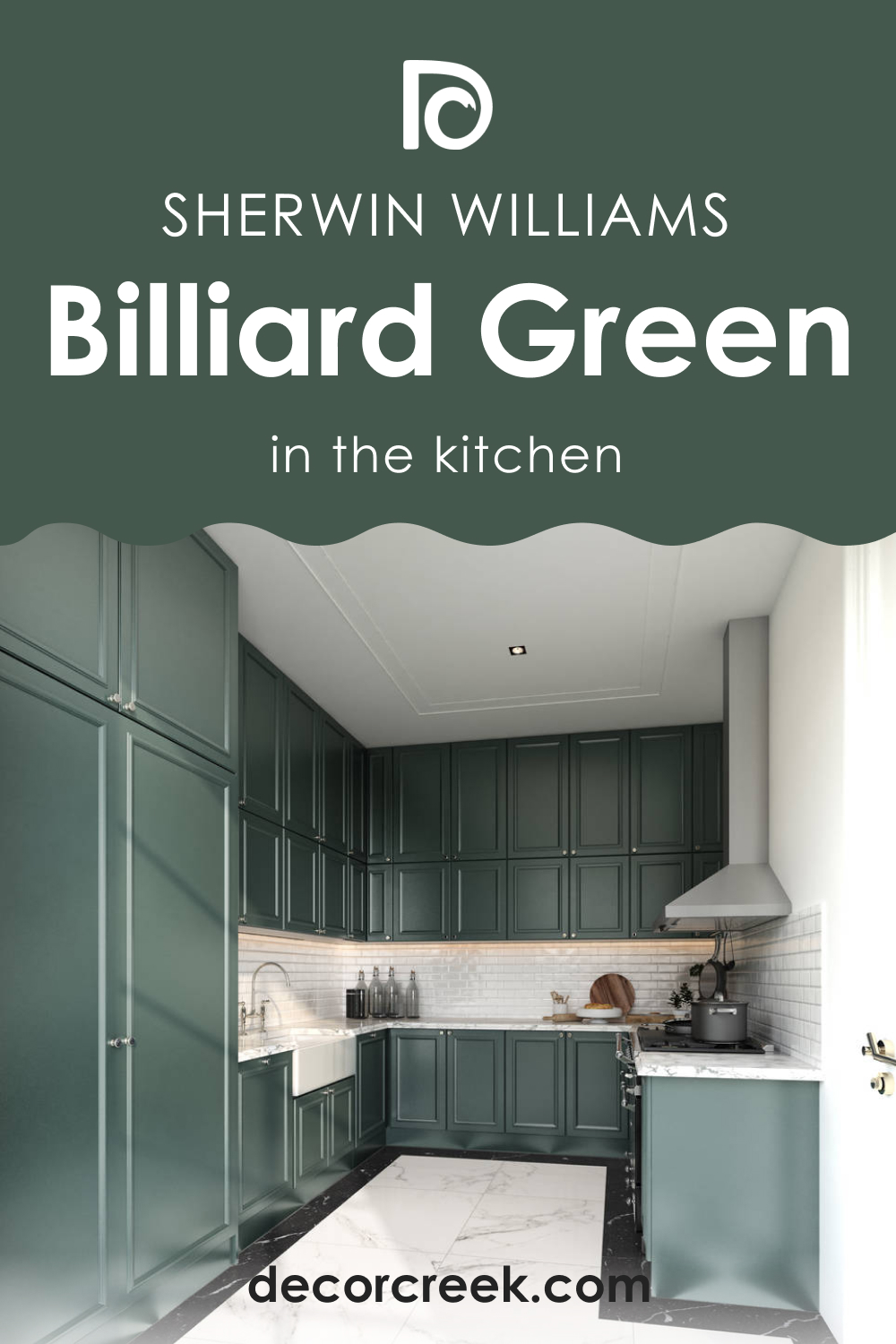 Billiard Green SW 0016 on the Bathroom
In a bathroom, this green works almost the same as in the kitchen, meaning that it's best to use it moderately on limited surfaces (e.g. on your vanity sink only).
Since bathrooms are typically enclosed and small, with little light, we don't recommend using SW Billiard Green on all the walls to avoid making the space seem smaller.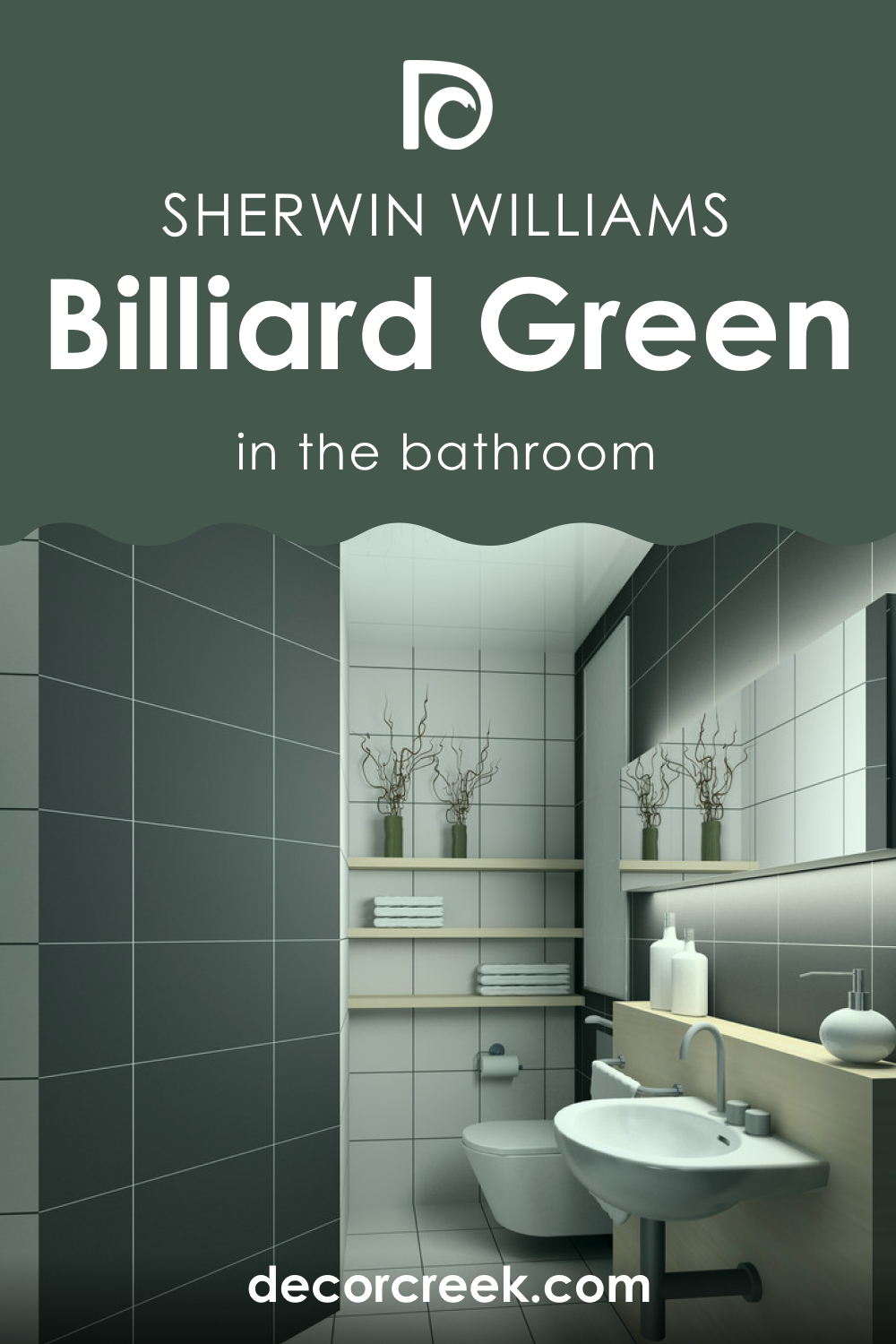 Billiard Green SW 0016 for the Exterior use
You will be surprised to learn that this color can work pretty well on exterior walls! If you pair it with brighter white trim, white accents will make this green look less dark. With softer and/or neutral whites, SW Billiard Green will also look softer and less cool-toned.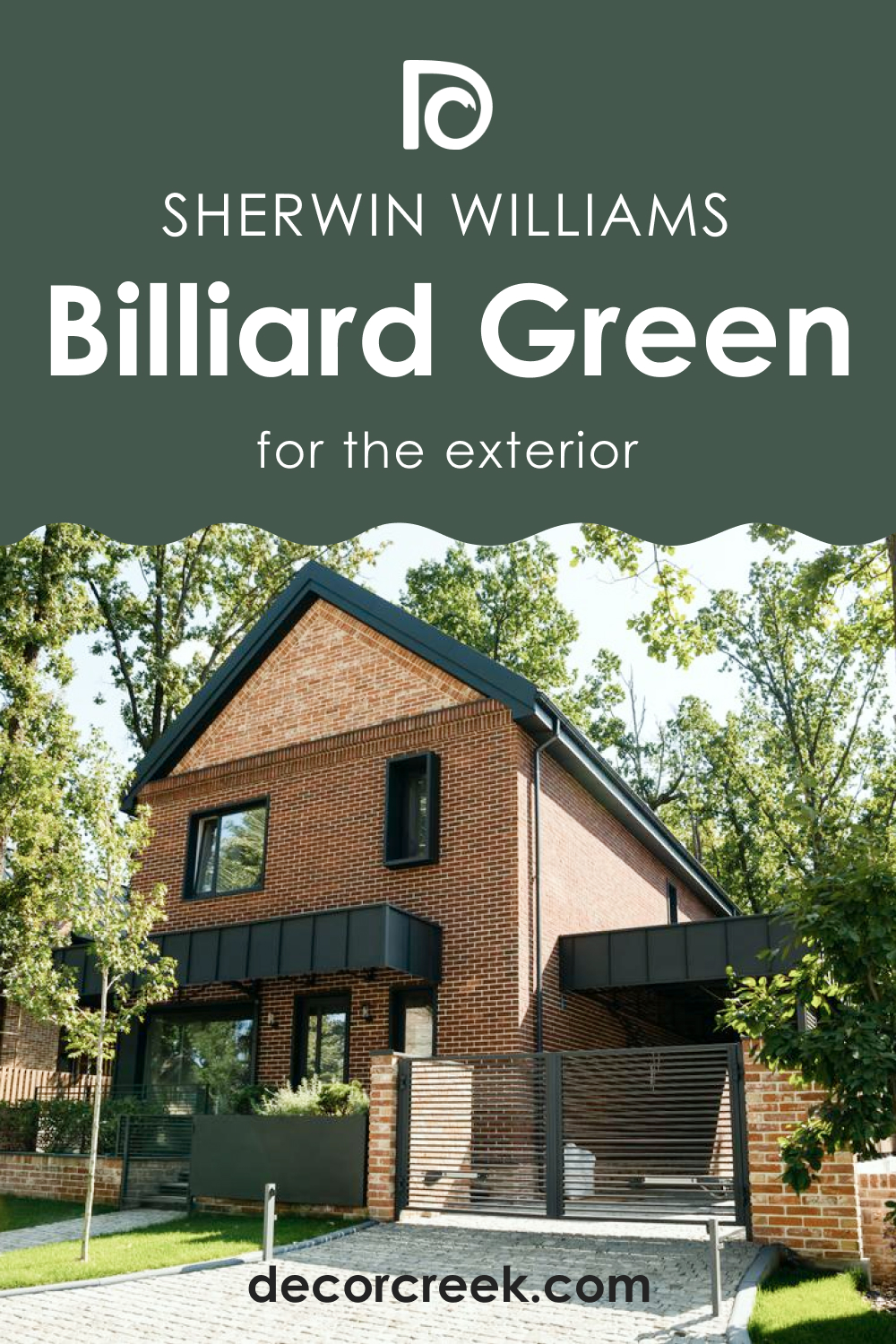 Now you can see that even such dark colors can be incorporated into your home interiors quite easily if you know how to do it! We explained how to coordinate it and how this color may react to light.
Also, now you know what colors work best with it and in what rooms this green will work better.
All this information will help you use SW Billiard Green in your home and reveal the true beauty of this rich and deep teal green.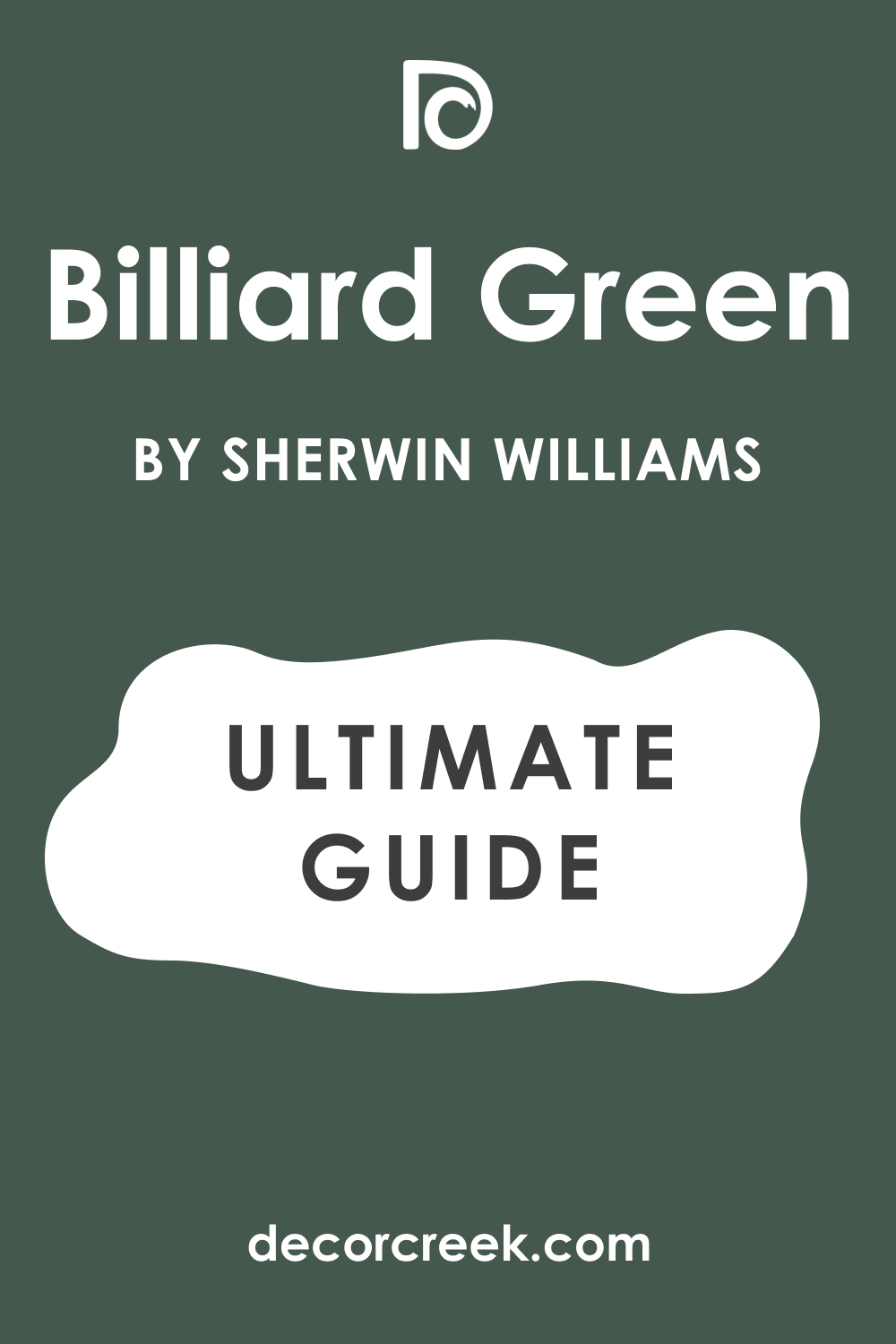 Frequently Asked Questions
⭐Is SW Billiard Green a neutral color?
No. This green is a dark paint color.
⭐Will SW Billiard Green work with brown color?
Yes, it can work well with certain shades of brown (especially with lighter browns).
⭐How does warm light affect SW Billiard Green?
Warm light (e.g. warm bulbs) will make this color look warmer, but it won't give off a yellow hue.