Choosing the correct paint color for your home is a complicated task, especially if you are not good at picking colors and defining shades. This is why it is good to have a reliable source to help you with that.
Today, we would like to introduce a beautiful paint color called Coastal Plain by the Sherwin-Williams brand. You will learn what kind of color it is, what undertones and LRV it has, and what colors it should be used with.
Also, we will explain how this color will react to light and in what rooms it is best to be used.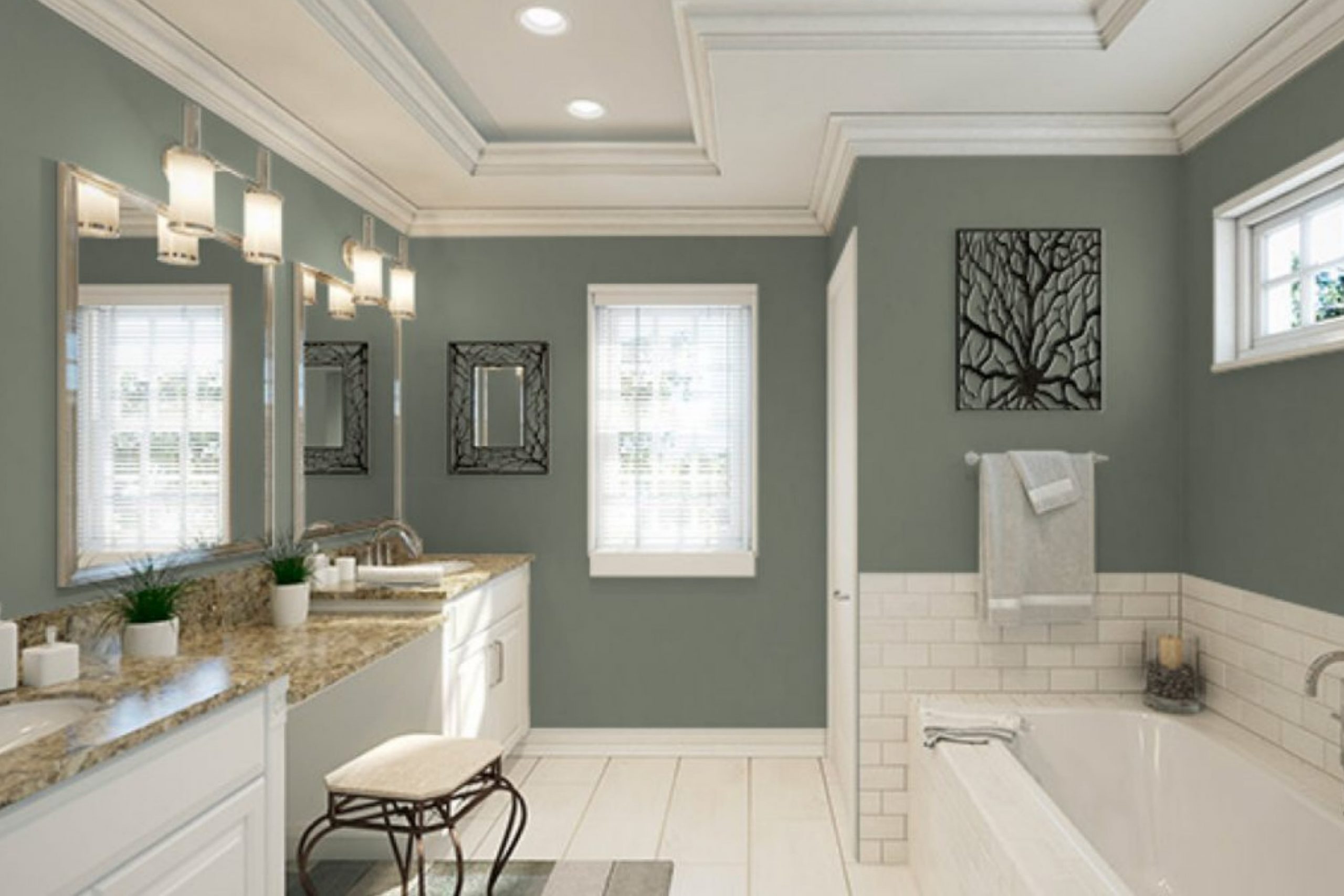 What Color Is Sherwin-Williams Coastal Plain SW-6192?
When you see the Sherwin-Williams Coastal Plain SW-6192 paint color for the first time, you will immediately tell that it is green. As Encycolorpedia says, SW Coastal Plain SW-6192 is a beautiful and calm shade of green. And although green is not among the top colors people use in their homes, this one can make your home look wonderful!
SW Coastal Plain can be considered neutral because it pairs well with many other colors and can be incorporated into your interior quite easily. However, this calm and cool-toned green color is also quite demanding!
See, it can change its appearance depending on the lighting in a room, so during the day, as the sun moves around your home, SW Coastal Plain will look different. Below, you can learn more about its specifics and nuances.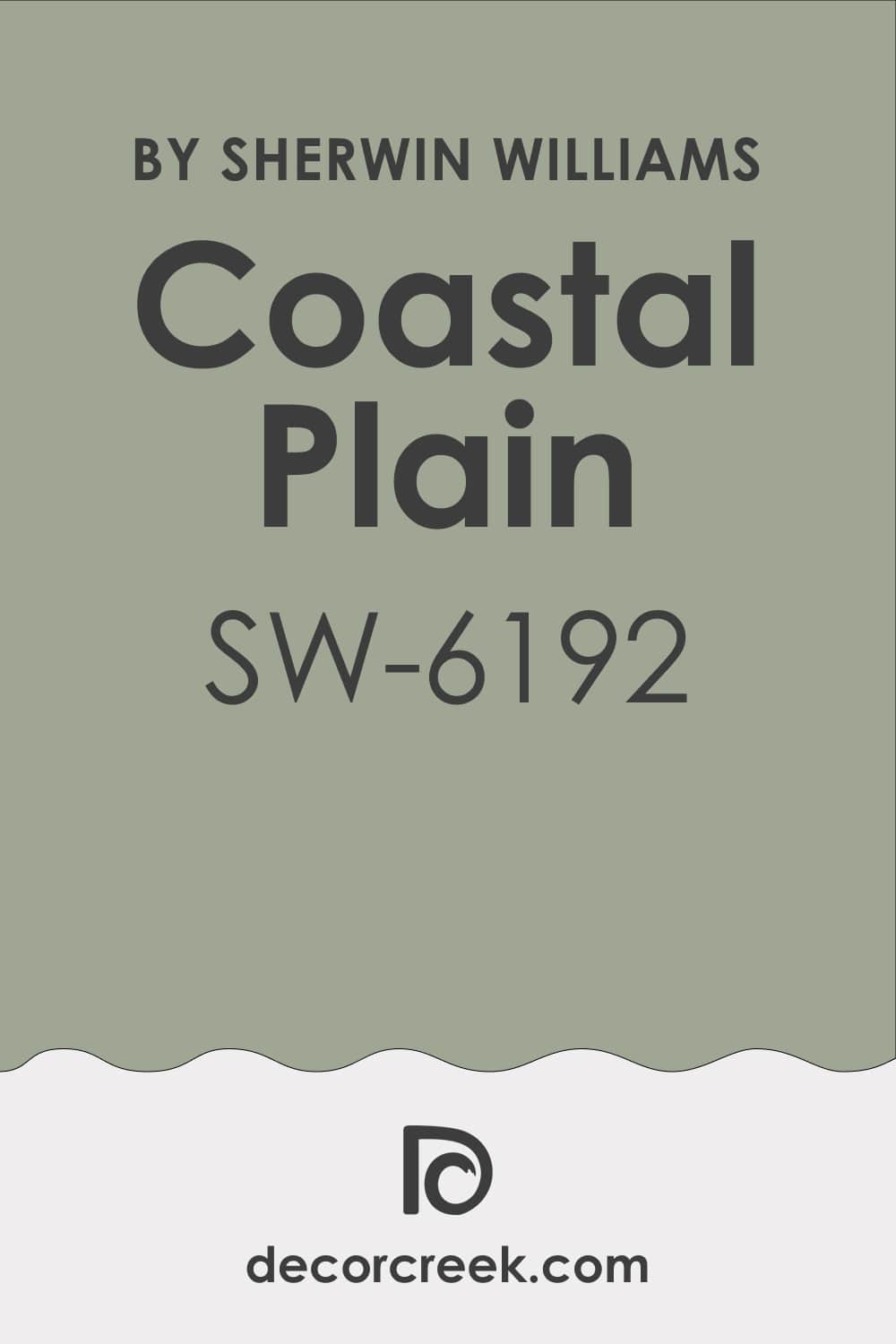 Sherwin-Williams Coastal Plain SW-6192 Undertones
Defining the undertones of the paint color is always one of the trickiest parts of the paint selection process. But knowing undertones is a must since they affect how the color reads in a space!
Speaking of SW Coastal Plain color, this medium-light soft shade of green has bluish undertones, which is why it pairs perfectly well with other soft blue-green colors, such as Copen Blue.
Due to the blue undertones, SW Coastal Plain reads rather cool-toned on the walls. Thanks to this, your room will not look overloaded with color, and also, the space won't be smothering you with a way too warm green.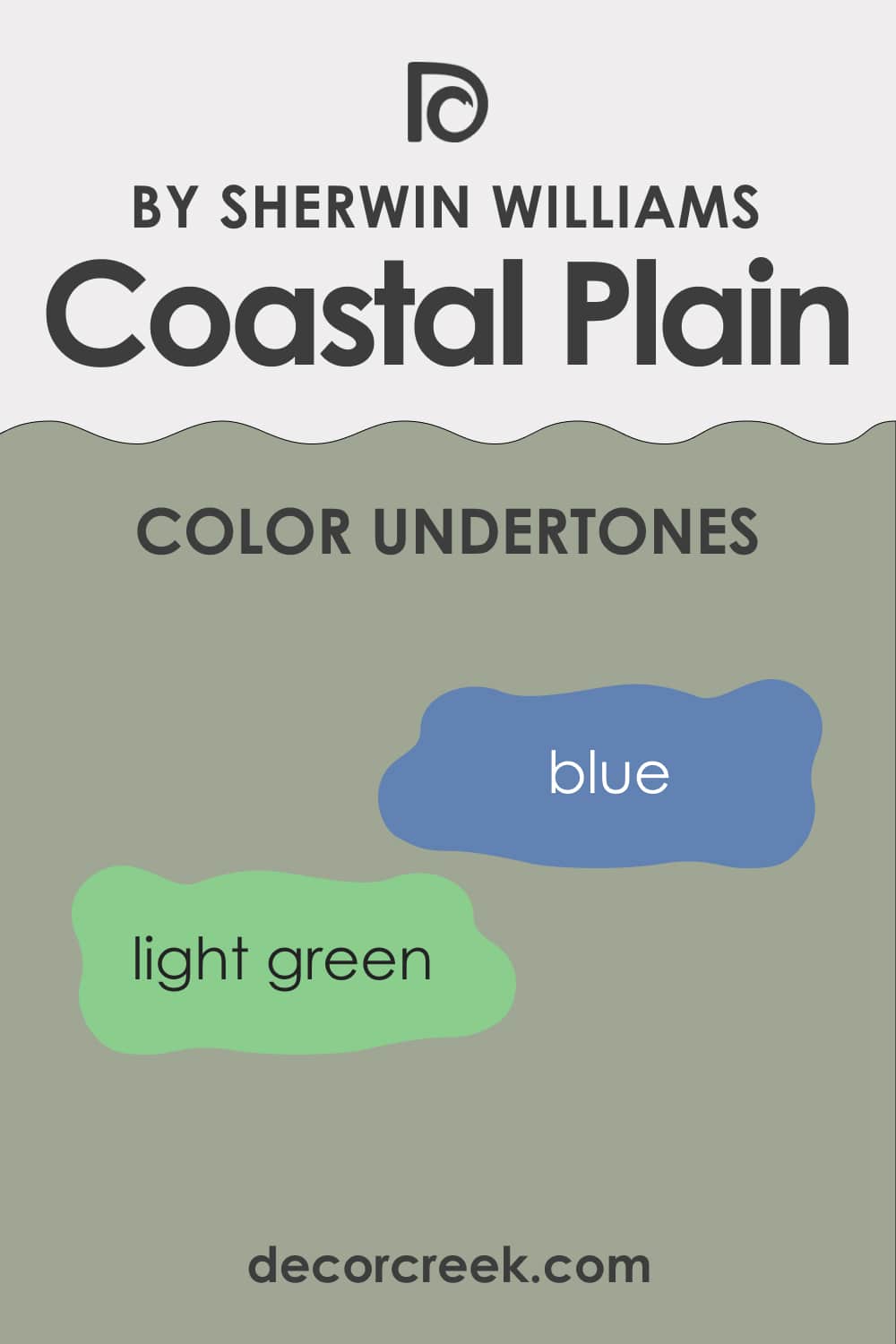 LRV of Coastal Plain SW-6192
LRV is another characteristic you should know when choosing what paint color to use in your home. LRV stands for the Light Reflectance Value, and it shows how much light the color can reflect when it is applied to the wall.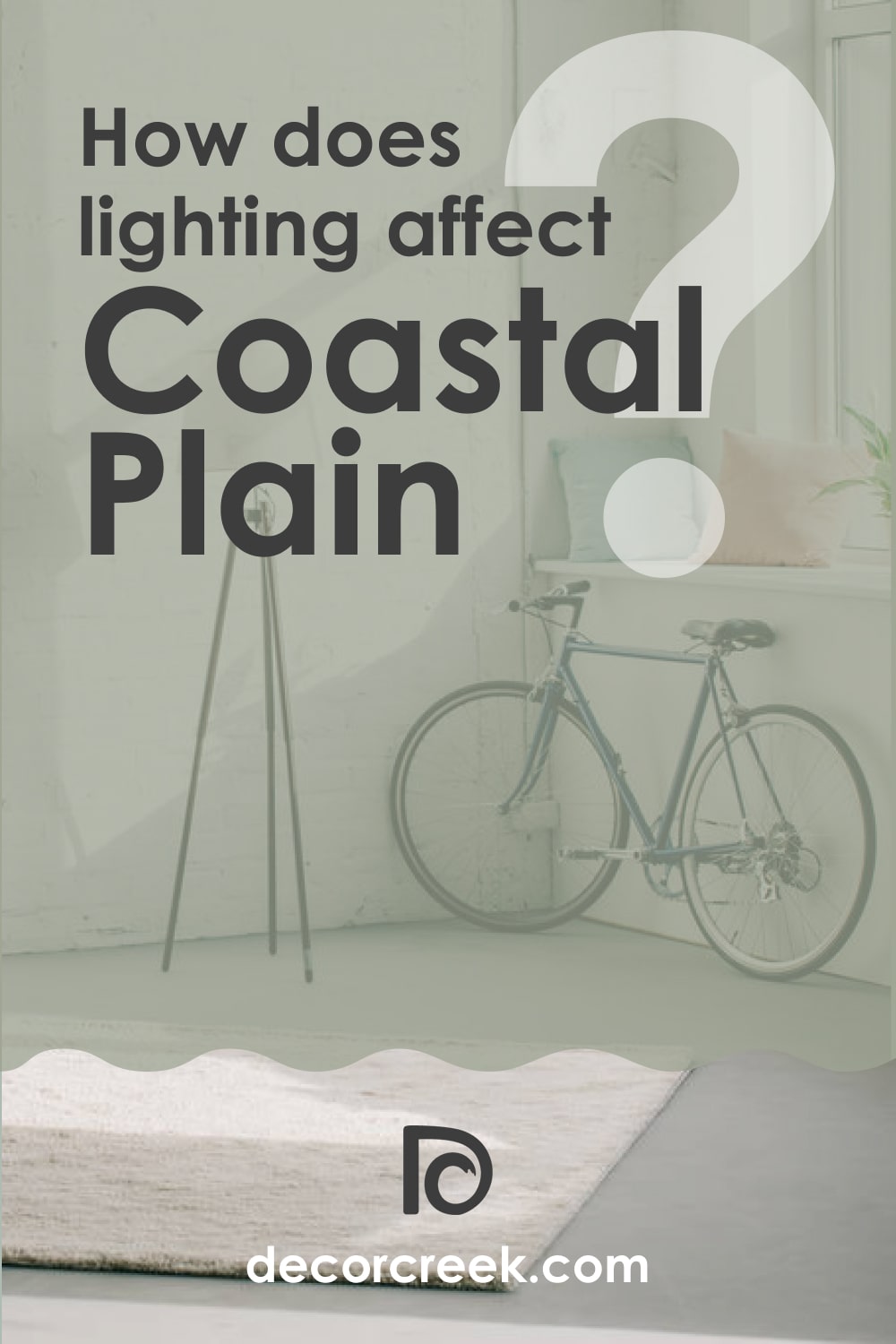 The LRV scale ranges from zero to 100, where zero stands for black and 100 stands for pure white. Respectively, the higher the LRV, the lighter the color, and vice versa.
SW Coastal Plain has an LRV of 36.76, which means this green color with bluish undertones is pretty muted and deep. However, you should not be afraid that it will read dark in a room because it won't! With this color on the walls, your home will hardly read obscure and depressing.
On the other hand, depending on the light in a room, this soft neutral green may indeed read a bit moody. But if you use the right trim colors and coordinate SW Coastal Plain paint correctly, you can minimize this effect.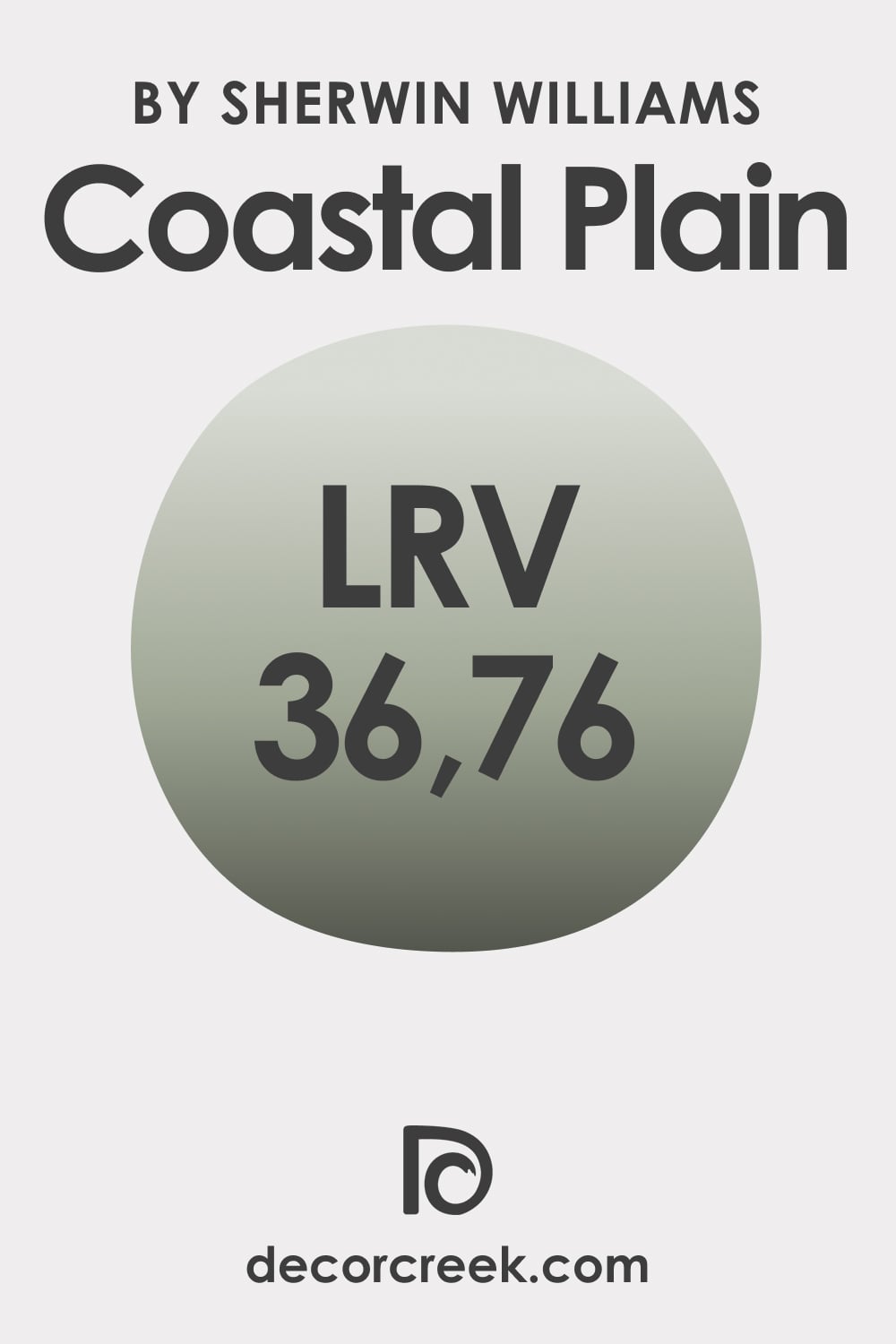 LRV – what does it mean? Read This Before Finding Your Perfect Paint Color
Trim Colors of Coastal Plain SW-6192
White is a traditional trim color in your home since it is versatile and pairs nicely with most colors. However, picking the most suitable white for trims and moldings is often a complicated task for a homeowner since you need to know what undertones the white and the wall color has to pair them harmoniously.
If you have SW Coastal Plain on your walls and you want to pick up the most suitable trim color for it, you can use SW Extra White. This color is also calm and muted, creating a balanced duo with the sage green.
You might want to try brighter whites, of course (for example, Behr Ultra Pure White), but it might look too contrasting.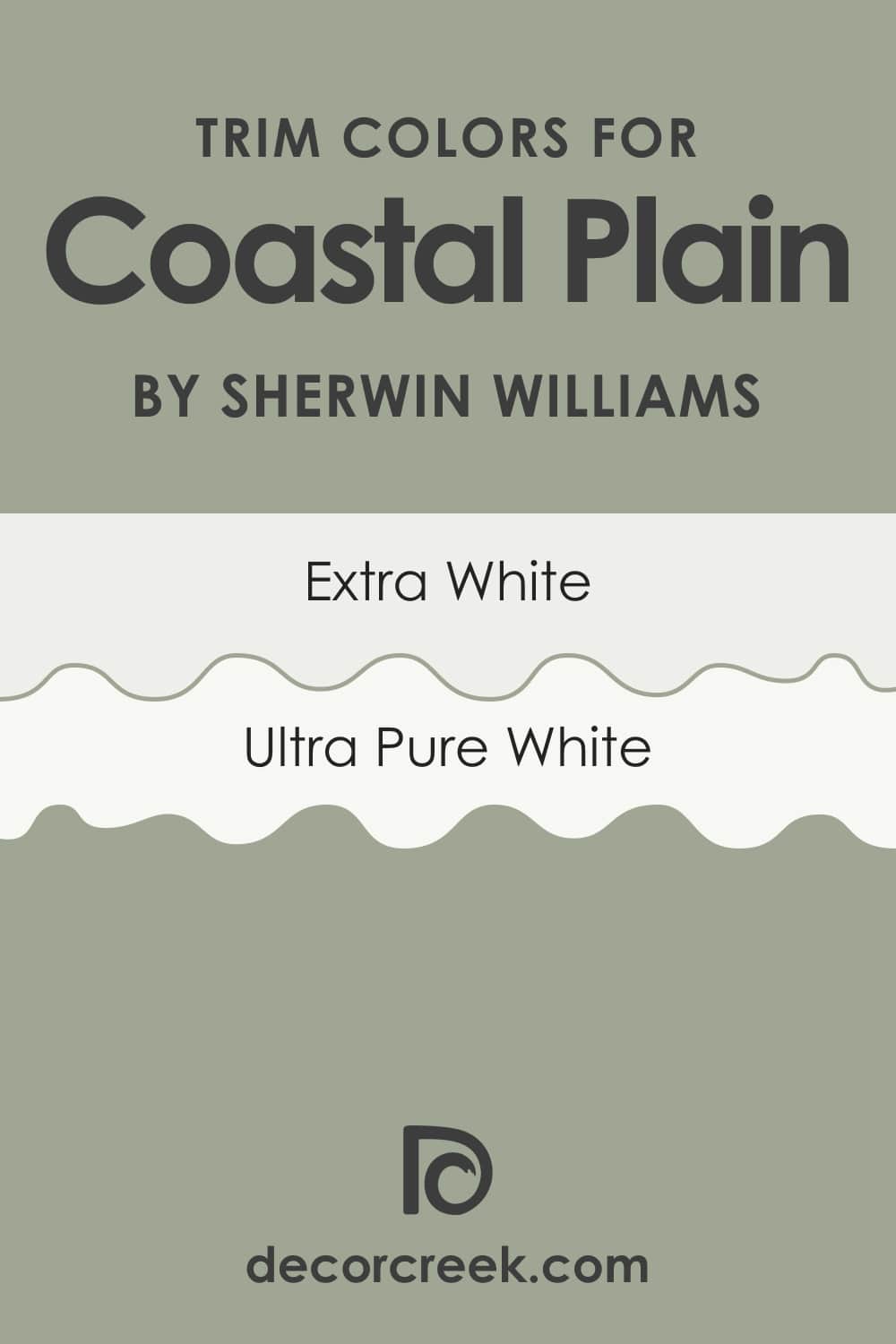 Sherwin-Williams Coastal Plain SW-6192 Coordinating Colors
When you know what colors can coordinate the wall color best of all, you can think of the most harmonious and suitable color palette for your home. To help you out with SW Coastal Plain coordinating colors, grab a few ideas that will surely read well with it:
SW 6168. Moderne White
SW 0068. Copen Blue
SW 6189. Opaline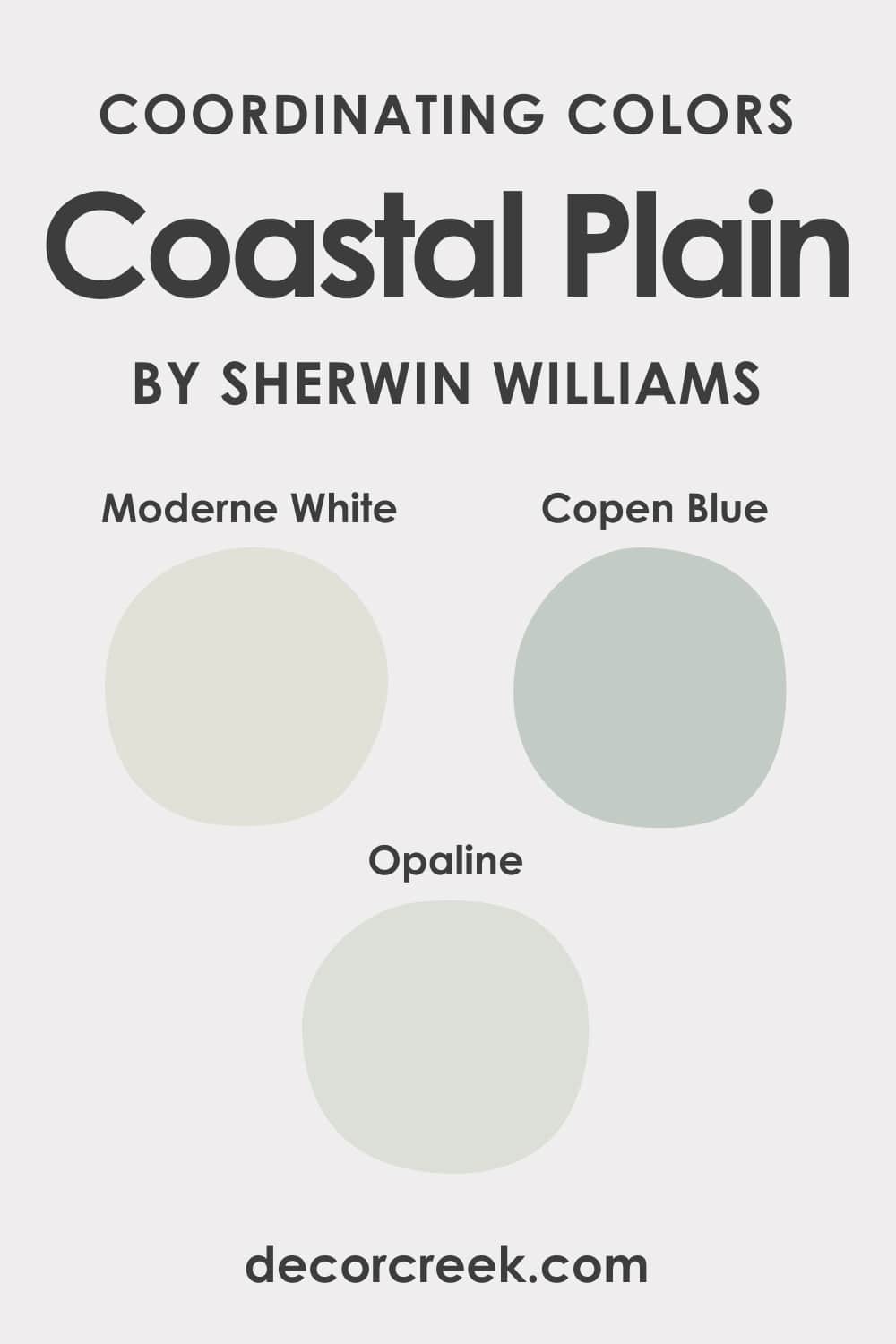 Colors That Go With SW Coastal Plain Paint Color
To be able to use paint colors correctly in your home, you should know what colors match with each other and what colors should not be used together to avoid mismatching combinations and weird effects.
With SW Coastal Plain on the walls, you may wonder what colors you can use in this room. This soft neutral green is pretty versatile, so you can try the following color options:
SW Black Bean
SW Riverway
SW Slow Green
SW Comfort Gray
SW Liveable Green
SW Courtyard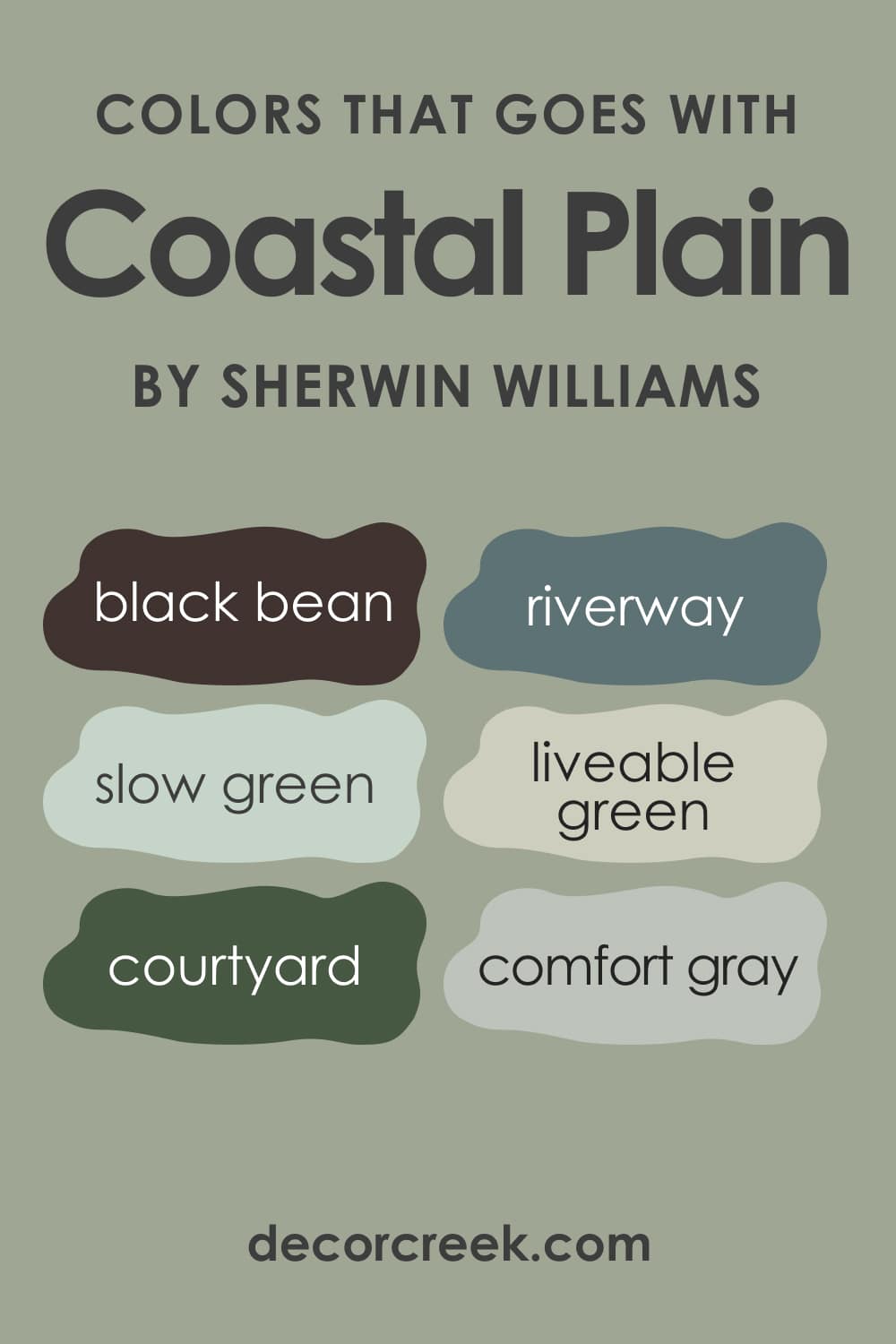 Similar Colors of Coastal Plain SW-6192
Sometimes, you might need to use a bit different shade of the color you were initially going to apply to the walls of your home. Maybe you realize that this color is not very suitable for the interior color palette, or you notice that it doesn't read exactly the way you expected.
Anyway, knowing a few similar colors is always a good idea! For SW Coastal Plain green color, the following alternatives can be used:
SW Jade Dragon
SW Green Onyx
SW Frosted Fern
SW Clary Sage
SW Willow Tree
SW Acacia Haze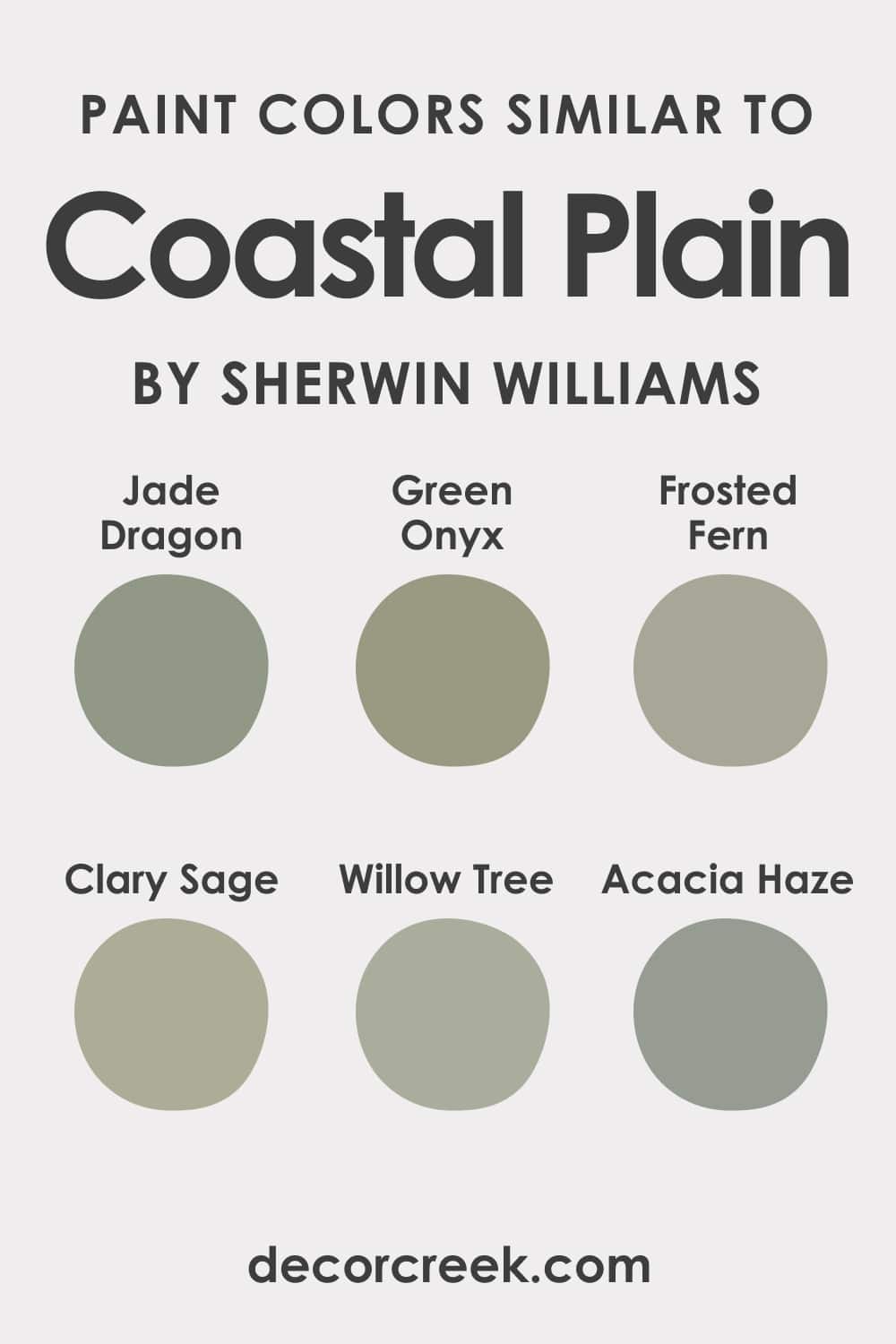 Comparing SW Coastal Plain Paint With Other Colors
Each color has multiple shades. Moreover, each color has unique undertones that make it not read like others. This is why it is often so hard for us to see the difference between the colors that look almost identical and belong to the same color family!
Below, you can find a comparative description of SW Coastal Plain color with a few other shades of green to see what makes them distinct.
SW Coastal Plain vs SW Evergreen Fog
Although Evergreen Fog is considered a cool paint color (which means it has more blue/purple), its undertones are greige. With less lighting, more of the beige and cream undertones will come out, but with a lot of natural light, this color will reveal greyer.
As for the Coastal Plain color, it has blue undertones that make it read cool-toned although quite soft and neutral. If you compare these two colors side by side, you will see that SW Evergreen Fog reads grayer and deeper than its lighter and greener counterpart.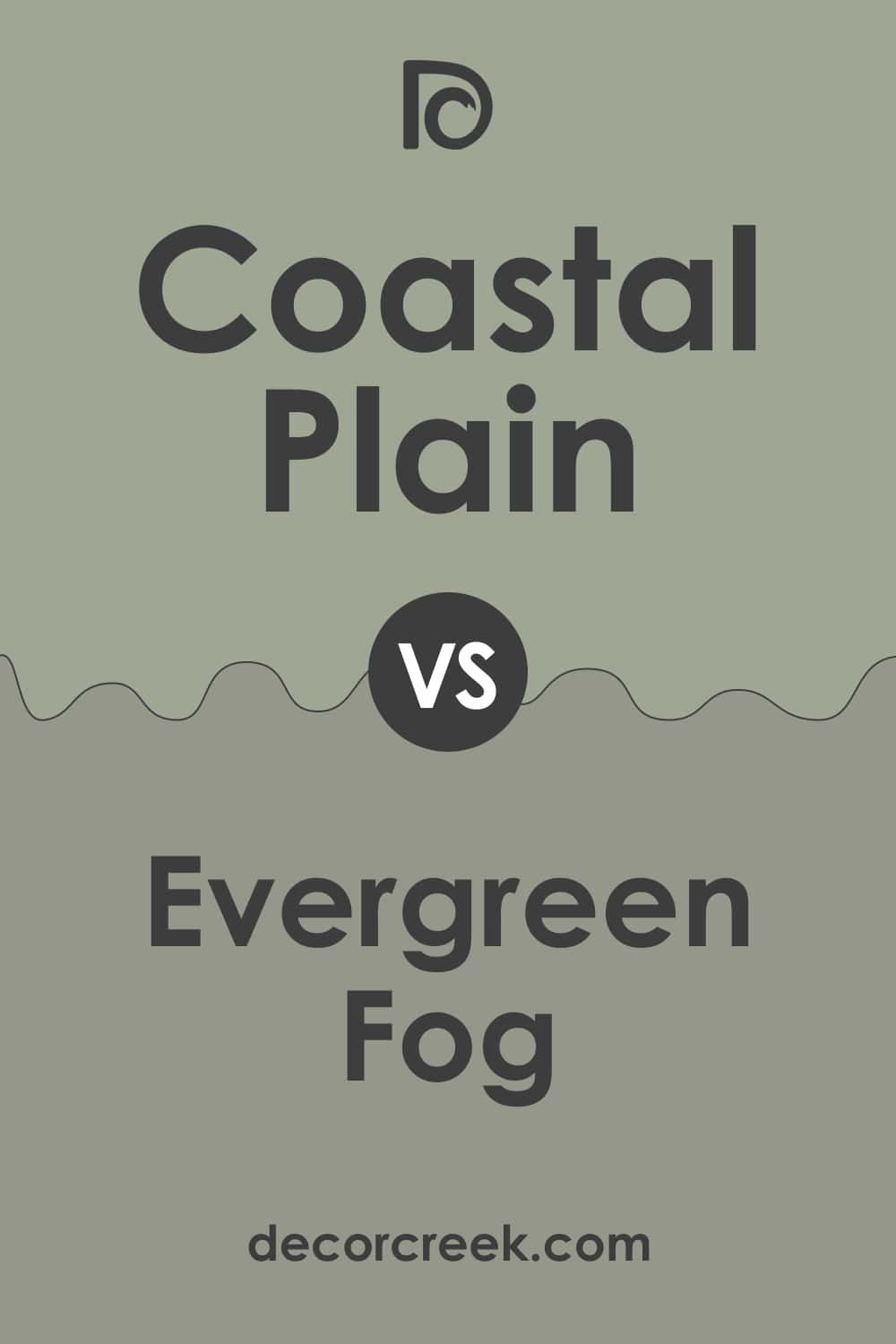 SW Coastal Plain vs SW Clary Sage
SW Clary Sage has deep yellow and gray-green undertones, but this color is not very cool and crisp. Compared to SW Coastal Plain with its blue undertones, the Clary Sage color reads slightly grayer and lighter with a prominent yellowish hue.
The two don't match well because both are muted enough, so they will make a space read "muddy."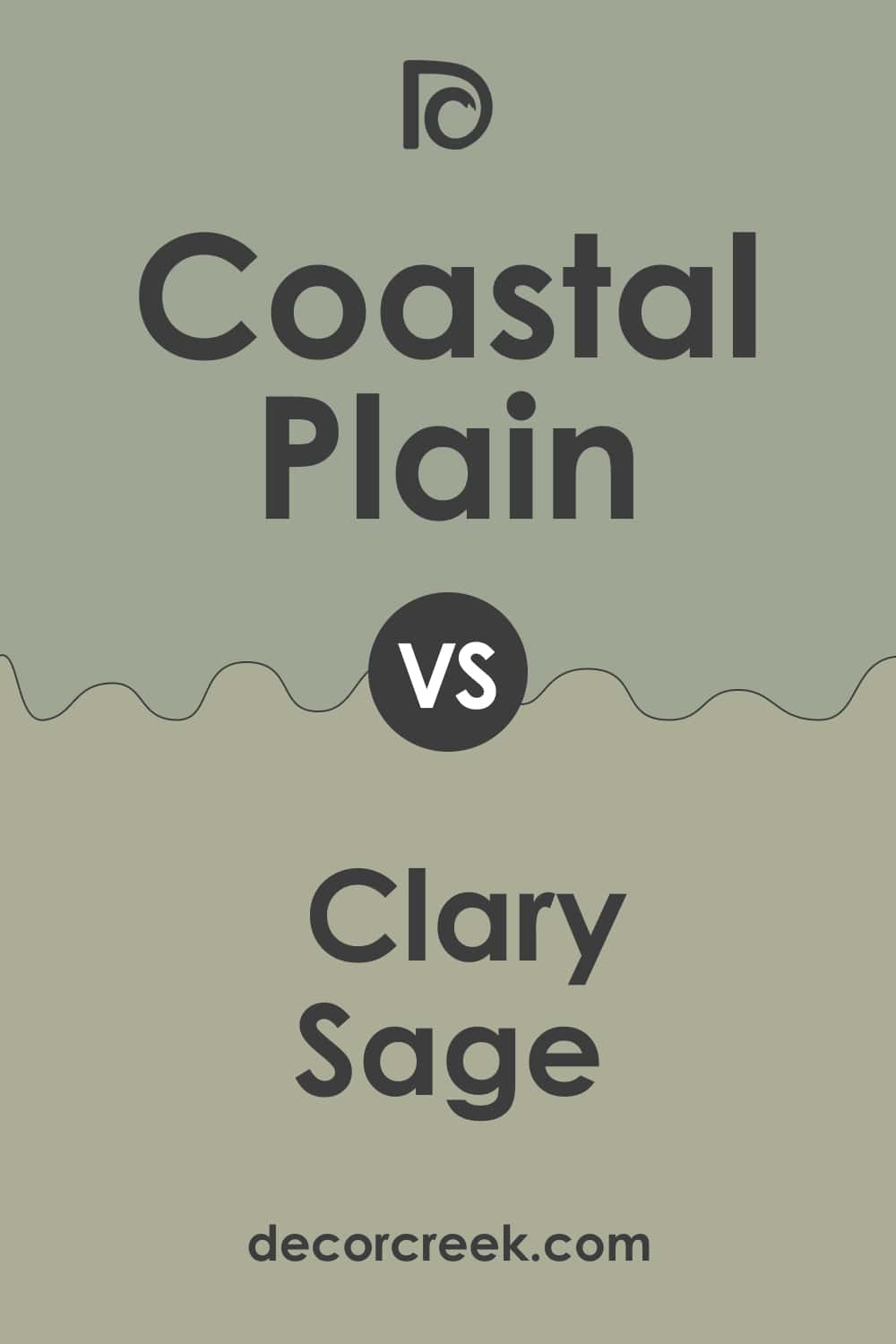 SW Coastal Plain vs SW Oyster Bay
SW Oyster Bay color also has blue undertones, which should have related it with SW Coastal Plain…But these two don't look well together. SW Oyster Bay reads cooler and bluer compared to its greener counterpart. And since both are pretty cool-toned, they will only make the space read not quite comfortable and welcoming.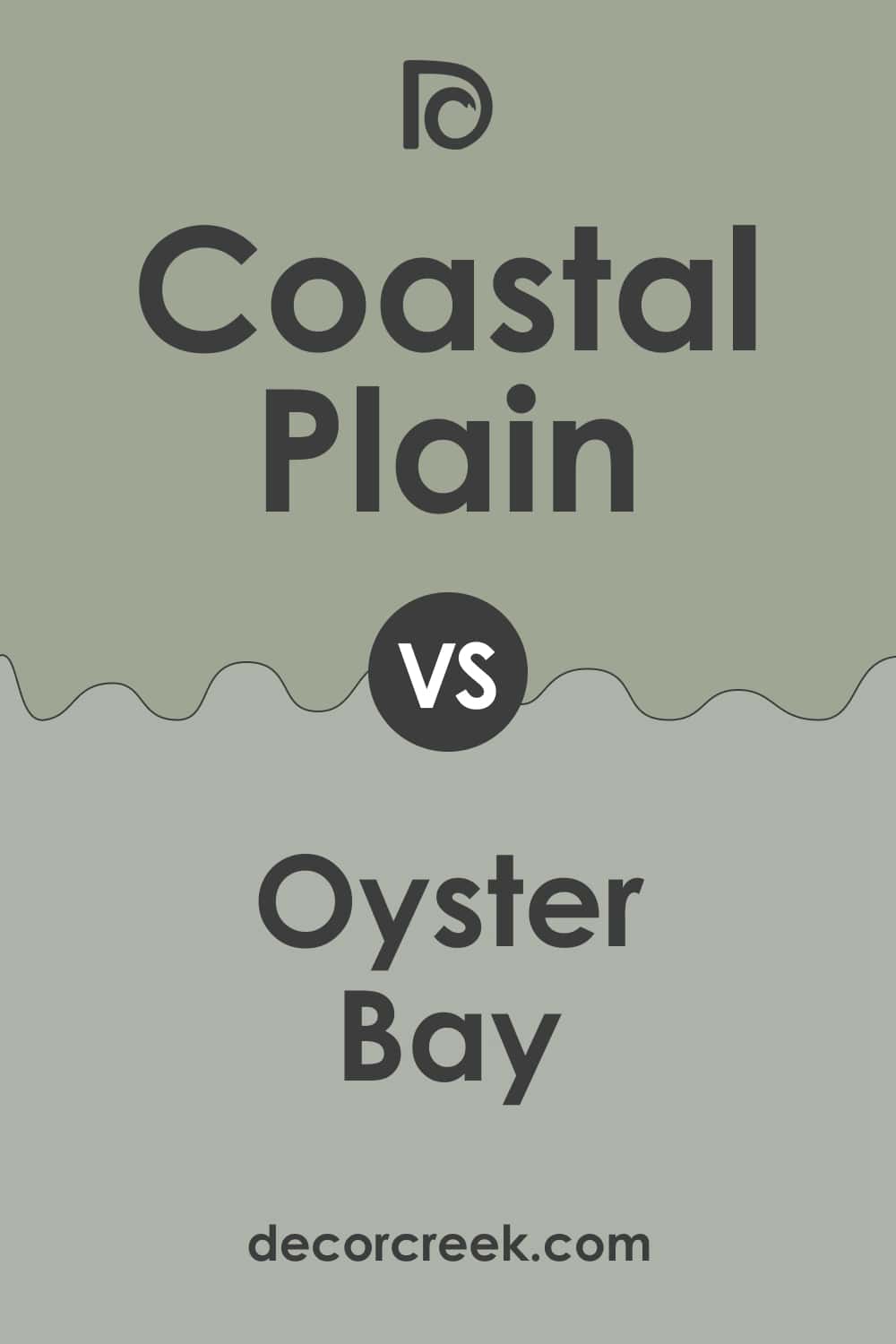 SW Coastal Plain vs SW Sea Salt
SW Sea Salt is a very light green-gray color that reveals gray undertones quite prominently. If you pair it with SW Coastal Plain, you can see how the Sea Salt color starts reading a bit bluish! Also, compared to this light blue-gray paint, SW Coastal Plain looks deeper and greener, reading pretty dark.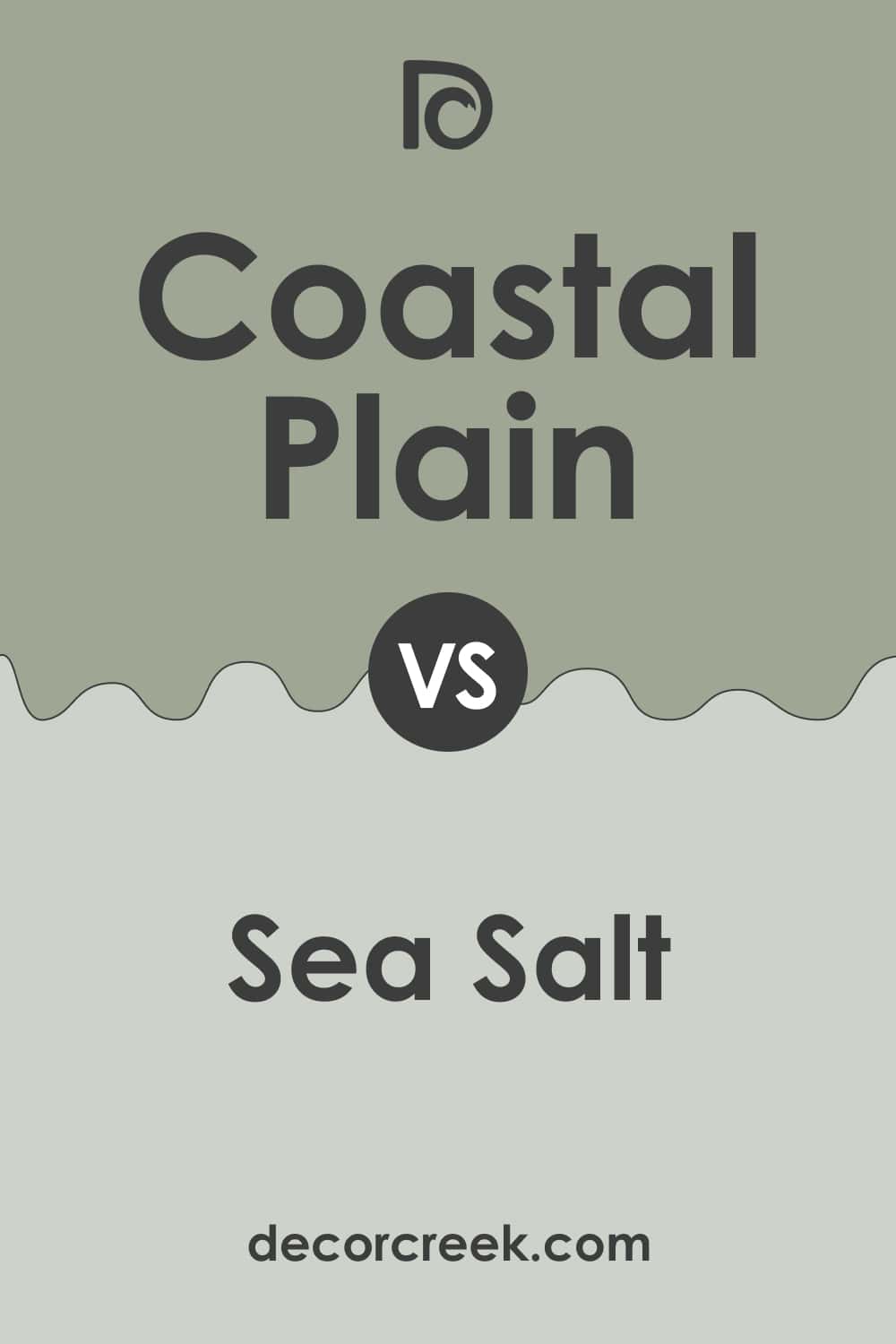 SW Coastal Plain vs SW Comfort Gray
This pair of colors reads pretty much like the previous one, but SW Comfort Gray is a bit less bright than SW Sea Salt. SW Comfort Gray has green-gray undertones, and compared with SW Coastal Plain, it reads bluish. Its counterpart, on the contrary, looks pronounced green.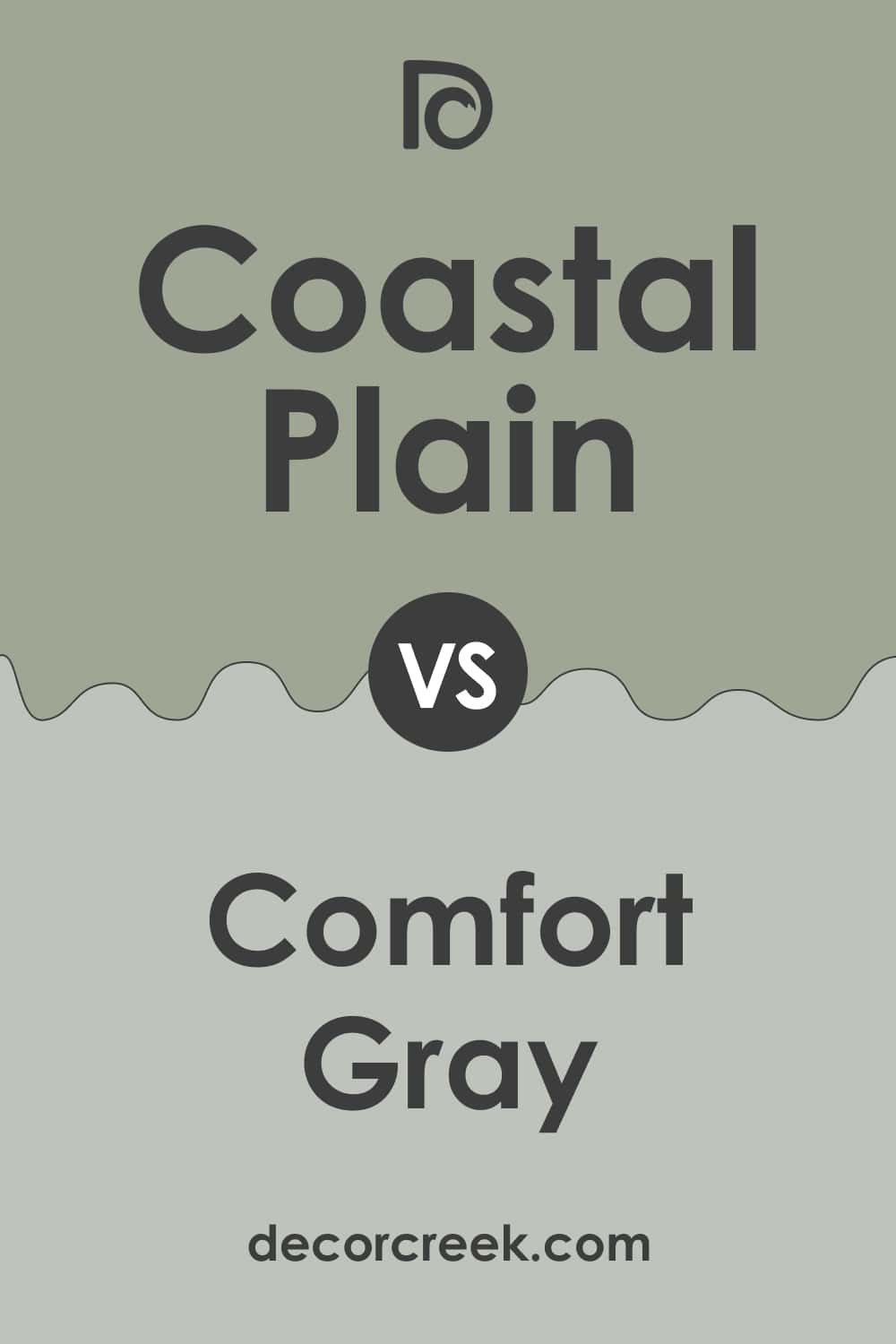 Where to Use Coastal Plain SW-6192 Paint Color In Your Home?
Since SW Coastal Plain can change its appearance depending on the room you use it in and its lighting, you should know in what areas of your home this soft and neutral green will work best. Also, we will explain whether this paint color can be used on exterior walls.
Coastal Plain SW-6192 in the Living Room
In general, this green color is an excellent option to use in your living room. But you must ensure that the room is adequately lit and has plenty of daylight! Otherwise, this color may read somewhat gloomy and moody, making the space look darker.
Also, try to avoid this color in living rooms that have dark-colored furniture. Dark brown colors and other similar shades will make this green read "muddy" and smothering on the walls.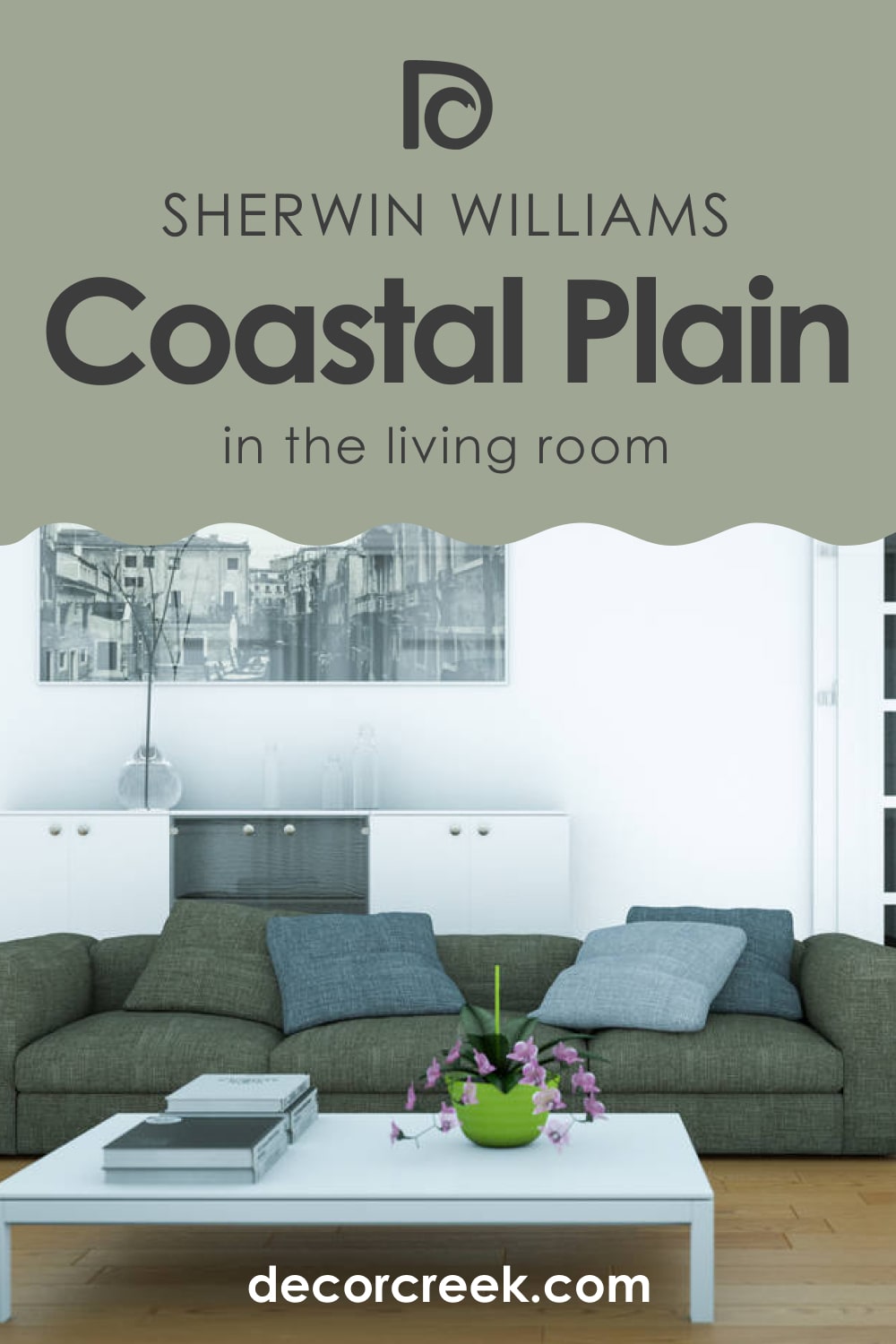 Bedroom and Coastal Plain SW-6192
This color could be an excellent color selection for your bedroom if the room has enough natural light and this light is cool-toned (e.g., in a north-facing room).
In this case, this sage green will read calming and adequately cooling, creating a relaxed vibe in your bedroom. But if you use this shade of green in a room with plenty of warm light, artificial or natural, the color may read "muddy" a bit, making the space look "heavy."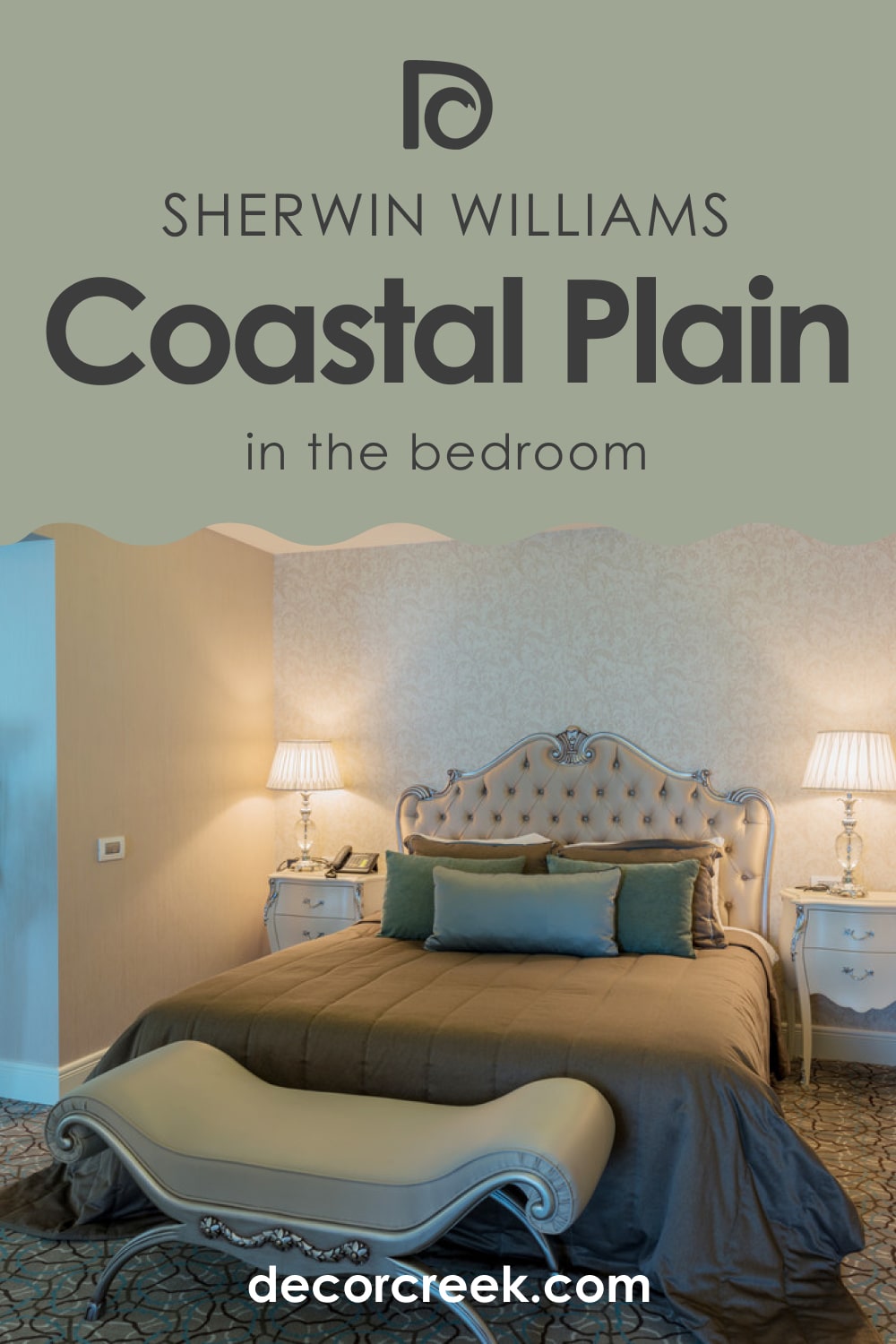 Coastal Plain SW-6192 with Bathroom
SW Coastal Plain can work in a bathroom only if it is large enough and has plenty of cool-toned light, natural or artificial. In this case, this soft green will reveal its blue undertones, making the space read cooler and relaxed. Ina bathroom with warm light, the color will read way too "suffocating."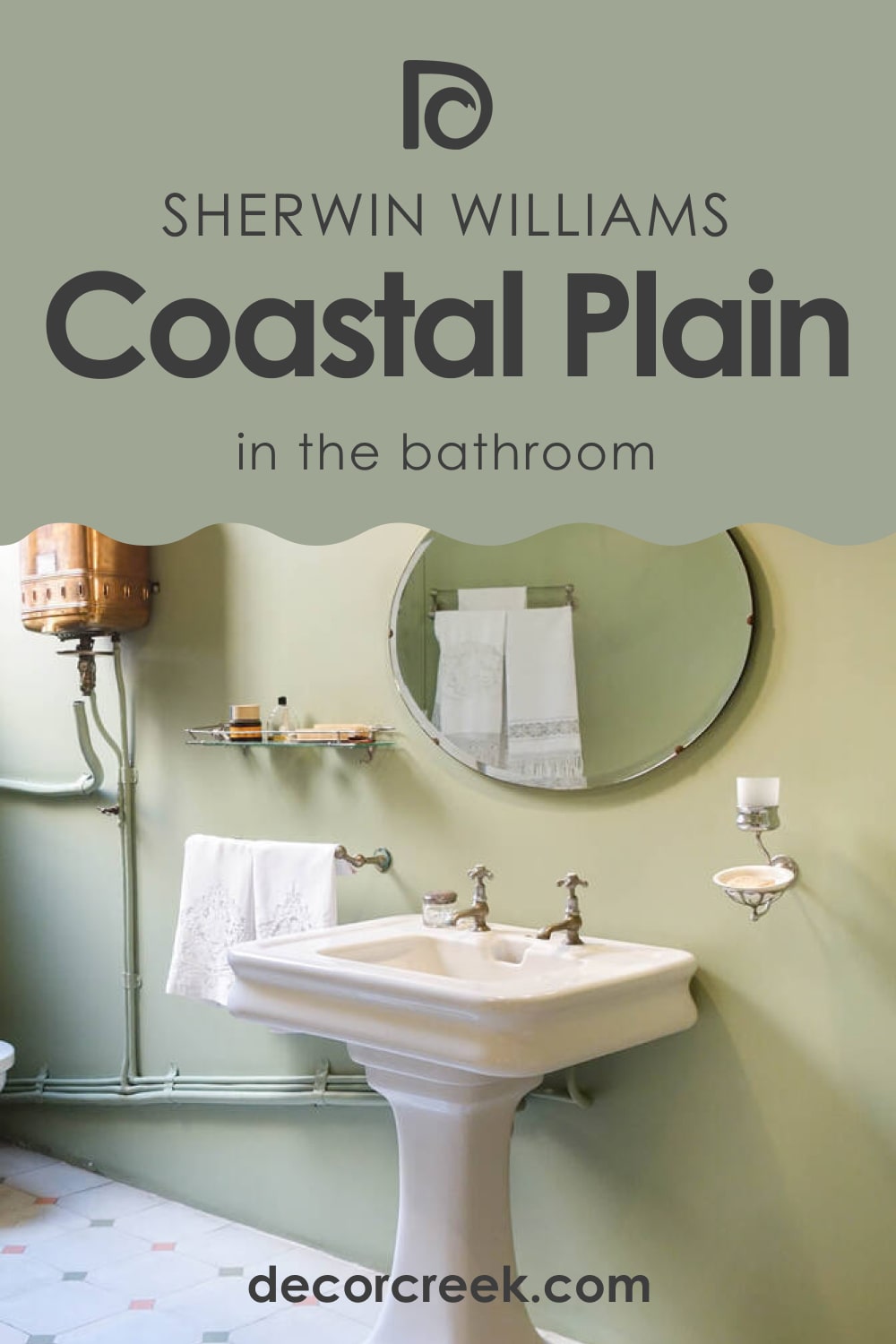 Coastal Plain SW-6192 for the Kitchen
You might not want to paint your kitchen walls with this color, but on the cabinets or on the accent wall, it will work perfectly well! If you want to make the space read more spacious and airy, use cool-toned whites on the walls, but for a cozier vibe, opt for neutral or warm-toned whites (but avoid those with a yellowish hue!).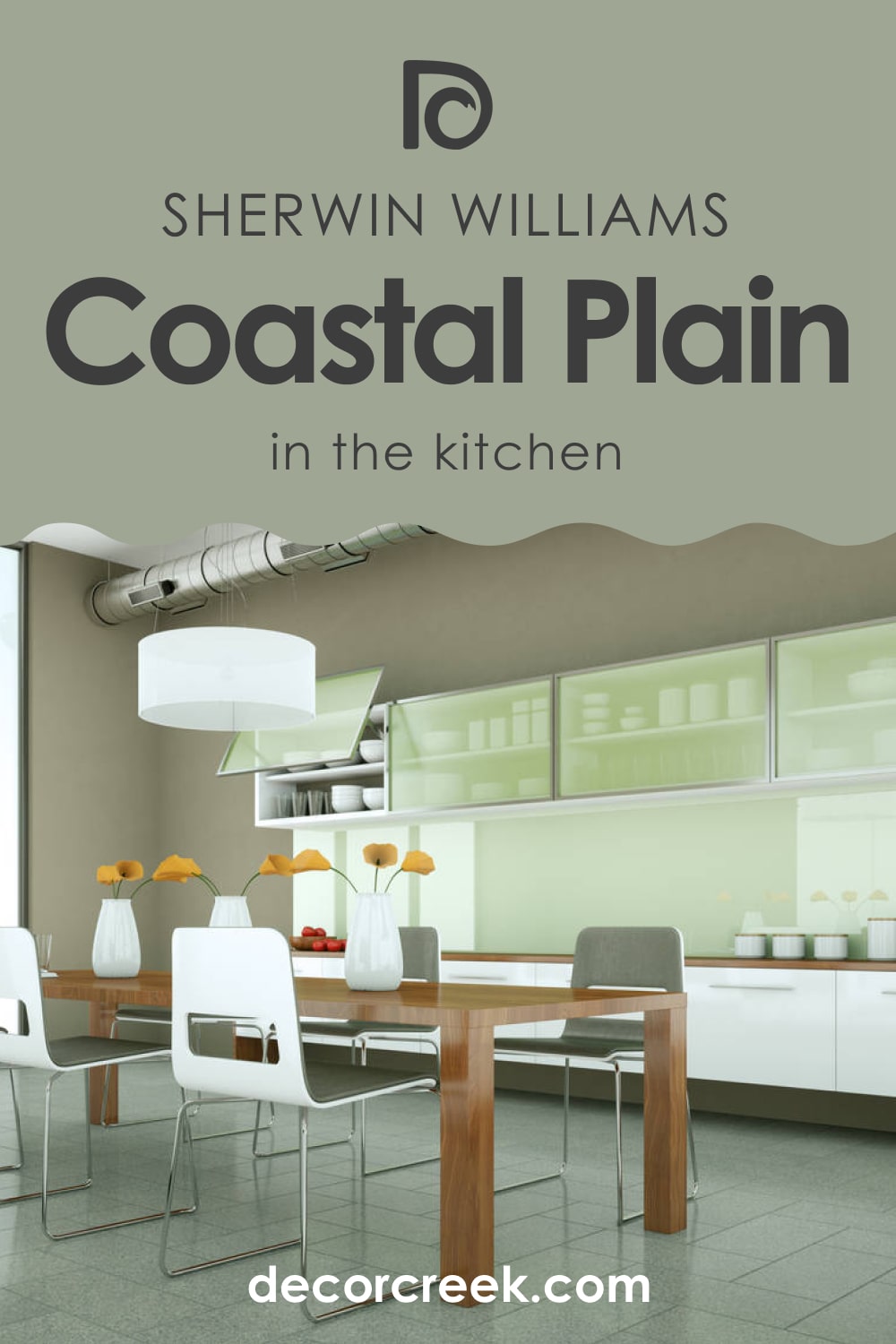 Coastal Plain SW-6192 for the Exterior Use
Surprisingly, SW Coastal Plain will read very well on exterior walls, especially if your house is situated in a sunny area. That's because, with the lack of sunlight, this sage green with blue undertones will read darker. Anyway, it will not look really dark and depressing, which means you can use it with no hesitation.
Now you know more about the paint color called Coastal Plain by the Sherwin-Williams brand. You learned what kind of green color it is, what undertones it has, and how to pair this color with other colors in your home.
Also, now you know what rooms will look great with this green on their walls and what colors can be used instead of this one.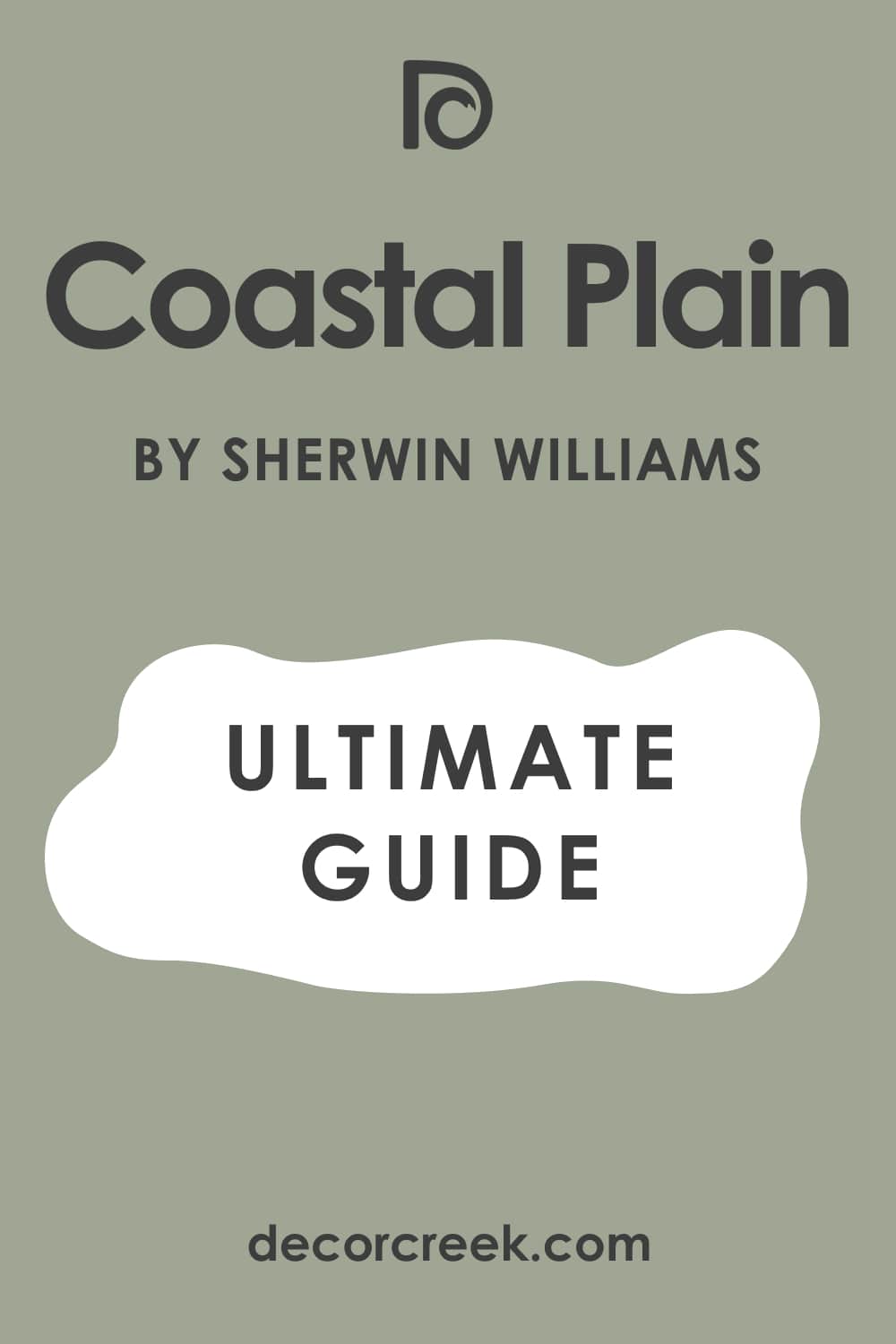 Frequently Asked Questions
⭐Can I use SW Coastal Plain in a small room?
If this room is well-lit, then you can use this color. But if it lacks light, then you'd better find a lighter color for the walls.
⭐Does SW Coastal Plain have yellow undertones?
No, it has no yellow undertones. This green has blue undertones.
⭐Why is SW Coastal Plain considered neutral?
That's because this green can work and pair well with quite many other colors.