Green is one of the most popular paint colors we use in our homes. It gives a calming and relaxing feeling, creating a meditative vibe in any room you use it. However, people often choose other, simpler colors like whites or neutrals instead of green because they believe green is too challenging to incorporate into different color palettes!
Today, we want to prove that this is wrong. We are going to introduce you to one of the most beautiful green colors by Sherwin-Williams called Agate Green.
You will learn what kind of color it is, how to use it in your home, and what colors it will work best with. And this is not all information you will find in this article!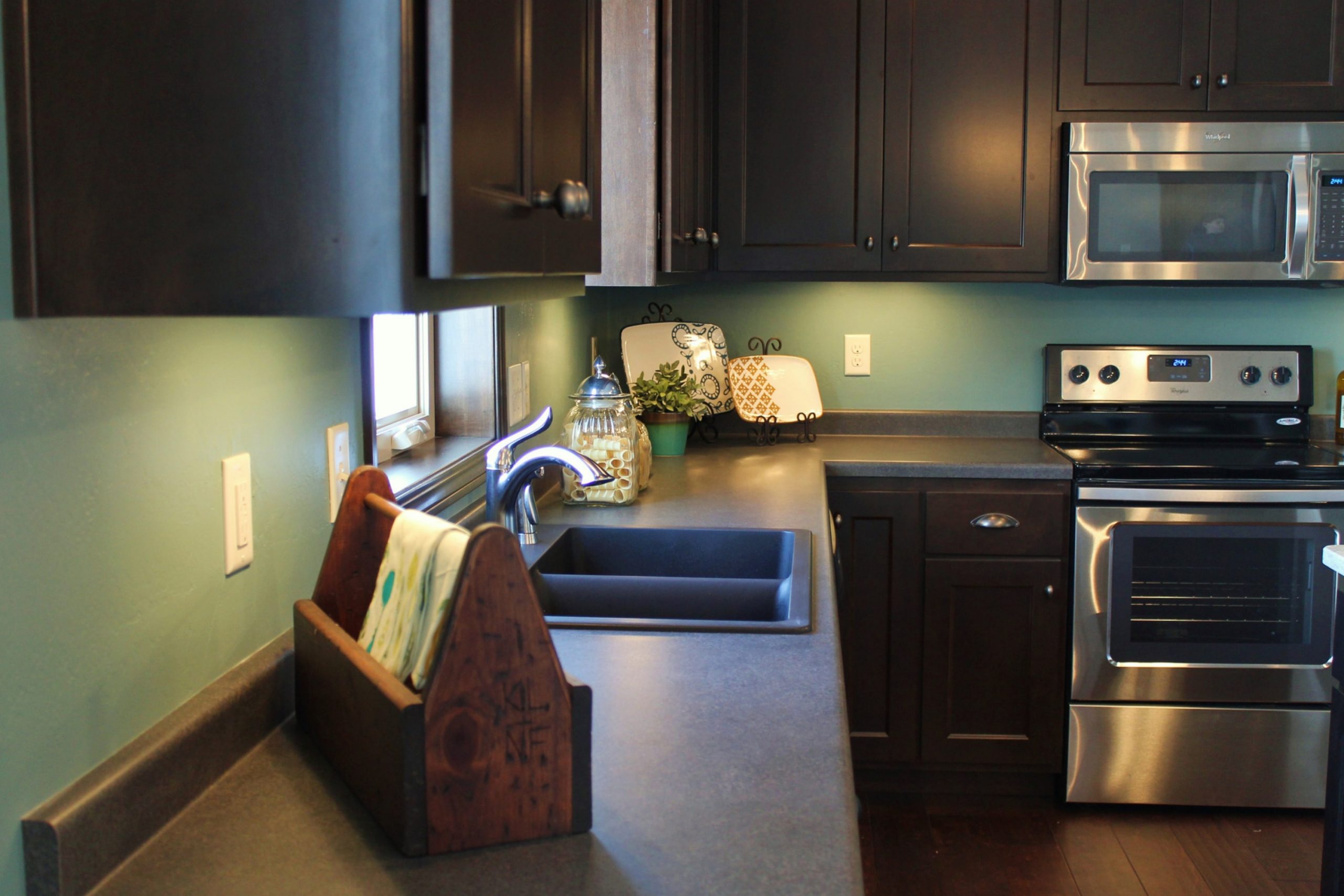 What Kind of Color Is Agate Green SW 7742?
SW Agate Green color is a mid-tone green with a blue undertone. As Encycolorpedia says, you must not be afraid of this blue side of the color since blue undertones are barely seen in the depths of this cool and serene green!
Thanks to its balanced appearance, SW Agate Green will work perfectly well in spaces that require a tranquil and relaxing atmosphere. For example, it can become an ideal color for your bedroom walls.
As an option, you might want to try it in your living room if you want to make it feel welcoming and harmonizing.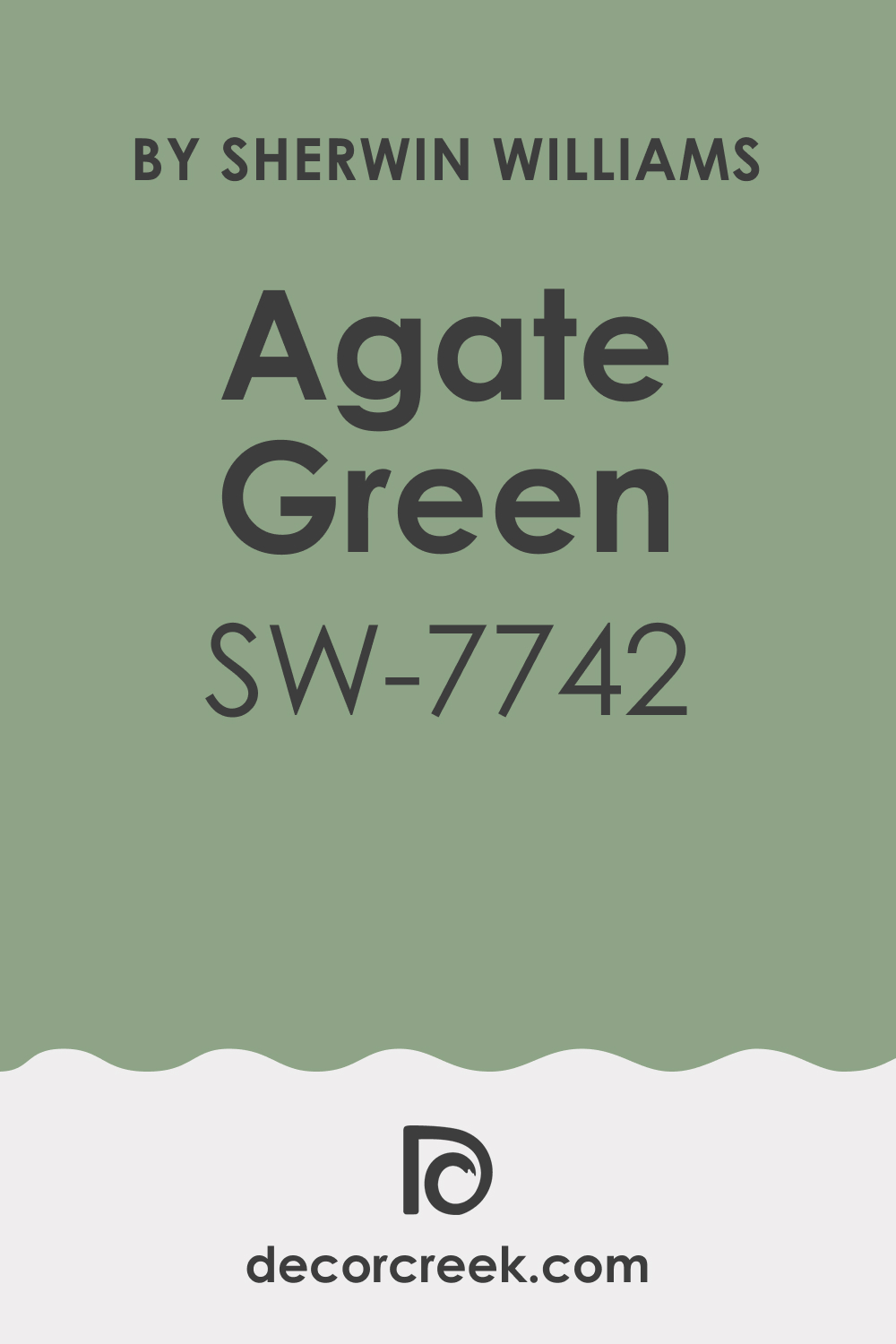 What Undertones Does Agate Green SW 7742 Have?
As we have already said, SW Agate Green has blue undertones. Some of you might think that due to this blue hue, the color might read too cold on the walls, but it's not like that!
The good news is that SW Agate Green has very subtle and delicate undertones that are barely seen most of the time.
In fact, you can notice a very slight hint of blue only under specific lighting conditions. But even then, SW Agate Green will just look a little bit cooler.
However, undertones are tricky! So, we recommend you always sample the paint color you'd like to use in your home! By using color samples, you will ensure the color reads exactly the way you want.
As a result, you will avoid unnecessary expenses on paint and won't waste your time.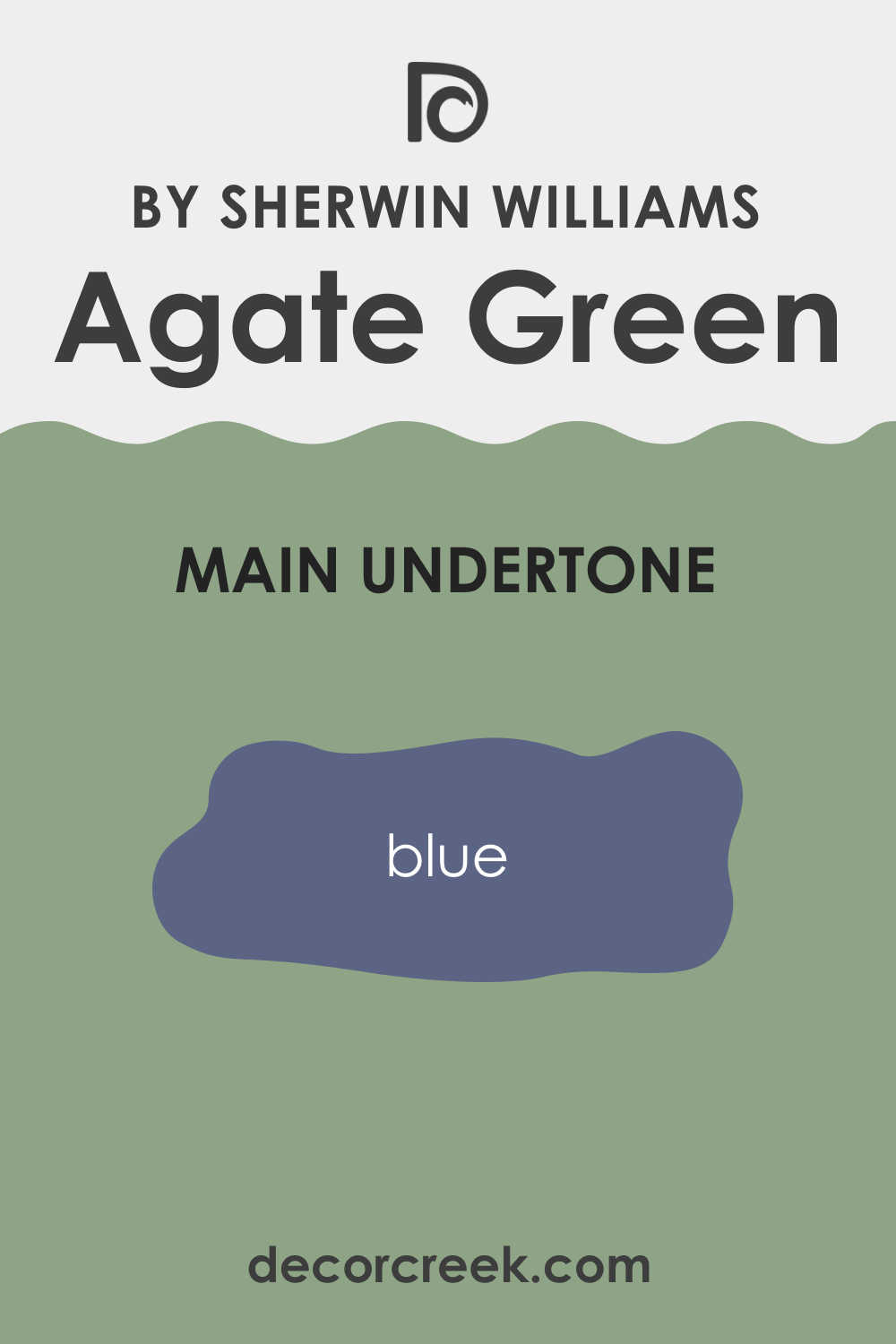 LRV of Agate Green SW 7742
LRV stands for the Light Reflectance Value. It shows the amount of light the color can reflect from the wall. The LRV scale ranges from zero to 100, where zero means black and 100 means pure white. Respectively, the higher the LRV, the lighter (and more reflective) the color, and vice versa.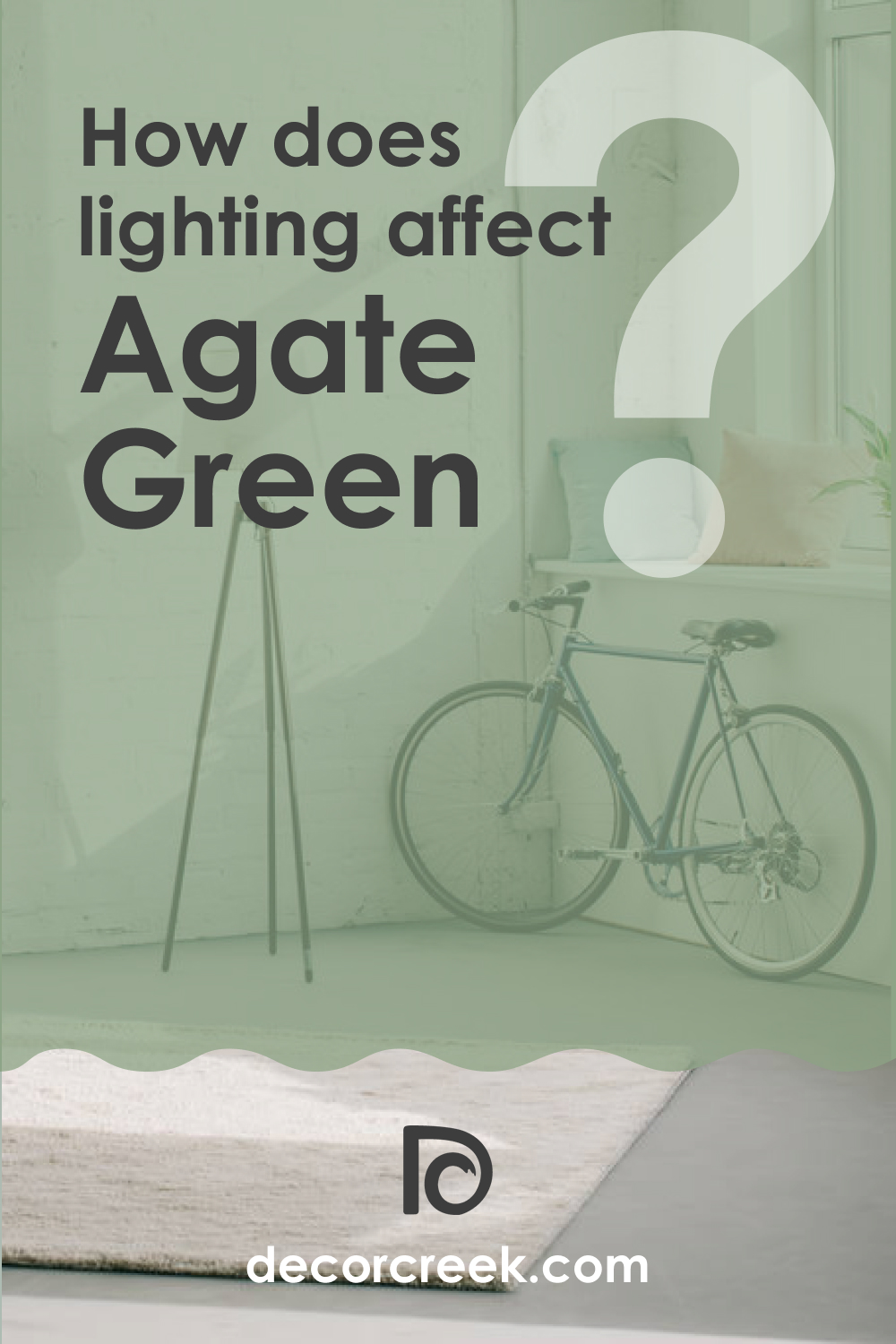 The LRV for Sherwin Williams SW7742 Agate Green is 34, which means that this green is placed on the darker side of the lRV scale, being not very reflective. However, this color won't read dark in your home.
Also, it is unlikely to make the room read smaller or enclosed. Nevertheless, you should keep in mind that SW Agate Green will not look bright, so try not to use it in very small or poorly-lit spaces.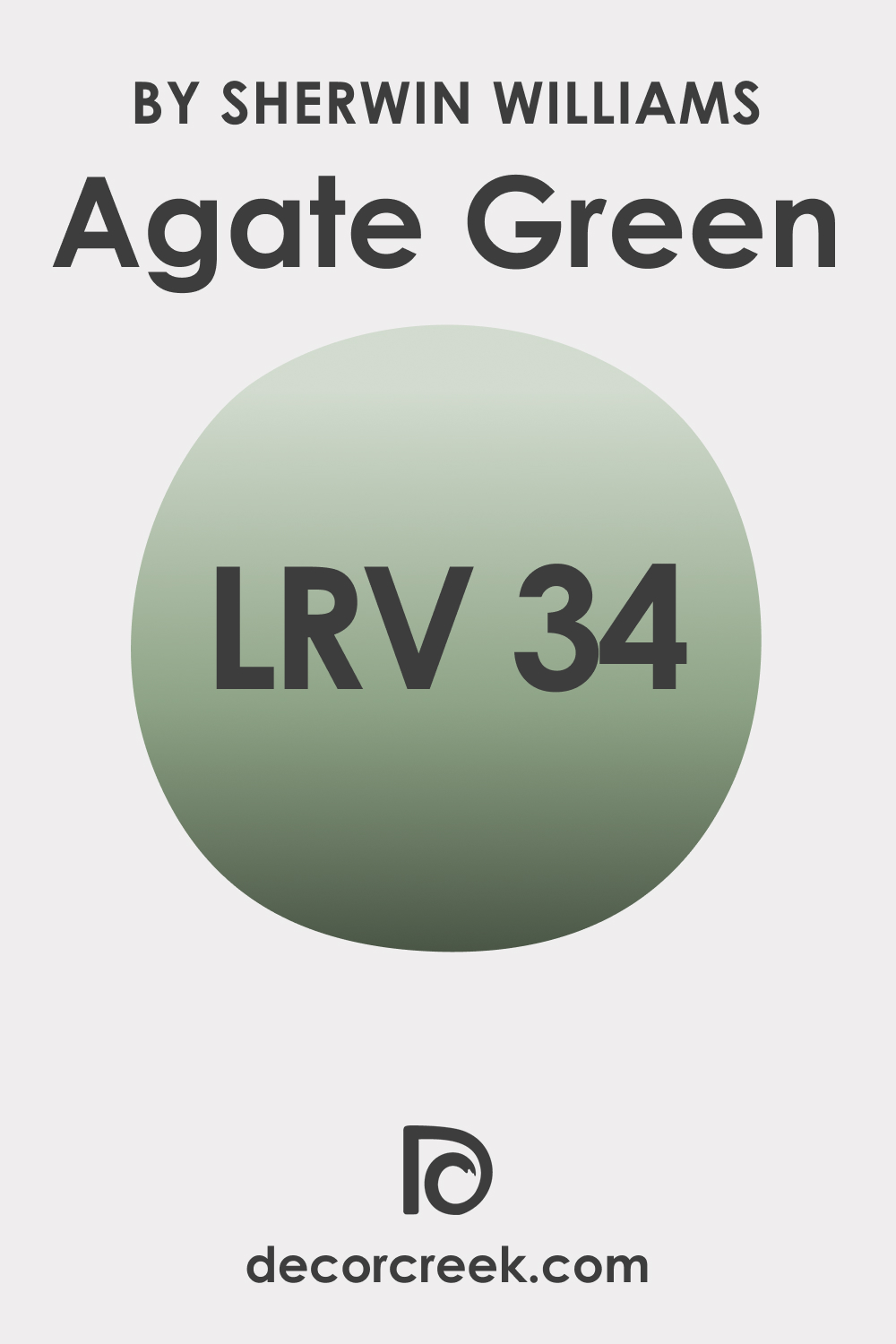 LRV – what does it mean? Read This Before Finding Your Perfect Paint Color
Coordinating Colors For the Agate Green Paint Color
The secret of a balanced-looking color palette in your home is your knowledge of how to coordinate colors correctly to make them all work together in unison. For this purpose, picking the right coordinating colors to use with the paint color on the walls is a must.
For SW Agate Green, we recommend you try one of the following coordinating colors for the ideal effect:
SW White Mint
SW Relaxed Khaki
SW Quiver Tan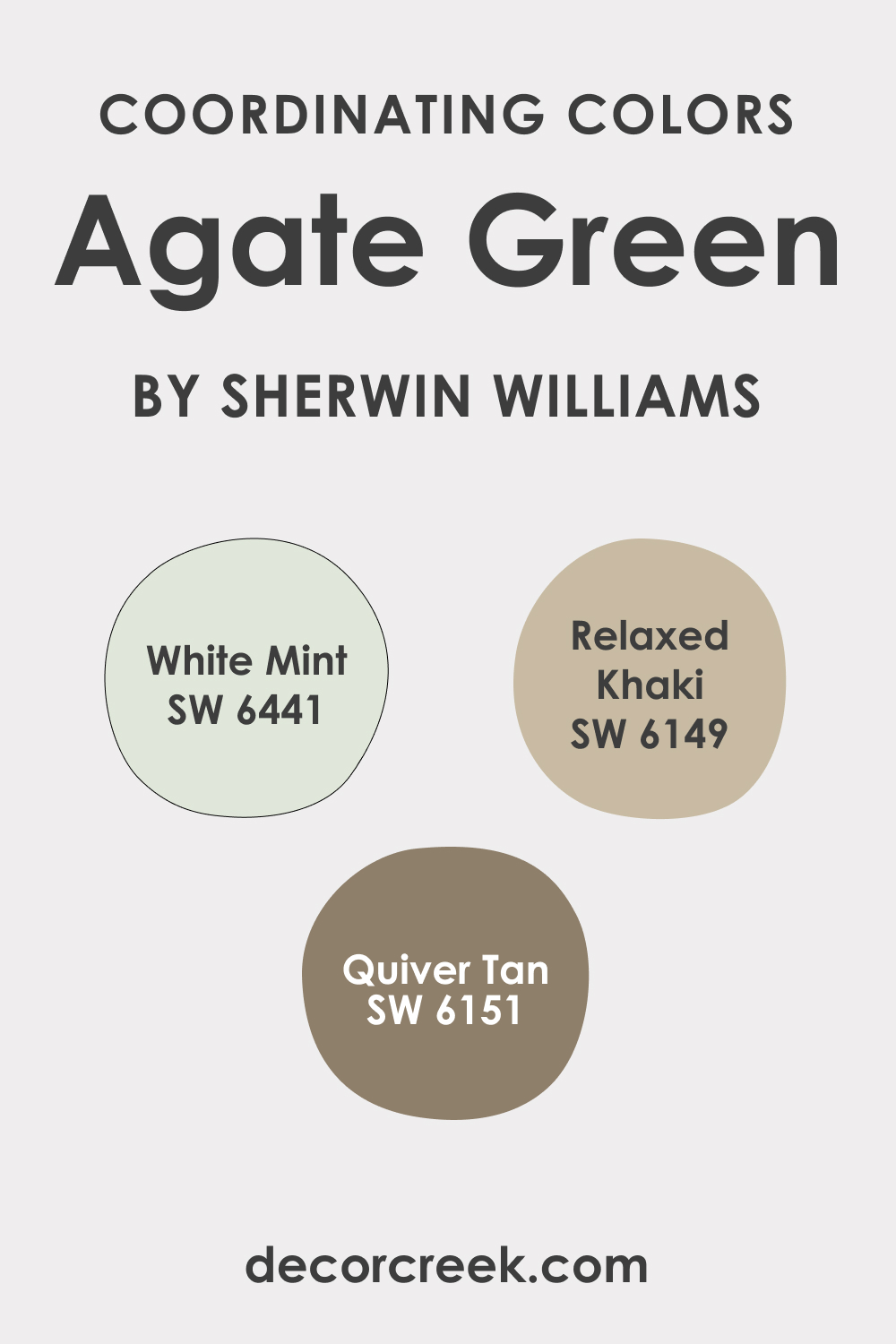 Colors That Go With SW Agate Green
When you know what paint colors work best with the paint on the interior walls, it is a guarantee that your rooms will not only have a balanced color palette but also be welcoming and pleasant to stay in. However, with certain colors, it might be challenging to figure out what paints might work best with them. SW Agate Green is one of such tricky guys!
Luckily, we are here to help you out! If you hesitate about what colors will work best with SW Agate Green on your walls, consider trying one of the following options:
SW Lemon Chiffon
SW Contented
SW Dark Hunter Green
Generally, this green will work nicely with juicy and bright yellows, as well as with much darker greens. Soft whites with balanced undertones will also pair well with this cool-toned color.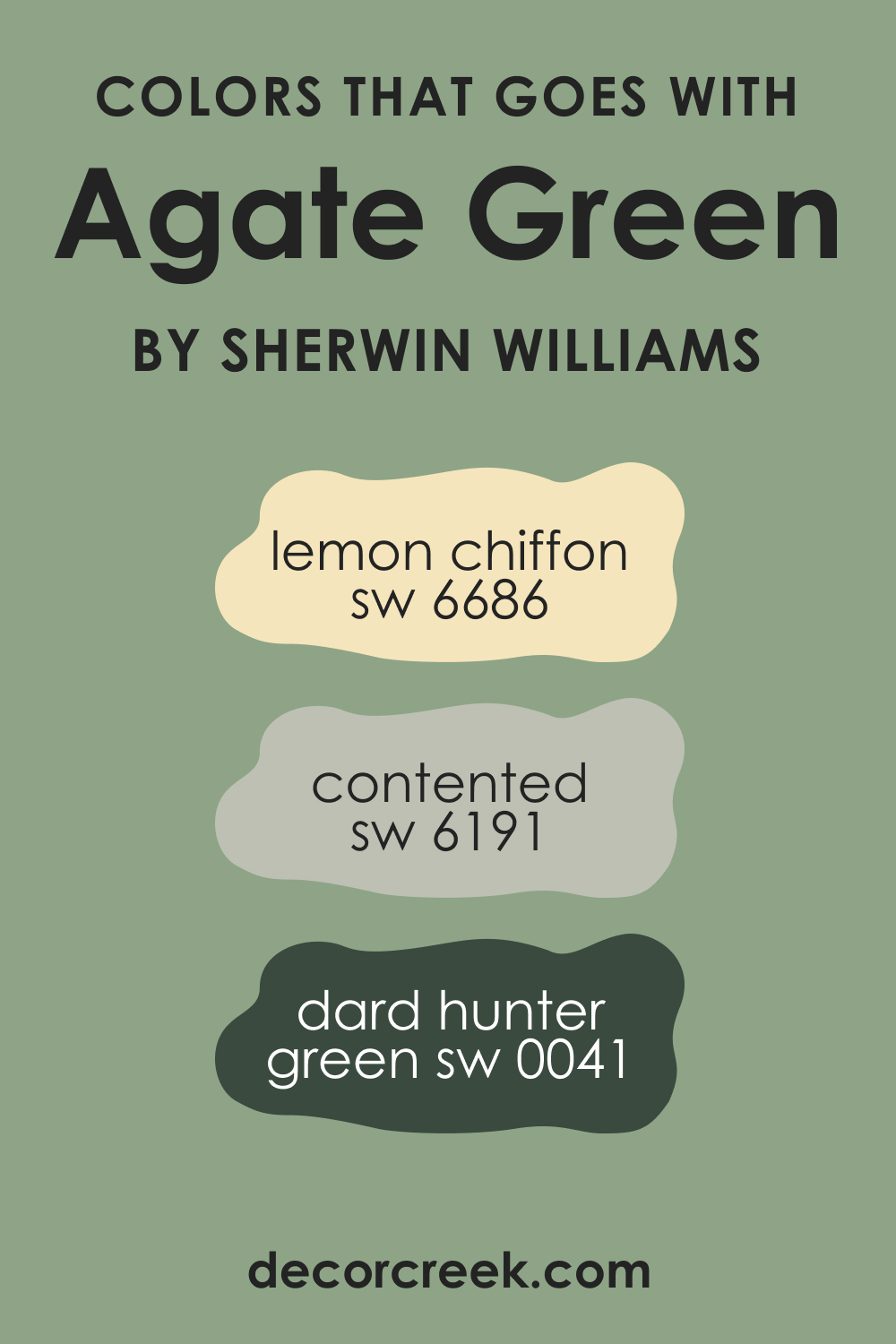 Paint Colors Similar to Agate Green SW 7742
When you have at least a couple of colors at hand that can work as substitutes, it's easier to change the color you were initially going to use. It might happen if you suddenly decide to use a bit lighter or a bit darker paint, for example, or if you realize you need a slightly distinct hue. Anyway, knowing a few alternatives is a good thing.
For SW Agate Green, we would recommend the following paint colors that read nearly the same:
Farrow & Ball Breakfast Room Green
Benjamin Moore Greenwich Village
Of course, note that none of the suggested alternatives is a 100% match. There will be distinctions in LRV and undertones anyway.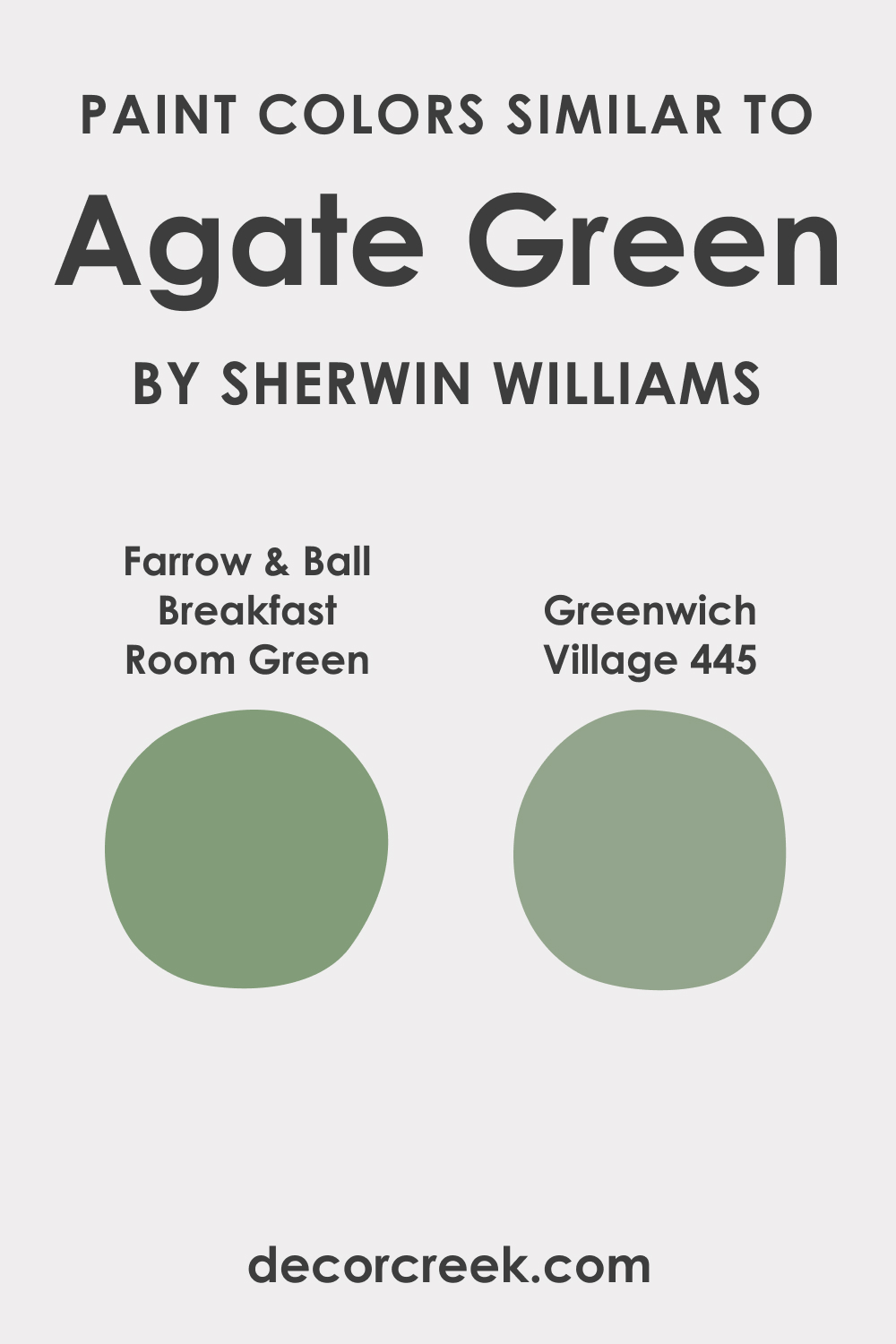 Comparing Agate Green SW 7742 With Other Colors
To help you better understand the uniqueness of the SW Agate Green paint color, we have compared it to several other paint colors that look more or less the same. Thanks to this comparative guide, you will better see what makes this cool-toned green with blue undertones differ from other greens.
Agate Green vs Olive Grove
Compared to SW Agate Green, SW Olive Grove reads much warmer and with a prominent yellow hue in it. In general, it's a typical mid-tone olive green, and compared to SW Agate Green with its fresh and cool hue, this difference is clearly visible.
These colors have different undertones since SW Olive Grove has yellow and gray undertones (that may sometimes read slightly brownish), and SW Agate Green has very slight blue undertones.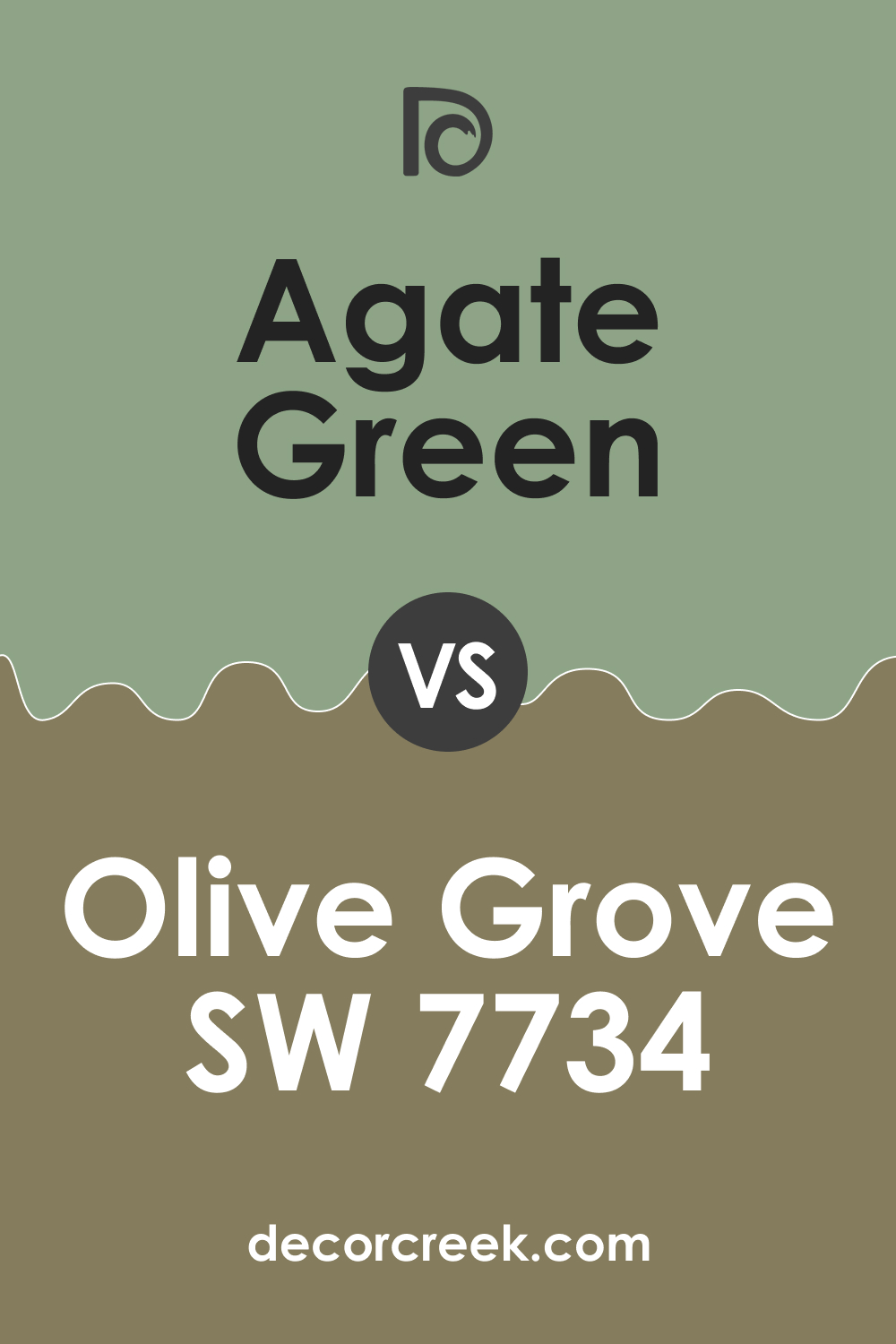 Agate Green vs Clary Sage
SW Clary Sage has deep undertones of yellow and gray-green that make this color read pleasantly warm without leaning too cold or crisp. The LRV of SW Clary Sage is 41, which makes it a bit lighter than SW Agate Green, but still not very reflective.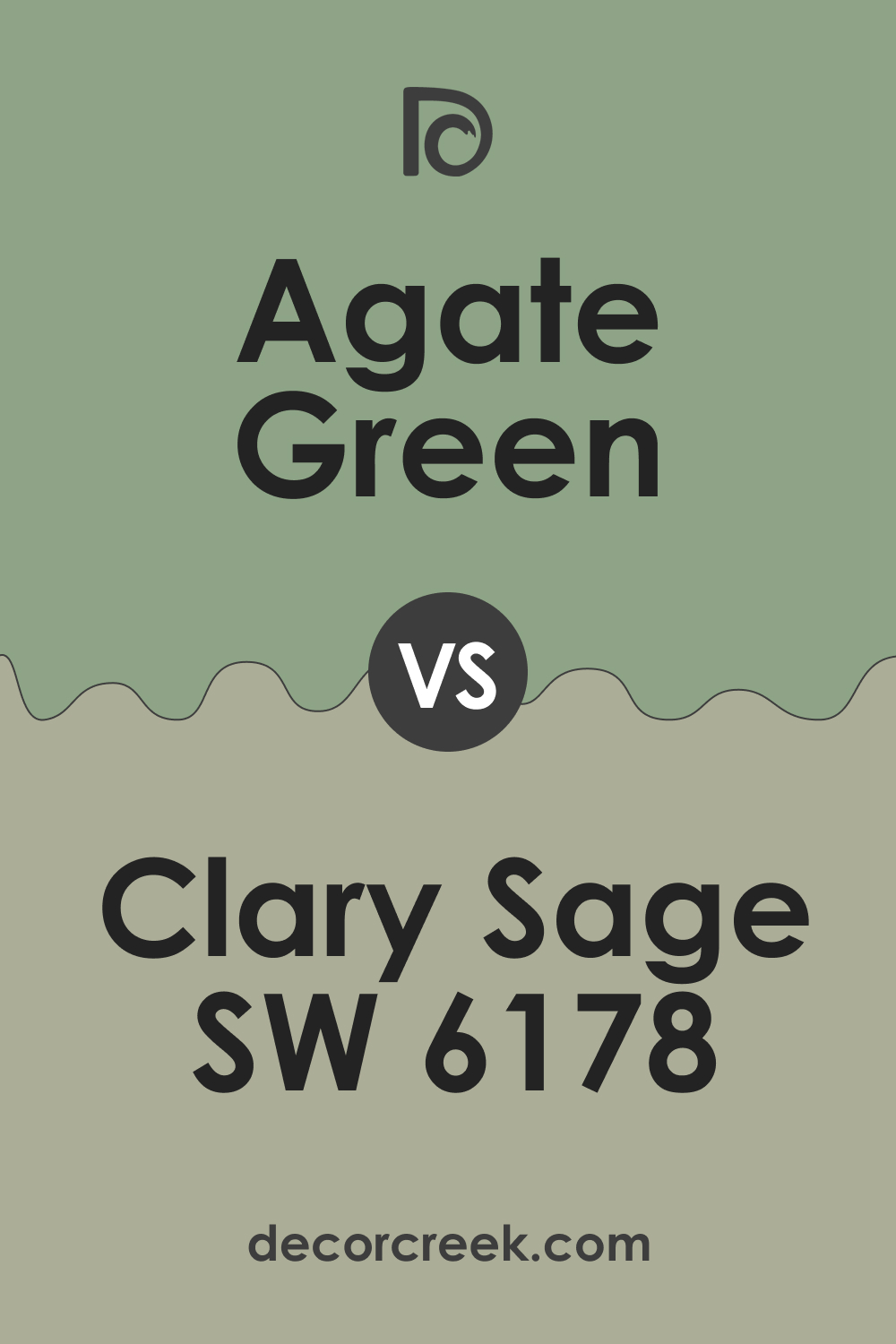 Agate Green vs Willow Tree
SW Willow Tree has cool blue-gray undertones. Compared to SW Agate Green, this color reads much grayer with only the slightest hint of green. The LRVs of these colors also differ.
SW Willow Tree has an LRV of 40, and SW Agate Green has an LRV of 34, which makes it a somewhat darker color.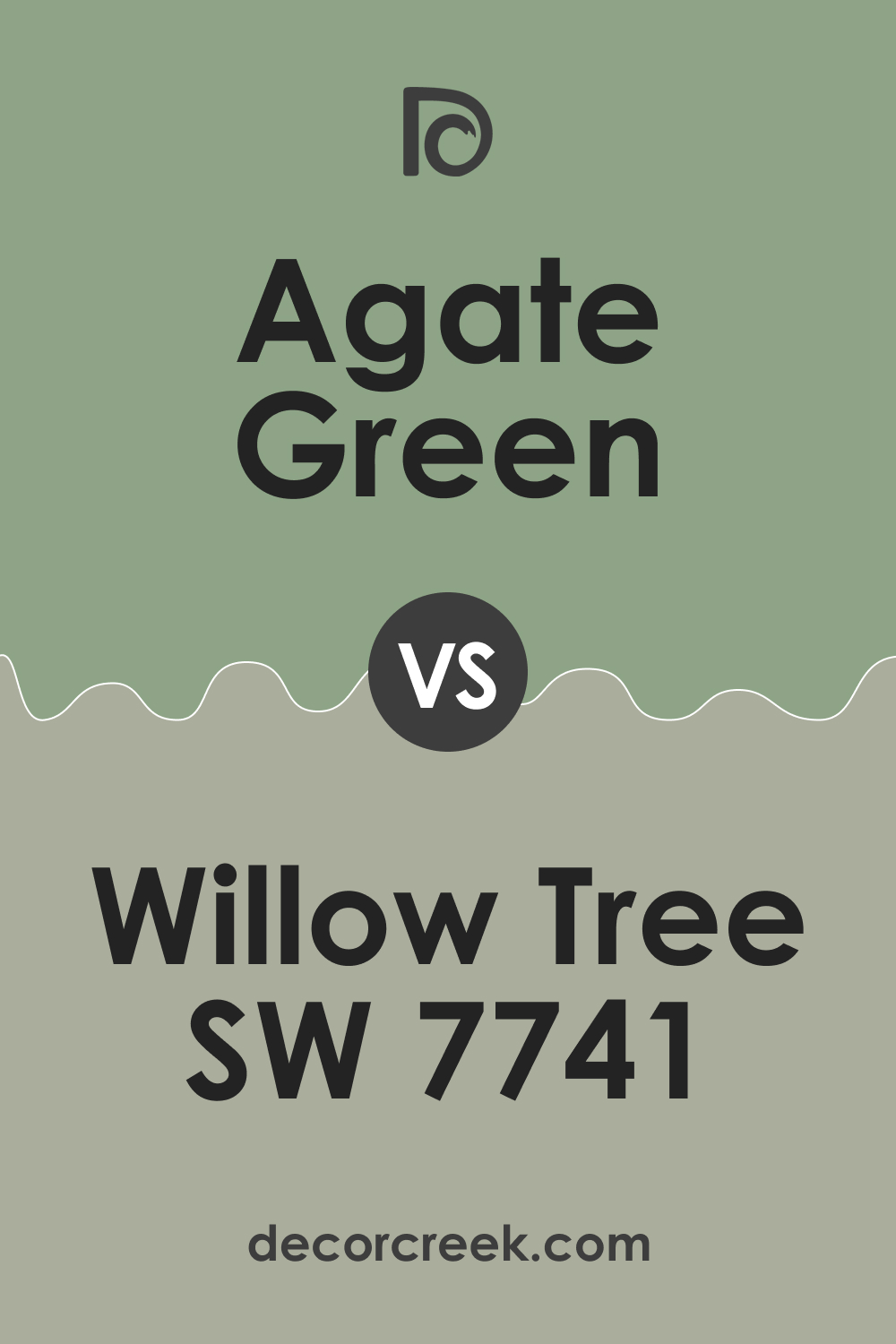 Agate Green vs Courtyard
Compared to SW Agate Green, SW Courtyard reads much greener and brighter! it's a leafy and saturated green. However, it's not very reflective at the same time. Nevertheless, these two can't be used in the same space since the room will be overwhelmed with green!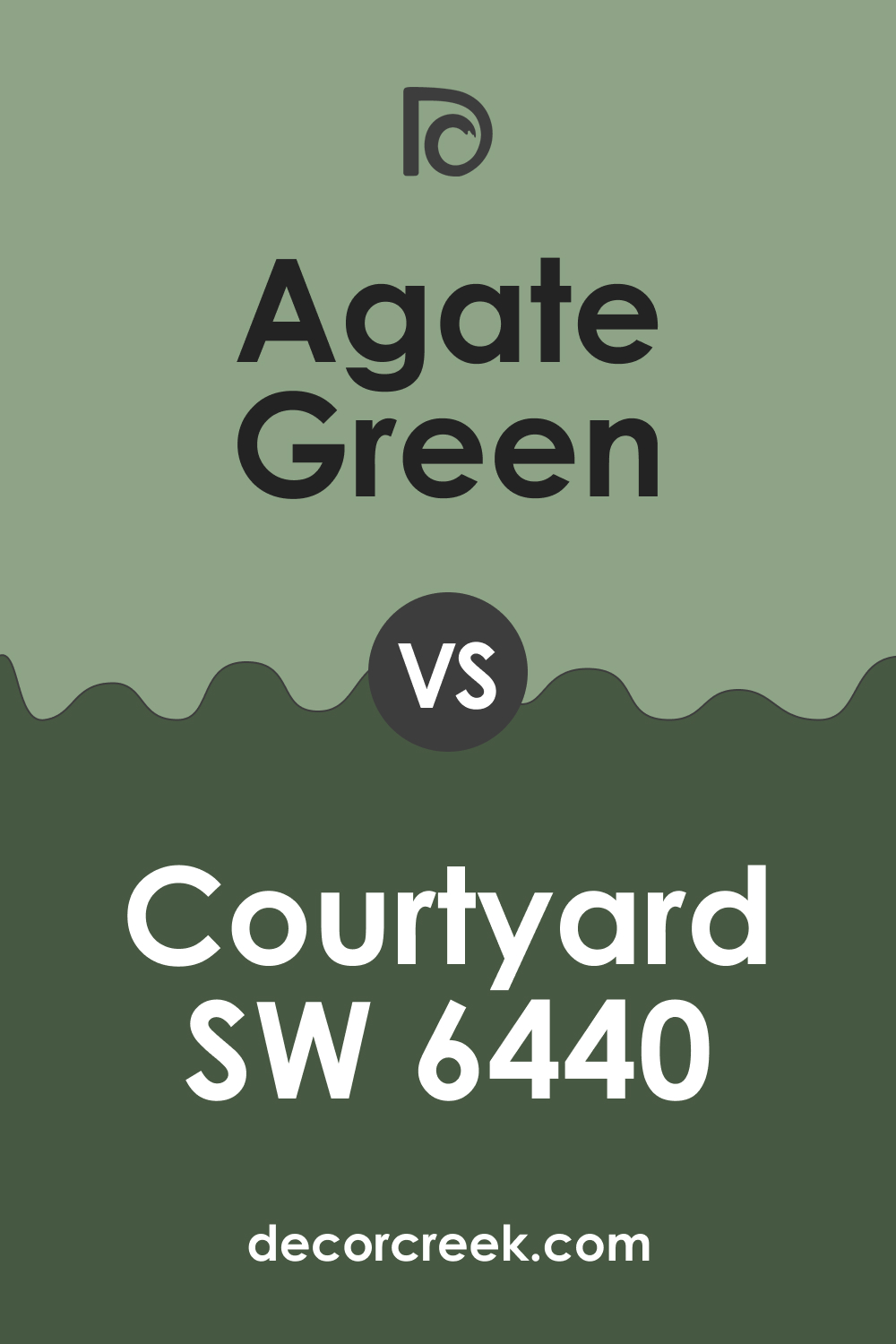 Agate Green vs Isle of Pines
SW Isle of Pines is a moody green with a hint of blue undertones. However, despite the similar undertones it shares with SW Agate Green, these two look very different! SW Isle of Pines is much darker (LRV 8), whilst SW Agate Green looks significantly lighter (LRV 34).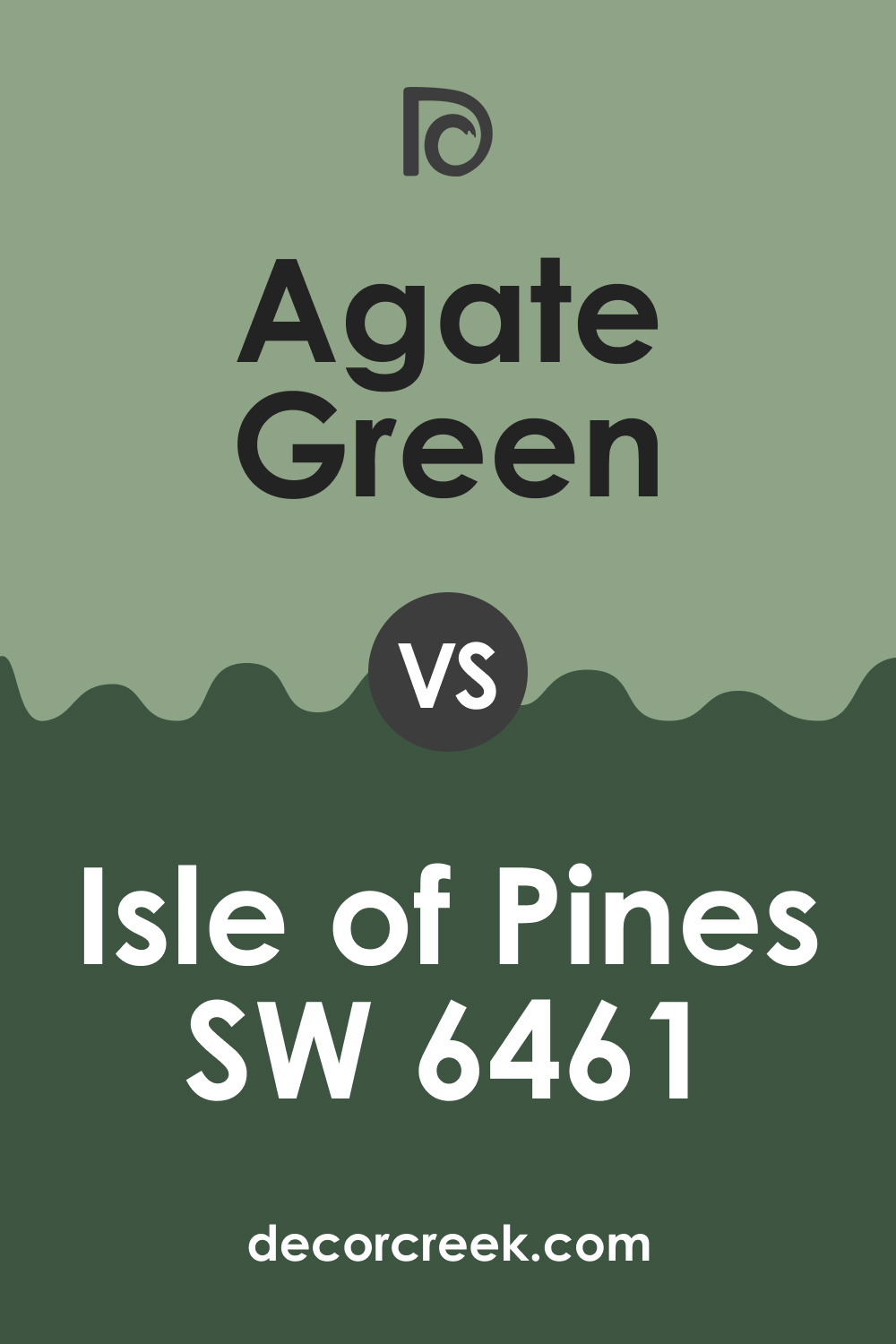 Agate Green vs Billiard Green
The LRV of SW Billiard Green is 9, which makes it much darker than SW Agate Green, with an LRV of 34. Also, these two read absolutely differently!
SW Billiard Green is a dark, subdued green with a teal undertone, whilst SW Agate Green is a cool-toned and lighter green that reminds of a calm and subtle green of a gemstone.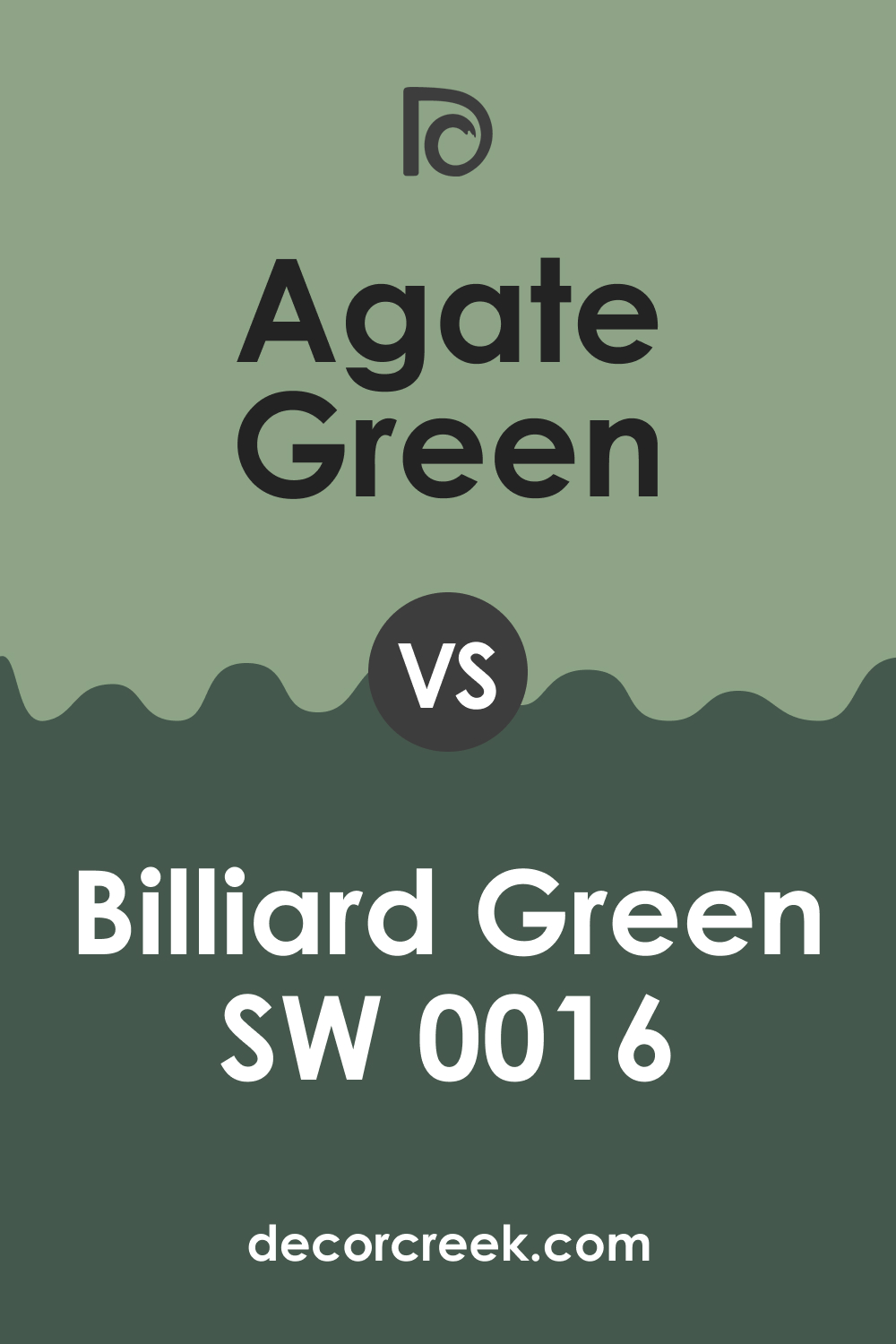 Where to Use Agate Green SW 7742 In Your Home
Although green is not the top color for interiors, you can still make it work in your home! You just need to know in what rooms it will do its best. This is why we suggest you a brief introduction to the optimal areas of your home where SW Agate Green might work its magic!
Agate Green SW 7742 in the Living Room
If your living room has plenty of natural light, be ready so that SW Agate Green may read lighter than it is. Some people even see it as a washed-out green when the light hits the wall directly! Also, it's not the best color to paint all the walls. We'd rather say it will work much better on an accent wall.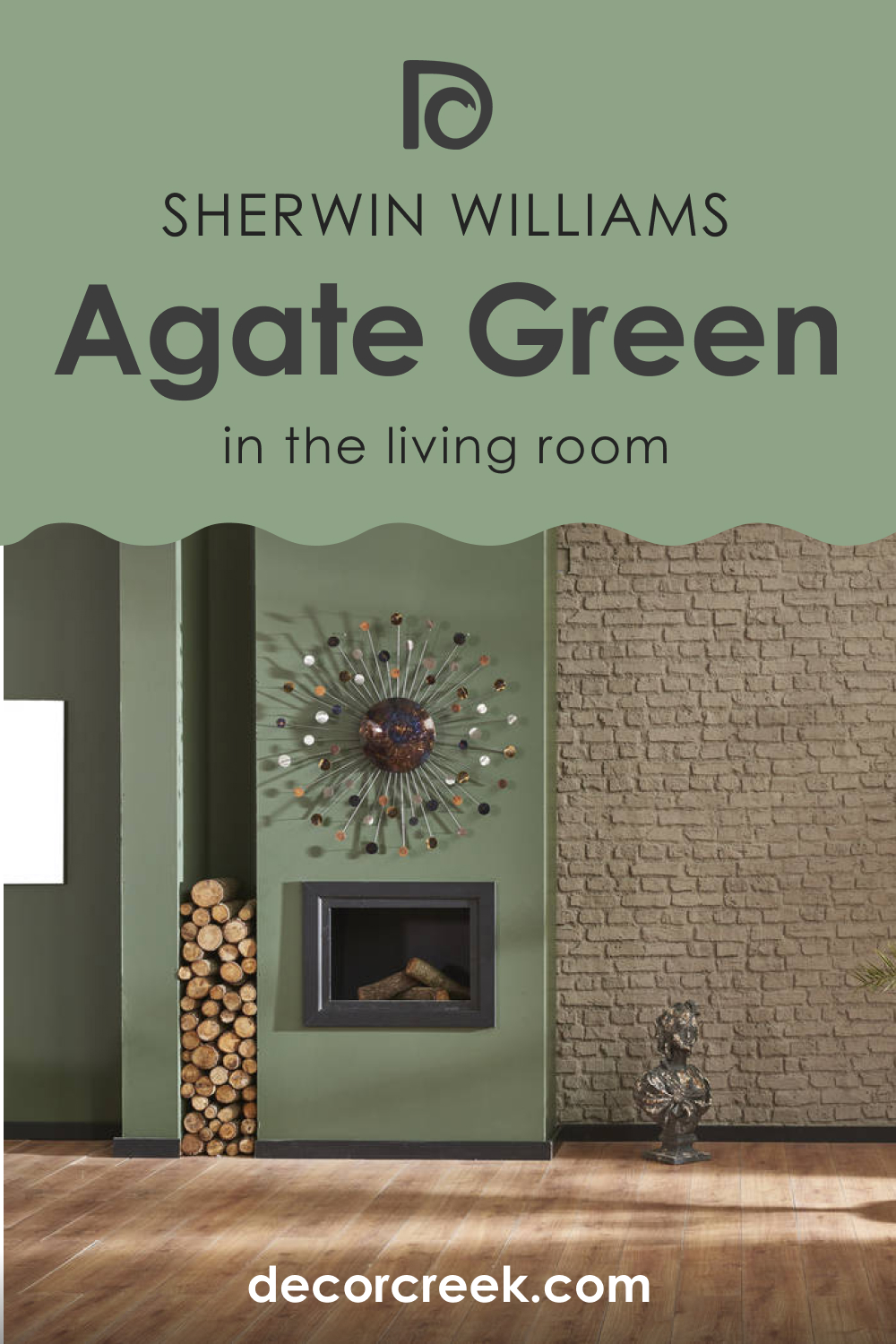 Agate Green SW 7742 in a Bedroom
In your bedroom, this green will work better if you use it on an accent wall. By leaving other walls neutral (white or very light gray), you will make the space read calming yet not overwhelmed with the green hue.
Pair SW Agate Green with softer and lighter beiges on your bedding and carpets, and add a few brighter accents like yellow or golden to make the room look more vivid and warm (unless you strive for a cool appearance).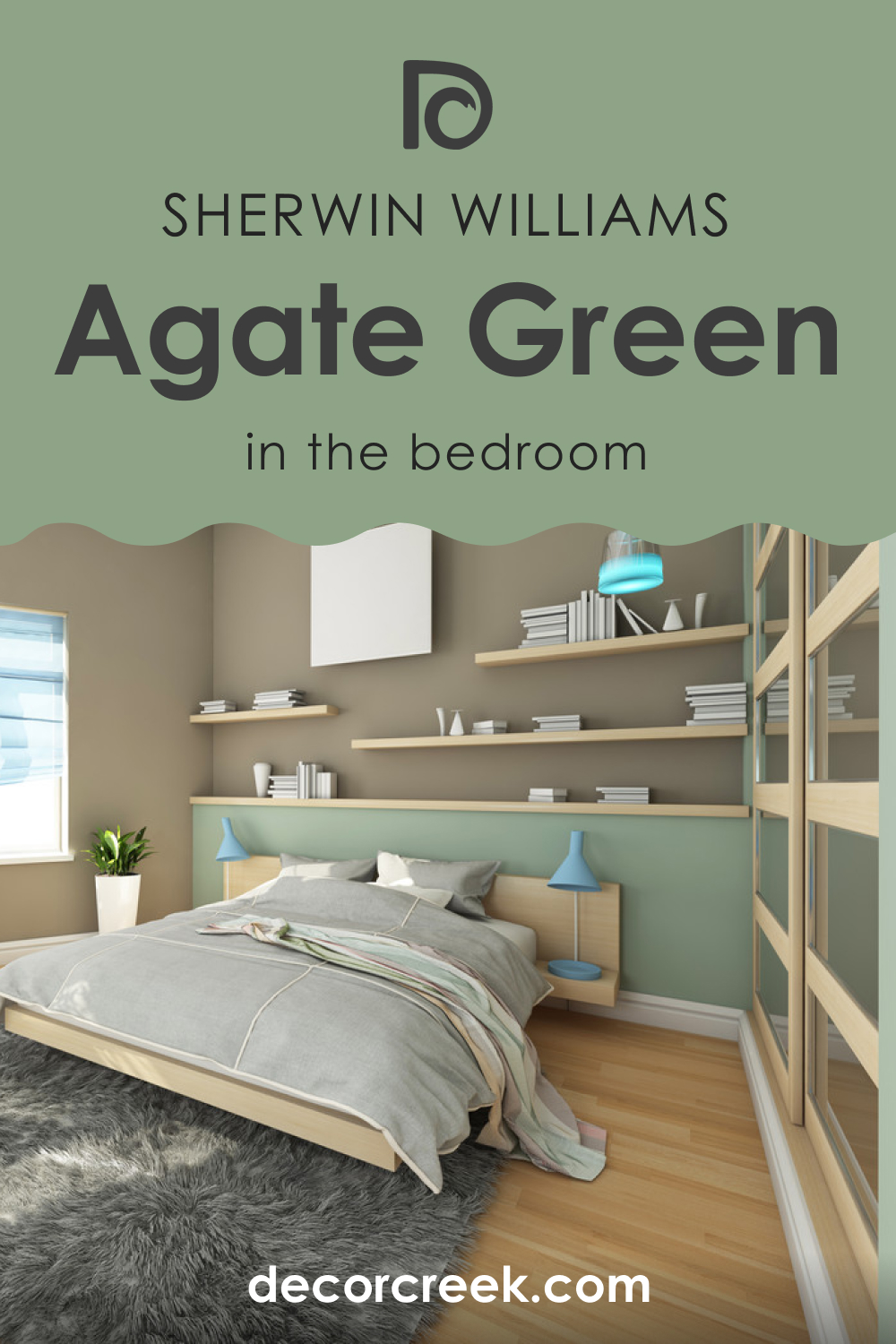 Agate Green SW 7742 for Kitchen
In the kitchen, this green works best on cabinets, lower or upper (or both). We recommend you leave the walls white if the room lacks light or use lighter shades of gray that coordinate with SW Agate Green. This trick will make the kitchen look spacious and airy.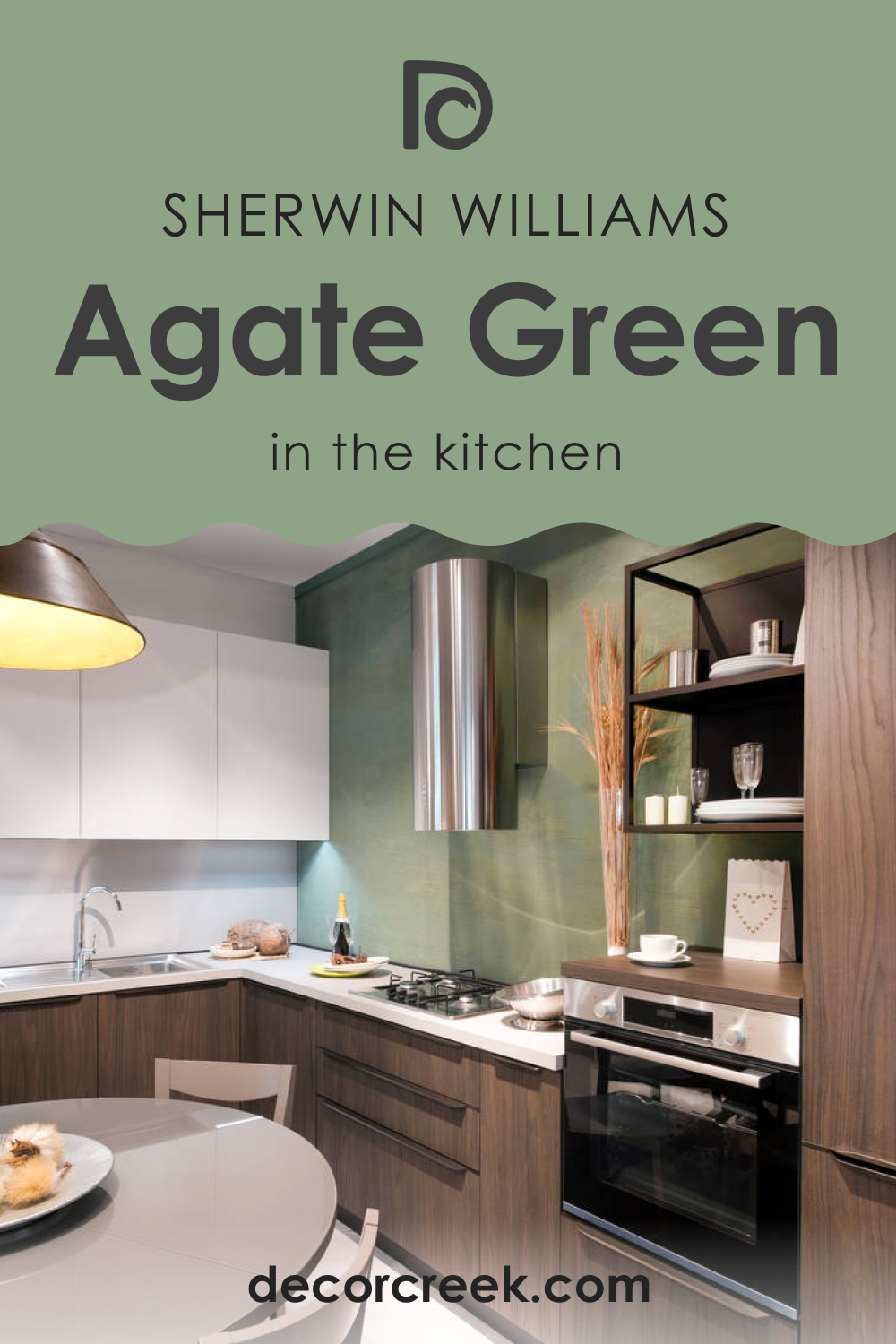 Agate Green SW 7742 and Bathroom
Green is not the best color for bathroom walls, but you can make this space look more interesting by painting your vanity sink green! Paired with white walls, SW Agate Green will add a natural and refreshing vibe to your bathroom.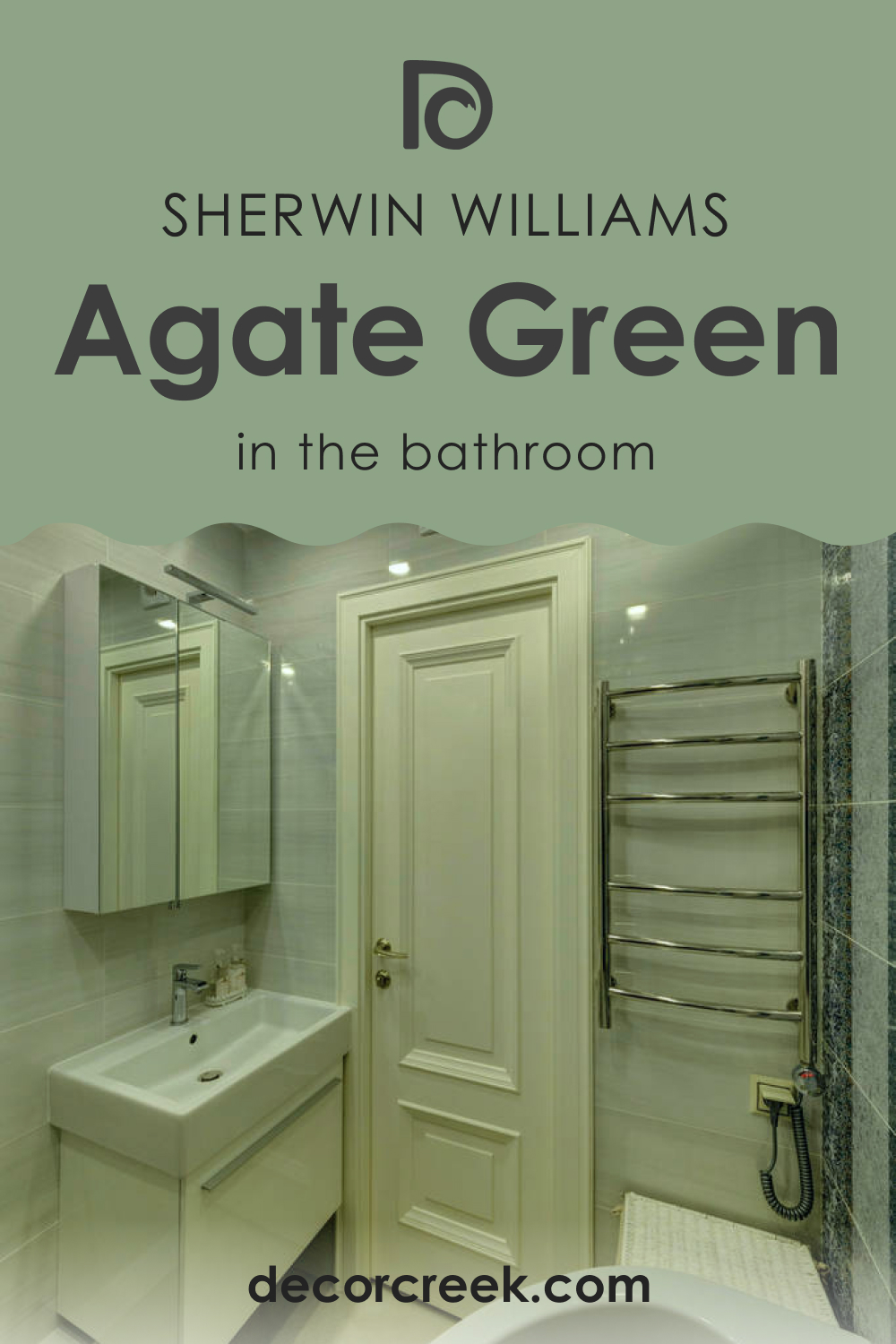 Agate Green SW 7742 for the Exterior Use
On exterior walls, this green may read lighter than it is if the sun hits the walls directly! Consider this if you're going to paint your house with SW Agate Green. Otherwise, it can look lighter than you expected.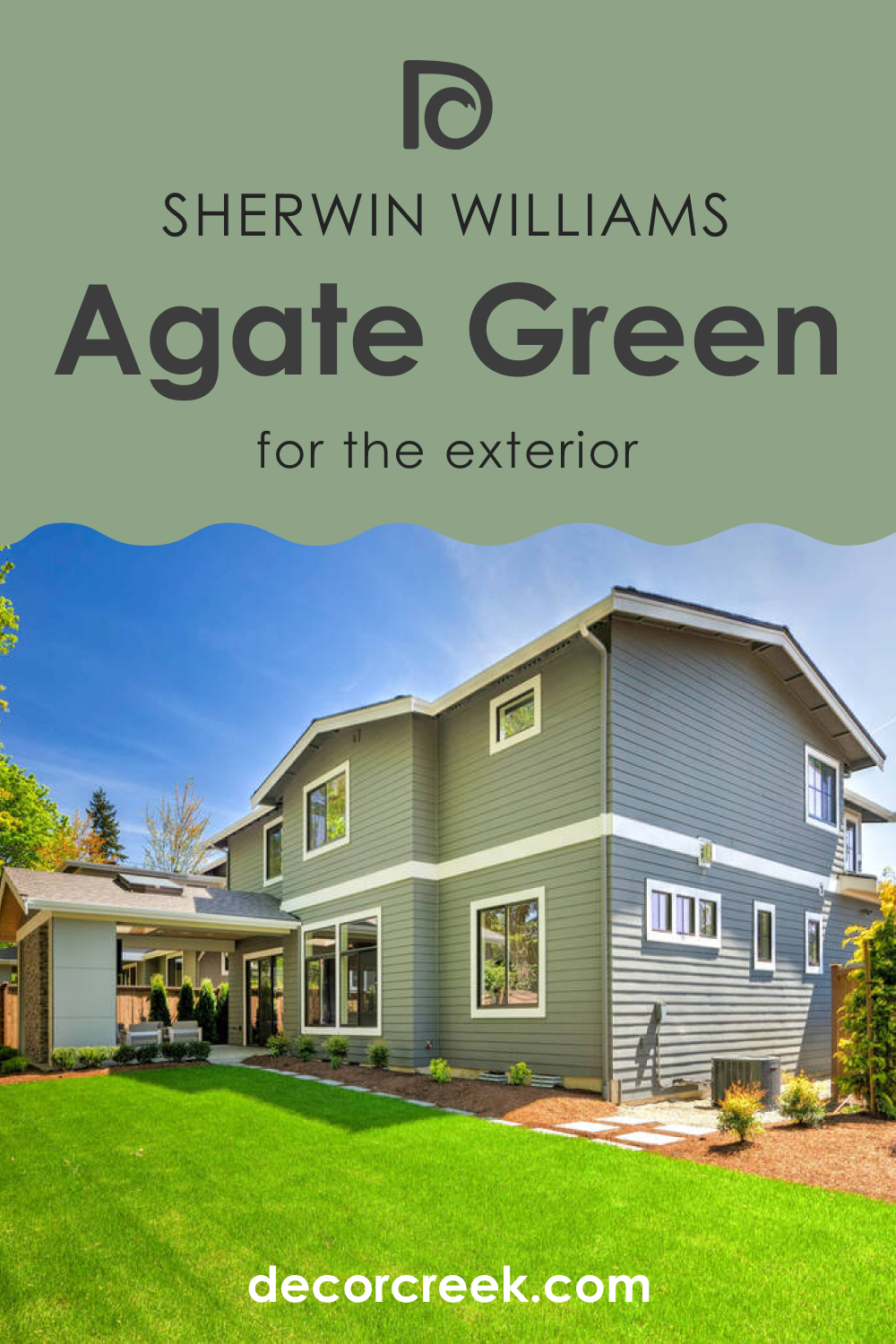 Well, this was a brief guide that introduced you to SW Agate Green color. Now you know what kind of green it is, how it works in different rooms, and how to coordinate it correctly to get the best effect.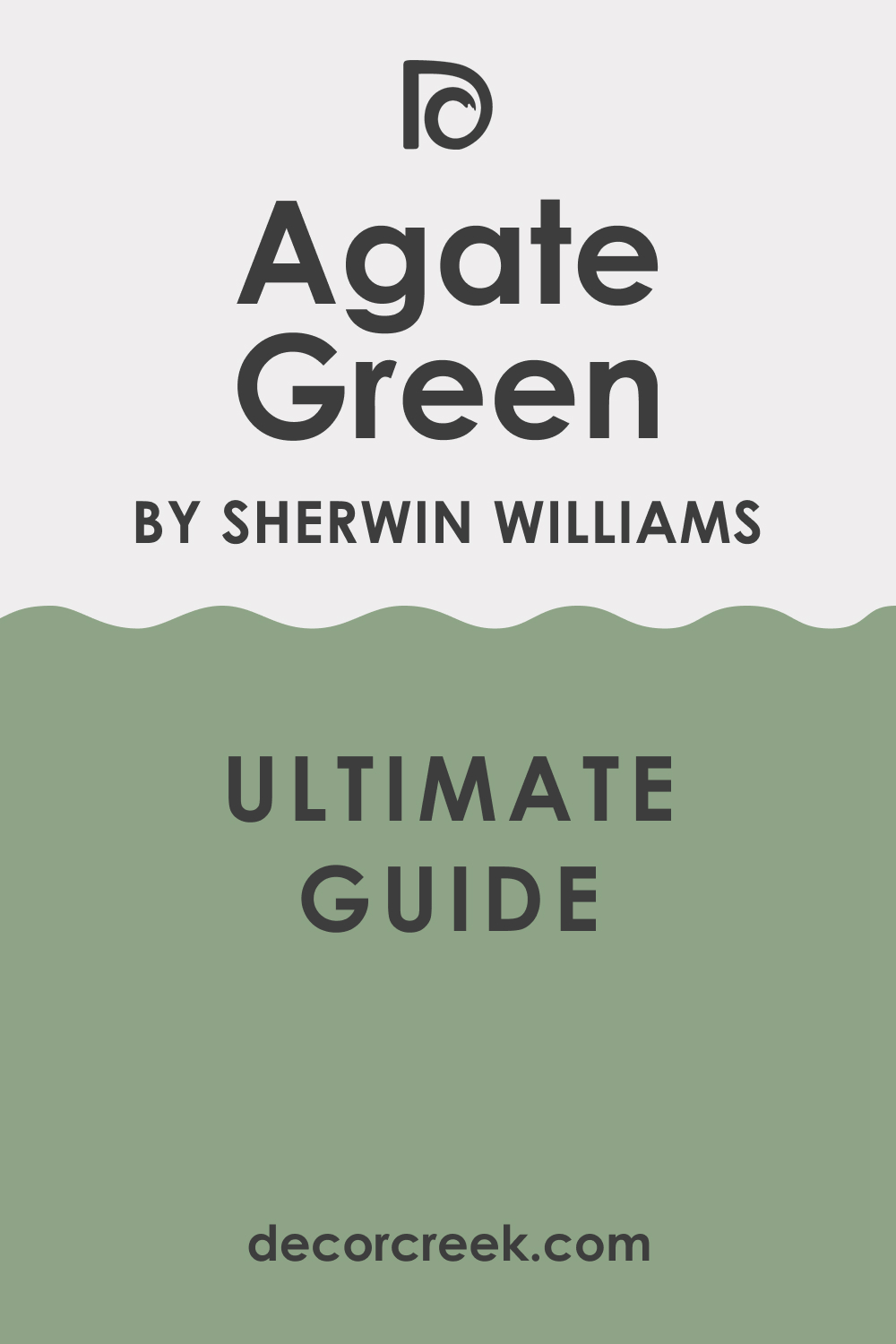 With all these tips and recommendations, you will make this cool and calming color show its beauty.
Frequently Asked Questions
⭐Is SW Agate Green an interior color?
Yes, this color is considered interior, but you can also use it on exterior walls.
⭐Does SW Agate Green read blue?
No, blue undertones are hardly noticed in this color.
⭐Is it possible that SW Agate Green can make a room feel smaller?
No, it will hardly make a room seem smaller unless you use this green in a very tiny and dark space.