Sometimes it can be rather difficult to figure out what paint color you want to have in your home. There are so many color options available on the market these days that people feel puzzled, being unable to make the right choice. Besides, not everyone knows the basics of color theory, which makes the task of paint selection even more complicated.
Today we are going to talk about one of the paint colors by the Sherwin-Williams brand called Succulent. This is a beautiful color that can be used both indoors and outdoors on your exterior walls.
We will tell you what kind of color it is, how to use it correctly, and how to pair this color with other colors in a space to get a harmonious palette.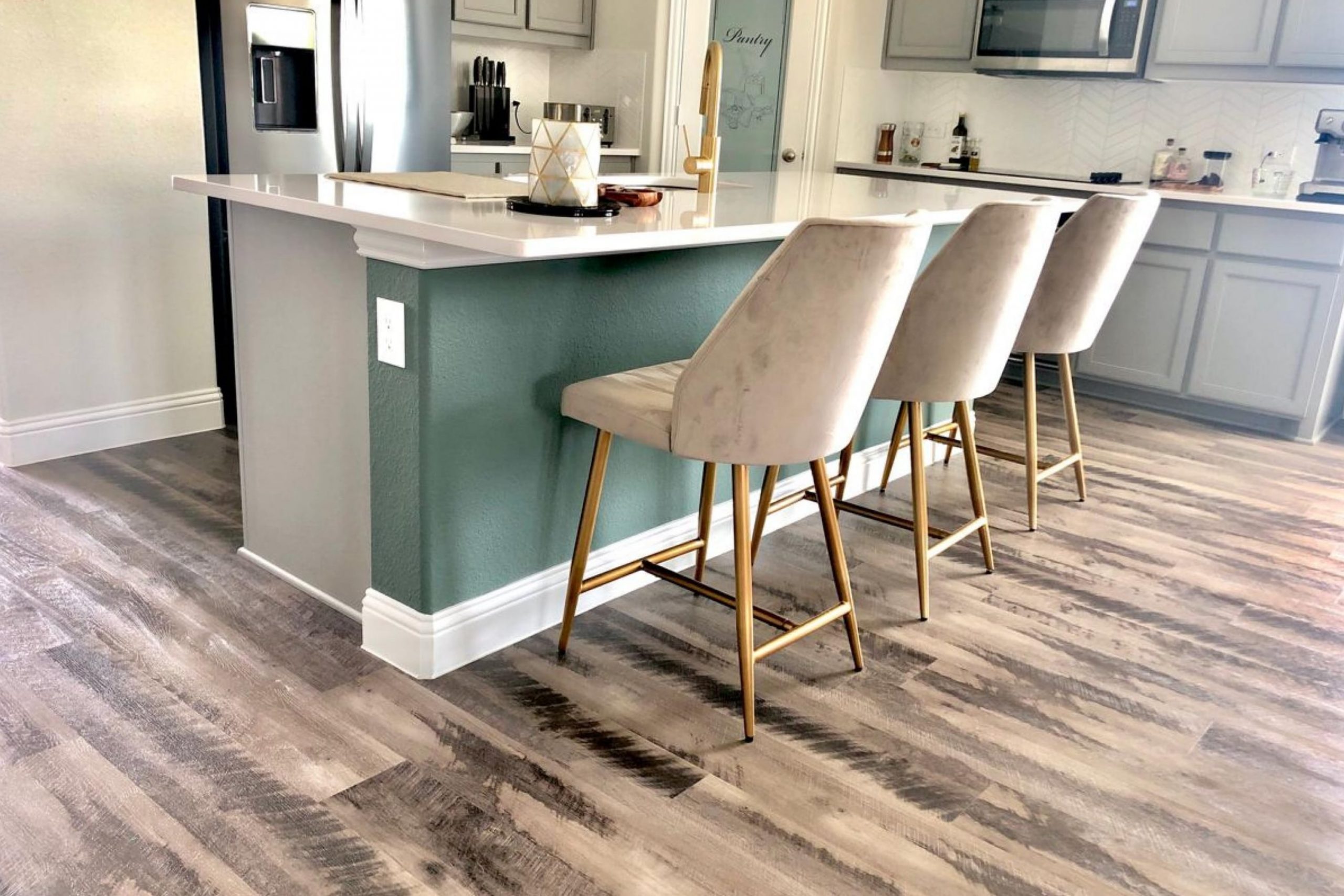 What Kind Of Color Is SW Succulent?
Green color and its shades becomes more and more popular these days, but since this color can be rather complex, it's better to be aware of the specifics of each shade you deal with.
As for the SW Succulent color, it is a dusty green color, which can become an easy pick for your home. As Encycolorpedia says, this calm color works perfectly for highlighting trims or adding an earthy pop of color to any room.
This green looks very reserved and tranquil, revealing more cool tones, so if you are looking for a warmer green shade, Succulent might not be a suitable option for you.
Nevertheless, don't think that this color is difficult to use! On the contrary, Succulent paint color by Sherwin-Williams is pretty versatile.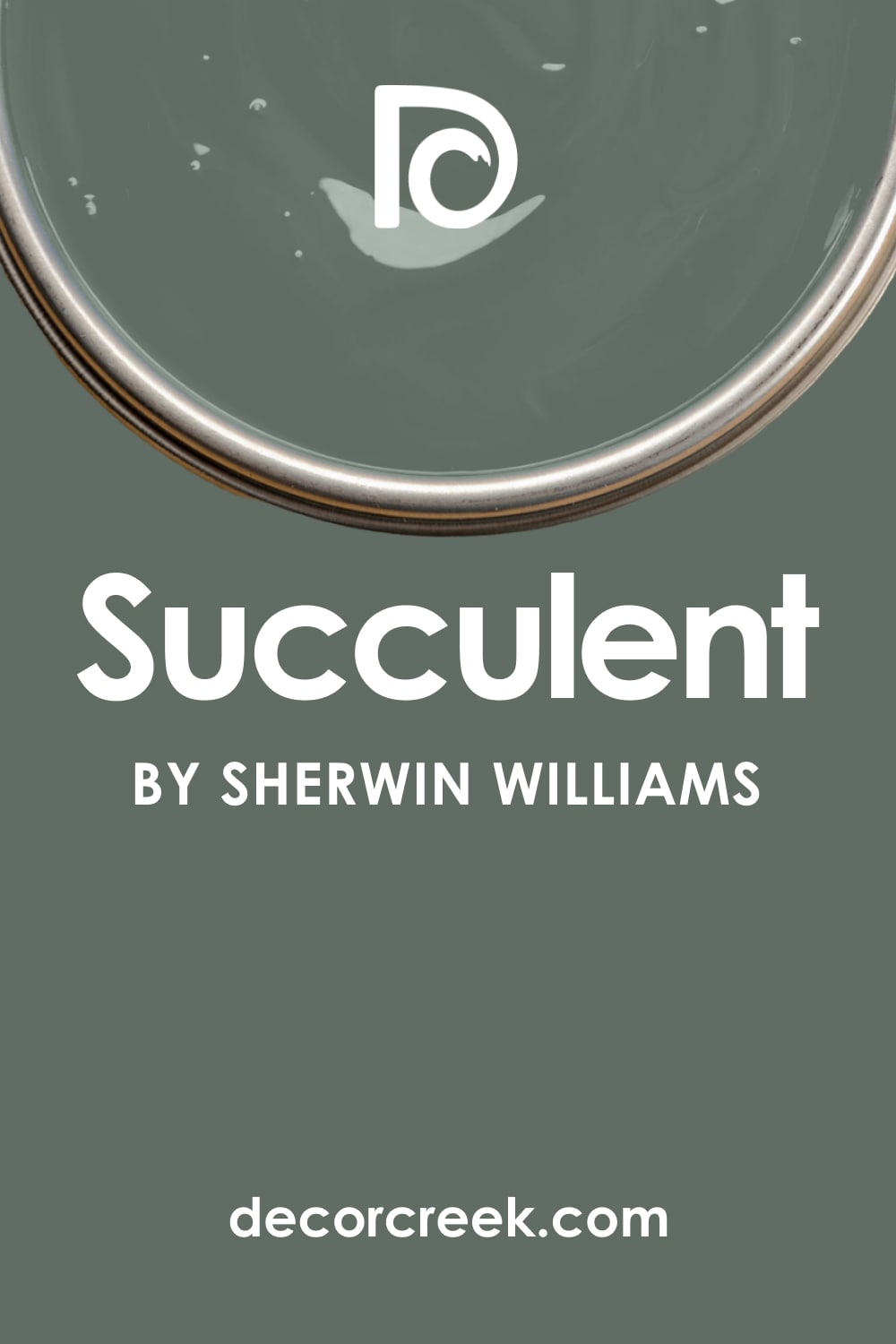 What Undertones Does Succulent SW-9650 By Sherwin-Williams Have?
What makes this particular green is that it's got gray undertones to it, so it looks really muted and sophisticated on the walls. However, green is also very prominent in this color. As a result, you get a perfectly balanced combo of leafy green with a dusty fleur of slight gray.
However, you need to keep in mind that gray undertones make this color a bit tricky to use. For example, depending on the lighting in a room, it may read greener or grayer. This is why knowing its LRV is also necessary.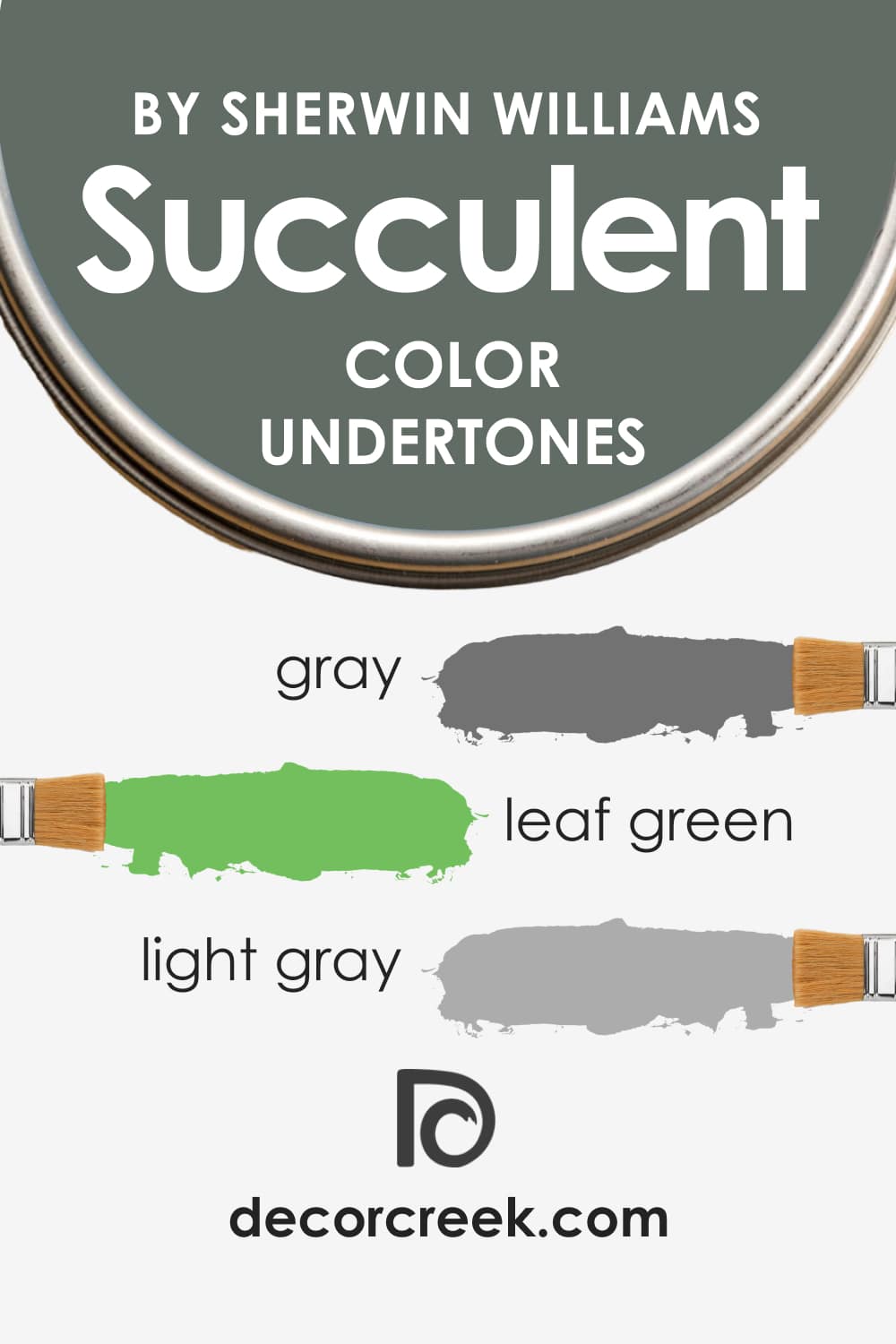 LRV Succulent SW-9650
What is LRV, some of you may wonder? This abbreviation stands for the Light Reflectance Value and rates from zero to 100.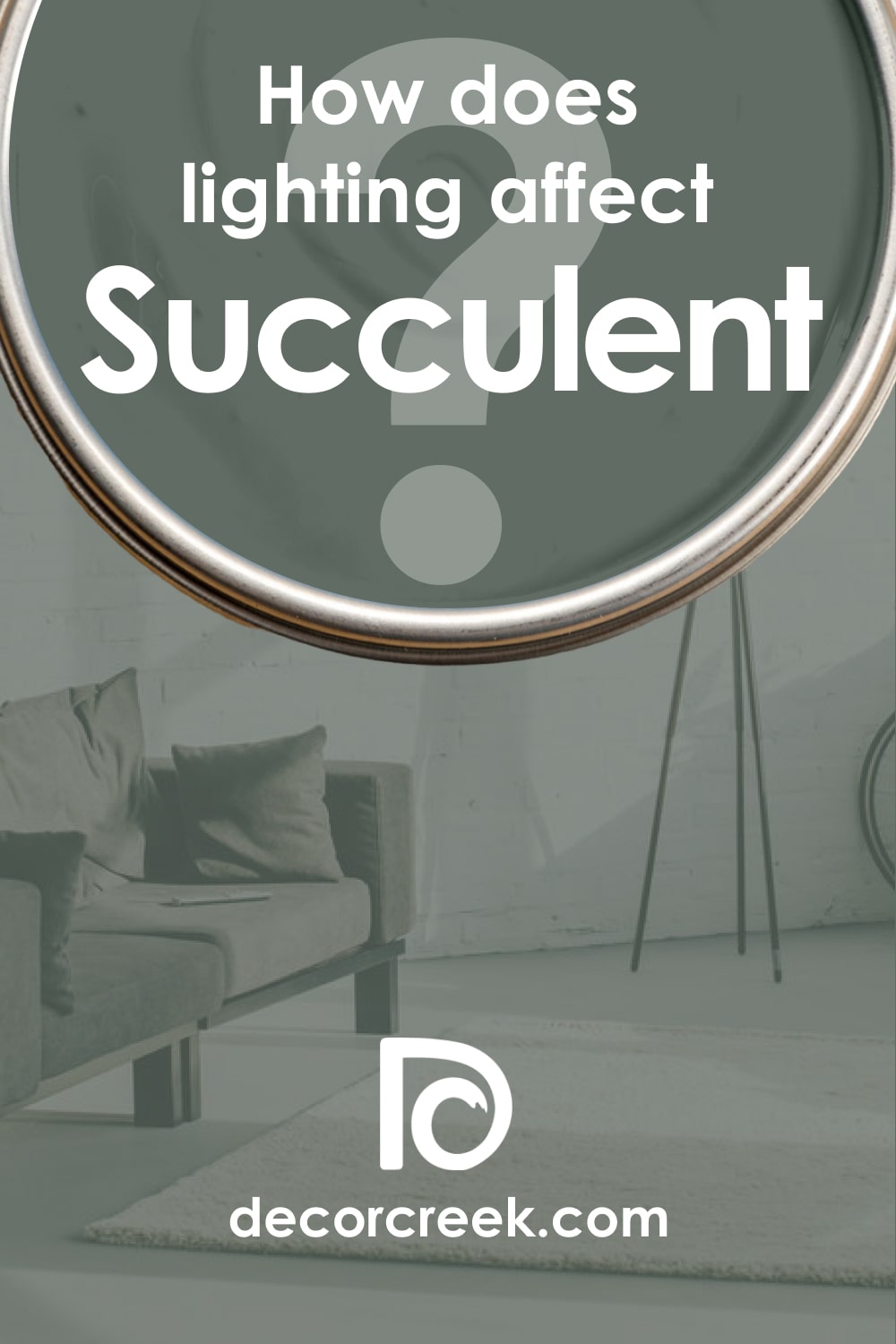 It shows how much light paint color is able to reflect when it is applied to the wall. The higher the LRV the lighter the color will read.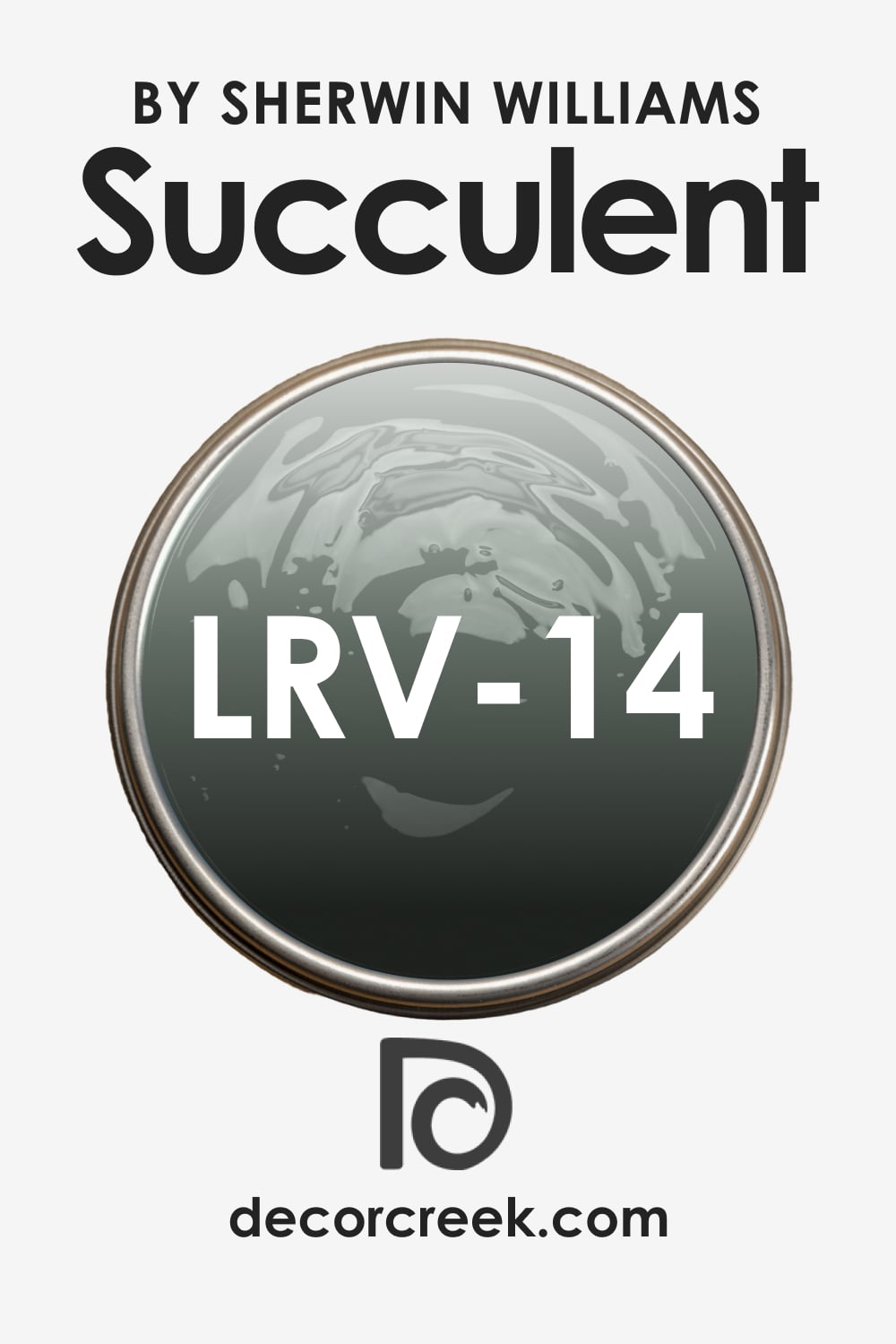 LRV – what does it mean? Read This Before Finding Your Perfect Paint Color
Colors That Go With SW Succulent Paint Color
Succulent paint color by Sherwin-Williams is pretty versatile in terms of use and also, it can be quite easily paired with other colors. However, to be able to pick the most balanced color palette, we recommend you keep the following color options in mind. They go with Succulent much better than others:
SW Evergreen Fog
SW Oil Cloth
SW Olive Sprig
SW Cavern Clay
SW Jocular Green
SW High Reflective White
BM Succulent Peach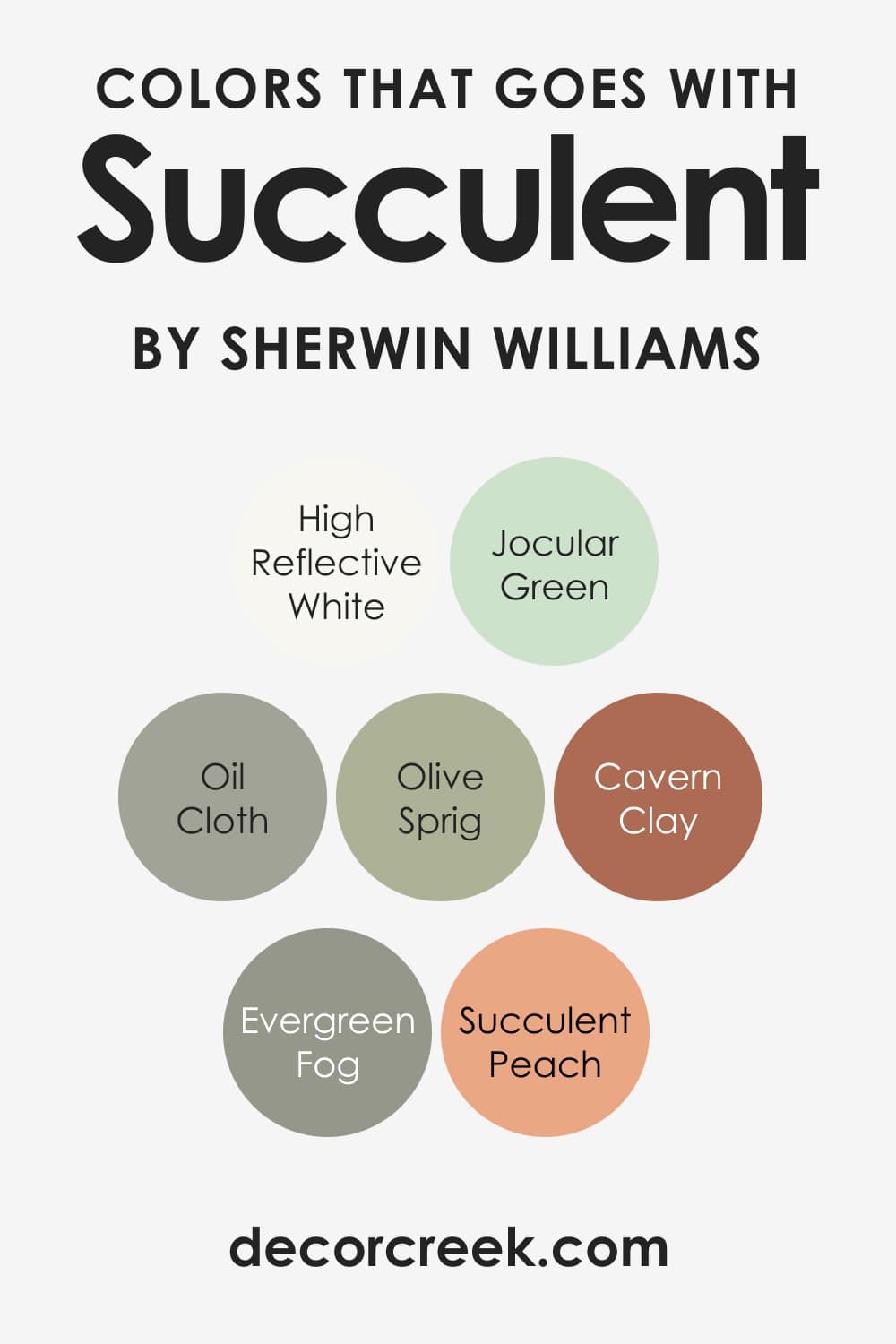 What's the Best Trim Color of Succulent SW-9650?
Usually, when you need to choose a trim paint color, the win-win option would be white. It is so universal that goes well with almost any other color!
And SW Succulent is not an exception since it also pairs with whites very well. In particular, Sherwin-Williams Succulent paint color will look great with the following shades of white:
SW High Reflective White
SW Alabaster
SW White Snow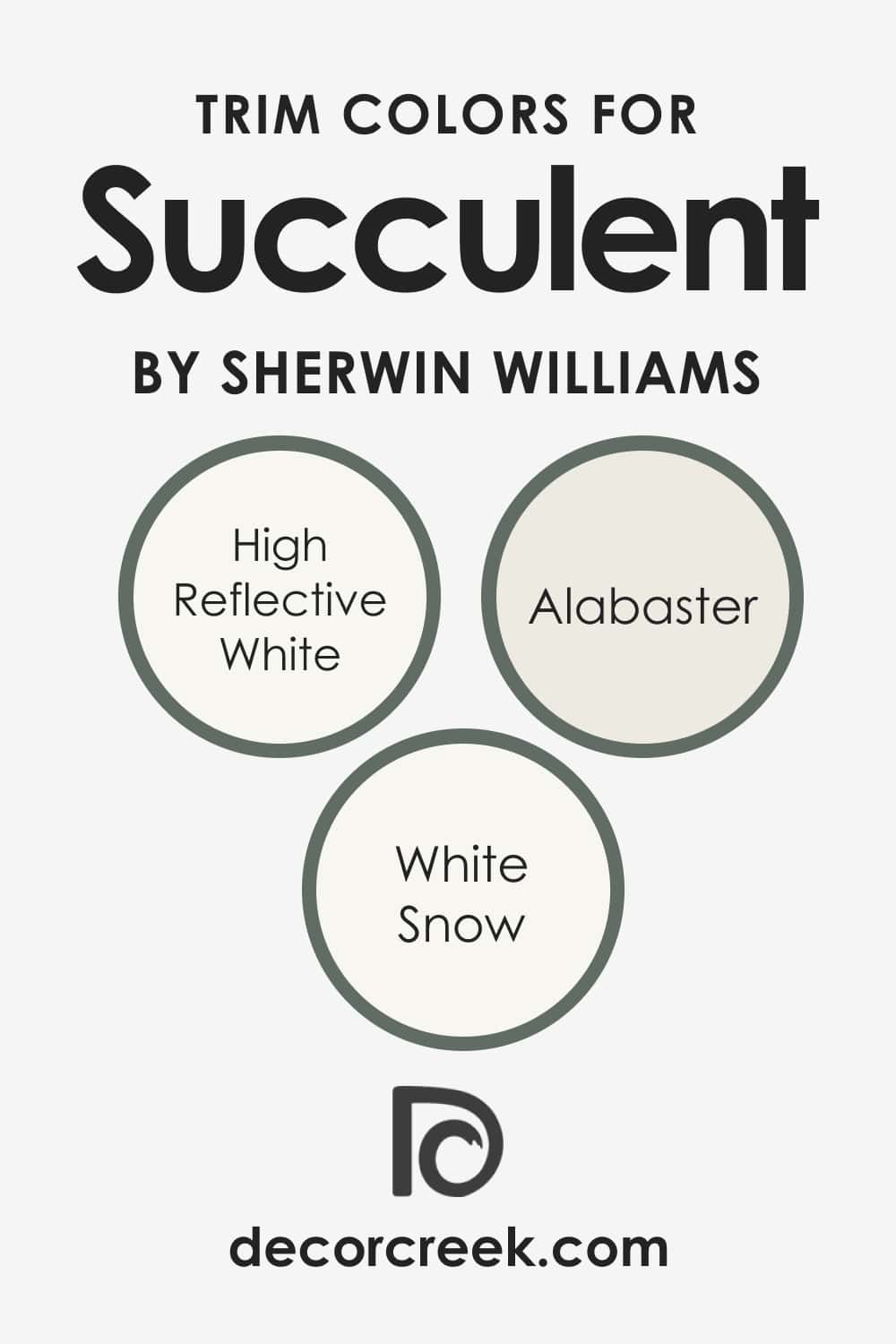 SW Succulent Paint Coordinating Colors
When you know what colors to coordinate the wall color with, it gives you more opportunities to select a more balanced and eye-pleasing color palette for the room. However, only a few of us are aware of proper color coordination. So if you are going to use SW Succulent color on your interior walls and you need to coordinate it, you might want to consider one of these colors to use it with:
SW October Mist

SW Army Green

SW Breezeway

SW Olive Spring
They will create a calming and natural, yet not too-dark color palette in a room with enough light. But in smaller and darker rooms, use these colors carefully!
Paint Colors Similar to Succulent
Sometimes you might want to use another color on your walls instead of the one you though about at the beginning. Perhaps, you realize that you need a lighter or a darker color.
Or maybe you want an alternative color that will still look nearly the same as the initial one. We often change our mind because we need the color of the walls to match our upholstery and curtains/carpets better.
No matter the reason, knowing what similar colors exist is always handy. Speaking of Succulent paint color by the Sherwin-Williams brand, it also has a few "siblings". Of course, you won't find a 100% color match, but at least, some closest alternatives:
SW Rosemary
SW Basil
SW Rocky River
SW Cast Iron
SW Pewter Green
Now you know the basic features of this beautiful green color. However, to be able to use it correctly, you also should learn how it might work in different areas of your home.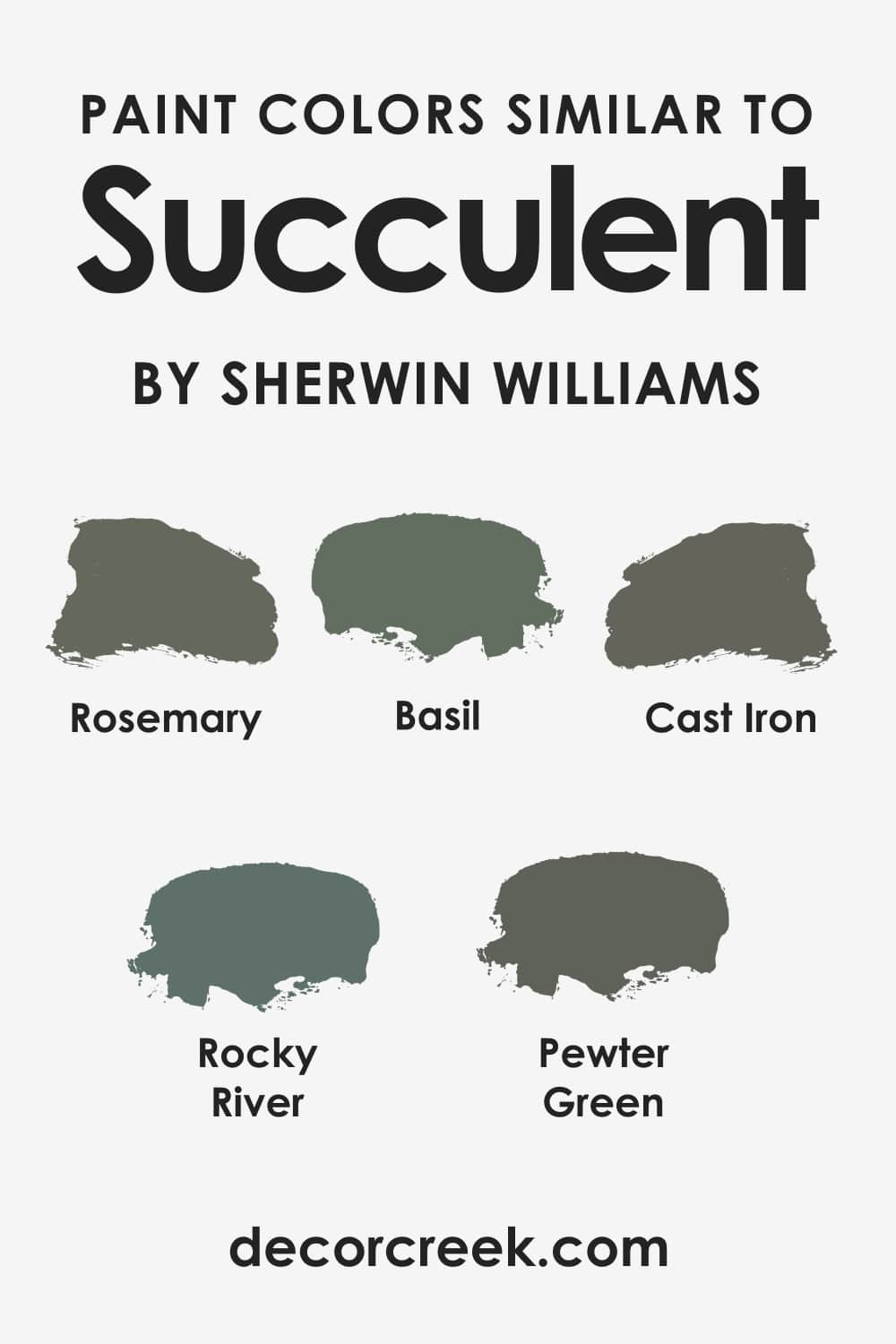 Where to Use Succulent SW-9650 In Your Home?
It's often difficult to imagine how a certain paint color might work on your interior walls. This is because seeing the color on a color swatch is not the same as seeing it in your room. Lighting, other colors in the room – all these factors influence the way the color reads in your living space.
This is why, to help you imagine how SW Succulent will read on the walls on different rooms of your home, we prepared a more detailed description for each.
Succulent SW-9650 in the Living Room
In fact, SW Succulent paint color is a good color choice for your living room, but only if you are fond of cool-toned colors. Since this green has gray undertones, it will not read warm in a space. However, if your living room has plenty of warm daylight, it can help the color to become a bit warmer.
As for the way this green will work with the furniture and decor elements, Succulent is pretty universal. It looks nice with wooden furniture and natural fabrics. Also, gold elements will be helpful for making this color read a bit warmer.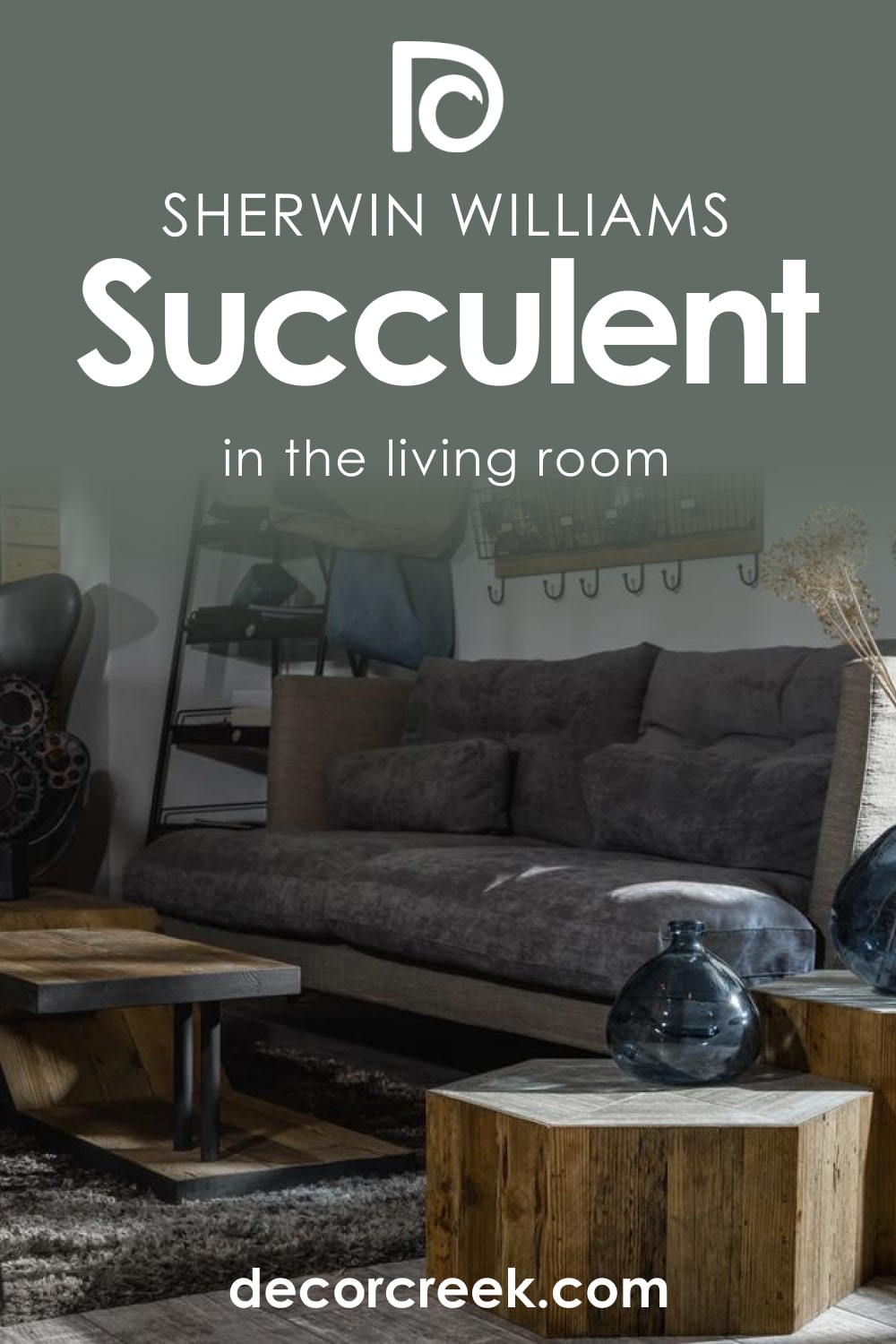 Succulent SW-9650 in the Bedroom
Typically, green is not a traditional color for bedrooms. However, it depends on your personal taste and preferences. If your bedroom is spacious and airy, having plenty of daylight, this green may look quite nice on its walls!
But if the light is cold in your bedroom, or if it is poorly lit, you might want to consider another color instead. In this case, Succulent can make the space look smaller.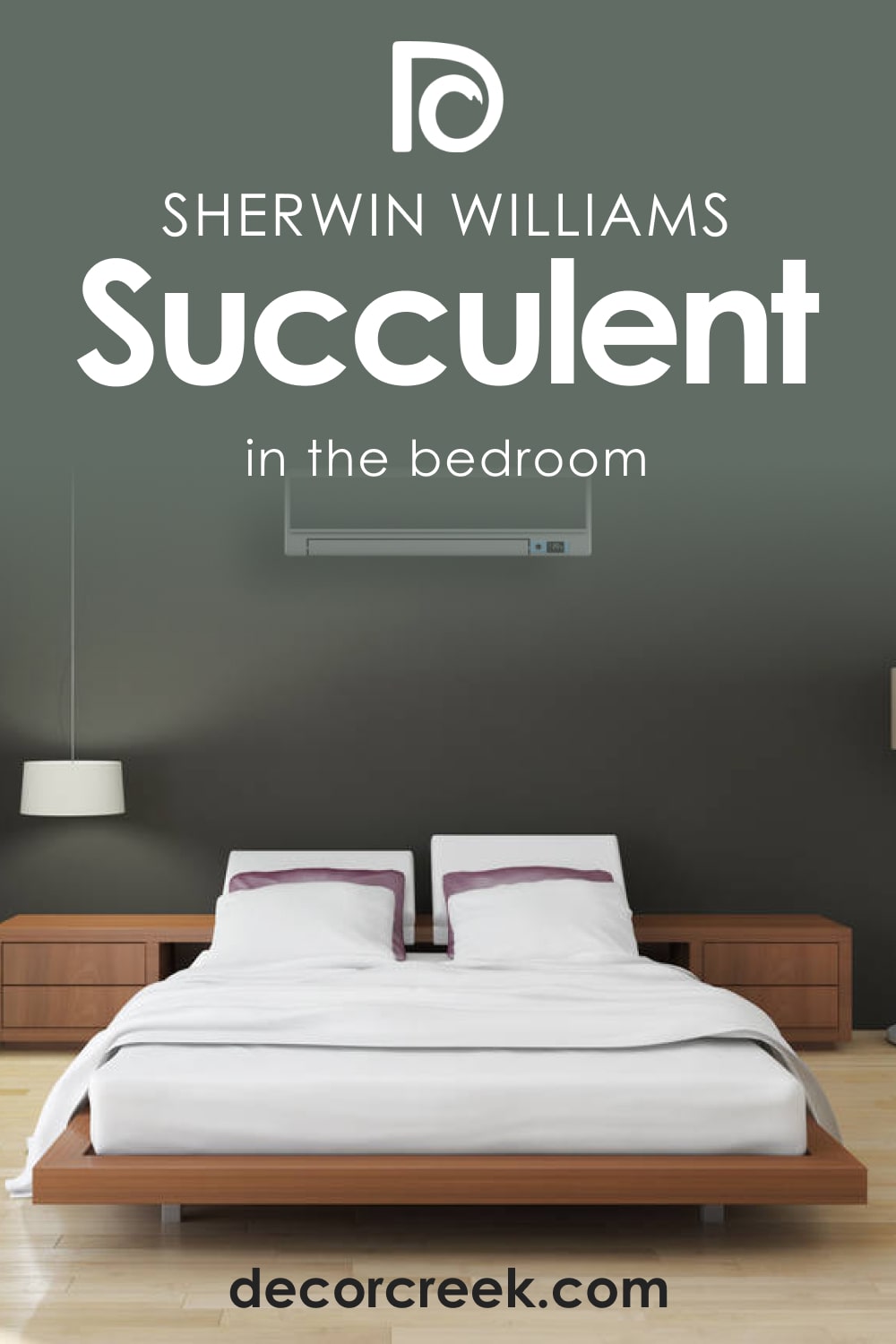 Succulent SW-9650 in the Bathroom
We would not recommend you paint your bathroom walls with this color unless it is really big! Instead, use it for only an accent wall, or paint your bathroom vanity with it, leaving the rest of the space white.
And since this green pairs well with white and brass or gold hardware, it's pretty easy to use in bathrooms!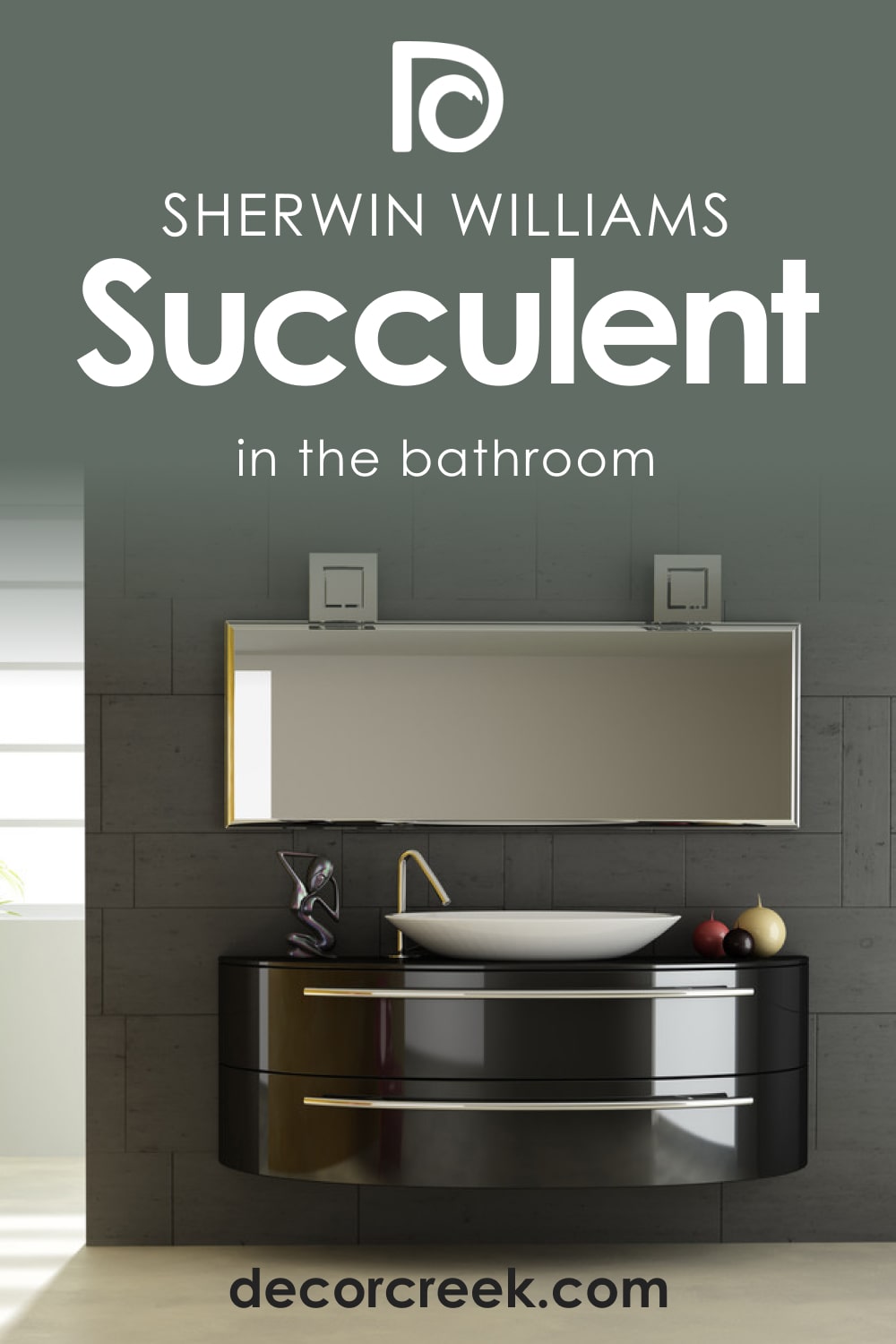 Succulent SW-9650 in the Kitchen
Just like with your bathroom, Succulent might not be a suitable color to paint your entire kitchen. However, an accent wall, cabinets, or a backsplash painted green will definitely make the space more vivid! Besides, Succulent works really nice with wooden furniture and brass elements like hangers, hardware, etc.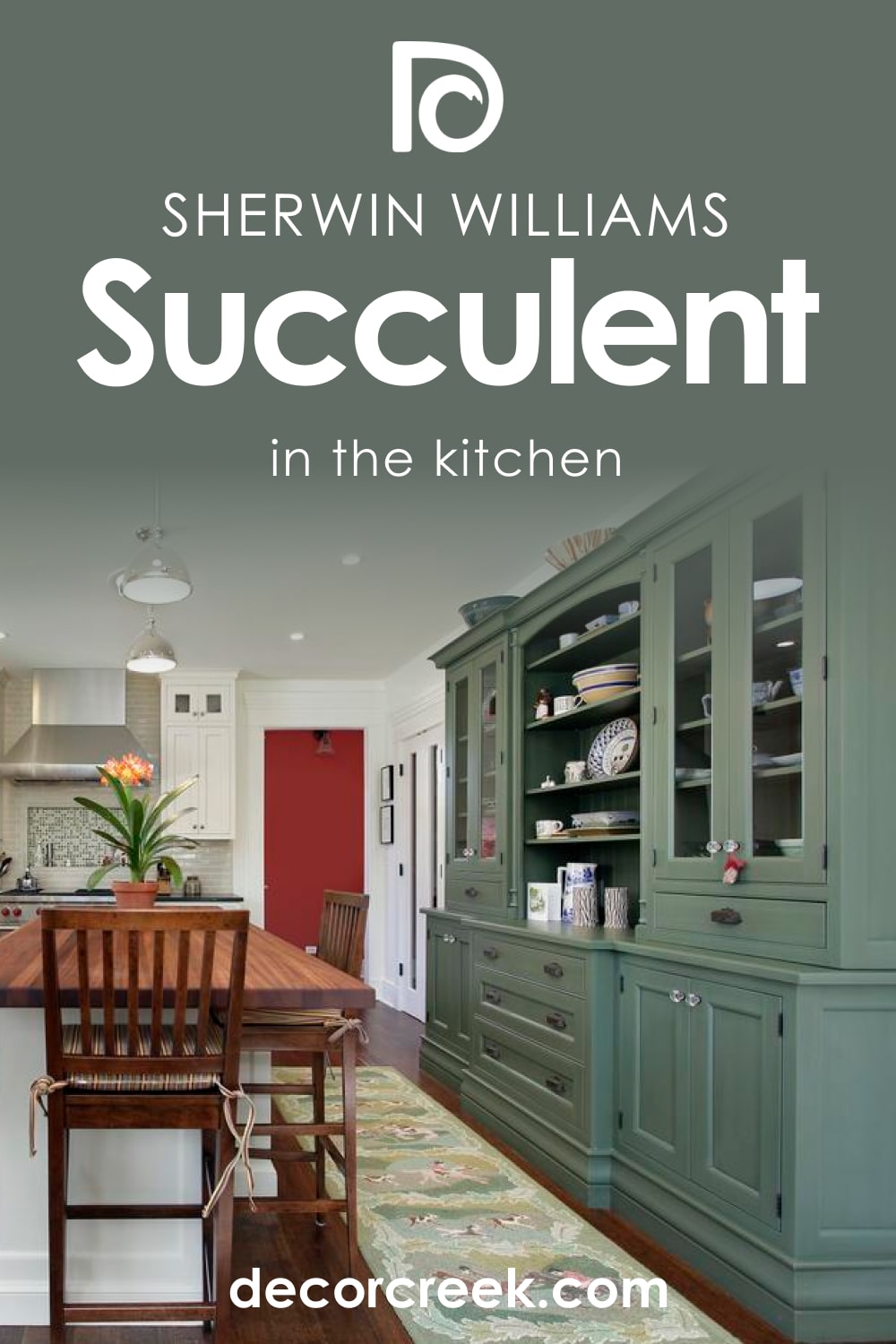 Succulent SW-9650 for the Exterior Use
Can Sherwin-Williams Succulent be used as an exterior paint? Of course it can! Moreover, this paint is officially considered both interior and exterior.
Of course, some of you make think it's way too dark for painting entire house, but in fact, this green doesn't look gloomy at all! It will read really well both in sunny areas and in the areas with cloudy weather.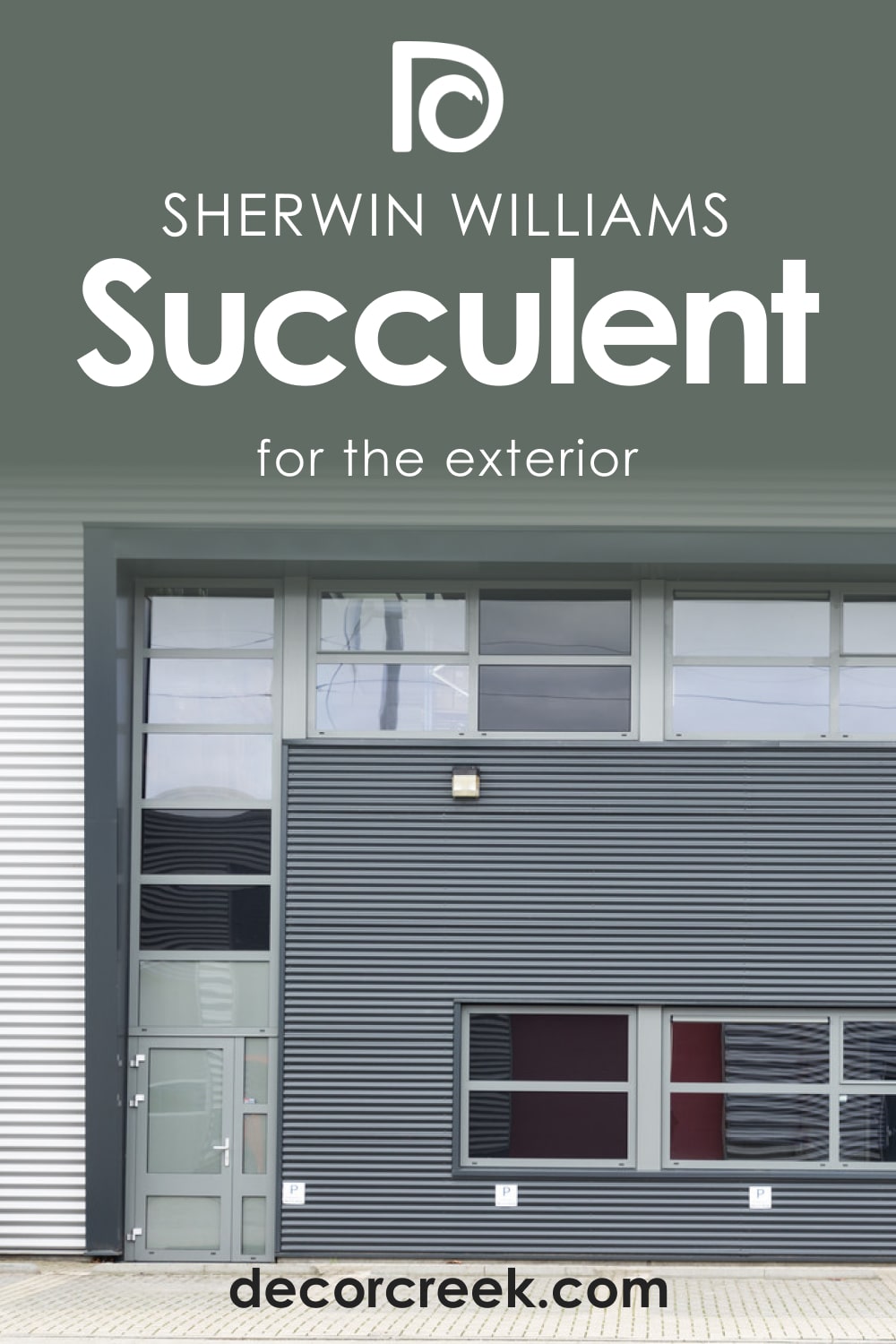 Comparing Succulent With Other Colors
If you want to understand better how this color works and how it might read along with other colors, you should read the following information carefully. Even if you don't use the colors we describe below, it's still useful to know how various shades of green cowork.
Succulent vs Pewter Green
These colors are pretty similar. Succulent reads cooler whilst Pewter Green looks warmer and kind of greener. This warmth of Pewter Green is based on this color's yellow undertones whilst cooler appearance of Succulent is explained with its gray undertones.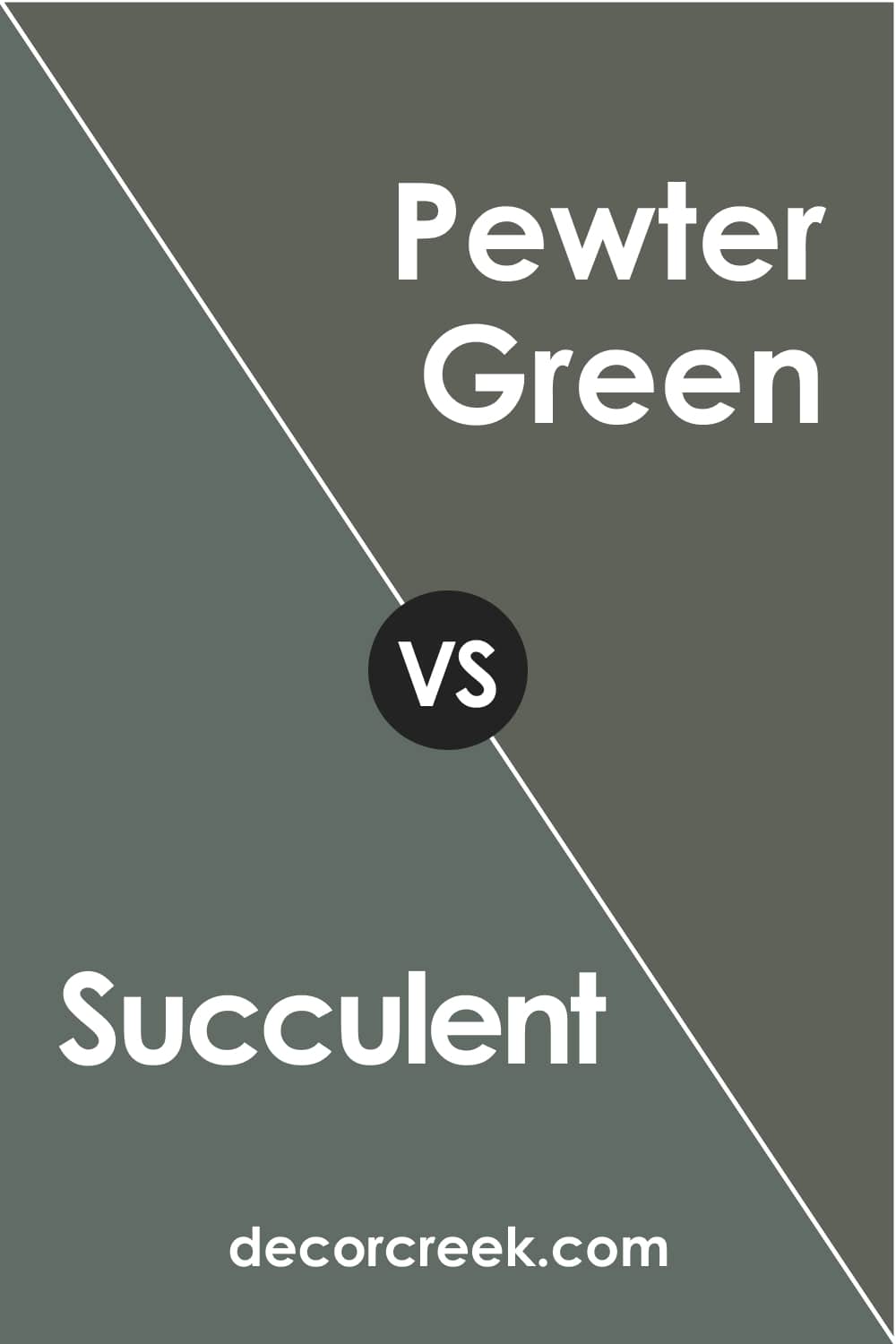 Succulent vs Evergreen Fog
If you compare Succulent and Evergreen Fog, you will see that Succulent is significantly darker than Evergreen Fog. It may seem odd to some of you since Evergreen Fog is also a cool-toned green just like Succulent. However, since Evergreen Fog has blue undertones, they make this green read much lighter.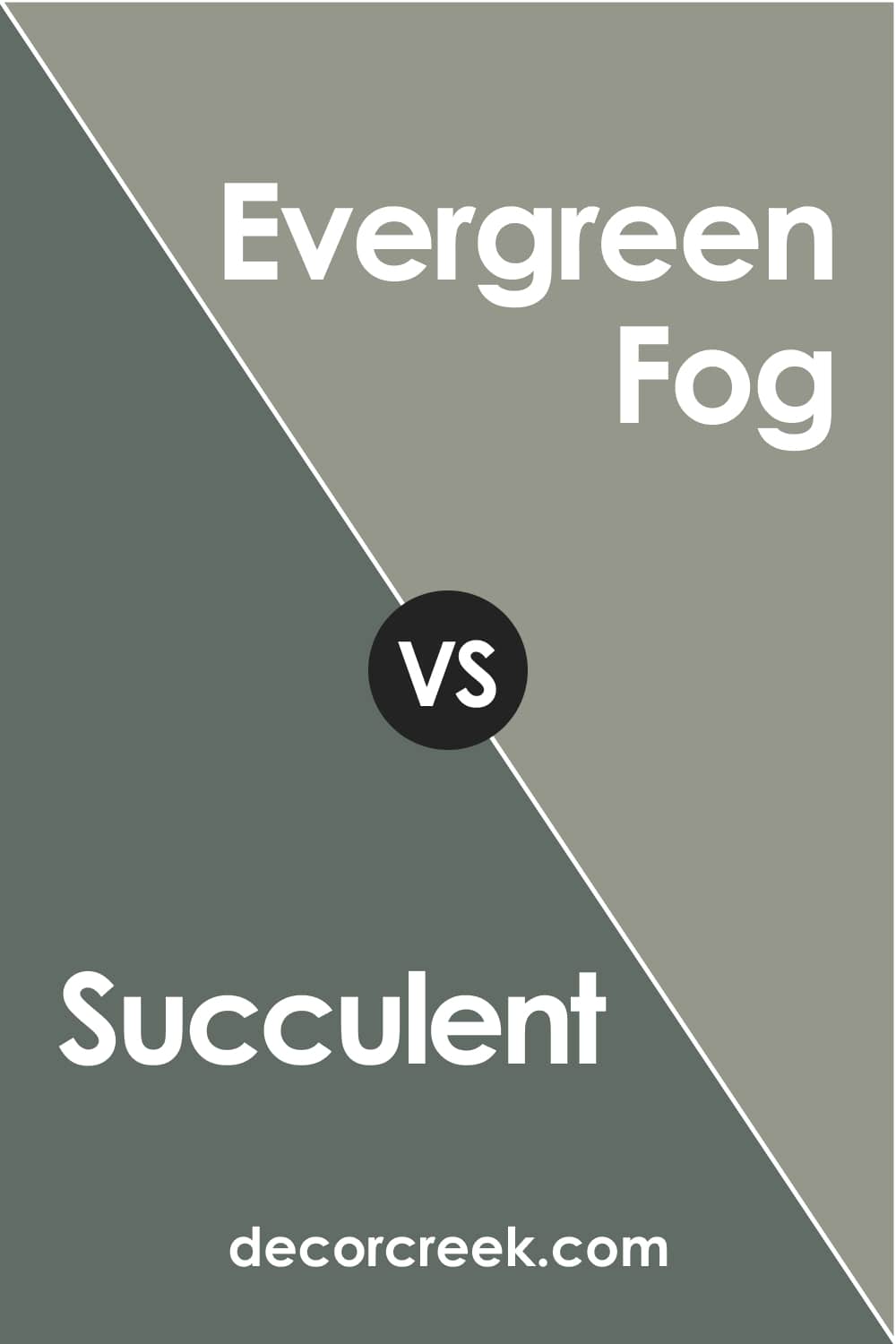 Succulent vs Retreat
Sherwin-Williams Retreat is a mid to darker-toned green paint color that has deep green-gray undertones. However, it's not dark enough which makes Succulent read much deeper and darker.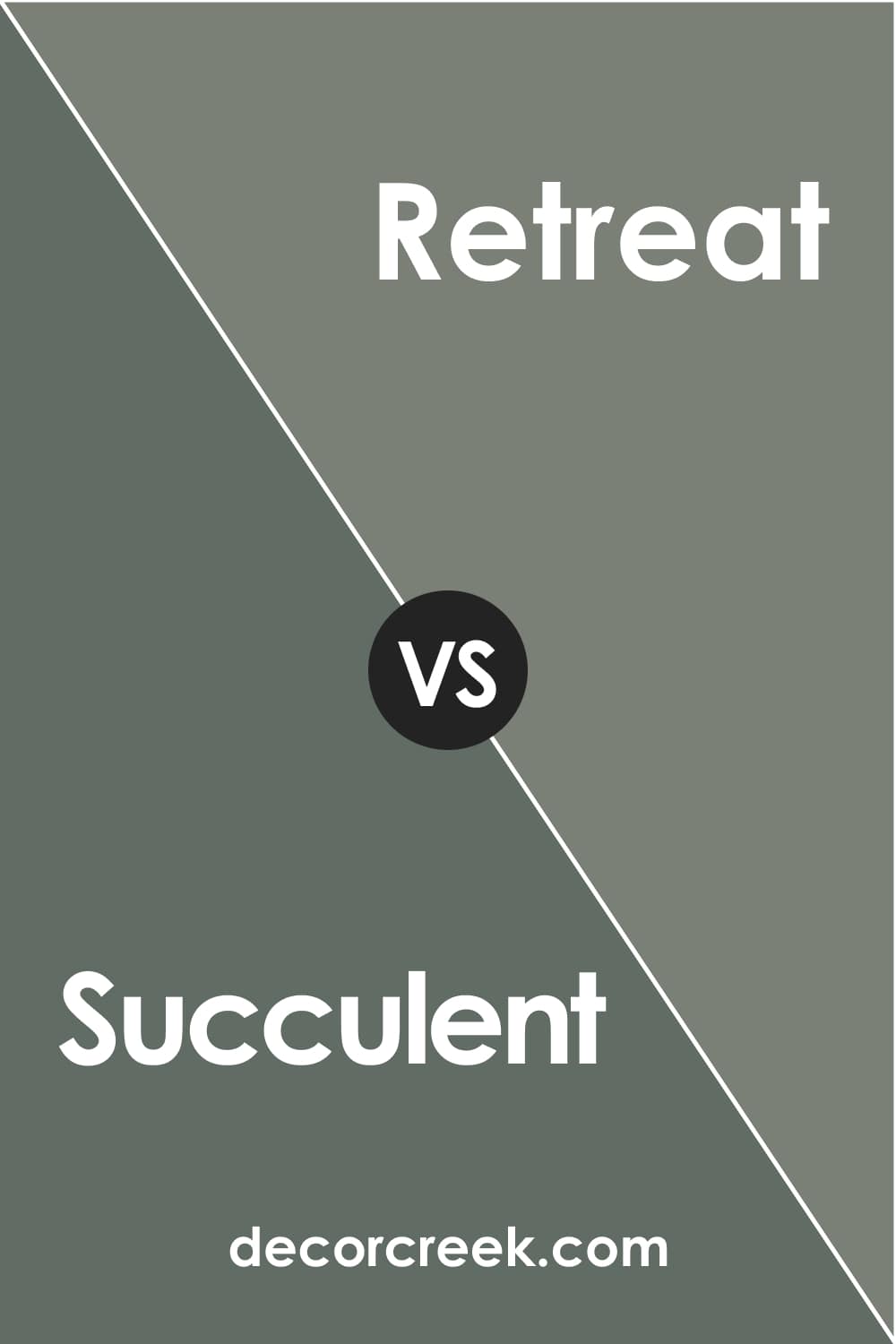 Succulent vs Rosemary
These shades of green are rather distinct. Rosemary most often has some olive undertones, but it generally looks green without a significant amount of yellow.
Succulent has gray undertones. This is why Rosemary reads warmer with a very slight yellowish hue whilst Succulent shows its gray side quite noticeably.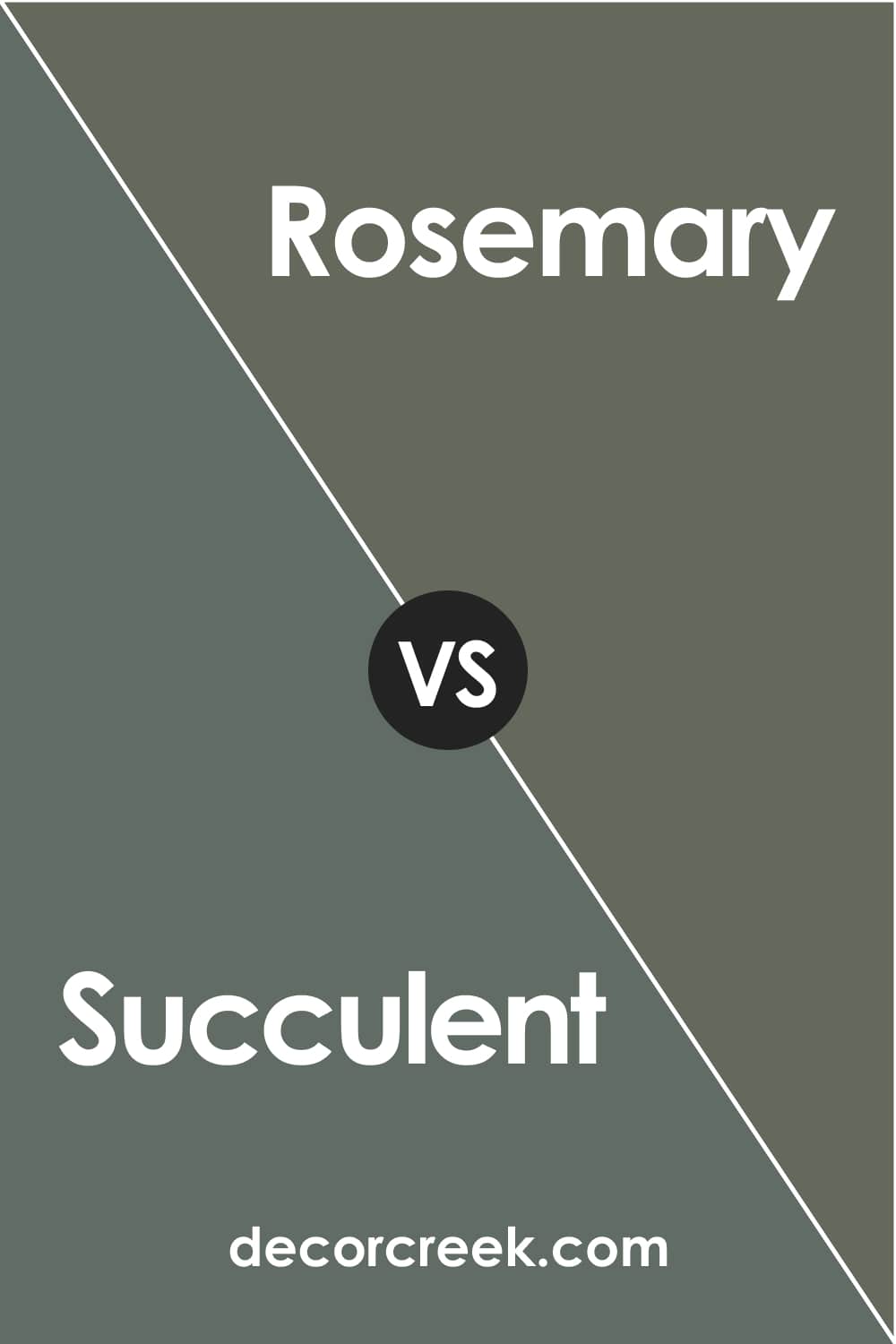 Well, now you know all the nuances and features that SW Succulent green paint color has.
We explained how it works on interior and exterior walls, what undertones it has, and how to coordinate this color. With all this in mind, you will easily incorporate this leafy green into your interior.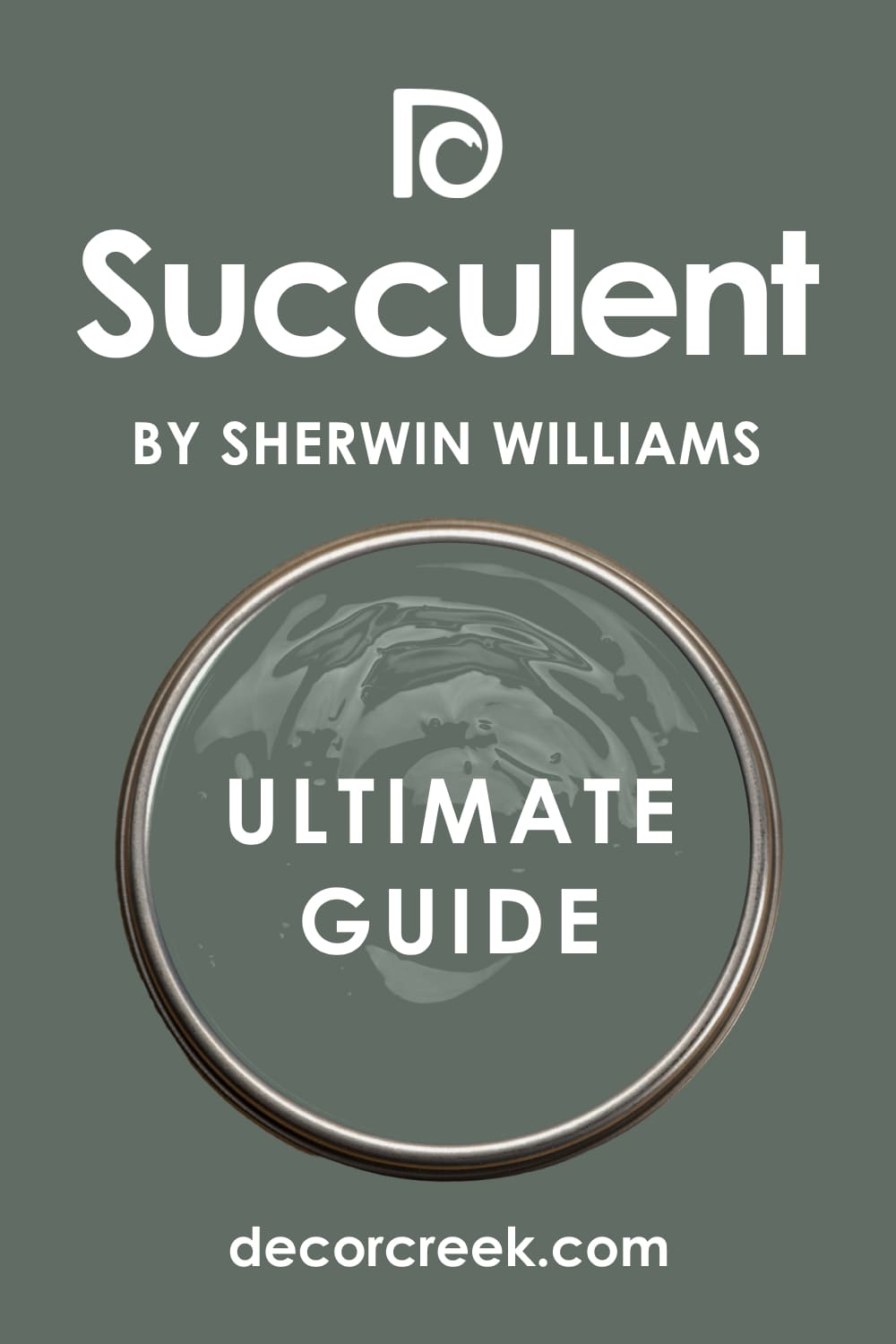 Frequently Asked Questions
⭐Does Succulent have blue undertones?
No, this green has only gray undertones and no blue.
⭐Will Succulent look good with a stone fireplace?
If the fireplace is made of wild stone, then Succulent will look especially good with it. But basically, this green pairs well with most kind of stones.
⭐Can Succulent be used on my basement walls?
This green is hardly a good option for such a space since basement usually lacks light and this color may read darker.