When you want to use a complex paint color like SW Pewter Green in your home, you should be aware of its nuances and specifics that will help you find the best place for it in your living space. But since most of us are not knowledgeable in colors, we may often make mistakes that can ruin everything!
So today we will help you out and introduce this wonderful color to you in detail. You will learn what kind of color it is, what undertones it has, and how it will look on the walls of different rooms in your house.
In addition, we will explain how to use it with other colors to create harmonious color combinations. Finally, we will see whether or not this paint is suitable for exterior use.
What Kind Of Color Is Pewter Green SW-6208?
The color known as Pewter Green by the Sherwin-Williams brand is a beautiful cool-toned and sage-like green. As Encycolorpedia says, it can be considered a dark and muted green that is leaning toward the cooler side of the color scale. But at the same time, it also has gray tones that make it a lovely and deep green.
As you can already see from the description, this paint color is a true chameleon! Although it is considered a muted and rather dark green, at first glance you may think it is almost gray!
Besides, it doesn't look the same every time you see it due to its complex nature. Both lighting and other colors in a room will influence the way it reads pretty much!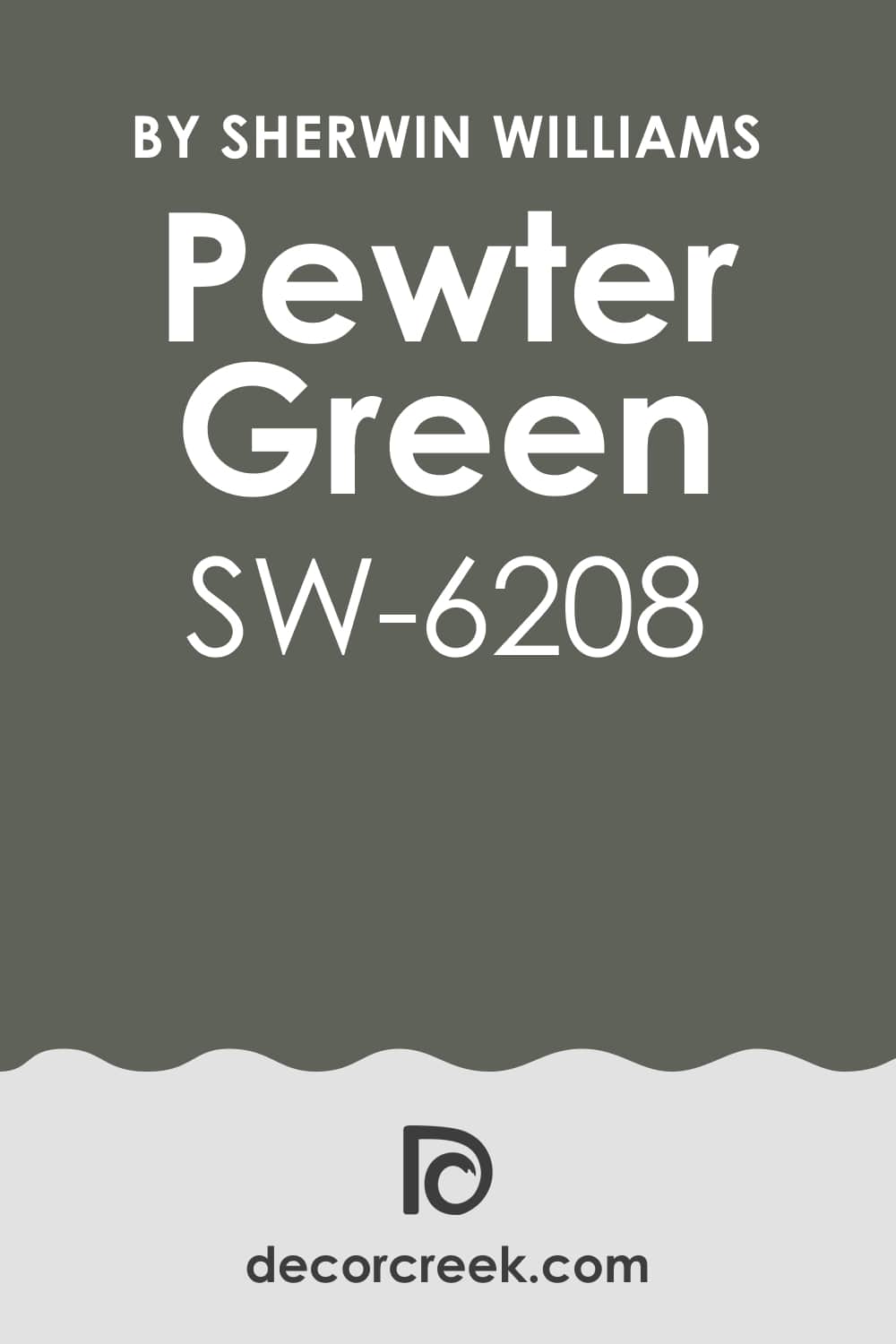 What Undertones Does Pewter Green SW-6208 Have?
Being aware of undertones is important because this knowledge helps you better understand the true nature of the color. And sometimes, when you are working with such a complex color as SW Pewter Green paint, its undertones can play an enormously essential role!
This green paint color has some gray undertones, which help to make this dark green an unexpected neutral. But also, it has a yellow undertone.
This is why SW Pewter Green often reads an olive green, however, with no yellowish or brownish hue, still remaining closer to green than brown.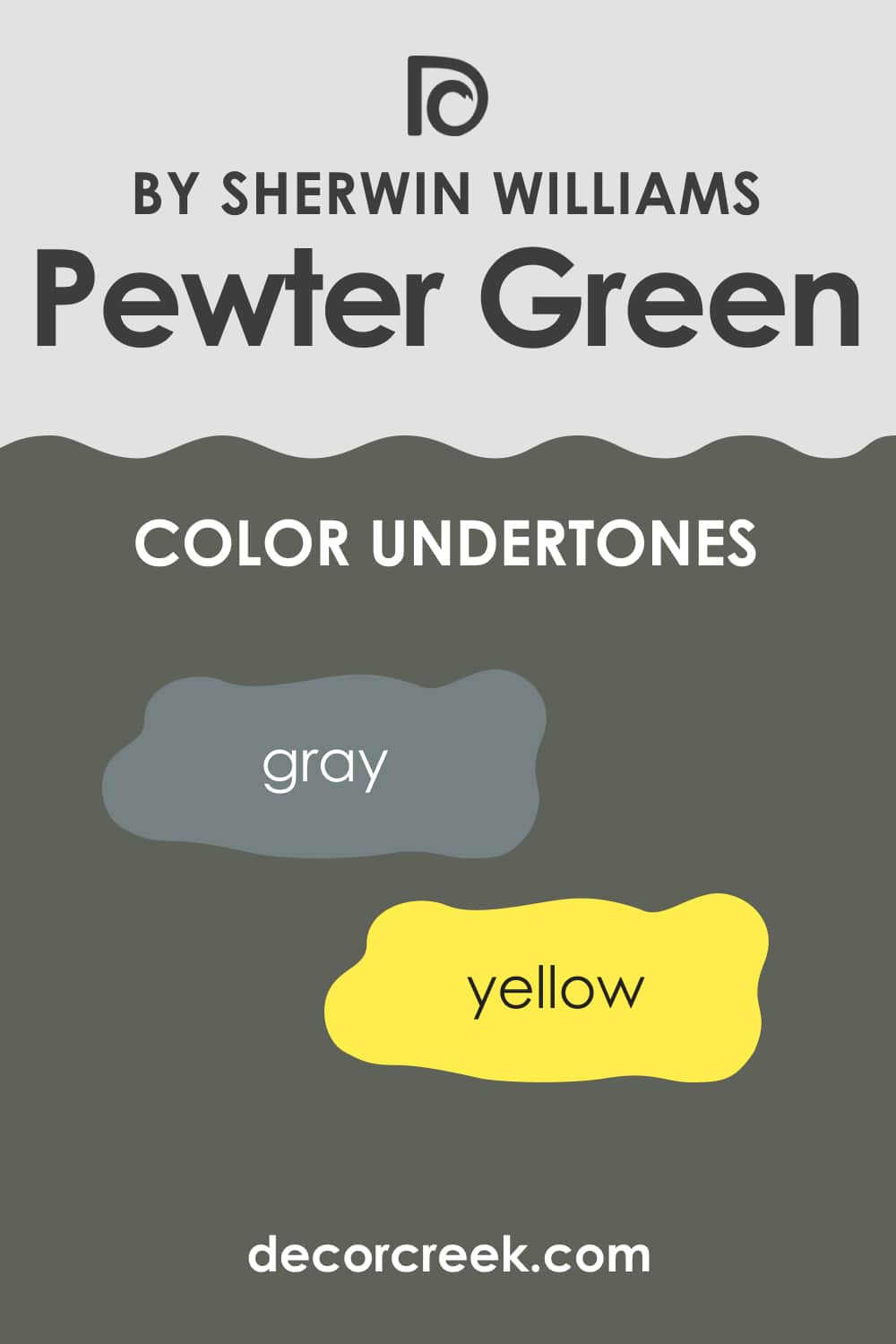 Pewter Green Paint Color LRV
The LRV or light reflectance value of this color is 12, which puts this green right in the dark category of colors. The LRV of 12 means that this color absorbs way more light than it reflects, although, in rooms with bright natural light, it may wash out a little.
Also, you need to keep in mind that although this color is pretty versatile, it will not work great anywhere. This is why we suggest you always pay attention to the type of lighting in the room where you are planning to use this color! Otherwise, you may end up with the hue that you didn't expect on your walls.
This is why we recommend you always sample this paint color before you use it. You can either get color samples on swatches and try them in your home exactly where you plan to use SW Pewter Green paint.
Or you can apply some paint directly to the surface and see how it works.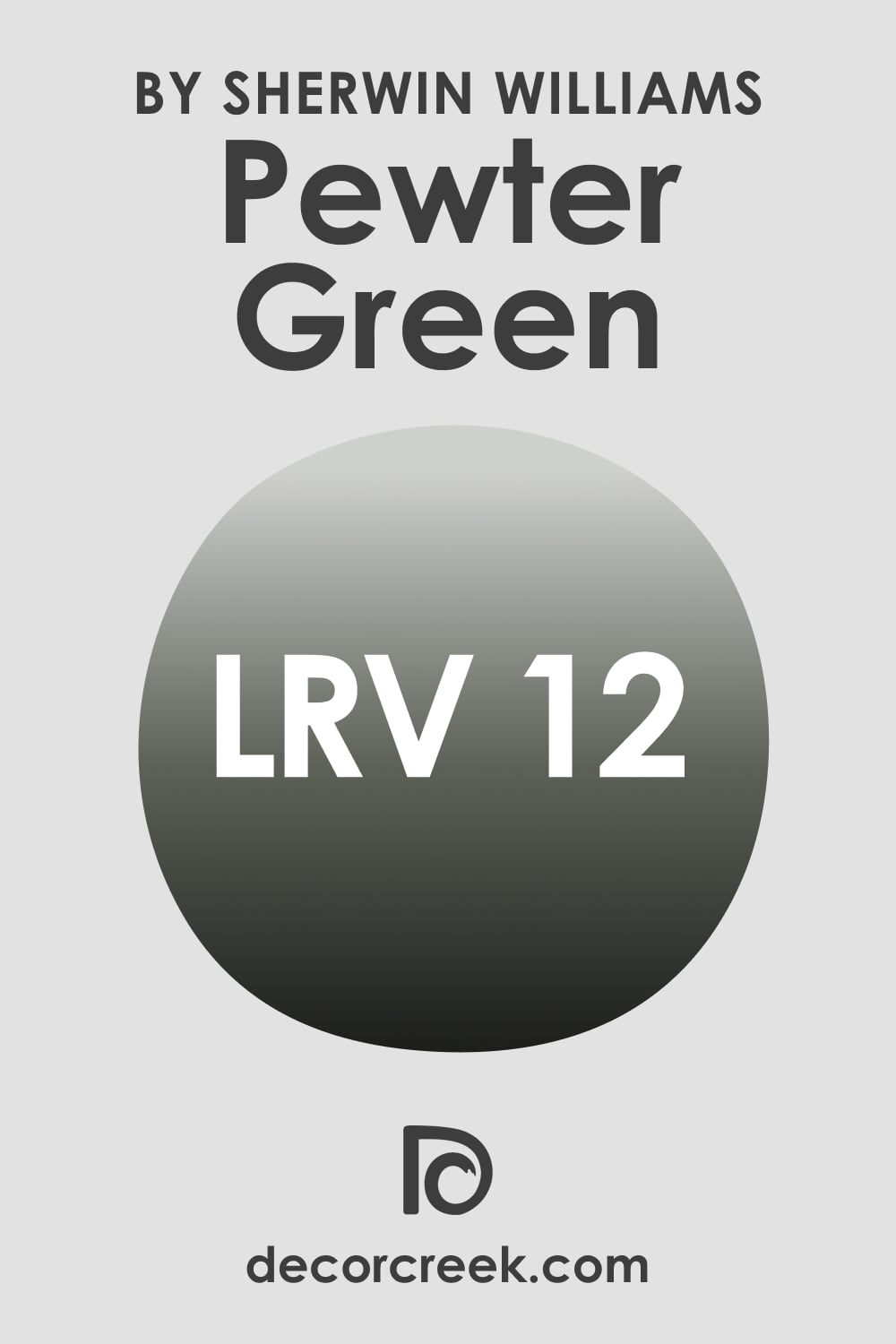 LRV – what does it mean? Read This Before Finding Your Perfect Paint Color
Pewter Green SW-6208 Coordinating Colors
It is always complicated to pick the proper colors to coordinate with the major color on the walls. And Pewter Green color by Sherwin-Williams has the same problem. This cool green is somewhat picky and fussy about the colors it pairs with due to its complex gray and yellow undertones.
Nevertheless, you can memorize a few types of colors this green will work particularly well with:
soft whites
creamy whites
gray-blues
taupes
rich golds
And if you are looking for the exact paint color names to choose the one or the ones that Pewter Green color can coordinate best of all with, we have such a list for you:
Pure White
Spare White
Winsome Gray
Rare Gray
Snowbound
Sierra Redwood
Rockweed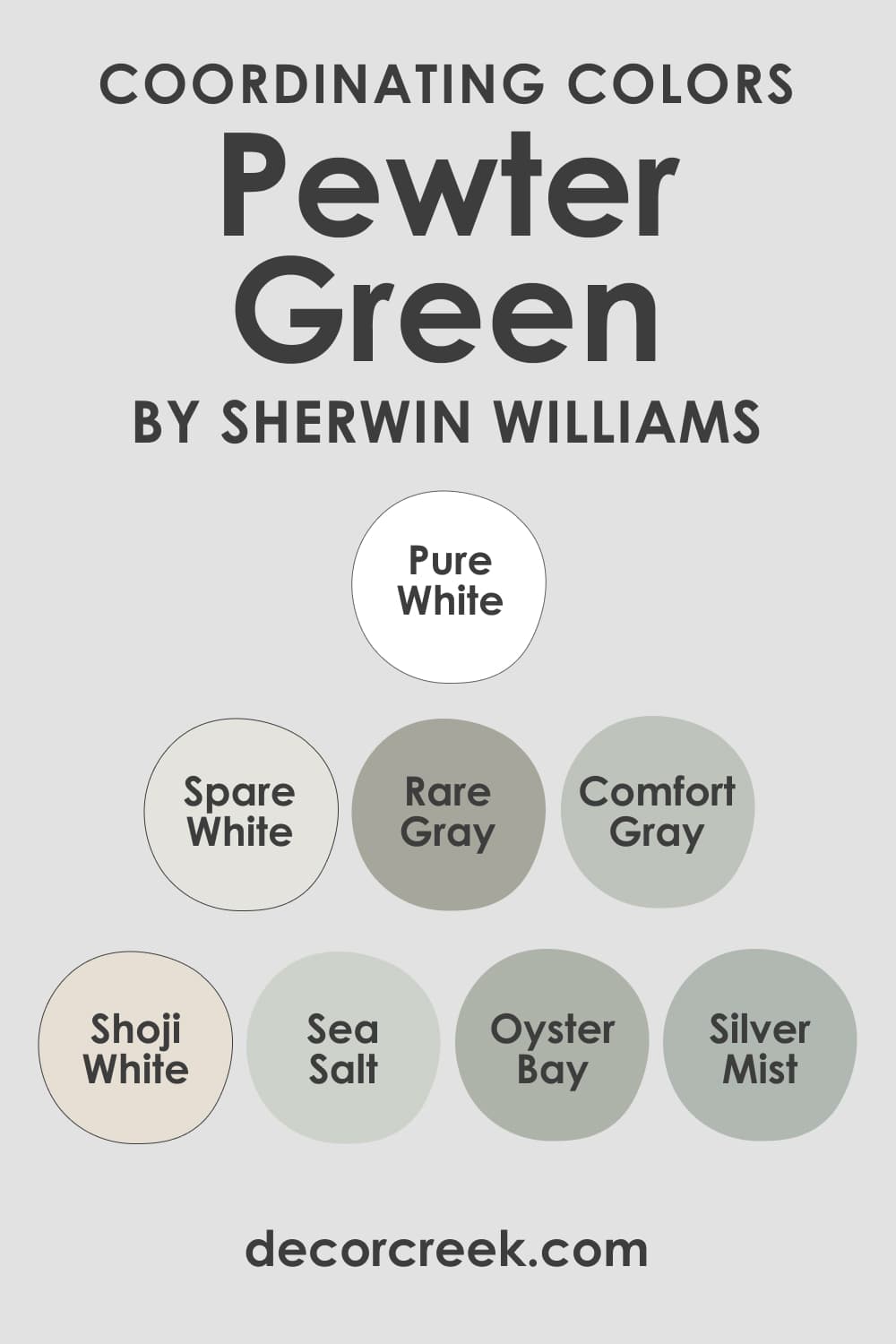 Comfort Gray
Sea Salt
Oyster Bay
Shoji White
Silver Strand
Silver Mist
Alabaster
Revere Pewter
Alpaca
Neutral Ground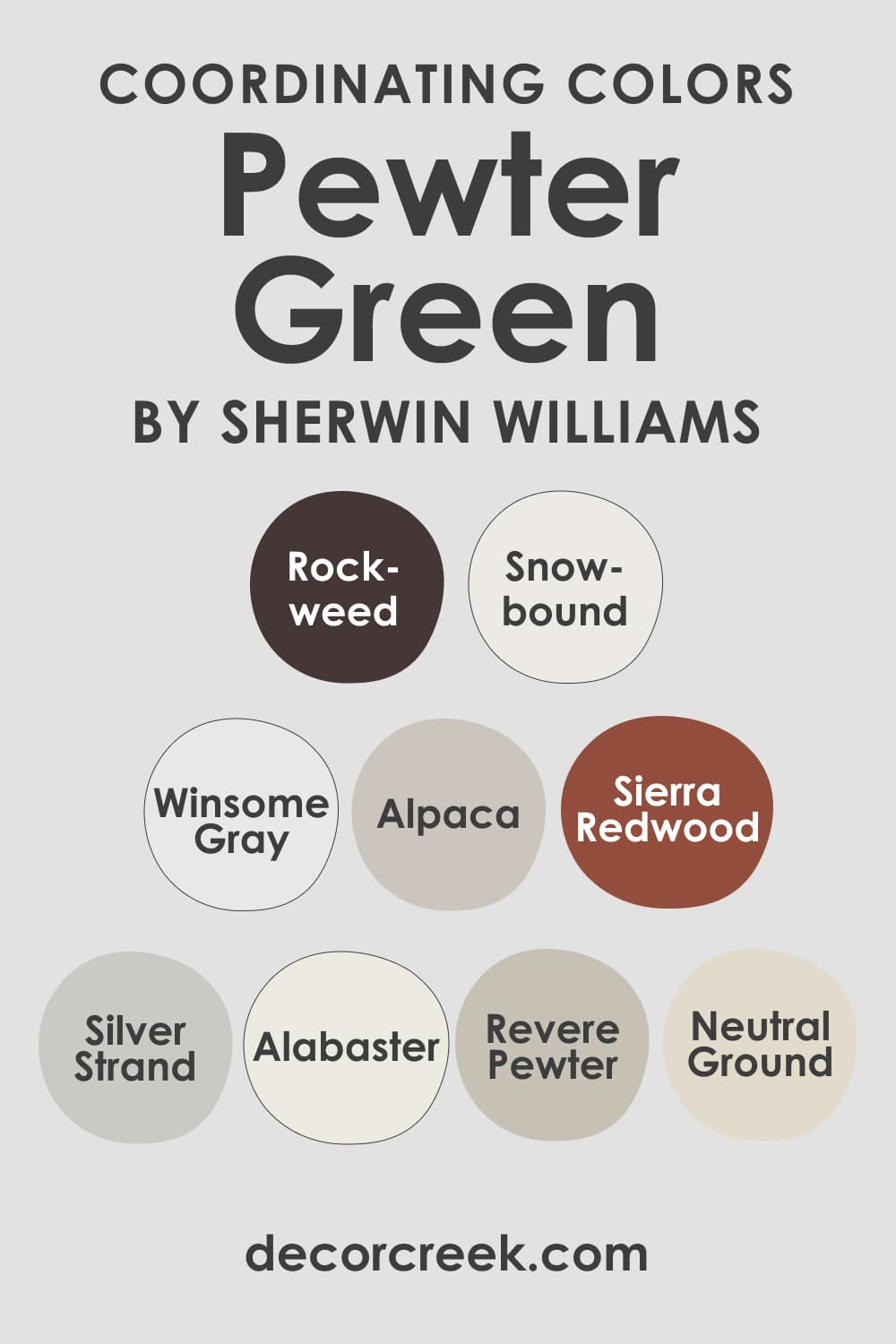 What Is the Best Trim Color For Pewter Green SW-6208?
White is believed to be the only trim color that will suit any other colors in a room. And to a certain point, it is true. But does this rule work the same well for Sherwin-Williams Pewter Green color?
Well, basically, it does. White colors will look really nice along with this neutral grayish green with yellow undertones. And since the color itself leans more to cool-toned ones, you should use warmer shades of white for your trim.
See, if you apply a cool-toned white, the entire atmosphere of the room might look a bit too "cold" and crisp.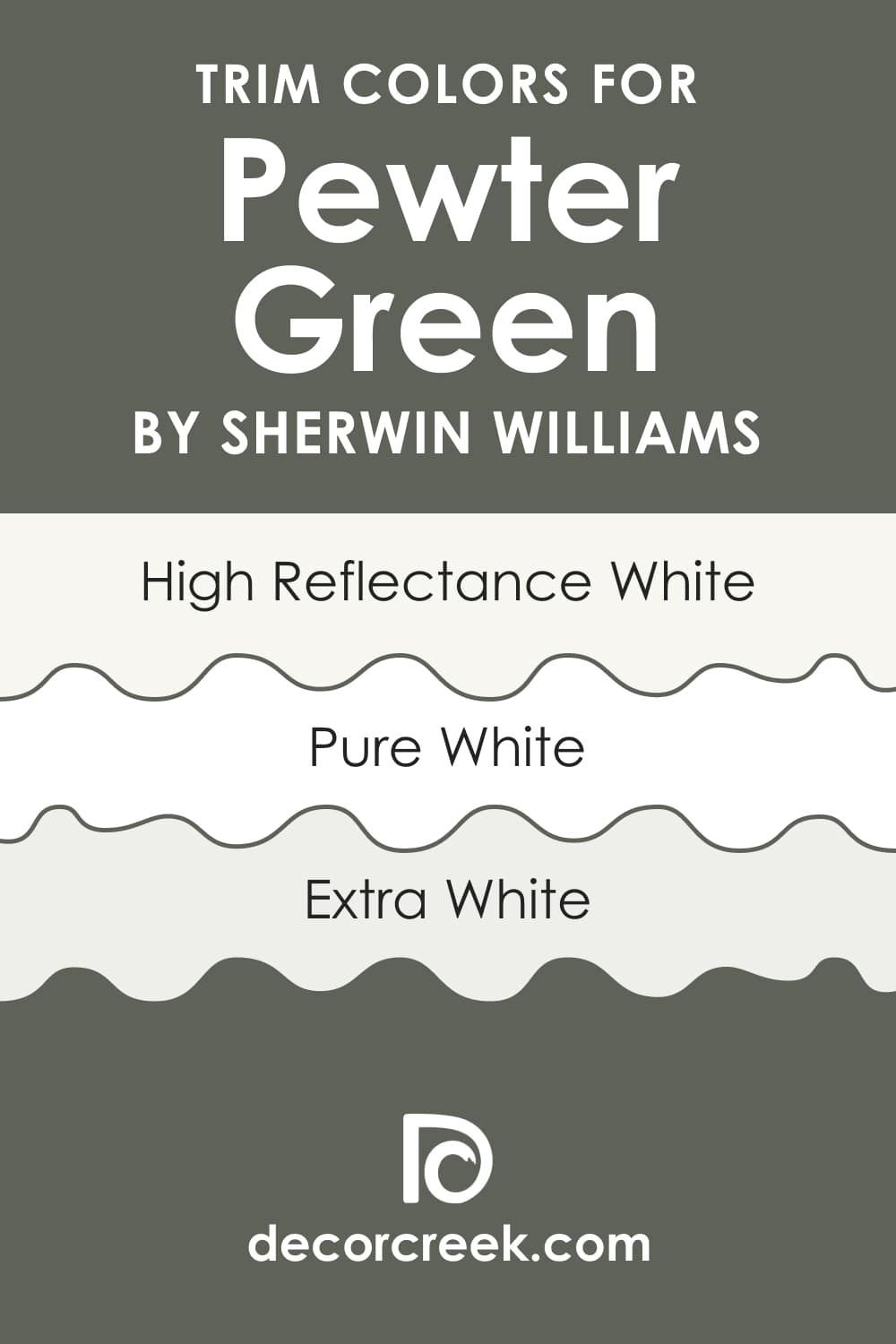 Colors Similar to Pewter Green SW-6208
It often happens that you might want to use another color instead of SW Pewter Green. It can happen for many reasons, for example, you find it a bit too complex for you. Or your interior color scheme is not quite fitting for this shade of green. In any case, it is always good to keep a few alternatives in mind.
This is why, should you decide to not use this paint color in your home and search for alternatives, feel free to consider a few other options instead:
Benjamin Moore Chelsea Gray
Sherwin Williams Mindful Gray
Sherwin Williams Urbane Bronze
Iron Ore by Sherwin Williams
Peppercorn by Sherwin Williams
Wrought Iron by Benjamin Moore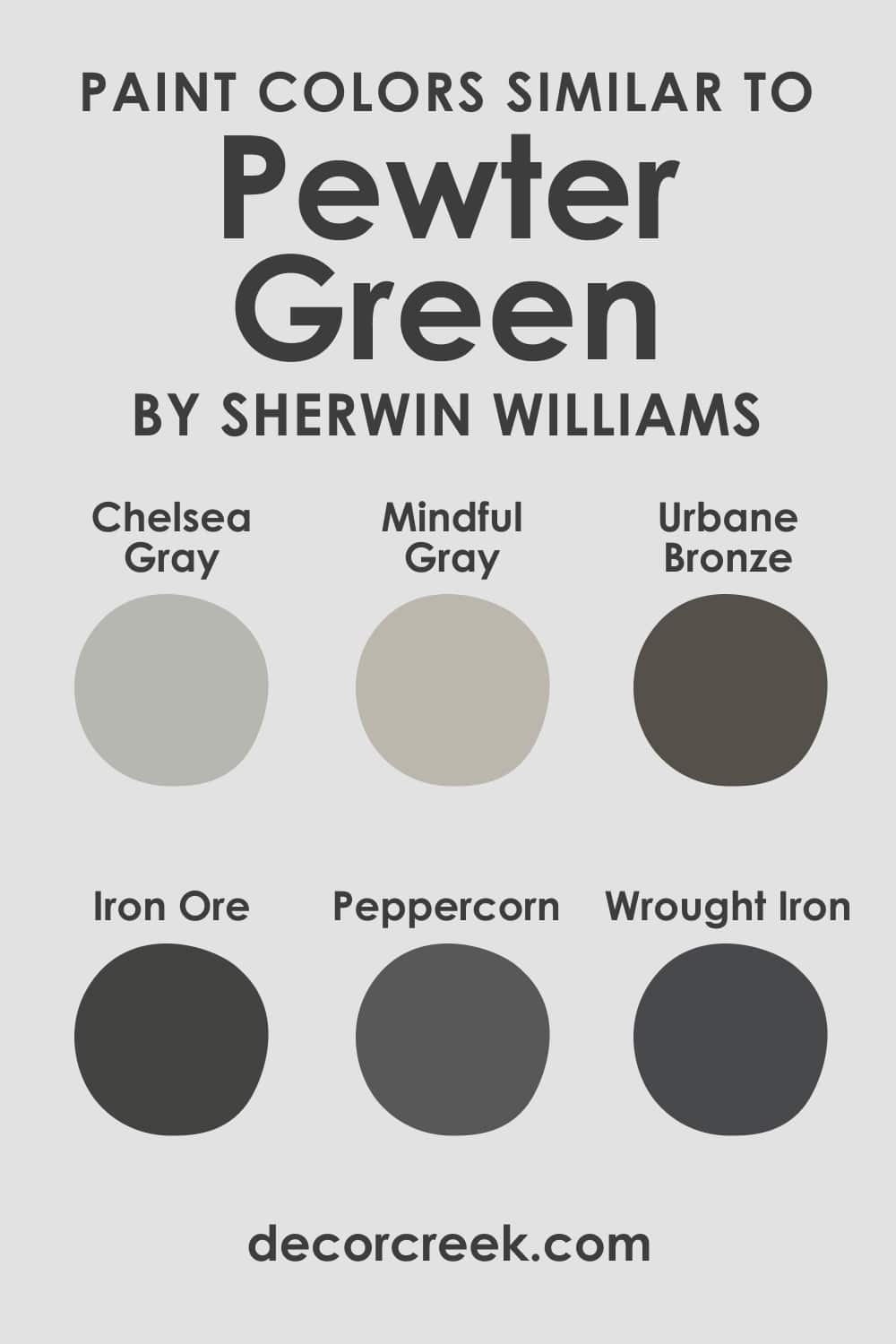 Colors That Go With Pewter Green Color by Sherwin-Williams
When you are about to start a painting project in your home, you need to make sure that the color you choose will work well with other colors that are going to be used. This is why we recommend you check out what other paint colors SW Pewter Green can go with.
BM Chantilly Lace
SW Cavern Clay
BM Carolina Gull
SW Shoji White
SW Ripe Olive
BM Smokey Taupe
With this list of colors in mind, you will avoid the common mistake of combining colors that don't match and don't work well together.
Where to Use Pewter Green SW-6208 In Your Home?
Even though the Pewter Green color is quite tricky and complex, it still remains versatile. You can use it in quite many rooms and on quite many surfaces in your home. The only thing you should always keep in mind is how this green will work when you pair it with other colors.
And of course, the lighting should also not be forgotten. But in general, the pool of areas where you can apply SW Pewter Green color is pretty varied.
Pewter Green SW-6208 In a Living Room
You can use this green color in your living room, but only if it has enough daylight and that light is warm! As an option, you may want to try it if your artificial light is also warm-toned. In this case, the color will show its warm side and look less "cold".
On the contrary, cool-toned light will make this paint reveal its cooler undertones, turning the room into a crisp-looking space.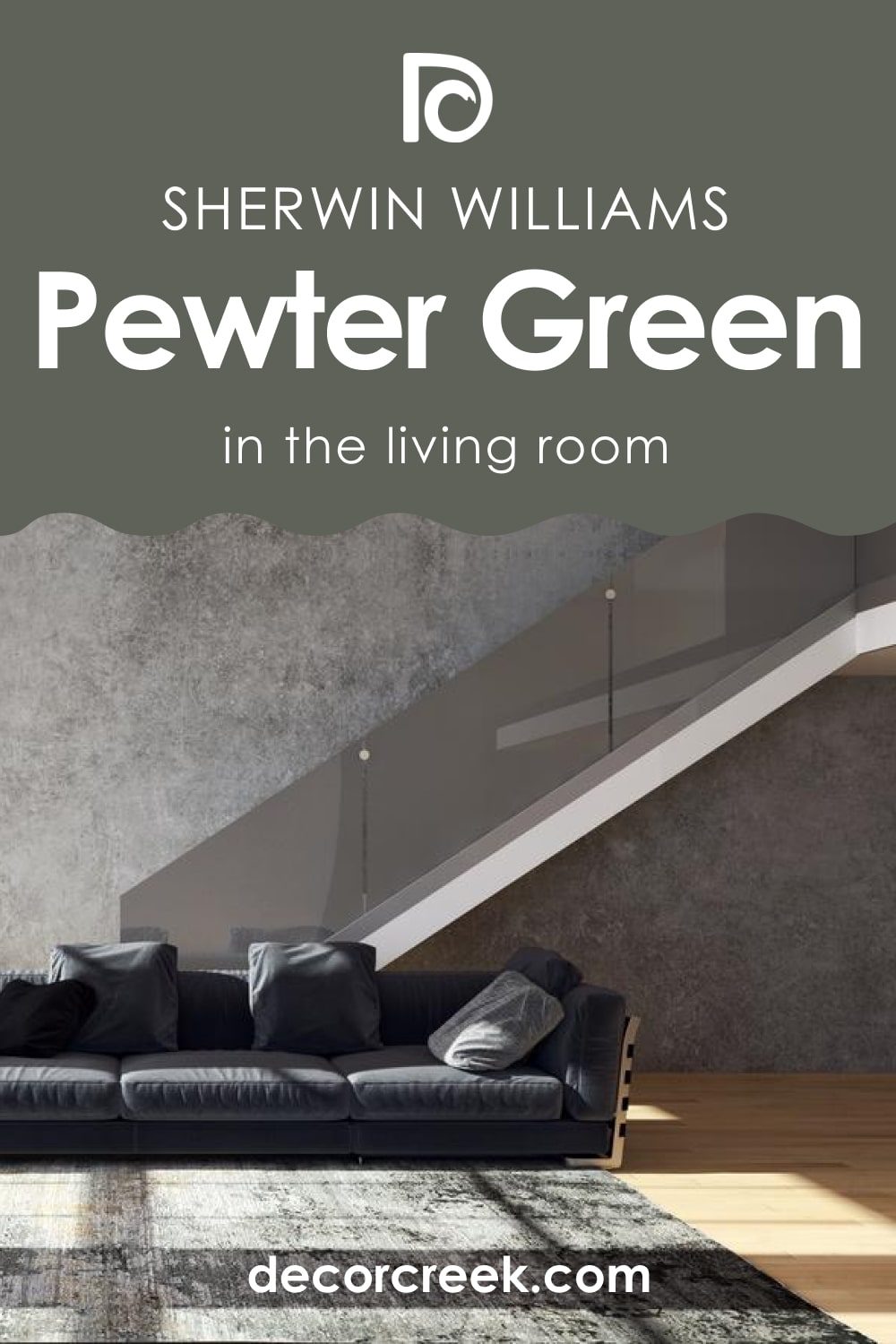 How Pewter Green SW-6208 Works in a Bedroom?
It may seem that the Sherwin-Williams Pewter Green color is too dark for a bedroom, but if you like natural neutrals, this is your color to try. We'd not recommend you paint all the walls in your bedroom with this color unless you have a lot of light and bright colors there as well.
But if you use this color for the accent wall, the bedroom won't look too dark. Besides, the green-gray wall will add coziness and natural vibes to the room.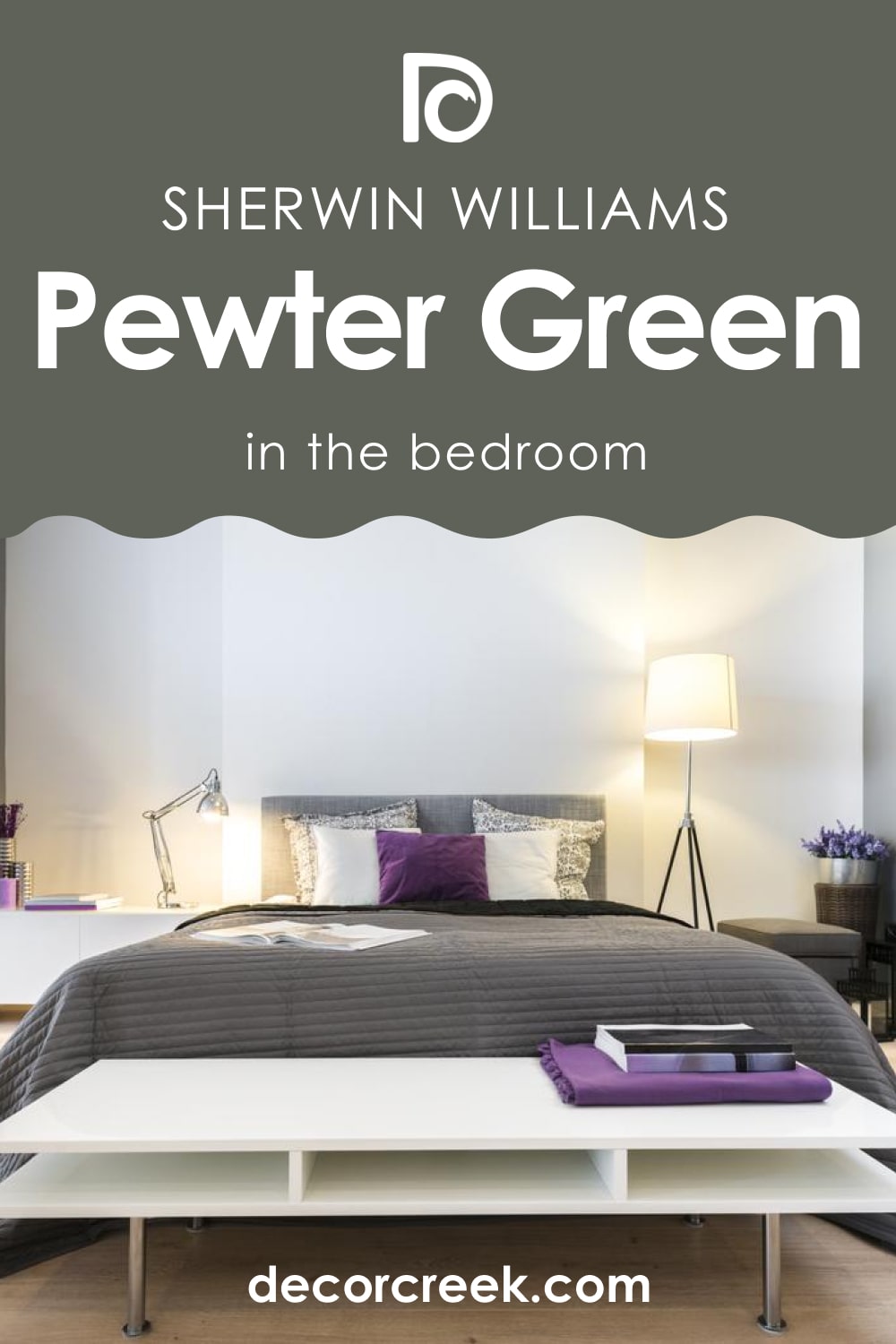 Is Pewter Green SW-6208 a Good Color For Your Kitchen?
If your kitchen is spacious enough, you can take a chance and paint it with SW Pewter Green color entirely. However, make sure you still have some light colors there to avoid making the room too dark! But in most homes, this color is used as an accent color to paint the cabinets or to emphasize only one wall.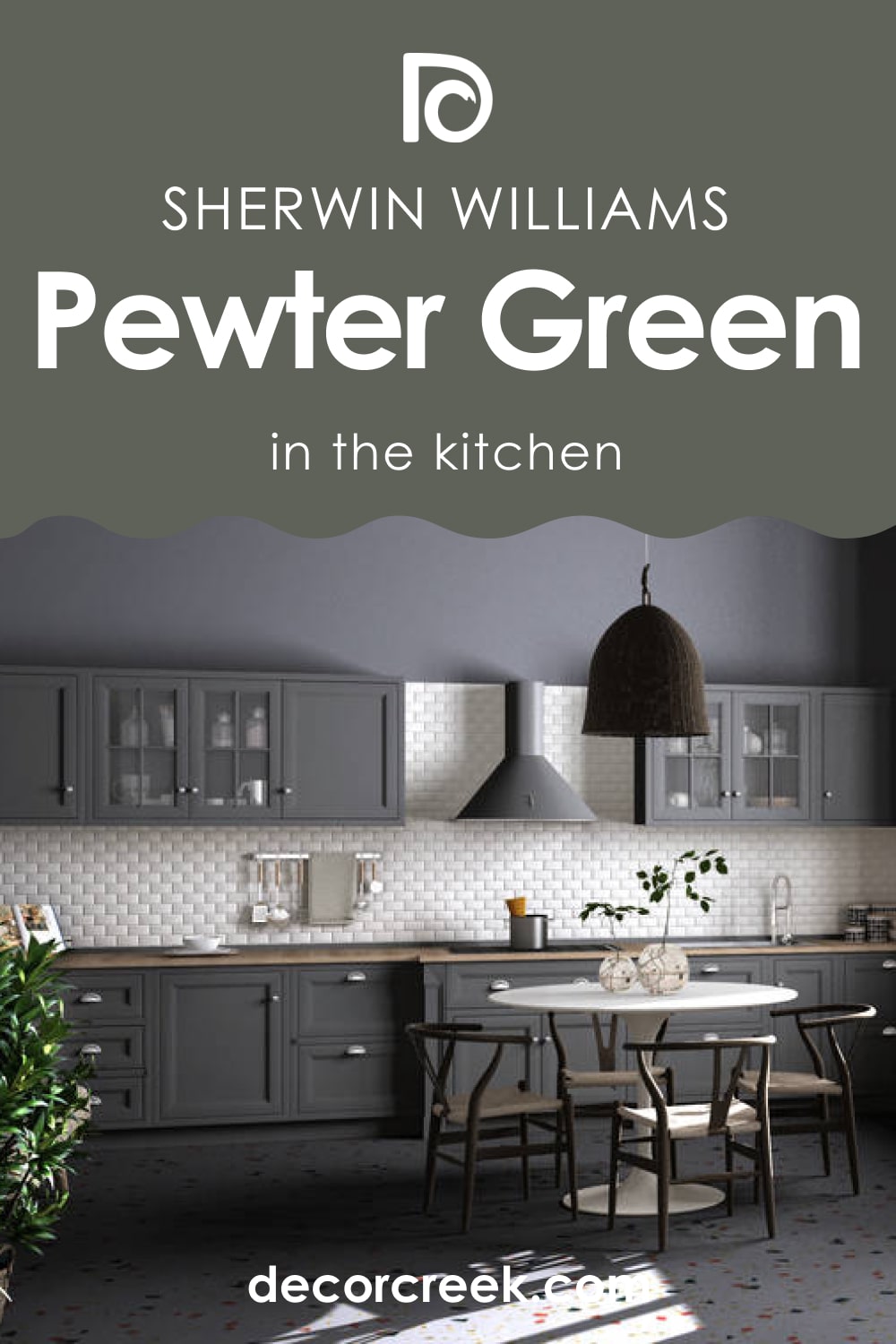 Can I Use Pewter Green Color In My Bathroom?
For your bathroom, this green can be a good option to use on a bathroom vanity or as a color of the accent wall. In this case, it will add a bit of drama and color to the traditionally neutral space. But even in a large bathroom, we'd not recommend you use this green on all the walls.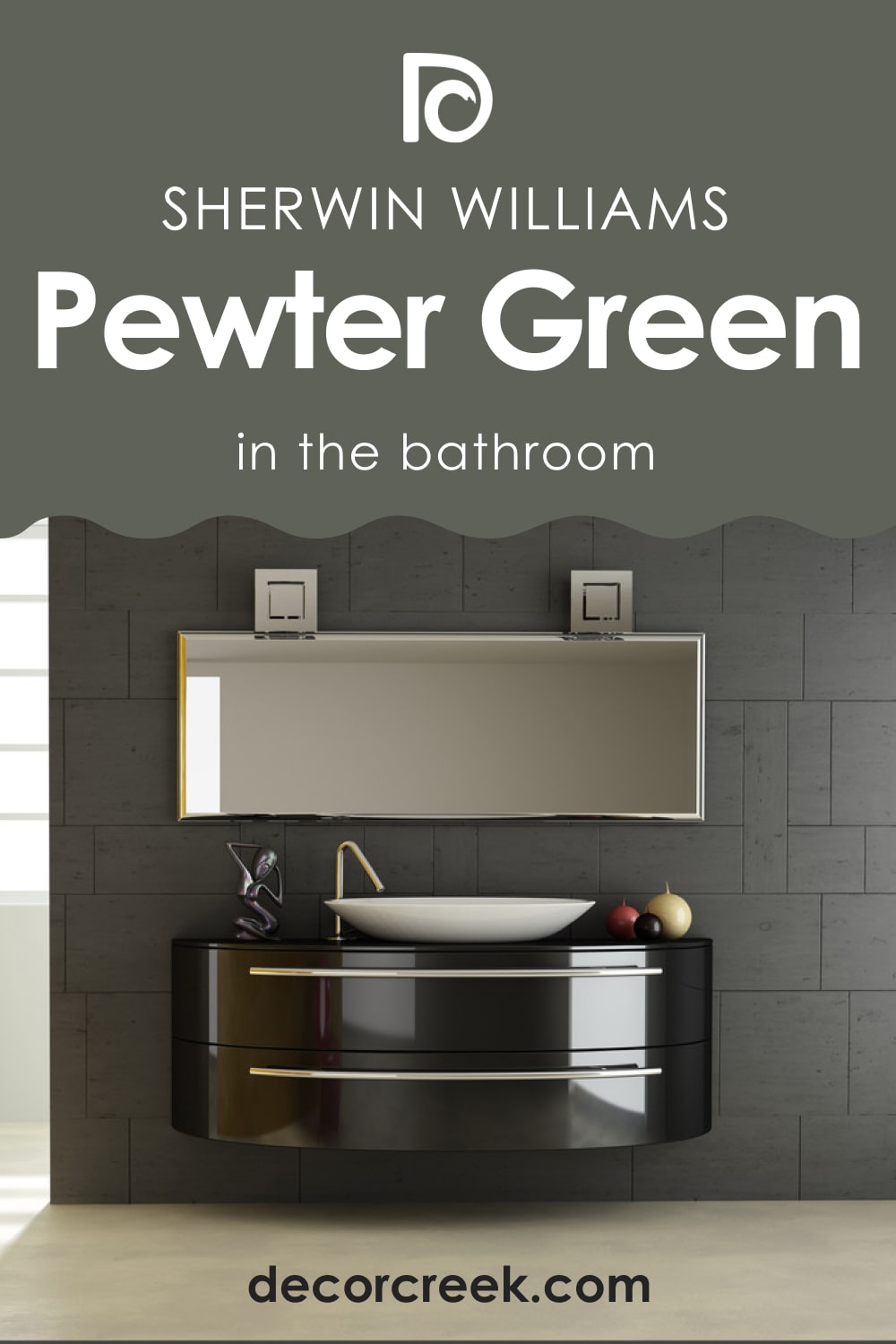 Is Pewter Green SW-6208 an Exterior Color?
SW Pewter Green color is so versatile that it can be used for exterior paint works. Of course, you must consider the lighting in your area before you begin. If you have cloudy weather and not enough daylight, your Pewter Green facade might appear to be dark and gloomy.
However, if the weather in your area is sunny with enough bright light, the color will show more of its warm undertones and look amazing if you also add white trims on the windows and the porch.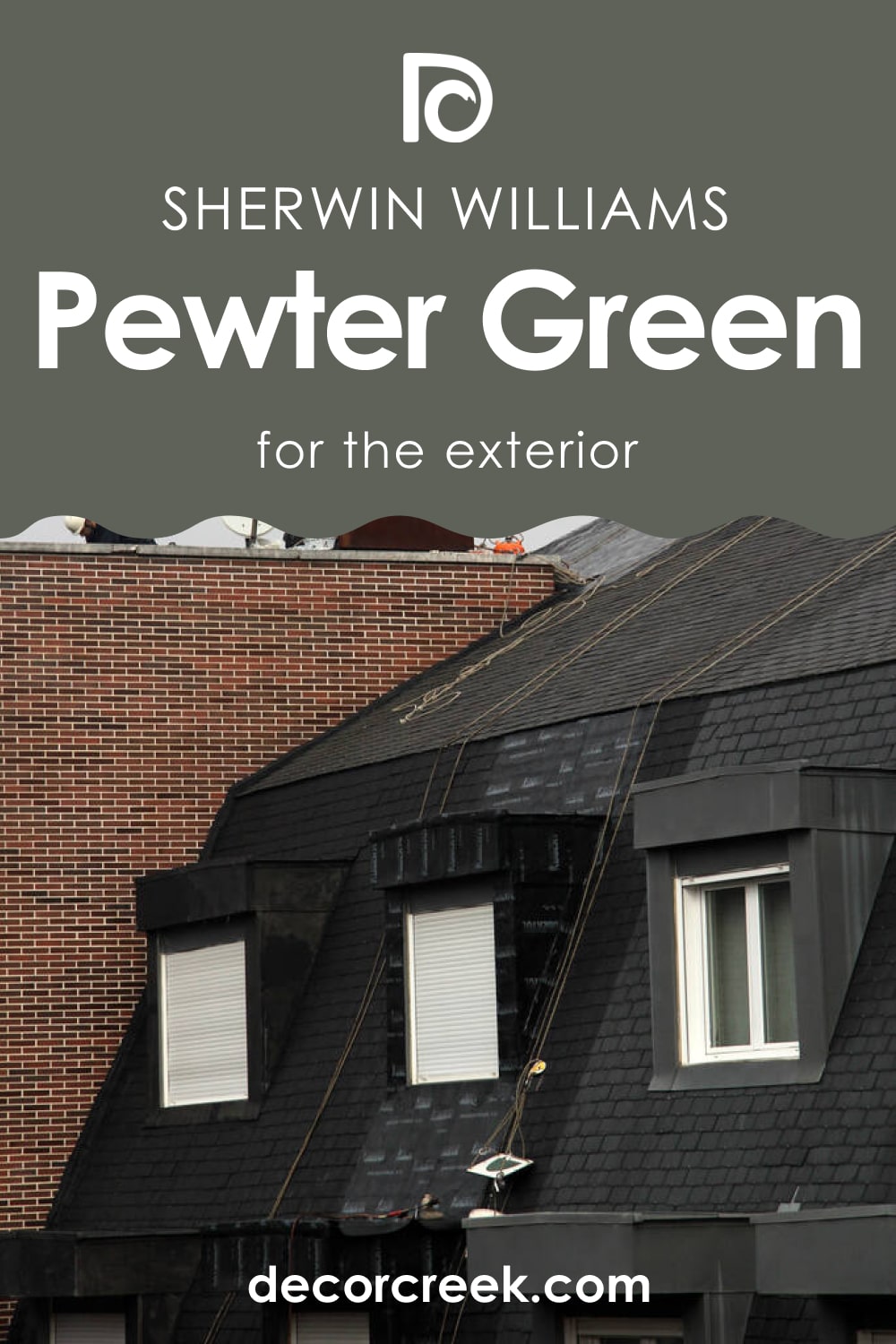 Pewter Green SW-6208 Color Comparison
To help you see the features and specifics of this green color better, check out how it can be compared with a few other greens that look more or less the same.
Pewter Green vs Evergreen Fog
These two are quite contrasting colors. SW Evergreen Fog color is much lighter, but still, they look harmonious together since both have gray undertones. You should just also use one more color with them, preferably warm white, to balance these two greens better.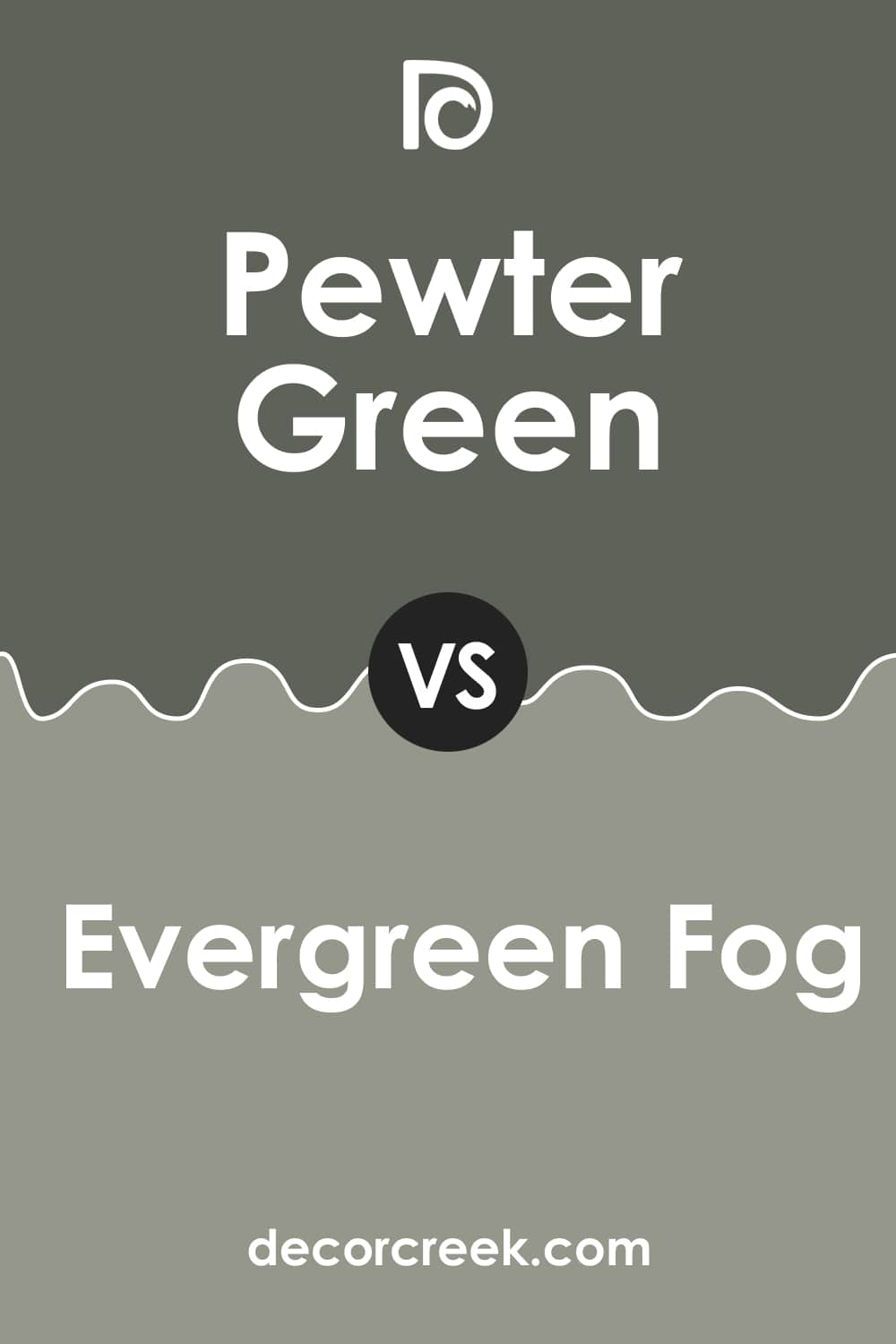 Pewter Green vs Retreat
The SW Retreat paint color has an LRV of 21, which makes it a bit brighter than SW Pewter Green. Also, gray undertones of the SW Retreat color are way more pronounced than those in SW Pewter Green.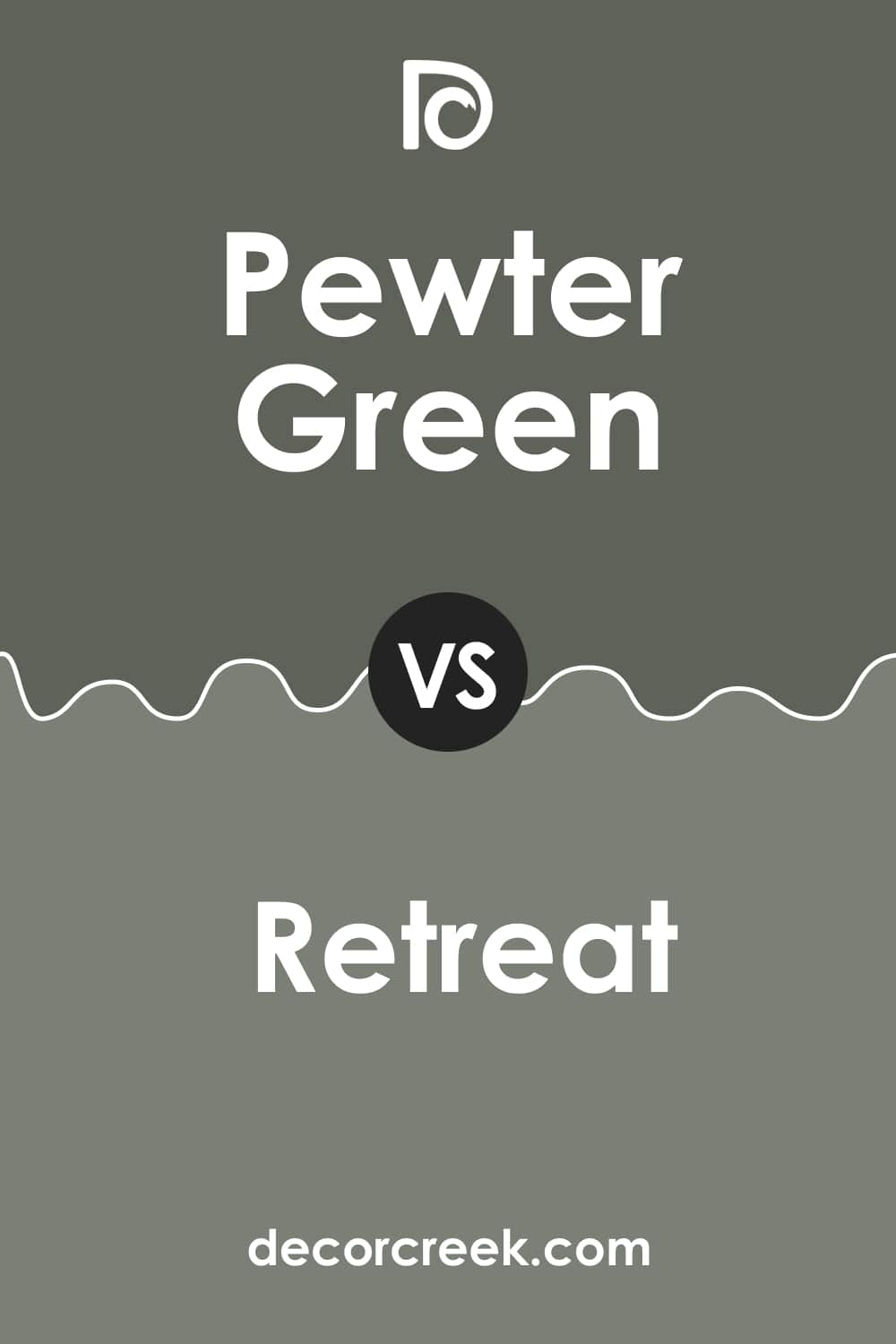 Pewter Green vs Succulent
Both of these colors are considered muted neutrals with the Succulent paint color being greener. In its turn, SW Pewter Green shows more of its gray undertones. But since they look pretty much alike, these colors can't be used together in the same room unless you want to use one color instead of another.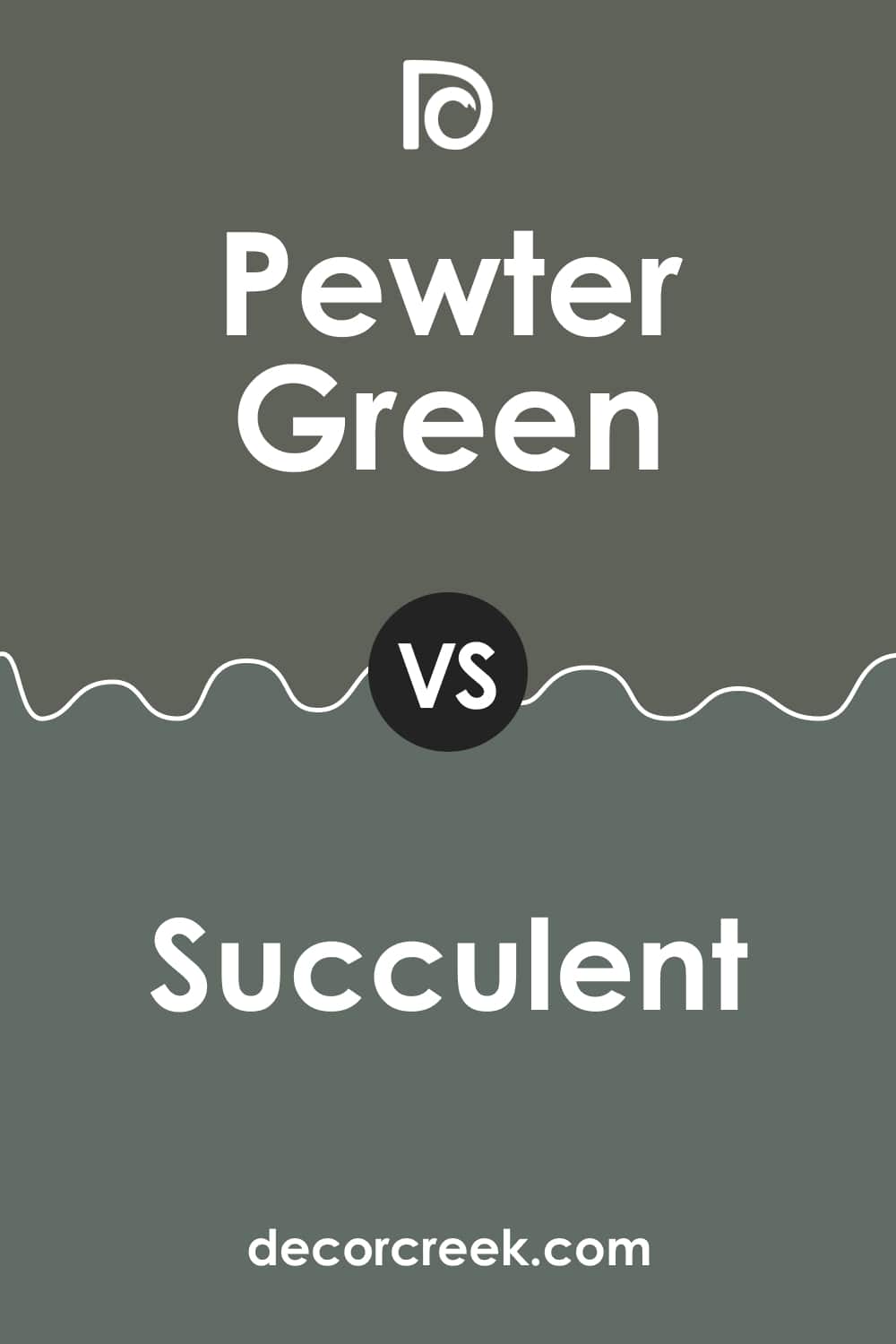 Pewter Green vs Rosemary
With an LRV of 14, the Rosemary paint color is brighter than SW Pewter Green which has an LRV of 12. Nevertheless, these two colors look pretty much alike.
Although, if you take a closer look at them, you'll see that SW Rosemary color is a little less gray and shows a little more olive hue than SW Pewter Green.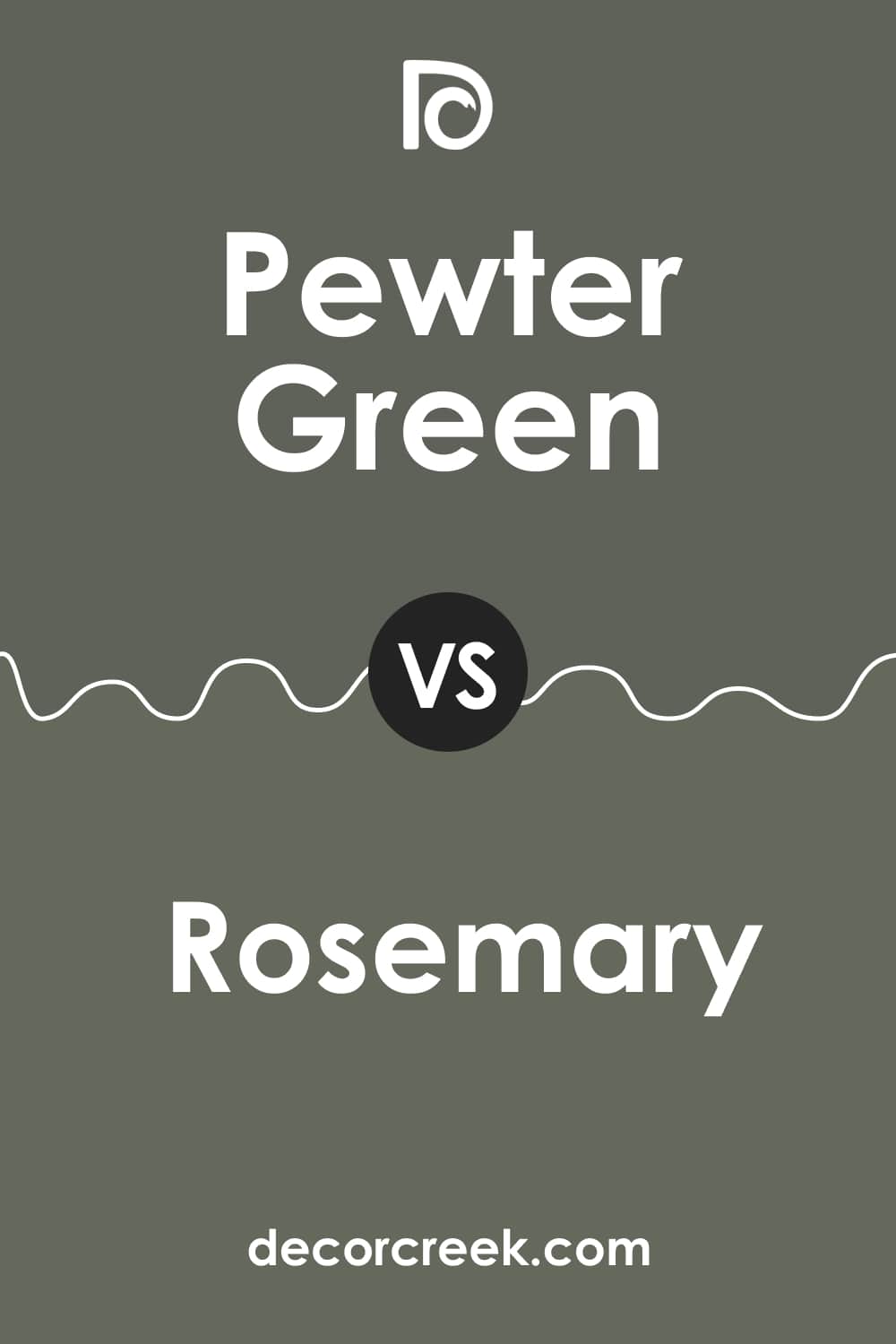 Pewter Green vs Night Owl
These colors are pretty much alike, only SW Pewter Green is a bit darker and greener than the Night Owl color. SW Pewter Green paint has greener undertones whilst its counterpart reads somewhat grayer. But basically, you can use these colors interchangeably quite successfully.
So, now you know a lot about the beautiful paint color called Pewter Green. You learned about its undertones, LRV, trim color, and colors you can coordinate with it.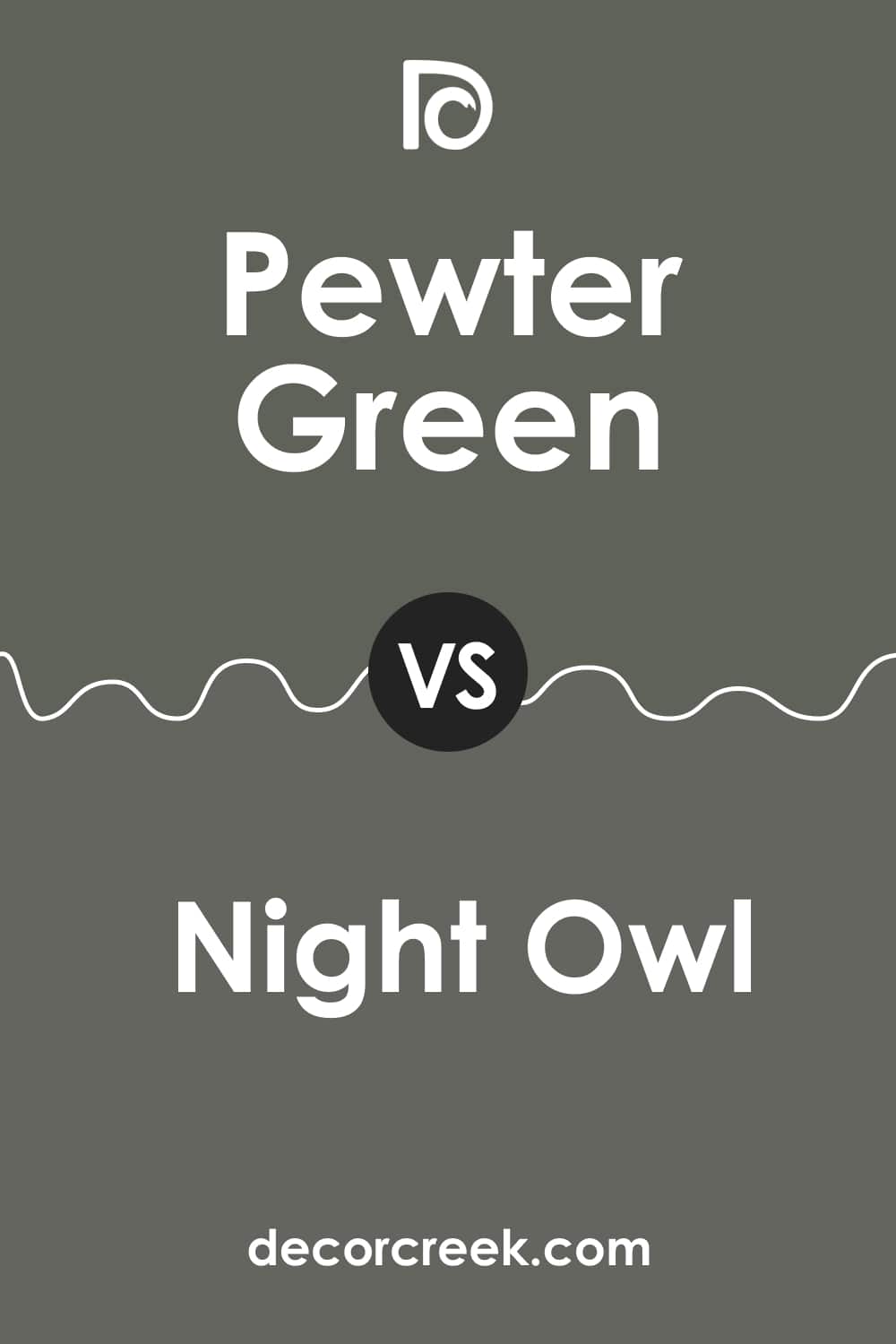 Also, we told you how this green will read in different rooms of your home and how it may react to different types of light. With this complete review, you will be able to use this rather complex color successfully.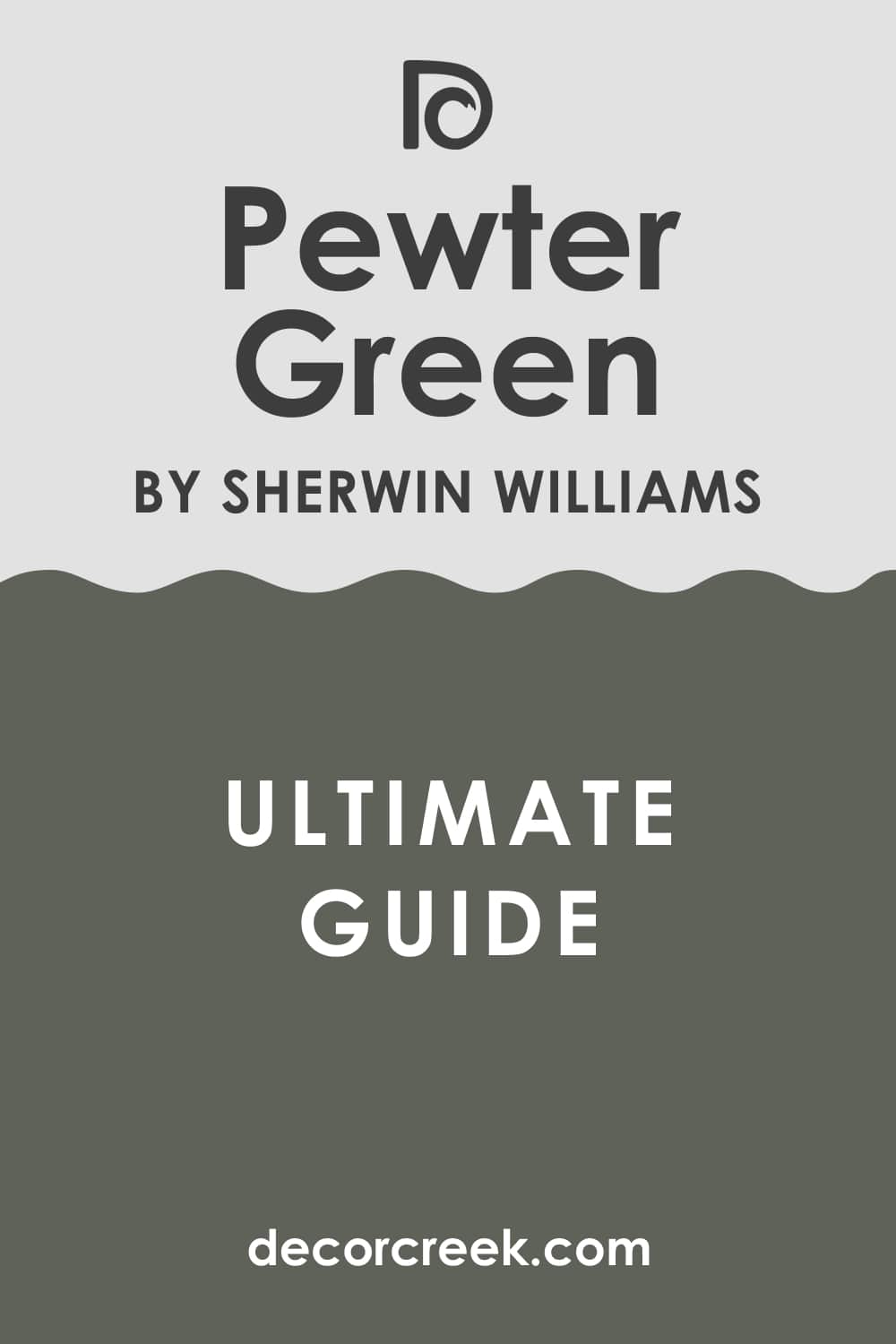 Frequently Asked Questions
⭐Can Pewter Green color be used in a room with white walls?
Yes, it can be used to make color accents e.g. on the accent wall.
⭐Does Pewter Green work well with gold decor elements?
Yes, it does! Since it has yellow undertones, they will complement the golden warmth.
⭐Does SW Pewter Green look well with wooden furniture?
If the furniture is made of light-colored wood, then yes, this green will work well with it.