When it comes to choosing paint colors to use in your home, most of us feel puzzled since it appears to be quite hard to define what shade to use. There are so many colors out there that we simply don't know which one might work the best for our walls and rooms!
For those who also feel uncertain about their color selection abilities, we have prepared this article. Today we are going to introduce a nice color to you that's called Retreat by the Sherwin-Williams brand.
You will learn the way this color works in different rooms and the way it reacts to light. Also, we will explain what colors can coordinate with it and what colors can be used for the trim.
In addition, you are going to learn this color's undertones and LRV – all to help you use it in your home successfully!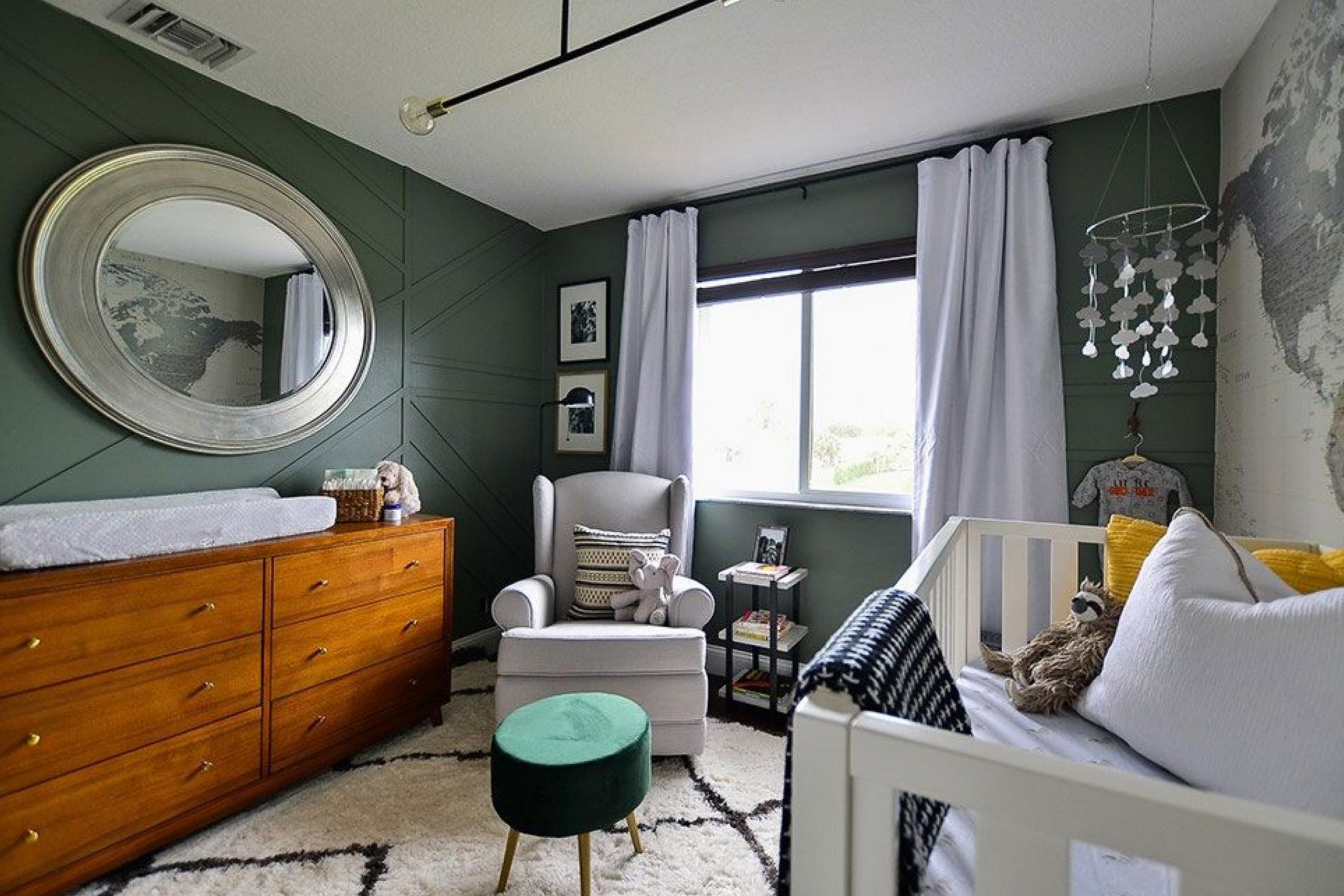 What Kind Of Color Is Retreat SW-6207 by Sherwin – Williams?
In simple words, Retreat SW-6207 is a green color. However, this green is not as simple as you might think of it. When we hear that the paint color is green, we usually imagine either bright green shades or gloomy and deep hues. As Encycolorpedia says, Retreat SW-6207 is not a bright and juicy green, but it is also not a dark green!
This shade of green is calm and relaxing, being somewhere on the way from a mid-tone to a dark-tone green. This color has deep green and gray undertones, which makes it muted and rather subtle – perfect for those who prefer calm hues in their homes.
Despite being subtle and soothing, this shade of green color is a good option if you want to make a room feel smaller, for example.
Also, the Retreat paint color has another great feature: it is so versatile that you can use it in any area with any weather or climate! It means that this green will be suitable both in sunny regions and areas with gloomy and cloudy weather.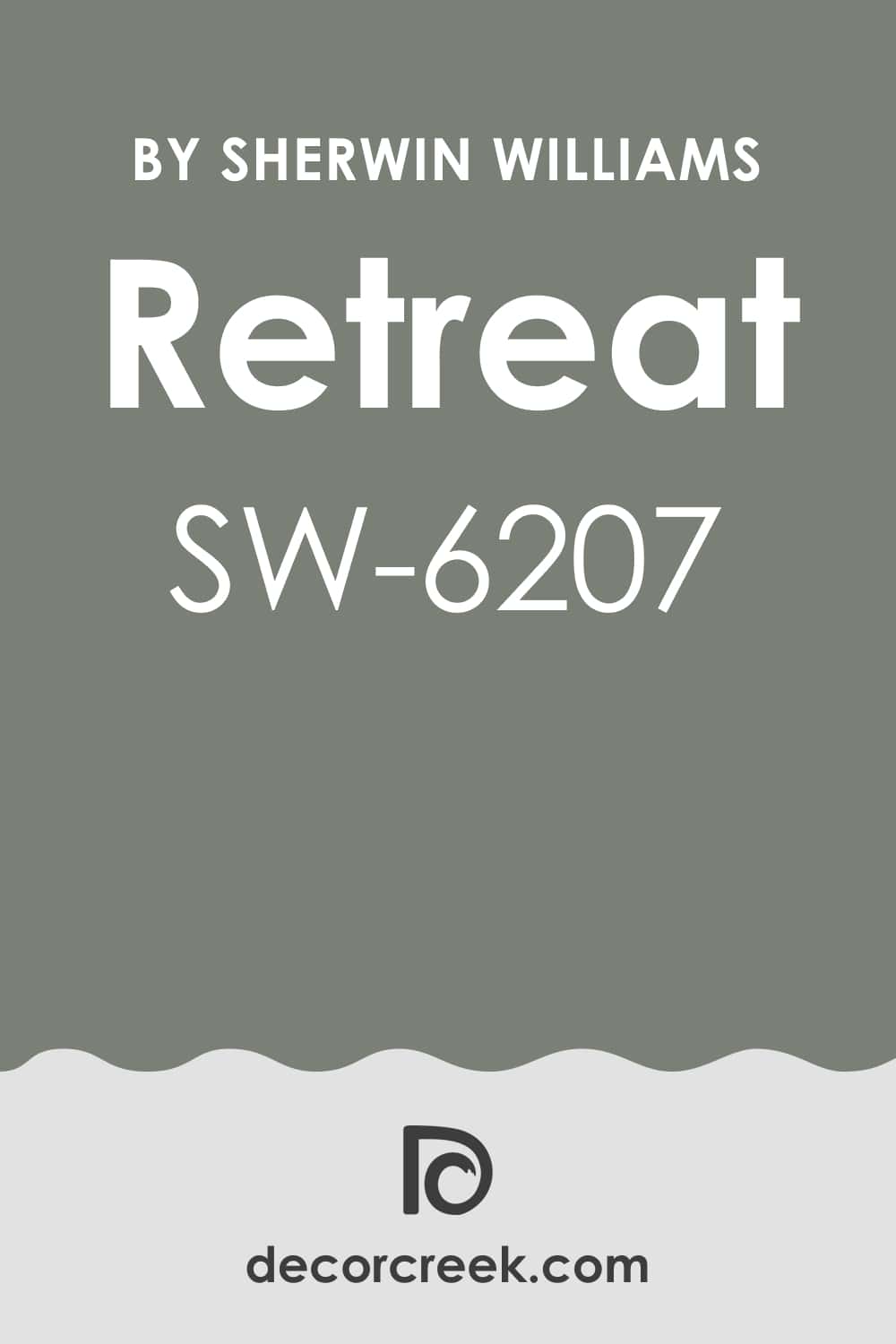 What Undertones Does Retreat SW-6207 Have?
SW Retreat paint color is a green color that has deep green and gray undertones. Depending on how well your room is lit and whether the lighting there is natural or artificial, cool or warm, these undertones may come out in a distinct manner. As a result, you might see the color reads somewhat differently on your walls.
Why is it a must to be aware of the undertones your color has?
See, figuring out what undertones a paint color has is a tricky and complicated task since undertones are often hidden deep inside the color. This is why they are also often revealed in certain conditions only.
But when you know what undertones exactly the color has, it will help you use it correctly and pair it with other colors to create balanced combinations and palettes.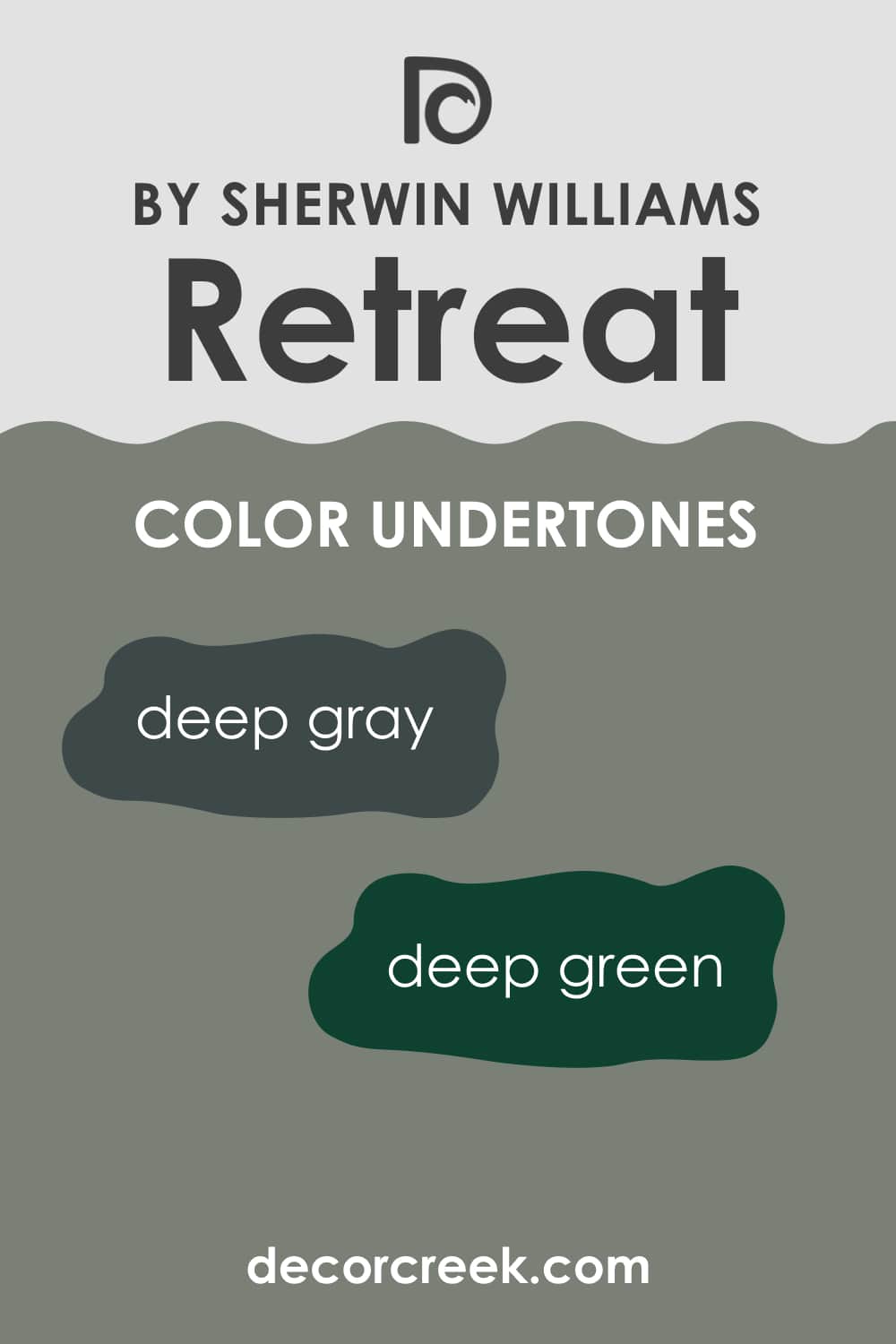 What Is the LRV Of Retreat SW-6207 Paint Color?
Just to remind you, LRV stands for the Light Reflectance value and shows the amount of light the color is able to reflect or absorb when it is applied to the surface. The LRV scale ranges from 0 to 100 where 0 is the darkest black and 100 is the purest and brightest white.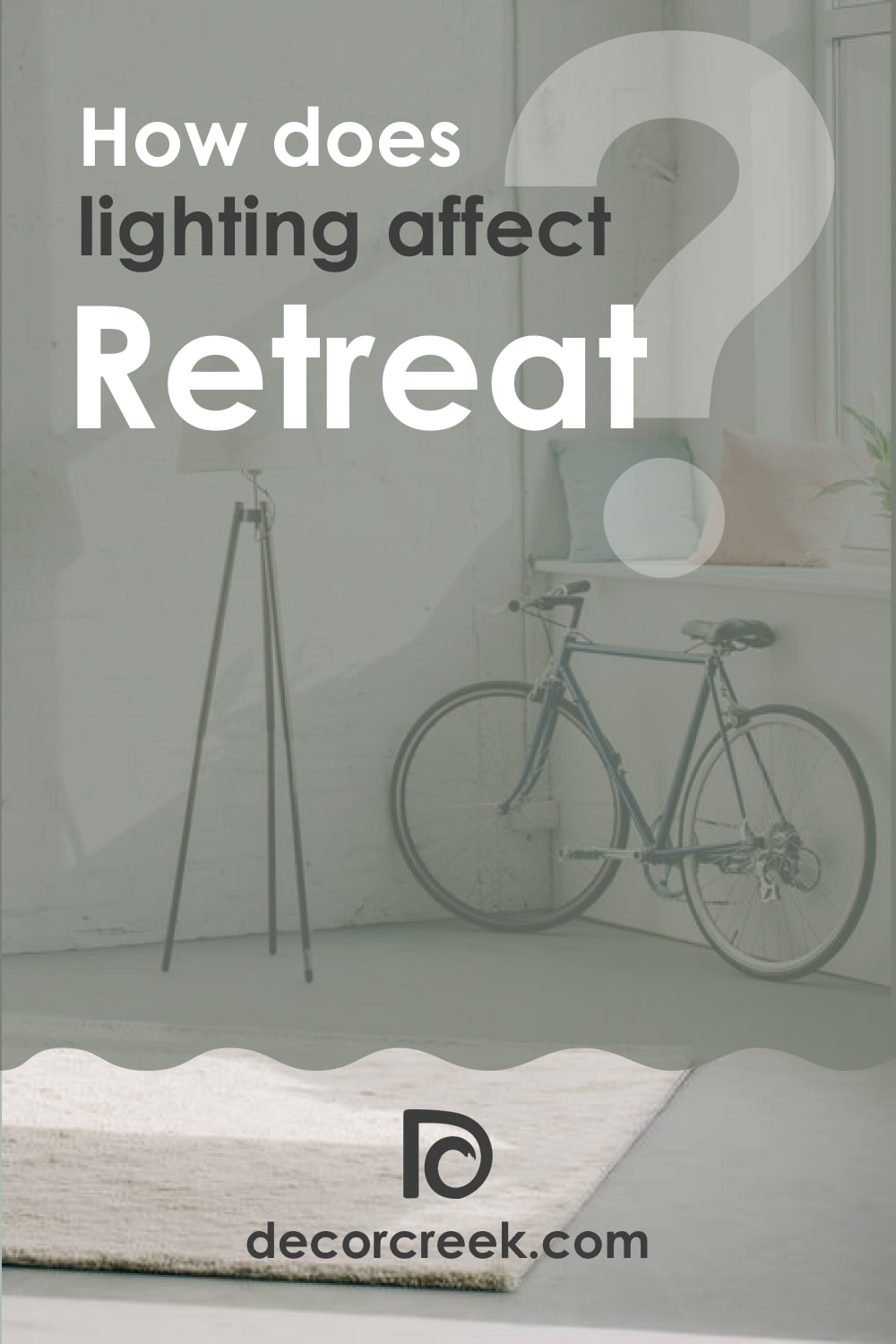 Speaking of the SW Retreat color, its LRV is 21, which means that this color is in the middle of the scale being a bit closer to the darker end of it. Respectively, it will read differently in different lighting.
For example, you should be aware that this green paint color will feel rather cool-toned in the north and south-facing rooms whereas in the east and west-facing rooms, it will look a little warmer.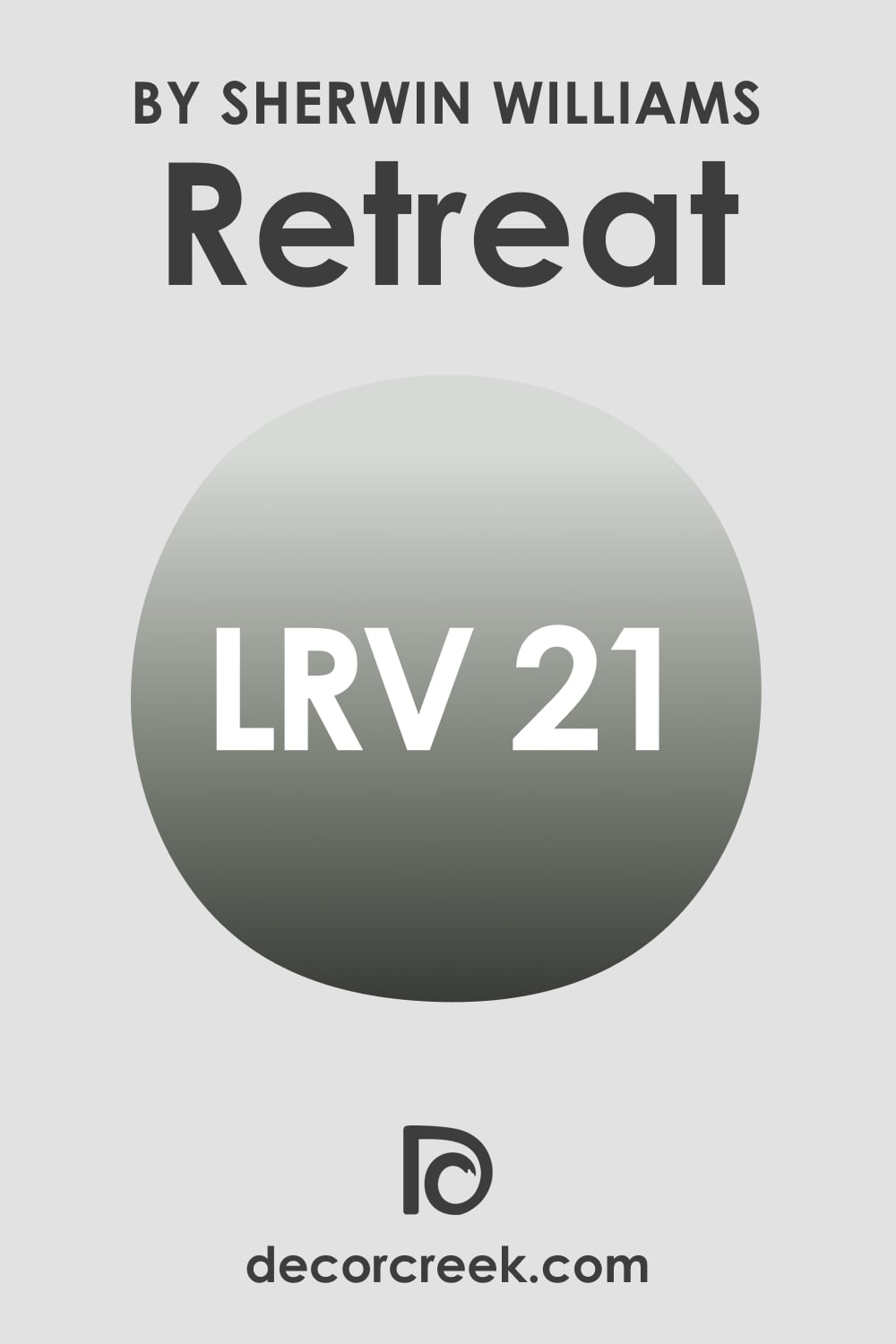 LRV – what does it mean? Read This Before Finding Your Perfect Paint Color
Retreat SW-6207 Coordinating Colors
Being able to choose the right coordinating colors is important because it helps you collect a harmonious color palette for your home, making all the colors work harmoniously together. Depending on your preferences and your interior design style, you can either choose a contrasting or a monochromatic color palette.
If you want to use SW Retreat paint color in your home, consider that the following groups of colors will work really well with it:
darker or lighter greys
creamy or crisp whites
black
greiges
burnt oranges
lighter and brighter yellows
In particular, for a monochromatic palette, you might want to use the following colors:
SW-6205 Comfort Gray
SW-6206 Oyster Bay
SW-9132 Acacia Haze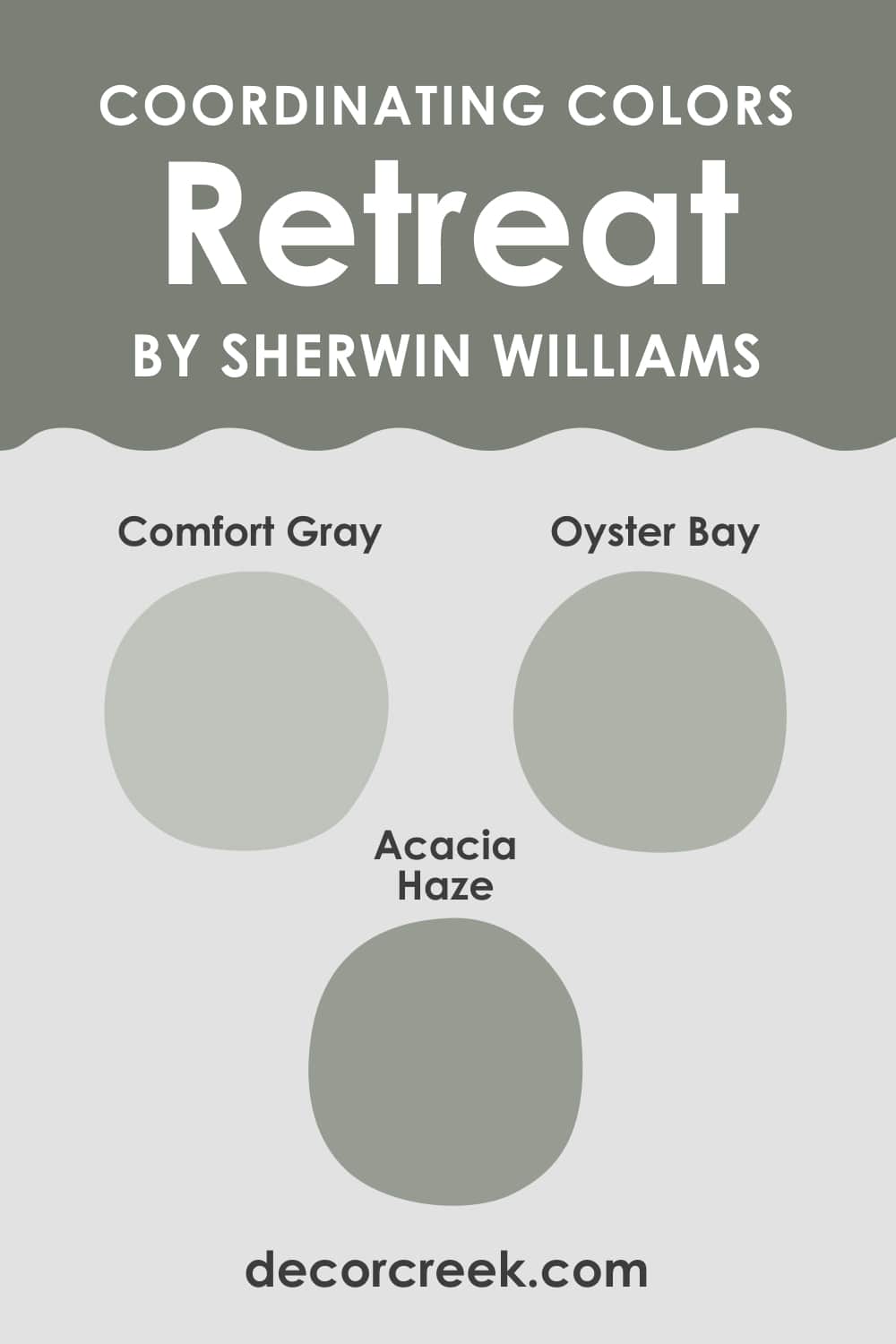 What Is the Best Trim Color For Retreat SW-6207?
Since white is a typical and go-to color choice whenever you need to pick the best trim color, you can opt for this rule of thumb when you are using SW Retreat color on your walls. For trims, as well as for moldings and ceilings, you can make use of the following whites:
SW Pure White (if you want to achieve a creamy look)
SW Extra White or SW High Reflectance White (if you need to get a crisp look instead)
Well, now you know a bit more about this awesome green color that Sherwin-Williams has in their color collection. After all that we have told you about this paint color and its specific features, you can better imagine how it might work in your home.
And now let's dig deeper and find out what's there in the core of this amazing sage green!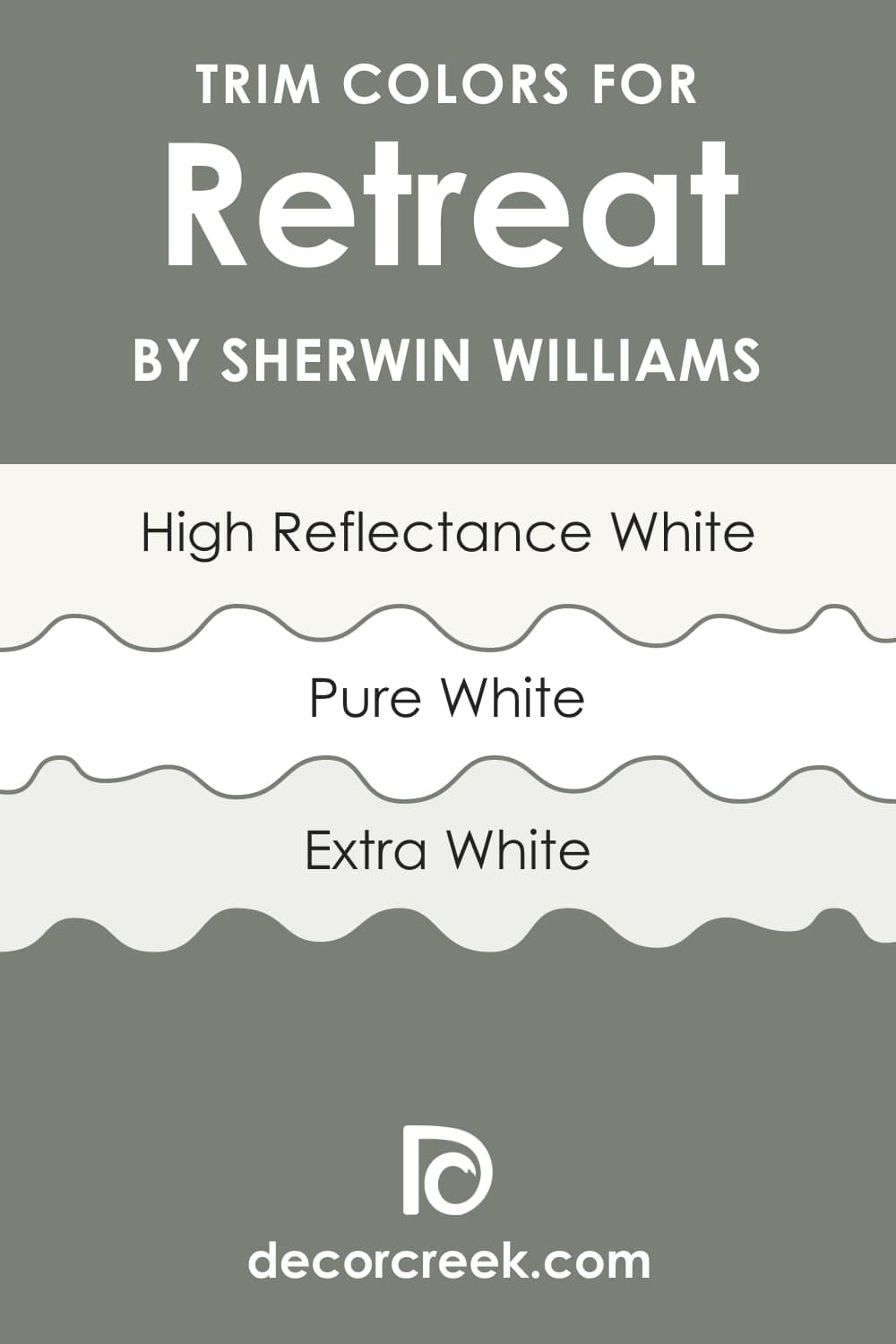 What Colors Are Considered Similar to Retreat by Sherwin-Williams?
Before you start using any paint color in your home, there is one more thing you need to figure out. It often happens that you might want to change the initial paint color and shift it for another one that reads and looks almost the same. In this case, it is good to know at least a few alternative colors that look almost the same as the initial one.
This is why we suggest you check out what alternative shades of green you may find nearly the same as the SW Retreat color:
SW-7060 Attitude Gray
SW-6200 Link Gray
Let's see what they are. Attitude Gray is a greenish-gray color that feels very natural. With an LRV of 20, this green is closer to the dark end of the LRV scale. This is why, in order to create a balanced color palette in your home, you should pair it with lighter and creamier whites.
Sherwin-Williams Link Gray color has an LRV of 21. It is a dark-toned color with a slightly crisp texture. Since this color is pretty dark, you need to be careful when using it in smaller rooms, especially if they are poorly lit.
Also, remember to pair it with lighter and warmer off-white colors for a more balanced color scheme in a room.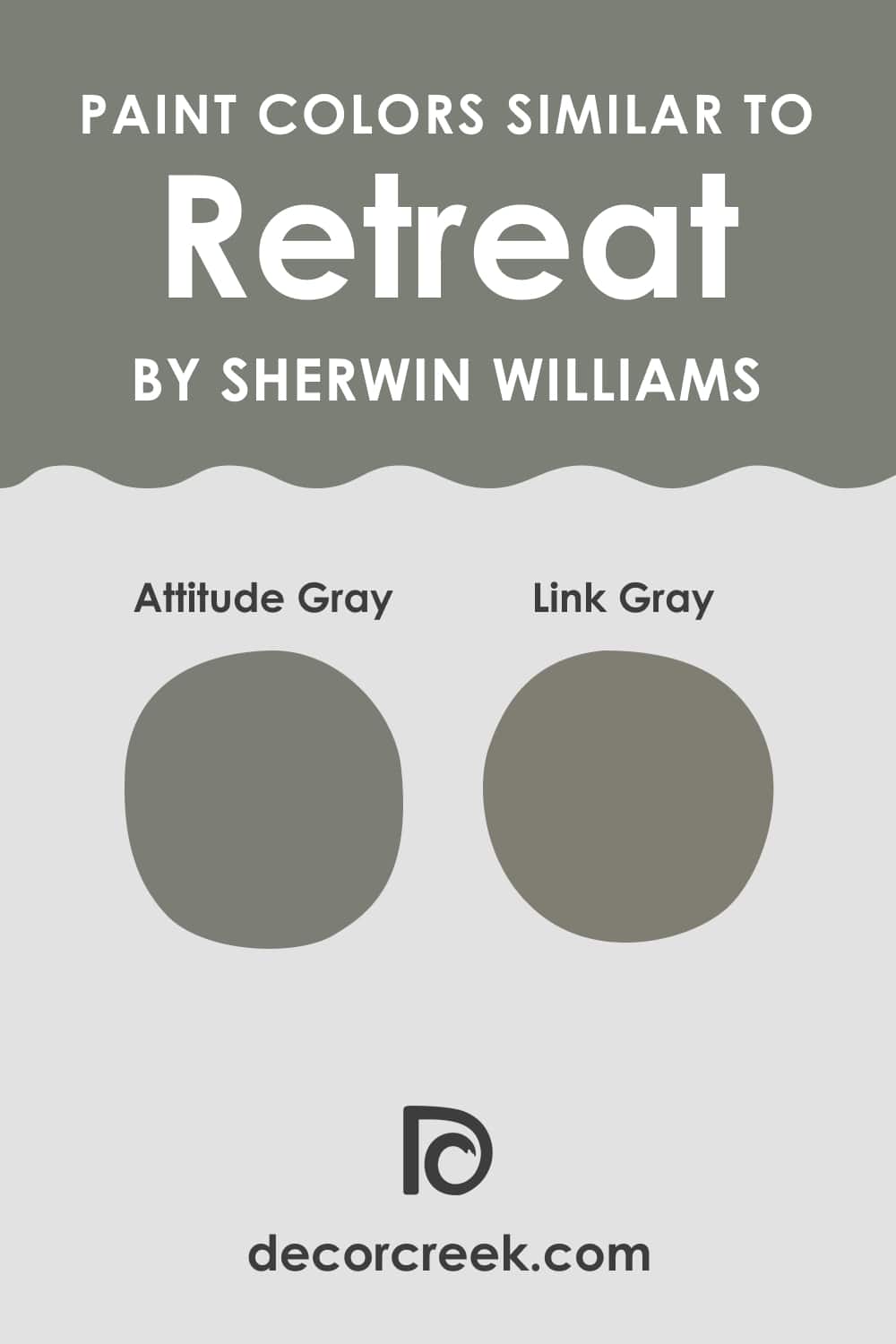 Colors That Go With Retreat SW-6207
If you have SW Retreat paint on your interior walls and you would like to use other colors in the same room, you need to know which ones exactly can go well with this sage green. At this point, it is important to understand that we don't mean coordinating colors here. We mean colors that can be paired with this particular shade of green well enough to create a harmonious color combination.
Among such colors, you might want to consider a few good color options. They can be used interchangeably in any combination where SW Retreat color is the major one:
SW-6395 Alchemy
SW-7605 Passive
SW-7008 Alabaster
SW-6209 Ripe Olive
SW-6468 Hunt Club
SW-6211 Rainwashed
SW-6204 Sea Salt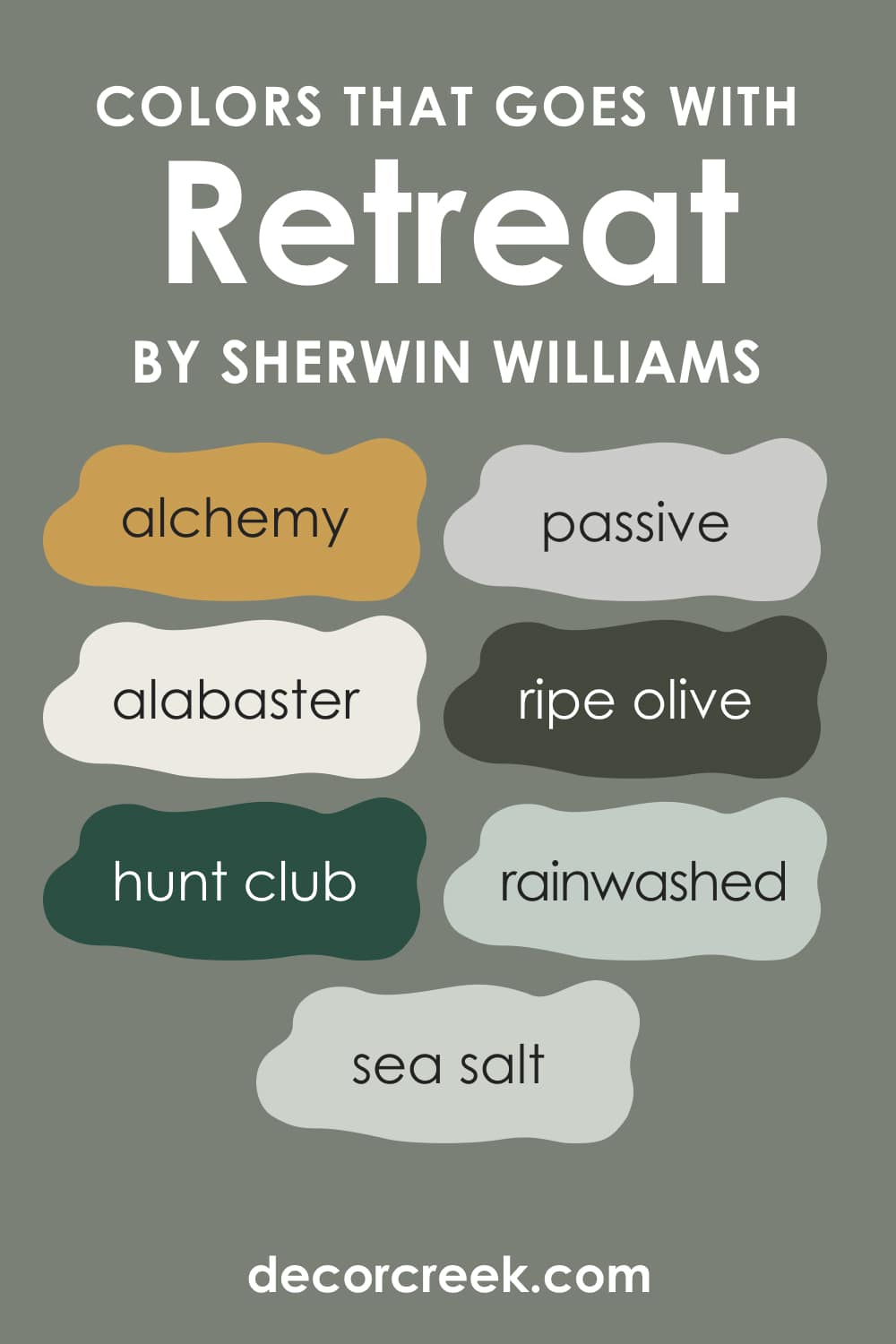 Where Retreat SW-6207 Can Be Used In Your Home?
To some homeowners, this green may seem a bit difficult to make use of. But the biggest benefit this color has is that it can literally fit anywhere in your home! You can use it in a nursery, in your bedroom, in a living room, or any other space.
In any case, you will be satisfied with the result. Below, we recommend you check out how exactly it may work in different rooms in your home. This will help you better imagine what to expect from this color.
How Retreat by Sherwin-Williams Works In a Living Room?
SW Retreat color is a great option for your living room! But since it makes a noticeable color accent, we would recommend using it on the accent walls mostly. Avoid painting all the walls in this paint. And if you want to create a contrasting color palette while maintaining harmony, don't hesitate to pair it with creamy whites.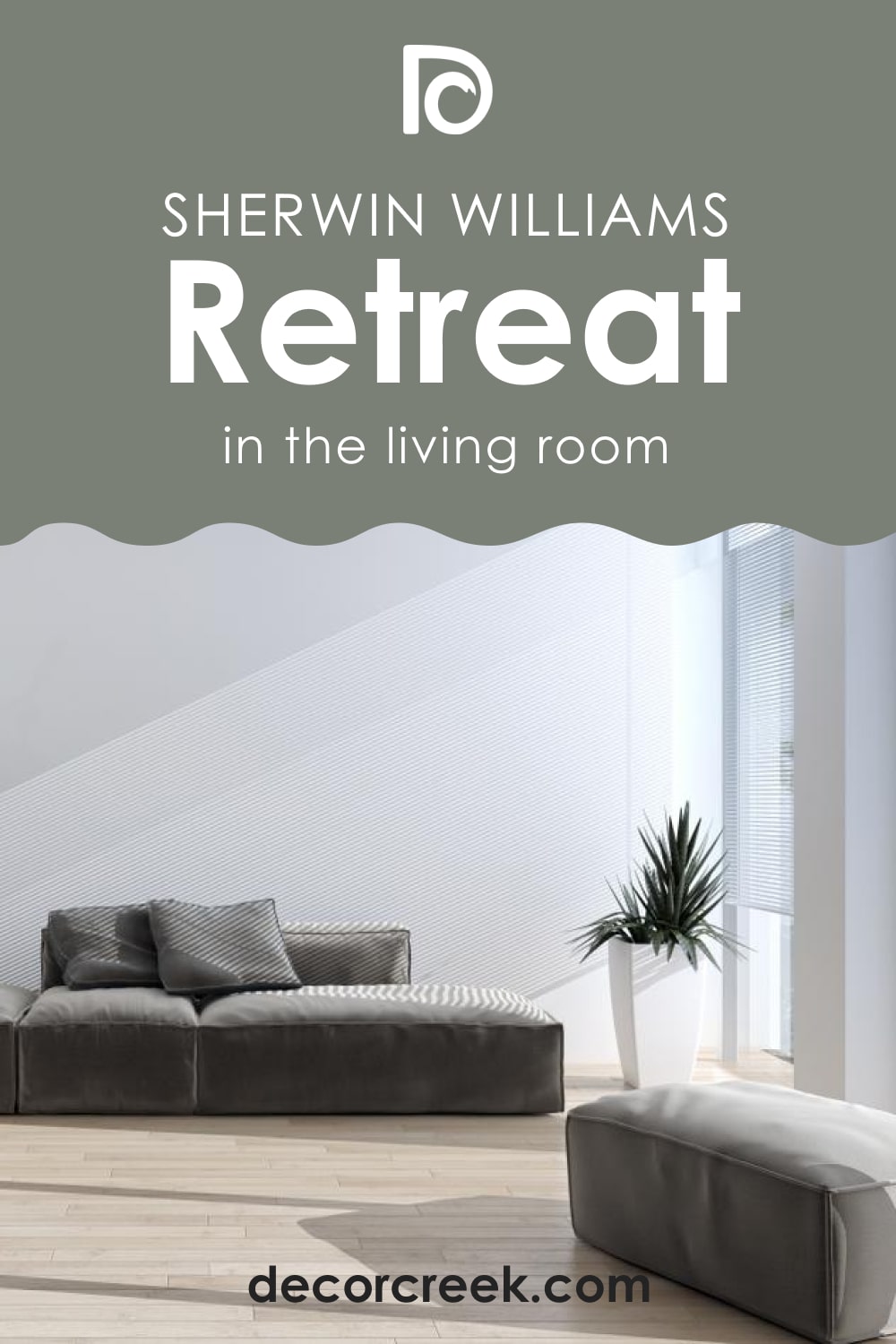 Can Retreat by Sherwin-Williams Be Used In a Bedroom?
Although it is green, which is not a very common color option for bedrooms, SW Retreat paint should be definitely used in your bedroom! For example, you can use it as the accent wall color behind the headboard.
You can also pair it with mustard yellow hues and burnt orange on the throw blanket or pillows to add more color and vividness.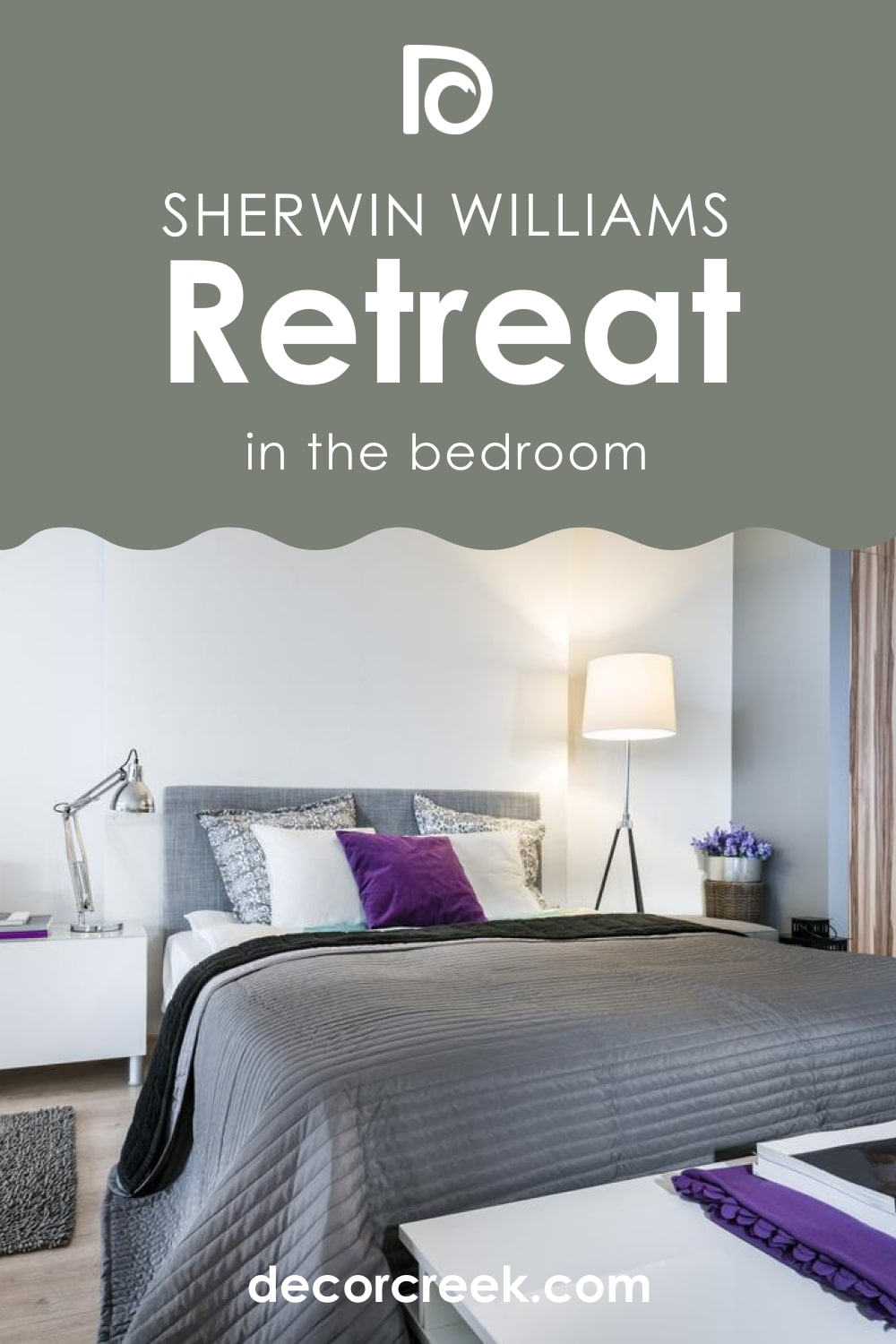 Is Retreat SW-6207 a Good Color For Bathrooms?
This shade of green is quite nice for bathrooms since it is not too warm. Although you might not want to paint the bathroom with it, applying this color to one of the walls is a good idea for sure!
Besides, this green pairs well with whites and glass, which means that it will work great in your bathroom. You just need to avoid using it in a bathroom that's very small and/or has poor lighting.
Can I Use Retreat SW-6207 In My Kitchen?
Don't avoid this color when painting your kitchen since it's suitable for both walls and cabinets. SW Retreat paint color will add a calming vibe to your cooking space. Besides, it pairs really well with brass fixtures of pull handles, adding a stark contrast to your kitchen!
Also, this sage green can be paired with a white marble countertop and white backsplash very successfully, giving your kitchen a refreshed look.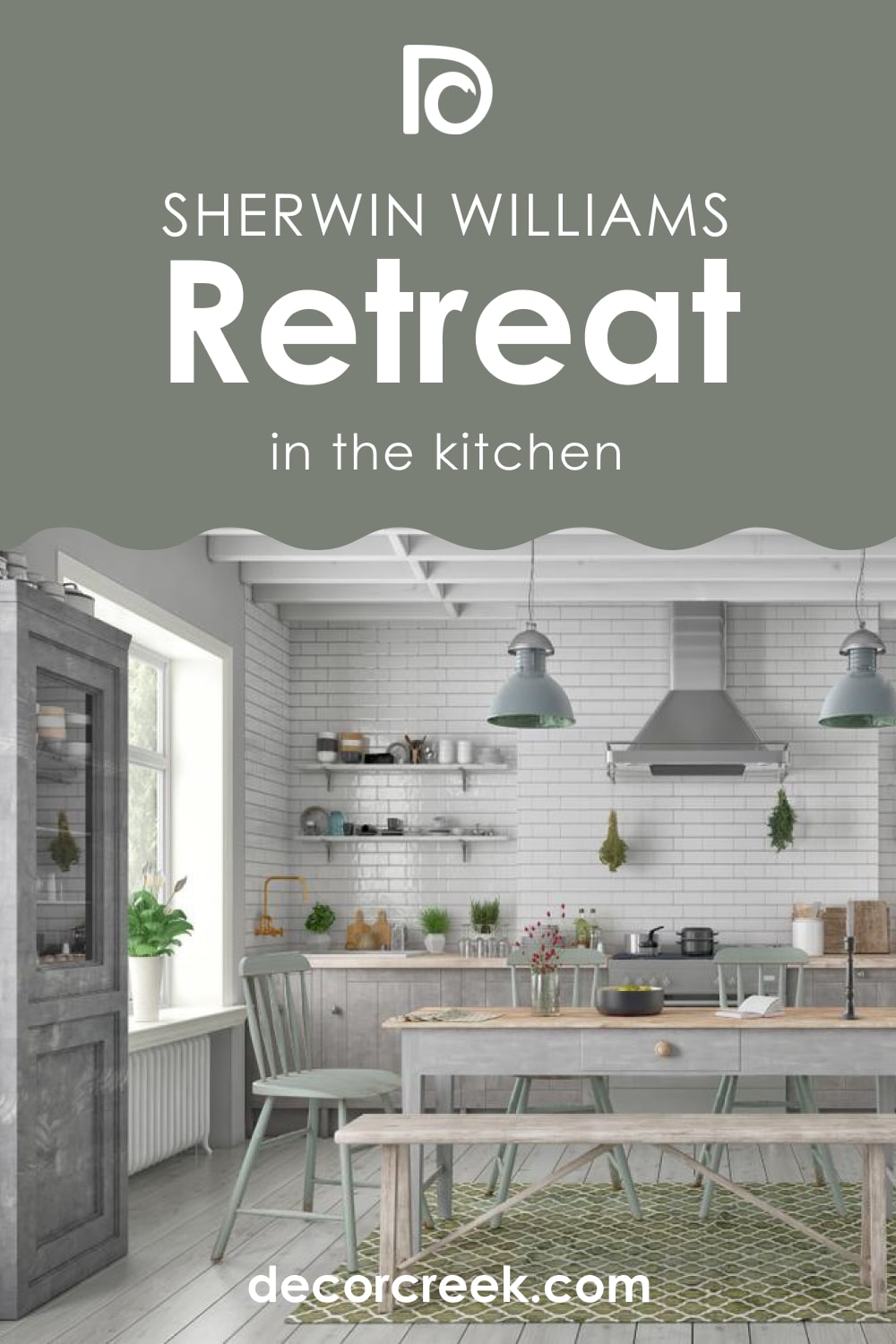 Is Retreat SW-6207 a Suitable Color For Exterior?
If you are not sure whether this green is a good color option for your home's exterior walls, know that it is! It looks nice on many homes, but it will work especially great on Cape Cod and Caribbean-style homes.
Pair it with creamy or crisp white, gray, or off-white shaded trim, and you will get an ideal exterior house design! You just need to keep in mind that the SW Retreat color tends to look lighter than it is when you use it on exterior walls.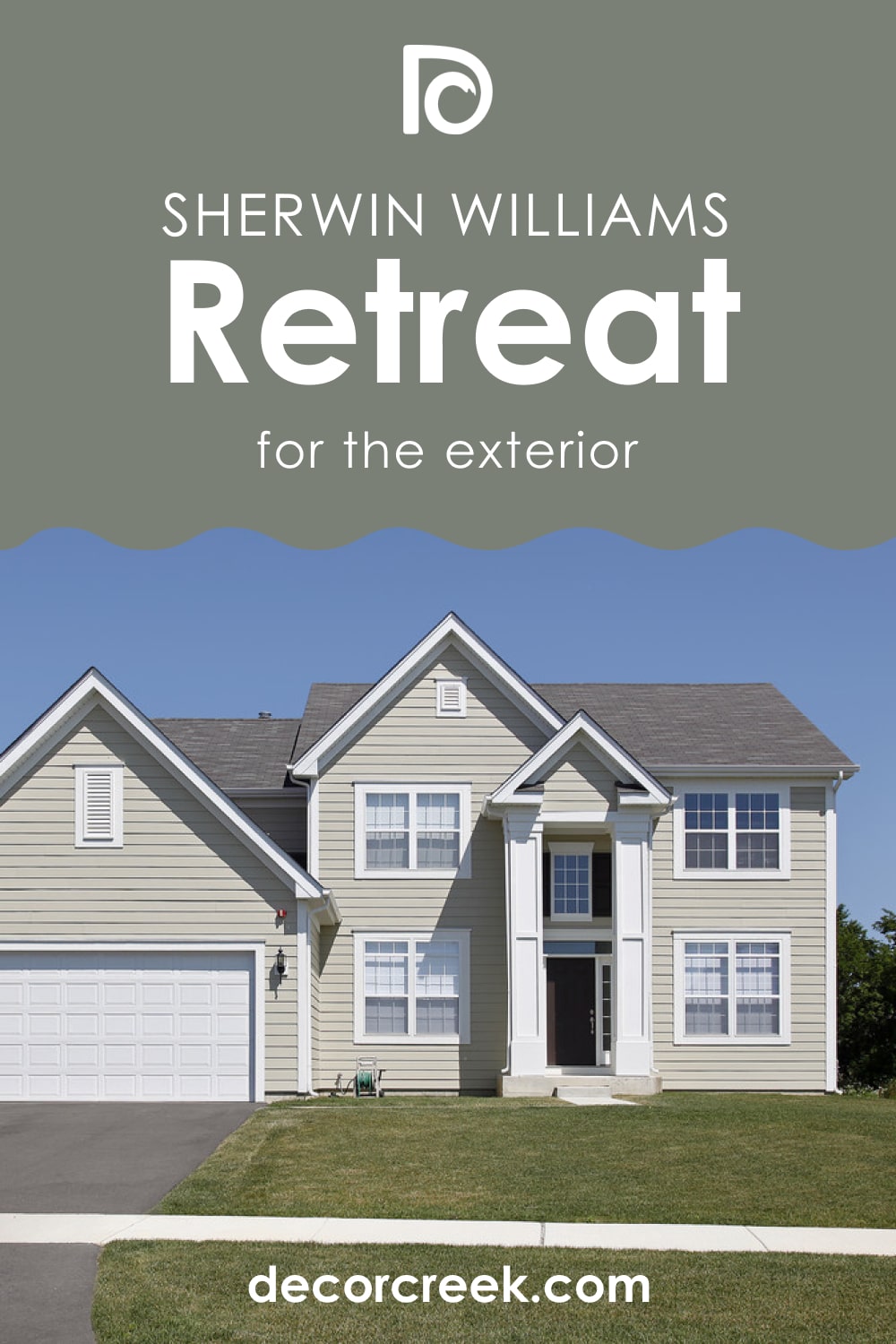 Retreat SW-6207 Color Comparison
When you are choosing the ideal paint color for your home, it is important to be able to see the difference between similar colors. It will help you understand which shade may work better for your goals.
So just for you to see how it works, we have prepared a brief comparison of the SW Retreat color with a few other popular colors of the same brand.
Retreat vs Evergreen Fog
These colors are both green but the Retreat color is much darker and deeper than the Evergreen Fog color. Also, Evergreen Fog paint color reads significantly grayish whilst SW Retreat shows deep green undertones very prominently.
They can't be used together since they belong to the same group of colors, but if you're looking for a lighter version of green, you might want to opt for the Evergreen Fog paint.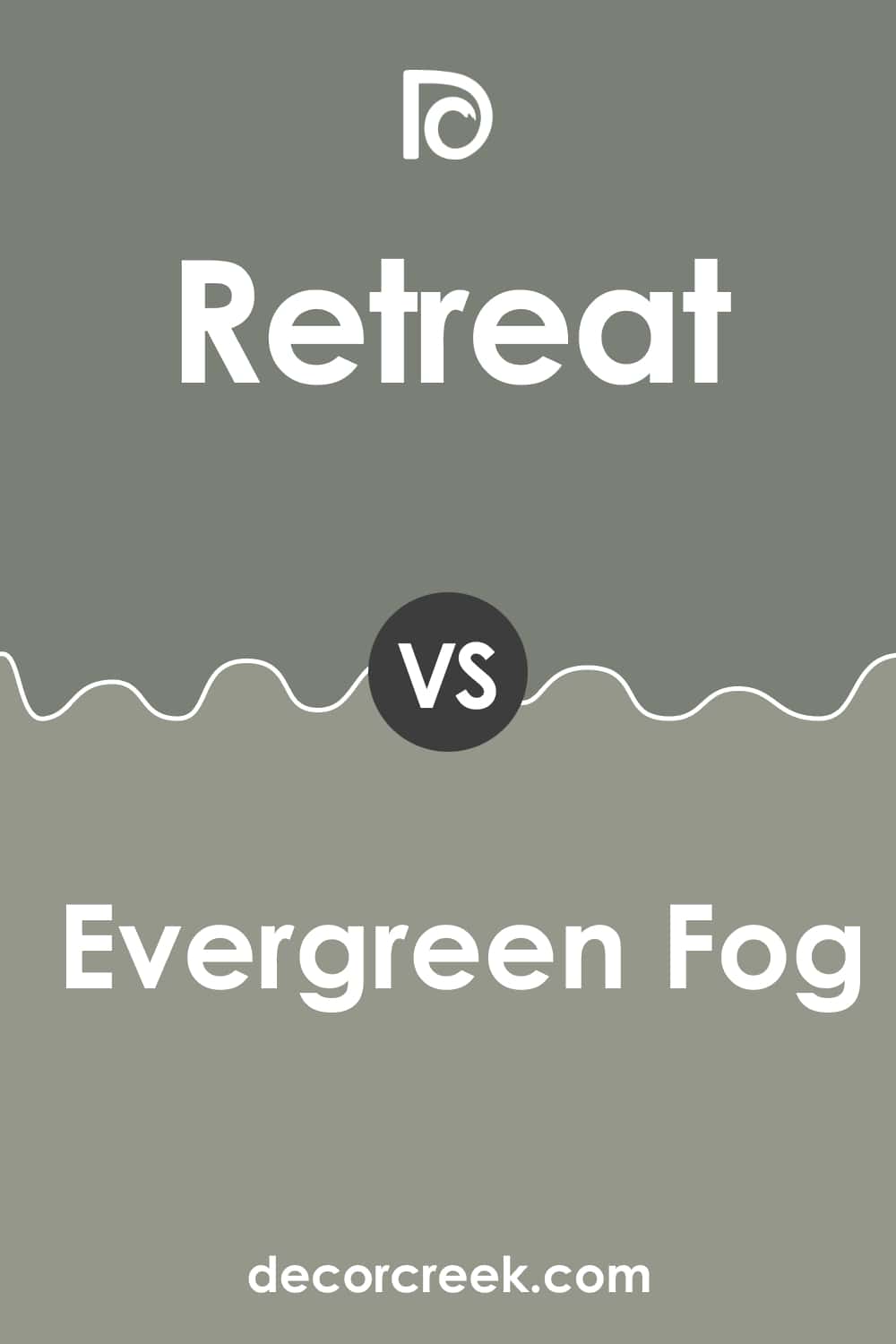 Retreat vs Pewter Green
In this pair of colors, the situation is completely the contrary. SW Retreat color reads lighter than Pewter Green color. Also, SW Retreat paint shows gray undertones more clearly unlike its counterpart which has deep green undertones.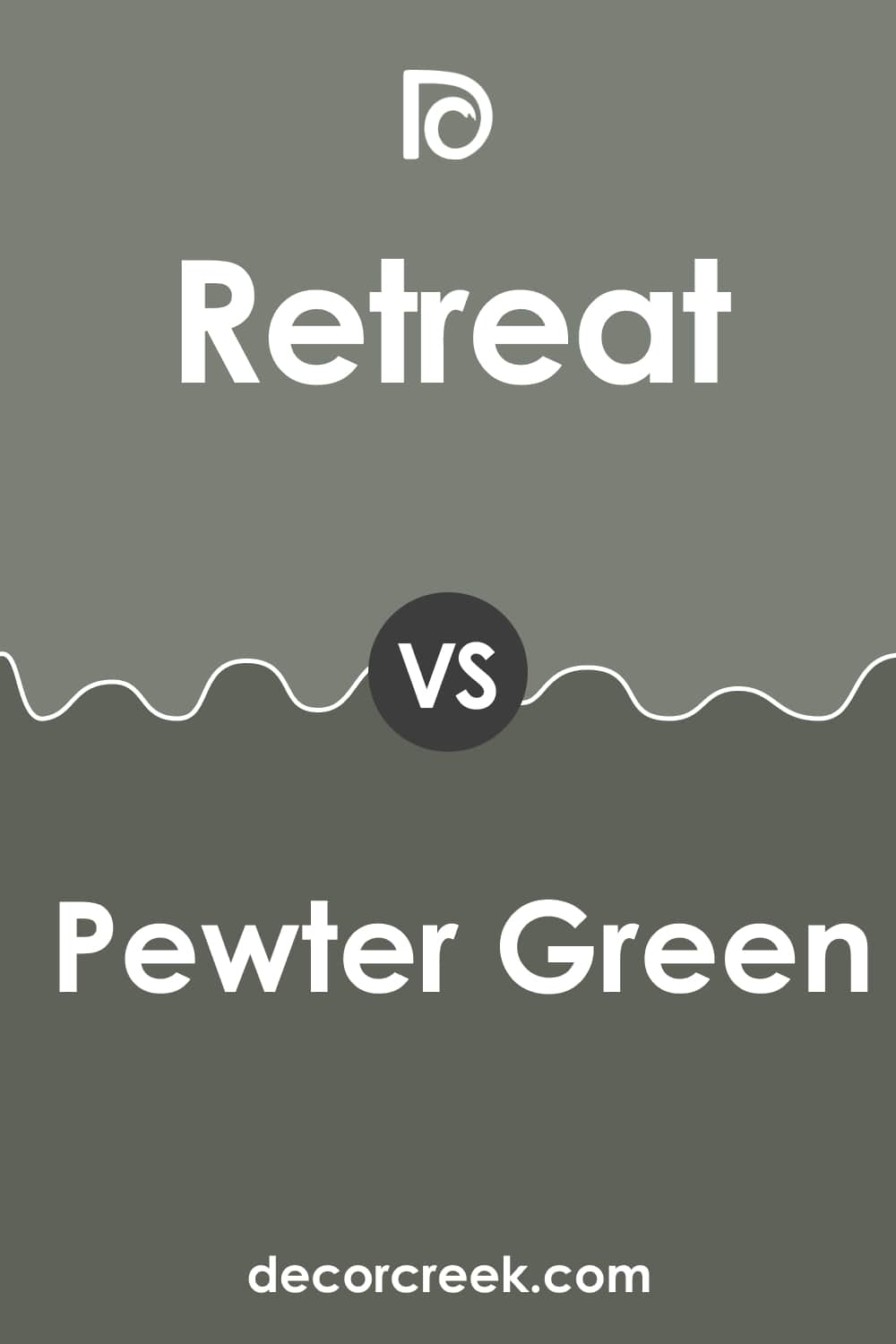 Retreat vs Oyster Bay
If we compare these two, we will see that SW Oyster Bay is a cool green color with blue undertones. It reads much lighter in comparison to the SW Retreat color.
In addition, Oyster Bay color reveals more gray undertones whilst SW Retreat shows its green side rather prominently.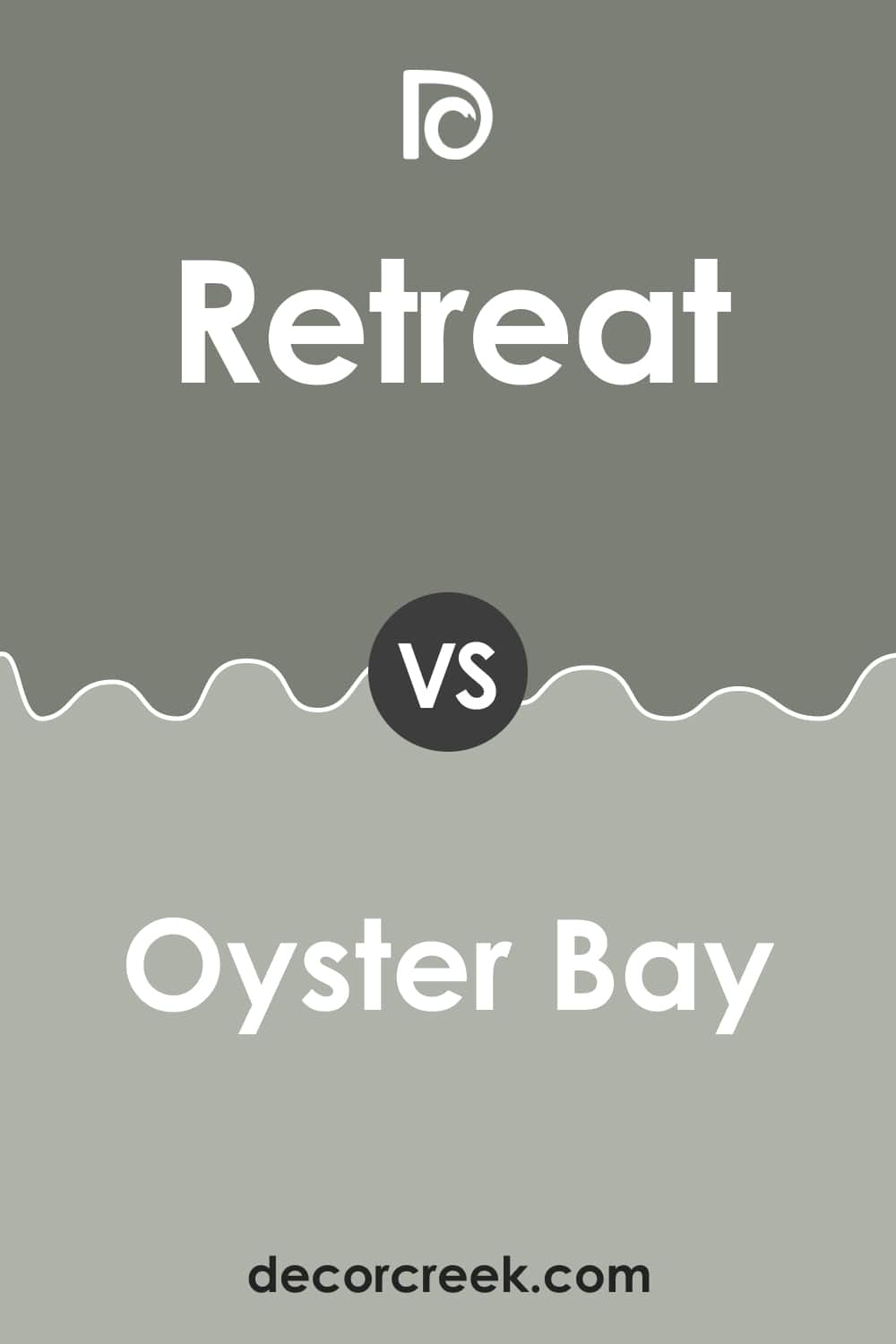 Retreat vs Succulent by Sherwin-Williams
These two colors are so much alike that you can easily use one instead of another and not even notice it! Indeed, the colors have similar undertones and LRVs, which is why they can be used interchangeably very successfully.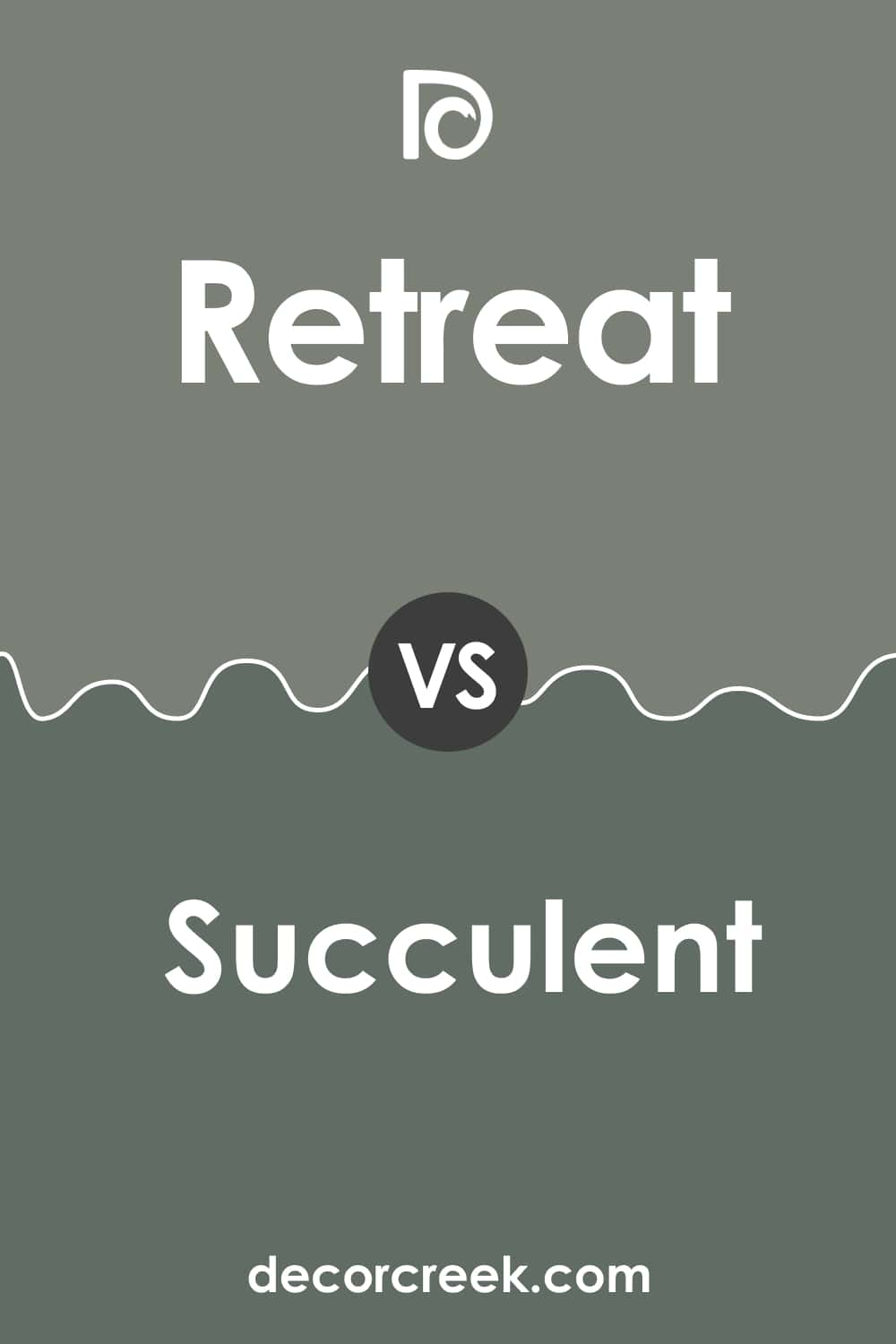 Well, this is the complete Sherwin-Williams Retreat paint color review. Now you know what kind of color it is, how it may work in your home, and what color it's best to be used with.
Also, we explained what to pay attention to if you want to make use of this beautiful shade of sage green in your interior or on your exterior walls. With all this information, you will be able to find the best use for this color and make it work.
Frequently Asked Questions
⭐Is SW Retreat a warm or cool color?
It's 50/50. This paint will read cool-toned in the north and south-facing rooms, and a little warmer in the east and west-facing rooms.
⭐Can I use Sherwin-Williams Retreat on kitchen cabinets?
Yes, this green is good for kitchen cabinets. Just consider the rest of the colors used in the room to get a balanced palette.
⭐Can Retreat by Sherwin-Williams be used on the accent wall?
Yes, it can. Especially when the rest of the walls are white.