When we decide to refresh our home interior and get ready for the upcoming paintwork, it is important to choose the color we want to apply correctly.
It is not enough to just make sure that it will match the rest of the colors we have in our home. You need to be aware of certain color nuances in order to pick the right shade.
In this article, we will describe and discuss one of the most beautiful green colors of the Sherwin-Williams brand – a timeless and classic Vogue Green. You will find out what kind of color it is and what undertones it has. Also, we will tell you more about its light reflectance value and the way this color reacts to lighting.
Finally, we will provide you with coordinating colors and trim colors so that you know how to create the most harmonious color palette in your home. And of course, you will learn what rooms will benefit from having this beautiful green on their walls.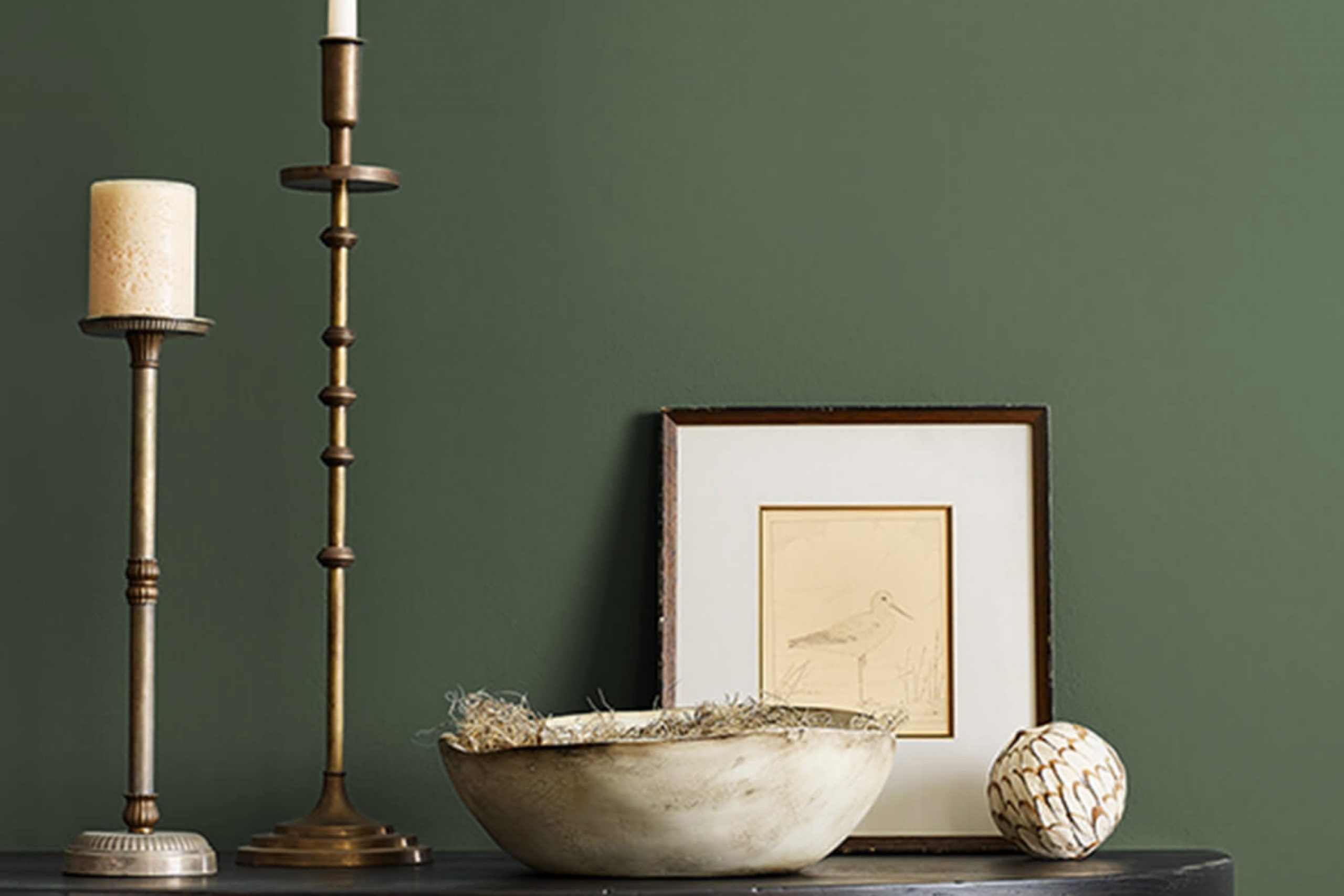 What Kind Of Color Is SW Vogue Green?
If you are in love with deep and rather dark colors, you will definitely enjoy Vogue Green SW-0065  paint color from the Sherwin-Williams brand! This green reminds you of the color of pines in a misty forest high in the mountains. As Encycolorpedia says, it is very deep and pretty dark, and we would say this shade of green is muted.
Nevertheless, it's not the green that reads almost black on the walls. You can still see the green in it that is visible, especially in a well-lit room. Some of you might think now that this color is hard to use in your home since it is dark, but in fact, SW Vogue Green is pretty versatile!
This classic green color can bring depth to a wide variety of interior spaces and exterior facades, doors, and other areas and surfaces in your home.
If you use it in your kitchen, this rich and noble shade of green could be used on cabinetry and successfully paired with light-hue countertops. It would also look nice with creamy white tiles, and black, gold, or brass metallic accents, such as handlers, hangers, etc.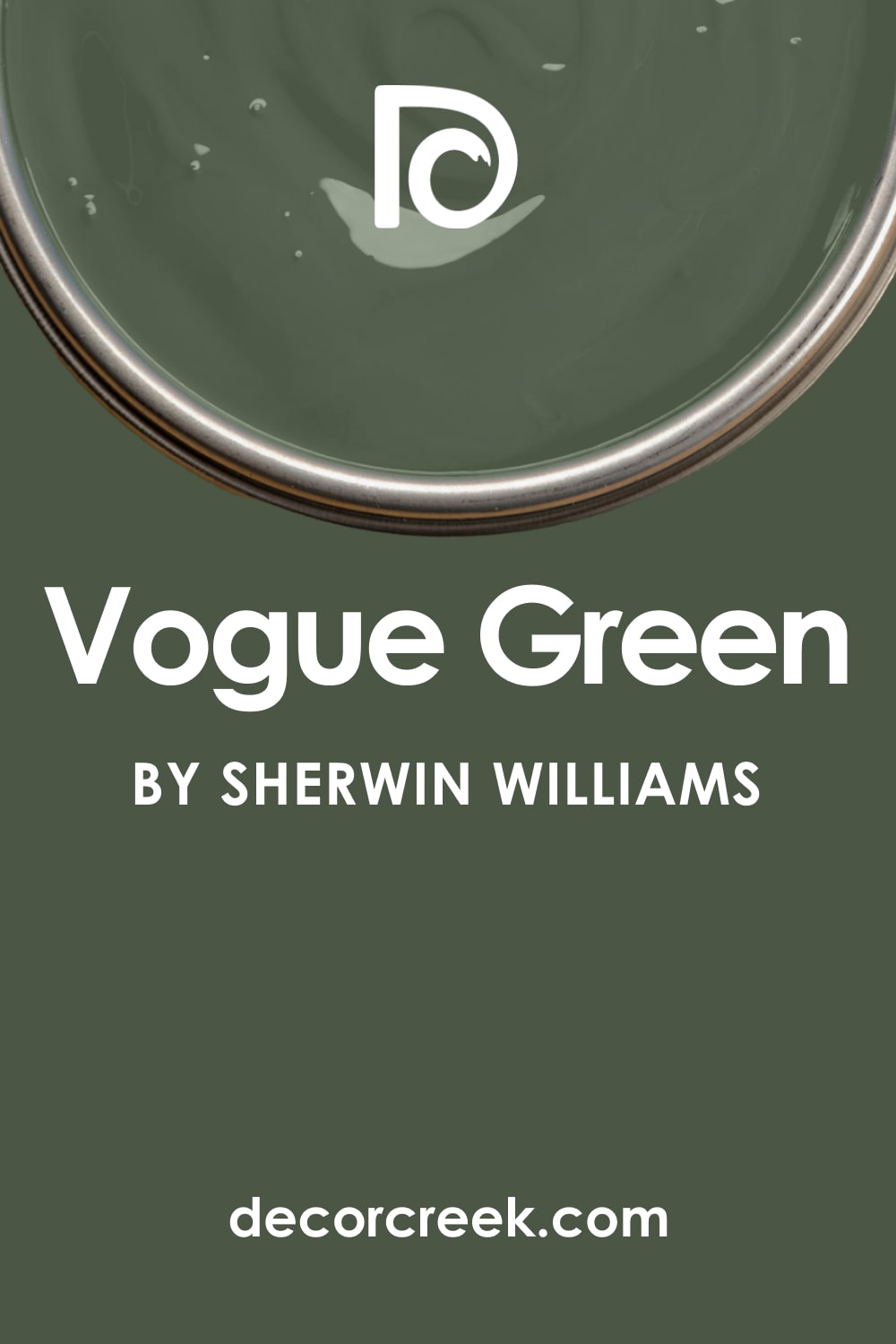 Undertones Of SW Vogue Green SW-0065
Even though this paint color may seem very simple, you should still learn more about its undertones. See, undertones tend to "hide" unless they get the right lighting.
In this case, some very unexpected shades may come out, turning the initial color into something completely different!
Speaking of SW Vogue Green, this olive-green color has brown undertones. It means that Vogue Green will not read a cool-toned green on your walls, rather you will see a warmer shade with a very slight brownish hue in it (some people often take these brown undertones for yellow but it's not true).
Because of those notes of brown, Vogue Green looks rather warm in space. Also, warm undertones make this paint color easier to pair with other warm-toned colors. This is why SW Vogue Green is so versatile.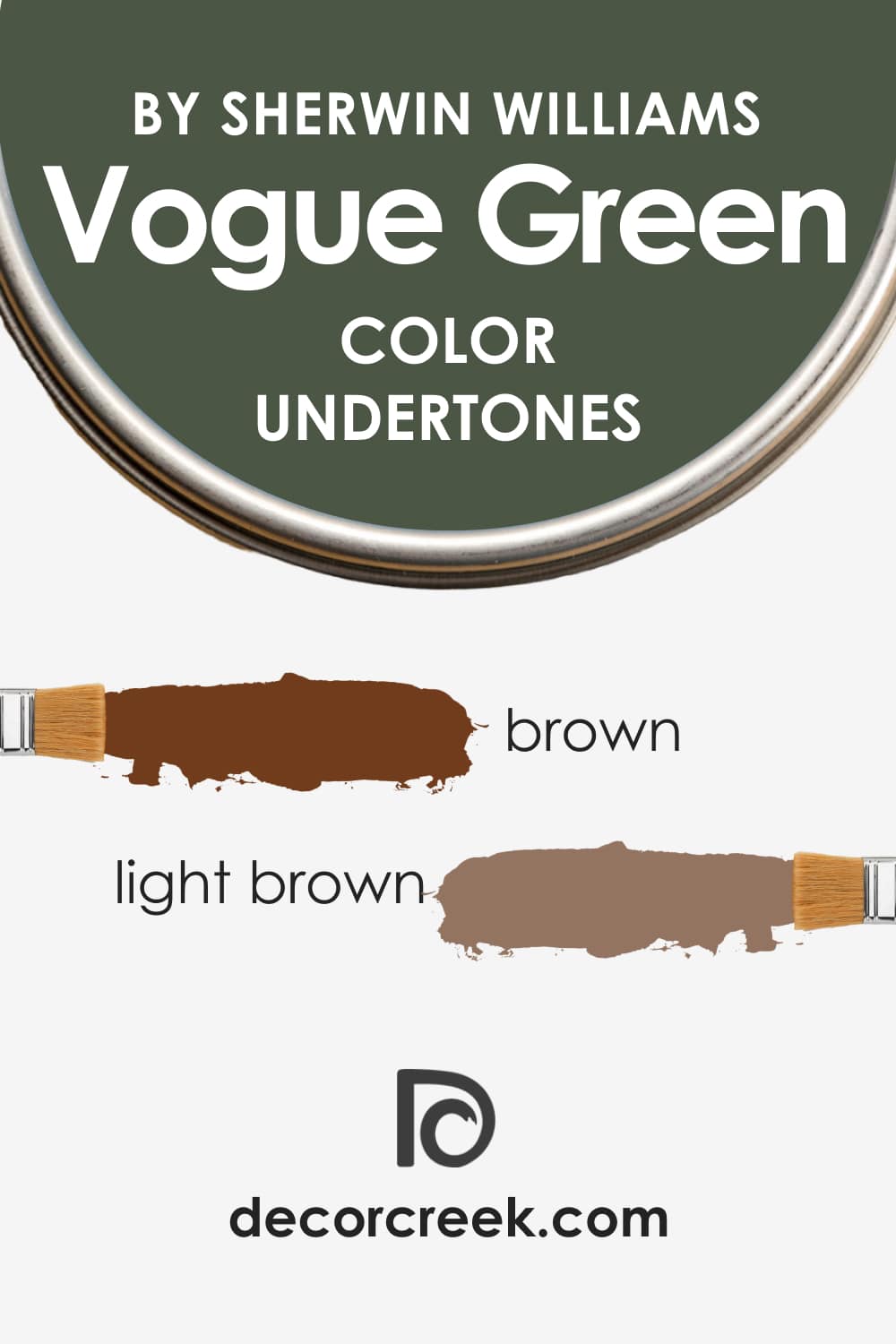 LRV of Vogue Green SW-0065
The way the paint color reacts to light can help you understand what rooms it is best to be used in.
When speaking of the way certain paint colors react to lighting, we need to consider what is called a light reflectance value, or LRV. This is the ability of the color to reflect light which affects the final shade we see on the walls.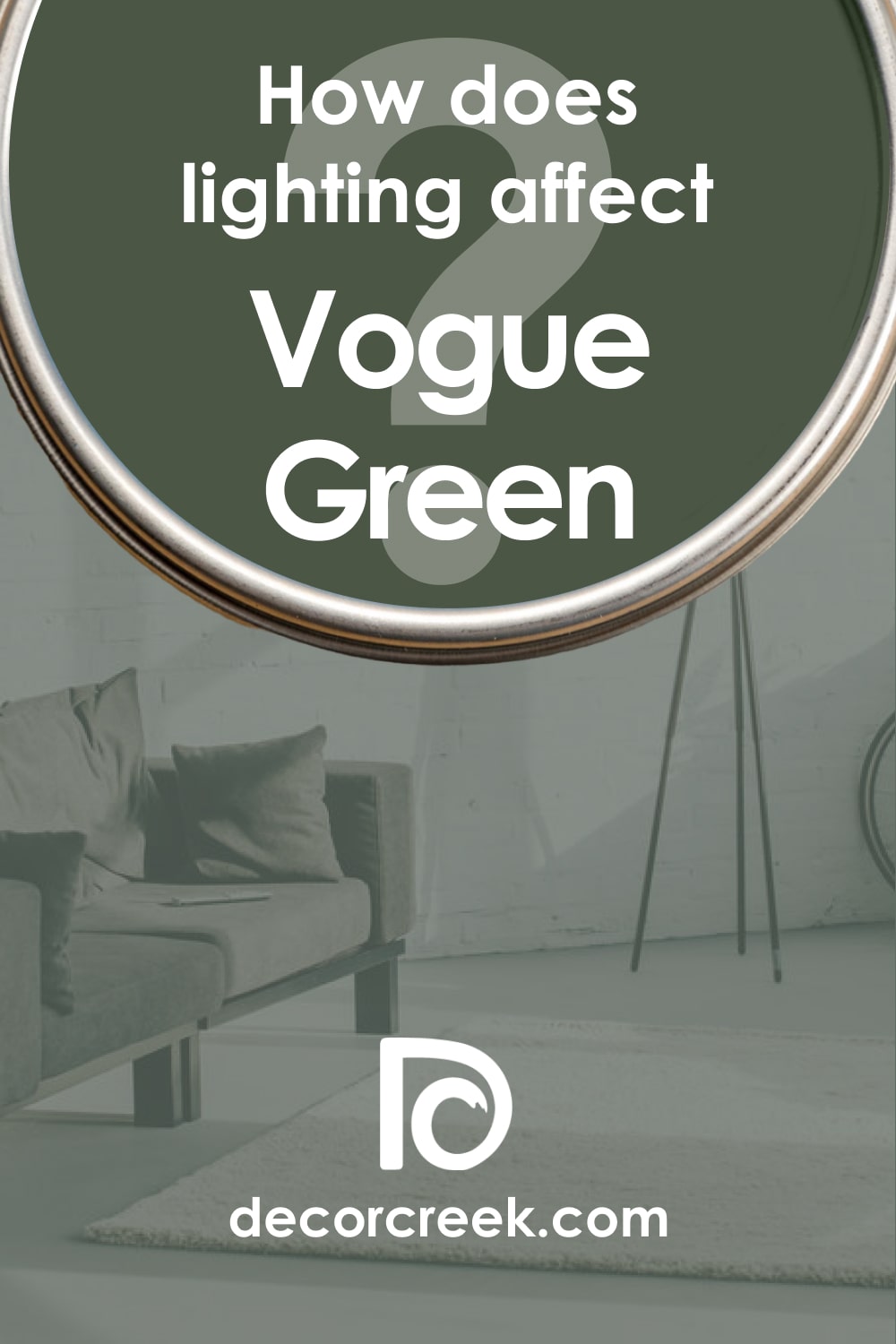 The LRV value of SW Vogue Green is 9 (you may also find information that it's 9.5). It means that this green is rather dark, as well as deep and rich. However, this color is still far from the darkest point of the LRV scale where black is located.
See, the LRV scale ranges from zero to 100 where zero stands for black color and 100 stands for pure white color respectively. So the higher the LRV of a paint color the lighter this color is on the wall.
This is the very basic description of the color, of course, but even with this little information, you will be able to better understand what you should expect from this awesome and rich leafy green.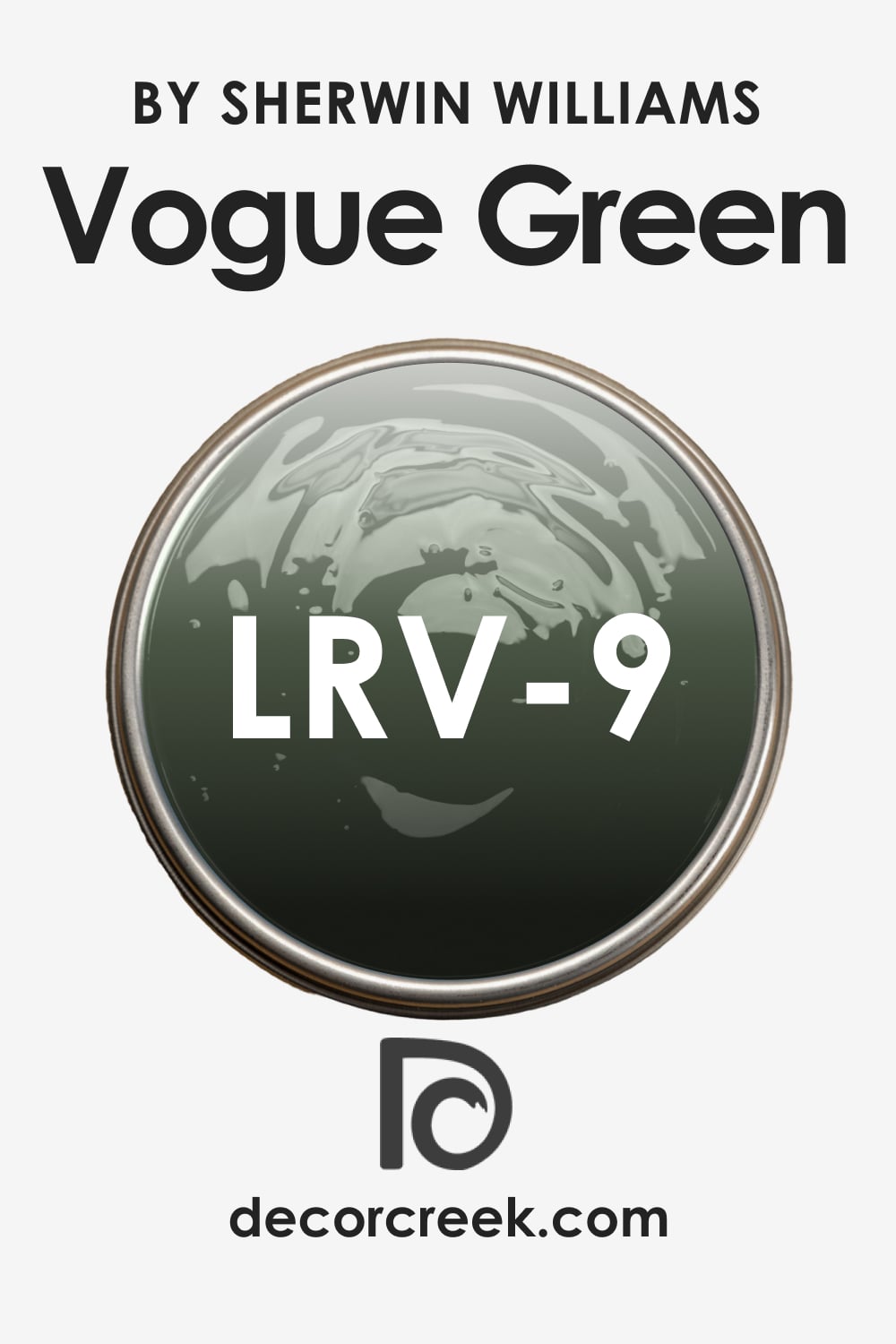 LRV – what does it mean? Read This Before Finding Your Perfect Paint Color
Colors That Go With SW Vogue Green
Sometimes you may find it difficult to find the most suitable paint colors to pair them with such a rich color as SW Vogue Green. However, thanks to this color's versatility, you can use it successfully with several light neutrals if you want to create a more balanced color palette in your home.
So if you are not happy about the idea of your interiors going all green, we recommend you take the following colors into consideration:
For a monochromatic color scheme, use such colors as:
SW Restful
SW Kind Green
SW Jadite
For a complementary color palette, opt for the following colors instead:
SW Aloe
SW Bolero
SW Coral Reef
SW Kendall Green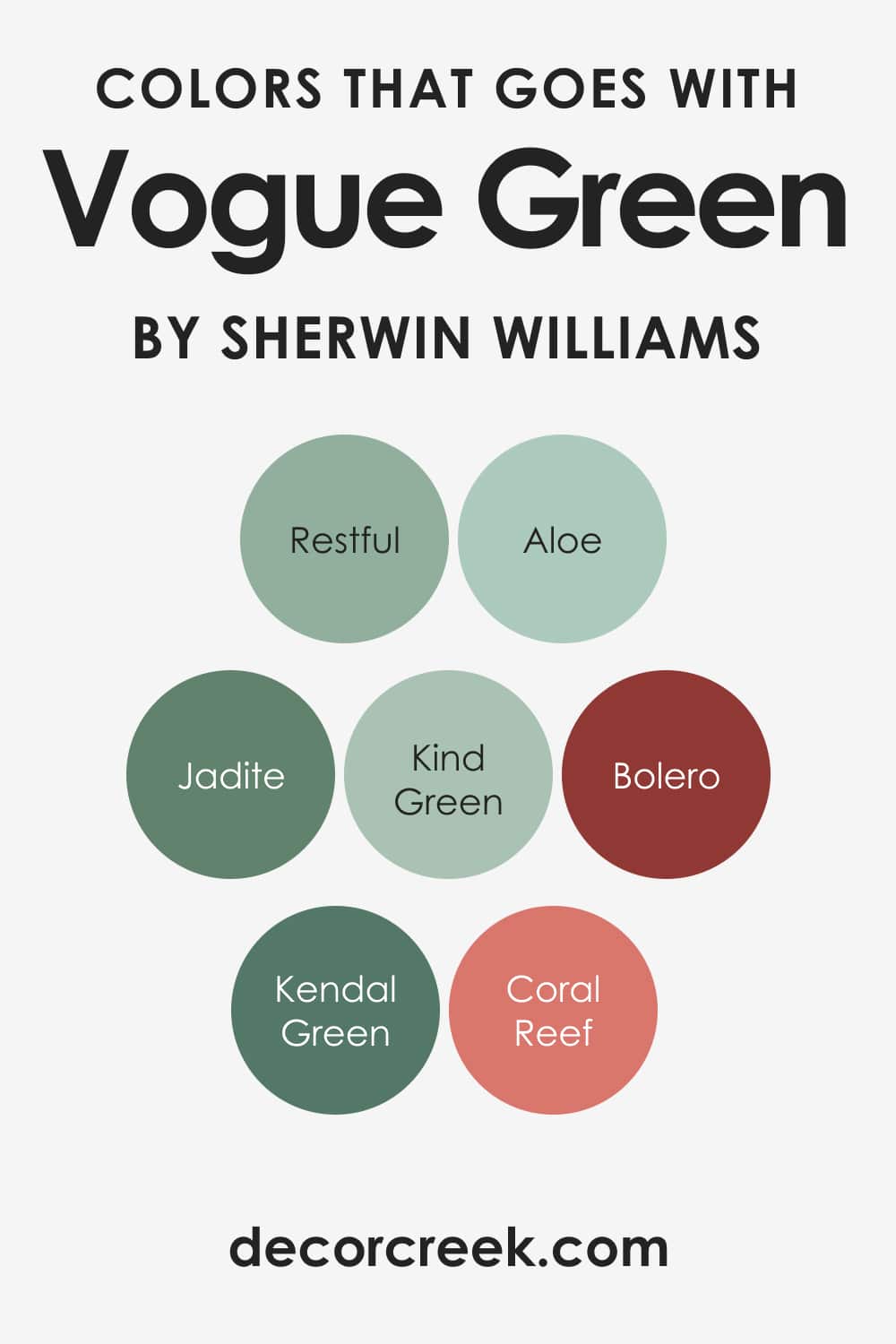 Coordinating Colors of Vogue Green SW-0065
If you want the overall color palette in a room to look well-balanced and harmonious in terms of color shades, undertones, warmth, etc, it makes sense to pay attention to the so-called coordinating colors that are used with the major paint color on the walls.
For SW Vogue Green paint, you will want to use one of the following colors that are considered coordinating:
SW Alabaster
SW Cocoa Whip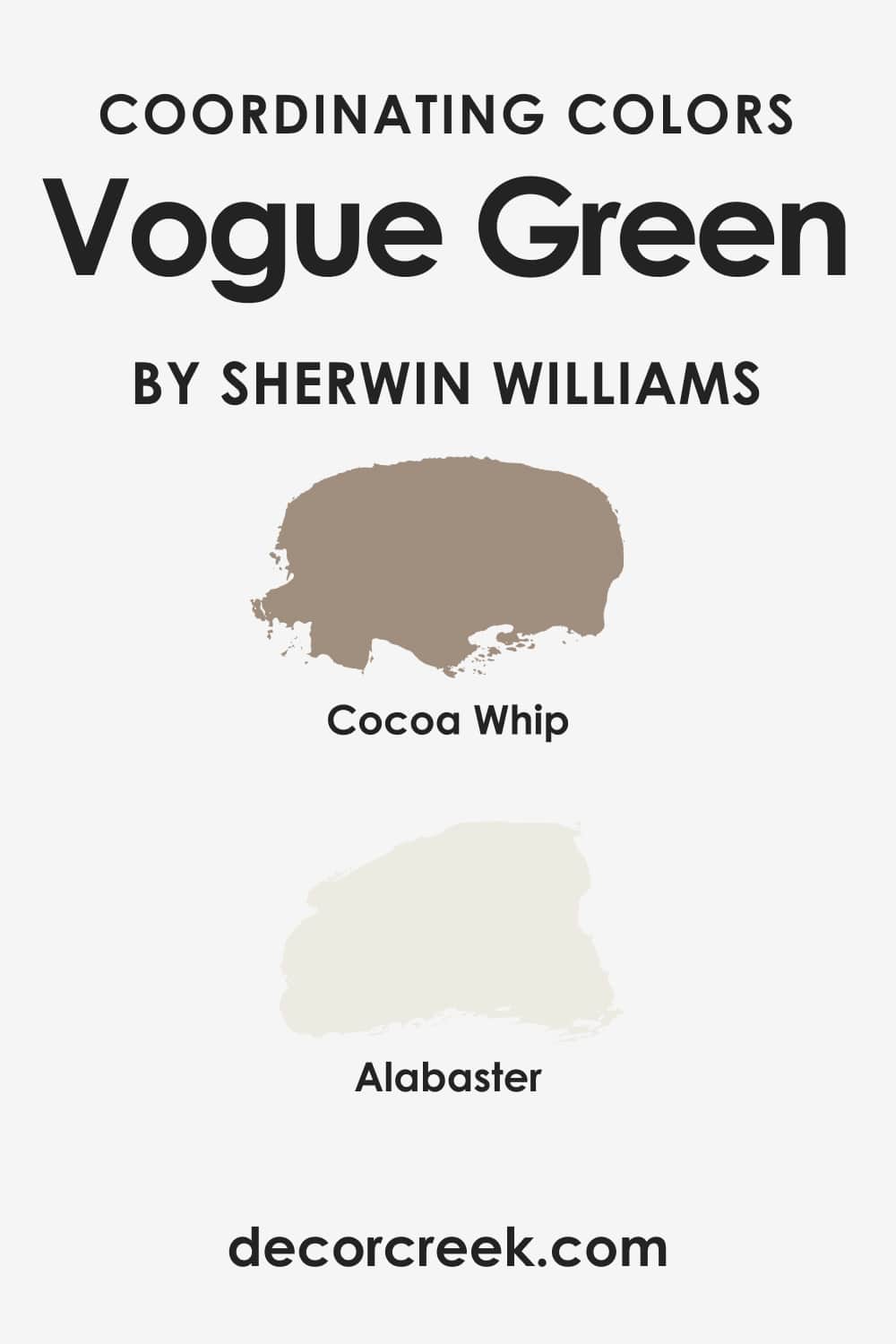 What's the Best Trim Color For SW Vogue Green?
As you probably know, white is typically the optimal color used for the trims in home interior design. Depending on the major color, you might also want to use either cooler tones of white, or stick to the off-whites instead.
With such a rich and deep green as Sherwin-Williams Vogue Green, white is also the optimal trim color. For example, you can use such white colors as:
SW Pure White
BM Chantilly Lace
When paired with whites, this olive green with brown undertones will give the space a very classic and stylish look.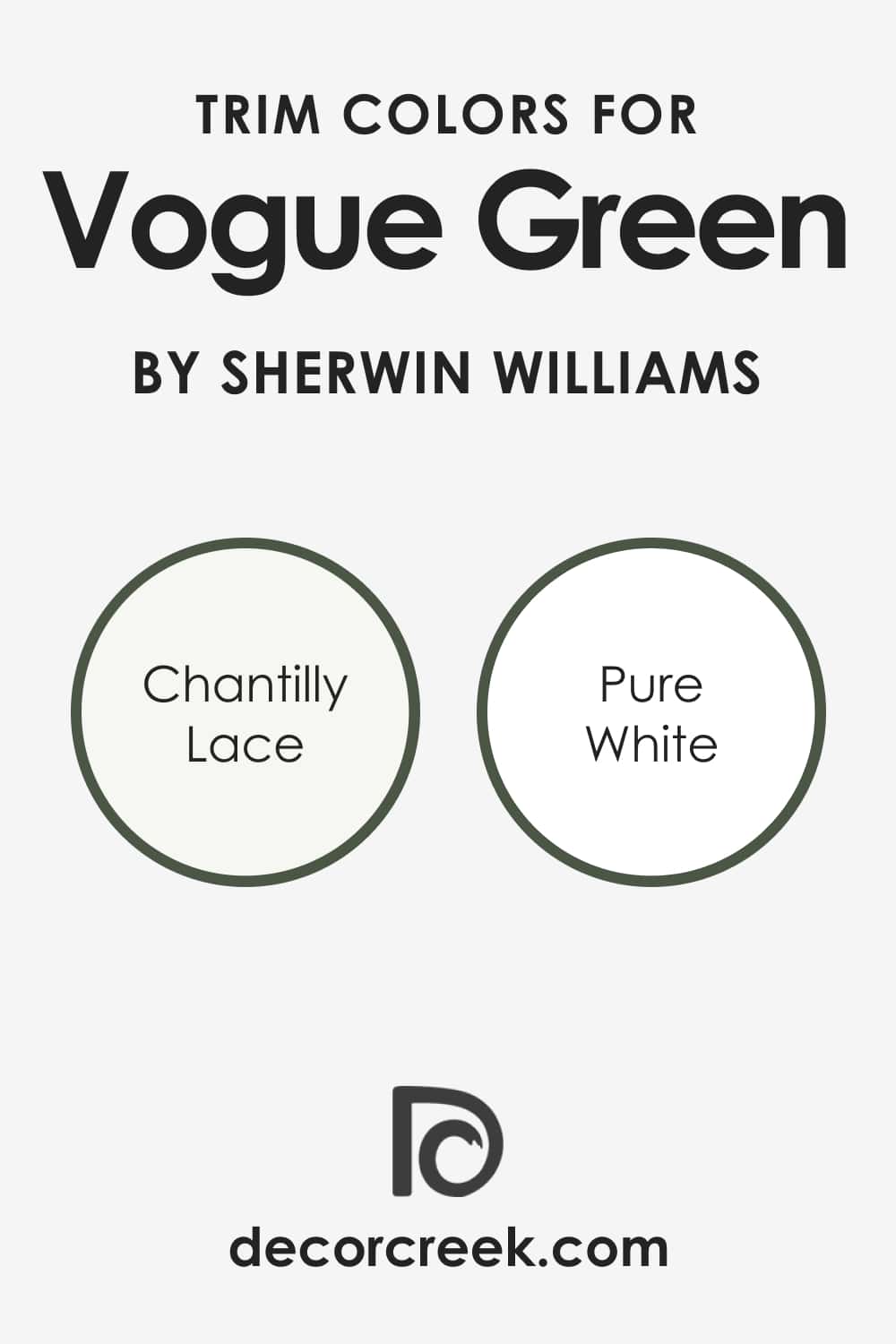 Paint Colors Similar to Vogue Green
Even if you are absolutely sure that the color you choose is ideal for your home interior, it is always good to keep a few alternative shades in mind. However, since most of us are not very knowledgeable about colors, we can only think of one or two similar shades.
What we suggest you do is check out a list of several green colors that are similar to SW Vogue Green. There are both lighter and darker options so you will be able to choose the one that suits you most of all:
SW Rock Garden
SW Courtyard
SW Rookwood Dark Green
SW Secret Garden
SW Billiard Green
SW Foxhall Green
Where to Use Vogue Green In Your Home
A great thing about this shade of rich green is that it is surprisingly versatile! You might think that it is hard to find a suitable place in your home to use it in, but you are wrong. SW Vogue Green can be successfully used in almost any room no matter the overall style of your home.
You only need to pay attention to the lighting there in order to tell in advance how this green will show itself on the walls and how its undertones will work.
Vogue Green SW-0065 in the Living Room
If you want a classic and noble interior in your living room, use Vogue Green without hesitations. This color is rich enough but at the same time, it's not way too dark. So you will get a very deep and pleasant green on your walls, warm enough to make the room feel cozy.
Of course, to work ideally, this color needs plenty of daylight and a lot of space. This is why we'd not recommend Vogue Green to those who have small or poorly lit living rooms. This color can only make them look smaller.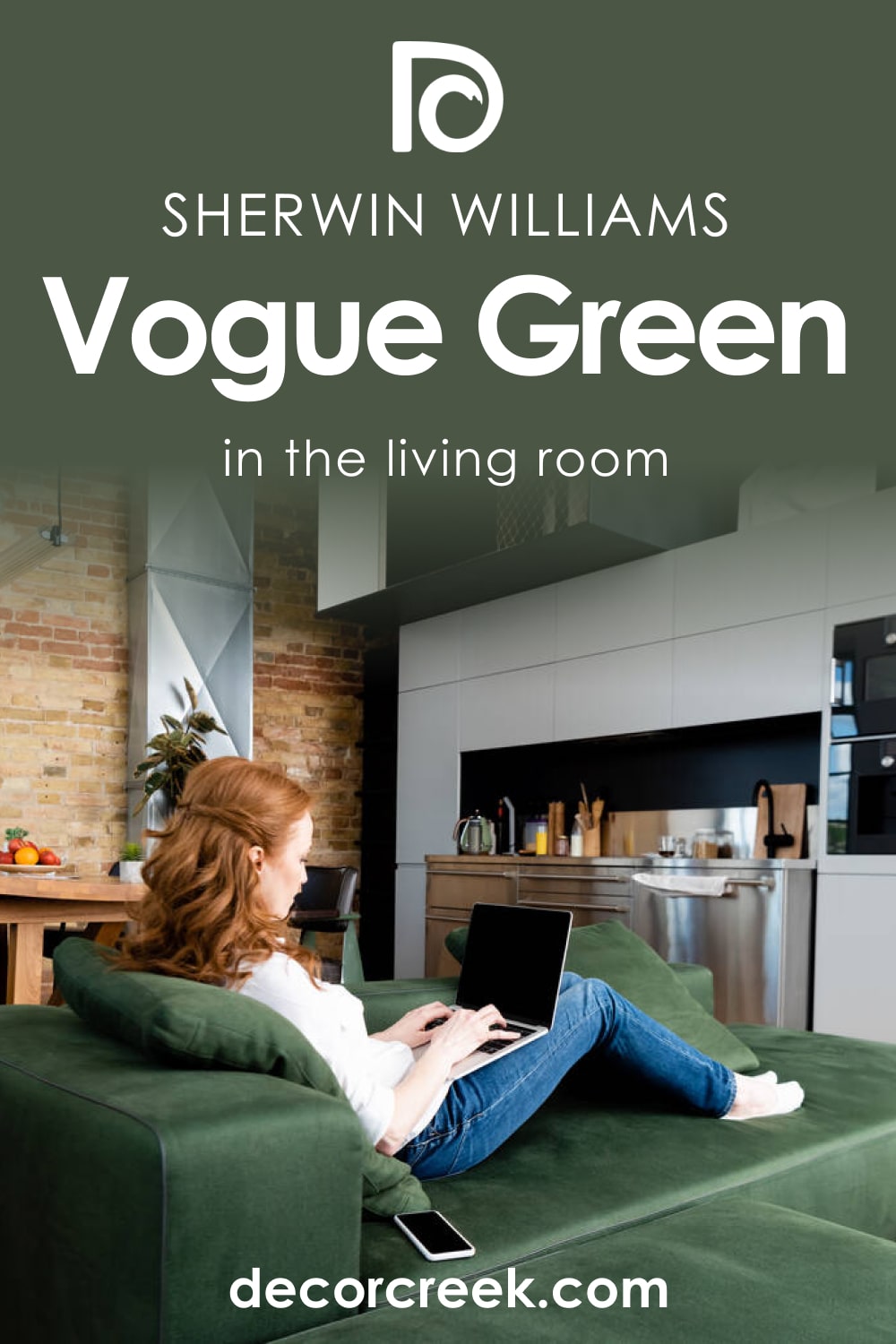 Vogue Green SW-0065 and Bedroom
Green is not a traditional color for bedrooms, but if you want to make your sleeping space look calmer, opt for this shade. Since this olive green has brown undertones, it will look pleasantly warm on your walls (but with no yellowness!).
However, we'd still recommend you use a lot of white color in your bedroom to avoid it seeming too dark.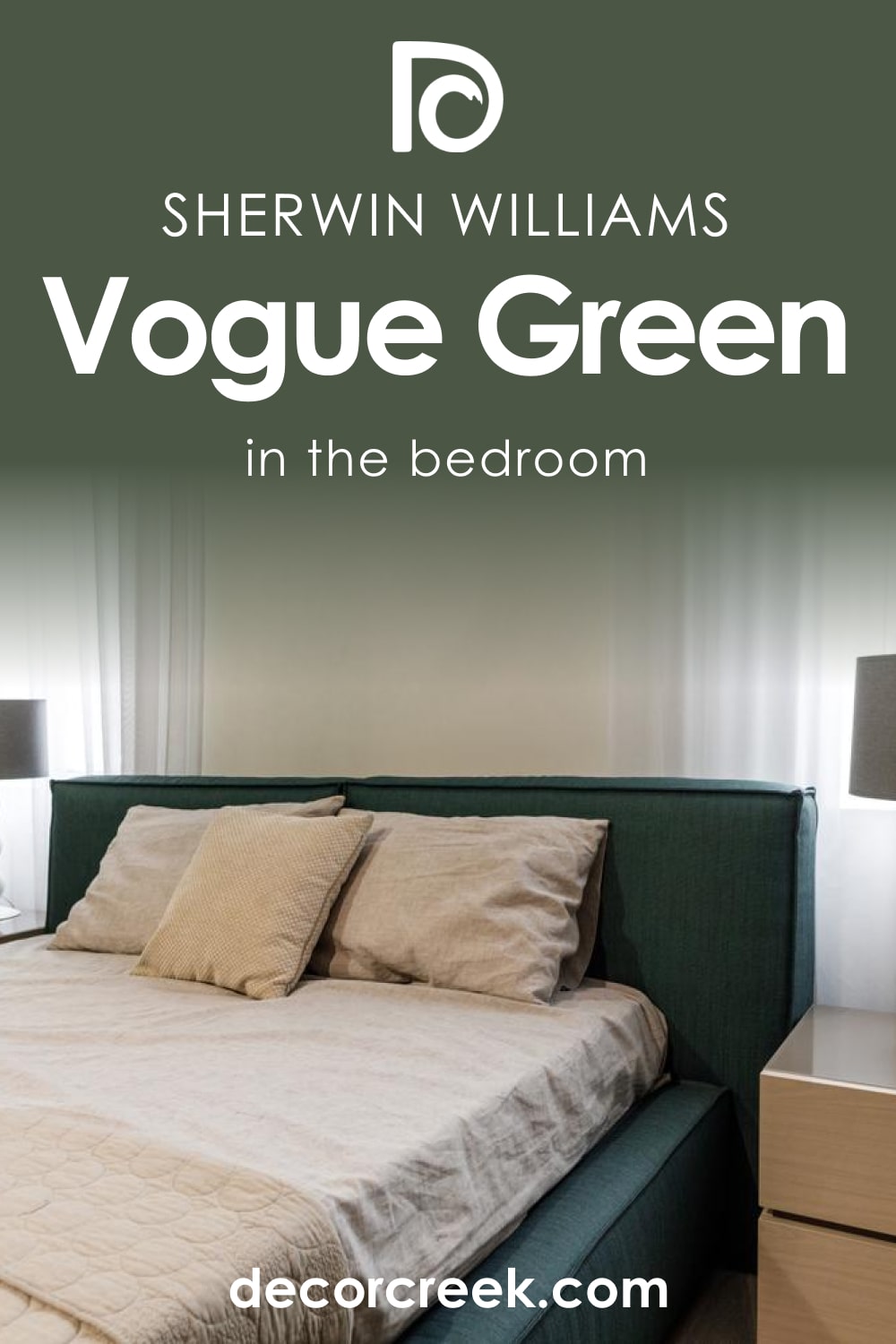 Vogue Green SW-0065 for the Kitchen
Depending on the size of your kitchen, you might want to paint it all in Vogue Green or only leave a green accent wall. Besides, this color can also be used on your backsplash or cabinets (or both) if you prefer to have a few deep color accents with the walls remaining white.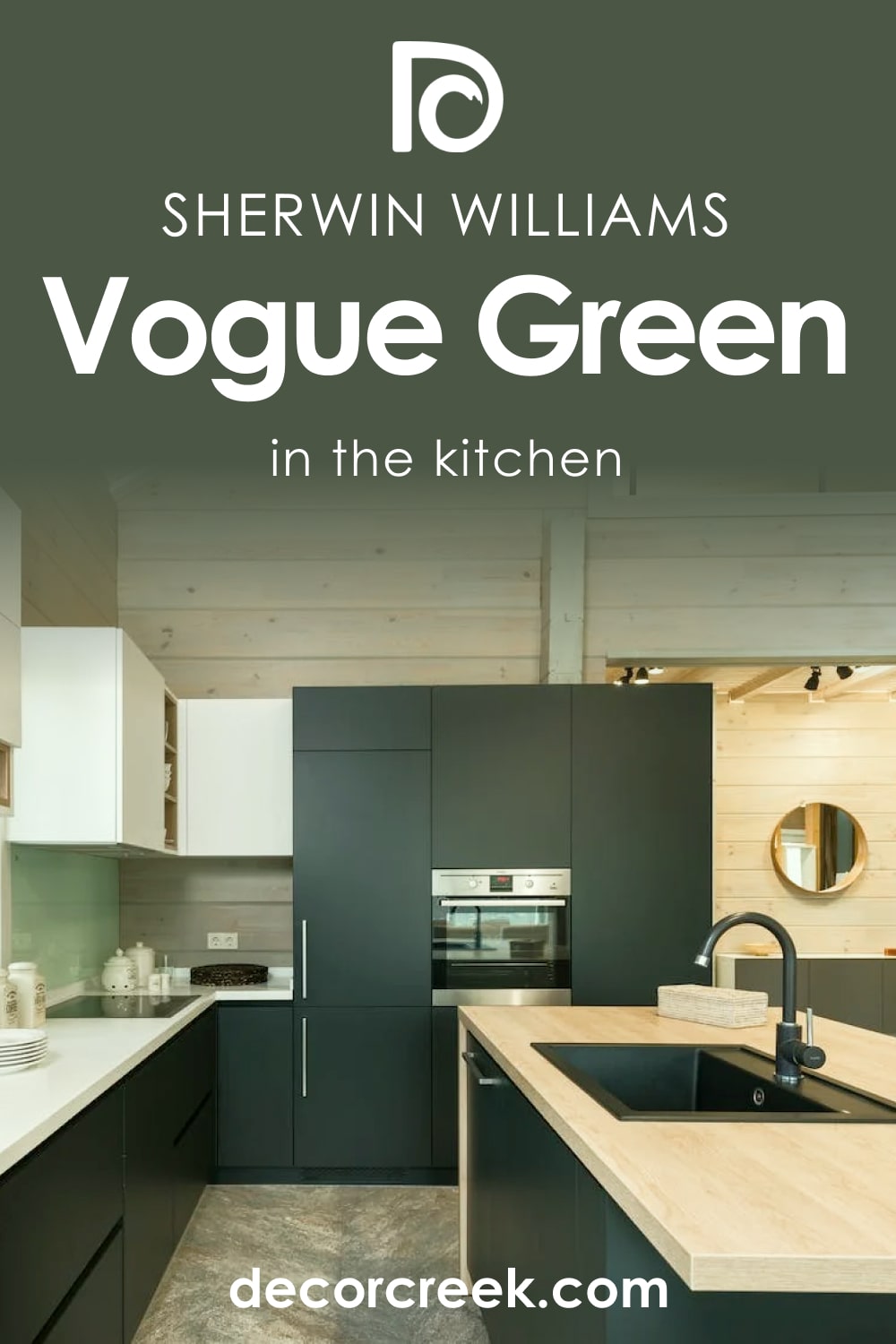 Vogue Green SW-0065 in the Bathroom
The way you might use this green in your bathroom is pretty much the same as the way you use it in your kitchen. If the bathroom is big and properly lit, you might want to try and paint it all green.
However, we'd recommend you only use this awesome deep green on an accent wall or cabinets/drawers/vanity.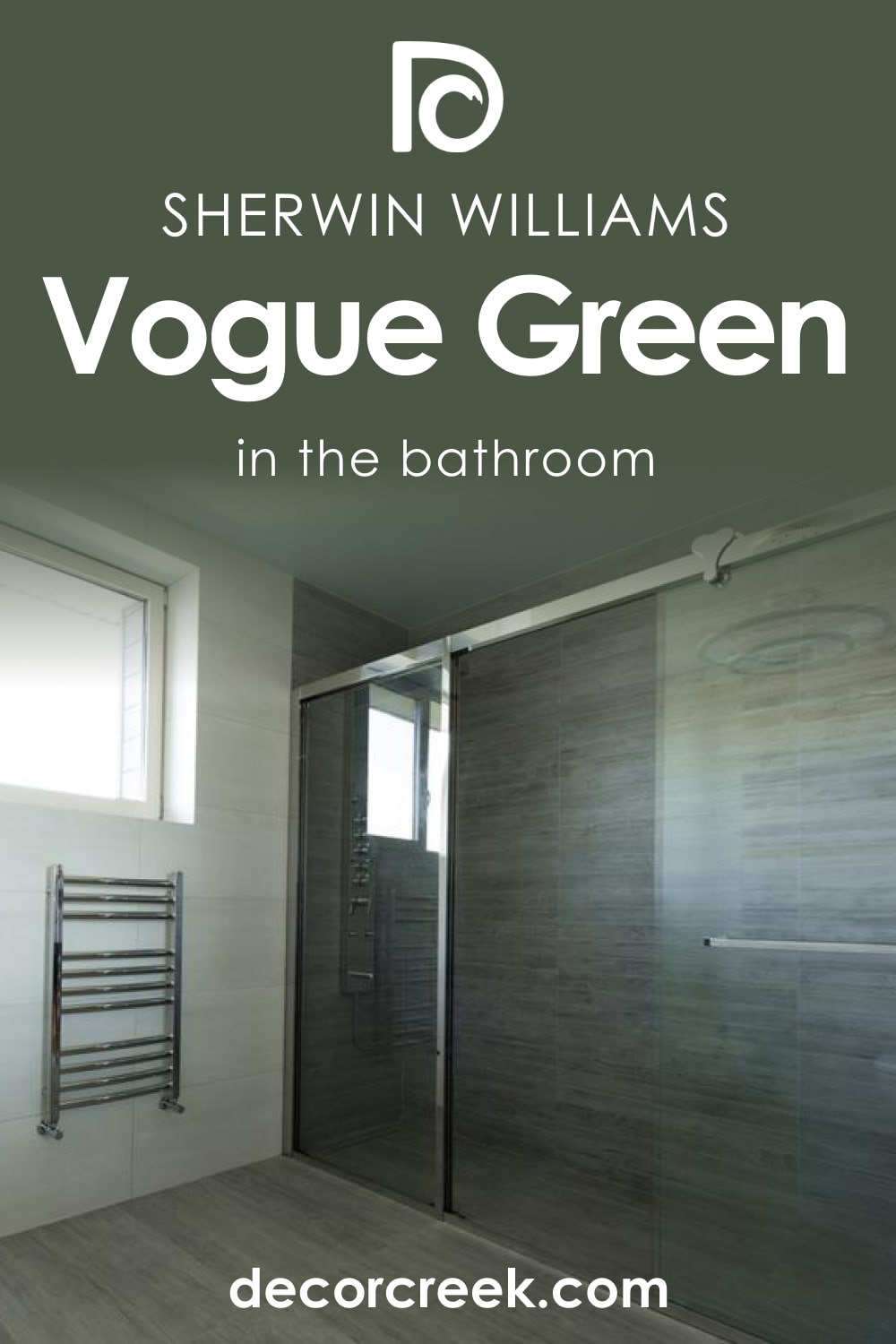 Vogue Green SW-0065 for the Exterior Use
SW Vogue Green is both interior and exterior color so don't hesitate to use it on your exterior walls. It works well in both sunny areas and areas with cloudy/rainy weather.
The amount of daylight will affect the way the color reads of course, and you might see it as a warm olive-green in broad daylight, whilst on a cloudy day, Vogue Green might read slightly cooler.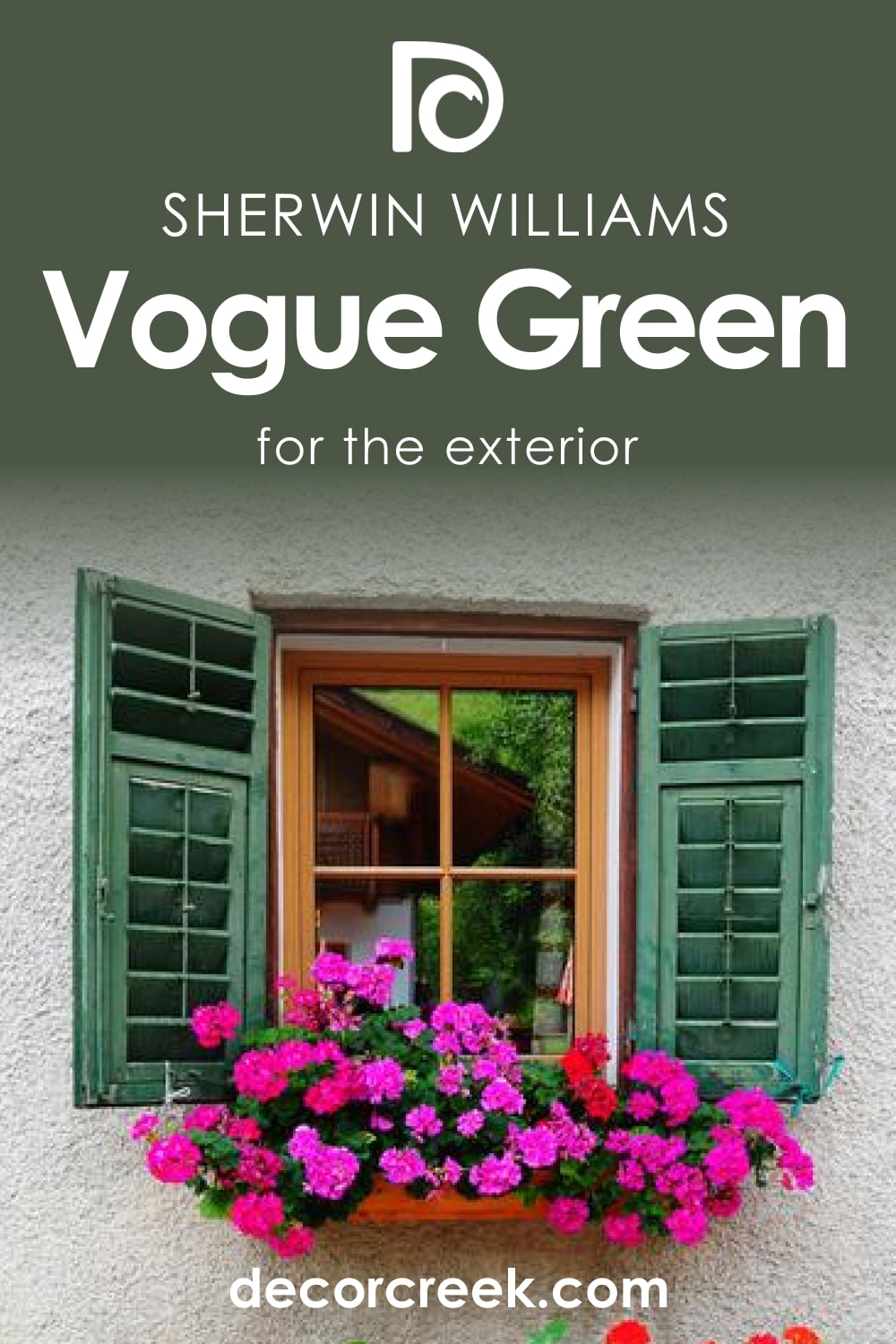 Comparing SW Vogue Green With Other Colors
Even within one brand, there are plenty of shades of one color which makes it rather difficult for a non-professional to see the difference between them. Of course, when you need to pick the right shade of green, for example, you may find it very difficult and frustrating to look through all those color samples!
This is why we recommend you check out the comparative description of SW Vogue Green and a few other greens of different brands. Like that, it will be easier for you to make the right choice.
Vogue Green vs Vintage Vogue
Vogue Green reads warmer and greener compared to Vintage Vogue. It's explained by their undertones: Vogue Green has brown undertones, which is why the color looks warmer, whilst Vintage Vogue has olivey undertones that make it look smokey.
So if you need a more muted and slightly cool-toned green, opt for Vintage Vogue.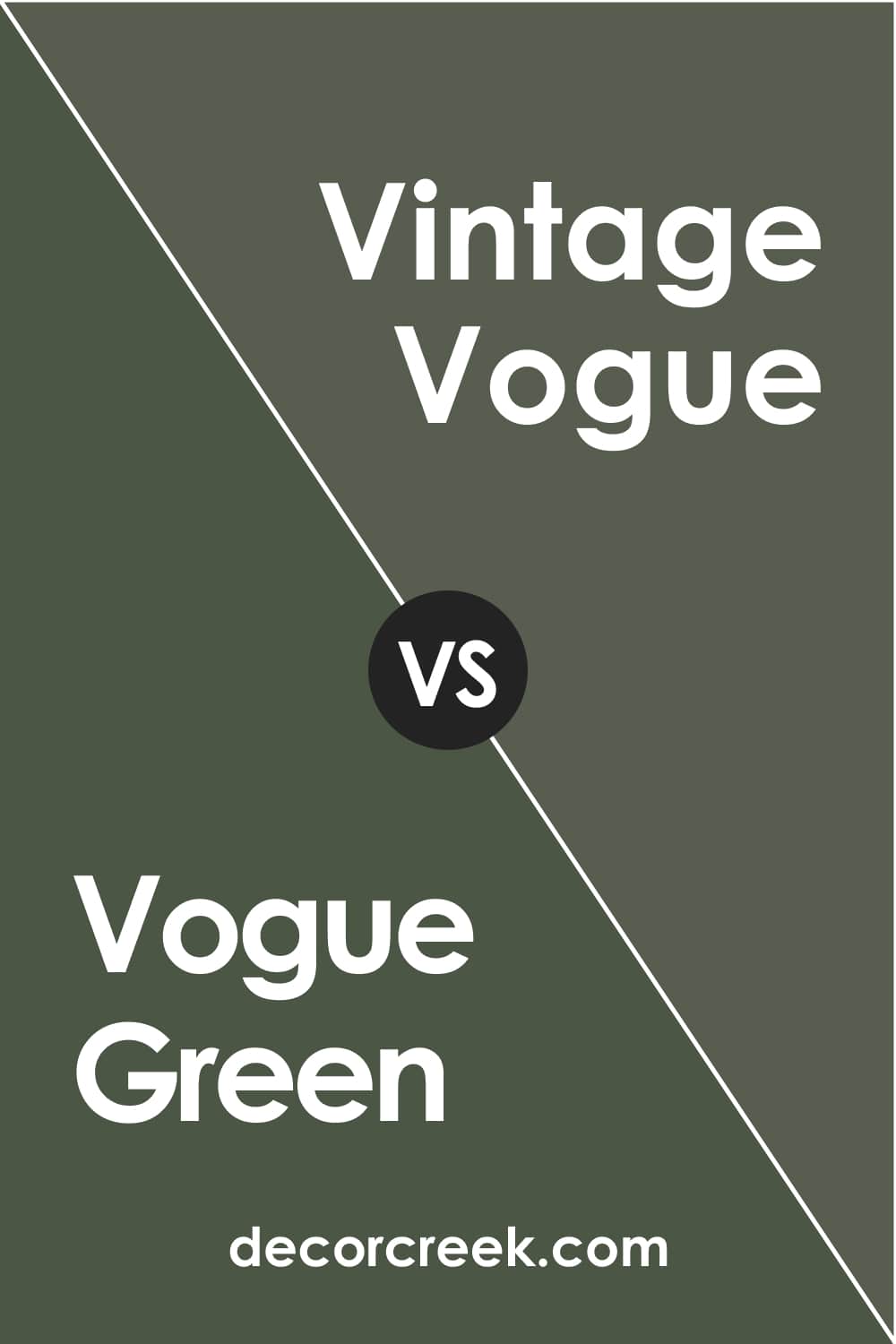 Vogue Green vs Rock Garden
SW Rock Garden is darker than Vintage Green so if you want to add a bit of drama to your interior, opt for this rich and dark green. And don't worry, the good thing about this color is that it can work with both warm or cool-toned features within the space! However, these colors can't be used together.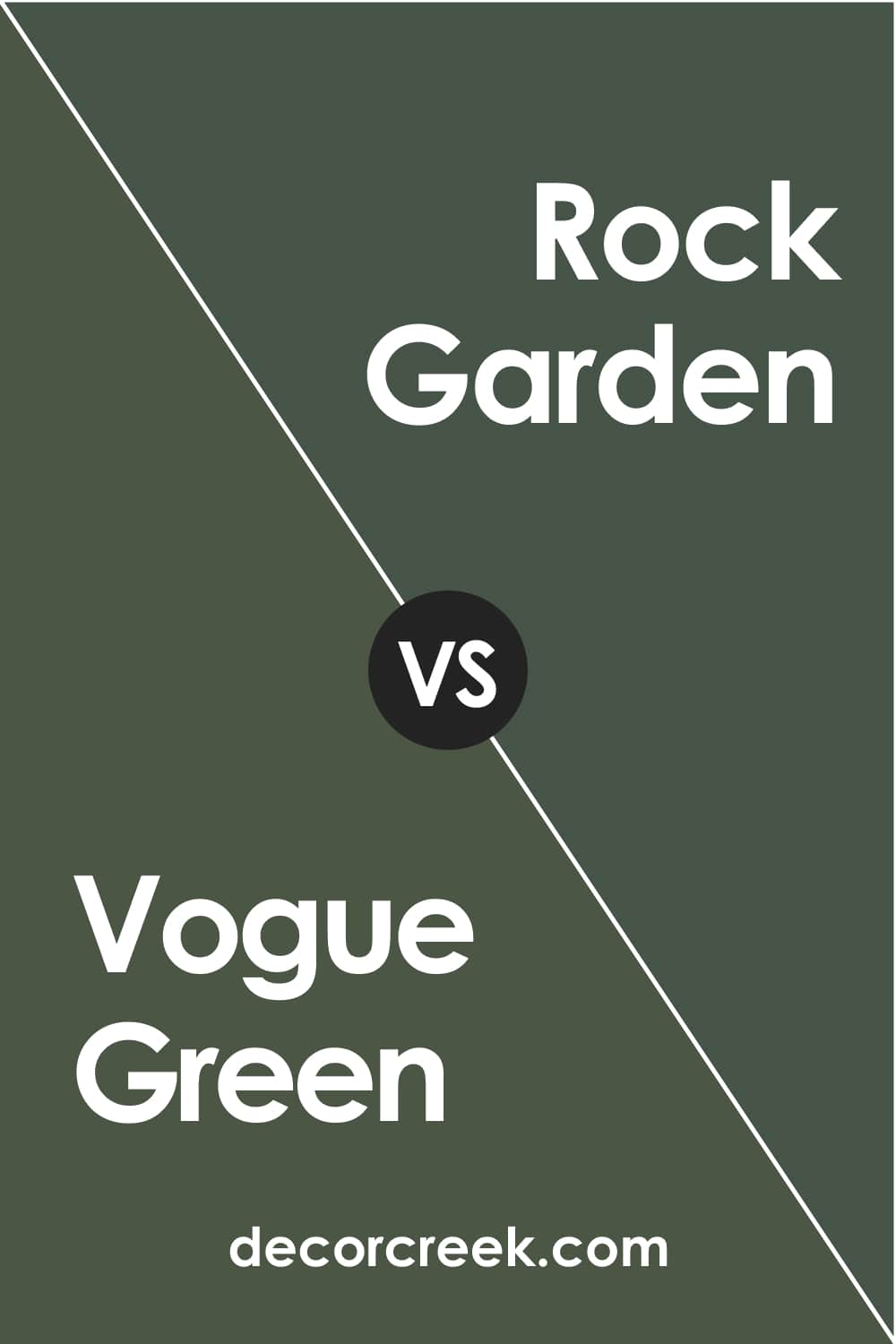 Vogue Green vs Forestwood
Forestwood reads a bit darker and kind of dusty compared to Vogue Green, which reveals its green side very prominently in this pair of colors. They are not the best colors to be used in tandem since there is no contrast between them, but you can consider using Forestwood as a substitute for Vogue Green.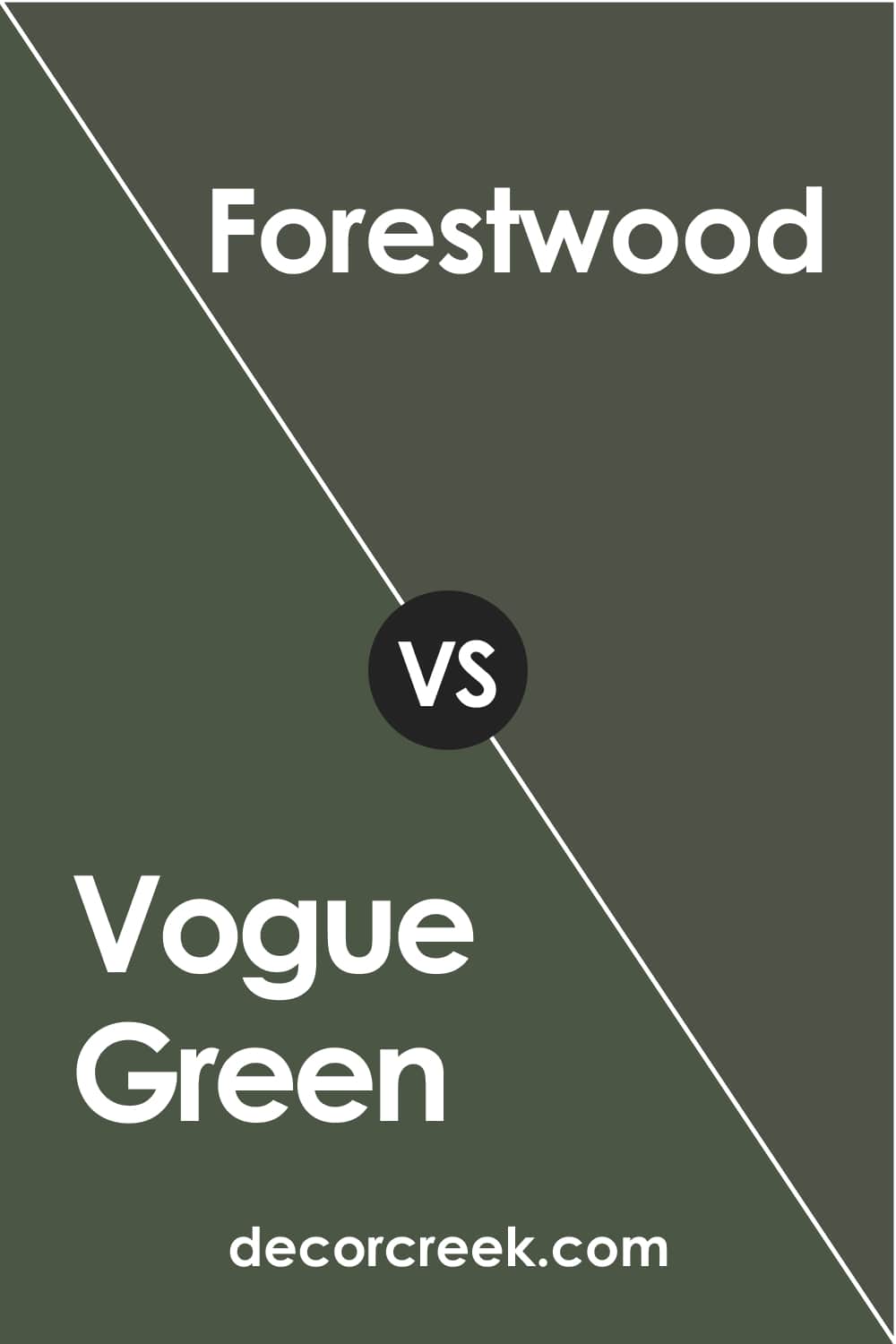 Vogue Green vs Courtyard
SW Courtyard is a bit lighter than Vogue Green, showing its green side quite noticeably. It actually reads leafy green, but still, there's not enough contrast between Courtyard and Vogue Green. In addition, Courtyard is also warm-toned, so if you need a slightly lighter version of Vogue Green, you know where to search.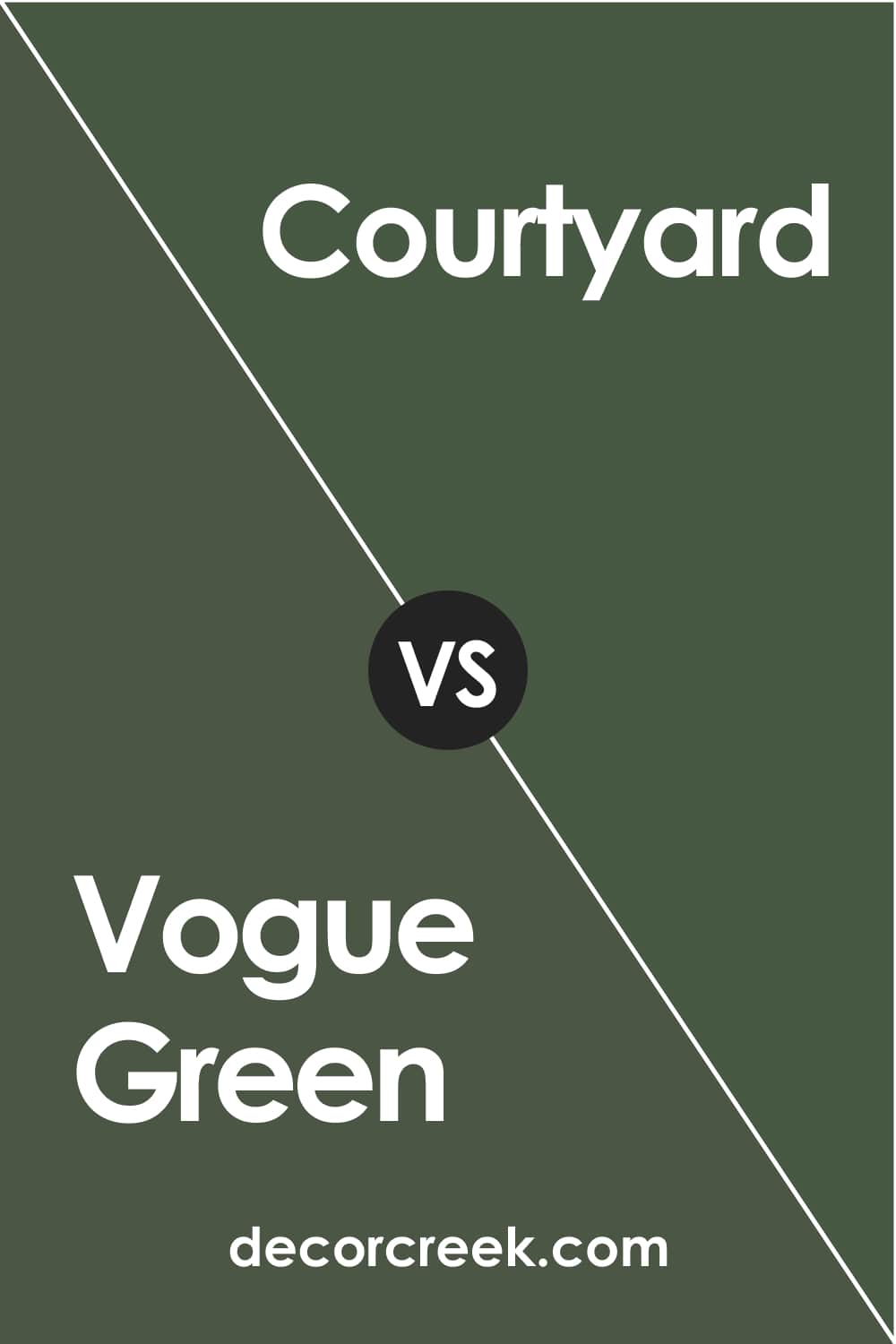 Vogue Green vs Isle of Pines
SW Isle of Pines a nice, moody green with a hint of blue undertones. However, when you place it side by side with Vogue Green, you will see it's much greener and more vibrant than Vogue Green. In fact, Isle of Pines reads deep green whilst Vogue Green reads dusty.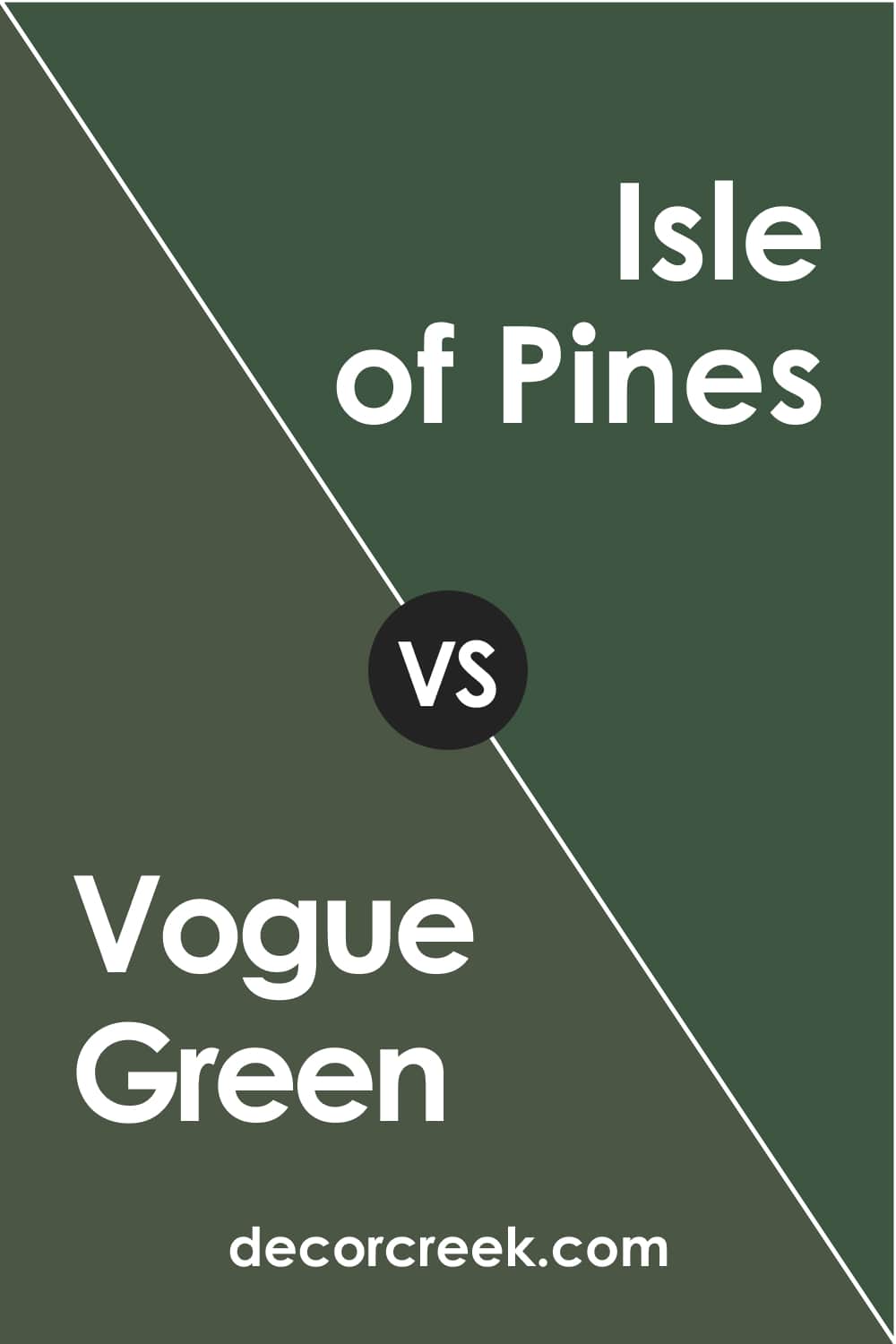 Well, now you know more about such an awesome green color as SW Vogue Green. You know what color it is and what LRV it has.
You know what undertones come with this shade of green and how they might affect the way the color reads on the walls. Moreover, we told you in what rooms it's best to use it and how it will work with other colors.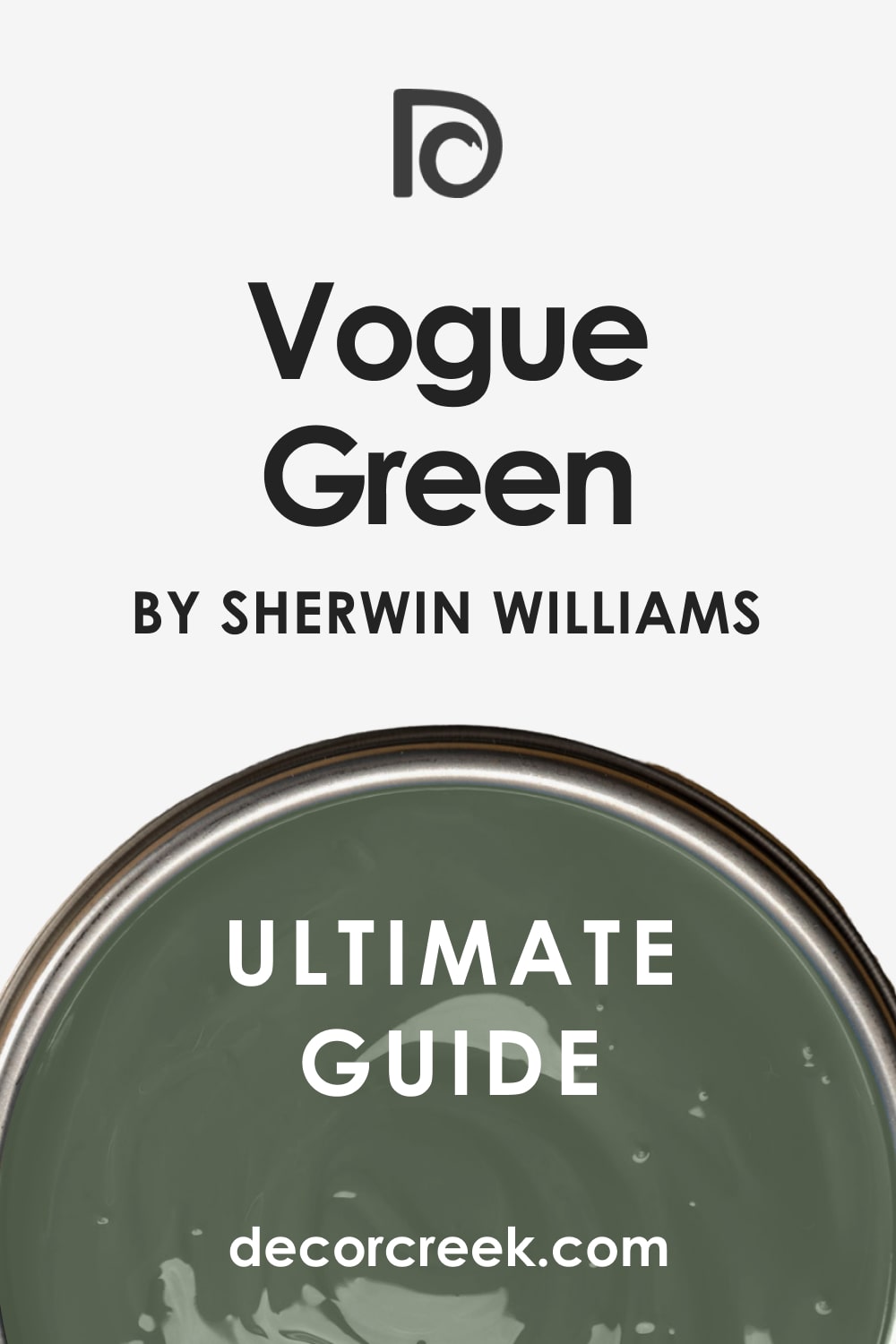 Frequently Asked Questions
⭐Will dark green pair with off-whites?
Yes, dark green colors combine great with warm and off-whites. Just make sure the green is also warm toned.
⭐Will Vogue Green read yellow on the walls?
No, there is no way this color reads yellow or show noticeable yellow undertones since it doesn't have them.
⭐In a shady room, can this green read darker, making the room smaller than it is?
There is such a possibility indeed, especially if the room is poorly lit (e.g. if you have thick trees growing outdoors).