When it comes to choosing the perfect paint color, the decision can often feel overwhelming, given the multitude of options. Today, we take a closer look at Sherwin-Williams SW 6464 Aloe – a color that exudes serenity and tranquility.
This guide offers a comprehensive insight into this calming shade and provides practical advice on how to utilize it effectively within your space.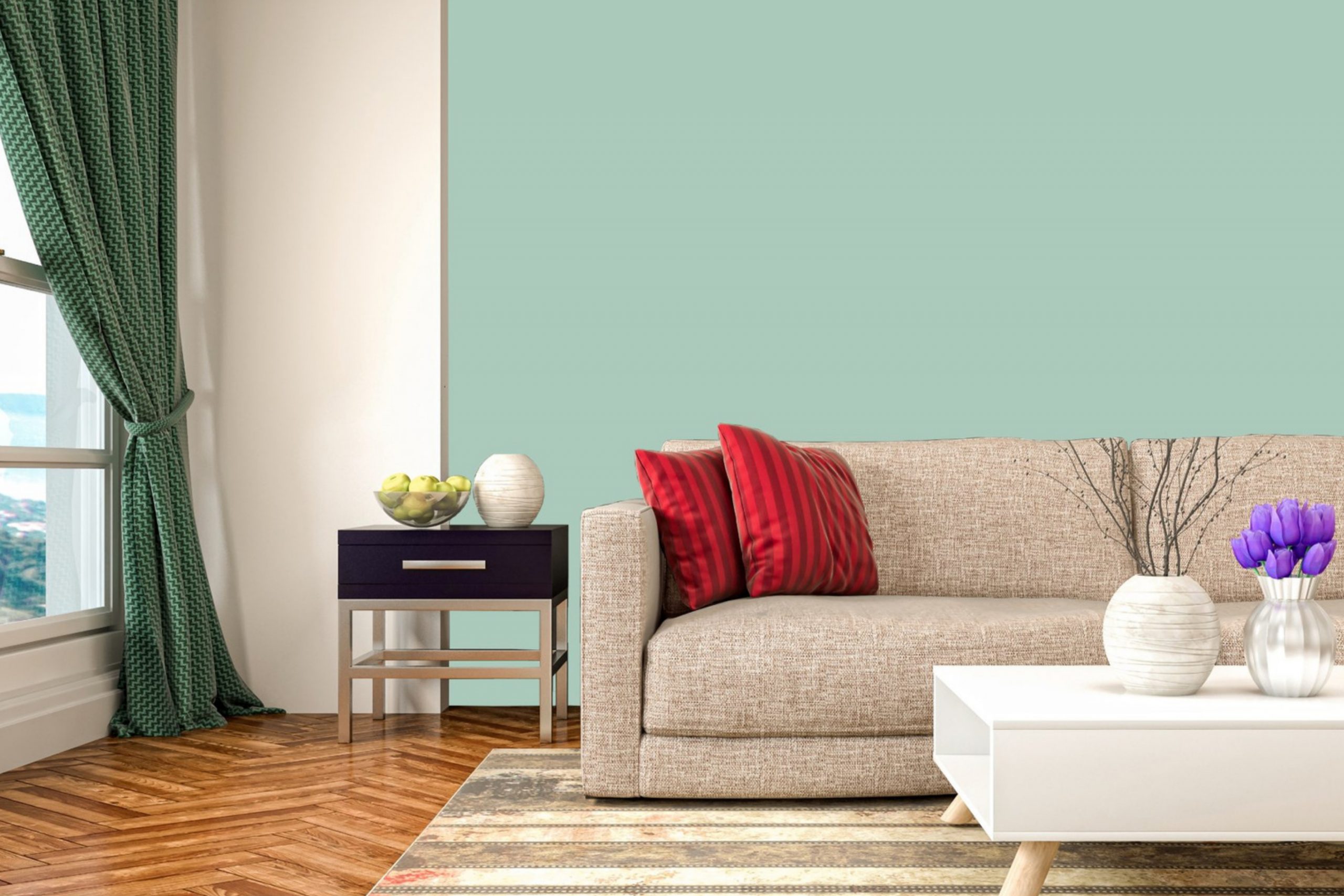 What Color Is SW 6464 Aloe? Is It a Warm Or Cool Color?
As Encycolorpedia says, SW 6464 Aloe is a soothing, light-to-medium green hue that effortlessly captures the essence of a fresh aloe plant. It can transport you to an oasis of tranquility, echoing the fresh, cooling sensation of an aloe plant's natural gel.
This color leans towards the cool side of the color spectrum due to its soft green hue, which is accentuated by subtle undertones of blue. This cool quality gives SW Aloe a refreshing, calming effect that can bring a sense of balance and peace to a room.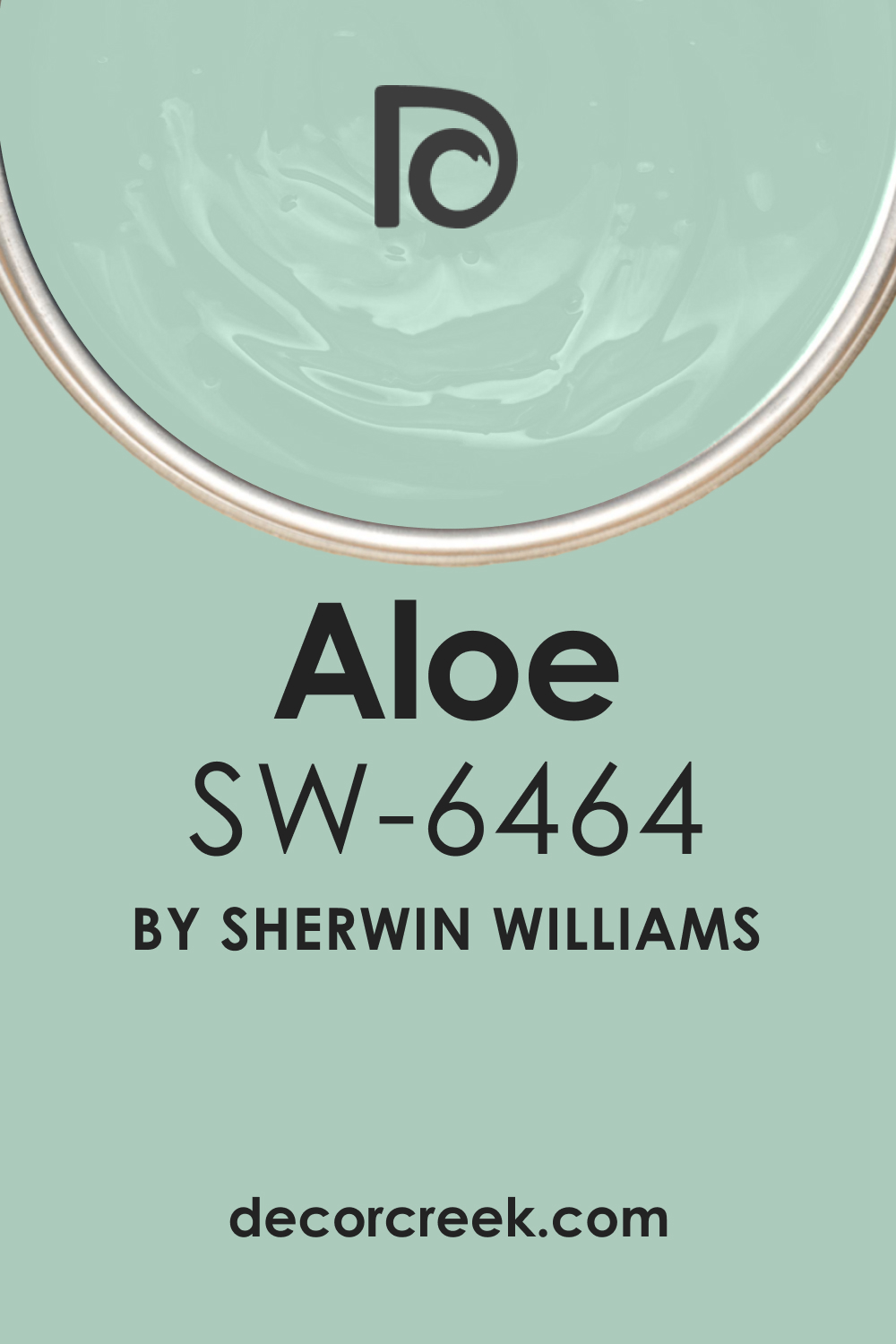 Undertones of SW 6464 Aloe Paint Color
Understanding the undertones of color can help you see how well it pairs with other shades. As a result, your interior palette will be much better and more balanced. SW Aloe carries several undertones:
Blue: The primary undertone in SW Aloe is blue, giving this green color its cool quality and enhancing its calming effect.
Gray: There's a subtle gray undertone that brings a muted, soothing quality to SW Aloe, preventing it from appearing overly bright.
Soft Green: SW Aloe has a base of soft green that offers an undertone reminiscent of fresh, natural foliage, grounding the color and providing a natural aesthetic.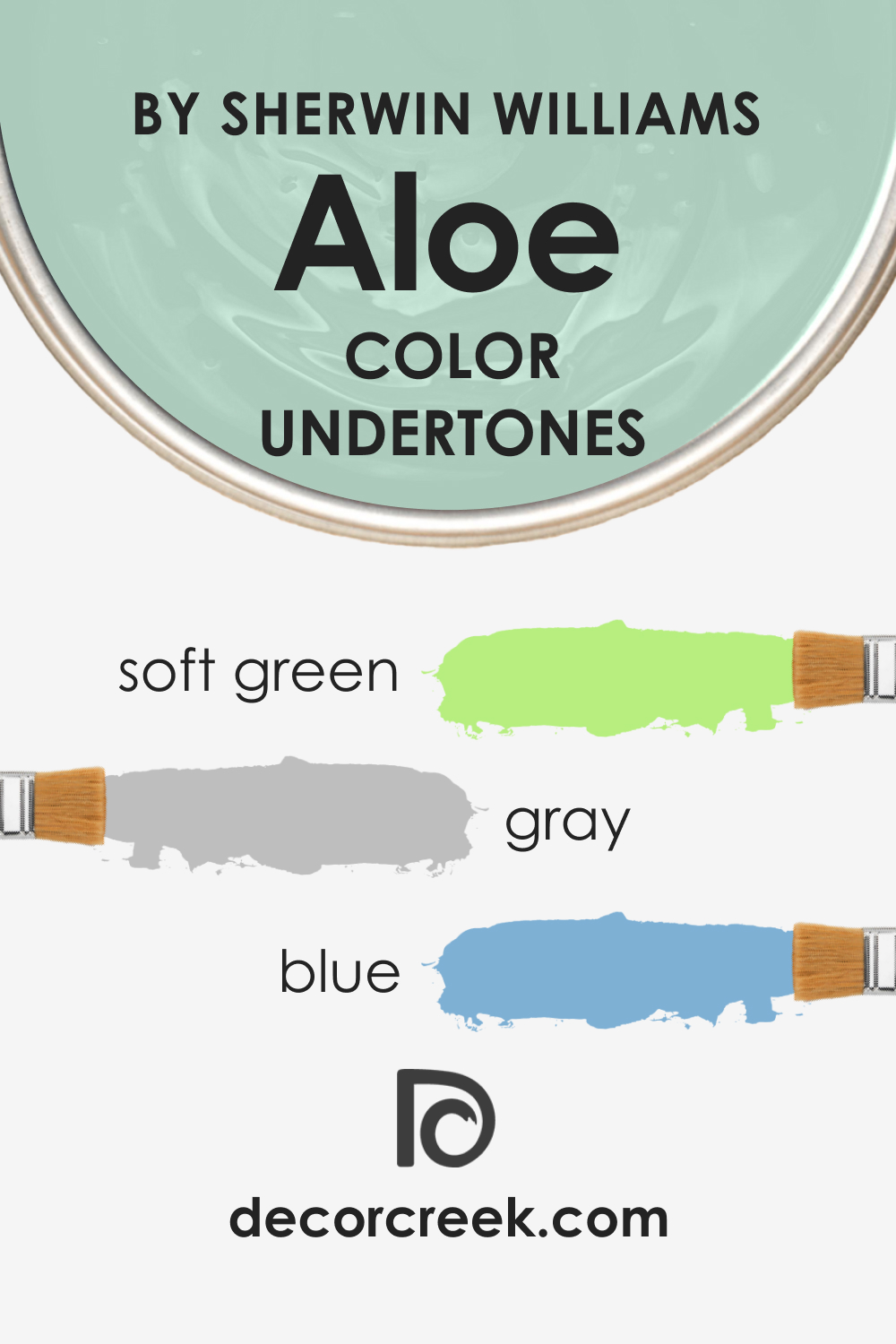 Coordinating Colors of SW 6464 Aloe
SW Aloe pairs well with several coordinating colors. Here's how it coordinates with some notable shades of the Sherwin-Williams brand:
SW 6462 Green Trance: A deeper, more concentrated green, Green Trance complements Aloe by providing depth and contrast.
SW 7745 Muddled Basil: This grayish-green shade harmonizes well with SW Aloe, sharing its serene vibe but with a more muted, earthy feel.
SW 6416 Sassy Green: This bright, vivacious green can provide a lively contrast to SW Aloe's more subdued tone, adding a dash of energy to a room.
SW 7006 Extra White: A crisp, pure white, SW Extra White is an excellent contrast color that highlights the refreshing quality of Aloe.
SW 6044 Doeskin: This warm, neutral beige can add a balancing warmth to a room painted with the cool SW Aloe.
SW 7749 Laurel Woods: A dark, earthy green, Laurel Woods can provide a grounding, nature-inspired contrast to SW Aloe's light freshness.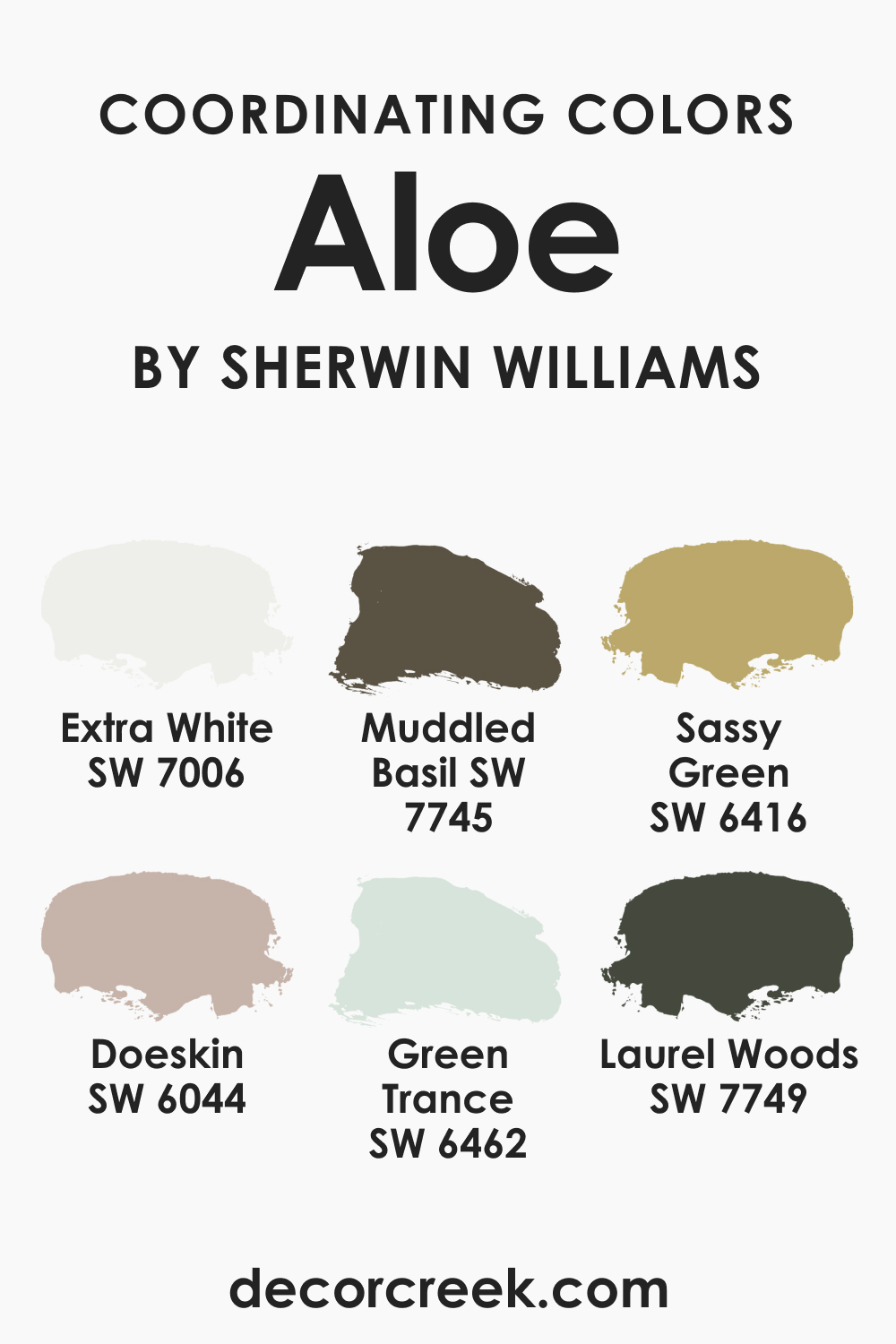 How Does Lighting Affect SW 6464 Aloe Paint Color?
Like all colors, SW Aloe is susceptible to changes in appearance under different lighting conditions. In ample natural light, SW Aloe's soothing green-blue hue comes to life, and it can appear fresher and brighter.
As the light dims or under artificial lighting, the color can seem more subdued, with its gray undertone becoming more prominent, lending a muted, calming effect.
Before committing to this color, it's advisable to observe a paint sample in the space throughout the day to understand how it will look under different lighting conditions truly.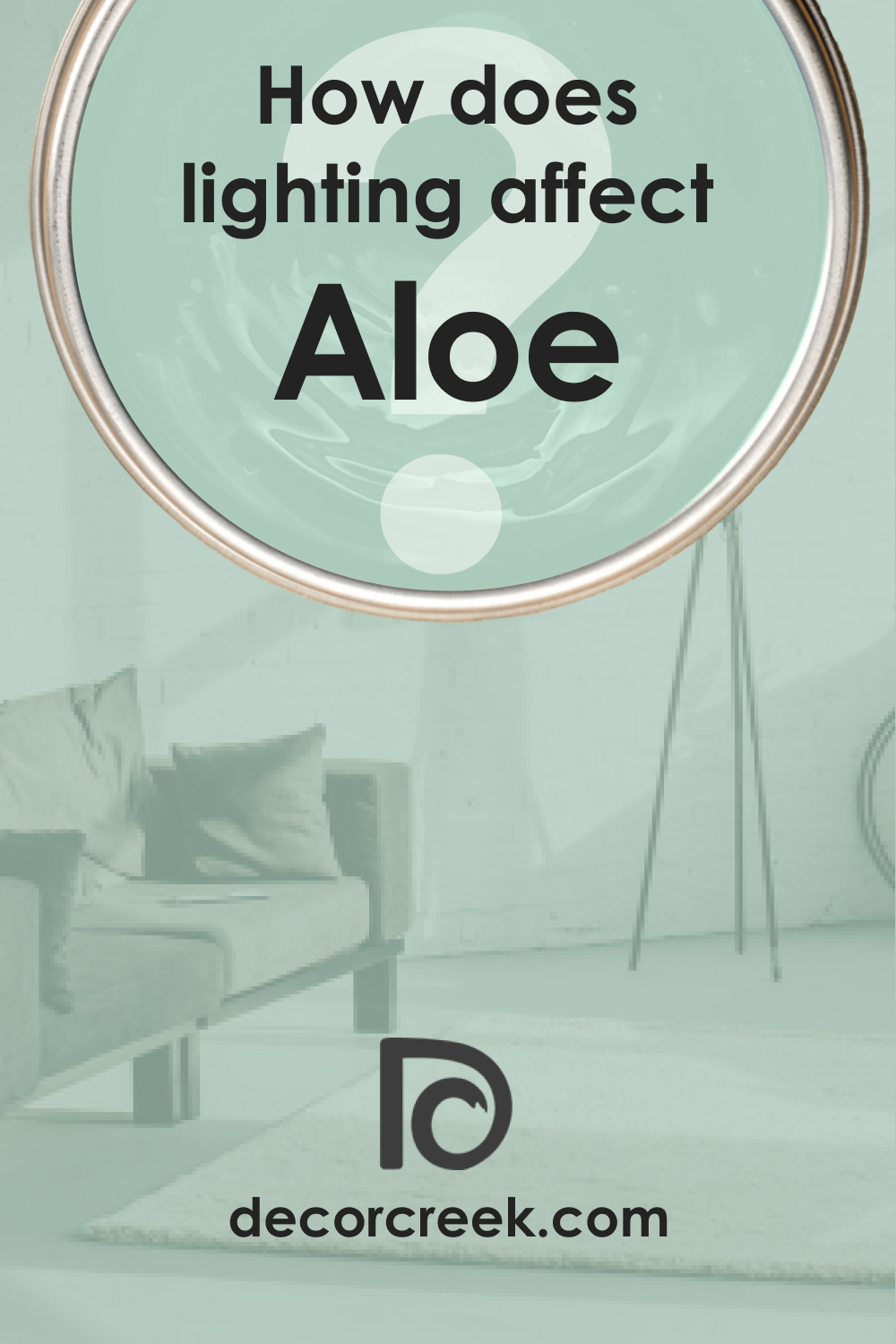 LRV of SW 6464 Aloe Paint Color
The Light Reflectance Value (LRV) of a paint color measures the percentage of light it reflects. Aloe's LRV is 55, placing it in the mid-range. Colors with mid-range LRVs, like SW Aloe, are versatile and can be used in a variety of spaces, whether small or large, dark or light-filled.
They don't reflect as much light as lighter colors, providing a more soothing and focused ambience, yet they aren't as absorbing and potentially overwhelming as darker colors.
This makes SW Aloe an excellent choice for creating a tranquil, balanced atmosphere in a room.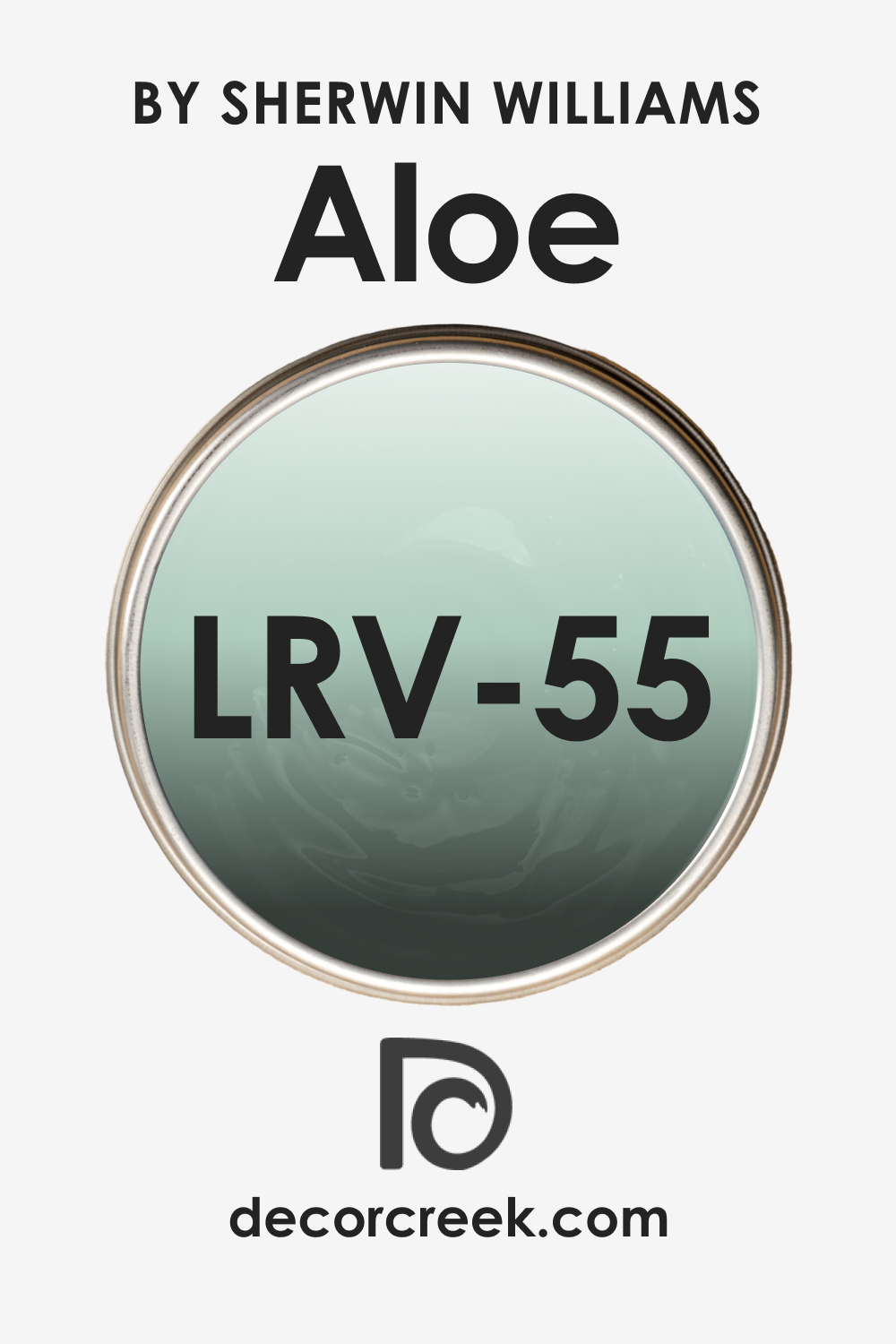 LRV – what does it mean? Read This Before Finding Your Perfect Paint Color
Trim Colors of SW 6464 Aloe
When choosing trim colors for SW Aloe, consider shades of white from Sherwin-Williams that can provide a crisp contrast:
SW 7006 Extra White: This bright, pure white can offer a fresh, clean contrast to Aloe's cool, calming hue.
SW 7008 Alabaster: This off-white shade has a slight warmth to it, offering a subtle, softer contrast that can harmonize beautifully with Aloe.
SW 7011 Natural Choice: This is a neutral, slightly warm white that can provide a balanced, subtle contrast with Aloe, allowing the green hue to take center stage.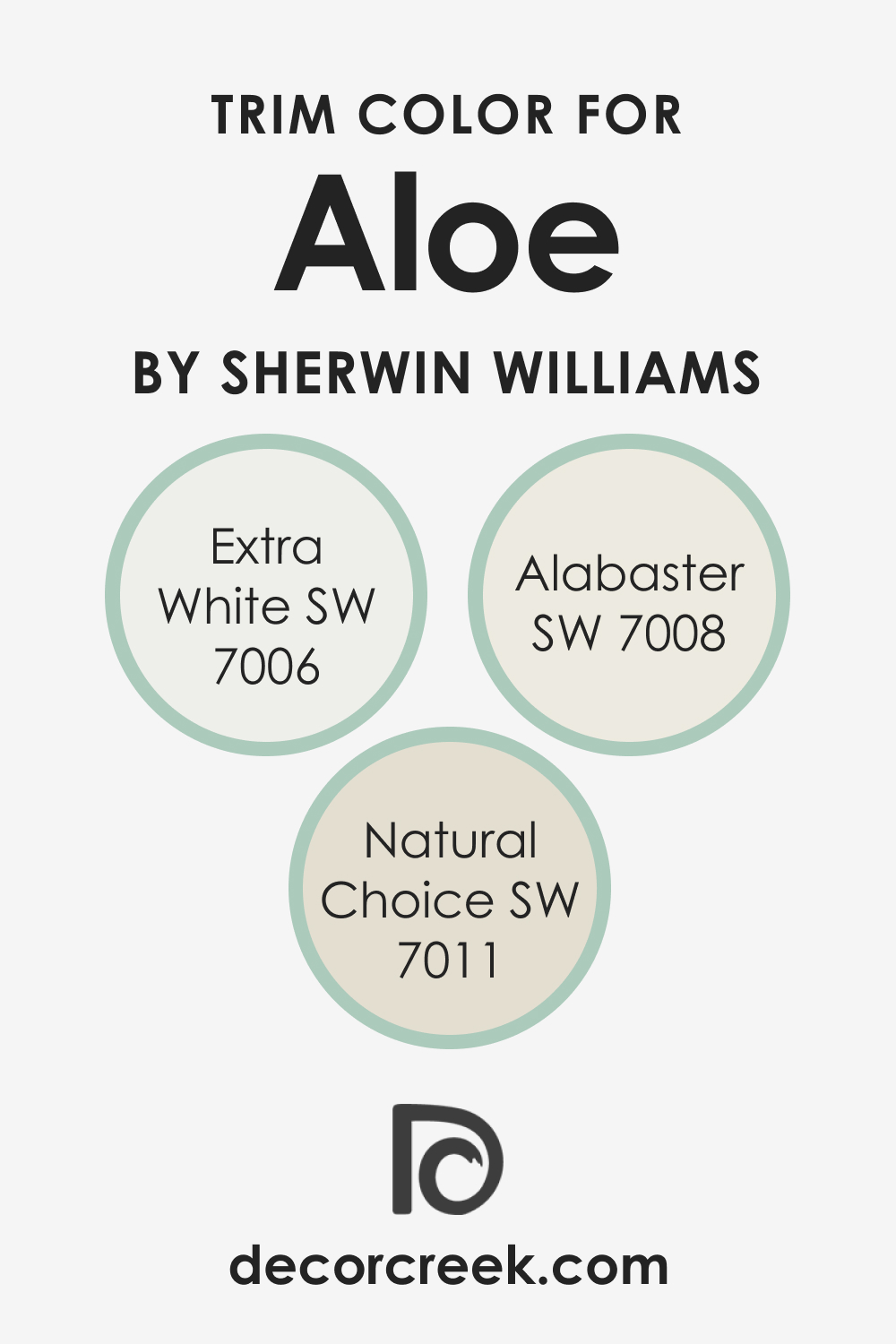 Colors Similar to SW 6464 Aloe
If you're looking for variations on SW Aloe, consider these similar shades from Sherwin-Williams:
SW 6463 Breaktime: Breaktime is a serene color that leans more towards blue but shares Aloe's light and cool feel.
SW 6457 Kind Green: A shade darker than Aloe, Kind Green offers a similar soothing vibe but with a slightly deeper tone.
SW 6470 Waterscape: Waterscape is a more vibrant version of Aloe with stronger blue undertones, yet they share a tranquil, water-inspired feel.
Also, you might want to check out a few colors from different paint brands:
BM Bridal Bouquet (632)
BM Antique Glass (CSP-695)
BM Warm Springs (682)
Colors That Go With SW 6464 Aloe
To achieve a harmonious and balanced palette in your home, consider using SW Aloe along with one of these colors:
SW 7006 Extra White: A crisp white that can offer a fresh contrast to Aloe's tranquil green.
SW 7015 Repose Gray: A versatile gray that pairs well with almost everything, including Aloe.
SW 7568 Neutral Ground: A warm beige that can balance Aloe's cool tones.
SW 6218 Tradewind: This soft, cool blue harmonizes beautifully with Aloe, enhancing its serene vibe.
SW 7023 Requisite Gray: A warm, mid-tone gray that can add depth and contrast to Aloe.
SW 9171 Felted Wool: A dark, warm gray that can ground a space painted with Aloe.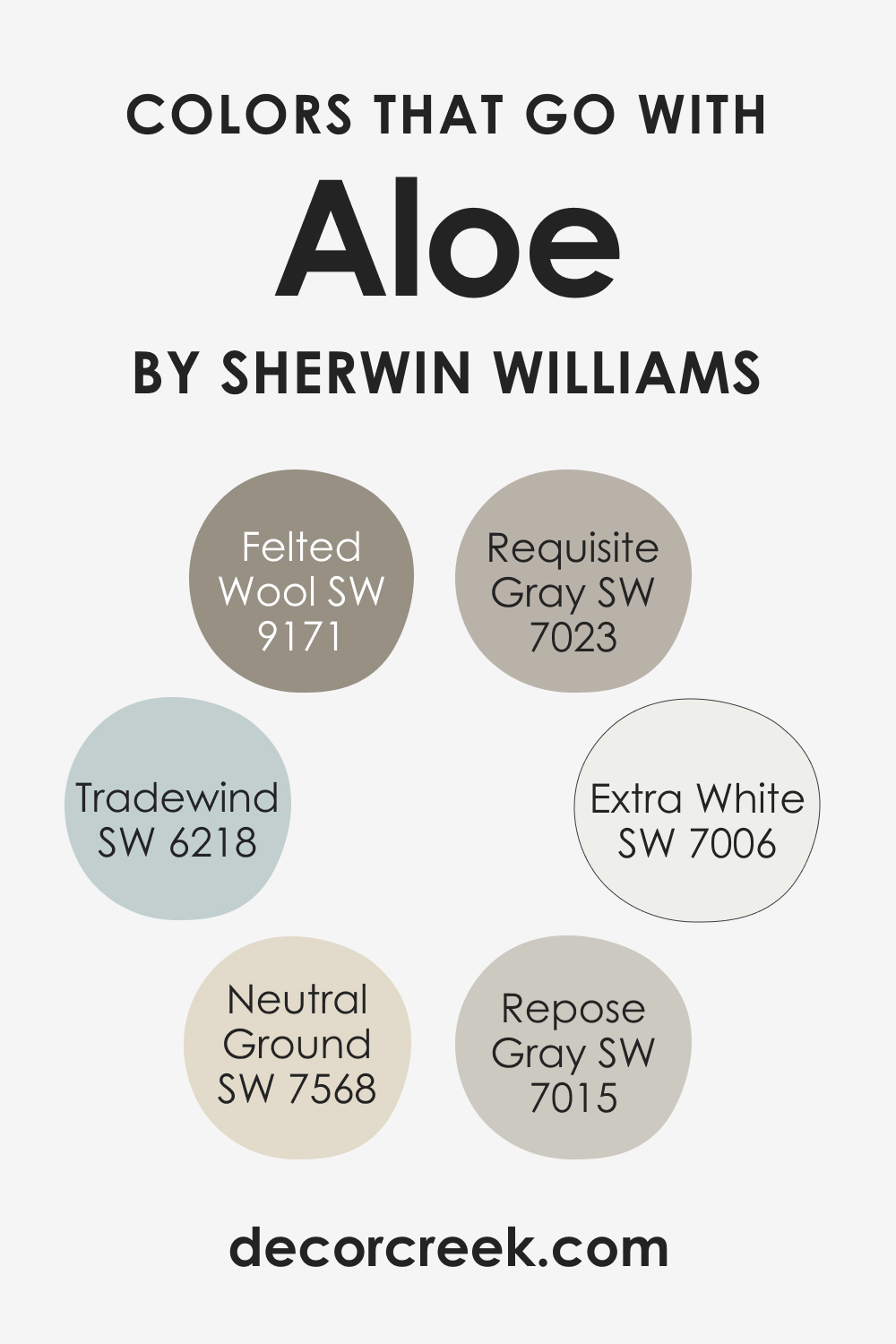 How to Use SW Aloe In Your Home?
This color is pretty versatile, so you will easily find a room where SW Aloe can reveal its beauty. Below, we describe where exactly this delicate and refreshingly soothing color can be used in your house or apartment.
How to Use SW 6464 Aloe in the Bedroom?
SW Aloe can transform a bedroom into a tranquil sanctuary. Its soothing green-blue hue and mid-range LRV make it an excellent choice for a restful bedroom atmosphere. For a serene, monochromatic look, pair SW Aloe with lighter and darker shades of green in your decor and textiles.
Alternatively, you can create contrast by incorporating accents in warm tones such as beige or terra cotta. The coolness of SW Aloe is particularly refreshing in a sunlit room, where it can create a bright, inviting space to wake up in.
In a small bedroom, SW Aloe can help create a sense of spaciousness. Given its mid-range LRV, it won't feel as stark as a pale color, maintaining a warm, cozy feel. Consider pairing it with light-colored furniture and a white ceiling to enhance this effect.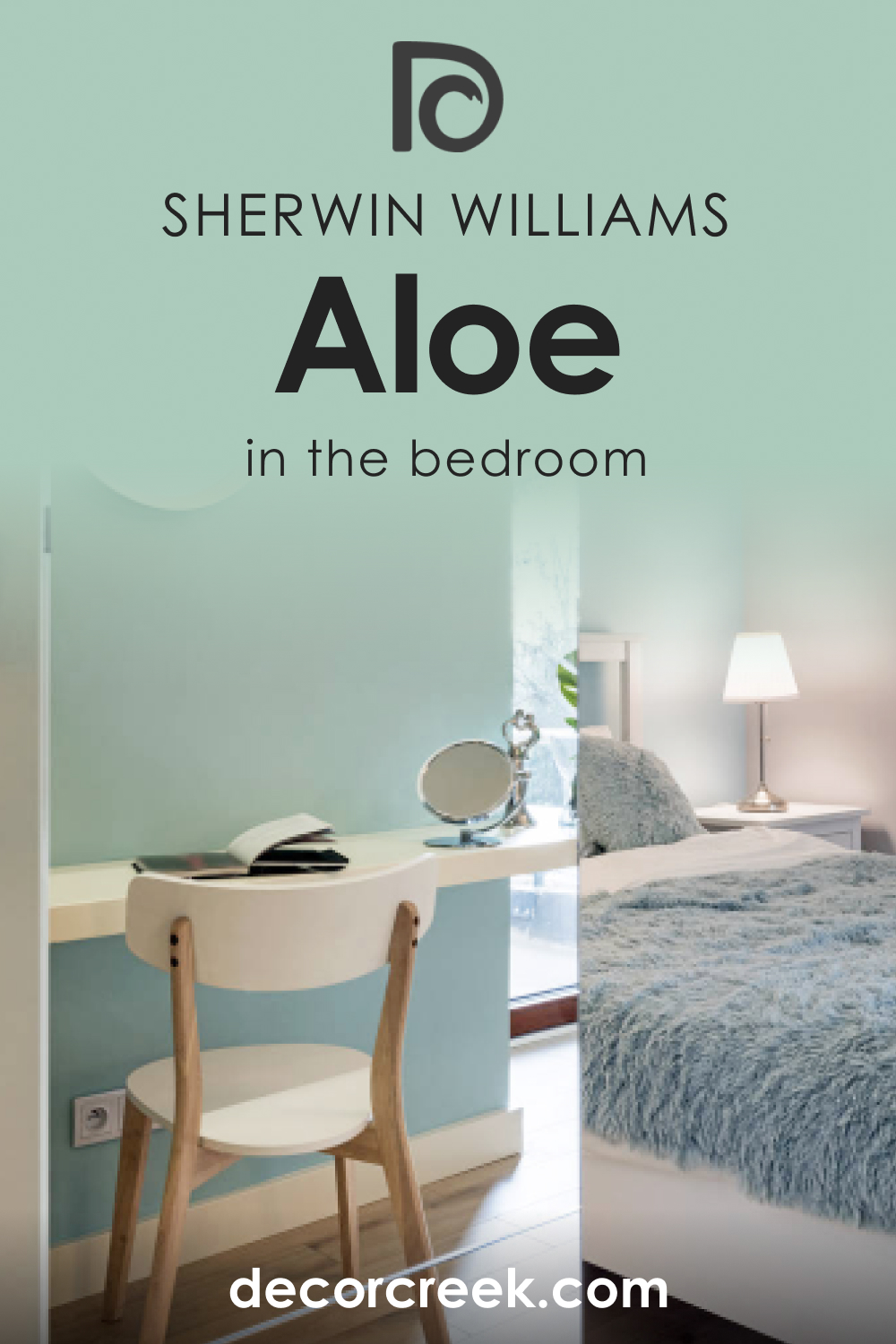 How to Use SW 6464 Aloe in the Bathroom?
In a bathroom, SW Aloe can create a spa-like atmosphere. It pairs well with whites and off-white for a clean, refreshing look.
Metallic fixtures in silver, nickel, or chrome can enhance SW Aloe's cool undertones, while gold or brass fixtures can offer a warm contrast. Consider using SW Aloe in a powder room for a delightful surprise or in a main bathroom paired with white subway tiles for a timeless look.
On the other hand, if you're looking to create a more dramatic effect, consider painting the bathroom cabinets or vanity in SW Aloe while keeping the walls a crisp white. This would make a visually appealing contrast, with SW Aloe offering a splash of soothing color.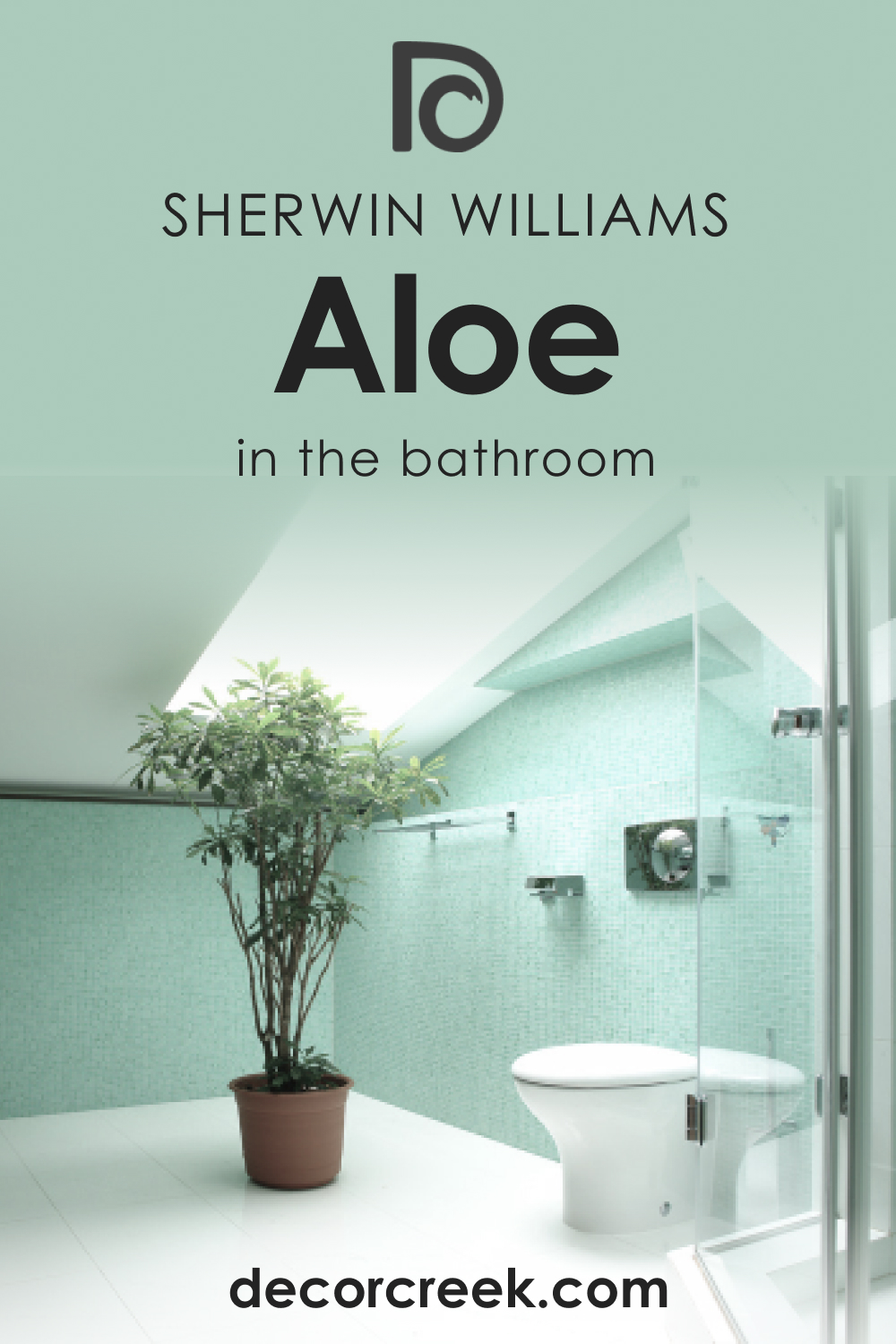 How to Use SW 6464 Aloe in the Living Room?
SW Aloe can lend a calming, nature-inspired feel to a living room. It pairs well with natural materials like wood, leather, and stone, enhancing the earthy feel.
For a fresh, modern look, consider painting the walls SW Aloe and using whites or light grays in your upholstery, curtains, and rugs.
Alternatively, if your living room is full of natural light, SW Aloe can look especially vibrant. Complement this with darker furniture pieces or accent colors to ground the space and add depth. SW Aloe can also work as an accent color on a feature wall, offering a soothing backdrop for artwork or a TV.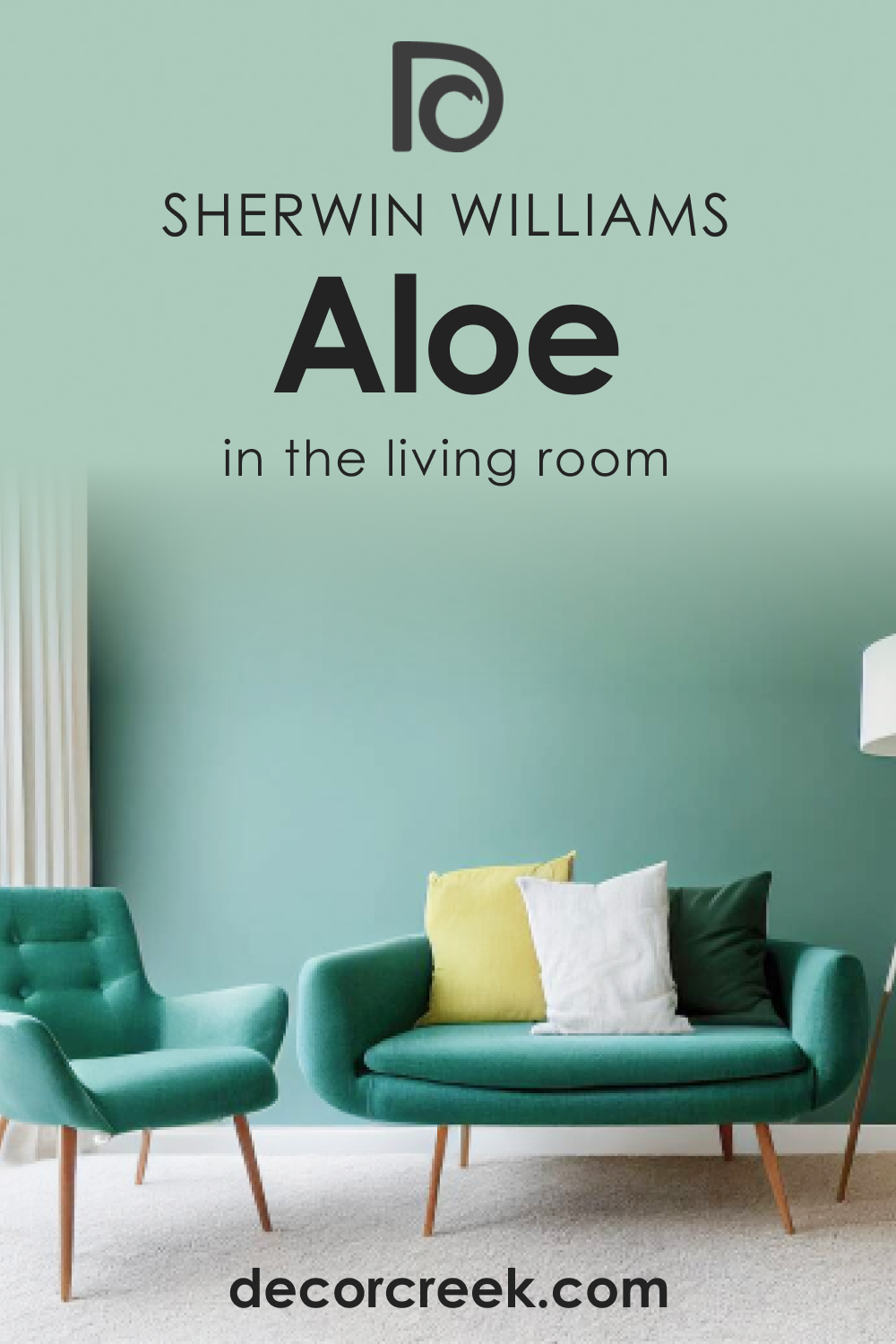 How to Use SW 6464 Aloe in the Kitchen?
In a kitchen, SW Aloe can create a calming yet fresh atmosphere. For a harmonious look, pair SW Aloe with white cabinets and subway tiles.
For a more dramatic impact, consider using this color on the kitchen cabinets against a backdrop of white or light gray walls. Stainless steel appliances and white countertops can enhance the refreshing feel.
SW Aloe can also be a delightful color for a breakfast nook or as an accent on a kitchen island. Paired with natural wood tones or even brighter, bold hues like cherry red or navy blue, SW Aloe can serve as a cool, calming counterpoint.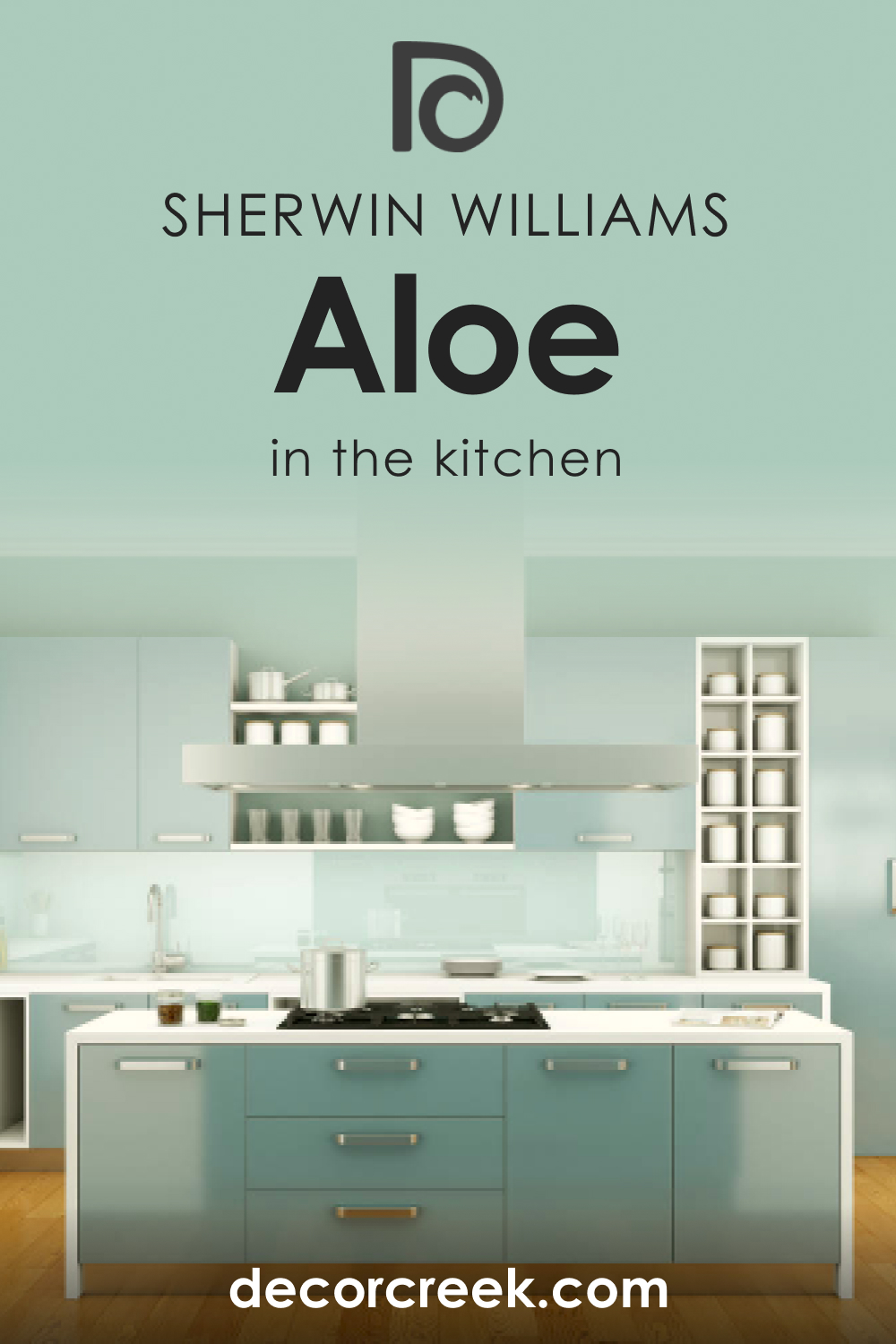 How to Use SW 6464 Aloe for an Exterior?
For an exterior, SW Aloe can offer a refreshing, inviting look. It pairs beautifully with white or off-white trim and natural stone or wood elements.
Given its cool, serene vibe, SW Aloe is a popular choice for coastal or cottage-style homes. It can also provide a delightful contrast against a darker roof.
Alternatively, SW Aloe can serve as a trim color against a darker, earthy green or gray main exterior color. This can create a visually interesting contrast, with SW Aloe highlighting architectural details.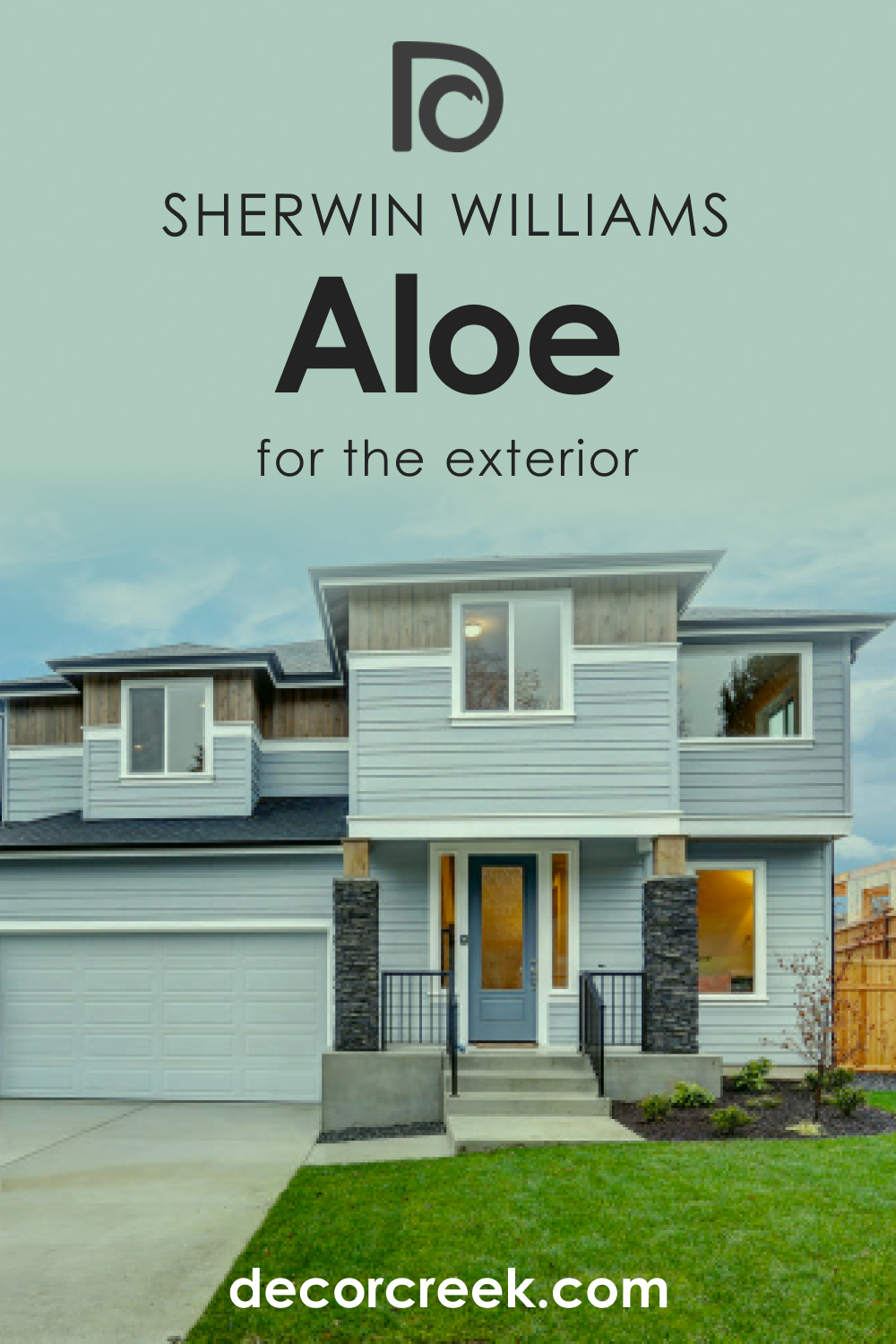 Comparing SW Aloe With Other Colors
Here you can read how SW Aloe looks compared to other colors with a similar appearance. This will help you better understand how colors vary and how LRVs and undertones contribute to those distinctions.
SW 6464 Aloe vs Sherwin-Williams SW 6463 Breaktime
Both SW Aloe and SW Breaktime share a similar level of brightness and a calming effect. However, SW Breaktime leans more towards blue, giving it a slightly cooler vibe. It could be described as the 'blue cousin' of SW Aloe.
SW Breaktime might be a better choice for spaces that you want to feel cooler, like a south-facing room that gets a lot of sunshine, while SW Aloe could bring balance to a north-facing room that could use a hint of warmth within its cool tone.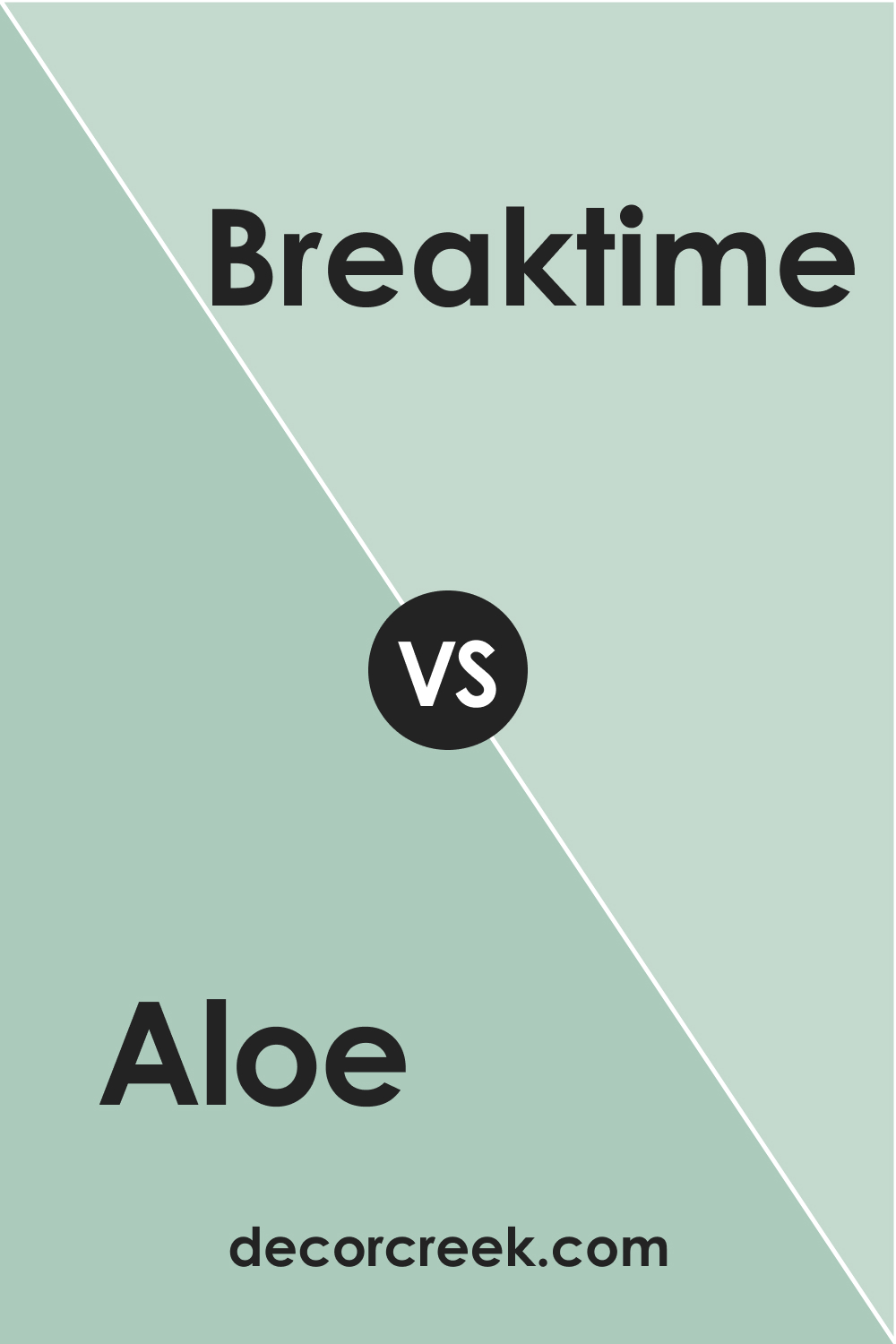 SW 6464 Aloe vs Sherwin-Williams SW 6457 Kind Green
SW Kind Green is a darker shade than SW Aloe, which results in a more pronounced, earthy feel. The difference in depth can impact the mood of the room – SW Kind Green may feel more grounding and cozy, while SW Aloe provides a more breezy and open atmosphere.
The choice between the two may depend on the size of the room, the amount of natural light available, and the mood you wish to create.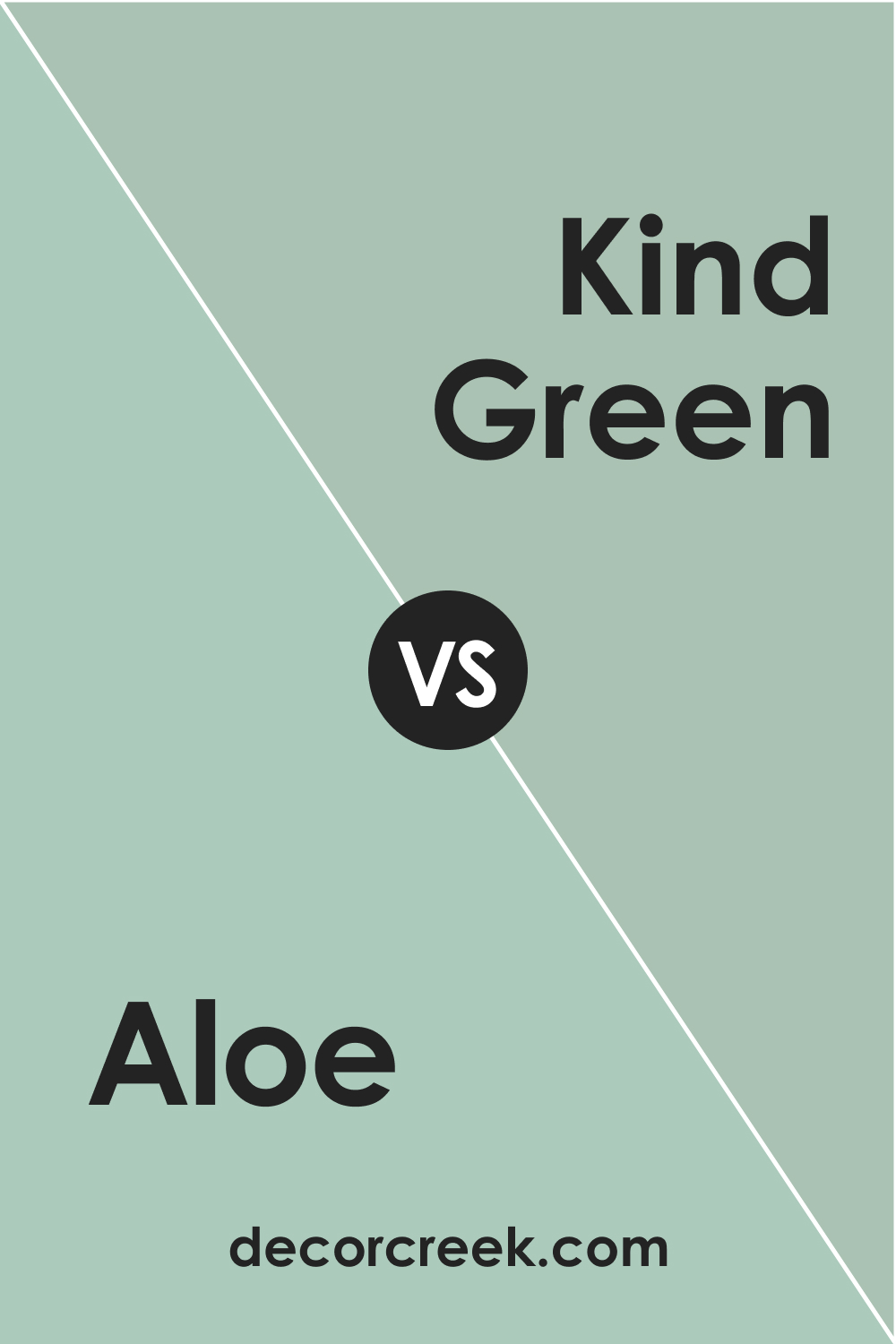 SW 6464 Aloe vs Sherwin-Williams SW 6470 Waterscape
While both SW Aloe and SW Waterscape offer a refreshing, cool vibe, the Waterscape color is a brighter, more vibrant color with a stronger blue undertone. SW Aloe, on the other hand, is more subdued, with a gray undertone that softens its effect.
If you want to make a stronger color statement, Waterscape might be the way to go. For a more calming, understated effect, consider SW Aloe.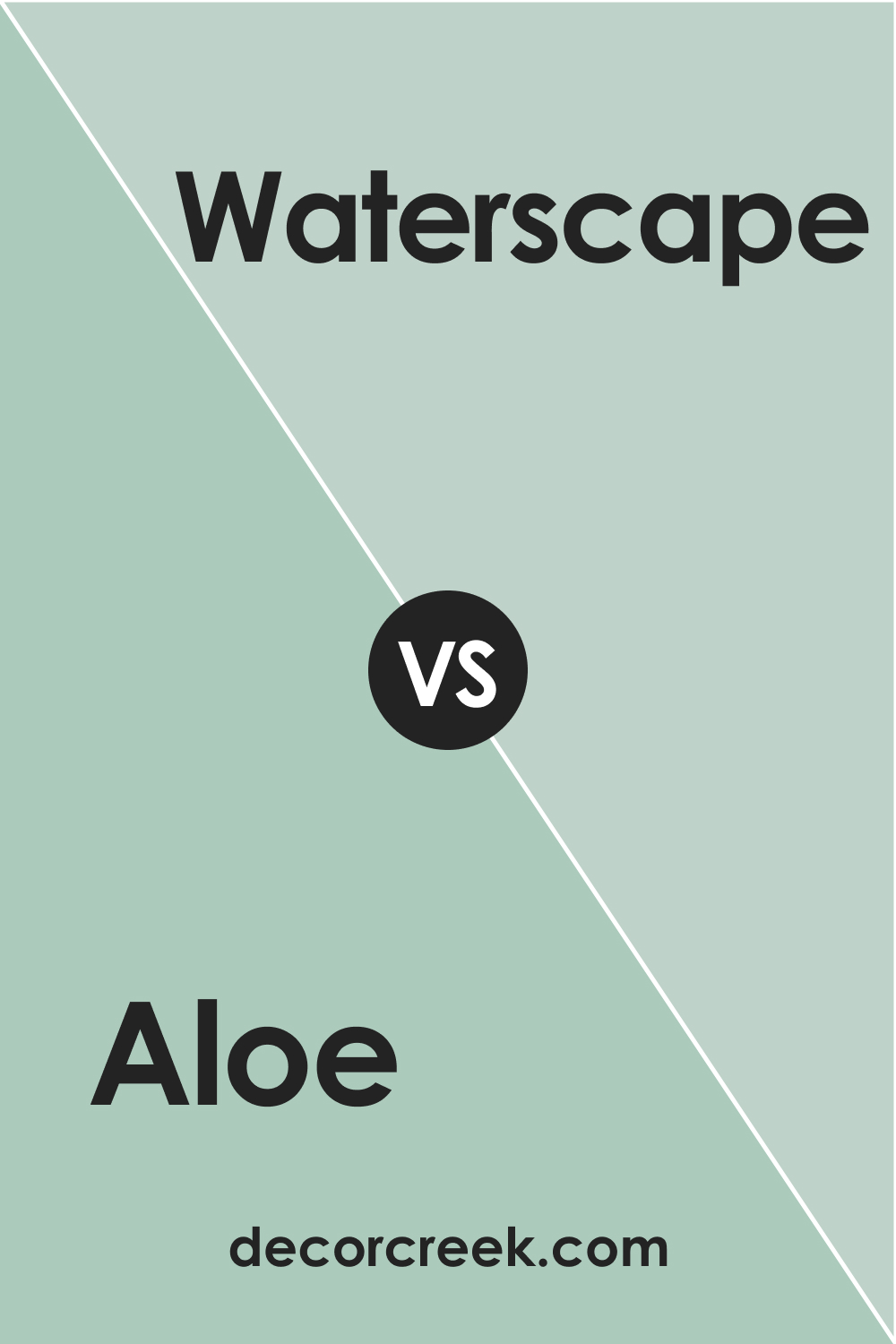 SW 6464 Aloe vs Benjamin Moore 480 Dream I Can Fly
BM Dream I Can Fly is a more vivid, slightly more blue shade of green than SW Aloe. This Benjamin Moore color is more dynamic and playful, while Aloe offers a more serene and calming effect.
BM Dream I Can Fly might be a better choice for spaces intended to inspire creativity and energy, while Aloe would be more suitable for spaces meant for relaxation and peace.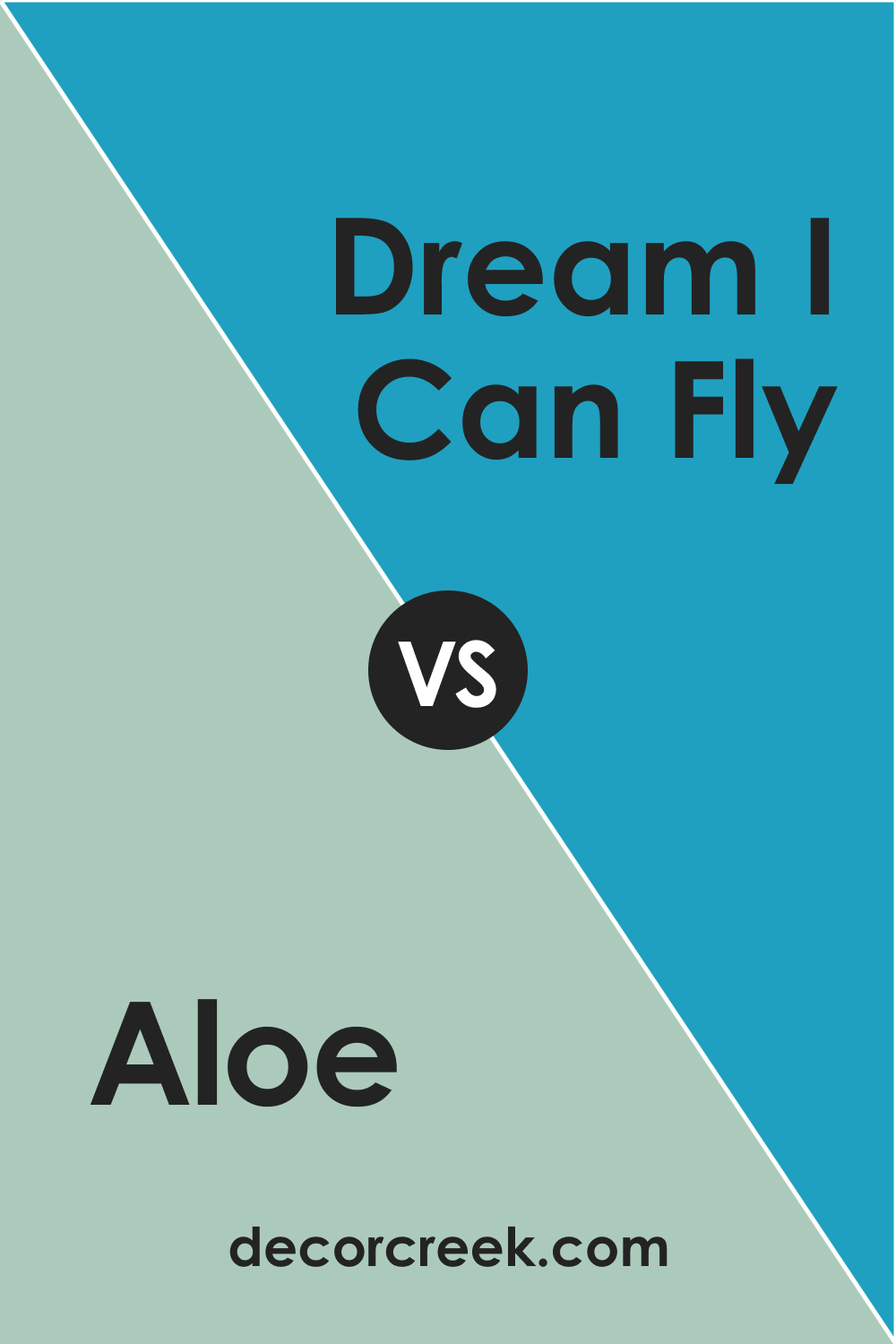 SW 6464 Aloe vs Benjamin Moore 2036-70 Sweet Vibrations
BM Sweet Vibrations is a much lighter, more pastel shade of green compared to SW Aloe. Its subtle, almost minty hue gives it a more youthful, light-hearted feel, while SW Aloe feels more mature and soothing.
If you prefer a lighter, cheerier vibe, BM Sweet Vibrations might be the color for you. If you're after a tranquil, relaxing atmosphere, consider SW Aloe.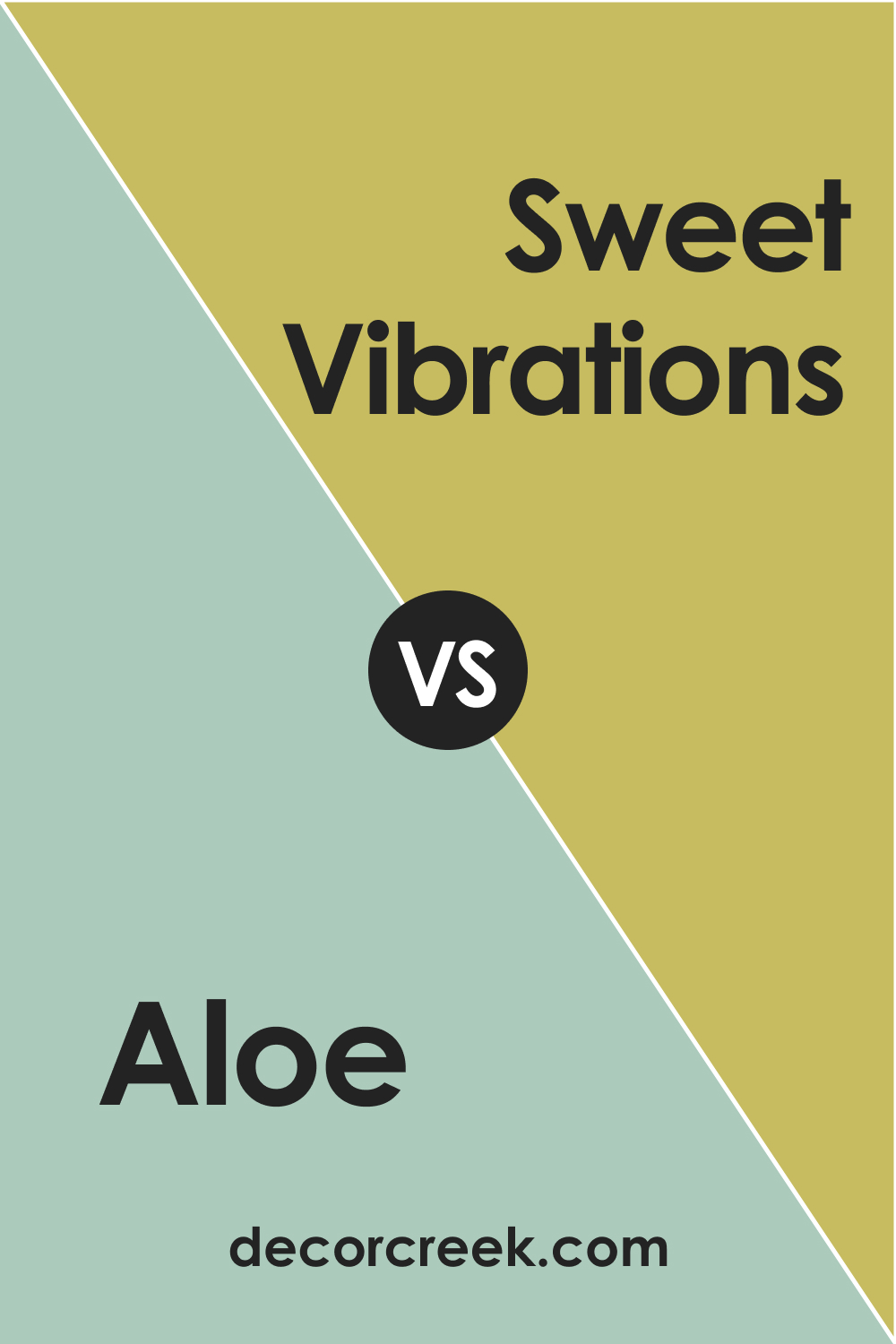 SW 6464 Aloe vs Farrow & Ball No. 84 Green Blue
Farrow & Ball's Green Blue is a deeper, more saturated color compared to SW Aloe. It has a more pronounced blue undertone, which makes it feel cooler and somewhat more dramatic.
If you're looking for a bold, impactful color, Green Blue might be the choice for you. For a softer, more subdued effect, SW Aloe would be a better fit.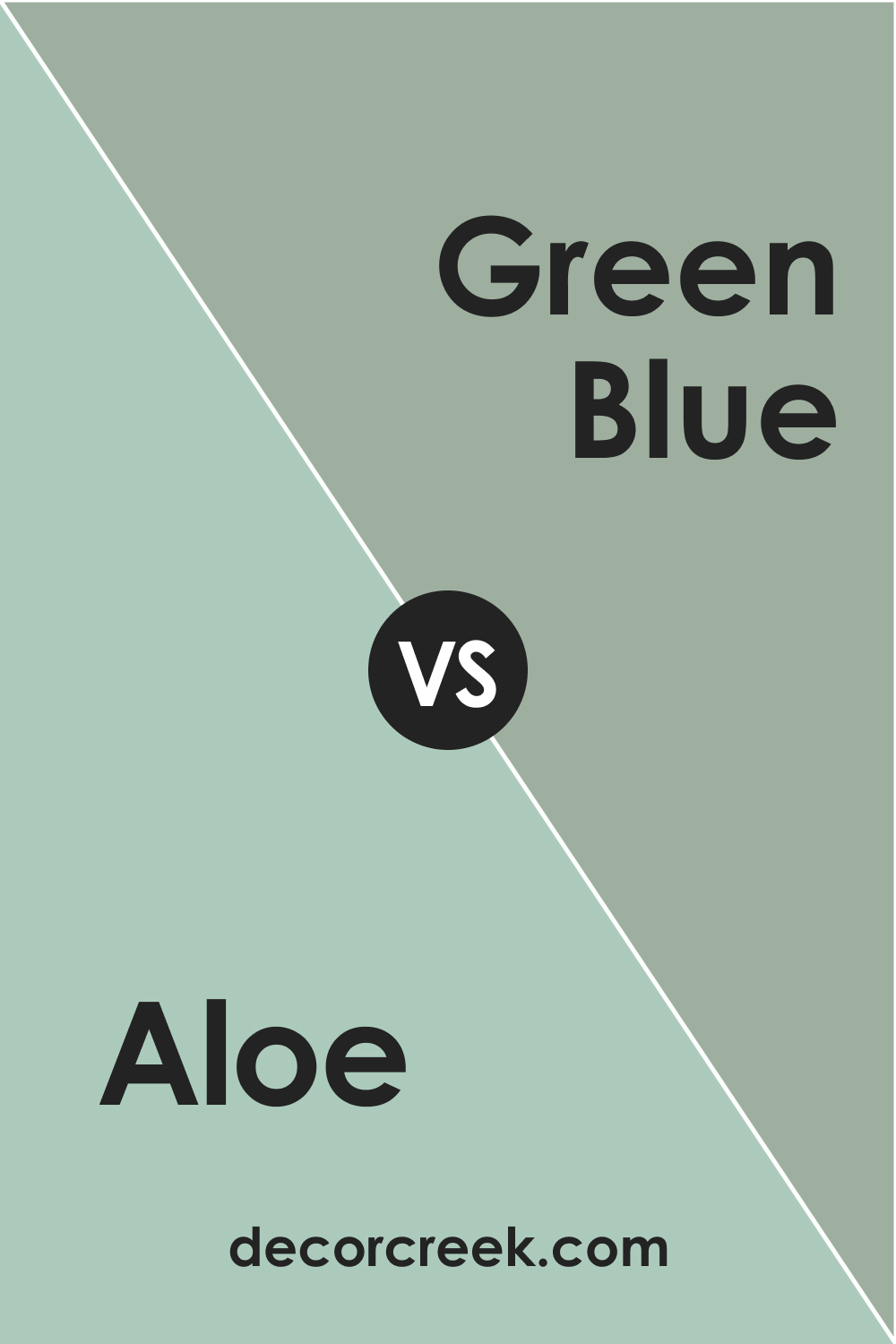 Conclusion
Choosing the right color for your space can be a journey, but understanding the nuances of color can guide your decision. Sherwin-Williams SW 6464 Aloe is a versatile, soothing green that can bring a sense of calm and balance to a variety of spaces.
Whether used as a wall color, an accent, or for cabinetry, SW Aloe offers a refreshing, nature-inspired vibe that can transform your space into a serene sanctuary.
From bedrooms and bathrooms to kitchens and living rooms and even exteriors, SW Aloe is a color that truly brings the calming aura of nature into your home.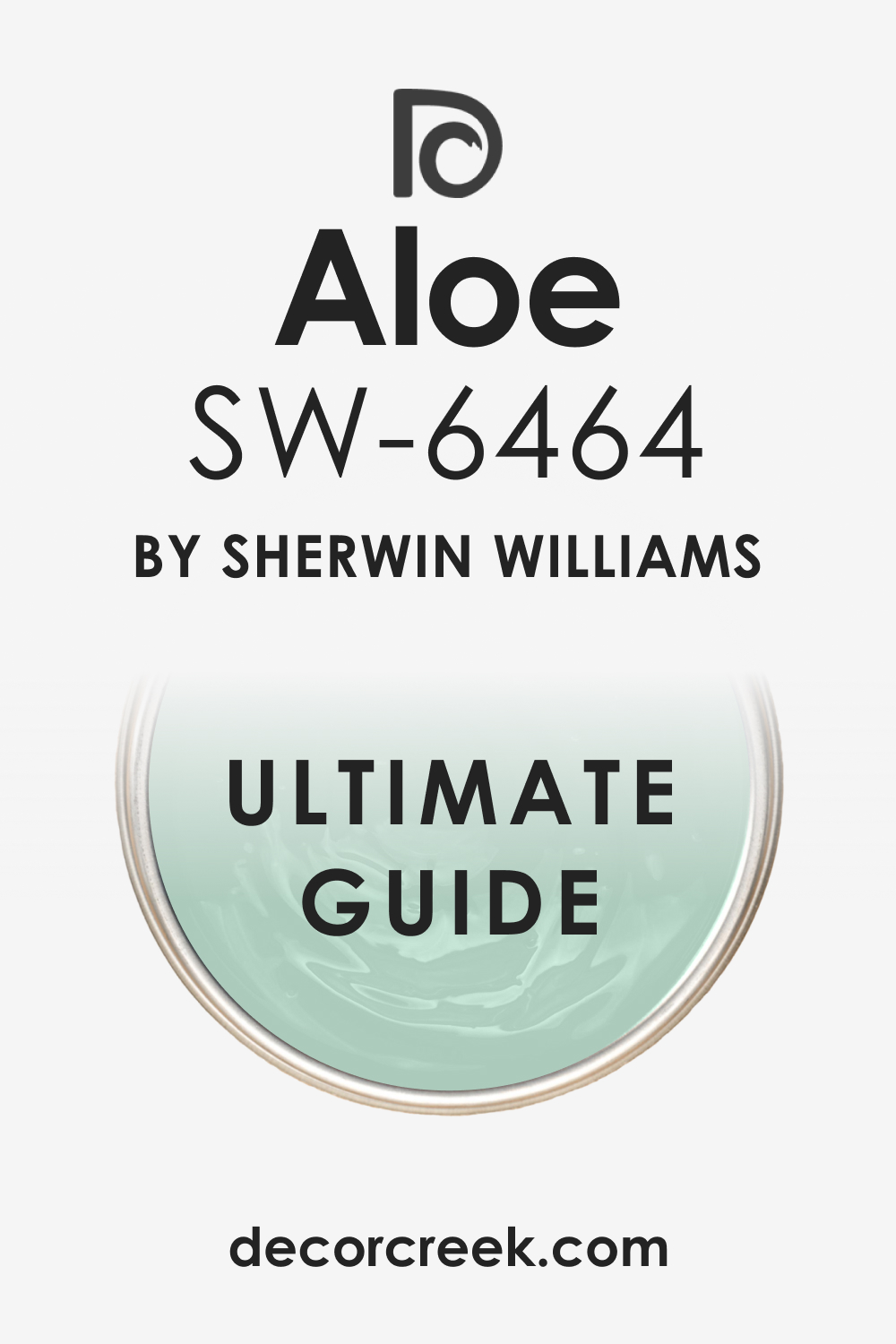 Frequently Asked Questions
⭐What style of home decor does SW 6464 Aloe best suit?
SW Aloe is a versatile color that can complement a variety of home decor styles. Its calming and soothing vibe makes it perfect for modern, minimalist, coastal, or even rustic styles. The key is in how you pair it with other colors and materials.
⭐What are the best rooms to use SW 6464 Aloe in?
SW Aloe can be used effectively in almost any room. It is particularly popular for bathrooms, kitchens, and bedrooms due to its soothing and refreshing vibe. In living rooms, it can create a peaceful atmosphere that invites relaxation.
⭐What colors pair well with SW 6464 Aloe?
SW Aloe pairs beautifully with a variety of colors. For a refreshing and crisp look, pair it with whites or light grays. For a natural, earthy vibe, try it with browns and other shades of green. It also works well with certain bold hues like navy or cherry red as an accent color.
⭐Does SW 6464 Aloe work for exteriors?
Absolutely. SW Aloe can offer a refreshing, inviting look for home exteriors. It pairs beautifully with white or off-white trims and natural stone or wood elements. It's a popular choice for coastal or cottage-style homes but can also work well with contemporary architecture.
⭐What type of finish would work best with SW 6464 Aloe?
The best finish for SW Aloe depends on where you're using it. For walls, an eggshell finish often works well as it offers a slight sheen that can highlight the color's depth. For trims or cabinets, a semi-gloss or high-gloss finish can provide a nice contrast and make the color pop.