It may seem easy to choose the paint color for your home renovation project. However, when it comes to figuring out what shade of the desired color will look best in your home interior, many homeowners stumble and start feeling puzzled.
If you consider using SW Daphne paint color in your house or apartment, we recommend you read this article first. It will help you learn what kind of color it is, what undertones it has, and how it may read on your walls.
Also, you will learn how to use this color correctly to make it work with the rest of the palette in your home.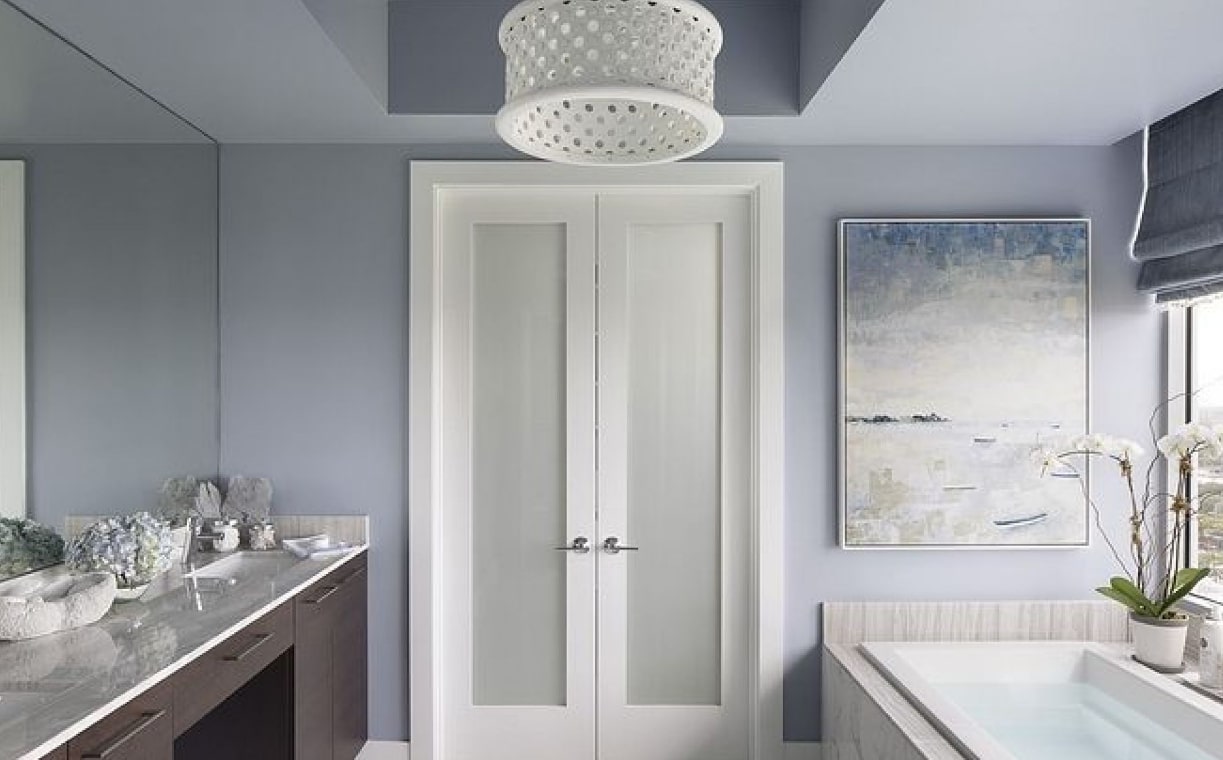 SW Daphne Paint. What Color Is It?
Blue is a classic one of the most popular colors that we use in our homes. When mixed with gray, it creates the perfect balance of color and neutrality. This is why blue-gray paint is the perfect color selection for most homes.
SW Daphne paint color is one of such blue-gray beauties. To be precise, it is a soft denim blue with delicate gray undertones, as Encycolorpedia says. The color reads cool-toned but not too cold or chilly.
Instead, it gives that calming and soothing vibe of freshness and coziness. And thanks to gray undertones, SW Daphne color will not read crisp on your walls even in broad daylight.
However, to use this fantastic blue-gray color correctly and successfully, you should know more about its specifics. This is why we recommend you read on and learn more about its LRV, trim colors, and colors to coordinate with it.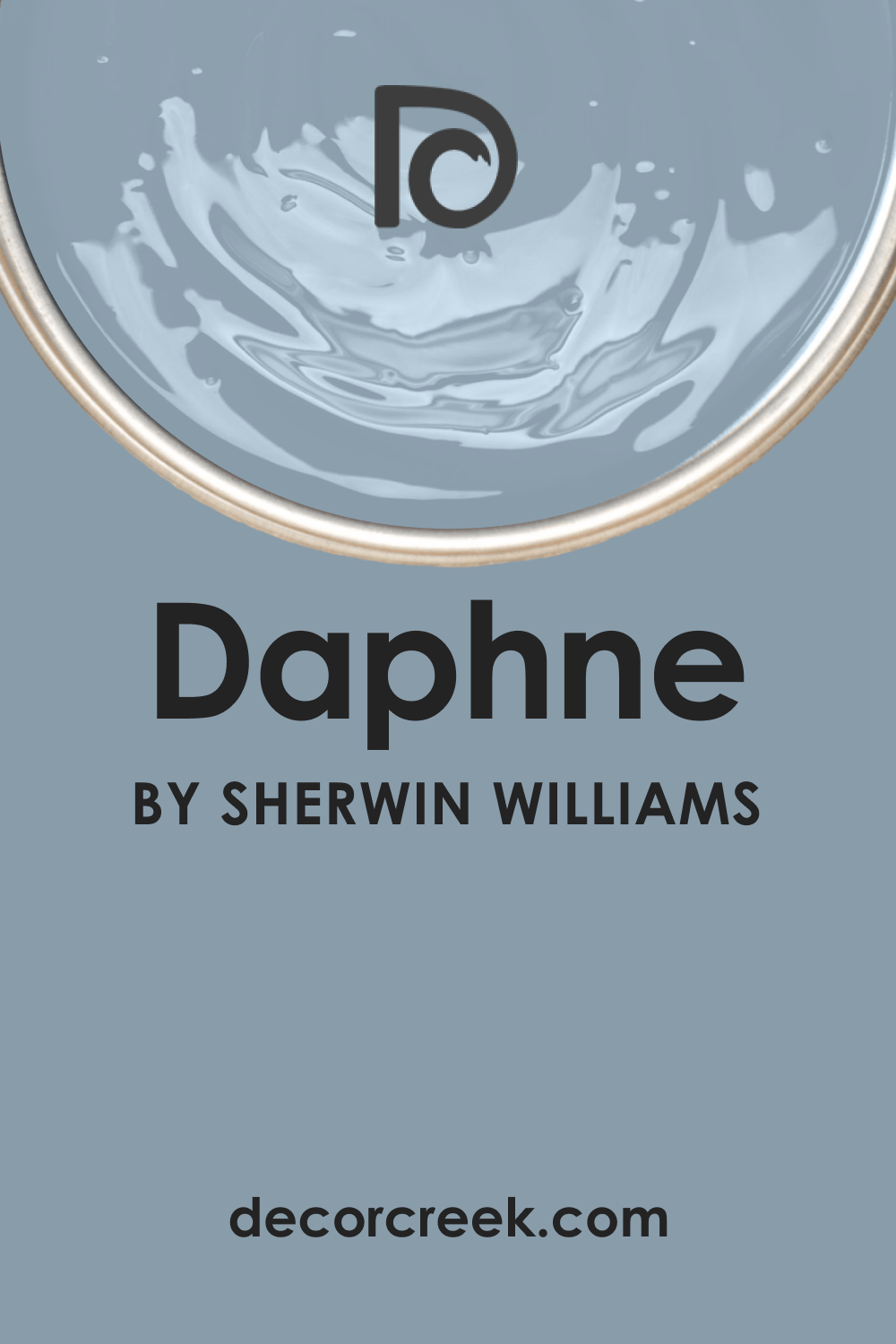 SW Daphne Paint Color Undertones
Being aware of undertones is a must if you want to be happy with how the color reads on your walls. Especially if you choose a blue color like SW Daphne paint. See, blue paint colors can be pretty tricky to get right!
There are so many elements and nuances that influence the way a paint color will look on the walls! This is the reason why sometimes the color you pick appears to be not what you were expecting.
As we have already mentioned above, the Daphe paint color by Sherwin-Williams has denim and gray undertones. They make the color read perfectly soft and neutral on the walls and other surfaces.
However, its tricky nature is still there! You should be careful with light when using this blue color in your home.
In the dim light, as well as in small and poorly lit rooms, the SW Daphne paint color will read darker and "dusty." In comparison, in a spacious room with plenty of daylight, this blue0gray will reveal its beauty fully.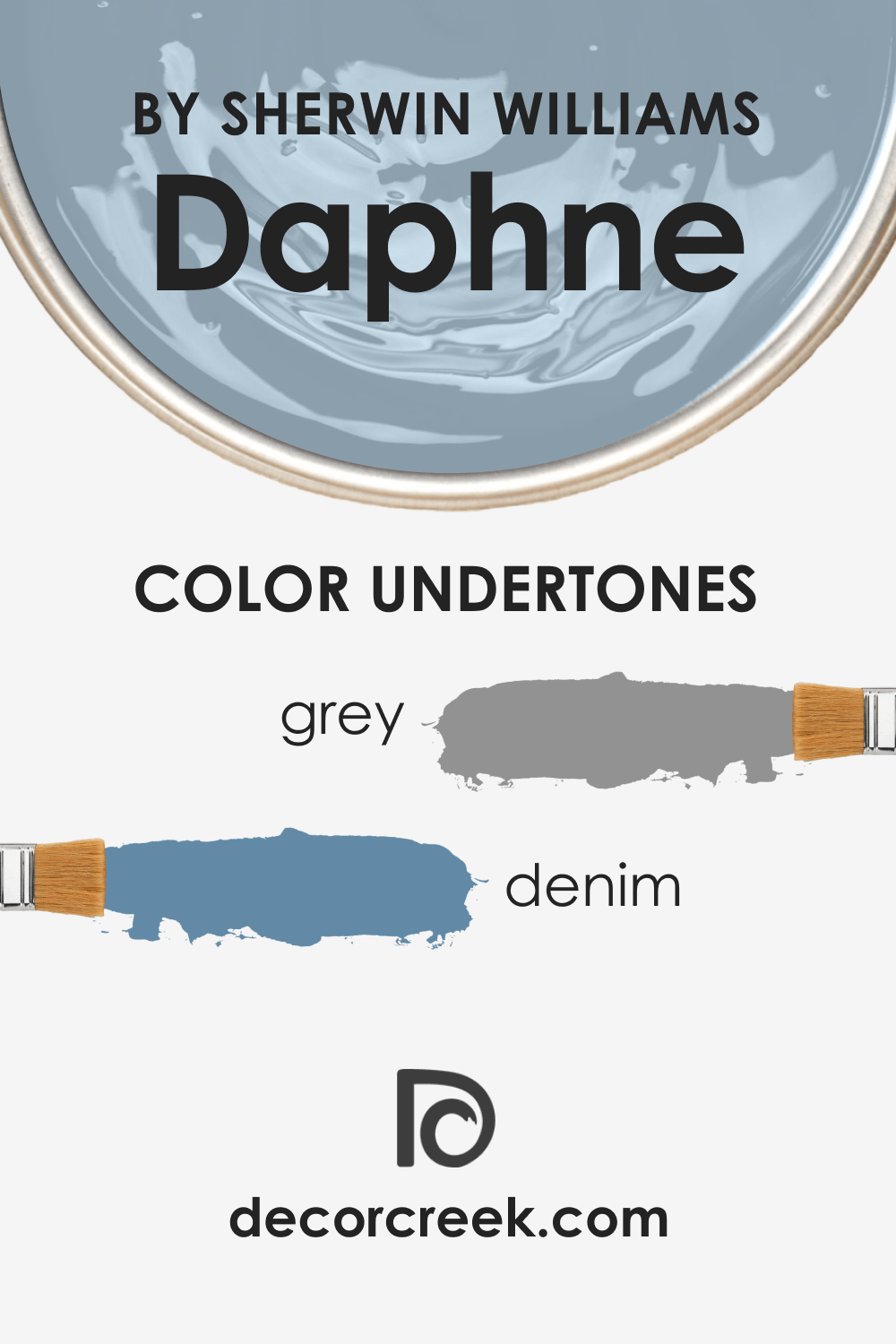 LRV of Daphne SW-9151
LRV is another essential thing you should take into consideration when choosing paint colors for your home. LRV stands for the Light Reflectance Value, and it shows the amount of light the paint can reflect when it is applied to the wall. The higher the LRV rate, the lighter the paint. Respectively, the more light it will be able to bounce off.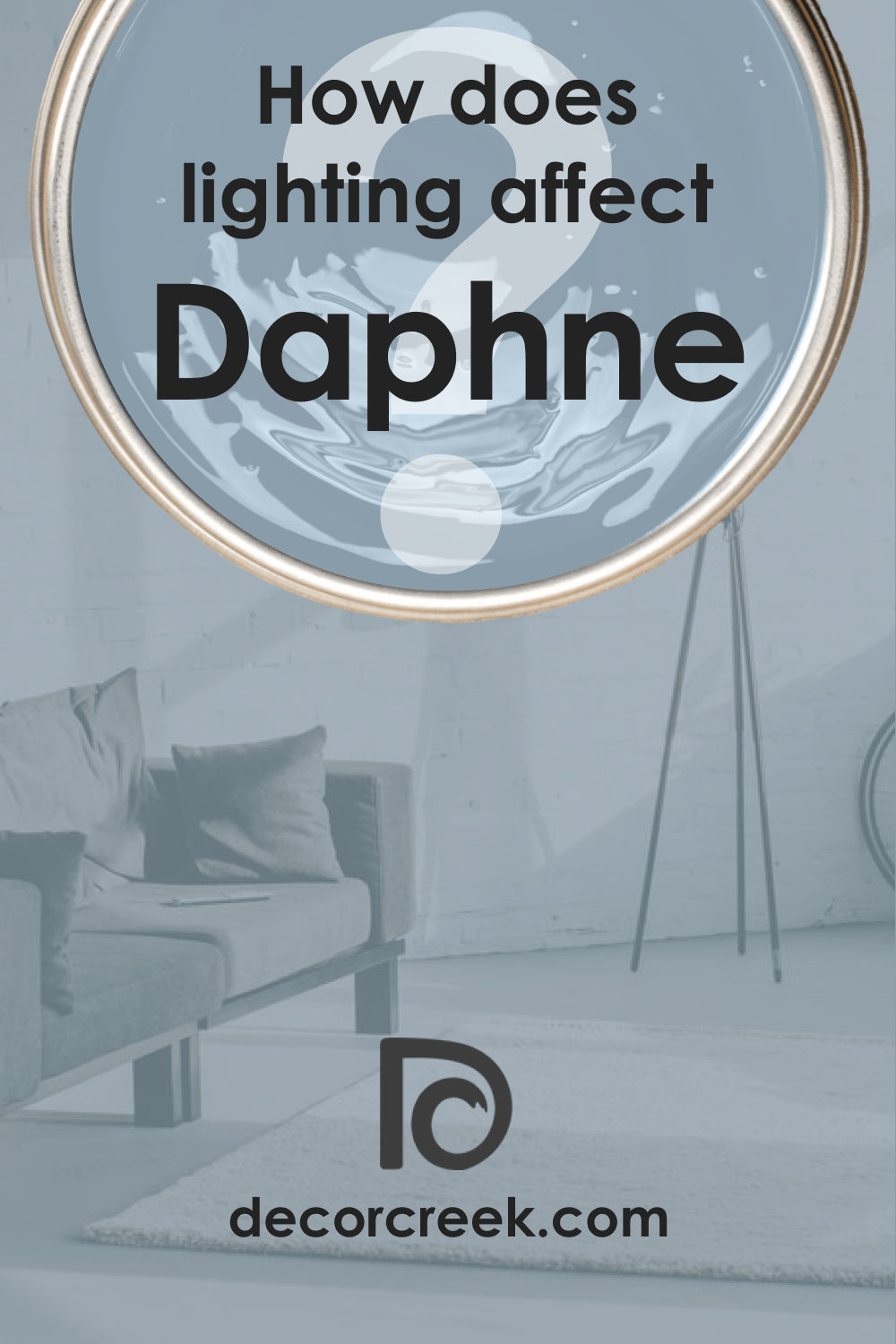 The LRV scale ranges from zero to 100, where zero stands for black, and 100 stands for pure white. The Daphne SW-9151 paint color has an LRV of nearly 32. By LRV value, this blue-gray is a medium color.
It means that in a room, it will reflect enough light not to make the space read dark, but at the same time, it is not a suitable color for small rooms since it won't make them look bigger.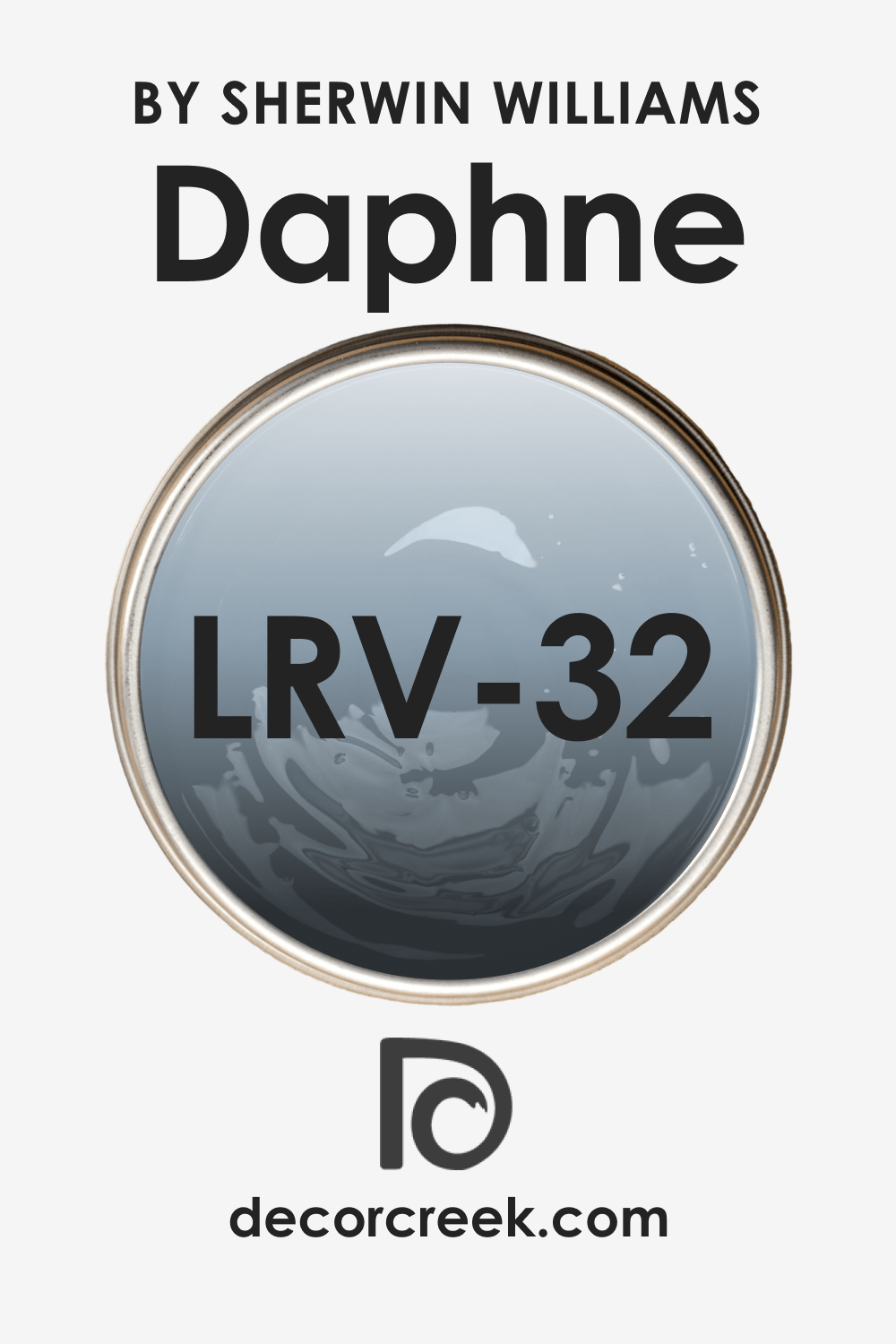 LRV – what does it mean? Read This Before Finding Your Perfect Paint Color
Colors That Go With SW Daphne Color
Why is it essential to know what colors will go well with the color on the walls? When you know what colors to use to make the wall color work for your interior, you can create a harmonious and eye-pleasing space around you. As a result of a balanced color palette, the room will not cause irritation or disappointment!
Speaking of SW Daphne color, this denim neutral blue-gray shade will read incredibly well with the following colors:
SW-6050 Abalone Shell
SW-6319 Reddish
SW-9177 Salty Dog
SW-6419 Saguaro
SW-6580 Cerise
SW-9029 Cool Avocado
SW-6689 Overjoy
SW-6303 Rose Colored
SW-6990 Caviar
SW-7653 Silverpoint
SW-2820 Dpwning Earth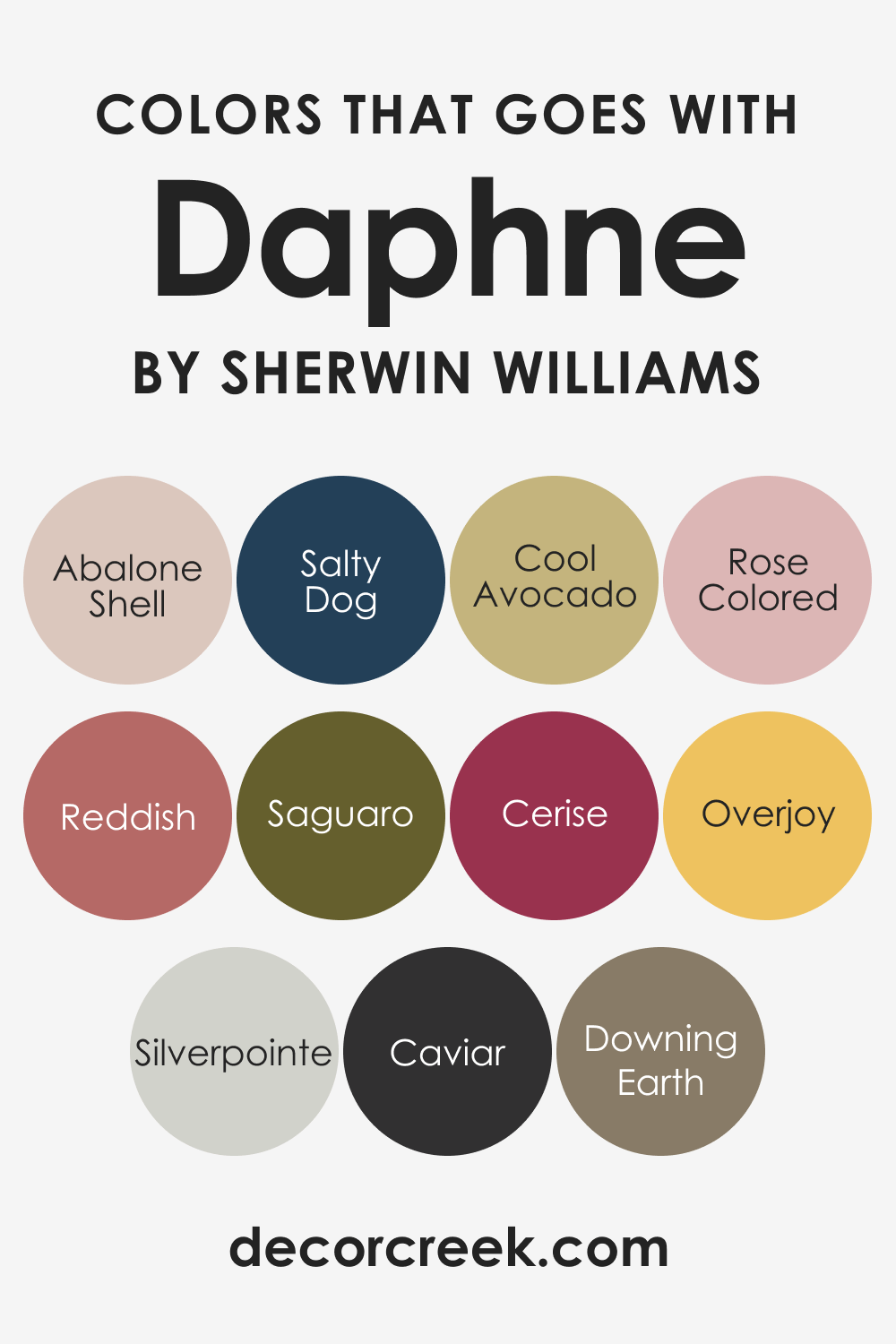 What's the Best Trim Color to Use With SW Daphne Paint?
White is traditionally considered the optimal trim color since it is versatile and can work well with most colors in a room. So if you have interior walls painted SW Daphne color, you can also use white on the trim.
For example, you can try one of the following options:
SW Pure White
SW Extra White
Behr Ultra Pure White
BM Chantilly Lace
BM White Heron
SW High Reflective White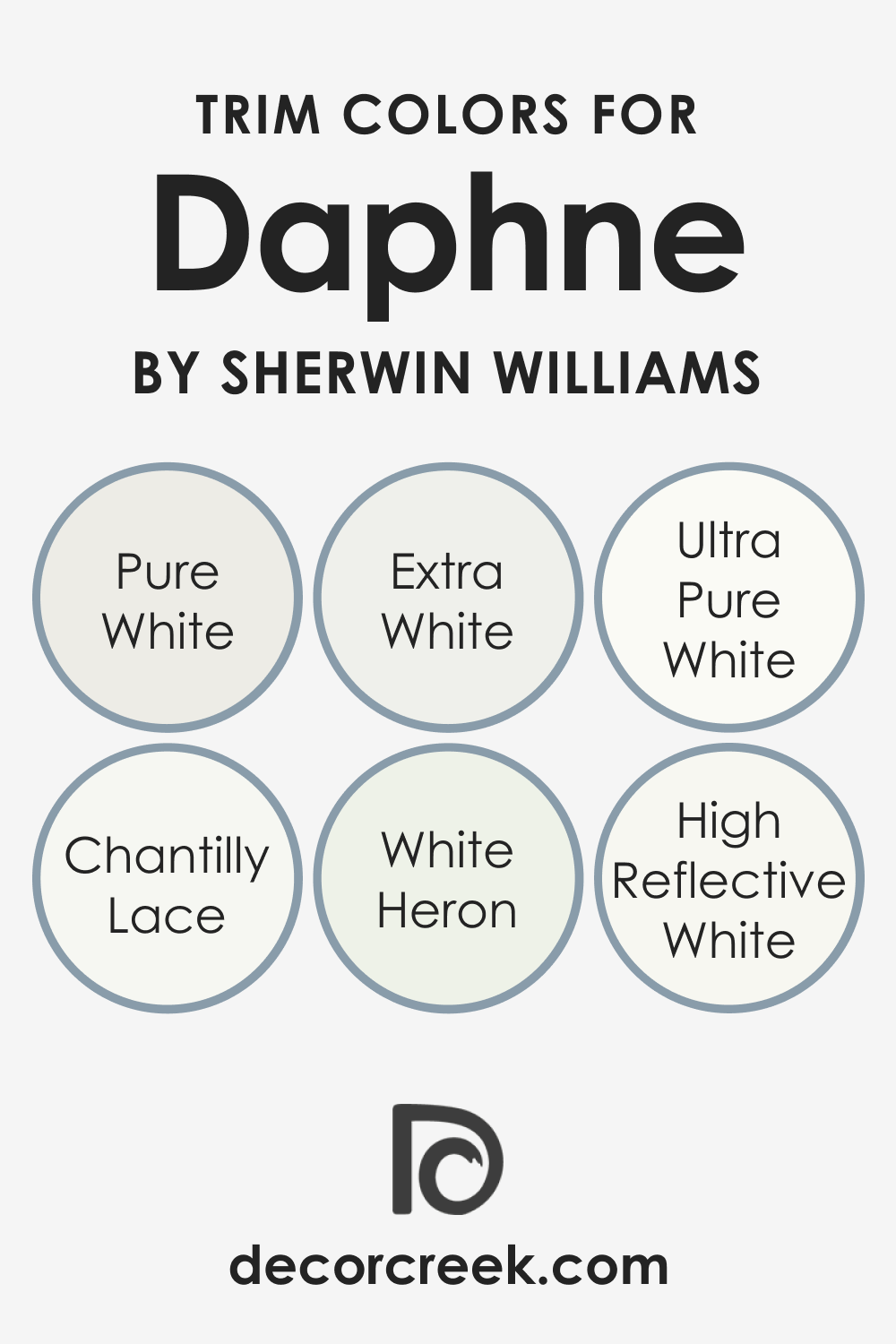 Coordinating Colors of Daphne SW-9151
Coordinating colors allow you to create a balanced and eye-pleasing color palette in your home. But they also help to highlight the best features of the wall color! However, for a common homeowner, figuring out what colors should be used to coordinate the wall color is often a mission impossible.
So here is a hint for you in case you decide to use SW Daphne paint color to refresh your interior. The following paint colors can be used as coordinating ones:
SW-6238. Icicle
SW-9166. Drift of Mist
SW-9176. Dress Blues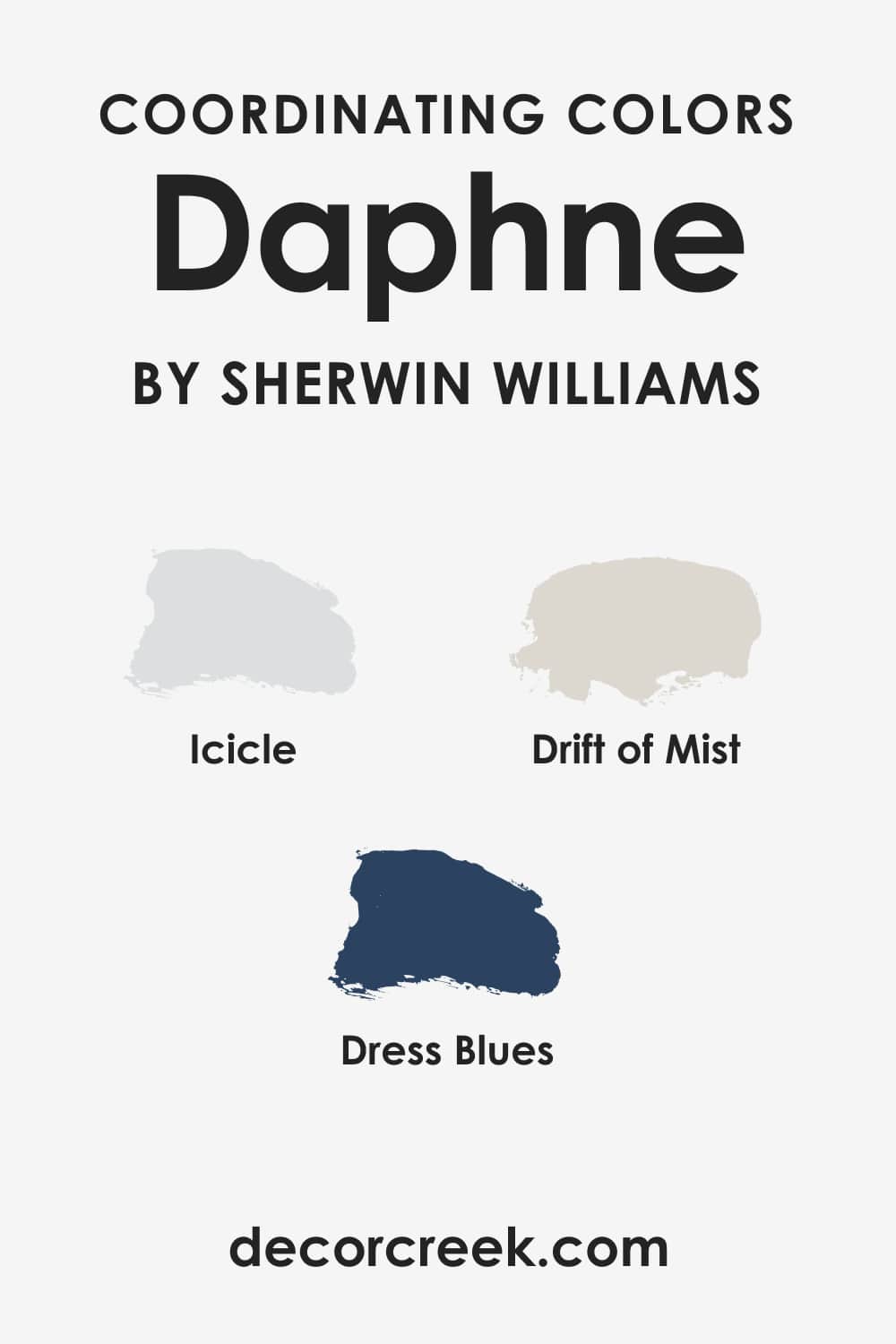 Paint Colors Similar to SW Daphne Color
Before you start painting your interior walls with the color you choose, it is good to know what similar shades of the same color can be used instead. You might need this information in case you suddenly realize the color you initially chose doesn't read the way you need on the walls.
If your wall color selection is Daphne paint color by Sherwin-Williams, the following blue-gray alternatives should be kept in mind just in case:
SW Bracing Blue
SW Storm Cloud
BM Santorini Blue
SW Bracing Blue
BM Manor Blue
BM Bachelor Blue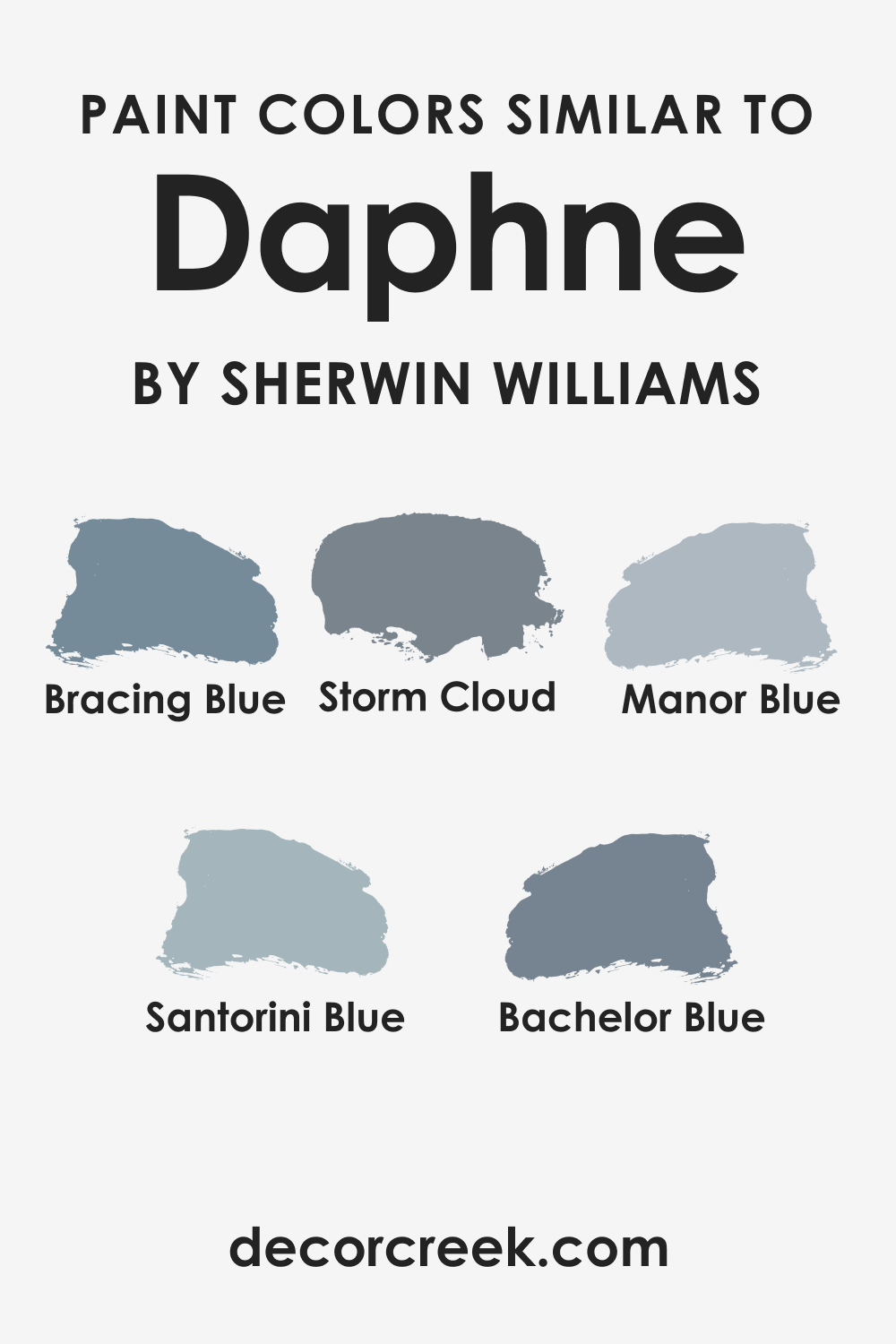 Comparing SW Daphne Color With Other Colors
To help you better see the difference between the distinct blue paint colors, we have prepared a short comparative guide. It will show you how nearly similar colors differ and what to pay attention to when choosing the paint for your walls.
Daphne vs Distance
Since both colors are "dusty" and soft, they look well together. However, SW Distance is much deeper and darker compared to SW Daphne. This feature makes these blue colors look contrasting.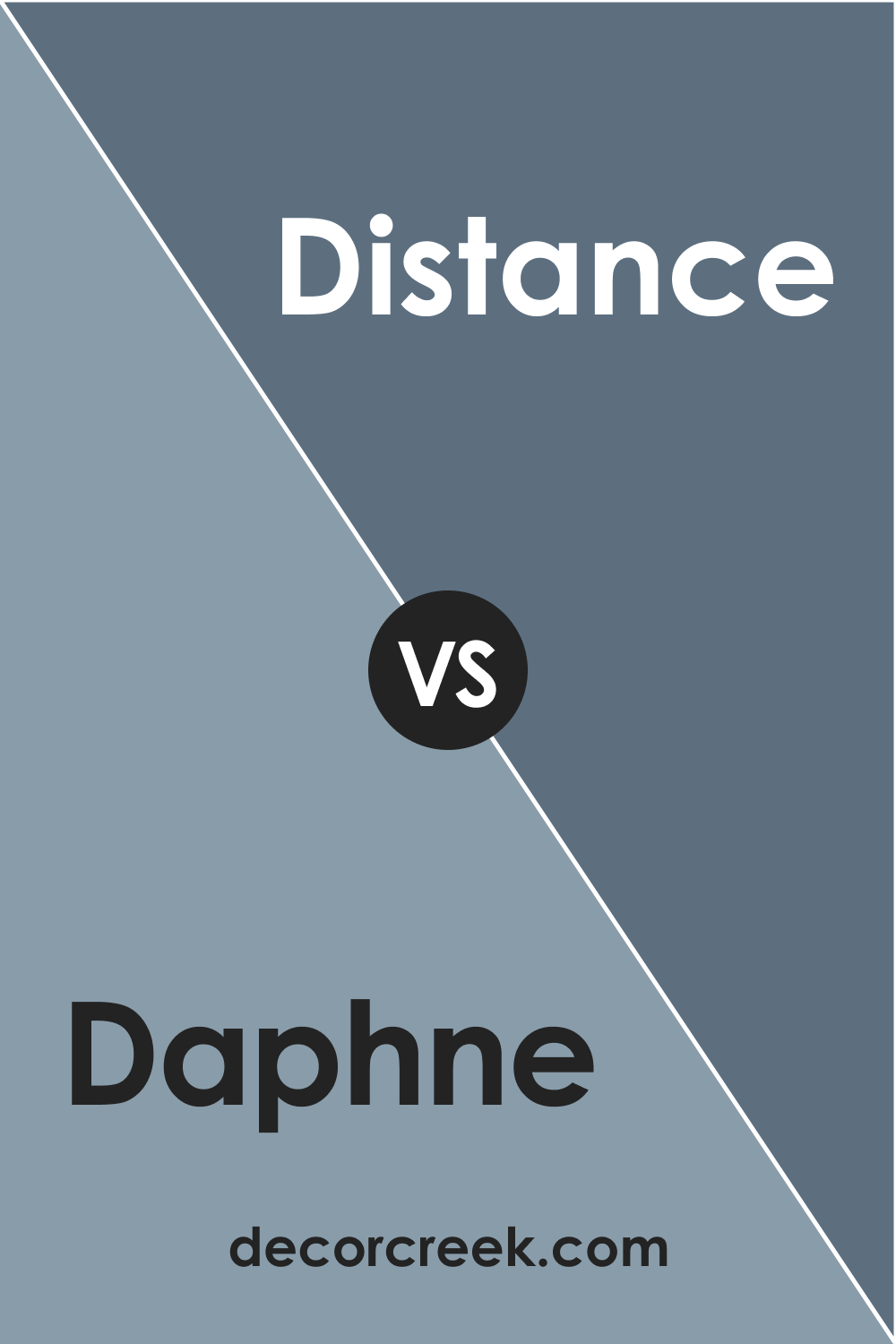 Daphne vs Indigo Batik
The Indigo Batik paint color is much darker than SW Daphne! Also, the Indigo Batik blue color has significant navy undertones whilst SW Daphne shows more grayish undertones.
Nevertheless, since both colors are soft, they read surprisingly well together. Just make sure you also have some white to make the space read lighter.
Daphne vs Aleutian
Both colors are blue with gray undertones. Also, both are soft. These common features make SW Daphne and SW Aleutian the related colors.
However, they will not work well in the same room since both colors are nearly the same light (SW Aleutian is slightly darker than SW Daphne). There will be simply no difference and contrast seen!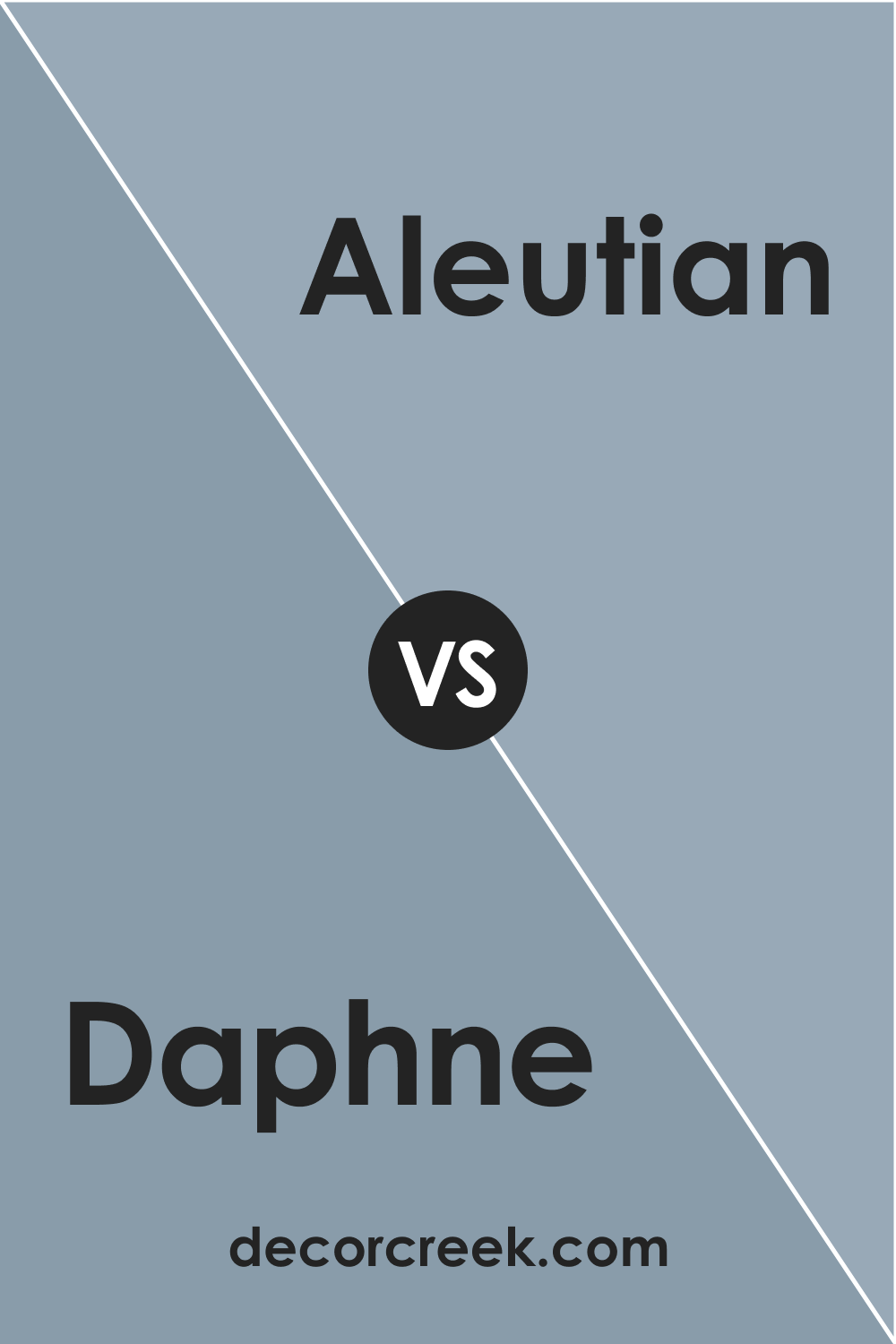 Daphne vs Upward
The SW Upward color is much lighter than SW Daphne. Although the Upward paint color has denim and gray undertones (just like the Daphne color has), it reads much airier and cool-toned. It might not be a good option to use together with SW Daphne, but it could be an excellent color selection if you are looking for a much lighter alternative.
Now you know more about the blue-gray colors and the Daphne paint color by Sherwin-Williams in particular. You learned about its undertones and LRV, figured out what trim colors should be used with it, and you are also aware of the colors to coordinate with it.
Now let's see how this lovely and soft denim blue will read in different rooms of your home.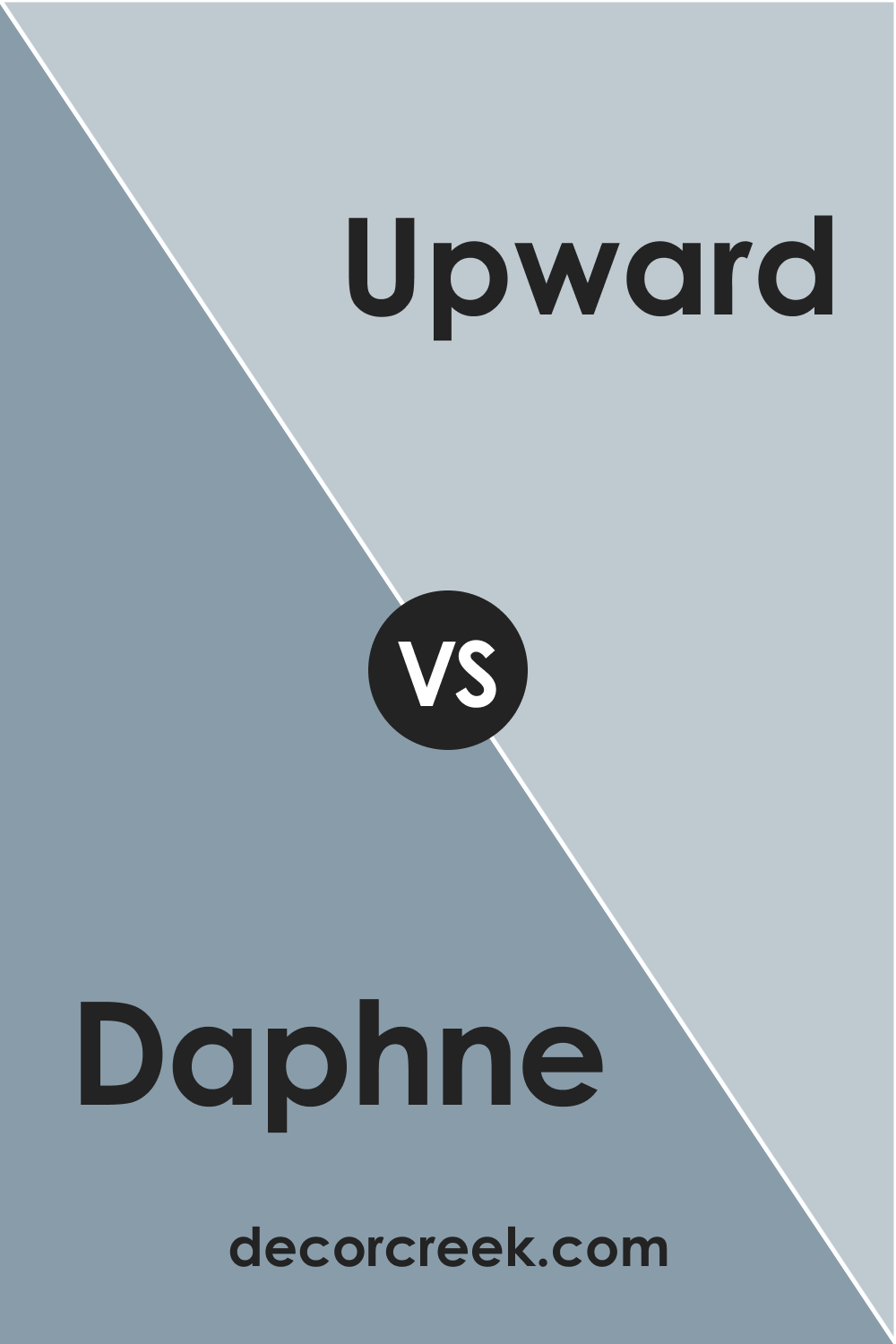 Where to Use SW Daphne Paint In Your Home?
Blue colors are pretty tricky when it comes to using them in your home. Most of them come with complex undertones, which makes the use of the color complicated.
To help you out with that issue, grab a brief explanation of how SW Daphne blue color will read in different rooms of your home. Like that, you will avoid the most common mistakes.
Living Room with Daphne SW-9151 Paint Color
For living rooms, this soft and neutral denim blue can be a lovely color selection if the room is airy and spacious, with plenty of natural light. Also, it is essential that other colors in your living room match this blue well.
Avoid using too vivid or bold colors in a room with SW Daphne color on the walls, and try not to use this color in small and poorly lit rooms, and everything will be fine!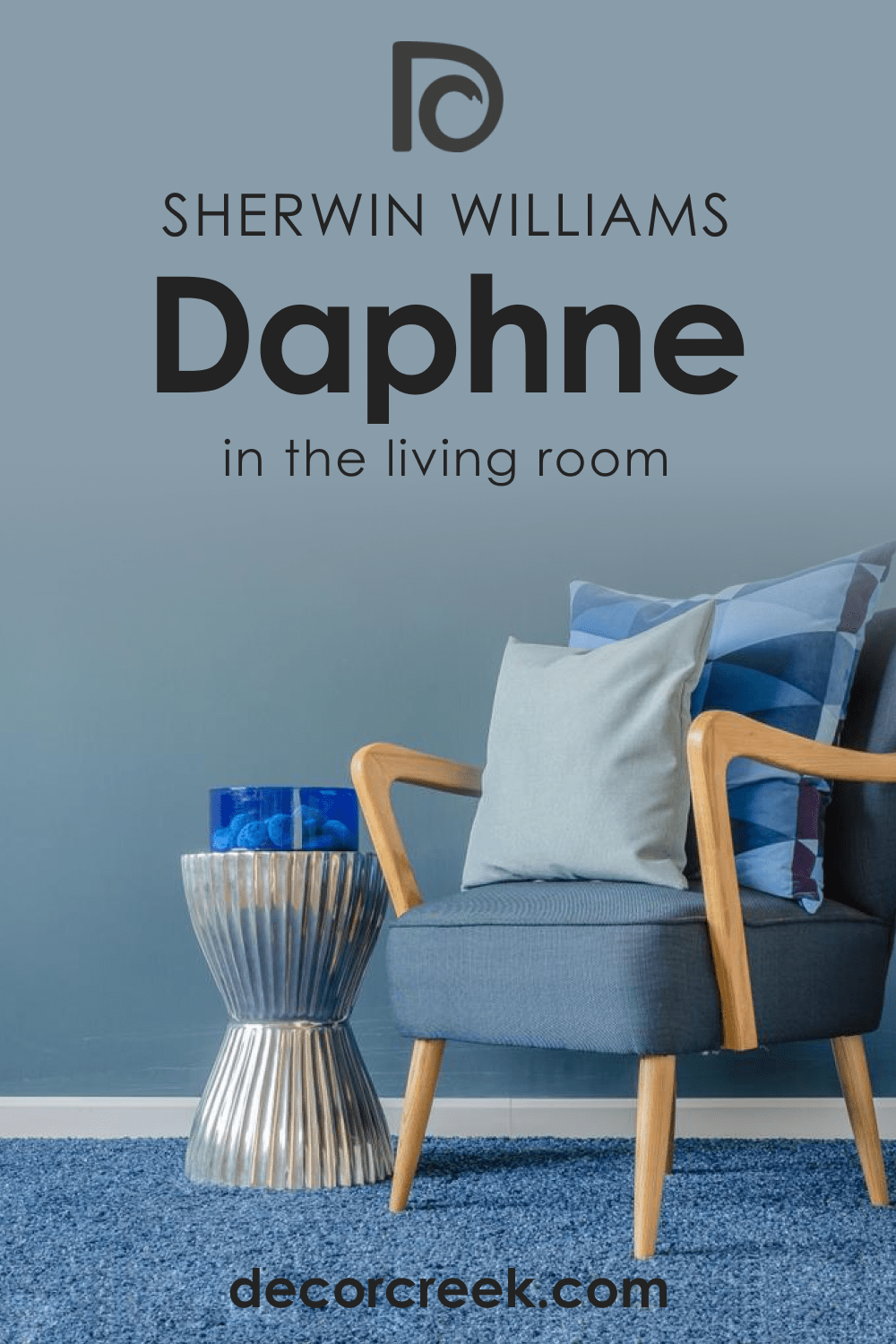 Daphne SW-9151 in the Bedroom
Your bedroom is the optimal place to use this soft and calming blue color. Like any blue, SW Daphne color creates a calm and relaxing vibe being perfect for a bedroom.
This blue-gray will be an excellent choice for your bedroom walls because it has a bit of color while staying on the neutral side. This is an ideal solution for a bedroom paint color since you don't want your bedroom walls to be overly colorful or vibrant!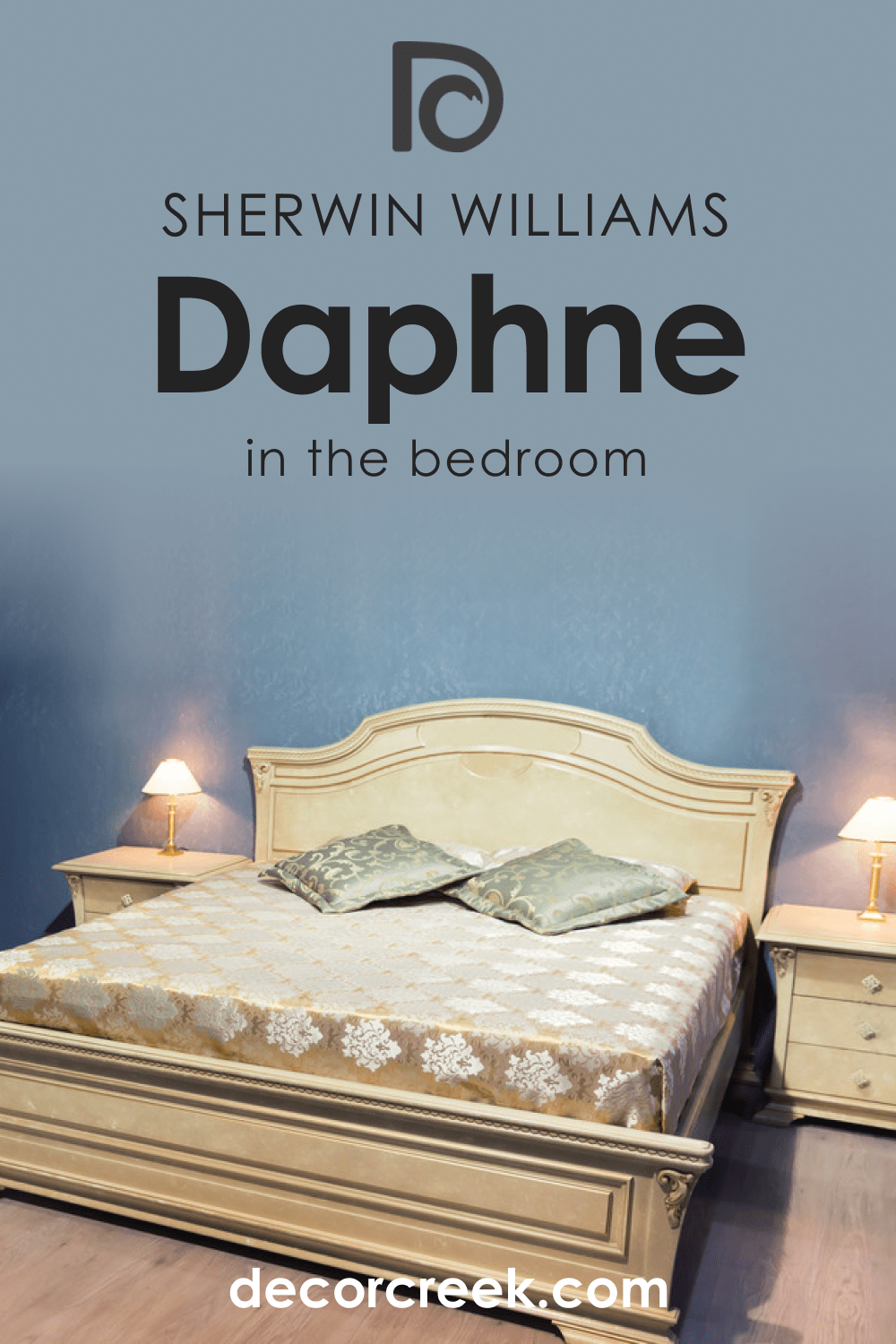 Bathroom with Daphne SW-9151 Paint Color
Your bathroom is another room where SW Daphne color will be suitable. It will help you to create a serene and relaxing atmosphere since this denim, and soft blue is a color that is peaceful and calming. Just make sure you use it in a bathroom that is large enough. Otherwise, the color will "eat" the space, making the room look smaller.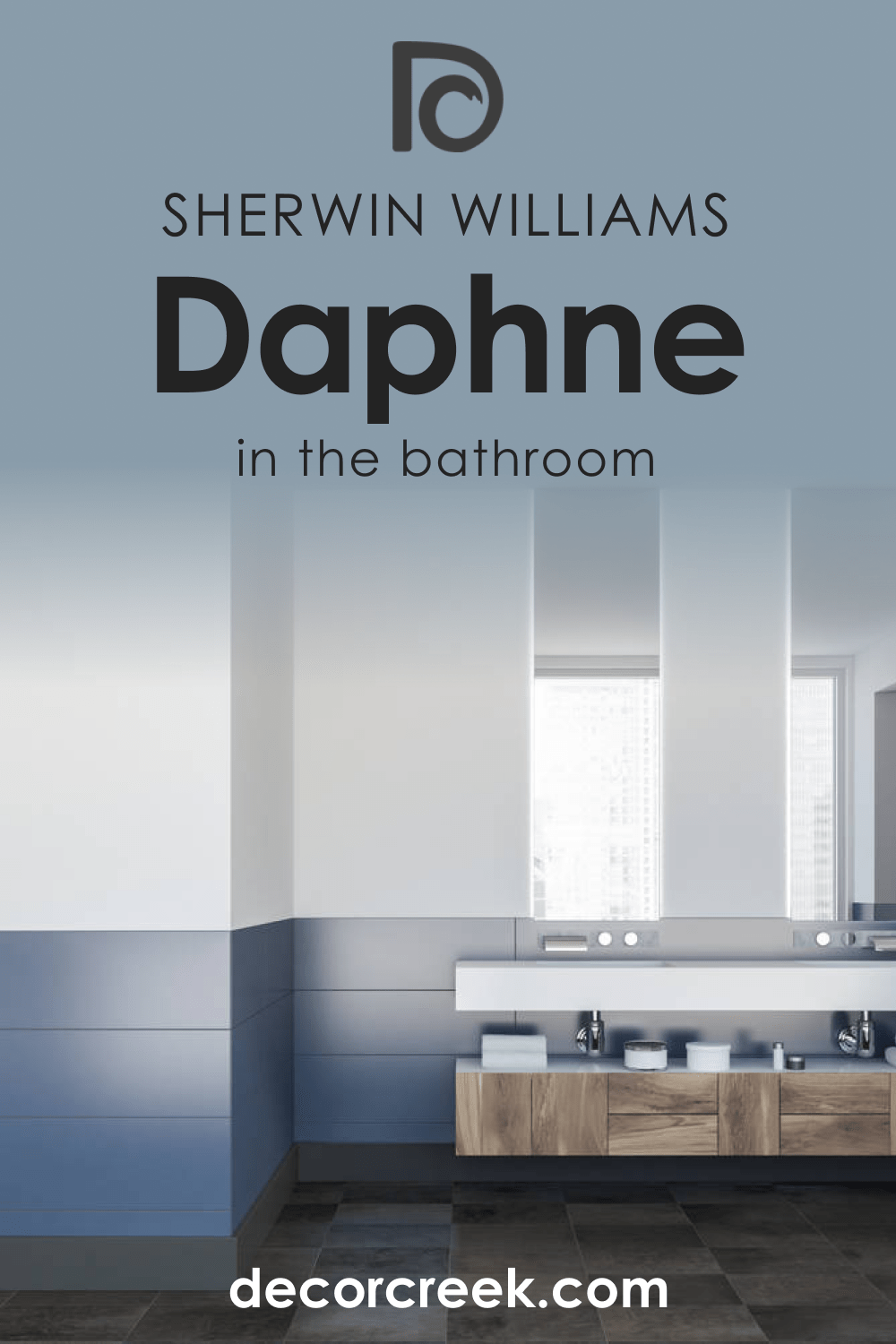 Kitchen and Daphne SW-9151
Blue might not be the top color option for kitchens, but if your kitchen is big enough and is well-lit, you can try SW Daphne in it.
Since this color is balanced, being neither too gray nor too blue, it will allow you to stay on the safe side. Better yet, add a pop of blue as an accent wall or on your cabinets.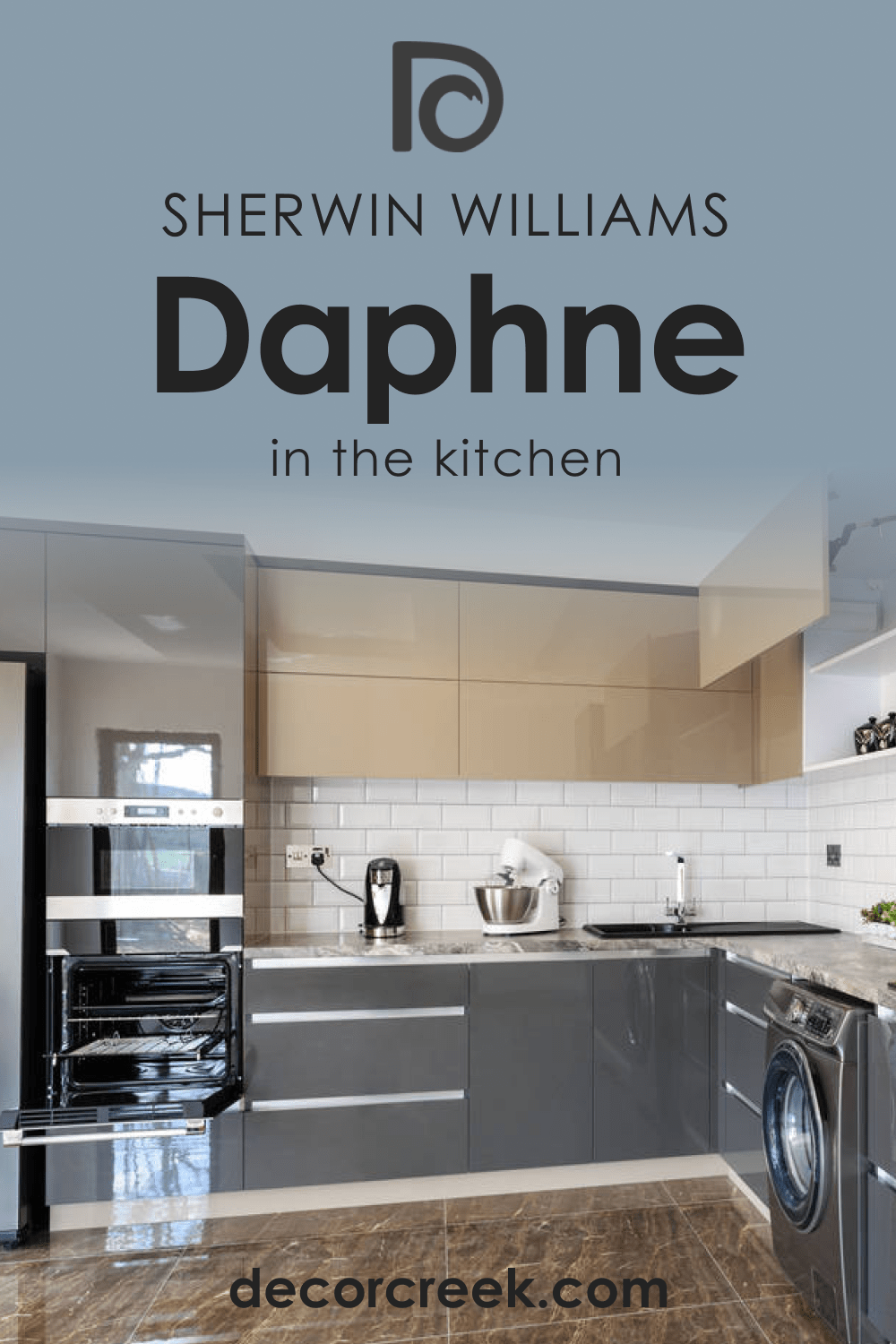 Daphne SW-9151 for the Exterior Use
This color can work really well on exterior walls, especially with the white trim! However, note that this blue-gray color will read much better on the walls of a house that is located at the seaside or in a similar area. For urban areas or the countryside, blue might not be the best option.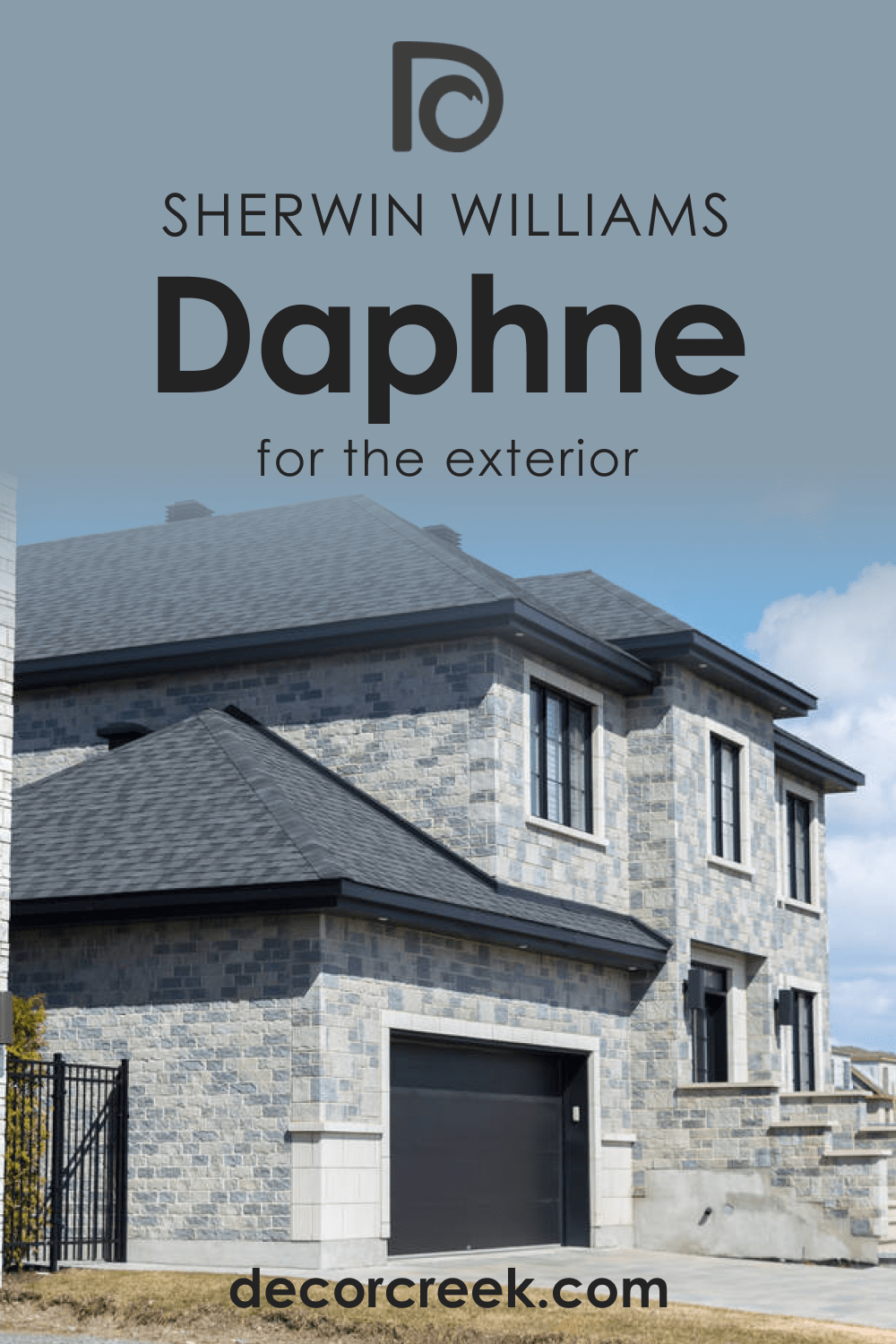 Well, this is what you should know about the Daphne paint color to use it correctly and smartly. Now you know what colors it will work with, what white colors are best to be used on the trim, and what coordinating colors this denim blue has.
Also, you are now aware of the most suitable places in your home where this soft and neutral blue will work perfectly well.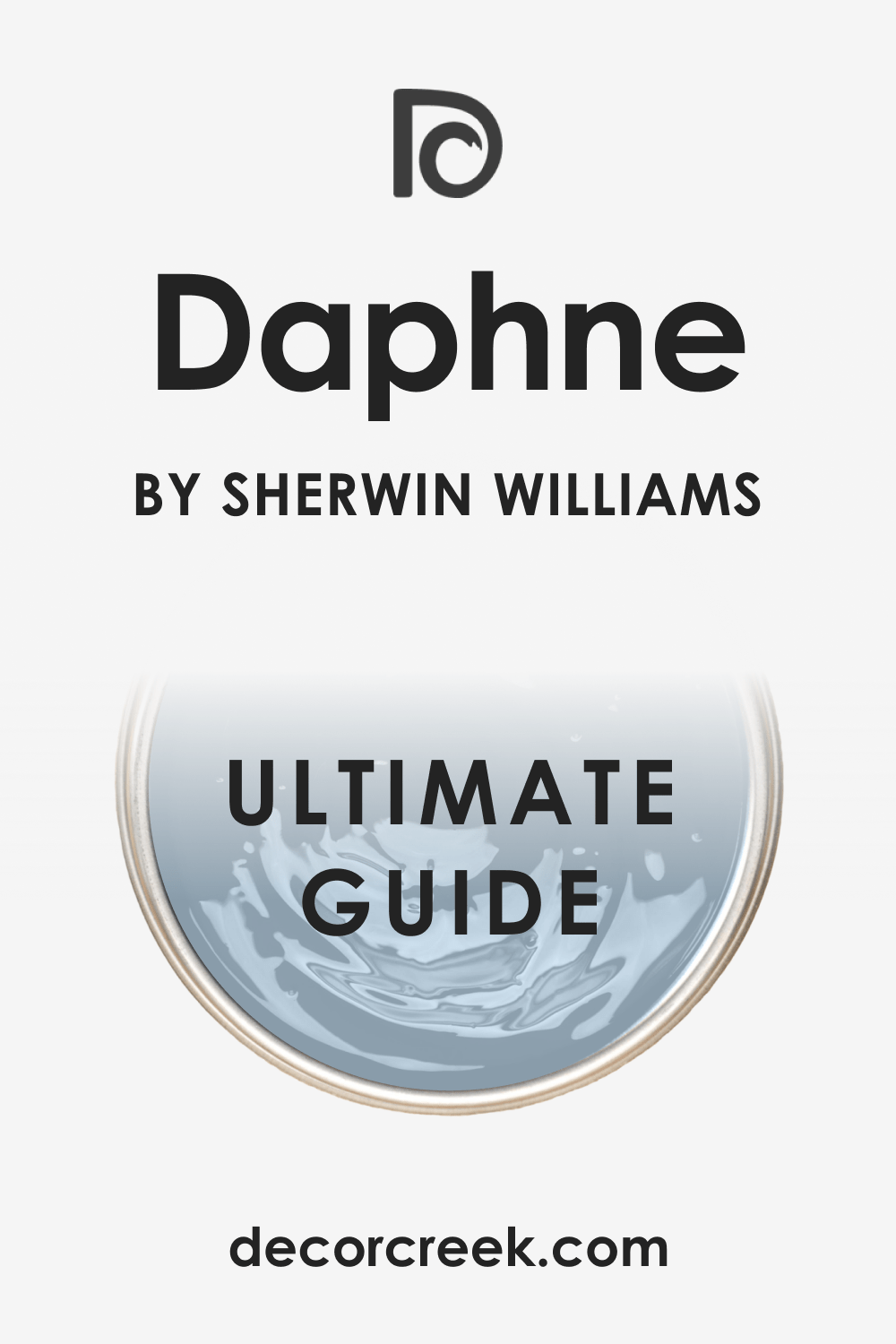 Frequently Asked Questions
⭐Is SW Daphne a cool-toned color?
This blue is a mid-toned color. It combines both warm and cool tones in it, being perfectly neutral and balanced.
⭐Is this blue color suitable for a nursery?
Yes, SW Daphne is a good color to use in a nursery thanks to its soft and calming nature.
⭐Can I paint cabinets with SW Daphne?
Yes, this color is good for cabinets, especially in a white room.