You may think that blue is a simple color. However, this is not entirely true. Many shades of blue read differently on the walls, depending on how the surface and the room are lit and what colors are around them. This is why we recommend you learn more about the color you will use in your home!
Today, we will tell you about one of such shades of blue. It is called Daydream, and it is one of the best and calmest blue colors of the Sherwin-Williams brand. You will learn what kind of blue it is, what undertones it has, and what peculiarities this color comes with.
Also, we will explain how to use it and what colors will coordinate it so that you can make the most out of it.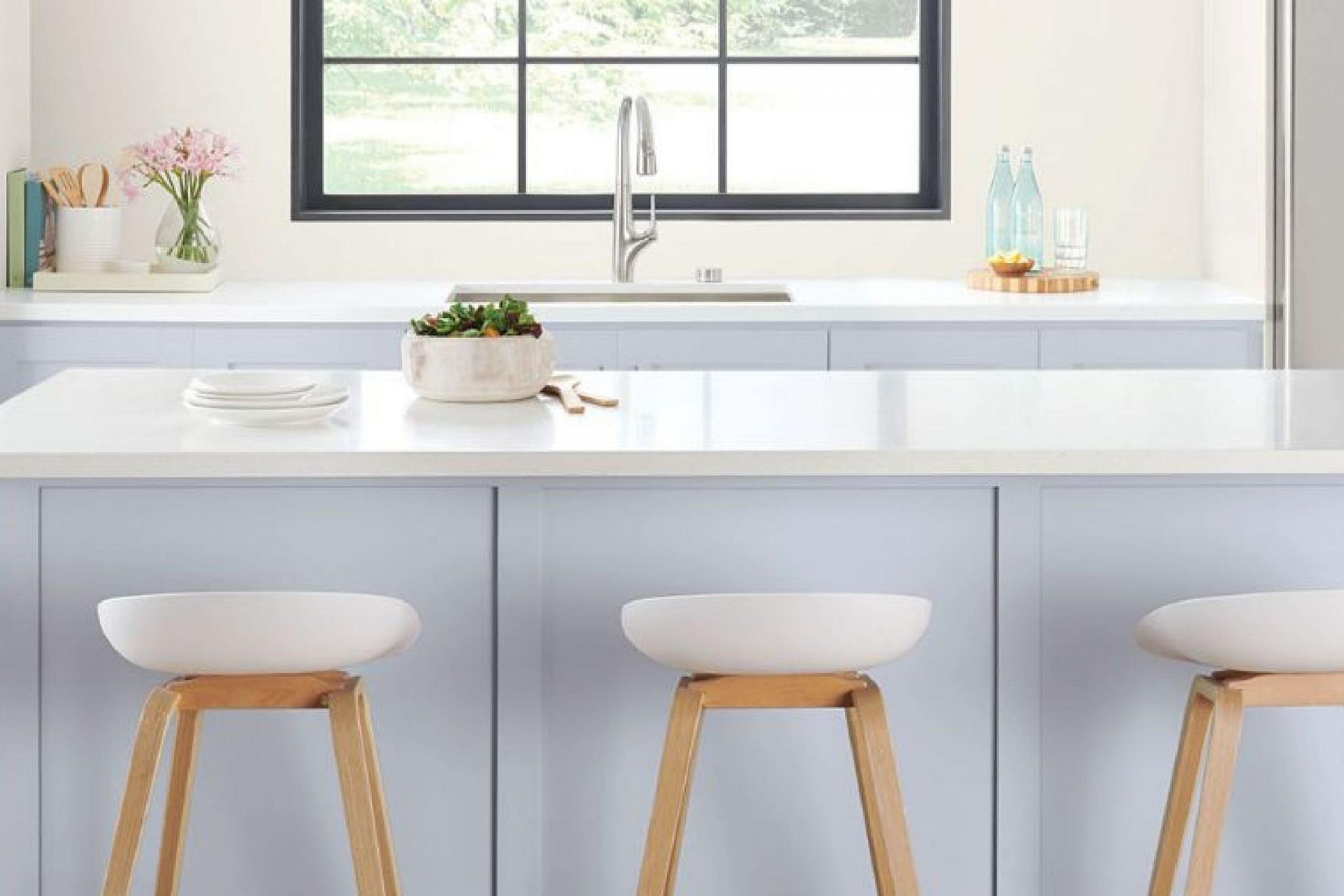 What Kind of Color Is SW-6541 Daydream?
When you look at this color on a color swatch or the wall, you see it as a calm and balanced blue. However, SW Daydream is way tricker! See, technically, this color is considered a mid-tone violet! As Encycolorpedia says, you should not expect to see pronounced violet tones.
In real life, this paint color reads a calm and moderately light blue with noticeable violet undertones. In some types of light, this violet hue may appear more visible. The color is well-balanced in tone, which is why it will add a tranquil and harmonizing vibe to the room where you use it.
Because of this feature, it is recommended to use SW Daydream in meditation rooms, bedrooms, and bathrooms since those are the places where we can typically relax. This delicate blue will make the space read gentle and airy.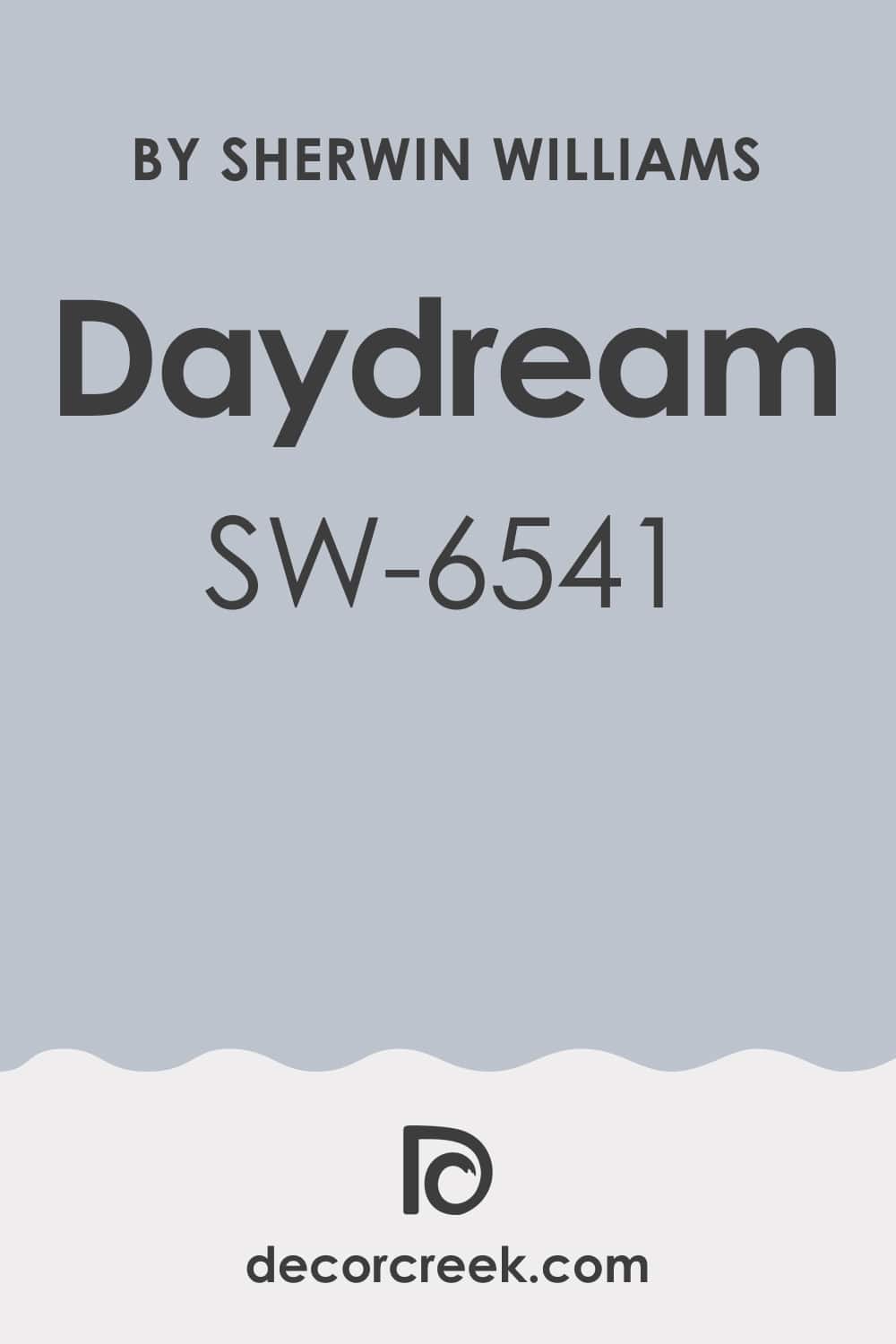 SW-6541 Daydream Undertones
SW Daydream has violet undertones, and they are pronounced enough. Even if you take a look at this paint color on a color swatch, you will quickly notice them. This is why you should keep in mind that this violet hue will come through when the color is already used on the wall or another surface.
Also, note that, When SW Daydream paint is used with certain colors, it may reveal its violet nature more prominently. For example, violet undertones will become more clearly seen if you pair this color with colors that have pink or purple undertones.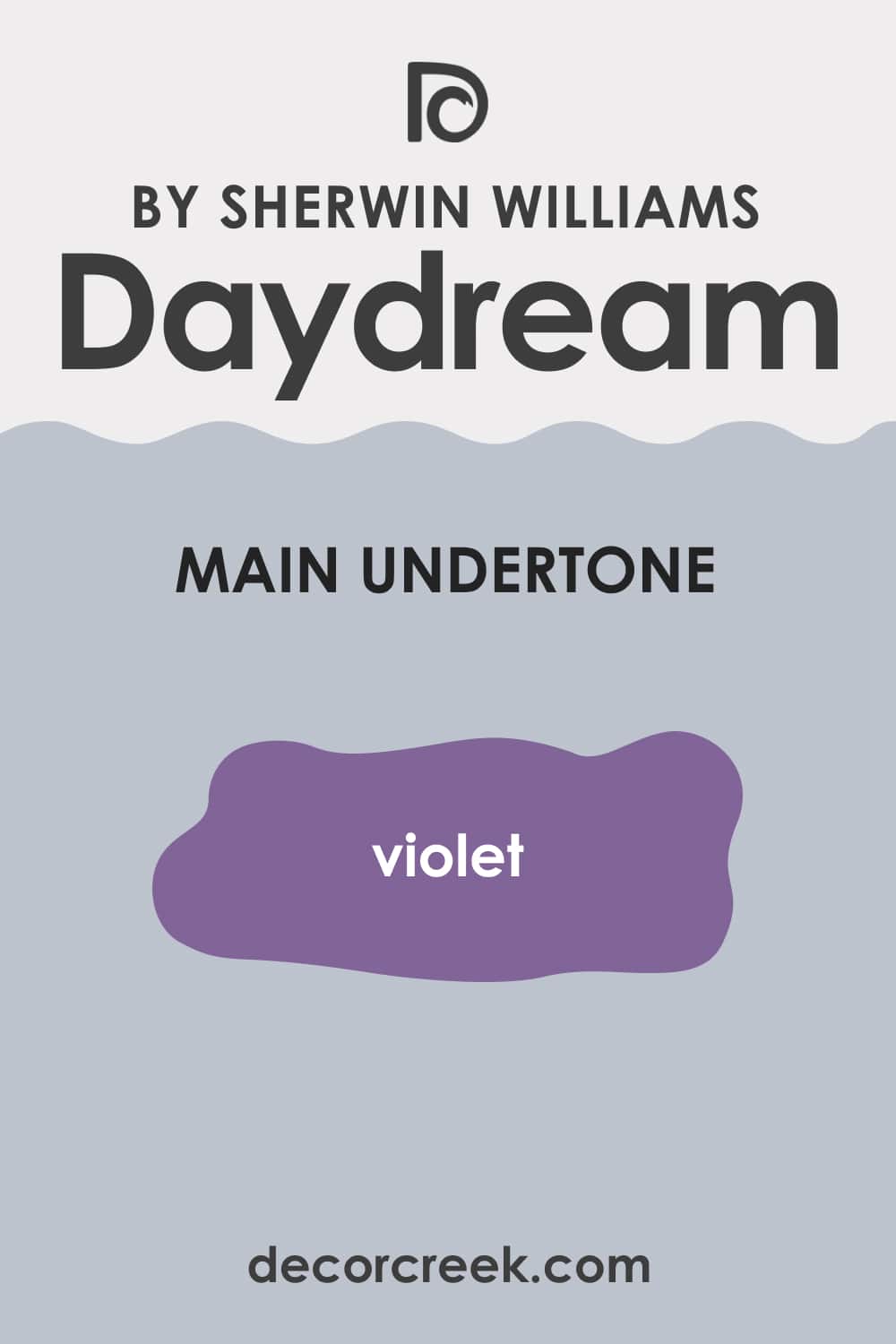 LRV of Daydream SW-6541
First of all, let us remind you of what LRV is. LRV is Light Reflective Value. This is the measurement of how much light a color reflects around when it is applied to the wall. LRV is measured with a scale of 0 to 100, with 0 being pure black and 100 being pure white.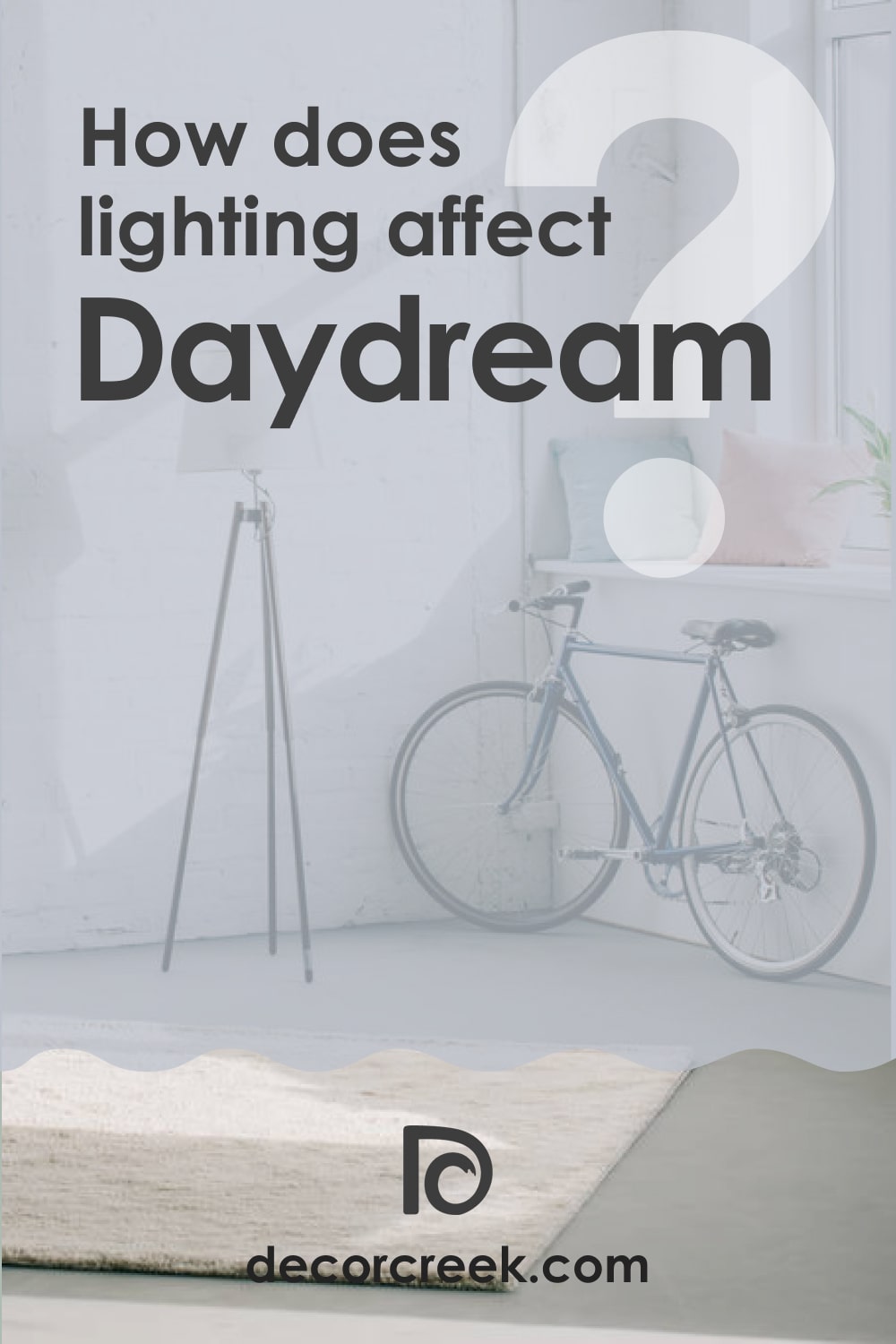 Speaking of SW Daydream, this blue-violet color has an LRV of 55, which makes it a perfectly mid-toned paint color that reads neither dark nor light. Also, since its light reflectance value is almost right in the middle of the scale, this color will reflect a moderate amount of light.
Because of this, it might not be the best color option for rooms you want to make visually larger.
Except for this nuance, this shade of blue will look awesome in your home! Due to its moderate depth, it will not read too flat, and since the color is balanced in tone, you should not expect it to seem cold.
The SW Daydream color can read a bit more violet if you pair it with warmer light, for example, in south-facing rooms or rooms lit with yellow light bulbs.
LRV – what does it mean? Read This Before Finding Your Perfect Paint Color
Colors That Go With SW-6541 Daydream
To create a well-looking color palette in your home where all the colors are balanced in tone and work together, you should know what colors look well with the wall paint color and what colors you should avoid by all means. Otherwise, if you use the wrong colors that don't match each other, your home will look imbalanced.
If you have SW Daydream paint color on your walls, we recommend you use the following colors in the same space:
SW Extra White
SW Tricorn Black
SW Rocky River
SW Sashay Sand
SW Sensuous Gray
SW Dried Thyme
SW Wool Skein
SW Urban Jungle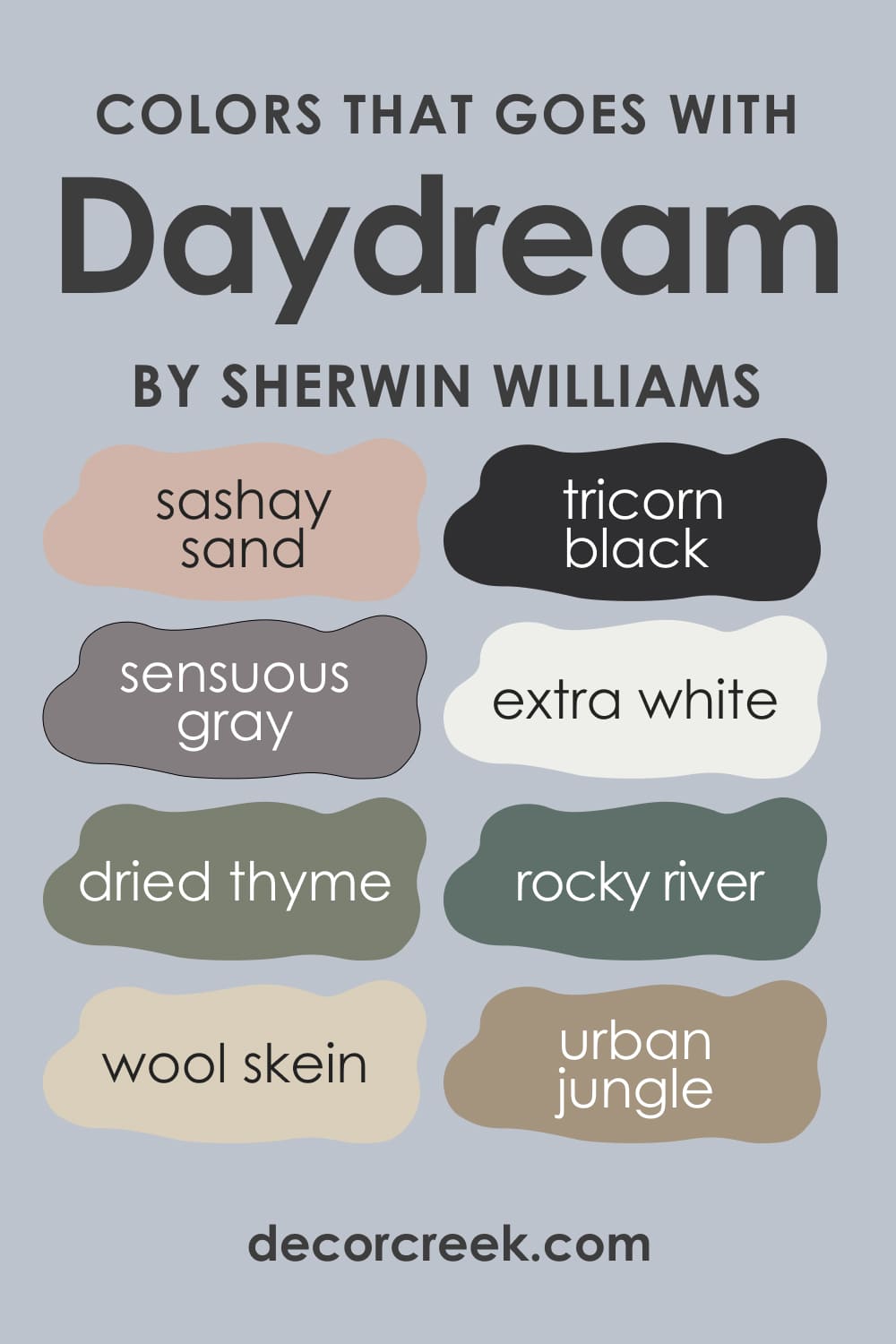 Coordinating Colors of Daydream SW-6541
When you know what colors coordinate the wall color better, you can create a balanced and varied color palette in any room of your home with almost no effort! However, we mostly find it difficult to pick the right colors due to the lack of knowledge of color theory.
To help you out a bit, we have collected a few color ideas that will coordinate SW Daydream perfectly well:
SW Spatial White
SW Perfect Periwinkle
SW Original White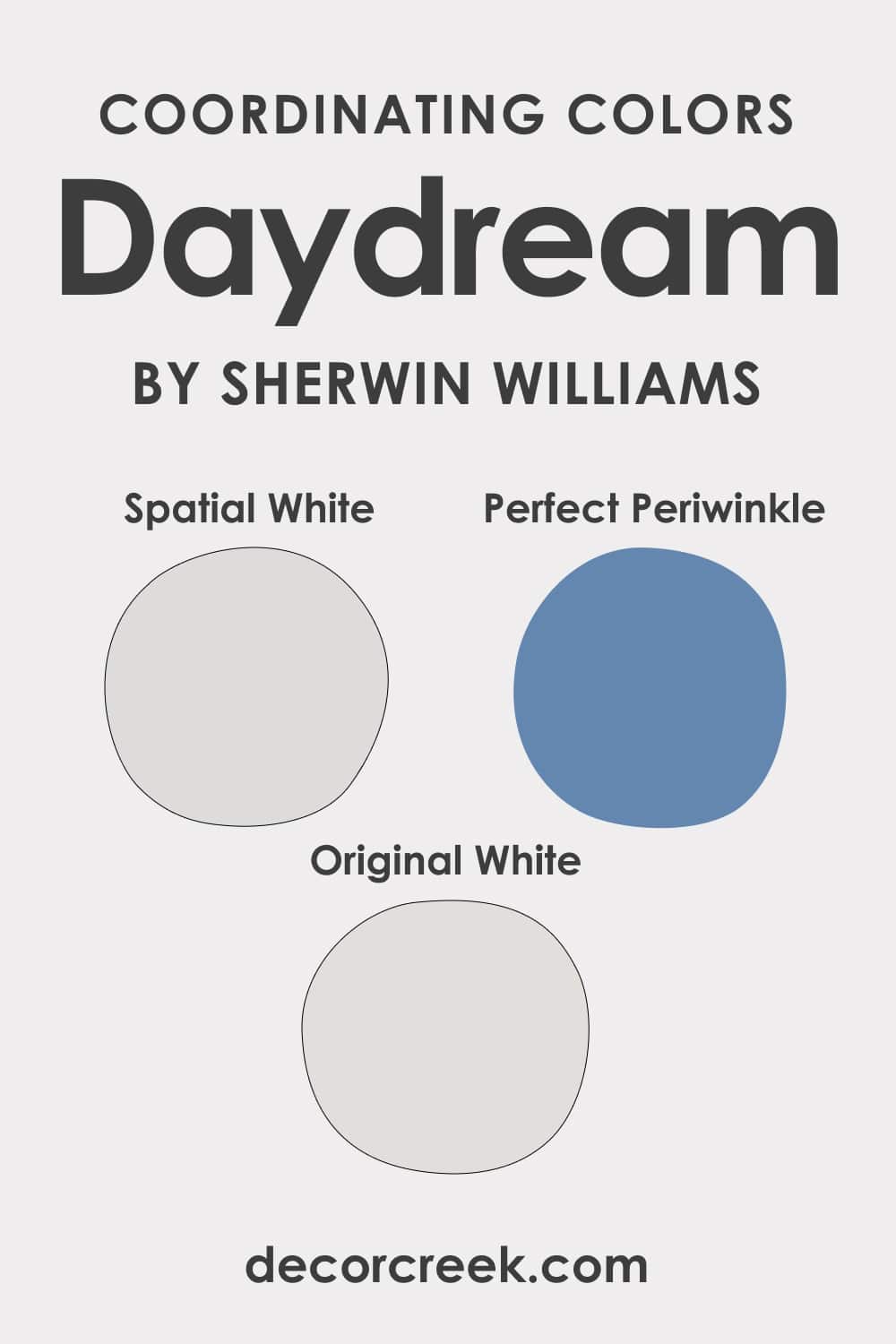 What Is the Best Trim Color For SW-6541 Daydream?
White is a traditional trim color because it is versatile and works with most colors. However, it is essential to pick the right shade and tone of white to pair it with the wall color. For SW Daydream color, the following whites can be used as trim colors:
SW Extra White
SW Pure White
SW Chantilly Lace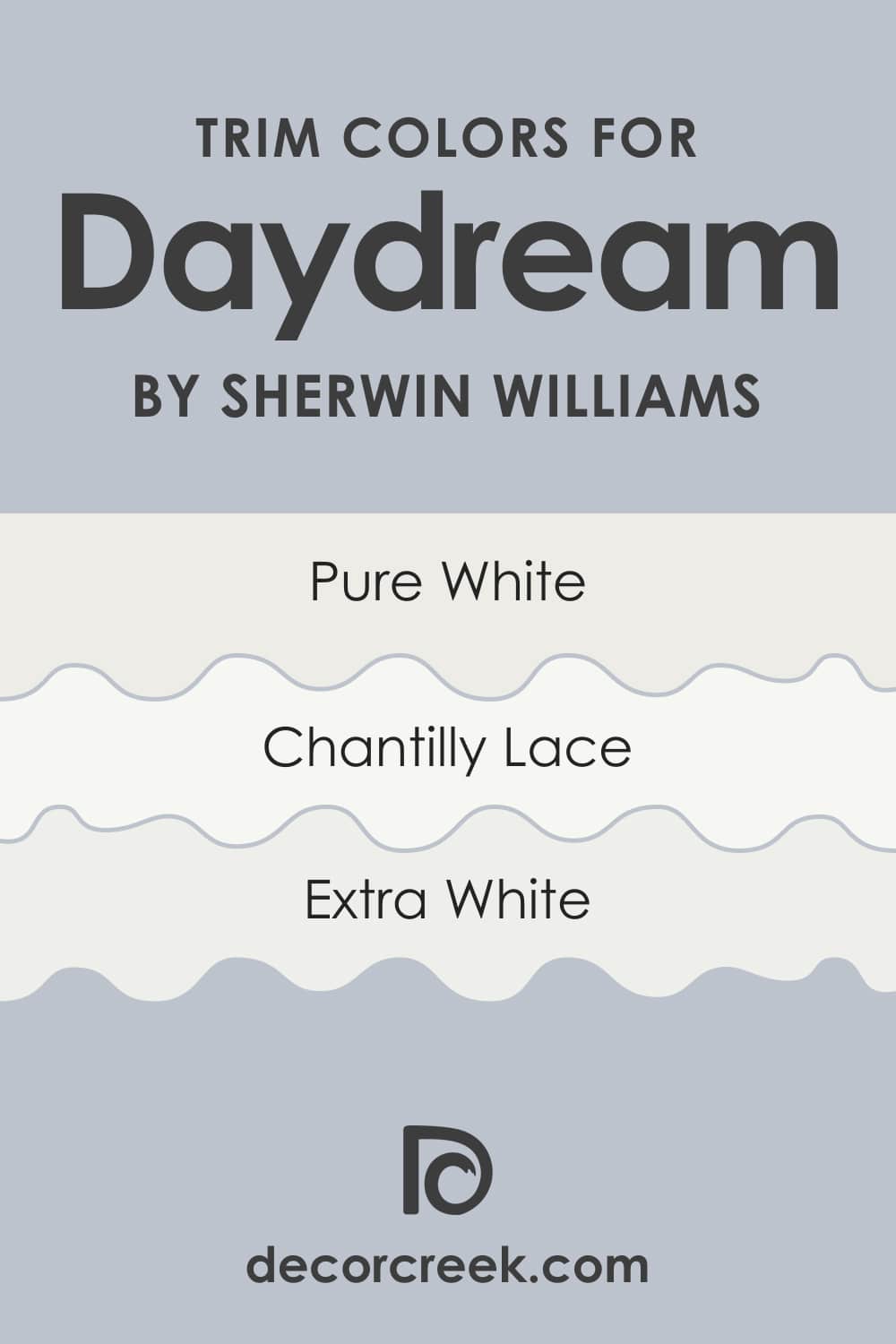 Similar Colors Daydream SW-6541 Paint Color
Why would you need to have at least a couple of alternative colors on your mind when you start a home painting project? It's because you may find that the color you were initially going to use on your walls doesn't match the rest of the palette well enough.
Maybe, you realize that the color reads lighter or darker than you need. Or you may find out it doesn't work well with other colors (e.g., the color of the upholstery or ceiling/floors). In this case, substitute colors will become handy.
For SW Daydream, these shades of blue would be the closest alternatives: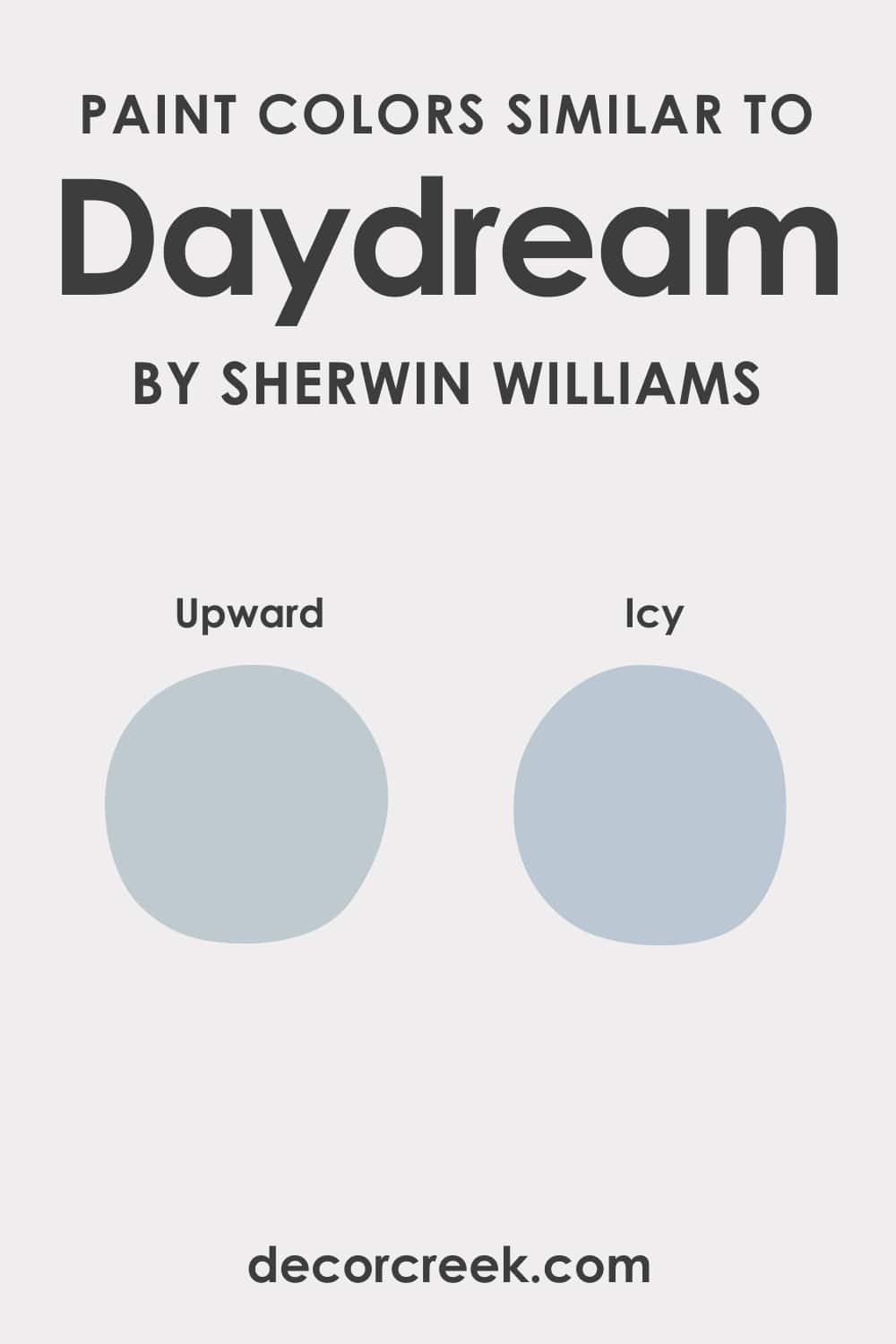 Comparing SW-6541 Daydream With Other Colors
We recommend comparing colors when you are in the color selection process. Each color has plenty of shades, but some may look very similar! This is why it is crucially important to see the distinctions in tone to decide which color will work best for your home.
Below, you can read what makes SW Daydream paint color different from several similar colors.
Daydream vs. Upward
SW Daydream shows its violet undertones prominently, whilst its counterpart looks muted and somewhat bluer. Also, SW Upward reveals a slightly grayish hue that SW Daydream doesn't have.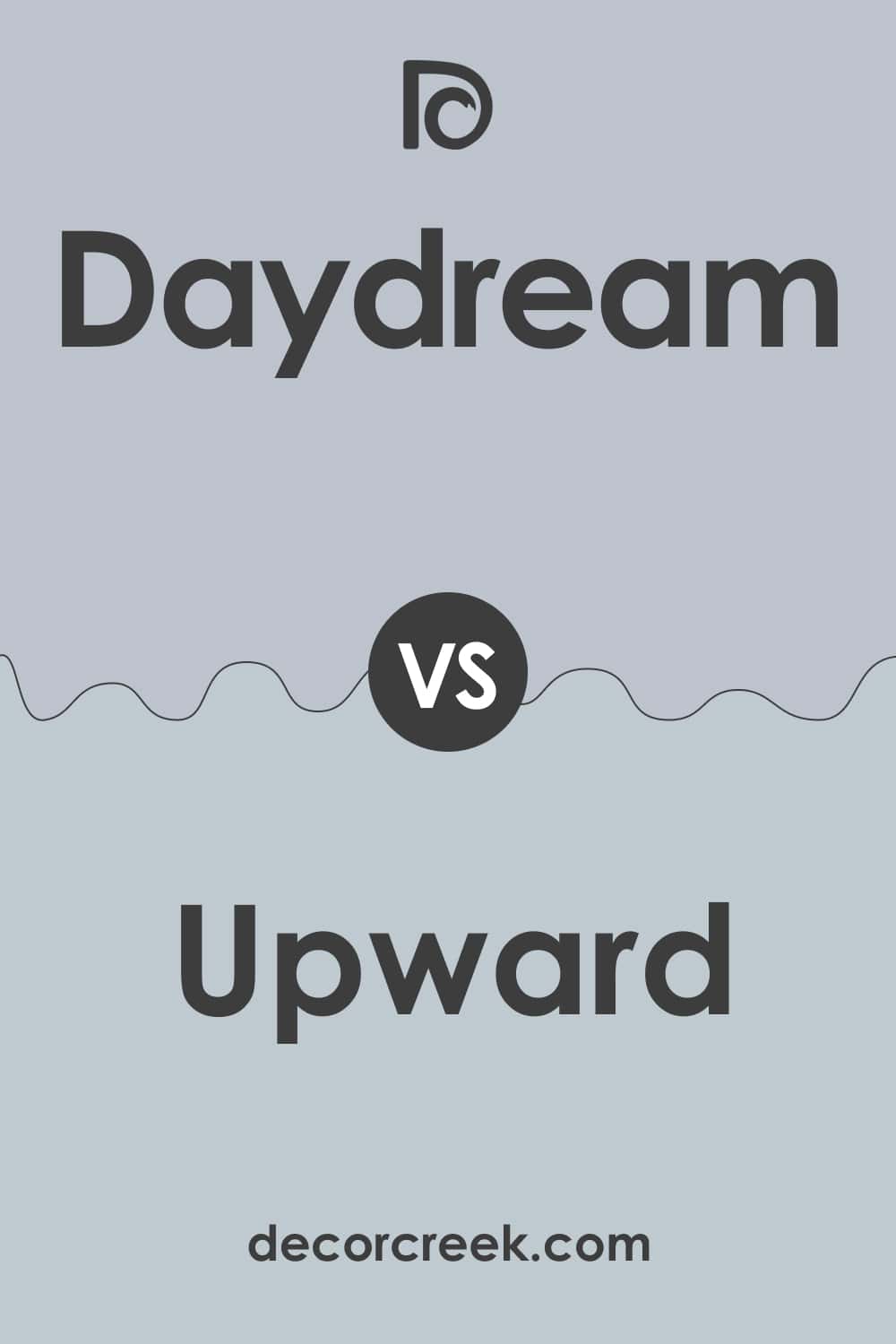 Daydream vs. Sea Serpent
SW Sea Serpent is much darker than SW Daydream. This paint color is dark navy blue with green undertones. Not the best color to use with SW Daydream in tandem because the Sea Serpent color reads heavier and moody. Besides, their undertones differ a lot.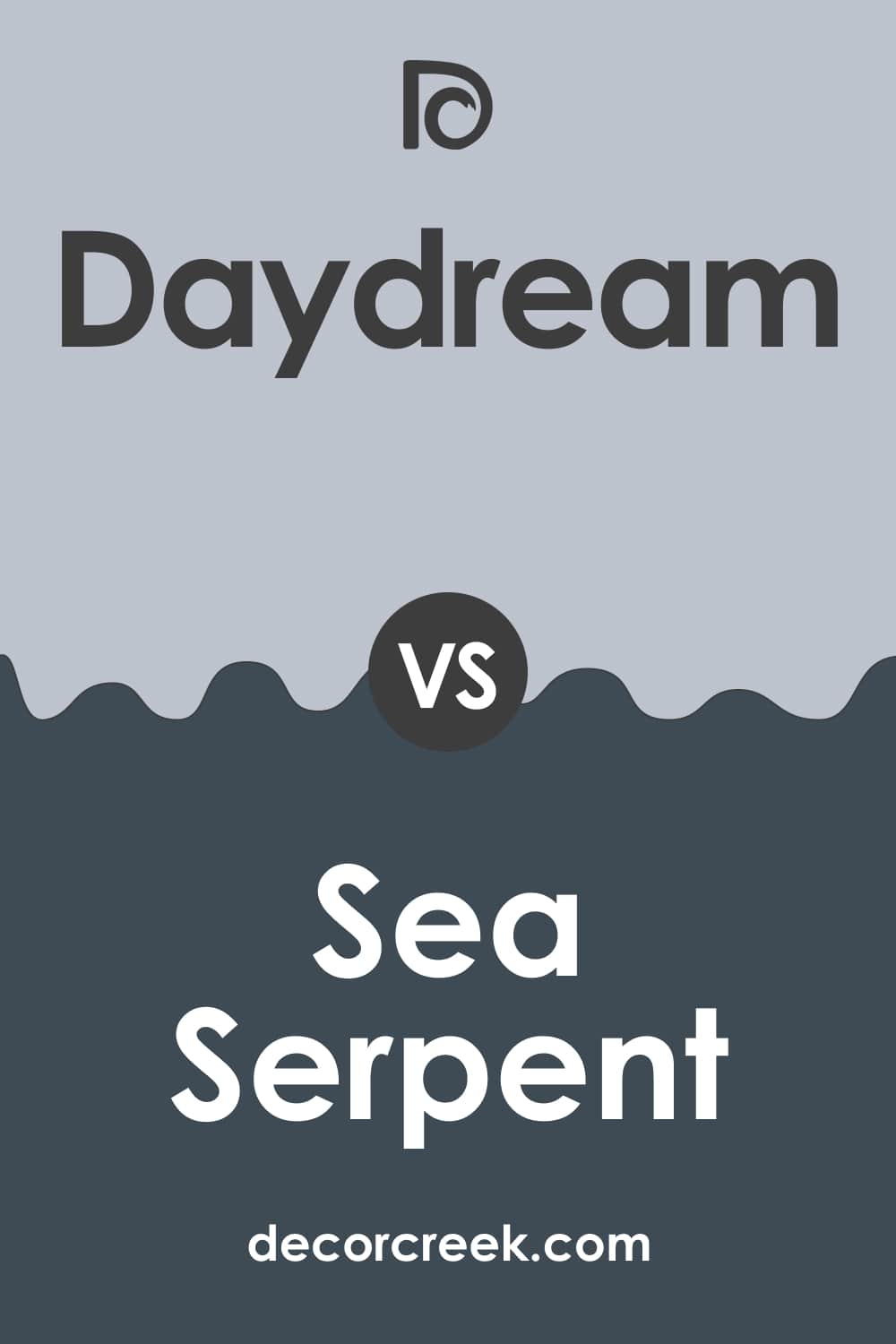 Daydream vs. Rain
SW Rain reads noticeably greener compared to SW Daydream, all because of the green and gray undertones this cool neutral has. Although both colors create a refreshing and calming vibe in a room, they won't look well together.
Daydream vs. Delft
SW Delft looks like a darker version of the Rain color. It also has green and gray undertones, but here they are more pronounced, making this color read deeper. However, if you try to pair it with SW Daydream, you will see that the violet undertone doesn't match the green ones well enough.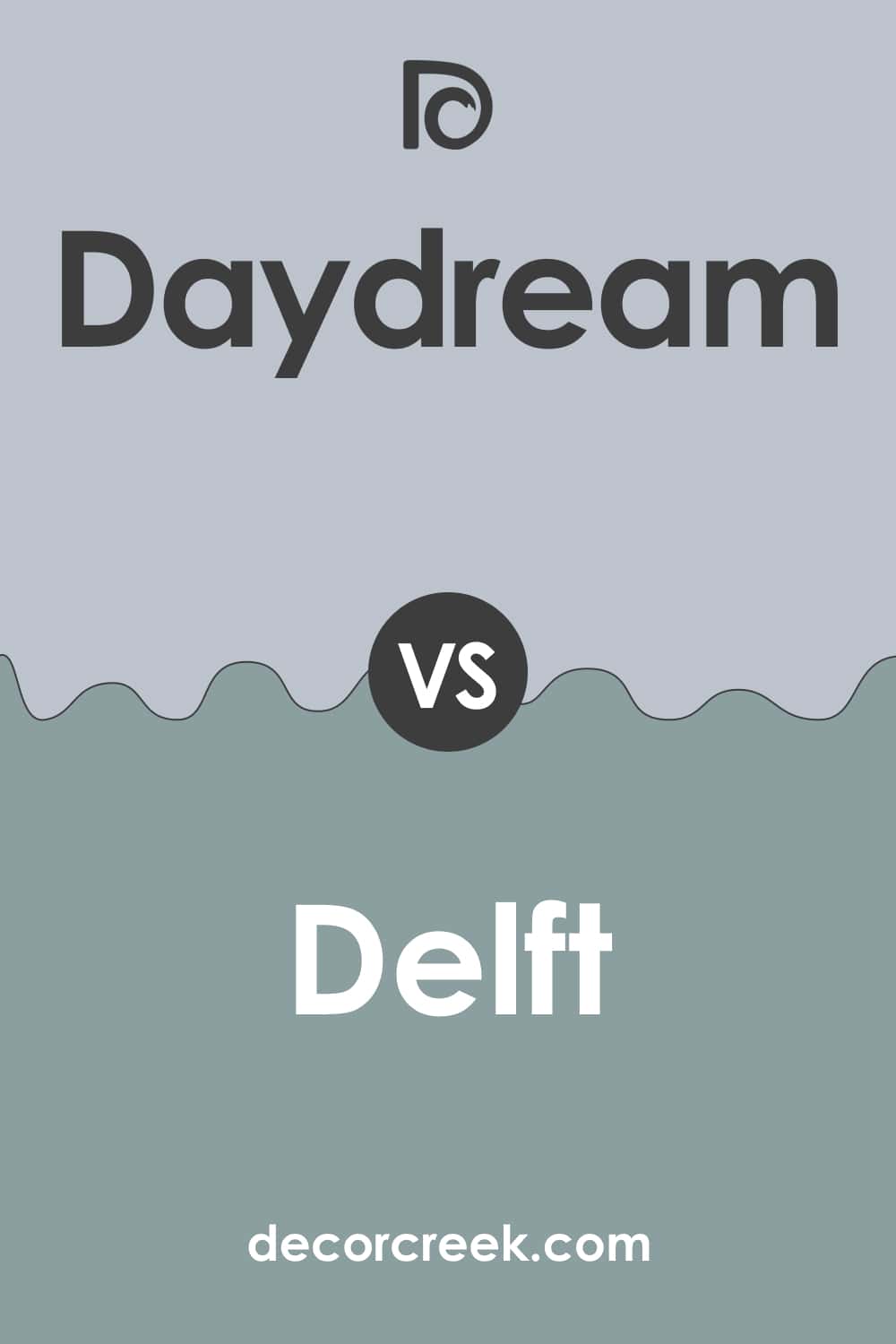 Where to Use This Daydream SW-6541 In Your Home?
To use this blue color correctly, you should know how it may work in different rooms of your home. Below, you can read how SW Daydream color may look in different rooms and spaces of a house or apartment.
Daydream SW-6541 in the Living Room
This color could be a nice option for the living room, but only if the room is spacious and well-lit. In this case, this blue will add a refreshing note to the space. But in a smaller and poorly lit space, it will look dull and can even make the room seem smaller!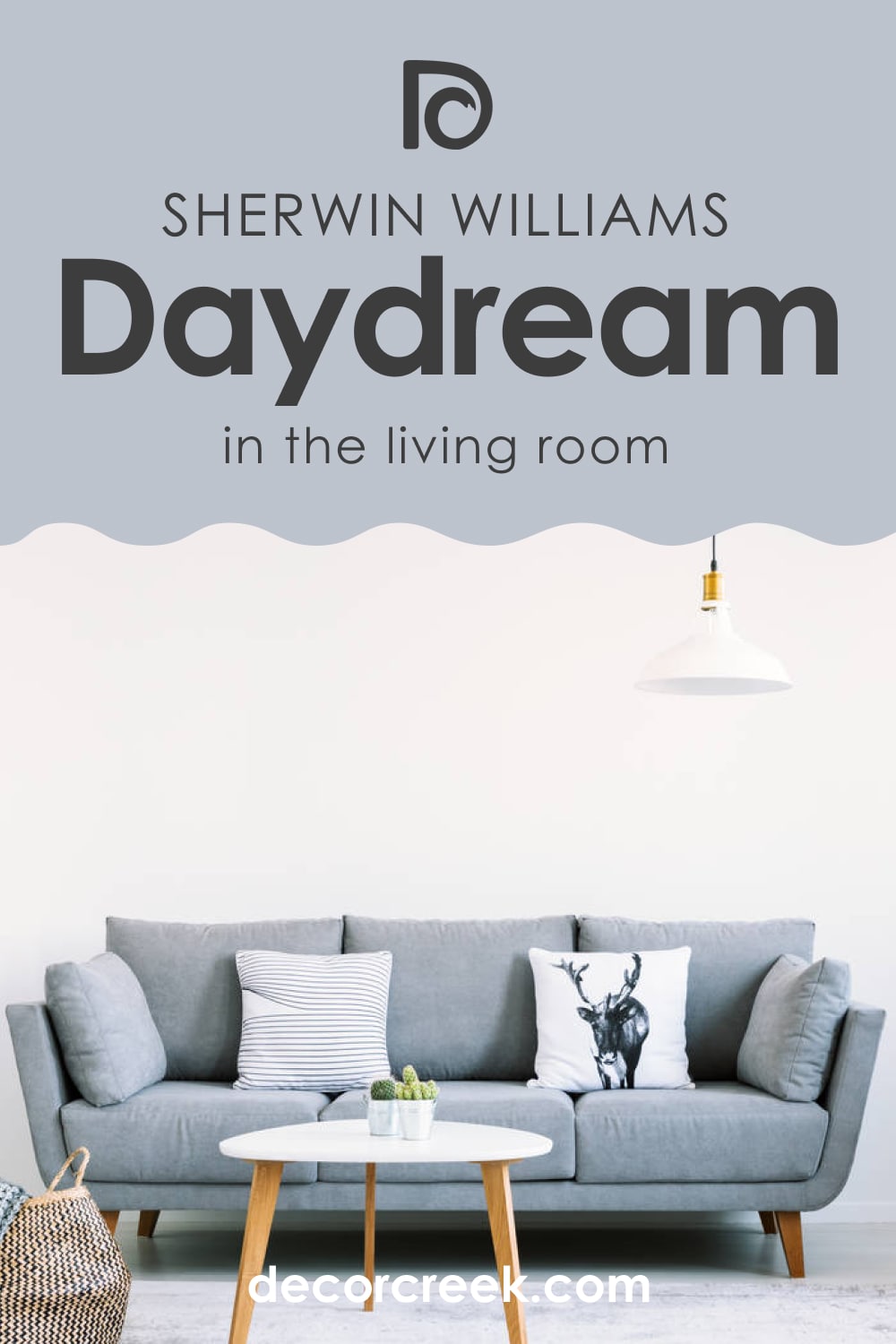 Daydream SW-6541 in a Bedroom
SW Daydream is the ideal color for bedrooms. Thanks to its calming and balanced tone, it creates a relaxed atmosphere in a bedroom. And if you pair it with whites and soft, warmer light beiges, you will make the room read cozy and pleasantly airy.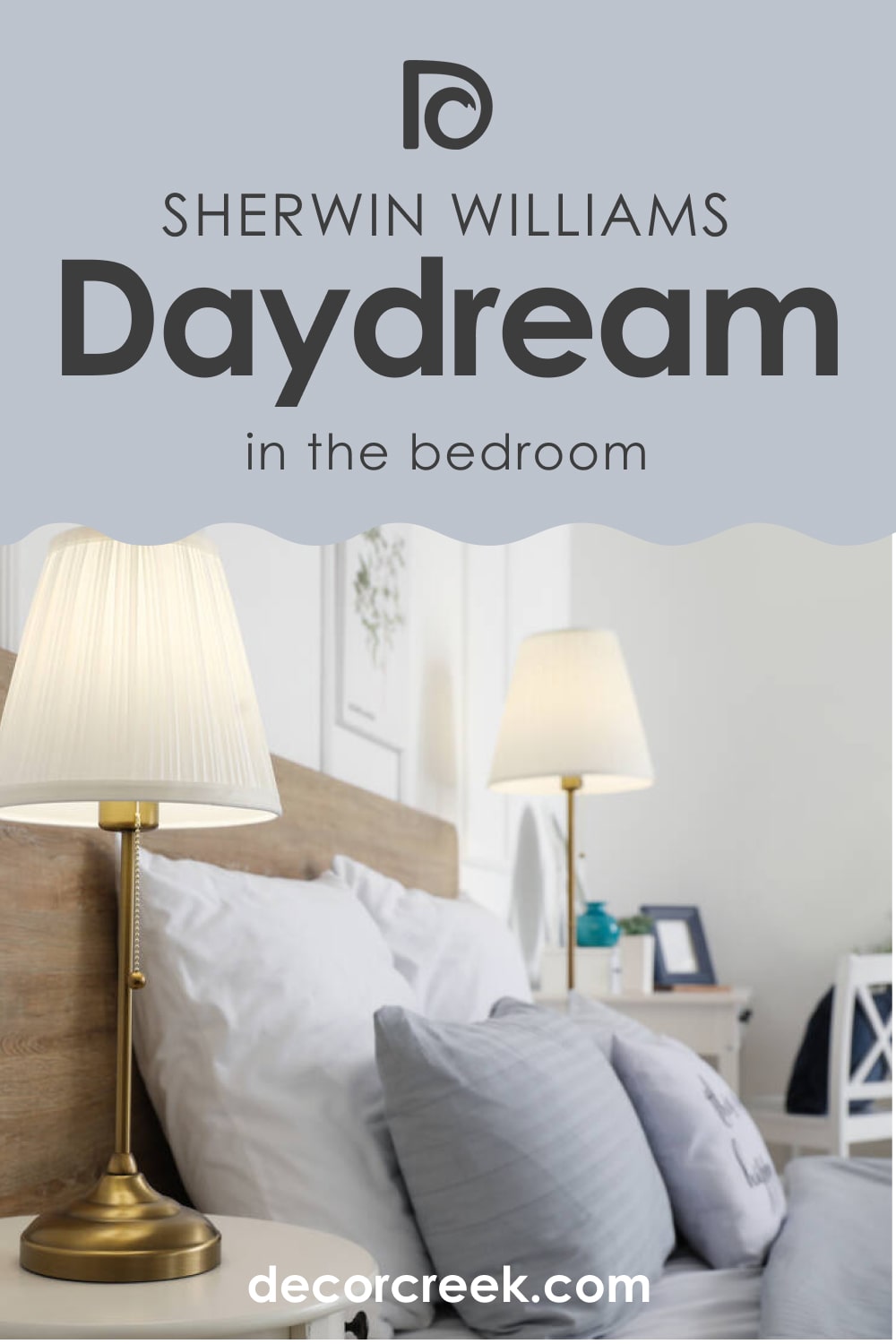 Daydream SW-6541 and Kitchen
Even if you don't want to paint the entire kitchen blue, you can use this color on the accent wall. As an option, use it on cabinets to create color accents, which will be suitable if the kitchen walls are white. This blue works well with light wooden textures, as well as tiles and bronze or metal hardware and fixtures too.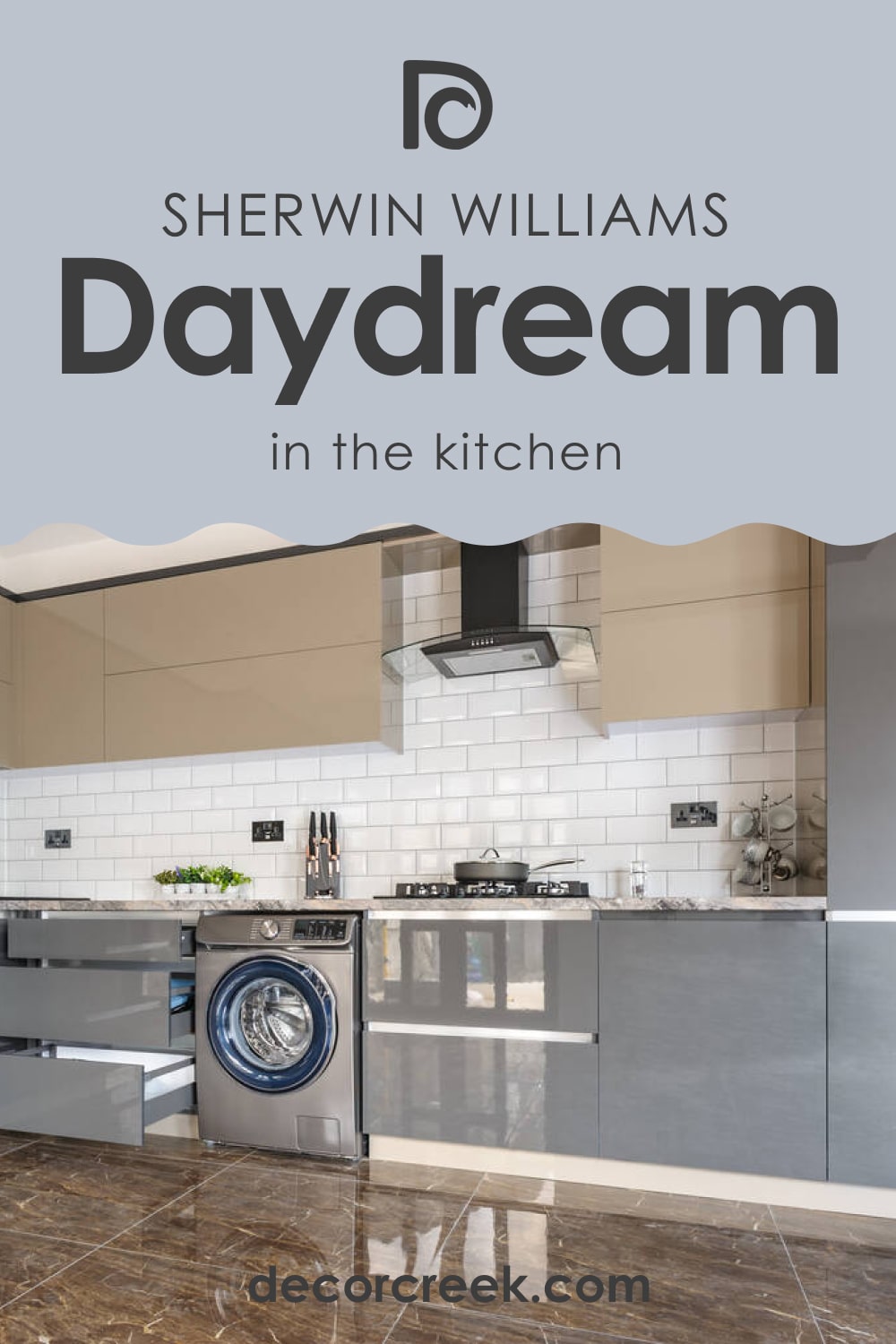 Daydream SW-6541 with Bathroom
As a bathroom color, SW Daydream is a win-win option. It looks fresh and light enough, although it doesn't make the space read too cool or flat. You can use it on the walls or, in the case of a small bathroom, paint your vanity sink or an accent wall with it, and leave the rest of the space white.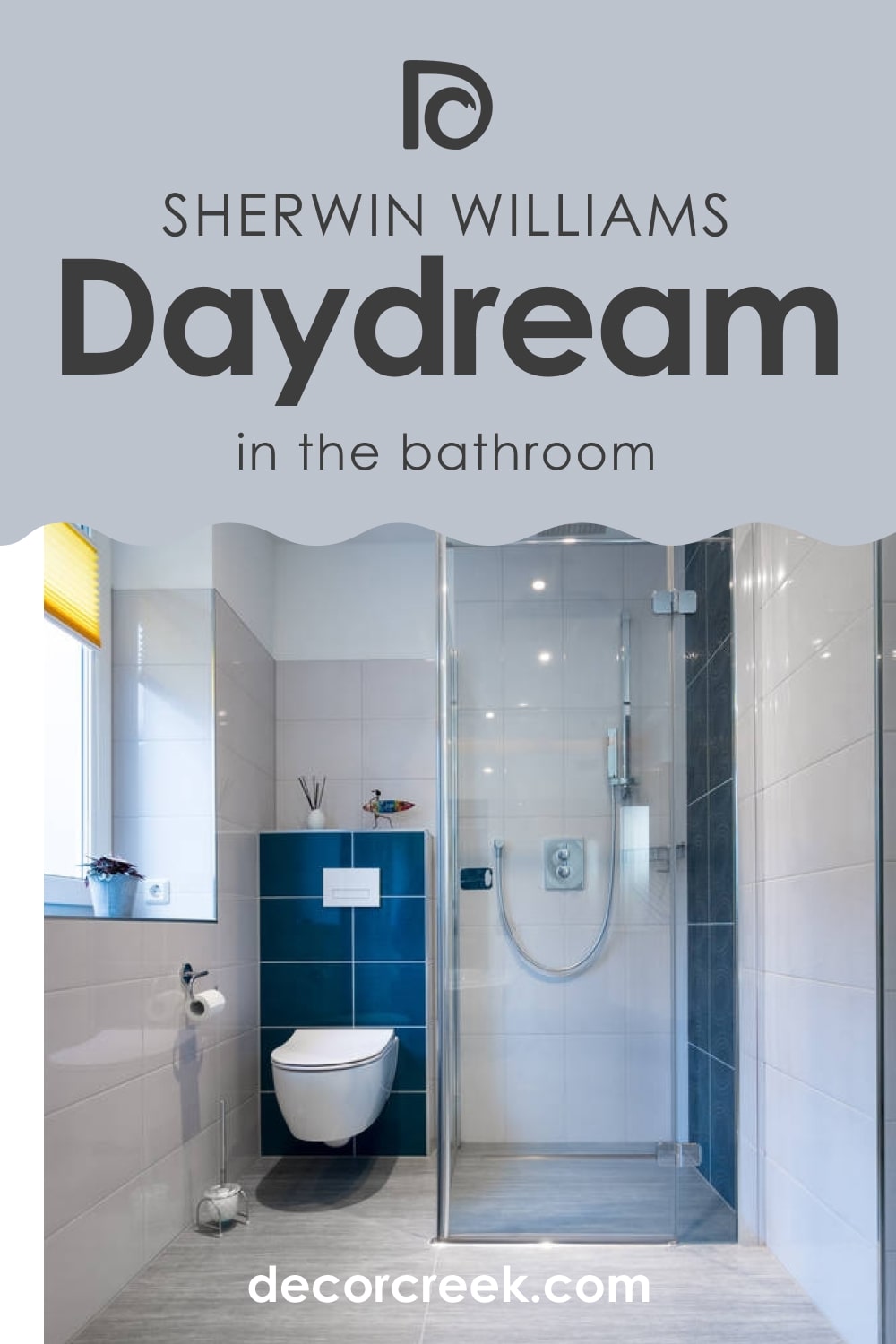 Daydream SW-6541 for the Exterior Use
This shade of blue can also work nicely on exterior walls. However, you should note that in dim light or on cloudy days, its violet undertones may show up more noticeably.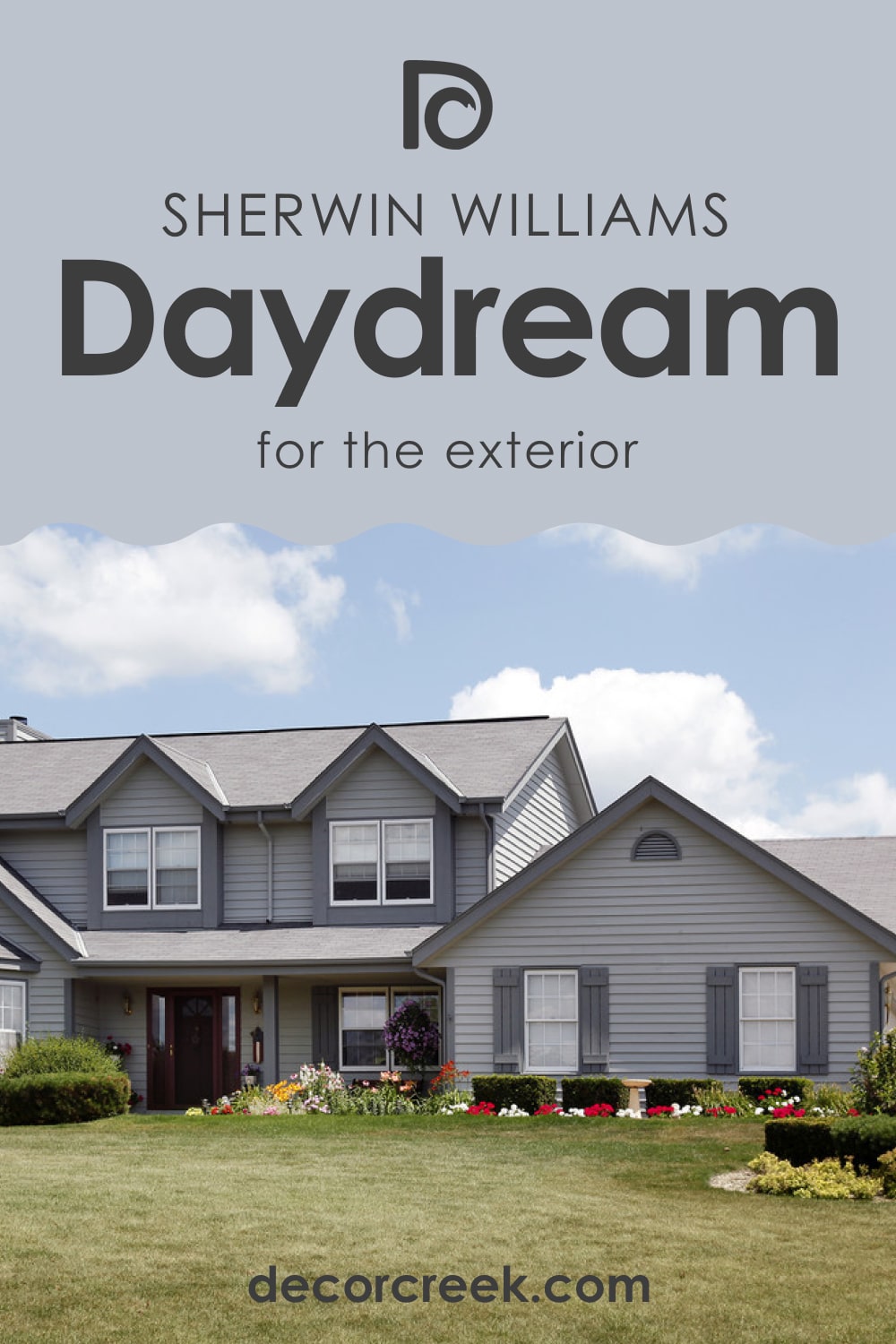 Now you know what kind of color SW Daydream is. You learned all the essential details about this lovely shade of blue, which means that now you can use it correctly in your home.
You know how to coordinate it and what LRV it has. This means you know how this color will react to light and where in your home it will work better.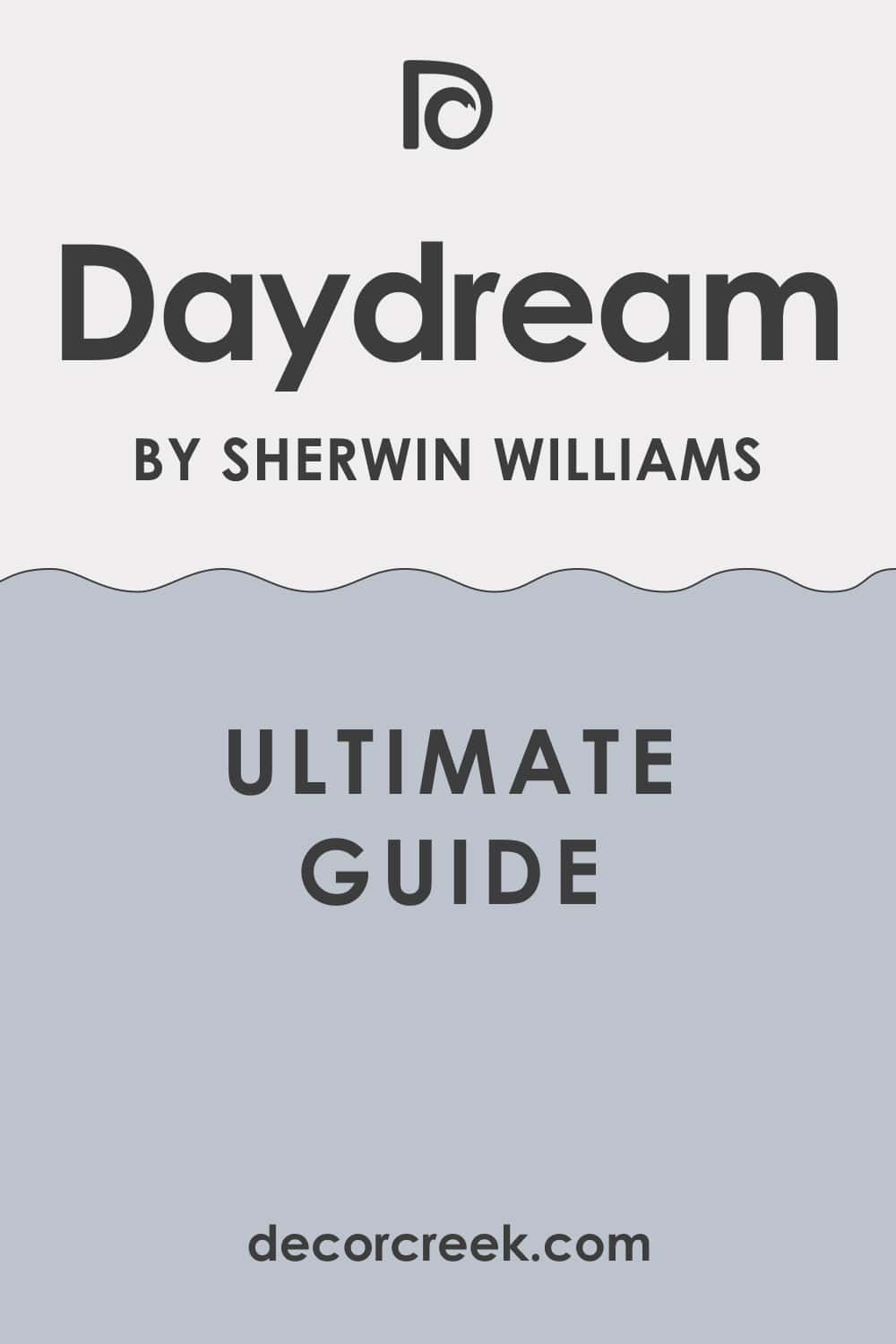 Frequently Asked Questions
⭐Does SW Daydream look well with pink colors?
Yes, you can use it with muted shades of pink that have the same tone, e.g., SW Loveable.
⭐Does SW Daydream work with brown colors?
If it's a lighter shade of brown, then this blue can read well with it.
⭐Is it ok to pair SW Daydream with yellow?
Yes, it is. Since this color is blue, it works well with yellow.