When you are up to changing the color of your interior walls, it is very important and tricky at the same time to pick the right paint color. You need to make sure that it will fit right in and match with the rest of the colors.
And since not all of us are professional colorists and painters, we might need some help with this task. This is many homeowners will find this article very useful!
Today, we are going to tell you more about the color called Halcyon Green by the Sherwin-Williams brand. In particular, you will find out what kind of color it is exactly, what undertones and light reflectance value it has, and how this color reacts to light.
In addition, we will explain in what rooms it is best to be used and how it might work there. As an extra bonus, you will get plenty of other useful information and tips like the paint's coordinating and trim colors, paint colors that go well with Halcyon Green, and many more.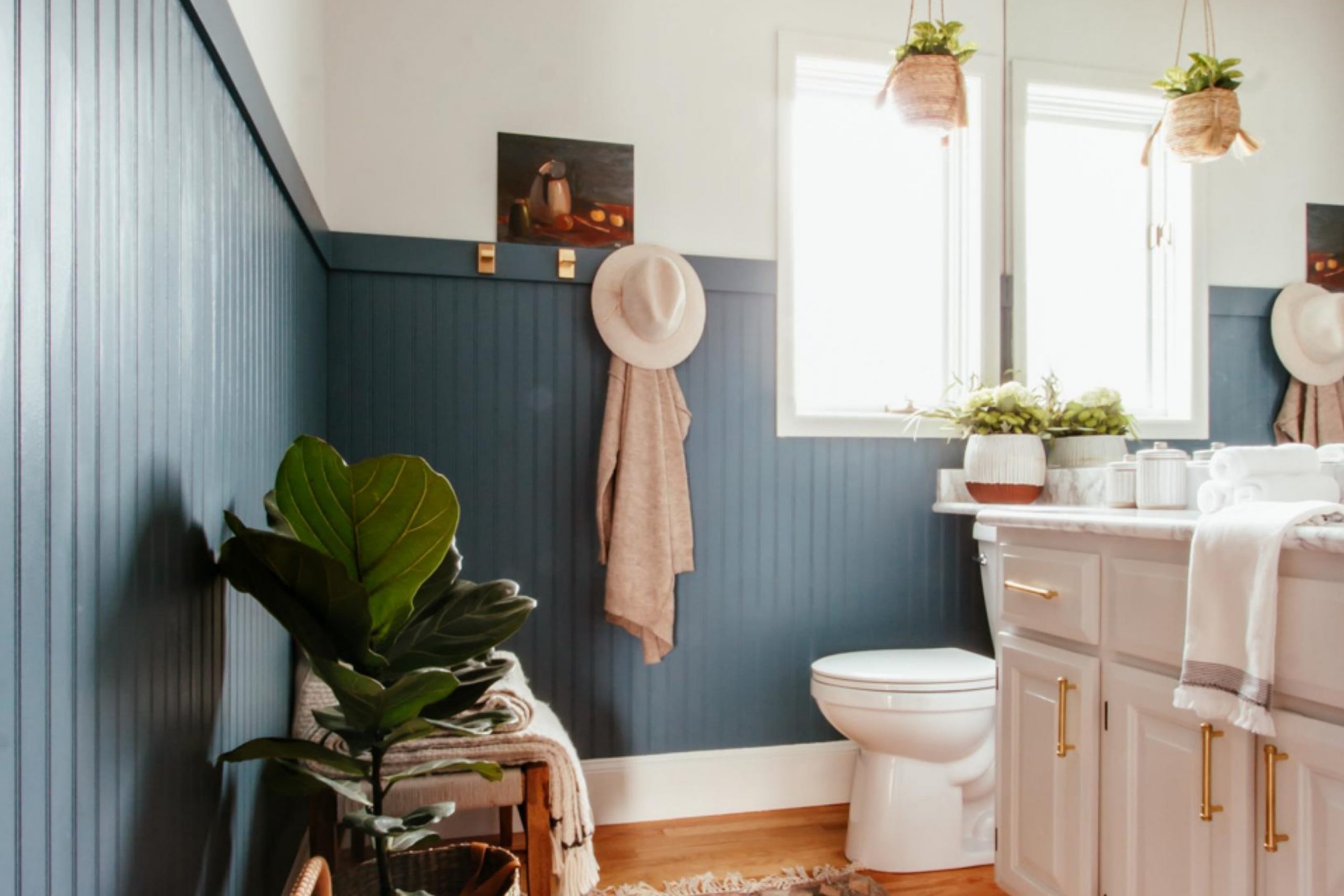 What Color Is Sherwin-Williams Halcyon Green SW-6213?
If you have ever had to choose paint color for your home, you know how complicated they (meaning colors) can be! The way they look in a paint can is not the same as the way they read on your walls. Speaking of Halcyon Green color, it it technically a green color, being a part of the group of green colors of the Sherwin-Williams brand.
However, you should not expect Halcyon Green to be a bright shade of green! There is no way you will see that vividness of fresh spring leaves or an emerald-green hue in it. As Encycolorpedia says, this color may read rather calm and muted, closer to a mint green shade.
There is one more feature this paint color has that plays tricks on people. Many homeowners who want to use it in their homes tend to think that Halcyon Green is a cool-toned green color.
But in fact it is not. If you compare it with cooler shades of green from other brands (for example, with the Dix Blue color by Farrow and Ball), you will see that SW Halcyon Green is quite a warm-toned shade of green in fact.
The general impression this shade of green gives is tranquil and calming. Since it is warm-toned, it doesn't create a "cold" atmosphere in a room, which makes Halcyon Green one of the favorite green colors of the Sherwin-Williams brand.
Nevertheless, like any other paint color, this green has certain nuances and specific features. For example, you can consider it quite tricky regarding the way it reads in a different light.
So we suggest you read on and learn more about it so that you know what to expect for should you decide to use this green in your home.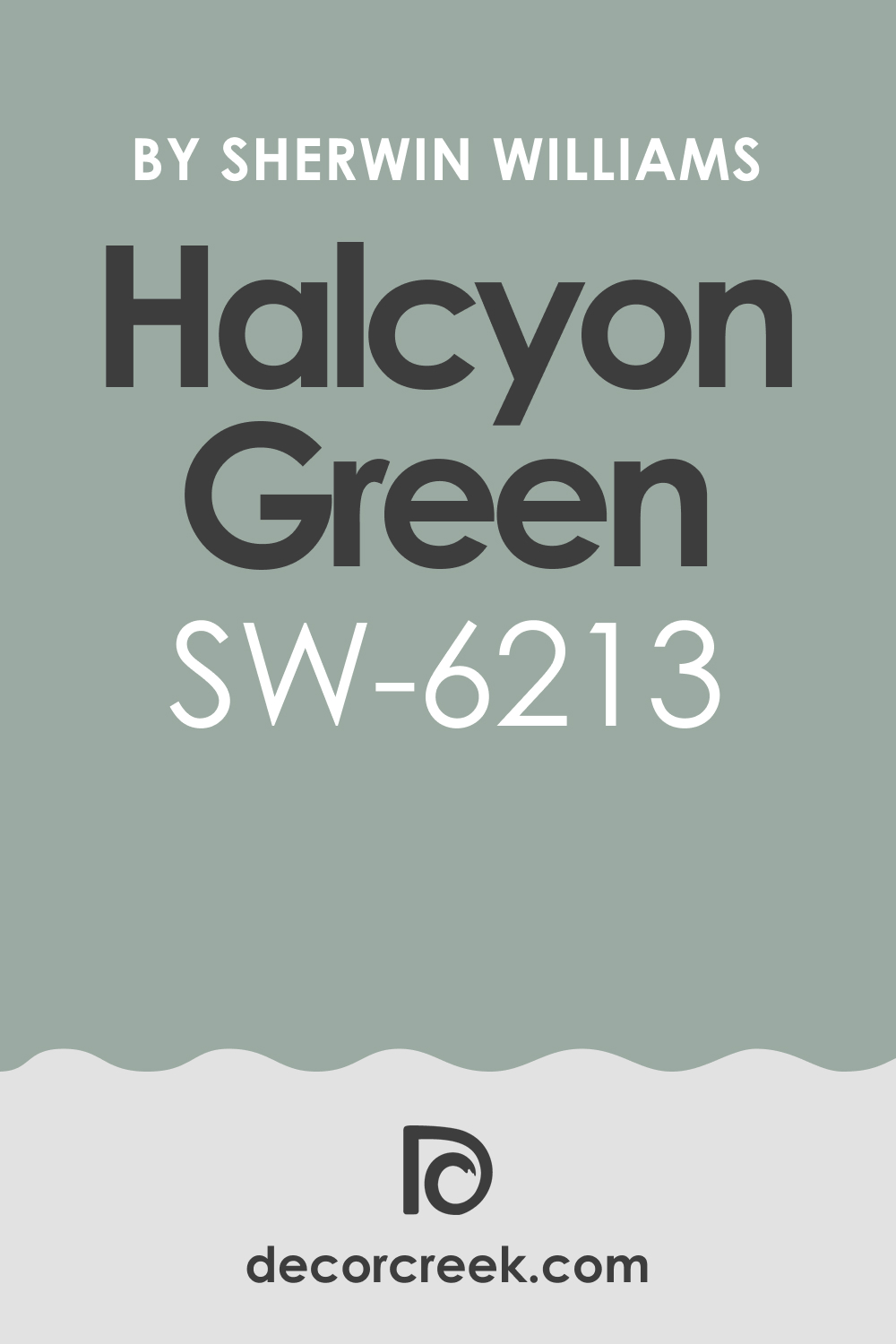 What Are the Undertones Of Sherwin-Williams Halcyon Green?
Being aware of the paint color's undertones is a must if you want to use it successfully in your home. The hard thing about undertones is that they are often difficult to distinguish at first sight. In addition, they can often be noticed only in certain types of lighting.
Speaking of SW Halcyon Green, this green color has almost sage green undertones that are paired with some gray and blue. The good thing about it is that those undertones are perfectly blended and create a balanced color.
That means none of them will suddenly show up on your walls! However, due to multiple undertones, this green color can be quite tricky to use for unprepared users.
How Does SW Halcyon Green Color React to Light?
Since this color has several undertones (green, gray, and blue), you might face certain complications when using it on your walls. Depending on the light in a room, Halcyon Green can read differently. It can read either muted gray with a slight hint of green or muted green, revealing more of its sage undertones.
What can help you with defining undertones is LRV or Light Reflective Value. It shows how much light paint reflects when it is applied to the wall. The LRV scale ranges from zero to 100 where 0 stands for pure black and 100 stands for pure white respectively.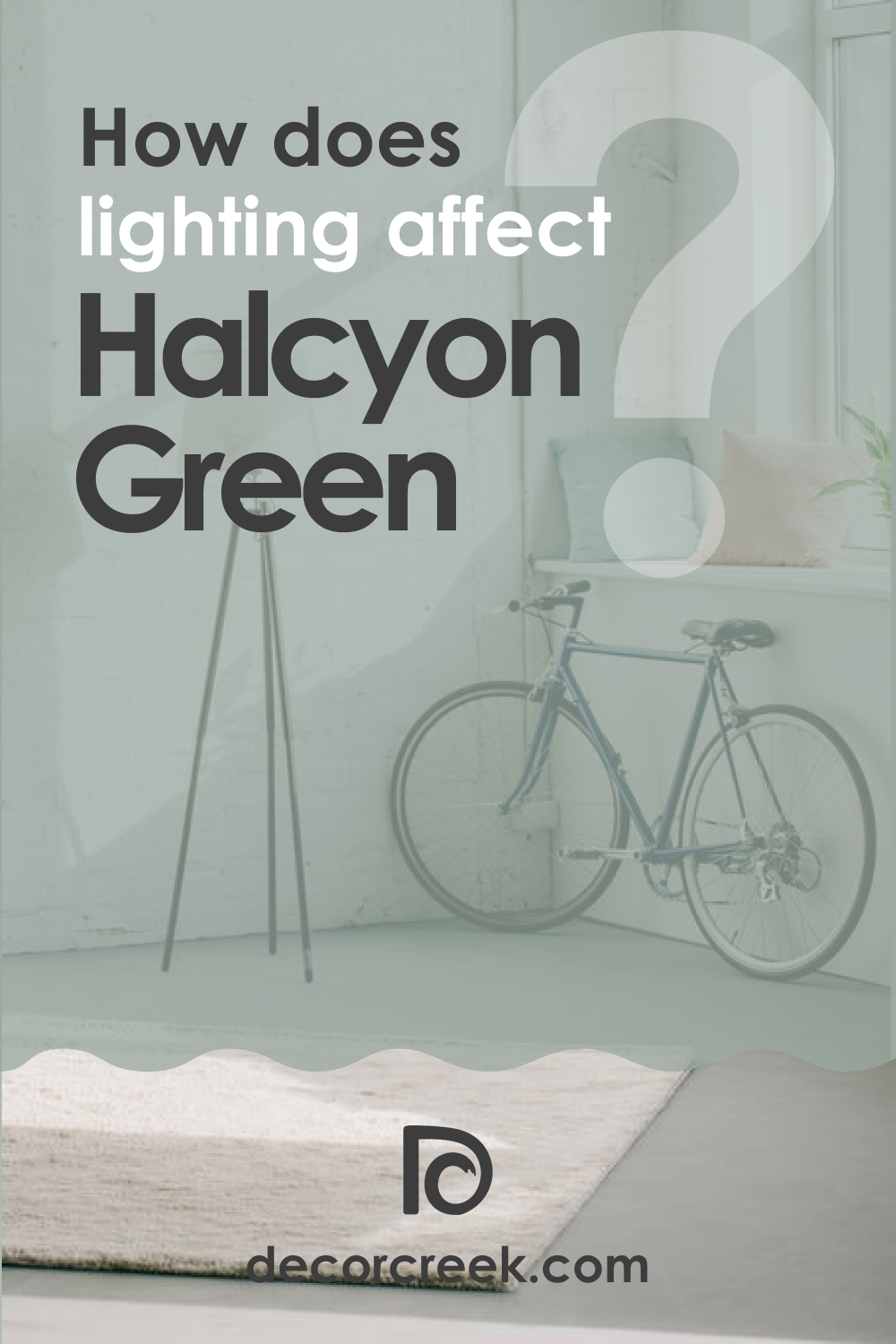 The LRV of Halcyon Green paint color is approximately 39, which makes it stand closer to the darker side of the color scale. Also, this is the reason why this color has got quite a lot of depth to it. So if you want to use Halcyon Green in your home, remember that it will feel darker in darker spaces and lighter in rooms that are properly lit.
So, now you know more about this awesome green color that Sherwin Williams has in their color catalog. After all that you have learned about this color, you can better imagine how it might work in your interior.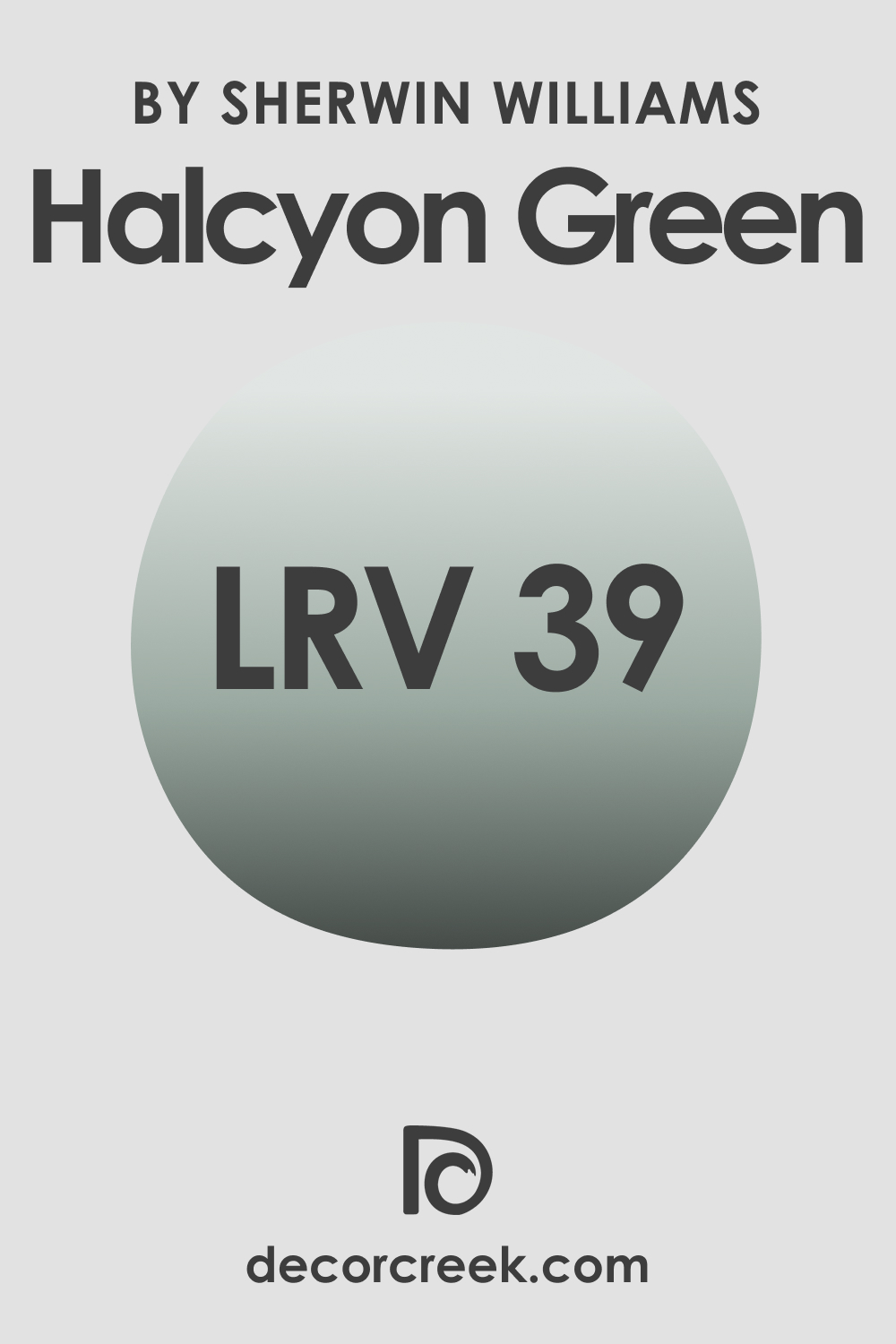 LRV – what does it mean? Read This Before Finding Your Perfect Paint Color
What's the Best Trim Color For SW Halcyon Green?
If you don't know what trim color is best for your home, don't hesitate to choose white since it is a universal color option of all times! It pairs nicely with the majority of colors, and it also works for SW Halcyon Green.
Since Halcyon Green can reveal both warm and cooler tones depending on the amount of light around, it can be paired with both soft whites that have a bit of a creamy or warm tone to them, and more cool-toned whites.
Among such white trim colors, you might want to consider the following color options in particular:
SW-7010 White Duck
SW-7006 Extra White
SW-7014 Eider White
SW-7005 Pure White
SW-7007 Ceiling Bright White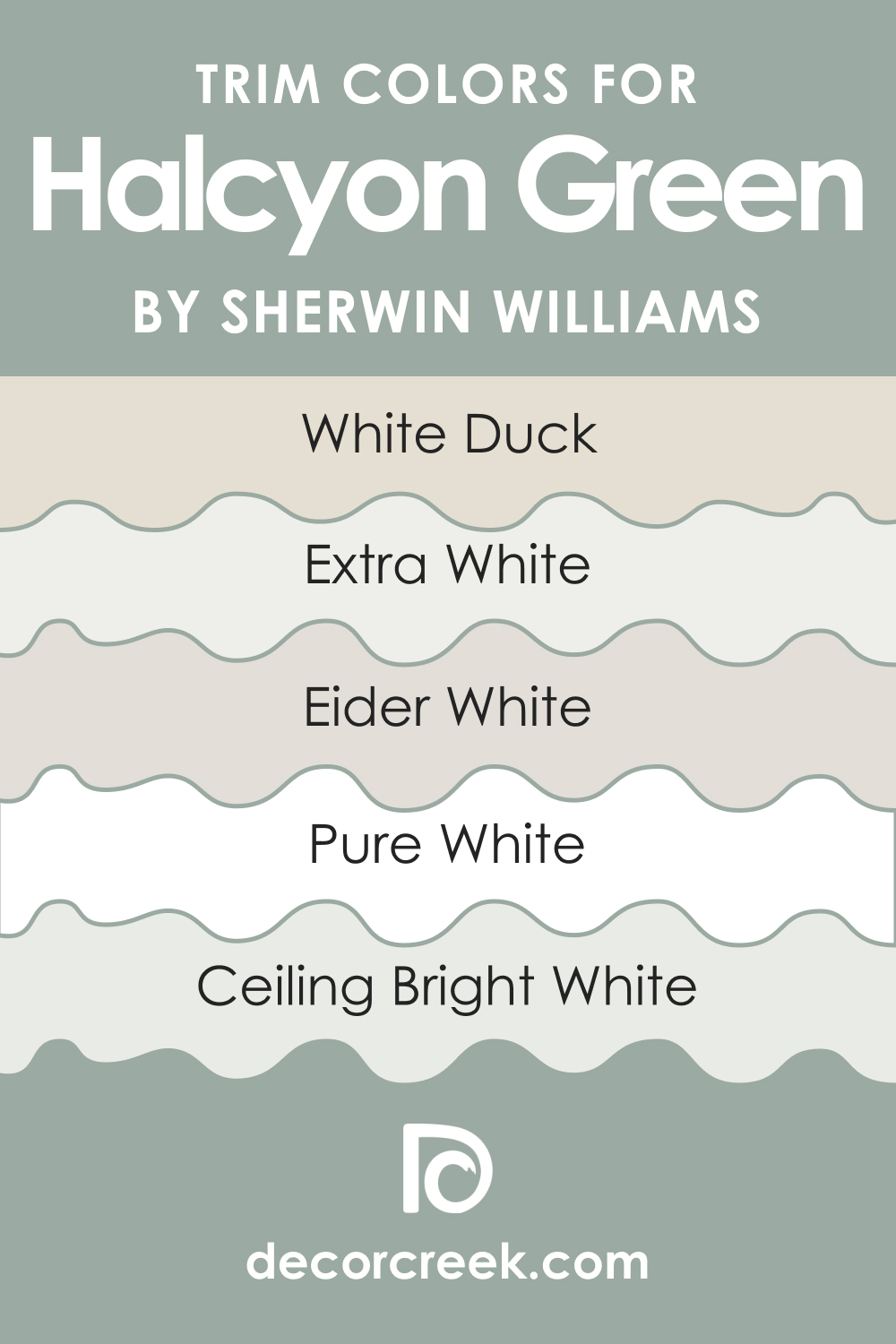 SW Halcyon Green Coordinating Colors
To be aware of coordinating colors is important because with their help, you will be able to create a well-balanced color palette in your living space easier. However, since most of us are not very knowledgeable in color theory, we often fail choosing the right shades.
This is why you might find this list of colors that coordinate with SW Halcyon Green paint color useful:
SW-7516 Kestrel White
SW-6326 Henna Shade
SW-6210 Window Pane
You can use them or colors that have similar shades. In any case, you will result in a balanced and harmonious look in your home.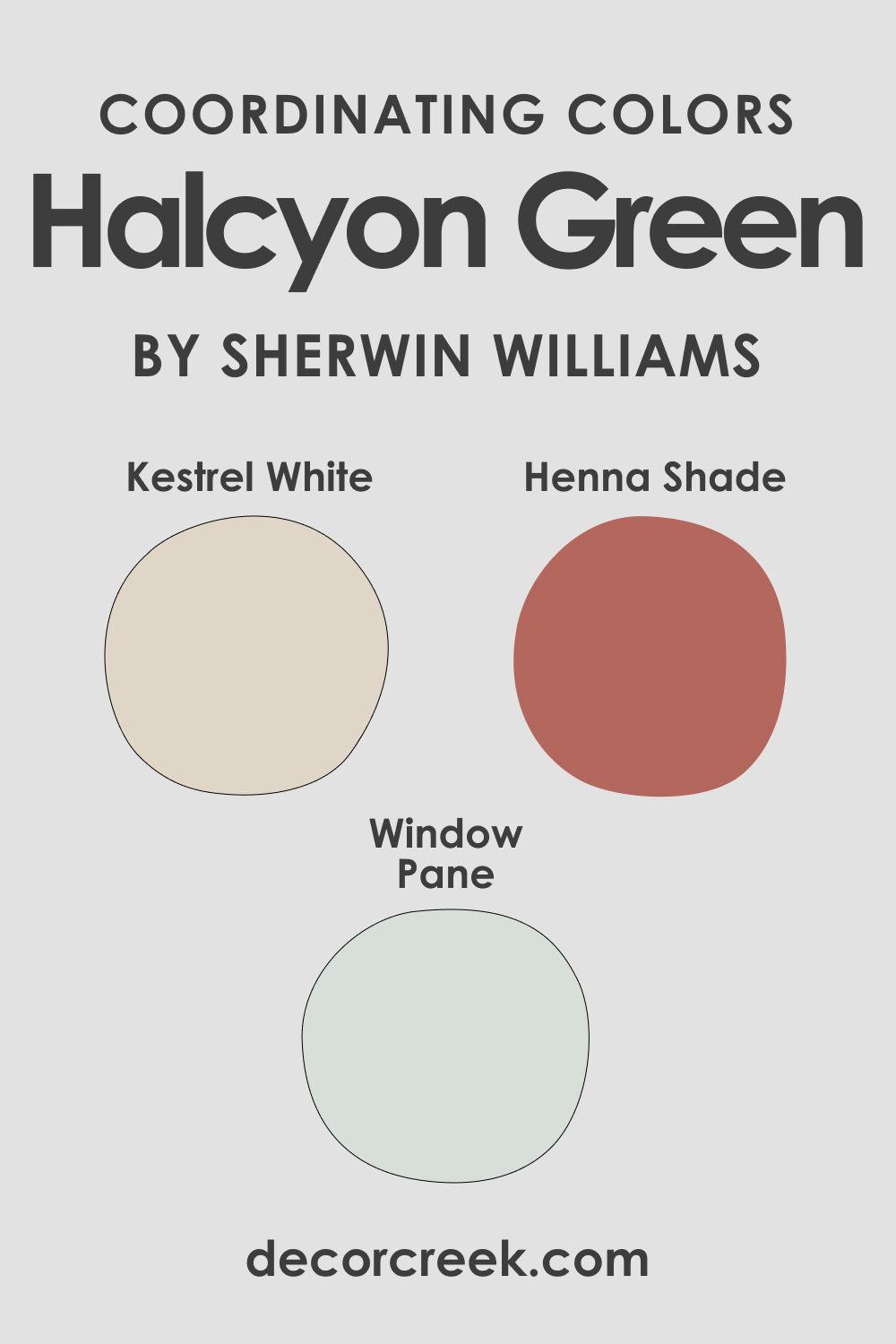 Сolors That Go Well With SW Halcyon Green
Since quite few people choose to paint all the surfaces of their home the same color, you will have other colors in your rooms as well. But in this case, you need to know how to pair them with the color of your walls to create a well-balanced palette. So in order to use colors harmoniously in the same room where the SW Halcyon Green is applied, it is good to learn what colors can go well with it.
Among such colors, we can offer a few good options to you. They can be used interchangeably in any combinations as long as Halcyon Green is the leading color:
SW-7010 White Duck
SW-6331 Smoky Salmon
SW-6604 Youthful Coral
SW-6311 Memorable Rose
SW-7006 Extra White
SW-6528 Tricorn Black
SW-6525 Rarified Air
SW-6251 Outerspace
SW-7072 Online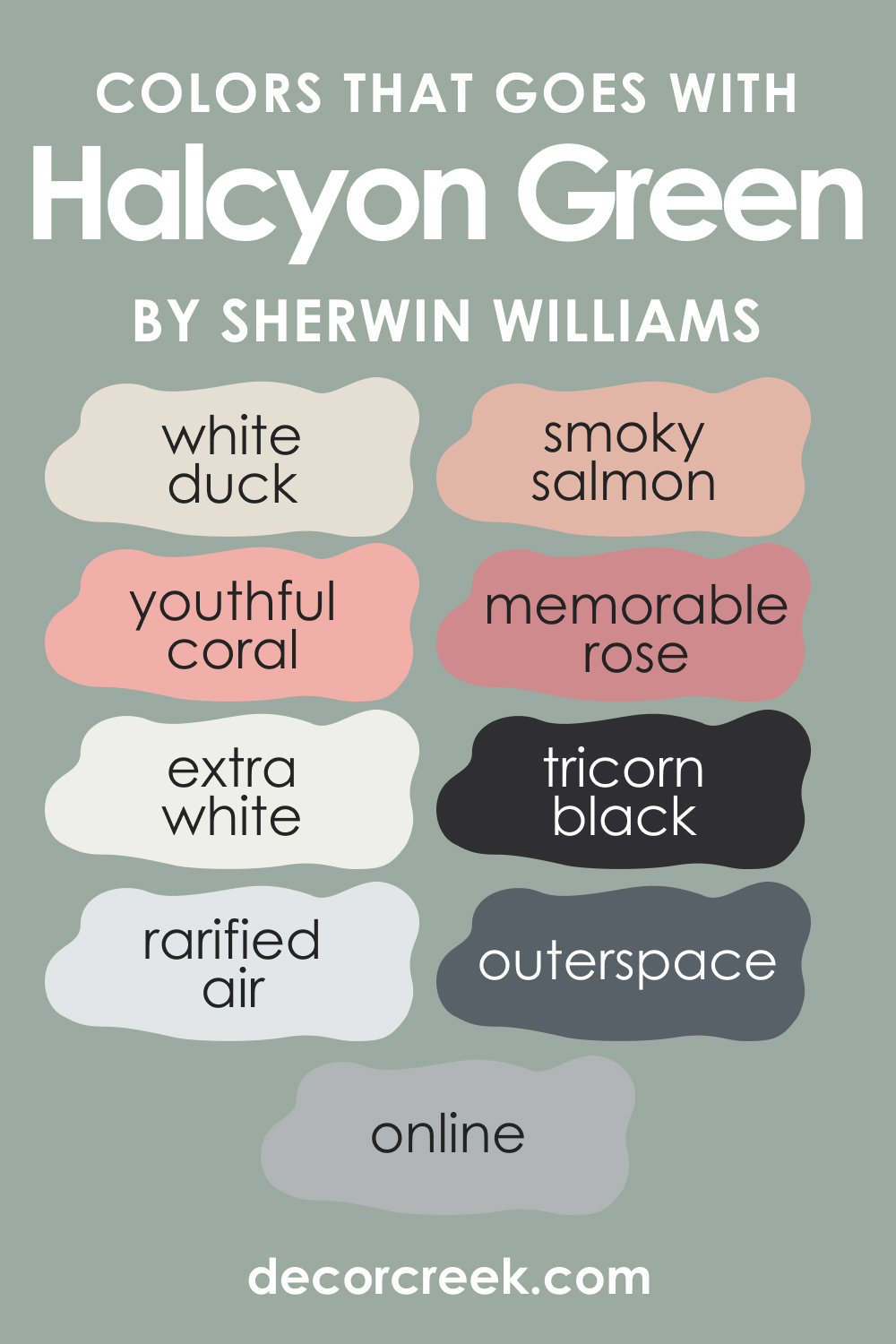 Paint Colors Similar to Halcyon Green
There is another thing that is good to know before you start applying the paint color. It often happens that you might want to change the paint color you initially choose and shift it for another one that reads and looks almost the same.
No matter whether you suddenly decide to use a bit lighter or darker color, we suggest you check out what alternative green colors you may find being nearly the same as SW Halcyon Green:
SW-9133 Jasper Stone
SW-0031 Dutch Tile Blue
SW-9653 Forever Green
SW-7059 Unusual Gray
SW-6212 Quietude
SW-7616 Breezy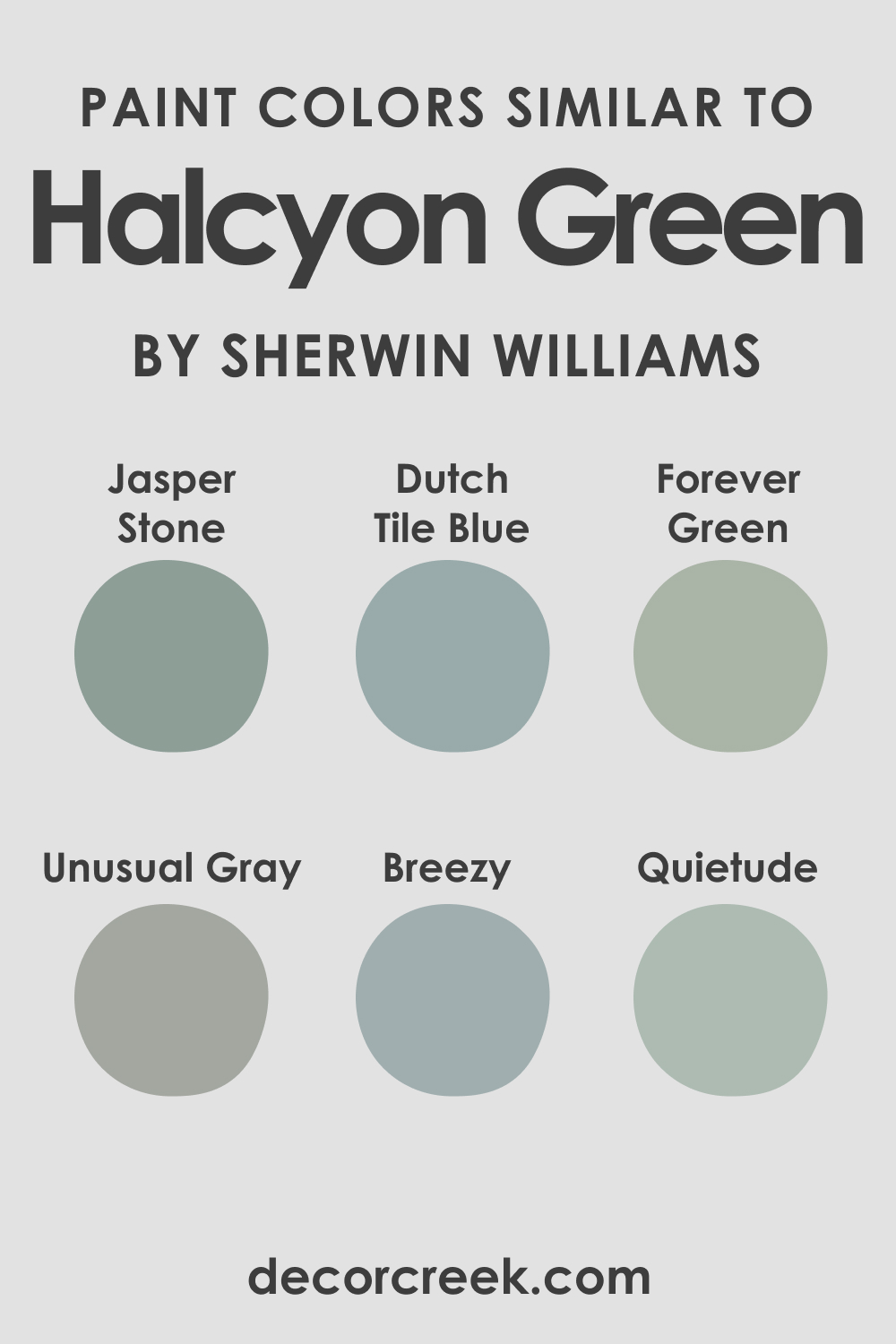 How SW Halcyon Green Will Look With Other Colors?
It is important to be able to see the difference between the paint colors, especially if they are the colors of the same group (e.g. greens, whites, etc.). When you can see the distinctions in their undertones and shades, it helps you to understand whether or not they can be paired in the same space harmoniously.
So just for you to see how it works, we suggest you read about Halcyon Green in comparison to a few other popular Sherwin-Williams colors.
Halcyon Green vs Evergreen Fog
If you compare these colors, you will see that Halcyon Green reads a cool green with blue undertones whilst Evergreen Fog reads brownish with a slight hint of a green undertone in it. But even though both colors are basically warm-toned, they don't create a balanced color combination.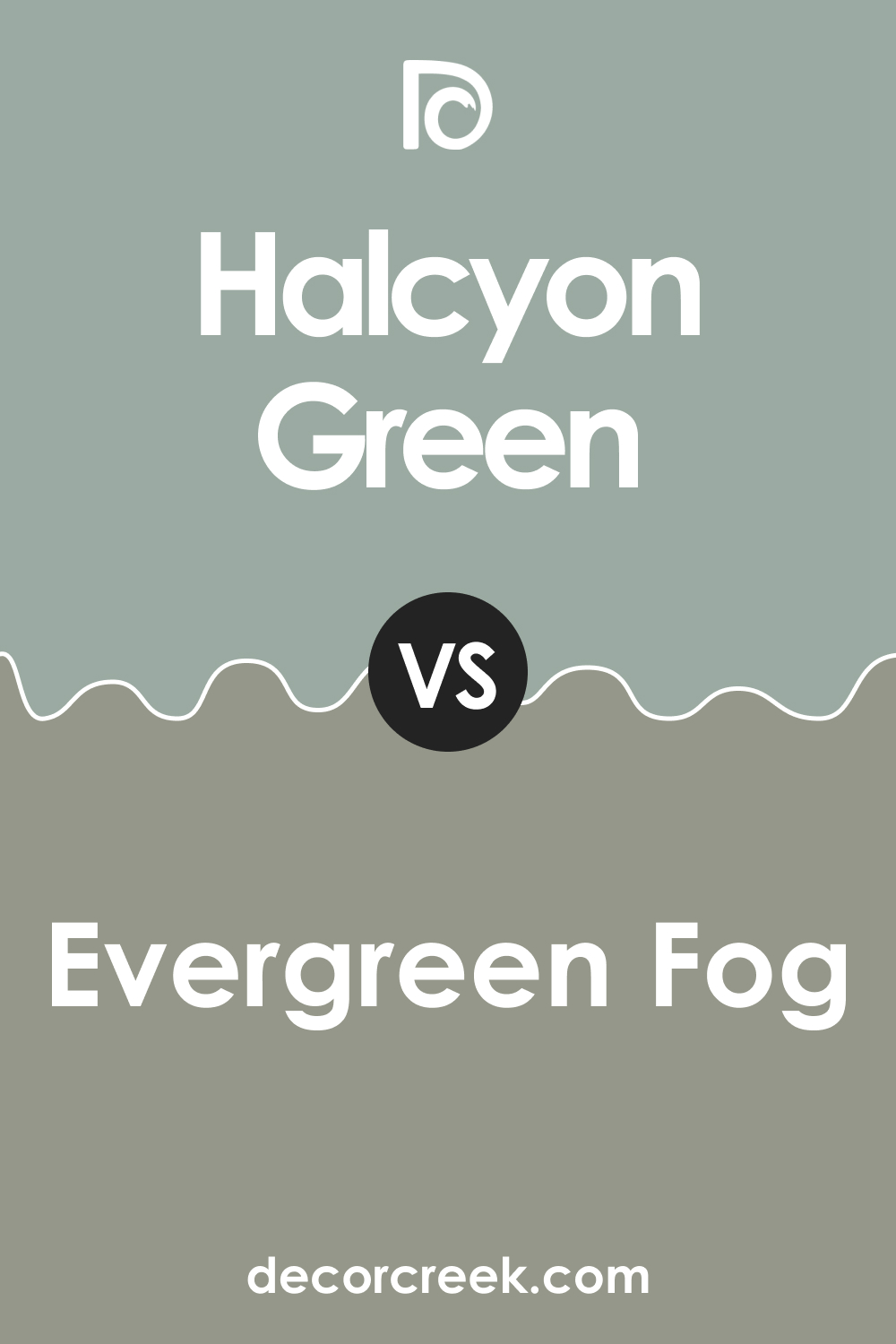 Halcyon Green vs Sea Salt
If you are looking for a really harmonious pair of colors, opt for Halcyon Green and the Sea Salt! Do you know why they work so well together? Because Sea Salt also has green-gray undertones.
To be precise, Sea Salt is a blend of green and gray, but it's a cool-toned green rather than a warm green. This is why these colors can be used together to highlight each other's strong sides.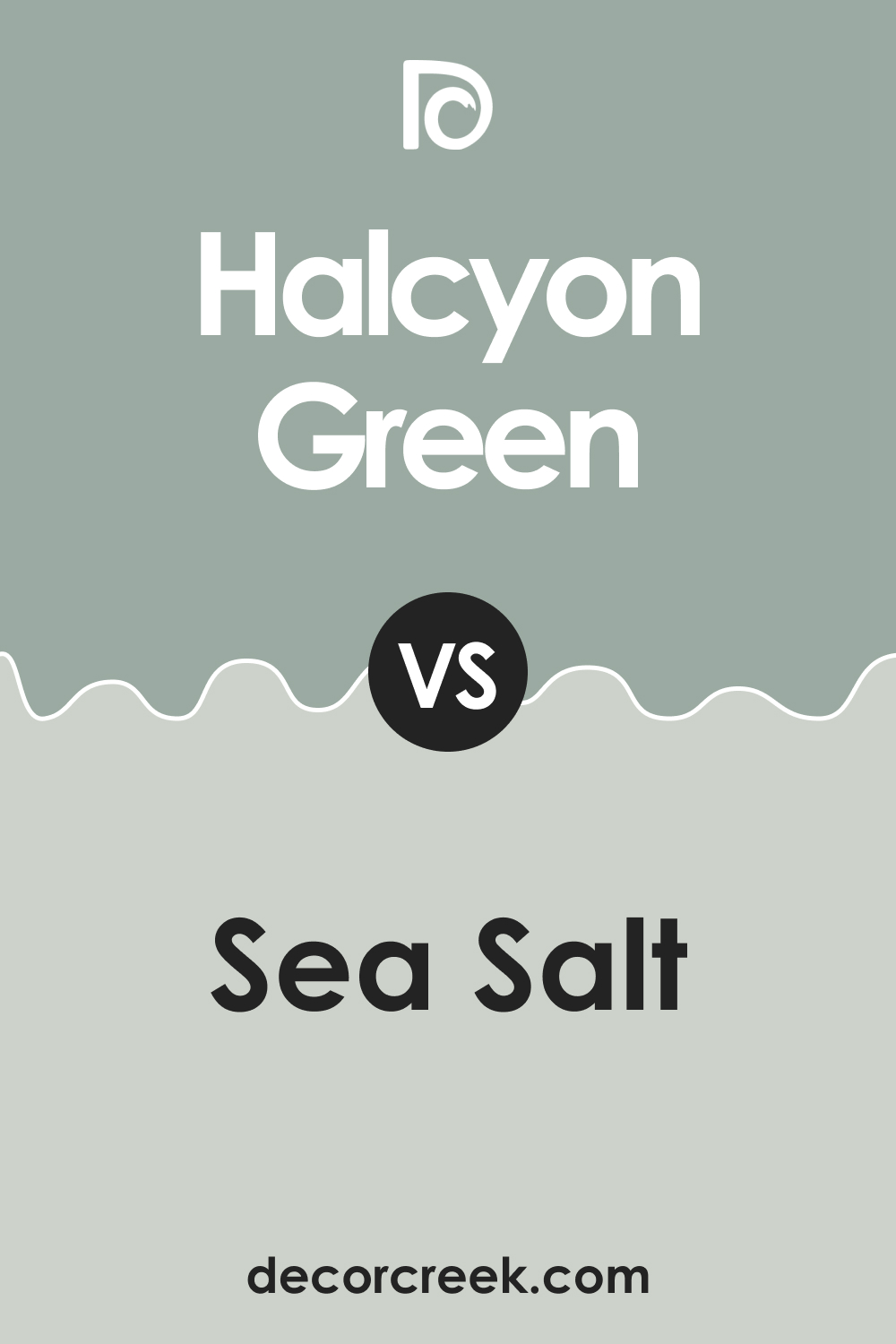 Halcyon Green vs Oyster Bay
If you attempt to use these two in the same room, be ready that the effect will be rather gloomy. Since Oyster Bay is a cool green color with blue undertones, people tend to think that it will work with Halcyon Green well. But it won't.
These colors are different indeed, but they don't have such a noticeable distinction that would allow you to perceive them individually when you use them in the same room.
So the solution is simple: you will either have to use one more color to use it as a visual "border" between these two (e.g. white color), or you might want to change Oyster Bay for another color.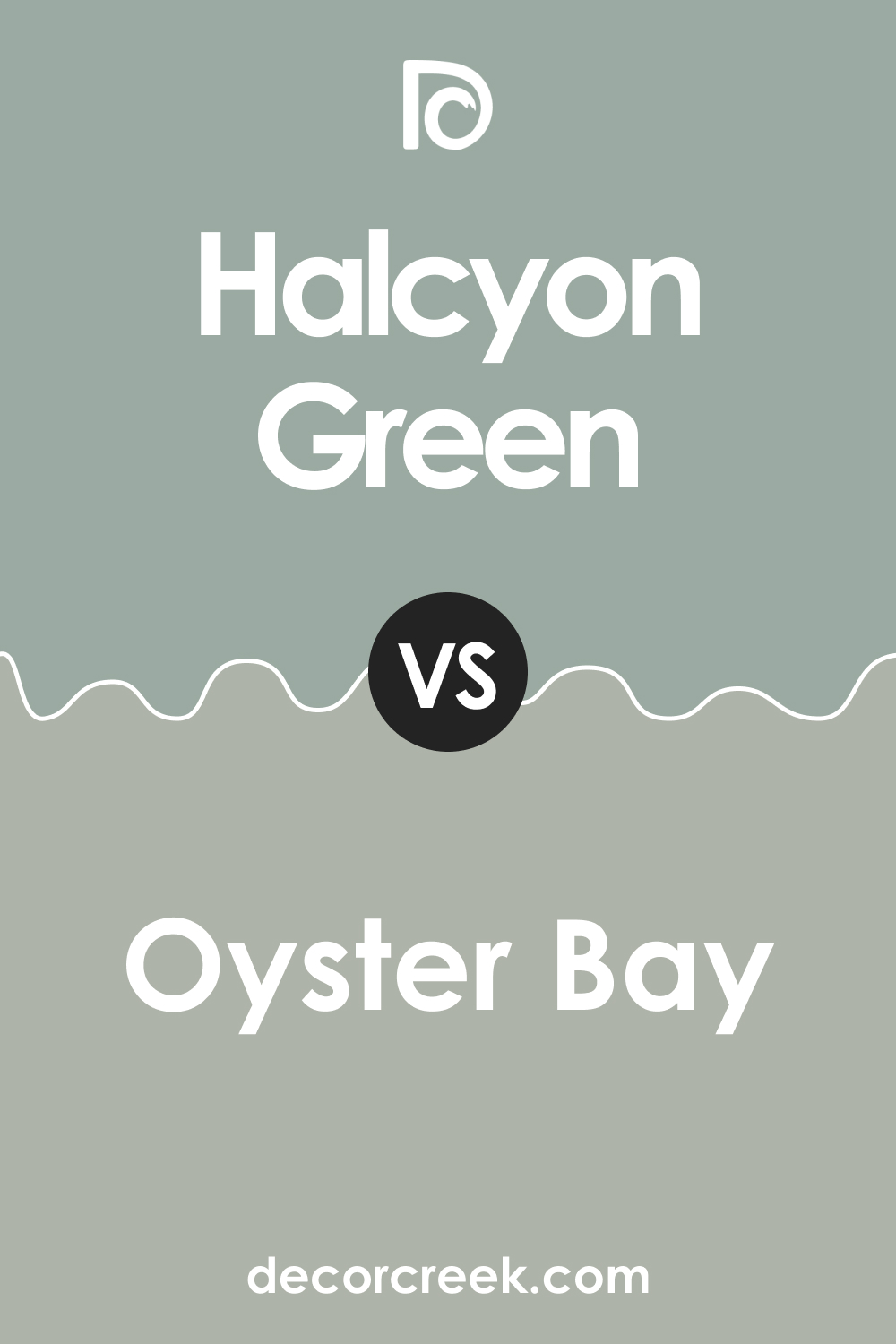 Halcyon Green vs Clary Sage
Clary Sage is an interesting color because it has quite noticeable yellow undertones, however, most of the time they are not visible. But if you compare this color with Halcyon Green, you will see that this yellowness of Clary Sage becomes more prominent.
Compared to this "muddy" color, Halcyon Green reads cooler with significant gray and blue undertones.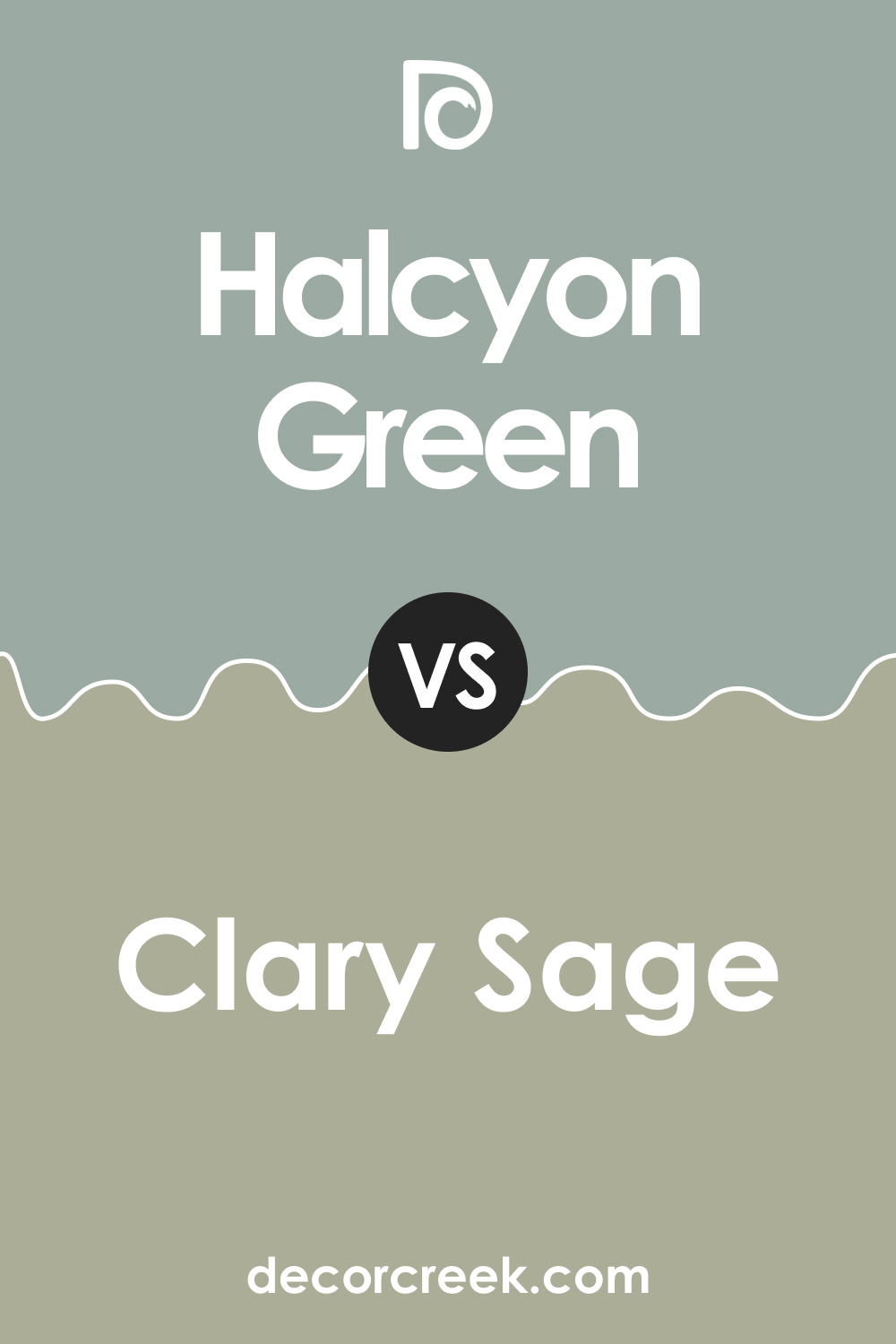 Halcyon Green vs Acacia Haze
Acacia Hazehas warm brown undertones that come out rather noticeably when you place this color swatch next to Halcyon Green. Compared to Acacia Haze, Hacyon Green green-blue with a slight hint of gray.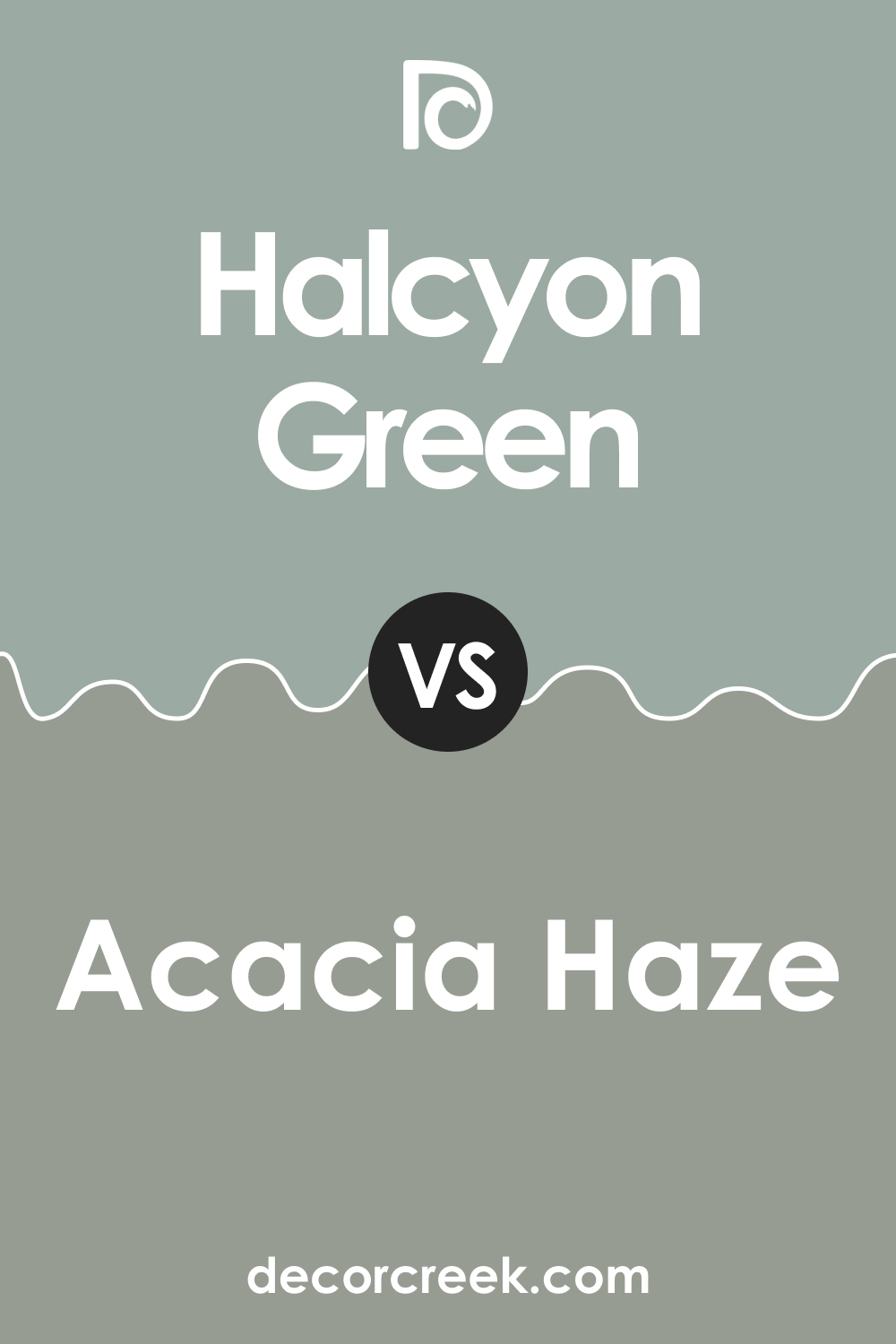 In What Rooms SW Halcyon Green Can Be Used?
Not all paint colors are suitable for any room of your home, this is why you should know about this nuance before you apply the paint you've bought to the walls.
Especially if you are working with such a complex color as SW Halcyon Green that has multiple undertones! So we recommend you check out how it will work in different rooms in advance.
Halcyon Green SW-6213 in the Living Room
Halcyon Green is a nice color for a living room, but you need to consider how well the room is lit. In a living room that lacks light, Halcyon Green will read much greener whilst in a living room with plenty of daylight, it will reveal gray and blue undertones much better.
Also, you should consider this color if you have white furniture in your living room since Halcyon Green pairs with whites really well!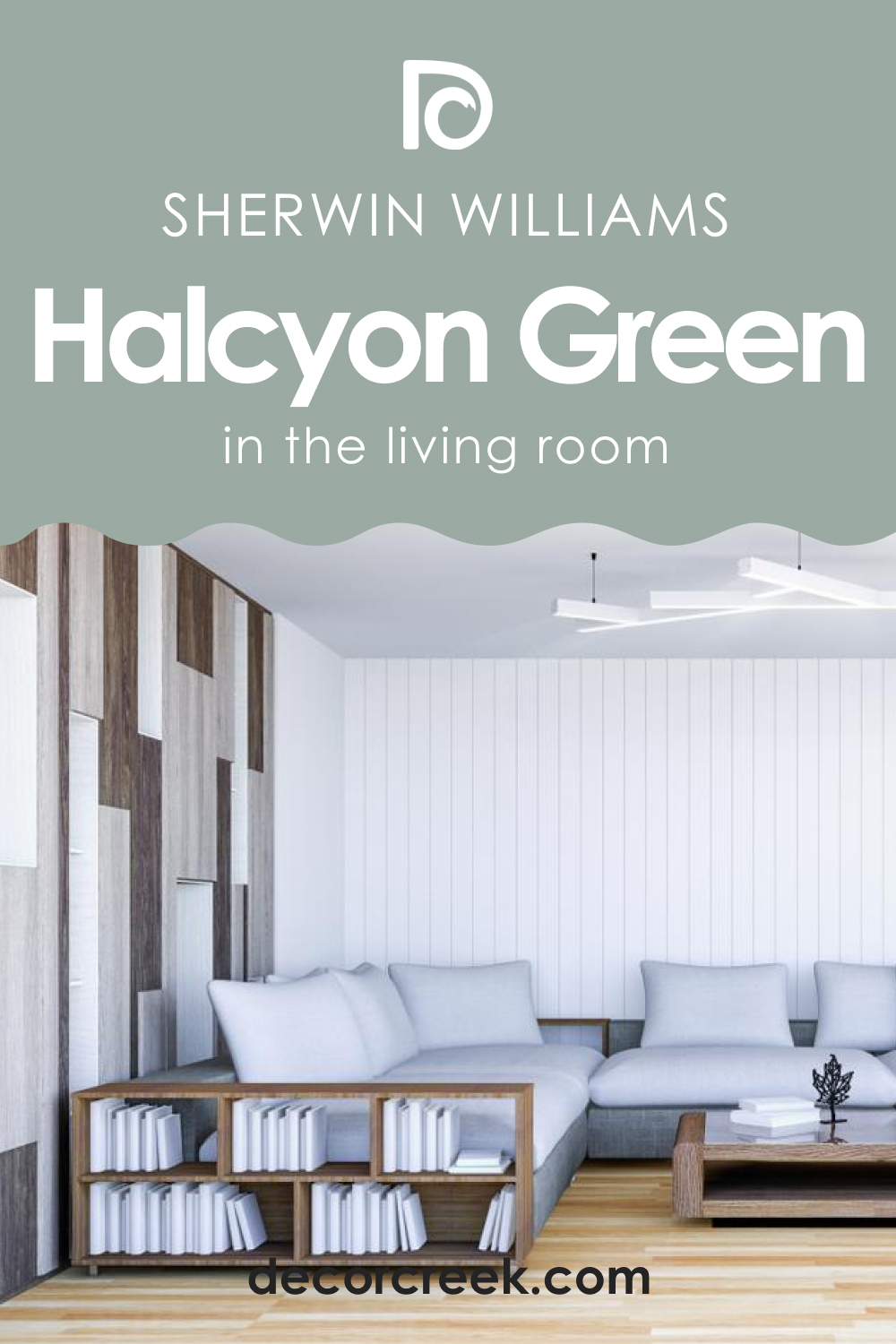 Halcyon Green SW-6213 in a Bedroom
For your bedroom, this color might be a very nice option if what you want is a tranquil vibe. Again, you should consider the amount of light in your bedroom since it can affect the entire atmosphere the color creates.
But if it's ok with the light, feel free to use Halcyon Green along with whites, light-colored wood, and different textures. By the way, it looks really nice with knitted stuff and patterned fabrics!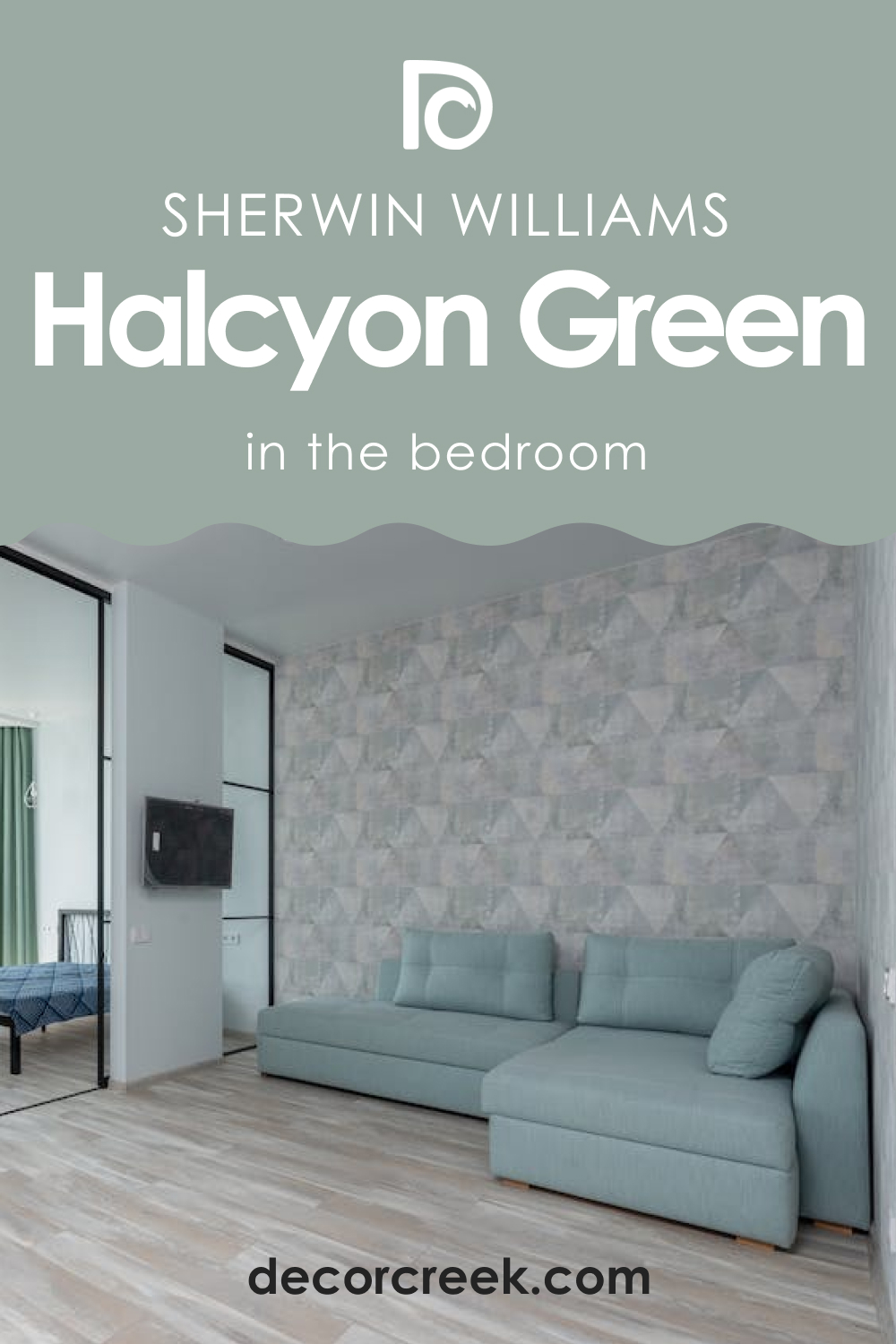 Halcyon Green SW-6213 in the Kitchen
You might not want to paint your entire kitchen with Halcyon Green, but painting an accent wall with it could work! As an option, this muted green color will work nicely on your kitchen cabinets, adding more of a calming vibe to a busy cooking space.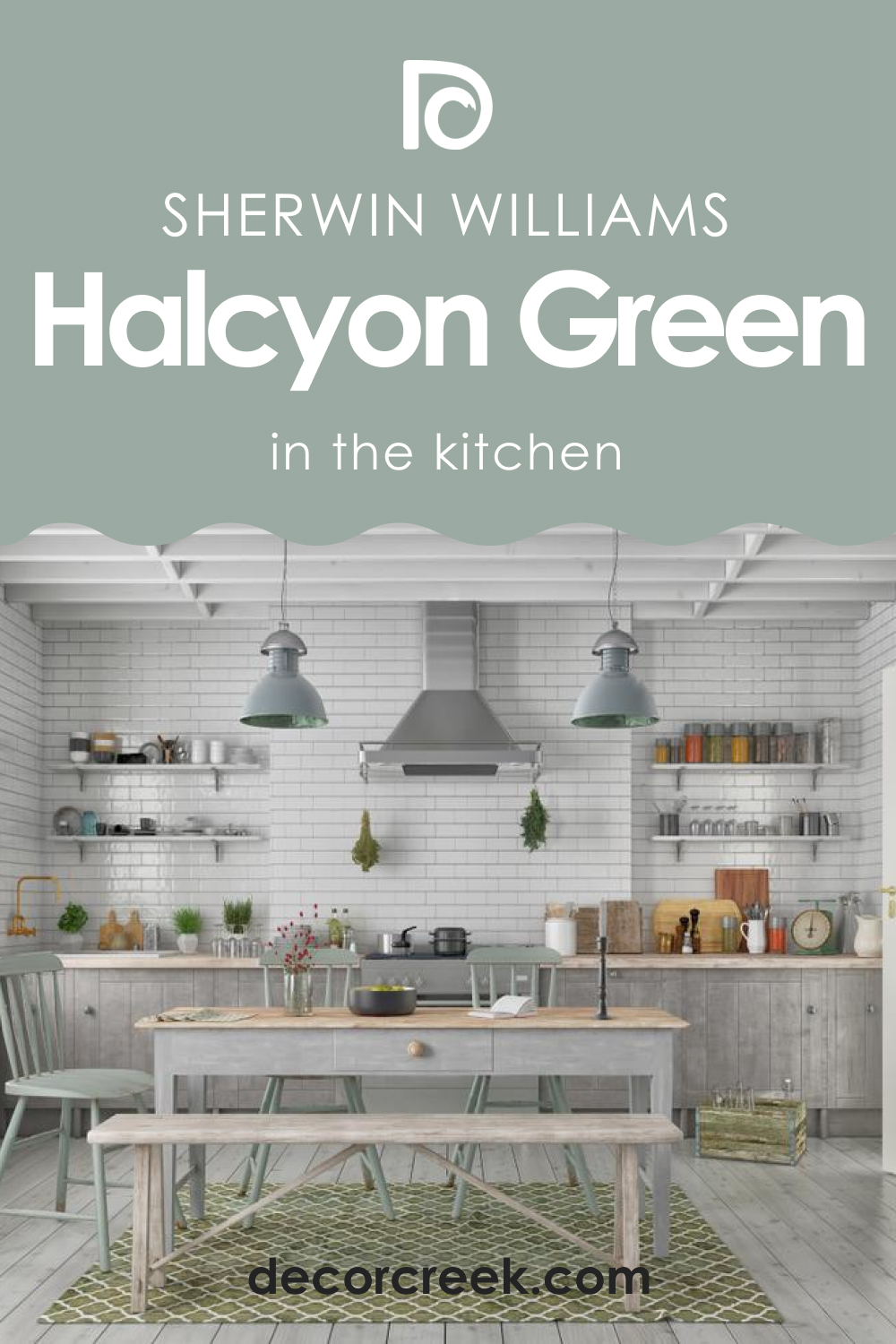 Bathroom and Halcyon Green SW-6213 Paint Color
Halcyon Green can be a good color choice for your bathroom if the room is spacious enough and has plenty of light. In a small bathroom with poor lighting, this green will read much darker, making the space seem smaller than it is. If you still want to have it in your bathroom, opt for painting your vanity cabinets with it, for example.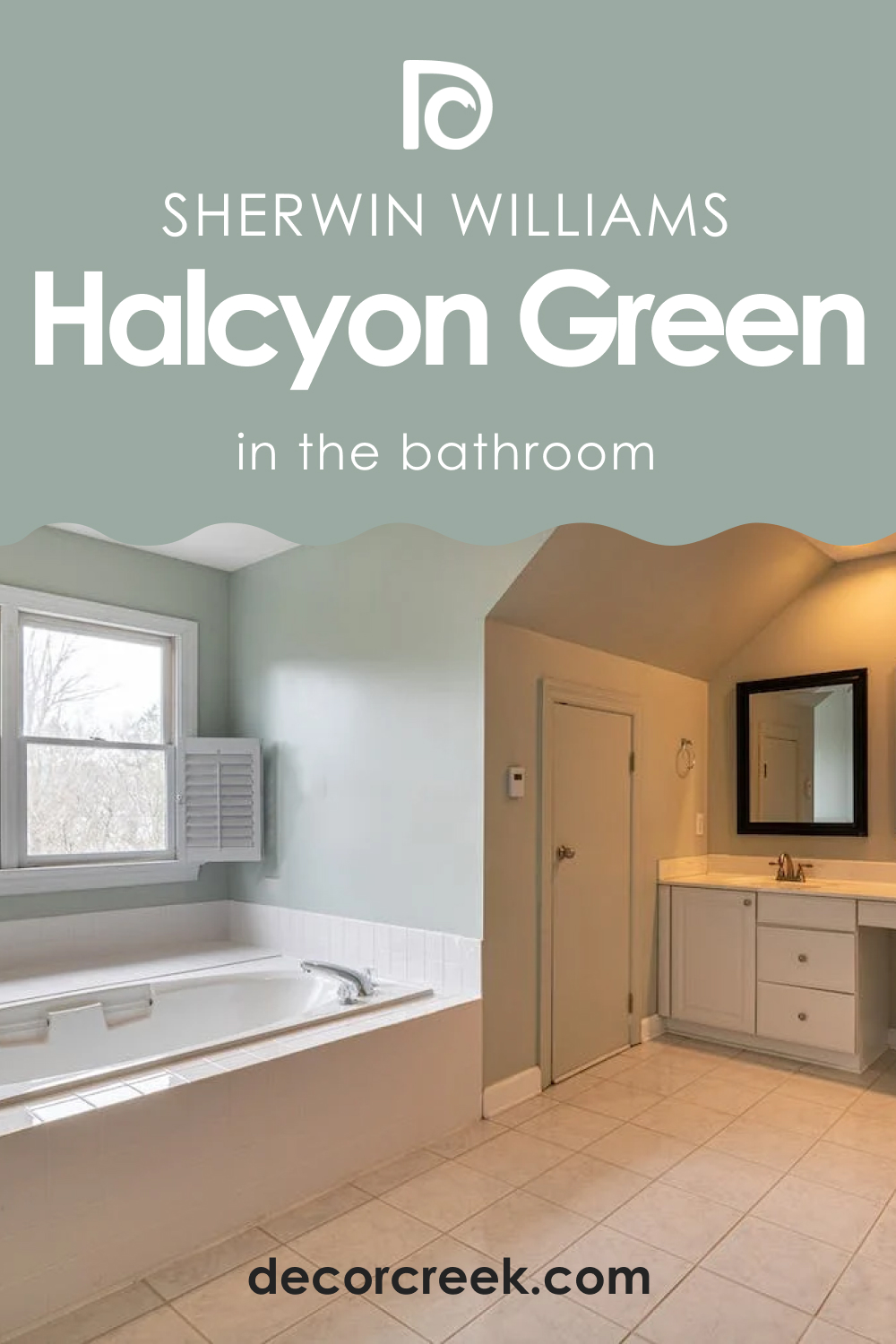 Exterior with Halcyon Green SW-6213
Can Halcyon Green be used as exterior paint? Absolutely! This paint is rated as both interior and exterior paint color, so don't worry about it. Just be careful with the light since it will affect the way the color reads on the walls.
But you can anyway paint your front door with it even if painting the entire house is not an option!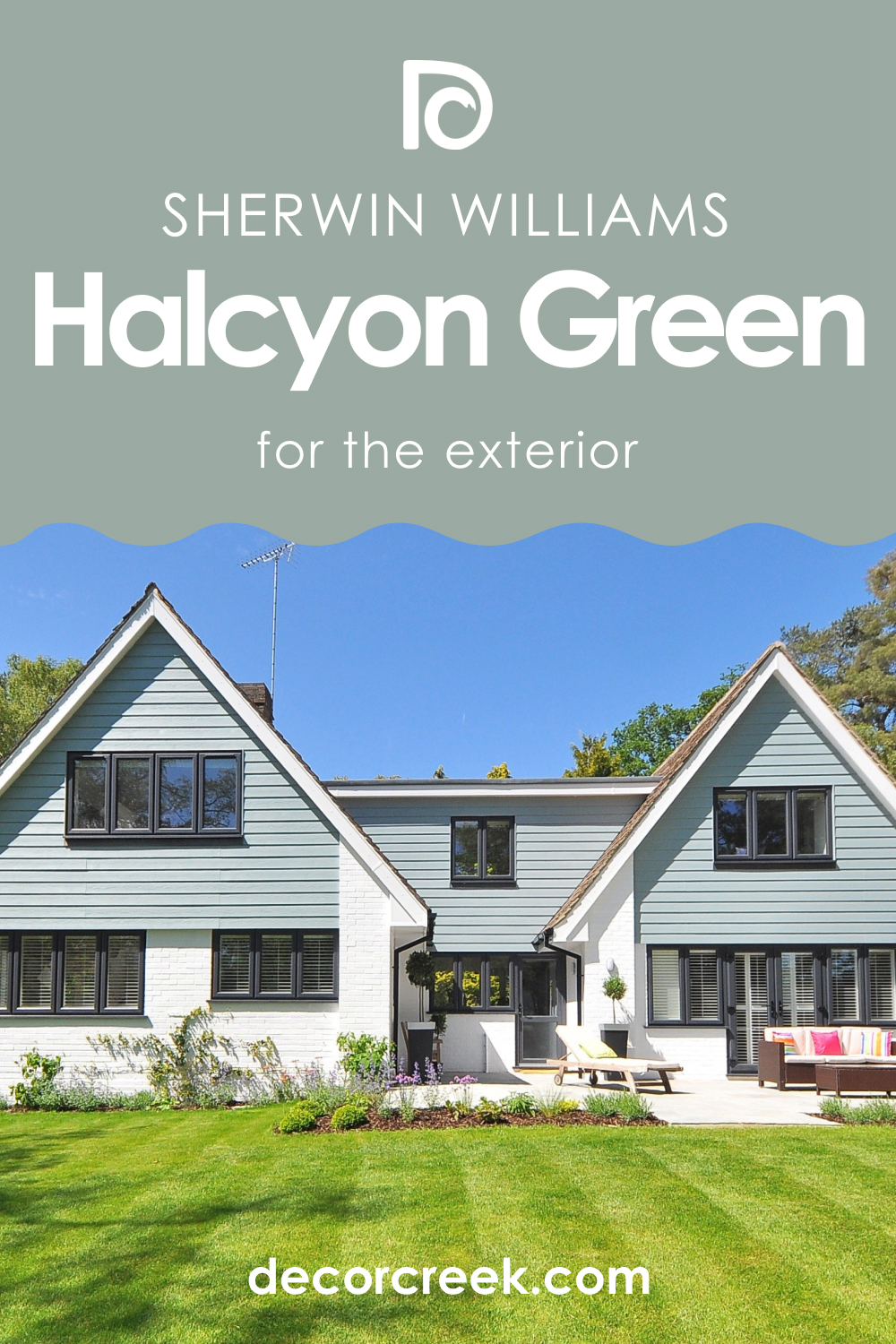 So, now you know a lot about the beautiful green color called Halcyon Green by the Sherwin-Williams brand.
With all the information regarding its undertones, LRV, trim colors, as well as the rooms it's best to be used in, you can make use of this awesome and muted green to make it work in your home or outside of it.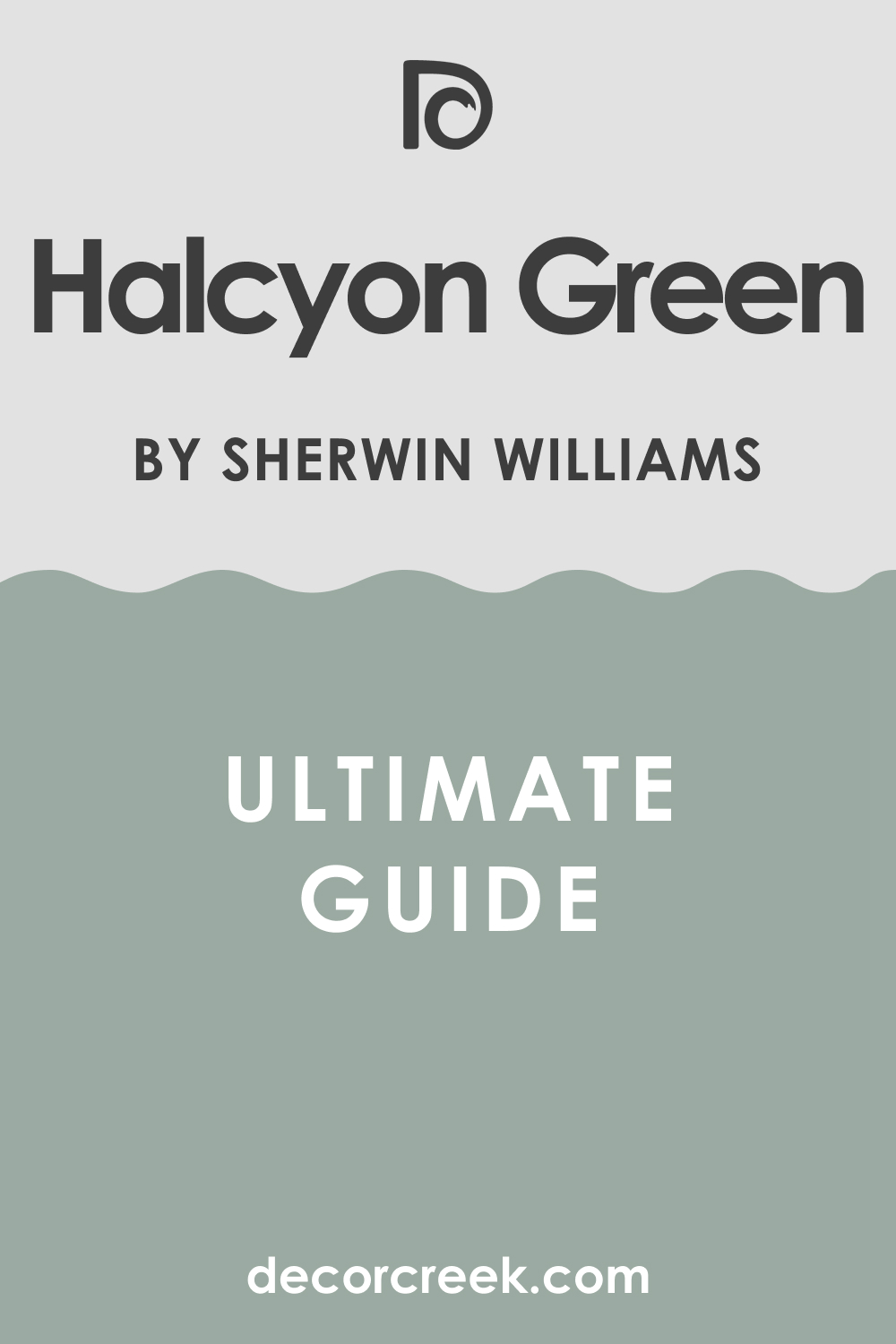 Frequently Asked Questions
⭐Is Halcyon Green a gray color?
No, it's not. It's actually a green color with gray and blue undertones.
⭐Will Halcyon Green work on basement walls?
It might read a bit too dark in such a poorly lit space as a basement. You'd better use a lighter color, e.g. white.
⭐Is Halcyon Green a good color for a room with wooden floors and warm light?
It depends on what you prefer. If the floors are of light-colored wood, then Halcyon Green may read much warmer on your walls!