Although most people prefer using simple colors in their homes that are easy to pair with other colors and hues, there are homeowners who tend to select complex shades for their homes. SW Oyster Bay is one of those colors.
And if you would like to try it in your interior but you don't feel confident enough about the correct use of it, this article will help you out.
You will learn what undertones and LRV this color has, what colors you should use to coordinate with it, and in what rooms SW Oyster Bay is best to be used.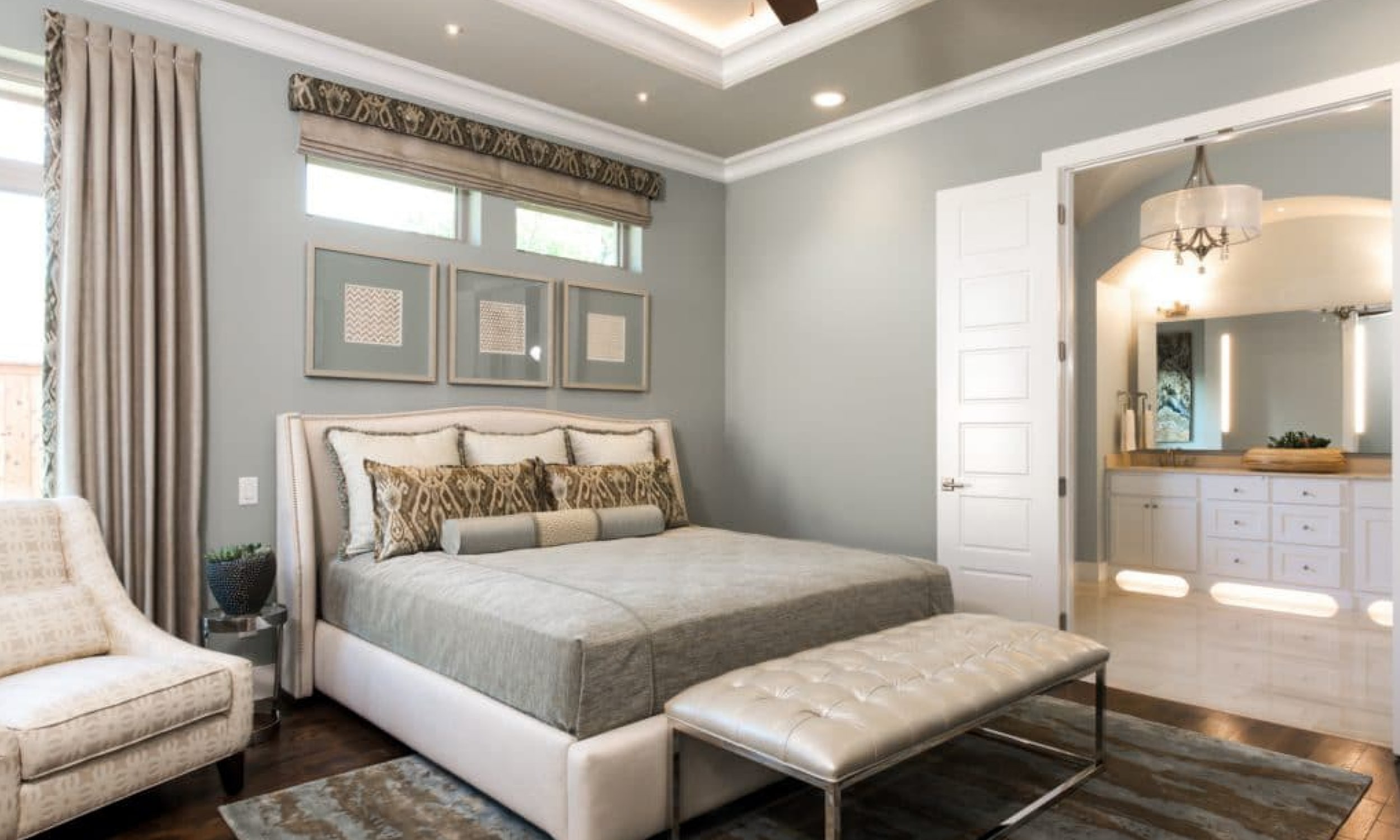 What Color Is Oyster Bay SW-6206 by Sherwin-Williams?
You don't have to be a professional painter or interior designer to see that SW Oyster Bay is a green color, as Encycolorpedia says. However, it is not that grassy and juicy shade of green that reminds you of spring and grass! On the contrary, this green is muted and calm, being closer to seashell color or the color of seaweed.
To be precise, SW Oyster Bay is a green-brown color that has a slight tinge of gray. This color is perfectly timeless and graceful, giving any room a classic touch! Oyster Bay is not very bold. Instead, it has a calm and soothing appearance.
More like neutral and slightly leaning towards the 'cool' end of the scale, this color has a lot to offer to you!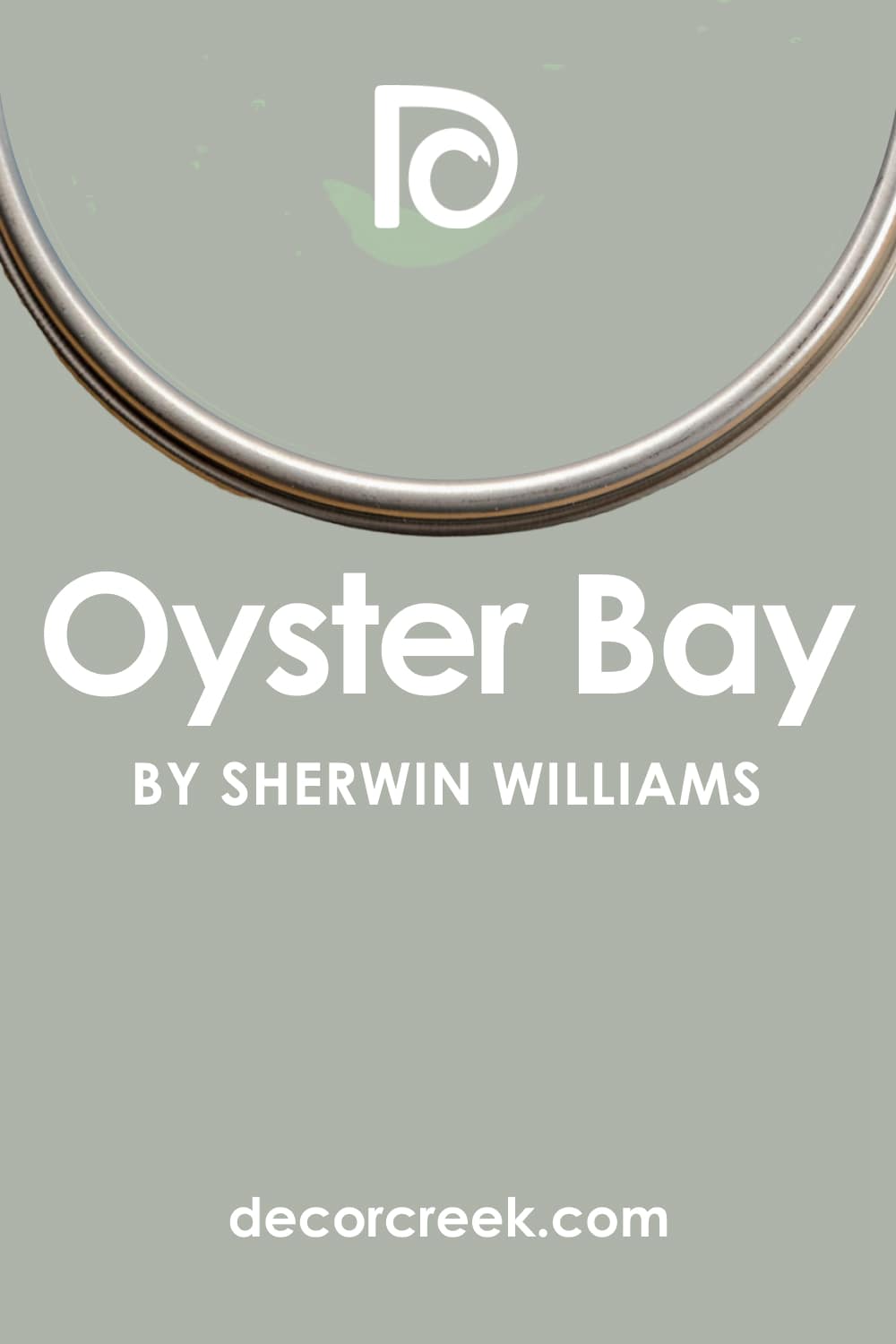 SW Oyster Bay SW-6206 Undertones
Speaking of undertones, this color is pretty complex. See, SW Oyster Bay paint color has gray and bluish slate undertones that may appear under distinct circumstances and in a different light. This is why it is essential to be aware of them, as well as the way this color reacts to light. This way, you will be able to tell in advance how it will read on your walls.
For example, in a room with a lot of natural light, SW Oyster Bay will show more of it gray undertone. Also, a hint of cold blue might be revealed.
At the same time, in a room with warm artificial light (e.g., bulbs), this paint color will read greenish much more straightforwardly. Also, you might see a brown hue in it if there are brown items in the room (e.g., carpets, curtains, upholstery, floors, etc.).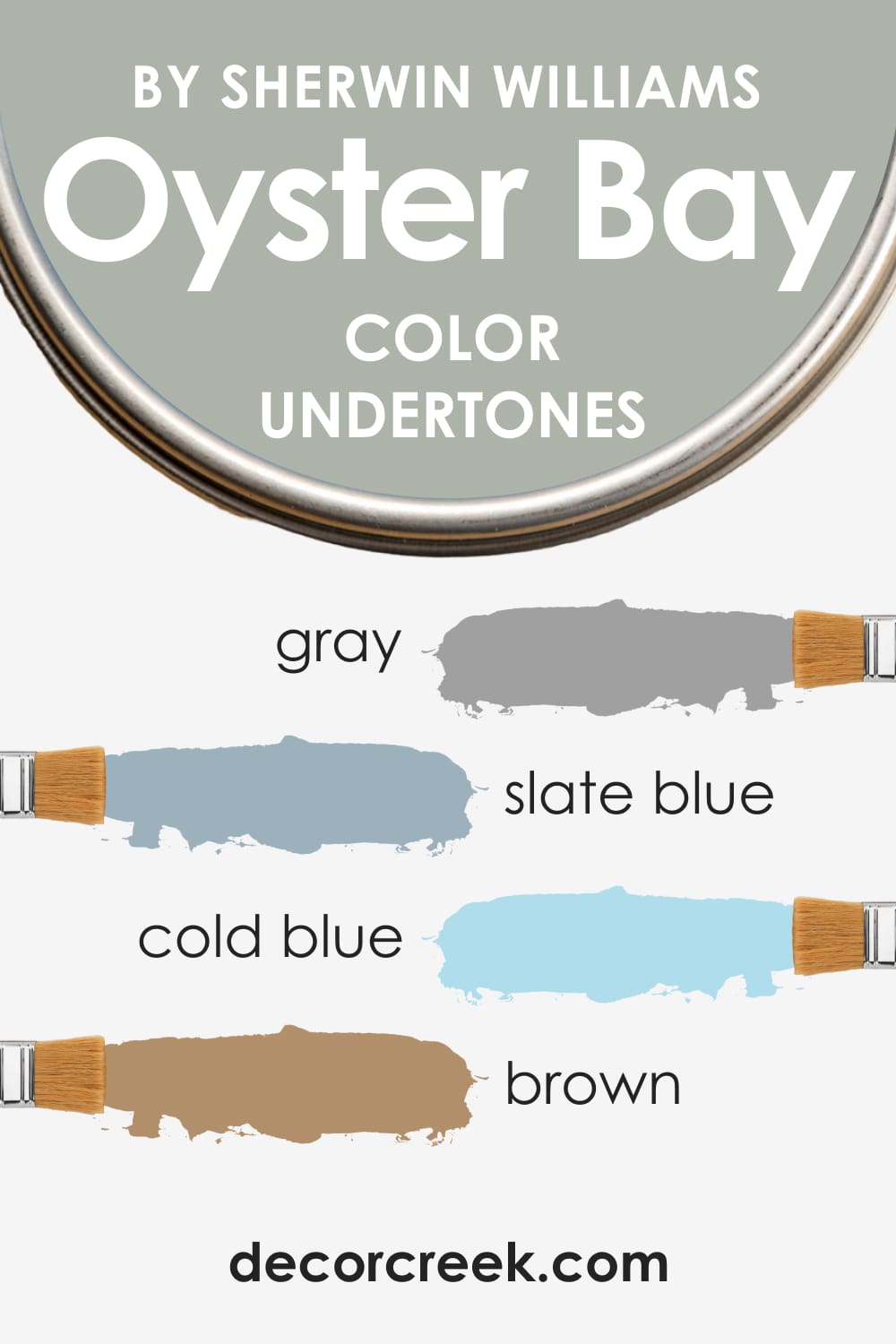 LRV of Oyster Bay SW-6206
Speaking of the color's LRV, you need to know it to be able to predict the way the paint reads on the walls. LRV stands for Light Reflectance Value. It is the measure of how much light a color reflects when it is applied to the wall. In other words, LRV shows how bright a color is. On a scale of 0-100, 0 is the deepest black, and 100 is pure white.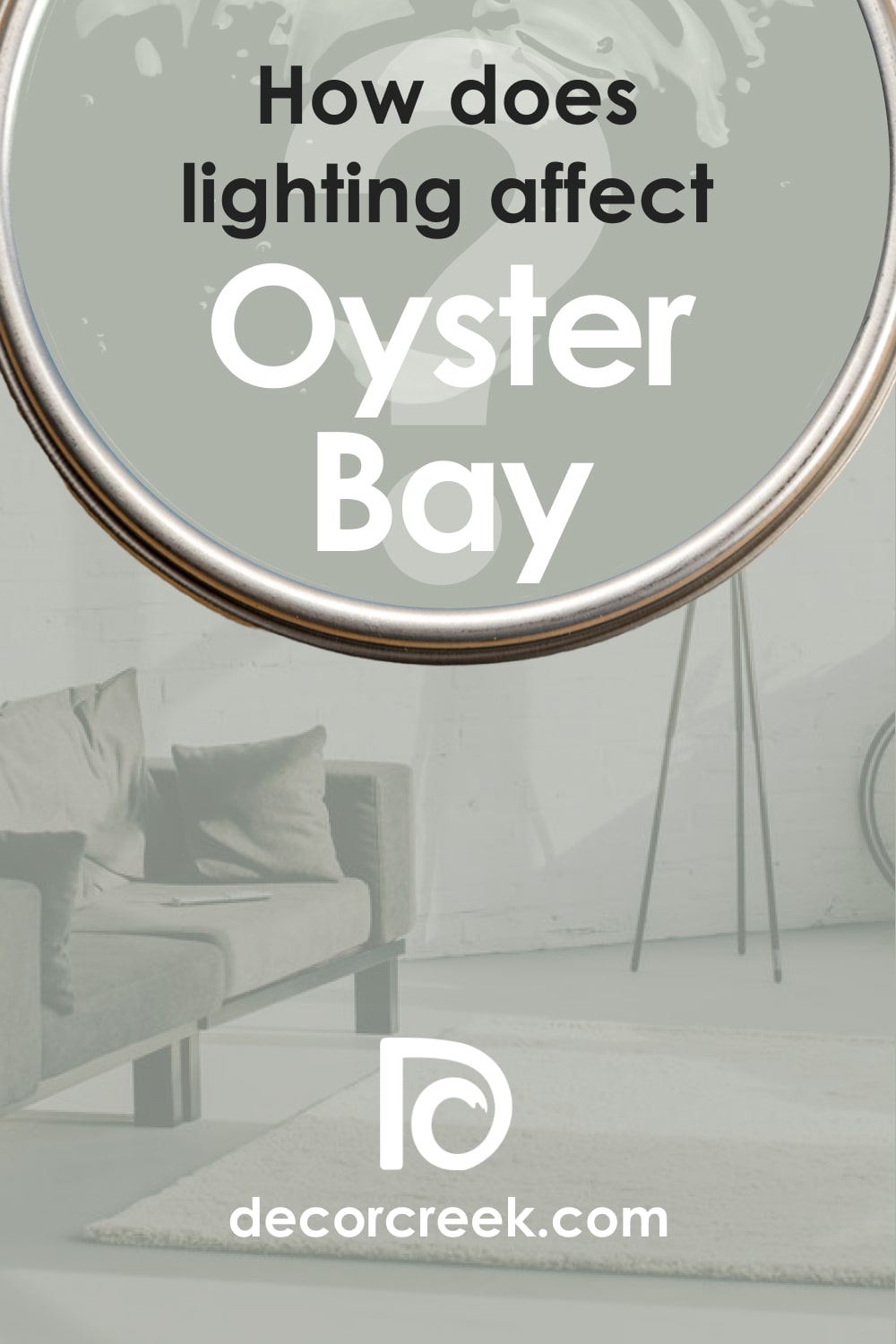 The LRV value of SW Oyster Bay is 44, which means that this color is not going to reflect a lot of light. And instead, it will absorb it. So, in general, you can say SW Oyster Bay is on the darker side of the LRV scale.
But even though the LRV of the color is not very high, it will still make your room look spacious and brighter! Undoubtedly, SW Oyster Bay has a calm and soothing vibe to it!
Also, you should note that light does affect this color! Depending on the artificial warm-yellow light, warm-whites, and cool-white light in a room, this color may change its appearance quite significantly. Even natural lighting affects this color, making it look light and bright.
And if you are afraid that this color can make a small room look even smaller, don't worry. Feel free to use SW Oyster Bay in small rooms, but remember to pair it with whites and off-whites to add more air to the space.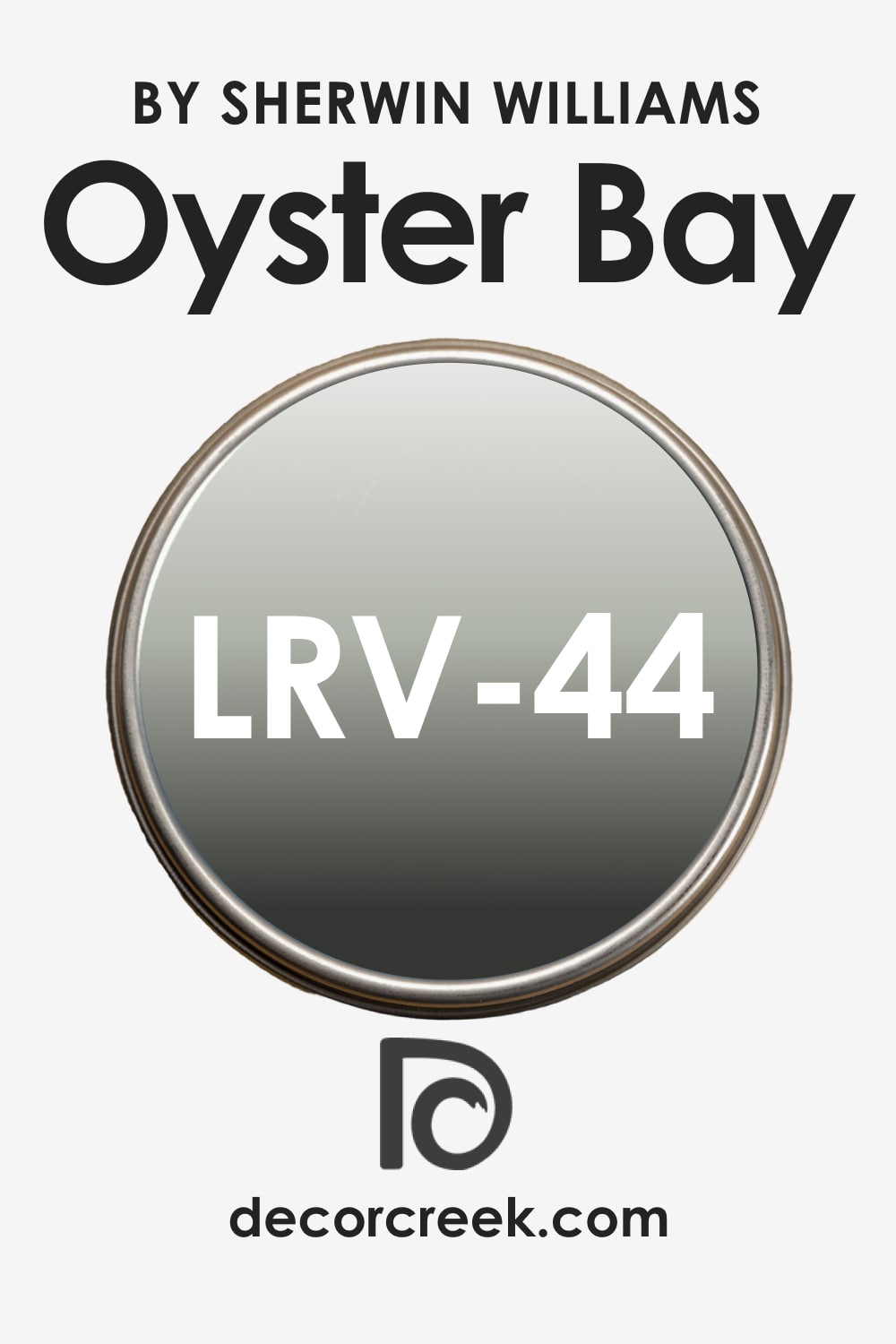 LRV – what does it mean? Read This Before Finding Your Perfect Paint Color
Oyster Bay SW-6206 Coordinating Colors
Coordinating colors help you pick the most suitable and well-balanced color palette for your home. This is why being aware of them is so important. However, for a common homeowner, it might be difficult to figure out what colors should be used to coordinate the color on the walls. This is why we suggest you get a few helpful color ideas for the Oyster Bay paint color:
SW Spare White
SW Greek Villa
SW Prairie Grass
SW 6207 Retreat
SW 6208 Pewter Green
SW 6209 Ripe Olive
SW 9178 In The Navy
SW 6218 Tradewind
SW 7008 Alabaster
SW 6108 Latte
SW 9165 Gossamer Veil
In general, SW Oyster Bay can best work with creamy off-white, beige, taupe, greige, deep blue, gray, and black colors and hues. If you want to add accents, choose matte black, antique brass, or even natural textures like rattan, wicker, and cane.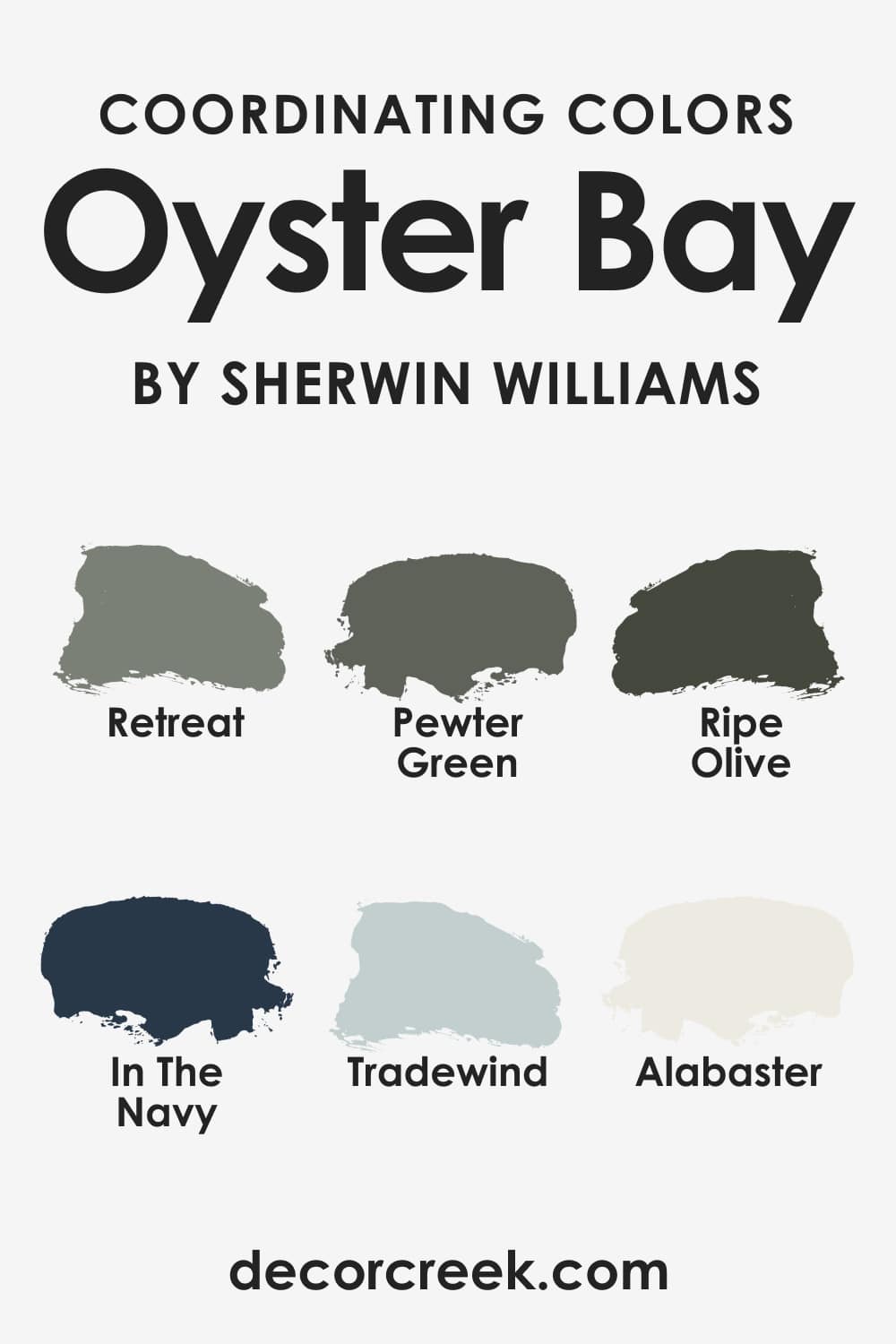 Trim Colors to Use With SW Oyster Bay Paint Color
Since white is a traditional trim color to use, you might think it is easy to choose the right shade to use it on your trims and moldings. However, the reality is that white also comes with a wide range of shades that you should use correctly.
Speaking of SW Oyster Bay trim color, we recommend using SW High Reflectance White or SW Pure White. This color will not only allow you to enjoy the most of the Oyster Bay paint color, but it will also make this brownish-gray green work really well in a space! As an option, you might also want to try BM White Dove.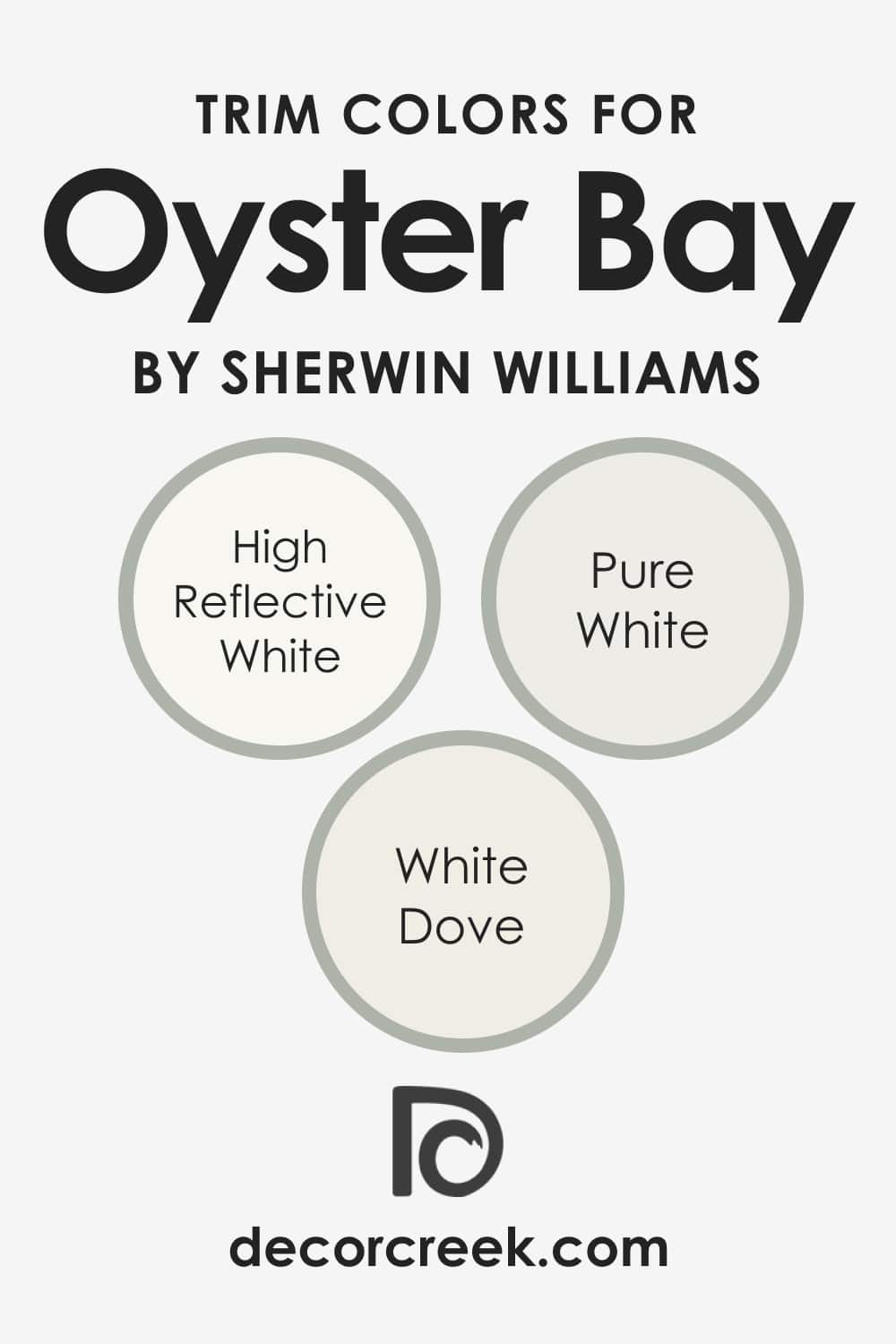 Colors Similar to SW Oyster Bay SW-6206
Why do you need to know what similar colors can be used instead of the wall color you have right now or planning to have? Maybe you decide to use a bit different shade of the existing color; maybe, you realize that you need a darker/lighter shade of the color you have now.
Or perhaps after you sample the color you want to use, you notice that it won't fit your room decor.
Anyway, for any color, it's good to have several alternative colors at hand to use as substitute colors. For SW Oyster Bay, the following can be considered similar:
SW Contented
SW Acacia Haze
SW Comfort Gray
SW Magnetic Gray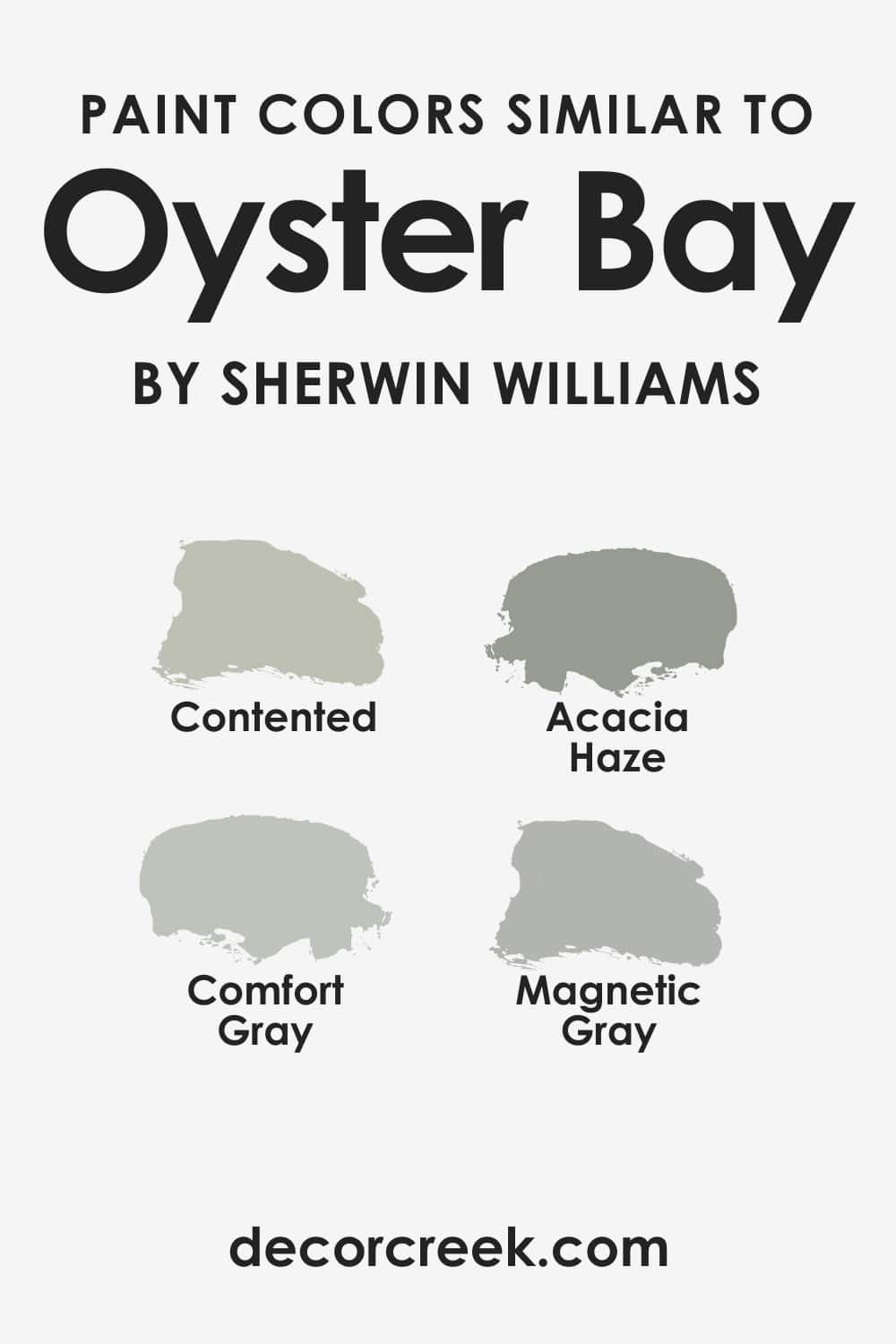 Colors That Go With SW Oyster Bay Paint Color
When you know what colors go well with the existing wall color, you can make up a harmoniously looking color palette in your living space much easier. With such a complex color as SW Oyster Bay, there might be problems due to its undertones and tricky way of reacting to light.
This is why we suggest you check out what paint colors will work best with it:
SW Intimate White
SW Rock Candy
SW Pure White
SW Urban Bronze
SW Tricorn Black
BM Spellbound
SW Halcyon Green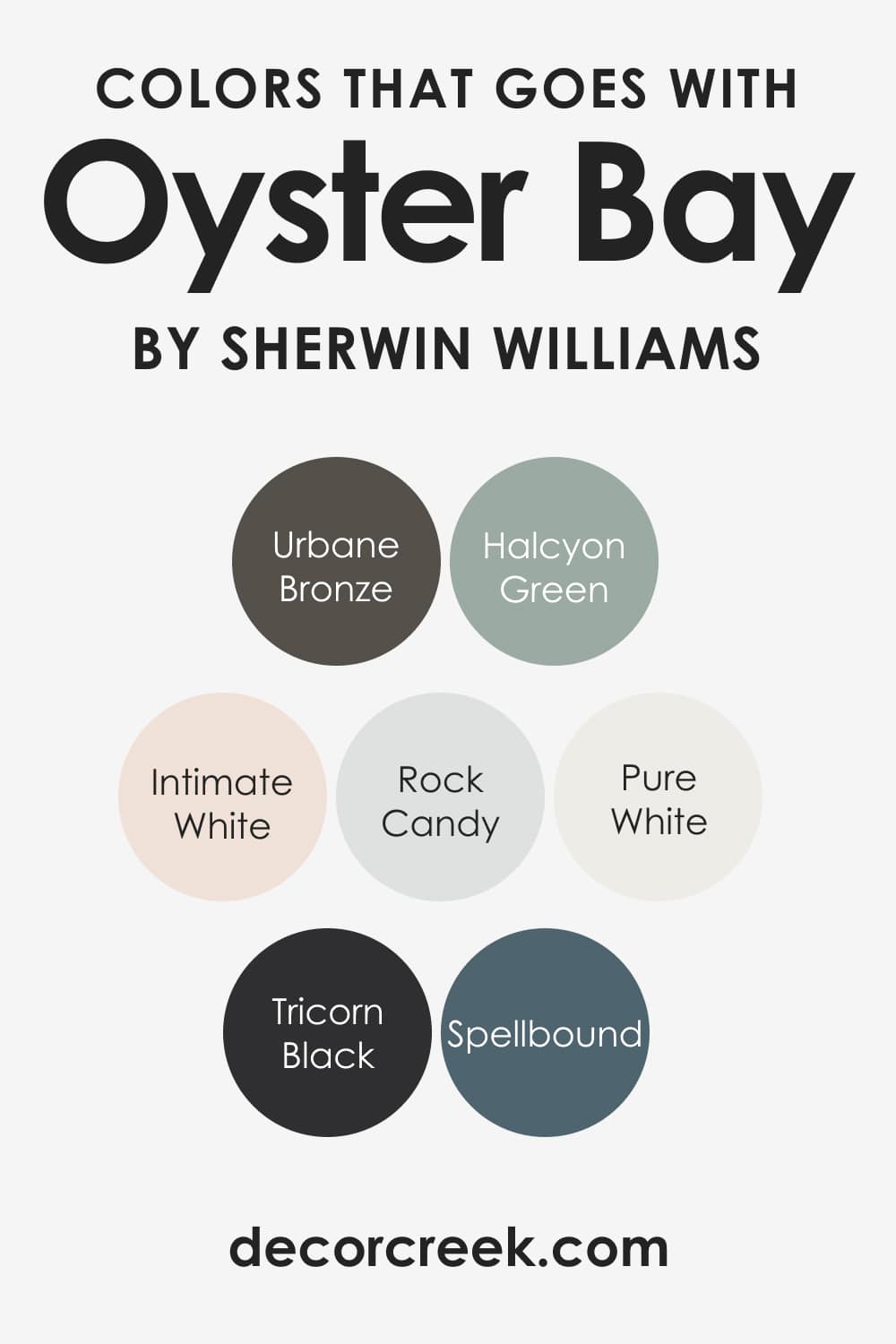 Comparing SW Oyster Bay Paint Color to Other Colors
Since SW Oyster Bay has several colors that are very close to it in terms of undertones and shade, it might be difficult for you to see the difference between such colors, and thus, it can create complications when choosing the most suitable color for your home.
Below, you can find the description of several colors similar to SW Oyster Bay. This guide will help you to see the distinctions between them better.
SW Oyster Bay vs SW Evergreen Fog
In general, these two can be successfully used together and even on the same surface, although they have some distinctions. SW Oyster Bay contains more gray tones in it than SW Evergreen Fog which is significantly greener. Also, SW Evergreen Fog has a more pronounced earthy feeling. In addition, Oyster Bay looks much more cool-toned than its warmer "colleague".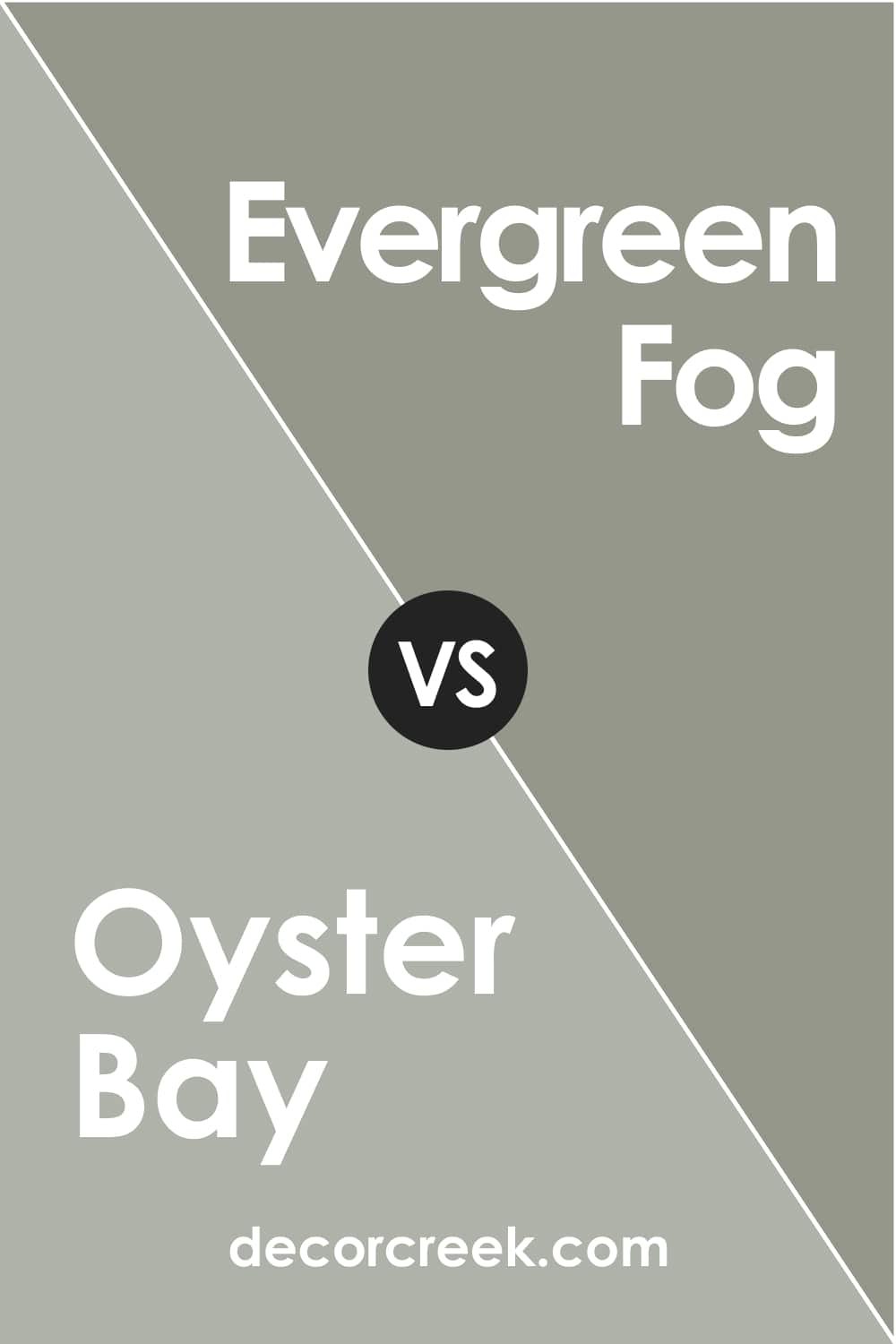 SW Oyster Bay vs SW Sea Salt
If you compare these two, you will see that Oyster Bay paint is a deeper and more dramatic color than SW Sea Salt. In fact, you can say that Sea Salt is the same color, just a few shades lighter!
SW Oyster Bay has the same undertones (gray and blue) as its counterpart, but it's a lot more pigmented. So it will have a much more dramatic and intense effect in a room.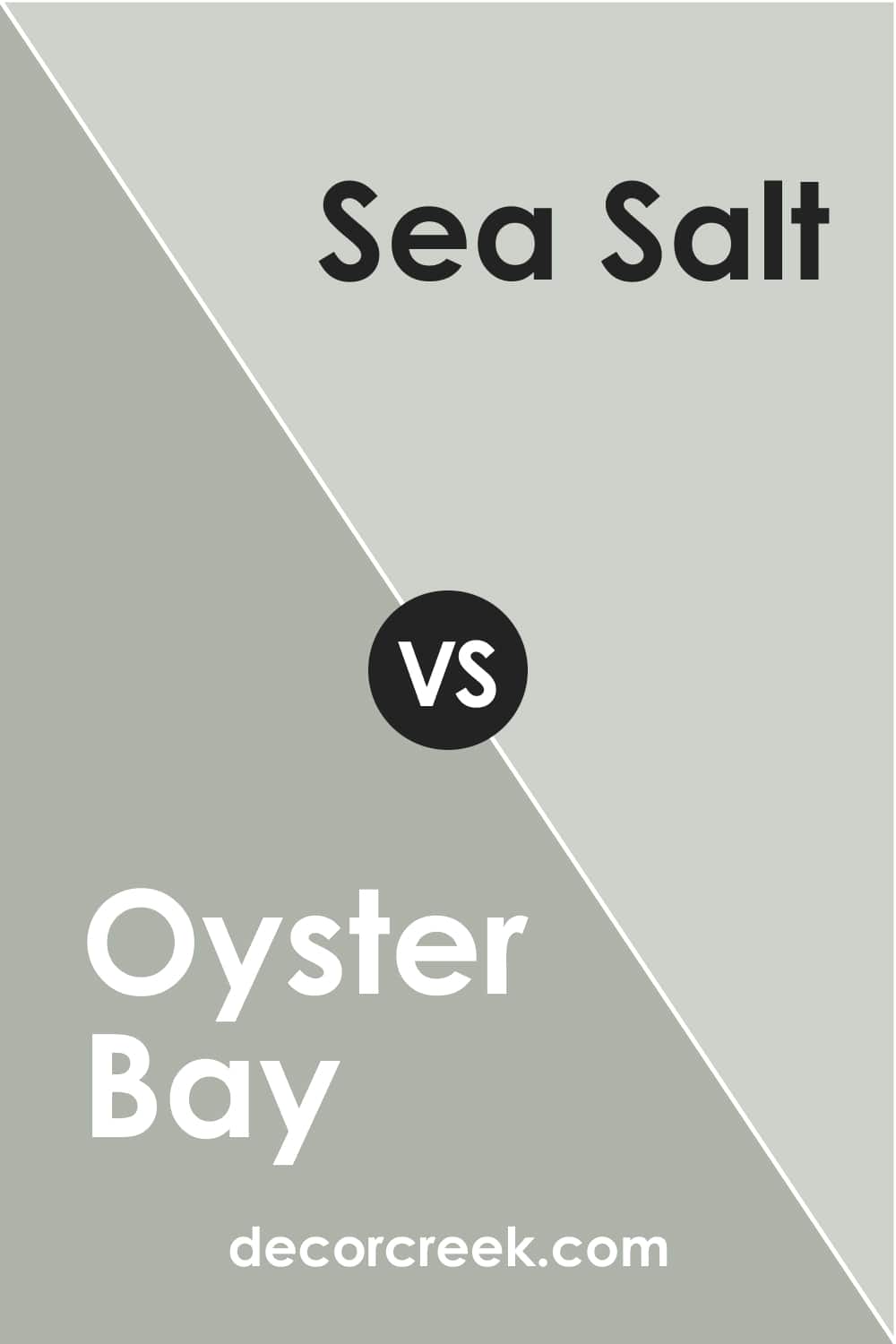 SW Oyster Bay vs BM Silver Mist
BM Silver Mist is a blue-green color that leans blue but has enough green and gray to make it read balanced. In comparison, SW Oyster Bay looks a lot grayer, although it has sage green in it as well. In terms of brightness, they are pretty close: Silvermist has an LRV of 47, and Oyster Bay is 44.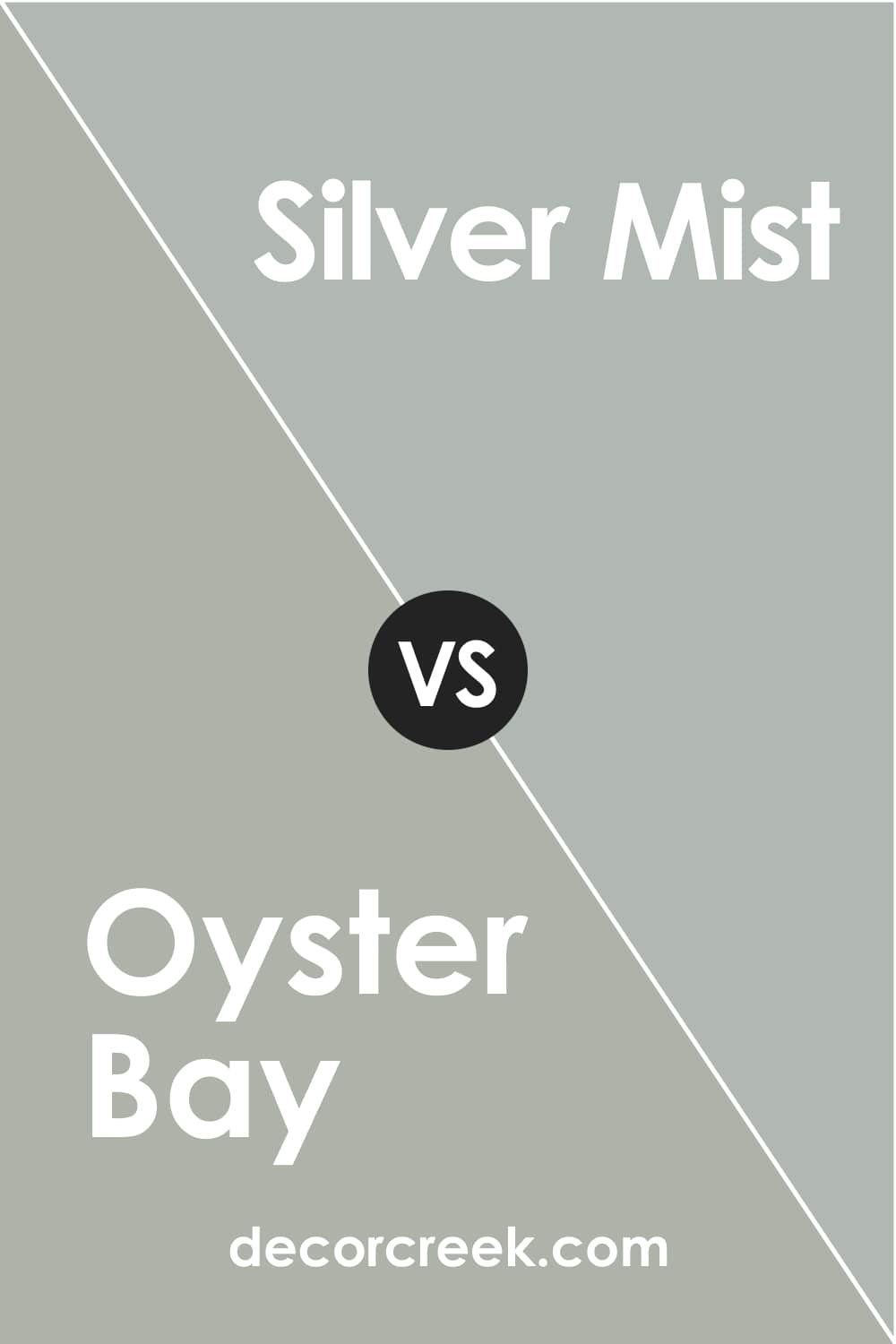 SW Oyster Bay vs SW Comfort Gray
If Oyster Bay is too intense for you, Comfort Gray might be a good alternative. It has enough green to make it warm and earthy, but it's lighter with an LRV of 54 and less dramatic than Oyster Bay.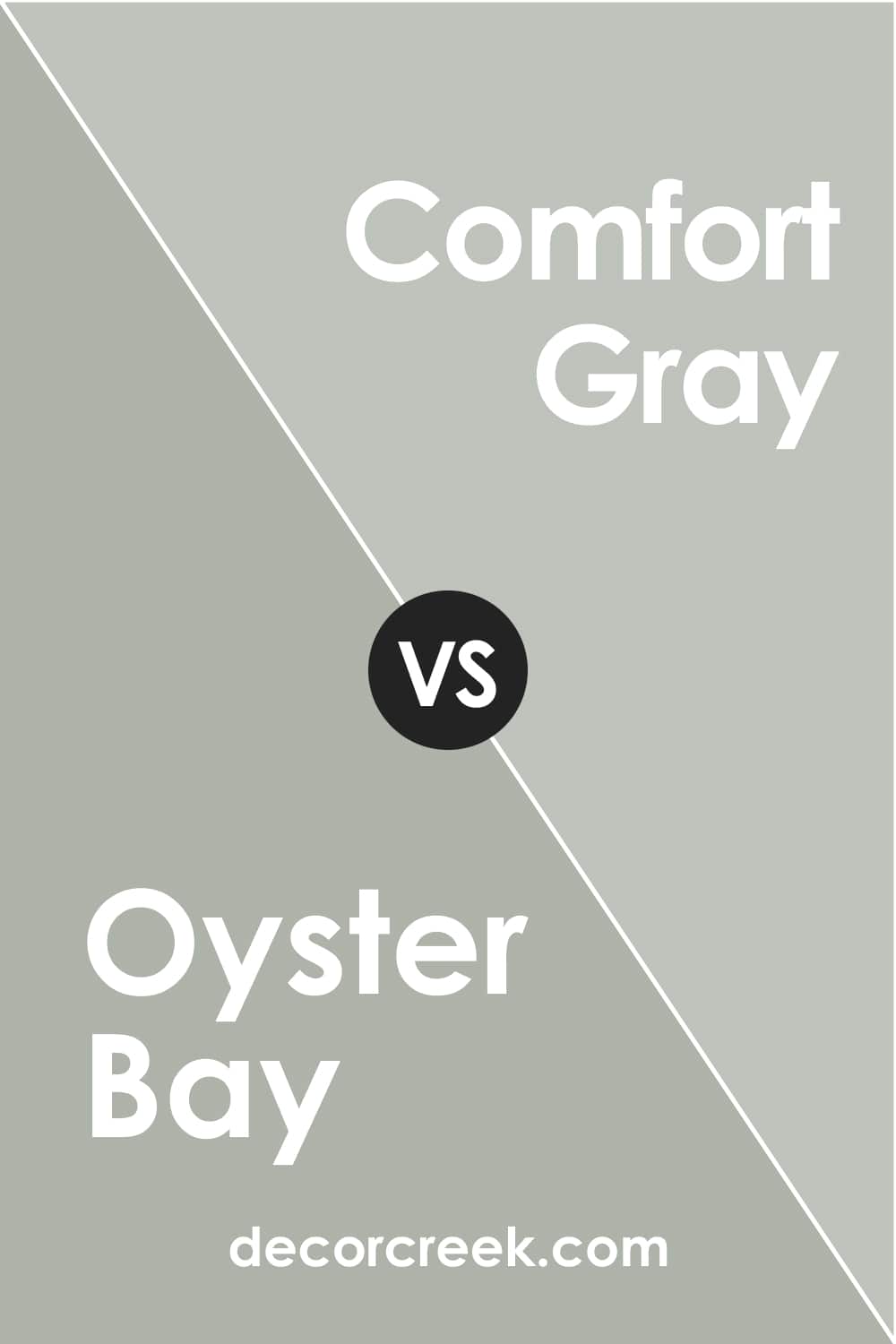 SW Oyster Bay vs SW Escape Gray
The LRV for Escape Gray is 41, which makes it comparatively darker than SW Oyster Bay. Escape Gray is also more subtle, with a highly cool-toned background. Besides, the undertones of these colors differ: Oyster Bay has bluish and gray undertones with a hint of brown sometimes. SW Escape Gray comes with blue-gray undertones.
Now you know all the essential characteristics of the paint color called Oyster Bay by the Sherwin-Williams brand. Being aware of its undertones, LRV, and coordinating colors, you will easily match this color with others.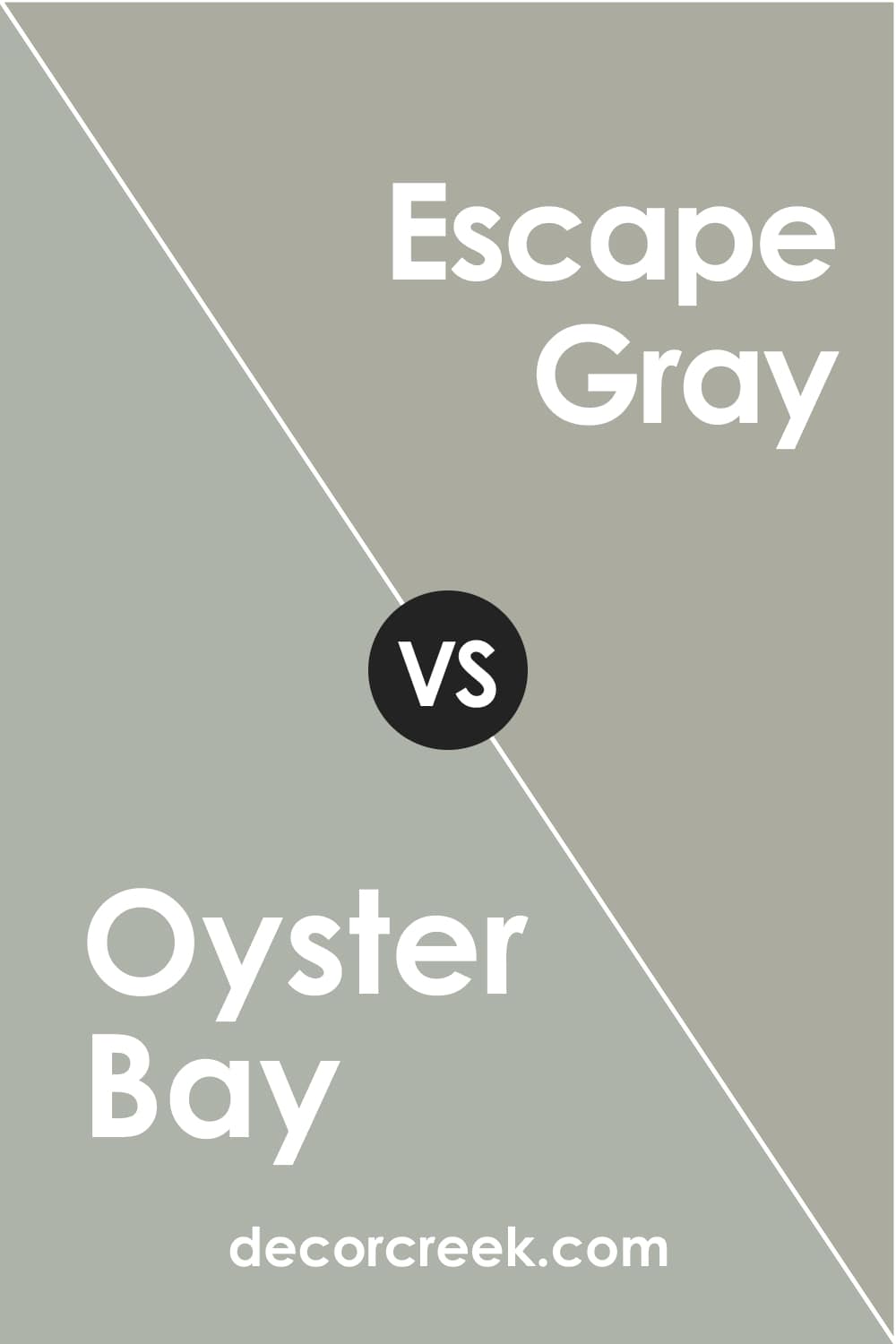 Where to Use Oyster Bay SW-6206 In Your Home?
Since SW Oyster Bay is quite a complex color, you should know in what rooms it will work best of all. This is why we recommend you read about the most suitable and winning room ideas that will help this color show its best.
Oyster Bay SW-6206 and Living Room
SW Oyster Bay is a good color selection for the living room. It pairs nicely with wooden textures and stark white colors. Just pair this green color with whites, off-whites, and natural hardwood textures, and your living room will turn into a cozy and welcoming space.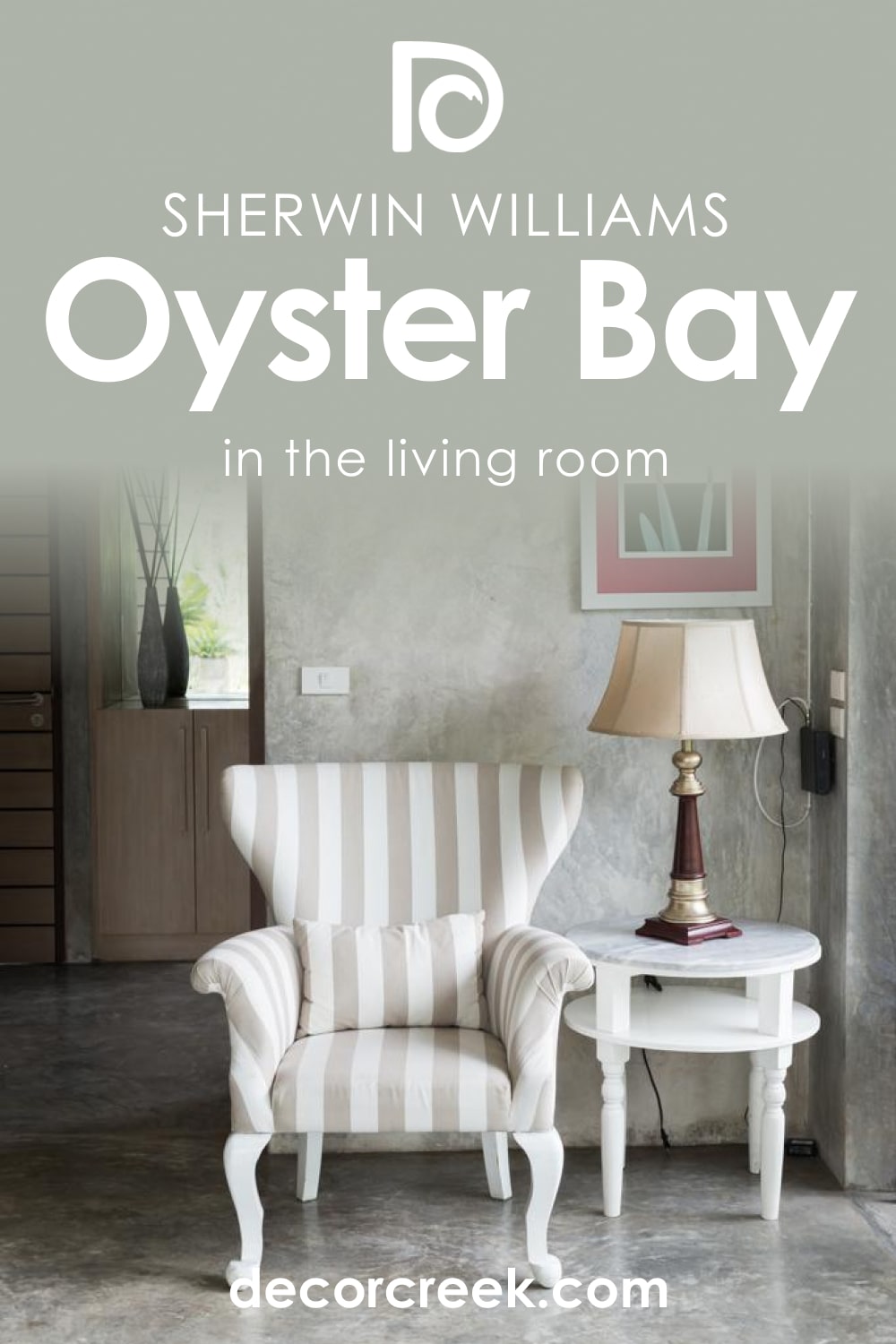 Oyster Bay SW-6206 in a Bedroom
Sherwin-Williams Oyster Bay can also work well in your bedroom. If you use this color with whites, you will make the room feel soothing and relaxing. You could use white headboards with side tables or even matte-black tinted floor lamps for this purpose! Off-white and brown colors are highly recommended too.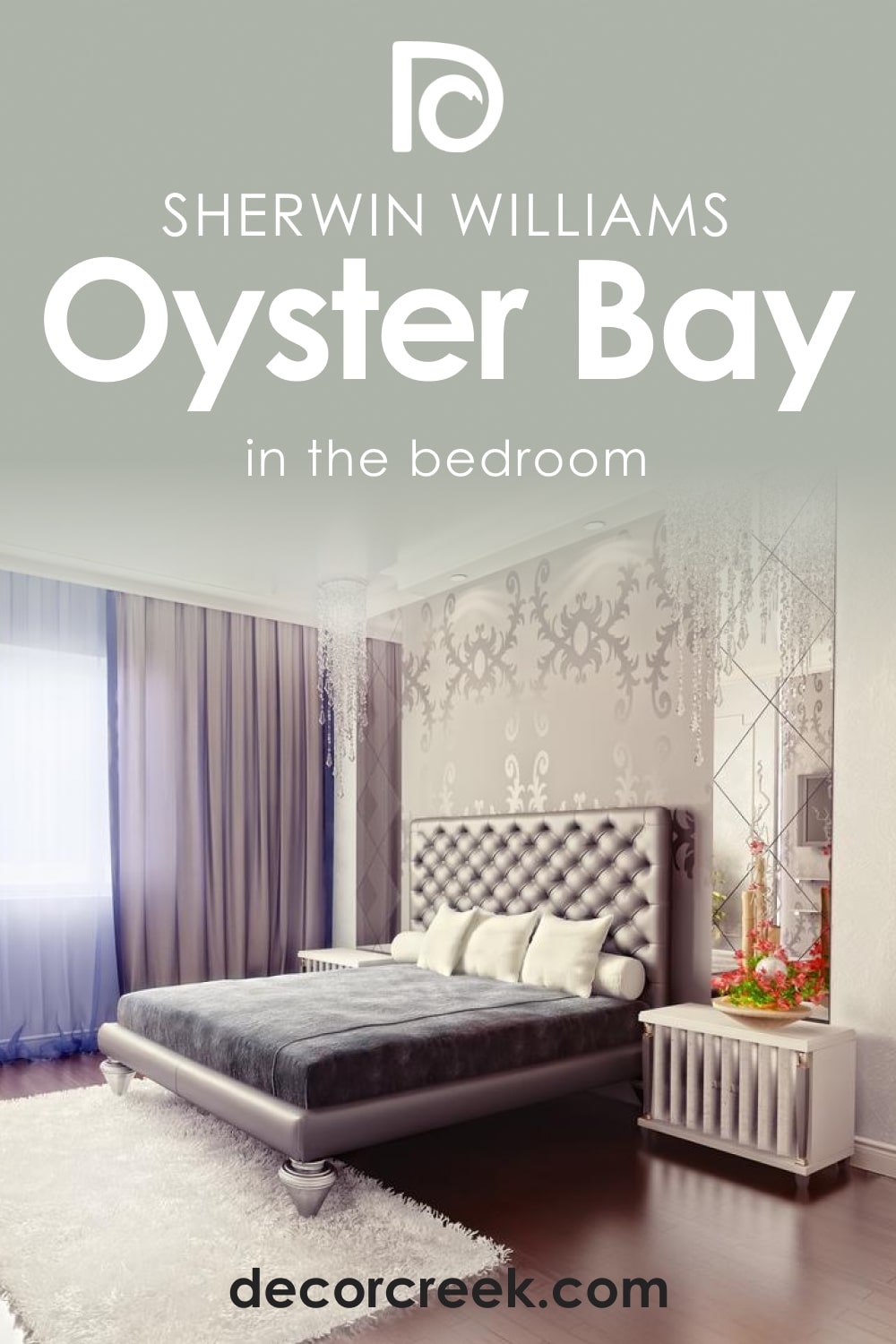 Bathroom with Oyster Bay SW-6206
SW Oyster Bay is also a highly recommended paint color for bathrooms since it can add a sense of serenity to the space. You can either paint all the walls in this color or just use it to accent one of the walls. It will also work well on your vanity or entryway door.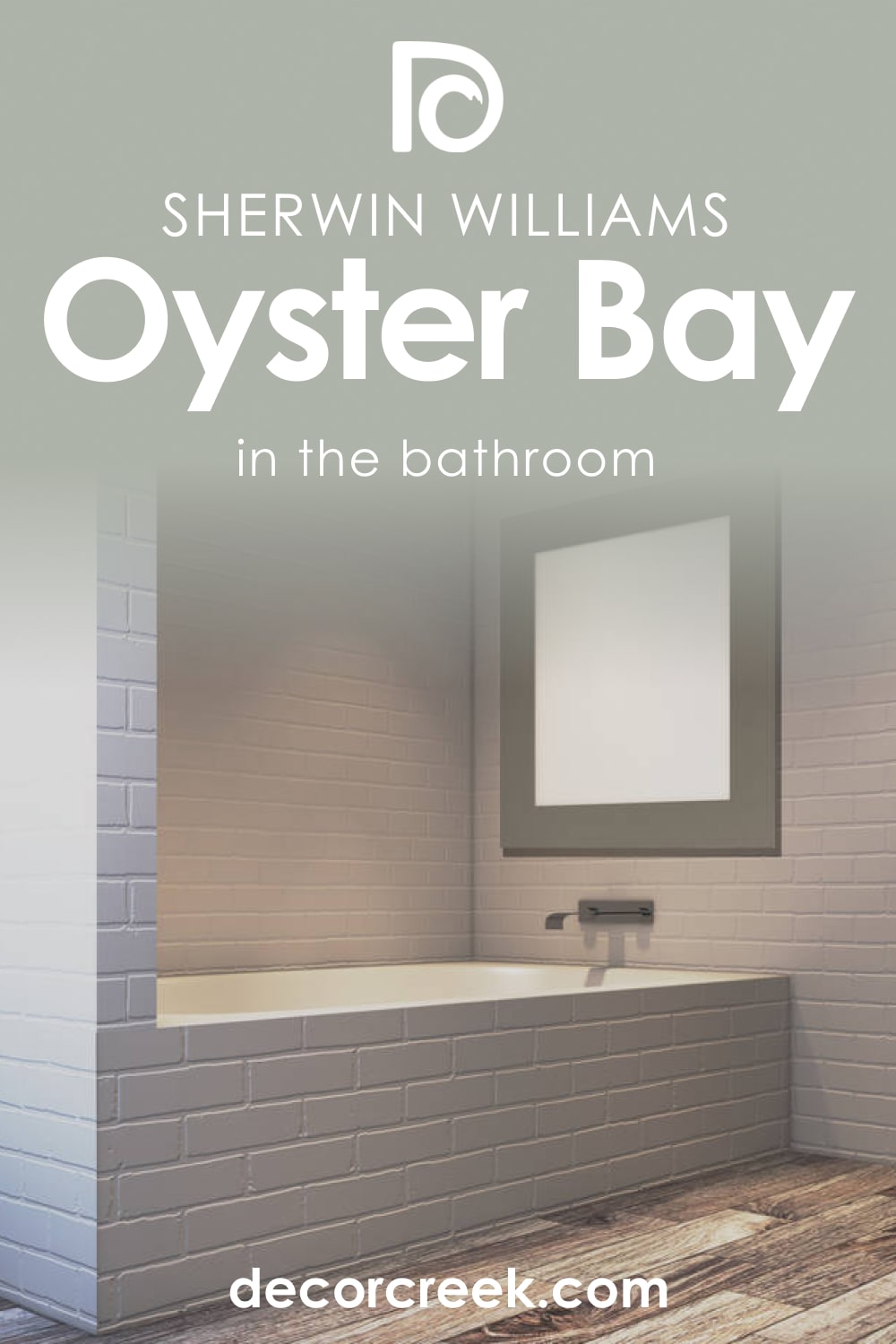 Oyster Bay SW-6206  for the Kitchen
SW Oyster Bay will also be suitable for your kitchen. You can paint your walls in Oyster Bay, leaving the cabinets stark white or off-white. Also, this greenish color will read nicely with the countertops in white marble or granite!
In case you want to paint your kitchen cabinets in Oyster Bay, paint the walls in white or off-white neutral.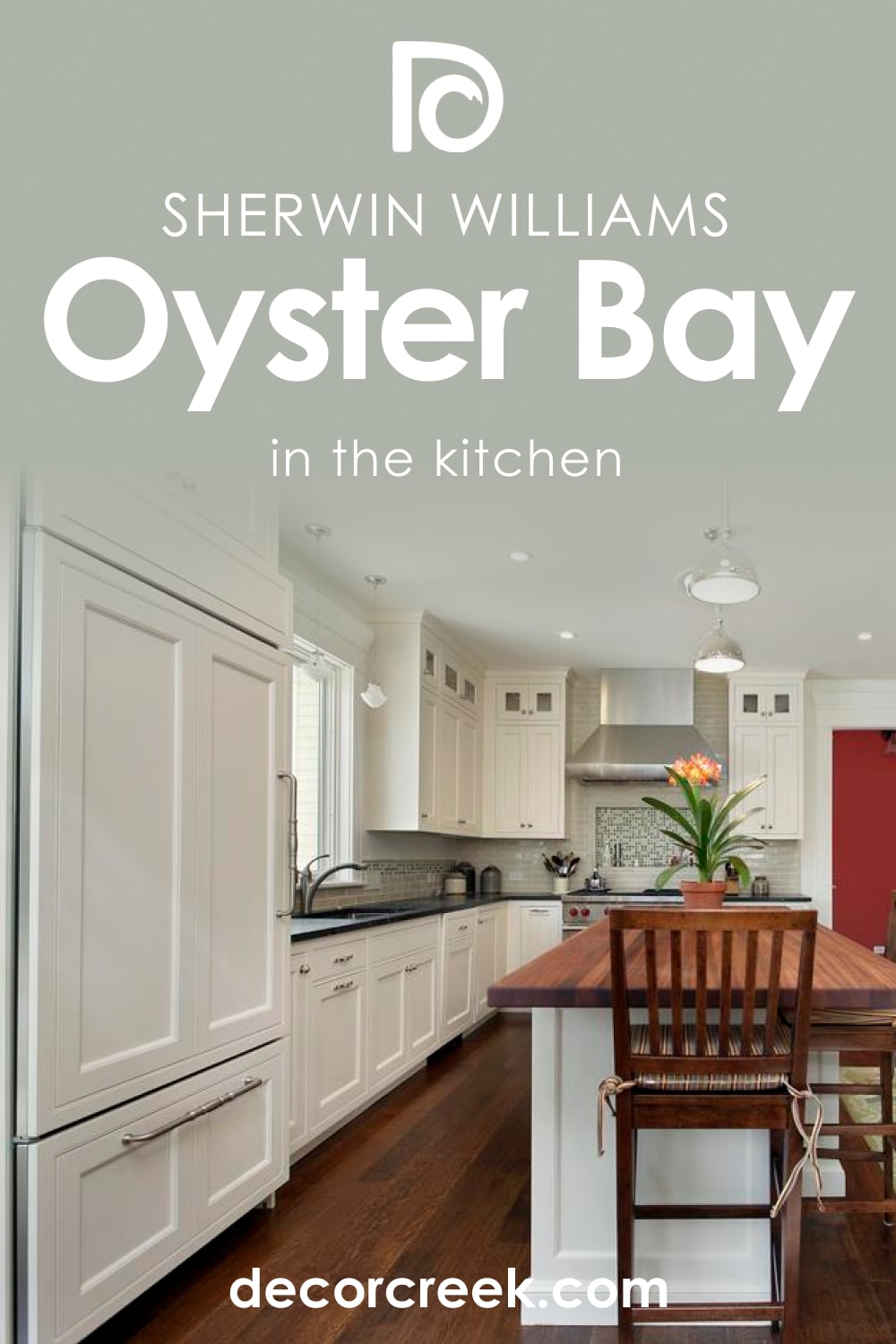 Oyster Bay SW-6206  for the Exterior Use
Sherwin-Williams Oyster Bay will also make a great statement on the exterior of your home. Whether on the exterior walls or the entryway door and shutters, this greenish color will be an excellent option for the Coastal and traditional design style.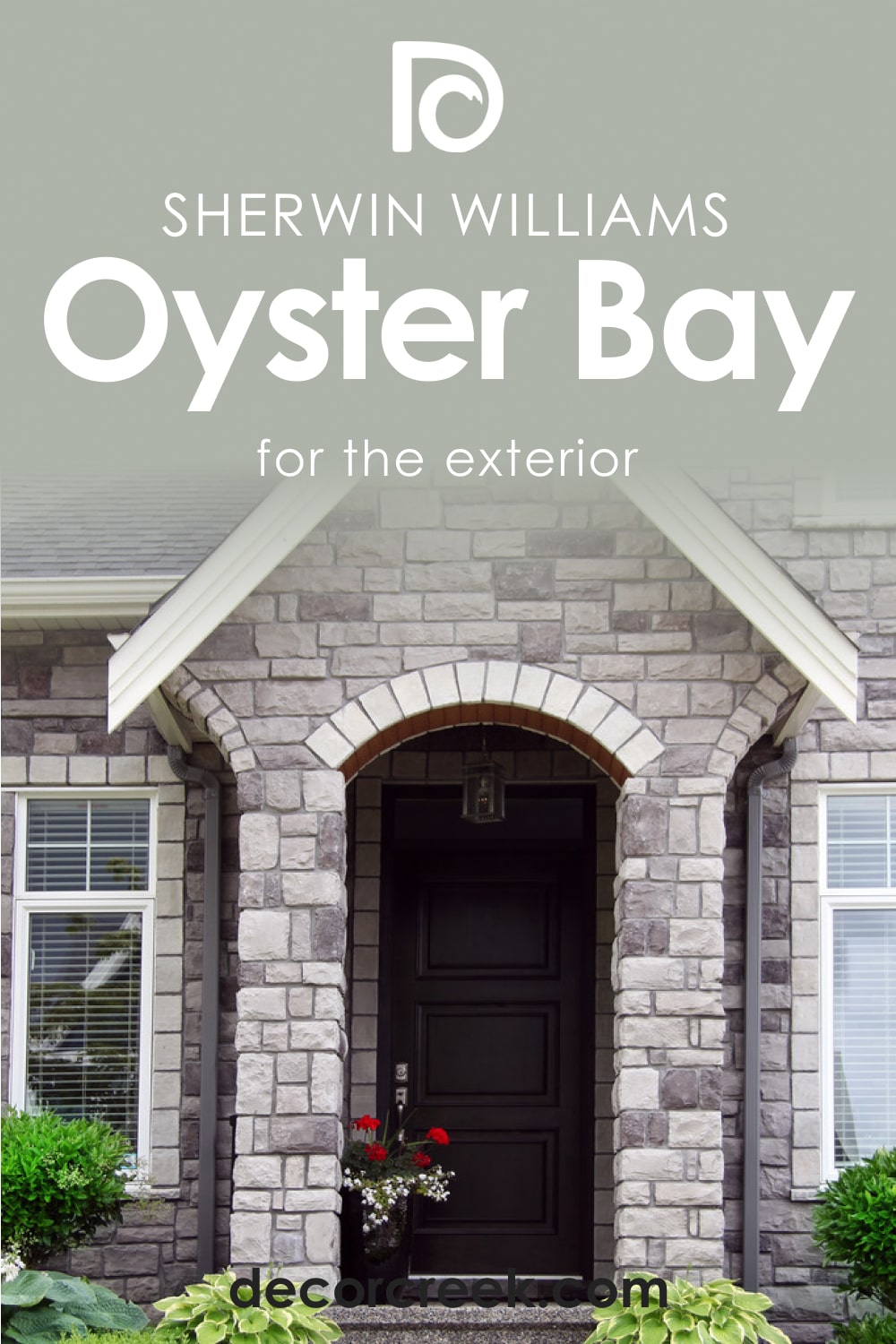 Now you know more about the color called Oyster Bay and its specifics. You know what undertones it has, what LRV this color comes with, and what colors you should use to coordinate it. Also, we explained in what rooms this paint color should be used and how it may react to light.
With all that in mind, you will easily create a balanced and harmonious atmosphere in your home.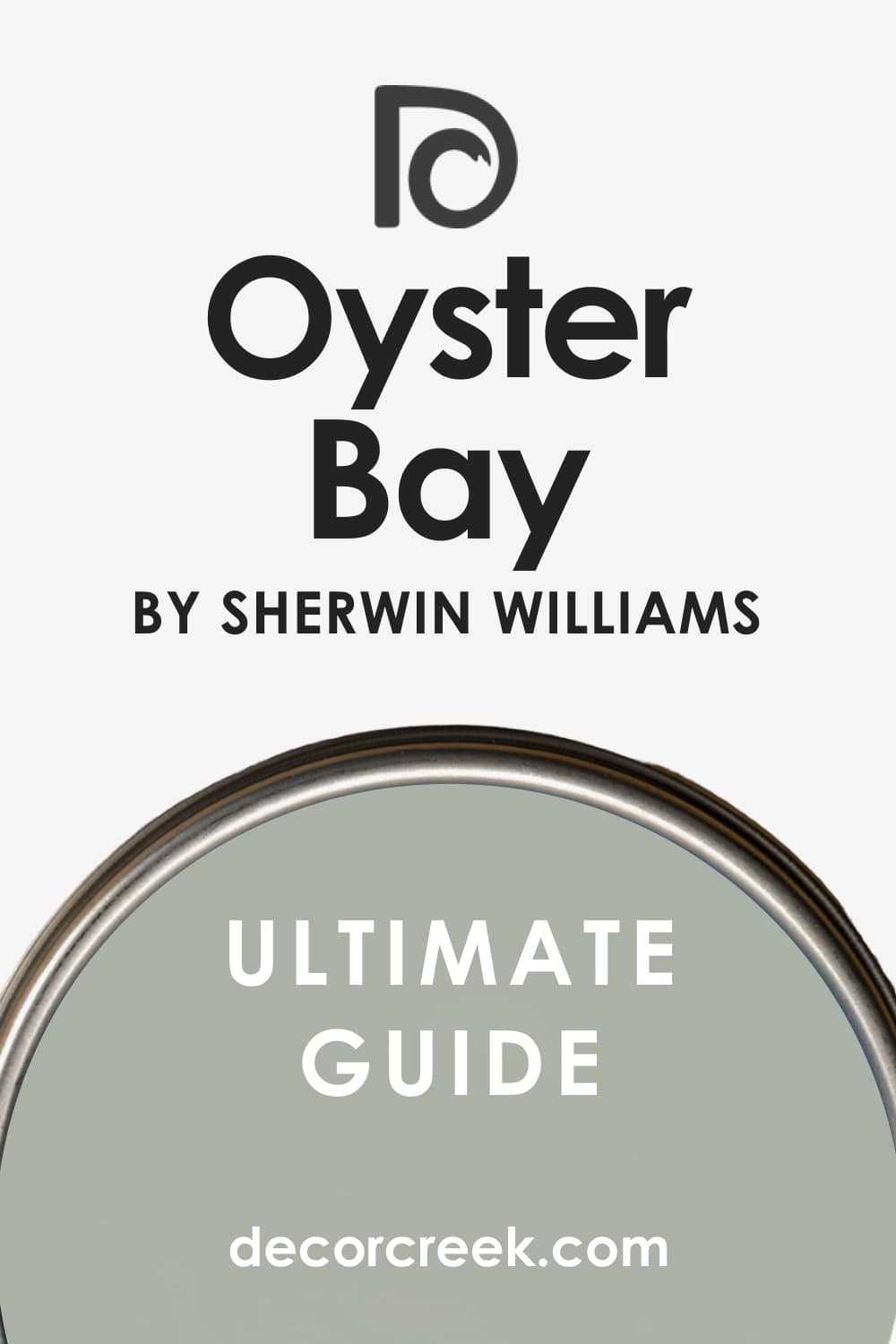 Frequently Asked Questions
⭐What undertones does SW Oyster Bay have?
this color has slate blue and also gray undertones. But sometimes, it may read slightly brownish.
⭐What is the LRV of Oyster Bay color?
The Light Reflectance Value of this color is 44.
⭐What color collection does it belong to?
SW Oyster Bay is a part of the Sherwin-Williams Living Well – Recharge color collection.