The blue color is often avoided in spaces because people believe it's hard to pair with other colors. Besides, not everyone likes how blues read in their homes because of the cool-toned atmosphere it creates.
But today, we would like to introduce a lovely blue color to you called SW Rarified Air.
You will learn what undertones it has, what colors should be used to coordinate it, and how this paint color may work in different spaces in your home.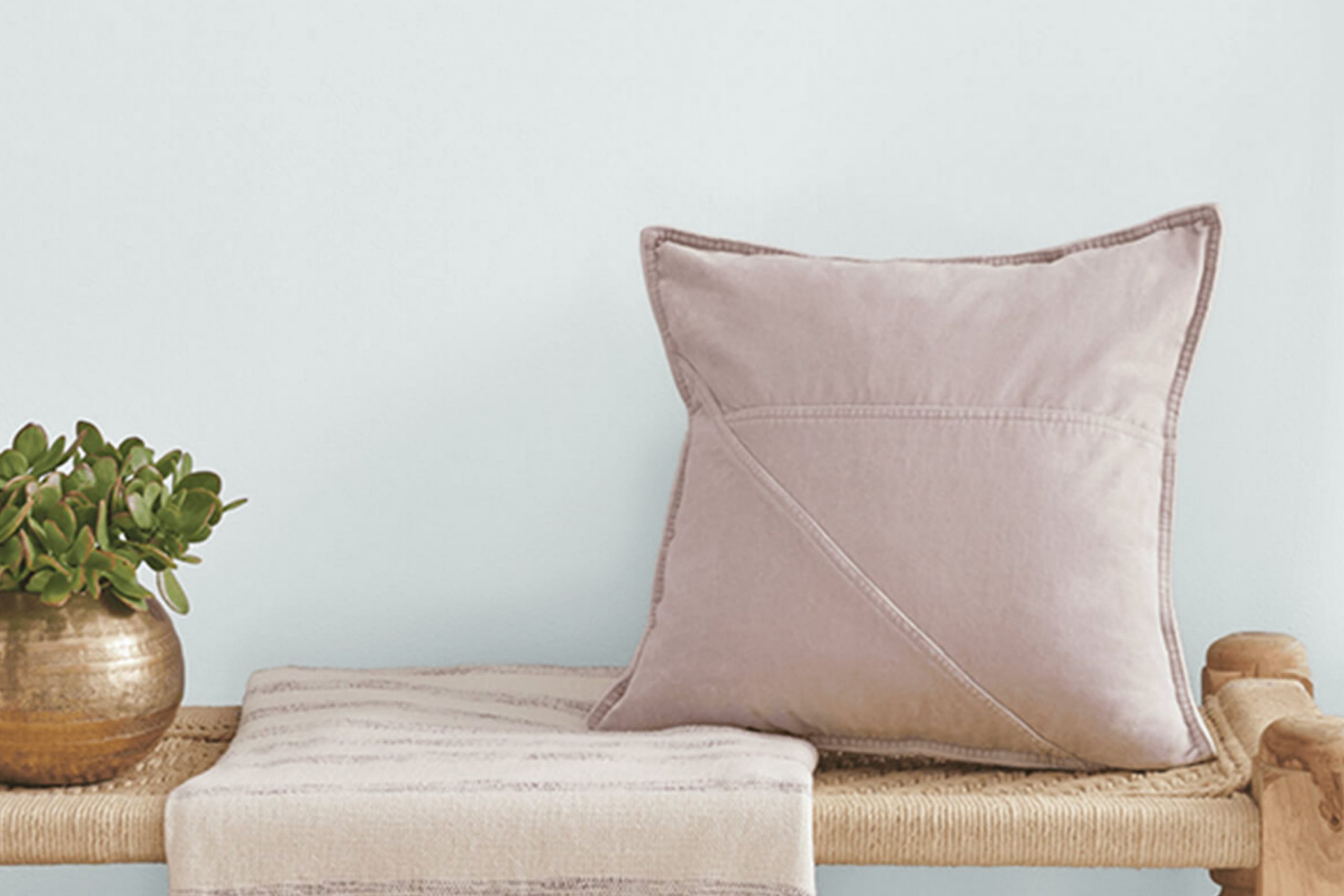 What Kind of Color Is Rarified Air SW-6525 by Sherwin-Williams?
SW Rarified Air is a light violet pastel color with a delicate touch of blue. This slight hint of blueness creates a gentle and calming mood, which can be beneficial for many spaces in your home.
As Encycolorpedia says, although this paint has violet hue, it doesn't read pure violet on the walls. On the other hand, in certain types of lighting, it may show its violet side more prominently.
This is why you should keep this feature in mind, especially if you don't want the color to read differently in a distinct light.
What Undertones Does Rarified Air SW-6525 Have?
Being aware of undertones is important because it allows you to tell in advance how the color will read in a room or on exterior walls. But since some colors have very tricky undertones, you might need help defining them.
Speaking of SW rarified Air, this paint color has cool-toned blue undertones. Thanks to the cooler hue of its undertones, this color often reads cooler in general. Also, blue tones make SW rarified Air read not that sweet purple-blue but more reserved instead.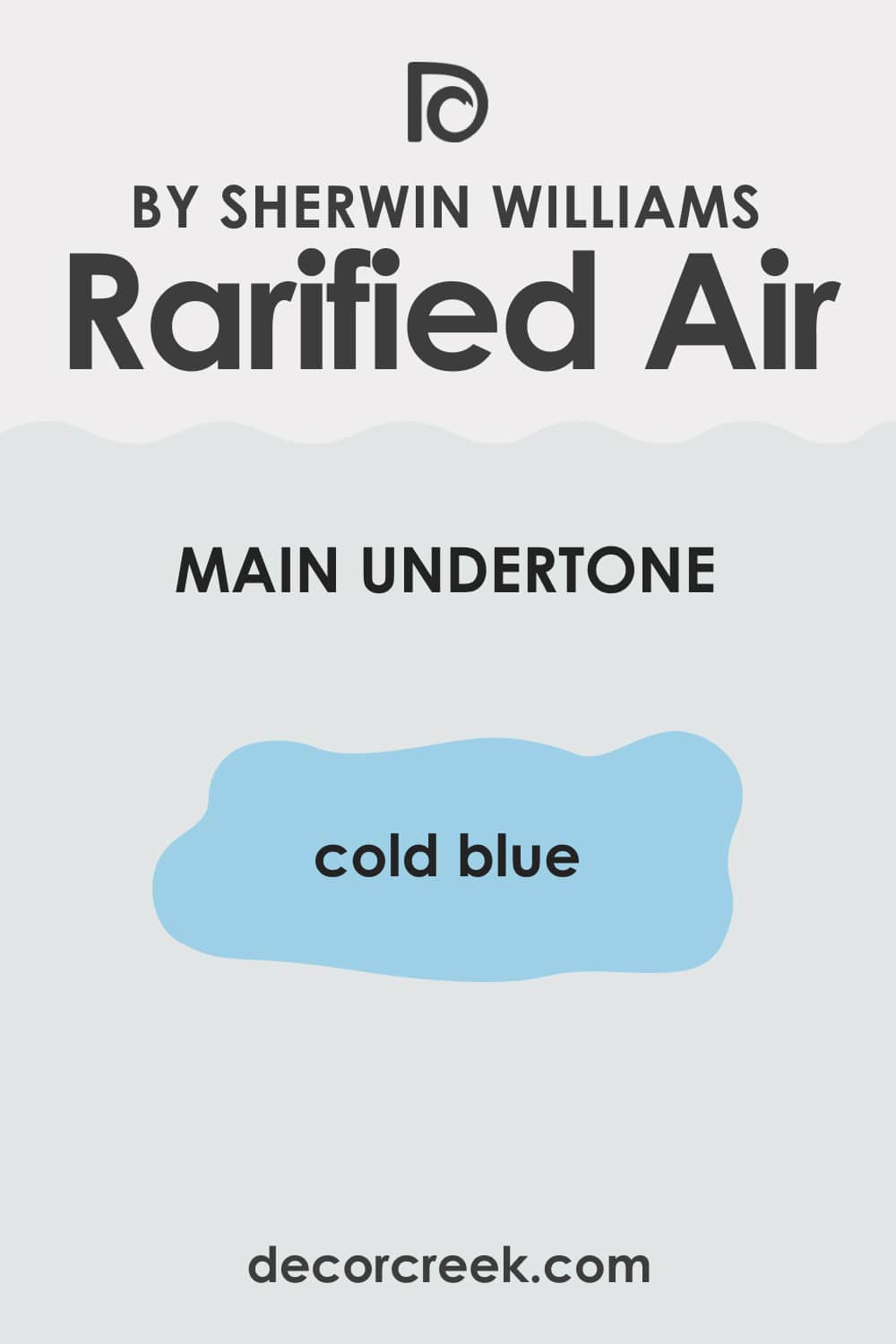 LRV – what does it mean? Read This Before Finding Your Perfect Paint Color
LRV Rarified Air SW-6525
LRV is another essential feature each paint color has. LRV stands for the light reflectance value and shows the percentage of light the color can reflect from the wall. The LRV scale ranges from zero to 100, where zero is black, and 100 is pure white.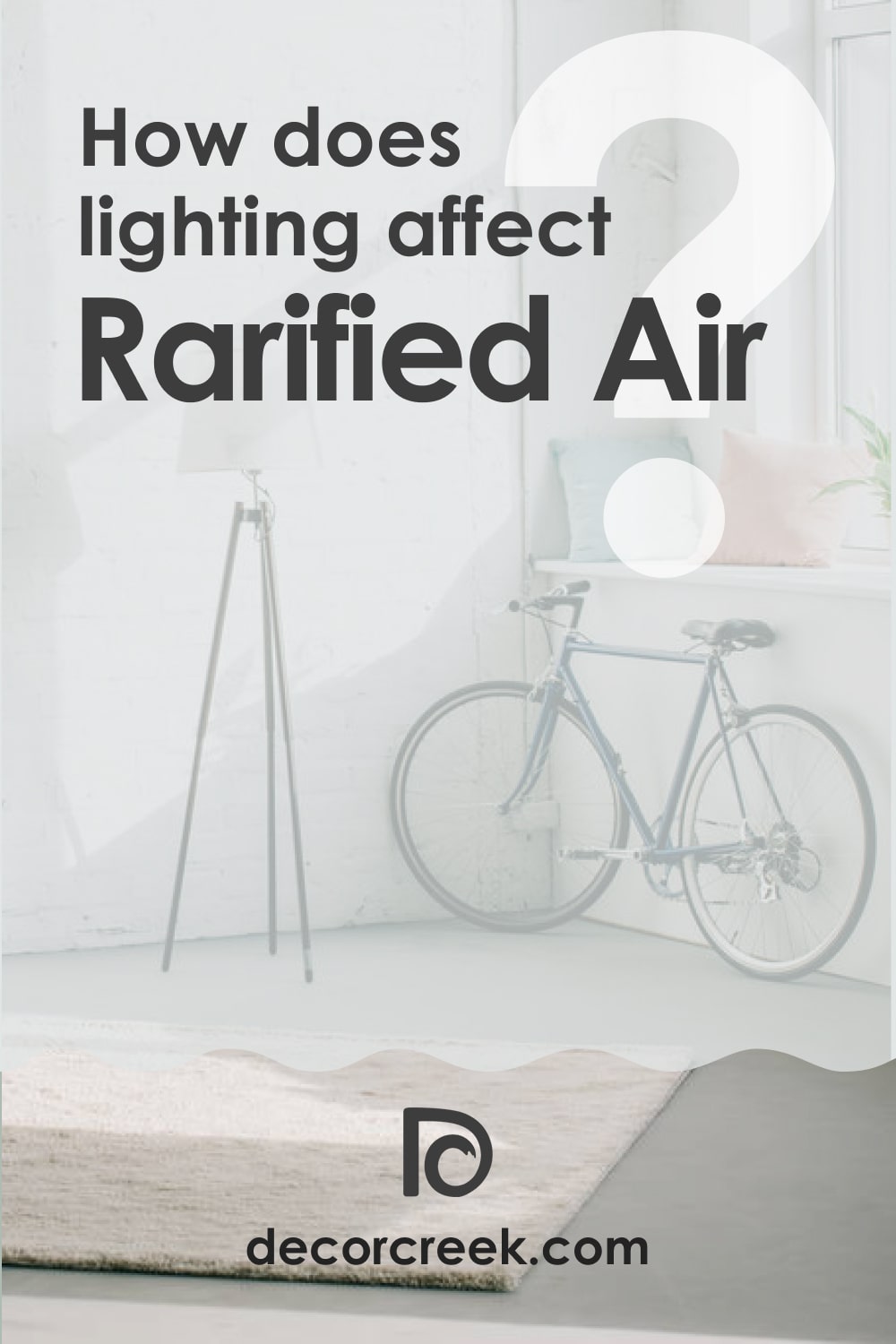 The Rarified Air paint color has an LRV of nearly 78. By LRV value, this color is classified as an off-white color. Also, since its LRV is pretty high, this paint color can reflect quite a lot of light when you apply it to the surface.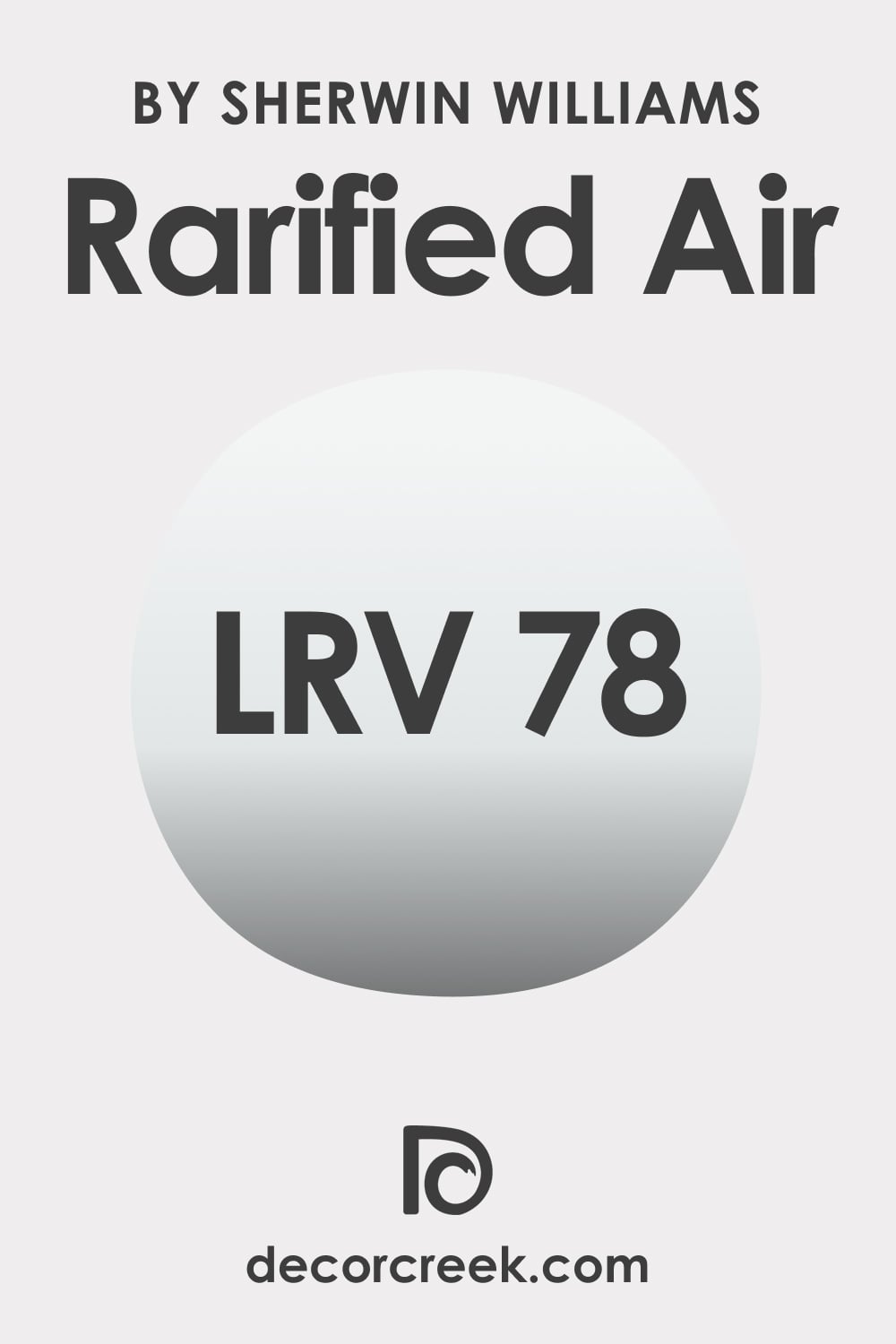 Coordinating Colors of Rarified Air SW-6525
When you know what colors can coordinate the paint color used on the walls, you can match all the colors in a room much better. It will result in a more balanced and harmonious color palette in general.
For SW rarified Air, we recommend you use the following coordinating colors:
SW Pure White
SW In the Navy
SW Favorite Jeans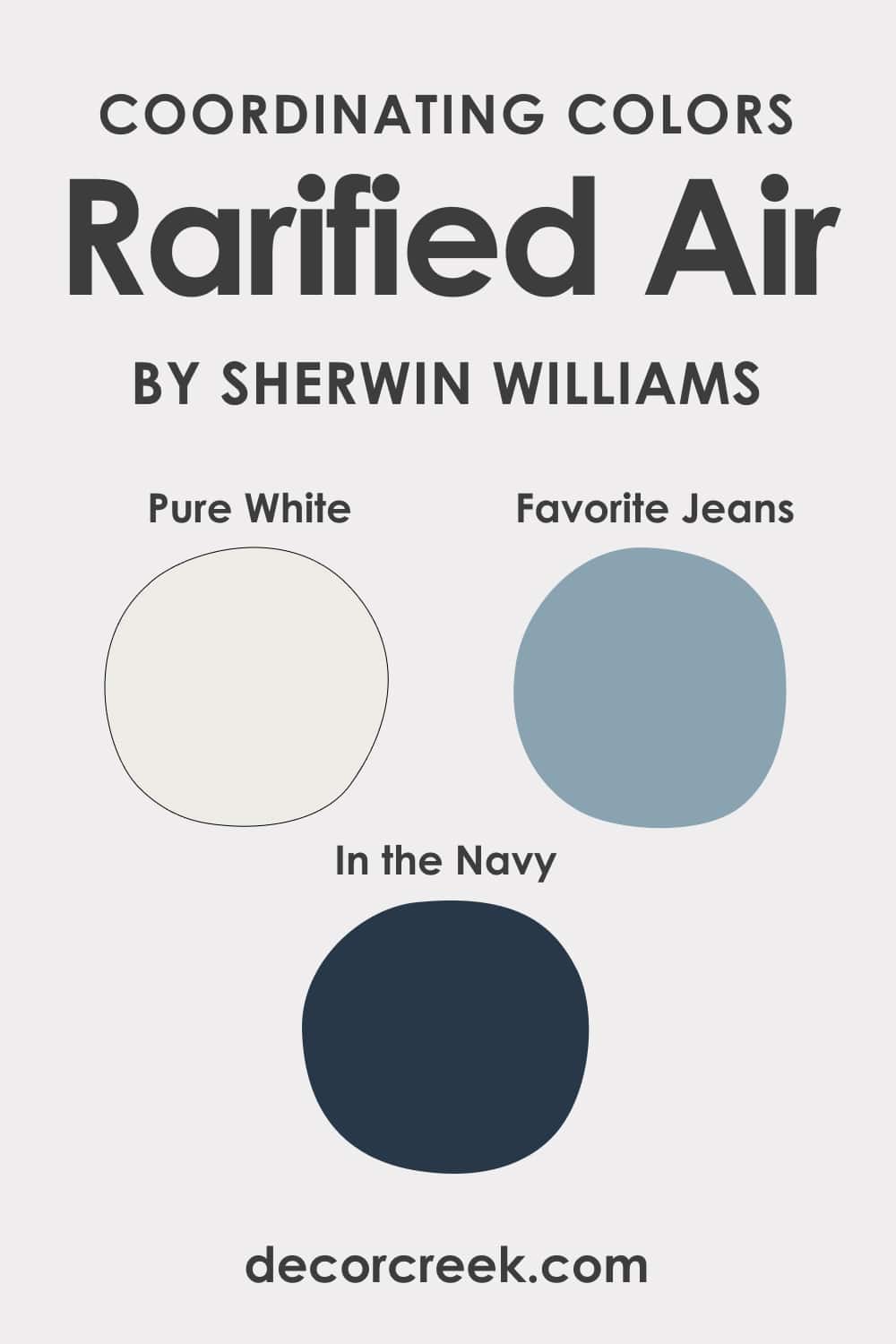 What Is the Best Trim Color For Rarified Air SW-6525 by Sherwin-Williams?
White is traditionally considered the optimal paint color to be used on trim since it works well with most other colors. Some shades of white are so versatile that they can even be used both on the trim and walls!
Speaking of SW rarified Air, this color will also work best with whites. Pair it with a cool-toned white like SW Pure White. Such a combination will bring out the cooler tones of this purple with blue undertones.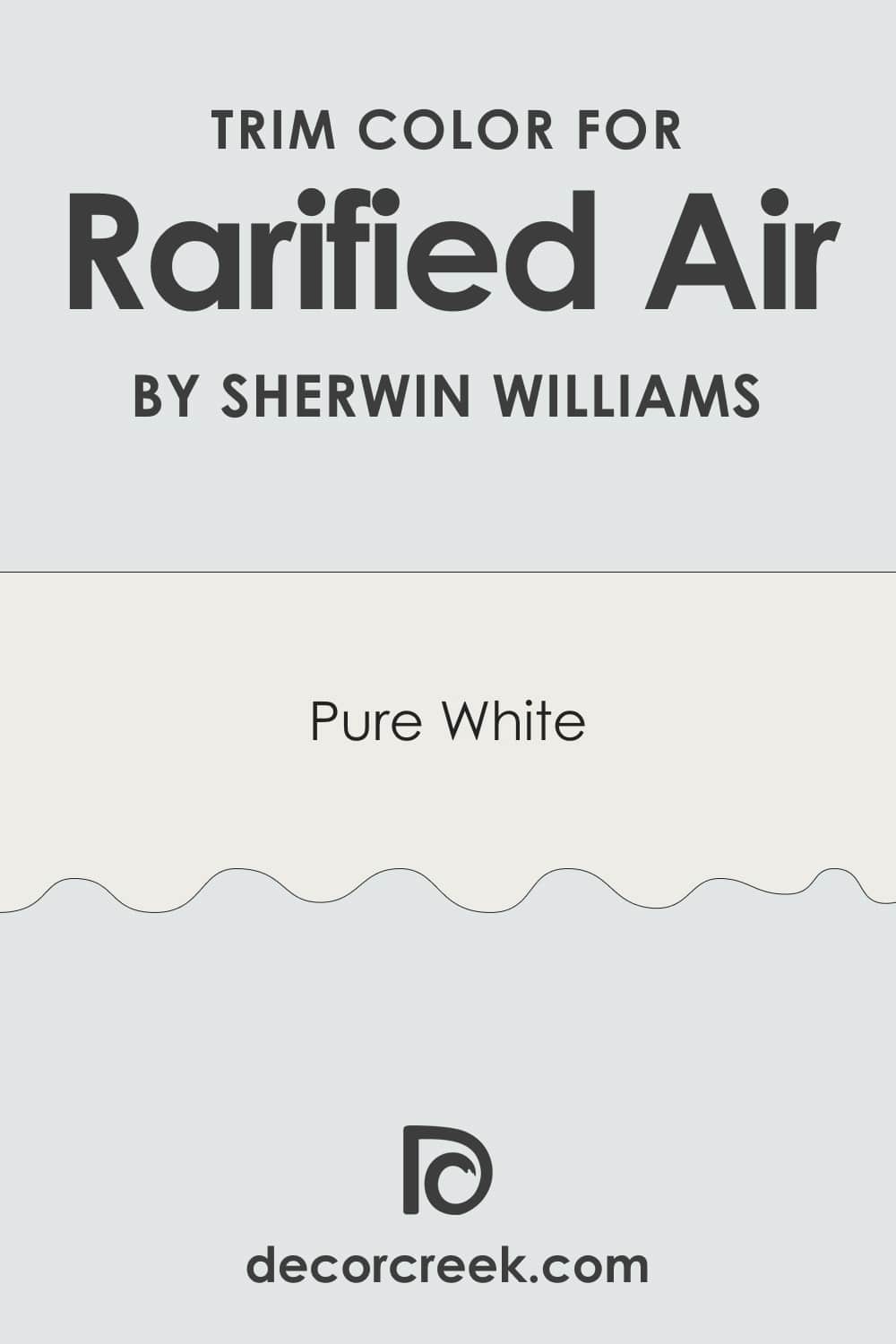 Paint Colors Similar to SW Rarified Air
When you are choosing the right paint color for your interior or exterior walls, remember to have a couple of similar colors in mind too. This will help you to change the color in case you realize you need slightly different undertones or the color you initially chose didn't pair well with the rest of the palette.
For SW Rarified Air, the following paint colors can be considered similar:
Behr Ice Sculpture
BM Fanfare
PPG Filigree
Valspar Halcyon Blue
Finally, if you need a paint color with a more prominent purple hue, we would suggest Farrow&Ball California Collection:Salt.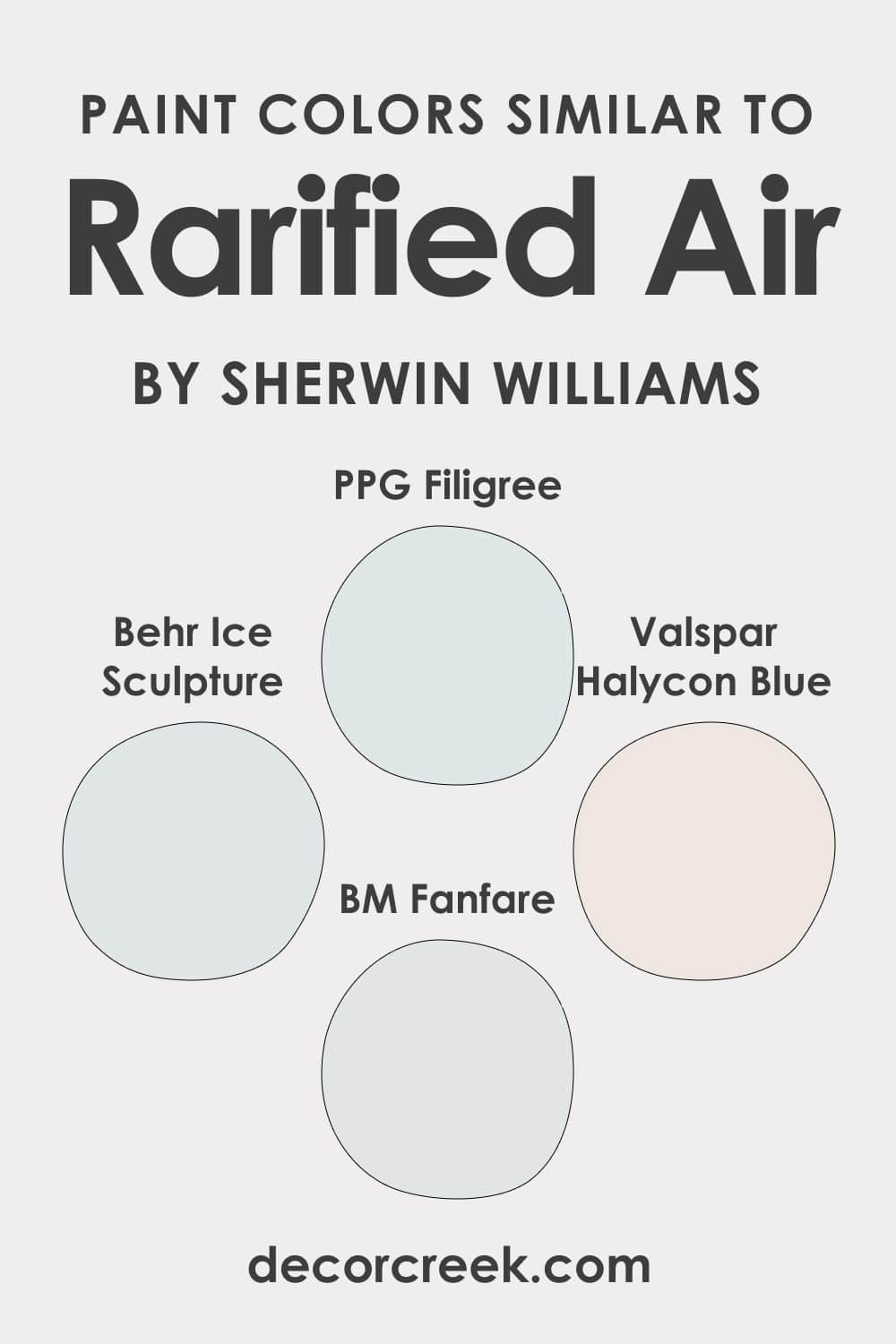 Colors That Go With SW Rarified Air
Sometimes, it can be hard to choose the colors that work best with the paint color on the walls. And if you paint your walls with such a tricky color as SW Rarified Air, its undertones might be difficult to match!
This is why we recommend you keep the following color options in mind should you need a color that will go with SW Rarified Air:
SW Granite Peak
SW Kilim Beige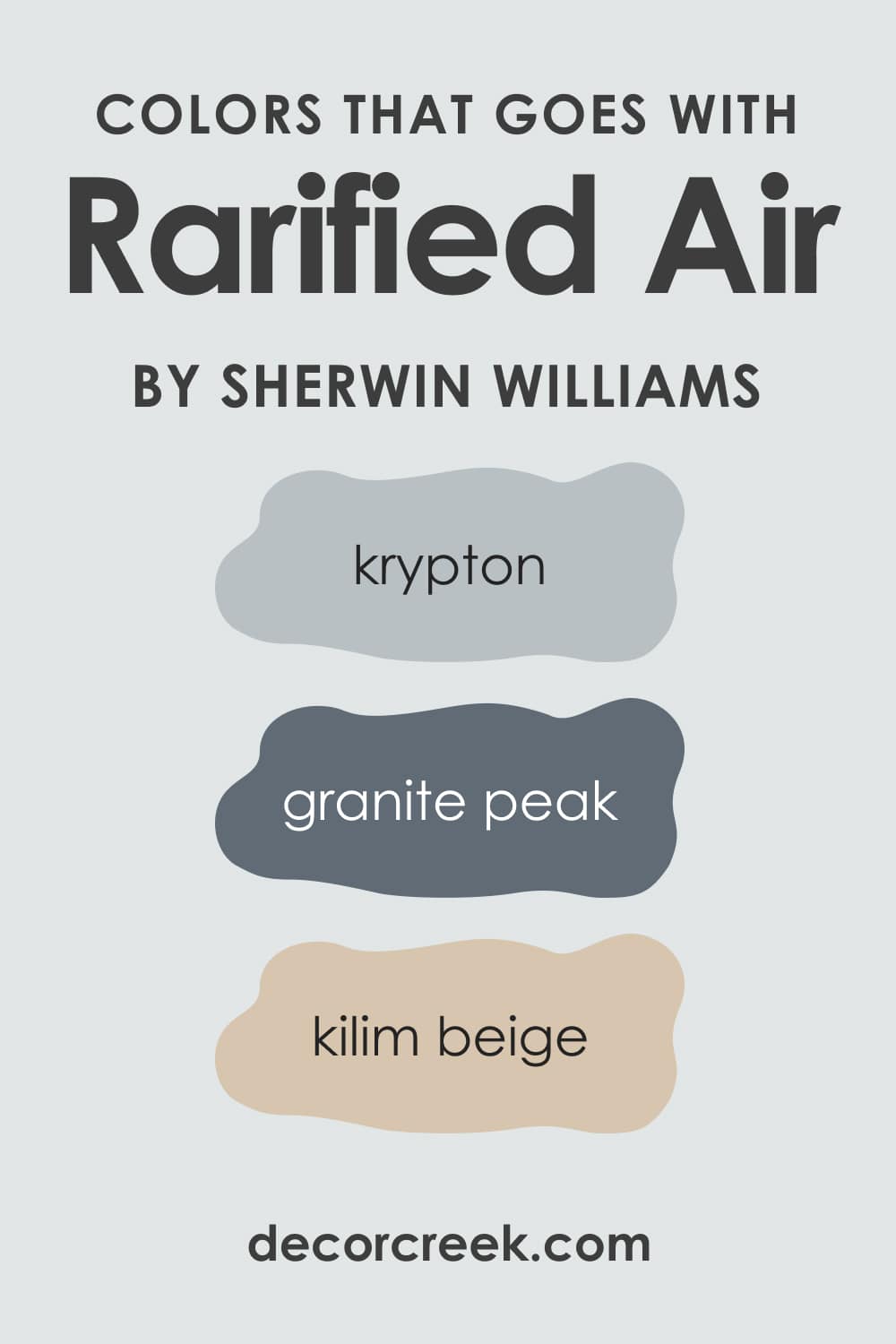 Comparing SW Rarified Air With Other Colors
To help you better see and understand the difference between very similar colors, we have prepared a few pairs of colors. Each of them contains SW Rarified Air color and one more paint color that looks nearly the same. Read carefully to see what makes SW Rarified Air different and why.
Rarified Air vs Fleur de Sel
These colors read almost the same. But if you place them side by side and take a closer look at each of them, you will see that SW Fleur de Sel is noticeably warmer thanks to its warm undertones.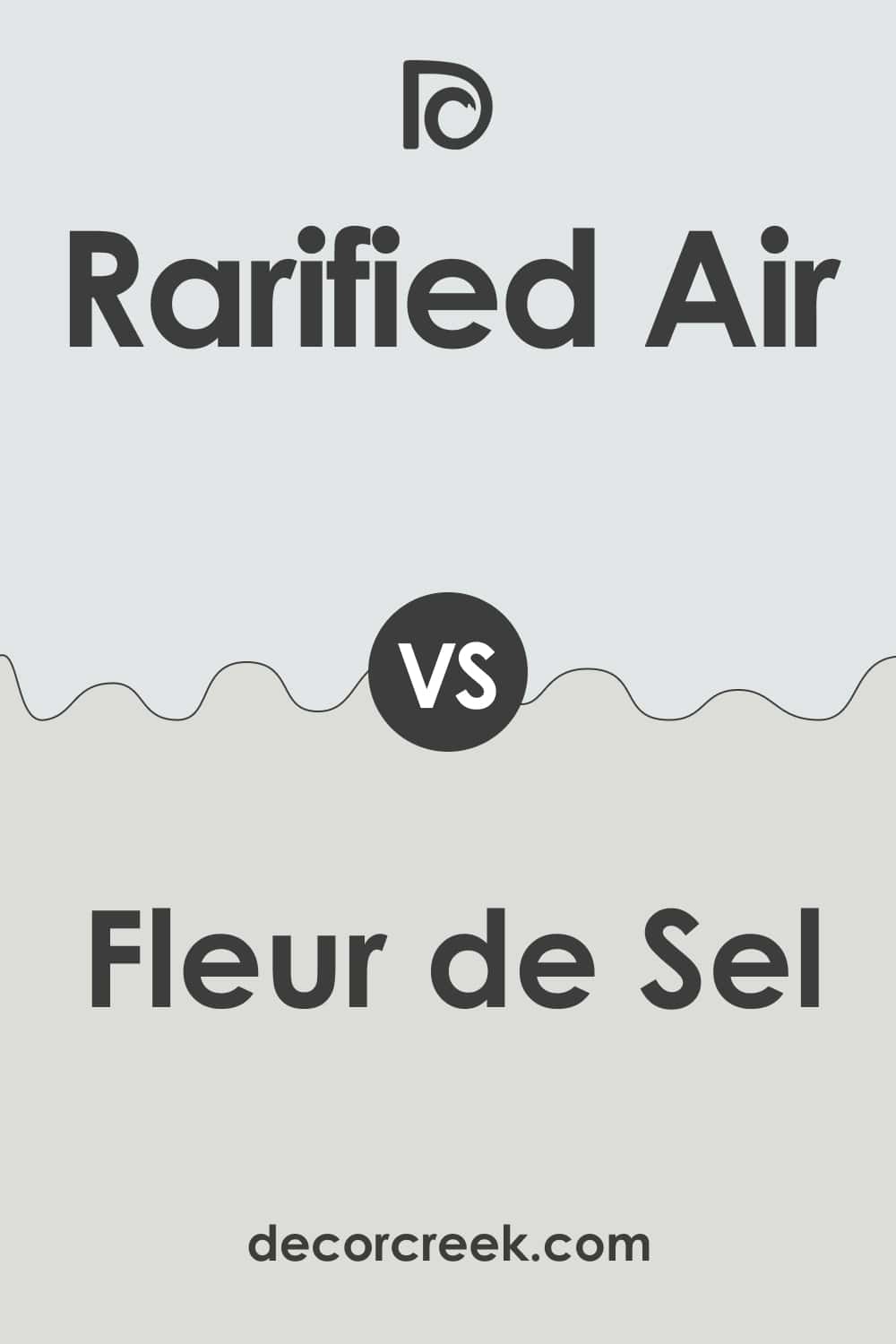 Rarified Air vs Icicle
These colors are also pretty much alike. But unlike the previous pair, these two share blue undertones. However, SW Icicle reads bluer compared to its counterpart. SO, if you need a color that will look a very light blue on your walls, SW Icicle might be a good option.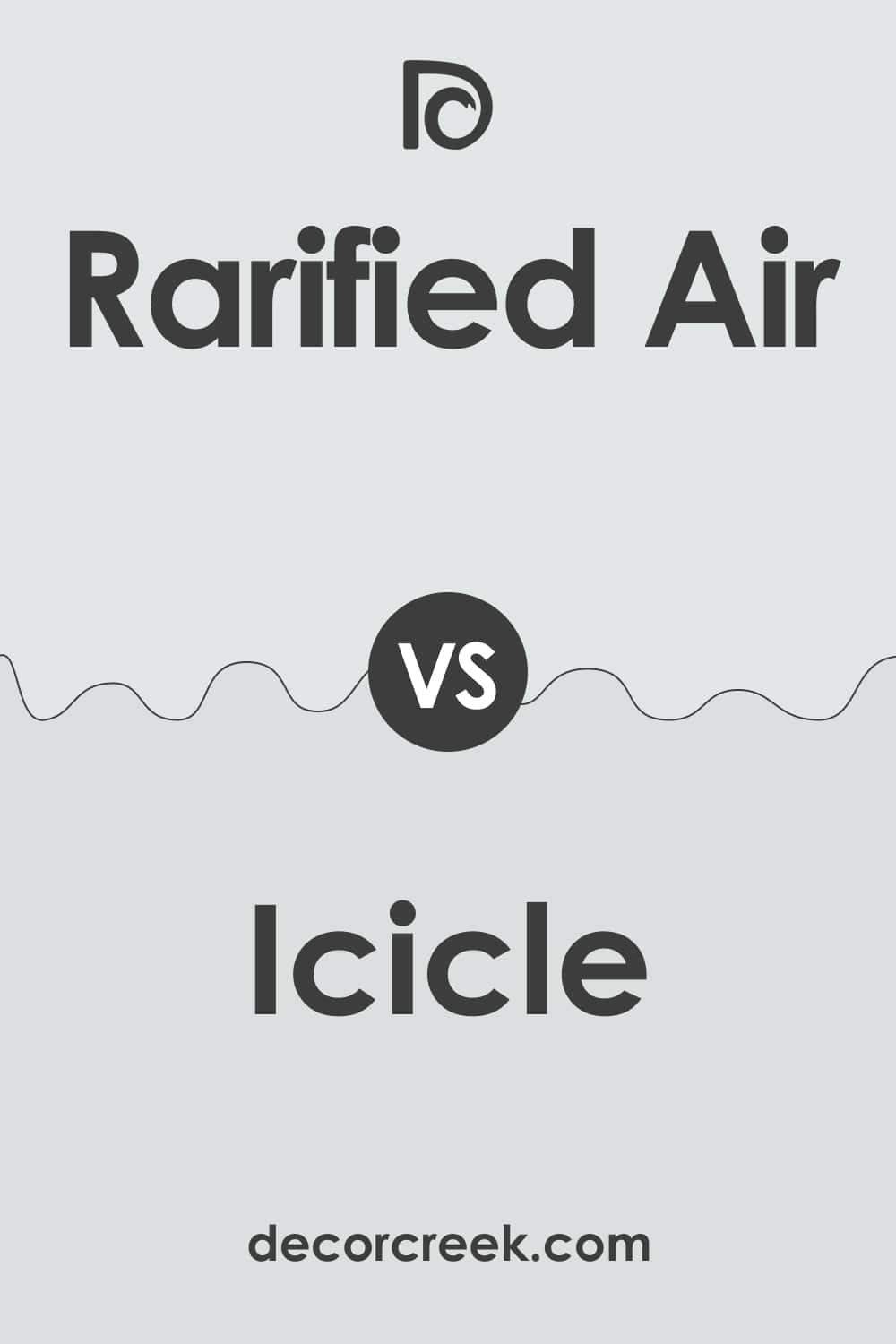 Rarified Air vs Debonair
SW Debonair reads completely different, although it's also blue. Compared to SW rarified Air, SW Debonair is a much deeper and pronounced blue. Also, this color has grey undertones that make it look soft and moderately warm.
Rarified Air vs Topsail
Compared to SW rarified Air, SW Topsail color has slightly seen greenish undertones. Also, it has blue undertones hidden deep within. Altogether, they create a pretty, light-toned paint color that looks refreshing on the walls.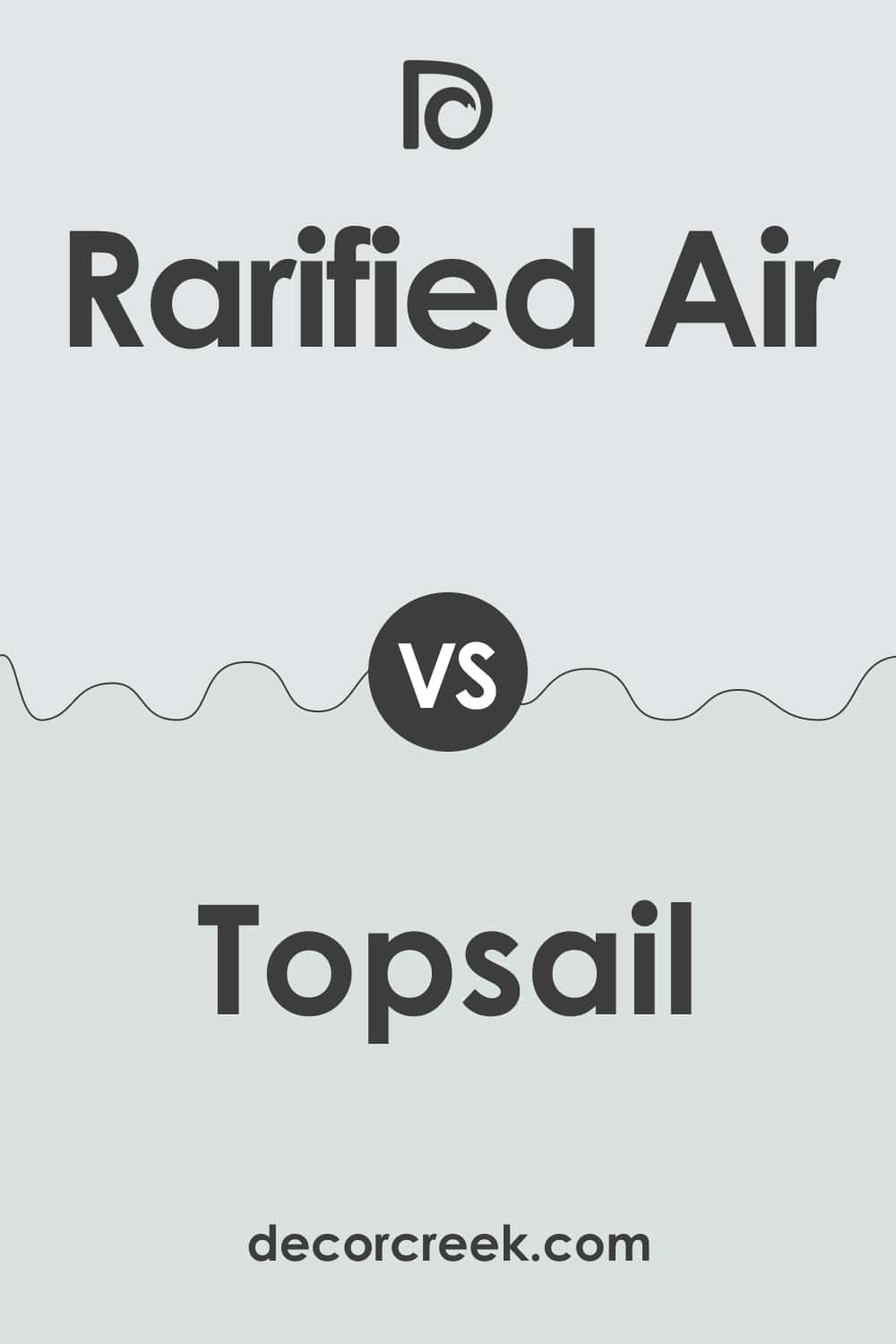 Rarified Air vs Blue Horizon
SW Blue Horizon also has green undertones, which are more prominent than those in the Topsail color. Compared to SW Rarified Air, the Topsail color reads greener. But thanks to its lighter tone, it won't make the space look dark.
Now you know more about the SW Rarified Air paint color. You know its undertones, coordinating colors, and trim colors too. Also, you learned what makes this color different from other similar colors. Now let's see how it may work in your home.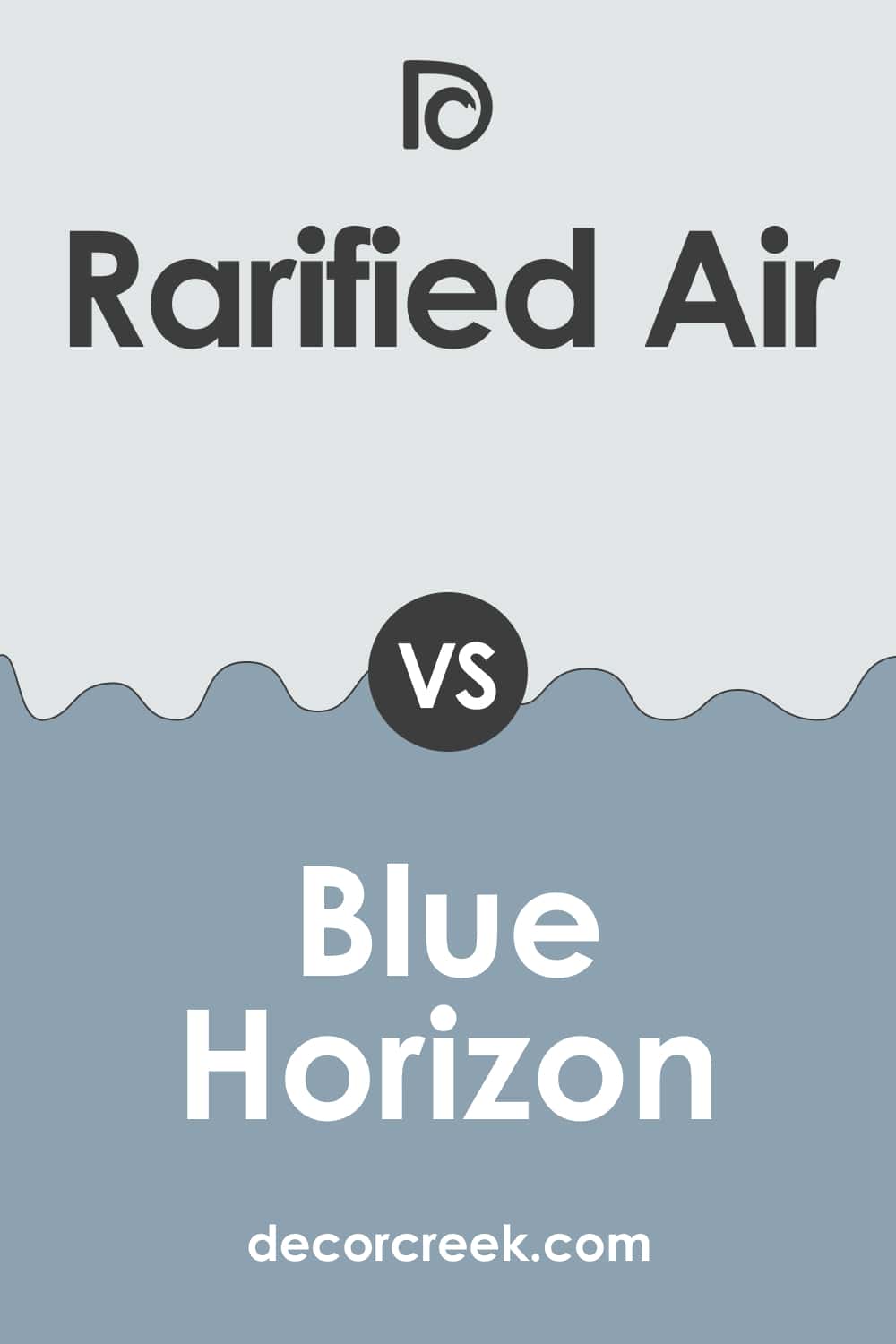 Where to Use Rarified Air SW-6525 Paint Color In Your Home?
In different rooms, paint colors may work differently. Sometimes they can read darker or lighter, revealing these or those undertones. How each color works depends on its undertones and the lighting most of the time.
But other colors in a room also matter. Below, you can see how SW Rarified Air might look in different rooms of your home.
Rarified Air SW-6525 in the Living Room
For a living room, this color is a nice choice. It's fairly light, and besides, it has cooler undertones. It means SW Rarified Air will make the room look airy and fresh, which is great for adding space to a smaller living room.
Since this color works well with white colors, as well as with some shades of blue, you can achieve a lovey coastal vibe there!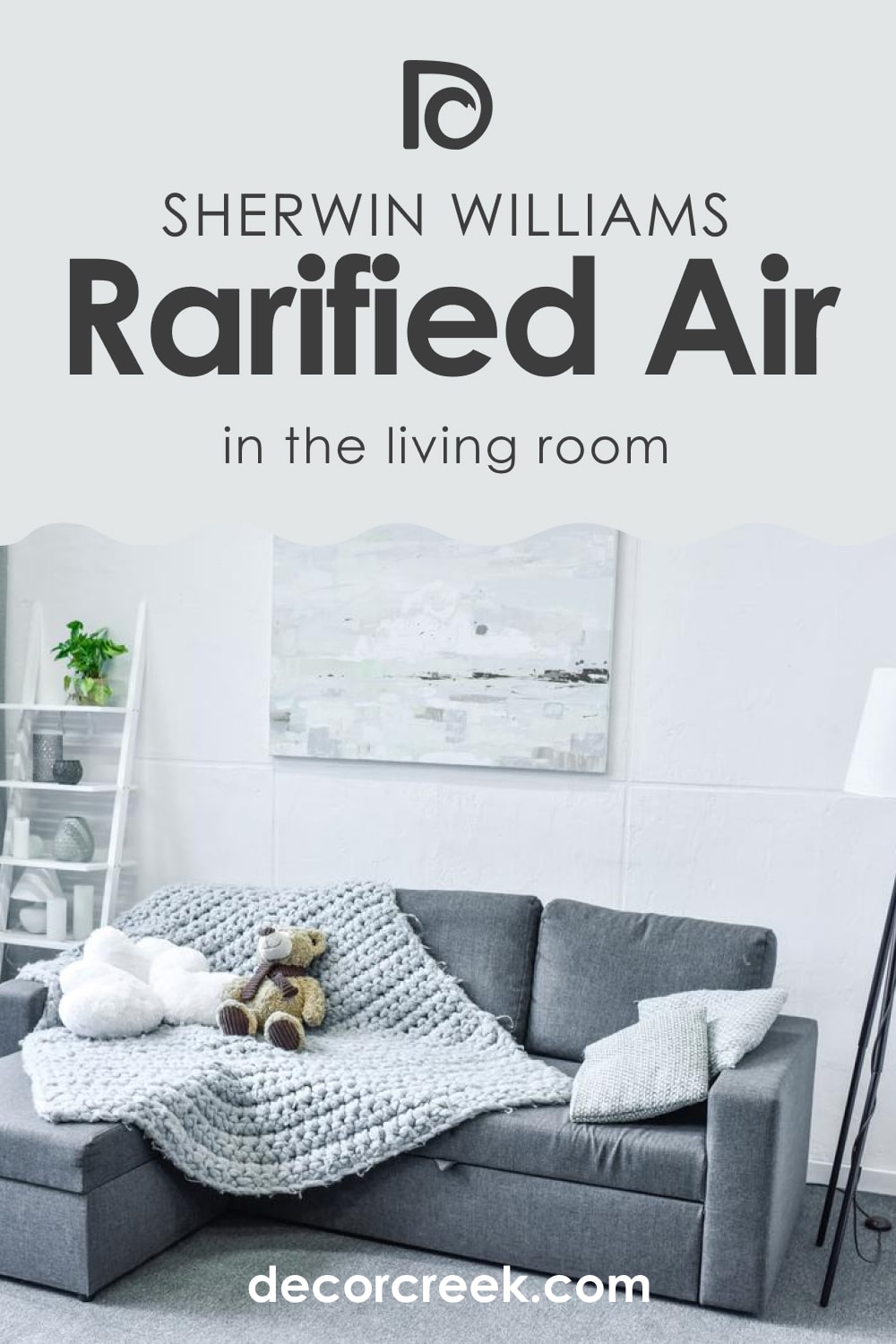 Rarified Air SW-6525 in a Bedroom
For bedrooms, SW Rarified Air might not be the go-for color due to its cooler undertones. But if you're fond of the fresh and airy feeling in your bedroom, this purple-blue color might be exactly what you are looking for.
Rarified Air SW-6525 and Kitchen
This light color will work really great in the kitchen! It pairs nicely with wooden surfaces, as well as with marble. Besides, it will look great with your kitchen hardware, both metal and brass.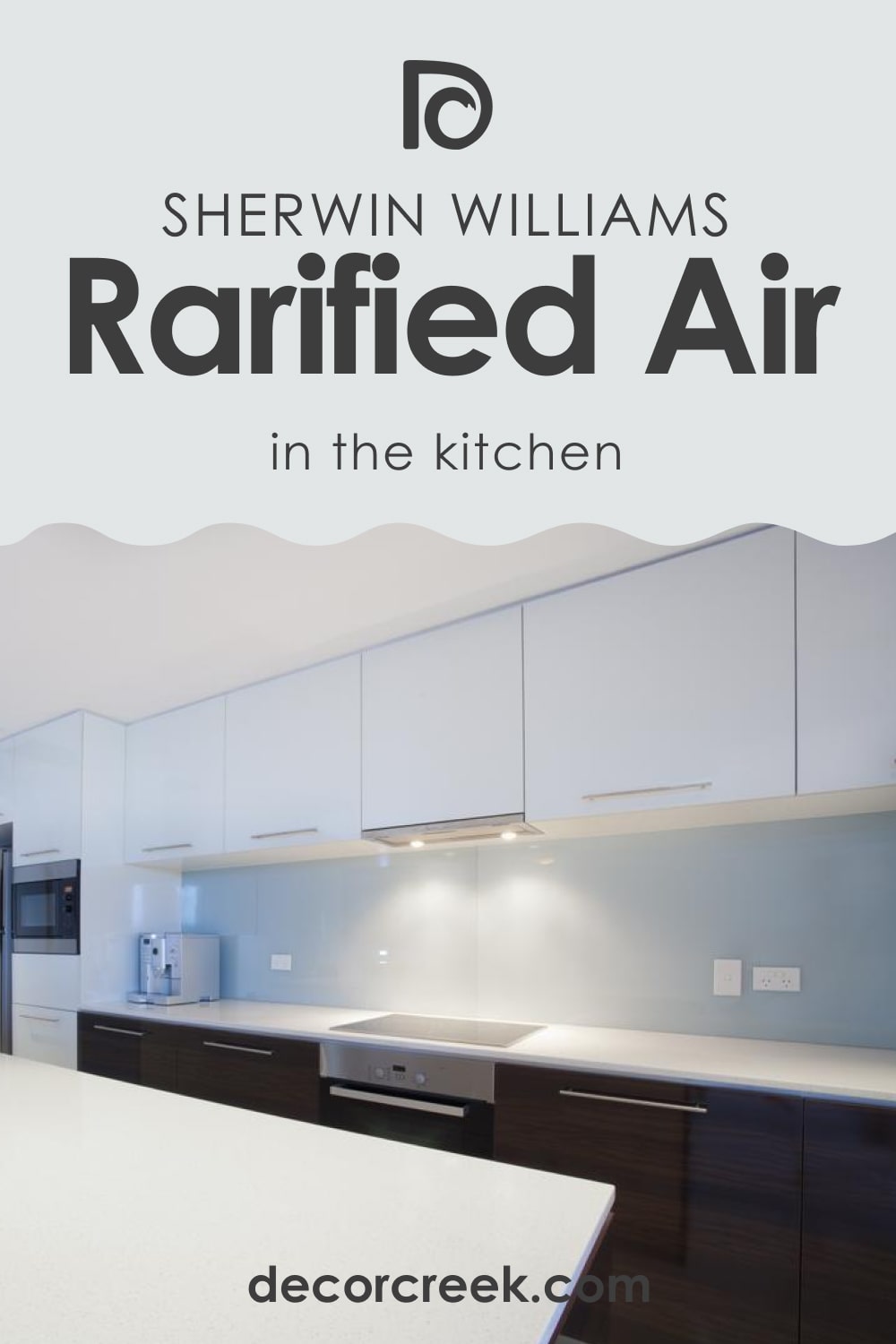 Bathroom with Rarified Air SW-6525 Paint Color
For bathrooms, SW Rarified Air is one of the best colors to choose. It's light and airy, giving a fresh atmosphere to the whole space. Besides, thanks to its lighter undertones, it works well with tiles and glass, as well as with other reflective surfaces. An ideal color to use in a space that's usually not big enough!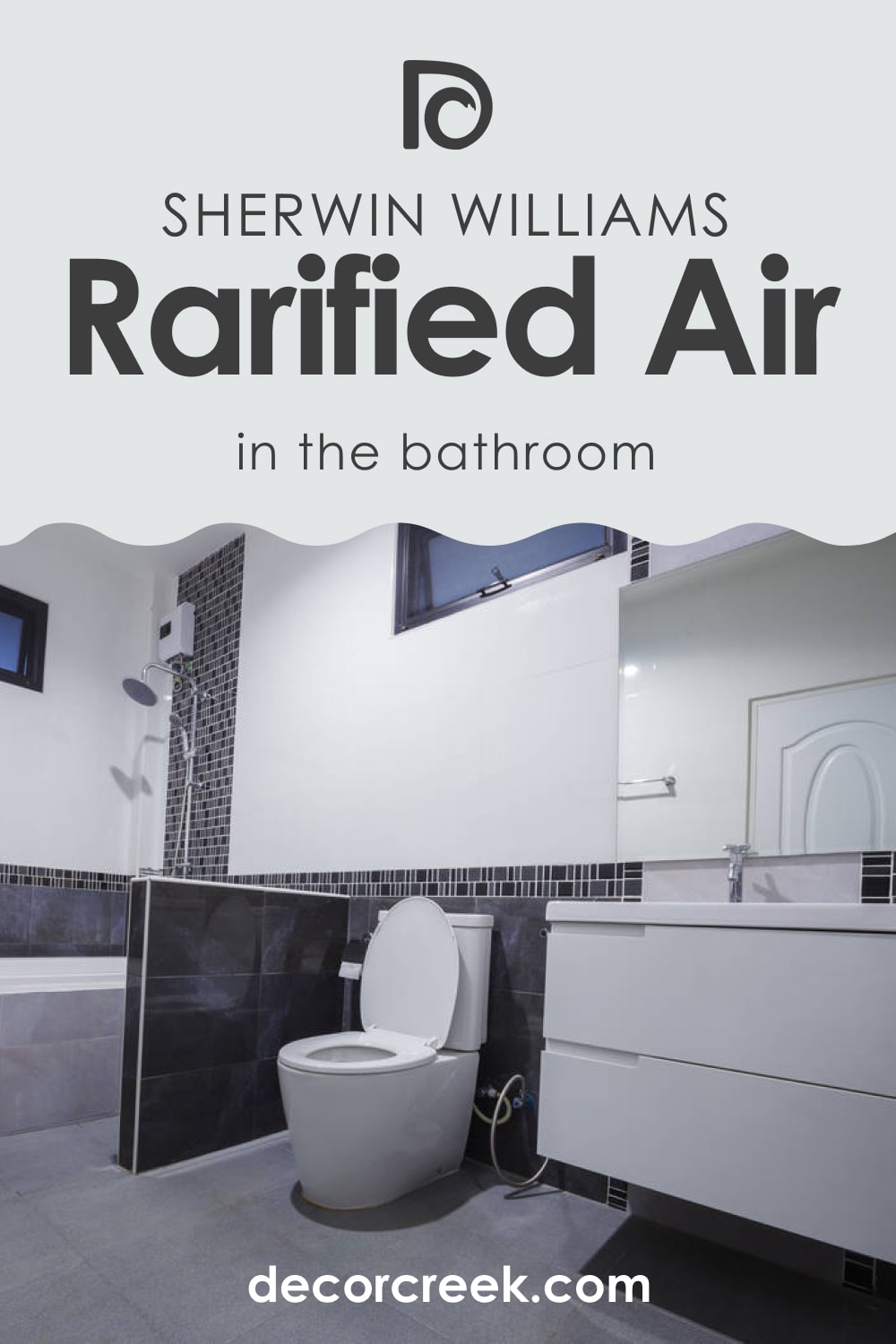 Rarified Air SW-6525 for Exterior Use
Homeowners don't like using this color on their exterior walls much because of its purple undertones. That purplish hue may show up at the most inappropriate time, making the house look duller than you probably expected.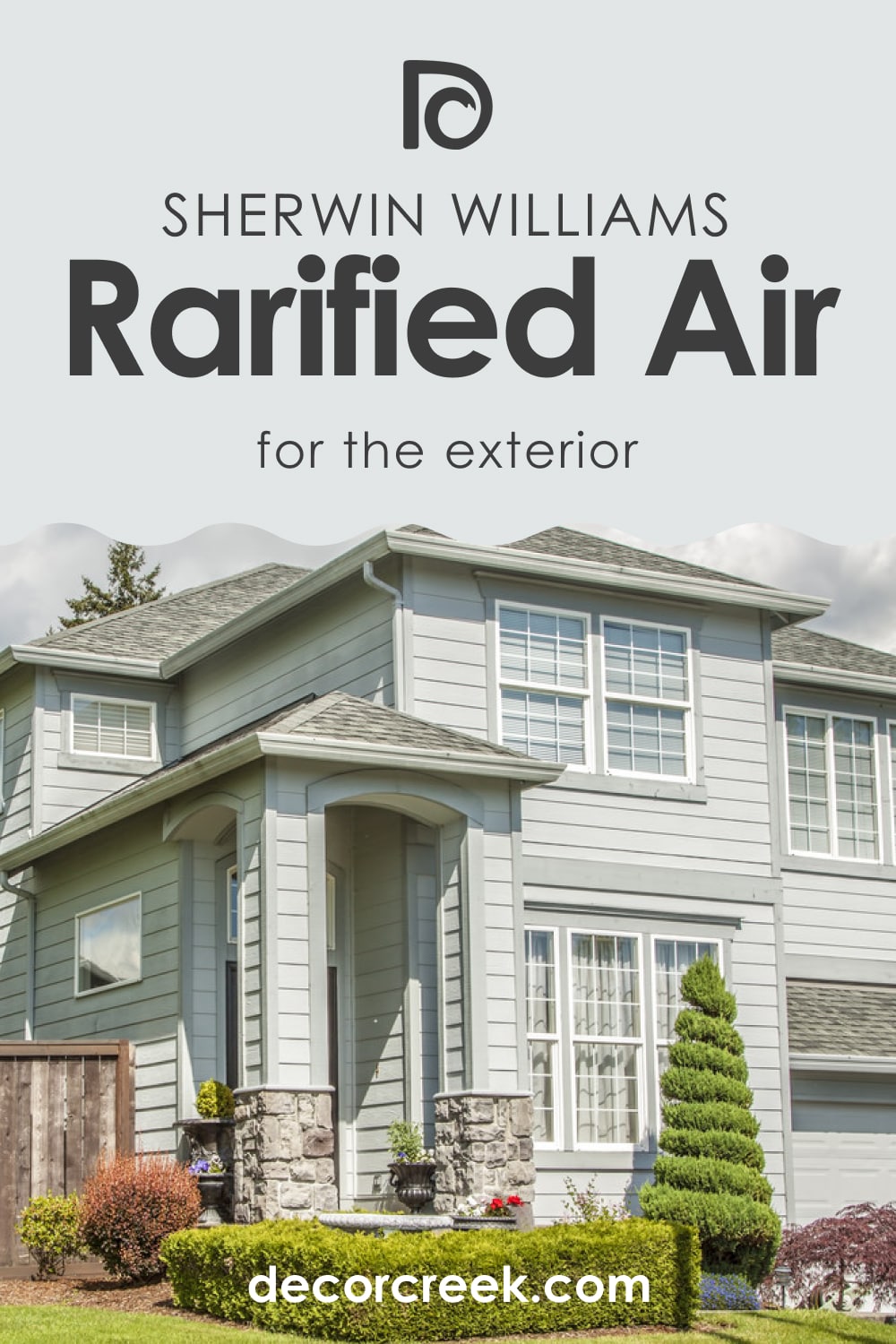 Well, this is the information we wanted to share with you on the subject of the SW Rarified Air paint color. Now you know what kind of color it is and how it works in different rooms.
Also, you know what colors it's best to pair it with and how it reacts to light. With that n mind, you should not have problems using it in your home.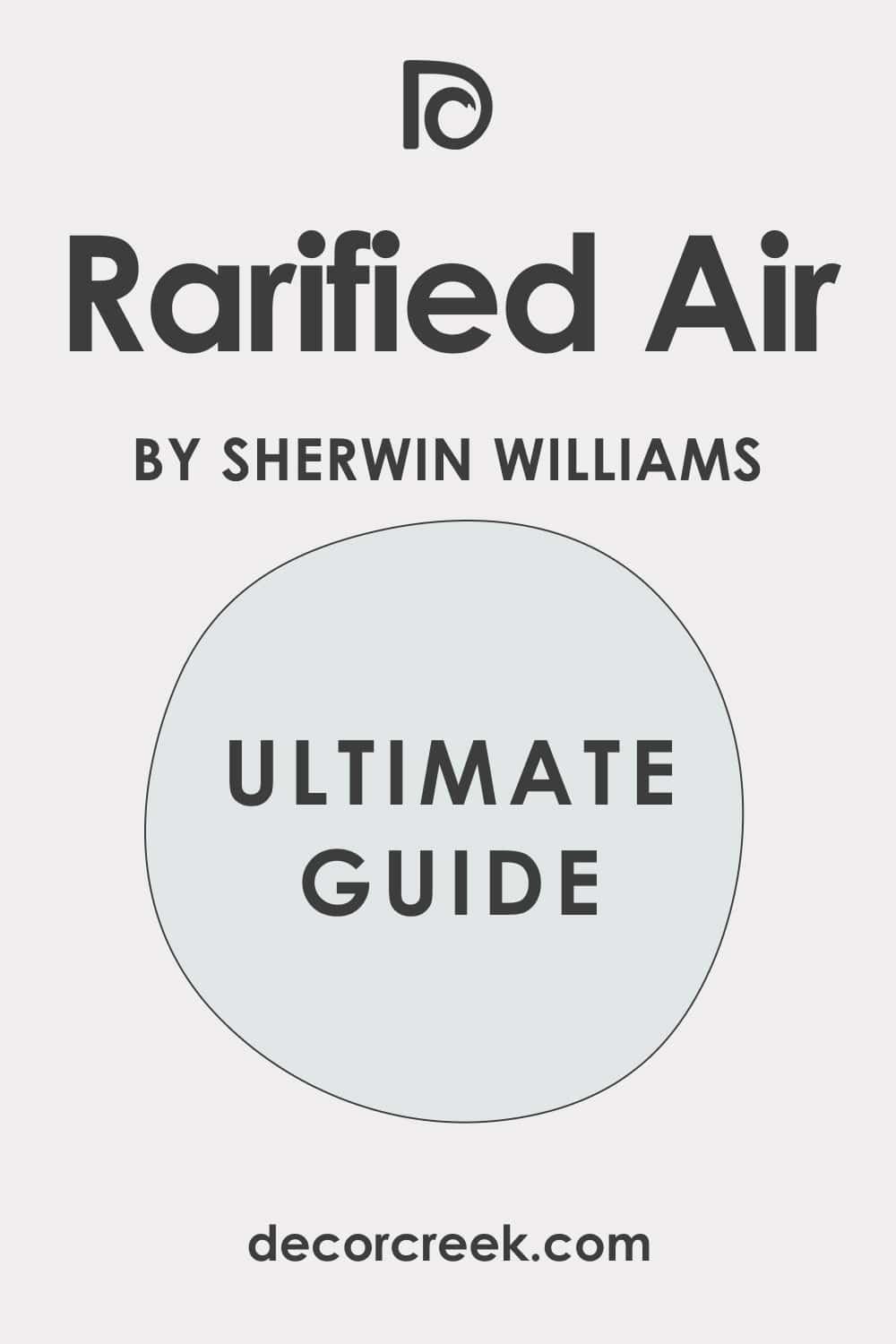 Frequently Asked Questions
⭐Is SW Rarified Air a blue color?
No, technically, it's a very light pastel purple color with blue undertones.
⭐Is SW Rarified Air neutral?
No. According to its LRV, it's closer to the off-white colors.
⭐Does SW Rarified Air work with white colors?
Yes, it does! If you use it with cooler whites, they will highlight the cooler tones of this color.