Choosing paint colors for your home can be complicated because you have to know how colors work with each other and what effect you might get if you use specific paints with each other.
And even if you are going to use such a simple color as white, you need to learn more about the particular shade you consider. It will help you to be aware of how it will work in your home.
Today we are going to talk about one of the most popular white colors that's called Extra White by the Sherwin-Williams paint brand. We will tell you what kind of white color it is, what undertones and LRV it has, and what trim color will work best of all with it.
Also, you will learn how to use this white paint in your home so that it shows the best of it. In particular, we will explain what colors it is best to be paired with and what rooms will benefit from having this white on their walls.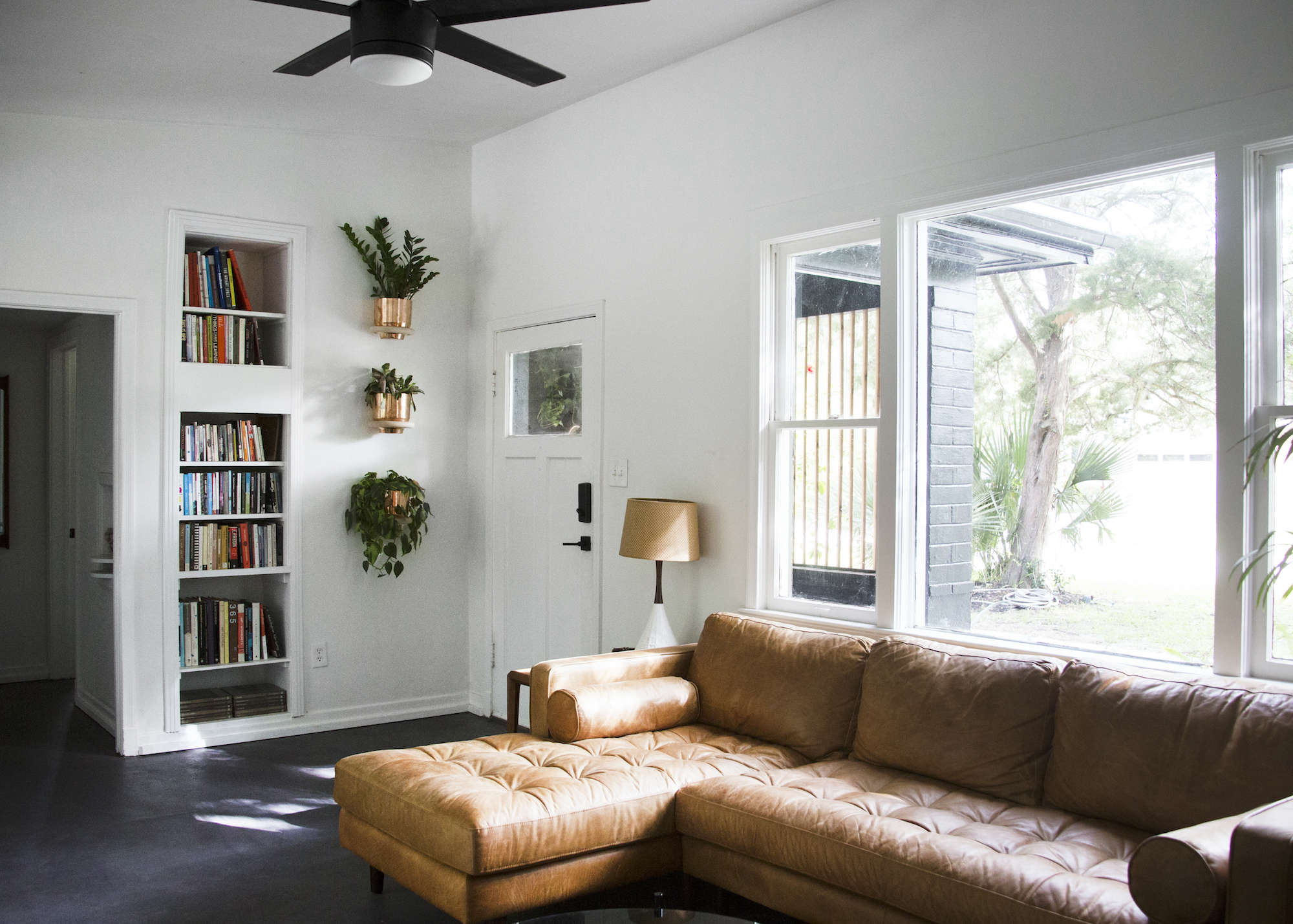 Extra White SW-7006 by Sherwin-Williams. What Kind Of Color Is It?
If you compare Extra White SW-7006 with the rest of the whites of the Sherwin-Williams brand, you will see that it is one of the brightest white they have. Sherwin-Williams claims this color is their "truest white," but this is not technically correct to say that.
As Hextoral says, if you take a closer look at this color, you will see that you can't call this white crisp. It doesn't have this cool-toned "snowy" vibe that makes white colors stark and striking.
Instead, SW Extra White is relatively soft and calm, with very delicate and slightly cool undertones that add this color a bit of a muted vibe. Thanks to its softness, SW Extra White will pair well with quite many colors.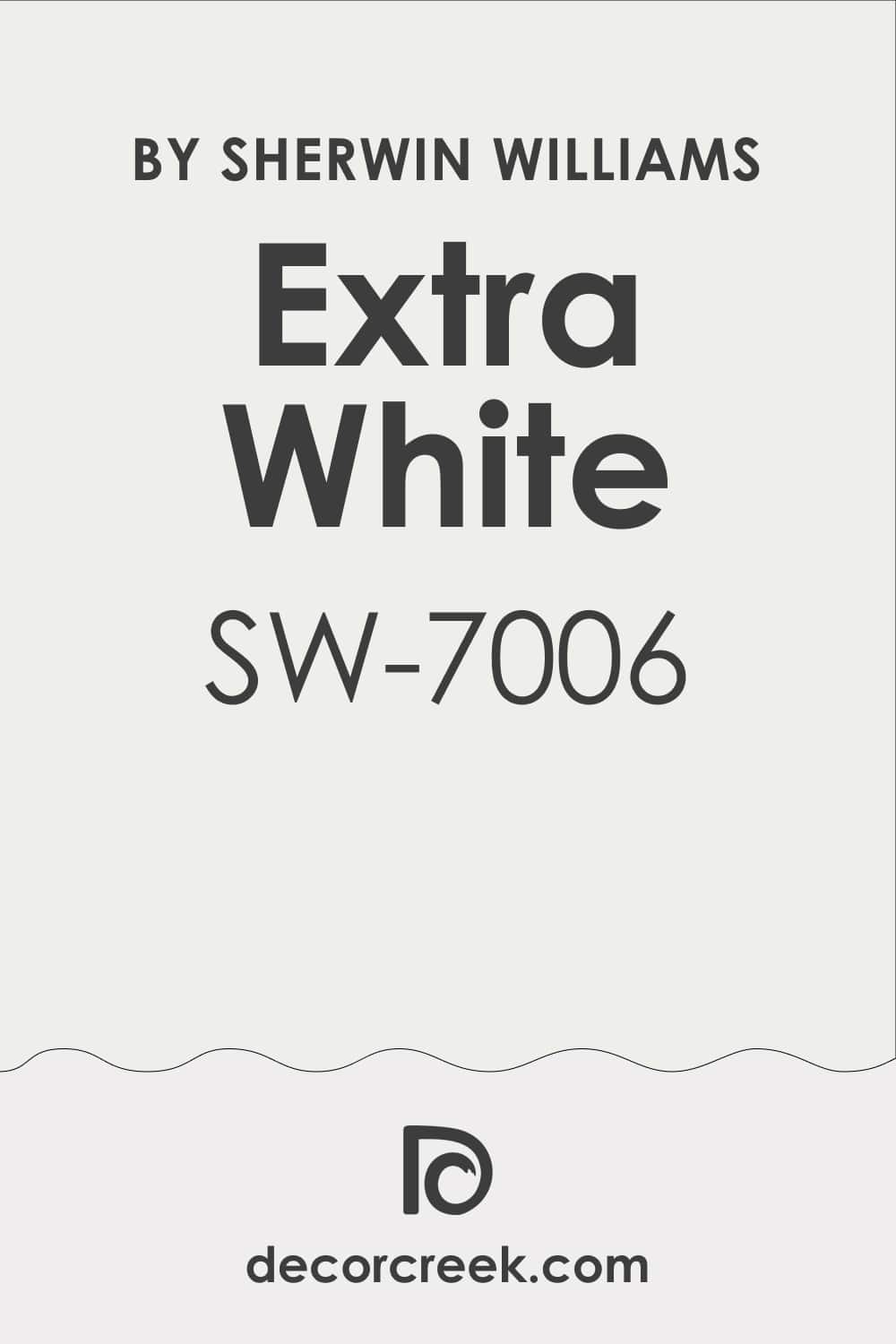 Undertones of SW Extra White SW-7006
As you probably know, knowing paint colors' undertones plays an essential role in color selection for your home painting projects. When you know what undertones the color has, you can tell in advance how it will read on the walls and how it will work with other colors in the space.
SW Extra White is a very bright white with a slightly cool bluish undertone. This means that this white will read wonderfully with more cool-toned paint colors alongside it. For example, it will look great with blue and gray colors.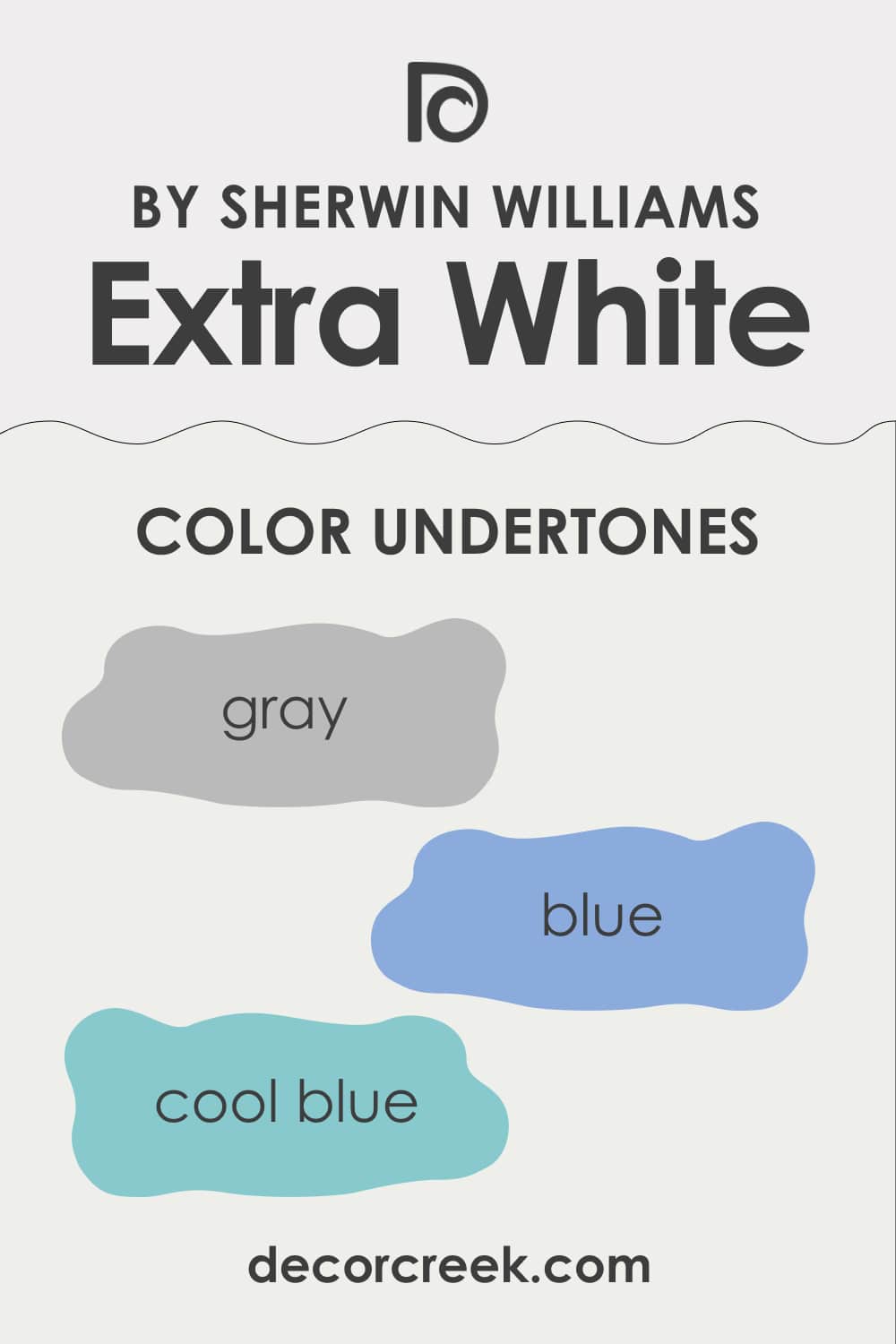 LRV of SW Extra White Paint Color
What is LRV, some of you may ask now? LRV, or Light Reflecting Value, is the number that indicates how light or dark a color is on a scale of 0-100. The LRV scale ranges from zero to 100, with white being the lightest and black being the darkest.
The closer the LRV number is to 100, the lighter the color. The closer the LRV number is to 0, the darker the color.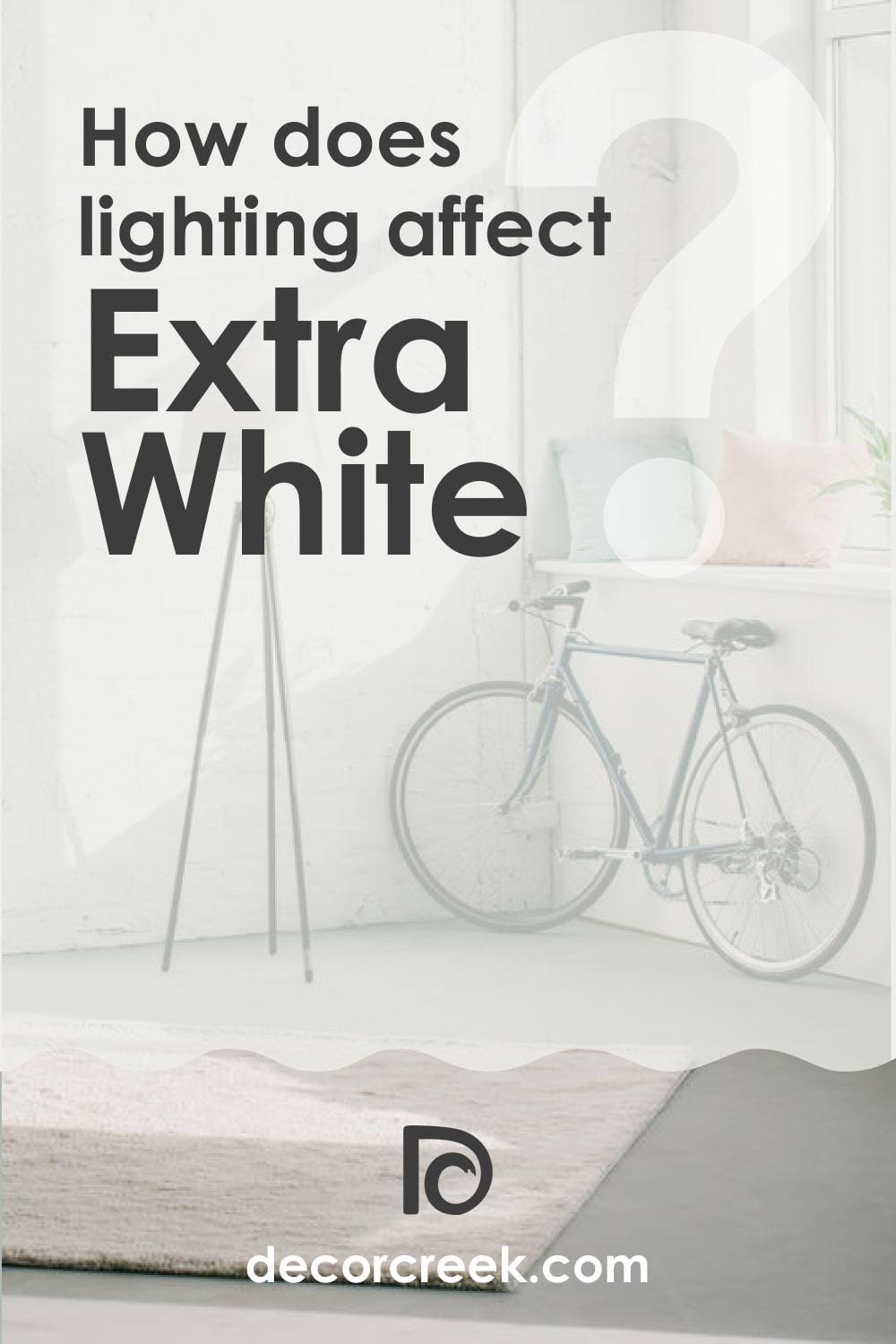 Speaking of SW Extra White, with an LRV of 86, this color is pretty white. There is only one other color, High Reflective White, that is brighter. Also, if you are looking for a slightly less bright white, then the Pure White color may be a good choice.
LRV – what does it mean? Read This Before Finding Your Perfect Paint Color
SW Extra White SW-7006 Coordinating Colors
People often think that white paint colors are easy to pick coordinating colors for. However, despite being rather flexible and universal in terms of use, white color can sometimes be quite confusing to create a coordinating color palette!
That's why we would love to share a few color options with you that will work harmoniously and well with SW Extra White.
SW Charcoal Blue
SW Smoky Azurite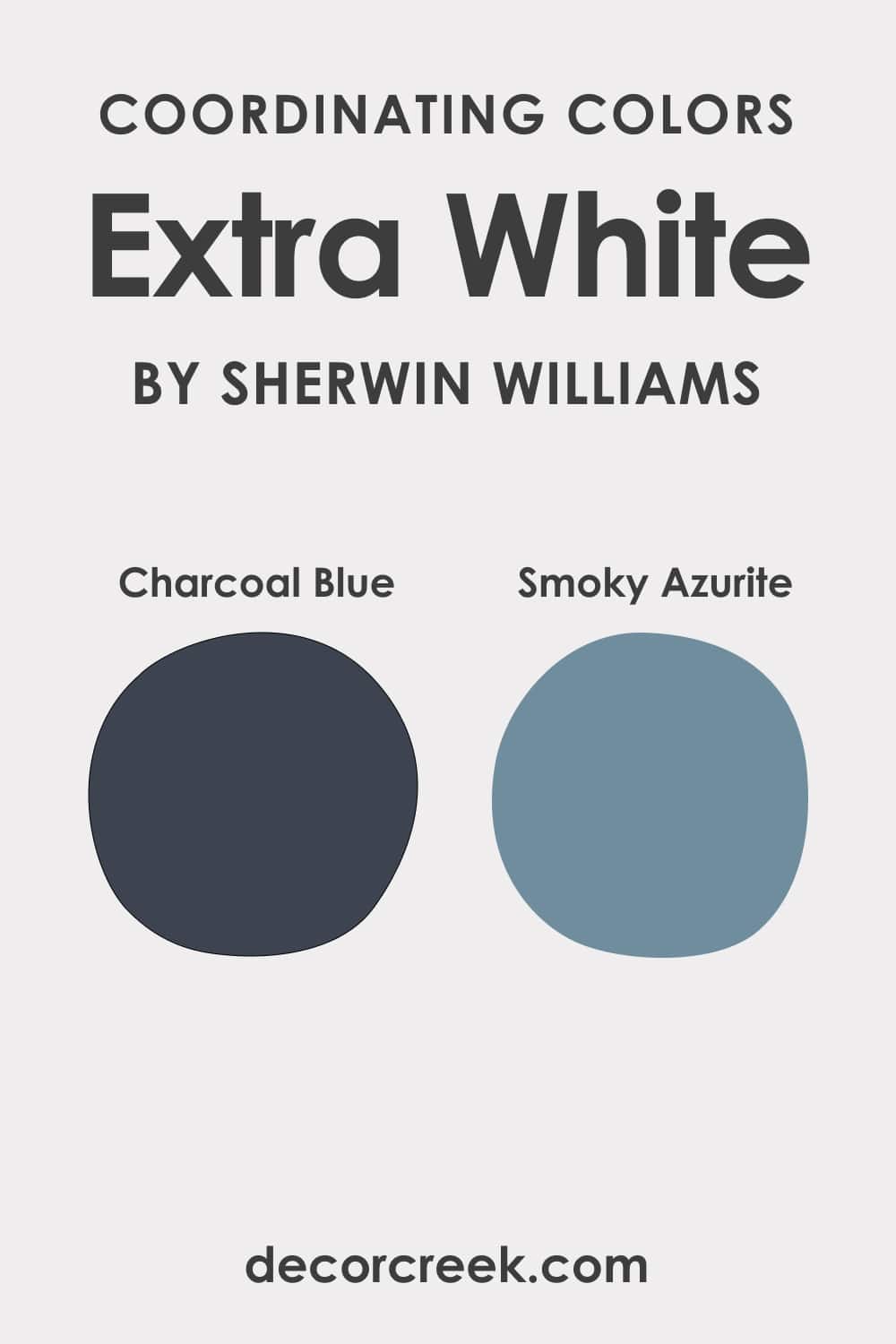 What's the Best Trim Color to Use With SW Extra White?
Since SW Extra White is, well, white, people may become confused and puzzled about the trim colors that might fit this color on the walls. You will be surprised to learn that the best trim color for white is..white! To be precise, the best trim color for SW Extra White is SW Extra White.
Don't think we are joking; it's true. See, in the case of white colors, the rule of thumb sounds like the simpler, the better. This means you should use white for both walls and the trim! But if you'd like a bit of distinct tone for your trim, you can try SW Chantilly Lace or SW High Reflective White.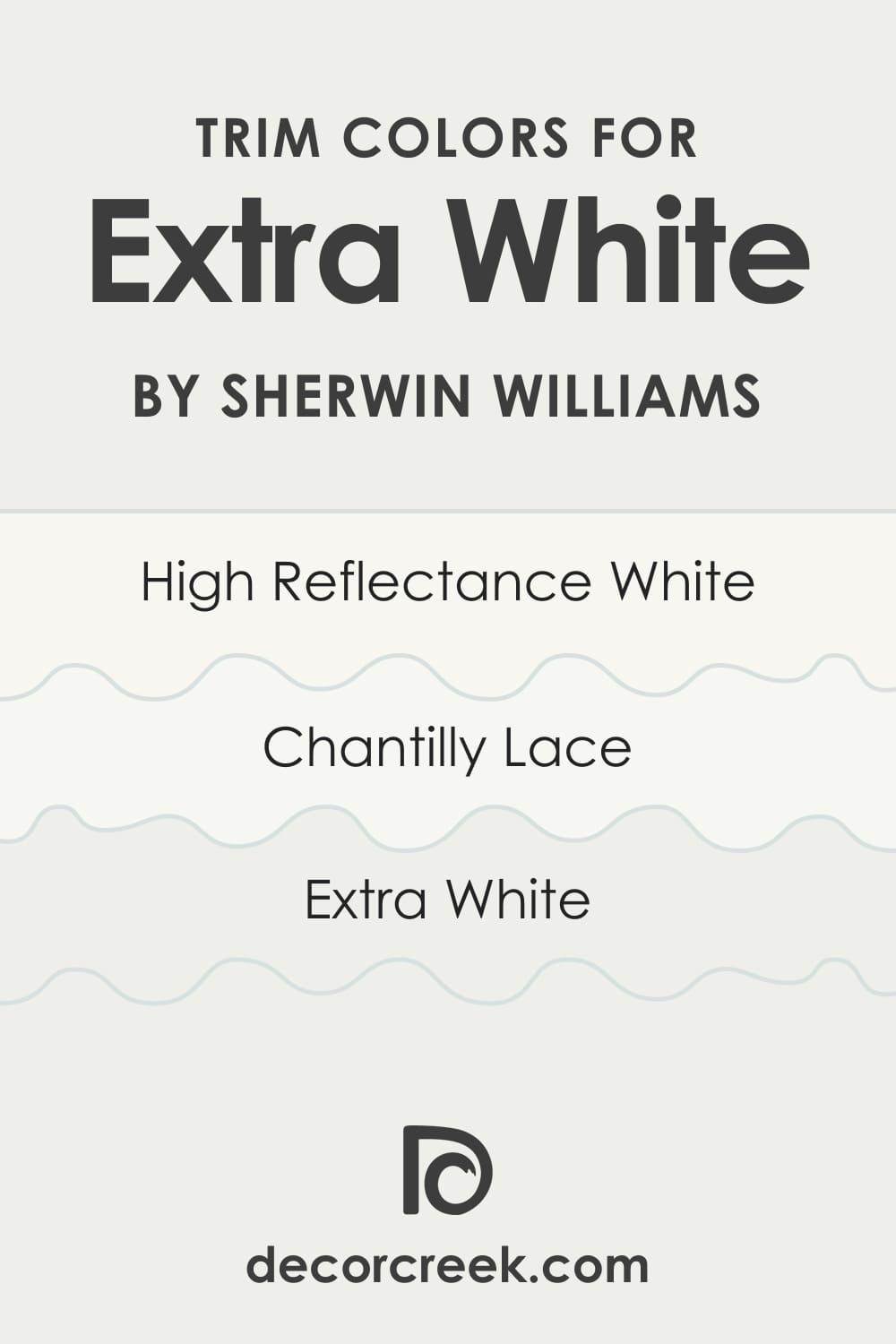 Paint Colors Similar to SW Extra White
Why is it a good idea to know what similar paint colors your existing color has? See, at some point, it can be helpful in case you suddenly decide to use a bit different paint color than the one you were initially going to.
Or you may suddenly realize that the color you initially chose does not work well enough with the rest of the colors in the room. Or you might want to go lighter or darker with the wall color.
But if you are planning to use white color on your interior walls, it can be tricky to choose colors that read the same or nearly the same.
If this is the complication you are concerned about, we have prepared a few similar color ideas that might be handy for you if your primary wall color is SW Extra White:
SW Pure White
SW Decorator's White
SW Snowbound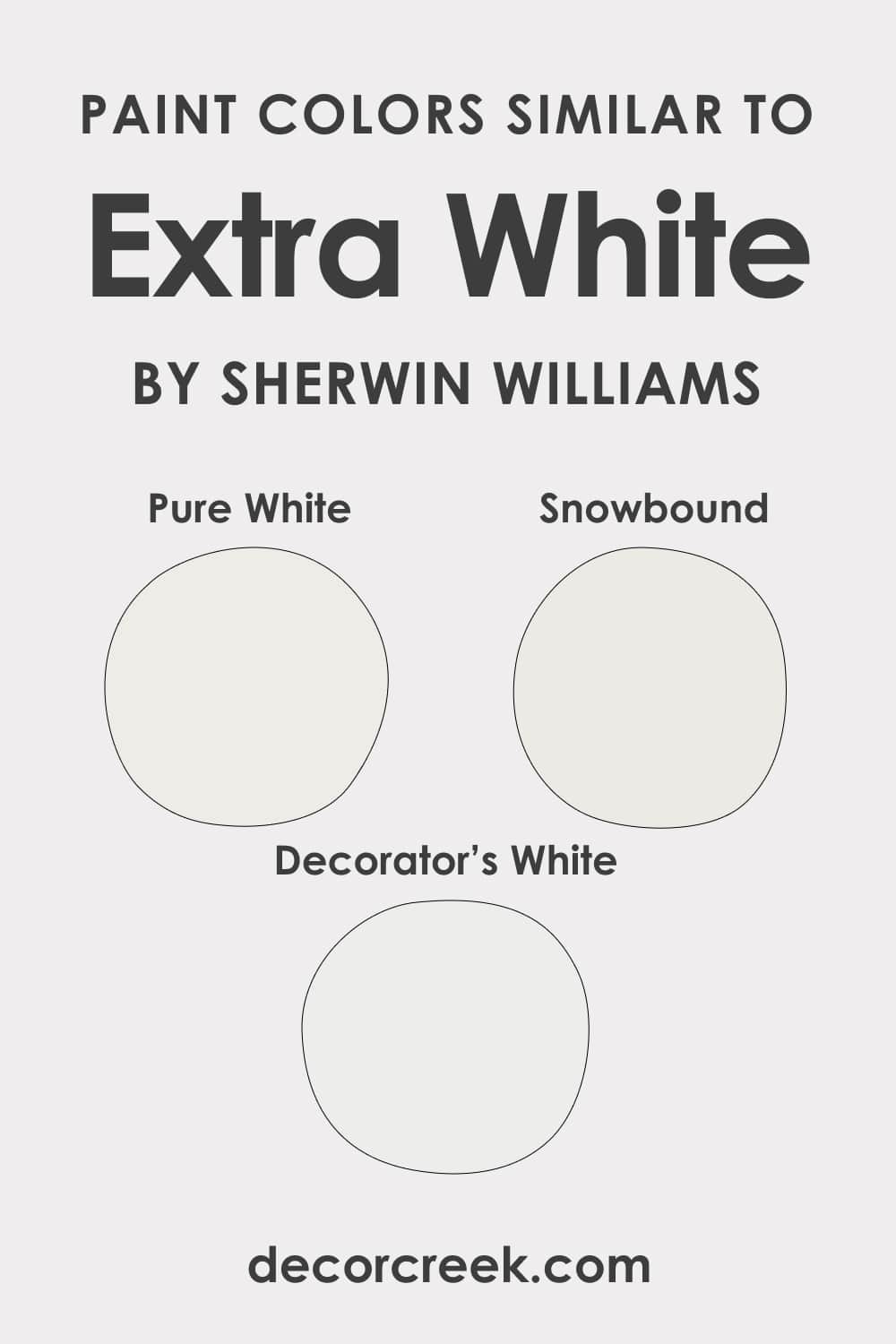 Сolors That Go With SW Extra White
To create a harmonious and well-balanced color palette in your home, one should know what colors can be used with the wall paint color to create good-looking combinations. If you want to use SW Extra White as the color of your interior walls, it is good to know what colors will be suitable as those that will work the best with it.
Since SW Extra White has an icy blue undertone, it makes this white color a good pair with grays, blues, and greens. For example, the following colors could work well with this white:
SW Poolhouse
SW Cascades
SW Caviar
However, stay away from creams, tans, yellows, browns, or greiges! Blue undertones will not work as well with them.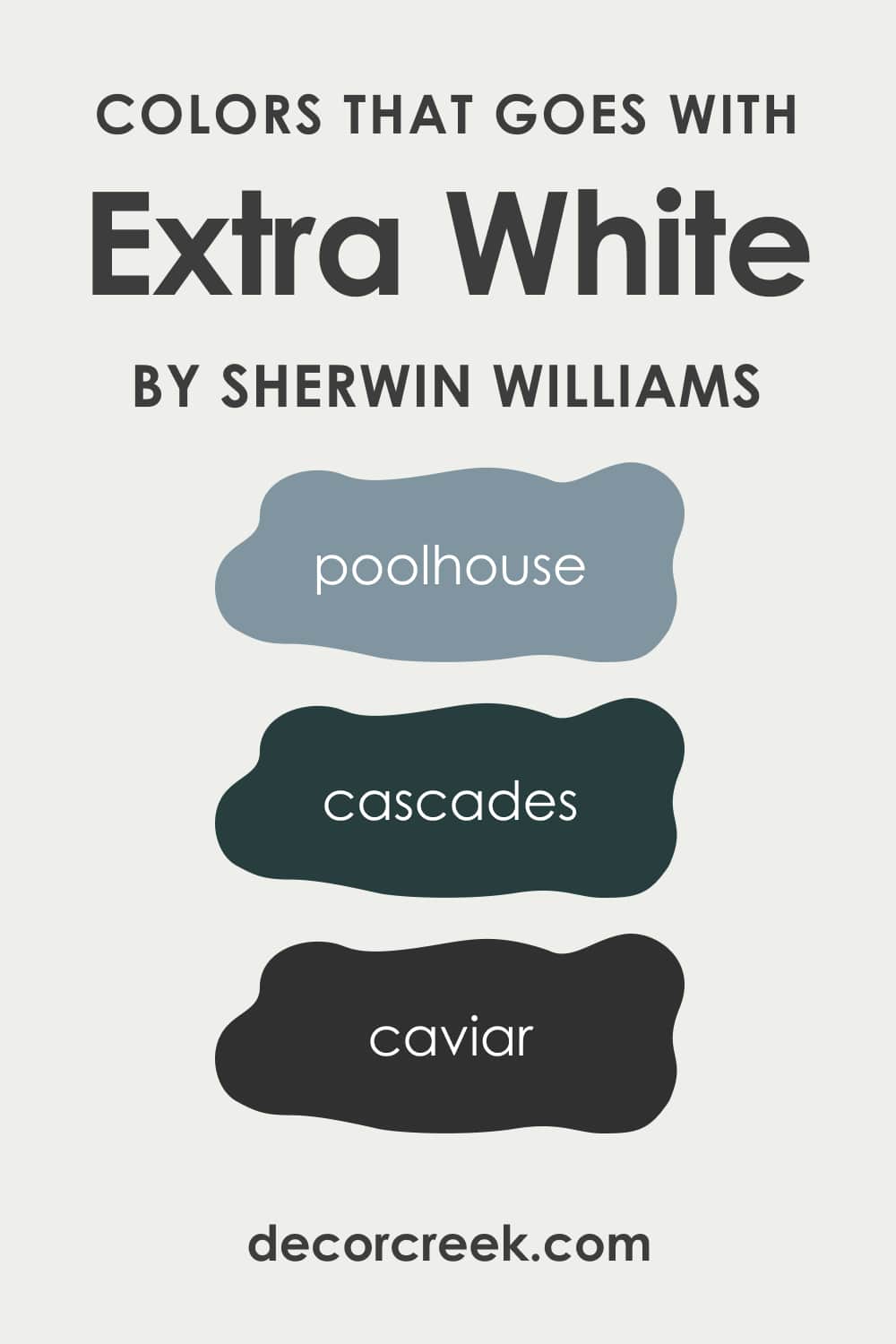 Comparing SW Extra White With Other Whites
To better see the difference between the distinct shades of white, we suggest you read the comparison of SW Extra White with a few other whites. Like this, you will be able to see how varied white color can be despite its seeming simplicity. Moreover, this color comparison will allow you to select the most suitable white for your home in the future.
Extra White vs Pure White
Like Extra White, Pure White also has a softness that comes from a gray undertone. In addition to this, Pure White has a yellow undertone that makes it look a bit softer than Extra White.
When you compare these two white colors, you see that one of them looks cooler and another one looks warmer. But in general, they appear similar in terms of color depths and brightness.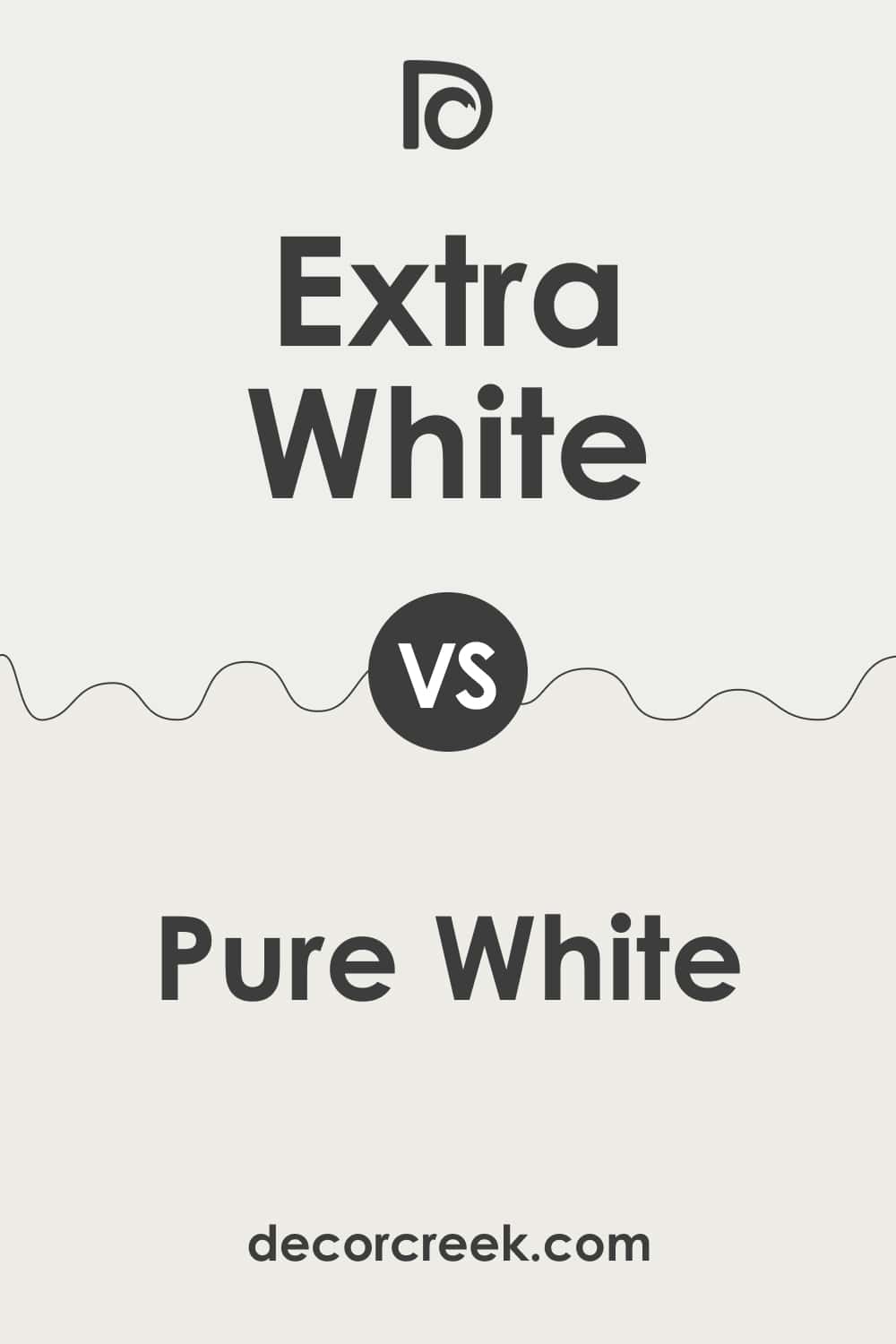 Extra White vs Chantilly Lace
SW Chantilly Lace has very few undertones that make this color neutral. Compared to SW Extra White, SW Chantilly Lace reads lighter and softer. In addition, compared to the Chantilly Lace paint color, SW Extra White may sometimes show a tiny bit of grayness.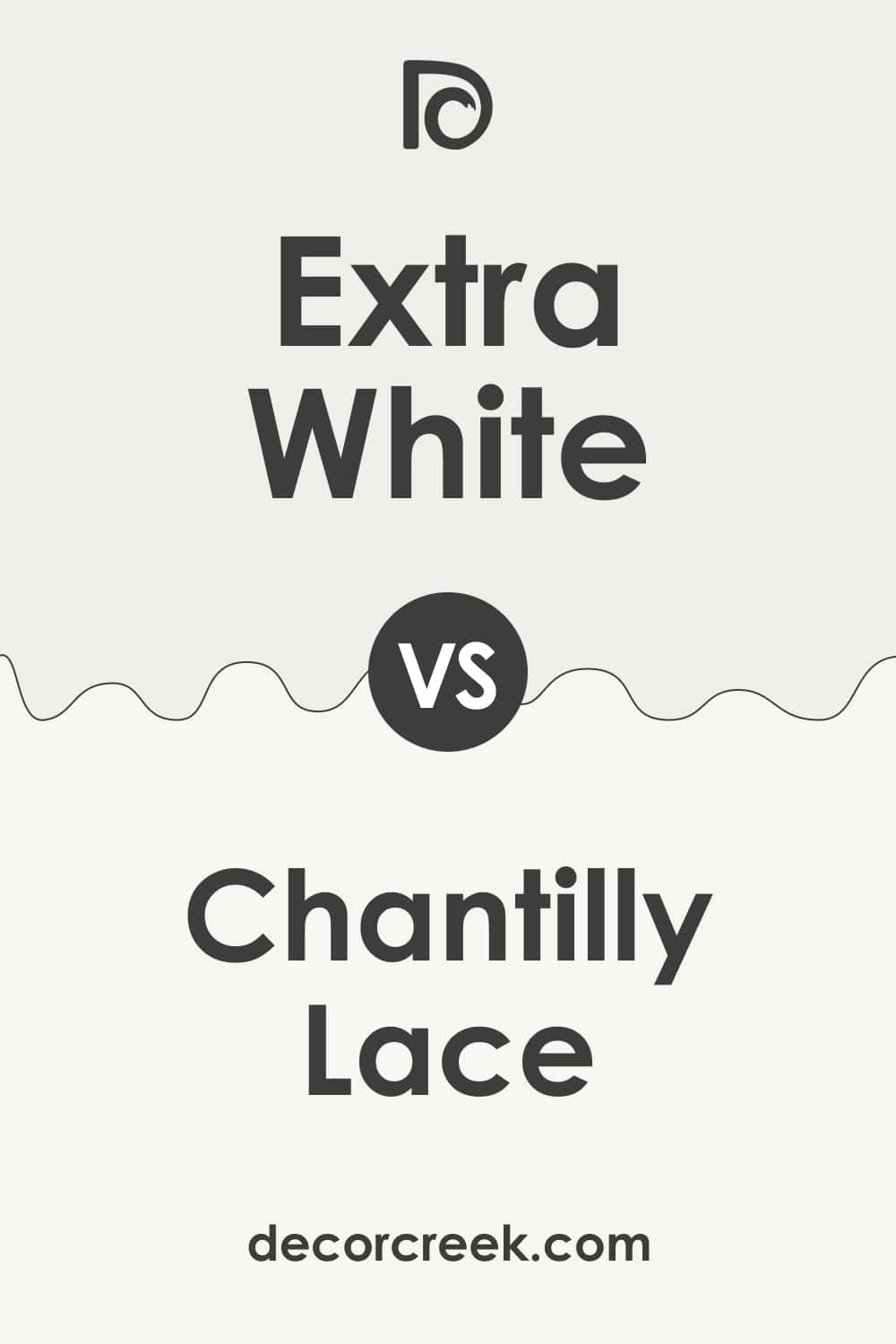 Extra White vs Upward
SW Upward is a lovely, clean, soft blue with slightly purple undertones. Compared to SW Extra White, this color reads prominently blue. However, since the Extra White color pairs well with blue colors, these two create a harmonious pair.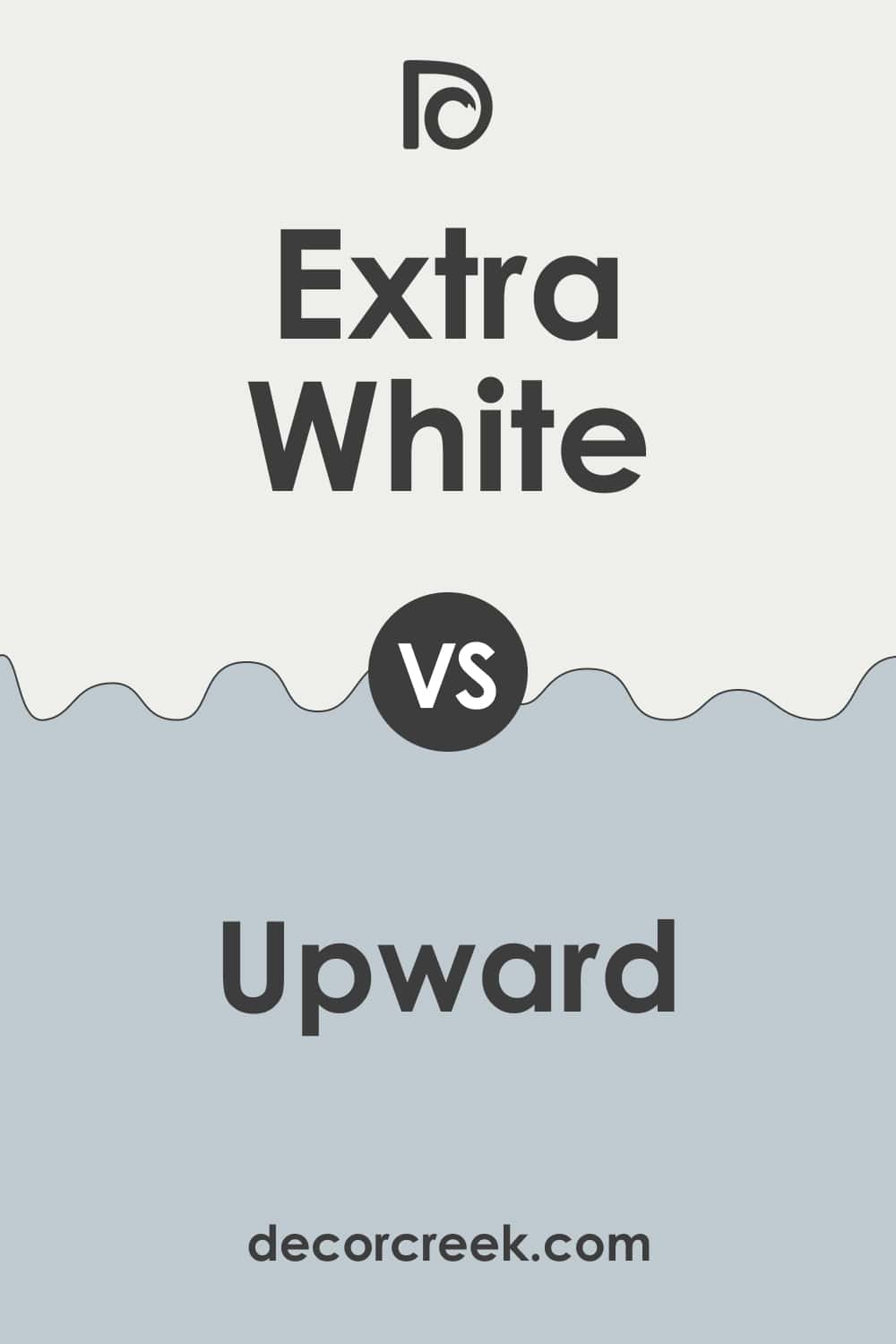 Extra White vs High Reflective White
High Reflective White is very neutral-looking, and it's one of the brightest and whitest white paint colors. It has very little undertones and reads a little more warm than cool. Also, SW High Reflective White has no softness.
When you compare it with SW Extra White, you will see that Extra White has some softness. Also, it's clearly seen that the blue tones in Extra White pop out.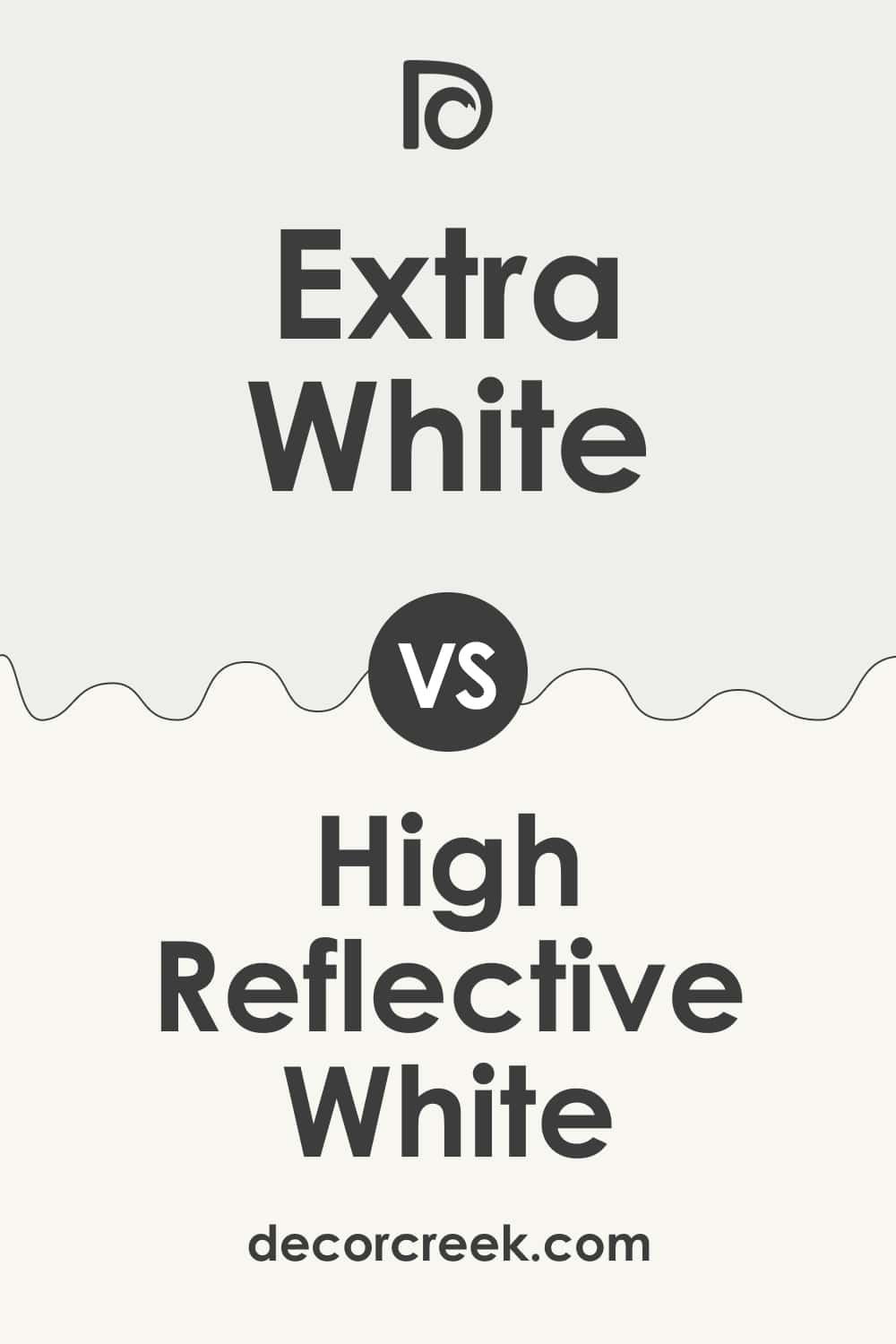 In What Rooms to Use This White Color
SW Extra White is most commonly used is a trim color and a color for ceilings, but it doesn't mean you can't use it as a wall color, too. Below, you can read how this color will read in different rooms of your home.
Living Room in the Extra White SW-7006
This white color is so clean and fresh that it can make every room feel more spacious and airy, as well as brighter and more modern. So if you are fond of bright spaces, SW Extra White is the color you should go for!
It pairs great with wooden floors and furniture, as well as with natural fabrics and patterned fabrics, so you will have no trouble adding some vibe and energy to your living room!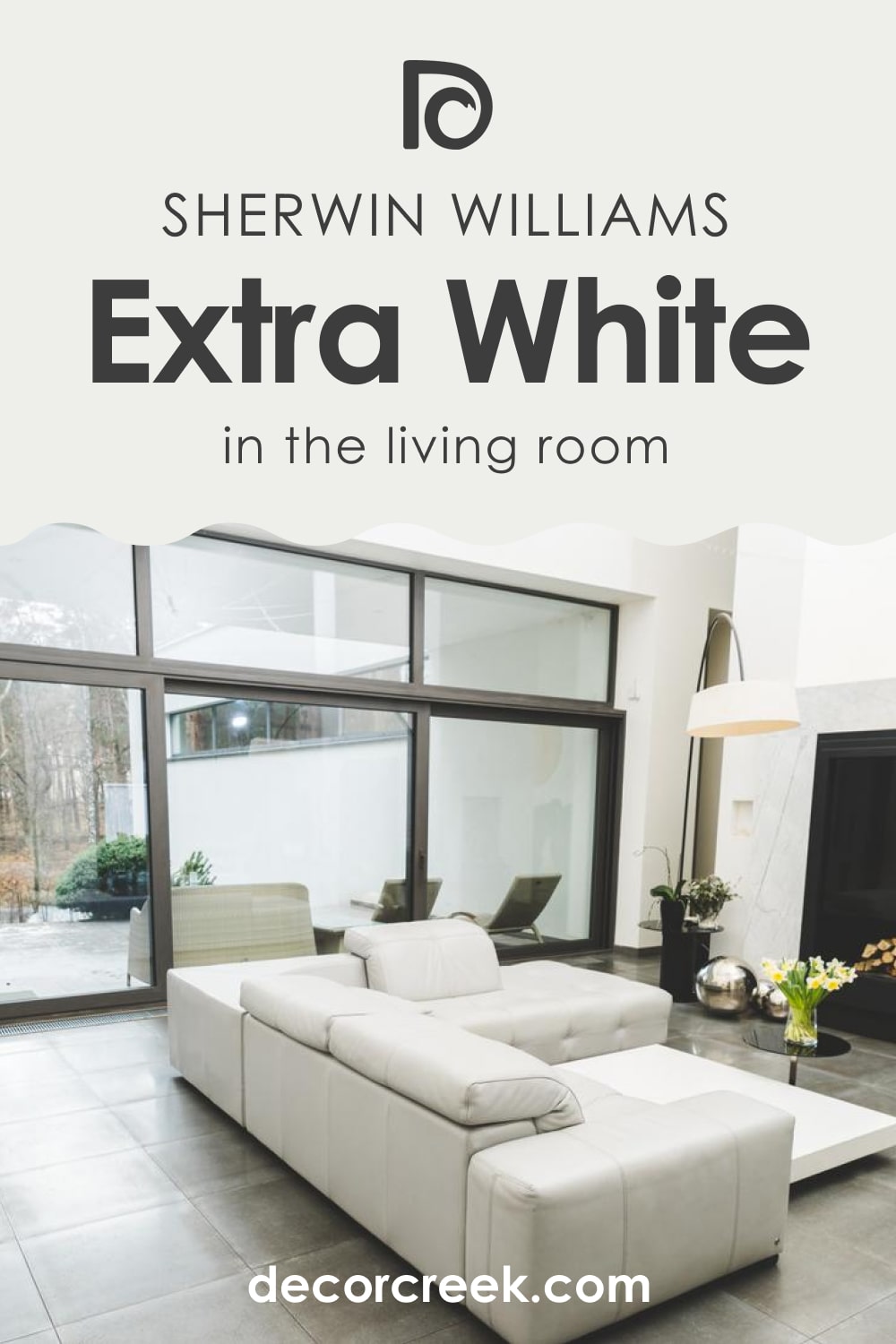 Extra White SW-7006 and Bedroom
Some say this white is too crisp for a bedroom, but if you are striving for a neat and clean look there, this is your color for sure! Yes, it will make the room look cool-toned and maybe a bit colder, but you can easily fix that by adding warm-toned colors. For example, if you add light browns and beige (think of carpets, furniture, and throw blankets!).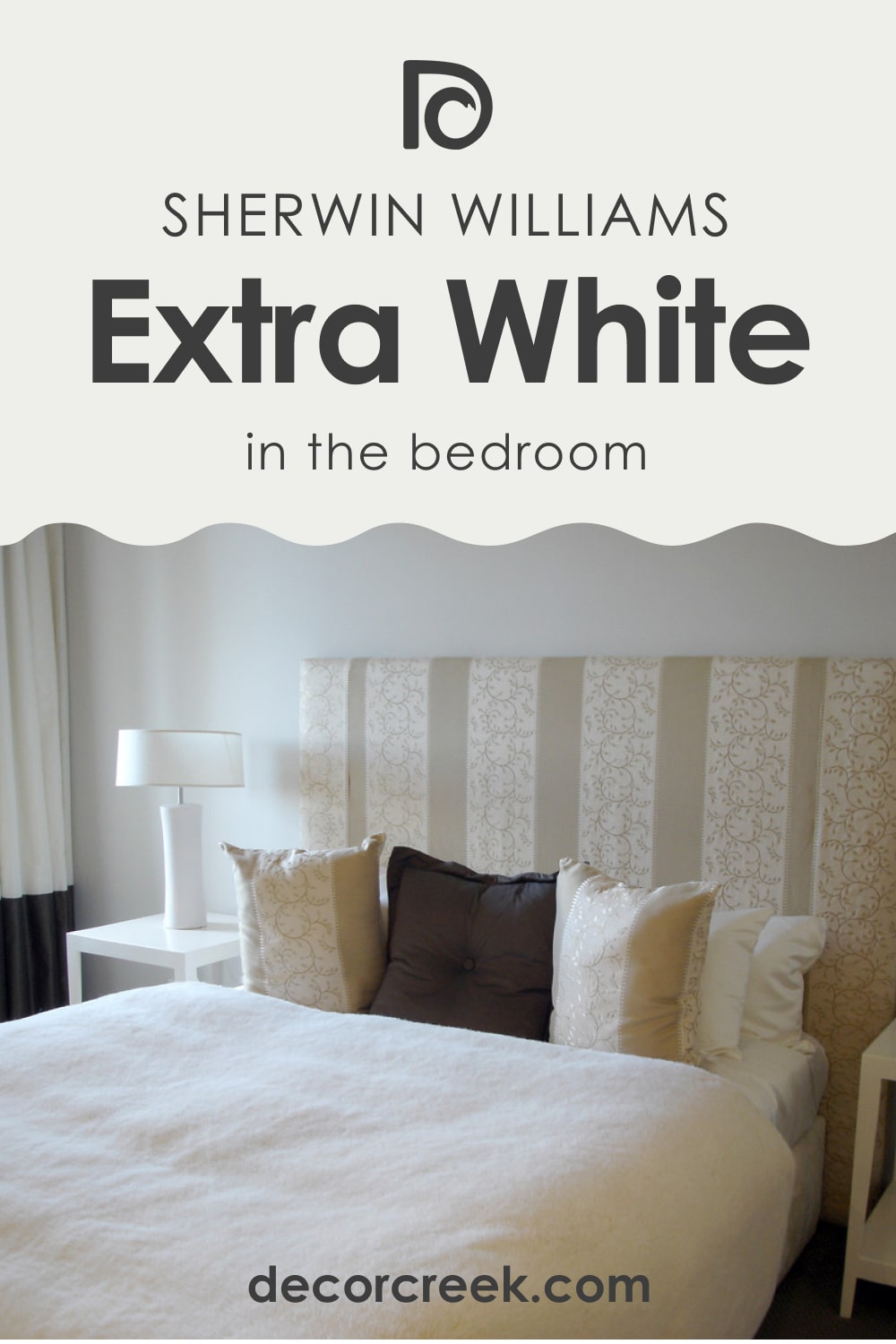 Extra White SW-7006 with Bathroom
Since the bathroom is supposed to give us a refreshing vibe, SW Extra White can be quite a suitable color for its walls. In a small bathroom, this white will work to make it look bigger, and in a spacious room, it will add that airy feeling and freshness.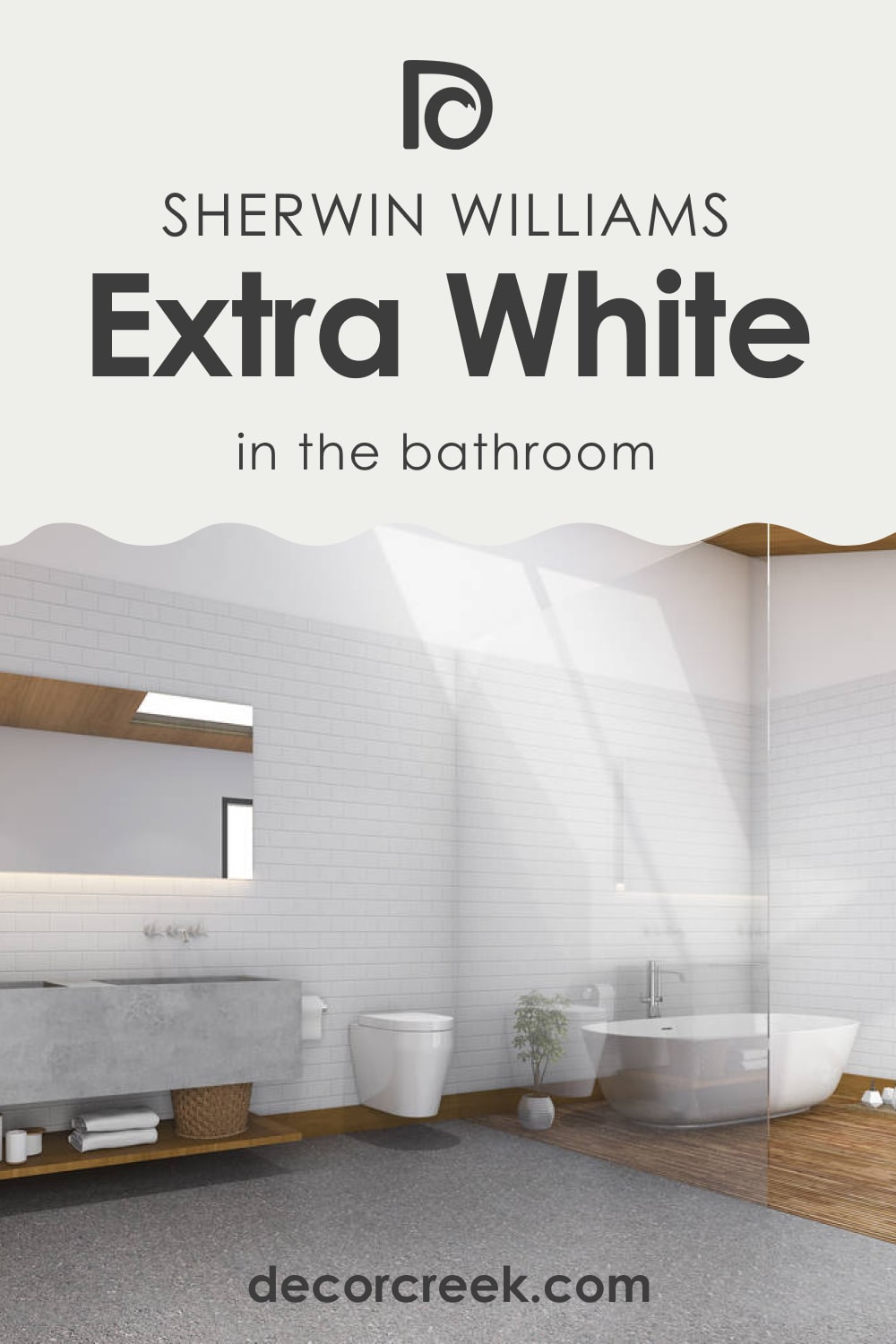 Extra White SW-7006 for the Kitchen
This white is perfect if you need to make your kitchen look larger. Besides, SW Extra White will work great in a kitchen with wooden floors since it will make the room look airier.
You can use brightly patterned curtains to add some color to the space or use colorful chair cushions or table runners to make your kitchen look less cold. Wooden elements like shelves will also help to make the room look cozier.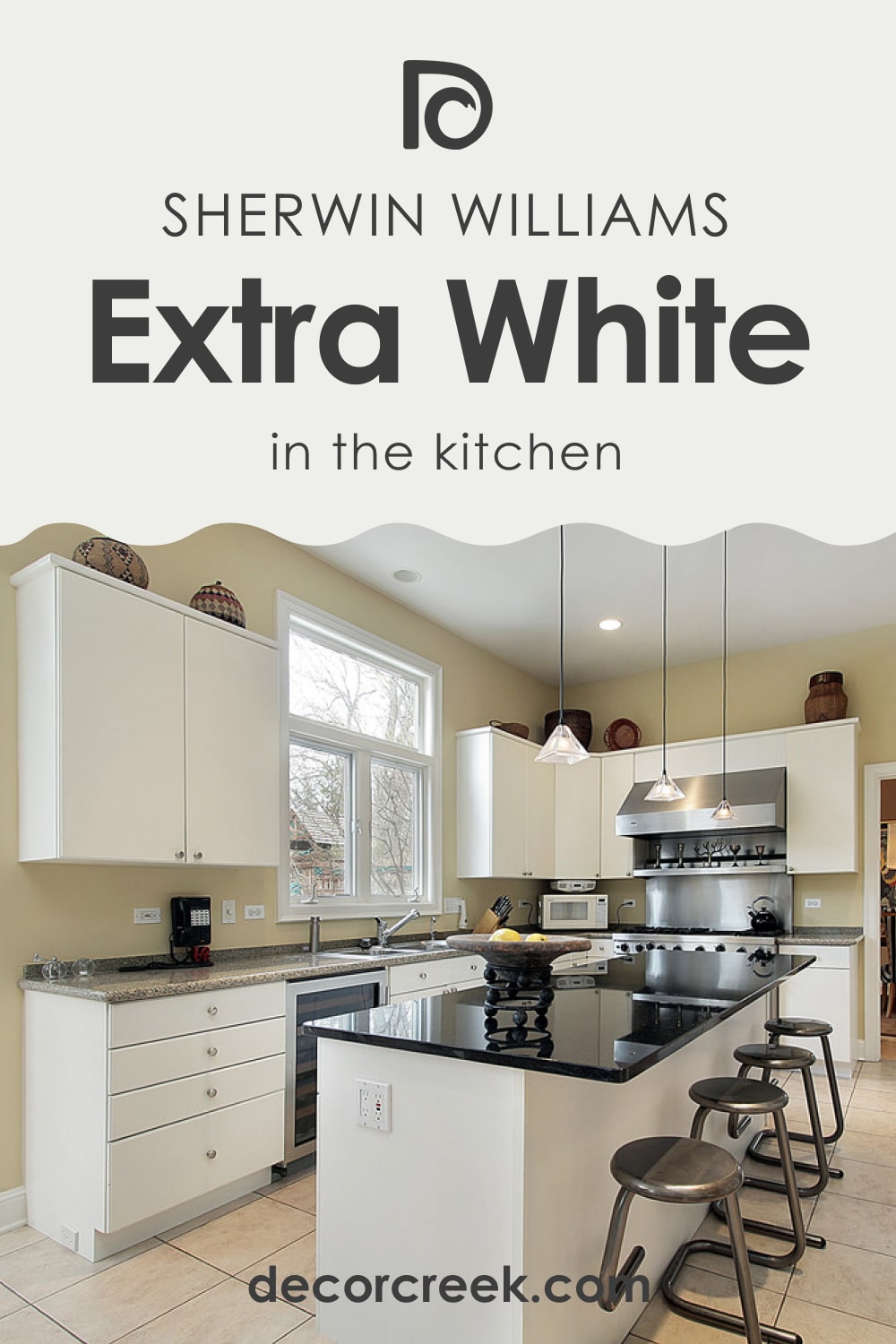 Extra White SW-7006 for the Exterior Use
Some say that SW Extra White is not the go-to color for a house's exterior walls. However, if you want them to look crisp and clean, this white might be exactly what you are looking for!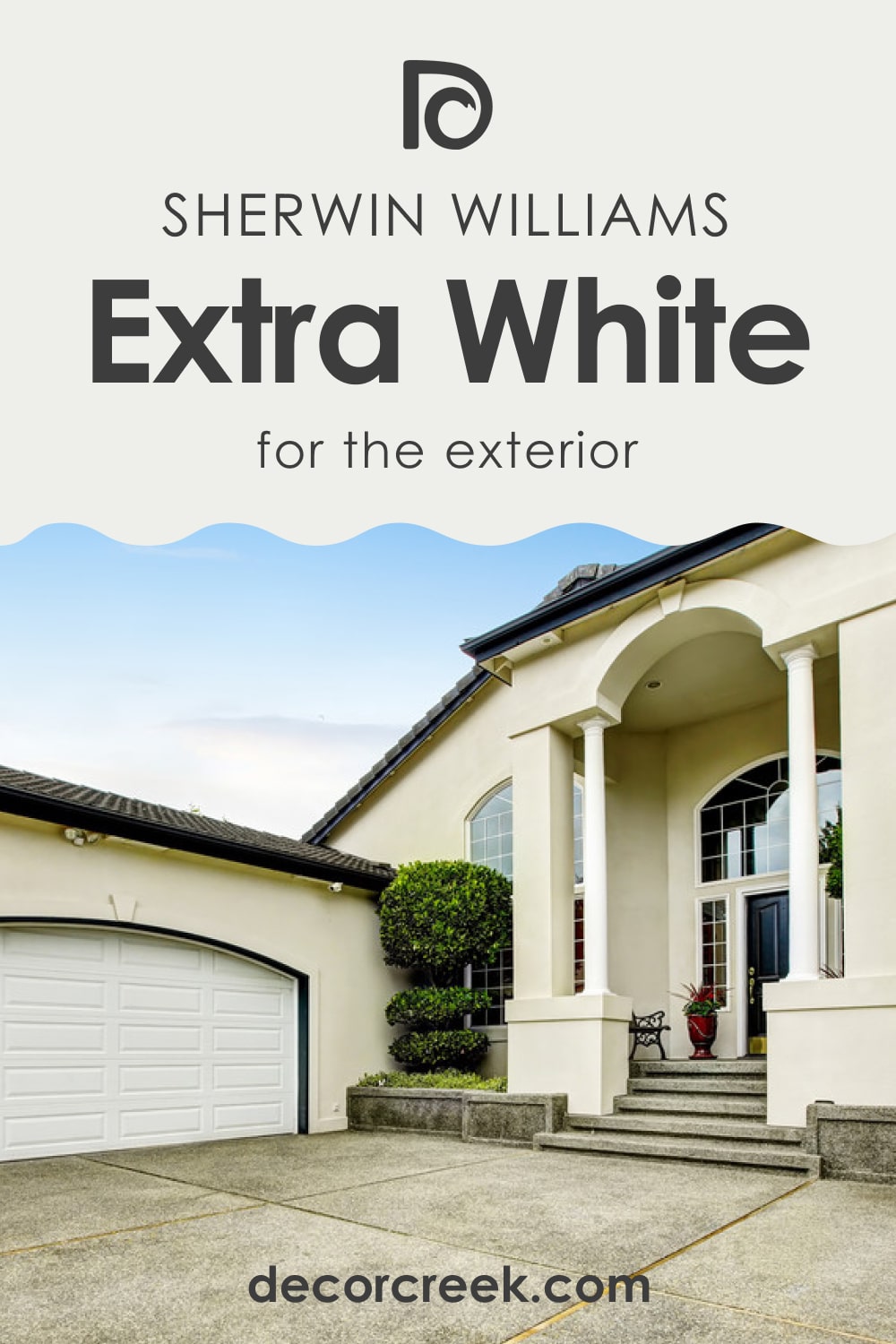 Now you know what kind of white color the Extra White paint is. You know its undertones, LRV, trim colors, and more. In addition, we told you how this white color might react to light and read in different rooms of your home. With all that in mind, you will surely find the most suitable place for it to be used!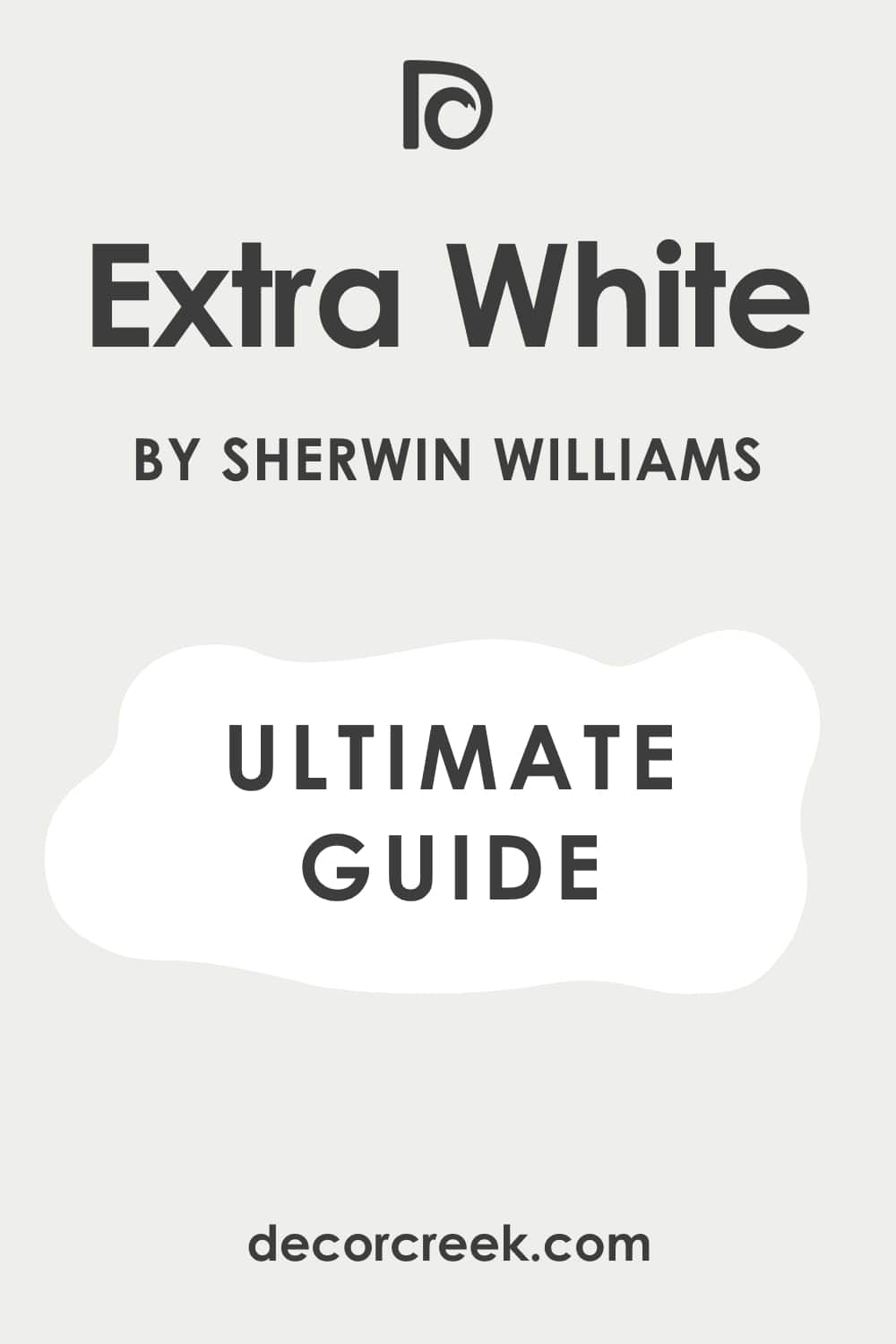 Frequently Asked Questions
⭐Is Sherwin Williams Extra White Warm or Cool?
SW Extra White has a blue undertone. This makes it a cool-toned paint color since cool paint colors have blue, green, or purple undertones.
⭐Is Sherwin Williams Extra White too white?
While the blue undertone in Extra White makes it rather white in some spaces, it isn't the whitest paint.
⭐Is Extra White too white for walls?
Extra White is not exactly a go-to color for walls. You might want to use a warmer or more neutral white, such as Pure White.