In the world of interior design, color is a powerful tool that can dramatically transform the atmosphere of a space. Sherwin-Williams, a renowned name in the paint industry, is a go-to source for a myriad of stunning shades, one of which is SW 6709 Gleeful.
This radiant hue creates an uplifting ambiance in any room and is particularly striking when paired with the right complementary colors.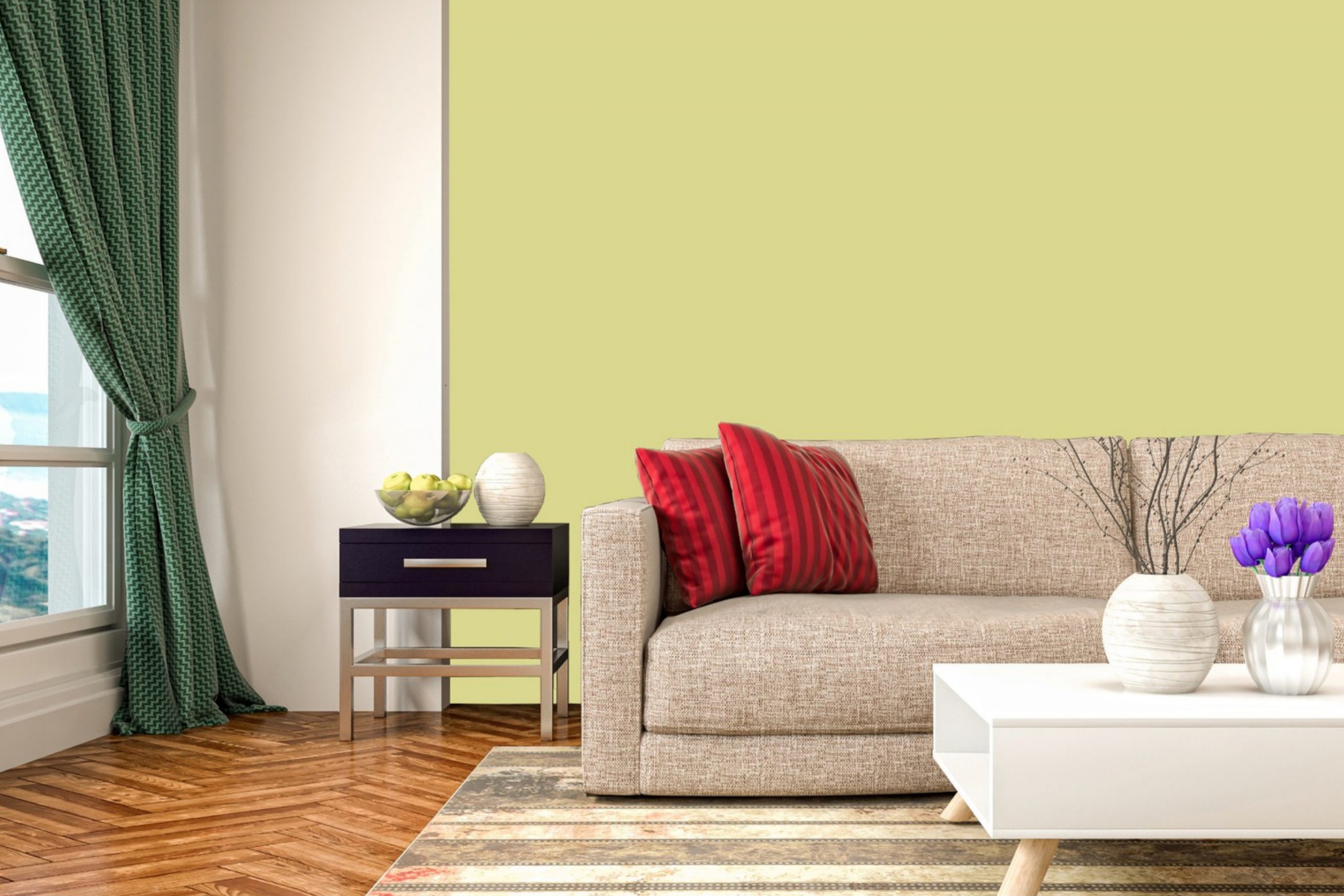 What Color Is SW 6709 Gleeful? Is It a Warm Or Cool Color?
As Encycolorpedia says, SW Gleeful is a light to medium-toned green with an almost lime-like vibrancy. However, rather than being harsh or glaring, it is uplifting and refreshing, making it an exceptional color to inject energy into any space.
Although green is generally considered a cool color due to its proximity to blue on the color wheel, SW Gleeful's yellow undertones give it a certain warmth.
Hence, SW Gleeful can be considered a "warm" cool color, making it versatile enough to suit a variety of decors and moods.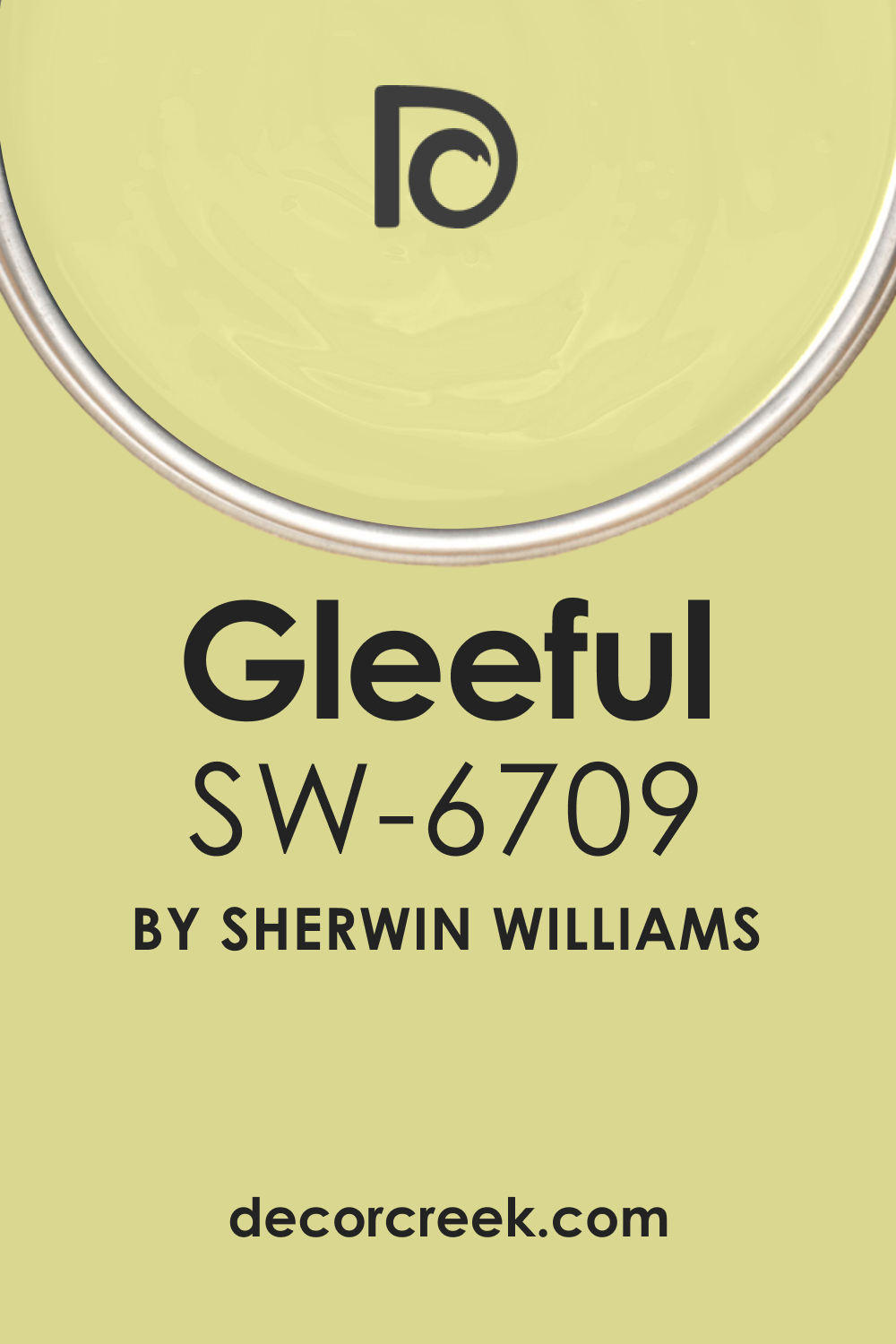 Undertones of SW 6709 Gleeful Paint Color
Identifying the undertones of color can help you pair it effectively with other colors in a room. The undertones of SW 6709 Gleeful are:
Yellow: This is the most dominant undertone in Gleeful, contributing to its warm and lively personality.
White: There's a hint of white undertone that keeps Gleeful from becoming too overpowering, giving it a soft and airy feel.
Blue: A faint blue undertone lends Gleeful a refreshing quality that balances out its warm characteristics.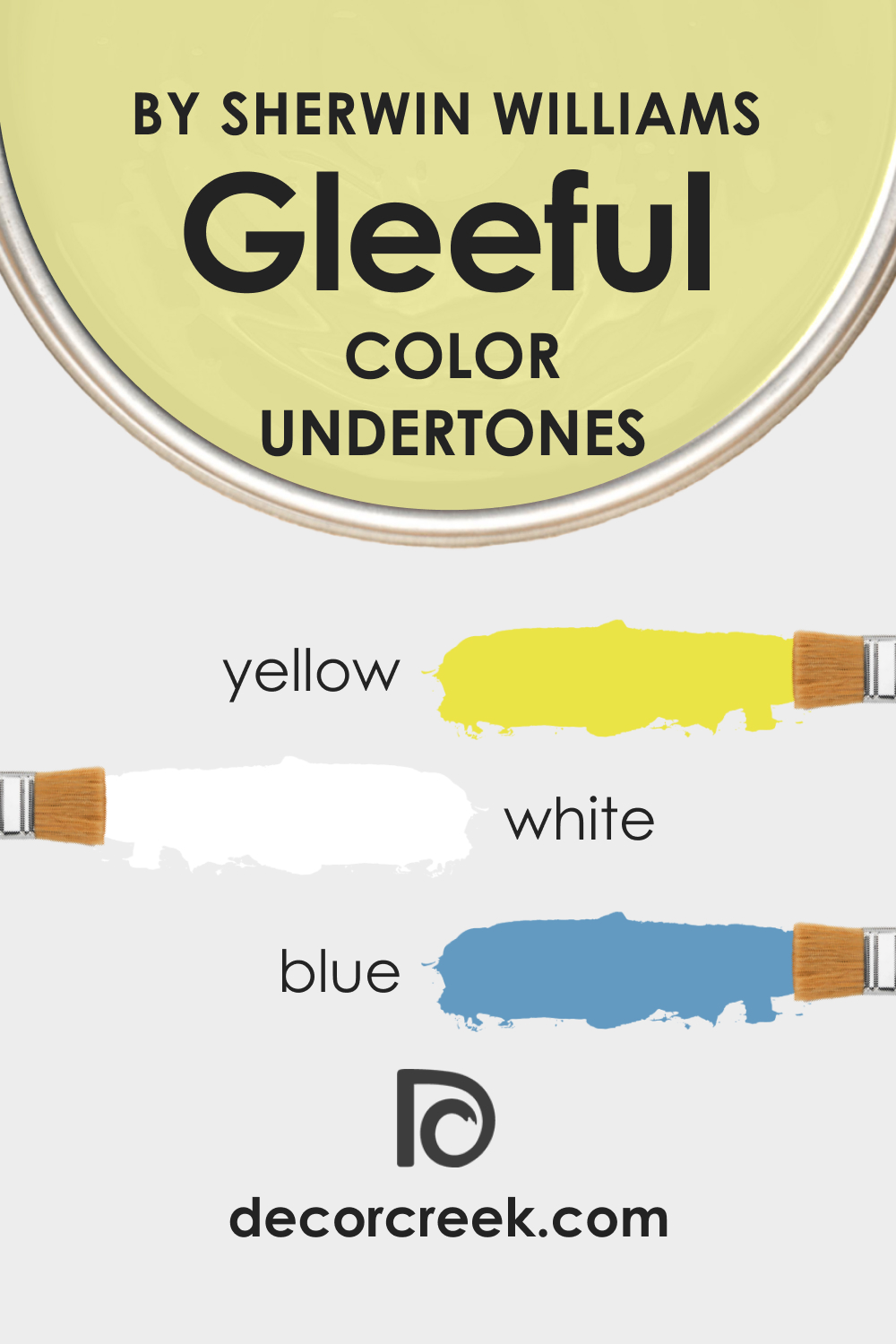 Coordinating Colors of SW 6709 Gleeful
To create a cohesive look, you can pair SW Gleeful with coordinating colors. Here are some Sherwin-Williams colors that go well with SW Gleeful:
SW 7562 Roman Column – A versatile beige that provides a soft and neutral contrast to Gleeful's vibrancy.
SW 7006 Extra White – A clean, bright white that enhances SW Gleeful's brightness and makes it pop even more.
SW 6765 Spa – A serene blue color that complements the cool undertones of SW Gleeful, adding depth and interest to the space.
Additional coordinating colors can be:
SW 6108 Latte – This warm neutral has a creamy undertone that blends well with SW Gleeful, creating a balanced look.
SW 6218 Tradewind – A subtle, airy blue juxtaposing SW Gleeful's energy, adding a calming element to the room.
SW 7647 Crushed Ice – A very light grey that serves as a neutral backdrop, allowing SW Gleeful to shine.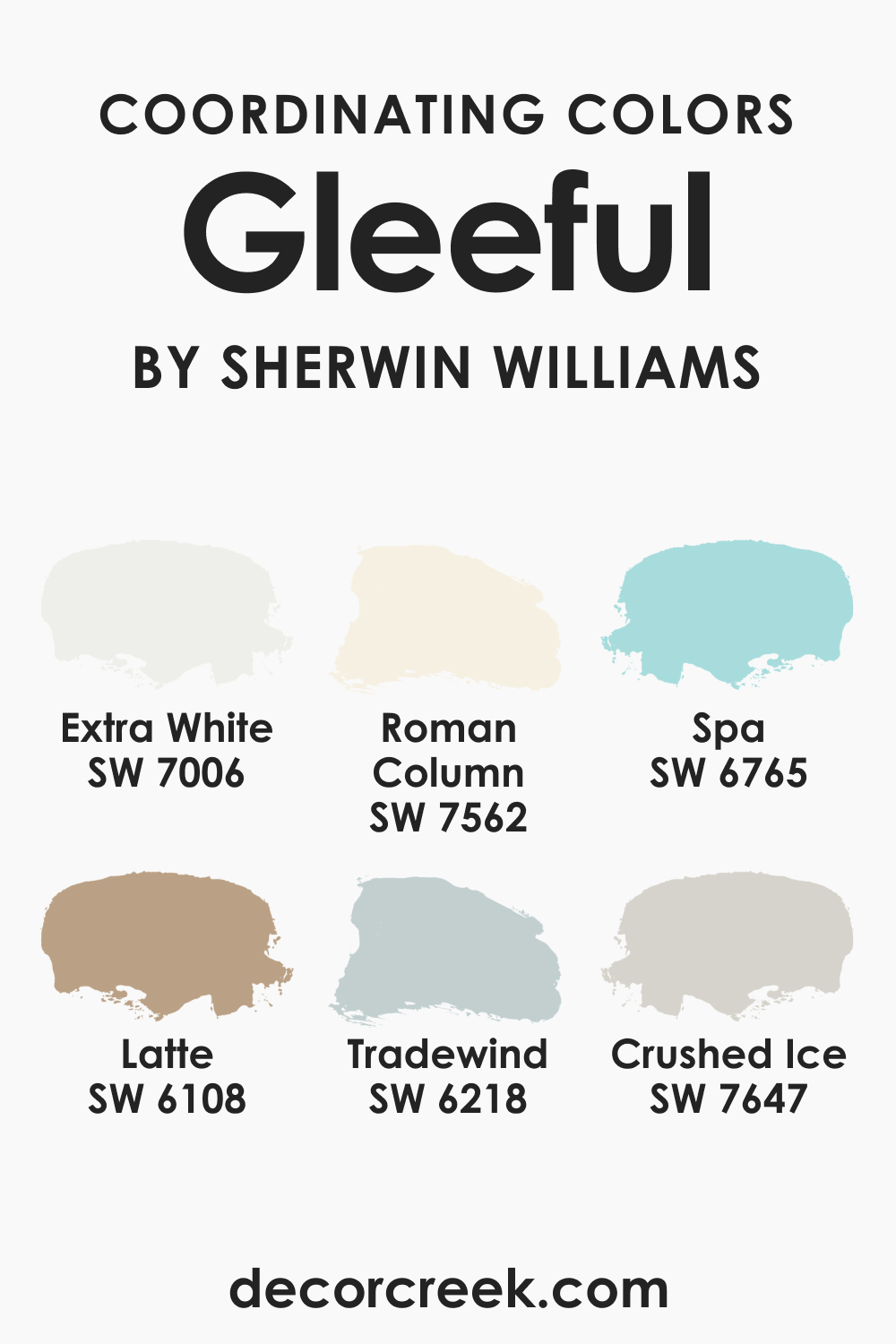 How Does Lighting Affect SW 6709 Gleeful Paint Color?
Lighting, both natural and artificial, can significantly influence how SW Gleeful appears. In abundant natural light, SW Gleeful looks more vibrant and lively, with its yellow undertone becoming more pronounced. This makes spaces painted in SW Gleeful look bright and cheerful during the day.
In contrast, artificial light can change SW Gleeful's appearance depending on the type of bulb used. Cool, white LED lights can highlight its blue undertone, giving the color a slightly cooler look.
Warmer light, such as from incandescent bulbs, can emphasize Gleeful's warmth, making it appear more lime-green.
As lighting conditions can significantly impact how a paint color looks, it's always recommended to paint a small test patch and observe it under different lighting conditions before committing to it for a whole room.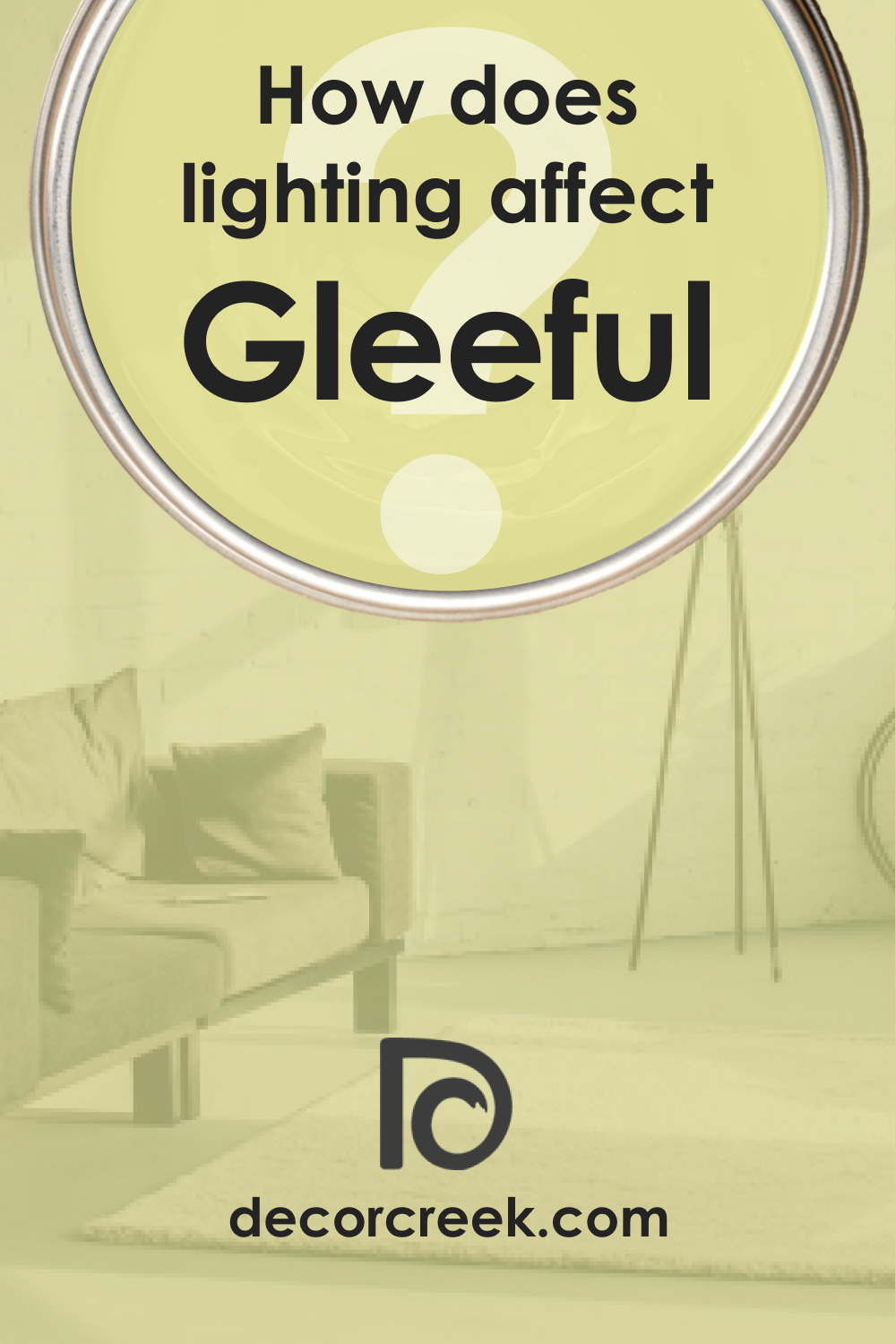 LRV of SW 6709 Gleeful Paint Color
LRV, or Light Reflectance Value, refers to the percentage of light a color reflects. The LRV of SW 6709 Gleeful is 66, meaning it reflects a good amount of light. This high LRV makes SW Gleeful an ideal choice for smaller rooms or spaces with limited natural light, as it can help make them feel larger and brighter.
Given its LRV, SW Gleeful can make a statement without overwhelming the space. It's light enough to be used as a main wall color without making the room feel closed in, yet still vibrant enough to add character and vitality.
Paint color with a high LRV like SW Gleeful also provides more flexibility in choosing furnishings and decor, as it can work well with a wide range of colors and shades.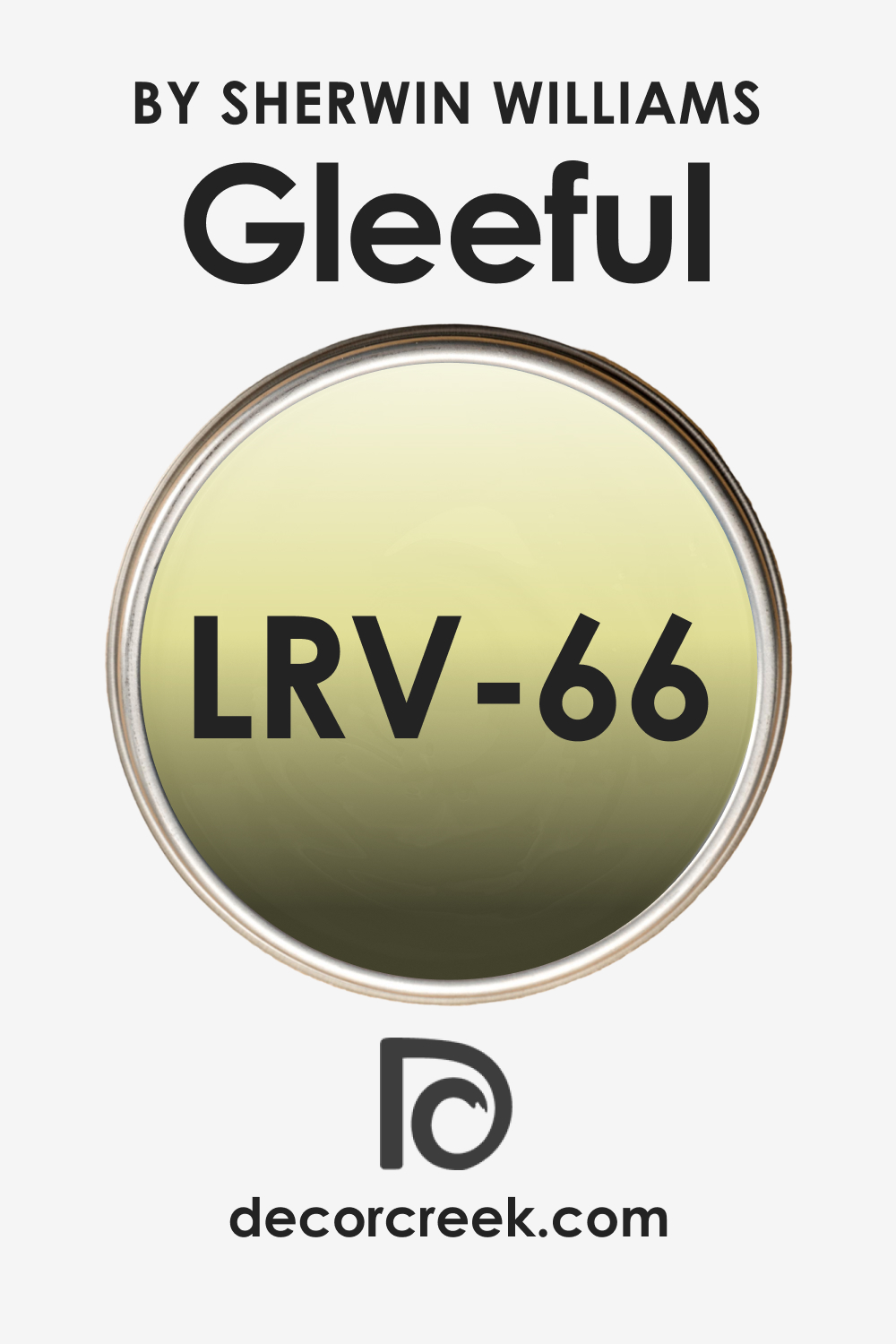 LRV – what does it mean? Read This Before Finding Your Perfect Paint Color
Trim Colors of SW 6709 Gleeful
When it comes to choosing trim colors for Gleeful, shades of white work exceptionally well. They provide a crisp, clean contrast that enhances SW Gleeful's vibrancy. Here are three Sherwin-Williams whites that pair beautifully with Gleeful:
SW 7006 Extra White – A pure, bright white that makes SW Gleeful stand out while providing a clean, fresh look.
SW 7008 Alabaster – A warmer off-white that complements the yellow undertones in SW Gleeful.
SW 7011 Natural Choice – A soft, muted white that offers a subtler contrast to SW Gleeful for a more harmonious look.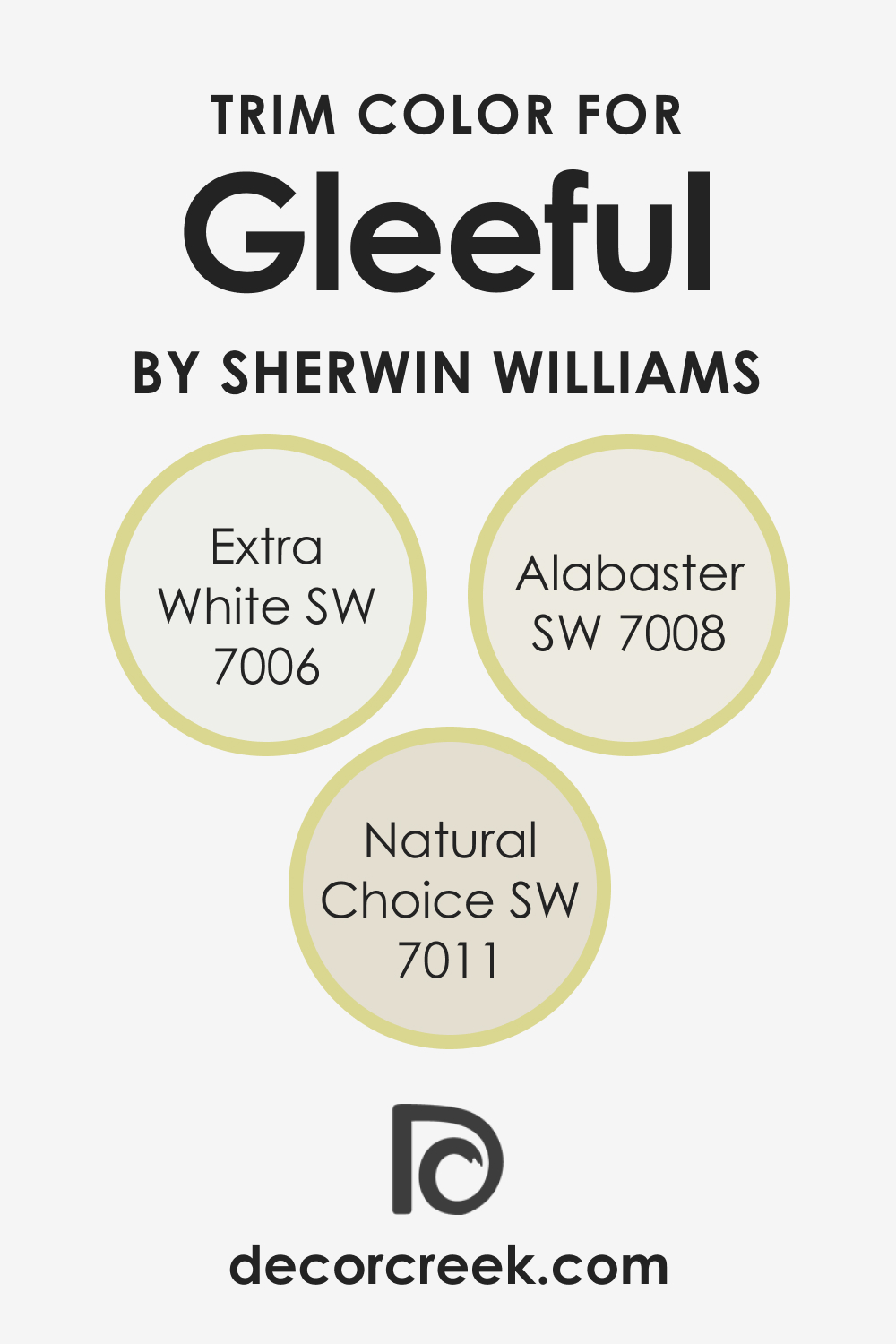 Colors Similar to SW 6709 Gleeful
In the vast palette of paint colors, several hues bear a resemblance to SW Gleeful. Here are the green colors from different brands that come very close:
Primavera (SW 9031)
BM Pale Avocado (2146-40)
BM Hibiscus (2027-50)
SW 6710 Melange Green
SW 6708 Springtime
Of course, none of them is an ideal match that looks exactly the same as SW Gleeful! Note that each color on this list has slightly distinct LRV and undertones.
As a result, these hues may read a bit lighter or deeper, slightly greener or yellower.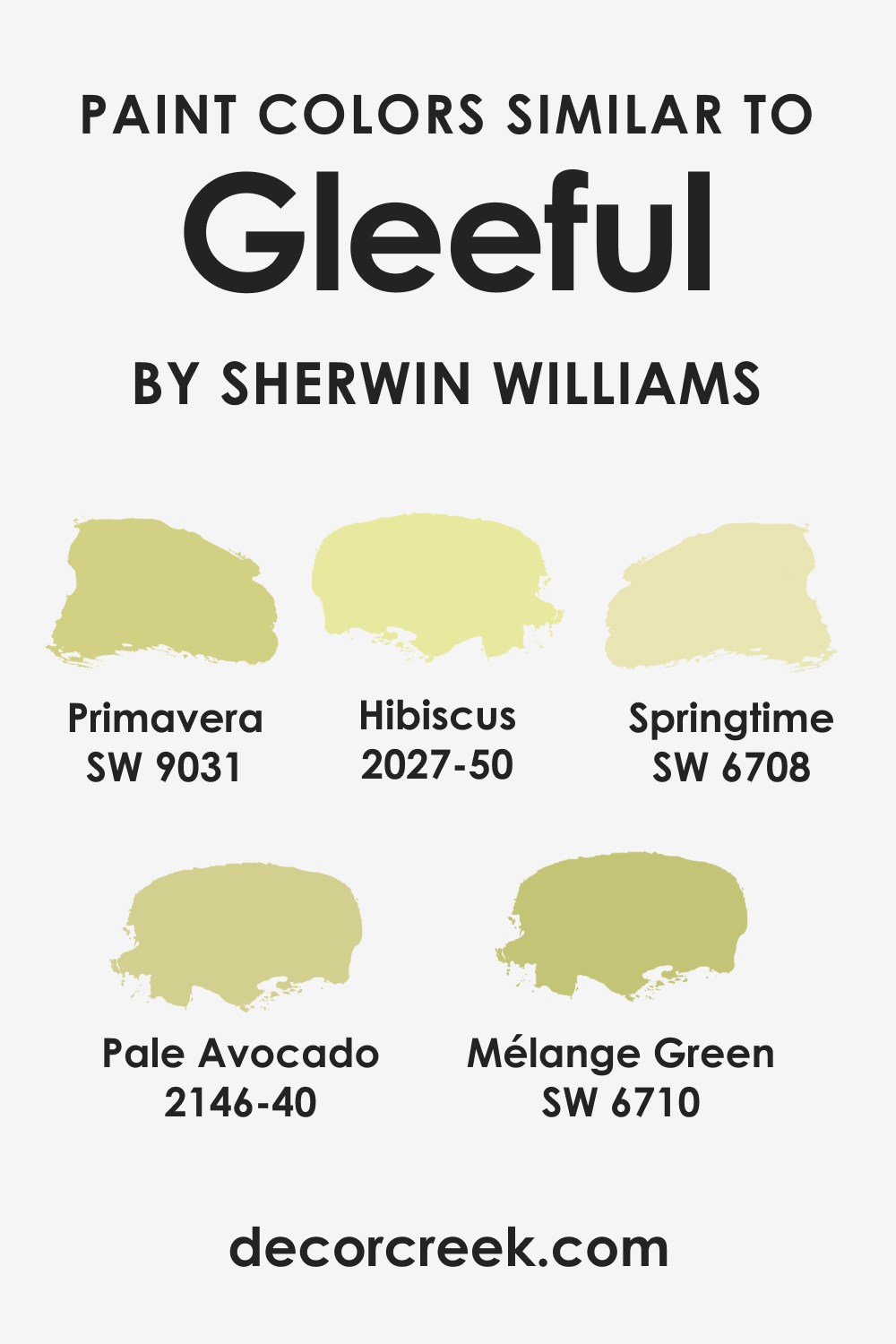 Colors That Go With SW 6709 Gleeful
SW Gleeful can be combined with several other Sherwin-Williams colors to create a harmonious color scheme. Here are six colors that pair well with SW Gleeful:
SW 6044 Doeskin – This soft neutral tan can provide a nice balance to Gleeful's vibrancy.
SW 6224 Mountain Air – A light, soft blue that harmonizes with the cool undertone of Gleeful.
SW 7006 Extra White – The brightness of this white enhances Gleeful's vibrancy.
SW 7562 Roman Column – This versatile beige serves as a neutral contrast to Gleeful's bright character.
SW 6765 Spa – This serene blue complements Gleeful's refreshing quality.
SW 6217 Topsail – A light, airy turquoise that blends beautifully with Gleeful, creating a refreshing and energizing ambiance.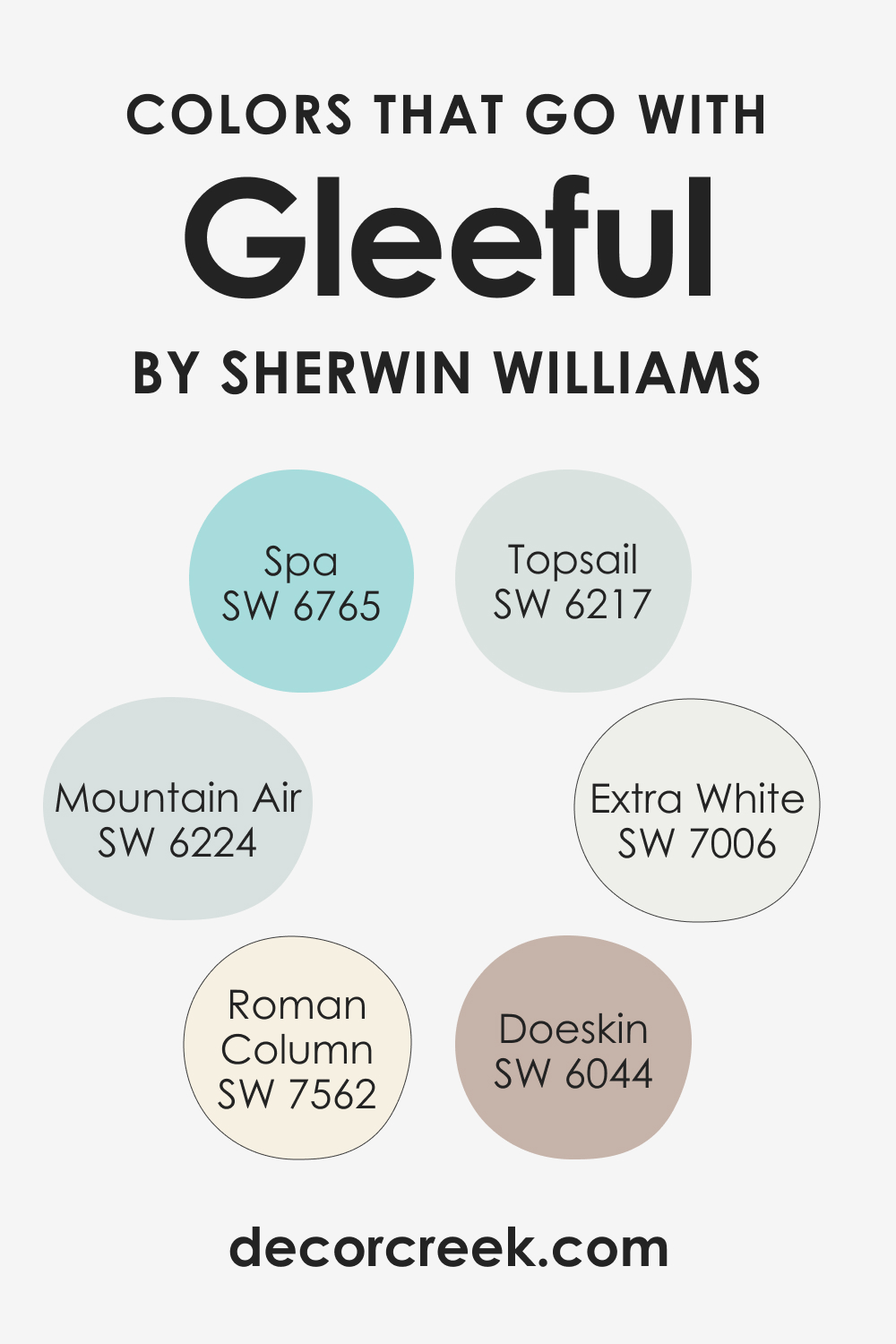 How to Use SW 6709 Gleeful in Various Rooms Of Your Home?
This color is pretty versatile, so you will easily find a room where SW Gleeful can display its beauty and calmness to you. Below, we describe where exactly this delicate and refreshingly soothing color can be used in your house or apartment.
SW 6709 Gleeful in the the Bedroom
In a bedroom, SW Gleeful can create a lively and uplifting atmosphere. It's ideal for a children's room or a teenager's room due to its bright, energetic vibe. Pair it with softer shades like Sherwin-Williams' Alabaster for the trim and furniture to create a balanced look.
However, don't limit it to just children's rooms. In a master bedroom, SW Gleeful can create a unique and vibrant aesthetic when combined with neutral tones and natural materials like wood or wicker.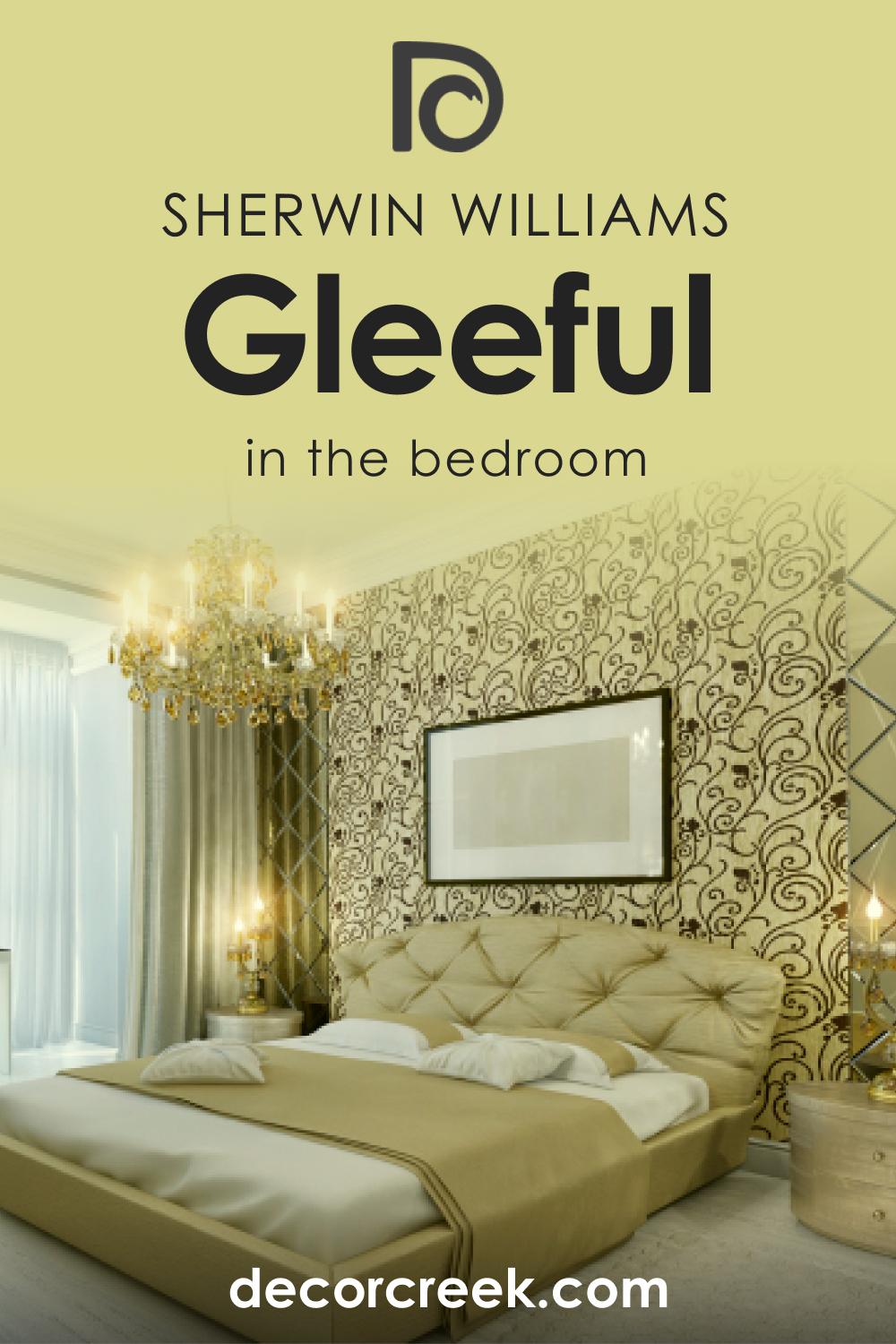 SW 6709 Gleeful in the Bathroom
Bathrooms are often small, and SW Gleeful can make them feel more spacious and full of life. Its high LRV makes it an excellent choice for bathrooms with limited natural light.
Consider using Sherwin-Williams Extra White for the trims and cabinets to add a crisp, clean contrast. For a soothing spa-like feel, pair SW Gleeful with muted blues or grays.
Metallic accents in fixtures and accessories can add a touch of luxury and sophistication.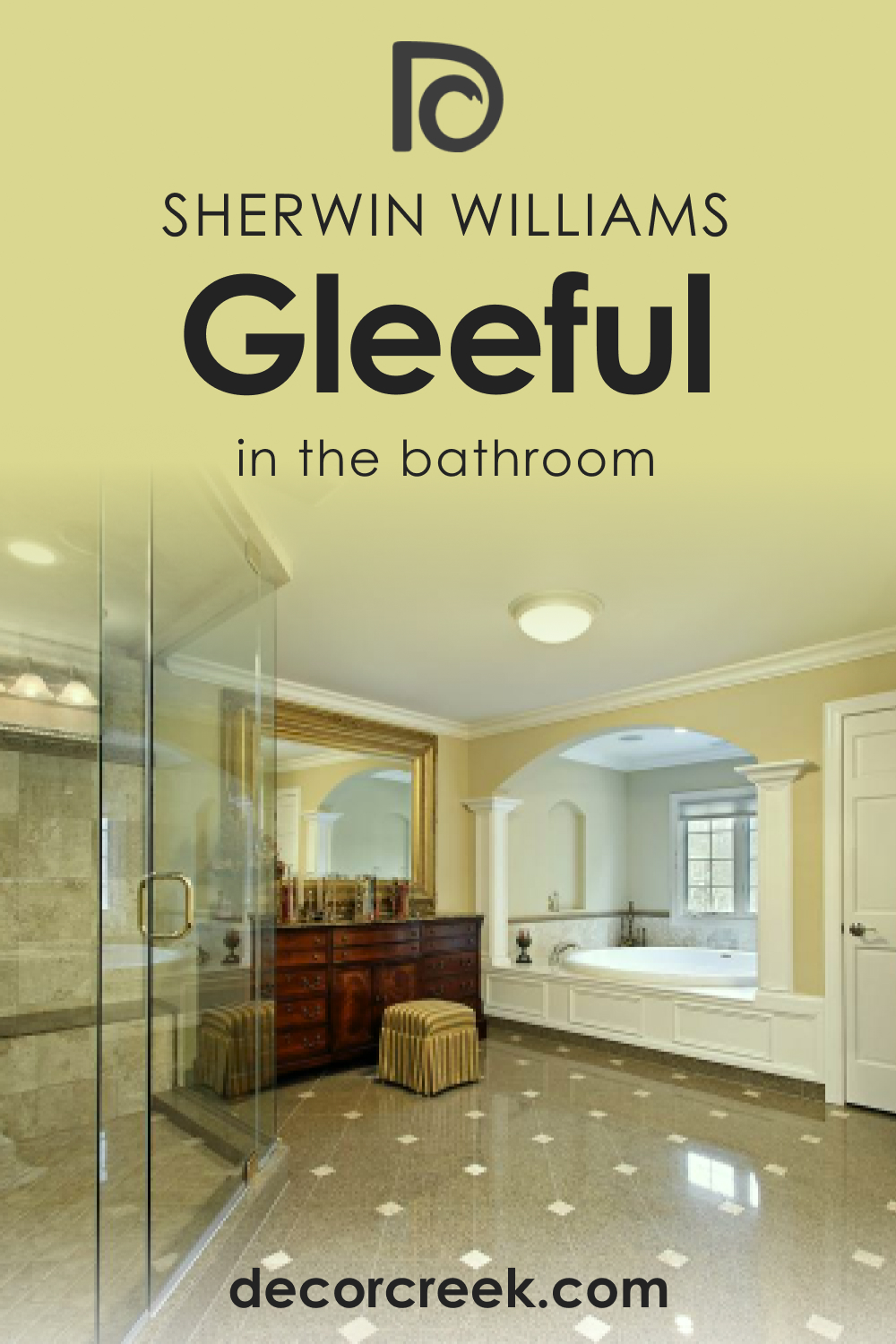 SW 6709 Gleeful in the Living Room
In the living room, SW Gleeful can make a bold statement when used on a feature wall. If the overall color scheme of the room is neutral, a Gleeful accent wall can inject energy and personality into the space.
Alternatively, using SW Gleeful on all walls can create a vibrant, lively ambiance perfect for socializing and entertaining.
Balance it with soft neutrals or warm whites on the trim, ceiling, and furnishings to prevent the color from becoming overpowering.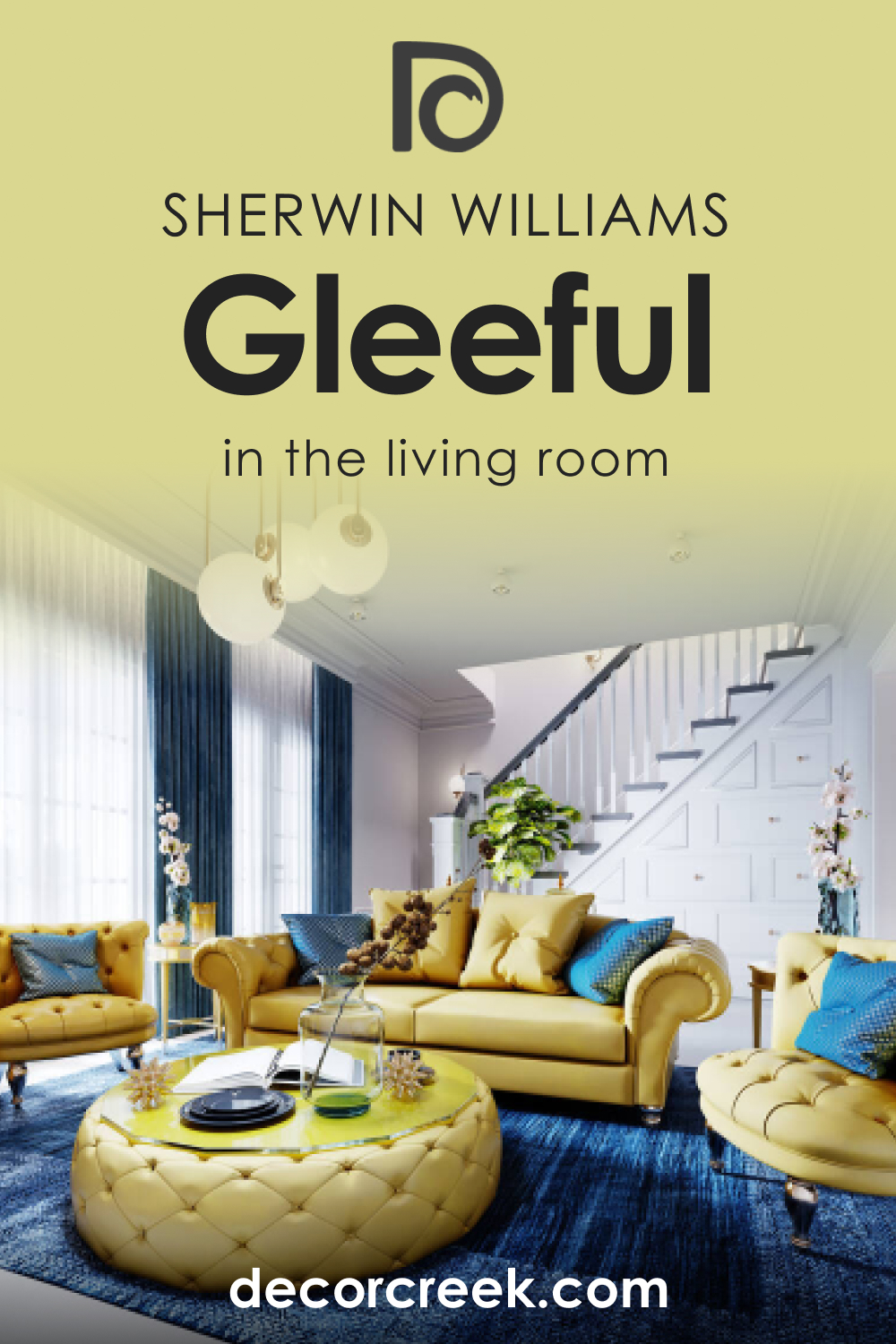 SW 6709 Gleeful in the Kitchen
In a kitchen, SW Gleeful can bring a refreshing and appetizing vibe. Consider using it on the walls or as the color for a kitchen island. Pair it with white or neutral cabinets and stainless-steel appliances for a fresh, modern look.
The warmth in SW Gleeful also works well with wood tones, making it a good choice for kitchens with wood cabinets or floors. Consider using Sherwin-Williams Natural Choice for trim and detailing.
SW 6709 Gleeful For The Exterior Use
For exteriors, SW Gleeful can add a fun and welcoming appeal. It's a great choice for a front door or shutters, where it can provide a lively contrast to more traditional exterior colors.
Pair it with a neutral shade like Sherwin-Williams' Roman Column or Doeskin for the main color to balance Gleeful's brightness.
When used on an entire exterior, SW Gleeful can make a bold statement that sets your home apart. Consider using a softer white or beige for the trim to provide a pleasing contrast.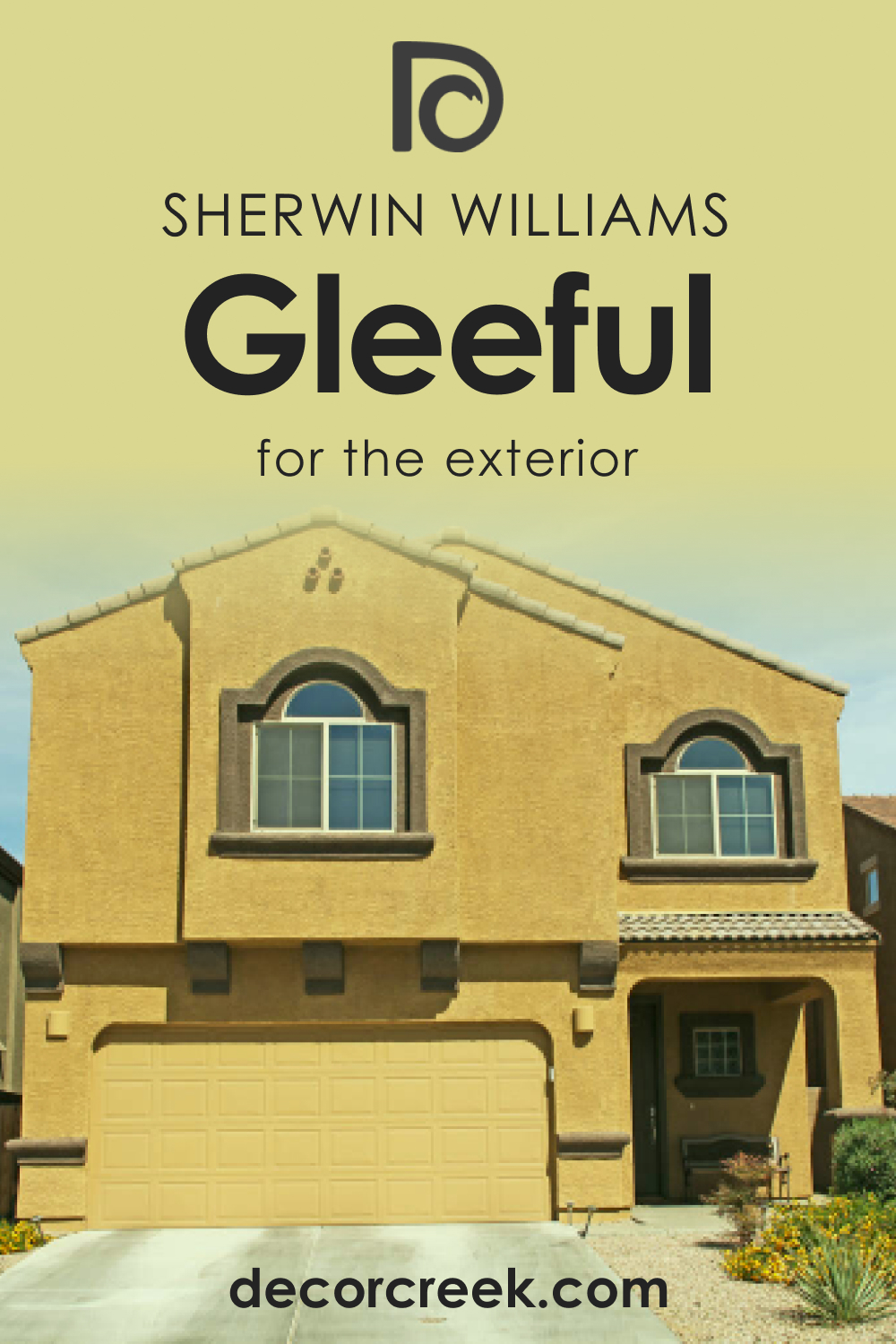 Comparing SW Gleeful With Other Colors
Here you can read how SW Gleeful looks compared to other colors with a similar appearance. This will help you better understand how colors vary and how LRVs and undertones contribute to those distinctions.
SW 6709 Gleeful vs Sherwin-Williams SW 6710 Melange Green
While both SW Gleeful and SW Melange Green are vibrant greens, SW Melange Green is slightly darker and deeper.
It carries a touch more blue, making it a cooler green than SW Gleeful.
If Gleeful's vibrancy is too much for you, but you love its general feel, Melange Green could be a good alternative.
SW Melange Green also offers a slightly more sophisticated feel due to its depth. It could work well in areas where you want to inject some color but maintain a level of formality or elegance.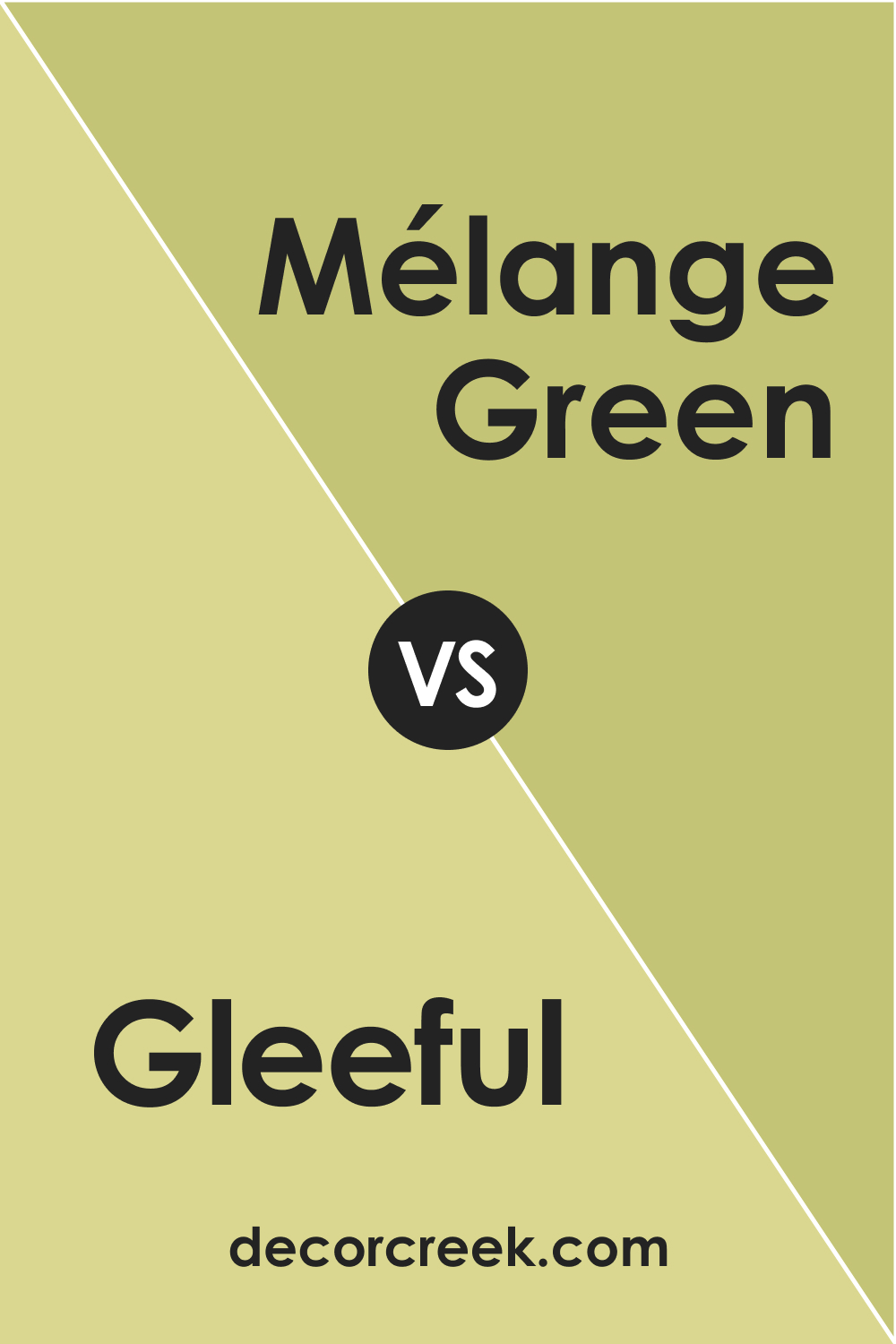 SW 6709 Gleeful vs Benjamin Moore 2031-40 Spring Meadow
Spring Meadow from Benjamin Moore is another vibrant green, albeit a tad softer than SW Gleeful. It also leans more towards the warm side, thanks to its yellow undertones.
BM Spring Meadow might be a good choice if you like the general vibe of SW Gleeful but want a color that's slightly less intense. It also works well in spaces where you want a warm, inviting atmosphere.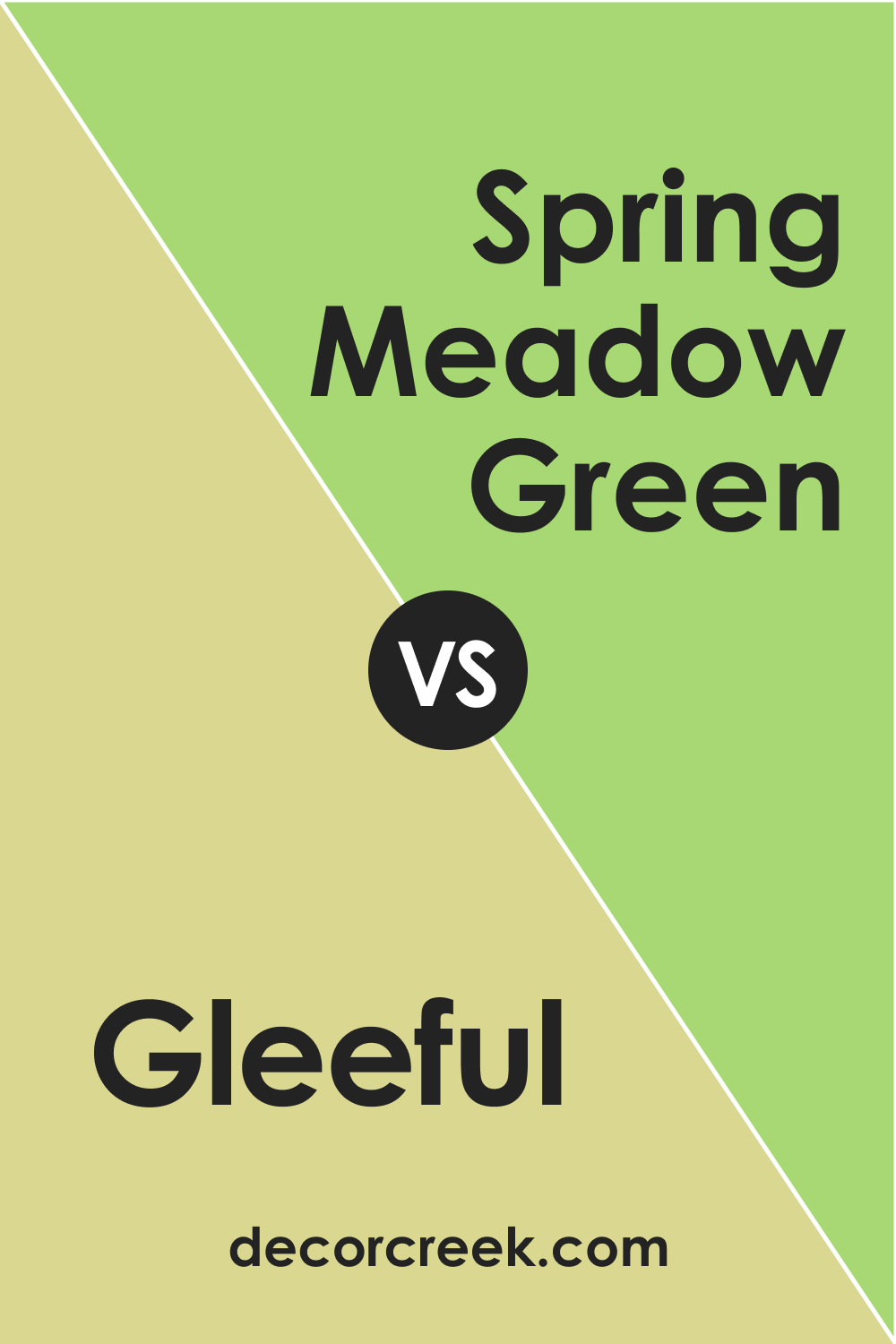 SW 6709 Gleeful vs Behr P380-4 Irish Folklore
Irish Folklore by Behr is a cheery green hue that can be compared to Gleeful. However, it's a bit more muted and leans towards blue.
Irish Folklore is a great option if you're after a green that's vibrant but not too bright. It can work well in larger rooms or areas where you want a lively but calm atmosphere.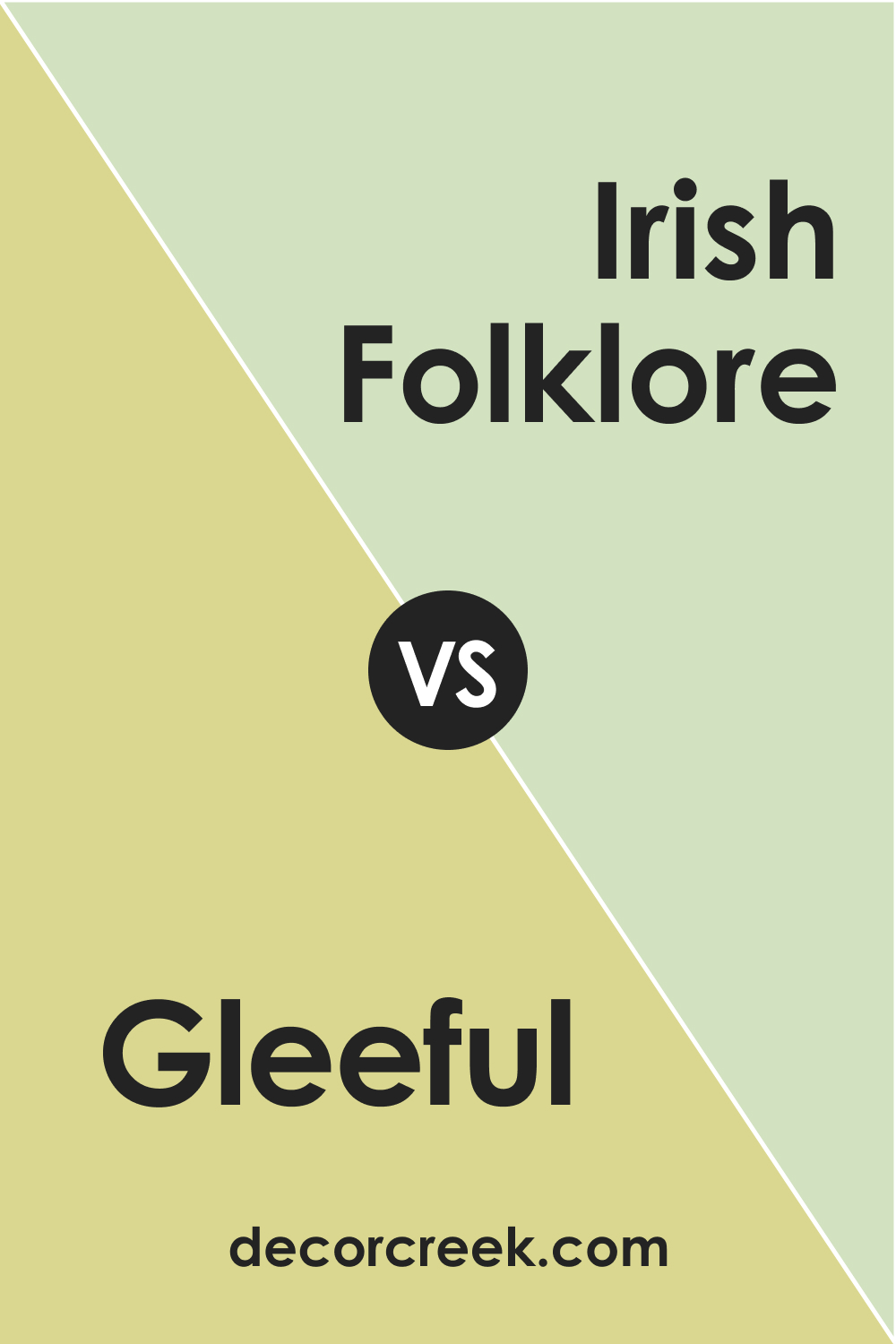 SW 6709 Gleeful vs Farrow & Ball No. 100 Churlish Green
Churlish Green from Farrow & Ball is a more subdued version of SW Gleeful. It carries a bit more grey, making it a more muted, earthy green
Churlish Green is a good choice if you're looking for a softer, more sophisticated green. It works particularly well in formal spaces or areas with vintage or rustic decor.
Conclusion
Sherwin-Williams SW 6709 Gleeful is a versatile and lively color that can brighten any room. Its blend of warm and cool undertones makes it adaptable to various lighting conditions, decor styles, and color schemes.
Whether you're looking for a bold statement color or a refreshing accent, Gleeful is a color that can truly bring joy to your space.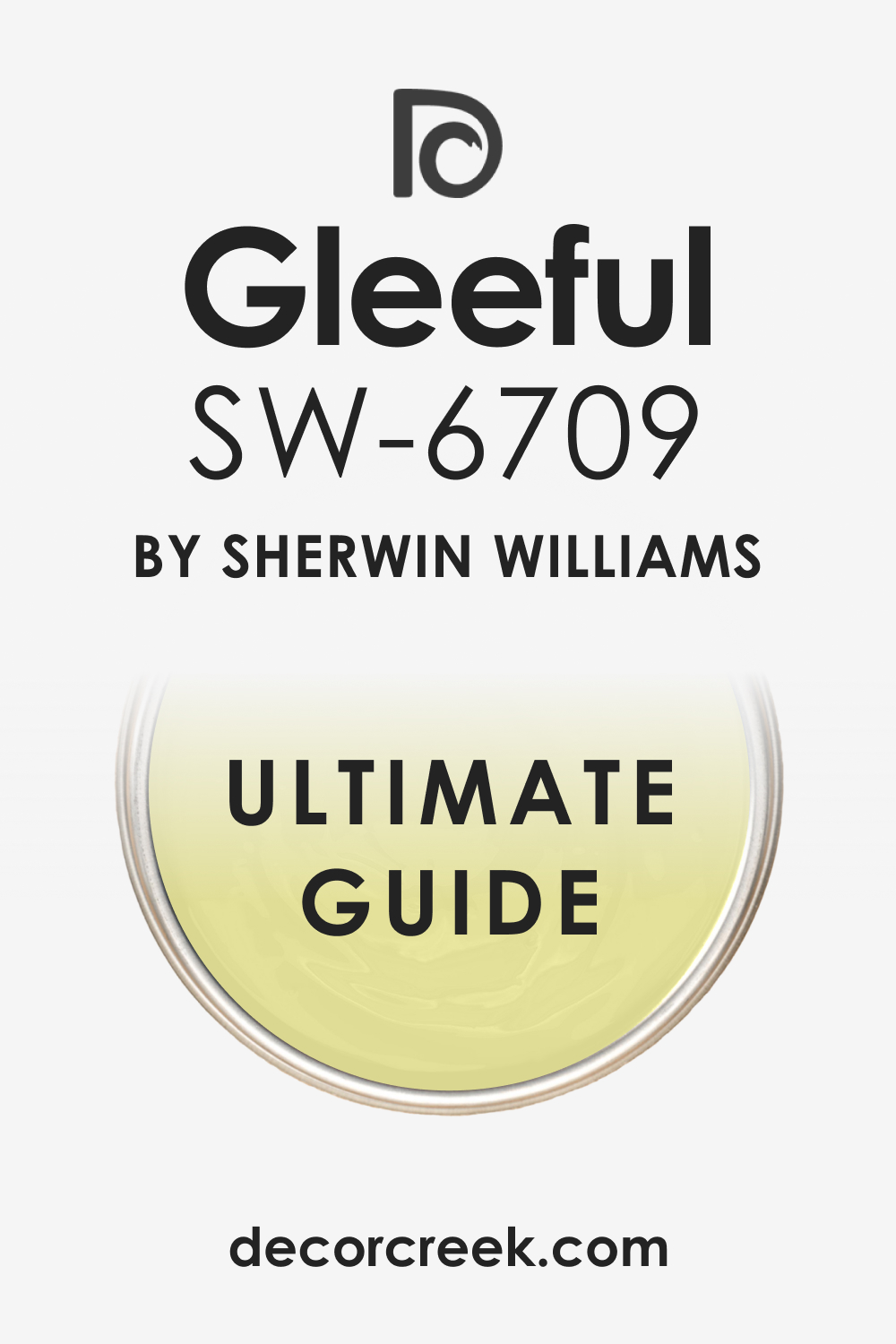 Frequently Asked Questions
⭐What type of rooms is SW 6709 Gleeful best suited for?
Gleeful's vibrant and lively green hue makes it a versatile color suitable for any room. It works especially well in spaces you want to energize, such as a kitchen, playroom, or study. It can also be used in bedrooms, living rooms, and bathrooms for a unique and refreshing look.
⭐What colors pair well with SW 6709 Gleeful?
Many colors pair well with Gleeful. Neutrals, especially shades of white like SW 7006 Extra White, provide a crisp contrast. Other greens or blues, such as SW 6765 Spa or SW 6224 Mountain Air, harmonize with Gleeful's cool undertones. Warm neutrals like SW 6044 Doeskin or SW 7562 Roman Column can balance its vibrancy.
⭐Can SW 6709 Gleeful be used for exteriors?
Yes, Gleeful can make a bold and lively statement when used on exteriors. It's particularly striking on front doors or shutters. For a balanced look, pair it with neutral shades like SW 7562 Roman Column or SW 6044 Doeskin for the main color.
⭐What is the LRV of SW 6709 Gleeful, and why does it matter?
The Light Reflectance Value (LRV) of Gleeful is 66. LRV refers to how much light a color reflects, and a higher value means the color reflects more light. Gleeful's high LRV makes it an excellent choice for smaller rooms or spaces with limited natural light, as it can help make them feel larger and brighter.
⭐How does the lighting affect the look of SW 6709 Gleeful?
Like all paint colors, Gleeful can look different depending on the lighting. In natural daylight, its vibrant green hue shines through. In artificial light, the color can appear more subdued, and the yellow undertones may become more noticeable. Always try a sample in the actual room and observe it at different times of the day before making a final decision.