There are many beautiful shades of blue out there that you can incorporate into your home! But except for light and pastel blues, as well as some deep and bold, there is another category. We mean a soft blue color, and today we will tell you more about one of them.
The color you will learn about is called Atmospheric, and it is a blue color by the Sherwin-Williams brand.
We will tell you what undertones and LRV it has, how it works in different rooms, and how to coordinate it correctly.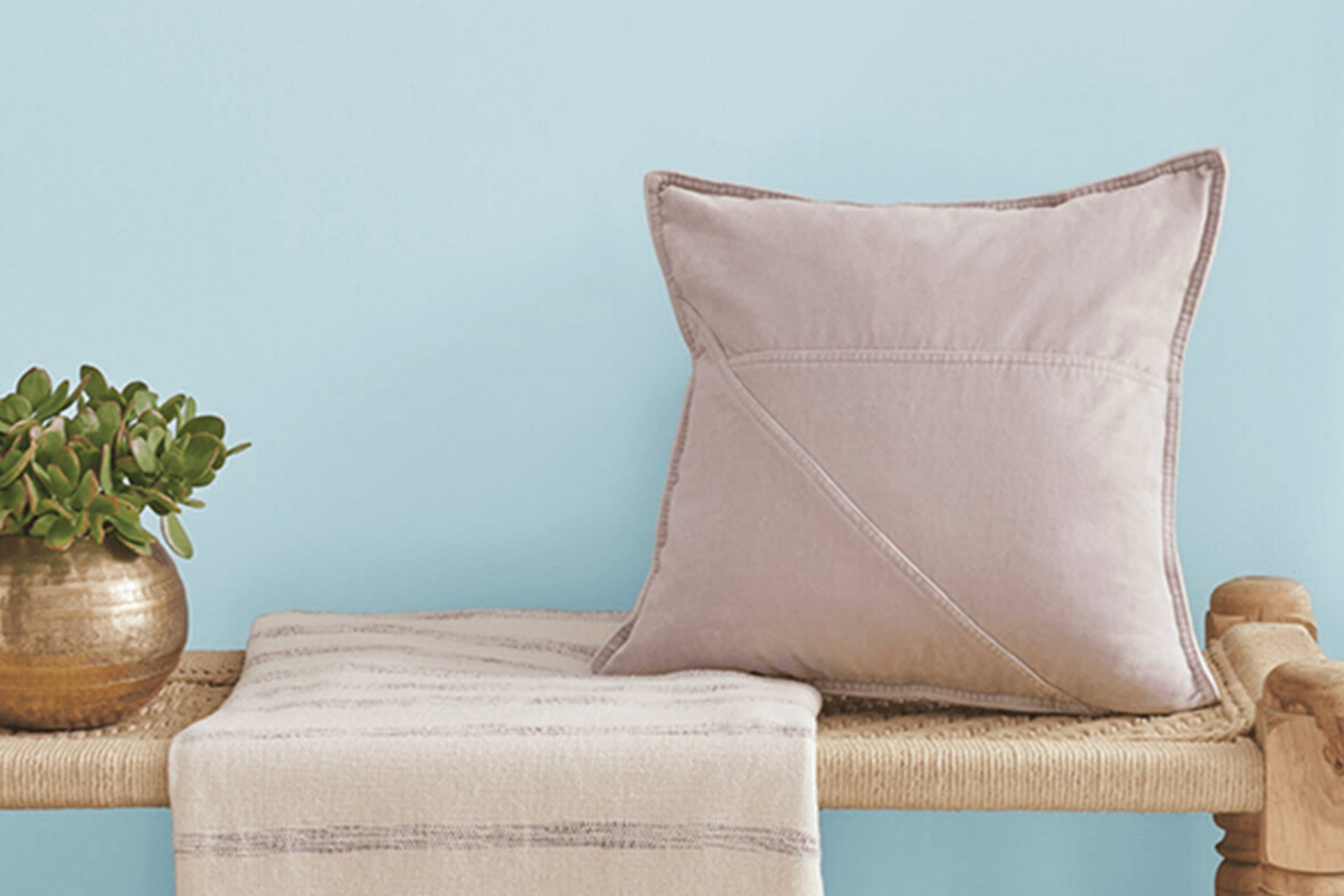 What Kind of Color Is Atmospheric SW 6505?
Atmospheric SW 6505  is a cool mid-tone blue. As Encycolorpedia says. this light sky-blue hue can make any small space feel larger and more soothing. It is also perfect if you want to add a feel of tranquility and freshness to the room.
This soft baby blue paint color is light enough to give off an airy vibe. Also, it has a true tinge of blue in it. And since there aren't any undertones like gray or green, the color reads very clean and glowing.
Generally, this is an ideal color to make your space feel airy, spacious, lively, and enlarged.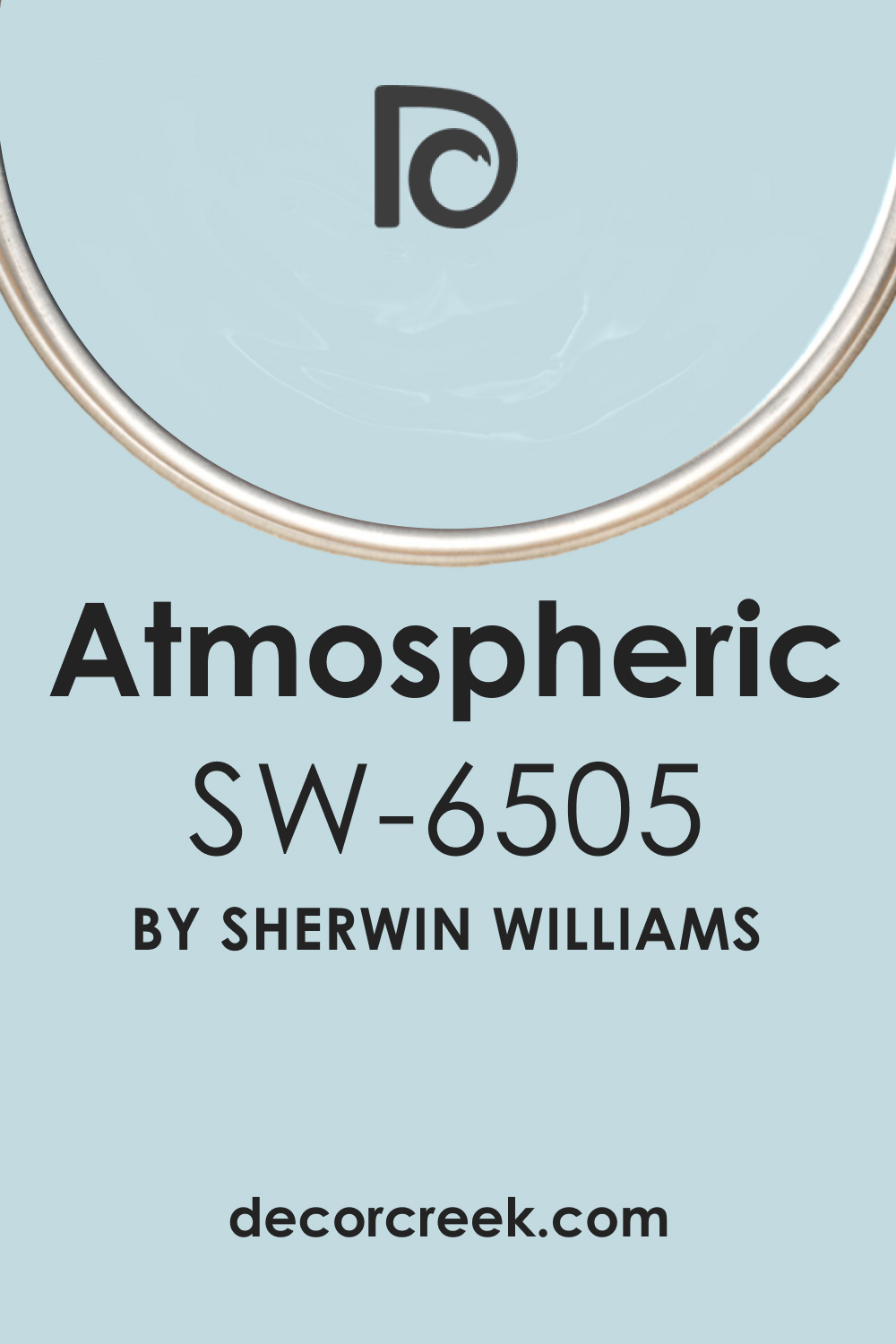 Is It a Warm or Cool Color?
Atmospheric SW 6505 is definitely a cool-toned color, but it's not the icy coolness that some blues have. This specific hue is moderately chilly, giving off a pleasant cooling feel.
With SW Atmospheric on the walls, the space will feel and look closer to nature and gain a calming and relaxing atmosphere, resulting in a stress-free, relaxed, and laid-back vibe in the space.
What Undertones Does Atmospheric SW 6505 Paint Color Have?
This neutral and light blue reads so clear because there are no green or gray undertones in it that would affect the hue. This is why SW Atmospheric is considered a true blue. Also, the absence of pronounced undertones plays an important role in how this blue reacts to light.
Although lighting conditions affect SW Atmospheric, the light doesn't alter the undertones when hitting the walls painted with SW Atmospheric. Instead, it always makes the room feel bright and lively.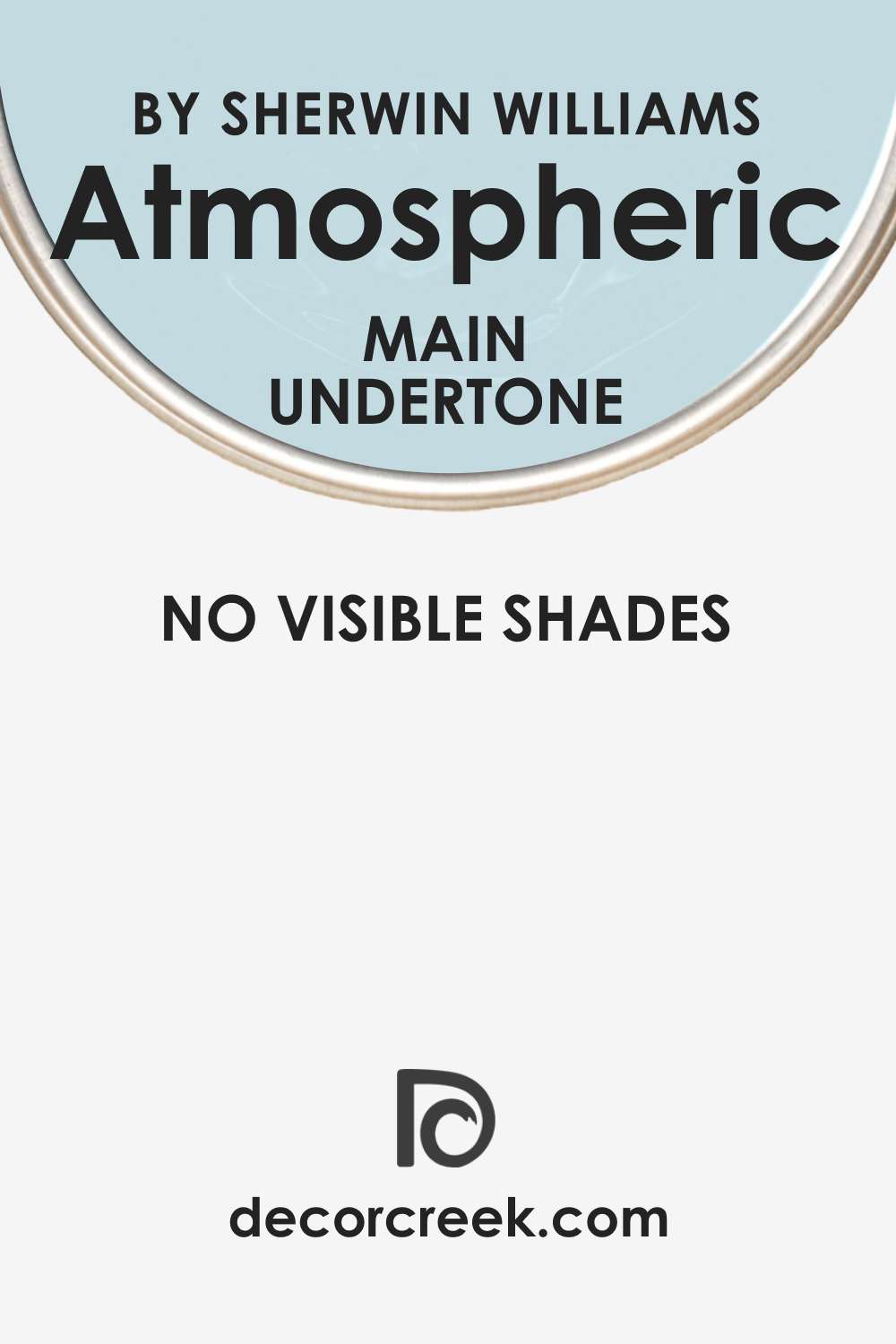 SW Atmospheric Coordinating Colors
Creating color palettes can be quite a fun task to do, but for most homeowners, this is more like torture! Indeed, trying to pick up the colors that suit the wall color and match it properly is not an easy thing to do. This is why it's always a good idea to have a few color options at hand in advance.
For SW Atmospheric, consider the following coordinating colors:
SW 6504 Sky High
SW 9015 They Call It Mellow
SW 9162 African Gray
Generally, this soft baby blue pairs best with lemon yellows, darker grays, crisp whites, and lighter beiges.
For a monochromatic palette, opt for the following colors instead:
SW 6506 Vast Sky
SW 6507 Resolute Blue
SW 6508 Secure Blue
In case you strive for a more contrasting palette, you might want to consider these color options:
SW 6680 Friendly Yellow
SW 7004 Snowbound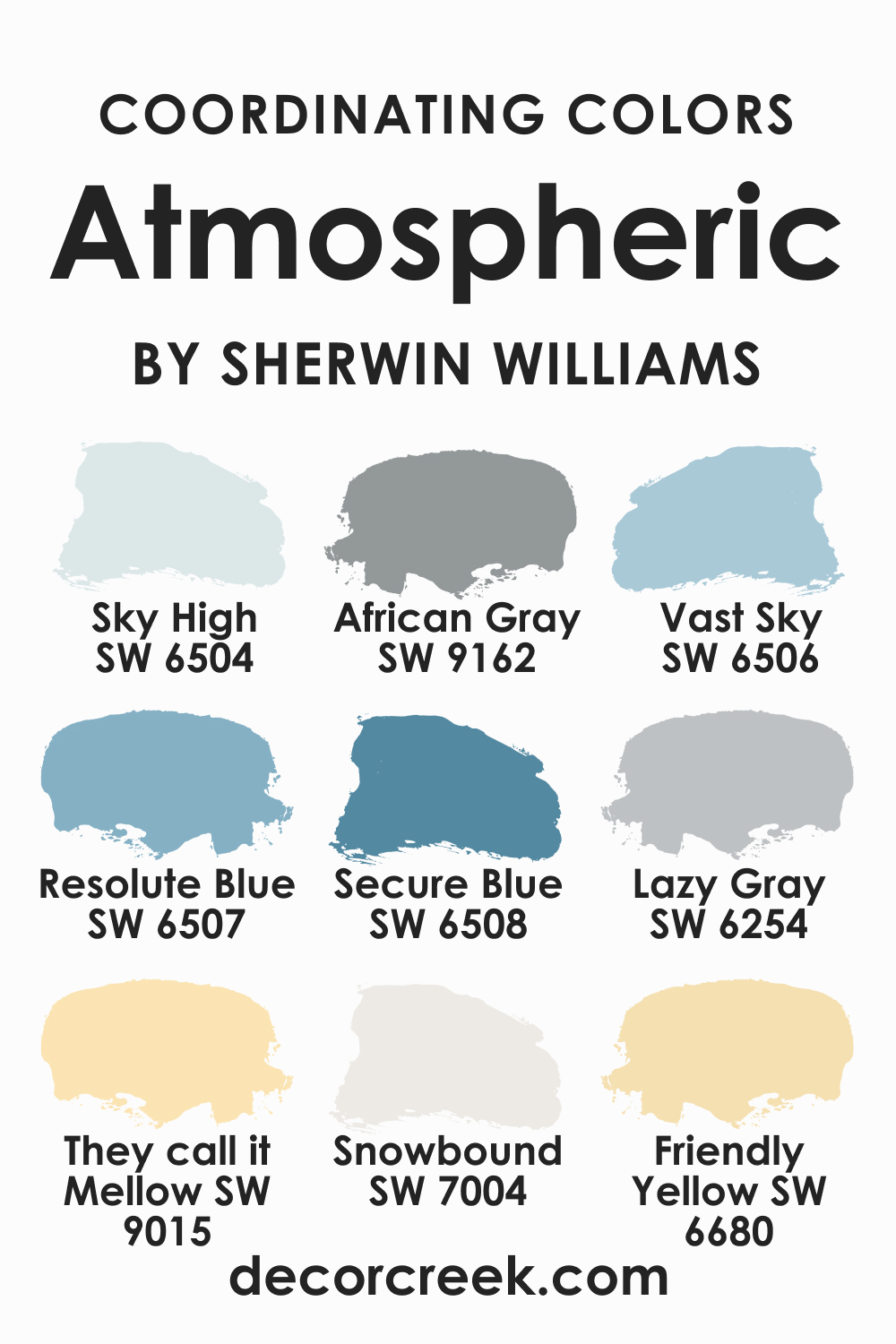 LRV of Atmospheric SW 6505
LRV (light reflectance value) is the measurement that shows how much light colors can reflect from the wall. The higher the LRV value from zero, the lighter the color, and vice versa. Respectively, on the LRV scale, zero stands for black, and 100 stands for white.
The LRV value of SW Atmospheric is 67, which means this blue falls on the medium to the lighter end of the scale. We can even say that it somehow aligns on the lighter end.
However, even though it is light and can make a room feel spacious and airy, you should still use this neutral color carefully.
If you use SW Atmospheric on all the walls of your room (especially in the north-facing rooms), this color can exhibit pronounced chilly vibes. In the north and east-facing rooms, this sky blue will feel slightly cool and crisp but not grayish.
Finally, in the south and west-facing rooms, you can expect this color to feel a little warmer.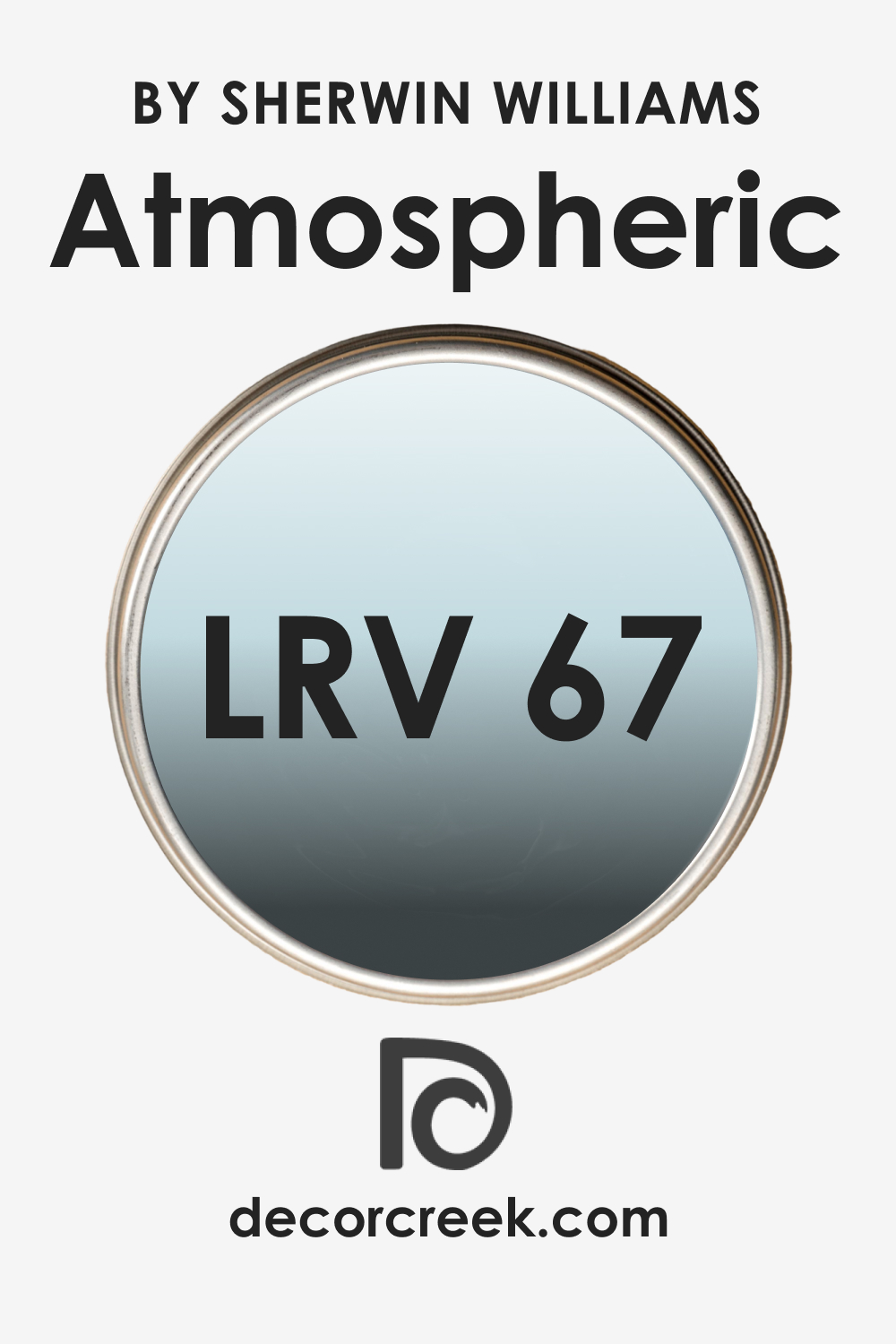 LRV – what does it mean? Read This Before Finding Your Perfect Paint Color
What Is the Best Trim Color For Atmospheric SW 6505 Paint Color?
As with most other colors, white is the best trim color to use with SW Atmospheric if you want to highlight its freshness and airiness, making this beautiful blue glow on your walls! In particular, we recommend you use either SW Extra White or SW Pure White to protrude a true hue of SW Atmospheric.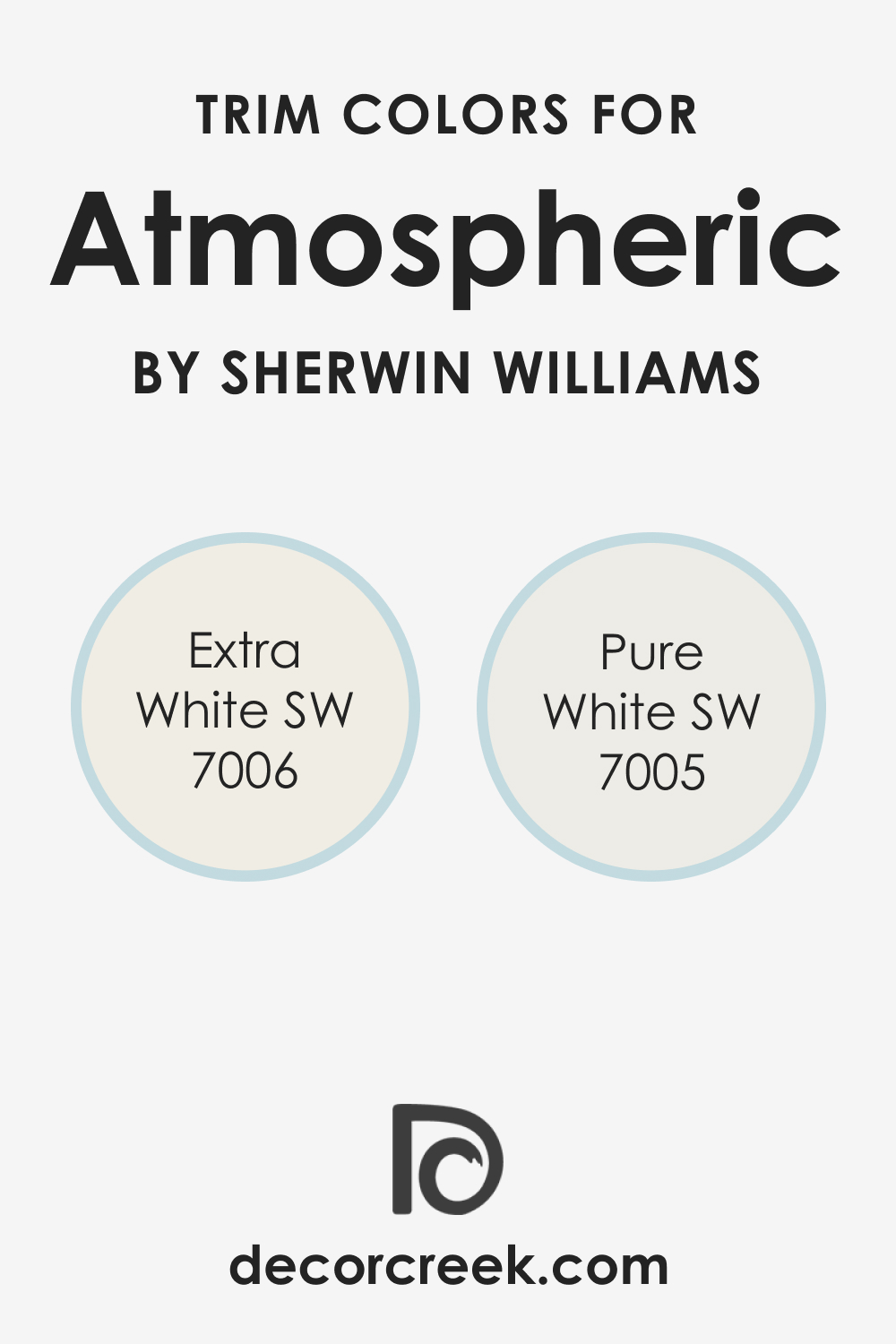 Colors Similar to SW Atmospheric
Knowing similar colors can help if you need to adjust the overall palette a bit in your home and use a color with a slightly different LRV or tone. For SW Atmospheric, the most closely related colors are SW 9054 Little Boy Blu and BM 806 Breath of Fresh Air. However, you must know that even though these colors look similar, they might still differ in undertones or reflectivity.
If you compared SW Atmospheric to SW Little Boy Blu, you will see that the latter is a notable baby blue with a hidden tinge of gray in it.
As a result, SW Little Boy Blu is not too stark and sharp like its counterpart, feeling more subdued and muted. At the same time, both colors have an LRV of 67, which means they hold an equal depth.
As for the Breath of Fresh Air color, it has notable differences in the undertones with SW Atmospheric. The Atmospheric color is fresh and bright, whereas BM Breath of Fresh Air has a tinge of navy to it, being more subdued.
In certain lighting conditions – it can also feel slightly gray.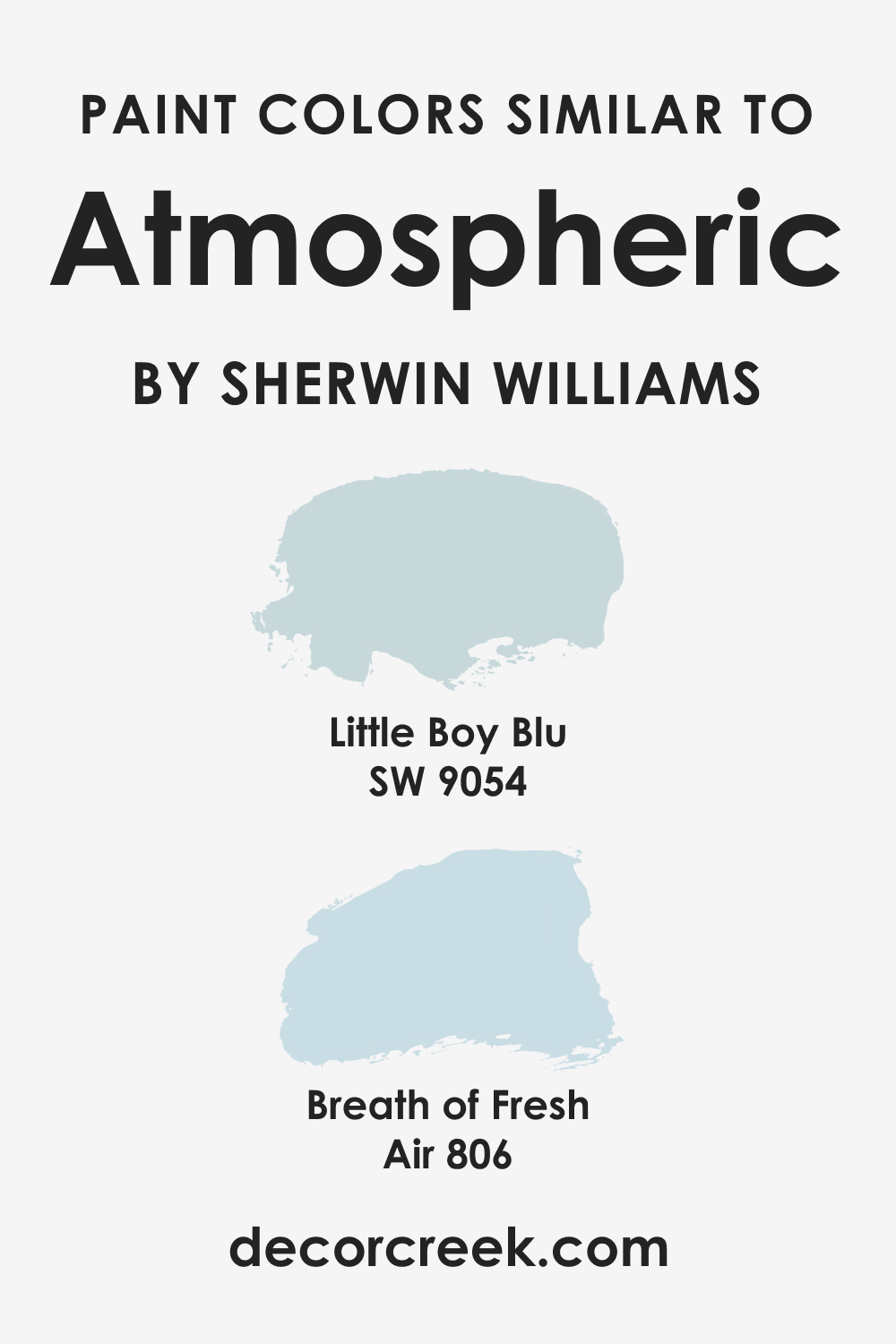 Colors That Go With Atmospheric SW 6505
If you are not sure what colors will work well with this airy and clear blue, check out the list we have prepared for you below. Of course, this is not a complete list of colors, but at least you can use it as a starting point in your search for the best matching colors!
SW 6244 Naval
SW 6395 Alchemy
SW 7658 Gray Clouds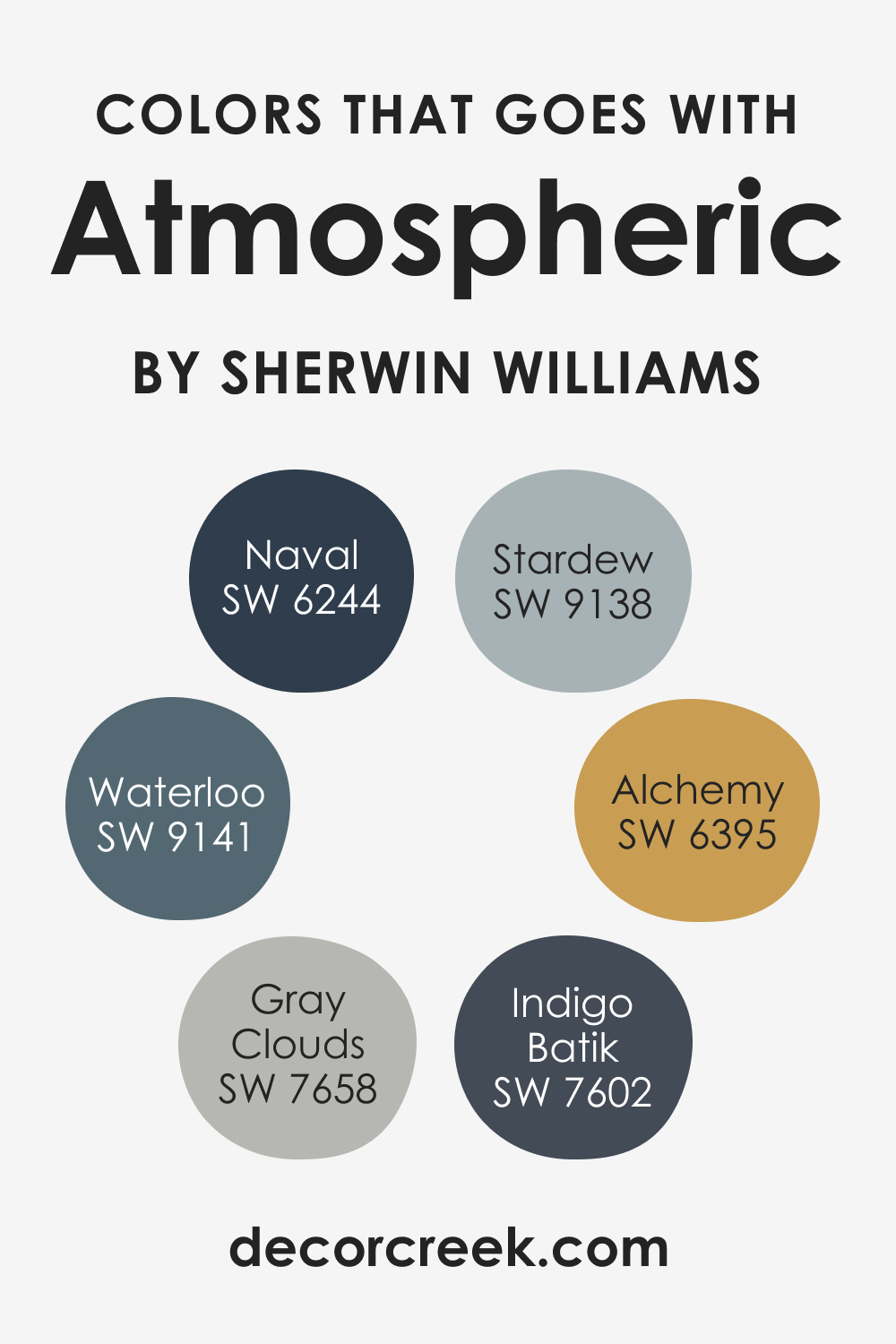 Comparing Atmospheric SW 6505 With Other Colors
To help you see the uniqueness of SW Atmospheric better, we compared it to several other colors. Some of them come from the same color family, others don't. This way, you will get an idea of how distinct LRVs and undertones work, making even related colors look different.
Atmospheric vs BM Quiet Moments
Compared to SW Atmospheric, BM Quiet Moments reads grayish with a noticeable hint of green to it. Also, these colors have distinct LRV values (61 for BM Quiet Moments and 67 for SW Atmospheric). As a result, the Quiet Moments color reads somewhat duller and more muted than its brighter counterpart.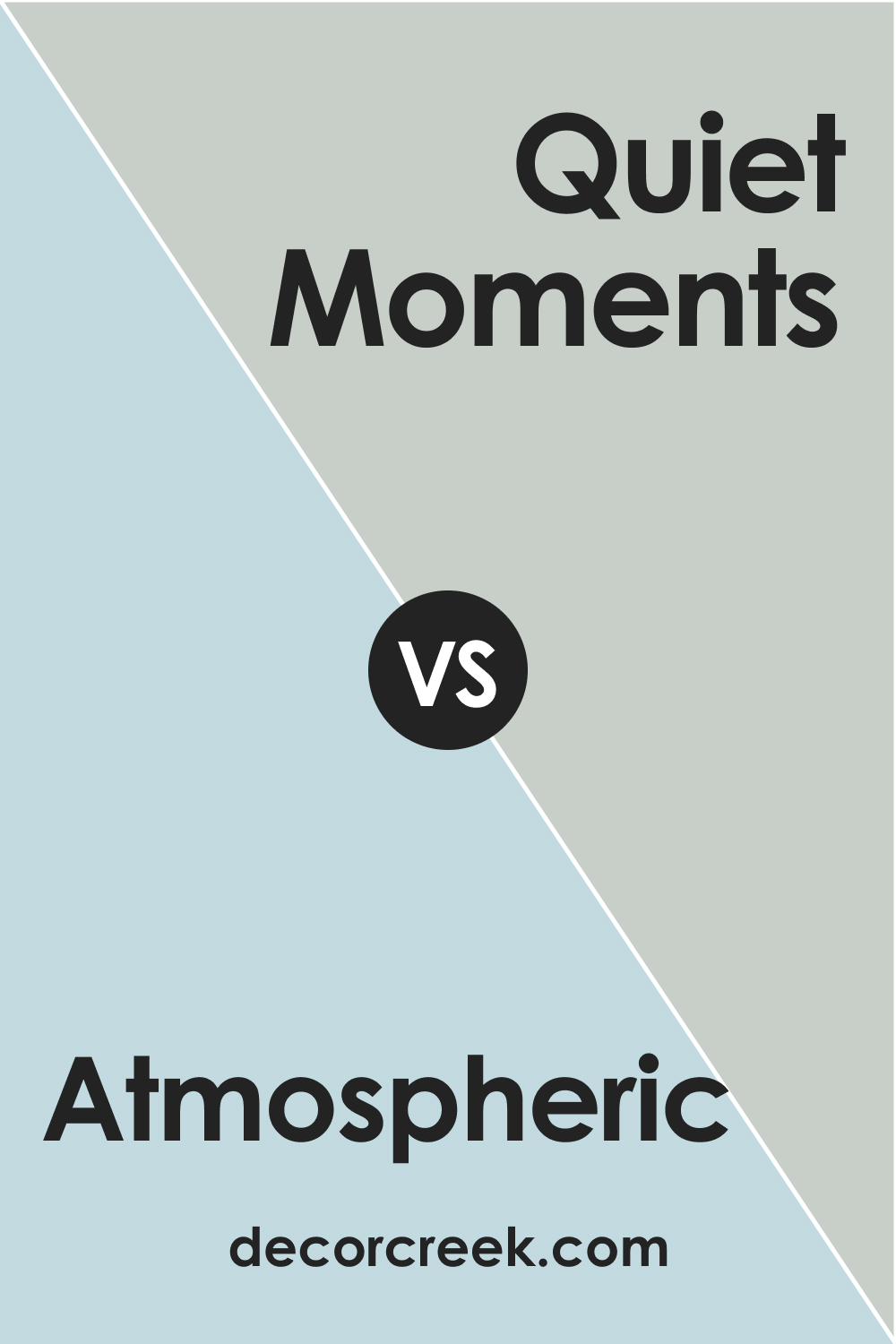 Atmospheric vs Still Water
SW Still Water is a dark blue with green-gray undertones. Compared to SW Atmospheric, it looks much darker and obscure with an LRV of 10. Due to such a big difference between them, these two should not be used together.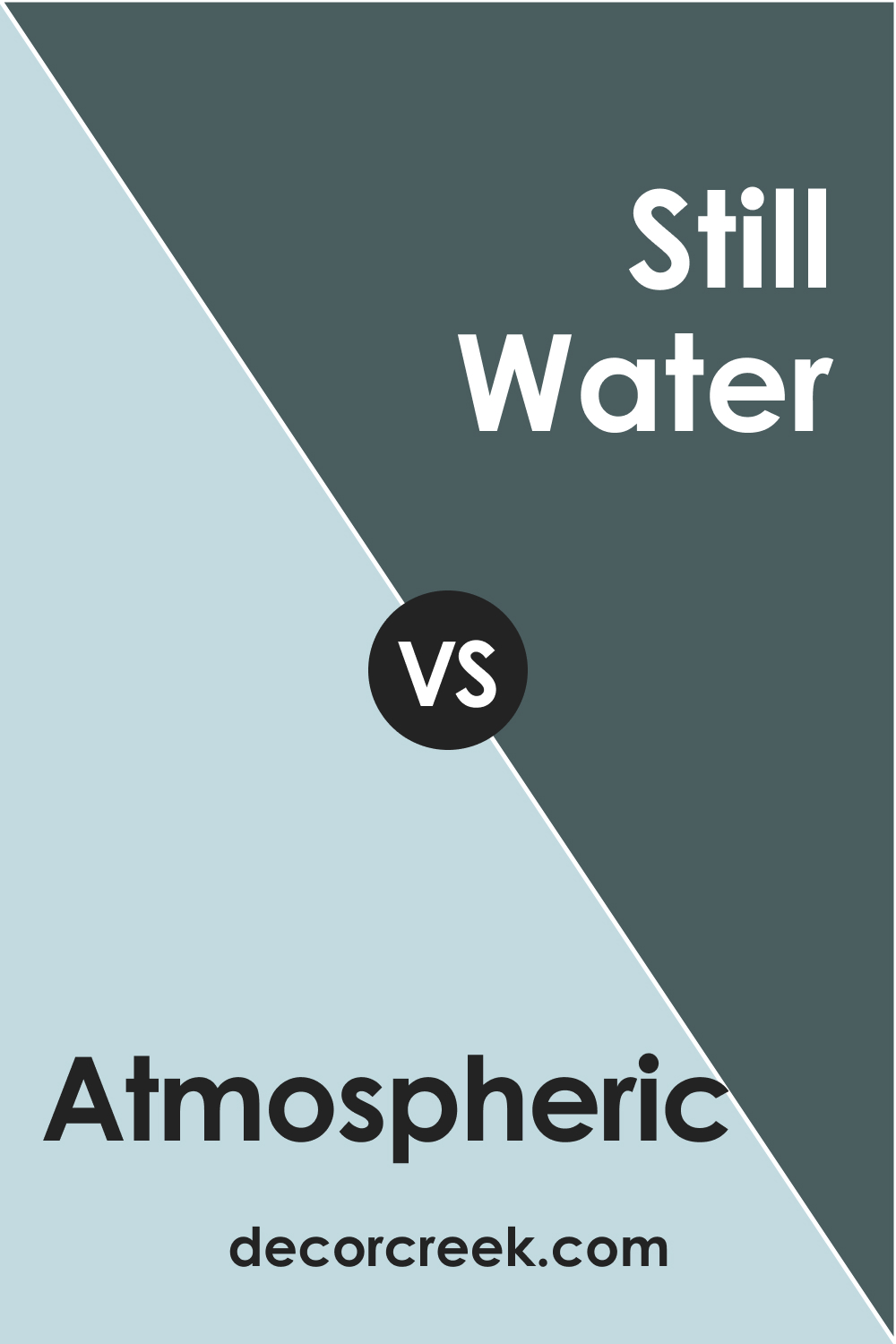 Atmospheric vs Moonmist
SW Moonmist has an LRV of 67, which makes it brighter than SW Atmospheric, whose LRV is 61. Also, their undertones differ. SW Moonmist has cool gray and yellow undertones, whilst its counterpart has no prominent undertones at all. But if you place them side by side, you'll see that SW Atmospheric reads much bluer.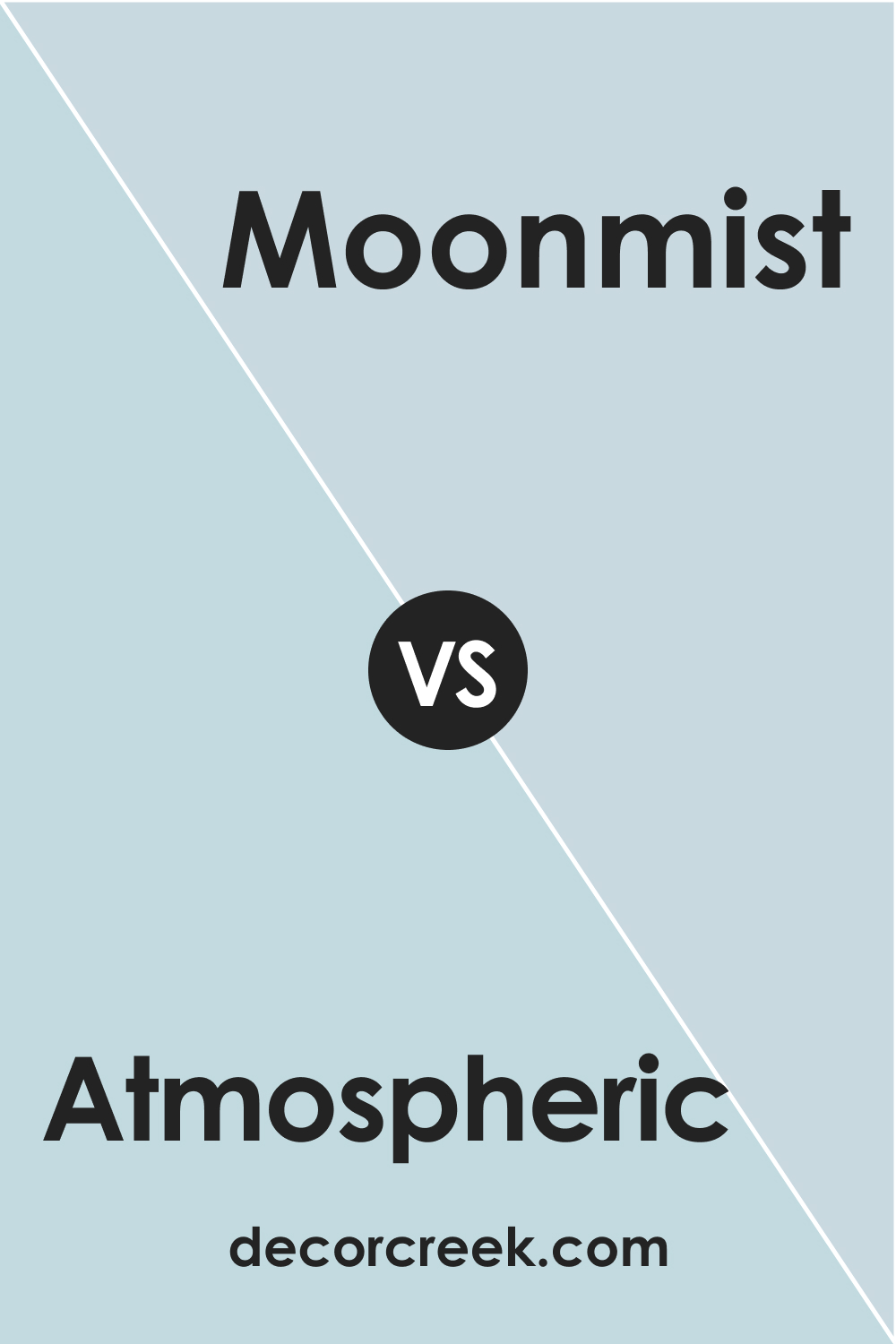 Atmospheric vs Quietude
SW Quietude has slight gray undertones that make this green color read muted and calm. Compared to it, SW Atmospheric looks brighter and airier, reading clearly blue and bright.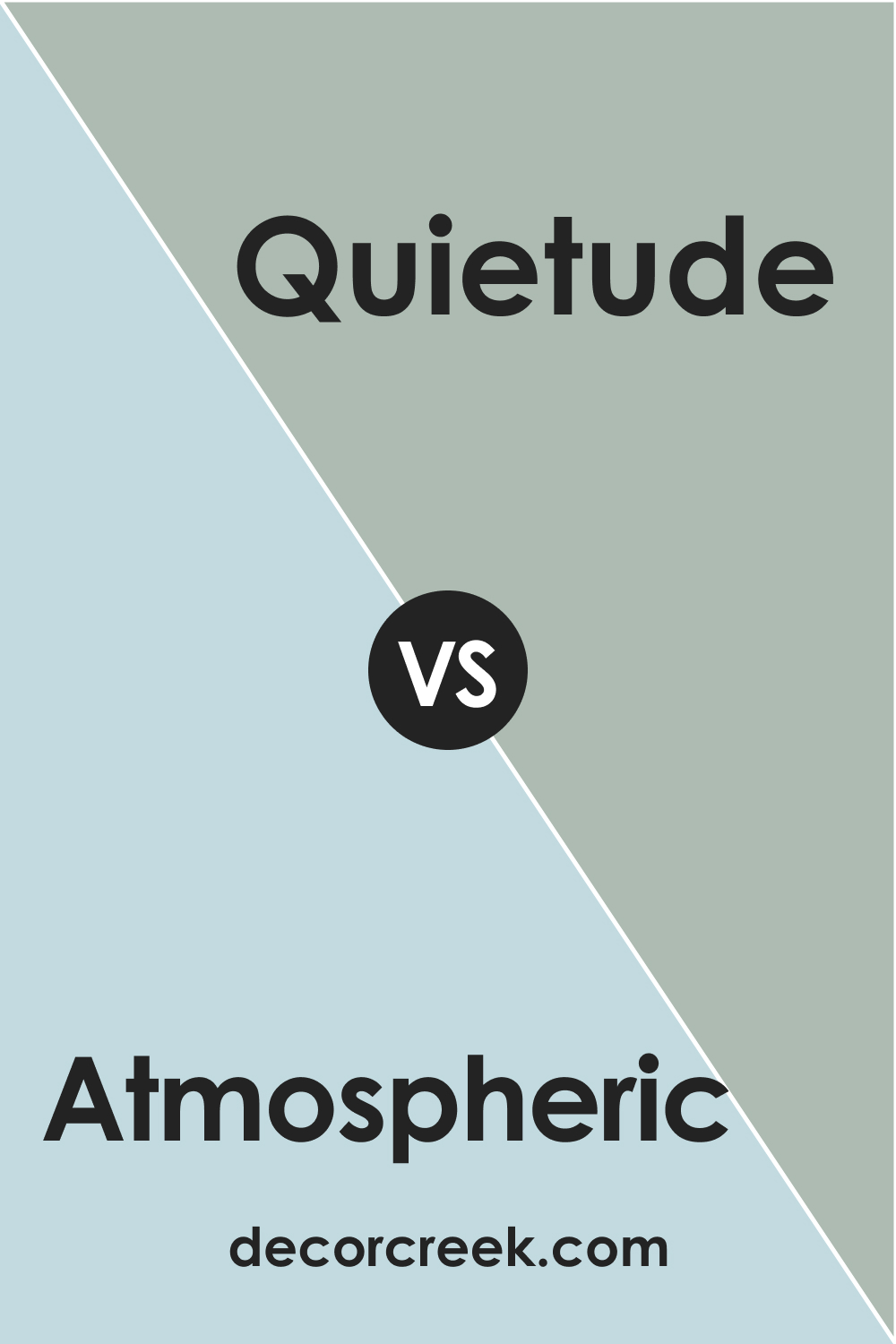 Atmospheric vs Windy Blue
These colors look nice together because SW Windy Blue is somewhat darker due to the lower LRV of 48. Also, it is more richly toned. These colors have different undertones, too. SW Windy Blue has gray undertones, and its counterpart doesn't show any prominent undertone at all.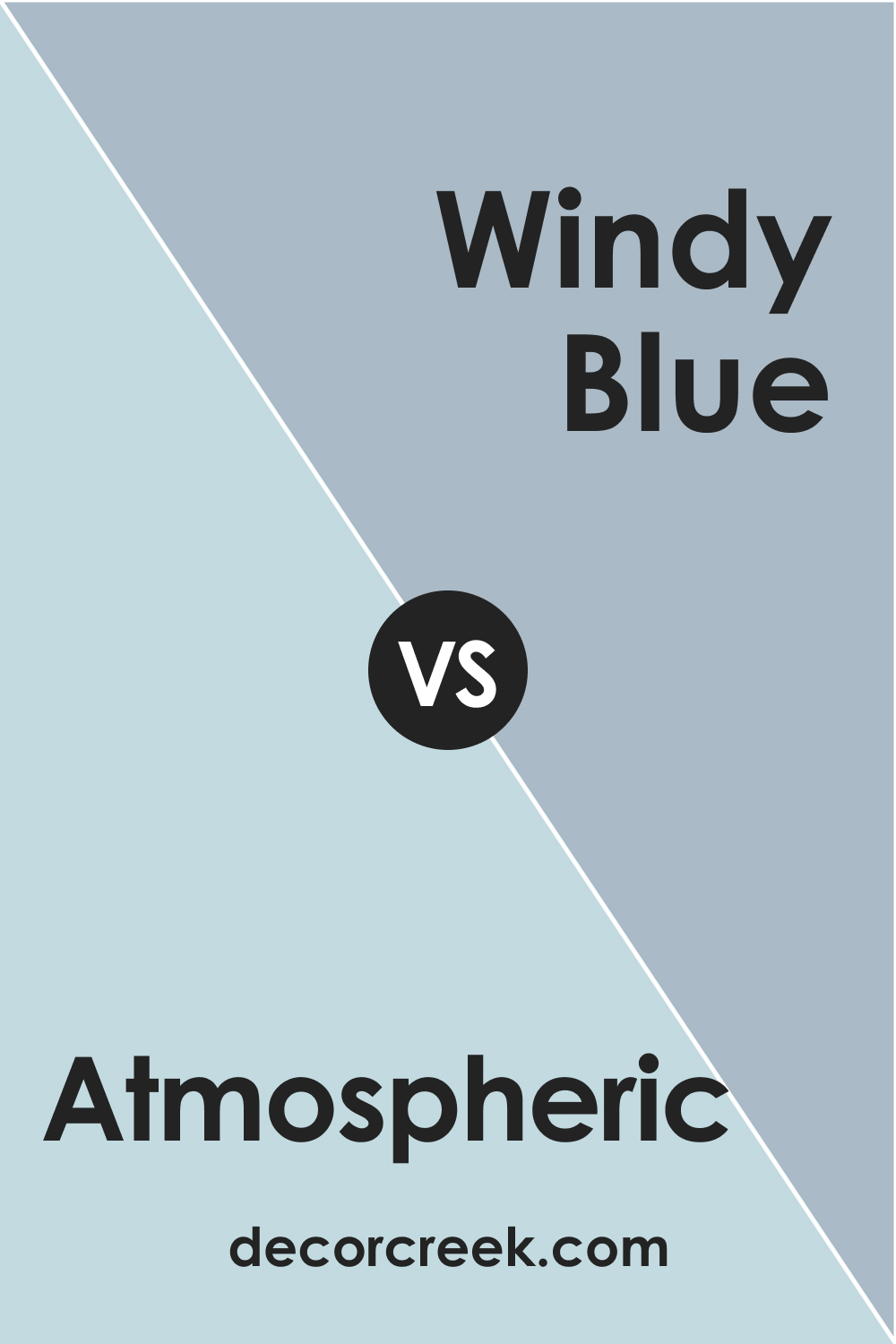 Atmospheric vs Daphne
SW Daphne is darker than SW Atmospheric due to the lower LRV of 38. Also, SW Daphne has denim gray undertones that make it read muted and medium, unlike the much brighter and airier SW Atmospheric.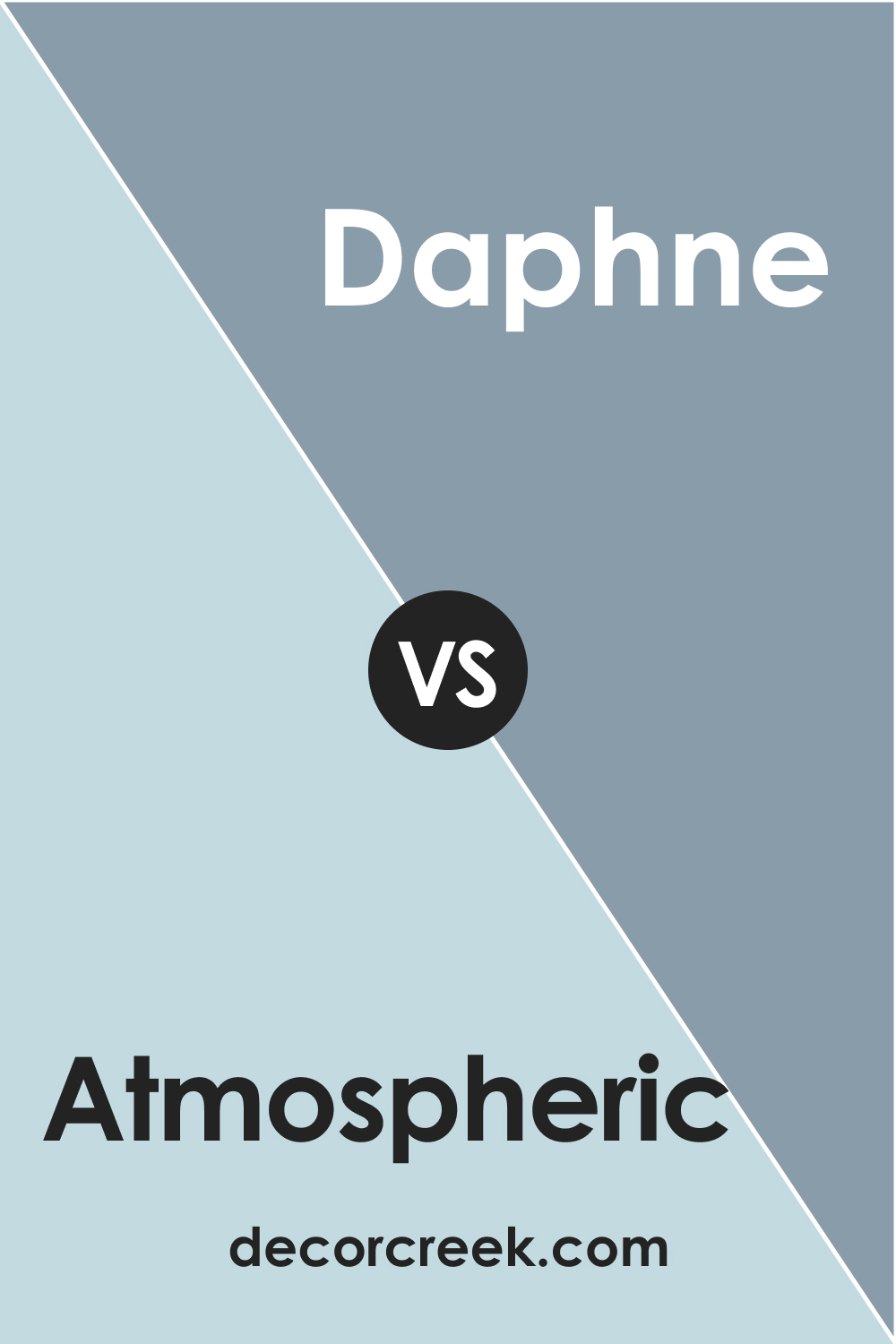 Where to Use Atmospheric SW 6505 In Your Home?
Despite being relatively light, this color is pretty versatile! SW Atmospheric can make a serene statement in any way possible! You can use this paint on door and window frames, furniture frames, accent walls, bathrooms, kids' rooms, nurseries, kitchen cabinets, exterior trims, or moldings.
Also, this blue will be a number one color choice for Coastal and beachy-style homes. Below, you can see how it can work in different rooms.
Atmospheric in the Living Room
This soft baby blue is an ideal paint for your living room walls or the built-in cabinetry. Pair it with creamy whites on the adjacent walls and add a touch of natural wooden textures on the furniture, artwork frames, or accessories.
We also recommend you add a bit of white, lemon yellow, and light gray on throw pillows to make the space look appealing and vivid.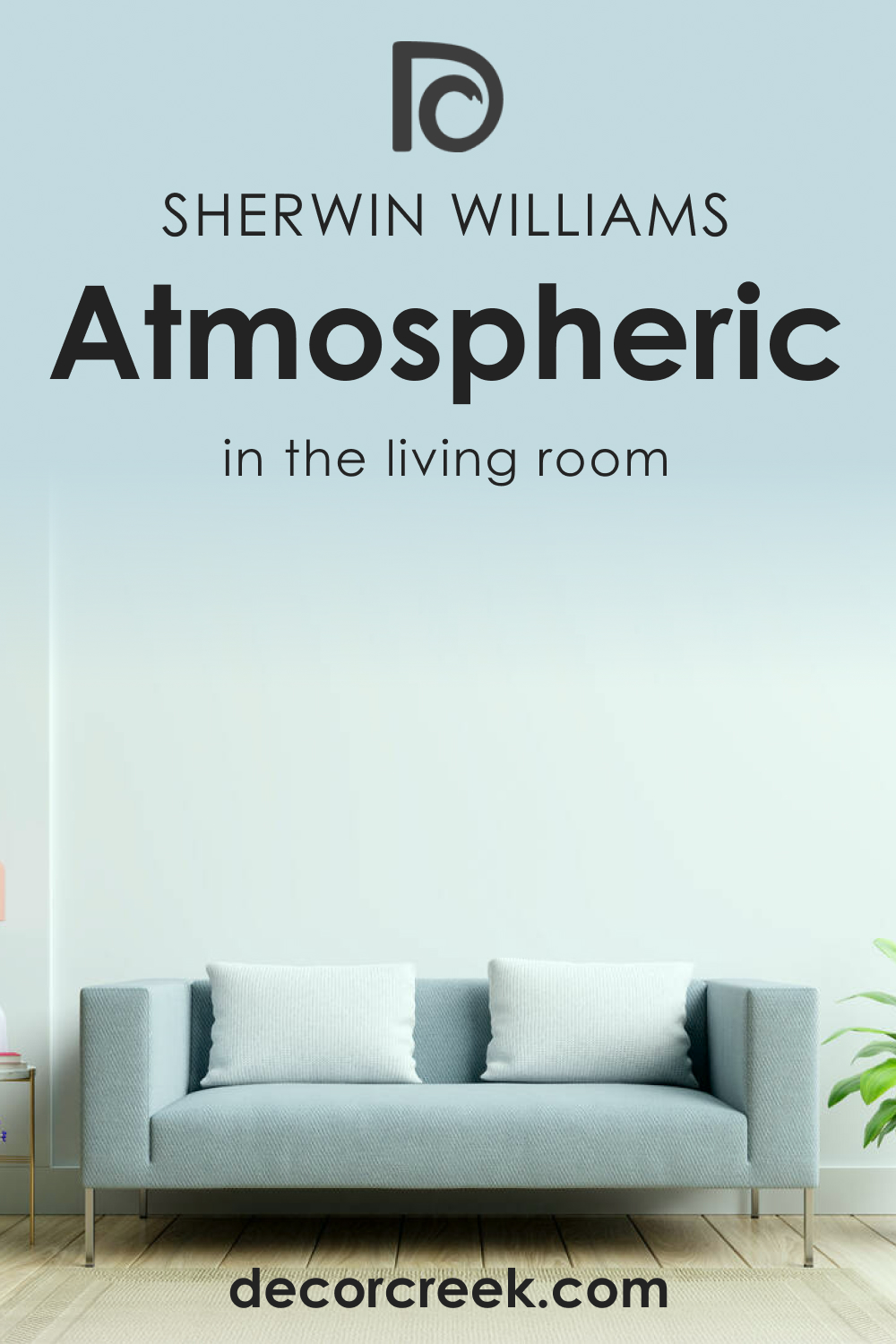 Atmospheric Bedroom
In your bedroom, use this blue on all the walls only if the room is large enough to accommodate the stark appearance of the color. Otherwise, you might want to add this color only to the ceiling.
Furthermore, we recommend you use creamy whites on the adjacent wall and use ample faux fur rugs and/or blankets to make the room feel cozy.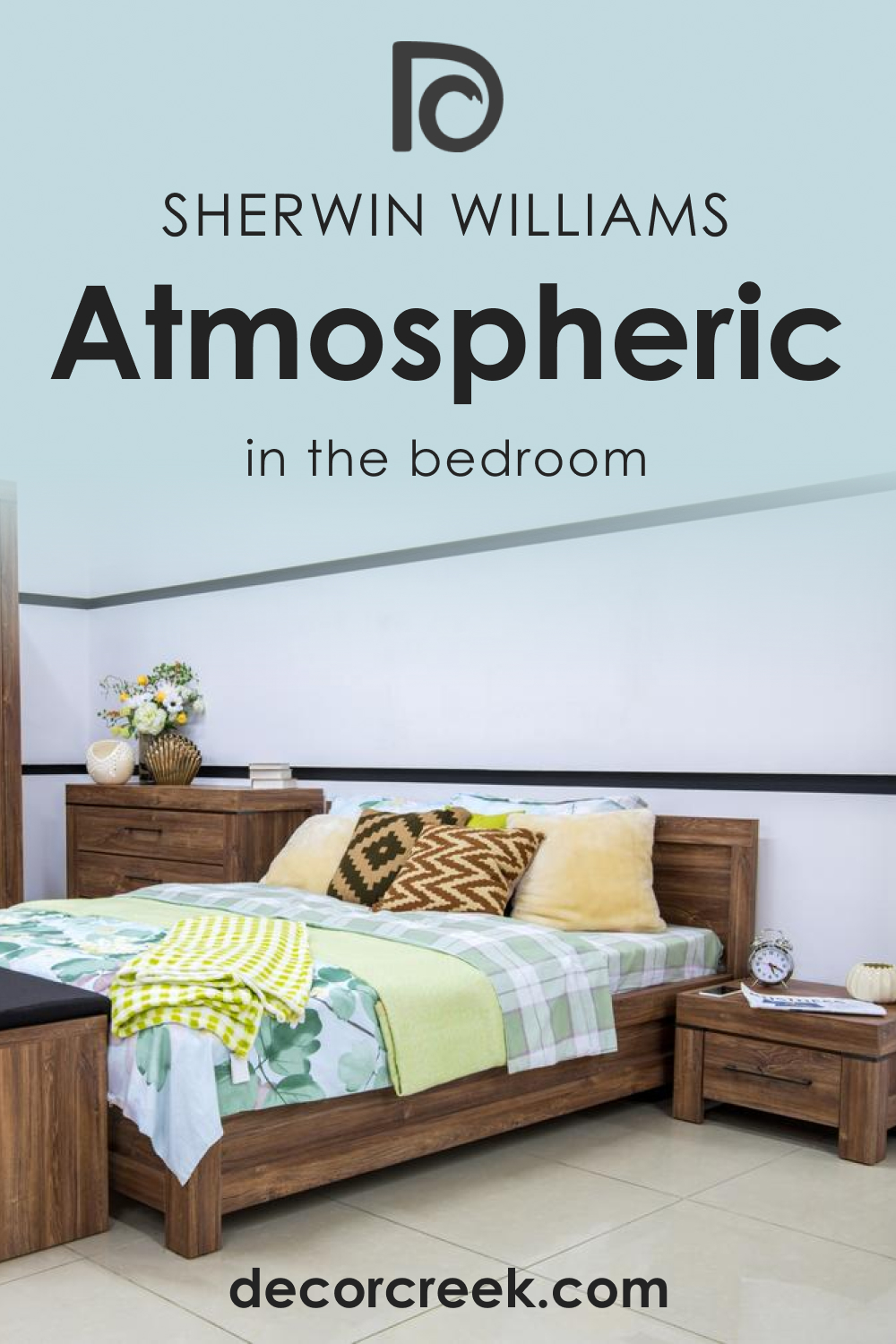 Atmospheric in the Bathroom
Since bathrooms are mostly small and enclosed, use SW Atmospheric moderately there. Preferably, paint the vanity sink and/or drawers with it, leaving the walls bright and cool white. However, in a large and well-lit bathroom, this blue might work on more extensive surfaces, too (e.g., on an accent wall).
Atmospheric ob the Kitchen
Don't hesitate to use SW Atmospheric in your kitchen, but note that it will best work on the kitchen cabinets. You can paint the backdrop wall clean white and use a chrome or brushed brass finish on the pull handles and knobs. On the backsplash, try hexagonal tile or stone with gray veins and patterns.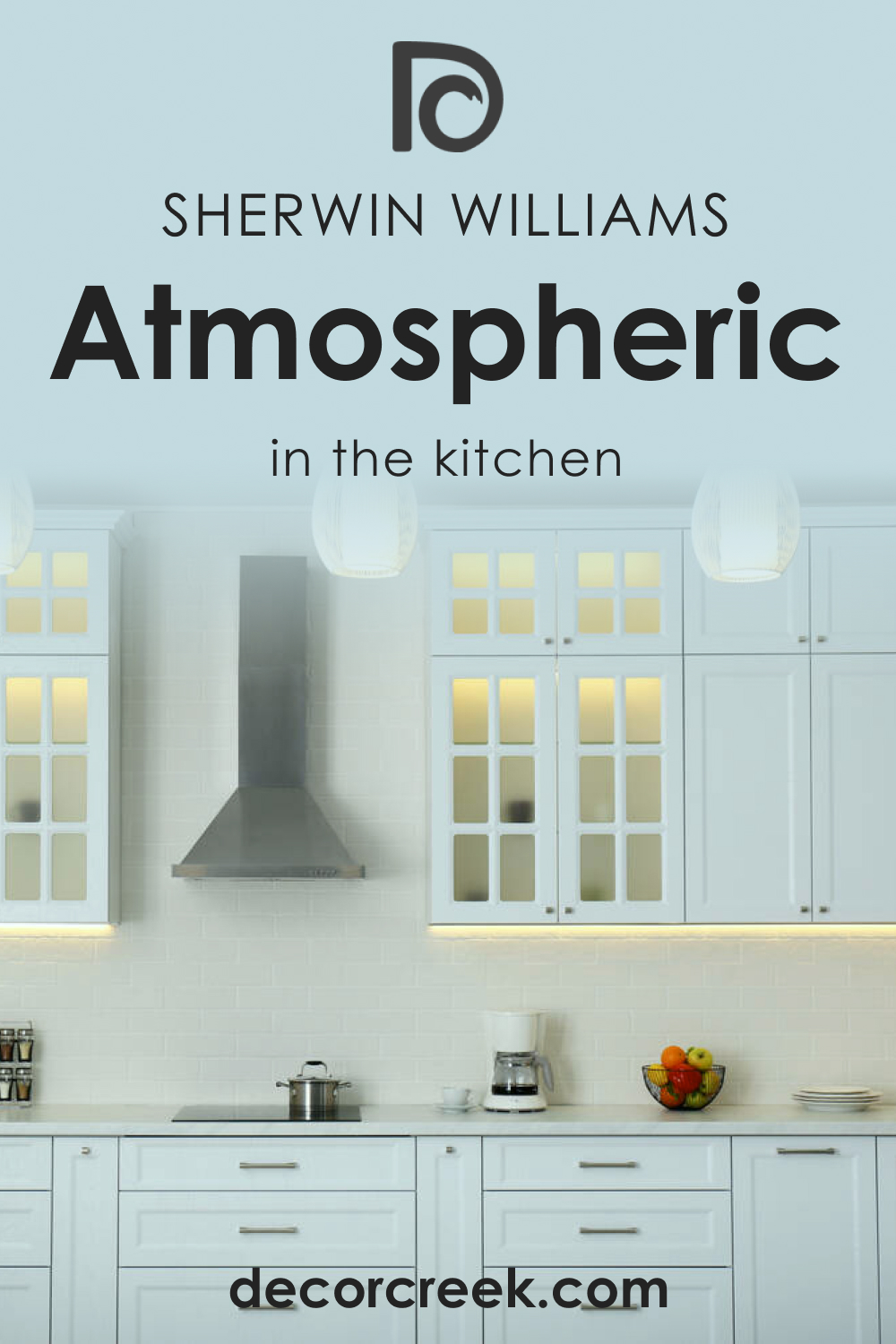 Atmospheric  for the Exterior Use
SW atmospheric works best on beach-style and coastal-style homes. You can choose to use this baby blue on the main facade or only on the trims and moldings.
For entryway doors and windows, consider using bold blues or lemon yellows to add character to your home.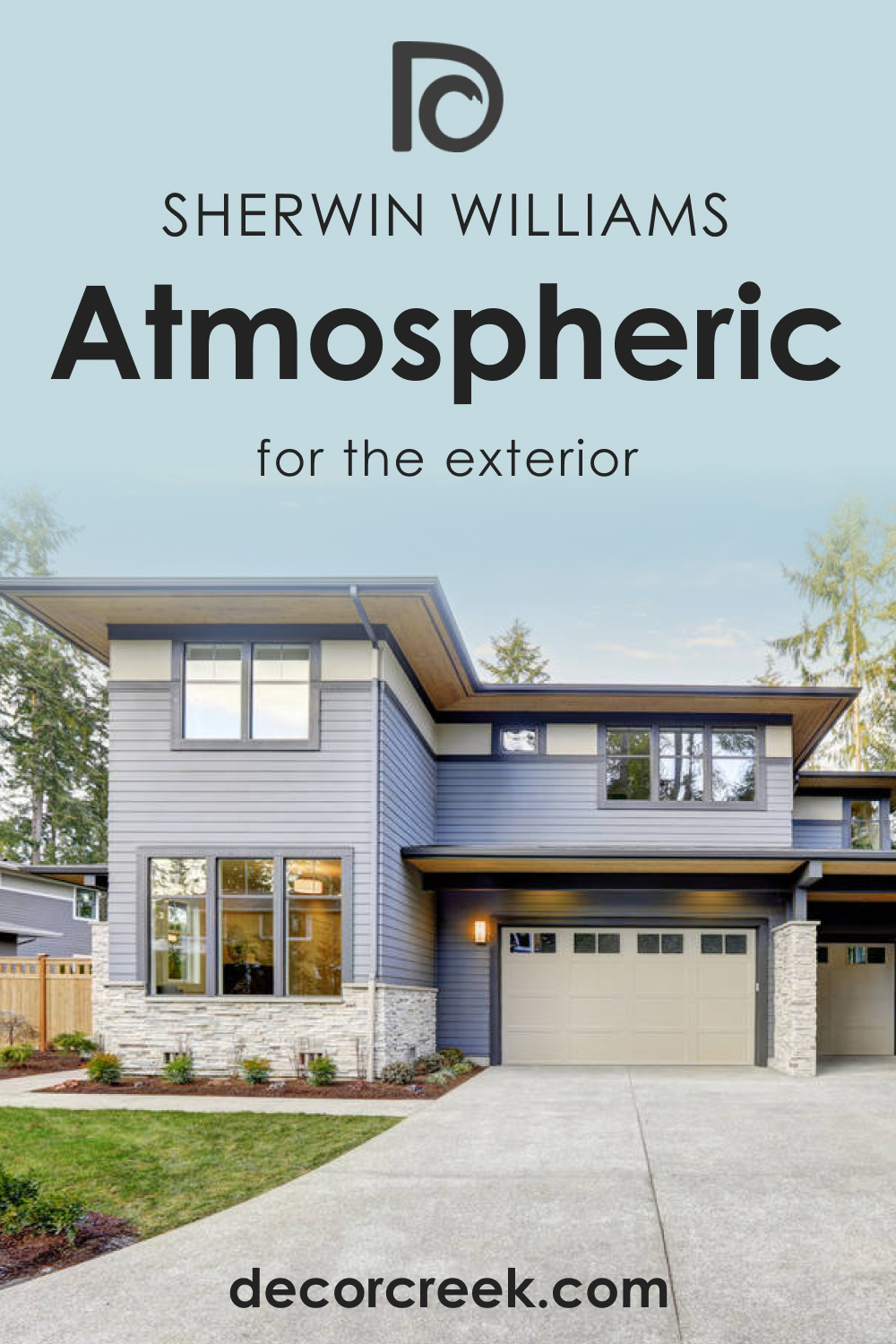 Now you know more about this beautiful sky blue called Atmospheric. Although it is light, this color can be used in many rooms and even on exterior walls.
And since now you know more about its undertones, LRV, trim colors and more, you will easily find the best place for its beauty in your home!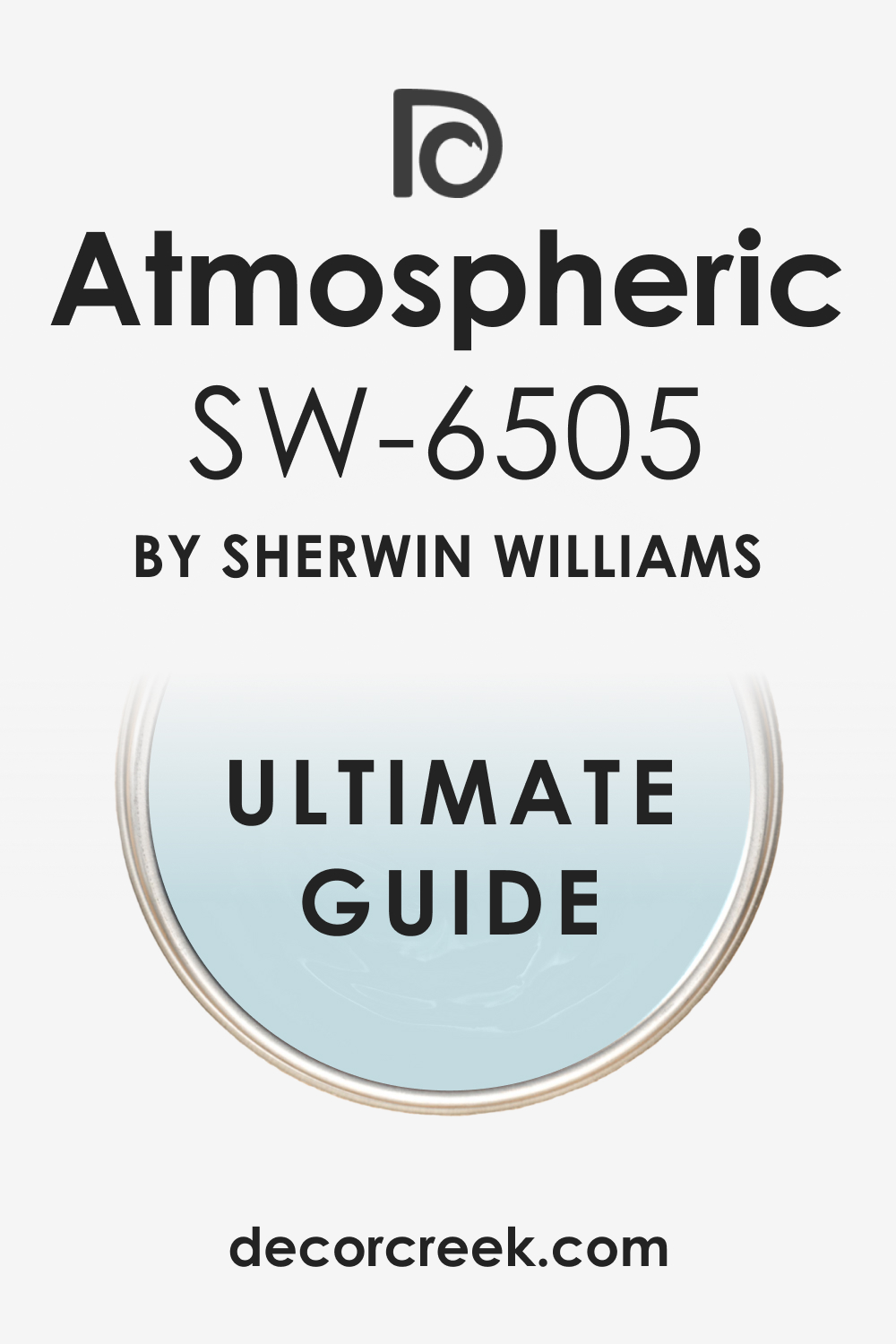 Frequently Asked Questions
⭐Does SW Atmospheric have undertones?
This color doesn't have any prominent undertones.
⭐Will this blue work with polished golden decor elements like handlers or hangers?
Yes, moderate use of warmer colors like gold can make this cool-toned blue look a bit cozier.
⭐Does SW Atmospheric work with pink colors?
Well, it might work with lighter pastel pinks, but try not to pair it with saturated and vivid shades of this color!