Some colors are easier to incorporate into our home interiors whilst others require more skill and a sharp eye for color shades to be able to use them correctly. Although blue is often believed to be a simple color, it often appears that some shades of blue are rather tricky to pair with other colors in a room!
Today we will tell you more about the color of the Sherwin-Williams brand that is called Mountain Air.
You will learn what undertones it has and what colors will coordinate it. Also, we will explain what LRV this color has and in what rooms it should be used to work best of all.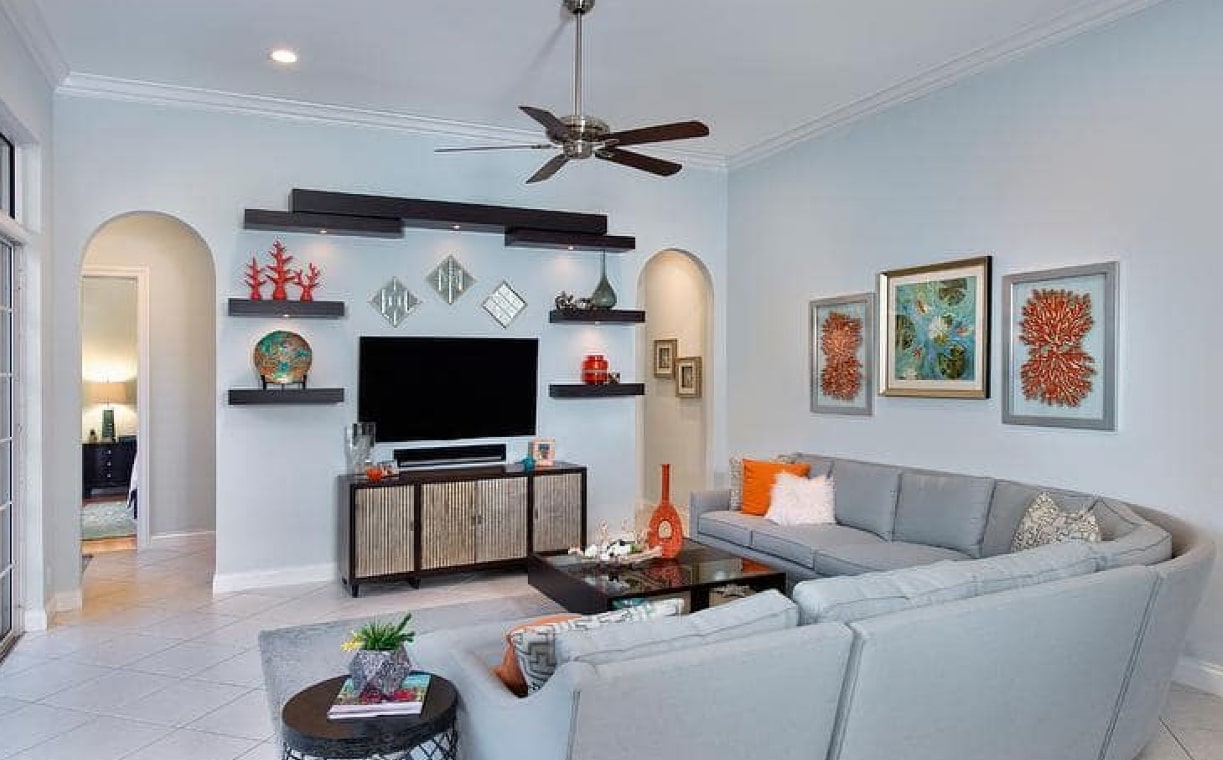 SW Mountain Air Paint Color Description
If you are looking for a paint color that will add a refreshing vibe to your home, SW Mountain Air is an ideal solution. As Encycolorpedia says, this cool, fresh, and bright green-blue pastel will bring a burst of pleasant calm to your home.
Some people call this color a crisp white with very delicate bluish and gray undertones, but if you see how it reads on a wall, it will be clear that SW Mountain Air is closer to blue colors than to whites.
Although to those who are not very good at defining color shades, the Mountain Air paint color may really seem white in certain types of light!
With this color, light (whether artificial or natural) will play a very important role! Depending on the type of light in your room, this color will read differently in different rooms. For instance, we wouldn't recommend this cool-toned color in the north-facing rooms since it will appear crisp and chilly even more than it is.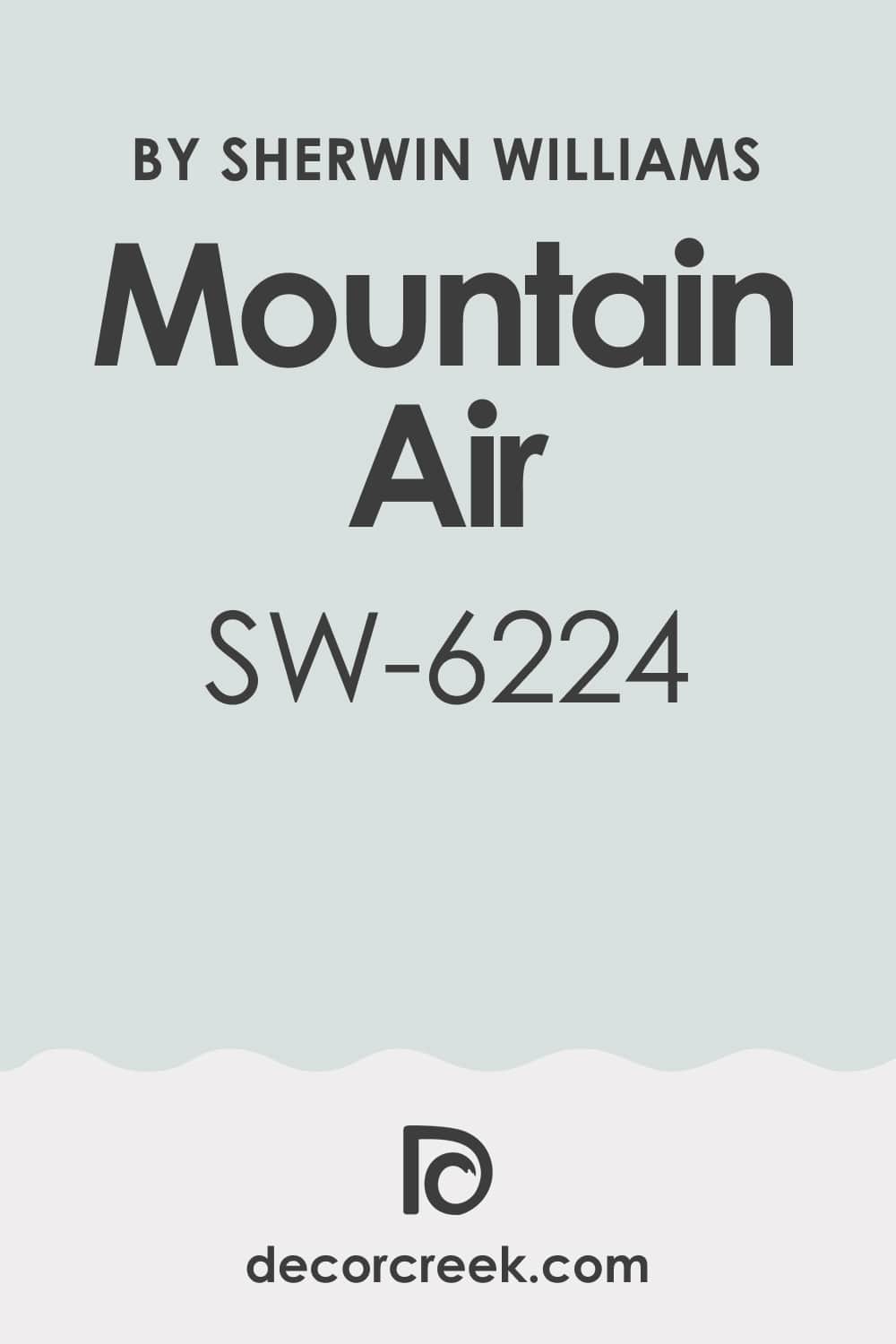 What Undertones Does SW Mountain Air Color Has?
As you can already see from the color's description, SW Mountain Air is a tricky paint color to use! This is why knowing its undertones is a must if you want this blue-gray pastel to show its best in your interior!
Even if you don't have a sharp eye for colors and color shades, you can clearly see that SW Mountain Air has blue and gray undertones. However, you should not be afraid that the paint will read sky-blue or pronounced gray on your walls!
Both undertones are so delicate and subtle that they are hardly seen. Instead, they are perfectly blended, creating a soft and refreshing look to the color.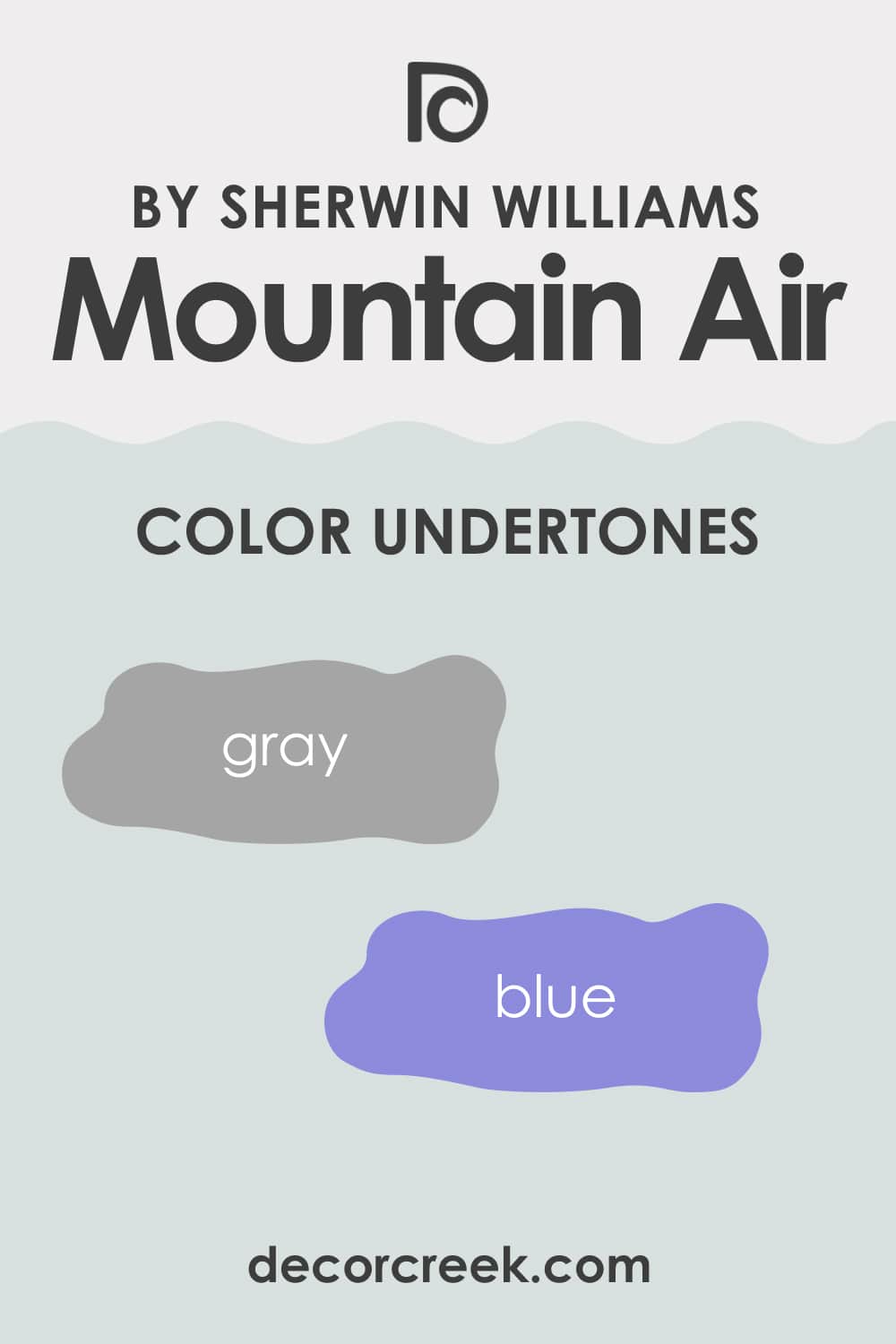 What LRV the Mountain Air Color Has?
LRV is another essential feature one should know about the paint color before using it on the walls. LRV stands for the Light Reflectance Value, and it shows how much light a color can reflect when it is applied to the wall.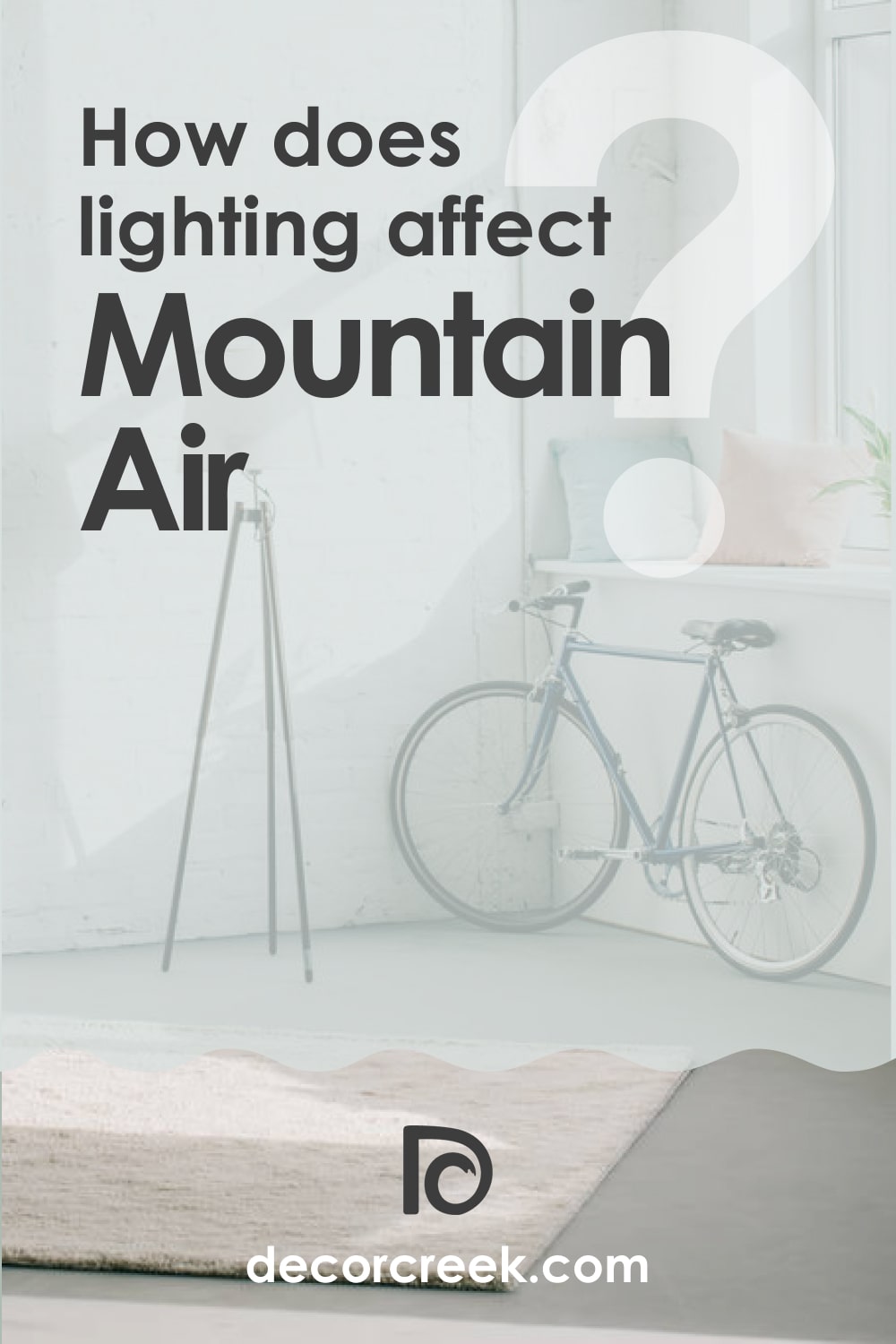 Traditionally, an LRV scale ranges from zero to 100, where zero stands for black, and 100 stands for pure white. Respectively, the higher the LRV value, the lighter the color you have. Speaking of SW Mountain Air, its LRV is nearly 73, which means the color is very light and can reflect a lot of daylight.
This is also the reason why this color is sometimes referred to as white.
Because of this feature, you should consider using this crisp and fresh blue-gray pastel in your home if you want to add the space more crispness and coolness. Also, it will be helpful if you want to make a room look larger and airier.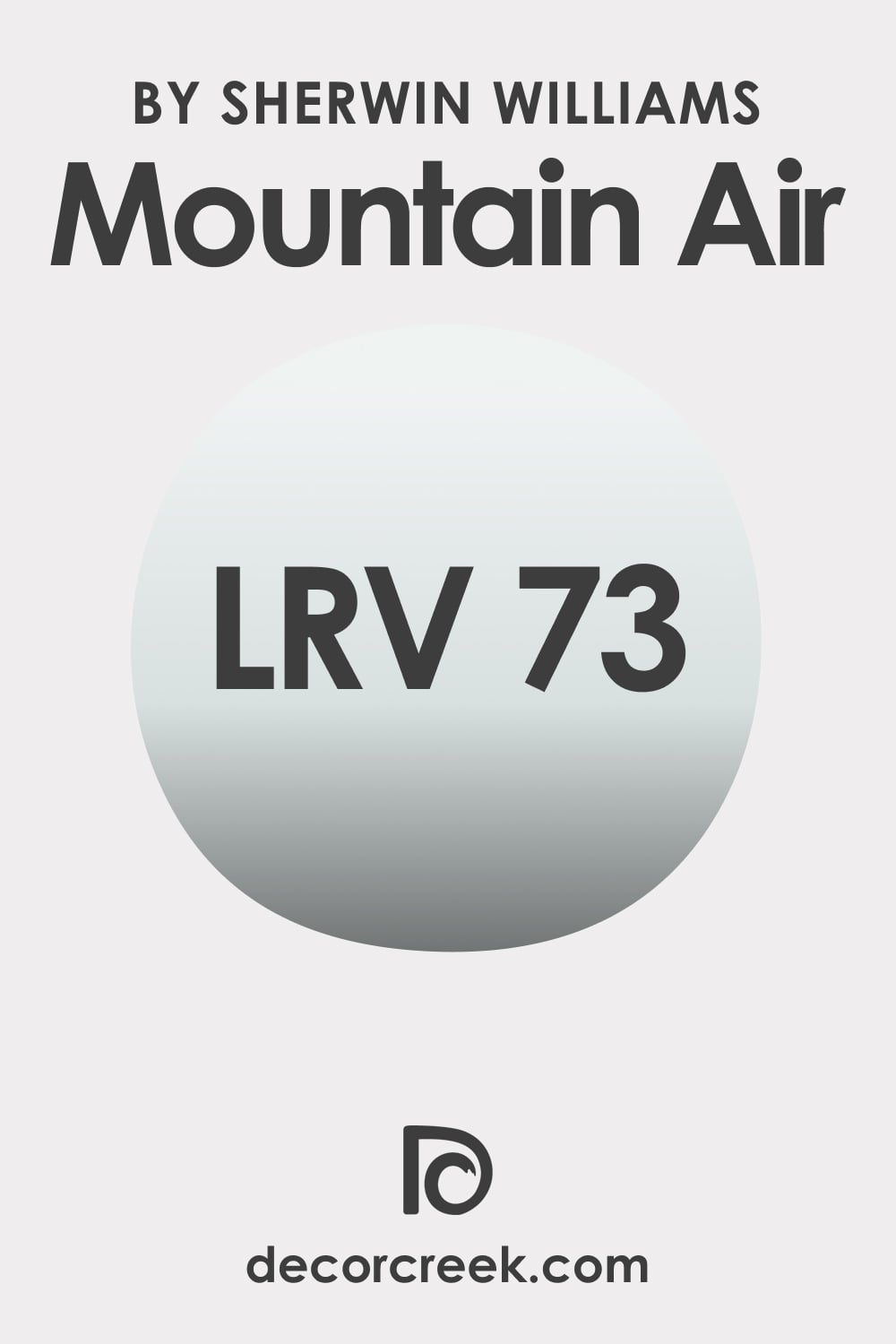 LRV – what does it mean? Read This Before Finding Your Perfect Paint Color
Coordinating Colors of Mountain Air SW-6224
In general, SW Mountain Air can look really good if you coordinate it with darker shades of blue and navy blues. Also, this color will pair well with sage greens, crisper whites, and some shades of gray (especially with cool gray colors of the Sherwin-Williams brand!).
However, when choosing coordinating colors, be careful with the vibe you want to achieve in your space. Typically, you might want to consider either a monochromatic coordinating palette or a contrasting one.
Monochromatic colors are generally more suitable for modern, minimalist, coastal, and contemporary interior designs. On the other hand, the contrasting palette looks excellent with Eclectic and Farmhouse interior design styles.
For a monochromatic palette, check out these coordinating colors:
SW 6225 Sleepy Blue
SW 6226 Languid Blue
SW 6227 Meditative
For a contrasting color palette, you might like one of these:
SW 7008 Alabaster
SW 9070 Baby Blue Eyes
SW 6120 Believable Buff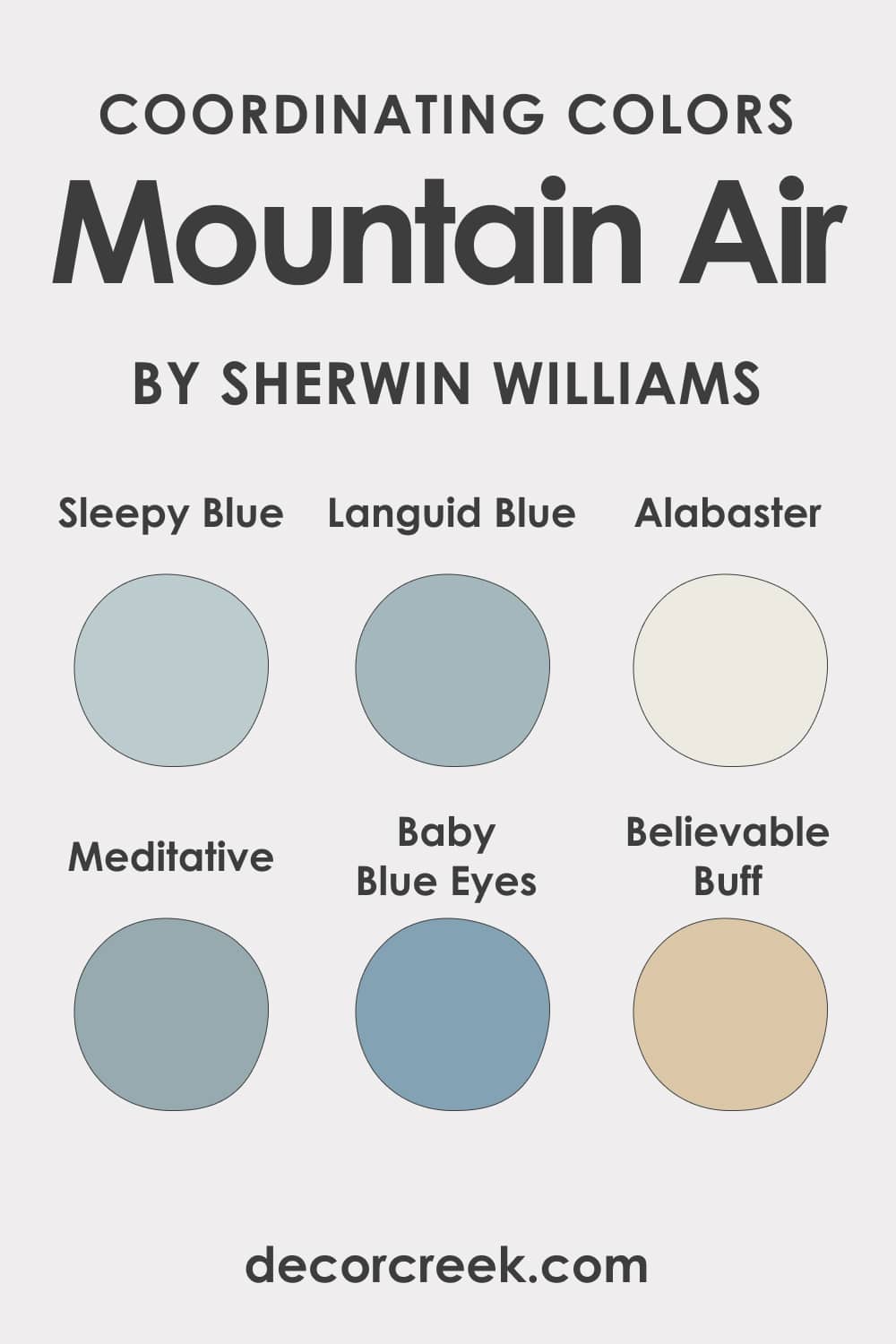 Colors That Go With SW Mountain Air
Why is it good to know what colors go well with the paint color you have on your walls? Well, by having such a palette at hand, you will know what colors will read better with the wall color, and what colors should be avoided. Also, knowing about such colors allows you to pick the colors of the decor elements more successfully.
For the Mountain Air paint color by Sherwin-Williams, there are quite many colors that will read nicely with it:
SW Summit Gray
SW Stardew
SW Blustery Sky
BM Sea Star
Behr Midnight Show
SW Popular Gray
SW Caviar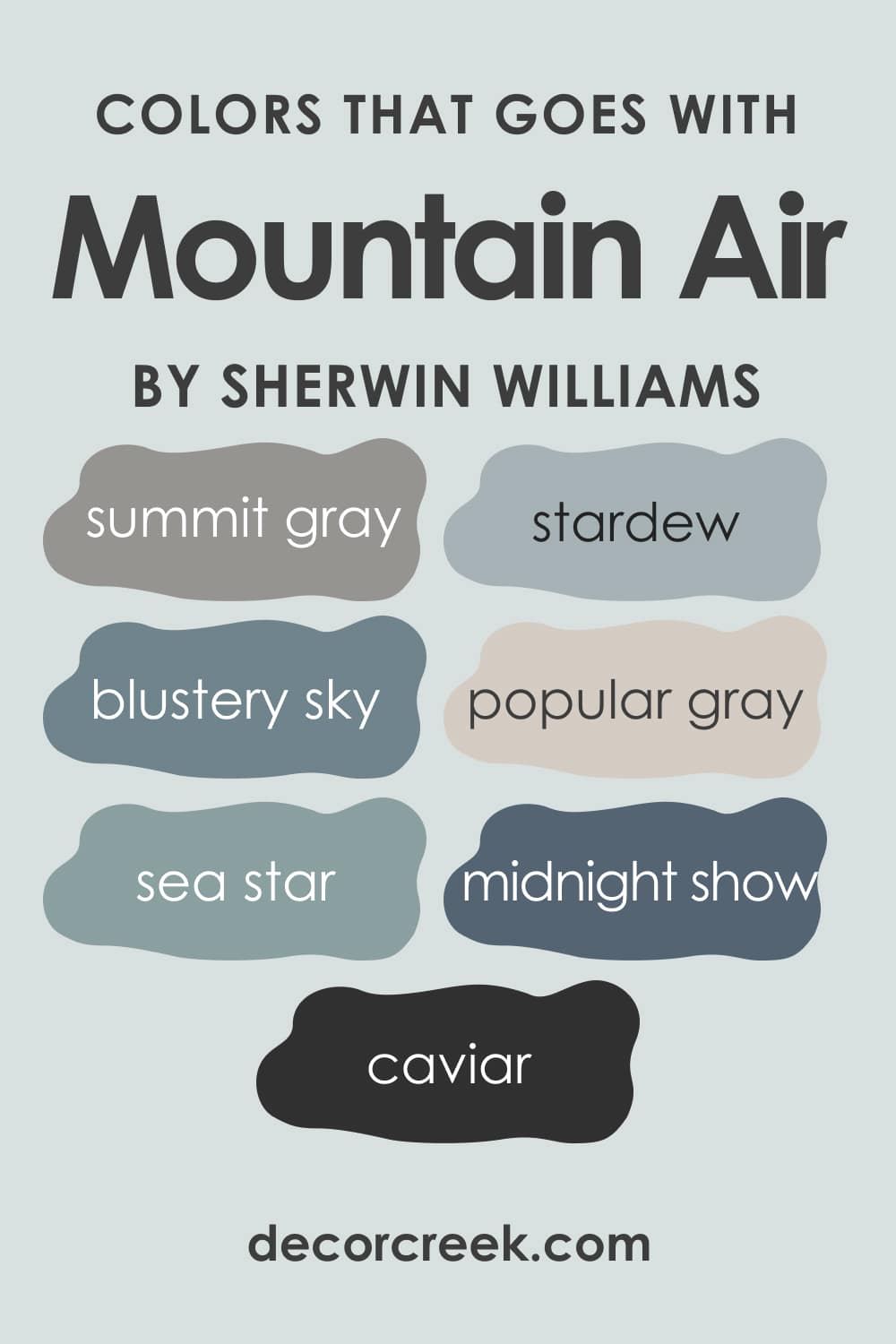 What's the Best Trim Color To Use With SW Mountain Air?
White is a timeless and traditional color selection when it comes to picking up the most appropriate trim color for your walls. For your ceilings, trims, and moldings, you might want to try the following colors to use with the Mountain Air color by Sherwin-Williams:
SW Extra White
SW Pure White
SW High Reflectance White
Both will help you highlight the true hue of SW Mountain Air.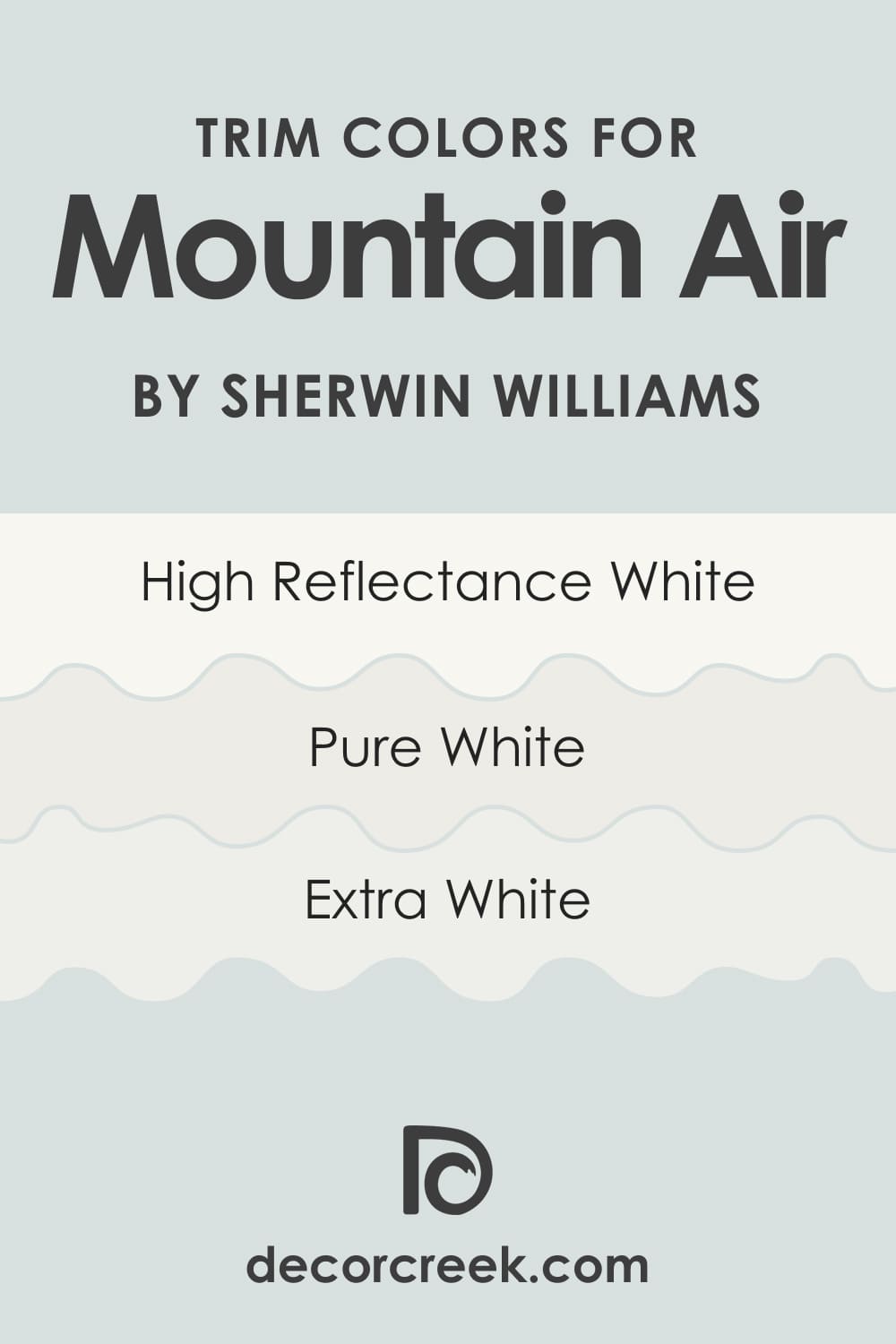 Similar Colors of SW Mountain Air
It's good to know what similar colors can be used instead of the color you initially chose for your walls. See, you may suddenly change your mind about the paint color you want to have in your home for many reasons.
Perhaps, you want a lighter (or a darker) shade of it, or you want a color with somewhat different undertones. Anyway, having a couple of color substitutes is always helpful.
For SW Mountain Air color, these colors can be used as good alternatives:
SW Sky High
SW Iceberg
BM Gray Sky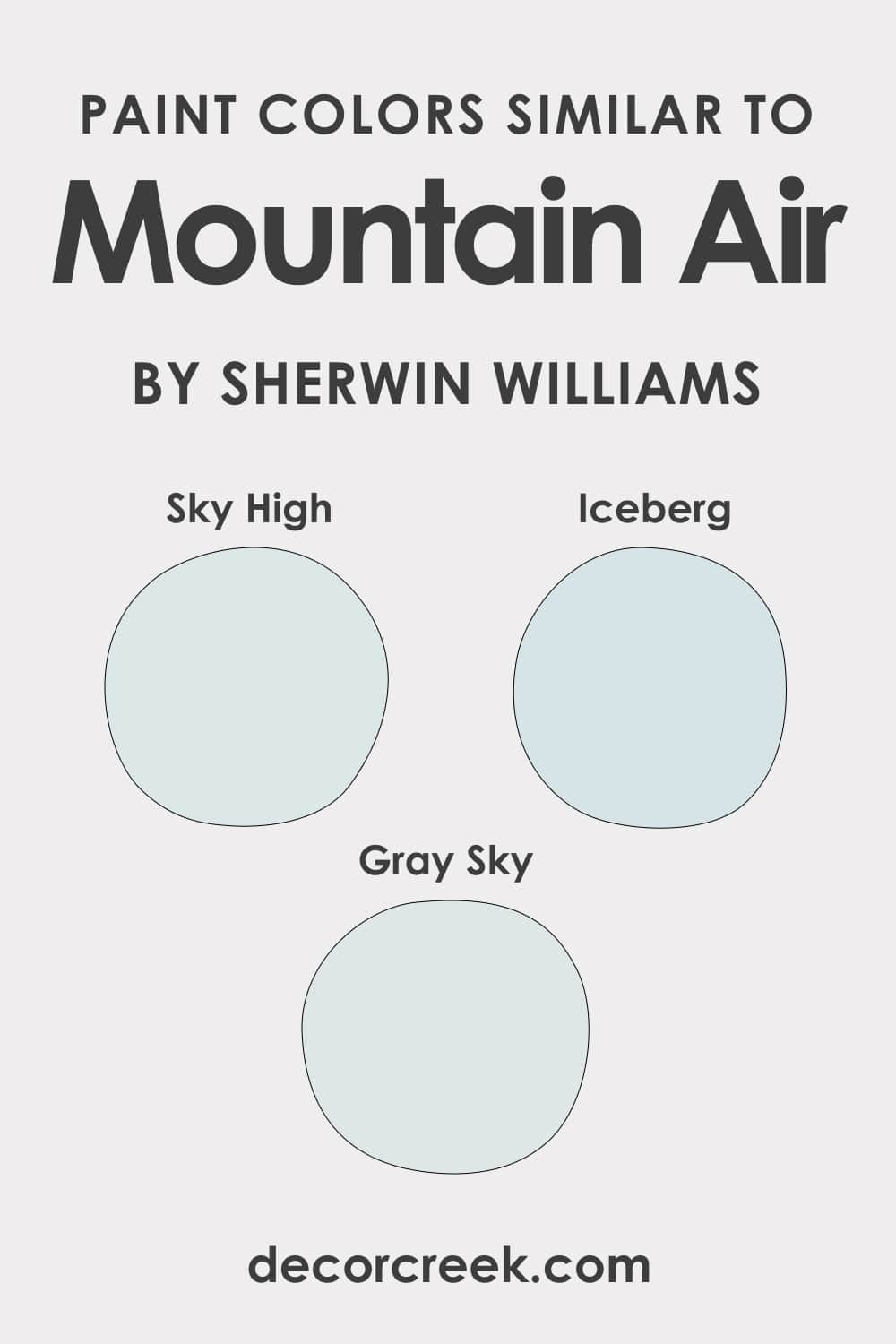 In What Rooms SW Mountain Air Will Work Best
Not all colors work the same well in all the rooms. Depending on how the color reacts to light and pairs with other colors, you might want to use the color you have in particular rooms only. So if you choose SW Mountain Air as you interior wall color, this is the list or areas of your home where it can work the best!
Living Room and SW Mountain Air
Your living will get a soothing, cool, and breezy vibe if you paint its walls SW Mountain Air. For softening the color's crispness, you can pair it with creamy whites on the adjacent walls and upholstery.
If you want to make the space more lively, don't be afraid to add patterns and textures by using decorative accents like throw pillows, curtains, and even rugs! Wooden textures will work with this blue-gray color really well, especially bleached wood.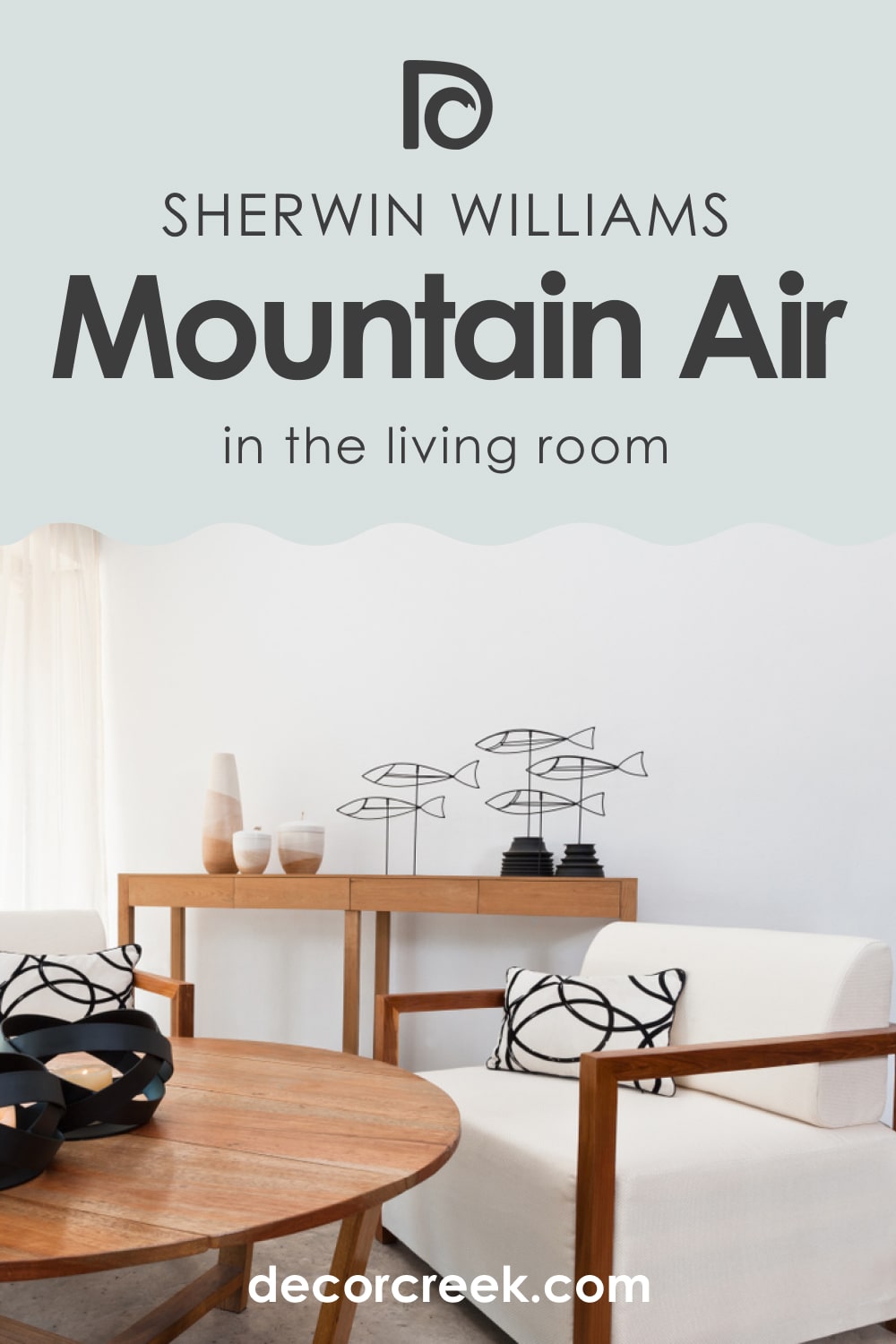 SW Mountain Air in the Bedroom
Bedrooms would embrace the beauty of this color exceptionally well. If you want, you can use dark gray darkening curtains, as well as shag, faux, or fur rugs to create a more relaxing atmosphere in the room. Also, don't forget to use other shades of blue on your textures and fabrics.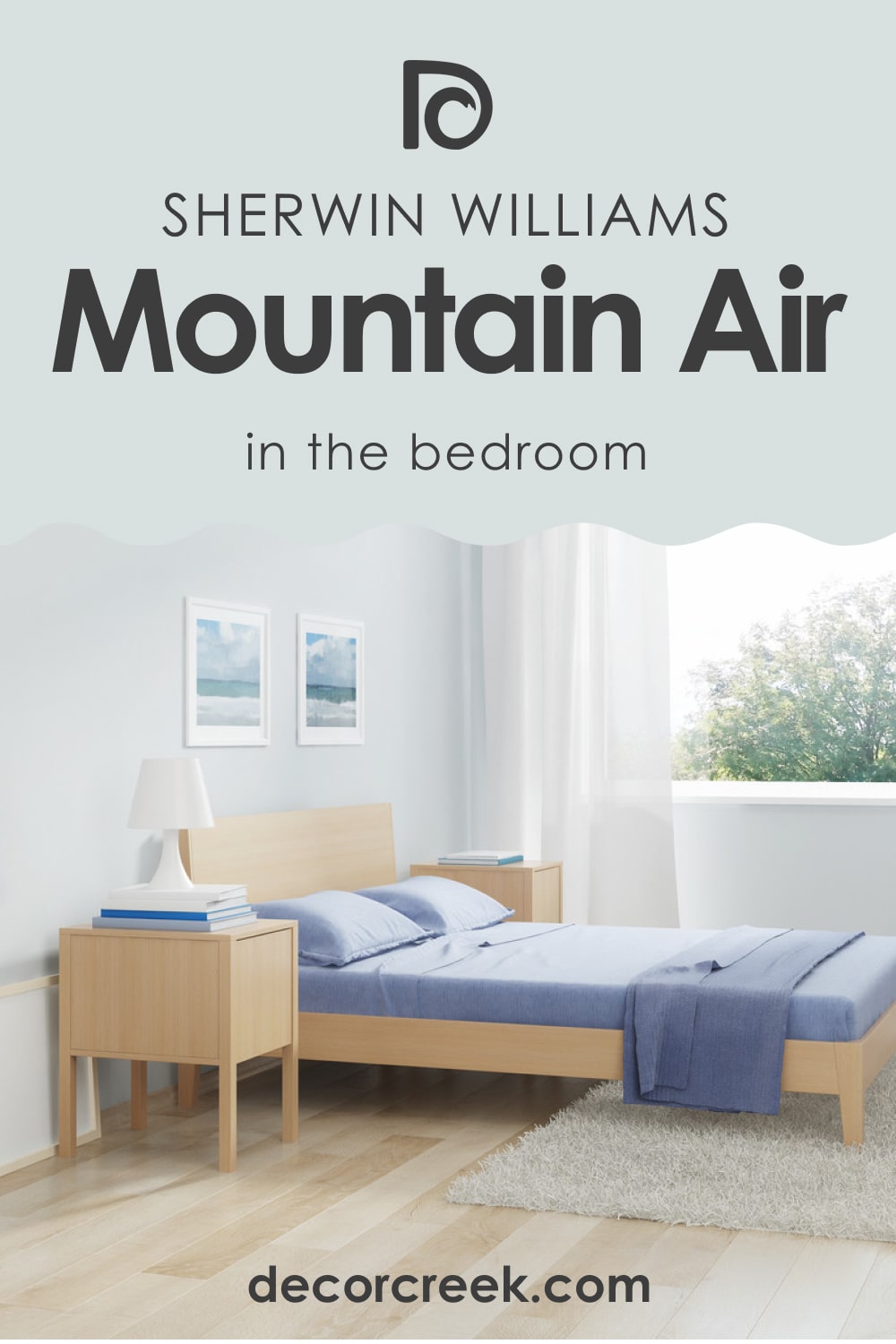 SW Mountain Air for the Kitchen
To make your kitchen appear more spacious, this paint should be used either on the cabinets or the backdrop wall. Regarding details, matte black hangers or pull handles, industrial-style pendant lighting, and black and white patterned backsplash tiles will complete your kitchen palette perfectly.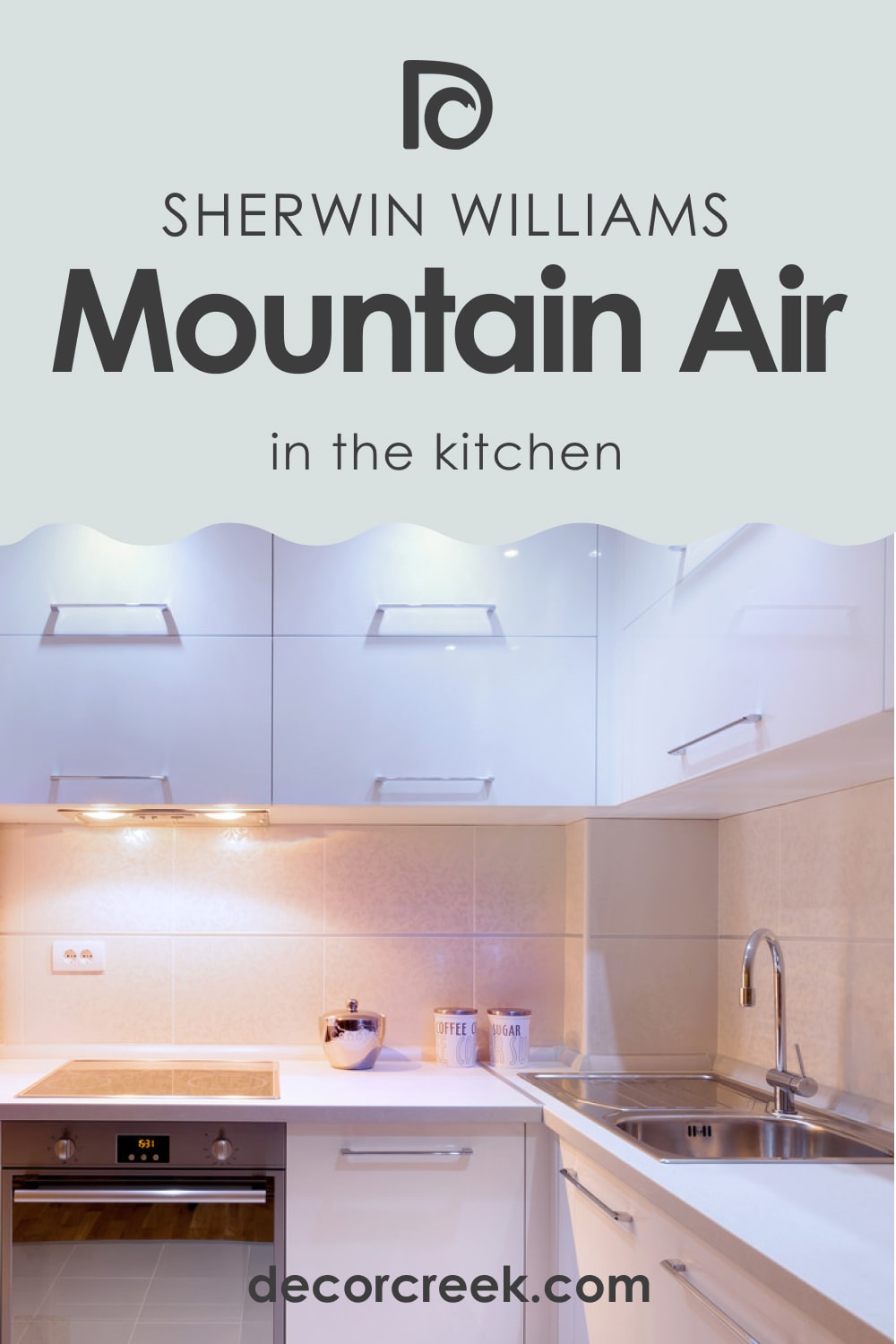 SW Mountain Air for the Exterior Use
Blue is not a common color to use on exterior walls, but for certain exterior design types, it can be a great option! For example, you can use SW Mountain Air with its blue-gray undertones if you have a Coastal, Craftsman, Caribbean, Ranch-style, or Contemporary home.
This paint will add a beachy vibe to your home when used on the exterior walls, so take that into consideration! If you live in a house that's located in an urban area or it's surrounded by trees, this blue-gray pastel might not be the best option for you.
Now you have a more complete understanding of the Mountain Air paint color. With all the tips and life hacks we shared above, you will be able to use this magnificent and delicate crisp color successfully, revealing its beauty.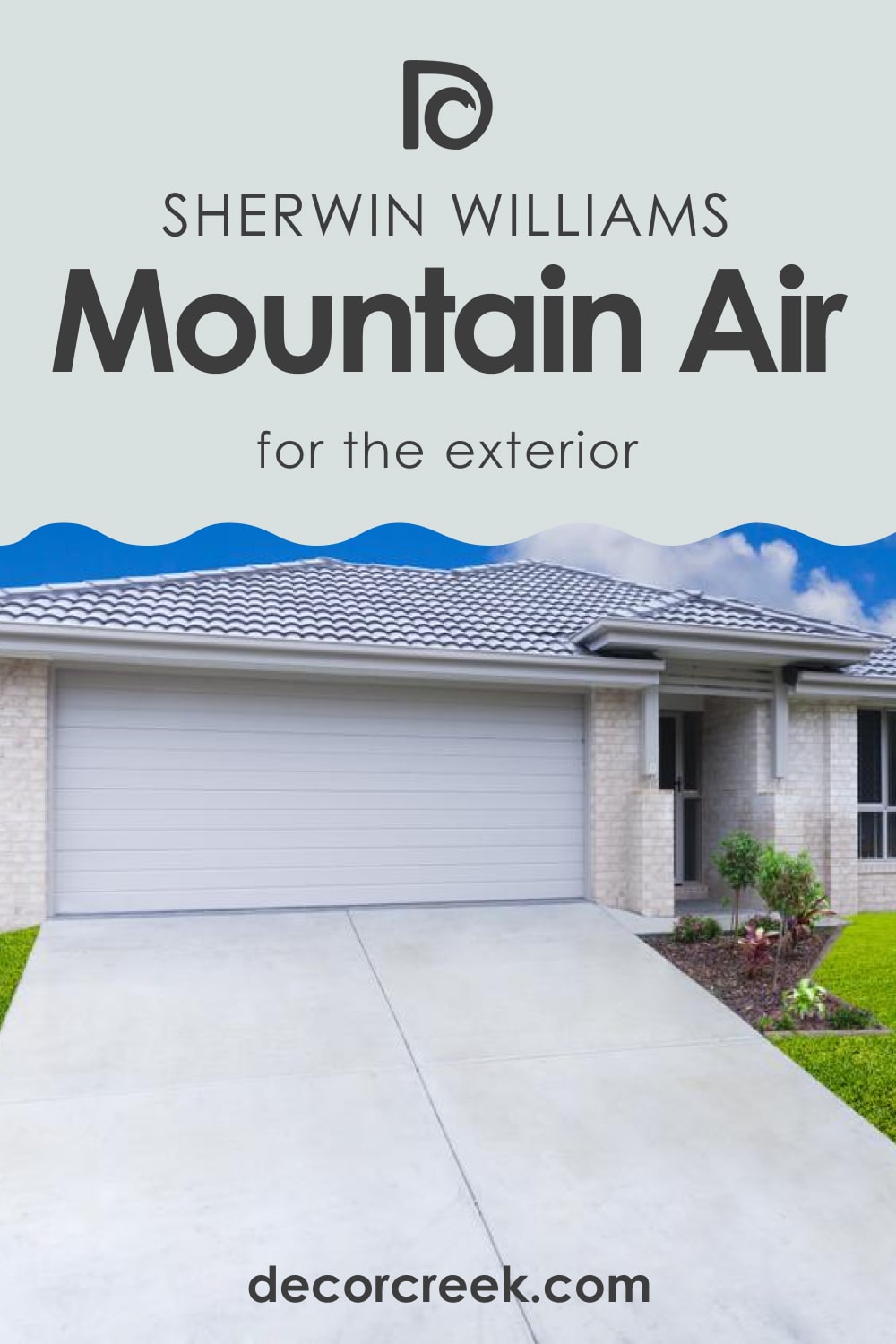 Comparing SW Mountain Air With Other Colors
Since blue might be tricky regarding shades, people often find it complicated to figure out which shade of this color to use in their homes. This is why we suggest you read about several colors that read nearly the same as SW Mountain Air. It will help you to see the distinctions much better.
SW Mountain Air vs Sea Salt
These colors read almost the same. The only difference one can notice is their undertones: SW Sea Salt has more pronounced grayish undertones than SW Mountain Air with a more noticeable blue hue in it. Because of that blueness, SW Mountain Air reads crispier and cooler too.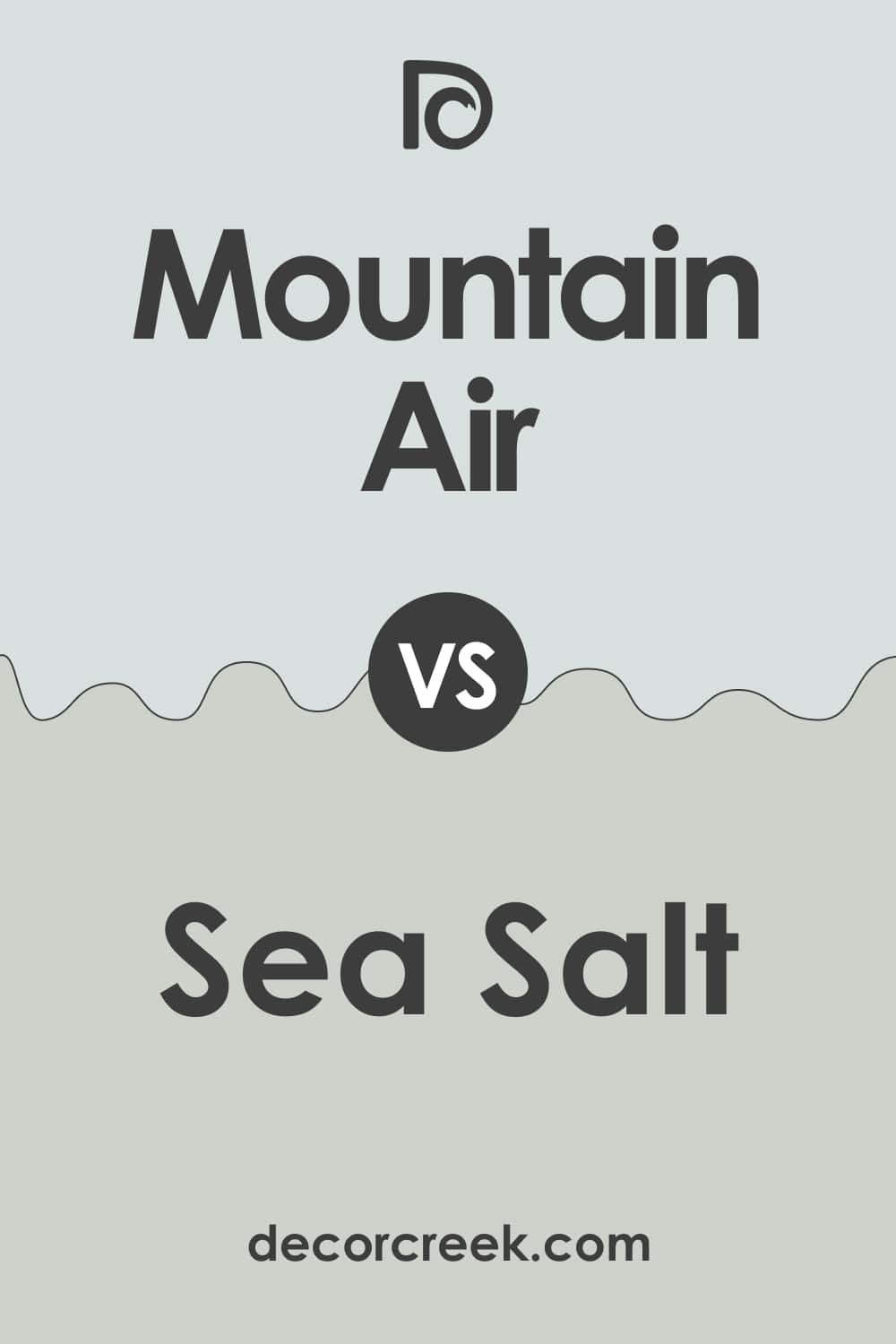 SW Topsail vs SW Mountain Air
These two look exactly the same! Both share a minty appearance, cool, calm, and quite composed. But their similarities are mostly connected with their reflectivity rather than undertones. With an LRV of 75, SW Topsail is comparatively lighter than its counterpart and it can be used as a base and neutral color.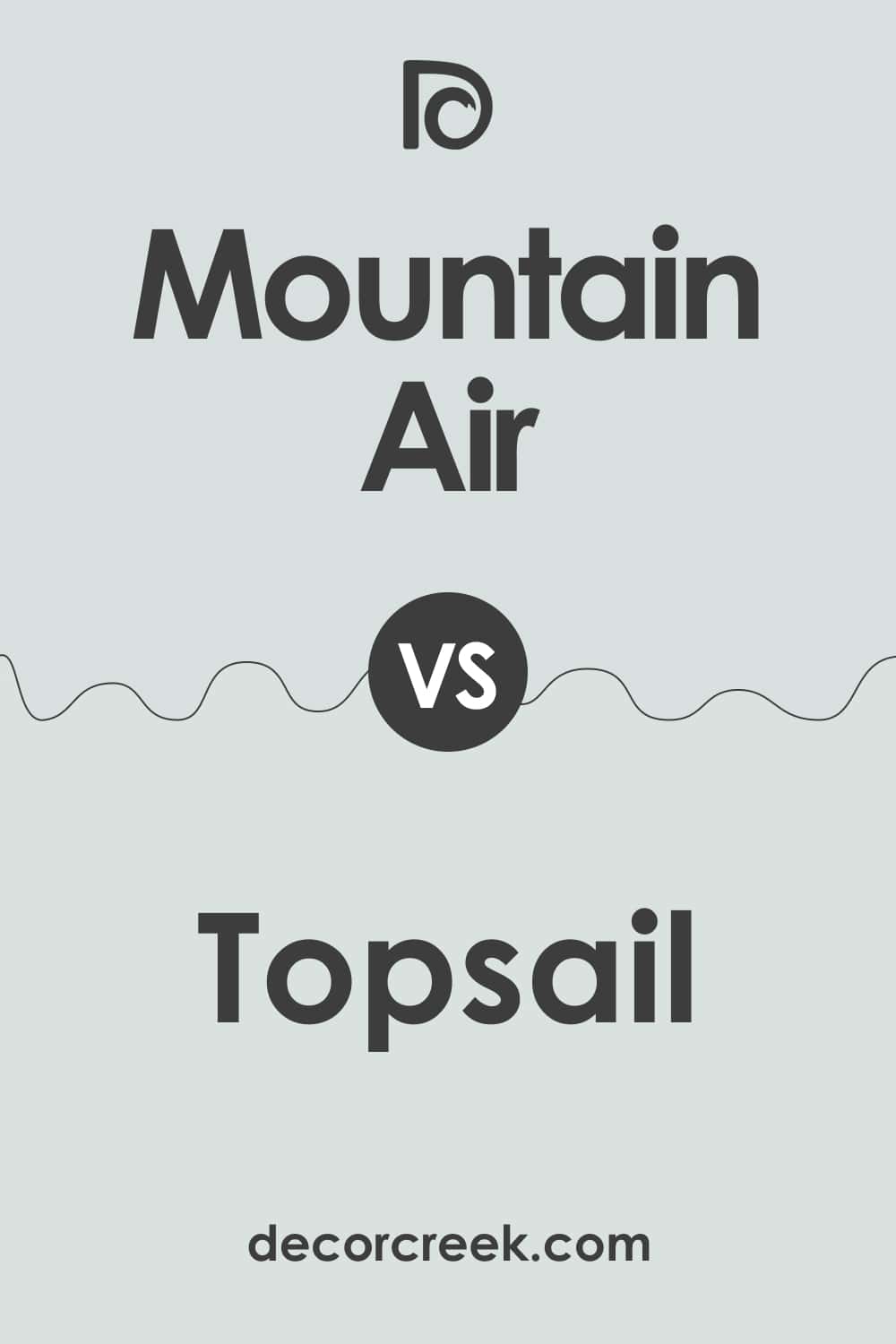 SW Mountain Air vs Sleepy Blue
SW Sleepy Blue has an LRV of 61, which makes it somewhat darker than SW Mountain Air. Also, SW Sleepy Blue reveals more blue undertones, looking deeper. However, thanks to this distinction, these colors create a nice contrast that allows using them together along with the white color as a part of the palette.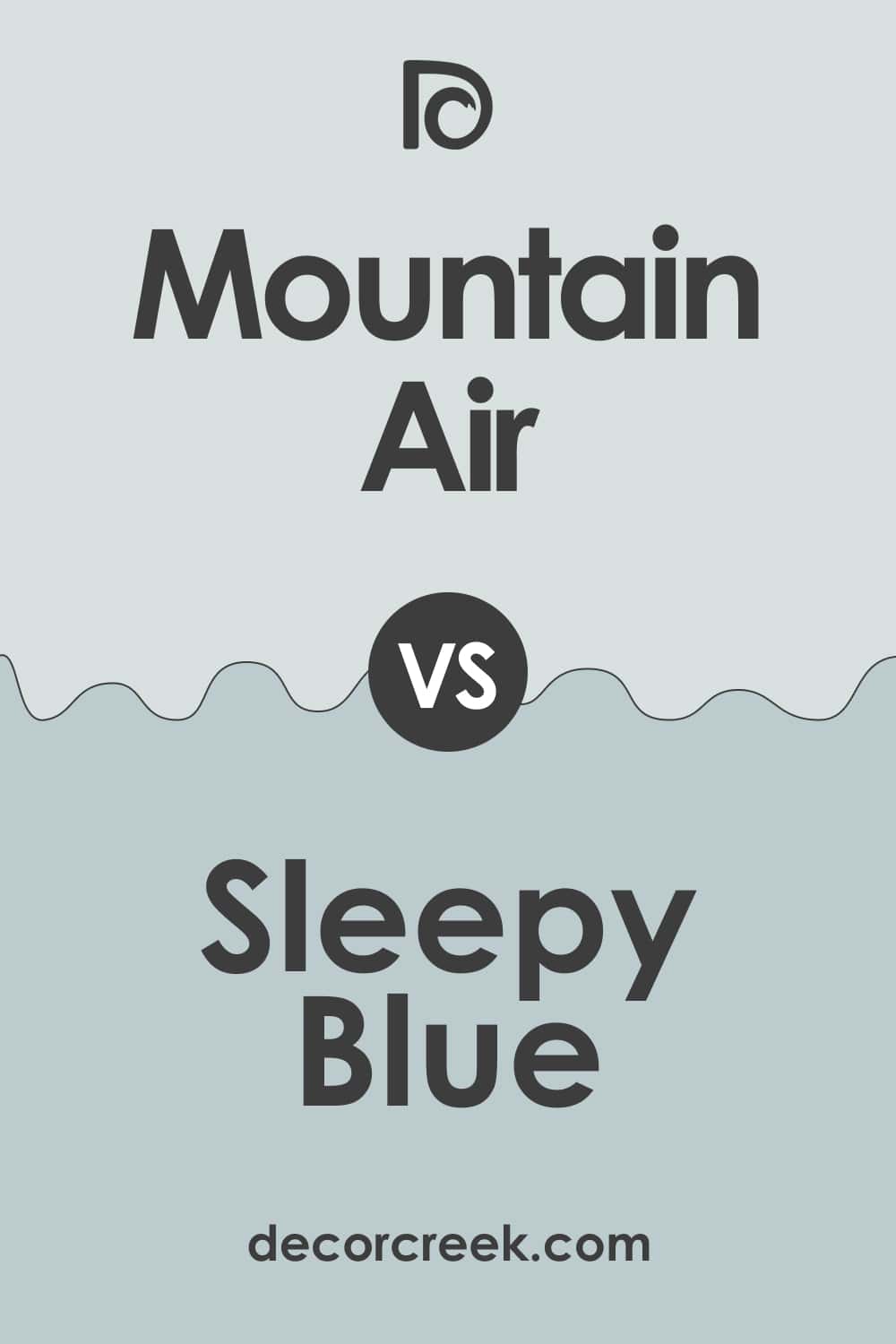 SW Mountain Air vs Languid Blue
The LRV of SW Languid Blue is 46, which makes it darker than SW Mountain Air, with an LRV of 73. The Languid Blue color reads much bluer, giving the space significantly less crispness and freshness than its lighter counterpart.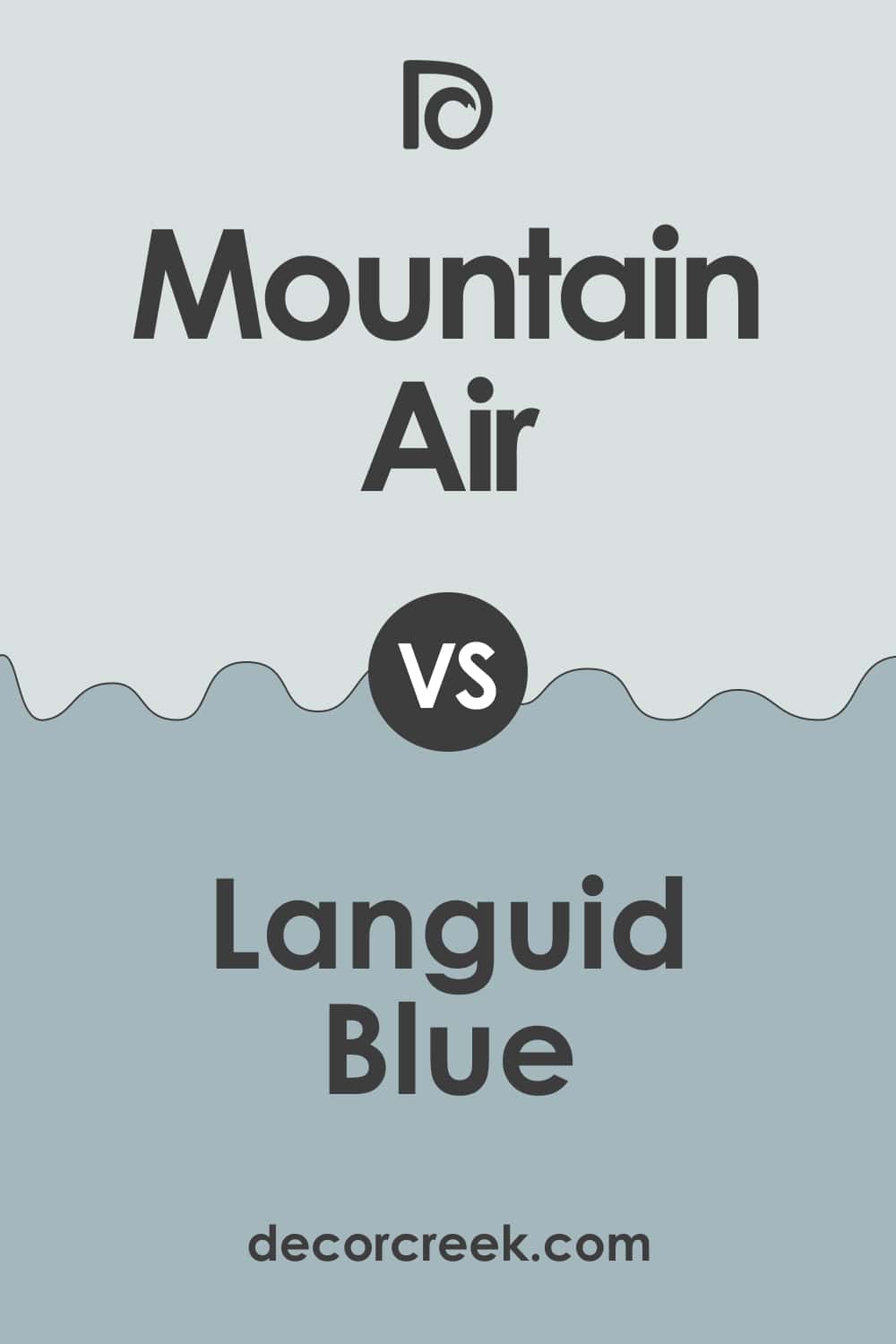 Now you know more about a beautiful blue-gray pastel paint color called Mountain Blue by the Sherwin-Williams brand. Now you know how this color reads on the walls, how it can react to light, and with what colors it's best to be used to make it work.
Also, you are now aware of this color's undertones, LRV, and coordinating colors, which will help you to use it successfully in any suitable room.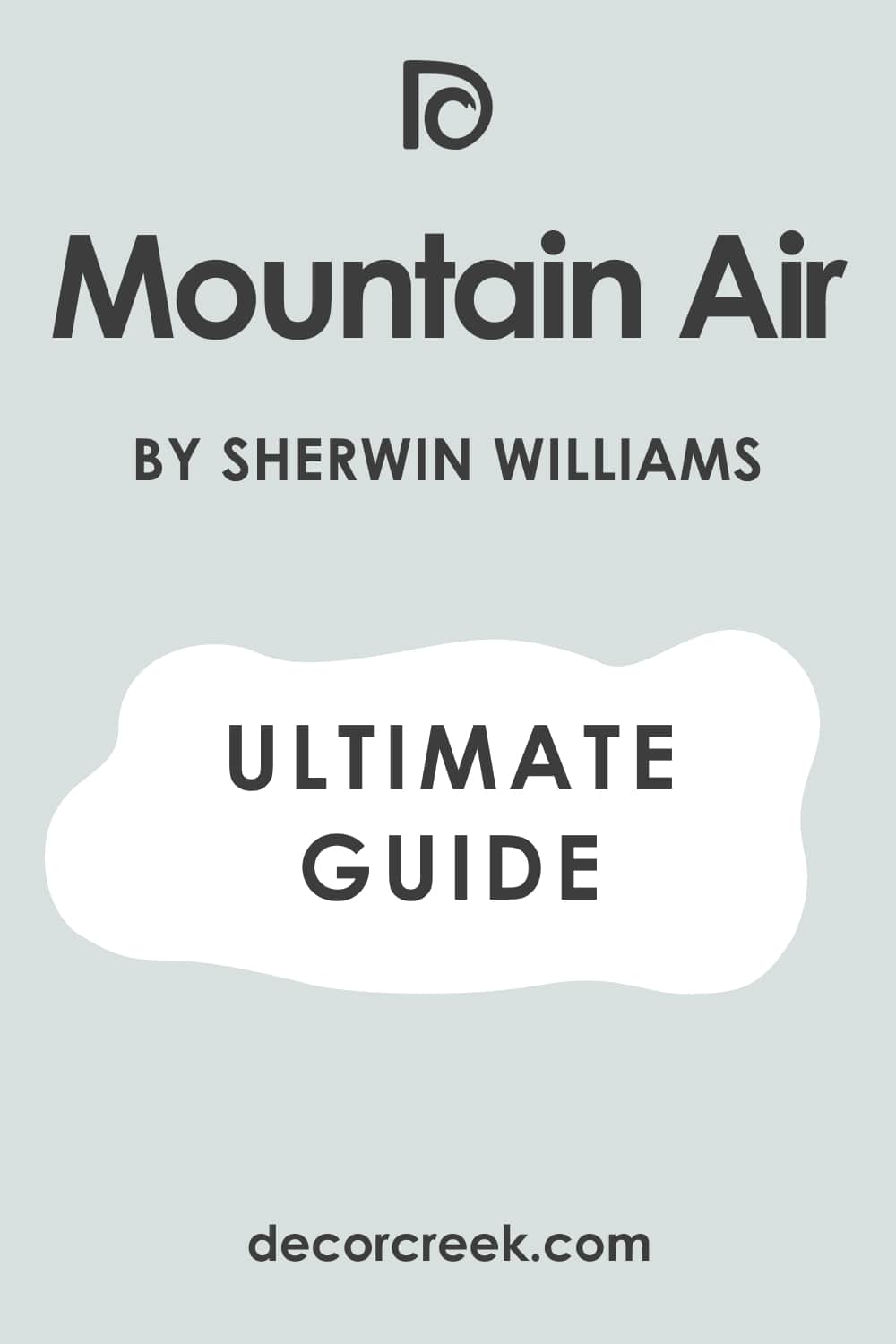 Frequently Asked Questions
⭐Is SW Mountain Blue a blue or white color?
This color is blue-gray, but it's so light that people often think it's white!
⭐Will SW Mountain Air work well with black tiles?
Basically, yes, it will. Just try to add some white to the space as well to make it look airy and fresh.
⭐Will SW Mountain Air pair with warm whites?
Yes, it can work nicely with warmer whites like creamy white, but you need to ensure the room has plenty of natural light, otherwise, this color will read "dusty" and less crisp!