Picking paint colors for your home can be a challenging task. Most homeowners feel puzzled because of the wide variety of paints available, as well as because of the lack of color theory knowledge.
In this article, we will tell you more about the paint color called Anchors Aweigh by the Sherwin-Williams brand. In particular, you will discover what kind of blue color it is, how it works in different rooms and lighting conditions, and how to coordinate it correctly.
Also, we will tell you what other colors it may read well with and teach you how to create good-looking palettes with this hue.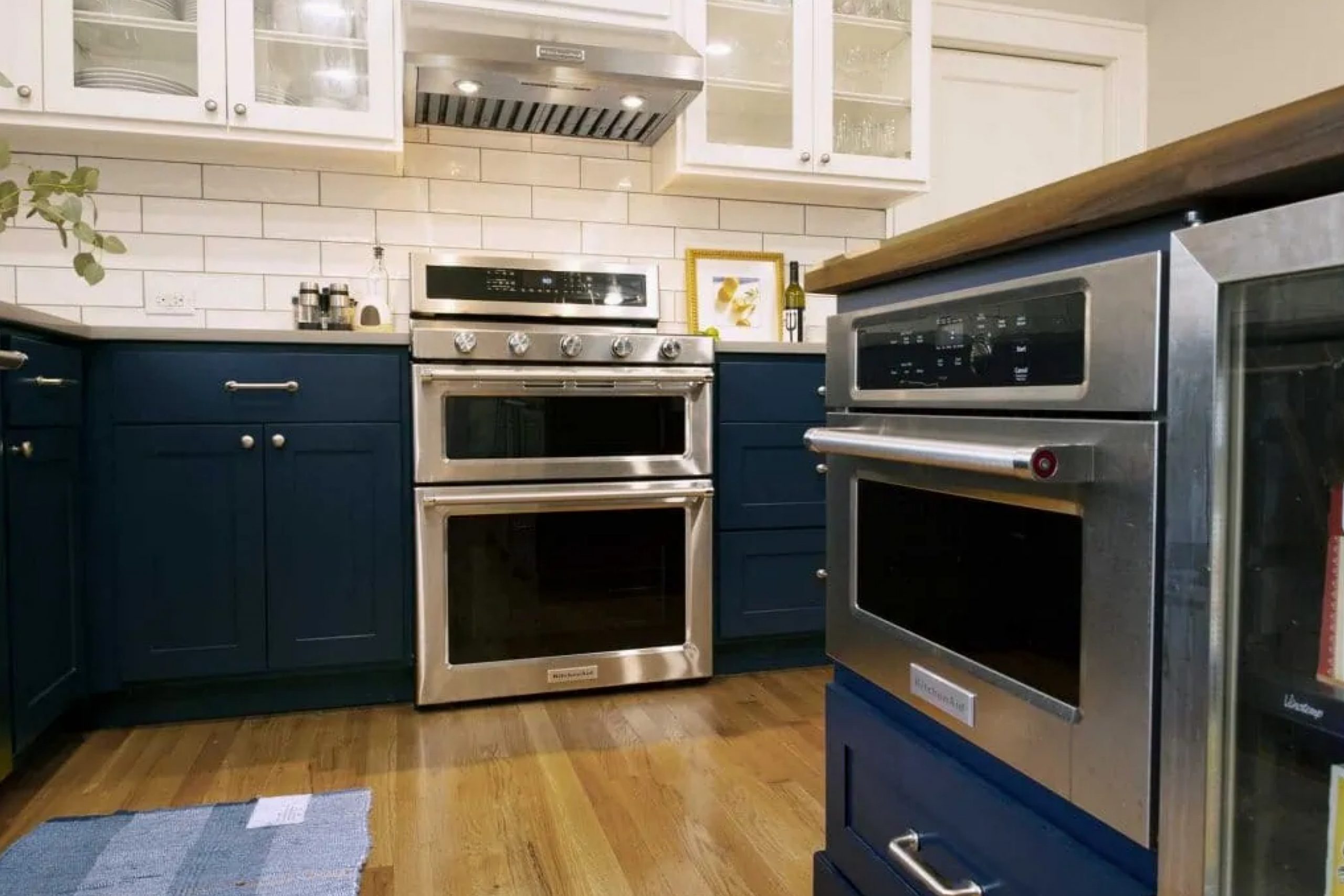 What Kind of Color Is Anchors Aweigh SW 9179?
SW Anchors Aweigh  is definitely one of the darkest blues this brand offers! Its depth is intriguing and mysterious, reminding you of the deep ocean waters. The impression this hue makes is bold and pronounced, which makes SW anchors Aweigh an ideal color for adding a good deal of character to any space!
As Encycolorpedia says, this color will work well not only in Victorian and Colonial-style designs but also in modern and contemporary interiors. With this bold blue hue on your walls, you will easily add a dominant note to any room of your home.
Don't be afraid of its dark appearance! Sherwin-Williams Anchors Aweigh feels modern, crisp, elegant, and glamorous when used in space.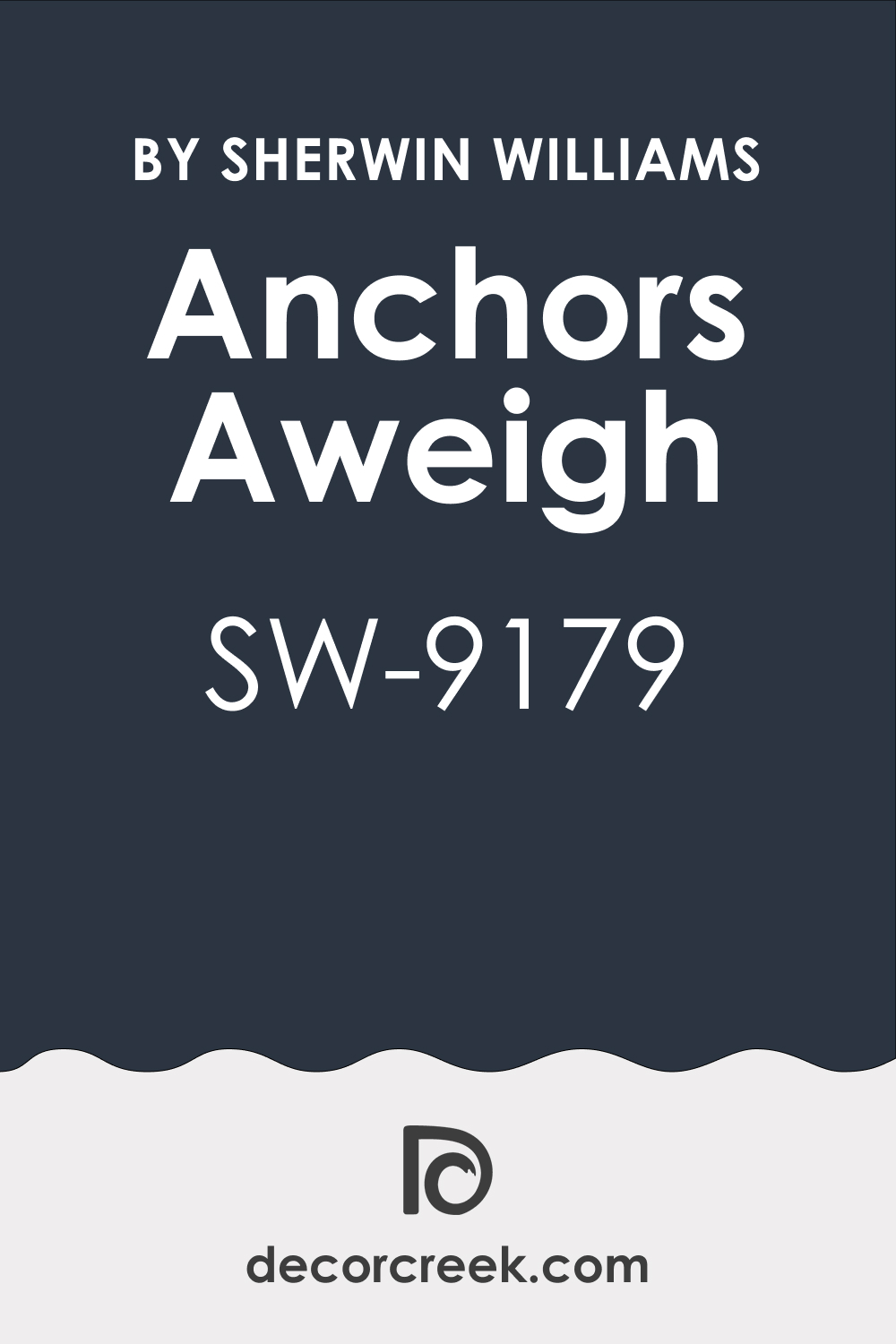 Is It a Warm or Cool Color?
If you look at SW Anchors Aweigh, you will easily see that this color is cool-toned. Although it will read deeper in certain types of light (which can make it seem kind of warm), this hue displays a notable cool tone.
Of course, it won't make a room feel brighter like most cool-toned and light colors do, but it's pretty unlikely that SW Anchors Aweigh can make a space feel warm. With its cool tone, this blue will add a refreshing elegance and reasonable crispness instead.
What Undertones Does SW Anchors Aweigh Paint Color Have?
Being aware of the paint's undertones allows you to use the color in the living space correctly, depending on the type of lighting you have. Also, knowing about undertones in detail allows you to use the color depending on the rest of the palette used to decorate the room.
Speaking of SW Anchors Aweigh, this blue has very deep navy undertones. They are so deep that the hue can sometimes read nearly black! This is why taking light into consideration is mandatory if you want to make use of this gorgeous color in your home.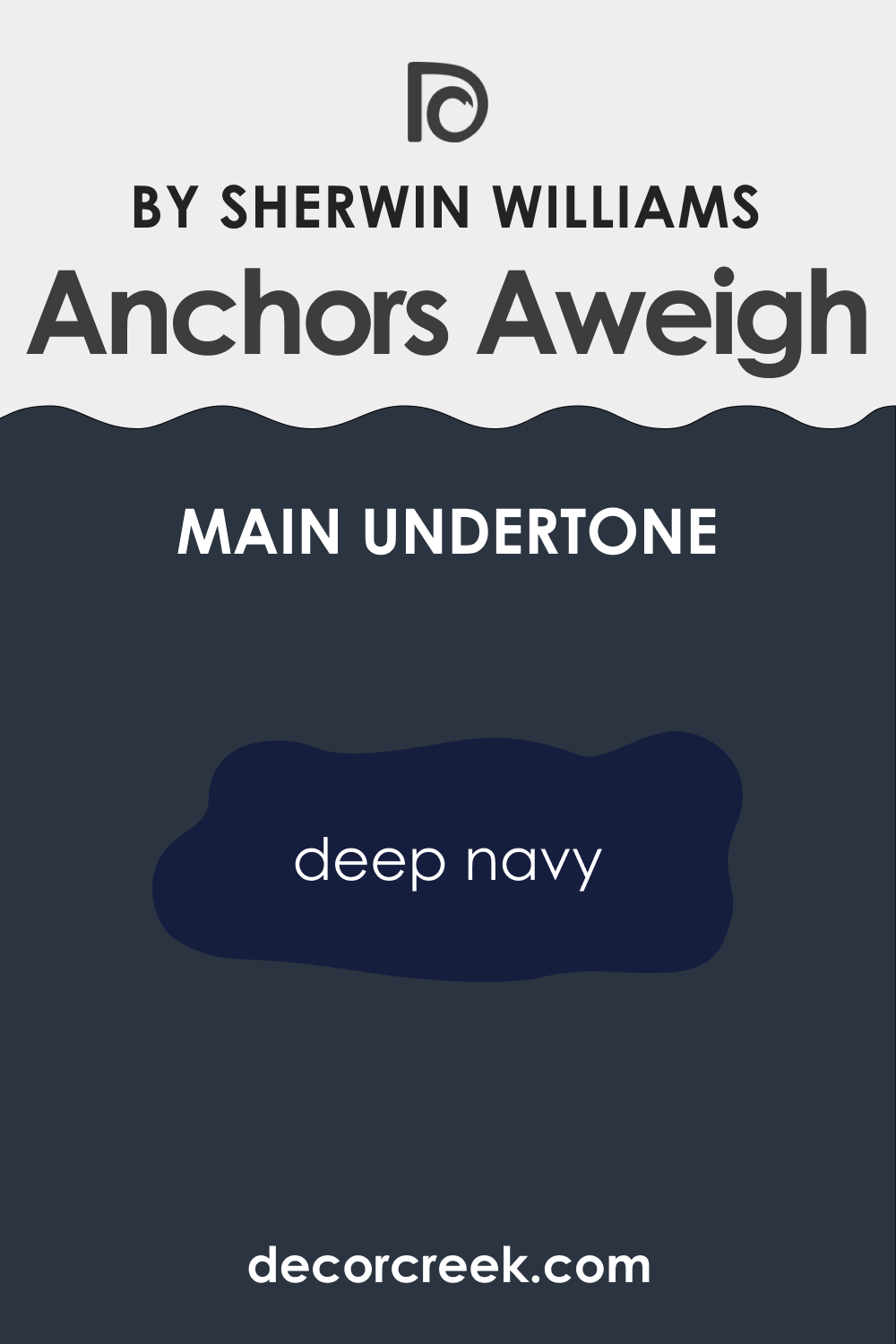 Anchors Aweigh SW 9179 Coordinating Colors
To make your home interior eye-pleasing, it is essential to know what paint colors will coordinate with the color used on the walls. If you consider such a dark color as SW Anchors Aweigh for your home, you may find it somewhat challenging to pick up the best-coordinating colors! This is why there is a hint for you:
SW 7005 Pure White
SW 7012 Creamy
For a monochromatic palette, try the following colors:
SW 6537 Luxe Blue
SW 6536 Searching Blue
SW 6535 Solitude
These are the colors we would recommend for a contrasting color palette:
SW 7023 Requisite Gray
SW 6203 Spare White
SW 6191 Contented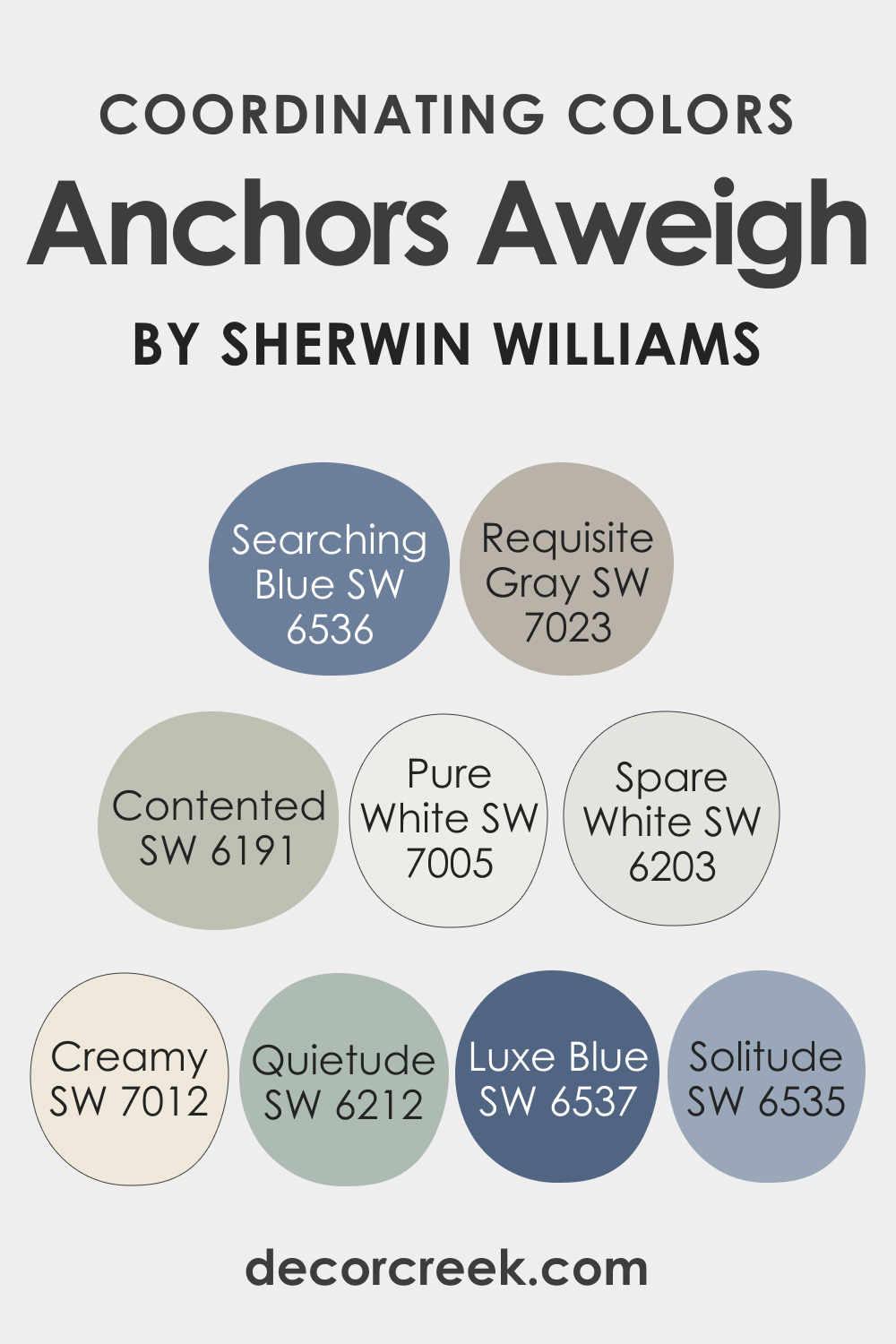 What LRV Does SW Anchors Aweigh Paint Color Have, And How Does It React to Light?
When you are choosing paint colors for your home, LRV is one of the most essential things to take into consideration. LRV (Light Reflectance Value) shows how much light the color can reflect from the wall. The LRV scale ranges from zero to 100, where zero stands for black and 100 stands for pure white. The higher the LRV value, the lighter the color, and vice versa.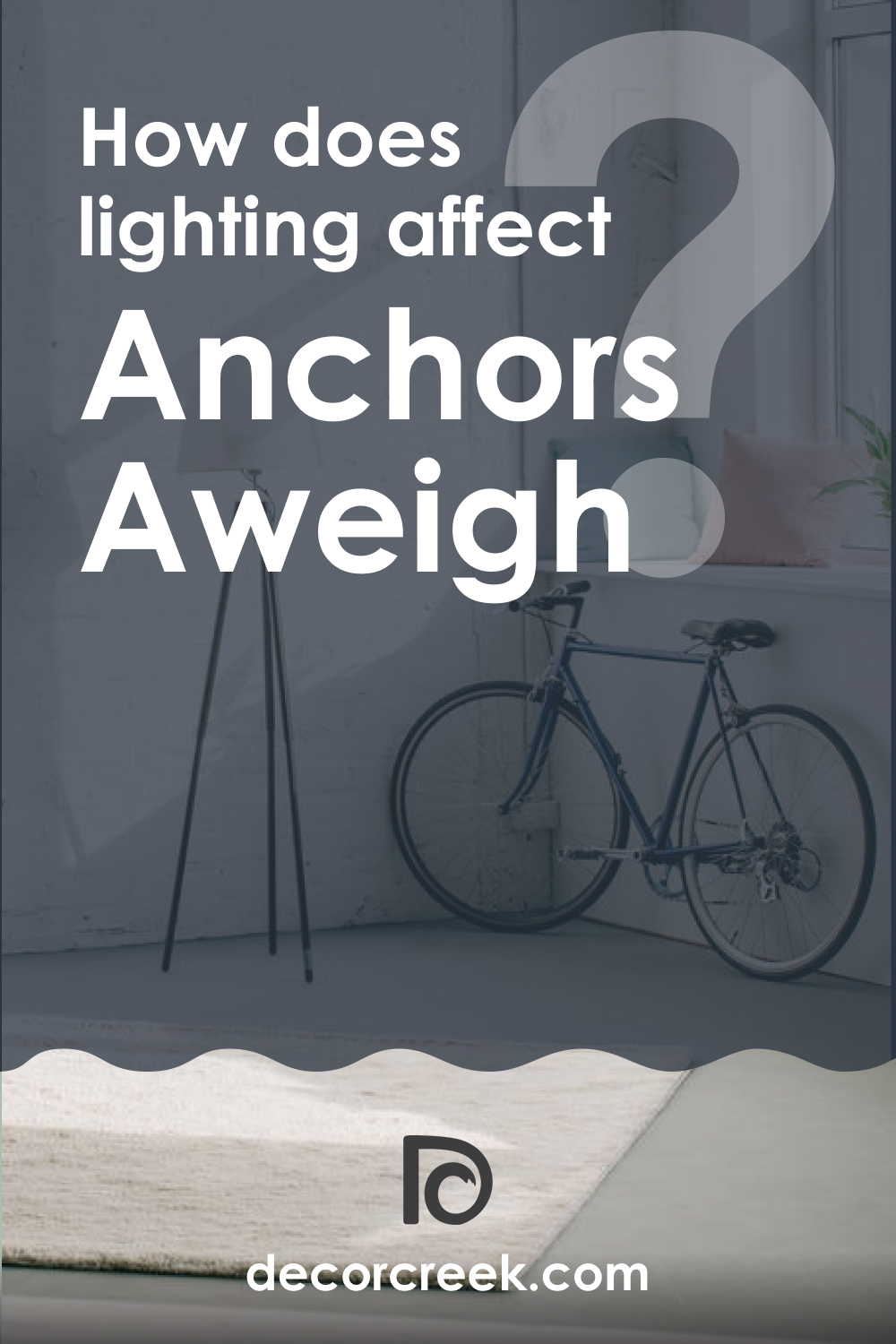 SW Anchors Aweigh has an LRV value of 3, which places it on the darkest end of the light reflectance scale. This color reflects so little light that sometimes, it may even seem nearly black! Also, note that this color is one of those dark navy blues that can create an illusion in your space, making it look smaller.
This is why natural light is a must in the room where you plan to use SW Anchors Aweigh. Only with enough light will this color read refined and elegant. Without natural light, be ready this gorgeous blue will look dull and dingy in a room.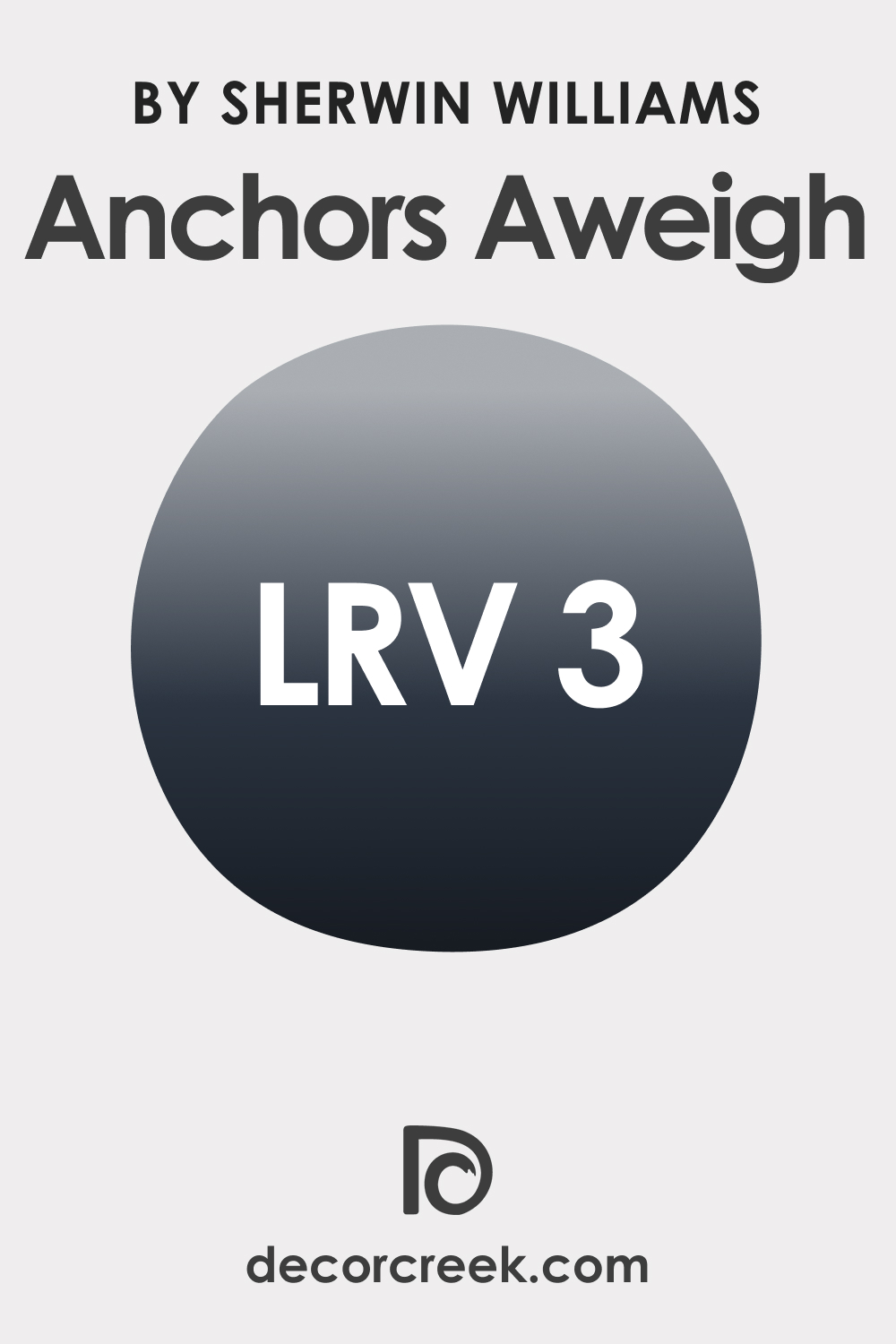 LRV – what does it mean? Read This Before Finding Your Perfect Paint Color
What Is the Best Trim Color to Use With SW Anchors Aweigh?
Traditionally, white is the best trim color to use in your home. White is universal and flexible, as well as pretty neutral, which means it will work well with most other colors. And this rule works for SW Anchors Aweigh paint color as well.
In particular, for your ceilings, trims, and moldings, we recommend you use SW Extra White or SW Pure White. They will help protrude a true hue of SW Anchors Aweigh perfectly well.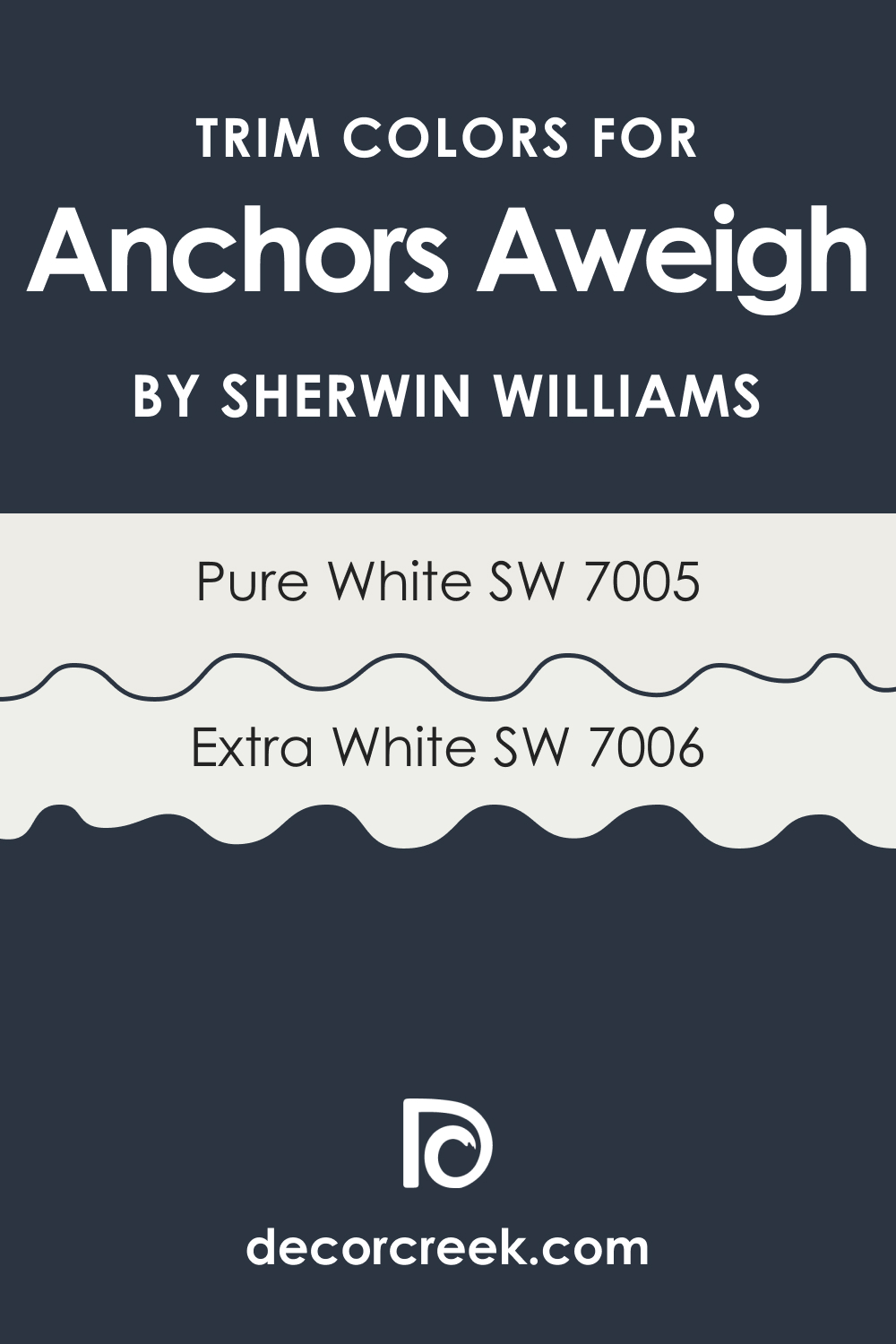 Colors Similar to Anchors Aweigh SW 9179
Knowing similar colors for your wall paint might be handy in case the color you initially selected doesn't suit your room or interior design. Also, it may help if you need a darker or lighter paint color instead of the one you were thinking about. Anyway, being aware of a few alternatives is a good idea!
Of course, it can be challenging to choose the correct color alternatives to use instead of such a dark blue as SW Anchors Aweigh! That's why you will surely appreciate this short yet helpful guide:
SW 6244 Naval
BM HC-154 Hale Navy
Let's take a closer look at each alternative color in detail. Speaking of SW Naval, it is a less deep shade of navy blue than SW Anchors Aweigh. But since its LRV is 3, this color is equally darker.
As for BM Hale Navy, its LRV is 8, which means this color is lighter as compared to SW Anchors Aweigh. If you want a blue hue that is not too bold, BM Hale Navy is the one you should look forward to!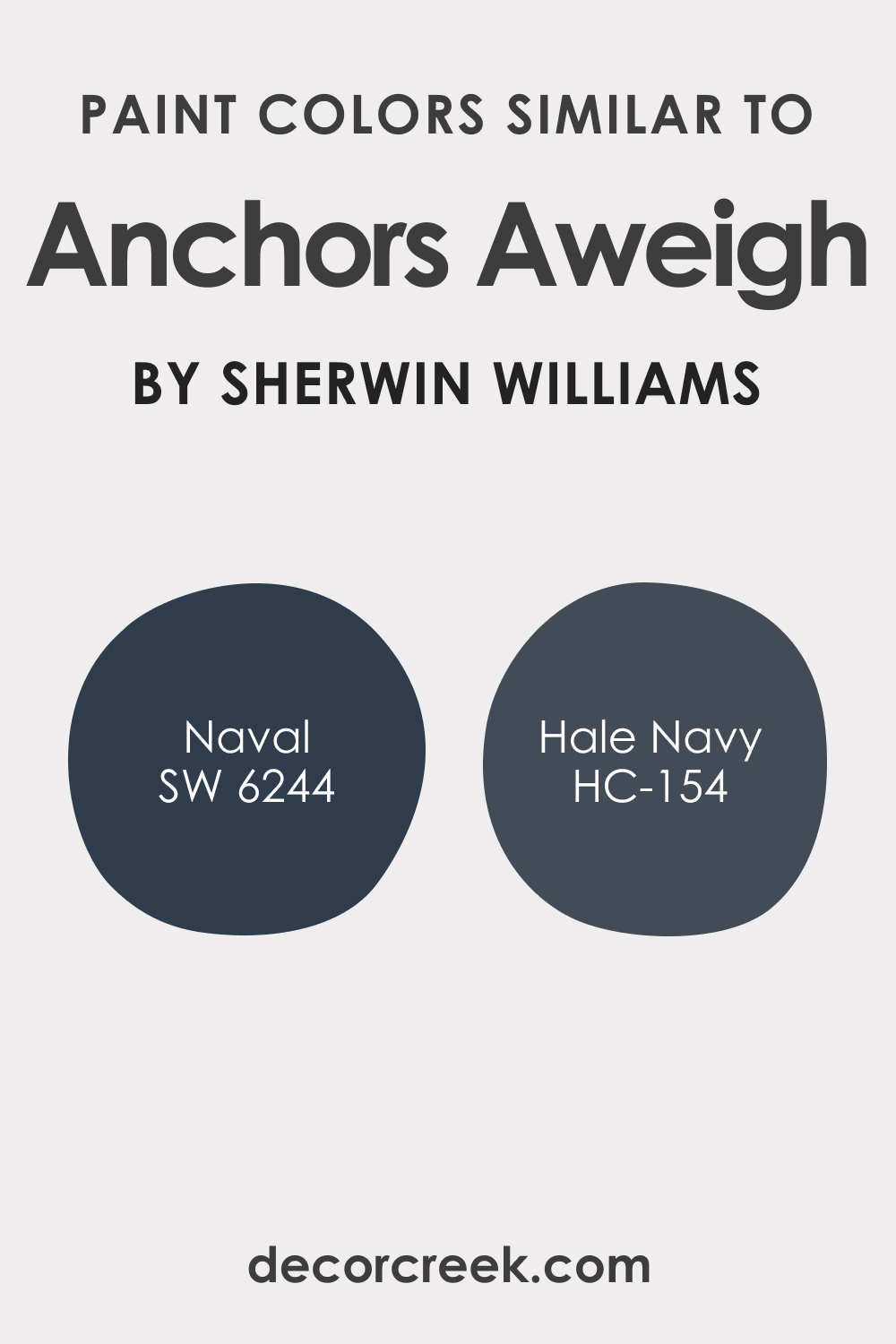 Colors That Go With Anchors Aweigh SW 9179
You may think that this blue is hard to pair with other colors due to its characteristics, but in fact, SW Anchors Aweigh has quite many colors that will work with it successfully!
So, if you want a more colorful look in your home but you don't know what colors to choose, consider the following ones: creamy whites, crisp whites, lighter yellows, mustard, sage greens, lighter blues, and grays.
SW 6395 Alchemy
SW 6259 Spatial White
SW 7623 Cascades
SW 6526 Icelandic
SW 7012 Creamy
SW 7642 Pavestone
SW 7538 Tamarind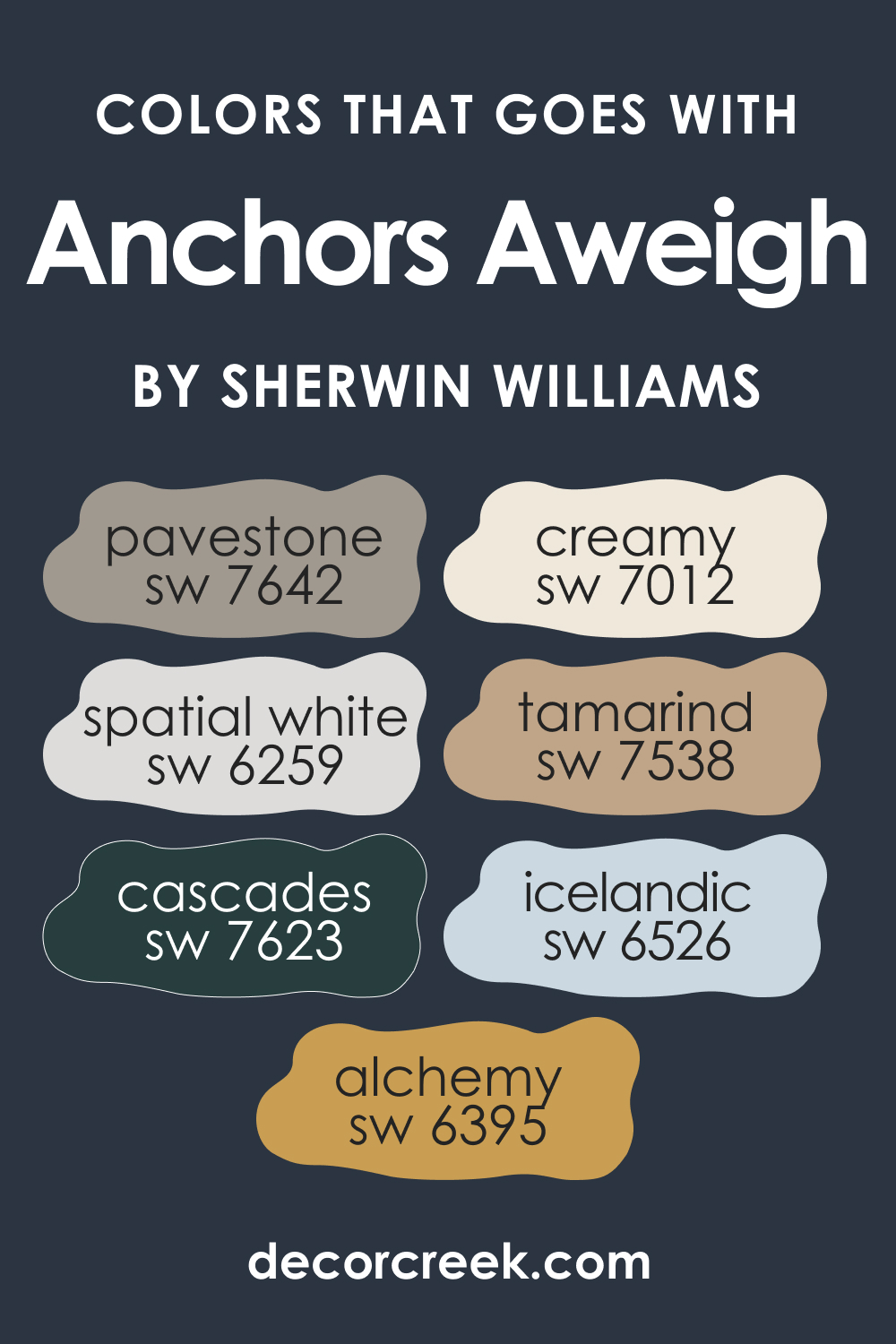 Comparing SW Anchors Aweigh With Other Colors
Blue is a pretty versatile color, but for a non-professional, it can be difficult to see the distinctions between different hues. This is why, in order to help you out with shades of blue, we have prepared a few comparative pairs of colors. Below, you can read how SW Anchors Aweigh differs from similar blues.
Anchors Aweigh vs. Naval
These colors are so alike that you can use them interchangeably with great success! SW Naval is also navy blue, but it reads less deep than SW Anchors Aweigh. However, since its LRV is 3, this color is equally darker.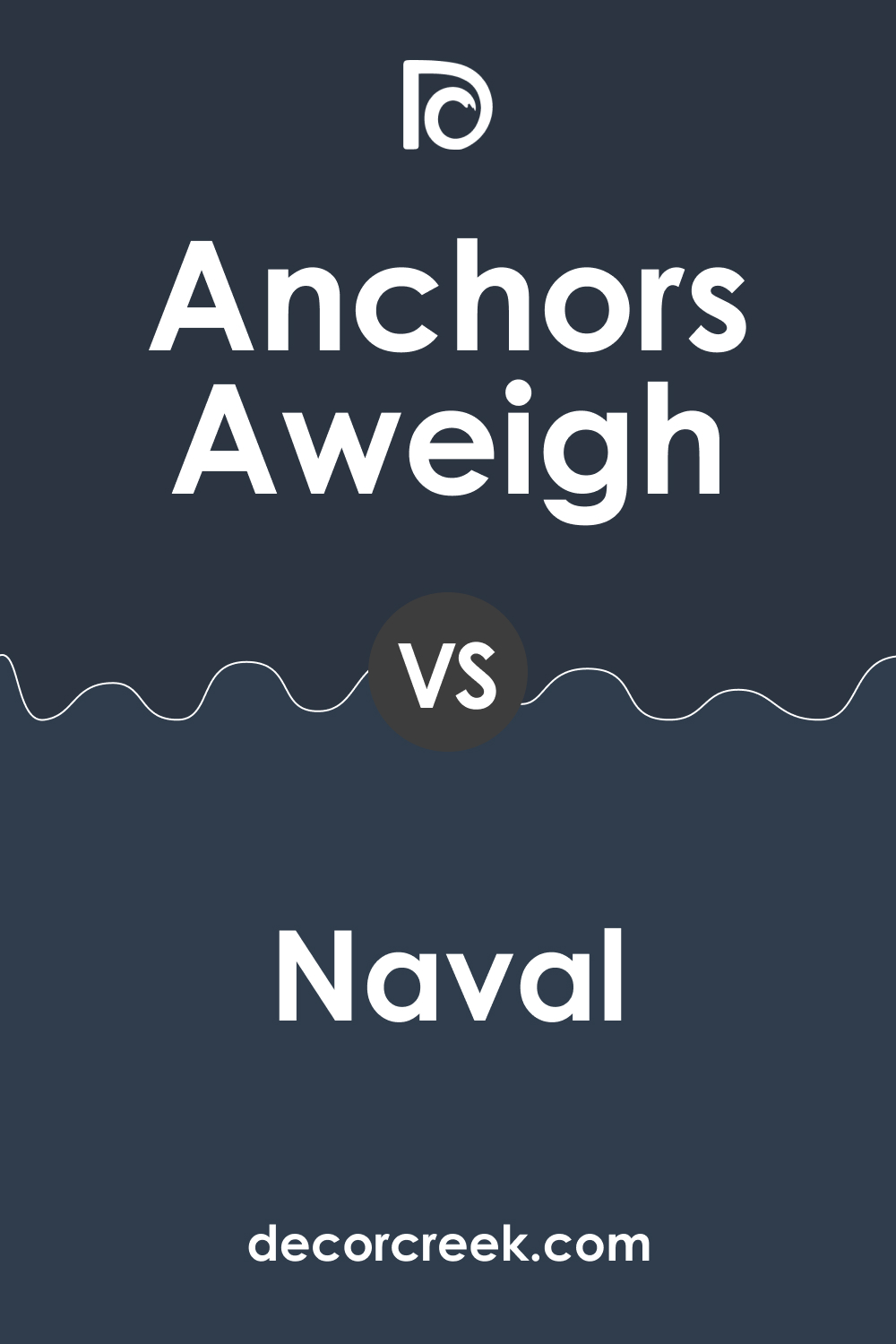 Anchors Aweigh vs. In the Navy
It can be hard to see the difference between these two, but it exists. SW In the Navy is bluer and somewhat lighter than SW Anchors Aweigh. Also, SW In the Navy may sometimes seem a bit greenish compared to its deeper and nearly black counterpart.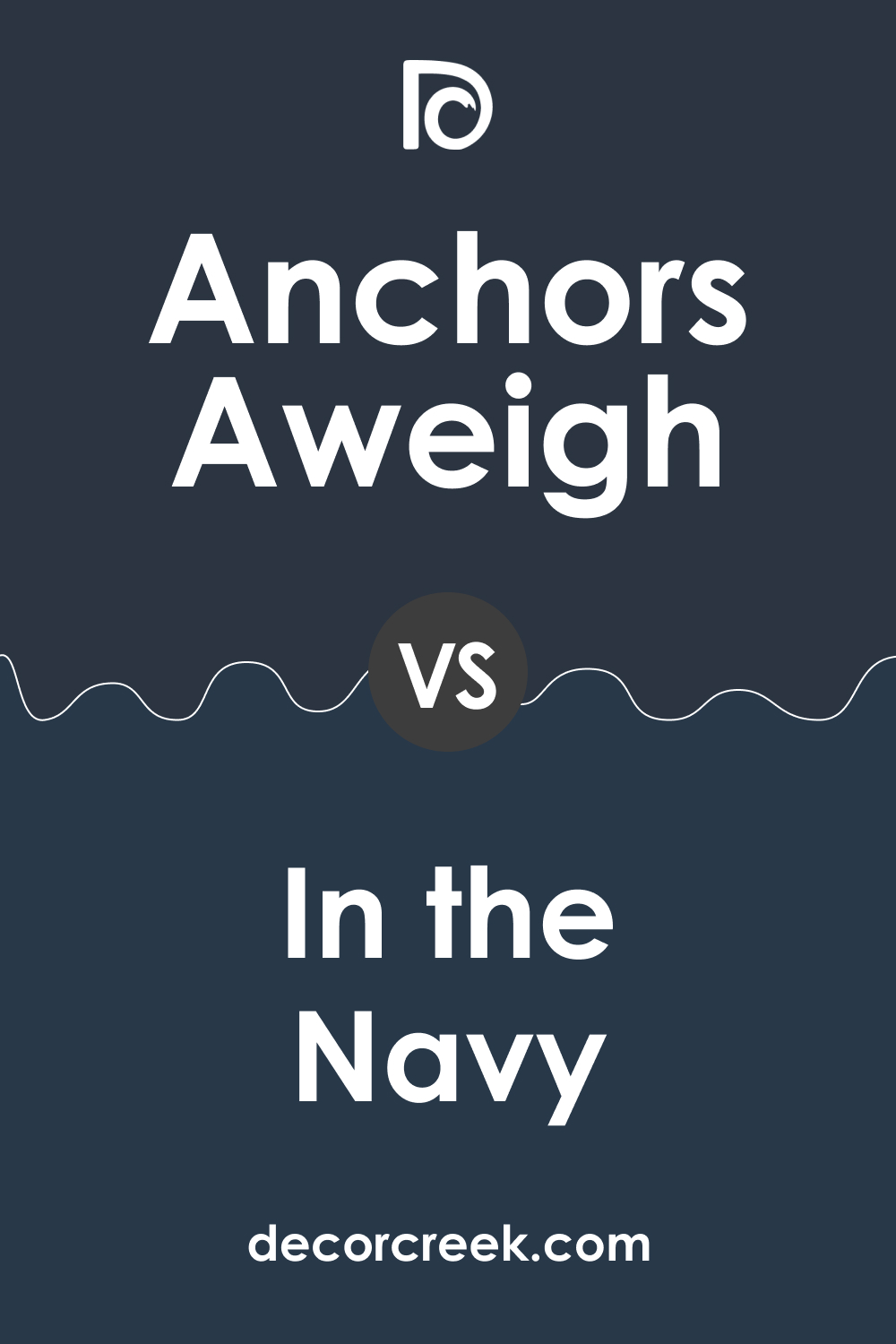 Anchors Aweigh vs. Charcoal Blue
SW Charcoal Blue is a dark blue-gray color with an LRV 6. It means that it reads lighter and also somewhat more muted compared to the much deeper and darker SW Anchors Aweigh, whose LRV is 3.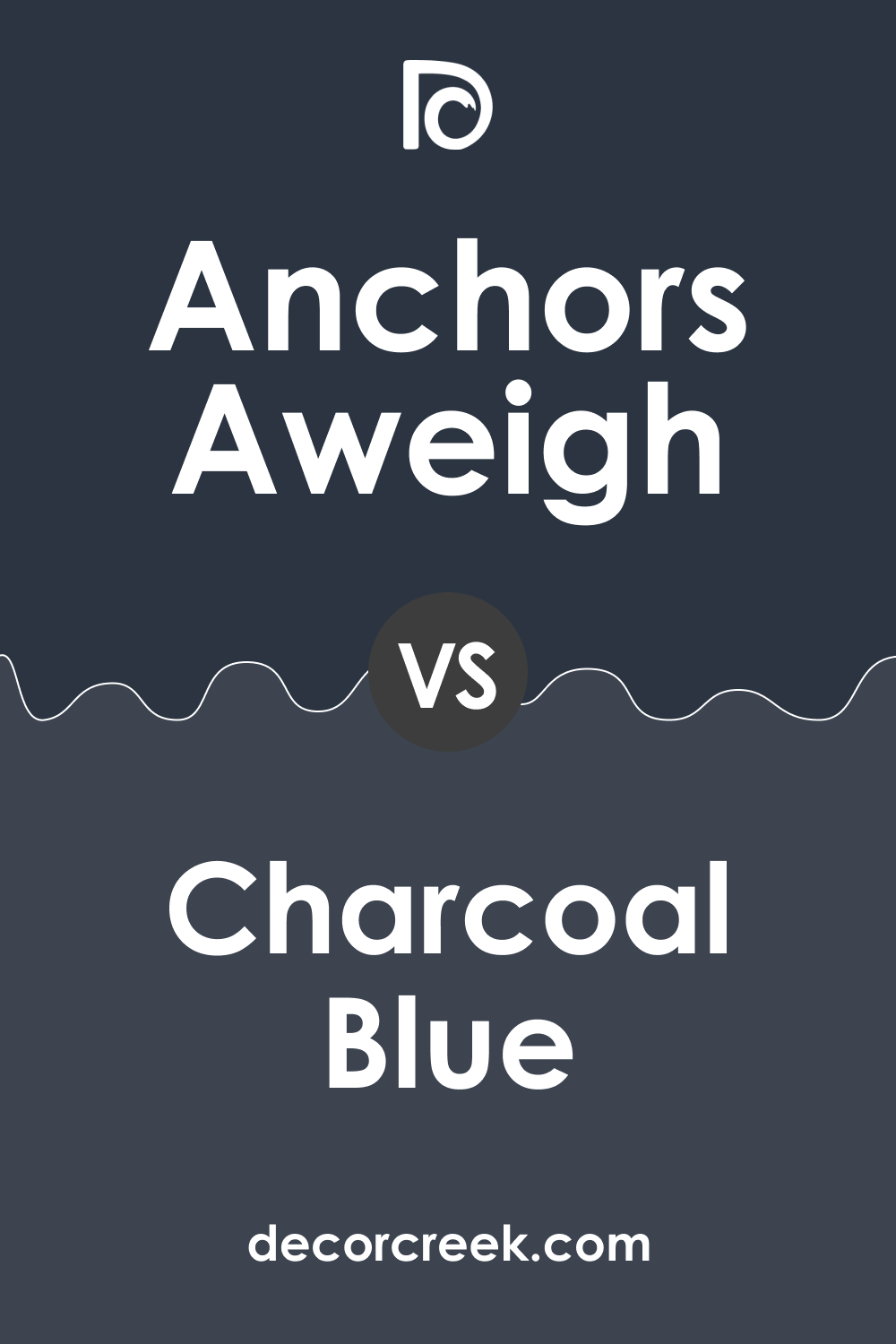 Anchors Aweigh vs. Hale Navy
BM Hale Navy has an LRV of 8, which means this color is lighter than SW Anchors Aweigh. This is why it works best in rooms where you want a blue hue that is not too bold.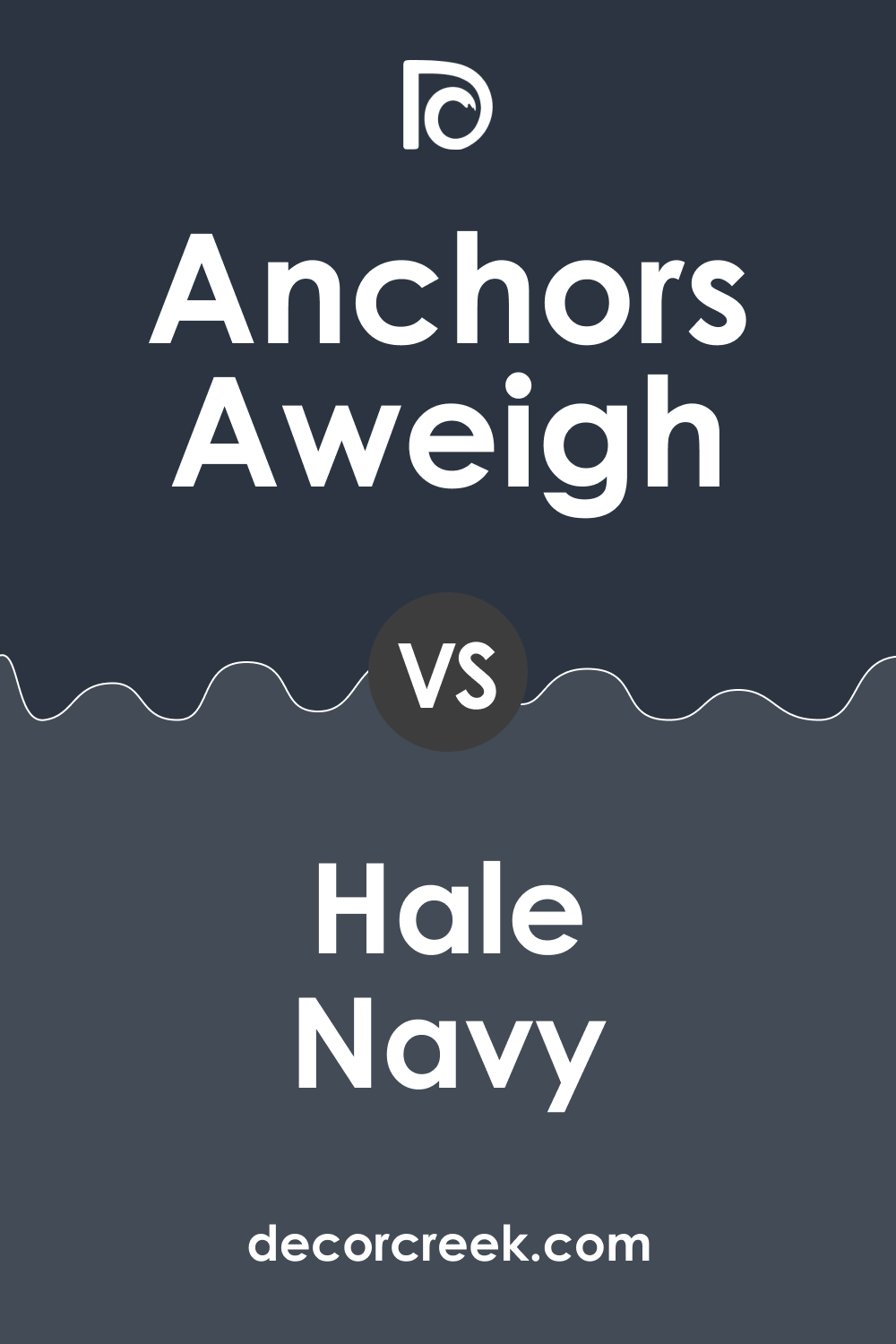 Anchors Aweigh vs. Tempe Star
SW Tempe Star is also blue, but it has noticeable slate gray undertones that add a greenish hue to this deep color. This greenish base is what makes SW Tempe Star different from SWAnchors Aweigh. Also, these blues have distinct LRVs. The LRV of SW Tempe Star is 10.5, whilst its darker "colleague" has an LRV of 3.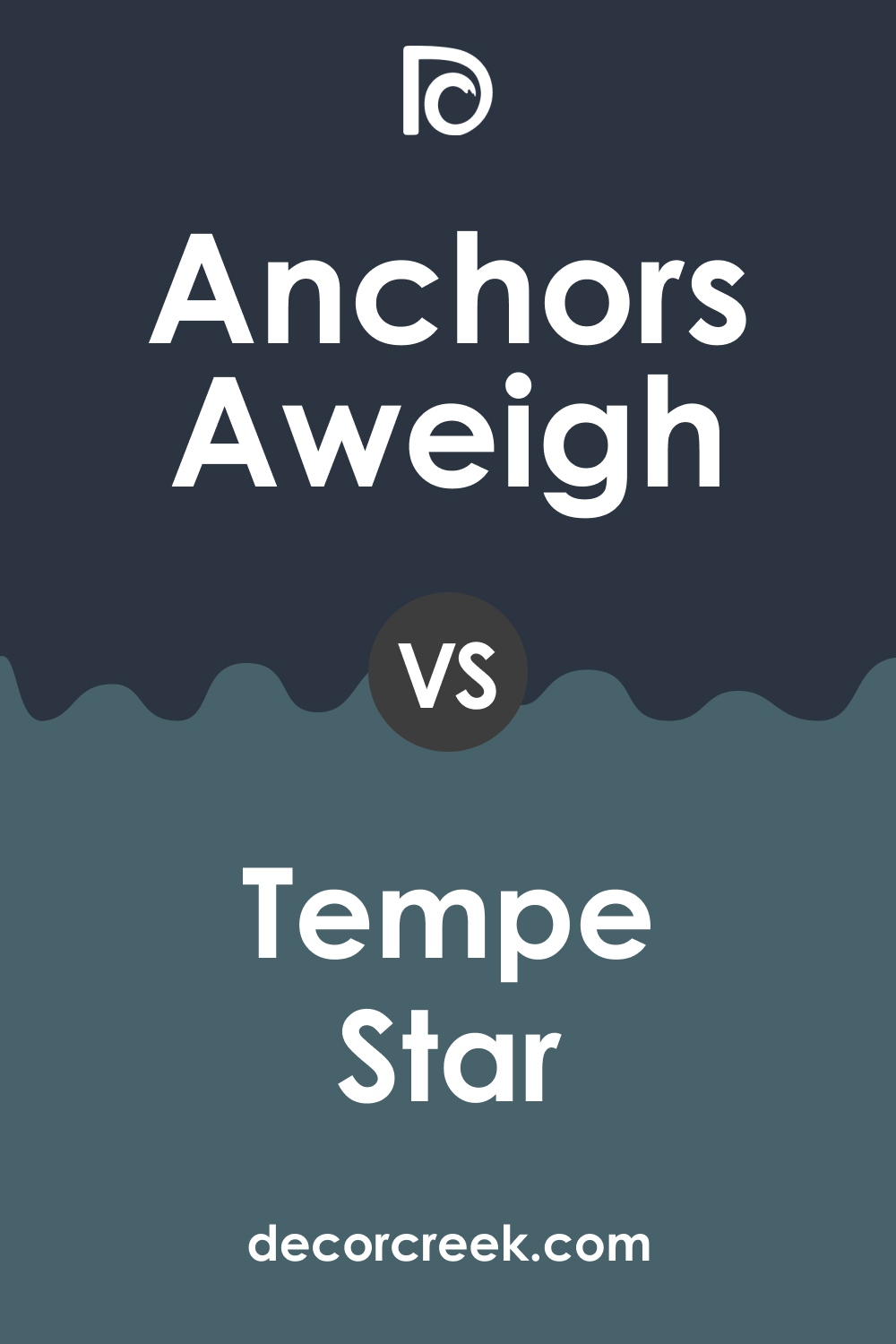 Anchors Aweigh vs. Smoky Azurite
SW Smoky Azurite has yellow-gray undertones and an LRV of nearly 25. As a result, it reads much lighter than SW Anchors Aweigh. Moreover, this lighter blue displays its yellowish hue more prominently if you palace it side by side with its darker "cousin."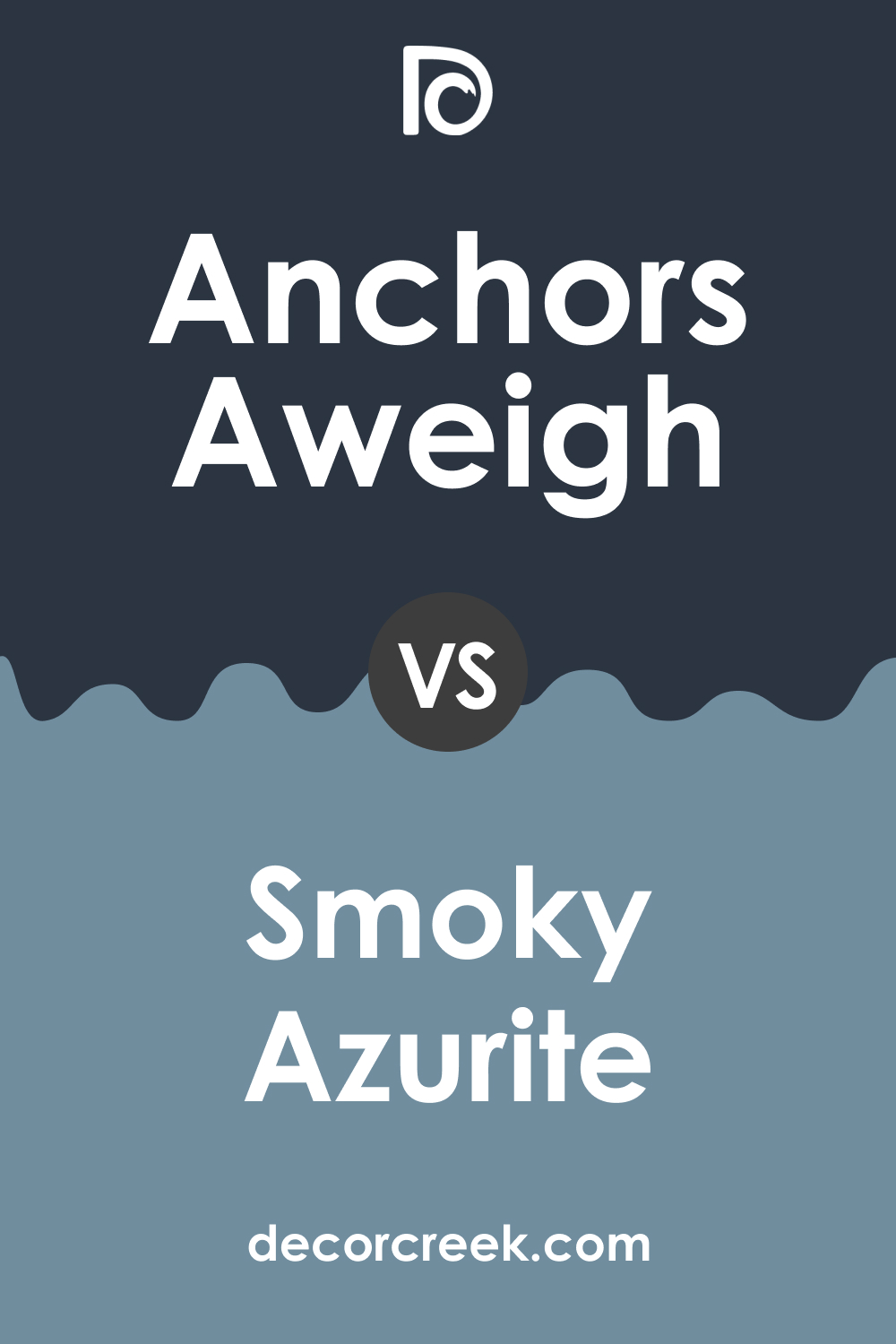 Where to Use SW Anchors Aweigh Paint Color In Your Home?
Finding the room that will host the paint color best of all is a challenge! Not all paint colors are so versatile that can be used in any room. You have to consider the lighting conditions, other colors, and even the texture of fabrics and furniture to succeed.
Below, you can find a description of how SW Anchors Aweigh will work in different rooms of your home. This guide will help you understand better where in your home this blue will be a win-win color choice and where you should avoid using it (if you should).
Anchors Aweigh SW 9179 in the Living Room
You can paint all the walls with this dark blue if the size of the room allows that. Also, using it on all the walls is OK if you have an open-concept plan. Otherwise, simply painting an accent wall is enough.
This color pairs beautifully with crisp white on the adjacent wall and ceiling, as well as beige upholstery. You can also add accents like mustard, lemon yellow, or sage green.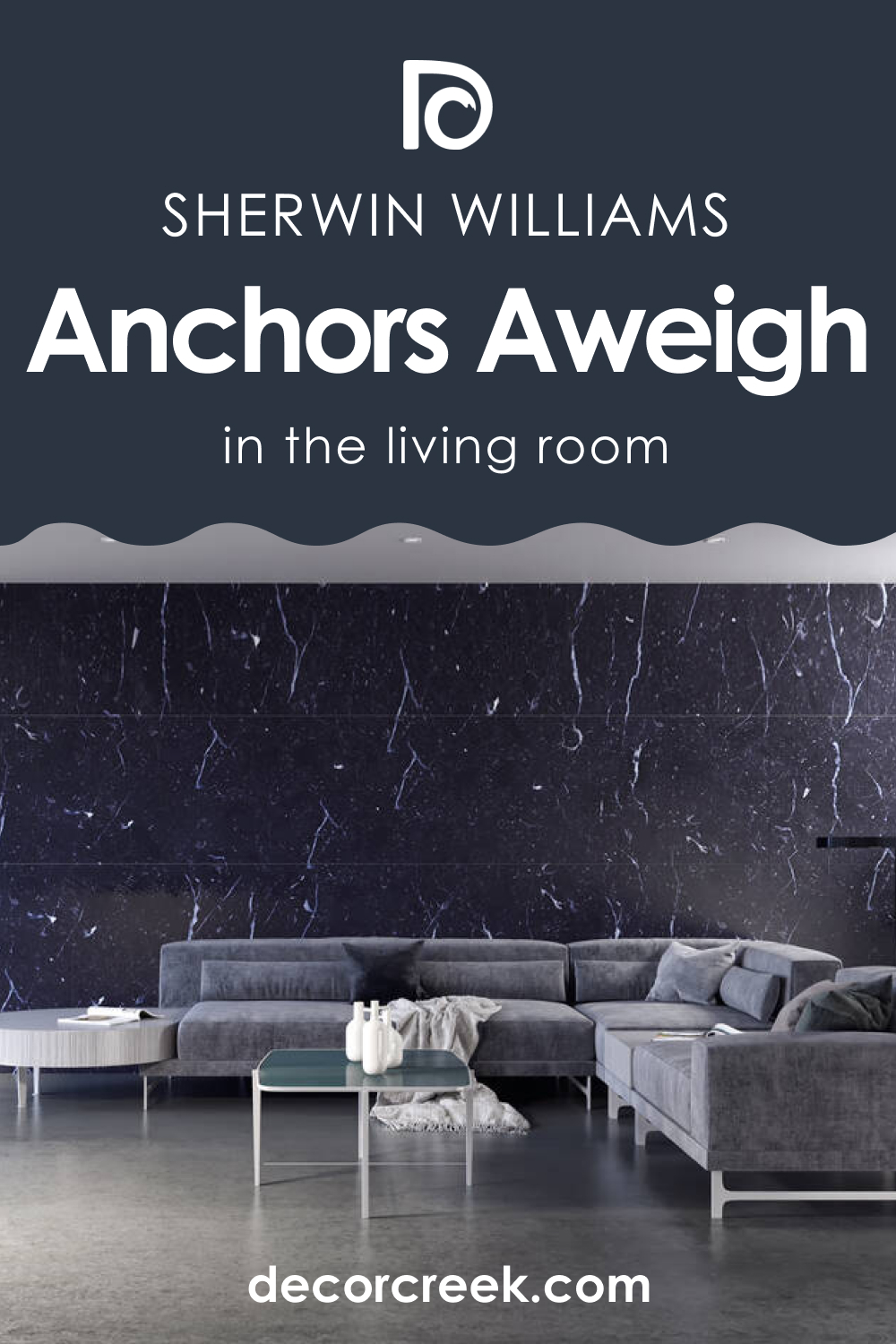 Anchors Aweigh SW 9179 in a Bedroom
Using SW Anchors Aweigh on the accent wall of your bedroom might be a good idea to add character to the room. You can also add white on the adjacent wall, sheer white curtains, and crisp bedding to achieve a clean and refined look. More whites will also help you make the space feel lighter.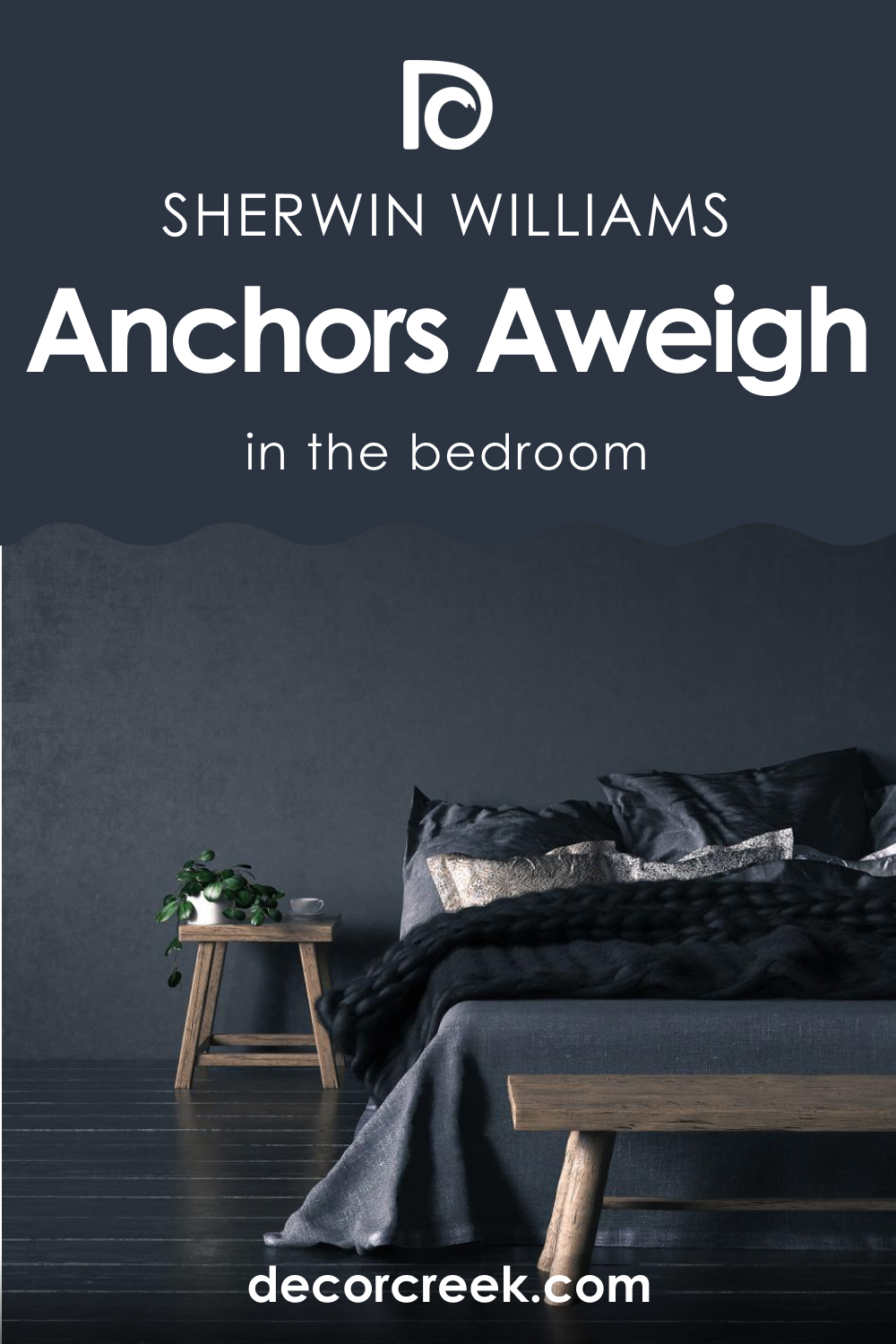 Anchors Aweigh SW 9179 on the Kitchen
The best way to use SW Anchors Aweigh is on the kitchen cabinets. This deep and bold hue will pair nicely with the crisp white backdrop wall and white backsplash tiles. Also, you can pair it with a white marble countertop for a refined look.
For the backsplash, we recommend you opt for vintage patterned tiles to add a unique feature to the space. SW Anchors Aweigh works great with brushed brass or gold accents on the pull handles, so don't skip them!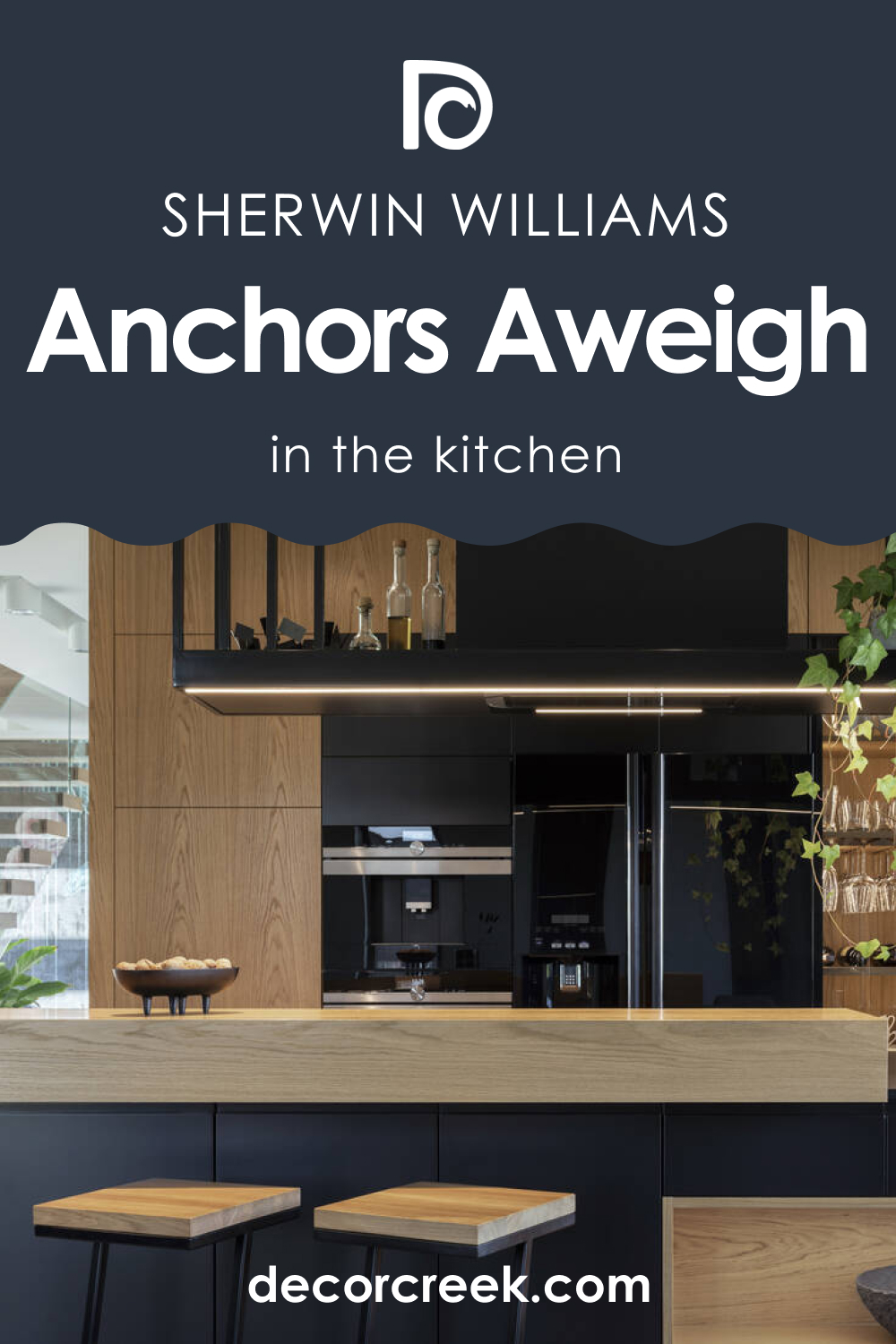 Anchors Aweigh SW 9179 and Bathroom
If your bathroom has no natural light, avoid using SW Anchors Aweigh as a wall color. Better paint the vanity with it, leaving the walls white. This will create a focal point in the space and won't make your bathroom feel enclosed at the same time.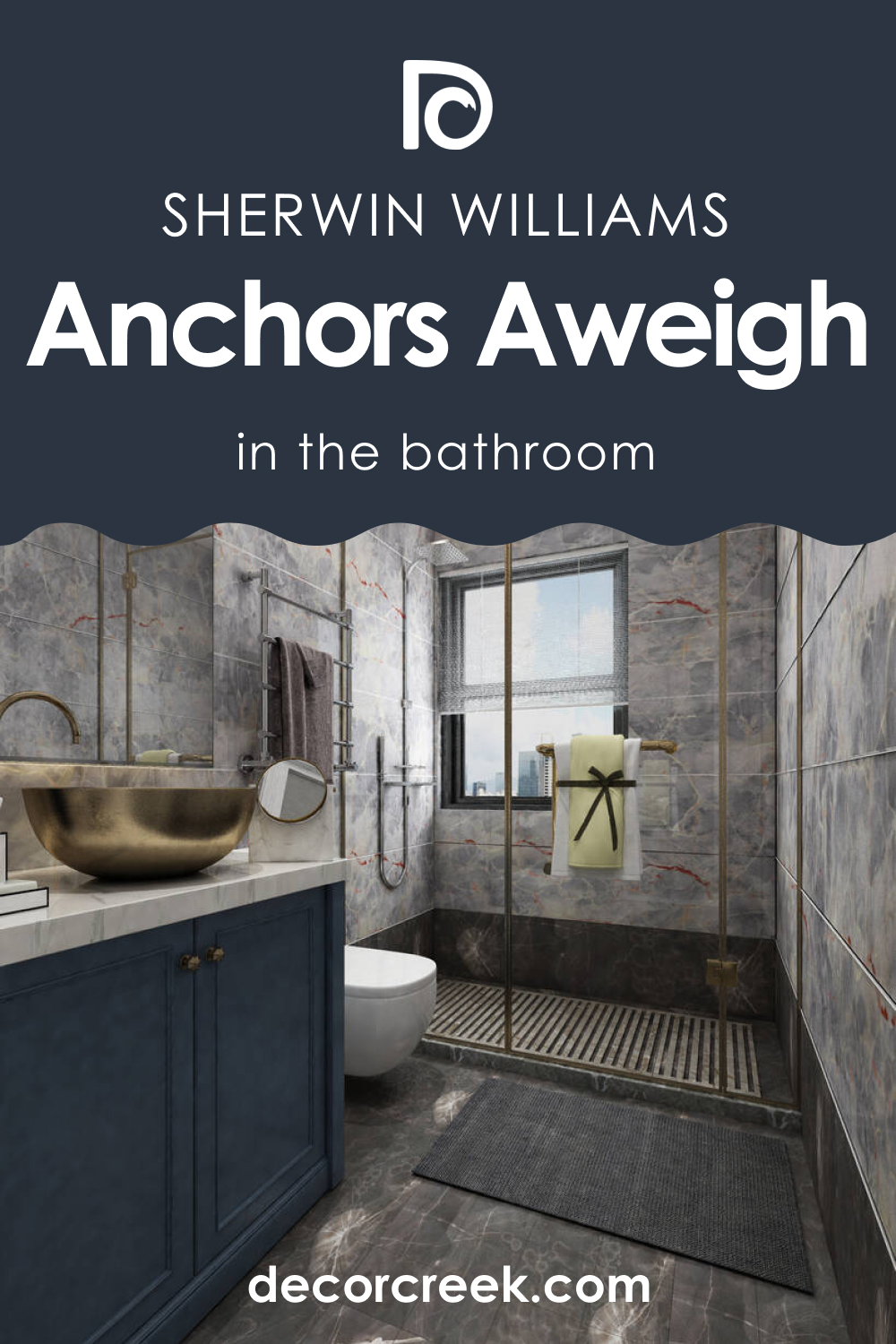 Anchors Aweigh SW 9179 for the Exterior Use
Sherwin-Williams Anchors Aweigh will make a wonderful and bold statement on the exterior walls of a traditional style or Craftsman, Ranch, or transitional home. You can paint the shiplap walls in this dark and bold color and paint the trims and moldings in pure white. For the shutters, door, and window frames, gray will be an ideal option.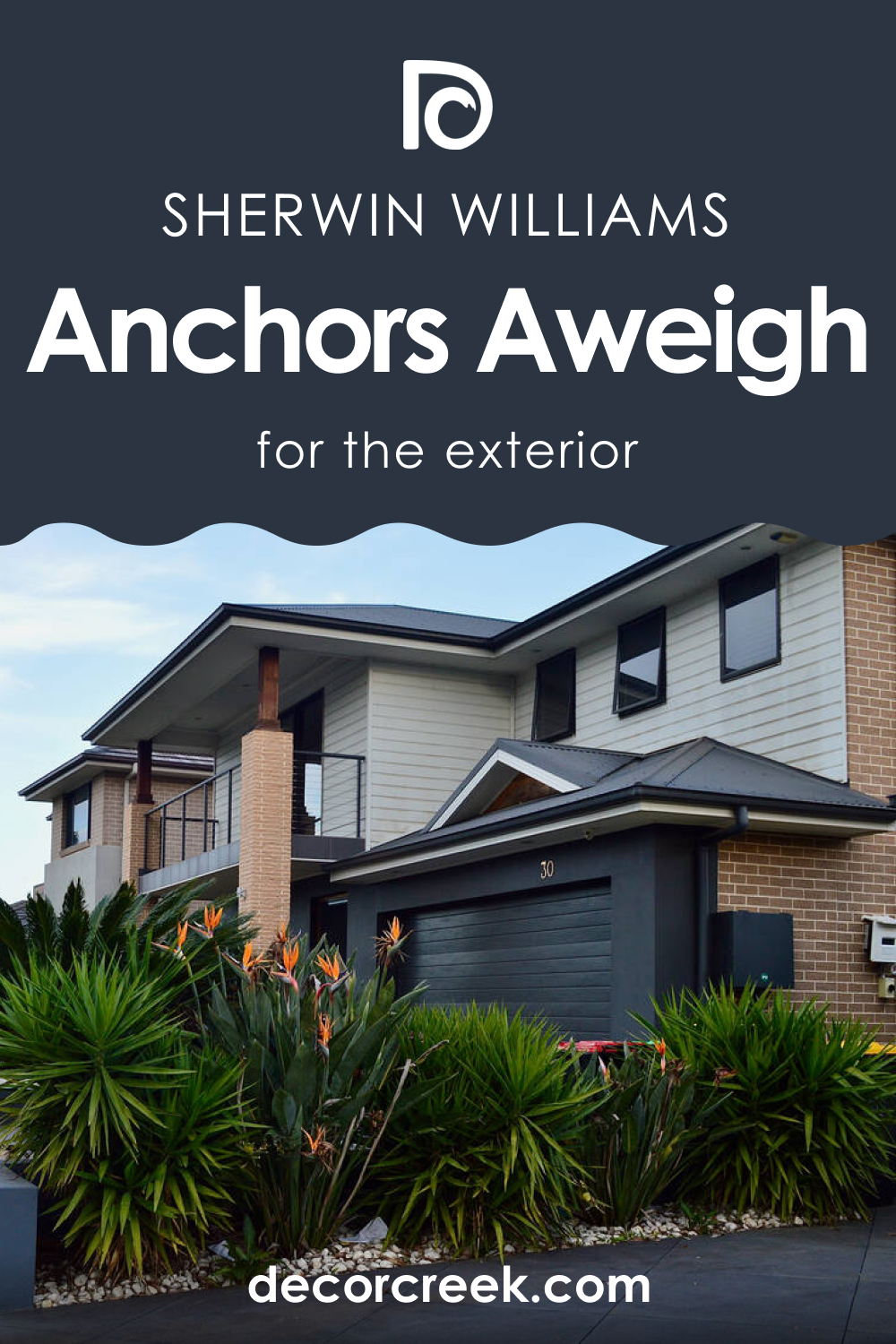 Now you know what kind of blue SW Anchors Aweigh is. Yes, it's dark and bold. Yes, it can add an exquisite and unique vibe to your home. However, this can be achieved only if you know its specifics and how to use them!
But since now you have all the necessary information, you will easily make this fabulous hue reveal its true color in your home!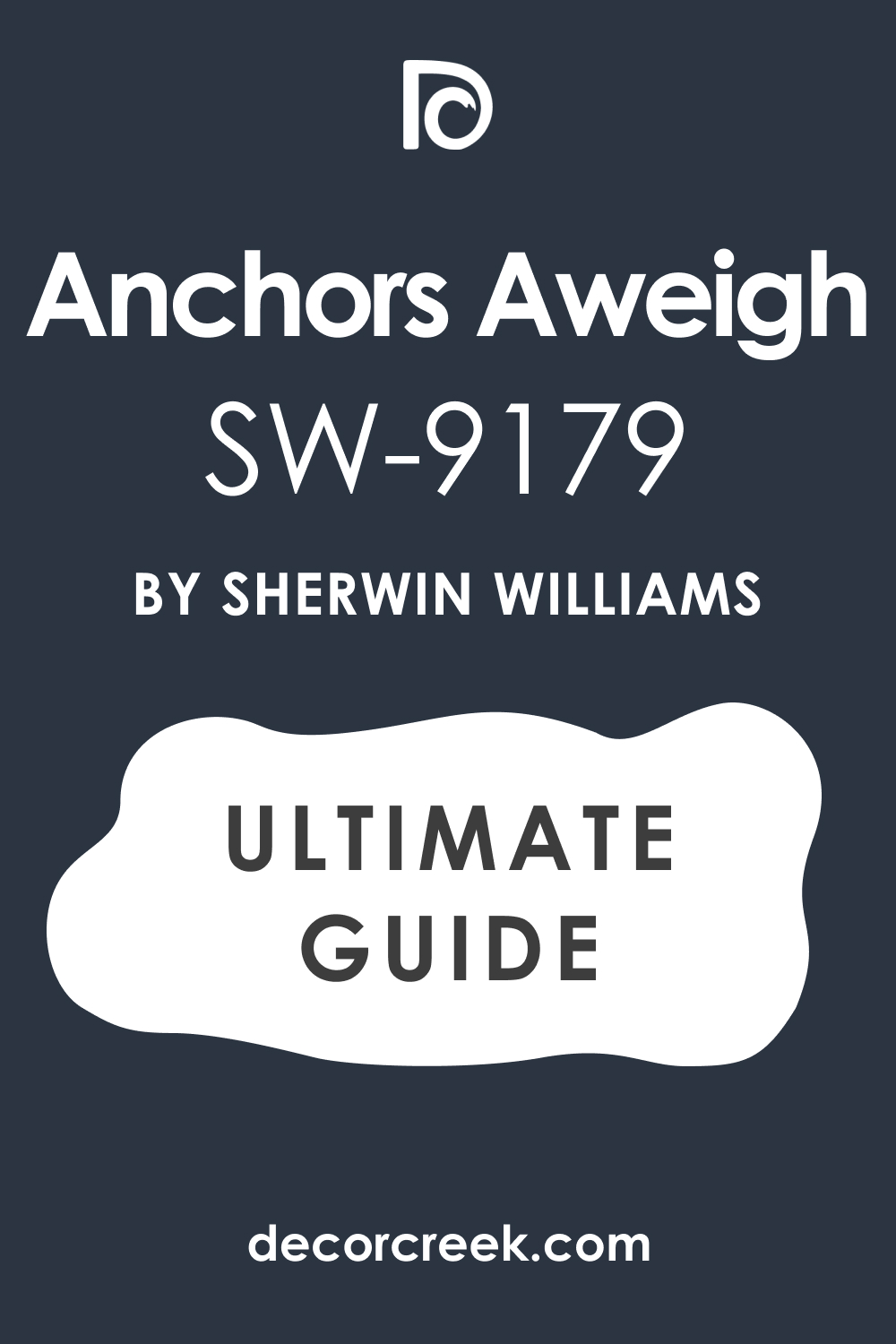 Frequently Asked Questions
⭐Does this color look black?
No, typically, it doesn't. But in specific lighting conditions, it may seem nearly black!
⭐Does SW Anchors Aweigh work with creamy whites?
Not quite. Softer/creamier whites won't look good with this blue because it's cool-toned.
⭐Will this blue color pair with golden decor elements in a room?
Absolutely! Golden accents will highlight its depth and create a lux vibe in the room.