Since most of us are unaware of the basics of color theory, we prefer using simple colors in our homes. This is why you can mostly see neutrals or greiges on interior walls. However, if you are one of those homeowners who are tired of all neutral and beige, here is a nice color for you to try. It's called Studio Blue Green. Interesting, right?
Today we are going to tell you more about this paint color by the Sherwin-Williams brand. In particular, you will find out why it has such a mixed name with both blue and green in it, and where in your home this color can be used.
Also, we will tell you about its LRV and undertones, as well as trim colors and coordinating colors. It will help you to use this color in your home more successfully.
What Kind Of Color Is SW Studio Blue Green?
First of all, you might be wondering what color exactly it is. So here is the answer: SW Studio Blue Green  is a grayish spring green color. Its luminance is approximately 52% and it has a hue value of 162°, which means that it is a cold color.
On the walls, this color reads muted green with a slight hint of blue, as Encycolorpedia says. In general, it looks calm and well-balanced and can be successfully used in classic interiors as the wall color.
However, thanks to its surprising versatility, SW Studio Blue Green will also look nice on cabinets, and even on exterior walls!
By the way, the Sherwin-Williams brand officially classifies this color as one that can be used both on interior and exterior walls.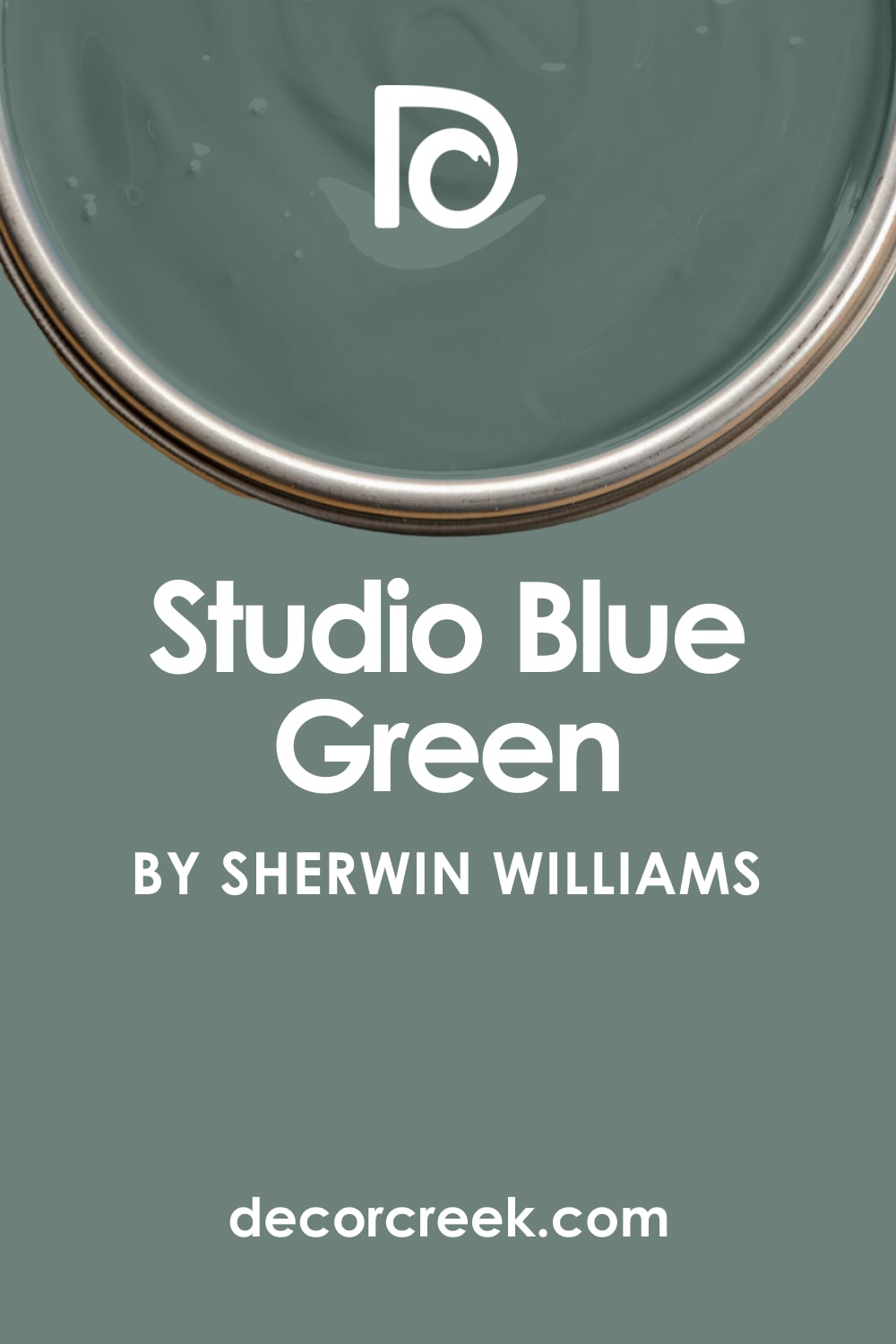 Studio Blue Green Undertones
A paint undertone is a color you don't see that can cause the main color (tone) to feel warm or cool. This is why being aware of undertones is mandatory! It allows you to use the color correctly and pick other colors for the living space respectively. Speaking of SW Studio Blue Green, this color only seems so simple! In fact, it is pretty tricky to use indoors.
See, this paint color has blue and green undertones that are perfectly mixed, however, both may show up on your walls quite unexpectedly if you use the wrong lighting! As a result, you may end up with a wall color that leans closer to green whilst you wanted blue, and vice versa.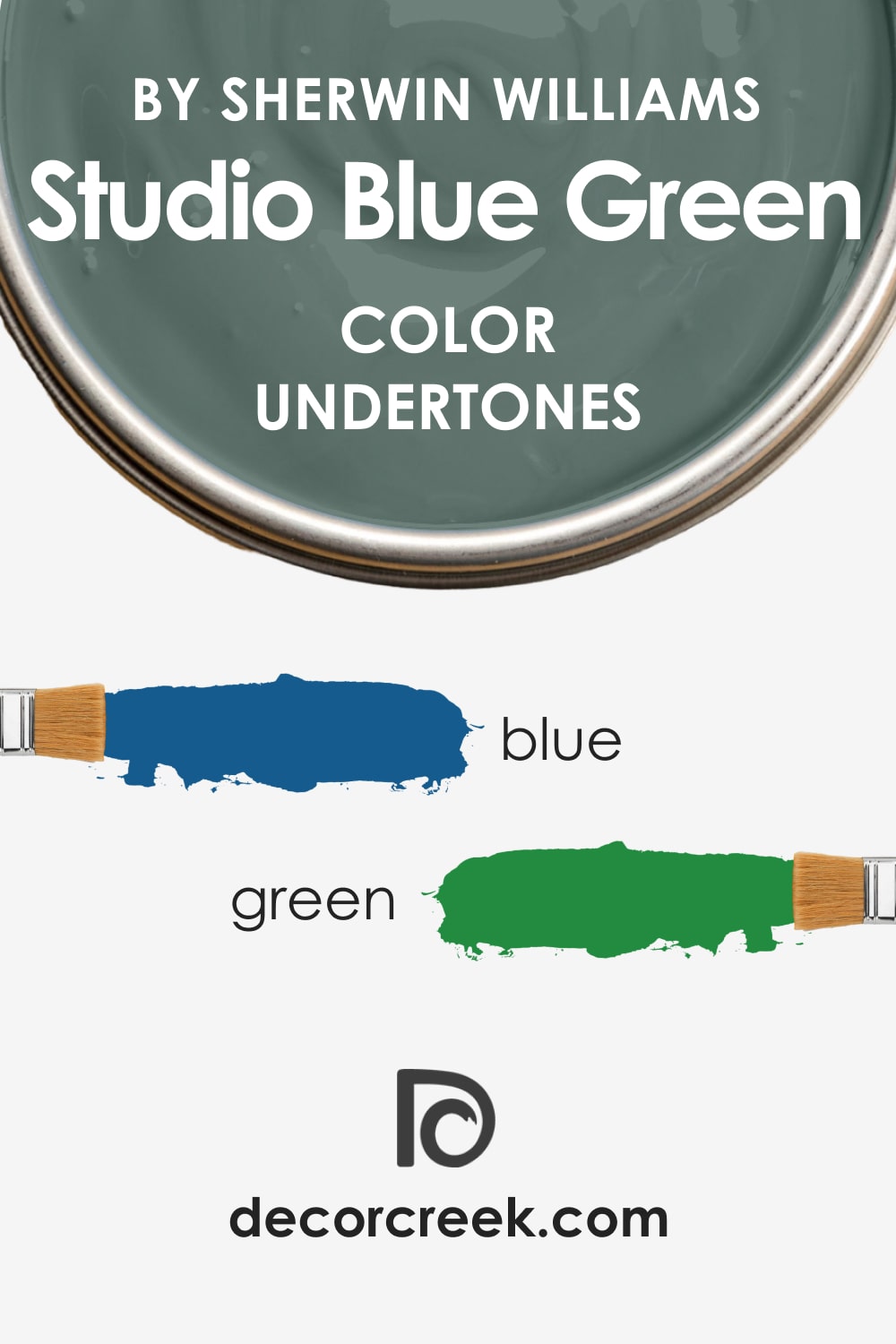 How SW Studio Blue Green Reacts to Light?
Since this paint color has combined undertones, it may read differently on your walls depending on how well the space is lit. In warm and cold lighting, SW Studio Blue Green may show more of its green or gray side respectively.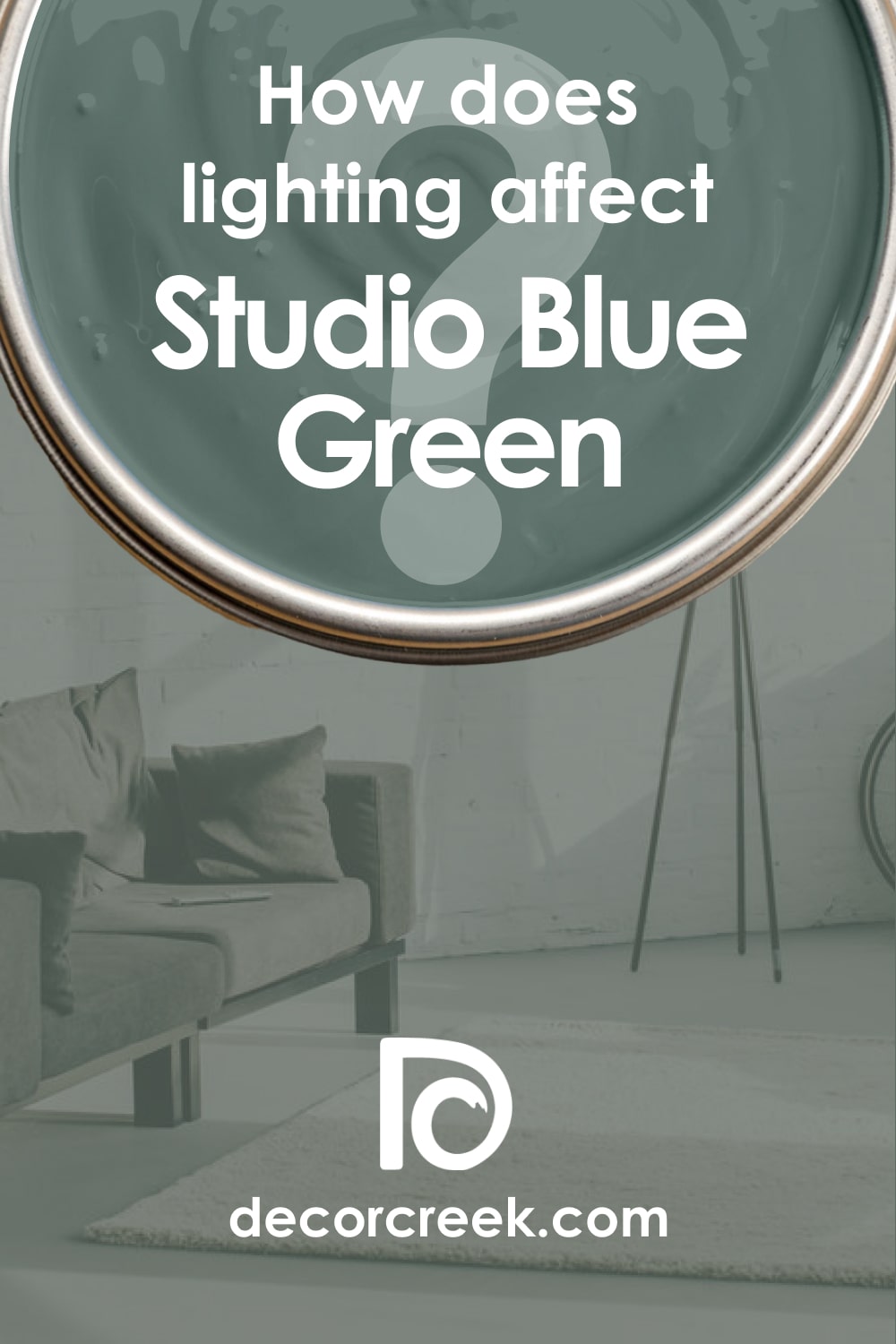 For example, you should note that in a room with cold northern light, this color will read closer to the grayish side. On the other hand, in a room with plenty of warm daylight, SW Studio Blue Green will look warmer, showing its green undertone more noticeably.
Also, you need to keep in mind that all the surrounding colors play an important role in how SW Studio Blue Green read in your living space!
It means that in a room with a cool-toned color palette, it will read colder, and in a room with warm-toned colors, SW Studio Blue Green will lean to its warmer side.
This is why, if you want it to look less cold, consider using upholstery, curtains, and carpets of warm-toned colors.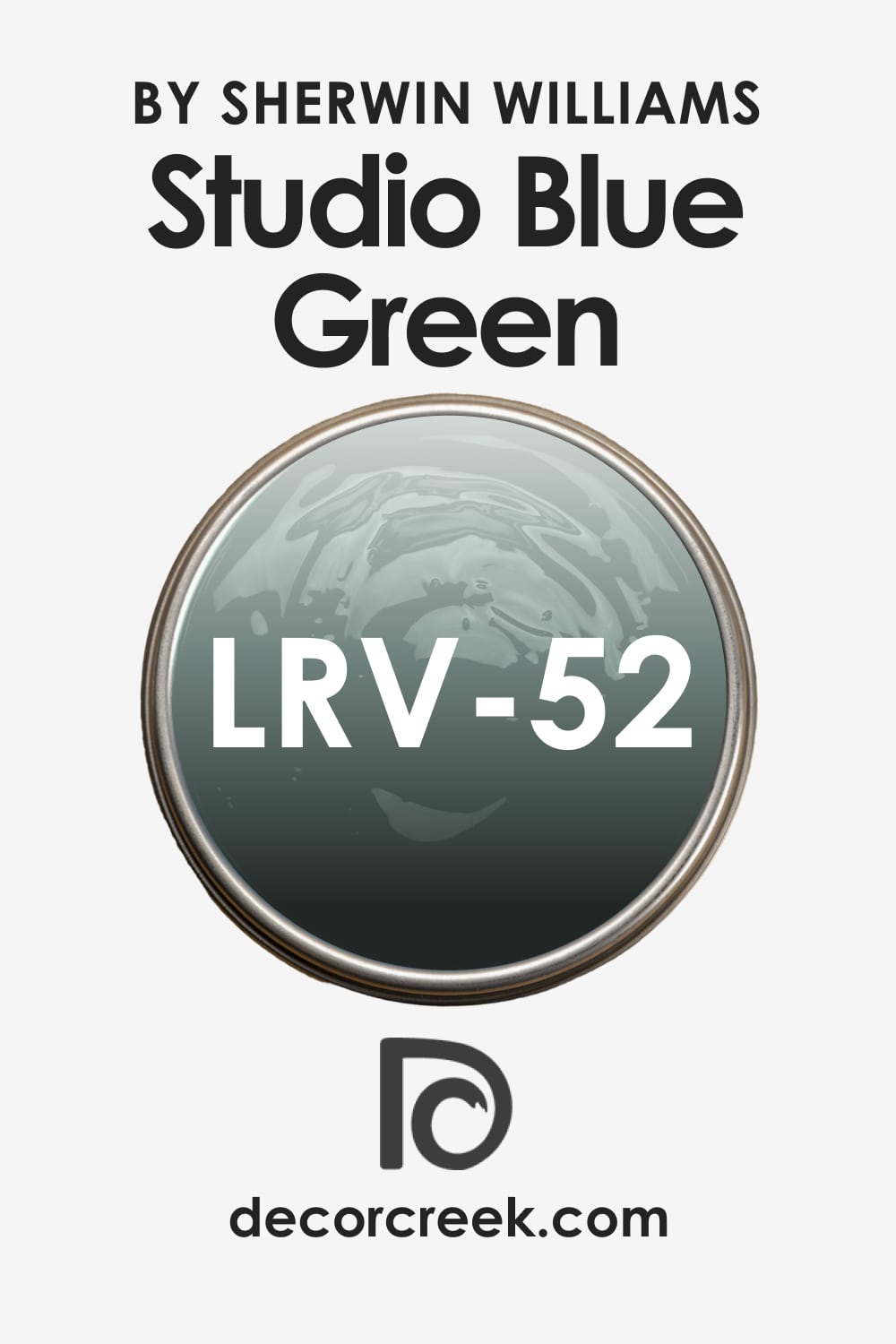 LRV – what does it mean? Read This Before Finding Your Perfect Paint Color
Coordinating Colors of Studio Blue Green SW-0047
In order to be able to create a balanced and harmonious space in your home, you need to know how to coordinate colors correctly there. And since it is quite a difficult task (especially for amateurs), grab a few ideas on color options that will suit SW Studio Blue Green:
SW Oyster White
SW Ethereal Mood
These were the basics of a beautiful yet rather tricky paint color called SW Studio Blue Green. However, this is not enough for being able to use it like a pro! So we suggest you read on and find out more details about this green-blue paint.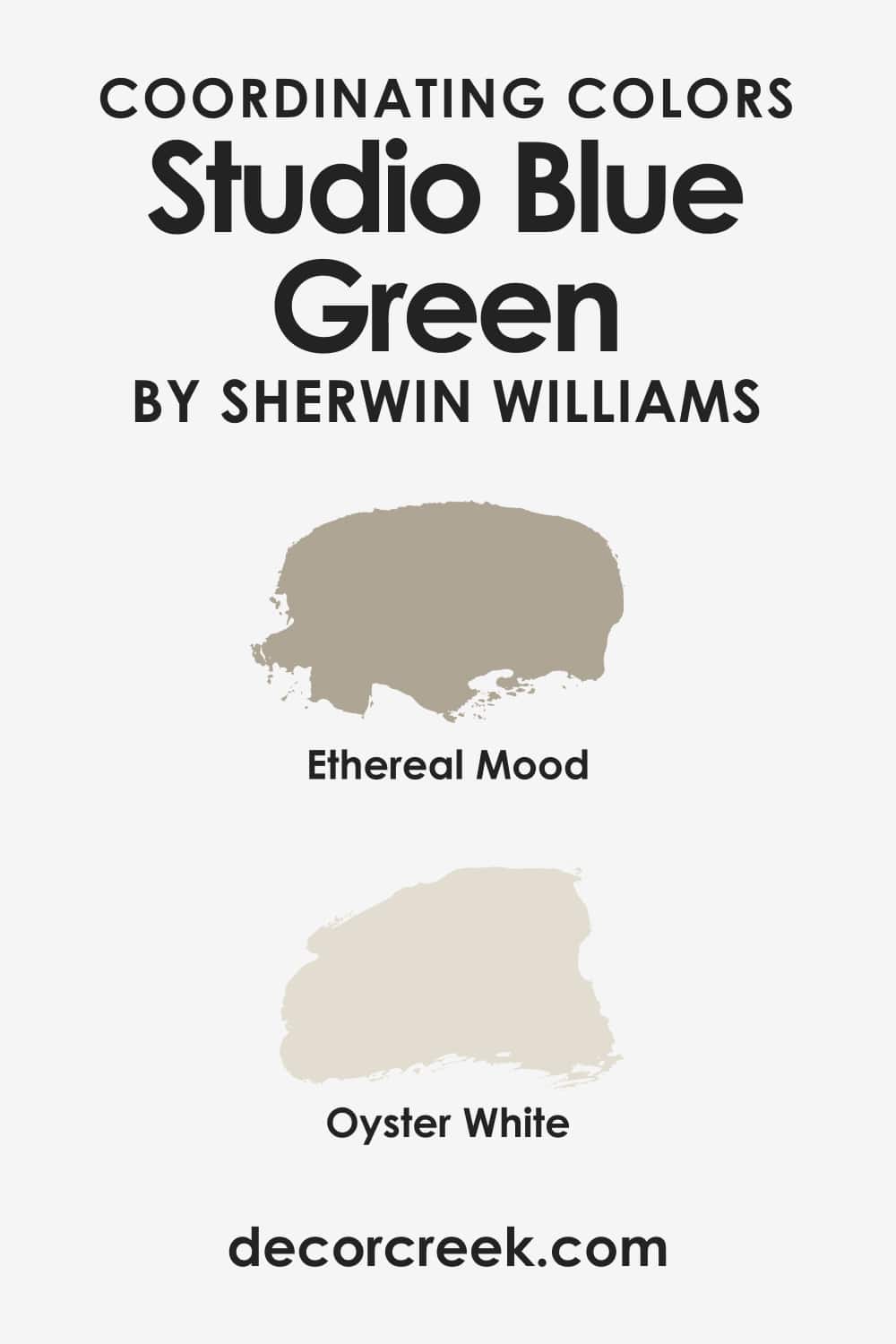 Colors That Go With SW Studio Blue Green
The more balanced the color palette in your home the more cozy and elegant the living area looks even though the colors you use are rather cool-toned. But how is it possible to pick the colors that will work well with the paint on the walls?
This is the most common stumbling stone for homeowners since people often lack knowledge in color theory and color combination. However, we are here to help you out. Just check out what paint colors will go well with SW Studio Blue Green.
First, there is a monochromatic color scheme. The monochromatic scheme consists of paint colors on the color wheel that are near to the base color (which is Studio Blue Green).
As the colors of the monochromatic scale are close to each other, they create a harmonic feeling. For a monochromatic palette, you can use the following color options:
Rifle Green
Black Olive
Ash Gray
Silver Chalice
Kombu Green
Morning Blue
Dark Slate Gray
Opal
Charcoal
Pewter Blue
Outer Space
Cadet Grey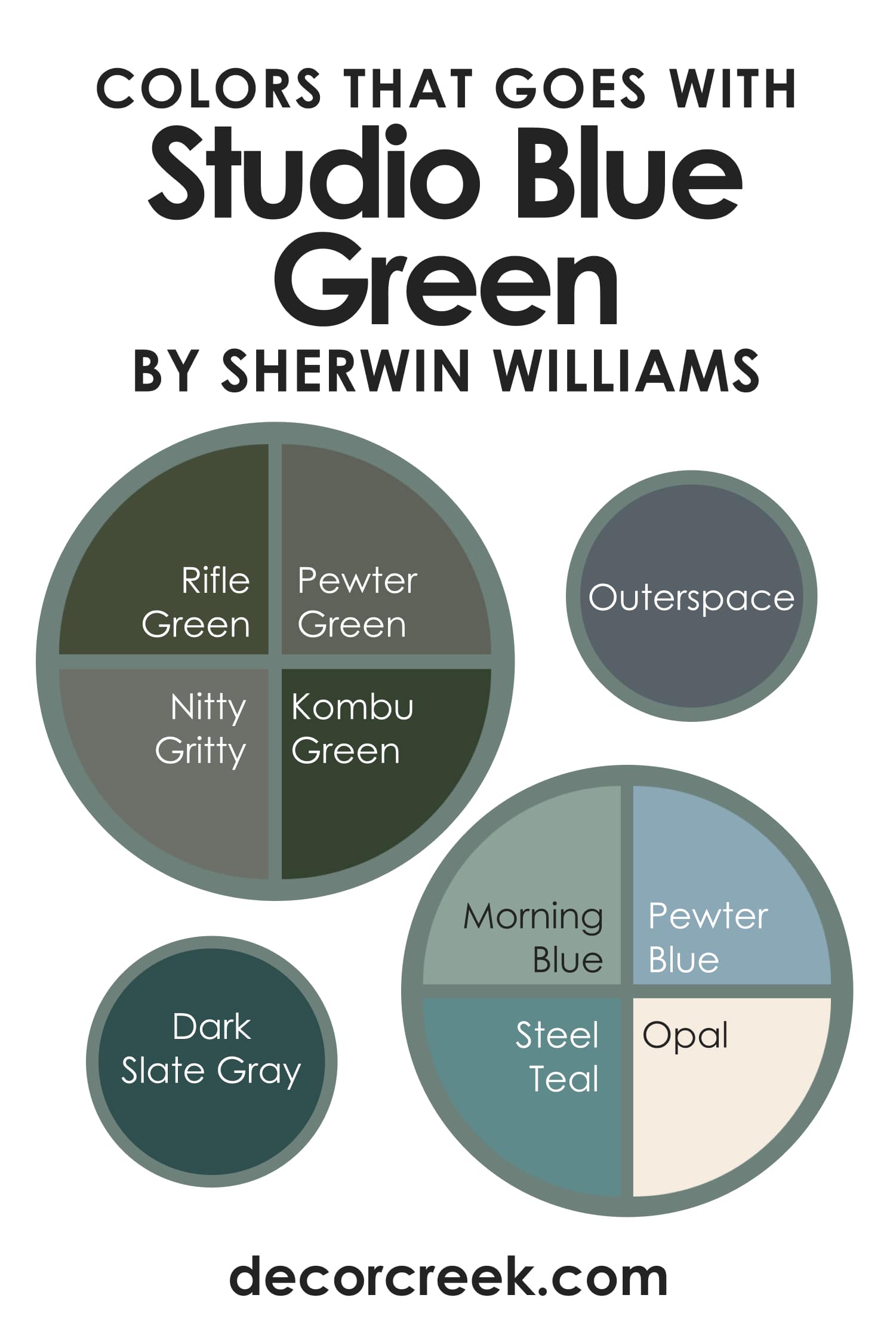 There is also a complementary color palette. It consists of the colors on the opposite side on the color wheel relative to the base color. This gives slight vibrating tension between the complementary colors. For SW Studio Blue Green, the following colors can be used as complementary ones:
Kombu Green
Dark Slate Gray
Xanadu
Steel Teal
Opal
Ash Gray
Old Burgundy
Black Coffee
Rocket Metallic
Taupe Gray
Queen Pink
Pale Pink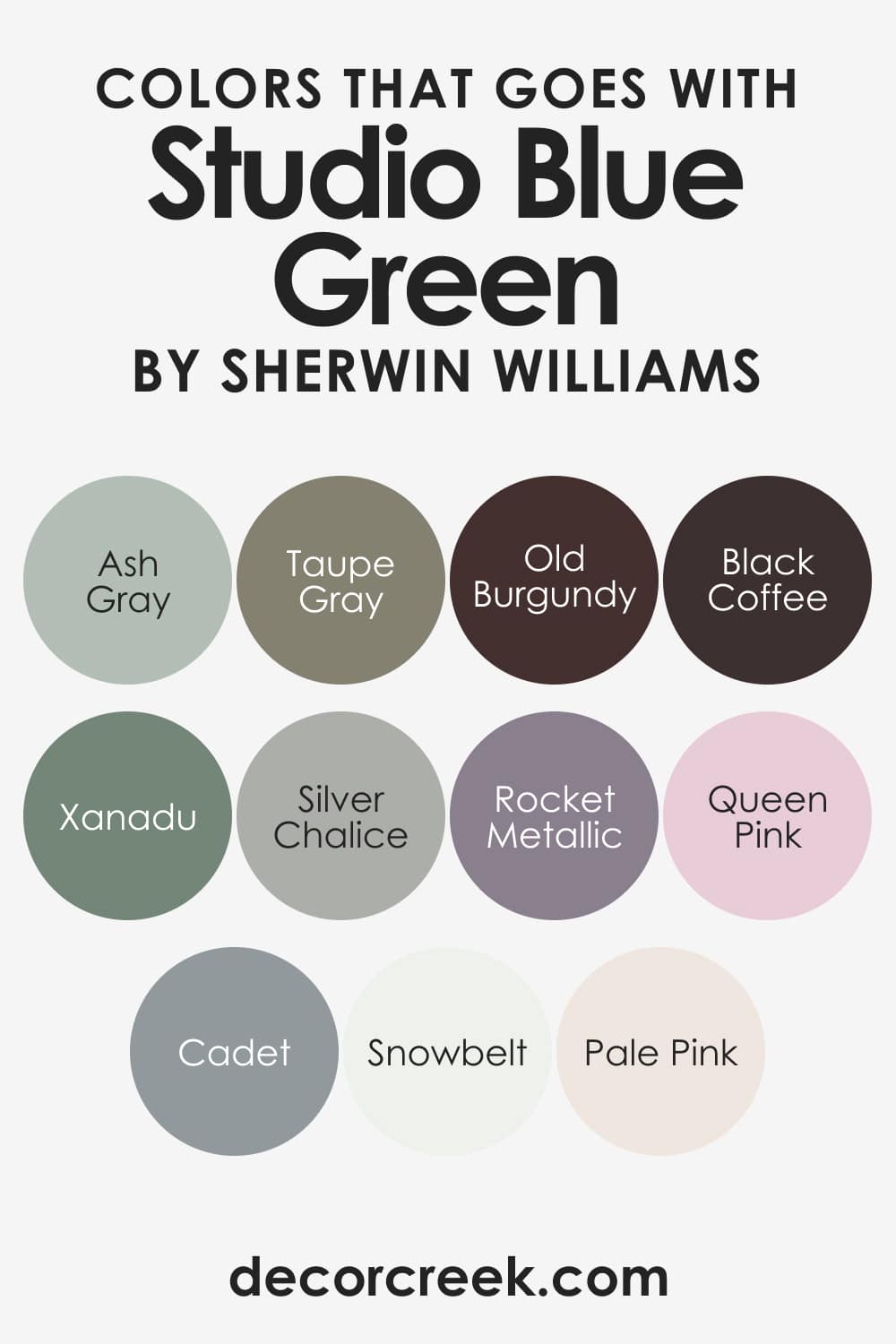 decorcreek.com
What's the Best Trim Color For SW Studio Blue Green?
White is a traditional win-win color option when it comes to ceilings, trims, and moldings.
So if you are looking for an ideal trim color to use with SW Studio Blue Green, you may want to consider the following options:
SW Marshmallow
SW Extra White
BM Chantilly Lace
SW High Reflective White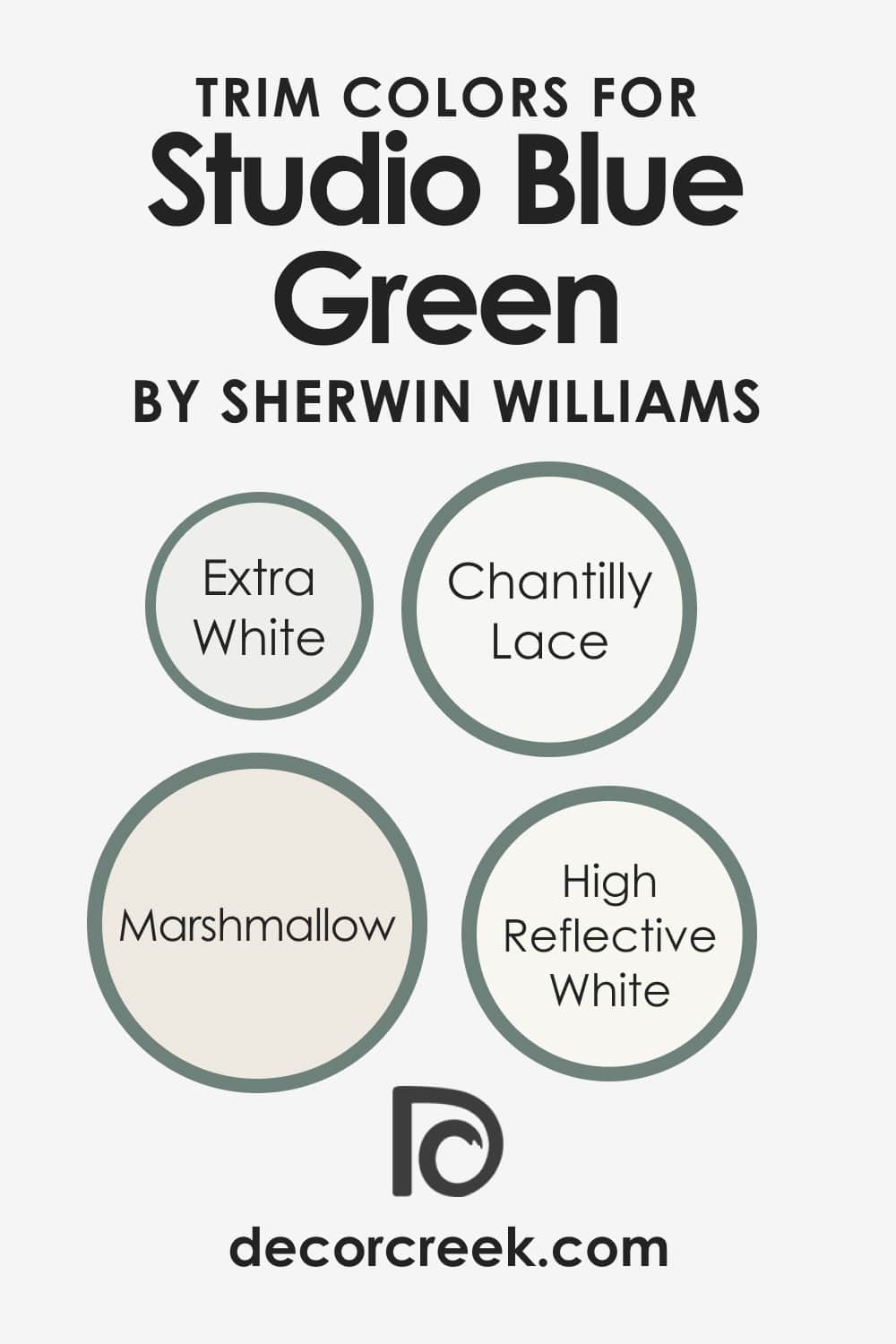 Paint Colors Similar to SW Studio Blue Green
If you need to change the paint color you initially planned to use in your home, it may be difficult for you to choose a shade that is nearly the same as the color you were going to use at first.
In this case, knowing what similar colors your paint has can be very helpful. But remember: there won't be a 100% match anyway!
So here are a few similar paint colors that can be used instead of SW Studio Blue Green:
SW Rookwood Blue Green
SW Teal Stencil
SW Mediterranean
SW Juniper
SW Underseas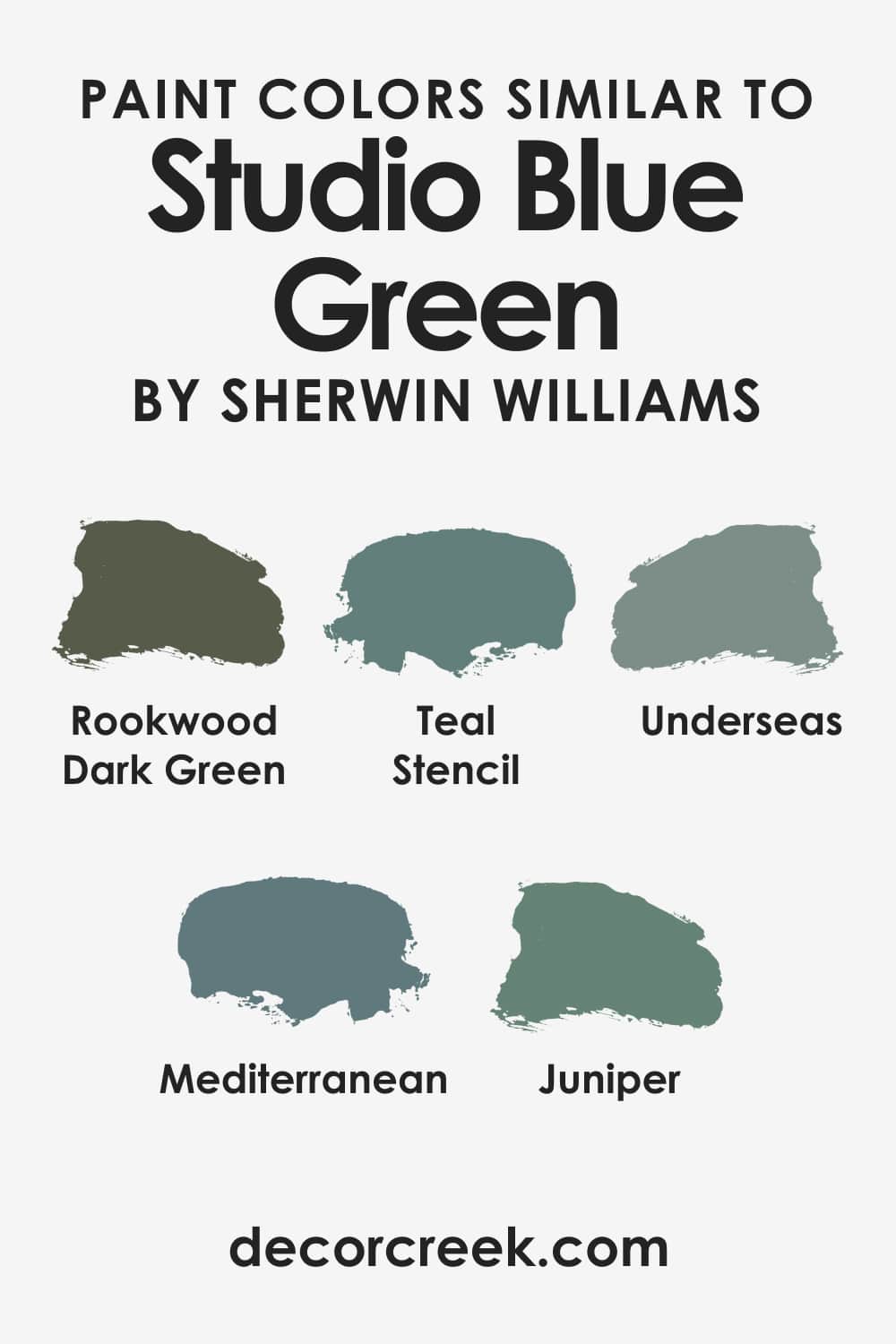 Where SW Studio Blue Green Can Be Used?
As we have already mentioned above, SW Studio Blue Green is quite a versatile paint color despite of its tricky nature and combined undertones. It means that in fact, you can use it almost anywhere in your home.
Just make sure that you know what type of light there is in a room and remember to sample this color before you apply it to the walls or other surfaces. It will allow you to avoid any unwanted effects.
SW Studio Blue Green in the Living Room
This color is really nice for a living room! Even though it is cool-toned, it doesn't make the space look "cold". Depending on the lighting and the surrounding colors, it may even read slightly warmer!
So if you want to add some coziness, consider using beige or greige colors, as well as lighter browns.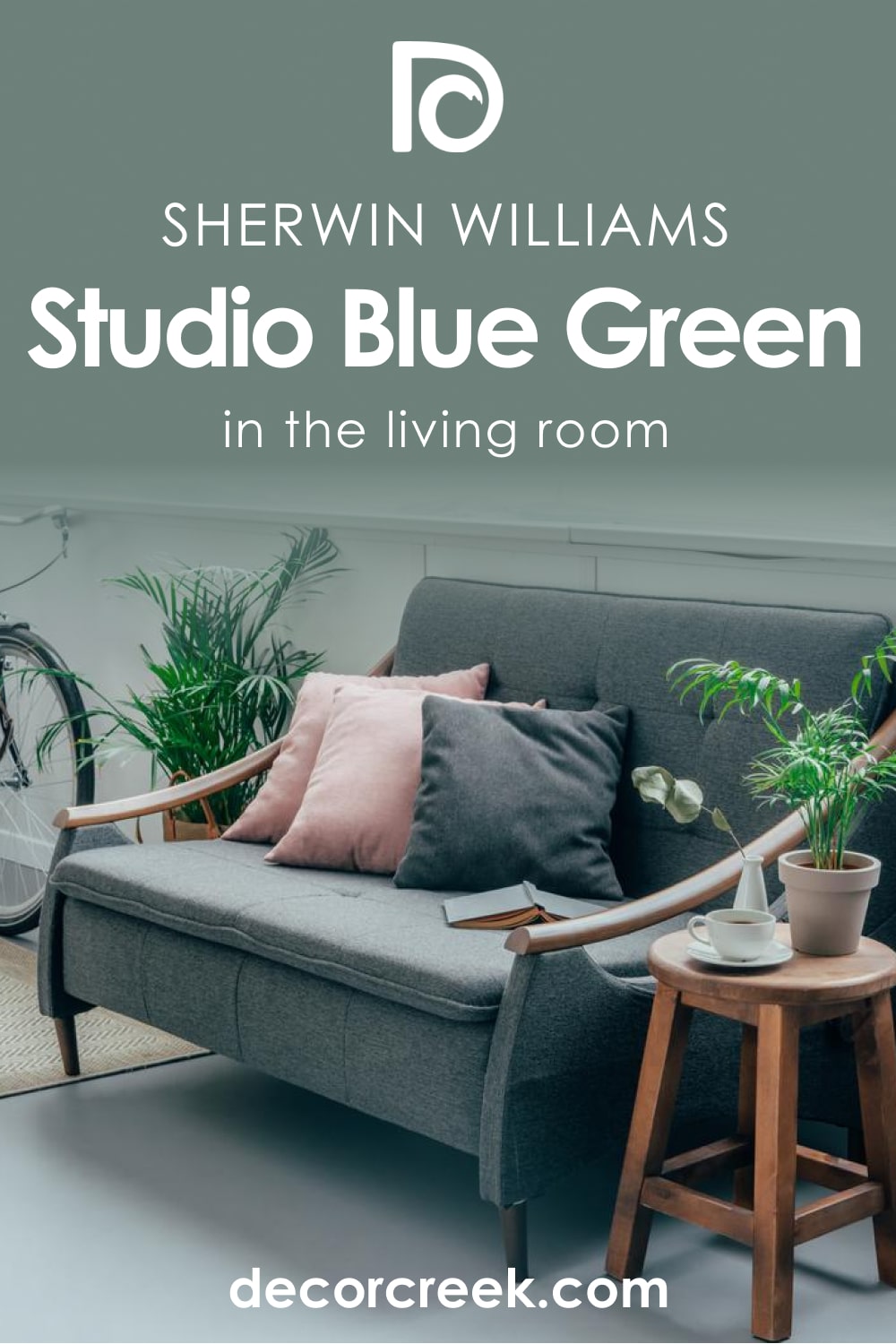 SW Studio Blue Green in a Bedroom
This color is quite unusual for bedrooms, however, if you use it correctly, it will work amazingly in this room! The best way to make SW Studio Blue Green work on your bedroom walls is to use it in a bedroom that is spacious and well-lit.
So if yours is small and/or has little light, avoid this color.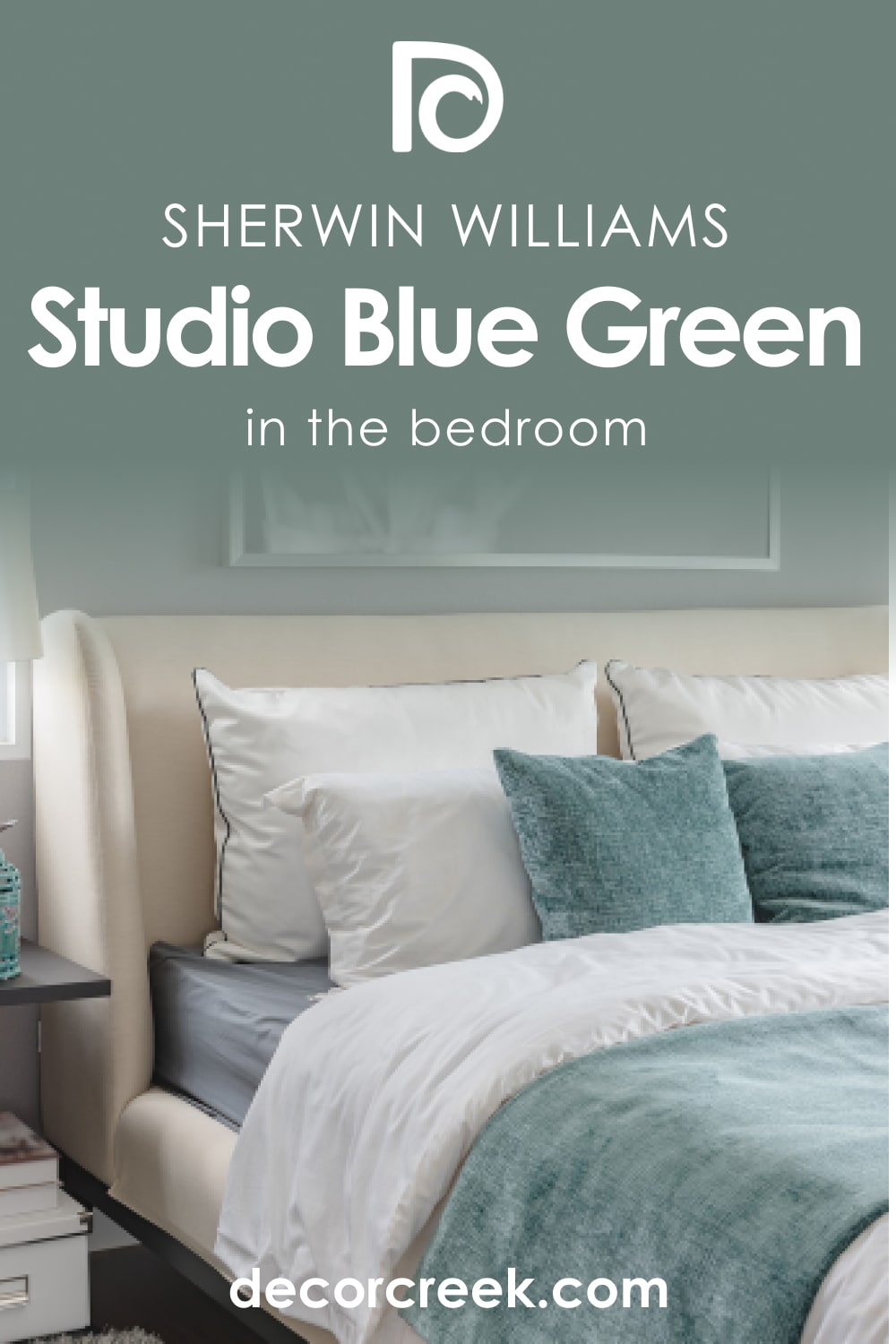 Bathroom and SW Studio Blue Green
For bathrooms, this color works best of all if you use it to make accents, for example, paint an accent wall or vanity only. Otherwise, the room might look too overwhelming with green! Also, it will read great if used with white walls and brass/gold hardware.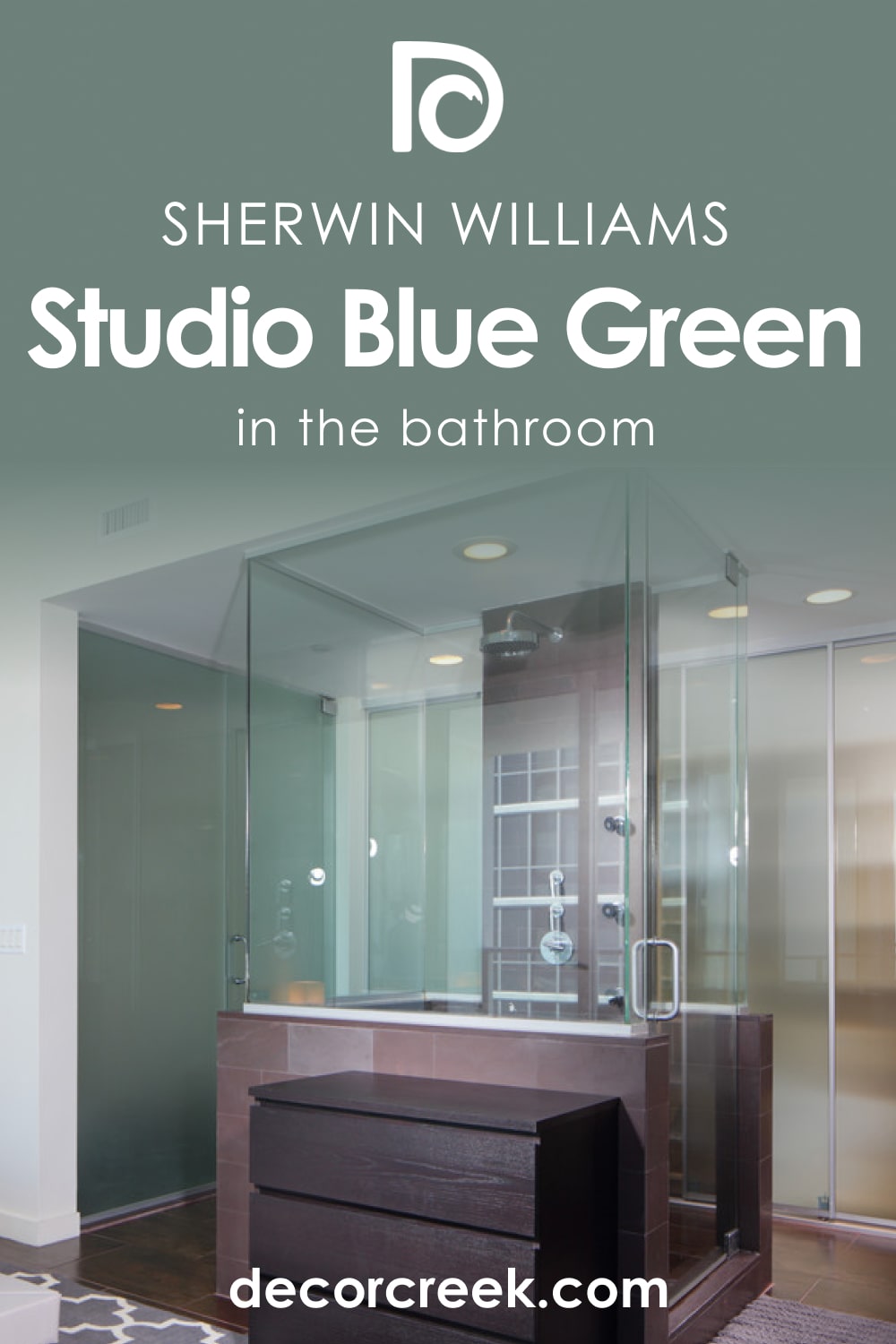 SW Studio Blue Green for the Kitchen
The best way to use SW Studio Blue Green in your kitchen is to paint cabinets with this color. As an option, you can use it on your kitchen island if you have it. A backsplash or an accent wall painted this rather deep bluish-green will also look great.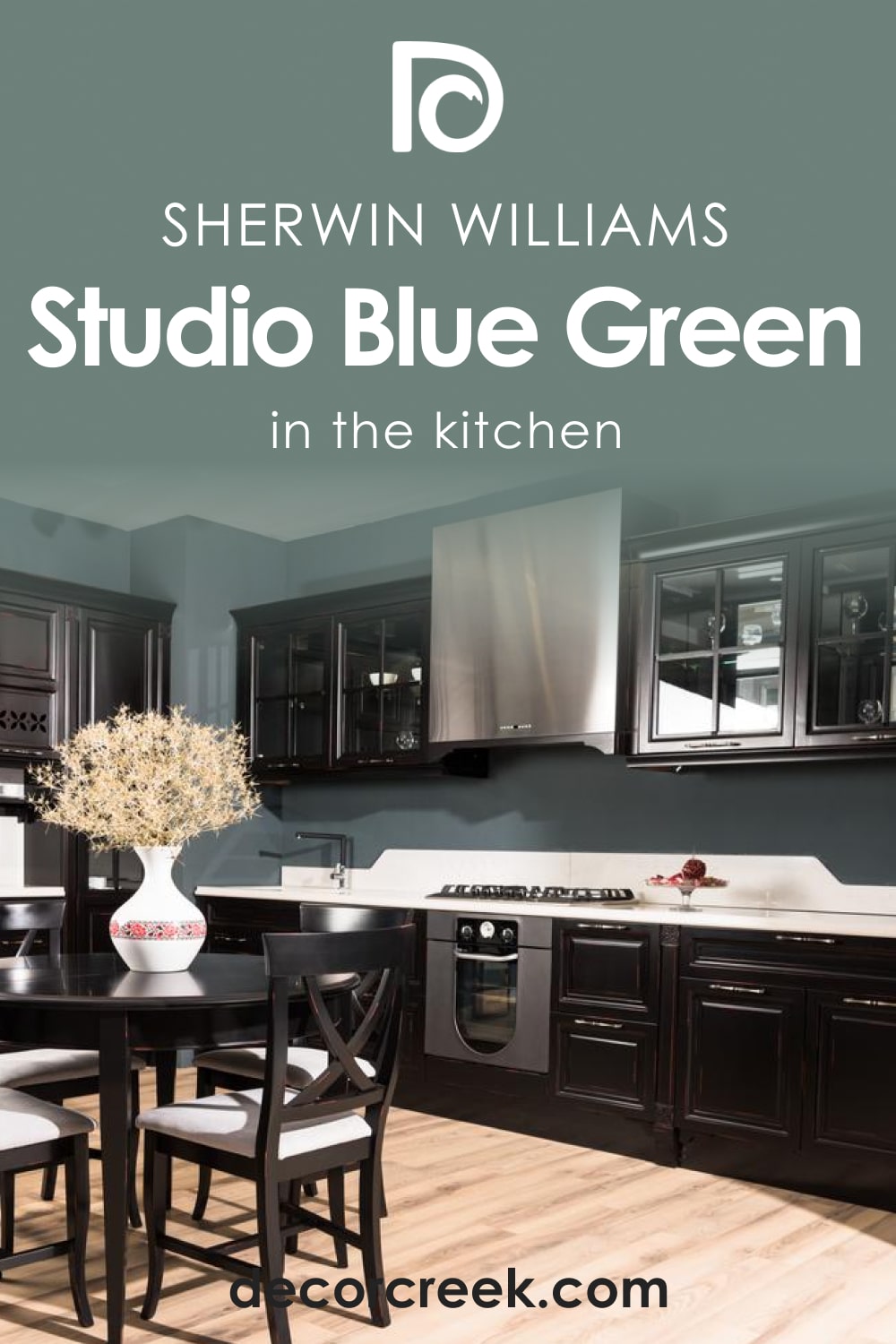 SW Studio Blue Green for the Exterior Use
Since this paint is versatile, it can also be used on exterior walls. And it will work wonderfully there! Depending on the type of light you have, it may read bluer or greener, so take that into consideration if having a blue facade is not what you want!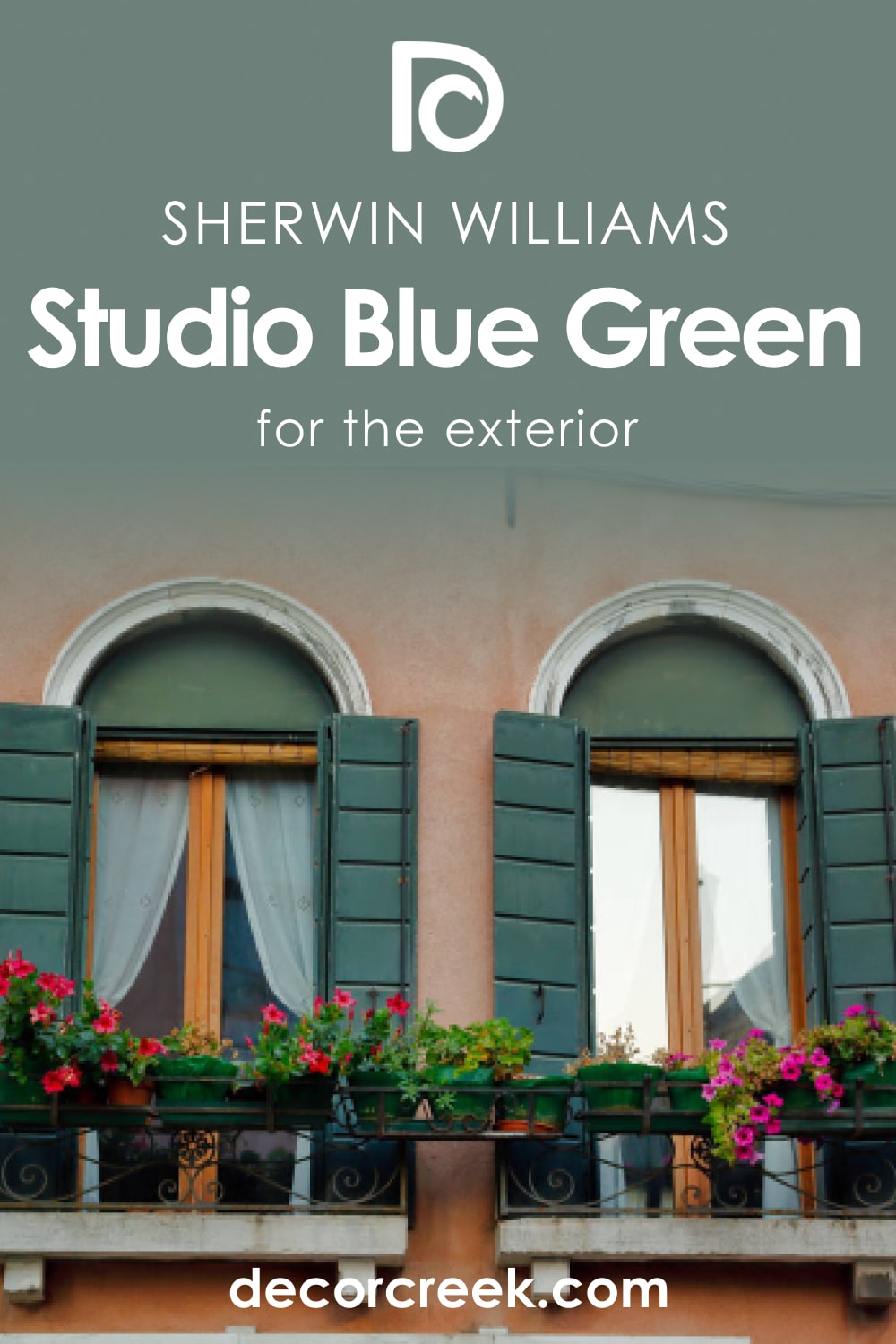 Comparison With Other Colors
To be able to better understand how this paint color works, we recommend you read its comparison with a few other alternative colors. It will help you to see all the distinctions between them even if the colors are pretty close.
Studio Blue Green vs Rookwood Blue Green
These colors are pretty similar and can be used interchangeably, but there is still one distinction. Studio Blue Green has prominent blue undertones whilst Rookwood Blue Green has green undertones. Also, Rookwood Blue Green is warmer than its counterpart.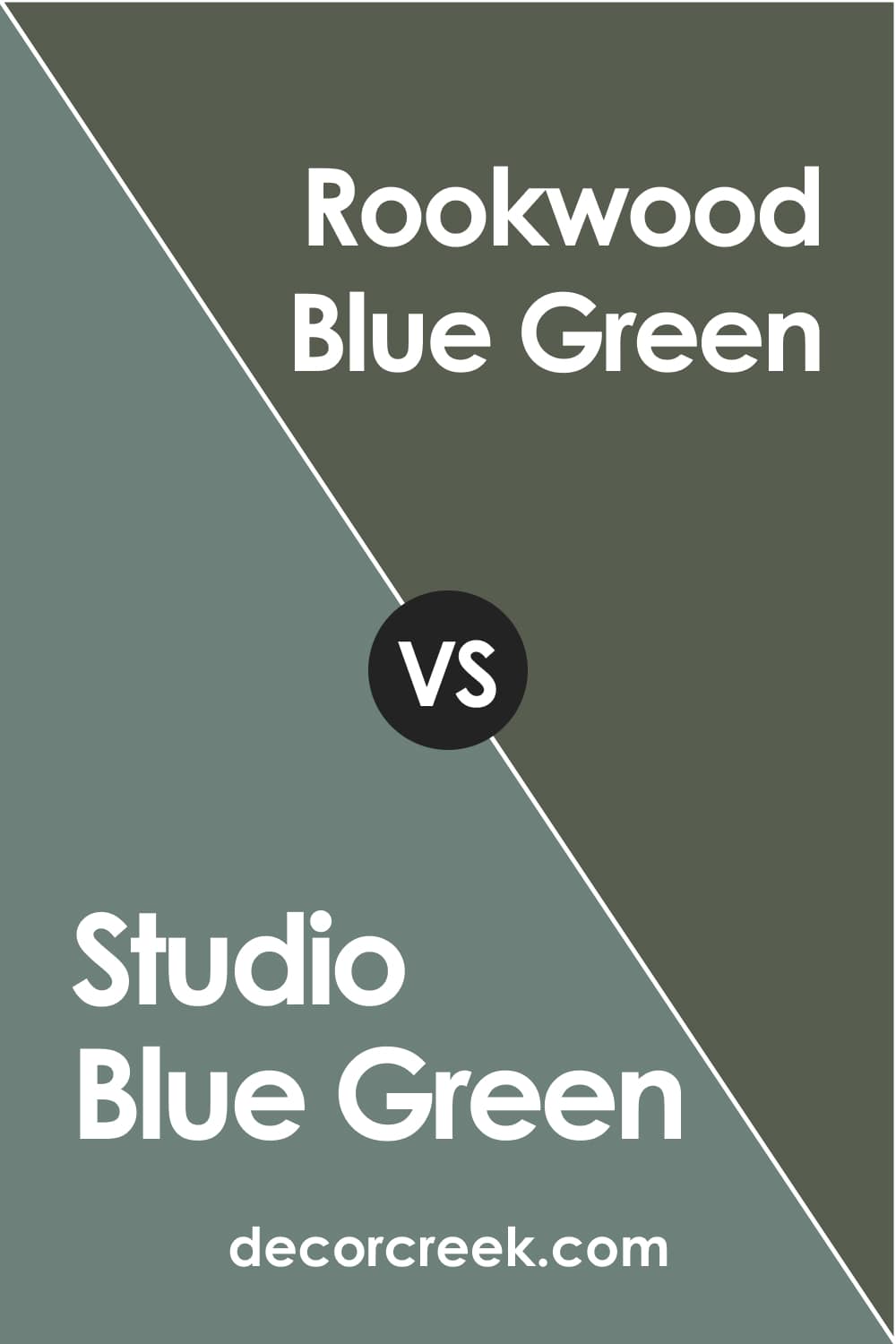 Studio Blue Green vs Teal Stencil
Teal Stencil reads a bit deeper and greener than Studio Blue Green, and at the same time, it looks more cool-toned than its counterpart. These colors can be used interchangeably, but not in tandem in the same room.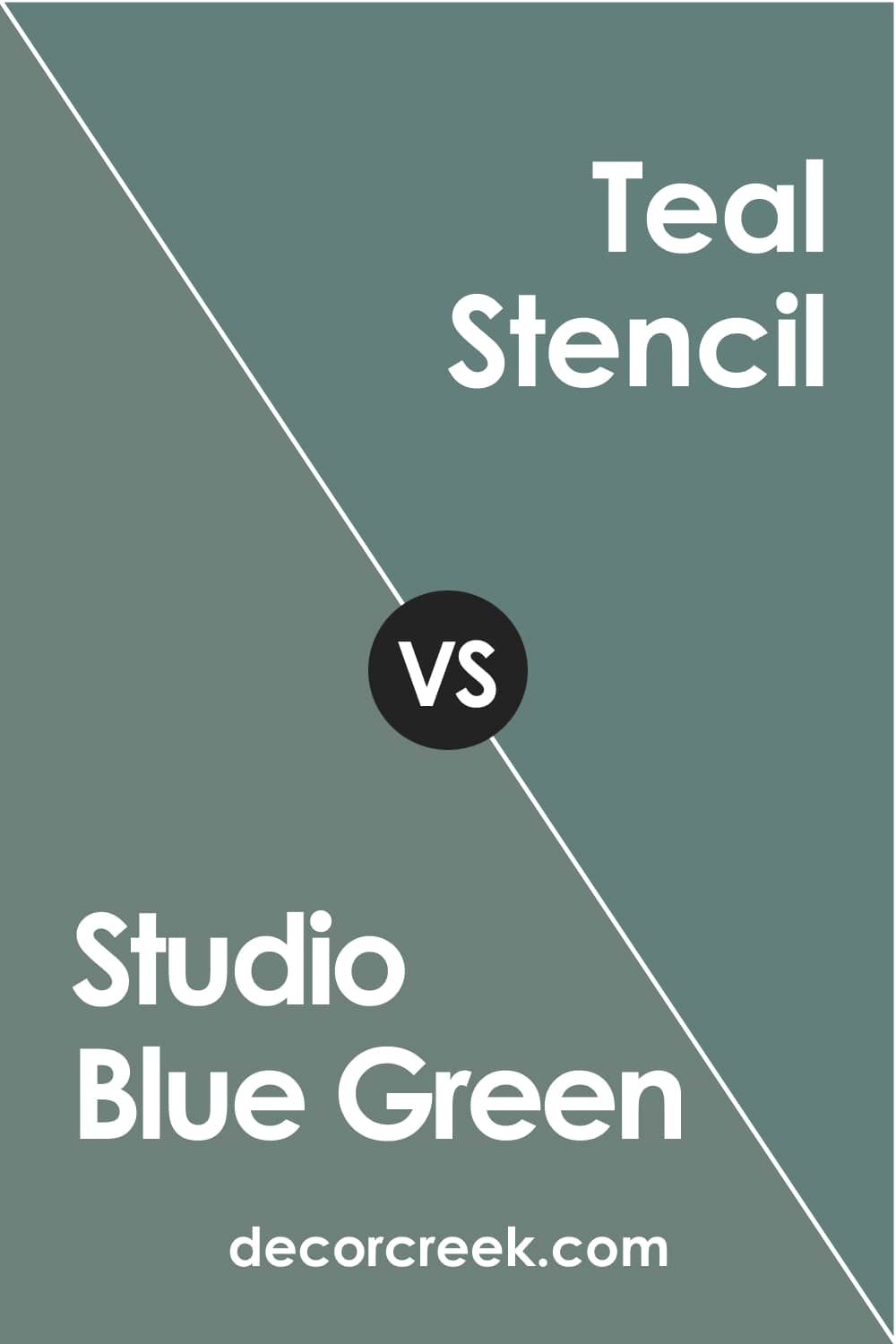 Studio Blue Green vs Portsmouth
SW Portsmouth is a medium-dark shade of cyan with prominent blue undertones and a very slight hint of purpleness. Compared to this color, Studio Blue Green reads greener and even slightly warmer.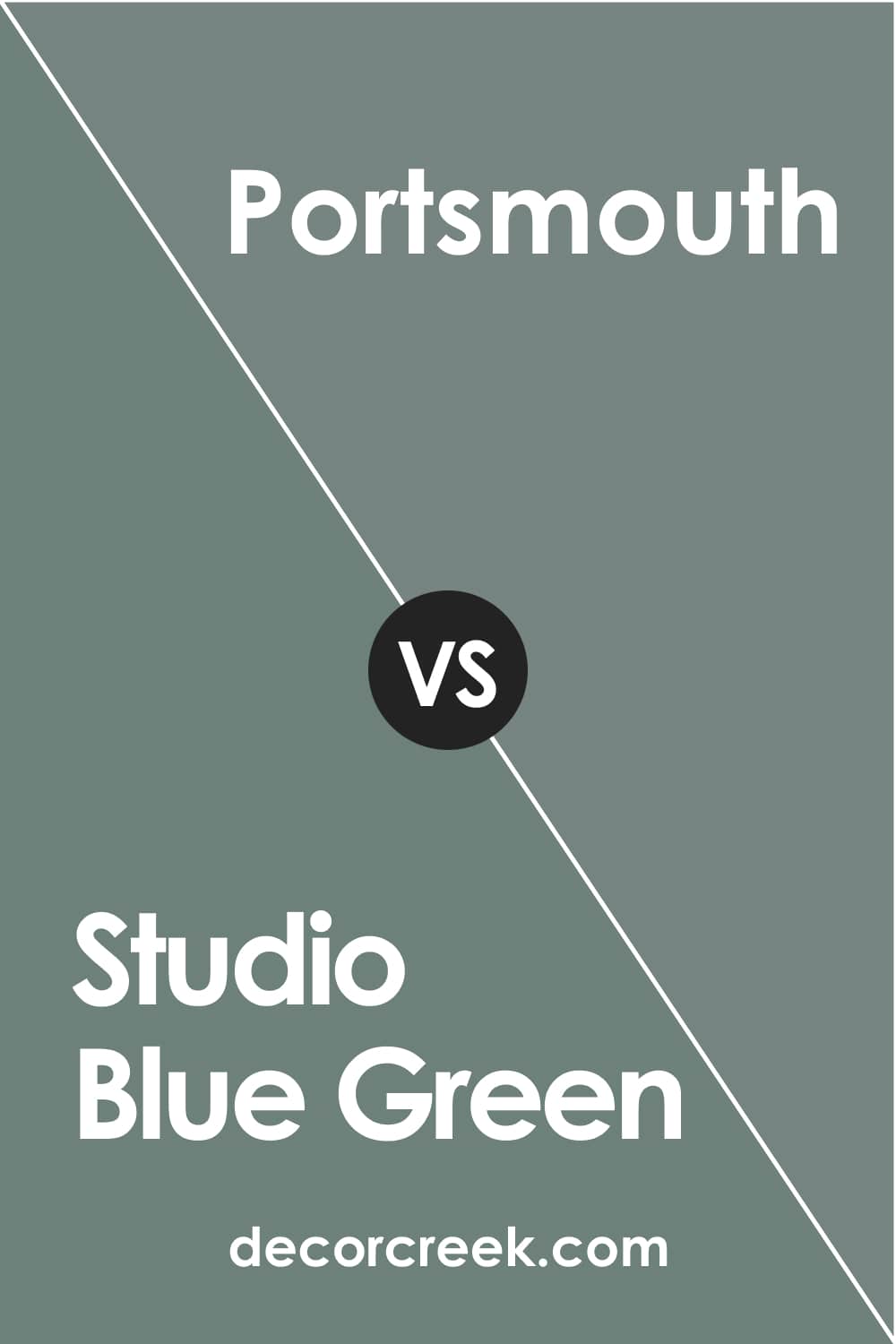 Studio Blue Green vs Taiga
SW Taiga is a deep gray with greenish undertones which relates it with Studio Blue Green a bit. However, since the basic color of SW Taiga is gray, its green side is almost unseen. Unlike Taiga, Studio Blue Green reads greener, even though the color still remains cold.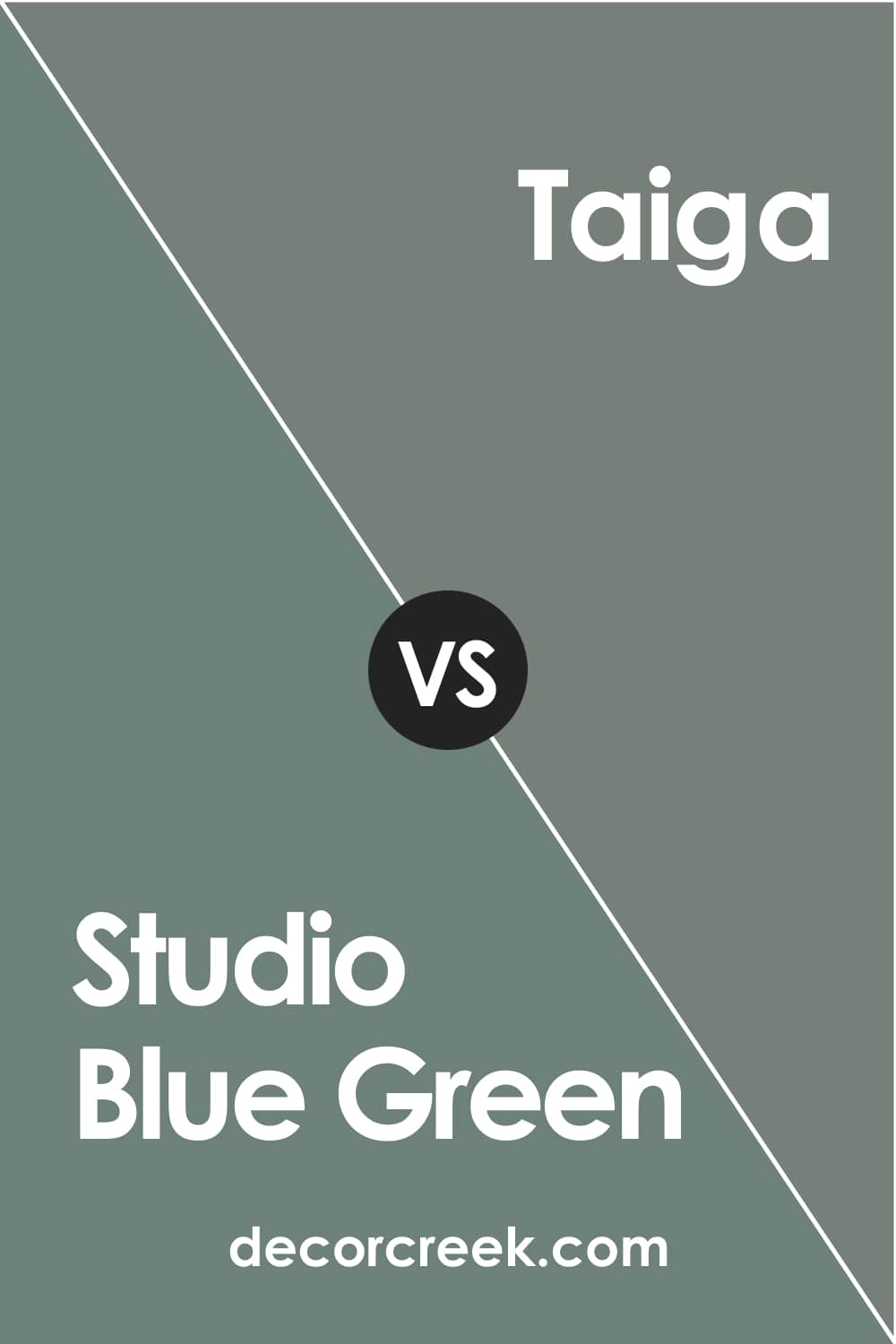 Studio Blue Green vs Juniper
Juniper reads significantly greener than Studio Blue Green. And it's no wonder since Juniper is a deep green although it comes with blue undertones. However, Studio Blue Green reads colder and shows more blue undertones when placed side by side with a warmer Juniper.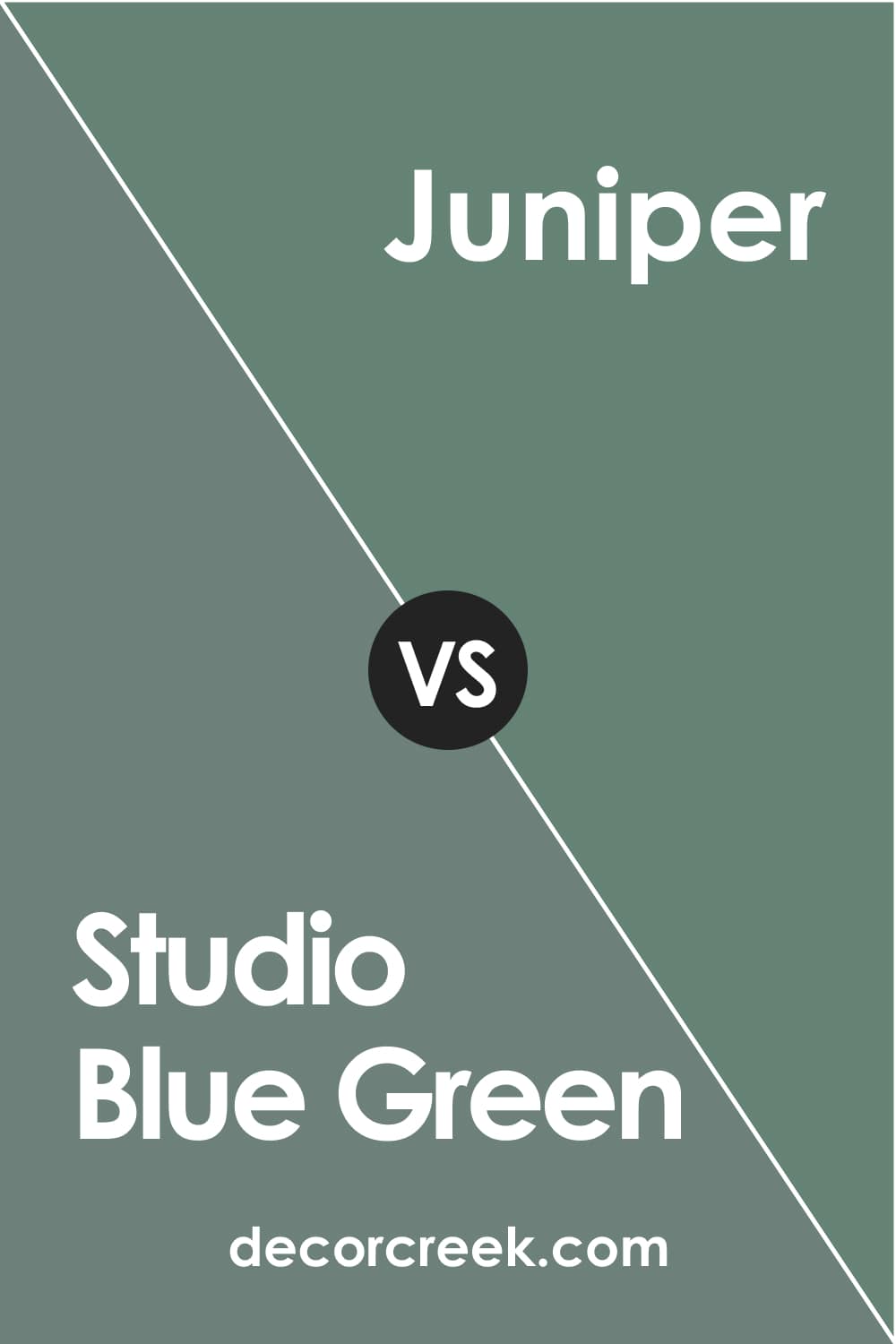 Well, this is a complete guide on a paint color called Studio Blue Green by the Sherwin-Williams brand. Now you know what kind of color it is, where it's best to use it in your home, and with what colors it will work better than with the others.
Also, you are now aware of the way this color reacts to light and thus, you can tell in advance how it will read in different rooms of your home. It will help you to use it correctly and avoid using color schemes that won't work.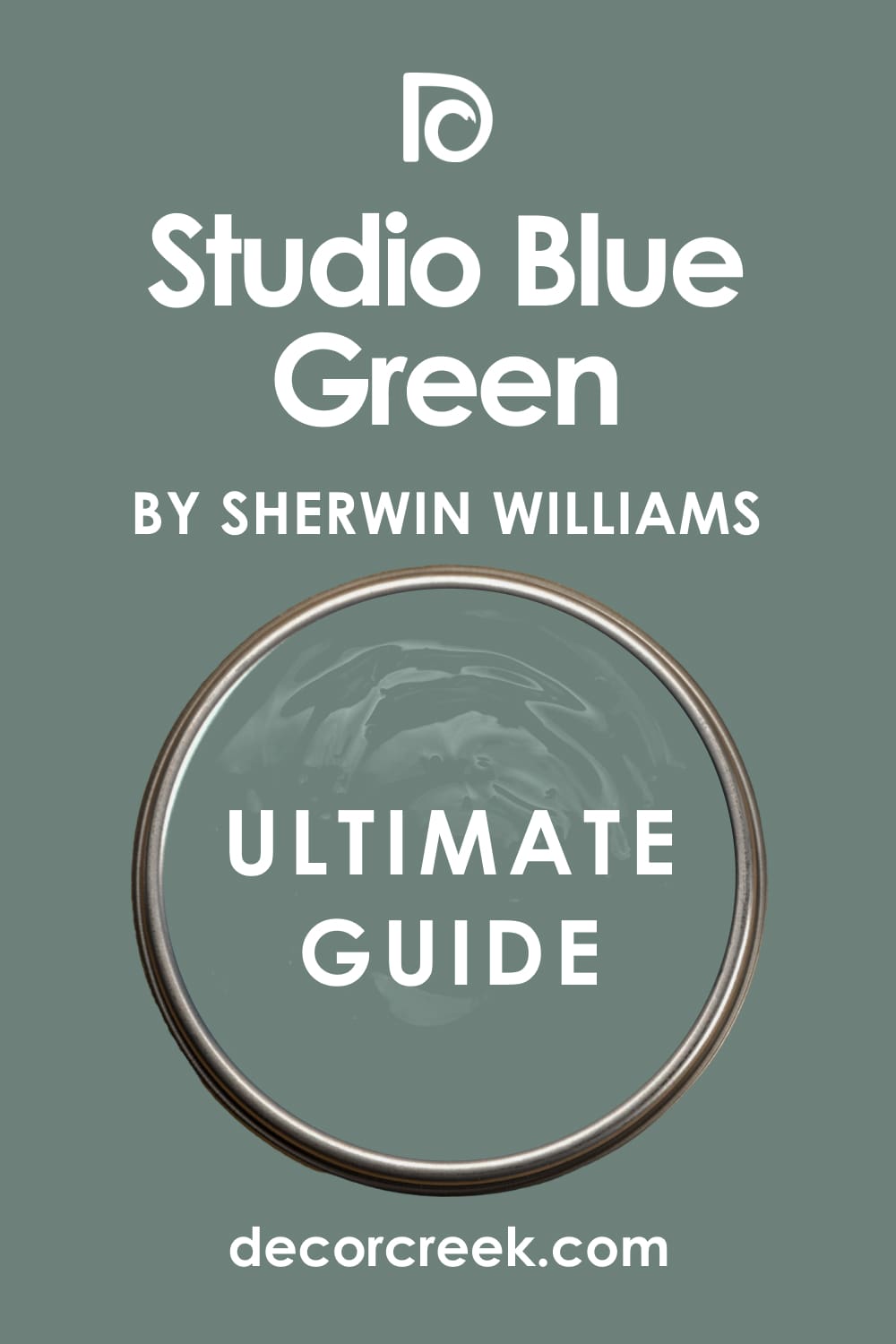 Frequently Asked Questions
⭐Is Studio Blue Green by Sherwin-Williams a good color for the front door?
Basically yes, it is. You just need to sample it in advance to ensure it will suit the color palette of your exterior.
⭐Does Studio Blue Green work well with gold hardware in a kitchen?
Definitely! Gold hardware will make it look slightly warmer, especially if you have other warm colors there.
⭐Is Studio Blue Green a blue or green color?
It is a color blend that has both features of blue and green.