Since most people are unaware of color theory, they prefer using simple colors in their homes. This is why you can mostly see neutrals, greiges, or whites on interior walls since these colors are easy to pair with other paints.
However, if you are not sure which neutral or beige to choose for your home, here is a nice color for you to try. It's called Touch of Sand and is presented by the Shewin-Willaims brand.
Today we are going to tell you more about this paint color. In particular, you will find out what undertones it has and where in your home this color can be used.
Also, we will tell you about its LRV and trim colors, as well as paint colors that will coordinate best with it. This information will help you to use this soft beige color in your home more successfully.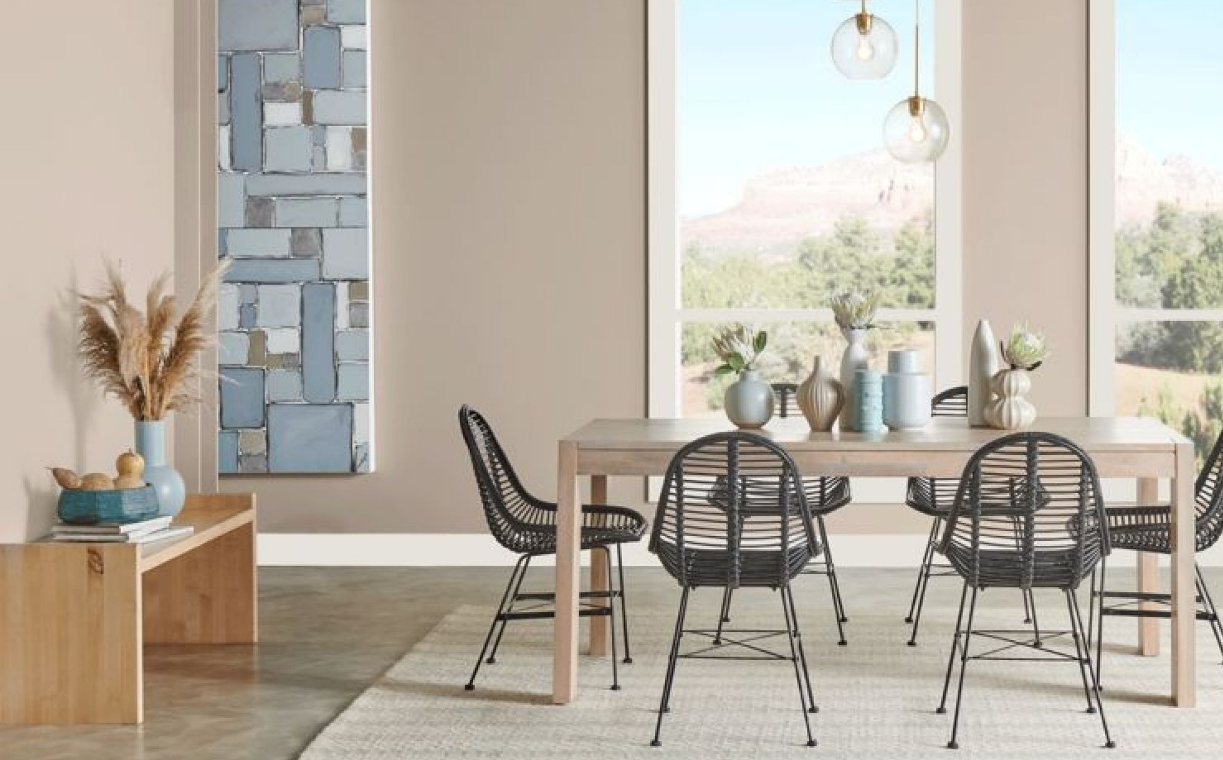 What Kind of Color Is SW Touch of Sand?
Technically, the Touch of Sand paint color is beige (beige neutral, to be precise), as Encycolorpedia says. It is soft and eye-pleasing, and it will bring a calming vibe to your home spaces, making any room feel cozy and relaxed.
This beige is not too light, but it is also not too deep, which means that it will be more suitable for interiors that can welcome a mid-toned earthy beige shade. Like most beiges, SW Touch of Sand pairs nicely with quite many colors, from bold ones like black to lighter ones.
You can use it for different purposes, for example, for creating a tranquil atmosphere in a room with plenty of beige and white colors. Or you might want to use it to add coziness to a space filled with more vibrant colors!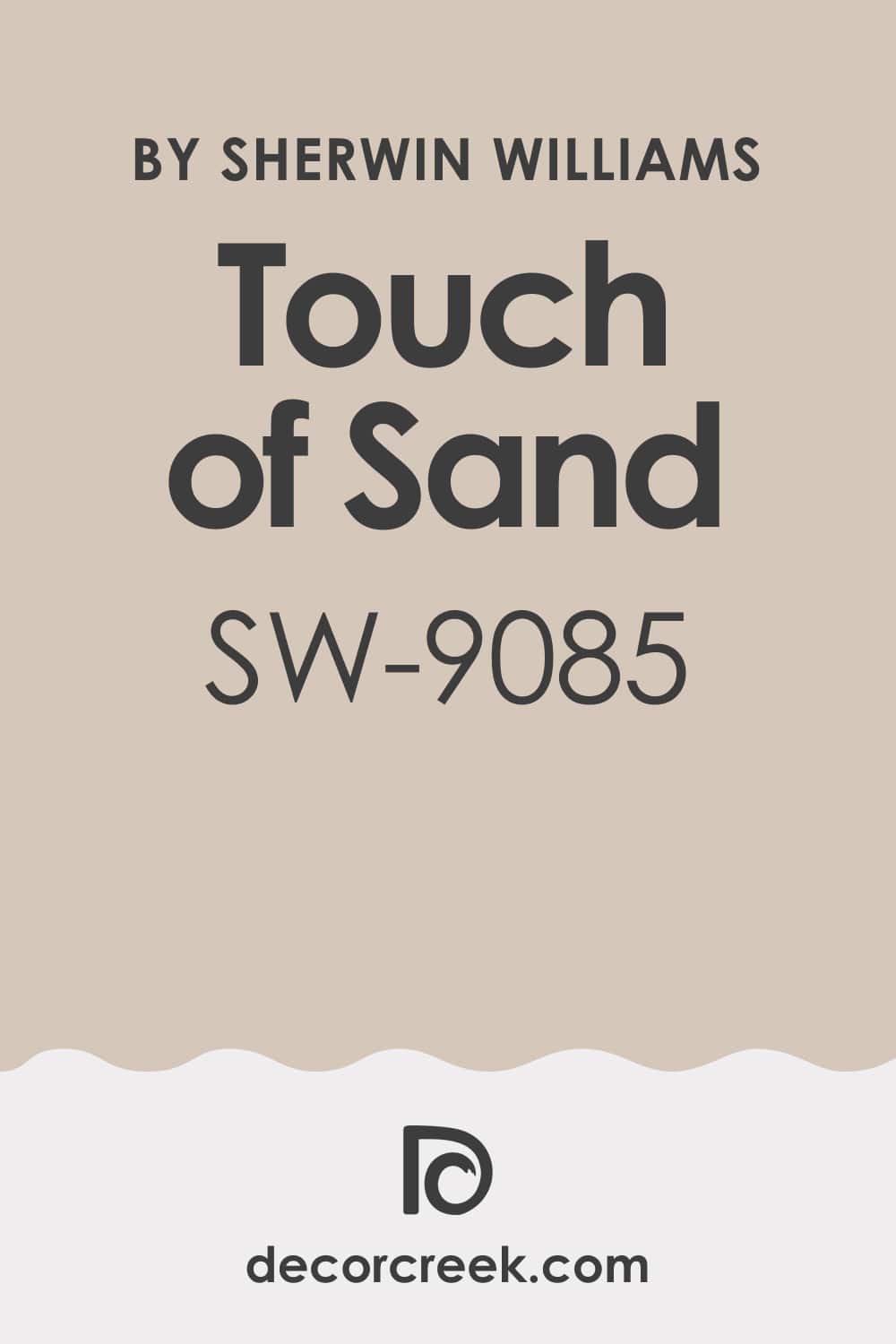 Undertones of Touch of Sand SW-9085 Paint Color
Being aware of the undertones that paint color has is very important. It allows you to tell in advance how this color will work with other colors in a room, as well as how it will read on the wall.
And since quite many interior colors have complex and multiple undertones that are pretty hard to notice at once, you might need some help.
Speaking of SW Touch of Sand paint color, this soft warm beige has beautiful neutral undertones. Thanks to them, this color is pretty easy to incorporate into almost any interior and color palette in your home.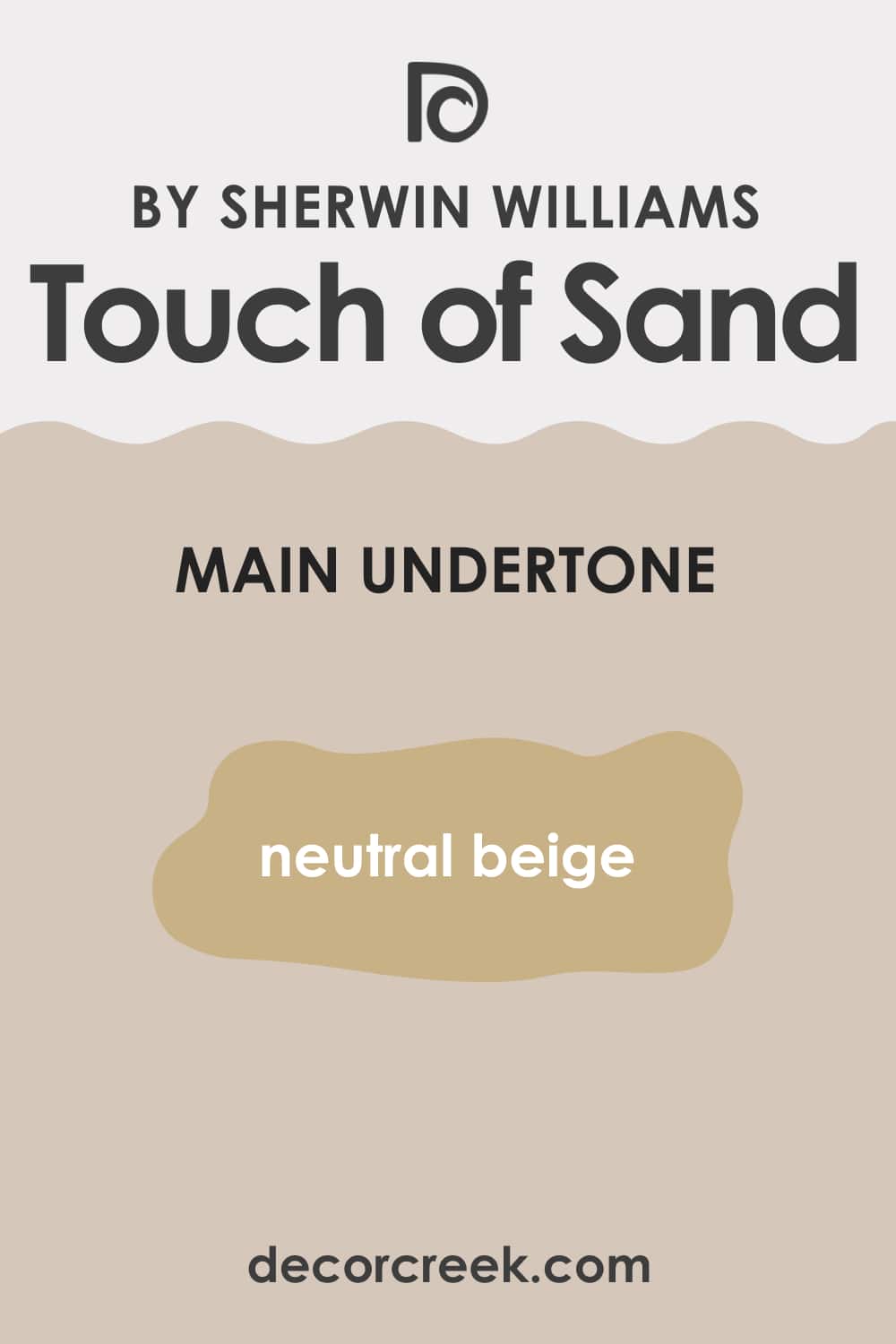 Touch of Sand Paint Color LRV
When you are choosing the paint color to use for your next home painting project, you may come across the LRV abbreviation. What is LRV? This abbreviation stands for the Light Reflectance Value and shows the amount of light that color can reflect when it is applied to the wall.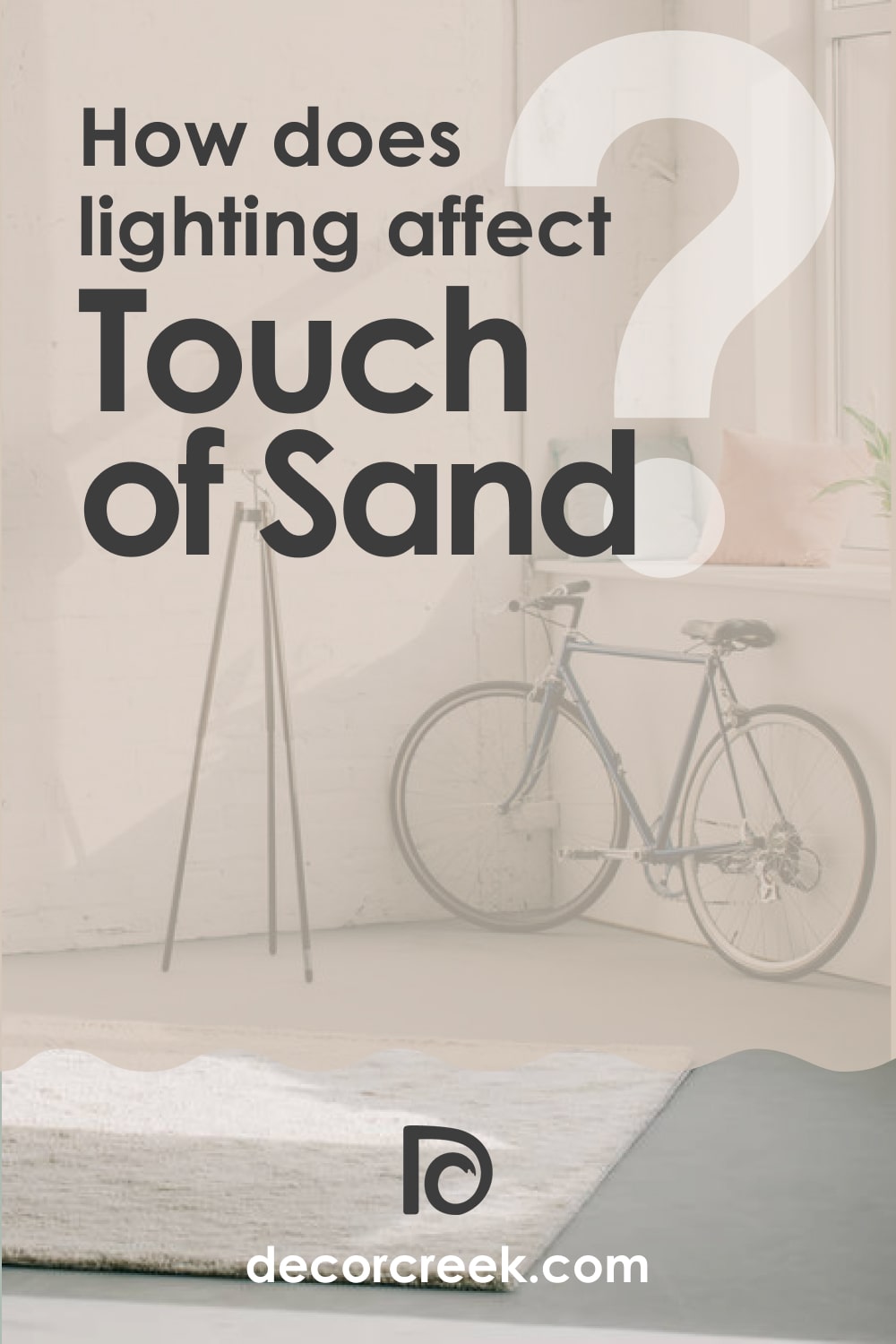 The LRV scale ranges from zero to 100, where zero stands for black, and 100 stands for pure white. Respectively, the higher the LRV, the lighter the color will read. As for SW Touch of Sand color, its LRV is 65.
It means the color is pretty light and can reflect a lot of light. This is why this soft and neutral beige is recommended for making a room visually bigger.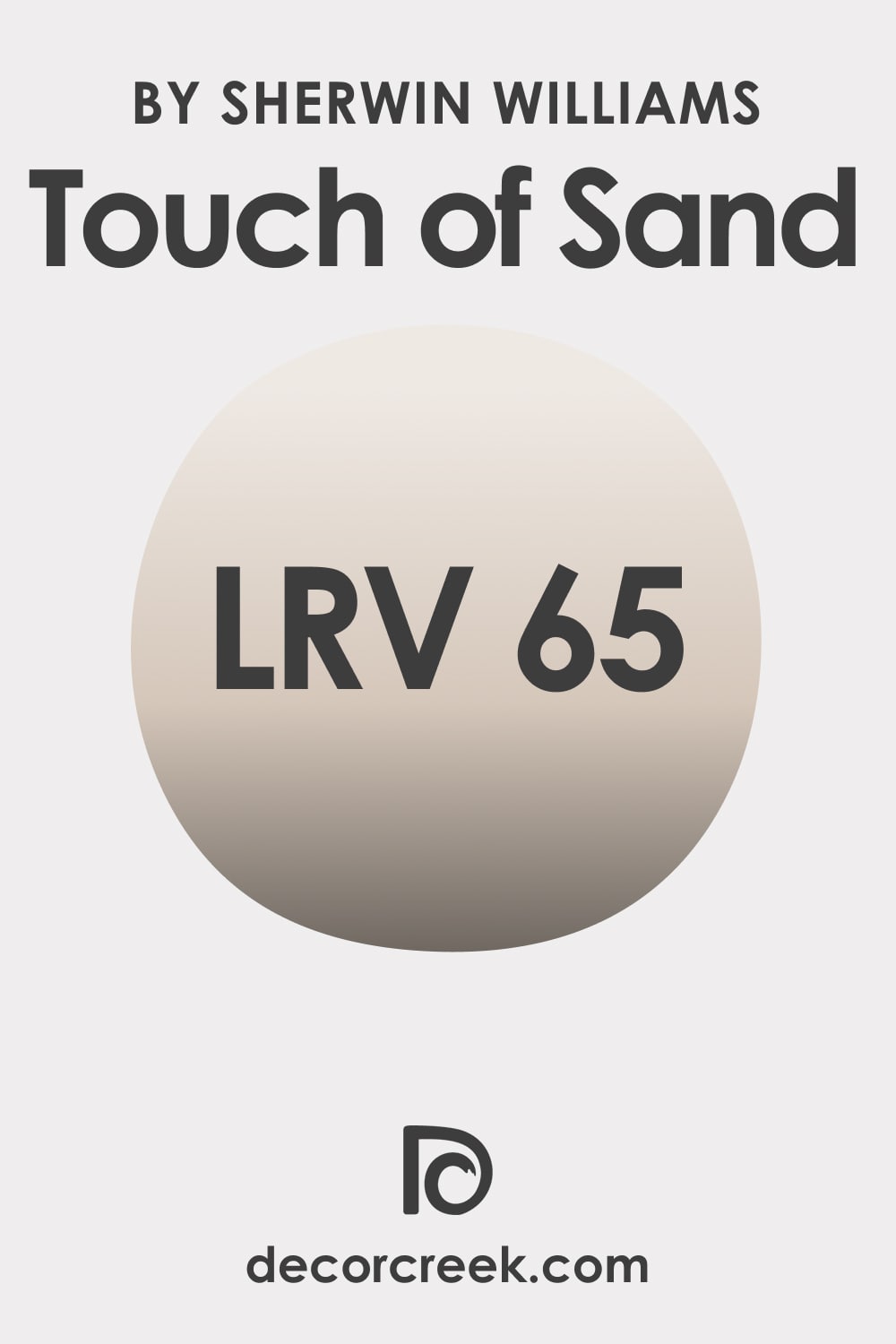 LRV – what does it mean? Read This Before Finding Your Perfect Paint Color
Coordinating Colors to Use With SW Touch of Sand Paint Color
When you know what coordinating colors should be used with the color of the walls, it allows you to choose the interior paint colors more successfully and avoid some common mistakes that often end up in repainting the whole room!
For the Touch of Sand paint color by the Sherwin-Williams brand, you can use one of the following colors to coordinate:
SW White Gallery
SW Realist Beige
SW Honeycomb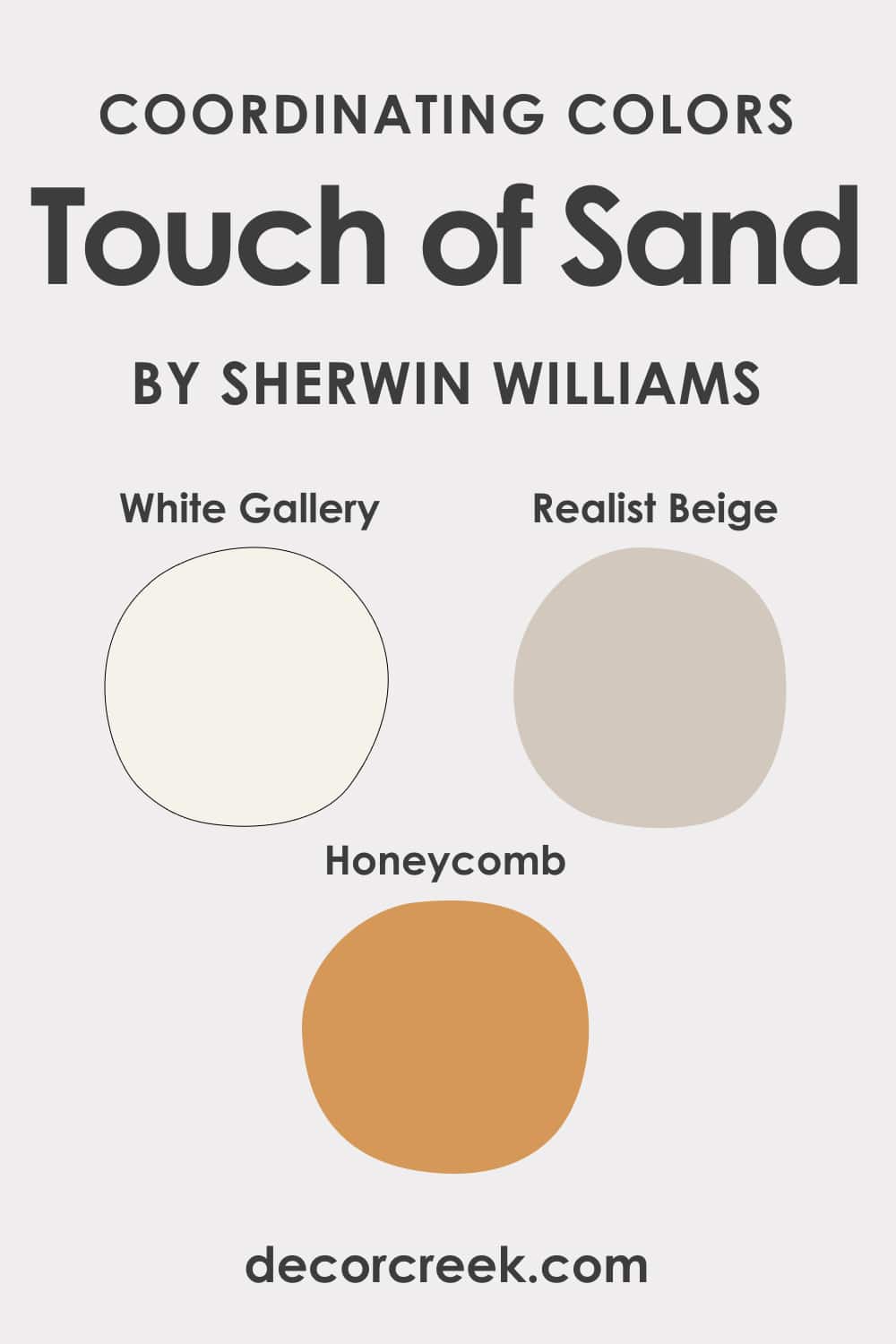 What Is the Best Trim Color for SW Touch of Sand?
Traditionally, white is the color that is used for trims in any household. Thanks to its versatility, white can pair nicely with most colors, highlighting their beneficial aspects and making the color read even better and brighter/bolder/deeper than it is.
If you have SW Touch of Sand on your walls already and you are thinking about suitable trim colors, these options might interest you:
SW High Reflective White
Behr Ultra Pure White
These white colors will highlight the subtle and soft nature of this beige paint color and make it read more pronounced.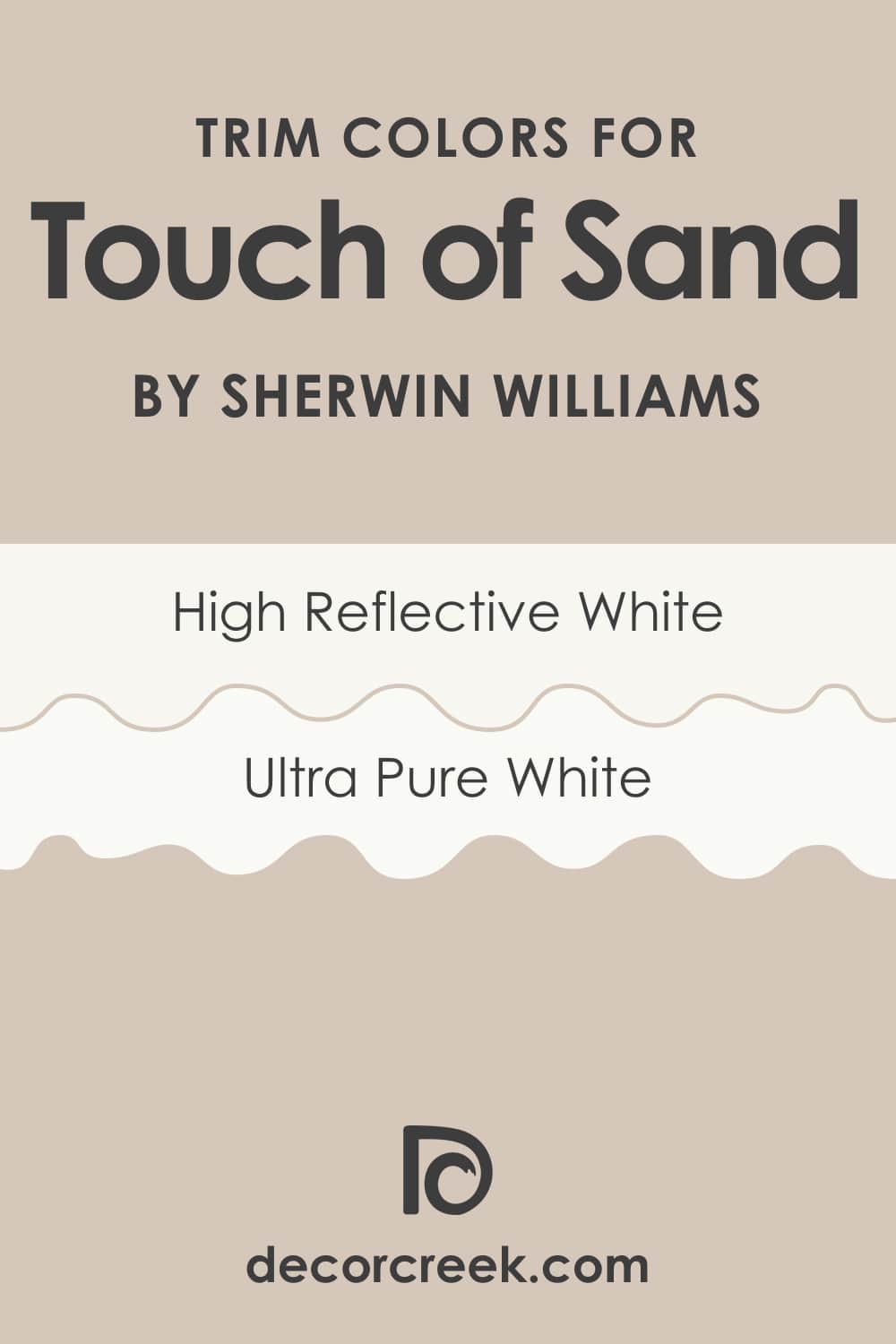 Paint Colors Similar to Touch of Sand SW-9085 Paint Color
Why would you need to know what similar colors can be used instead of the Touch of Sand color by Sherwin-Williams? Well, you might decide to change the initial color you chose because it reads not as nicely as you want it. Or you might suddenly change your mind and realize you need a darker or lighter color on your walls.
In any case, having several additional colors at hand is always a good idea! For SW Touch of Sand color, we have picked up a few similar alternatives that can be used instead of it:
SW Smoky Beige
SW Cool Beige
SW Sand Dollar
SW Lightweight Beige
SW Simplify Beige
SW Realist Beige
Some of them are a bit darker whilst others are a bit lighter, which means you will be able to pick up the most suitable color option for your interior color palette.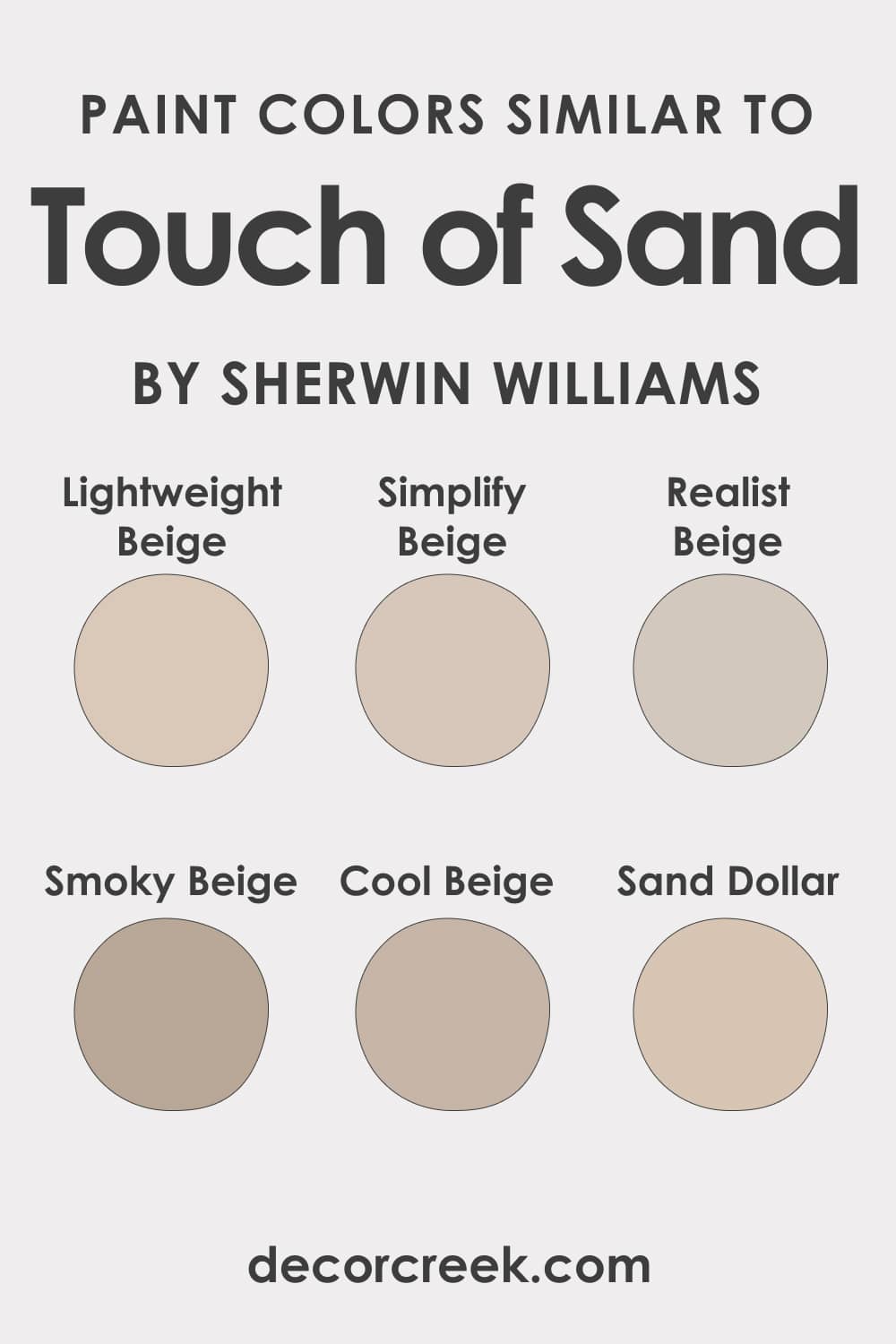 Colors That Go With SW Touch of Sand Paint Color
To create a harmoniously looking and balanced color palette in your home, it is crucially important to pick up colors that will work well together. This is why being aware of the colors that go well with the wall color is what every homeowner should know about. Speaking of SW Touch of Sand beige color, we can name several colors that may look suitable with this soft neutral.
If you are looking for a monochromatic color palette, opt for the following color ideas:
SW Caraibe
SW Smoky Beige
SW Half-Caff
SW Cool Beige
To create a complementary color scheme, you'd better pay close attention to these colors:
SW Sable
SW Special Gray
SW Fashionable Gray
SW Utterly Beige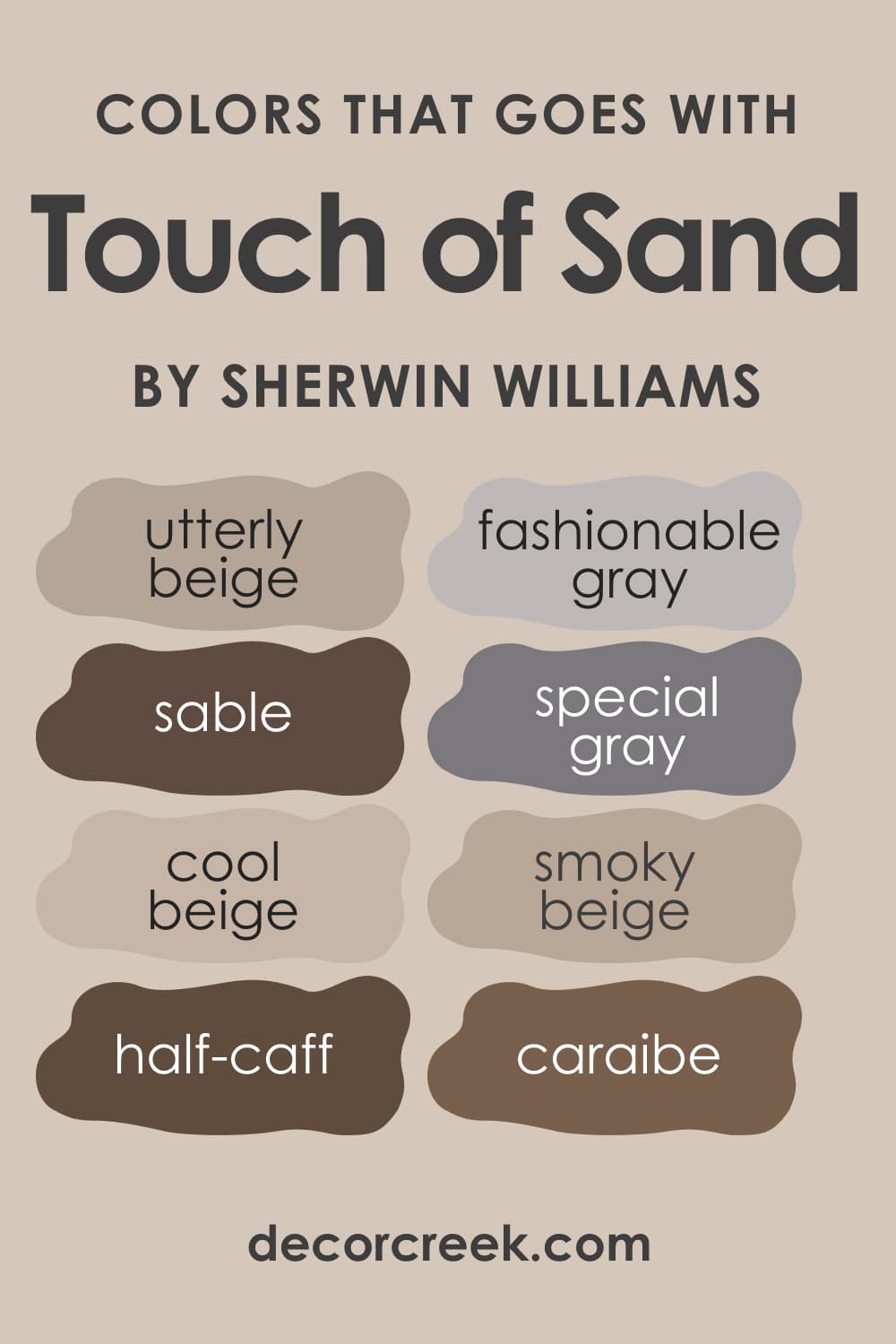 Touch of Sand SW-9085 Color Comparison
Not all of us can see the minor distinctions in a color's tones and shades. As a result, we often find it complicated to see the difference between the colors that seem nearly the same to us.
If you use colors like SW Touch of Sand paint, you should be careful to pick the right shade. Beiges seem similar to people, so to help you see the difference, we compared the Touch of Sand paint color with a few other paints.
SW Touch of Sand vs Tony Taupe
The Tony Taupe paint color is earthy neutral, with notes of a mushroom undertone. Compared to SW Touch of Sand color, it reads darker and deeper, with a more pronounced brownish hue.
The two will hardly work well together, so we'd not recommend you consider them for use in the same room.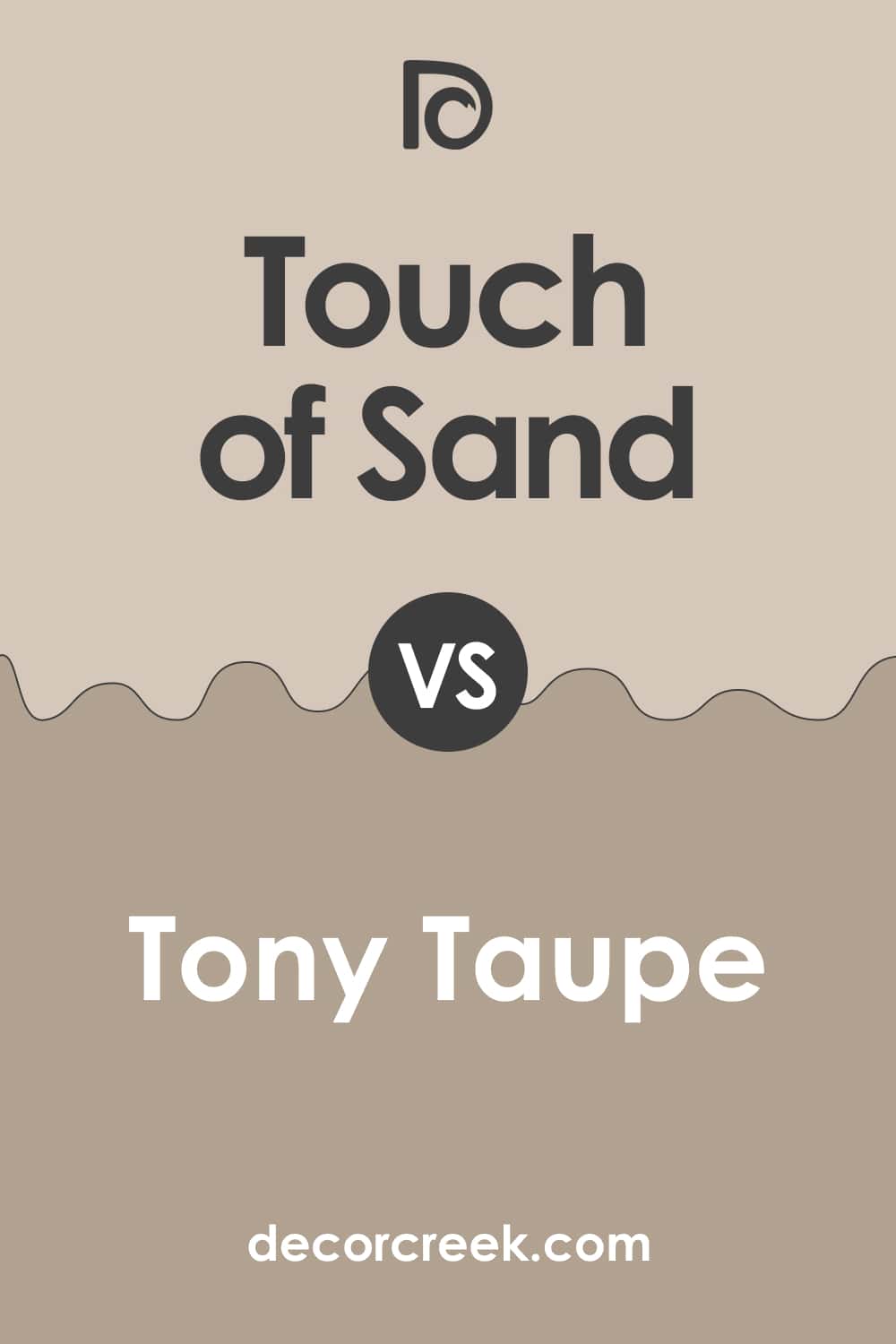 Touch of Sand vs Moth Wing
The Moth Wing paint color is a warm medium beige with gray undertones. Compared to SW Touch of Sand, it reads darker and browner, revealing more warmth and depth. On its own, SW Moth Wing is a beautiful color to use in your home, but we'd not recommend you pair it with the Touch of Sand color.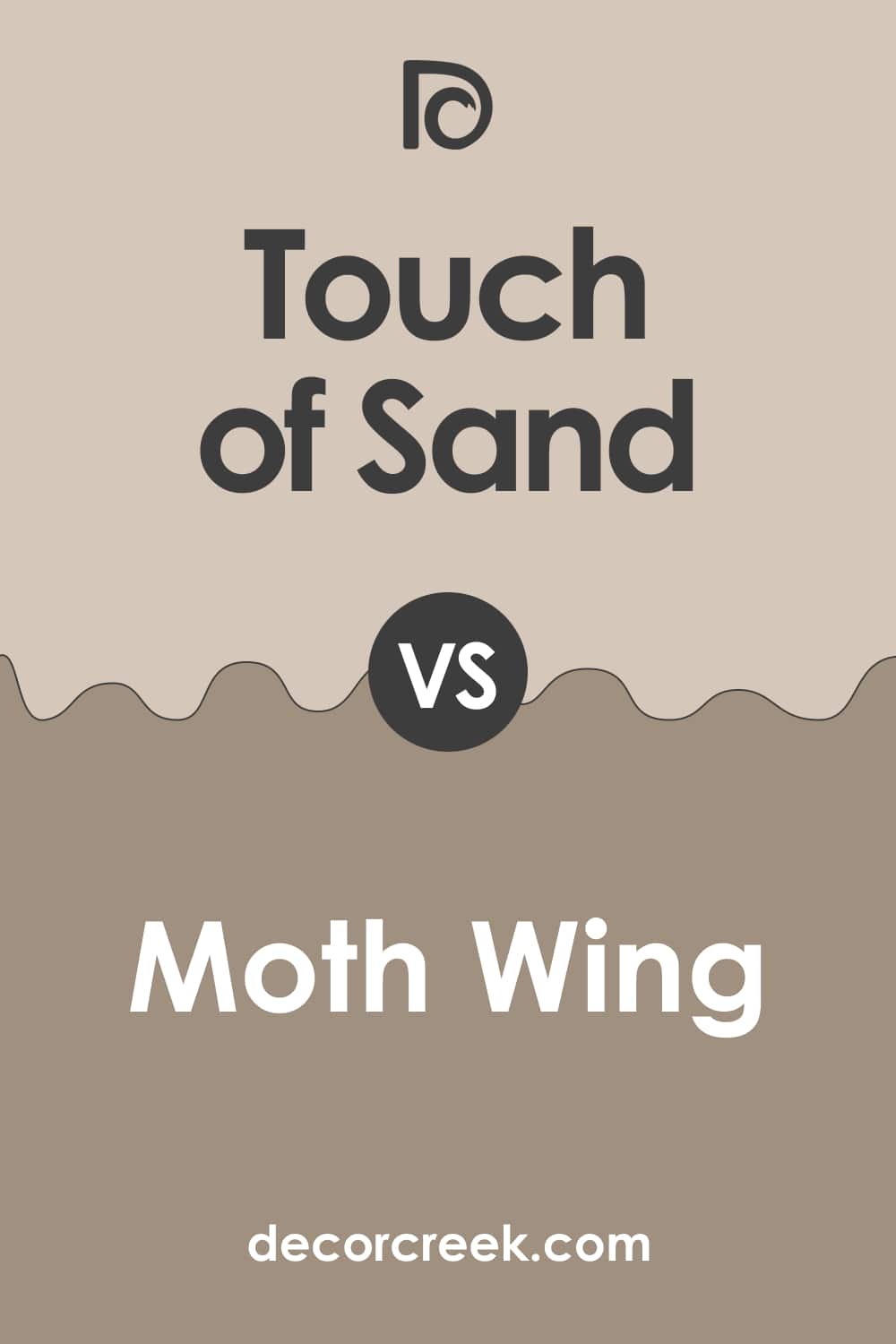 Touch of Sand vs Balanced Beige
SW Balanced Beige is a tricky color! It has very passive undertones, leaning a bit into gray. Because of that, it can pick up a vague green undertone, but only in the very odd light!
Compared to SW Touch of Sand, Balanced Beige reads slightly warmer with more pronounced brown undertones. Again, not the best pair of colors to be used indoors, but each one is nice on its own.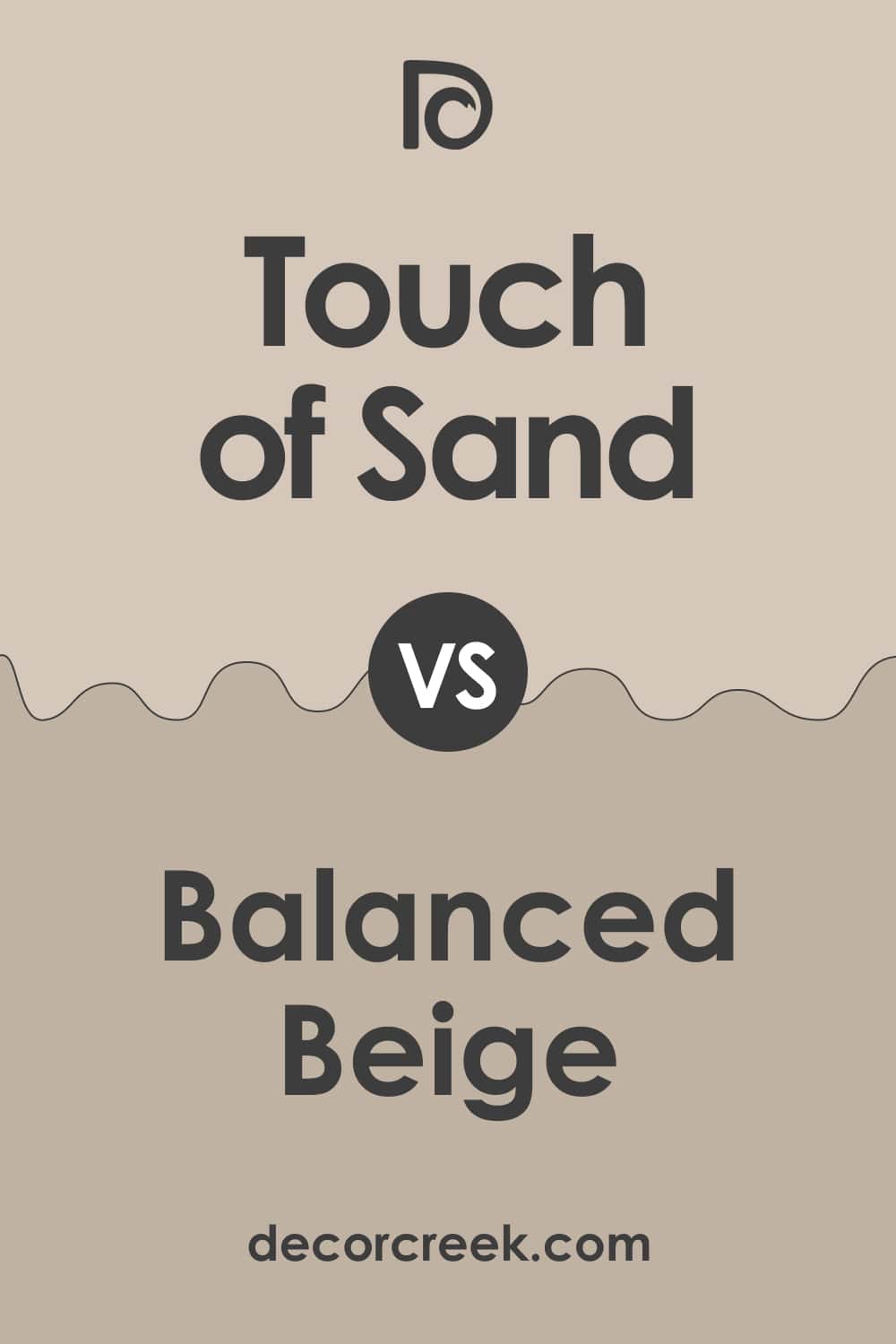 Touch of Sand vs Accessible Beige
SW Accessible Beige is a beige color with grayish undertones, whilst the Touch of Sand color is beige with a very neutral sandy undertone instead. This difference is clearly seen because the Accessible Beige color reads more grayish than its warmer counterpart. These two will not work together since there will be no contrast between them.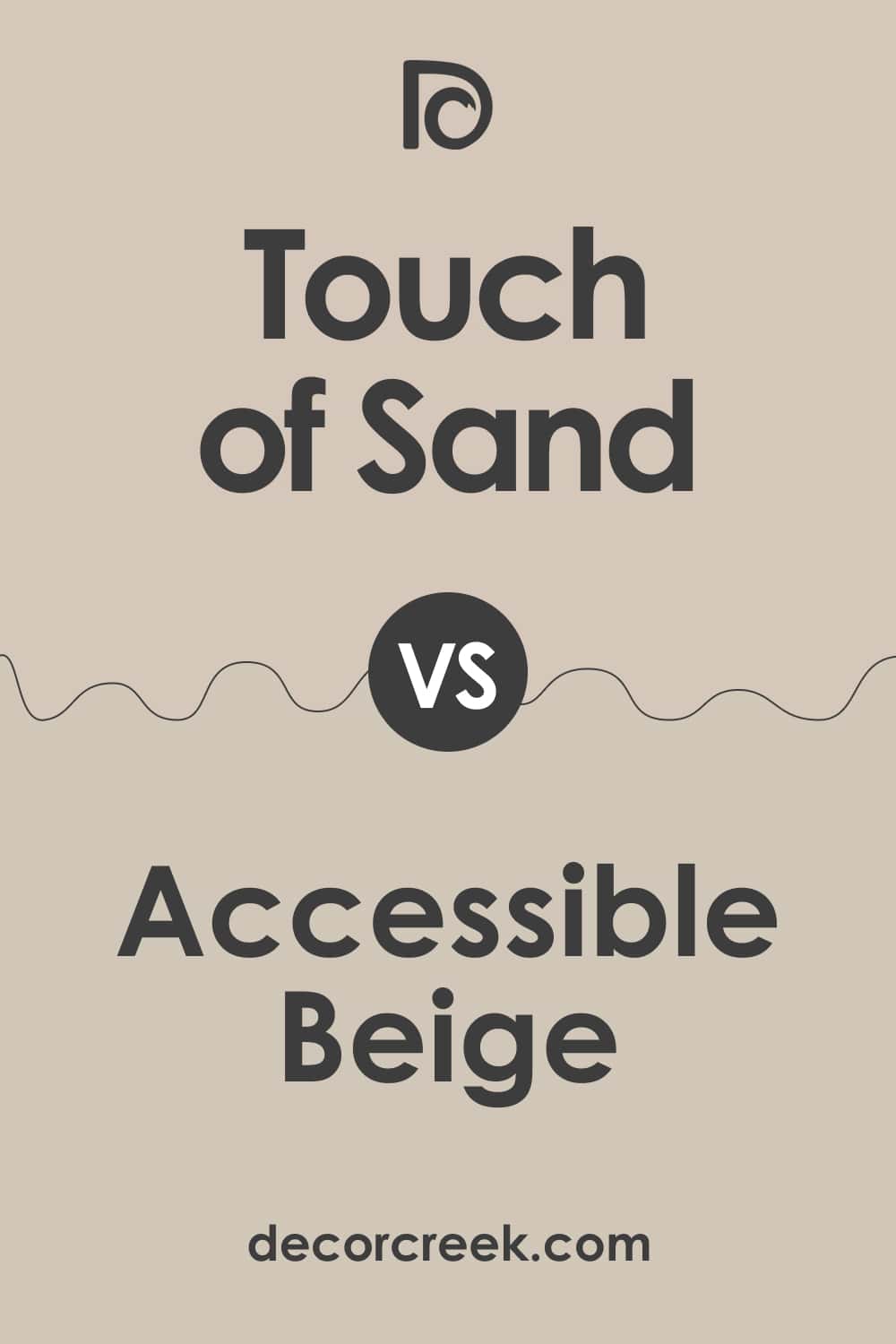 Touch of Sand vs Threshold Taupe
Like almost all taupe colors, SW Threshold Taupe paint has a purple undertone that becomes more clearly seen in certain types of light.
Compared to SW Touch of Sand, it reads warmer and more saturated, with a prominent brownish and purple hue. Both colors work well with the white trim, so if you are looking for a darker alternative to SW Touch of Sand, the Threshold Taupe might be your choice!
Now you know all the basics regarding this lovely and beautiful sandy beige. SW Touch of Sand is soft and delicate, bringing harmony and balance to your home. This neutral beige works pretty well with quite many colors, such as whites, other beiges, and neutrals.
It means that you should have no problem creating a relaxed vibe in your house or apartment should you decide to use it.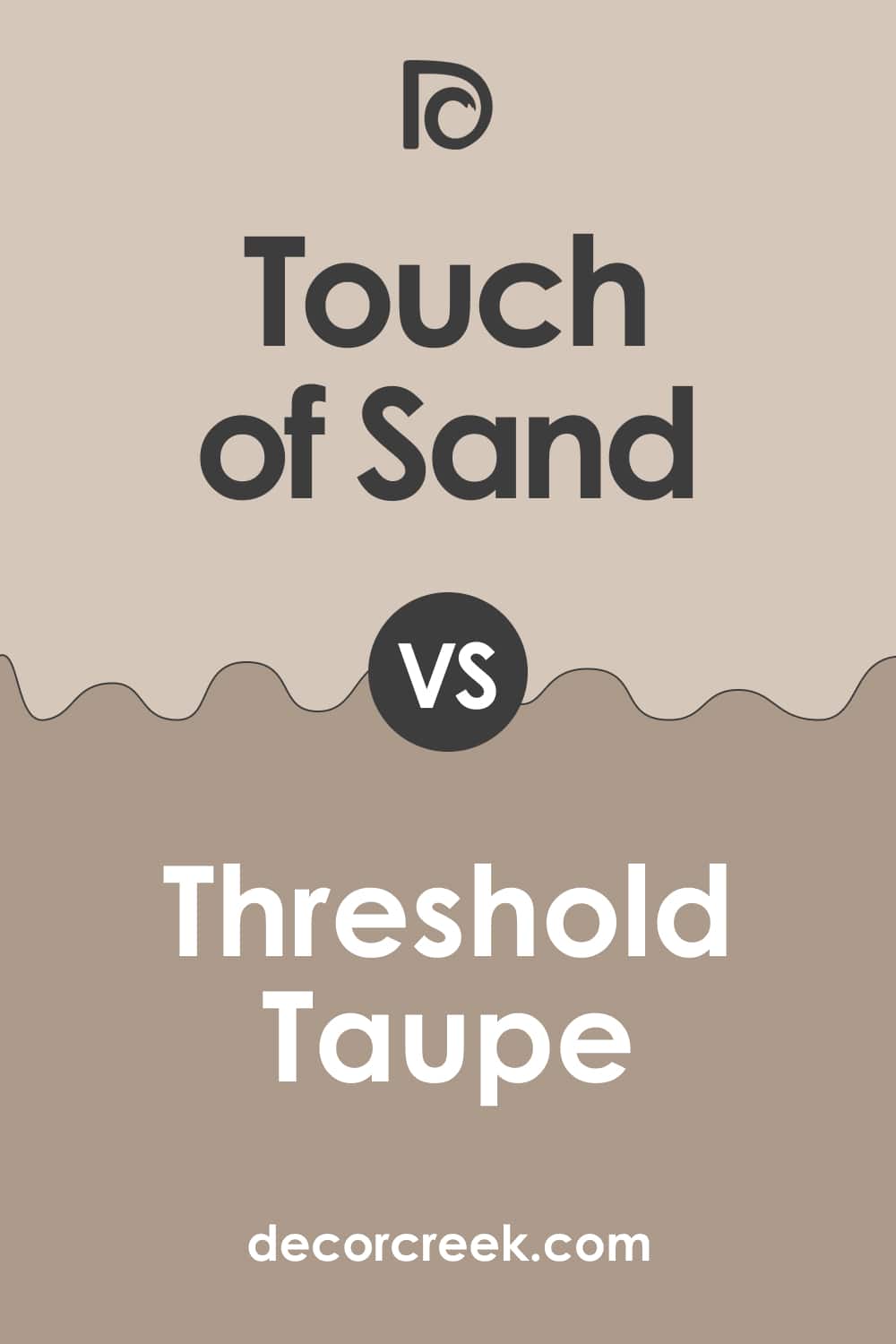 Where This Color Can Be Used In Your Home?
Beige colors are known to be pretty versatile. However, people still wonder in what rooms this color will work best of all. If you want to try out SW Touch of Sand paint color in your home but you are not sure where exactly to use it, the following information will be helpful for you!
Living Room of Touch of Sand SW-9085
In the living room, this beige will look very lovely. But you should ensure that the room is spacious enough and has plenty of daylight! Otherwise, in a poorly lit and/or very small space, this beige will read "dirty" and yellower than it is.
Nevertheless, for most living rooms, this color is perfect even if you are going to use it in the warm bulb light.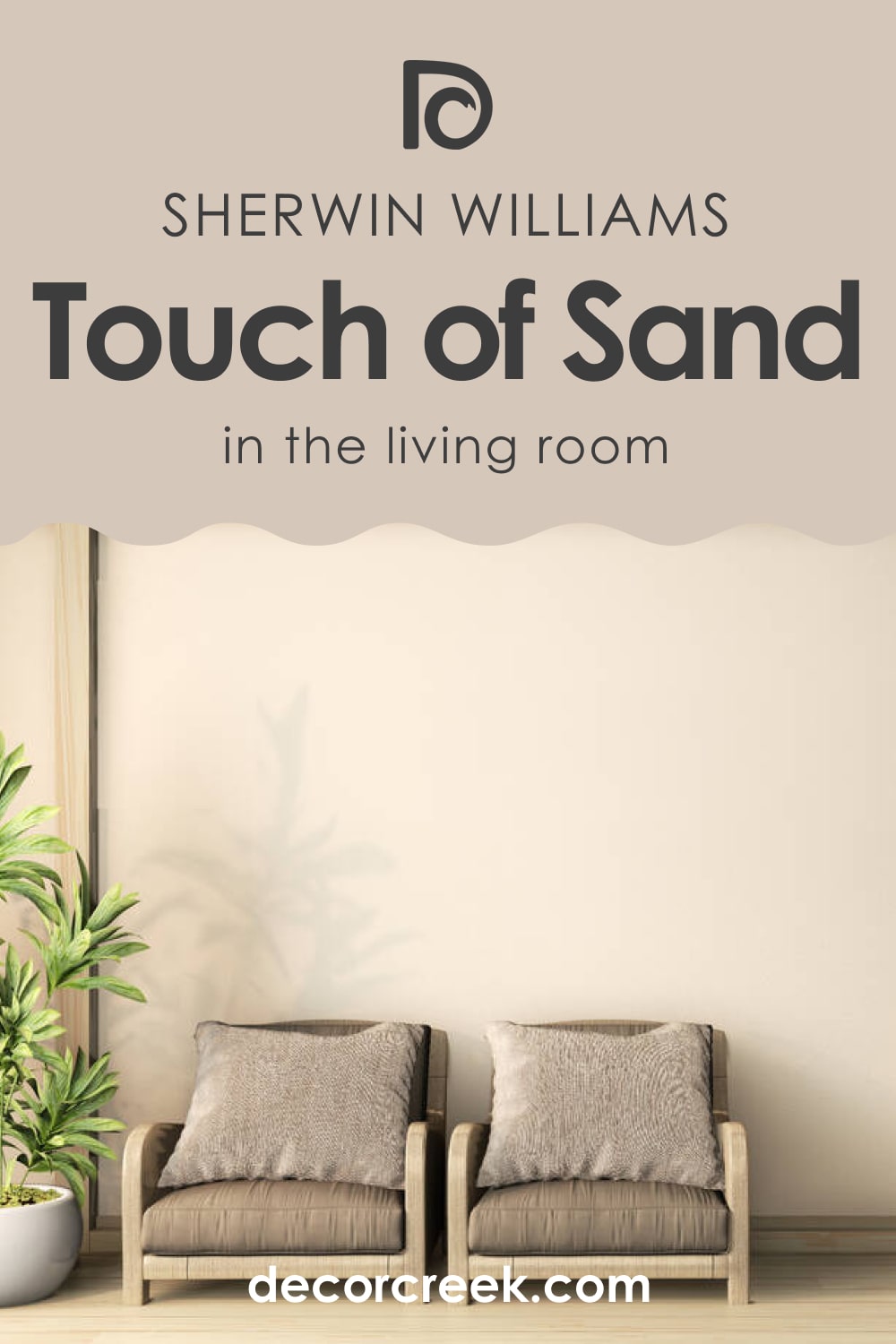 Bedroom and Touch of Sand SW-9085
To create a cozy and soothing atmosphere in your bedroom, use this soft beige. Its calming and natural appearance will bring you peace and relaxation, making the room feel warmer and safer.
It will work exceptionally well with knitted fabrics and natural textures or materials like wood and rattan. Also, you can use porcelain or ceramic/stone decor items in your bedroom. They will look very harmonious with this beige!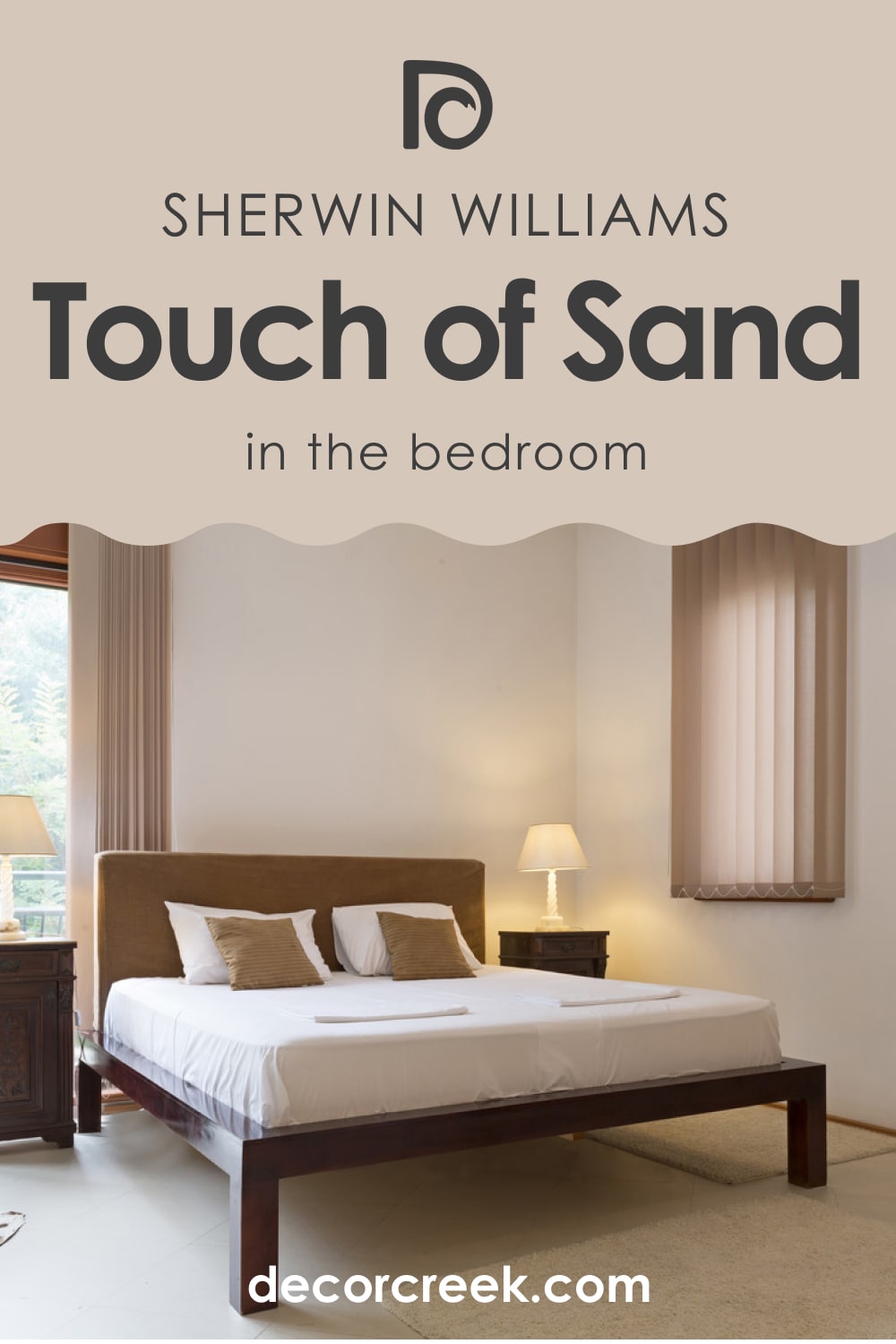 Bathroom with Touch of Sand SW-9085
This color might not be the most popular color selection for bathrooms since we are used to cooler and "watery" colors like blue in this room.
However, if you want to make your bathroom feel cozier, you should try this beige for sure! Just don't paint the walls with it! Instead, either paint an accent wall or paint the bathroom vanity sink or cabinets to create warm accents, leaving the walls white.
Touch of Sand SW-9085 for Kitchen
This beige can work pretty well in your kitchen as well. Since it goes great with wooden furniture and stone surfaces and floors, this color can be used in almost any household. Besides, it will make the space look homey and cozy!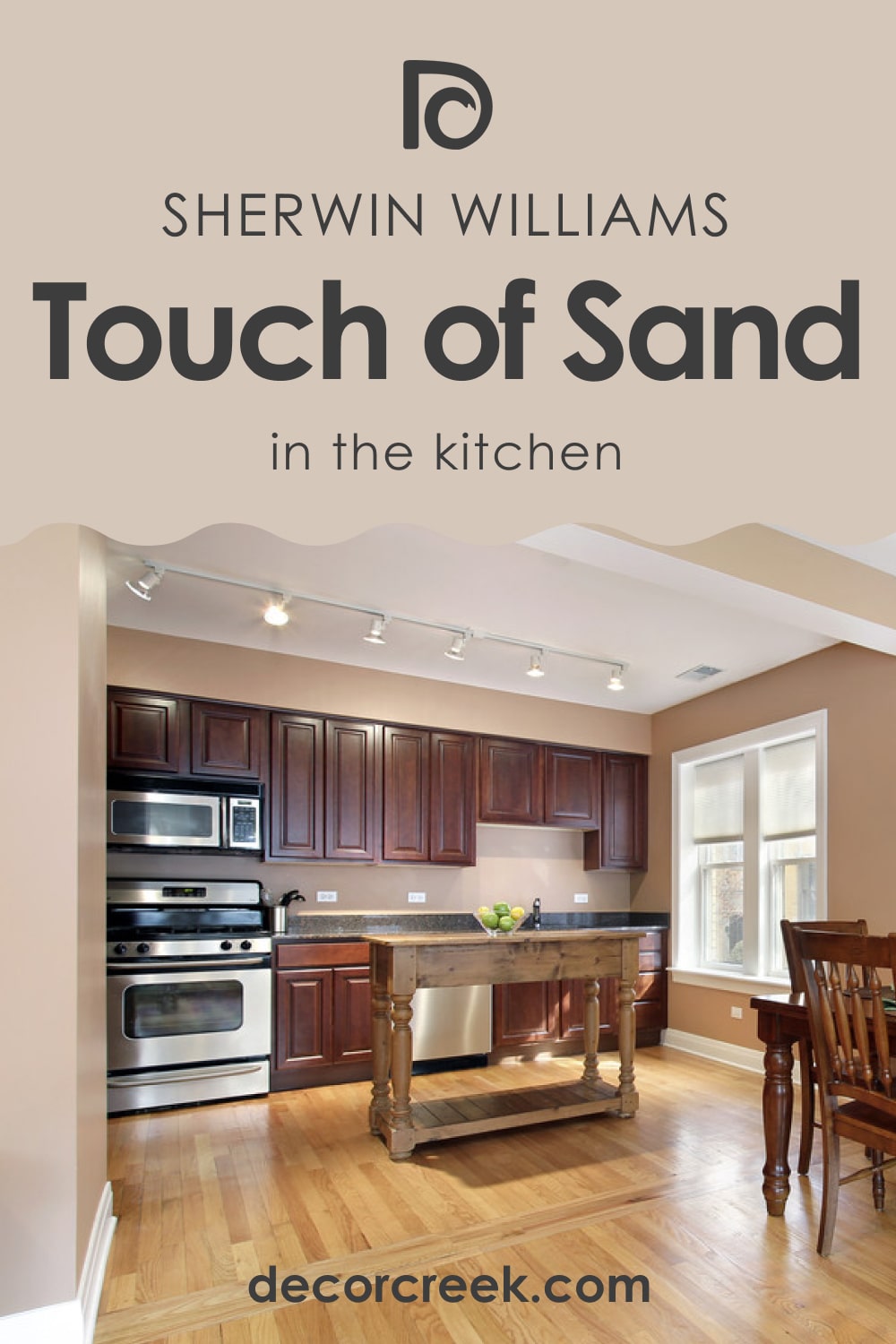 Touch of Sand SW-9085 for the Exterior Use
Some people doubt when it comes to using beige on exterior walls. Indeed, not all beiges will work well outdoors since they may read unpredictably in a different light! But SW Touch of Sand stands out from this list.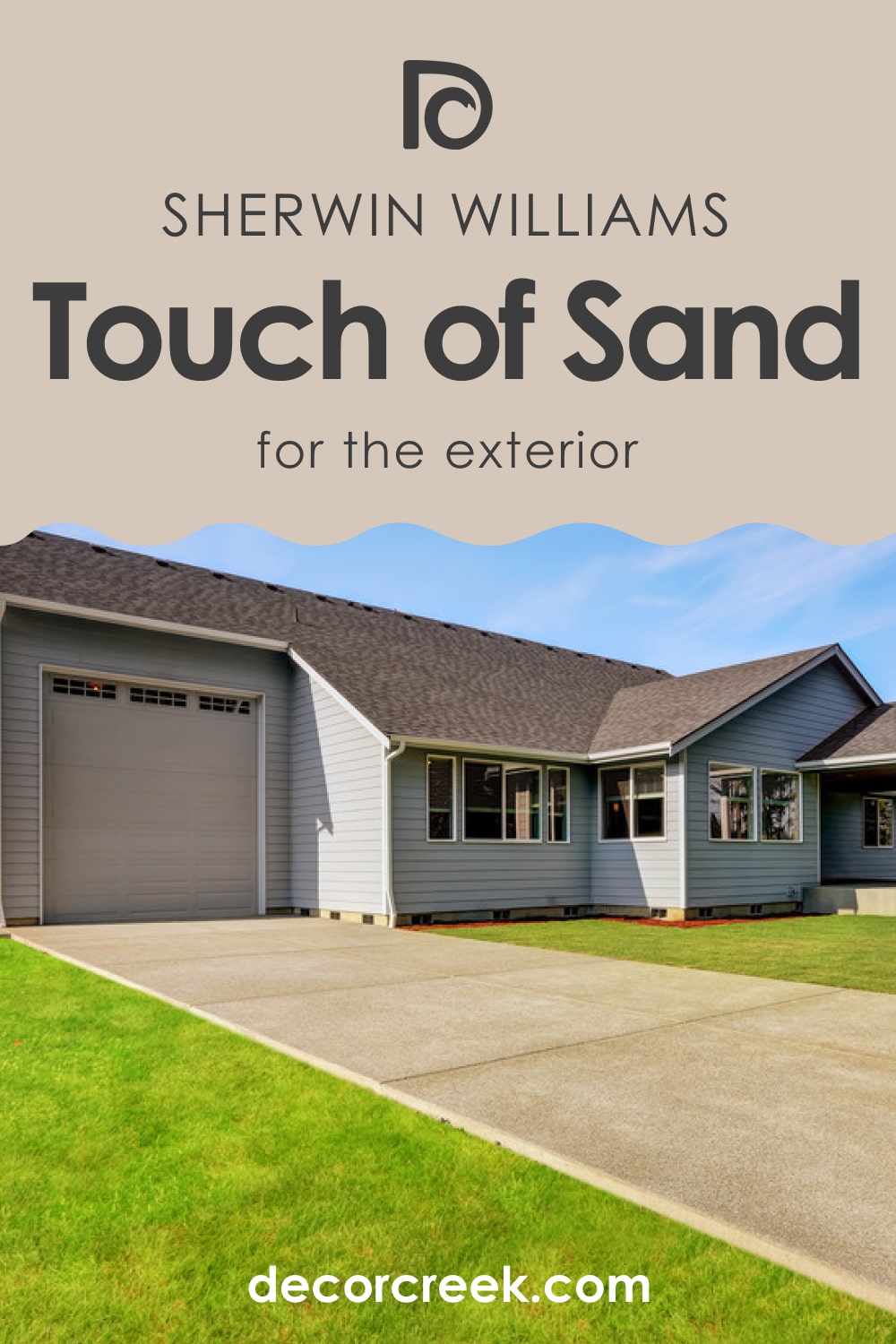 This beige can work well on exterior walls. You only need to ensure that there is enough white there as well, and also, it would be good to use some darker color accents (e.g., the front door and the roof). This will help the house not to look too monochromatic and dull.
Now you know everything you need to use this wonderful neutral color properly. You know about its undertones and LRV, you know in what rooms it should be used to work better, and you even know what colors will pair better with it! With these tips and life hacks, you will be able to use this beige like a pro!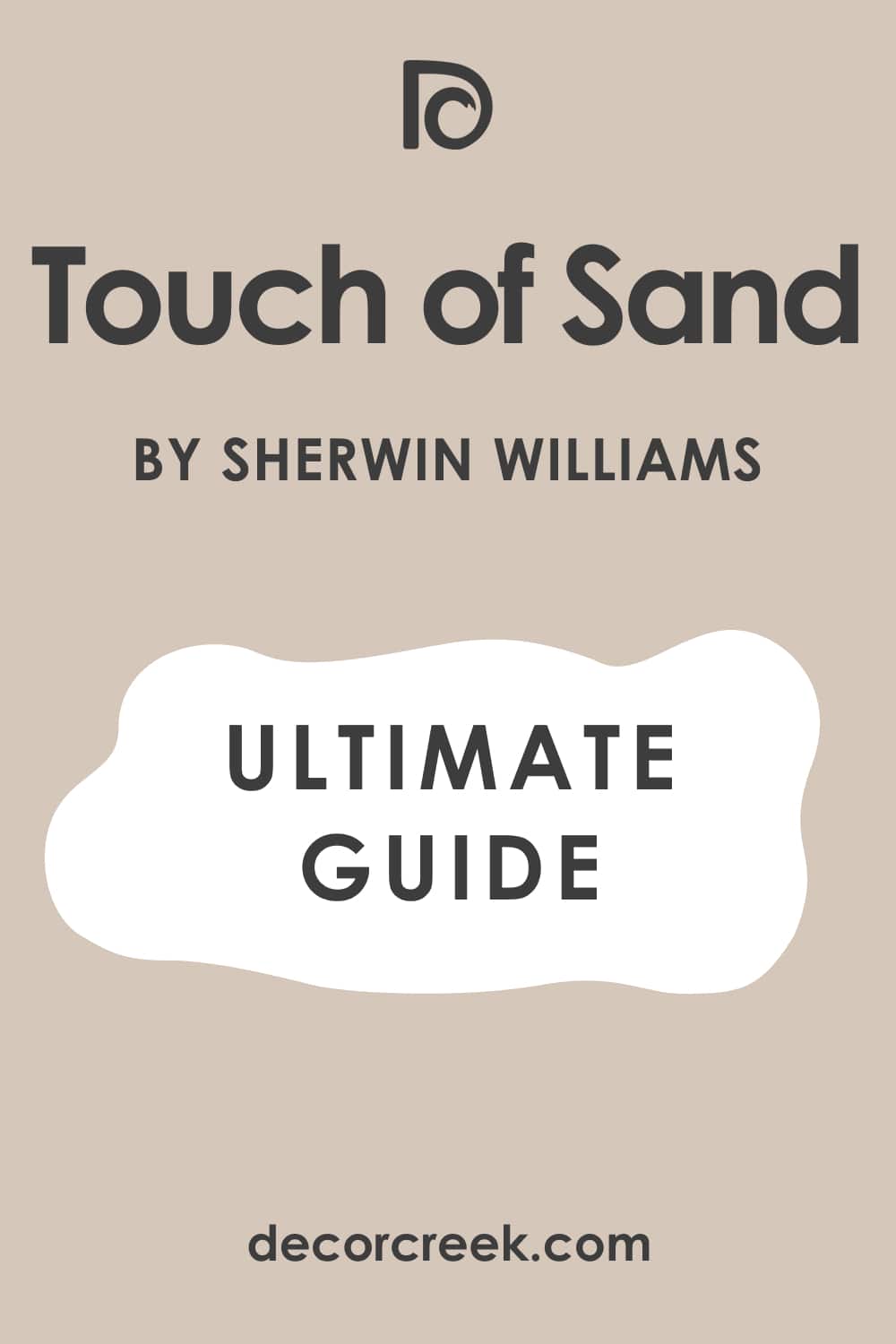 Frequently Asked Questions
⭐Is SW Touch of Sand an orange color?
In fact, yes, this color belongs to the orange color family, although it is typically called beige.
⭐Does SW Touch of Sand read yellow?
No, it doesn't read yellowish, but in certain types of light, it may read warmer.
⭐Does SW Touch of Sand have brown undertones?
No, this color doesn't have brown undertones. It has soft and sandy undertones.