If you are looking for a white paint color to use in your next home painting project, you might have trouble choosing which white in particular you need. White only seems to be a simple color, in fact, there are plentyof shades it can offer, and today we are going to introduce one of them to you.
Meet Zurich White SW-7626 by Sherwin-Williams! In this article, you will find information about this color's undertones, light reflectance value, and trim colors.
Also, we will explain what kind of white this paint is and in what rooms it will work best of all. And of course, you will get a list of handy tips and recommendations regarding this wonderful white.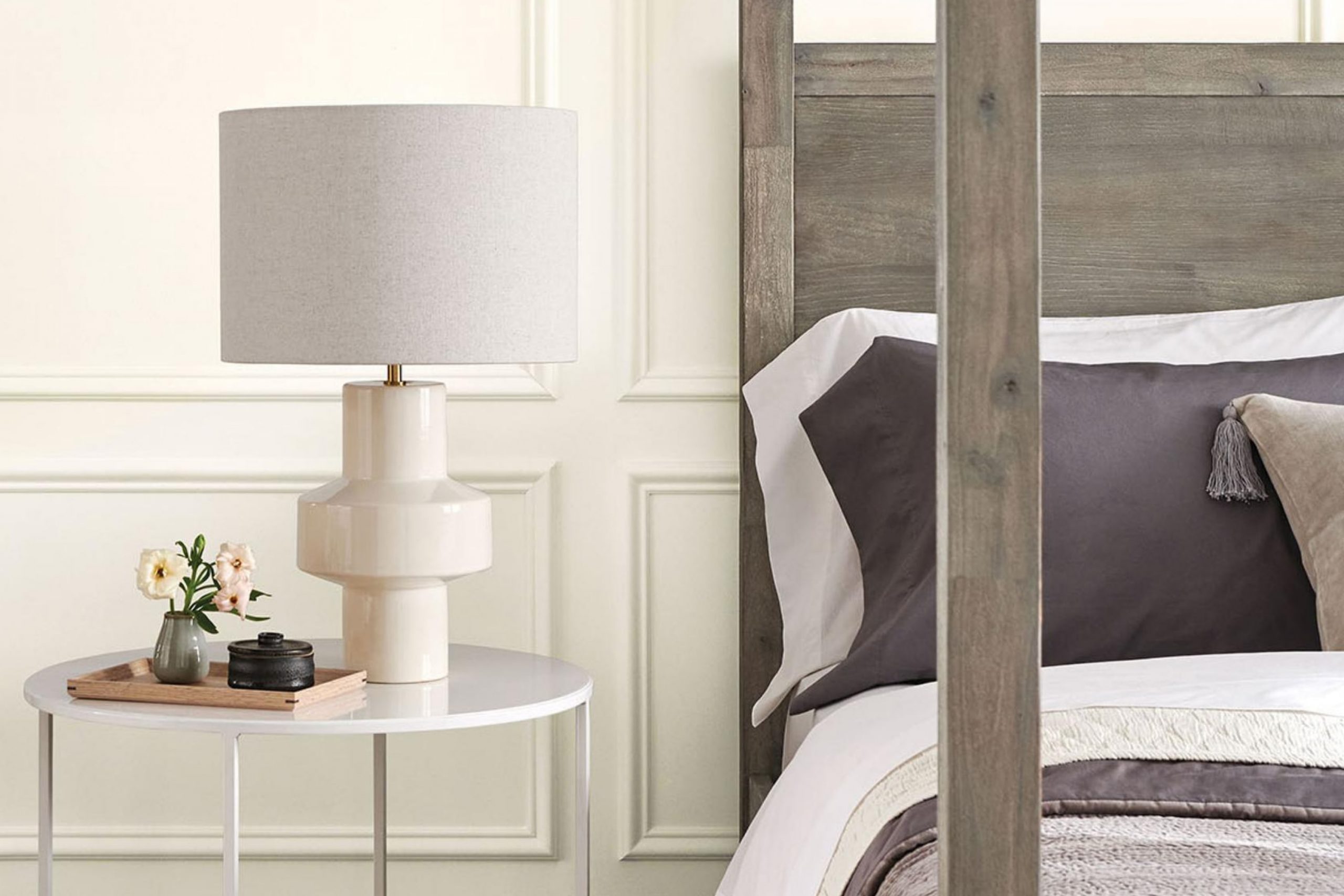 Zurich White SW-7626 By Sherwin-Williams. What Kind Of Color Is It?
As we have already said, white only seems to be a simple color. In fact, whites can also be warm-toned and cool-toned, they also have different undertones and can read in your living space quite differently!
Speaking of Zurich White By Sherwin-Williams, we would call it a soft and rich looking white. But don't worry if you have already thought of yellowish and creamy tones! As Encycolorpedia says, this white color is not creamy at all. It still looks white, but at the same time, not super crisp.
But you should keep in mind that this white color is rather complex! Although technically it is warm and cozy white, it is also a little creamy and has a touch of greige. This is why people often refer to it as a neutral color.
In general, Zurich White reads balanced and warm enough, showing a hint of light grey sometimes, especially in cool light, and reading a bit warmer other times.
So if you are looking for a white color that is versatile and can incorporate into any room in your home, you should definitely consider this one!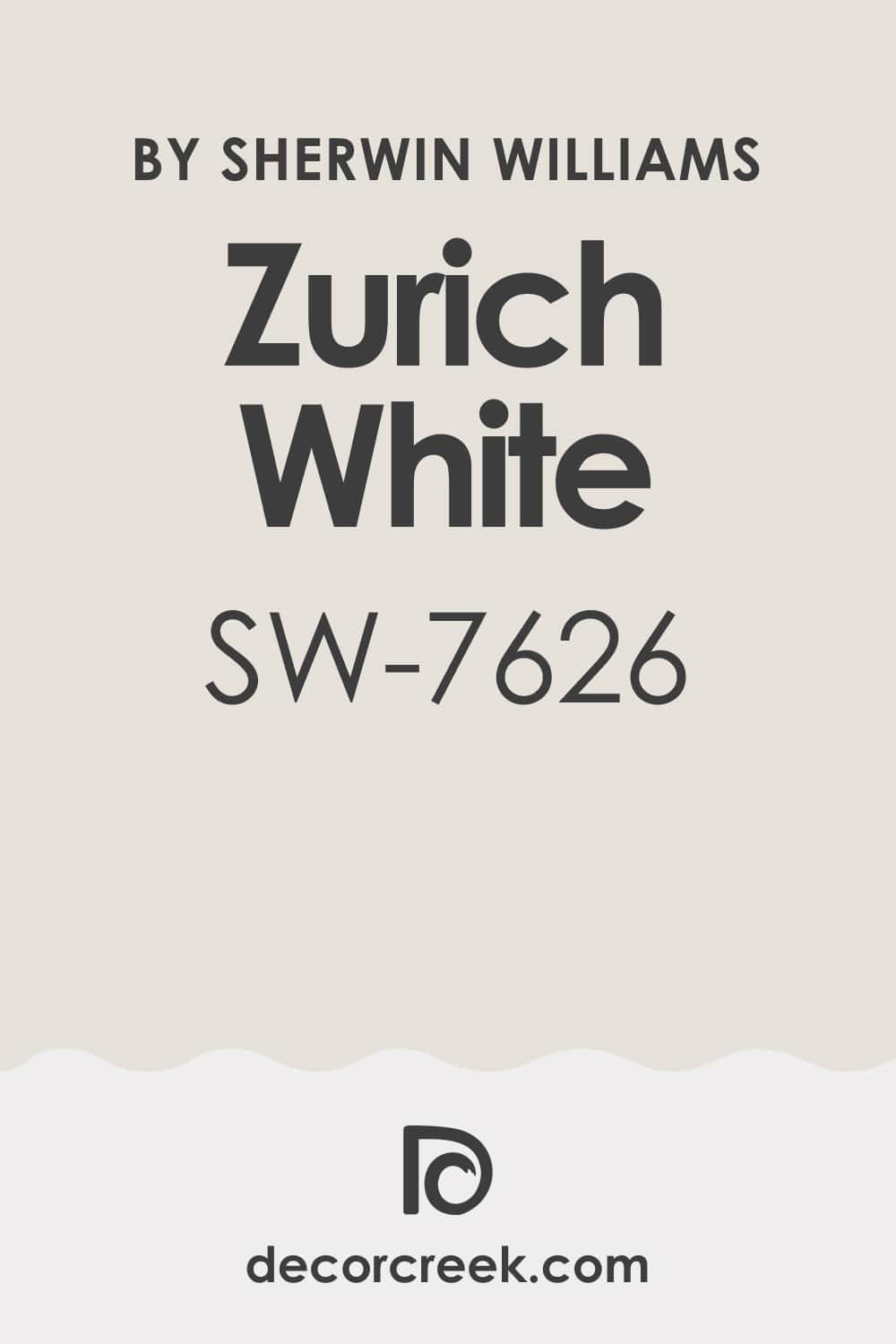 Undertones Of Zurich White By Sherwin-Williams
Defining the undertones of a certain paint color is often tricky and complicated, especially if you are not a professional painter. Undertones can be affected by the way the light hits the paint, as well as by the rest of the color palette in a room and more.
This is why it often happens that paint color can look one way in a store on a paint swatch, and read differently in a paint can, but when you test a sample on your wall, it can turn out to be completely different from everything you have seen before!
When it comes to a color like Zurich White, undertones play an especially important role! See, this white has mixed undertones that include gray to greige and a touch of yellow. This affects the way this color may work on your walls since it can be quite unpredictable.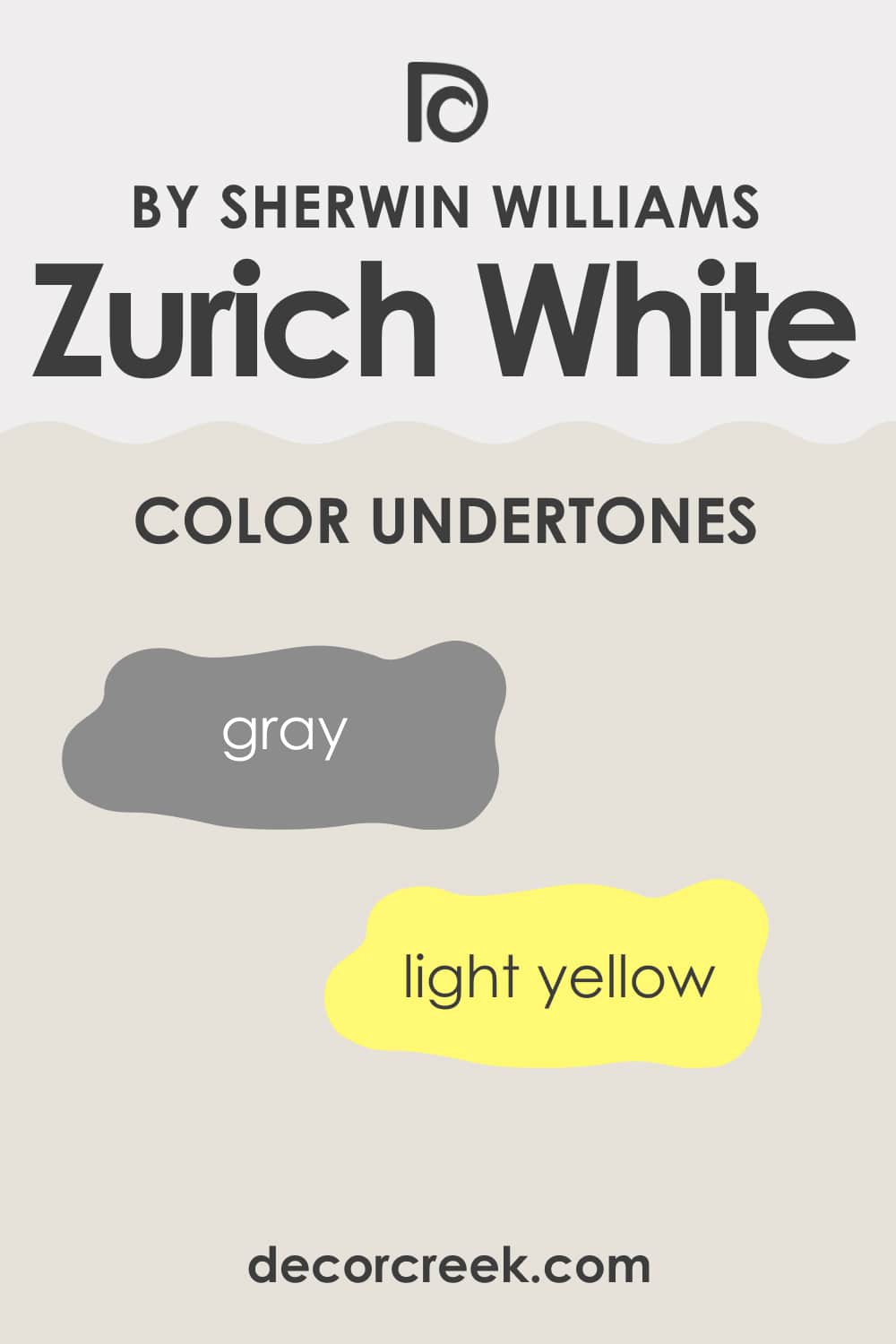 LRV of Zurich White SW-7626
First of all, let us remind you what LRV actually is. So, LRV stands for Light Reflectance Value. It is the measure of how much light a color reflects when it is applied to the wall.
In other words, LRV shows how bright a color is. On a scale of 0-100, 0 is the deepest black and 100 is pure white.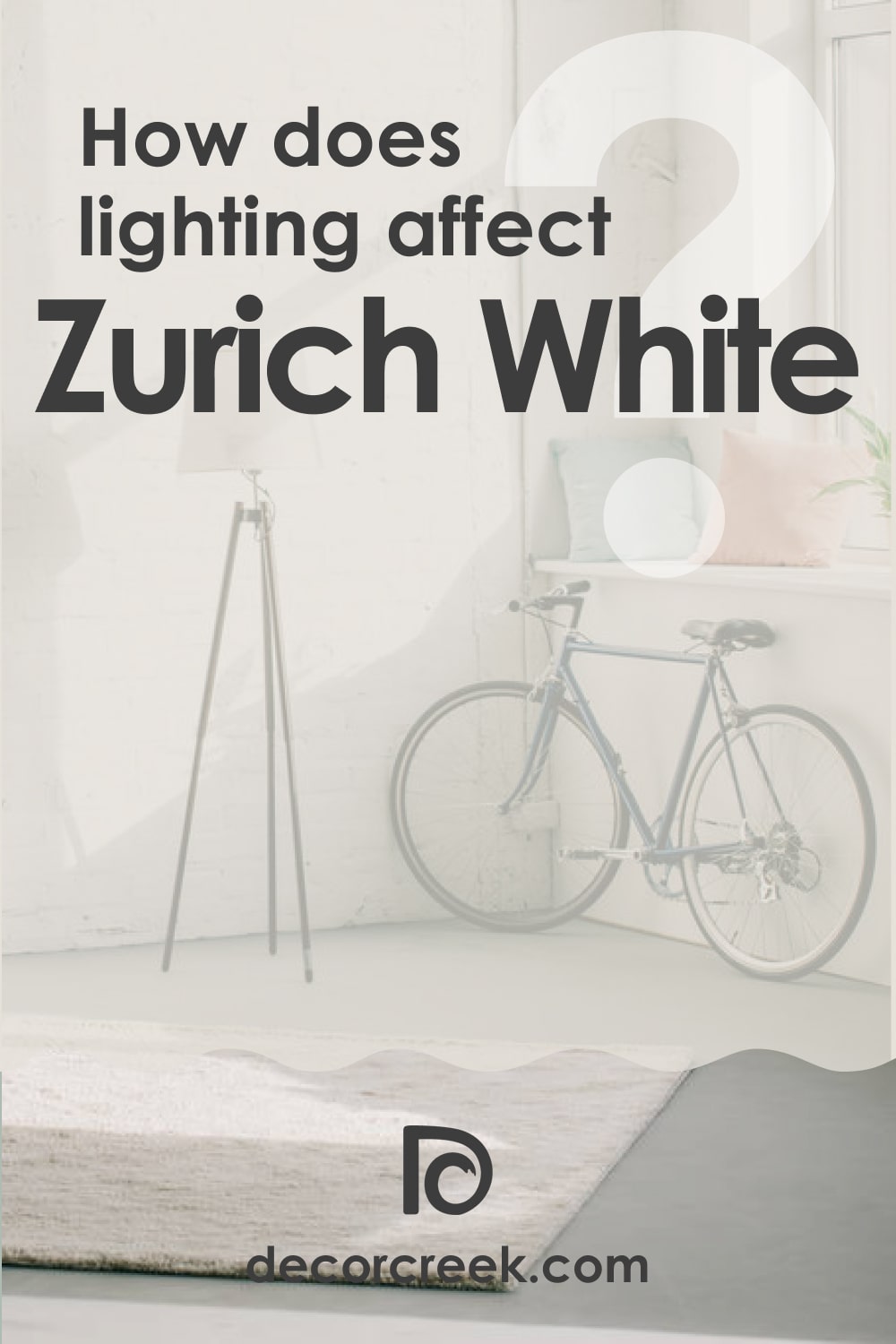 The LRV of SW Zurich White is 76, which makes this white a soft, creamy neutral color. Besides, with this LRV, this white isn't nearly as bright as many whites on the market.
Like that, now you know a bit more about this wonderful and delicate soft white color. So we offer you to move further and learn what trim color, as well as coordinating colors it has, and what other paint colors can go well with SW Zurich White.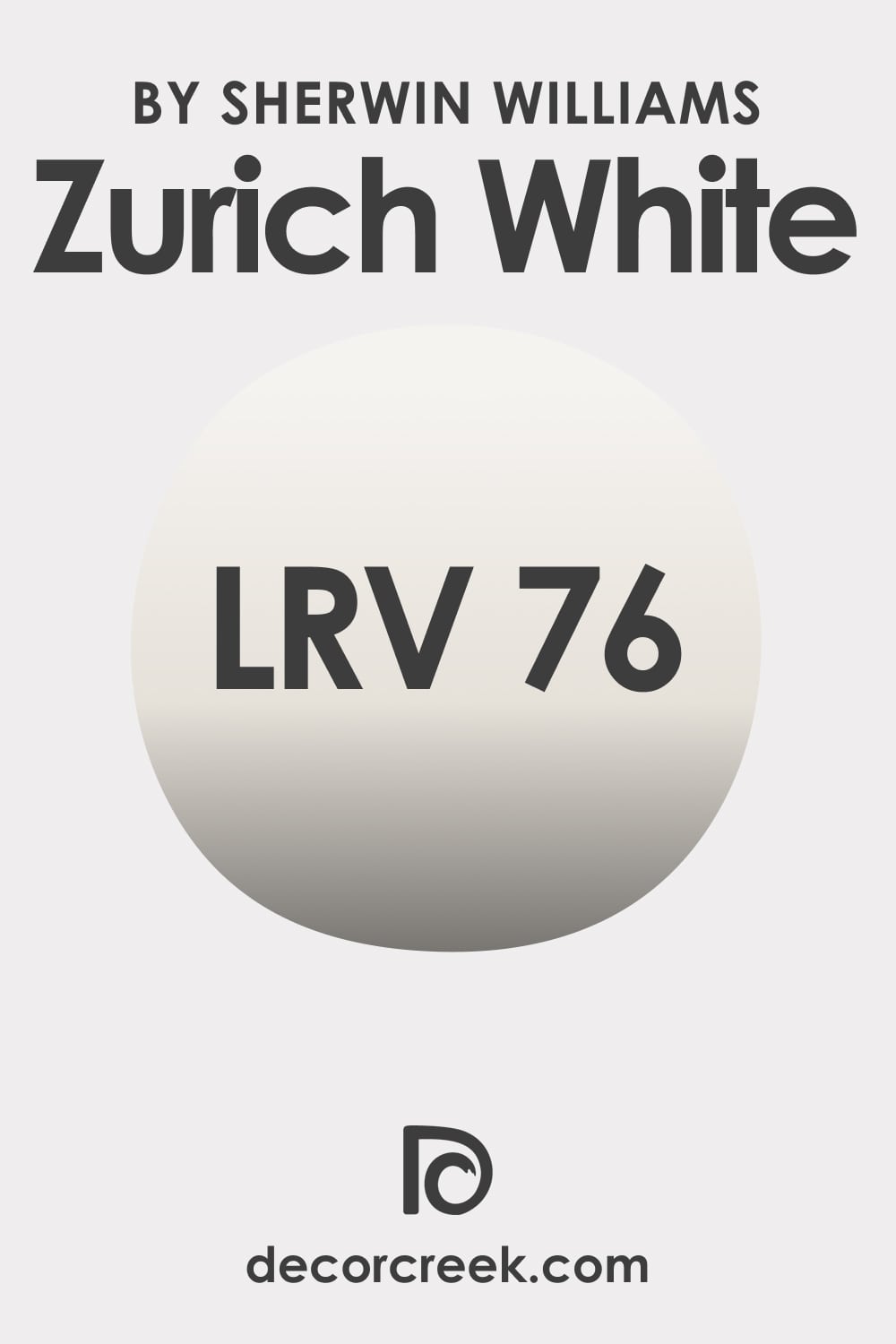 LRV – what does it mean? Read This Before Finding Your Perfect Paint Color
Coordinating Colors of Zurich White SW-7626
Coordinating colors help you pick the most suitable and well-balanced color palette for your home. This is why being aware of them is so important. And since defining what colors can be used to coordinate your major color (which is Zurich White), we want to offer a few ideas that you might find useful:
SW Outerspace
SW Tin Lizzie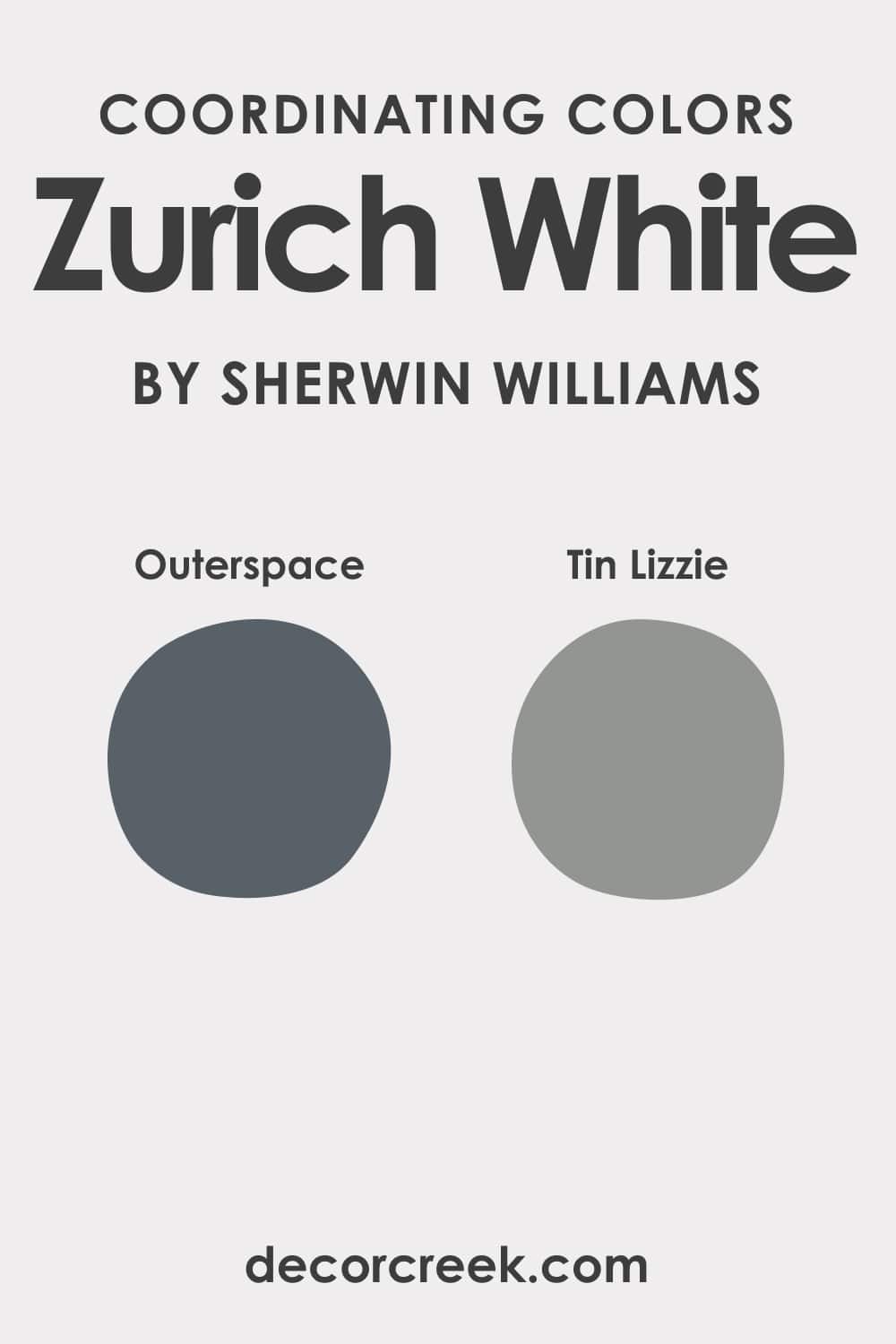 Best Trim Colors For Zurich White SW-7626 By Sherwin-Williams
It is a well-known fact that white is the ideal option for a trim color. But what if you already have white on the walls? Speaking of SW Zurich White, this color is so versatile that you can use it both for your walls and trim!
The trick is that you should just choose the paint that is not more than one sheen higher than Zurich White. And also, you may want to consider an untinted white color for your trim.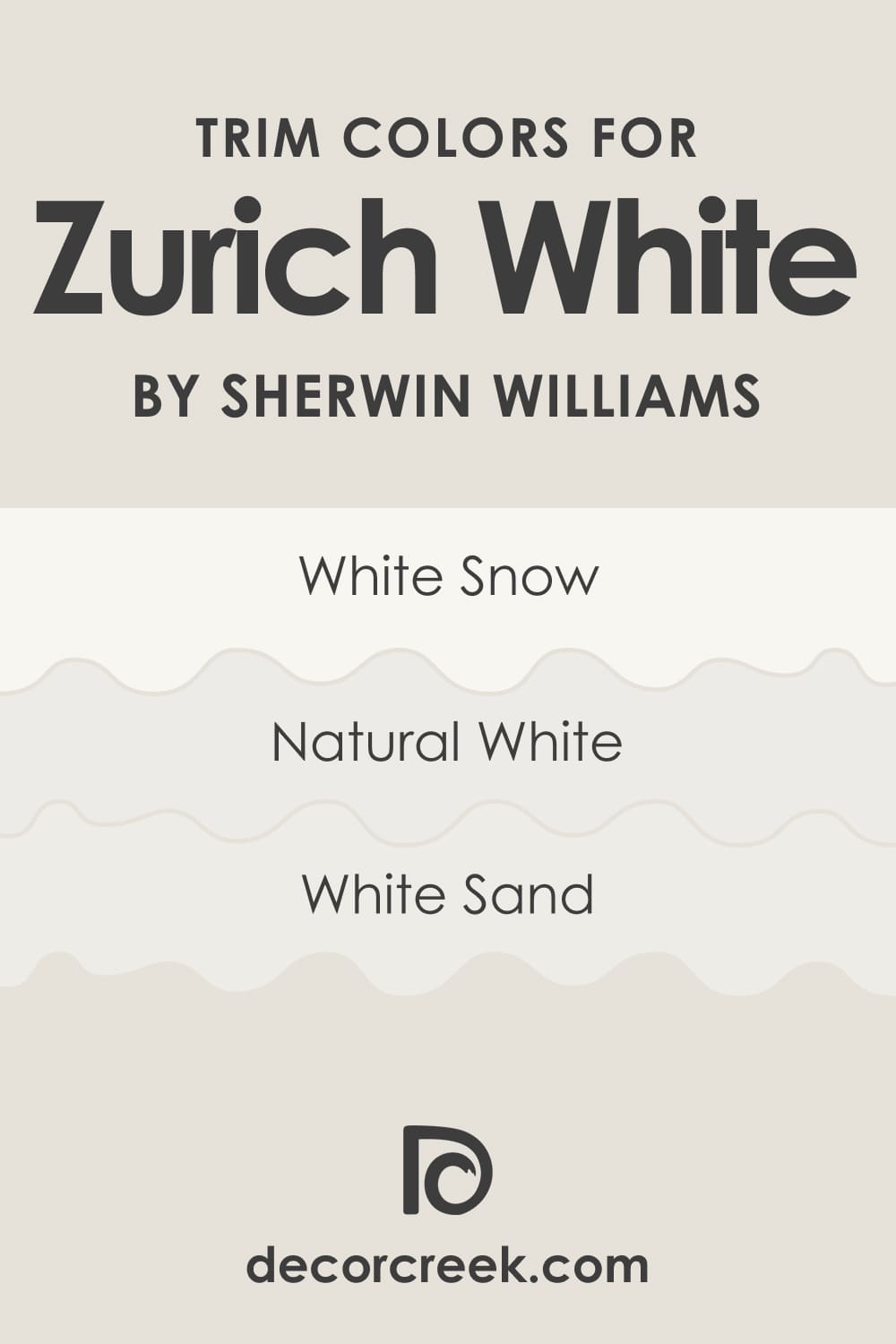 Colors That Go With Zurich White By Sherwin-Williams
One of the best things about this white color is its versatility! This soft and delicate white is so universal that it will look beautiful with a wide variety of elements that surround it.
This is possible because it's not too yellow or too gray in its undertones, so it can feel either warm or cool depending on lighting and accents, as well as other colors in a room.
Here are some of our favorite color combinations for you to consider:
Agreeable Gray
Hale Navy
Tricorn Black
Alpaca
In general, feel free to pair this white with deep grays, navy blue colors, and fresh shades of green, ranging from soft mossy tones to deep evergreen.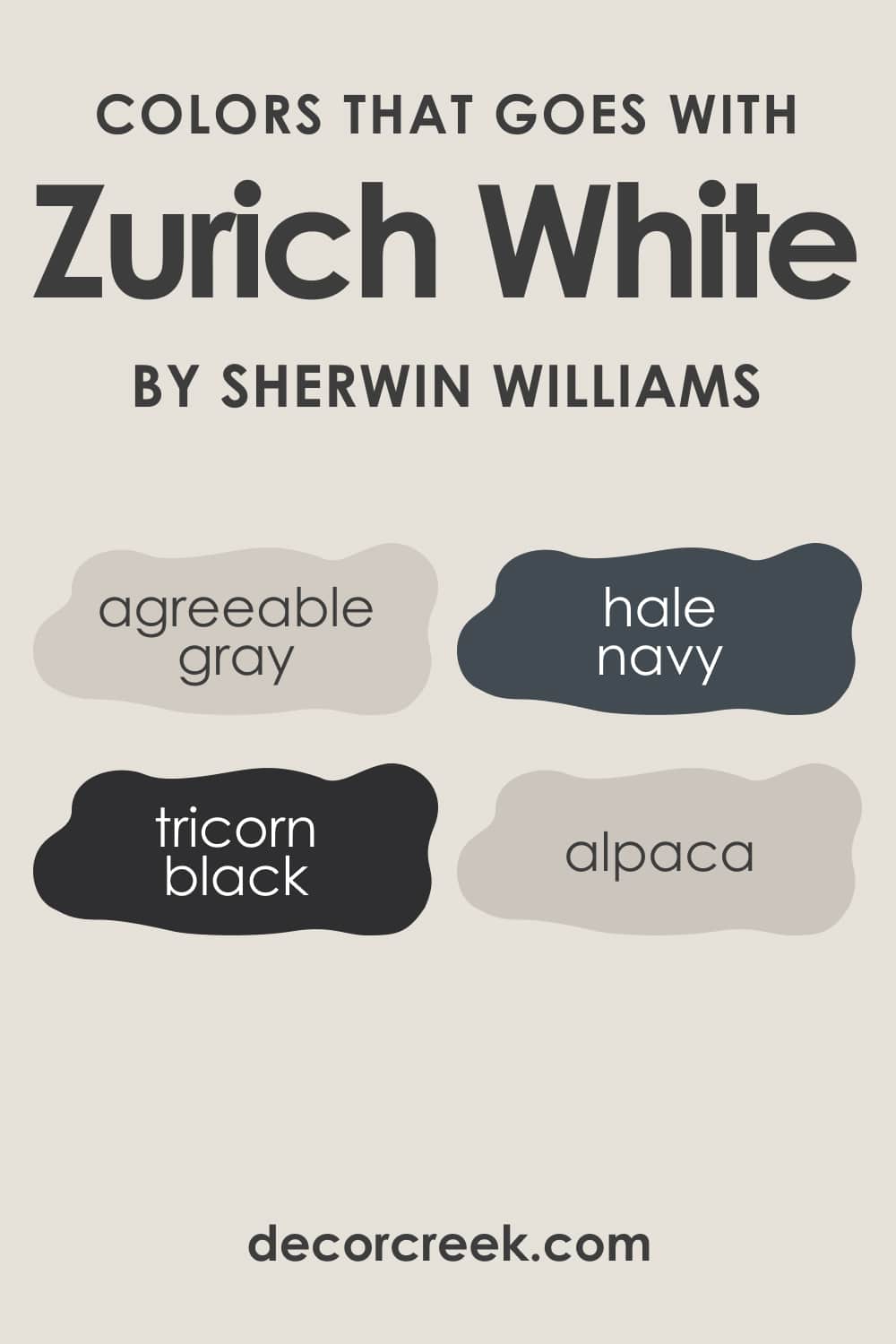 Paint Colors Similar to SW Zurich White
Sometimes we might need to use other colors instead of the one that we considered at the beginning. But with such colors as SW Zurich White, it might be a bit difficult. This is why we decided to help you out a bit.
Below you can find a list of paint colors that are similar to SW Zurich White and they look more or less the same. Of course, note that none of the suggested whites will be literally the same, so you still need to choose carefully!
SW Toque White
SW Sunbleached
SW Incredible White
SW White Heron
SW Eider White
SW Pearly White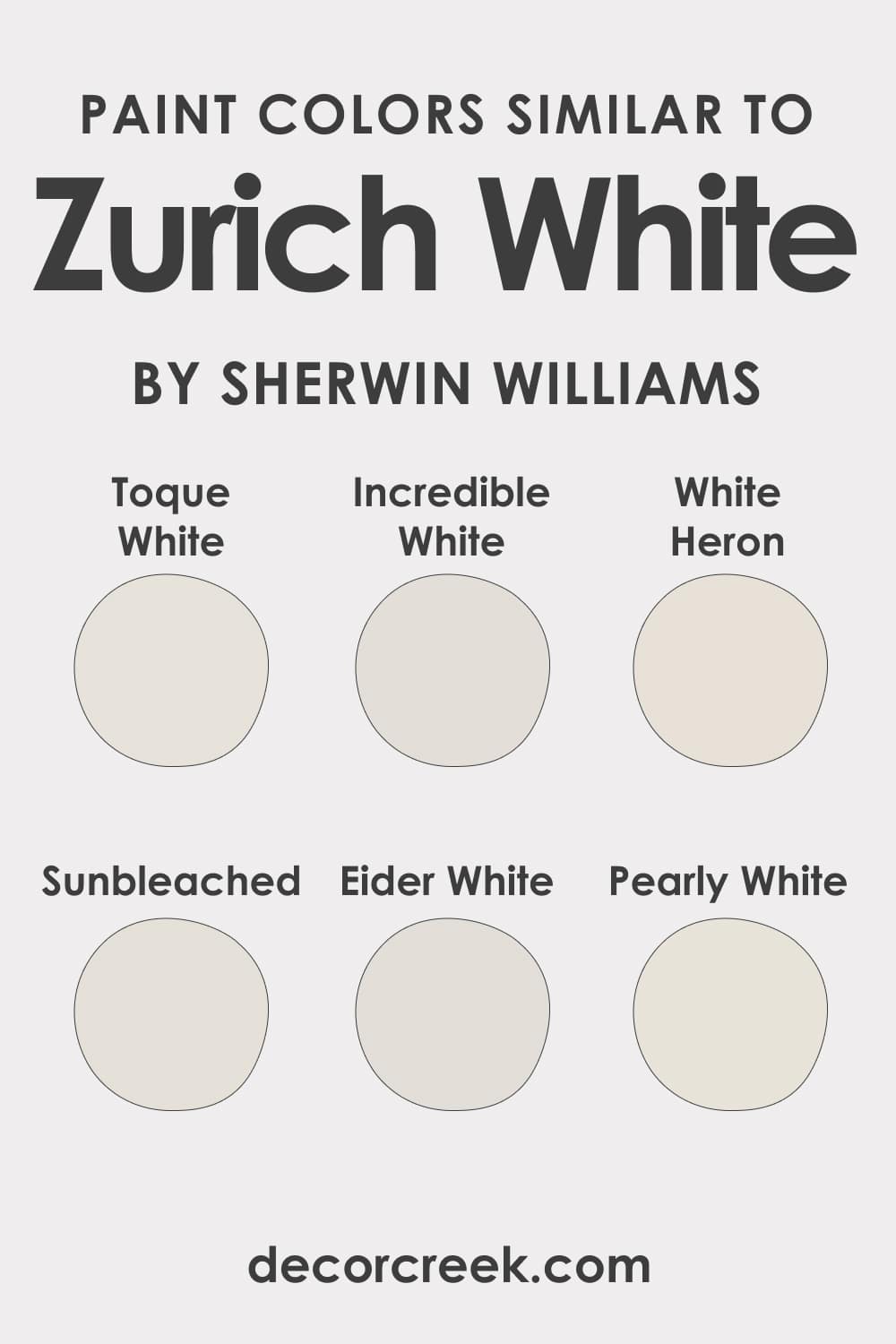 Where You Can Use SW Zurich White In Your Home?
There are colors that can be used in particular rooms only whilst others can work great in any space in your home. As for the SW Zurich White color, this white is pretty versatile but you should still be careful when using it.
This soft and slightly creamy white won't read yellow of course, but it might show undertones that you were not expecting to see. Below, you can read about the way this color can read on the walls of different rooms. Like that, you will better understand what to expect from it.
Zurich White SW-7626 in the Living Room
This white is a perfect color option for your living room, and you don't have to worry if the room has cool northern light or warm southern.
SW Zurich White will read beautifully neutral under any conditions. Also, it will pair nicely with quite many patterns, textures, and colors, so feel free to try it with any design.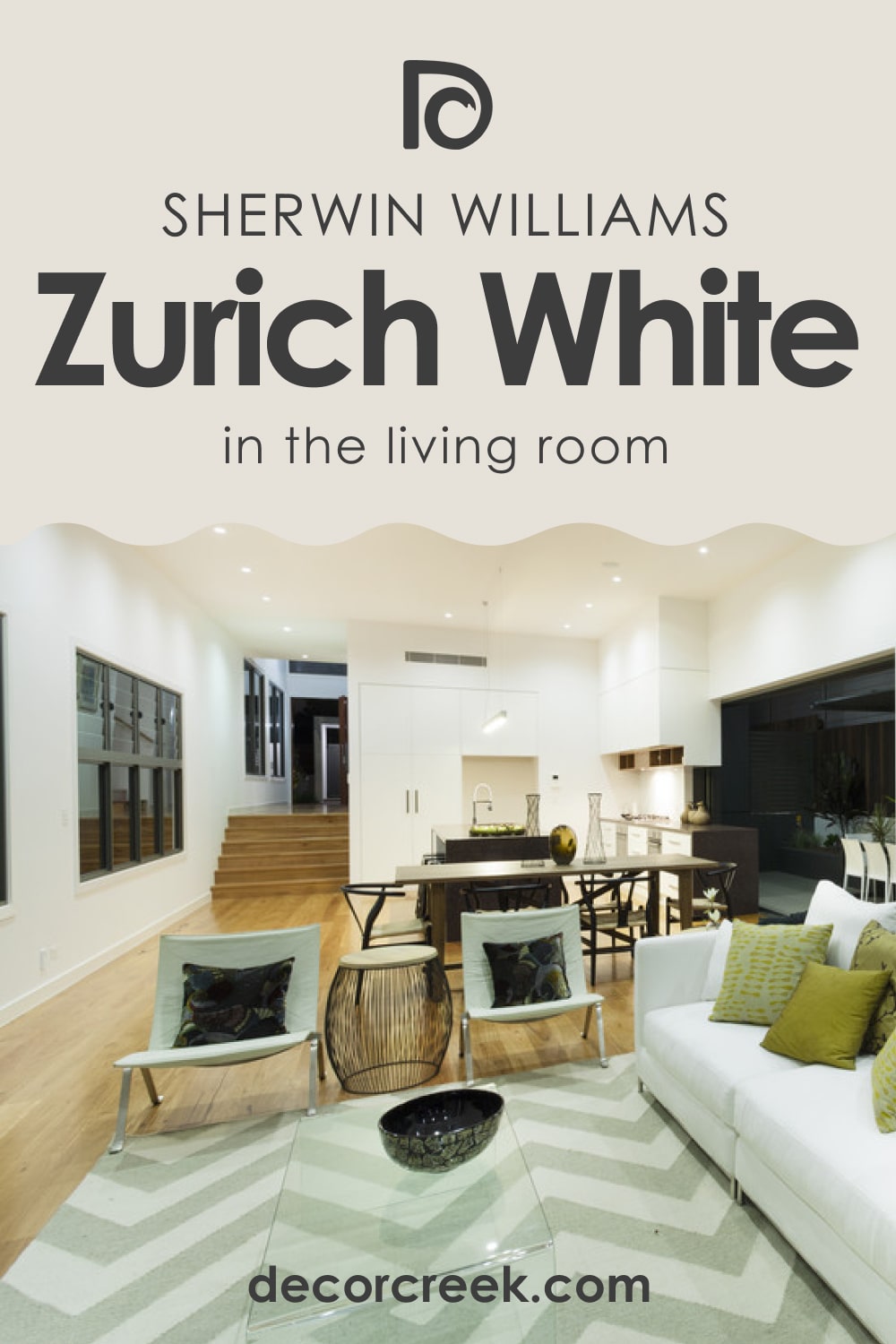 Zurich White SW-7626 in a Bedroom
Are you looking for a soft and calming color to use it on your bedroom walls? Then Zurich White is your option! This neutrally white with a hint of greige and soft undertones will create a calming and cozy atmosphere.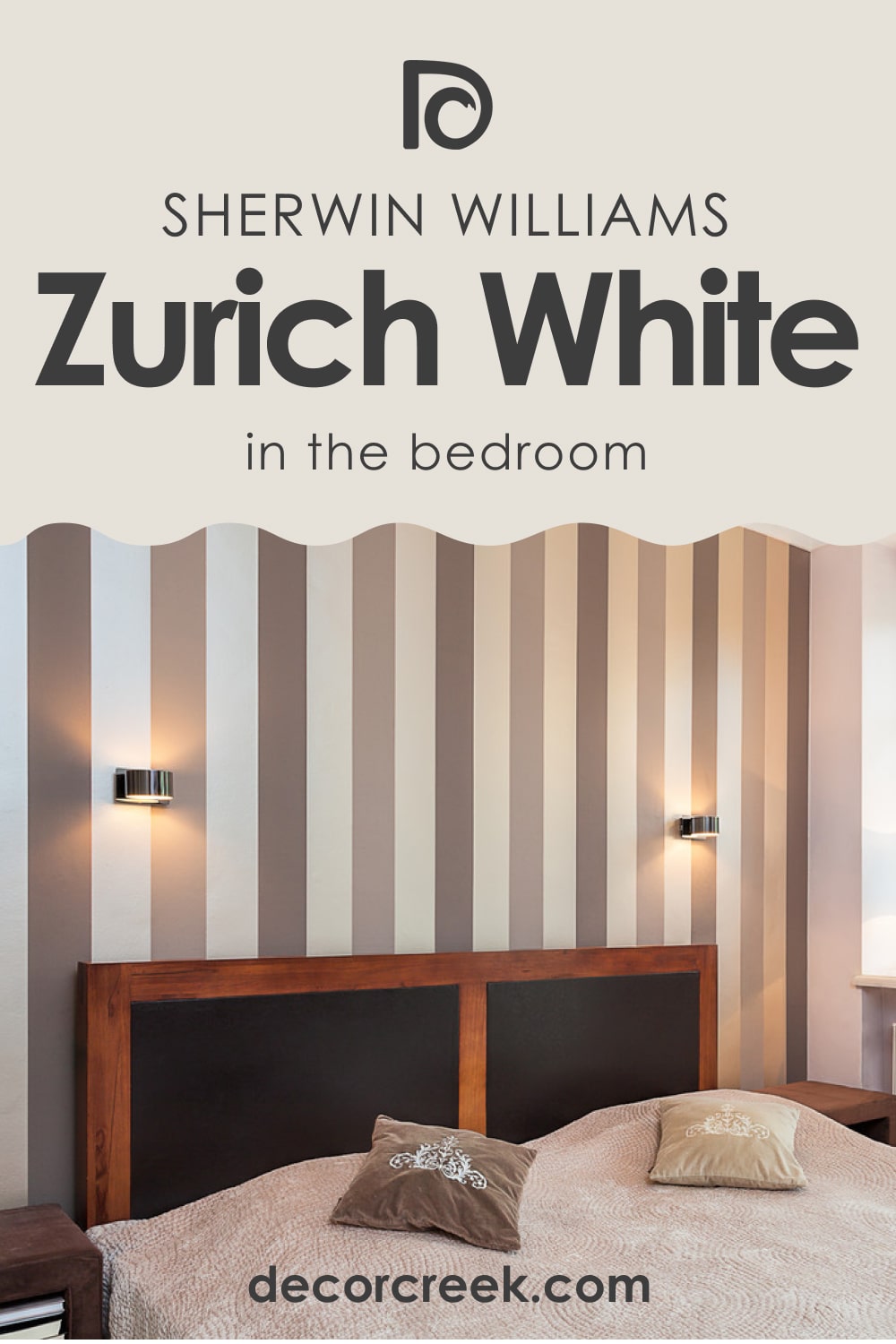 Zurich White SW-7626 in the Bathroom
Since Zurich White doesn't read too crisp on the walls, you can use it in your bathroom easily. The only nuance you should keep in mind is light.
If your bathroom is small and poorly lit, this white may read much warmer and even show more of its creamy undertones. To some people, this may almost read as a yellowish hue.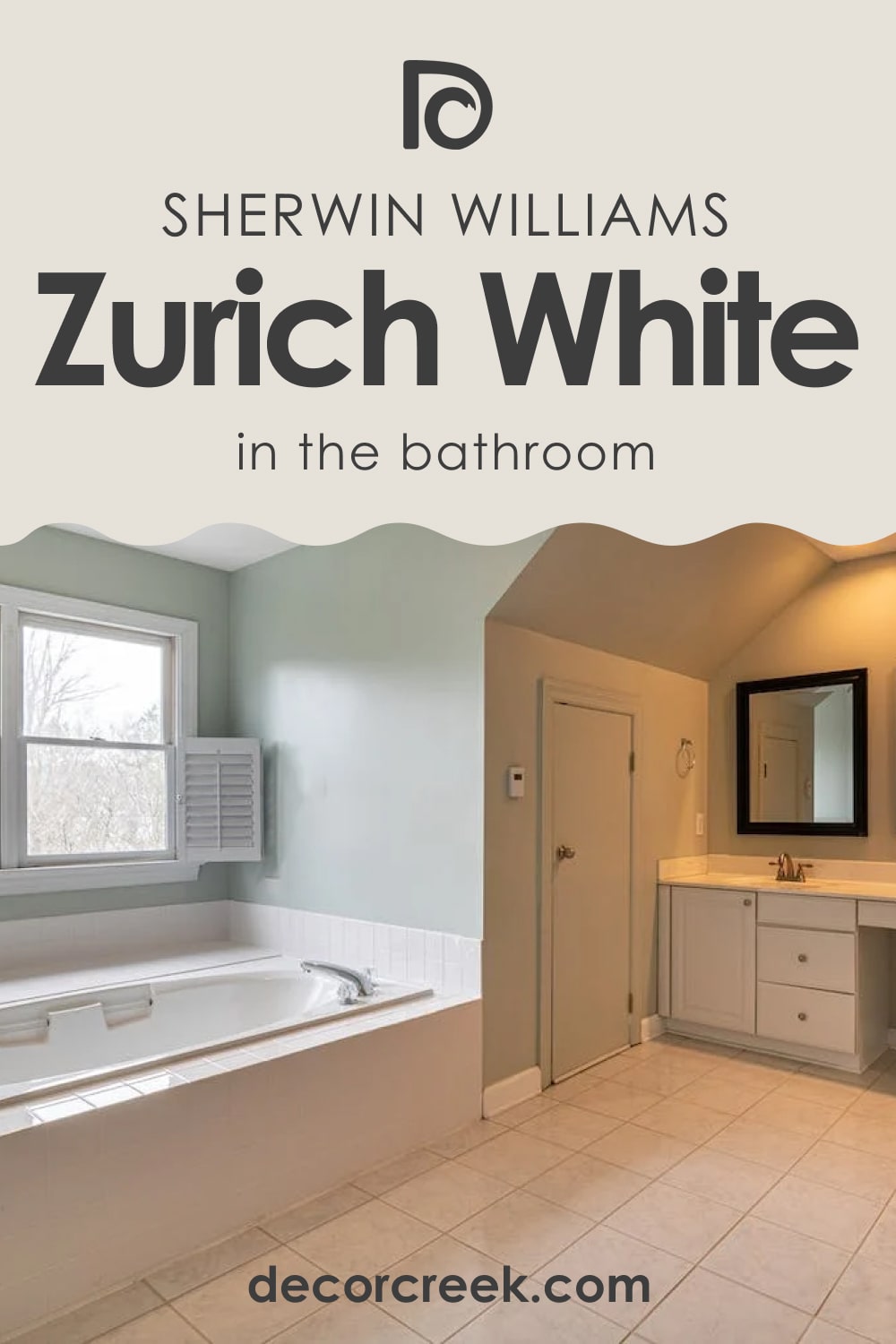 Kitchen and Zurich White SW-7626
If you want to paint your kitchen white, consider Zurich White as one of the alternative colors. It pairs nicely with wooden furniture and tiles, as well as with stone floors. Besides, this soft white works just awesome with natural fabrics like linen and cotton!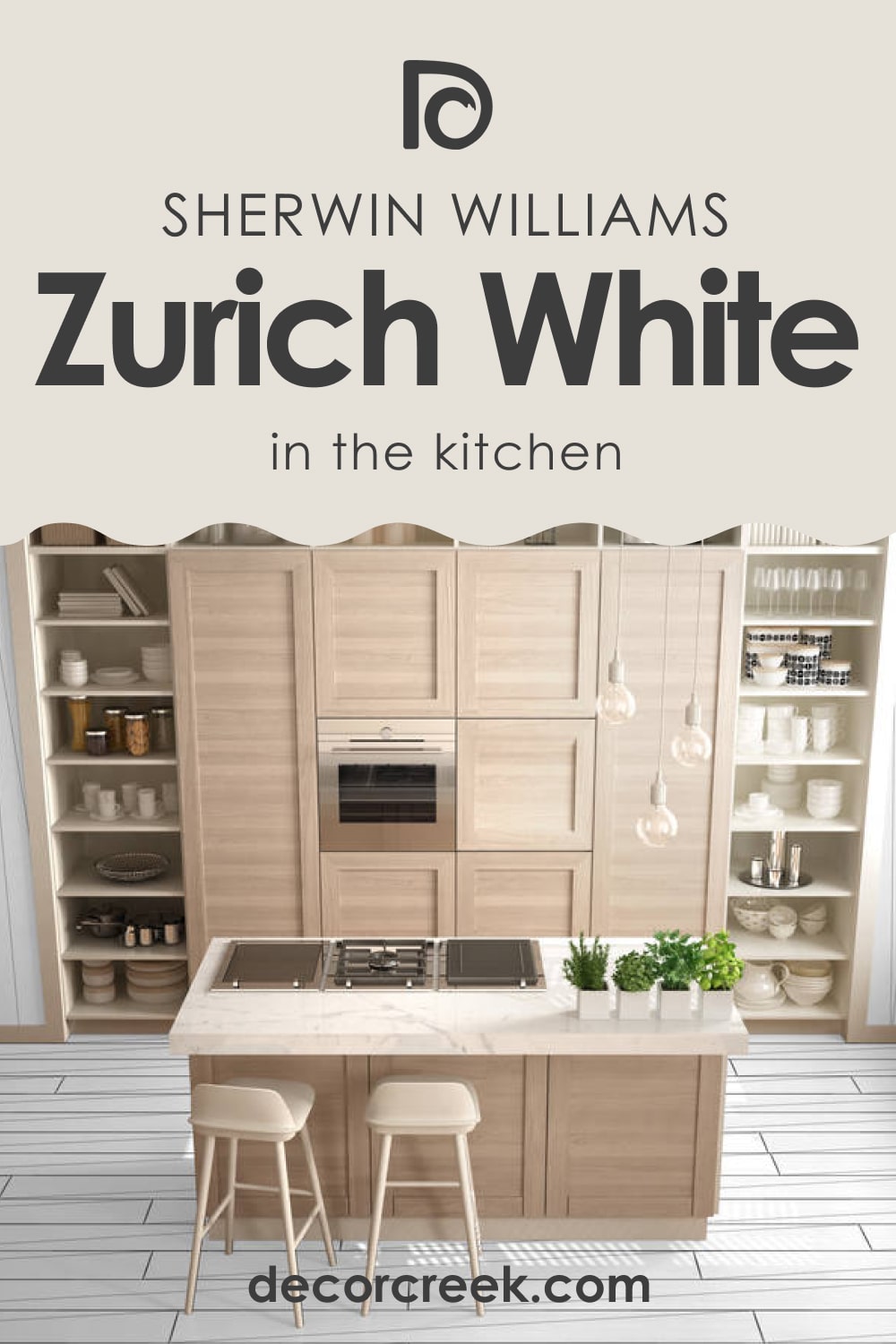 Exterior with Zurich White SW-7626 Paint Color
Since Zurich White is both interior and exterior paint, don't hesitate to use it on your home's exterior walls. This soft white is versatile and flexible enough to read well on your facade.
Now you know more about the nuances of this color's areas of use. And moreover, you are now aware of some specific features it has like undertones and the way they might affect the color. With that in mind, you will be able to use it wisely in your home.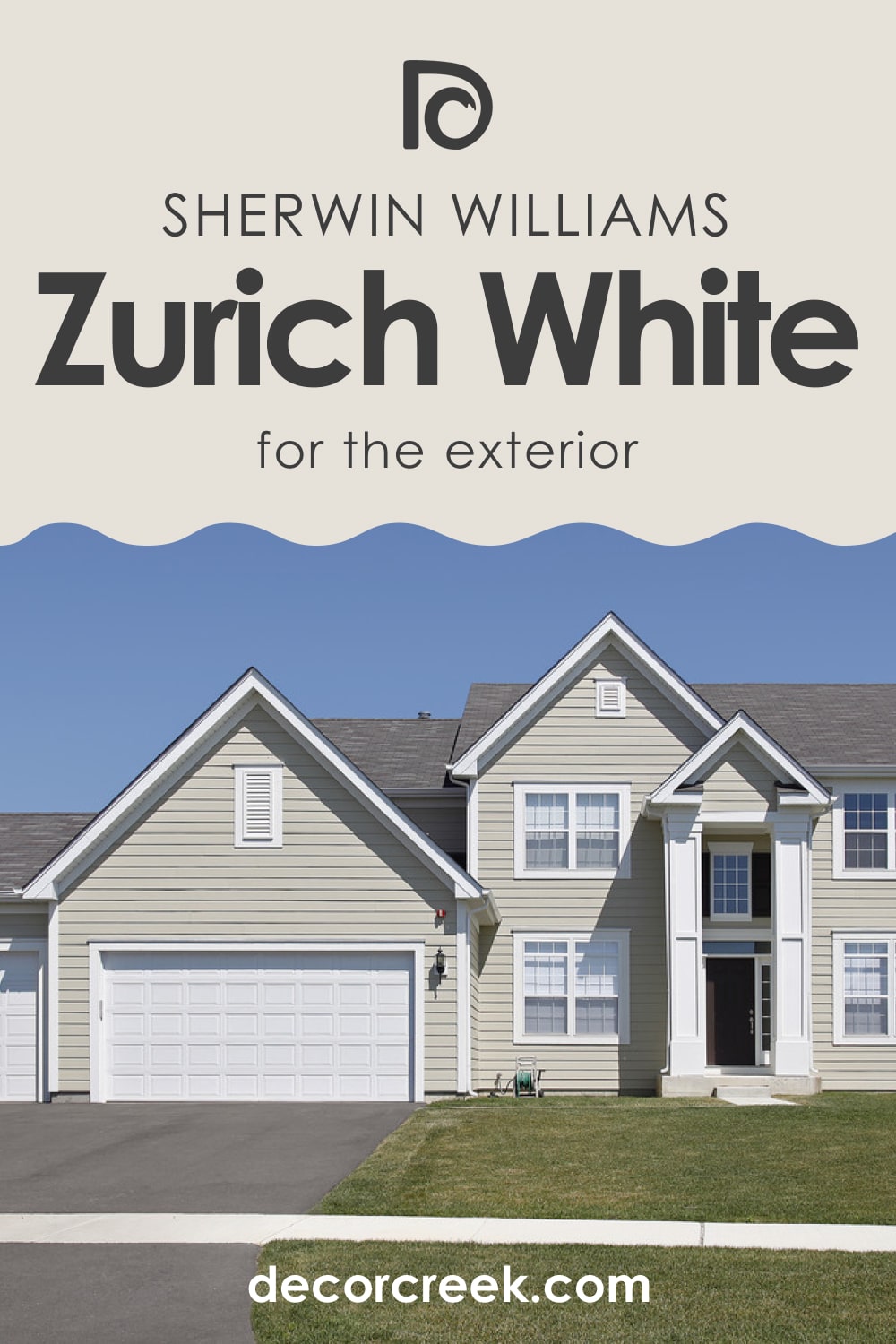 Color Comparison of SW Zurich White
To better see the distinctions between this complex yet very beautiful and versatile white color, we suggest you read its comparison with other colors that are more or less alike. It will help you learn to see the smallest details and color nuances.
Zurich White vs Alabaster
Alabaster is a bit lighter than Zurich White, showing its subtle beige undertones. Its counterpart, on the other hand, reveals grayish and yellowish undertones specifically well. However, these colors look quite nice together!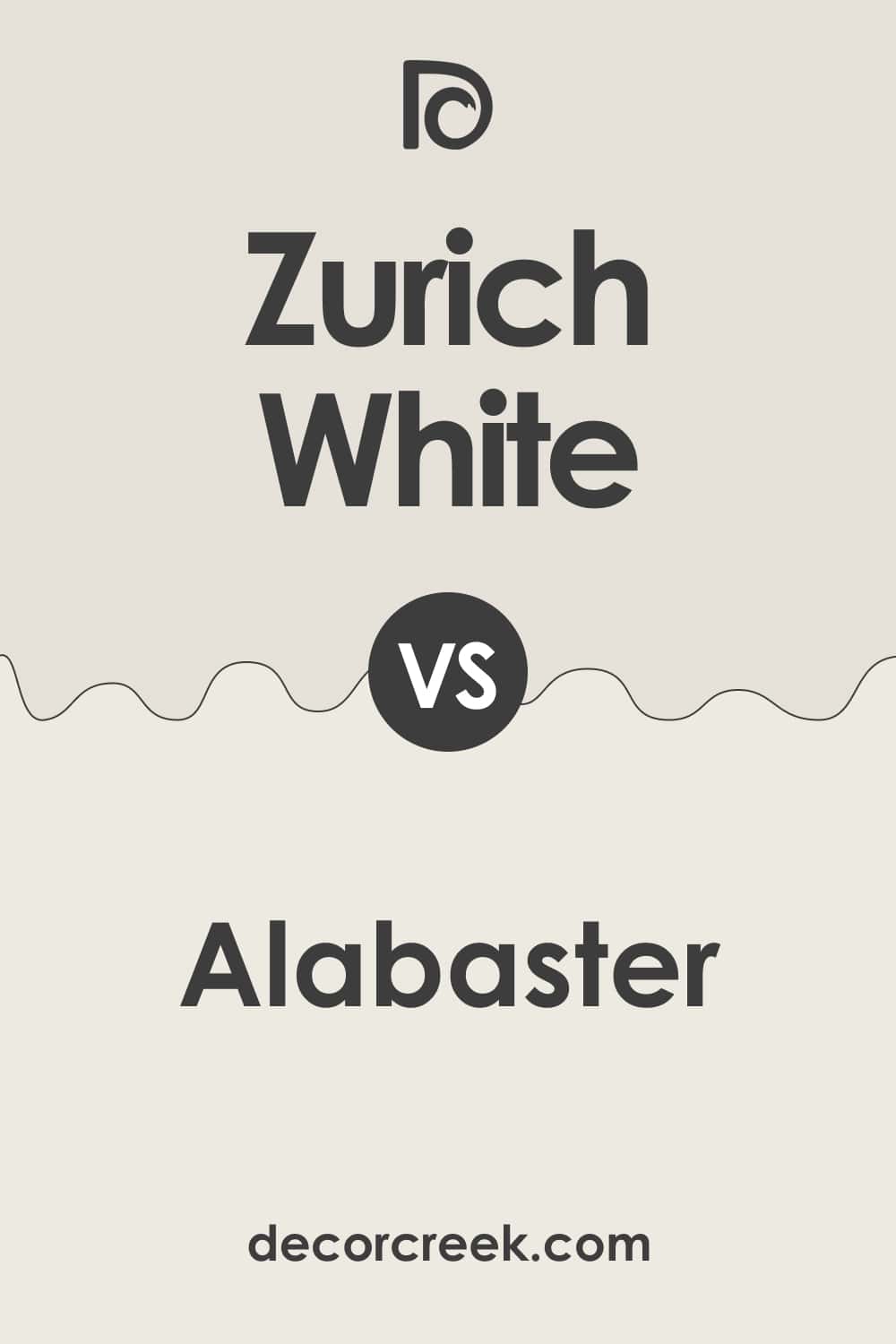 Zurich White vs Snowbound
Just like Zurich White, Snowbound has complex undertones of gray and some pink, as well as purple. Beside it, Zurich White reads greige, creating a noticeable contrast. But in general, this color combination looks quite well together.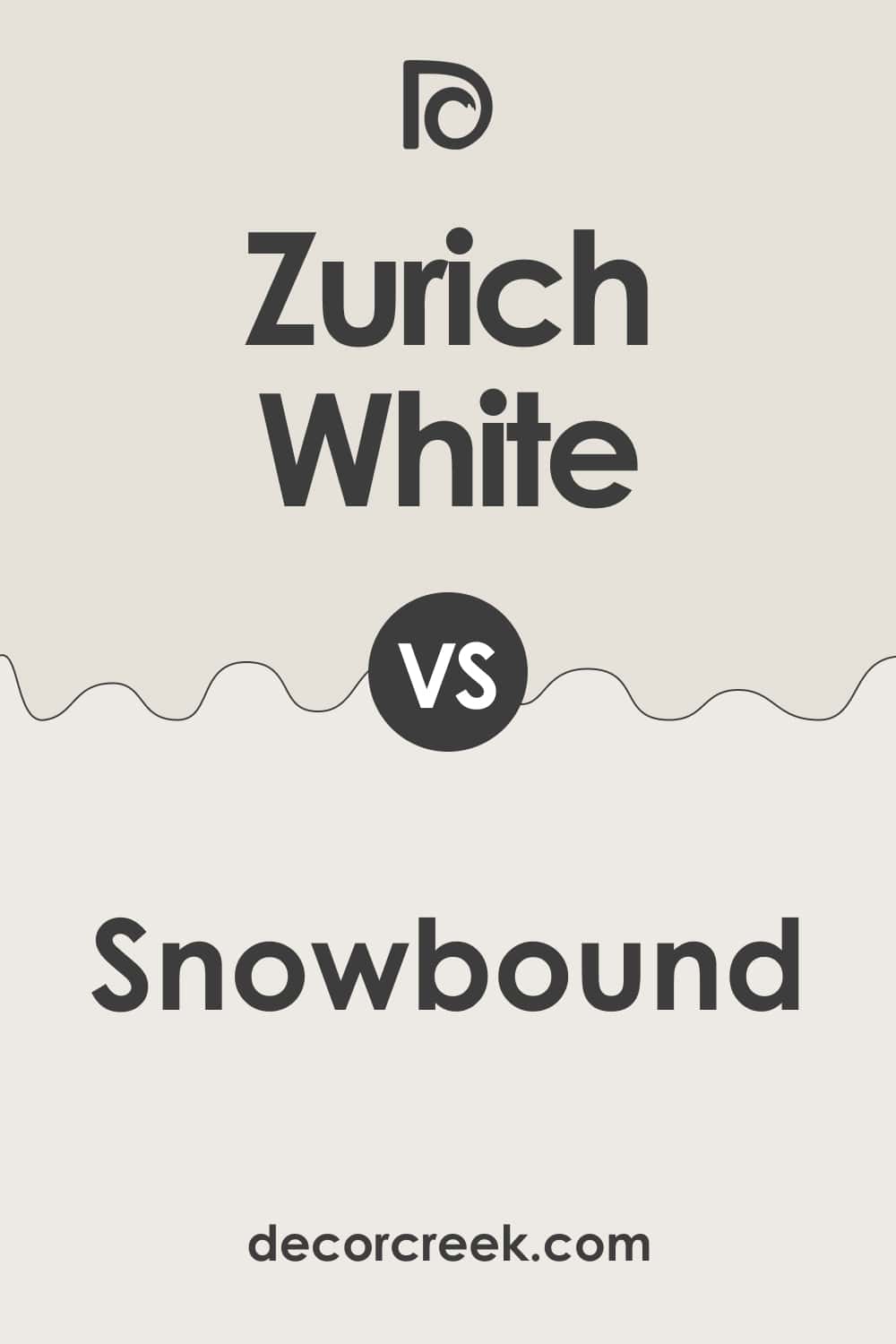 Zurich White vs White Dove
These two can be used interchangeably and this is why: White Dove has yellow undertones mixed with a slight gray. Altogether, they create a beautiful soft creamy off-white color.
Zurich White is also soft white with a slight hint of yellow. So if you need a warmer variant of Zurich White, opt for White Dove!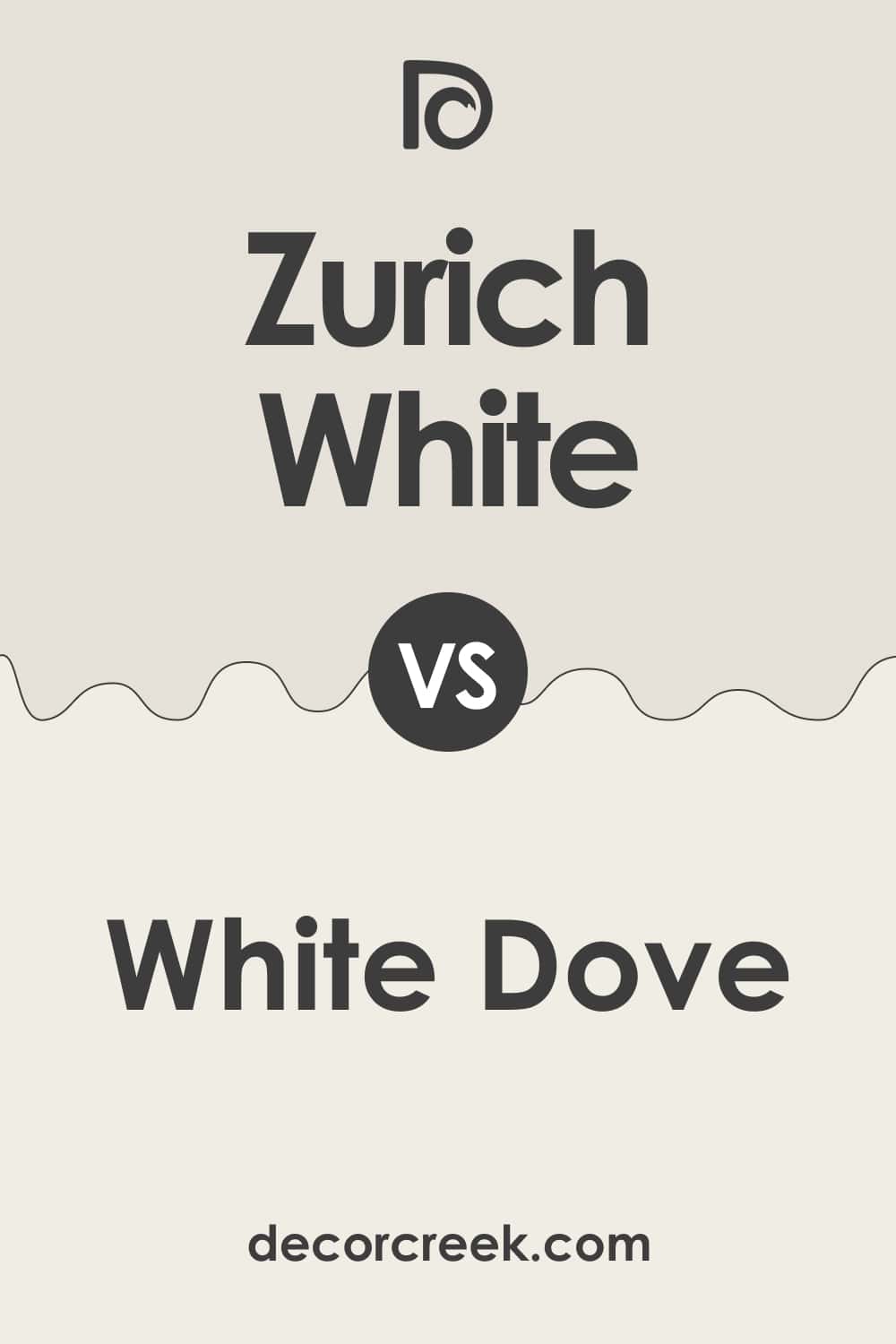 Zurich White vs Greek Villa
Greek Villa is a warm white that has a yellow undertone. This relates Greek Villa with Zurich White, but still, Greek Villa reads yellower. Zurich White, in its turn, shows a greige side much better in this pair of colors.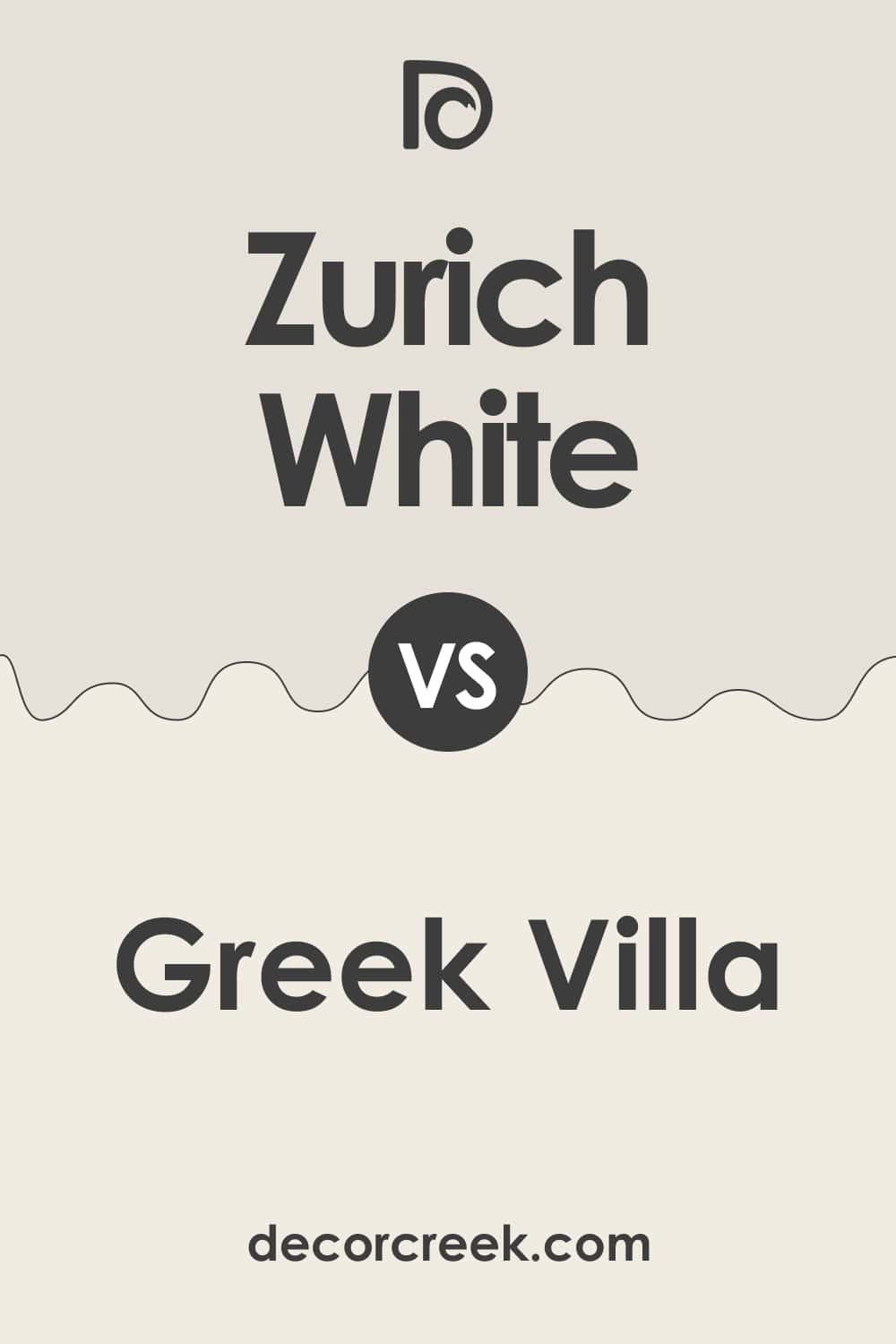 Zurich White vs Shoji White
Shoji White is a warm white, with beige and gray undertones whilst Zurich White has undertones that vary from gray to greige, having a touch of yellow as well. The colors read very alike so if you are looking for a substitute, consider Shoji White instead of Zurich White.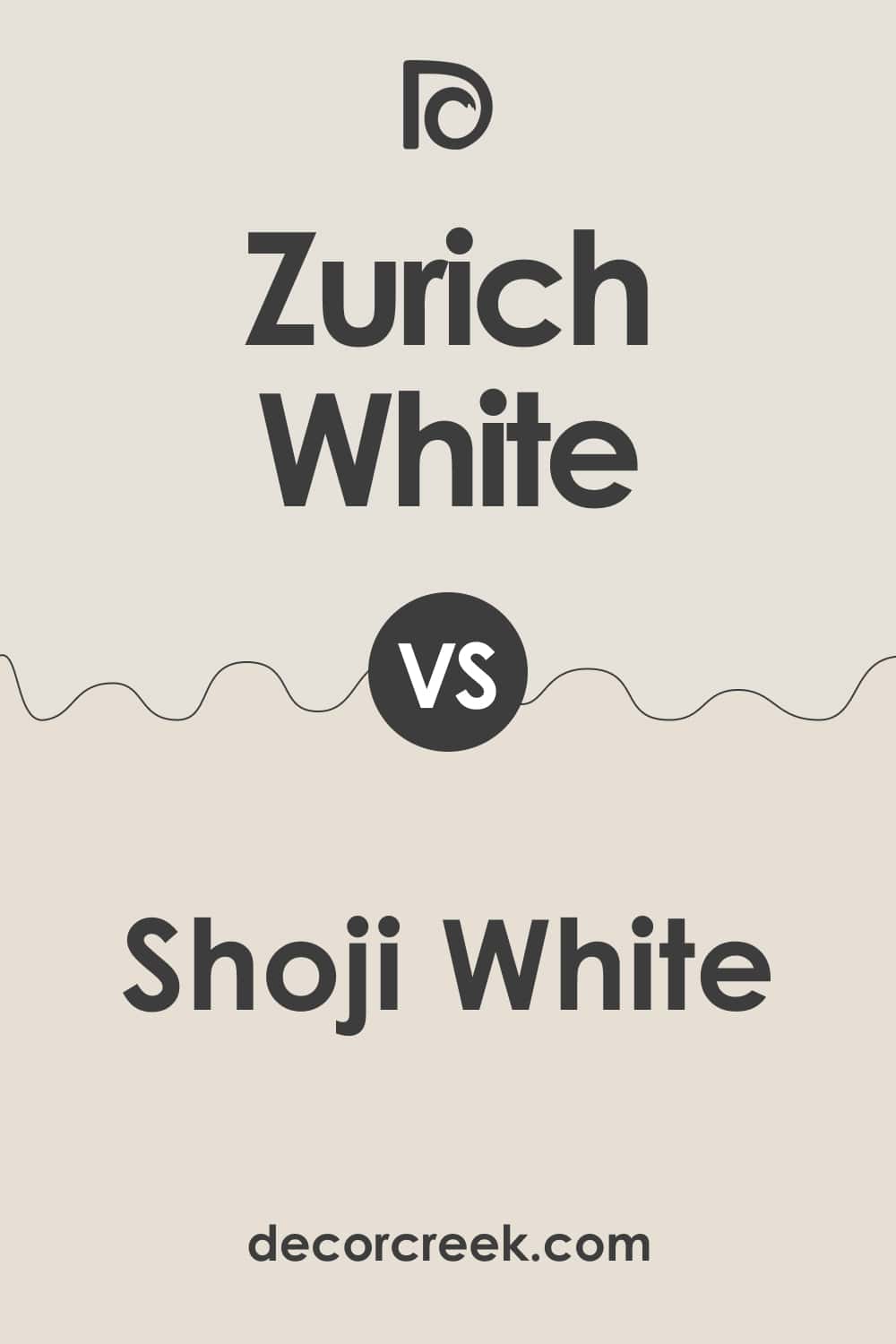 Well, now you know more about SW Zurich White paint color and its use. You learned what kind of color it is, where it is best to be used in your home, and what undertones and LRV it has.
Also, we explained how it will work with other colors and how to coordinate it with them. All this will allow you to use this rather complex color blend wisely and correctly.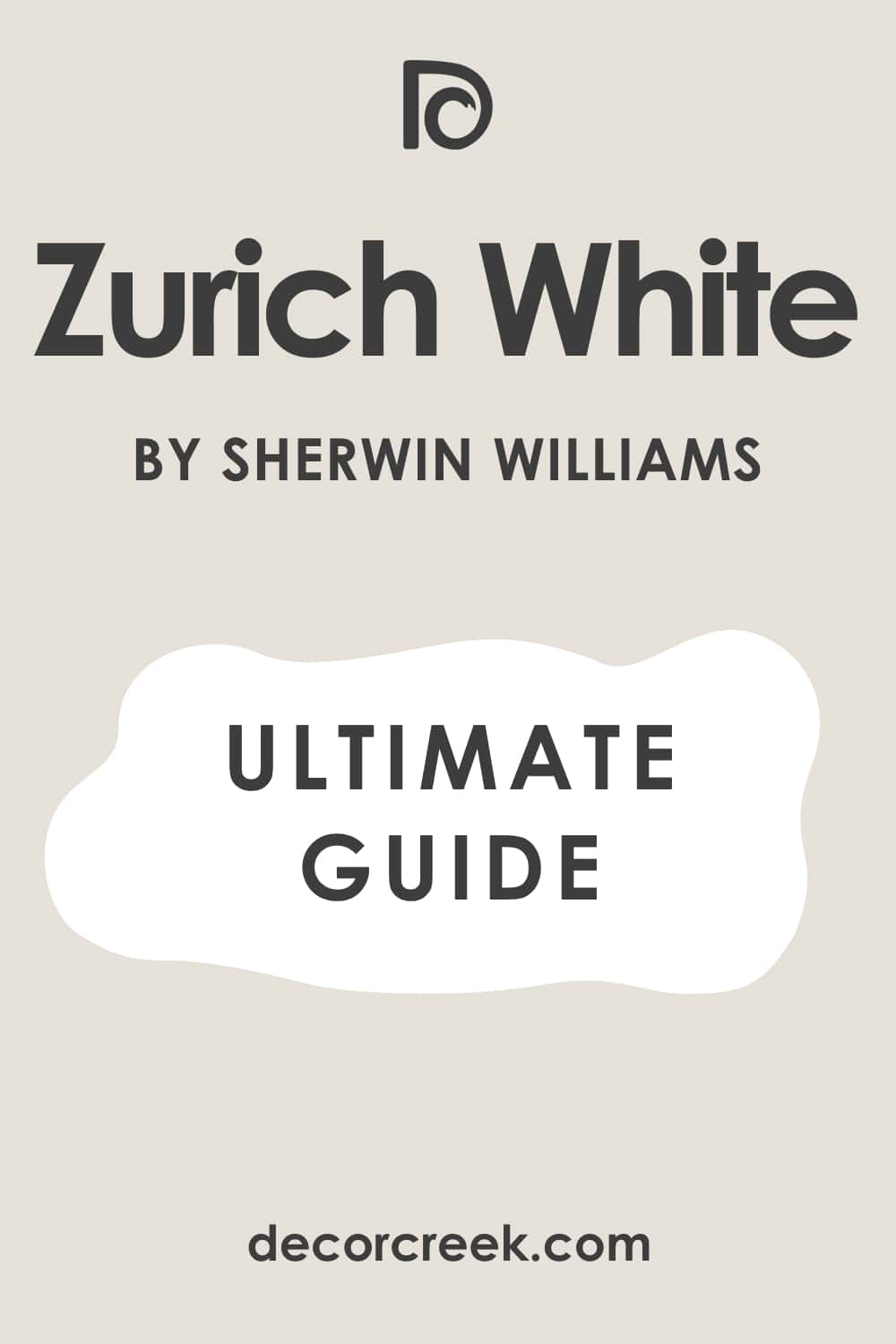 Frequently Asked Questions
⭐Is Sherwin Williams Zurich White warm or cool?
It's actually a hint of both. With both yellow and gray undertones, it's not too warm and not too cool.
⭐Is Zurich White a greige color?
While it does have some greige undertones, it also has some cream to it. So while it might read as greige, in other rooms it will pick up the yellow.
⭐Is Sherwin Williams Zurich White suitable for exterior use?
Yes, this paint is officially rated by the manufacturer as both interior and exterior paint.