Choosing the right paint color for your space can transform it from ordinary to extraordinary. It's an essential aspect of interior design, affecting the atmosphere, mood, and overall aesthetic of your home. One color that can bring serenity and depth to your spaces is Sherwin-Williams' SW 6808 Celestial. This color offers a subtle and soothing elegance that can beautifully enhance a variety of interior and exterior design styles.
This article explores the features, undertones, coordinating colors, and application possibilities of SW 6808 Celestial, offering valuable insight for anyone considering this color for their home.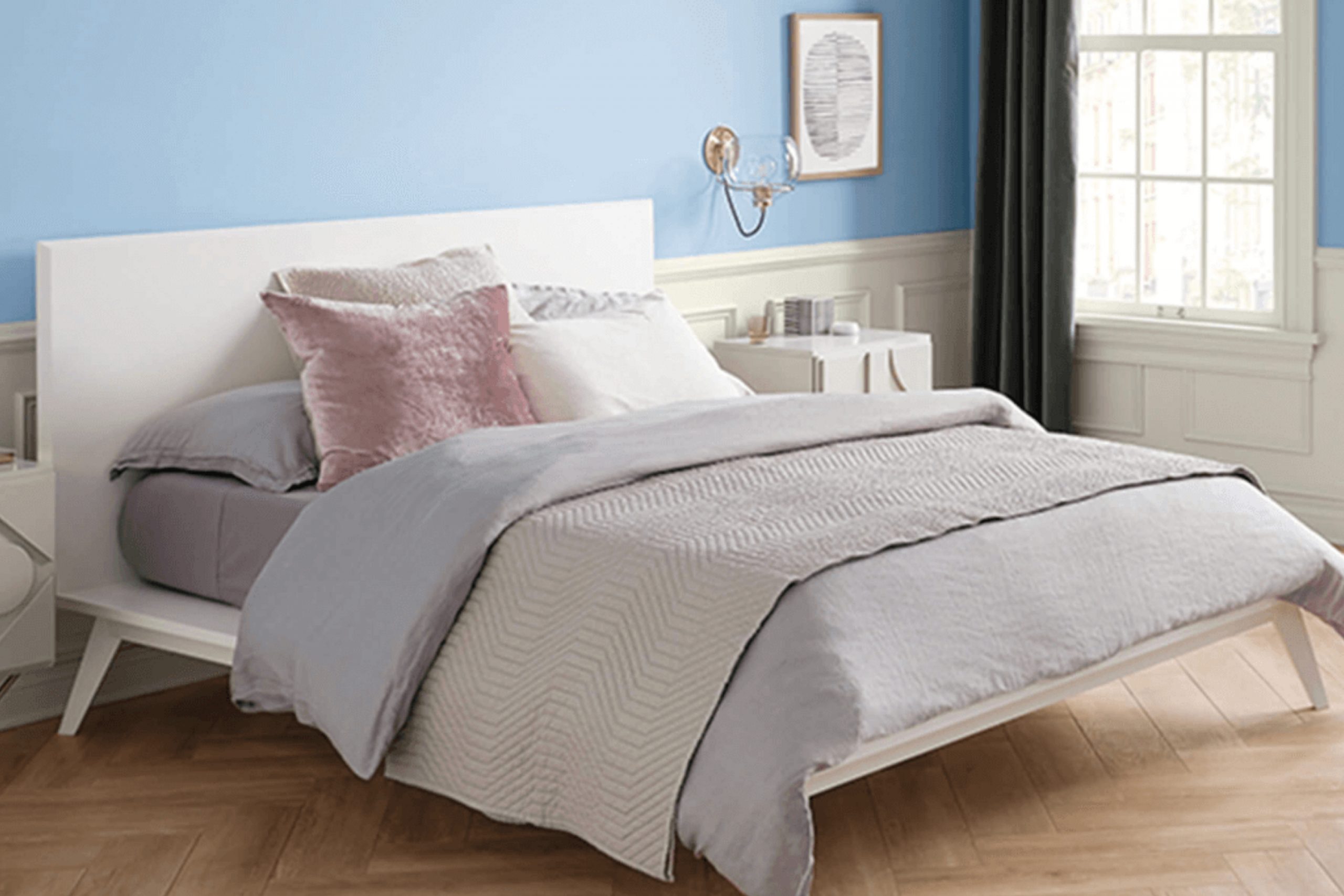 What Color Is SW 6808 Celestial?
SW 6808 Celestial is a beautiful and subtle light blue color that captures the soft and serene hues of the sky. It's a gentle, airy color with just a whisper of blue, imbuing spaces with a tranquil and peaceful ambiance. Celestial is like a breath of fresh air, bringing a sense of calmness and relaxation wherever it is applied. It is a color that embodies the tranquility of a clear sky, reflecting openness and serenity in any setting.
While a light blue shade, SW Celestial's subtle depth keeps it from feeling overly cold or stark. Instead, it exhibits a sense of balance, carrying an undercurrent of coolness without being too chilly. Its understated elegance makes it a versatile choice for various styles and spaces, adding a calming backdrop to your interior design.
Now, let's move on to understand whether SW 6808 Celestial is a warm or cool color and explore its undertones.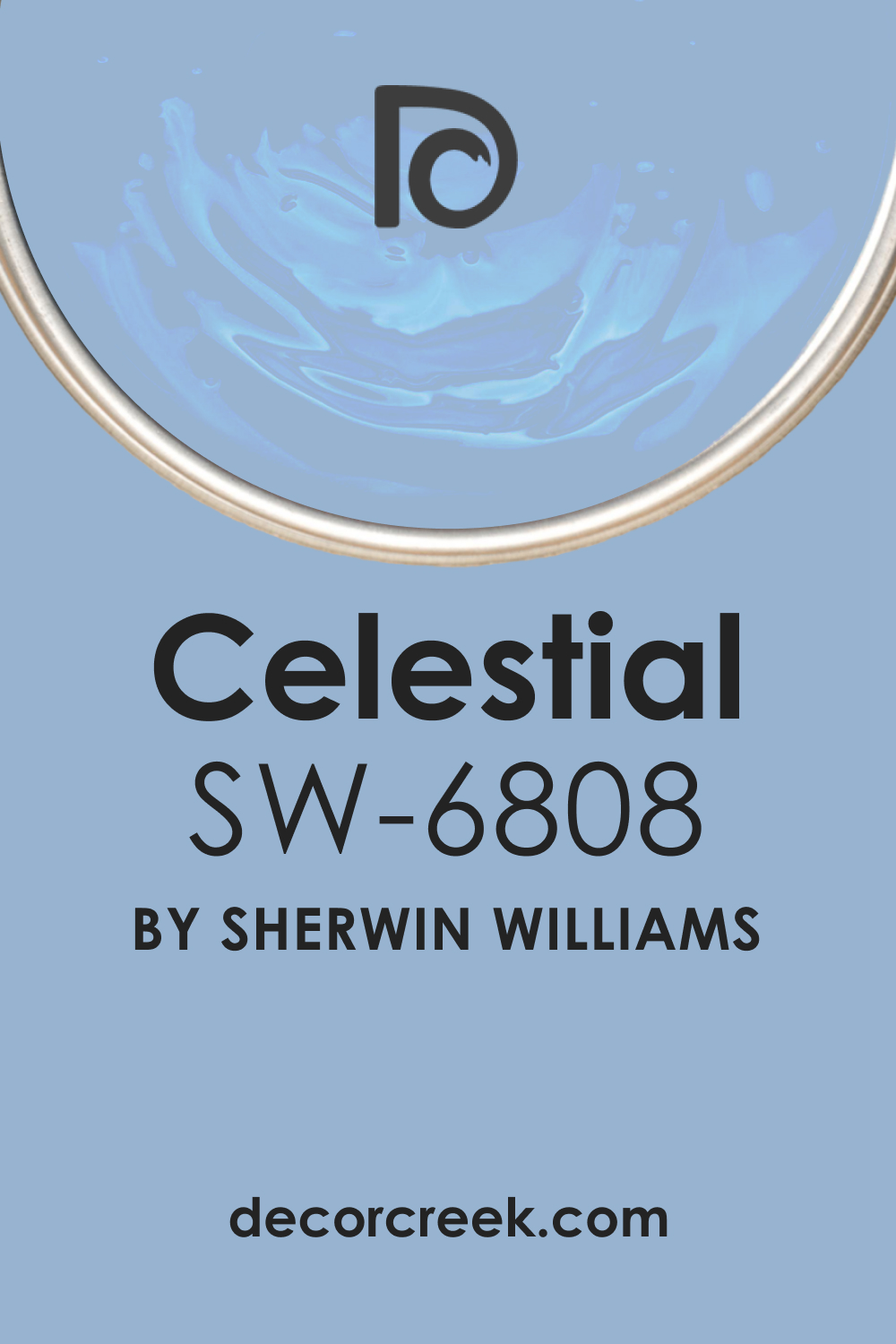 Is It a Warm Or Cool Color?
SW 6808 Celestial is a cool color. It leans more toward the blue end of the spectrum, which is typically associated with cool colors. Cool colors tend to create a calming, tranquil ambiance and can make a room feel more spacious.
Undertones of SW 6808 Celestial
Undertones are crucial because they subtly influence how the main color is perceived and can affect the overall mood of a room. For example, the blue undertone in SW Celestial can create a calming, tranquil ambiance, while the gray undertone adds a touch of sophistication, and the green undertone brings warmth.
Blue undertone: SW Celestial's primary undertone is blue, which gives it a tranquil and calming feel. The blue undertone mirrors the clear, serene sky and brings a sense of peace and relaxation.
Gray undertone: There's also a subtle gray undertone in SW Celestial, which adds depth to the color and prevents it from feeling too light or icy. This gray undertone gives the color a slightly muted quality, making it versatile and timeless.
Green undertone: In some lighting, a faint hint of green can be detected. This undertone helps soften the color and adds a touch of warmth, enhancing its soothing quality.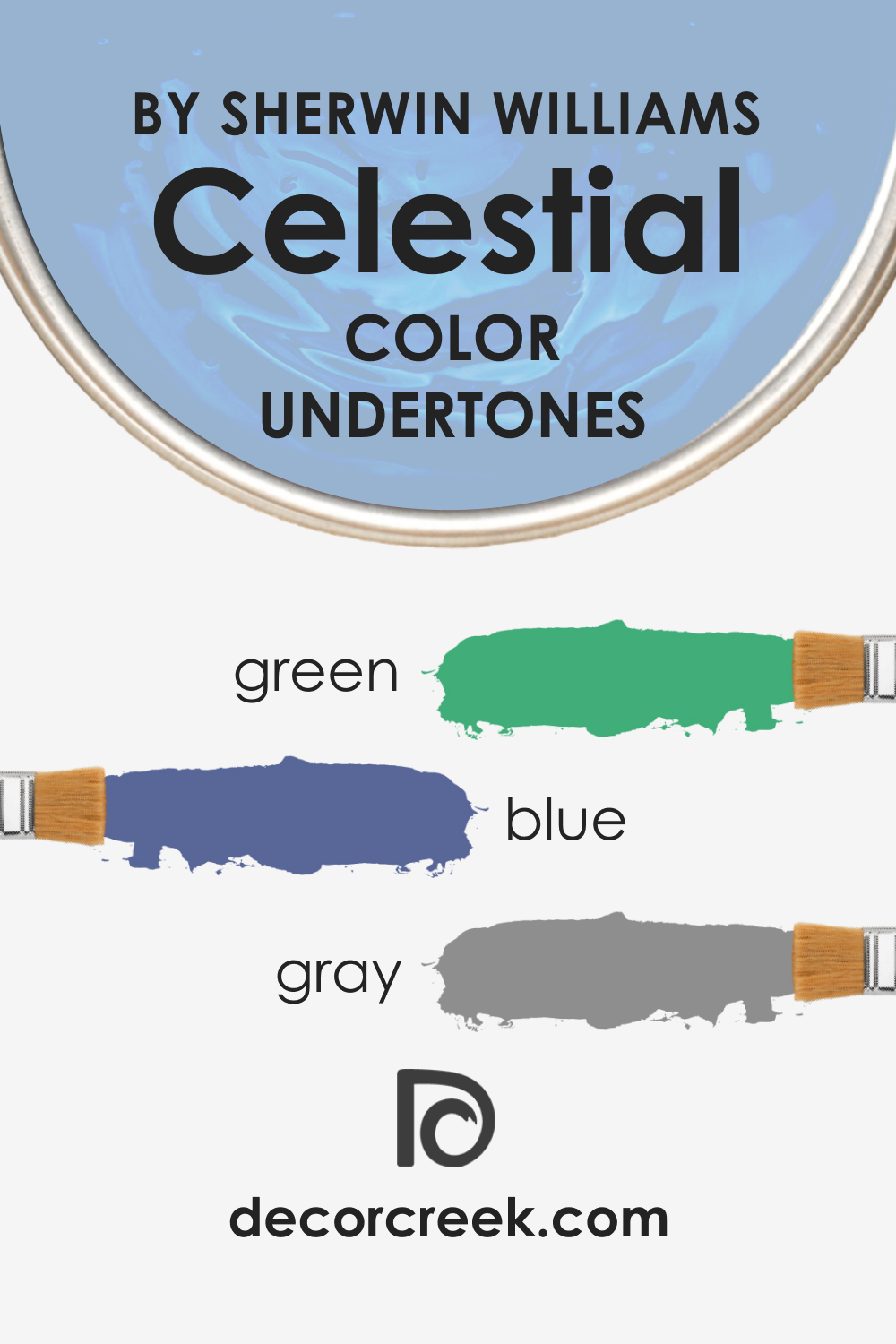 Coordinating Colors of SW 6808 Celestial
Coordinating colors are hues that work harmoniously with a main color, enhancing its beauty and creating a balanced and visually pleasing color scheme. They can be used for furniture, accents, trims, or even other walls, depending on your design plan. Using coordinating colors effectively can pull a room together, adding depth and interest to your interior design.
SW 6525 Rarified Air: A soft and muted white, Rarified Air is a beautiful contrast to Celestial's subtle blue hue. This color can brighten up a room, offering a clean, airy backdrop that allows Celestial to shine.
SW 7693 Stonebriar: Stonebriar is a rich, warm beige color. Its earthy tone provides a warm counterbalance to Celestial, creating a harmonious and balanced look.
SW 9072 Dried Lavender: This is a soft, muted purple with a touch of gray. Dried Lavender can complement Celestial's calming blue, adding a subtle touch of whimsical elegance to the space.
Additional Coordinating Colors:
SW 7015 Repose Gray: A light, neutral gray that doesn't compete with Celestial but instead complements its cool undertones. This versatile gray can help to ground the light blue of Celestial and provide a sense of stability to the design.
SW 6258 Tricorn Black: For a bold contrast, Tricorn Black provides a deep, dramatic touch that allows the subtleness of Celestial to stand out truly. Used in moderation, this color can add depth and intrigue to your space.
SW 6697 Nugget: This warm, muted yellow offers a bright and sunny contrast to Celestial. SW Nugget can warm the cool blue, creating a cheerful and welcoming vibe.
Understanding and choosing coordinating colors can enhance your primary color's impact, providing balance, contrast, or cohesion as needed for your design goals.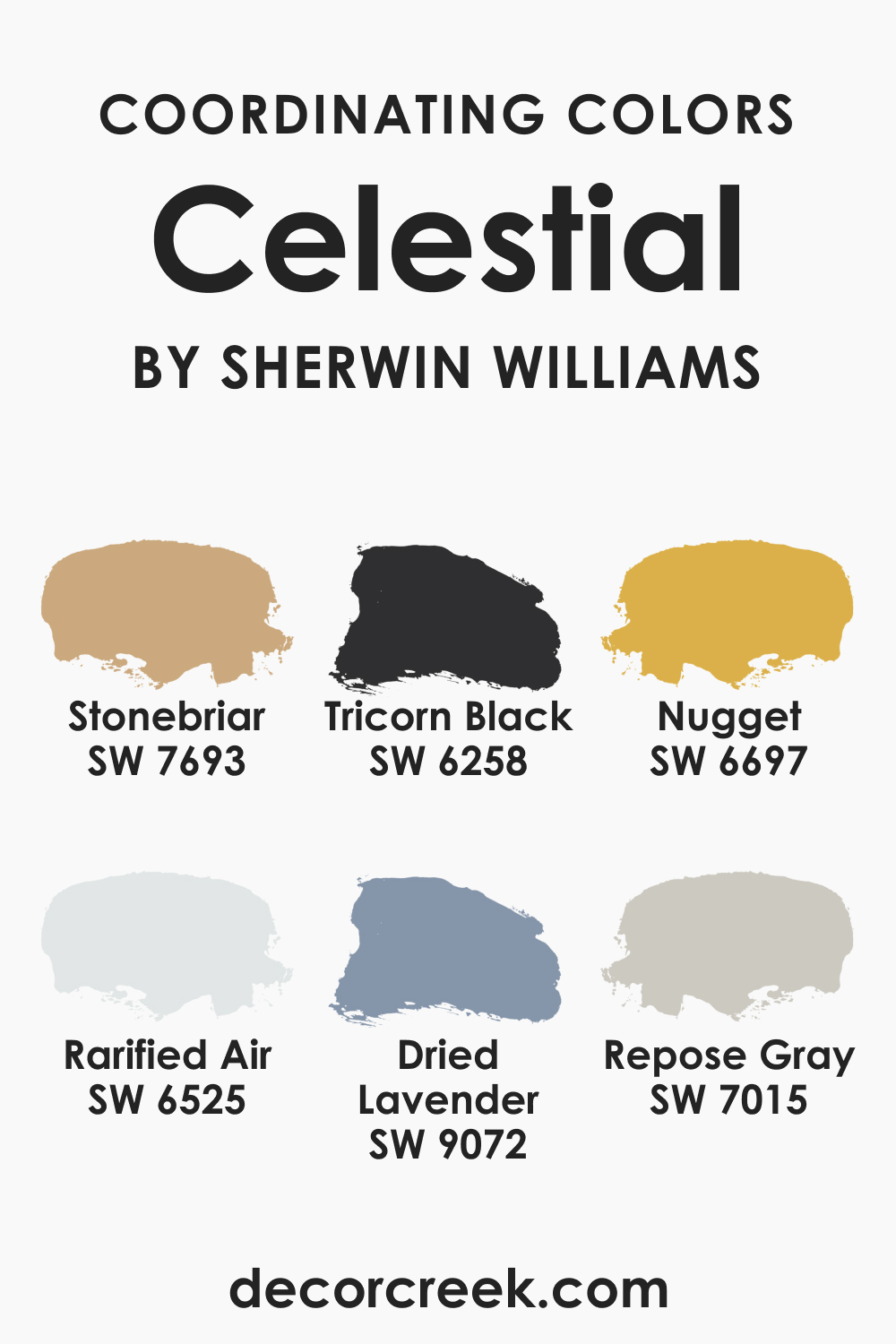 How Does Lighting Affect SW 6808 Celestial?
Lighting can greatly affect the perception of SW 6808 Celestial, a vibrant hue with a light reflectance value (LRV) of 45. The LRV is a measurement that calculates the percentage of light a color reflects. An LRV of 45 signifies that this shade absorbs more light than it reflects, landing it in the medium range on the light-to-dark scale.
Under direct, bright lighting, SW 6808 Celestial will appear lighter and more vibrant. Conversely, under softer, dimmed lighting, it can come across as a darker, more muted hue.
The perceived color can also be influenced by the quality of light, whether natural or artificial and the direction the room faces.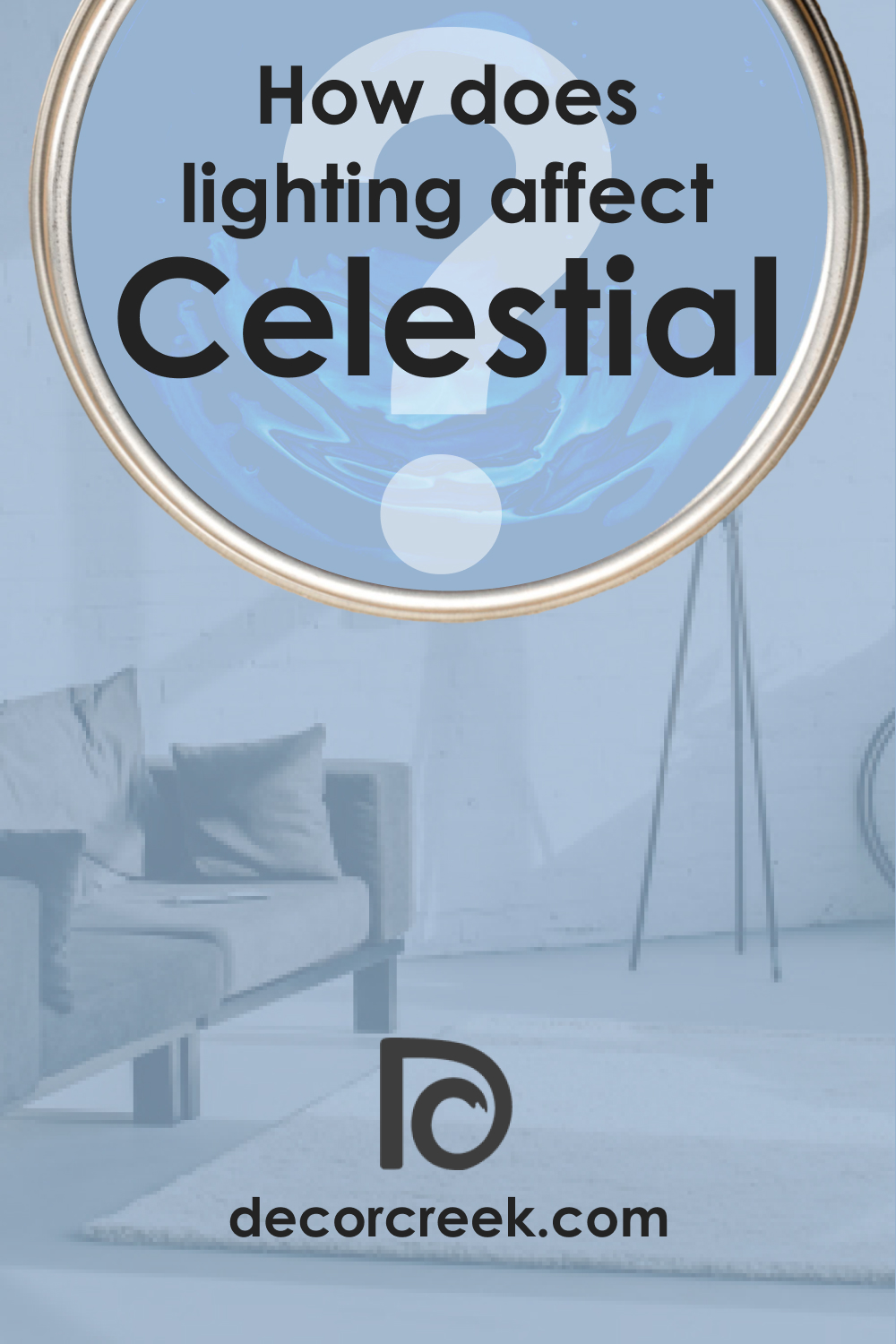 Trim Colors of SW 6808 Celestial
Choosing a trim color is essential as it helps to define and set off the main color on the walls. With SW 6808 Celestial, consider using lighter shades of white from the same Sherwin-Williams palette to create a harmonious contrast.
Some suitable trim colors are:
SW 7006 Extra White for a stark, crisp contrast
SW 7008 Alabaster for a slightly warmer, creamy undertone
SW 7011 Natural Choice for a subtle, elegant look
The right trim color can make the wall color pop, add character, and create a finished look to the room.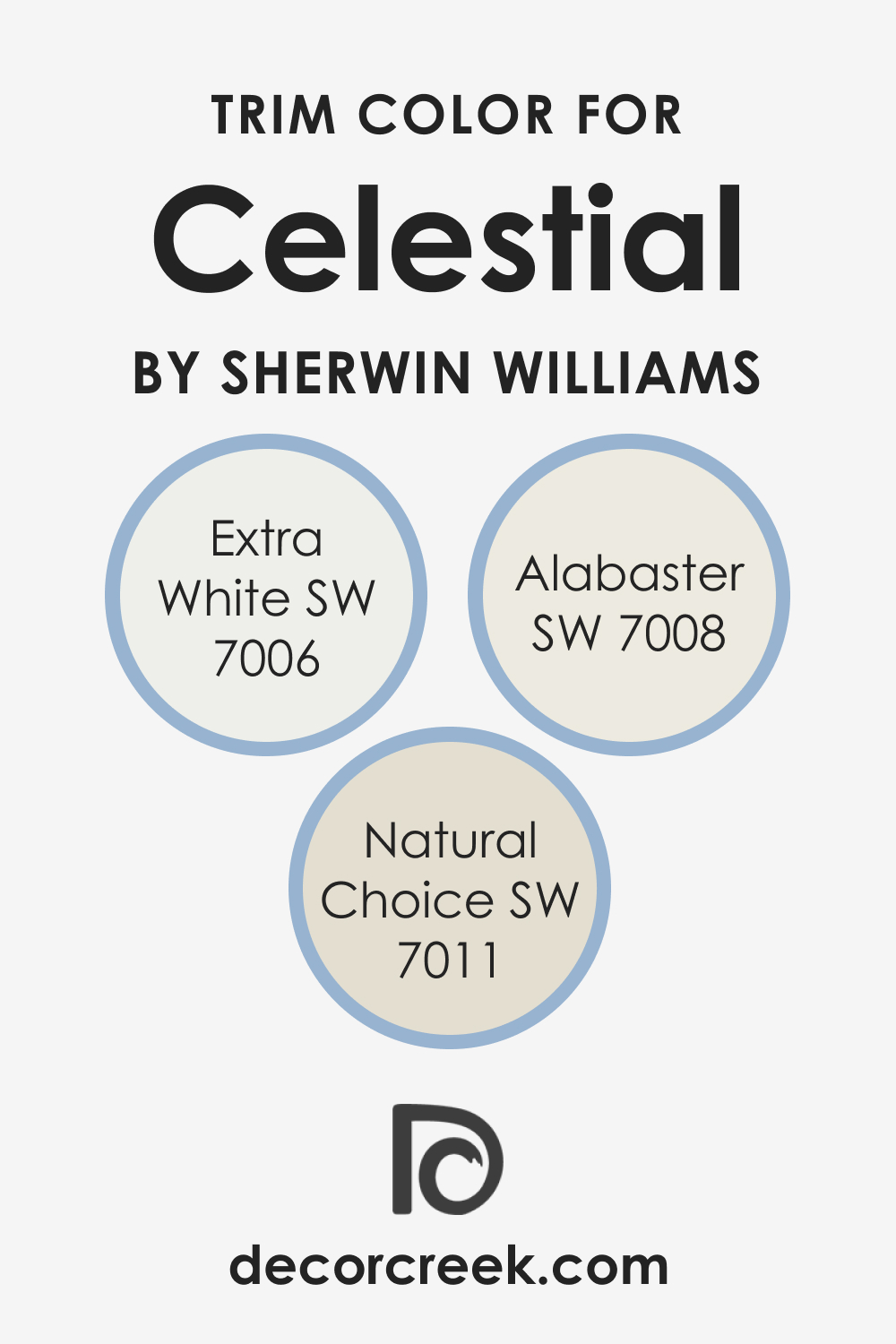 Colors Similar to SW 6808 Celestial
Knowing colors similar to SW 6808 Celestial helps if you're trying to maintain a particular color scheme across different rooms or spaces but with slight variations. Similar colors give you options for creating a harmonious, consistent feel while still providing enough variation to keep things interesting. For SW Celestial, you might want to consider the following colors as substitutes:
Behr Blue Suede
BM Riviera Azure
Farrow & Ball Lulworth Blue
PPG Easter Egg
Valspar Morris Blue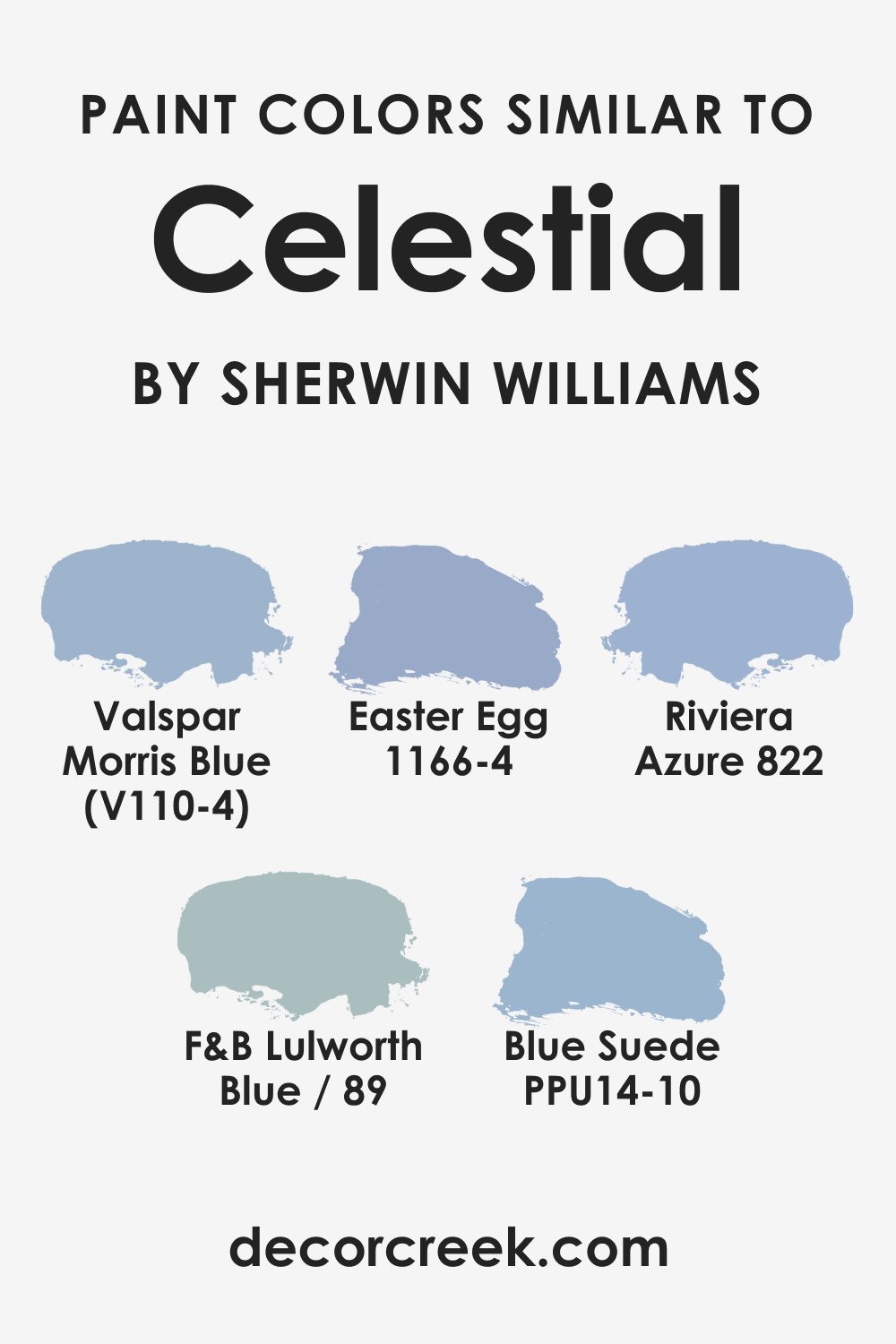 Colors That Go With SW 6808 Celestial
As for colors that go with SW 6808 Celestial, you can create a variety of atmospheres. Pair it with SW 7064 Passive for a cool, soothing vibe or SW 6258 Tricorn Black for a bold, dramatic effect.
Combine it with SW 6108 Latte for a warm, earthy feel, SW 7006 Extra White for crisp contrast, SW 6204 Sea Salt for a refreshing coastal theme, and SW 6217 Topsail for a soft, harmonious blend.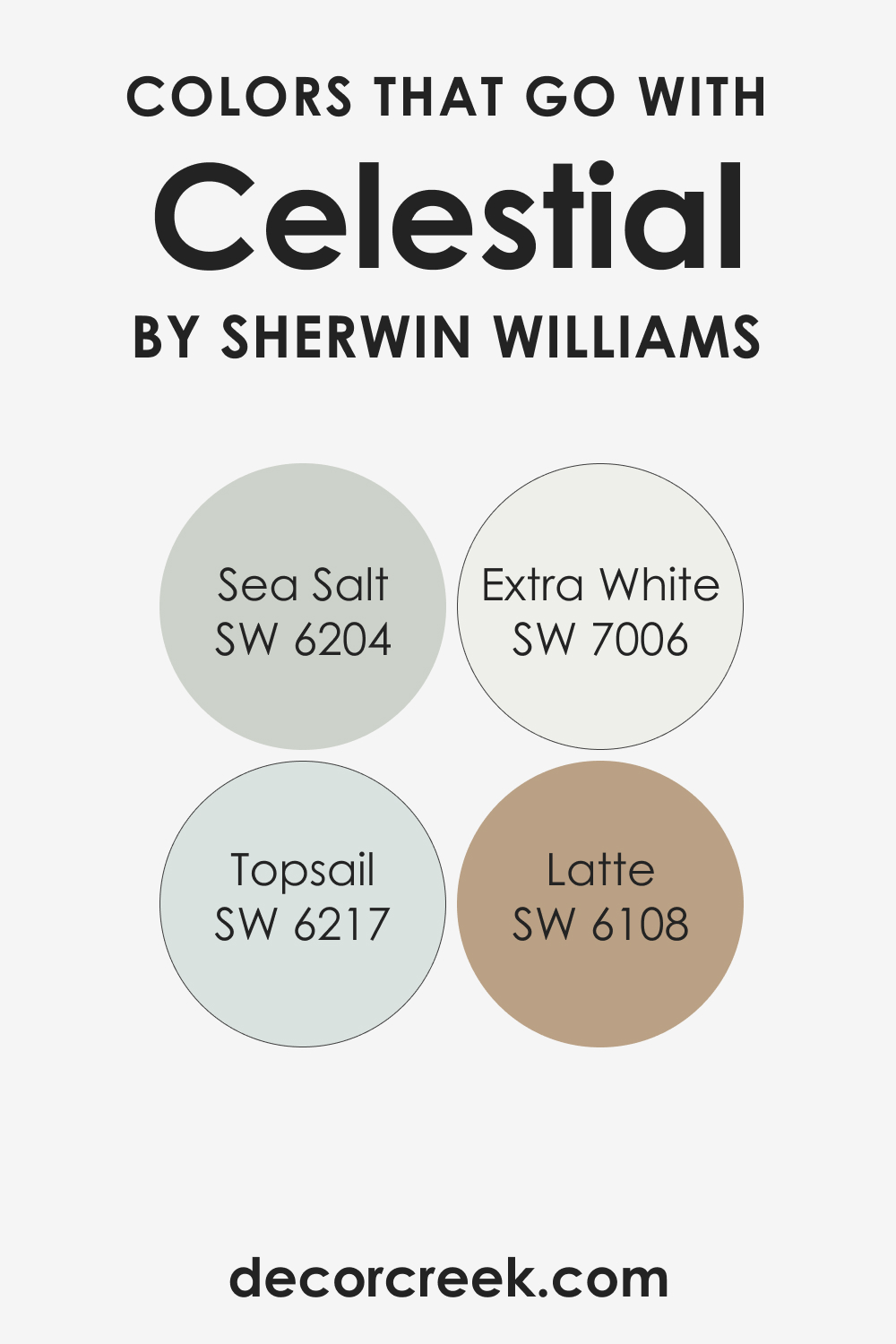 How to Use SW 6808 Celestial In Your Home
SW 6808 Celestial can be incorporated into many rooms of your home. It can add personality and charm to living rooms, bedrooms, bathrooms, kitchens, or even exteriors. Its mid-range LRV allows it to function well in spaces with varying degrees of natural light.
As for interior design styles, it's quite flexible. For modern or minimalist styles, SW Celestial can provide a bold pop of color against neutrals. In traditional settings, it can be used as an updated classic color, and in bohemian or eclectic styles, it can complement a range of bold and vibrant hues.
How to Use SW 6808 Celestial in the Bedroom
In the bedroom, SW 6808 Celestial can provide a serene and calming atmosphere. This color works beautifully when paired with neutral textiles and warm wooden furniture, creating a cocoon-like environment conducive to relaxation and rest. In a child's bedroom, this shade can inject a cheerful and energetic vibe when paired with other bright and playful colors in furnishings and decor.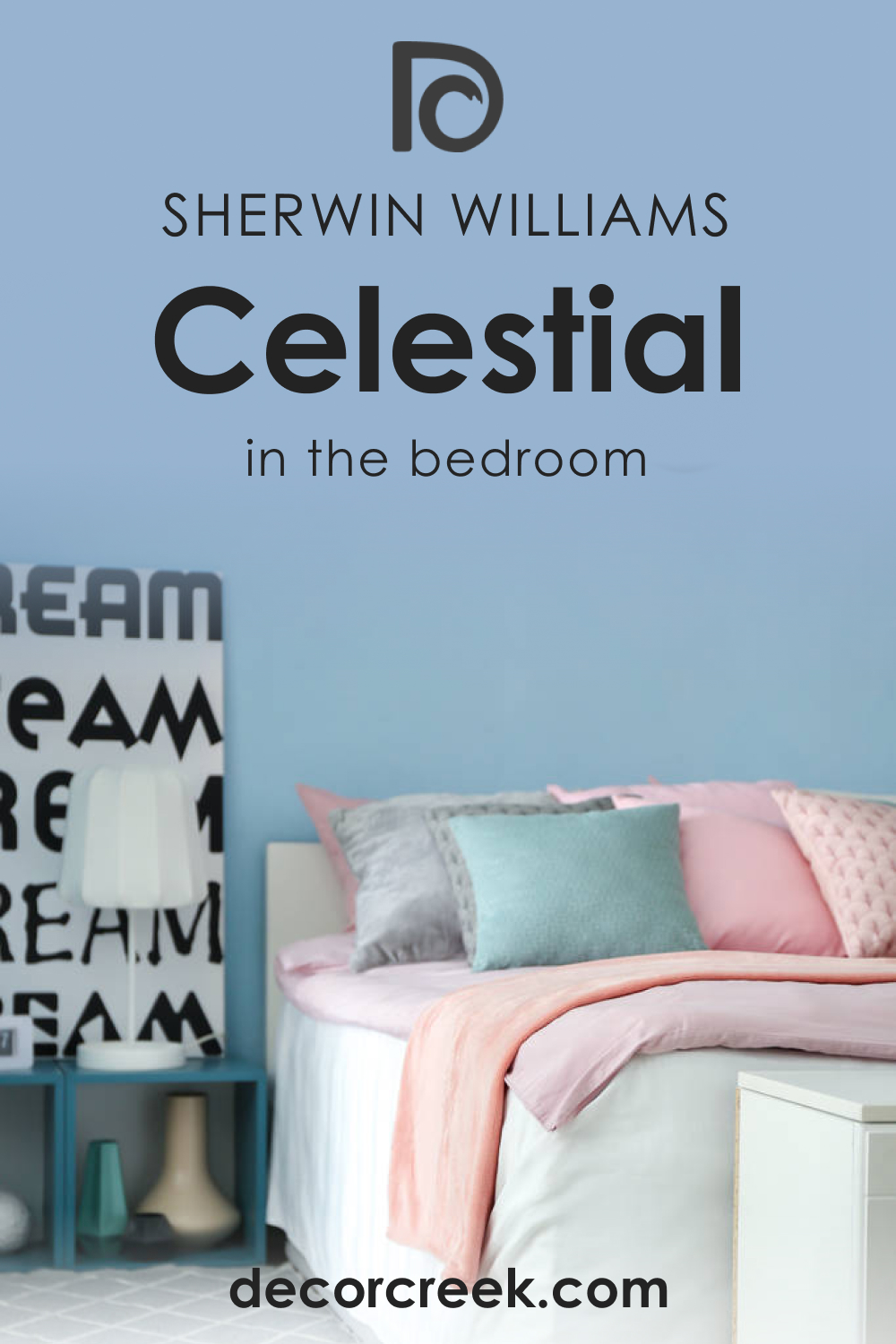 How to Use SW 6808 Celestial in the Bathroom?
The bathroom is another space where SW 6808 Celestial shines. It can provide a refreshing pop of color against white sanitary ware, creating a bathroom space that's both vibrant and clean-feeling. For a more calming and spa-like ambiance, complement it with earthy materials like stone or wood, and opt for brushed steel or chrome fittings to add a modern touch.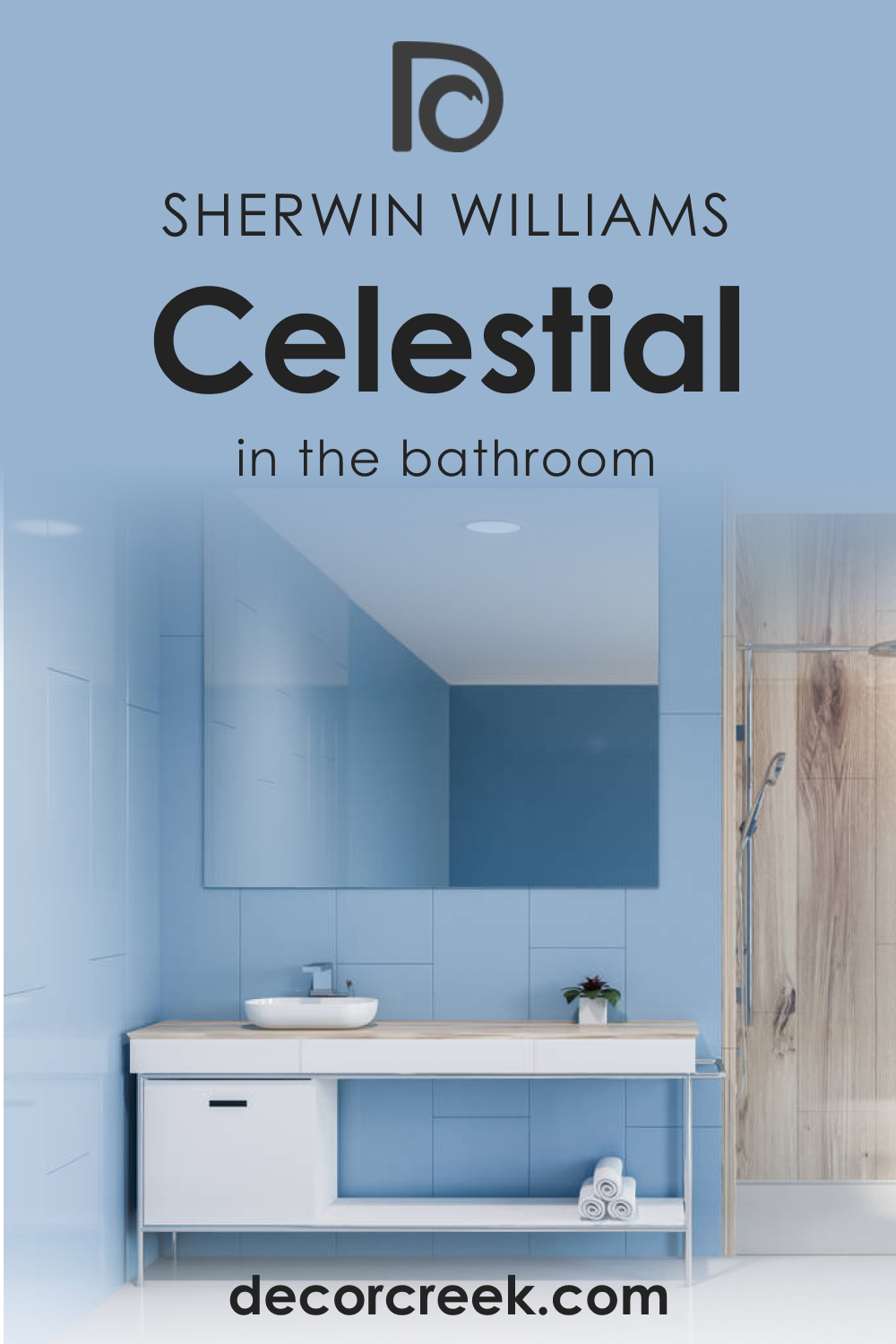 How to Use SW 6808 Celestial in the Living Room?
In the living room, SW Celestial can make a stunning backdrop, especially when paired with soft white, cream, or beige furnishings. This bold hue can give depth to the room, making it feel cozy and inviting. Alternatively, for a more eclectic and dynamic look, pair Celestial with jewel-toned accents such as emerald green or deep ruby.
How to Use SW 6808 Celestial for an Exterior?
For exteriors, SW 6808 Celestial can deliver a bright and welcoming facade. Used as the main color, it provides a cheerful setting for white or soft cream trims. If your home is surrounded by greenery, Celestial can be a beautiful complement, creating an attractive contrast between the natural and built environments.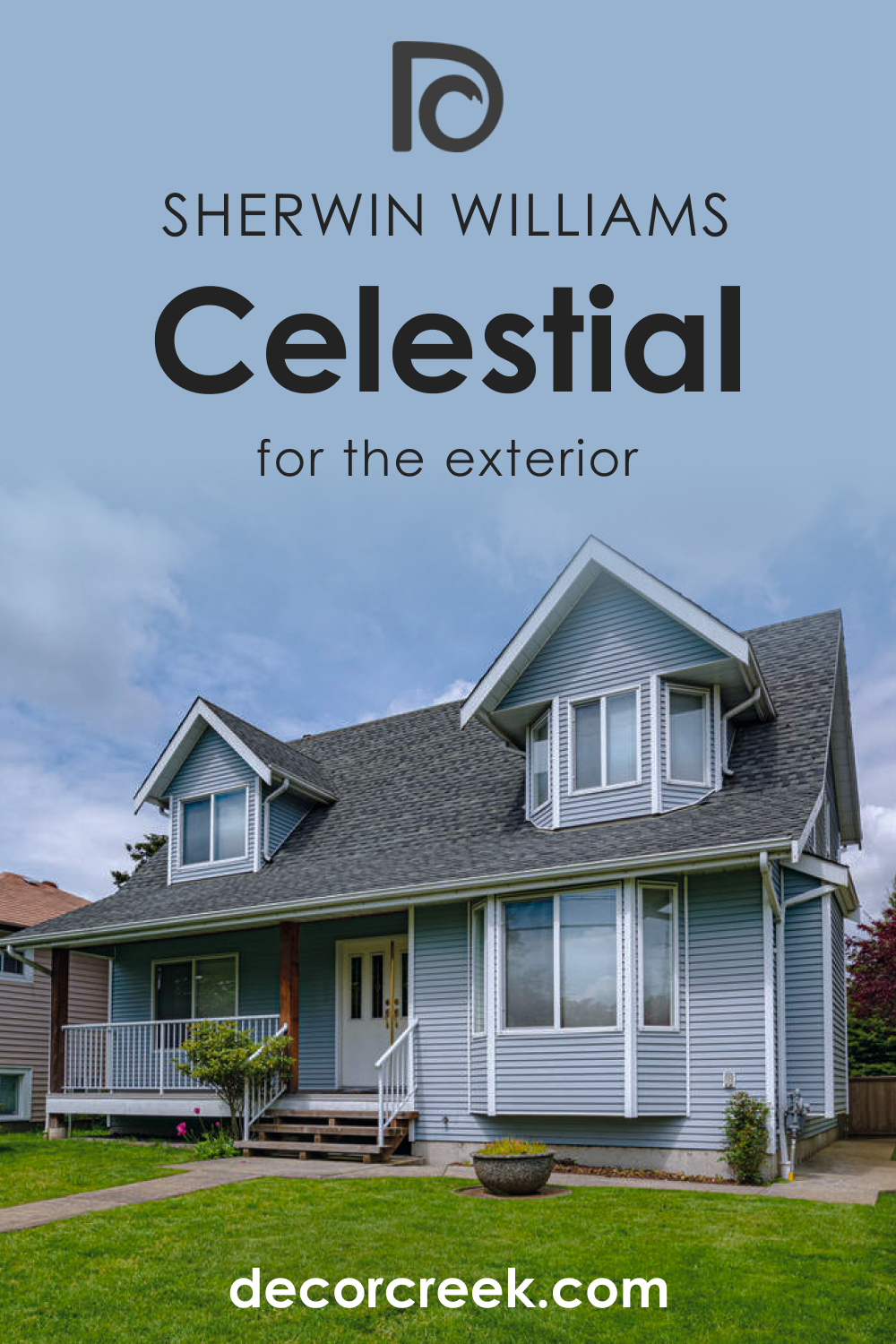 How to Use SW 6808 Celestial for the Kitchen?
In the kitchen, SW Celestial offers a cheerful and vibrant backdrop that's perfect for a space that's all about creativity and nourishment. Whether you have a modern kitchen with sleek, stainless steel appliances and crisp white countertops or a more rustic style with wood cabinets and stone countertops, SW Celestial can add a lively element to the mix.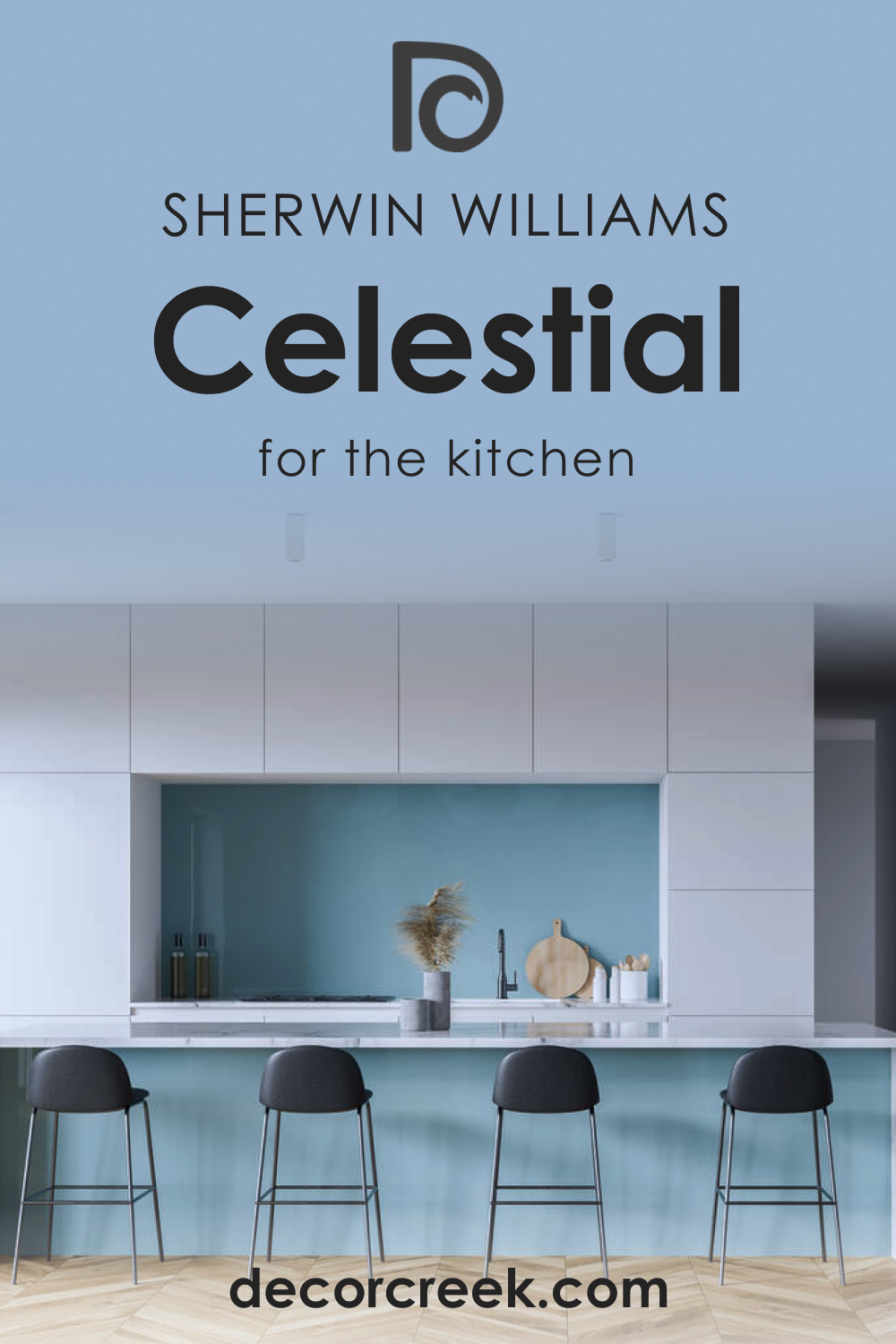 How to Use SW 6808 Celestial for the Kitchen Cabinets?
When used on kitchen cabinets, SW Celestial can give the space a unique and personal touch. This bold hue on cabinets against a white or light-colored wall can create a stunning contrast that's both modern and timeless.
If you have an open-concept kitchen, these SW Celestial cabinets can seamlessly connect with other areas, like the dining room or living room, particularly when echoed in small accents throughout the space.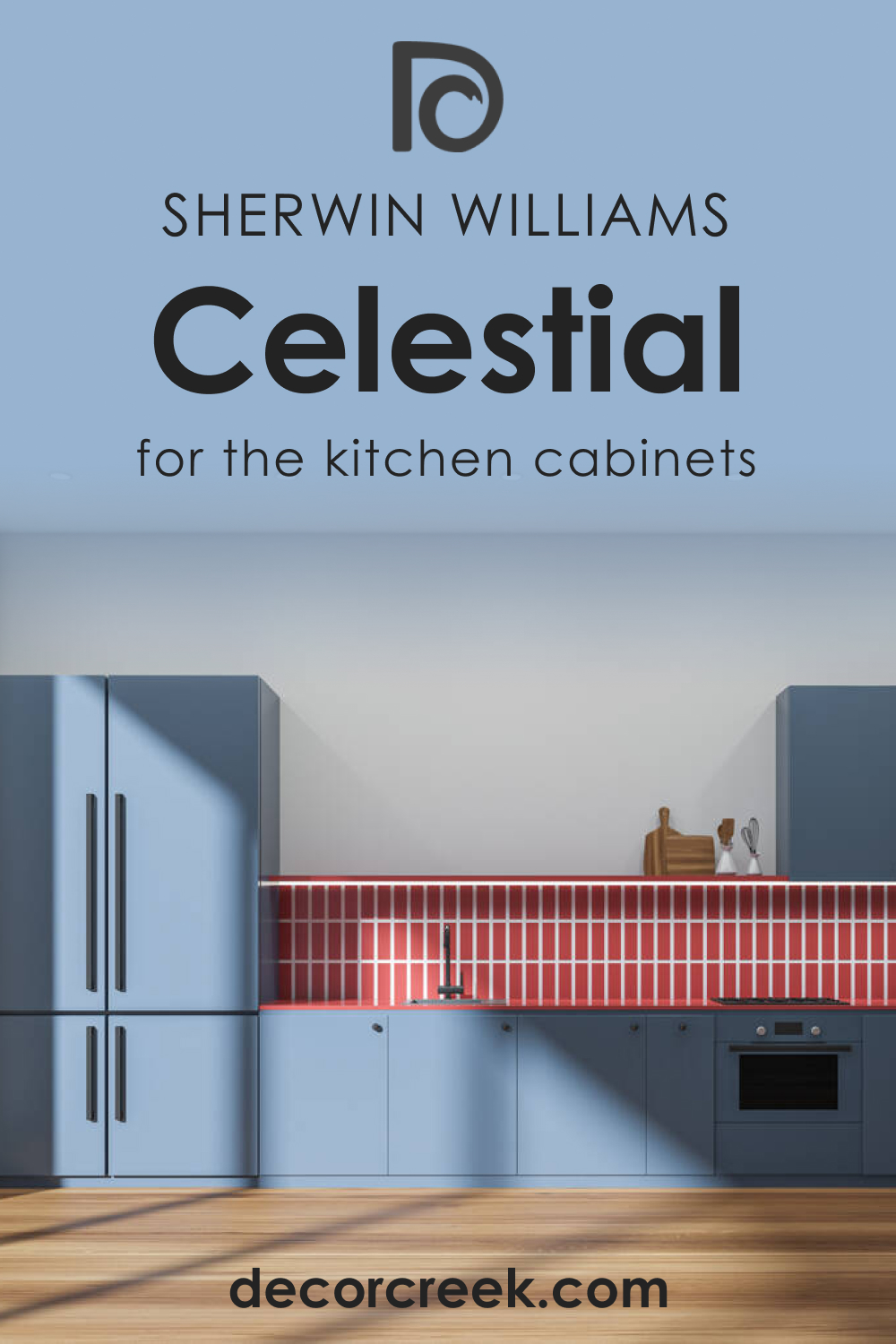 Comparing SW 6808 Celestial With Other Colors
By comparing colors, you can better see their distinctions and understand how their LRVs and undertones make them unique. Below, we compare SW Celestial with several paint colors to show you the nuances of this hue.
SW 6808 Celestial vs. SW 6230 Rainstorm
SW 6230 Rainstorm is a rich, deep blue that's like the night sky at twilight. Pairing it with SW 6808 Celestial can evoke feelings of calmness and serenity. The contrast between the two creates a dynamic effect, with Celestial providing a lighter, uplifting atmosphere while Rainstorm adds depth and drama.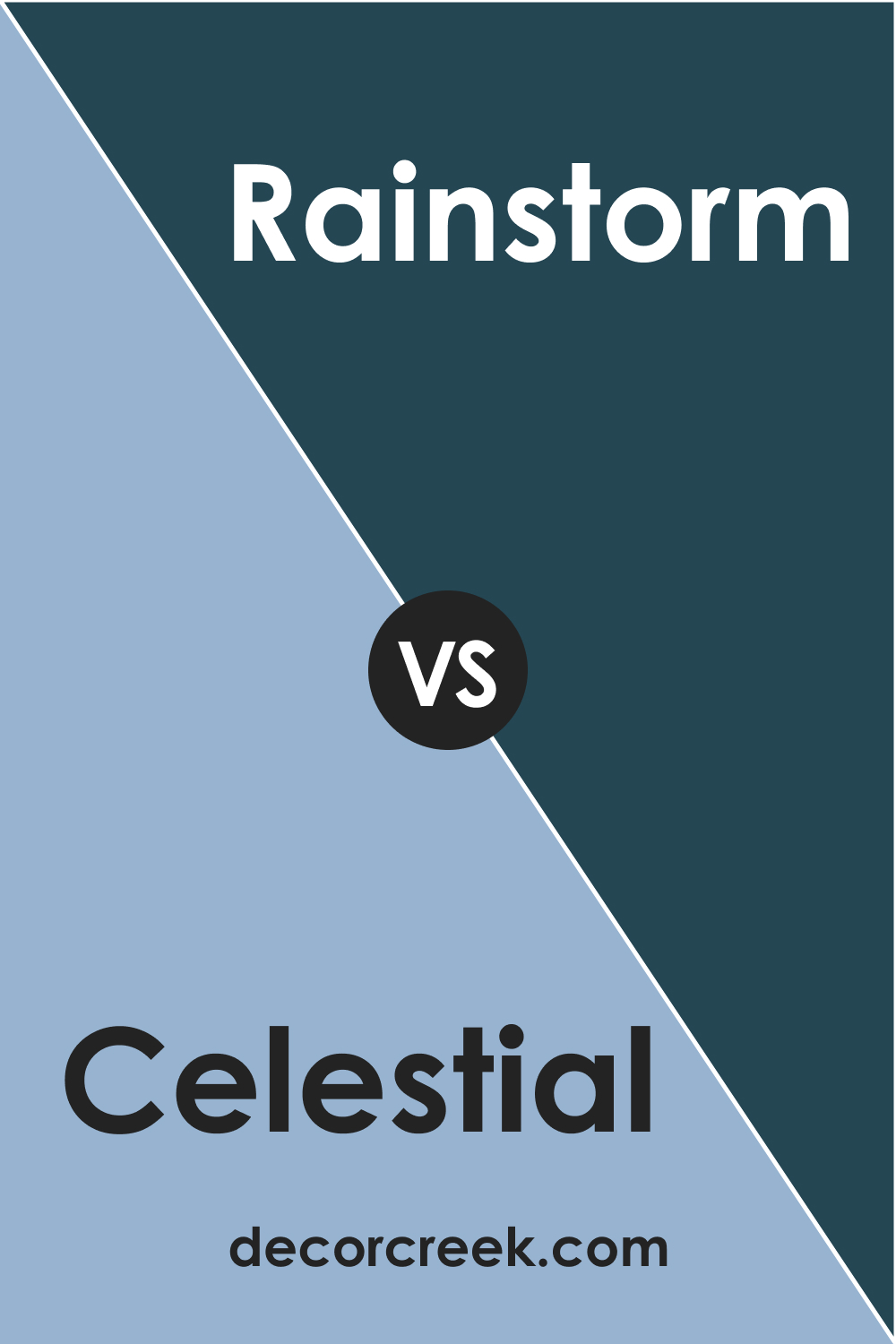 SW 6808 Celestial vs. SW 7008 Alabaster
SW Alabaster is a neutral off-white shade known for its softness and flexibility. Pairing it with the vibrant Celestial creates a striking contrast, making Celestial stand out more while Alabaster balances the intensity and brings in warmth, thereby softening the overall appearance of the space.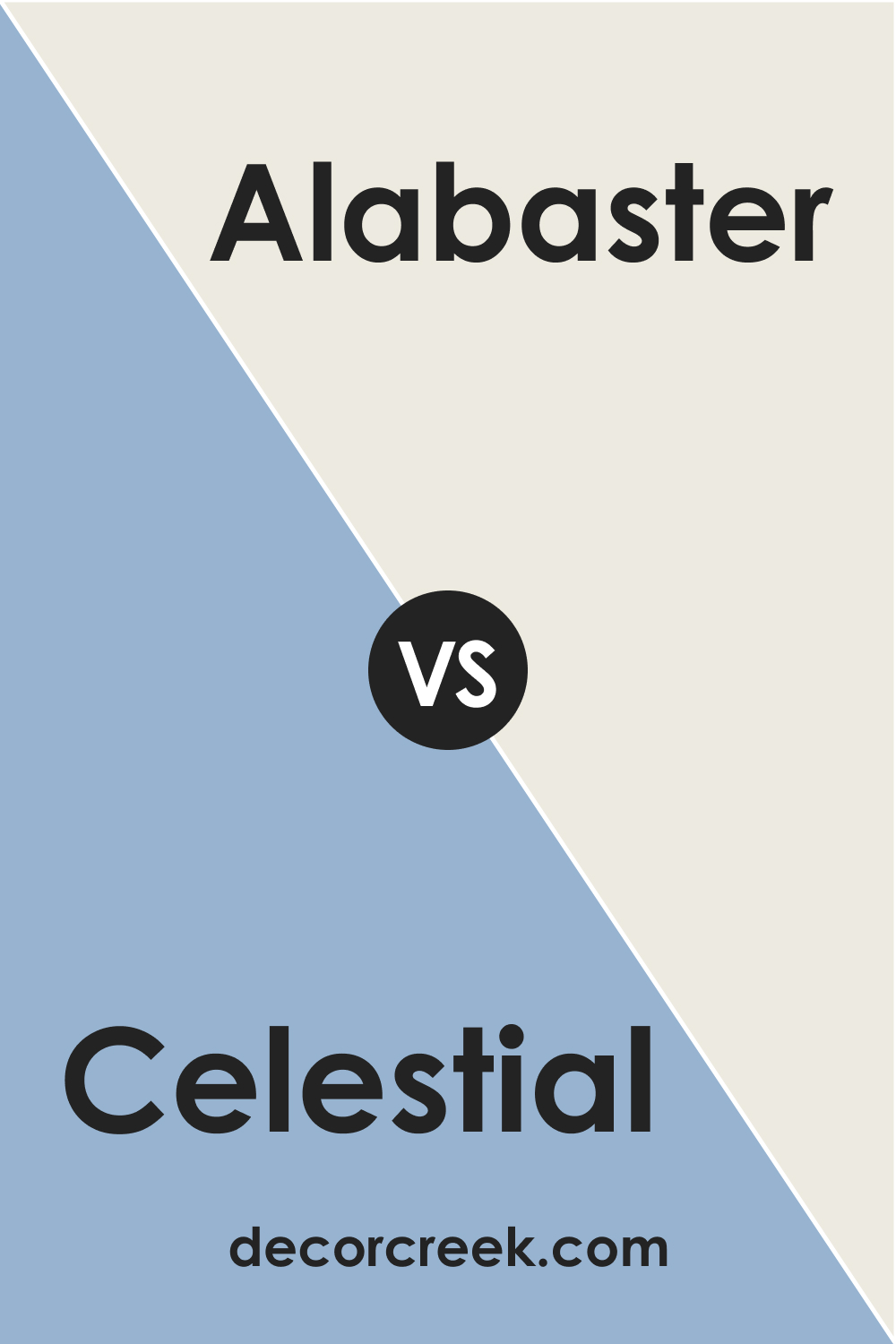 SW 6808 Celestial vs. SW 6258 Tricorn Black
SW Tricorn Black is a deeply saturated black color. It's the ultimate contrasting color to the bright and lively Celestial. When used together, they create an unexpected, modern, and bold color palette. This combination would work well in a space where you want to make a strong statement.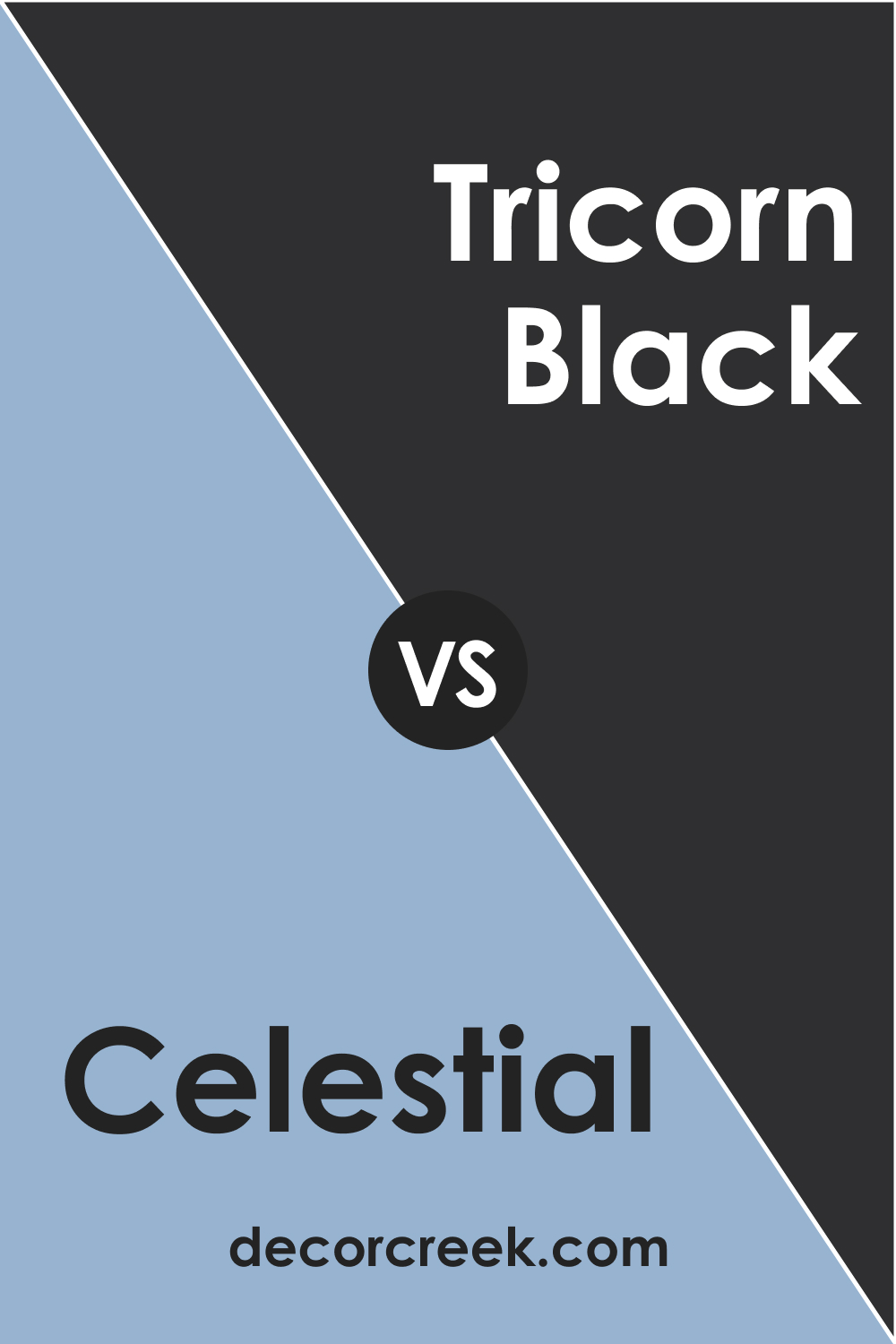 SW 6808 Celestial and SW 7006 Extra White
SW Extra White is a pure, bright white. Pairing it with Celestial results in a clean, crisp look that can be quite refreshing. The stark contrast between the two colors accentuates the cheerfulness of Celestial while amplifying the purity of Extra White.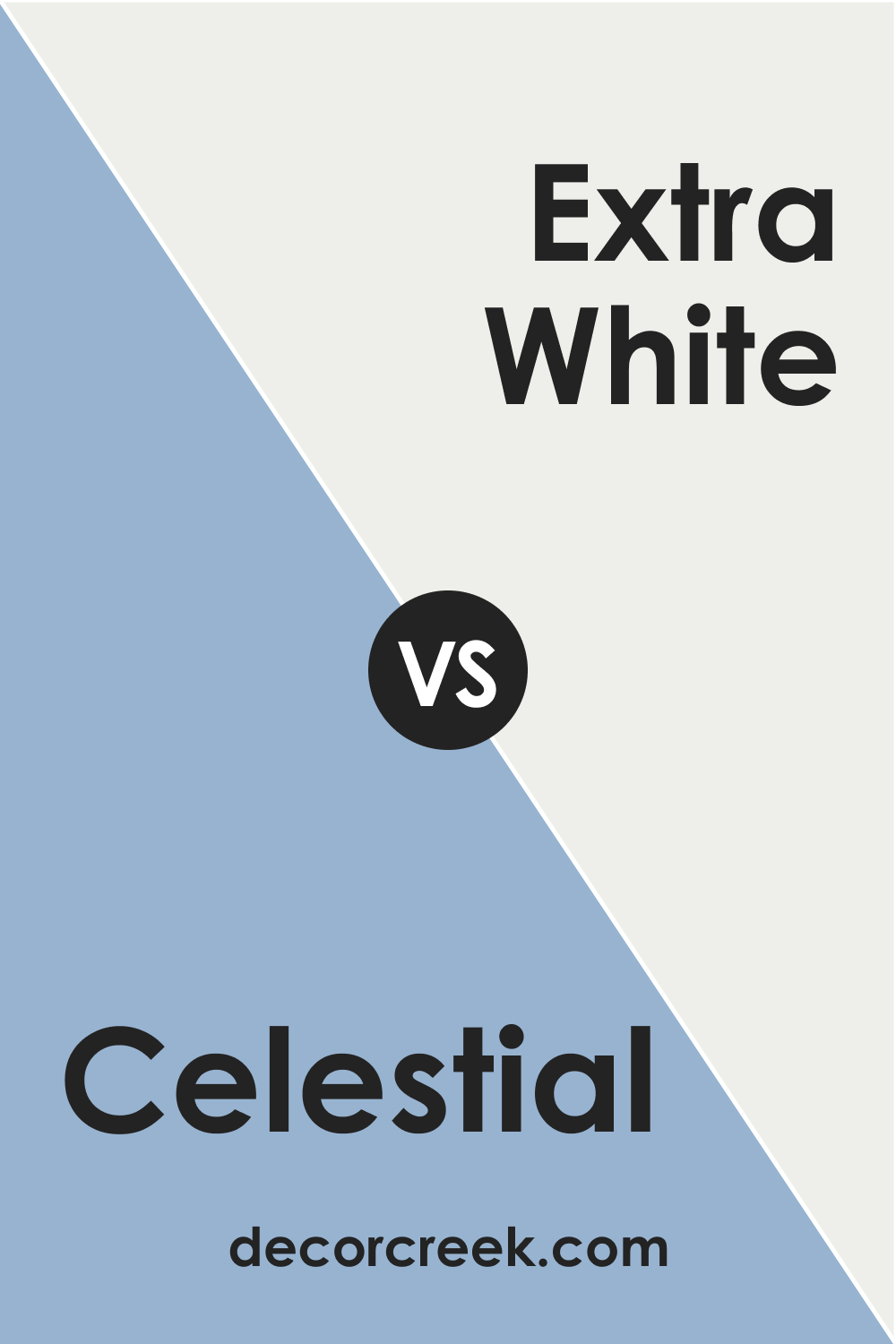 SW 6808 Celestial and SW 6204 Sea Salt
SW Sea Salt is a light, muted green with gray undertones. When paired with Celestial, it creates a coastal, breezy feel. Celestial pops against the subdued, calming Sea Salt, creating a lively yet soothing color scheme.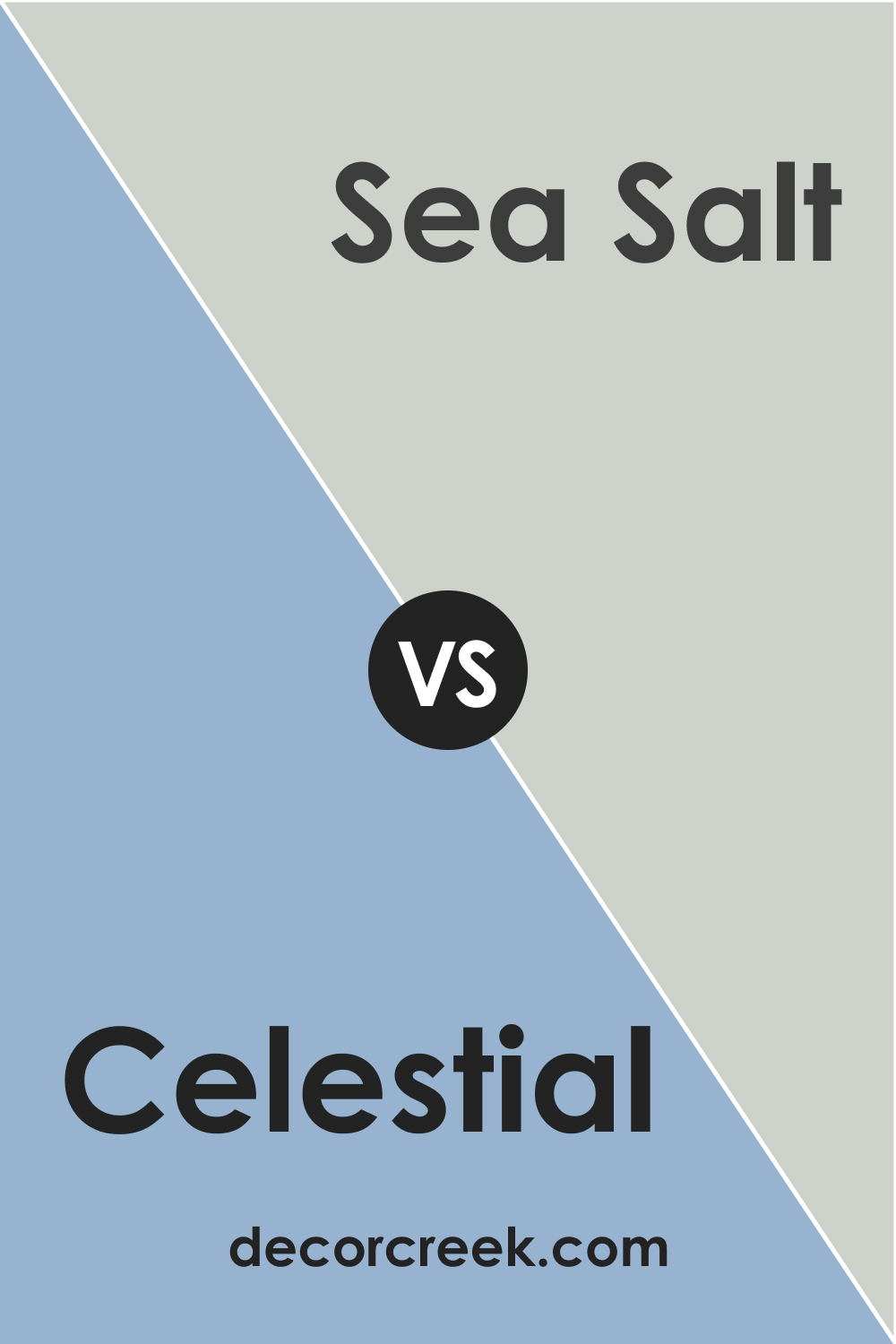 SW 6808 Celestial and SW 6217 Topsail
SW Topsail is a soft, muted aqua color. Together with Celestial, they create a harmonious palette of cool hues that's perfect for creating a tranquil and relaxing atmosphere. The similar tones mean there's less contrast, allowing for a smoother visual transition and an overall cohesive feel.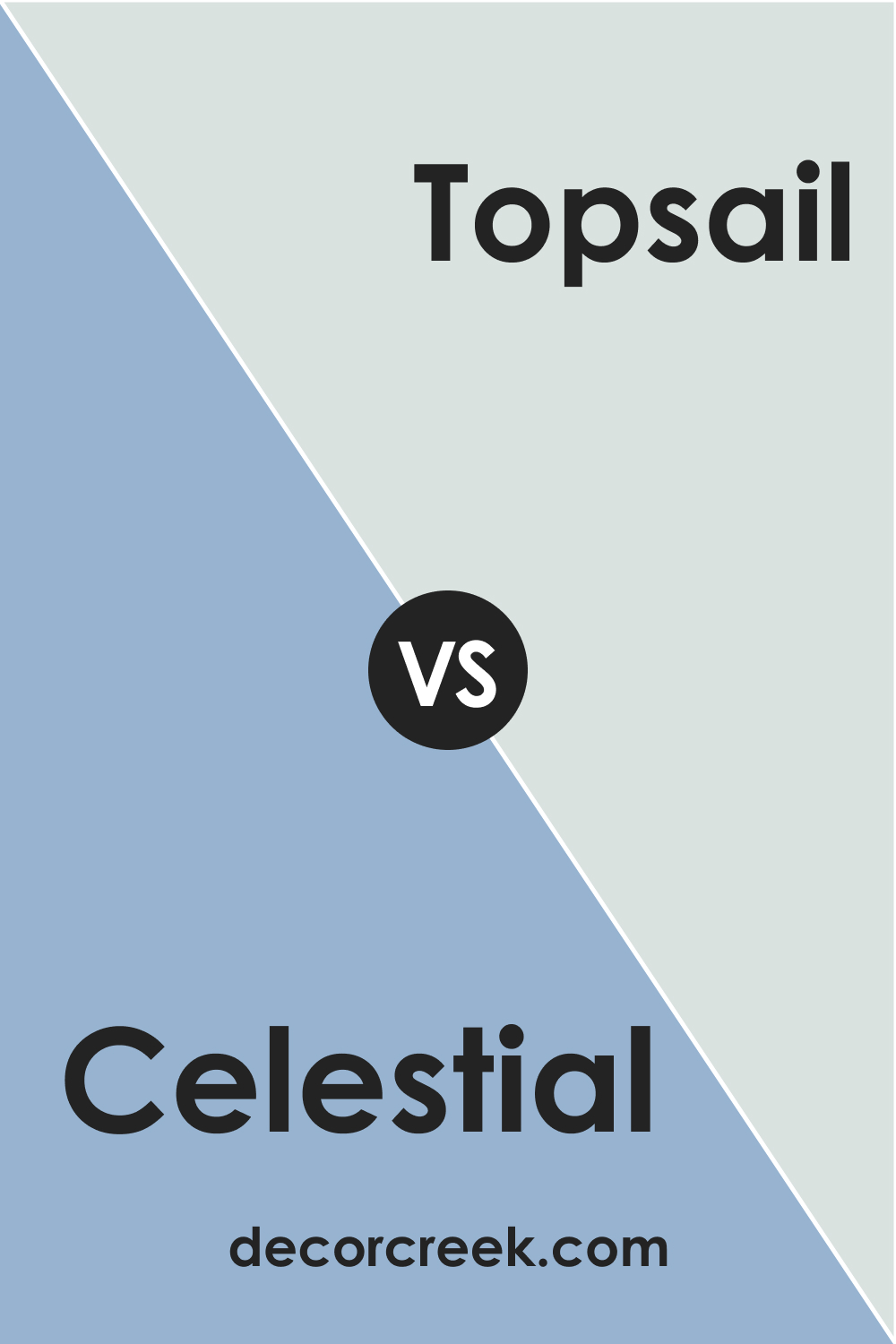 Conclusion
SW 6808 Celestial is a wonderfully versatile color that balances energy and calm. With its medium light reflectance value, it can transform with varying lighting conditions, appearing vibrantly playful under bright light and more soothing and deep under softer, muted light. This versatility extends to its compatibility with various design styles and color pairings, making it a fantastic choice for those looking to introduce a pop of color into their spaces.
Whether applied in a bedroom for a serene ambiance, a bathroom for a clean, refreshing feel, or a kitchen for a lively atmosphere, SW Celestial is a color that can truly elevate the mood and aesthetic of a space.
Its ability to pair well with contrasting neutrals like SW 7008 Alabaster and SW 7006 Extra White, as well as similar tones like SW 6204 Sea Salt and SW 6217 Topsail, further showcases its flexibility. In conclusion, SW 6808 Celestial is a dynamic, cheerful, and adaptable color, ready to inspire and uplift any interior or exterior space.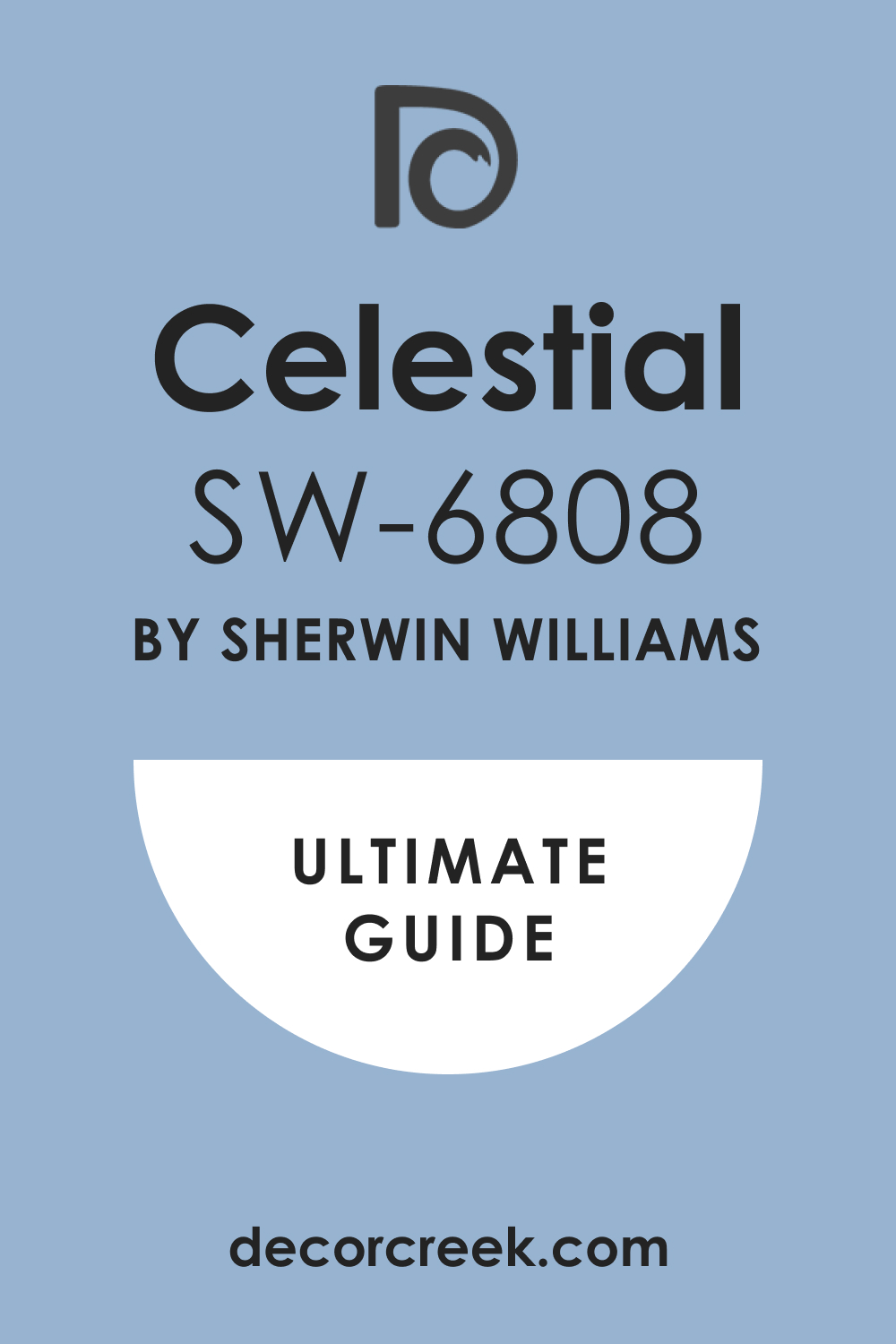 Frequently Asked Questions
⭐What is the Light Reflectance Value (LRV) of SW 6808 Celestial?
The LRV of SW 6808 Celestial is 45. This value places it in the medium range on the light-to-dark scale, meaning it can appear quite dynamic under different lighting conditions.
⭐What are some recommended trim colors for SW 6808 Celestial?
Recommended trim colors for SW 6808 Celestial include light shades of white from Sherwin Williams, such as SW 7006 Extra White, SW 7008 Alabaster, and SW 7011 Natural Choice. These colors will create a harmonious contrast and enhance the vibrancy of Celestial.
⭐What colors pair well with SW 6808 Celestial?
SW 6808 Celestial pairs beautifully with a range of colors. For a calming effect, consider using SW 6204 Sea Salt or SW 6217 Topsail. For a striking contrast, consider using darker shades like SW 6230 Rainstorm or SW 6258 Tricorn Black.
⭐Can I use SW 6808 Celestial for exterior painting projects?
Yes, SW 6808 Celestial is a great choice for exterior painting projects. It can create a charming and standout facade and pairs beautifully with both light and dark trim colors.
⭐In which rooms does SW 6808 Celestial work best?
SW 6808 Celestial is versatile enough to be used in any room in your home. It can create a serene and relaxing atmosphere in bedrooms and bathrooms, make a bold statement in living rooms, and add a vibrant touch to kitchens. It can also be used on kitchen cabinets for a unique and personal touch.