If you want to add a bit of a natural vibe to your home interiors but you are not too risky to try darker colors, why not try out something lighter? SW Majolica Green paint color is one of such light shades of green that can refresh any home!
Today, we will tell you more about this color and its specifics. You will learn how it reacts to light and how this green should be coordinated. Also, we will explain in what rooms it will work best.
You will discover its undertones and learn how SW Majolica Green pairs with other colors. After you read all this, this color won't be a mystery for you!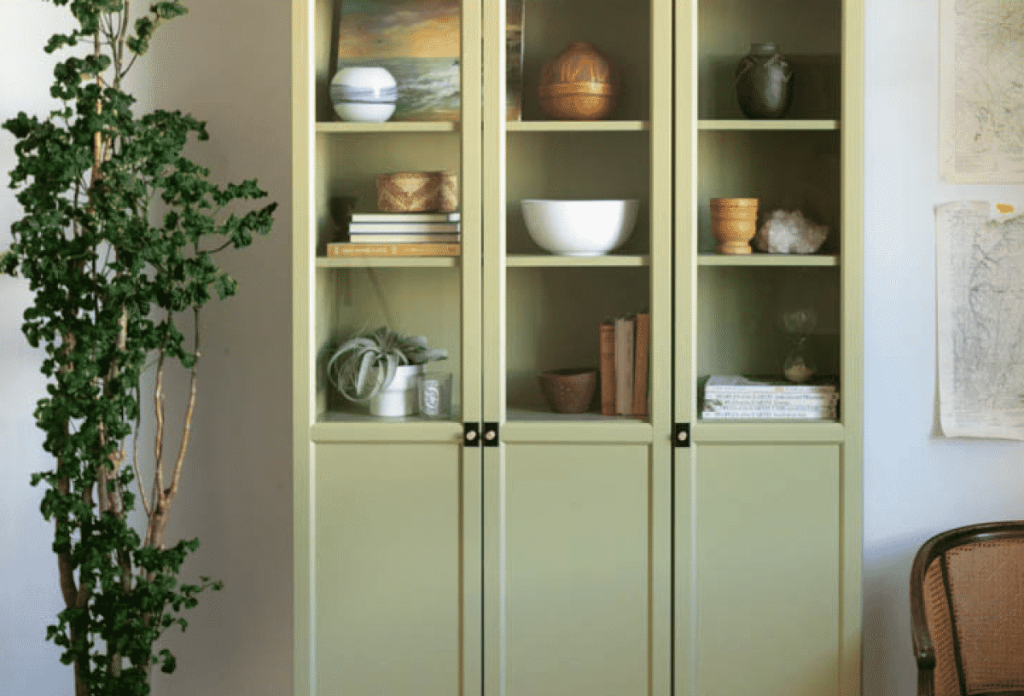 What Kind of Color Is Majolica Green SW-0013?
SW Majolica Green is a pretty light shade of green. However, you can't say it looks pale or washed out on the walls! As Hextoral says, SW Majolica Green gives that soft and moderately warm feel that makes any space look calm and tranquil.
This color is pretty versatile and can be used both on exterior and interior walls.
However, due to its undertones that tend to show up under certain conditions and change the color a bit, we recommend you always sample SW Majolica Green!
This will help you to ensure it reads exactly as you want.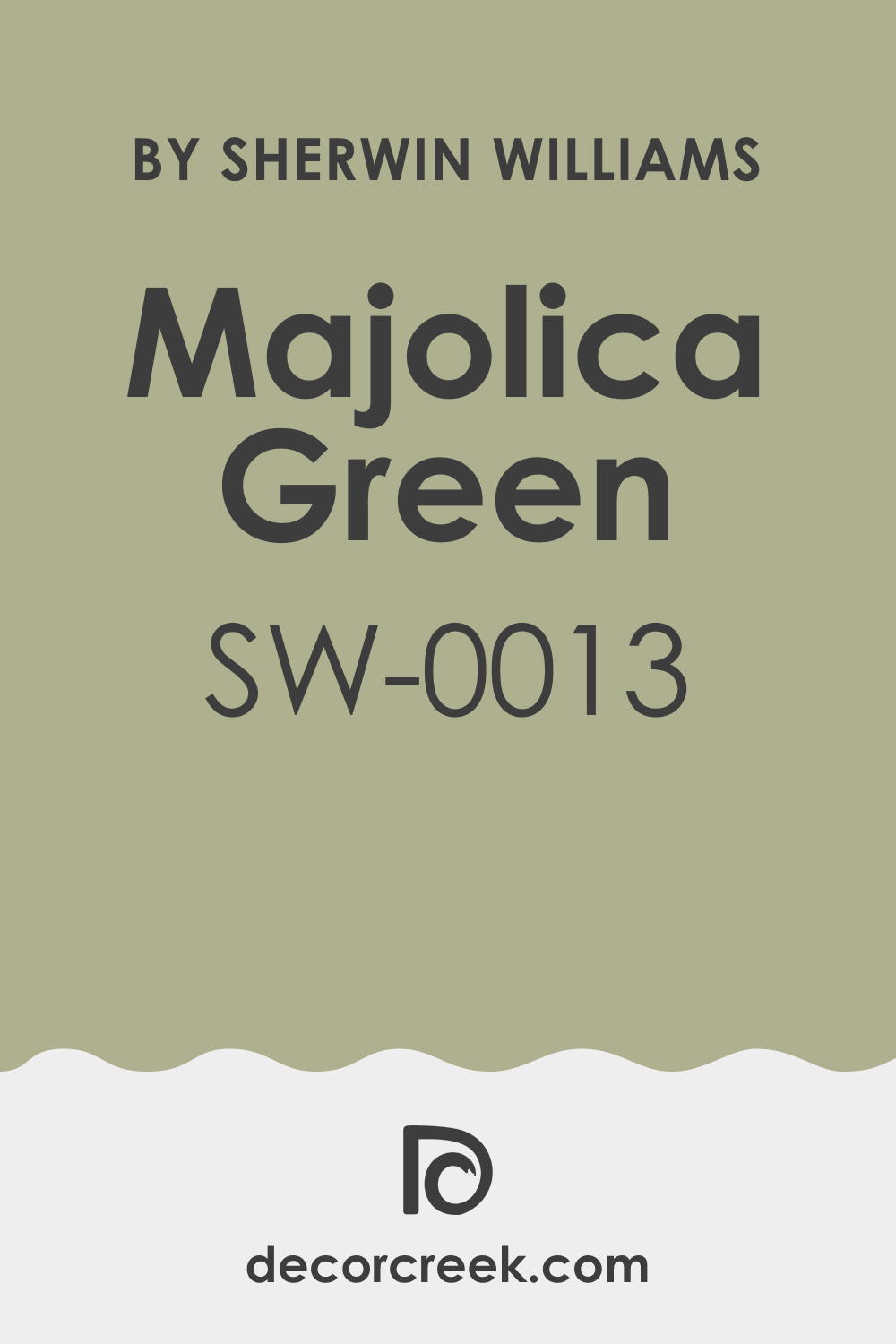 Is It a Warm or Cool Color?
Not all people enjoy warm-toned colors, just like not all of us are fond of cool-toned ones. Also, the tone of the wall color often depends on the overall color scheme used in the space. E.g., in a room with prevailing cool colors, using too many warm-toned ones might not be the best idea!
Speaking of SW Majolica Green, this color definitely leans towards the warmer end of the tone scale.
However, it will hardly ever look clearly warm on your walls. On the other hand, SW Majolica Green may seem a bit warmer if it is used in a room with many warm-toned colors and warm natural/artificial lighting.
But generally, this shade of green tends to look pretty balanced on the walls and other surfaces.
What Undertones Does Majolica Green SW-0013 Have?
As we have already mentioned, SW Majolica Green has a tendency to reading warmer sometimes. This is possible thanks to its undertones. See, this green color has very slight and barely seen yellowish undertones.
This yellow base is what makes SW Majolica Green give off that warmer hue now and then. But if you prefer to avoid warmer colors in your home, sample SW Majolica Green to ensure it reads exactly how you want.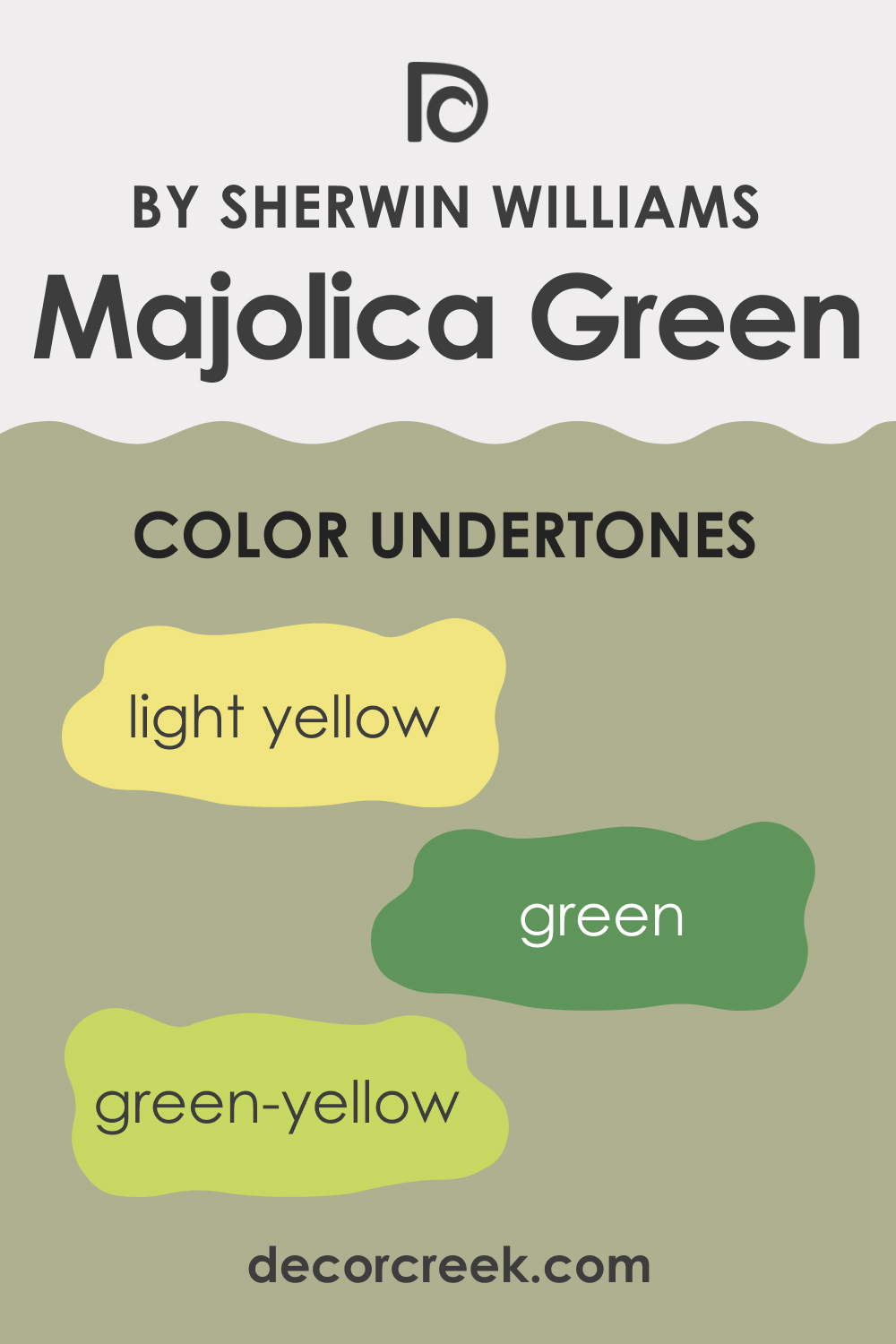 Majolica Green SW-0013 Coordinating Colors
To coordinate the wall color correctly, you must know what colors will work with it and highlight its natural beauty and tone. With SW Majolica Green, this might be a tricky task due to its undertones that are not always well seen. This is why we have prepared a list of coordinating colors that will work with SW Majolica Green in any situation.
For a monochromatic color palette, try one of the following coordinating colors that will work nicely with SW Majolika Green color:
SW Green Sprout
SW Recycled Glass
SW Koi Pond
Should you prefer a more contrasting and varied palette in your home, you might want to try the following coordinating colors instead:
SW Fashionable Gray
SW Double Latte
SW Kilim Beige
SW Jade Dragon
SW Contented
SW Bateau Brown
SW White Truffle
What Is the LRV Value of SW Majolica Green Paint Color?
Light Reflectance Value (shortly known as LRV) indicates how light or dark a color will look on a scale of 0 (which is black) to 100 (which is pure white). The higher the LRV value, the lighter and more reflective the color, and vice versa.
The LRV of SW Majolica Green paint color is 45, which means it is a medium color with moderate reflectivity by its LRV value.
In other words, when you use this green paint on your interior walls, it will reflect enough light without making the space seem moody, dark, or enclosed. On exterior walls, it will also never look dark.
At the same time, SW Majolica Green will hardly ever look washed out or make your rooms feel brighter. Generally, this is a good color option for rather spacious and well-lit rooms.
In an enclosed, very small, or poorly-lit room, this paint color may read a bit deeper in tone than it is on a color sample.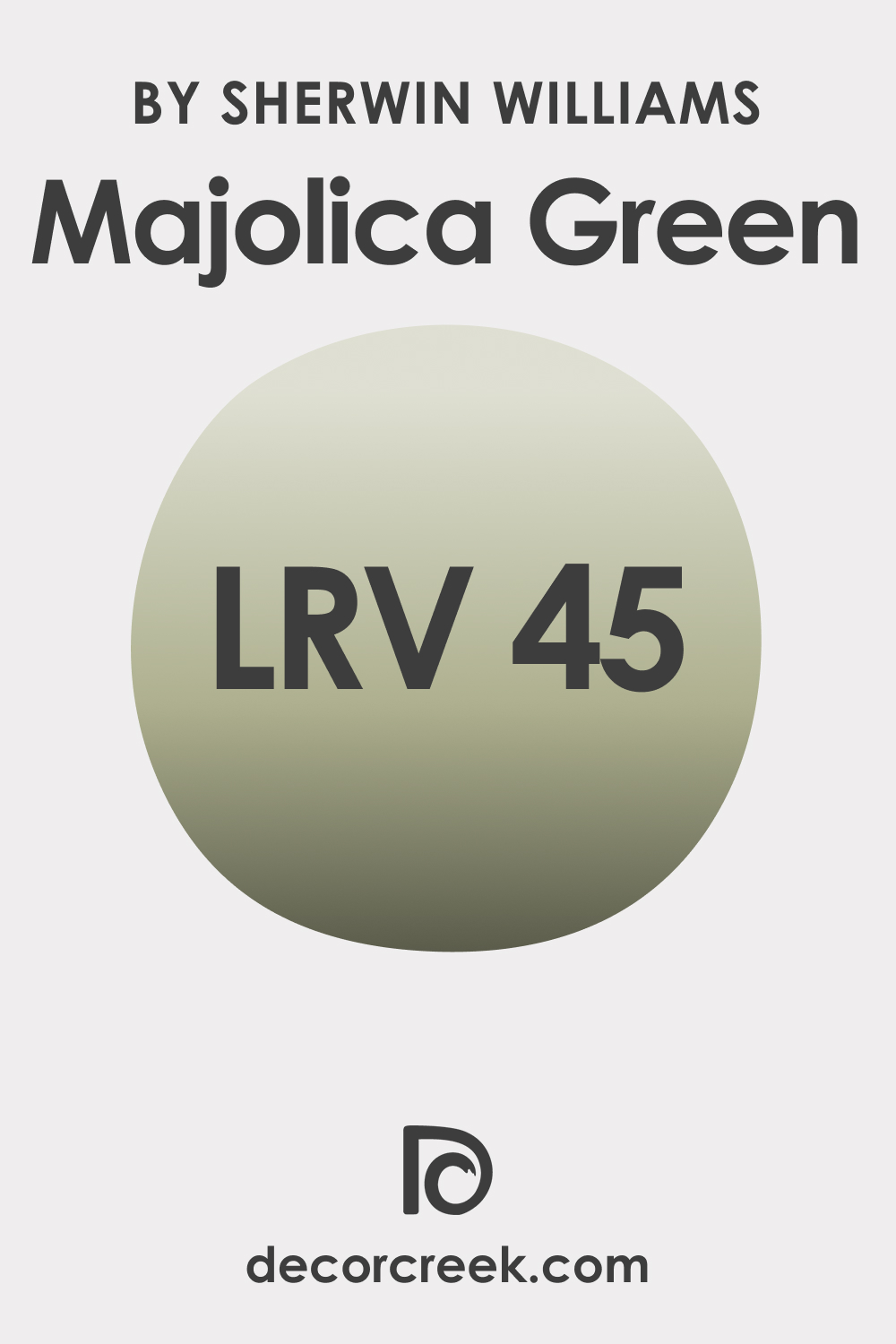 LRV – what does it mean? Read This Before Finding Your Perfect Paint Color
What Is the Best Trim Color For SW Majolica Green?
Since SW Majolica Green is a warm-toned green that stays in between the cool and warm end of the scale, you can use warmer and cooler whites with equal success on your trim and moldings. However, we would not recommend you opt for too warm or too cold and crisp whites! None of them will work well with this paint on your walls because of the imbalanced look.
If you are looking for a whiter trim, we suggest you use SW Creamy as a trim color. This white is bright enough, but it doesn't look sterile or icy crisp. For a more muted and less clean contrast, try SW Greek Villa as a complementary trim color instead.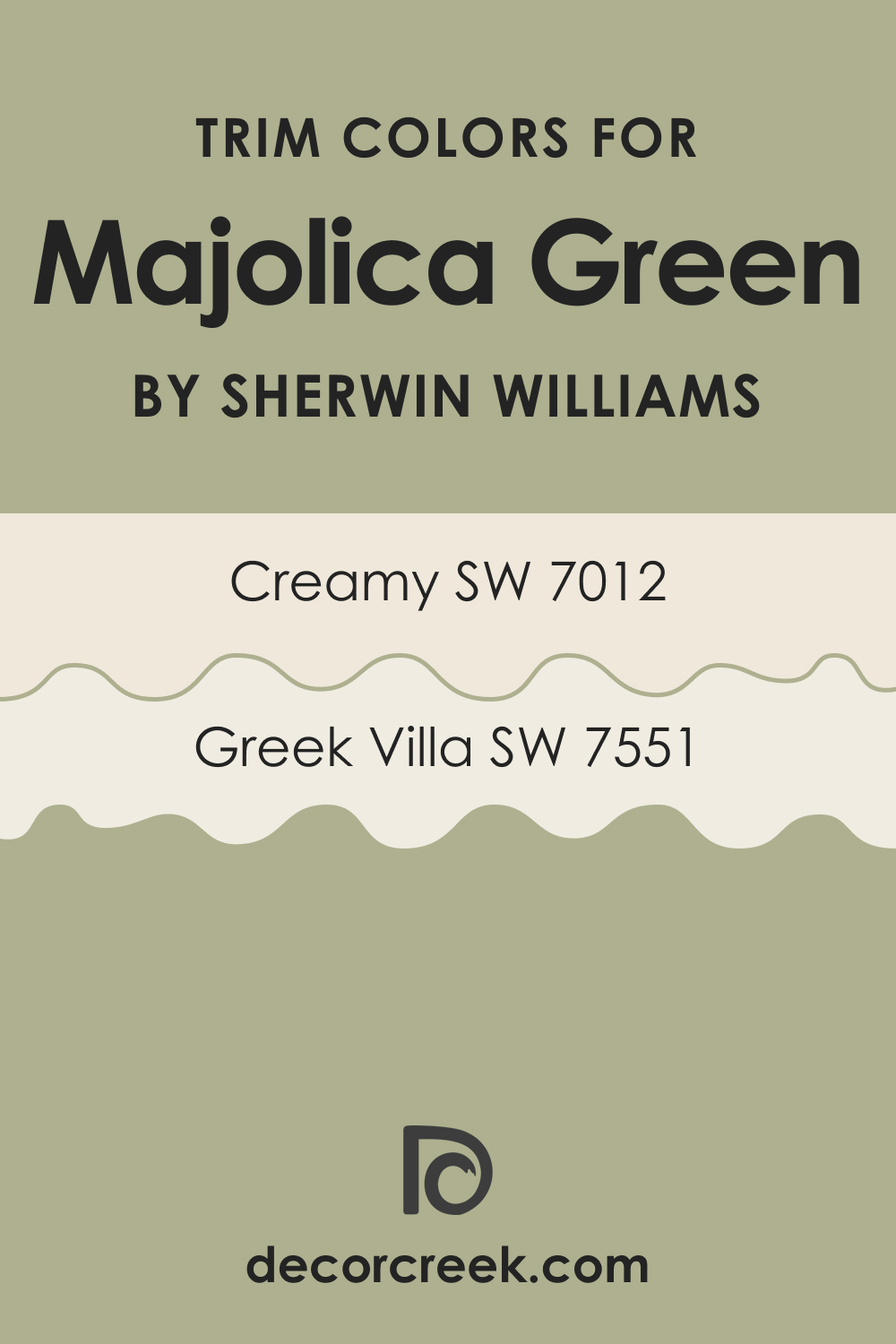 Colors Similar to Majolica Green SW-0013
When you know what similar colors can be used instead of the current wall color, you can easily find the best substitute should you need to adjust your home's palette. Below, you can find several alternative green colors that can work perfectly well instead of the Majolica Green SW-0013:
PPG Olive Spring
PPG Envy
SW Recycled Glass
However, note that none of these colors will be a 100% match! Some of them may read a bit deeper or lighter, others may show more of a green hue.
Plus these colors differ a bit due to their LRV and undertones. Nevertheless, they read very close to SW Majolica Green on the walls.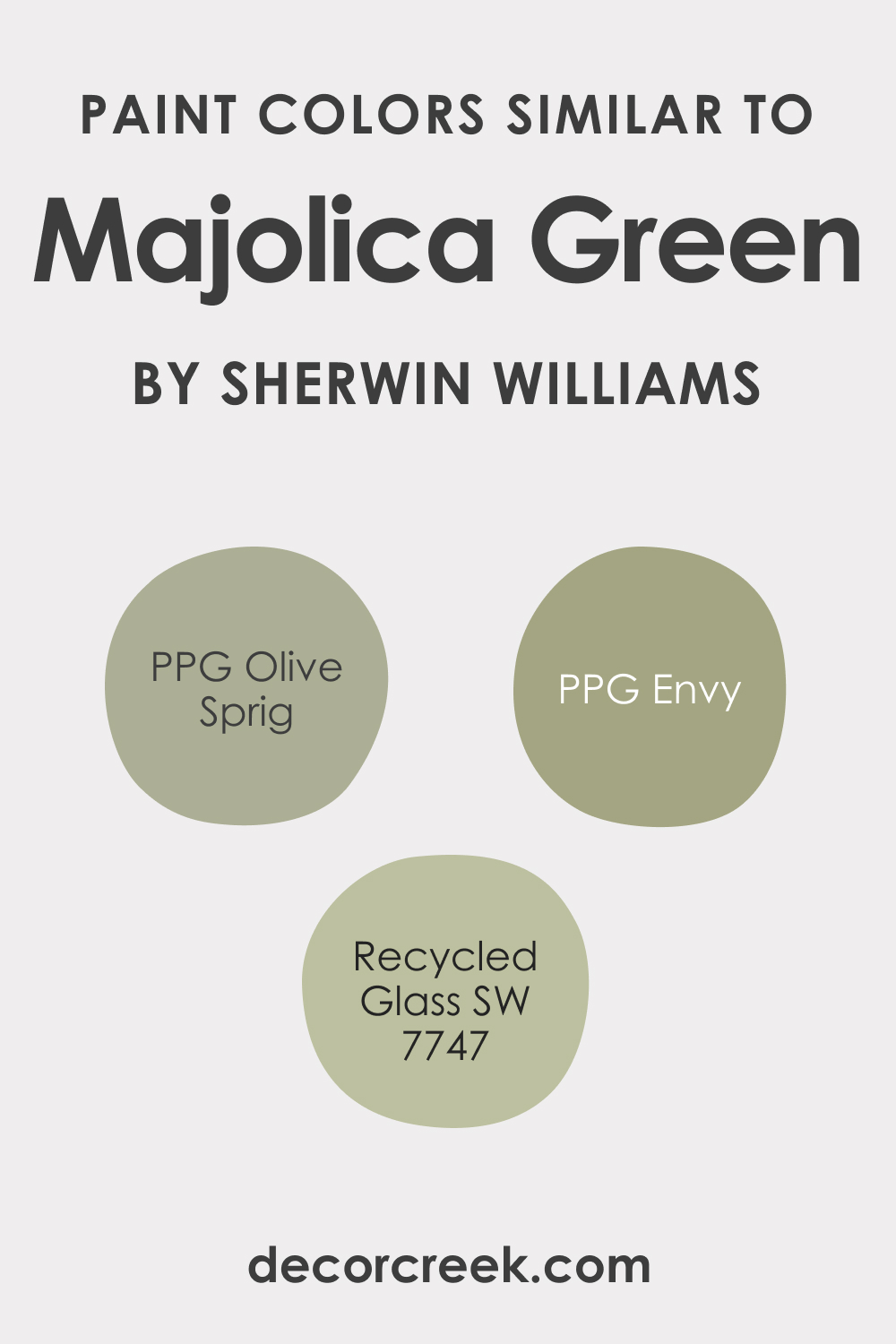 Colors That Go Well With SW Majolica Green Paint Color
Green is pretty easy to pair with other colors even if you don't have deep knowledge of color theory. Most greens will work well with different shades of yellow, for example, and SW Majolica Green is not an exception.
But there are other colors as well that can create a lovely and varied palette along with this green on your walls:
SW Lemon Chiffon
SW Forestwood
SW Peristyle Brass
SW Muslin
SW Cascade Green
SW Outerbanks
SW Olive Grove
SW Cocoon
SW Spiced Cider
SW Greenblack
Comparing Majolica Green SW-0013 With Other Colors
When you compare your wall color to other paint colors that look very similar, it helps you to understand their distinctions better. This is why we have prepared this brief guide for you below. Here we compare SW Majolica Green to several similar-looking shades of green.
Read on to see what makes these seemingly related colors distinct and unique, and how different LRVs and undertones can make colors of the same family vary so much.
Majolica Green vs Liveable Green
SW Liveable Green has warm yellow-gray undertones, which means it's partially related to SW Majolica Green with its yellowish hue hidden deep within. However, LRV is what makes them different.
The LRV of SW Liveable Green is nearly 61, whilst SW Majolica Green has an LrV of 45. This means SW Majolica Green is more saturated. Besides, it looks greener than its paler counterpart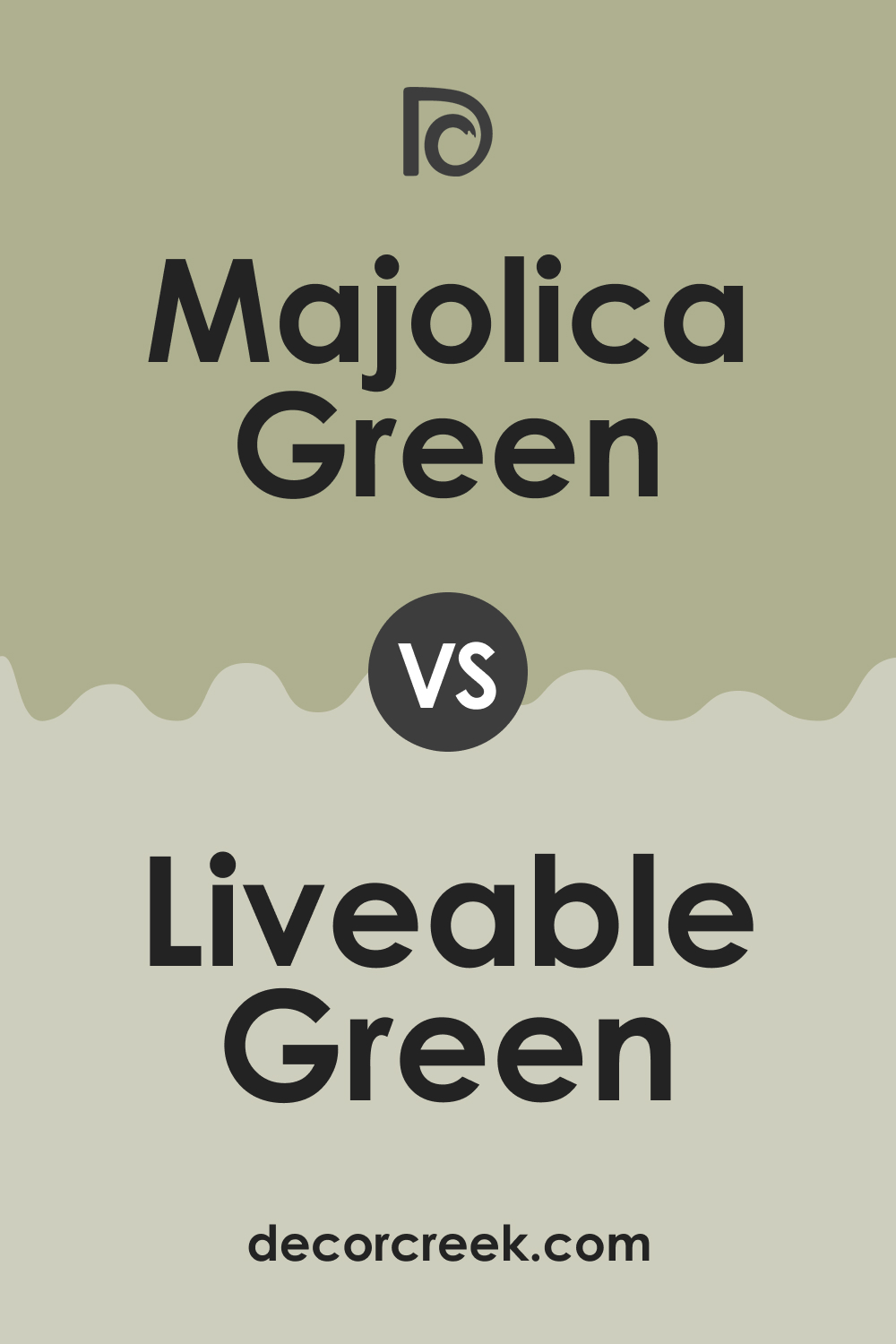 Majolica Green vs Sage
SW Sage 2860 is an interesting color due to its yellow undertones that are not on display most of the time. However, this yellow hue is what makes SW Sage look warmer and yellower compared to SW Majolica Green, which reads greener.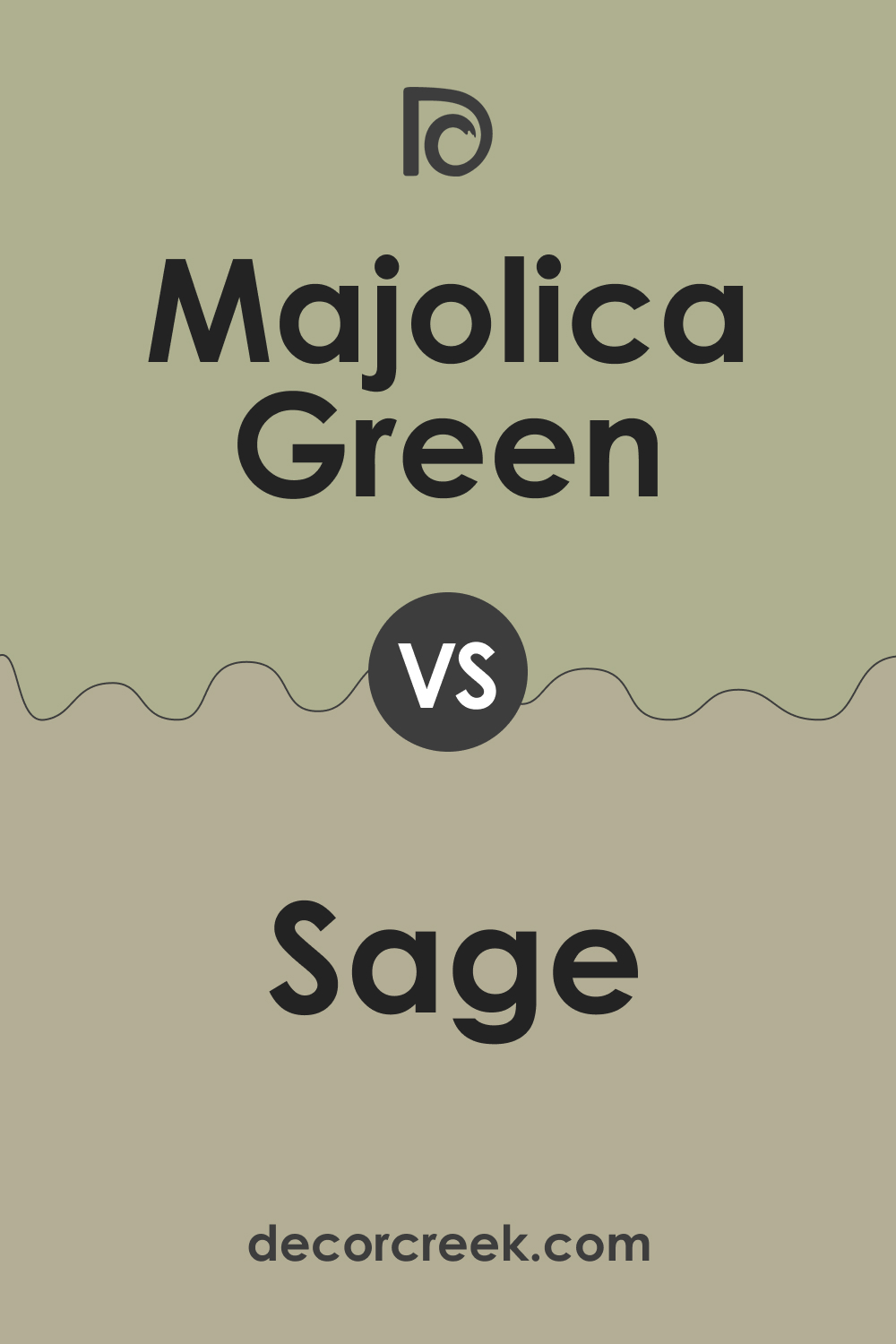 Majolica Green vs Rookwood Jade
SW Rookwood Jade has a very slight yellow undertone, which makes this color read pleasantly warm. However, this yellow base is mostly hidden deep inside.
Instead, its green hue is more prominent. Compared to SW Majolica Green, SW Rookwood Jade also looks greener and a bit more saturated.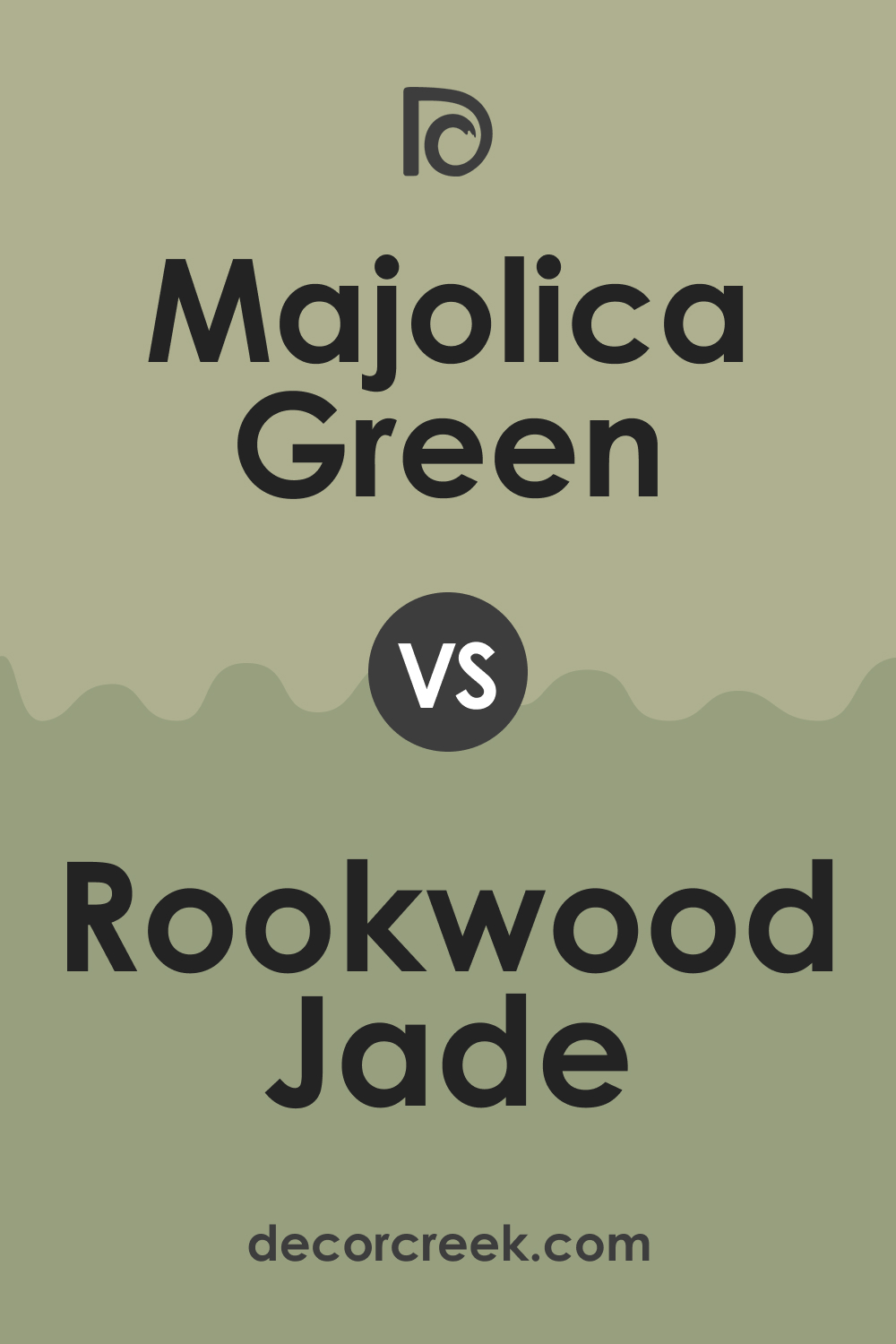 Majolica Green vs Cascade Green
Both colors have the same LRV of 45, but SW Cascade Green looks paler and lighter because of its cooler bluish and gray undertones. Compared to it, SW Majolica Green reads greener and more saturated, also reading significantly warmer.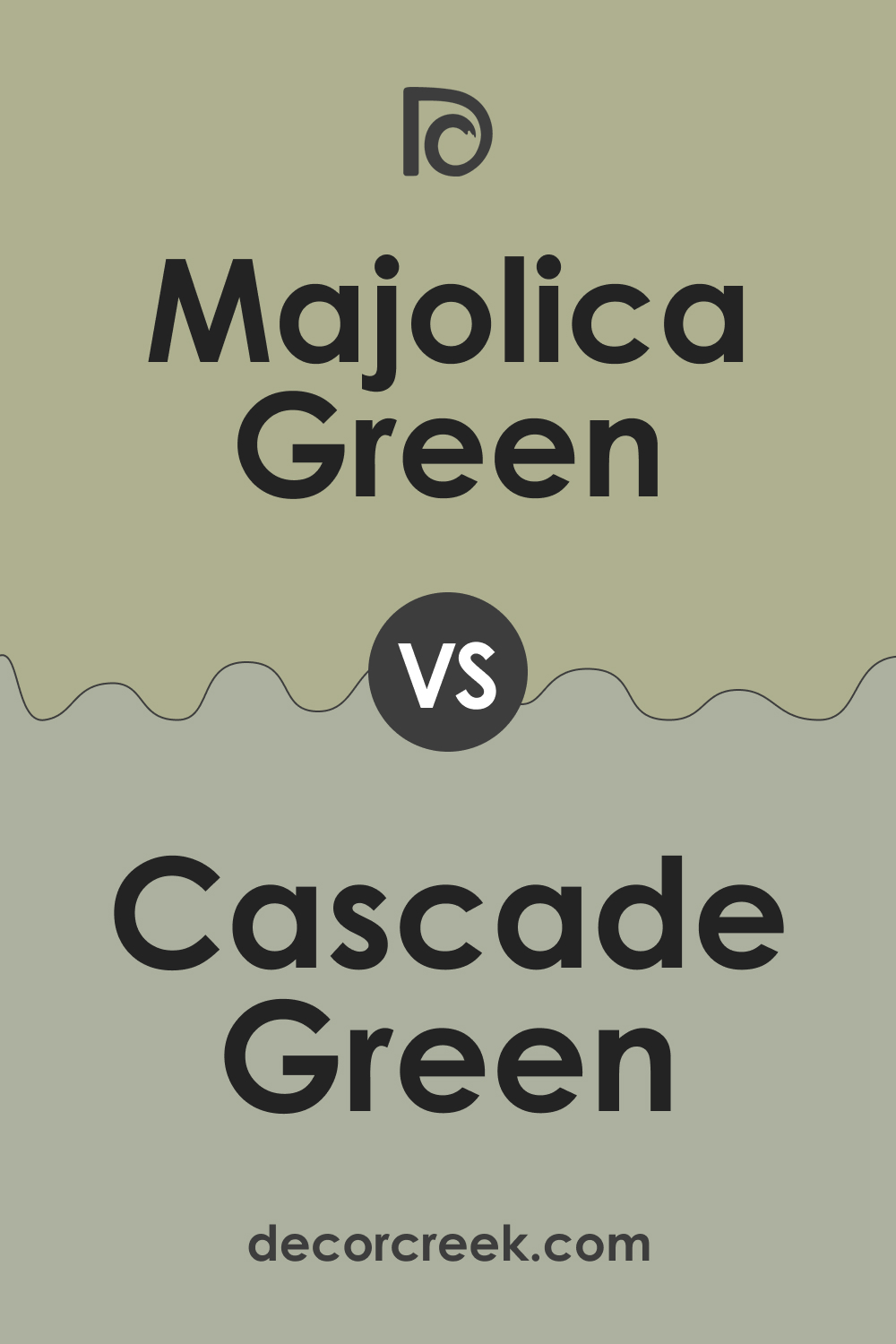 Where In Your Home Majolica Green SW-0013 Can Be Used?
To use SW Majolica Green correctly in your home, we recommend you learn how it can work in different rooms and on different surfaces. This way, you will know for sure in what spaces it will work best and where it should be avoided in your home.
Majolica Green SW-0013 in the Living Room
This green can work pretty well in a living room, but only if the space is large enough and has plenty of natural light. Also, it would be better to sue more whites there to add a fresh and airy note to the room.
In a small and poorly-lit room, as well as in a room with many warm colors, SW Majolica Green may read too warm.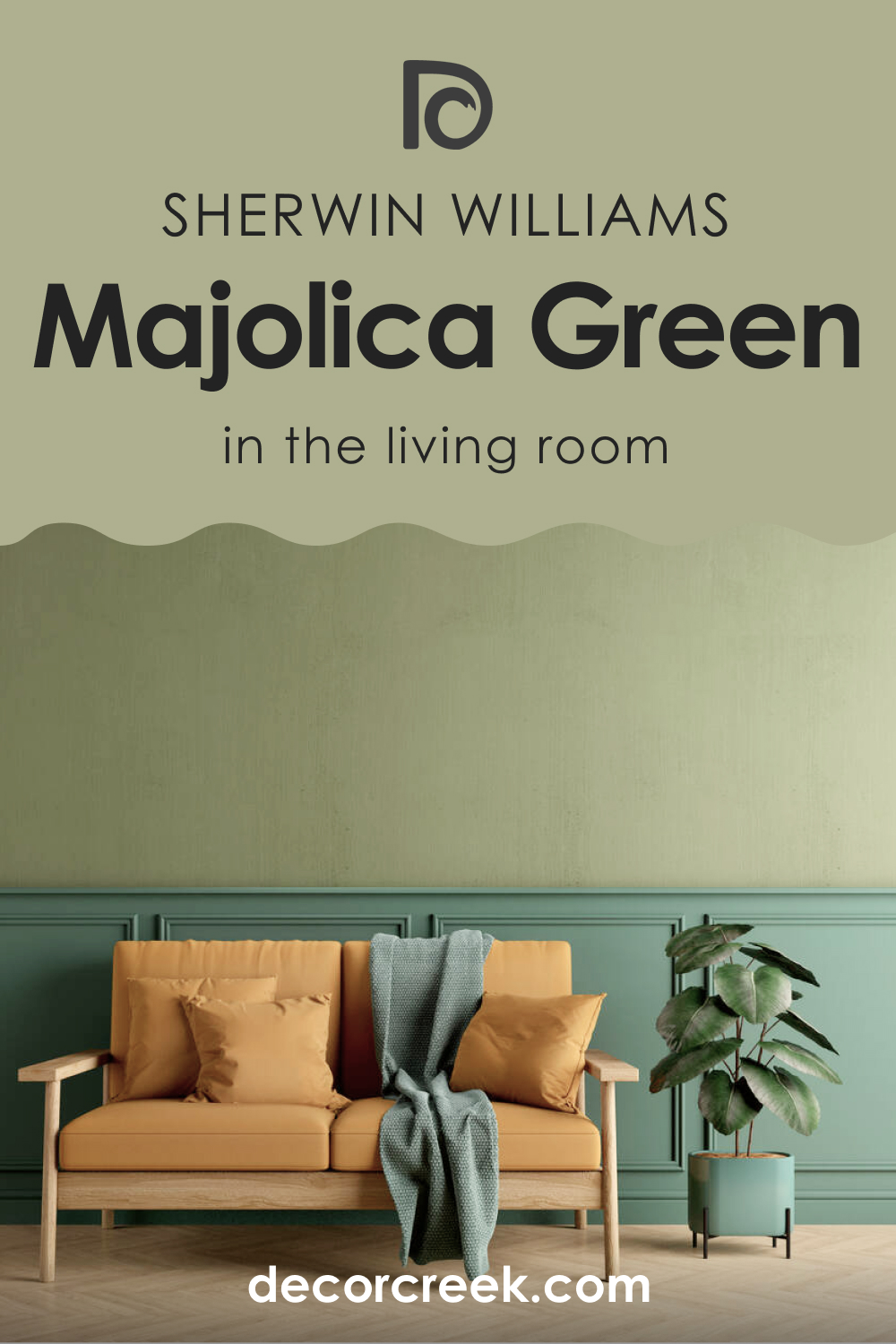 Majolica Green SW-0013 for the Bedroom
You might not choose this green to paint all the walls in your bedroom, but it will look nice on an accent wall! With other walls beaing white, SW Majolica Green will bring in a natural and calming vibe to your bedroom. Besides, it works nicely with natural fabrics and light-colored wooden furniture, making the space look cozier.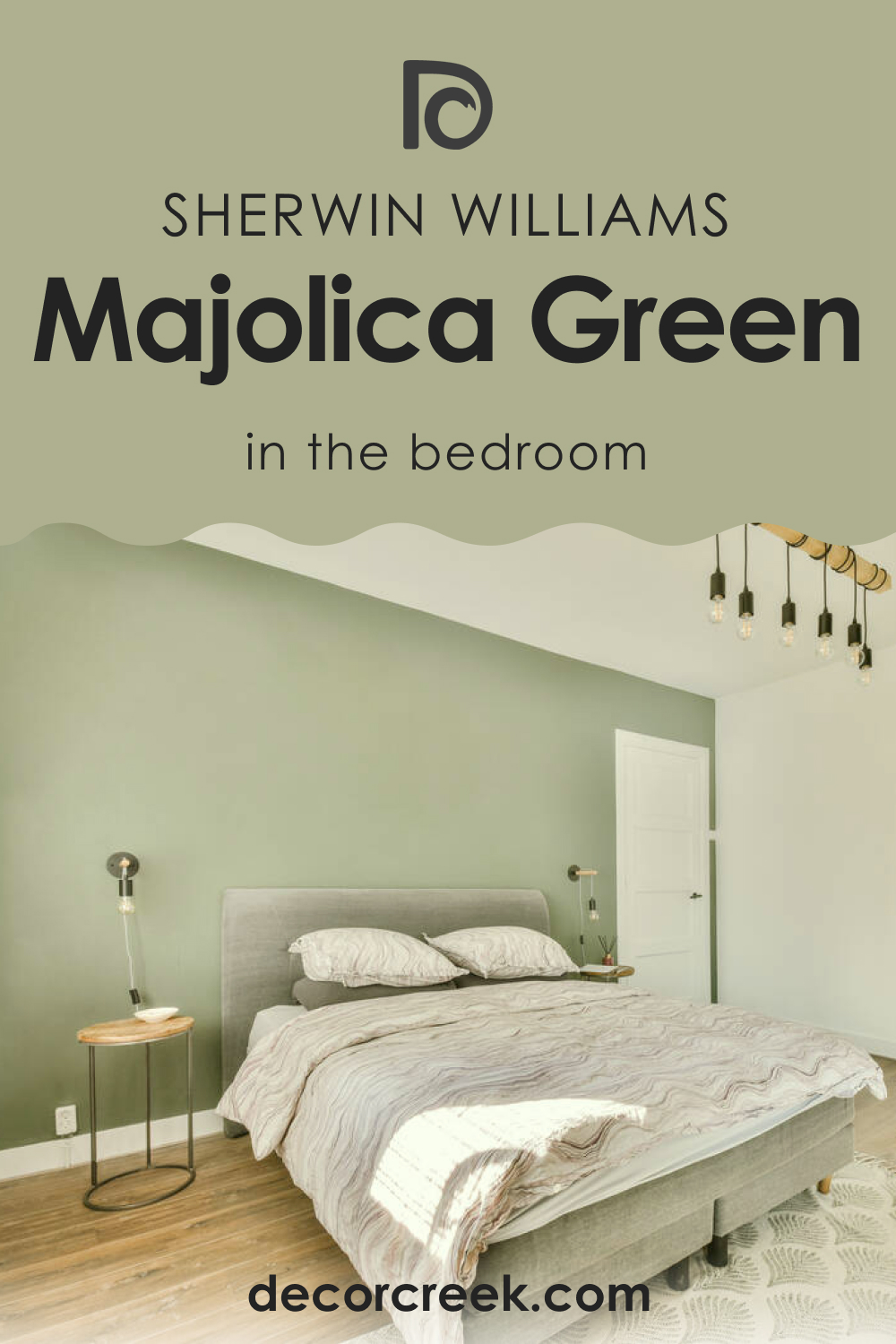 Majolica Green SW-0013 and Bathroom
Since bathrooms are mostly small and have no windows, we recommend you use this green very carefully on smaller surfaces only (e.g. on your vanity sink). As an option, painting an accent wall with it might also be a good idea.
The only case when SW Majolica Green may work in a bathroom on all the walls is when the room has a lot of natural light (windows) and is big enough.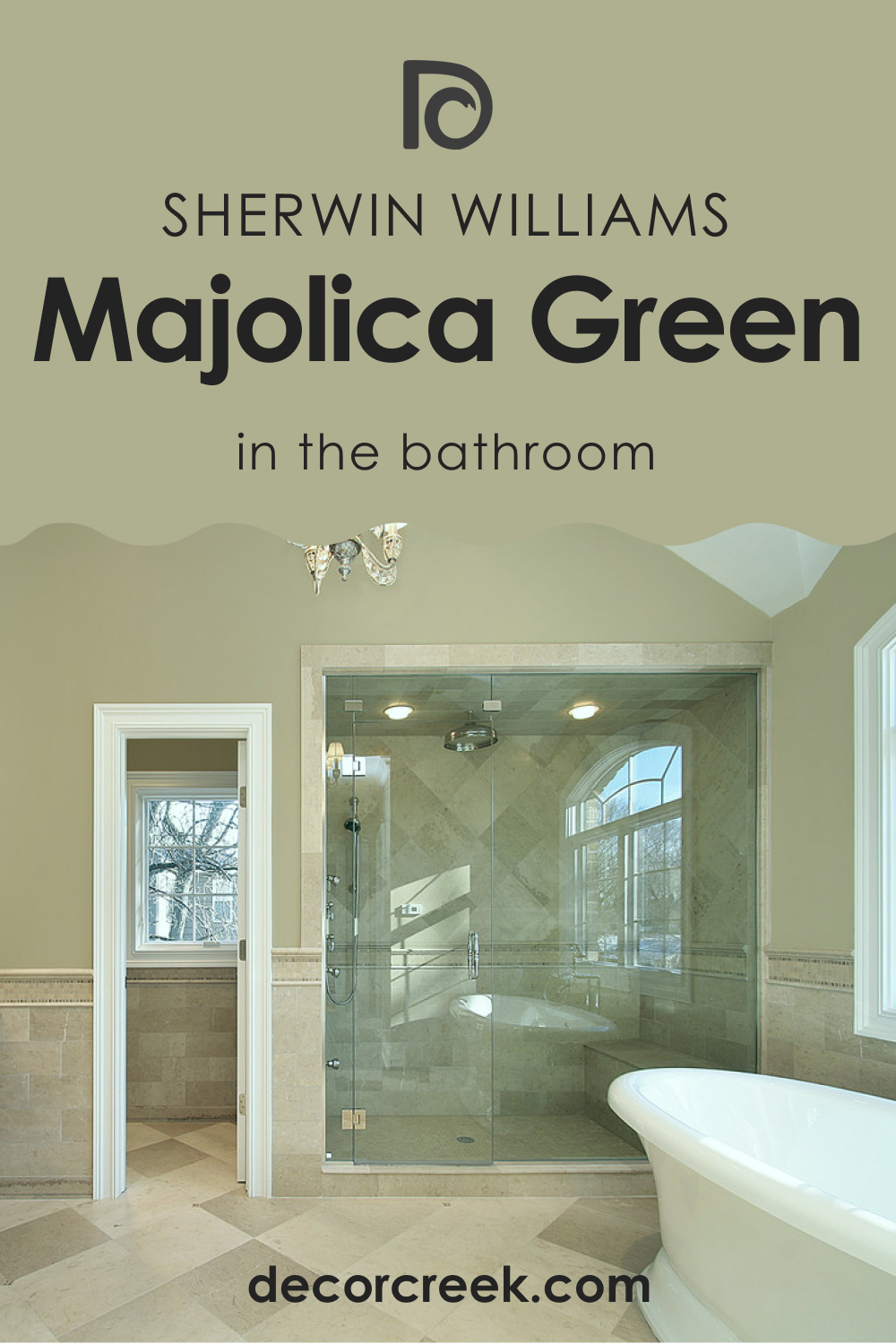 Majolica Green SW-0013 in the Kitchen
In your kitchen, you can use this color on lower and upper cabinets successfully, leaving the walls white. SW Majolica Green pairs well with tiles and marble, as well as with warmer textures and materials (e.g. wood). This is why it should fit most kitchen interiors.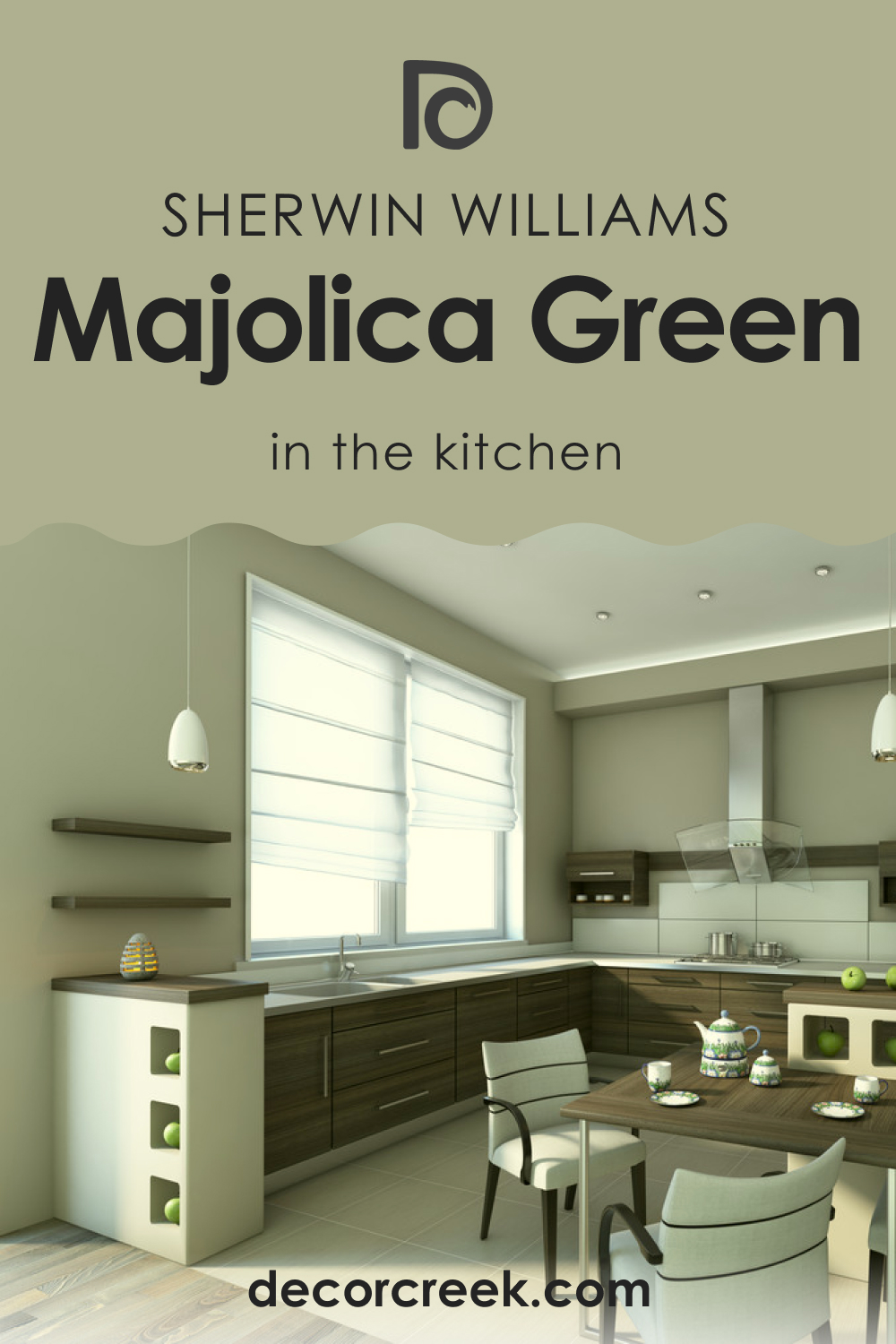 Majolica Green SW-0013 for the Exterior Use
This green can work on exterior walls too. But the trick is to pick the right trim color. To add a crisper and brighter look, use lighter whites. But if you strive for a warmer appearance, opt for warmer whites instead.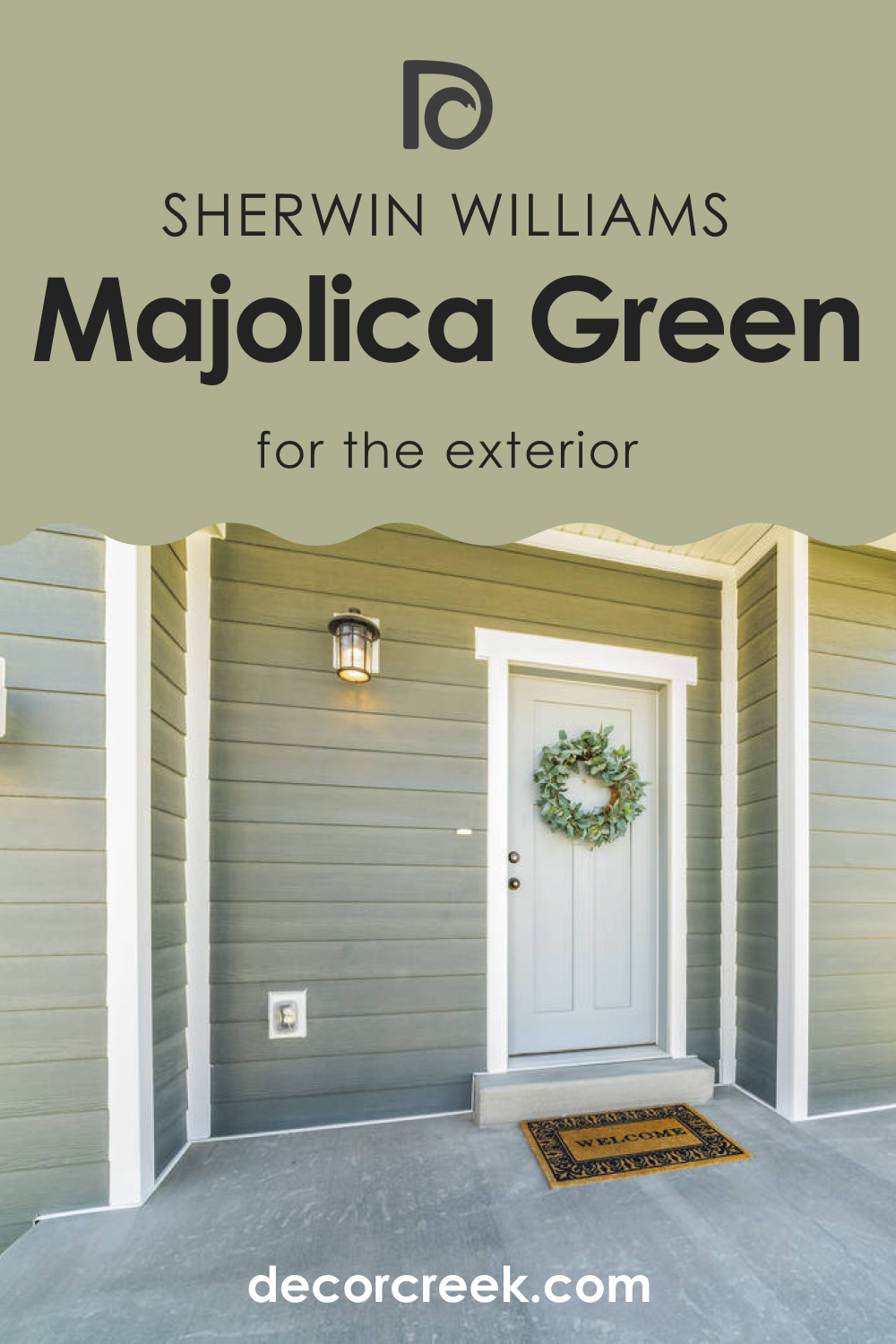 Now you know this paint color better. SW Majolica Green may seem to be a bit tricky and challenging to use due to its undertones, especially if you are new to a color theory.
But at the same time, this green can work lovely indoors and outdoors if you know how to make it work! With the help of all the information we shared today, you will use this beautiful and calming nature-inspired green by Sherwin-Williams like a pro.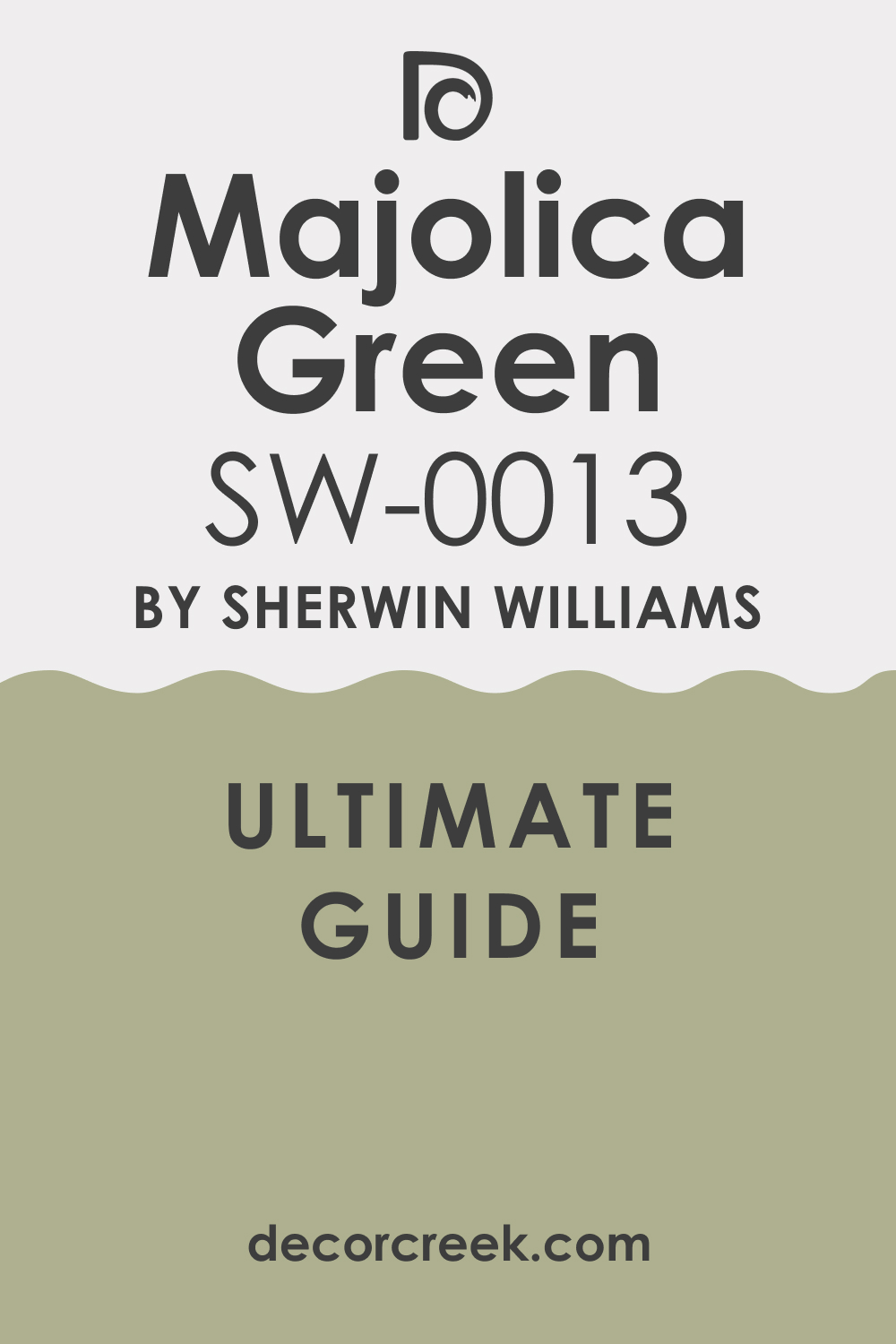 Frequently Asked Questions
⭐Is SW Majolica Green a neutral color?
No, this green color is rather warm-toned.
⭐Is it a popular color for home interiors?
It's hardly the most popular green color, but it is used quite often.
⭐Is this green an interior color only?
No, it's not. SW Majolica Green can be used both indoors and outdoors.