Compared to some popular colors like whites and neutrals, green might not be as widespread as interior paint. However, there are shades of green that you can hardly resist! And today, we will introduce you to one of such colors called Liveable Green by Sherwin-Williams.
This guide will help you to explore SW Liveable Green color on a much deeper and more profound level.
From this article, you will learn how to pair this paint color with other paints and how to coordinate it. Also, you will learn how to make this green work in a room to make it stand out by creating a lovely color palette.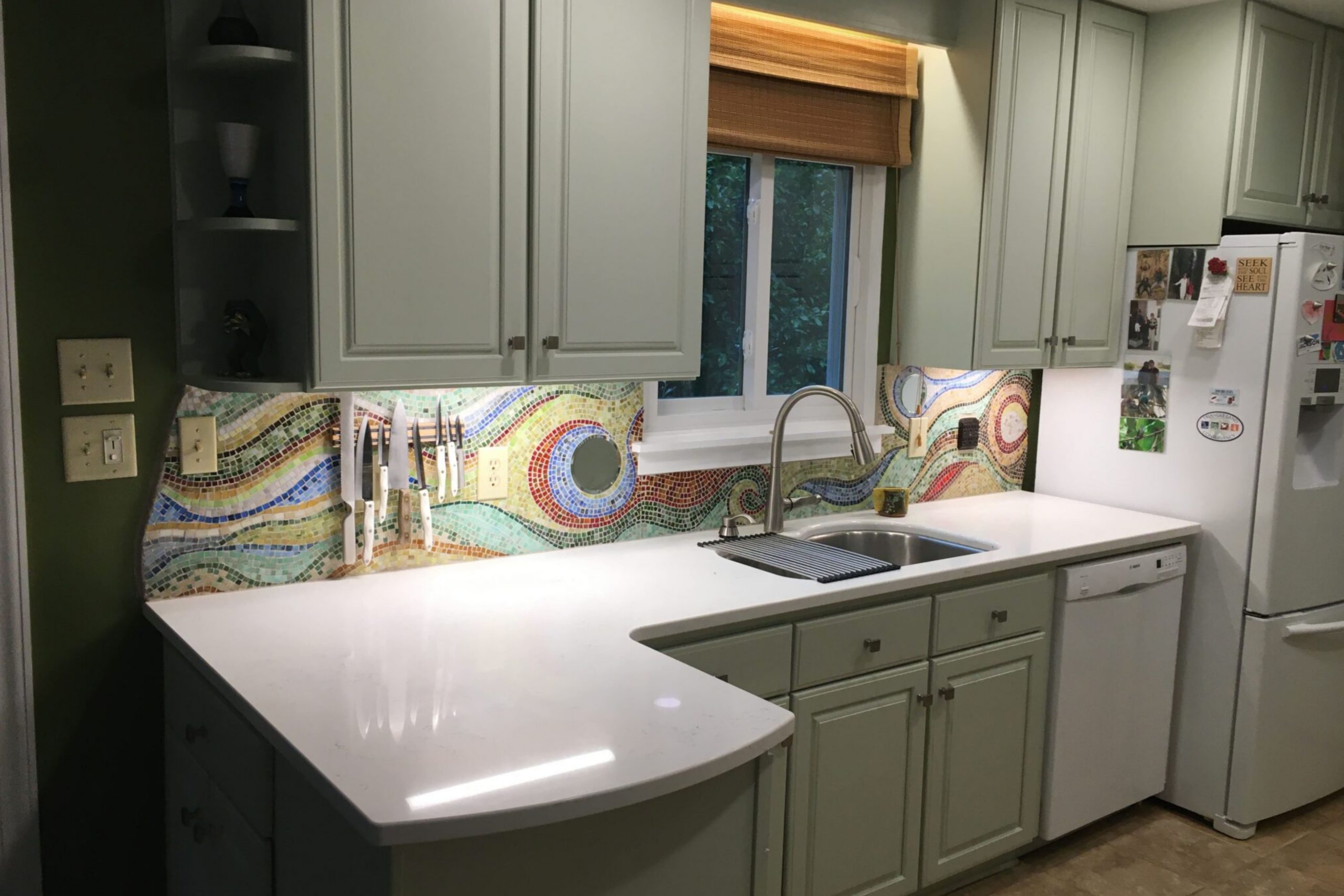 What Kind of Green Color Is Liveable Green SW 6176?
SW Liveable Green paint color  is a cool-toned and calming shade of green. As Encycolorpedia says, ihas pleasantly warm yellow-gray undertones that give this color a beautiful and neutral balance, making it highly versatile.
If you prefer more saturated and deep greens, this color will not be a good option for you.
But if you strive for a relaxed and natural vibe in your home, the Liveable Green SW 6176 paint color will definitely give you what you are looking for!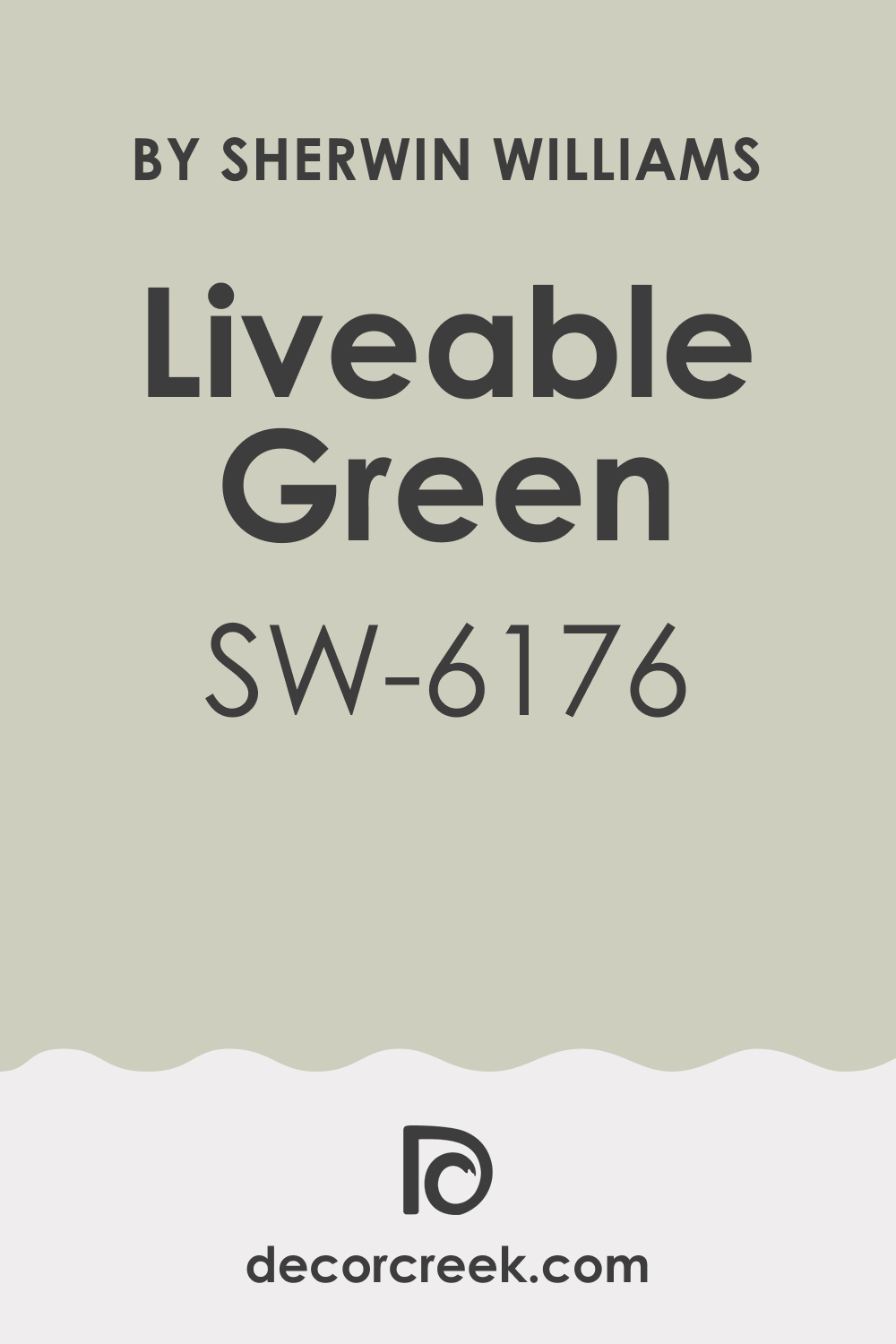 What Undertones Does Liveable Green SW 6176 Have?
Knowing what undertones paint colors have is a must if you want to achieve a harmonious and pleasant color palette in your home.
Undertones can often hide deep within the layers of color, showing up under specific lighting conditions. But when it happens, the color on your walls is very likely to read completely different from what you expected!
SW Liveable Green has warm yellow-grey undertones, but since they are quite well-balanced, this paint looks harmonious in the space.
If you decide to use this green in your home, you should not be afraid that SW Liveable Green might read prominently yellow or too warm-toned on your walls.
In fact, its balanced undertones help create a sense of calm in any room where this paint color is used.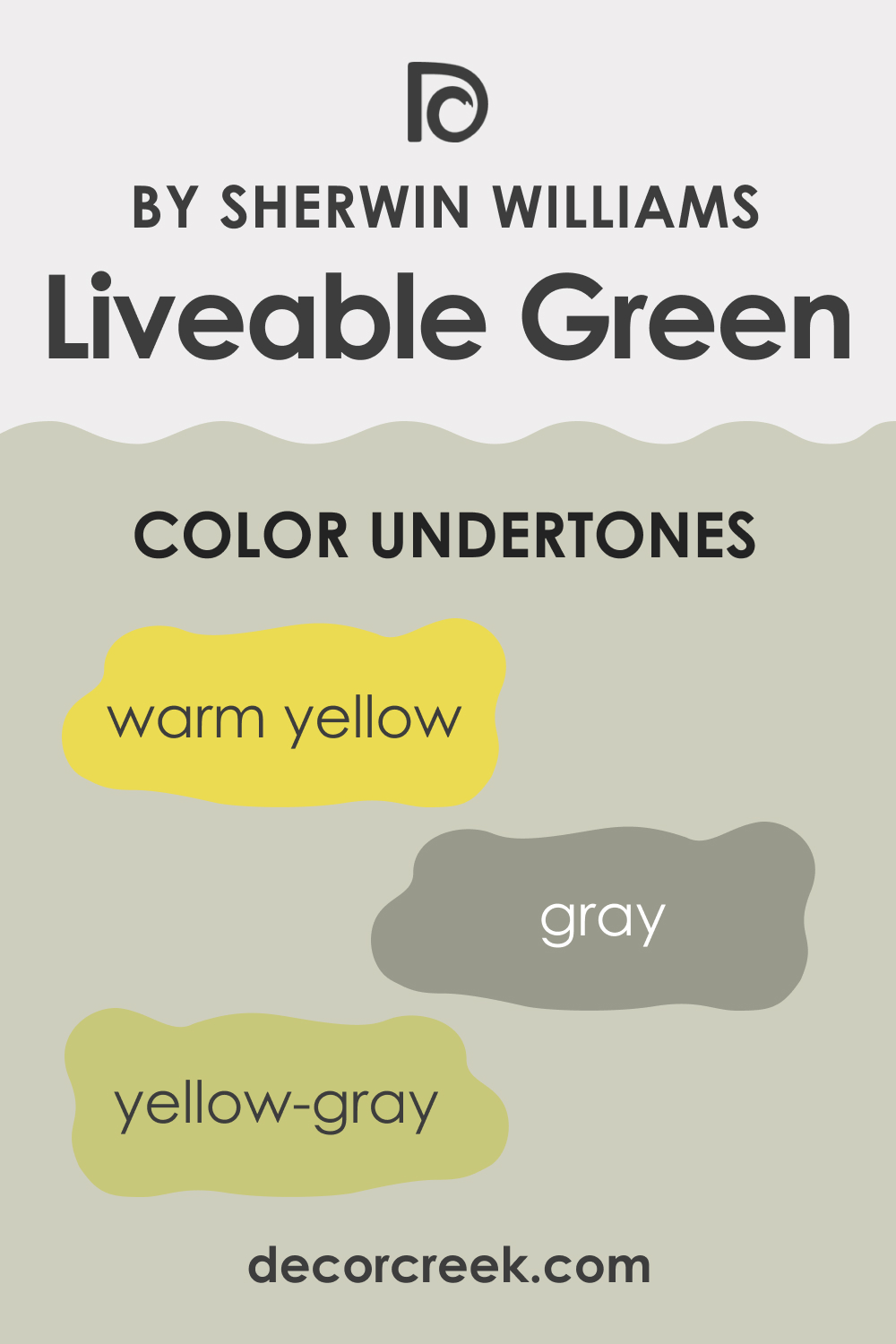 What LRV Does Liveable Green SW 6176 Have?
LRv stands for the light reflectance value. This measurement shows how much light the color can reflect from the wall. The higher the LRV value, the lighter the color, and vice versa.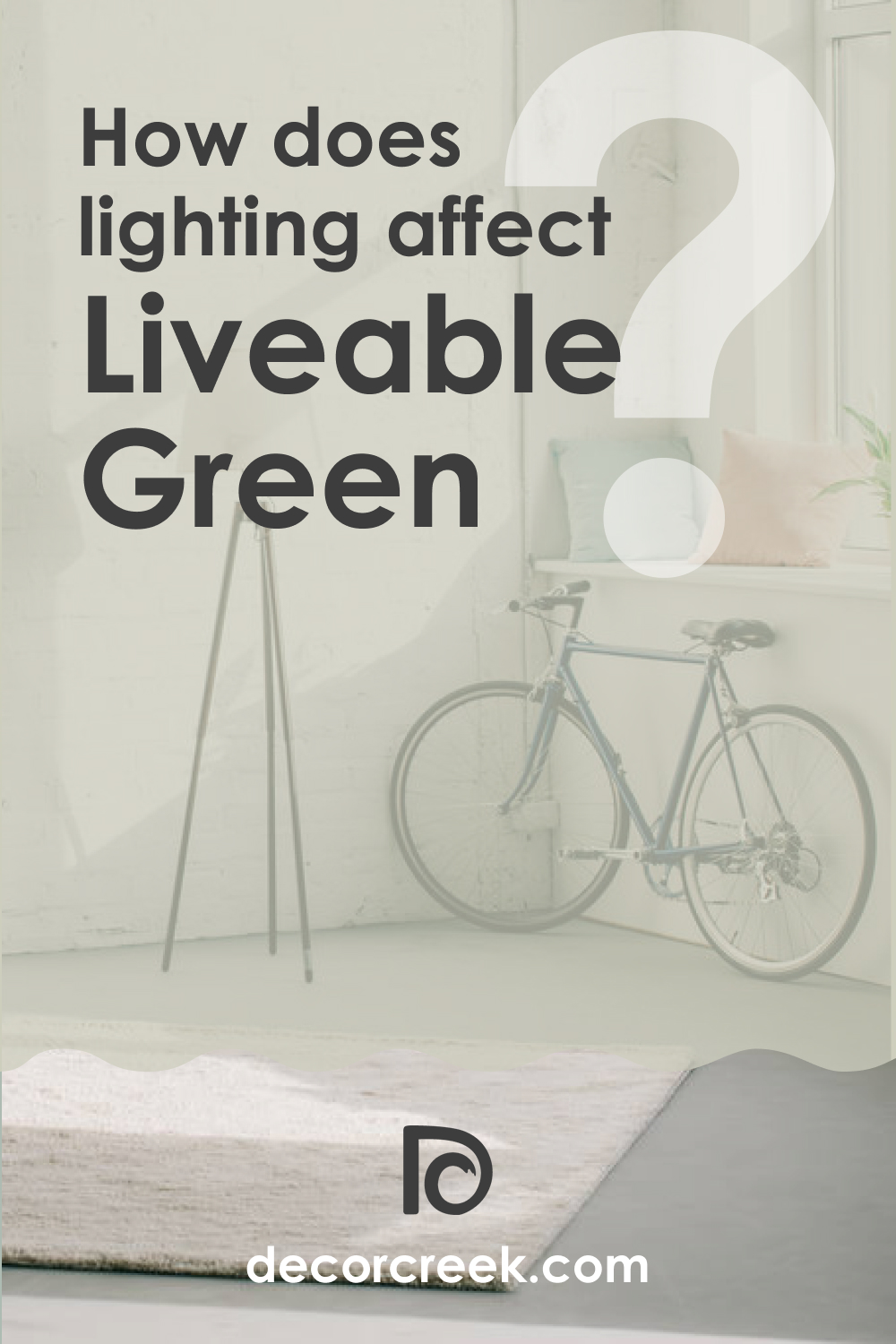 The LRV of SW Liveable Green is 61, which means this color is pretty reflective and doesn't read dark on the walls. It will also never make the space seem gloomy or enclosed, which is why this shade of green is rather versatile.
You can use it in most rooms to create a relaxing and tranquil atmosphere without making the space seem overwhelmed with color or look dramatic.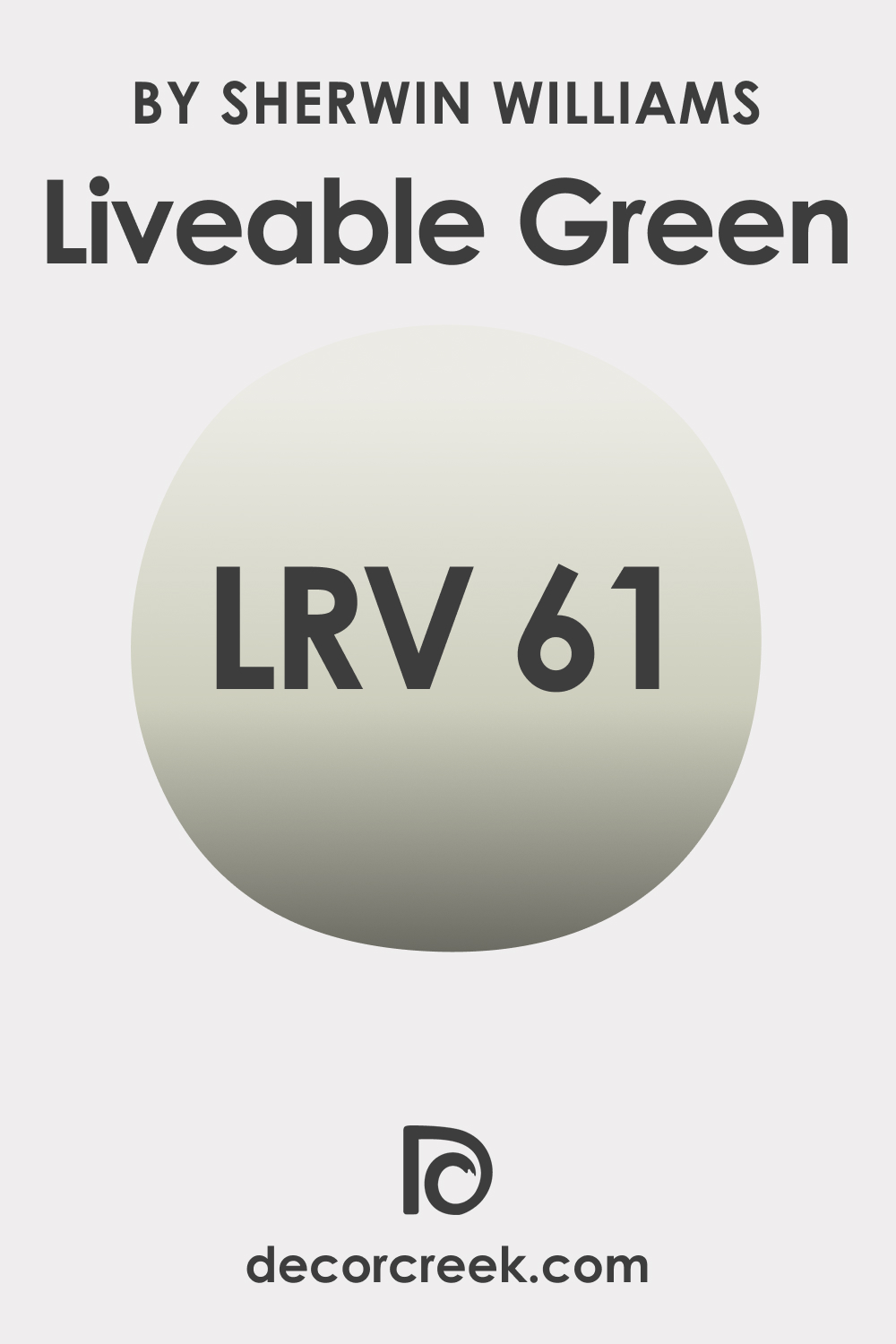 LRV – what does it mean? Read This Before Finding Your Perfect Paint Color
Coordinating Colors That Work With SW Liveable Green
Because of its complex undertones, this green color can be rather challenging to coordinate since you have to pick suitable colors considering their undertones as well. Should you really have any issues with that, we have prepared a few color suggestions for you to use. Below, there are the best and optimal coordinating colors that will work with SW Liveable Green:
SW Sagey
SW Shell White
SW Evergreen Fog
For a monochromatic color palette, opt for the following colors:
SW Secret Garden
SW Green Onyx
SW Oakmoss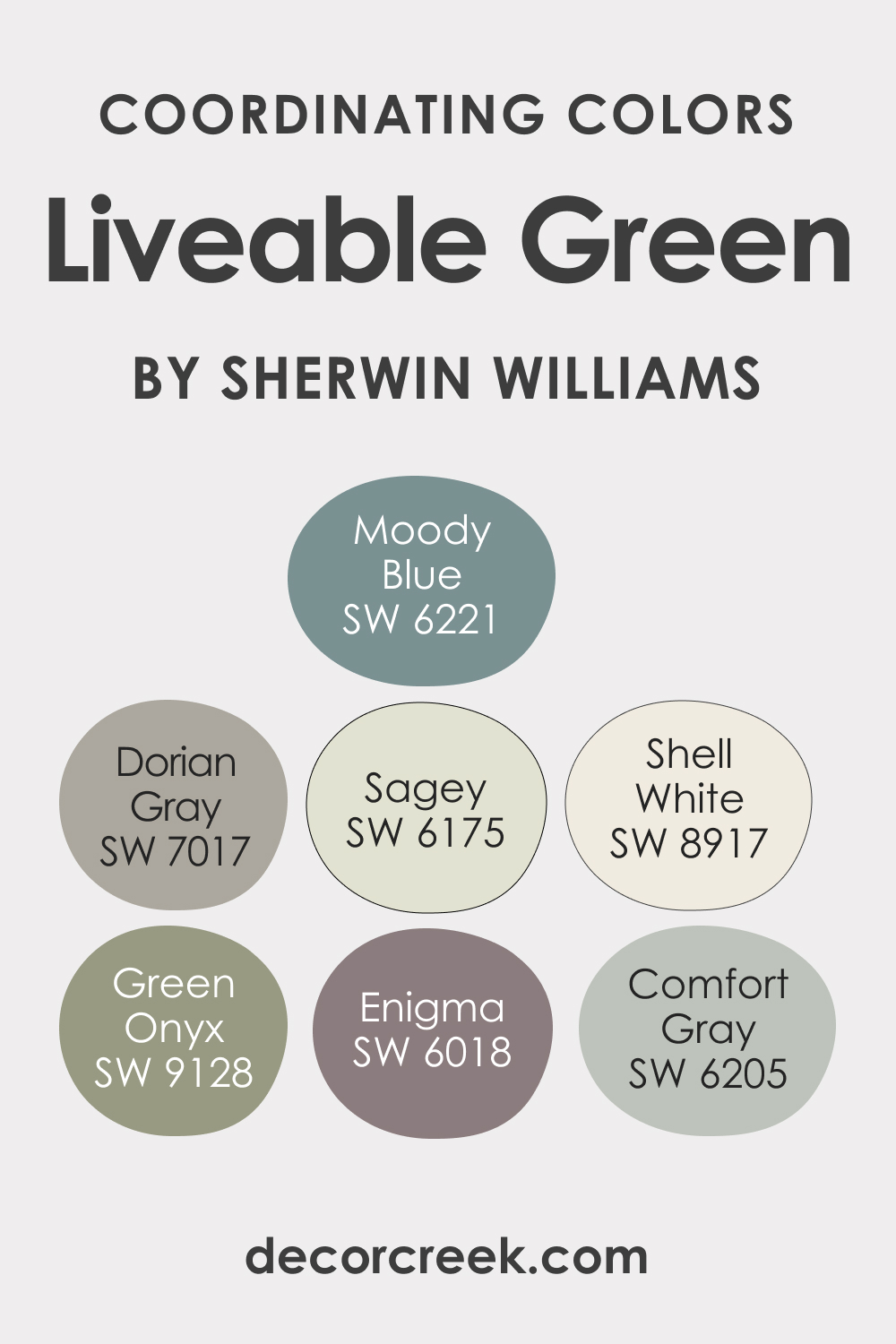 Should you prefer a more varied color palette in your home, we recommend you opt for the more contrasting colors instead to coordinate this green:
SW Rain
SW Poised Taupe
SW Patchwork Plum
SW Evergreen Fog
SW Special Gray
SW Fashionable Gray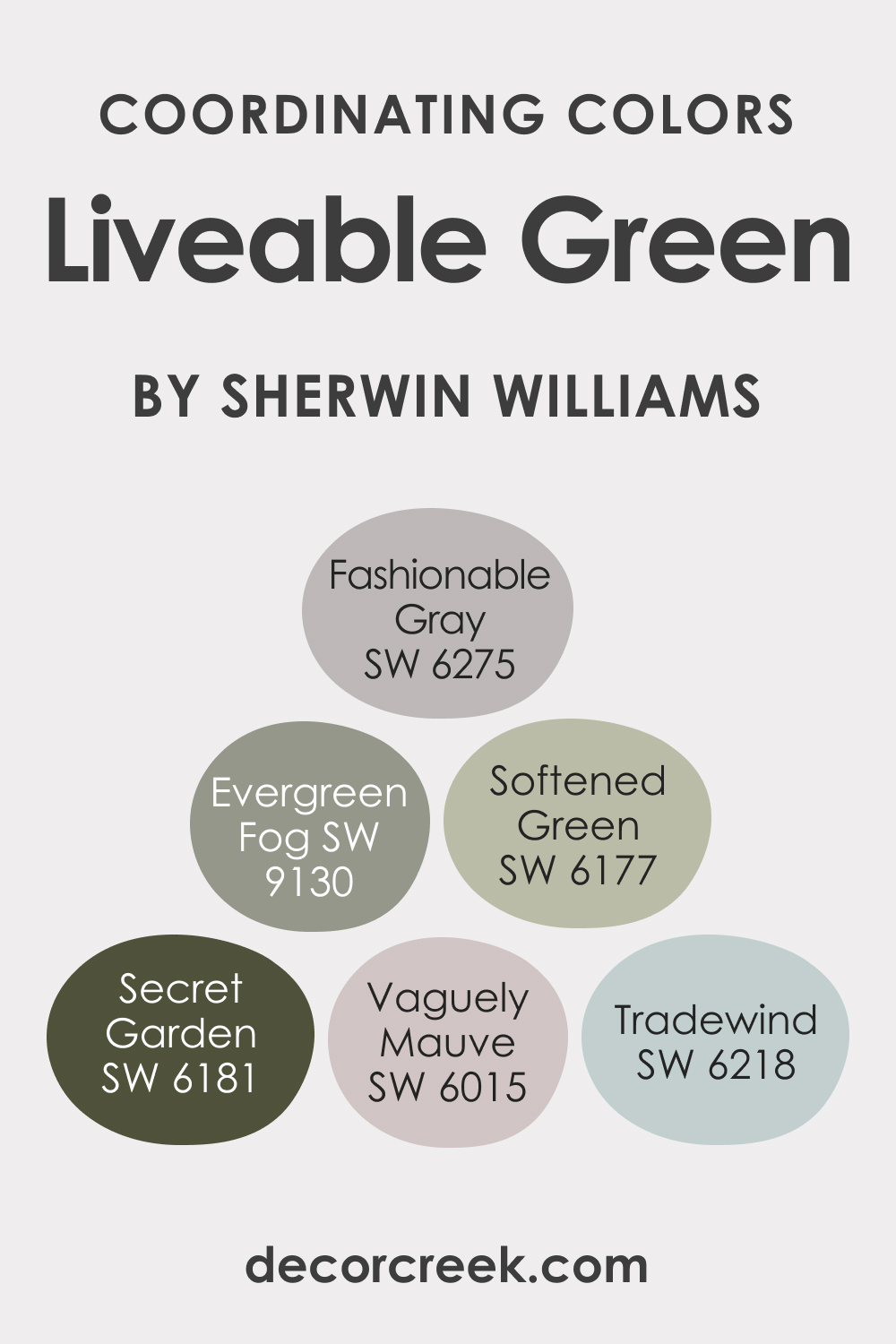 What Is the Best Trim Color to Use With SW Liveable Green?
White is traditionally the best trim color to use since it pairs successfully with most wall colors. For SW Liveable Green, white will also be the best color option to use on trim and molding.
In particular, we recommend you BM Chantilly Lace or similar whites that read warm enough but without the prominent yellow hue.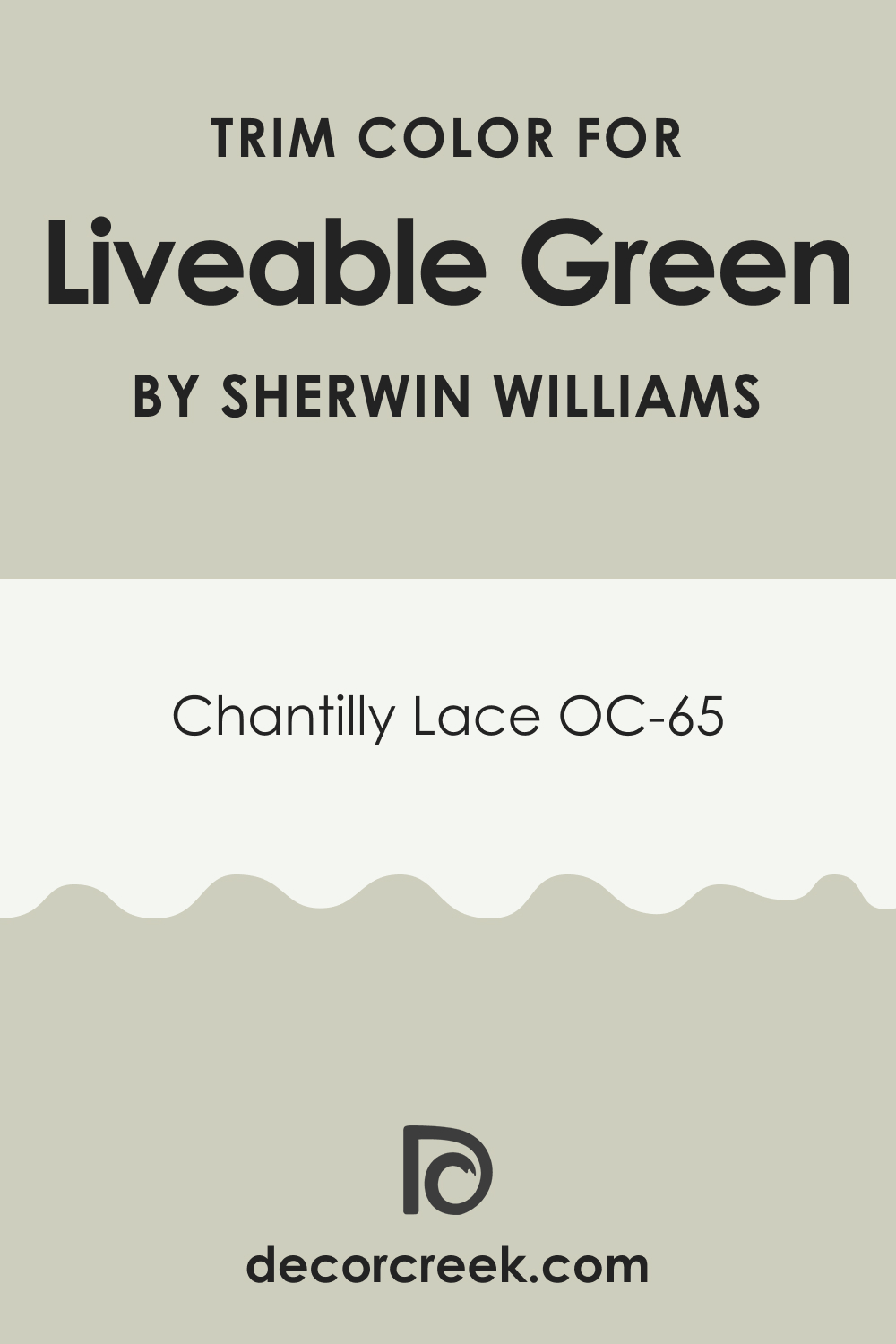 Similar Colors to Use Instead of Liveable Green SW 6176
Knowing similar colors can help you easily find the best color substitute should you realize you need to adjust your home's palette a bit. We recommend you the following alternative green colors that can work perfectly well instead of the Liveable Green SW 6176:
Behr Sliced Cucumber
BM Dusty Miller
Farrow&Ball Cromarty
PPG Metallic Mist
Valspar Villa Gray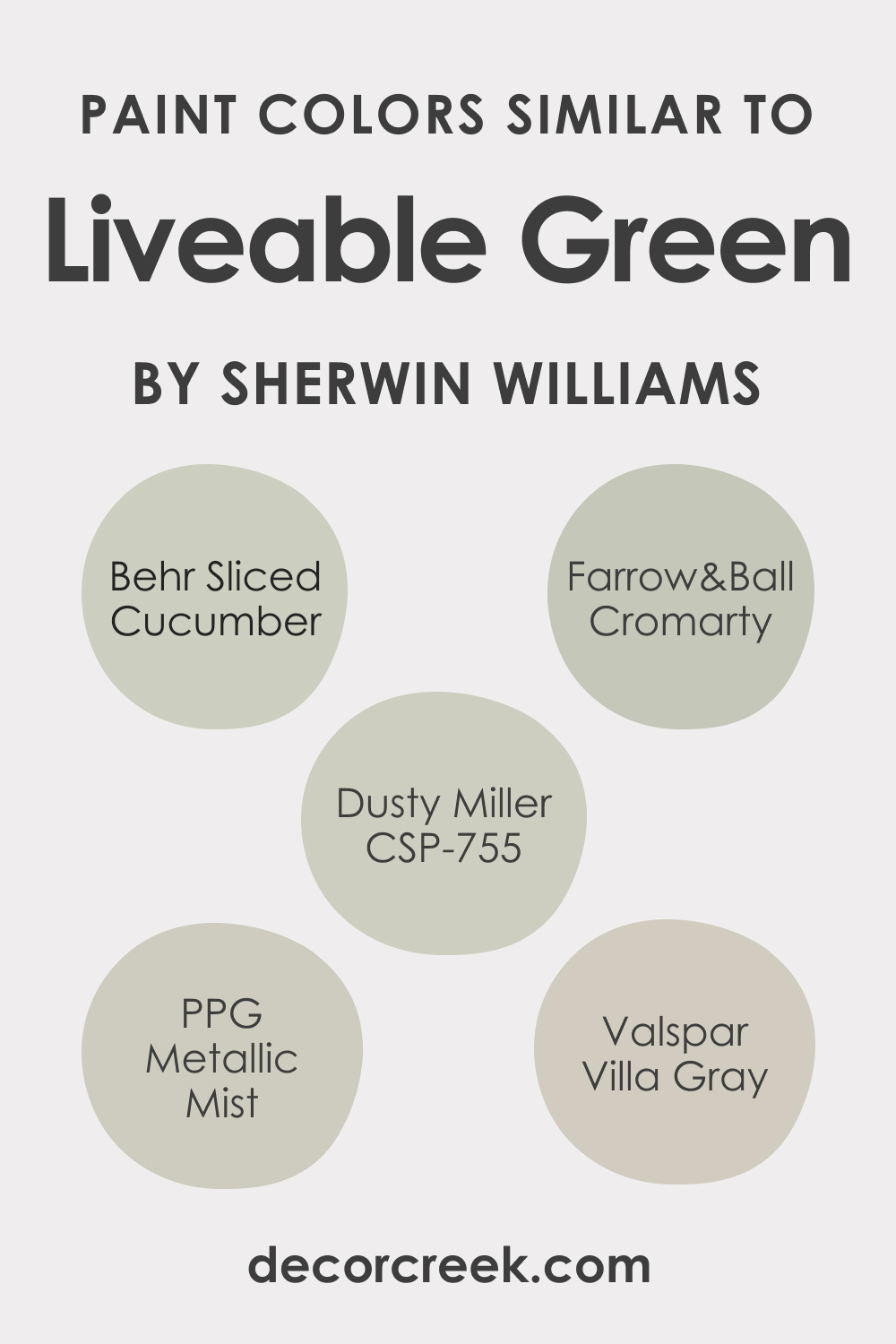 Colors That Go With Liveable Green SW 6176
To achieve a balanced and good-looking color palette in your home, it's essential to know what colors will work best with the paint you use on your walls.
But if you are going to paint your rooms with Liveable Green SW 6176, you may find it challenging to pick the most suitable colors to use in the same space. This is why we have prepared a few suggestions for you to consider.
This light and warm-toned shade of green may work well with softer and warmer whites, in particular with off-whites. But you must ensure the white you use doesn't read yellowish or creamy!
Also, SW Liveable Green works well with lighter and muted yellows, lighter beiges, and with darker greens.
Besides, you can pair this color with black and/or darker browns, but do it very carefully!
Too much black or brown will make the space look too gloomy and moody.'
Comparing SW Liveable Green With Other Colors
You can't properly understand the color until you compare it with other colors that look very similar. This is why we have prepared this brief guide for you. You can see what makes SW Liveable Green different from other colors and, thus, learn to read the color deeper.
Liveable Green vs Filmy Green
SW Filmy Green looks lighter and paler than SW Liveable Green. Also, the Filmy Green color differs in terms of undertones (its undertone is a very light gray). Compared to this color, SW Liveable Green is greener, although also not too saturated.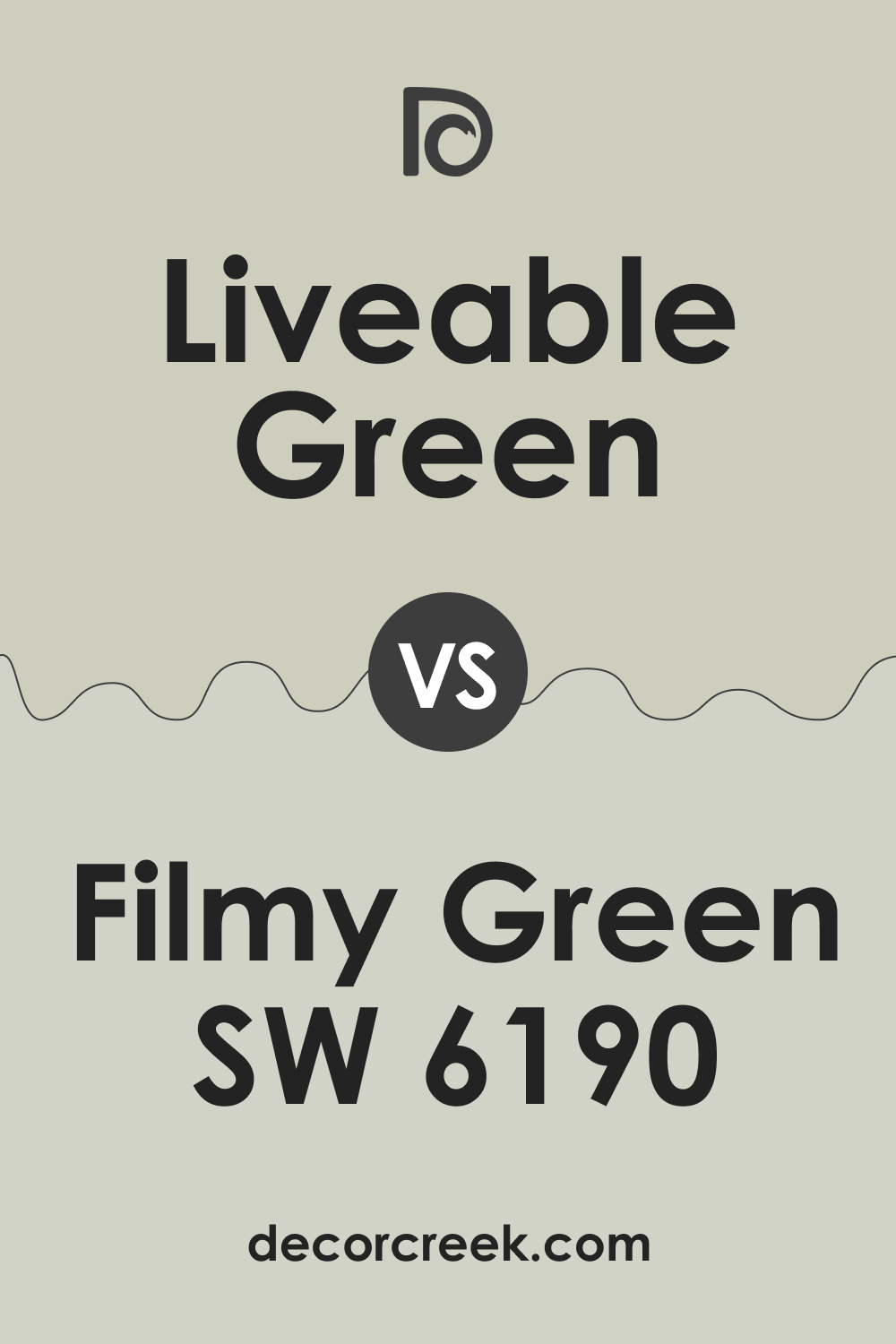 Liveable Green vs Softened Garden
SW Softened Garden reads greener and warmer compared to its lighter counterpart. Also, SW Liveable Green reveals a more prominent gray undertone. Although these colors look rather contrasting, we would not recommend using them in the same space.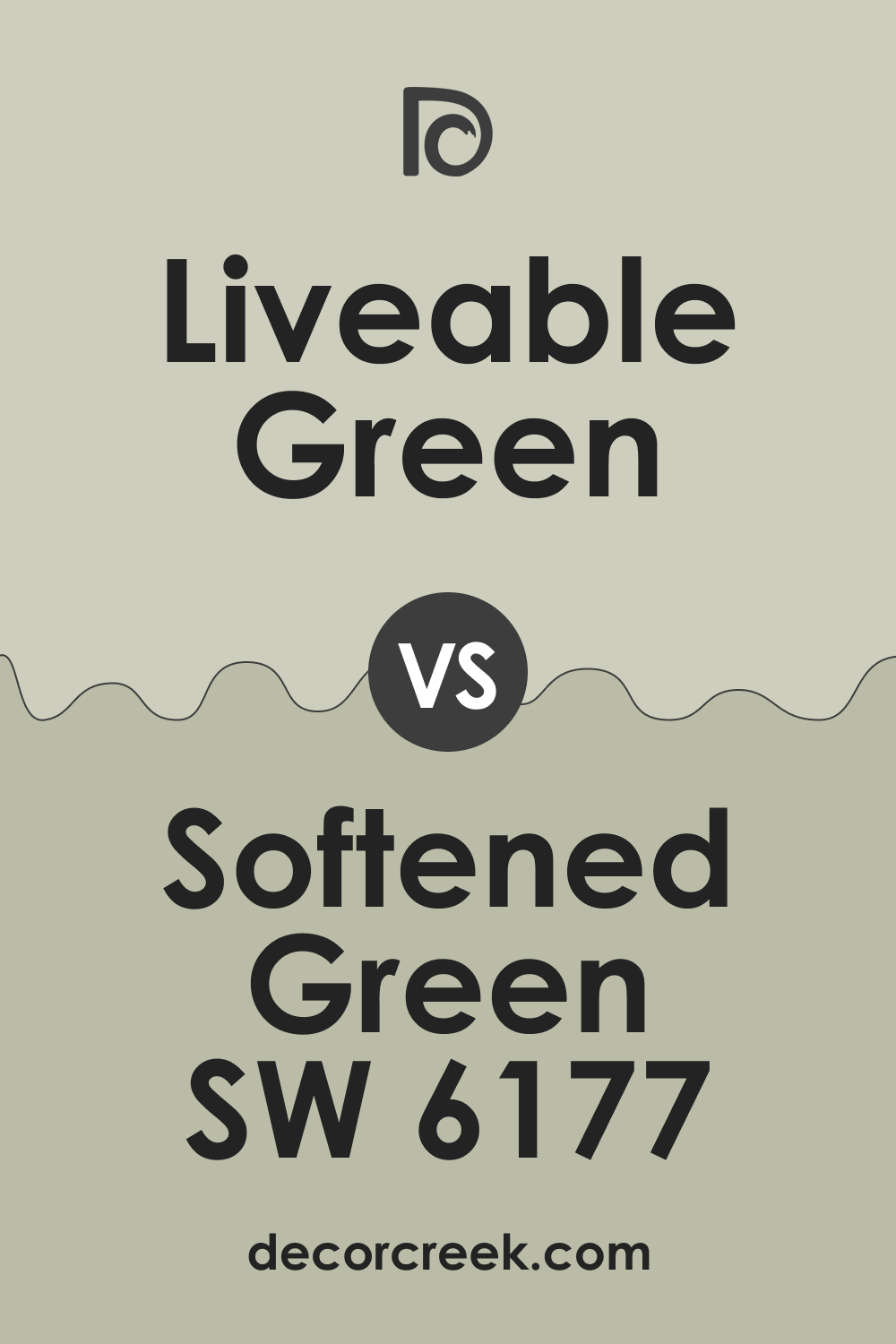 Liveable Green vs Evergreen Fog
These two create quite a nice contrasting duo. SW Evergreen Fog looks much darker and deeper than SW Liveable Green. Also, SW Evergreen Fog shows a noticeable gray-green undertone that relates it to SW Liveable Green. The difference is that SW Evergreen Fog also has a blue undertone, but it's barely noticed here.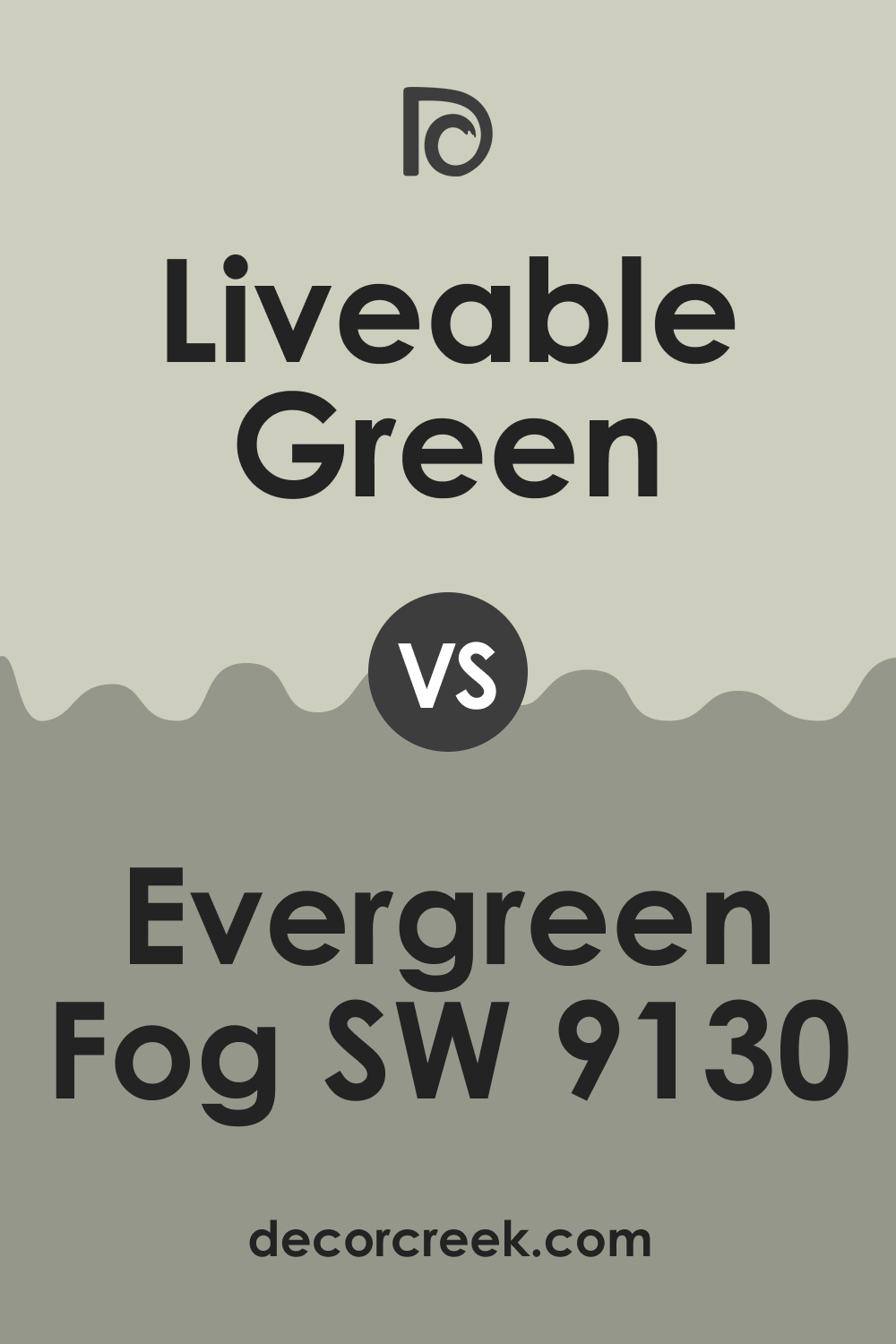 Liveable Green vs Sea Salt
Compared to SW Liveable GReen, SW Sea Salt looks noticeably bluish due to its blue undertones. Also, it reveals a gray hue, which relates it to SW Liveable Green, which also features a gray undertone. But despite certain similarities, these two don't work well together.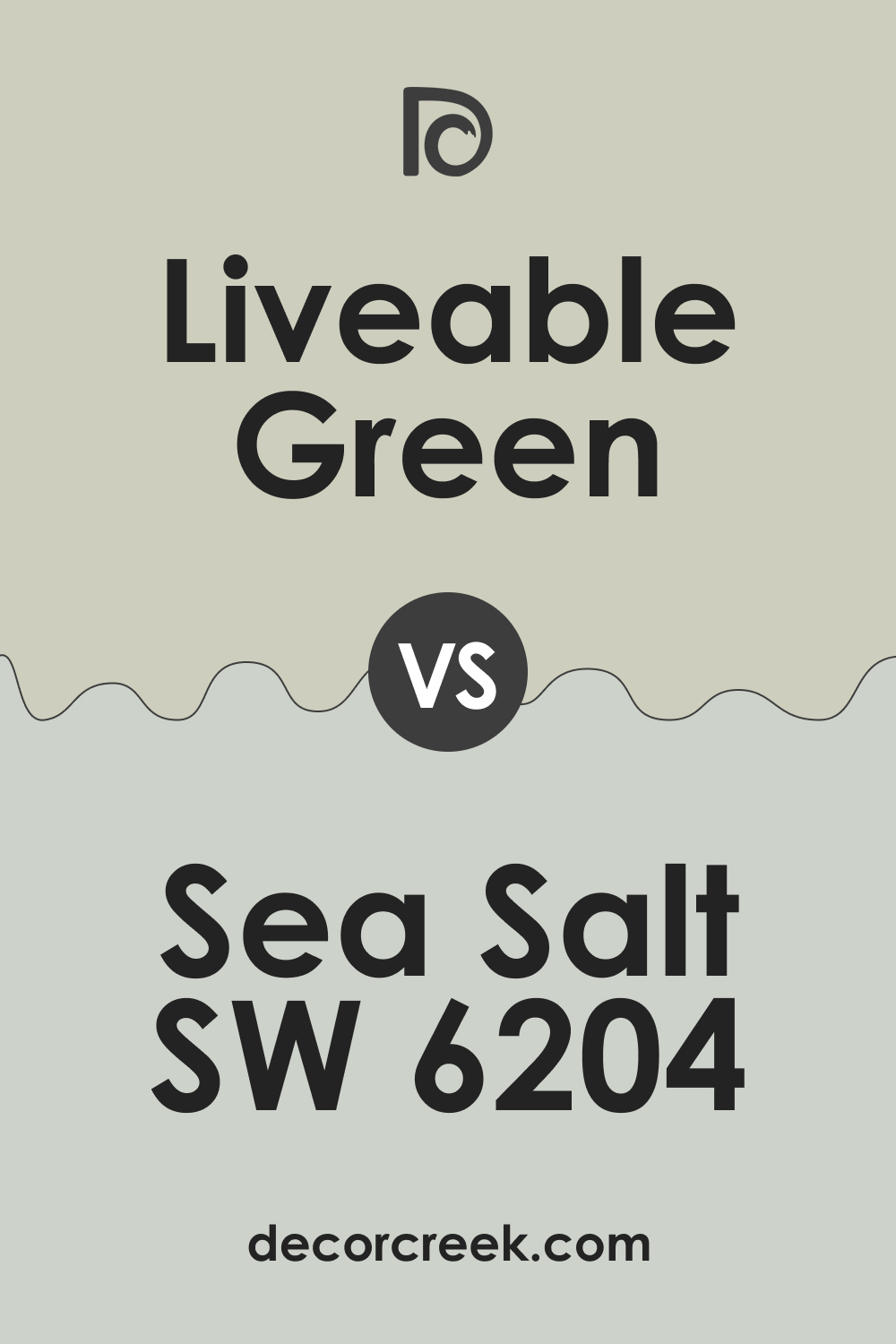 Liveable Green vs Oyster Bay
Sherwin-Williams Oyster Bay is a cool-toned gray-green color, which reads deeper and more profound compared to SW Liveable Green. In fact, SW Liveable Green shows its yellowish hue more noticeably if you place it side by side with SW Oyster Bay!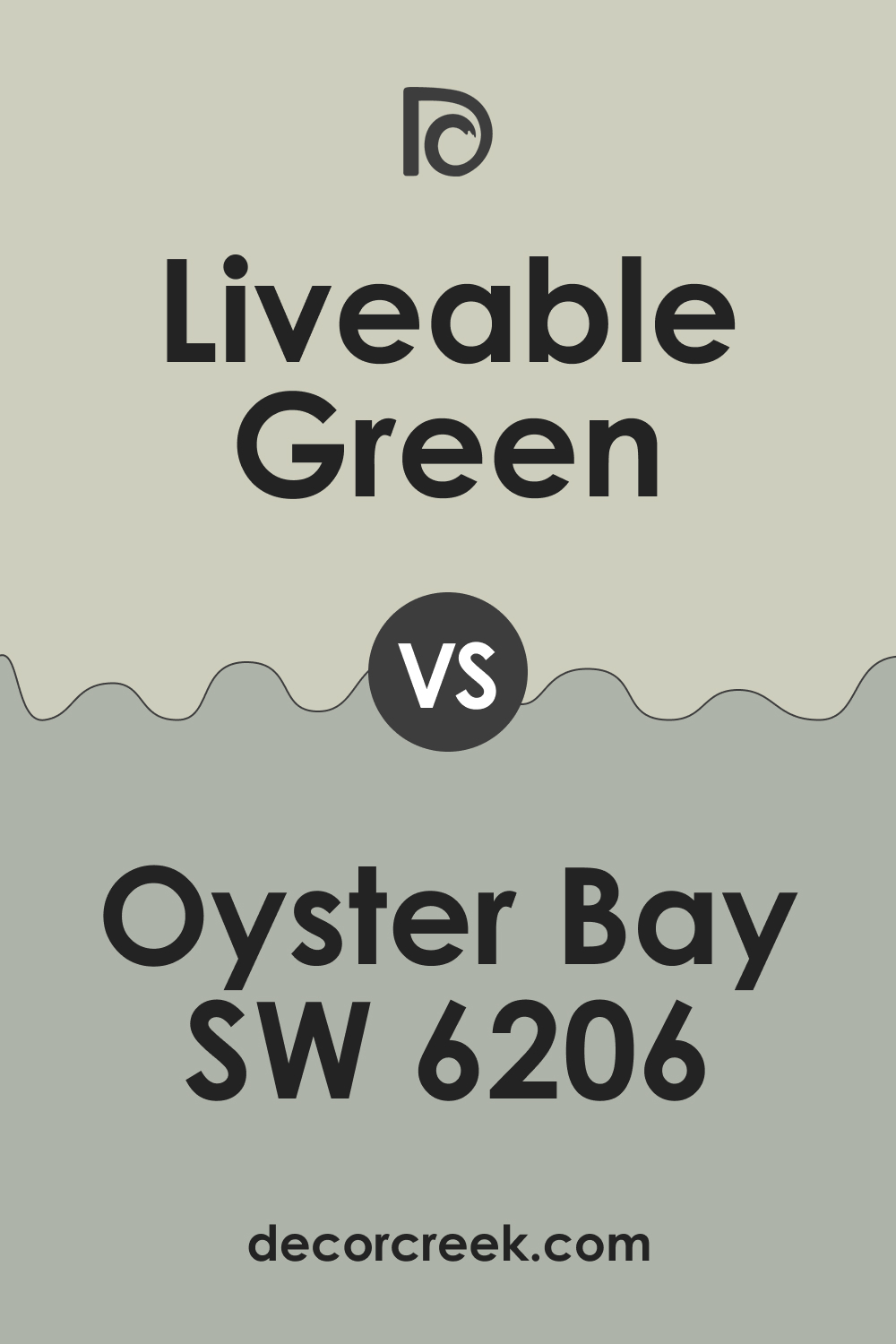 Liveable Green vs Majolica Green
SW Majolica Green reads greener and somewhat "grassy" compared to SW Liveable GReen. But despite being more saturated, it does have a similar feature to its lighter counterpart.
SW Majolica Green also has a yellowish hue that is rather prominent if you place this color side by side with SW Liveable Green.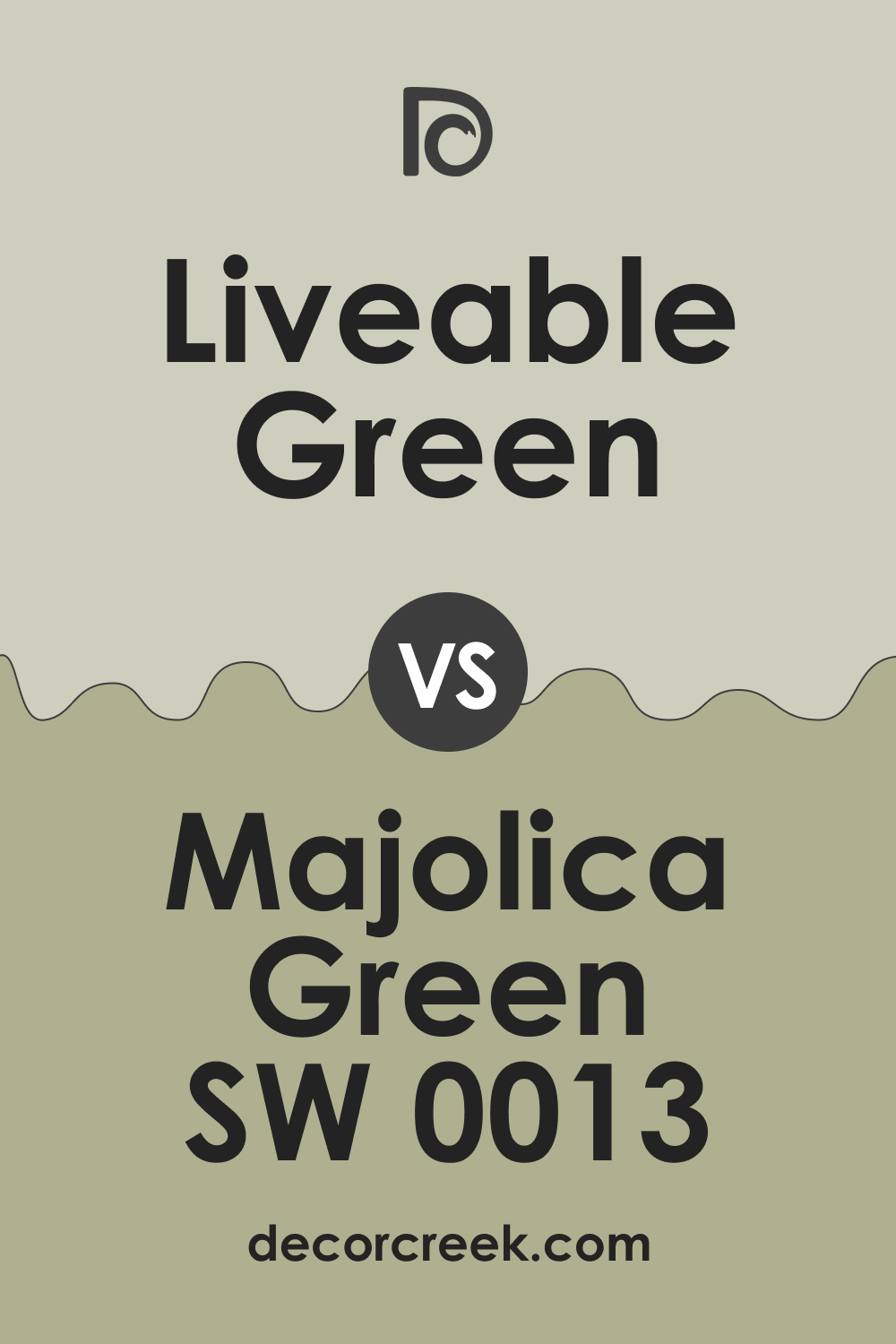 Where In Your Home Liveable Green SW 6176 Can Be Used
This shade of green may seem to be a tricky color to use due to its mixed undertones, which is why we recommend you learn how it can work in different rooms of your home. This way, you will know for sure in what spaces it will do its best and where it should be avoided.
Liveable Green SW 6176 in the Living Room
In your living room, SW Liveable Green SW 6176 can help you add a note of calmness and tranquility to the space. This light and moderately warm green can add a natural and relaxing vibe, making the room feel more welcoming.
Pair it with whites on the trim and molding, and use lighter beiges on your upholstery and carpets to make the room appear more homey.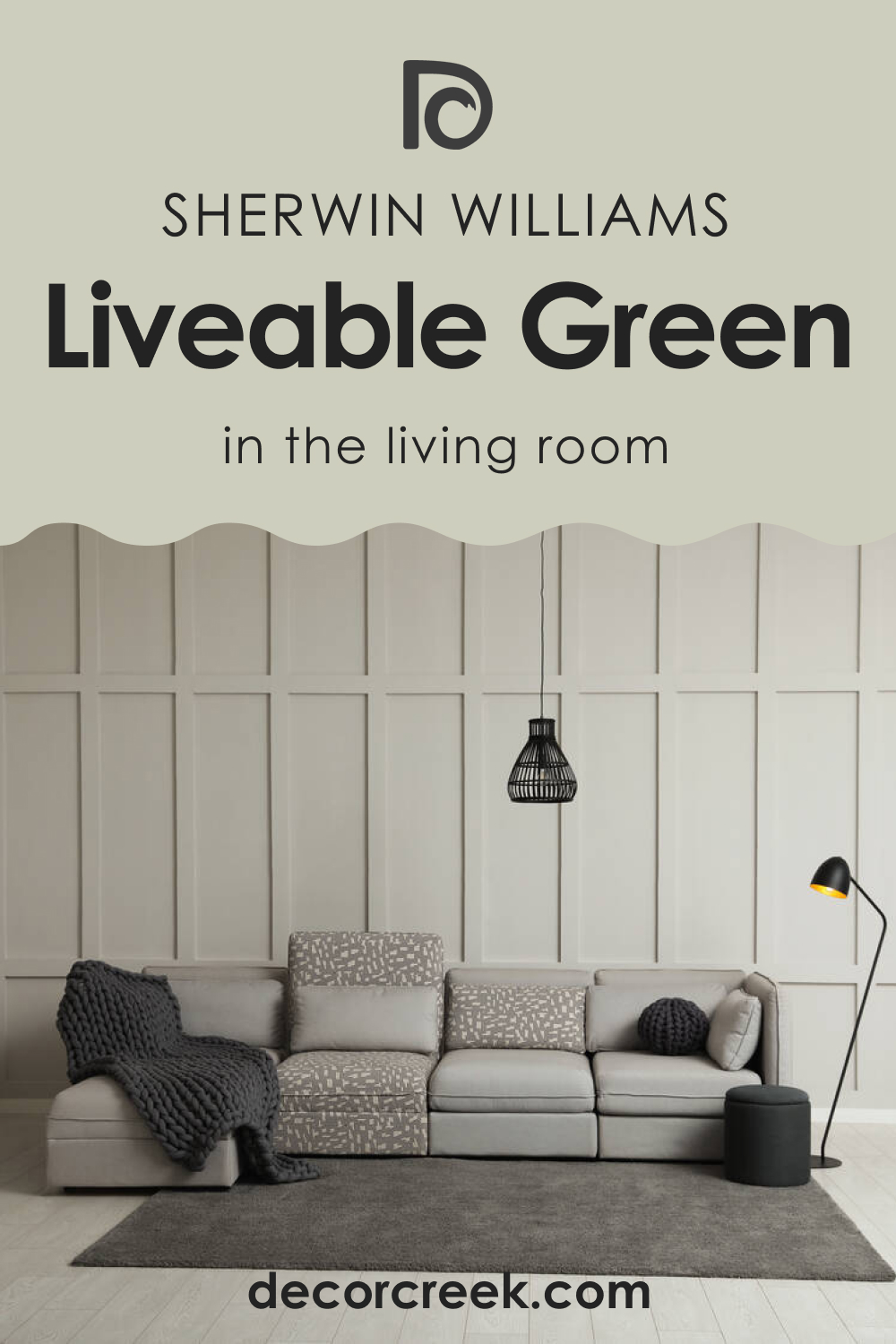 Liveable Green SW 6176 in a Bedroom
Green might not be the most popular color for bedroom walls, but if you want to make your sleeping space feel tranquil and soothing, use SW Liveable Green paint on an accent wall or all the walls if the size of the room allows that. Since the color is rather reflective, it won't make the room seem smaller or dark.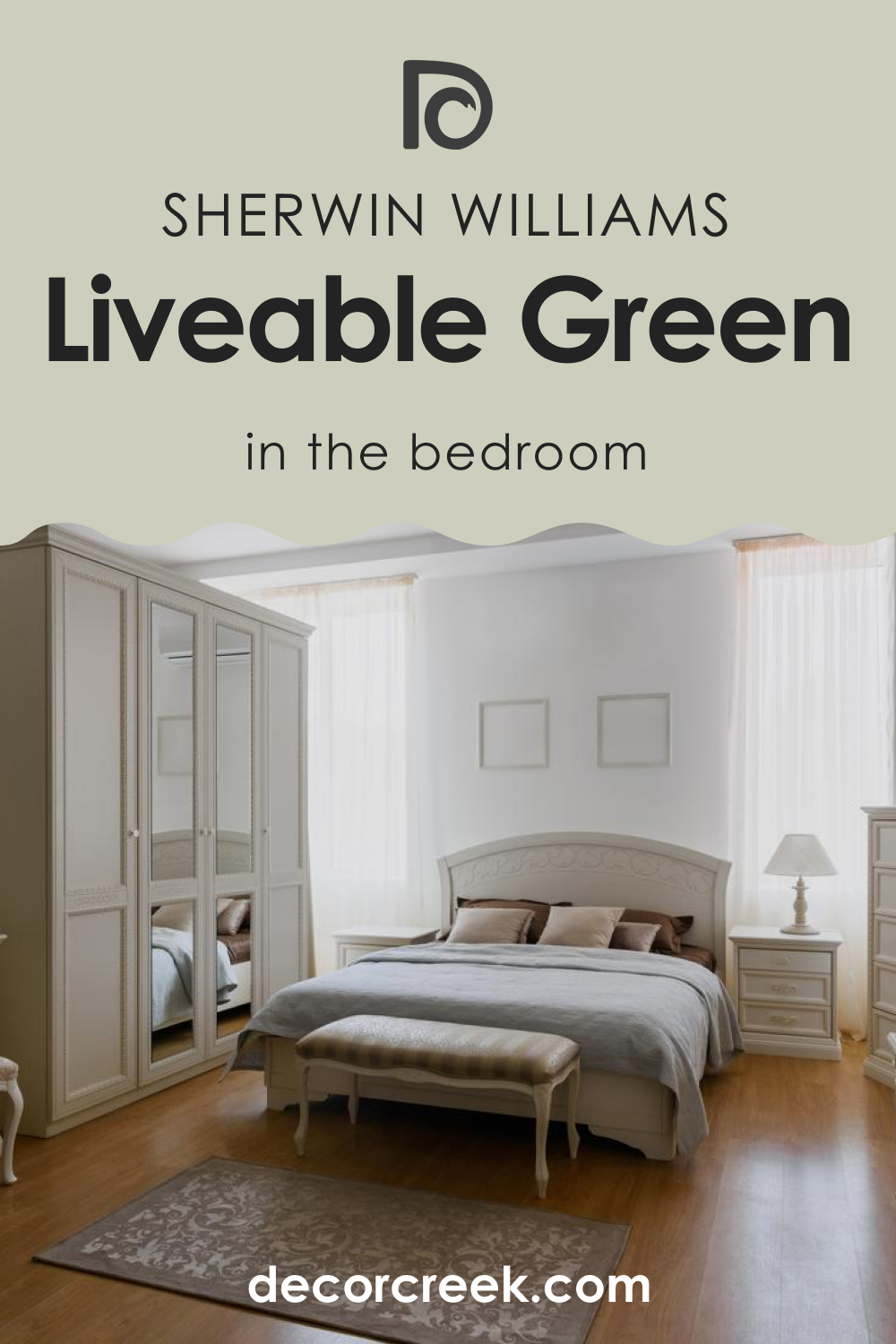 Liveable Green SW 6176 and Kitchen
In your kitchen, this green will work well on lower and/or upper cabinets best of all. Pair it with softer and balanced white on the walls, and be sure your kitchen will get a laid-back and relaxed vibe.
Since this green works well with wooden surfaces and marble, you will easily incorporate it into almost any kitchen design.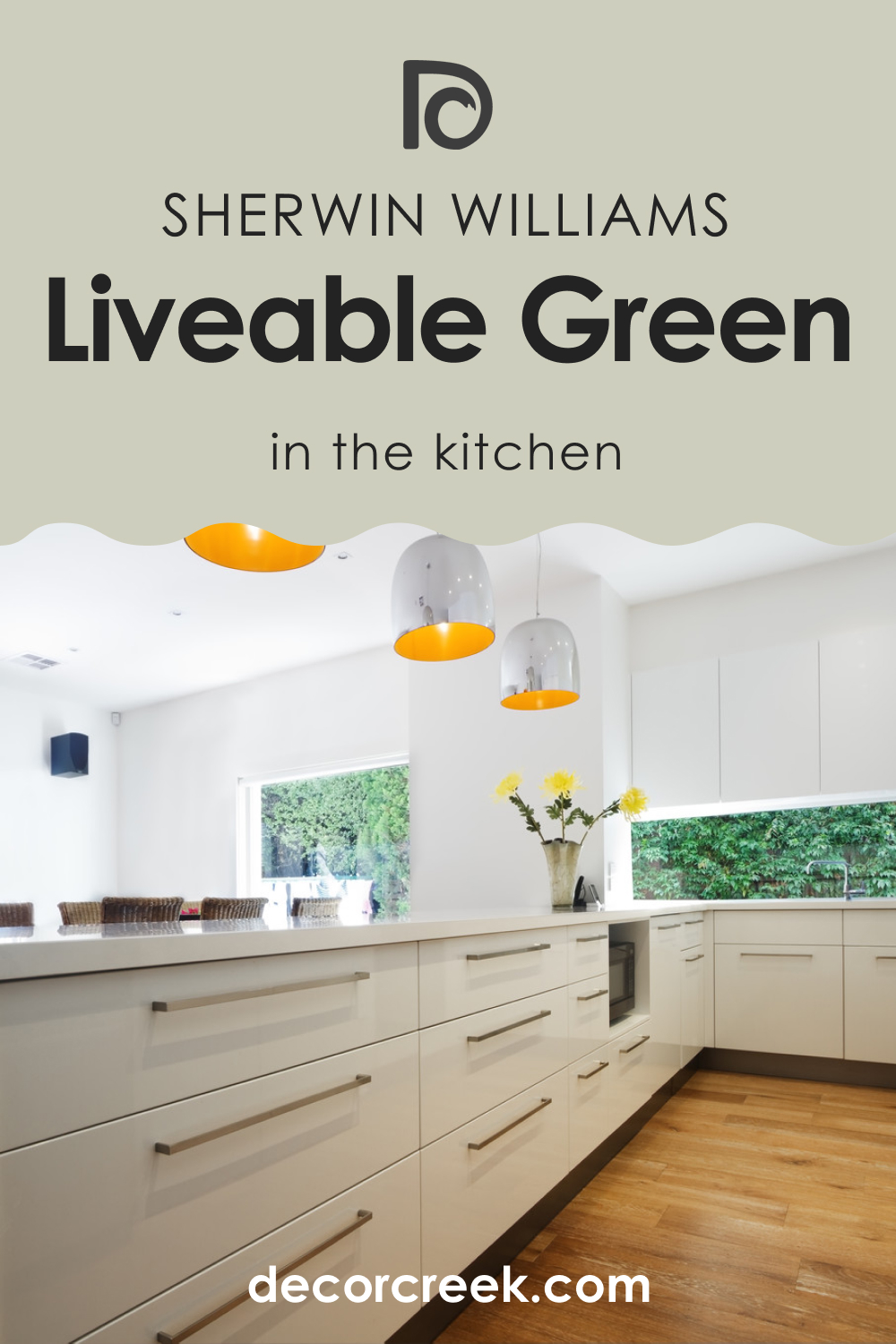 Liveable Green SW 6176 for the Bathroom
Green is not a go-to color for bathrooms, but if you want it there, you'd better use it on the accent wall. As an option, in a very small bathroom, green will work well on the vanity sink, with the walls remaining white, for example.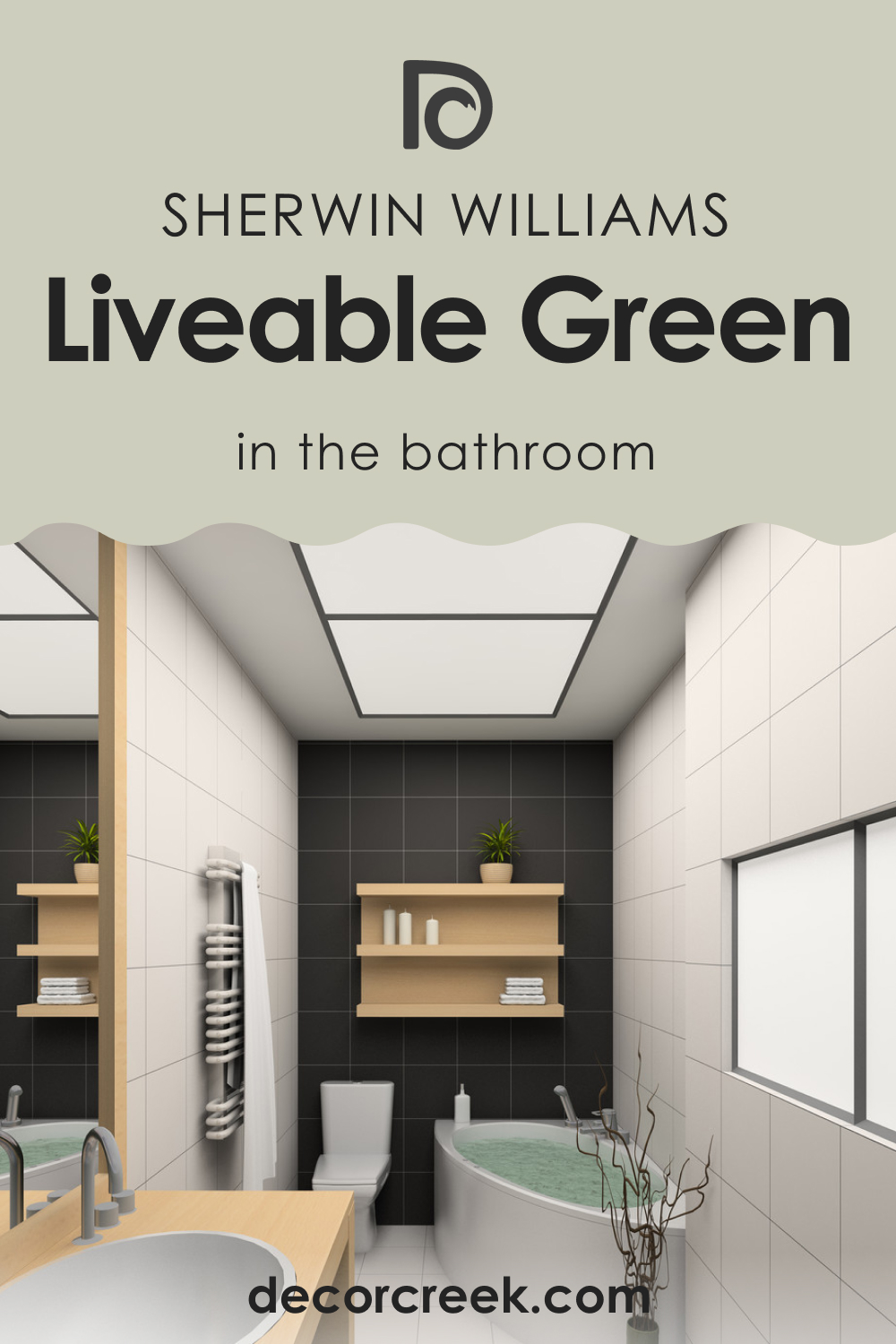 Liveable Green SW 6176 for the Exterior Use
In most cases, SW Liveable Green will read well on exterior walls, but you must realize that lighting conditions will affect how it works. For example, on cloudy days, this light and warm-toned green may read somewhat cooler, whilst, on a sunny day, it may reveal a more yellow hue, reading warmer.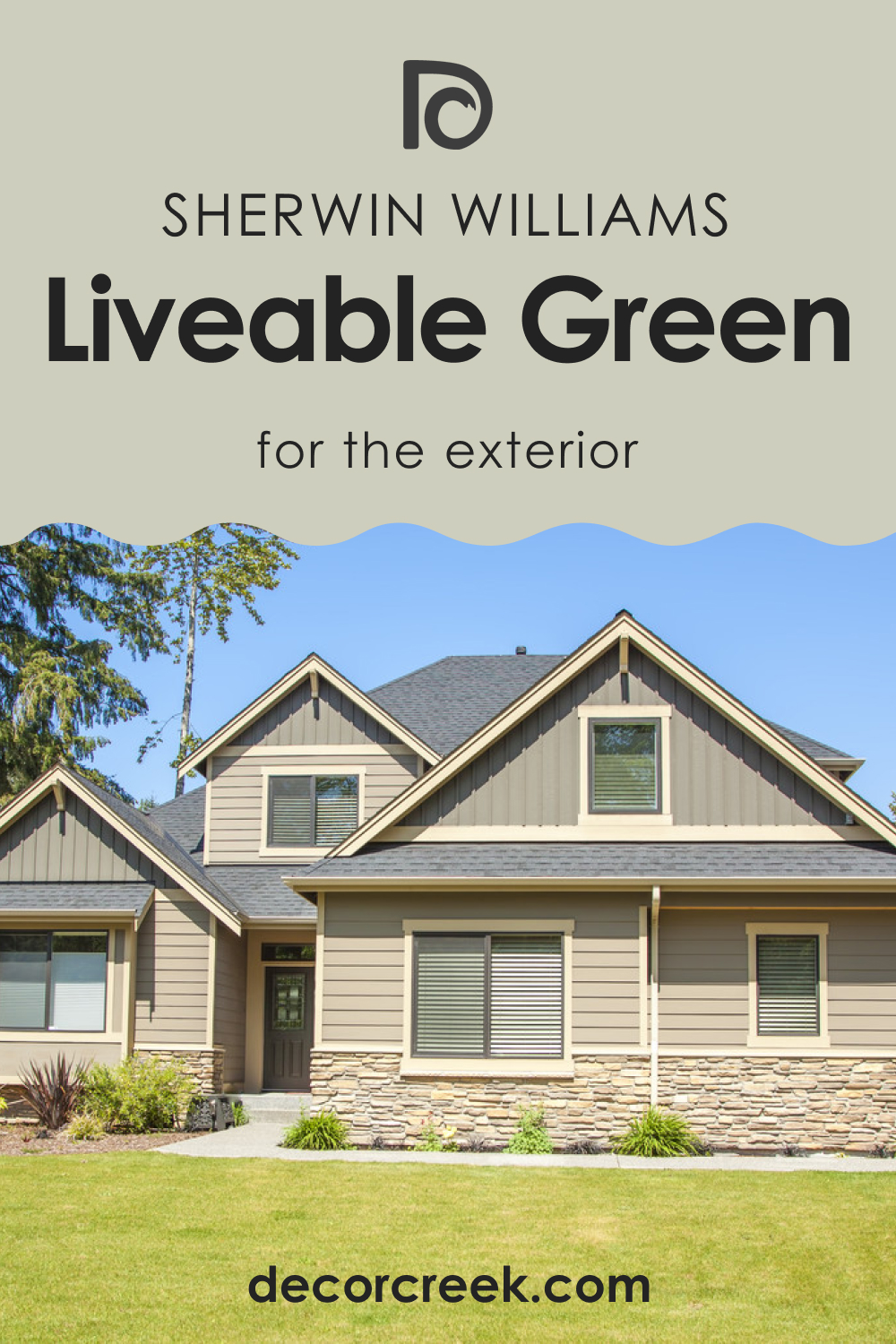 Now you can see how important it is to know all the details about the paint color you are going to use in your home. Speaking of SW Liveable Green, knowing its undertones is the most important thing.
But since now you know all you need about this paint color and its use, you will easily make it work in any room of your house or apartment!
You know its LRV and undertones, and you know how to coordinate this green to incorporate it into your interior perfectly well.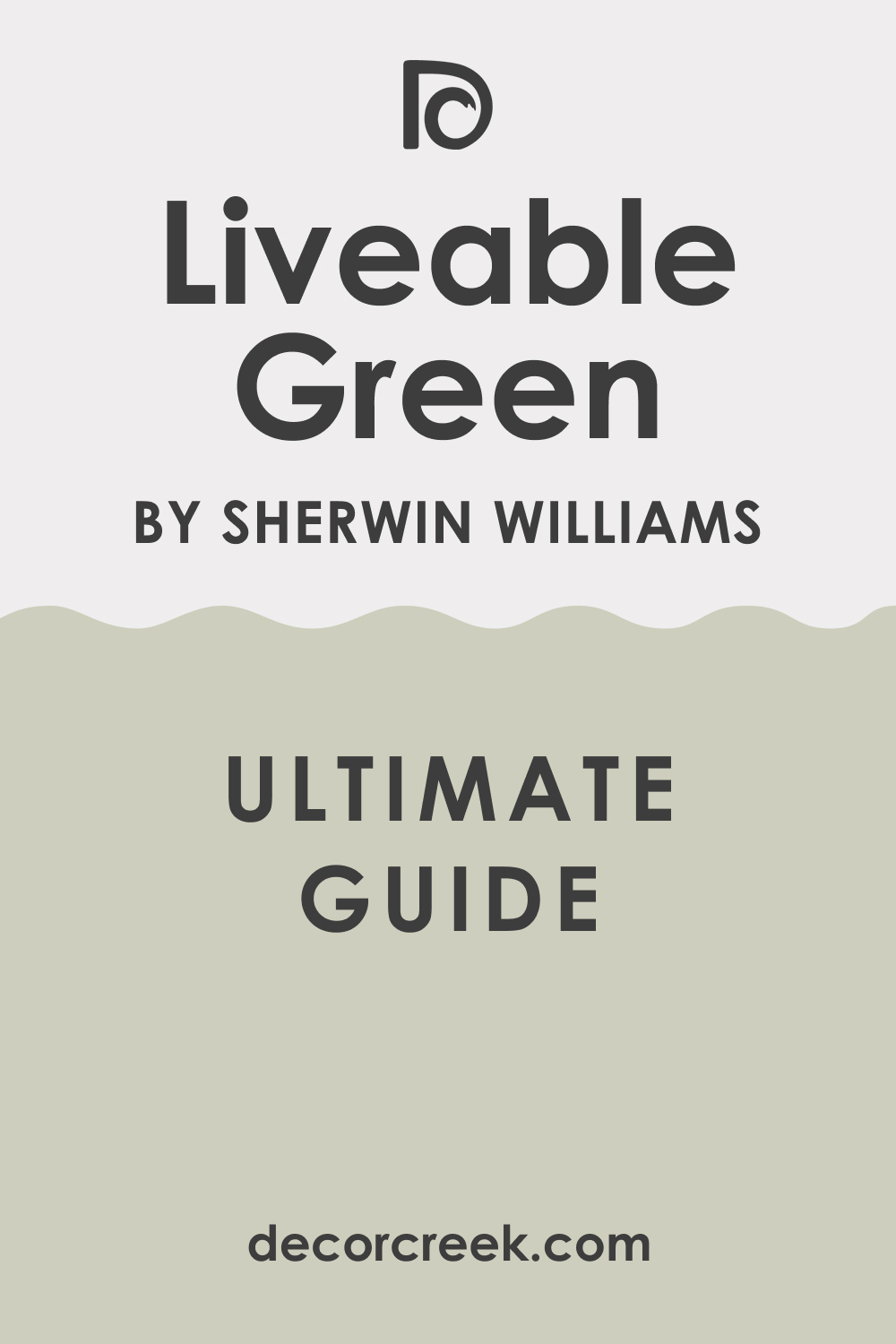 Frequently Asked Questions
⭐Is SW Liveable Green cool-toned?
No, it's a warm-toned green, but it doesn't read yellow.
⭐Does SW Liveable Green read yellow on the walls?
No, it doesn't read yellow. But in warmer light, it may show its yellow undertones more.
⭐Is this color good for the garage?
If your house is painted with SW Liveable Green, you can use this color on the garage as well.