If you want to add a natural and refreshing vibe to your home interiors, green is one of the best colors to do that. Its tranquilizing and balanced appearance will make any space look and feel full of harmony and relaxation.
Today, we will tell you more about one of the greens by Sherwin-Williams called Softened Green. You will learn what kind of green color it is exactly and how it works in different rooms.
Also, we will explain how to coordinate it and what trim colors will work best with this soothing green.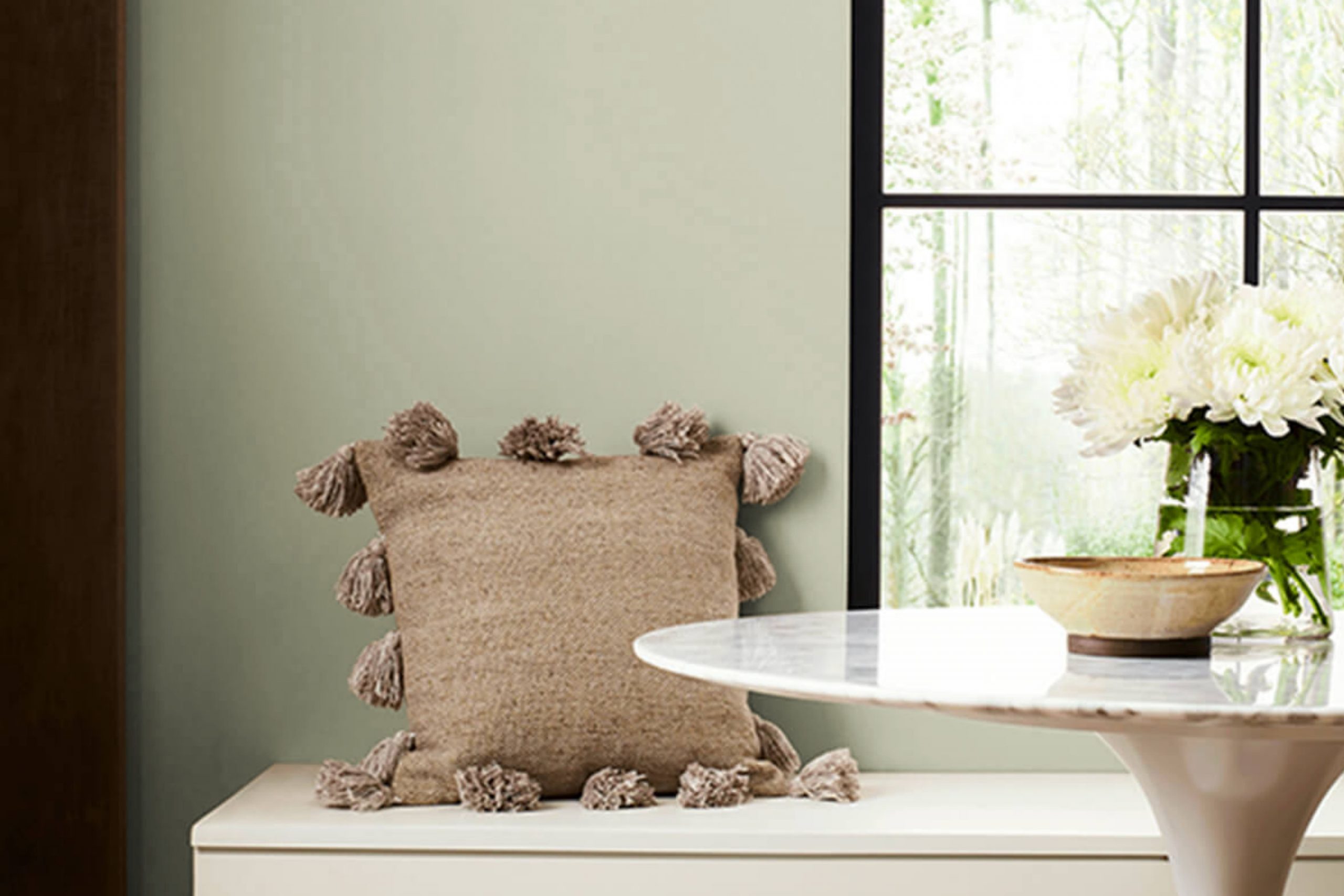 What Kind of Color Is Softened Green SW-6177?
From all the variety of greens that Sherwin-Williams has at their disposal, the Softened Green color  is one of the most delicate and comforting ones. As Encycolorpedia says, this gentle green neutral reads very natural and soothing, being a rather light paint color.
It is also quite reflective, so you don't have to be afraid that this green will make your home look dark or gloomy! Instead, with this paint on the walls, you will easily make your living space feel tranquil and peaceful.
And since SW Softened Green is very versatile, you will be able to use it in almost any room!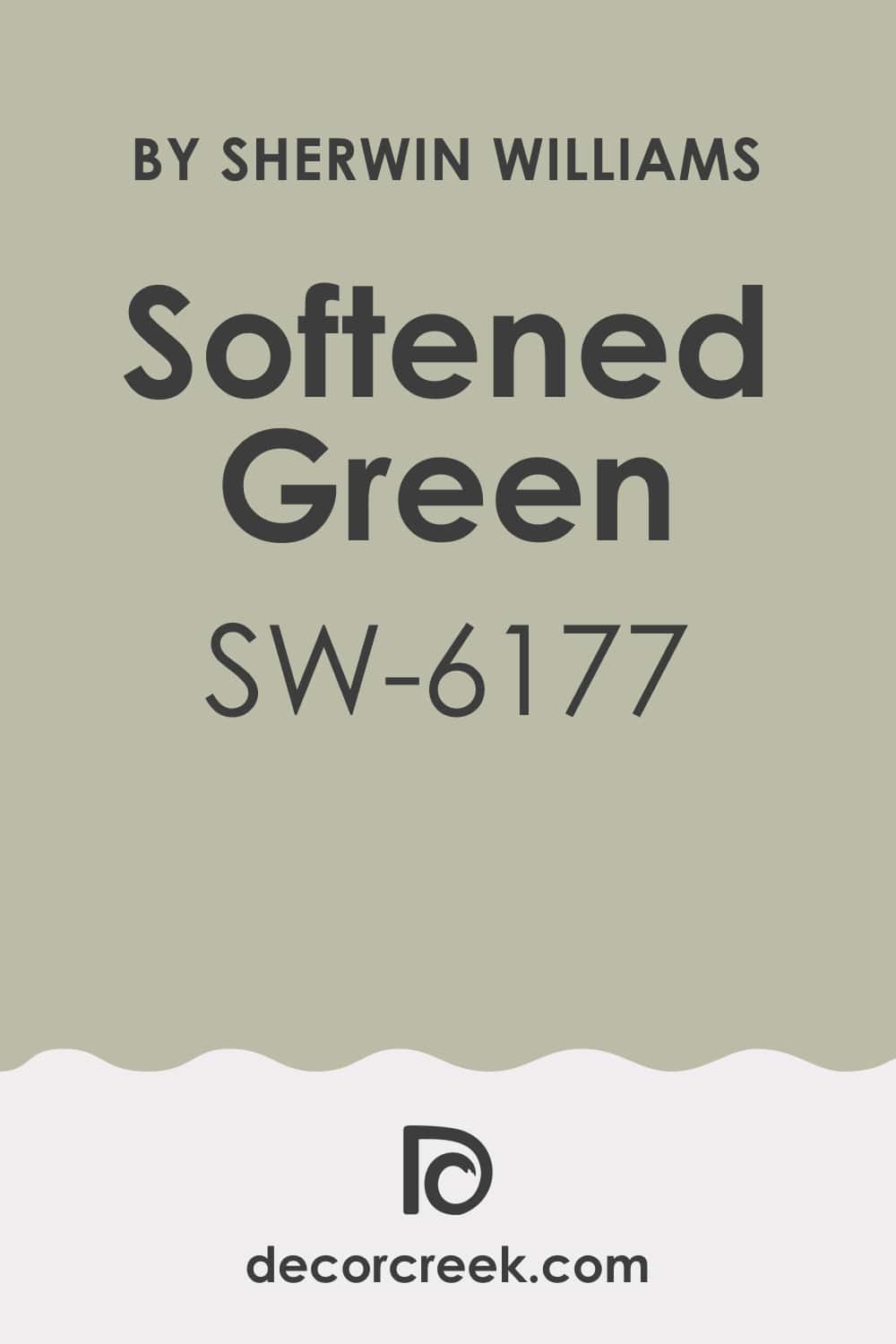 What Undertones Does Softened Green SW-6177 Have?
Undertones are very important when it comes to using a paint color in your home! When you know exactly what undertones the color has, you can predict how it will look in different rooms under distinct lighting conditions. Also, knowing undertones can help you pair the wall color more successfully with other colors in the space!
Speaking of SW Softened Green, this neutral color has slight gray undertones. However, don't be afraid to see it reading gray!
Instead, this soft and very delicate grayish hue makes the Softened Green color look balanced and pleasantly refreshing on the walls without reading too warm or leaning into cooler tones.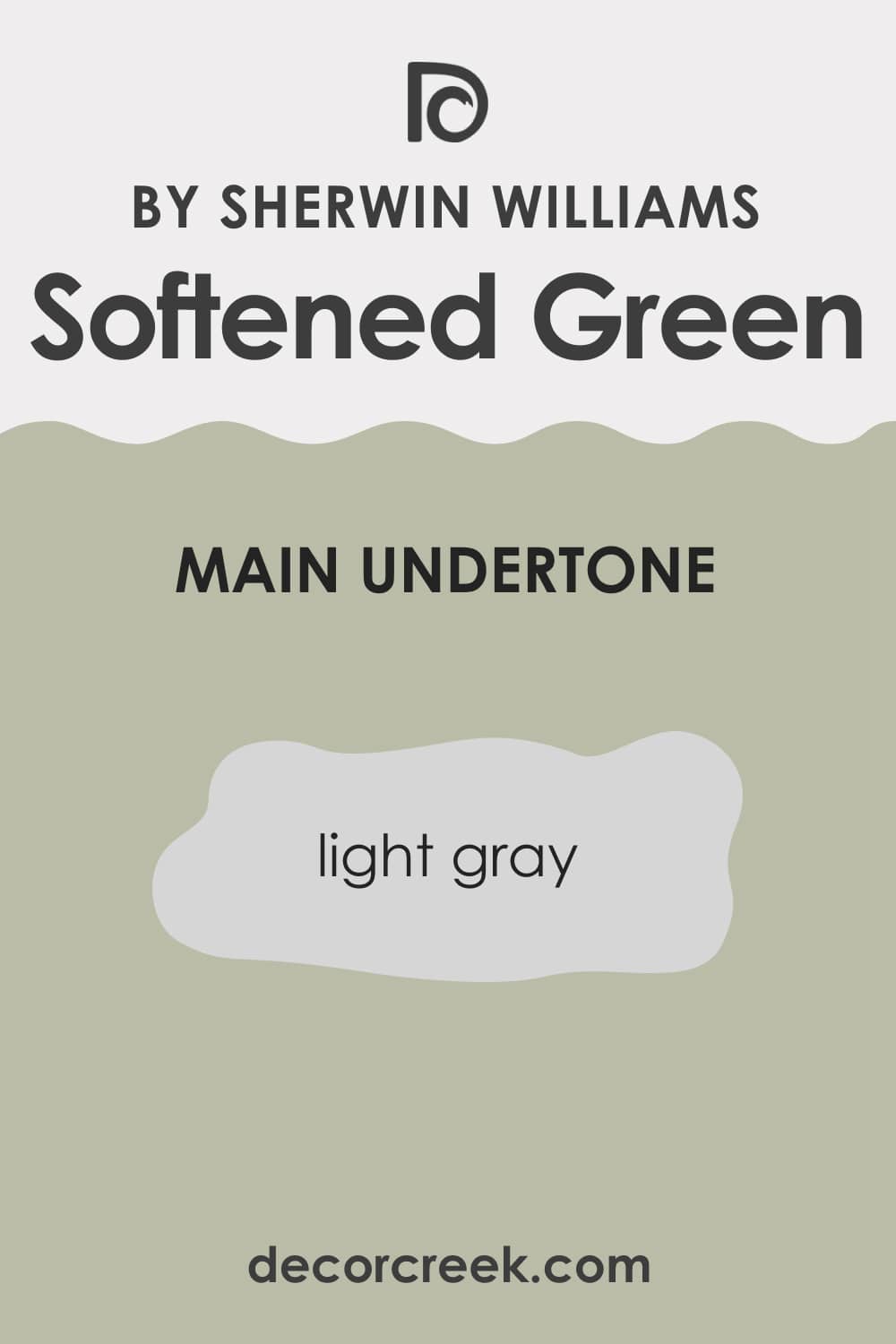 What LRV Does SW Softened Green Have?
Do you know what an LRV is? LRV stands for the light reflectance value. This measurement shows how much light each color can reflect when used on the wall or other surfaces.
The LRV measurement ranges from zero to 100, where zero means black and 100 means pure white. So, the higher the LRV, the lighter the color, and vice versa.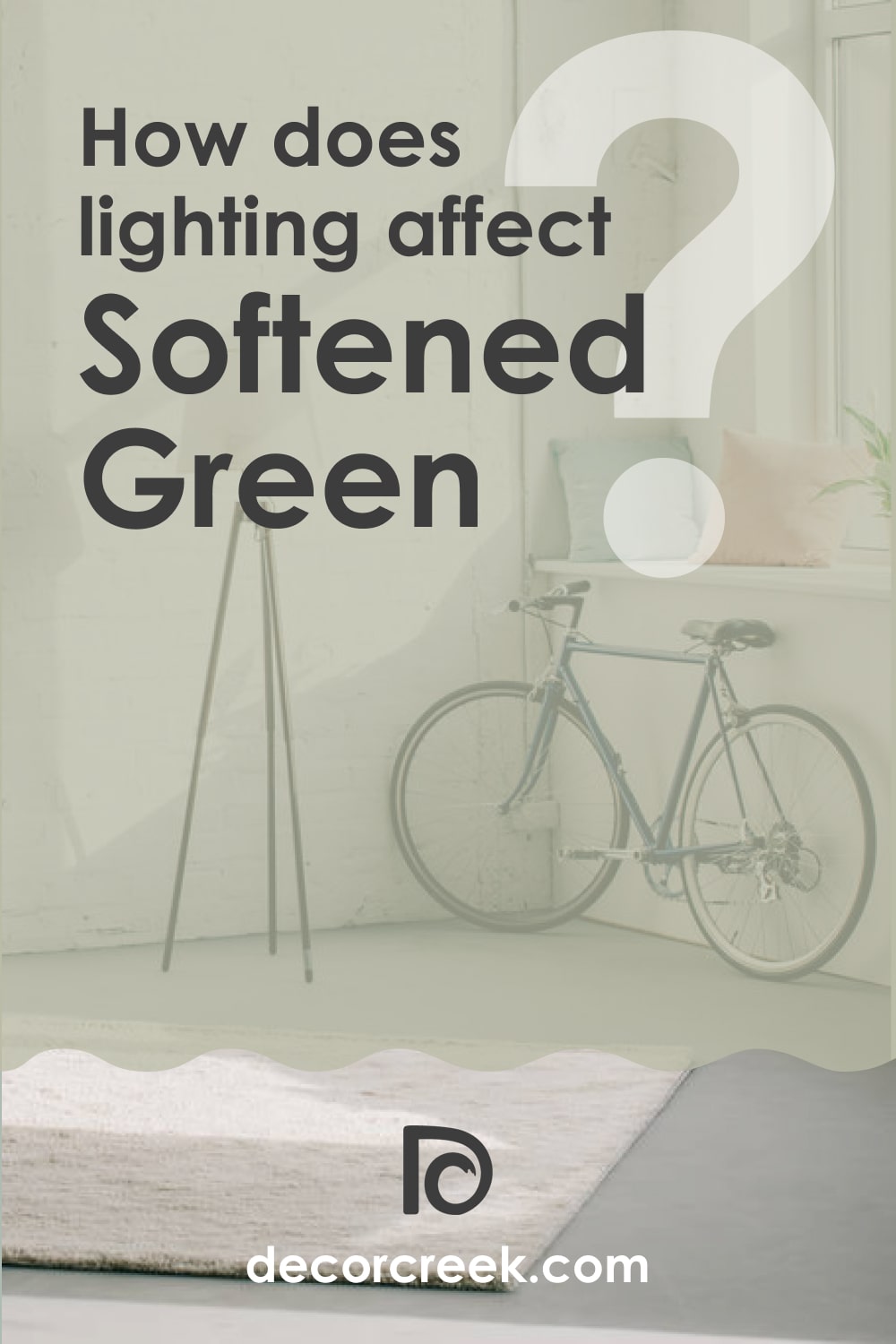 SW Softened Green has an LRV of 49, which places it almost in the middle of the LRV scale.
In other words, this LRV makes SW Softened Green a well-balanced color that reflects just enough light without reading too bright or too dark. This is why this neutral green is so versatile, being able to work in different rooms and lighting conditions.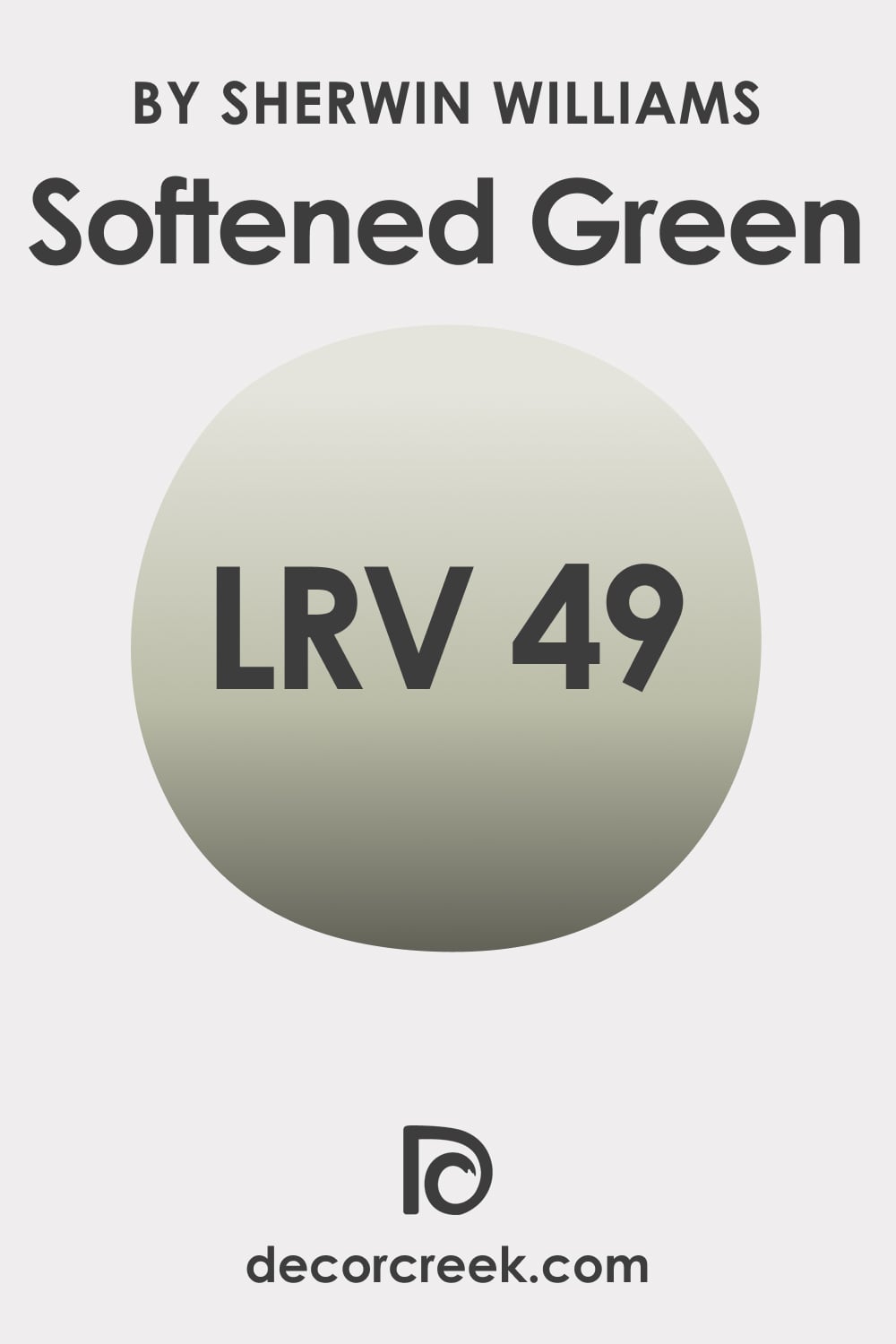 LRV – what does it mean? Read This Before Finding Your Perfect Paint Color
Coordinating Colors For SW Softened Green Paint Color
The key to having a well-balanced and harmoniously working color palette in your home is to choose coordinating colors correctly. Even with such versatile neutrals as SW Softened Green, you should select coordinating colors carefully to ensure all of them work together!
Speaking of the Softened Green color, we would recommend you the following paint colors to coordinate it:
SW Sagey
SW Queen Anne's Lace
SW Dirty Martini
For a monochromatic palette, opt for the following colors:
SW Connected Gray
SW Hearts of Palm
SW Artichoke
SW Techno Gray
For a complementary color scheme, we would recommend using somewhat other colors:
SW Imagine
SW Chinch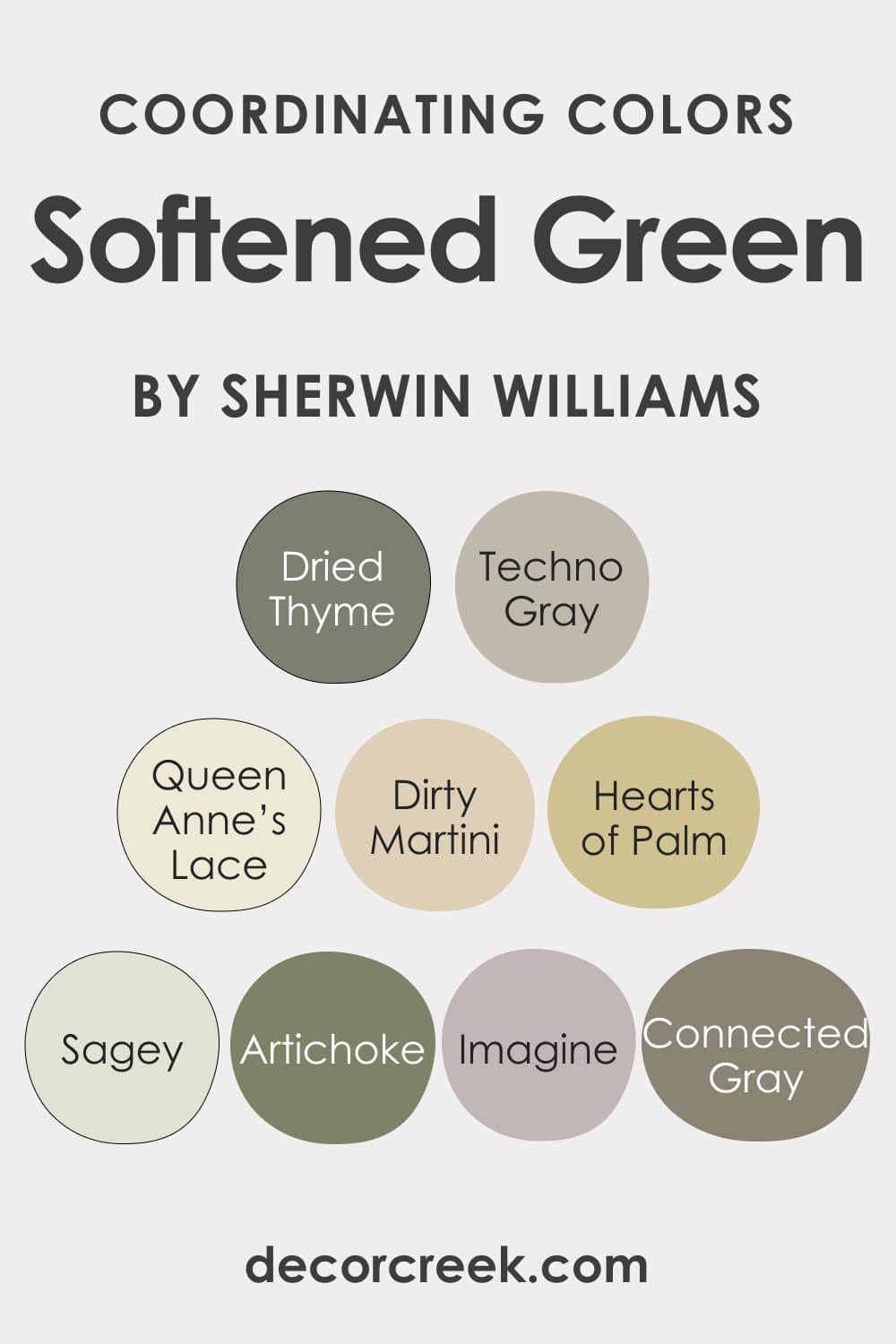 What Is the Best Trim Color to Use With Softened Green SW-6177?
White is the best color to use on your trim indoors since it is versatile enough to work with almost any color used on the walls! For SW Softened Green as a wall color, we would also recommend using whites to paint the trim.
In particular, for a softer-looking contrast between the trim and walls, you'd better opt for the Snowbound color by Sherwin-Williams, whilst for a slightly brighter trim, we would recommend using SW Pure White.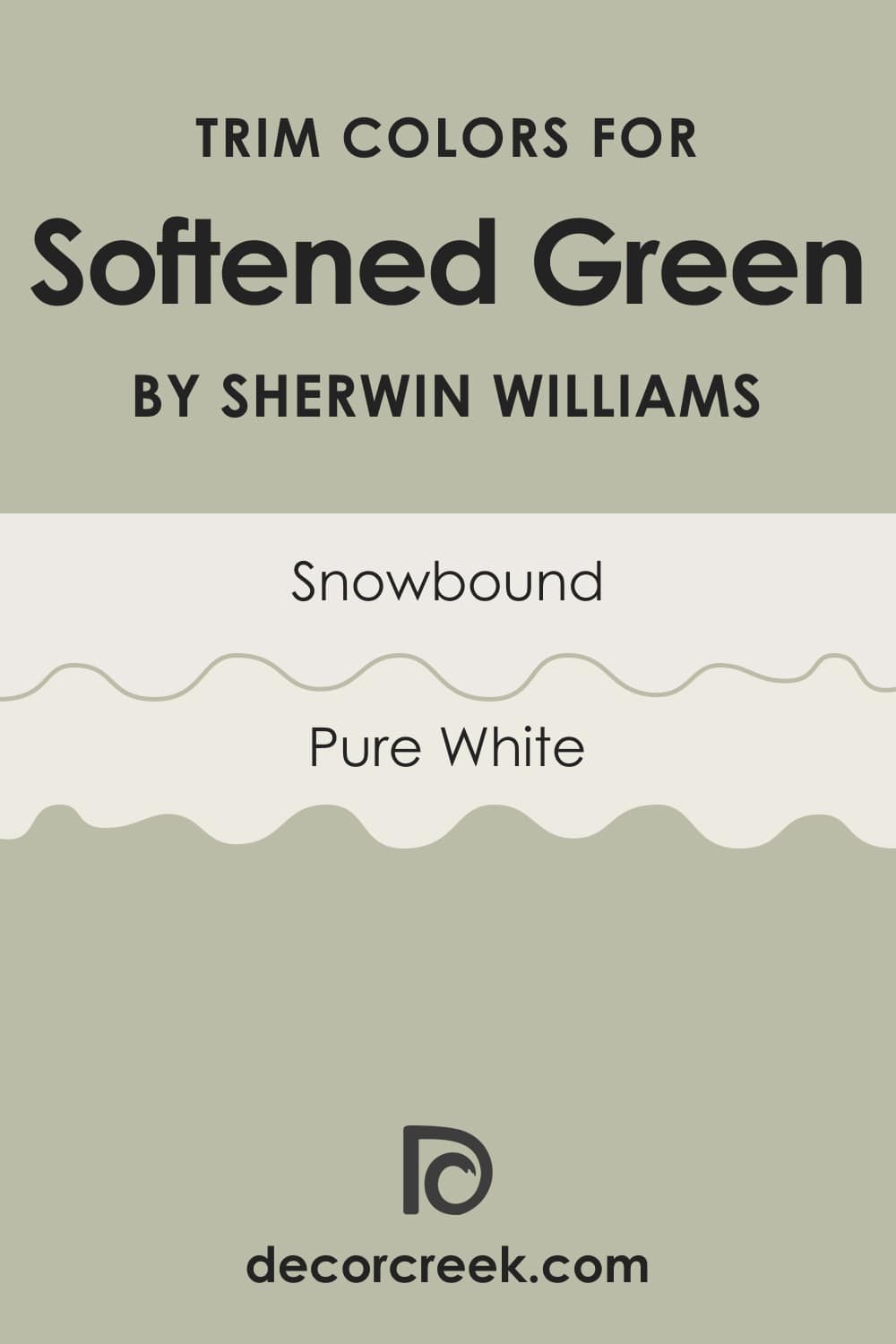 Similar Colors That Can Be Used Instead of SW Softened Green
If you realize that you need a slightly distinct shade of green on your interior walls, you should know what alternative colors exist. And even if you are using such a versatile neutral as SW Softened Green, picking the most suitable similar greens could be challenging.
This is why we offer you several options to choose from.
Benjamin Moore October Mist
SW Green Earth
Benjamin Moore Soft Fern
SW Liveable Green
Some of them may read slightly greener or grayer, and some of these substitute colors may read a bit lighter. But in general, they are the closest matches to use instead of SW Softened Green.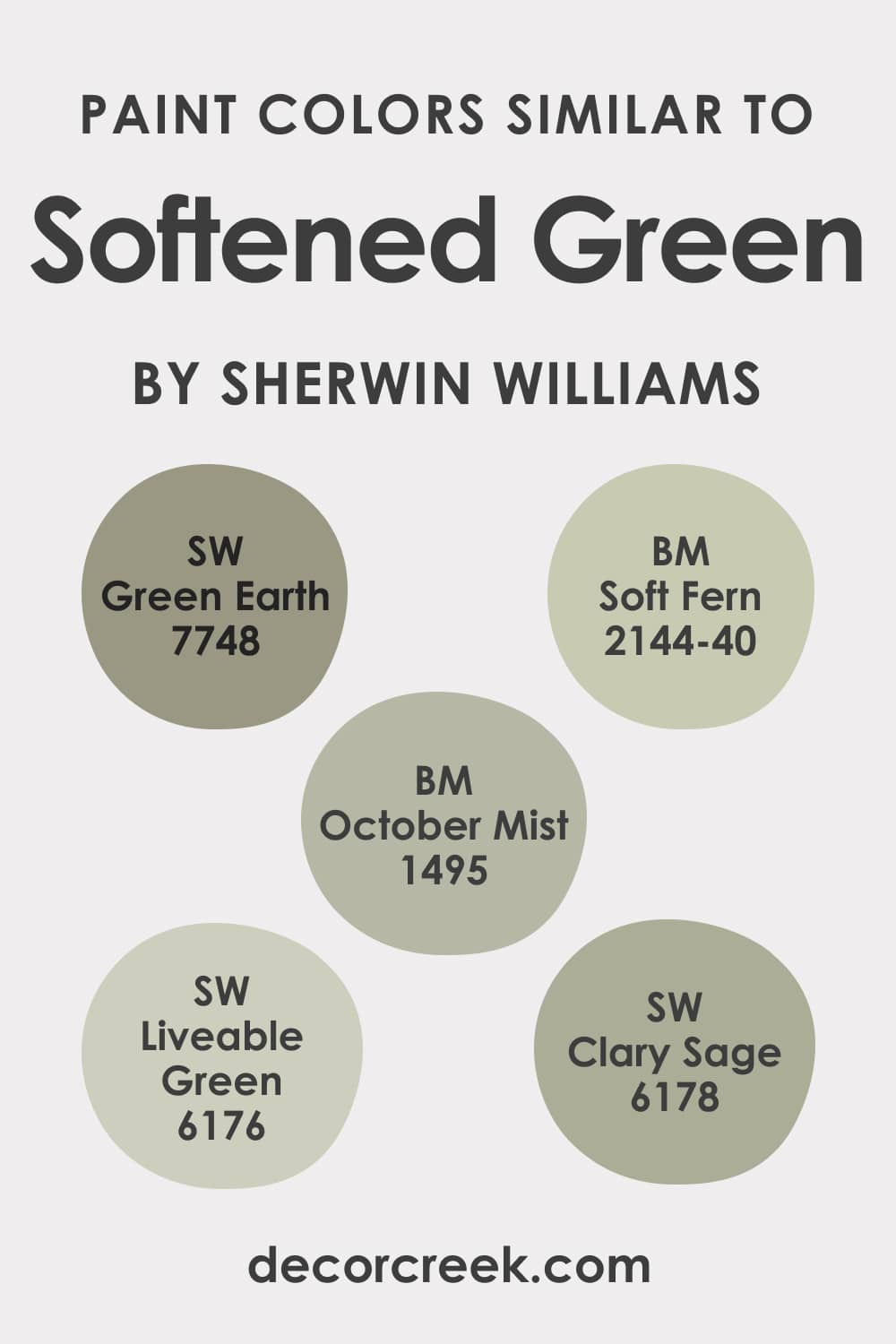 Colors That Go With SW Softened Green Paint
It can be tricky to choose colors that would work well with the green on your interior walls! Green is not an easy color to pair with others, so you might need some help!
If you want to paint your interior walls with SW Softened Green, consider using these colors to make the space read harmonious and attractive:
SW Web Gray
SW Pink Shadow
SW Tidewater
SW Black Magic
SW Shoji White
SW Tricorn Black
SW Oceanside
SW Roman Column
SW Alexandrite
SW Cabbage Rose
With such a wide selection of different colors, you will quickly find the most suitable ones for your home!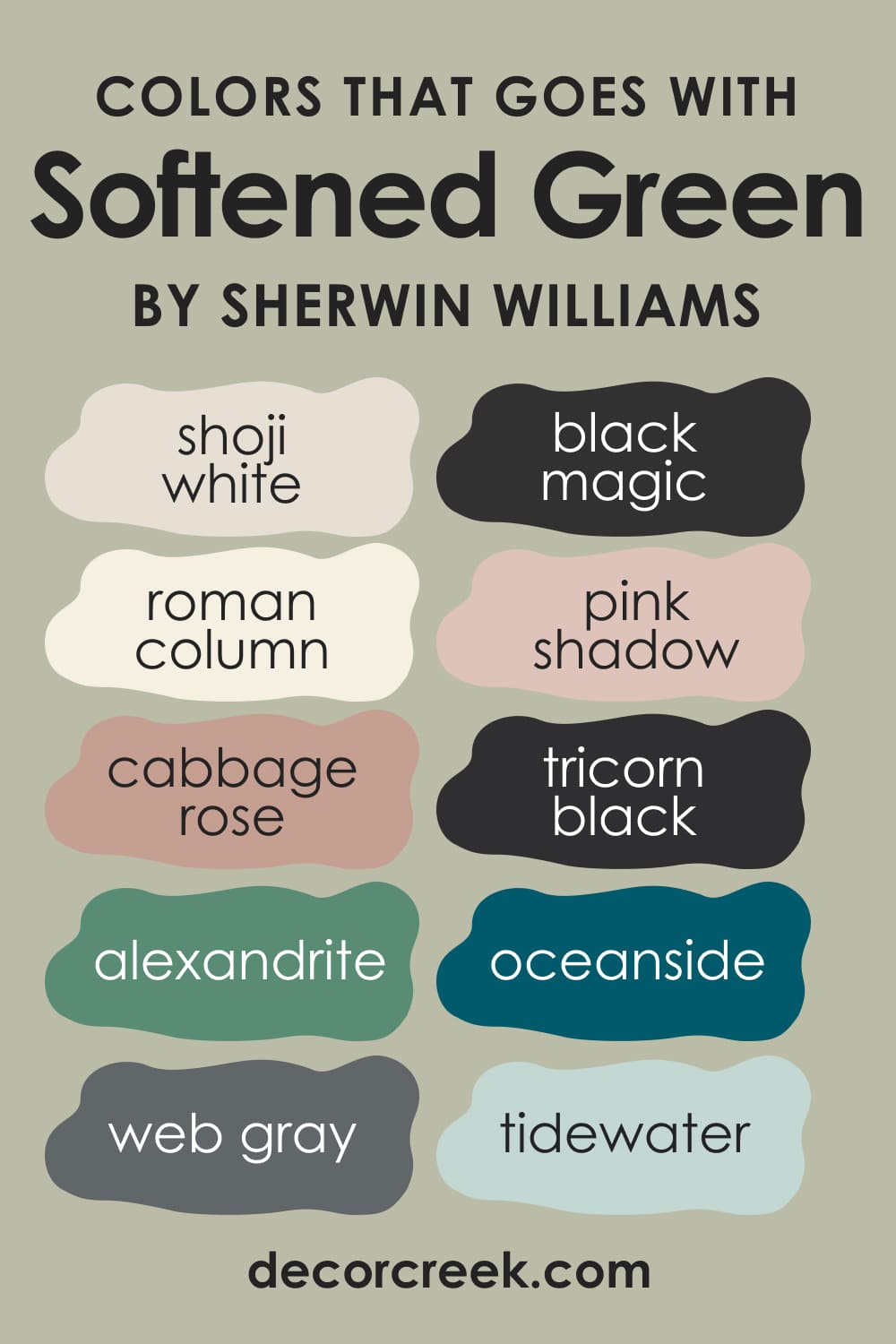 Comparing SW Softened Green Paint Color With Other Colors
To help you better see the difference and unique features of the Softened Green color, we suggest you read how it compares with other greens that look very similar. This way, you will discover what to pay attention to if you want to find out what makes similar shades of the same color distinct.
Softened Green vs Clary Sage
If you compare these two, you will see that Sherwin-Williams Softened Green is exactly the same as Clary Sage, but just one shade lighter. This difference in lightness allows you to sue these colors interchangeably if you need a darker/lighter green in your interiors.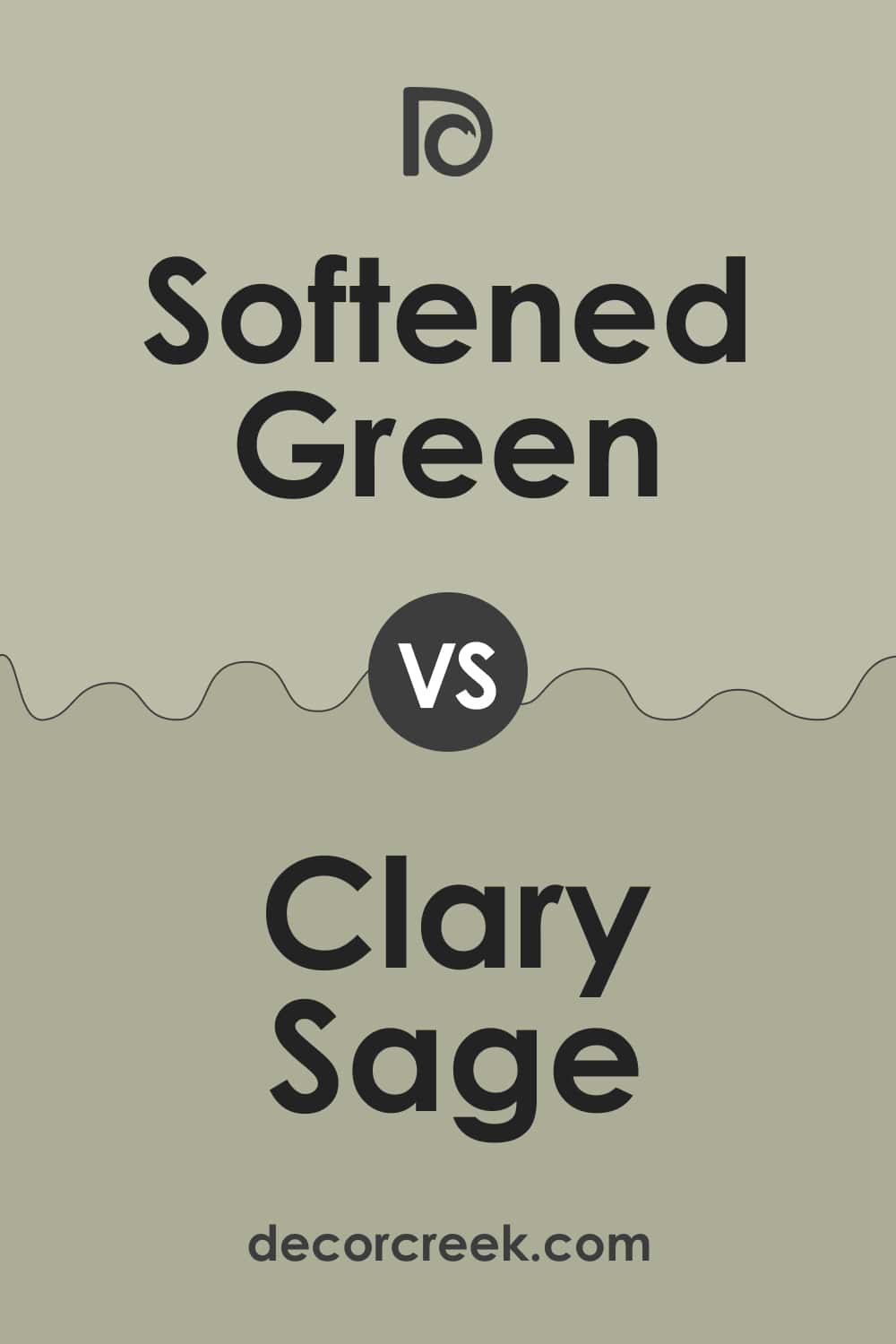 Softened Green vs Saybrook Sage
BM Saybrook Sage is a cool-toned aloe green with gray undertones. Compared to SW Softened Green, it reads greener and a bit cooler. SW Softened Green, in its turn, looks softer and warmer, and because of that warmth, it may even seem slightly yellowish.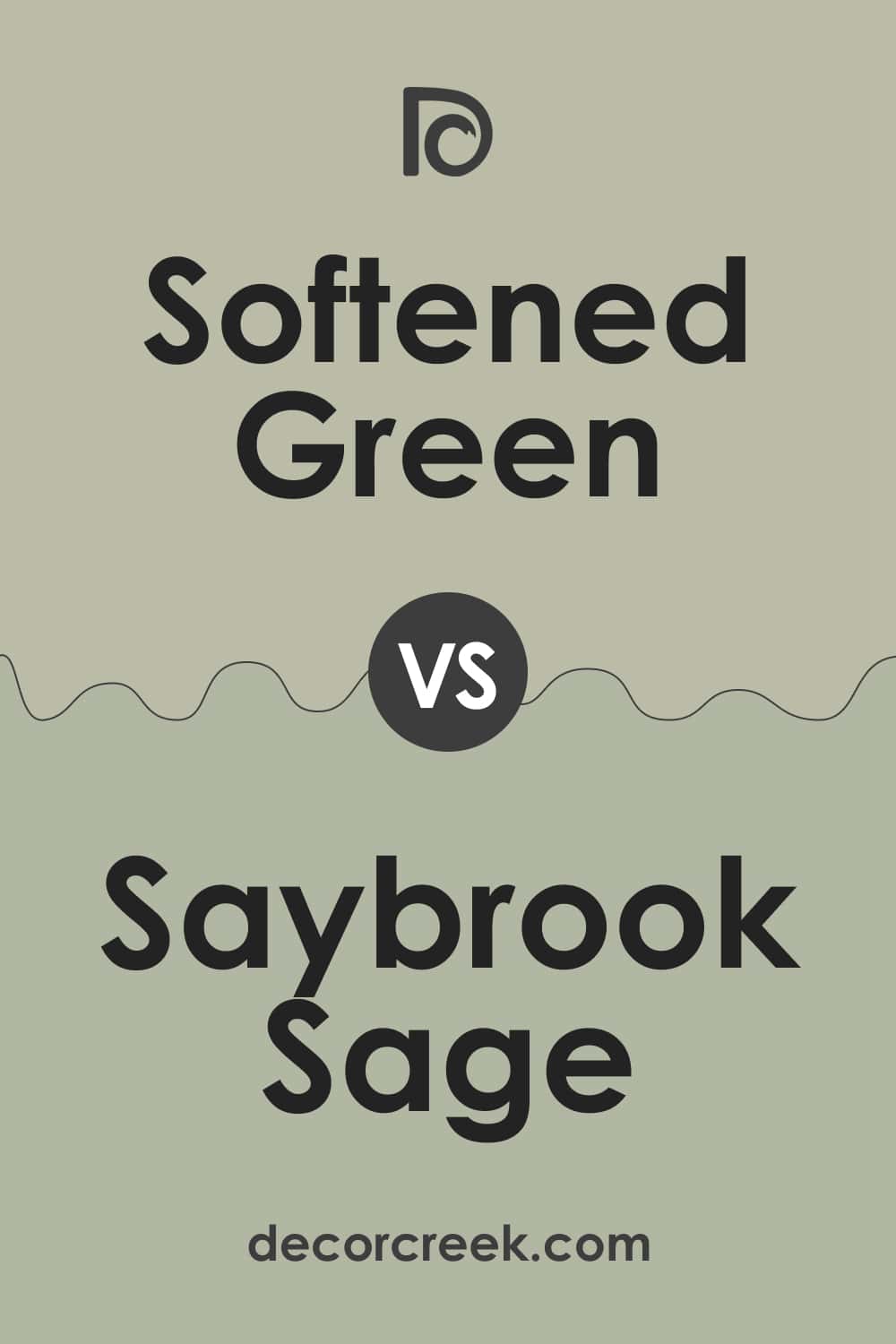 Softened Green vs Oakmoss
Compared to SW Oakmoss, SW Softened Green reads much lighter and slightly cooler in tone. Also, SW Softened Green reveals its grayish undertones more noticeably.
The Oakmoss green reads much more saturated and profound, with a prominent leafy green hue that adds pleasant warmth to this color.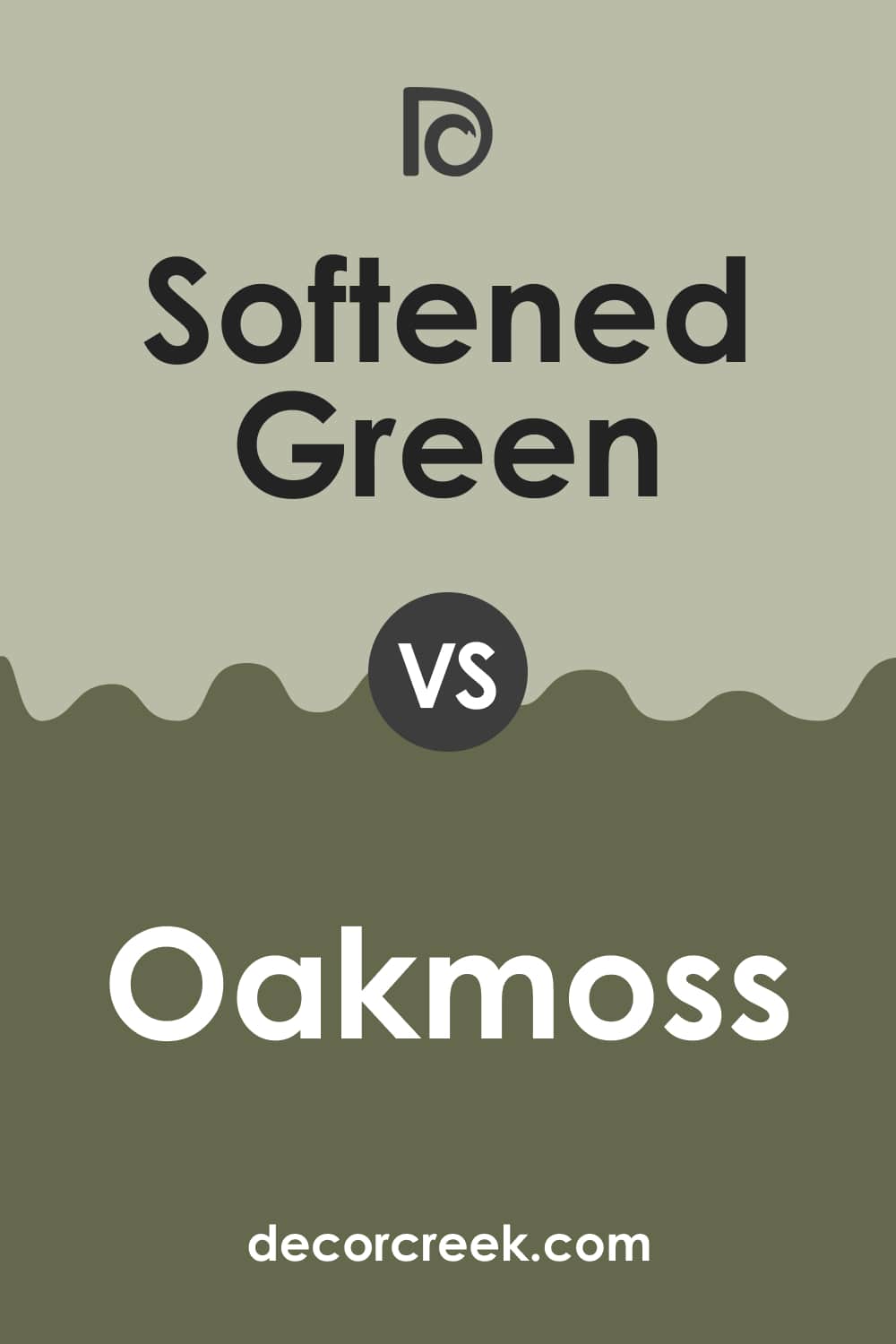 Softened Green vs Green Onyx
SW Green Onyx looks like a slightly darker version of the Softened Green color. These greens are equally medium and muted, but SW Green Onyx reads slightly warmer due to yellow undertones.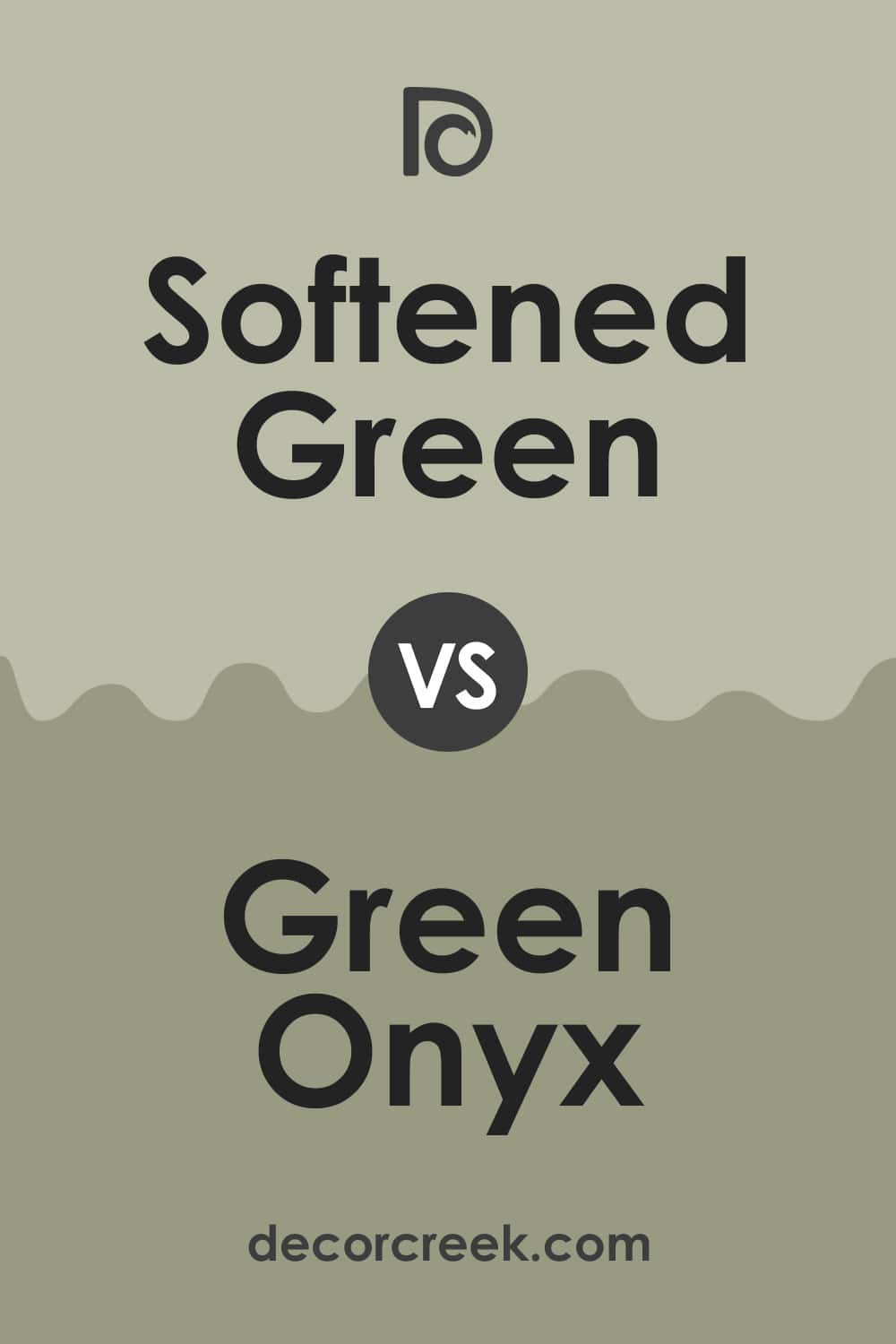 Softened Green vs Liveable Green
SW Liveable Green looks paler and lighter than SW Softened Green, revealing its cooler undertones. But since it has warm yellow-gray undertones, SW Liveable Green doesn't lool cool-toned. Compared to it, SW Softened Green reads greener and slightly warmer.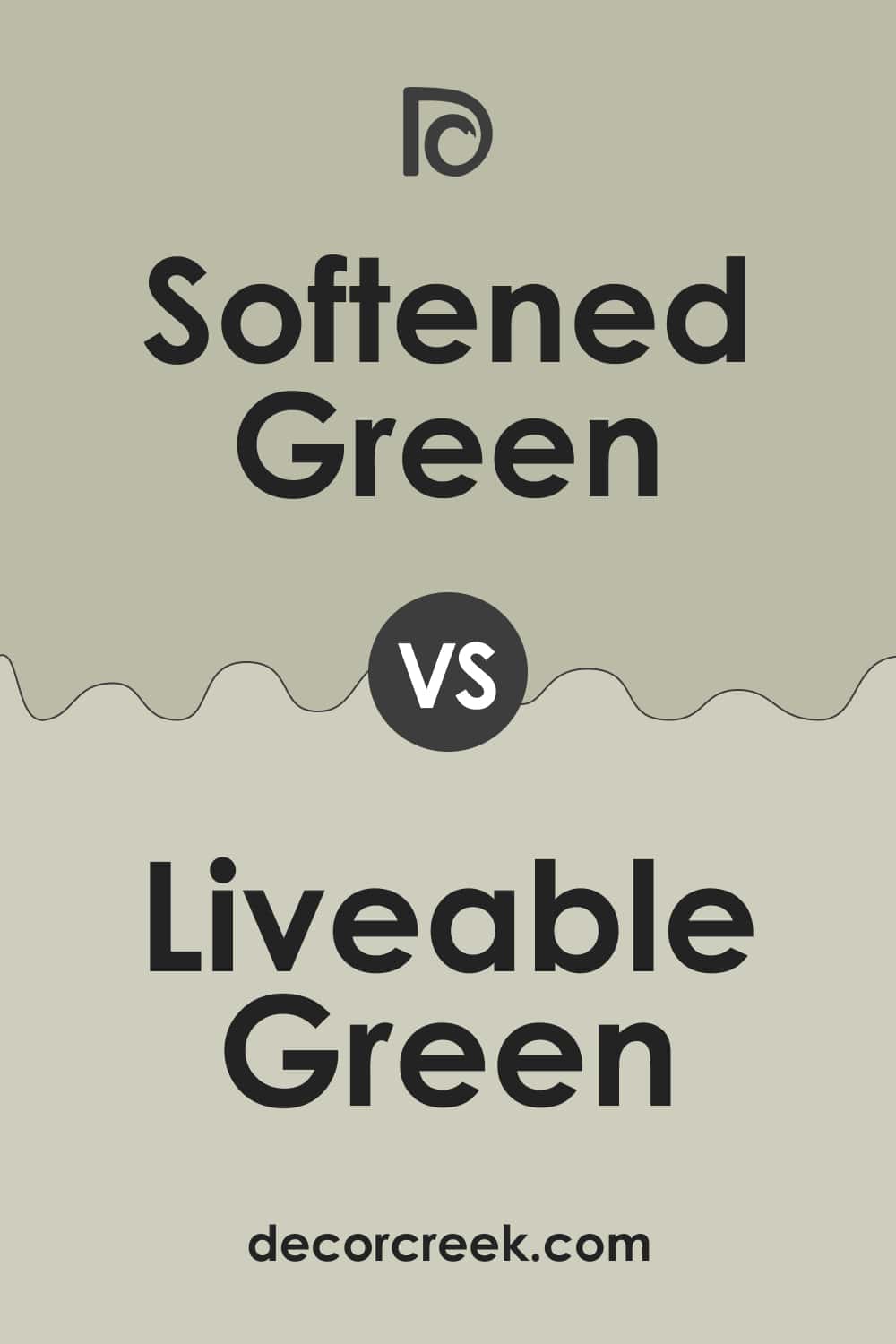 Where You Can Use SW Softened Green Paint Color In Your Home?
Since SW Softened Green is a versatile neutral, it will work really well in many rooms of your home. However, you should remember about the lighting all the time if you want to make this green do its best in your home!
Softened Green SW-6177 in a Living Room
In a living room, this green will look pleasantly refreshing and calm if the room is well-lit and has plenty of natural light. Note that with warmer light (e.g., bulbs), this green may also read slightly warmer!
This is why it's recommended to pair it with cooler whites and other freshly-looking colors if you want to keep the cooler vibe in the space.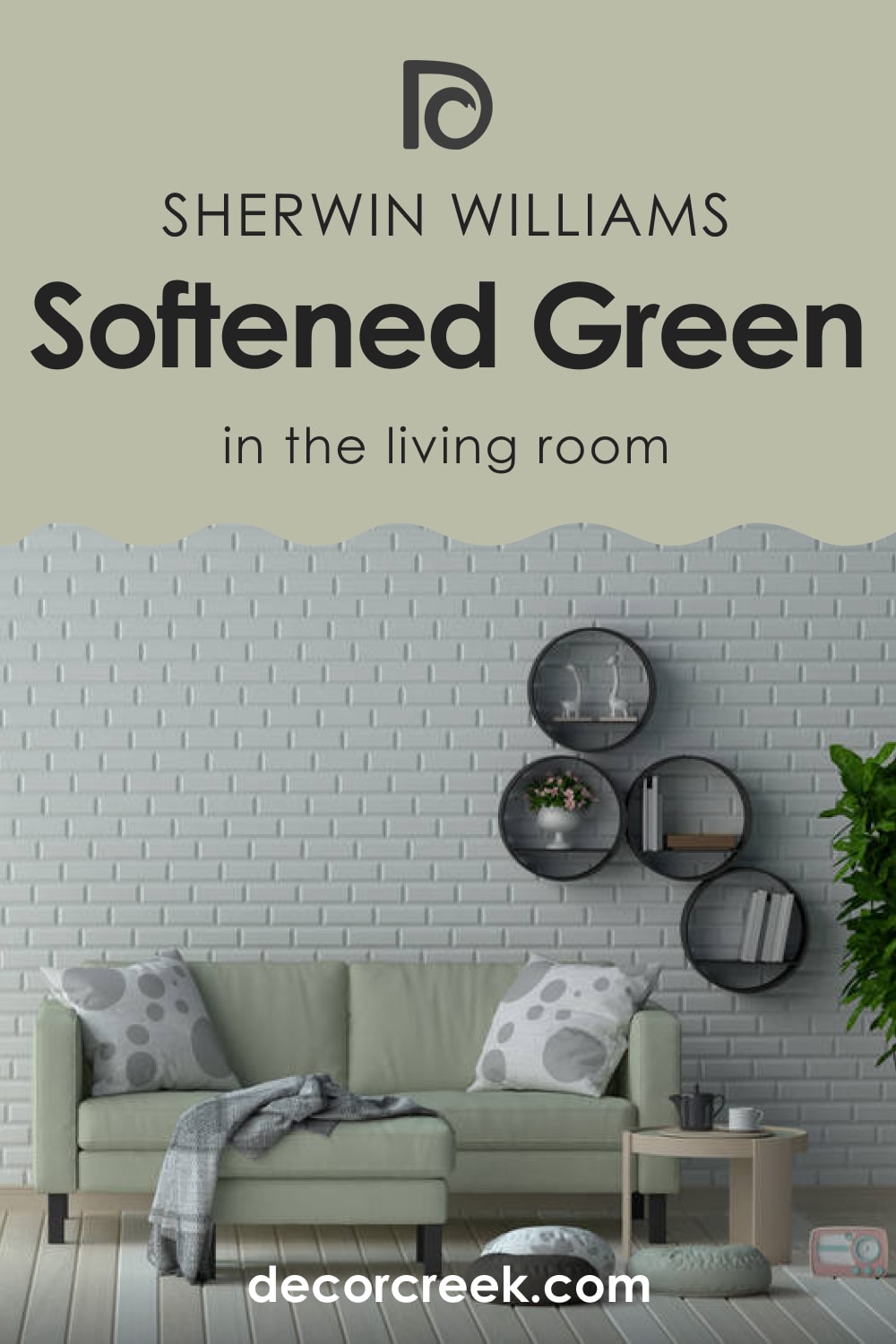 Softened Green SW-6177 in a Bedroom
This color will work well only if your bedroom is spacious enough and has enough natural light. Otherwise, in a poorly-lit room with dim light, it may read darker, shadowing the space. In this case, the best solution would be to sue as much white as possible and avoid warm-toned colors and warm lights.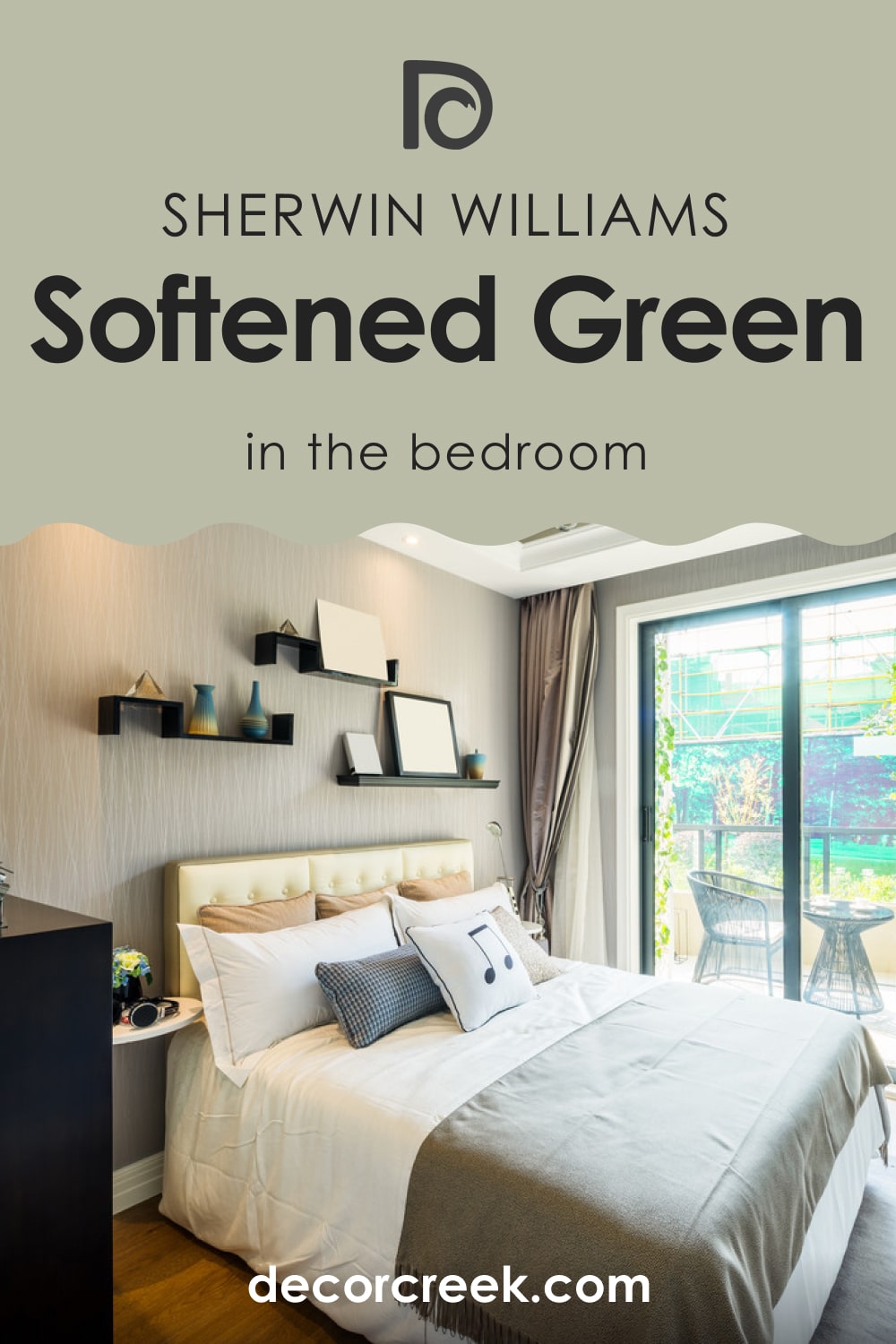 Softened Green SW-6177 and Bathroom
Since this shade of green looks pretty cool-toned and fresh, it will work well in your bathroom. You can paint an accent wall with it or only use this paint on the vanity sink or drawers, for example. Where you use it depends on the size of your bathroom and the lighting conditions in it.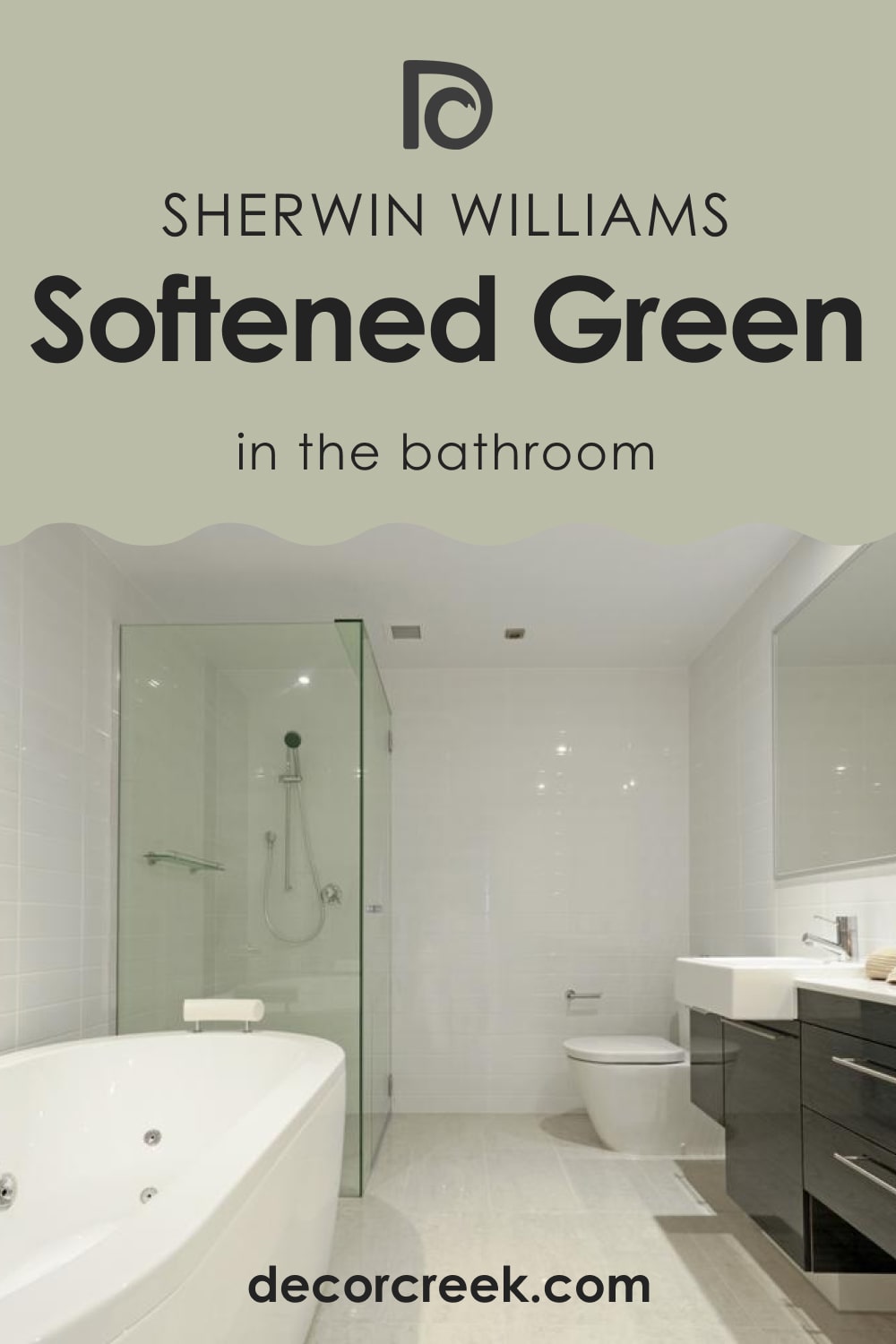 Softened Green SW-6177 for the Kitchen
Thanks to its neutral nature and balanced tone, SW Softened Green will work equally well on your kitchen walls and on cabinets. It is best paired with brighter white walls since they will highlight the cooler tone of this green.
But it's ok to use it vice versa and paint your kitchen walls green, adding as many white accents as possible.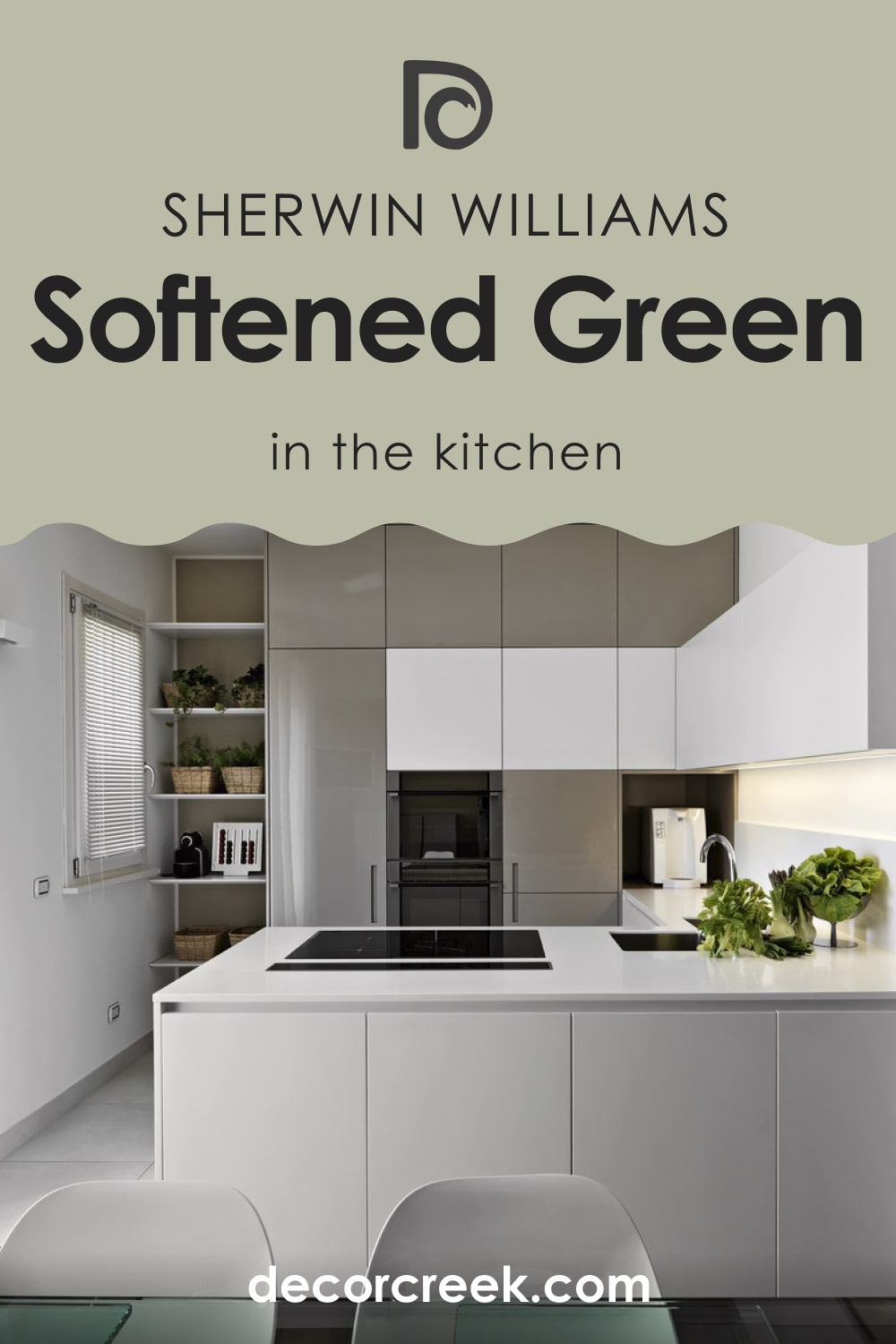 Softened Green SW-6177 for the Exterior Use
If you want to try the green color on your exterior walls but are not ready to go all dramatic, start with SW Softened Green! It's much safer to use than deep and dark greens and definitely more versatile!
Besides, this natural green will complement quite many home styles. It will look well with black or gray tiles on the roof and white trims and shutters, making your house look celebrative and pretty!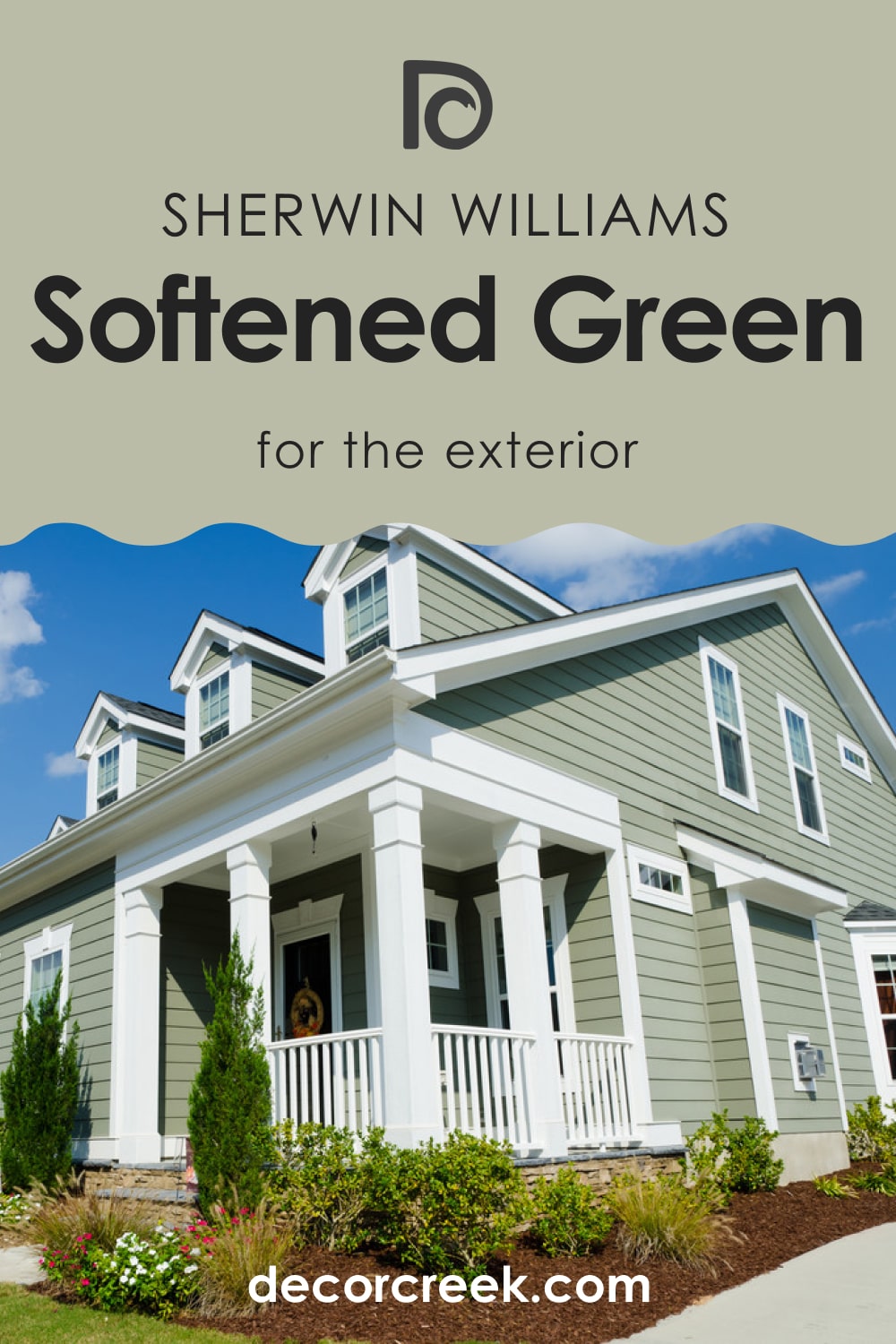 Well, now you know this green color much better! You know where and how to use it correctly, how it works in different spaces, and what colors will work best with it on the trim.
Also, you learned how to coordinate this color and how it might react to light. It will help you to use it successfully in any room of your home!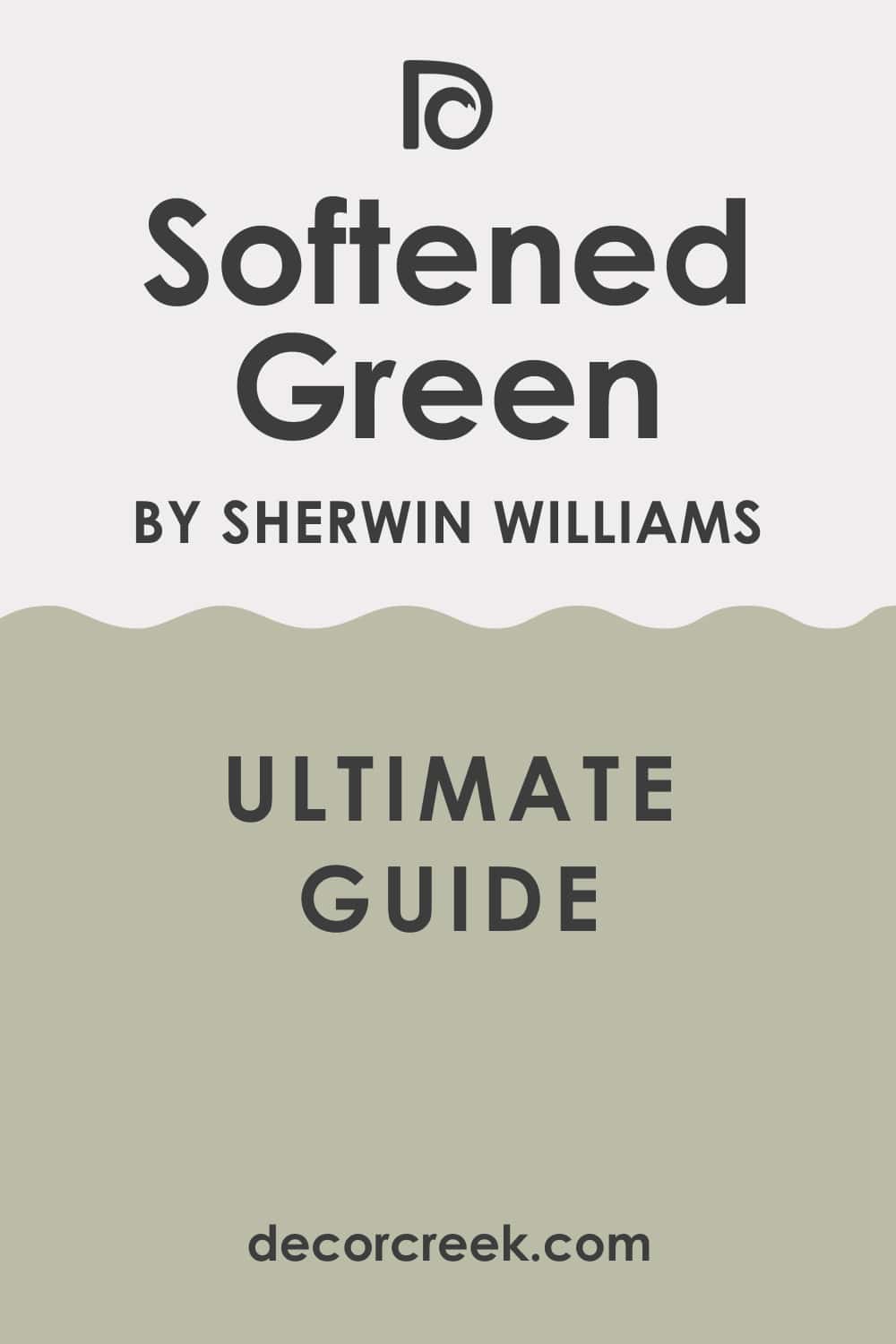 Frequently Asked Questions
⭐Does SW Softened Green look cold-toned?
No, this green is balanced and neutral. This is why it's so versatile!
⭐Can I use SW Softened Green in any room?
Technically, yes. This green can work in any room. But you must still consider the lighting there!
⭐Does this green work with black?
Yes, you can pair SW Softened Green with black, but use black color moderately.