If you think that blue color is not suitable for most homes, this article will help you change your mind. Today, we will talk about one of the most beautiful shades of blue that the Sherwin-Williams brand has. This color is called Moonmist, and it's hard not to fall in love with it!
We will tell you what kind of blue it is, what undertones it has, and how it reacts to light. Also, you will learn in what rooms SW Moonmist might work best.
After you read this article, you will be aware of its coordinating and trim colors, as well as of other helpful features this blue color has.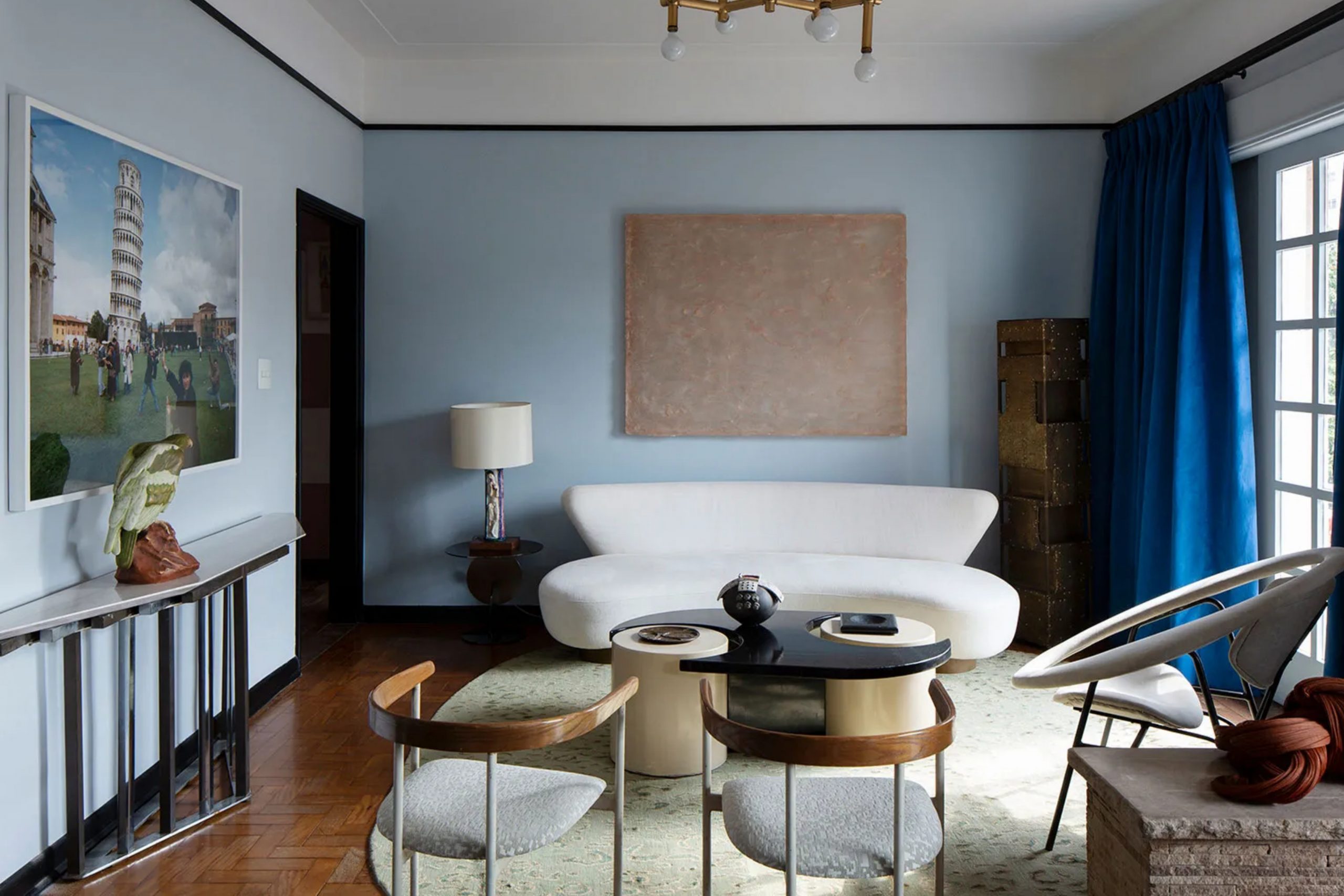 What Kind of Color Is Moonmist SW-9144?
There are many shades of blue out there, from dark navy blues to very light shades. As Encycolorpedia, SW Monmist is neither dark nor too light.
This light neutral blue reads calm and balanced, creating an airy and nebulous atmosphere in a room. However, this color is not as simple as it may seem!
SW Moonmist is quite a shapeshifter! It has complex undertones, which is why this shade of blue can read differently on your walls depending on the lighting conditions.
Also, it might be challenging to pick the most suitable coordinating colors for it due to the complicated nature of this color.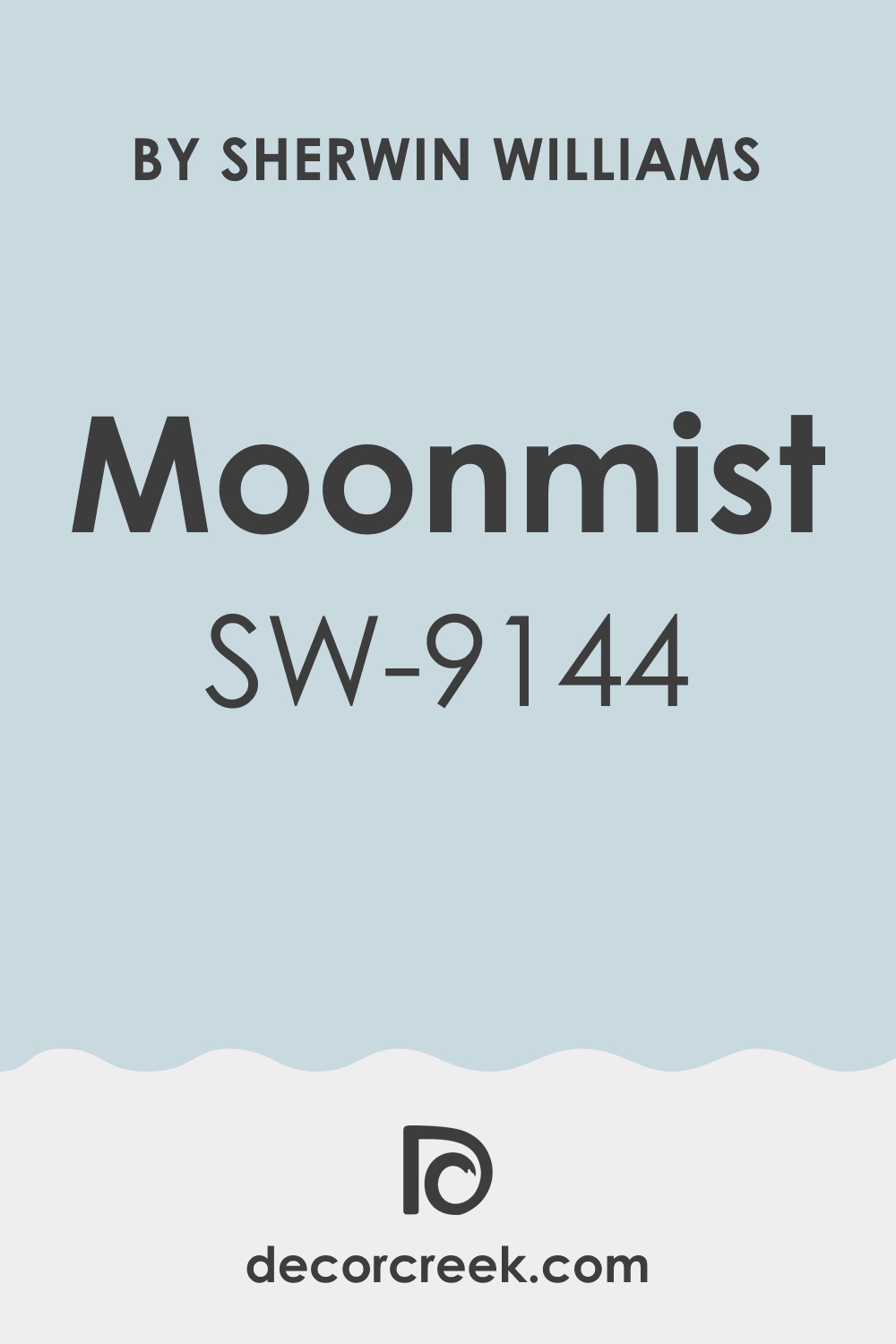 Is It a Warm or Cool Color?
SW Moonmist is a cool-toned blue paint color. However, there is no need to be afraid it might look icy-cold and chilly in your home! Instead, this shade of blue is balanced well enough to give out a tranquil and harmonious vibe.
It has cool undertones, but since there is a very slight yellow hue in SW Moonmist, the color reads not very cold.
So, if you are looking for a paint color to add a crispy note to your interior, you might want to consider SW Moonmist!
What Undertones Does Moonmist SW-9144 Paint Color Have?
As we have already mentioned before, SW Moonmist has tricky and complex undertones. To be precise, this shade of blue has cool yellow and gray undertones. In general, such a mix results in a balanced hue that reads fresh and airy but doesn't lean to the cold side.
However, due to such undertones, SW Moonmist can read differently in distinct lighting conditions!
This is why we recommend you always sample it in advance. This will help you to avoid the unwanted effect on your walls.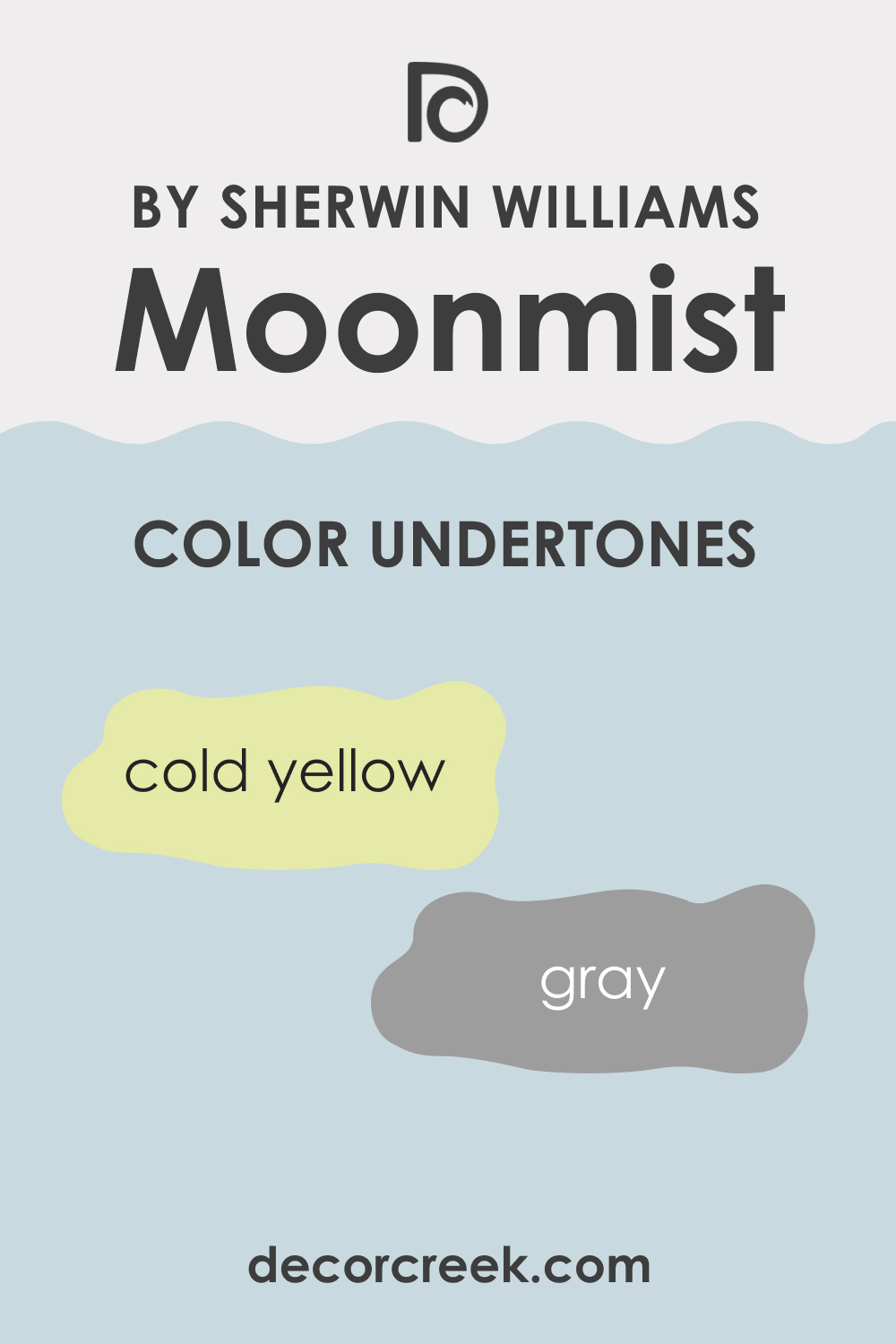 Coordinating Colors to Use With Moonmist SW-9144
To make your home look and feel welcoming and cozy, it is essential to know what paint colors will coordinate with the color used on the walls. For SW Moonmist paint color, we recommend you use the following paint colors to coordinate this light neutral blue:
SW 7008 Alabaster
SW 6199 Rare Gray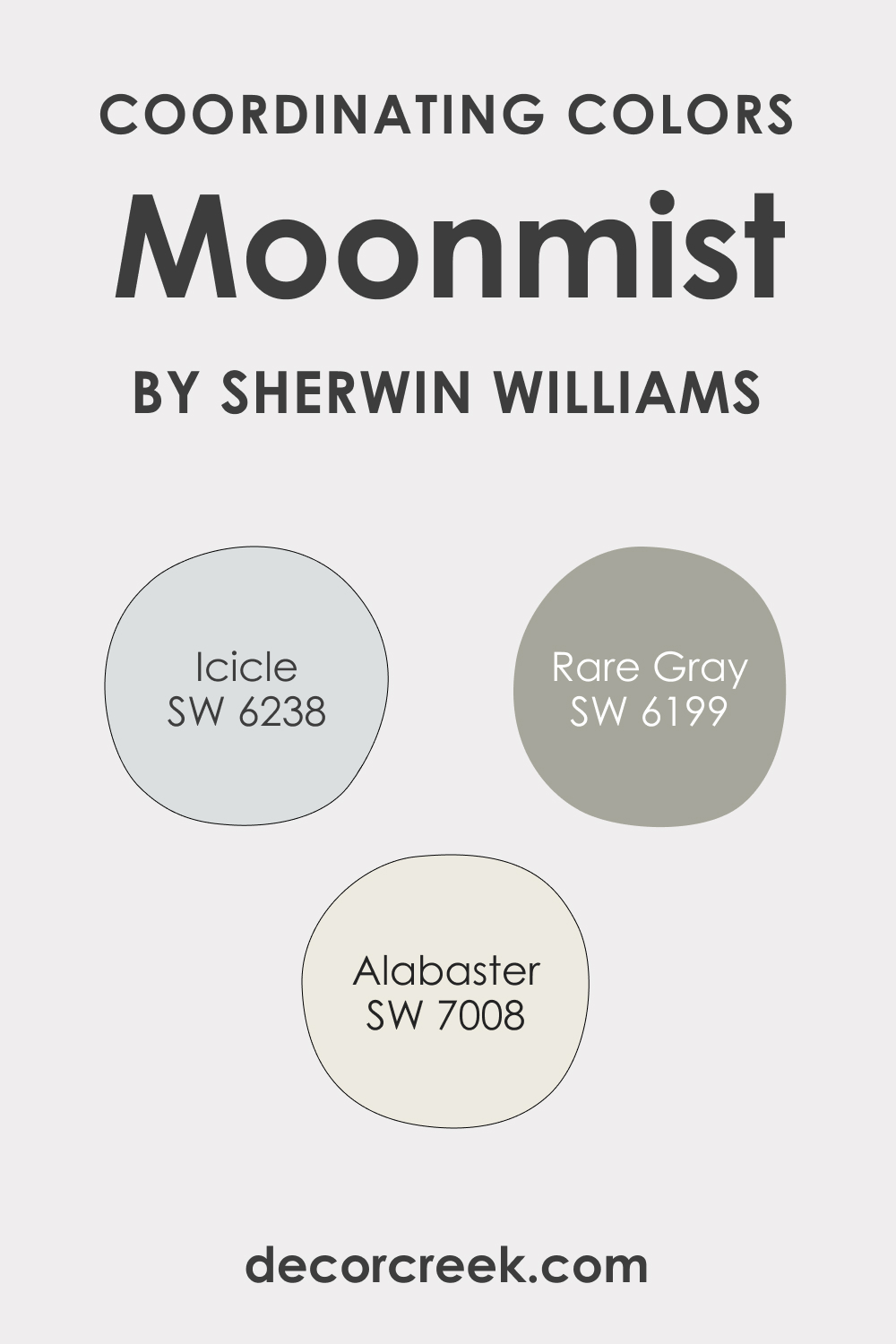 What LRV Does Moonmist SW-9144 Paint Color Have?
When you are selecting paint colors for your home, LRV is one of the essential things to take into consideration. LRV (Light Reflectance Value) is a measurement that shows how much light the color can reflect when it is applied to the wall.
The LRV scale ranges from zero to 100, where zero stands for black and 100 stands for pure white. Apparently, the higher the LRV value, the lighter and more reflective the color, and vice versa.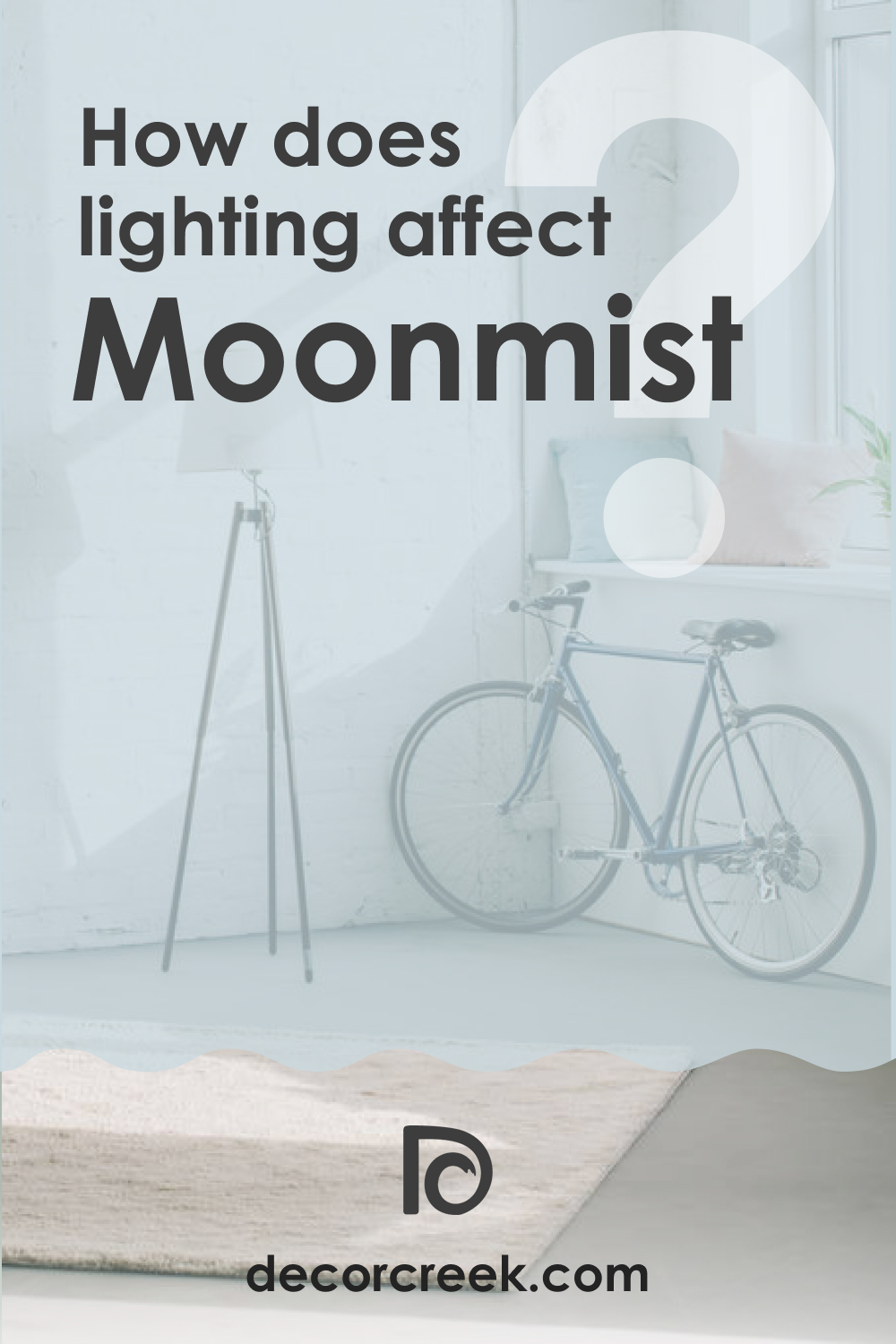 The LRV of SW Moonmist is almost 67, which makes this cool-toned and neutral blue light color. Also, with such an LRV value, SW Moonmist is pretty reflective. It means it can make a room seem spacious and bright.
However, note that this shade of blue can't be used in very small and/or enclosed spaces with dim or poor light! SW Moonmist is not bright enough to work in such rooms.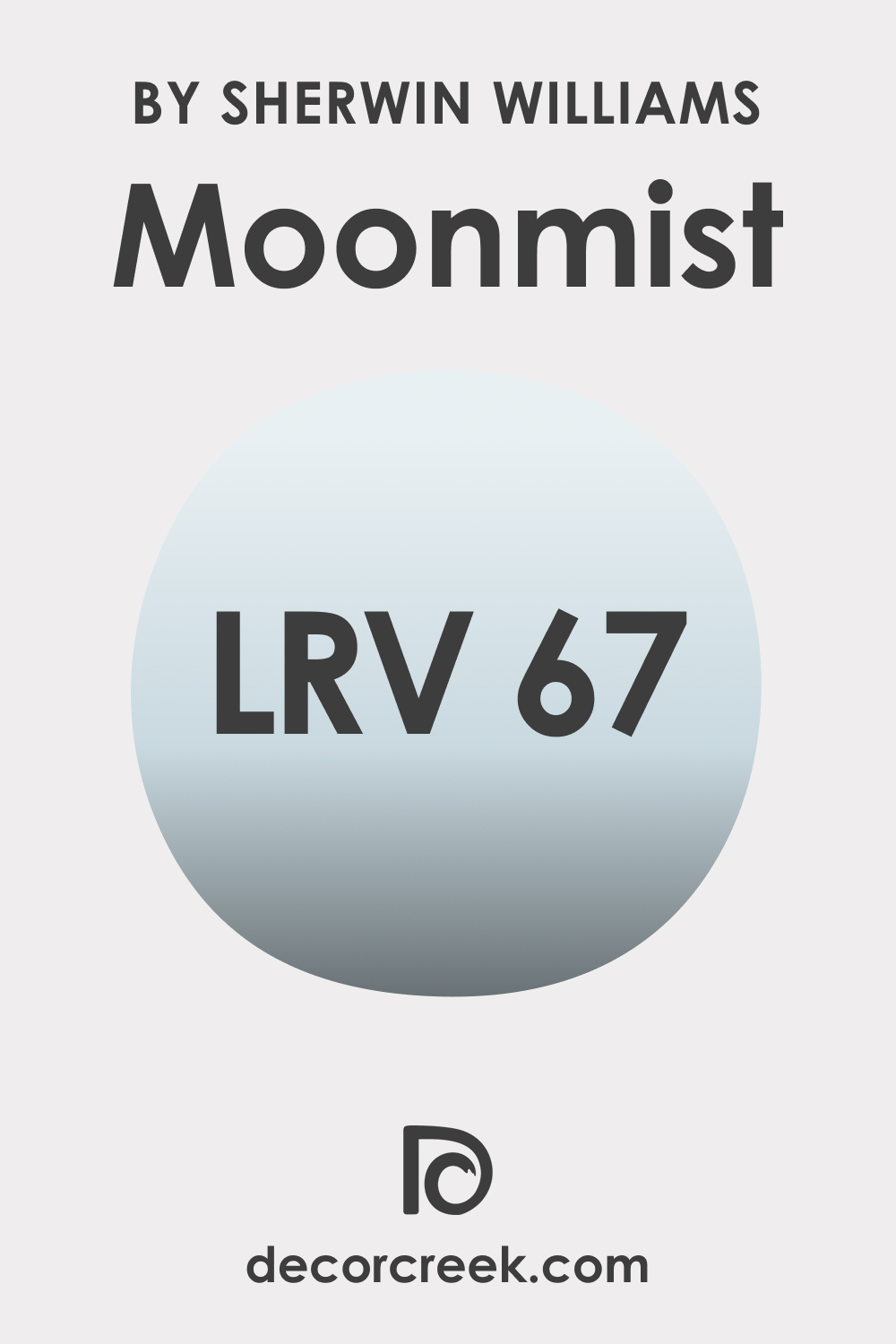 LRV – what does it mean? Read This Before Finding Your Perfect Paint Color
Moonmist SW-9144 Trim Colors
Traditionally, white is considered the best trim color to use in your home. White is universal and flexible. Also, it works well with most colors that might be used in your home. It means white will work well with the majority of palettes successfully.
For SW Moonmist, we would recommend you the following white paint colors to use on your trim:
SW 9503 Cheviot
SW 7757 High Reflective White
SW 9541 White Snow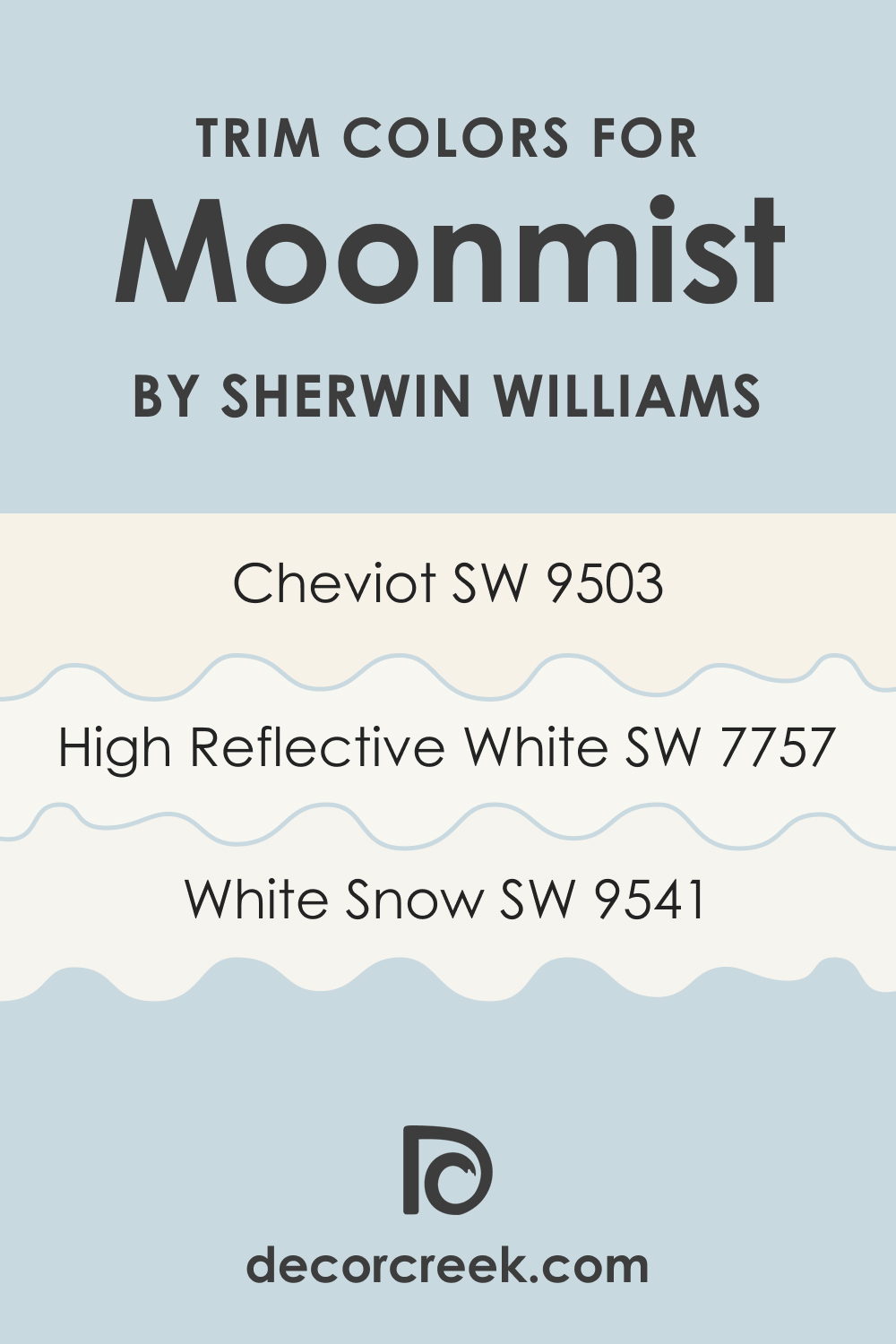 Colors Similar to Moonmist SW-9144 Paint Color
Knowing what similar colors your wall color has might be handy in case the color you initially selected doesn't quite suit your room's palette or overall interior design.
Also, it sometimes happens that the paint you wanted to paint your walls appears too dark or too light on the walls when you sample it. Anyway, being aware of a few alternatives is a good idea!
For SW Moonmist, there are also alternative colors that read almost the same on the walls. Below, you can find a few of them:
Behr Sky Light View
BM Blue Haze
BM Polar Sky
PPG High Sierra
PPG Bit of Heaven
Valspar Soft Blue
Valspar Lament Blue
These are the closest matches, so you should not worry they will look different on the walls.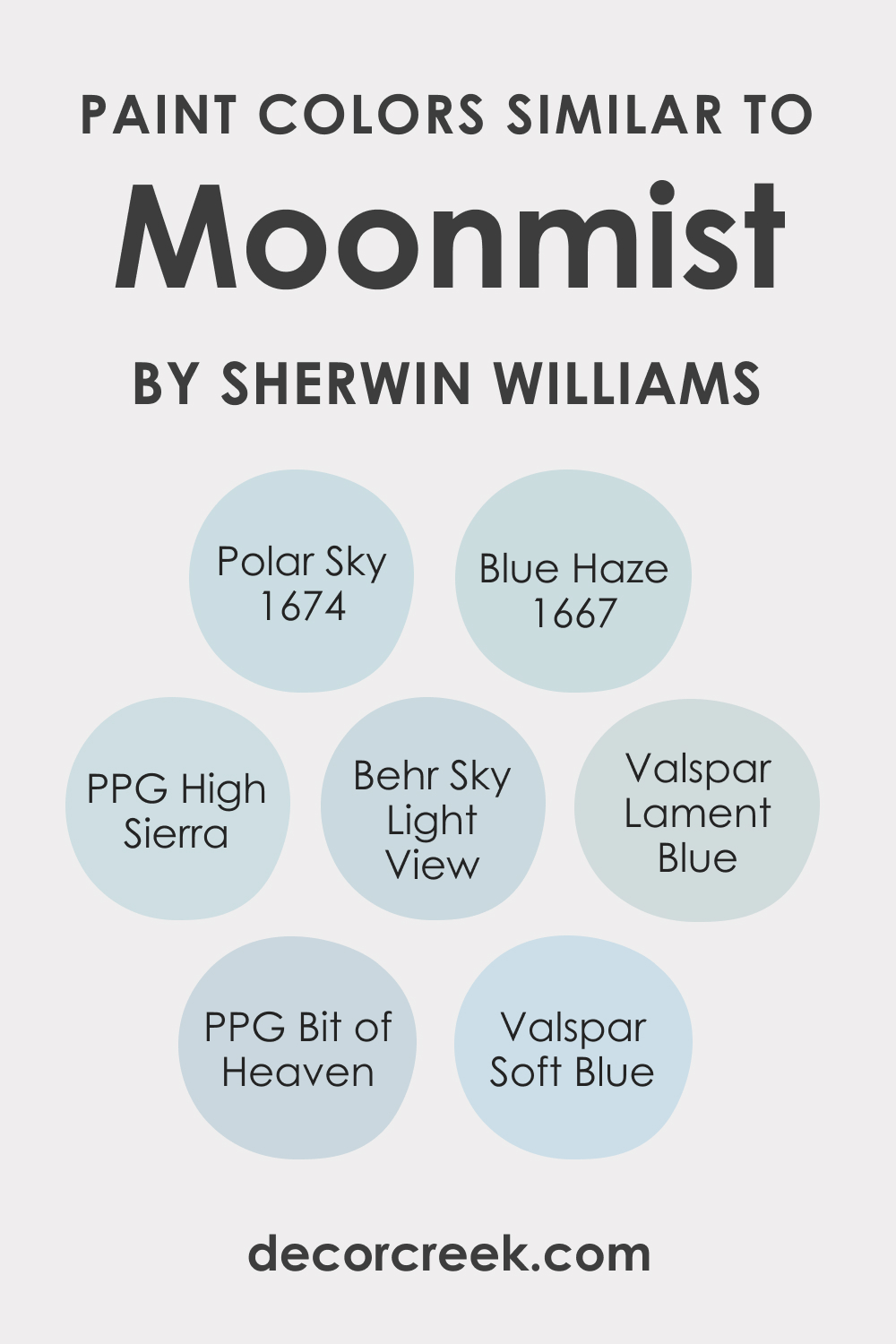 Colors That Go With Moonmist SW-9144
If you want to make the best out of the SW Moonmist blue paint color in your home, you need to know what colors will go with it best of all. Sure, not all of us have a sharp eye for colors and color shades, so we have prepared a list of several color options that you might find helpful:
SW 7008 Alabaster
SW 6199 Rare Gray
SW 7015 Repose Gray
SW 9031 Primavera
SW 6860 Eros Pink
SW 9173 Shiitake
Since SW Moonmist has yellow and gray undertones, it pairs nicely with colors that also have these hues.
For the same reason, SW Moonmist might work well with some cooler shades of yellow. Also, this cool-toned blue works lovely with grays and some beiges.
Comparing SW Moonmist With Other Colors
Blue color has plenty of shades, which is why it can be difficult for a non-professional to see the distinctions between some of them. This is why we have prepared a few comparative pairs of colors below.
Each of them contains SW Moonmist and another shade of blue to highlight their distinctions and help you see what makes them unique.
Moonmist vs Mild Blue
Although both colors are technically blue, SW Mild Blue is different. If you look closer, you will see it has prominent purple undertones, whilst SW Moonmist reads clearly bluer. Also, SW Mild Blue reads a bit more muted than its counterpart.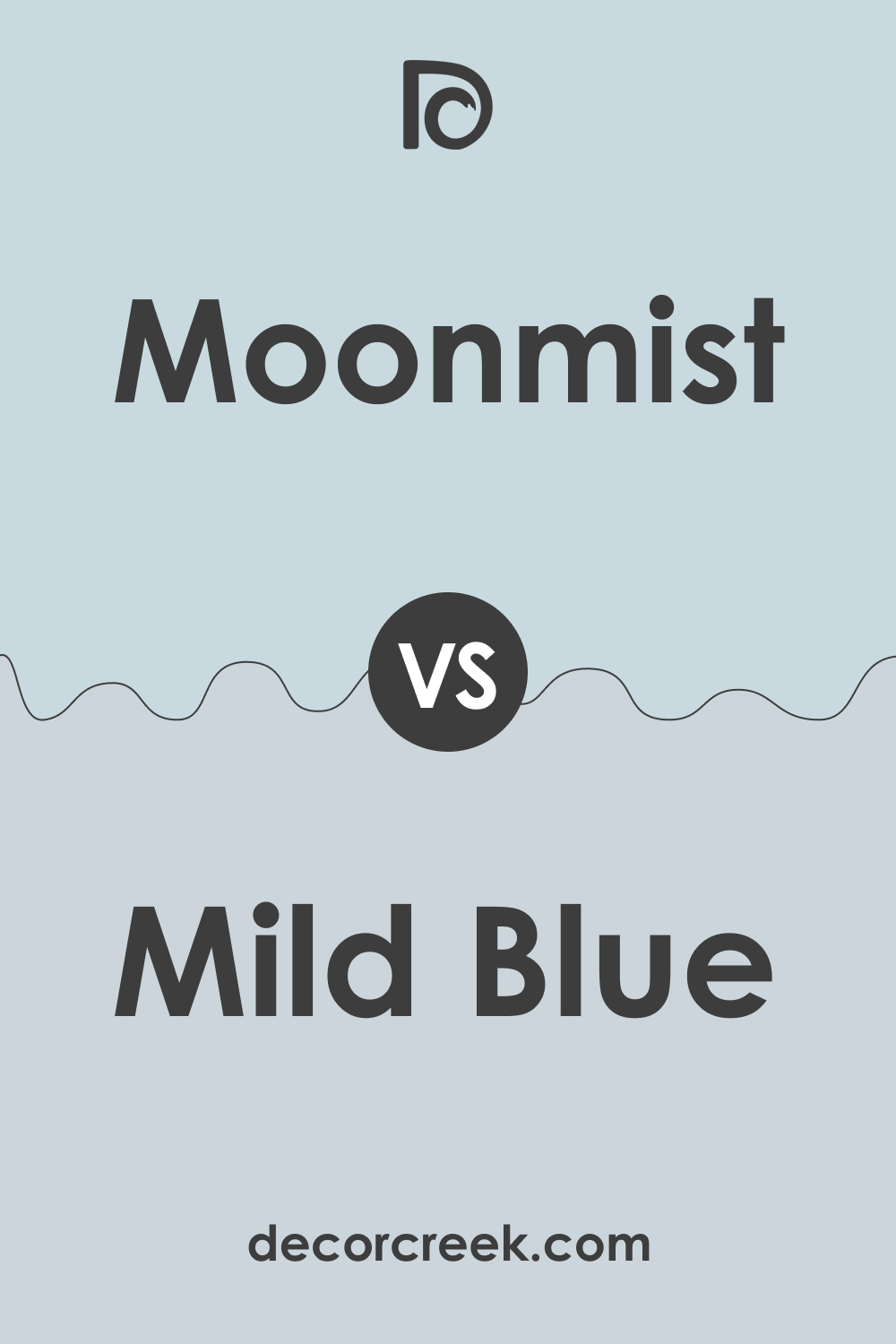 Moonmist vs Upward
SW Upward looks a bit darker and more muted compared to SW Moonmist. The Moonmist color, in its turn, gives off a clearer and brighter blue hue.
The undertones of these blues are also different. SW Upward has a very slight purple undertone, whilst SW Moonmist has yellow and gray undertones.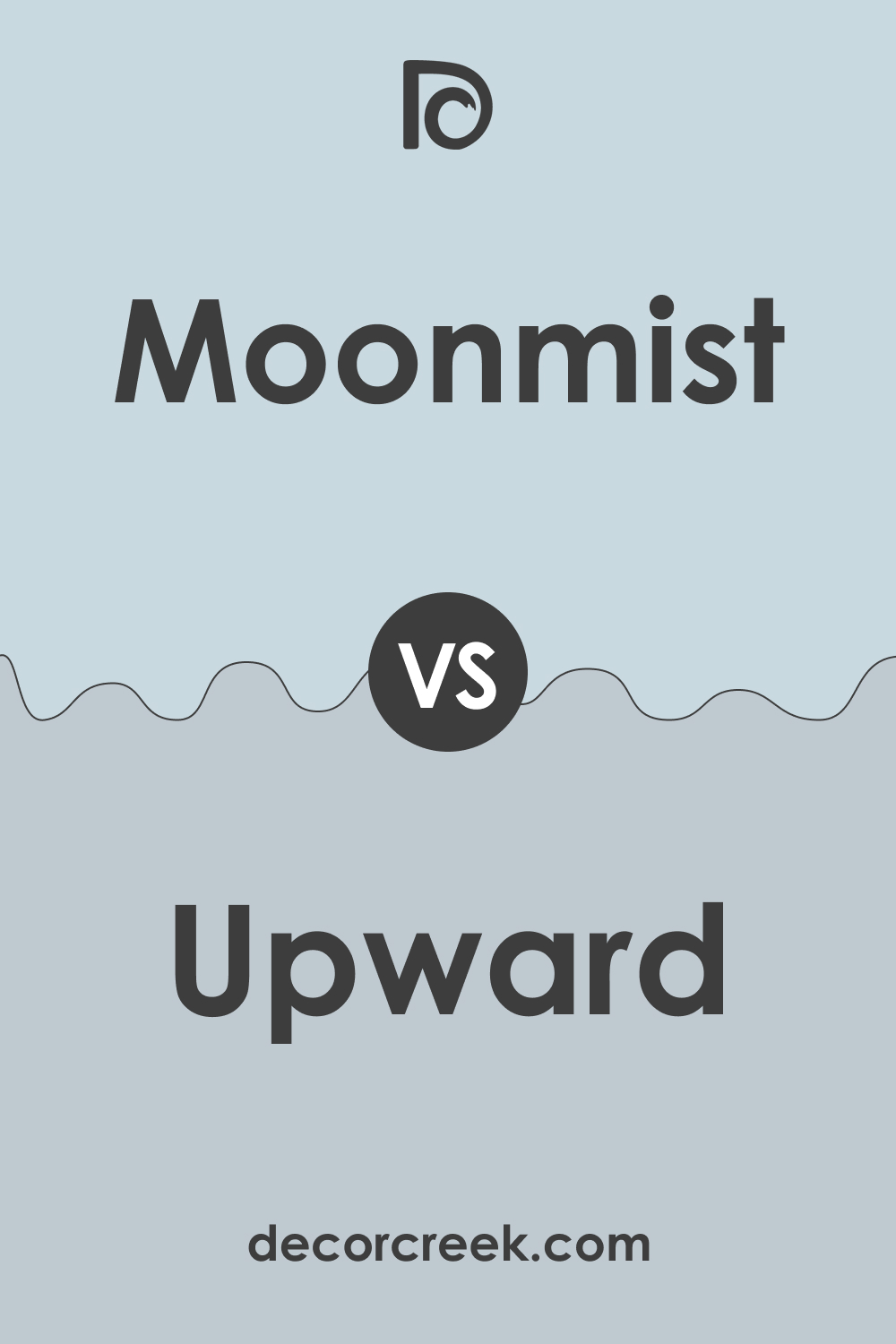 Moonmist vs Silent Ripple
SW Silent Ripple has an LRV of 69, which makes it a bit lighter and more reflective blue than SW Moonmist, whose LRV is almost 67. But this is not the only difference between these shades of blue. SW Silent Ripple reads less saturated, unlike SW Moonmist with its pronounced blue hue.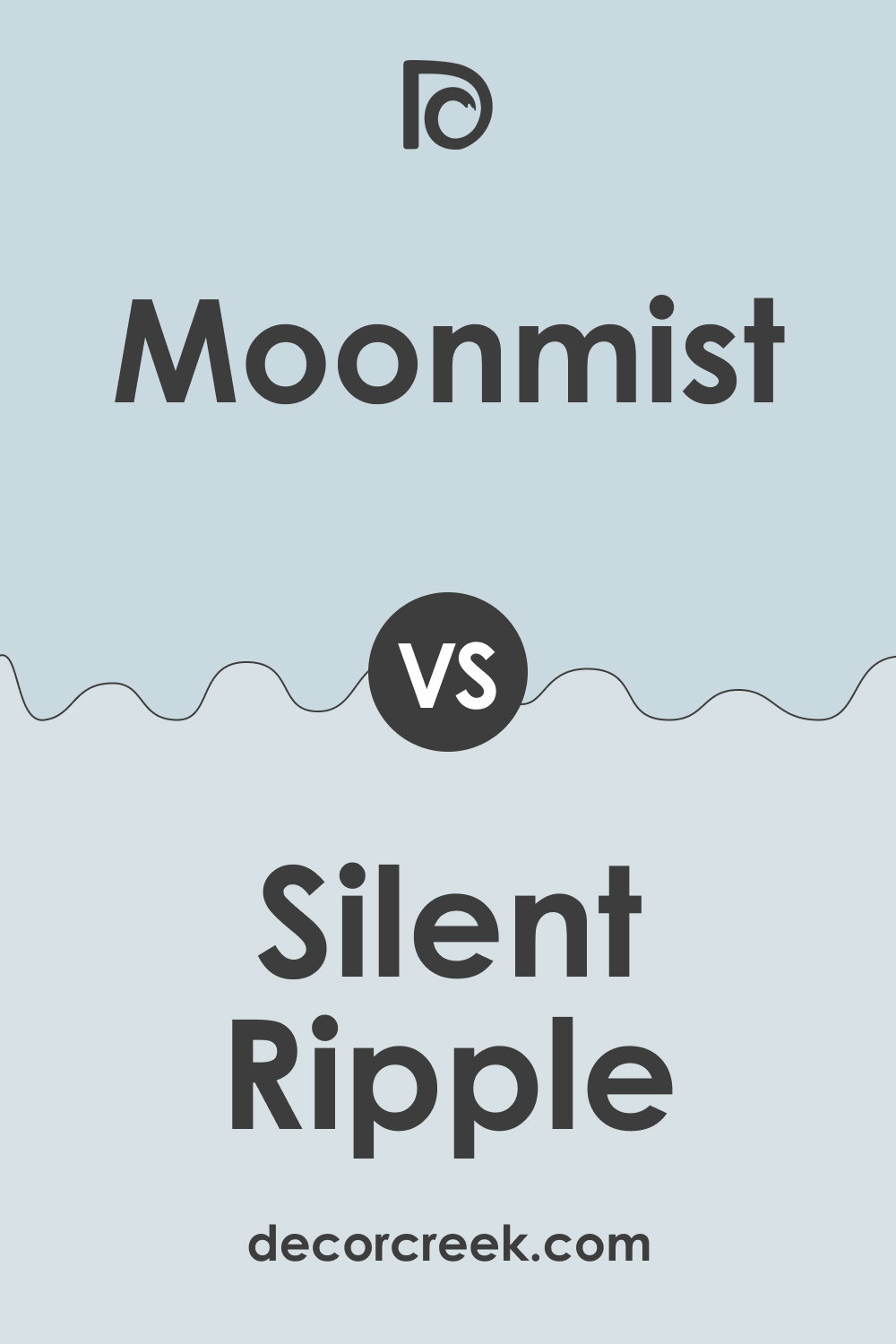 Moonmist vs Rhythmic Blue
SW Rhythmic Blue has an LRV of 69, which means it is a bit lighter and more reflective than SW Moonmist, with an LRV of nearly 67. The undertones of these colors also differ. SW Moonmist has yellow and gray undertones, and SW Rhythmic Blue has a very slight purple undertone.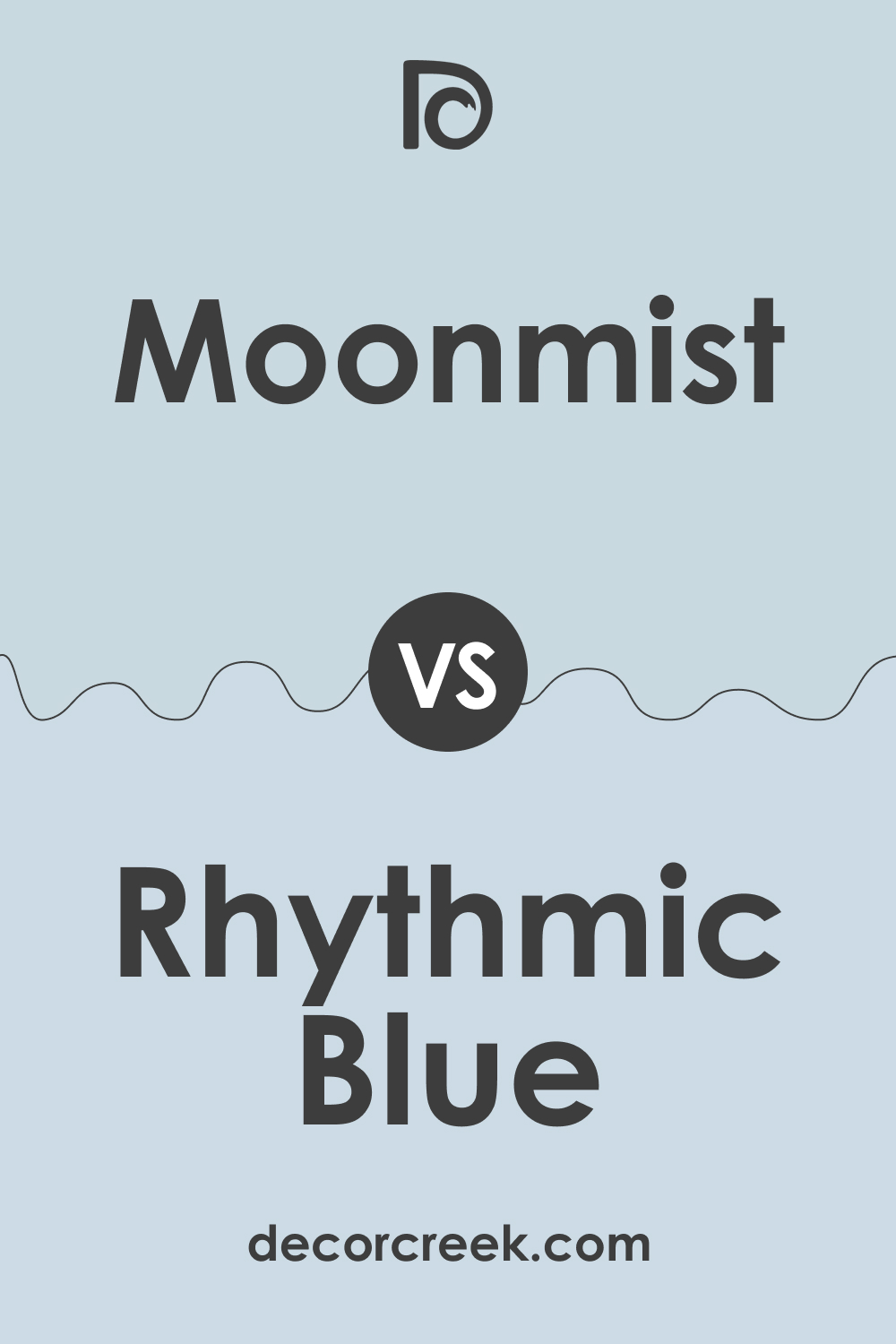 Moonmist vs Hinting Blue
SW Hinting Blue has an LRV of 68, which means it's just a little bit lighter than SW Moonmist, whose LRV is 67. What does make these similar shades of blue distinct is their undertones.
It's cool yellow-gray undertones of SW Moonmist vs very slight purplish undertones of SW Hinting Blue.
Now you know more about the Moonmist paint color by Sherwin-Williams. You learned what type of blue it is, how it reacts to light, and what LRV it has.
Also, now you know how this cool and neutral shade of blue with yellow and gray undertones may work with other colors and what paints will coordinate with it well.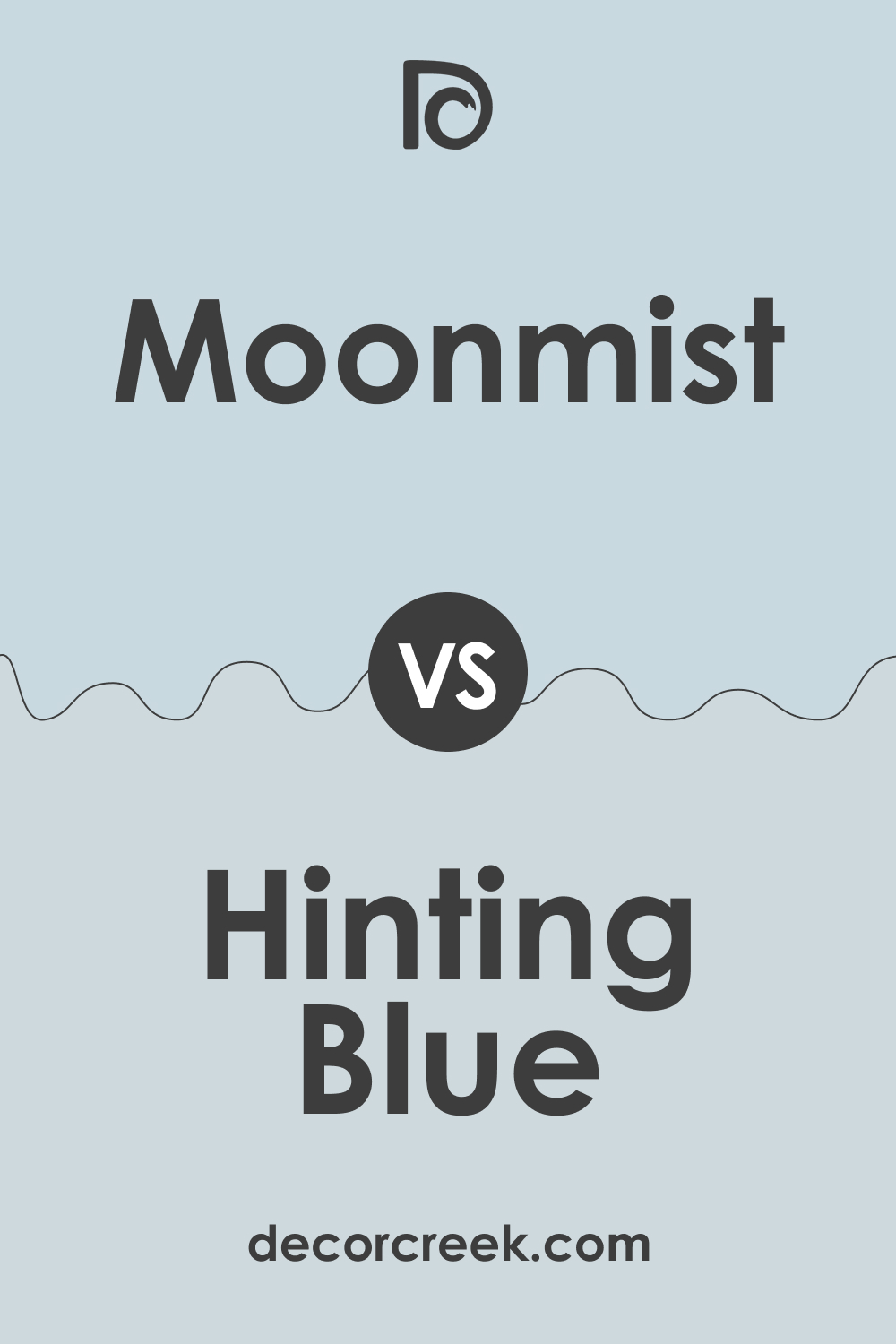 Where to Use Moonmist SW-9144 Paint Color In Your Home?
One of the biggest stumbling stones for homeowners is to find the room that will host the selected paint color best of all. Not all colors are versatile enough so that you can use them in any room. Often, you have to consider the lighting in the room, the palette used in it, and even the texture of fabrics and furniture!
This is why we want to explain how SW Moonmist might work in different rooms of your home. This way, you will understand better where in your home this neutral and light blue will be suitable and where you should avoid using it.
Moonmist SW-9144 in the Living Room
It can be a lovely blue for your living room if the room is well-lit and spacious. In this case, SW Moonmist will reveal its clear and fresh nature, reading pleasantly calming and relaxing on the walls.
However, this sky-blue cool-toned color might not fit in a living room that is small and poorly lit.
Also, SW Moonmist might not be the best option for living rooms with low ceilings and/or a prevailing warm color palette.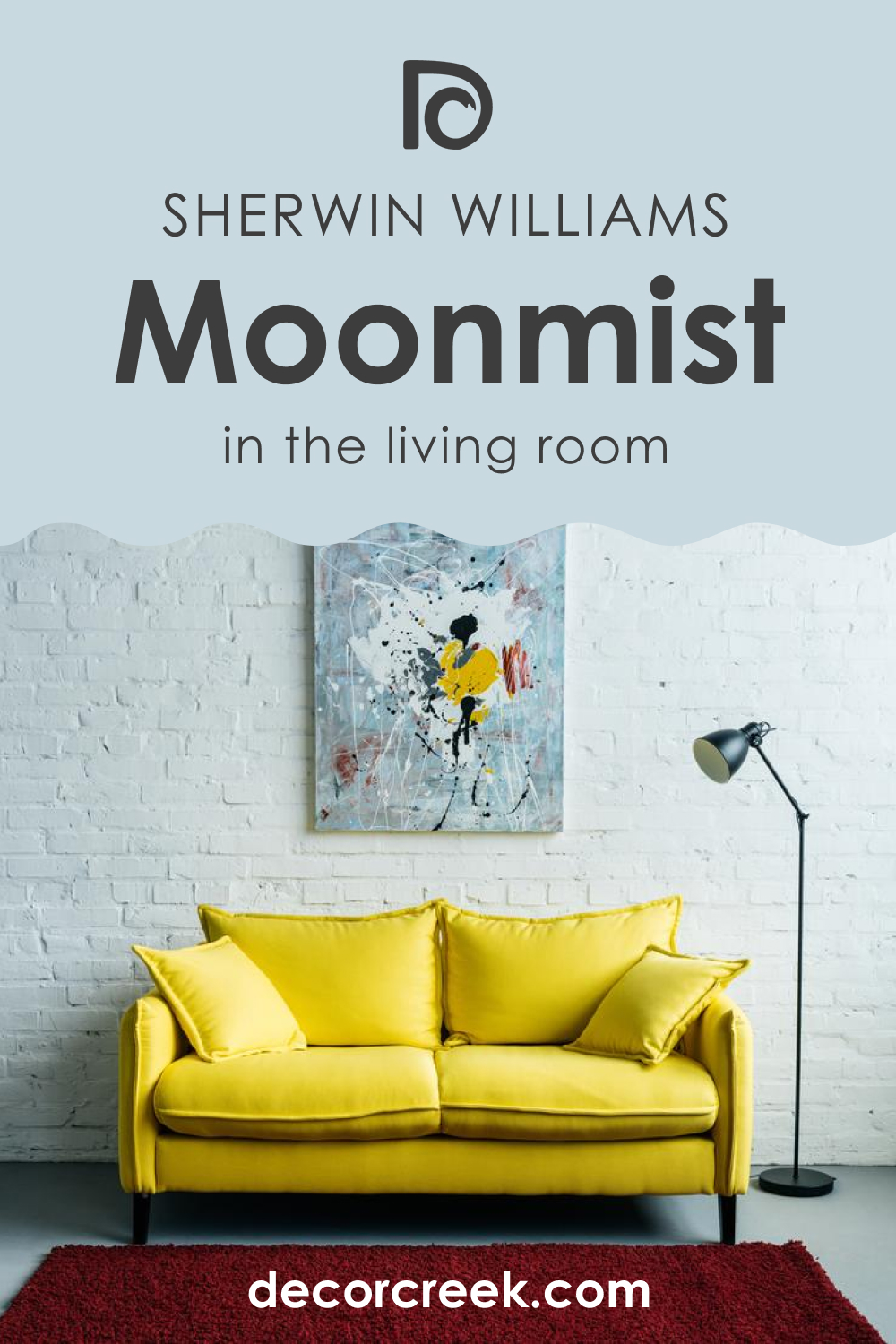 Moonmist SW-9144 in a Bedroom
If your bedroom has plenty of natural light and it's big enough, don't hesitate to use SW Moonmist on its walls! This blue will work well on all the walls or only on the accent wall.
SW Moonmist can make the room feel calming and tranquil, giving it a pleasant chill and a fresh vibe. However, this color might not be a good choice if there are many warm colors in your bedroom.
Also, it doesn't read quite well when paired with warm-toned wooden furniture and floors.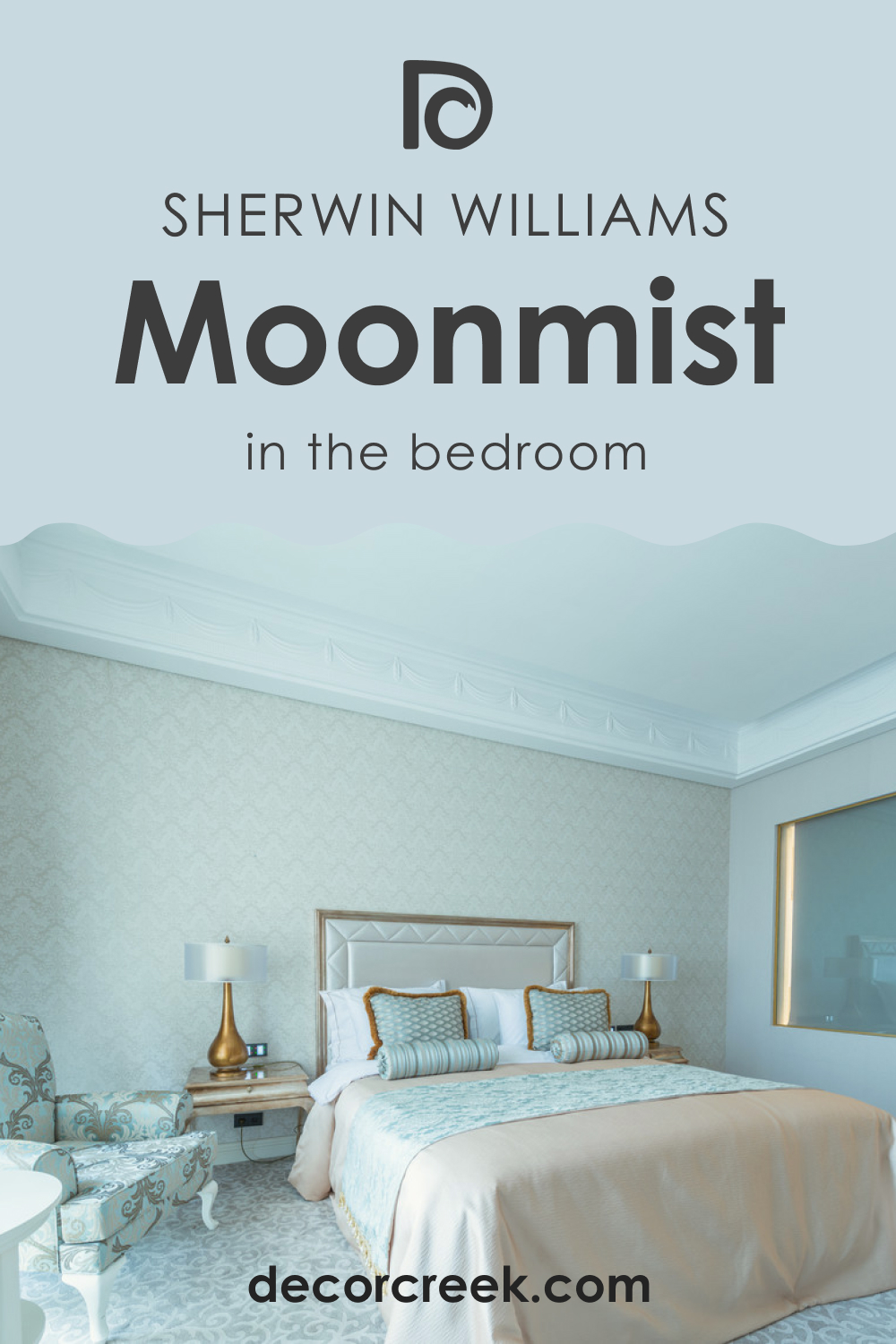 Moonmist SW-9144 and Bathroom
The bathroom is another place where this shade of cool blue can technically be used successfully. Its chilly and clear appearance fits bathrooms perfectly well!
But if your bathroom doesn't allow using this color on all the walls, consider painting an accent wall or use SW Moonmist on the vanity sink and drawers only, leaving the walls white.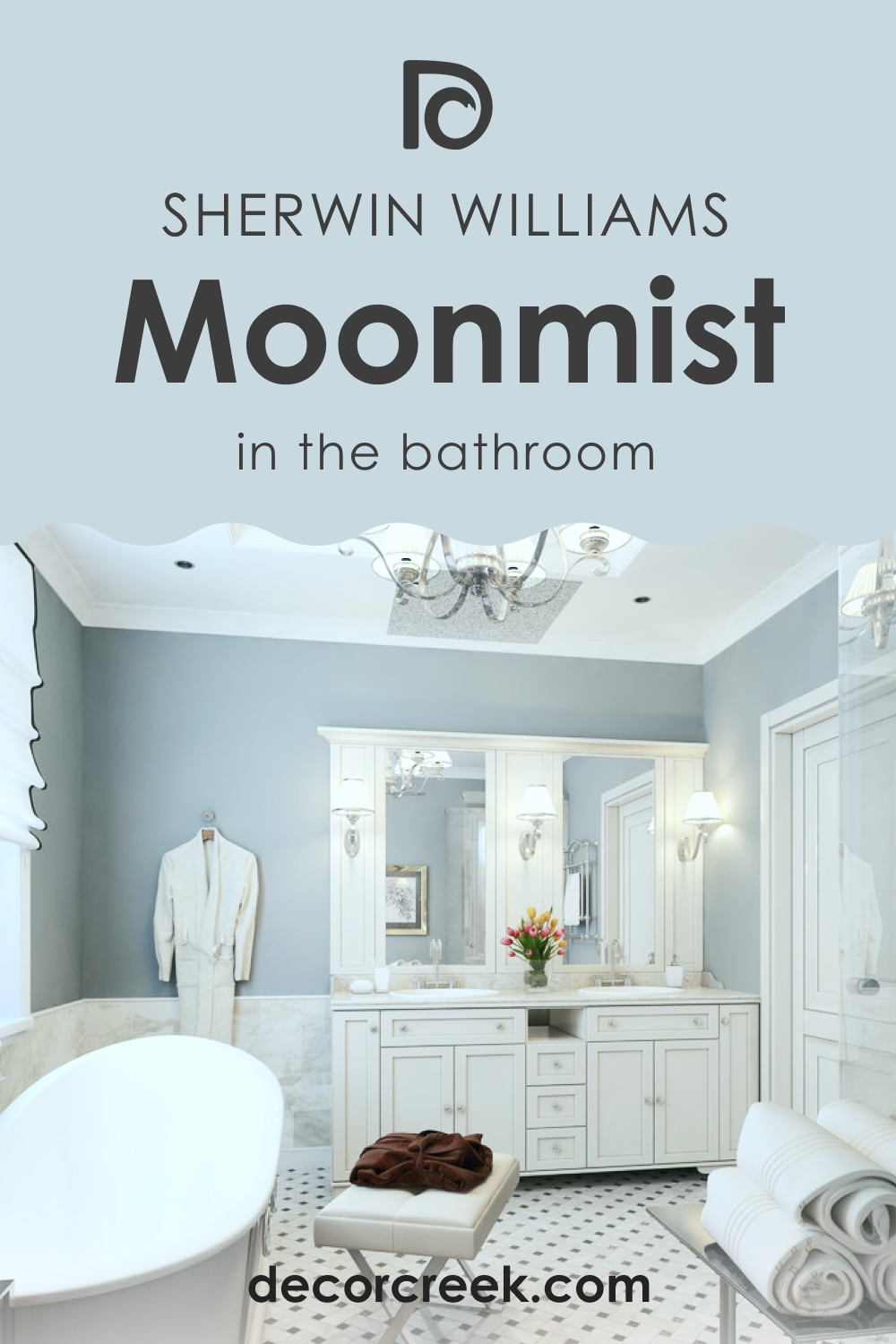 Moonmist SW-9144 in the Kitchen
If you want this blue in your kitchen, consider the size of the room. In big and well-lit kitchens, SW Moonmist may work pretty well. But in an enclosed kitchen that lacks space and light, this color may lose all of its charm!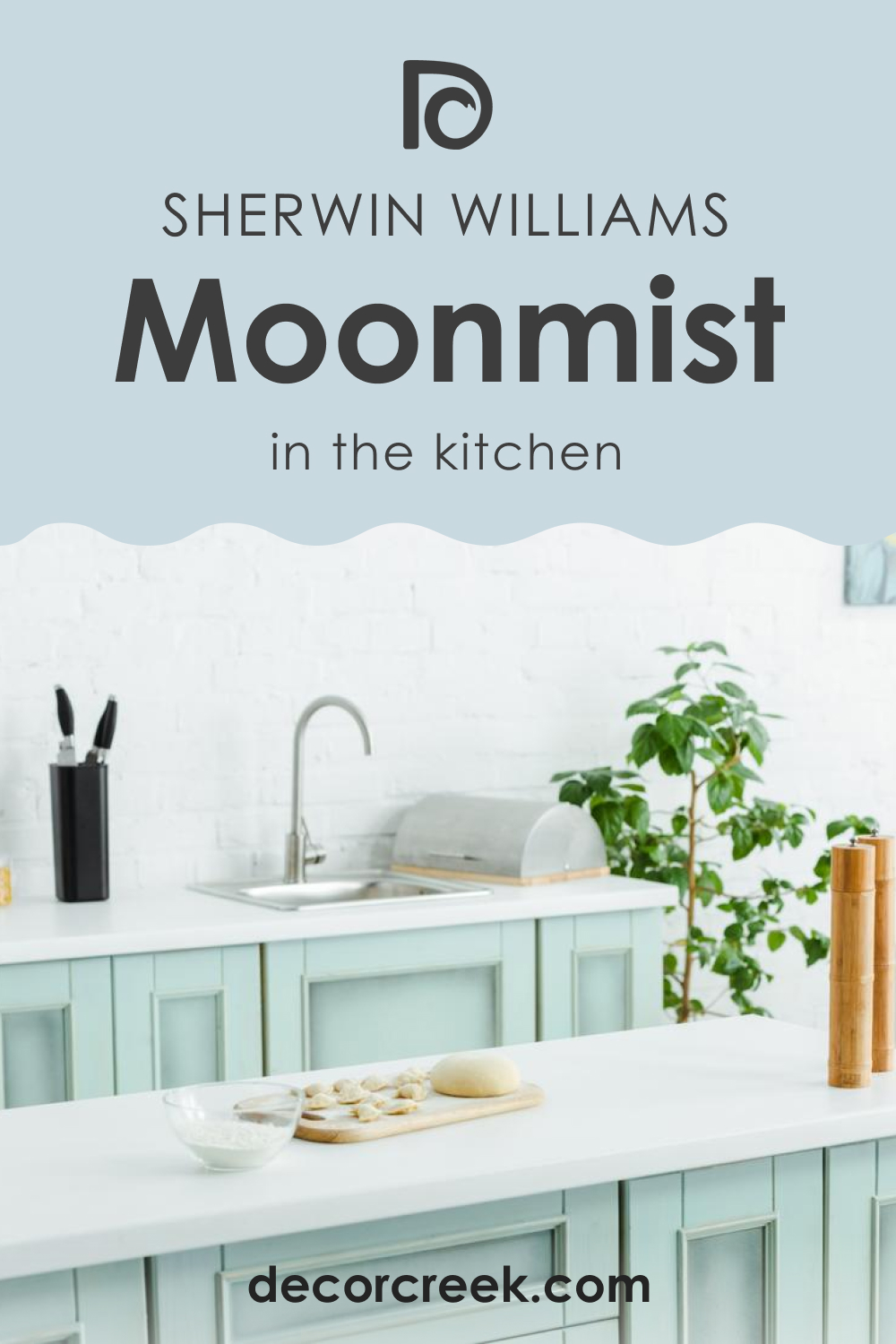 Moonmist SW-9144 for the Exterior use
Be careful when using this blue on exterior walls! It can be so tricky! Due to yellow and gray undertones, SW Moonmist can read grayer on cloudy days and shift to a brighter look on a sunny and clear day. You can use it with the white trim and moldings to balance the look of your facade, but we still insist on sampling this blue before you use it!
So, now you know all the nuances that this beautiful shade of blue has. Now you know what kind of color SW Moonmist is.
We also told you how to use it in your home to make this paint color work and what colors will pair best with it. Also, you know what trim colors and coordinating colors will fit this shade of blue.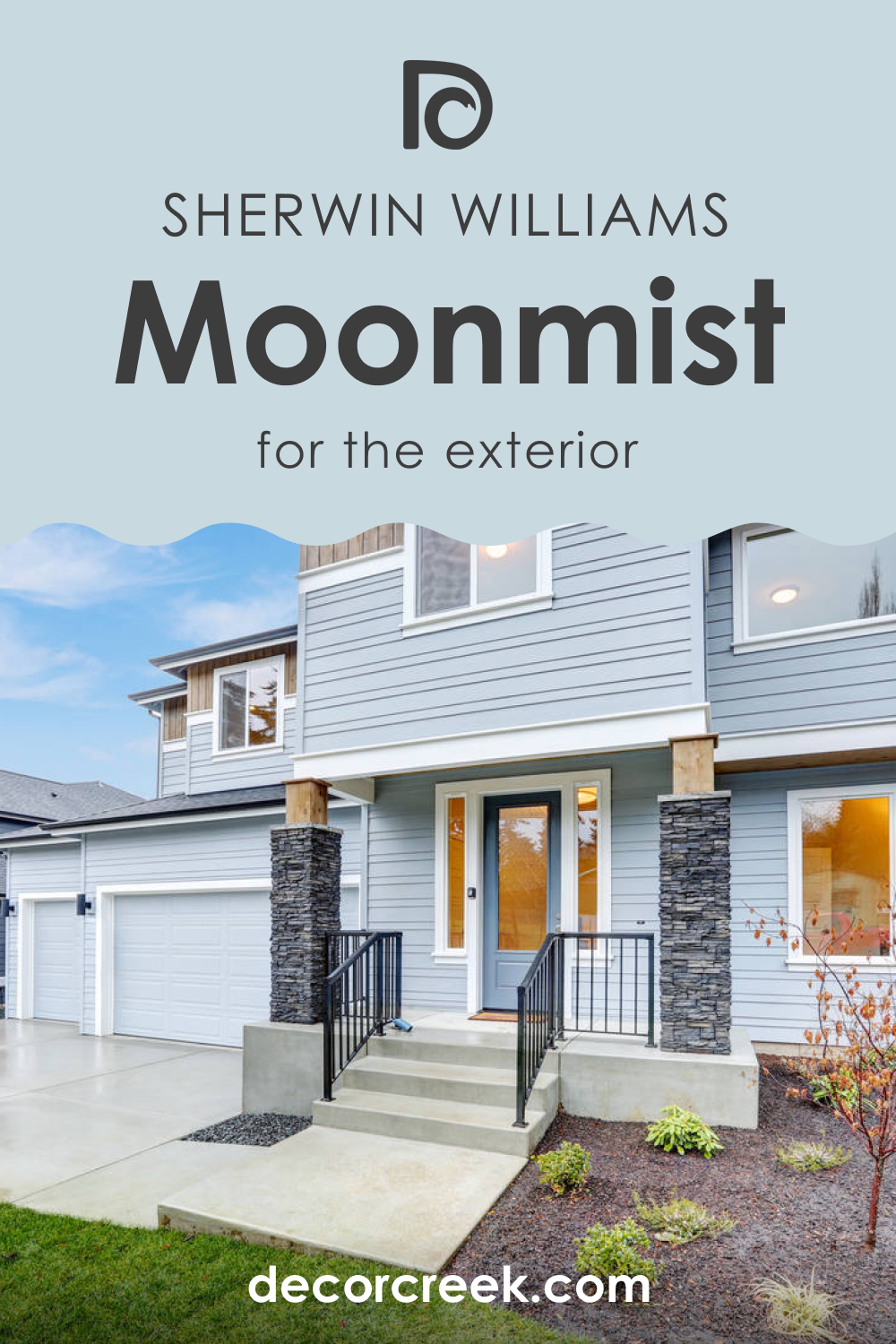 Since now you know about its undertones and LRV, you can tell in advance in what rooms this cool neutral blue will be a better option to use on the walls.
With all that in mind, you will use this lovely shade of blue in your home, making its interiors look even more stylish and welcoming than before!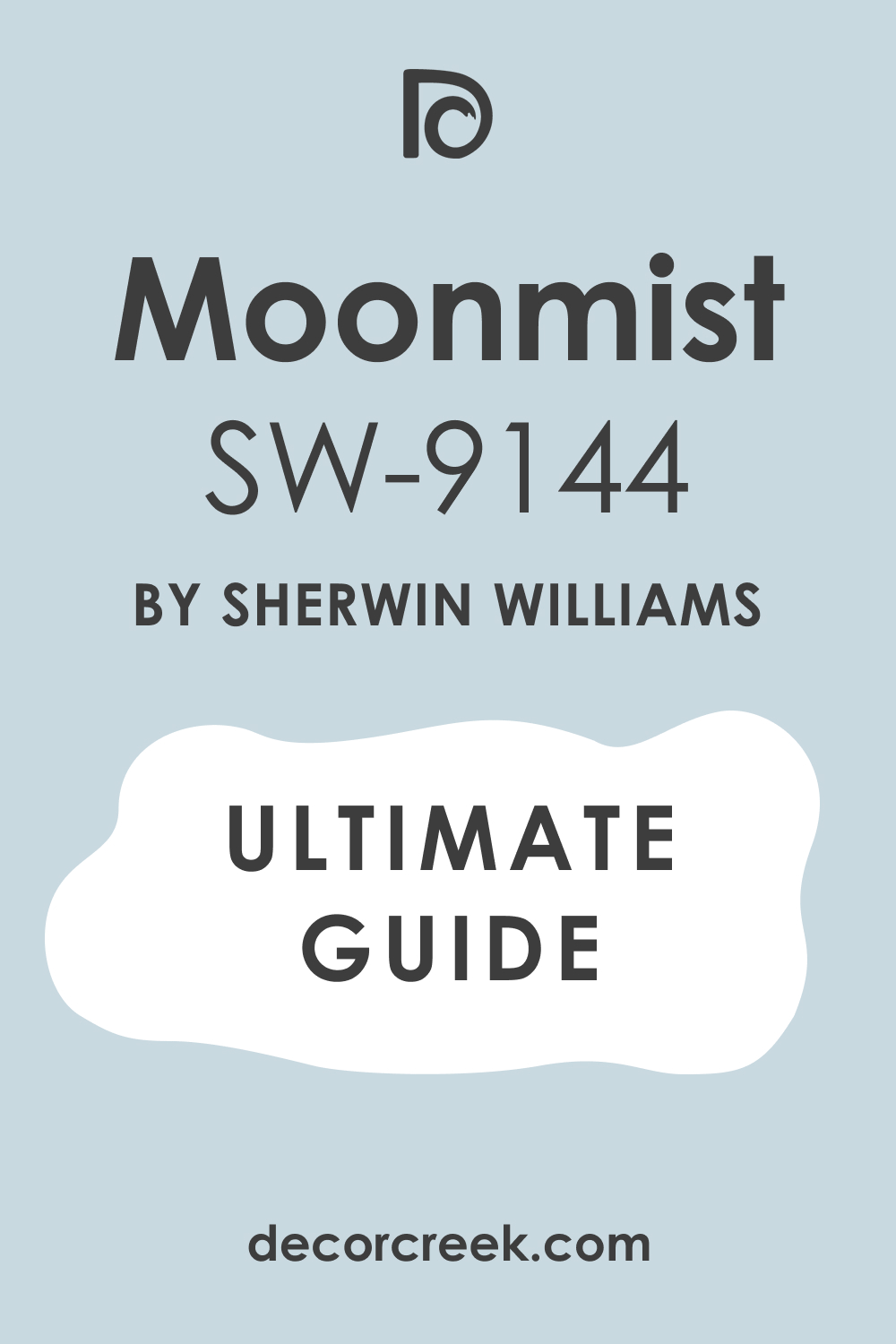 Frequently Asked Questions
⭐Does SW Moonmist read gray?
No, this color doesn't read gray, but it has gray undertones.
⭐Will SW Moonmist work with creamy whites?
No, it won't since this blue is a cool-toned color. It won't work with warm-toned creamy whites.
⭐Is this blue suitable for painting all the walls in a room?
Why not? If the room is spacious and has plenty of natural light, SW Moonmist might work well in it.