Blue is not a commonly used color in our homes. People use it moderately and cautiously because they believe that blue is hard to pair with other colors. Besides, this color is often percepted as the cold one. And since we usually want our homes to look and feel cozy, we prefer using warmer colors like greiges, warm whites, beiges, etc.
But today, we would love to introduce a lovely shade of blue called SW Mild Blue. As it comes from the name, this color is not too bold and intense, but you also can't say it is pale and lifeless.
We will tell you how it may read in your home and with what colors you should pair it to make your home read spacious and fresh without making it feel icy-cold!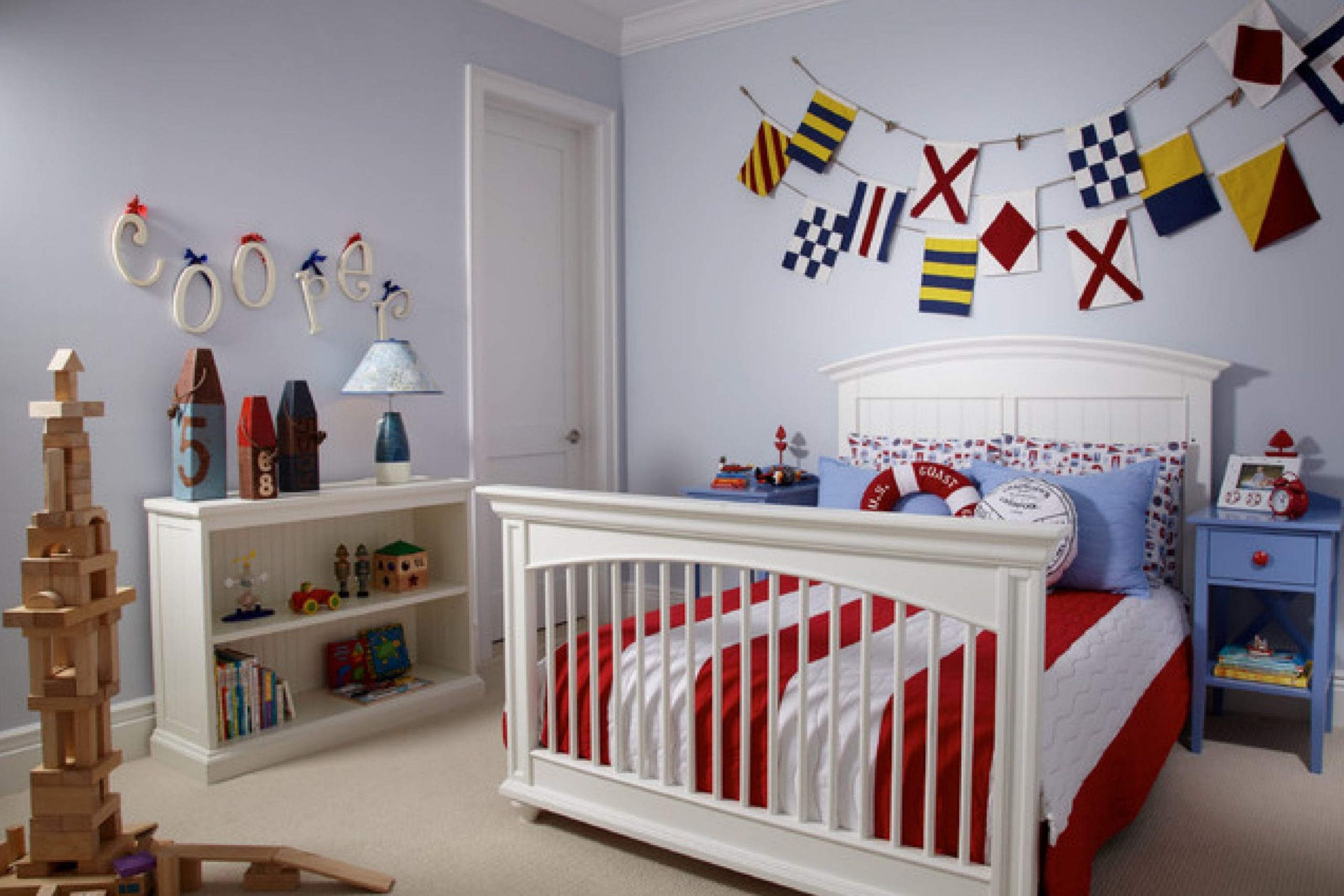 What Kind of Color Is Mild Blue SW-6533?
The Mild Blue SW-6533 paint color is one of the blues that the Sherwin-Williams brand has. However, technically, the Mild Blue paint color belongs to the Purple color family (also known as hue).
As Enycolorpedia says, it is a bright color since the percentage of its lightness is 82.7. Thanks to its high brightness, it can be used in spaces and rooms that need visual enlarging.
Also, since this color is cool-toned, it will add that cool and somewhat "icy" vibe to a room where you use it. This is why it can be an excellent color choice for rooms and spaces in your home that requires more space, at least visually.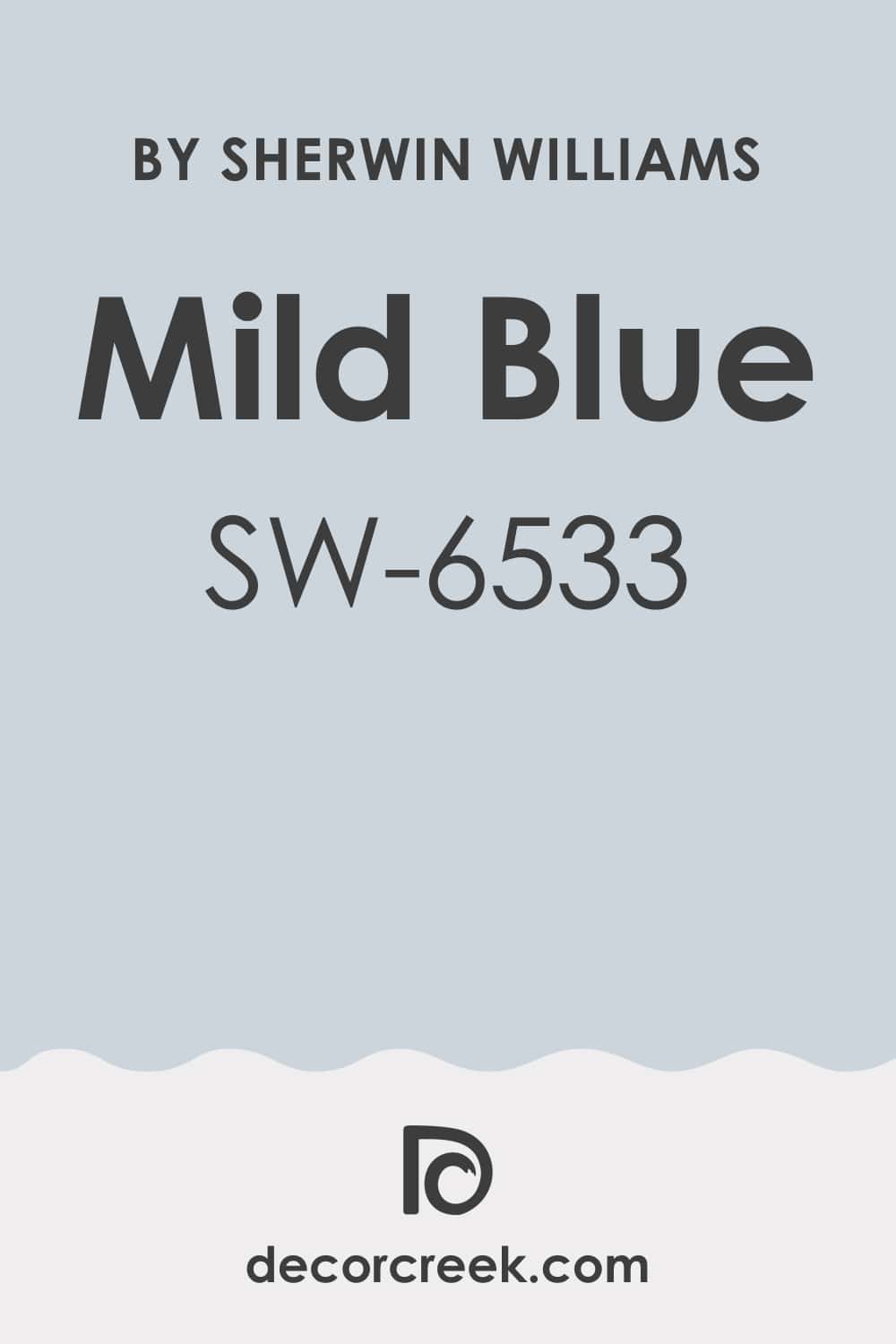 Mild Blue SW-6533 Undertones
When you look at this color in a room, it reads a light shade of blue, but deep inside, it has a very slight and herd-to-notice hint of purple. Also, in different lighting, it may reveal a barely seen grayish hue. But this usually depends on other colors that surround it.
This is why it is essential to be aware of the undertones your interior wall color has! Many colors come with rather complex and multiple undertones, and some can be seen only under specific lighting conditions.
So, if you don't want to find out your walls suddenly look completely different from what you expected, consider checking the color's undertones in advance!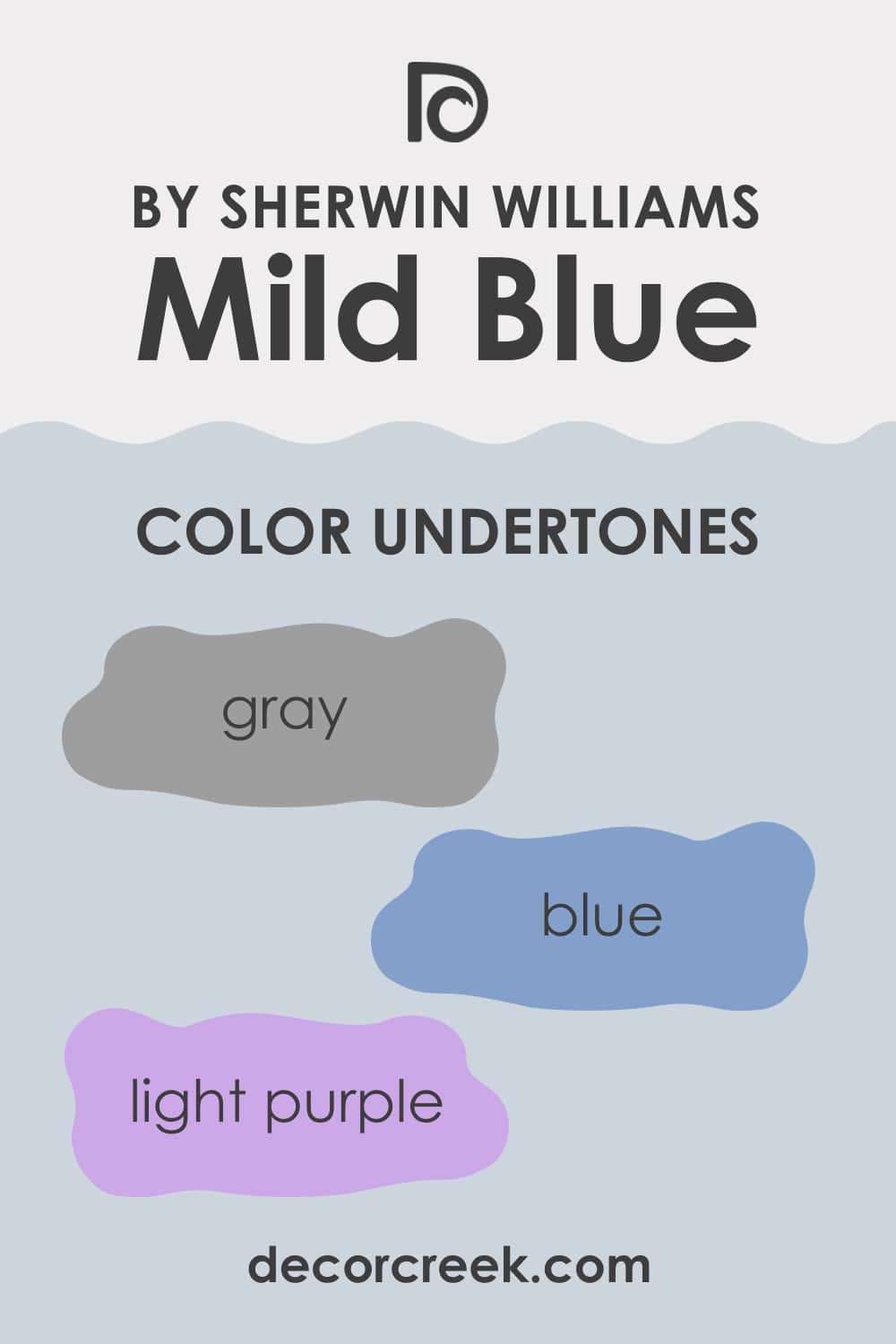 LRV of Mild Blue SW-6533
Light Reflectance Value (LRV) indicates how light or dark a color will look on a scale of 0 (black) to 100 (white). This measurement shows the amount of light the color can reflect when applied to the wall. The higher the LRV value, the lighter the color will read, and vice versa.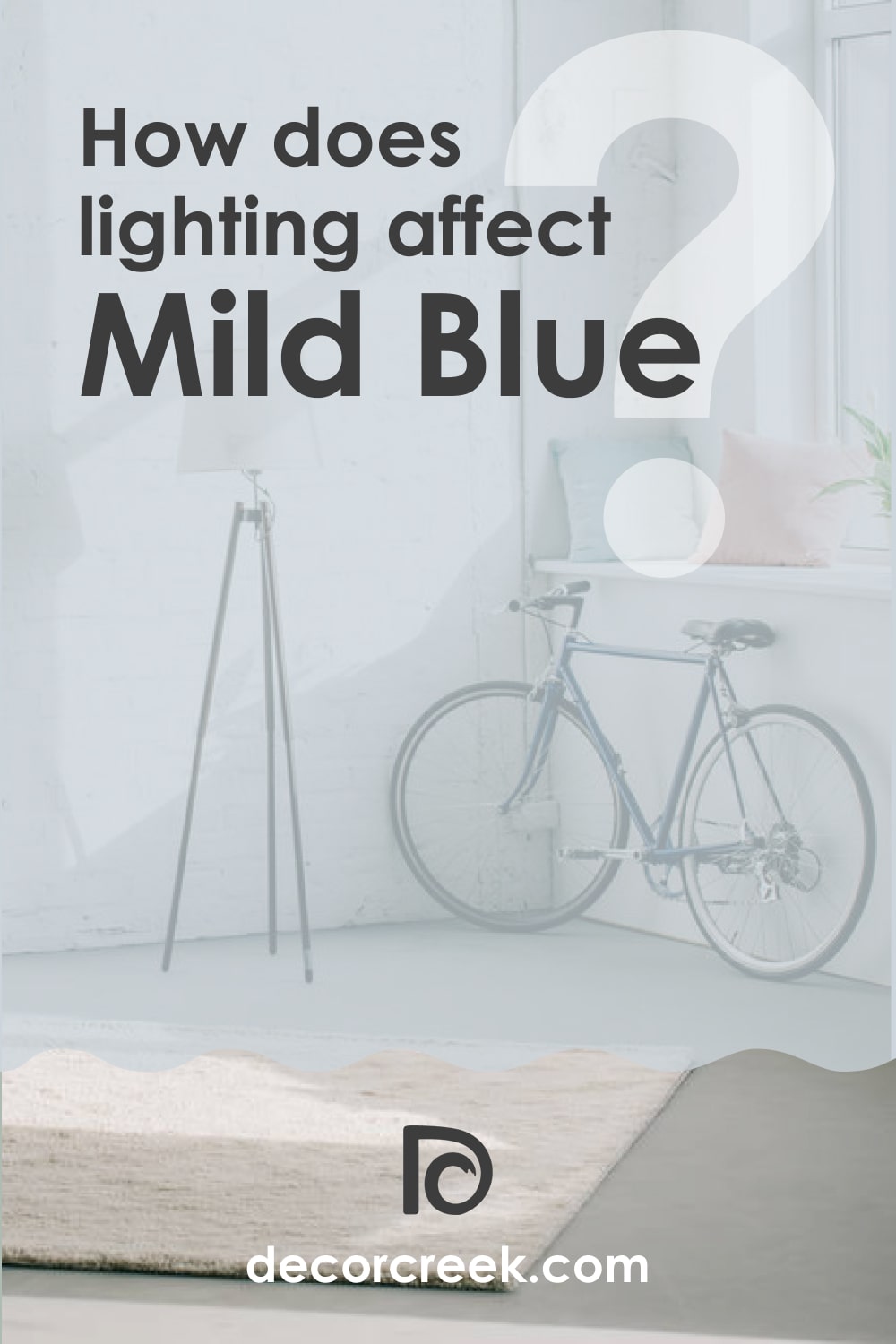 The Mild Blue (SW 6533) paint color has an LRV of nearly 65. By LRV value, it is a light color, and you can perfectly see it when it is used on interior walls. This light blue will not read too bright, but still, it will add space and airiness to any room.
LRV – what does it mean? Read This Before Finding Your Perfect Paint Color
What Is the Best Trim Color of Mild Blue SW-6533 ?
Like with many other paint colors, white is the best color choice for trim if you have walls painted with SW Mild Blue. SInce this blue is cool-toned, we recommend using cooler whites as well.
This way, you will help the space look more balanced in tone. For example, you might want to use SW High Reflective White. But if you want to add a note of warmth, use warmer whites, such as SW Extra White.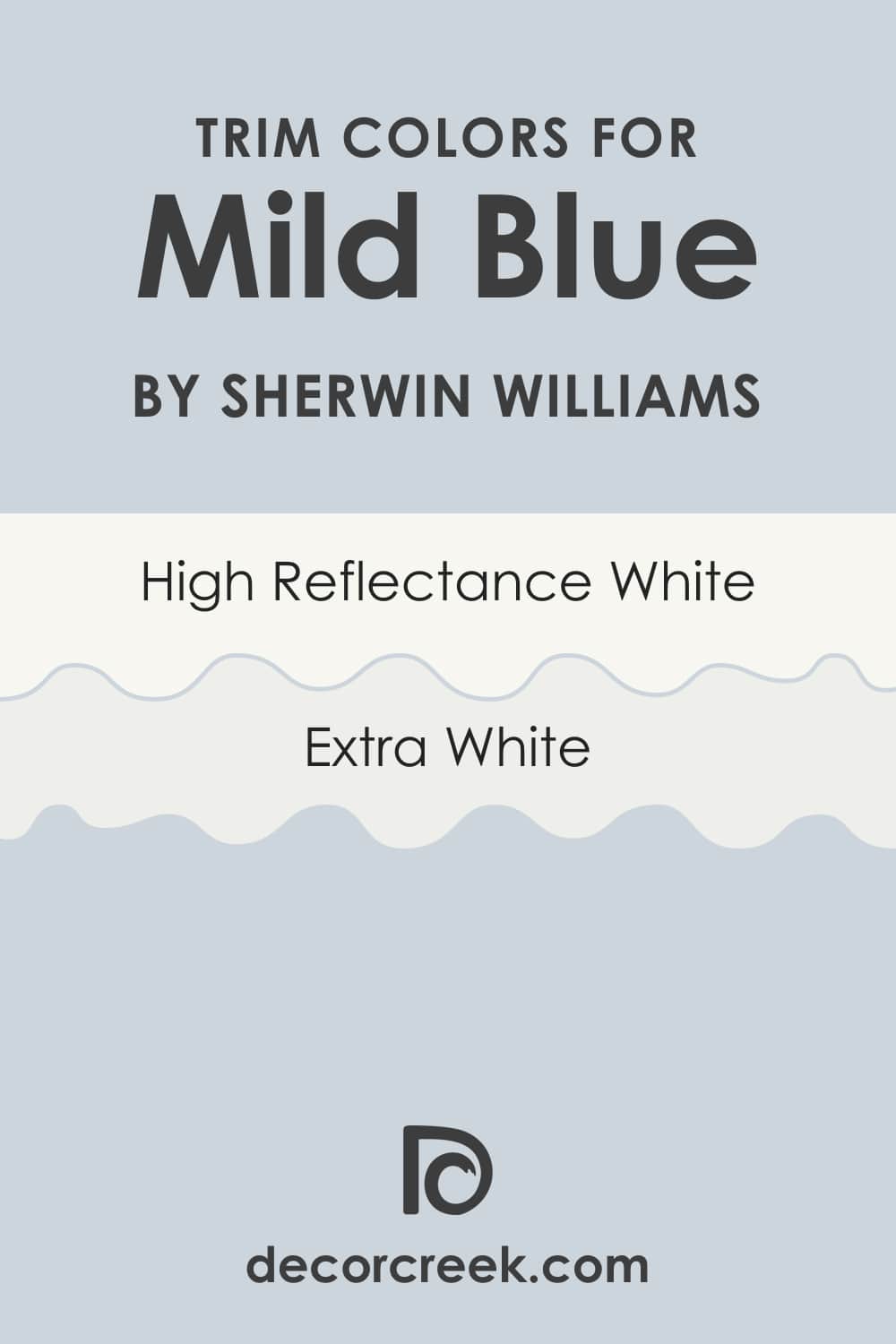 Mild Blue SW-6533 Coordinating Colors
Since this blue color is quite tricky to use on the walls and pair it with other colors harmoniously, we recommend you remember what paint colors will coordinate it better than others.
SW Rarified Air
SW Greek Villa
SW Stone Lion
With these, you will achieve a delicate and relaxed atmosphere in your home that will look adequately coordinated.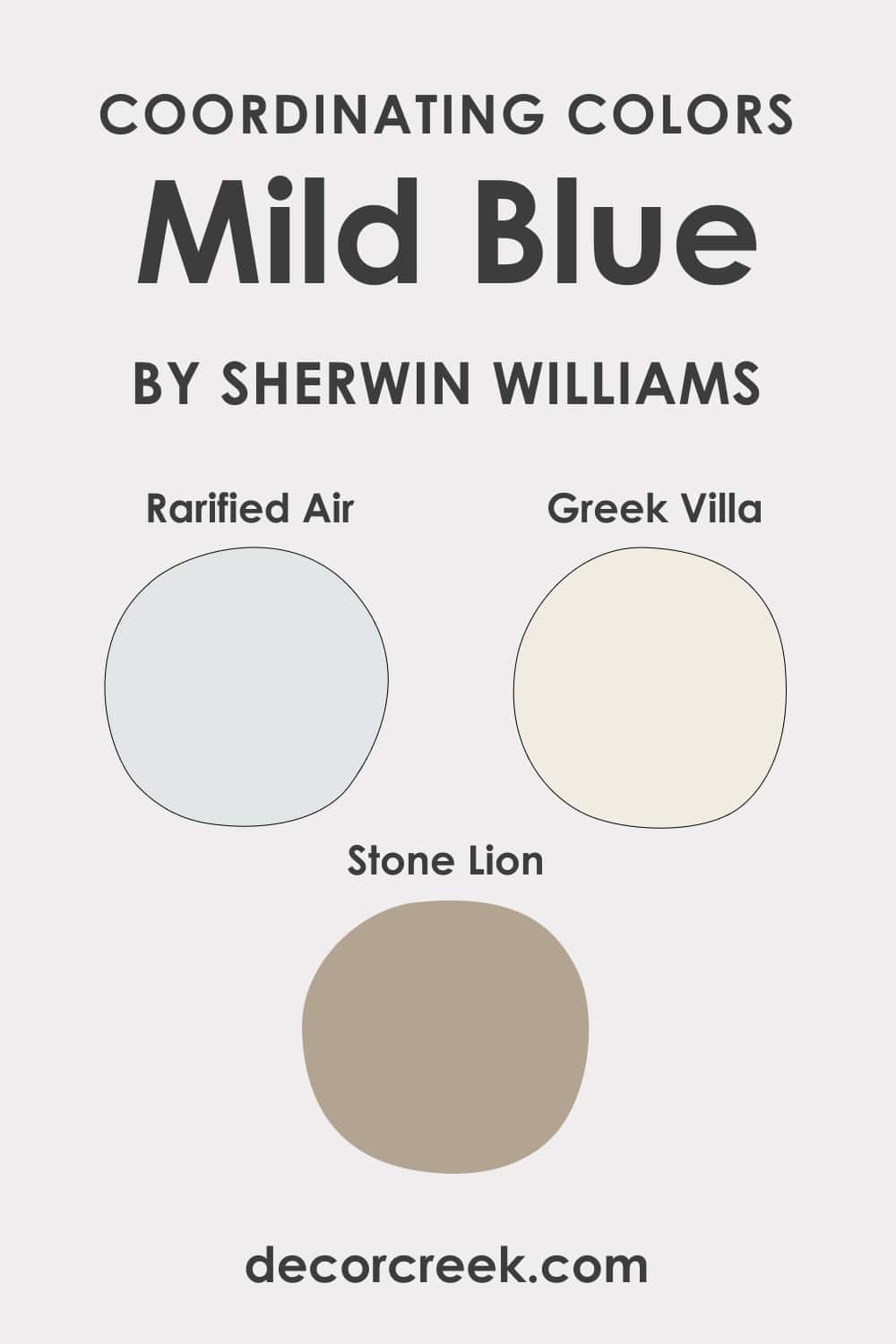 Colors That Go With Mild Blue SW-6533
We tend to think that blue colors go well with whites and other shades of blue, either lighter or darker, depending on the shade of blue we have on the walls. For more vivid and colorful palettes, we might consider using yellows or lighter oranges since these colors also work well with blues, according to the color wheel.
But if you want a varied and interesting color palette in your home that doesn't look pale or dull, we recommend you also consider the following colors. They will help you make your living space read attractive and lively.
SW Agreeable Gray
SW Functional Gray
SW Incredible White
SW Retreat
SW Oyster Bay
SW Aloe
SW Special Gray
SW Cloak Gray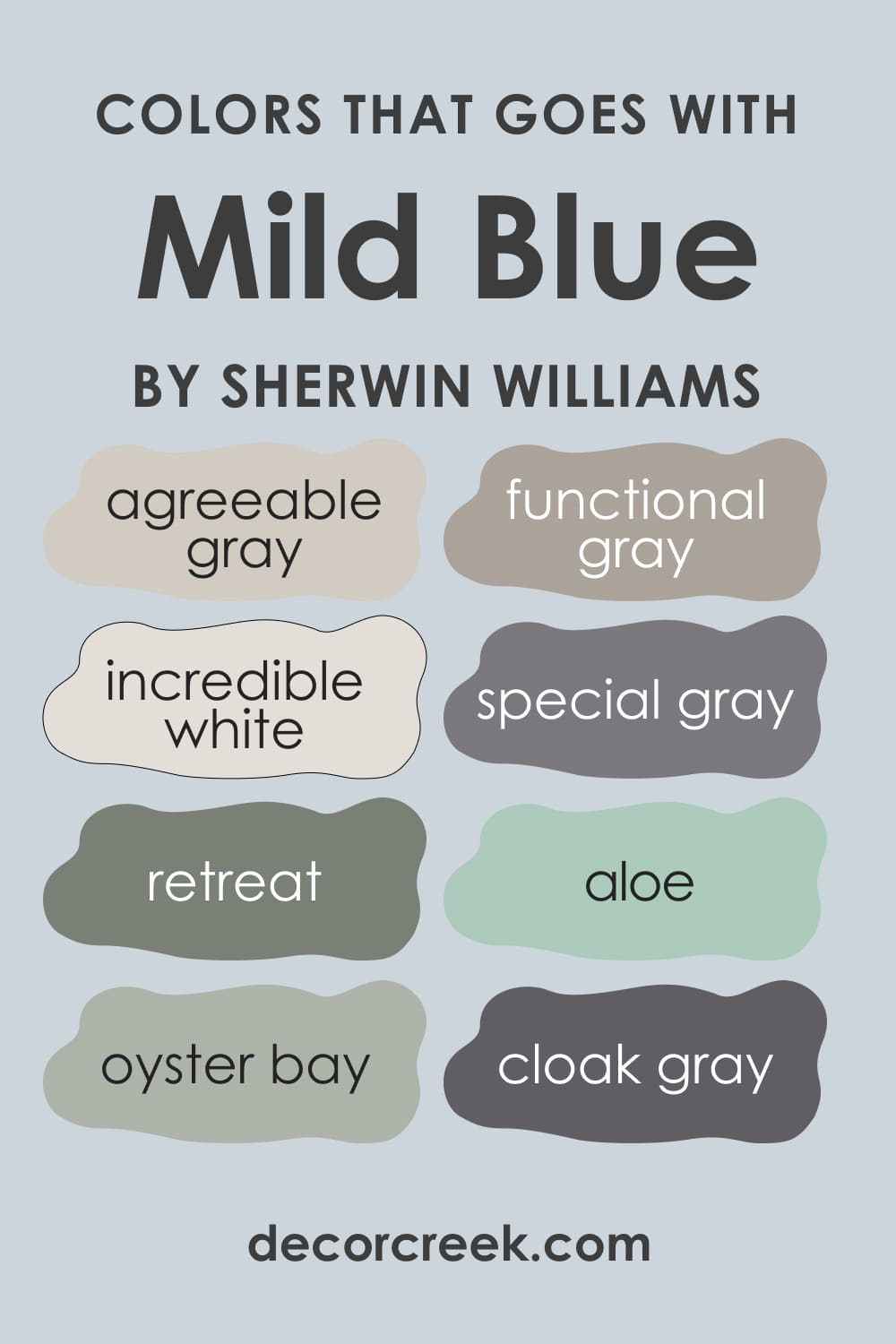 Similar Colors That Can Be Used Instead of Mild Blue SW-6533
People often wonder why it is recommended to have a couple of alternative colors at hand when they start painting their homes indoors or outdoors. Well, the answer is simple: during the sampling stage, you may find out that the color you were initially going to use on your walls doesn't match the rest of the palette well enough.
Sometimes we realize that the color reads lighter or darker than we need. Or we may find out it doesn't work well with other colors (e.g., the color of the upholstery or floors). In this case, substitute colors will become handy. For SW Mild Blue, the following paint colors can work as substitutes:
SW Winter's Whisper
SW Hinting Blue
SW Moonmist
SW Icelandic
SW Rhythmic Blue
SW Upward
SW Silent Ripple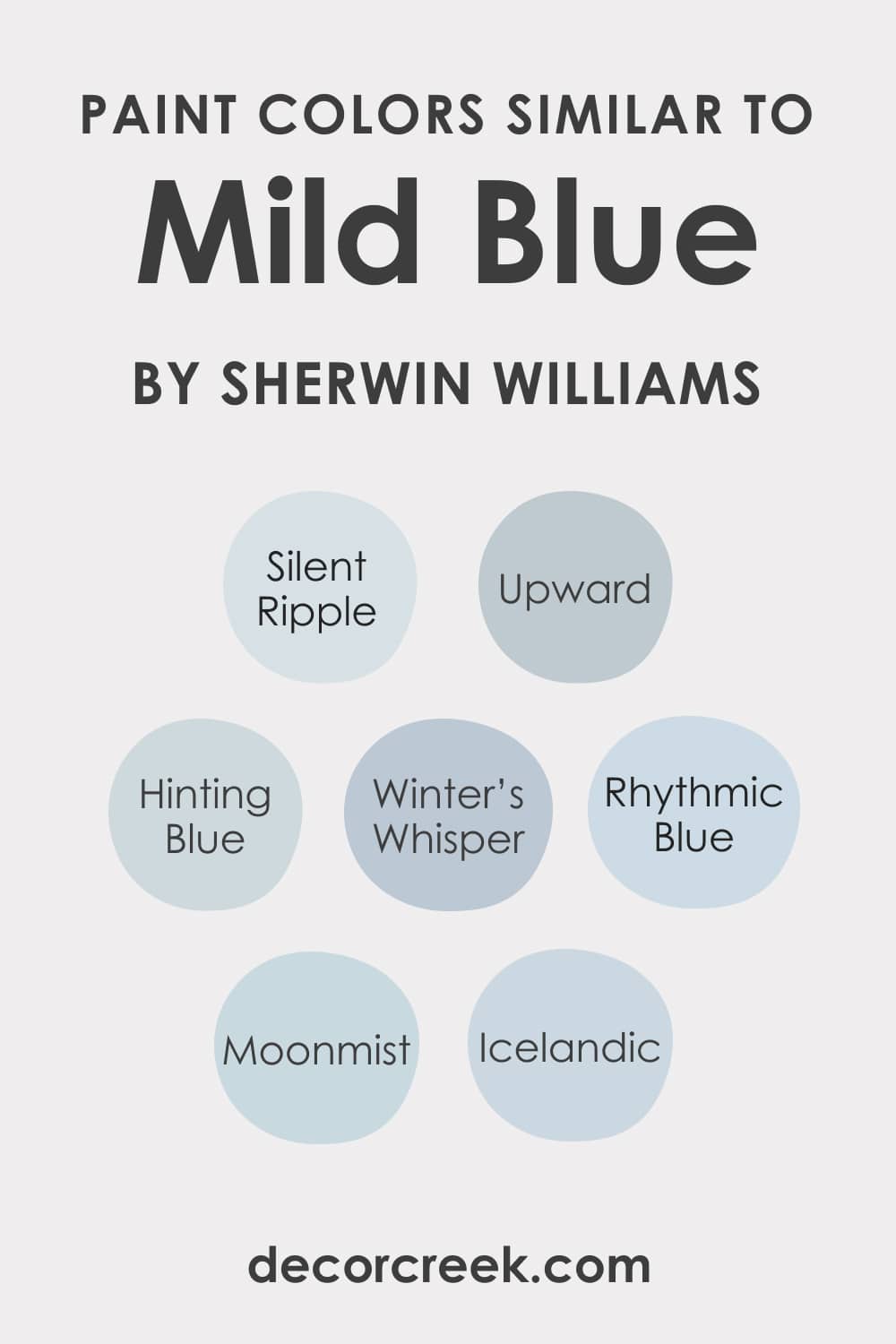 Comparing Mild Blue SW-6533
Color comparison is a good idea when you are in the middle of the color selection process. See, each color has plenty of shades, some of which look very similar! This is why you should be able to see the distinctions in tone to decide which color will work best for your home.
If you want to use SW Mild Blue on your walls, we'd recommend you read how it compares with other blues.
Mild Blue vs. Upward
These colors look pretty similar since both share purple undertones. The only distinction is that SW Upward reads a bit darker in tone. So, if you are looking for a slightly more intense version of SW Mild Blue that reads less cool-toned, you should definitely consider the Upward paint color.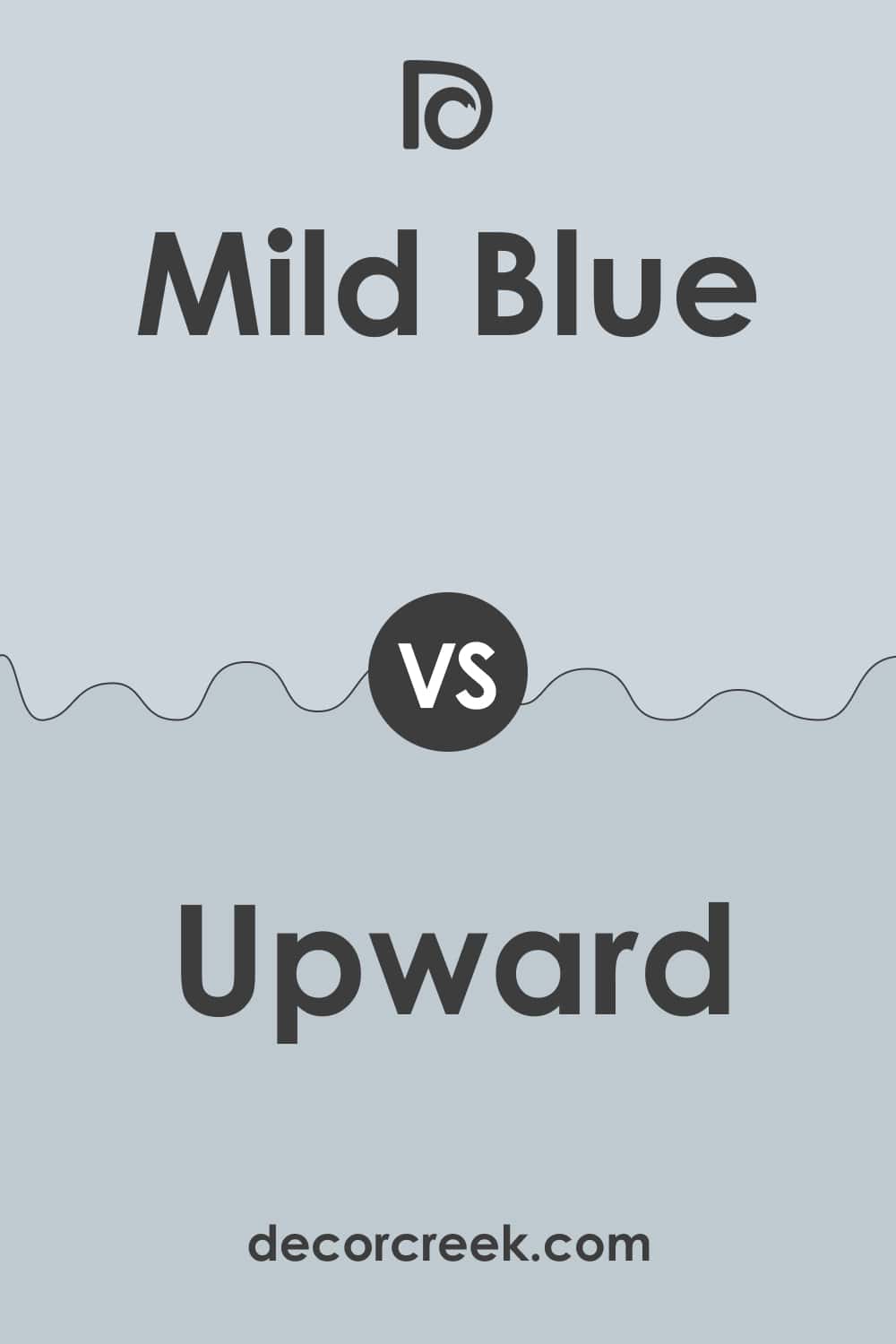 Mild Blue vs. Rarified Air
SW Rarified Air is a complex color. Some call it a softy misty blue, whilst others consider it to be a light violet pastel with a touch of blue undertones. Either way, it is nearly as bright as SW Mild Blue but reads lighter due to the lower blue hue content.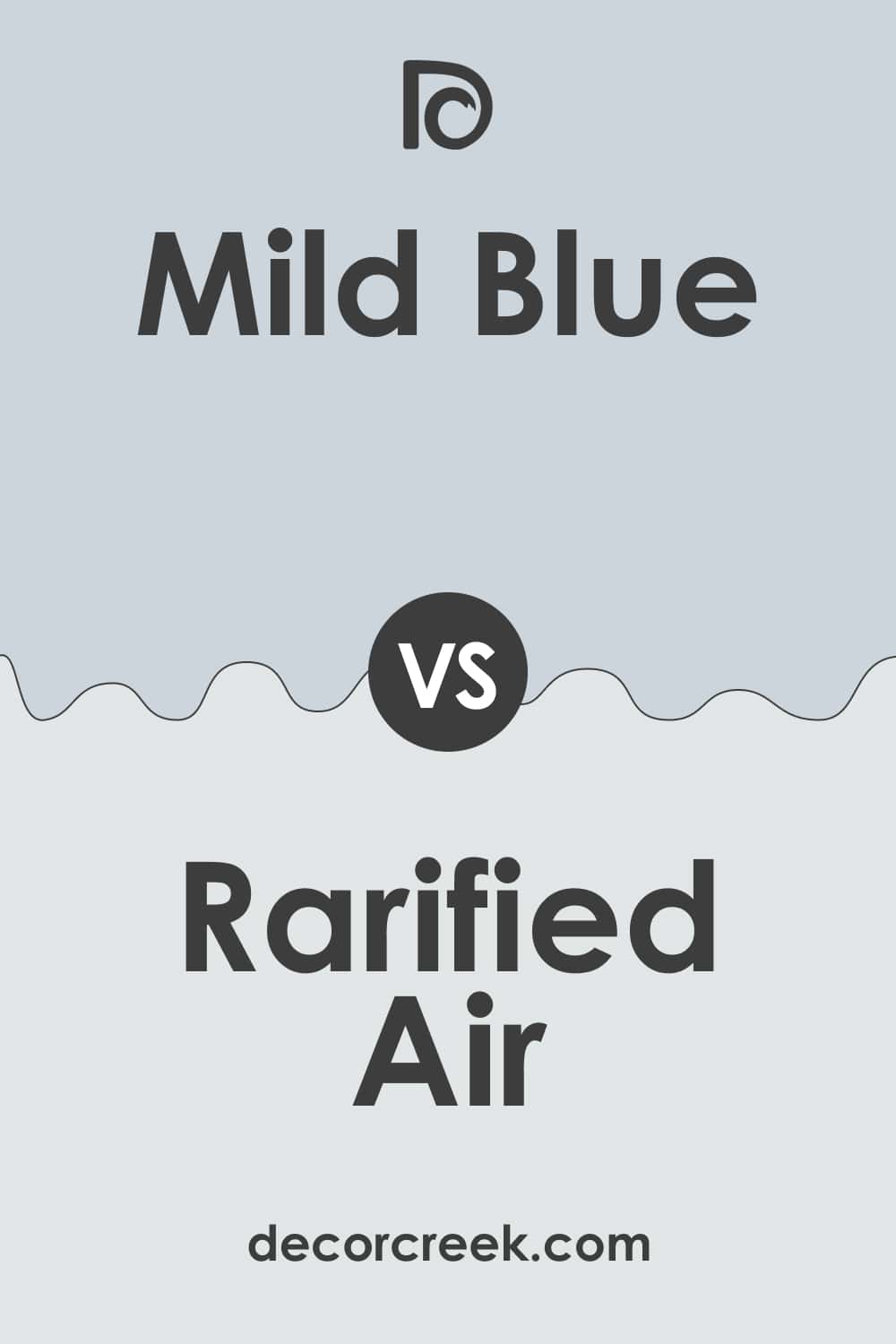 Mild Blue vs. Greek Villa
These two are significantly different. SW Greek Villa has mild yellowish-beige undertones whilst SW Mild BLue is, well, blue (with a very slight touch of purple). Since both colors are light, they can work well as coordinating colors for each other. They won't create a sharp contrast but will support each other harmoniously.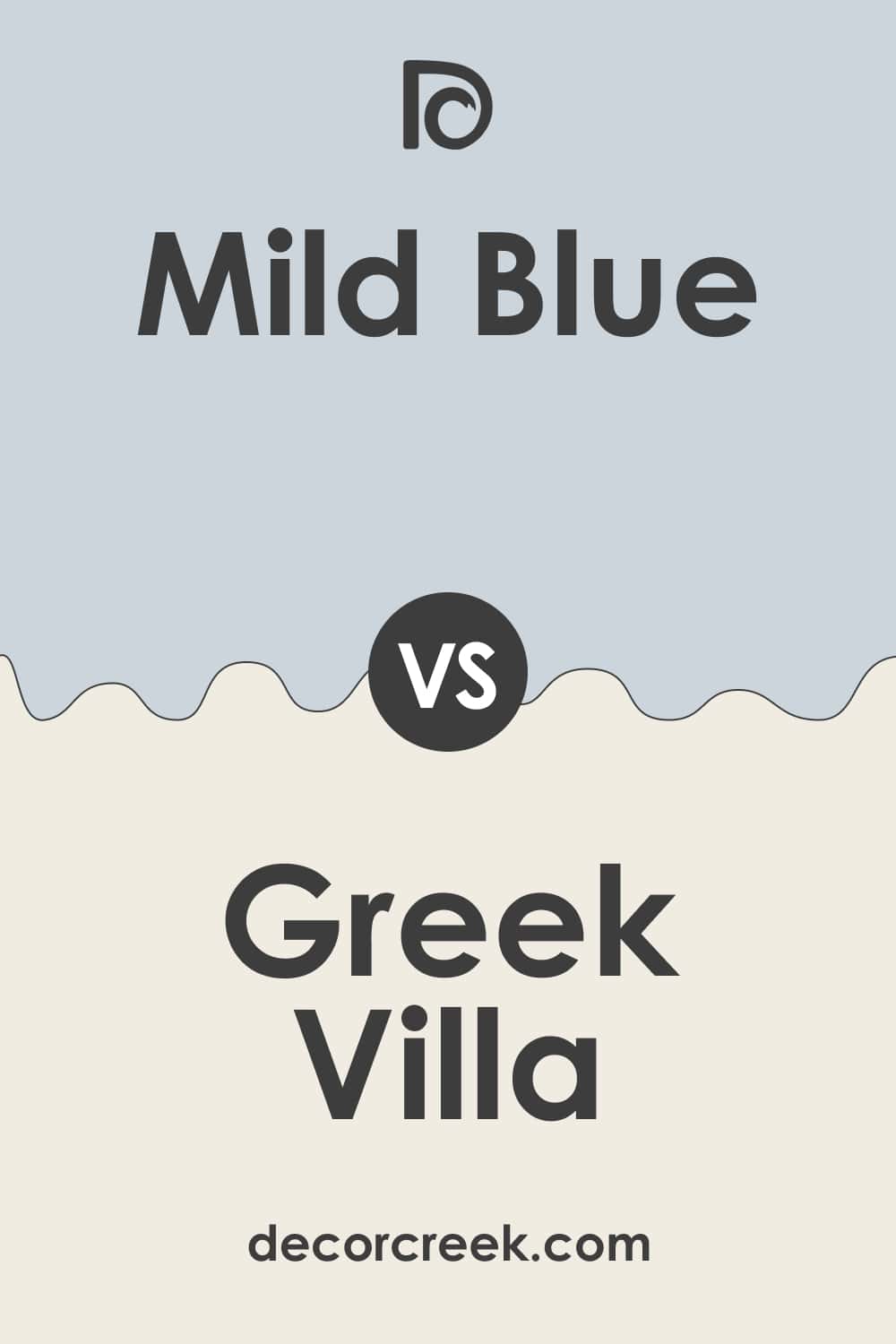 Mild Blue vs. Blue Heron
Although BM Blue Heron is much darker than SW Mild Blue, it also has purplish undertones, which helps it read quite nicely next to its much lighter counterpart. However, you might want to use a clearer blue with the Blue Heron color to highlight its deep-blue hue.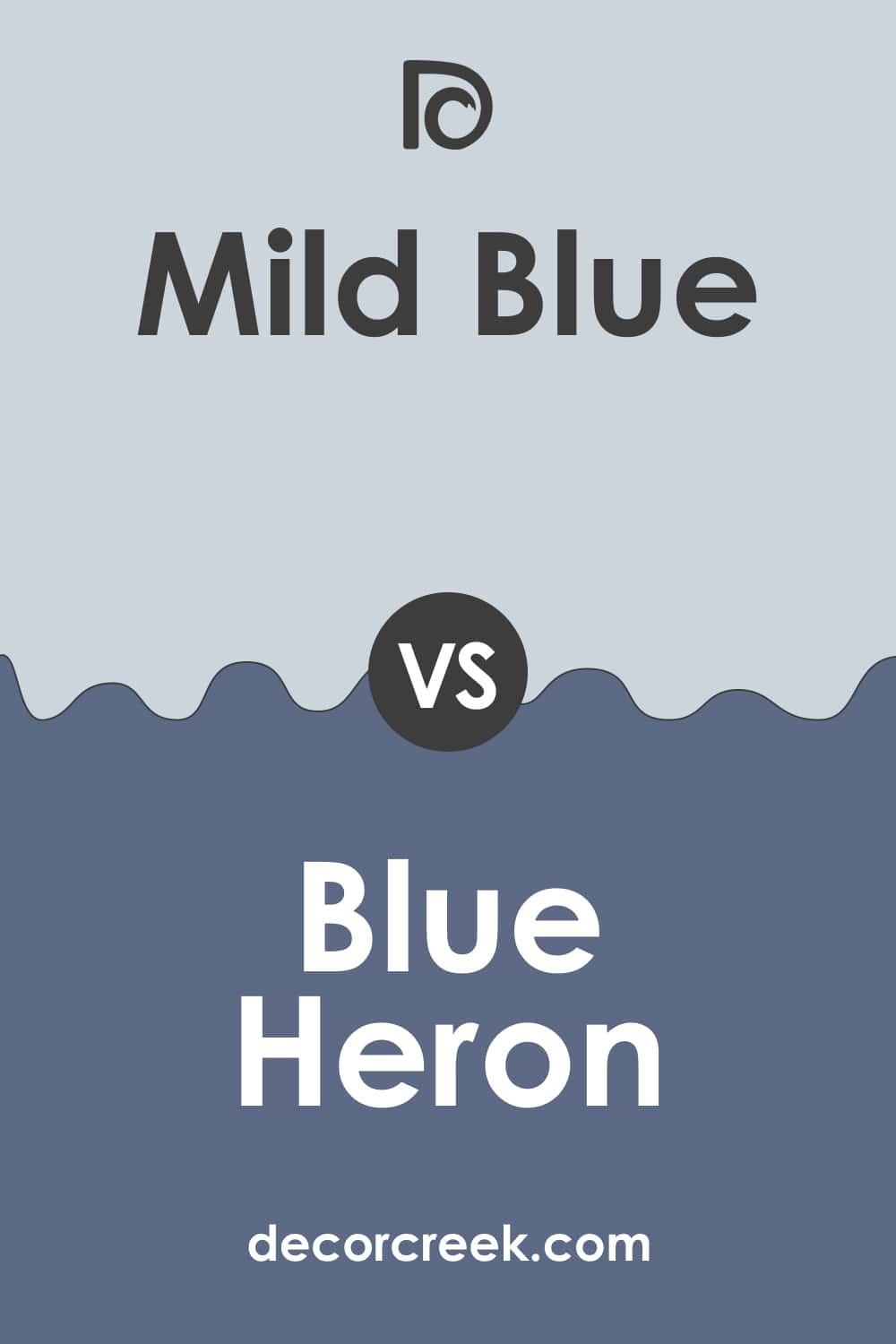 Where to Use Mild Blue SW-6533 Color In Your Home?
It is a good idea to imagine how the color you choose will read in different spaces of your home. This way, you can decide in what rooms it will be suitable and what rooms might win from using another color on their walls.
Mild Blue SW-6533  in the Living Room
For your living room, this light and cool-toned blue is quite a lovely color. It will add space and air to the room, making it read larger. However, you recommend you use it in living rooms that have cooler natural lighting.
It will make the color read slightly crisper and fresher. In rooms with warmer lights, it may read dull a bit, but you may try to fix that by adding more cool-toned whites.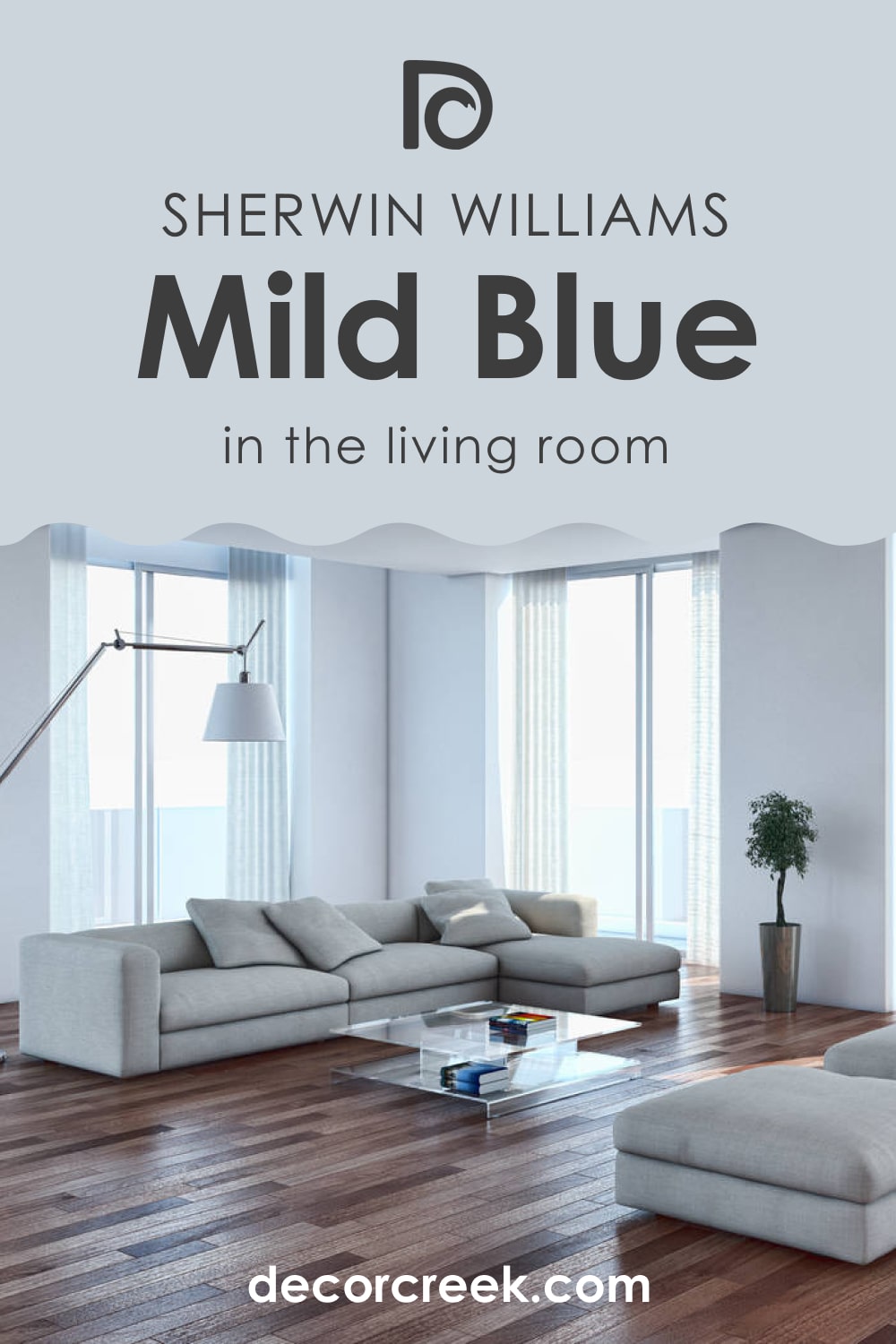 Mild Blue SW-6533  for the Bedroom
Excellent color for bedrooms, in our opinion! SW Mild Blue looks fresh and, at the same time, relaxed, creating a calm and balanced atmosphere in the room. If you pair it with white trims and textiles (e.g., your bedding or curtains), it will make the space read airier.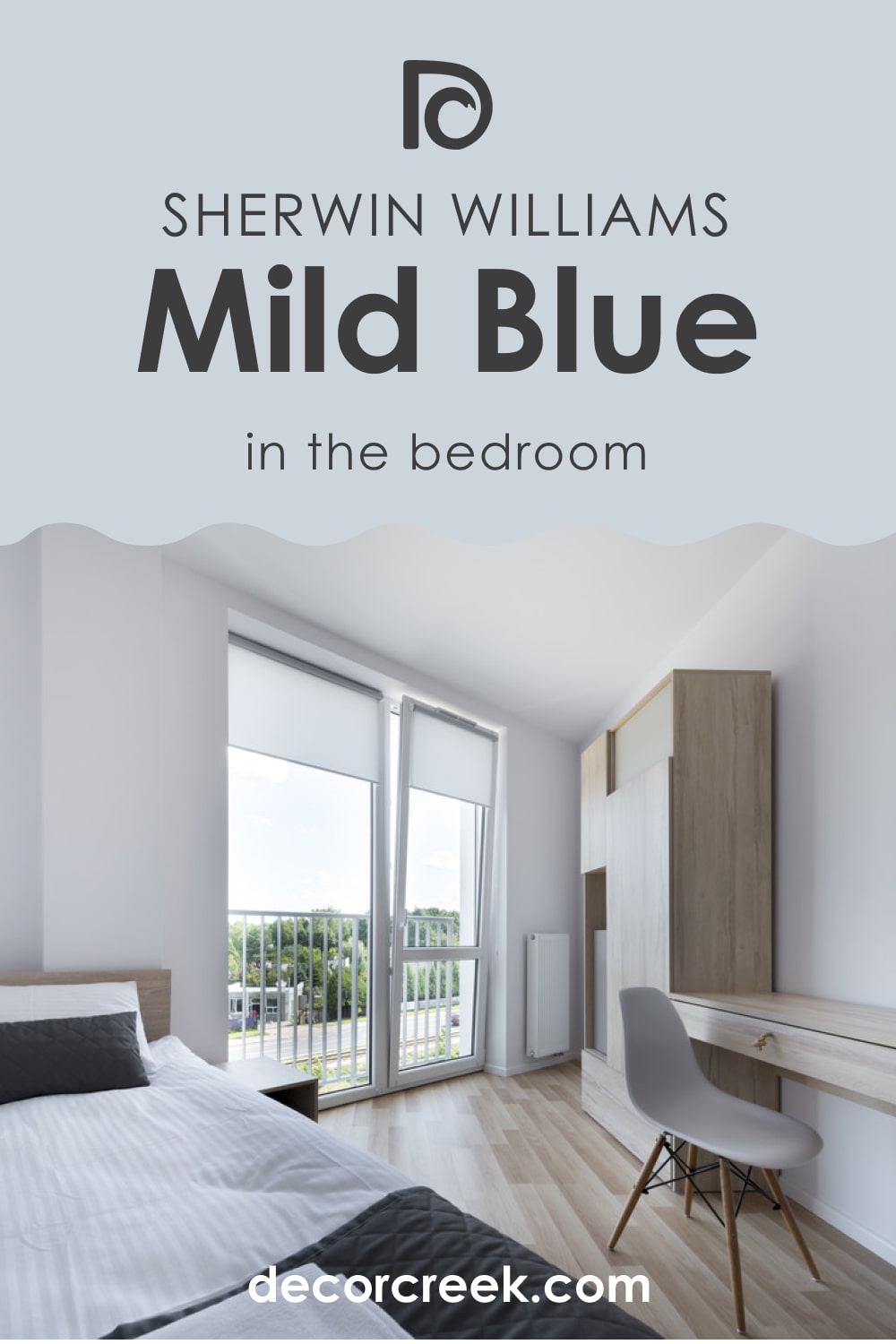 Kitchen of Mild Blue SW-6533
Depending on the size of your kitchen, you can use this color on all the walls or only paint an accent wall with it. But even in smaller kitchens, SW Mild Blue can work on cabinets or vanity sinks! It reads lovely with light-colored wooden textures and golden fixtures or hardware.
Those warm accents will make the space read less cold and icy. But if you want warmth, opt for lighter greiges or beiges instead.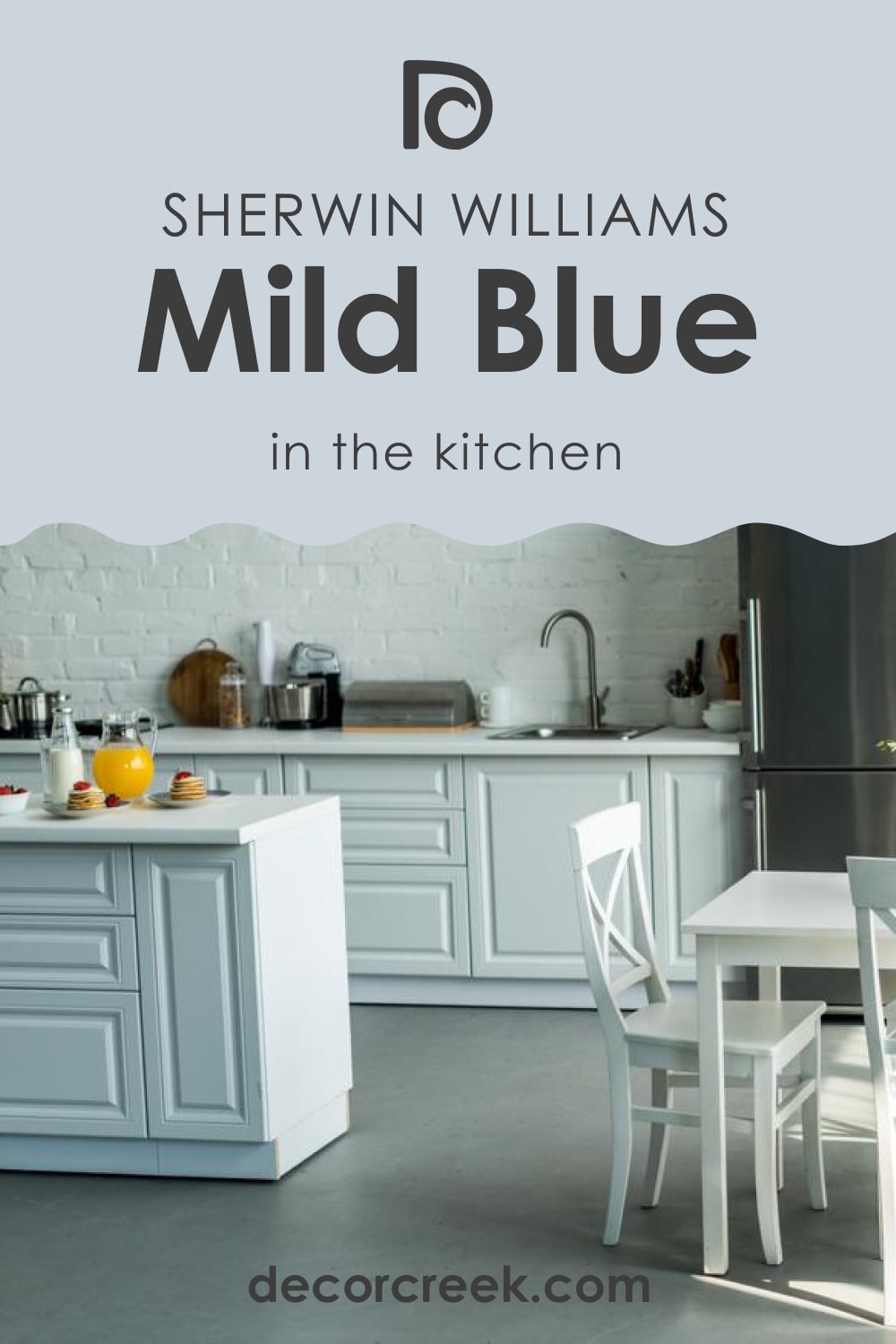 Mild Blue SW-6533 and Bathroom
If your bathroom is well-lit and has plenty of natural light, you should use this blue on the walls for sure! Thanks to its cooler tone, this color will fit this space perfectly well, creating a refreshed atmosphere. Besides, if you pair it with cool-toned or neutral whites, your bathroom will gain more space and airiness.
Mild Blue SW-6533 for the Exterior Use
The great thing about this color is that it can be used both indoors and outdoors, which means you can use it on exterior walls too. Besides, it will be a good color choice for areas with many sunny days and also for areas with cloudy weather. This shade of blue will read in any climate and weather!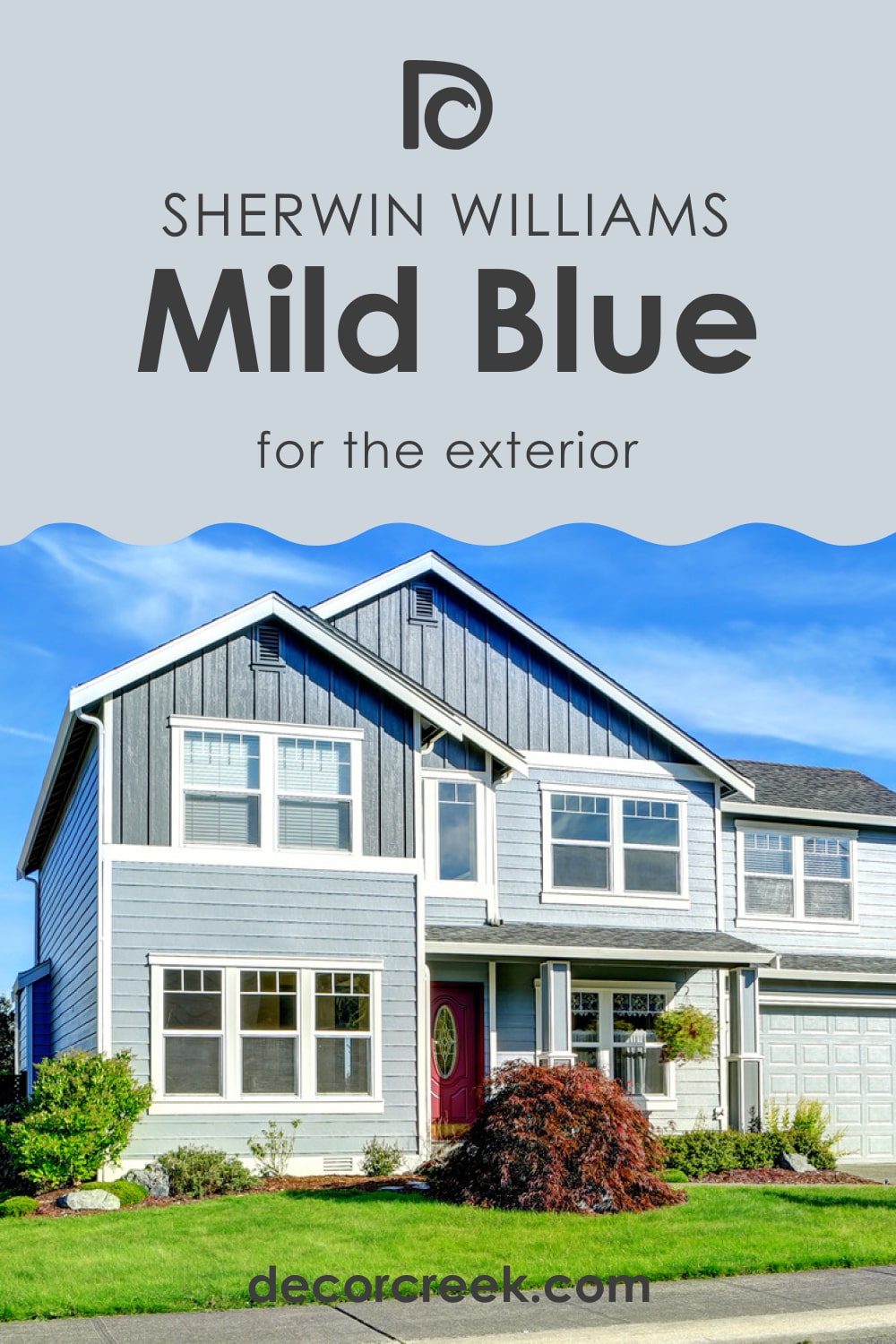 Now you know more about this beautiful and tranquil color. As you can see, blues might indeed be tricky to pair with other colors due to the undertones they contain.
But if you know them, you will be able to coordinate the colors correctly. Plus, with all the information you have right now. using this fabulous blue should never cause you trouble.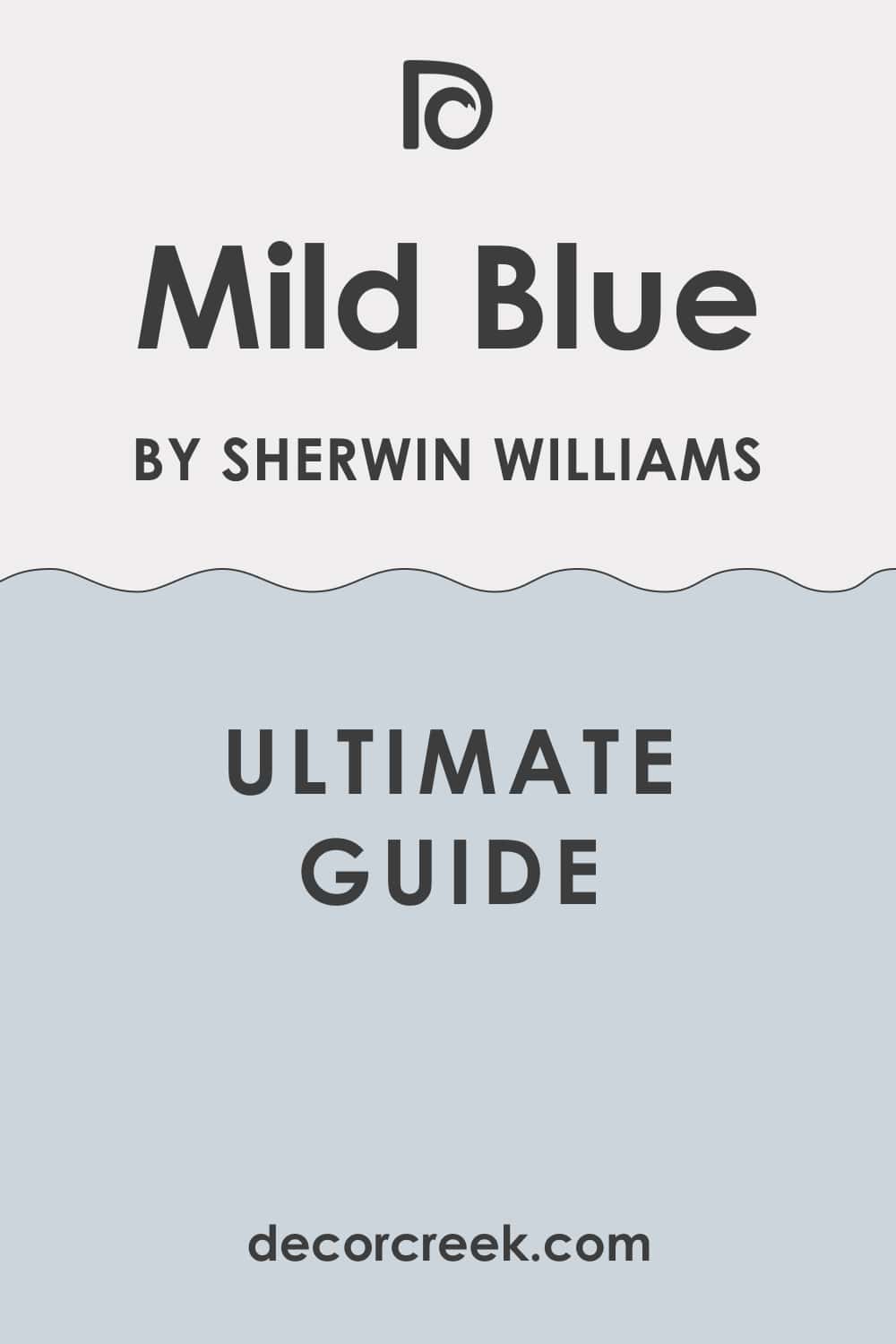 Frequently Asked Questions
⭐Will SW Mild Blue be a good color for a Coastal-style home?
Absolutely! This cool-toned blue will look great on the exterior walls of such a house!
⭐Will yellow pair with SW Mild Blue?
Yes, it will, but you should use lighter shades of yellow that are bright and saturated enough. With paler yellows, this color won't look that great!
⭐Does SW Mild Blue work with blacks well?
It will look good with the black color if you use black on accents like lampshades, cushions, countertops, etc.