Picking paint colors for your home seems to be an easy task. But in fact, most homeowners feel puzzled because of the wide variety of paints available.
This is why if you are not a professional interior designer, it might be challenging for you to decide what color to use in your home interior to make the whole ensemble read harmoniously.
In this article, you will learn more about the paint color called Inky Blue by the Sherwin-Williams brand. In particular, you will discover what kind of blue color it is, how it works in different rooms and lighting conditions, and how to coordinate it.
Also, we will tell you what other colors it may read well with.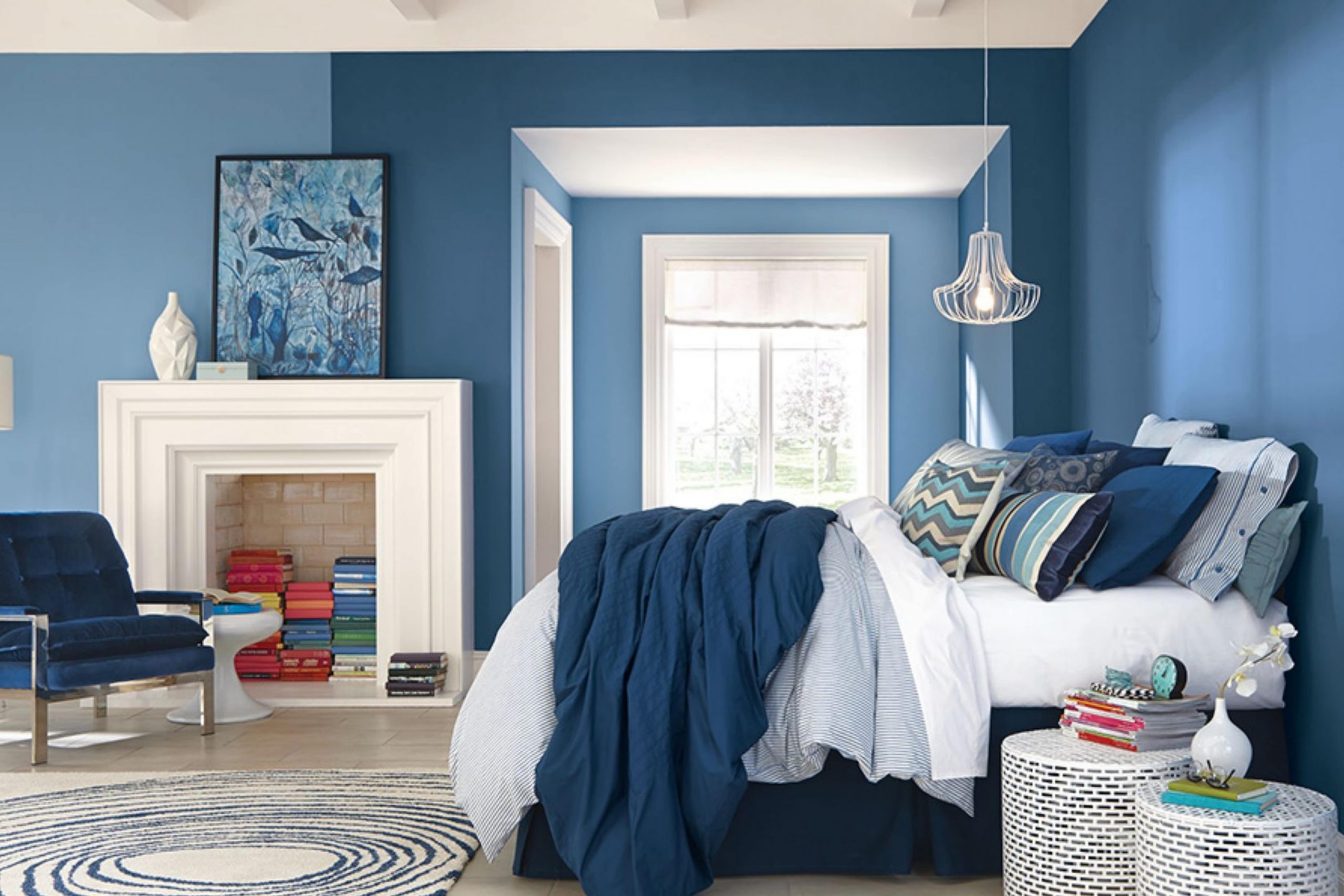 What Kind of Color Is Inky Blue SW 9149?
Before you start using any paint in your home, it is essential to figure out what kind of color it is. It will allow you to make this color work in your home fully. Also, when you are aware of the color specifics, you can pick the rest of the interior palette more successfully. As a result, your interior will look harmonious and balanced.
As Encycolorpedia says, this color is definitely on the cool-toned side of the scale, reading calm and refreshing.
However, due to its depth, this blue will not read too light on your interior walls. So, if you are looking for an airy blue paint color that looks very light and delicate, SW Inky Blue is hardly your choice.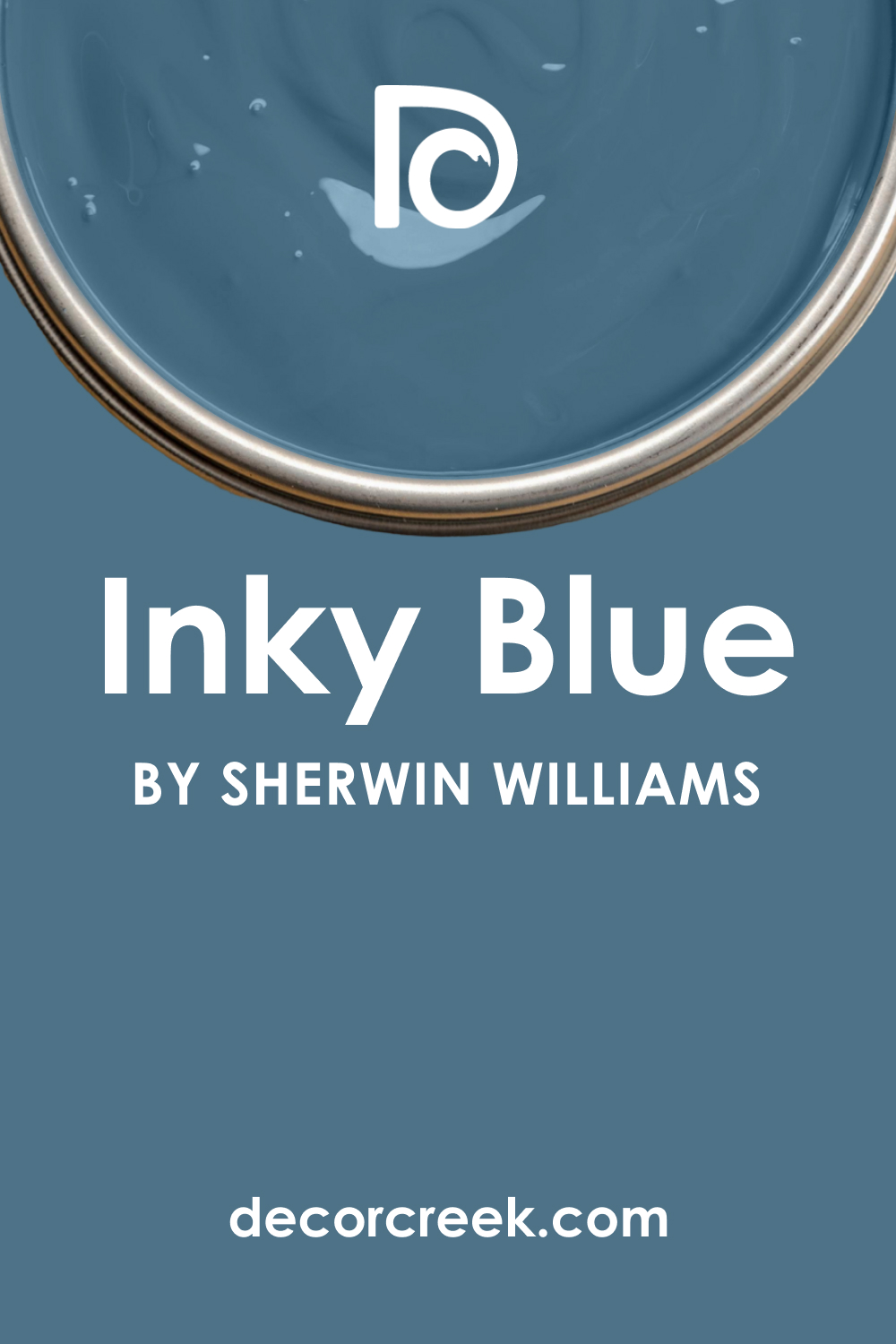 What Undertones Does Inky Blue SW 9149 Have?
Being aware of the paint's undertones allows you to use the color in the living space correctly, depending on the type of lighting you have there. Also, information about undertones allows you to use the color depending on the rest of the palette used to decorate the room.
SW Inky Blue has yellow undertones, but you should not worry about that! Typically, when people hear about yellow undertones, they imagine the color will look yellowish or muddy on their walls.
This is definitely not the case with SW Inky Blue. Its yellow base helps this blue to stay away from reading too cold and crispy instead. As a result, the paint reads pleasantly cool and fresh.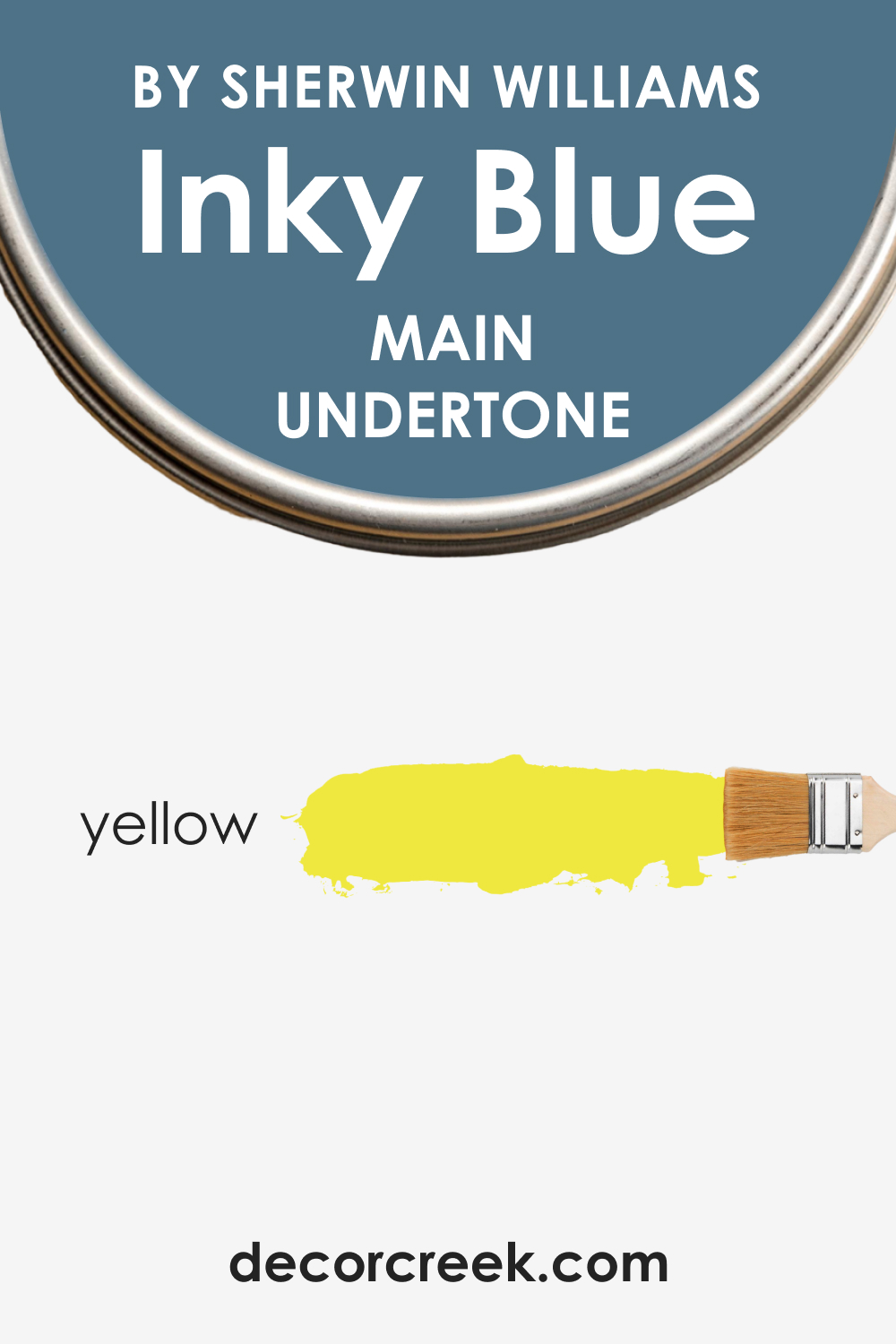 What LRV Does SW Inky Blue Paint Color Have?
When you are choosing paint colors for your home, LRV is one of the most essential things to take into consideration. LRV (Light Reflectance Value) shows how much light the color can reflect from the wall.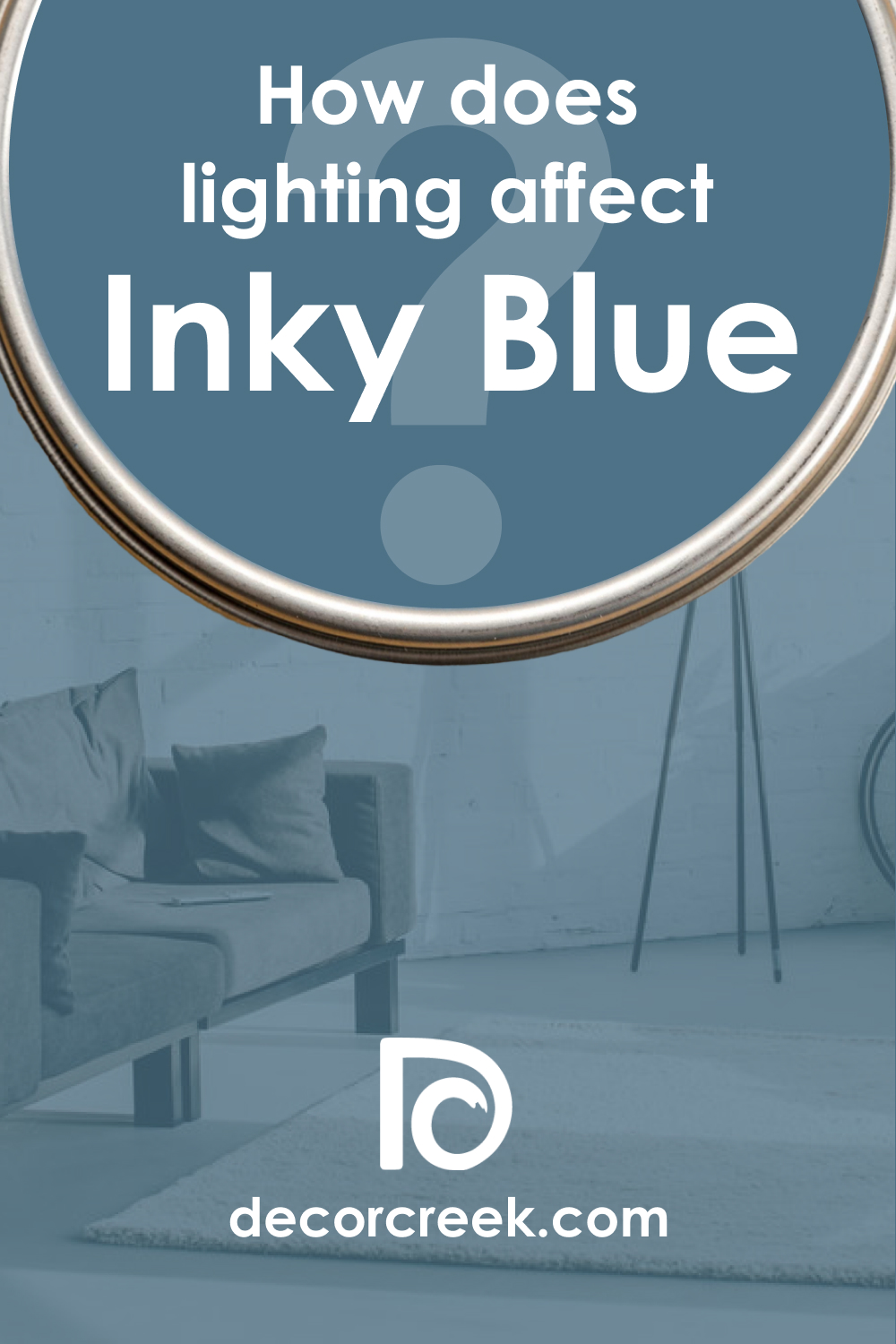 The LRV scale ranges from zero to 100, where zero stands for black and 100 stands for pure white. The higher the LRV value, the lighter the color, and vice versa.
The LRV value of SW Inky Blue (SW 9149) is nearly 15. By LRV value, it is a medium-dark paint color. That means this shade of blue will read rather deep and pronounced on your walls, but still, it will hardly make a room feel moody or dark.
Nevertheless, you must always consider its undertones and lighting before you use the paint!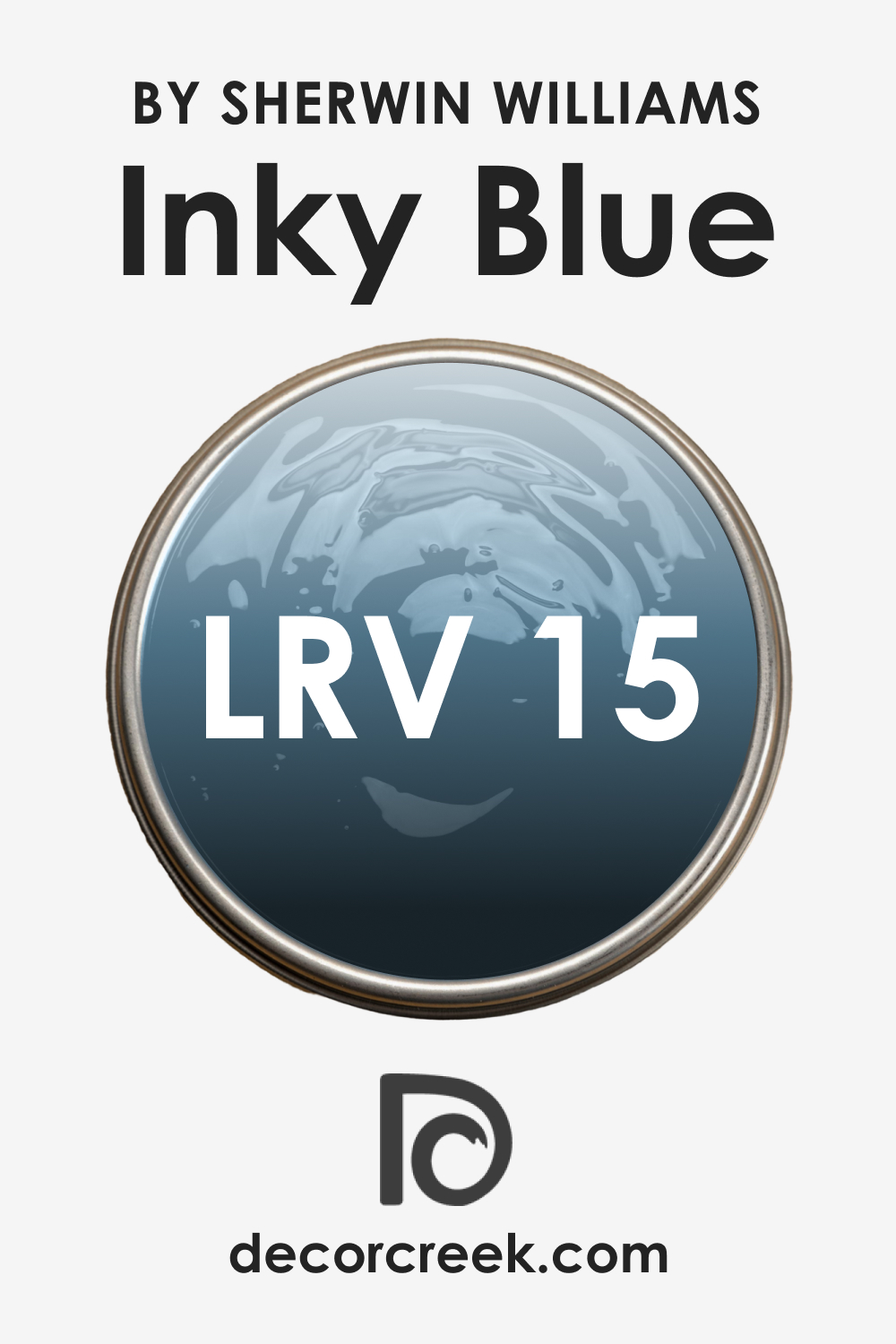 LRV – what does it mean? Read This Before Finding Your Perfect Paint Color
Inky Blue SW 9149 Coordinating Colors
To make your home interior good-looking and eye-pleasing, it is essential to know what paint colors will coordinate with the color used on the walls. For SW Inky Blue, we have several color suggestions you might want to consider:
SW Icicle
SW Natural Linen
SW Cocoa Whip
For the monochromatic color palette, consider using other colors:
SW Rainstorm
SW Meditative
SW Samovar Silver
SW Foggy Day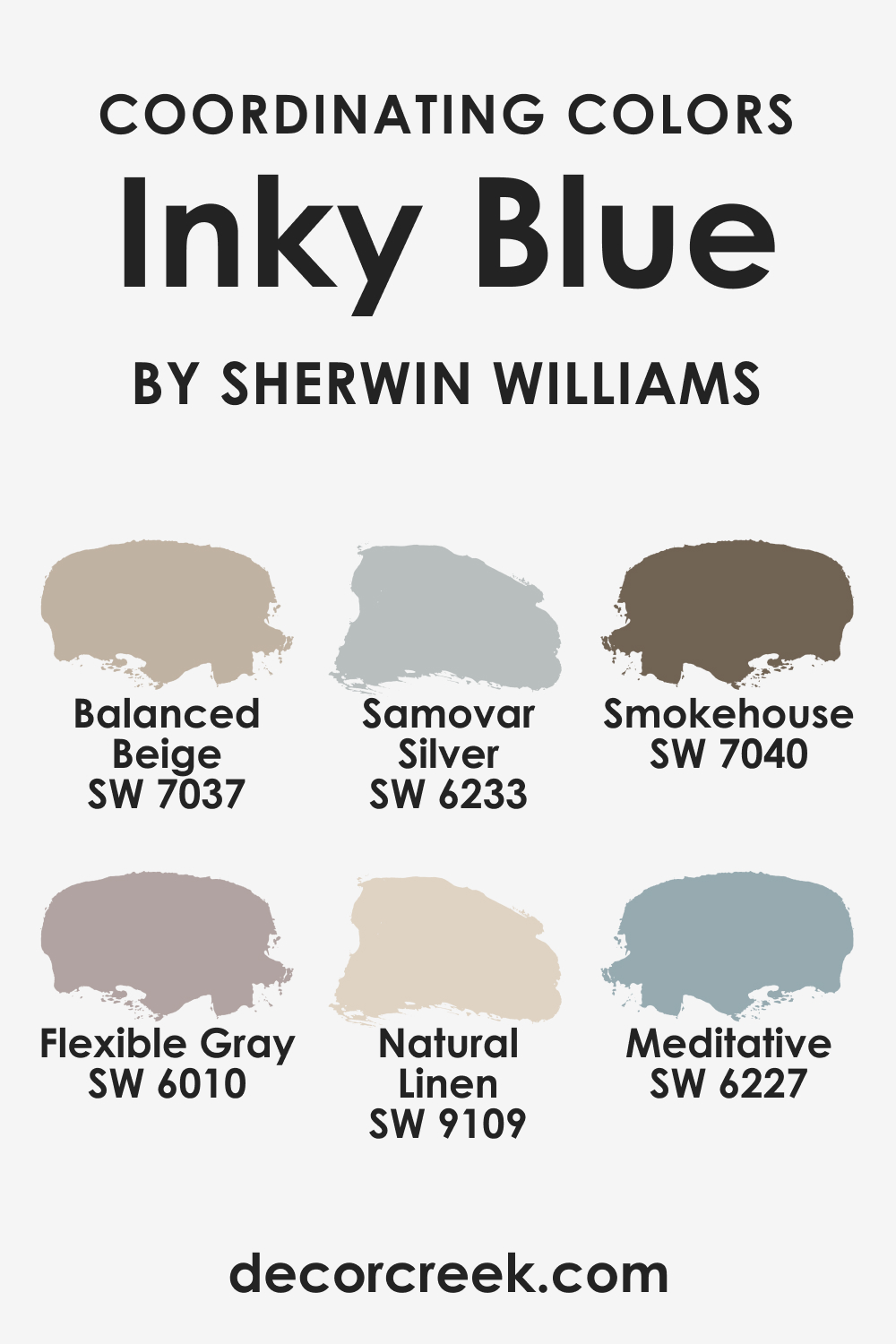 Finally, if you prefer more varied palettes in your home, we recommend you pay attention to the following paint colors instead:
SW Dark Night
SW Flexible Gray
SW Smokehouse
SW Balanced Beige
SW Storm Cloud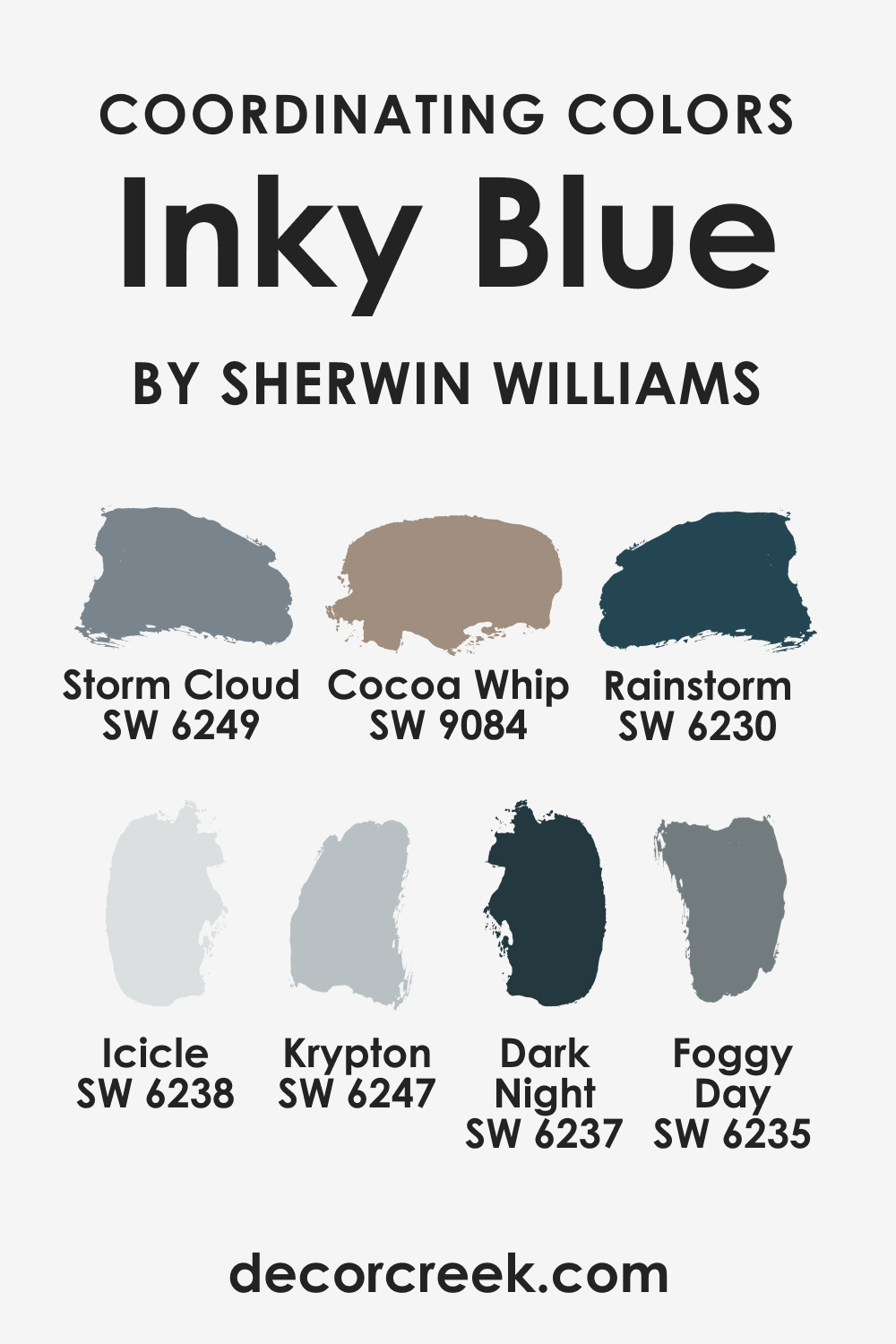 What Is the Best Trim Color to Use With Inky Blue SW 9149?
Traditionally, white is considered the best trim color to use in your home. White is universal and flexible, as well as pretty neutral, which means it will work well with the majority of other colors.
And this rule works for SW Inky Blue paint color as well. In particular, we recommend you opt for SW Pure White to use on your trim and molding.
This white will create a lovely contrast and refresh the appearance of the space, making the deep blue hue of SW Inky Blue seem "lighter".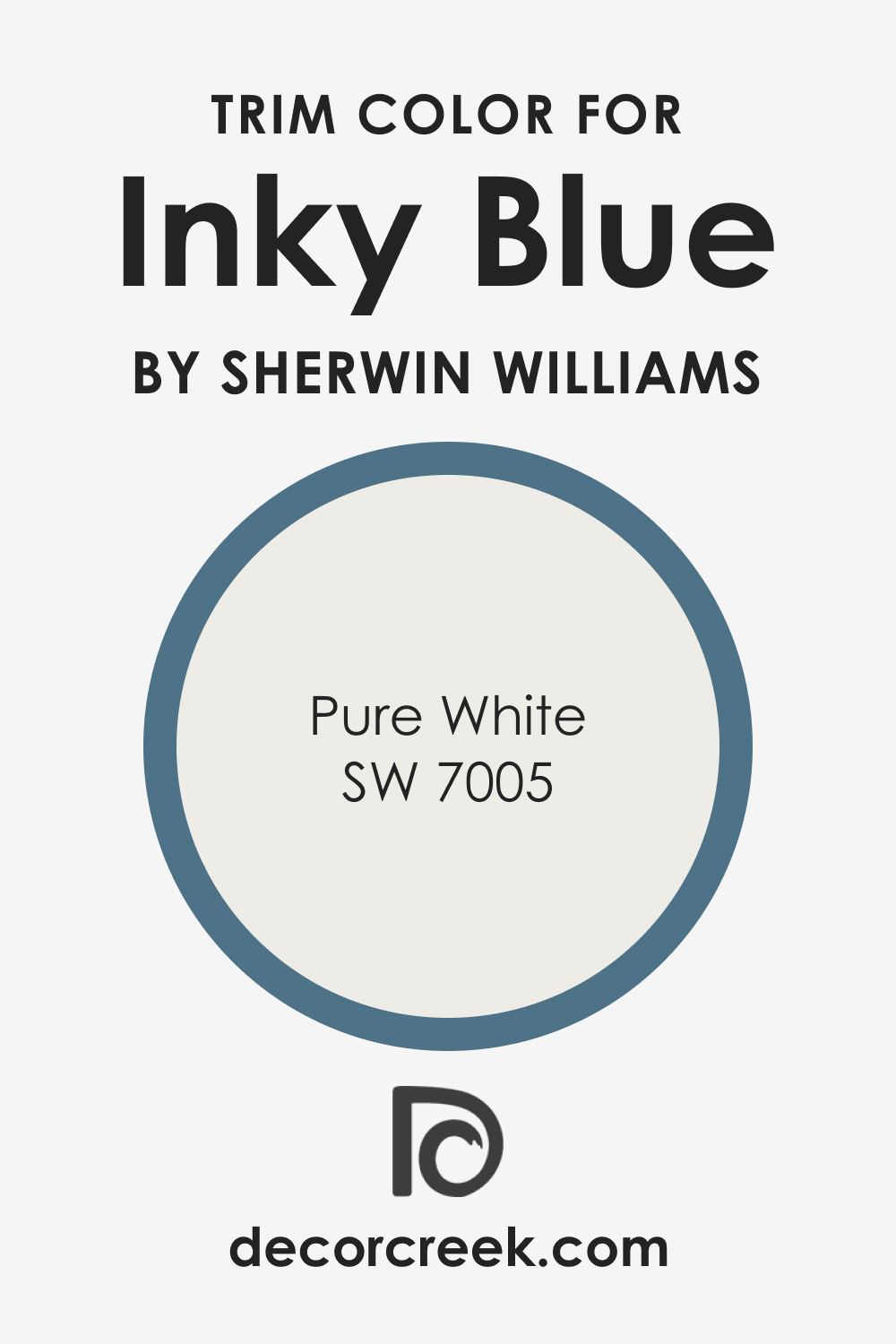 Colors That Go With SW Inky Blue Paint
You will be surprised to learn how many colors this blue paint can successfully pair with! We tend to believe that blues read well with whites only, but with SW Inky Blue on your walls, you can use plenty of other colors. In particular, SW Inky Blue paint color would look great with the following colors:
bright whites
earthy beiges
cool grays
vibrant oranges
yellows
greens
Inky Blue SW 9149 Similar Colors
Why would you need to know similar colors for your wall paint? Well, this might be handy in case the color you initially selected doesn't suit your room or interior design. Also, it may help if you need a darker or lighter paint color instead of the one you were thinking about. Anyway, being aware of a few alternatives is a good idea!
For SW Inky Blue, there are a few similar blue colors that look almost the same and can work really well as substitute colors:
Benjamin Moore Van Deusen Blue
Sherwin-Williams Distance
Benjamin Moore Kensington Blue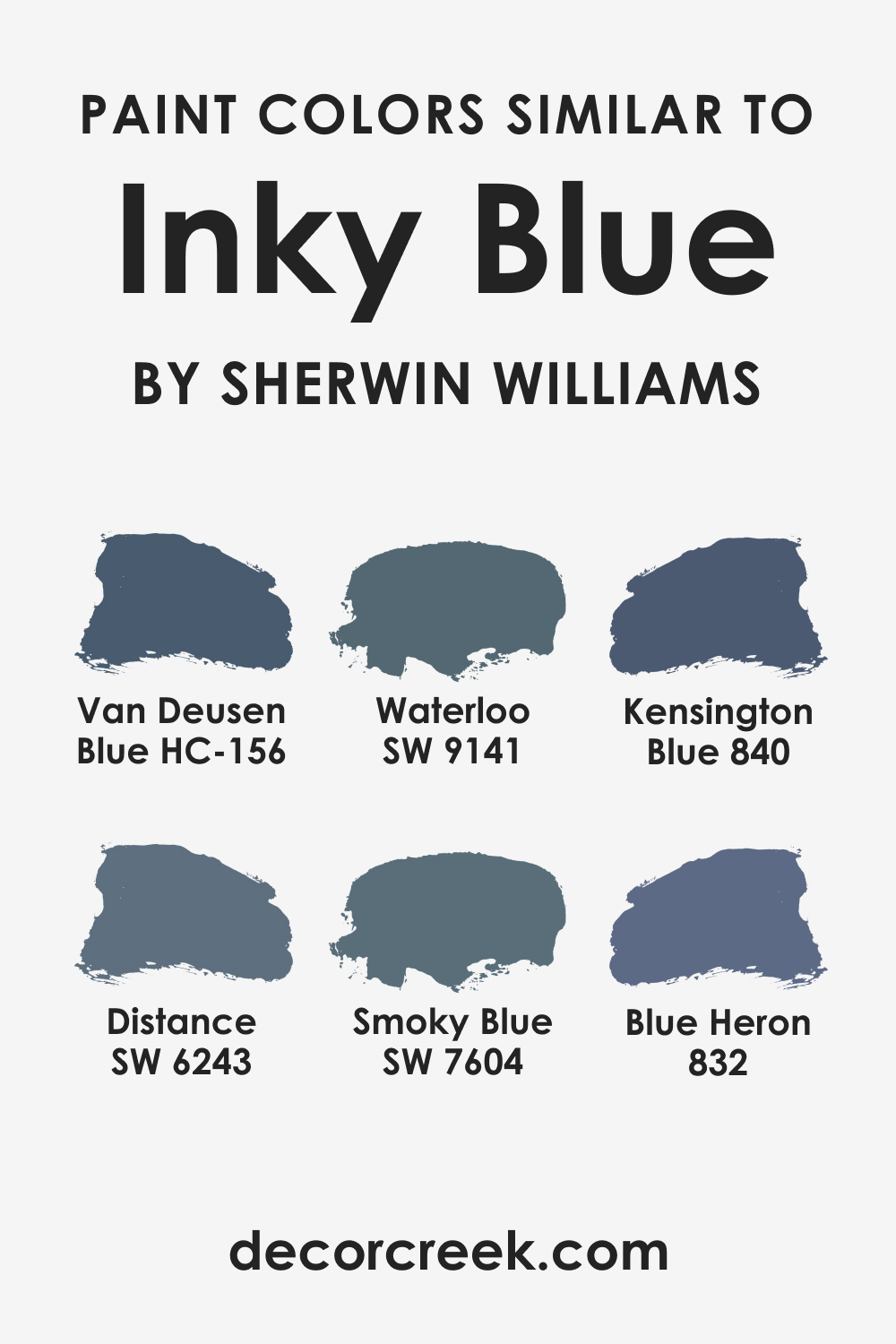 Comparing SW Inky Blue With Other Colors
Since blue is a pretty versatile color with all the shades it comes with, it can be difficult for a non-professional to see the distinctions between some of them. Especially if the colors are pretty similar in LRV or undertones.
This is why, in order to help you out with shades of blue, we have prepared a few comparative pairs of colors. Each of them contains SW Inky Blue and one more blue color to help you see what makes them different.
Inky Blue vs Denim
These two are very similar. In fact, they look like the same color except for the fact that SW Denim is a tiny bit deeper and bluer. But basically, their similar appearance allows you to use them as substitute colors easily.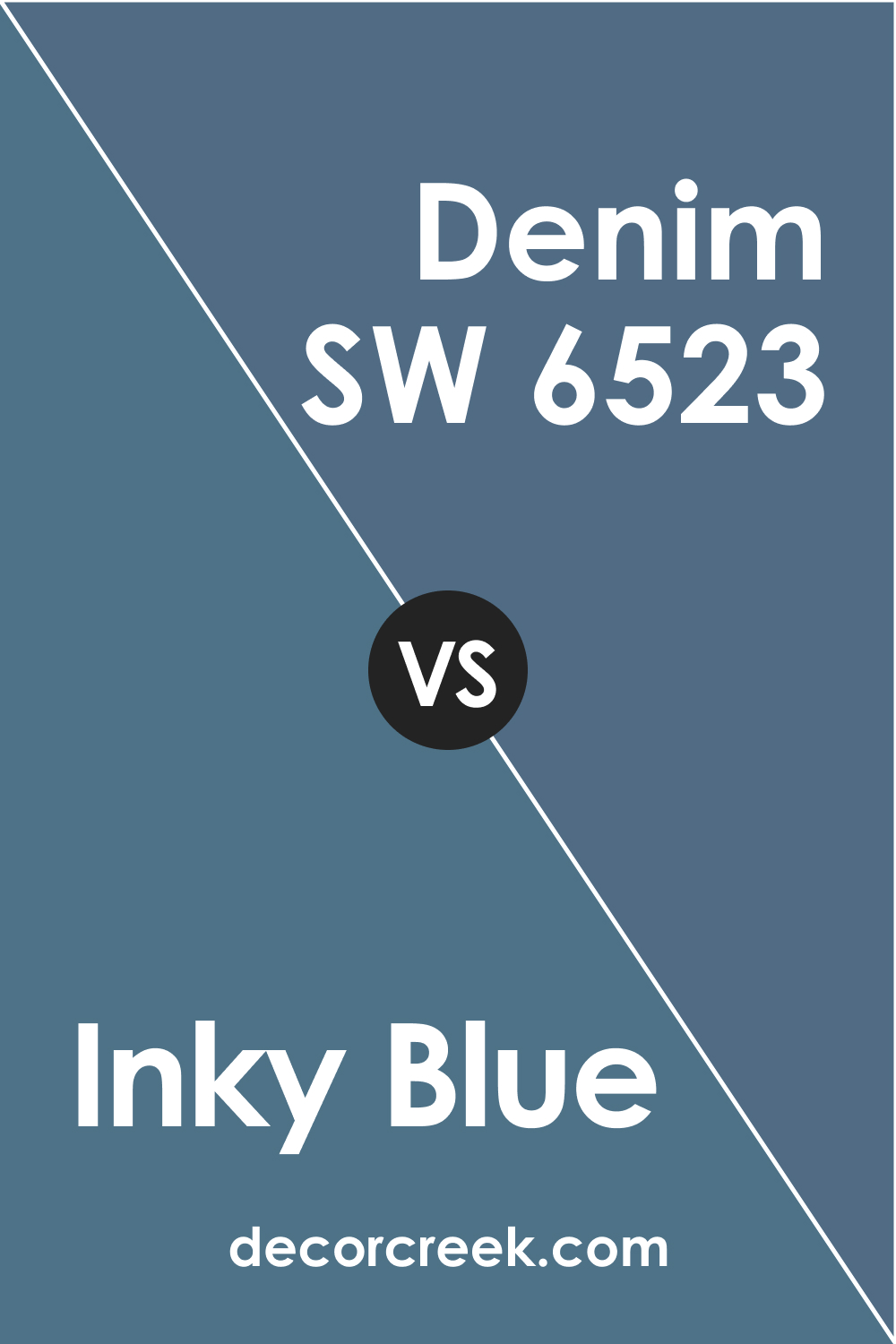 Inky Blue vs Windy Blue
SW Windy Blue looks much lighter than SW Inky Blue. Besides, SW Windy Blue has cool gray undertones that make it differ from SW Inky Blue with its yellowish base. But since both are cool-toned and belong to the same color family, they can be used successfully in the same space.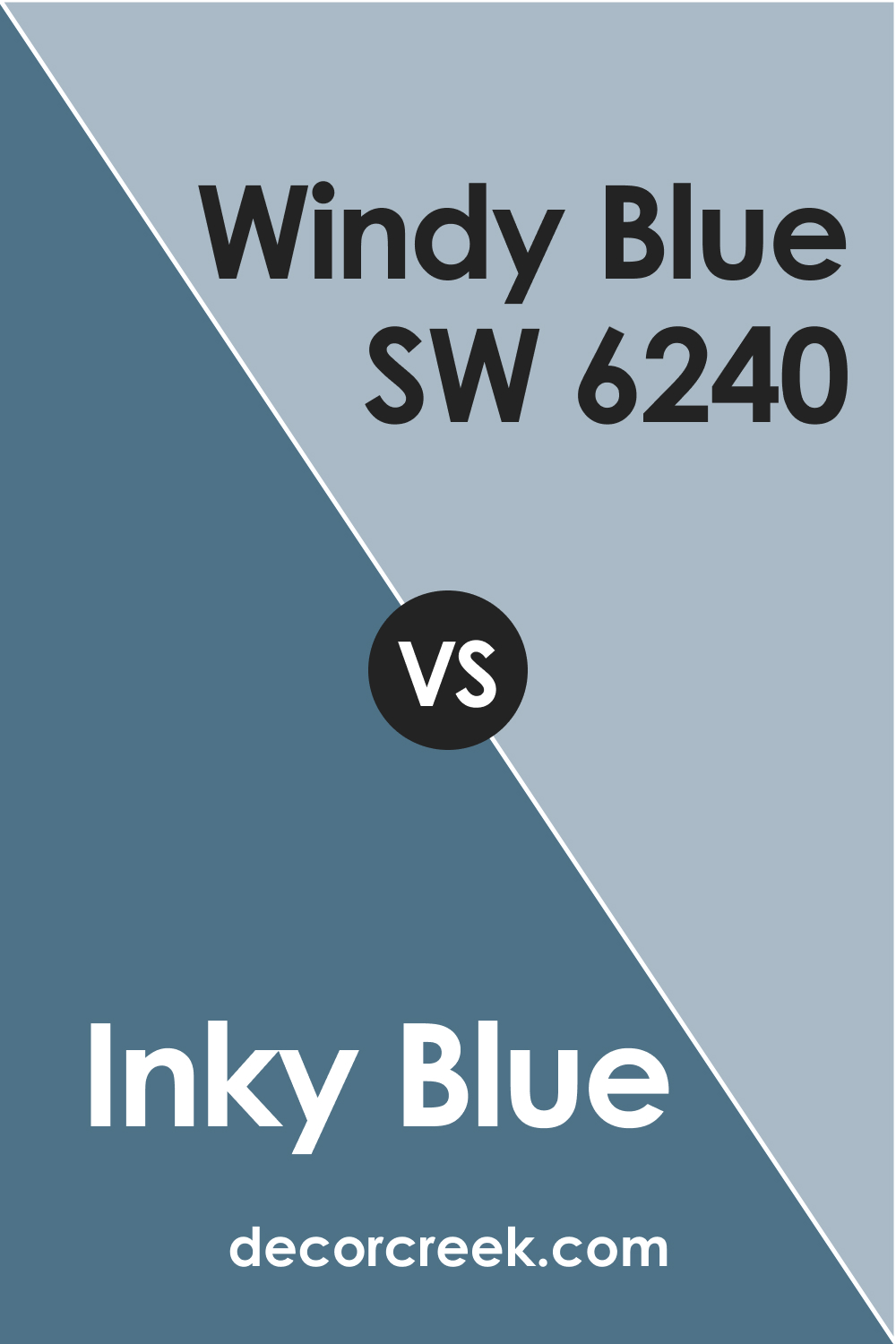 Inky Blue vs Daphne
SW Daphne is a cool and medium blue with light denim undertones. Compared to it, SW Inky Blue is deeper and darker, revealing the depth of a blue hue much more. Nevertheless, you can pair these two in the same room since both have cool undertones and basically work well together.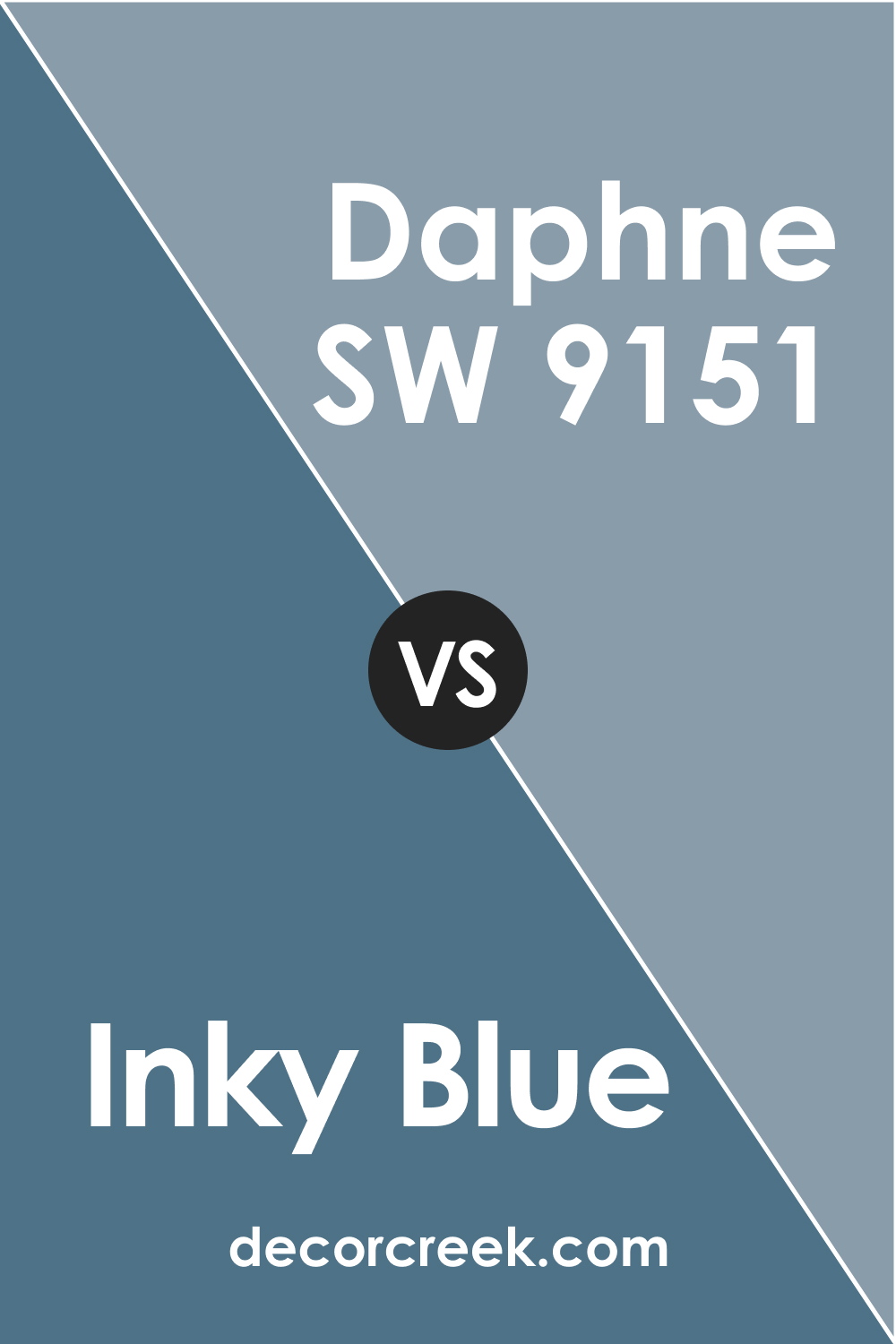 Inky Blue vs Blue Haze
Blue Haze color is a hue that falls in the light blue to the blue-green range. Because of its greenish hue, it doesn't pair well enough with SW Inky Blue, which reveals its yellowish base more when paired with this lighter color.
Now you know more about the Inky Blue paint color by Sherwin-Williams. You learned what type of blue it is, how it reacts to light, and what LRV it has.
Also, now you know how this shade of blue may work with other blue colors and what paints will coordinate with it well.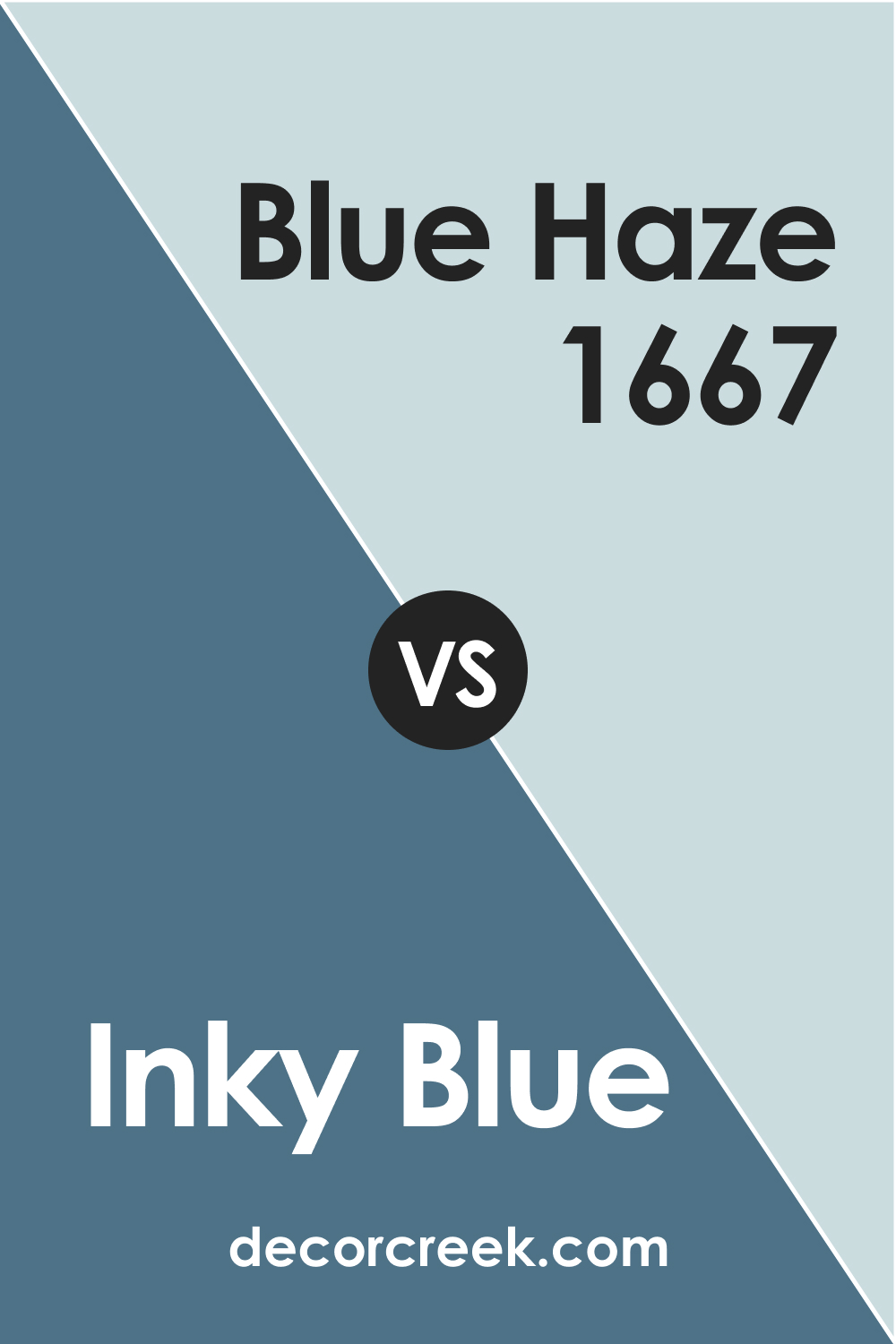 Where In Your Home Inky Blue SW 9149 Color Can Be Used?
One of the biggest concerns for many homeowners is finding the room that will host the paint color best of all. Not all paint colors are so versatile that can be used in any room successfully. You often have to consider the lighting conditions in a room, other colors used in it, and even the texture of fabrics and furniture!
Below, you can find a description of how SW Inky Blue will work in different rooms of your home. This guide will help you understand better where in your home this blue will be a win-win color choice and where you should avoid using it.
Inky Blue SW 9149 in the Living Room
In a living room, this cool and pronounced blue will create an elegant atmosphere with the help of its depth and balanced appearance. If you want to add more color to the space, but you don't want to go too dramatic, SW Inky blue is your color of choice!
Paired with whites on your ceiling and trim, this paint will look fresh and won't feel overwhelming.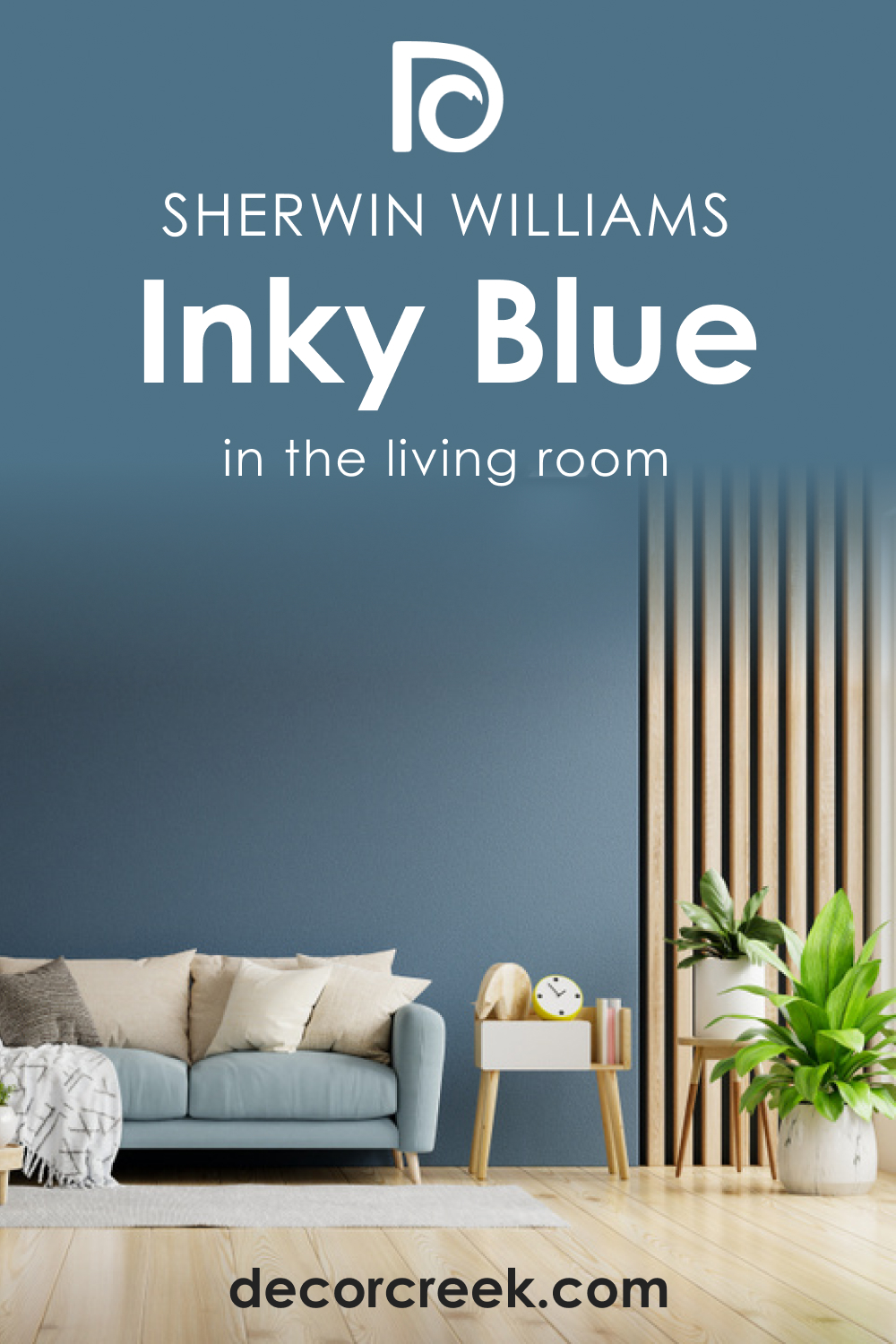 Inky Blue SW 9149 in a Bedroom
If the size and lighting conditions of the room allow, paint all the walls with this deep blue color. However, in smaller bedrooms, we recommend using it on the accent wall only, leaving others white.
Also, this trick will work if your bedroom lacks natural light, but you still want to use this blue there.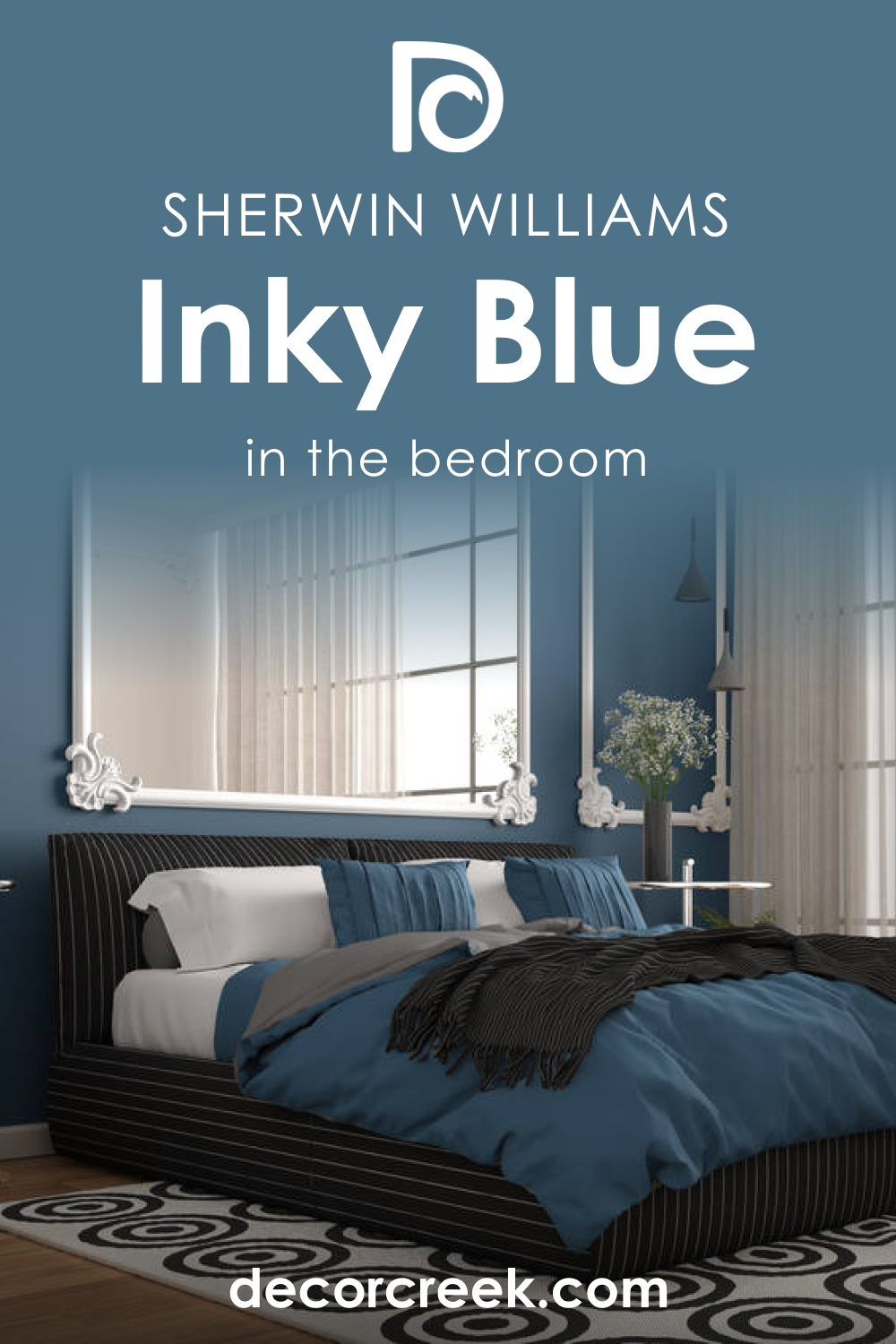 Inky Blue SW 9149 and Kitchen
This blue might not be an ideal color to paint all the kitchen walls, but as an accent color, it will do its job great! Use it on lower/upper cabinets and your kitchen island, leaving the walls white, and pair this blue with brass hardware and pull handlers to create an elegant yet homey look.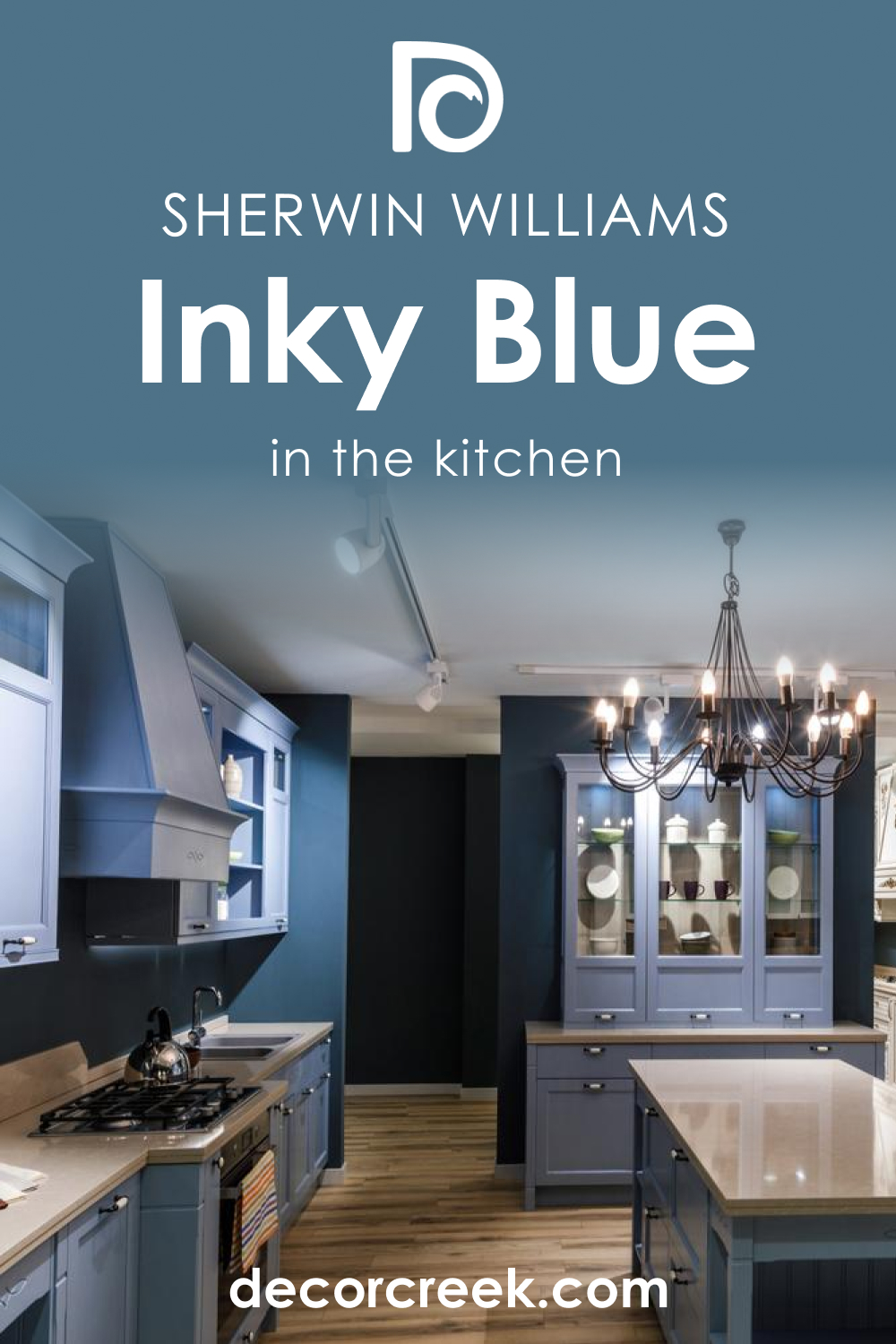 Inky Blue SW 9149 for the Bathroom
In bathrooms, this blue works the same way it does in kitchens. It means you'd better not use it on all the walls. Instead, choose a smaller surface to paint blue in order to create an attractive color accent!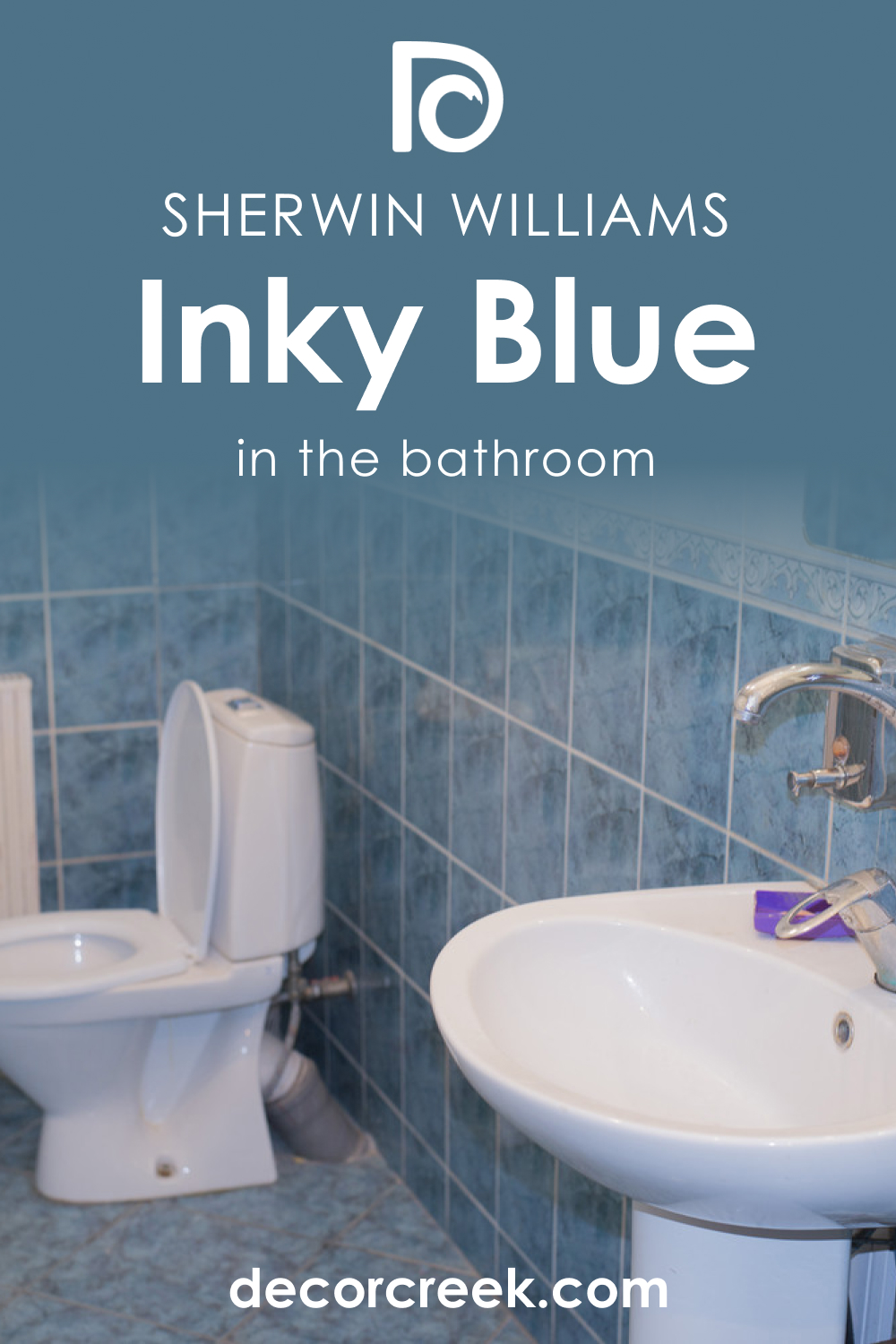 Inky Blue SW 9149 for the Exterior Use
SW Inky Blue can be used both on interior and exterior walls. On exterior walls, note that it may read lighter and a bit washed out if the sun hits it directly! But typically, this shade of blue will keep its depth anyway.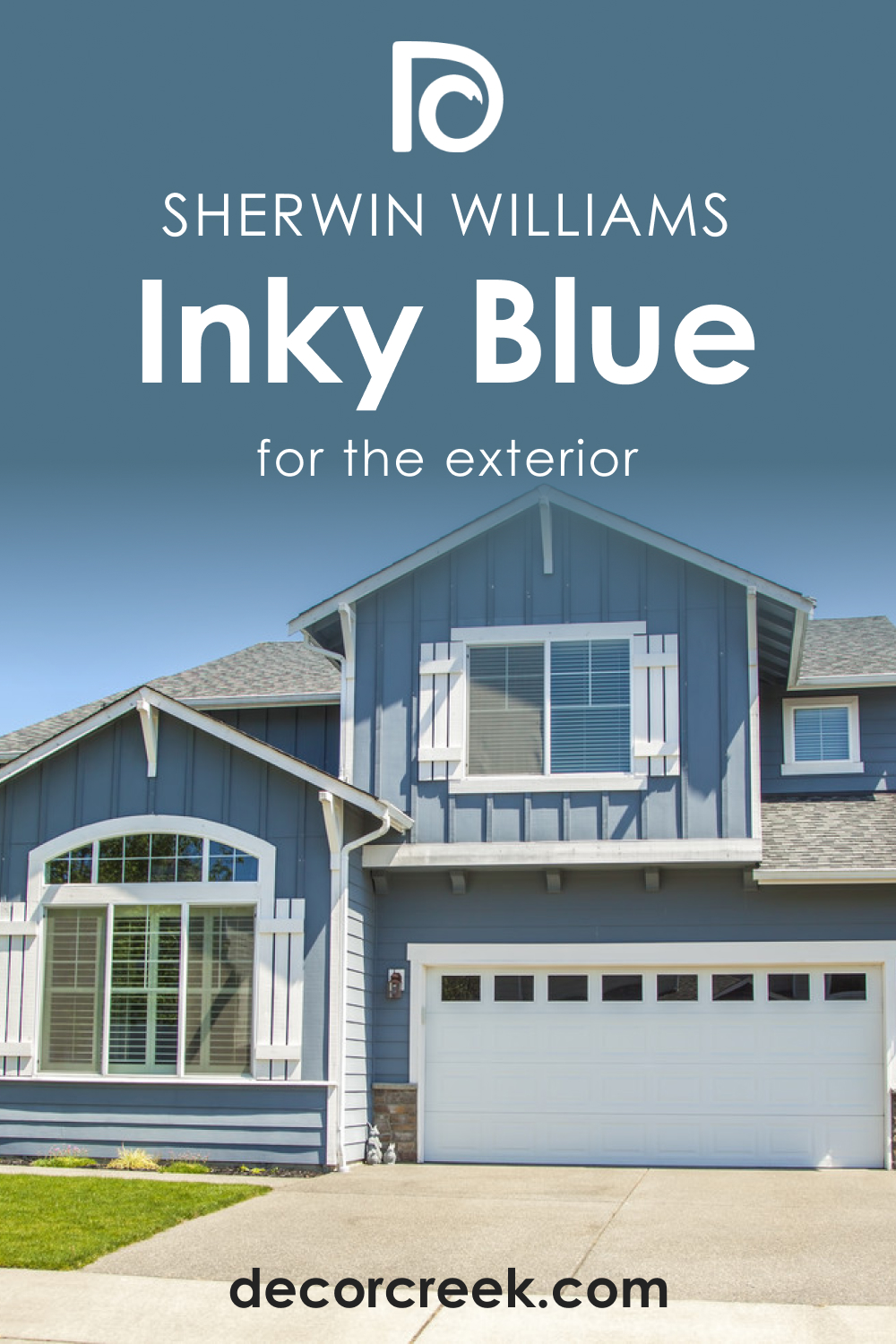 So, now you know all the nuances that may come with this beautiful shade of blue. We told you what kind of color it is, how to use it in your home to make this paint work, and what colors will work best with it.
Also, you know what trim colors and coordinating colors will fit this shade of blue.
We explained in what rooms this blue color will be a better option to use on the walls, and also, now you know what undertones and LRV it has. With all that in mind, you will be able to use this wonderful shade of soft blue in your home to make it even cozier than before!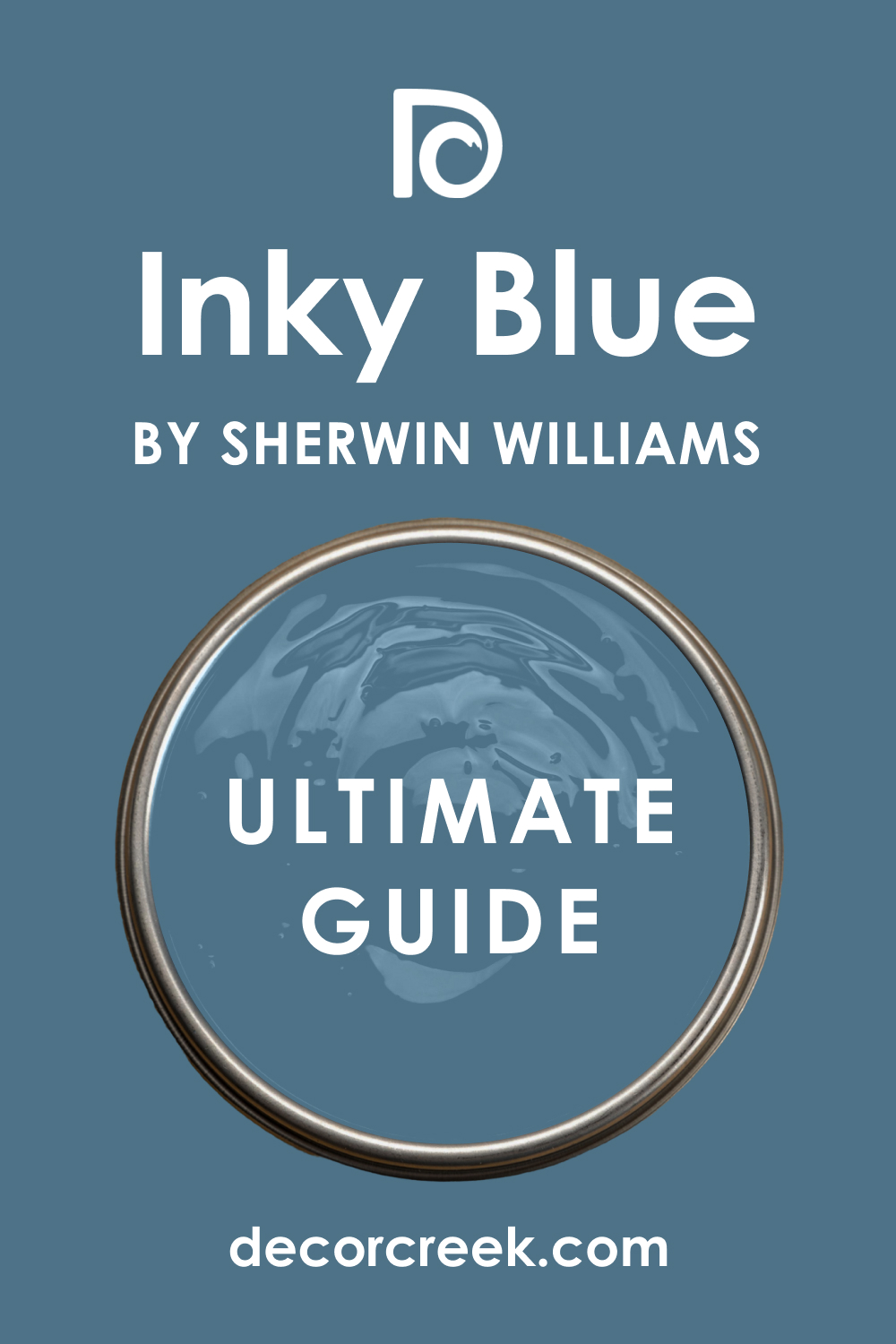 Frequently Asked Questions
⭐Does SW Inky Blue read black?
No, this color is not so dark! It will never read black or close to black.
⭐Will this blue work with crisp white colors?
Yes, it can work with cooler whites since SW Inky Blue is a cool-toned color.
⭐What color will look good on the front door if the walls are painted SW Inky Blue?
White, pumpkin-orange and darker blues (e.g. navy blue) will work well.