If you want to add character to your living space, there is no best way to do it than using a dark and saturated color. Its depth will create an appealing color accent in a room, serving as a background for other colors and decor.
Today, we want to tell you more about one of such dark blue colors called Old Navy.
You will learn how it works in different rooms and what colors it is best to pair it with. Also, we will explain how to coordinate it and what undertones it has.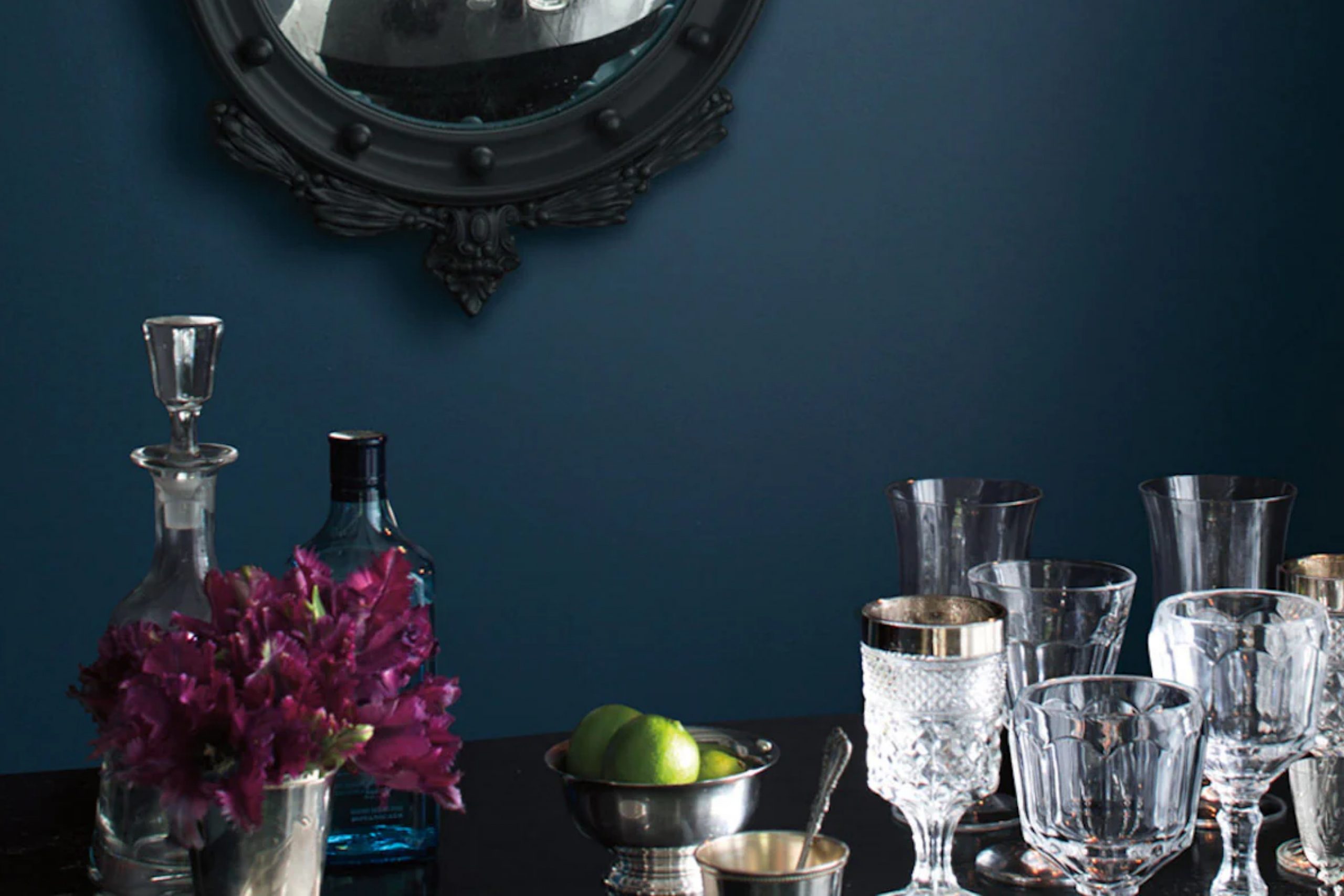 What Kind of Color Is Old Navy 2063-10?
If you are searching for a classic deep navy blue for your home, then Benjamin Moore Old Navy is precisely what you need. As Encycolorpedia says, this color will create a timeless and luxurious atmosphere in your home no matter where it is used.
Technically, BM Old Navy is a true navy blue that only has the slightest hint of an indigo-purple undertone. This is why it is perfect for both traditional and modern interiors.
It is the ideal dark blue for use in a dining room or library to make them feel cozy. Also, this color can be used on an accent wall to show off art and accessories.
This pure navy paint color will give a crisp look to the traditional cabinetry, window trim, or front door as well.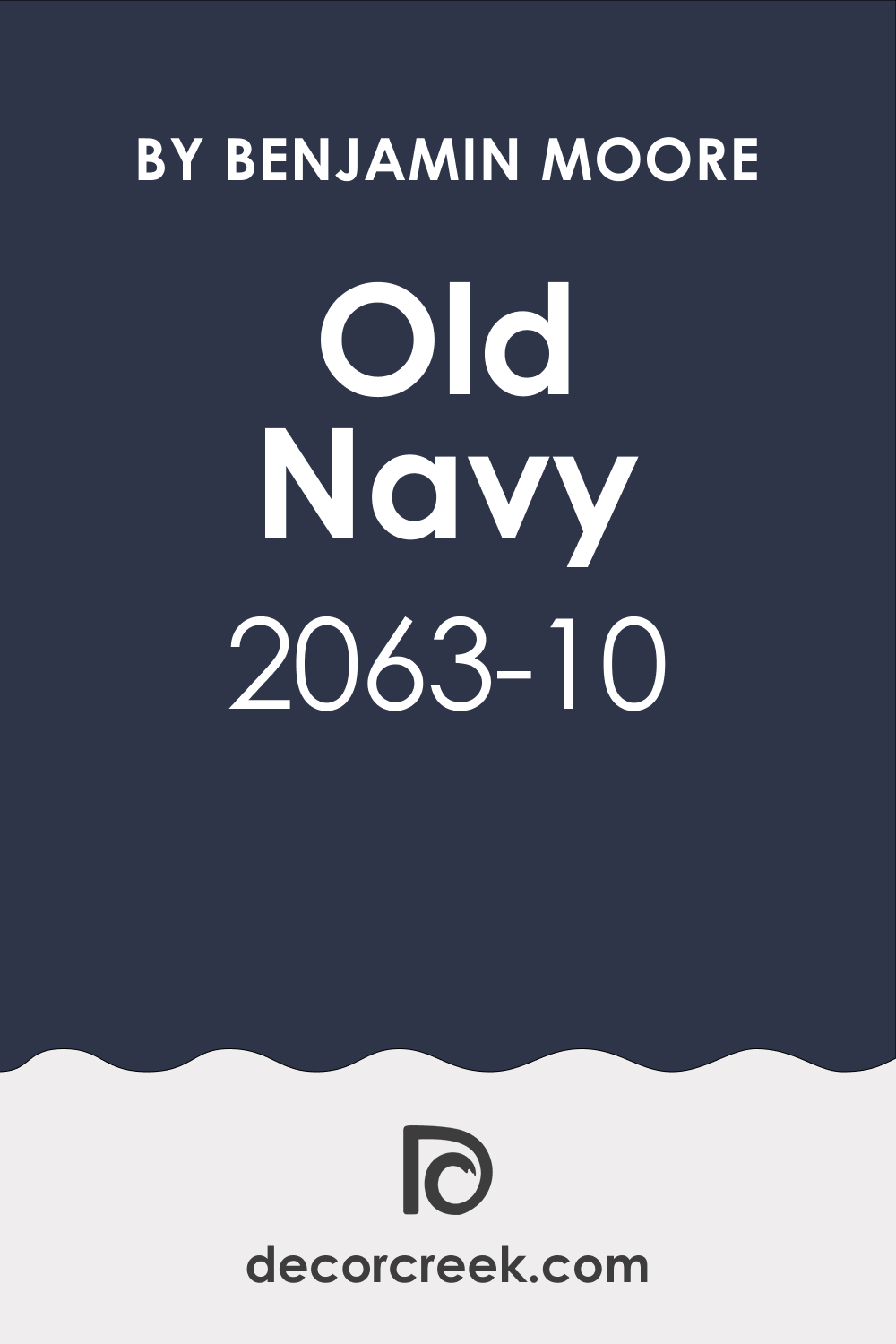 Is it a Warm or Cool Color?
BM Old Navy is definitely a cool-toned blue. It creates a cool, luxurious mood in darker rooms and gives a crisp coziness in rooms where there is plenty of natural light. But no matter where you use it, this color will not read warm.
So, if you are looking for a softer and warmer blue, you might want to try another shade of navy.
What Undertones Does Old Navy 2063-10 Paint Color Have?
BM Old Navy is a true navy blue that only has the slightest hint of an indigo-purple undertone. Since this highly pigmented blue paint retains its blue appearance most of the time, BM Old Navy is probably the most reliable blue of all Benjamin Moore's navy shades.
Despite being a very dark shade of navy, it nevertheless lacks the gray undertones that navy blues often have. Also, BM Old Navy will not turn green or teal in warm light, unlike most of its navy blue "cousins".
However, due to the presence of a very slight purplish hue, in some circumstances, this color may show a bit of a purplish-blue undertone!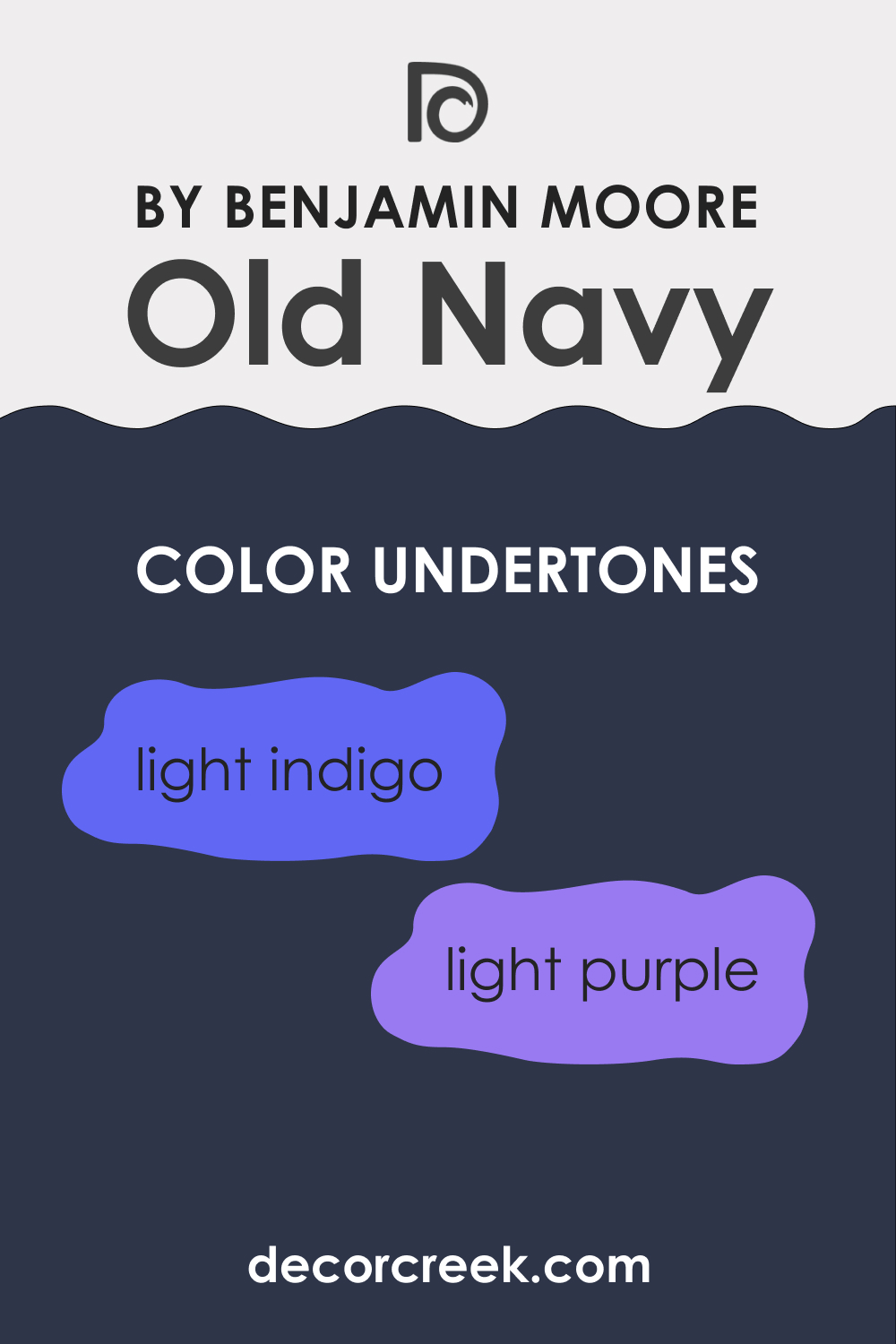 BM Old Navy Coordinating Colors
Properly picked coordinating colors ensure the palette of your interior looks balanced and eye-pleasing. But with such deep and dark colors as BM Old Navy, most of us will find it challenging to choose the correct colors to coordinate this blue.
This is why we have prepared a list of the most suitable coordinating colors that will definitely work with BM Old Navy paint:
2125-60 Marilyn's Dress
2124-30 Deep Silver
2130-10 Black Bean Soup
AF-580 Luxe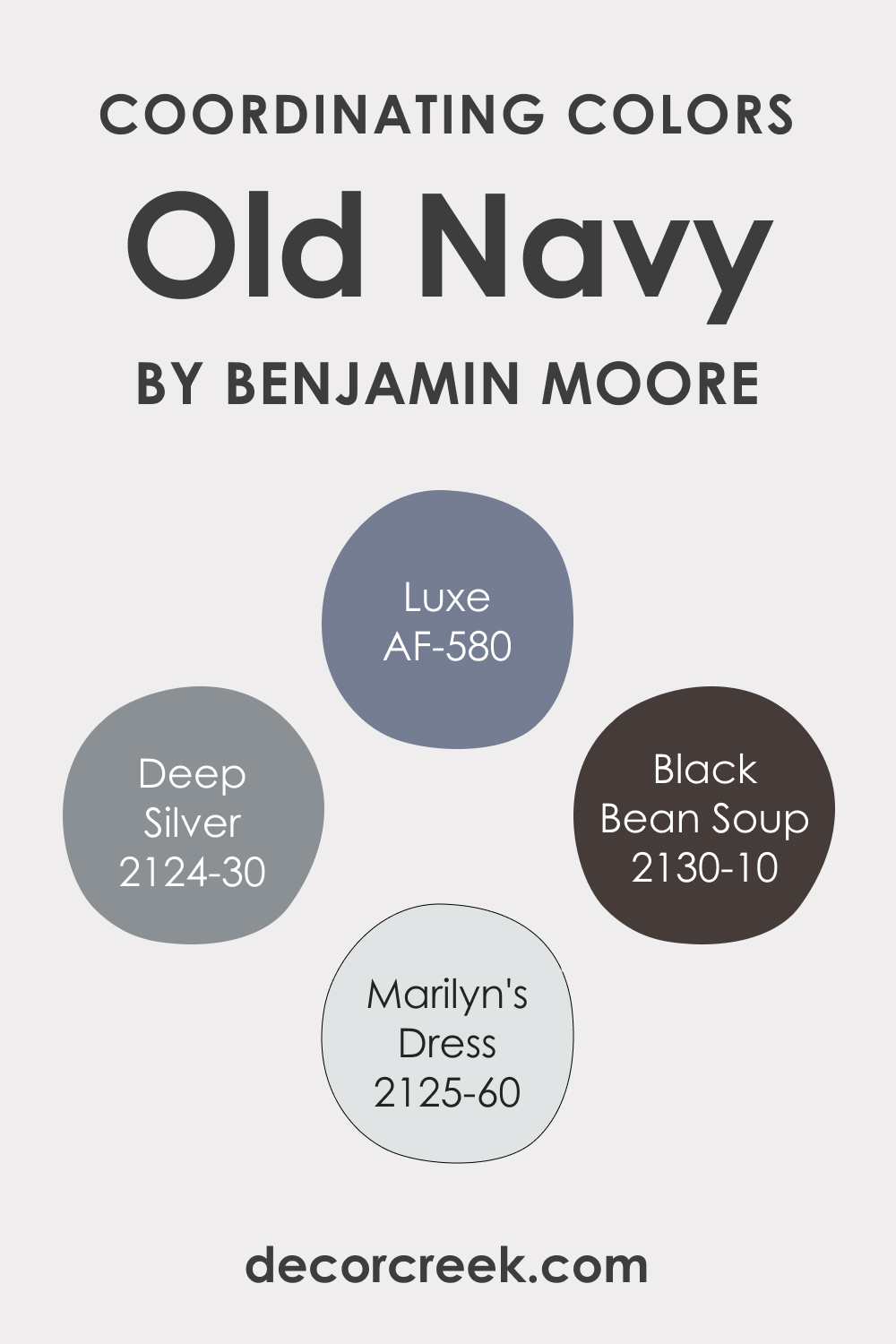 LRV of BM Old Navy Paint Color
LRV is an essential feature one should know about the paint color before using it. LRV stands for the Light Reflectance Value, and it shows how much light a color can reflect when it is applied to the wall.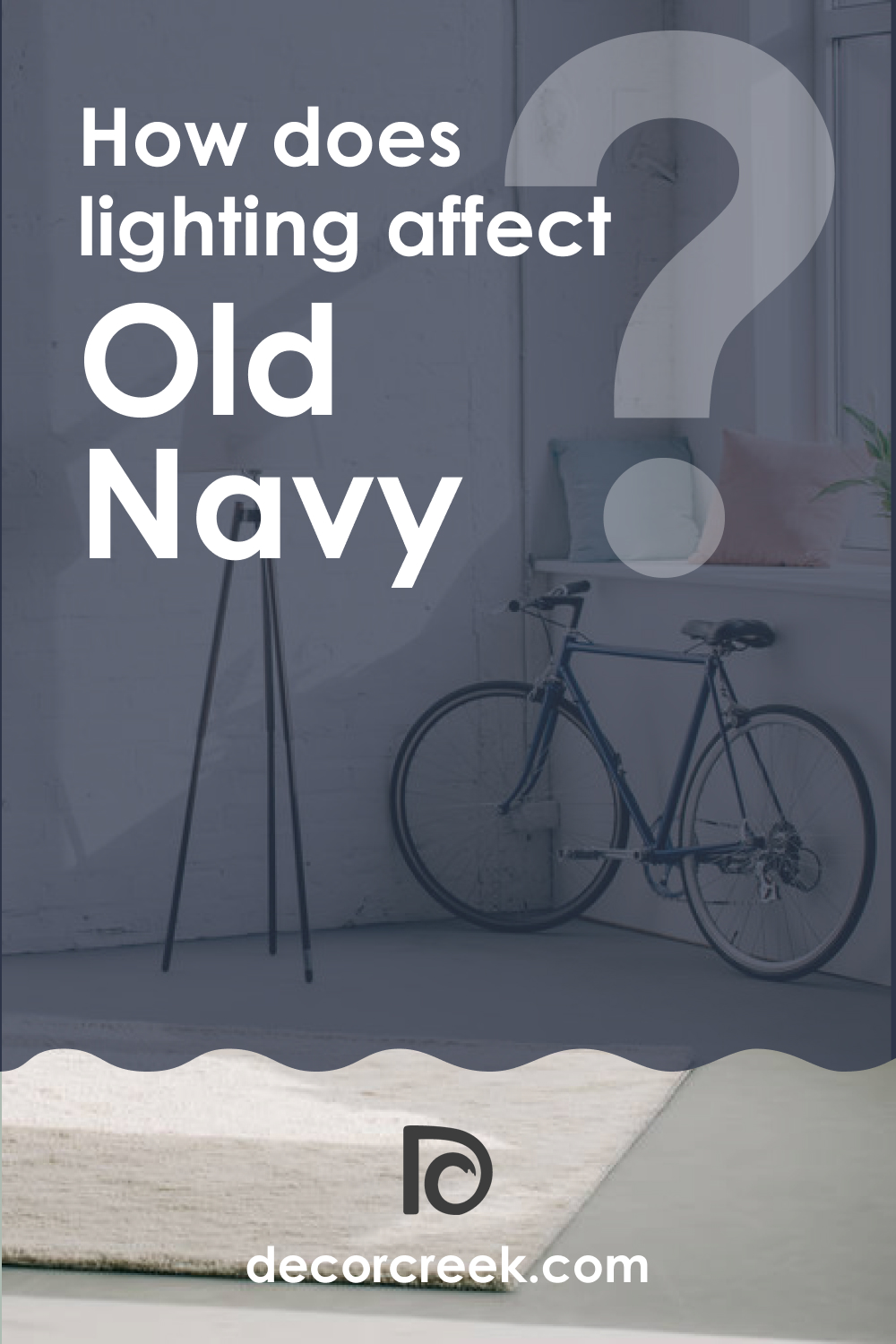 Traditionally, an LRV scale ranges from zero to 100, where zero stands for black, and 100 stands for pure white. Respectively, the higher the LRV value, the lighter the color you have.
The LRV value of BM Old Navy is 5, which means this blue is very dark. At the same time, it is not dark enough to read black-like on the walls. In rooms with bright (and especially cool) daylight, this dark blue will still show enough color, reading cool-toned navy with a prominent indigo hue.
But in warmer artificial light, BM Old Navy may read deeper and slightly darker. Nevertheless, you will always see its beautiful navy blue tone no matter the lighting conditions.
LRV – what does it mean? Read This Before Finding Your Perfect Paint Color
What Is the Best Trim Color to Use With Old Navy 2063-10?
BM Old Navy works perfectly well with white colors on your trim and moldings! You can use either cooler or more neutral whites (or even off-whites) depending on the effect you want to achieve. E.g. for a crisper look, stick with cool-toned white on the trim.
But for a softer contrast, try off-whites. However, we don't recommend using warm whites, especially those with creamy or yellowish undertones!
For trim color, you may want to try BM Decorator's White or BM Simply White for a softer contrast. Should you want a crisper look, opt for SW High Reflective White or similar crisper and brighter whites.
Similar Colors to Use Instead of Old Navy 2063-10
It's good to know what similar colors can be used instead of the color you initially chose for your walls. You may change your mind about the paint color you want to have in your home for many reasons.
Perhaps, you want a lighter (or a darker) shade of it, or you want a color with somewhat different undertones.
Anyway, having a couple of color substitutes is always helpful. For BM Old Navy, the following blue colors will work as the best alternatives:
2061-10 Deep Royal
2060-10 Symphonie Blue
2069-10 Deep Mulberry
2062-10 Polo Blue
SW 9178 In the Navy
BM Dark Byzantine Blue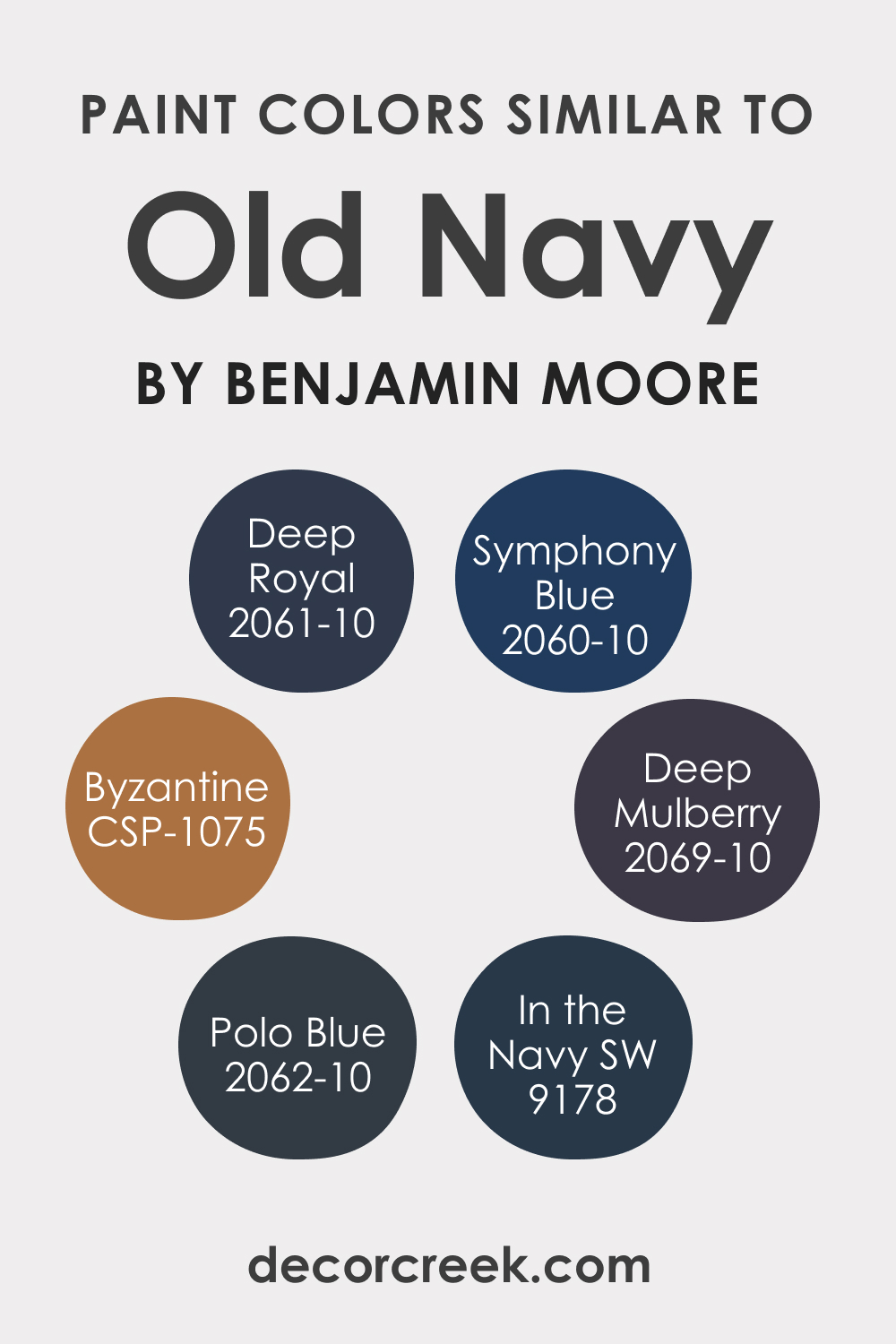 Colors That Go With Old Navy 2063-10
Knowing what colors go well with the paint color you have on your walls is a good idea. See, with such a palette at hand, you will always know what colors will read better with the wall color and what hues should be avoided.
Also, knowing what colors work well with the wall color allows you to pick the most suitable palette for your home.
If you have bM Old Navy on your interior walls, you might want to use one of these colors along with this dark navy blue:
2144-30 Rosemary Spring
513 Limestone
2121-40 Silver Half Dollar
AF-545 Solitude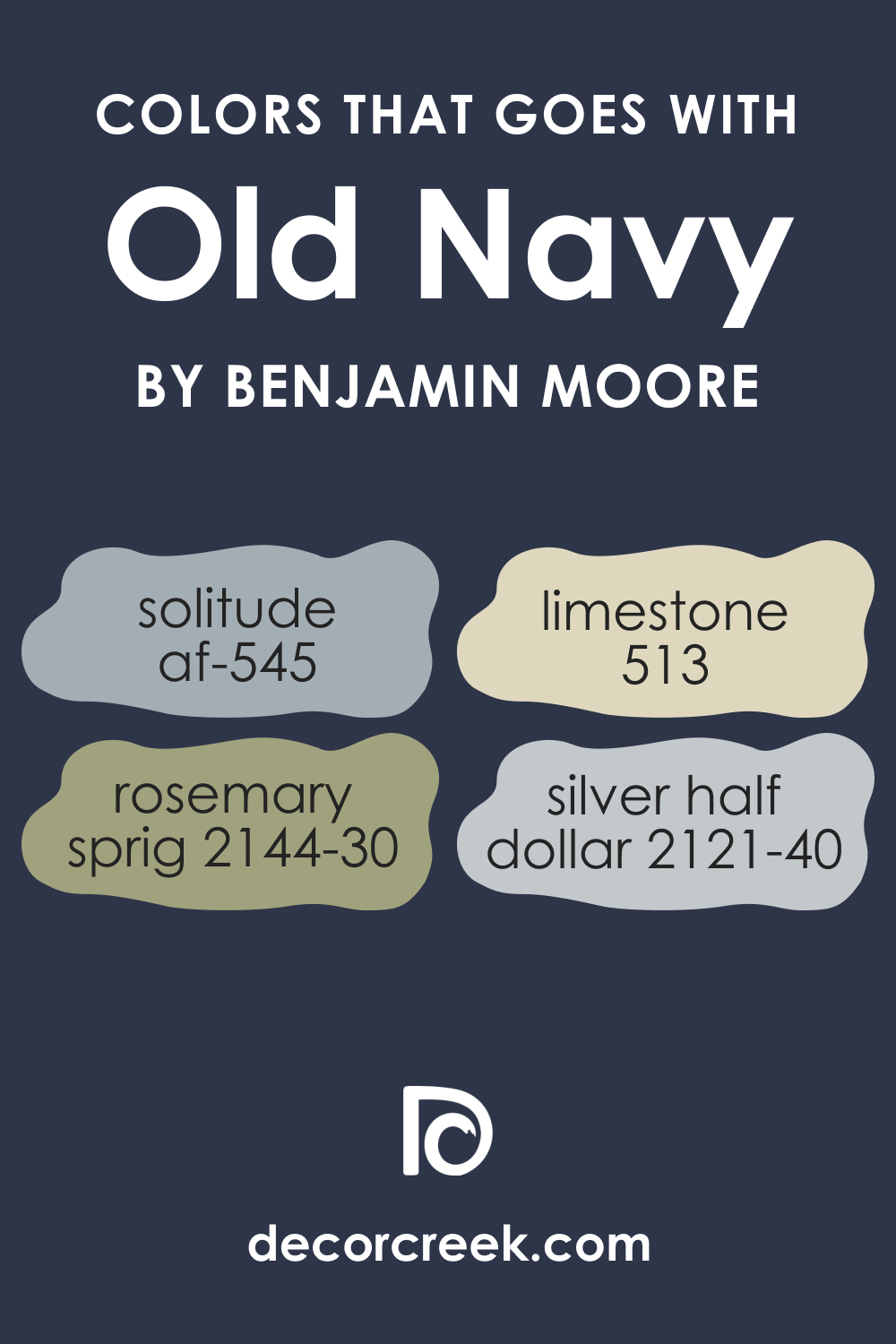 Comparing Old Navy 2063-10 With Other Colors
Since such a dark blue might be tricky to use, we have compared BM Old Navy with several other colors to figure out how they might work in your home. We suggest you read this comparative description carefully to learn how related colors that read nearly the same can differ by their LRVs and undertones.
Old Navy vs Smoky Blue
SW Smoky Blue is lighter than BM Old Navy. Besides, the Smoky Blue color is less saturated and deep in tone. These colors also differ in their undertones. BM Old Navy has purplish and indigo undertones, whilst its counterpart has a gray undertone.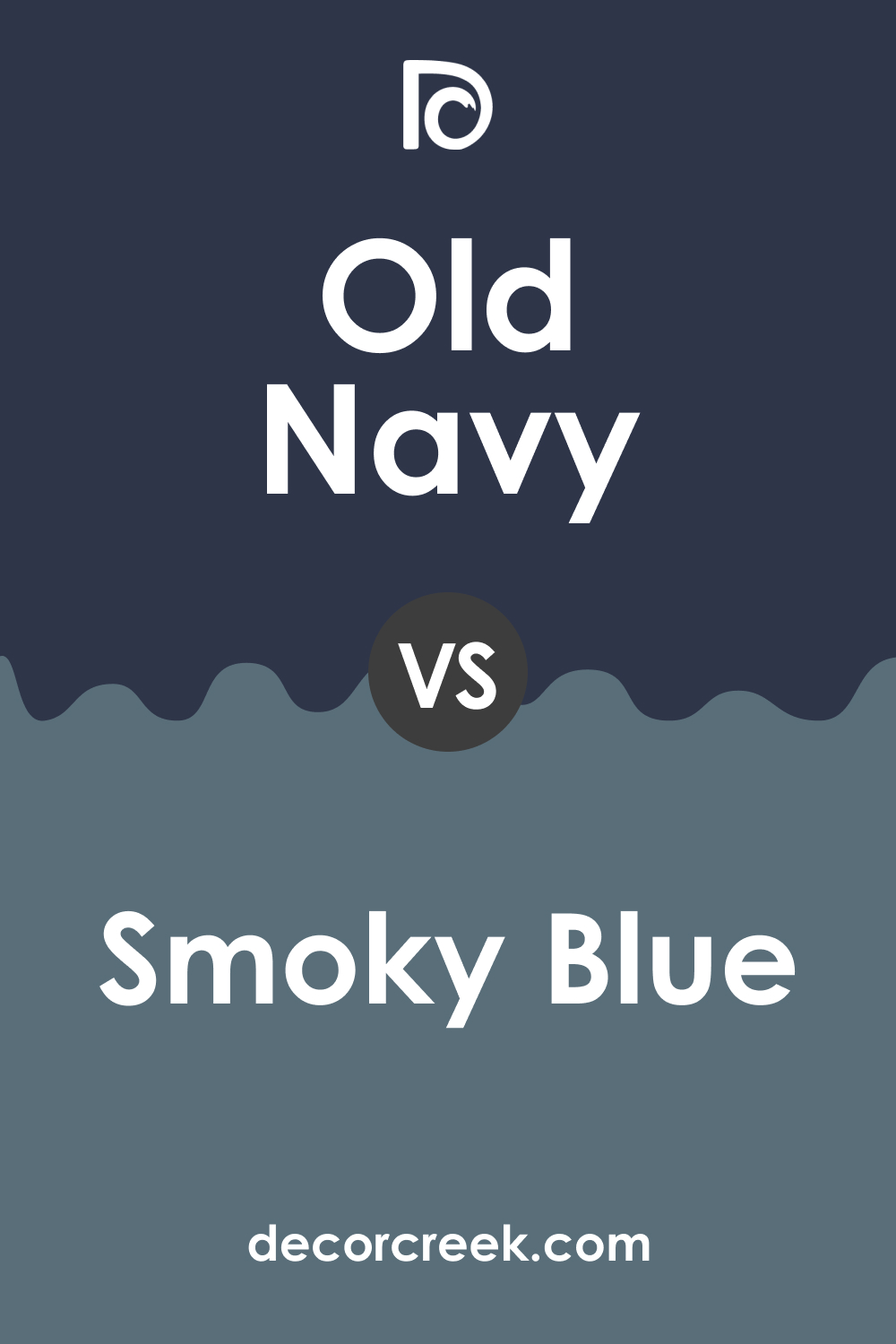 Old Navy vs Cyberspace
Although both colors are navy blue, they read differently. SW Cyberspace is a deep navy blue with strong gray undertones, whilst BM Old Navy is a more saturated navy blue with purple-indigo undertones.
Compared to the Old Navy color, SW Cyberspace looks almost gray, revealing its undertones very noticeably!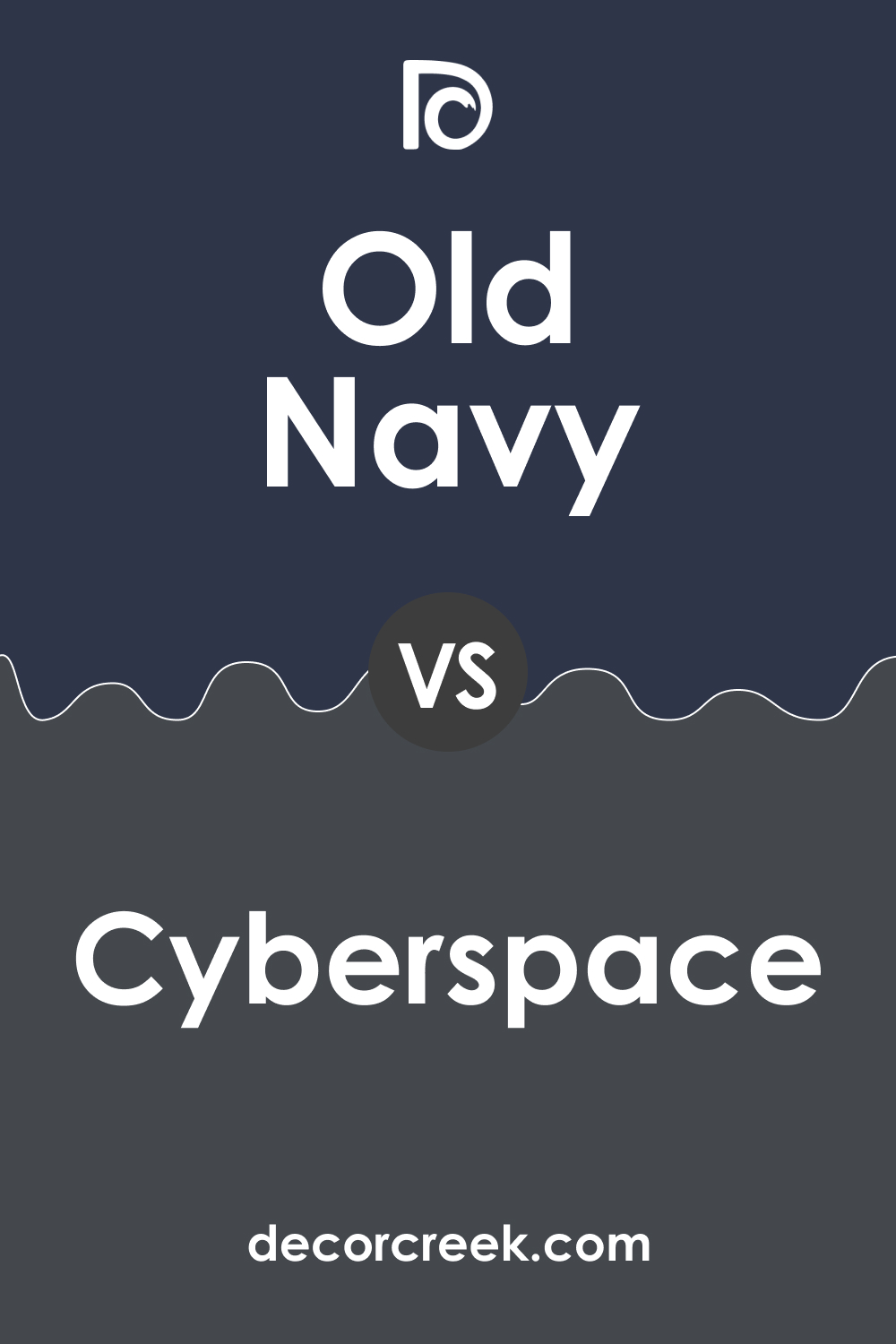 Old Navy vs Gentleman's Gray
Both colors are navy blue, but they don't read similarly. BM Gentleman's Gray reads lighter since it is navy blue with gray undertones. Compared to it, BM Old Navy looks deeper and more saturated thanks to its purple and indigo undertones.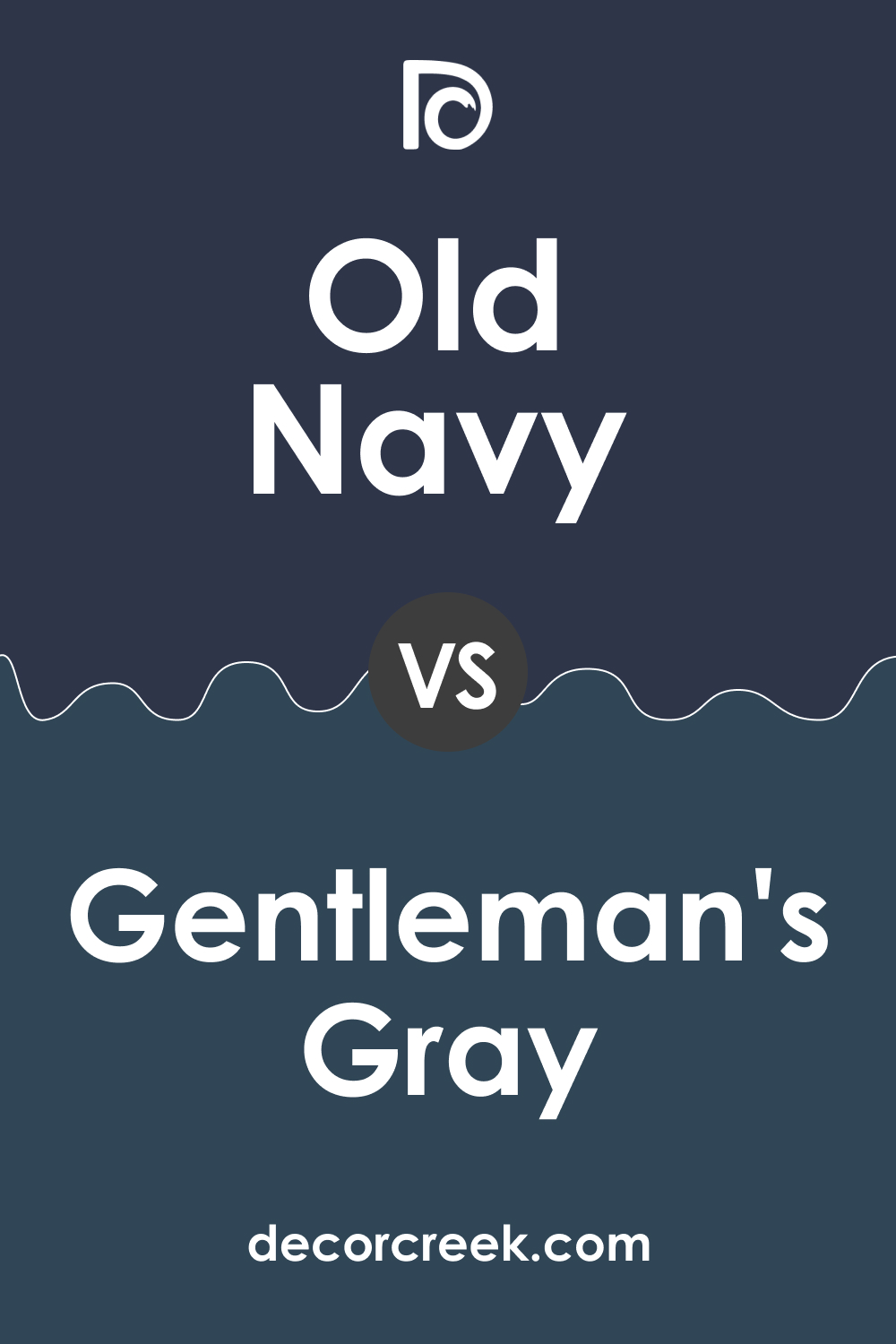 Old Navy vs Deep Royal
It's pretty hard to see the difference between these two since they are very dark. However, there are distinctions anyway. BM Deep Royal is a true blue navy with no discernable undertones, whilst BM Old Navy is navy blue with purple and indigo undertones.
Their LRVs are also different, but not too much. The LRV value of BM Deep Royal is 4, and the LRV value of its counterpart is 5.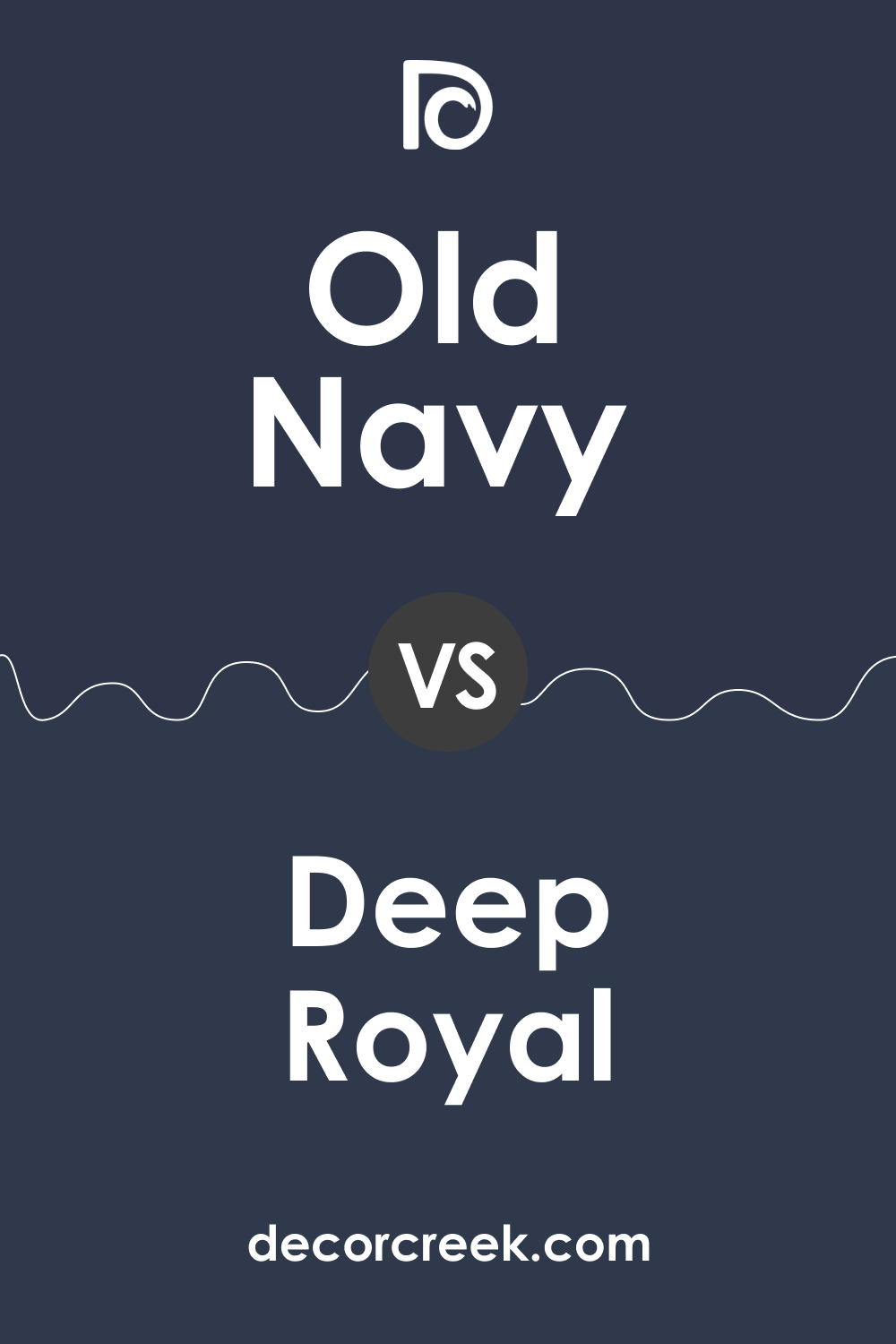 Old Navy vs Endless Sea
SW Endless Sea is a deep shade of blue that has yellow and gray undertones. Its LRV value is 9. Generally, this color looks lighter than BM Old Navy. Also, SW Endless Sea doesn't read so dark. Compared to it, BM Old Navy reads more saturated and definitely deeper.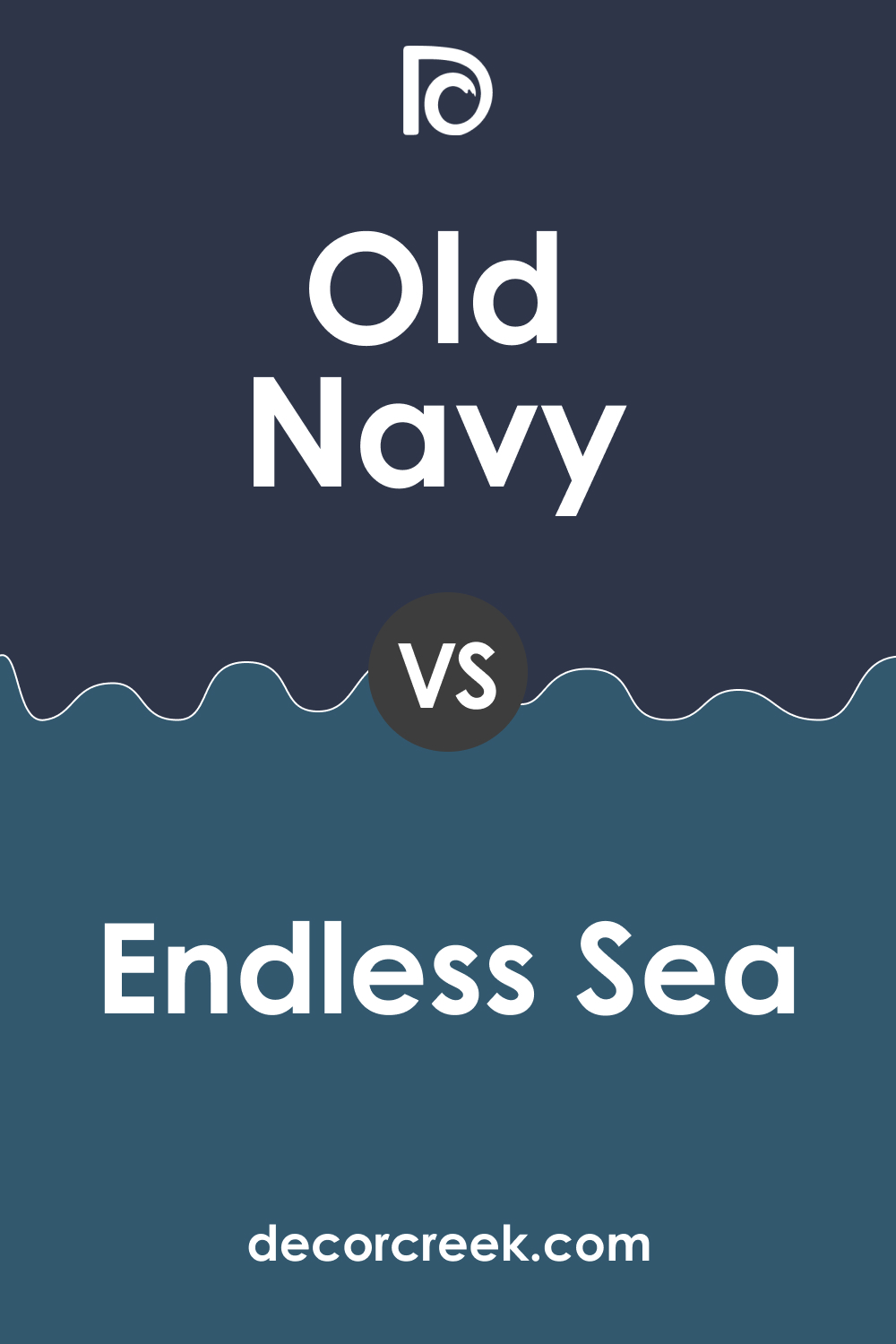 Old Navy vs Indigo Batik
SW Indigo Batik is a dark, saturated denim blue with an lRV of 8. It reads lighter than BM Old Navy with its lower LRV of 5. Also, the Old Navy blue color is more saturated and definitely looks deeper due to its indigo and purple undertones that add richness to this hue.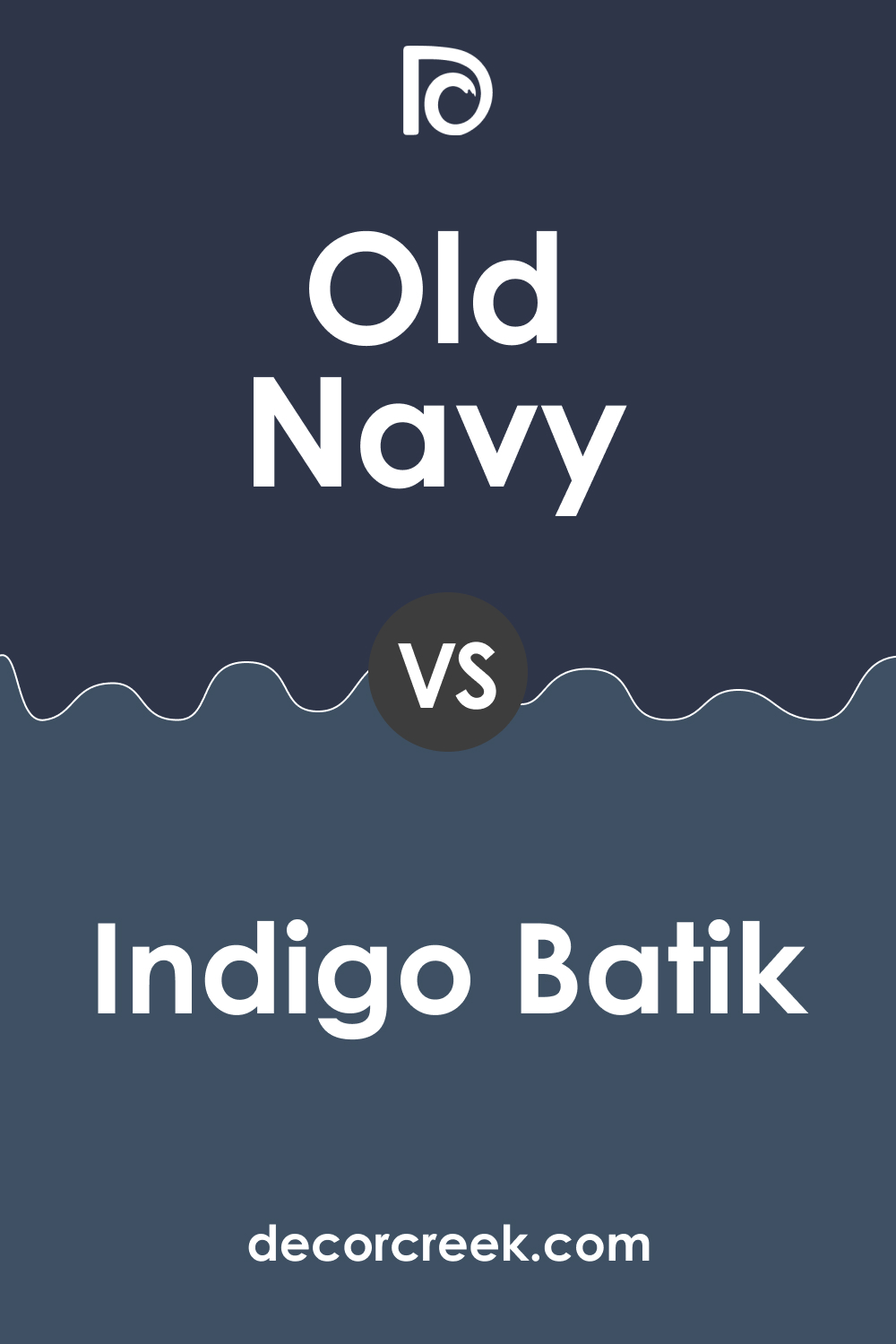 Where In Your Home BM Old Navy Color Can Be Used?
BM Old Navy is a very dark navy blue, but it is surprisingly versatile. It might not be the right shade for you if you are looking for a mutable gray-blue, but if you want a true navy blue for your home, BM Old Navy is worth trying. It will work great on cabinetry, bookshelves, walls, or trim.
You can also use this rich color on an accent wall or as an all-over color for a traditional master bedroom. Besides, BM Old Navy is a popular exterior color for siding or woodwork. Below, you can read how this color may work in different rooms of your home.
BM Old Navy in the Living Room
In your living room, you can paint BM Old Navy on an accent wall to make a statement in the space. This versatile blue paint can work with both transitional-style homes and modern designs.
You can also try to paint both the walls and trim in Benjamin Moore Old Navy if you want to make traditional architecture look more stylish and updated.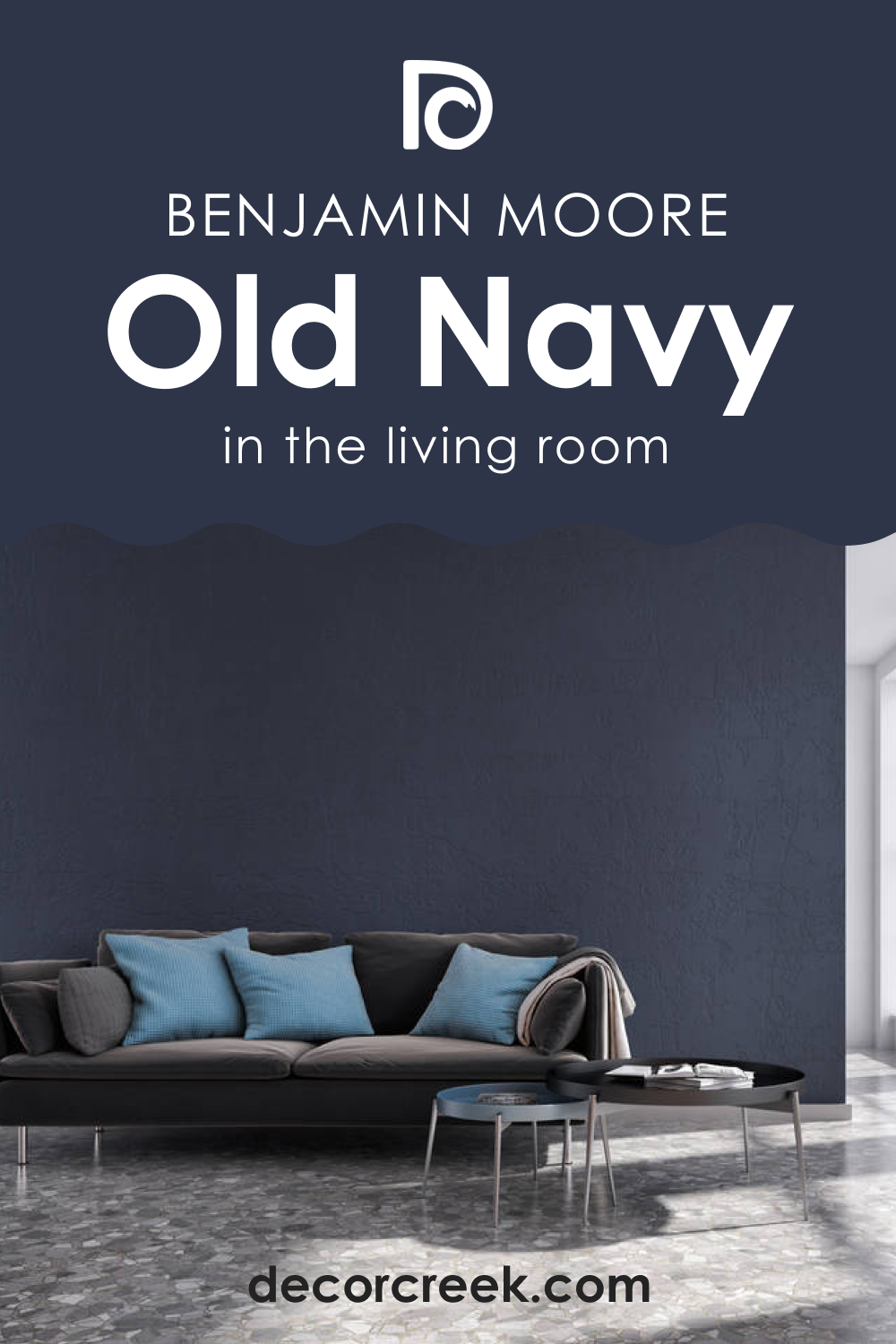 BM Old Navy in a Bedroom
This blue can also work in your bedroom, but mainly as an accent wall color. It pairs lovely with whites, so you can leave other walls painted in white. This bright color will highlight the depth of the navy blue and reveal its hue more deeply.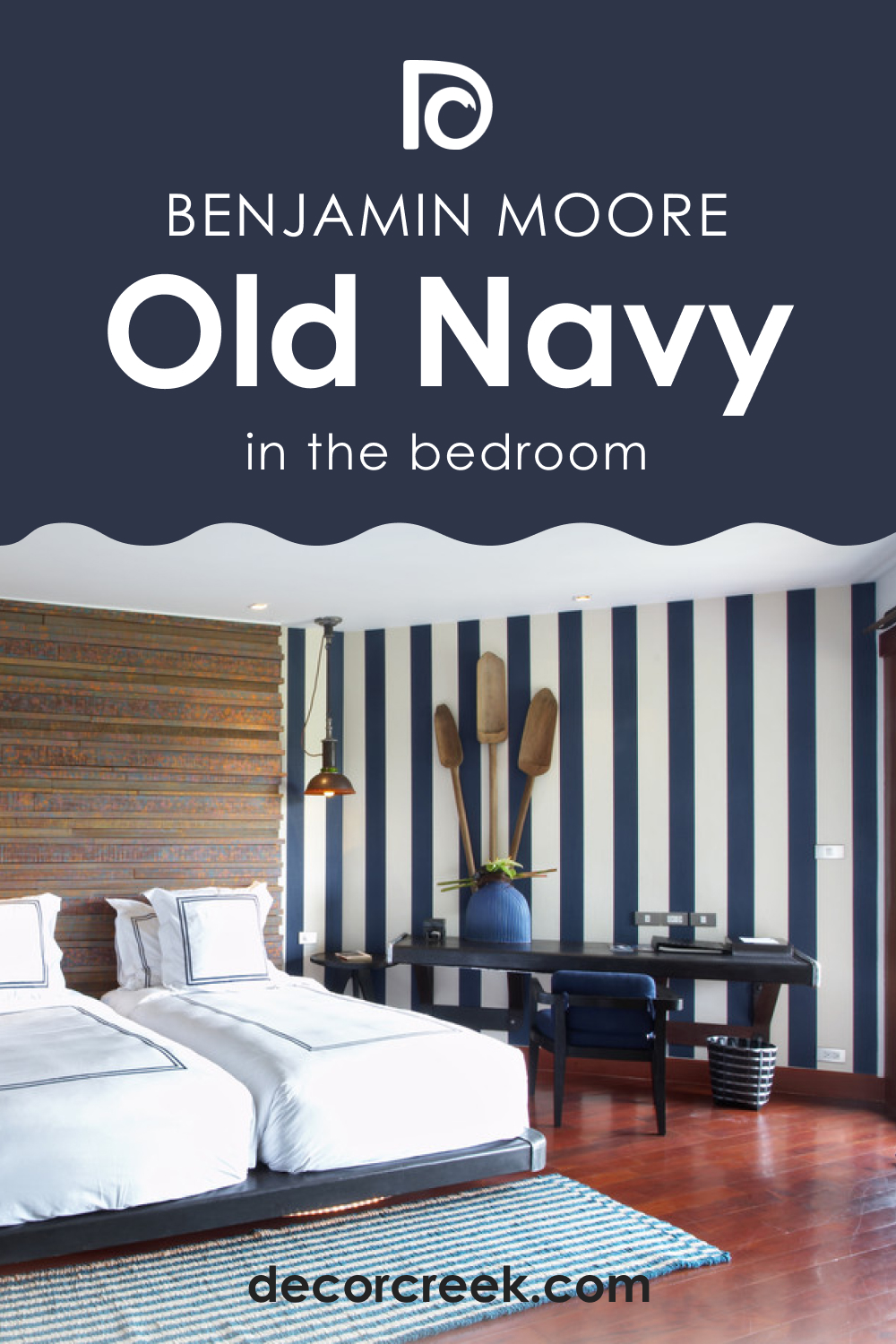 BM Old Navy in the Bathroom
Since this color is very dark, avoid painting all the walls of your bathroom in it! Instead, use it on limited surfaces like your vanity sink or an accent wall. Paired with crisper and cool-toned white, BM Old Navy will make the space look elegant and stylish, yet not too overwhelming or dark.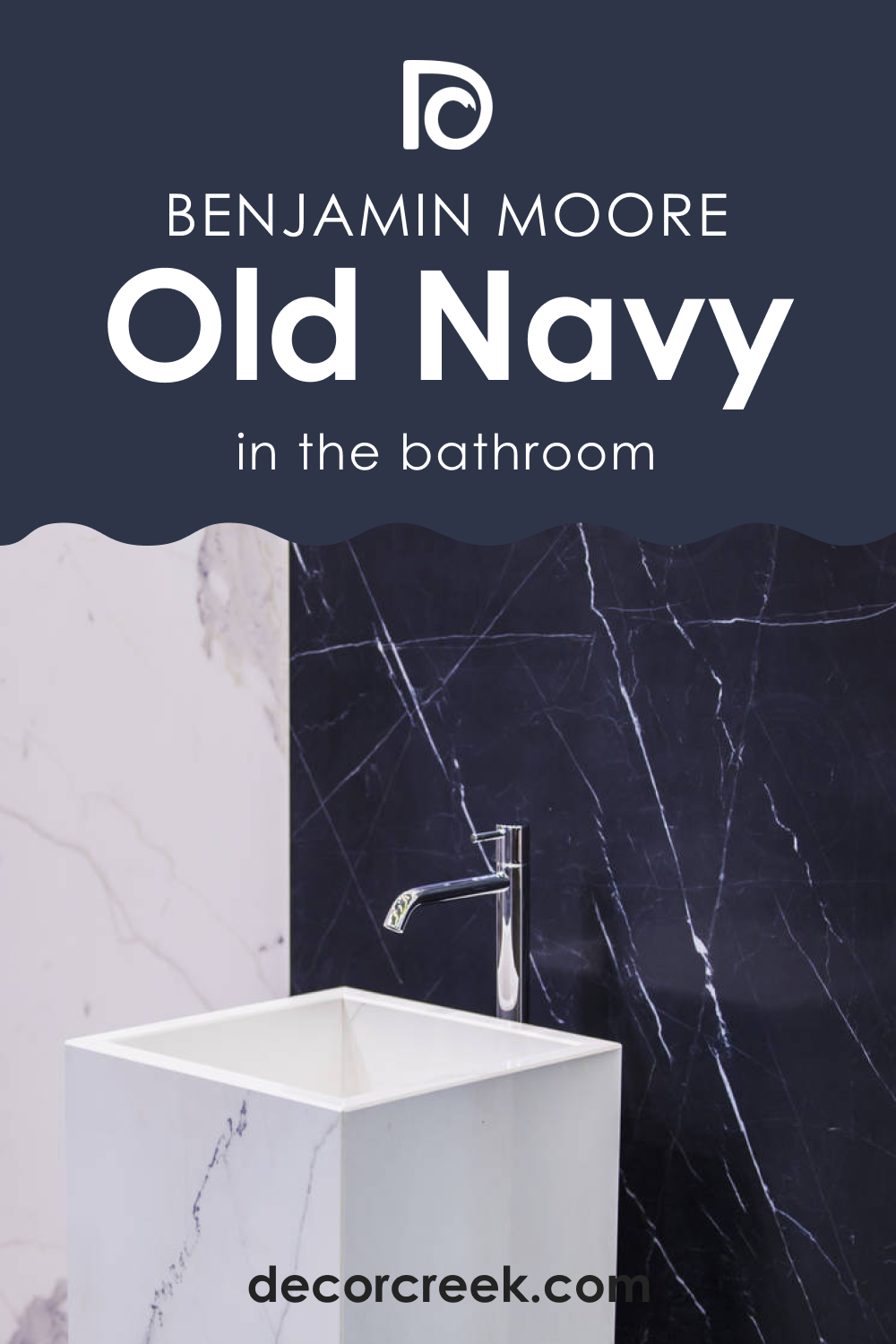 BM Old Navy on the Kitchen
In the kitchen, this navy blue works best on cabinets (lower and upper) and the kitchen island. It works great with tiles and brass fixtures, as well as golden or brass pull handlers and other elements. With a lot of white and a few navy blue accents, your kitchen will feel fresh and, at the same time, homey.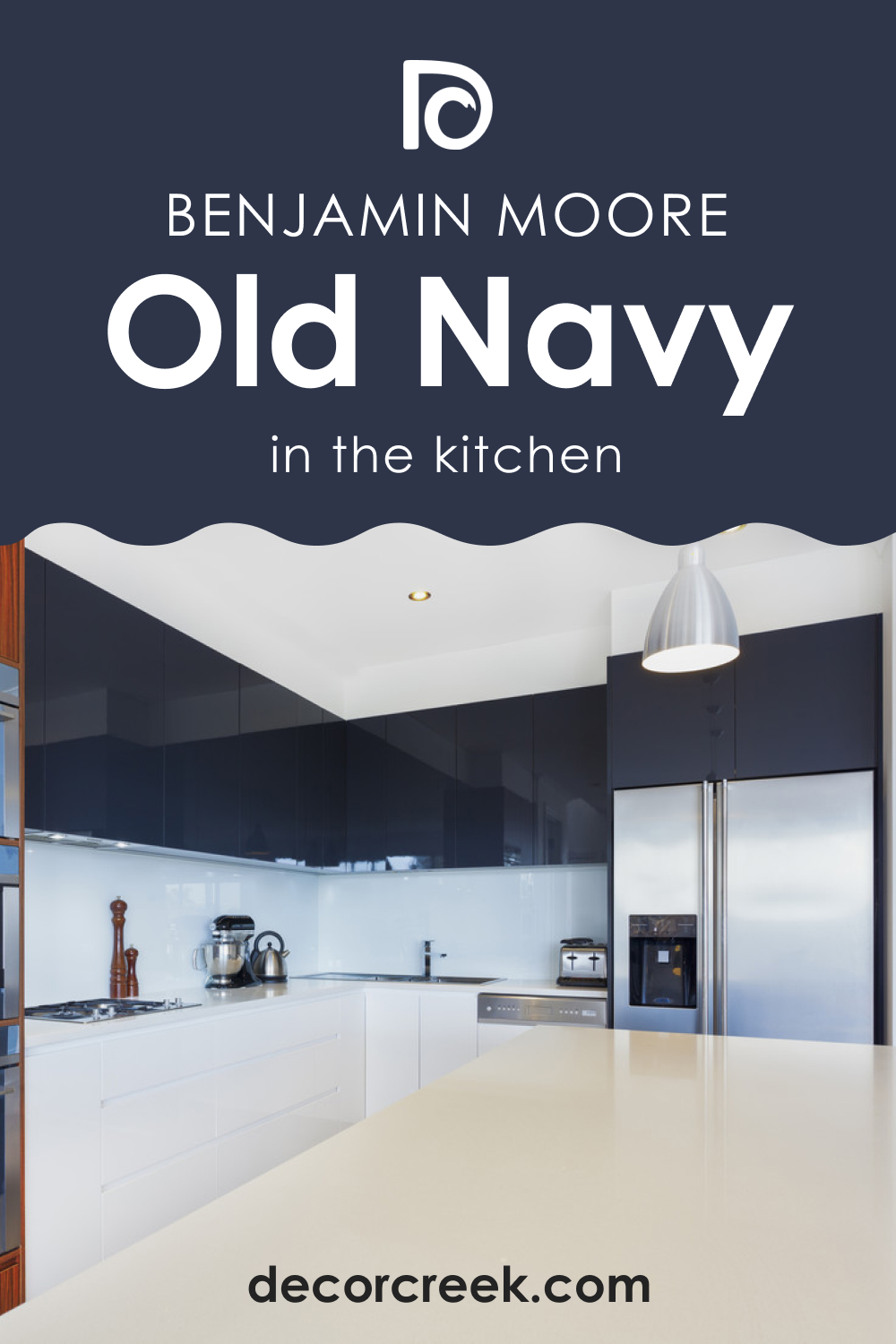 BM Old Navy for the Exterior Use
Despite being very dark, BM Old Navy is one of the most popular exterior colors, especially for siding or woodwork. It will look equally stylish on the exterior walls of modern and traditional homes. Besides, this deep shade of blue is an ideal color to use with natural materials like wood and stone!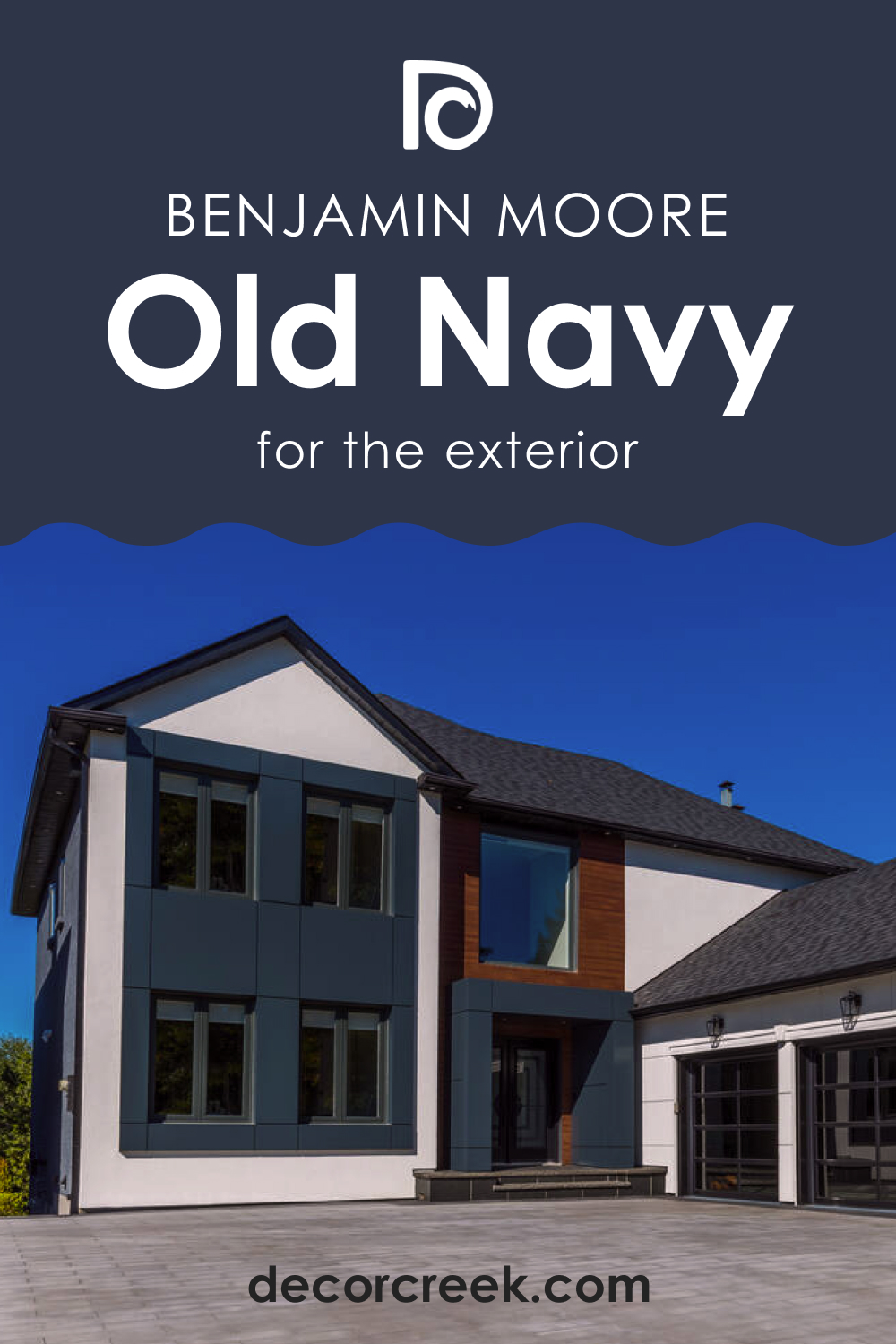 Well, now you know more about this gorgeous shade of blue. Now you know what colors it works with and how it may react to light. Also, we explained how to coordinate it correctly and what similar colors might work as substitutes for this dark navy hue.
BM Old Navy may seem to be challenging to use, but since you know its specific features, you will easily incorporate this color into your interior successfully.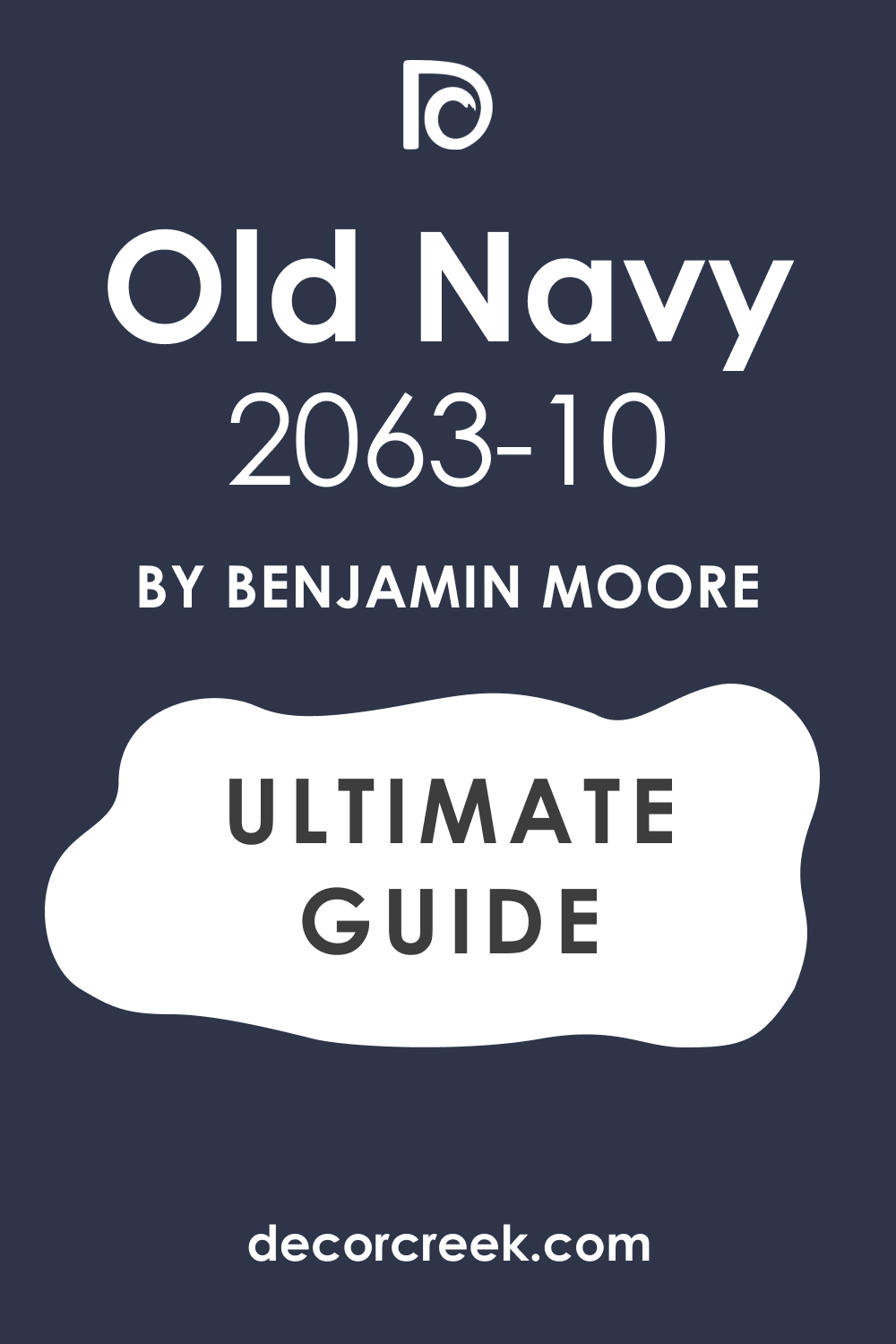 Frequently Asked Questions
⭐What color collection does BM Old Navy belong to?
Benjamin Moore Old Navy is part of the Color Preview collection.
⭐Does BM Old Navy work with green colors?
Yes, it can work with darker and cool-toned emerald greens.
⭐Will BM Old Navy work on coastal-style home exterior walls?
Yes, it can work well with this style.