People often avoid using blue color in their living spaces because they believe this color is hard to pair with other colors. Besides, not everyone likes how blues read in their homes because of the cool-toned atmosphere the color creates.
But today, we would like to introduce a fabulous deep blue color to you called Blue Heron by the Benjamin Moore brand.
You will learn what undertones it has, what colors should be used to coordinate it, and how this paint color may work in different spaces in your home.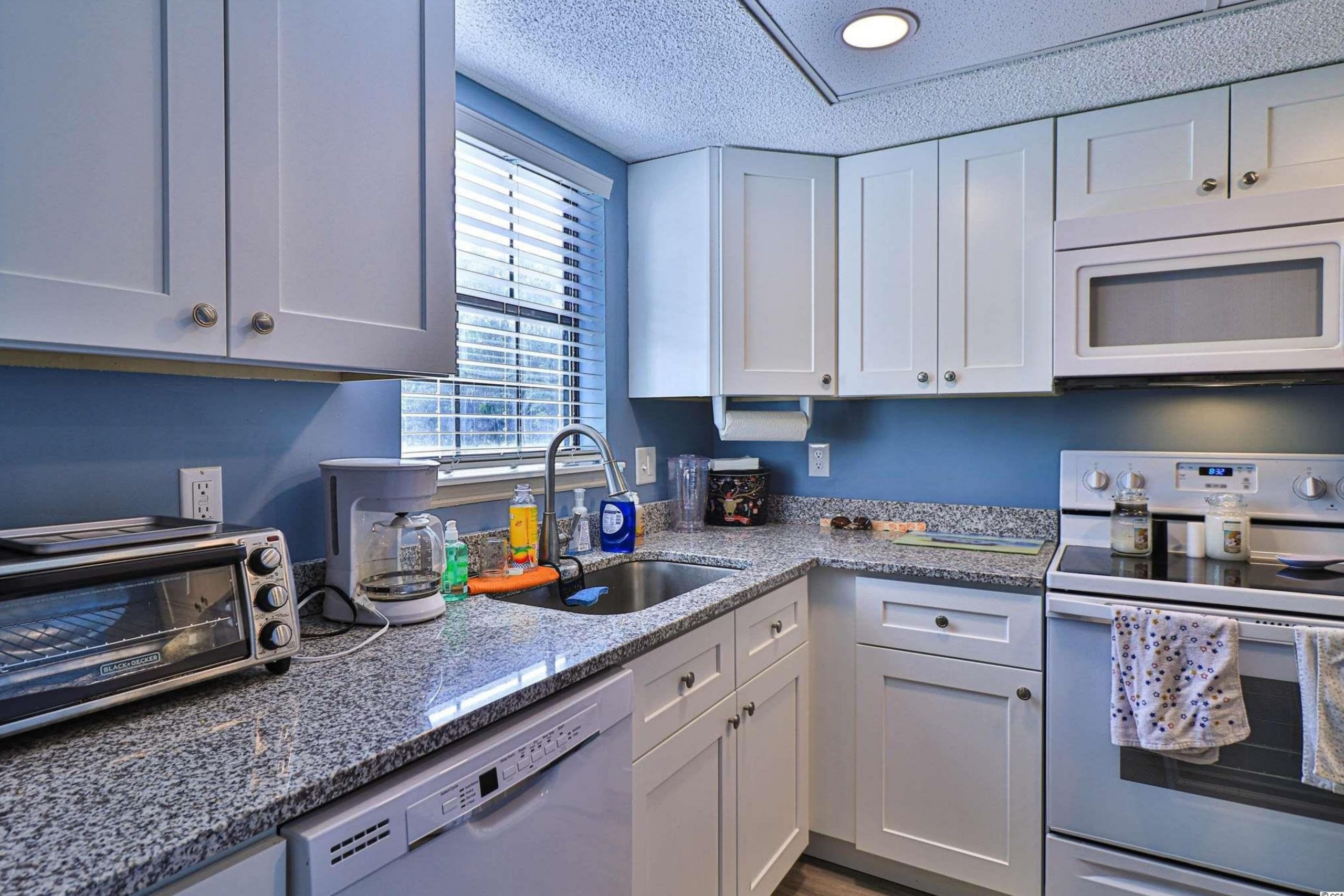 What Kind of Color Is BM Blue Heron?
If you take a look at BM Blue Heron, you will see that this is a lovely and deep shade of blue with velvety feeling. As Encycolorpedia says, this violet-blue paint color is softly faded with a touch of gray. In general, it makes an impression of a soft yet deep blue color. However, it doesn't look dark on the walls.
Despite being rather dark, BM Blue Heron can be used in different rooms of your home. moreover, this color can even work well on exterior walls of a house. Read on to find out what specifics and nuances it has.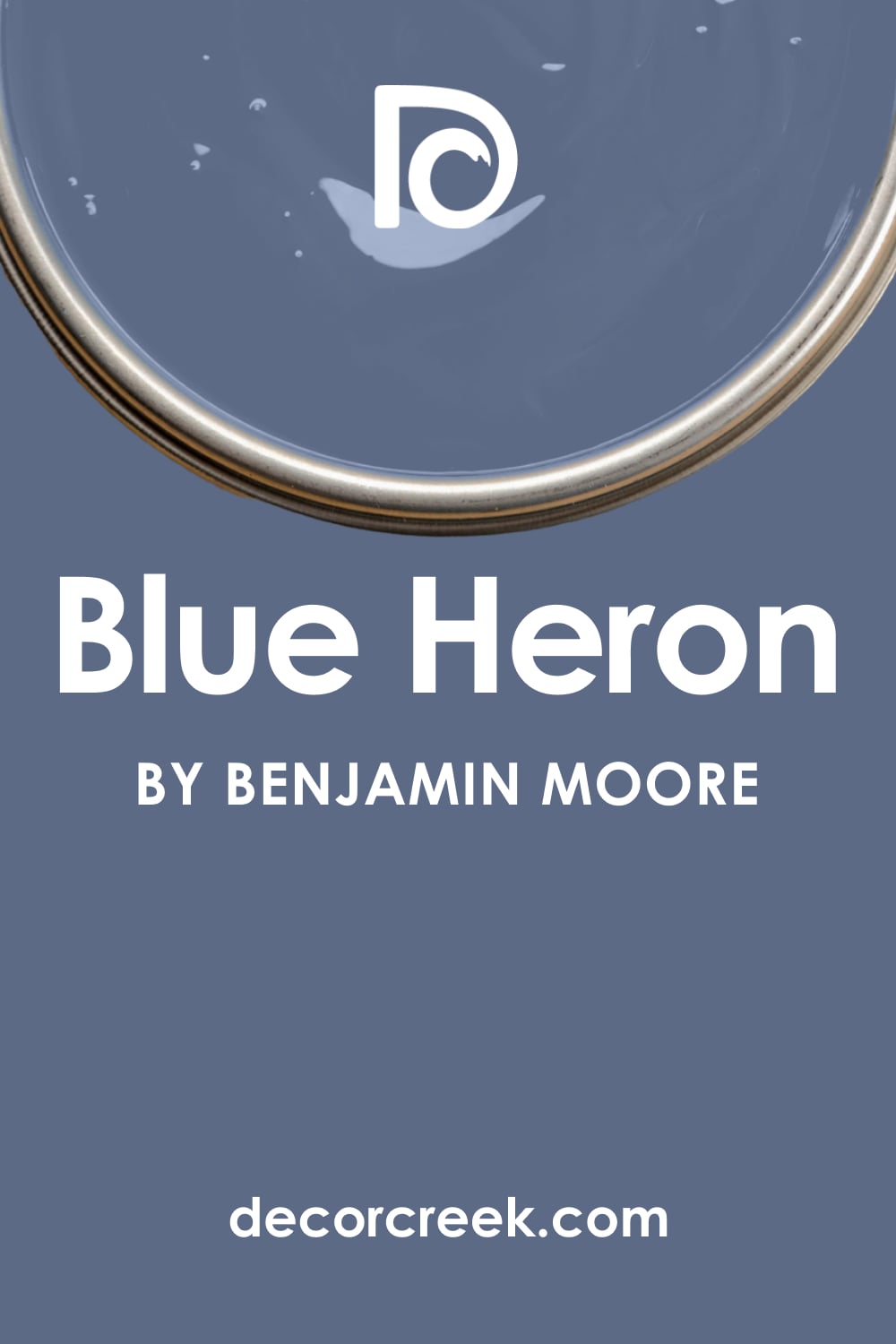 BM Blue Heron Undertones
Being aware of undertones is important because it allows you to tell in advance how the color will read in a room or on exterior walls. But since some colors have very tricky undertones, you might need help defining them.
If you take a look at BM Blue Heron, you will see this color has rather complex undertones. To be precise, its undertones are violet and gray.
Altogether, they create that feeling of depth this blue color is known for.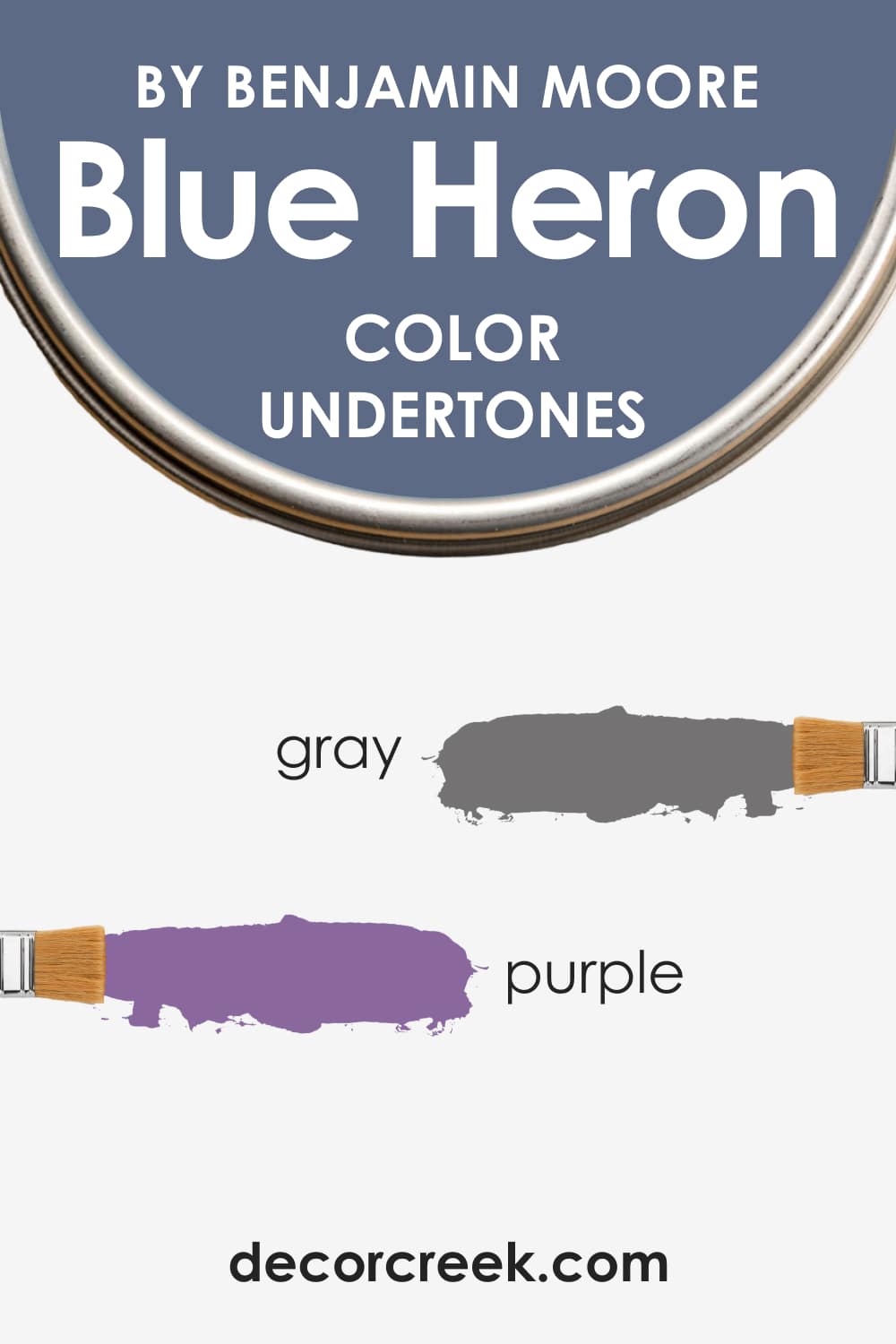 LRV Blue Heron 832 Paint Color
LRV is another essential feature each paint color has. LRV stands for the light reflectance value and shows the percentage of light the color can reflect from the wall. The LRV scale ranges from zero to 100, where zero is black, and 100 is pure white.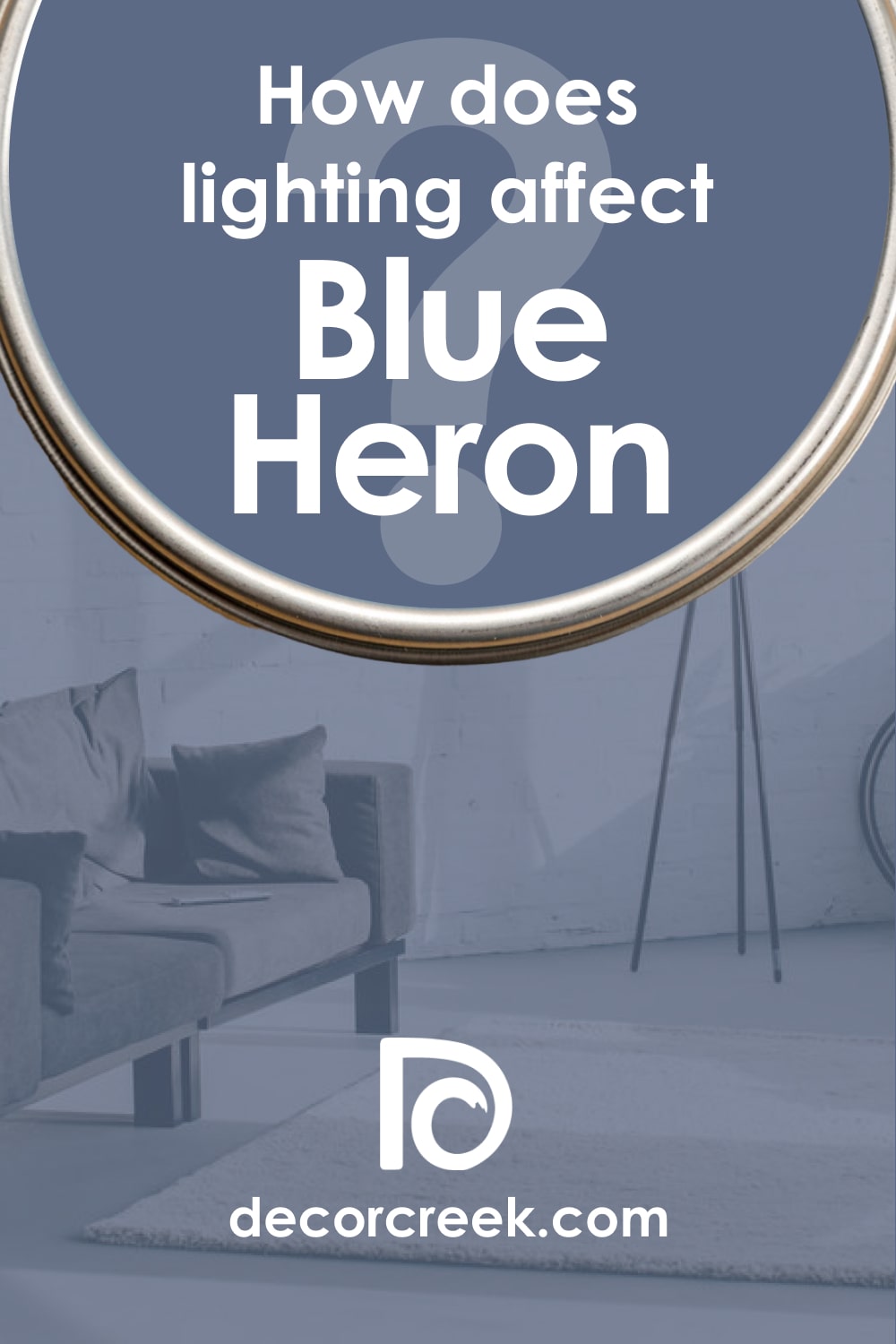 The LRV of BM Blue Heron is 15.77, which means this blue is rather dark. It also means that this paint will not reflect a lot of light. So we would not recommend you this color for small and poorly lit spaces.
However, this shade of blue will still not read as dark as the black color, for example.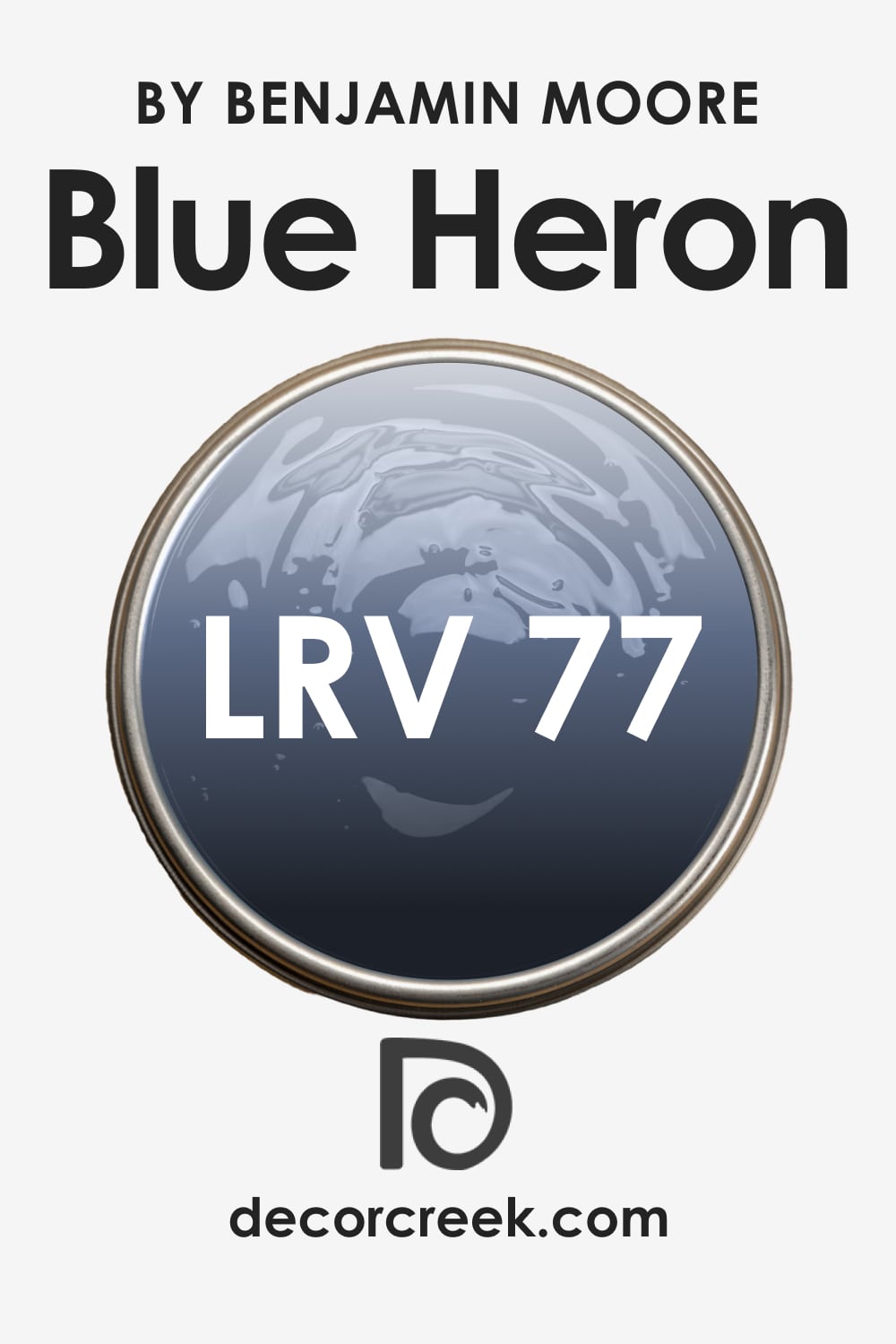 LRV – what does it mean? Read This Before Finding Your Perfect Paint Color
Coordinating Colors For BM Blue Heron
When you know what colors can coordinate the paint color used on the walls, you can match all the colors in a room much better. It will result in a more balanced and harmonious color palette in general.
For BM Blue Heron, you can use the following colors to coordinate it:
BM Stonington Gray
BM Simply White
BM Damask Yellow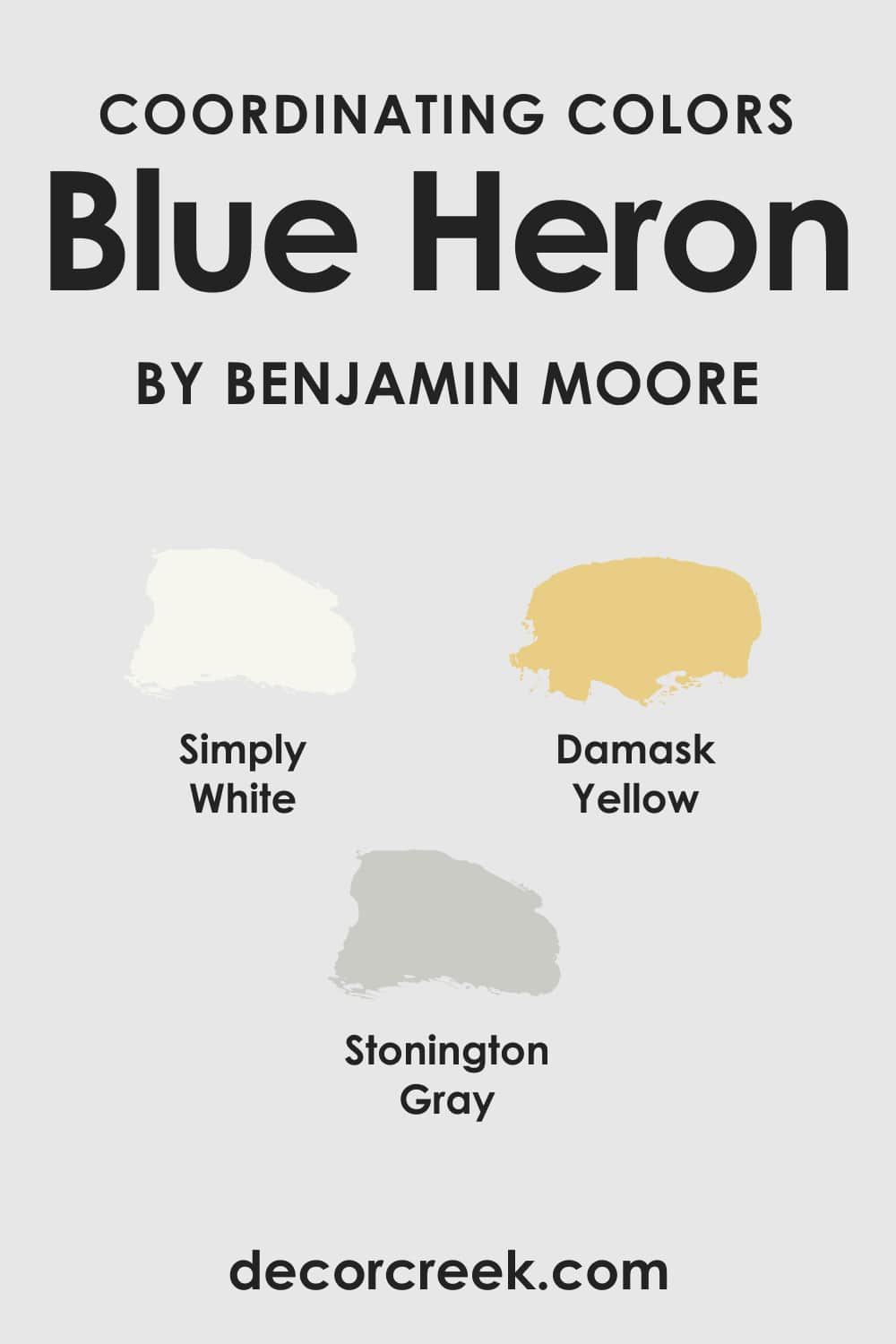 What Is the Best Trim Color for Blue Heron 832?
White is traditionally considered the optimal paint color to be used on trim since it works well with most other colors. Some shades of white are so versatile that they can even be used both on the trim and walls.
With BM Blue Heron, the following whites will look good on trim:
BM White Heron
BM Super White
BM Chantilly Lace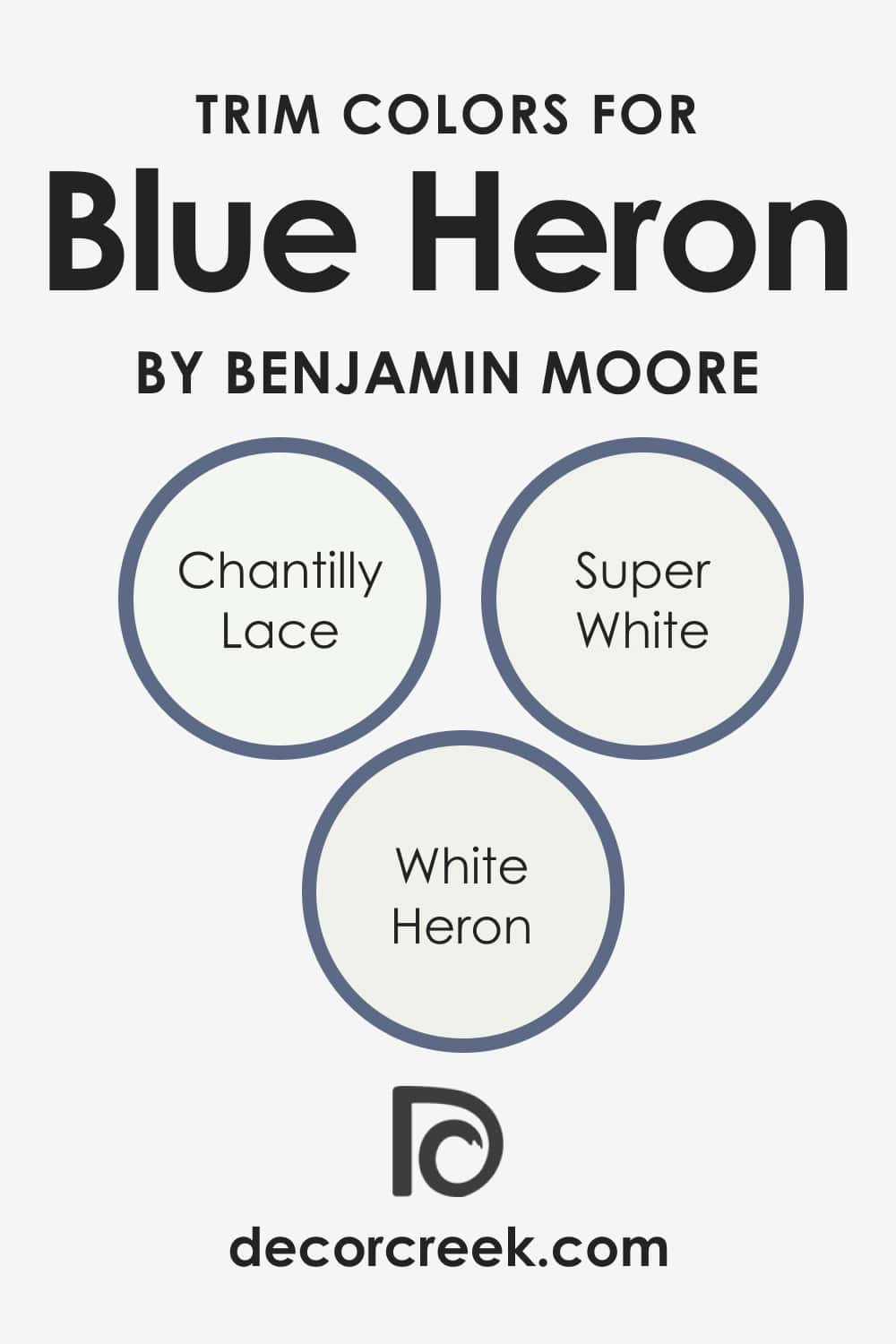 Paint Colors Similar to BM Blue Heron
When you are choosing the right paint color for your interior or exterior walls, remember to have a couple of similar colors in mind too. They will help you to change the color quickly and easily in case you realize you need slightly different undertones or the color you initially chose didn't pair well with the rest of the palette.
Below, you can find a few colors that can be used as BM Blue Heron substitutes:
BM Blue Nova
BM French Violet
BM Blue Gaspe
BM Amethyst Shadow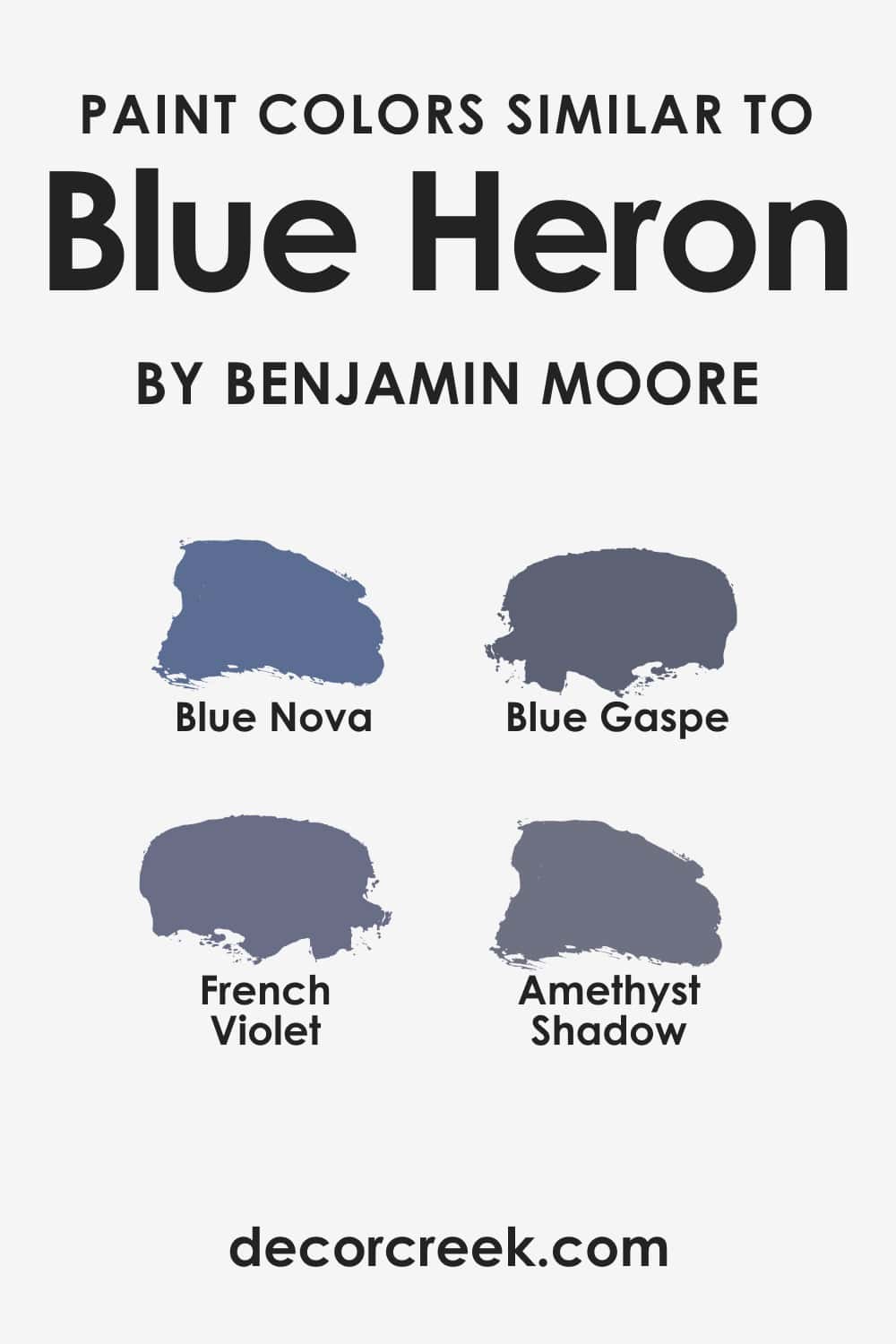 Colors That Go With BM Blue Heron
Sometimes, it can be hard to choose the right colors that work best with the paint color on the walls. And if you paint your walls with the color like BM Blue Heron that has such complex undertones, its undertones might be difficult to match!
This is why we have prepared a few best matching colors that will go well with this lovely and deep blue:
BM Sheep's Wool
BM Timber Wolf
BM Dove Wing
BM Georgetown Pink Beige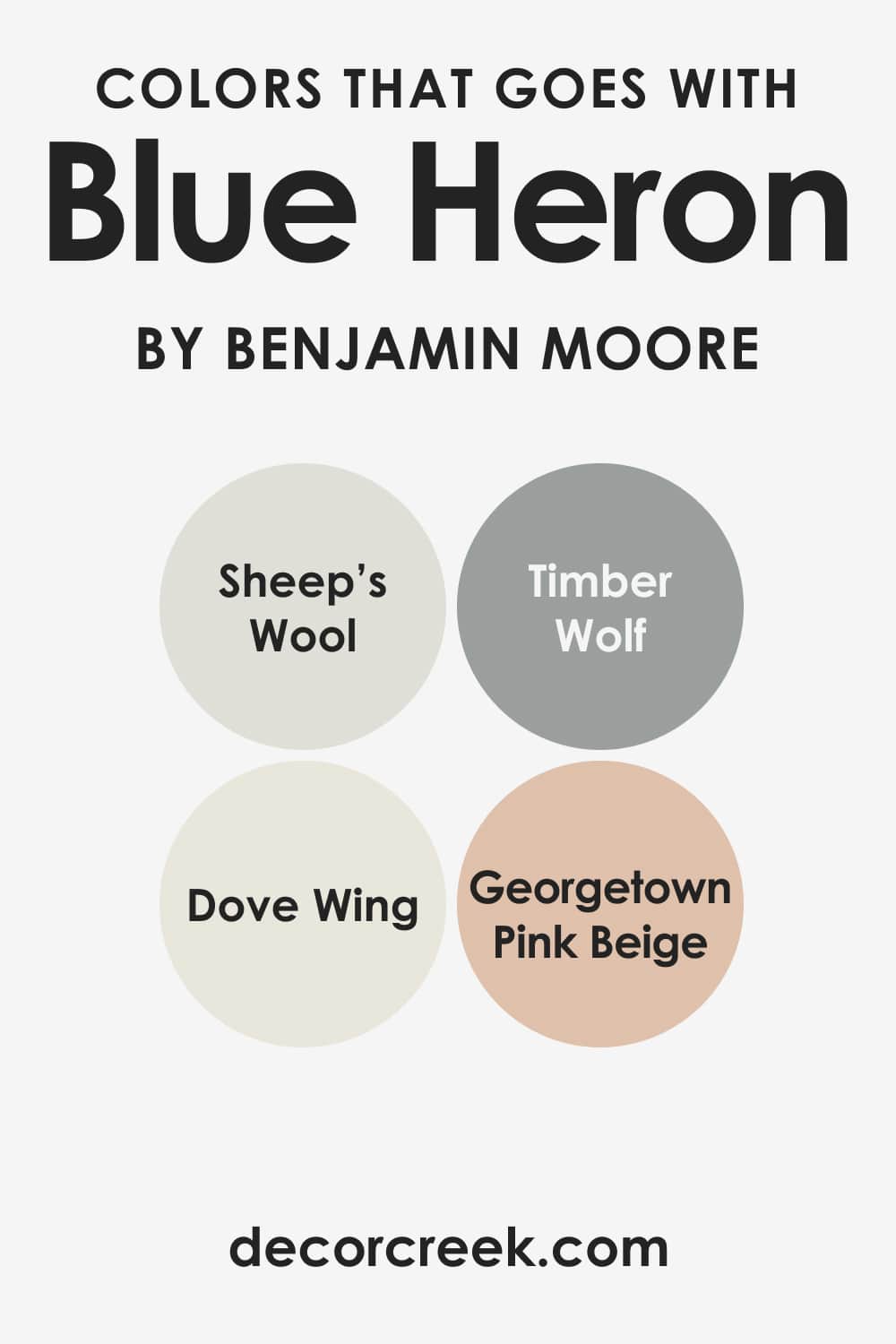 Comparing BM Blue Heron With Other Colors
To help you better see and understand the difference between similar colors, we have prepared a few pairs of colors below. Each of them contains BM Blue Heron paint color and one more color that looks nearly the same. Read carefully to see what makes BM Blue Heron different and why.
Blue Heron vs Van Deusen Blue
If you compare Blue Heron and Van Deusen Blue, you will see that Van Deusen Blue is much darker and deeper. Also, it has more pronounced blue undertones. In general, these colors look contrasting, but you should still avoid using them in the same space.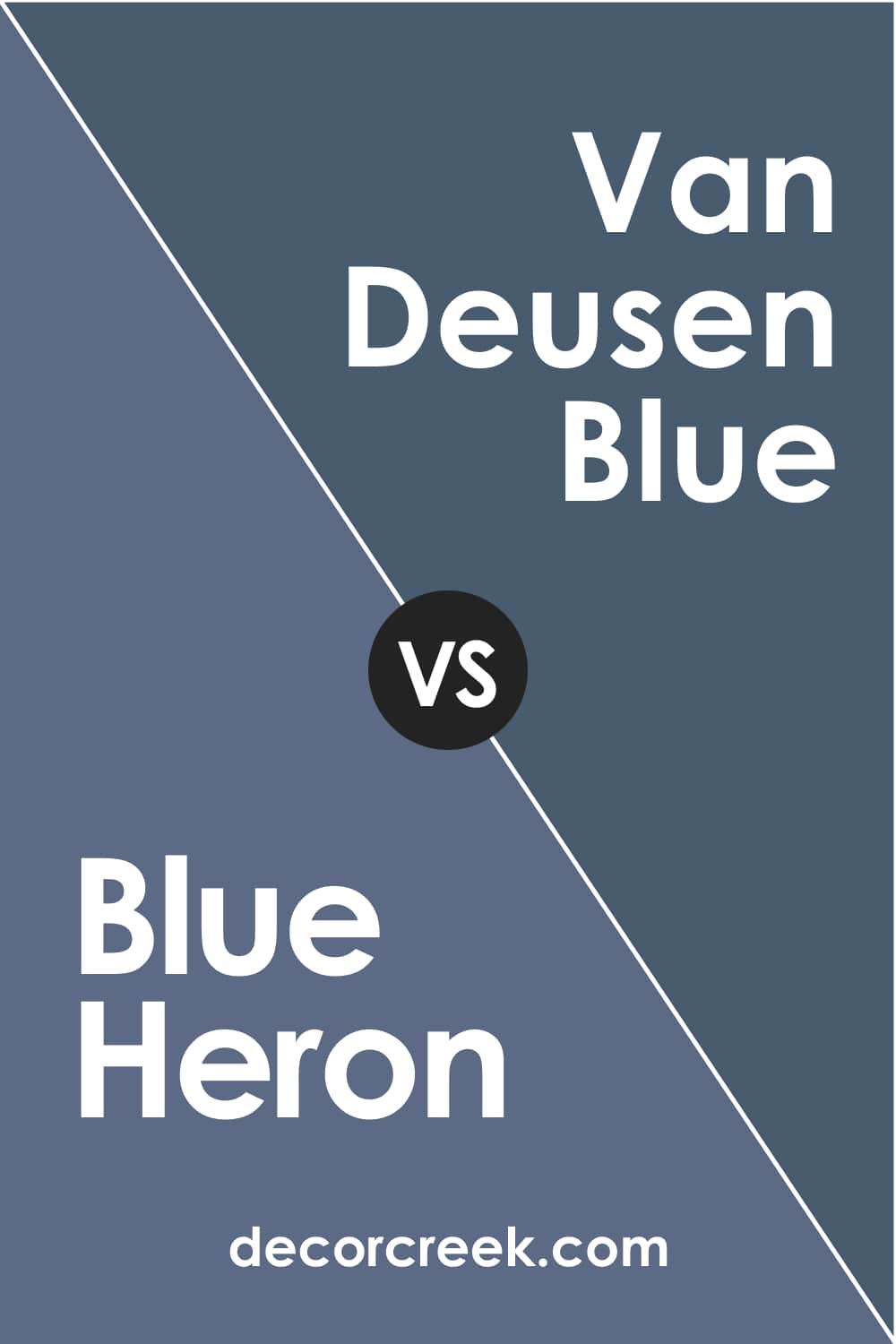 Blue Heron vs Silver Mist
These colors are very different because BM Silver Mist reads much lighter than BM Blue Heron. Also, BM Blue Heron has way more depth to it compared with the Silver Mist color. The only similar feature they share is the velvet-like feeling the paint has when it is applied to the wall.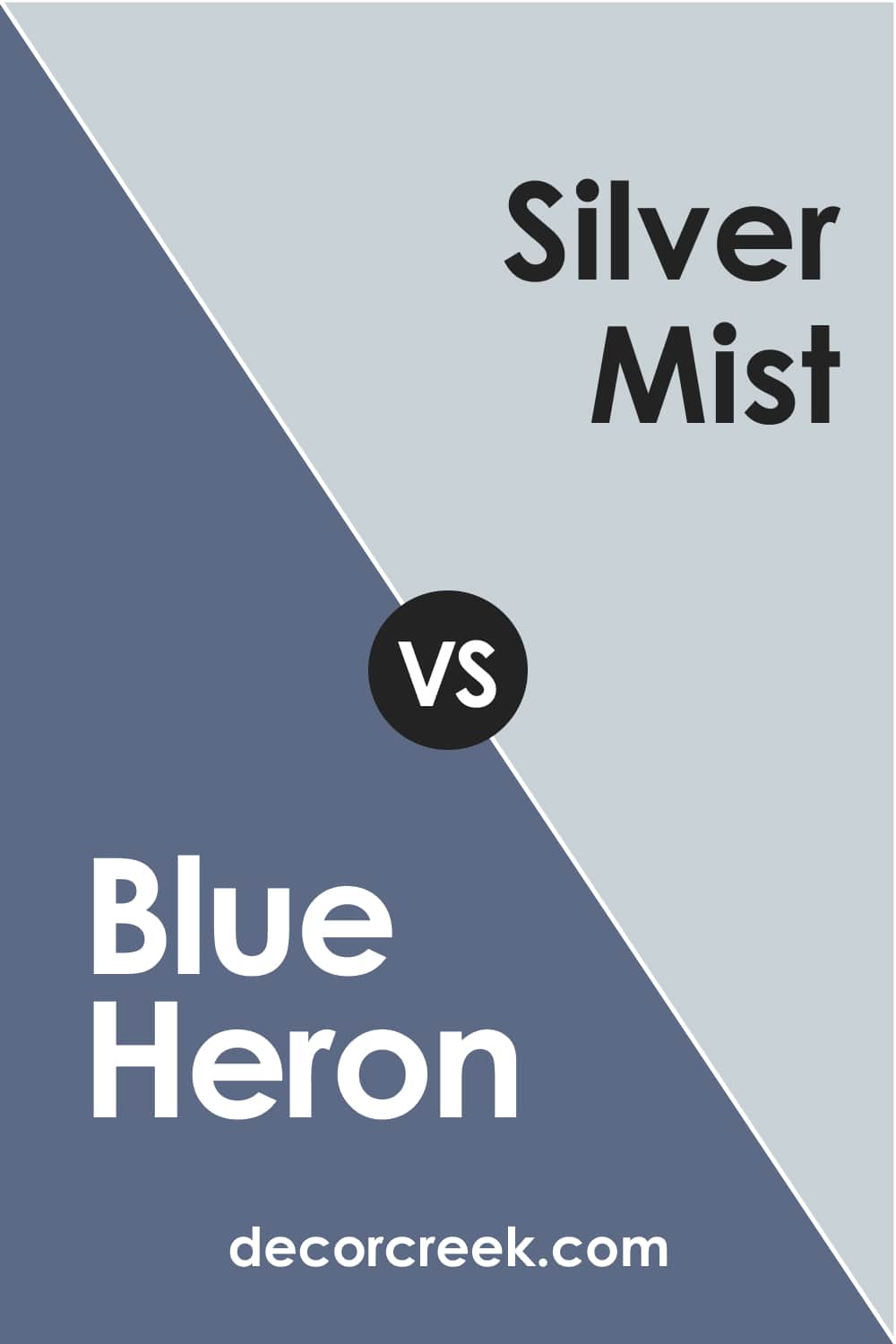 Blue Heron vs Sunrise
BM Sunrise is lighter than BM Blue Heron, but unlike the previous pair of colors, the Sunrise color has more blue in it (compared to BM Silver Mist). Also, BM Blue Heron and BM Sunrise share common undertones, violet and gray, which makes these colors somewhat closer to each other.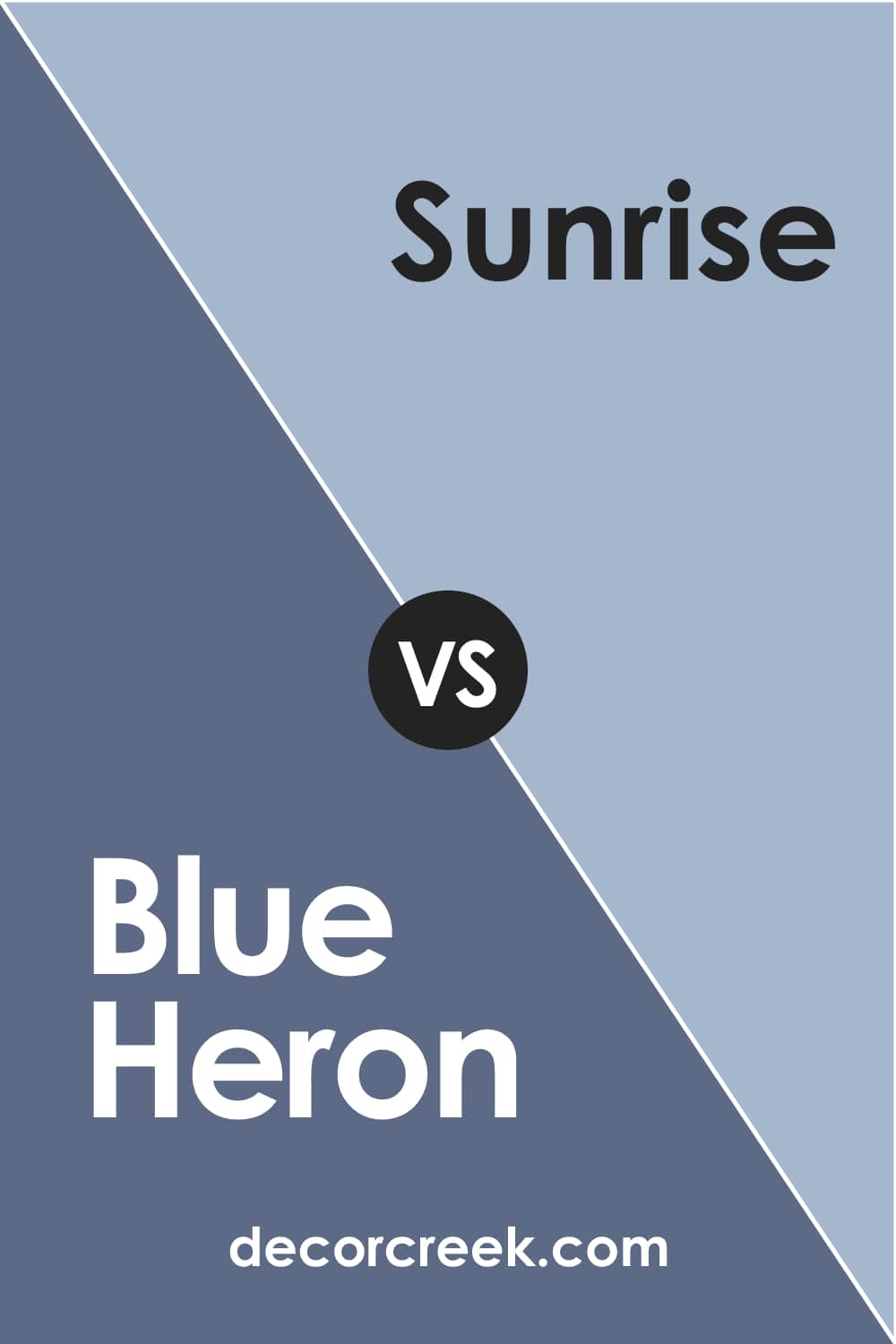 Blue Heron vs Hale Navy
Unlike BM Blue Heron, BM Hale Navy reads absolutely blue with no visible green or violet undertones. Also, BM Hale Navy is much deeper and darker than its counterpart.
If you decide to use them in the same space, consider adding BM Hale Navy on smaller surfaces to make color accents.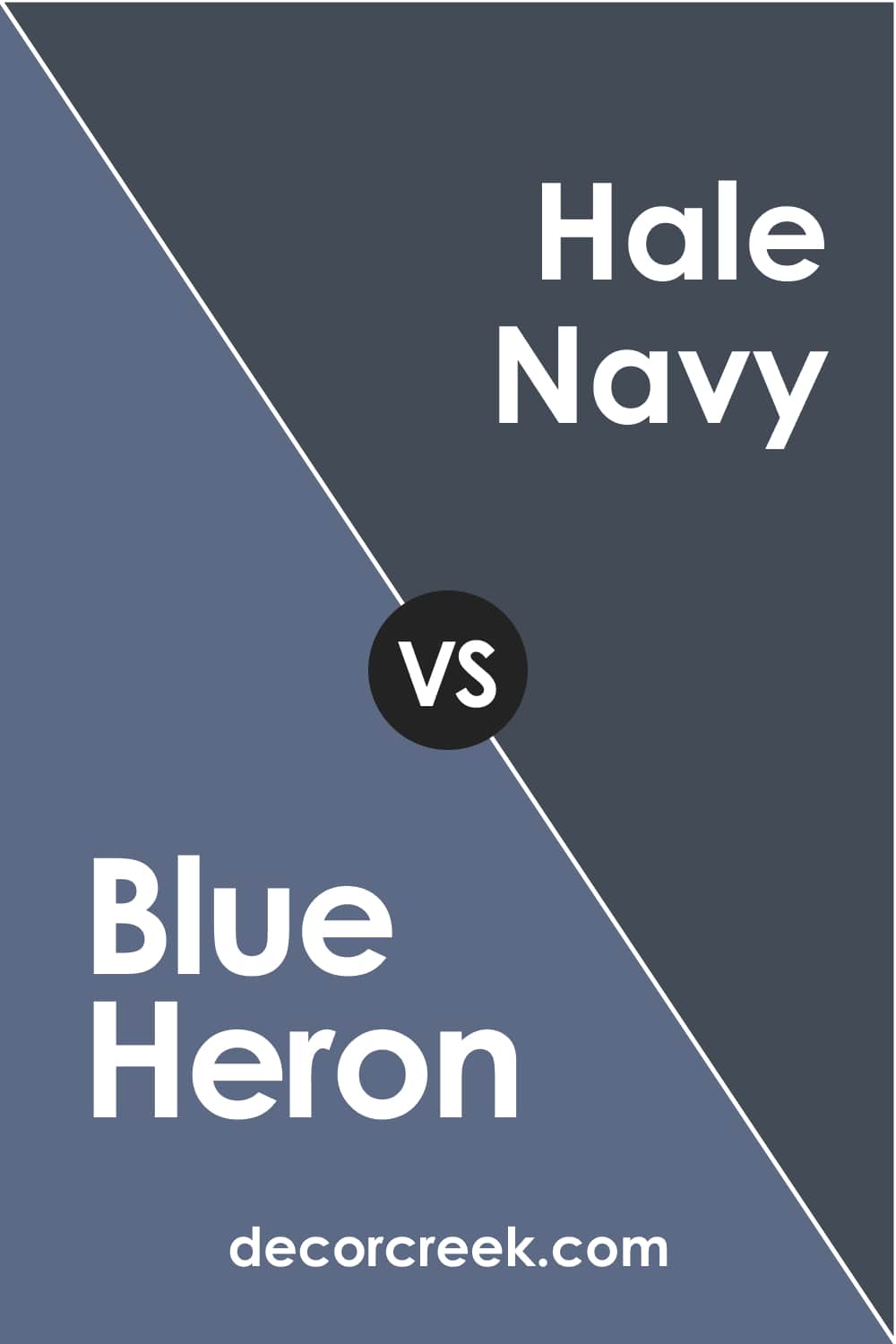 Blue Heron vs Smoky Blue
BM Smoky Blue is medium-dark blue that has a slight gray undertone. Compared to BM Blue Heron, it reads somewhat muted and "dusty" with a more visible grayness indeed.
Unlike this color, BM Blue Heron reads bluer and its gray undertones are almost invisible.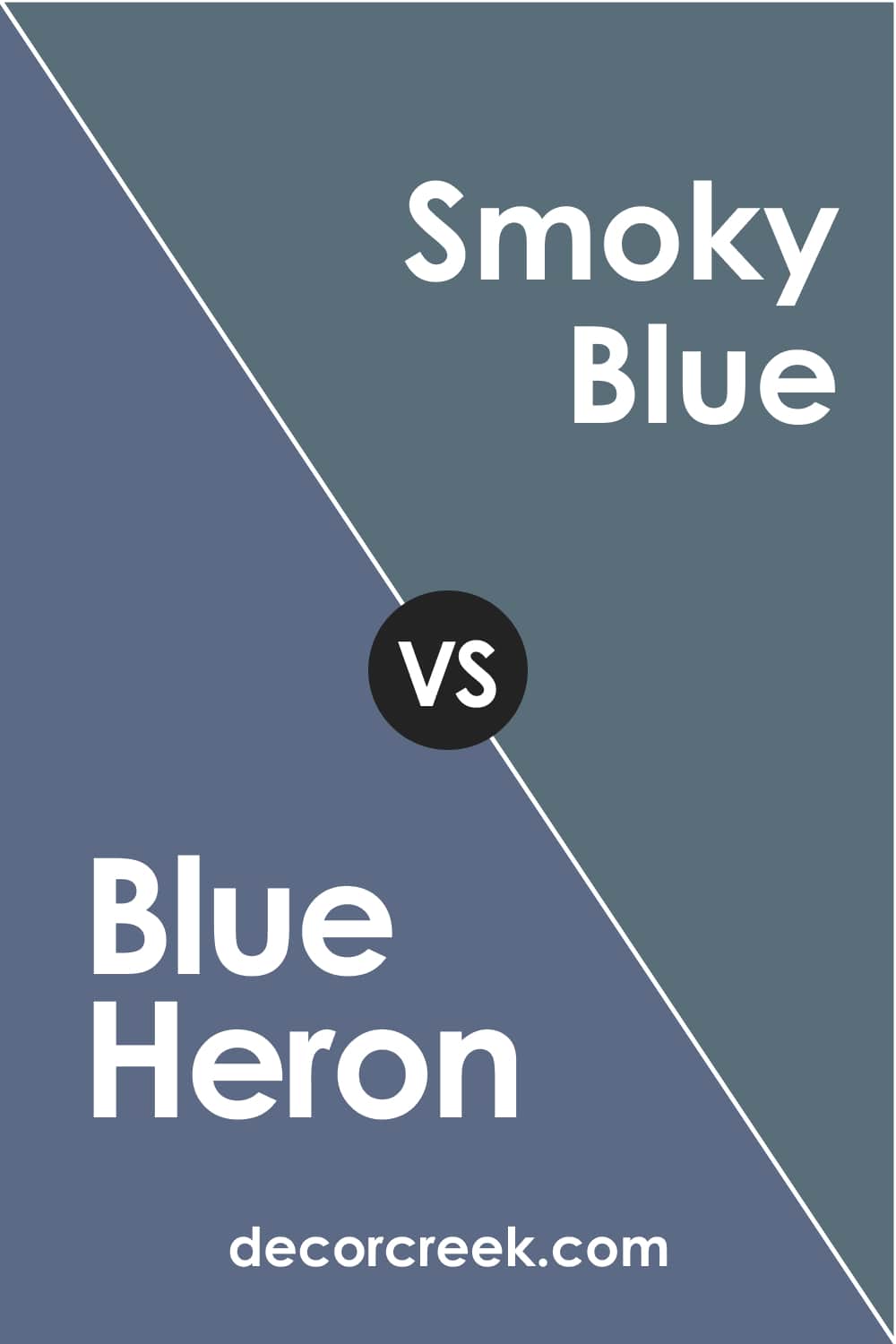 Where to Use It In Your Home?
To help you figure out in what rooms of your house or apartment BM Blue Heron will work best of all and be more suitable, we have prepared a brief description of how this colors look in various rooms and spaces.
Blue Heron 832 for a Living Room
In a spacious and well-lit living room, this shade of blue may read nicely on the walls. However, note that the room must have enough white as well, for instance, on the ceiling and trim! In this case, the blue will not look overwhelming.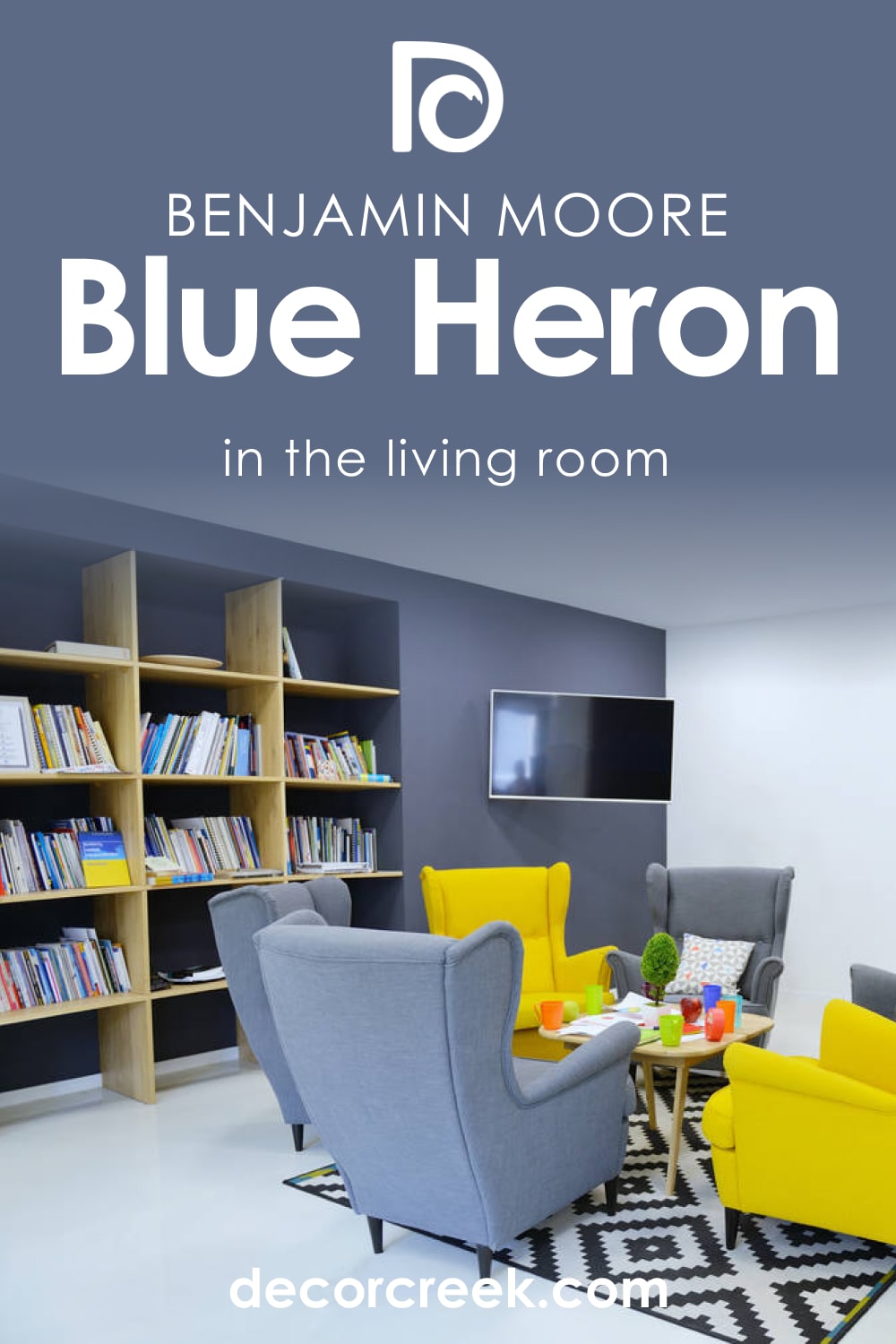 Blue Heron 832 in a Bedroom
You might think this color is too dark for bedrooms, but in fact, BM Blue Heron creates a very calming and relaxing vibe there. Of course, you must consider its depth and note that in smaller rooms, this blue could make the room seem smaller. On the other hand, as an accent wall color, it cans till work!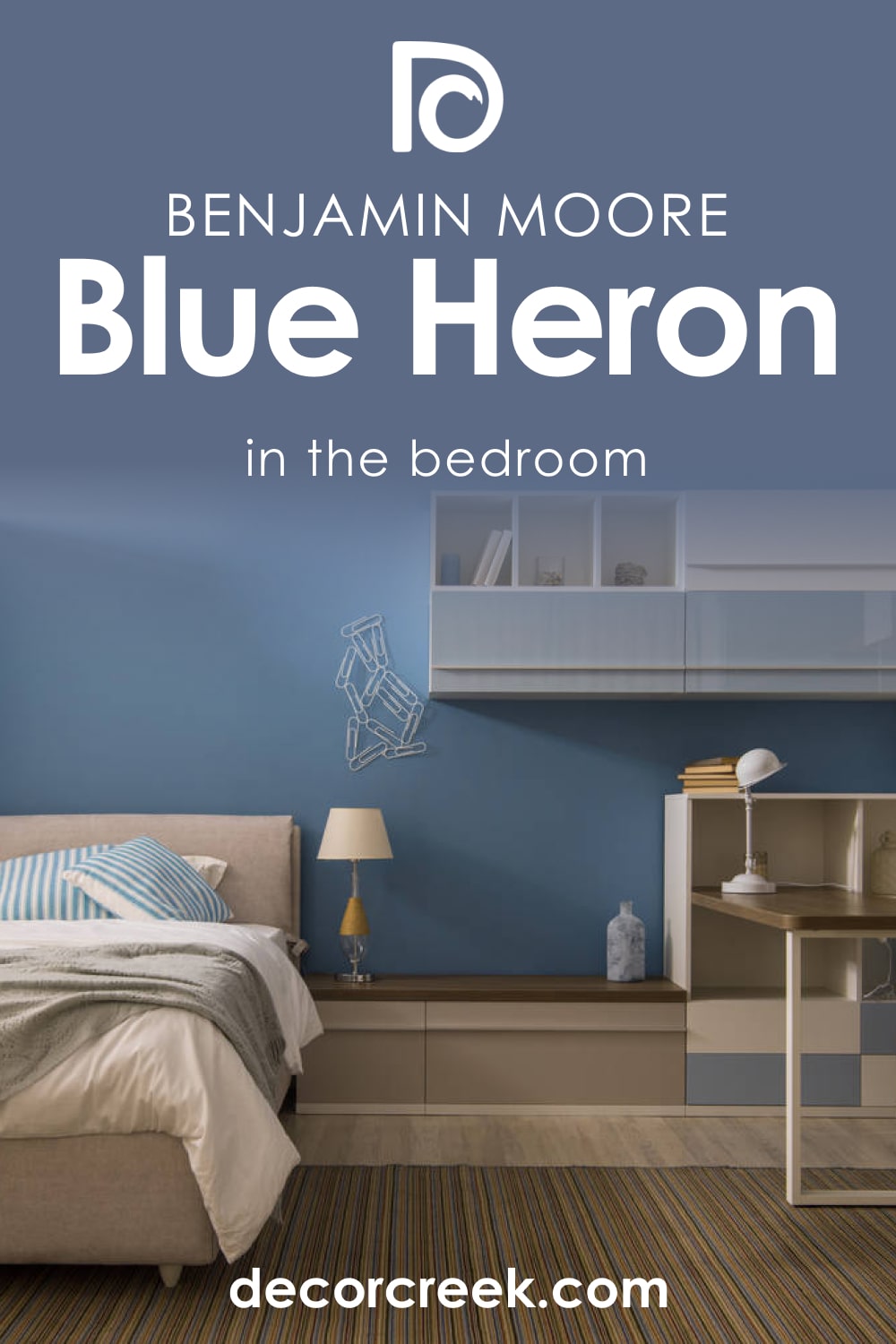 Blue Heron 832 in a Kitchen
In your kitchen, this deep shade of blue will work great on cabinets if teh walls and ceiling in your kitchen are white. You can also pair BM Blue Heron accents with blue tiles on your backsplash and add other blue elements (e.g., chair seat cushions), and your kitchen will look vivid and fresh!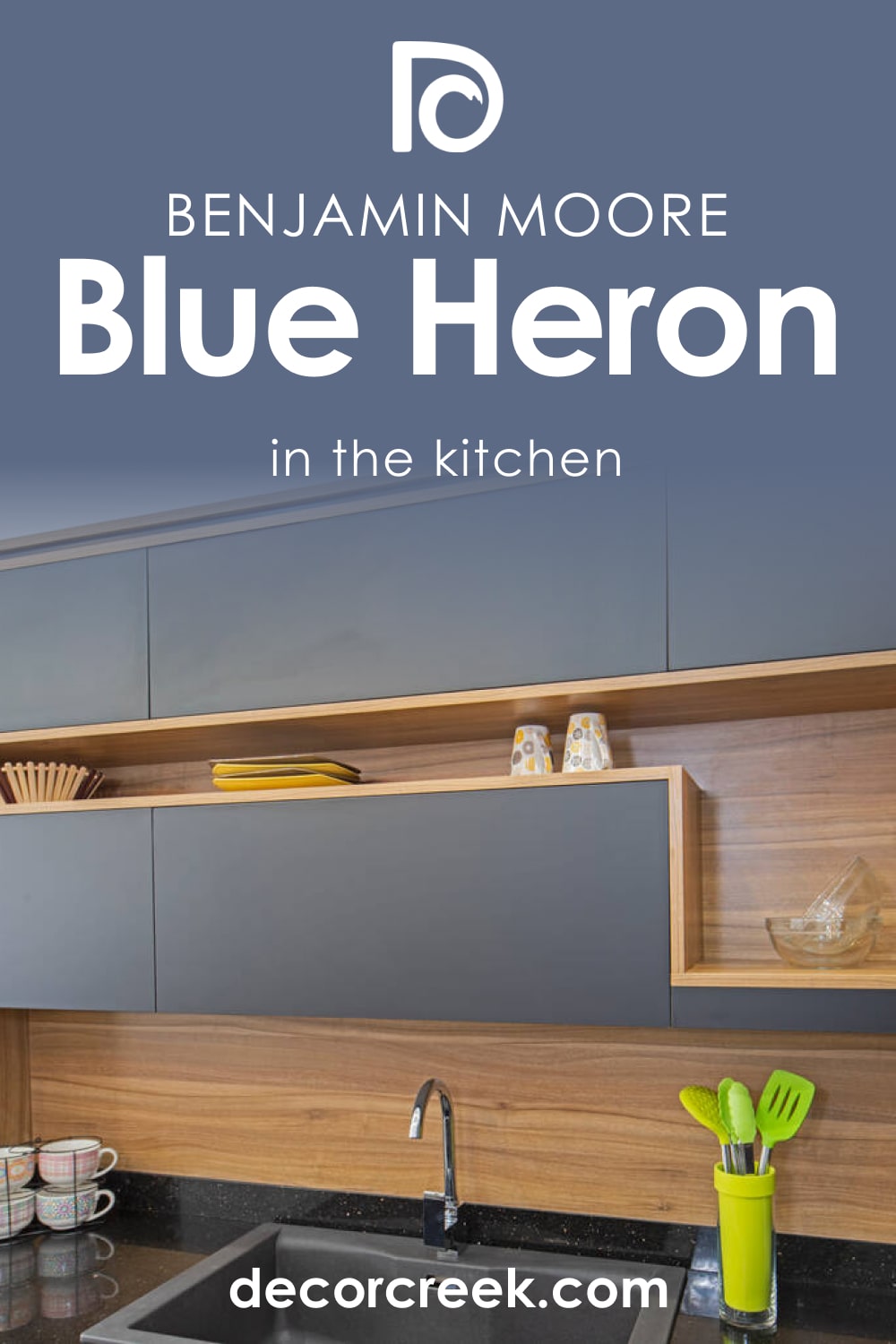 Blue Heron 832 and Bathroom
Depending on the size of your bathroom and the lighting there, you might want to use BM Blue Heron on the accent wall only, or on your vanity sink. Anyway, there is no point in painting all the walls with this color if the bathroom is not big enough and/or has poor lighting!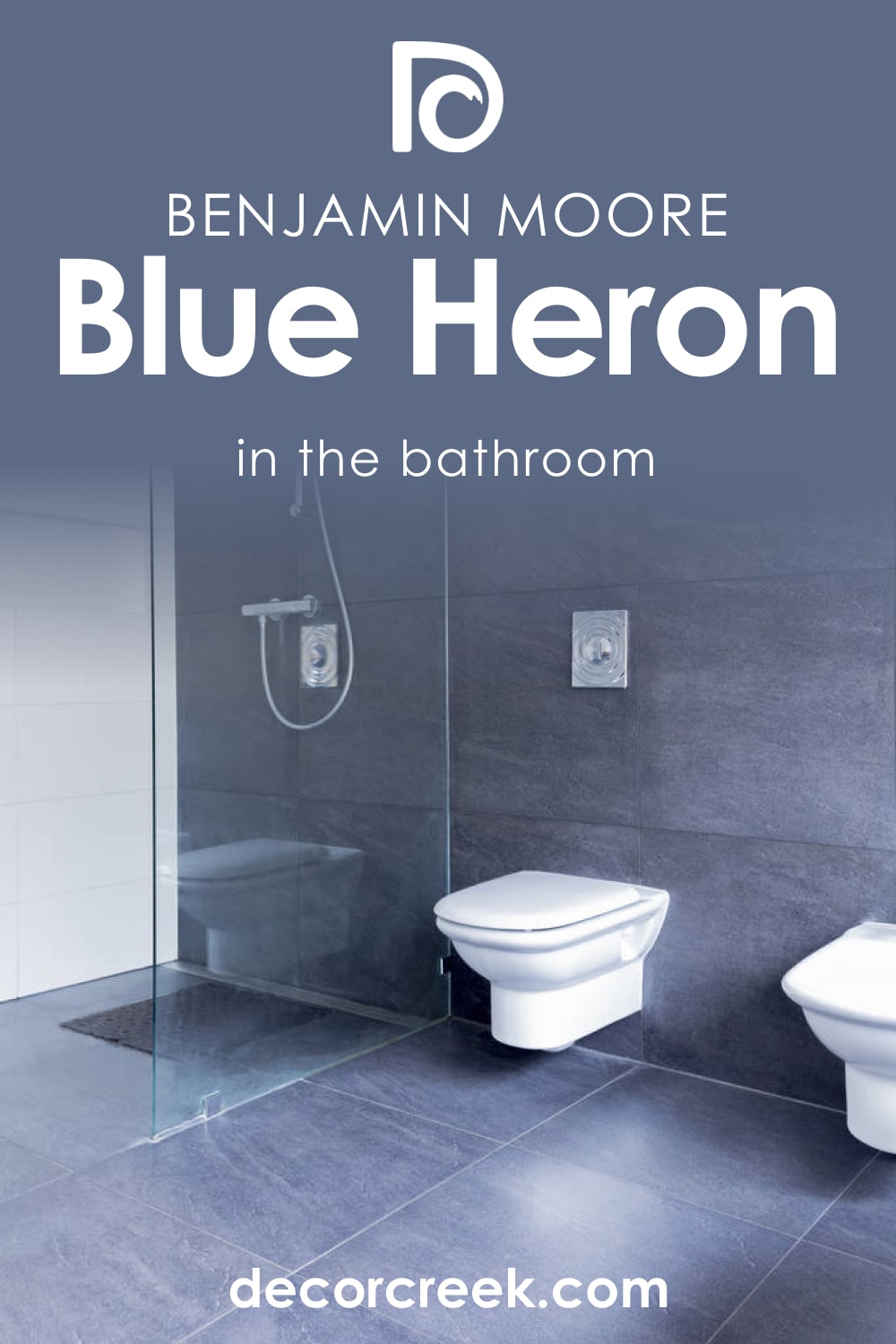 Blue Heron 832 for the Exterior Use
This color works absolutely great on exterior walls of a coastal-style home! Also, it will work great on a seaside cabin exterior walls. But if you live in a city, you can still use this blue to paint your house, just ensure you have plenty of daylight in your area. Otherwise, this color may read too dark.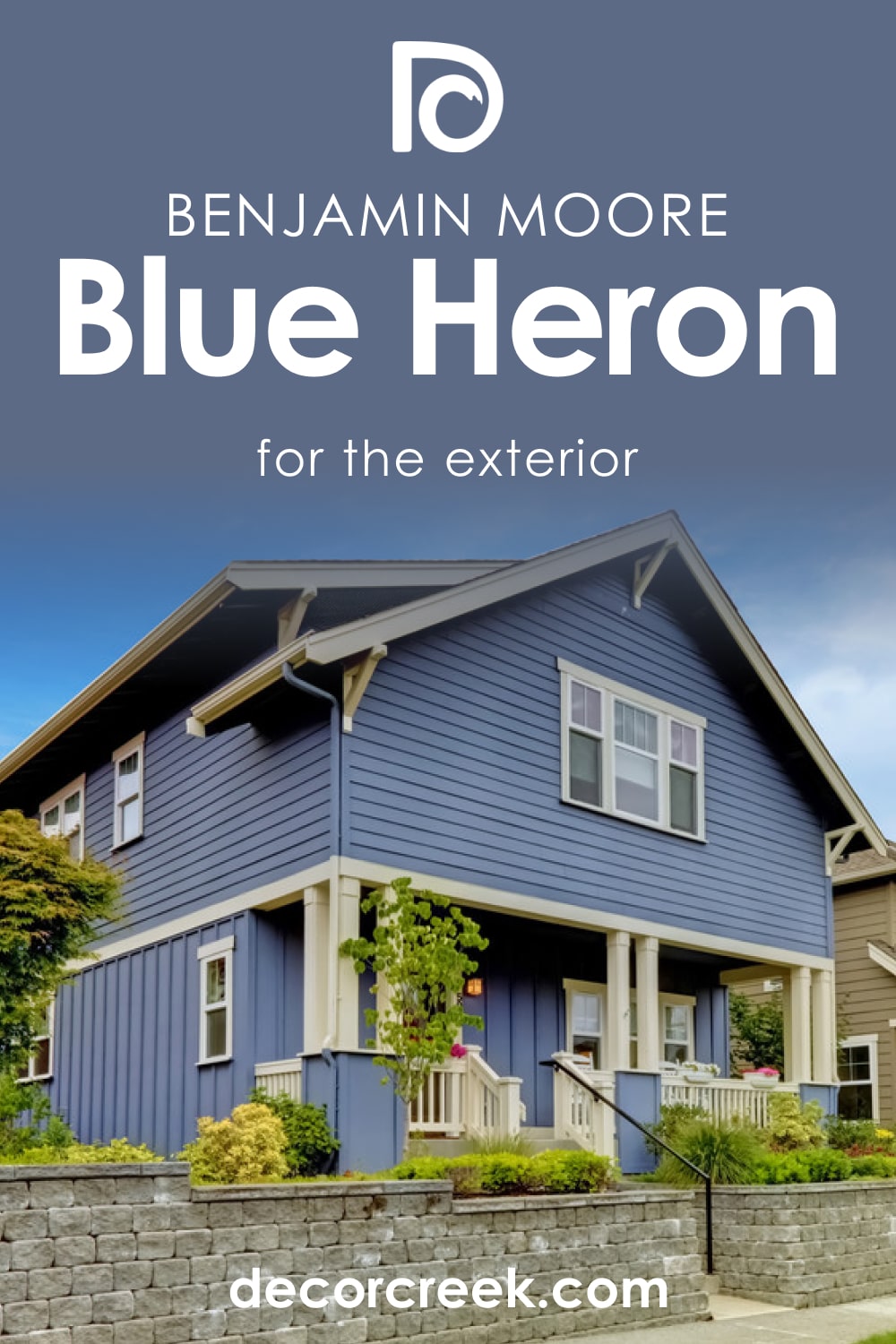 Now you know what kind of color BM Blue Heron is. You know its LRV and undertones, you know what colors go well with it and what colors can coordinate this shade of blue better than others.
We also explained in what rooms this shade of blue will be more suitable and how it differs from other colors. With that in mind, you will use it correctly in any room of your home.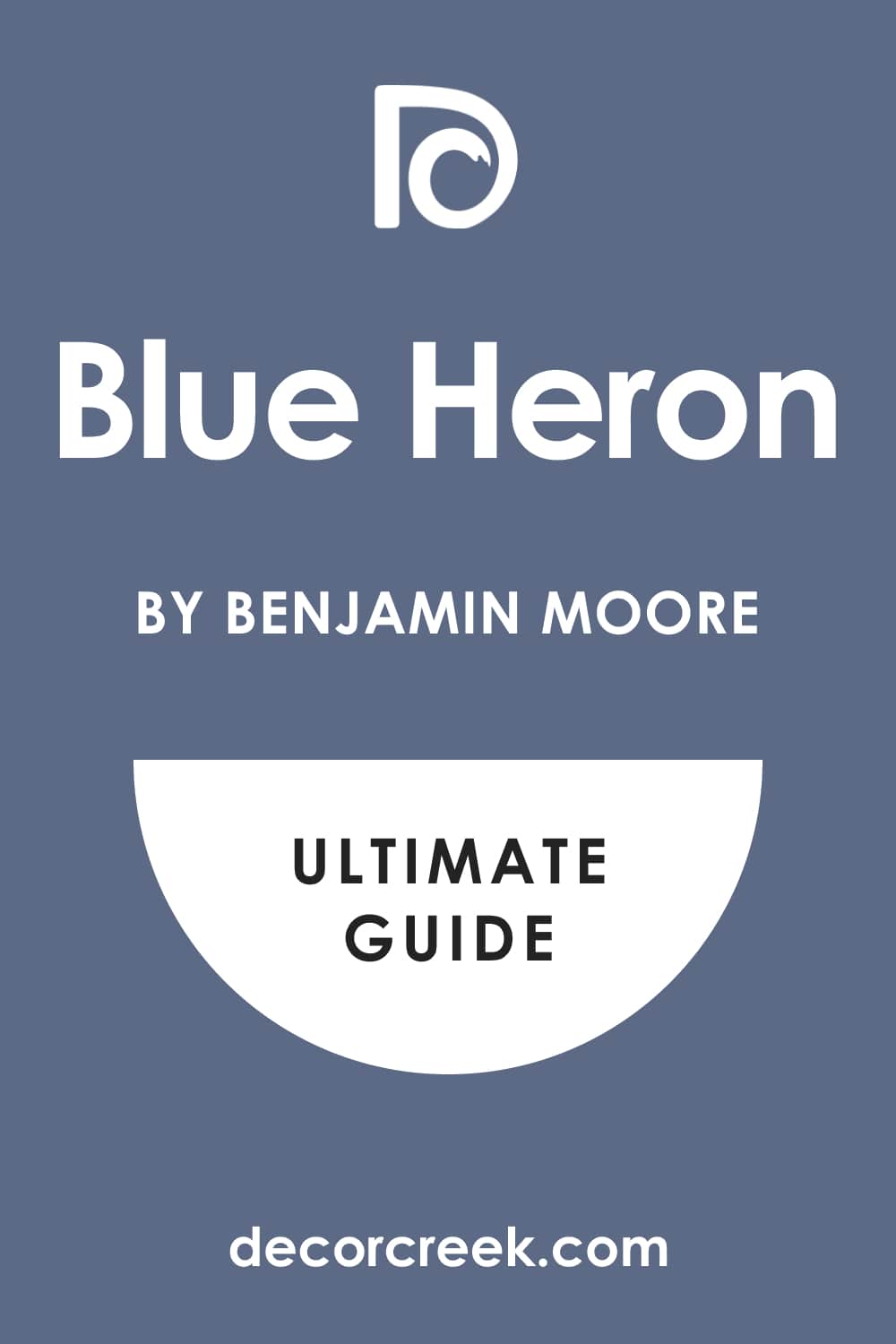 Frequently Asked Questions
⭐What color collection does Blue Heron belong to?
This paint color belongs to the Benjamin Moore Classics color collection.
⭐Does BM Blue Heron have green undertones?
No, this color has gray and violet undertones, but no green.
⭐Does BM Blue Heron read too dark in a room?
It depends on how well the room is lit. If it's small and has dim lighting, then this color may read darker indeed.