People typically avoid using darker blue colors in their homes because blue is believed to make the space feel cold and unwelcoming. But today, we would like to tell you about the blue hue that can make your home look unique and add a beautiful statement to it!
This blue color is called Endless Sea, and it's one of the Sherwin-Williams deep blues. We will tell you what makes this hue unique and how it works in different rooms.
Also, you will learn how to coordinate it and how this color may react to different lighting conditions due to its LRV value.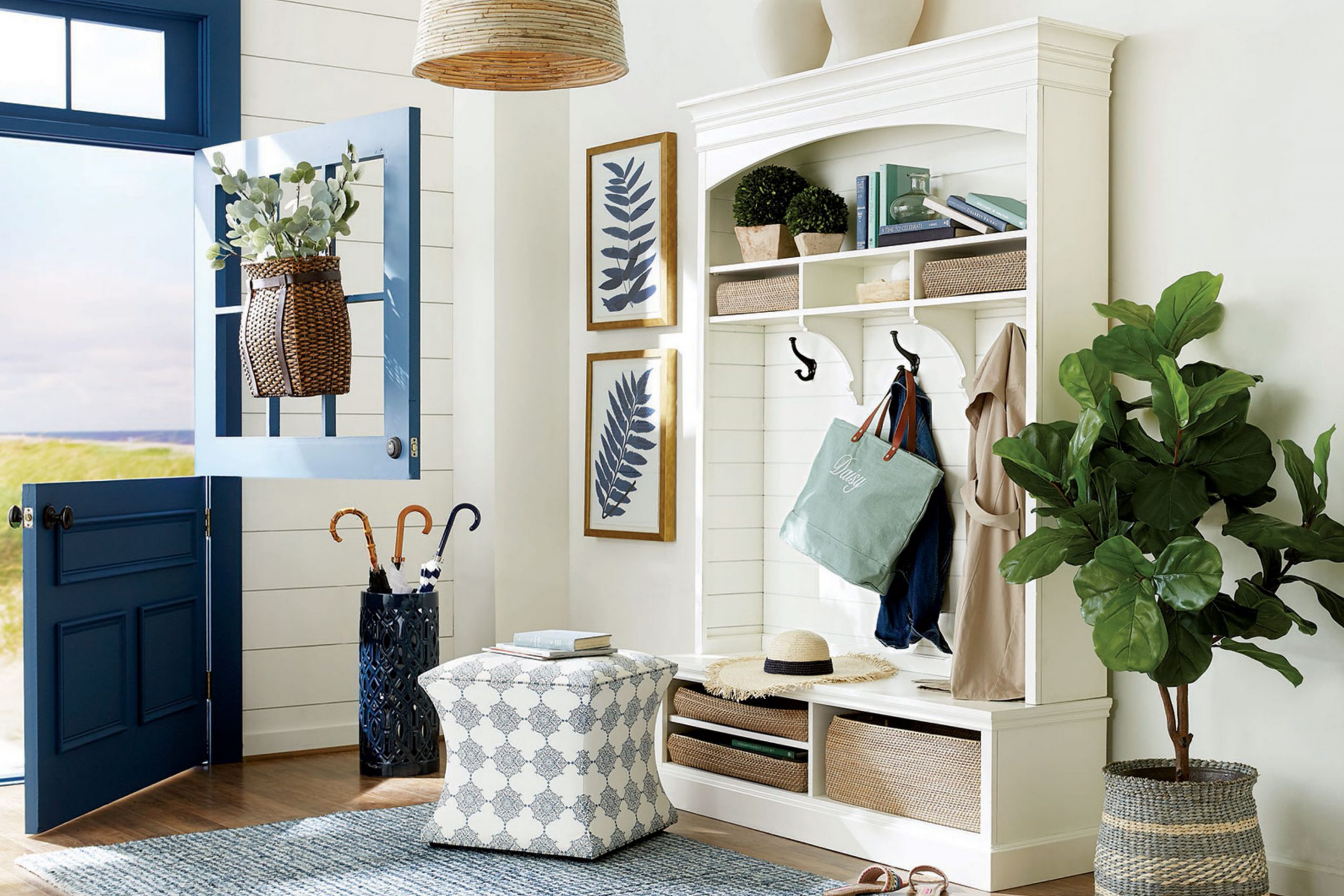 What Kind of Color Is SW 9150 Endless Sea?
SW Endless Sea  is a deep blue paint color that looks layered and rich on the walls due to the complex undertones of yellow and gray in it. However, this hue doesn't typically read yellowish (due to the yellow hue in it) or muted (due to the gray hue). Instead, it displays itself perfectly balanced in proper lighting.
As Encycolorpedia says, this blue hue will make a lovely and deep statement in any room where it is used, especially if you highlight it with the white trim and window frames.
This color brings a note of character and style to the space, being an ideal blue for Coastal-style homes in particular.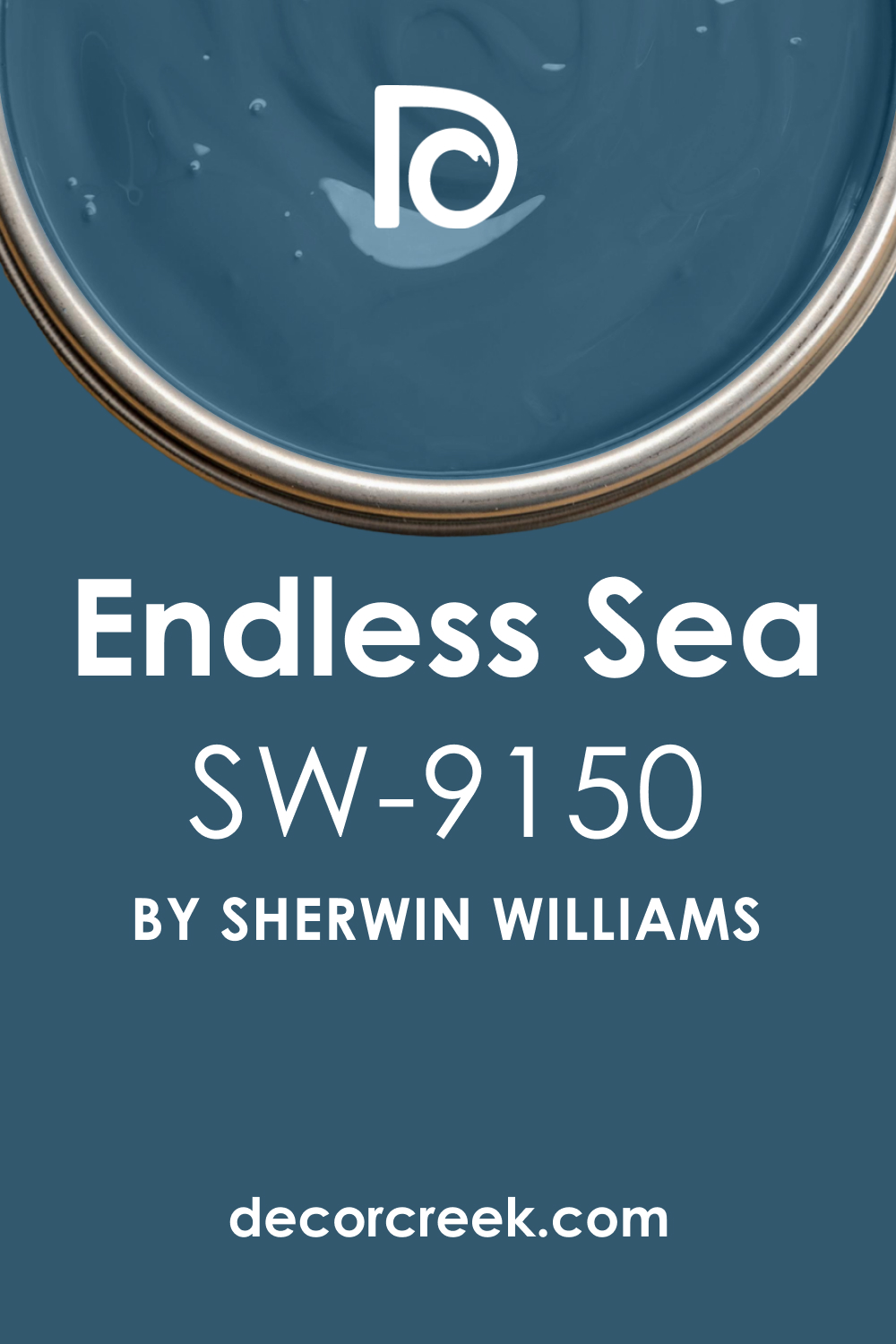 Is It a Warm or Cool Color?
The great thing about SW Endless Sea is that it is a mid-tone blue. It reads warmer than denim and softer than navy. Thanks to such a balanced hue, this color looks pretty positive in a room without making it feel gloomy or enclosed. Also, due to the balanced tone, SW Endless Sea will hardly make your home feel cold or chilly. Instead, it will radiate a feeling of pleasant freshness and coolness around.
What Undertones Does SW Endless Sea Paint Color Have?
SW Endless Sea has pretty complicated undertones of yellow and gray. Thanks to the yellowish hue, this blue color doesn't feel too cold on the walls, and gray undertones help to make it softer and more welcoming.
However, you should not be afraid of that yellowness showing up out of nowhere! The undertones in this blue are pretty well-balanced, which is why the color is perceptive as a harmonious one. It doesn't display any prevailing undertone, be it yellow or gray.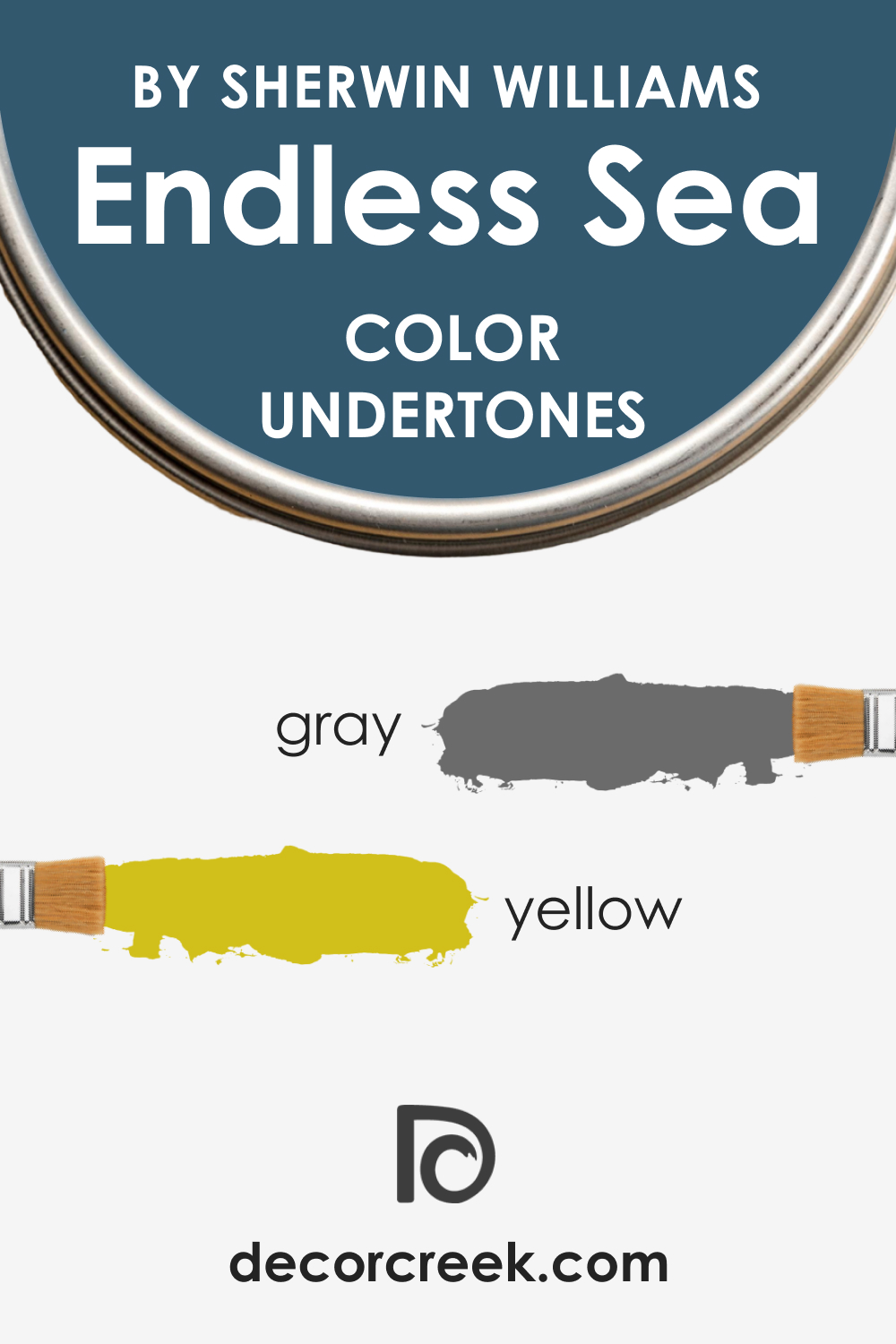 SW 9150 Endless Sea Coordinating Colors
With some paint colors, it is fun to select coordinating hues that will work with them. However, when you have such a complex blue color as SW Endless Sea, it might be challenging for you to pick up the correct colors to coordinate with it. This is why we have prepared several color suggestions you might find helpful.
The following are the universal coordinating colors to use with SW Endless Sea:
SW 6238 Icicle
SW 9119 Dirty Martini
SW 9183 Dark Clove
If you prefer a more monochromatic look in your home, you might want to opt for the monochromatic palette instead:
SW 9147 Favorite Jeans
SW 6228 Refuge
SW 7608 Adrift
SW 9136 Lullaby
Finally, if you crave a more varied and colorful color palette in your home that would look cheerful and appealing, we recommend you stick with the following coordinating colors:
SW 9148 Smoky Azurite
SW 7579 Alaea
SW 6151 Quiver Tan
SW 6148 Wool Skein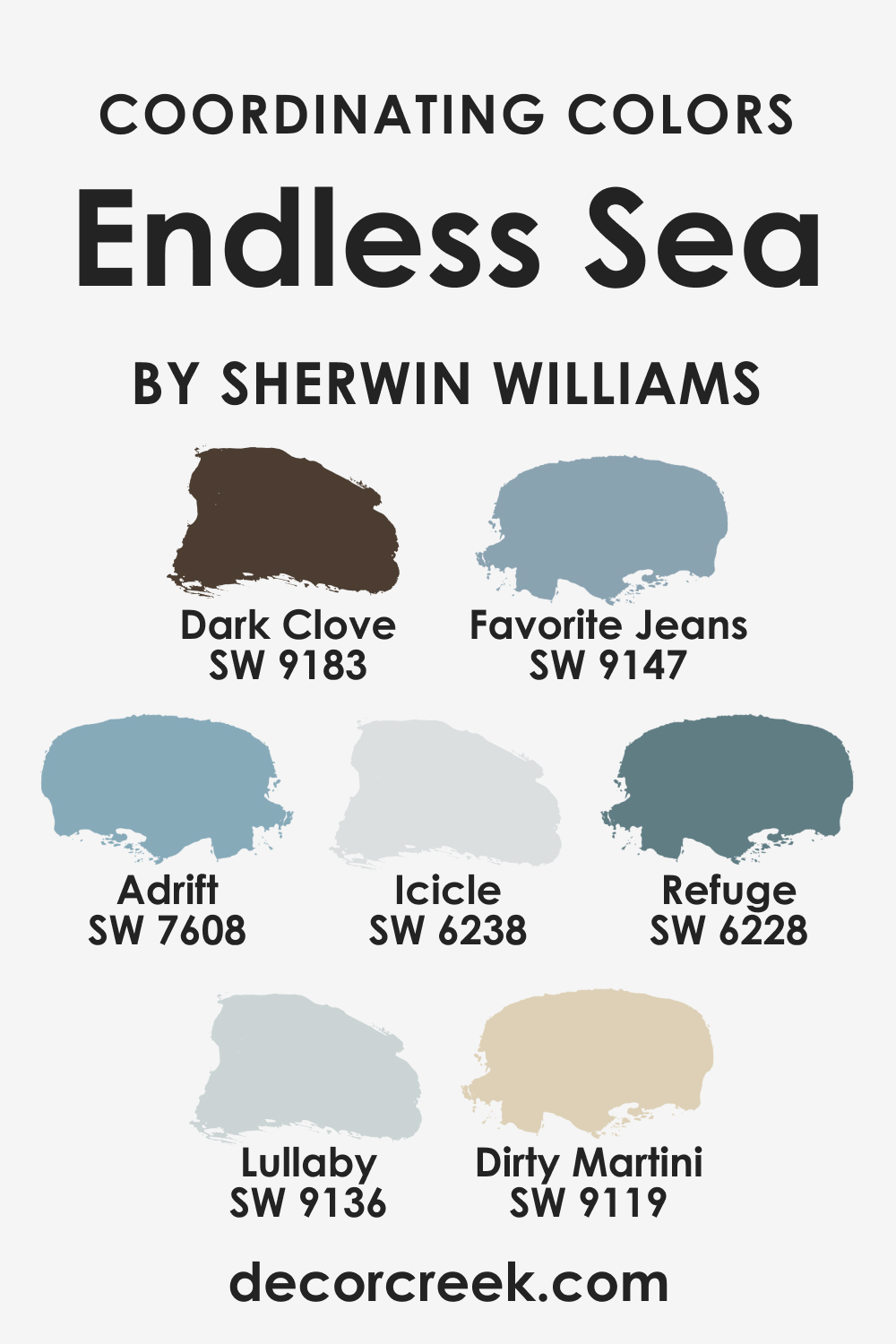 What LRV SW Endless Sea Paint Color Has and How It Reacts to Light?
When you are choosing paint colors for your home, LRV is one of the most essential things to take into consideration. LRV (light reflectance value) shows how much light colors can reflect from the wall, as well as how much light they can absorb. The LRV scale ranges from zero (black) to 100 (white).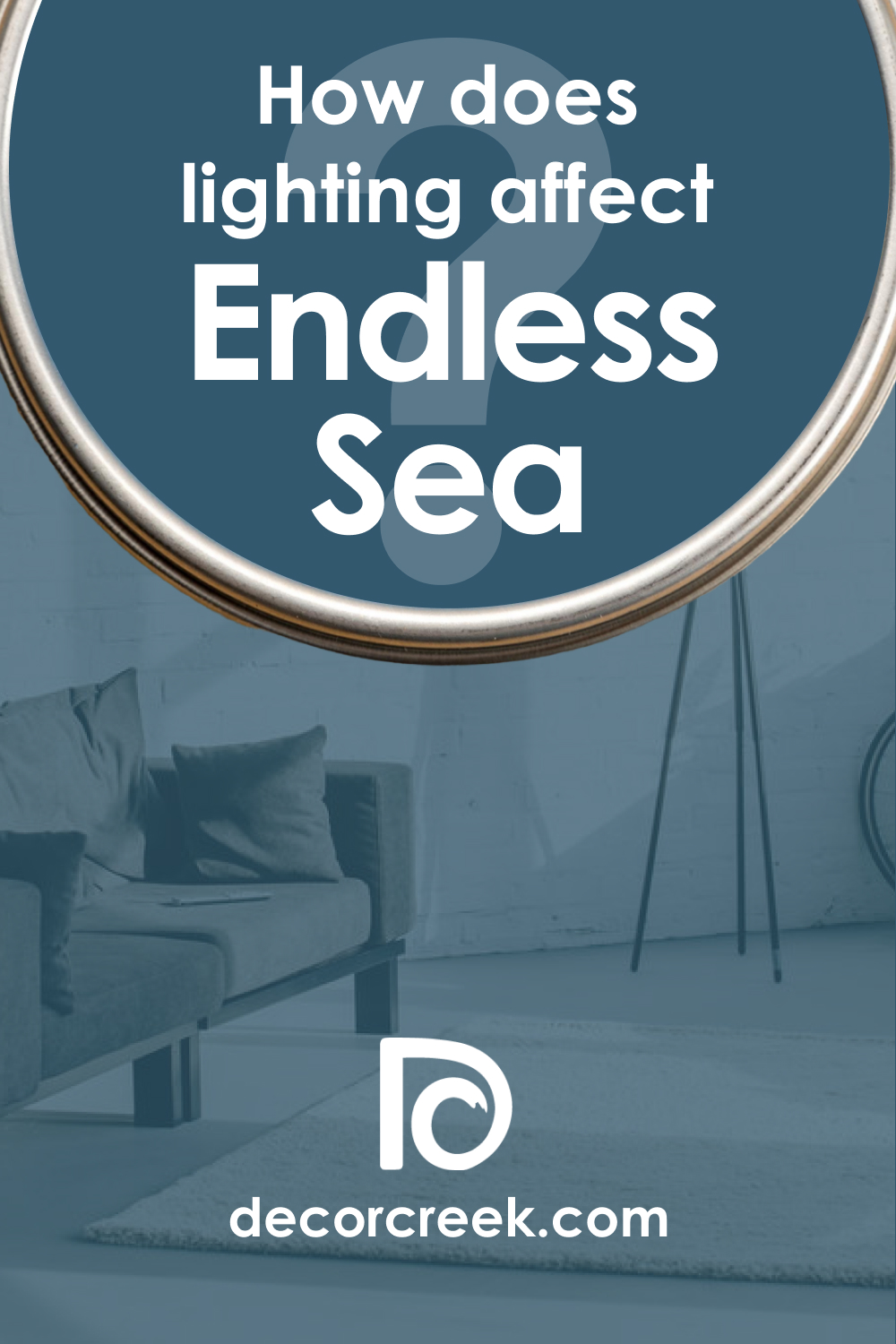 The LRV value of SW Endless Sea is 9, which places this color on the darker side of the light reflectivity scale. However, thanks to its balanced tone, this blue doesn't typically read obscure or moody. Nevertheless, consider that it will add plenty of depth to the space!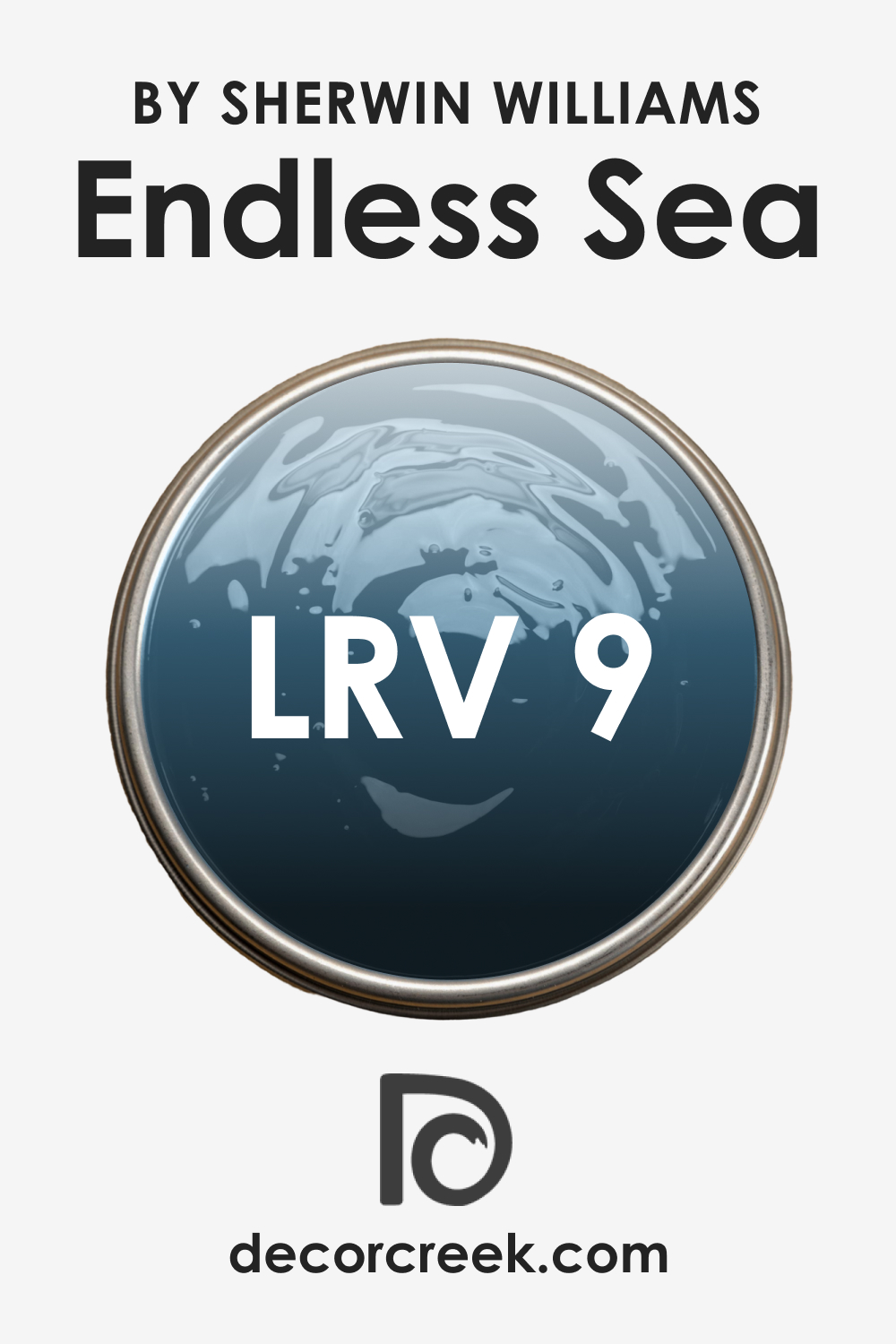 LRV – what does it mean? Read This Before Finding Your Perfect Paint Color
What Is the Best Trim Color to Use With SW 9150 Endless Sea?
If you are searching for the best trim color to use with SW Endless Sea, stick with white, and you won't make a mistake! This blue works exceptionally well with white trim, moldings, and window frames. White accents will make this blue reveal its true hue much better, making the color read somewhat brighter.
However, it's essential to choose the correct shade of white! For example, warm and creamy whites (like SW Shell White) will not work well with SW Endless Sea because of the "dirty" look they create.
Instead, you'd better opt for cooler and crisper whites. For example, you might want to consider the following colors:
SW 9541 White Snow (for a crisper look)
SW 7006 Extra White (for a softer contrast)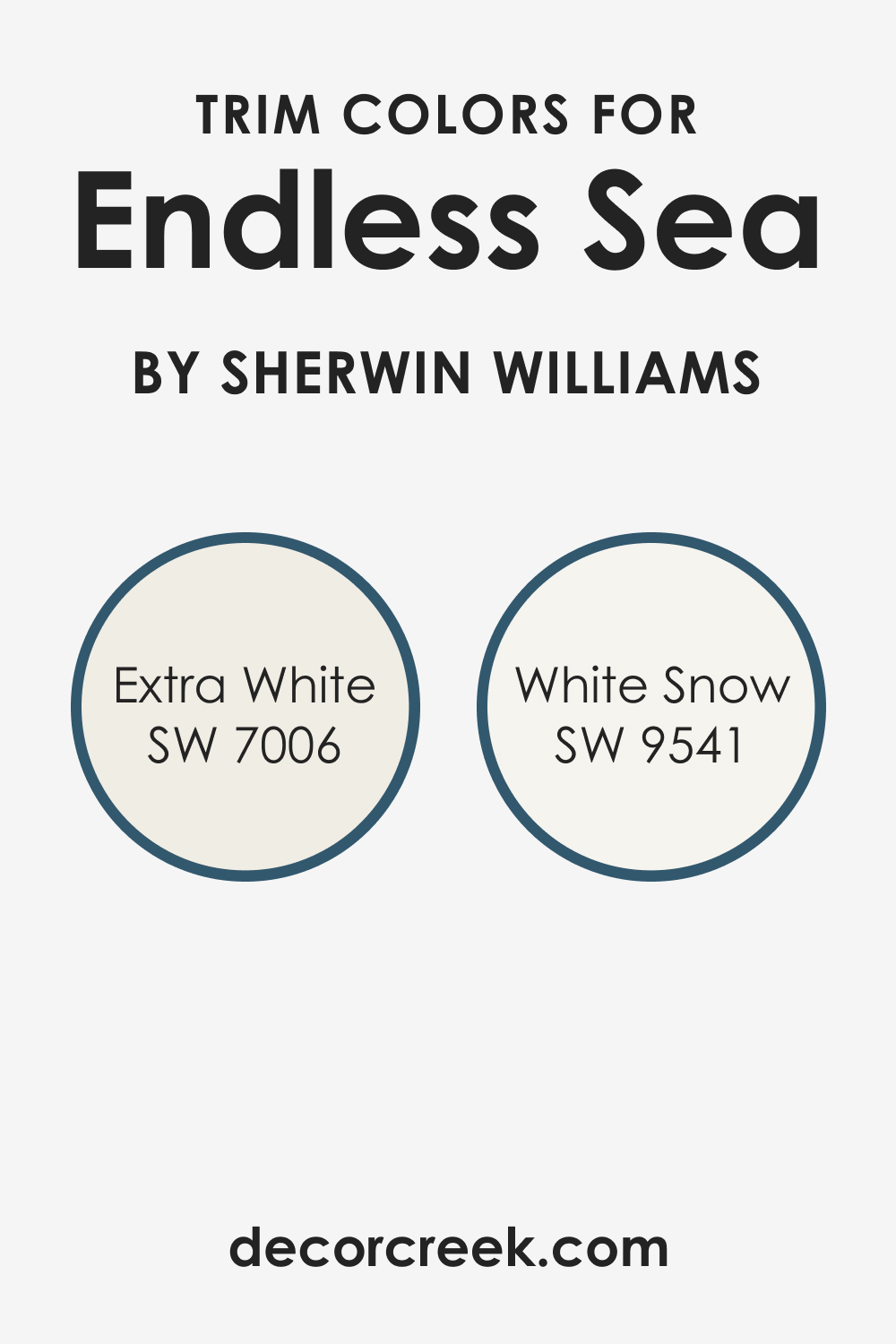 Colors Similar to SW Endless Sea
Why would you need to know what similar colors your wall color has? Well, this information might be handy in case you realize that the color you initially selected doesn't suit your room or overall interior design.
Also, it sometimes happens that the paint color you wanted to paint your walls appears too dark or too light on the walls when you sample it. Anyway, being aware of a few alternatives is a good idea.
For SW Endless Sea, we have selected several paint colors that read nearly the same and can work as substitutes:
Behr Quiet Storm
BM 777 Summer Nights
Farrow & Ball Hague Blue
PPG Brigade
Valspar Zephyr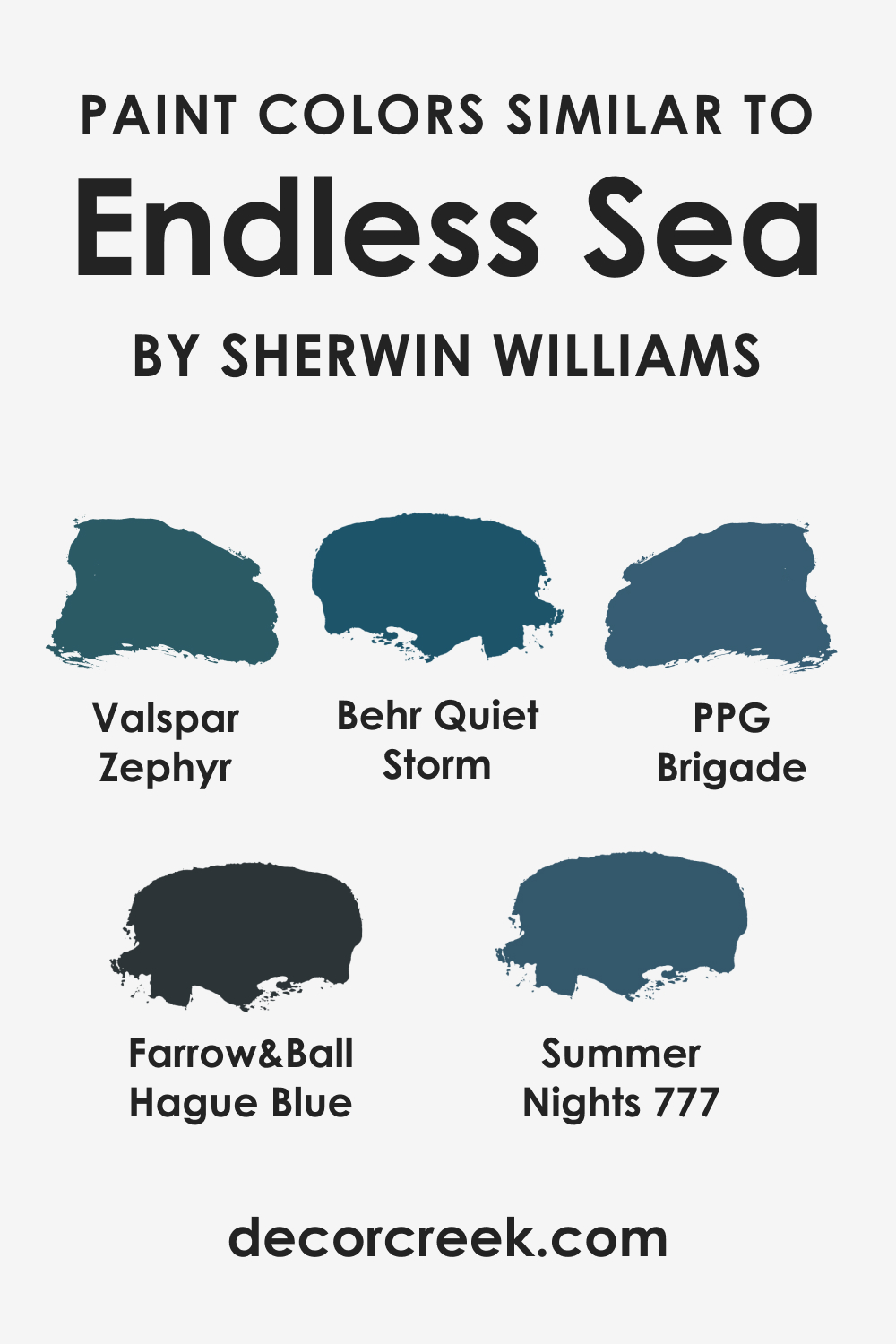 Colors That Go Well With SW Endless Sea
If you want to make the best out of the SW Endless Sea paint color and reveal this color's true hue in your home, you need to know what colors will go with this deep blue best of all. And since not all of us have a sharp eye for colors or deep knowledge of color theory, we have prepared a list of several color options that you might find helpful.
SW 6233 Samovar Silver
SW 9104 Woven Wicker
SW 9102 Quinoa
SW 7065 Argos
SW 6237 Dark Night
SW 9511 Warm Oats
SW 7537 Irish Cream
SW 6697 Nugget
These colors will help you achieve a balanced and vivid palette in your home that looks welcoming and cozy.
Comparing SW 9150 Endless Sea With Other Colors
The blue color comes in a wide variety of shades, which is why it can be difficult for a non-professional to see the distinctions between some of them. This is why, in order to help you out, we have prepared a few comparative pairs of colors.
Each of them contains SW Endless Sea and one more blue color to help you see what makes them different. This way, you can better understand how the difference between LRVs and undertones works.
Endless Sea vs. Misty
These colors are blue, but they read completely differently. SW Misty is much lighter and airier than SW Endless Sea. The LRV value of SW Misty is 64, which is much higher than the LRV value of 9 that SW Endless Sea has. Also, their undertones differ. SW Misty has gray undertones, whilst its darker counterpart also has yellow.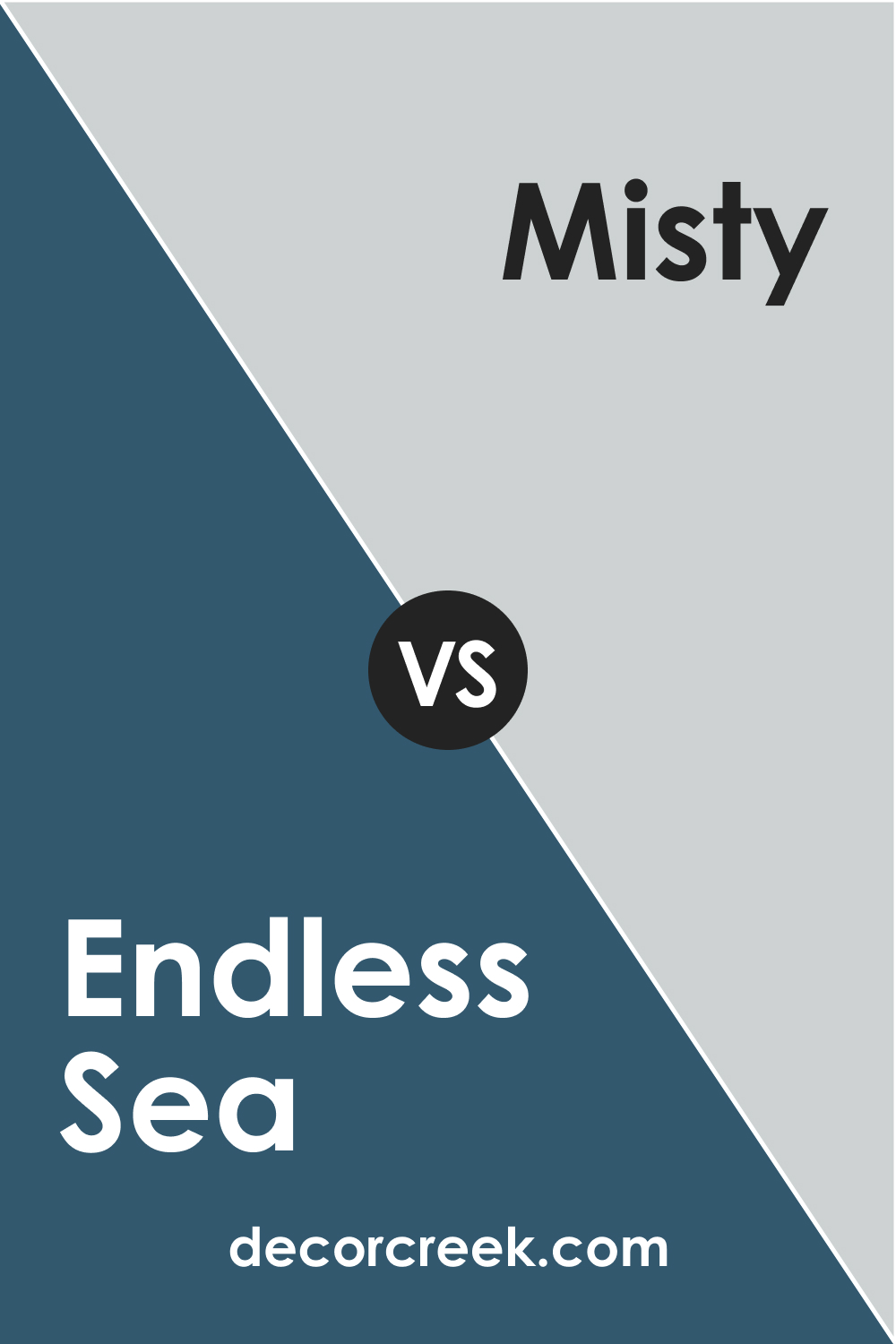 Endless Sea vs. SW 9135 Whirlpool
SW Whirlpool is a medium blue with gray undertones and an LRV of 29. It makes this color read lighter than SW Endless Sea (whose LRV is 9). Also, SW Endless Sea displays much more saturated blue compared to SW Whirlpool, which looks grayish-blue instead.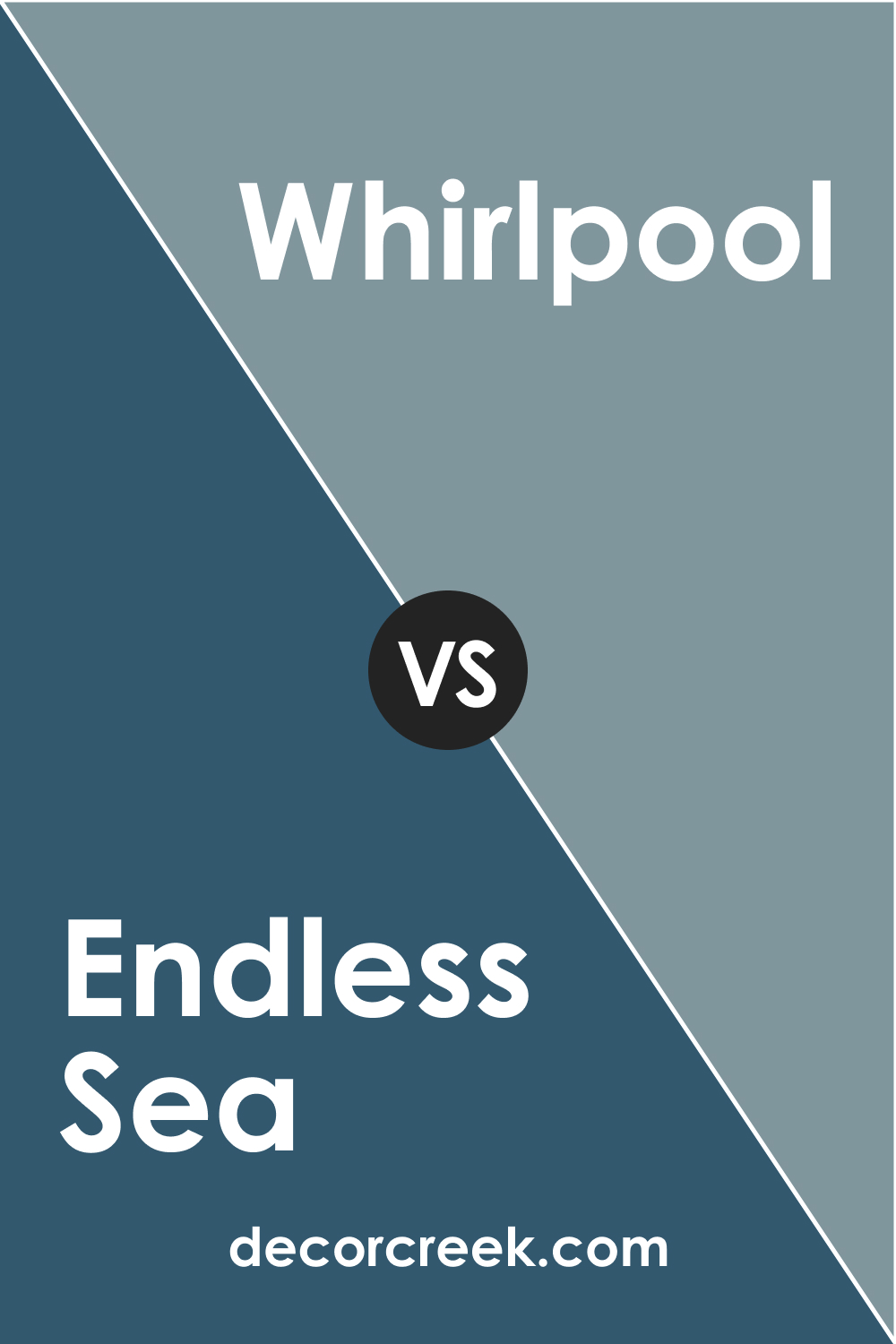 Endless Sea vs. Poolhouse SW 7603
SW Poolhouse is a cool-toned blue with a slate undertone and an LRV of 29. Compared to SW Endless Sea, whose LRV is 9, the Poolhouse color reads much lighter. Also, it displays a cleaner blue hue, whilst SW Endless Sea reads deeper and way more saturated.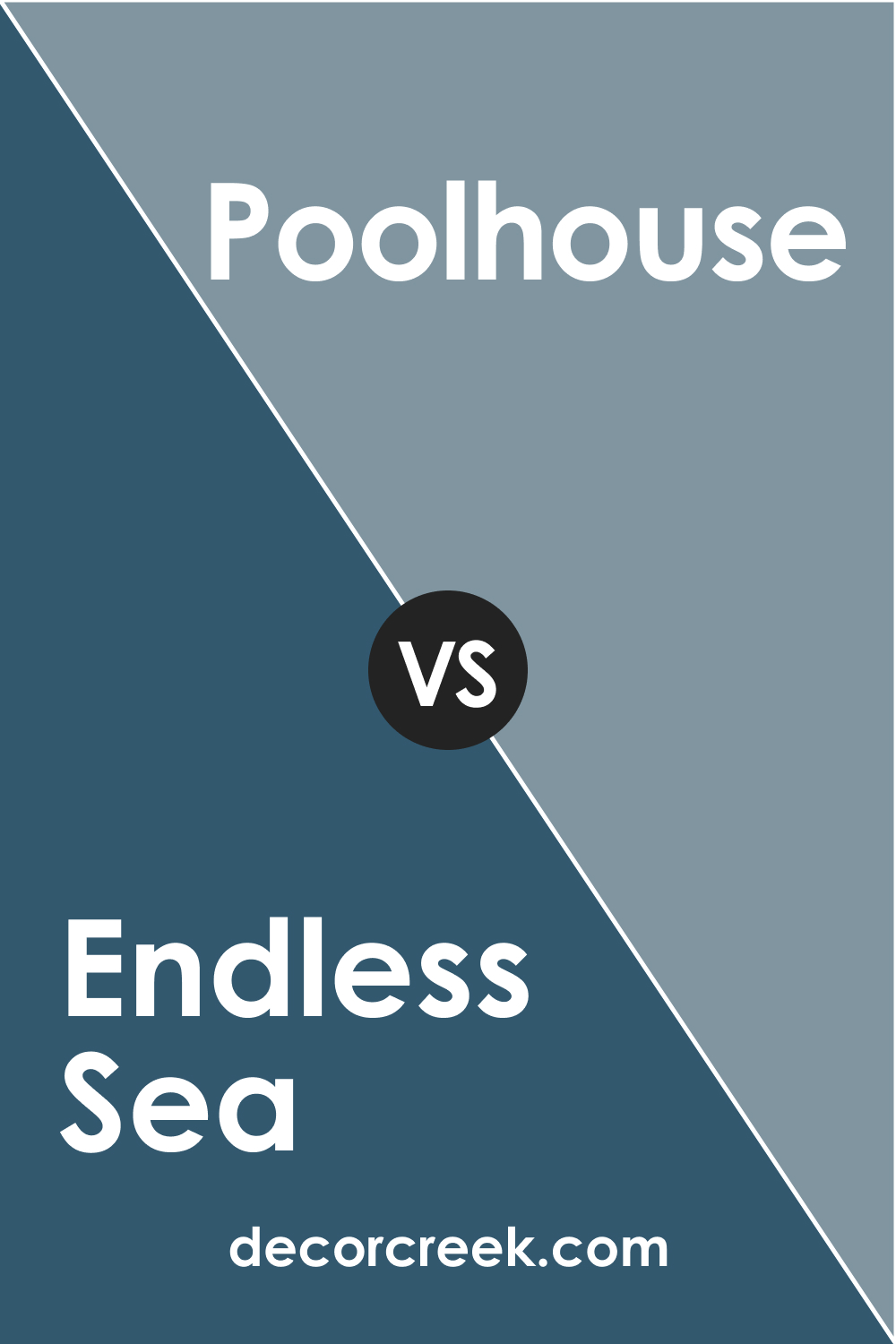 Endless Sea vs. BM Quiet Moments 1563
BM Quiet Moments has an LRV of 61, which makes it a very light color, unlike SW Endless Sea with an LRV value of 9 and a much darker appearance. But except for different LRVs, these colors have a completely distinct nature. BM Quiet Moments is a gentle mix of blue, green, and gray, whilst SW Endless Sea is a deep and rich blue that seems a bit heavy compared to its airy counterpart.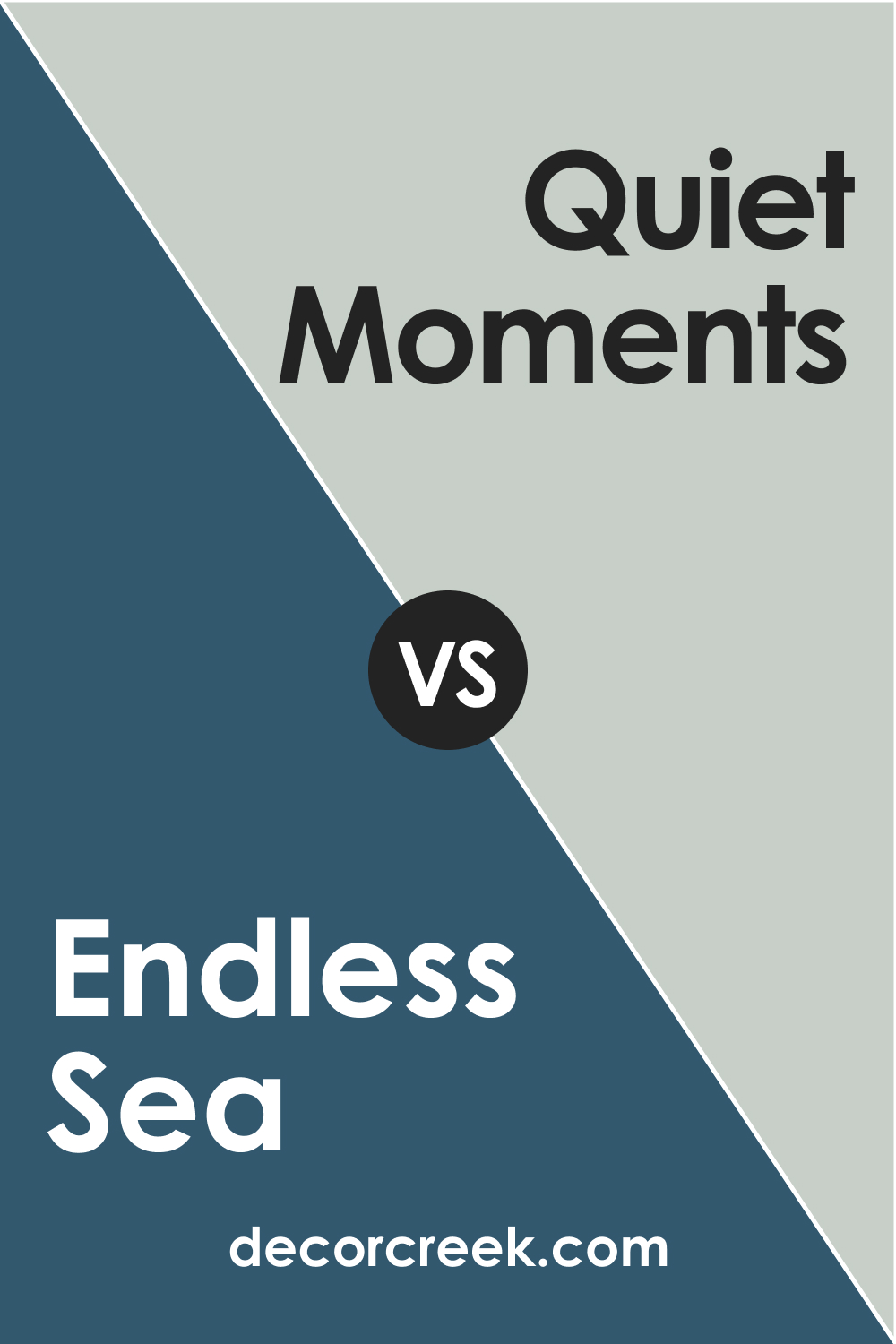 Endless Sea vs. SW 6223 Still Water
SW Still Water is a cool, dark blue with complex green-gray undertones and an LRV of nearly 10. As a result, these colors look the same deep and dark, but their hues look distinct. SW Endless Sea displays a saturated blue hue, whilst SW Still Water reads greenish, being muted with its gray undertones.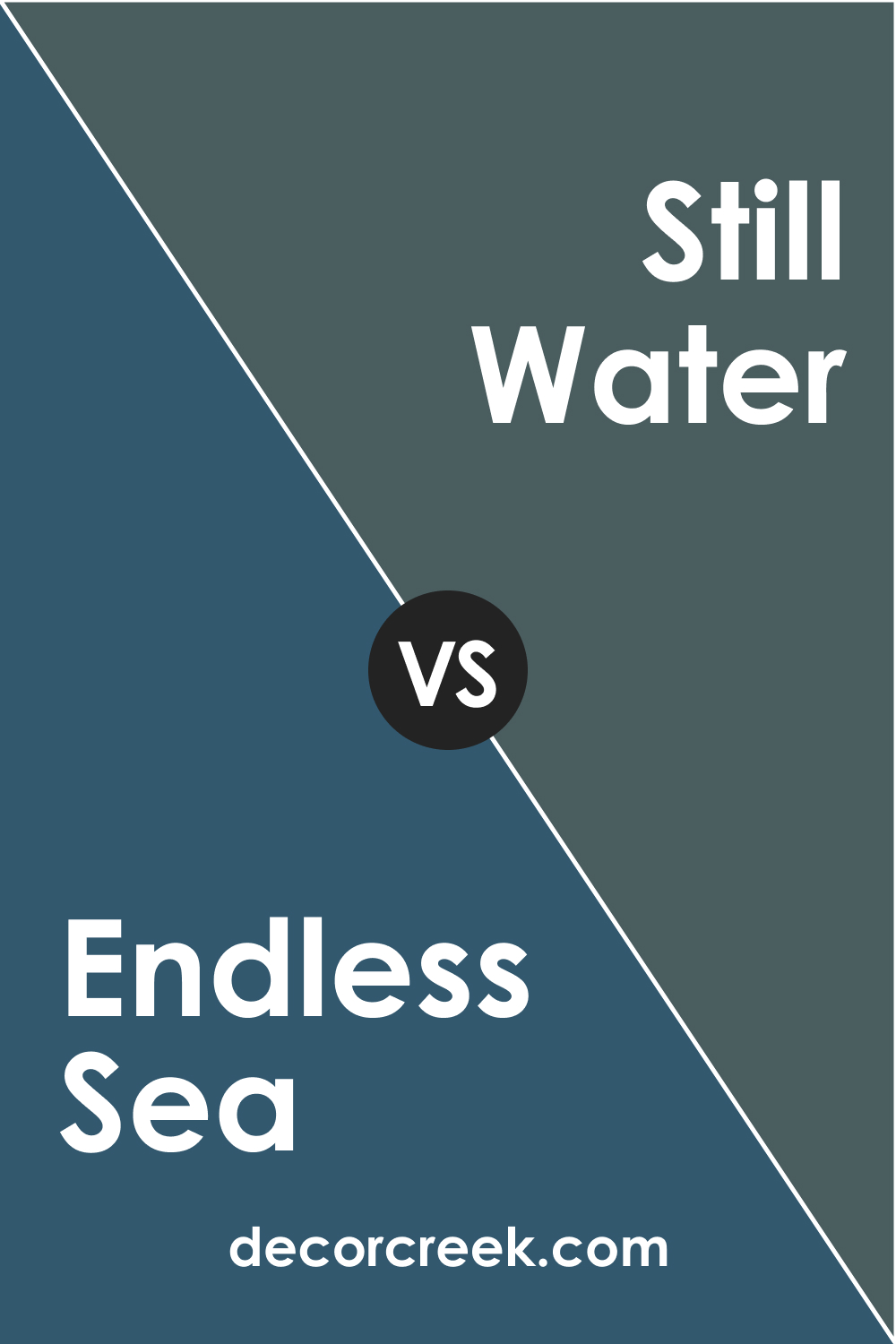 Endless Sea vs. BM Blue Heron
BM Blue Heron has an LRV of 15 and mixed violet-gray undertones. Compared to the depth of SW Endless Sea, this color reads noticeably purplish and somewhat softer, revealing a more "translucent" hue.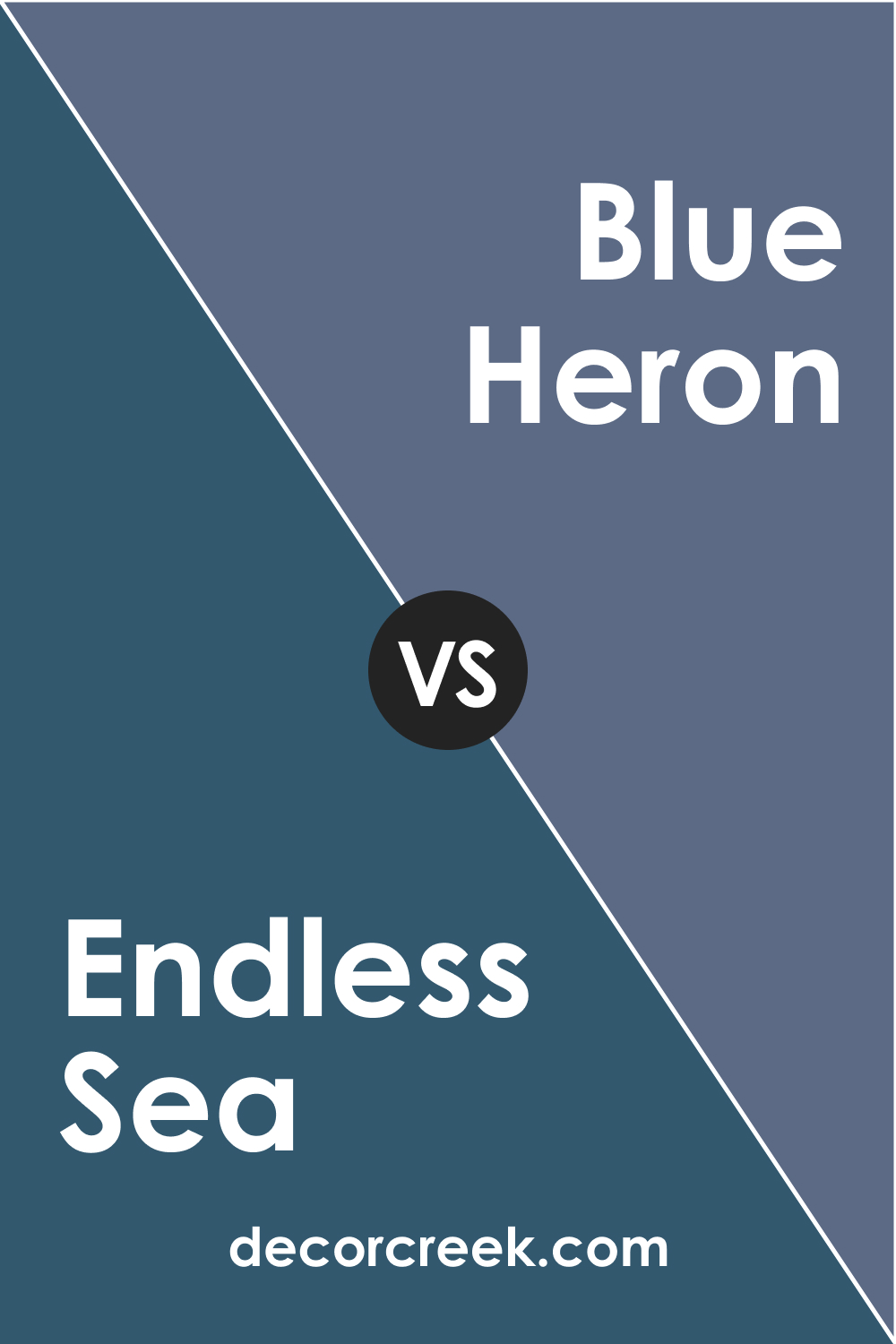 Where to Use SW Endless Sea Paint Color In Your Home?
One of the biggest stumbling stones for many homeowners is finding the room that will host the selected paint color best of all. Not all paint colors are so versatile that you can use them in any room successfully. Often, you have to consider the way the room is lit, other colors used in it, and even the texture of fabrics and furniture!
With such a complex hue as SW Endless Sea, finding the best palace for using it may become a challenge! Below, you can find a description of how this color will work in different rooms of your home.
This guide will help you understand better where this blue will be a win-win color choice and where you should avoid using it.
Endless Sea SW 9150 in the Living Room
This blue hue can add a bold and pronounced statement to your living room, but you must ensure the space has ample natural light. Otherwise, SW Endless Sea will read darker than it is, making the room feel enclosed and moody. Pair it with cooler and crisper whites on ceilings and trim, and use white curtains and/or carpet to make the space feel brighter and airier.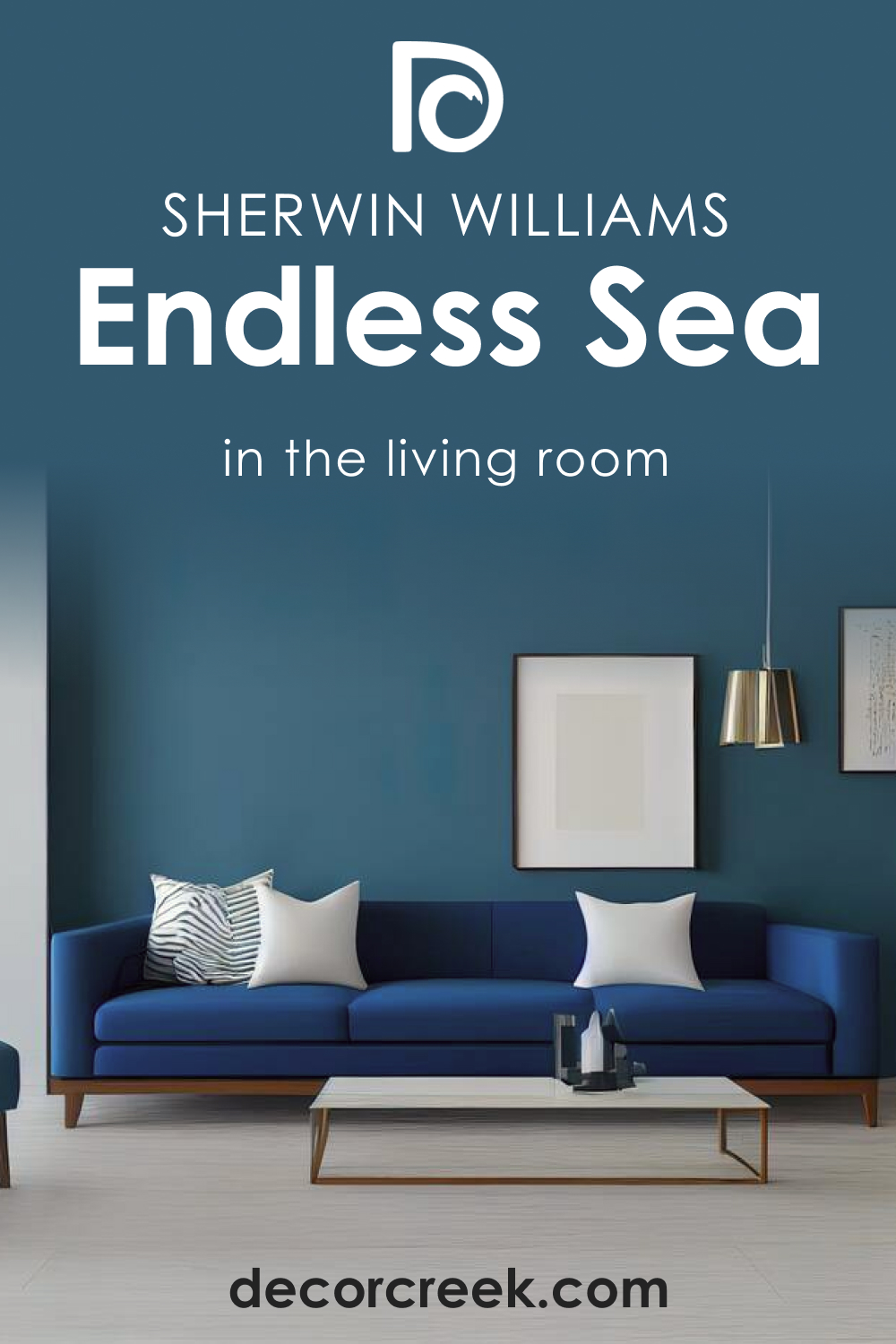 Endless Sea SW 9150 on the Bedroom
In bedrooms, this deep hue works best as an accent wall color. Paired with white accents on the trim, as well as with the white walls, this blue will make your bedroom feel cozier yet not too dark. For more color in the space, consider using light greiges on upholstery and/or bedding, and add mustard yellow accents through pillows.
Endless Sea SW 9150 and Kitchen
SW Endless Sea works best on kitchen cabinets and islands since it's too dark to be used on the walls. Instead, leave the walls crisper white to make the space feel larger and brighter. SW Endless Sea pairs nicely with tiles and brass/golden fixtures, so it will fit most kitchen interior styles.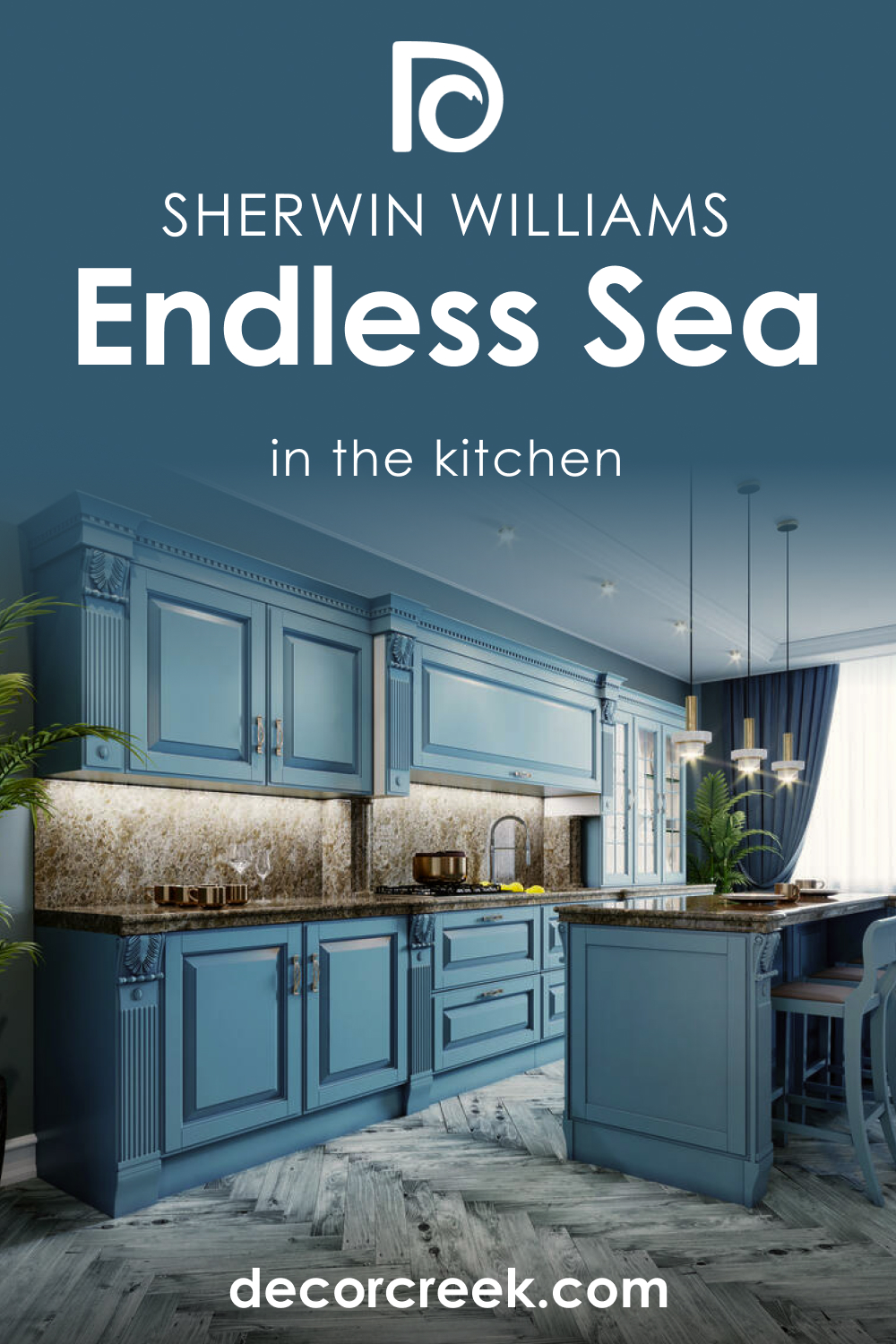 Endless Sea SW 9150 on the Bathroom
Since bathrooms typically have little light, we recommend you use SW Endless Sea very carefully there. The best way to incorporate this hue would be to use it on the vanity or paint one of the walls if the size of your bathrooms allows that.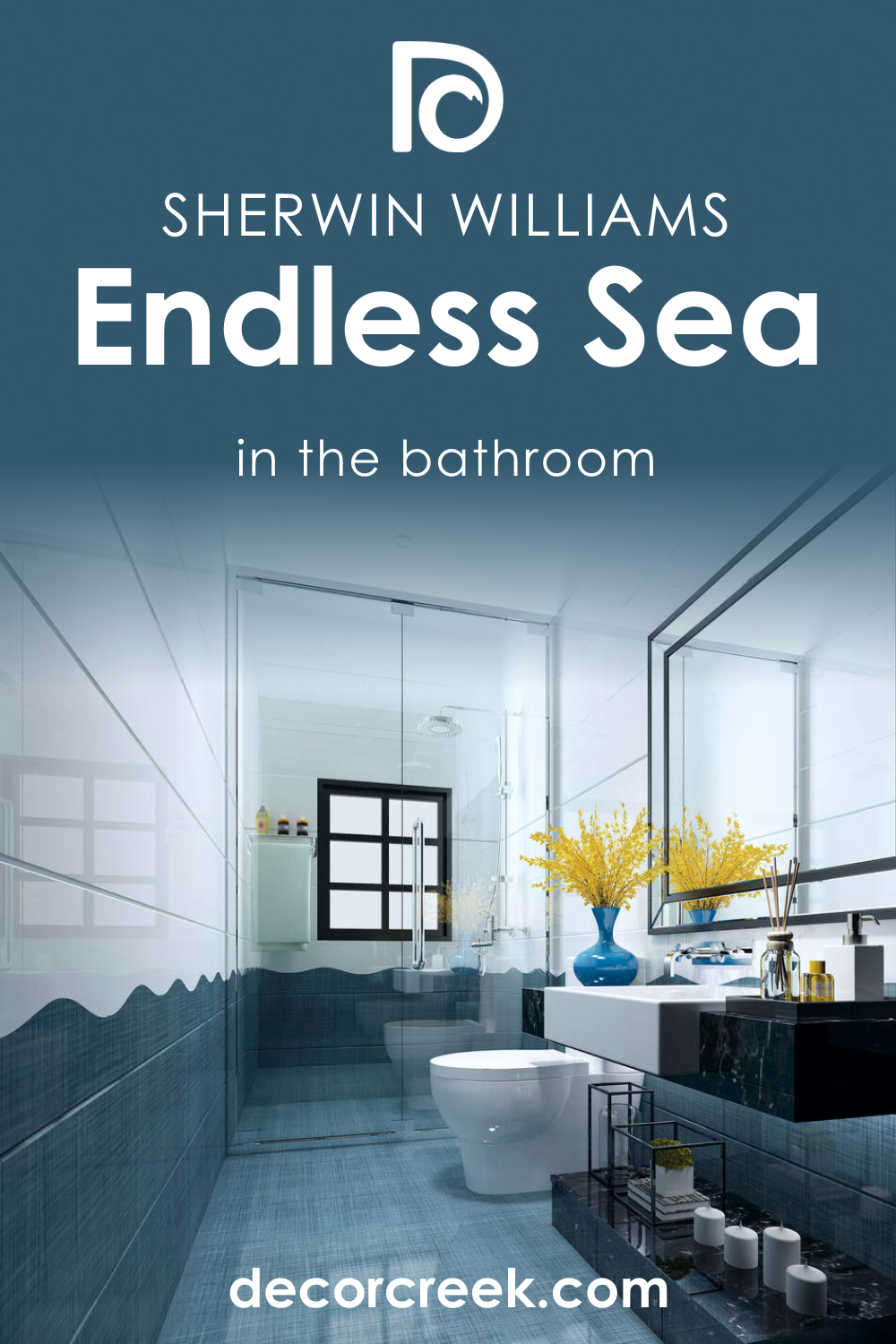 Endless Sea SW 9150 for the Exterior Use
Despite being rather dark, SW Endless Sea can work on exterior walls. As an option, this blue can be used on your front door if the walls are painted in another, brighter color (e.g., white).
Now you can see that even deep and saturated blues like SW Endless Sea can find their place in your home if you know how to use them.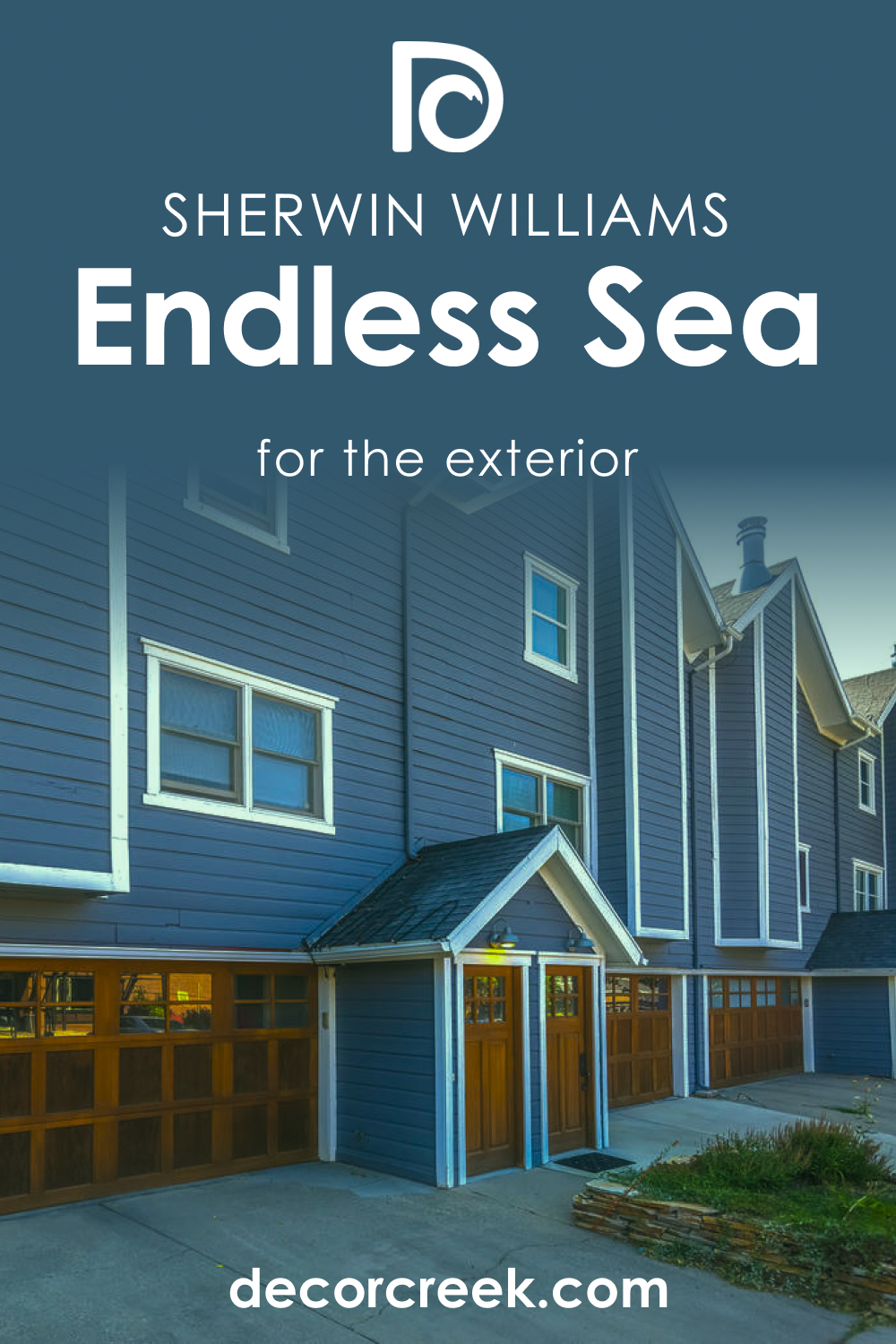 Now you know how to make this blue work in different rooms and what to expect from this color in distinct lighting conditions. Also, you learned how to coordinate it and what colors to use with it to make your home feel more welcoming and cozy.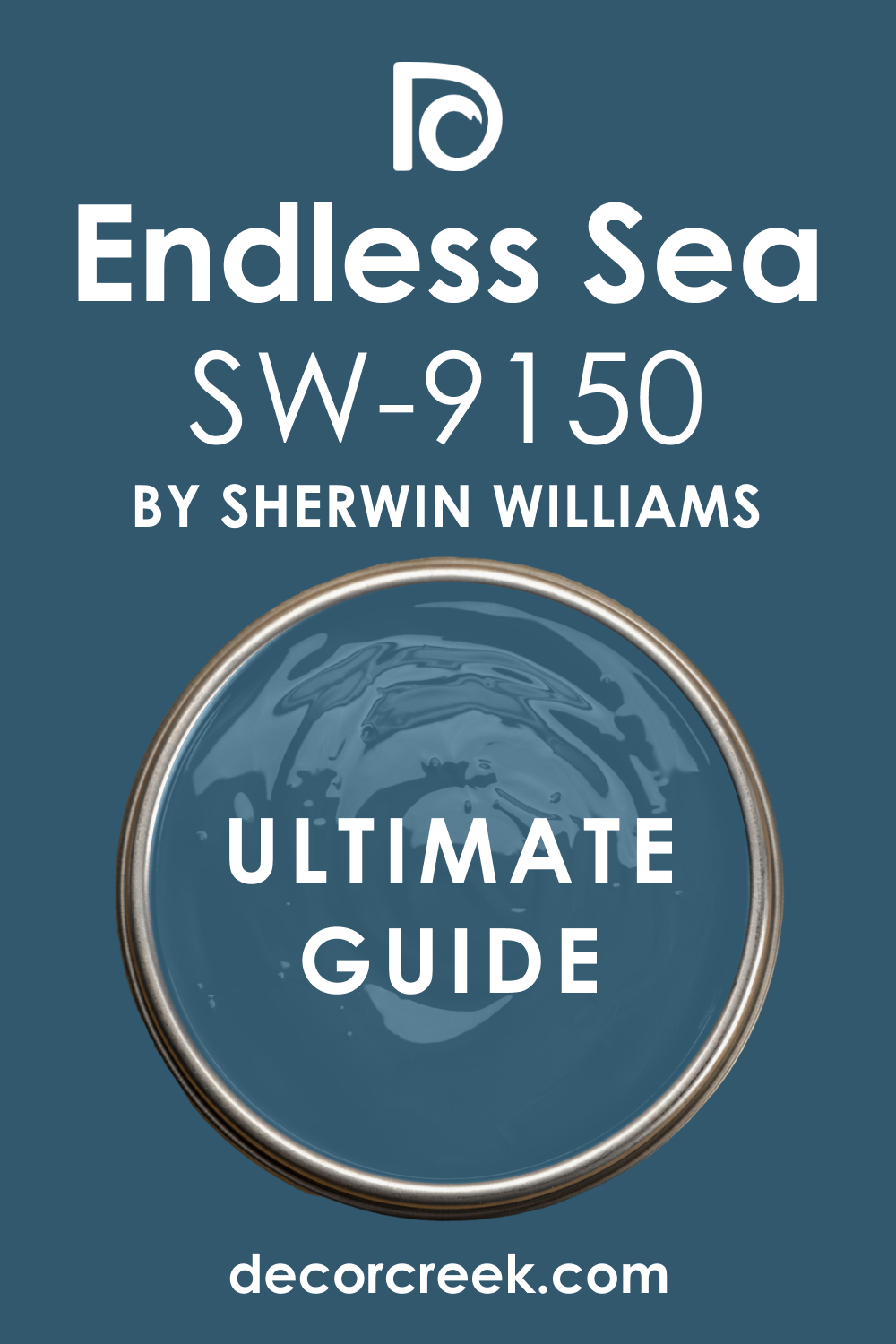 Frequently Asked Questions
⭐Does SW Endless Sea make rooms seem smaller?
It can make them seem smaller if you use this color in a poorly-lit space.
⭐Does SW Endless Sea work with soft pastels?
Yes, this blue can work really well with such colors, e.g., with SW Pediment or SW Malted Milk.
⭐How does this color work with wooden surfaces?
Typically, SW Endless Sea works well with wood and even rattan! It depends on the color of the wood since darker sorts of it could make SW Endless Sea look darker.