Blue is hardly one of the most commonly used colors in home interiors. People often believe it to be unsuitable for wide usage in their homes, which is why this paint color is typically left for minor surfaces and spaces like cabinets or accent walls.
However, today you will learn about one of the shades of blue that can be used almost anywhere in your house or apartment! Meet the Indigo Batik blue paint color by Sherwin-Williams!
We will tell you more about it, including undertones, LRV, and trim colors. Also, you will learn in what rooms this blue is best to be used and how to coordinate it correctly to achieve the best results.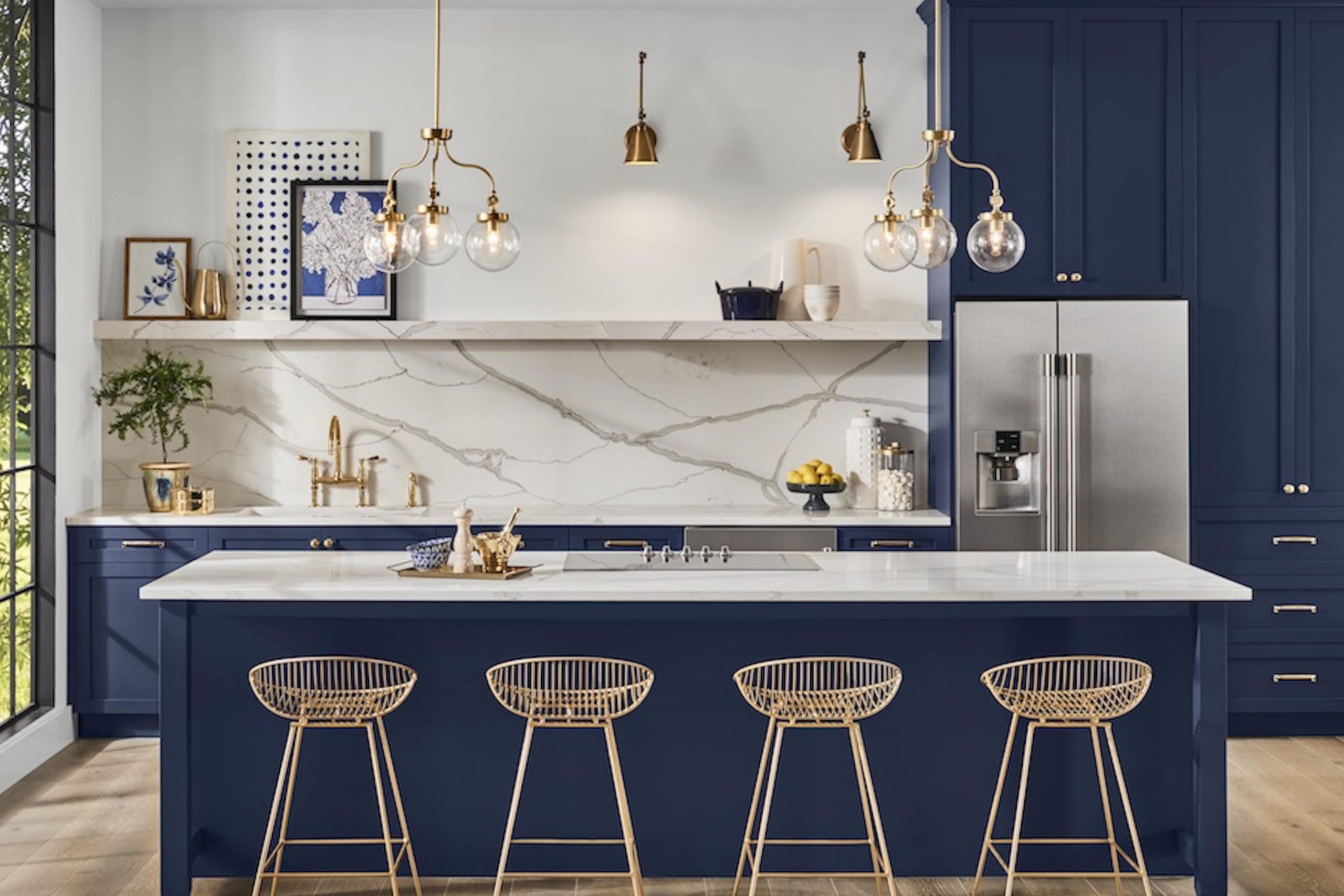 What Kind of Color Is Sherwin-Williams SW-7602?
If you look at the Indigo Batik color, you will see that it's a pretty dark-toned shade of blue. To be precise, it is a saturated denim blue that exhibits a tone similar to navy. As Encycolorpedia, this color will make your space look magnificent and aristocratic!
However, due to its darker tone, you should use it carefully. In particular, you need to take care of a few nuances. It is essential to consider how this deep shade of blue may appear in your space depending on the lighting and other colors used there.
Also, it is essential to understand whether this paint color is really a good fit for your home's interior or exterior. Below, you can find detailed information on this color's specifics, which means you will be able to figure out how and where to use it with more success in your home.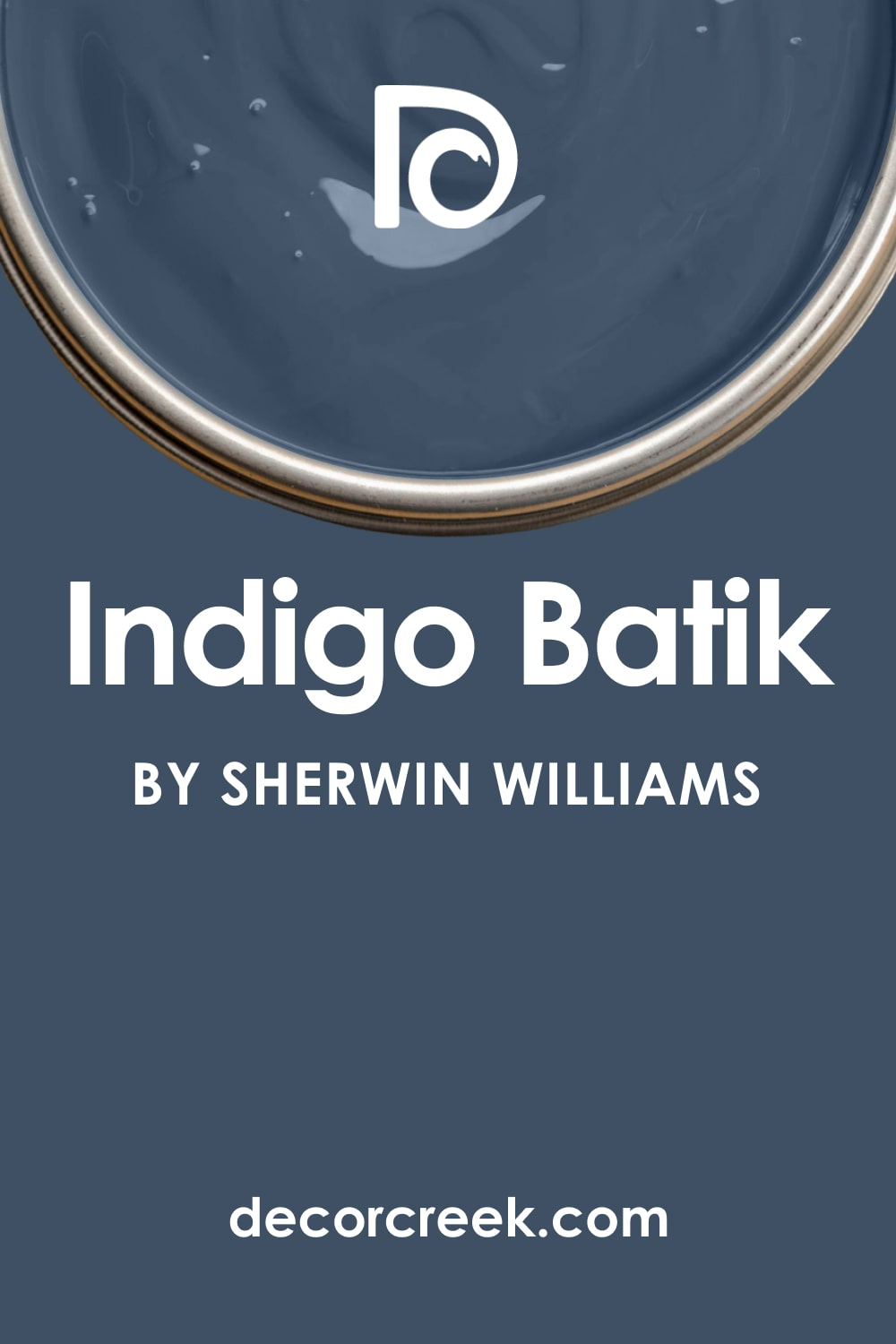 What Undertones Does Sherwin-Williams SW-7602 Indigo Batik Have?
Why is it important to know what undertones a paint color has? Knowing its undertones, you can tell in advance how the color will read on the walls in different lighting conditions and surrounded by different colors.
Speaking of SW Indigo Batik, this deep and dark blue has navy and indigo undertones that only make its blueness deeper and more profound. On the one hand, such rich deep undertones make this color read very interesting and complex without seeming flat.
But on the other hand, this depth can make SW Indigo Batik seem nearly black-blue in poor light!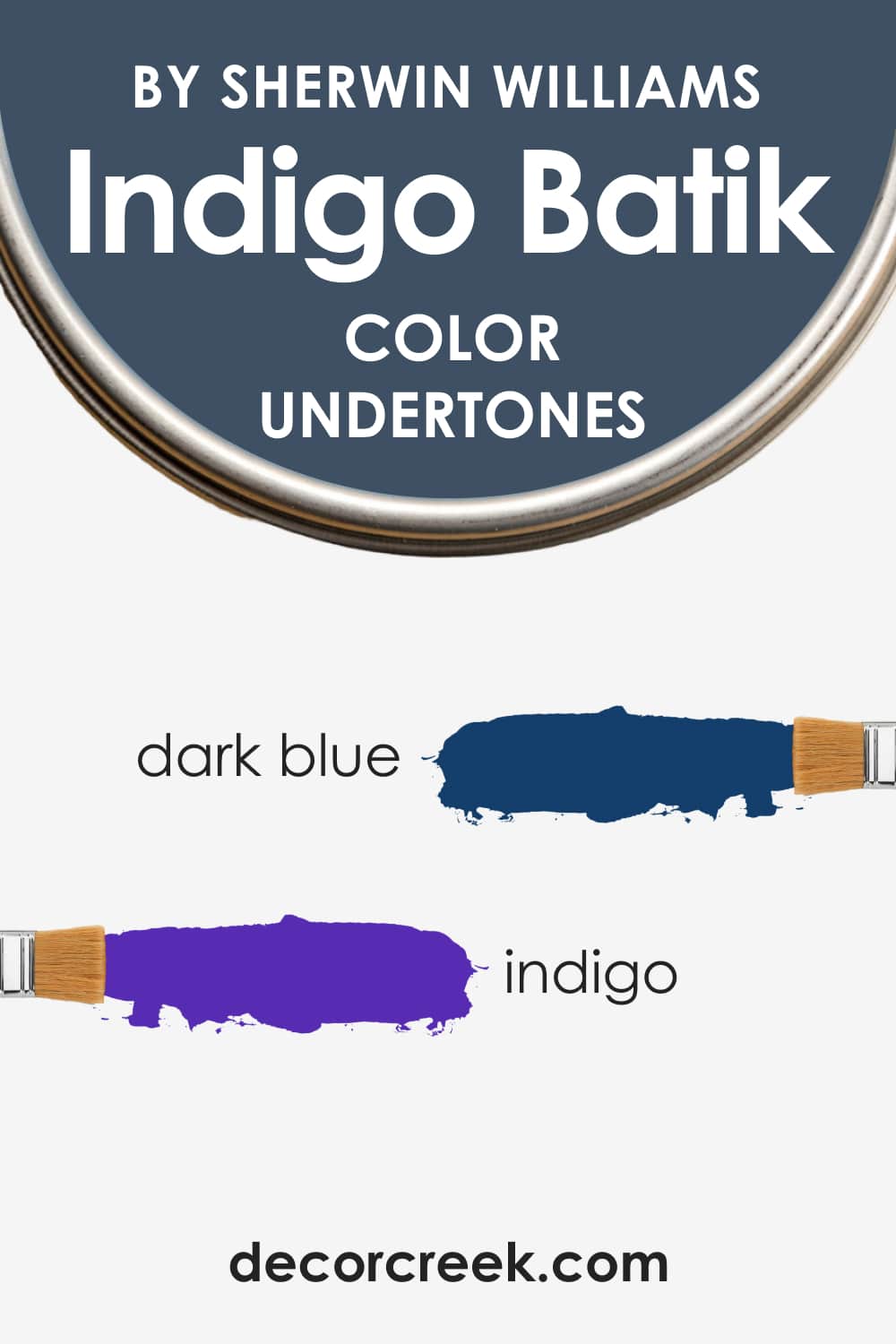 What LRV SW Indigo Batik Has?
LRV (light reflectance value) is another essential feature paint colors have. This measurement shows how much light the color can reflect from the wall. Since darker colors have lower LRV meaning, it's easy to understand that the higher the LRV rate, the lighter the color. And vice versa.
The LRV of SW Indigo Batik is 8, which makes it a pretty dark and deep-toned blue. But thanks to this depth, this color feels absolutely luxurious, royal, and bold when used in your home!
The saturation in the paint gives it a classic and elegant look, which is why this paint is highly used in large houses and spacious rooms/hallways.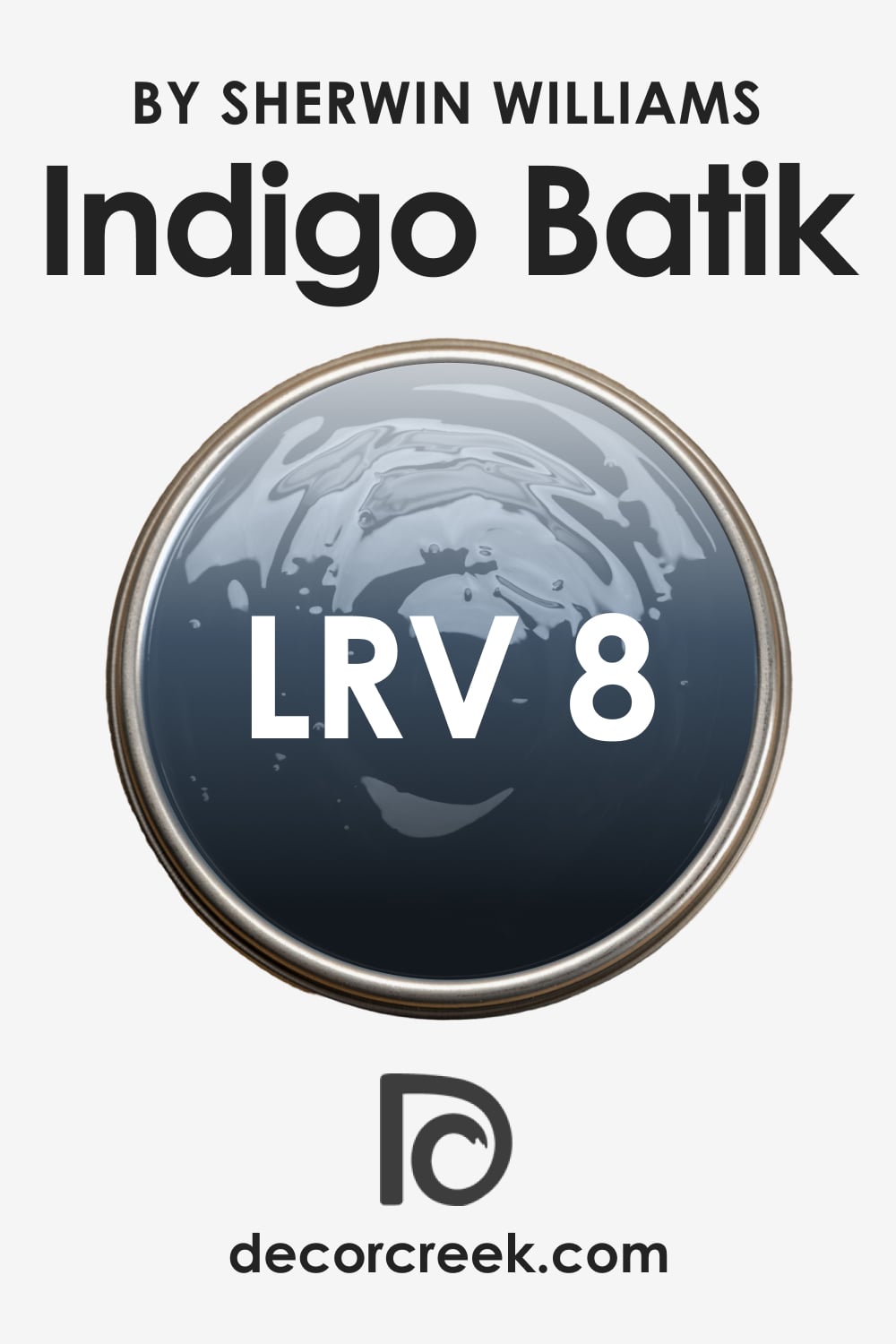 LRV – what does it mean? Read This Before Finding Your Perfect Paint Color
How Does SW Indigo Batik React to Light?
You already know that paint colors may react to light differently. Some colors tend to look lighter, whilst others may read darker depending on how well they are lit. SW Indigo Batik is exactly the color that acts this way!
Due to the low light reflectivity (LRV of 8), this shade of blue tends to look enclosed in poorly-lit spaces. As a result, it is likely to make your room appear smaller than it is!
That's why we wouldn't recommend using this blue paint in extremely small spaces or rooms with dim or little light.
However, if your room receives enough natural light, we would recommend using this shade of denim blue without hesitation! In this kind of space, the color will make your room look enlarged.
On the other hand, note that in the absence of natural light, this paint color may appear much darker, almost like blue-black.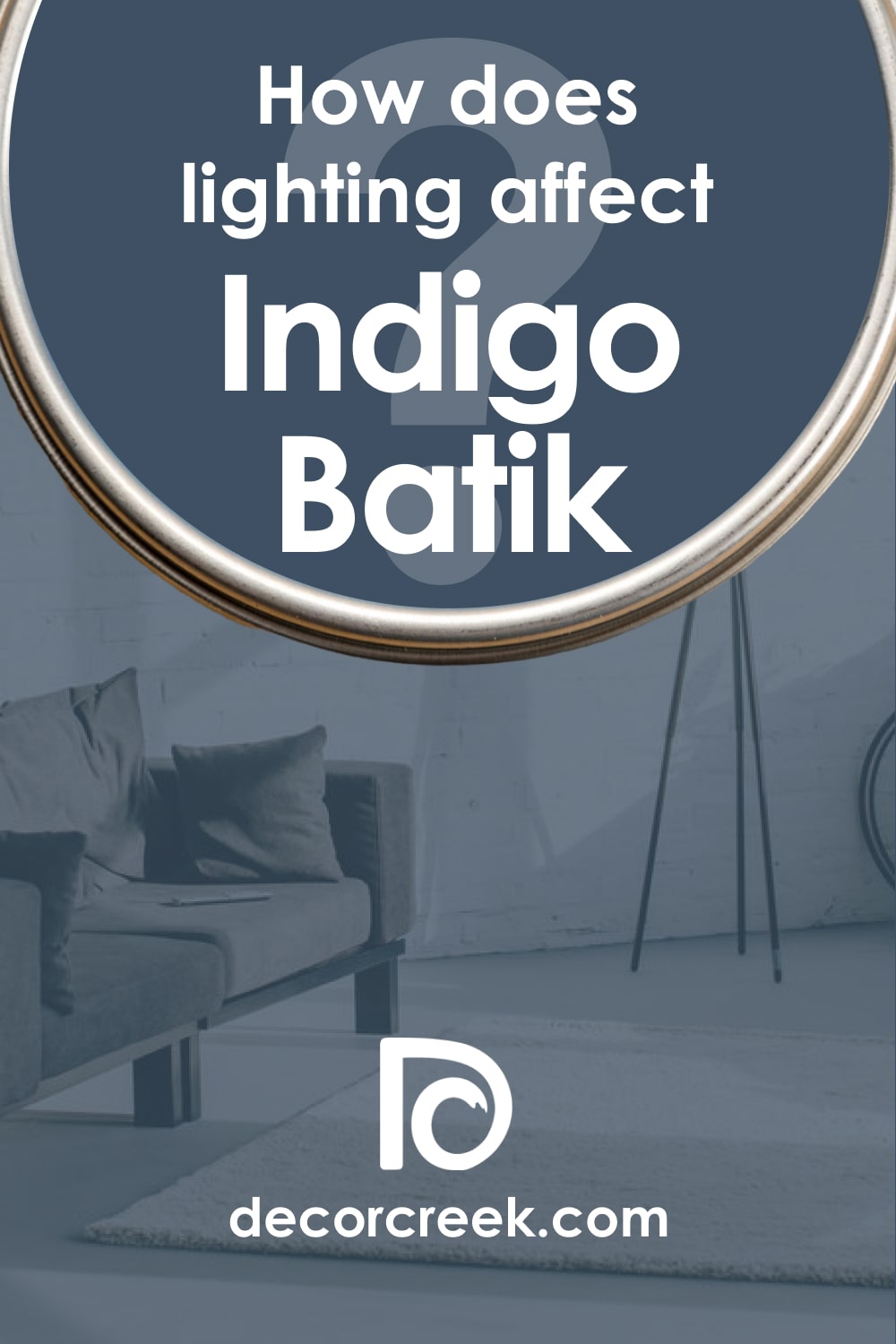 Is Indigo Batik SW-7602 a Warm or a Cool Color?
SW Indigo Batik is rather deep and rich-toned color that has navy and indigo undertones. However, the tricky thing about this color is that it can read either cool-toned or warm-toned! The way it looks will depend on the lighting conditions in the room.
For example, in rooms with warmer light, this blue will read pleasantly warmer. However, you will still not see a yellowish-warm hue in this paint! On the other hand, in rooms with colder northern light, expect this blue reading cooler.
SW Indigo Batik Coordinating Colors
If you want to achieve a good-looking and balanced color palette in your home, you should know how to coordinate paint colors. This is why we have prepared a brief guide for you that will help you pick the correct coordinating colors for SW Indigo Batik:
SW Icicle
SW Pacer White
SW Sands of Time
For a monochromatic color palette, stick to the following colors:
SW 6242 Bracing Blue
SW 6243 Distance
For a contrasting color palette, the following colors would be better:
SW 6378 Crisp Linen
SW 9023 Dakota Wheat
SW 6246 North Star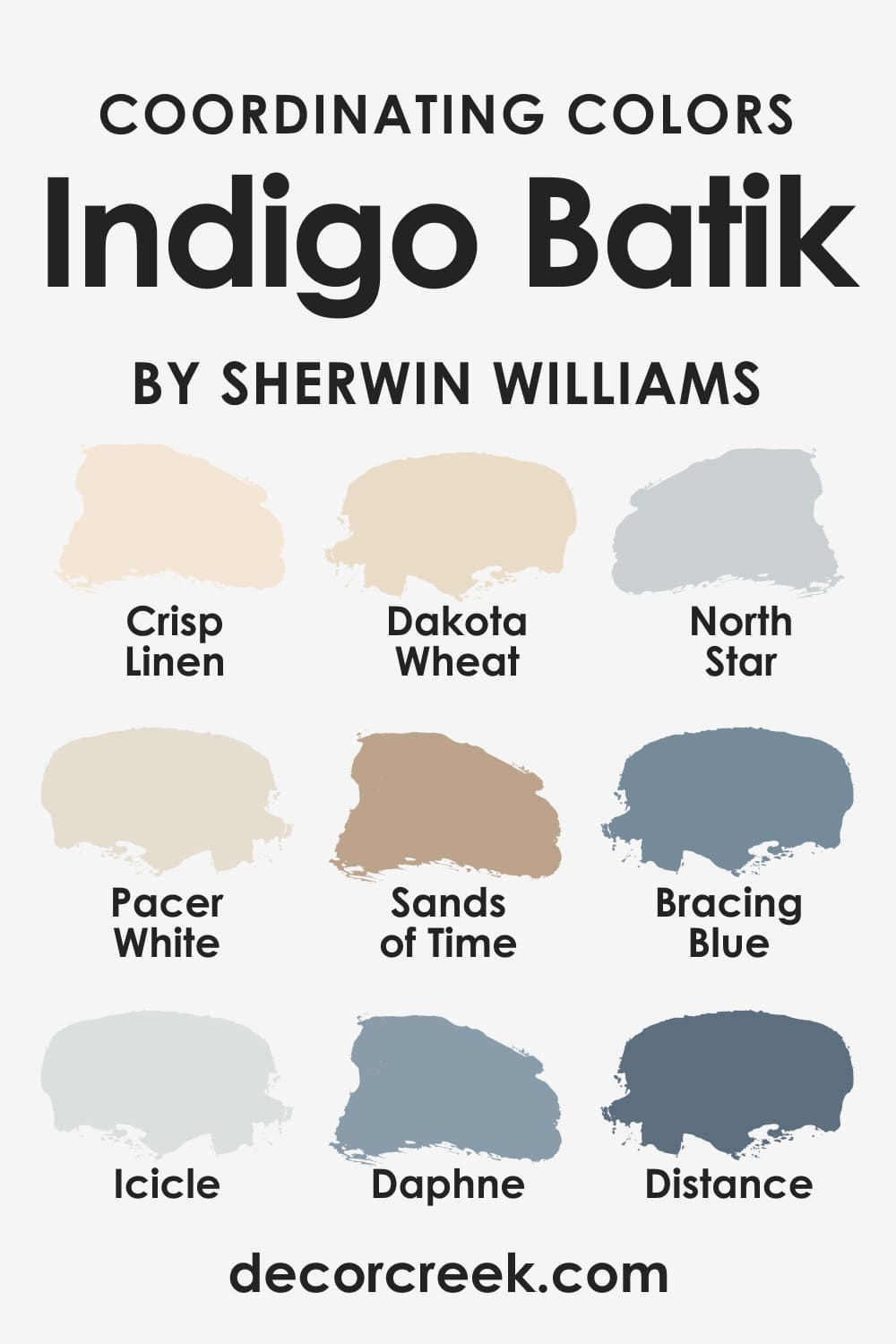 What's the Best Trim Color For SW Indigo Batik?
White is traditionally the best and optimal paint color to use on trim and moldings. This is explained by its versatility and the ability to pair well with most colors in the space. For SW Indigo Batik, we would also recommend using whites on your trim:
SW Pure White
SW High Reflectance White
SW Pure White will help you achieve a creamier, refined look. But if you want a crisp look instead, you'd better opt for SW High Reflectance White.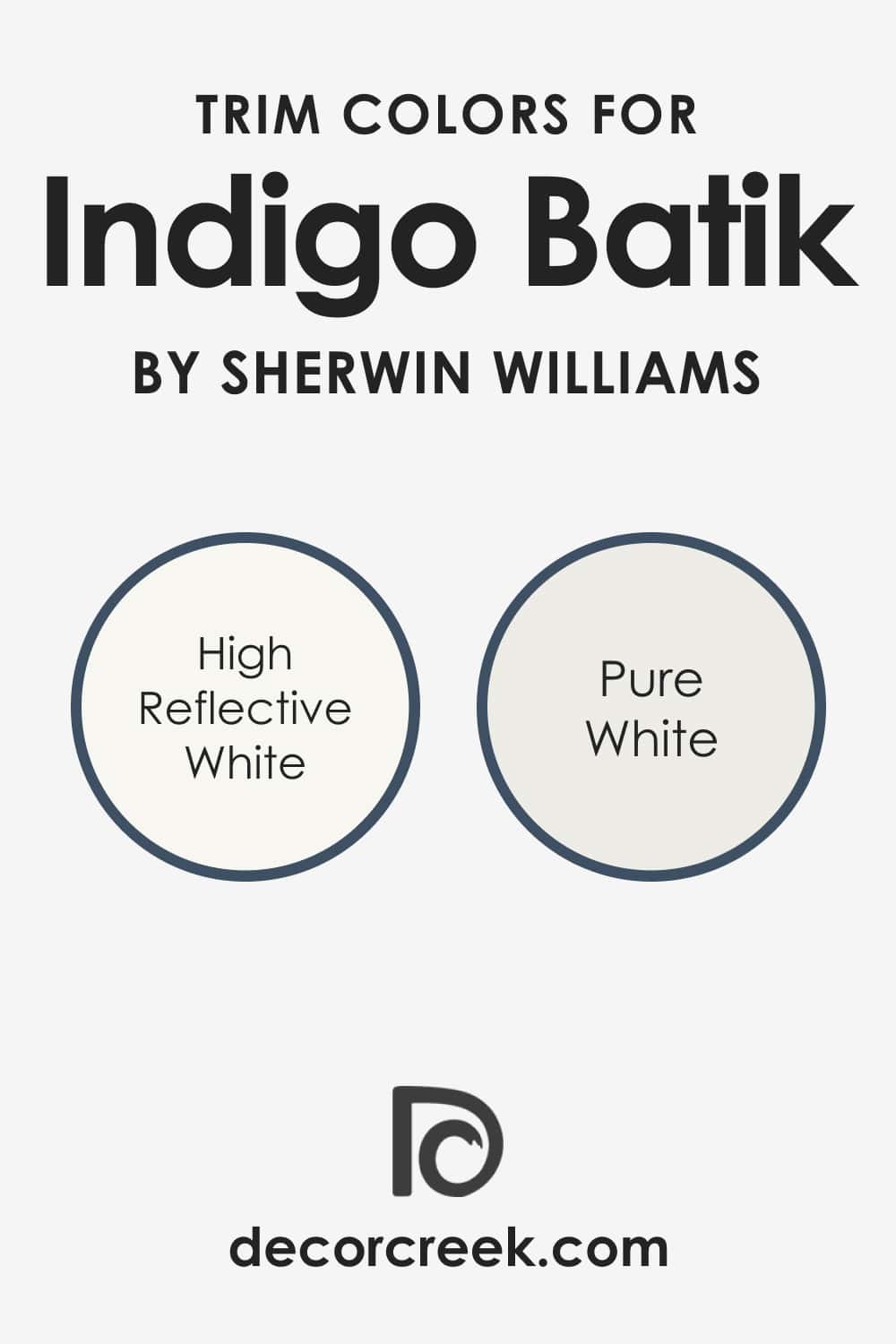 Paint Colors Similar to SW Indigo Batik
In case you need to find the color that reads almost the same on your walls as the one you were going to use before, knowing similar colors is essential. When you know what colors can be used as substitutes, you can easier find the best-matching alternatives. For SW Indigo Batik, the following blues will work as alternative colors best of all:
Benjamin Moore Hale Navy
Sherwin-Williams Naval
Benjamin Moore Van Deusen Blue
Benjamin Moore Newburyport Blue
Benjamin Moore Gentleman's Gray
Farrow & Ball Hague Blue
Sherwin-Williams Charcoal Blue
Sherwin-Williams Waterloo
Sherwin-Williams Sea Serpent
Of course, you must realize that none of them is a 100% match! Each blue color on this list will vary slightly in tone or LRV.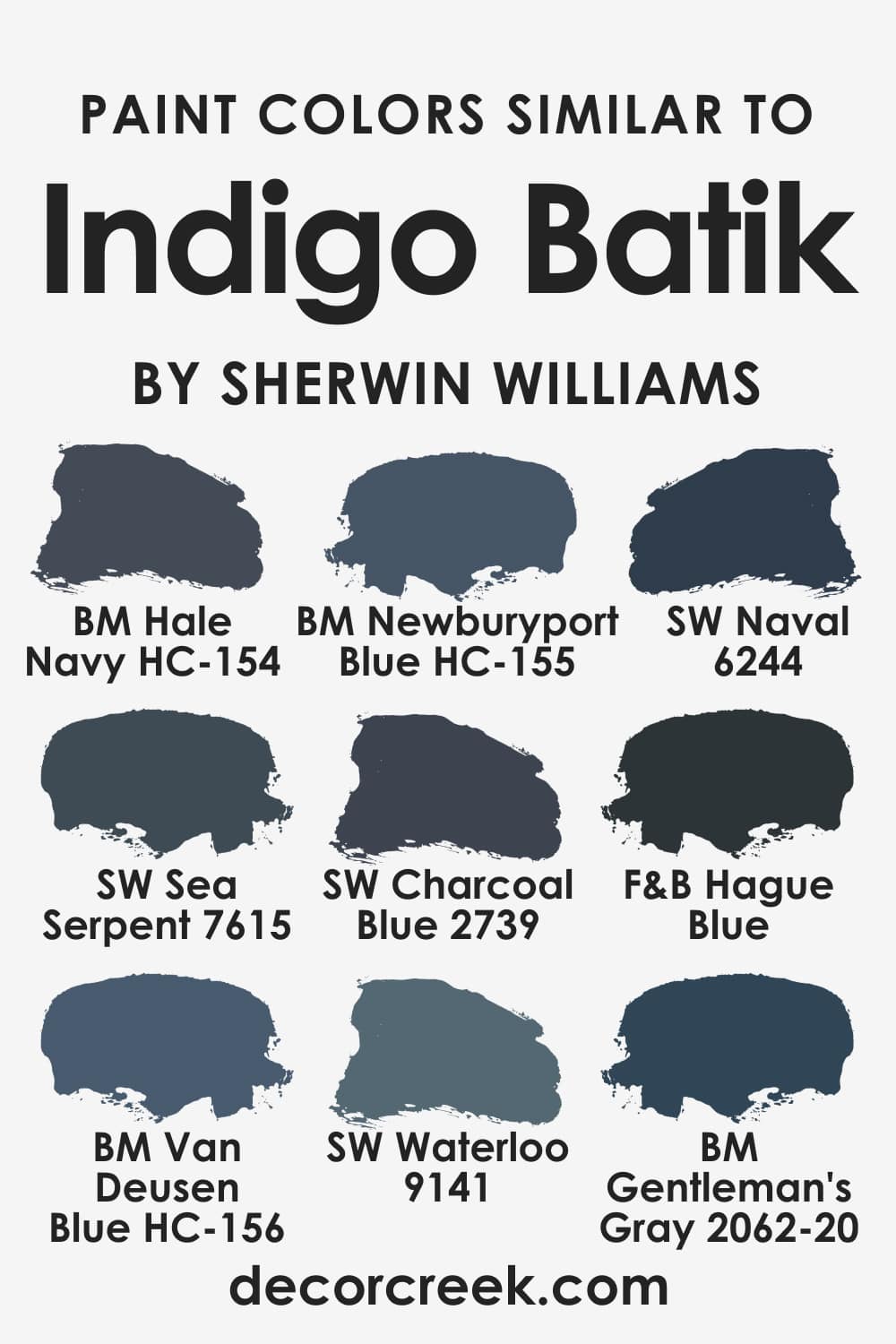 Colors That Go With SW Indigo Batik
It's great if you have a sharp eye for colors and can select the most harmonious color palette for your home. But what if you don't? In this case, you should know what colors will work well with the blue you are going to use on your walls!
Blues typically work well and become a great fit with goldens (if you strive for a royalty touch in your home). As an option, you could also use off-whites, whites, greys, mauves, browns, and greiges.
For example, you can use this rich and deep-toned blue with the following colors:
SW Sommelier
SW Butterscotch
SW Rookwood Sash Green
SW Poinsettia
SW Outerbanks
SW Snowbound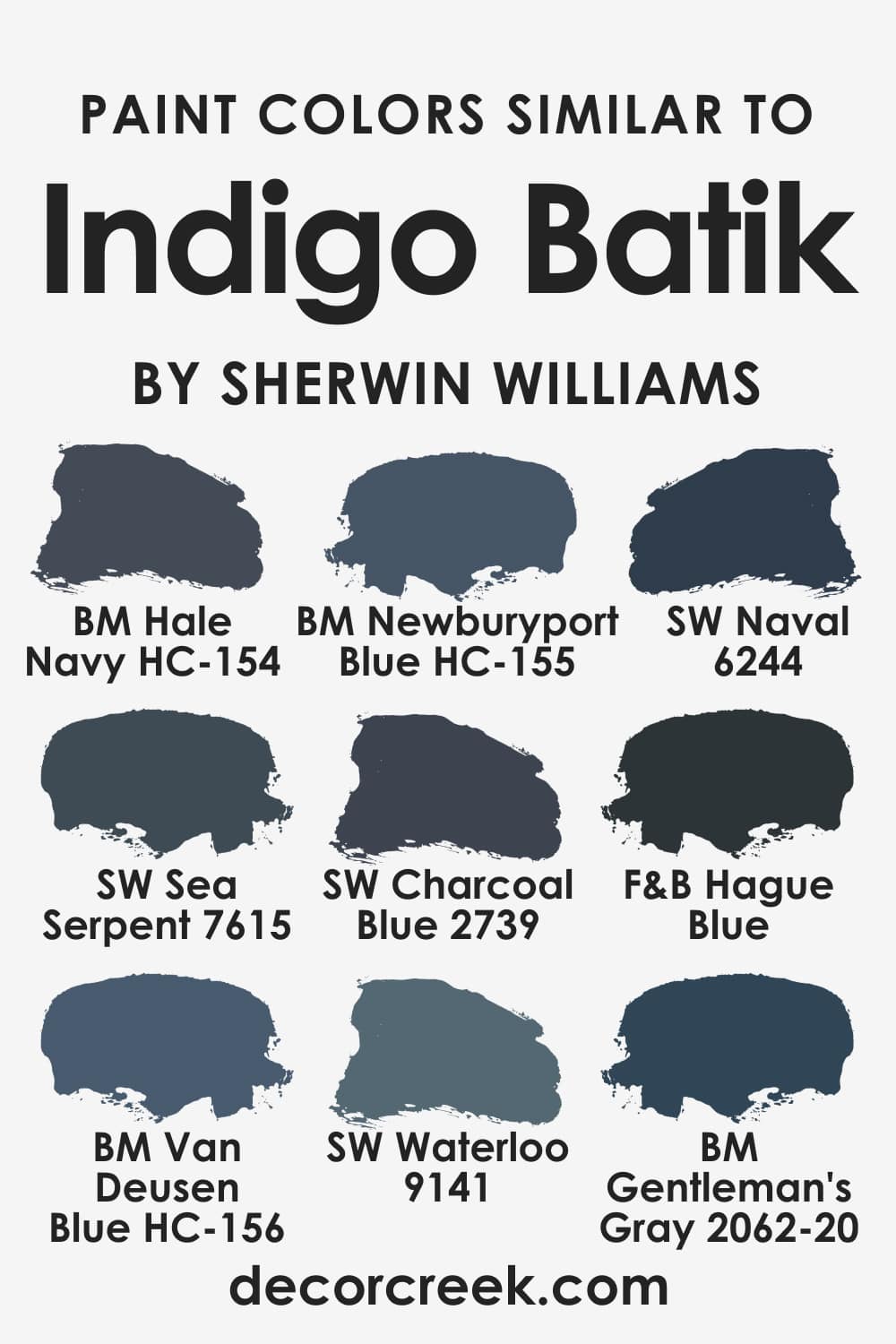 Comparing the Indigo Batik Color With Other Colors
To help you better understand the differences between similar colors, we have compared the Indigo Batik paint with a few shades of blue that read alike. Read on to discover what distinctions they have.
Indigo Batik vs Waterloo
SW Indigo Batik reads much deeper and noticeably darker than SW Waterloo. Also, SW Waterloo reveals its green undertones more noticeably compared to SW Indigo Batik, which looks perfectly deep-blue.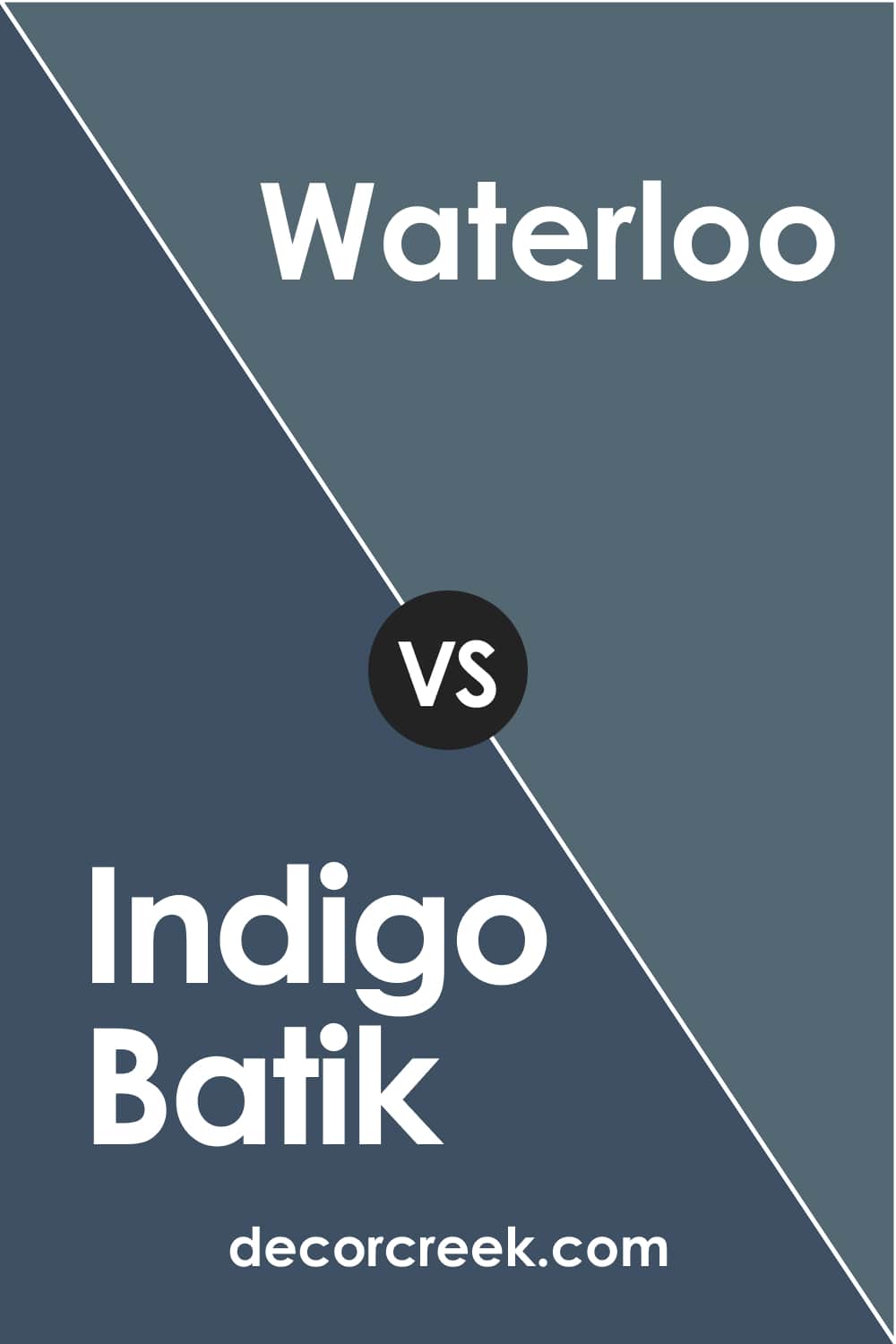 Indigo Batik vs Hale Navy
BM Hale Navy is a complex color due to its undertones. Hale Navy is a deep, dark blue with gray undertones, but it also has the slightest hint of green. Compared with SW Indigo Batik, the blue color by Benjamin Moore reads darker and grayer, whilst its counterpart looks bluer.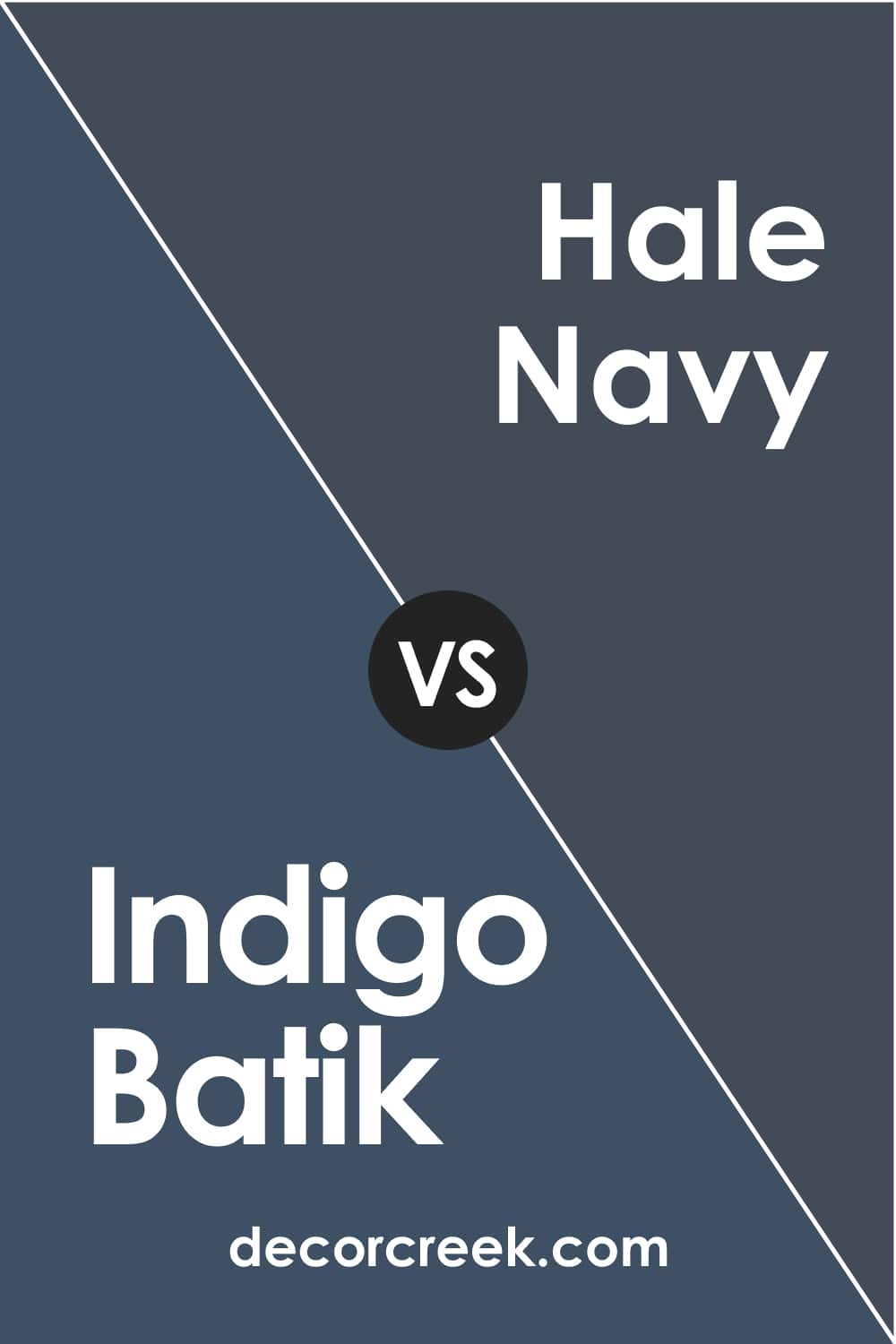 Indigo Batik vs Slate Tile
SW Slate Tile has undertones of gray in it, but you can also find a hint of green in it. This gray-green hue is pretty noticeable when you compare the Slate Tile color with SW Indigo Batik with its rich blue depth!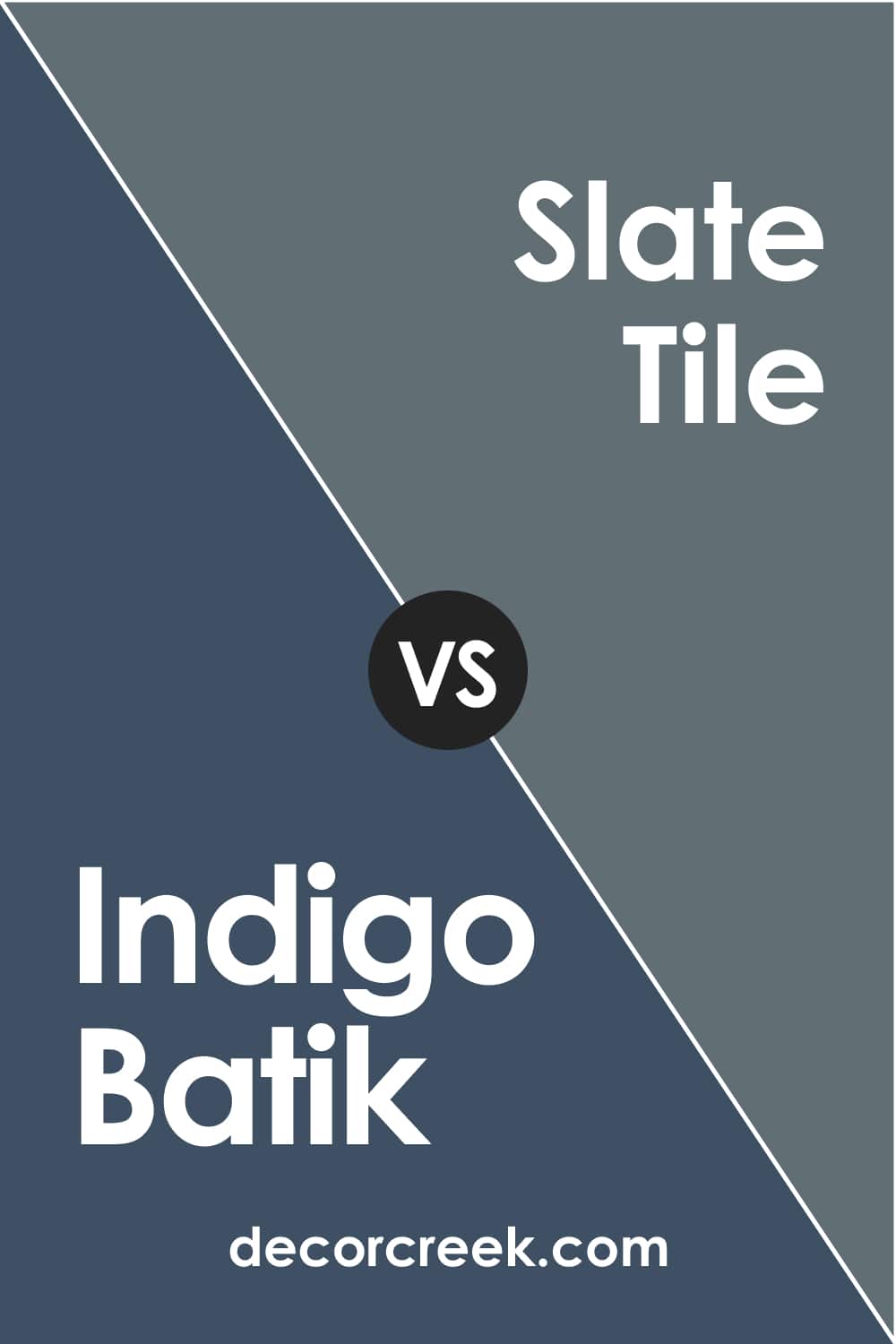 Indigo Batik vs Charcoal Blue
With an LRV of 6, SW Charcoal Blue is comparatively darker than Indigo Batik. In fact, the only difference between them is the lightness and their undertones (SW Charcoal Blue has gray and blue undertones, and SW Indigo Batik has navy and indigo undertones).
SW Charcoal Blue has slightly blue-black undertones, especially if you use it in the absence of light or excessive lighting conditions.
Where In Your Home to Use Indigo Batik SW-7602 Color?
Since SW Indigo Batik is quite a complicated color due to its ability to read cooler or warmer in different lighting conditions, it's good to know in advance how it might work in various spaces in your home.
Below, you can find the descriptions of this color used in the most common areas.
Indigo Batik SW-7602 in a Living Room
If your living room has a great size, you can absolutely use this shade of blue paint color. It will also be a good fit for living rooms with double-height ceilings.
You can pair this rich and bold blue with either white or grey sheer curtains, neutral-toned upholstery, and hardwood floors. Add slight golden-tinted accents (e.g., chandeliers and table lamps), and your living room will get an elegant and classy look!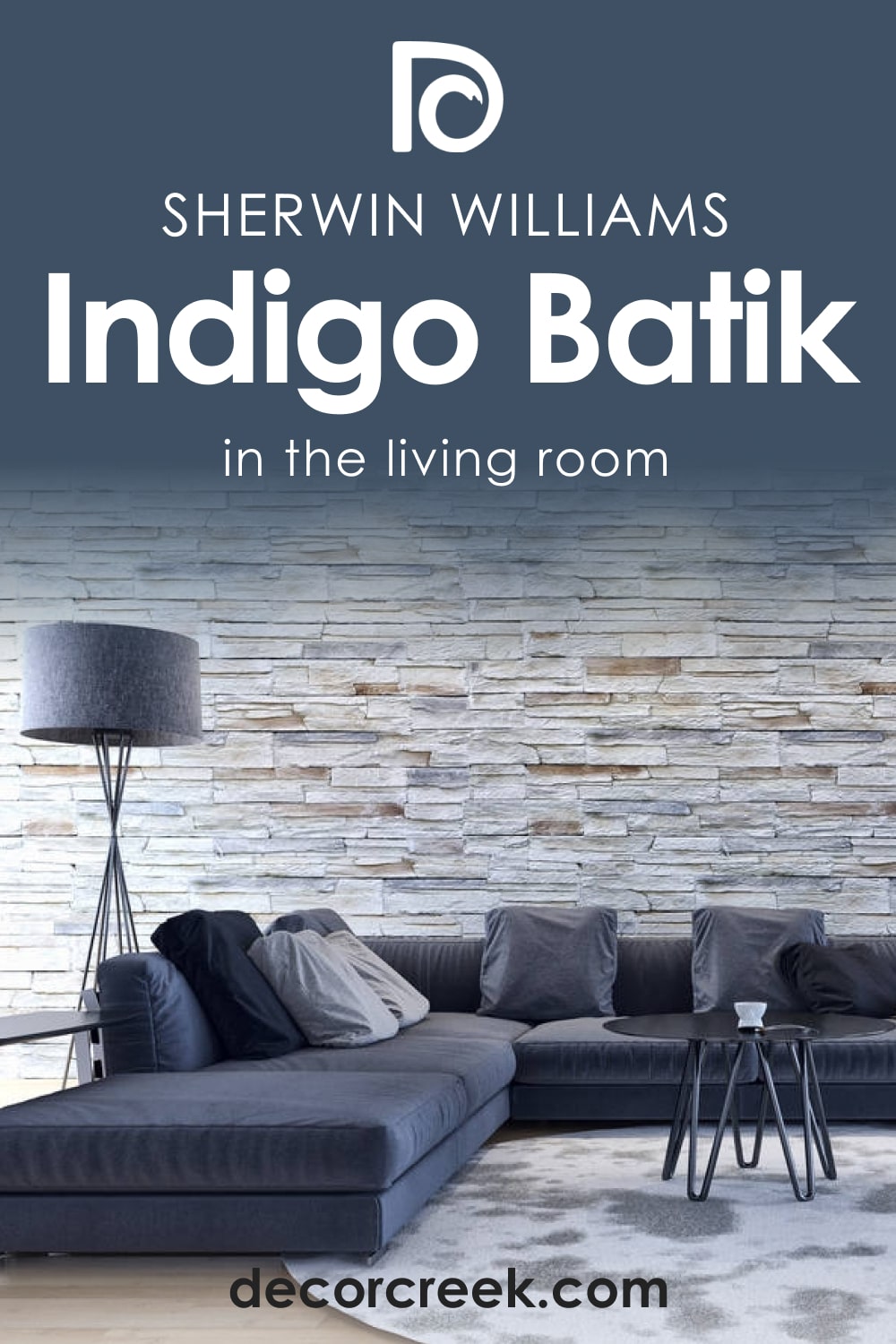 Indigo Batik SW-7602 in a Bedroom
Although pretty dark, this blue can be successfully paired with greys, whites, and off-whites as a bedroom wall color. Don't forget to use mauves and yellows as accents on throw pillows, upholstery, sheer curtains, or pendant lights. This way, the depth of this blue will be less prominent.
Also, for best results (or if you're not sure how the color will work on all the walls), paint only the focal wall in this denim blue to truly feel the hue.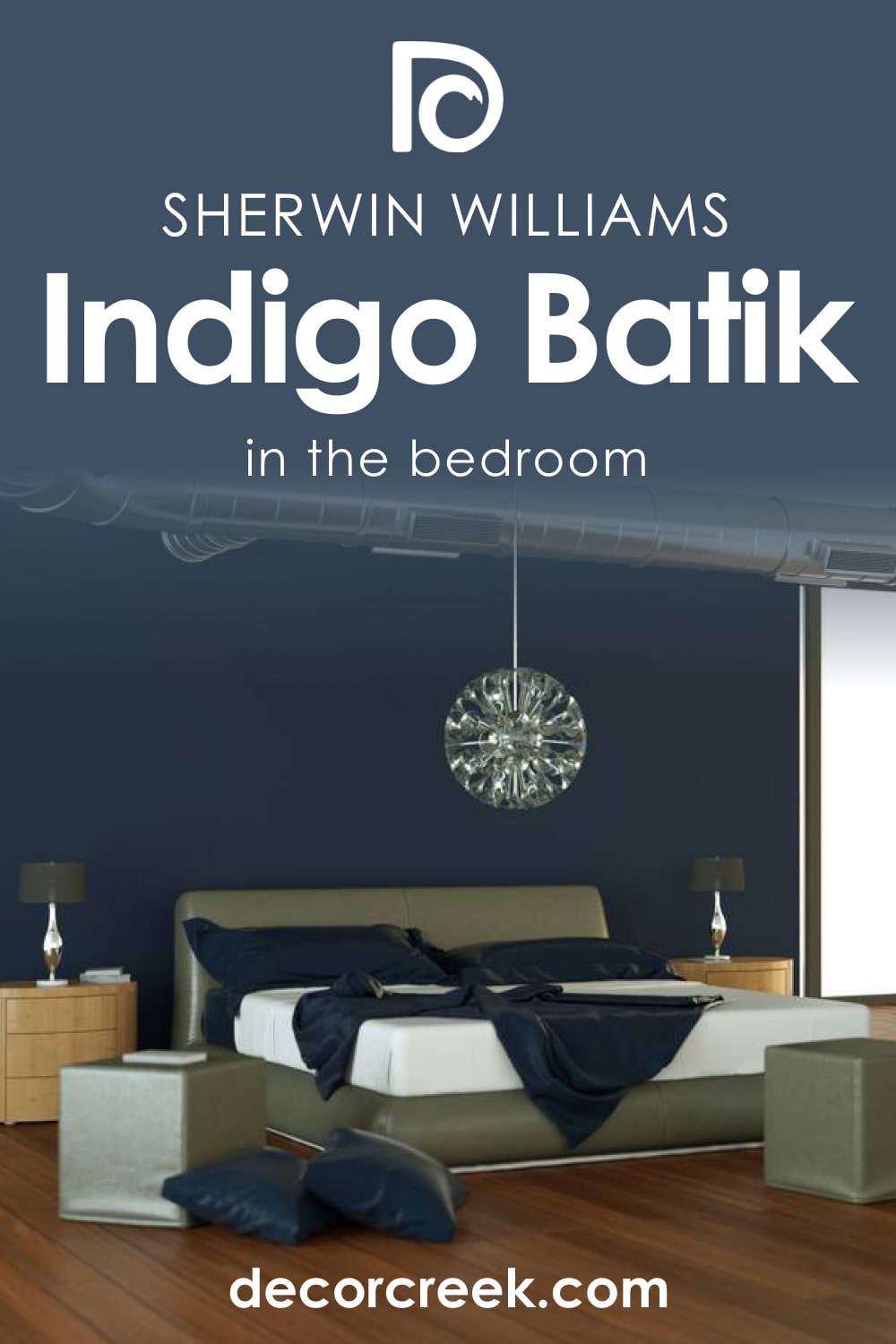 Indigo Batik SW-7602 and Bathroom
Since our bathrooms are usually not very spacious, you'd better use this blue moderately there. For example, paint your vanity sink or an accent wall with it. If you leave other walls white, it will allow you to accentuate this blue nicely!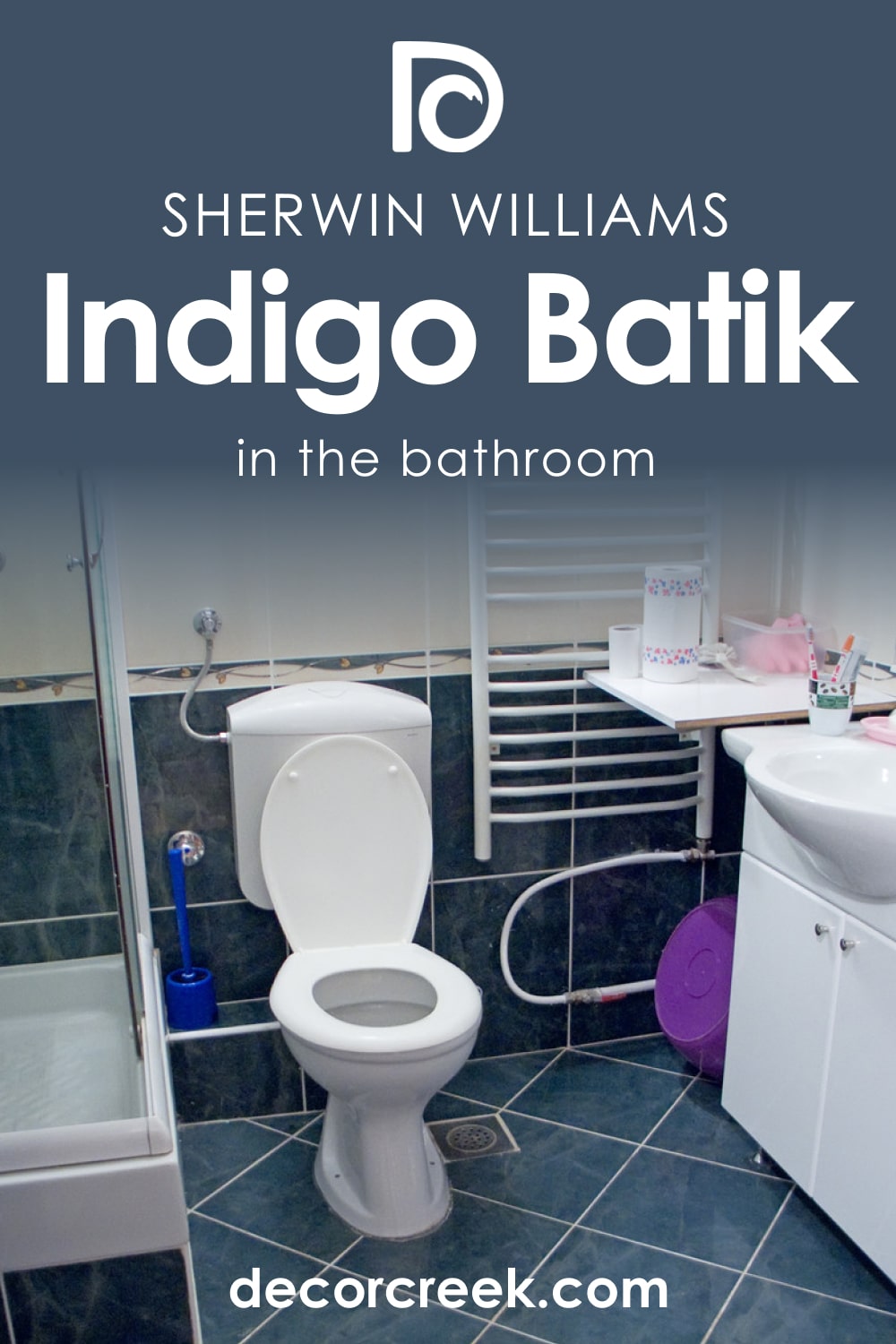 Indigo Batik SW-7602 for the Kitchen
You will be surprised to learn that kitchens is a great place to use some indigo blue! You can paint the cabinets in this deep and bold blue and let the backdrop wall be white or off-white.
However, using a vice-versa scheme is also a good idea!
This rich and deep shade of blue works nicely with golden pull handles and a white veined marble countertop, giving your kitchen a refined look. However, you must analyze the space, as well as its size and shape, first!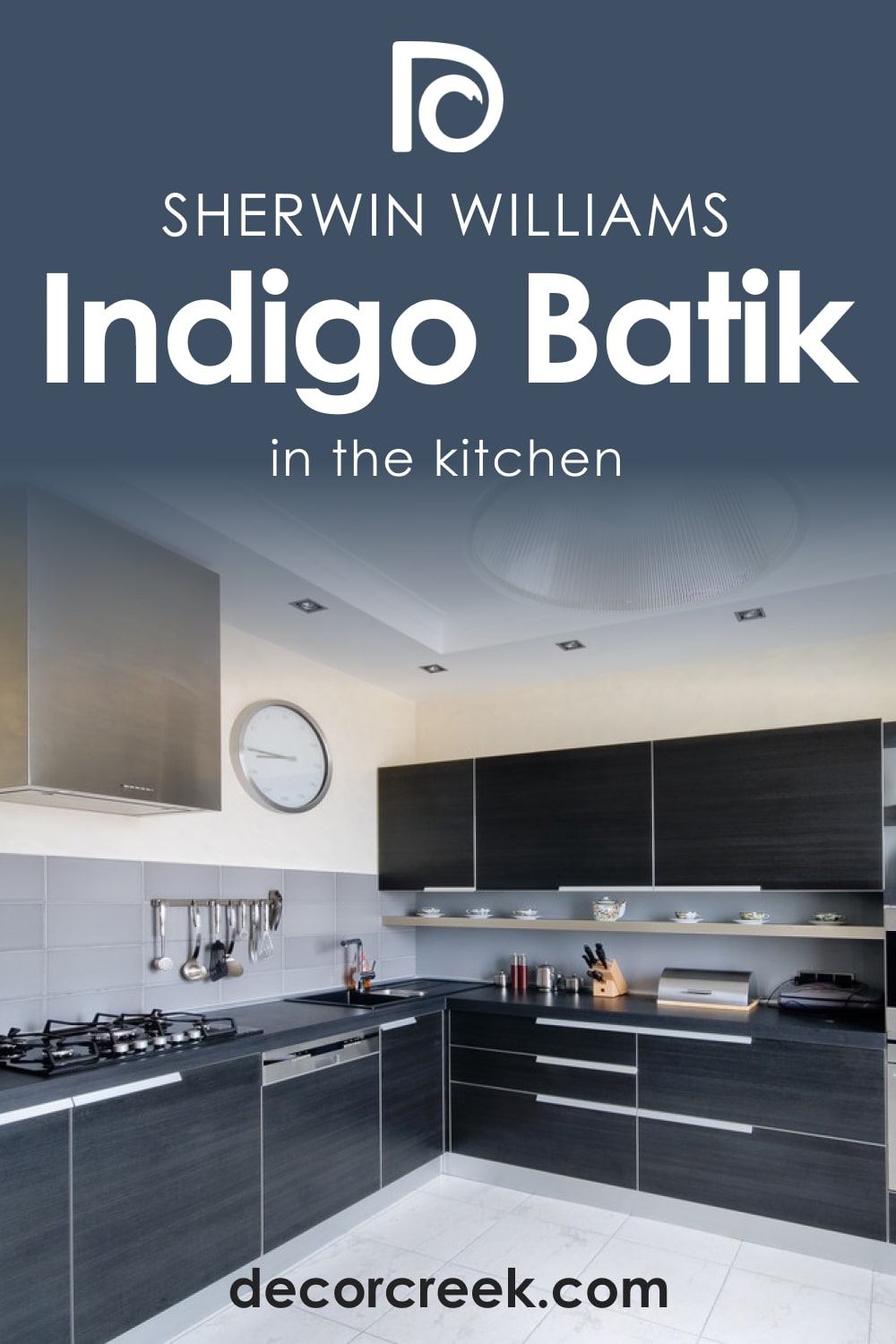 Indigo Batik SW-7602 for the Exterior Use
SW Indigo Batik is an excellent color to use on your home exterior walls! You can pair it with whites and off-whites on trims, decorative moldings, and the front door.
White window frames will also look good paired with this deep color. If you have stone wainscoting – choose grey or travertine stone to give an accent to your home exterior palette.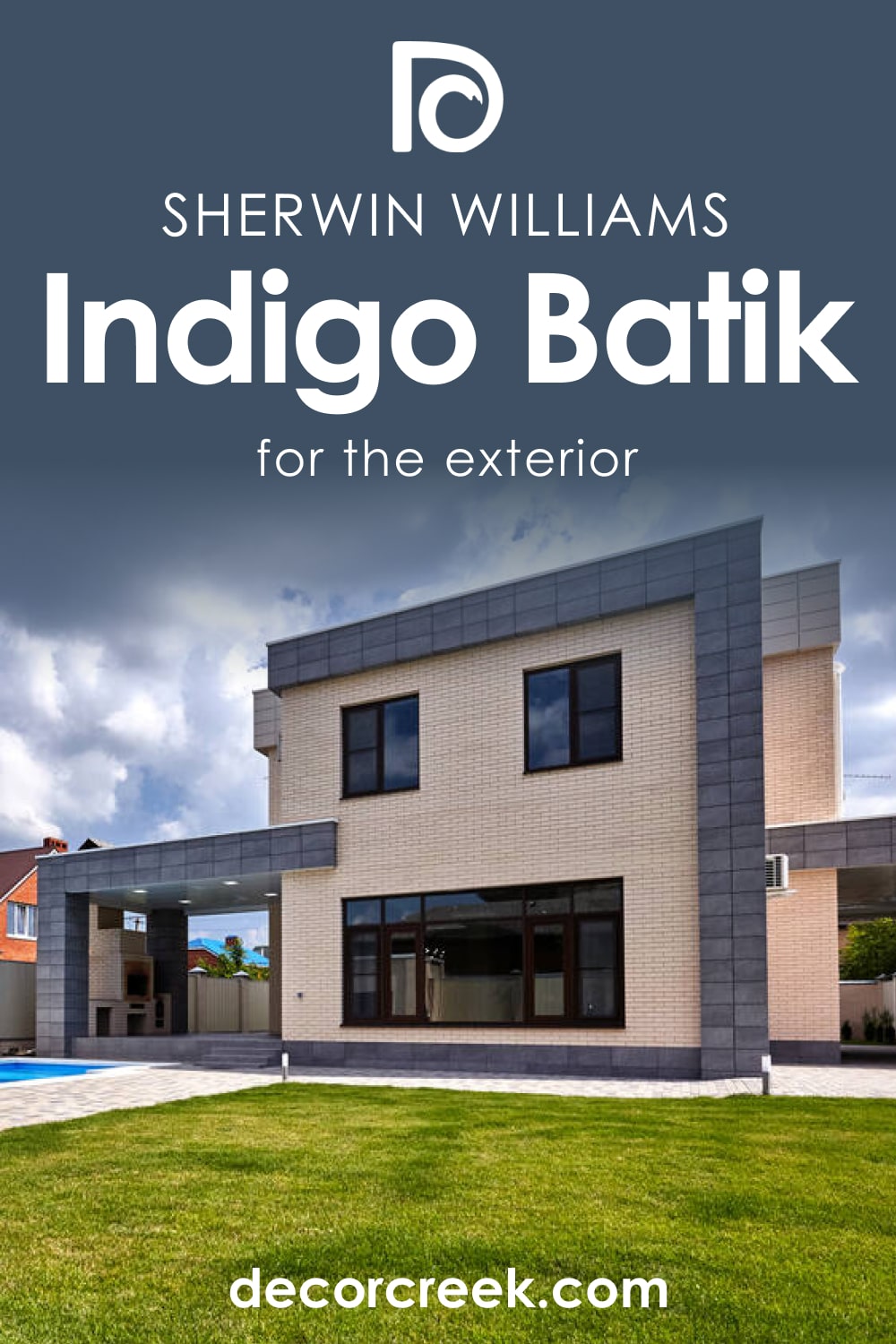 Well, now you know this color better! You know what kind of blue SW Indigo Batik is and how it works in different rooms. Also, you learned how to coordinate it and what colors will work best with this beautiful royal blue.
With all the tips and information we shared on this color, you will find the best place for it in your home very quickly!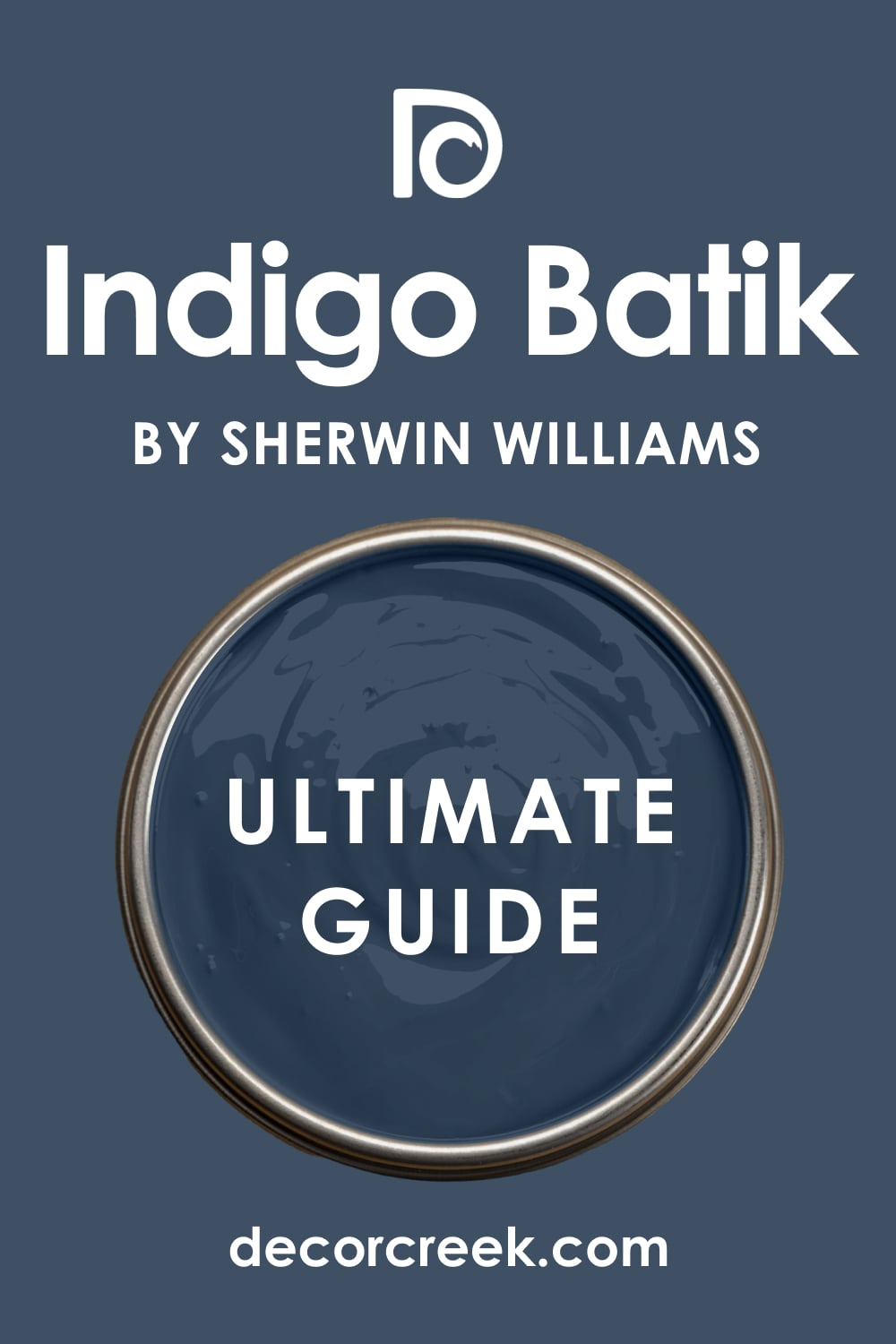 Frequently Asked Questions
⭐Does SW Indigo Batik read black?
Typically it doesn't. But in spaces with dim or little light, it can indeed seem much darker, nearly black-blue!
⭐Will this blue work in the kitchen with brass-color hardware?
Yes, this blue will work with brass and brass-like colors pretty well.
⭐My kitchen has hardwood floors and countertops. Do you think SW Indigo Batik will work on the walls?
Why not? This blue goes well with wooden surfaces!