We mostly stick with warmer or neutral paint colors in our homes since they are associated with coziness and a homey feel we all crave. However, cooler and more reserved (as well as darker) colors can also work great!
Today, we would like to tell you more about such a color by the Benjamin Moore brand. The color is called Sage Wisdom, and it's hard not to fall in love with the second you see it!
You will learn what makes this color special and how it may read in different rooms.
Also, we will explain how to coordinate it and what colors will create the most harmonious palette with this beautiful hue.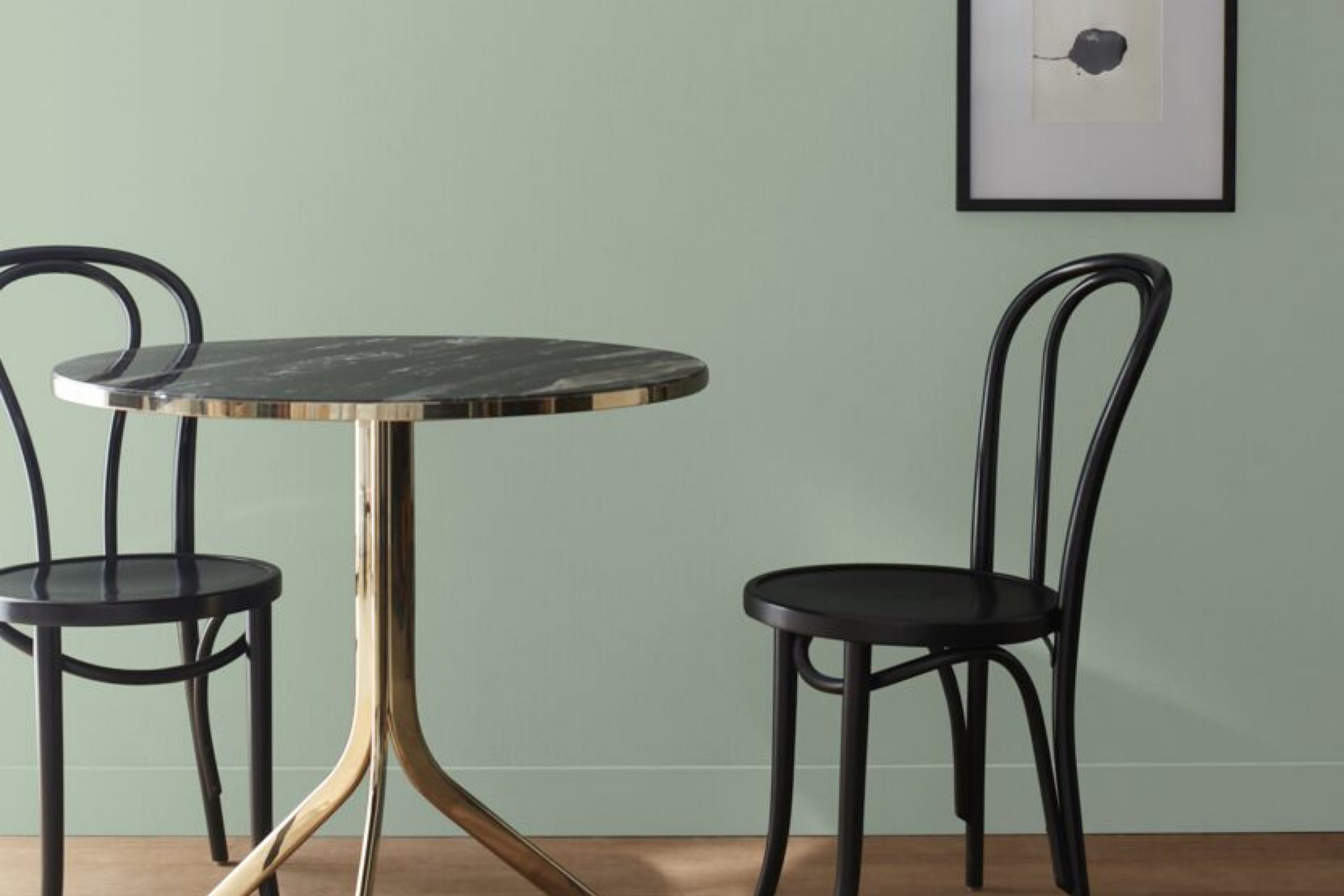 What Kind of Color Is Sage Wisdom CSP-775?
The Sage Wisdom paint color by Benjamin Moore  is a profound green hue. It will make a soft yet noticeable statement in any space where you use it, still looking very gentle and never overwhelming or dark.
As Encycolorpedia says, this color is pretty dependable on the lighting condition, which may result in a somewhat different appearance!
This color belongs to the green color family, reading pleasantly cool and reserved on the walls. It can't be called light, for sure. But, at the same time, you can't say this hue looks dark or moody.
Thanks to such a balanced nature, BM Sage Wisdom will work well in most rooms of your home, adding calm and sophisticated charm to the whole space. It is specifically welcomed in rooms that need a bit of calmness.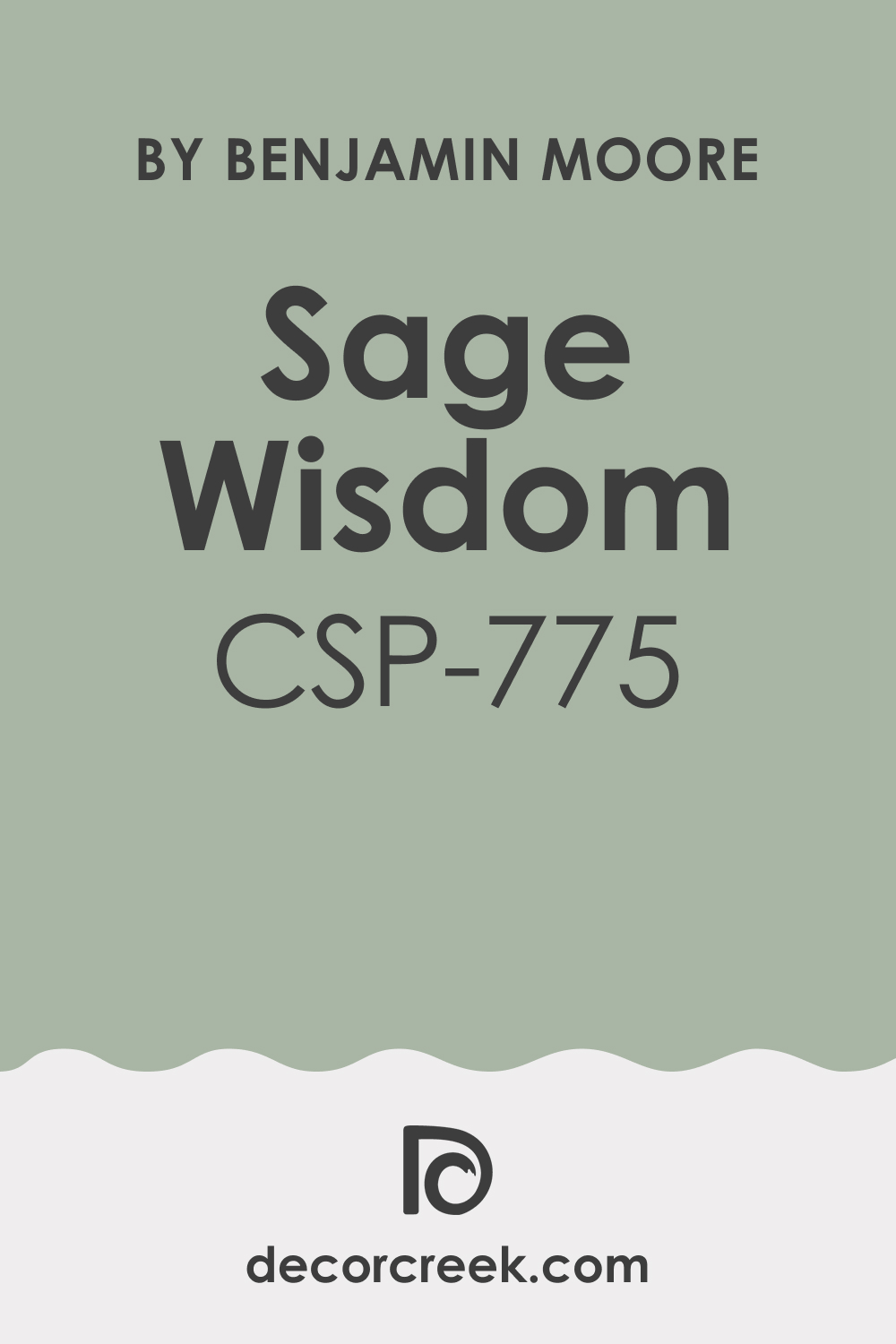 Is It a Warm or Cool Color?
Since BM Sage Wisdom is a cool-toned green, it will work best in rooms that crave a bit of a tranquil and balanced feel. You will make this color show its best if you use it in rooms with ample light. With plenty of natural light, this green will look softer and greener on the walls, yet keeping its coolness at bay.
However, if you use it in rooms with cold light, this color may read grayer and cooler, which can result in an unwelcoming and chilly feel.
Also, in spaces that are poorly lit, BM Sage Wisdom will read darker and somewhat enclosing. Try to avoid this green in such areas that lack proper lighting!
What Undertones Does Sage Wisdom CSP-775 Paint Color Have?
Knowing what undertones the color has is essential since it can help you to tell in advance how the hue will read on the walls. Speaking of BM Sage Wisdom, this sage green paint color has very subtle gray undertones that keep it from reading neon or pastel.
However, since this grayish hue is well-balanced, the color displays great depth!
This is why BM Sage Wisdom is an ideal color choice if you want to use green on your interior walls without making the space feel dark.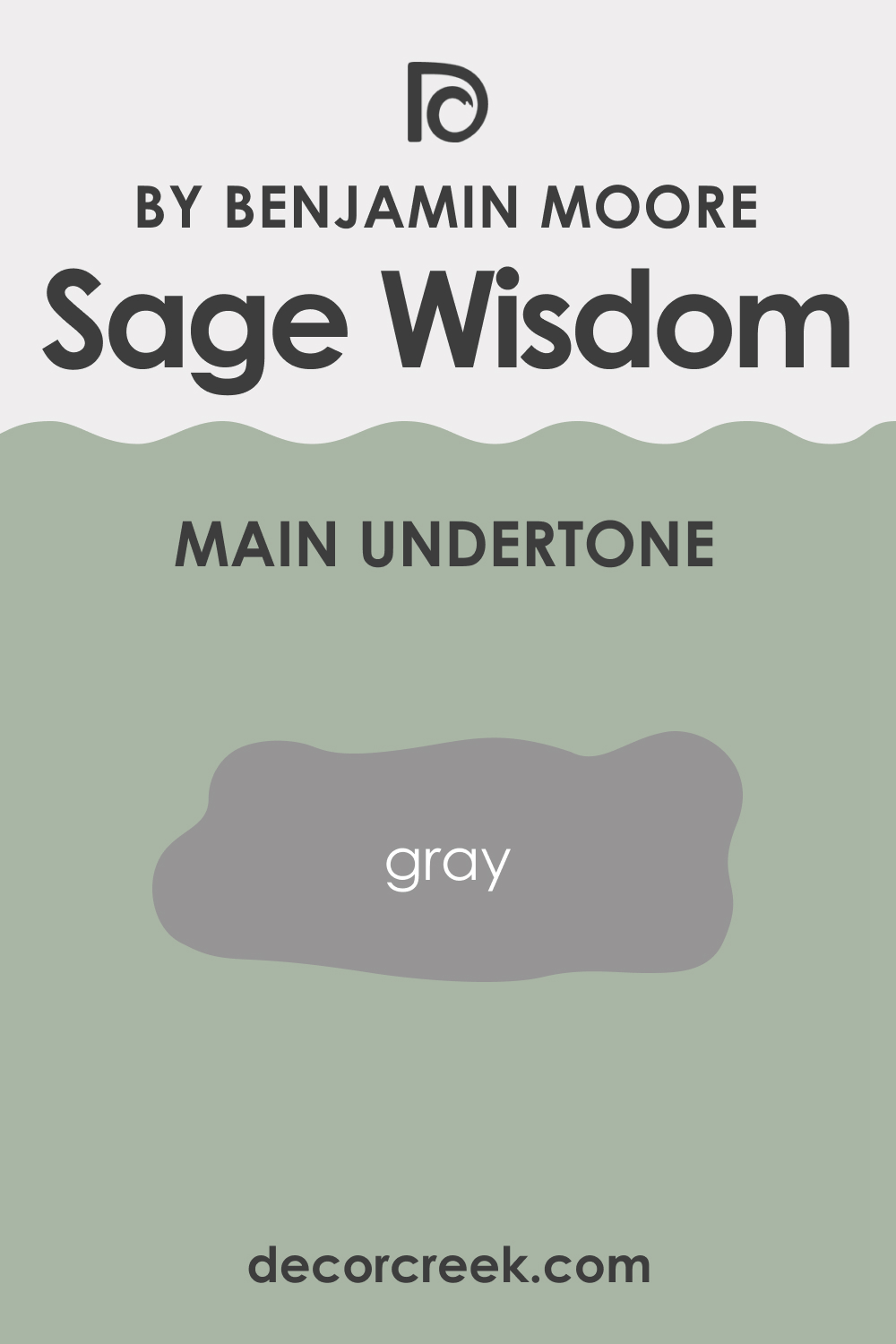 Sage Wisdom CSP-775 Coordinating Colors
With sage greens, it can be challenging to pick up the best-coordinating colors since you need to choose those that help to highlight the wall color! This is why you might find the following color suggestions helpful if you want to try BM Sage Wisdom on your interior walls:
CSP-485 Paper Doll
CSP-510 Mystic
AF-15 Steam
AF-65 Fossil
BM Baby Breath OC-62
SW 7701 Cavern Clay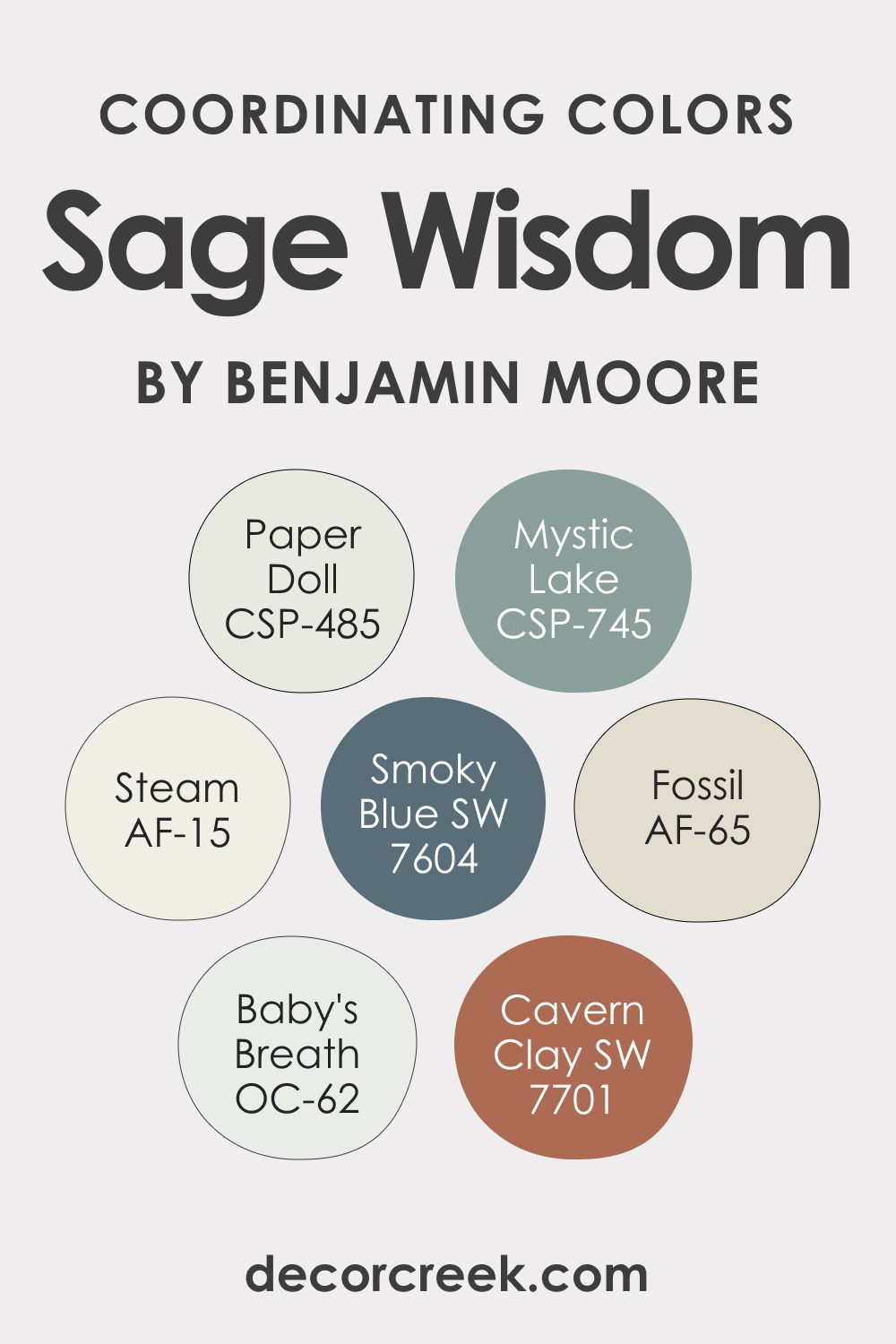 What LRV Sage Wisdom CSP-775 Has and How It Reacts to Light?
Light Reflectance Value (also known as LRV) is a measurement that indicates how light or dark a color will look on a scale of 0 (black) to 100 (white). The closer the LRV value to 100, the lighter and more reflective the color. Respectively, colors with lower LRVs that reach zero will reflect less light, reading dark on the walls.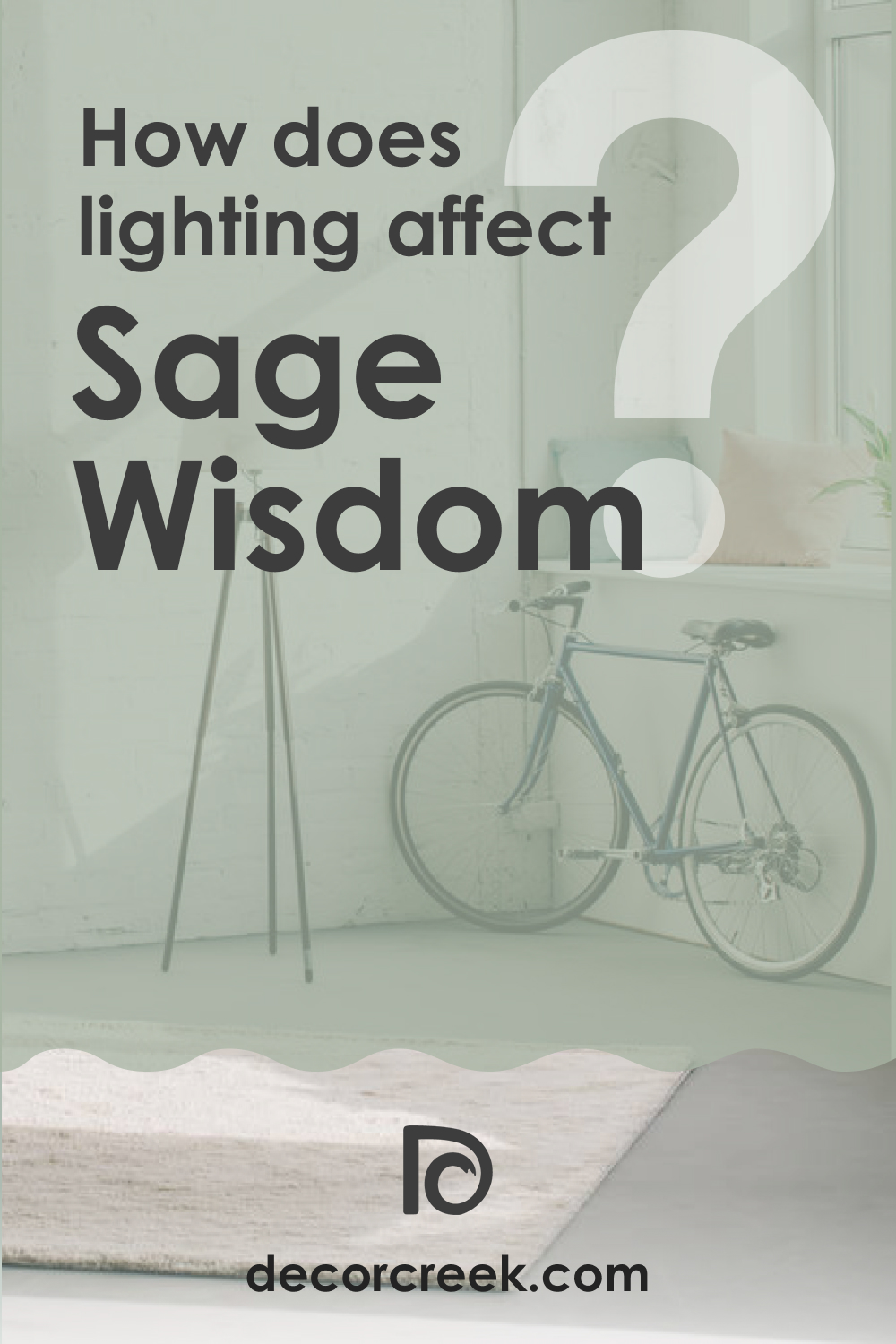 Sage Wisdom (CSP-775) has an LRV of nearly 44. By LRV value, it is a medium-light color. It means that this sage green can reflect enough light from the walls. However, it is still not bright enough to be used in spaces that need to be visually enlarged.
Also, this color is pretty dependable on the lighting conditions! With plenty of natural light, this sage green will look softer and a bit greener on the walls. At the same time, it will keep its cool-toned appearance without reading too warm.
However, if you use it in rooms with cold light, this color may read grayer and thus colder, which can result in an unwelcoming feel.
Also, in spaces that have little to no light, BM Sage Wisdom will read darker and somewhat enclosing.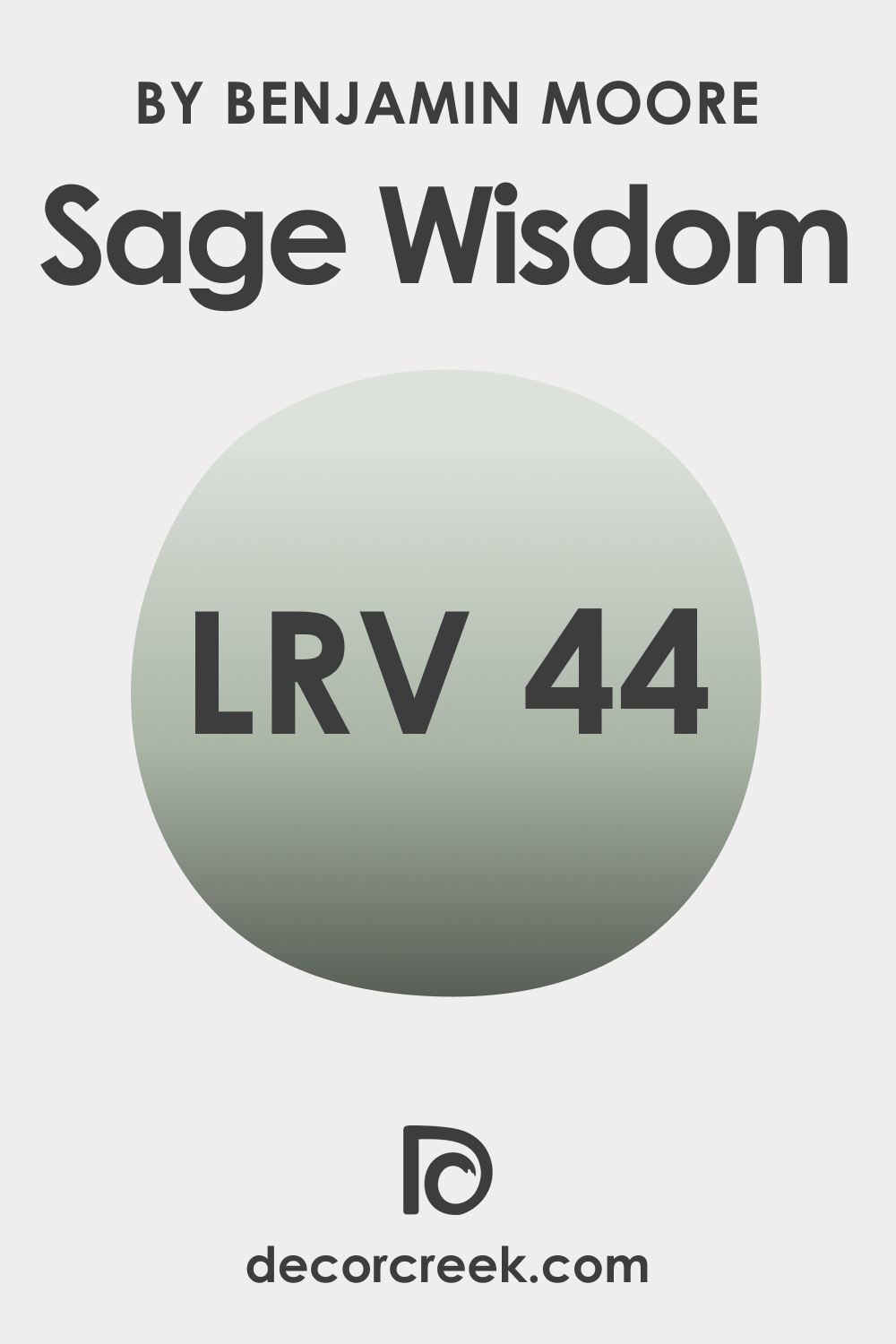 LRV – what does it mean? Read This Before Finding Your Perfect Paint Color
What Is the Best Trim Color to Use With Sage Wisdom CSP-775?
As with most colors, the Sage Wisdom paint color will work best with the white trim and moldings. To be precise, we recommend you pair this green hue with the following whites:
BM 1590 Paper White

BM 2121-70 Chantilly Lace
However, avoid using softer and creamier whites like BM Cloud White! They won't look well with this cool-toned sage green.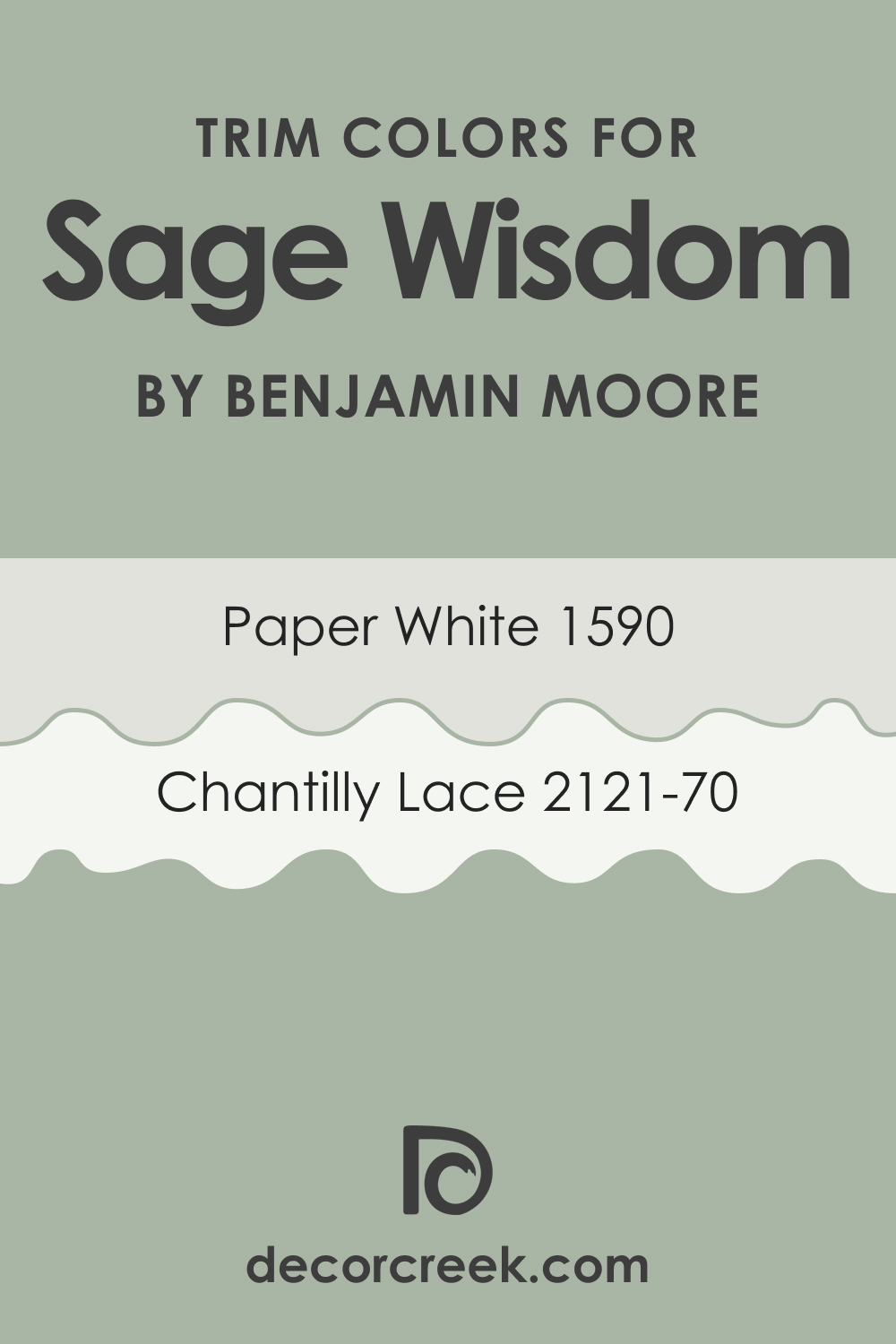 Colors Similar to Sage Wisdom CSP-775
If you are not satisfied with how BM Sage Wisdom works in your home, you might want to try other colors instead.
For this purpose, having a couple of substitute colors that read similarly is a good idea.
Below, we have selected a few similar green hues that can work as alternatives to use instead of the Sage Wisdom color:
BM 466 Garden Path
BM 444 Cedar Grove
BM 696 Pleasant Valley
BM 697 Scenic Drive
Valspar Median Green
PPG Coastal Crush
Behr Flagstaff Green
However, note that each color on this list will still vary slightly since all of them have different LRVs and undertones!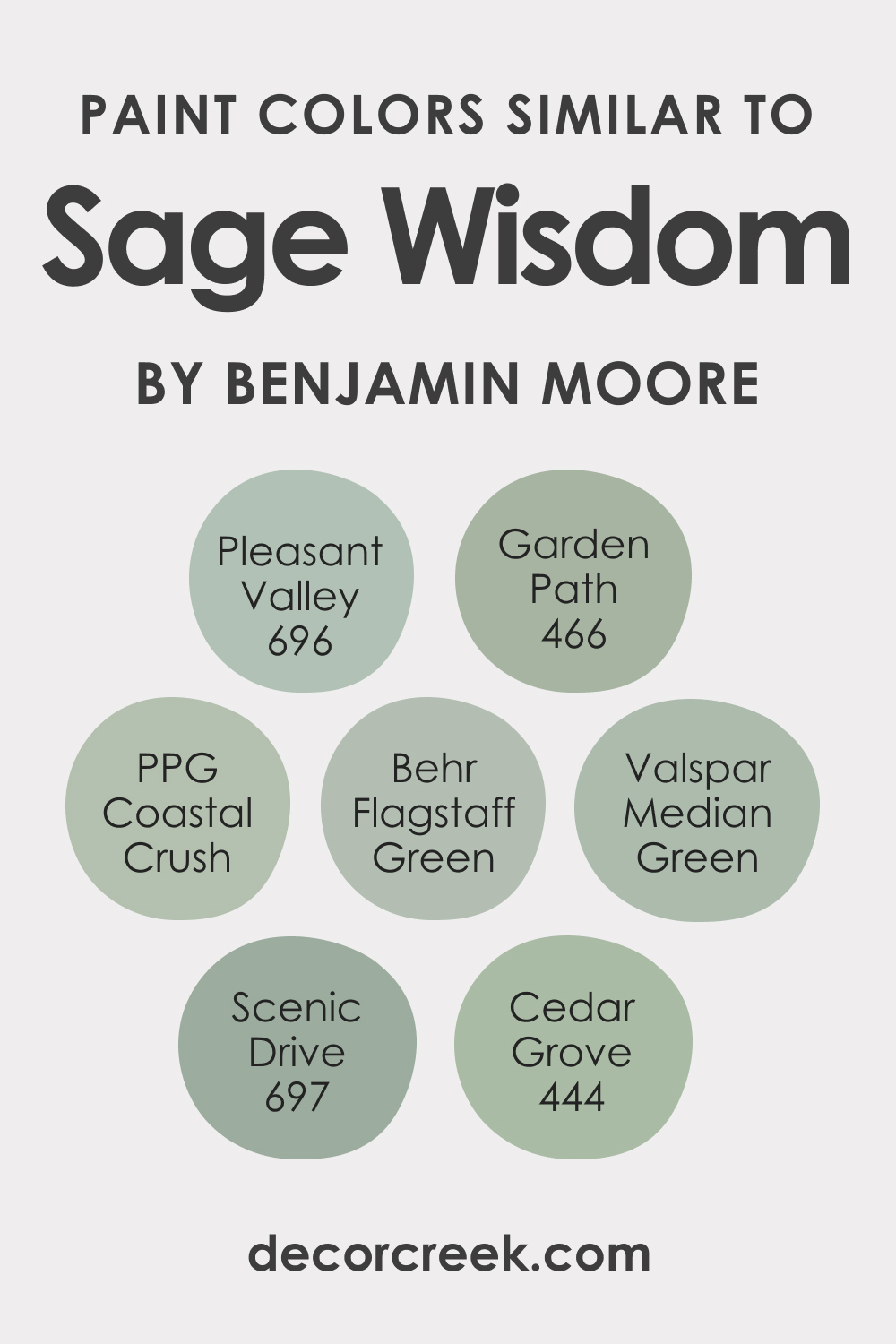 Colors That Go Well With Sage Wisdom CSP-775
Since BM Sage Wisdom is a sage green color, it will work best with the following color companions:
White
Gray
Natural wood tones
Neutral browns (without too much red)
Blues that are either lighter or darker than the sage green
Deep dark green
Red
Pink
Coral
Mustard yellow
Reds, pinks, corals, and mustard yellows work best as pop colors to add a vivid and eye-catching accent.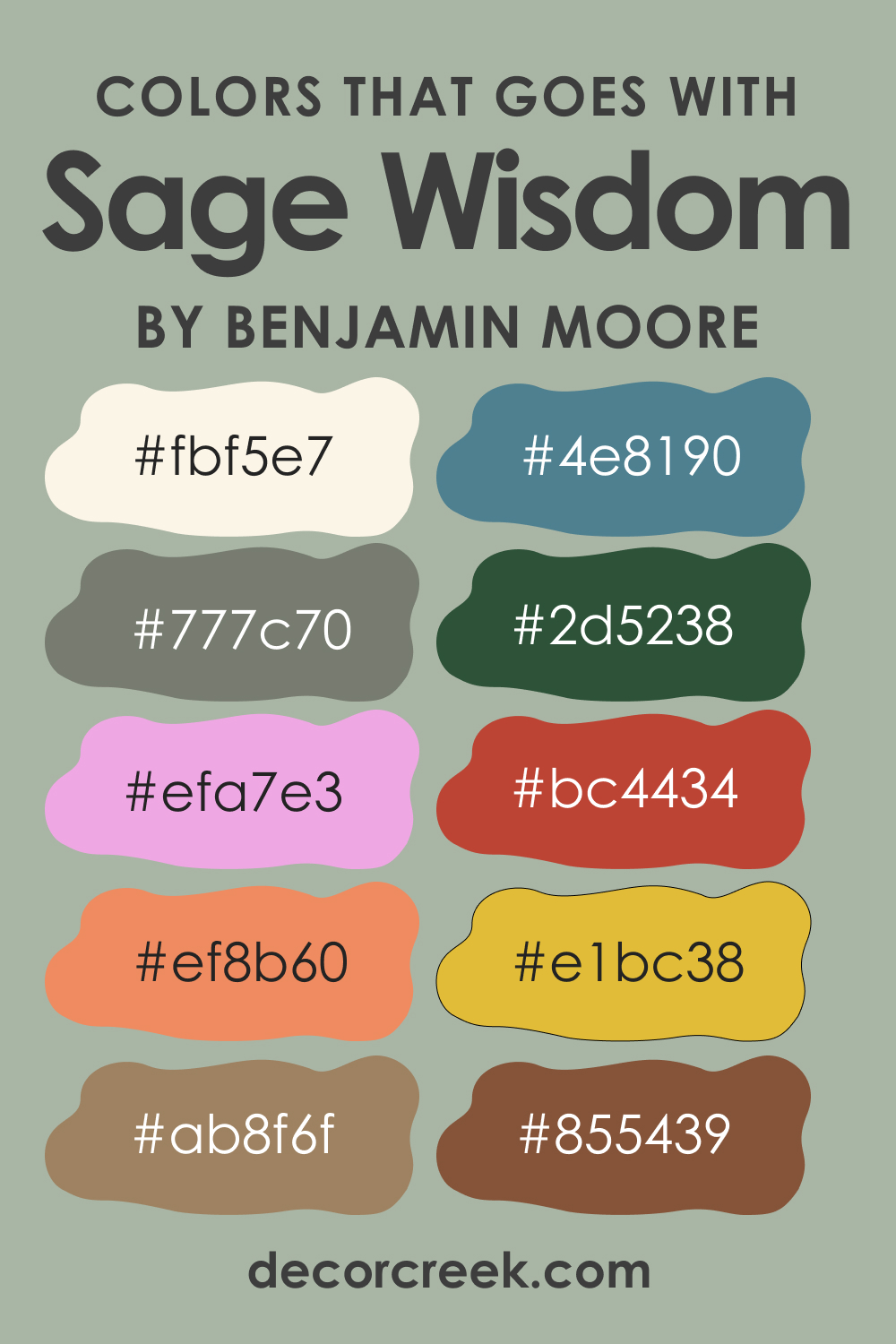 Comparing Sage Wisdom CSP-775 With Other Colors
Here you can read how BM Sage Wisdom may look compared to other similar greens.
This way, you will better understand the unique traits of this color and get an idea of how LRV values and undertones make colors work differently.
Sage Wisdom vs. Evergreen Fog
SW Evergreen Fog is green-gray with a bit of blue that generally reads neutral. While it has green and blue undertones, it's not a cool-toned hue. The LRV value of this color is 30. Compared to SW Evergreen Fog, BM Sage Wisdom reads greener and more cooling. Also, it looks lighter due to the higher lRV value of nearly 44.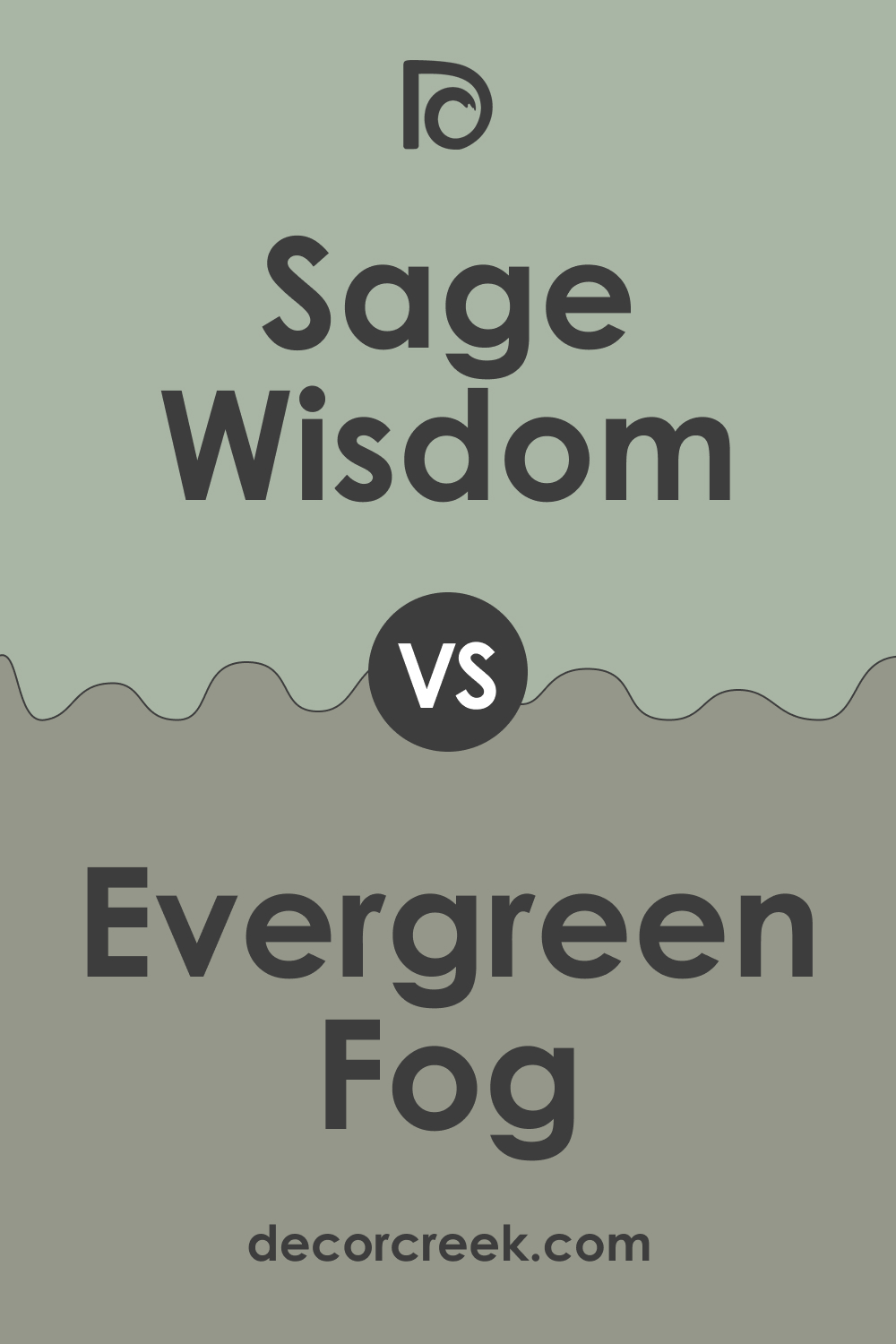 Sage Wisdom vs. Svelte Sage
SW Svelte Sage is a green color with cool gray undertones that reads pretty soft and balanced. The LRV of this sage green is 41, which means it's somewhat less reflective than BM Sage Wisdom, whose LRV is 44. Also, compared to BM Sage Wisdom, SW Svelte Sage seems a bit yellowish.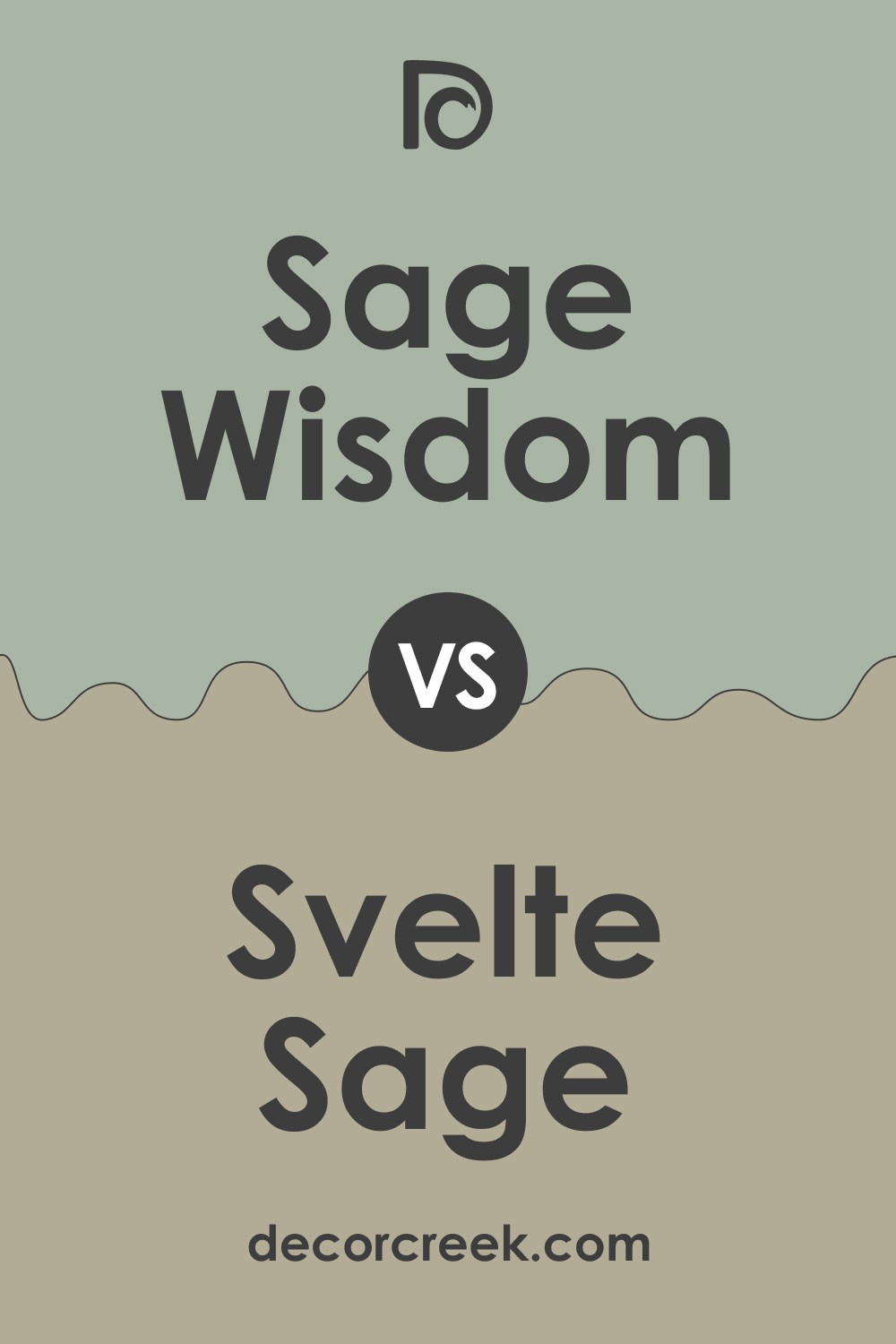 Sage Wisdom vs. Clary Sage
SW Clary Sage looks softer and warmer compared to BM Sage Wisdom because of its deep yellow and gray-green undertones. Compared to it, BM Sage Wisdom looks cooler and greener.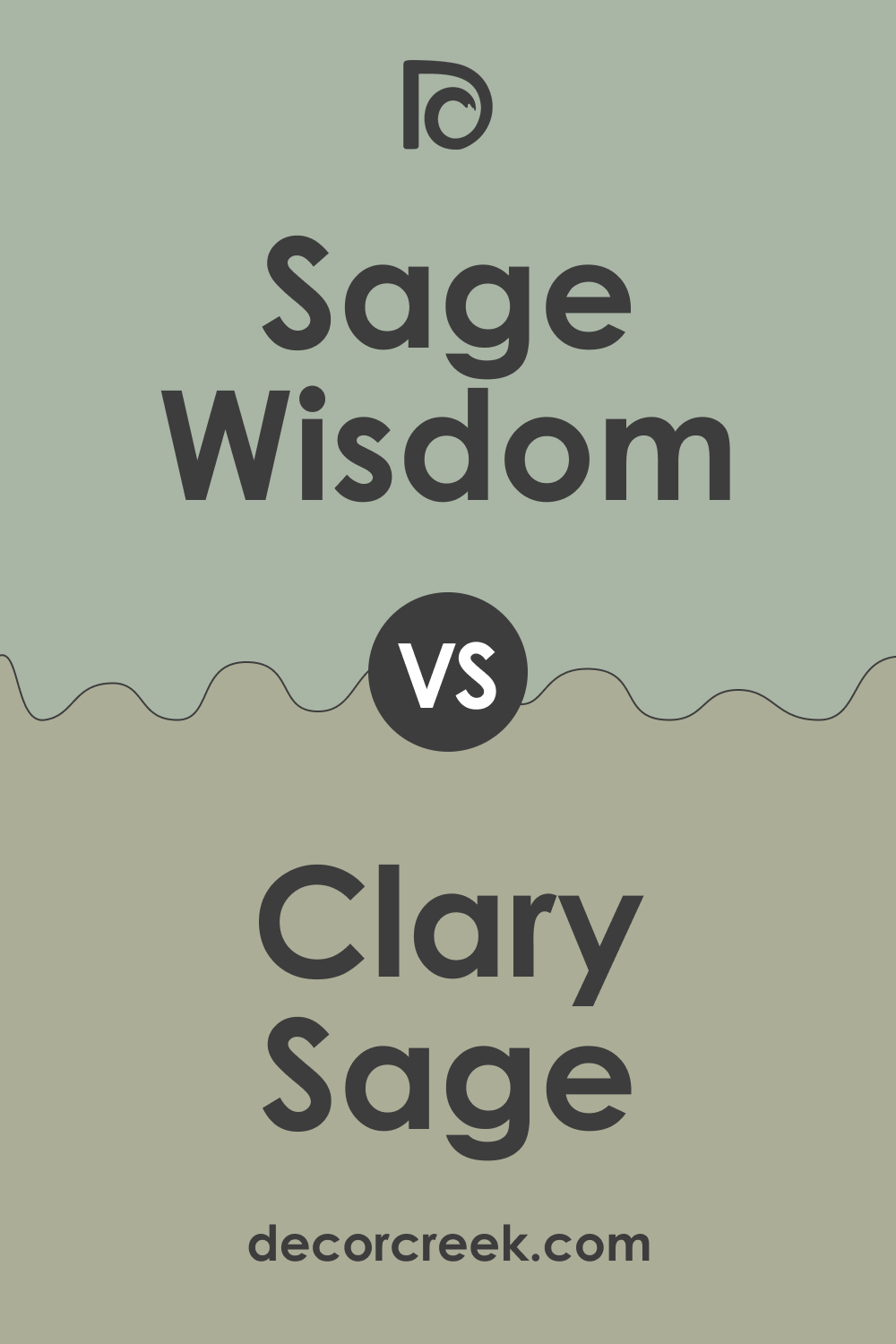 Sage Wisdom vs. Saybrook Sage
BM Saybrook Sage is a green paint color with a hint of a gray undertone and an LRV of 46. By its LRV value, this color is a bit lighter than BM Sage Wisdom, but the Saybrook Sage color reads noticeably warmer and reveals its yellow hue prominently compared to its cooler counterpart.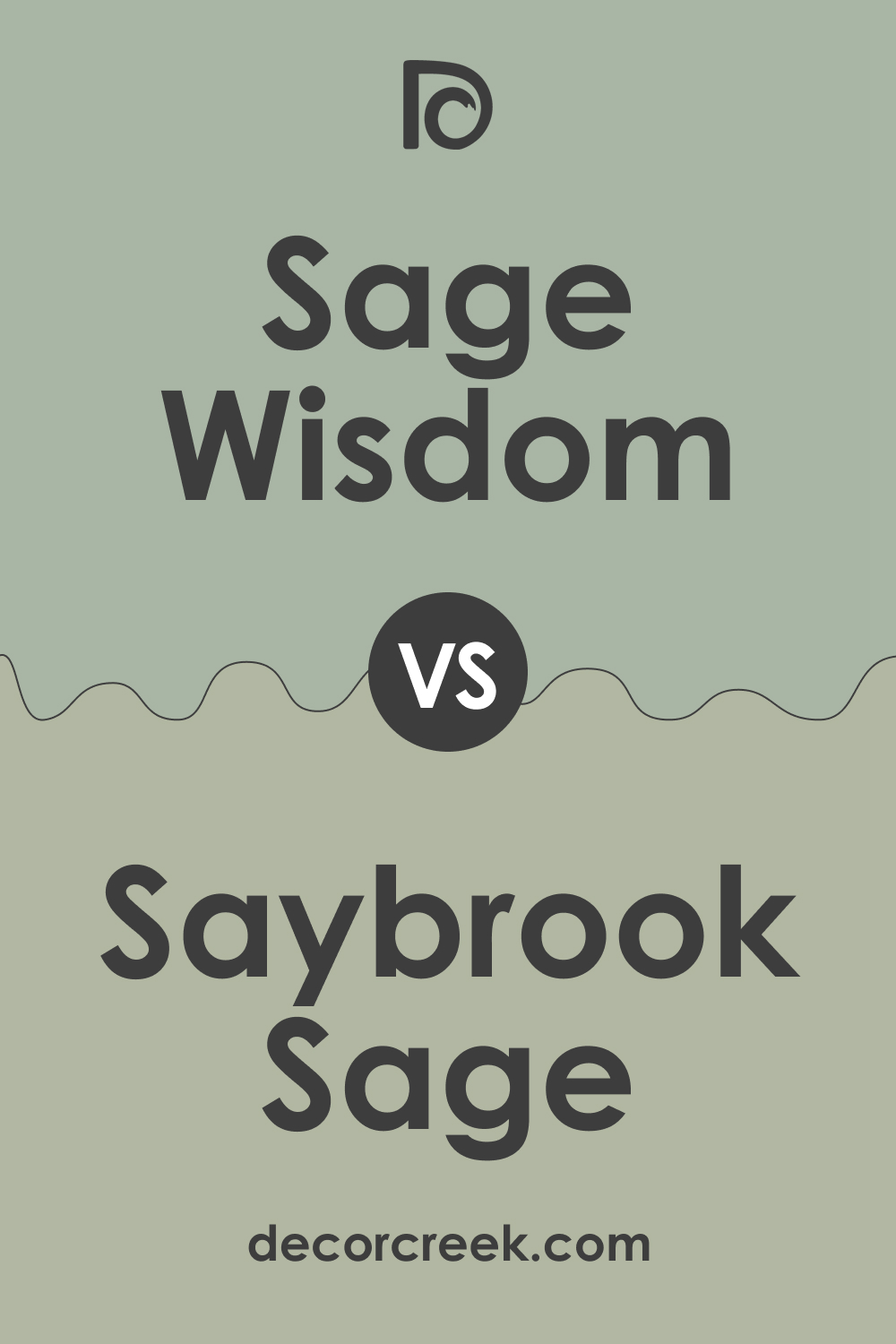 Sage Wisdom vs. October Mist
BM October Mist is a green color with yellow undertones and an LRV of 46. It means this sage green looks warmer than BM Sage Wisdom, and also, BM October Mist shows off its yellow hue very prominently.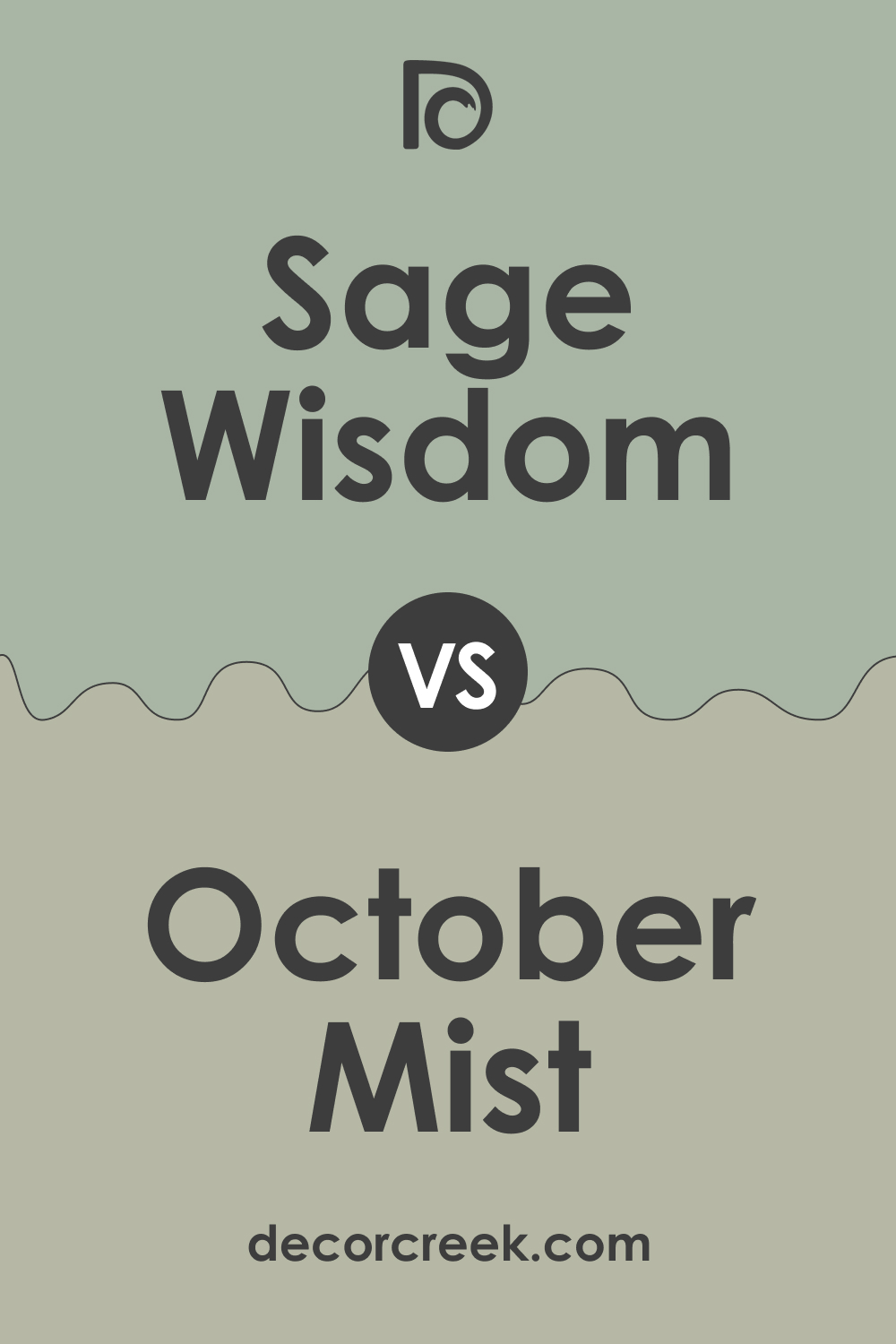 Sage Wisdom vs. Hollingworth Green
BM Hollingworth Green is a combination of green, blue, and gray with an LRV of 71. It means this color is much lighter than BM Sage Wisdom, whose LRV is 44. Also, BM Hollingworth Green reveals a clear grayish hue, unlike its greener counterpart.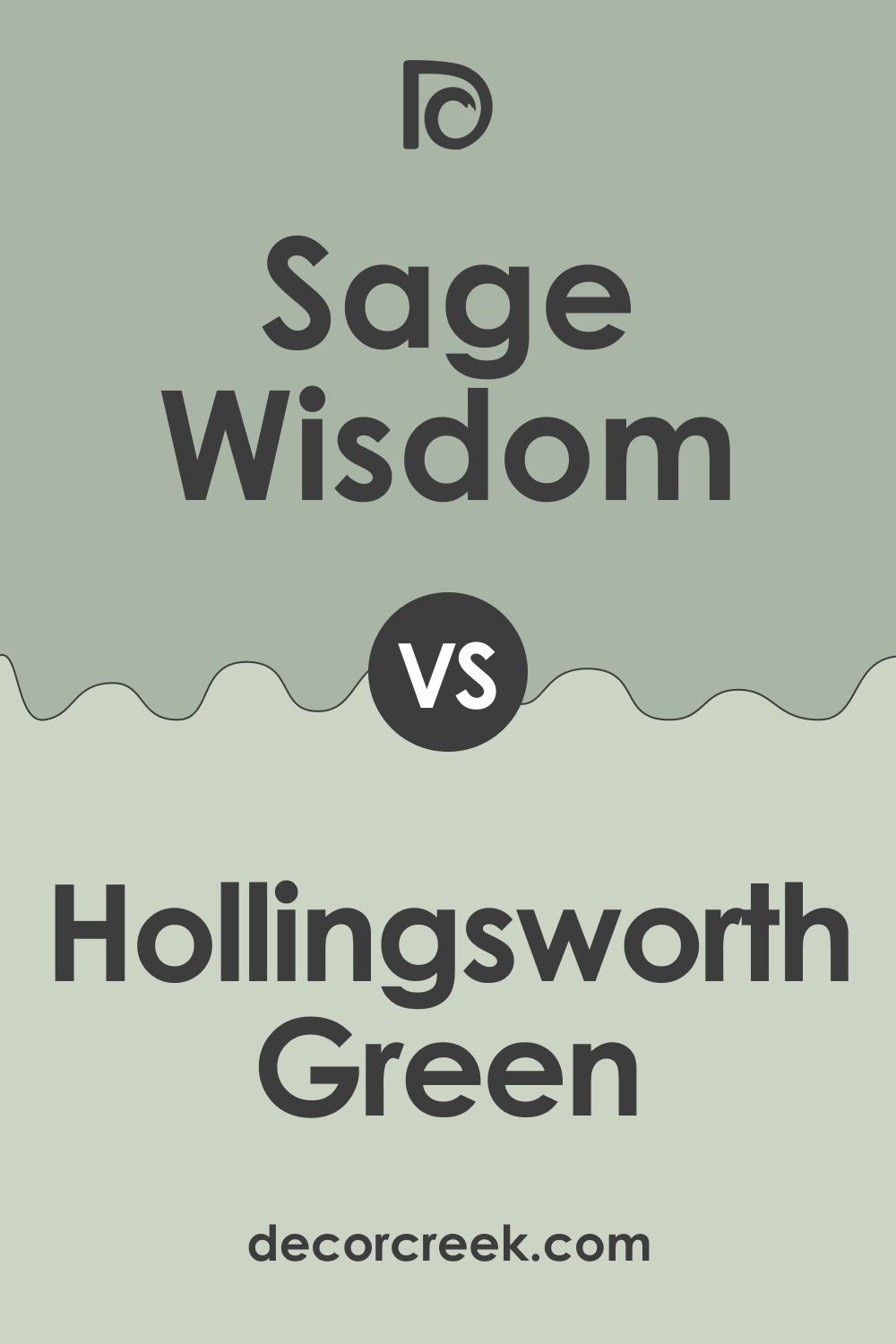 Where to Use Sage Wisdom CSP-775 Color In Your Home?
Although BM Sage Wisdom may seem a bit tricky to you, this sage green is pretty versatile when it comes to using it in your home. Below, you can read how this color may work in different rooms, but pay attention that BM Sage Wisdom is not recommended for exterior use!
Sage Wisdom CSP-775 in the Living Room
This green is perfect for adding a cool and fresh vibe to your living room while keeping the space relaxed and peaceful.
Use this color if you strive for a natural look, but choose other colors carefully! Wrong hues may affect this sage green, resulting in an appearance you didn't expect!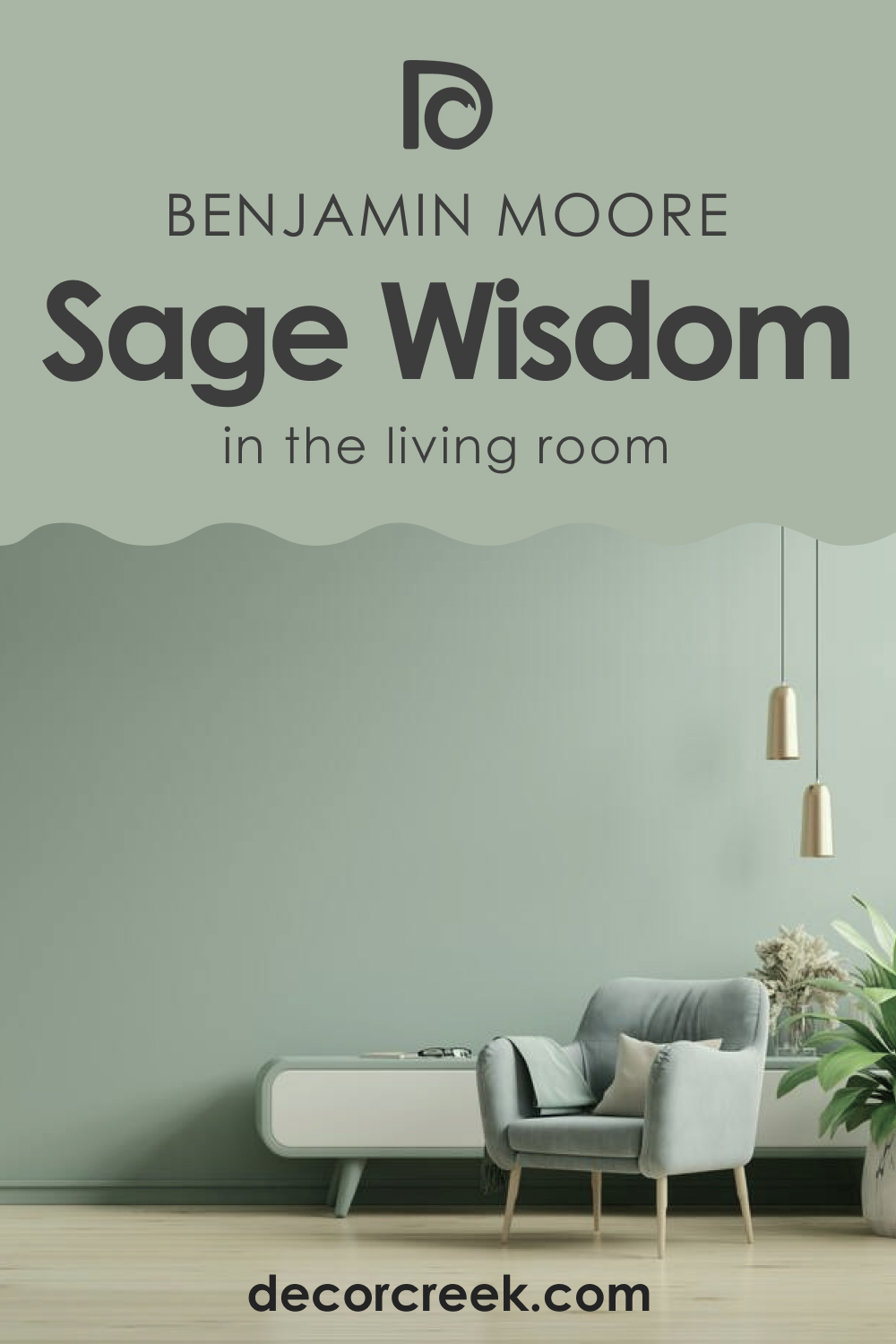 Sage Wisdom CSP-775 in a Bedroom
This color might not work on all bedroom walls, but it will definitely show its best as an accent wall color! Pair it with softer or neutral white to brighten up the space a bit, and don't skip natural fabrics and textures like wood or rattan! These warm accents will make your bedroom feel cozier.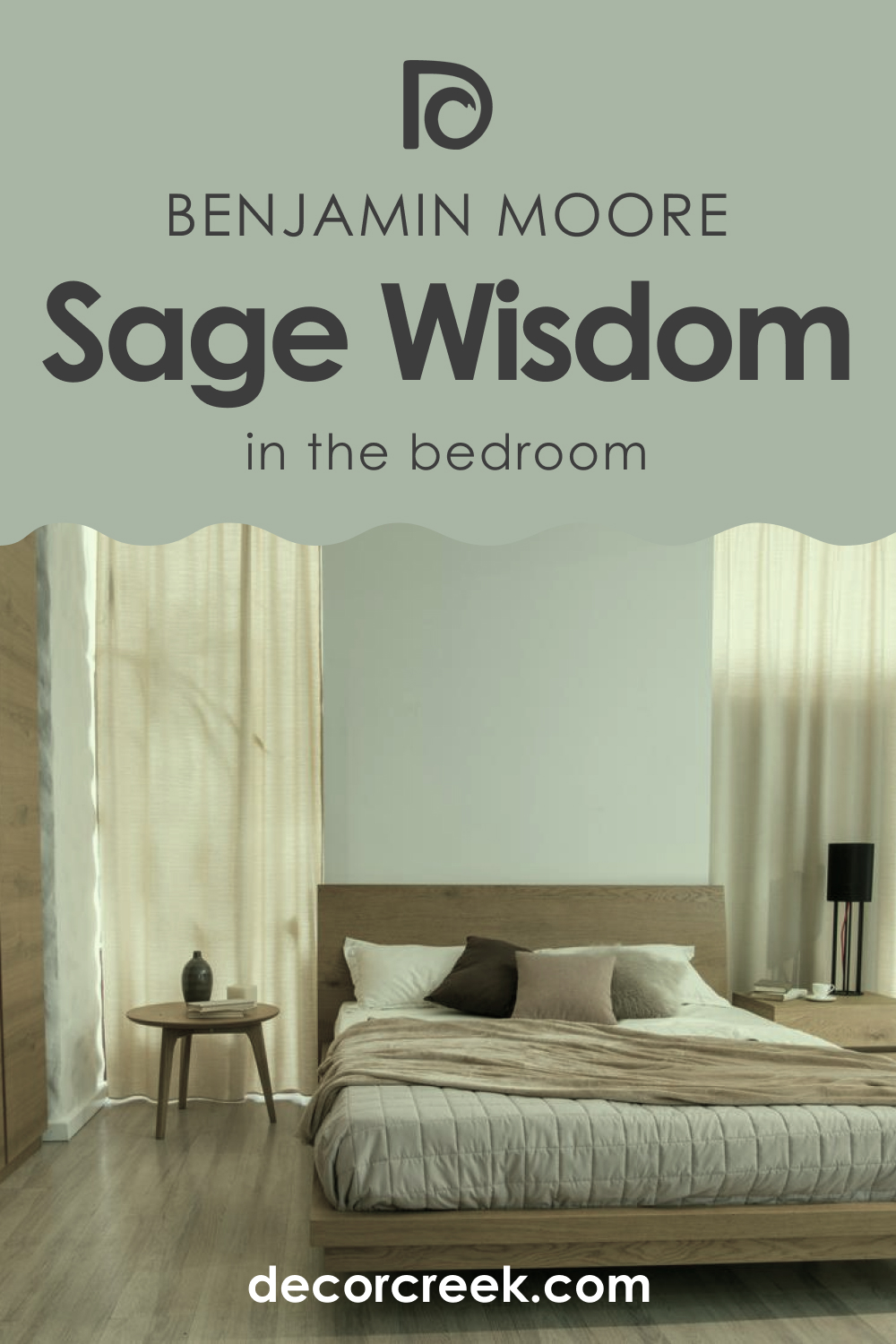 Sage Wisdom CSP-775 on the Kitchen
BM Sage Wisdom can work great on kitchen cabinets (lower and upper) as well as on your kitchen island. Considering the walls are matching white, this sage green hue will add color to your kitchen and make it feel more lively. It works well with tiles, marble, and brass fixtures, so you'll surely find a place for it in your cooking area!
Sage Wisdom CSP-775 and Bathroom
If you consider this color for your bathroom, you better stick with using it on the vanity. Painting bathroom walls might be too much as this green hue tends to look darker and enclosing if used in small spaces with little light.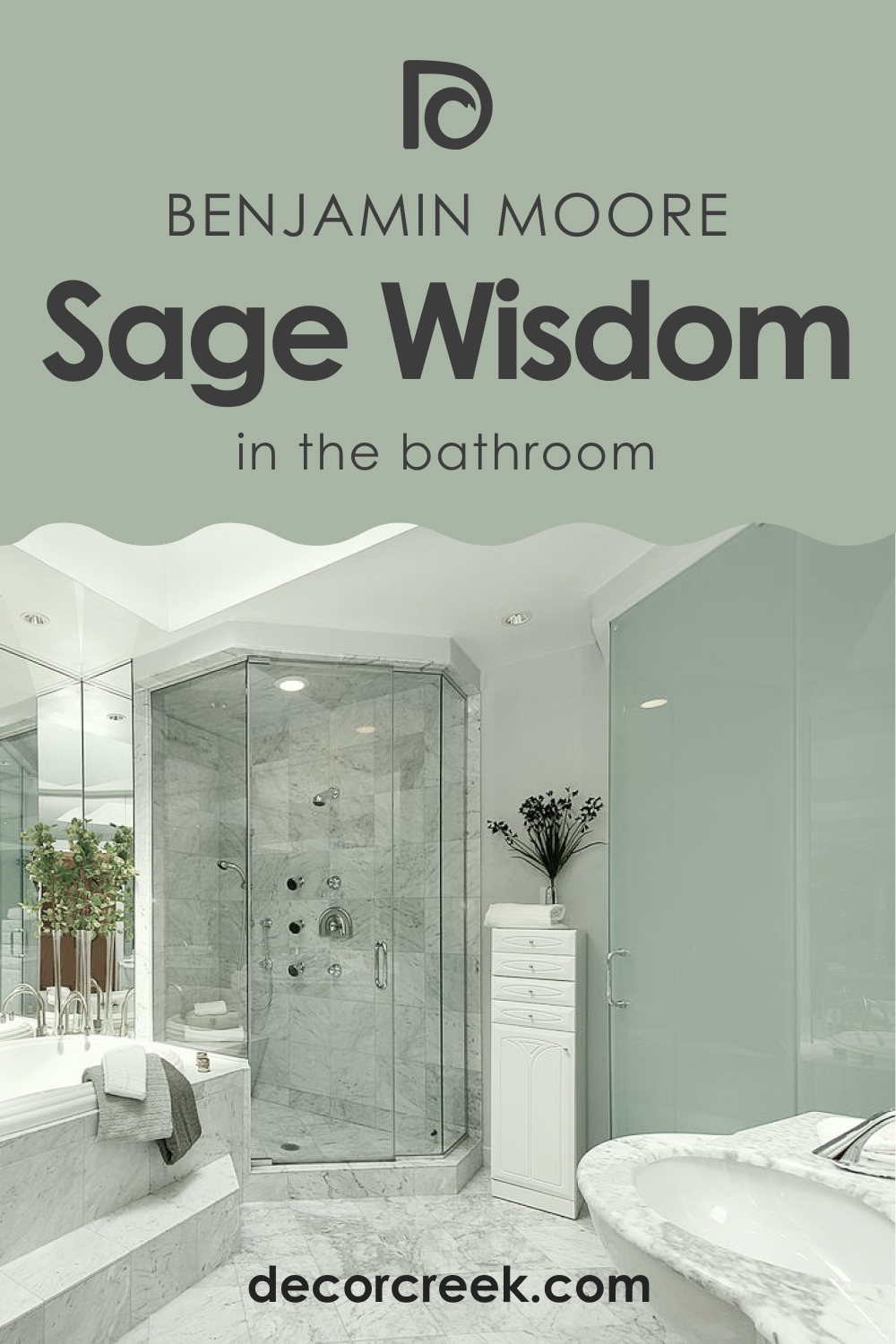 Sage Wisdom CSP-775 for the Exterior Use
This sage green hue is not recommended as exterior paint according to the manufacturer's guide! Of course, it doesn't mean you can't use it there, but you should consider a few alternative colors in case sampling will show BM Sage Wisdom is not suitable indeed.
Now you know this color a bit better! Knowing its undertones, trim colors, and coordinating colors, you can see how to create a balanced and good-looking palette for your home.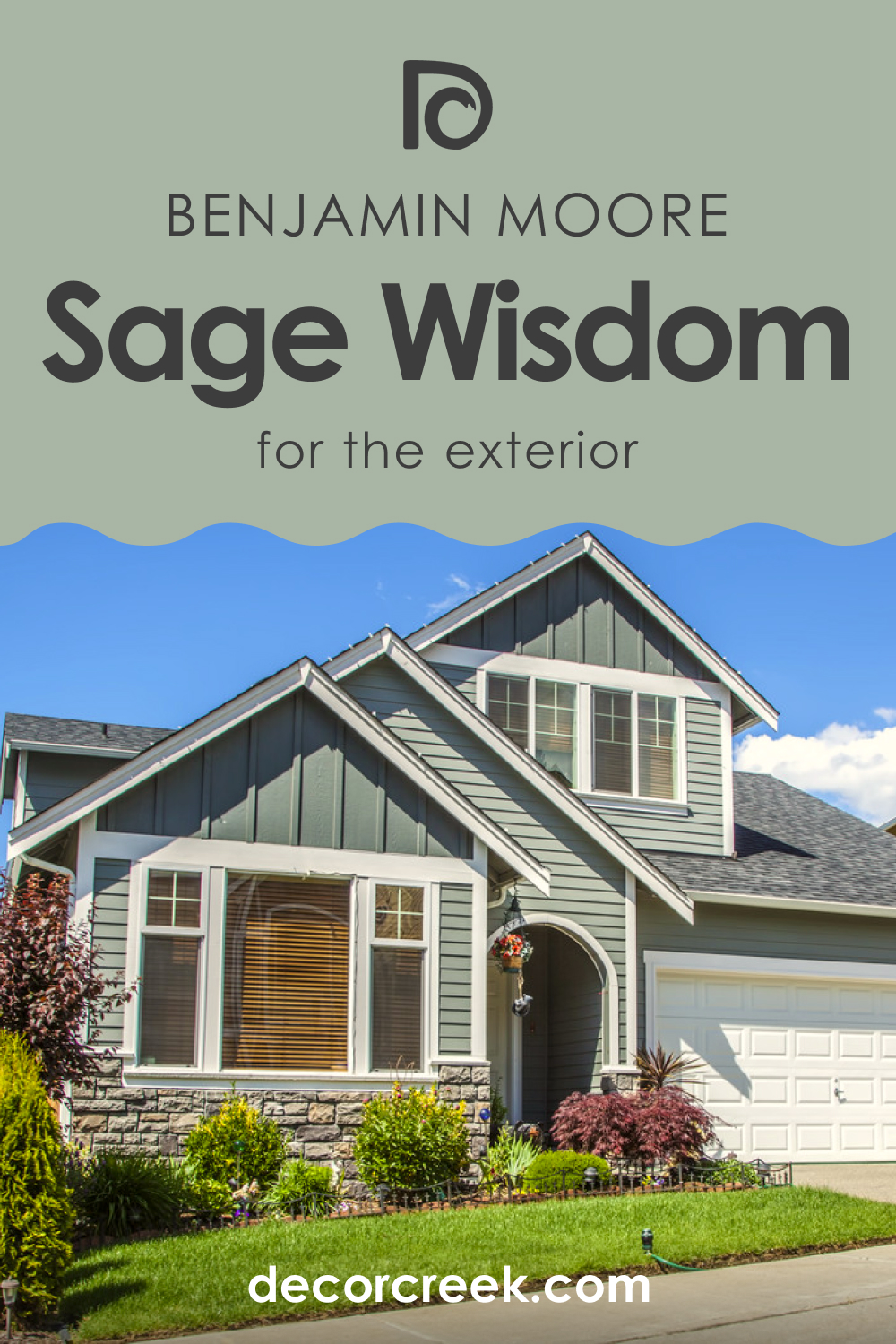 And since you are aware of how this sage green reads in different rooms and lighting conditions, you will be able to make it reveal its true beauty in your home!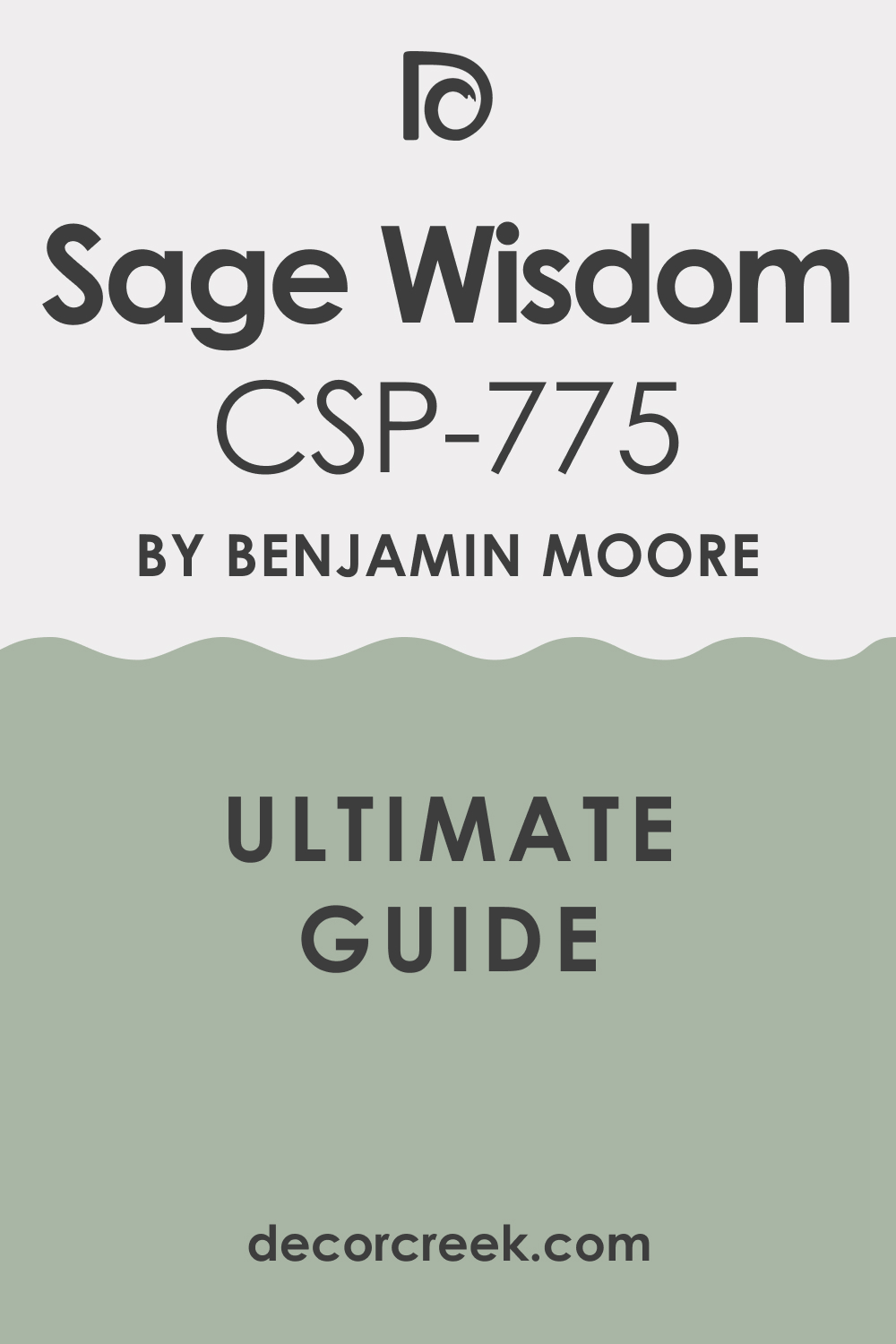 Frequently Asked Questions
⭐What color collection does this paint color belong to?
Sage Wisdom CSP-775 is part of Benjamin Moore's Color Stories collection.
⭐Does this color react to light very much?
Yes, BM Sage Wisdom is pretty much affected by the lighting conditions.
⭐How does this hue read in cool light?
In cooler light, BM Sage Wisdom may look lighter and grayer than usual.