Sage is one of the most popular paint hues we use in our homes. Its natural appearance makes this color perfect for homes that crave a bit of relaxed and organic vibe without too much drama. And today, we would like to introduce one of such sage colors to you.
Meet Saybrook Sage paint color by Benjamin Moore! We will explore this lovely green hue today and find out how it works in different rooms.
Also, you will learn how to coordinate it and what colors will work best with this paint color.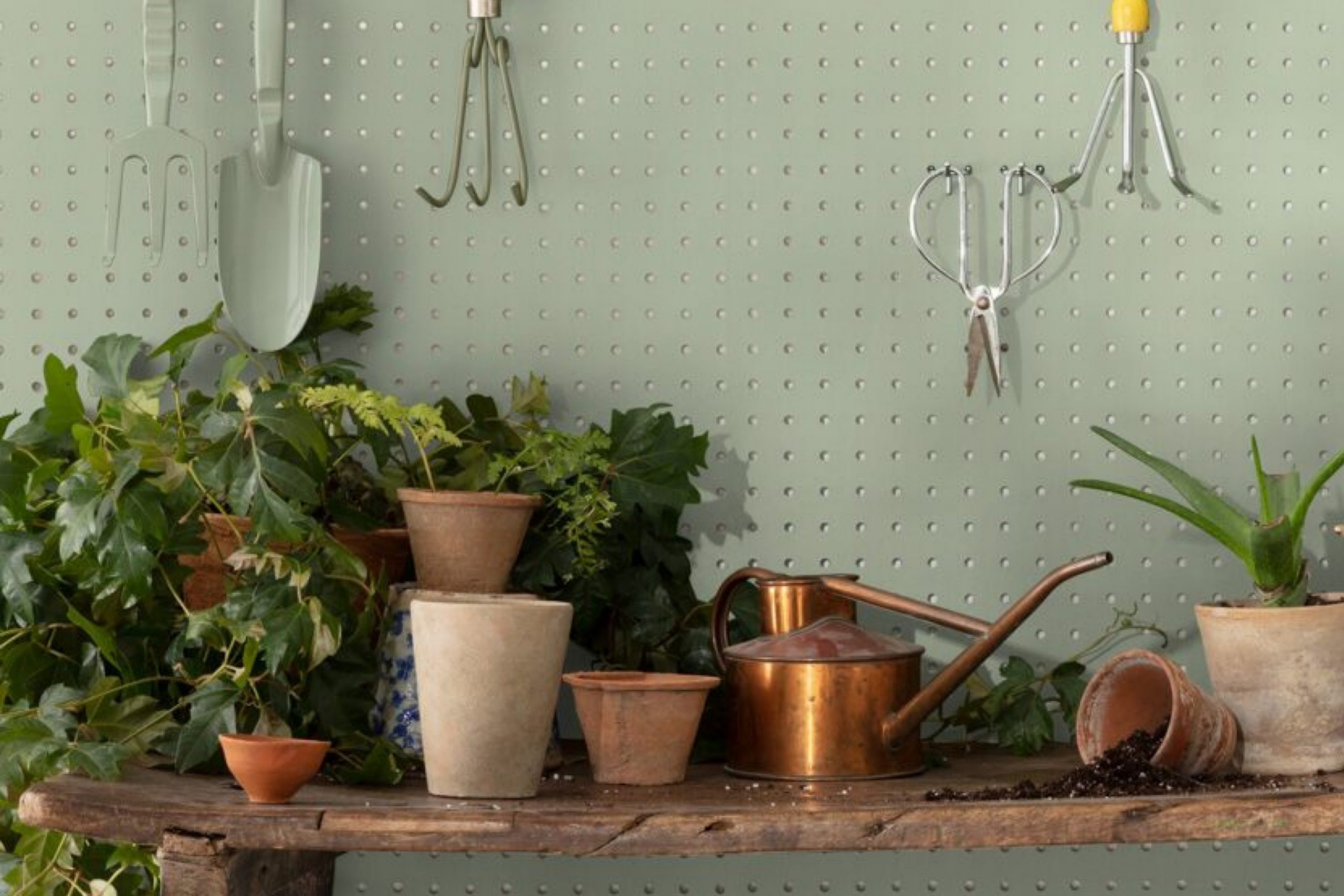 What Kind of Color Is Saybrook Sage HC-114?
Sage is a green hue that has a significant dose of gray tint in it. Due to this grayness, sage doesn't read bright like mint greens. Instead, this color displays a subdue tone that makes the hue feel and read pretty subtle.
Speaking of the Saybrook Sage color by Benjamin Moore, it is a soothing green hue with a splash of gray that cools it down. As Encycolorpedia says, yhis soft, earthy green is the ultimate neutral that will add color to a space while remaining minimal and grounded.
In your home, this hue will work exceptionally well with a relaxed palette and natural accents. This hue is pretty versatile and will read lovely on interior and exterior walls, cabinets, and in almost any room.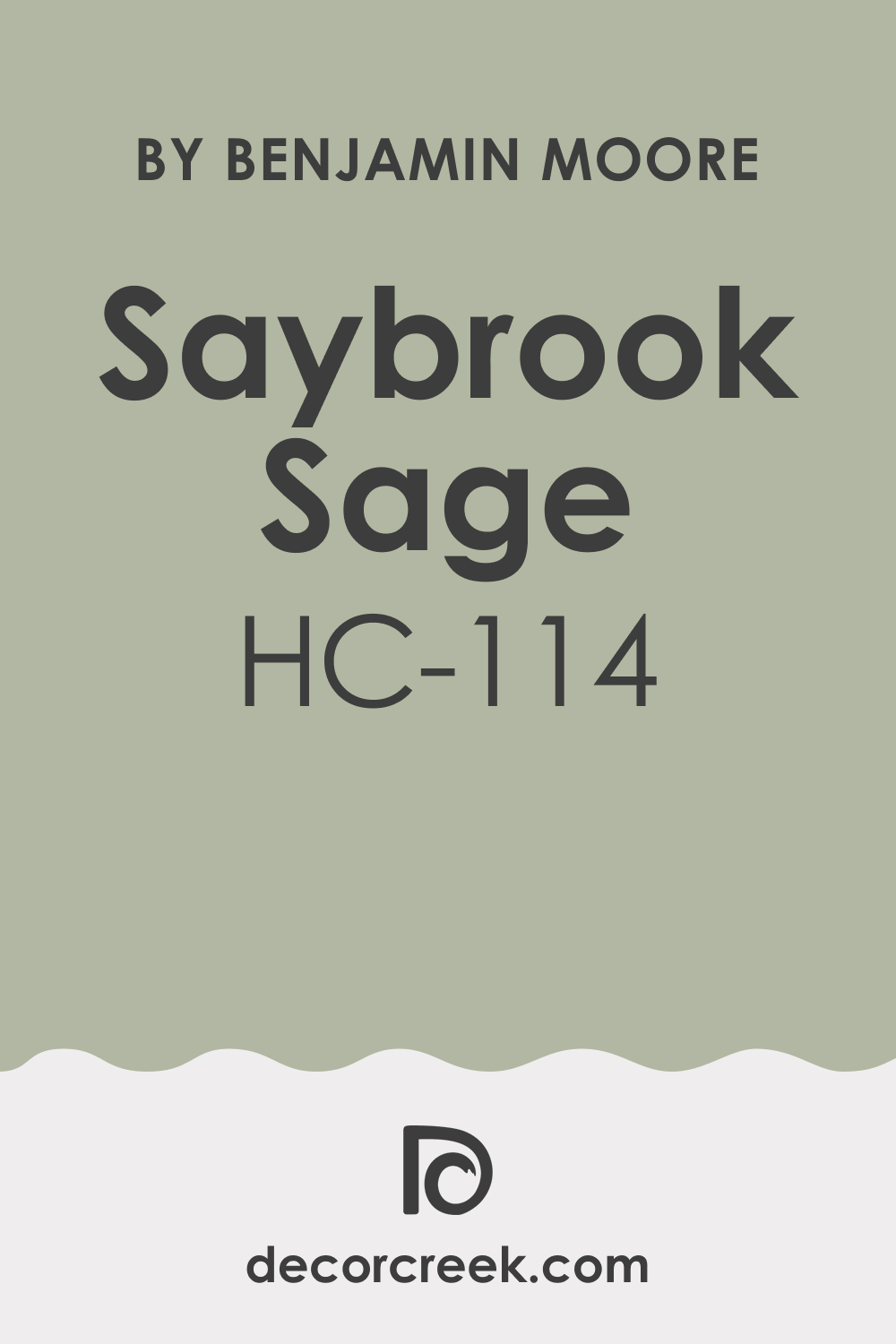 Is It a Warm or Cool Color?
Benjamin Moore Saybrook Sage is a classic sage green. With a hint of silver-gray undertone, this hue gets a cool and soothing look, which means it is a cool-toned color. However, it won't read cold or crisp in your home!
Gray undertones this green hue has make it read soft and muted enough, thanks to which the color doesn't create an impression of a chilly paint.
However, in some lighting conditions its cooler side may become visible more clearly! Note this when using Saybrook Sage in your home and always sample the color in advance.
What Undertones Does Saybrook Sage HC-114 Paint Color Have?
As you already know, Benjamin Moore Saybrook Sage is a green paint color with just a hint of a gray undertone. Many sage colors have more gray then green, but this is not the case with this one. See, Saybrook Sage definitely leans more towards green than grey! This is why this hue is often classified as a greenish gray paint color.
Saybrook Sage HC-114 Coordinating Colors
Selecting the correct coordinating colors can be a fun task to accomplish, but with such tricky and complex colors as Saybrook Sage, it may turn into a challenge! This is why you should always have a list of go-for coordinating colors that wil surely work with this sage green hue:
OC-32 Tapestry Beige
HC-104 Copley Gray
OC-55 Paper White
BM 2131-40 Smokestack Gray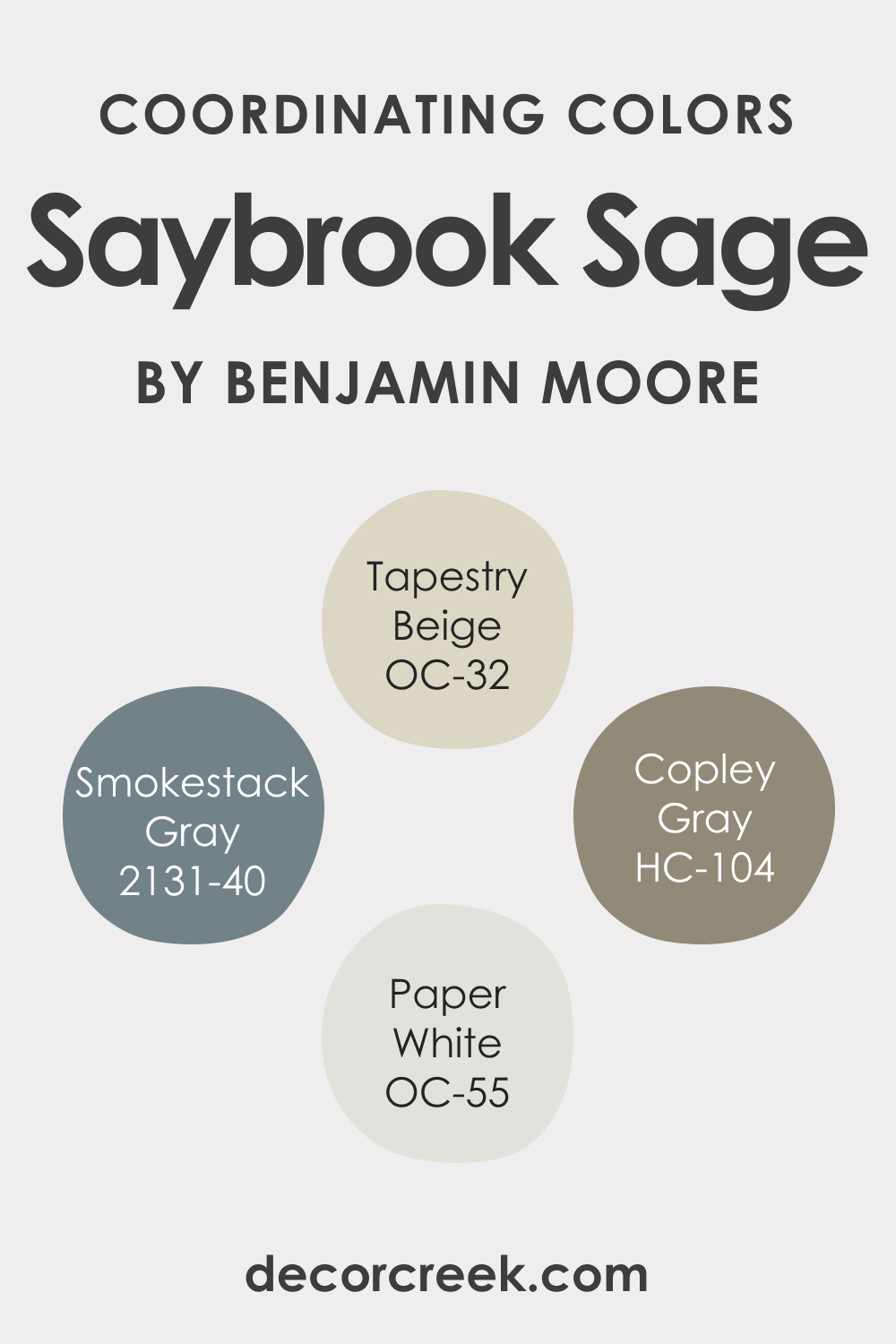 What LRV Does Saybrook Sage HC-114 Paint Color Have?
The LRV (light reflectance value) of Saybrook Sage is 45, which means it is a mid-toned sage color. Benjamin Moore Saybrook Sage won't make a space read washed out, and it won't display itself too dark under normal lighting conditions. However, light does affect this color.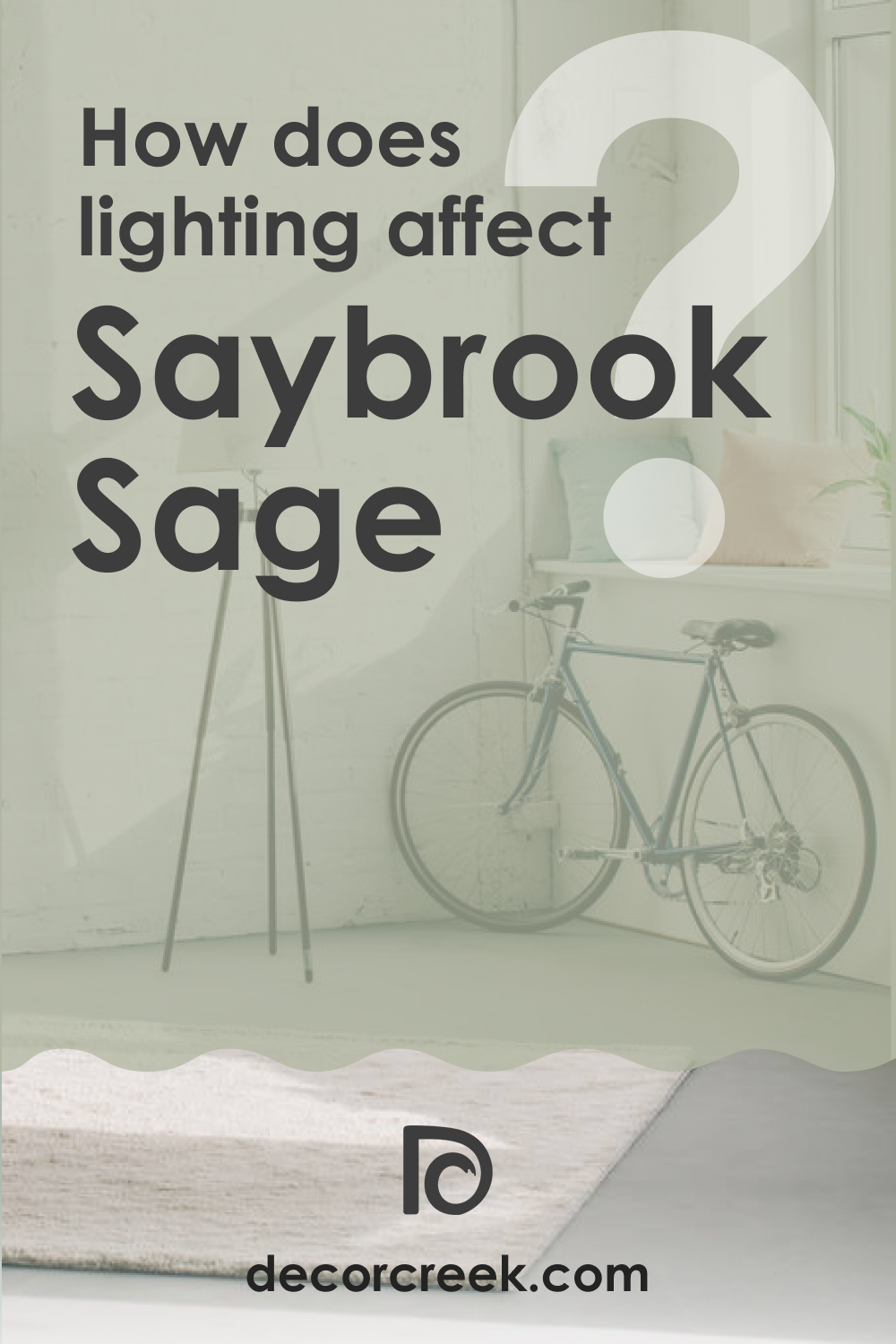 If you have a room that doesn't get a lot of natural light and is located far away from the sun, you might find that Sabyrook Sage reads too dark on your walls. In a room with dim light, this sage green color is likely to look more like a darker olive green.
But if you try to use it in a room with a lot of natural light and large windows, you might find this color looks somewhat lighter.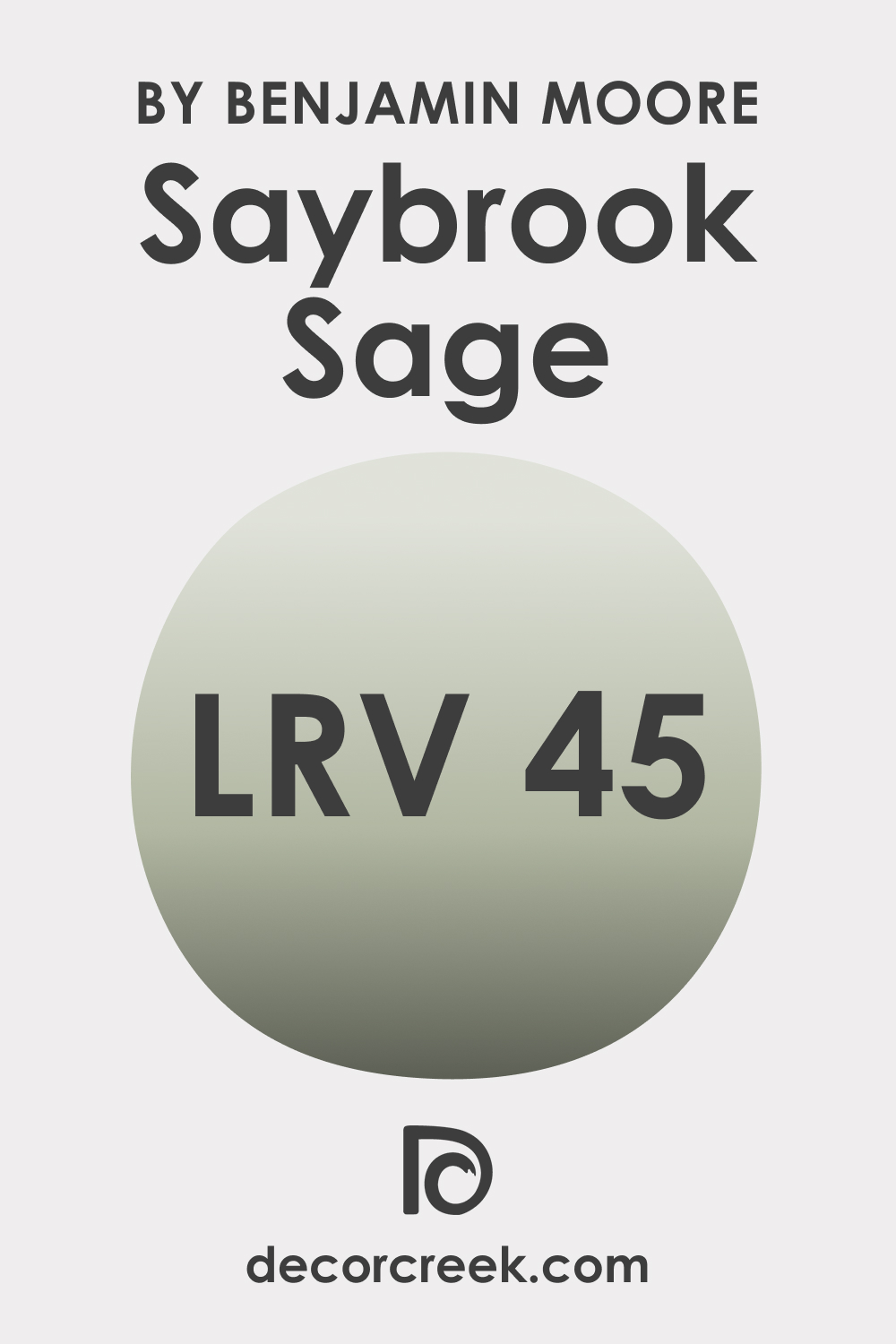 LRV – what does it mean? Read This Before Finding Your Perfect Paint Color
What Is the Best Trim Color to Use With Saybrook Sage HC-114?
The best trim color to use with a sage green hue on the walls is white. White is so versatile that it will pair nicely with most other colors. In particular, we recommend you use SW Pure White or BM Chantilly Lace on your trim, paired with the Saybrook Sage on the walls. As an option, you might also want to try BM White Dove.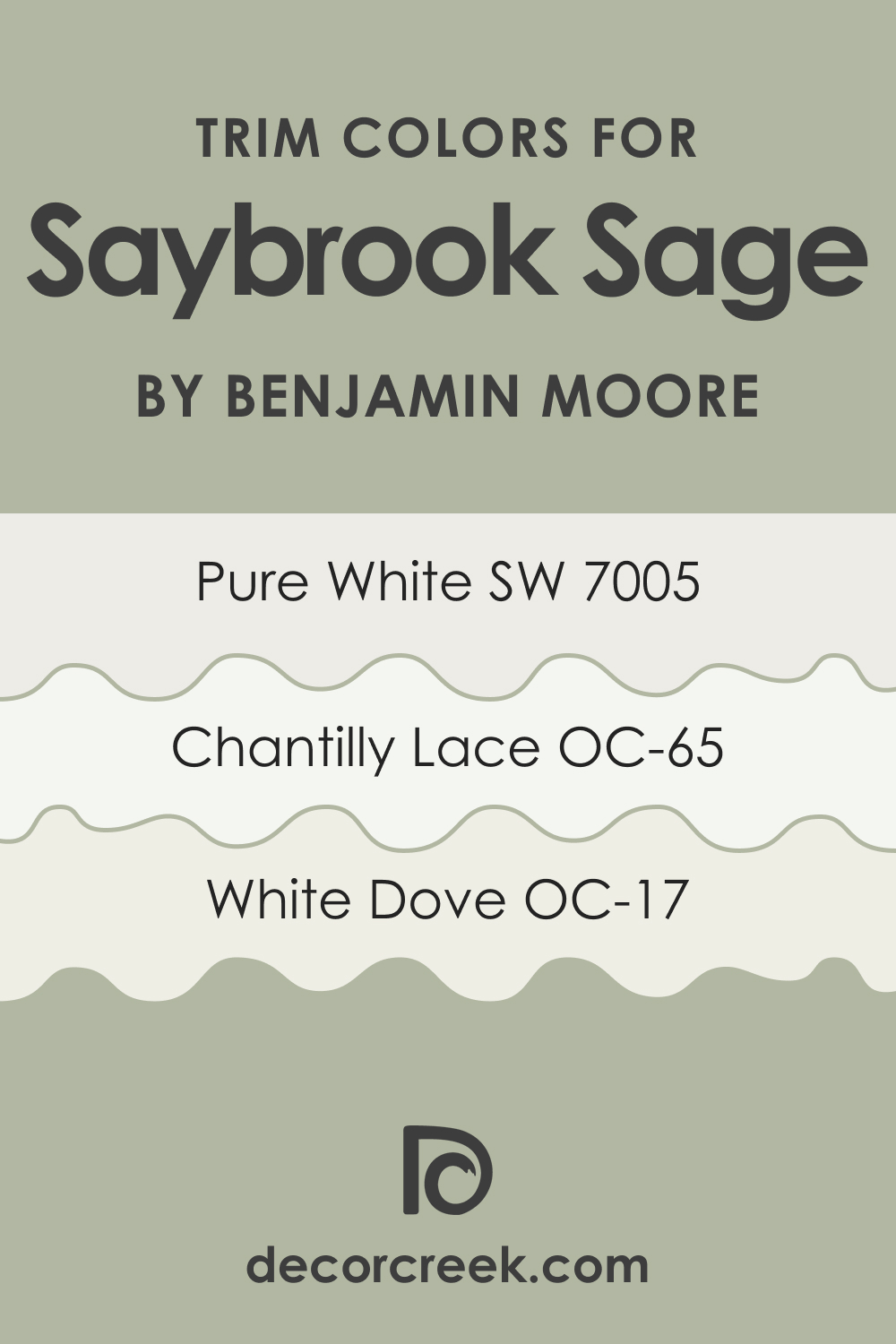 Colors Similar to Saybrook Sage HC-114
If you ar enot happy with how this sage green hue works in your home, you might want to change it and use another color that looks similar. For this purpose, we have prepared a list of similar sage hues that read nearly the same as Saybrook Sage by Benjamin Moore:
BM 1495 October Mist
HC-139 Salisbury Green
BM 472 Aganthus Green
AF-455 Croquet
However, you must still remember that none of these colors will look absolutely the same as the Saybrook Sage hue! Each color on this list will vary due to the distinct undertones and LRVs.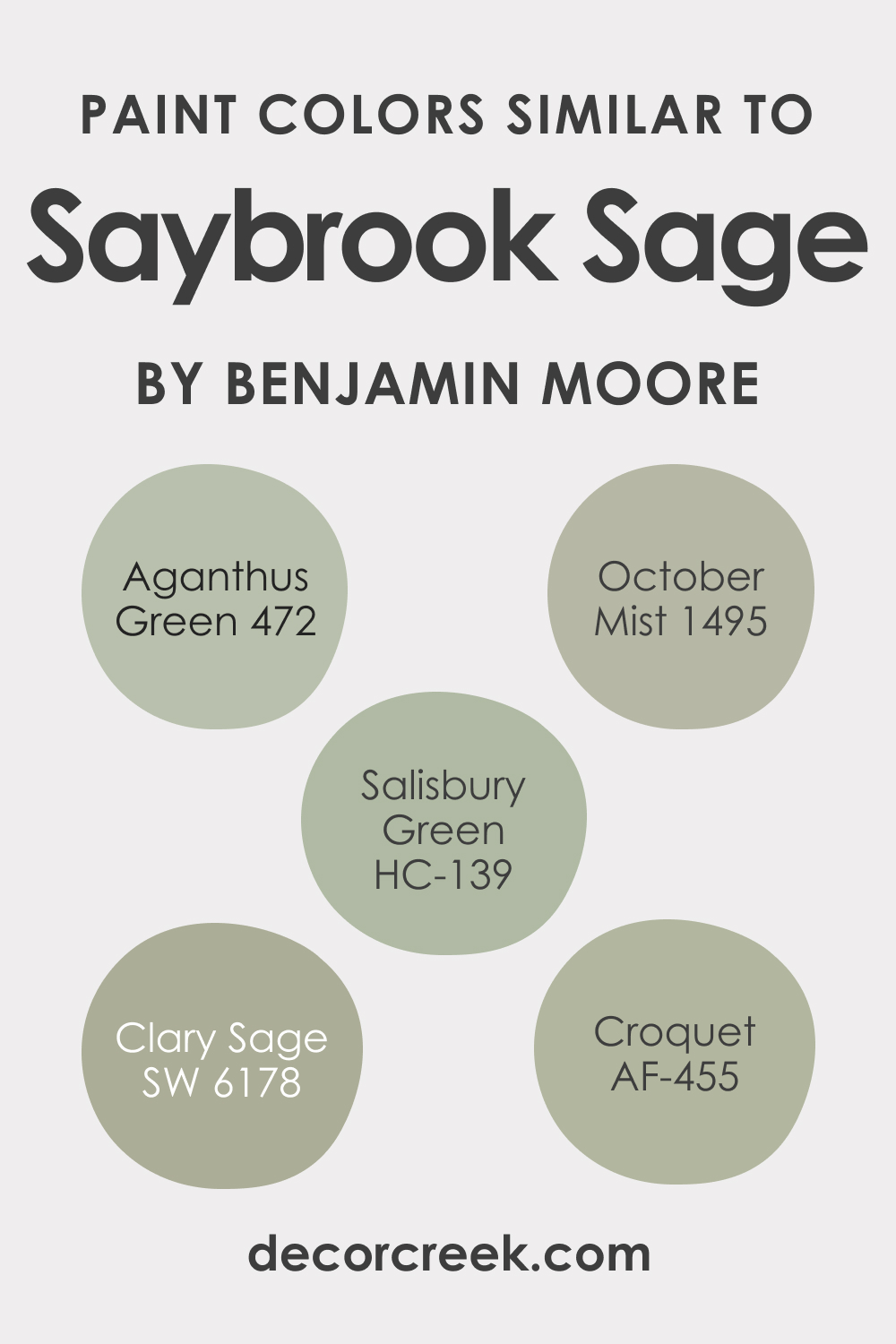 Colors That Go Well With Saybrook Sage HC-114
Sage green is a hue that can pair nicely with quite many colors, which is why it is fairly easy to work with. Speaking of the Saybrook Sage color, it will go with many colors, but you should note that it is a muted "dirty" color. This is why we recommend you pair it with other muted/dirty hues only and avoid "clean" colors.
For example, you can pair it with other lighter and darker sage greens. Also, this hue will work nicely with deep navys, terracota color, plums, muted yellows and soft whites and grays.
Bold pink or blush hues, as well as reds, would look great with sage as well. In particular, you might want to try the following color options:
HC-154 Hale Navy
BM 2165-30 Golden Retriever
SW 9081 Redened Point
HC-126 Avon Green
BM 2113-40 Cinnamon Slate
By the way, reds and pinks, as well as yellows and terracotta hues, would work better in small doses such as in accessories or on smaller pieces (e.g., cushions).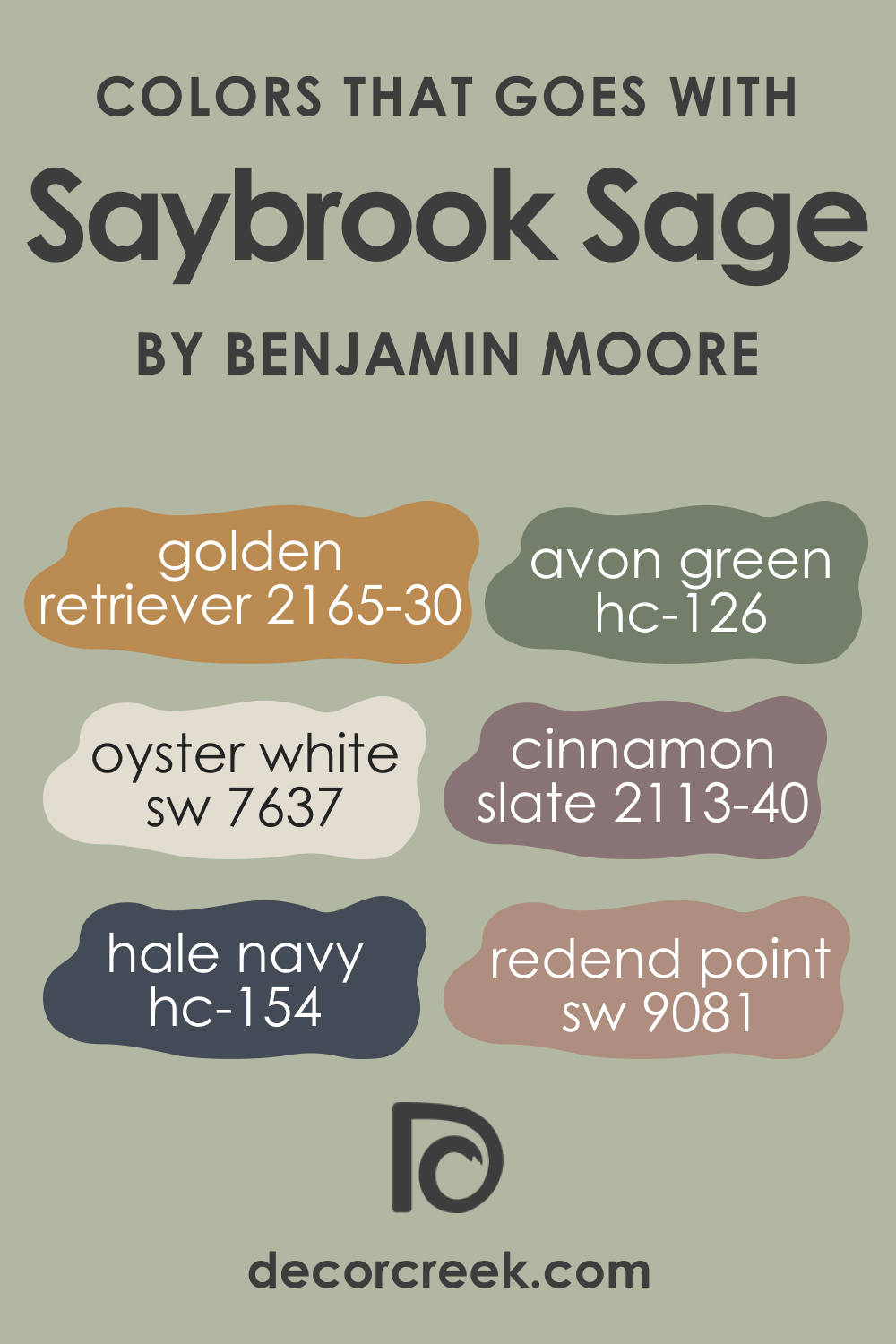 Comparing Saybrook Sage HC-114 With Other Colors
It is important to see the difference between paint colors, especially if they are the colors of the same color family. When you can see the distinctions between them better, it helps you to understand whether or not they can be paired in the same space harmoniously. Below, we suggest you read how Saybrook Sage by Benjamin Moore works in comparison to a few other similar colors.
Saybrook Sage vs. October Mist
BM October Mist has very striking similarities with Saybrook Sage. On the one hand, BM October Mist is a bit lighter than Saybrook Sage, but on the other hand, it's a very subtle difference.
The biggest distinction between these two hues is the fact that BM October Mist has considerably more silvery gray undertones in it than Saybrook Sage. As a result, BM October Mist reads more of a "sage" than Saybrook Sage.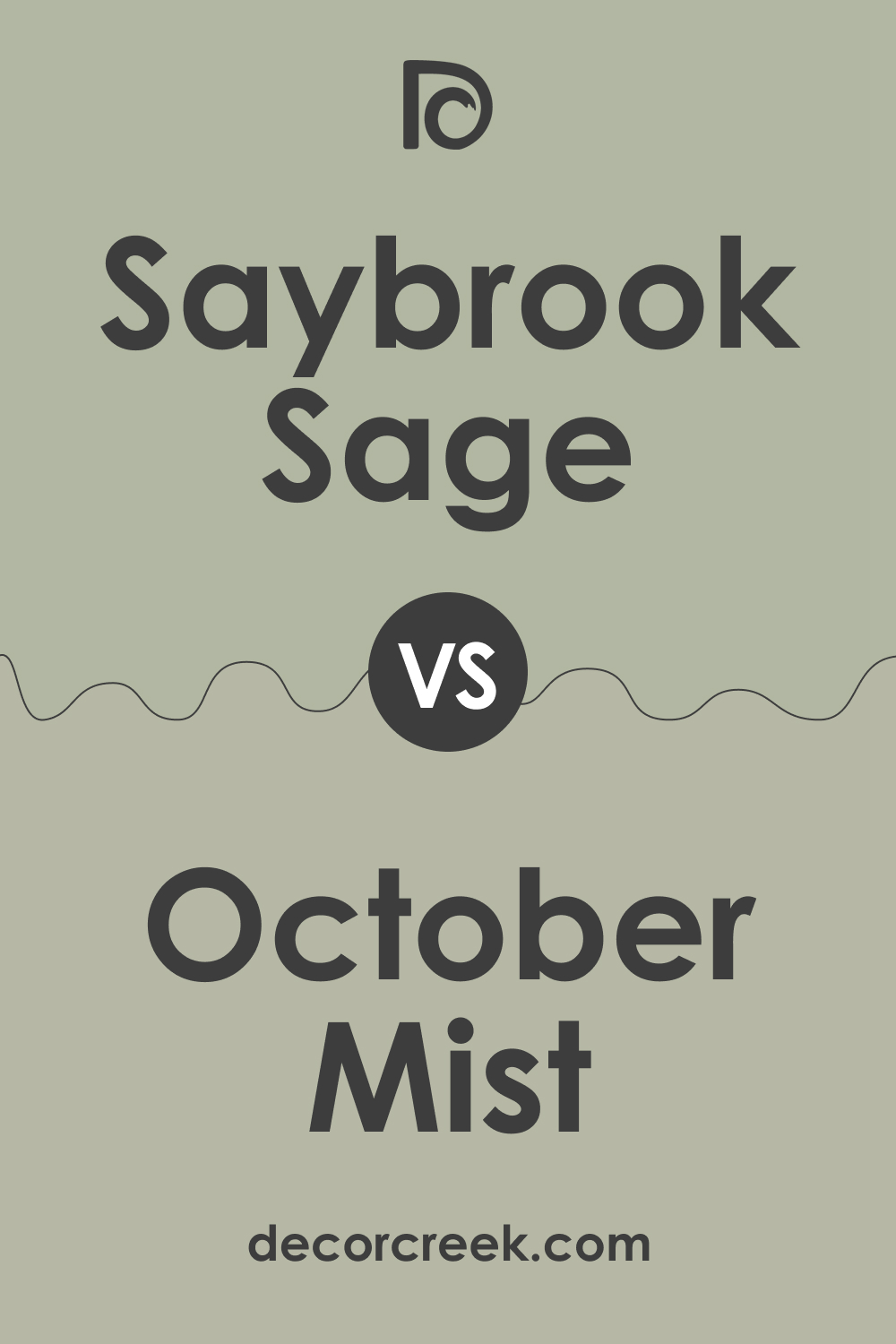 Saybrook Sage vs. Clary Sage
The difference between the Saybrook Sage color and SW Clary Sage is that Saybrook Sage is slightly less yellow than its counterpart. As a result, SW Clary Sage reads warmer and softer. But they're basically the same depth of color.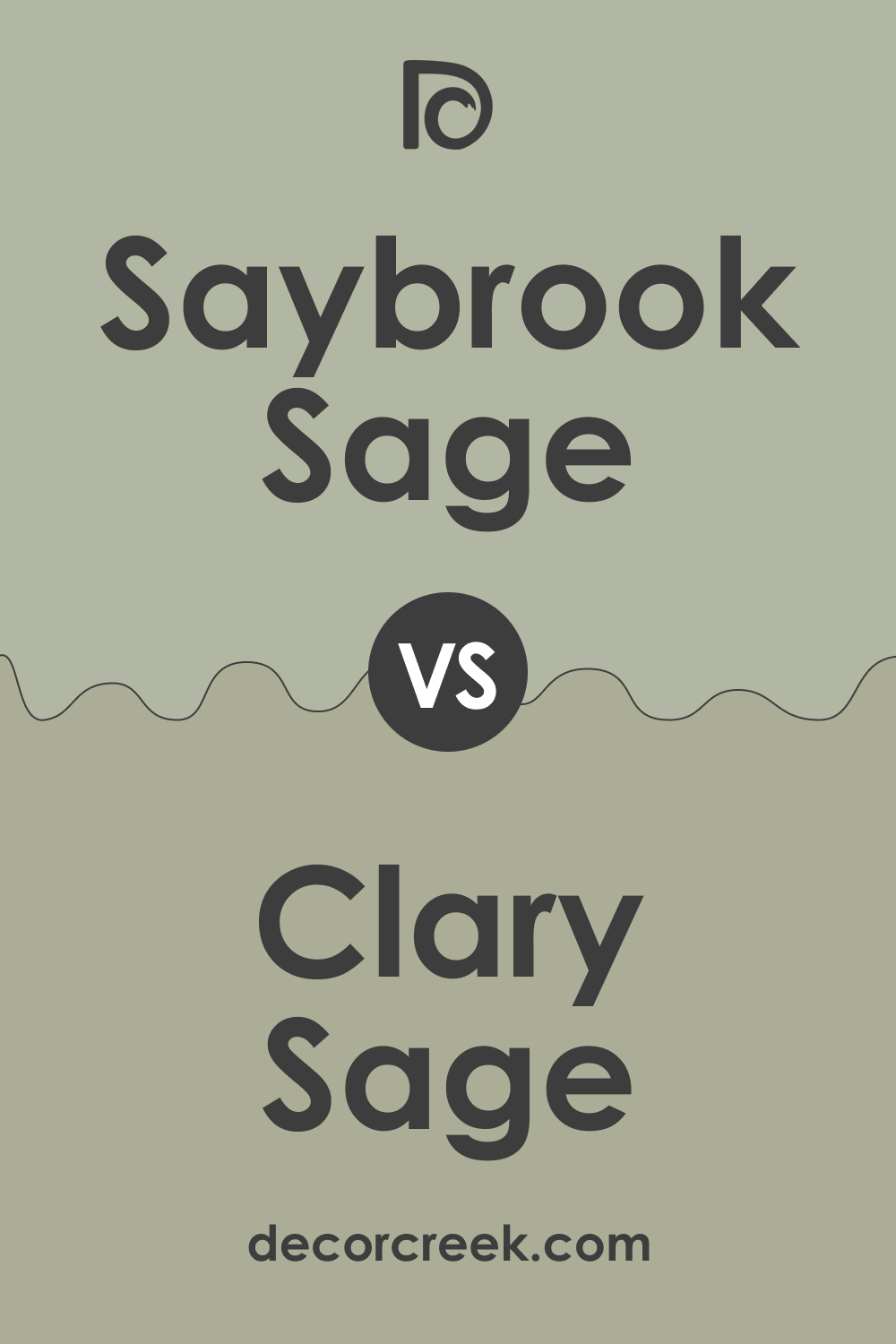 Saybrook Sage vs. Svelte Sage
SW Svelte Sage is a green hue with cool gray undertones. However, compared to BM Saybrook Sage, it reads warmer and may even give off a very slight brownish hue, especially in warmer light. Also, the LRV value of 41 that SW Svelte Sage has is somewhat lower than the LRV value of 45 that Saybrook Sage comes with. It means that SW Svelte Sage looks slightly darker on the wall.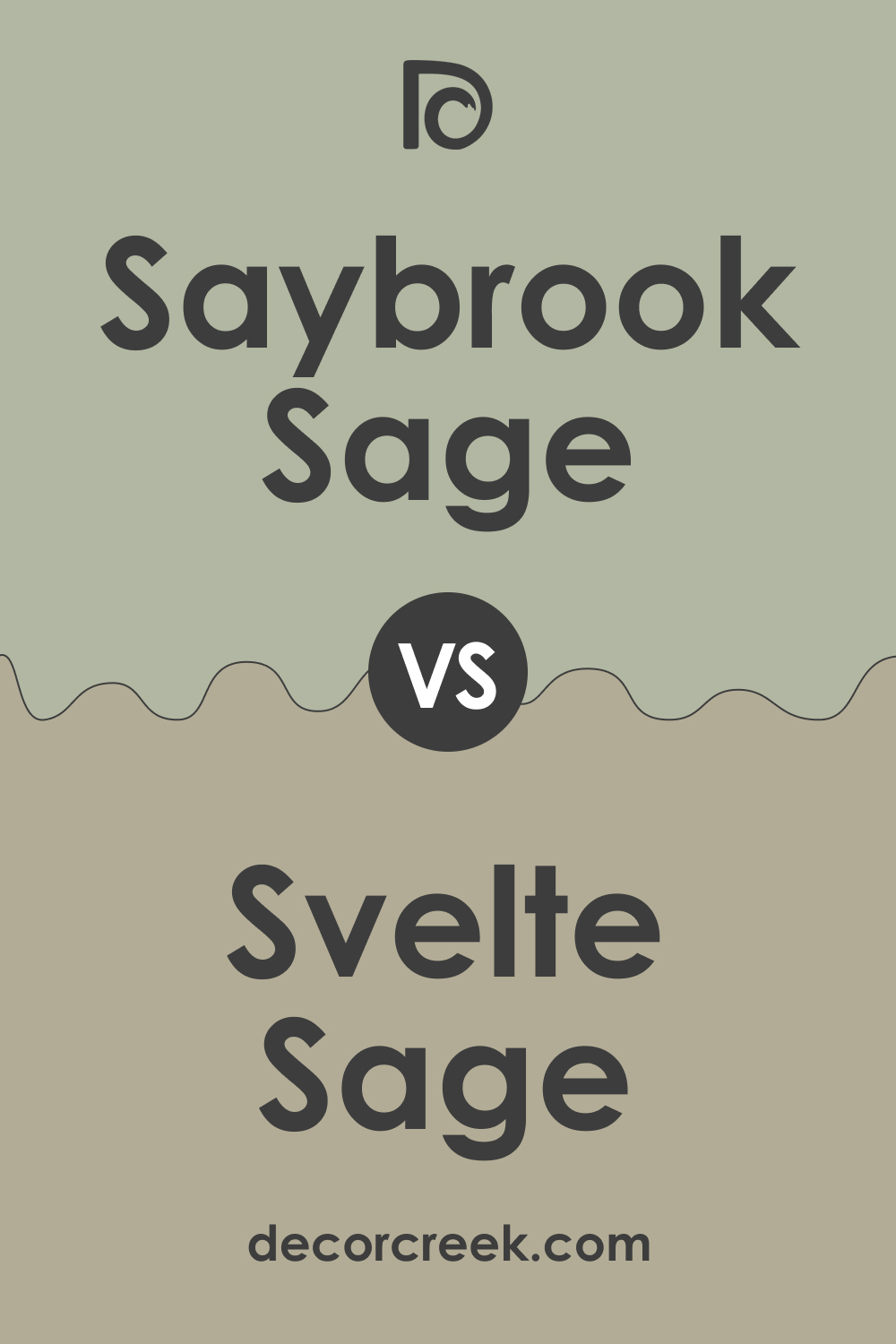 Svelte Sage vs. Sage Wisdom
Both colors come from the Benjamin moore brand, but they read differently. BM Sage Wisdom is a brighter sage hue that looks more cool-toned and has a glowing appearance in the space. Compared to it, Saybrook Sage looks warmer and greener. This effect comes from the fact that BM Sage Wisdom has more gray in it, whilst its counterpart has more green.
Svelte Sage vs. Millstone Gray
BM Millstone Gray is a deep gray color with a hint of green undertones. With an LRV of 15, it's much darker than Saybrook Sage. Also, compared to it, BM Millstone Gray displays its cooler gray hue very clearly.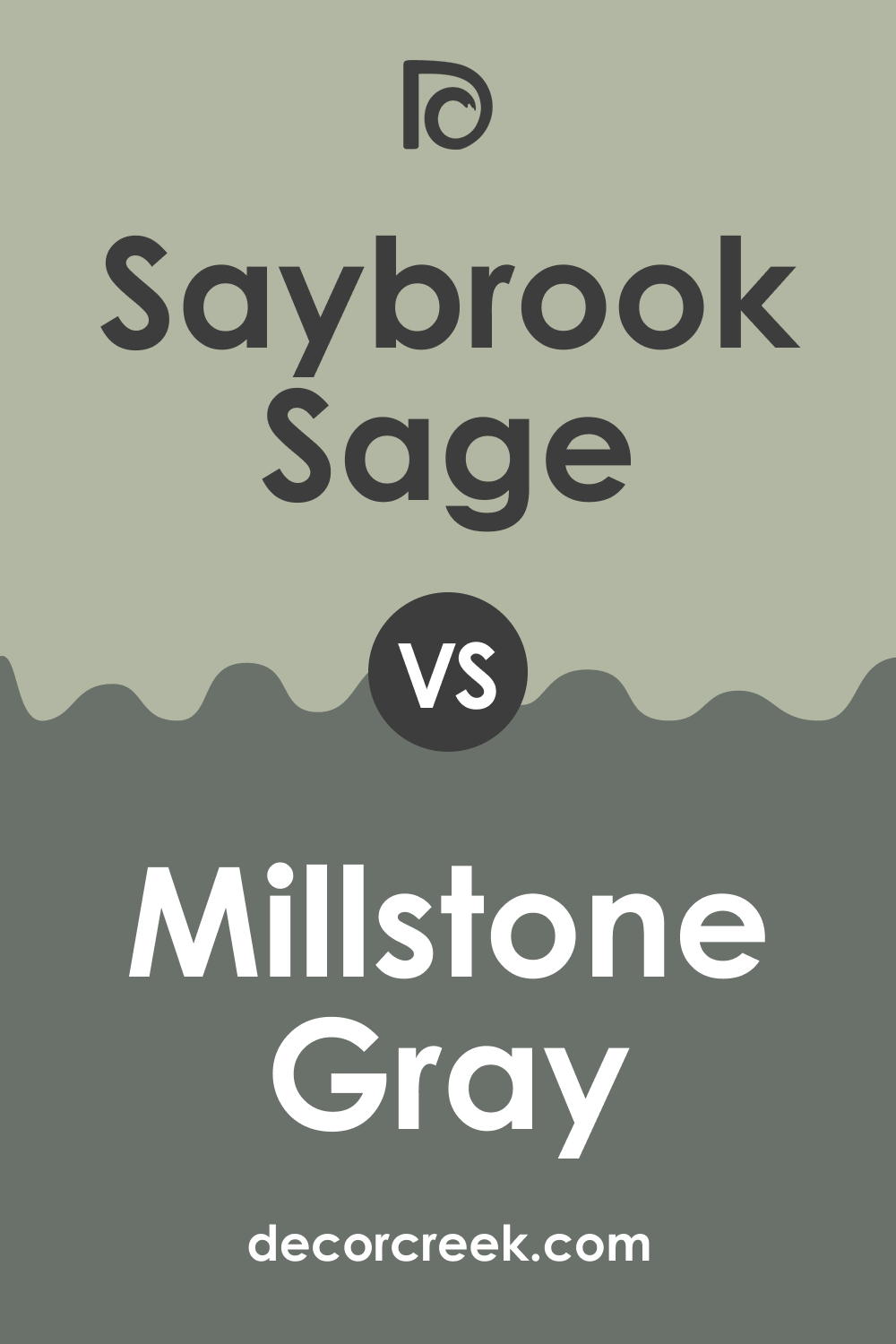 Where to Use Saybrook Sage HC-114 Paint Color In Your Home?
Sage green is a great paint color to use almost anywhere in your home. It will look amazing anywhere, and inparticular, in the following spaces:
Bedrooms
Bathrooms
Kitchen and bathroom cabinetry
Accent pieces of furniture
Accent walls in a bedroom
The exterior of the home
However, you can use this hue in areas that are not mentioned on this list. By the way, this color may work remarkably well in bedrooms and bathrooms because it is so calming but it also looks amazing on furniture and cabinets!
Saybrook Sage HC-114 in the Living Room
This sage green hue may read lovely and relaxing in your living room only if the space has ample natural light. In smaller and poorly lit rooms, this color may read somewhat "dirty" and seem darker than it is.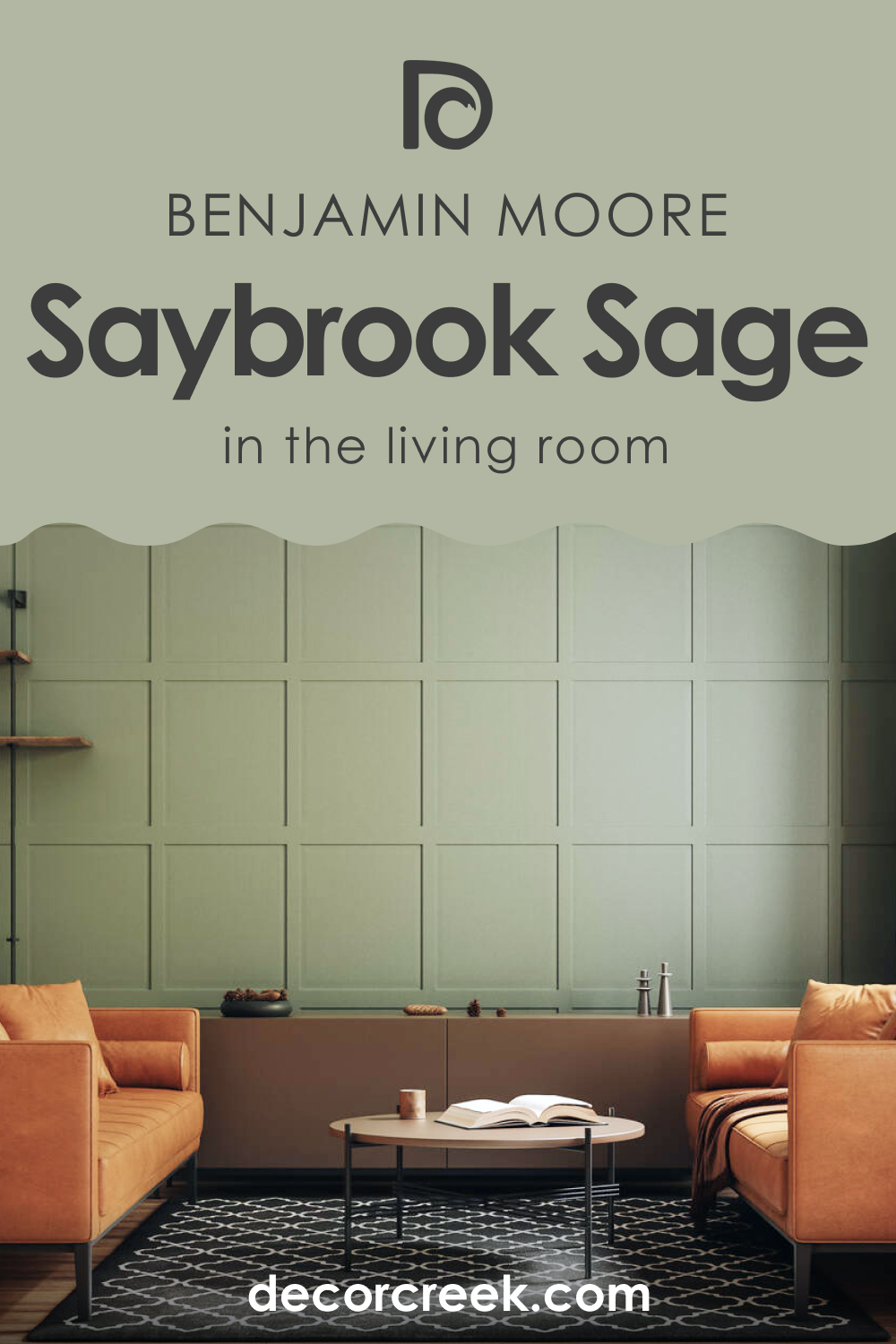 Saybrook Sage HC-114 in a Bedroom
This color can create a soothing and tranquilizing vibe in your bedroom if it's lit with plenty of natural light. In this case, Saybrook Sage will reveal its refreshing and nature-inspired hue completely.
Pair it with the white trim and ceilings if you want to make the sapce seem brighter and crisper, and use wooden textures and warmer/softer-toned colors on upholstery, carpets, and bedding to achieve a cozier look.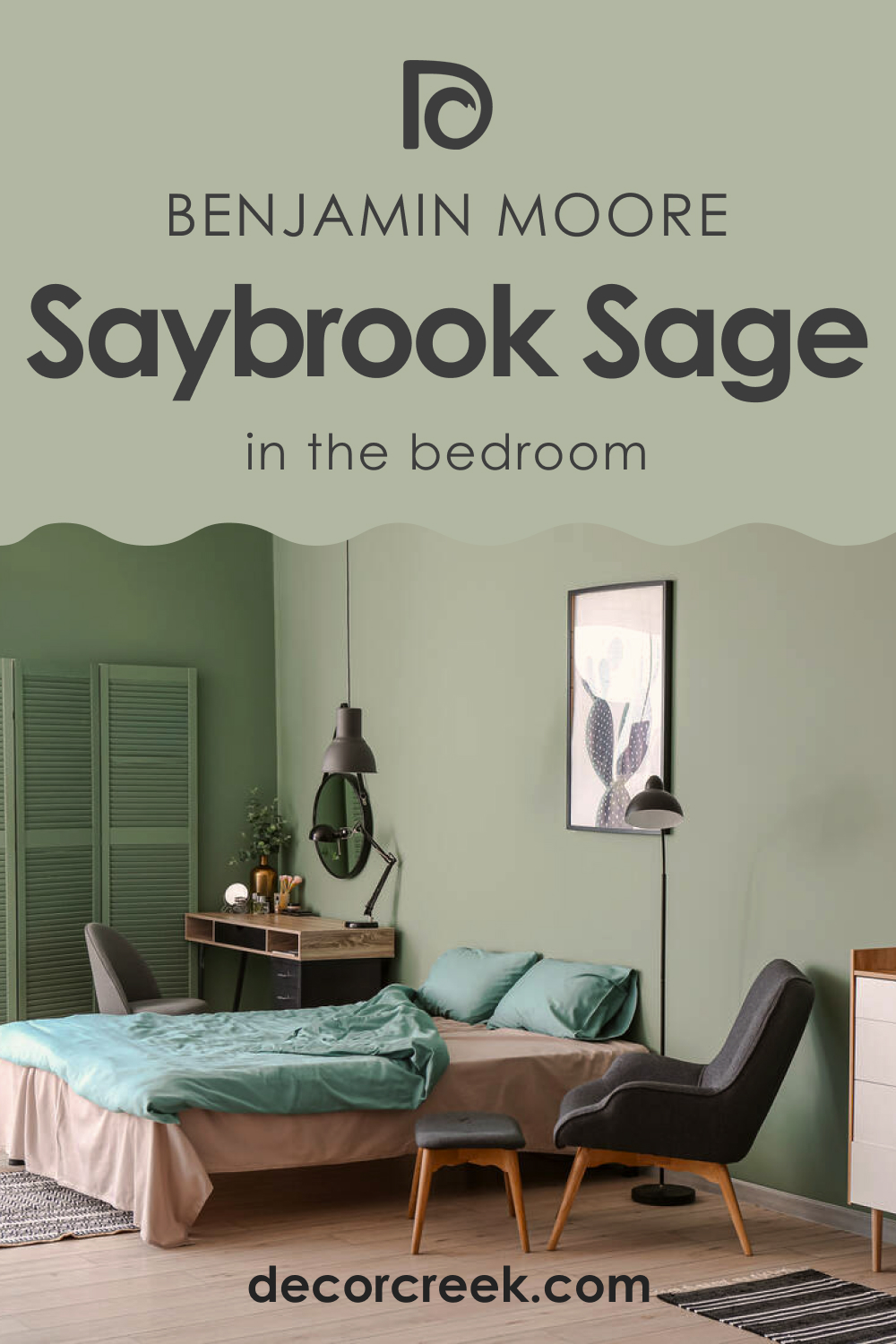 Saybrook Sage HC-114 and Bathroom
Since this sage color is cool-toned, it will work well in your bathroom. However, note that it's best to be used moderately! Paint your vanity with it and leave the walls in one of the recommended whites. This will make your bathroom feel airier and brighter, highlighting the fresh hue of the sage color.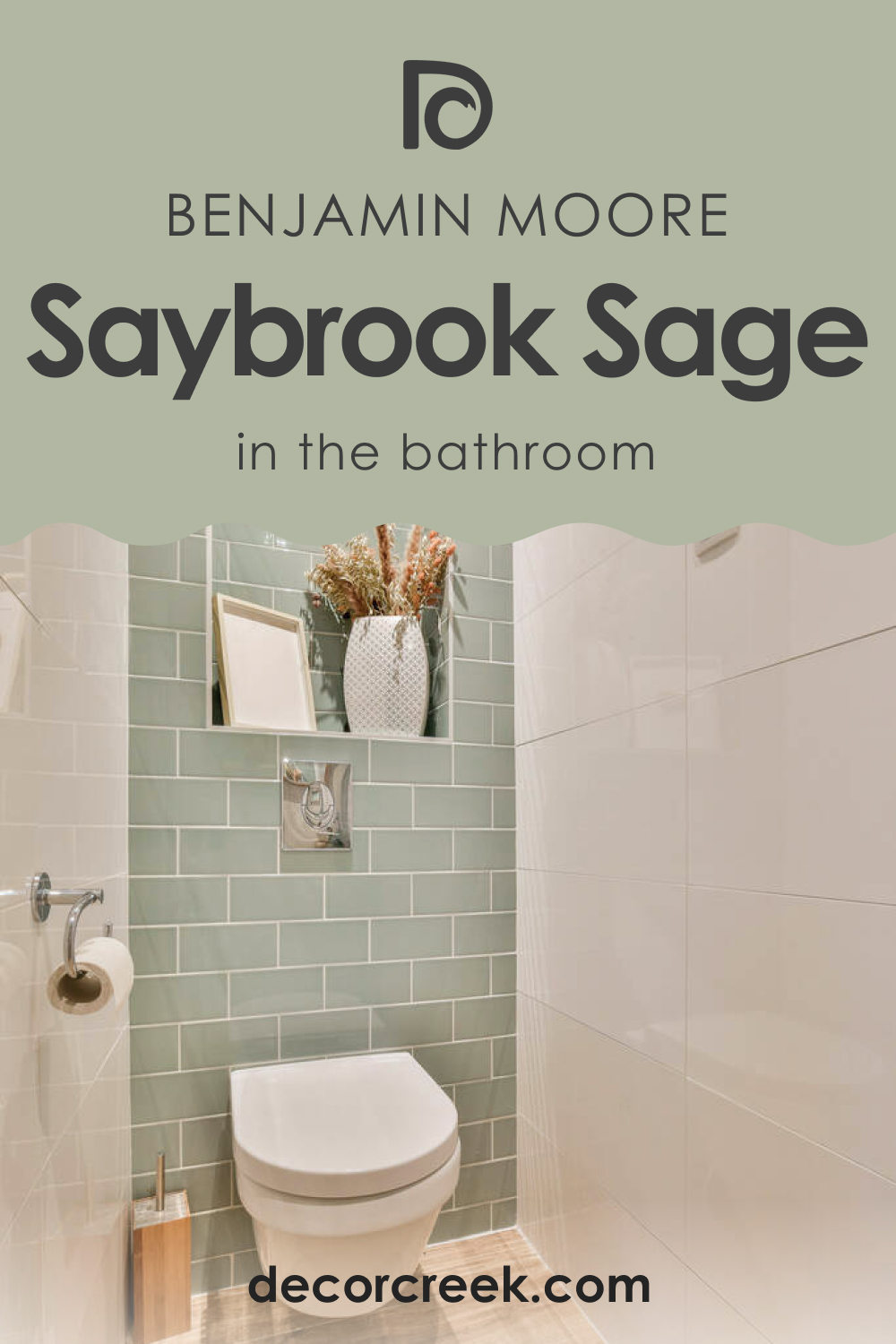 Saybrook Sage HC-114 on the Kitchen
In kitchens, this color works best on cabinetry and islands. Also, this sage hue is best to be used in spaces with plenty of natural light since it will make the green color reveal its beauty fully. Generally, Saybrook Sage should be considered as a kitchen color because it pairs well with tiles, wooden or marble surfaces, and brass fixtures.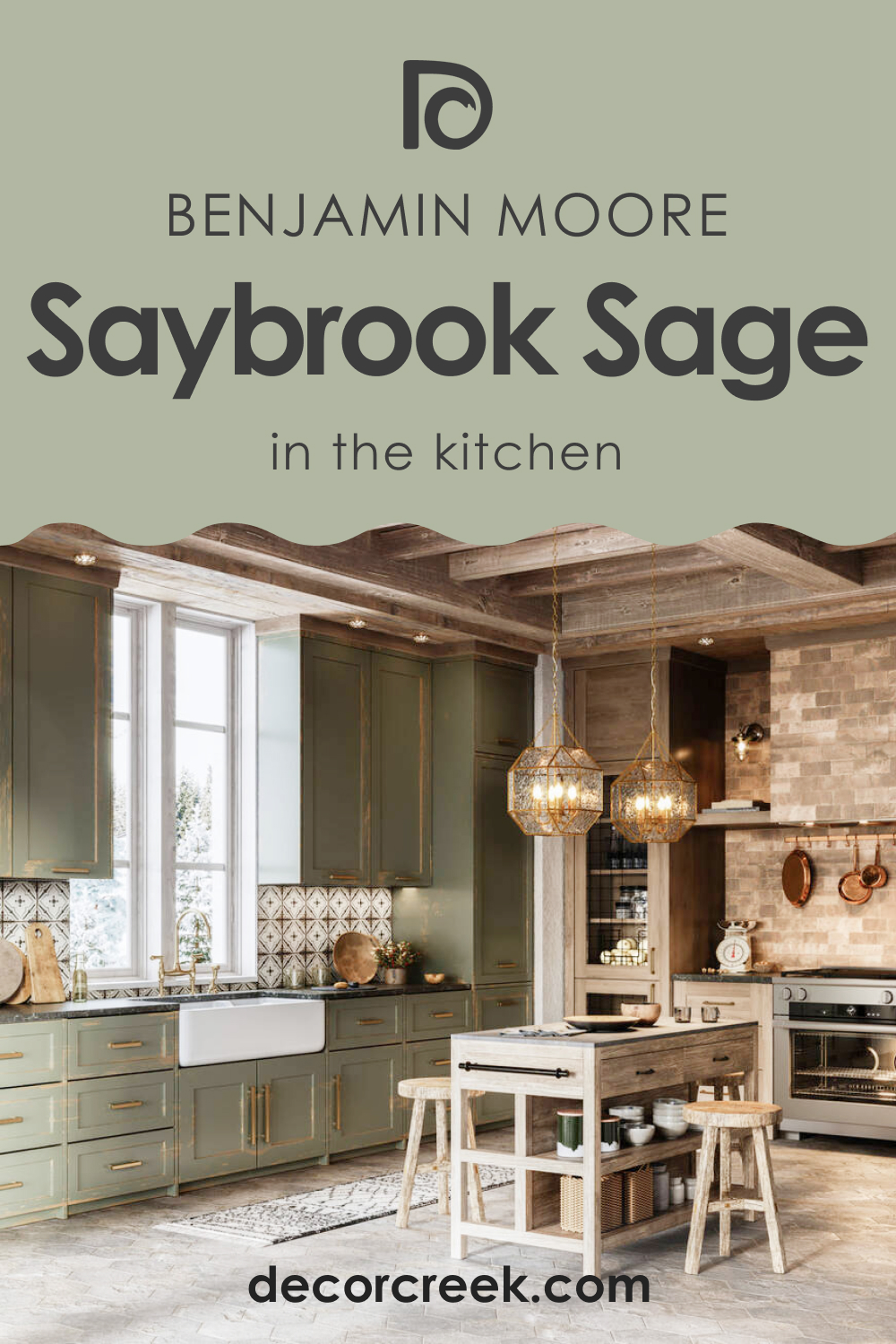 Saybrook Sage HC-114 for the Exterior Use
If you want Saybrook Sage on your exterior walls, note that it can read differently in distinct lighting conditions! On a sunny day, this sage hue will seem warmer and on a cloudy day, it will reveal its cooler undertones more clearly. Should you still want to use it, consider painting your trim and moldings white and opt for darker blues, grays, or darker greens for the front door.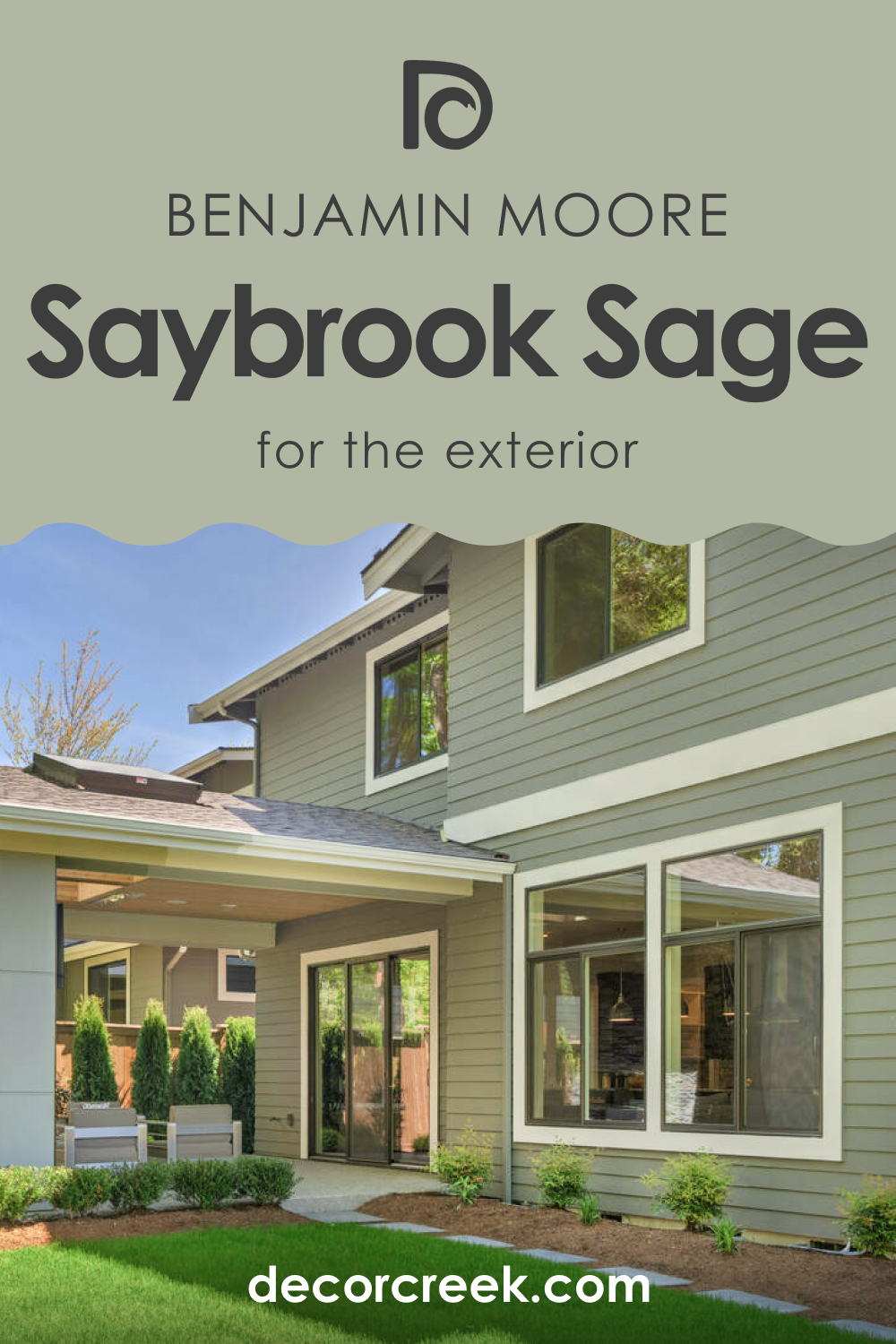 Now you have a better idea of this green color. You know its specifics and nuances.
Also, you learned how it may read in different rooms of your home. We explained how to coordinate it and what colors should be used to achieve a balanced palette in your home.
All these tips will help you protrude the true beauty of this cool-toned sage hure fully.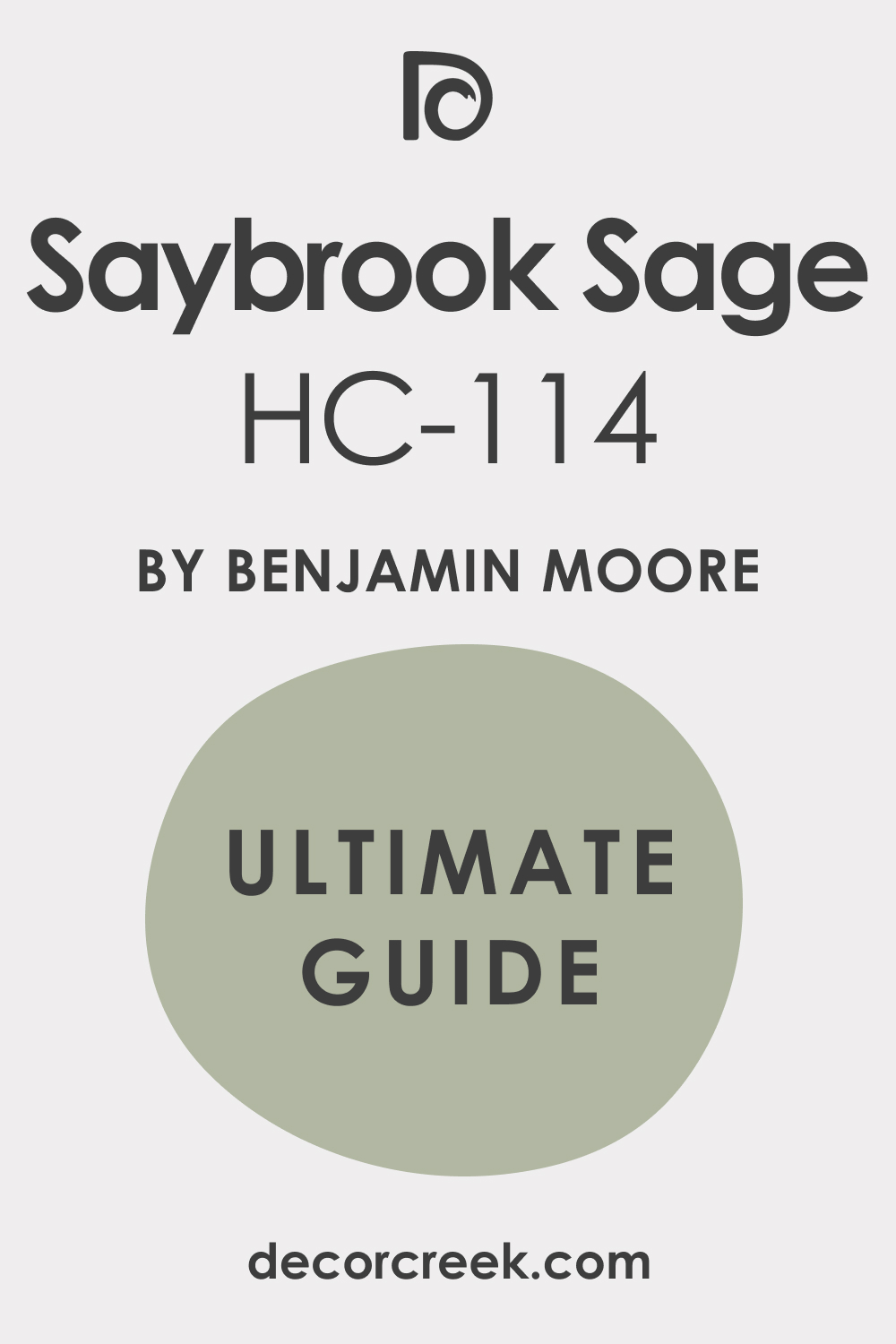 Frequently Asked Questions
⭐What color collection does Saybrook Sage belong to?
This hue is part of the Historical Colors collection by benjamin Moore.
⭐Does Saybrook Sage read gray?
No, this color doesn't display prominent gray undertones.
⭐How does Saybrook Sage color look in poor light?
In dim/poor light, this color will read greener and somewhat darker.