There are colors that look completely different from what they are called. For example, the color can be considered white, but it reads creamy and closer to yellow on the walls! With such tricky chameleon colors, you must be very careful to make them work as you want.
Today, we will tell you about the paint color called Svelte Sage. This is one of the Sherwin-Williams colors, and using it requires some skill and a sharp eye!
But we will explain how it works and how to coordinate it correctly. Also, you will learn how this hue may look in different rooms and more helpful information.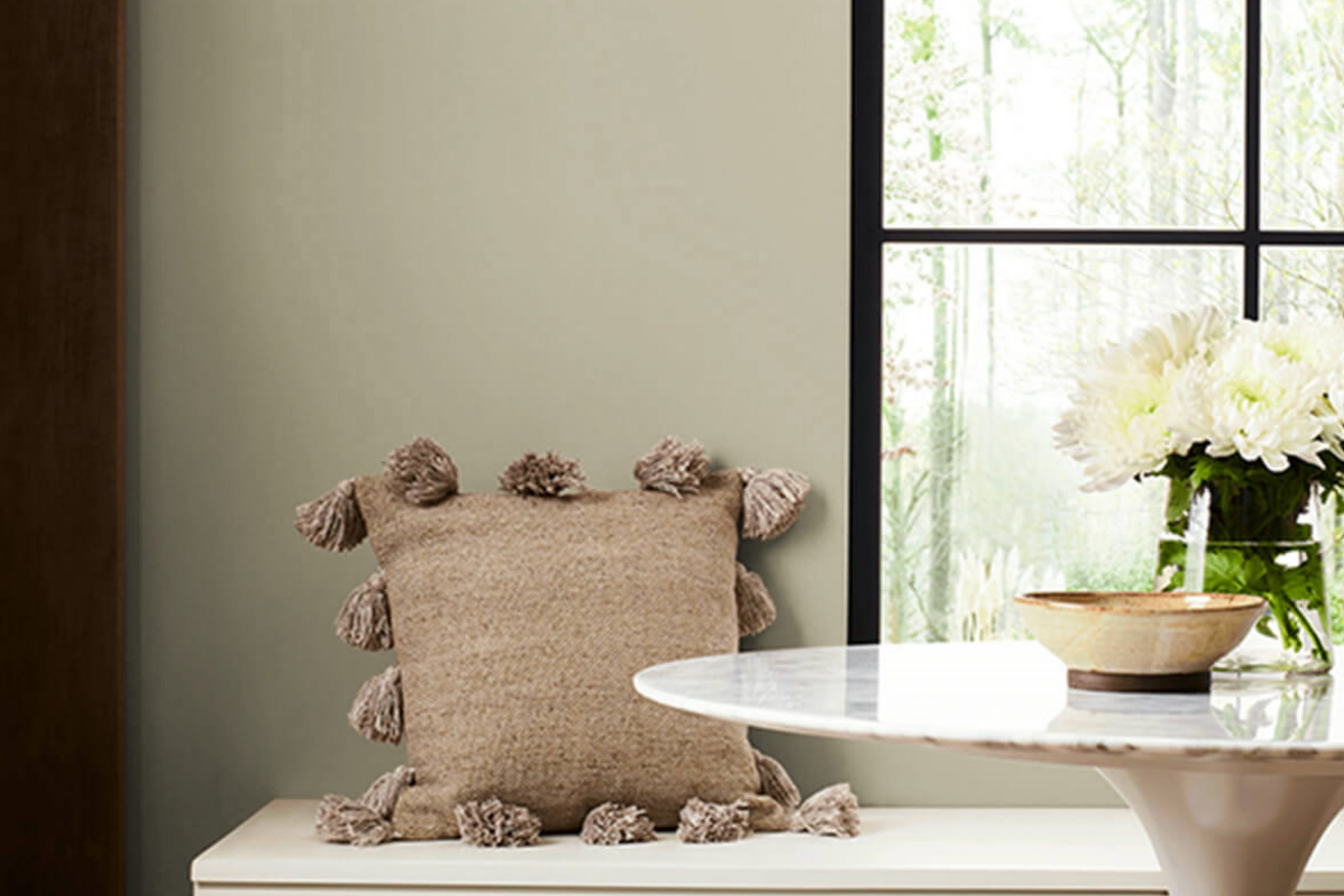 What Kind of Color Is Svelte Sage SW-6164?
SW Svelte Sage  belongs to the green color family, but it doesn't quite read green at first sight. Since this nature-inspired green has cool gray undertones, it creates a mixed impression to a viewer.
As Encycolorpedia says, this color can make your home look unique, adding a pinch of character to it! SW Svelte Sage will introduce an enchanting yet sophisticated ambience into any space where you use it.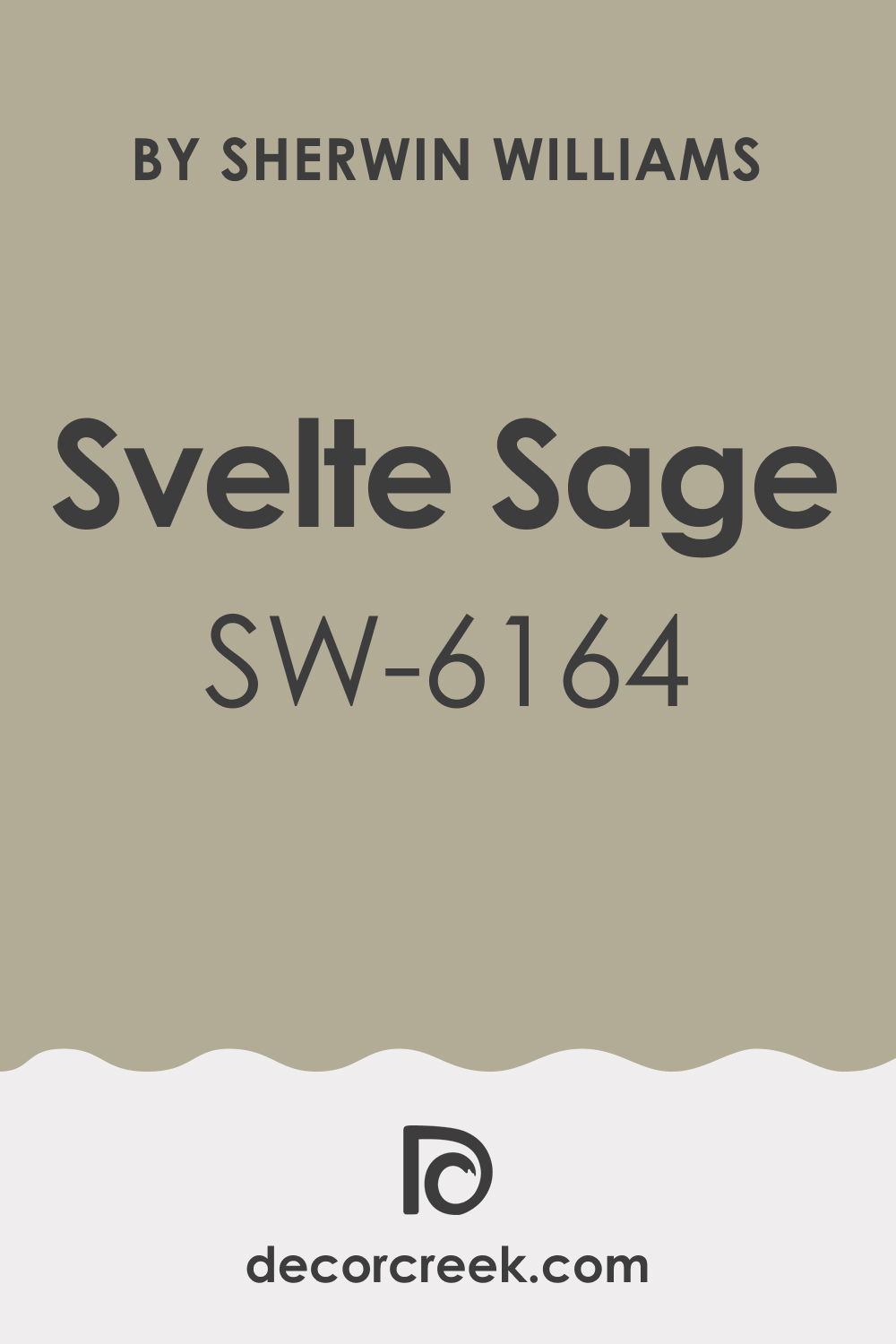 Is It a Warm or Cool Color?
If you want to make your home feel cozy and welcoming, you use warm-toned colors there. However, not all warm colors read the same. For example, SW Svelte Sage is also a warm-toned color, but the way it looks is not quite the way beiges or greiges would feel in your living space.
However, this sage green will definitely not make a room feel crisp or chilly! On the other hand, its warmth should be treated with caution in order to not overwhelm the space with it.
What Undertones Does Svelte Sage SW-6164 Paint Color Have?
As we have already mentioned above, SW Svelte Sage has gray undertones that are pretty cool. As a result, this cool gray base keeps the color from leaning to the warmer end of the scale too much.
SW Svelte Sage looks pretty well-balanced most of the time unless you pair it with many warm colors in the same space.
Also, this sage green may seem much warmer on the walls if used in a room filled with ample warm light (artificial or natural).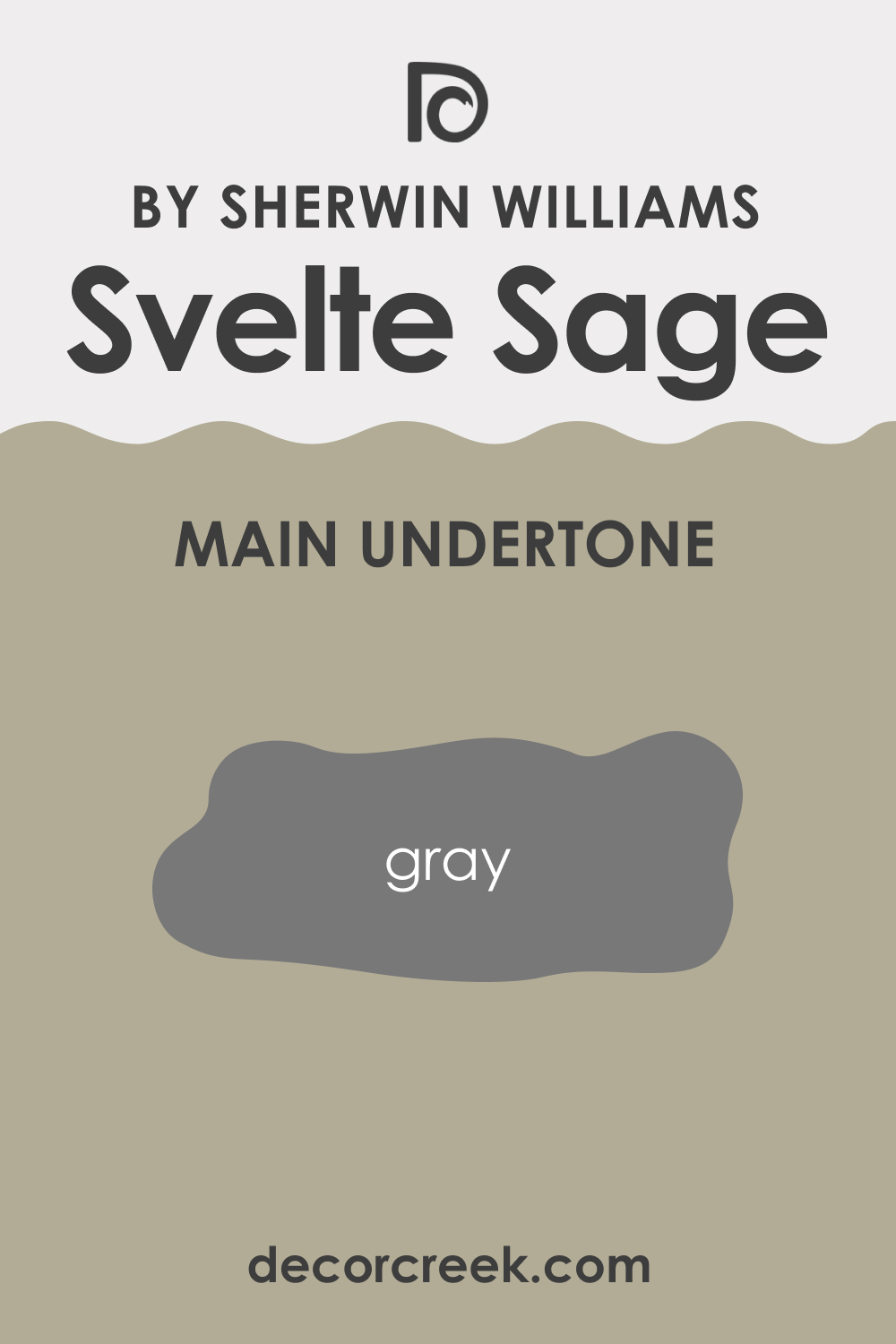 What Coordinating Color to Use With SW Svelte Sage?
To some people, selecting coordinating colors might be a fun task to complete, but most of us find this either too boring or too complicated. In most cases, people don't know how to choose coordinating colors correctly due to their lack of knowledge of color theory. But this can easily be fixed with the help of a short color list.
Below, you can find several lists of paint colors that can coordinate with SW Svelte Sage and create harmonious color palettes.
SW 6161 Nonchalant White
SW 7012 Creamy
SW 7526 Maison Blanche
For the analogous color scheme, you might want to check out the following coordinating colors instead:
SW 6163 Grassland
SW 6158 Ramie
SW 6156 Favorite Tan
For a monochromatic palette, consider these colors:
SW 6071 Popular Gray
SW 6408 Wheat Grass
SW 6407 Ancestral Gold
SW 6073 Perfect Greige
Finally, the following coordinating colors will work best for the complementary palette in your home:
SW 6263 Exclusive Plum
SW 6262 Mysterious Mauve
SW 6260 Unique Gray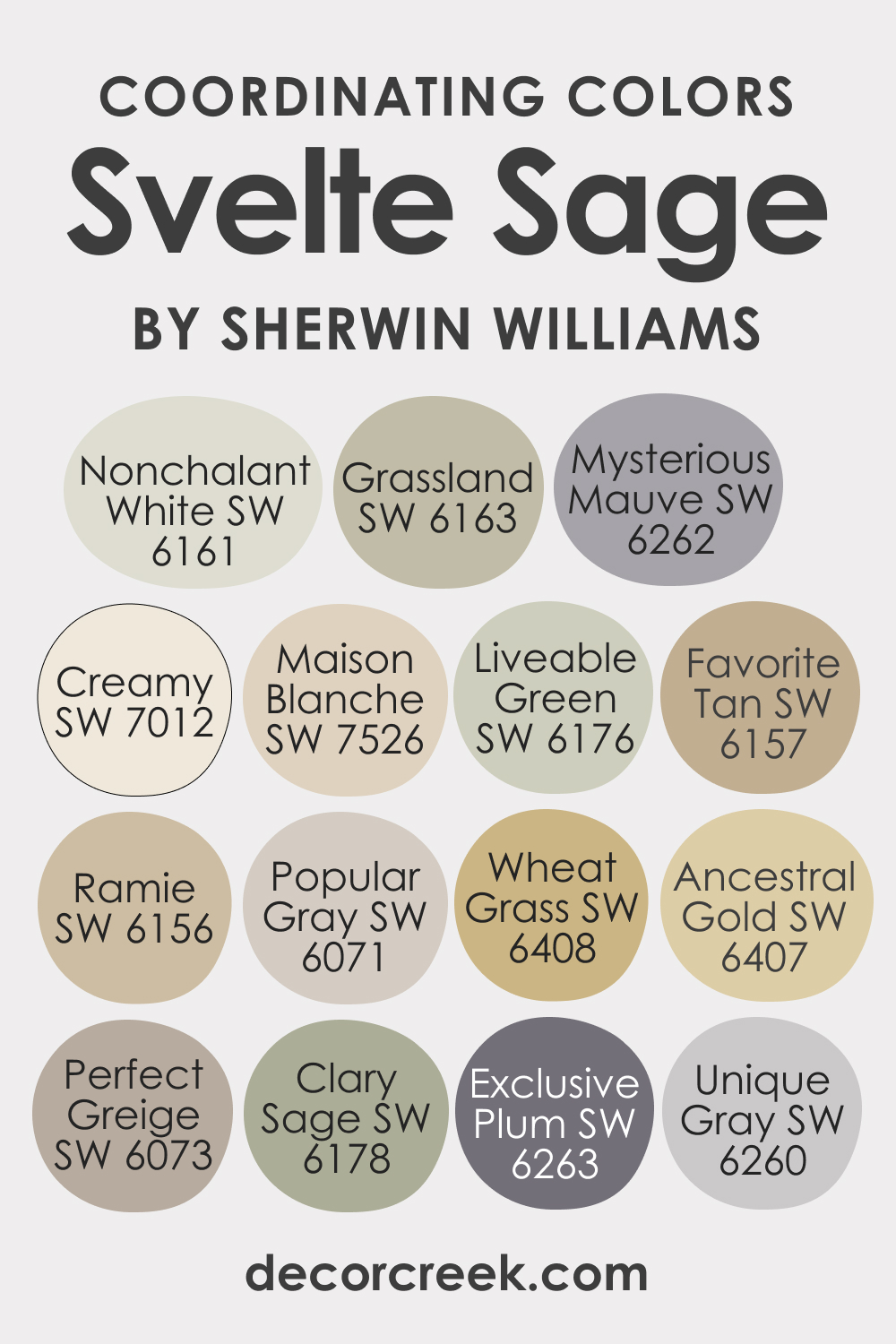 What LRV SW Svelte Sage Has and How It Reacts to Light?
Light Reflectance Value (LRV) indicates how light or dark a color will look on a scale of 0 (which stands for black) to 100 ( which stands for white). Svelte Sage (SW 6164) has an LRV of nearly 41. By LRV value, it is a medium-light color.
With this LRV value, this sage green hue can reflect enough light from the wall. As a result, the room will very unlikely feel moody or enclosed.
However, we don't recommend you use this color if you want to make a room seem larger or brighter visually.
Also, note that this sage green is pretty dependent on the lighting conditions in a room. In warmer light, it will read warmer as well. And if you use it in a room with warm artificial light, be ready that this hue may seem noticeably yellowish! At the same time, in colder light, SW Svelte Sage may seem cooler than it is.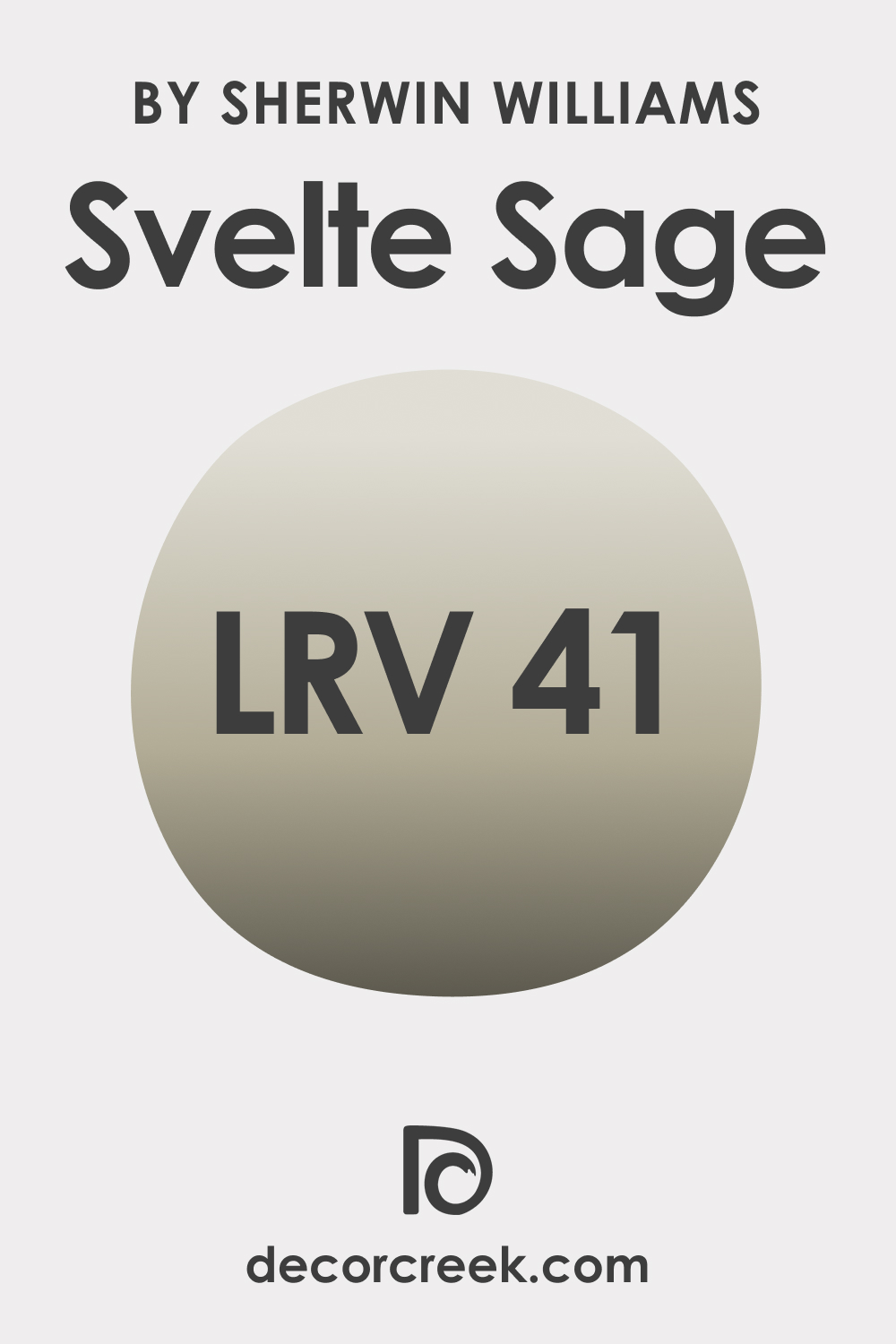 LRV – what does it mean? Read This Before Finding Your Perfect Paint Color
What Is the Best Trim Color to Use With SW Svelte Sage?
As usual, white works best on trim and moldings due to its versatility and the ability to pair with most colors. For SW Svelte Sage, try softer whites like SW 7551 Greek Villa or similar hues.
They will help to protrude the true color of this sage green and won't create a too sharp contrast.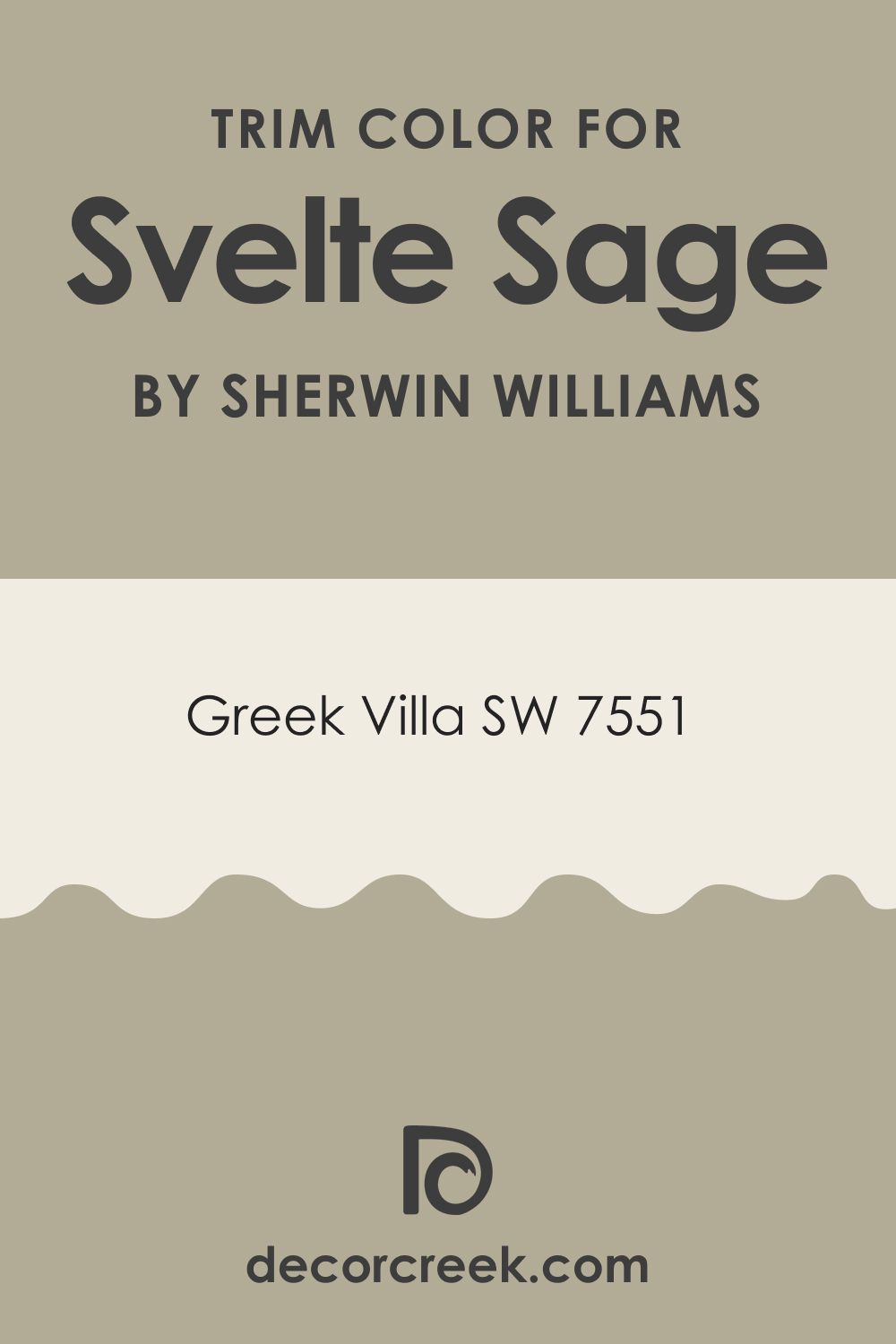 Colors Similar to Svelte Sage SW-6164
When you know what similar colors can be used instead of the current wall color, you can easily find the best substitute should you need to adjust your home's palette. Below, you can find several alternative green colors that can work perfectly well instead of the Svelte Sage color:
Behr Sage Wisdom
PPG Photo Gray
PPG Prairie Dust
AF-145 Kangaroo
BM 985 Indian River
Valspar Land of Nod
SW 7633 Taupe Tone
However, note that none of these colors will be a 100% match! Some of them may read a bit deeper or lighter, others may show more of a green hue.
Plus these colors differ a bit due to their LRV and undertones. Nevertheless, they read very close to SW Svelte Sage on the walls.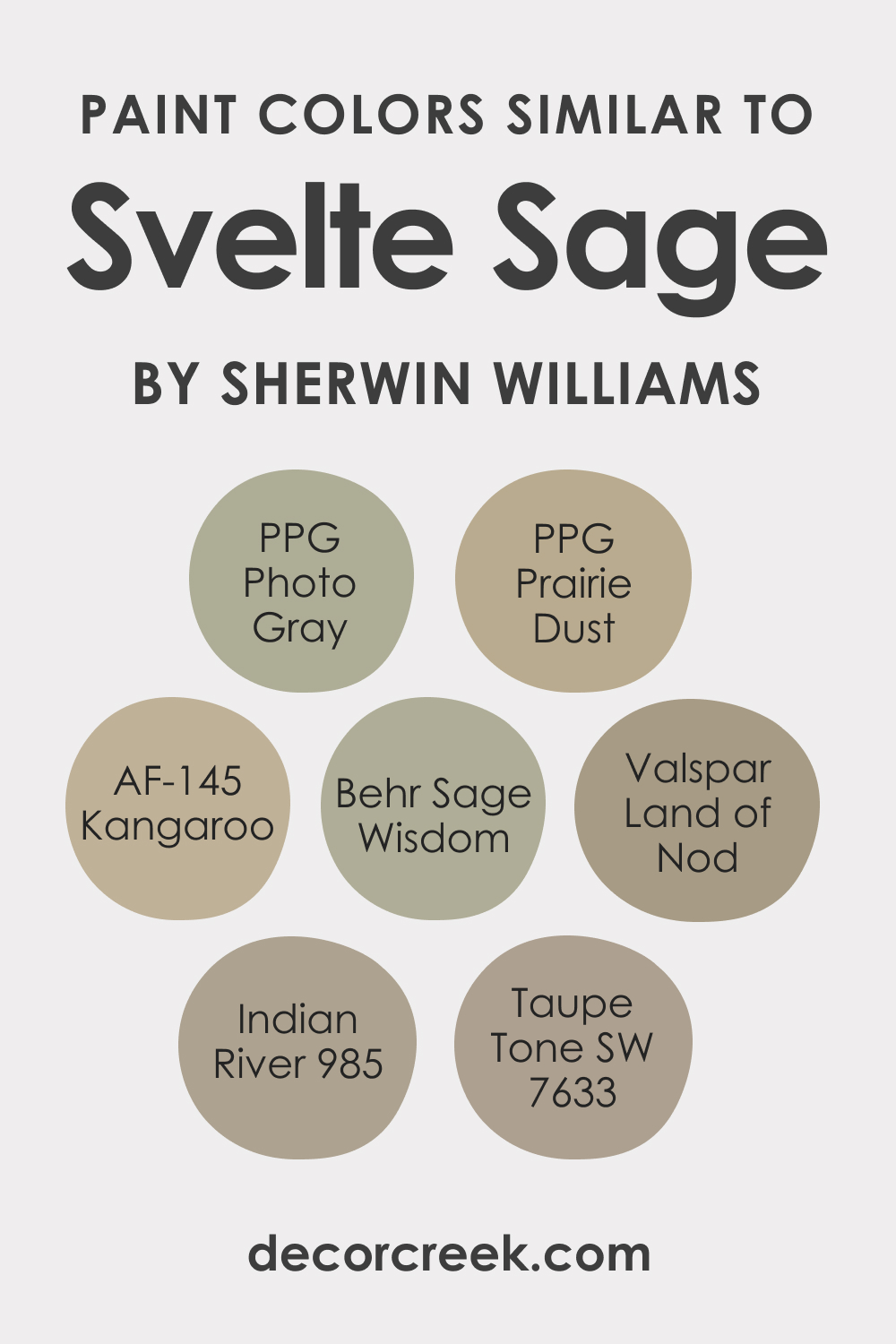 Colors That Go Well With Svelte Sage SW-6164
Green is pretty easy to pair with other colors, even if you are not aware of color theory. Most greens will work well with different shades of yellow, for example, and SW Svelte Sage is not an exception.
But there are other colors as well that can create a lovely palette along with this sage green hue on your walls:
SW 7702 Spiced Cider
SW 6258 Tricorn Black
SW 6142 Macadamia
SW 7541 Grecian Ivory
SW 6414 Rice Paddy
SW 6162 Ancient Marble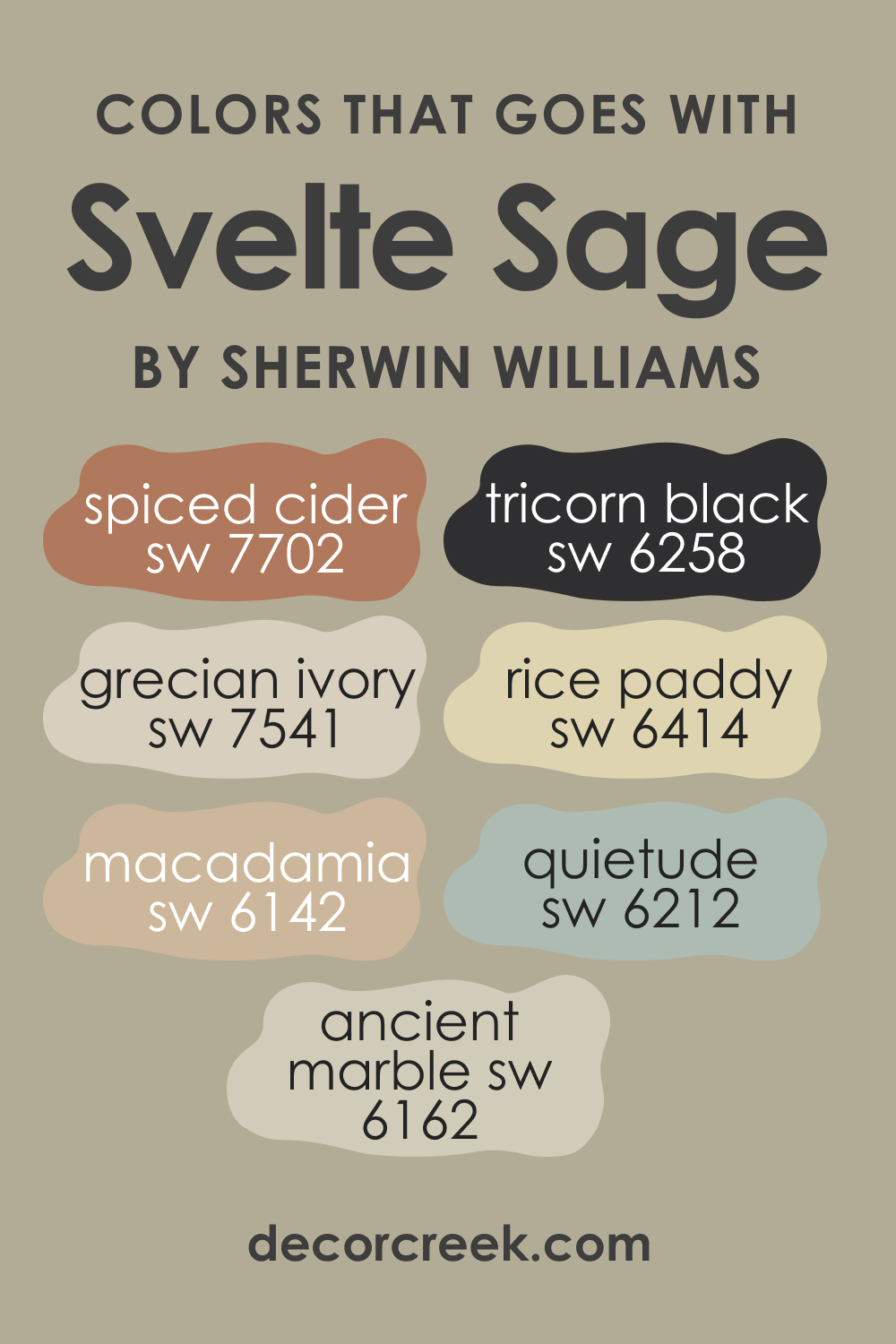 Comparing SW Svelte Sage With Other Colors
When you compare your wall color to other paint colors that look very similar, it helps you to understand their distinctions better. Below, we have prepared a brief guide for you where we compare SW Svelte Sage to several similar-looking shades of green.
Read on to see what makes these seemingly related colors distinct and how different LRVs and undertones can make colors of the same family vary so much.
Svelte Sage vs. At Ease Soldier
SW At Ease Soldier reads darker due to the lower LRV of 32. Also, it shows more of a green hue compared to SW Svelte Sage. The only similar feature these hues share is that both look soft and warm.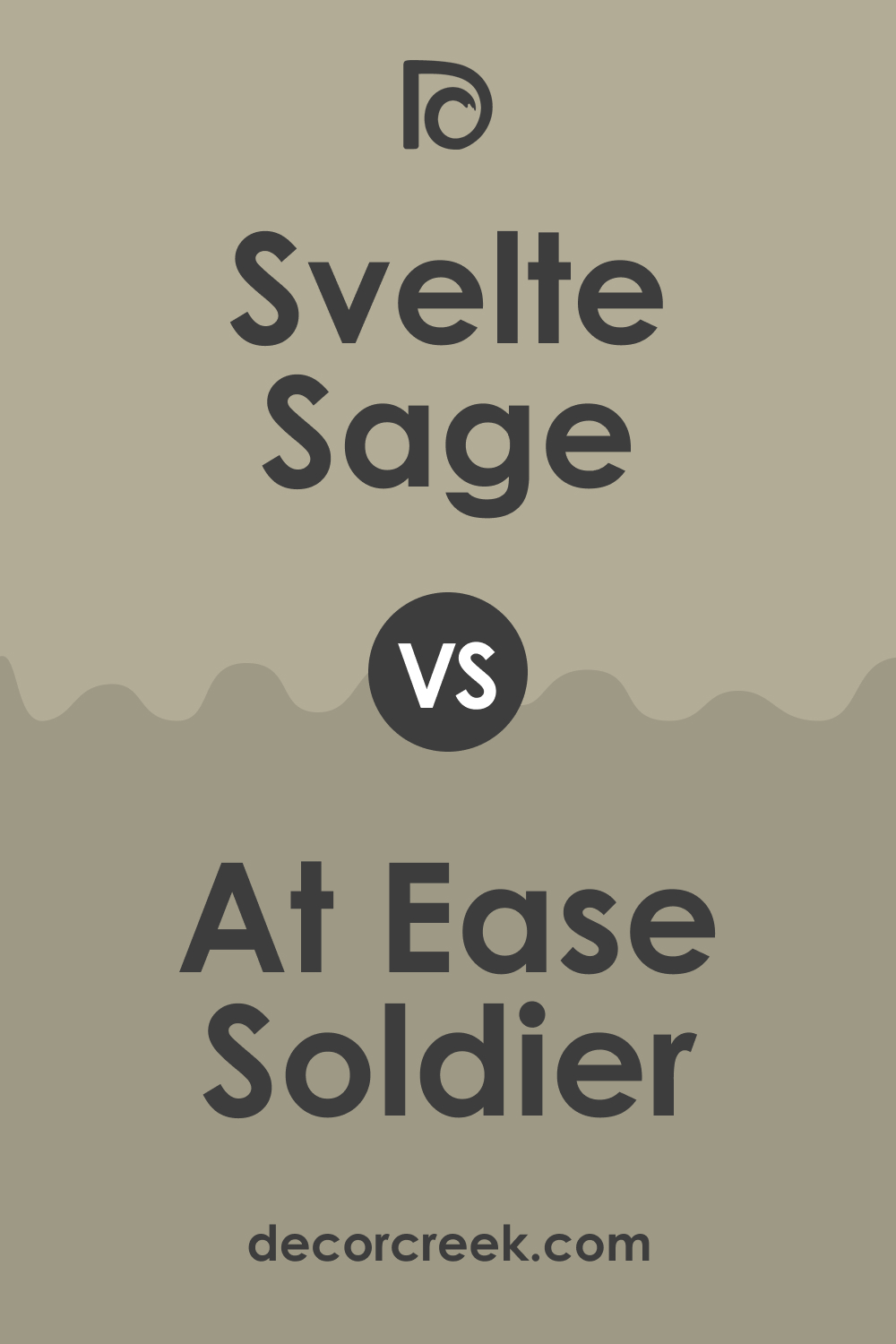 Svelte Sage vs. Coastal Plain
SW Coastal Plain looks much greener than SW Svelte Sage. In fact, you don't even notice gray undertones in it. Also, this color has a distinct LRV, which is 37. It means that SW Coastal Plain looks deeper and somewhat darker than its counterpart, whose LRV is 41.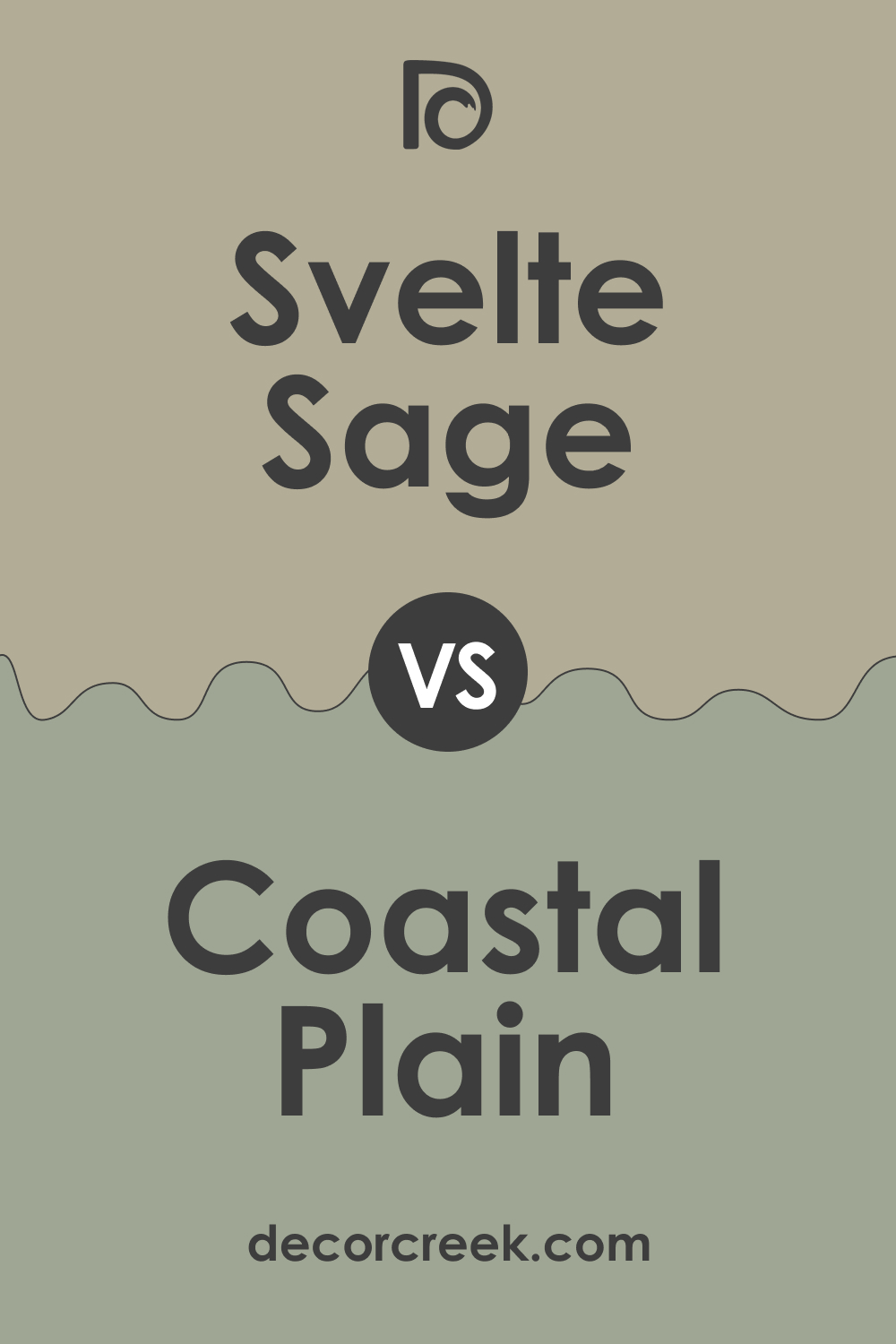 Svelte Sage vs. Jade Dragon
SW Jade Dragon looks more cool-toned and is definitely greener than its warmer counterpart. Some even say that SW Svelte Sage looks beige compared to SW Jade Dragon color! The undertones of these colors are also different. SW Jade Dragon has blue-gray undertones, and SW Svelte Sage has gray.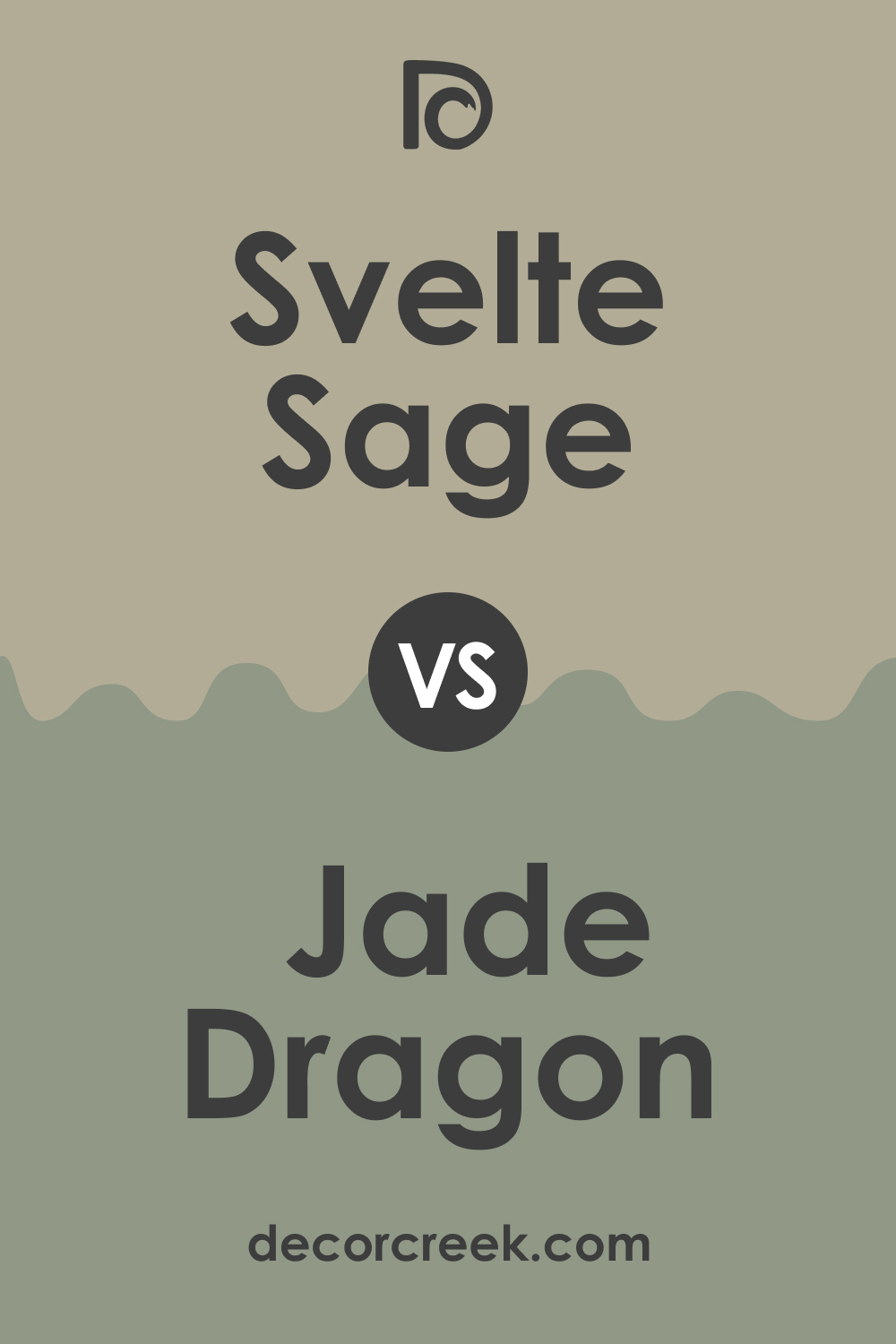 Svelte Sage vs. Sage Wisdom
BM Sage Wisdom has an LRV of 44, which makes it a bit lighter than SW Svelte Sage, whose LRV is 41. Also, BM Sage Wisdom reads greener and a bit cooler than its warmer counterpart.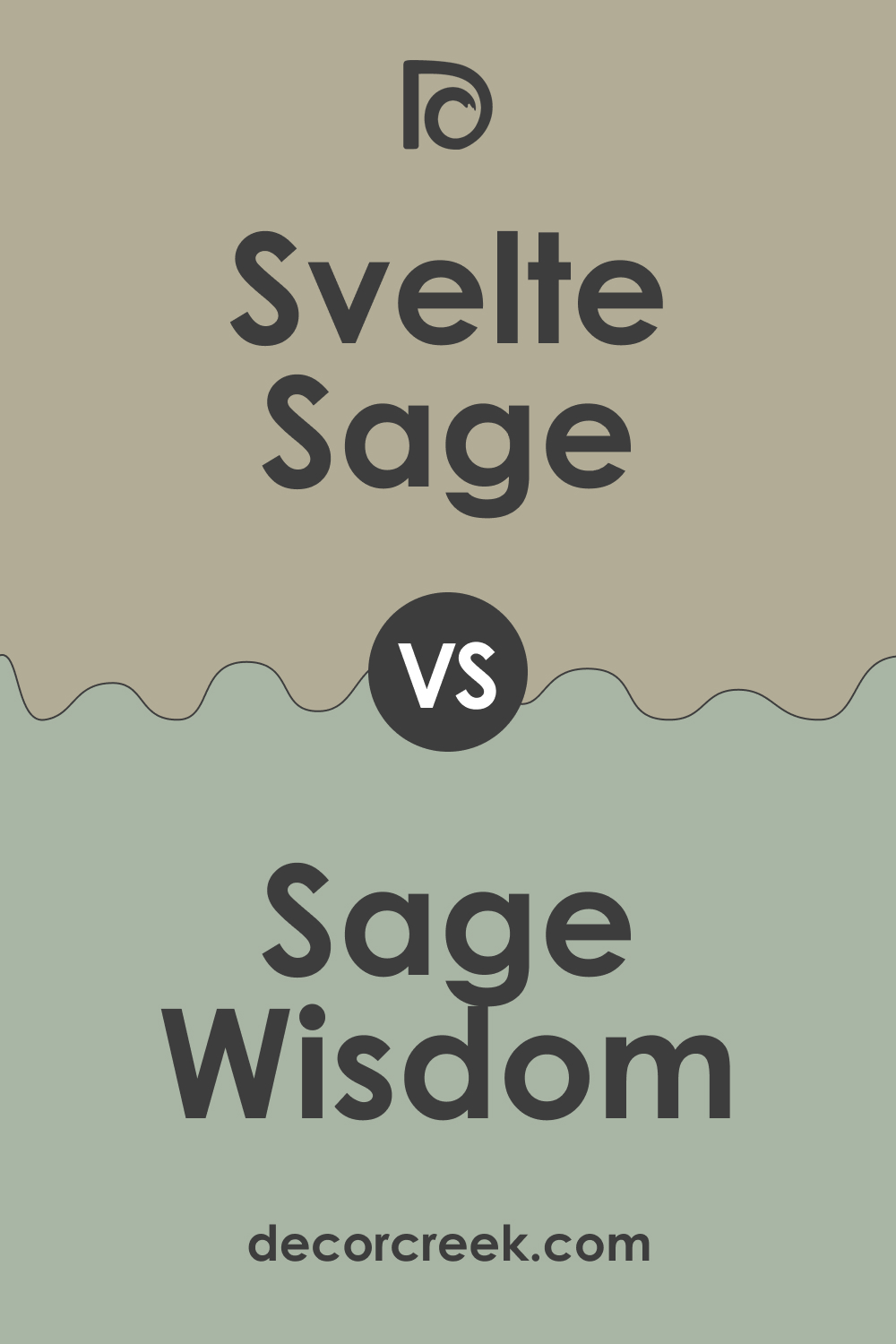 Svelte Sage vs. Millstone Gray
BM Millstone Gray has an LRV of 15 and deep green undertones. Also, this color is basically gray, not green, which is the major difference between it and SW Svelte Sage. Except for this nuance, BM Millstone Gray looks more cool-toned and deep compared to the warmer SW Svelte Sage.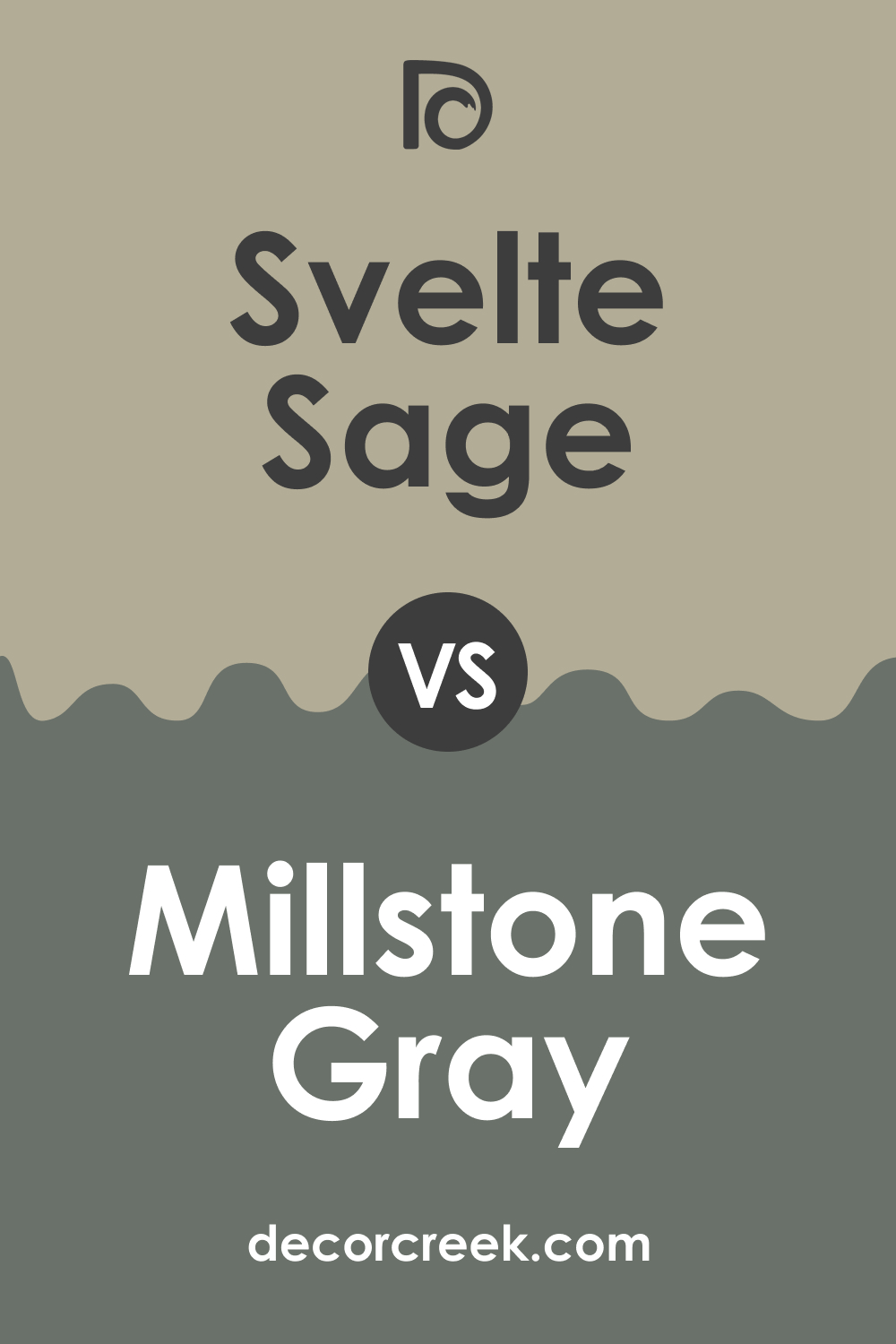 Svelte Sage vs. Healing Aloe
BM Healing Aloe is actually a blue color that has very delicate notes of gray undertones. It does have the same LRV of 41 as SW Svelte Sage, but generally, BM Healing Aloe looks lighter on the walls.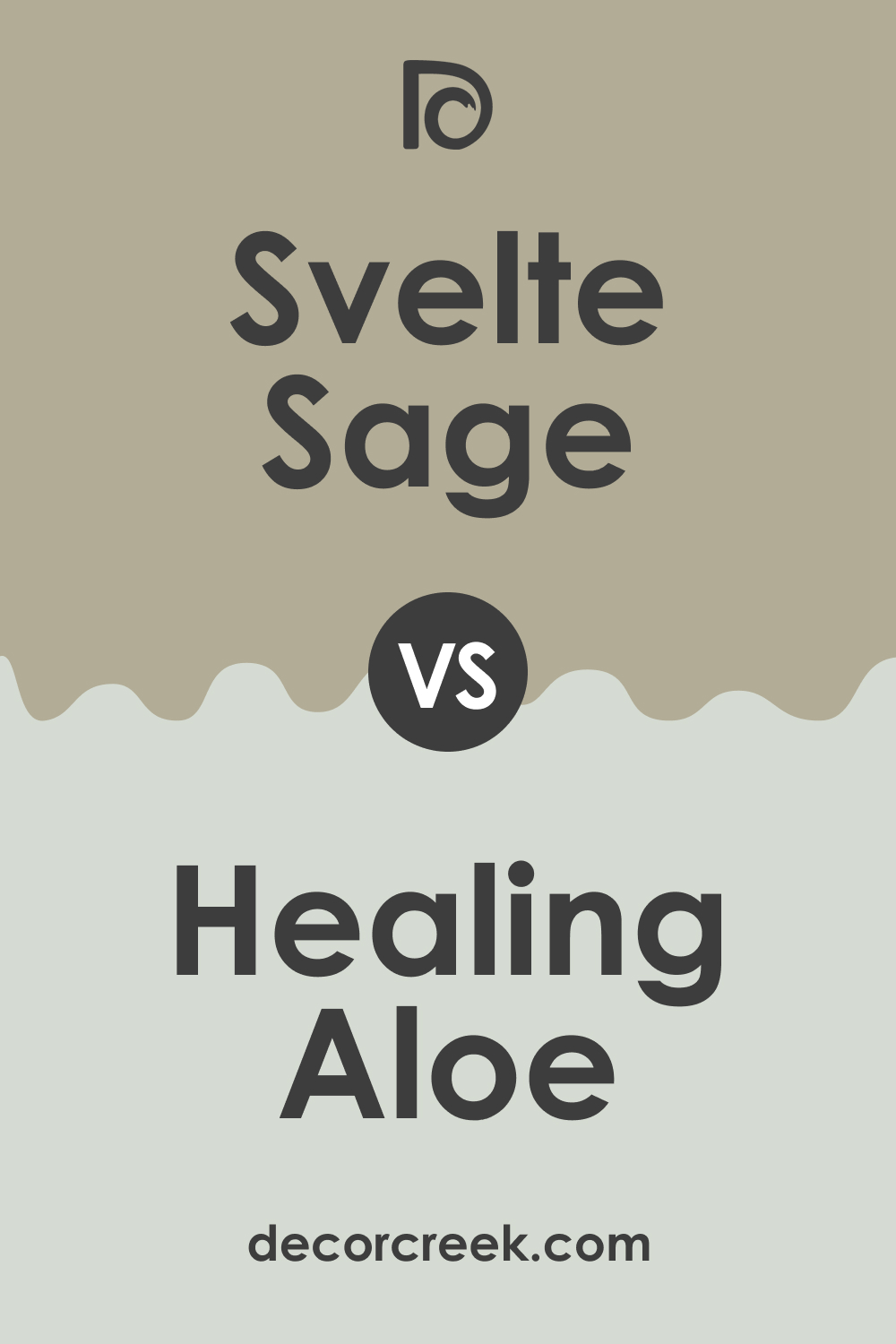 Where to Use Svelte Sage SW-6164 In Your Home?
To use SW Svelte Sage correctly in your home, we recommend you learn how it can work in different rooms and on different surfaces. This way, you will know in what spaces it will work best and where it should be avoided in your home.
Svelte Sage SW-6164 in the Living Room
This sage green can work nicely in a living room if there is ample natural light and many lighter colors. Otherwise, this color will read greener and warmer. By the way, the same warming effect can appear if you use SW Svelte Sage in warm artificial lighting.
But generally, it's a lovely color to add a natural vibe to the space without making it feel gloomy or cave-like!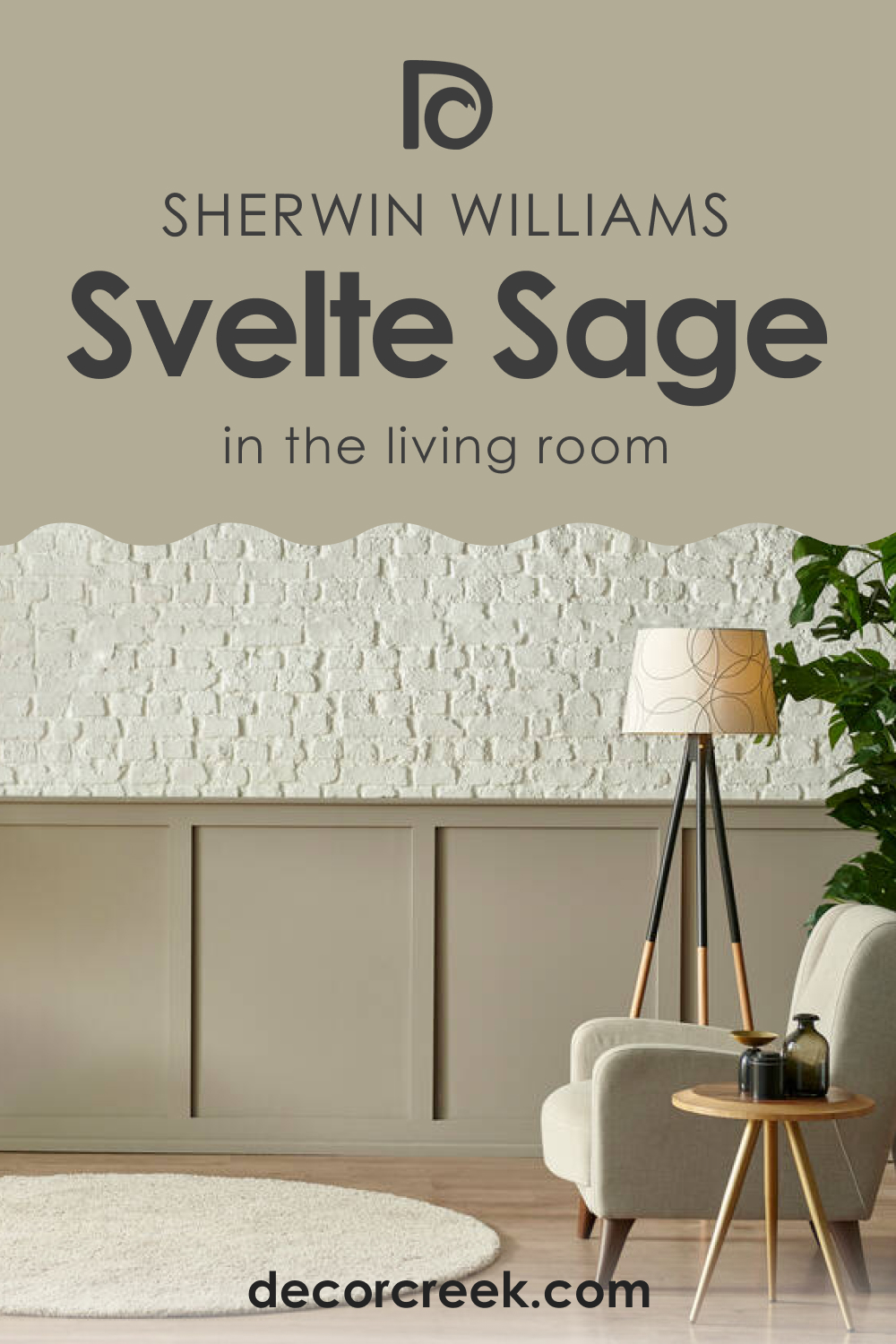 Svelte Sage SW-6164 in a Bedroom
This shade of green can work nicely in your bedroom if you strive for a nature-inspired and tranquil vibe there. With the walls painted in this sage green, your bedroom will gain a relaxed and soothing atmosphere resembling the one you have in a forest on a sunny day.
But if your bedroom is small and/or poorly lit, avoid using this color on all the walls. Better opt for an accent wall only.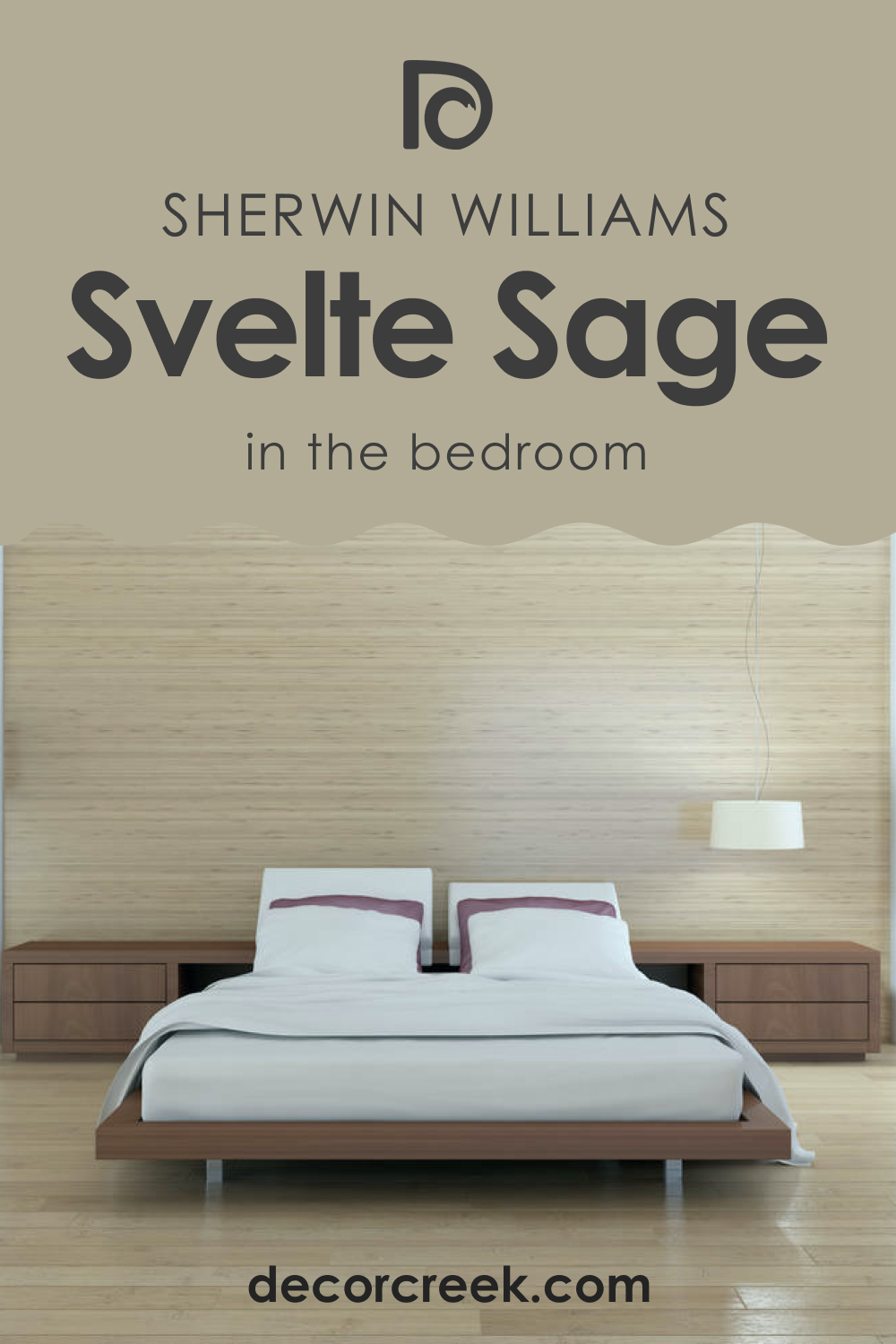 Svelte Sage SW-6164 on the Bathroom
In bathrooms, use this green moderately, mainly on the vanity or on the accent wall (if the bathroom size allows that). Paired with brighter whites or lighter grays with a balanced tone, this sage green will add a note of color to the space without overwhelming it.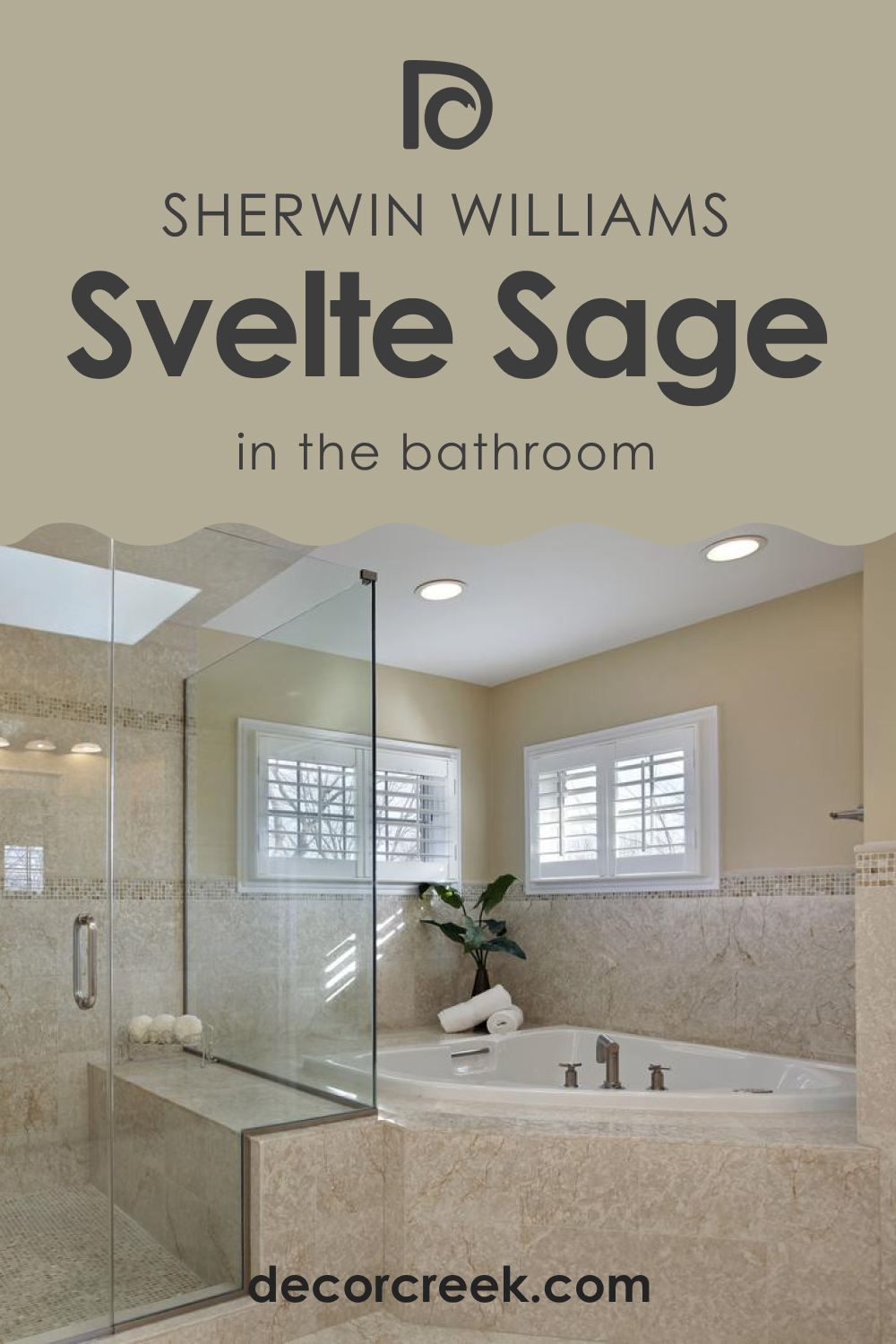 Svelte Sage SW-6164 and Kitchen
SW Svelte Sage will work on the lower and upper cabinets, as well as on the kitchen island, if you leave the walls white or another light color. Since this sage green works well with wooden surfaces and tiles, you will incorporate it into your kitchen easily.
And don't hesitate to add brass accents on fixtures and handlers! Warmer colors will make this green feel more homey.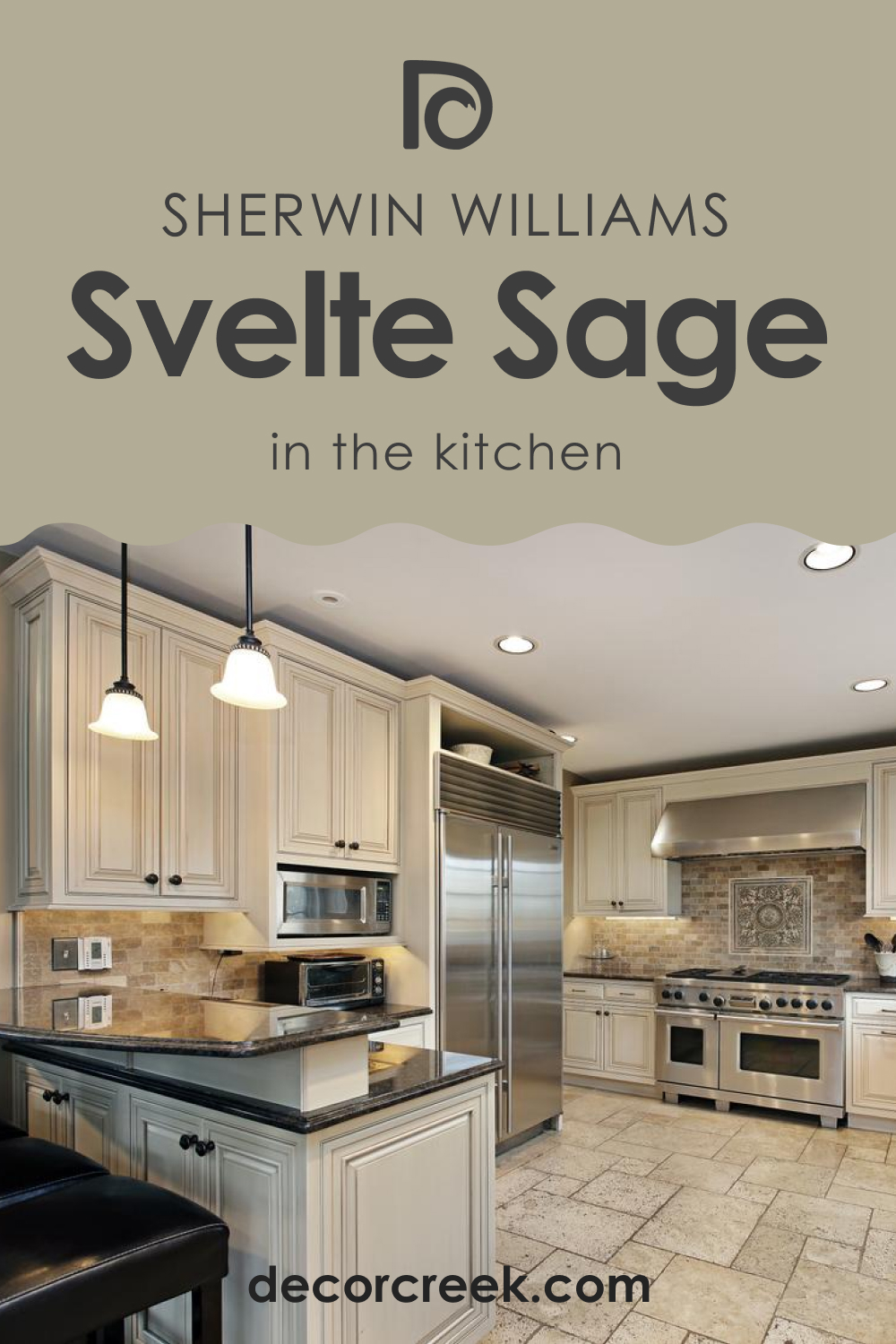 Svelte Sage SW-6164 for the Exterior Use
Despite being rather tricky, SW Svelte Sage can work on exterior walls too. Use it with white trim and moldings to "dilute" its warmth, and avoid using warm-toned colors along with it since they can make this green hue look way too warm.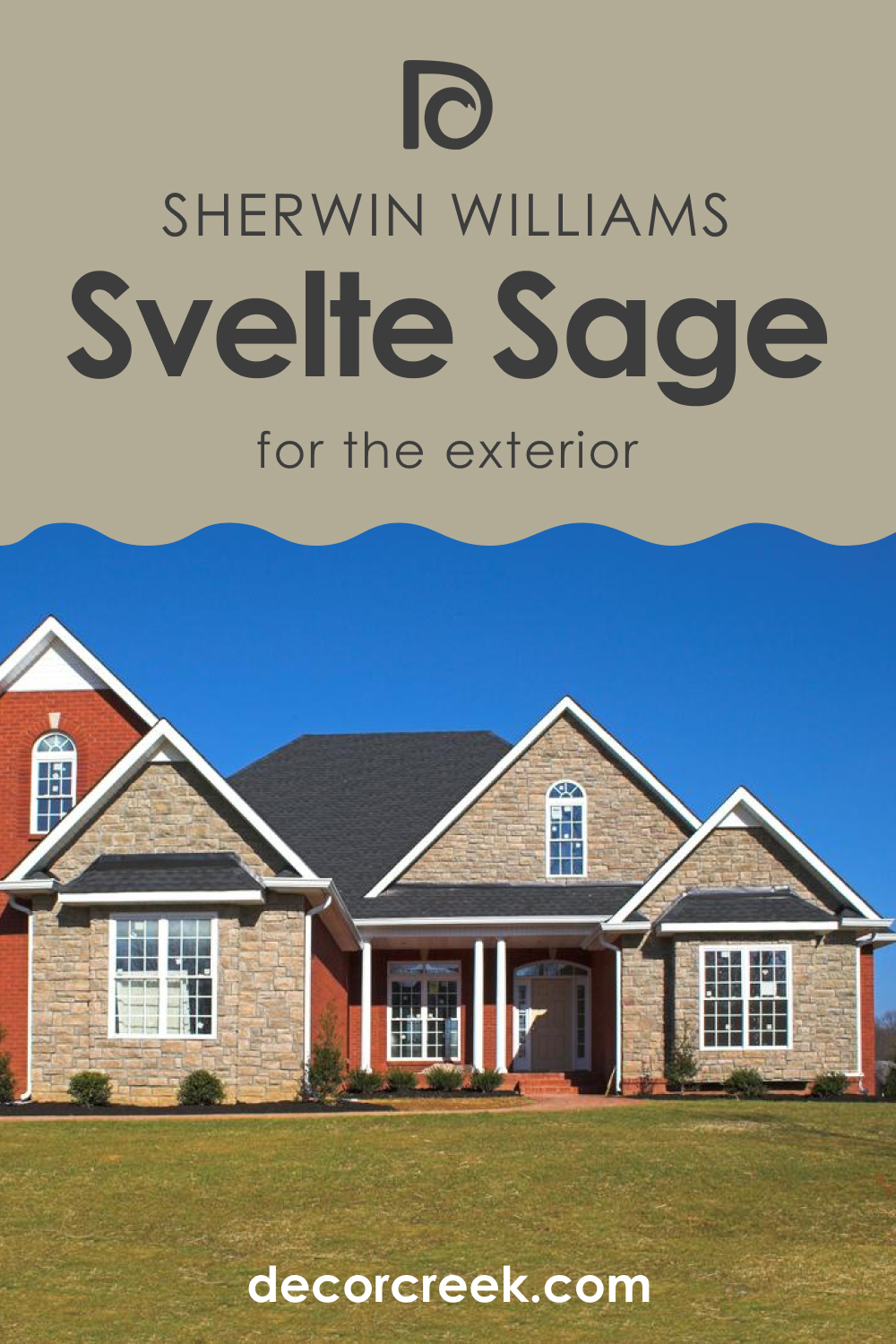 Now you know this paint color better. It may seem to be a bit tricky and challenging to use due to its undertones. But at the same time, this sage green hue can work lovely indoors and outdoors if you know how to make it work.
With the help of all the information we shared today, you will use this beautiful and calming nature-inspired green by Sherwin-Williams like a pro.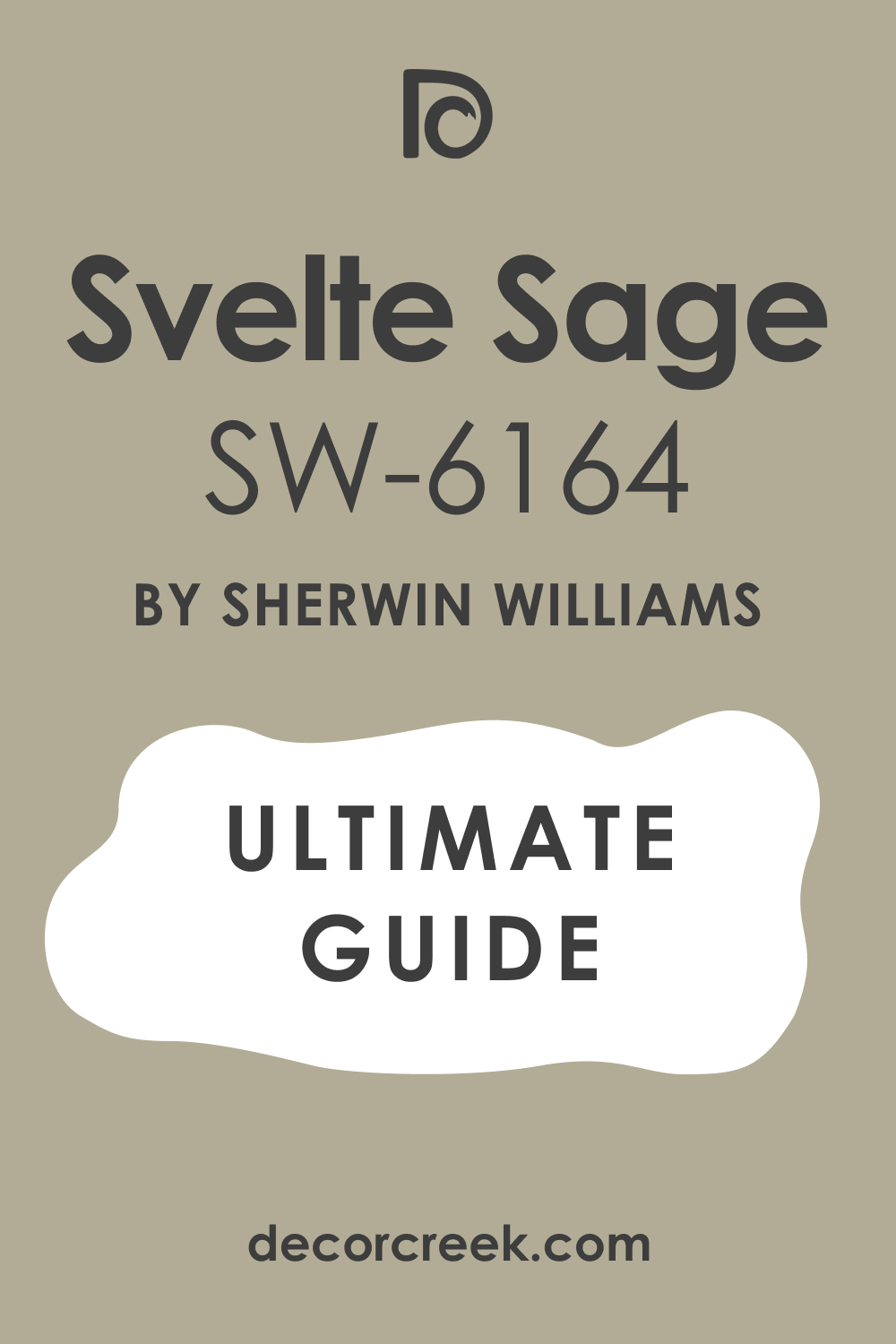 Frequently Asked Questions
⭐Does SW Svelte Sage look yellow?
Typically it doesn't. But in warm lighting, it may seem warmer and thus yellowish.
⭐Can this color work in a room with hardwood floors?
Yes, it can. In fact, this sage green hue pairs nicely with wooden surfaces.
⭐Is it a good color for a bathroom that doesn't have a window?
With such a lack of light, SW Svelte Sage may read darker and much warmer when you turn on the light there. Not the best color choice, though.