Blue is the kind of color that is not commonly used in home interiors. People often believe it is unsuitable for their homes either because of its depth or because of its crispness, which is why this hue is typically used as an accent color.
However, today you will discover a blue color that is hard to resist! Meet the Blue Note blue paint color by Benjamin Moore!
We will tell you everything you want about this color, from undertones, LRV, and trim colors to the best spaces where it should be used in your home.
Also, you will learn how to coordinate this color correctly to achieve the best results.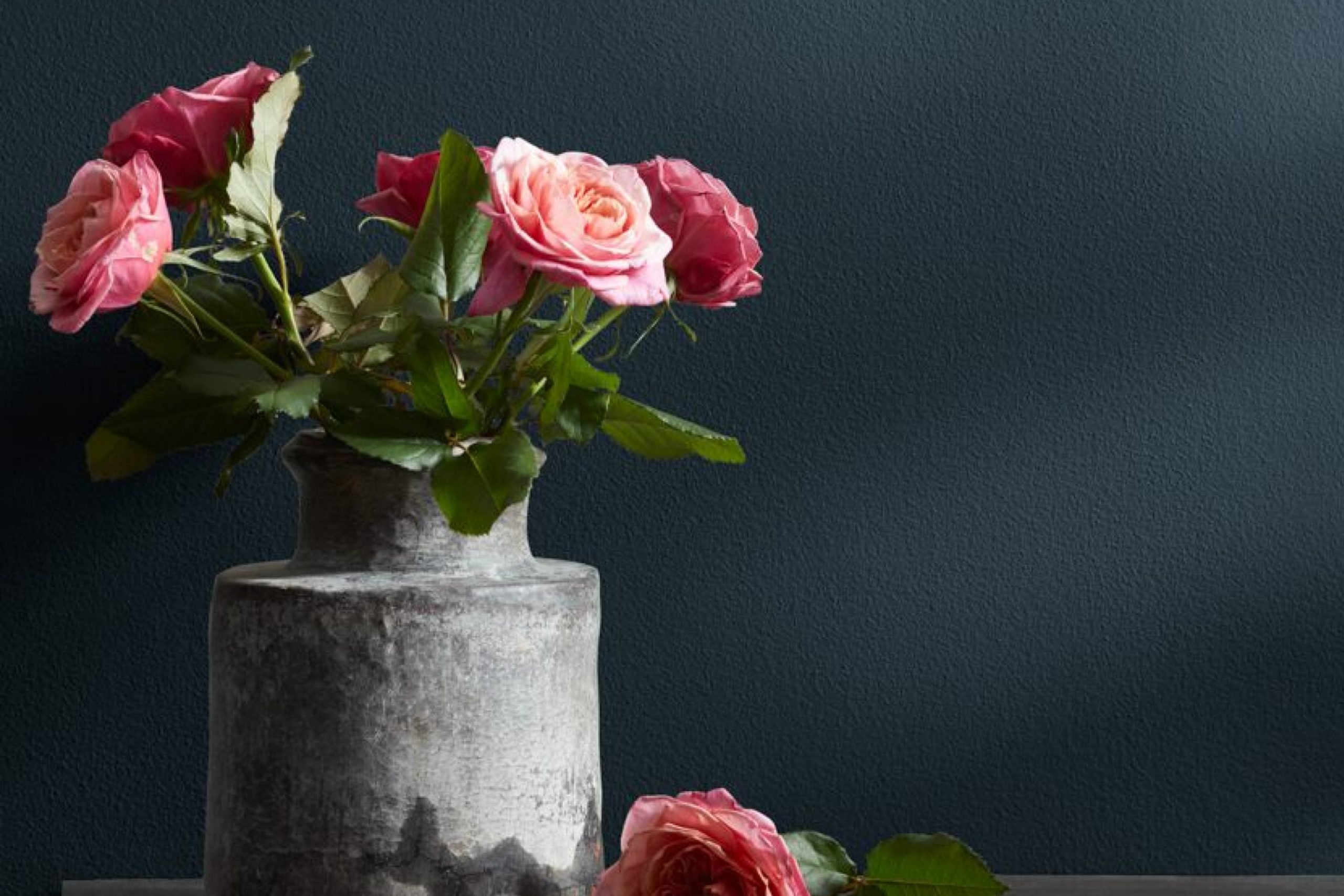 What Kind of Color Is Benjamin Moore Blue Note 2129-30?
Is BM Blue Note  a dark color? Yes, it is! Is it deep in tone? Absolutely! However, this should not freak you out. This hue is so sophisticated and elegant that it's impossible not to fall in love with it at the very first sight!
This rich hue is perfect for those who are looking for a dark and bold paint color in their homes but don't want to go black. As Encycolorpedia says, BM Blue Note is the color that will save your living space from being overwhelmed with darkness.
This hue reads nearly black, but it still displays enough color not to make your space feel cave-like and moody. It will definitely have a wow effect in any room, especially when used on the accent or focal walls of your home!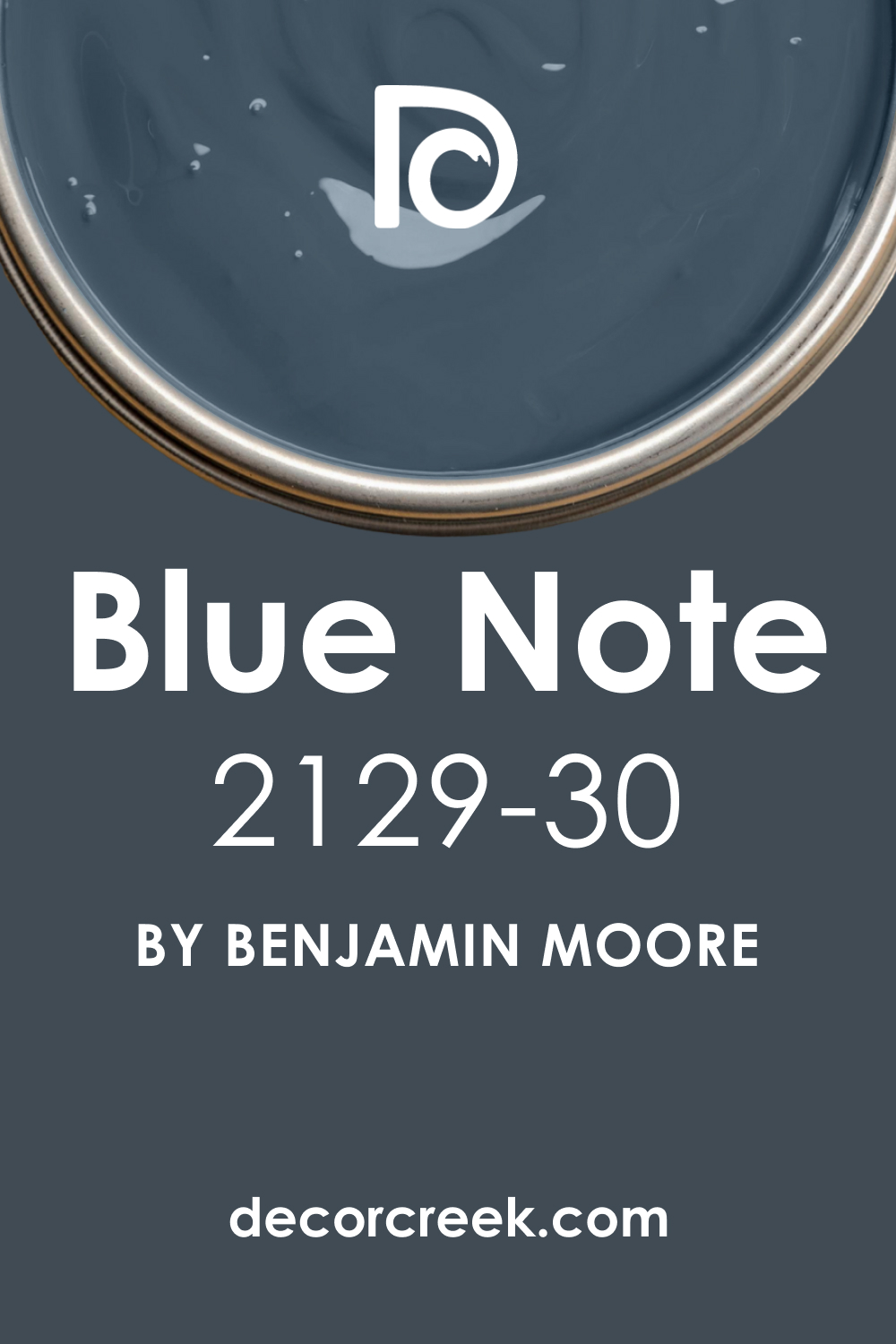 Is It a Warm or Cool Color?
This blue color is technically cool-toned, but it doesn't read crisp or icy-cold on the walls. Thanks to this feature, BM Blue Note is fairly versatile and can be used in many rooms of your home as long as you consider the lighting and other colors in the space.
For example, in cold lighting, this blue hue will read somewhat cooler. Instead, in warmer light, BM Blue Note will look deeper and kind of warmer.
What Undertones Does Benjamin Moore Blue Note 2129-30 Have?
Why is it important to know what undertones a paint color has? Knowing its undertones, you can tell in advance how the color will read on the walls in different lighting conditions and surrounded by different colors.
Speaking of BM Blue Note, this rich and lux hue has deep navy blue undertones. Yes, they make this color quite uneasy to work with, but at the same time, they make it elegant and exquisite.
Due to such undertones, BM Blue Note reads so deep and noble on the walls, creating a sense of drama and boldness.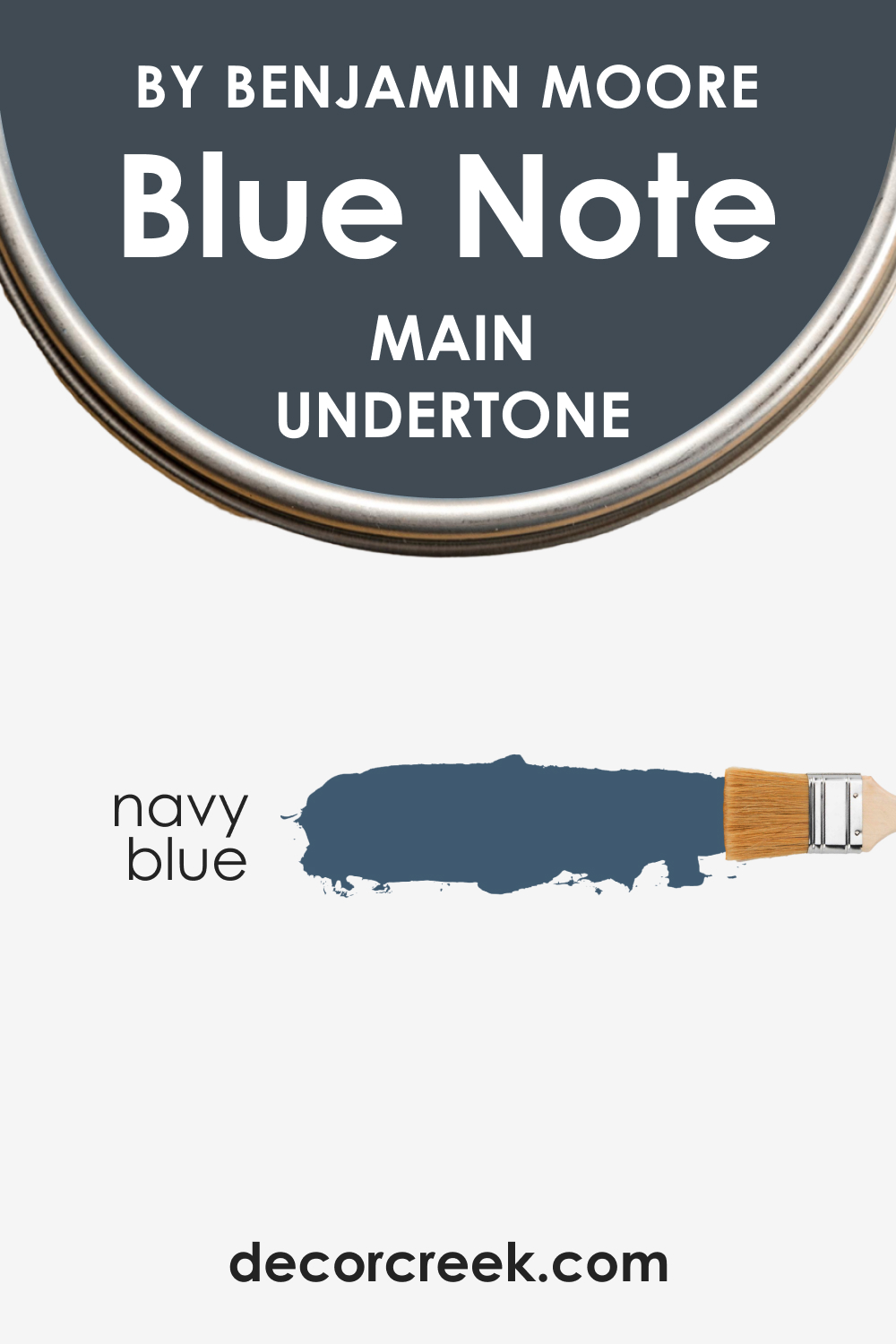 Benjamin Moore Blue Note 2129-30 Coordinating Colors
When you know what colors can coordinate the paint color used on the walls, you can match all the colors in a room much better. It will result in a more balanced and harmonious color palette in general.
However, it can be challenging to pick up correct coordinating colors for such a complex color as BM Blue Note. This is why we have prepared a few suggestions for you to check out.
But in general, this deep and dark navy blue paint can be used almost with any tone. In particular, it best pairs with off-whites, grays, lighter blues, mustards, beige, blush, rich golds, and even mauves.
Here you can check out a few of the colors we would recommend for a monochromatic palette:
2129-50 Winter Lake
2129-40 Normandy
2129-20 Soot
Should you prefer a contrasting color palette, we have prepared several color ideas for you as well:
2121-70 Chantilly Lace
2163-40 Metallic Gold
2092-50 Titanic Rose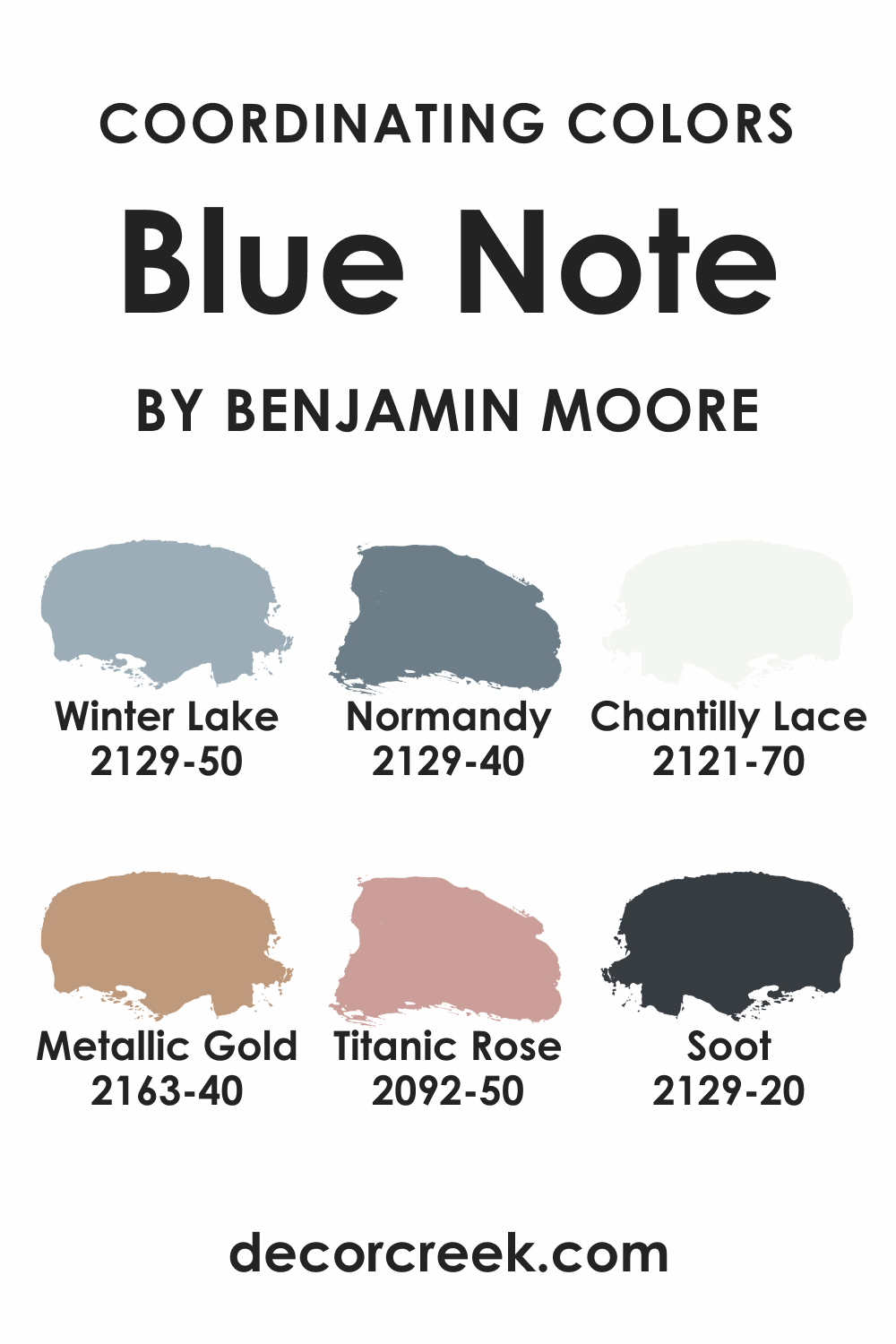 What LRV BM Blue Note Has And How It Reacts to Light?
LRV is another essential feature each paint color has. LRV stands for the light reflectance value and shows the percentage of light the color can reflect from the wall. The LRV scale ranges from zero to 100, where zero is black and 100 is pure white. Apparently, the lower the LRV value of color, the darker this color is, and vice versa.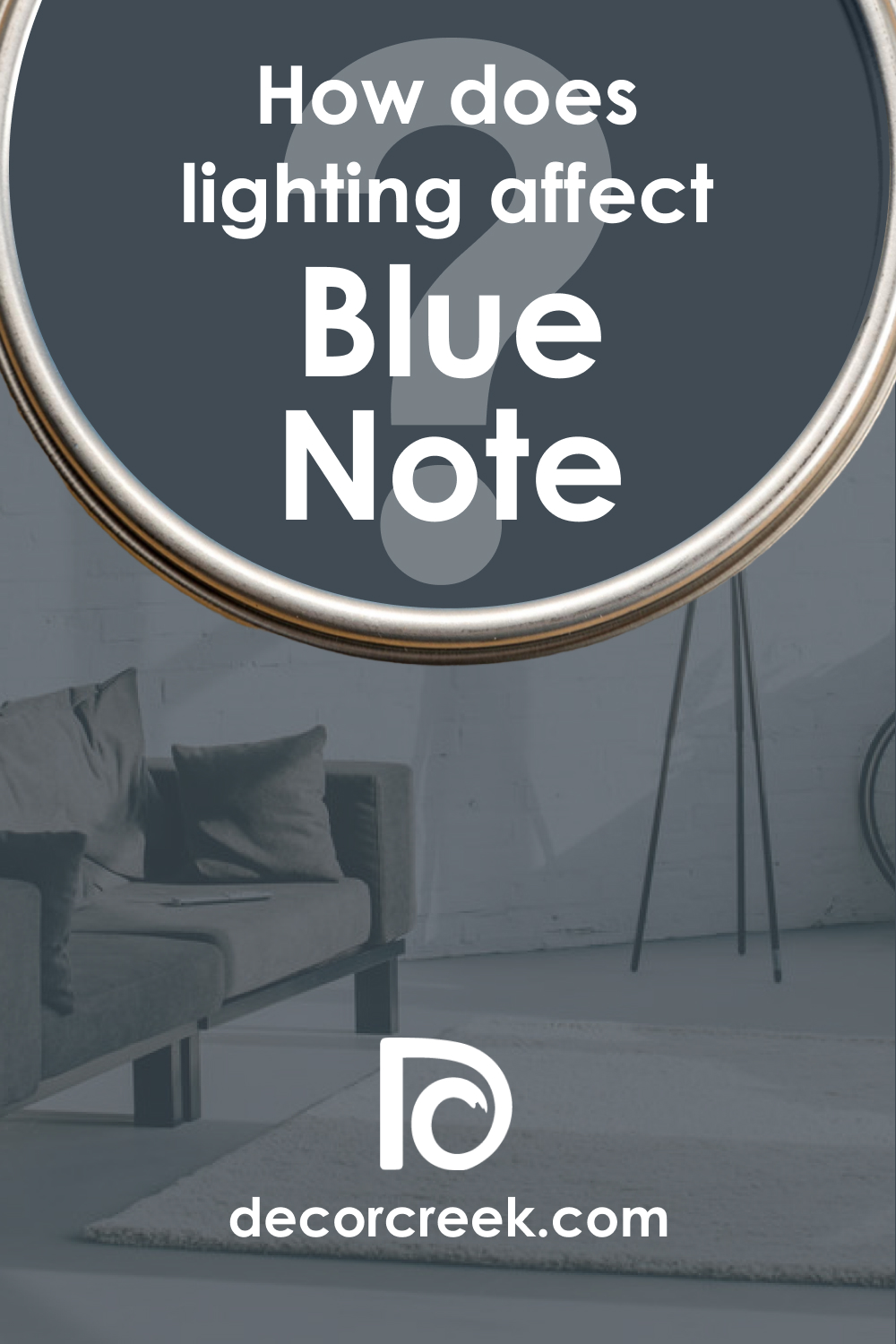 BM Blue Note has an LRV value of 9, which definitely makes this color dark. It won't reflect much light if you paint your walls with it. Because of this low LRV, BM Blue Note will work much better in larger-sized rooms with higher ceilings and larger square footage.
On the other hand, if you use this color in smaller rooms, BM Blue Note can feel congested. This is why in smaller spaces, it is recommended to add ample whites with this blue. Using this paint on the accent wall wouldn't be a bad idea either.
Also, note that this color depends on the lighting a lot! The more light this dark paint color receives, the brighter and more enhanced it will read.
On the other hand, in a room with little or no light, this paint color will look almost black!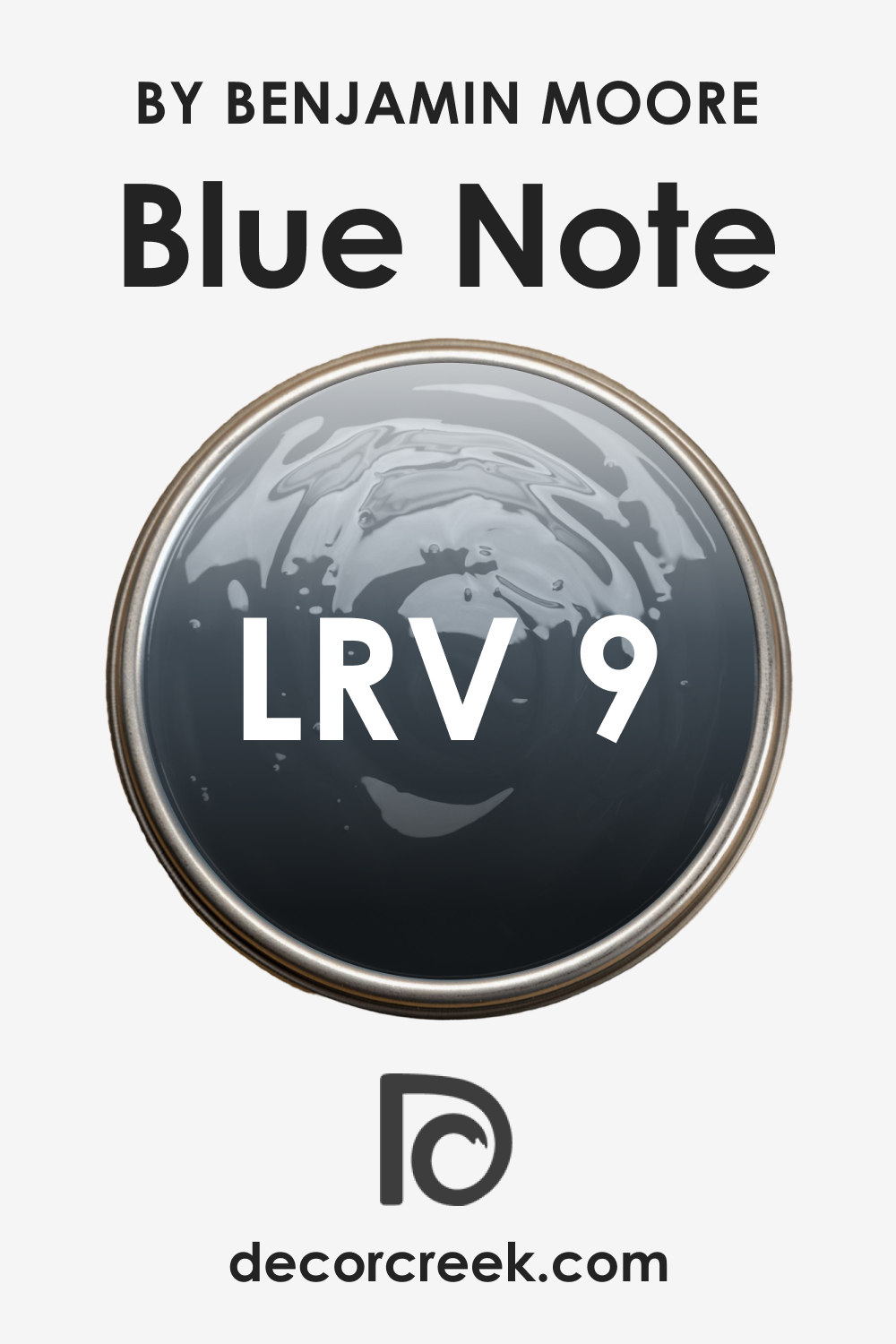 LRV – what does it mean? Read This Before Finding Your Perfect Paint Color
What Is the Best Trim Color to Use With Benjamin Moore Blue Note 2129-30?
White is traditionally considered the optimal paint color to be used on trim since it works well with most other colors. Some shades of white are so versatile that they can even be used on the trim and walls equally well.
For the rooms painted in BM Blue Note, consider BM Chantilly Lace for your ceilings, trims, and moldings. It is a true white paint and will further protrude the original hue on the walls.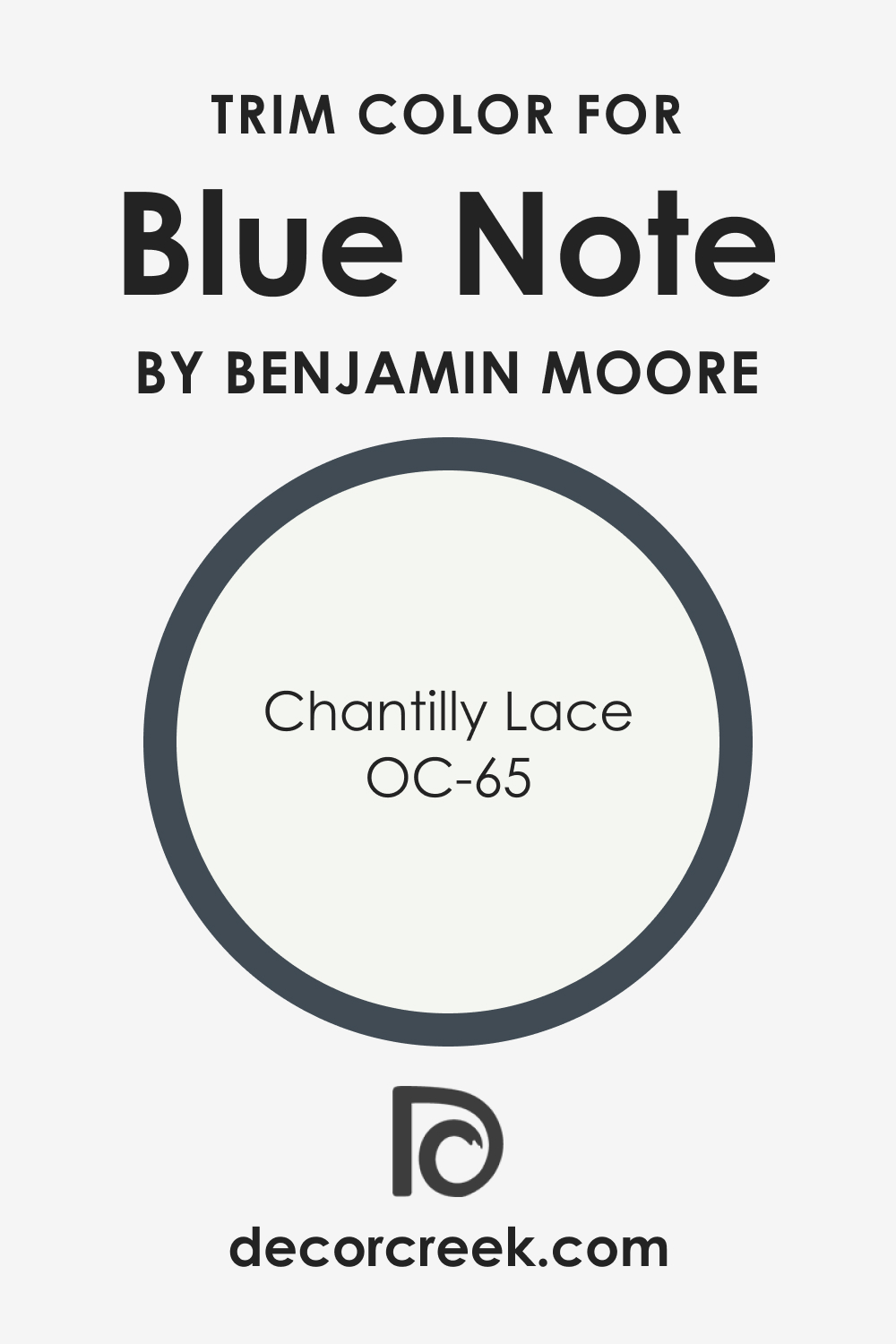 Colors Similar to BM Blue Note
It's pretty easy to find an alternative color to use instead of BM Blue Note because this deep and rich hue has various similar alternatives. Of course, you should note that some of these substitute colors may incline towards a blue base, gray base, green base, or purple. But generally, the major hue will still have the same authentic look.
In particular, we recommend you consider the following colors that read similar to BM Blue Note:
AF-565 Mysterious
2127-30 Gravel Gray
HC-154 Hale Navy
2131-30 Lead Gray
SW 6244 Naval
Farrow & Ball Hague Blue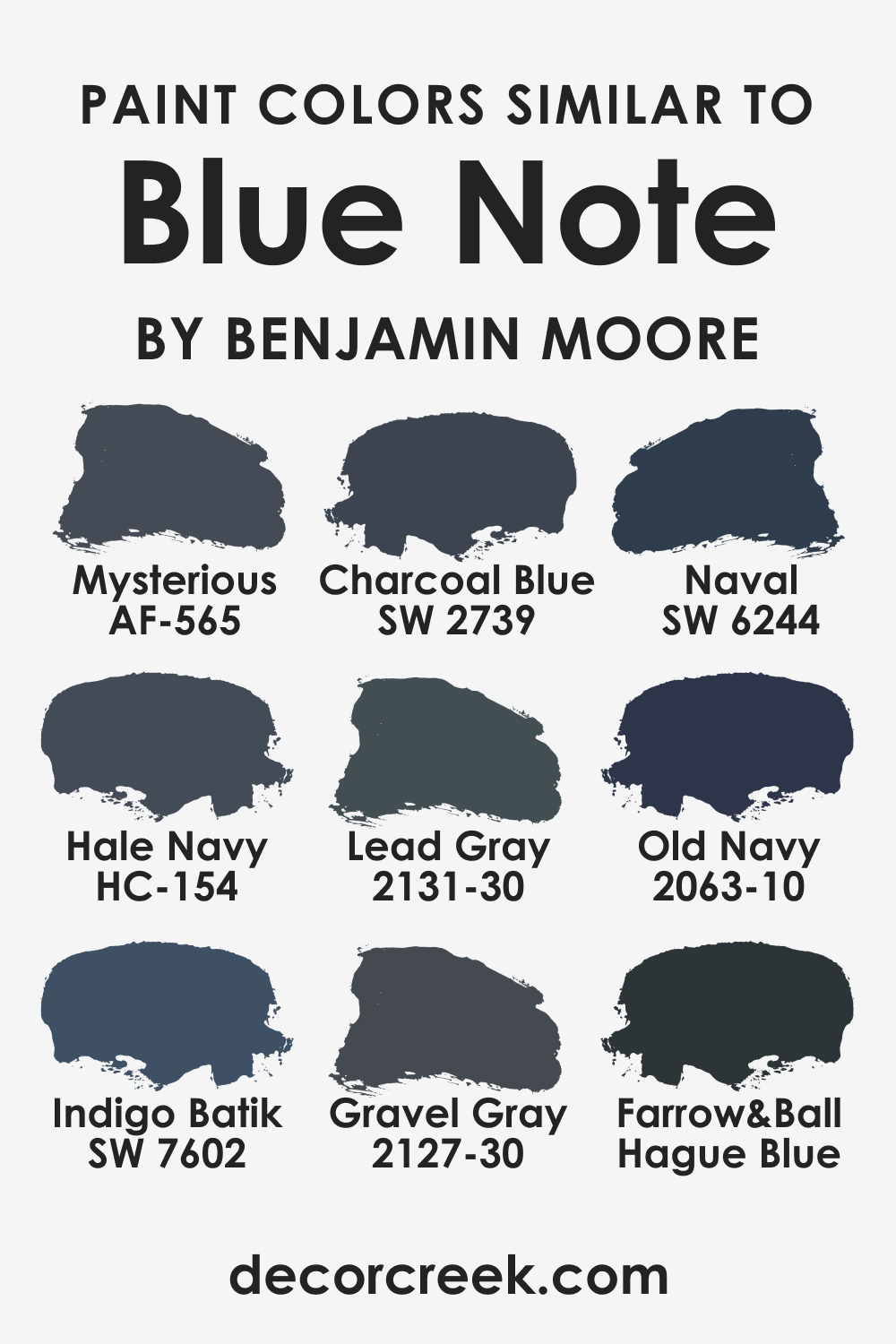 Colors That Go With Benjamin Moore Blue Note 2129-30
Sometimes, it can be hard to choose the right colors that work best with the paint used on the walls. And if your paint is as complicated as BM Blue Note, its undertones might be difficult to match.
This is why we recommend you several colors that will create a good-looking palette if you use them along with BM Blue Note in your home:
OC-125 Moonlight White
2142-60 November Rain
OC-150 Brilliant White
HC-180 Cliffside Gray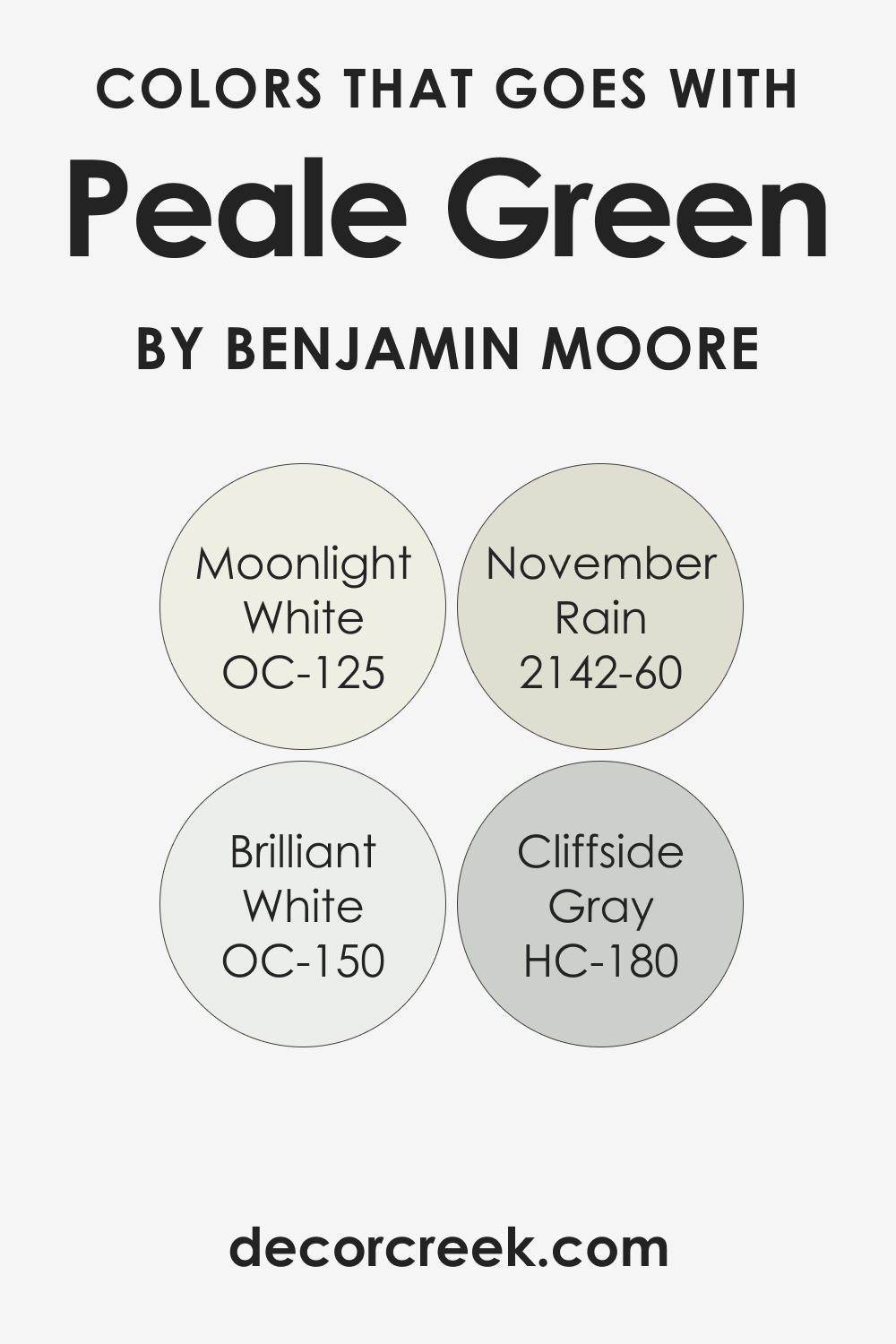 Comparing Benjamin Moore Blue Note 2129-30 With Other Colors
To help you better understand the difference between similar colors, we have prepared a few pairs of colors to compare below. Each of them contains BM Blue Note and one more color that looks nearly the same.
Read carefully to see what makes BM Blue Note different and why. Also, this will help you understand how LRVs and undertones make colors read differently, even if they belong to the same color family (hue).
BM Blue Note vs. SW Naval
This color comparison involves two colors that come from different color collections and different brands. SW Naval reads deeper and displays a more prominent navy blue hue, whilst BM Blue note reads less saturated and may even seem a bit "dusty".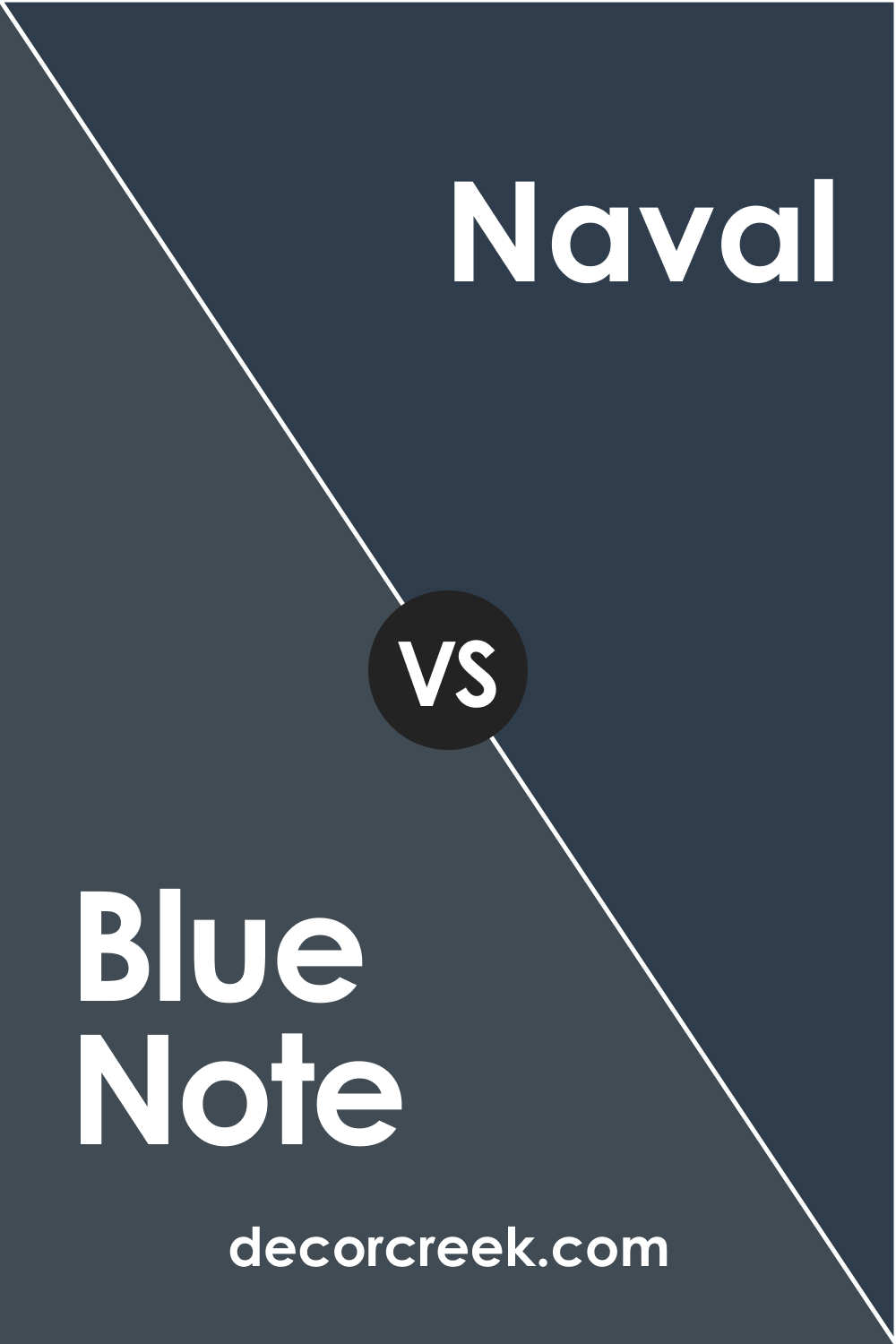 Blue Note vs. Hale Navy
These two look nearly the same, which is why you can use them interchangeably. Both have similar depth and tone, as well as appearance.
The only visible difference is that BM Blue Note reads more saturated and kind of bluer, which is normal since BM Hale Navy has gray and green undertones its counterpart lacks.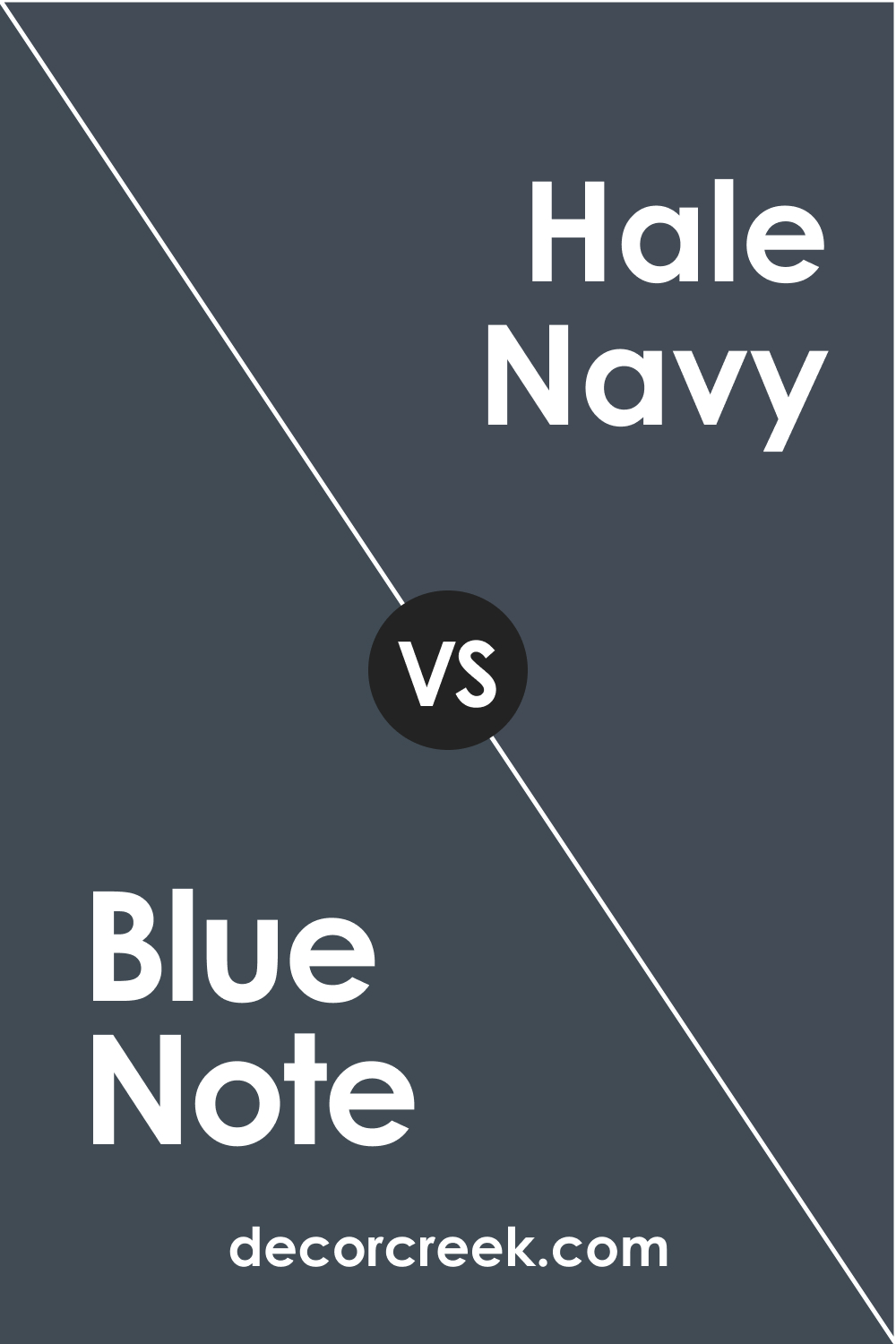 Blue Note vs. Indigo Batik
SW Indigo Batik is dark-toned blue that exhibits a tone like navy. With an LRV 8, this color reads dark and saturated, with a denim tone to it. Compared to SW Indigo Batik, BM Blue Note looks darker due to its half-black nature!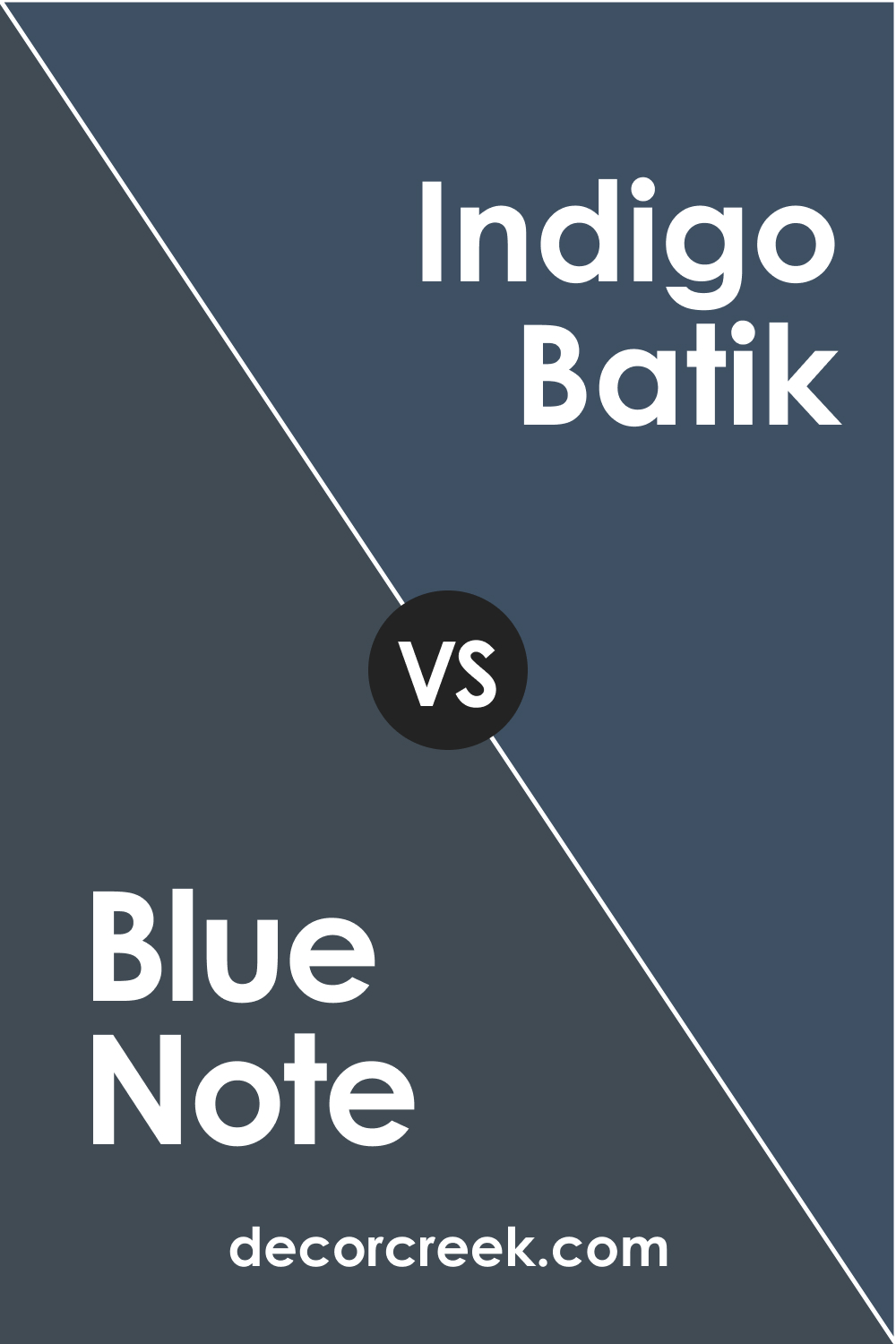 Blue Note vs. Dark Night SW 6237
SW Dark Night is blue with slate undertones and an LRV 4. It reads darker than BM Blue Note, whose LRV is 9. Also, SW Dark Night reads definitely greener if you compare it with BM Blue Note, which reads more muted blue.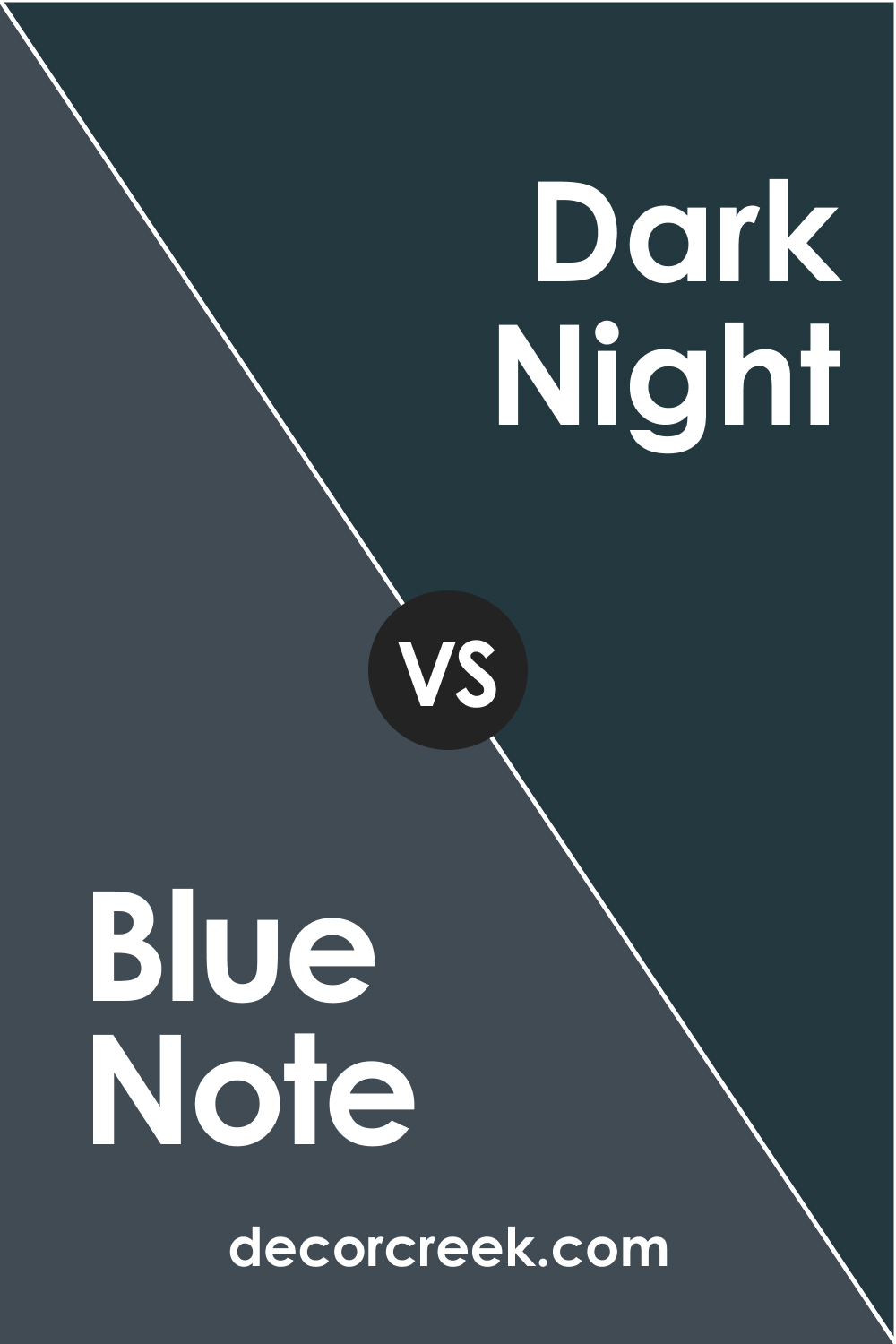 Blue Note vs. Cascades 7623
SW Cascades is a complex and dark blue color with gray, yellow, and blue undertones. With an LRV 6, it looks darker than BM Blue Note, and also, it reads noticeably greener.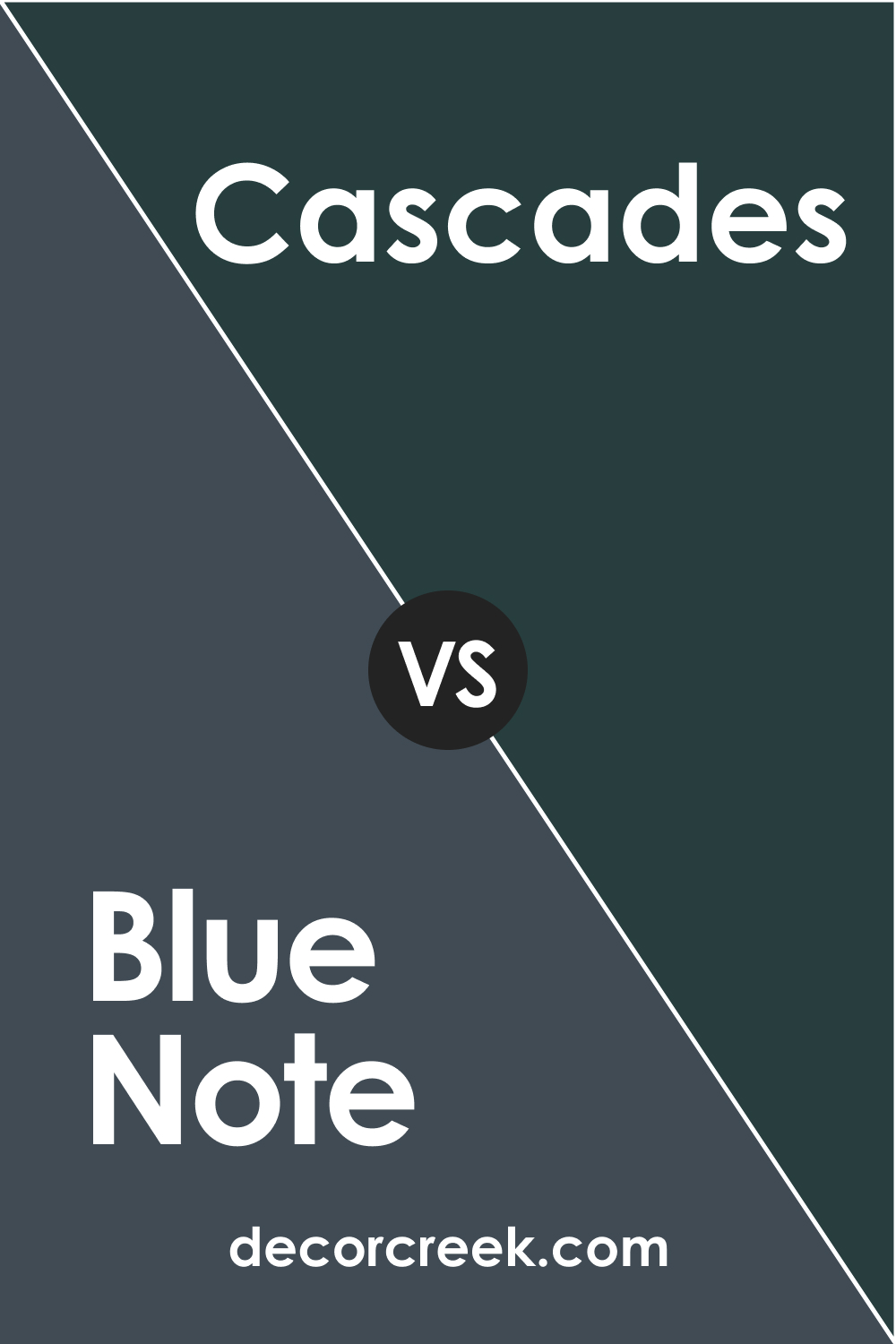 Blue Note vs. Mount Etna SW 7625
SW Mount Etna has slate green and ashy gray undertones and an LRV 8. It is nearly as dark as BM Blue Note, whose LRV is 9. However, compared to BM Blue Note, SW Mount Etna reveals its gray undertones more noticeably. Its counterpart, on the other hand, looks bluer.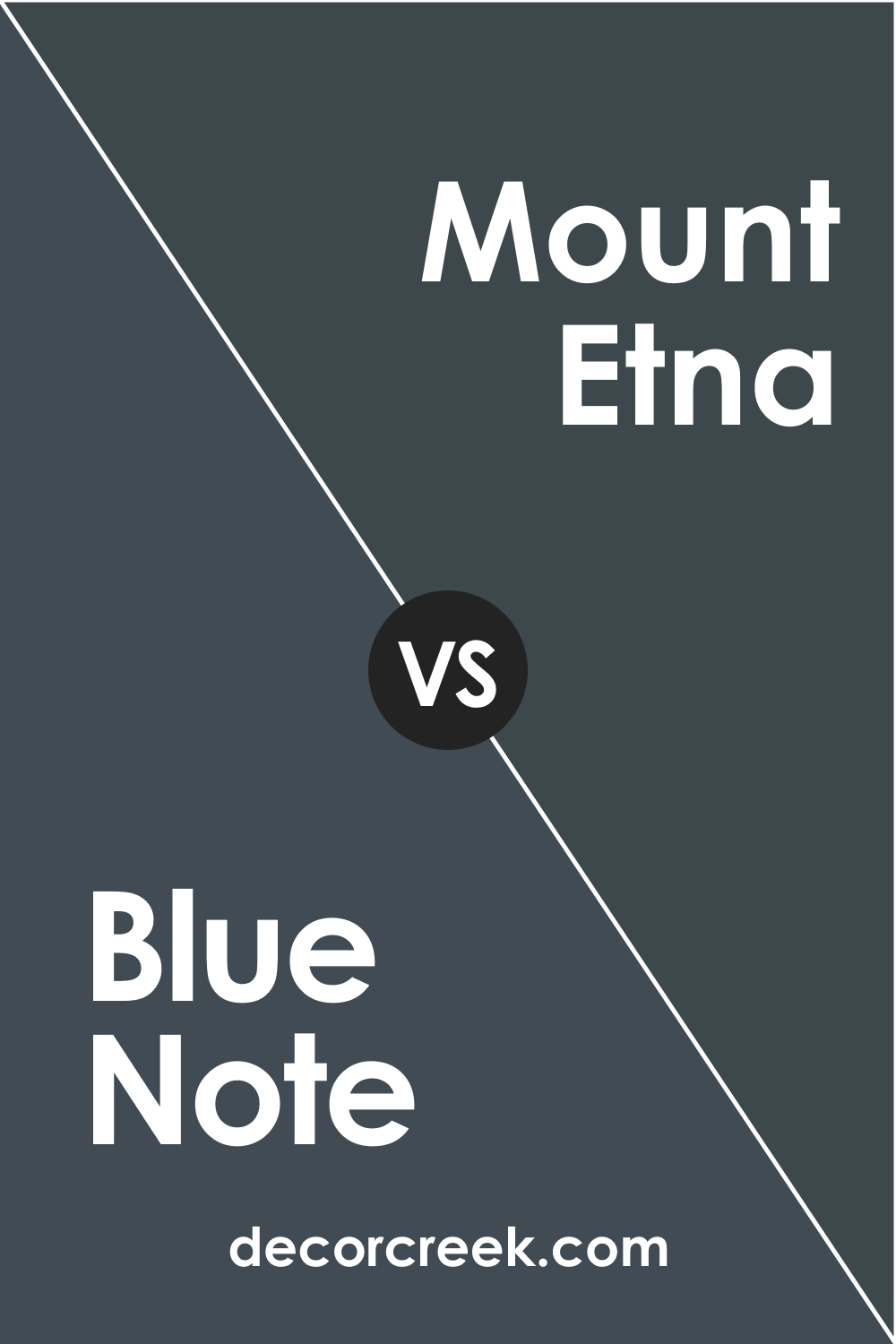 Where to Use Benjamin Moore Blue Note 2129-30 In Your Home?
BM Blue Note is surprisingly versatile despite its dark appearance. This blue hue can be used almost anywhere in your home, whether it's the living room walls, bedroom focal wall, kitchen cabinets, or exteriors.
This blue-black color will work especially great for interior design styles like modern, mid-century modern, contemporary, and transitional.
Blue Note 2129-30 in the Living Room
This paint color can work on the accent wall of your living pretty well. Of course, if you have a large room with high ceilings, don't hesitate to paint all the walls! Paired with crisp whites, lighter grays, and rich golds on the furniture upholstery, linens, accessories, and accents, BM Blue Note will look luxurious and noble in the space.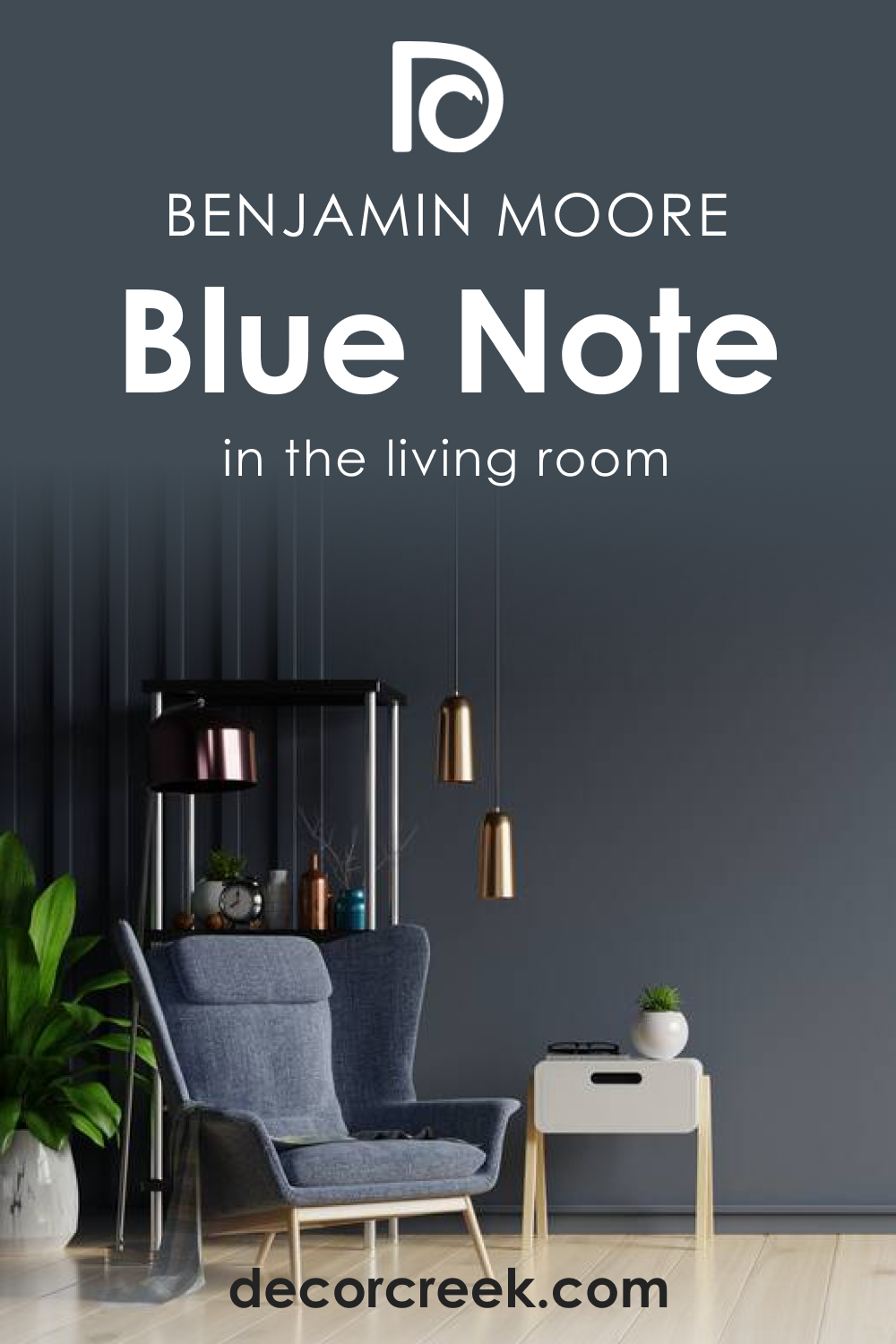 Blue Note 2129-30 and Bedroom
This rich and bold hue will work in bedrooms as well. Consider using this paint color on the accent wall and pair it with clean whites to make the space feel elegant and reserved.
However, should you want to add more warmth and coziness to your bedroom, you can also play with beiges on the throw pillows, rugs, and even curtains!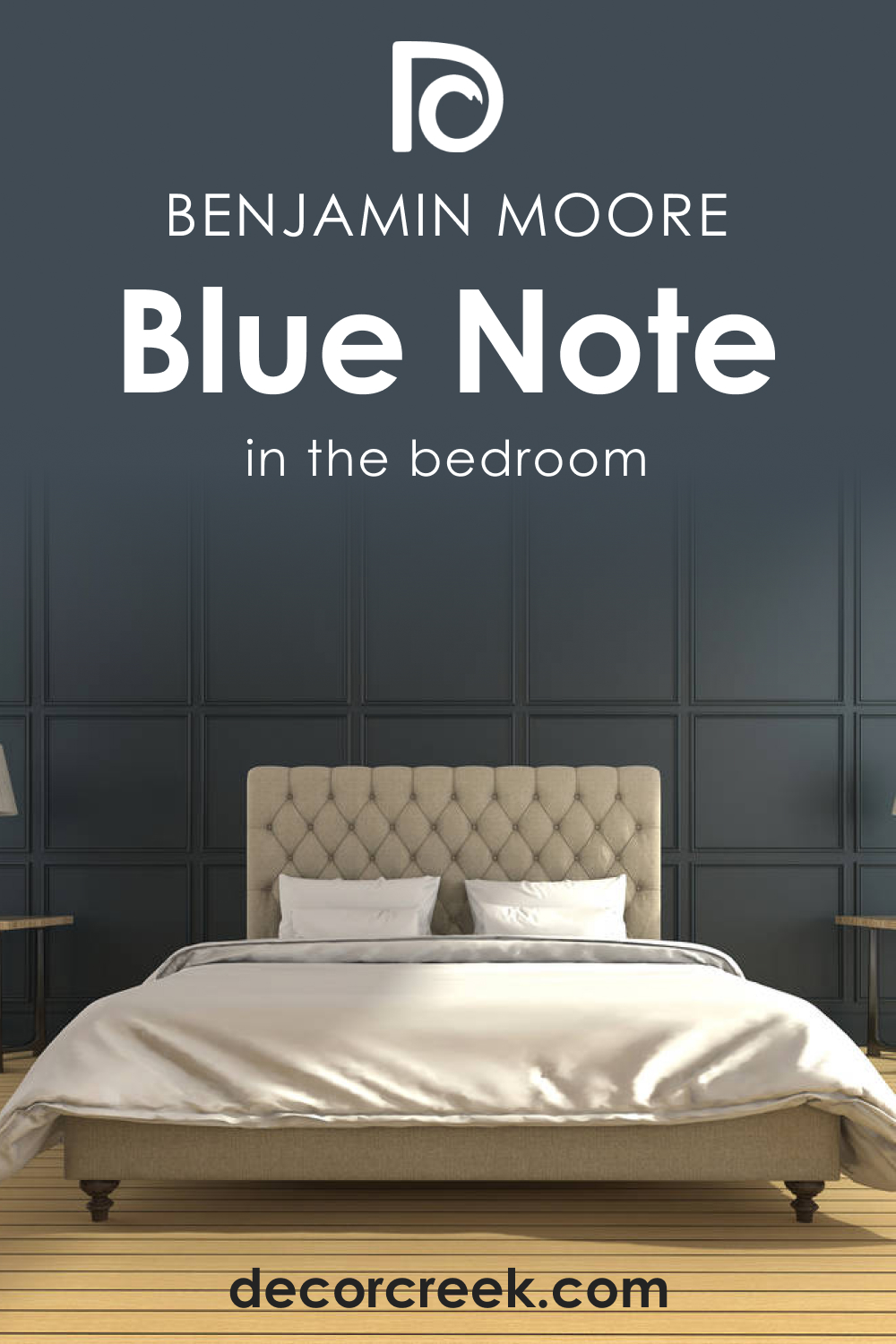 Blue Note 2129-30 on the Bathroom
In bathrooms, use this color carefully if the space has little to no light! In such spaces, BM Blue Note will read nearly black, so it's best to be used on smaller surfaces like the vanity sink. But if your bathroom is spacious and has ample light, try painting an accent wall with BM Blue Note! This will add a note of character to the space.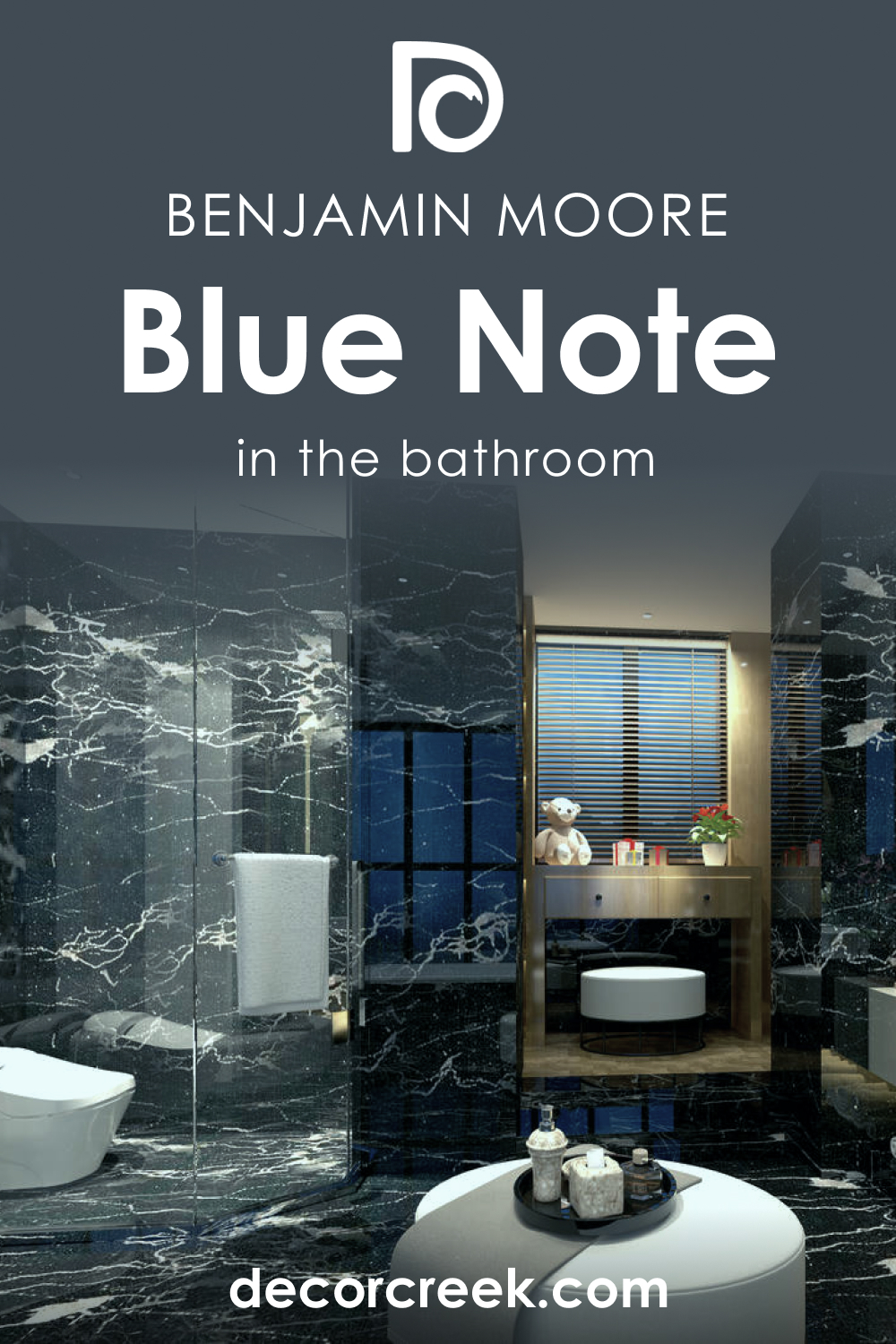 Blue Note 2129-30 and Kitchen
Your kitchen is one of the best places to use this color. This moody and classic blue will pair nicely with clean whites on the backdrop wall, backsplash tile, and marble countertop. Satin brass or polished brass accents through knobs and pull handlers will add a homey and warm note to the space.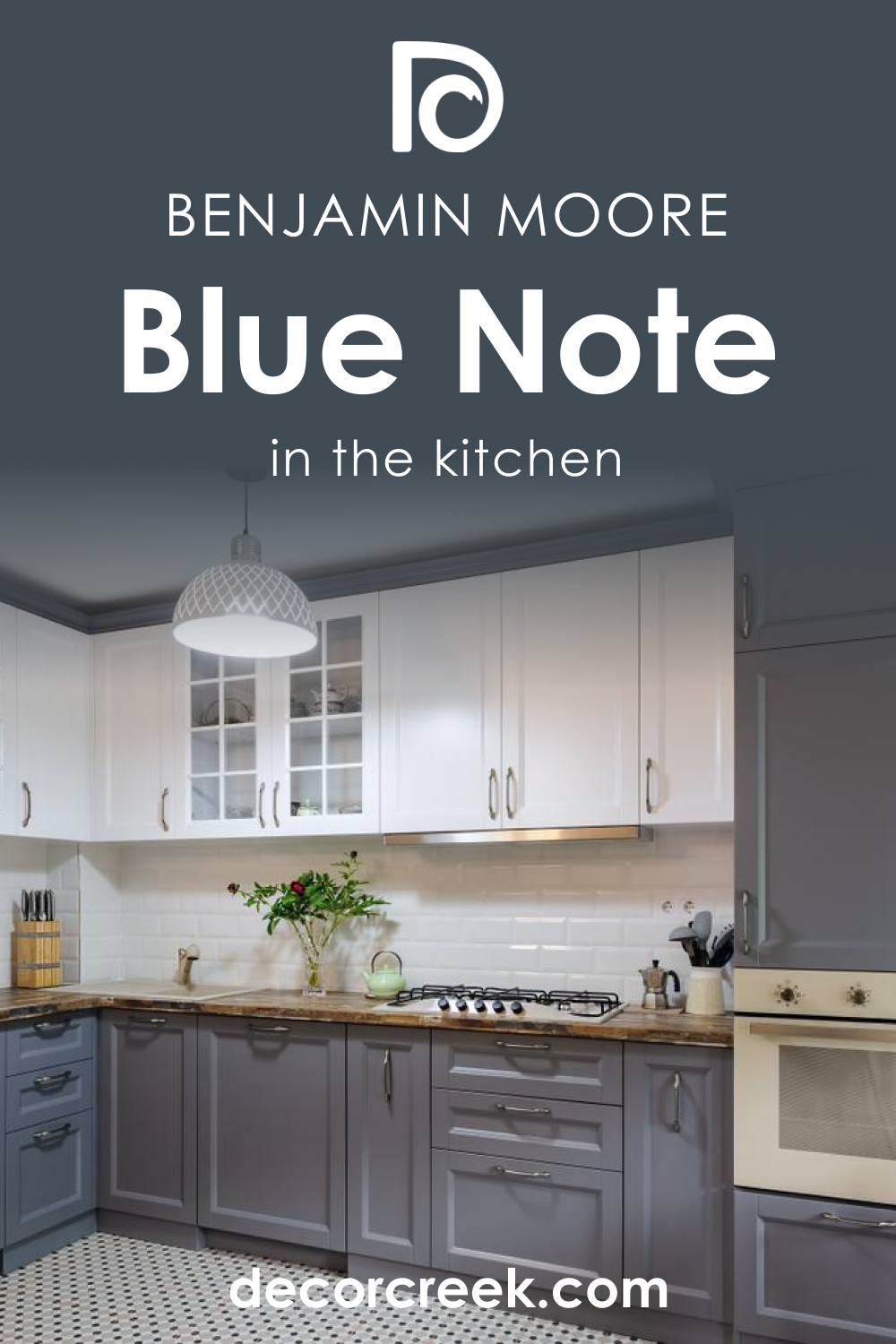 Blue Note 2129-30 for the Exterior Use
As an exterior color, BM Blue Note can make a beautiful accent in Mid-Century Modern, modern, contemporary, craftsman, and Victorian homes. You can pair it with creamy whites, crisp whites, or beiges on the trims, door, and window frames to achieve a very beautiful and elegant look.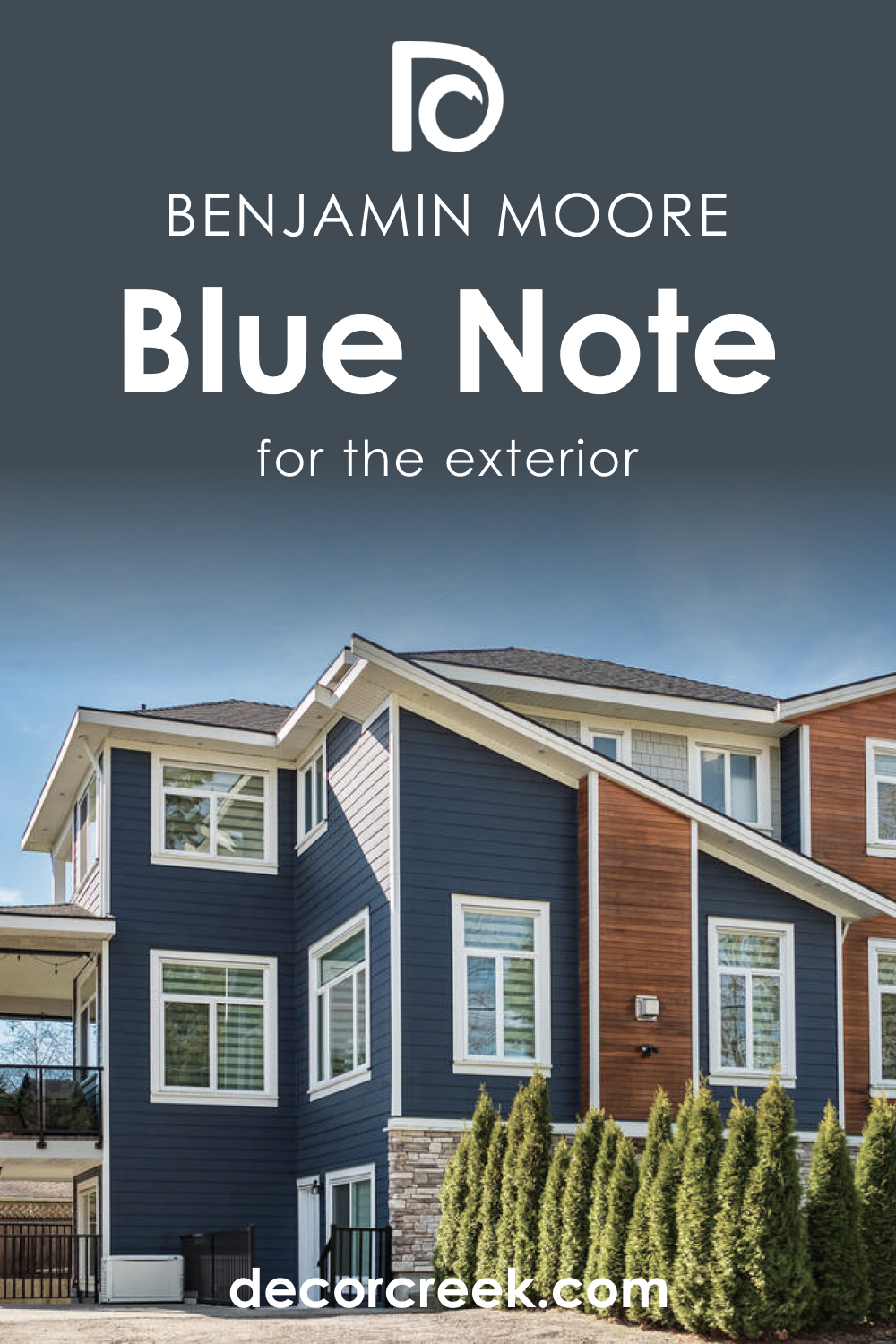 At the same time, such color combinations won't make your home look official. Also, consider incorporating tints of beige, taupe, or warm gray as the bases.
Now you know how complicated and tricky BM Blue Note can be. But, at the same time, this gorgeous hue can add a vibe of luxury and elegance to your home.
Since now you are aware of its specifics and features (e.g., LRV, undertones, etc.), it will be easier for you to incorporate this majestic black-blue hue into your home, making it reveal its beauty!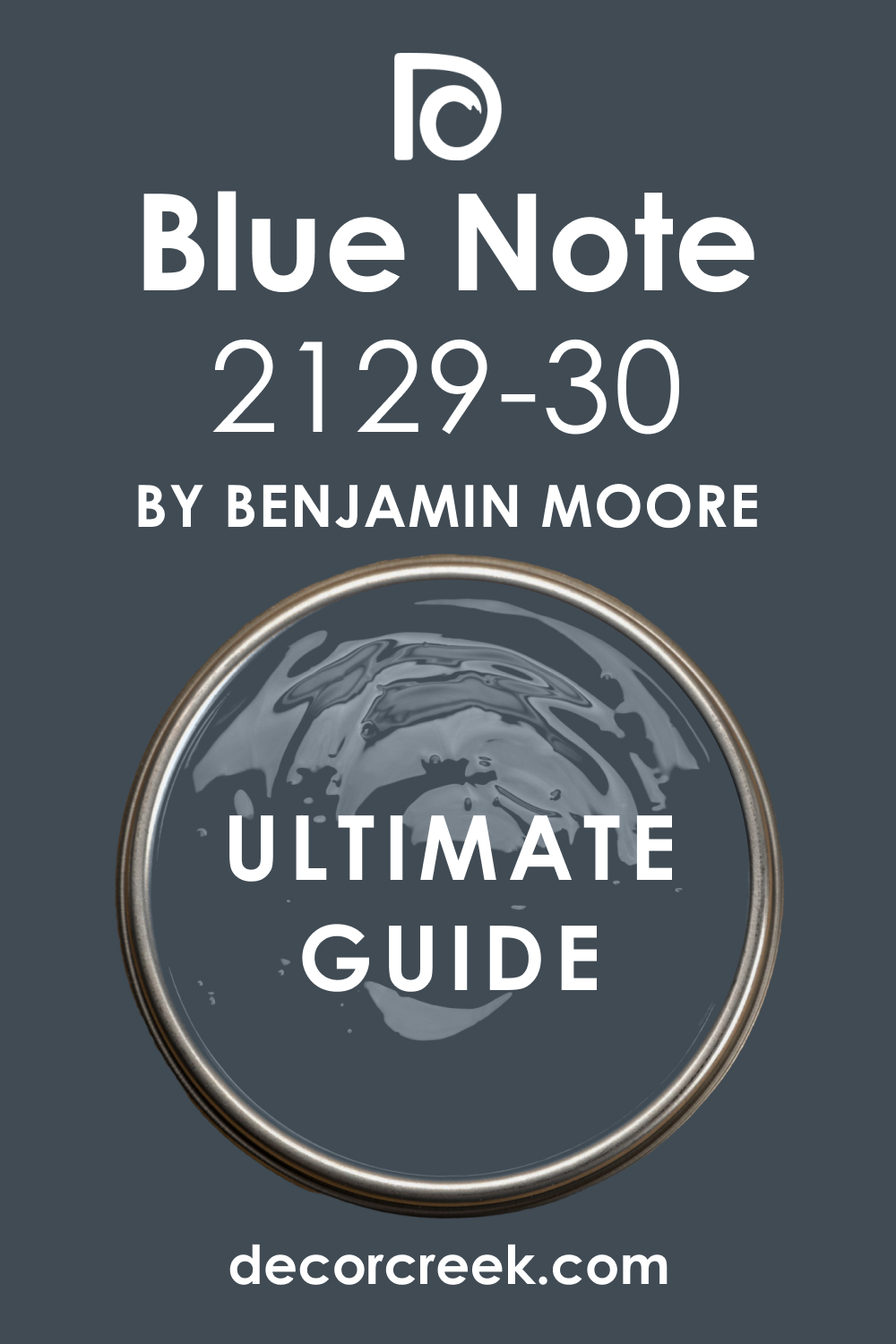 Frequently Asked Questions
⭐Is this color black or blue?
It's a black-blue color. Sometimes, it's considered a shade of black with a deep navy blue base.
⭐What color collection does BM Blue Note belong to?
This color belongs to the Arborcoat Stain Colors, as well as the Color Preview color collections.
⭐Does BM Blue Note read green?
No, it doesn't since this color has no green undertones.