If you prefer light-colored interiors that look tranquilizing and natural, you might want to try BM Healing Aloe color in your home one day. This color may seem a bit tricky due to its complicated nature, but after you learn more about it, you will be able to use it correctly.
In this article, we explain what kind of color it is and what undertones it has. Also, we will tell you how this color reacts to light and how it may work in different rooms.
Finally, you are going to discover a lot more about BM Healing Aloe and its specific features!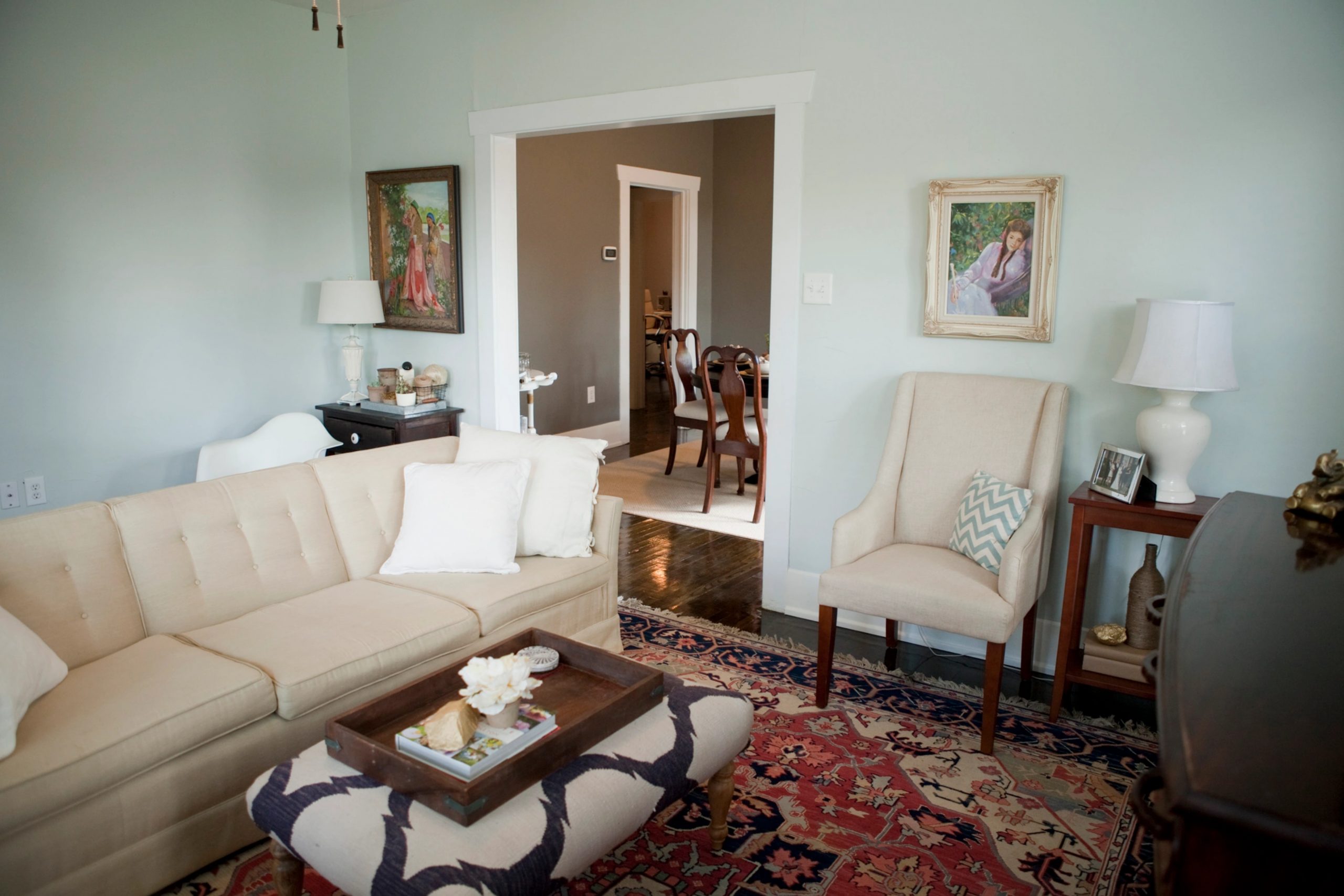 What Kind of Color Is Healing Aloe BM 1562?
BM Healing Aloe  may seem to be simply gray, but in fact, it is a refreshing shade of light blue with notes of gray.As Encycolorpedia says, it looks very calm, tranquil, and peaceful thanks to its cool-toned nature. This is why this shade of blue-gray is perfect for creating a serene and restful atmosphere in your home.
Also, this cool-toned and rather crisp color can make you feel chilly, and that is why you have to be careful when using it in your home!
But if you know all about its tricks, you can make use of this beautiful and calm blue in your kitchen, bathroom, bedroom, as well as living room. Since this color mimics the tones of aloe vera grass, it can add a touch of nature to your home.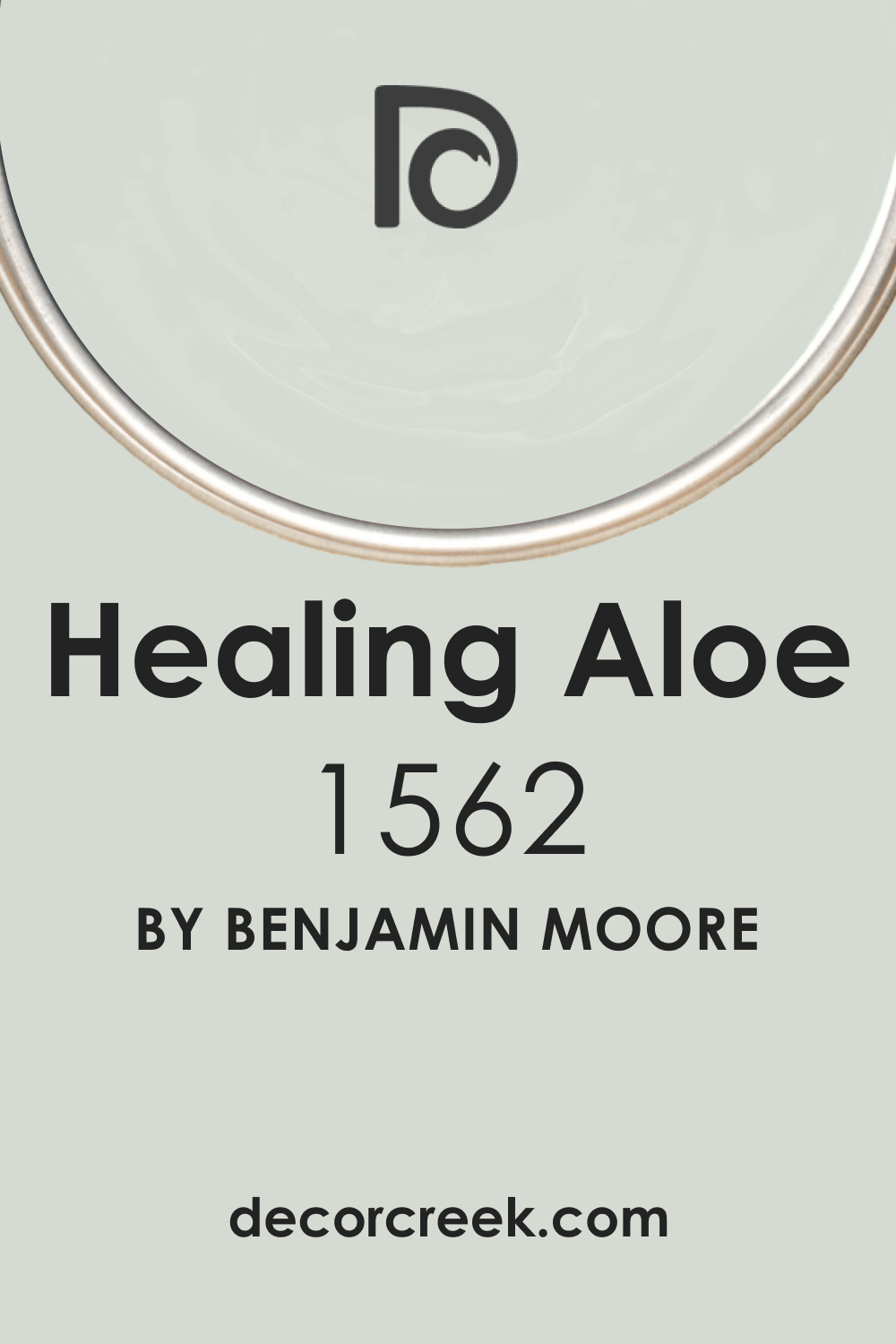 Is It a Warm or Cool Color?
BM Healing Aloe is definitely cool-toned. However, the coolness of this chilly color is far from the crisp and icy feel that most cool-toned colors give off!
Instead, BM Healing Aloe creates a pleasantly balanced feel of crispness, chill, and utmost coolness when used on the walls. Thus, its overall impression is more relaxing and soothing than freezing cold and unwelcoming.
What Undertones Does BM Healing Aloe Paint Color Have?
BM Aloe Vera has rather complex undertones. This light blue has deep, cool green, and gray undertones. As a result, the color can sometimes make you feel quite uncomfortable, depending on the lighting conditions it is used in.
With such tricky undertones, note that lighting always plays an essential role in how BM Healing ALoe reads in your space! Sample this color before using it on your interior walls to ensure you will get the shade and look you want!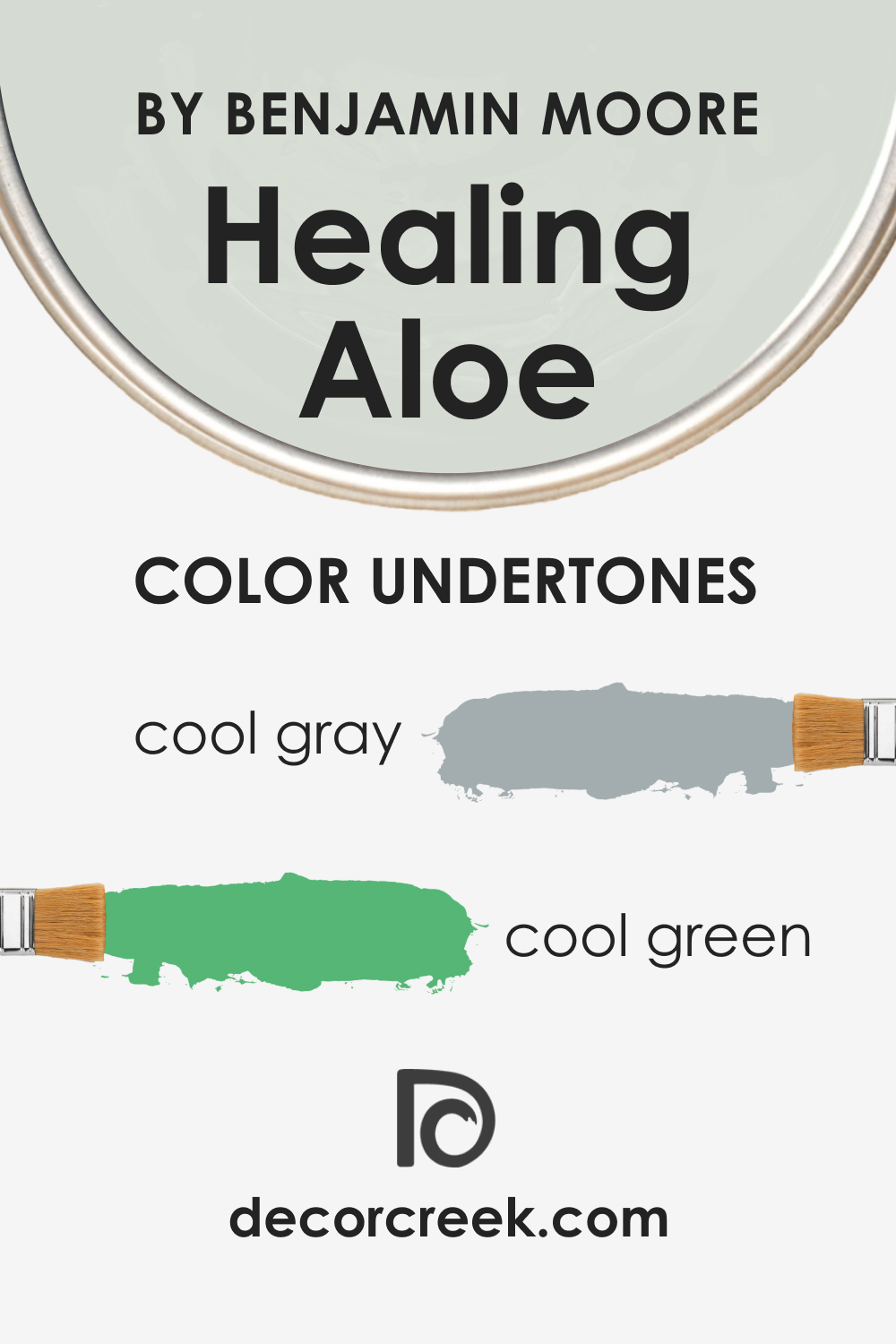 Healing Aloe BM 1562 Coordinating Colors
When you choose what colors can coordinate with BM Healing Aloe, you have several options to consider. For example, you can use a contrasting palette or opt for a monochromatic color palette instead, depending on your interior design style and preference.
Should you pick up the contrasting palette, you can choose from grays, beiges, creamy whites, olive, and bottle greens, as well as blacks, charcoal blues, and deep browns.
For instance, you might want to try one of these colors:
OC-68 Distant Gray
BM 995 Mocha Cream
AF-15 Steam
AF-715 Dolphin
For a monochromatic palette, check out these few colors we would recommend.
1564 Beach Glass
1566 Stonybrook
1568 Quarry Rock
For a contrasting palette, the following colors will work best of all:
HC-109 Sussex Green
1514 French Canvas
2132-40 Eclipse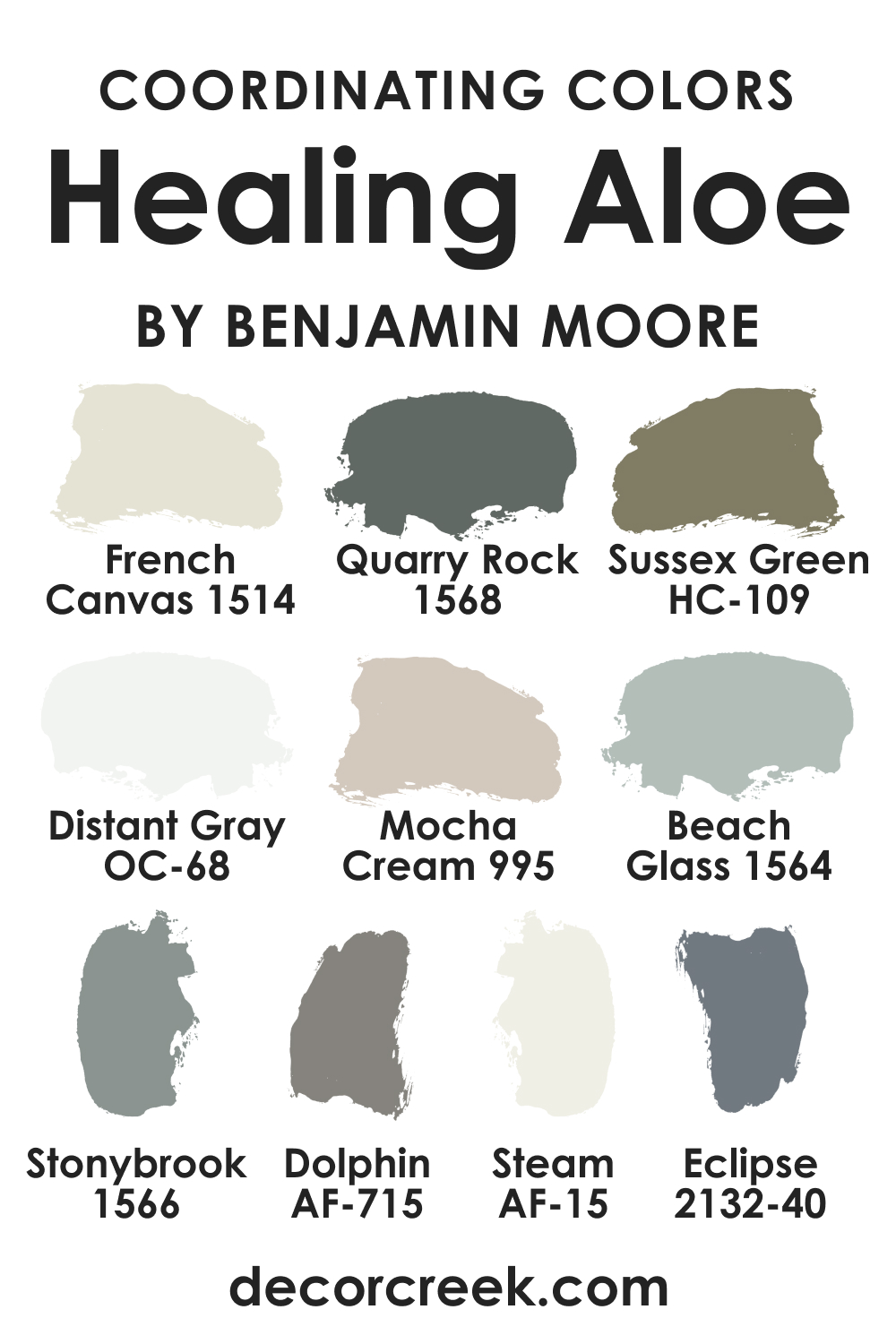 What LRV Does Healing Aloe BM 1562 Have?
The LRV (light reflectance value) of color shows how much light it can reflect from the wall. The closer the LRV value to zero, the darker and less reflective the color. The closer the color's LRV to 100, the lighter and more reflective the color, respectively.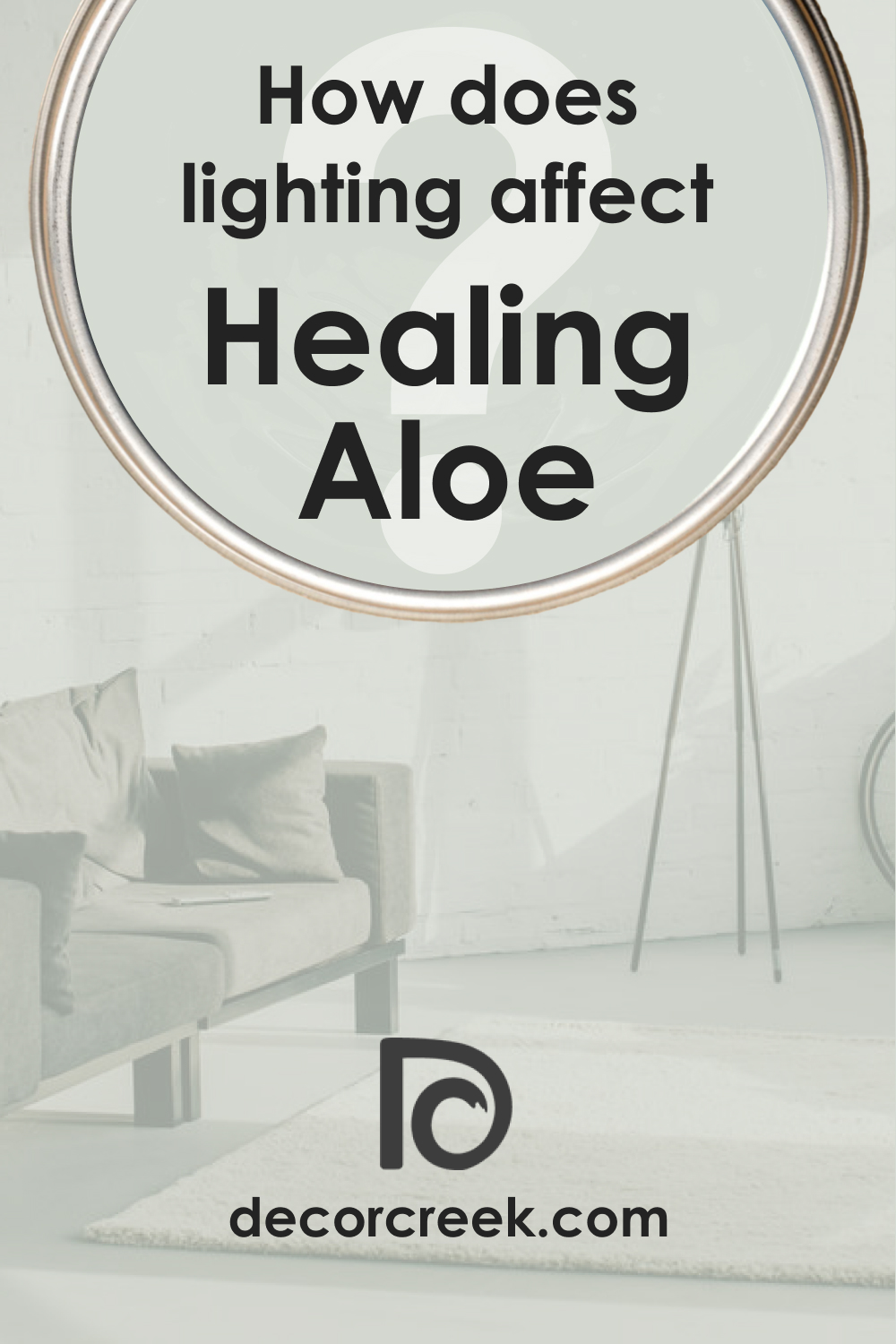 The LRV value of BM Healing Aloe is 68. That means it is a comparatively light-toned paint color. As a result, it looks pretty light and refreshing on the walls.
Due to its high LRV value, it will help in pushing away your walls. Hence, BM Healing Aloe can make your space look and feel larger than it is.
BM Healing Aloe works great in homes that are located in hot and sunny areas. In addition, we recommend you use BM Healing Aloe in the west and south-facing rooms, where this color will make your space feel airier and lighter.
At the same time, we would not recommend you use this color if your home is situated in a cold climate zone. Using this paint in the north-facing rooms is also not recommended since it will make the room feel colder and more unwelcoming.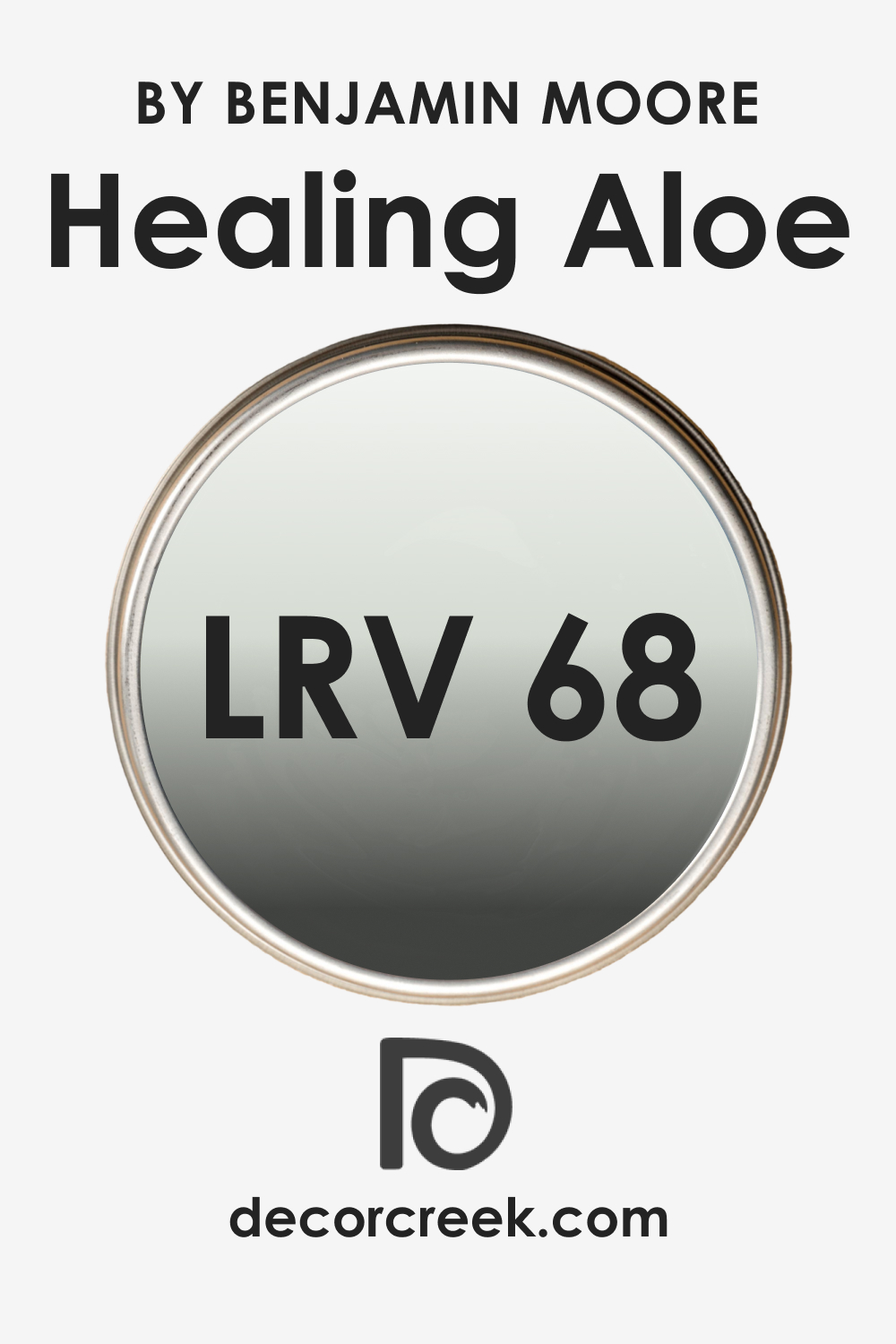 LRV – what does it mean? Read This Before Finding Your Perfect Paint Color
What Is the Best Trim Color For BM Healing Aloe?
White is typically the best trim color to use thanks to its versatility and the ability to work well with most colors. For BM Healing ALoe, white is also a win-win option. In particular, we recommend you use BM Simply White on your trim and moldings if you have BM Healing Aloe on the walls.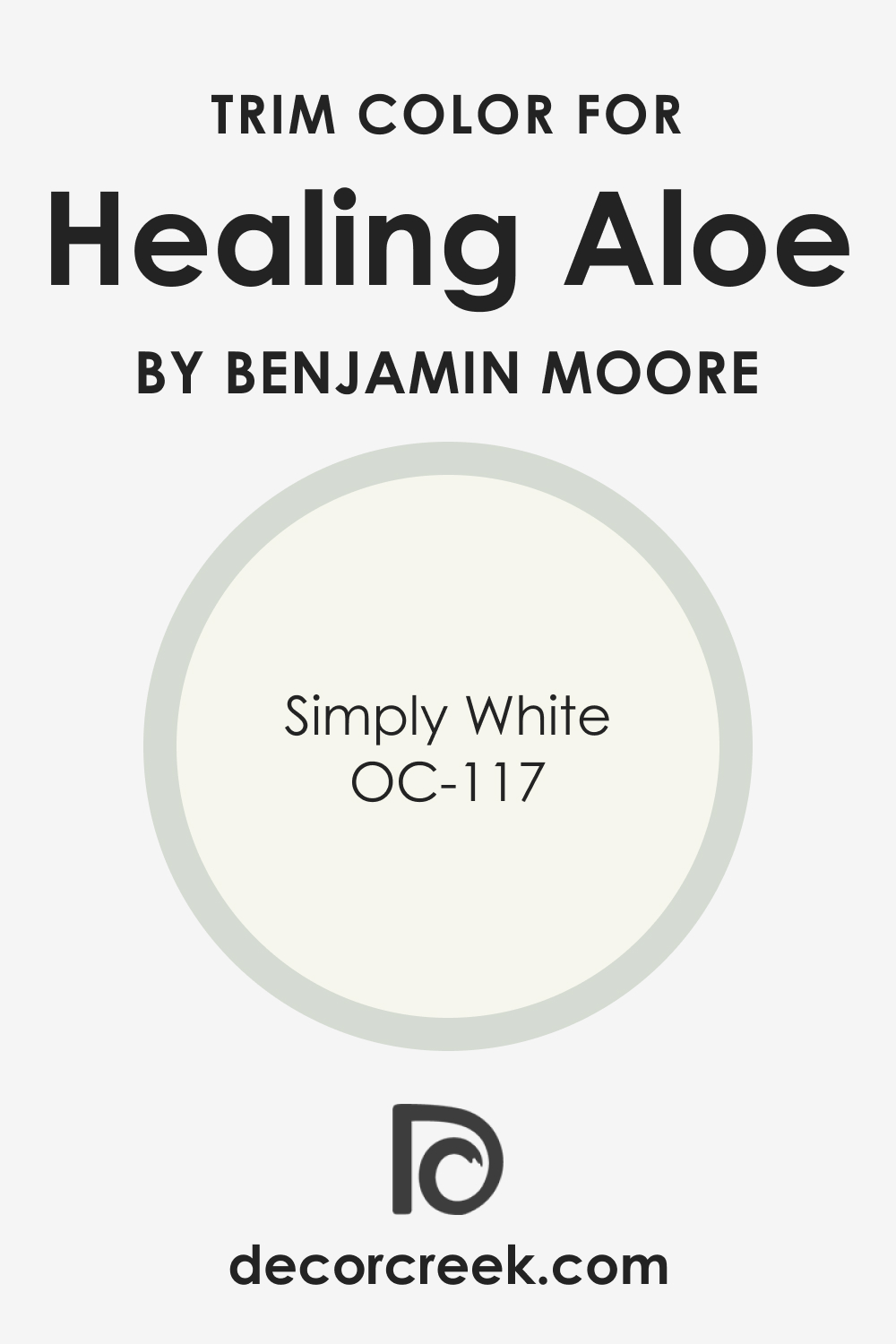 Healing Aloe BM 1562 Similar Colors
The great thing about the Benjamin Moore brand is that it provides a wide selection of similar-looking colors for this chilly blue with green-gray undertones.
This is great because, typically, you would spend tons of time trying to find suitable alternative colors that have similar undertones!
The closest color matches for BM Healing Aloe would be the following:
BM 1583 Silver Crest
BM 2138-60 Gray Cashmere
BM 1576 Ice Cap
BM 863 Pearl Gray
SW 6204 Sea Salt
BM 2137-60 Gray Owl
BM Decorator's White CC-20
BM 1611 Graytint
BM Paper White OC-55
BM Wickham Gray HC-171
But you should remember that these colors may still differ in appearance, undertones, or reflectivity values!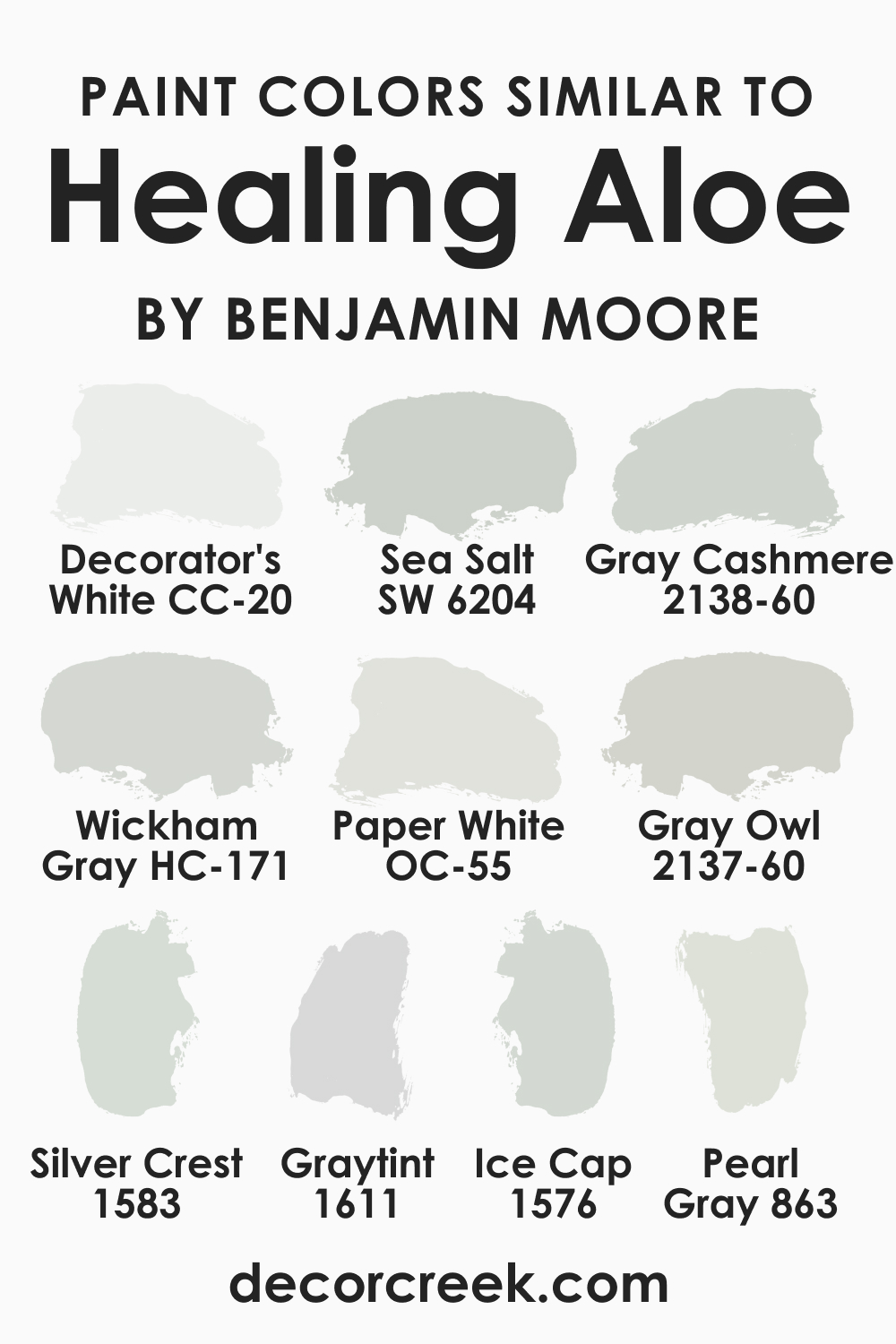 Colors That Go With BM Healing Aloe
Despite being rather tricky, this color pairs with surprisingly many colors! This way, you can create a varied and appealing palette in your home. In particular, BM Healing Aloe works well with greige paint colors.
It will also go with most beige and white colors pretty well. Finally, you can try to pair BM Healing Aloe with grays, browns, dark blues, or blush pinks in your home.
HC-173 Edgecomb Gray
OC-20 Pale Oak
SW 7029 Agreeable Gray
HC-172 Revere Pewter
BM 2132-40 Eclipse
HC-154 Hale Navy
BM 1495 October Mist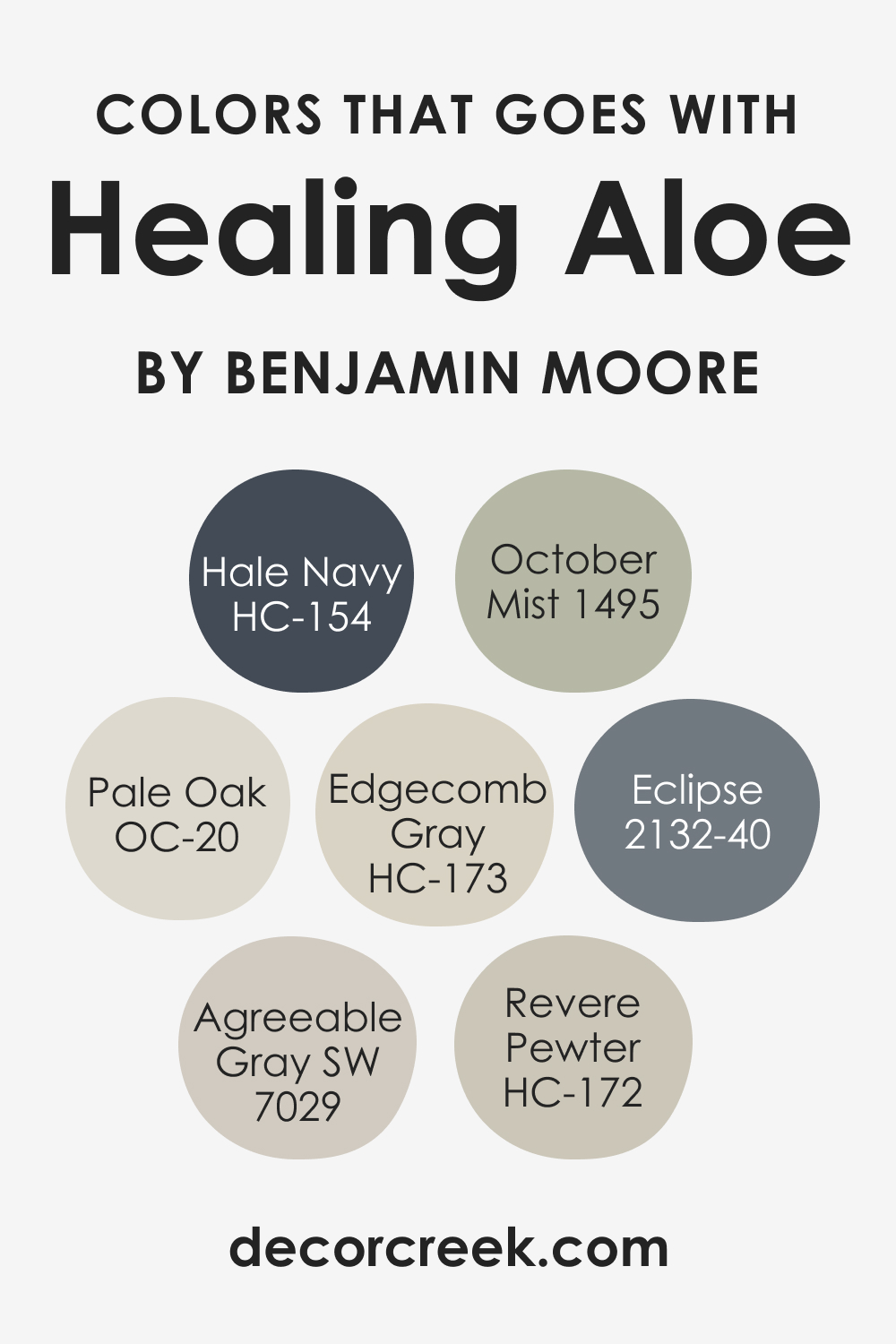 Comparing Healing Aloe BM 1562 With Other Colors
Below, you can find the description of several colors and how they read compared to BM Healing Aloe. This will help you better see the unique features of this complex blue paint and teach you how to notice even the most minor details two colors have.
Healing Aloe vs Ice Cap
These two look so alike that they can often be used interchangeably. BM Healing Aloe has an LRV of 68, and its counterpart's LRV is 67, which is very close. As a result, both colors look the same light and reflective.
Also, both are cool-toned blue-grays. The only (barely seen) difference is that BM Ice Cap is a tiny bit grayer than BM Healing Aloe.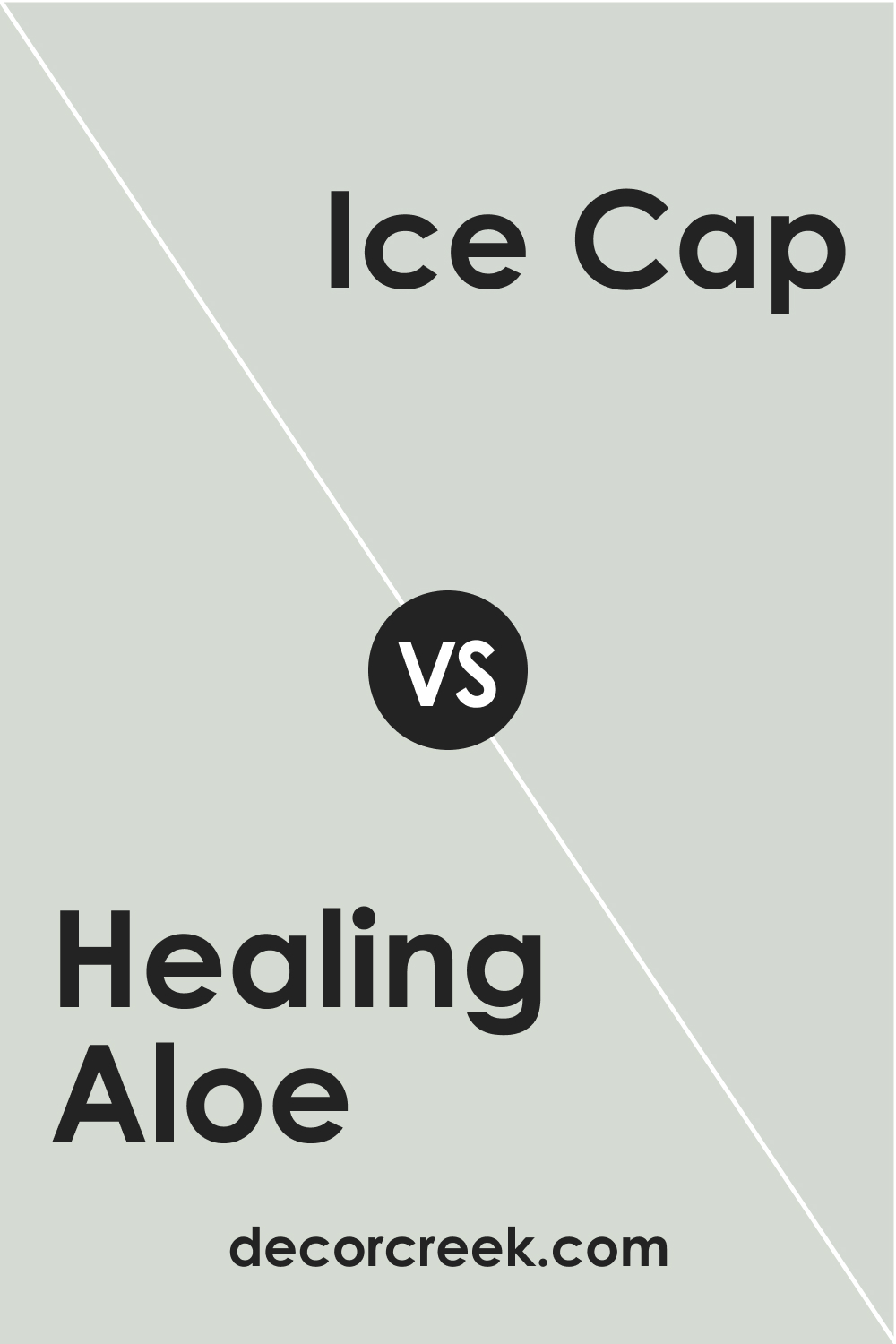 Healing Aloe vs Wickham Gray
This is another pair of colors that can work interchangeably with great success. The LRV of BM Wickham Gray is 68, equal to the LRV of BM Healing Aloe. Also, both colors share a gray tone.
The difference is that BM Wickham Gray is actually gray with blue undertones, whilst BM Healing Aloe is blue with gray and green undertones. You can notice this distinction by how slightly grayer the Wickham Gray color reads.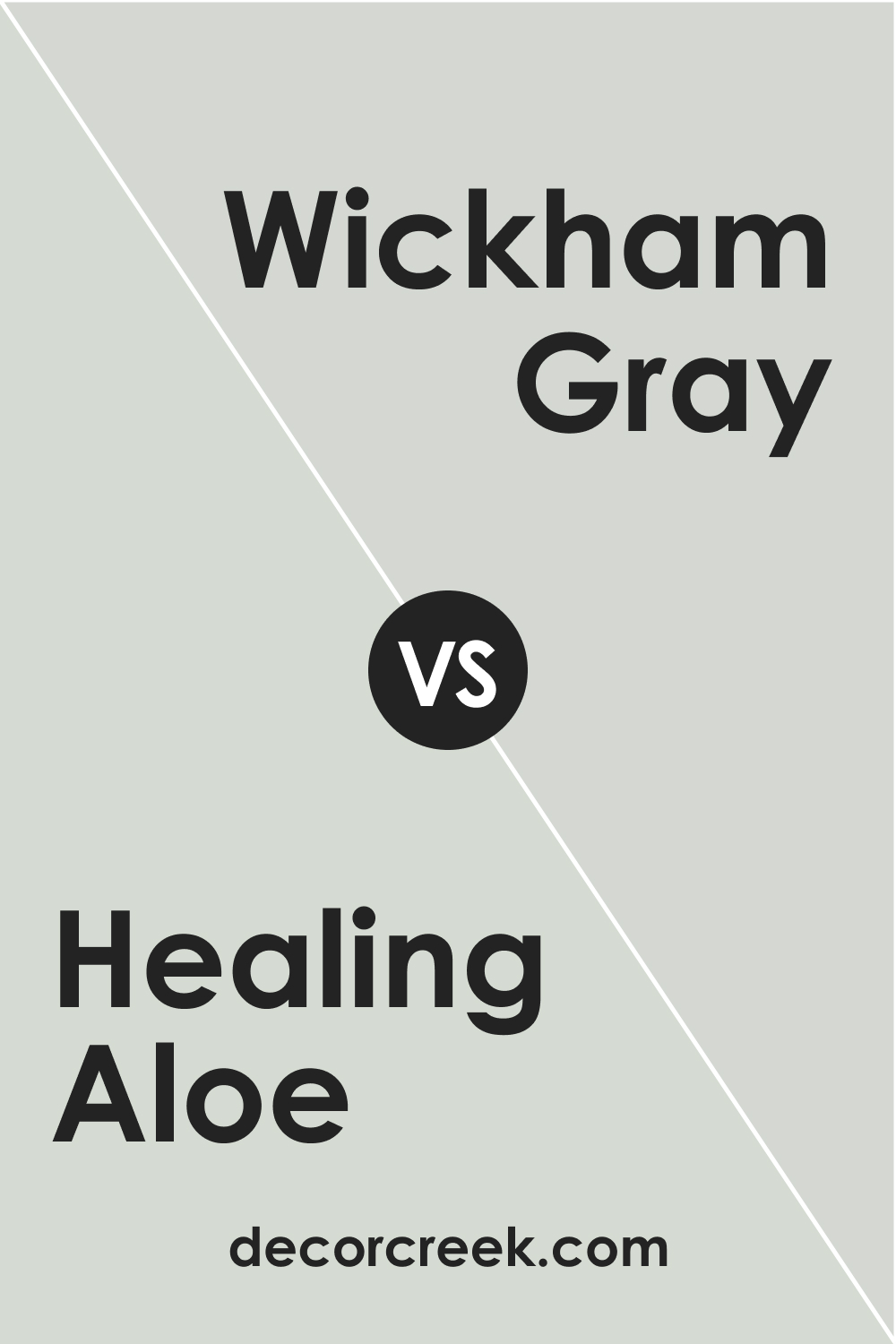 Healing Aloe vs Sea Salt
SW Sea Salt reads more saturated and definitely grayer than BM Healing Aloe. Also, since the LRV of SW Sea Salt is 64, it reads slightly darker than its counterpart, whose LRV is 68.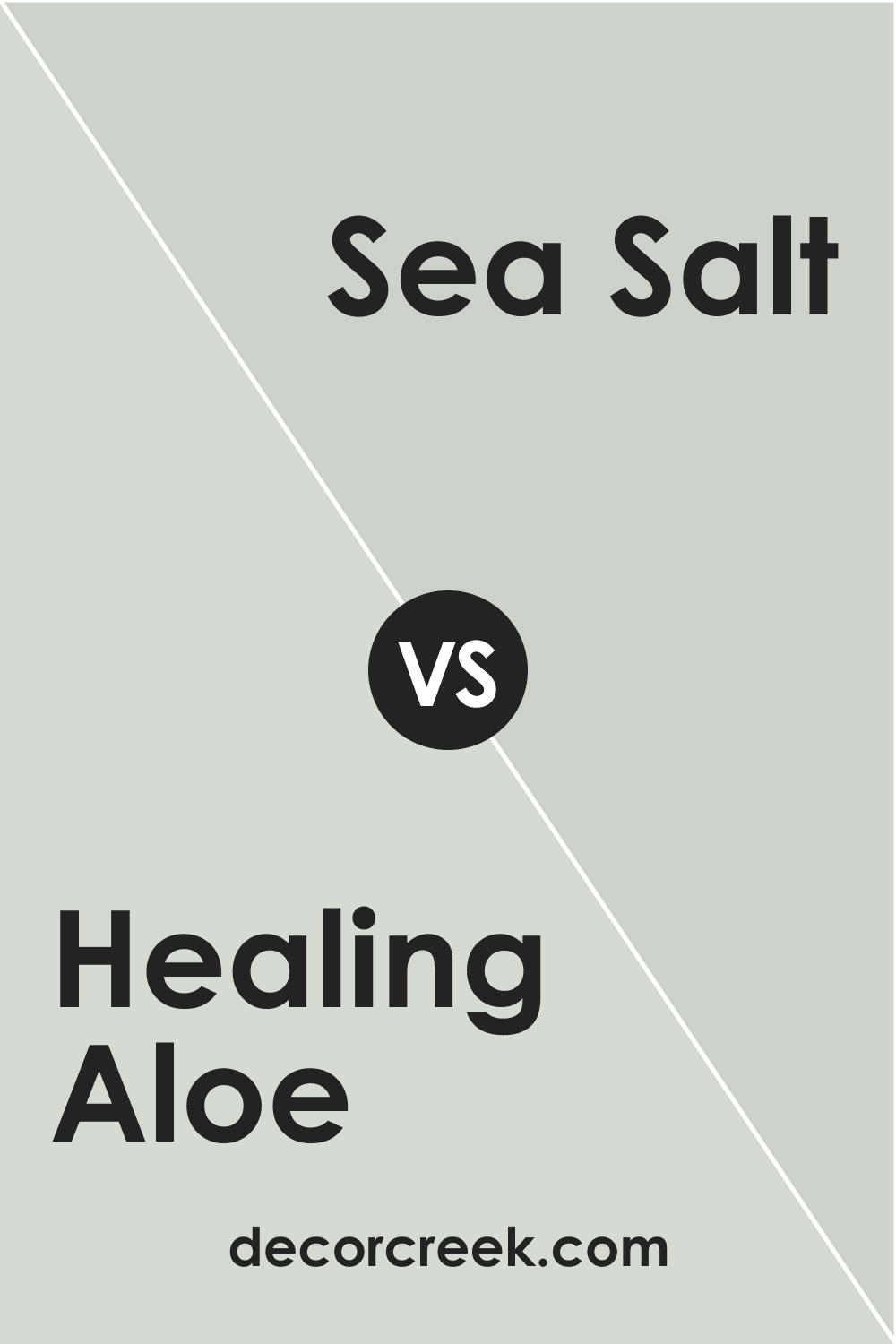 Healing Aloe vs Quiet Moments
Both colors come from the Benjamin Moore brand, and both are mixes of blue, green, and gray, but they are still distinct. BM Quiet Moments is darker than BM Healing Aloe due to the lower LRV value of 61.
BM Healing Aloe's LRV is 68. Also, compared to BM Quiet Moments, its counterpart reads noticeably greenish.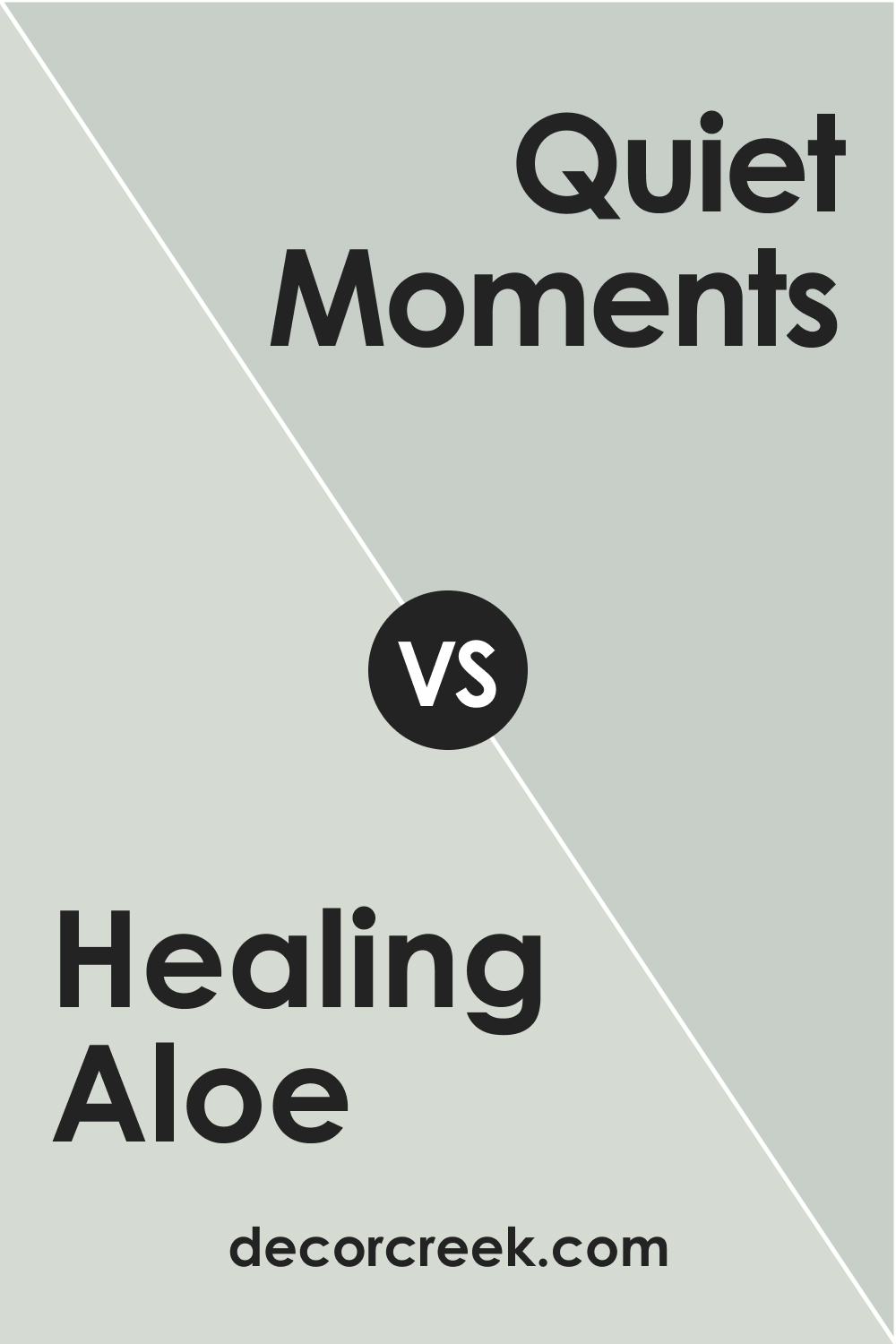 Healing Aloe vs Glass Slipper
BM Glass Slipper is pale powder blue with an LRV of 72, which makes it a brighter color. Compared to BM Healing Aloe, it also reads clearly blue and rather cool-toned. Compared to it, BM Healing Aloe shows its green hue much more.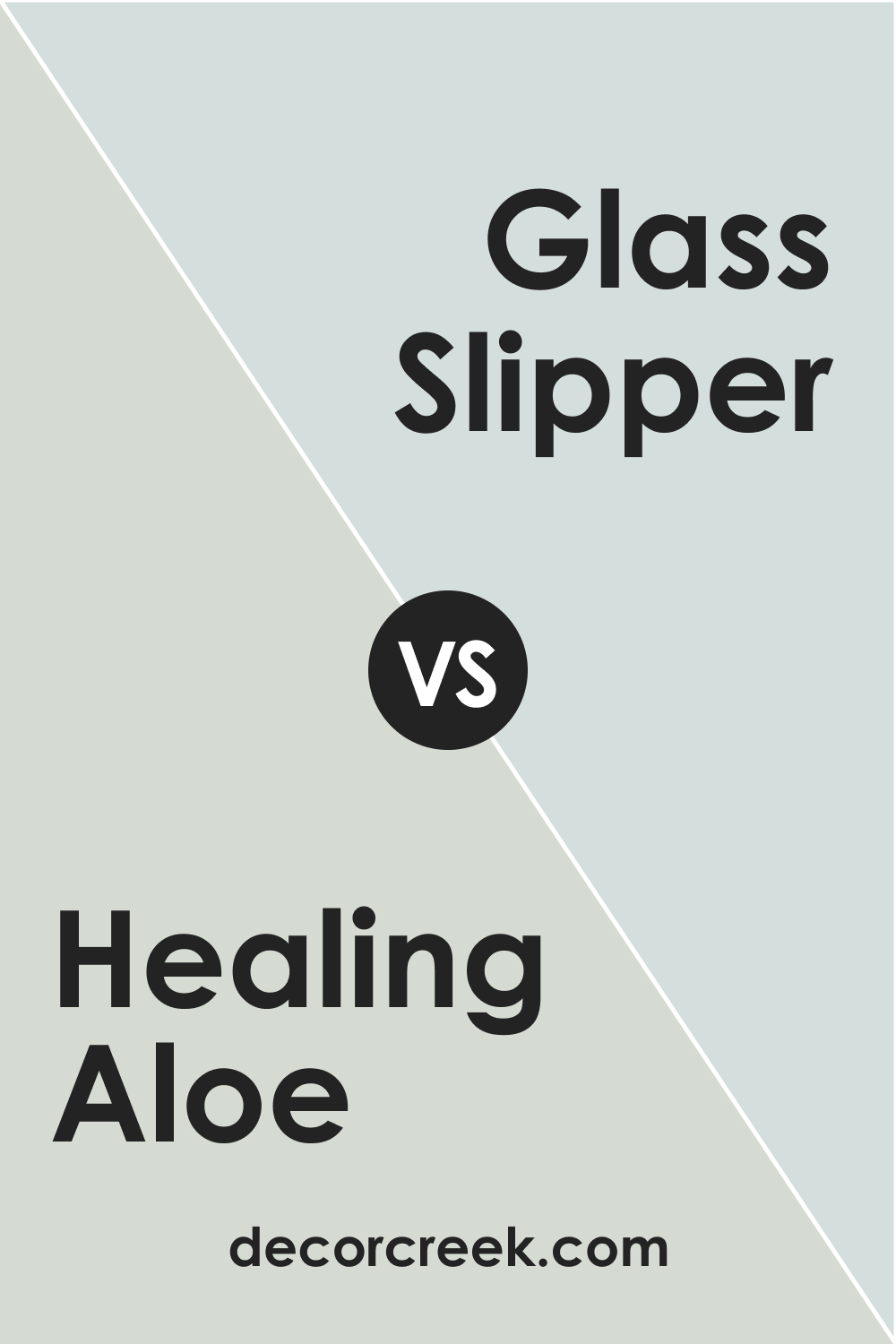 Where to Use BM Healing Aloe Color In Your Home?
Despite its complex undertones, BM Healing Aloe is so versatile that you can use it anywhere in your home. This color will work in living rooms, nurseries, kids' rooms, bedrooms, kitchens, or bathrooms. It can even be used as an exterior color!
Regarding the interior design style that suits this color best, Benjamin Moore Healing Aloe works best in Coastal, Modern, Floridian, Contemporary, Caribbean, and Cape Cod-style homes.
Also, we recommend you avoid it in design styles like Country, Farmhouse, and Bohemian, as they will embrace warmer colors much better. Below, you can read how BM Healing Aloe works in different rooms.
BM Healing Aloe in the Living Room
If you want a cool and crisp-looking living room, this color would be a great option! You can pair it with creamy whites, darker greens, and black accents, as well as pinks, golden tints, and even grays to create a subtle contrast.
With BM Healing Aloe on the walls, your living room will feel airy and bright.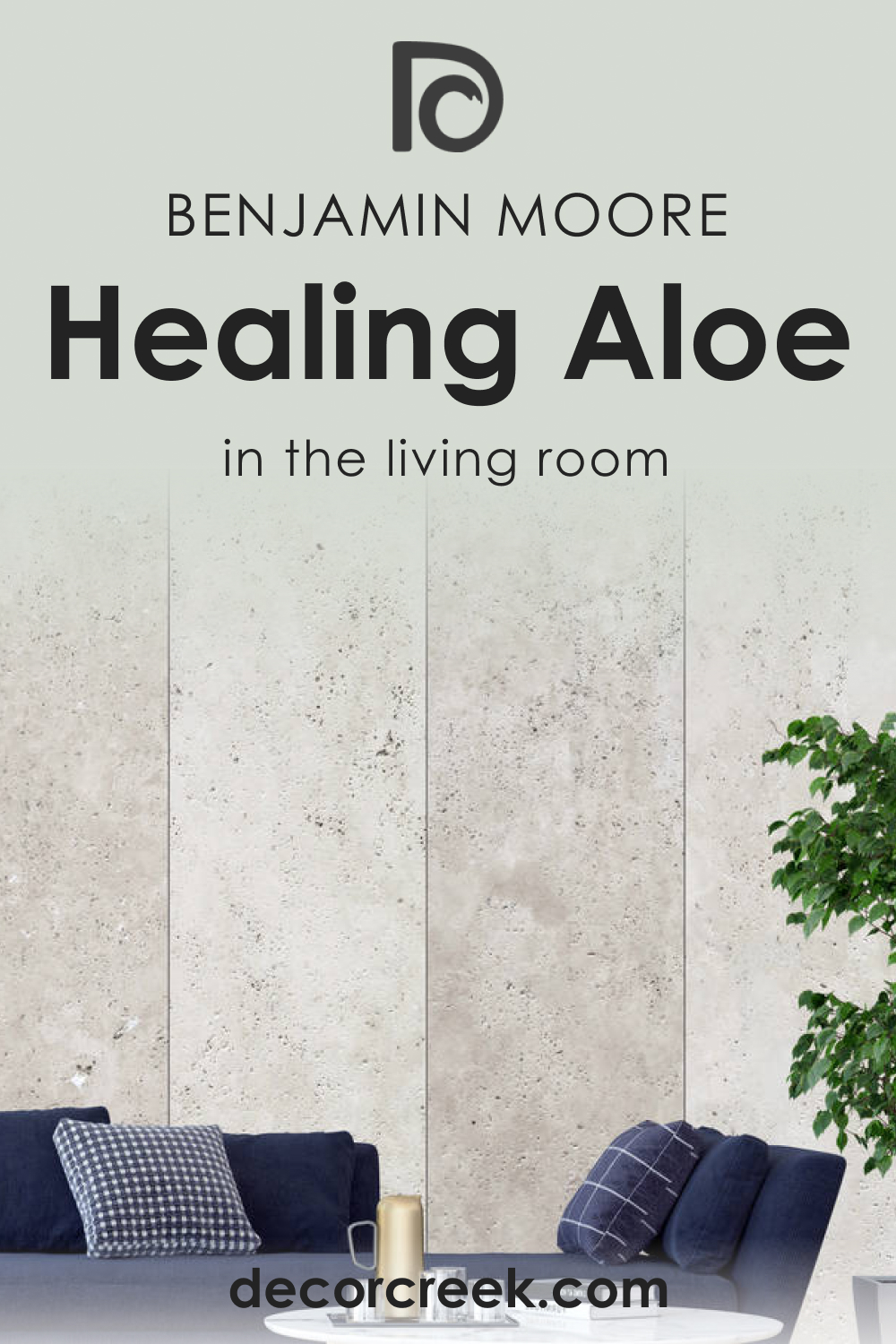 BM Healing Aloe in a Bedroom
This color also works well in bedrooms. You can pair it with whites and lighter grays to create a refreshing contrast. BM Healing Aloe might not work as an accent color, but you can use this paint as a base or a neutral.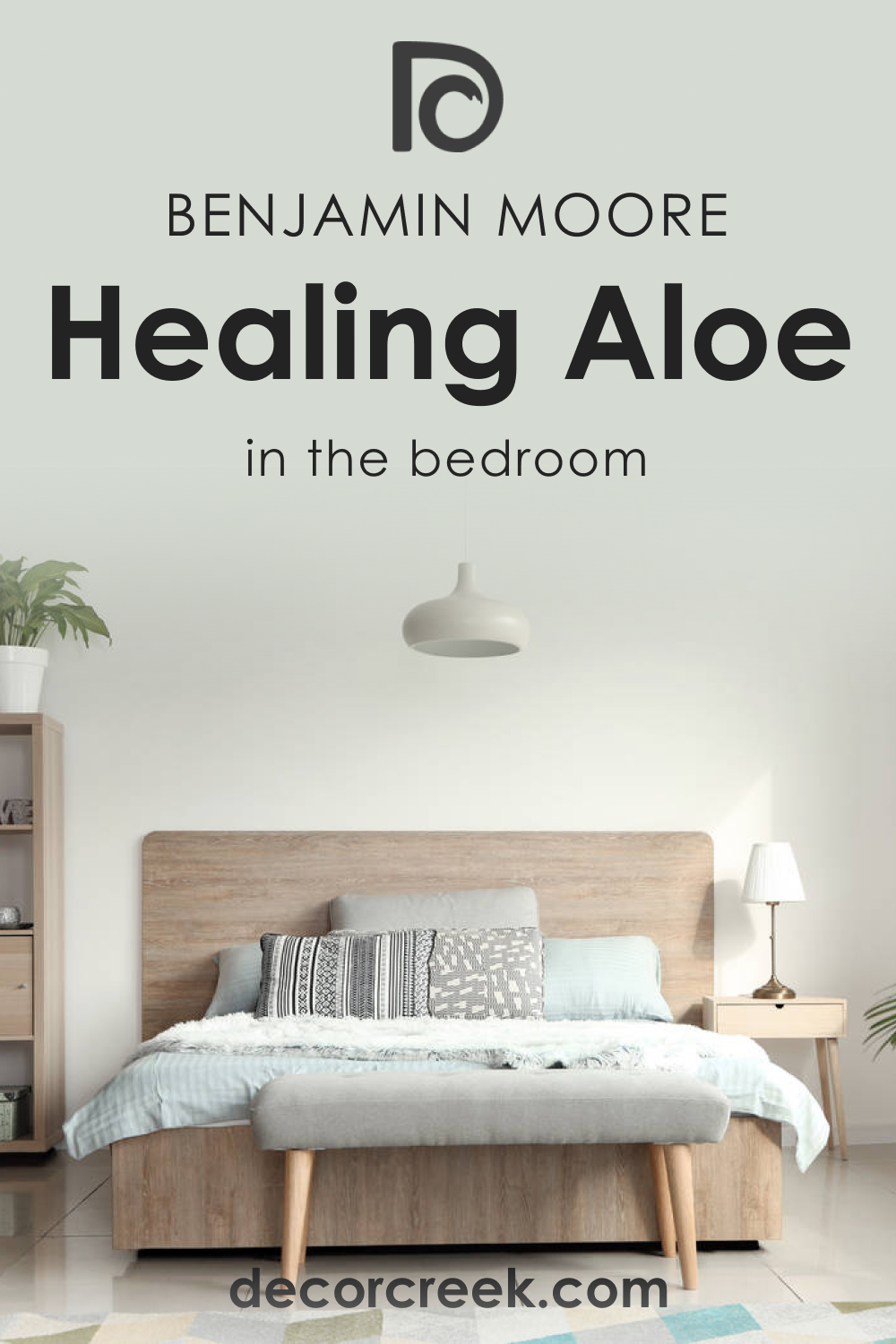 BM Healing Aloe on the Bathroom
Your bathroom is another ideal place to host this calm and fresh blue. You can pair it with whites and lighter grays for a contrasting look and paint all the walls if the size of the room allows that. As an option, BM Healing Aloe can be used on smaller surfaces like the vanity sink or an accent wall.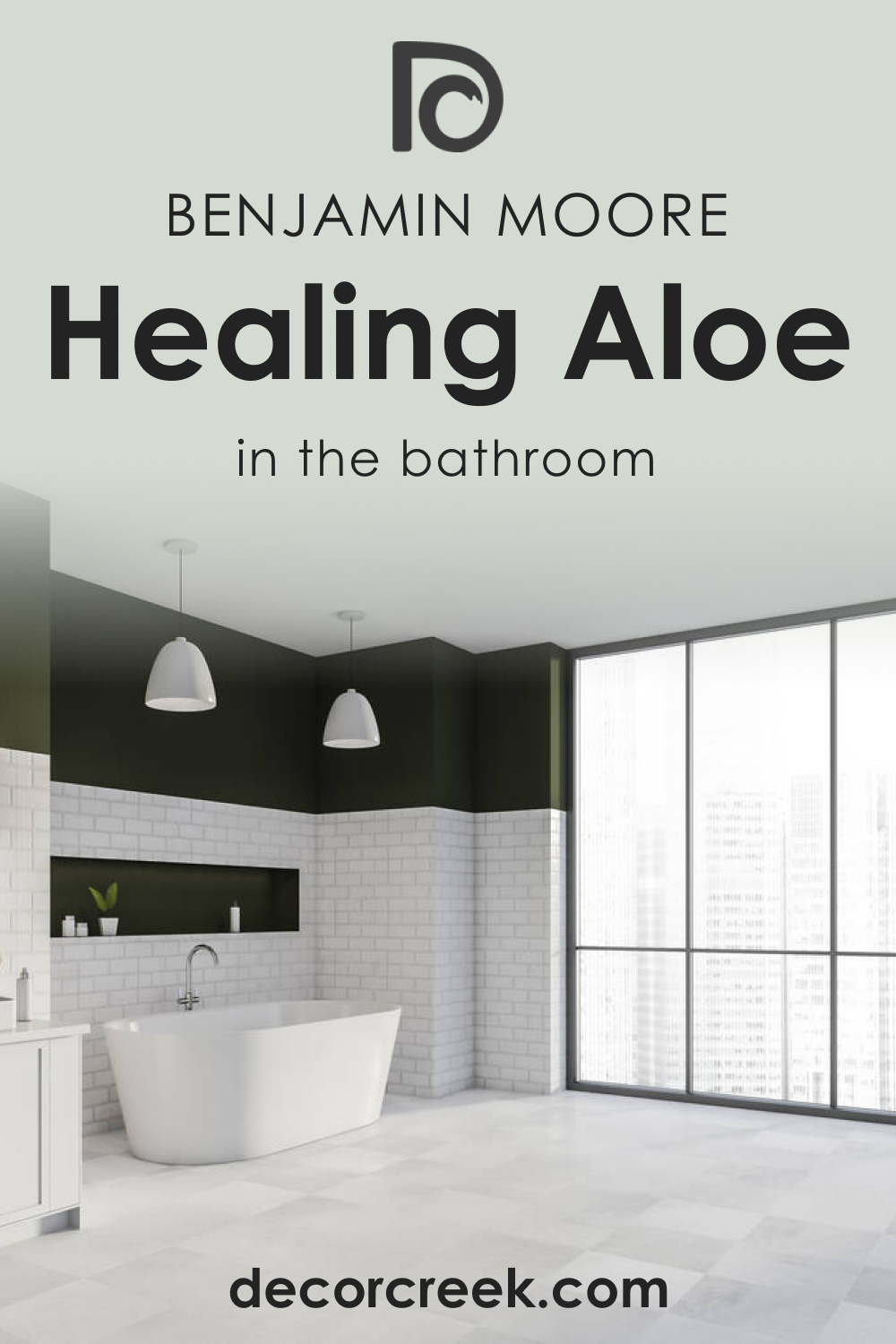 BM Healing Aloe and Kitchen
You can absolutely incorporate this color into your kitchen, especially if it has an open-concept plan.
BM Healing Aloe will add a cool hue to your kitchen if used on the cabinetries or the backdrop wall. It will pair nicely with a white or black marble countertop, glossy white backsplash, nickel-tinted fixtures, and pull handles.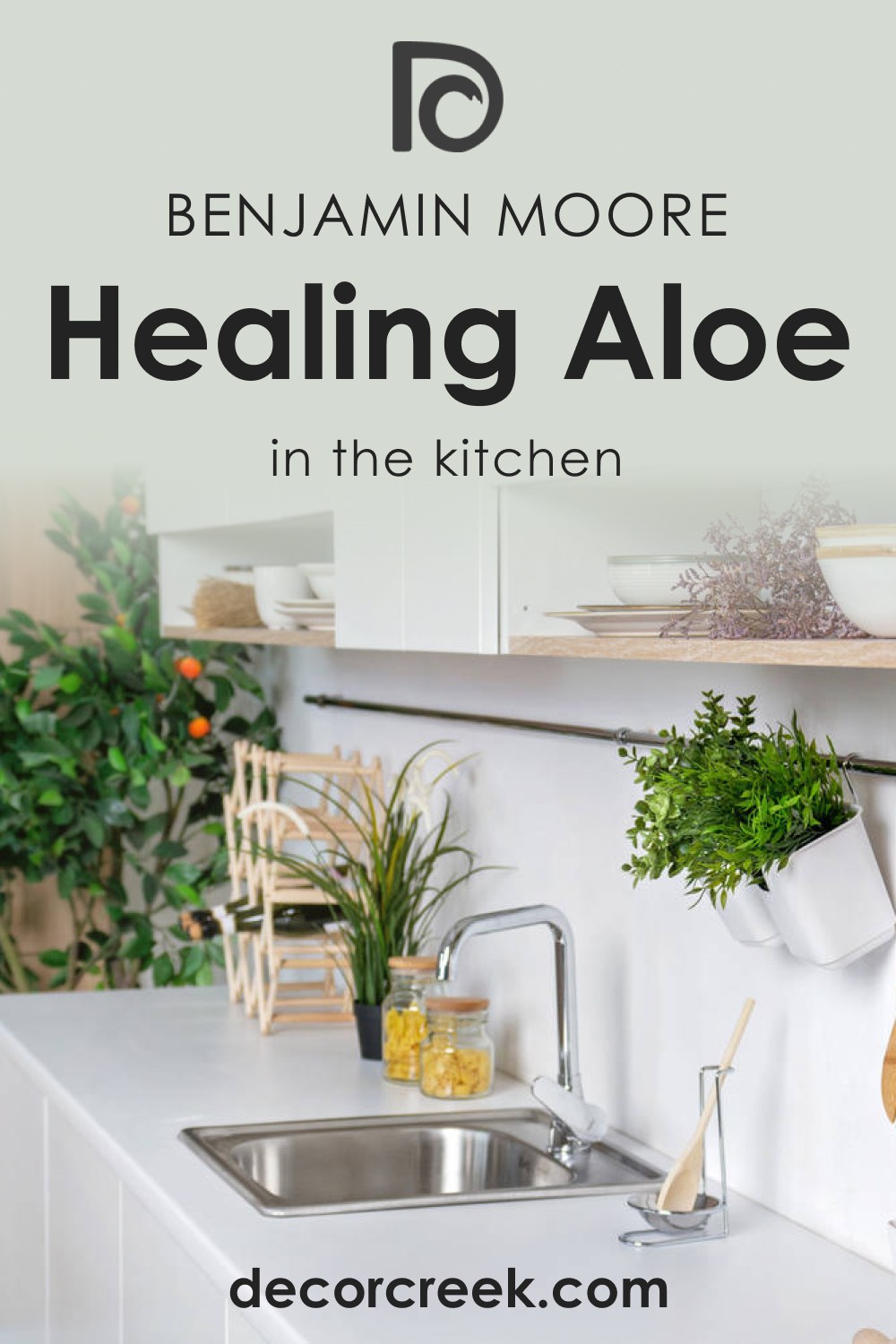 BM Healing Aloe for the Exterior Use
If you want BM Healing Aloe on exterior walls, note that it will further look lighter than it already is. We recommend using this paint on Cape Cod, Craftsman, and Caribbean-styled homes. Paired with white, gray, or off-white shaded trims and moldings, this blue with green-gray undertones will look fabulous.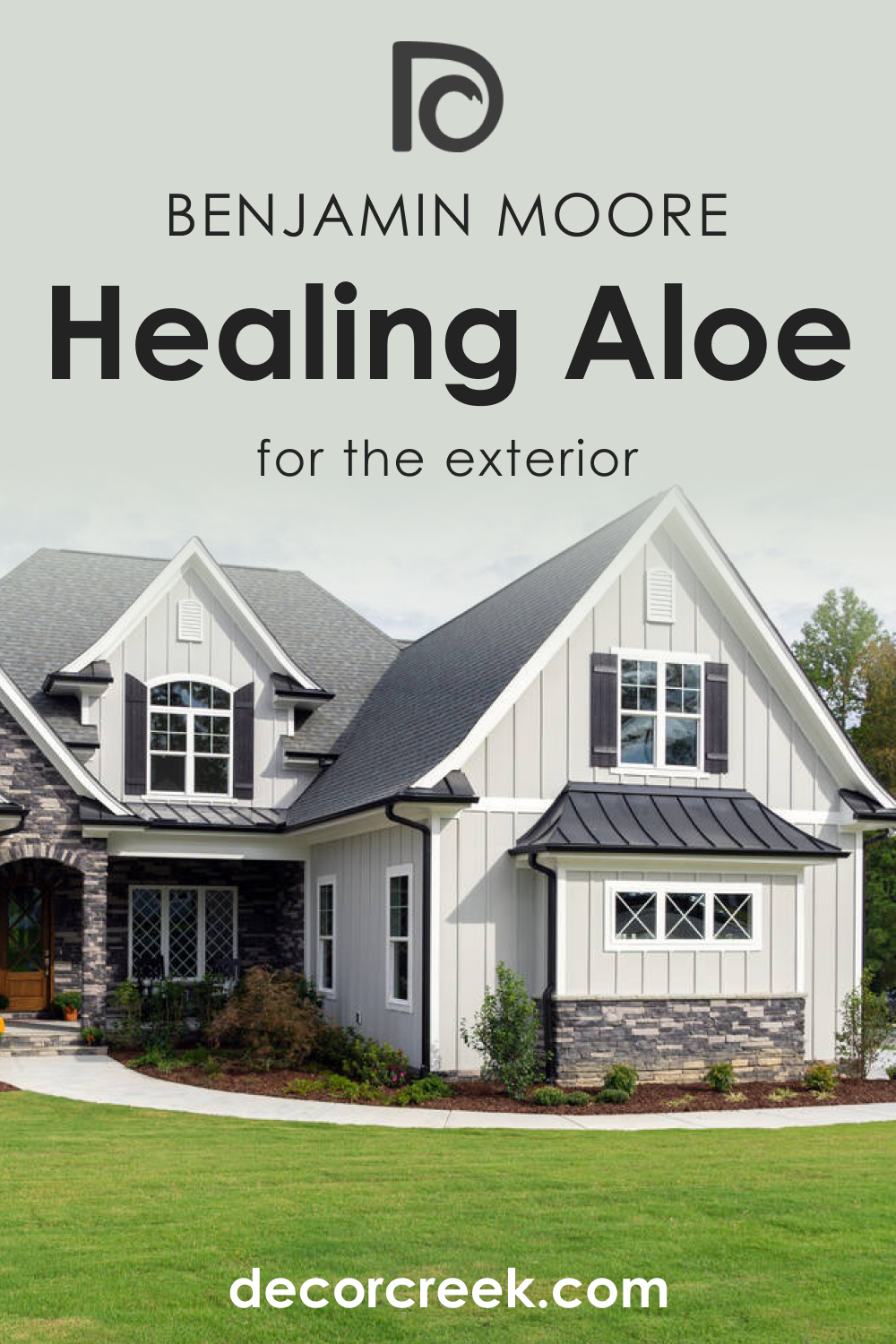 Now you know more about this tricky yet very beautiful color by Benjamin Moore. Knowing its undertones, LRV, coordinating and trim colors will help you to create a balanced palette in your home and reveal the true nature of this refreshing and calming hue.
However, don't forget to sample it in advance to ensure the color will work exactly as you want!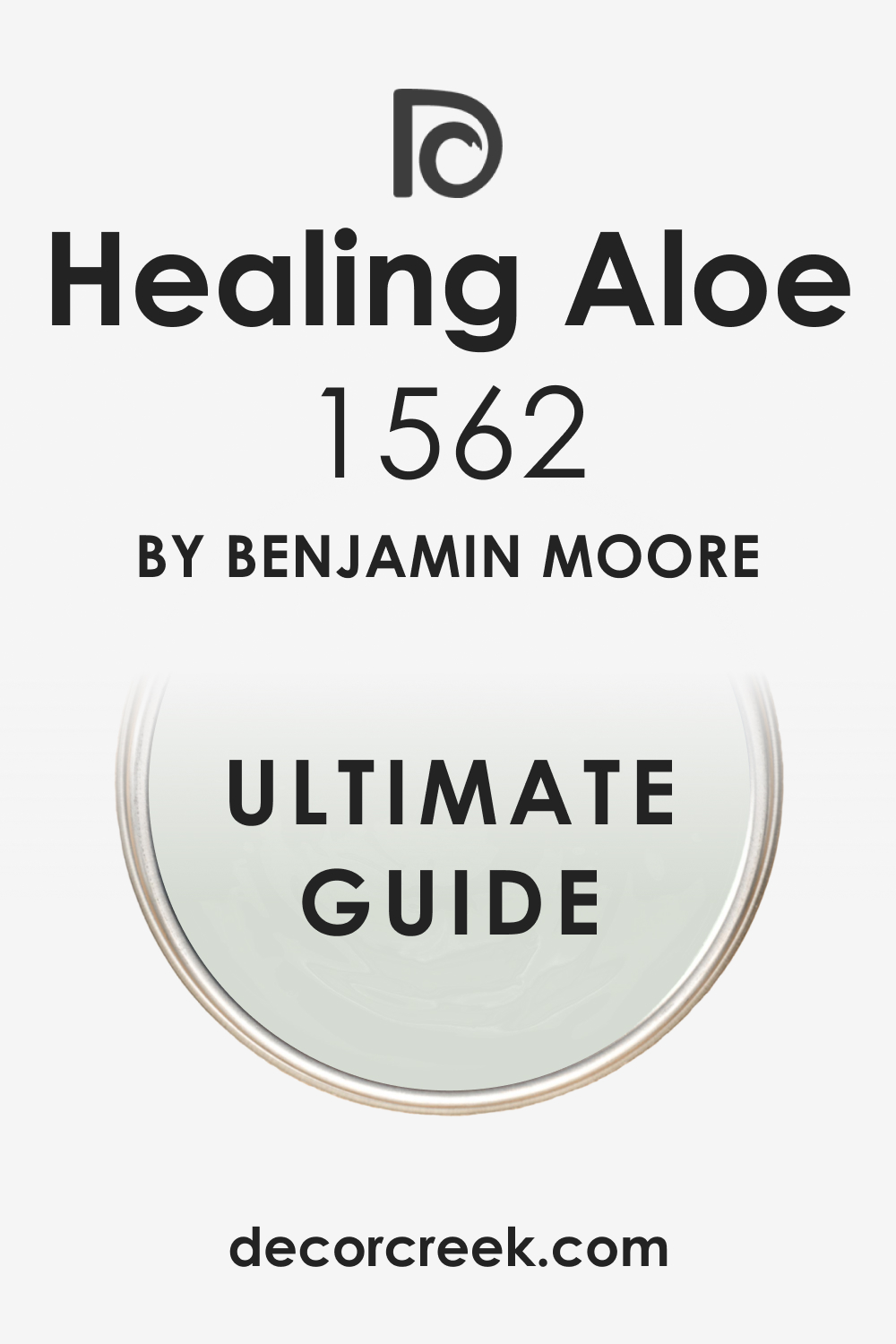 Frequently Asked Questions
⭐What color collection does BM Healing Aloe belong to?
This color belongs to the Benjamin Moore Classics color collection.
⭐Does BM Healing Aloe work with black?
Yes, it does. But you should use black very moderately.
⭐Is BM Healing Aloe a neutral color?
No, it's a cool-toned blue color with gray-green undertones.