We typically avoid using darker colors in our homes due to the fear of their deep and dark hues. However, today we would like to introduce a lovely and versatile dark color that can add character to your home without turning it into a cave!
Meet BM Millstone Gray! Read on to learn what makes this color so unique and how to use it in your home correctly.
You will learn a lot of helpful information, from the color's undertones and LRV to the best places in your home where it can work.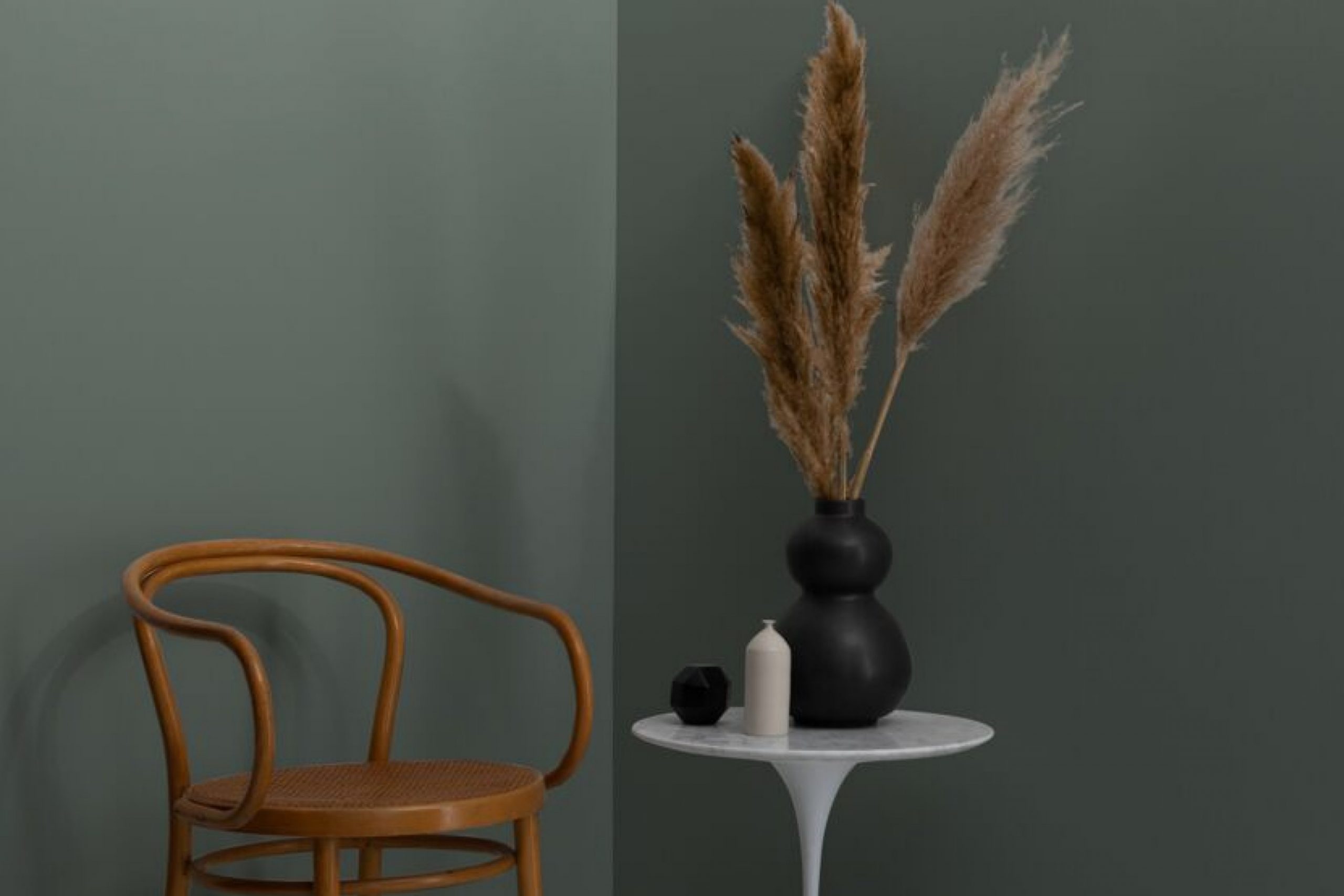 What Kind of Color Is BM 1581 Millstone Gray?
To a common person who is not a professional designer, BM Millstone Gray may seem a tricky color! At first sight, it reads half-green/half-gray, making people wonder what its identity is. In fact, it is deep gray with a cast of green that grounds this color.
As Encycolorpedia says, this hue is pretty dark indeed, so you should use it only if you are ready to add a bit of color and charisma to your interiors!
However, if used correctly, BM Millstone Gray will add an elegant yet homey vibe to almost any room. Perhaps it's not a universal color that can work anywhere in your home, but we can tell you where it will reveal all of its beauty!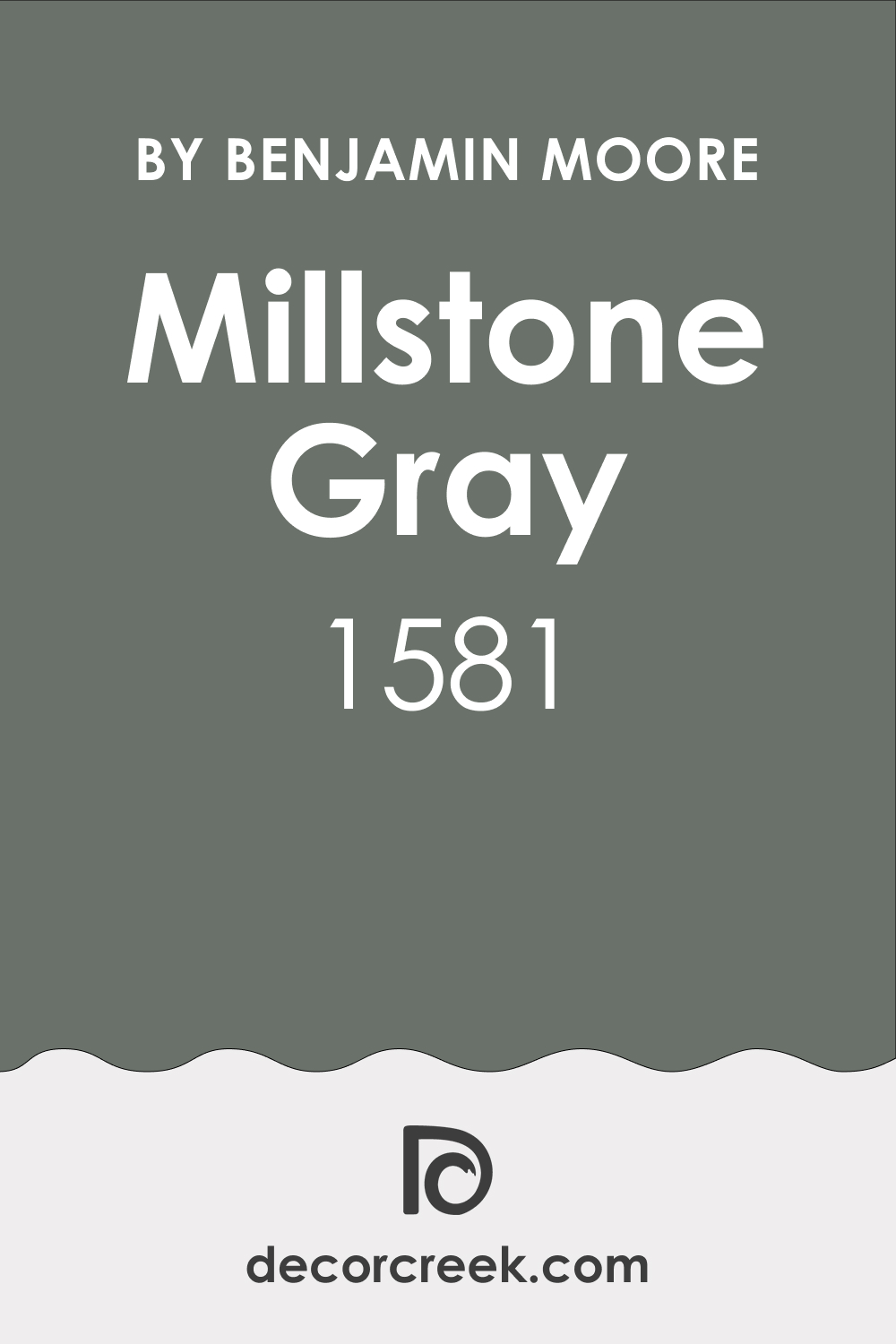 Is It a Warm or Cool Color?
This deep gray hue is definitely cool-toned! However, don't expect to see cold and unwelcoming tones in it. Thanks to the balanced mix of gray and green, this hue reads fresh enough in the living space, adding a pinch of coolness. But we would not recommend this color for rooms that are lit with warm natural light like southern! In such spaces, you'd better opt for crisper and much lighter colors instead.
What Undertones Does BM 1581 Millstone Gray Have?
BM Millstone Gray has prominent green undertones, but unlike some of the similar colors, it doesn't read green. The green undertones of this paint color are perfectly mixed into the gray base. This results in a well-balanced and reserved hue that unites the beneficial traits of both green and gray.
However, because of the green hue this color has, BM Millstone Gray may sometimes show its greenish side more prominently! Keep this in mind when using this color, and always sample it in advance to ensure it reads as you want.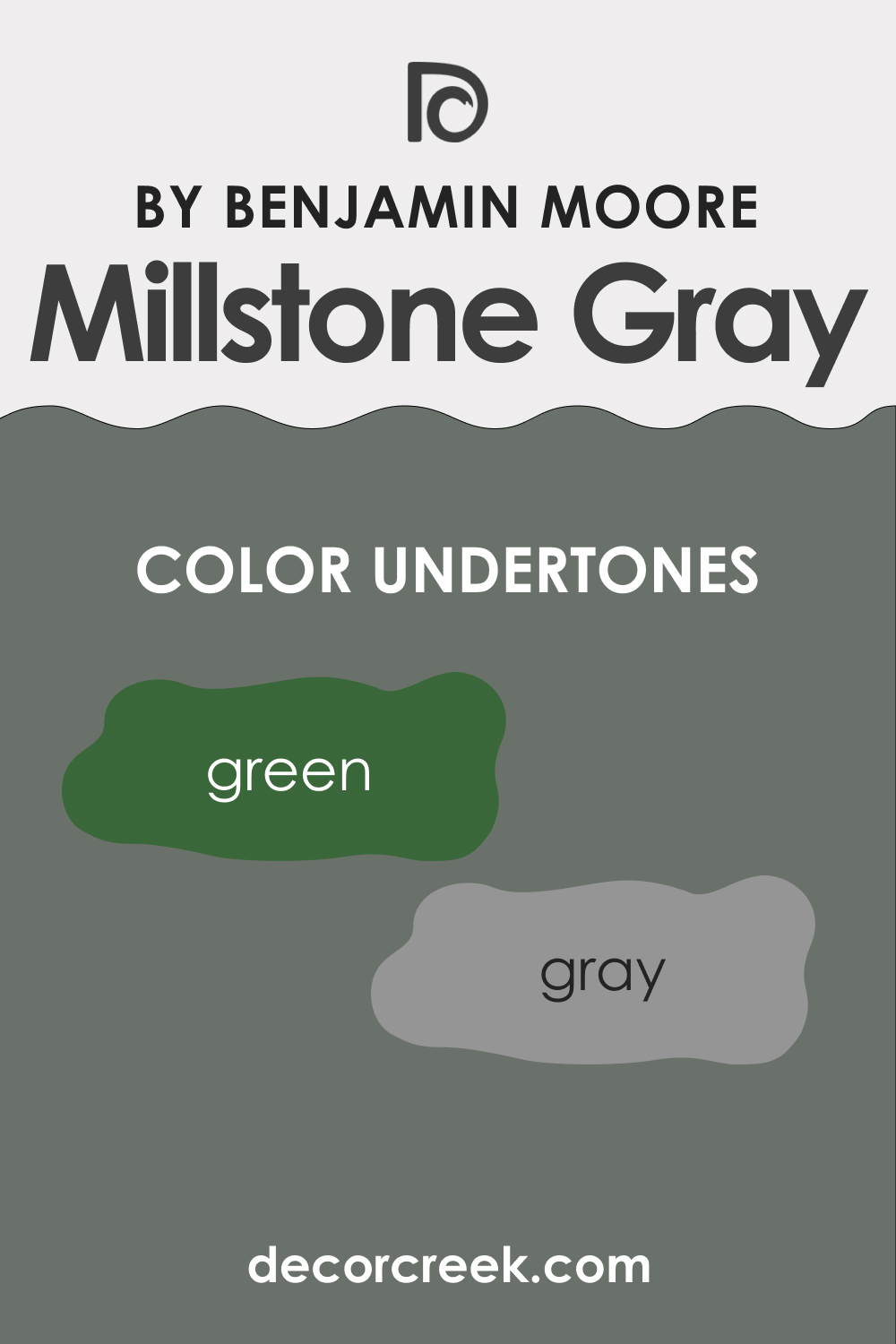 Coordinating Colors for BM 1581 Millstone Gray
It might be a bit challenging for you to find the best-coordinating colors for BM Millstone Gray since you need to search for colors that have the same balanced green-gray hue. To help you out, we have prepared a list of coordinating colors that will work perfectly well with this gray in your living space:
OC-57 White Heron
BM 1562 Healing Aloe
OC-65 Chantilly Lace
CC-100 Flurry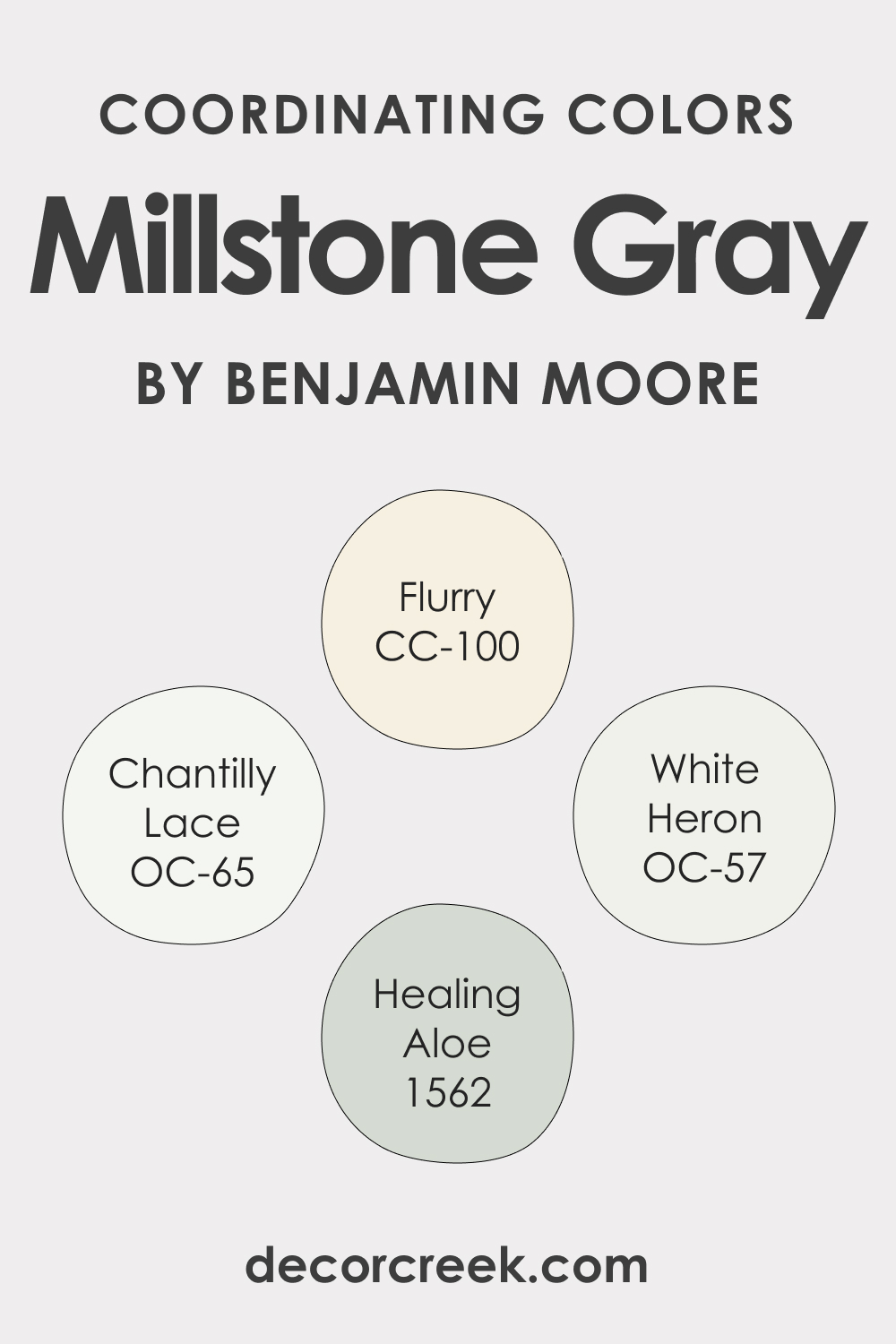 What LRV BM Millstone Gray Paint Color Has?
Light Reflectance Value (also known as LRV) is the measurement that indicates how light or dark a color will look on a scale of 0 (black) to 100 (white). The closer the LRV value to 100, the lighter and more reflective the color. Respectively, LRVs that go down to the zero mark belong to darker and less reflective colors.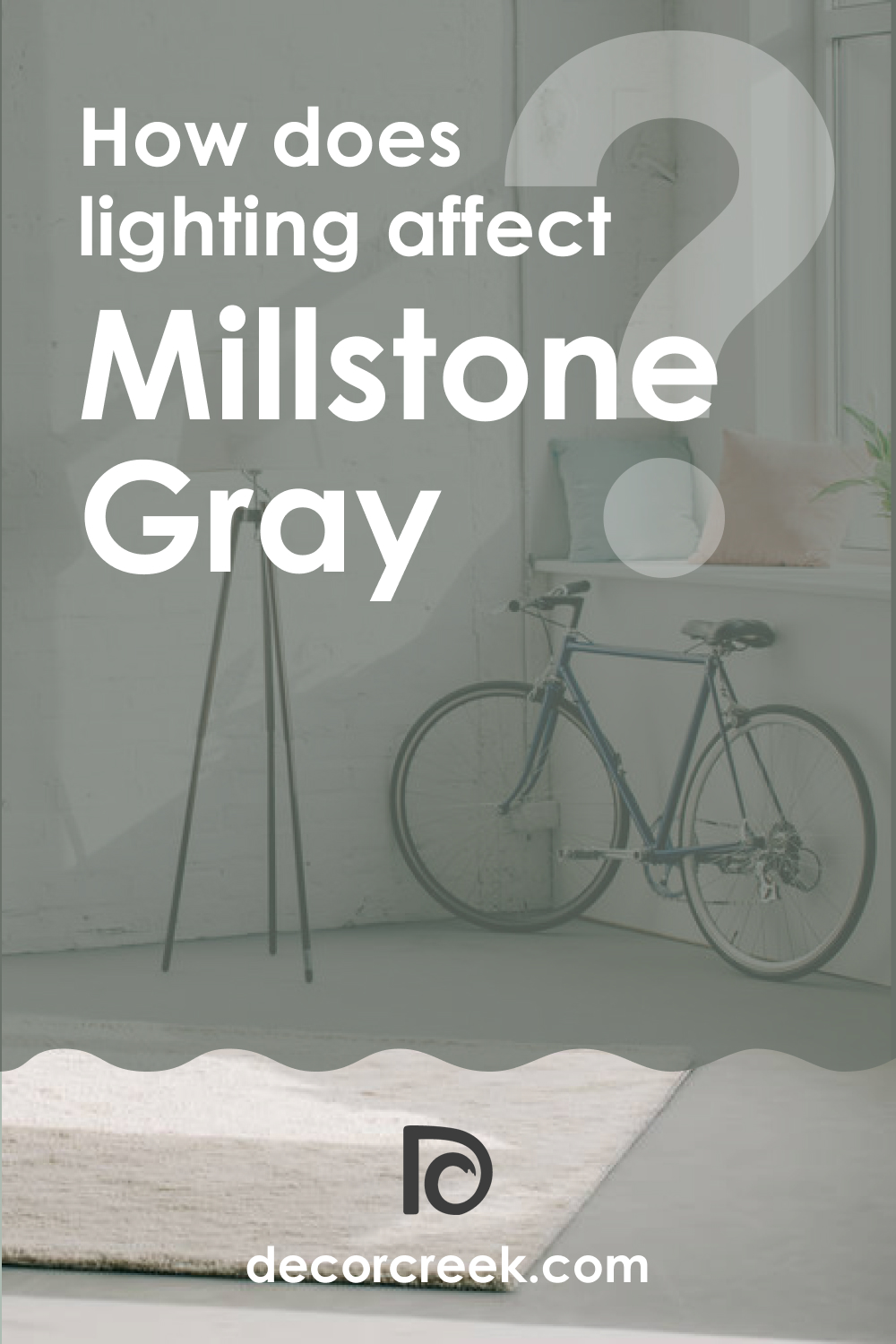 The LRV value of BM Millstone Gray is 16. By LRV value, it is a medium-dark color. Also, such a low LRV value means this color doesn't reflect much light when used on the walls.
This is why you should avoid using BM Millstone Gray in smaller rooms and in rooms that have little to no natural light. In such spaces, this color will look darker, making the room feel enclosed and cave-like!
Also, you should always consider the lighting conditions in a room. In warmer light (be it natural or artificial), BM Millstone Gray tends to read noticeably greener. However, it won't look green anyway. But in rooms with cooler light (e.g., in North-facing rooms), this color will work the other way.
It will show its gray hue much more! As a result, it can make the space feel somewhat "colder" and less welcoming.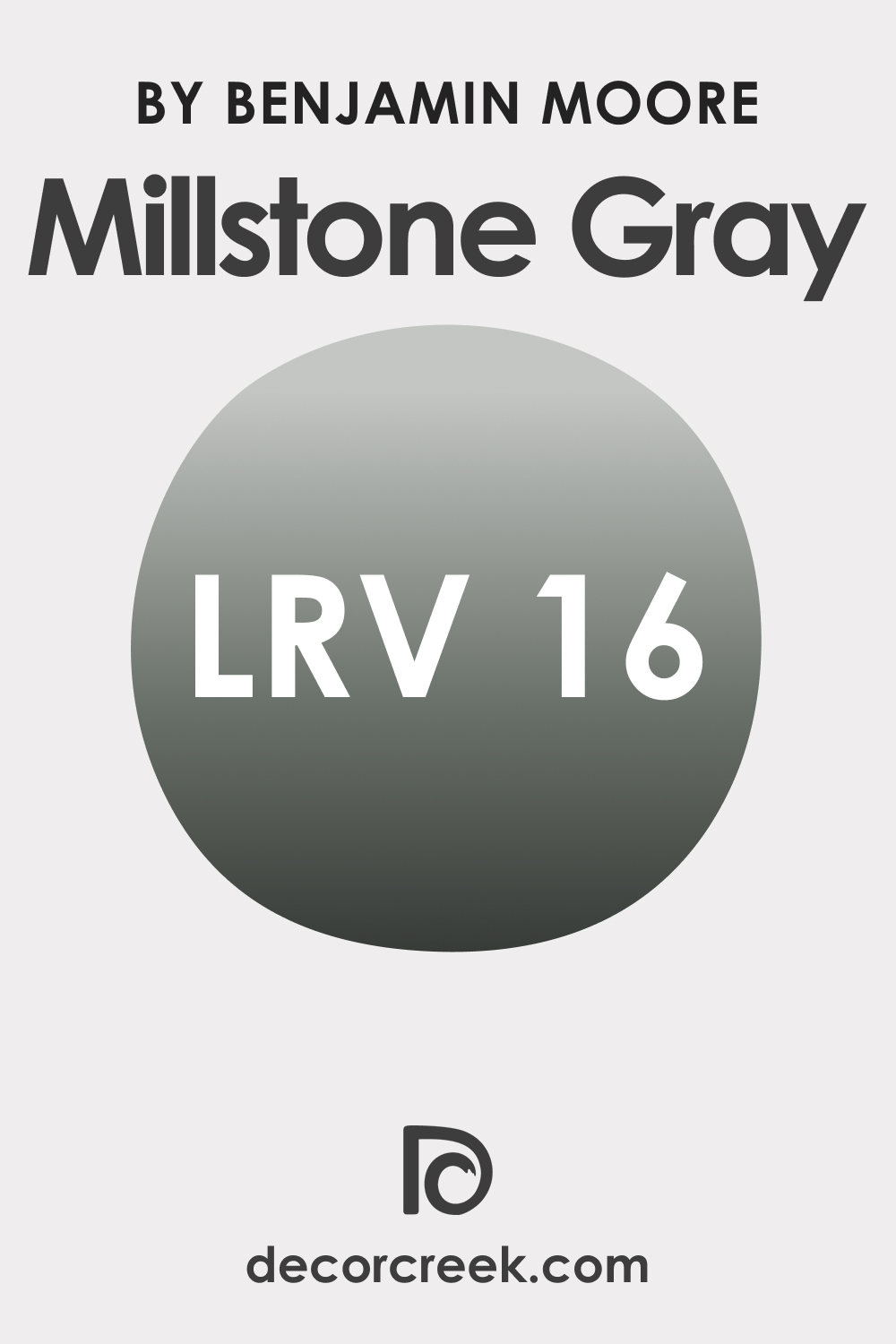 LRV – what does it mean? Read This Before Finding Your Perfect Paint Color
What Is the Best Trim Color to Use With BM 1581 Millstone Gray?
White is a traditional trim color that typically works with most colors on the walls. However, you should still be able to choose the correct shade of white depending on its tone and LRv. Otherwise, the trim color will not work! For BM Millstone Gray, we recommend you use the following white colors on your trim and moldings:
BM 02 Super White
OC-117 Simply White
Should you strive for a very crisp and even sharp contrast, you might want to try SW 7005 Pure White color on your trim.
Generally, cooler whites and white neutrals that read soft enough will work well with BM Millstone Gray as trim colors. Just avoid creamy whites and very warm-toned ones!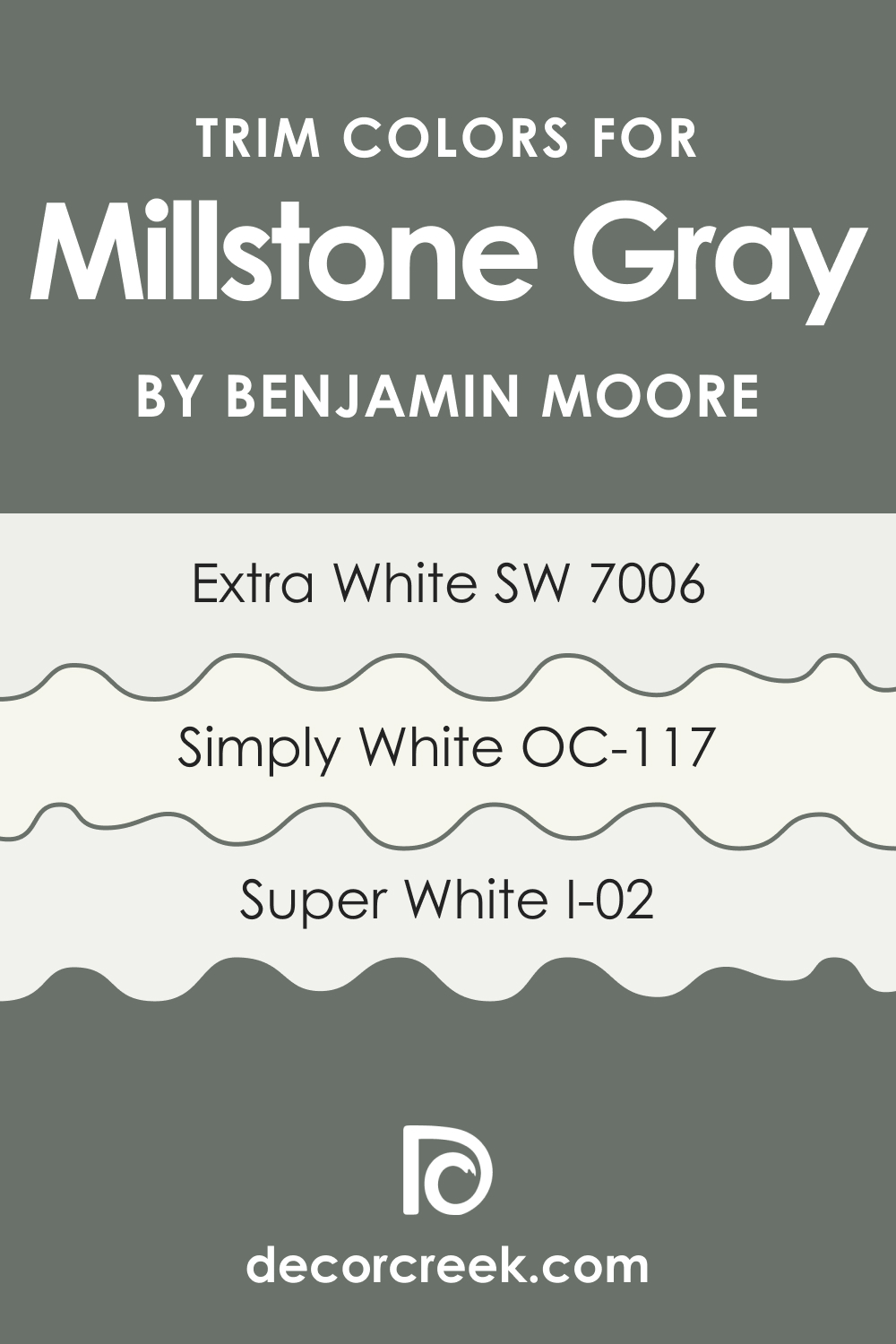 Colors Similar to BM Millstone Gray
If you are not satisfied with how BM Millstone Gray reads on your walls, consider trying another color that looks almost the same! For this purpose, we have prepared a few color options for you to check out.
BM 1589 Kitty Gray
BM 1575 Rainy Afternoon
BM 1568 Quarry Rock
BM 1595 Rocky Coast
SW 7068 Grizzle Gray
BM 1580 Intrigue
SW 7622 Homburg Gray
Valspar Coastal Dusk
PPG Gunmetal Gray
BM Gray Gardens
They are the closest matching colors that look nearly the same as BM Millstone Gray. However, note that each of them will still vary a bit due to the different LRVs and undertones.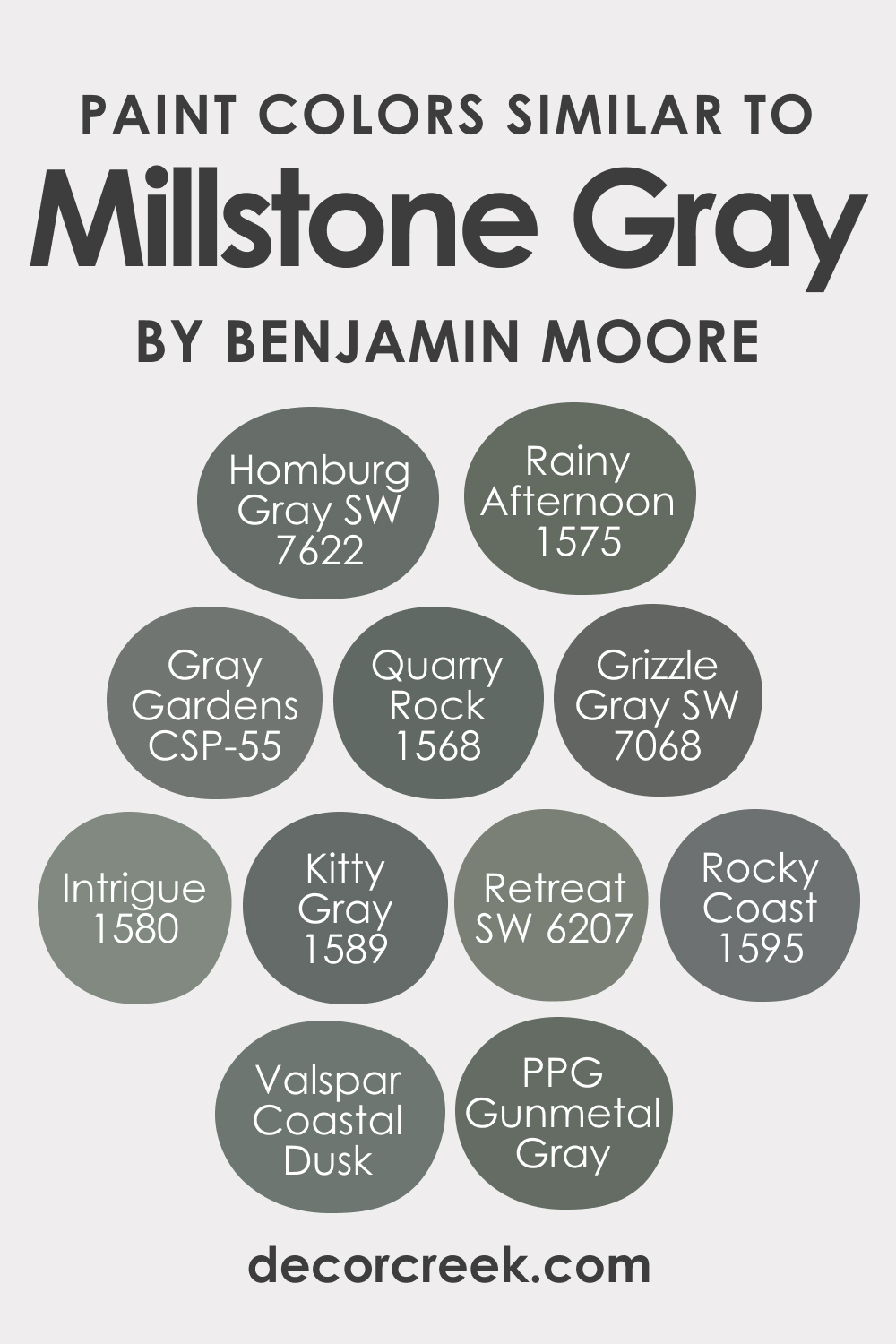 Colors That Go With BM Millstone Gray
To achieve a good-looking color palette that will please your eyes, you should know what colors will work with the wall color best. If you want to use BM Millstone Gray in your home, you might be wondering how to make up a balanced palette. Well, we have a few color options for you to check out!
HC-154 Hale Navy
BM 2132-40 Eclipse
HC-168 Chelsea Gray
BM 1617 Cheating Heart
BM 2041-10 Forest Green
BM 1649 Polaris Blue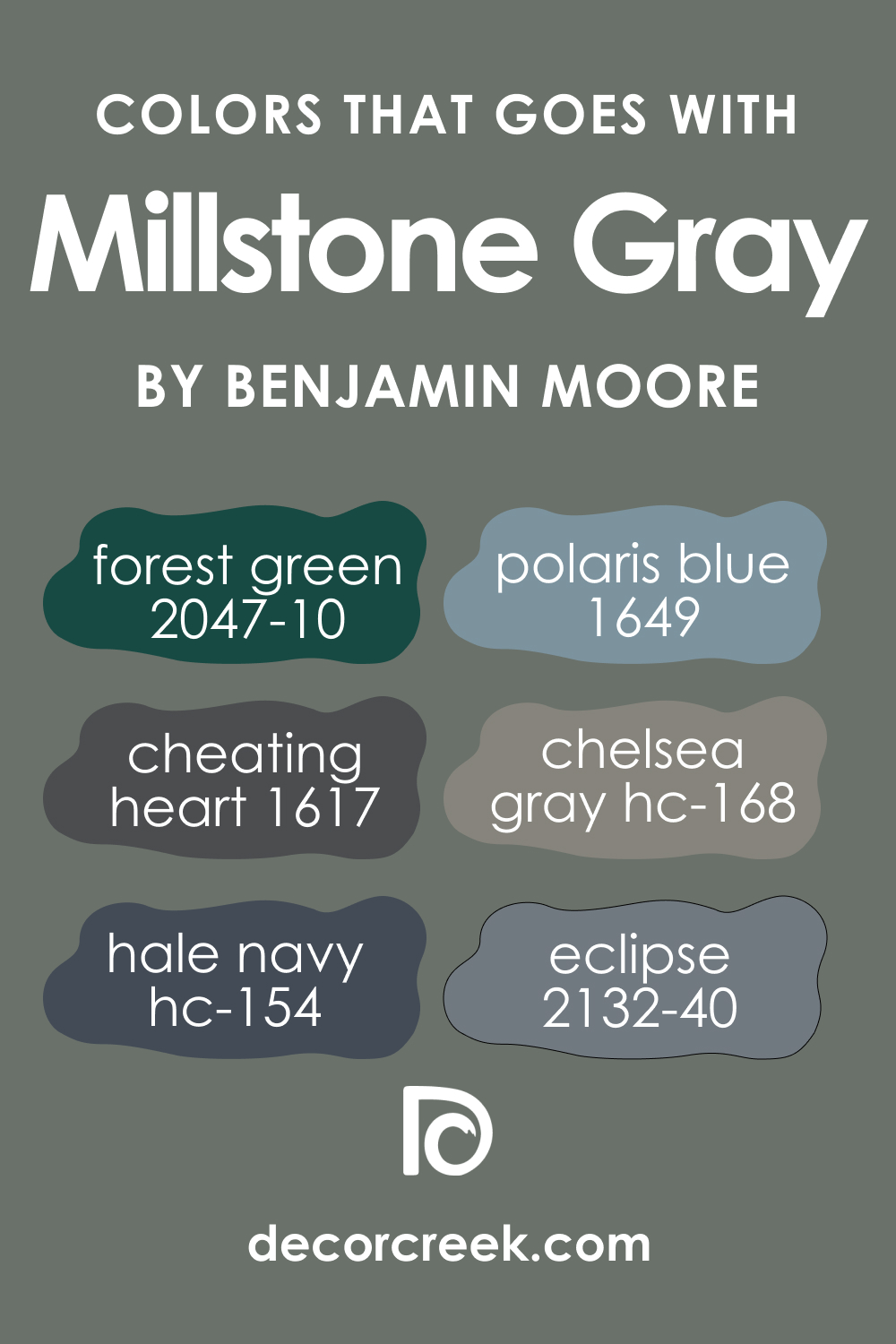 Comparing BM 1581 Millstone Gray With Other Colors
To know how to use colors correctly, you should know how they work with each other. Below, we describe how BM Millstone Gray works compared with other colors, some of which have similar hues. Read carefully to see how LRVs and undertones can make colors look unique.
Millstone Gray vs. Studio Blue Green
SW Studio Blue Green is exactly what it's called. It's a mixed blue-green color with an LRV value of 22. Compared to it, BM Millstone Gray looks grayer and darker due to the lower LRV value of 16.
Millstone Gray vs. Vogue Green
SW Vogue Green reads much greener with a saturated leafy green hue. Also, it's significantly warmer thanks to yellow undertones. These features keep this color from reading dark, although its LRV of 9 is much lower than the LRV 16 of BM Millstone Gray.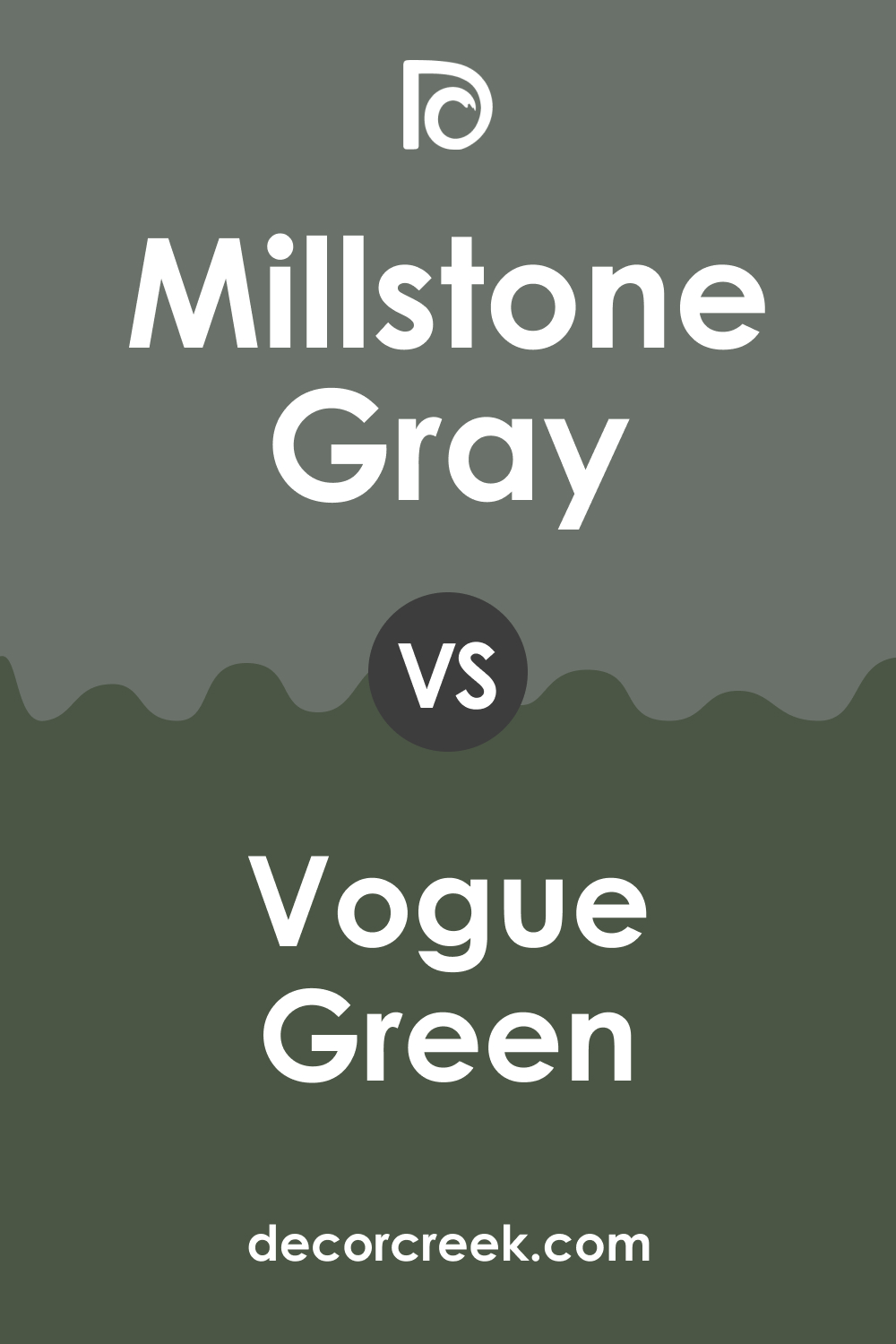 Millstone Gray vs. Halcyon Green
SW Halcyon Green is a muted green hue with gray and blue undertones that make it feel cooling and fresh. With an LRV of 32, it's much lighter than BM Millstone Gray, whose LRV is 16. Also, compared to SW Halcyon Green with its bluish hue, its counterpart looks greener.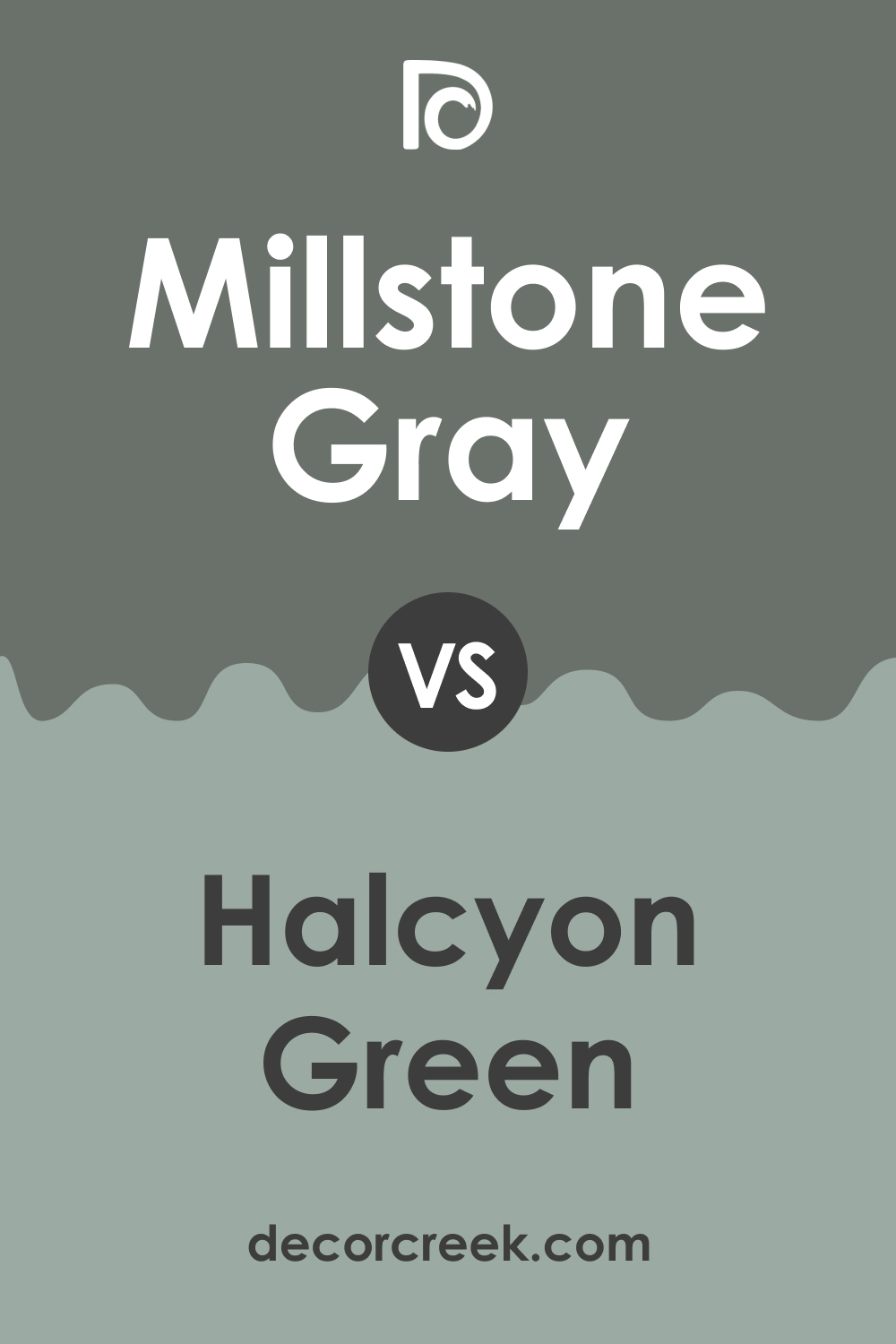 Millstone Gray vs. Retreat
SW Retreat has an LRV of 21 (which means it's lighter than BM millstone Gray) and deep green-gray undertones. Compared to it, BM Millstone Gray reads a bit grayer, but these colors are pretty similar in tone and overall appearance.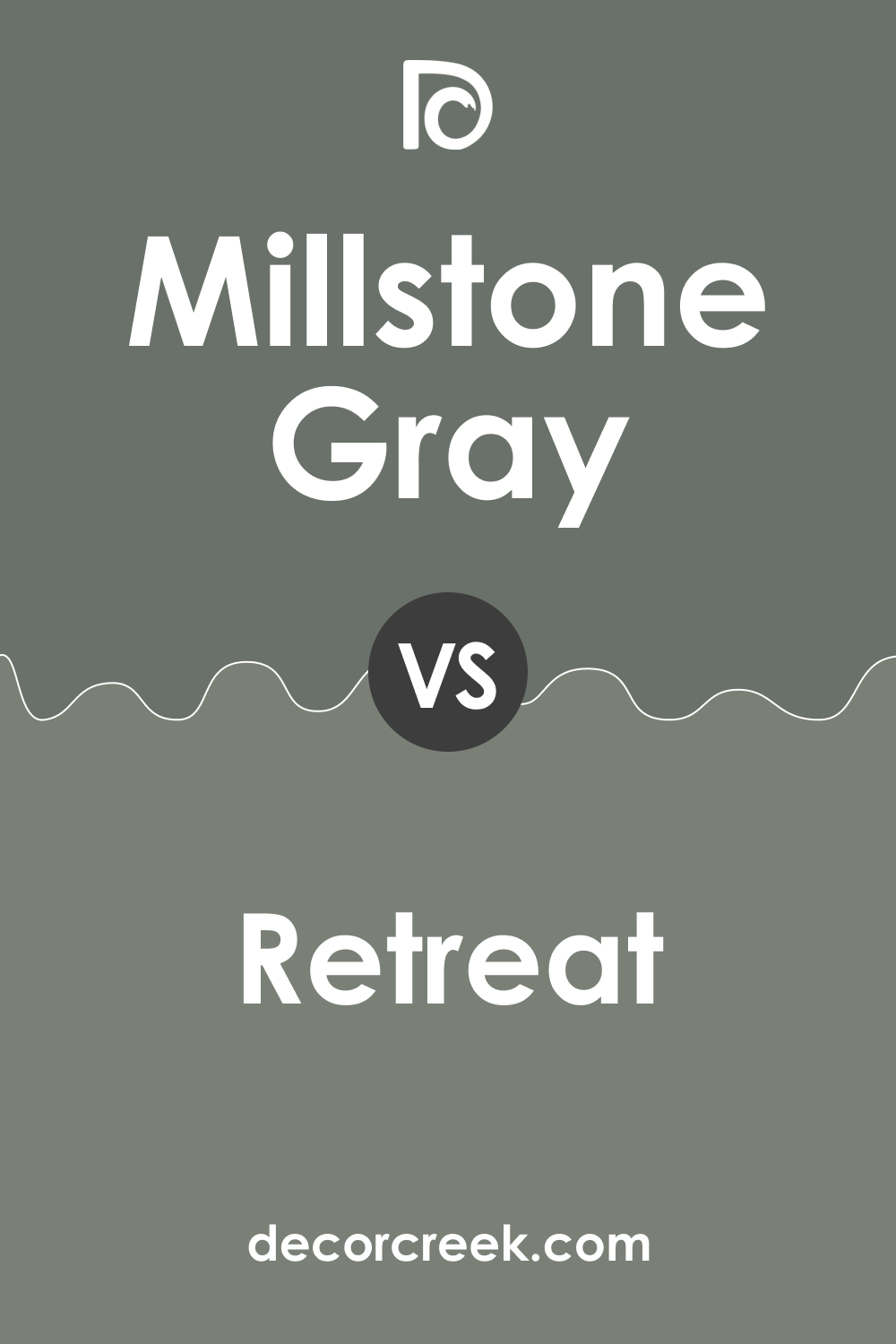 Millstone Gray vs. Juniper
SW Juniper is a deep green with blue undertones and an LRV of 20. It definitely reads much greener and noticeably lighter than BM Millstone Gray with an LRV of 16. Compared to SW Juniper, its counterpart looks somewhat moody and more muted.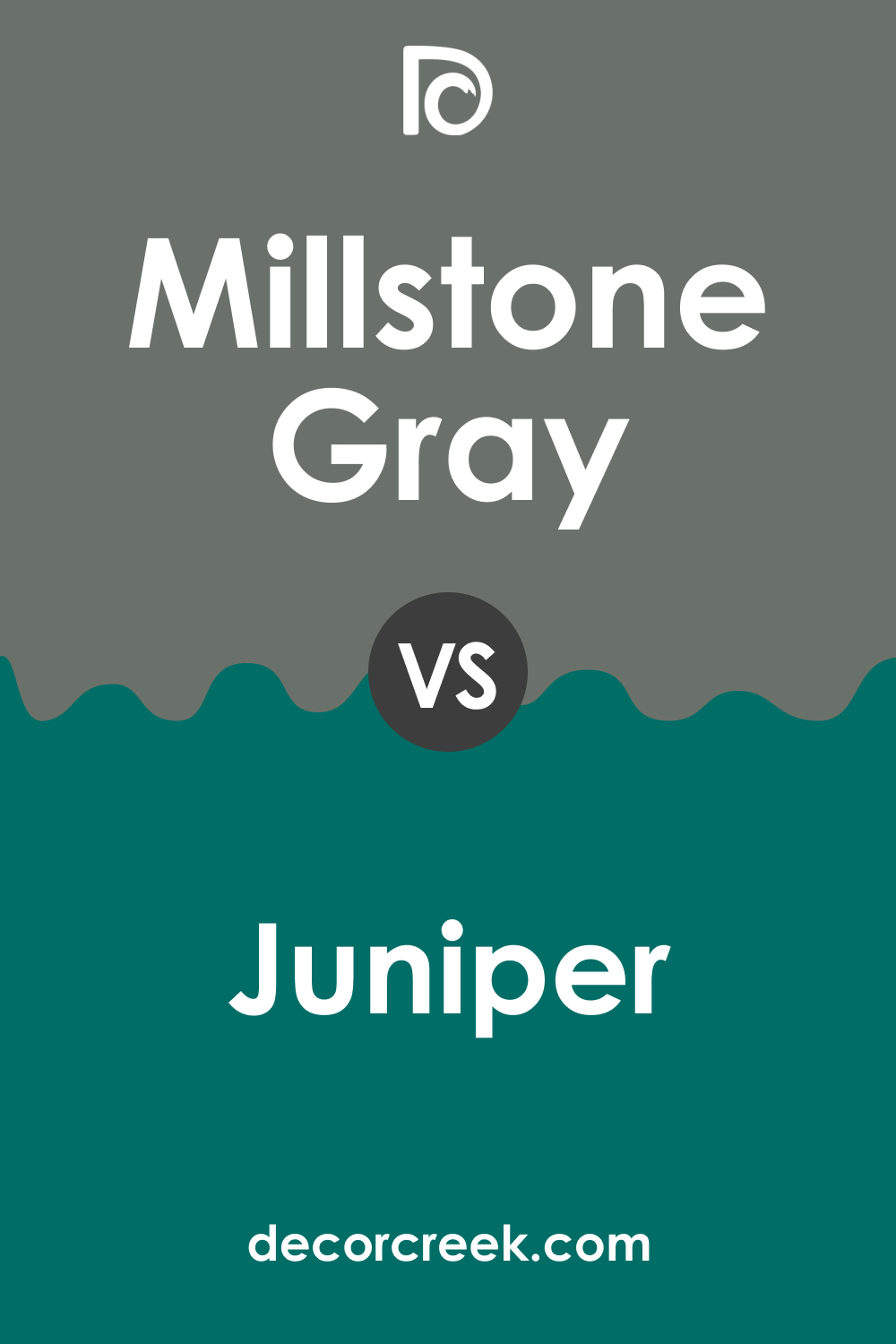 Millstone Gray vs. Teal Stencil
SW Teal Stencil is a mix of cool-toned blue and green that has an LRV of 21. It's lighter than BM Millstone Gray, whose LRV is 16. Also, the Millstone Gray color reads deeper due to the more prominent green-gray hue, whilst its counterpart looks bluer and more saturated.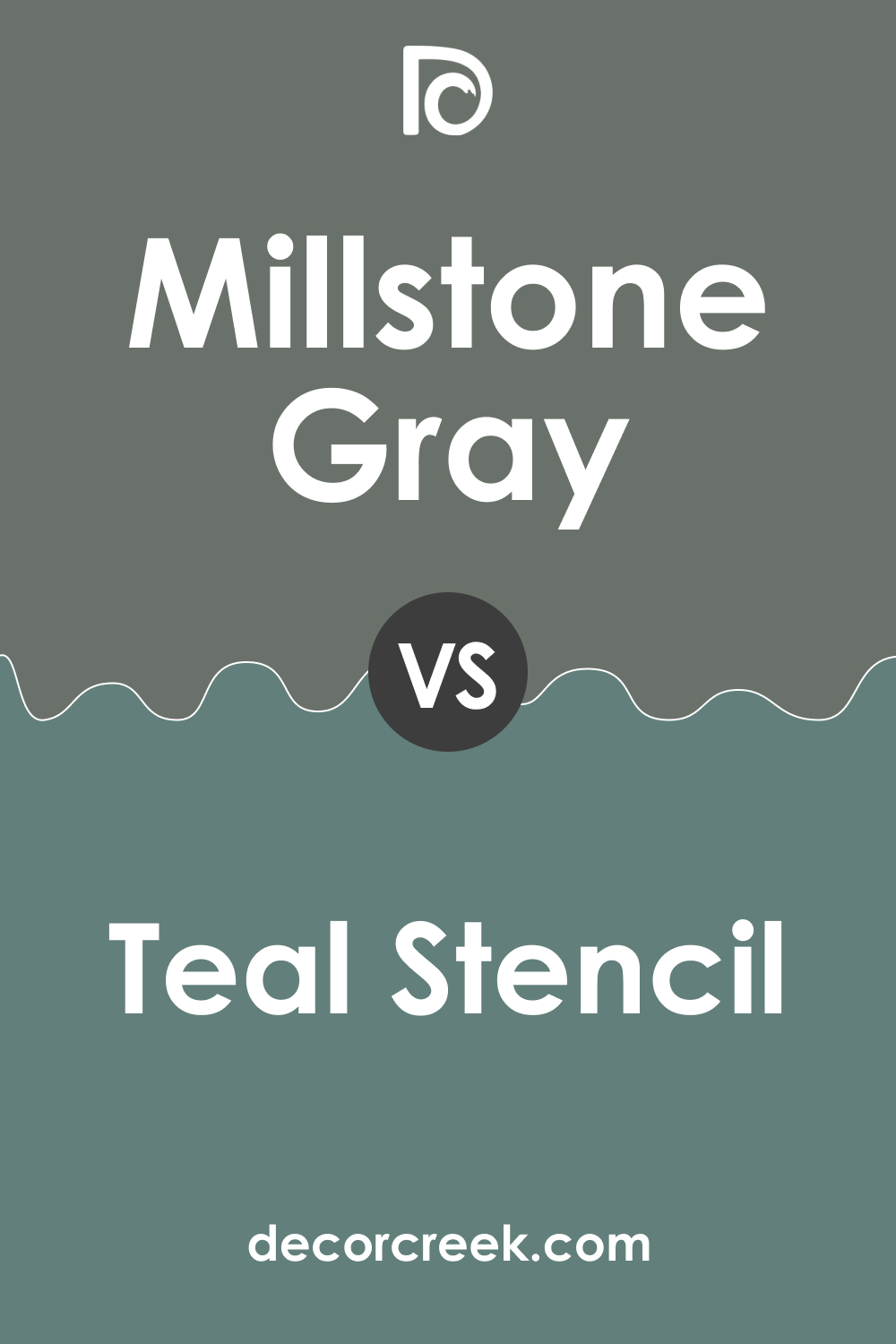 Where to Use BM 1581 Millstone Gray Color In Your Home?
BM Millstone Gray is pretty versatile when it comes to using it in your home. Below, we describe how it can read in different rooms. This way, you can better understand what to expect from this hue.
BM 1581 Millstone Gray in the Living Room
Depending on the lighting conditions, BM Millstone Gray can read grayer or greener in your living room. Also, in a room with prevailing cool-toned colors, this hue will also seem colder. But generally, this gray works perfectly for adding an elegant and calm statement to the space while still keeping it welcoming.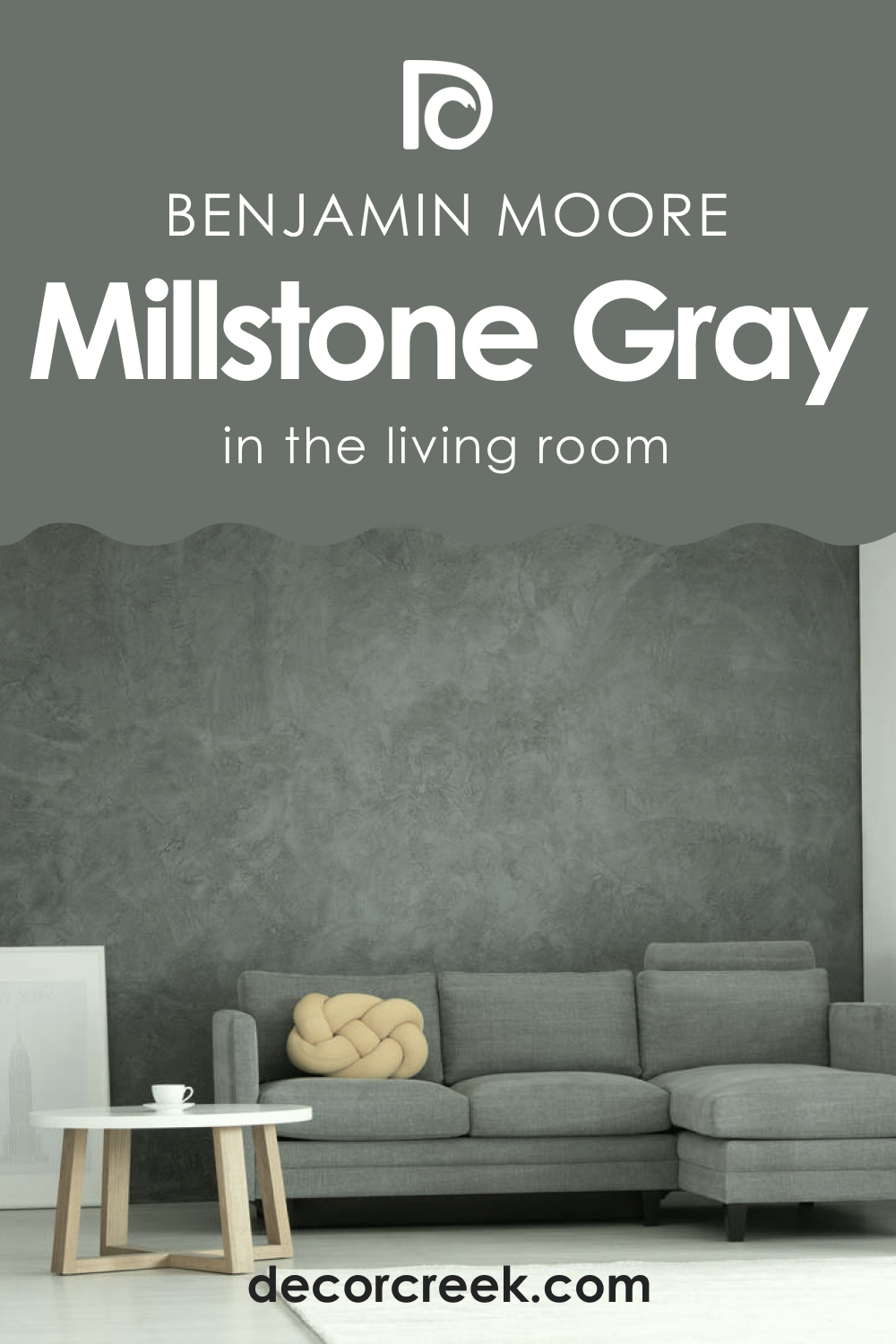 BM 1581 Millstone Gray and Bedroom
In bedrooms, consider using this dark color on the accent wall. Otherwise, the space may read overwhelmed and excessively dark if you paint all the walls in BM Millstone Gray! To lighten things up a bit, use more whites and add a few saturated accents through upholstery or pillows.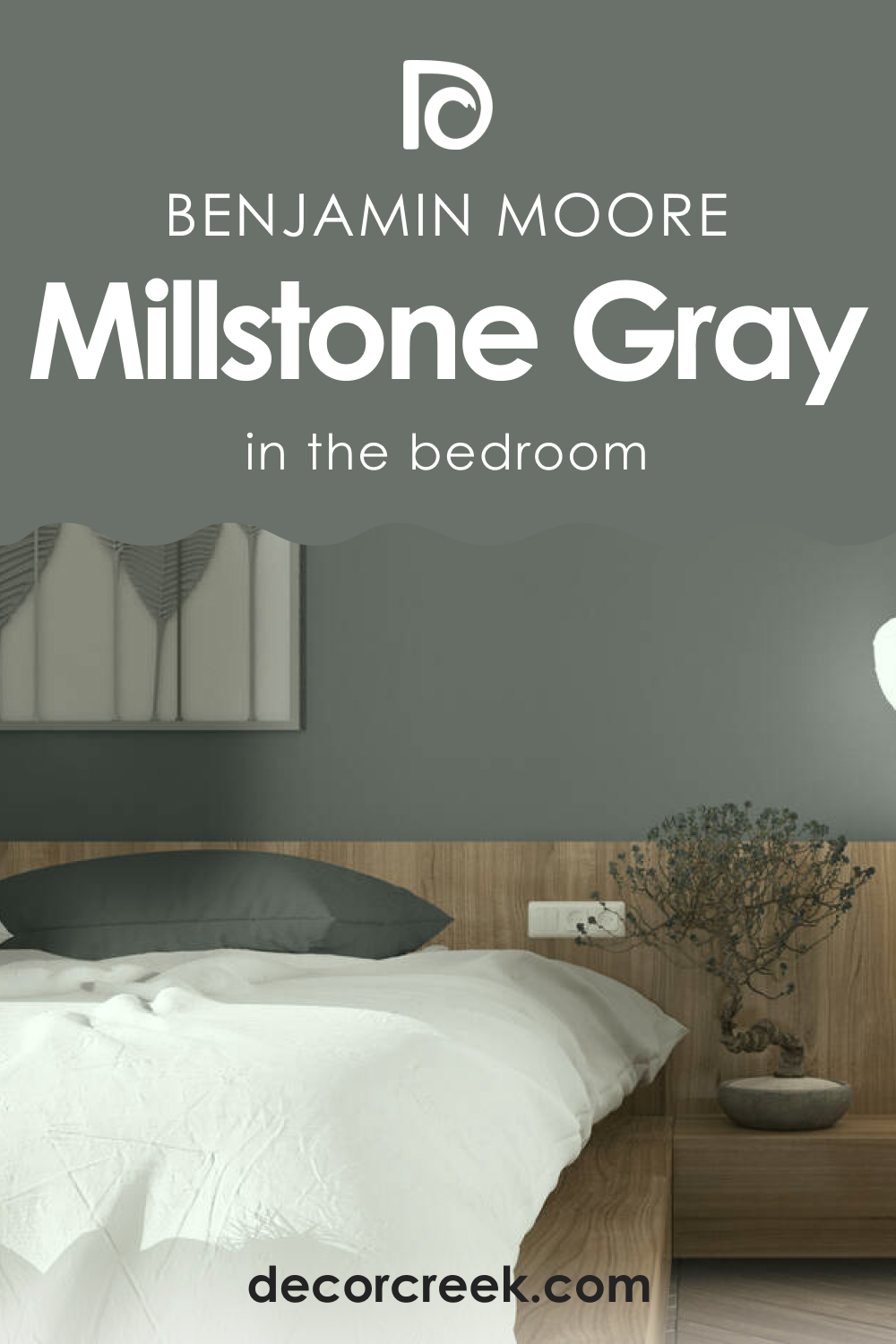 BM 1581 Millstone Gray on the Kitchen
In your kitchen, this color will work fabulously on lower and upper cabinets with the walls being white! If you have the kitchen island, paint it in BM Millstone Gray to match the cabinets. Since this hue works well with wooden textures and tiles, as well as with marble surfaces, you will easily incorporate it into your kitchen space.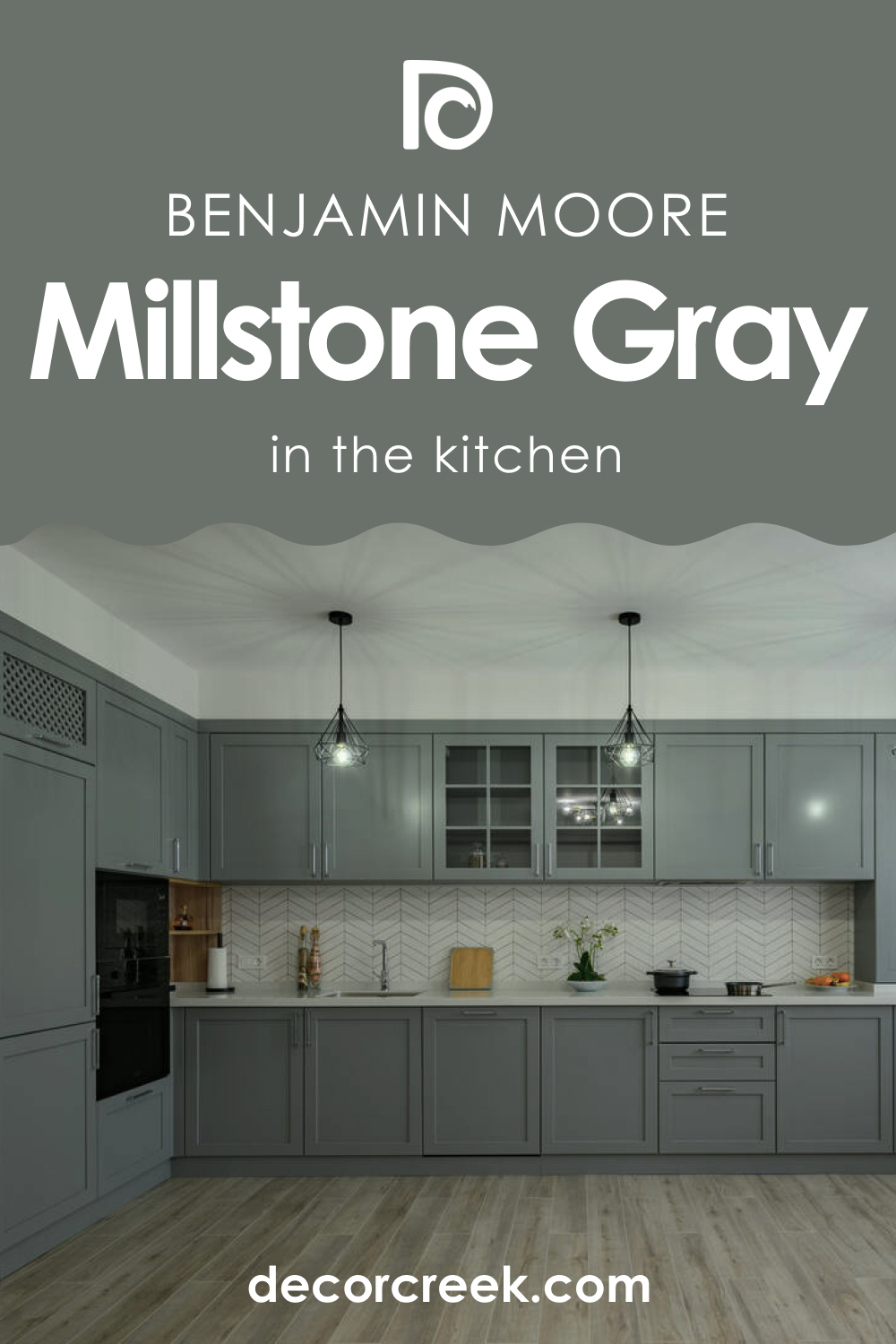 BM 1581 Millstone Gray for the Bathroom
Use this color carefully in bathrooms since it can make the room feel smaller! We recommend you limit its use and paint only the vanity in it. If the size of the bathroom (and its lighting) allows, you can also paint one of the walls in BM Millstone Gray. But the rest of the room is best to be white or another light color.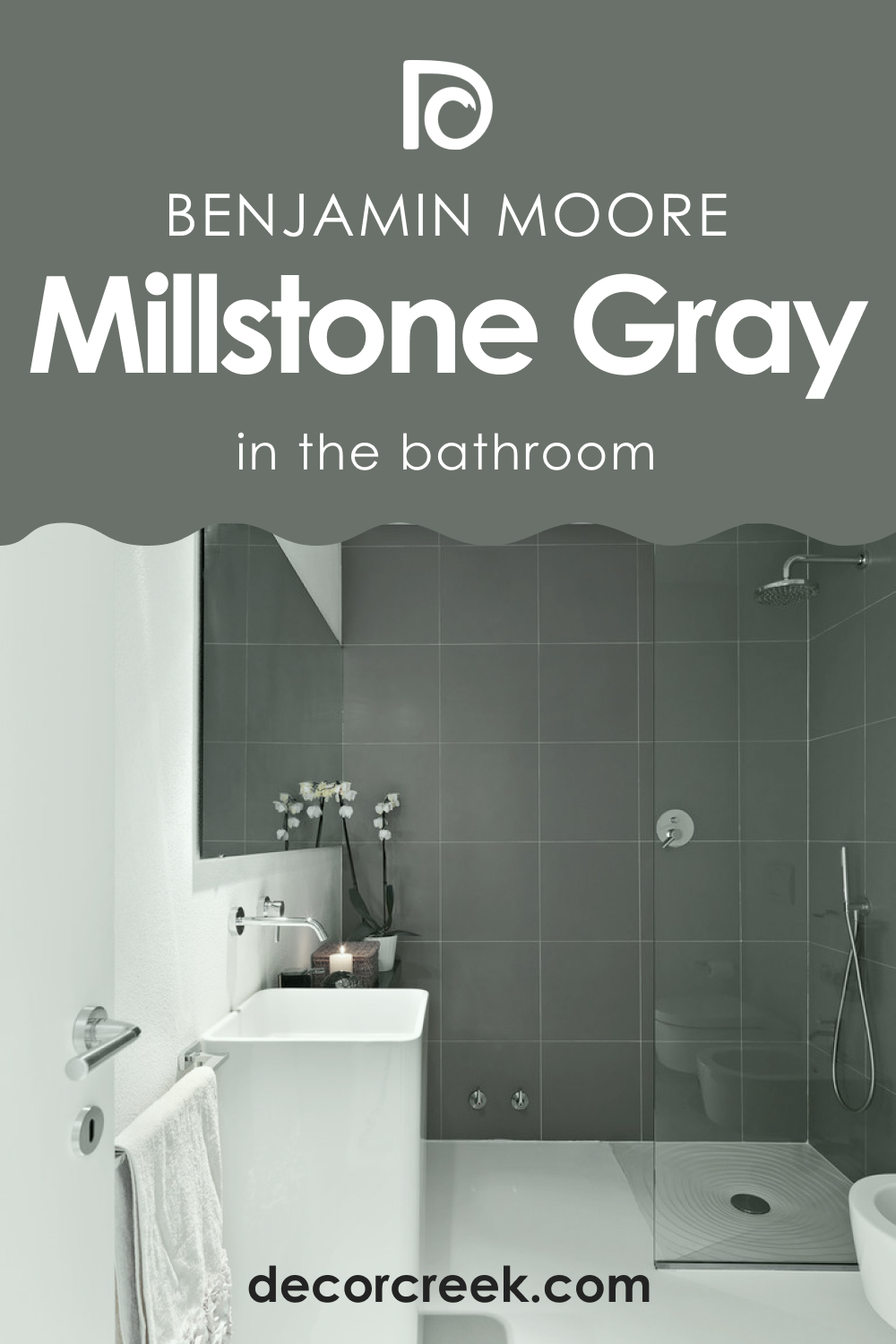 BM 1581 Millstone Gray  for the Exterior Use
On exterior walls, this color may read differently depending on the light. On sunny days, it will look greener, whilst on cloudy days, it will read grayer instead. Consider this nuance if you want to use BM Millstone Gray on your house! But mostly, this hue works well on exterior walls, especially if you pair it with softer white on the trim.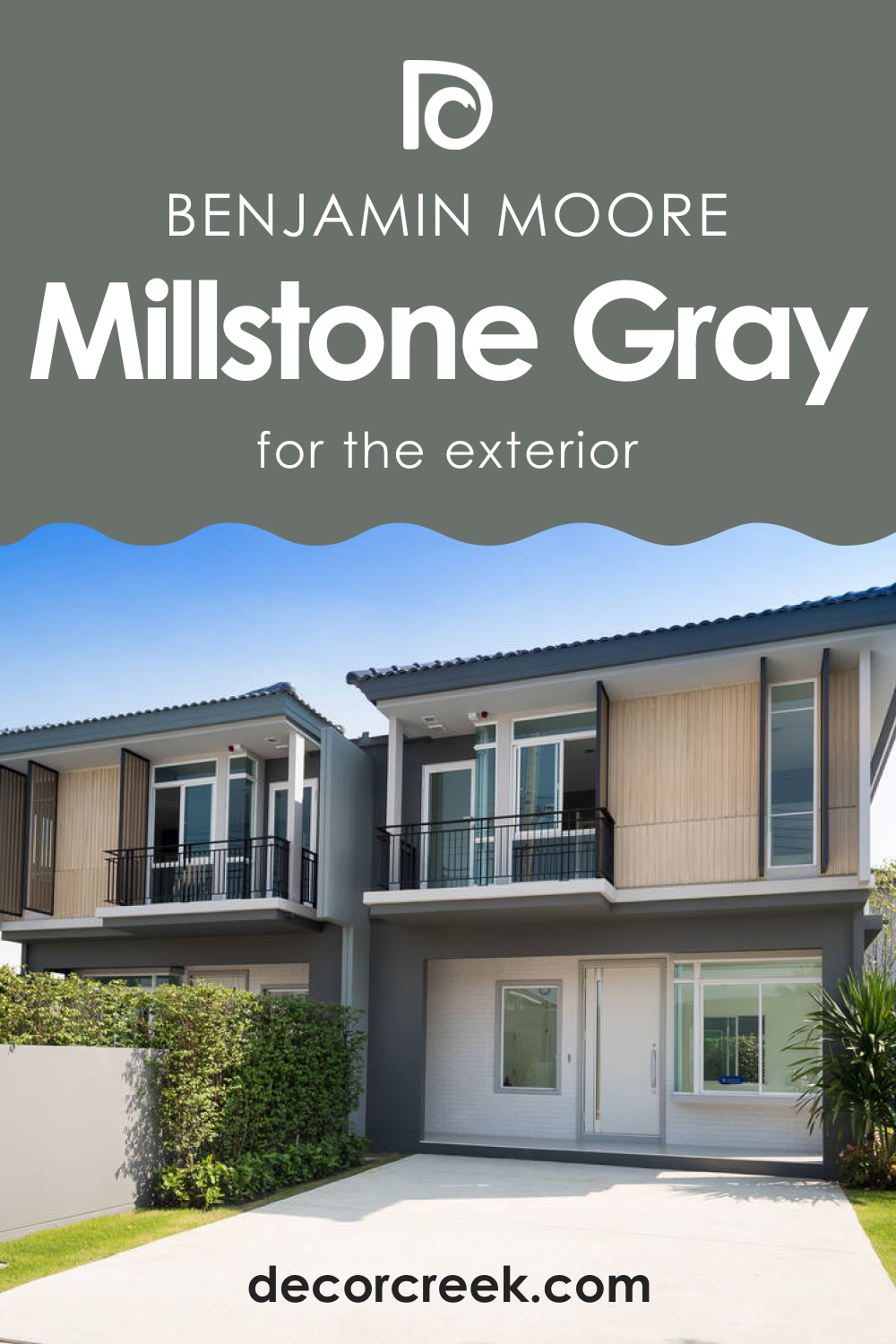 This is how BM Millstone Gray works in different rooms and how it reacts to light.
Now you know what makes this color so unique and beautiful and how to use it in your home correctly to make it work. With all the information we shared today, you will know how this hue may read in different lighting conditions and how to coordinate it.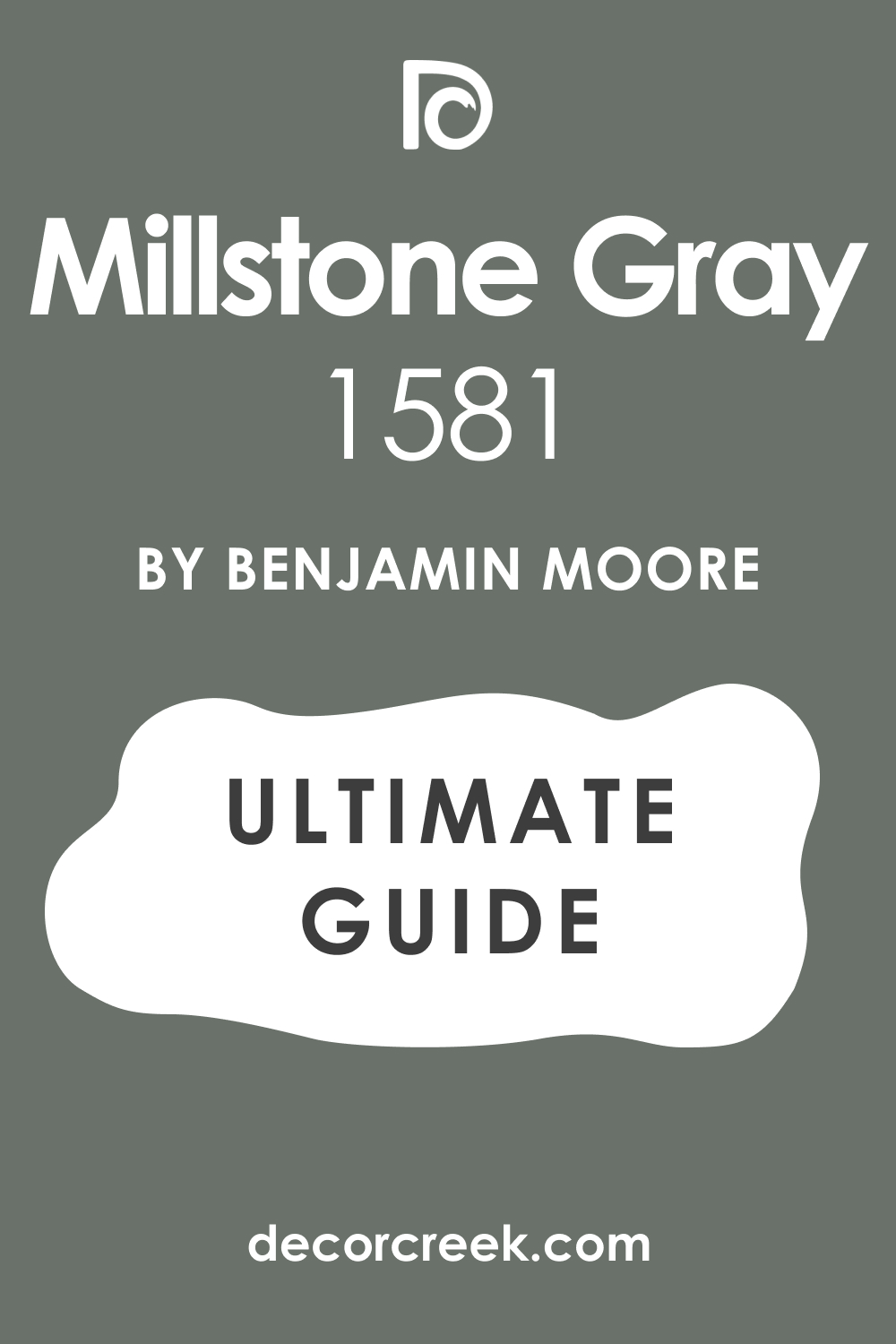 Frequently Asked Questions
⭐What color collection is this color a part of?
BM Millstone Gray is part of the Benjamin Moore Classics color collection.
⭐Does this color read gray?
No, it doesn't. It mostly looks closer to green that's softened by a gray hue.
⭐Does BM Millstone Gray react to light a lot?
Yes, this color can be affected by the lighting conditions quite significantly.