We mostly try to avoid dark paint colors in our homes because they are believed to make the space seem enclosed, gloomy and obscure.
However, darker colors can also work great on the walls if you know how and where to use them to achieve the best effect! And today, we are going to prove this to you.
In this article, we will discuss an absolutely gorgeous dark color called Dark Night by Sherwin-Williams. You will learn what kind of color it is, how it works, and how to use it correctly.
We will tell you about its LRV and undertones, teach you how to coordinate it, and tell you how it may read in different rooms.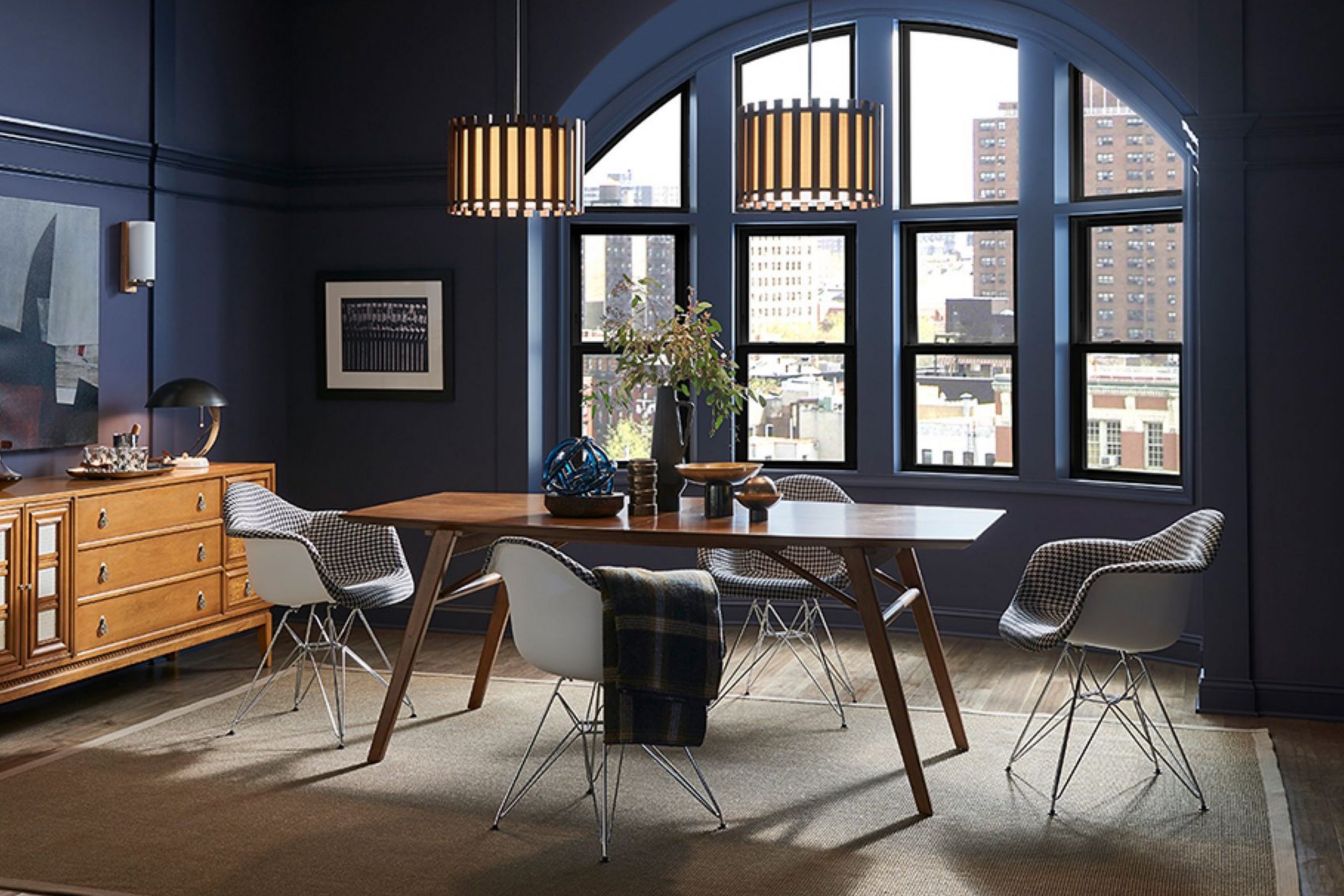 What Kind of Color Is SW Dark Night?
SW Dark Night is a dark and deep blue color with slate undertones that gives off lovely and magnetic inky depth. Unlike most blues that mimic the color of the sky or ocean/sea, this one is different.
With its deep hue, SW Dark Night looks royal and exquisite.
As Encycolorpedia says, this shade of blue reads bold and dark blue on the walls, giving off a slight yet rather deep green undertone. However, you should not be afraid that SW Dark Night will look green! In specific lighting conditions, its greenish base may indeed come out more prominently.
But mostly, this color will read inky blue, reminding you of the dark night skies in summer. If you are looking for a color that can make your space feel royal and luxe, SW Dark Night will certainly suit you!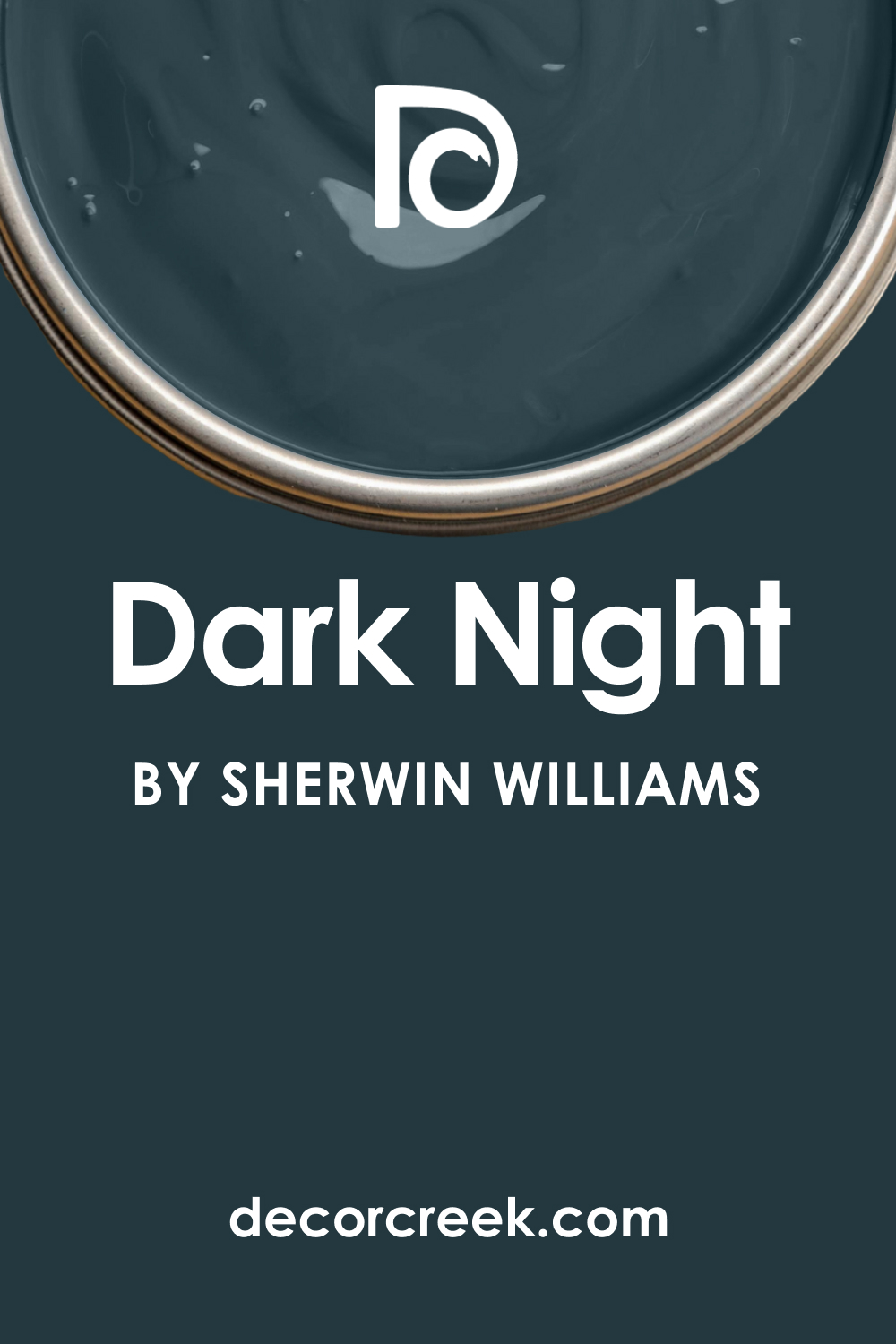 Is It a Warm or Cool Color?
With its greenish slate undertones, SW Dark Night is more on the cooler side of the tone scale. However, you can't say it reads cold. Basically, this blue will read neither too cold nor too warm, staying somewhere in between.
Nevertheless, this balanced nature makes it perfect for being used in almost any home despite the climate zone!
What Undertones Does SW Dark Night Color Have?
As we have already mentioned above, SW Dark Night has greenish slate undertones that make this blue look like a peacock feather or a deep night sky.
However, such undertones also make this color rather tricky to use in your home since you must coordinate it correctly (which might be a problem).
In specific lighting conditions, SW Dark Night may read bluish, revealing an inky hue, whilst in other situations, this color will likely look slate, giving off a prominent greenish hue instead.
This is why you must always sample it before you use the paint on the walls! Furthermore, you this paint should only be used in very large spaces that can accommodate the depth of the paint properly.
In smaller and/or poorly lit spaces, this color must be avoided by all means! If you use SW Dark Night in an enclosed room with little to no natural light, this color will make it look moody and very dark, creating a cave-like feel.
The only case when this color can be safely used in small rooms is if you receive ample natural light. In such rooms, you can use this dark blue paint as an accent color.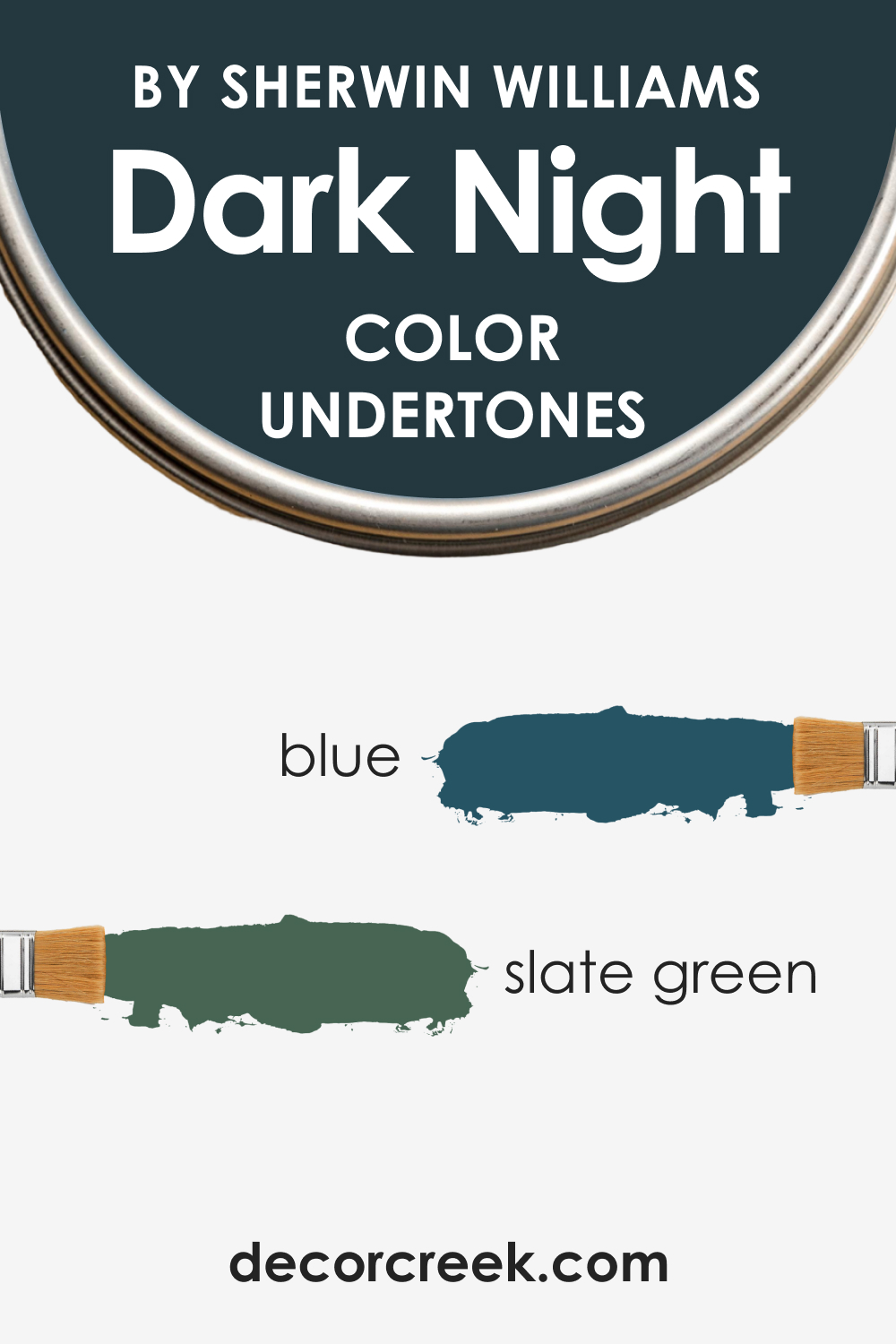 Coordinating Colors SW Dark Night
This blue color can be rather challenging to coordinate if you are not skilled enough in picking the correct colors for this purpose. This is why you'd better opt for one of the color ideas we have provided below.
SW Rock Candy
SW Gossamer Veil
SW Studio Clay
To achieve a good-looking monochromatic palette in your home, opt for these colors instead:
SW 6236 Grays Harbor
SW 6235 Foggy Day
SW 9143 Cadet
Should you desire a more varied look and prefer a contrasting palette instead, we recommend the following paint colors that you could make use of:
SW 9165 Gossamer Veil
SW 7018 Dovetail
SW 6059 Interface Tan
Nevertheless, any of these paint colors will help you reveal the beauty of SW Dark Night and make this awesome and bold color show its noble appearance fully!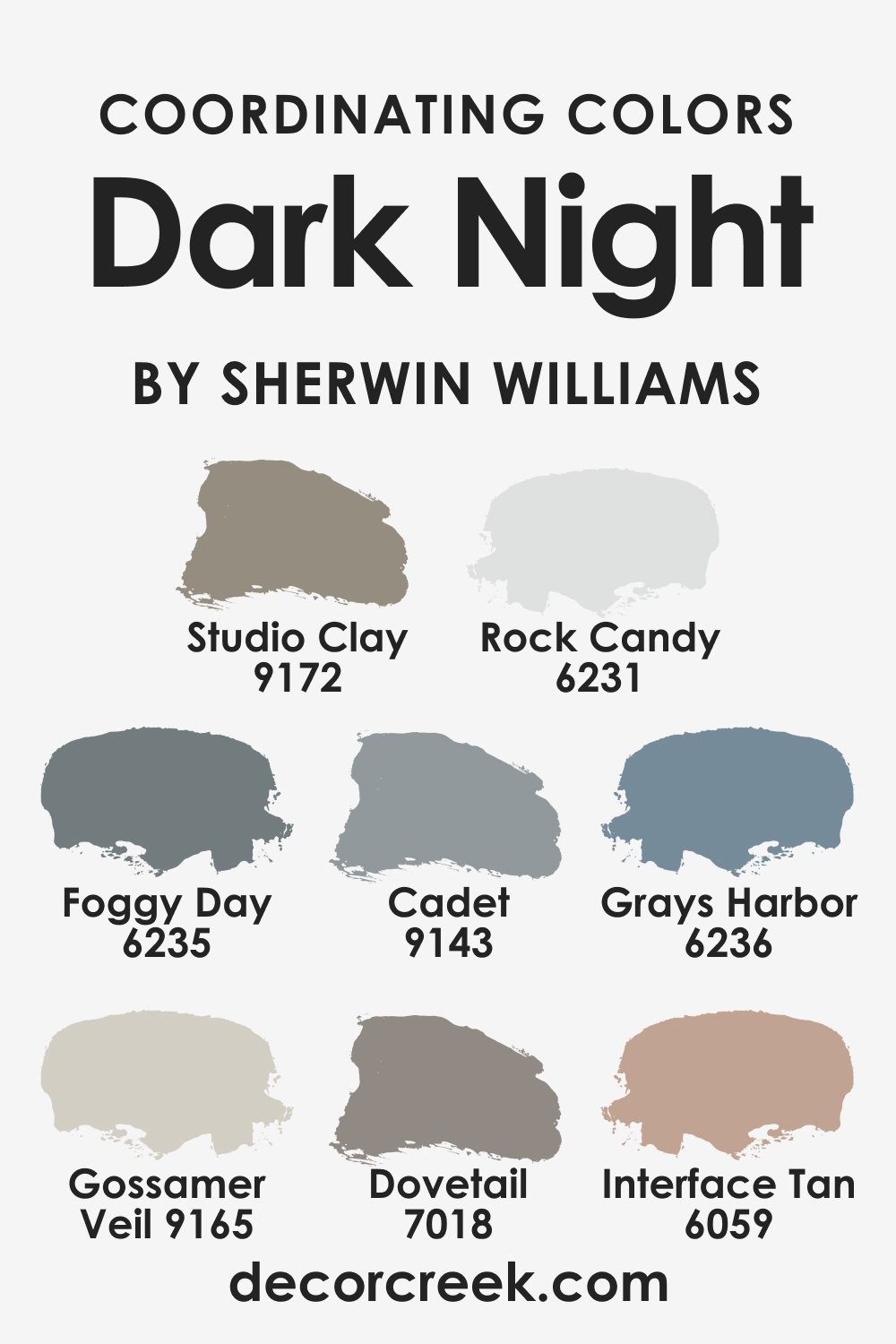 LRV of SW Dark Night
LRV (light reflectance value) shows how much light colors can reflect from the walls or other surfaces. The LRV scale ranges from zero to 100, so the closer the LRV value to 100 the lighter the color, and vice versa. As you can understand, colors with higher LRVs are also more reflective.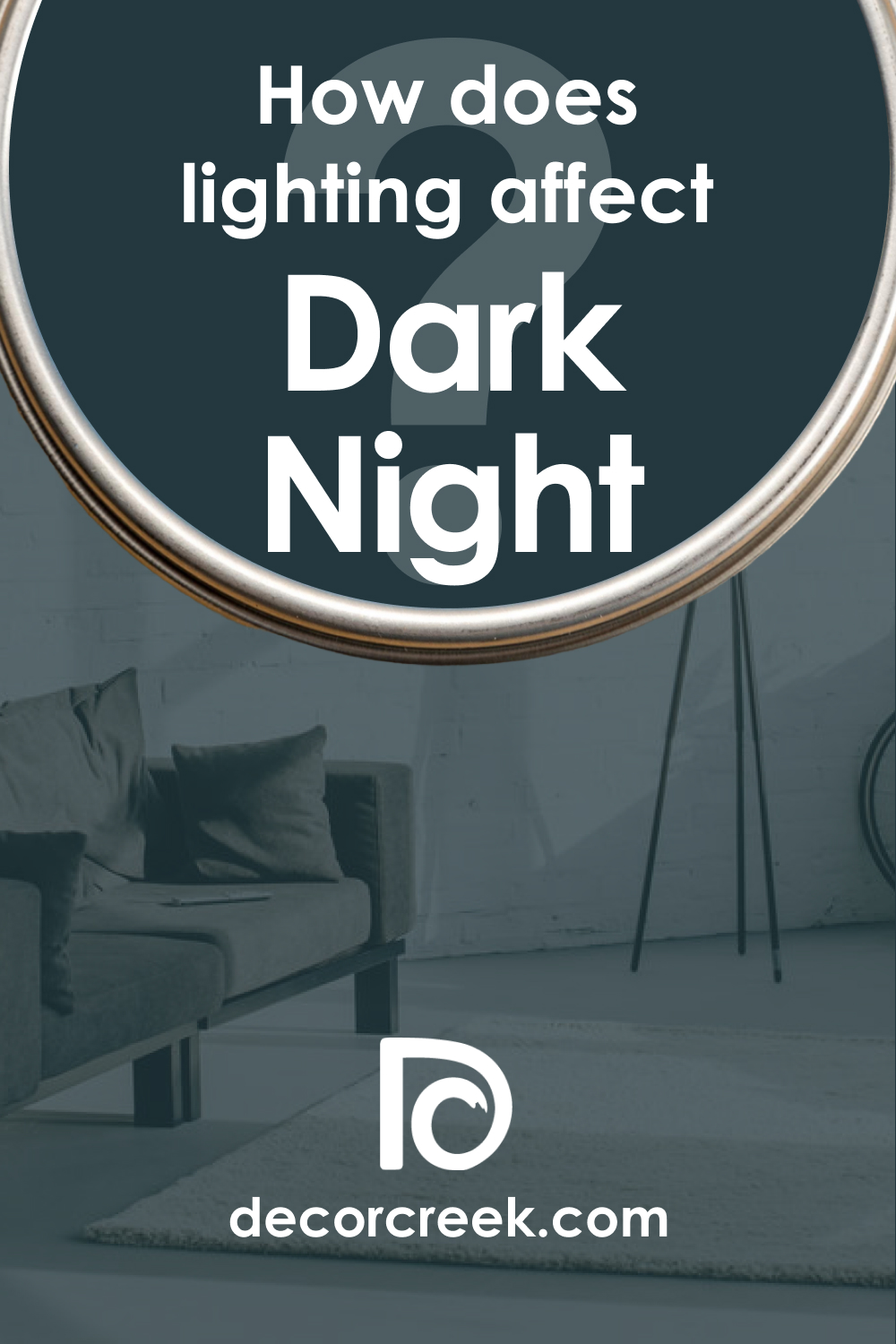 The LRV value of SW Dark Night is 4, which makes this blue a very dark color indeed. Due to the very dark complexion, it may become challenging to experiment with other colors and choose complementary colors for this paint!
Nevertheless, SW Dark Night is not very picky when it comes to using it in different directions. That means you can use this color in the west and south-facing rooms, where this bold paint will appear slightly warmer and washed with the incoming light.
But in any of the directions – north, south, east, and west – this color will also work well.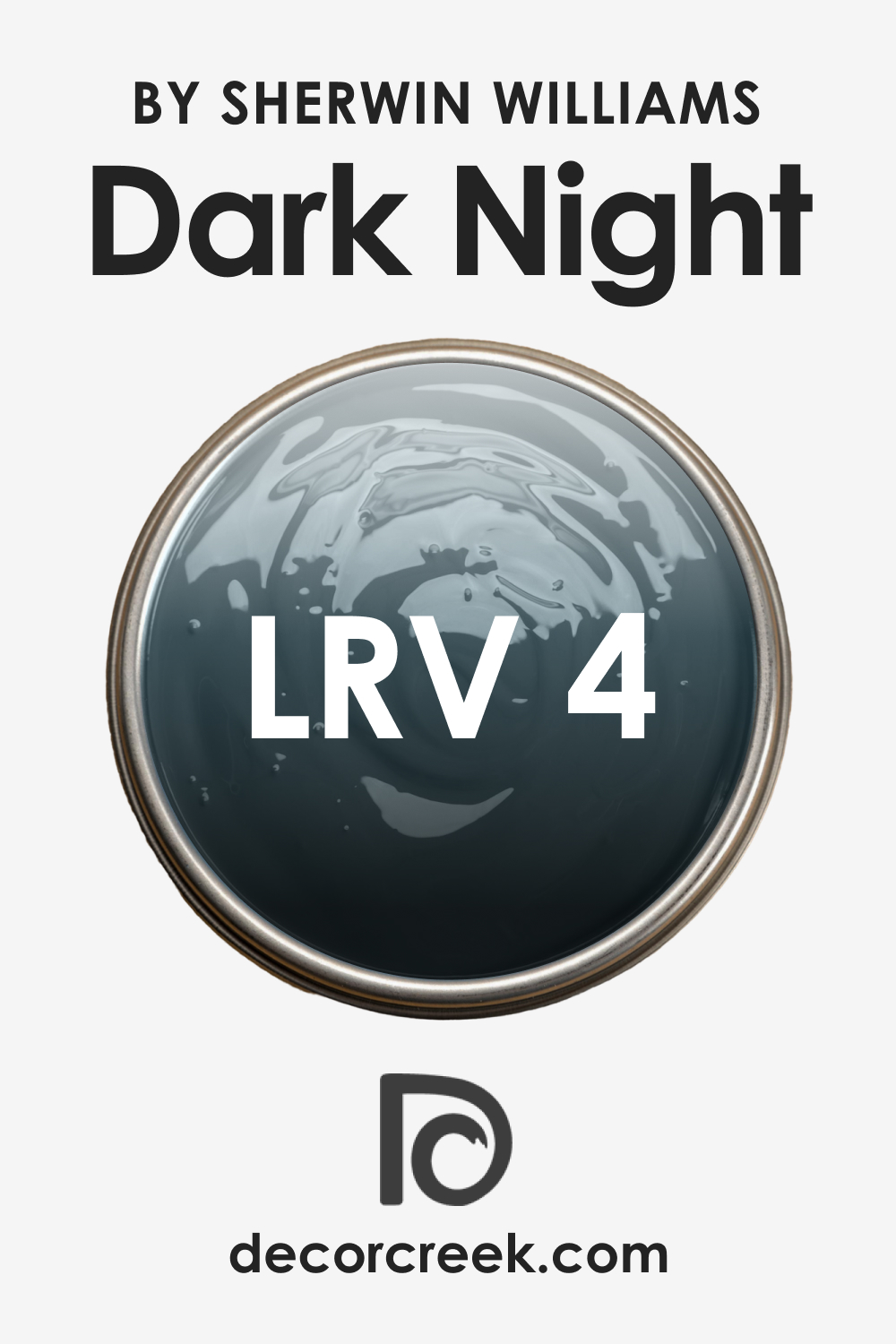 LRV – what does it mean? Read This Before Finding Your Perfect Paint Color
What Is the Best Trim Color to Use With SW Dark Night?
This deep and bold inky blue will look awesome with white trims for sure! However, it doesn't mean you can use any white. For the best effect, we recommend you consider the following whites for your ceilings, trims, and moldings:
SW Pure White
SW High Reflectance White
SW Pure White will help you to achieve a creamier look in a room, whilst SW High Reflective White will be more useful should you desire a crisp look in the space instead.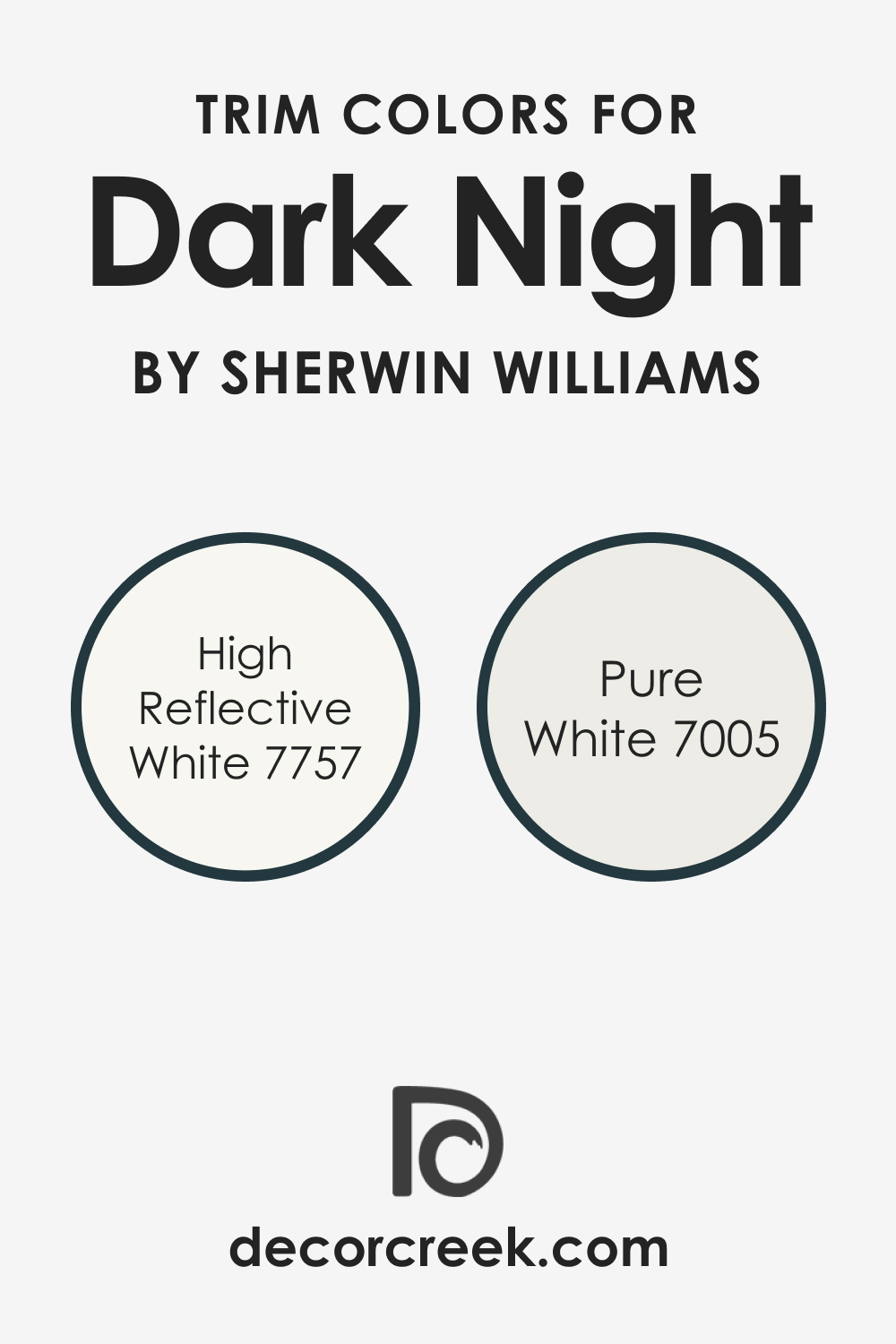 SW Dark Night Similar Colors
It's pretty challenging to find similar proper colors for such a deep and dark blue as SW Dark NIght! however, we have managed to pick a few color options for you to consider. The two closely related paint options are SW 7625 Mount Etna and SW 7623 Cascades.
SW Mount Etna is a beautiful paint color that looks elegant and timeless. It shares a very close LRV value with SW Dark Night (it's an LRV of 6 as opposed to the LRV of 4 by SW Dark Night).
Also, both hues equally tend to add a bold character to your home. However, SW Mount Etna isn't very close to greens, unlike SW Dark Night.
Speaking of SW Cascades, it is a green paint color that aligns with the blues. Besides, it has an LRV of 4, which makes it the same dark as SW Dark Night. At the same time, SW Cascades gives off a slightly more visible greenish hue than SW Dark Night.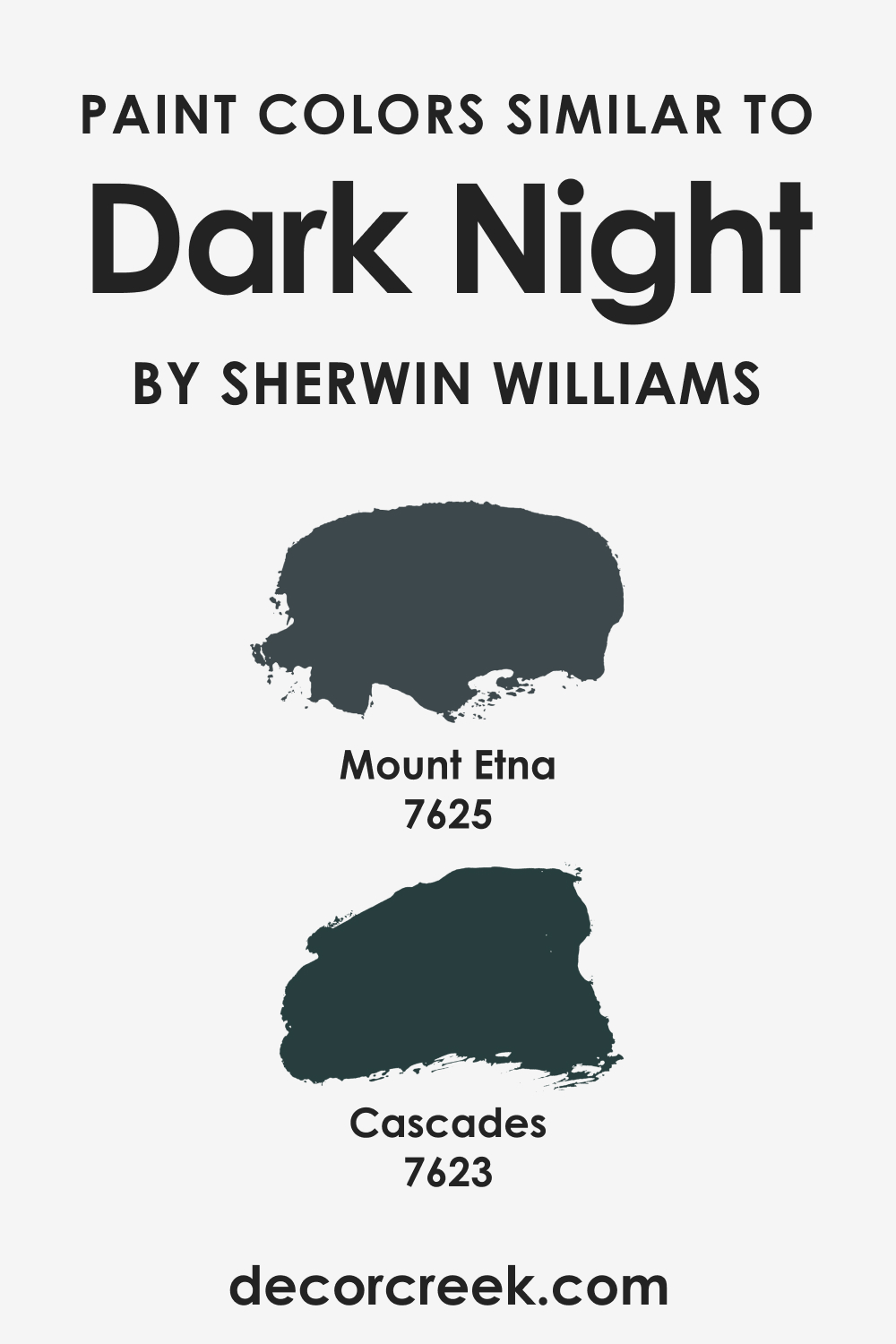 Colors That Go With SW Dark Night
Since SW Dark Night is so dark and bold, it's pretty hard to pair it with other colors successfully. Most paints will hardly match this inky blue shade with slate undertones.
However, there are a few paint colors that can work well with SW Dark Night! In particular, it pairs well with whites, light wood tones, and gold accents.
Also, it may read well with lighter and neutral grays. For example, the following colors may pair nicely with this blue:
SW Silverpointe
SW High Tea
SW Greek Villa
SW Rhinestone
SW Westhighland White
SW Meadowlark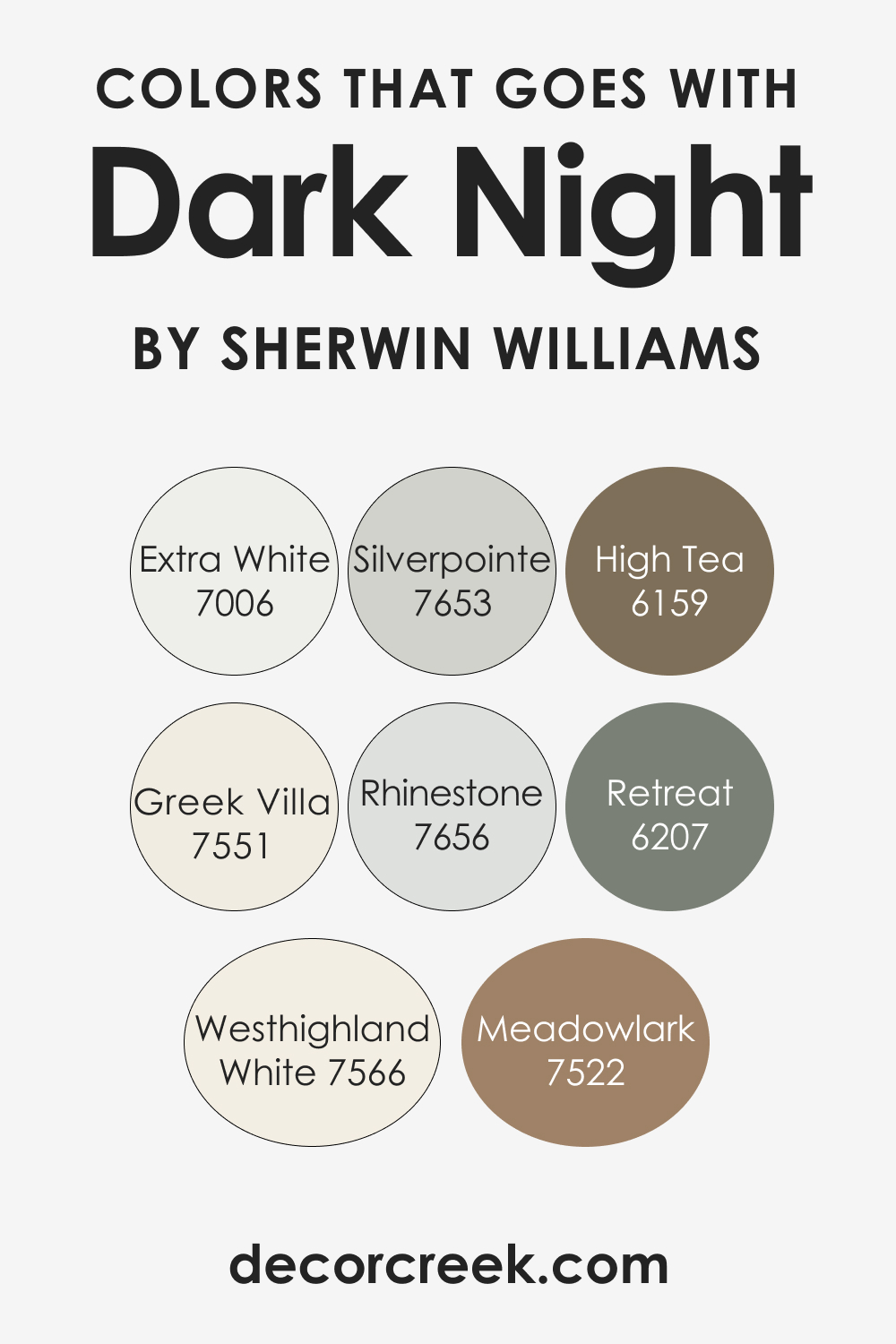 Comparing SW Dark Night With Other Colors
With such deep and complex colors, you should know how they differ from other (especially similar) paints. This will help you better distinguish their unique features and understand how LRVs and undertones can make seemingly related colors distinct.
Dark Night vs Mount Etna
SW Mount Etna shares a very close LRV value with SW Dark Night. The LRV of SW Mount Etna is 6 as opposed to the LRV of 4 by SW Dark Night. Also, both colors equally add a bold vibe to your home.
However, SW Mount Etna isn't very close to greens, unlike SW Dark Night.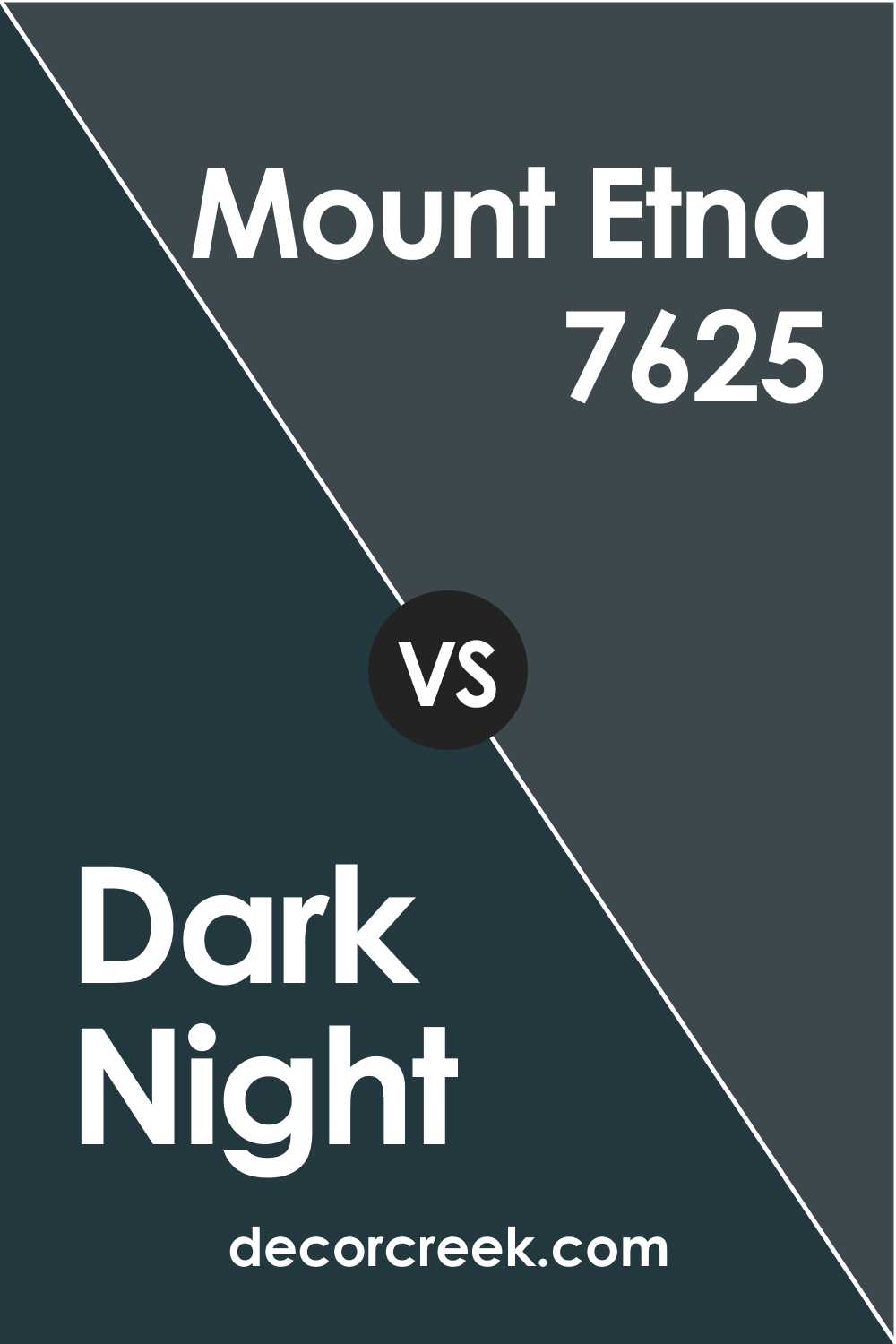 Dark Night vs Waterloo
SW Waterloo is less dark than SW Dark Night due to the higher LRV of 13 as opposed to the LRV of 4 by SW Dark Night. Also, SW Waterloo is more aquatic. However, both colors share a teal undertone, which is more pronounced in the Waterloo blue color.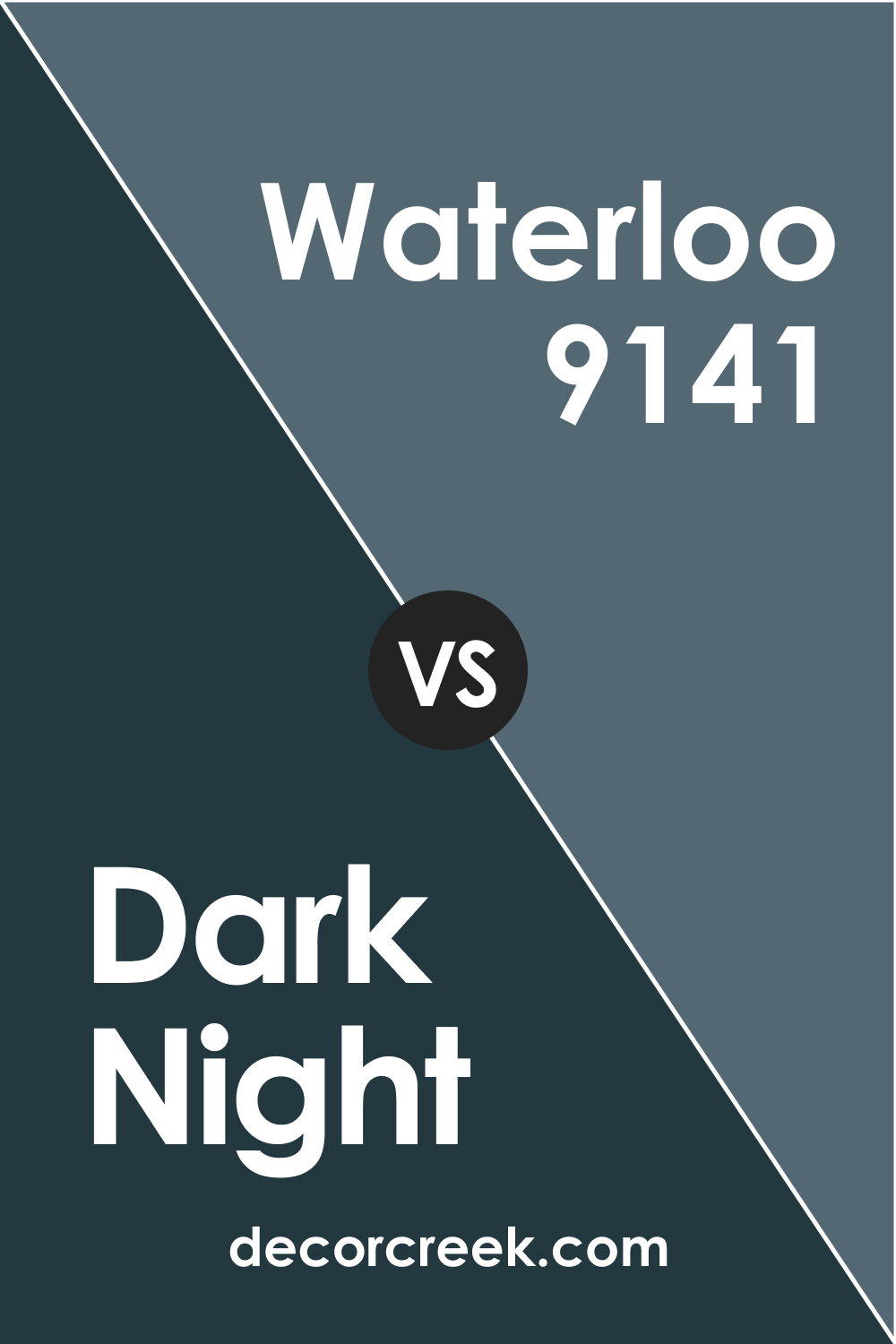 Dark Night vs Indigo Batik
SW Indigo Batik reads bluer than SW Dark Night. Also, this blue color has gray undertones and gives off a navy tone. All this makes SW Indigo Batik distinct from its counterpart. SW Dark Night reads much deeper and darker with its teal undertones and an LRV of 4.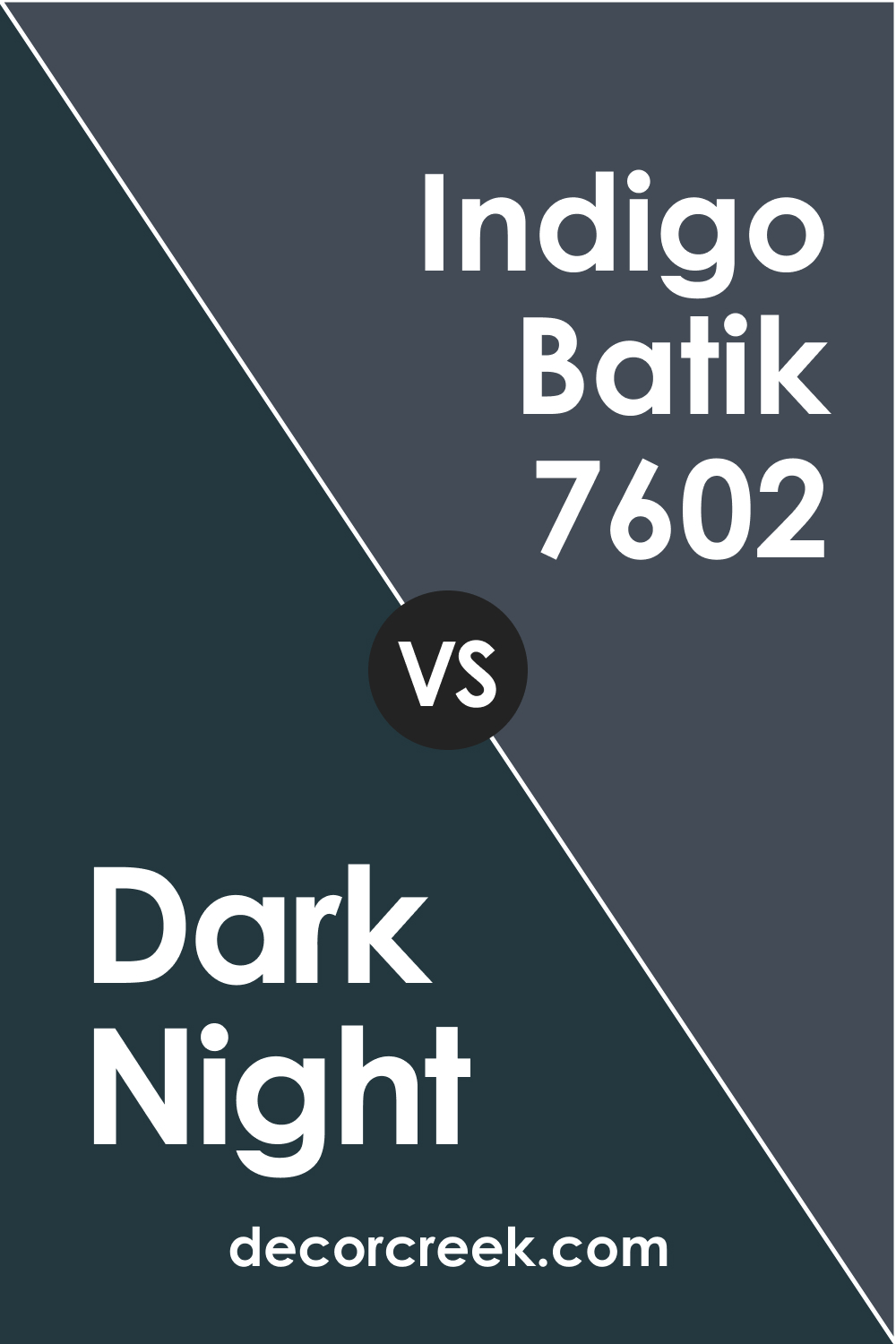 Dark Night vs Salty Dog
These colors have very close LRV values (an LRV of 4 for SW Dark Night as opposed to an LRV of 5 for SW Salty Dog). However, they can't be called similar. SW Salty Dog is a navy blue color that reads bluer than its darker counterpart with its inky and bold hue.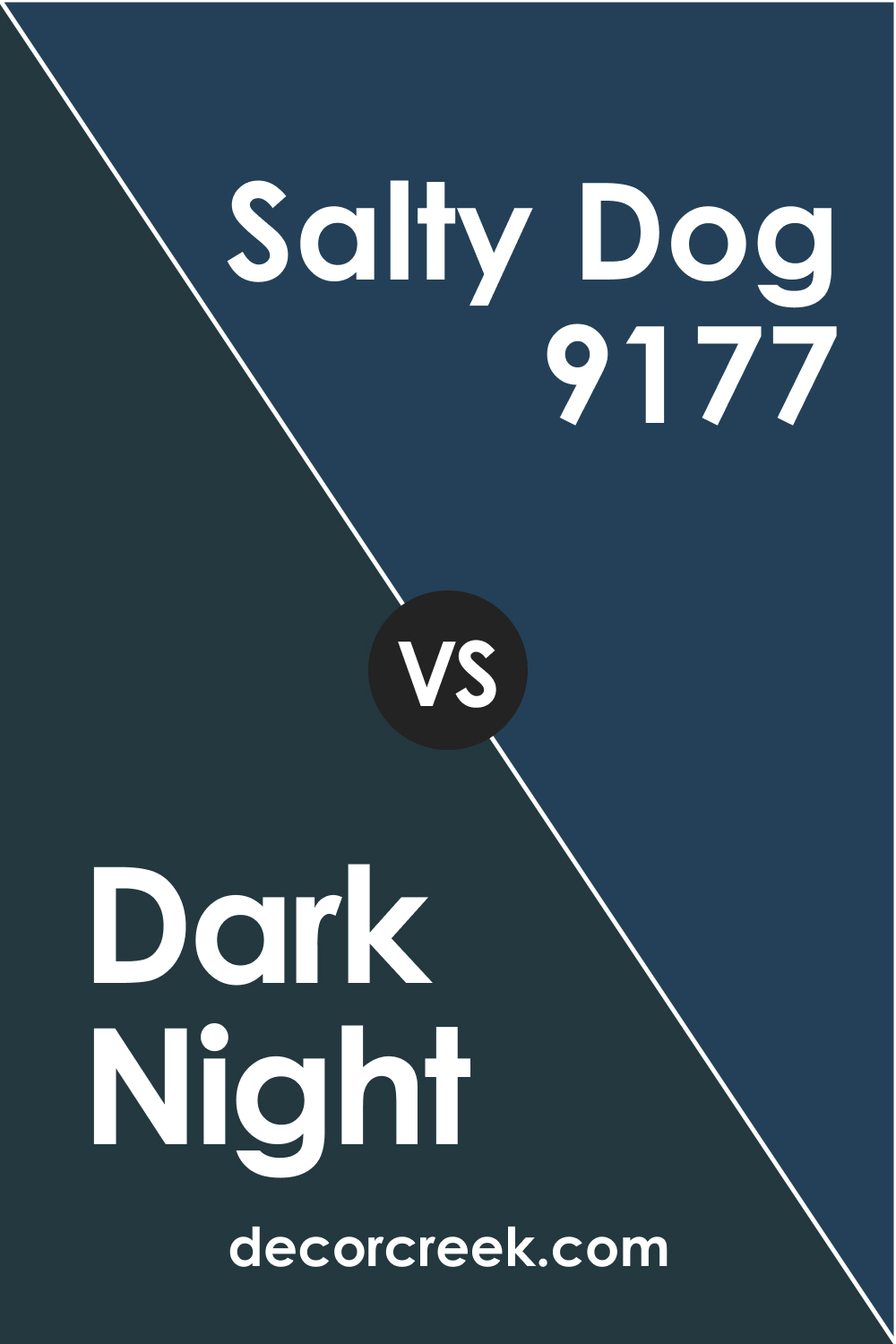 Dark Night vs Charcoal Blue
SW Charcoal Blue is a dark blue-gray color with an LRV of 6. Compared to it, SW Dark Night looks much darker and reveals its greenish hue way more prominently. In specific light, SW Dark Night can even seem dark green compared to SW Charcoal Blue!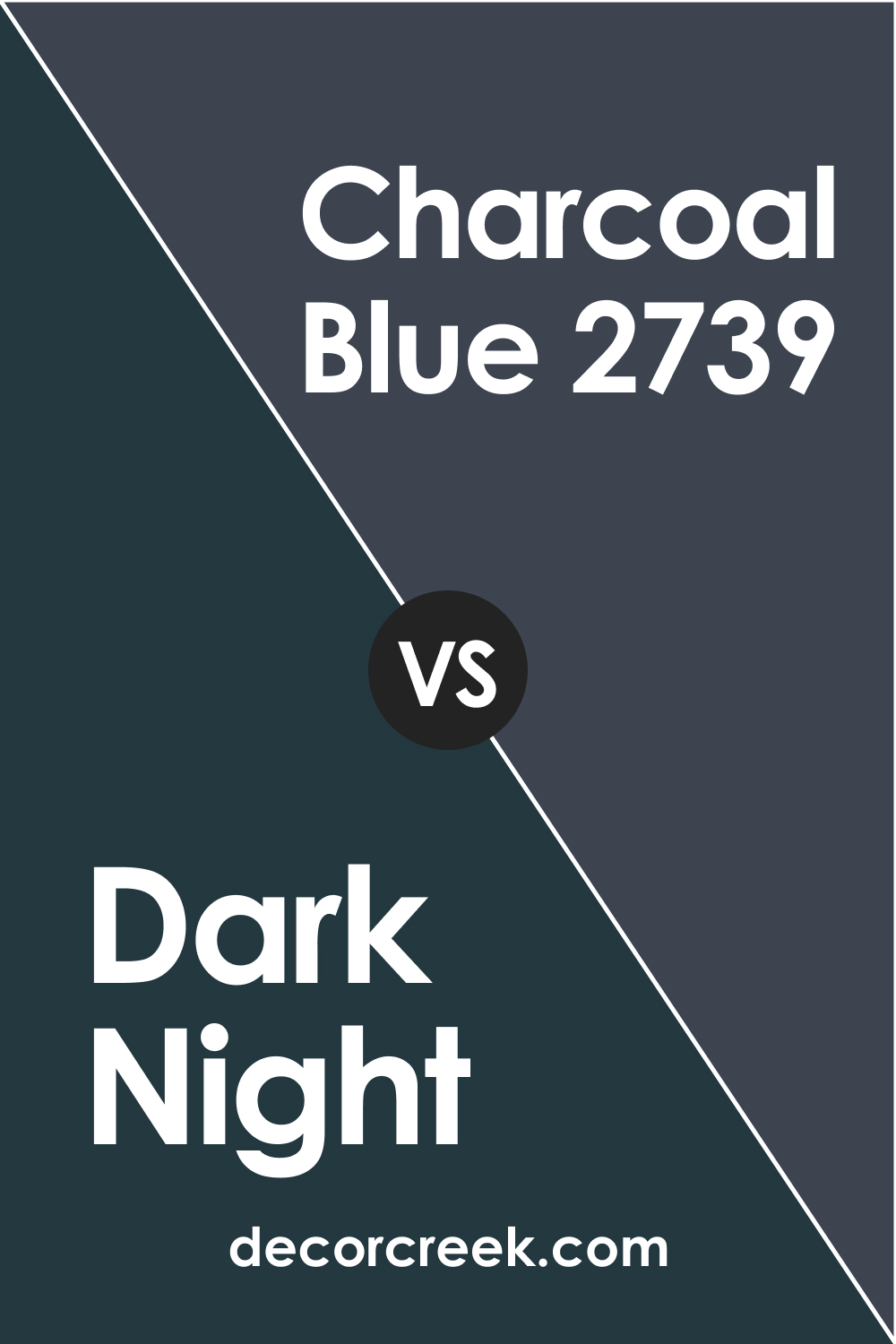 Where In Your Home SW Dark Night Can Be Used?
With its bold and dark appearance, you may think that SW Dark Night has very few places in your home where it can be used. However, this slate blue paint can be successfully incorporated into many areas, including kitchens, bedrooms, hallways, and living rooms. It can even be used on the exterior walls!
Also, this blue paint will look especially good with interior design styles like Modern, Contemporary, Art Deco, Parisian and Hollywood Glam. Below, you can read how it may work in different rooms, by the way.
SW Dark Night in the Living Room
SW Dark Night is a great color for large common spaces like living rooms. This blue will work especially well in a space that has a larger size and double heights!
We recommend you use it as an accent color mostly, especially if you pair it with crisper whites. This will help you to neutralize the saturation of the blue.
To add more color, use mustard-hued accents (e.g. on your chairs or cushions), gray upholstery, and a neutral rug. This way, you will make SW Dark Night show the most of it! Also, this slate blue will pair nicely with white or light gray blackout curtains.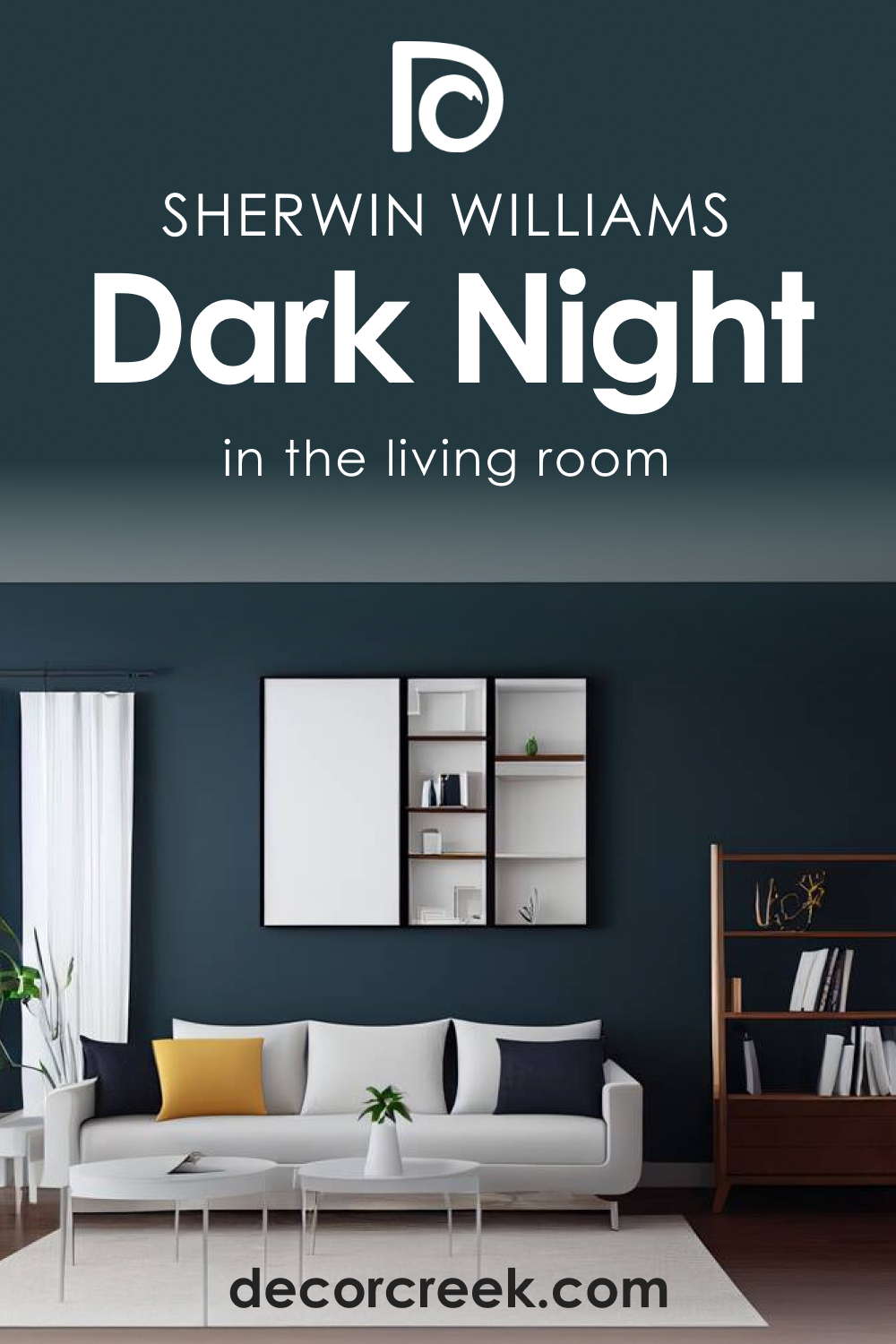 SW Dark Night in a Bedroom
You can use this paint in your bedroom too, especially on the accent wall behind the headboard. By pairing it with lighter beiges or creamy whites on the rest of the walls, you will achieve a perfect balance.
With this blue on the walls, we recommend you use neutral-toned upholstery and white velvet or suede frame.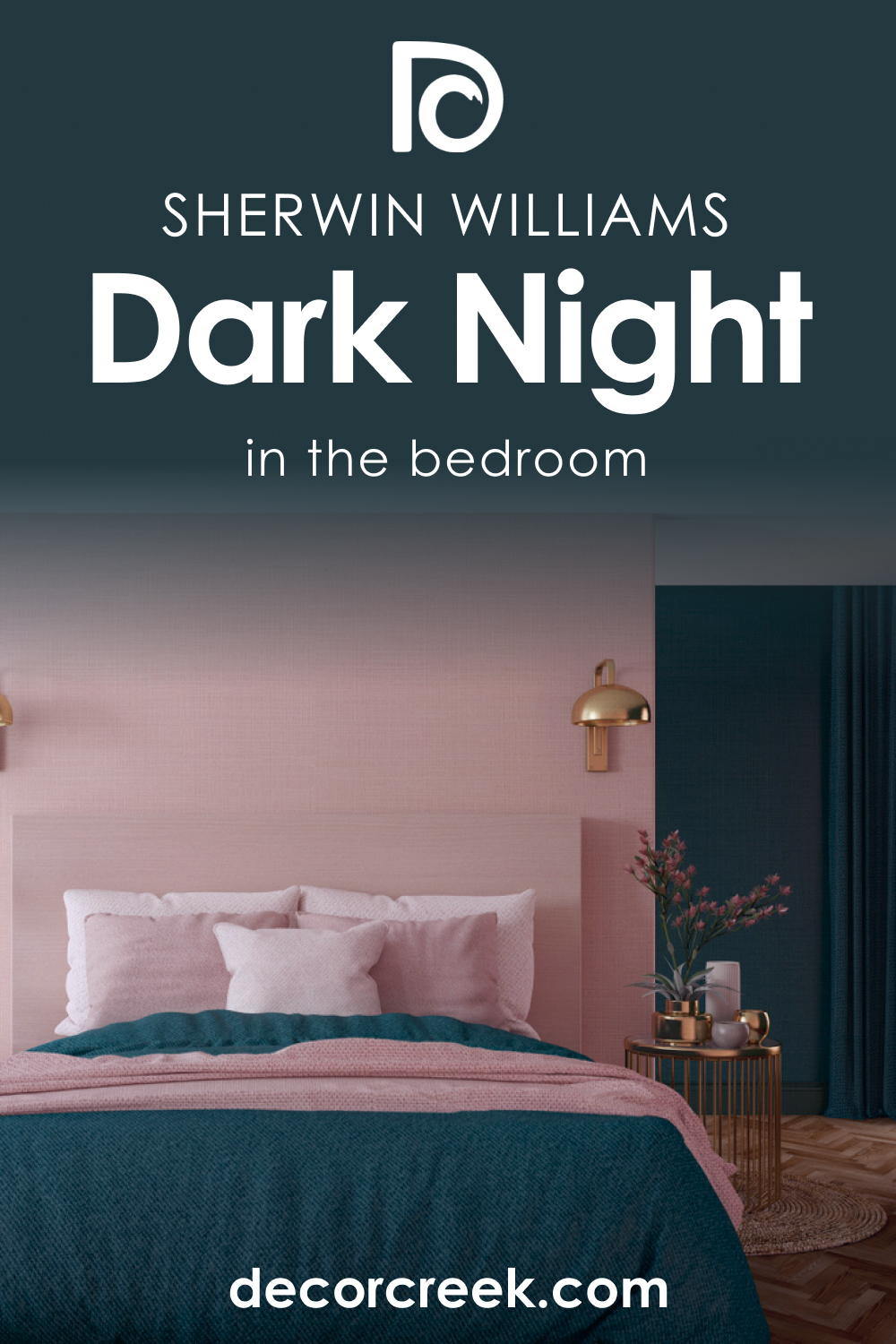 SW Dark Night and Bathroom
In bathrooms, this color will work best on an accent wall or on smaller surfaces like the vanity sink or drawers with the rest of the walls being white. This way, you will add more color to the space yet won't overload it with the depth of this dark blue.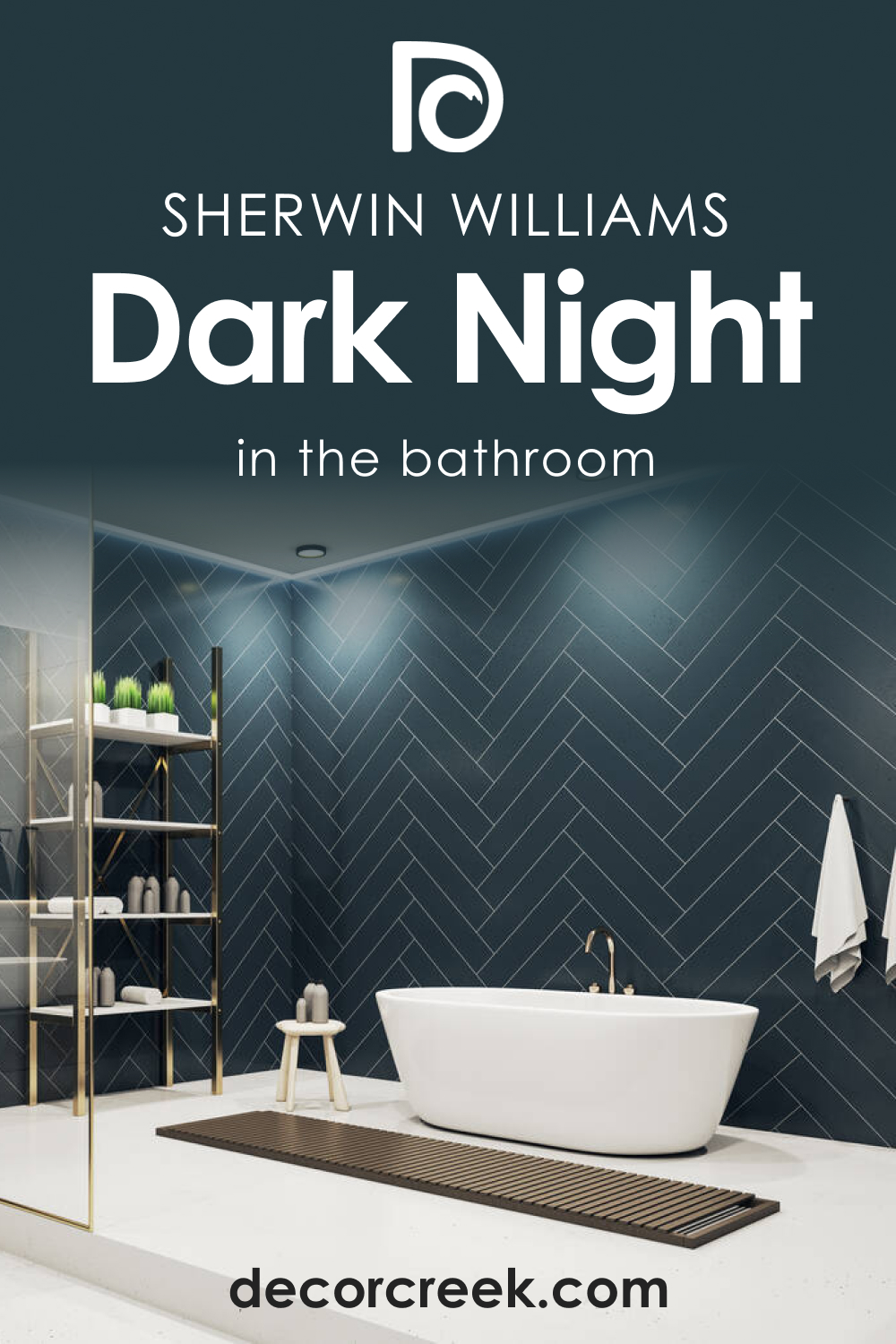 SW Dark Night in the Kitchen
In kitchens, this color may look overwhelming. But at the same time, SW Dark Night could be very beautiful in a large kitchen or a kitchen with an open-concept plan! Anyway, if you decide to use it, pair this blue color with brass pull handles and fixtures to add a sense of glam to your space.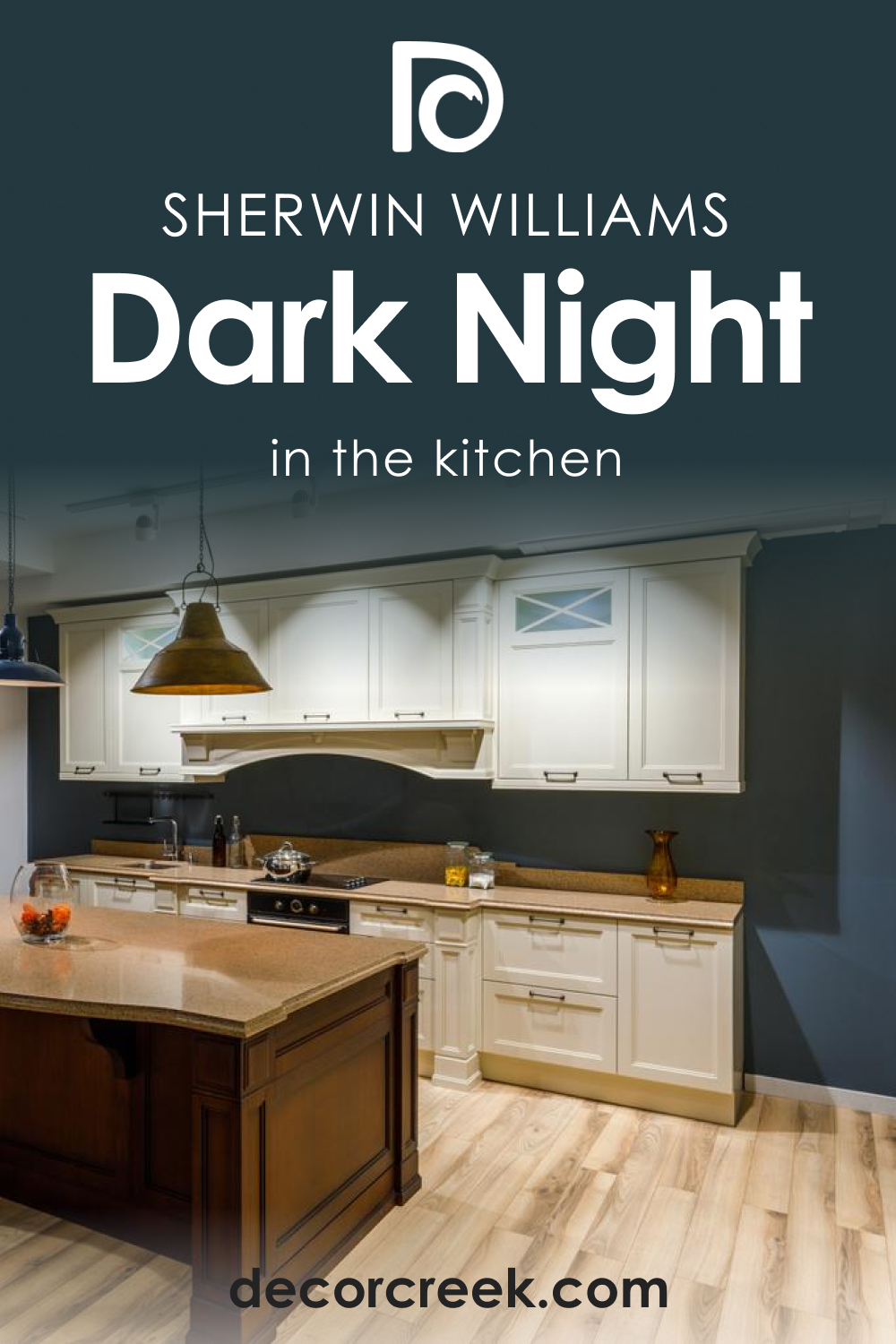 SW Dark Night for the Exterior Use
SW Dark Night looks surprisingly great on exterior walls! However, note that it will tend to fade away a bit, especially if it's hit by direct sunlight!
On exterior walls, you can pair it with whites or lighter grays through decorative moldings, door and window frames, as well as trims. This will add a character to your home exterior.
Conclusion
Now you know more about SW Dark Night and its specific features. You know what makes this dark blue with greenish undertones so tricky and, at the same time, unique.
You also know how to use it in your home correctly and what colors it may work best with. We explained how this paint color reacts to light and how it pairs with other colors.
This will help you find the optimal space for it in your home and make this fabulous blue show all of its beauty!
Frequently Asked Questions
⭐What color family does this paint belong to?
SW Dark Night color belongs to the Blue color family.
⭐Which color collections can I find this color in?
SW Dark Night can be found in Colormix Forecast 2019 (Shapeshifter), Color ID (Naturalist), and Pottery Barn Teen (Fall/Winter) color collections.
⭐What is the best way to sample this color?
The optimal way to sample SW Dark Night is to get a peel-and-stick sample.