Green might not be the most common paint color we use in our homes, but there are certain shades of green that can't be passed by! SW Filmy Green is definitely one of them. This calm and relaxed green reads so perfectly balanced that you might want to try it in your home even if you are far from being a green fan!
Today we will tell you more about this color and its specifics. You will learn how it works with different colors and how to coordinate it.
Also, we will tell you what LRV it has and what undertones come with this shade of green.
Finally, you will learn how this green works in different rooms and more!
What Kind of Color Is Filmy Green SW 6190?
SW Filmy Green paint color is a cool light green that gives your home a nature-inspired vibe. If you are looking for a green that will spread tranquility around your home, SW Filmy Green might be exactly the color you need!
As Encycolorpedia says, this paint color is light enough not to make your home seem gloomy or way too moody. In fact, it is so extremely lighter in tone that you can use this paint as a neutral or a base anywhere in your home.
But at the same time, you should not worry that it may read too light or washed out on your interior walls. SW Filmy Green looks balanced and moderately light, giving off exactly the amount of green hue that your space needs.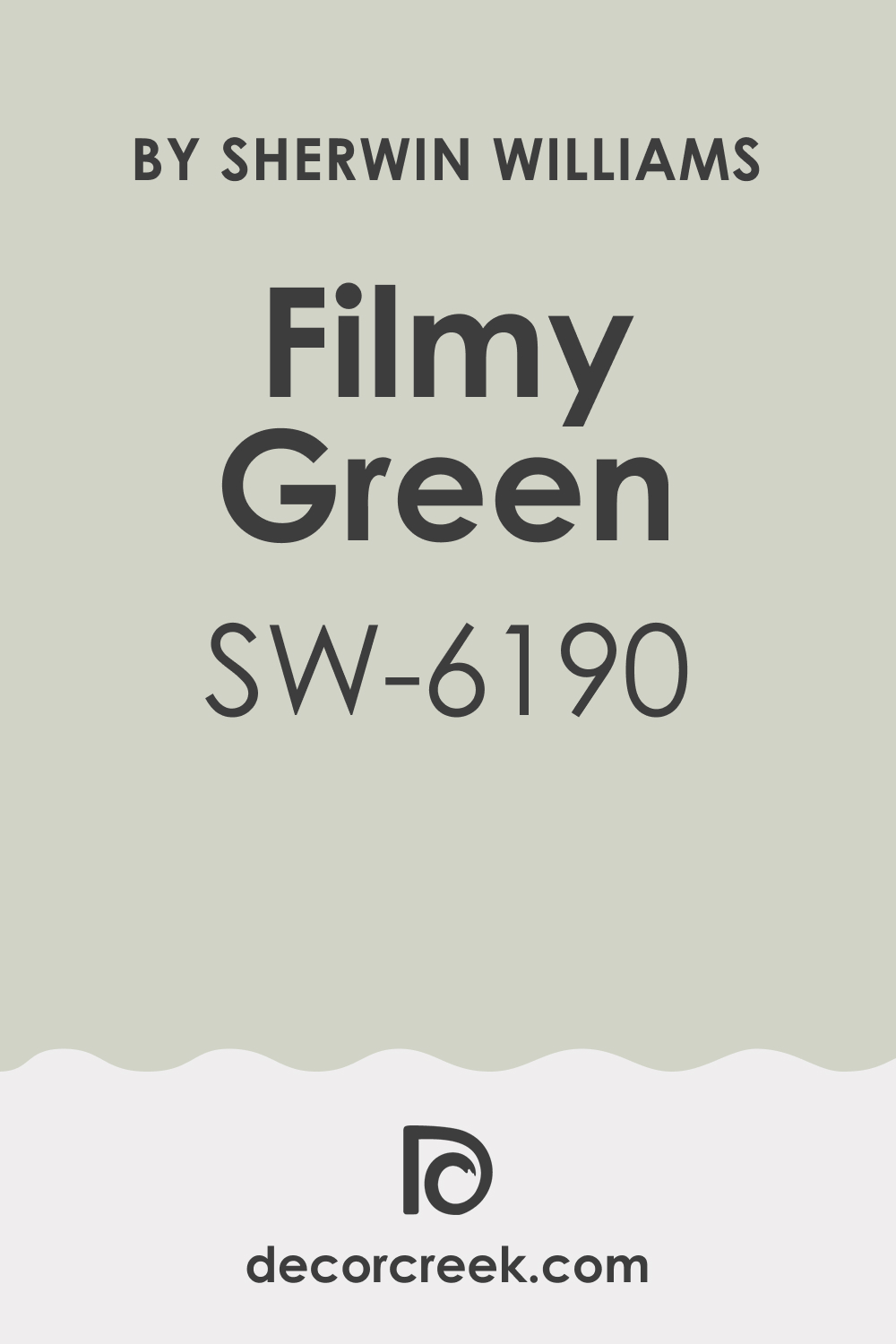 What Undertones Does Filmy Green SW 6190 Have?
Why is it so important to know what undertones paint has in advance? Because undertones are tricky! This is why we recommend you always sample the paint color you'd like to use in your home!
By using color samples, you will ensure the color reads exactly the way you want. As a result, you will avoid unnecessary expenses on paint and won't waste your time.
Speaking of SW Filmy Green, this color has subtle gray undertones. However, this gray hue is pretty well visible, especially if you use this paint in the east and west-facing rooms.
So, if you need a color that looks grassy green or gives off a leafy/forest hue, SW Filmy Green is definitely not your option! This guy will rather read gray with a delicate greenish hue.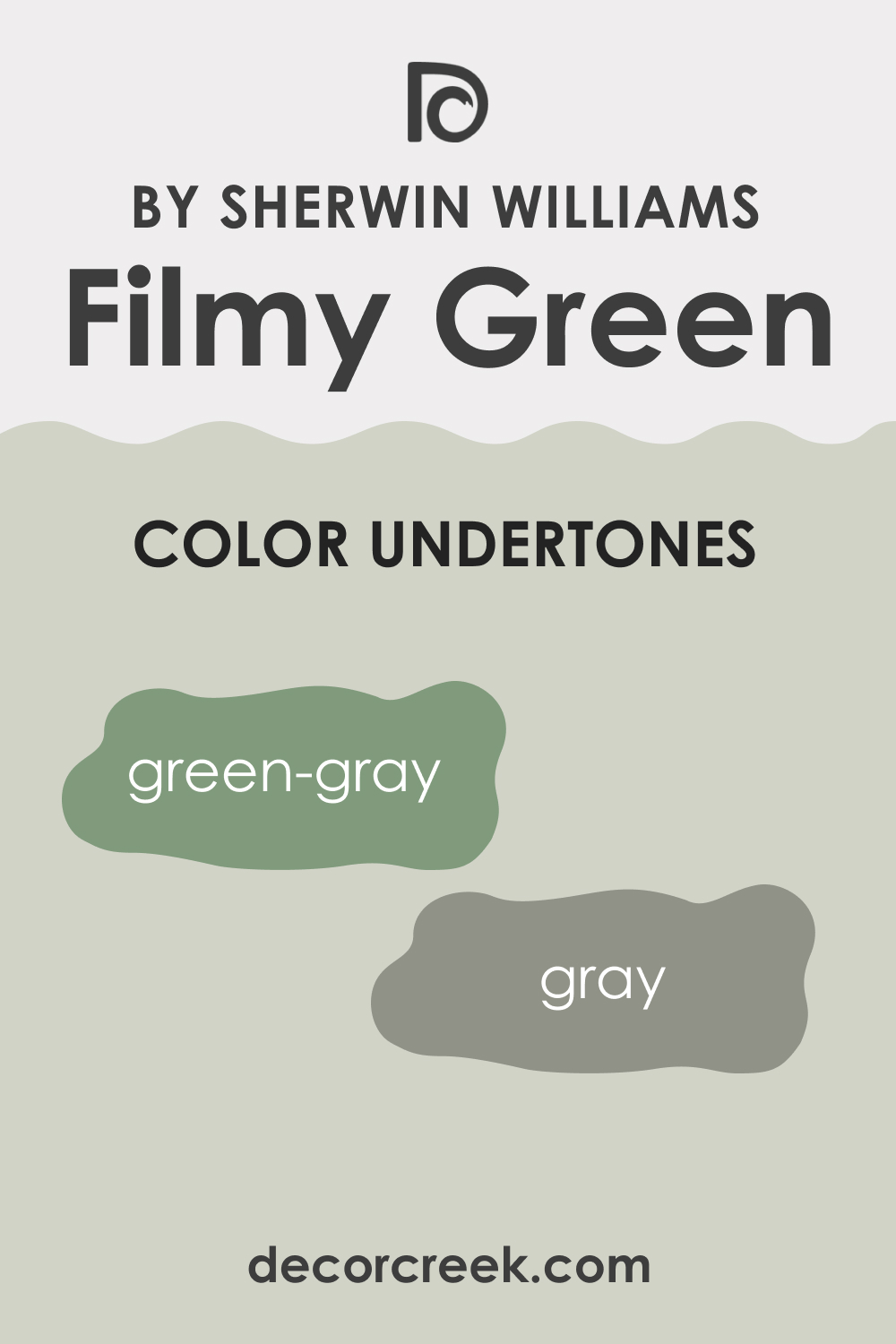 What Is the LRV of SW Filmy Green Paint Color?
LRV stands for the Light Reflectance Value. It shows the amount of light the color can reflect from the wall. The LRV scale ranges from zero to 100, where zero means black and 100 means pure white. Respectively, the higher the LRV, the lighter (and more reflective) the color, and vice versa.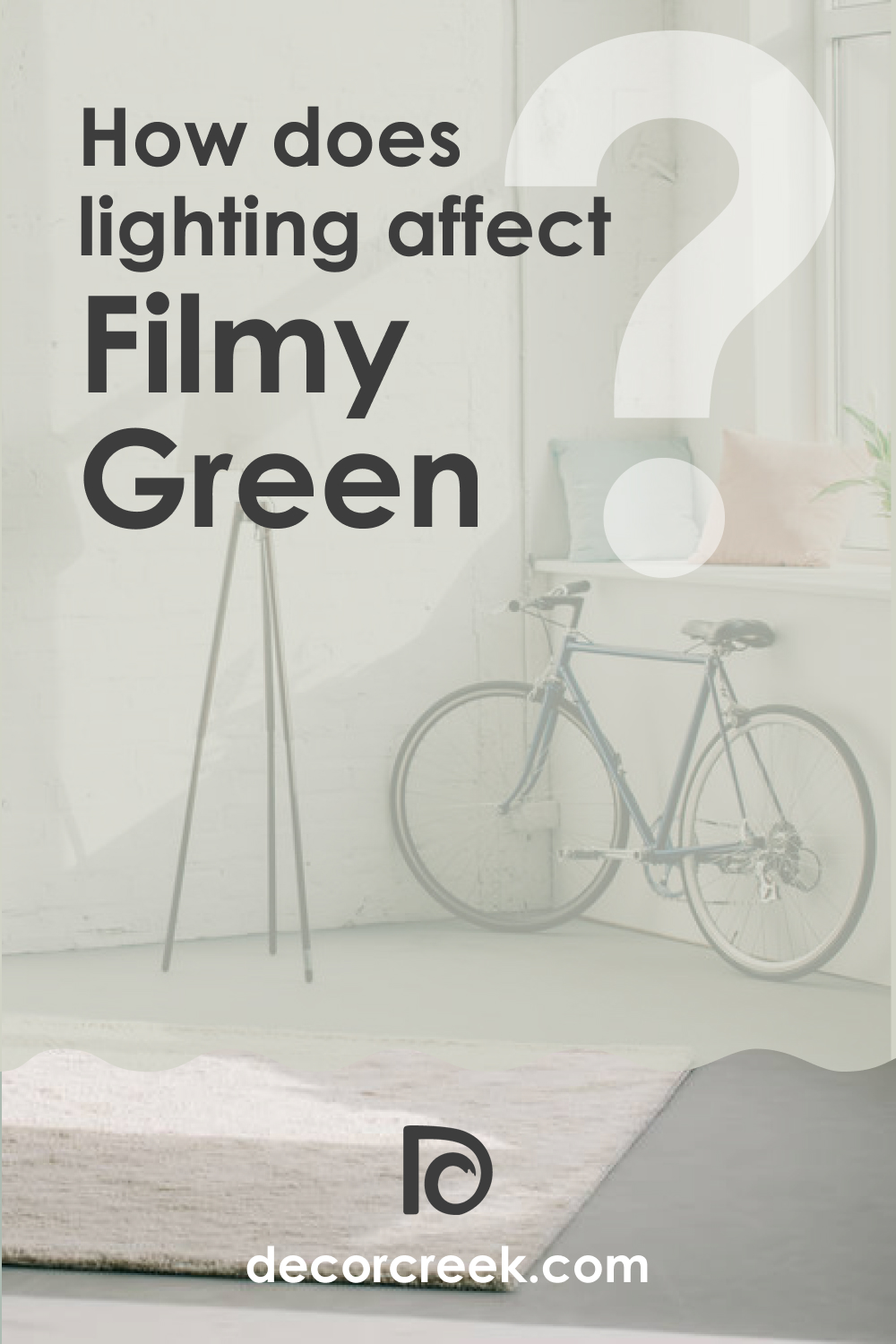 The LRV of SW Filmy Green is 64, which means that this green is placed closer to the lighter side of the LRV scale, being mid-tone to light color. In other words, it is pretty reflective.
Thanks to this feature, this green color won't read dark in your home. Also, it will not make the room read smaller or enclosed.
At the same time, since its LRV is not too high, SW Filmy Green will hardly ever look washed out, even if it's hit with direct light.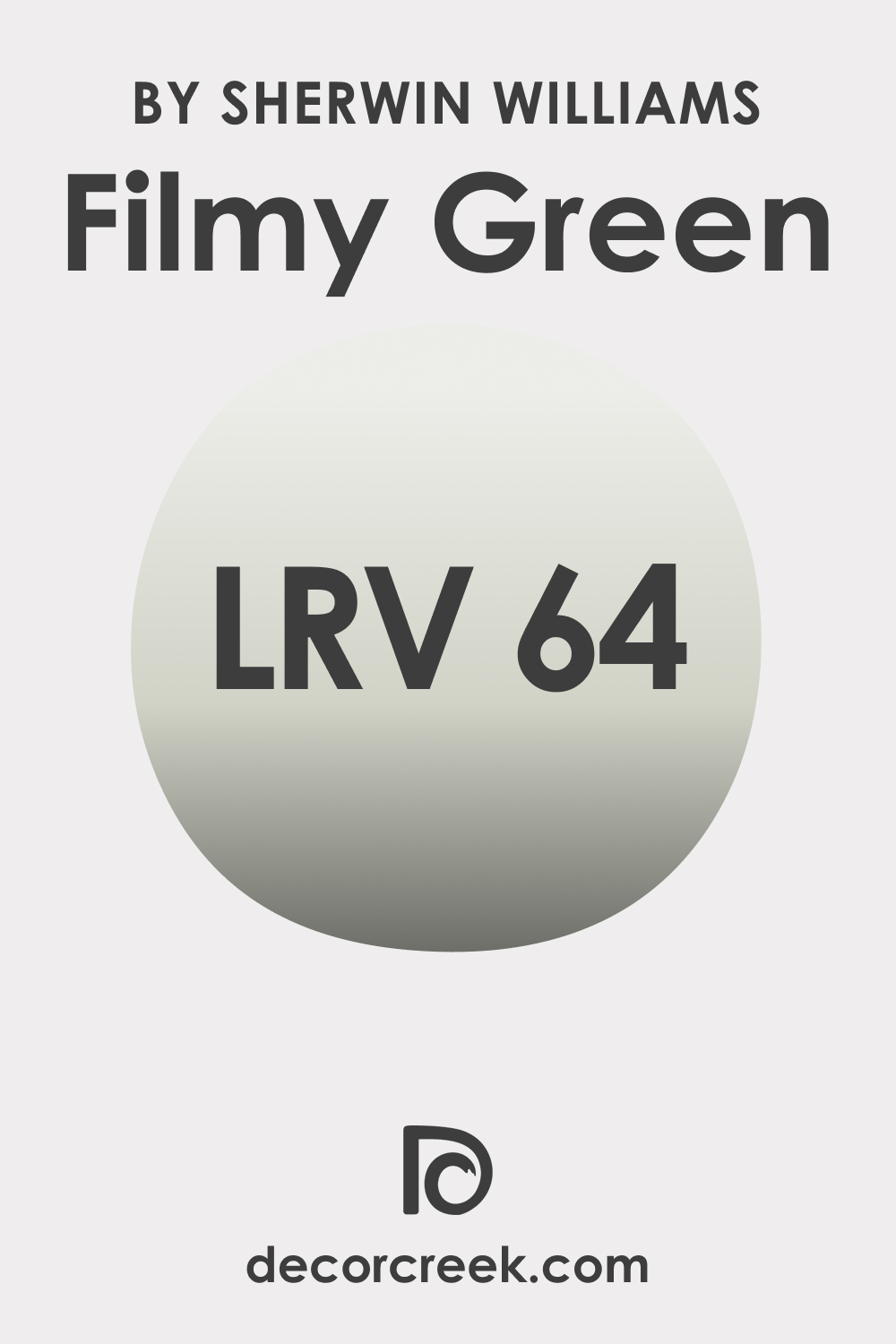 LRV – what does it mean? Read This Before Finding Your Perfect Paint Color
Filmy Green SW 6190 Coordinating Colors
If you want to get a balanced-looking color palette in your home, your key secret to achieving it is the knowledge of how to coordinate colors correctly to make them all work together in unison. For this purpose, picking the right coordinating colors that will work with the paint color on the walls is a must. For SW Filmy Green, we recommend you opt for the following color ideas to coordinate it:
SW Opaline
SW Pure White
SW Parisian Patina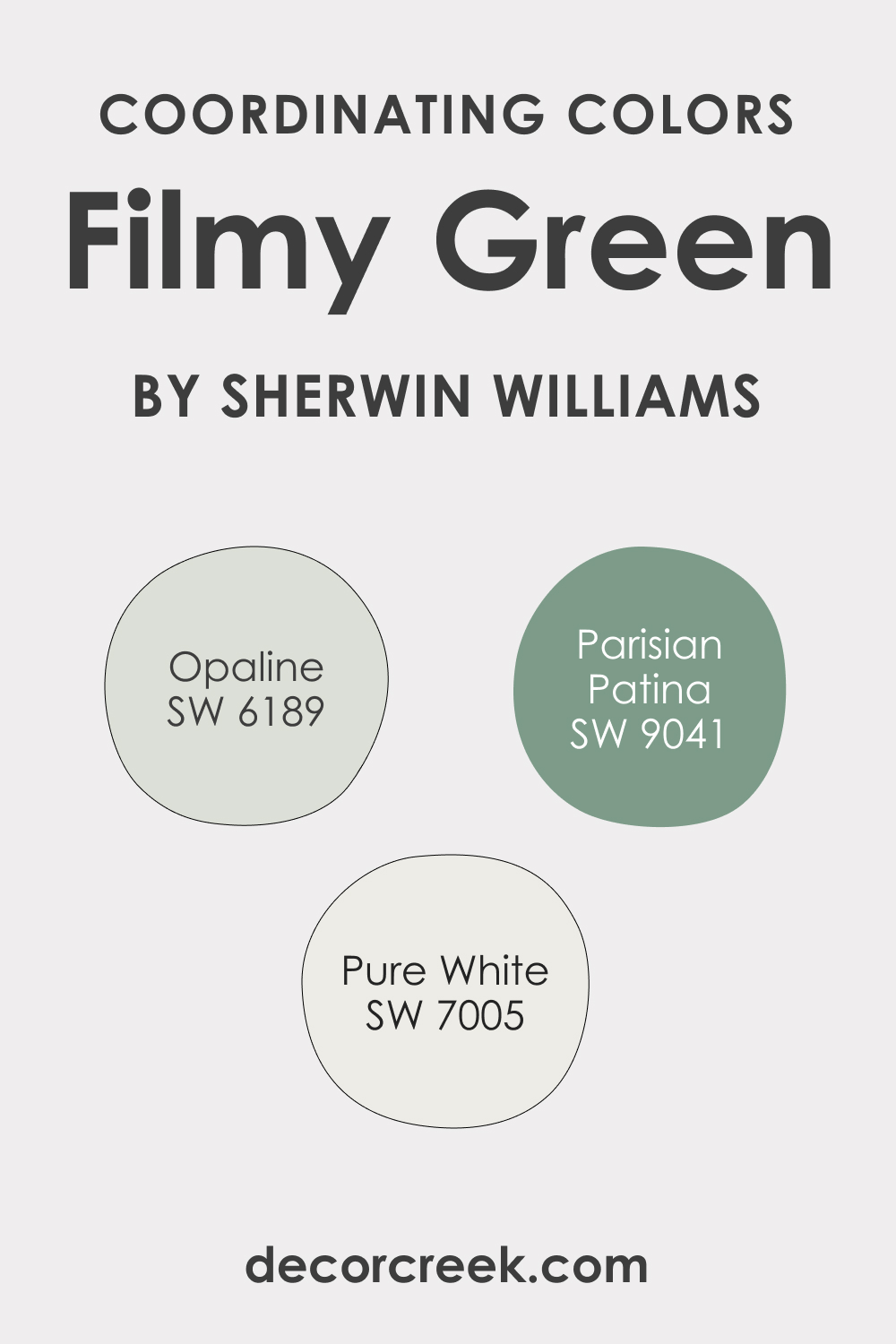 Filmy Green SW 6190 Similar Colors
Why is it recommended to have at least a couple of colors at hand that can work as substitutes? When you have alternative colors to use, it's easier to change the paint you were initially going to apply to your walls. You might need those substitute colors if you suddenly decide to use a bit lighter or a bit darker paint, for example, or if you realize you need a slightly distinct hue. No matter the reason, knowing a few alternatives is a good thing.
If you want to use SW Filmy Green on your interior walls, consider keeping these colors in mind as possible alternatives to use instead of it:
Behr Flora
Benjamin Moore Night Mist
PPG Frivolous Folly
Valspar Misty Memory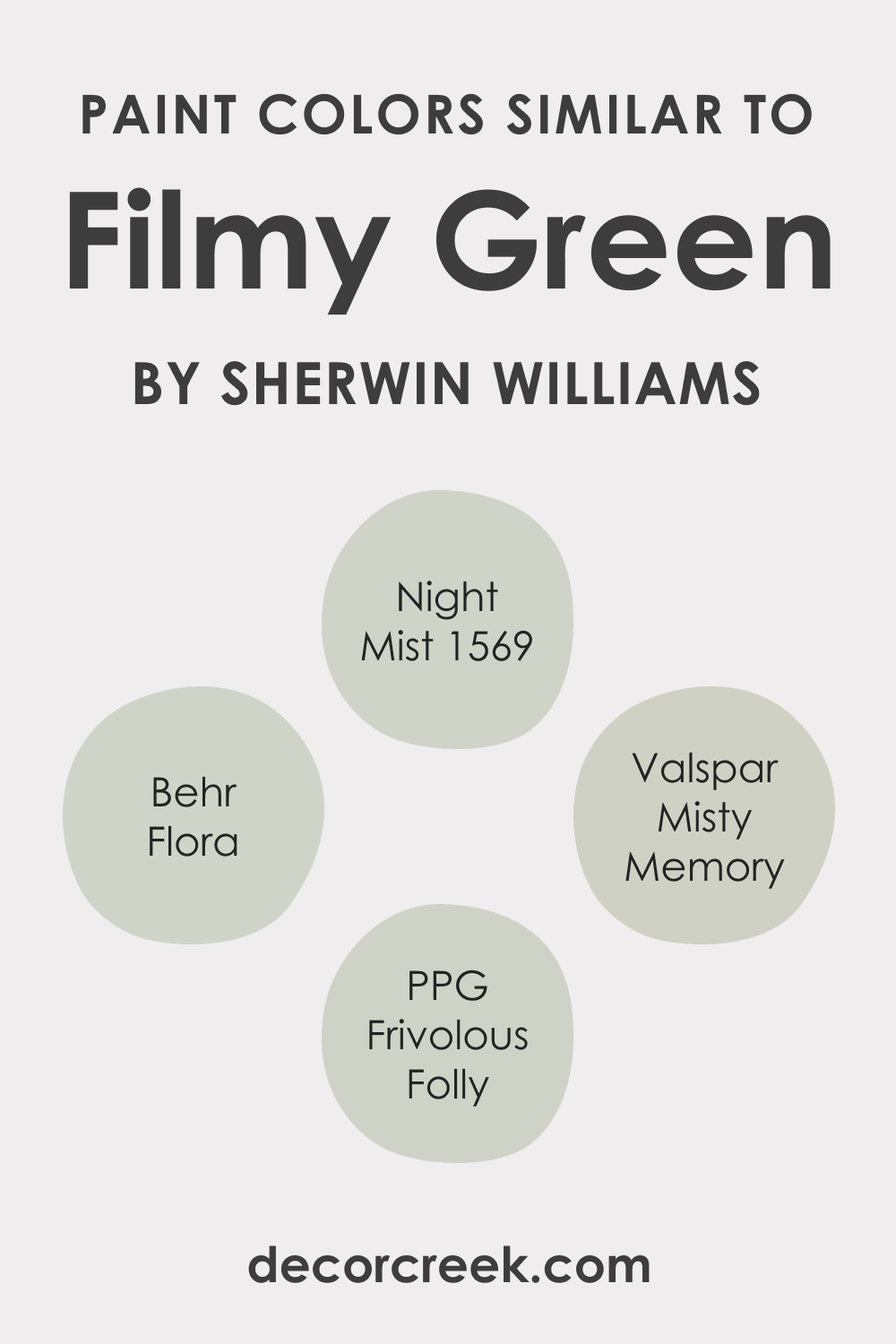 What Is the Best Trim Color to Use With SW Filmy Green?
White is considered a universal trim color for any home since it works with most other colors successfully. However, it's still essential to know how to pick the correct shade of white to use it on your trim.
In particular, it's important to consider its undertones and how they work with the undertones of the wall color. Otherwise, the white you choose might not work or work improperly when you pair it with the wall color.
For SW Filmy Green, one of the optimal white colors would be Behr Decorator's White. Thanks to its soft appearance and reasonable warmth, this white creates a proper contrast with SW Filmy Green. However, it doesn't look too crisp or stark.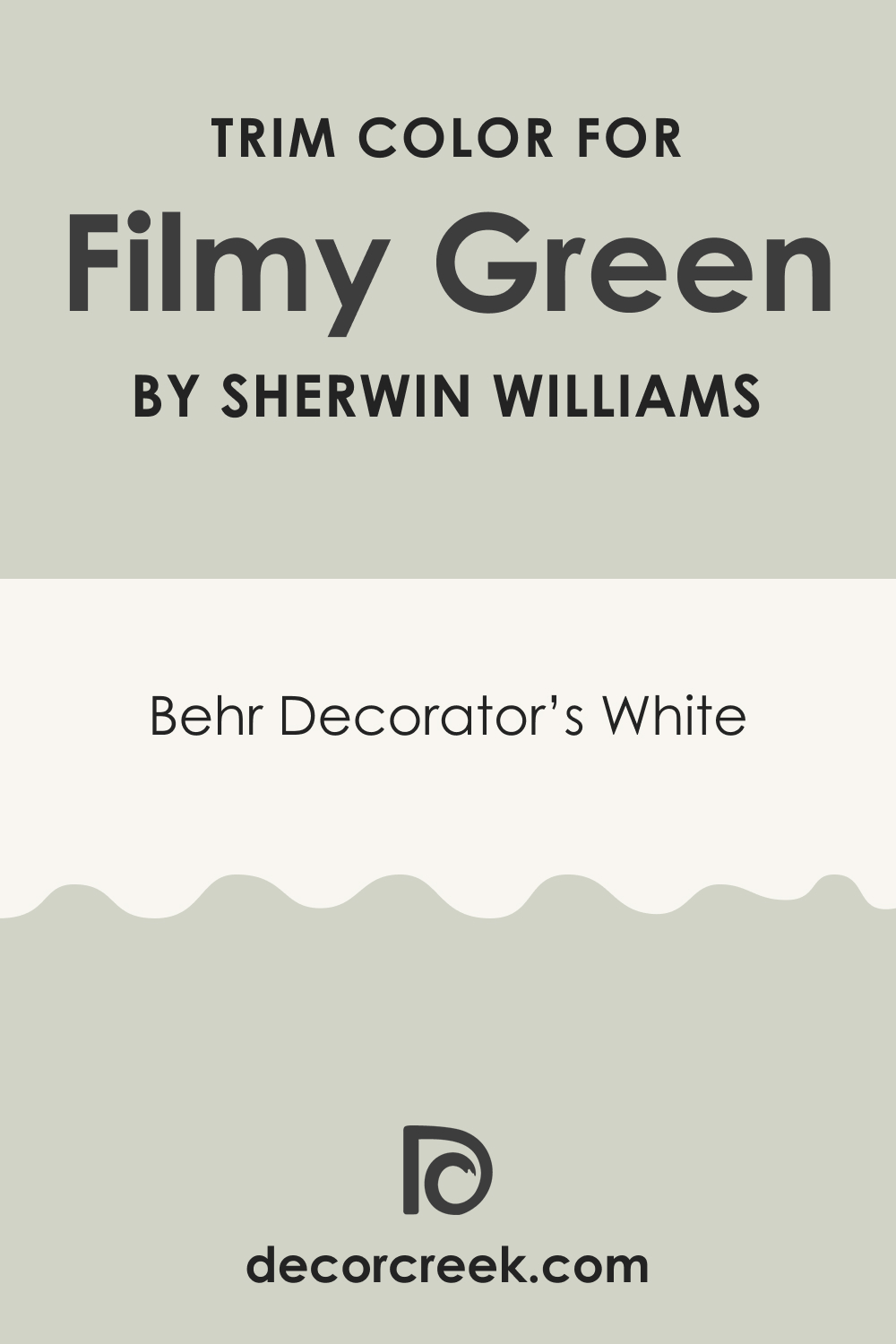 Colors That Go With Filmy Green SW 6190
When you know what paint colors work best with the paint on the interior walls, you can ensure that your rooms not only have a balanced palette but also look welcoming to stay in.
However, with certain colors, it might be challenging to figure out what paints might work best with them. SW Filmy Green is one of them because of its tricky appearance!
Generally, this green will work nicely with juicy and bright yellows, as well as with much darker greens. Soft whites with balanced undertones, as well as darker navy blues will also pair well with this cool-toned color.
And since SE Filmy Green has prominent gray undertones, pairing it with grays might also be a good idea.
Comparing Filmy Green SW 6190 With Other Colors
To help you better understand the uniqueness of the SW Filmy Green paint color, we have compared it to several other colors that look more or less the same. Thanks to this comparative guide, you will better see what makes this natur-enspired green with gray undertones differ from other greens.
Filmy Green vs Sea Salt
Both colors are light and balanced, but if you look closer, you will notice that SW Filmy Green reads slightly greener than SW Sea Salt, which gives off a more noticeable gray hue.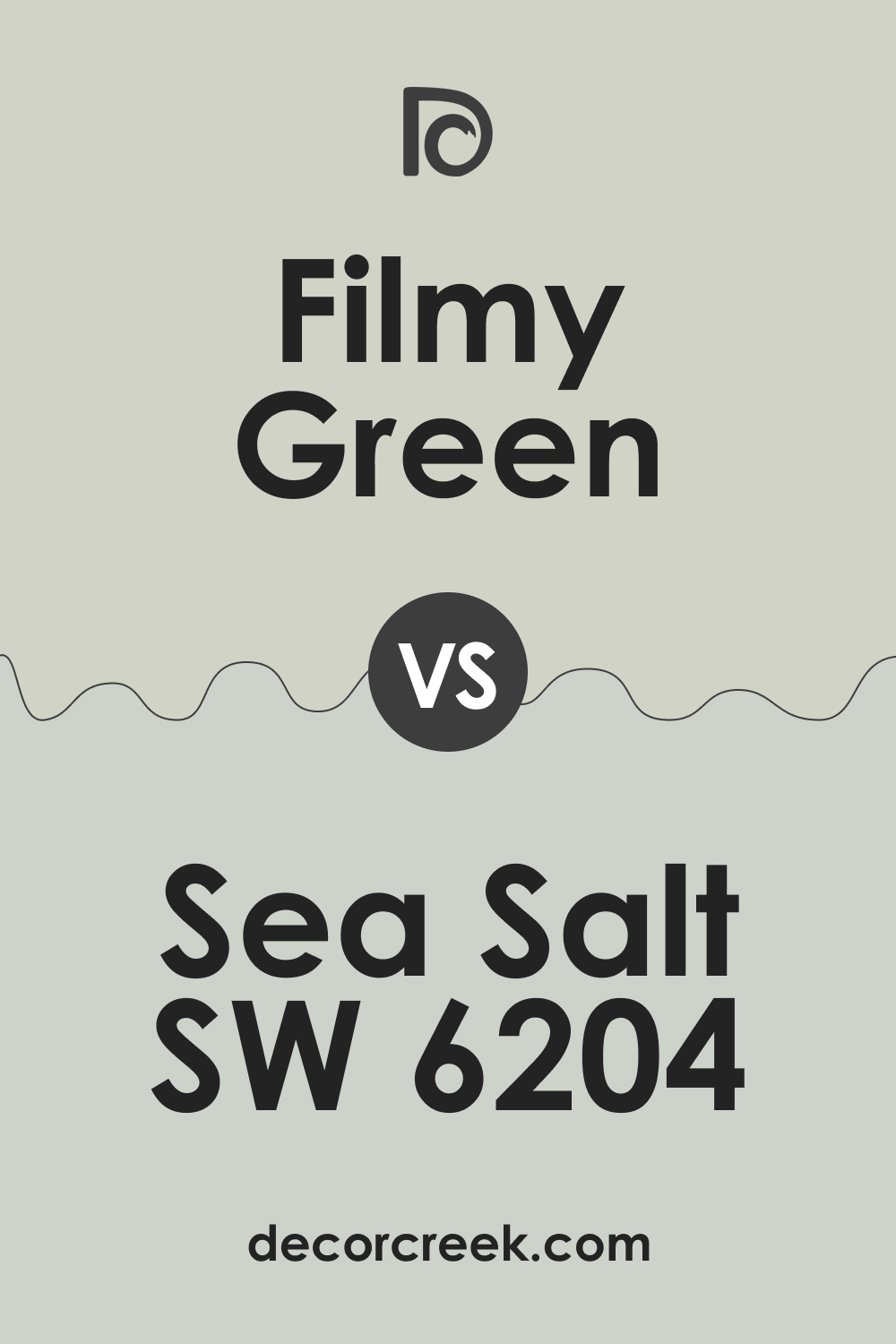 Filmy Green vs Liveable Green
In this pair of greens, SW Liveable Green looks greener, and SW Filmy Green shows more gray undertones. However, if you take a closer look, you can notice that SW Filmy Green still gives off a very slight and barely seen hint of green too.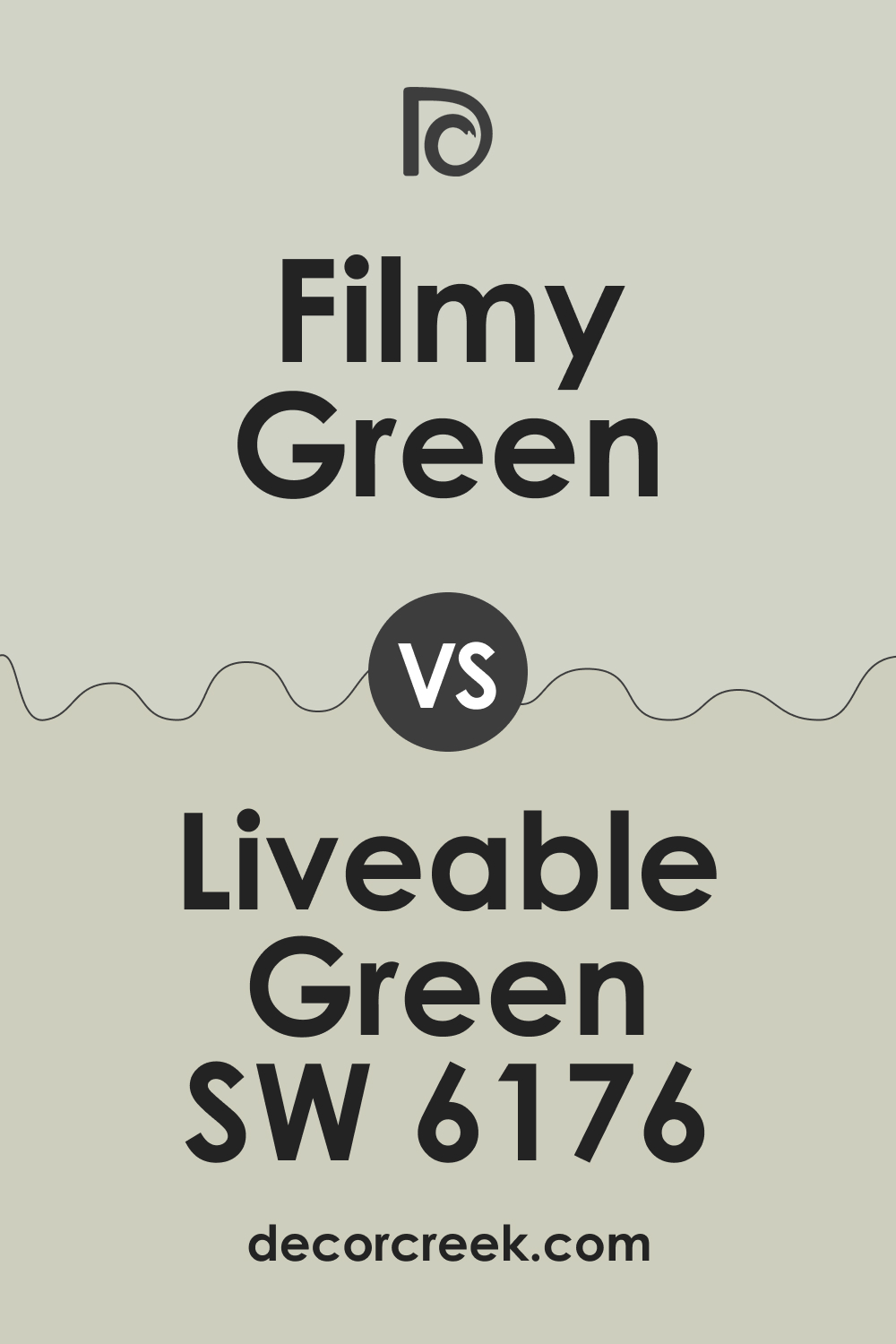 Filmy Green vs Clary Sage
If you compare these two, you will see that SW Clary Sage is a darker and more saturated green than its lighter counterpart. Also, SW Filmy Green gives off a prominent grayish hue, unlike its counterpart. However, generally SW Filmy Green looks like a much lighter version of SW Clary Sage.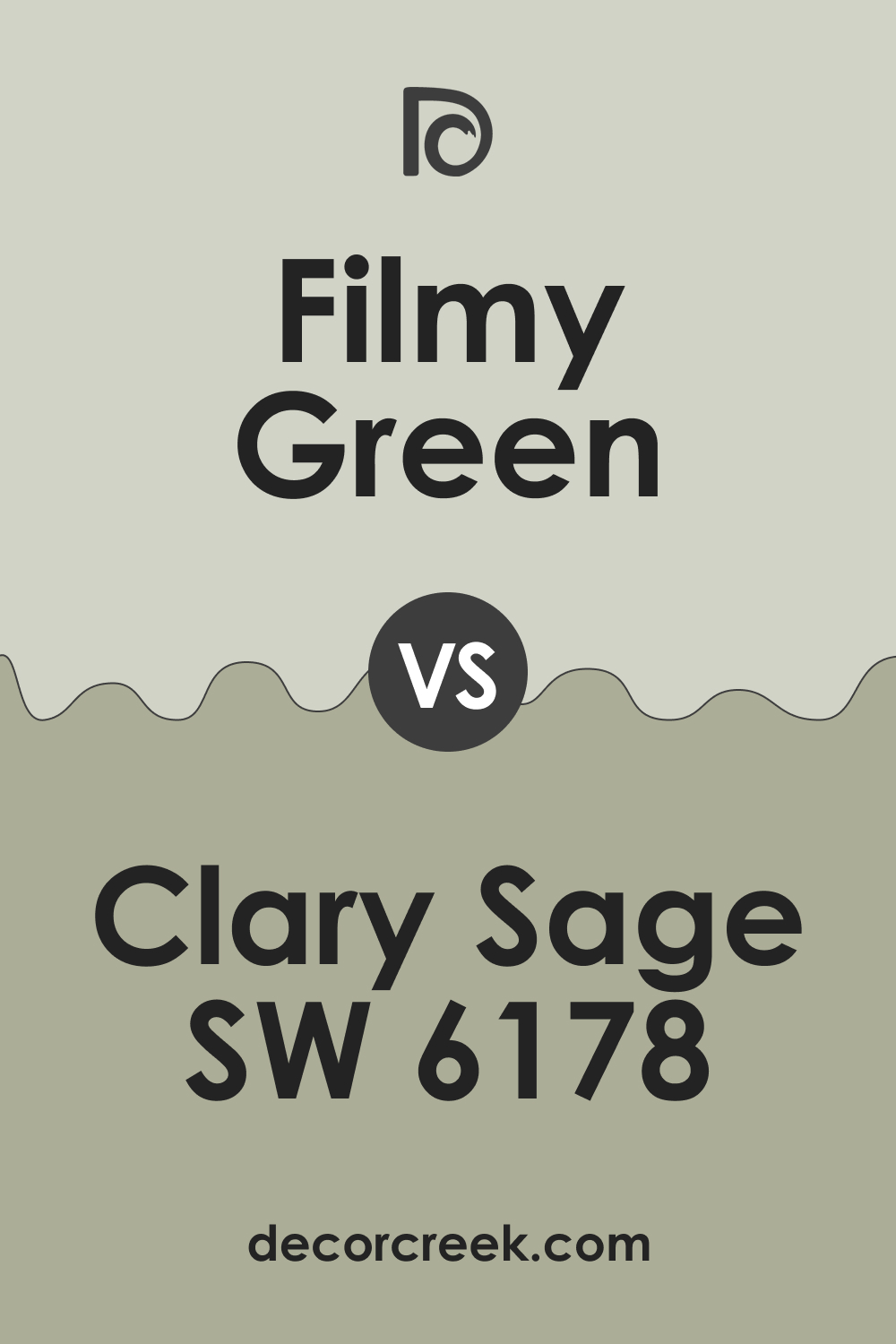 Filmy Green vs Softened Green
SW Softened Green is a soft and balanced green that reads neither dark nor too light. However, unlike SW Filmy Green, SW Softened Green has more pronounced green undertones.
Compared to this color, SW Filmy Green reads much grayer, revealing only a slight and hardly noticeable greenish hue.
Filmy Green vs Acacia Haze
SW Acacia Haze is much darker than SW Filmy Green because its LRV is 32 (compare it to the LRV of 64 that SW Filmy Green has). Also, the Acacia Haze paint color has different undertones, slate blue, compared to gray undertones of SW Filmy Green.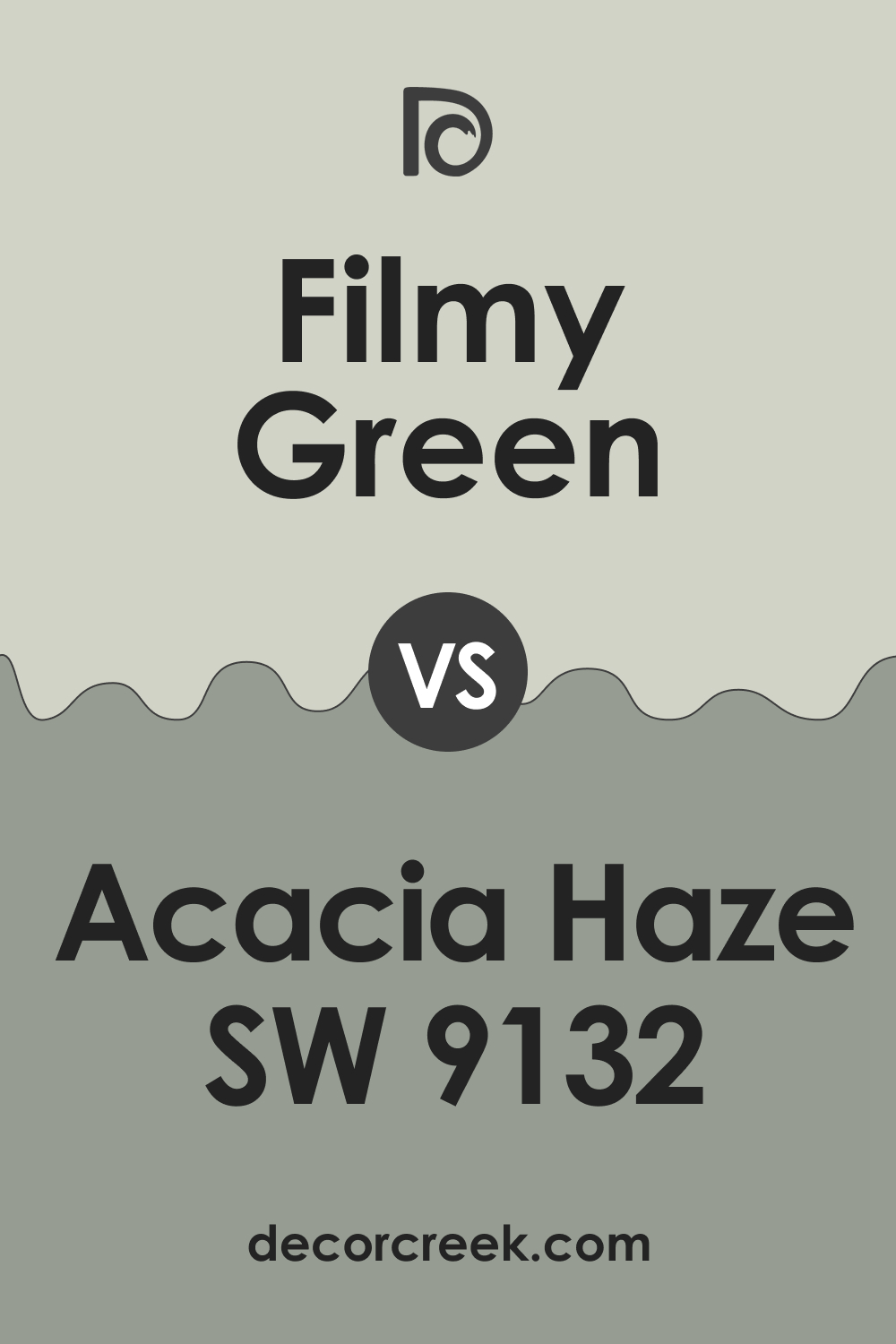 Filmy Green vs Retreat
Sherwin-Williams Retreat is a mid to darker-toned green paint color that has deep green-gray undertones. The LRV of this color is 21. It means that SW Retreat reads much darker than SW Filmy Green. Also, it looks much greener, with a barely noticeable gray hue deep within the color.
Wher In Your Home SW Filmy Green Paint Color Can Be Used?
Although green is not the most popular paint color for interiors, you can still make it work in your home if you use the color correctly. You just need to know in what rooms it will do its best.
This is why we suggest you read about the optimal areas of your home where SW Filmy Green might work and reveal its true beauty.
Filmy Green SW 6190 in the Living Room
If your living room has plenty of natural light, SW Filmy Green may read very lovely on its walls! This delicate and natural green will add a calming and relaxing vibe to the space.
And if you dilute it with whites on the ceiling and trim, the room will look brighter and airier.
Filmy Green SW 6190 in a Bedroom
To add a splash of tranquility to your sleeping area, SW Filmy Green will definitely do its job. This cool-toned green will look refreshing and, at the same time, tranquilizing. Also, it works nicely with lighter beiges and whites, as well as with natural textures like linen or wood.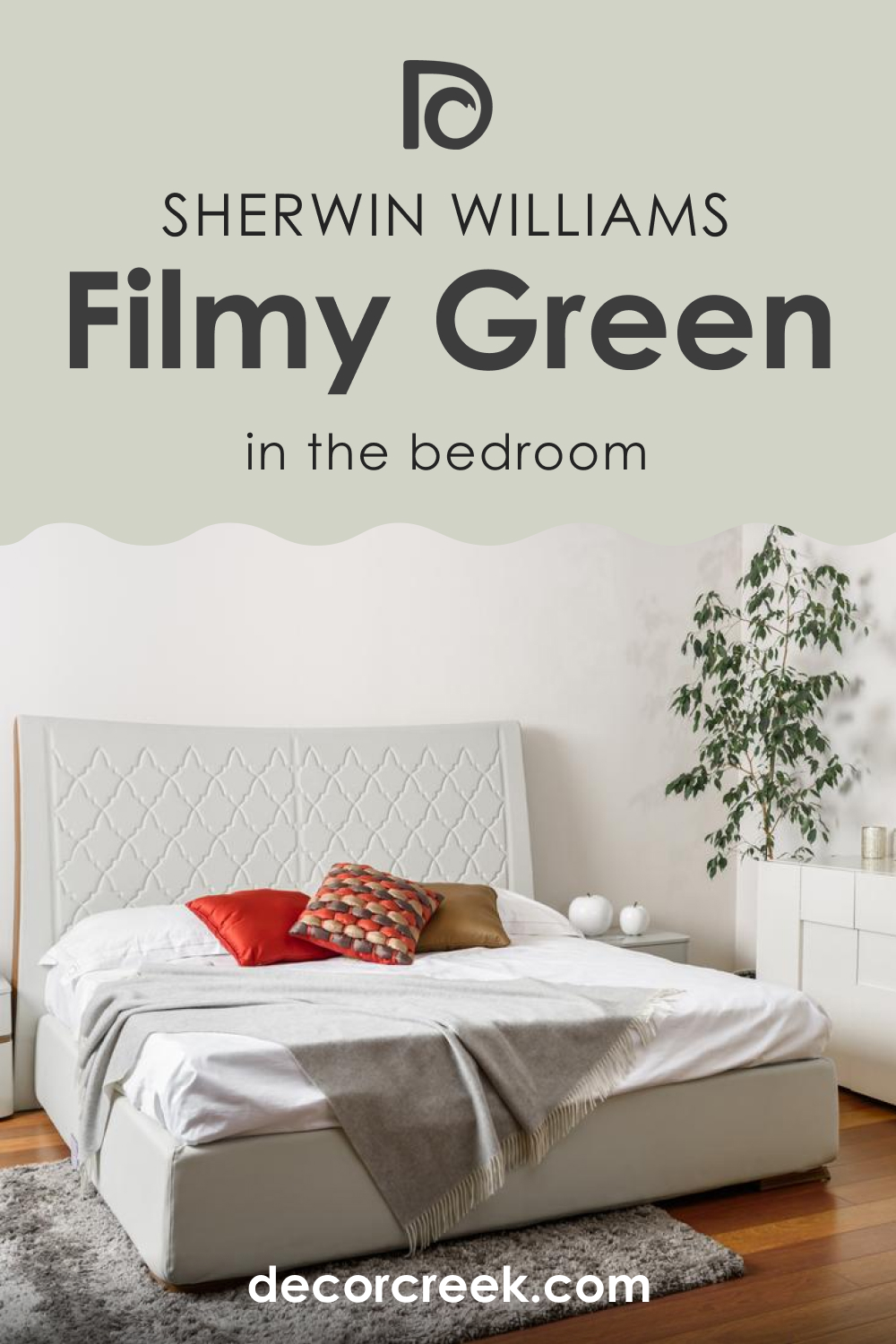 Filmy Green SW 6190 for the Kitchen
Depending on the size of your kitchen, you might want to use this color either on its walls or on the cabinets only. Should you choose cabinets, it's best to leave the walls white and make an accent by painting the cabinets green.
Since SW Filmy Green is cool-toned, it will work well with metal elements in your kitchen, like hardware or pull handlers.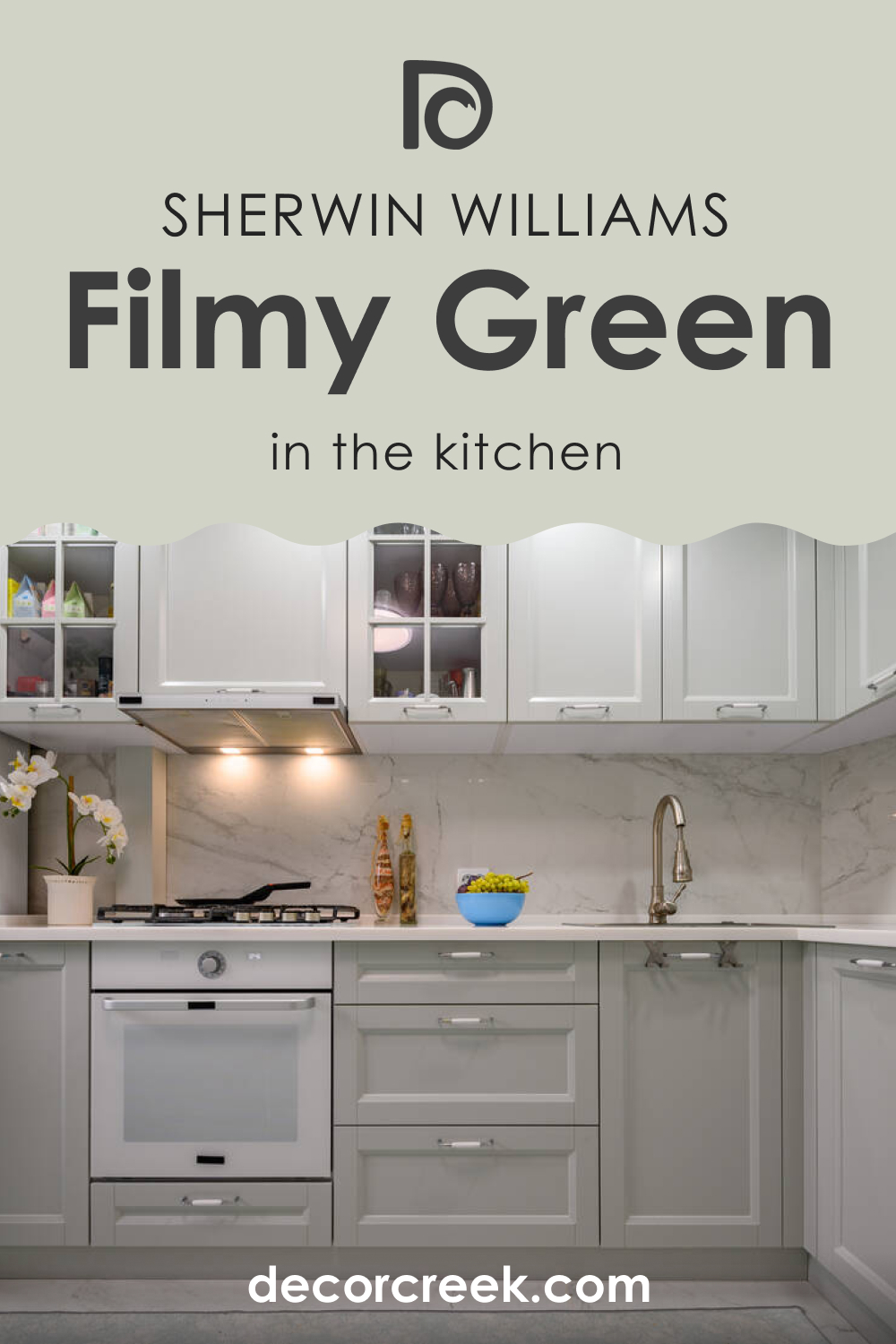 Filmy Green SW 6190 and Bathroom
Thanks to cool undertones, this green-gray color will look pretty suitable in your bathroom. However, we recommend you use it moderately and paint only an accent wall.
With other walls being white, your bathroom will get a refreshing hue and won't read overwhelmed with color.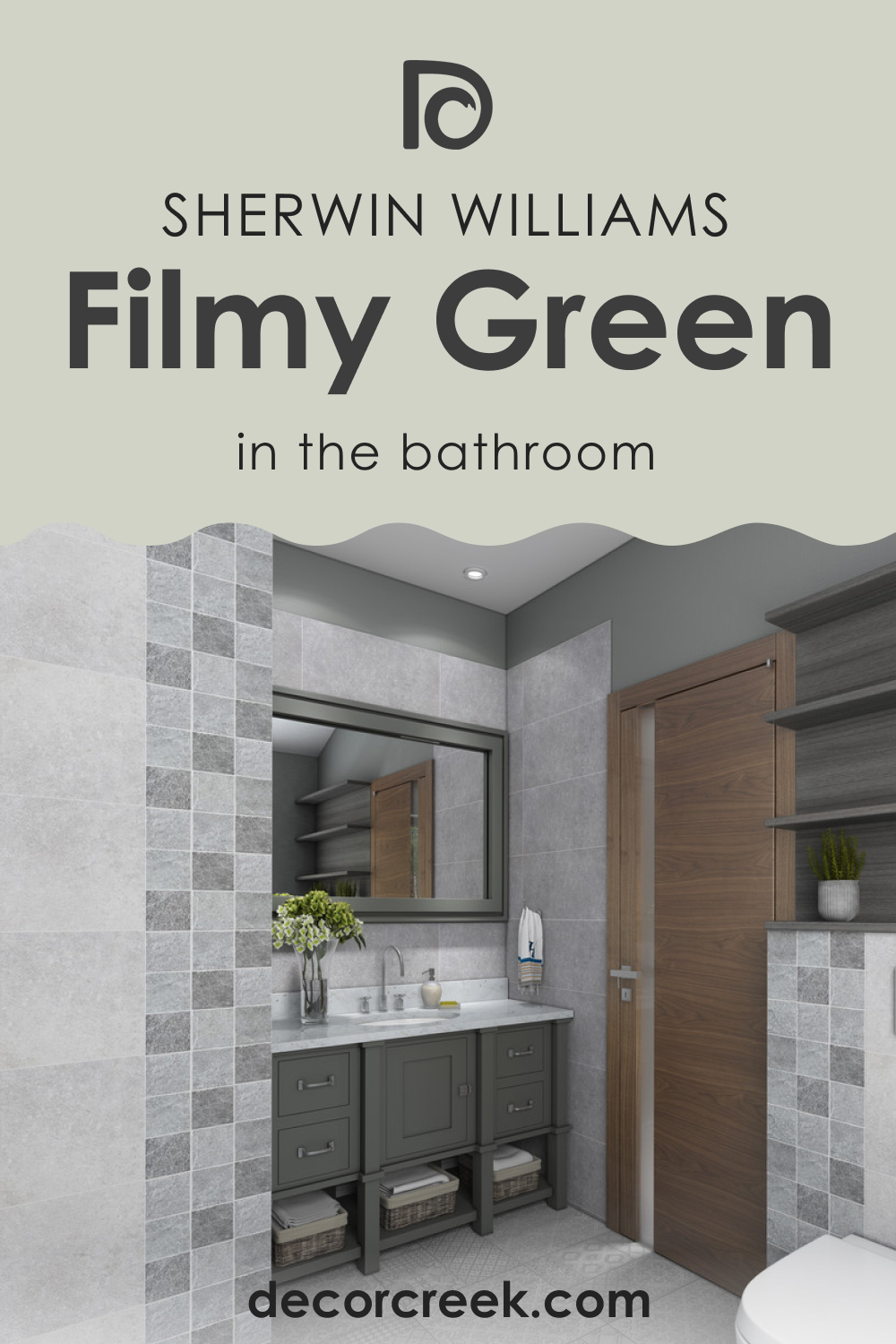 Filmy Green SW 6190 for the Exterior Use
Although this green is rather light and reflective, it doesn't typically look washed out on exterior walls. Instead, gray undertones make it look soft and deep enough to add color to your home's exterior walls. Pair it with brighter whites on the trim and molding, and your house will look cozier.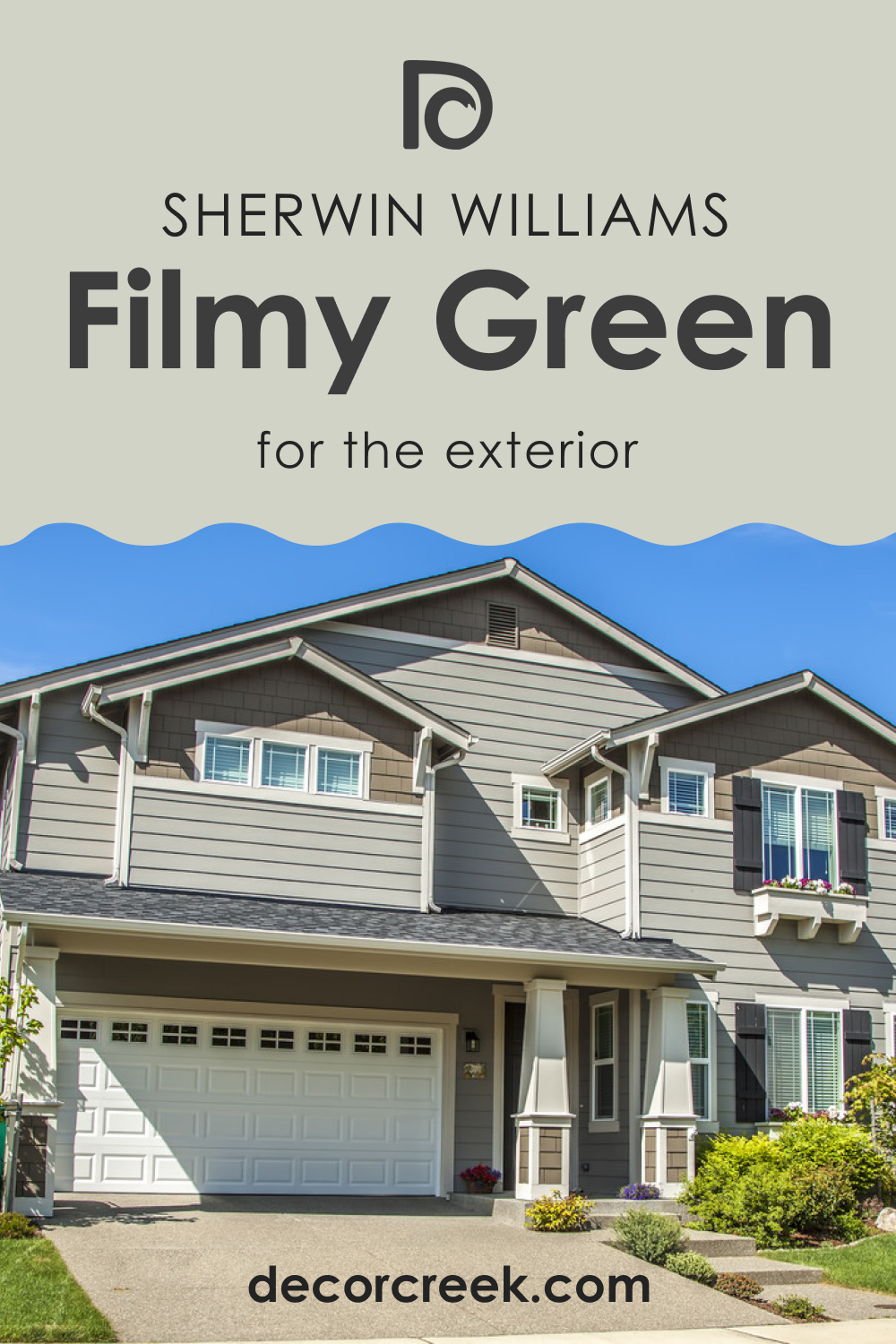 This was a brief guide that introduced you to SW Filmy Green paint color. Now you know what kind of green it is, how it works in different rooms, and how to coordinate it correctly to get the best effect.
You know what undertones it has and how it may affect this color when it's used on the walls. With all these tips and recommendations, you will make this cool and calming color show its beauty.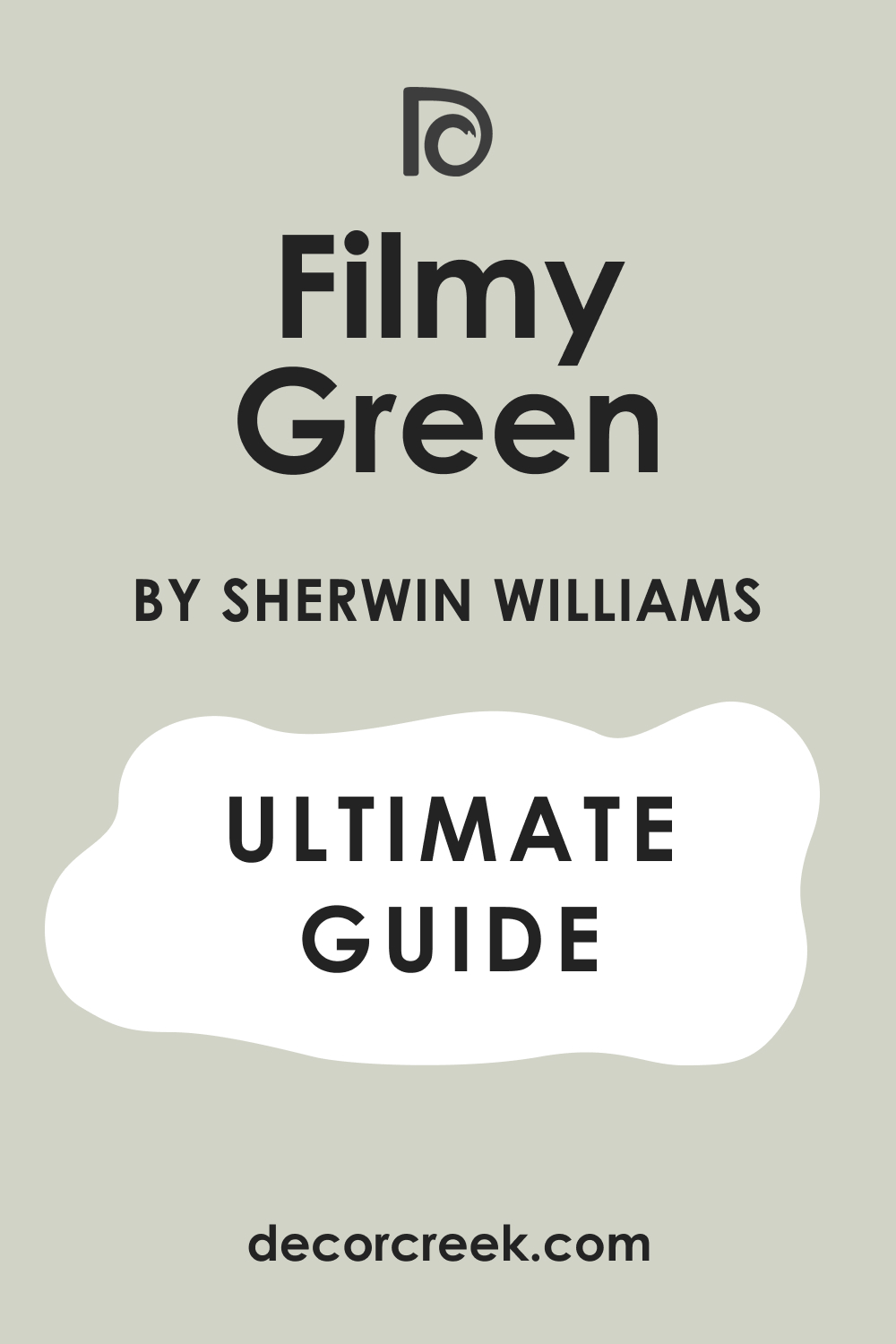 Frequently Asked Questions
⭐Is SW Filmy Green a neutral color?
No, this green is on the lighter side of the LRV scale.
⭐Does SW Filmy Green make a room darker?
No way! This color is rather light and reflective, so it will not make the space look moody.
⭐Is SW Filmy Green a popular color?
Like most greens, it's hard to call this color popular. But if you like natural and light colors, you will enjoy it!