We use green colors in our interiors when we want to add a note of calmness and tranquility to the space. Green is associated with nature and relaxation.
Moreover, there are scientific researches that prove shades of green affect human eyesight positively. Generally, this color creates a balanced and reserved vibe in any room.
Today, you will learn more about one the green colors by Sherwin-Williams called Illusive Green. We will tell you what kind of green color it is, how it works in different rooms, and what colors it is best to be used with.
Also, you will find out how to coordinate it and how this green might read in different lighting.
What Kind of Color Is Illusive Green SW-9164?
The Illusive Green by Sherwin-Williams is a dark and thoughtful green, gracefully softened by cyan and gray undertones. As Encycolorpedia says, is a peaceful and calm hue that will create a meditative vibe in any room you use it.
This shade of green doesn't have a pronounced green hue, which is why it reads somewhat muted on the walls. You won't notice the saturated leafy green or juicy lime-green hues in it, but instead, this color might remind you of moss on the rock.
This shade of green has a slightly "foggy" appearance that contributes to a relaxing and tranquil feeling it spreads around.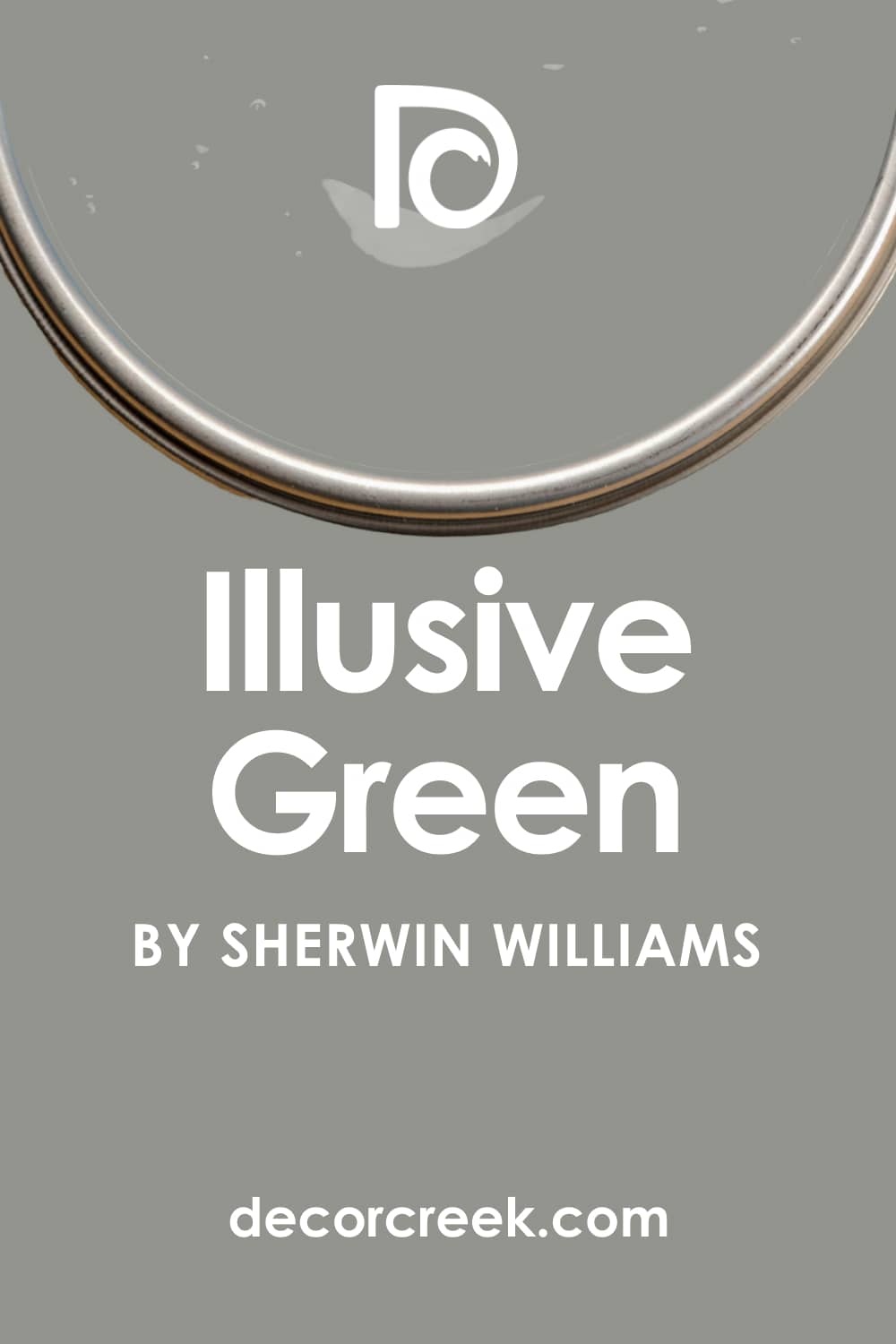 What Undertones Does Illusive Green SW-9164 Have?
This shade of green has cyan and gray undertones that blend perfectly. The result is a balanced cyan-gray-green hue with an incredible "foggy" fleur that reads soft enough.
However, with such complex undertones, this color might be tricky to use indoors! You must consider other colors used in the space to ensure this green reads balanced and harmonious.
If you use it with many grays, for example, be ready for the gray undertone to show up much more! The same way, in a room prevailing cool-toned colors, SW Illusive Green might show its cyan side more noticeably. Also, note that in a cold northern light, this green may read almost cyan-blue!
Because of this, we recommend you always sample this color before applying the paint to the walls! It will help you to avoid mistakes and unnecessary waste of paint.
Besides, you will be able to see how the color works in a specific space and adjust the surrounding palette or (if necessary) change the wall color.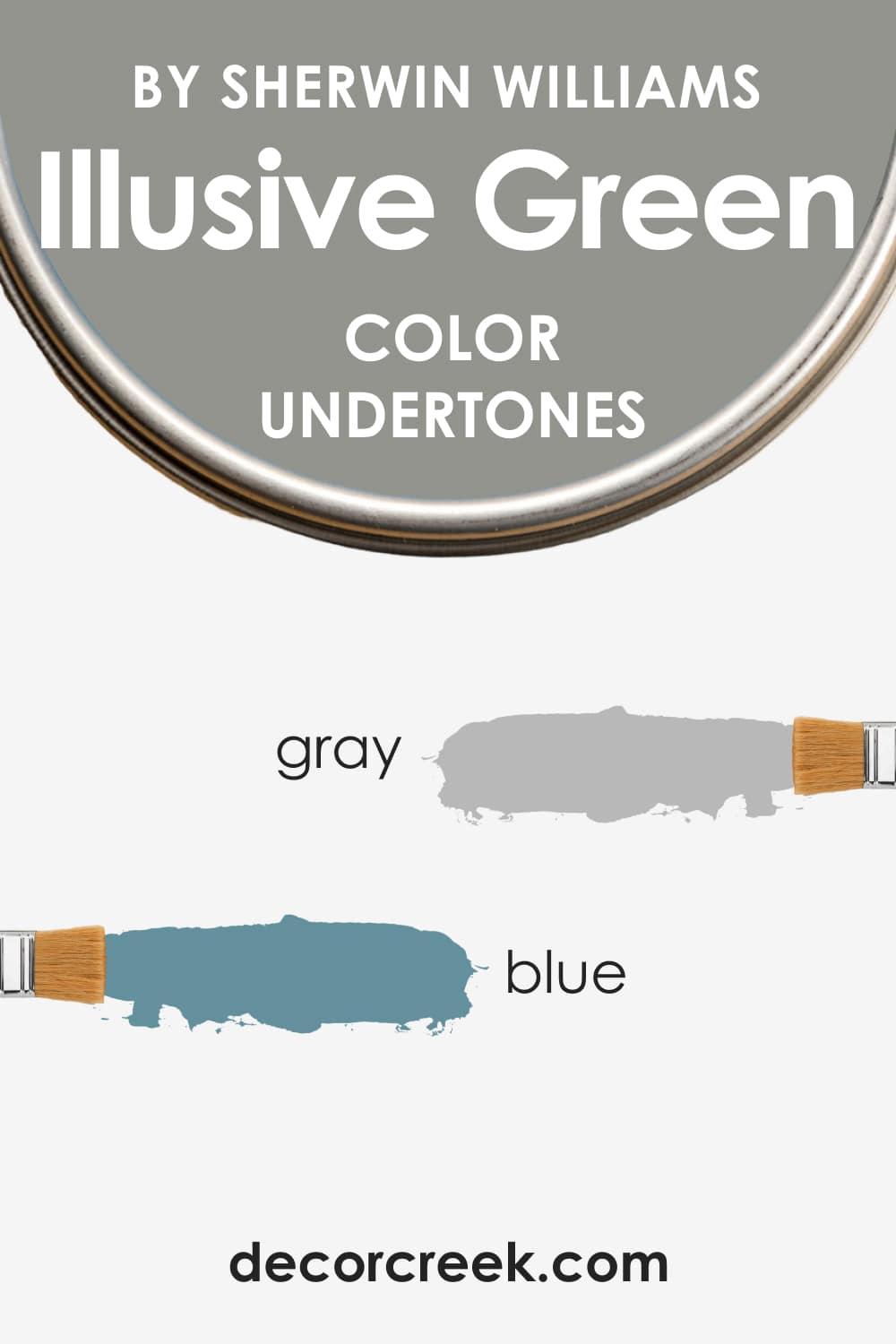 LRV of Illusive Green SW-9164 Paint Color
The LRV of SW Illusive Green is almost 29, which makes this shade of green a medium color. It means that it reflects enough light, but not enough to read light on the walls.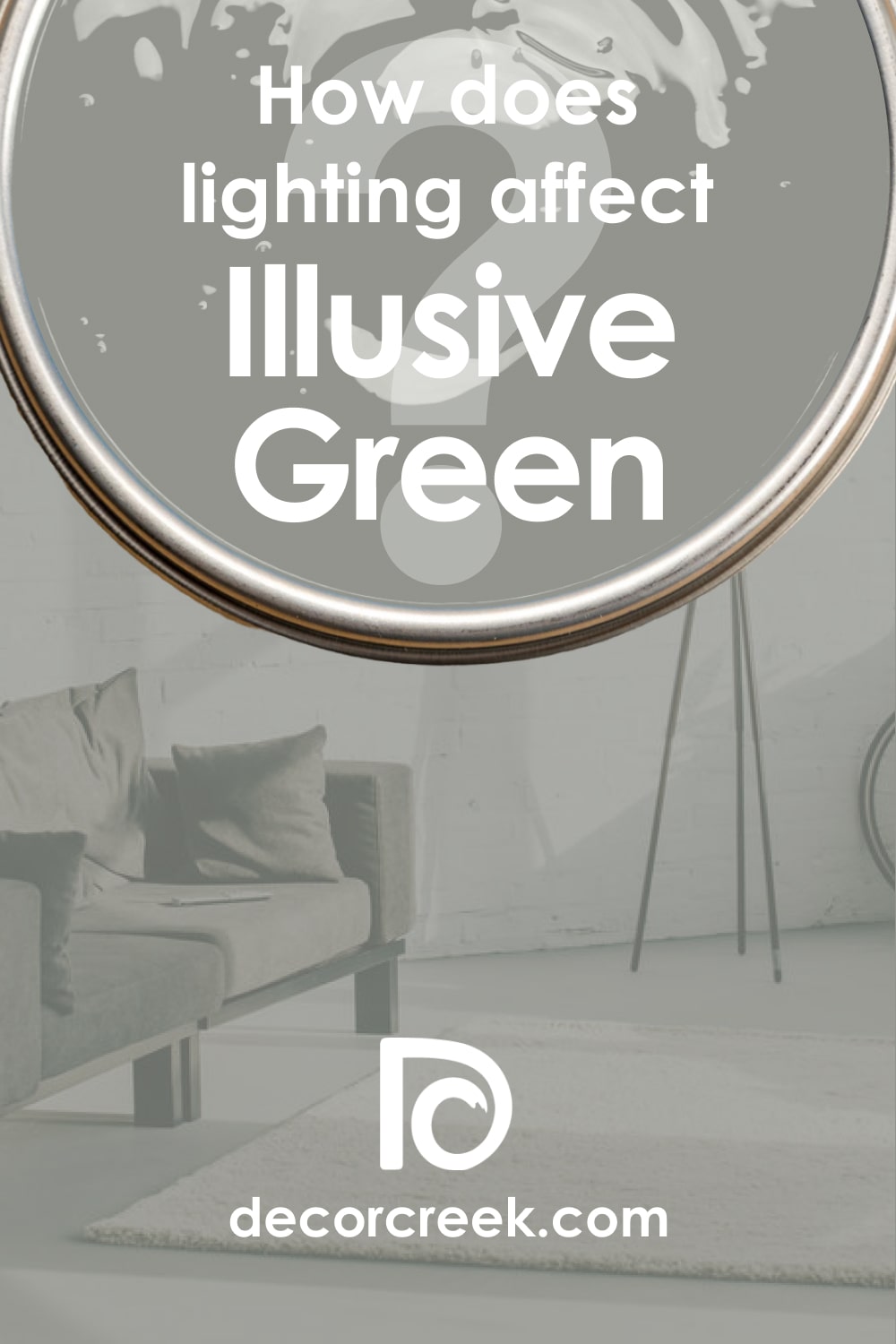 On the other hand, this LRV rate makes SW Illusive Green is pretty versatile and can be used in both smaller and larger rooms.
The good thing about this green color is that it doesn't tend to make a room seem smaller, which means SW Illusion Green is basically suitable for any room of your home.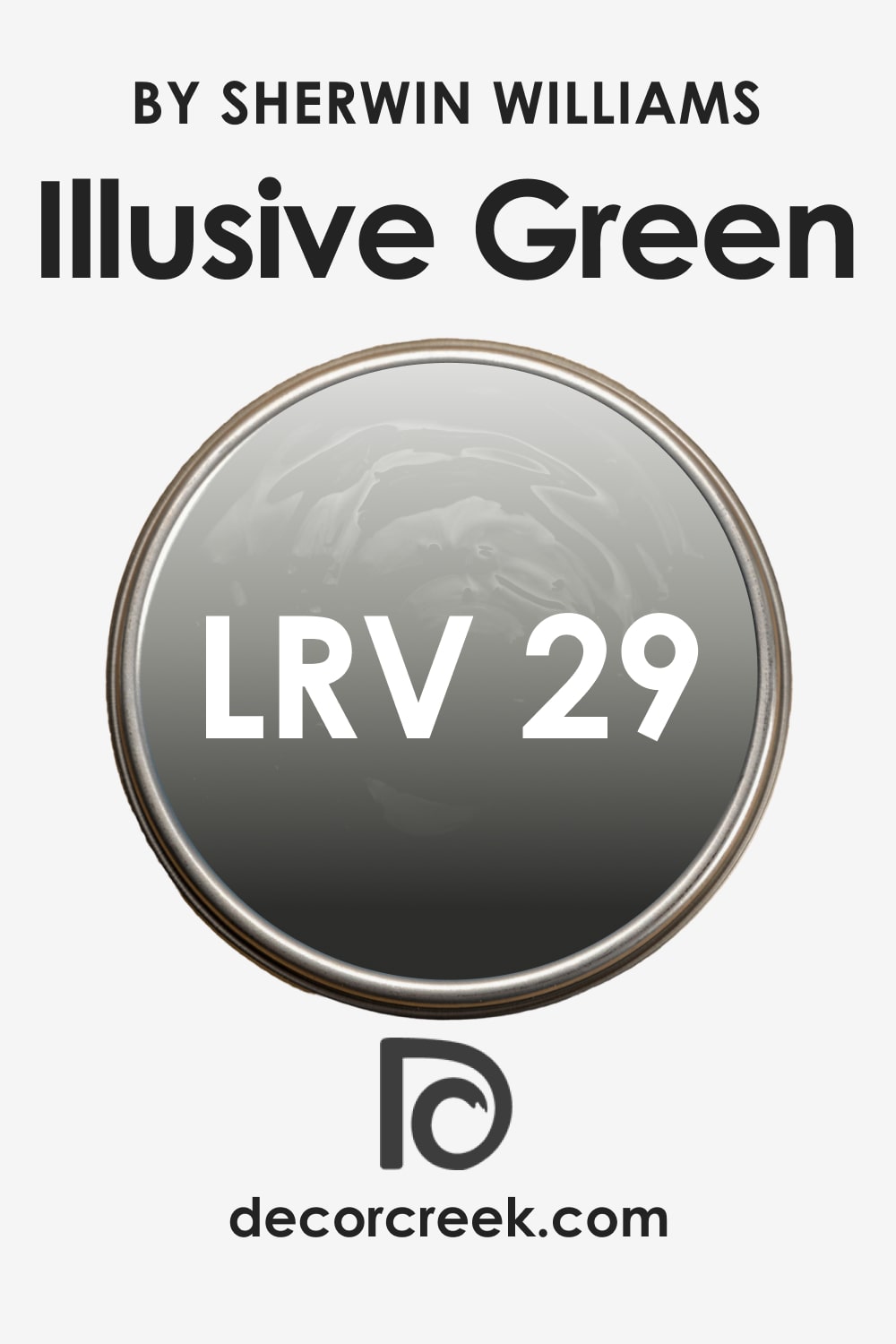 LRV – what does it mean? Read This Before Finding Your Perfect Paint Color
Illusive Green SW-9164 Coordinating Colors
With the colors that have such complex undertones as SW Illusive Green, you must pick coordinating colors very carefully! Otherwise, there is a risk of ending up with a color palette that makes a room read imbalanced and "patchy"!
This is why we suggest you several coordinating color palettes. Some of them contain similar colors, whilst others are more varied. This will allow you to select the one that suits your interior better.
SW Reserved White
SW Blonde
SW Navajo White
For the analogous color scheme, try one of the following colors:
SW Mineral Deposit
SW Tin Lizzie
SW African Gray
SW Dustblu
For the monochromatic interior color palette, the following paint colors will be more suitable:
SW Night Owl
SW Magnetic Gray
SW Attitude Gray
SW Unusual Gray
Finally, if you are looking for something more varied in color, why not try a color palette like this?
SW Acacia Haze
SW Sea Salt
SW Cocoa Berry
SW White Truffle
SW Natural Linen
SW Fashionable Gray
SW Silver Strand
SW Song Thrush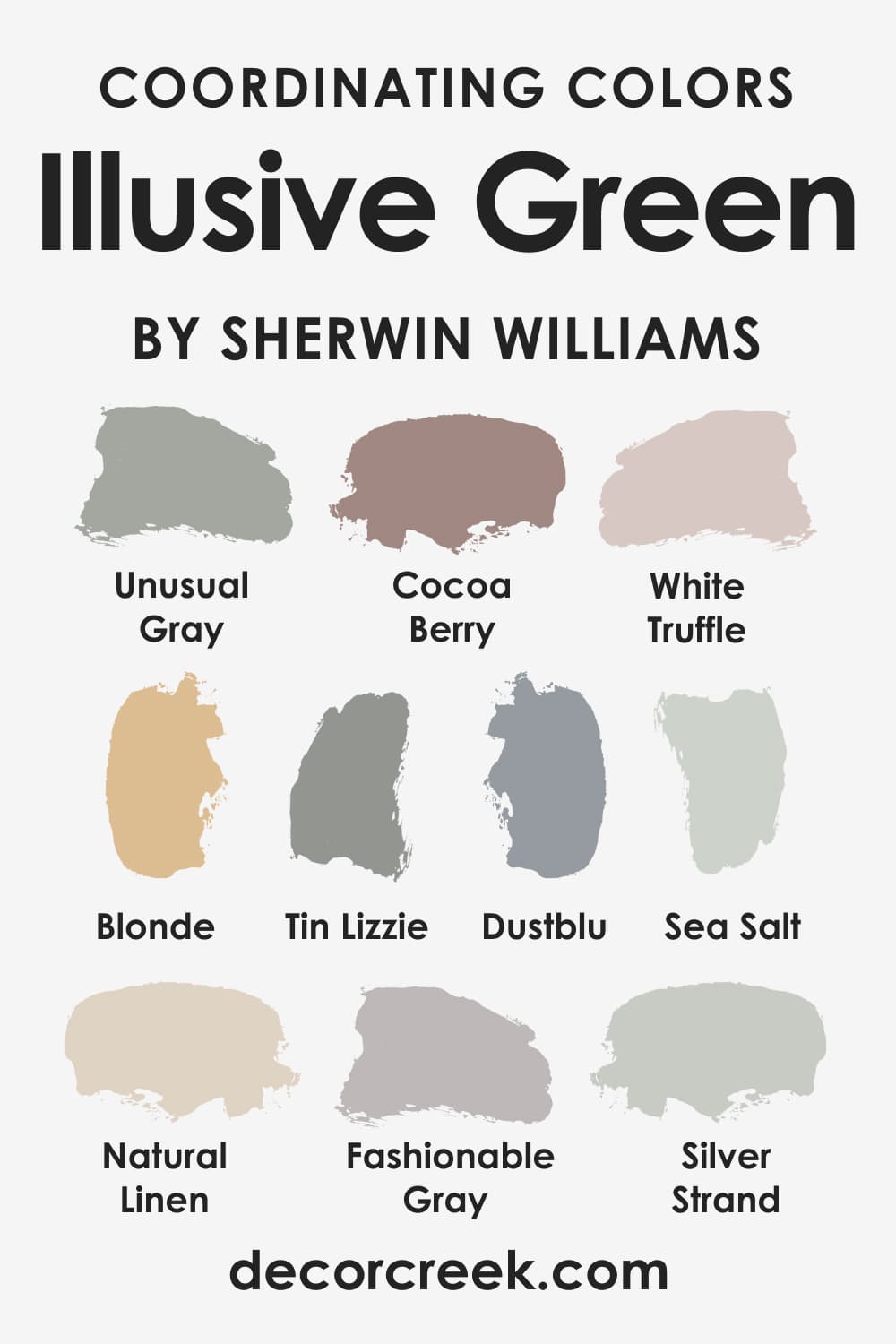 What Is the Best Trim Color of Illusive Green SW-9164?
White is traditionally the optimal trim color due to its versatility and ability to pair nicely with many other colors. For SW Illusive Green as a wall color, white trim will also work best of all. In particular, we recommend you use the following whites on trim:
SW Alabaster
SW Pure White
These whites are soft enough, which means they will look harmoniously with the Illusive Green color on the walls. Also, both whites are pretty close in brightness with SW Illusive Green. It means there will be no sharp contrast between the trim and walls.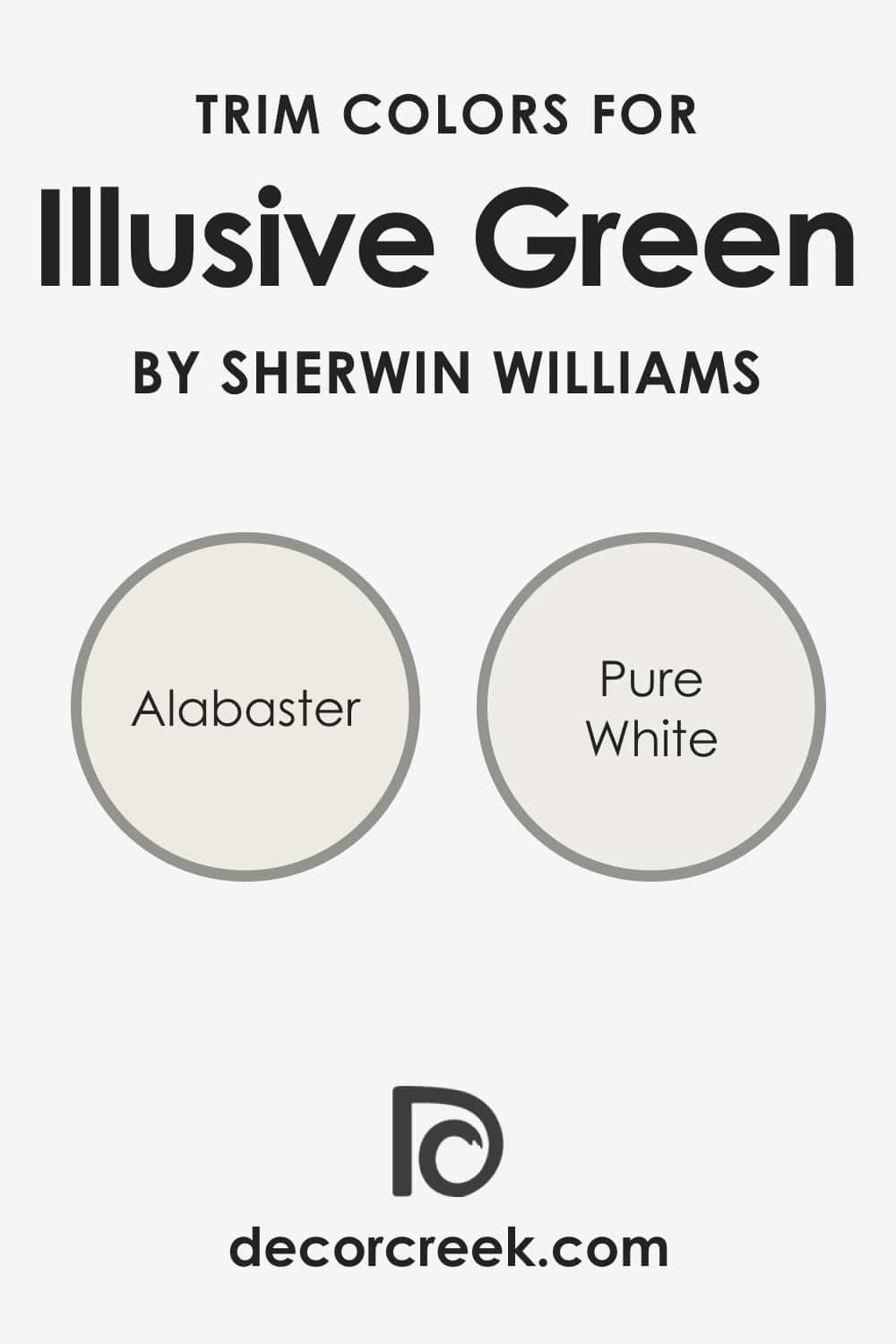 Pint Colors Similar to Illusive Green SW-9164
Why is it helpful to know what colors can be used instead of the color you initially chose for your walls? Perhaps, you decide you need a slightly lighter/darker shade, or you realize the color you choose doesn't pair well enough with the rest of the palette in tone or brightness.
Anyway, having a couple of alternatives is always a good idea!
Instead of SW Illusive Green, you can use one of the following paint colors successfully:
Behr Cool Ashes
BM Rainstorm
Farrow&Ball Stoke
PPG Husky Gray
Valspar Opal Slate
They are similar shades of green from different brands, but it doesn't affect the way these colors read on the walls. With any of them, you can achieve nearly the same effect as if you used SW Illusive Green.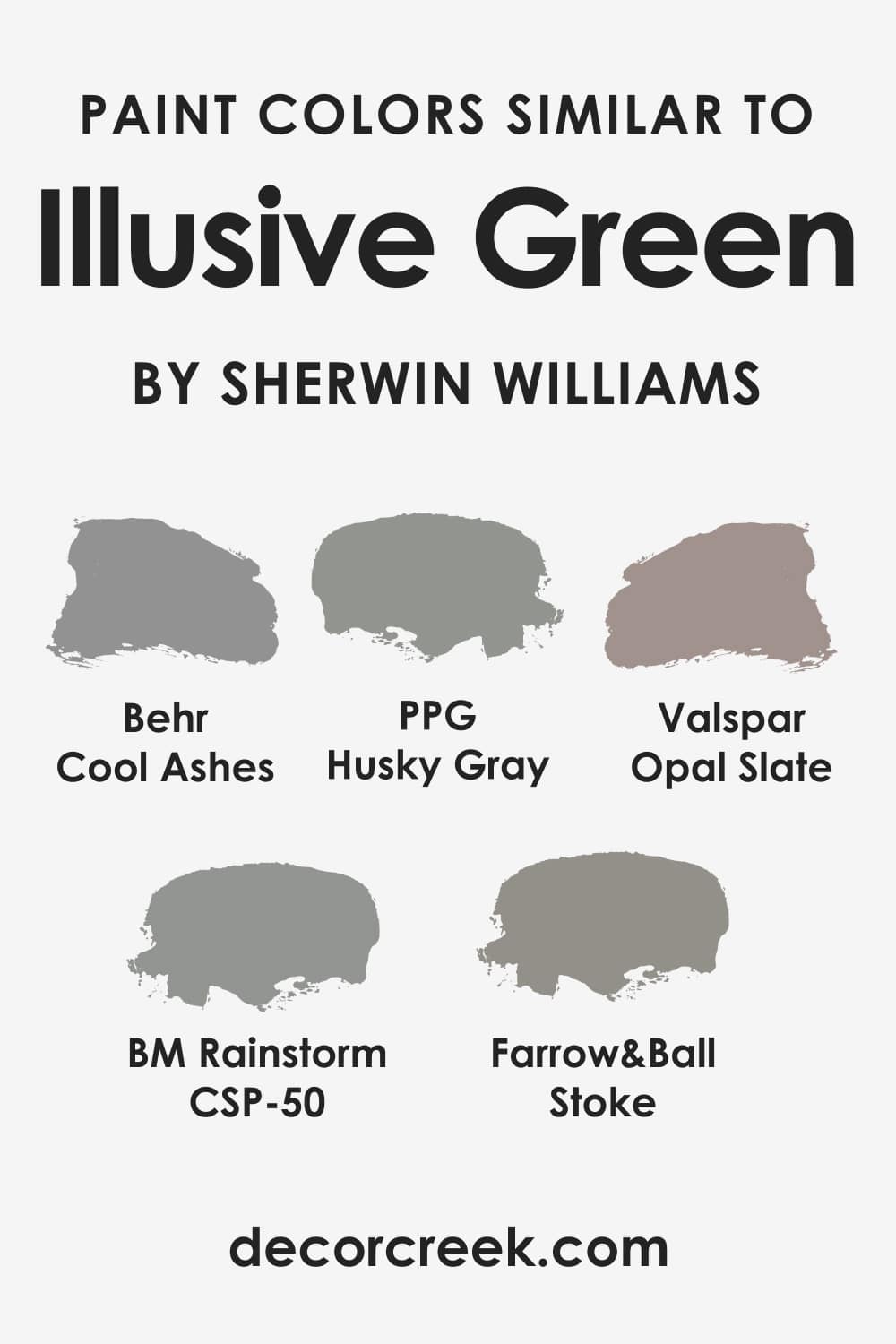 Colors That Go With SW Illusive Green
To select a harmoniously-looking and balanced color palette for your home interiors, it's essential to choose paint colors that work well together.
For SW Illusive Green, you can use red and yellow colors since they typically work well with green. However, try to use muted shades of reds and yellows to match them with the muted appearance of the SW Illusive Green!
If you decide to use other greens (which is also a good idea), stick to brighter and more saturated shades of this color, but avoid neon greens and too juicy shades!
They will look imbalance with this pretty dark and muted color. Also, calmer and darker shades of browns and beiges might work nicely since they complement the earthy vibe SW Illusive Green gives.
In particular, you can use the following paint colors:
SW Rosemary
SW Yellow Bird
SW Toile Red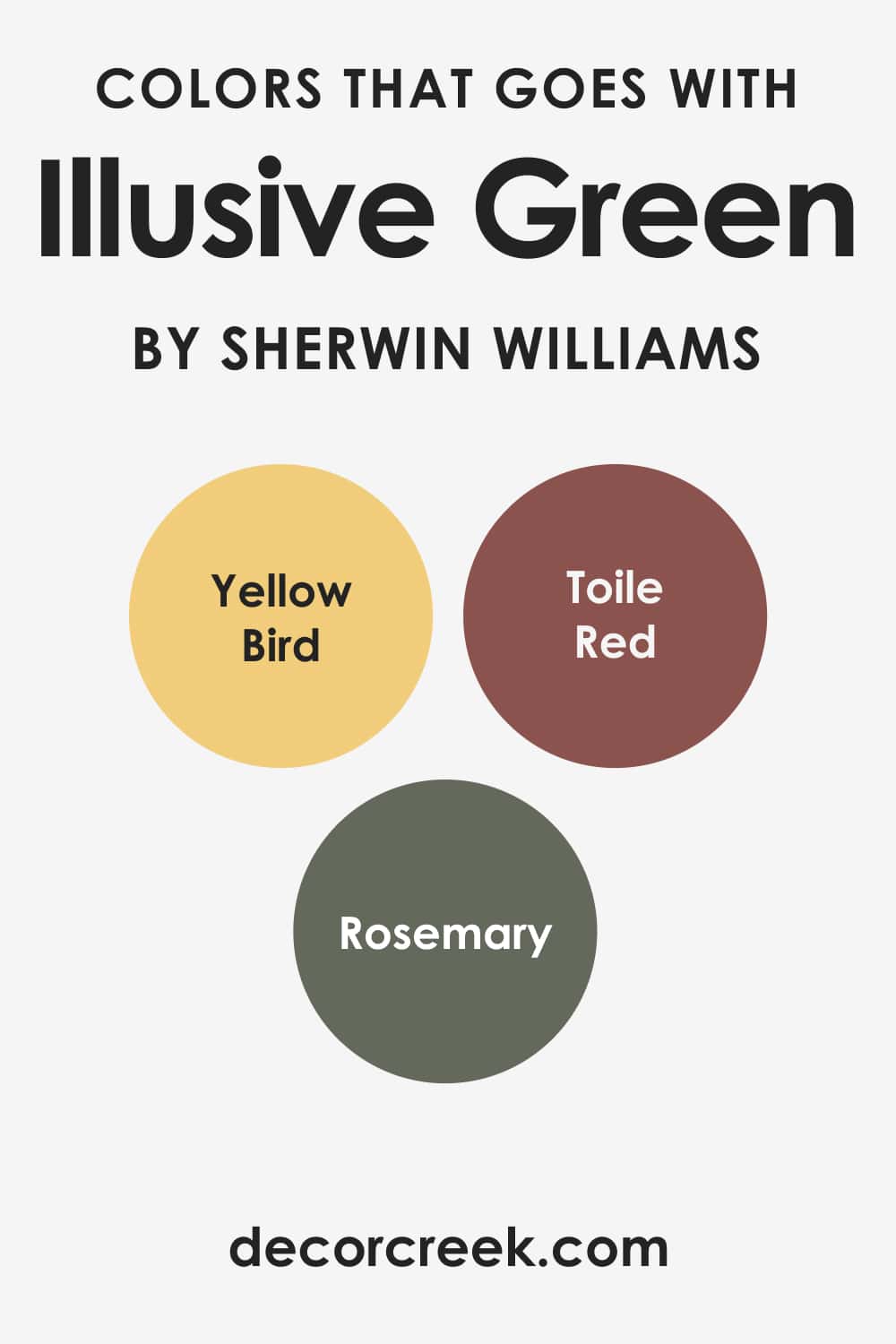 Comparing Illusive Green SW-9164 With Other Green Colors
To make it straightforward for you what makes the Illusive Green paint color by Sherwin-Williams distinct from other shades of green, we have prepared several pairs of colors to compare.
Each pair of colors compares the Illusive Green color and one more shade of green that looks very similar in terms of tone and light reflectance. This way, you will better understand what makes different shades of the same color unique and distinct.
Illusive Green vs Evergreen Fog
These colors may look almost the same. But if you compare them on color swatches side by side, you will see that SW Illusive Green looks grayer than its counterpart. SW Evergreen Fog, in its turn, reads much greener. However, the colors are very close in tone, and they are equally muted.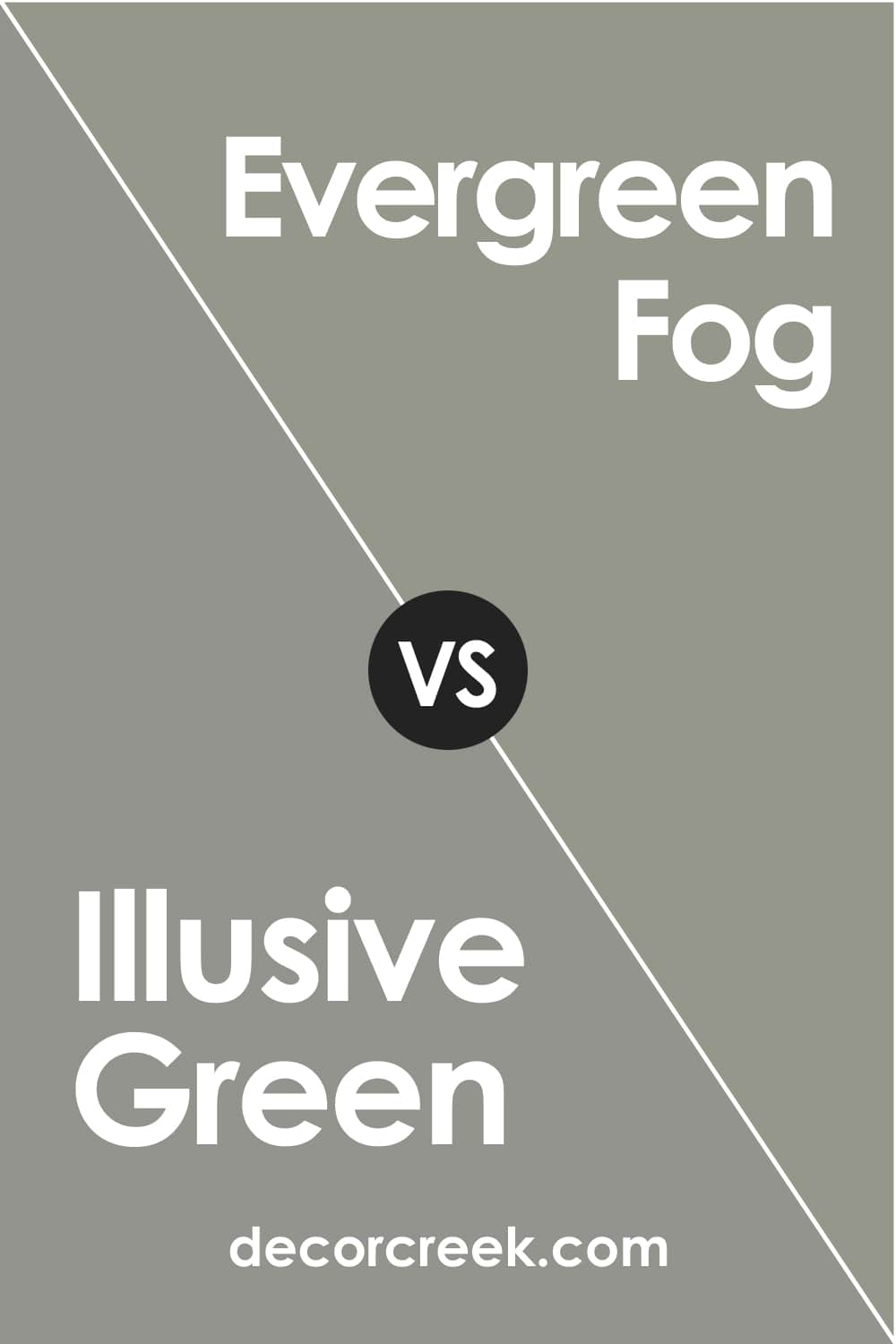 Illusive Green vs Acazia Haze
The difference between these shades of greens is less visible compared to the previous pair of colors. However, SW Acazia Haze does have more pronounced green undertones than its grayer counterpart.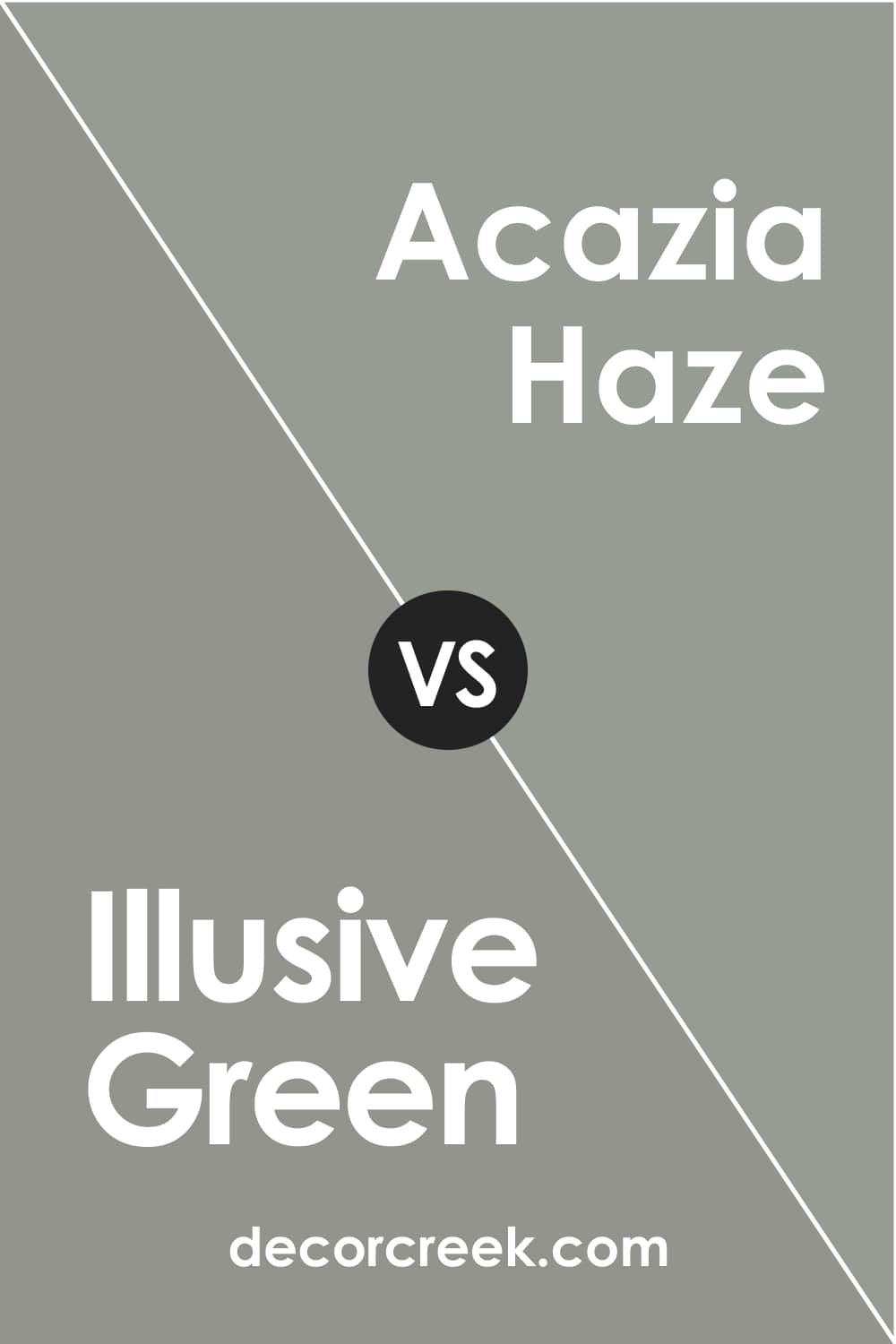 Illusive Green vs Retreat
SW Retreat looks significantly greener than SW Illusive Green with its gray undertones. In fact, the distinction is so big that the Illusive Green color looks almost gray if you place it side by side with the Retreat color! Also, these paints have distinct LRVs (20 for SW Retreat and 29 for SW Illusive Green).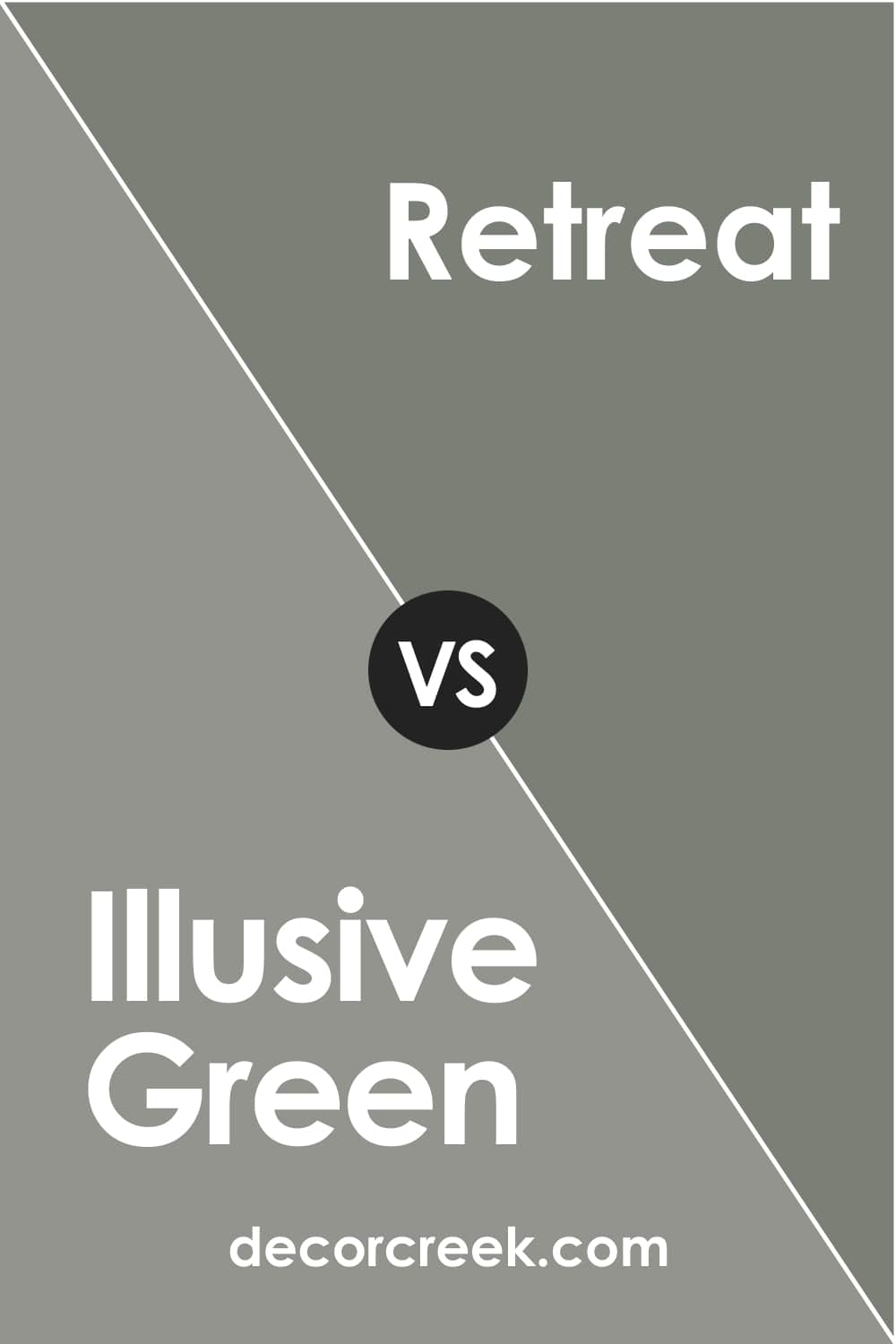 Illusive Green vs Oyster Bay
The Oyster Bay color has blue and gray undertones, which relates it to SW Illusive Green. However, the LRV of SW Oyster Bay is 44, which is much higher than the LRV of 29 the Illusive Green has. This is why the Oyster Bay color reads much lighter.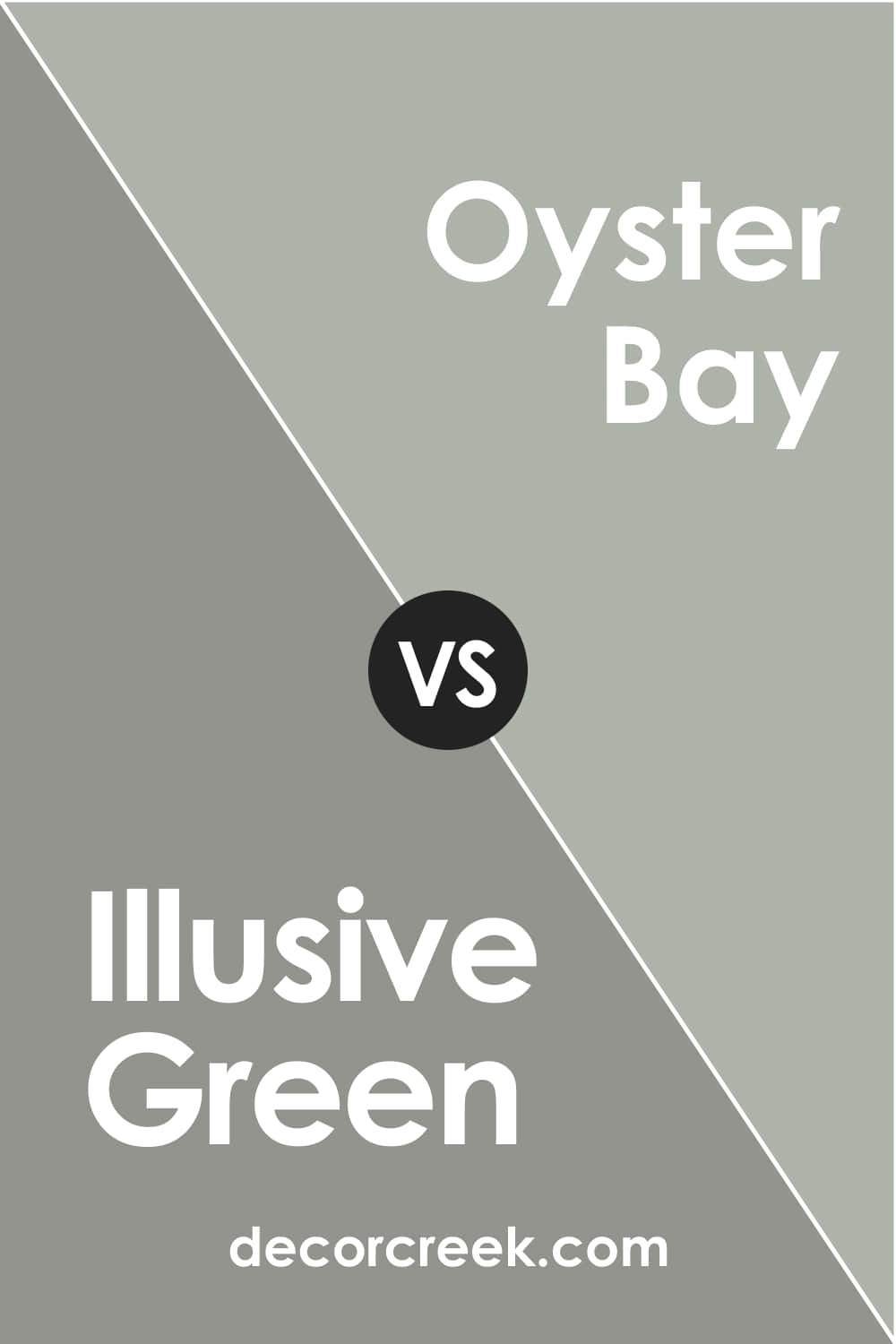 Illusive Green vs Rosemary
SW Rosemary has an LRV of 14 and cool gray undertones. This gray hue is what relates it to SW Illusive Green (which also has gray undertones), but the difference in LRVs makes these colors read striking distinct!
The Rosemary color is way more pronounced and deeper, looking clearly greener. In its turn, SW Illusive Green shows its gray undertones more noticeably.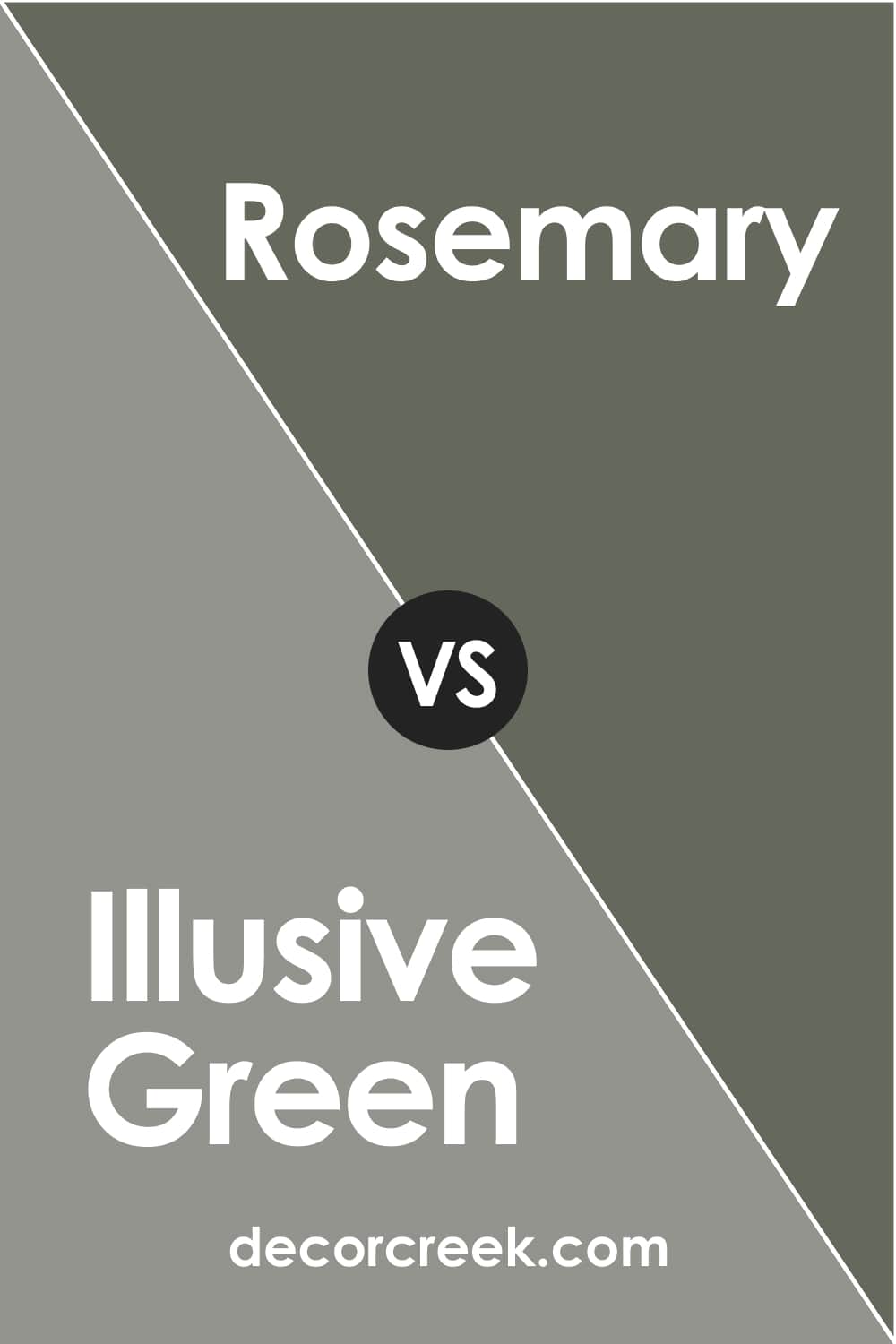 Where to Use SW Illusive Green In Your Home?
To help you figure out how SW Illusive Green might read in different rooms of your home, we have prepared a brief guide. It will explain how this shade of green works in various spaces and what you could do to help it work better.
Illusive Green SW-9164 in the Living Room
For the living room, this shade of green is a nice option if you want to achieve a calming and natural look. SW Illusive Green will make the space read tranquil and relaxed, adding a sense of pleasant coolness.
You can use it on all the walls or paint an accent wall with it, leaving others white. As an option, you might want to consider painting other walls with the lighter version of SW Illusive Green.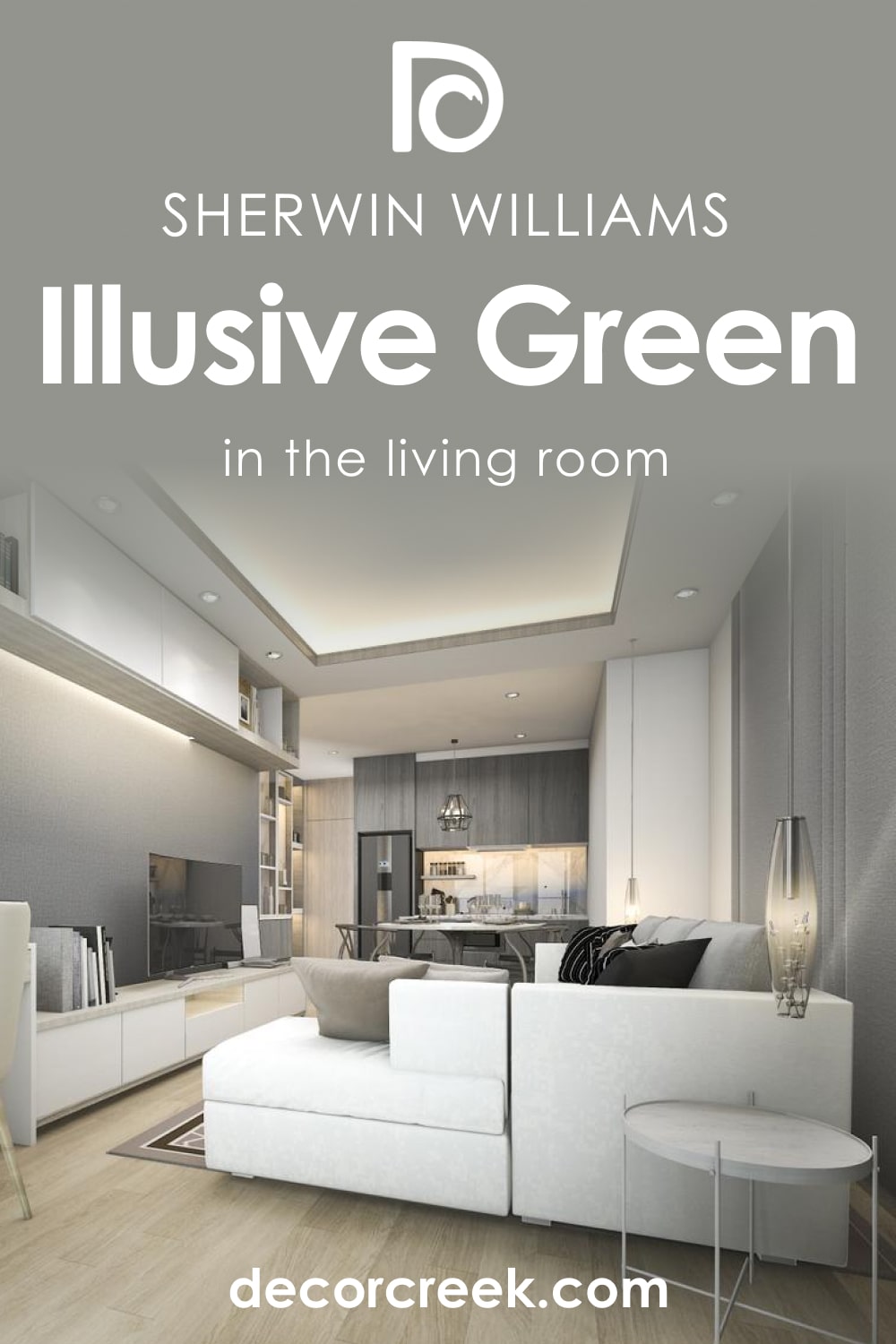 Illusive Green SW-9164 in a Bedroom
We would not recommend you paint your entire bedroom with this green, although it might work if the room is spacious and filled with natural light. But typically, SW Illusive Green works much better as an accent wall color with other walls being white.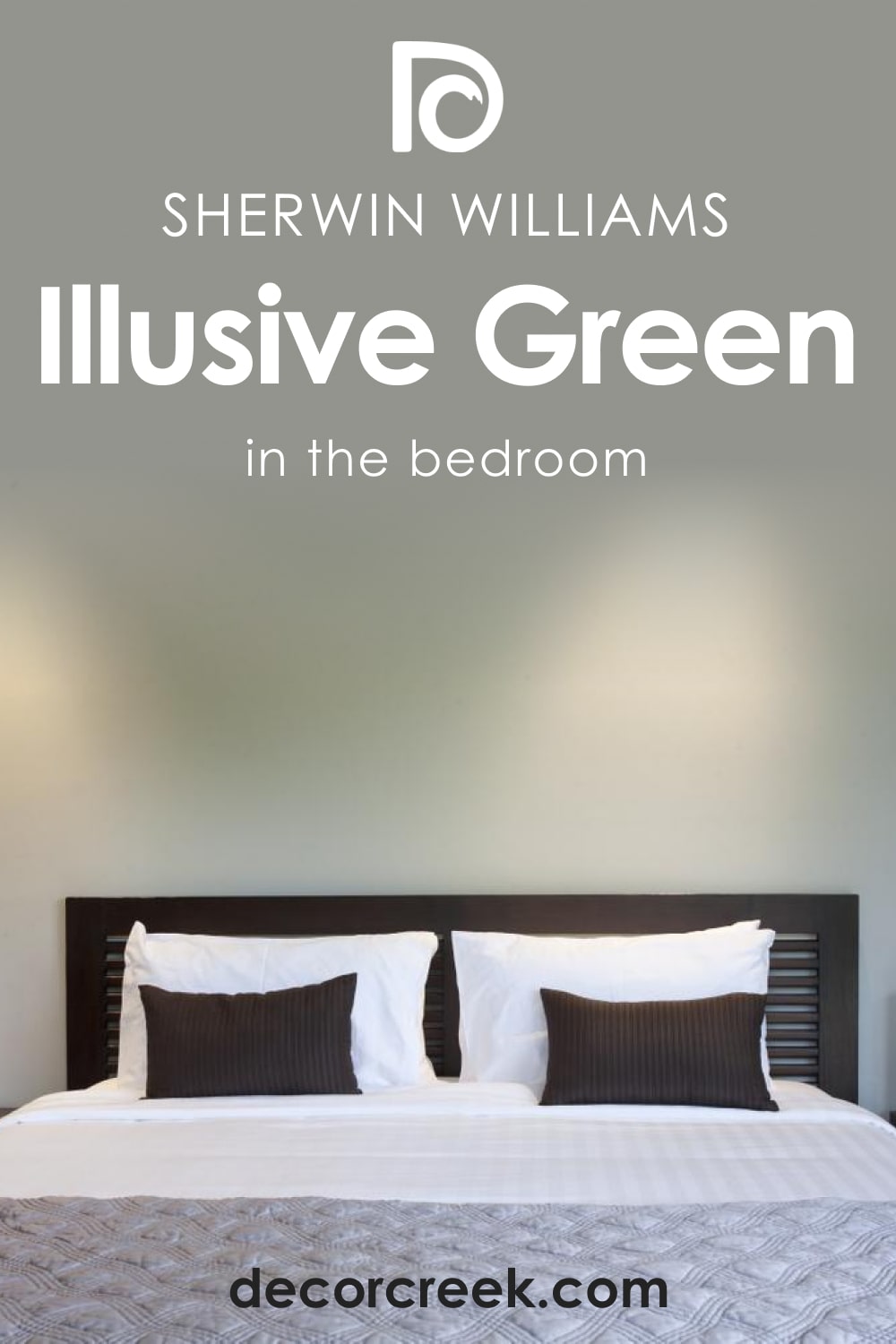 Illusive Green SW-9164 for the Bathroom
In your bathroom, consider using this shade of medium-dark green on accent elements like drawers or the vanity sink. If the size of your bathroom allows, you can also paint one of the walls with it. Also, this green will work lovely in bathrooms that have at least one window that lets in enough daylight.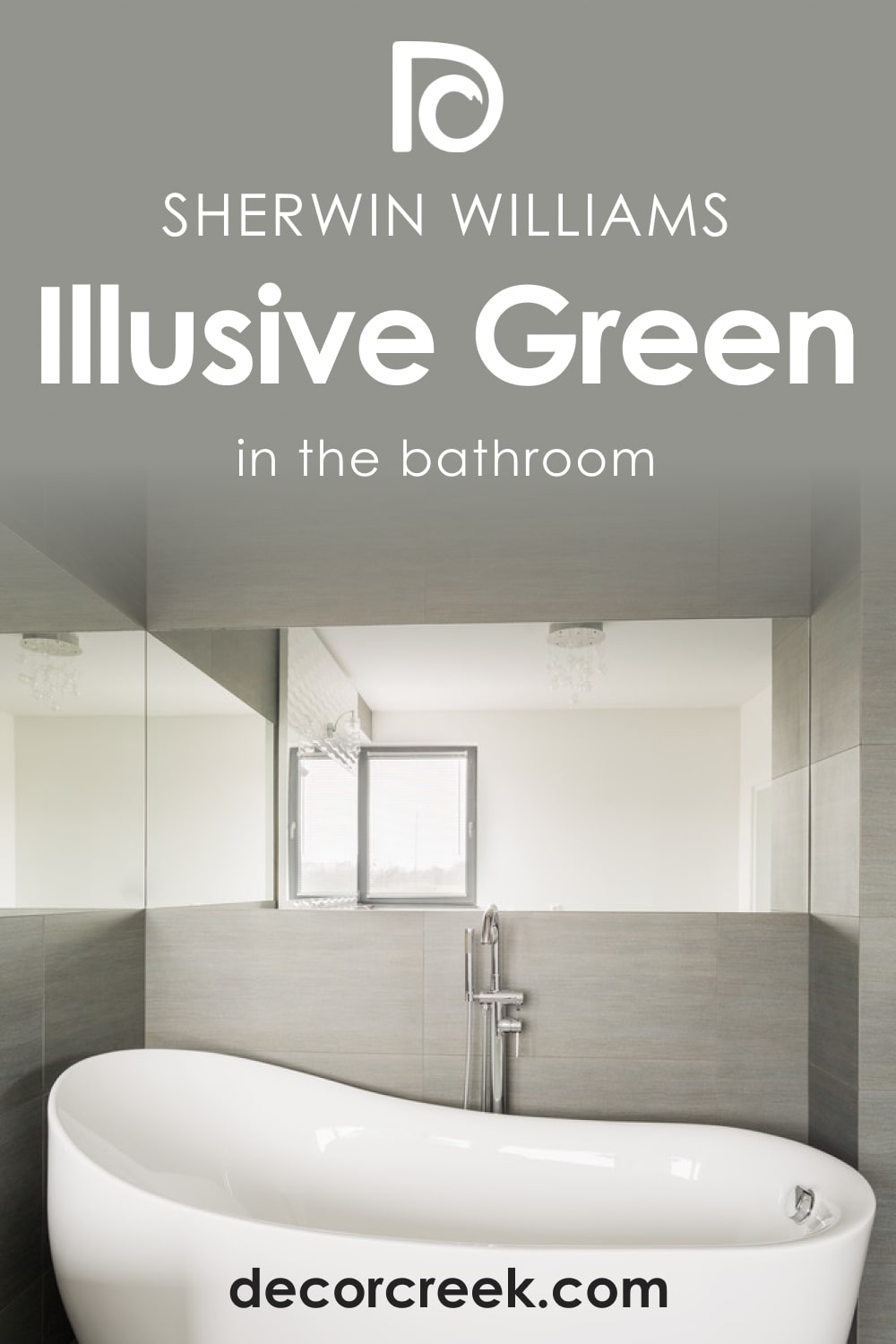 Illusive Green SW-9164 and Kitchen
Green is not a standard color for kitchens, but this particular shade can work well enough. Paint your cabinets or the kitchen island with it to create color accents in the kitchen with the white walls. You will see how wonderfully this muted "foggy" green will work with the brass hardware and handlers!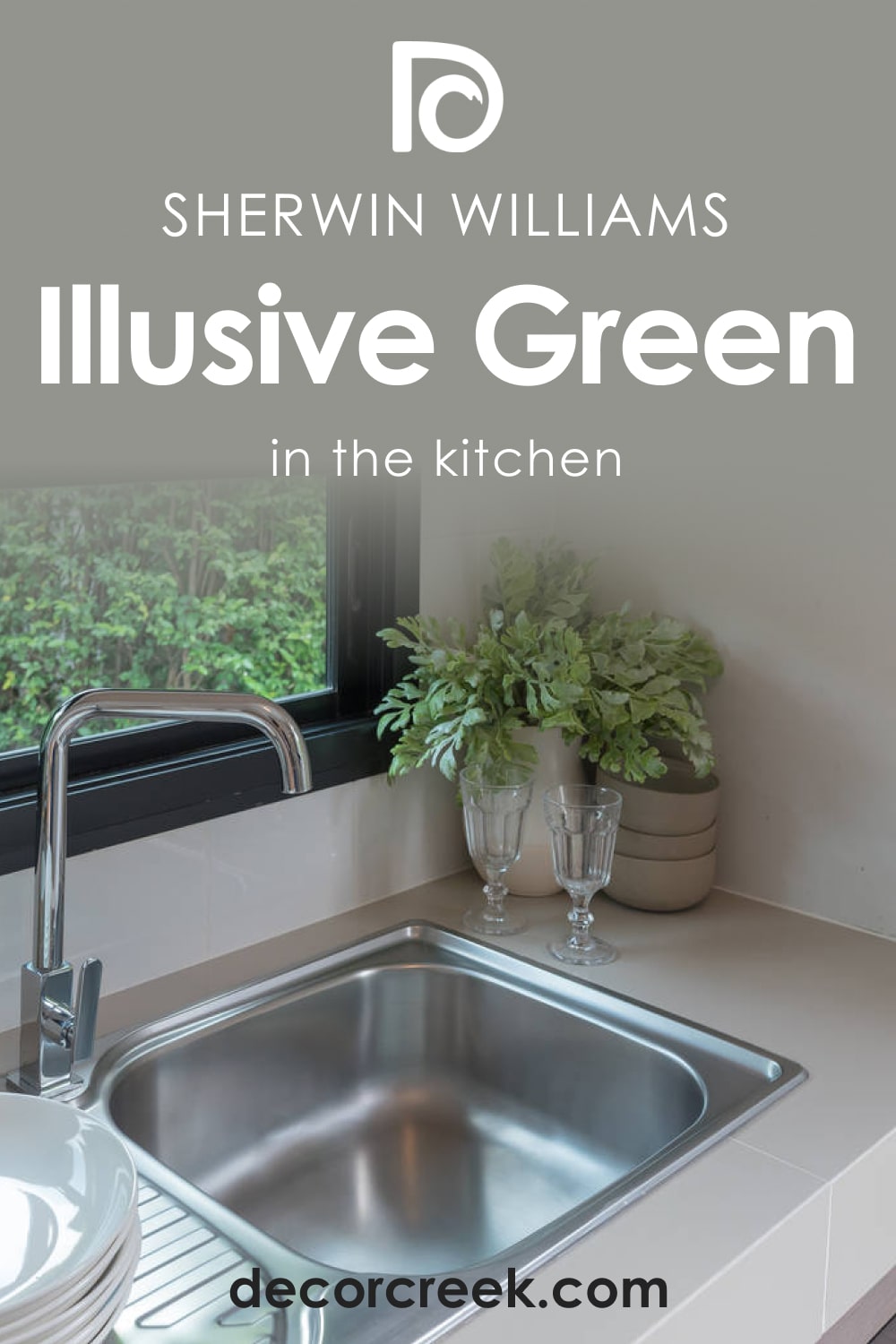 Illusive Green SW-9164 for the Exterior Use
This can be a lovely color for your exterior walls, but only if you consider the light and surrounding colors in advance! For example, if your house is surrounded by trees or shrubs, SW Illusive Green will read nicely on the walls, revealing its balanced greenish hue.
The same is true for the areas with prevailing sunny weather. However, in cooler lighting, this shade of green may read significantly paler, revealing its cyan undertone more.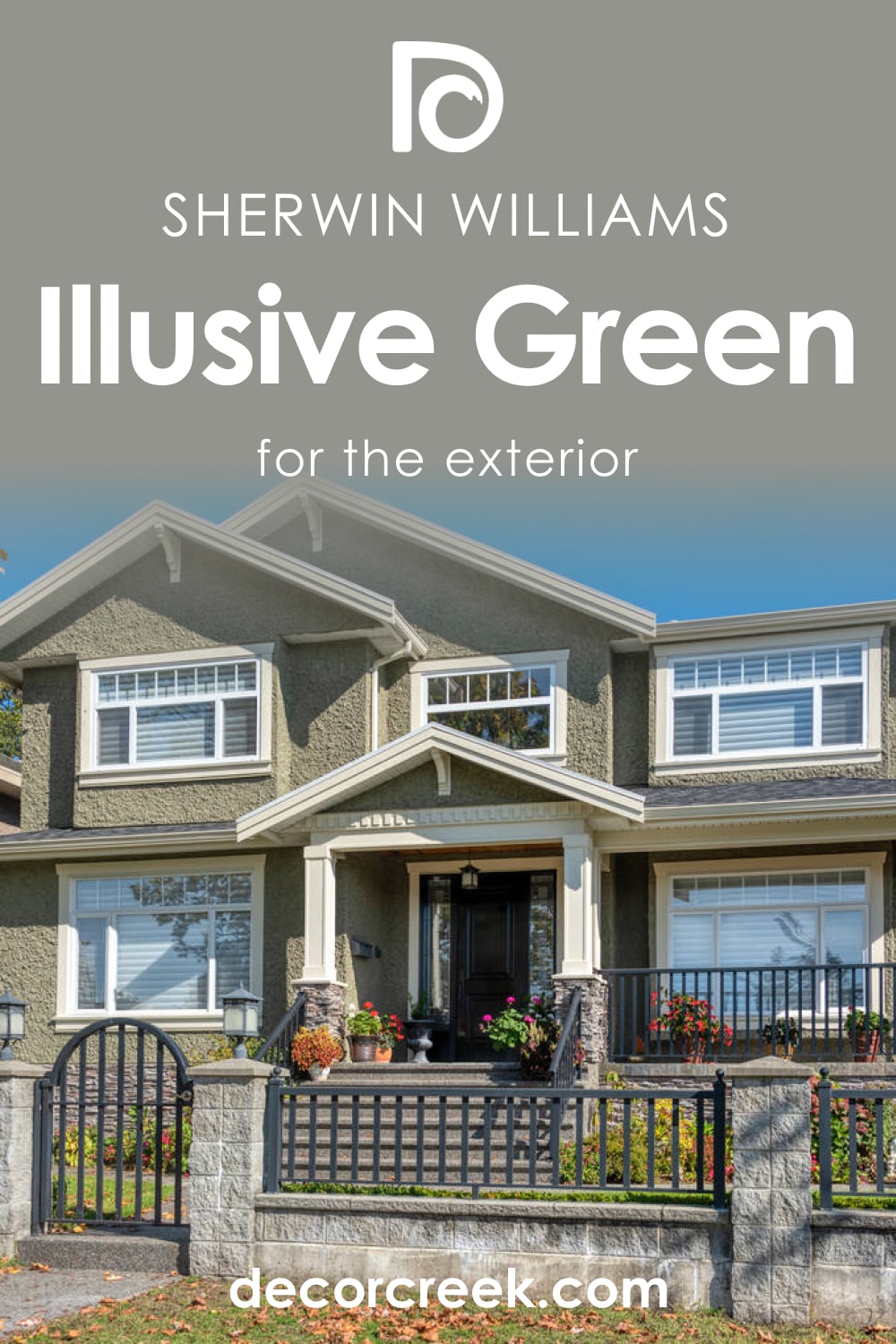 Conclusion
Now you know what kind of green this color is. You discovered its characteristics more profoundly and learned how this lovely and calm color might work in different spaces of your home.
Besides, now you know what colors it's best to use it with if you want to achieve the most successful color combinations!
Frequently Asked Questions
⭐What is the HEX code for Sherwin Williams Illusive Green?
The RGB values for Sherwin Williams SW9164 Illusive Green are 144, 147, 140, and the HEX code is #90938C.
⭐Will SW Illusive Green work with the black color?
Yes, it will. But you should sue black moderately, ideally on accent elements like smaller furniture pieces or decor elements.
⭐Can I use SW Illusive Green in a Classic-style interior?
Yes, this color might work well for classic-style interiors. Why not?