People try not to use dark colors in their homes because darker colors are believed to make the space seem enclosed and gloomy. And this is what we typically don't want to have in our homes. Instead, we stick to lighter colors like whites, light-colored neutrals, etc.
But today, we would like to introduce you to an absolutely lovely dark color called Ripe Olive by Sherwin-Williams. This green does look very dark, but at the same time, it can add a bold statement to your home if you know how to use it correctly!
From this article, you will learn this color's specifics and unique features like LRV, undertones, and more. As a result, you will know how to use it to make this shade of green work in your home.
What Kind of Color Is SW Ripe Olive SW-6209?
SW Ripe Olive is a deep green color that can help you make a bold and noticeable statement in your home. As Encycolorpedia says, with its blue-gray undertones, this neutral green can add an intriguing, sophisticated mood to a well-lit space.
If you genuinely enjoy deeper colors in your home and you are generally not into warm-toned colors due to the yellowish, red, or orange hues they might have, SW Ripe Olive might be your color of choice!
This color is cool-toned, but at the same time, it doesn't give off an icy or cold feel. It's more like a moderate and reserved coolness of the stone.
Also, there is no need to freak out because of the depth of SW Ripe Olive! Although this color is indeed pretty dark, it has some gray to it. This is why it doesn't look overwhelming on the walls.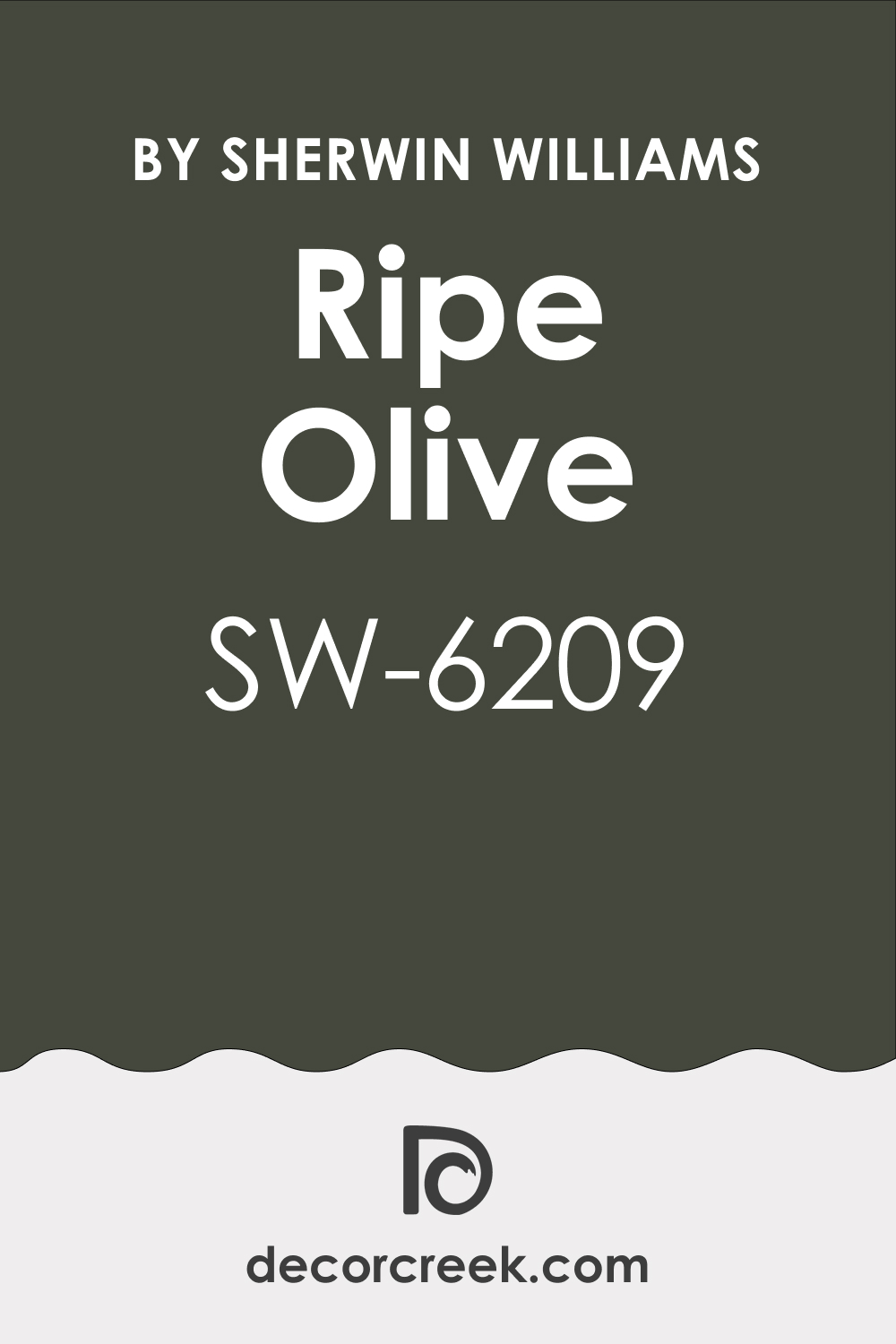 Is It a Warm or Cool Color?
SW Ripe Olive is definitely a cool-toned color. It has gray and blue undertones that make this dark and deep green look stone-cool yet not too cold or crisp, of course!
Also, since its tone is moderately cool, SW Ripe Olive will only give a balanced feel of freshness to your space.
If you prefer cooler paint colors in your home to make the rooms feel shady and relaxed, you should definitely try this shade of green.
What Undertones Does Ripe Olive SW-6209 Have?
As we have already mentioned above, SW Ripe Olive has blue-gray undertones. These undertones give this color its cool tone and reserved look.
However, because of these undertones, SW Ripe Olive may sometimes read a bit colder on your walls, depending on the lighting conditions!
This is why we recommend you sample it before applying the paint to any surface.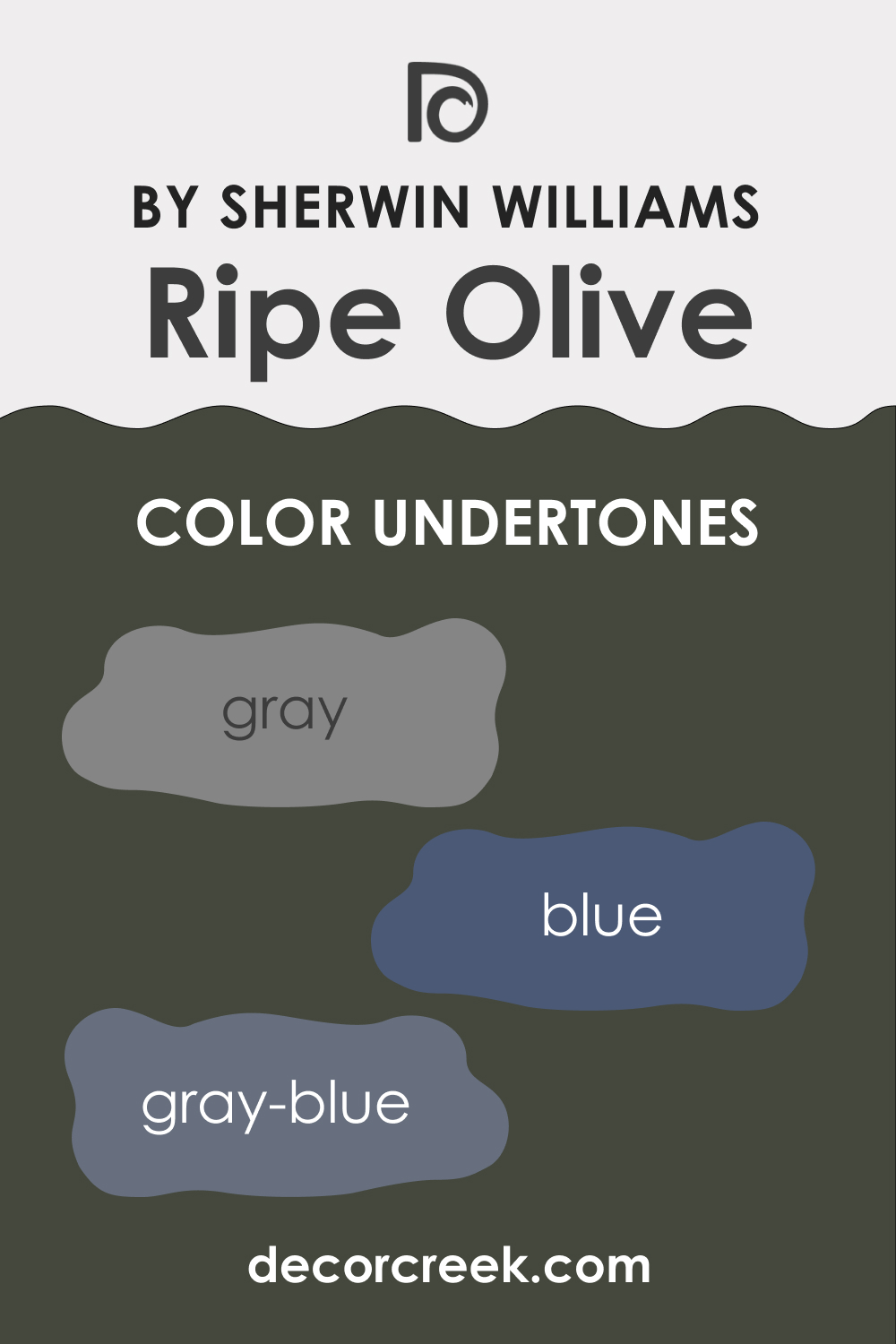 Ripe Olive SW-6209 Coordinating Colors
To achieve a well-balanced and good-looking color palette in your home, it is crucially important to coordinate the wall color with other colors in the space correctly. However, with such a dark paint as SW Ripe Olive, doing it might be challenging. This is why we suggest you several coordinating colors to choose from:
SW Spare White
SW Oyster White
SW Green Onyx
For a monochromatic palette, consider using the following colors instead:
For a contrasting color palette, we recommend you the following paint colors to coordinate with SW Ripe Olive:
SW River Rouge
SW Socialite
SW Sea Salt
SW Acacia Haze
SW Cloak Gray
SW Fashionable Gray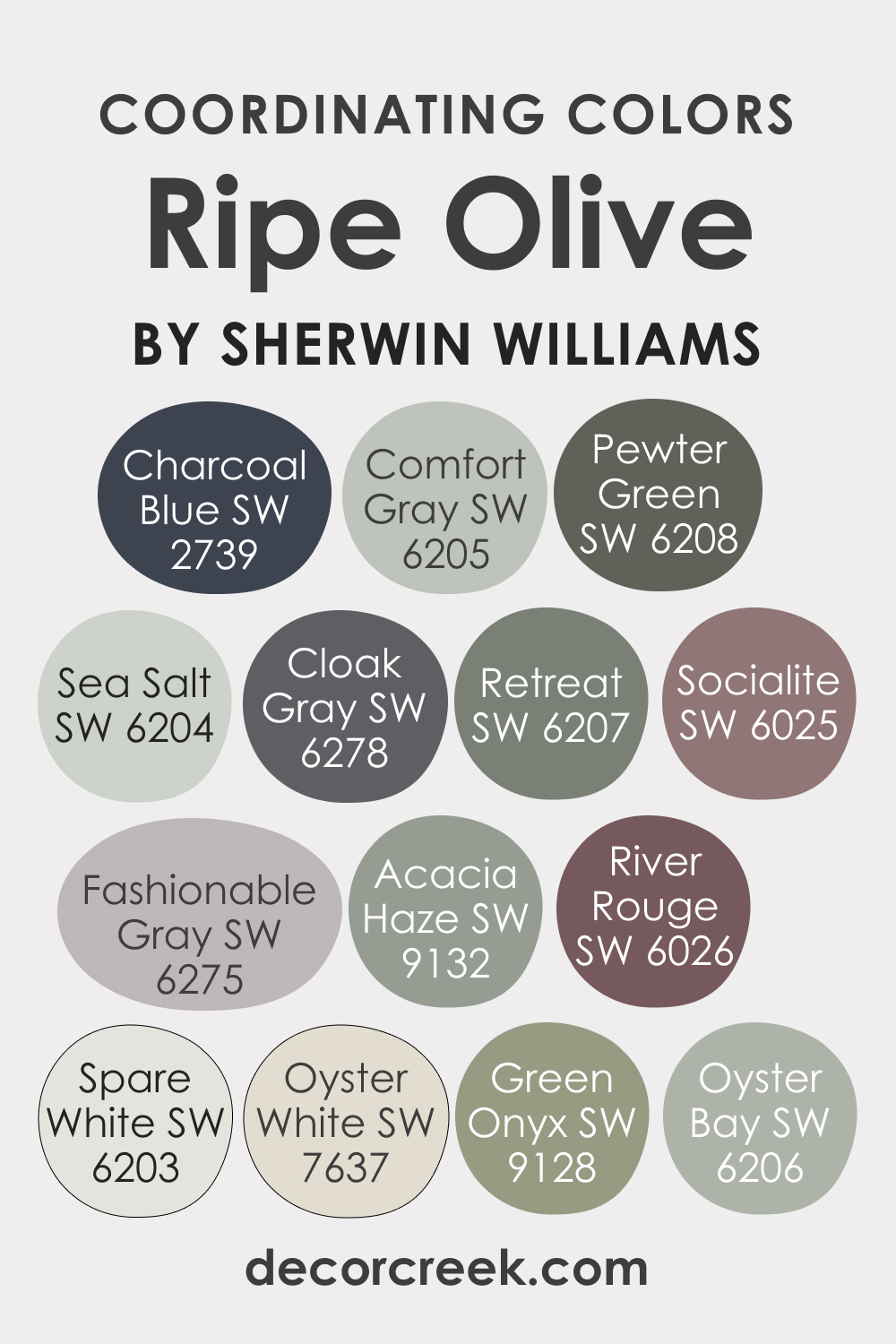 What LRV Does SW Ripe Olive Have?
LRV (light reflectance value) is the measurement that shows how much light colors can reflect from the wall or another surface. The LRV scale ranges from zero to 100, where zero stands for black, and 100 stands for pure white. The higher the LRV value, the lighter and the more reflective the color is.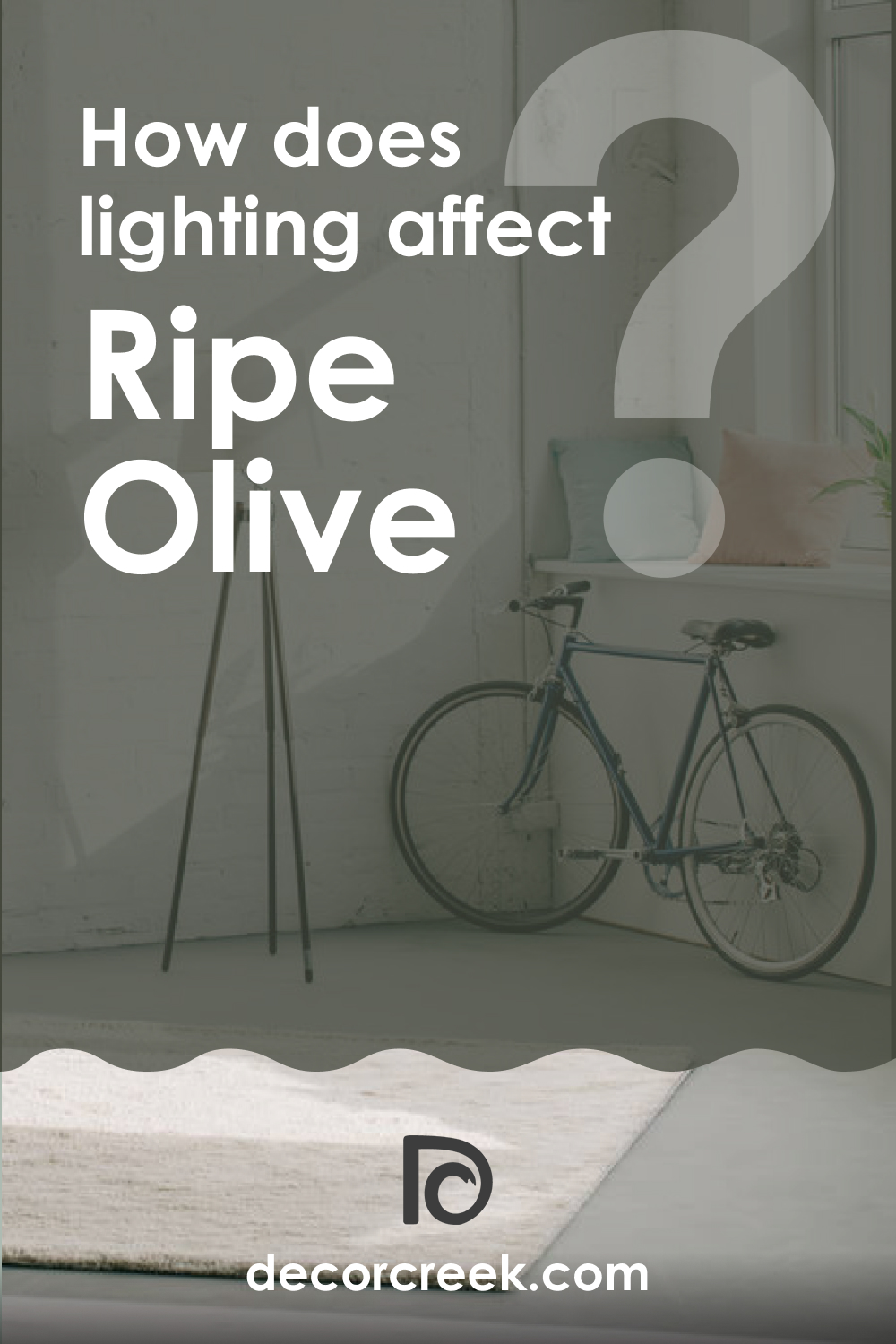 The LRV value of SW Ripe Olive green is 6. It means that this color is on the darker end of the LRV scale. With this relatively low LRV, some colors can look a bit blackish at times.
However, speaking of SW Ripe Olive, it will hardly seem black. This shade of green will certainly look darker n a low-light area, but since it has a bit more color, it rises to the occasion.
Nevertheless, we still insist on sampling this paint before you start applying it to the walls! This way, you will ensure SW Ripe Olive looks exactly how you want in your home.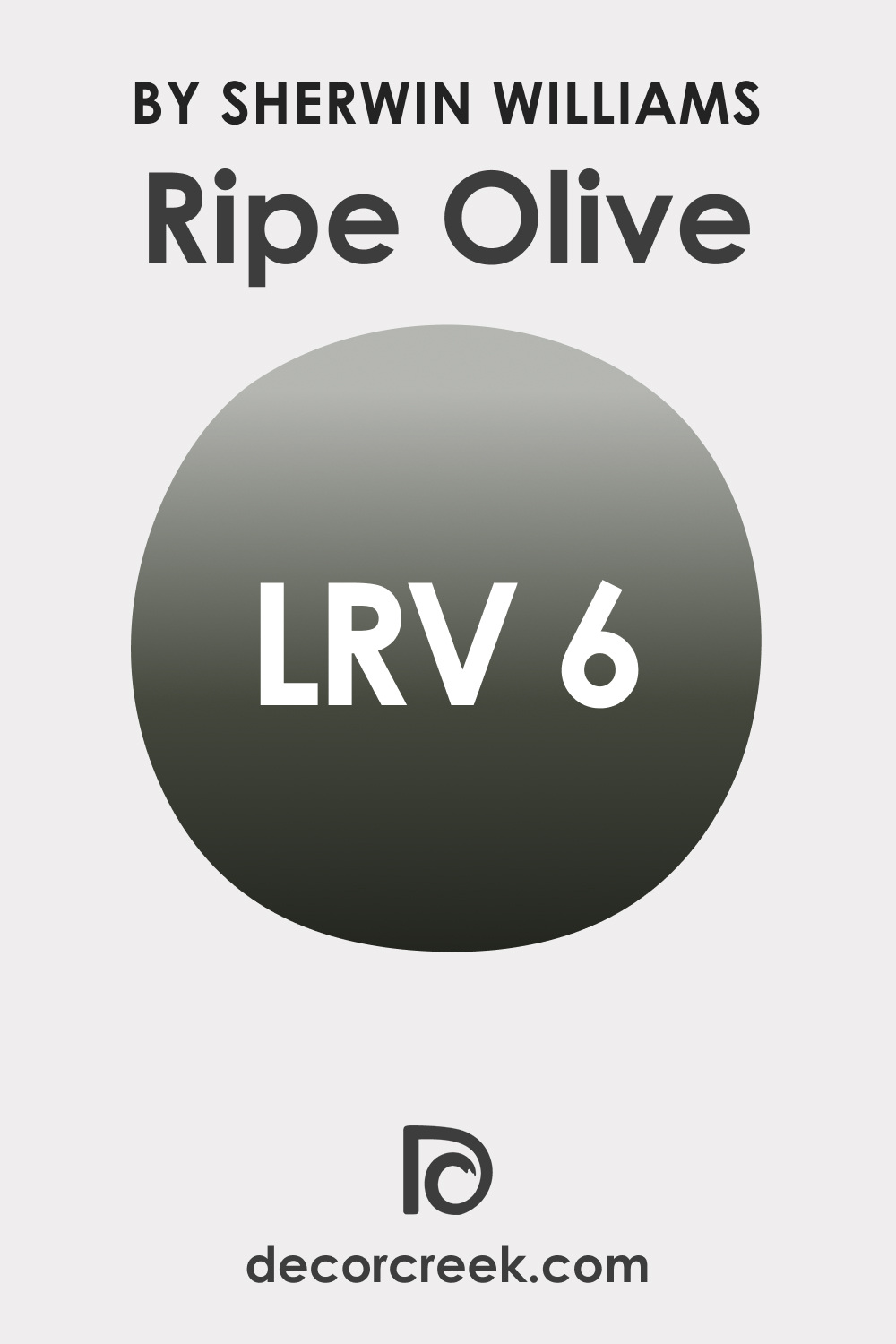 LRV – what does it mean? Read This Before Finding Your Perfect Paint Color
What Are the Best Trim Colors to Use With Ripe Olive SW-6209?
White is traditionally the best trim color to use in your home since it's versatile enough to work well with most color palettes and schemes. However, it is still essential to choose the white correctly, depending on its undertones, LRV, and other characteristics.
This way, you will ensure your trim color works well with the wall color. For SW Ripe Olive, we also recommend white as a trim color.
In particular, the best options would be BM Chantilly Lace, SW Pure White, and SW Extra White.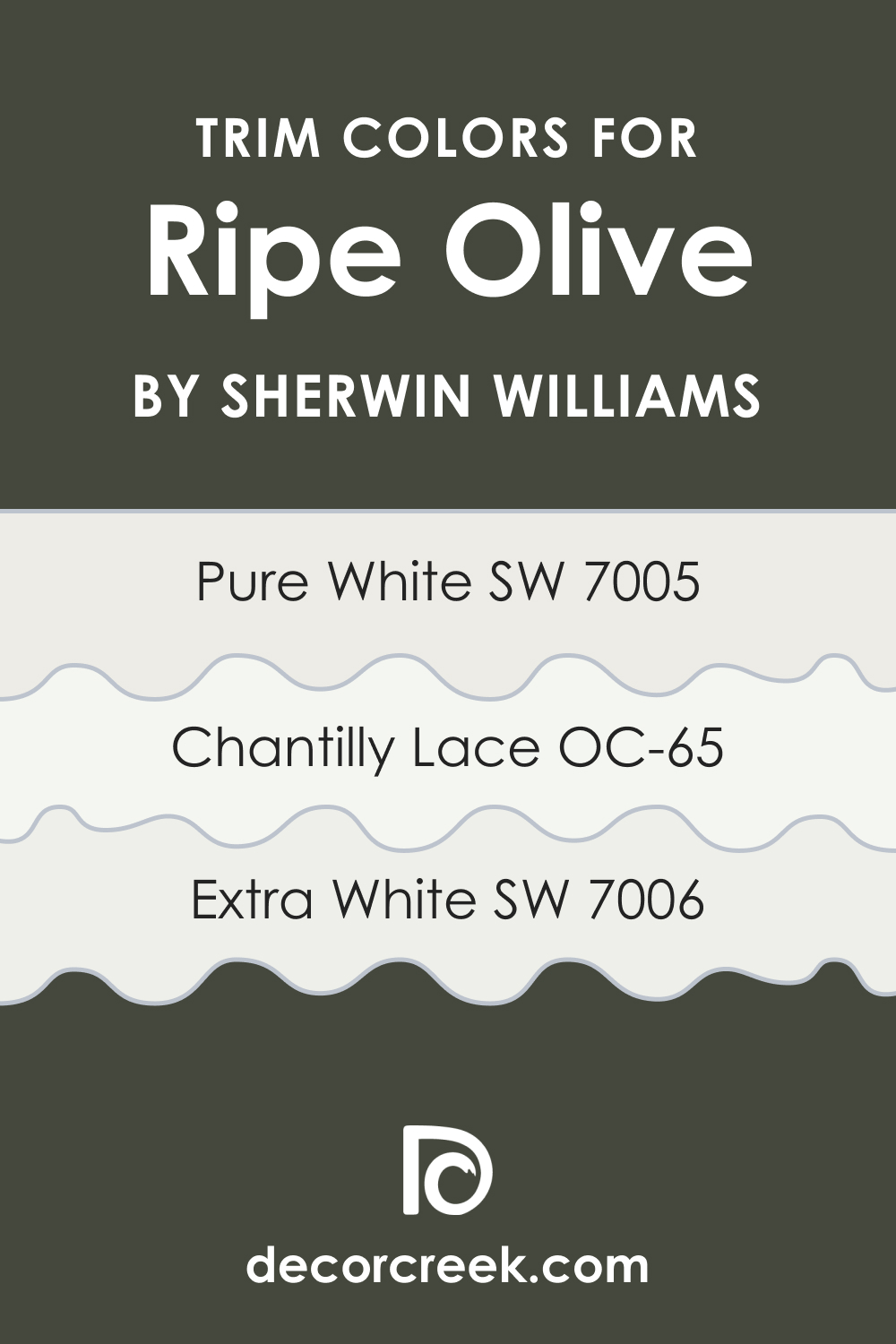 Ripe Olive SW-6209 Similar Colors
It can be challenging to pick up similar colors to match such a dark shade of green as SW Ripe Olive. This is why we suggest you several color ideas that will best work as substitutes should you decide to use a bit another green in your home.
SW Foxhall Green
SW Laurel Woods
PPG Charcoal Smoke/Octopus Ink
SW Andiron
SW Olympic Range
SW Shade-Grown
PPG Licorice
However, note that some of these colors may look slightly different!
For example, SW Olympic Range gives off a noticeable green hue that SW Ripe Olive lacks. So you should anyway sample the alternative colors to ensure the shade fits your interior the way you want.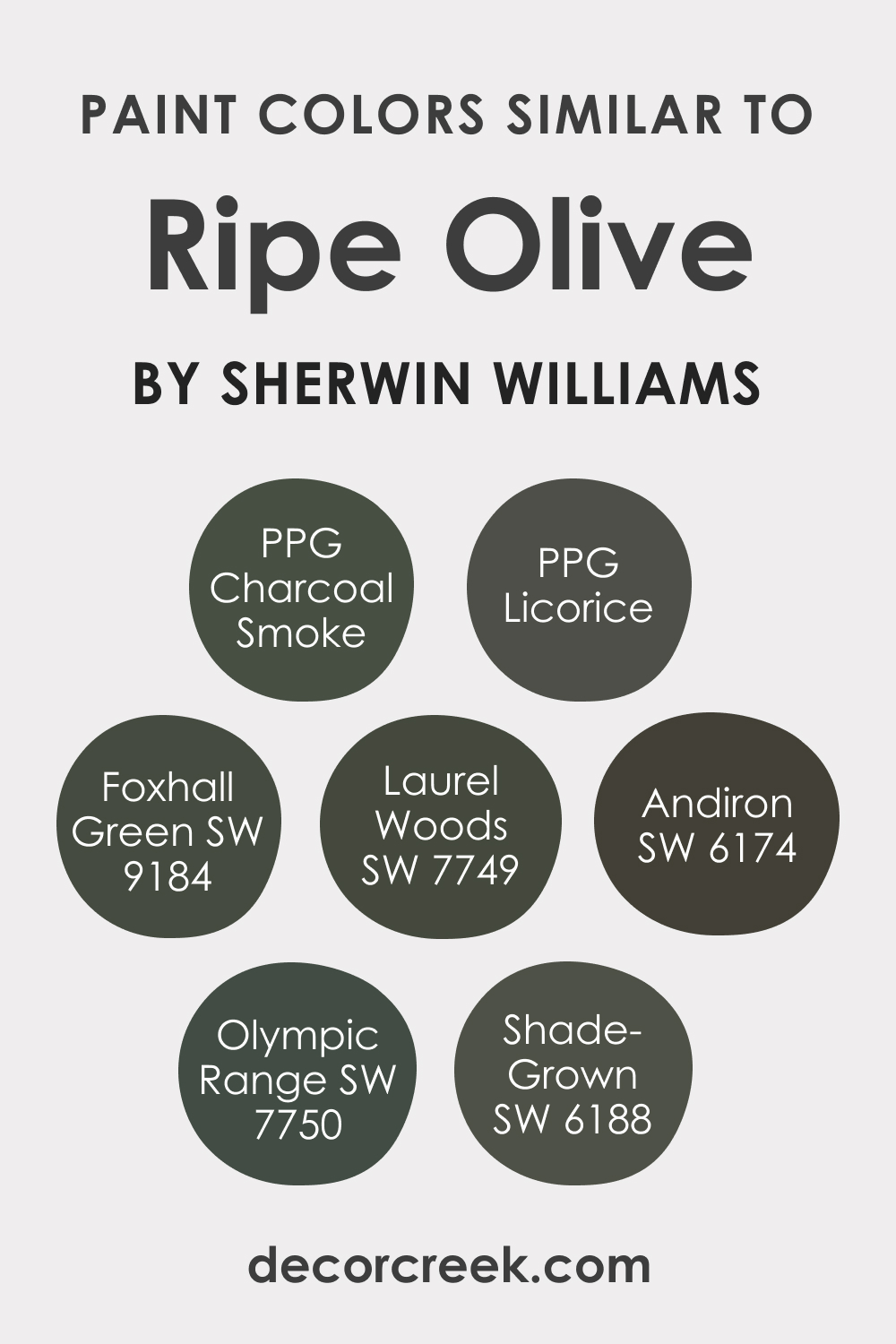 Colors That Go With SW Ripe Olive
SW Ripe Olive is surprisingly easy to pair with other colors to achieve a fairly colorful and varied palette in your home! So you definitely should not be afraid of turning your home into a cave-like space with this green. Instead, consider using one of the following colors to make it feel cozier:
SW Naval
SW Sleepy Blue
SW Endless Sea
SW Tassel
SW Cavern Clay
SW Sandbank
SW Canyon Clay
With any of them, your home will get a touch of color and fills up with a more lively vibe!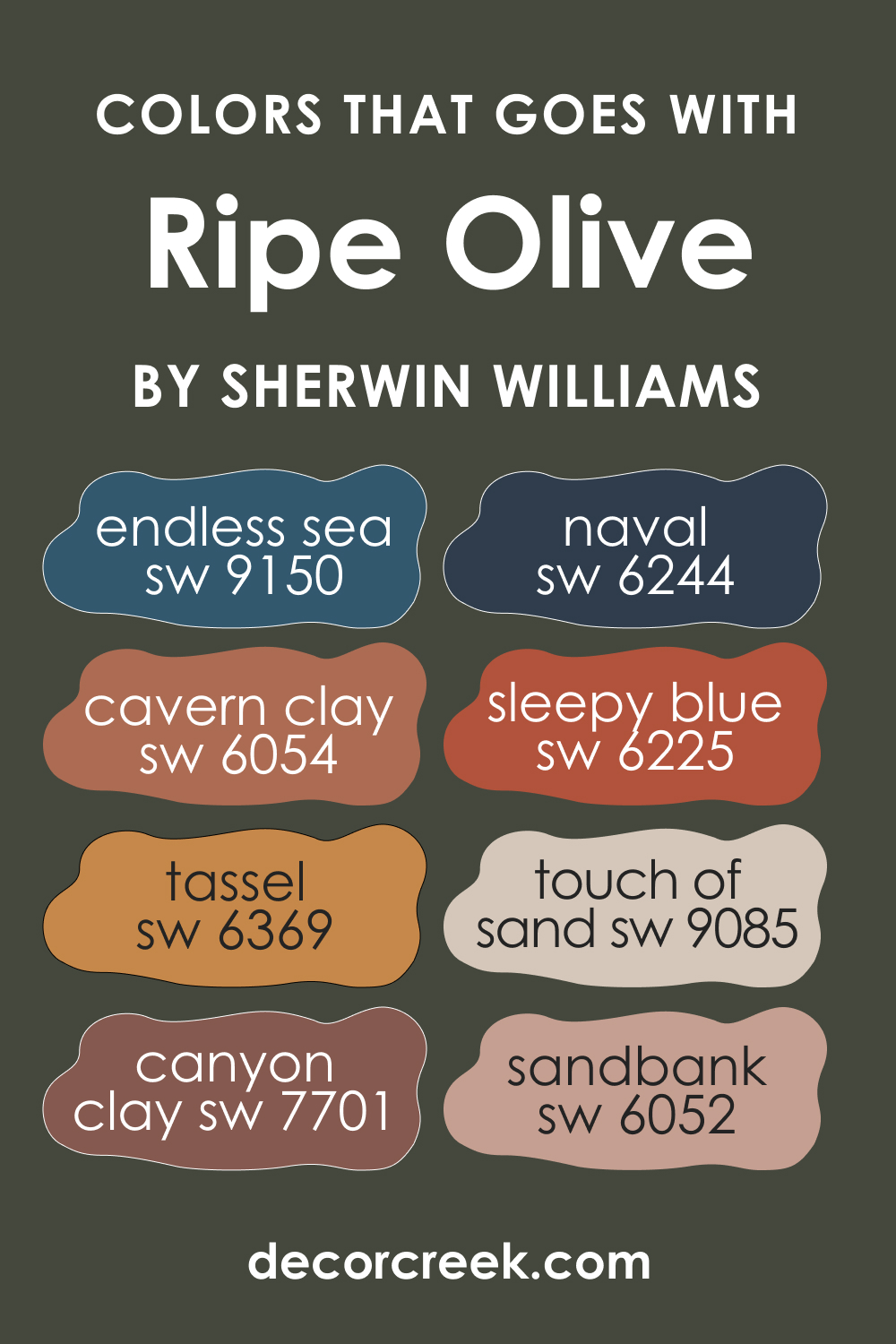 Comparing Ripe Olive SW-6209 With Other Colors
This comparison of colors will help you to see the differences between SW Ripe Olive and other (often similar) greens better. You will understand how distinct LRVs and undertones can make two colors from the same family look rather different and unique.
Ripe Olive vs Jasper
Compared to SW Ripe Olive, SW Jasper is even deeper and darker! It shows a very deep green hue, sometimes looking nearly black on the walls. SW Ripe Olive is a bit lighter, revealing its olive-like hue more prominently.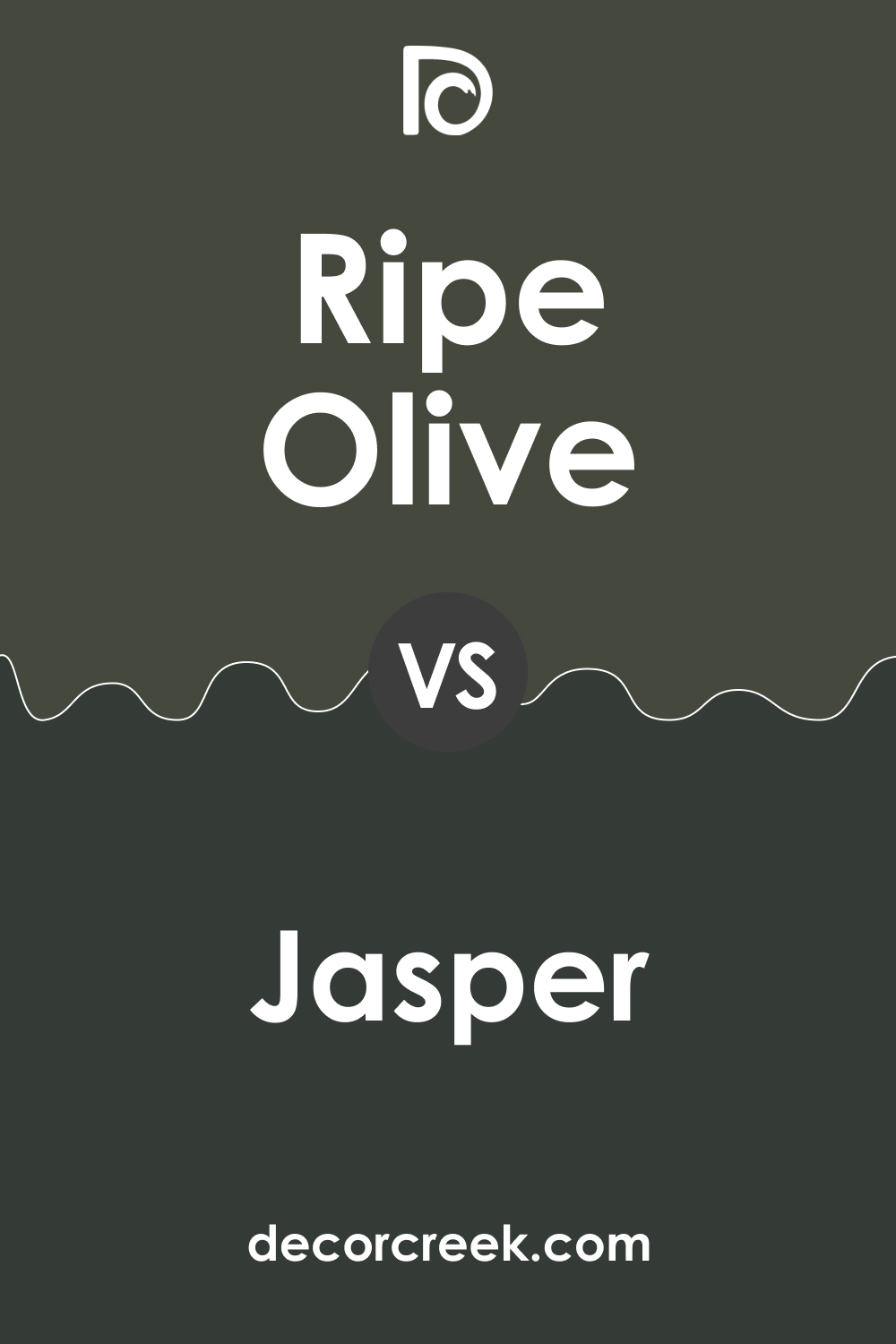 Ripe Olive vs Garden Gate
SW Garden Gate reads noticeably brownish compared to SW Ripe Olive. Also, SW Garden Gate has a very slight and barely noticeable yellow undertone, which makes this color look rather warm on the walls. Compared to it, SW Ripe Olive is darker, with a deeper and greener hue.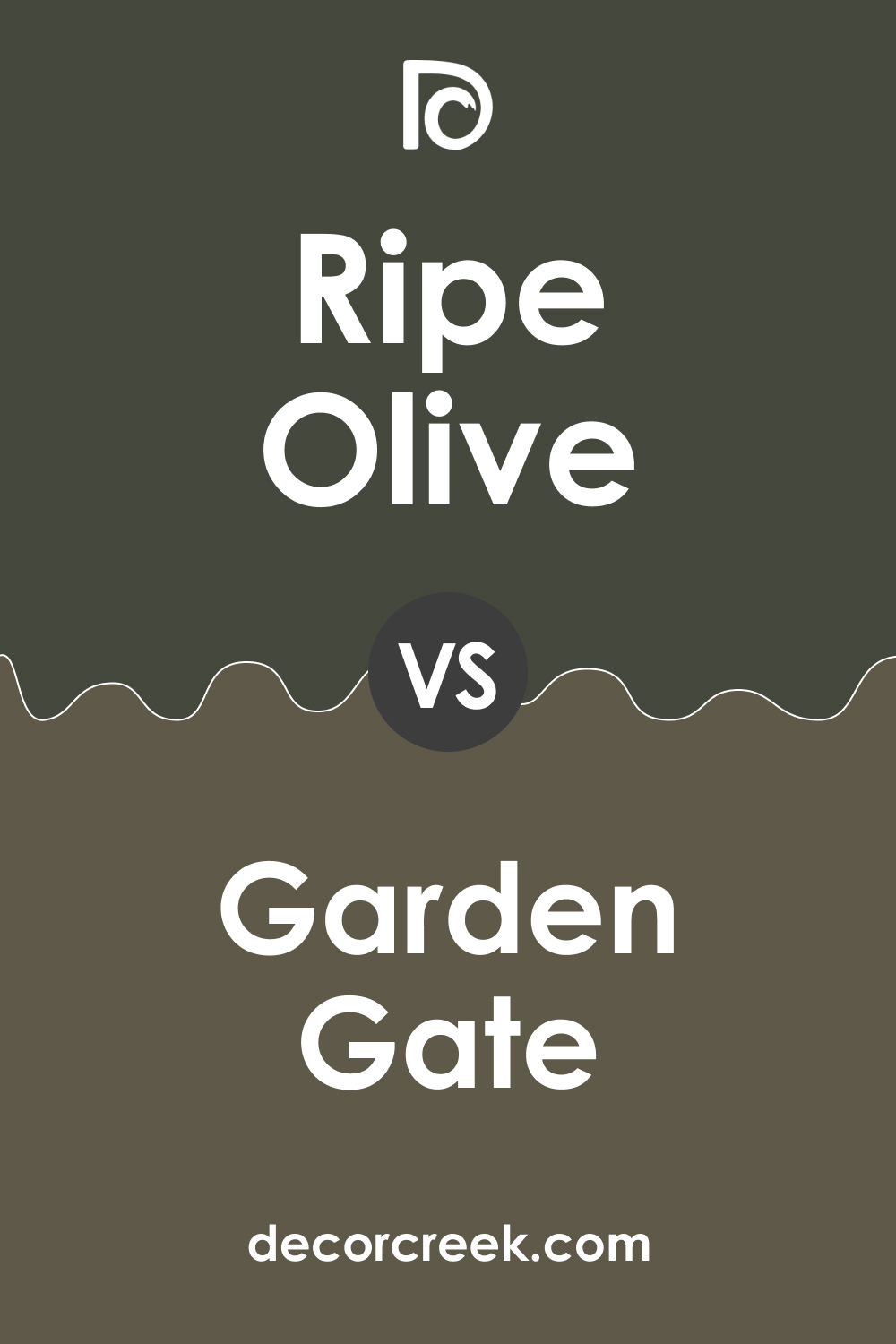 Ripe Olive vs Shade-Grown
Although both colors are pretty dark, Shade-Grown by Sherwin-Williams looks a bit lighter. Also, this deep foresty green has brown undertones, which is why it reads slightly warmer than its cool-toned counterpart.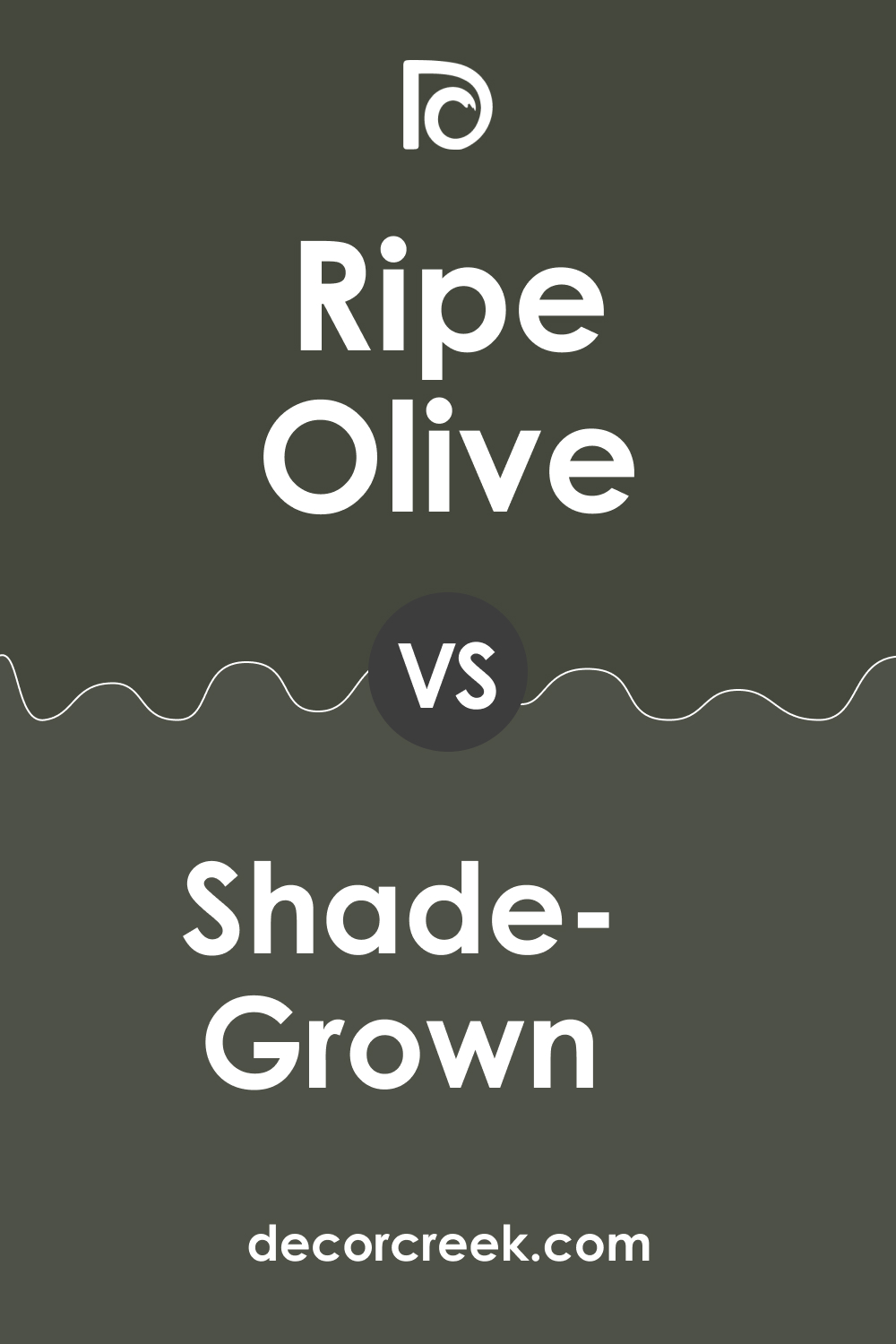 Ripe Olive vs Rosemary
SW Rosemary is significantly lighter than SW Ripe Olive, having an LRV of 21 as opposed to the SW Ripe Olive's LRV of 6. However, this darker-toned sage green paint color shares one similarity with its darker cousin. SW Rosemary has a major hint of gray as the undertone, and SW Ripe Olive also has gray undertones.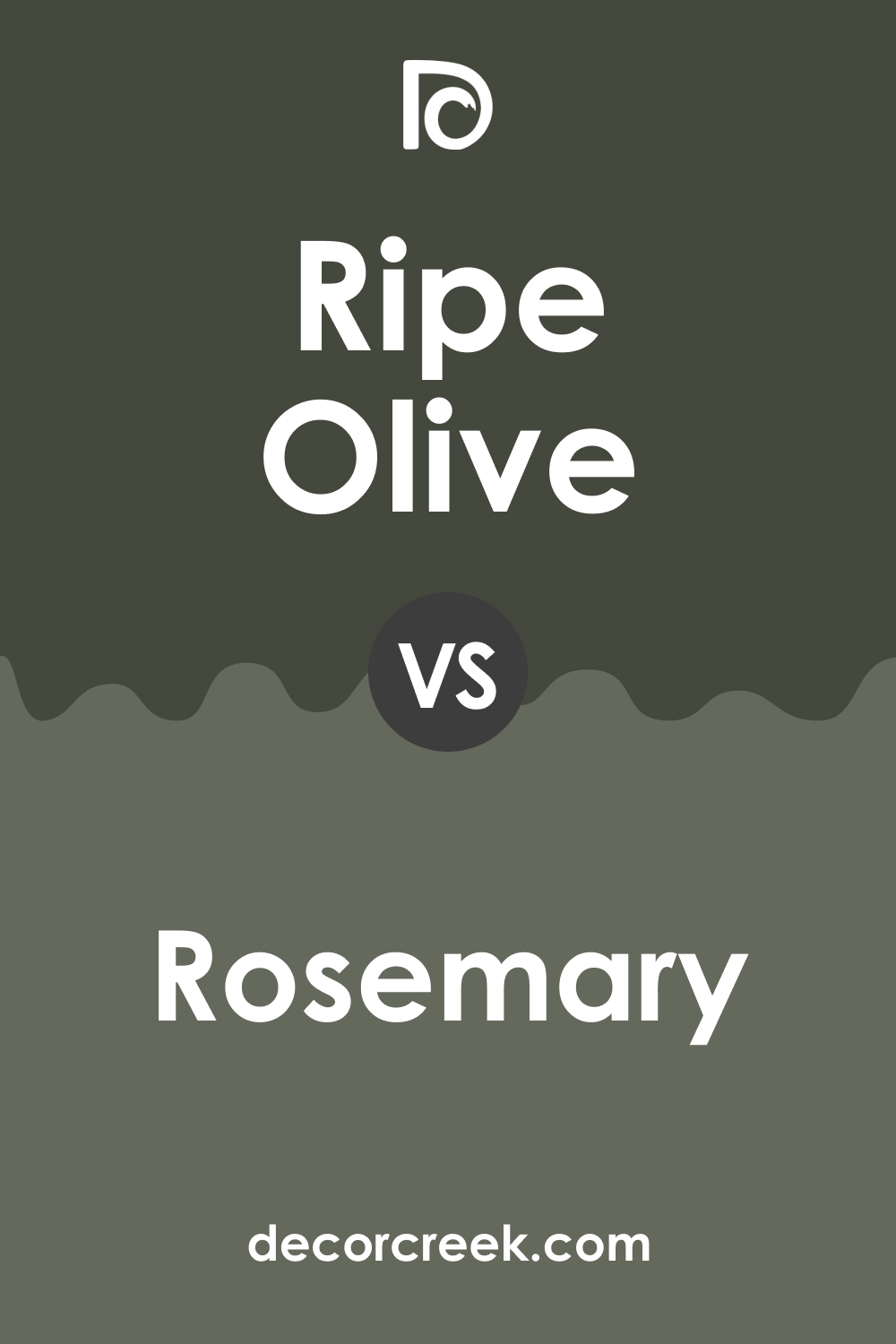 Ripe Olive vs Olympic Range
Although SW Rpe Olive is considered a cool-toned green, SW Olympic Range looks even more cool-toned. Just like SW Ripe Olive, its counterpart is a cool-toned, dark green that has blue and gray undertones.
As a result, this saturated neutral gives off a tranquil vibe when used on the walls. Also, these greens have similar LRVs (an LRV of 6 for SW Ripe Olive and an LrV of 7 for SW Olympic Range).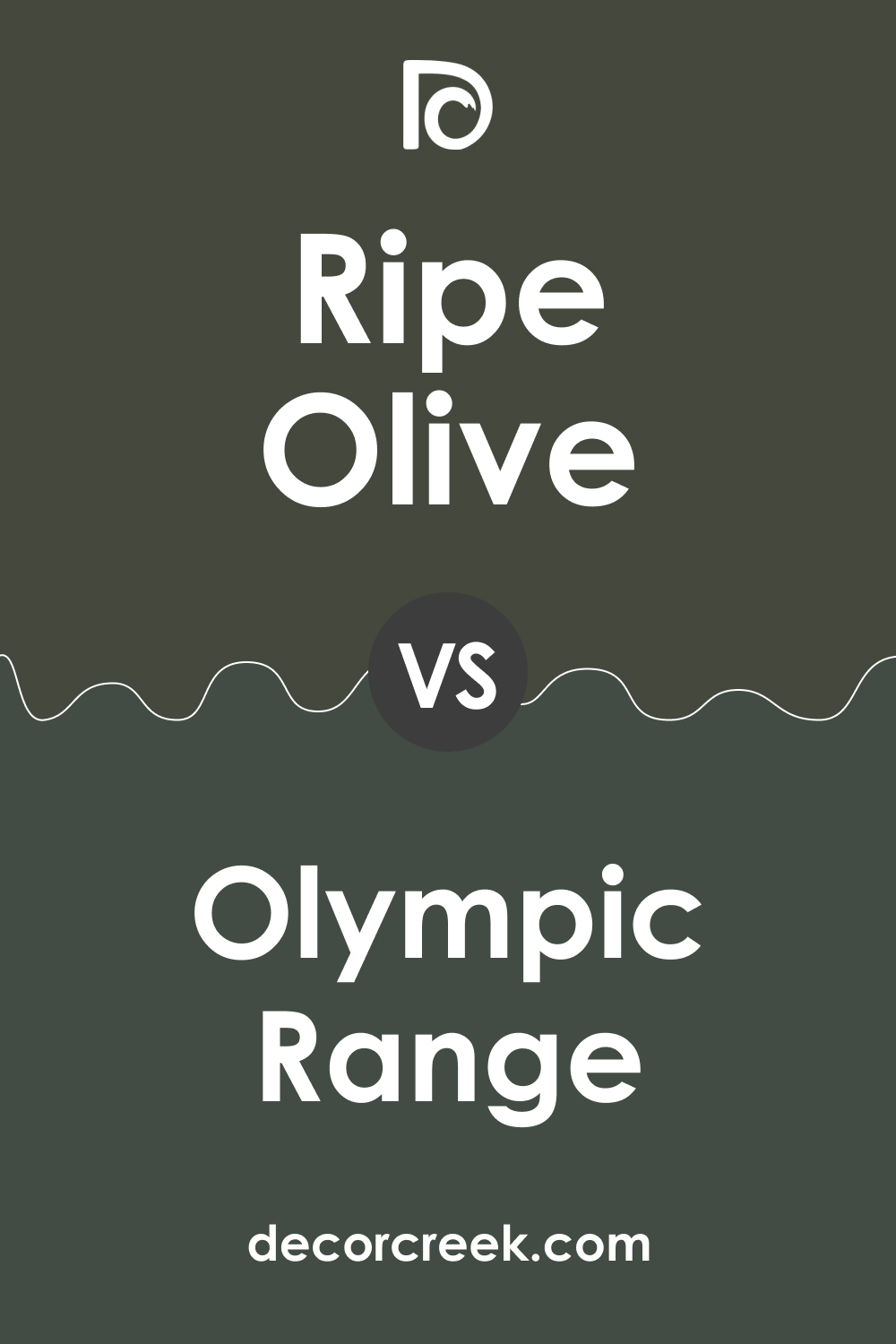 Where to Use This Ripe Olive SW-6209 In Your Home?
Despite being rather dark, SW Ripe Olive can be used in quite many spaces and rooms in your home! This deep neutral green can make a lovely statement in your space if you use it correctly, and below, you can check out in what rooms it might do its best.
Ripe Olive SW-6209 in the Living Room
If you are into dark-colored interiors and your living room is large enough, having plenty of natural light, don't hesitate to paint all the walls with SW Ripe Olive! This color will give an absolutely unique and tranquil vibe to the room.
However, in smaller spaces, we recommend you limit the use of this dark green color. As an option, you can use it on an accent wall only, leaving the rest white.
Also, consider the style of the living room since this color suits classic interiors more than Scandinavian, Boho, or Chic!
Ripe Olive SW-6209 and Bedroom
In your bedroom, SW Ripe Olive can create a very tranquilizing and calm atmosphere, which is typically very welcomed in such rooms where we are supposed to sleep and take rest.
But again, consider the size of the room! In smaller bedrooms, better use SW Ripe Olive on an accent wall, pairing it with lighter colors like whites to avoid the space feeling enclosed or gloomy.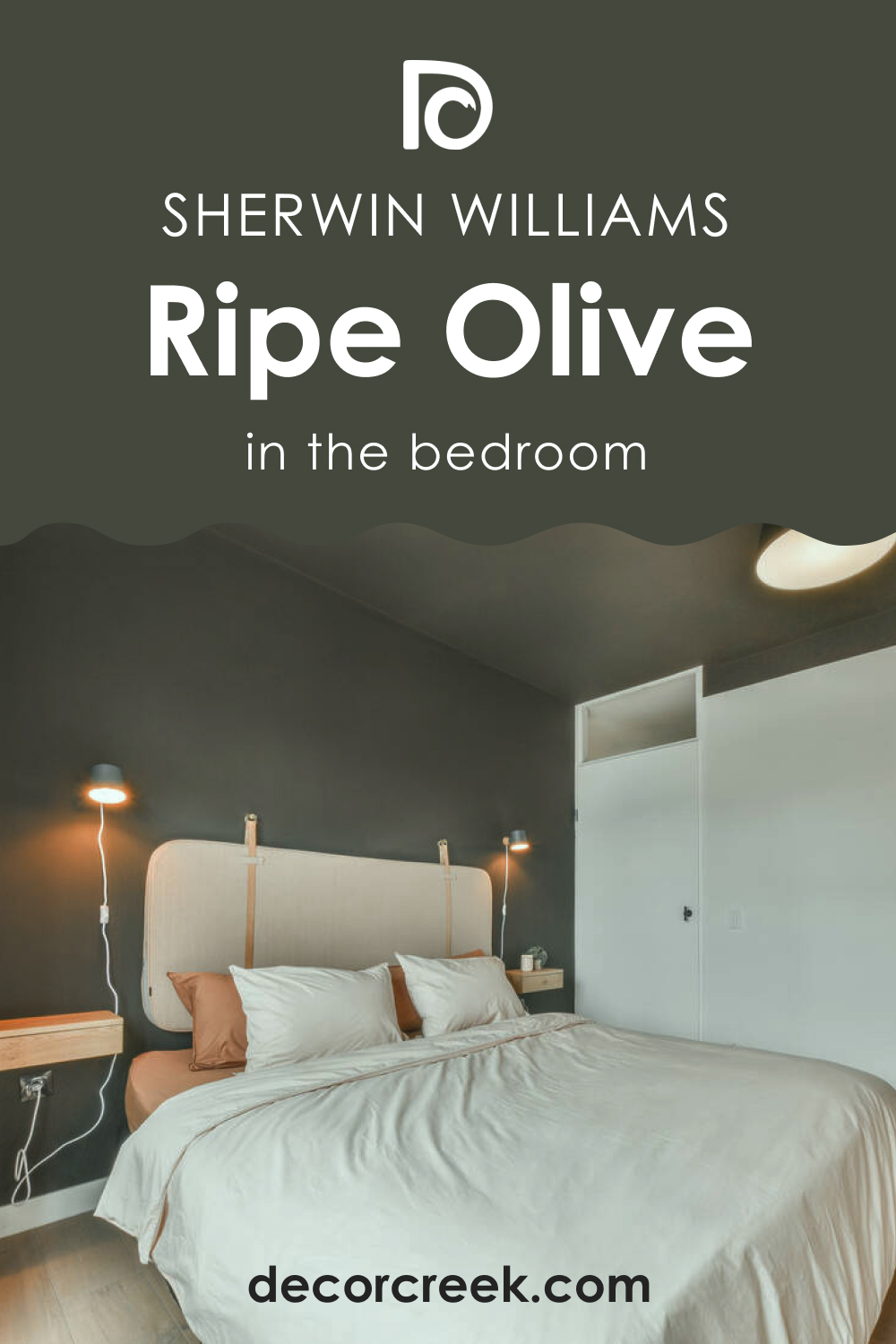 Ripe Olive SW-6209 on the Kitchen
Since SW Ripe Olive has some gray undertones in it, it can work great as a kitchen cabinet color without going over the top. In a kitchen with white walls, use it on both lower and upper cabinets.
However, you can also use it on your kitchen island should you desire for more of its natural coolness.
Since this green pairs nicely with brass hardware and tiles, as well as with wooden surfaces, it will match most kitchen interiors.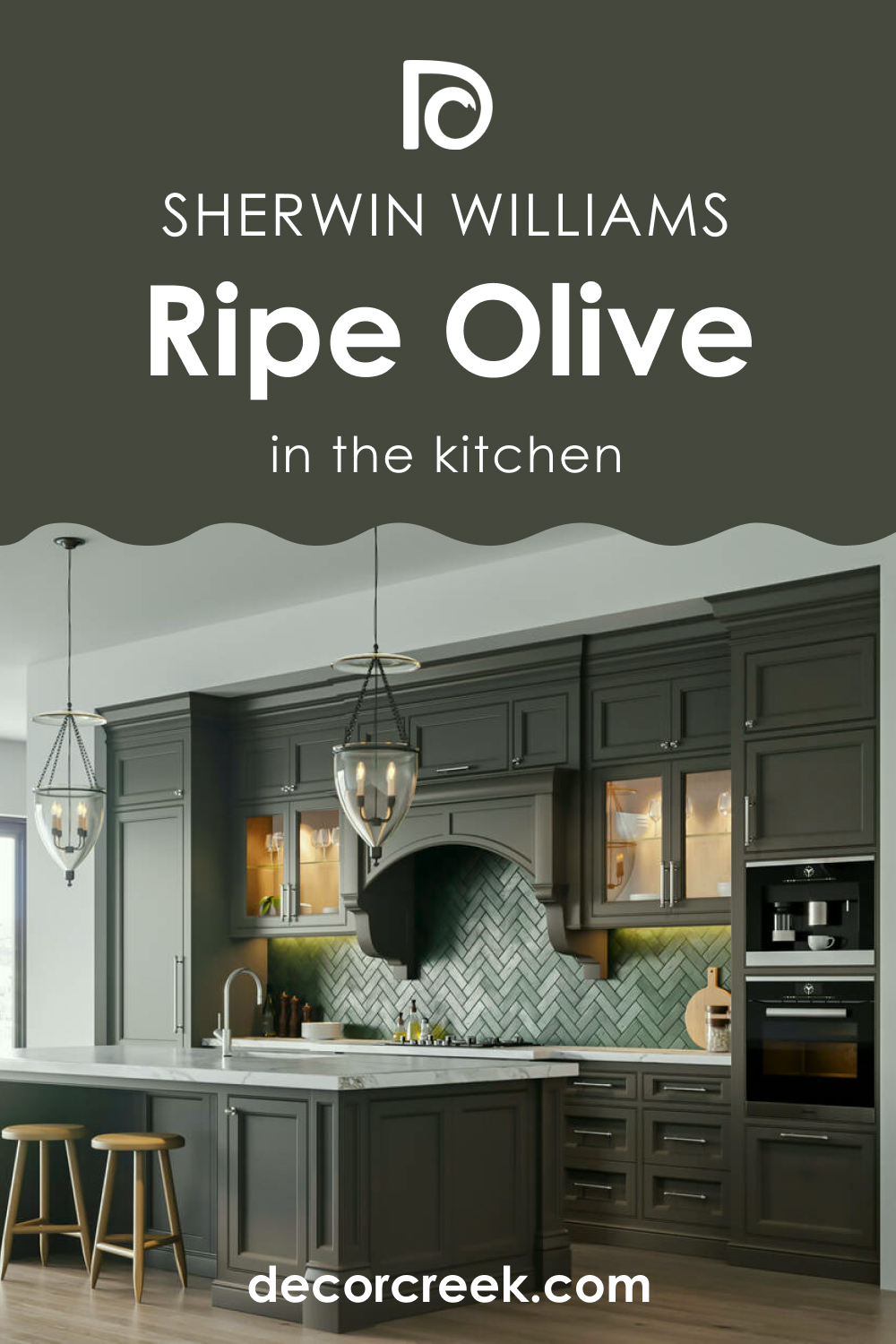 Ripe Olive SW-6209 in Bathroom
We recommend you use this green as an accent wall color in your bathroom. Also, try to avoid using it in small and poorly-lit bathrooms, or in bathrooms with little to no natural light. In such spaces, SW Ripe Olive will read darker, making the small room seem even more enclosed!
But even in a small bathroom with the white walls, a deep green accent wall will create an attractive accent, making the space look more vivid and interesting.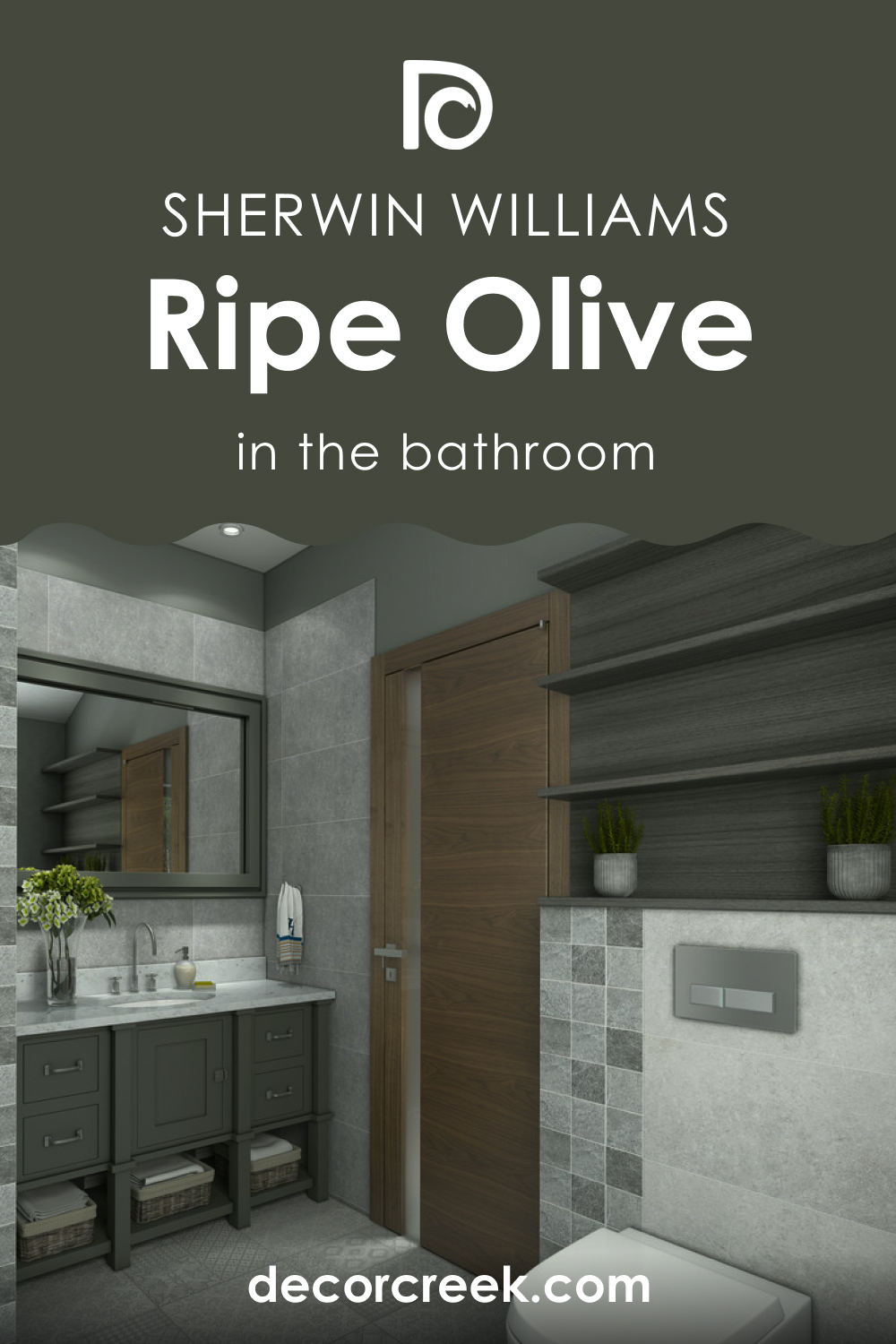 Ripe Olive SW-6209 for the Exterior Use
Dark green hues like SW Ripe Olive can also work on exterior walls. Besides, this spacific color can become a beautiful complement to various brick, stonework and siding colors. As an option, you can use this dark green on your front door too, in case you prefer lighter exterior walls.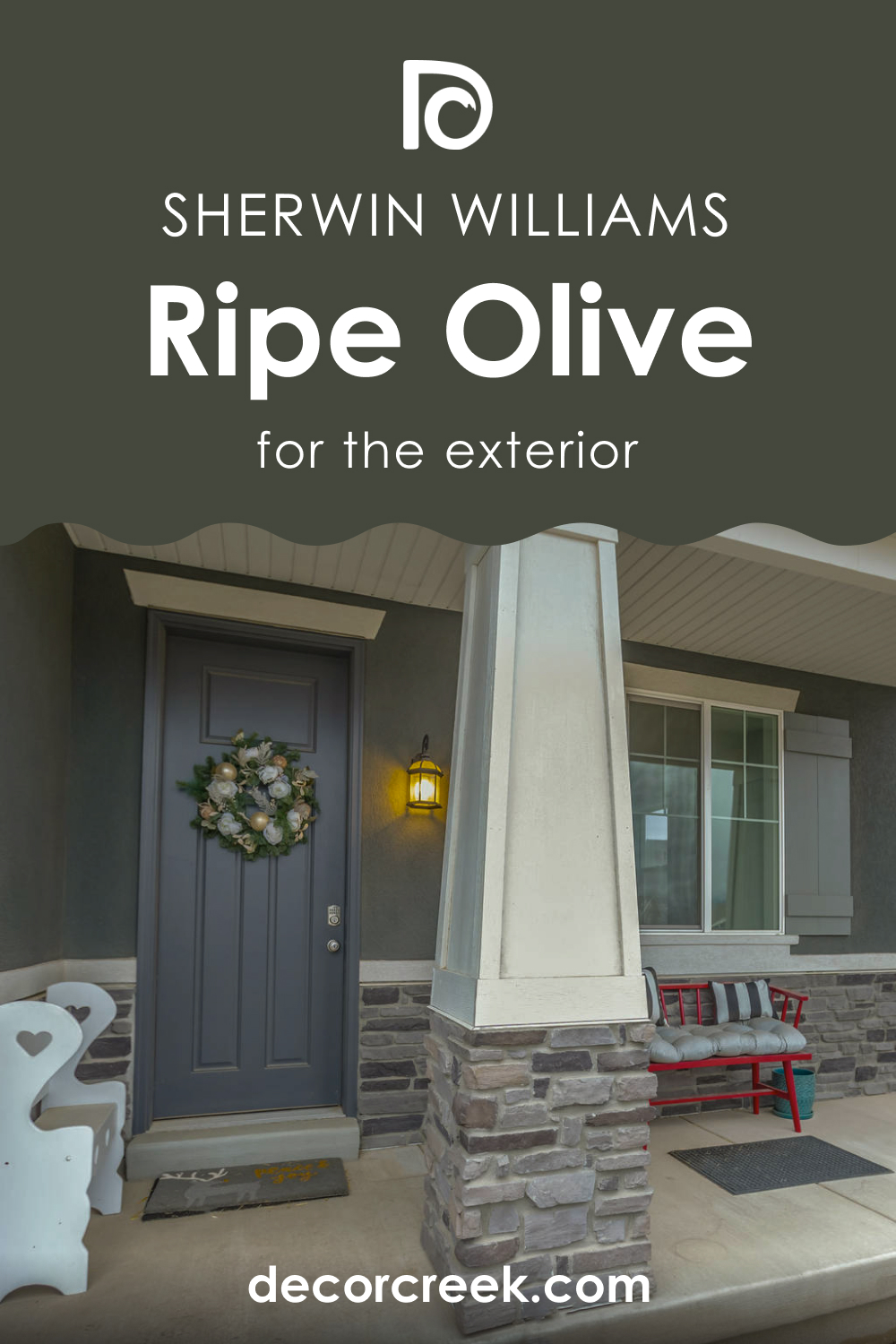 Now you know what kind of green this color is. Although it is pretty dark, you should not be afraid of using it in your home!
SW ripe Olive can turn your home into a unique and cozy place with its cool-toned green hue, which resembles you of forests and wild nature.
Use it wisely, keeping all the tips we shared today, and you will see how beautiful such dark colors can be!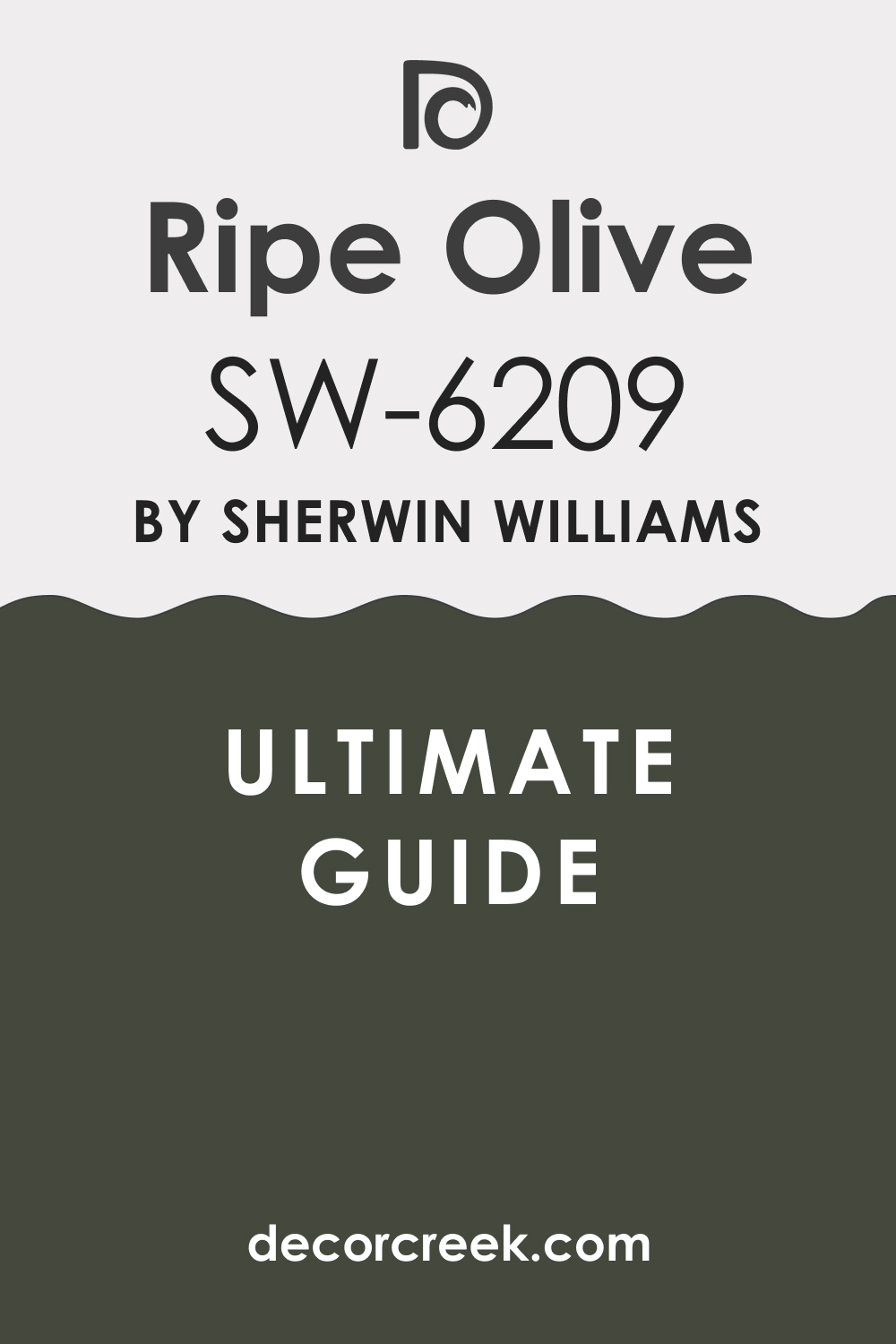 Frequently Asked Questions
⭐Can SW Ripe Olive be used in a room with warm artificial light?
Yes, you can use this green in such lighting, but note that it will read deeper and darker if the room has no window.
⭐Does SW ripe Olive work with black-and-white floor tiles?
Absolutely! This green will compliment such tiles perfectly well.
⭐Does SW Ripe Olive have yellow undertones?
No, this green has no yellow undertones, only blue and gray.