There are interior paint colors that may seem pretty simple when we look at them on a color swatch. However, if you apply such colors on the walls, you will see how complicated and challenging they truly are! BM White Heaven is one of them.
Today, we will lead you through the specifics of this beautiful and unusual paint color to show how it can work in your home. You will not only learn its LRV and undertones.
You will also figure out in what rooms it is best to be used and what colors will work for coordinating it.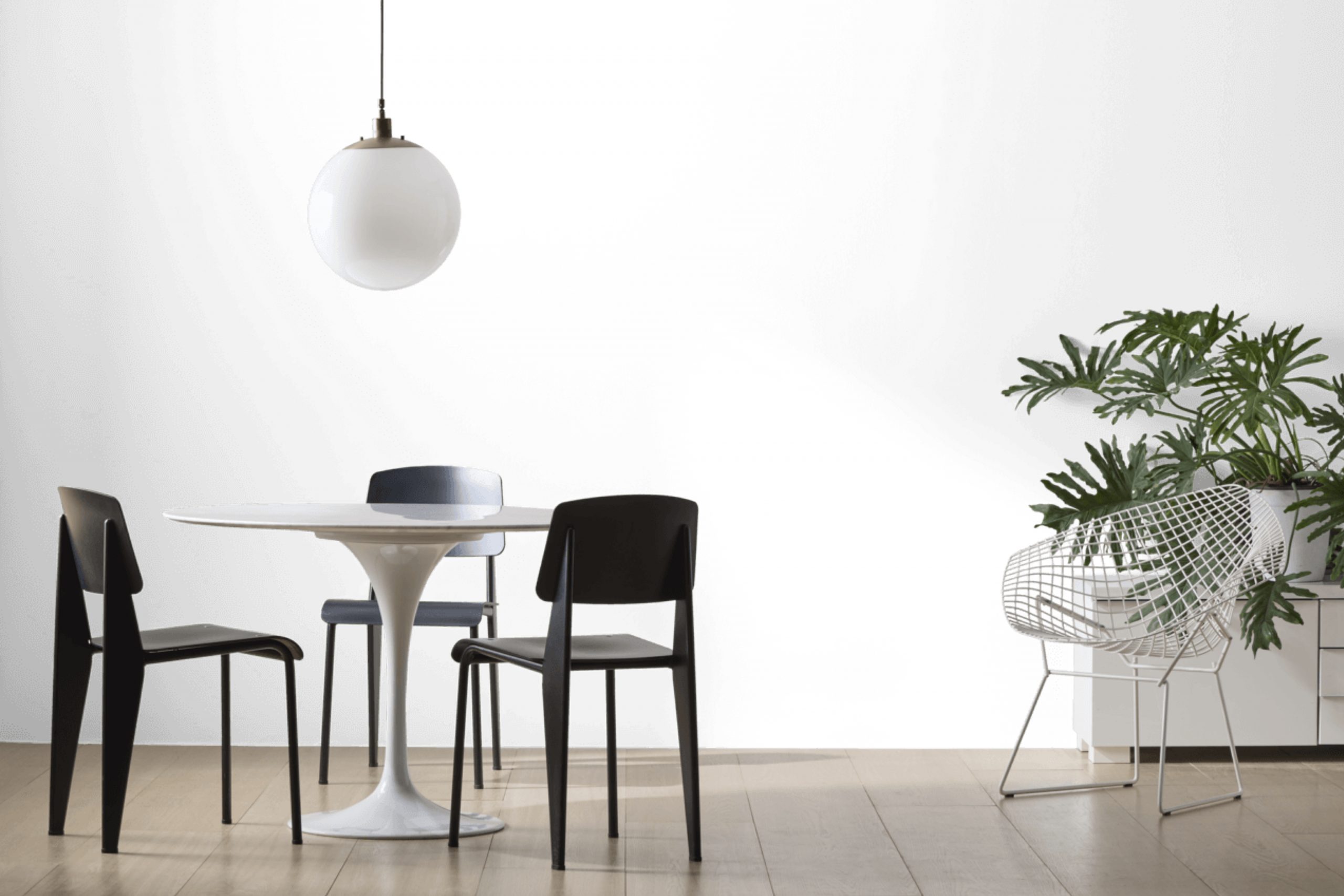 What Kind of Color Is BM 2068-70 White Heaven?
From first sight, BM White Heaven may seem to be a very light blue. As Encycolorpedia says, this color is far more complex than that! In fact, this is a pale yet luminous shade of lilac. It is light and reflective enough to bring instant levity to any space.
Thanks to its lightness and high reflectivity, this paint color will work well in rooms that need to be visually enlarged.
However, due to its tricky undertones, you must sample it before you use this paint!
Depending on the lighting conditions, BM White Heaven may read differently, reading quite like a chameleon color!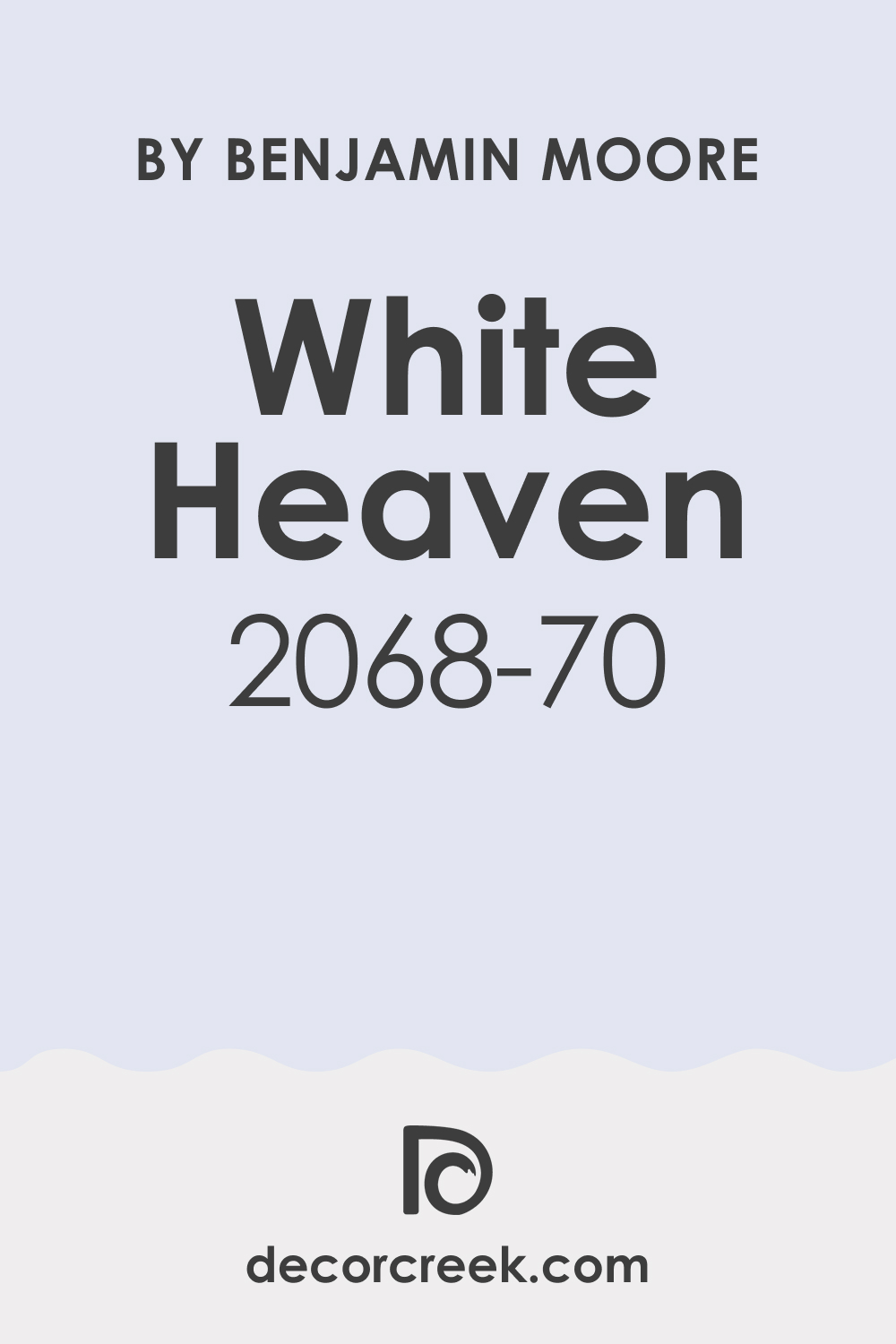 Is It a Warm or Cool Color?
It is essential to know whether the color you want to sue a cool or a warm-toned one. See, in a room with a prevailing warm-toned palette, cold colors will look imbalance and odd. And vice versa, in a cold-looking and crisp room, warm colors will be out of place.
BM White Heaven is a cool-toned lilac color. At the same time, it doesn't read crisp or icy cold on the walls, so there is no need to worry it can make your home feel unwelcoming and chilly.
Nevertheless, make sure you pick the rest of the palette carefully to match its tone.
What Undertones Does BM White Heaven Paint Color Have?
Undertones play an important role in creating a balanced and harmonious atmosphere in a room. When all the colors in the space have matching undertones, the room feels eye-pleasing and lovely.
In comparison, if you use colors whose undertones are in conflict with each other, the space will read imbalanced and unpleasant to stay.
Speaking of BM White Heaven, this light lilac has pronounced blue undertones. Also, there is a barely seen hint of gray in it. This grayish hue is what makes the color stay away from leaning to the cold end.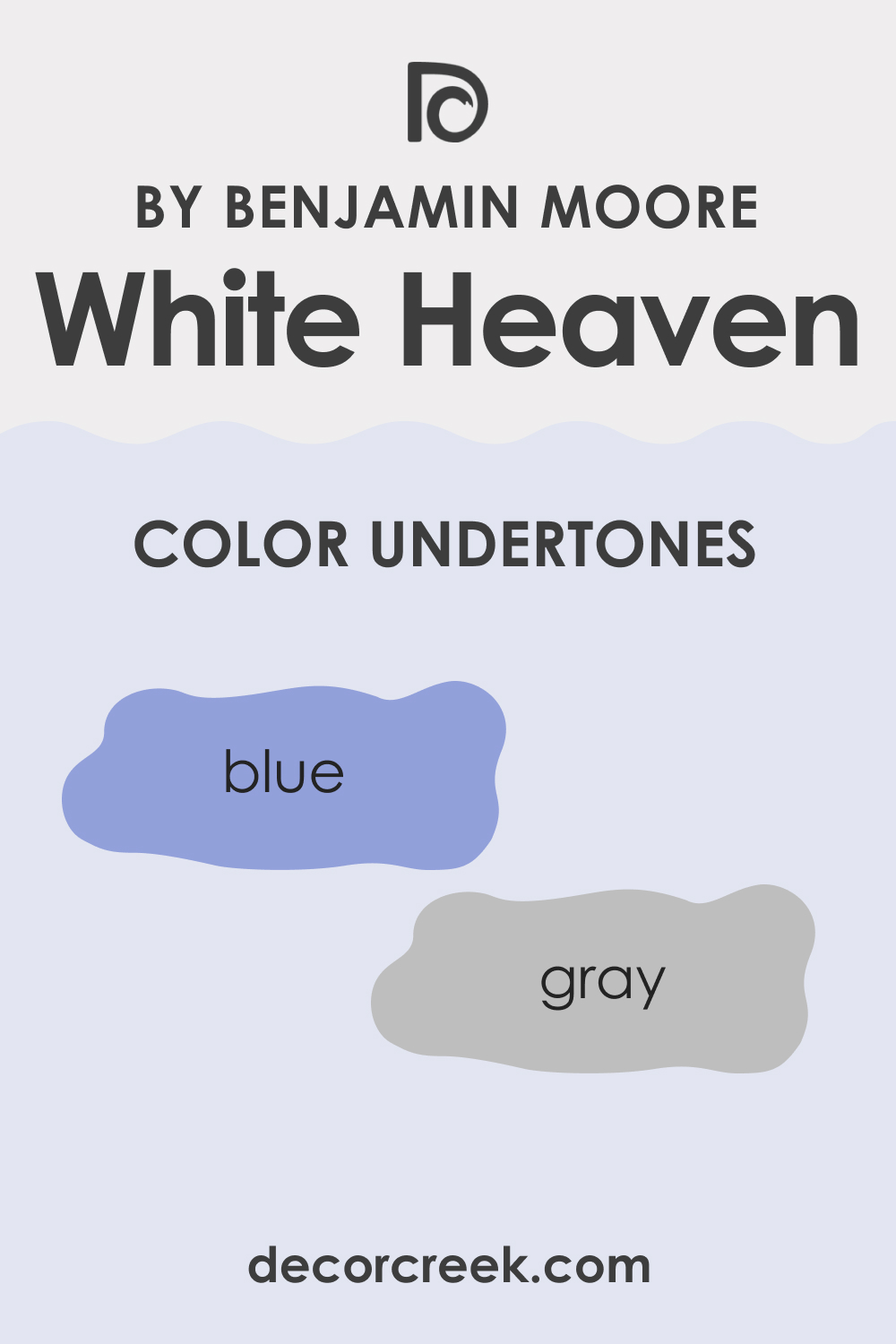 BM White Heaven Coordinating Colors
With such tricky colors as BM White Heaven, it can be challenging to pick the right coordinating colors. The paint's undertones make it difficult for a non-professional to select the colors that highlight the shade you use on the walls.
Below, you can check out a few color options that can work as coordinating colors best of all if you want to paint your interior walls with BM White Heaven:
OC-65 Chantilly Lace
BM 2118-40 Sea Life
OC-57 White Heron
HC-178 Charcoal Slate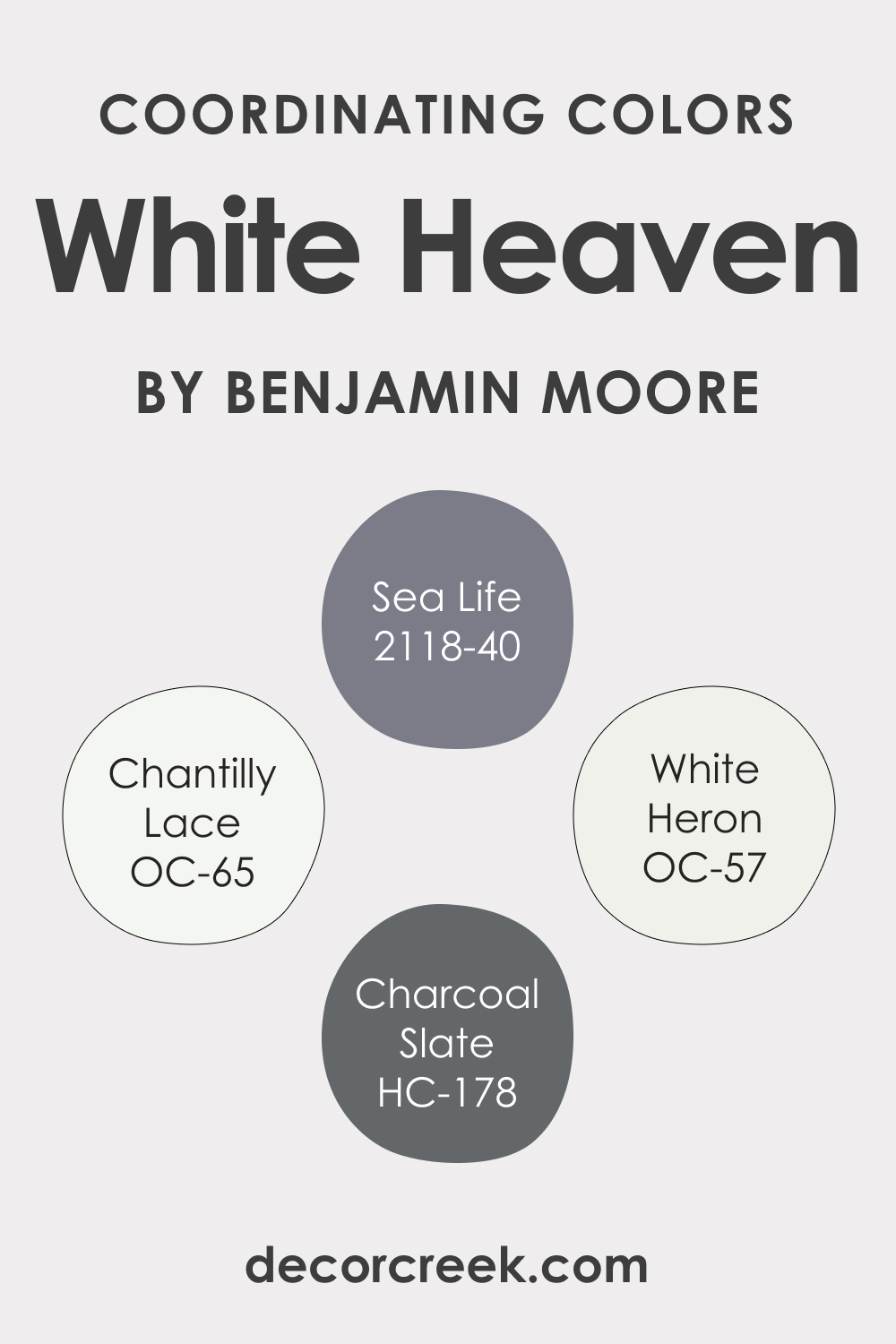 What LRV Does BM White Heaven Paint Color Have?
When you are choosing the right colors for your home, you can often come across an LRV term. This is an essential aspect you should take into consideration. LRV stands for the Light Reflectance Value. It shows the amount of light the paint can reflect when it is applied to the wall.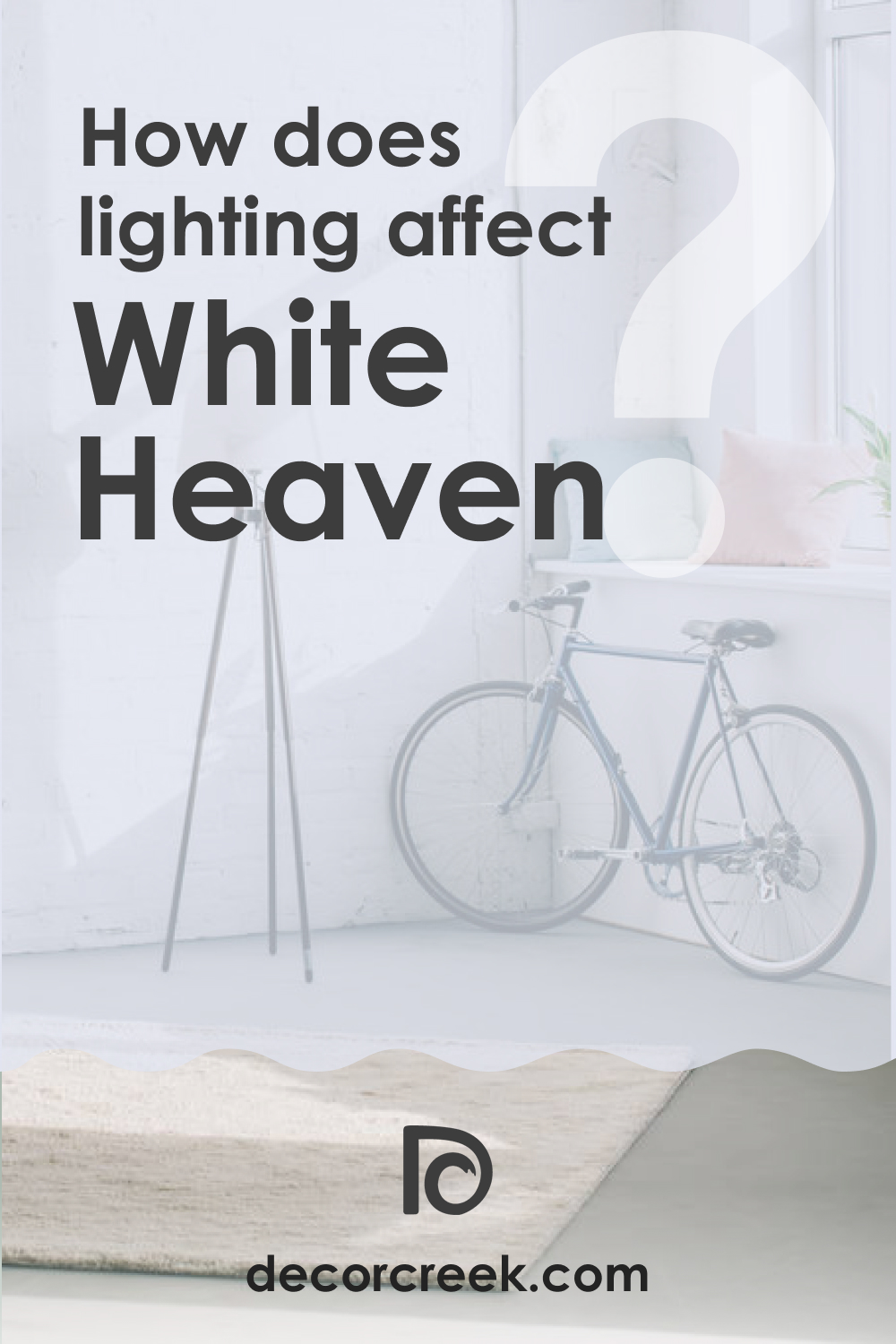 The higher the LRV rate, the lighter and more reflective the paint. Respectively, colors with higher LRV values read lighter on the walls.
The LRV scale ranges from zero to 100, where zero stands for black, and 100 stands for pure white.
The LRV value of BM White Heaven is 76, which means it is a relatively light color with enough reflectivity.
However, this LRV doesn't make this lilac paint light enough to make a room seem more spacious and bright! So, if you need a color that has this kind of effect, you'd better search for another option instead.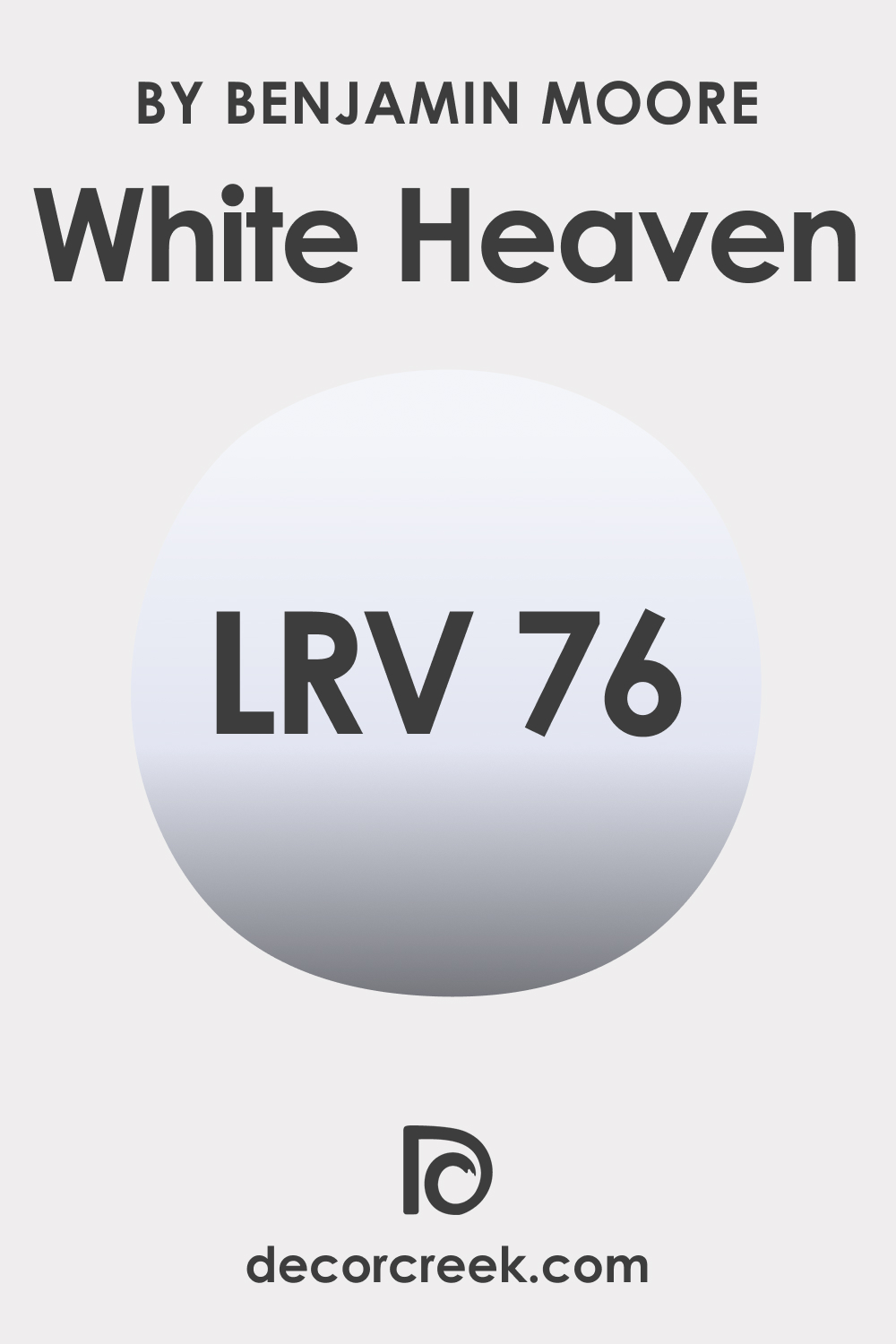 LRV – what does it mean? Read This Before Finding Your Perfect Paint Color
BM White Heaven Trim Colors
Traditionally, white is considered the optimal trim color since it is versatile and can work well with most colors used in a room. If you have interior walls painted BM White Heaven (or you plan to do that), stick with whites on your trim. In particular, you might want to try BM Oxford White or BM Ice Mist OC-67.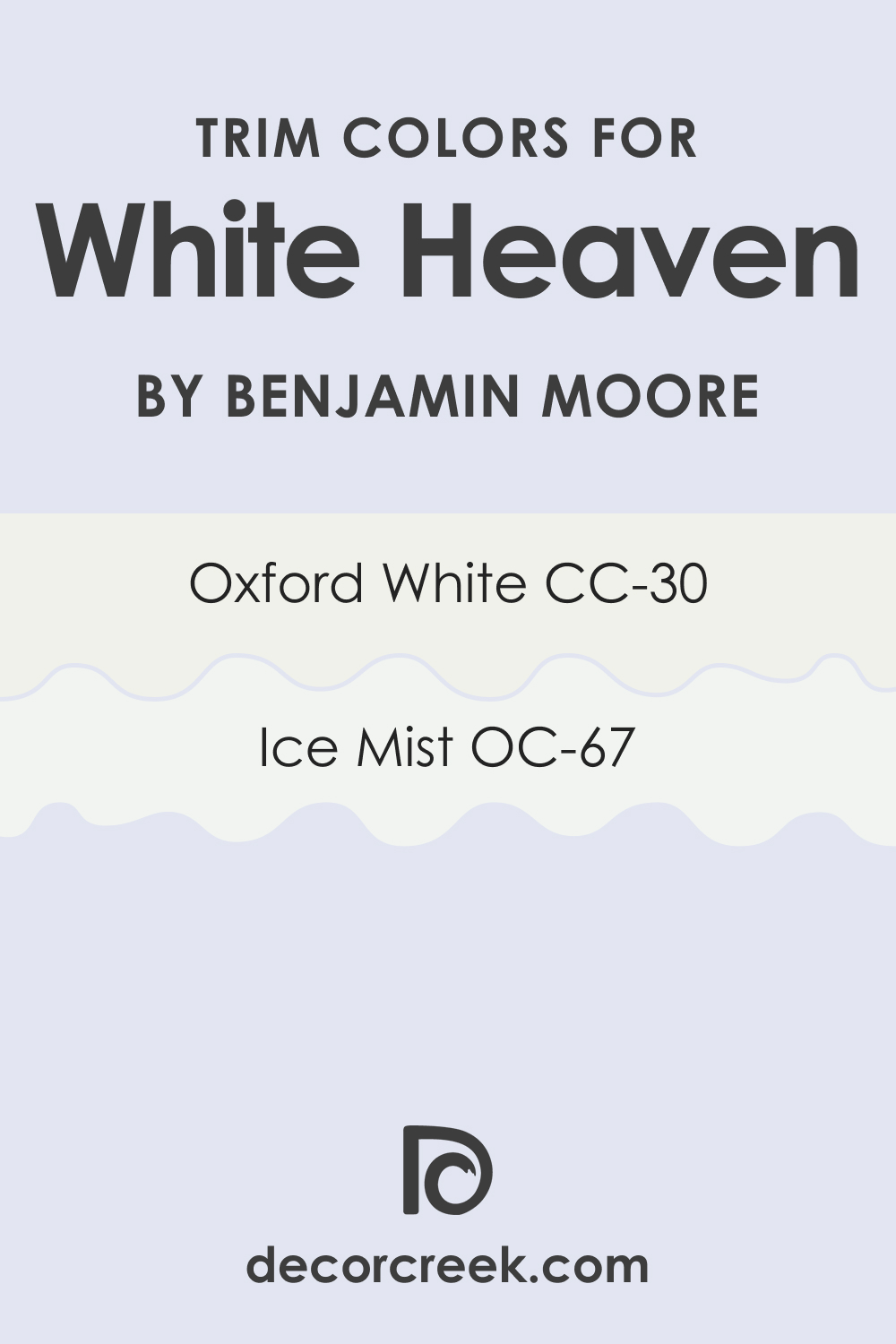 Colors Similar to BM White Heaven Paint Color
Before you start painting your interior walls, check out what similar shades of the color you use can be applied instead. You might need those alternative colors in case you suddenly realize the shade you initially chose doesn't read the way you need on the walls.
For BM White Heaven, there are several similar colors that can work as good substitutes:
BM 1415 Lavender Secret
BM 2070-70 Whisper Violet
BM 1410 Nosegay
Behr Bellflower Blue
PPG Sweet Illusion
Valspar Mountain Peer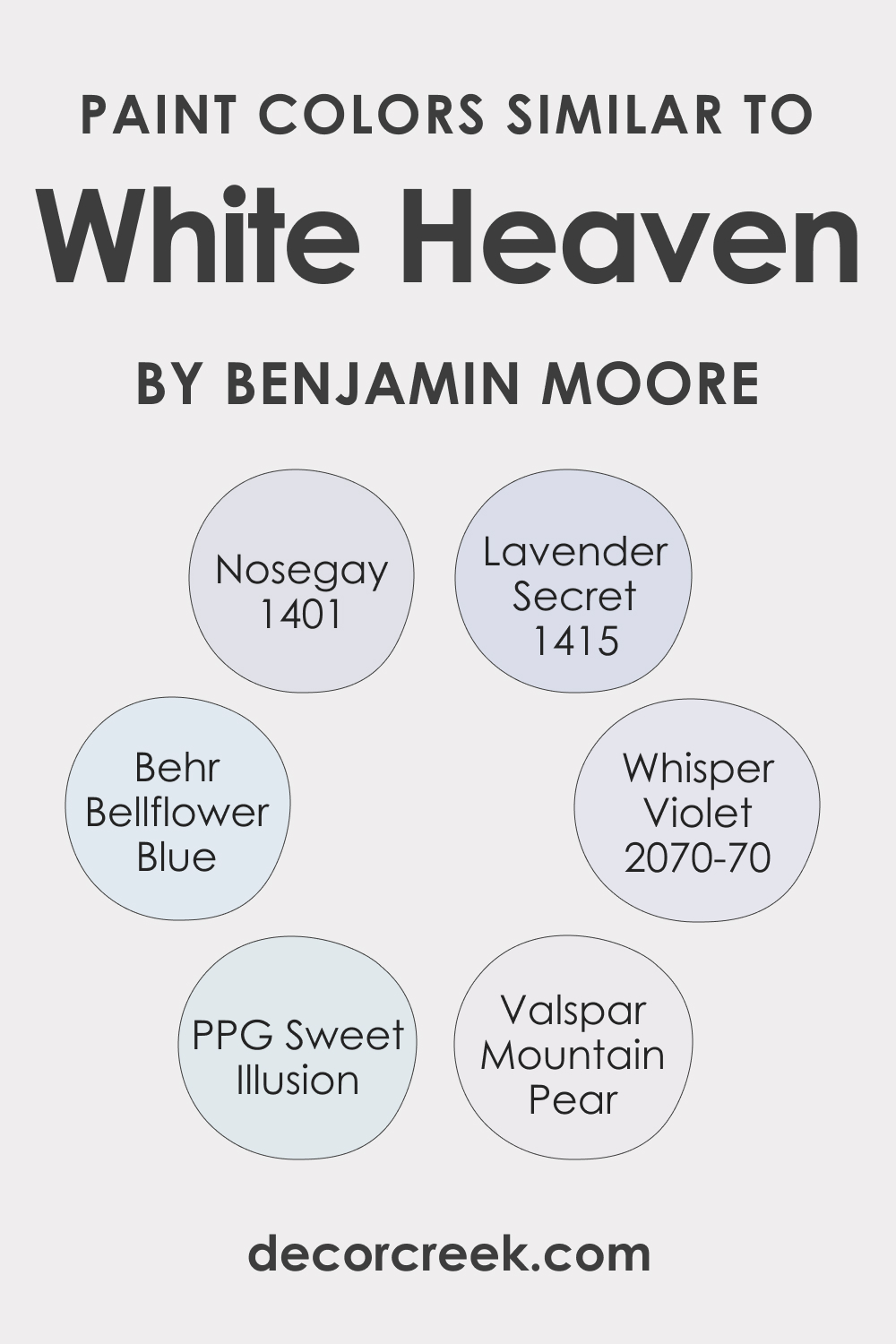 Colors That Go With BM White Heaven Paint Color
Knowing colors that go well with the paint used on the walls is the same essential as knowing this paint's undertones or LRV. When you know what colors to use to make the overall palette work for your interior, you can create a harmonious and welcoming space around you.
Speaking of BM White Heaven paint color, this light lilac will pair nicely with the following colors:
BM 2068-10 Majestic Violet
BM 2068-20 Grape Gum
BM 1440 Irises
BM 2067-70 White Satin
BM 2174-70 Cream Puff
BM 2024-60 Lemonade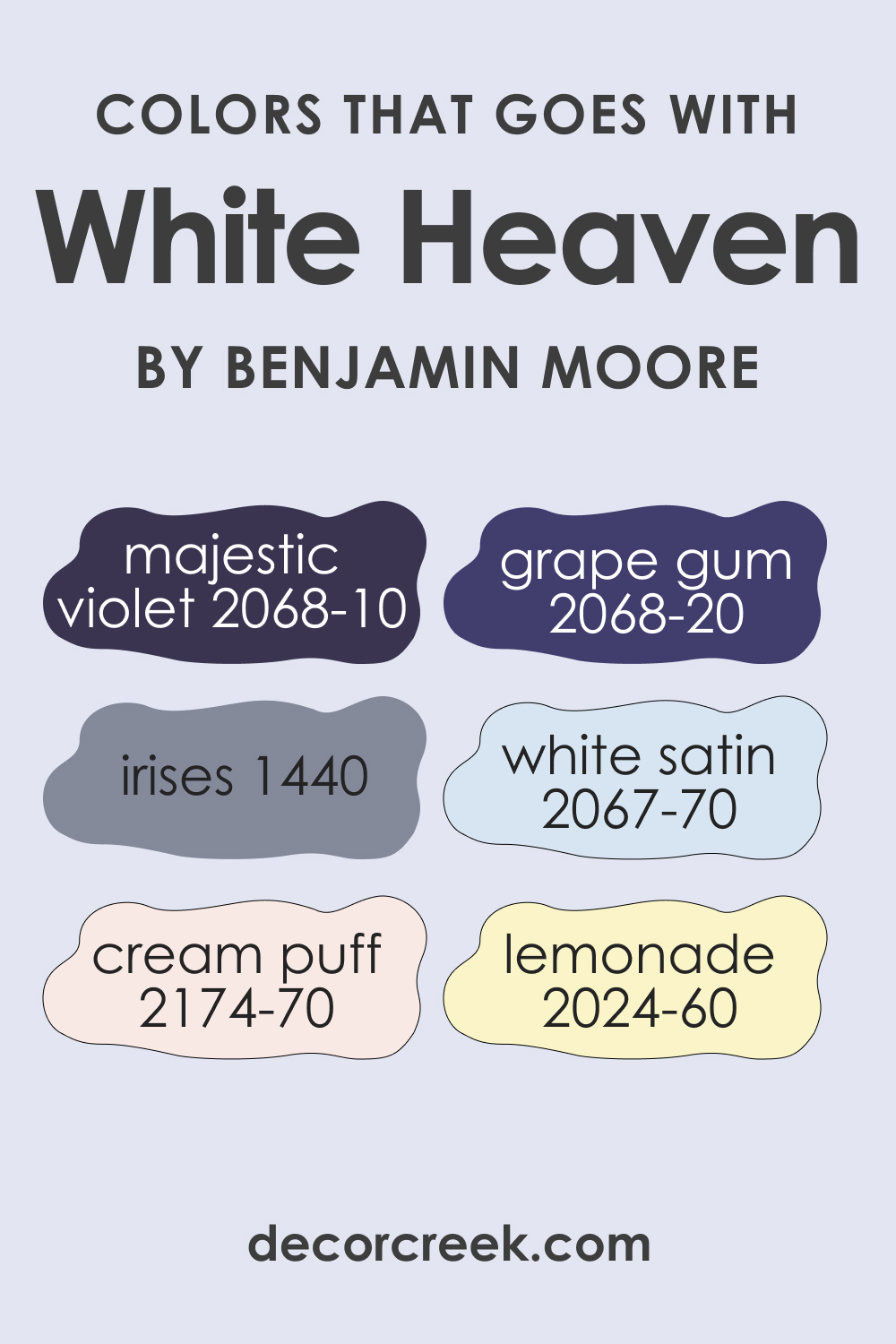 Comparing BM White Heaven With Other Colors
To help you better see the difference between the various shades of blue paint color, we have prepared a short comparative guide. It will show you how colors can differ due to undertones and LRVs, and what to pay attention to when choosing the paint for your walls.
White Heaven vs Purple Lace
BM Purple Lace is exactly what it's called. This color reads definitely purple, although not too much. The hue is moderate yet rather saturated. Compared to it, BM White Heaven looks much lighter and paler, giving off a very light bluish hue.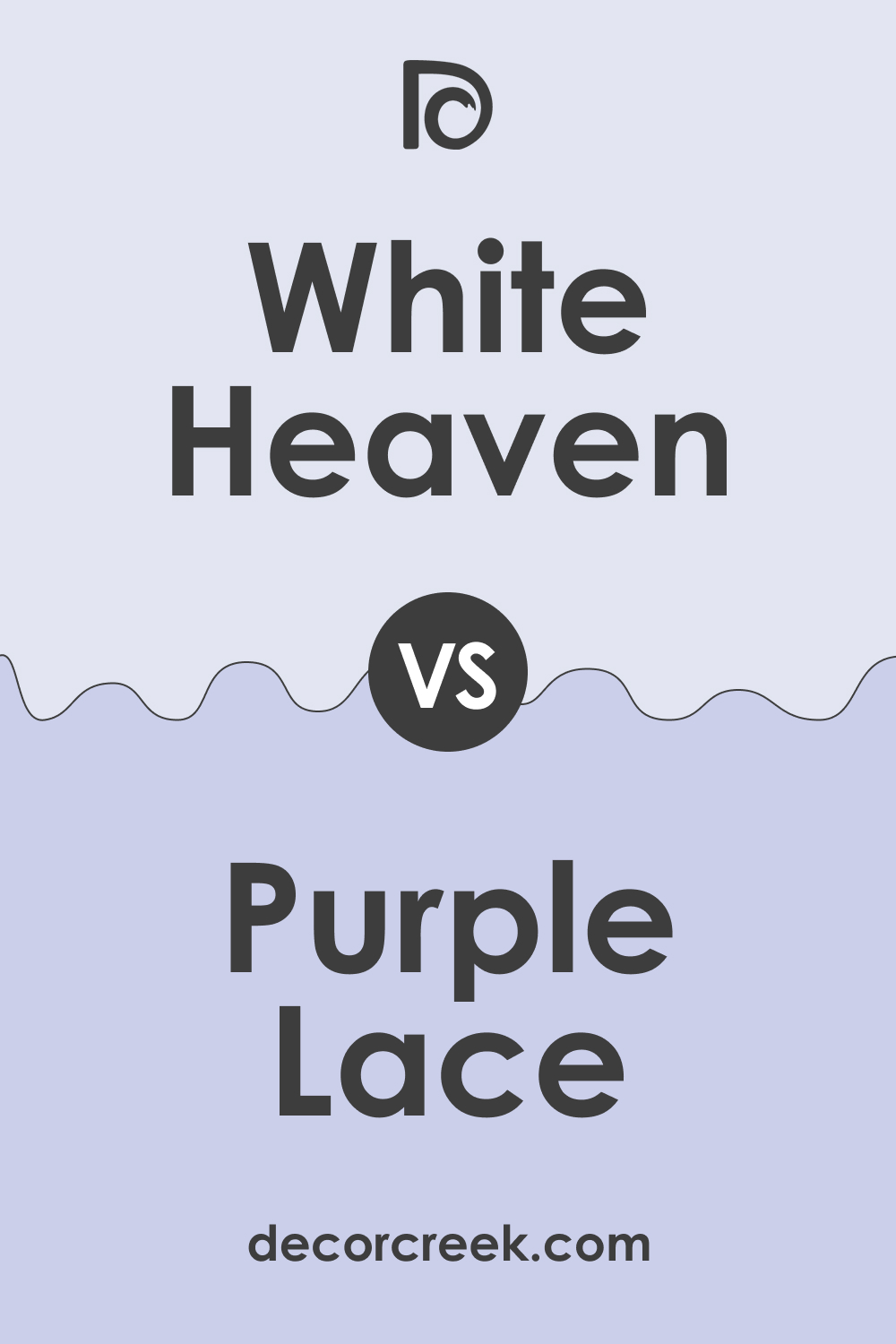 White Heaven vs Mild Blue
SW Mild Blue is also light and rather reflective, but unlike BM White Heaven, it reads a bit bluer. But generally, if you need a color that reads almost similar to BM White Heaven, being a bit darker, SW Mild Blue might work for you.
White Heaven vs Moonmist
SW Moonmist has yellow and gray undertones and an LRV of 67. Compared to it, BM White Heaven is lighter and more reflective, with an LRV of 76. Also, it has different undertones (blue). Even if you don't know all this, you can see that these colors are distinct! SW Moonmist reads bright blue, whilst its counterpart is calmer and less bright.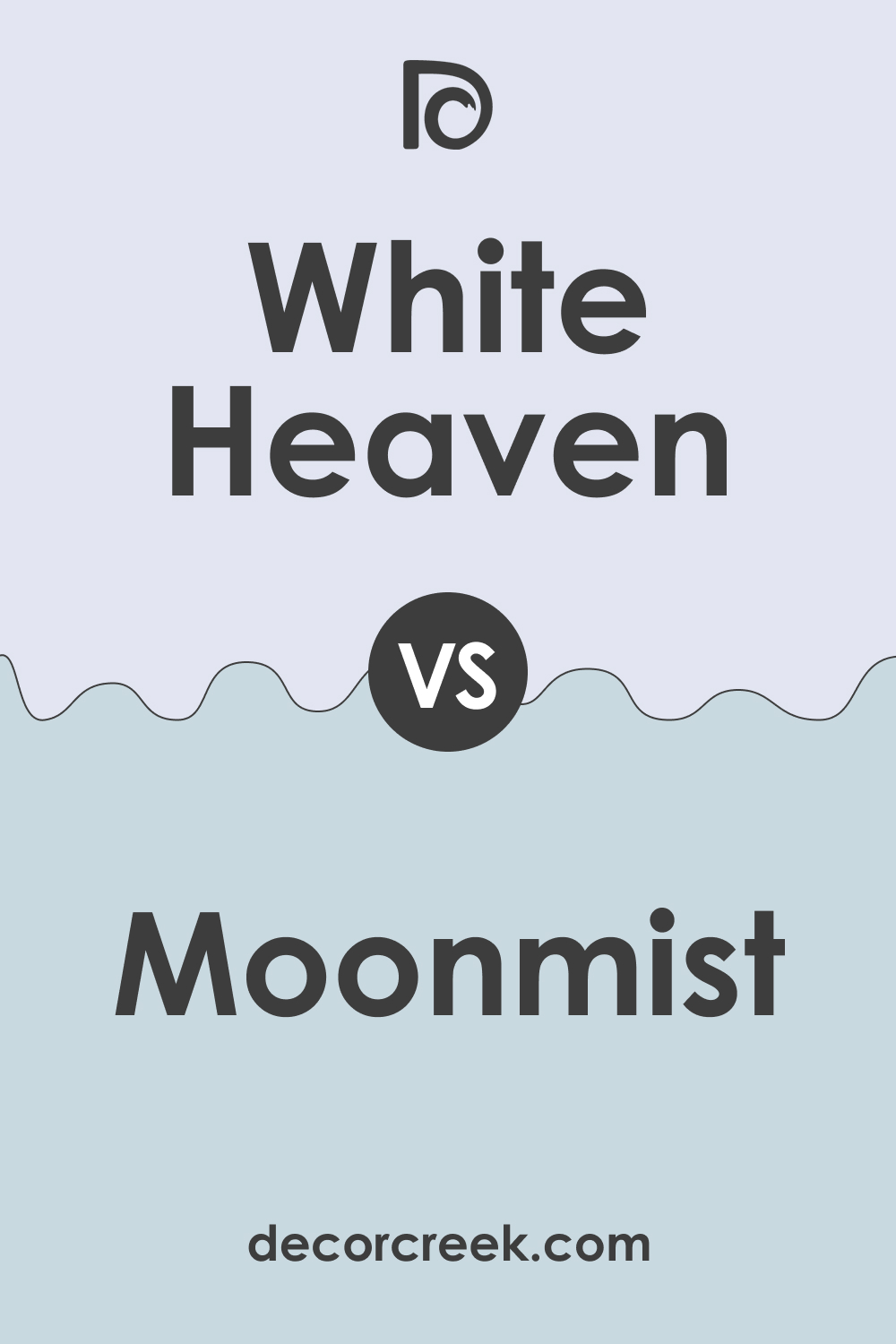 White Heaven vs Hinting Blue
SW Hinting Blue is technically a purple color, but it reads blue. It has cool undertones and an LRV of 68, which makes it rather light. Compared to it, BM White Heaven looks paler and less saturated with color. Also, it reads lighter because of the higher LRV value of 76.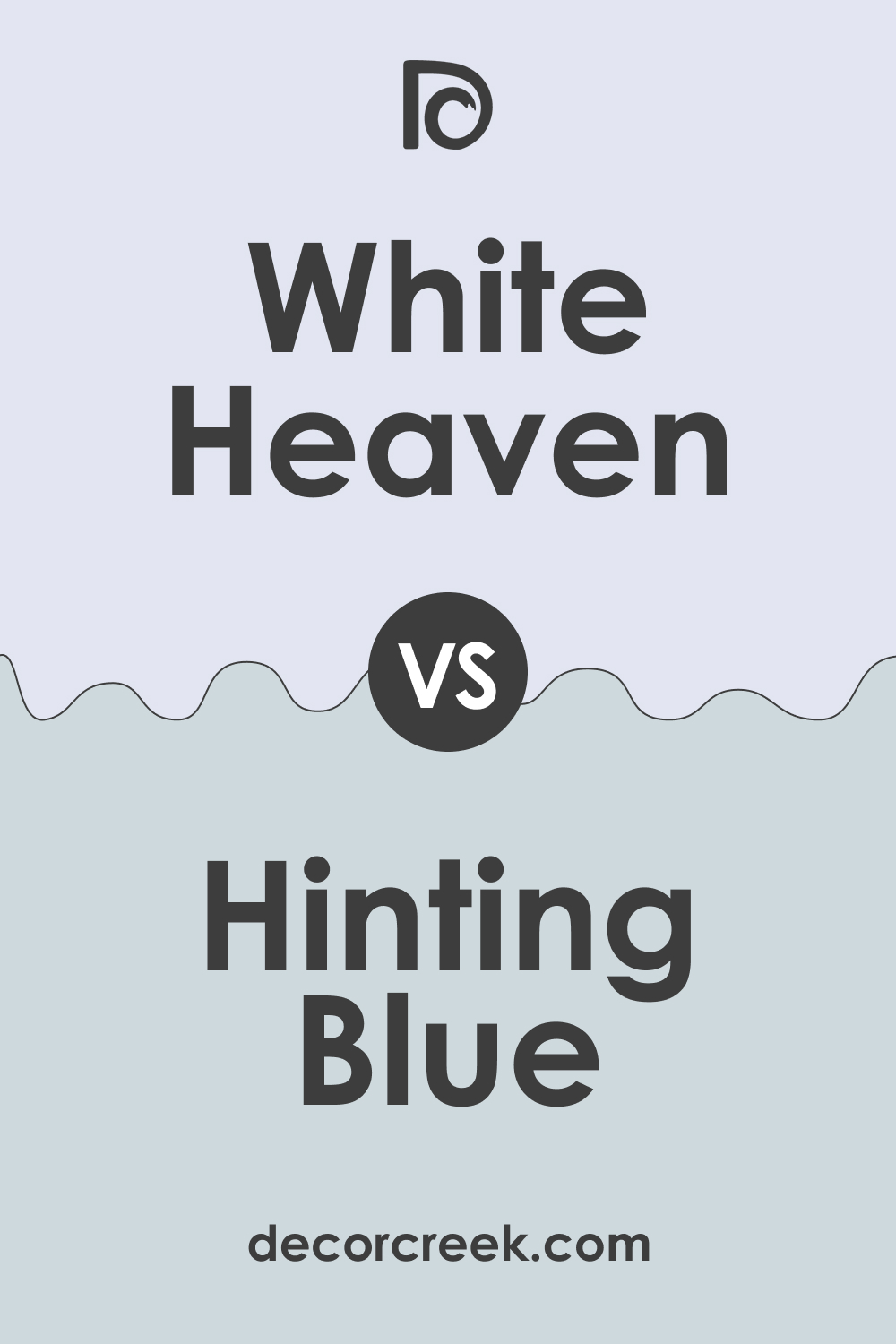 Where to Use BM White Heaven Paint Color In Your Home?
With such tricky colors as BM White Heaven, it can be challenging to find the best place in your home to host it. This is why such guides as the one you can find below will always help you to figure out where the color you choose might work best.
White Heaven BM 2068-70 in the Living Room
This color might be a great option for your living room if the space is large and has enough natural light. In an enclosed and poorly lit living room, bM White Heaven will hardly be able to reveal all of its beauty.
Also, be careful when using it in a room with many warm-toned colors since BM White Heaven is a cool-toned color. Paired with warmer hues, it can result in an imbalance and even an irritating palette!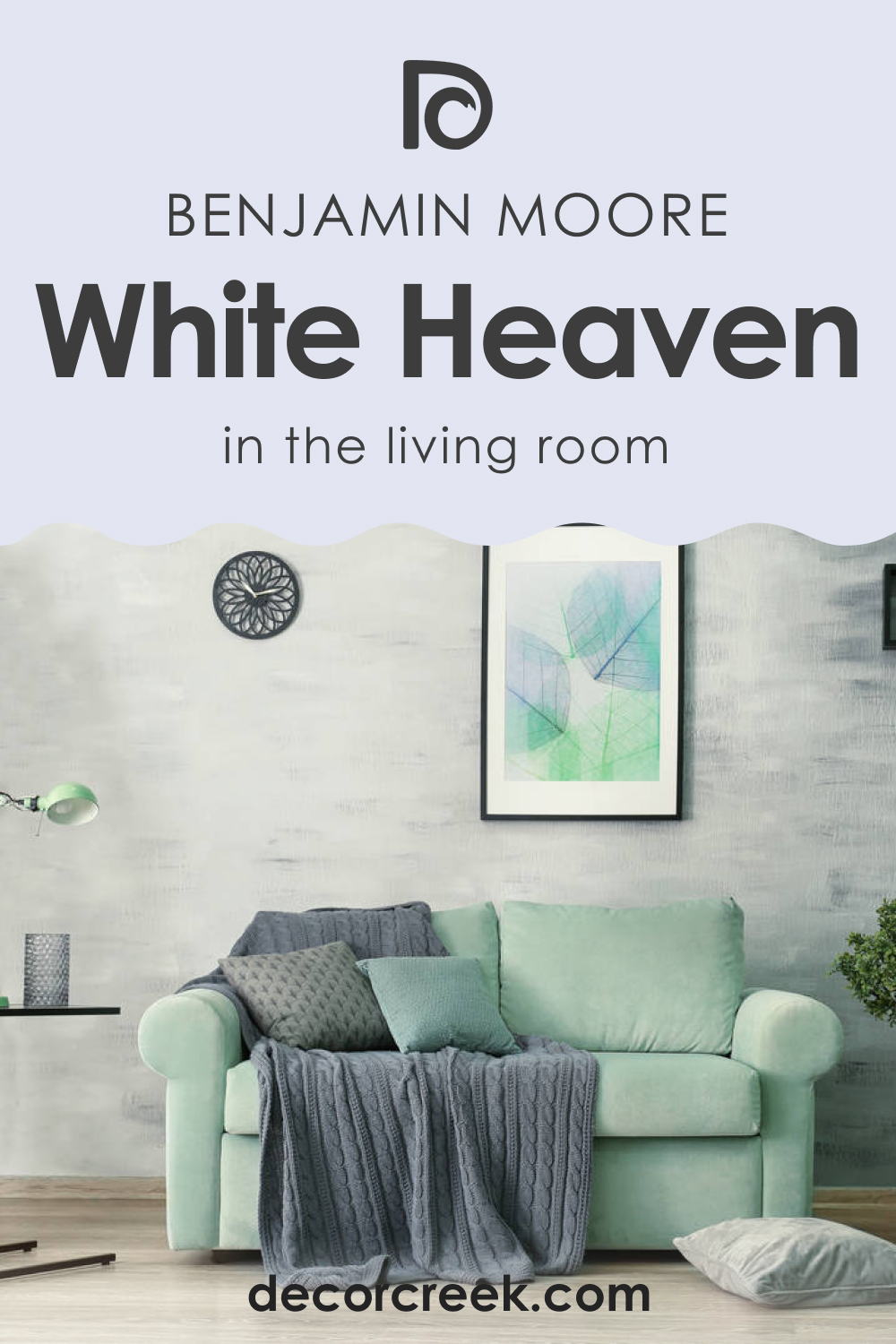 White Heaven BM 2068-70 in a Bedroom
If you enjoy a slightly chilly and fresh vibe in your bedroom, this lilac might work well in it. Pair it with cool-toned whites and grays to enhance the cooling effect, or opt for neutrals and moderately warm paint colors to make the room feel cozier.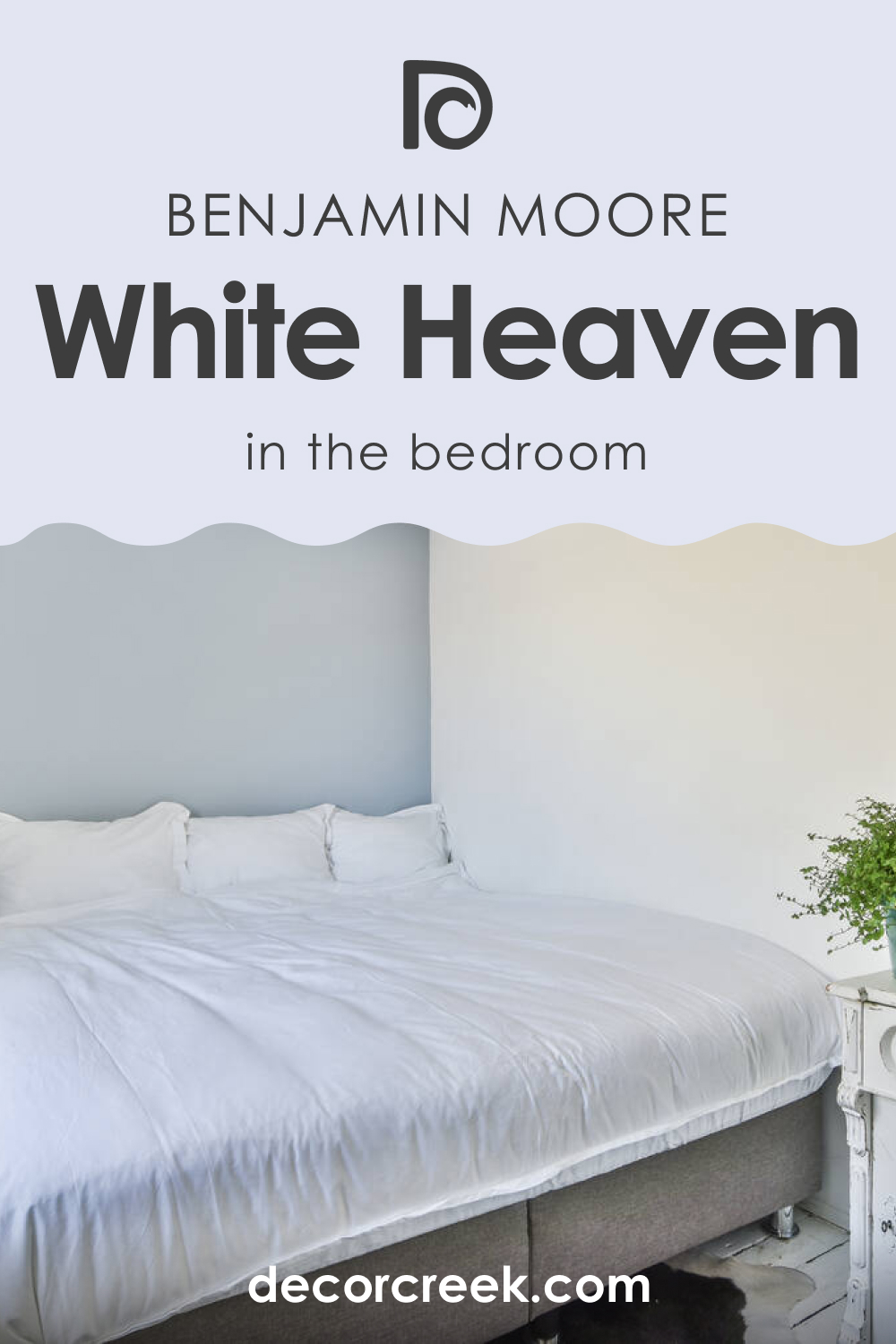 White Heaven BM 2068-70 for Bathroom
This color can work well on bathroom walls only if the room has plenty of daylight. Otherwise, you might want to use it on the accent wall only, or paint your bathroom's vanity sink instead.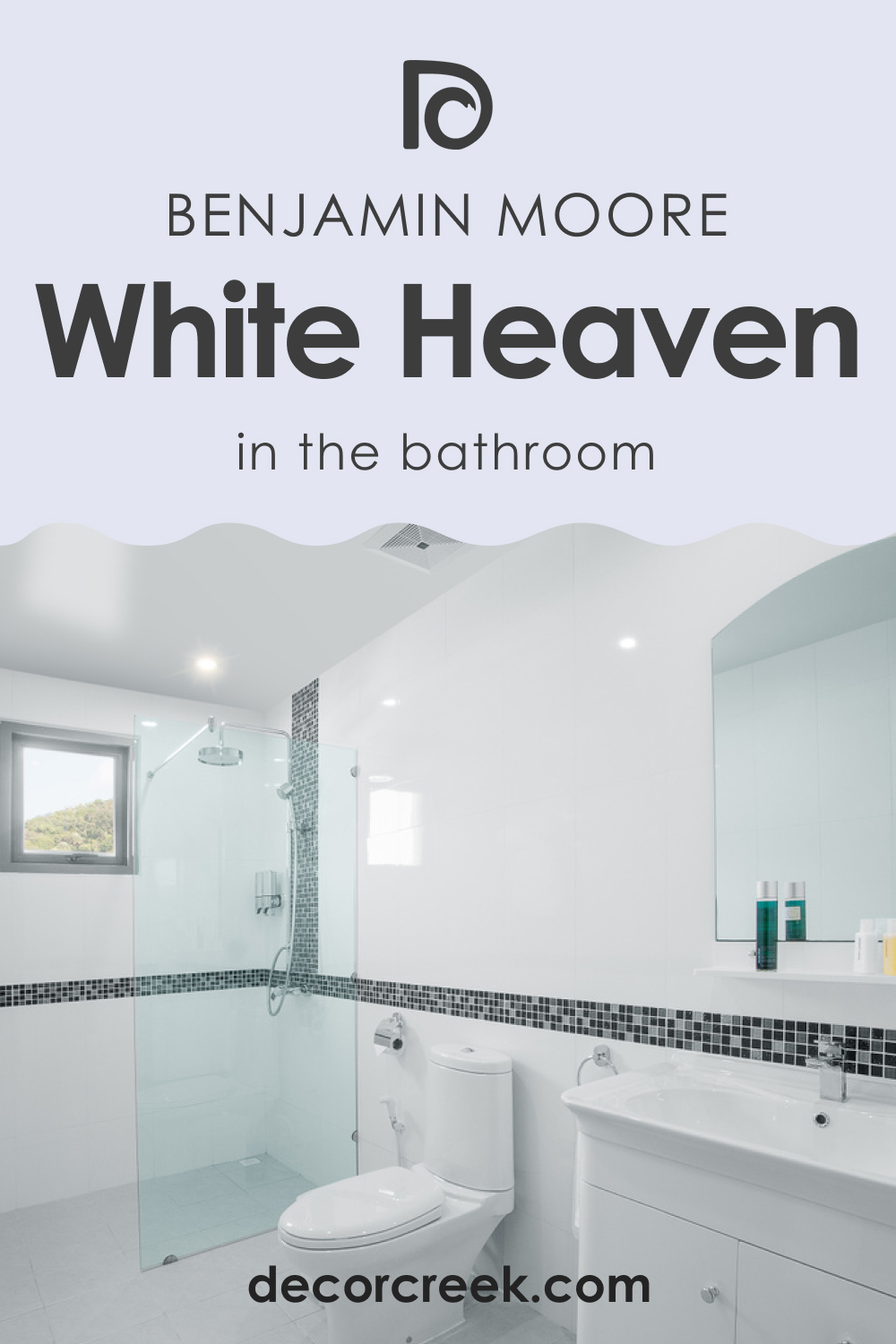 White Heaven BM 2068-70 and Kitchen
Lilac is not a common color for kitchens, so think twice before you use it in yours. It might work well on kitchen cabinets paired with white walls, but we would not recommend it as an overall color to paint the walls.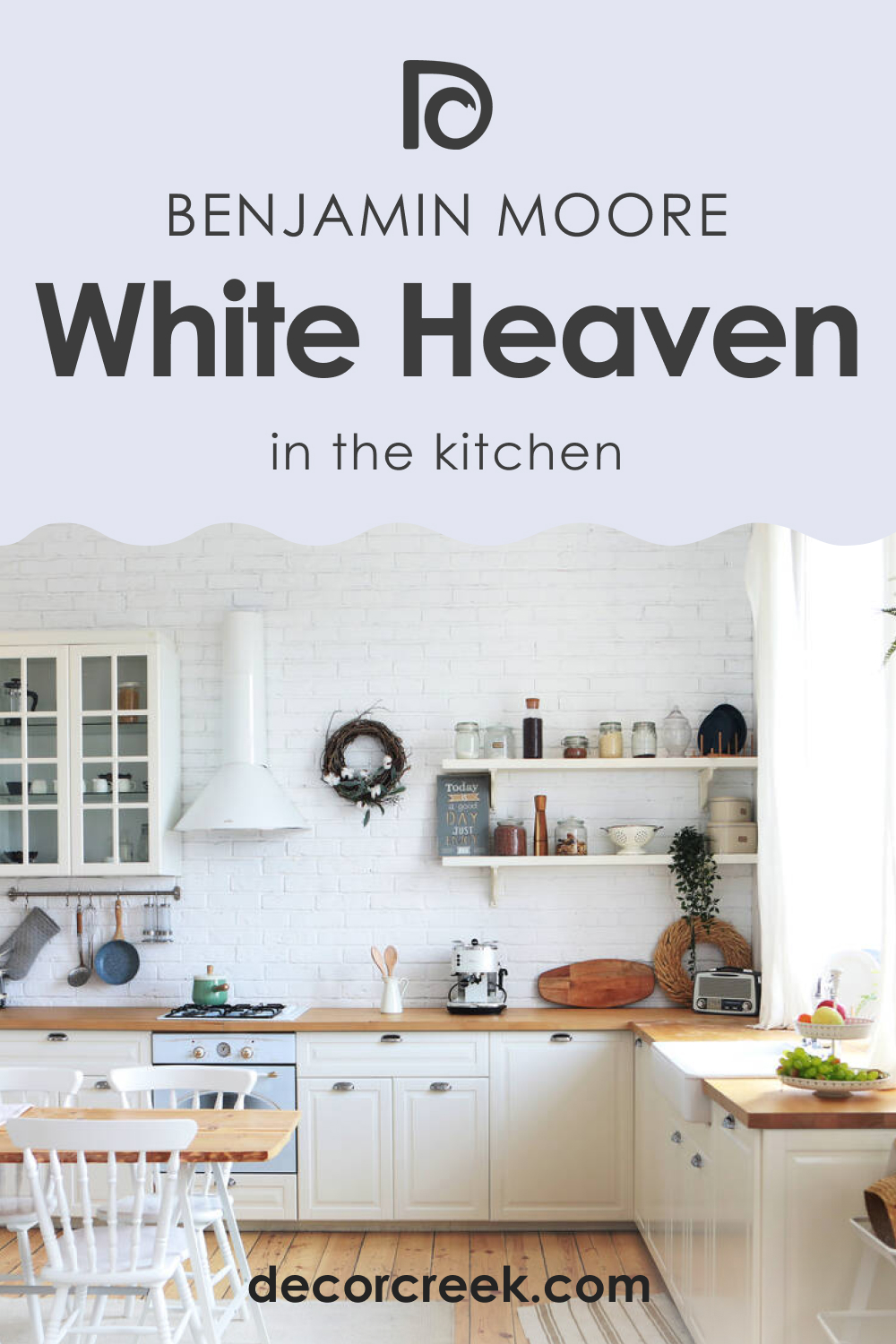 White Heaven BM 2068-70 for the Exterior Use
According to the official Benjamin Moore statement, BM White Heaven is not recommended for exterior use. This color is too unpredictable on exterior walls. Besides, the color itself (lilac) typically doesn't look suitable on a house facade.
Well, this is that you should know about the White Heaven paint color by Benjamin Moore to use it correctly in your home.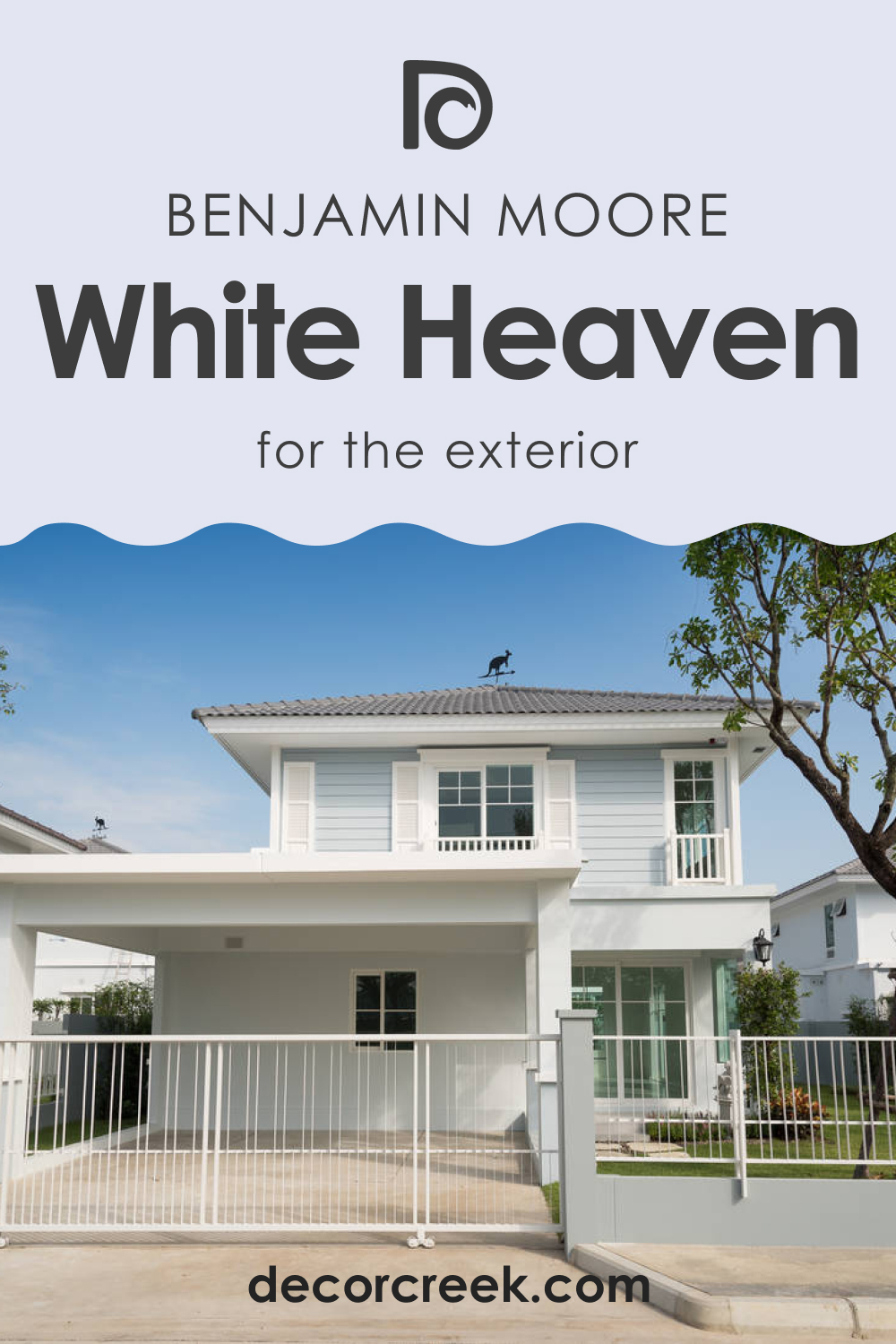 Now you know what colors it will work with, what whites are best to be used on the trim, and what coordinating colors this lilac blue has.
Also, you are now aware of the most suitable places in your home where this paint will work perfectly well (including the fact that it's not suitable for exterior use!).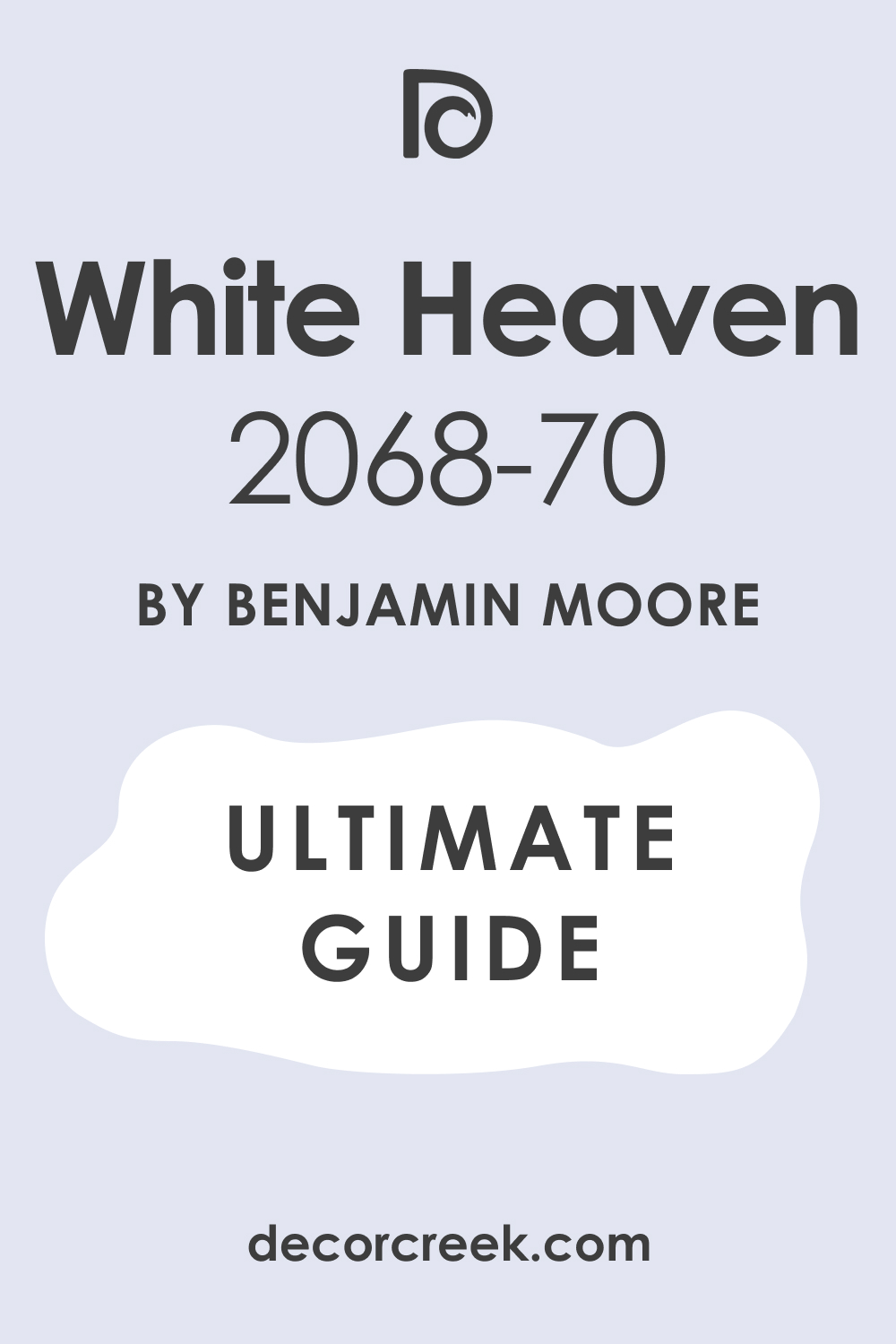 Frequently Asked Questions
⭐What color collection does this paint belong to?
BM White Heaven is a part of the Color Preview collection by Benjamin Moore.
⭐Is BM White Heaven a blue color?
Technically, it is a purple color.
⭐Can this color be used in any room?
Technically, yes, it can. But you must always sample it in advance!