If you want to try blue colors in your home, but you are not sure from which shade to start, we would like to suggest a lovely light blue from Benjamin Moore. This color is called BM Glass Slipper.
In this article, we will tell you more about its characteristics and specific features. In particular, you will learn how this delicate blue hue works in different rooms and how to coordinate it.
Also, we will share the best trim colors to help you make BM Glass Slipper work better.
Finally, you will receive a list of similar colors that may work as substitutes for this blue hue.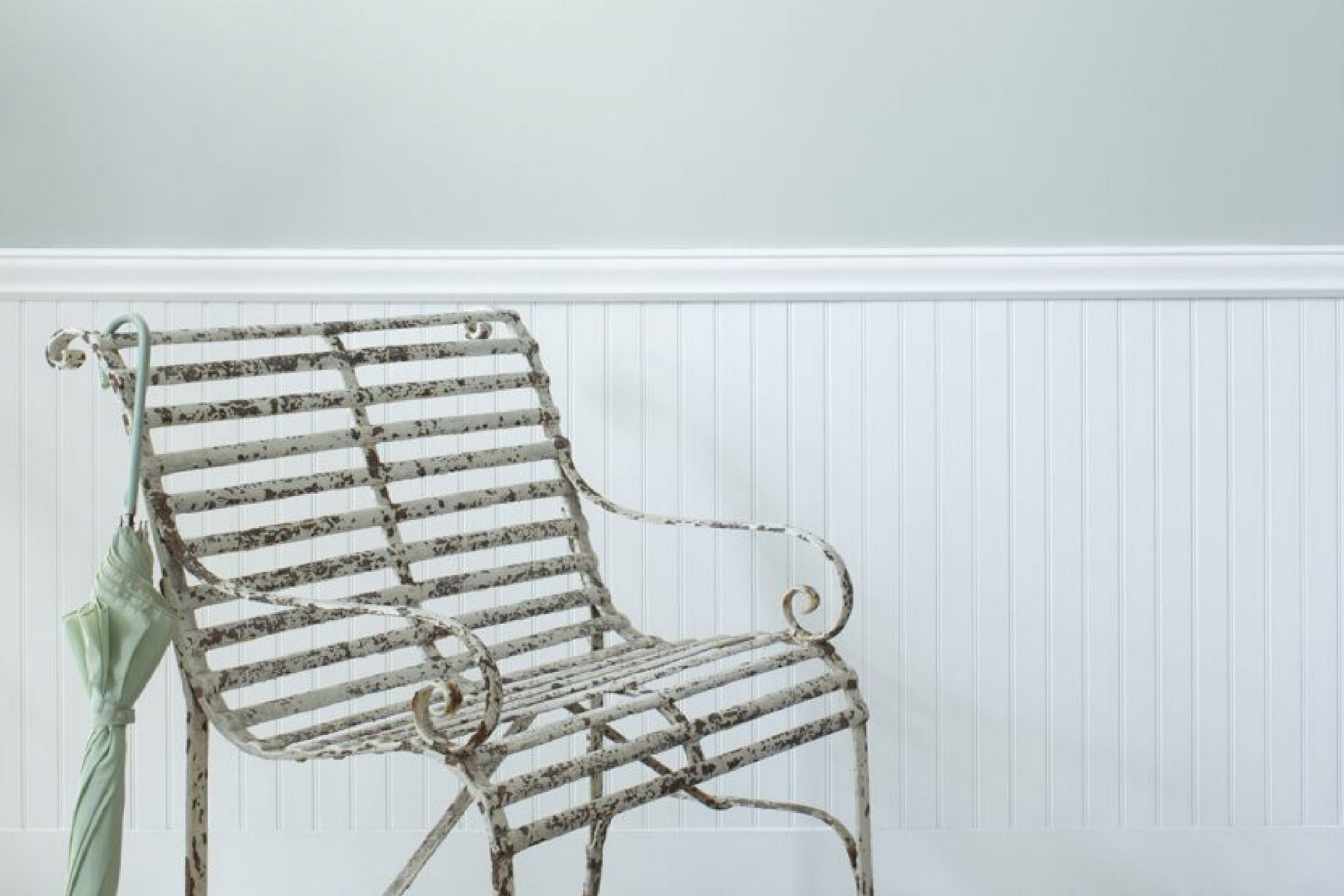 What Kind of Color Is Glass Slipper BM 1632?
BM Glass Slipper  is an ideal blue to start with if you have never used this color in your home before. As Encycolorpedia says, this is pale and delicate powder blue that reads pleasantly soft on the walls. It is not too light so that it won't look washed out, but this color has enough saturation (hue). It means BM Glass Slipper will definitely read blue in a room.
With its balanced tone, this color can work well in many rooms and on many surfaces. Thanks to its fresh appearance, you can opt for this shade of blue to make the living space seem airier and cooler.
With Benjamin Moore Glass Slipper, your home will feel light, airy, tranquilizing, and calm. And since this color is pretty reflective, it can push away the walls, making a room seem larger!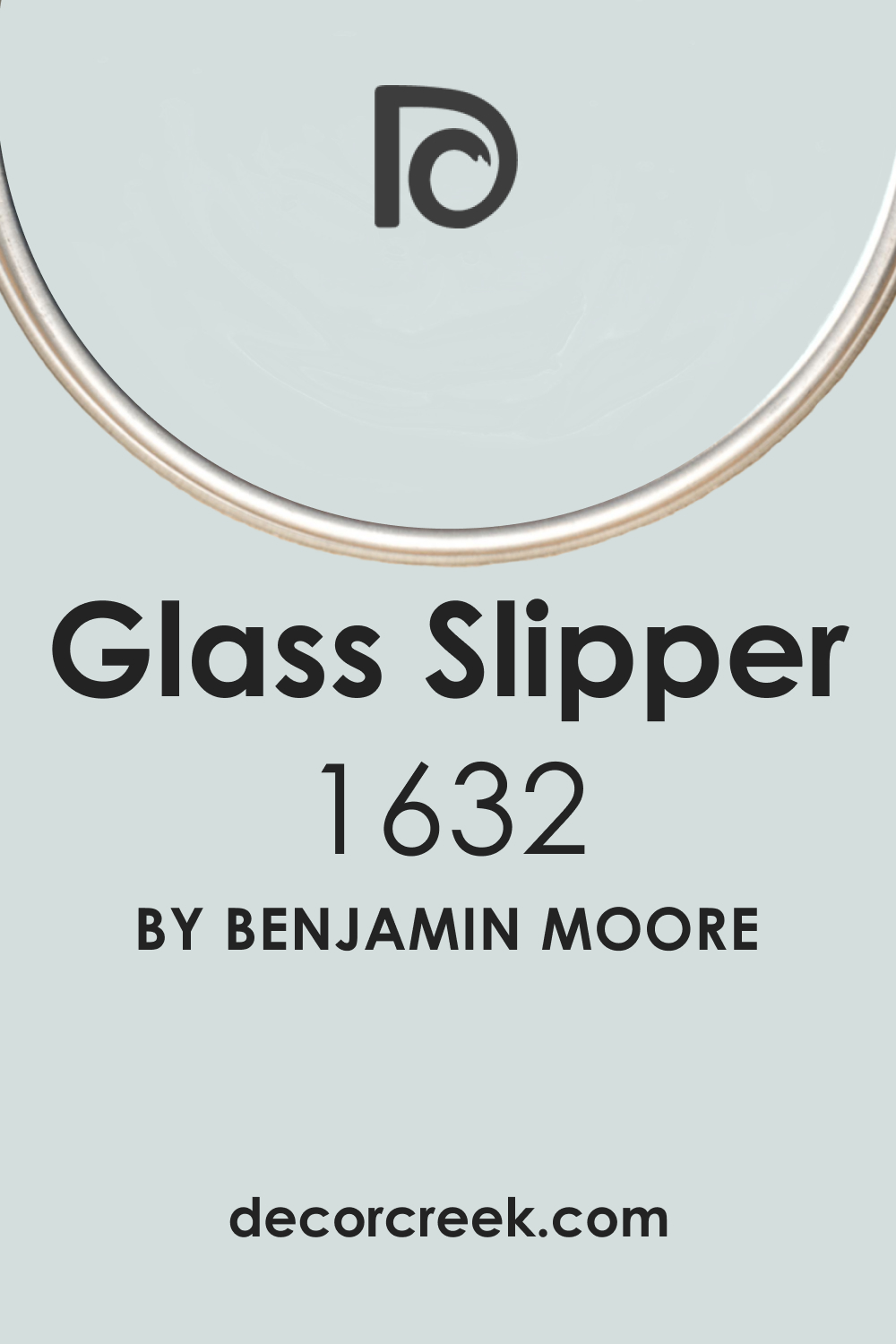 Is Glass Slipper BM 1632 a Warm or Cool Color?
Depending on your color preferences, you might strive for either a warmer or cooler vibe in your home. Respectively, you should choose paint colors that have a proper tone (warm or cool). Speaking of blue colors, they are not only cool-toned, but BM Glass Slipper is an exception.
This pastel blue is cool and crisp, reading pretty fresh on the walls. As a result, this hue will help you add a chilly vibe to the space. At the same time, this soft blue won't look icy cold.
What Undertones Does BM Glass Slipper Paint Color Have?
This gorgeous color doesn't have any prominent undertones that stand out. Instead, it reads soft with an even blue hue. However, deep within, BM Glass Slipper has hidden greenish and cool gray undertones, which is why it may look different in your space depending on the lighting!
Other decorative elements paired with it in your interior may also affect how it reveals itself on the walls. For instance, green items can make this blue read slightly greenish too!
This is why we recommend you sample this blue color before using it in your home. This way, you will ensure you get the hue you want for your project.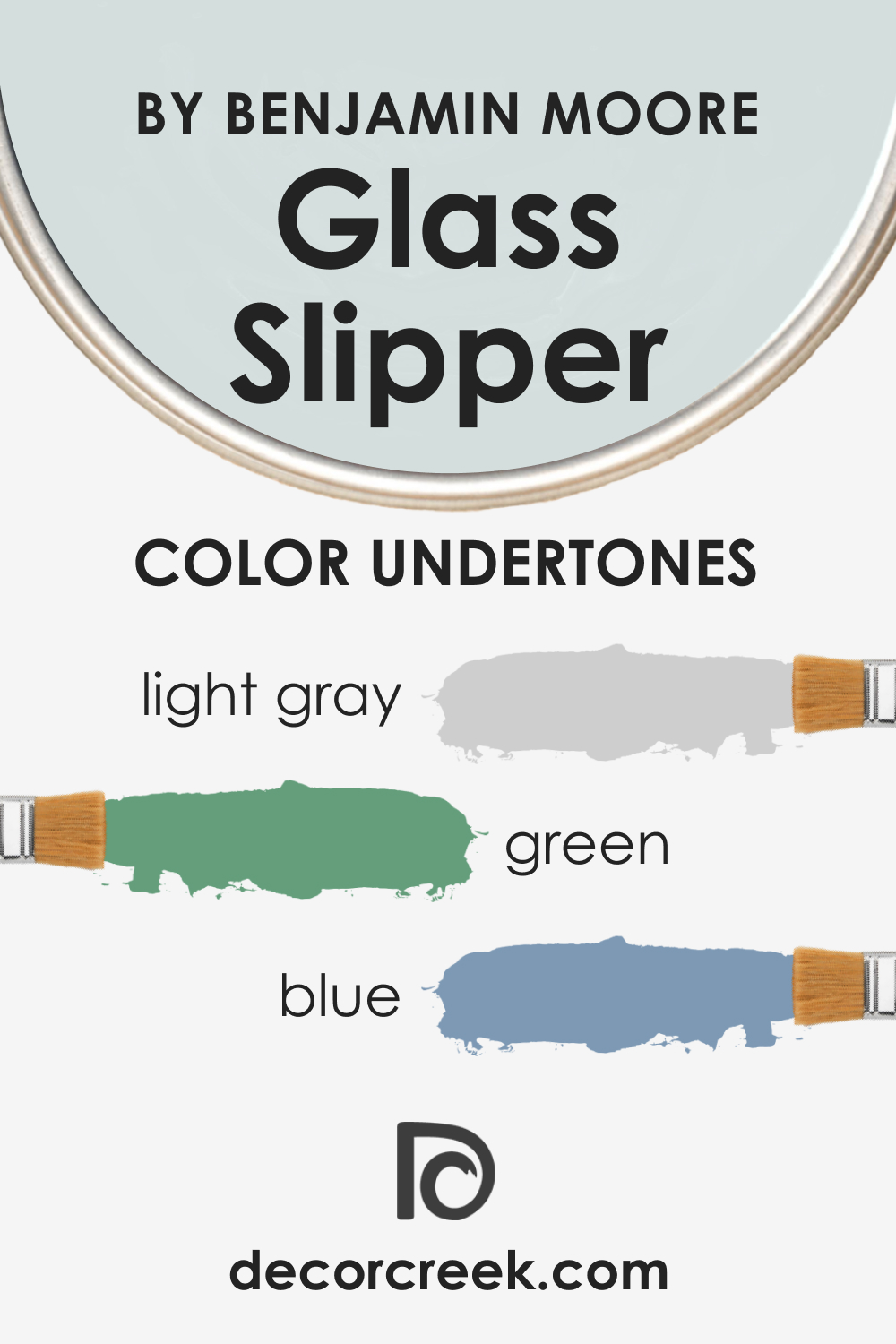 Coordinating Colors to Use With BM Glass Slipper
If you have a sharp eye for colors and their tones, it can be fun for you to select coordinating colors for your home. But for most people, this task is more like a challenge! If you want to use BM Glass Slipper in your home, you must consider its hidden and tricky undertones and choose coordinating colors very carefully! This is why we have prepared a list of color suggestions you might want to check out:
BM 869 Oxford White
BM 1592 Blue Springs
OC-65 Chantilly Lace
AF-670 Nightingale
For a monochromatic palette, we recommend you the following colors:
BM 1633 Brittany Blue
BM 1634 Santorini Blue
BM 1635 Water's Edge
Should you prefer a more contrasting color palette, you might want to check out these colors instead:
BM 876 Alabaster
BM 1018 Shabby Chic
BM 1193 Palazzo Pink
These colors will coordinate this soft yet challenging blue best of all.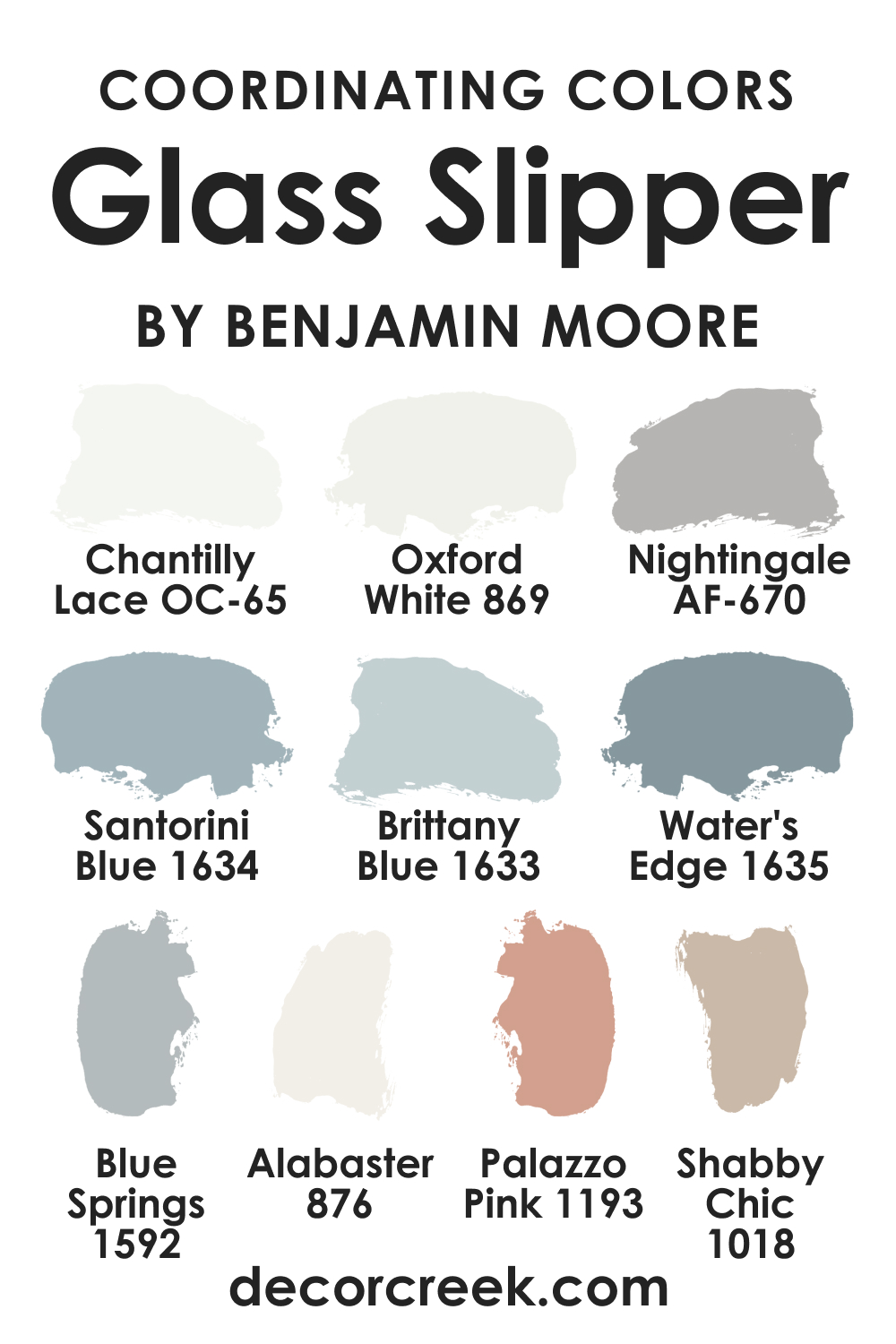 What LRV Glass Slipper BM 1632 Has?
The LRV (light reflectance value) of the BM Glass Slipper is 70, which means this blue is light enough and reflects a lot of light. If you don't know what LRV is, it's a measurement that shows how much light paint colors can reflect from the wall. The closer the LRV value to 100, the lighter the color. Respectively, the lower the LRV drops, approaching zero, the darker the color reads.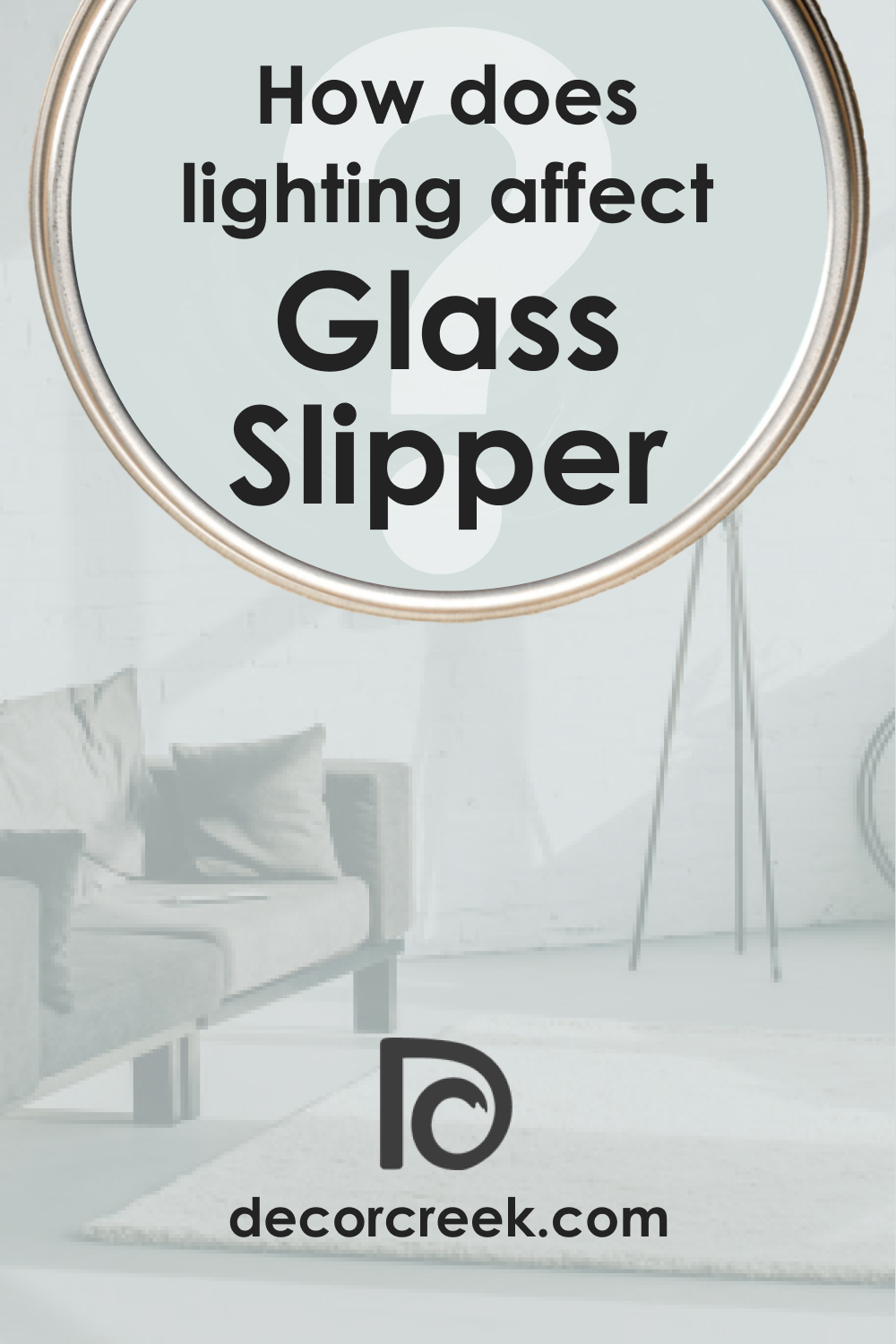 Speaking of BM Glass Slipper, despite pretty high reflectivity, we would recommend you use it in rooms that crave a bit of freshness and air due to the warm lighting. The more light this paint color receives, the brighter it will appear.
However, it doesn't make a lot of difference in the undertones. This paint will typically look similar in all the lighting conditions, whether north, south, east, or west. Moreover, you can consider using this paint in smaller rooms with little natural light as well.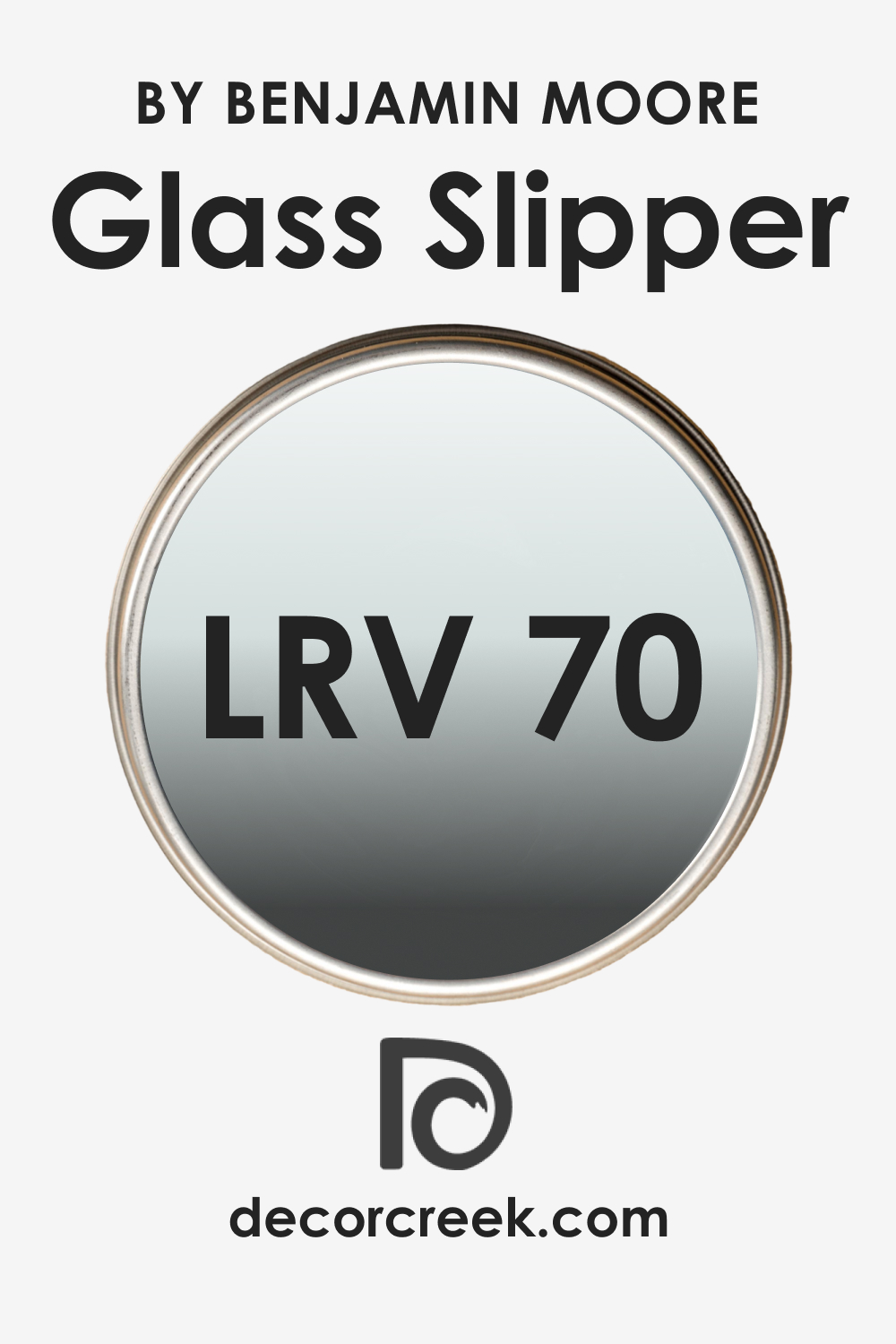 LRV – what does it mean? Read This Before Finding Your Perfect Paint Color
What Is the Best Trim Color to Use With Glass Slipper BM 1632
If you work with a blue color that has such tricky undertones as BM Glass Slipper, it might be challenging to choose the best trim colors for it. This is why you might benefit from using this list of trim colors that can work well with this pastel and airy blue:
CC-40 Cloud White
OC-17 White Dove
CC-20 Decorator's White
But if you want a crisper look, we recommend BM Chantilly Lace for your ceilings, trims, and moldings. This white will further protrude the original hue.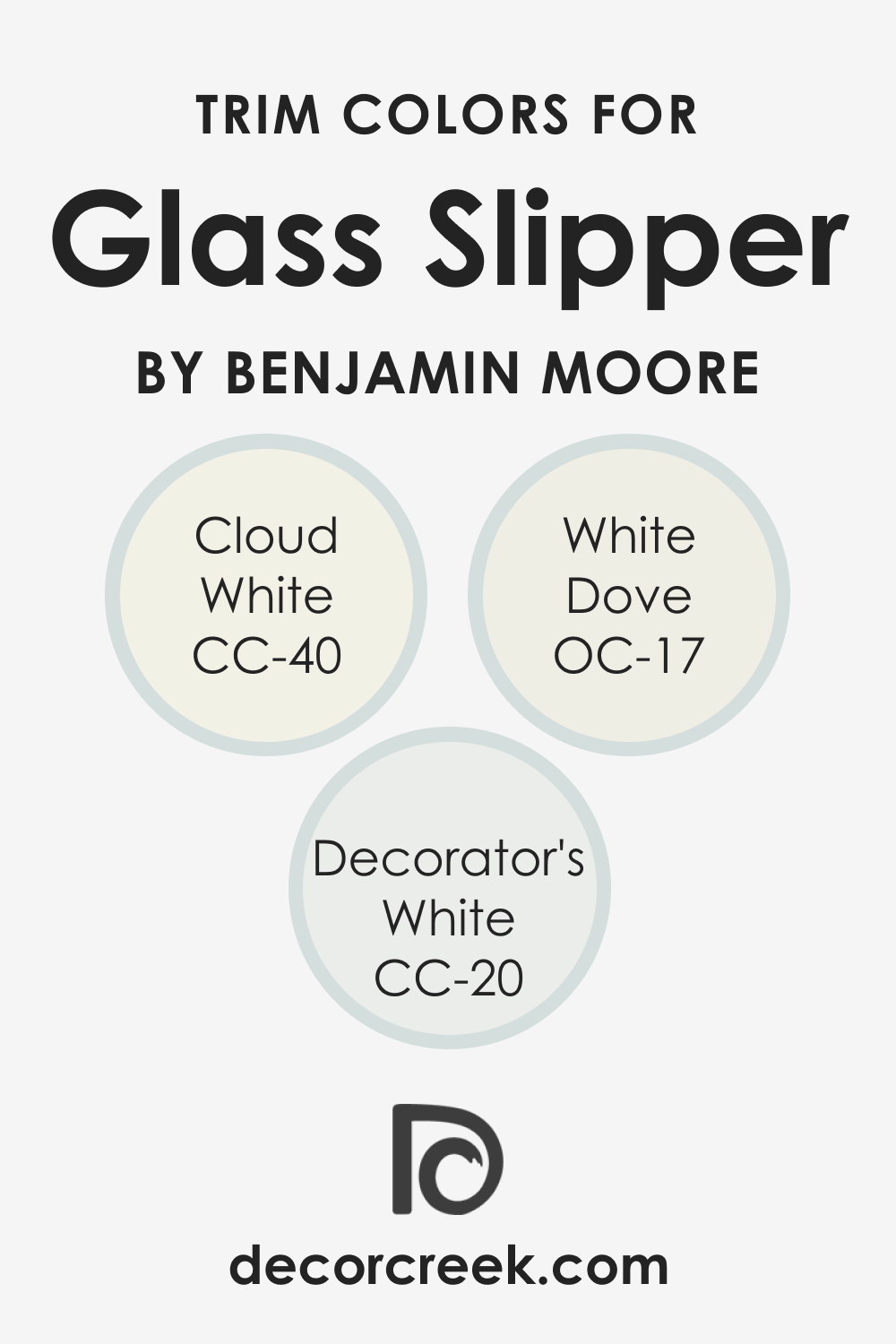 Colors Similar to BM Glass Slipper
Since BM Glass Slipper may sometimes show its greenish hue in a specific light, you might want to opt for the color that is more stable in tone on the walls. For this purpose, having a few color substitutes is always a good idea! For BM Glass Slipper, consider using these ones:
BM 868 Mountain Mist
BM 867 Glacier Lake
BM 2122-50 Iceberg
BM 1646 Lookout Point
SW 6217 Topsail
SW 6218 Tradewind
Of course, none of them is an ideal match. Each color has its unique undertones and LRV, which is why they will read slightly distinct. But generally, these blues read very similar to BM Glass Slipper.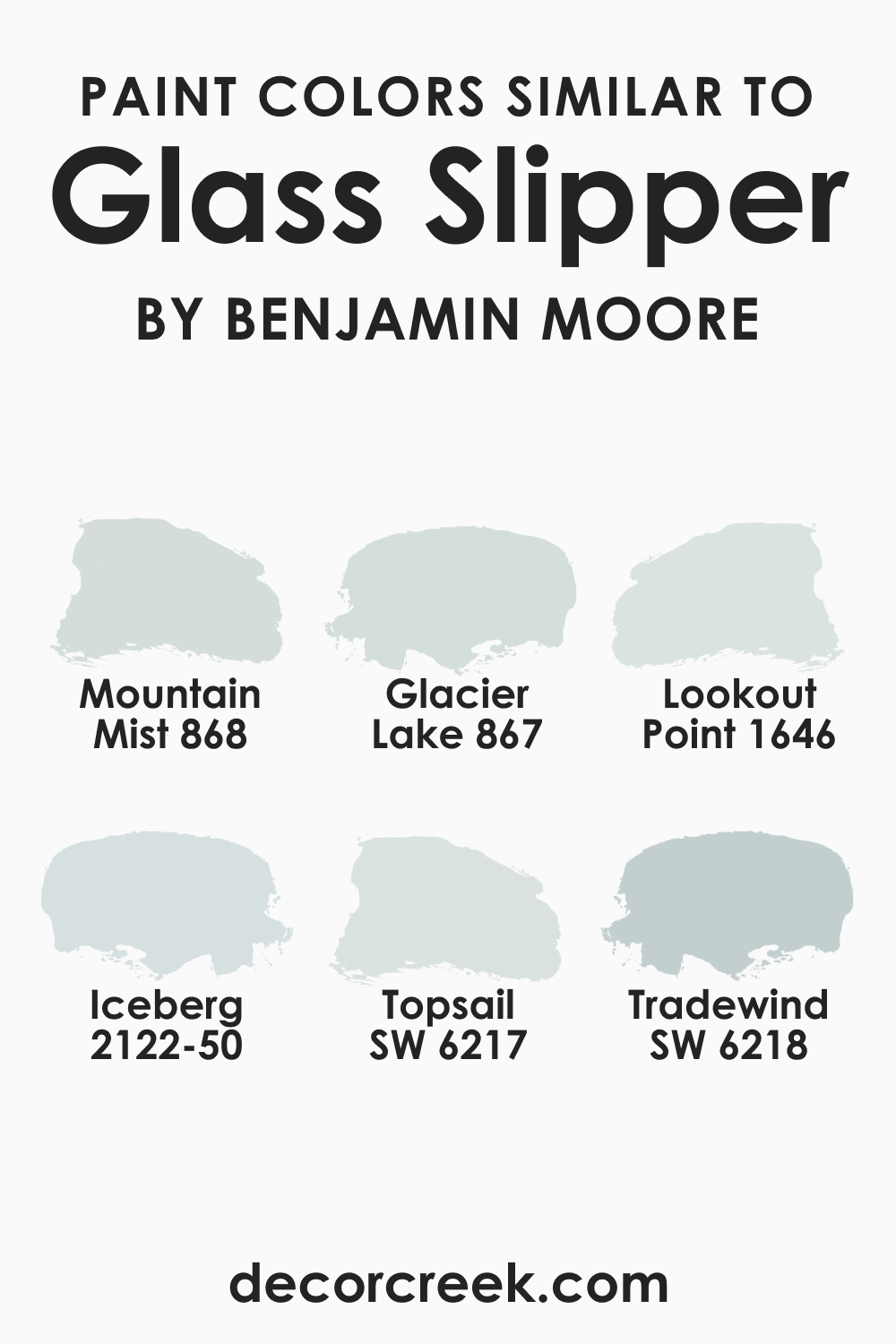 Colors That Go With Glass Slipper BM 1632
This soft and pastel blue paint color works best with crisp whites, lighter beiges, lemon yellows, blush pinks, and tinges of dark blue too. In particular, you might want to consider the following colors:
OC-28 Collingwood
OC-52 Gray Owl
OC-24 Wind's Breath
As you can see, it's easy to create quite a varied palette in your home if you have BM Glass Slipper on the walls!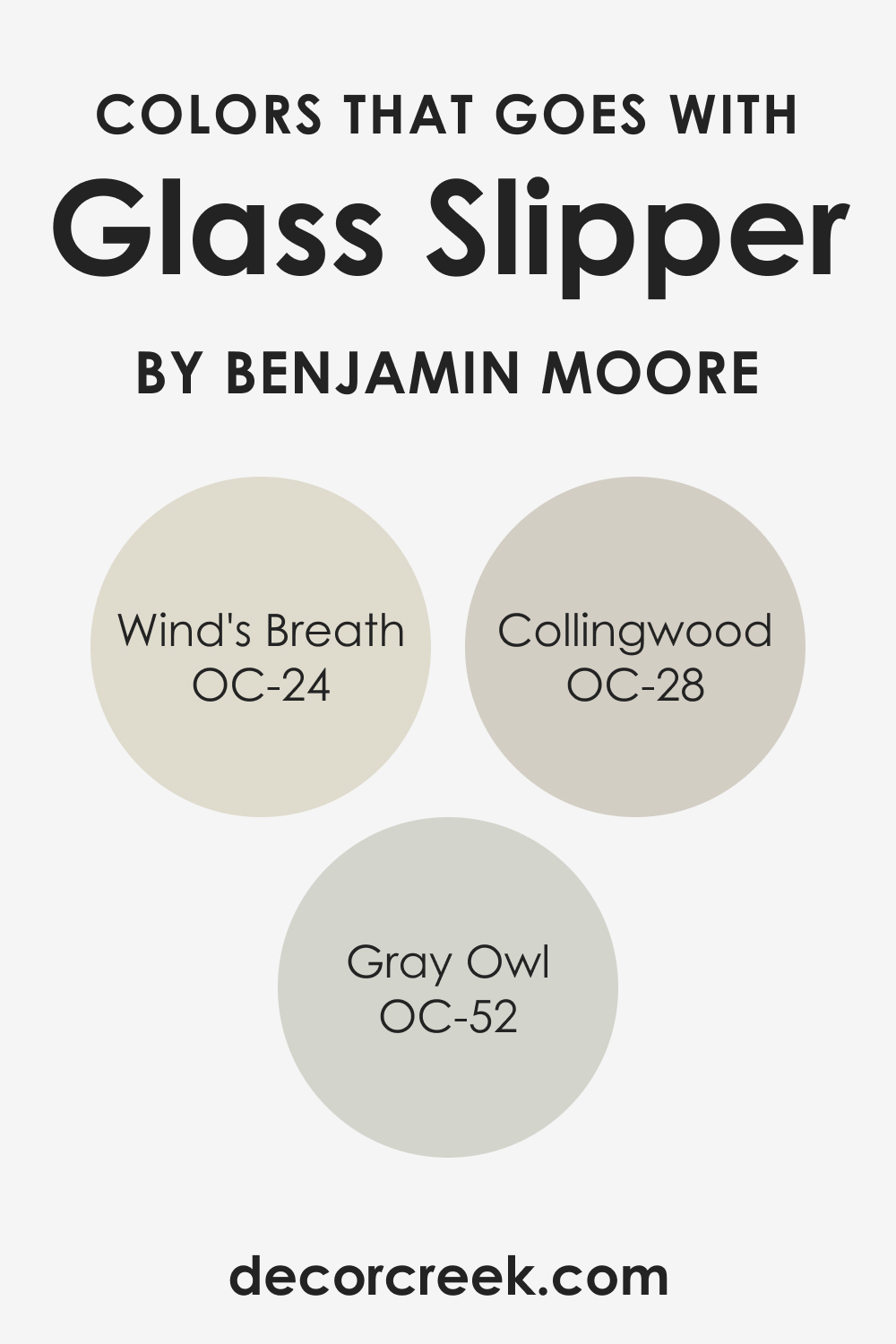 Comparing BM Glass Slipper With Other Colors
To help you better see the difference between BM Glass Slipper and other shades of blue, we compared this color with a few blues below. Read on to see how their LRVs and undertones work, making even the colors from the same family vary so much.
Glass Slipper vs. Ice Cap
Compared to BM Glass Slipper, the Ice Cap color looks warmer and definitely shows its gray undertones very clearly. BM Glass Slipper reads bluer and more cool-toned thanks to its pronounced blue hue here.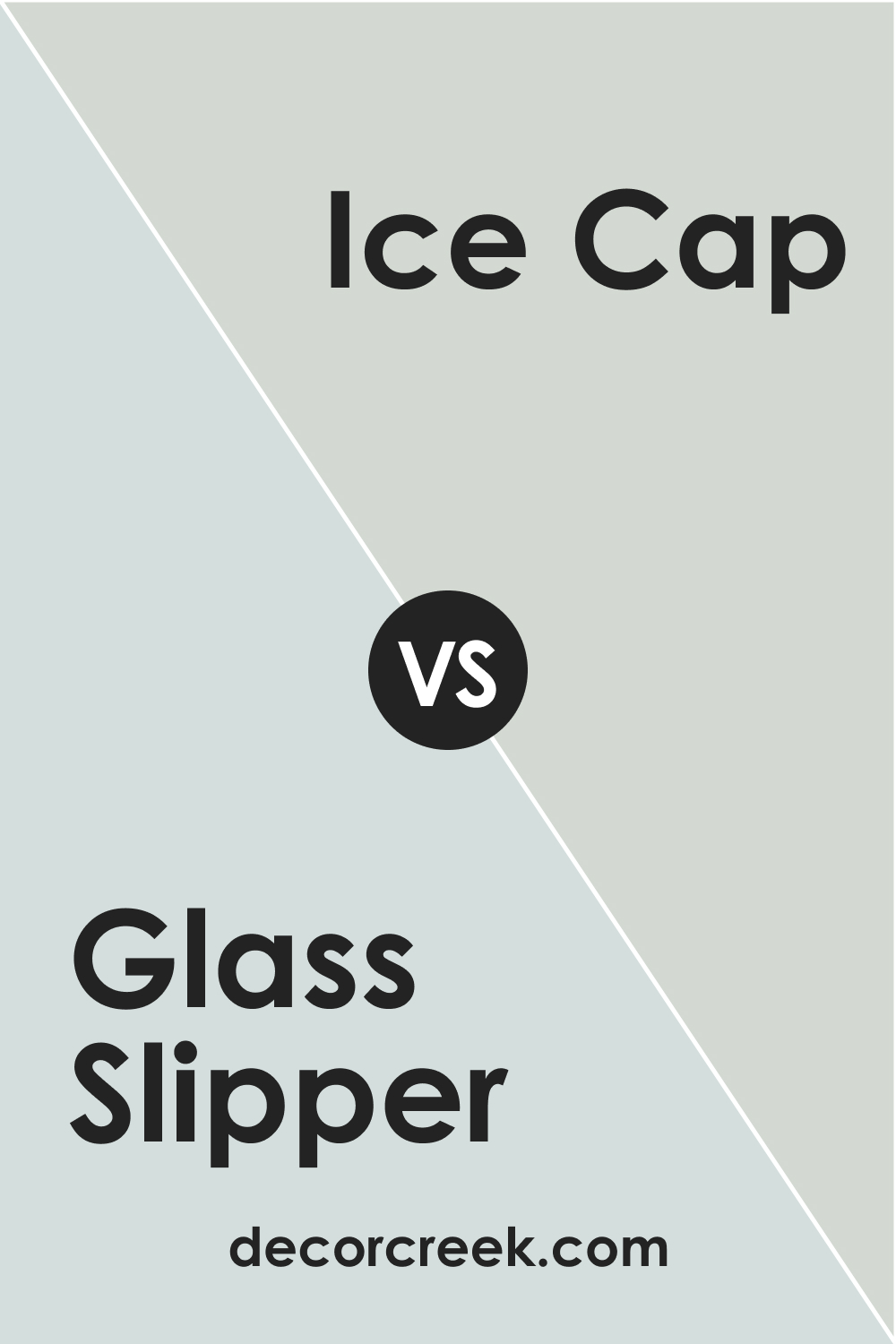 Glass Slipper vs. Smoky Green
Smoky Green is a mix of blue, green, and gray. But if you compared it with BM Glass Slipper, you will see how greenish BM Smoky Green reads! Also, it looks softer due to the gray undertone. But the vice versa effect is also possible because BM Glass Slipper may also reveal its greenish hue more.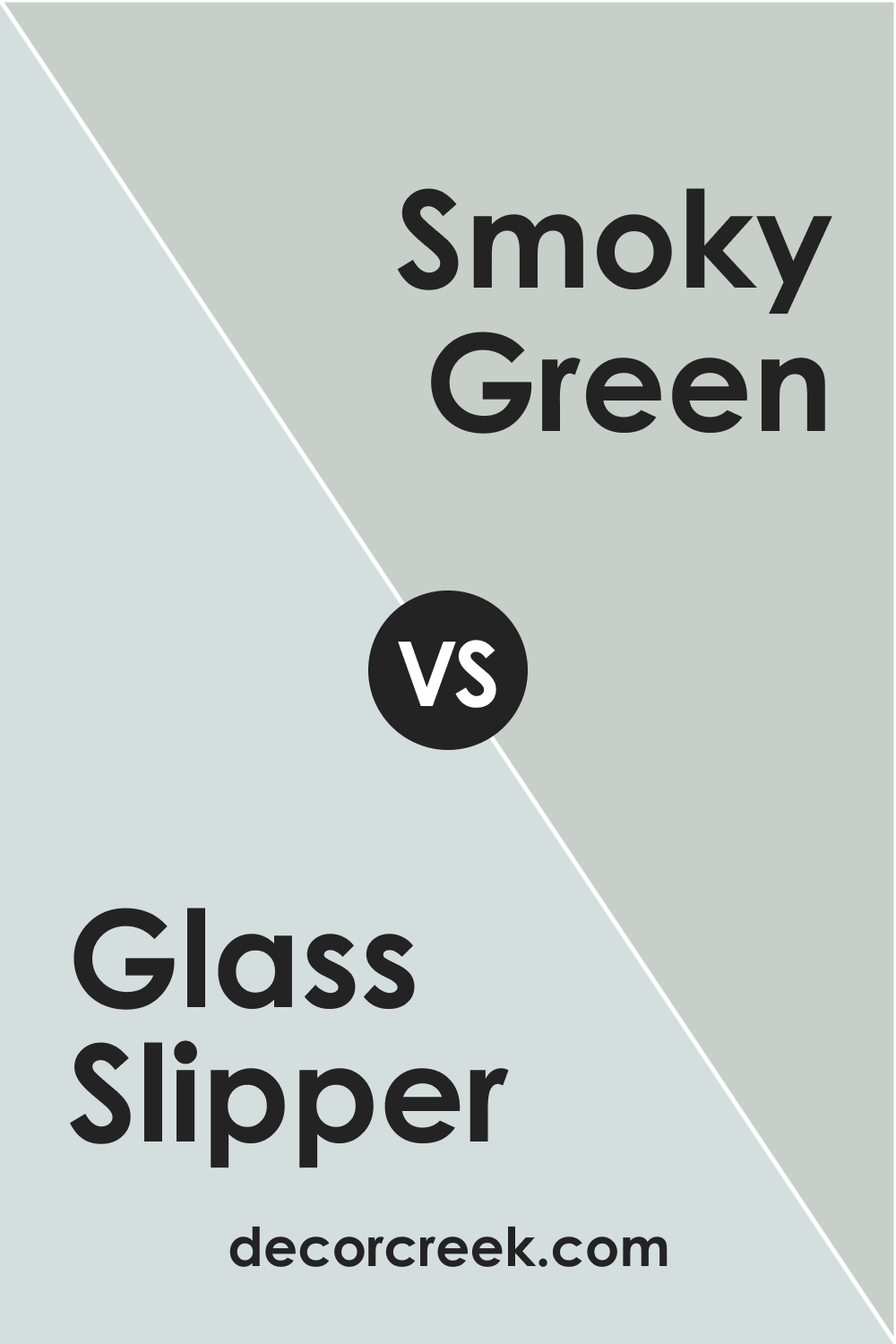 Glass Slipper vs. Sea Salt
BM Sea Salt is a light gray with warm undertones that may sometimes read pinkish a bit. Compared to BM Glass Slipper, it reads warmer and earthier, giving off a slight beige-like hue.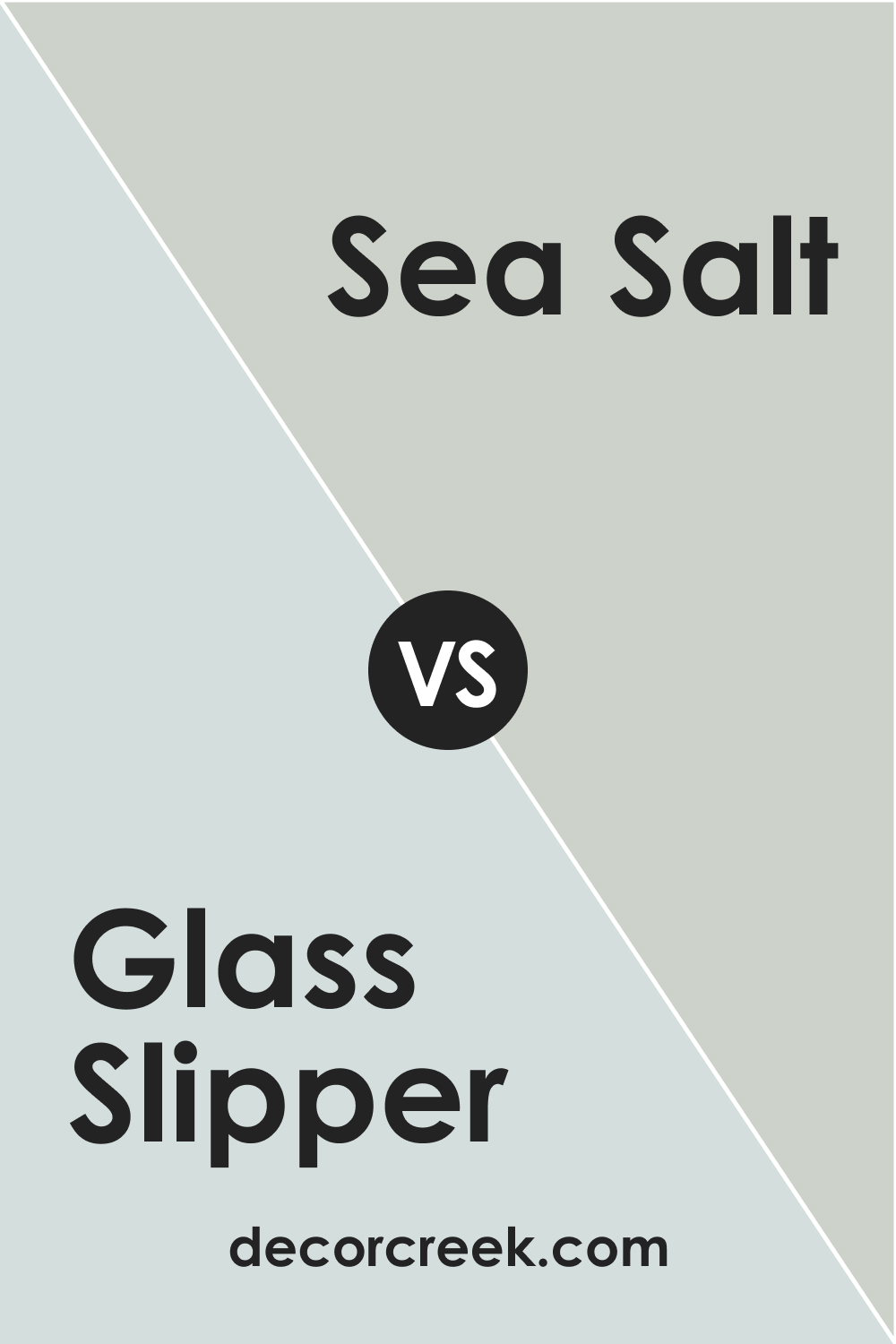 Glass Slipper vs. Quiet Moments
Quiet Moments from BM is a light-toned paint color with deep blue-gray undertones and an LRV of 61. In terms of reflectivity, it is darker than BM Glass Slipper, whose LRV value is 70. But also, BM Quiet Moments reveals its gray hue very noticeably compared to its bluer counterpart.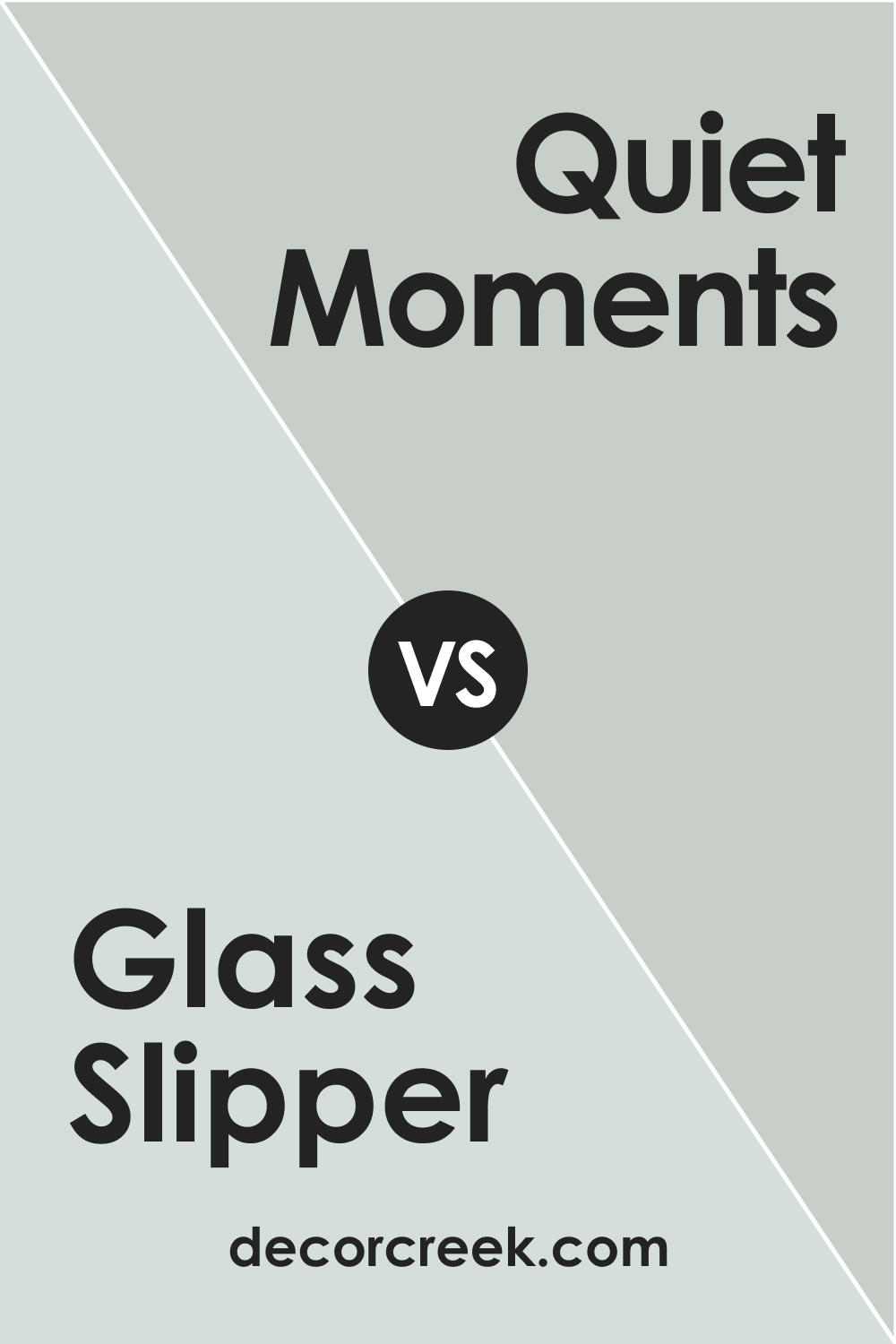 Glass Slipper vs. Whirlpool
BM Whirlpool is an off-white color with sharp blue-gray undertones and an LRV of 76. By its LRV value, it is lighter than BM Glass Slipper, whose LRV is 70. Also, BM Whirlpool reads brighter, although showing its bluish-gray hue a bit.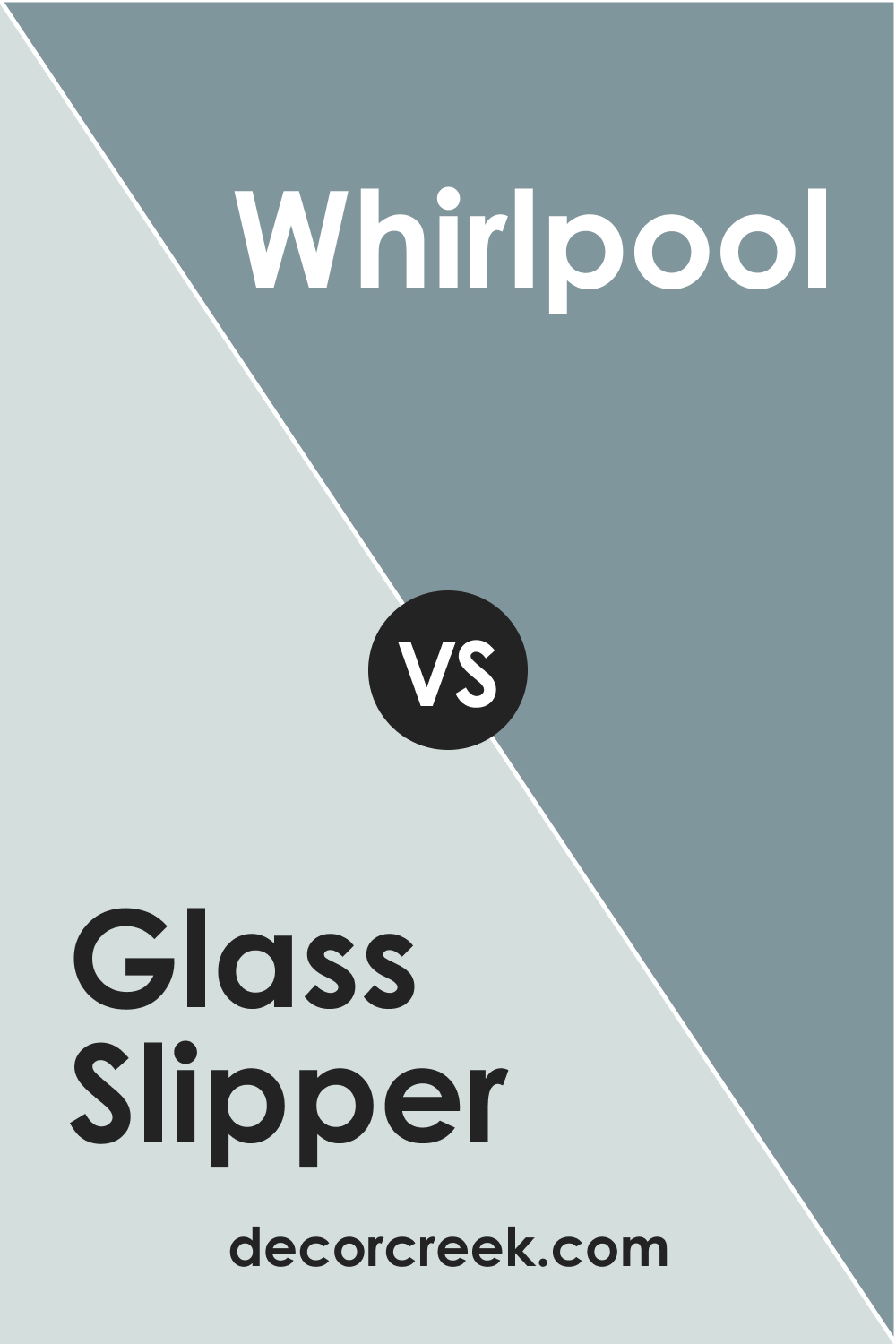 Glass Slipper vs. Atmospheric
BM Atmospheric reads much darker and way more saturated than BM Glass Slipper. Also, this rich blue-green-gray hue has an LRV of 32, which makes it much darker than its airy blue counterpart.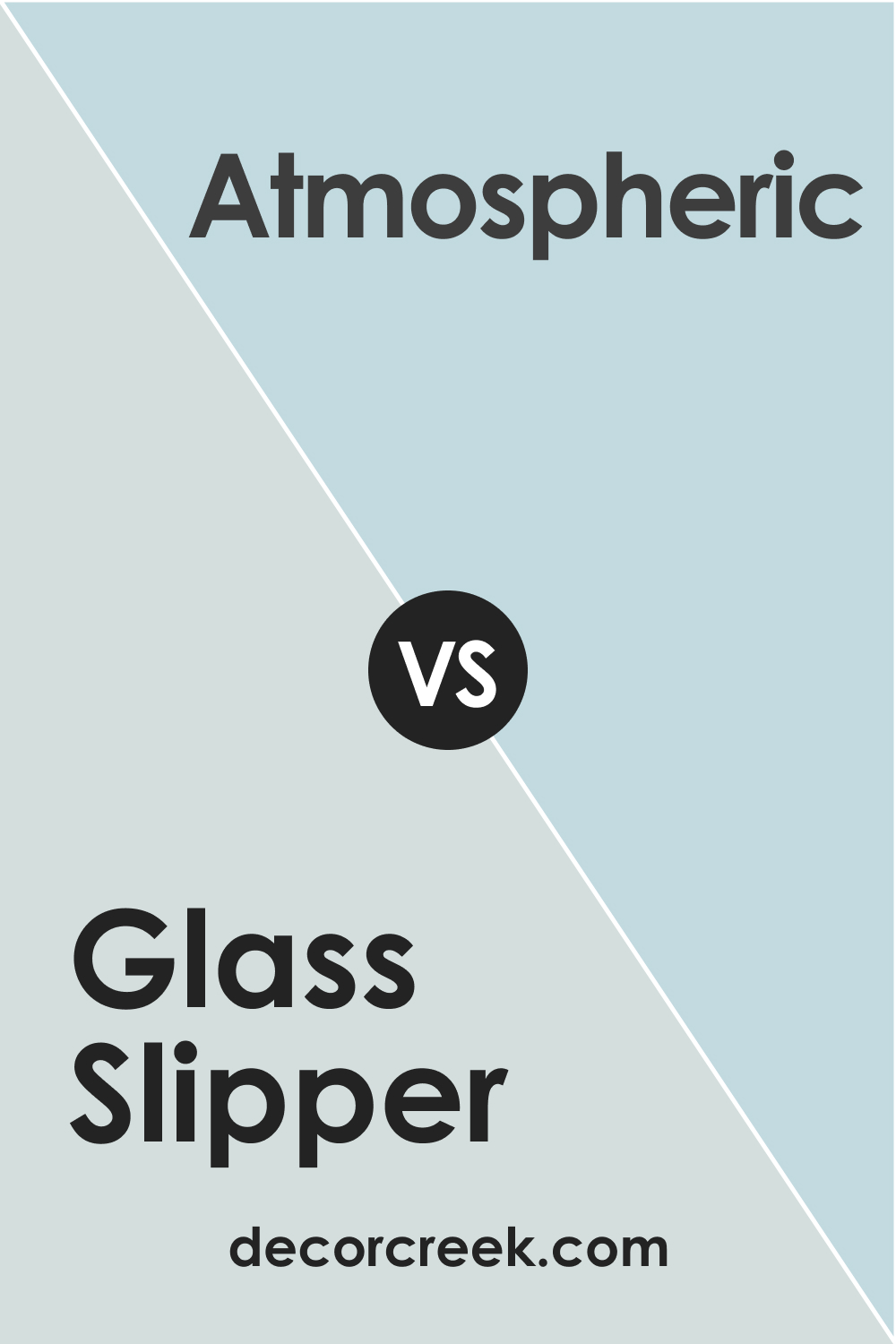 Where In Your Home Glass Slipper BM 1632 Can Be Used?
Benjamin Moore Glass Slipper can be used anywhere you want in your home if your goal is a soothing and tranquil vibe. In particular, this soft hue will work on cabinets, bedroom ceilings, bathroom walls, living room focal walls, or even exterior walls.
Speaking of interior design styles, this blue hue looks flawless in Coastal, Caribbean, contemporary, and modern farmhouse homes. Below, we describe how it works in different rooms.
Glass Slipper BM 1632 in the Living Room
In the living room, you can paint all the walls in this powder blue color. If the space allows, choose an all-blue theme as well. This hue will pair lovely with tinges of creamy whites on the adjacent walls too. As for the furniture, cane or rattan would work the best, but if you have wooden furniture – then it can work too.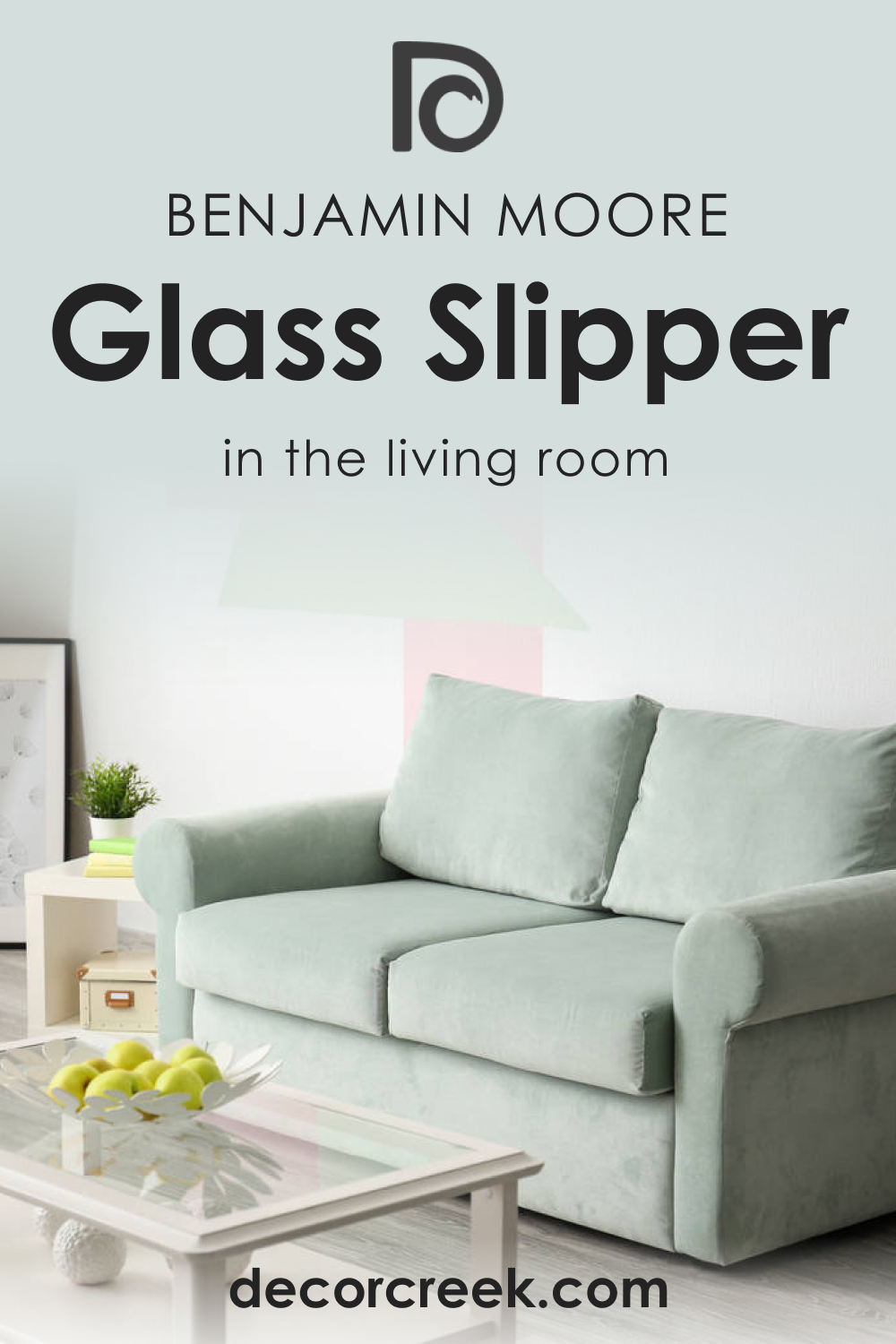 Glass Slipper BM 1632 and Bedroom
You can paint your bedroom walls in this color using white for the furniture frame. For the bedding, opt for either white or light gray linens to add a subtle base. But if you feel like adding a bit of contrasting hue, don't hesitate to use lemon yellows or blush pinks on the throw pillows and blankets!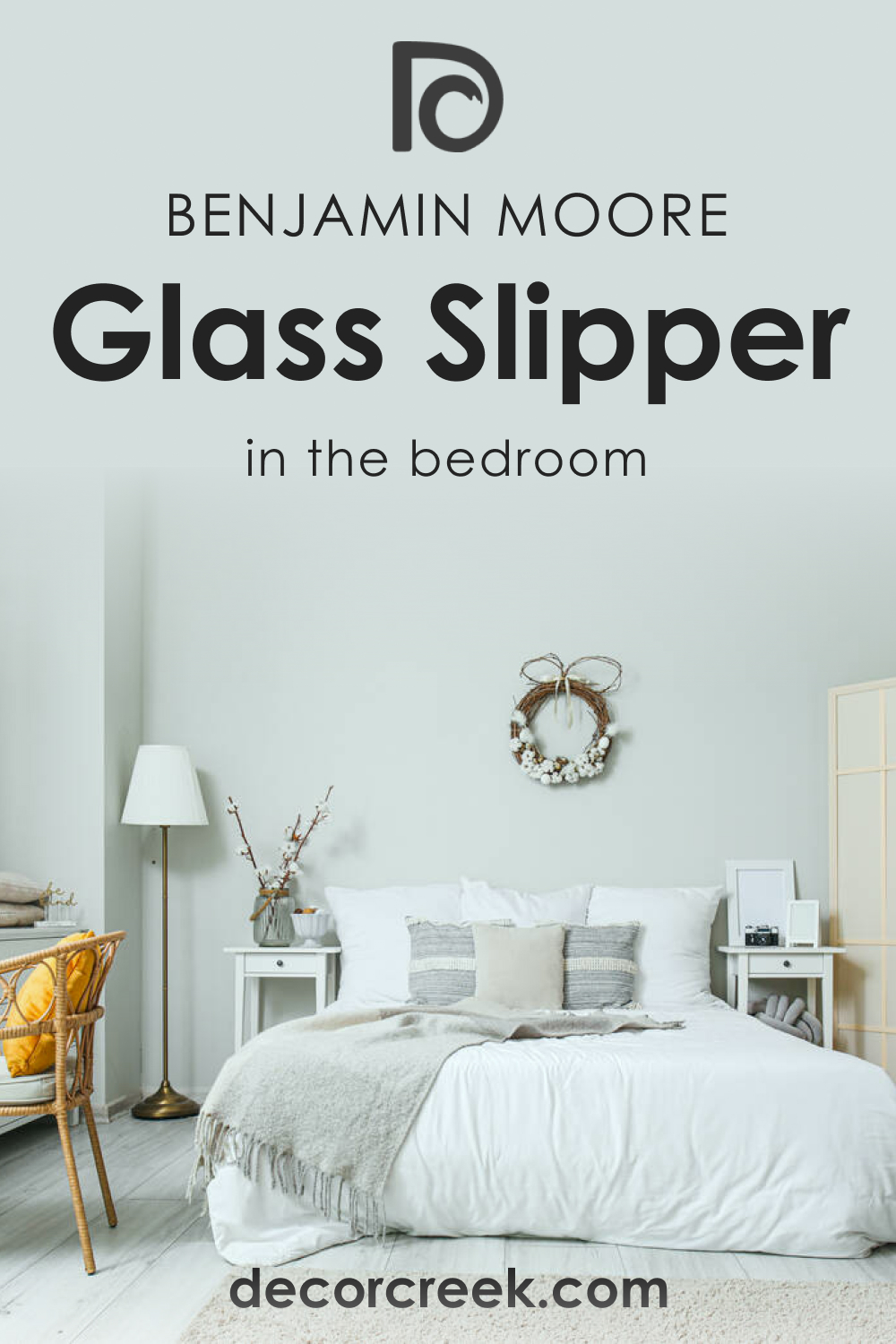 Glass Slipper BM 1632  for the Bathroom
This soft and pastel blue will work nicely in your bathroom on the vanity or the accent wall. In a large and well-lit bathroom, you can even use it on all the walls! But in a smaller space, limit the use of this hue and pair it with crisper whites to make the color look brighter.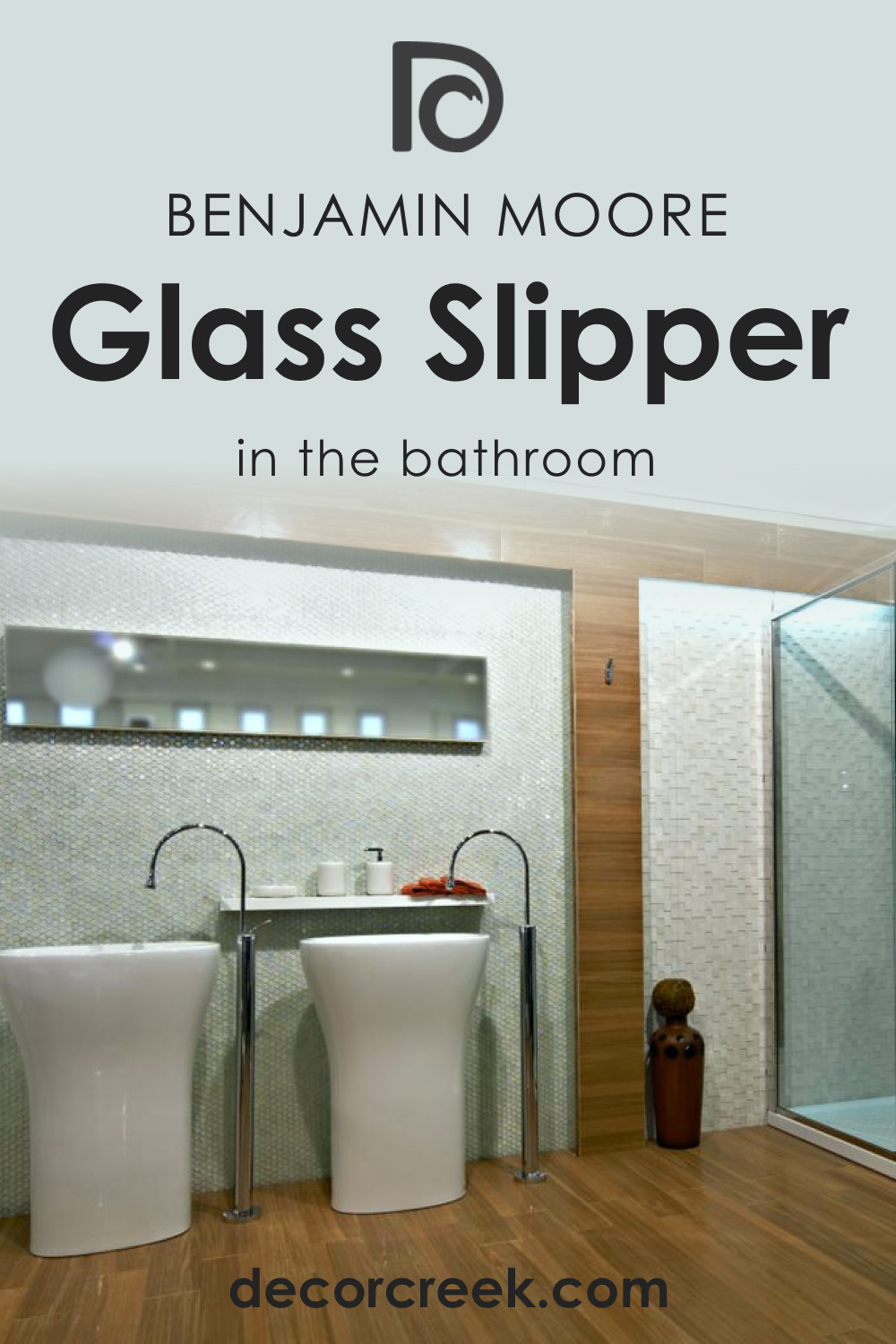 Glass Slipper BM 1632 on the Kitchen
This blue color is one of the best options for kitchen cabinets for sure! It can add a breezy statement to the space, making your kitchen appear lighter and airier. If you use BM Glass Slipper in your kitchen, remember to add gold, chrome, or brushed brass for the knobs, pull handles, and lighting fixtures.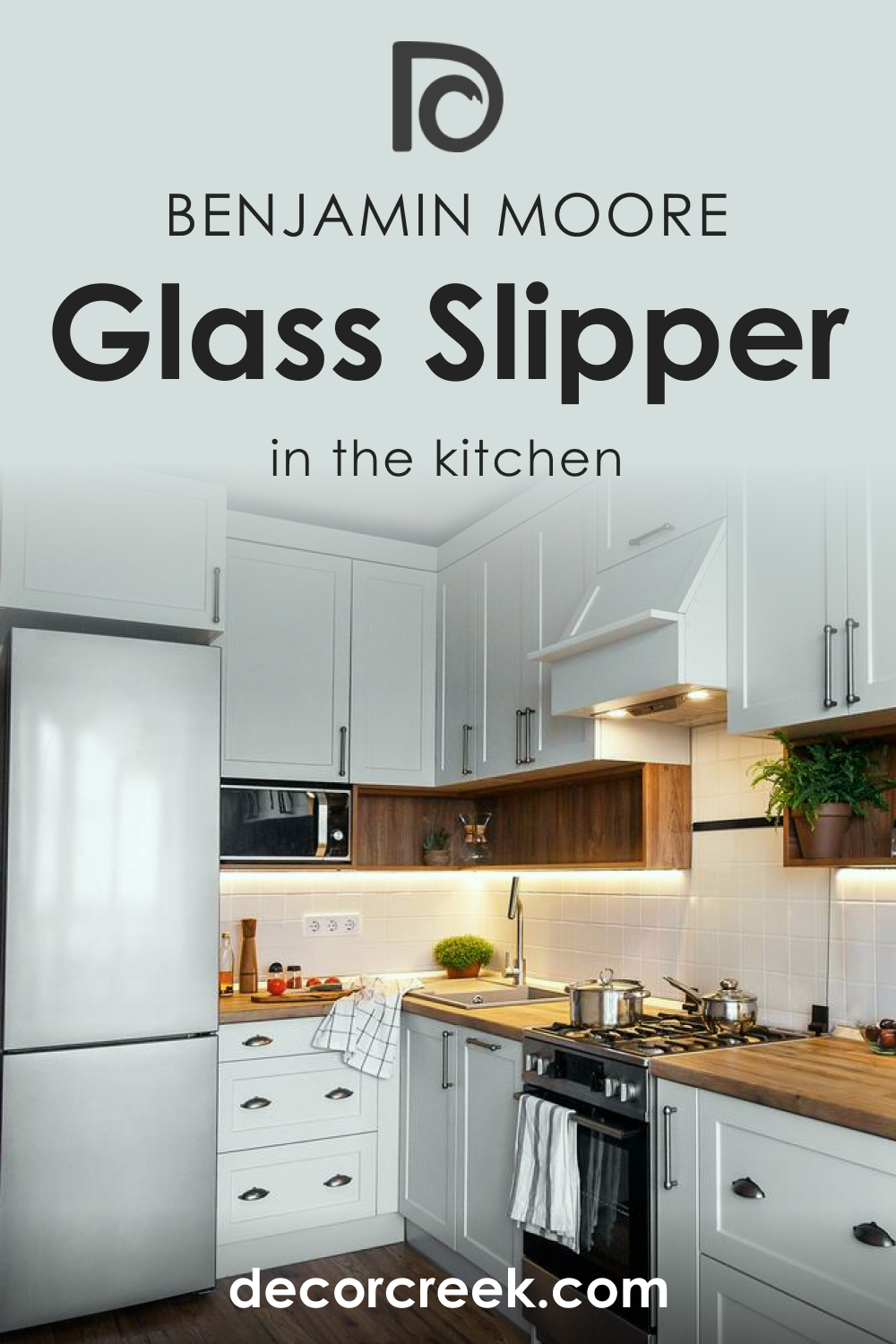 Glass Slipper BM 1632 for the Exterior Use
This color can work on exterior walls paired with crisp white on the trims, window, and door frames. It will look especially great on Coastal-style homes! Except for the walls, you can also use BM Glass Slipper for the focal entry door and paint the shiplap walls in pure white or dark gray color.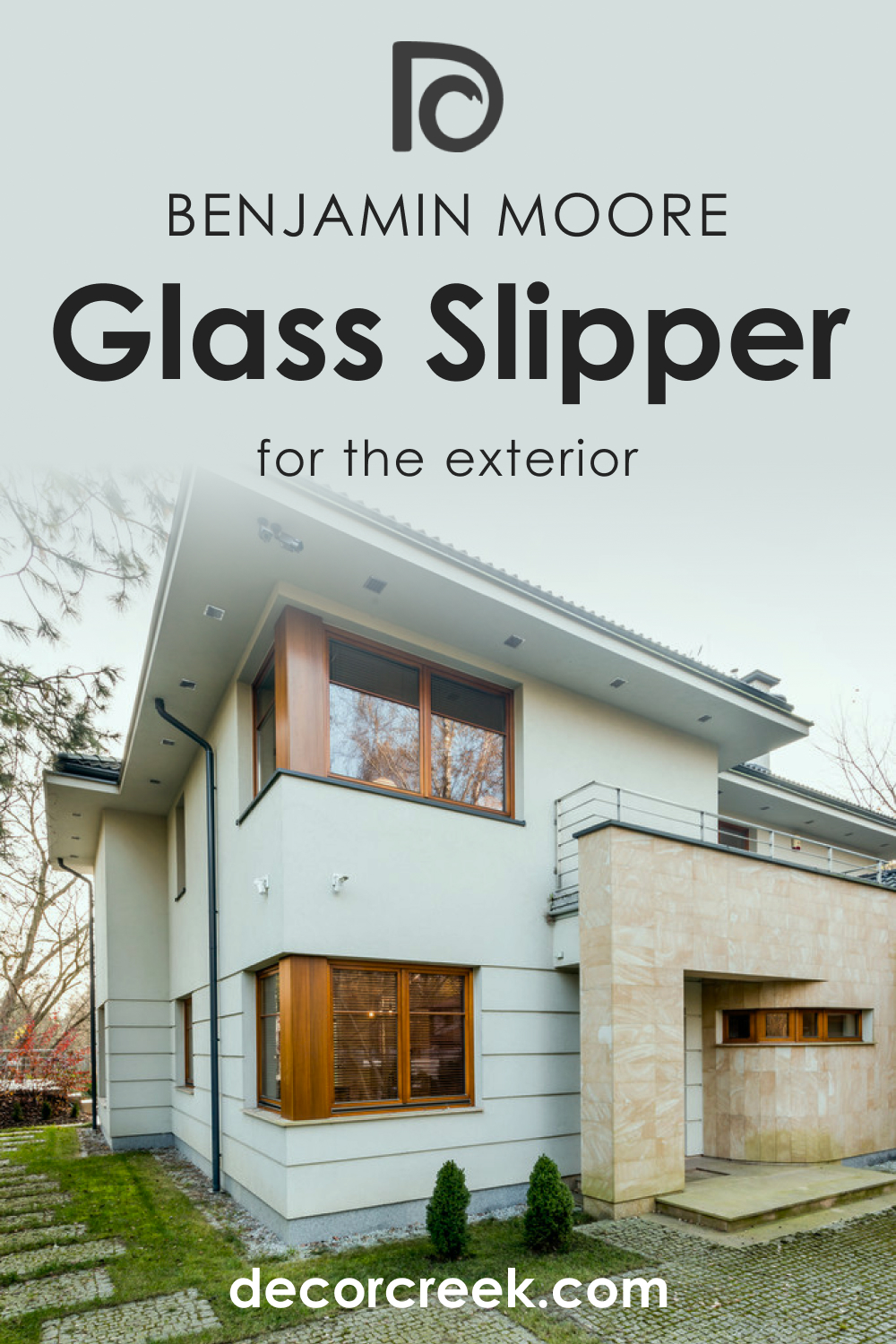 As you can see, BM Glass Slipper is not as simple as it may seem! This delicate and soft blue has hidden undertones that can make the color read differently. But since now you are aware of this nuance, you can tell how this hue may work in different lights and rooms.
That means you can find the best place for this blue in your home to make it work and reveal its true beauty!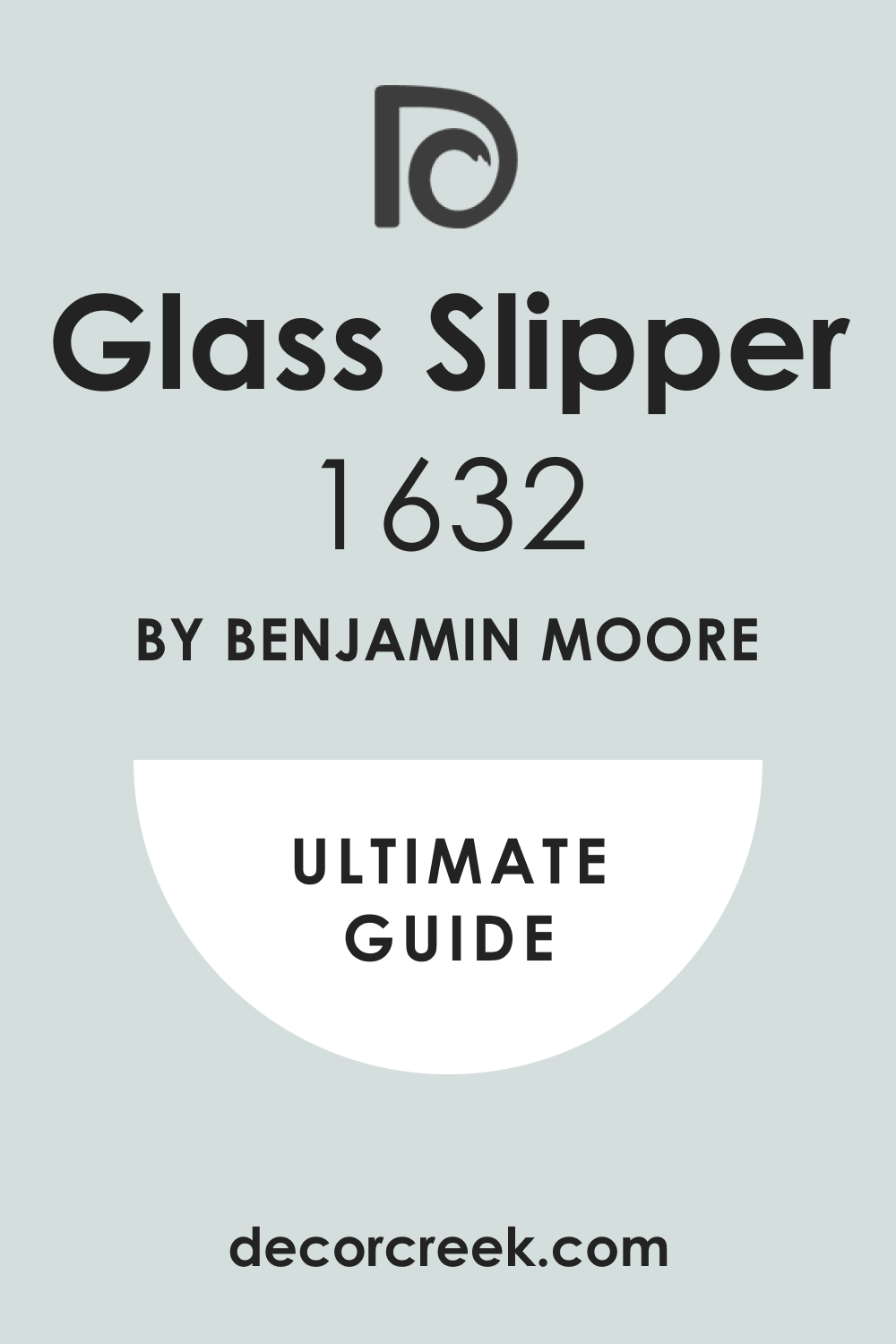 Frequently Asked Questions
⭐What color collection does Glass Slipper BM 1632 belong to?
This blue is part of the Benjamin Moore Classics color collection.
⭐Does BM Glass Slipper look gray?
No, it doesn't, since it has a noticeable blue hue.
⭐Does this color depend on light a lot?
BM Glass Slipper is affected by the lighting conditions pretty much.