If you are fond of calming and tranquil colors in your home, you will definitely like how BM Quiet Moments work there! This delicate pastel will bring a meditative and relaxed vibe to any space where it is used.
Today, we will introduce you to this color. You will discover its undertones, trim colors, and more. As a result, you will know where and how this color should be used to do its best in your home.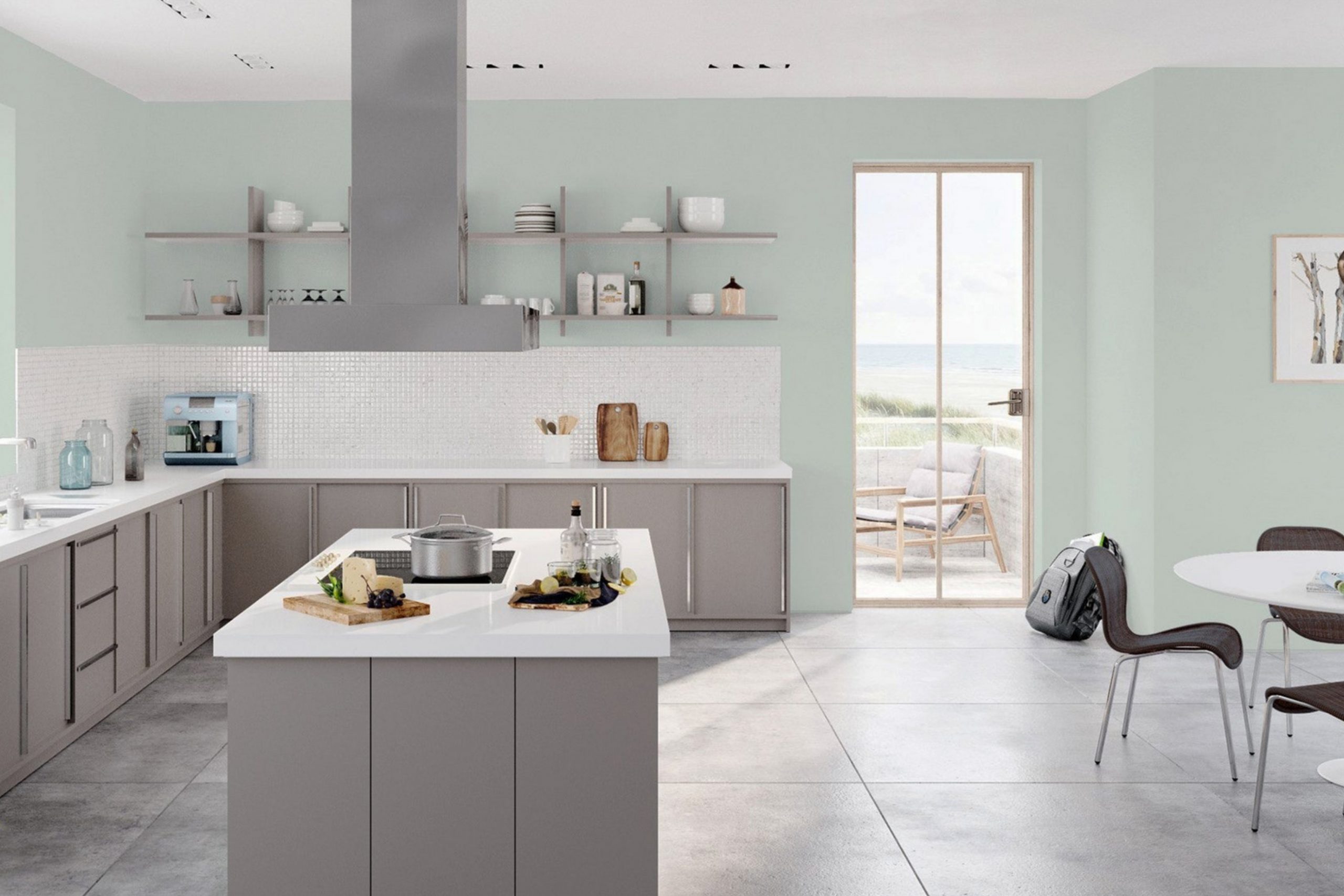 What Kind of Color Is BM 1563 Quiet Moments?
BM 1563 Quiet Moments is a gentle mix of blue, green, and gray. Since all these undertones are well mixed and balanced, it results in a color that looks tranquil and inspiring quiet.
As Encycolorpedia says, it is a perfect color to bring a sense of serenity to your home!
This calm and pastel color is perfect for adding a room slightly meditative vibration, so if you strive for an interior that balances your emotions and gives you peace, you might want to consider BM 1563 Quiet Moments as your wall color.
It is also light enough, which makes this color a good solution for small-sized spaces. BM Quiet Moments will make them look even bigger and brighter!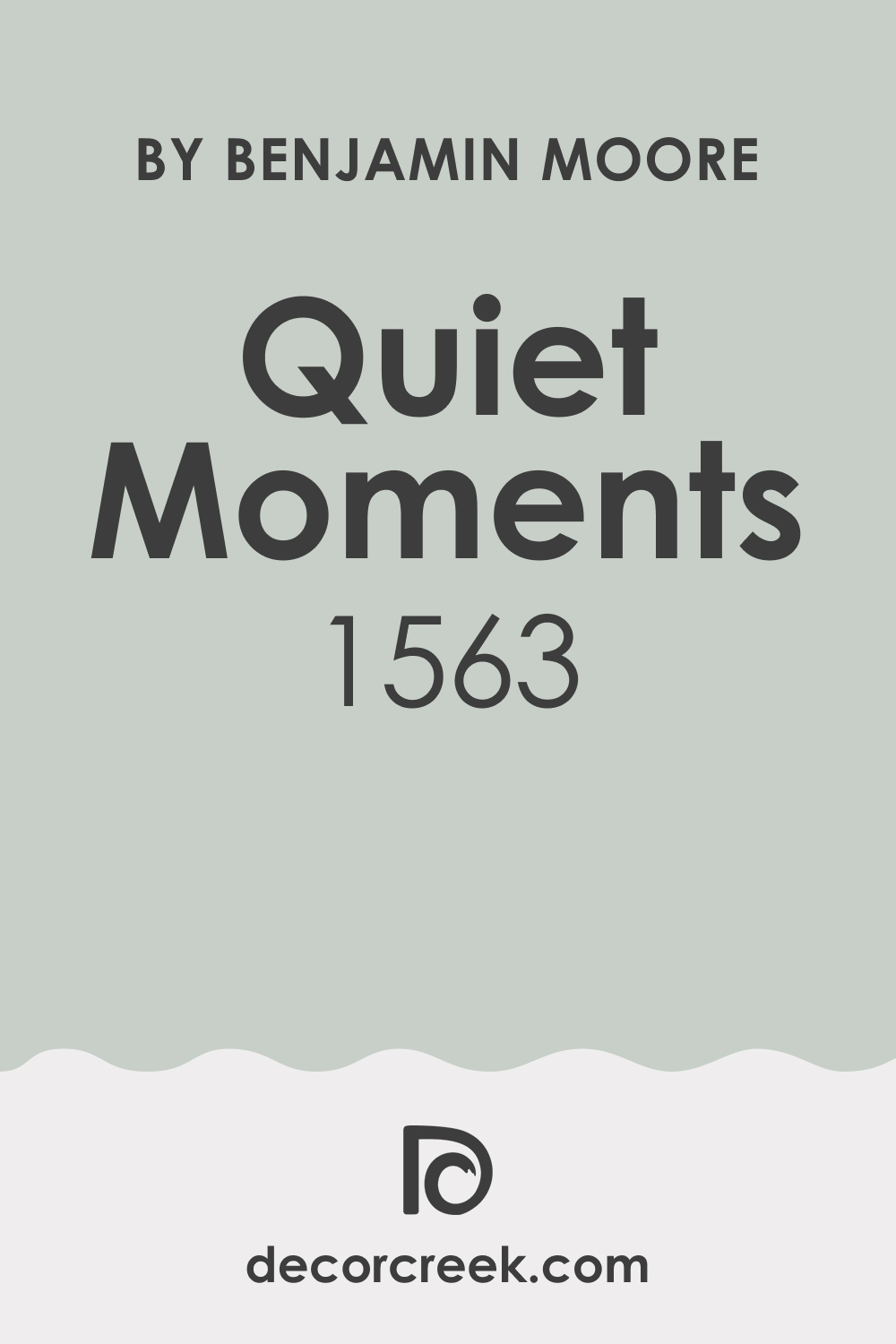 Is It a Warm or Cool Color?
BM Quiet Moments is definitely a cool-toned color. Also, since it is light enough, it is a perfect color to make your home feel more spacious and enlightened. And most importantly, this pastel neutral will make any room feel cooler and airier.
Thanks to its cool-toned texture, this paint color helps in pushing back the walls and thus makes your room feel bigger.
So, if you live in the southern states, opt for BM Quiet Moments as a great way to let some cool vibes into your home.
What Undertones Does BM 1563 Quiet Moments Have?
This pastel paint color has complex undertones of green, blue, and gray. Since all of them are mixed well, the color looks balanced and homogeneous on the walls, but in different types of light, it may reveal a specific undertone more than others.
Because of this feature, you should always sample it in advance! This will help you see how BM Quiet Moments work in a particular room and how it reacts to lighting there.
Respectively, you will be able to adjust the palette should you find any imperfections in it.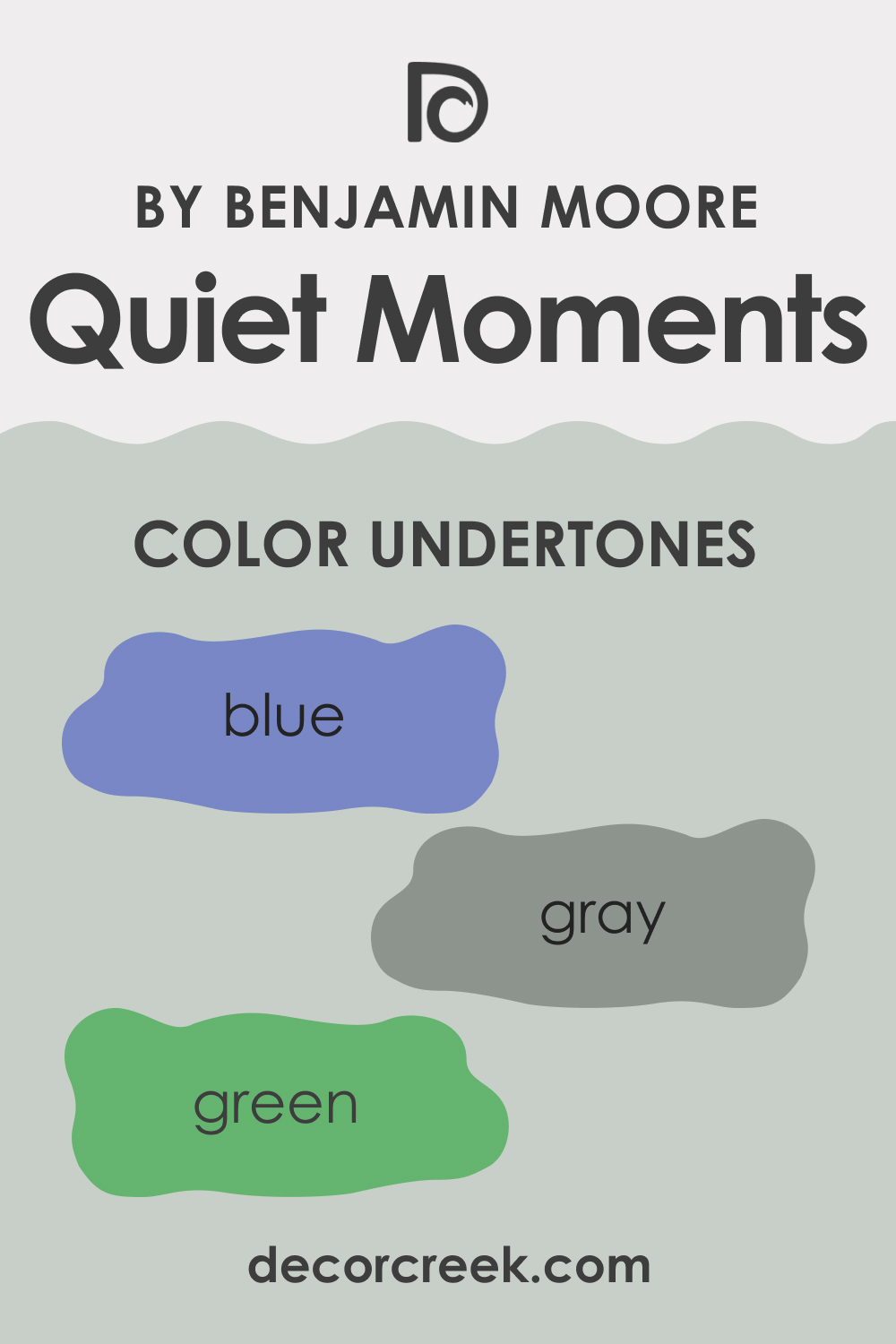 What Coordinating Colors to Use With BM 1563 Quiet Moments
With such a tricky color, it can be challenging for you to pick the right colors to coordinate it properly. This is why we have prepared a few color recommendations for you to check out.
They will help you to achieve a balanced palette in any space.
BM OC-25 Cloud Cover
BM 1462 Gray Mountain
BM OC-57 White Heron
BM AF-565 Mysterious
BM Abyss 2128-20
BM White Marigold 2149-60
BM Gray Cloud 2126-60
If you prefer a minimalist interior instead, have a look at the monochromatic shades we have for you:
BM Beach Glass 1564
BM Mount Saint Anne 1565
BM Stony Brook 1566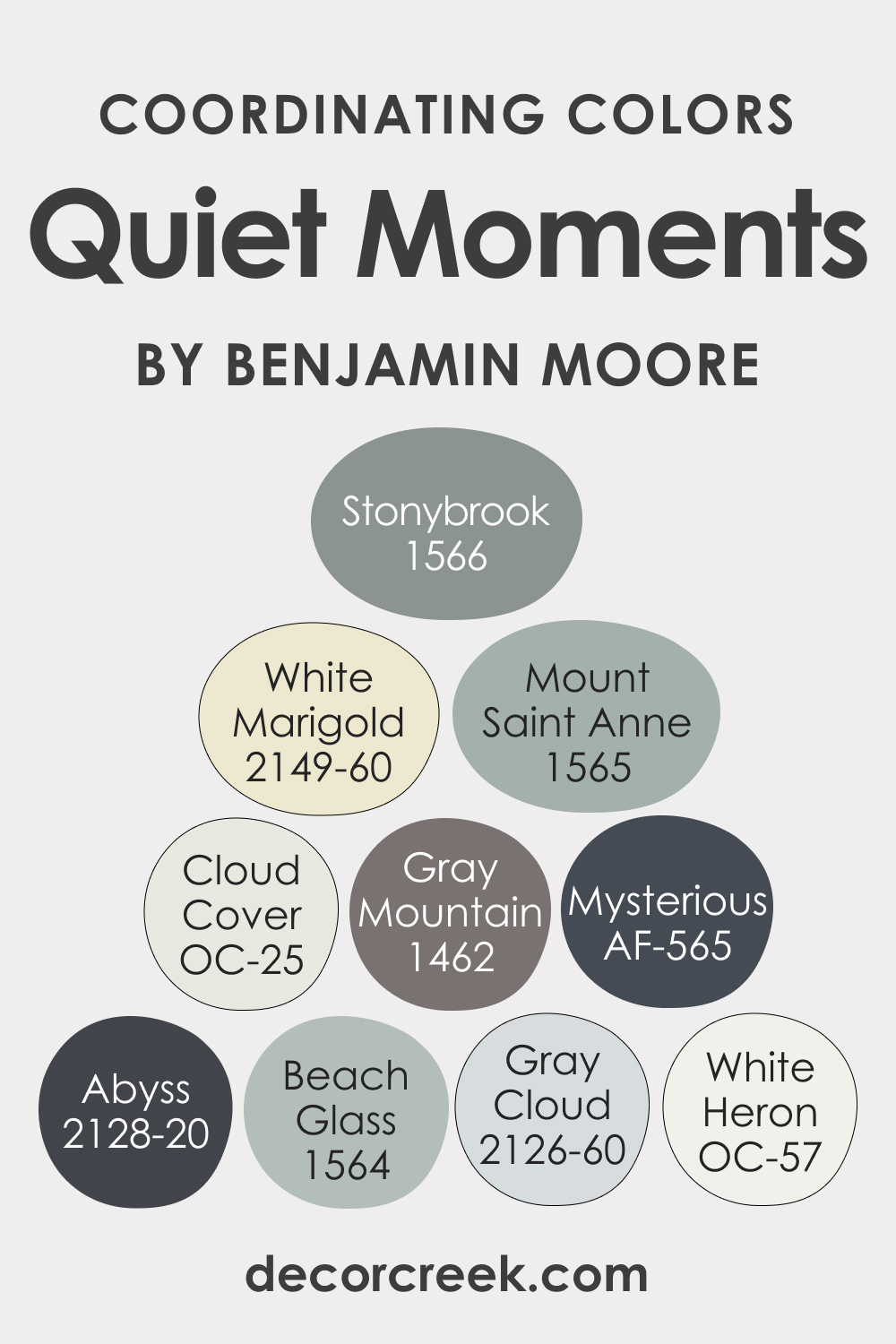 LRV of BM Quiet Moments Paint Color
LRV (light reflectance value) shows how much light paint color can reflect when it is applied to the surface. The LRV scale ranges from zero (equal to black) to 100 (equal to white), and the higher the LRV value, the lighter the color. And vice versa respectively: colors with lower LRVs are darker and less reflective.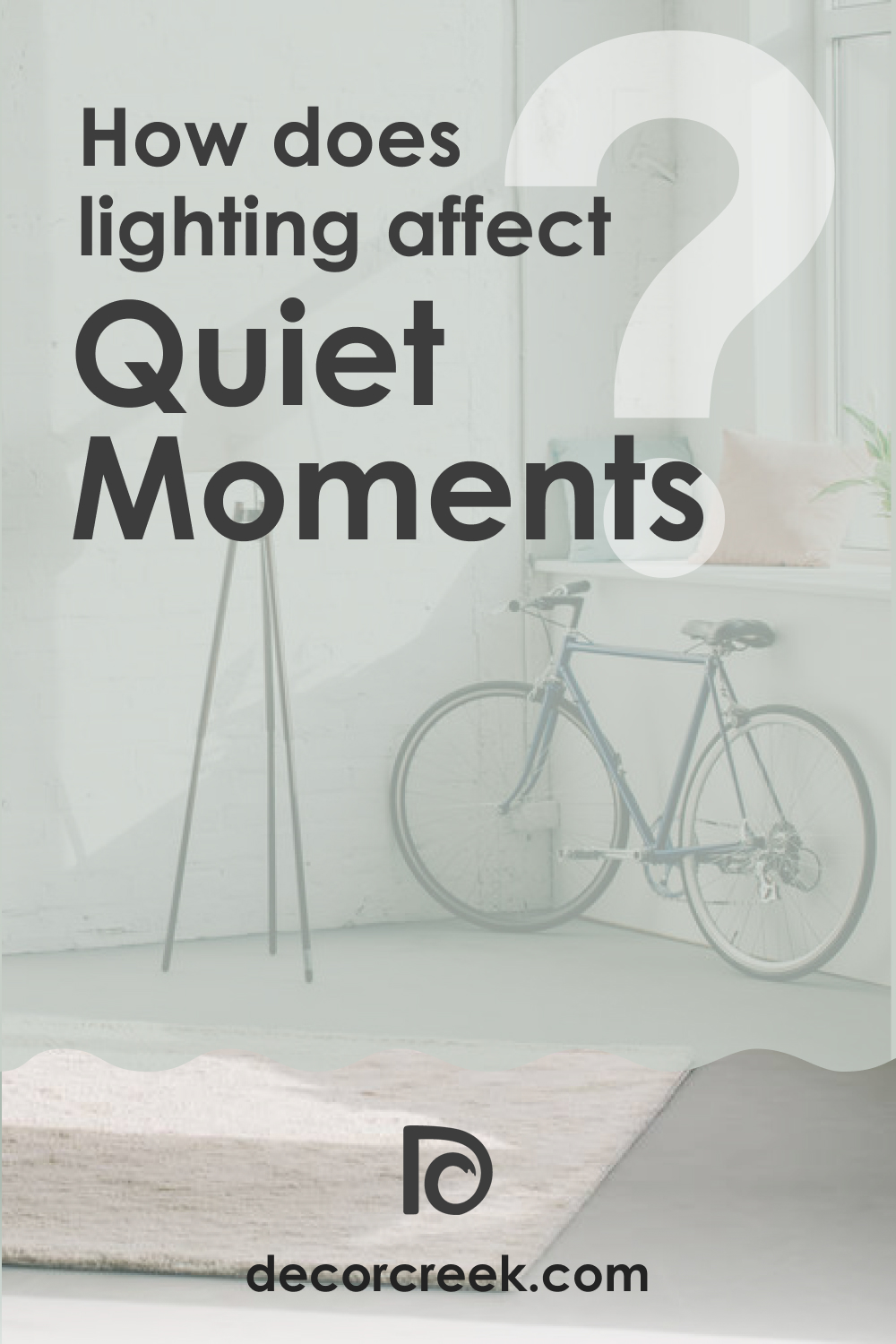 The LRV of BM Quiet Moments is 60, which means the color is pretty light-toned. This is why you can use it in small-sized rooms to make them look bigger and brighter.
Such a high LRV means that this color will be able to reflect away most of the incoming light. As a result, your room feel will feel fresh and bright at all times.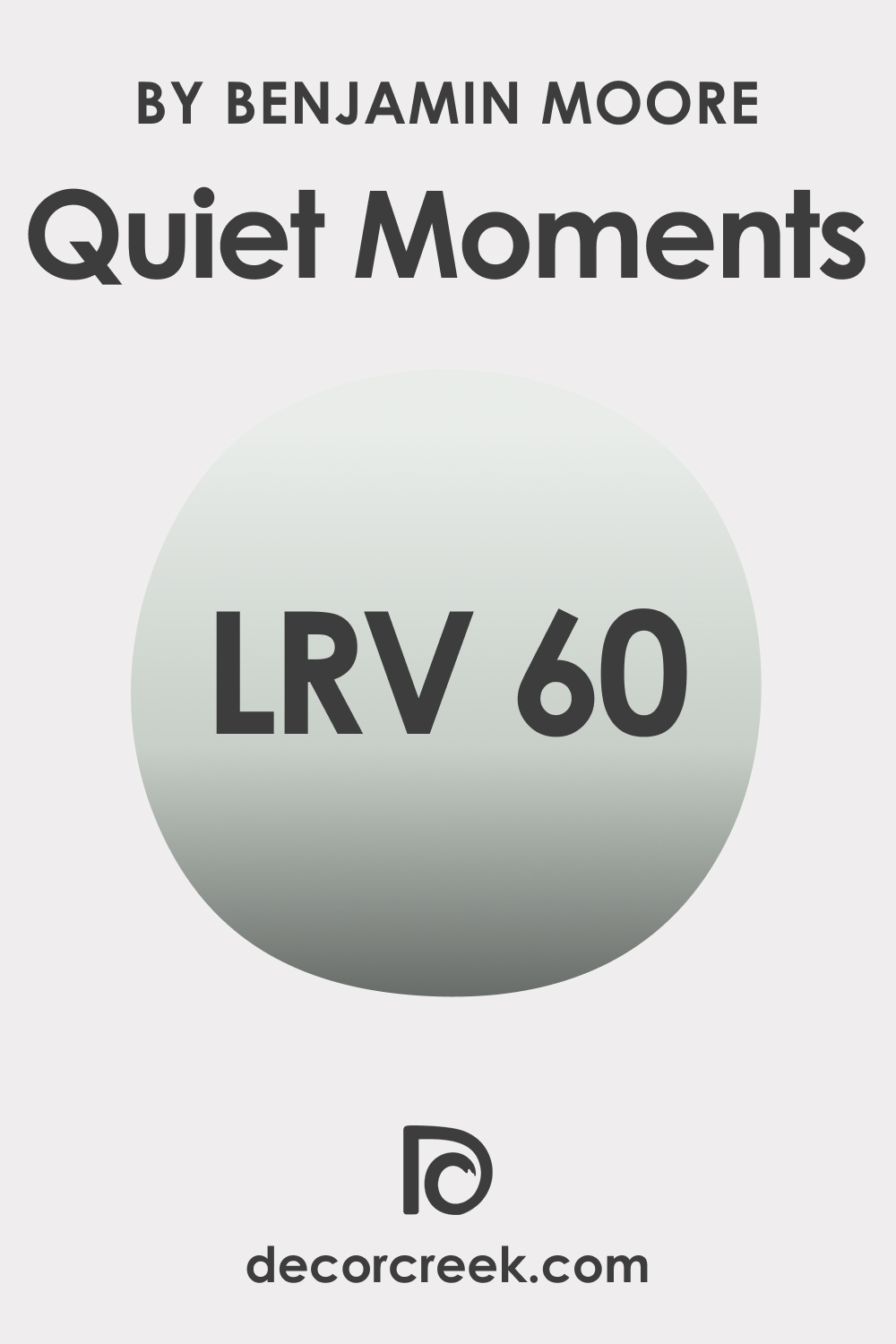 LRV – what does it mean? Read This Before Finding Your Perfect Paint Color
What Is the Best Trim Color to Use With BM 1563 Quiet Moments?
White is an ideal trim color due to its versatility and the ability to work with most colors on the color wheel. However, you should know what shades of white to use if you want to achieve a good-looking contrast between the walls and the trim!
For BM Quiet Moments, BM Decorator's White can work best of all. This white will allow you to reveal the beauty of this paint color.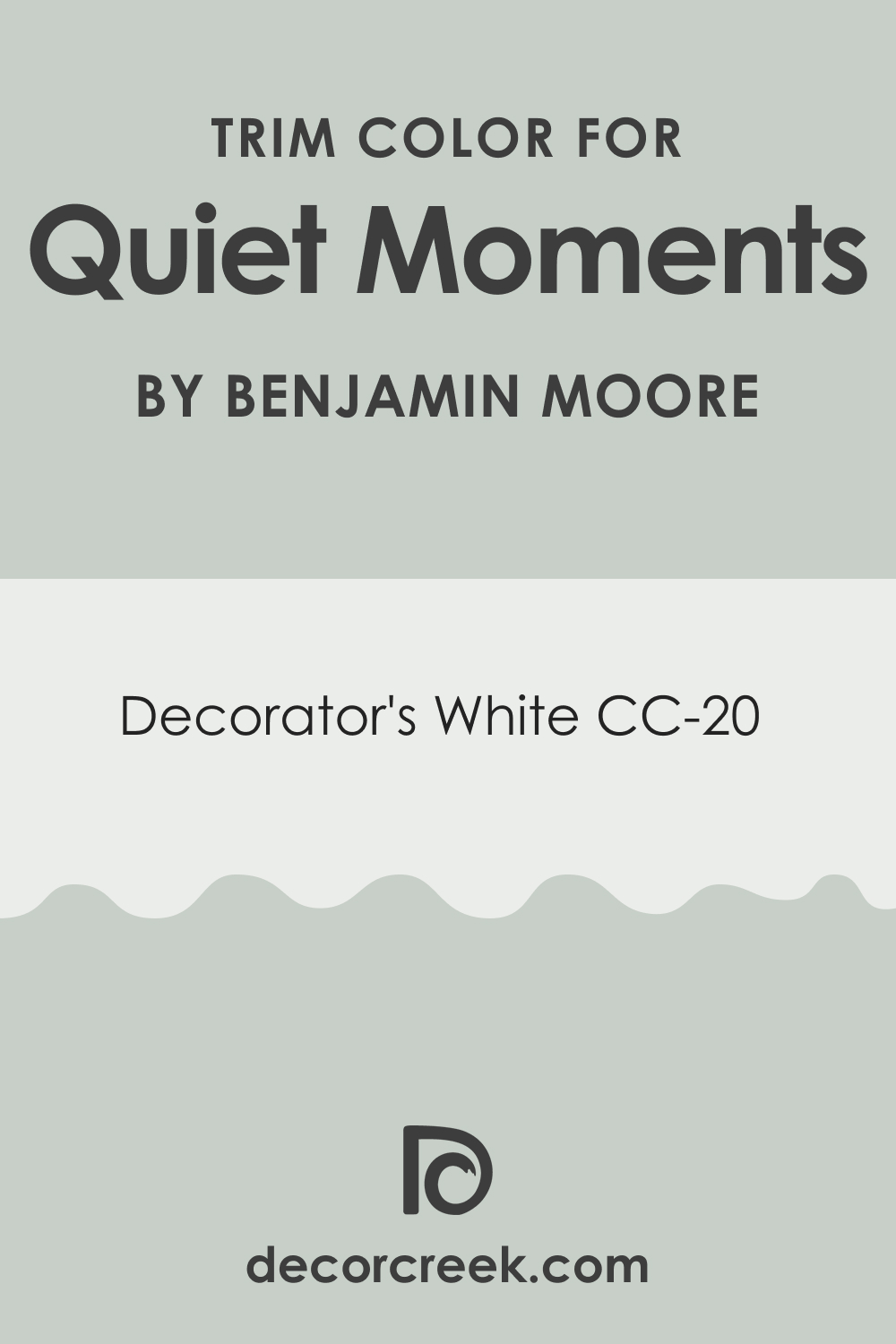 Colors Similar to BM Quiet Moments
Knowing similar colors can help you pick the best alternative shade in case your current wall color doesn't work well with the rest of the palette. However, finding the most suitable colors to use as substitutes is a tricky task! You need to have a sharp eye for undertones and shades of colors to pick up those that look nearly the same as the wall color you have.
For Bm Quiet Moments, we would recommend you the following paint colors that read nearly the same:
BM 1577 Arctic Gray
BM 2139-50 Silver Marlin
BM 2138-60 Gray Cashmere
Of course, note that there will be differences anyway since these colors have slightly distinct LRVs and undertones.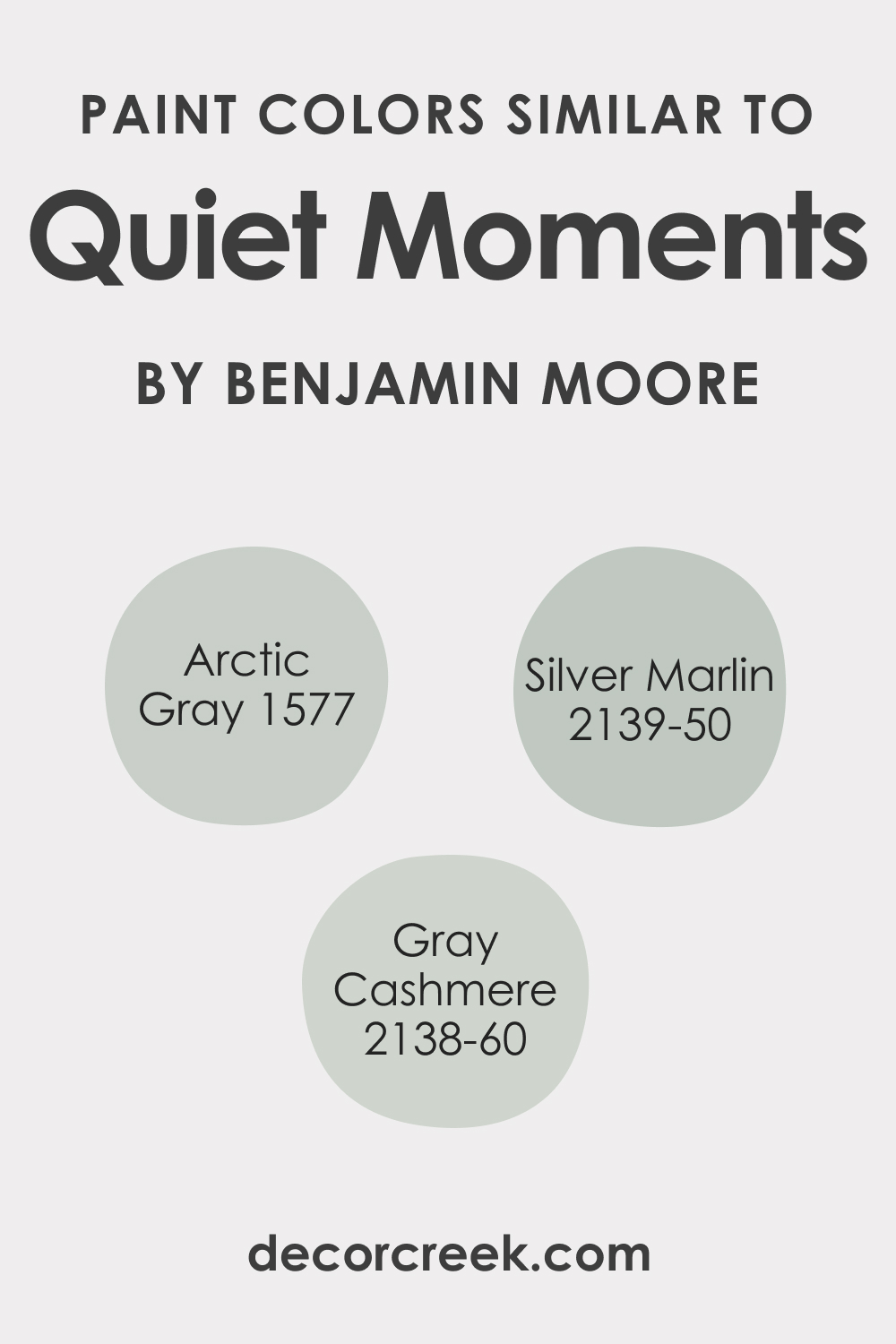 Colors That Go With BM Quiet Moments
Since BM Quiet Moments is pastel, it works best of all with other calm and pastel colors. It doesn't mean you can't pair it with darker or more vivid/saturated hues, but still, it reveals its beauty fully when surrounded by soft and delicate hues. In particular, the best colors that go with Quiet Moments are:
BM OC-65 Chantilly Lace
BM OC-45 Swiss Coffee
BM OC-117 White Dove
BM PM-8 Charcoal Slate
BM 2131-50 Nimbus Gray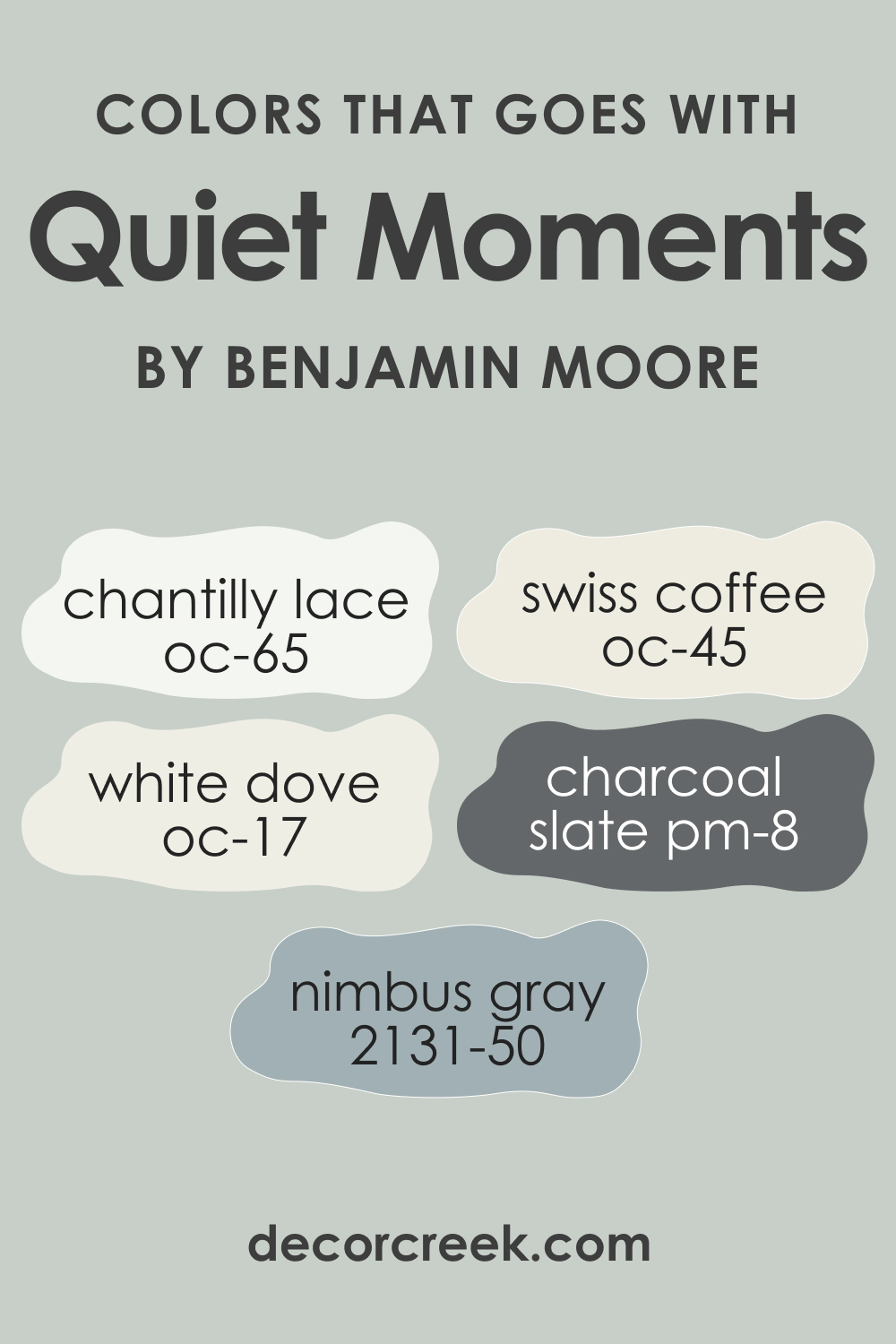 Comparing BM 1563 Quiet Moments With Other Colors
Similar colors can look so alike that you can't even notice any distinctions. However, it's essential to notice nuances in tone and LRV to understand how different shades of the same color may work in your home.
Below, you can read how BM Quiet Moments differs from several similar hues.
Quiet Moments vs Sea Salt
If you put SW Sea Salt and BM Quiet Moments side by side, you will hardly notice the difference. However, compared to the Sea Salt color, BM Quiet Moments looks bluer. Also, it reads cleaner and lighter.
Also, their undertones differ. SW Sea Salt is a mix of blue and gray, whilst its counterpart is a triplet o gray, green, and blue.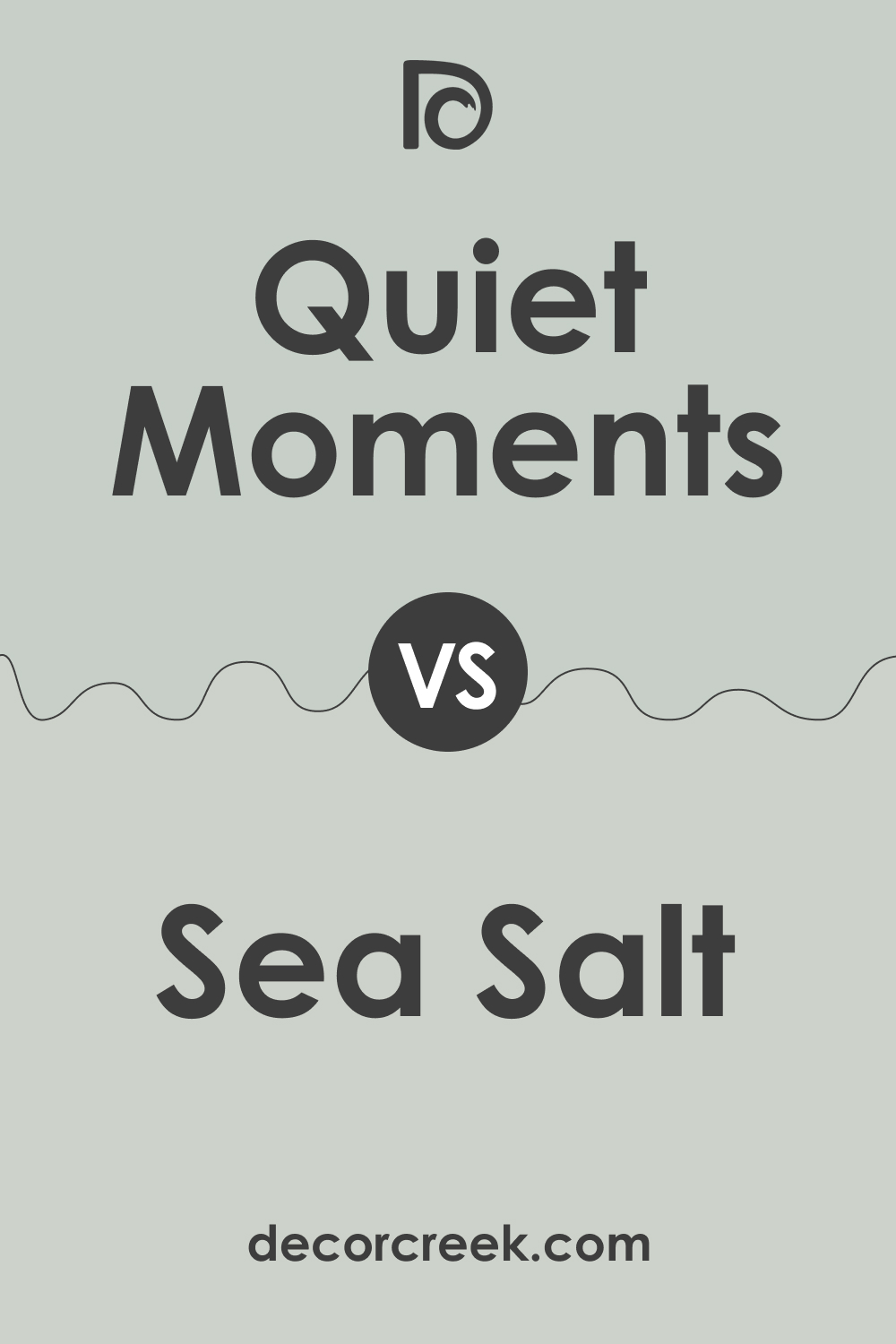 Quiet Moments vs Healing Aloe
BM Healing Aloe is light blue with a gray undertone, which already makes it different from its counterpart with its complex undertones of green, blue, and gray. The LRV of BM Healing Aloe is 67, which means it is lighter than BM Quiet Moments.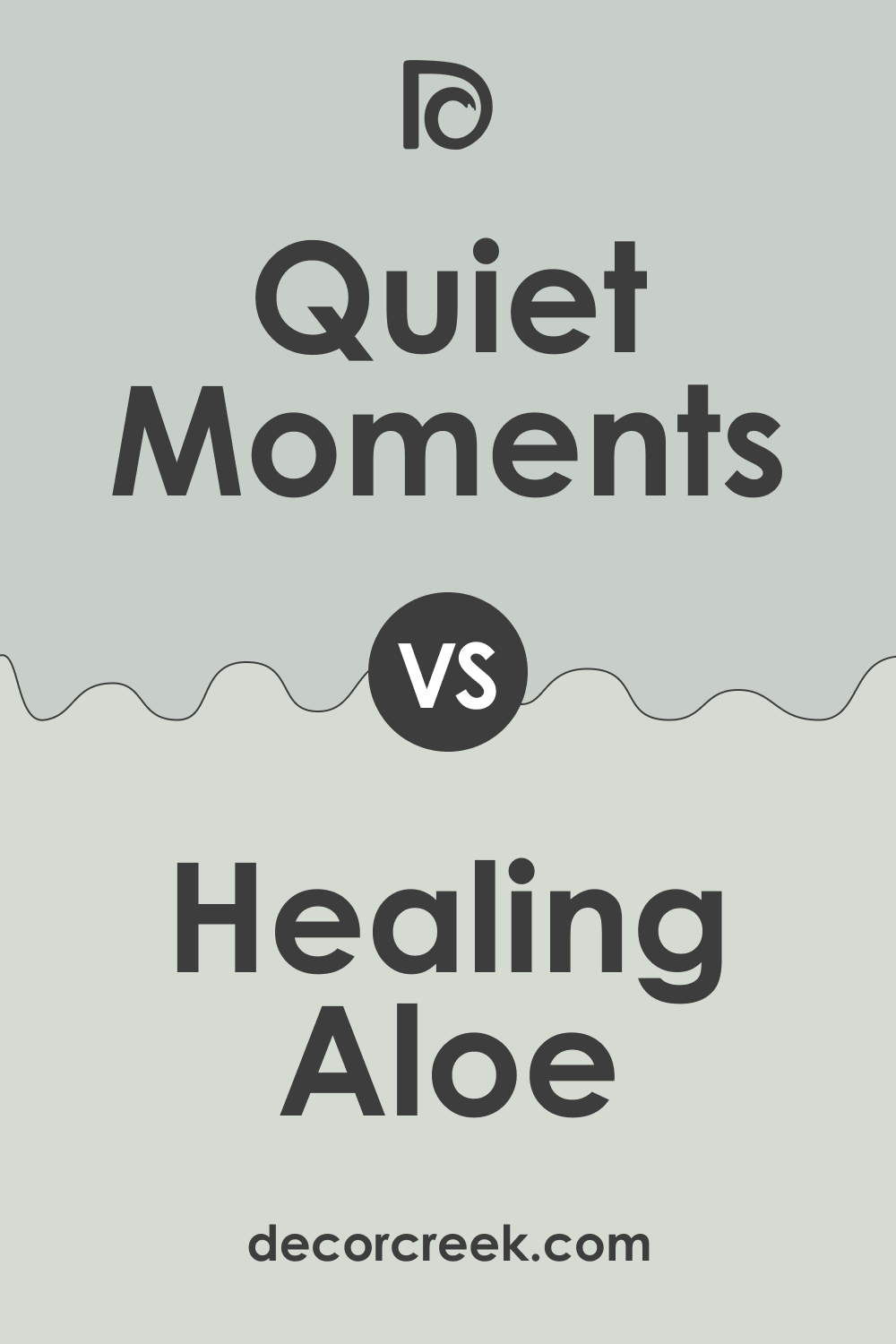 Quiet Moments vs Crushed Ice
SW Crushed Ice is tricky. It has greenish undertones, but it can also give off a blue or even a violet hue! But this is not the only difference between it and BM Quiet Moments. SW Crushed Ice looks prominently gray, whilst its counterpart is blue-gray. The only similarity they share is that both colors are cool-toned.
Quiet Moments vs Topsail
SW Topsail reads clearly bluer and brighter than BM Quiet Moments with its prominent gray hue! However, both colors are cool-toned. Besides, SW Topsail also has green and gray undertones, although very slight and barely seen.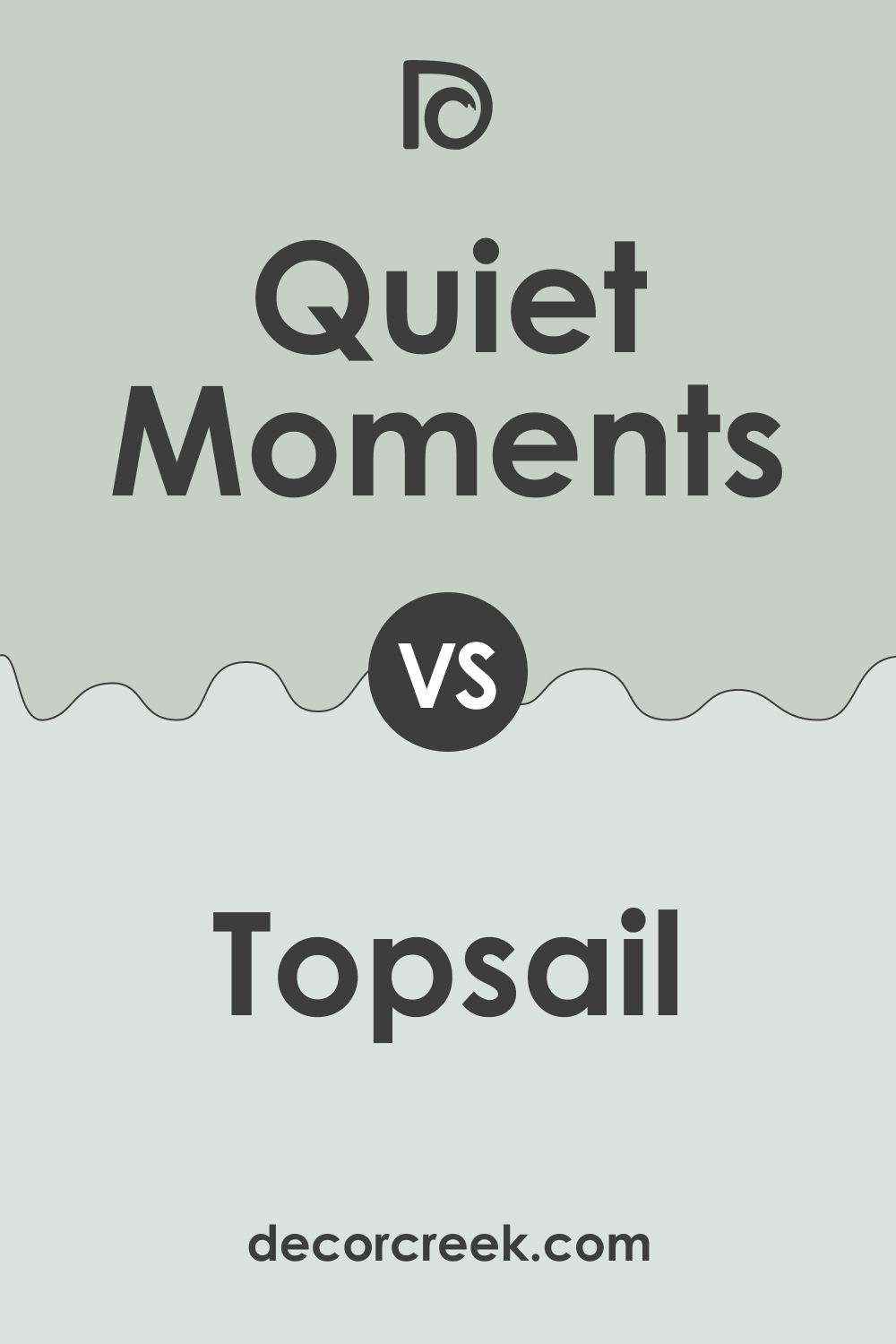 Quiet Moments vs Tranquility
BM Tranquility is a gray hue with blue and greenish undertones, which is why it is close to BM Quite Moments, which shares the same undertones. However, compared with BM Quiet Moments, its counterpart reads grayer and thus a bit darker.
Where BM Quiet Moments Can Be Used In Your Home?
BM Quiet Moments is surprisingly versatile! Despite being so calm and pastel, this color can work great in any space of your home (well, except for your study or home gym since they require something more energetic!).
Also, you can use this paint color for coastal interior design, Scandinavian, Modern, and minimalist homes, as well as mid-century modern as well as bohemian! Below, we describe how this color may work in different rooms.
BM Quiet Moments in the Living Room
You can use this color in your living room to add a cool and crisp vibe. However, note that it is not a warm paint color, so it will not give you a cozy atmosphere at all.
You can pair BM Quiet Moments with the coordinating colors and add a few patterns to make the space feel more homey.
Overall, this pastel color works well with neutral-toned furniture pieces and some textured wooden accents, e.g., side tables and coffee tables.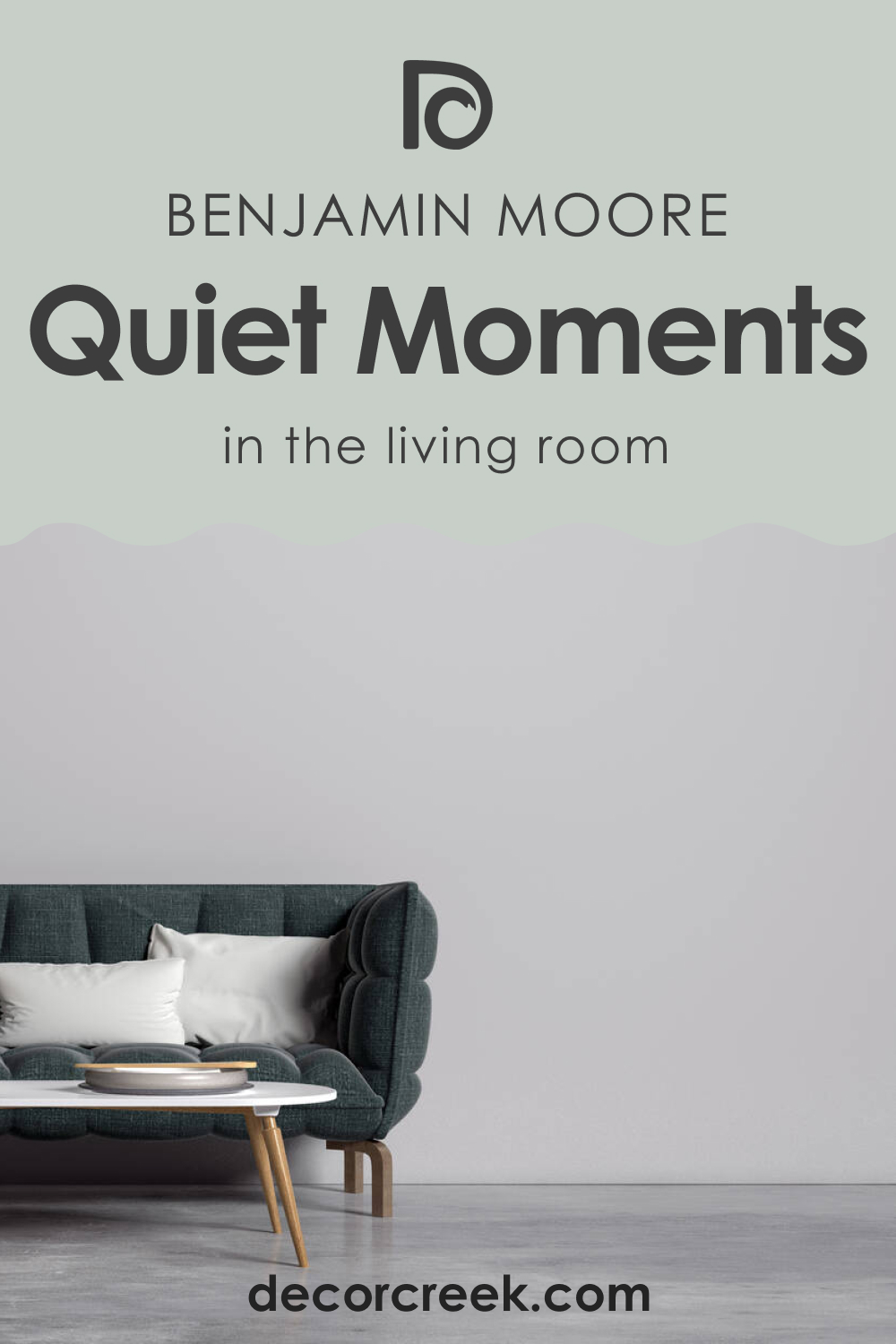 BM Quiet Moments in a Bedroom
This is the ideal color for bedrooms since it gives a tranquil and calming feel. Pair this paint with sheer white curtains, some metallic headboards, and contrasting decorative accents (e.g., use contrasting upholstery and rugs).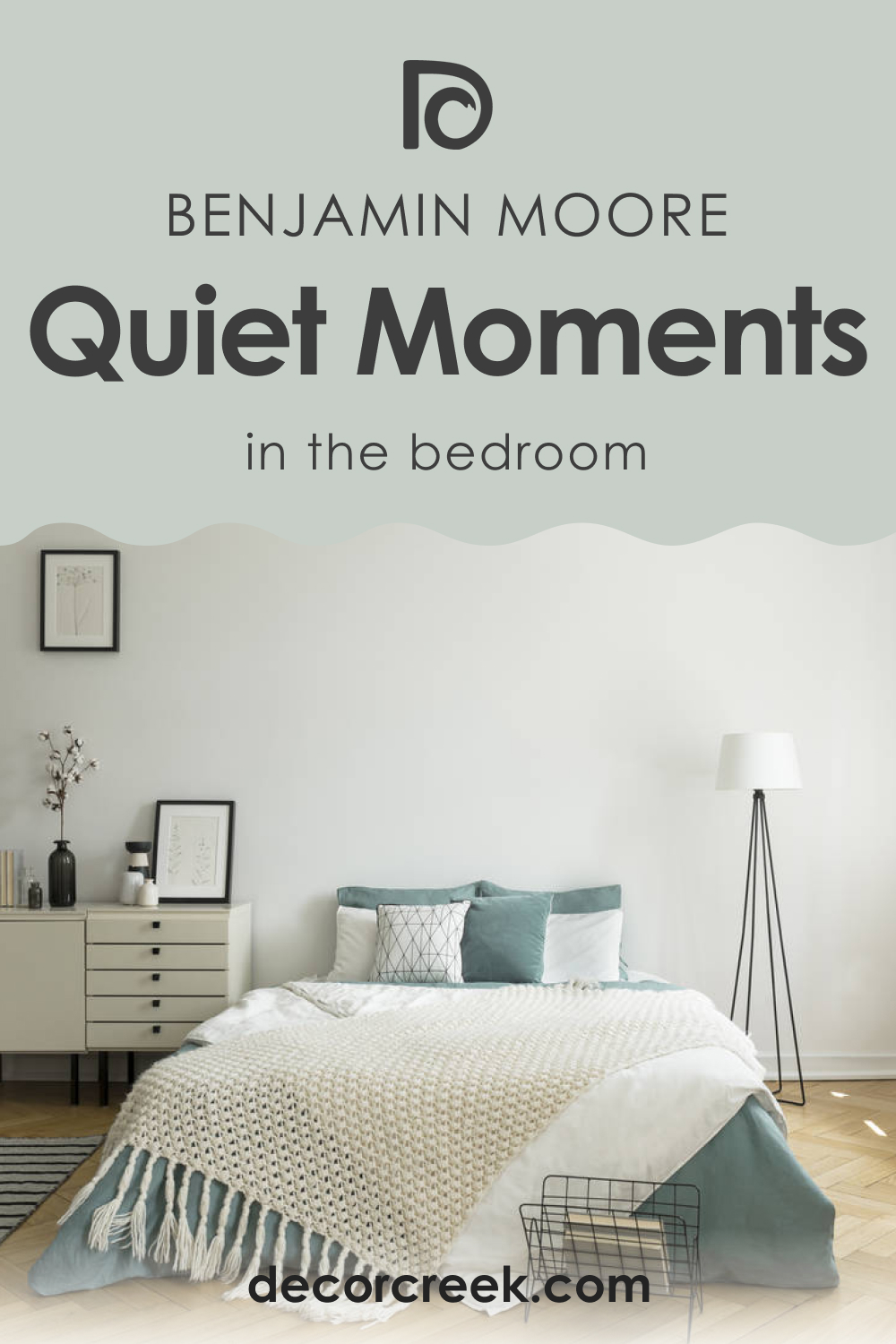 BM Quiet Moments and Kitchen
This color can also work in your kitchen if you are looking for a big and bright space. Pair BM Quiet Moments with stark white cabinets and black pull handles as an accent or vice versa, and this trick will make the space feel more appealing, as well as add character to it.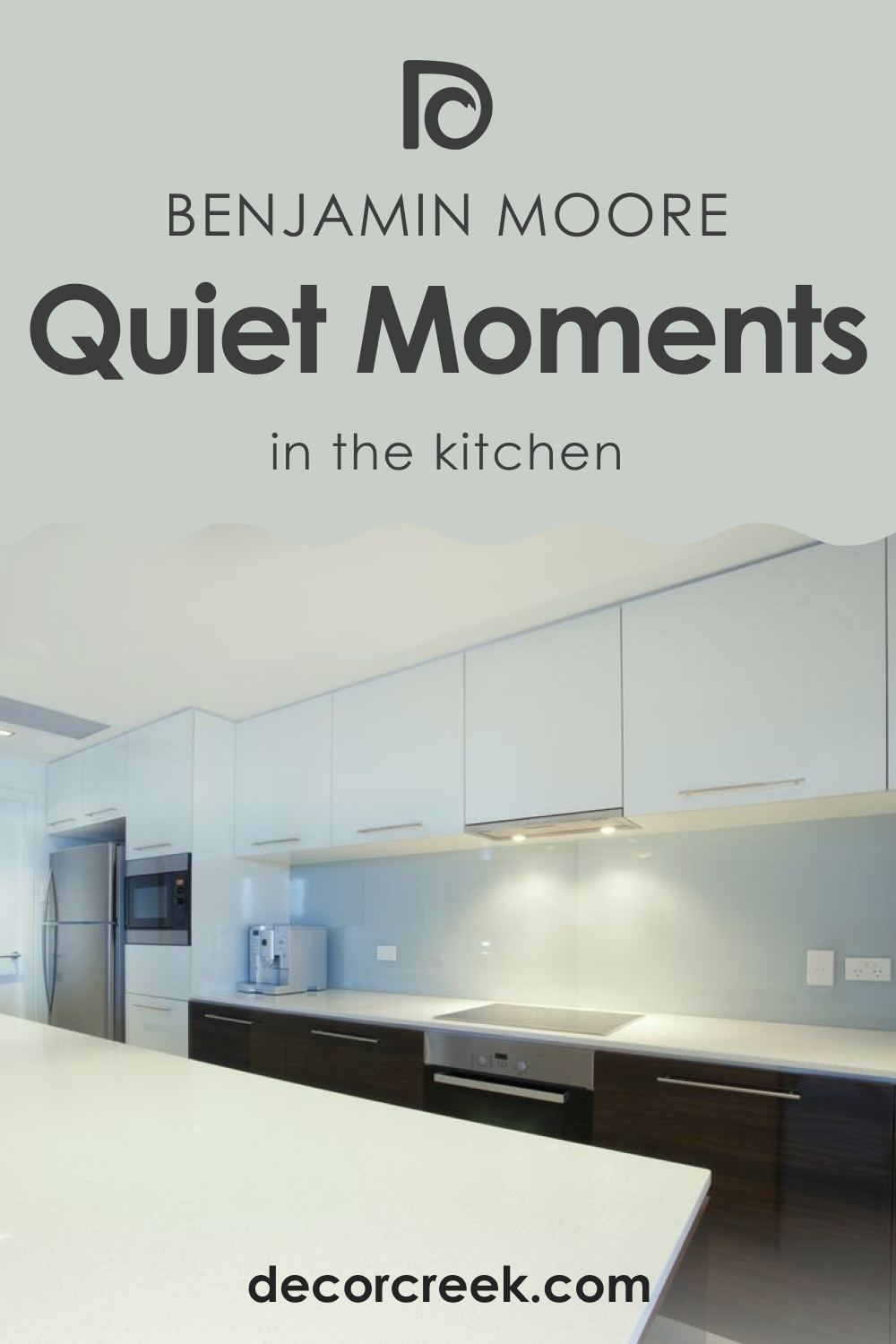 BM Quiet Moments on the Bathroom
BM Quiet Moments is a good bathroom color too. It is perfectly cooling and fresh, which will help you add a pleasantly chilly vibe to your bathing area. Pair it with crisper whites and metal faucet/handlers, and your bathroom may even seem bigger!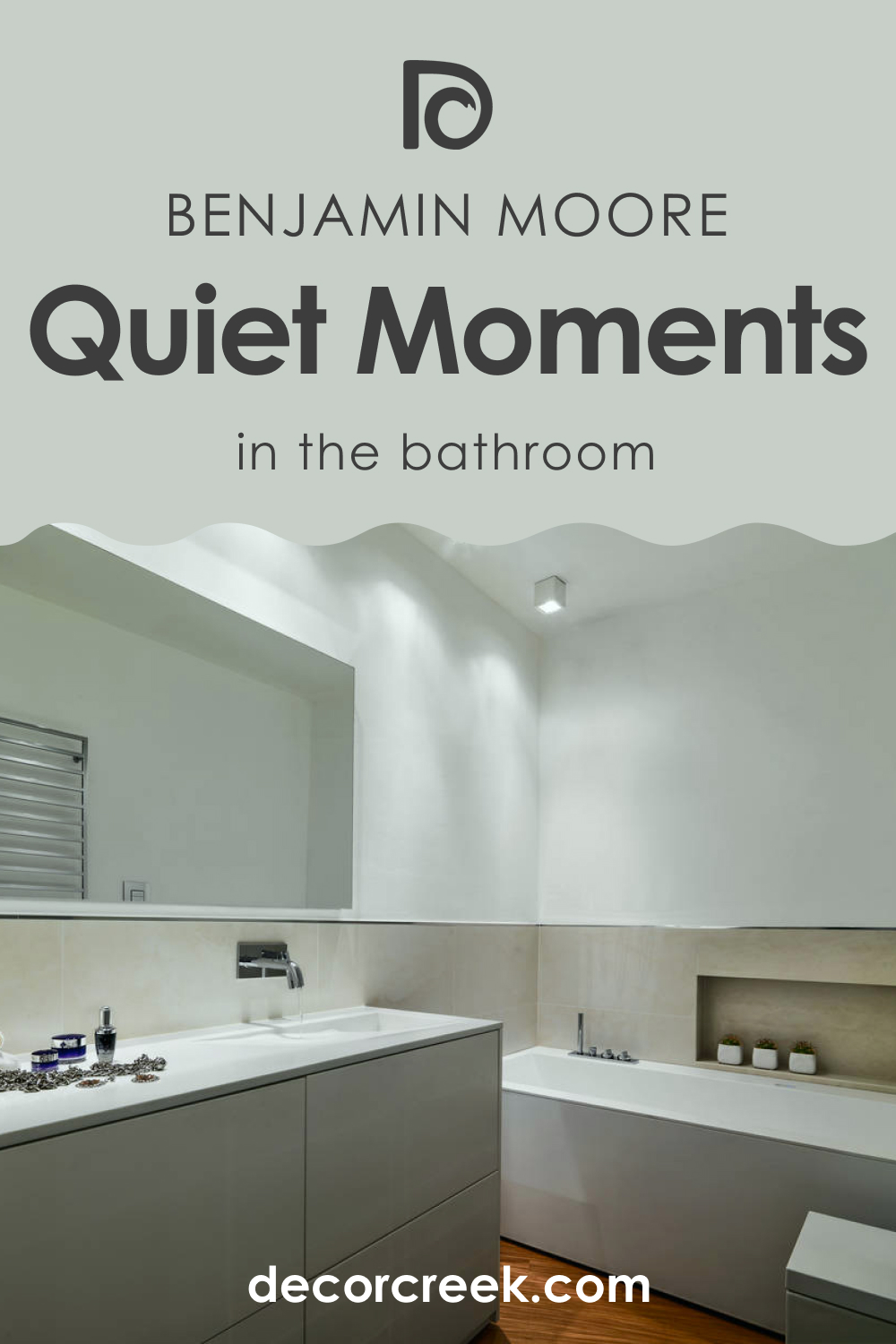 BM Quiet Moments for the Exterior Use
If you want to use this color on exterior walls, note that BM Quiet Moments is going to look brighter and lighter due to ample natural light. Nevertheless, it will work well anyway!
You can paint the trims, the front door, and the window frames in brighter white to create a monochromatic palette and highlight the refreshing feel this pastel color has.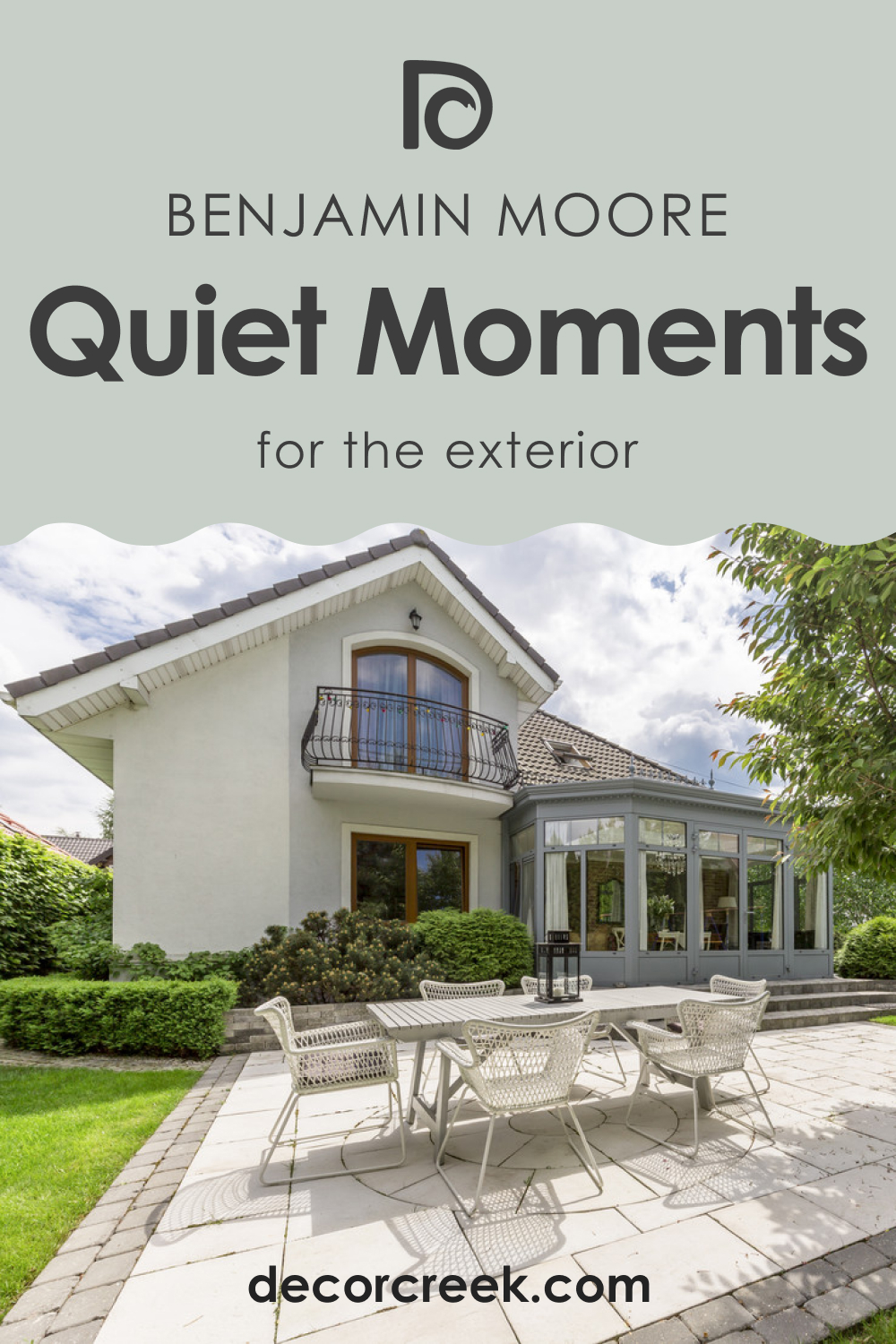 Now you know what kind of color BM Quiet Moments is and how this pastel works in different rooms and on different surfaces.
We told you what LRV and undertones it has, how it coordinates with other colors, and what color palettes would be best for this blue to highlight its beauty.Now you can fully enjoy this beautiful and calming hue in your home!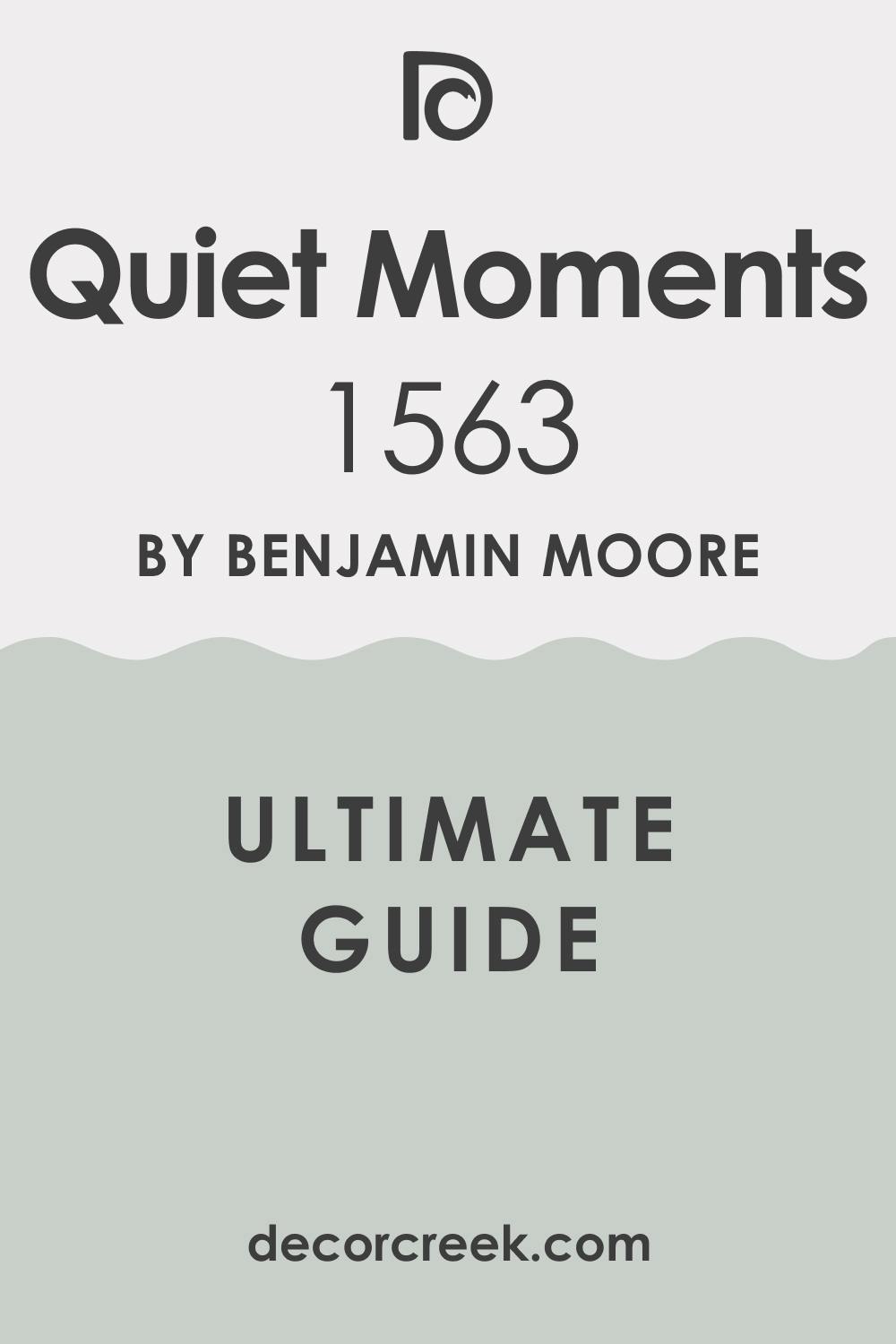 Frequently Asked Questions
⭐What color collection does BM Quiet Moments belong to?
This color is a part of the Benjamin Moore Classics color collection.
⭐Does this color have another code?
Yes. Except for 1563, it is also known as CC-700.
⭐Does BM Quiet Moments read gray?
No, this color doesn't read clearly gray.