Have you ever thought of using blue in your home as a wall color? People often avoid blues because they believe this color is too cold and makes the space feel unwelcoming and chilly. However, we want to introduce you to a lovely shade of blue that you might want to try!
The color we will talk about is called Whirlpool, and it's one of the Sherwin-Williams soft blues. You will learn why it is so hypnotizing and beautiful and how to make it work in your home.
We will explain how this blue reacts to light and how to coordinate it correctly so that you can enjoy its refreshing and balanced vibe.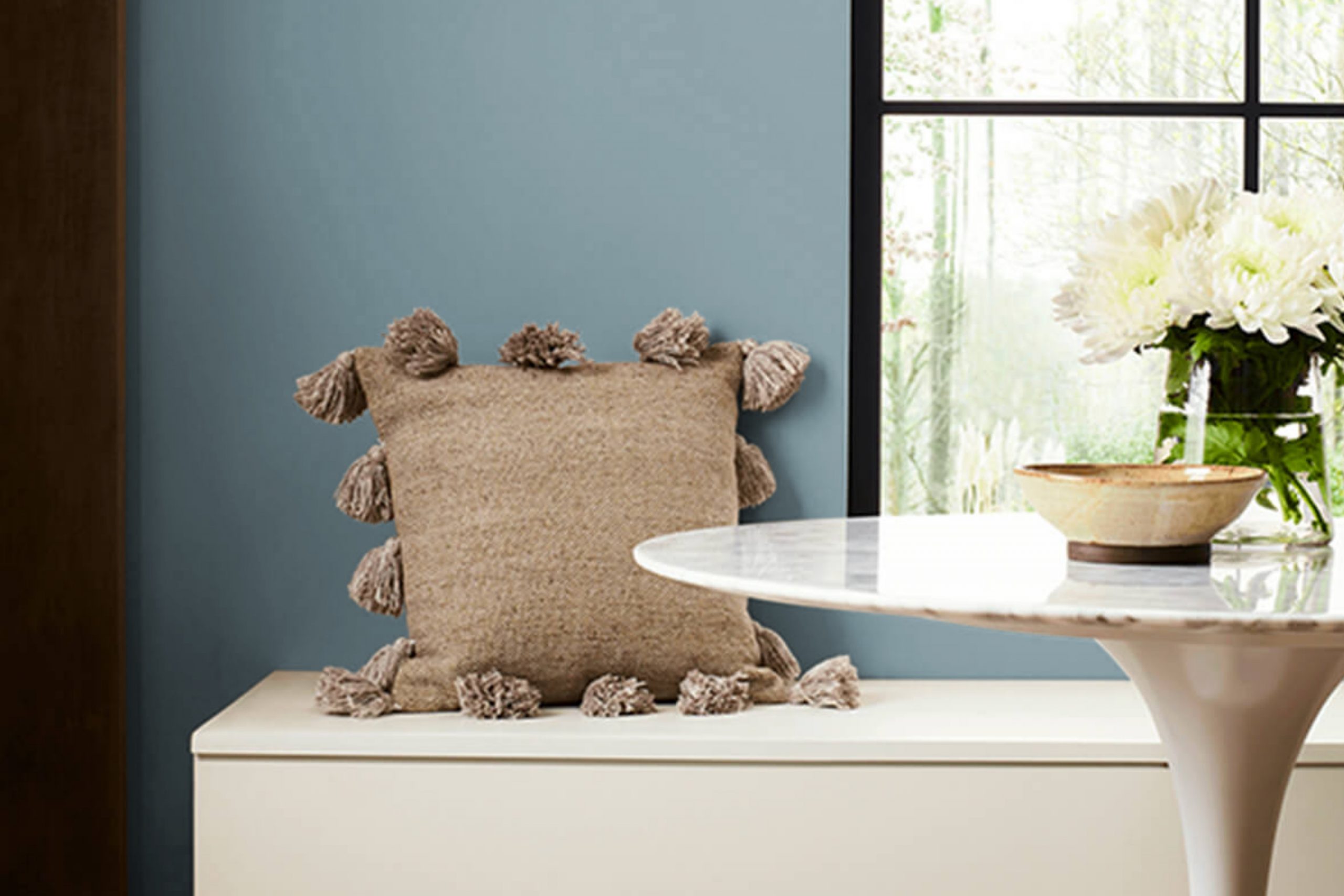 What Kind of Color Is SW 9135 Whirlpool?
SW Whirlpool is a soft and muted blue that gives off a slightly "dusty" feel. As Encycolorpedia says, tThis color is not very light, so it won't help you make the space seem visually larger.
However, if you want to try using blues in your home and you are ok with deeper shades of this color, you should definitely consider SW Whirlpool!
Despite being rather deep and not very reflective, this blue color can be used in many rooms successfully. It's a great color option to add character and balance to a room that has too many whites in it, for example.
Also, SW Whirlpool can be an excellent color choice for coastal-style homes and spaces that crave a bit of calmness and tranquility.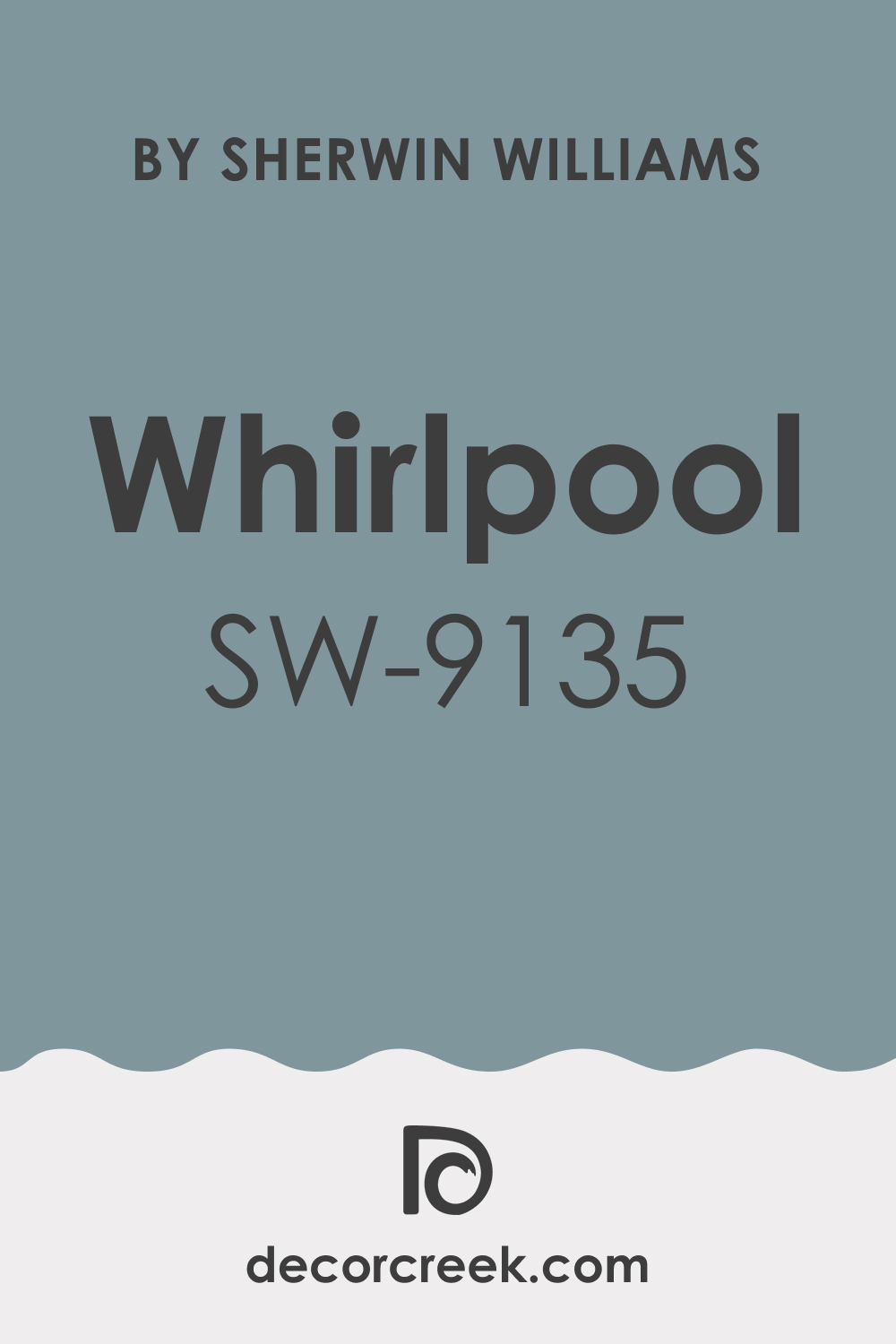 Is it a Warm or Cool Color?
SW Whirlpool is a cool-toned color. However, its cool hue has nothing to do with the icy and crisp feel that most cool-toned colors have! Instead, this blue reads pleasantly fresh and, at the same time, soft on the walls.
For sure, SW Whirlpool will feel like a cooling seaside breeze in your living space if used on the walls. This is why we recommend this color for rooms that need to be cooled down a bit.
At the same time, try to avoid it (at least on large surfaces) if you strive for a cozy and warm look.
What Undertones Does SW Whirlpool Color Have?
Blue paint colors often have gray or green undertones or both. But SW Whirlpool is more of blue paint with deep blue undertones. No matter how hard you try, you won't find a green base here.
However, very slight and barely seen gray undertones may be noticed in this color sometimes. This is why this blue will mostly read the same in any lighting.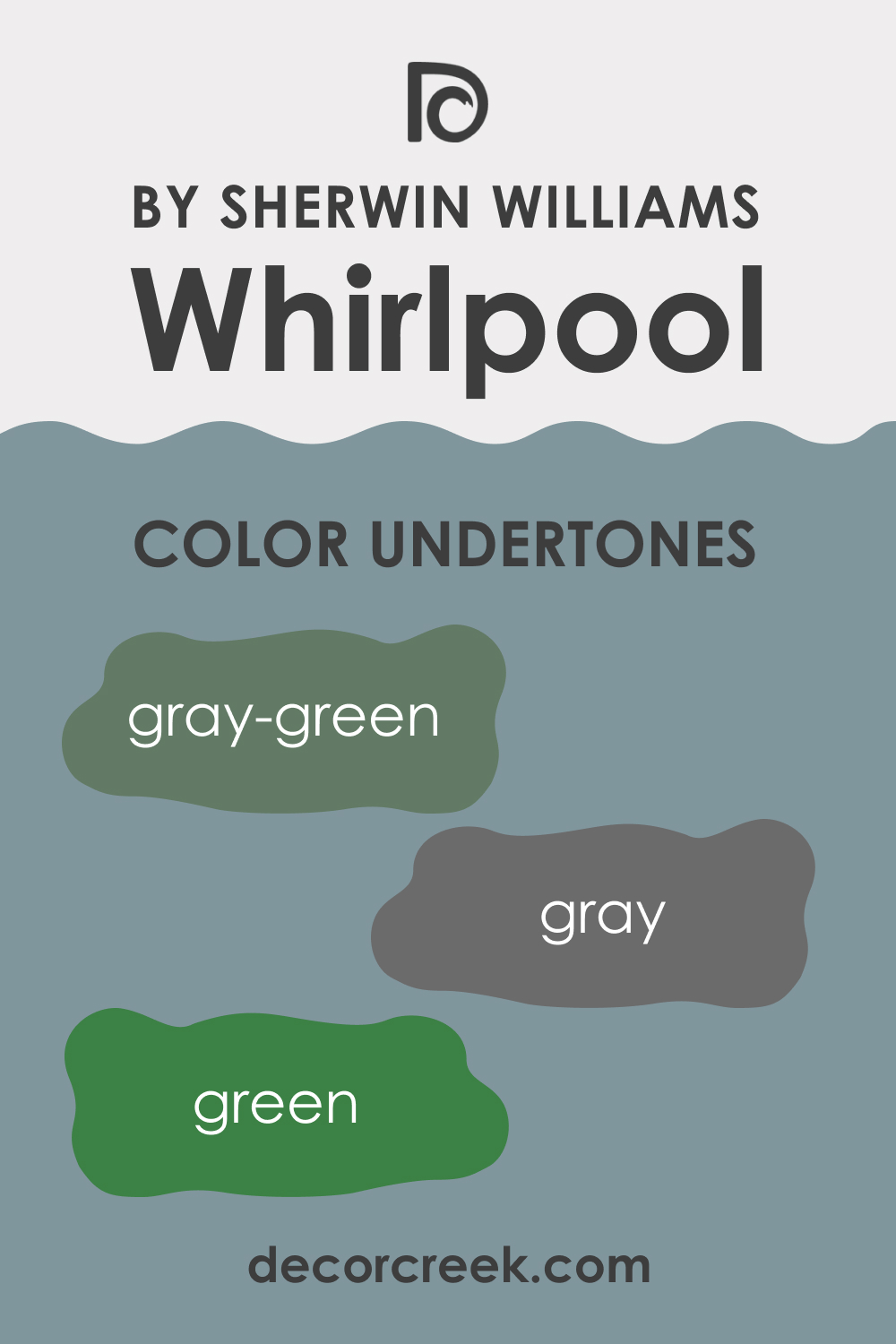 Coordinating Colors to Use With SW Whirlpool Paint Color
To create a good-looking palette in your home, you should know what colors can coordinate with SW Whirlpool if you want it as your wall color. Below, we have prepared several lists of colors for you to check out. They will help you create an appealing and eye-pleasing atmosphere in your home!
SW 6224 Mountain Air
SW 7516 Kestrel White
SW 9079 Velvety Chestnut
For a monochromatic palette, we recommend you pay attention to the following blue colors instead:
SW 6230 Rainstorm
SW 6226 Languid Blue
SW 6228 Refuge
SW 6225 Sleepy Blue
Should you prefer more colorful and varied palettes in your home, we have several color options for you to check out too:
SW 6037 Temperate Taupe
SW 9117 Urban Jungle
SW 6148 Wool Skein
SW 7030 Anew Gray
SW 7032 Warm Stone
SW 6229 Tempe Star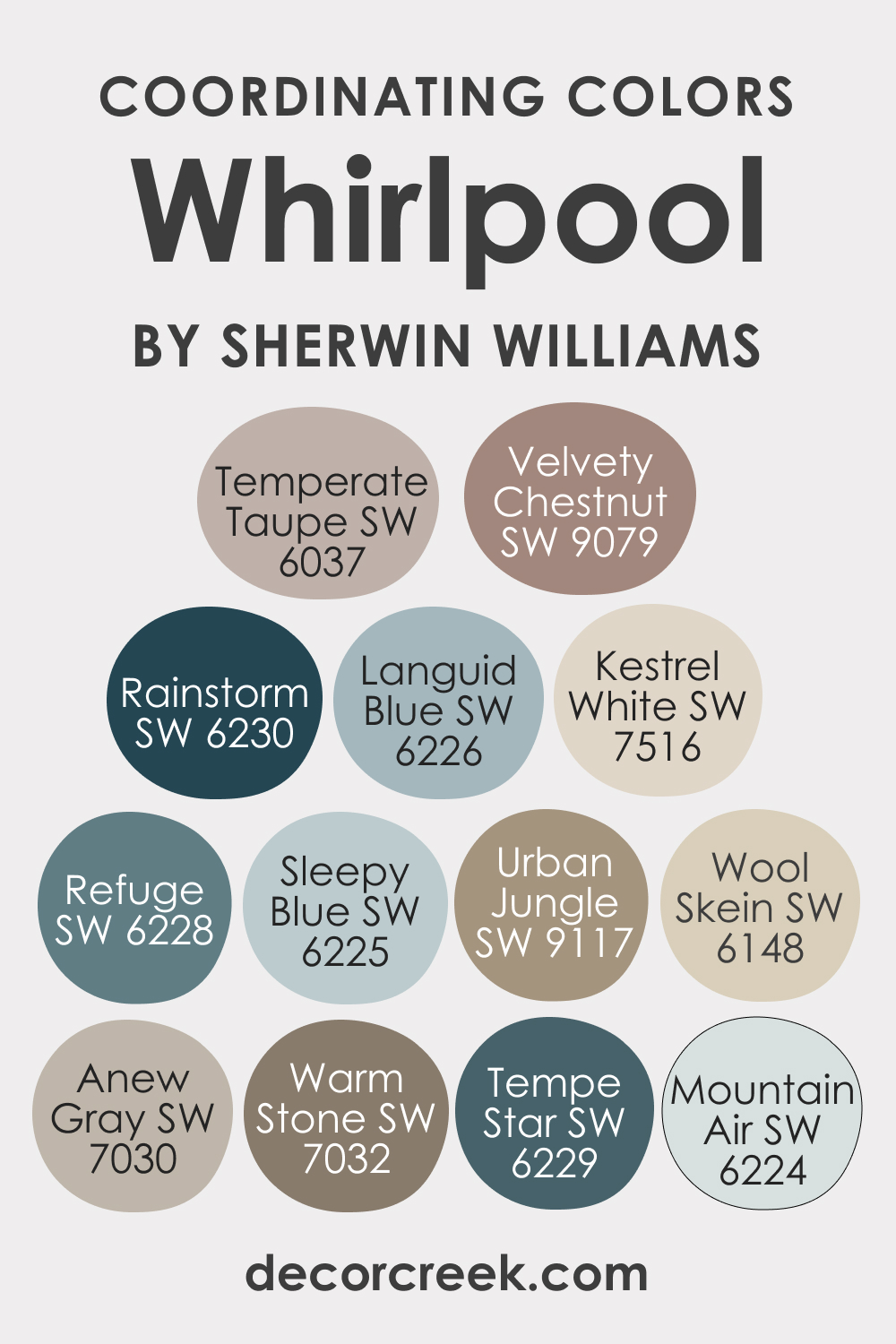 What Is the LRV Value of SW 9135 Whirlpool?
LRV (light reflectance value) is a measurement that shows how much light color can reflect from the wall. The LRV scale ranges from zero (black) to 100 (white). Respectively, the higher the LRV value, the lighter (and more reflective) the color, and vice versa.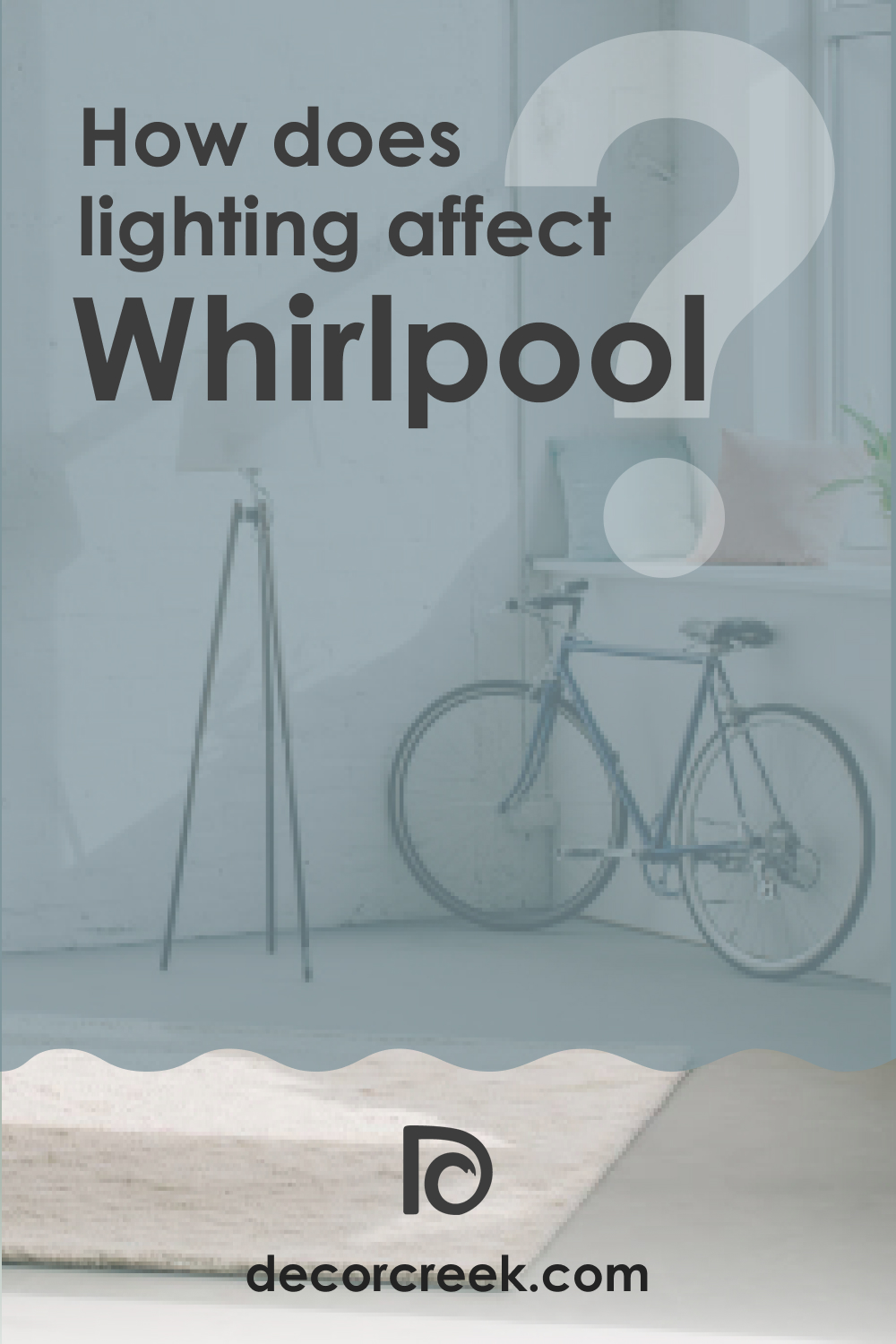 The LRV value of SW Whirlpool is 29. It means that, although this blue is pretty close to the darker end of the LRV scale, it still holds on and doesn't turn dark.
Indeed, if you see how SW Whirlpool works on the walls, you will notice this blue will never read moody. As a result, this color will not make a space feel enclosed and cave-like.
In rooms with brighter daylight, SW Whirlpool may read slightly lighter and bluer, and in a room with little natural light, this color may slightly lean towards the deeper tone, revealing its gray undertones more. Nevertheless, it won't make your home look dark.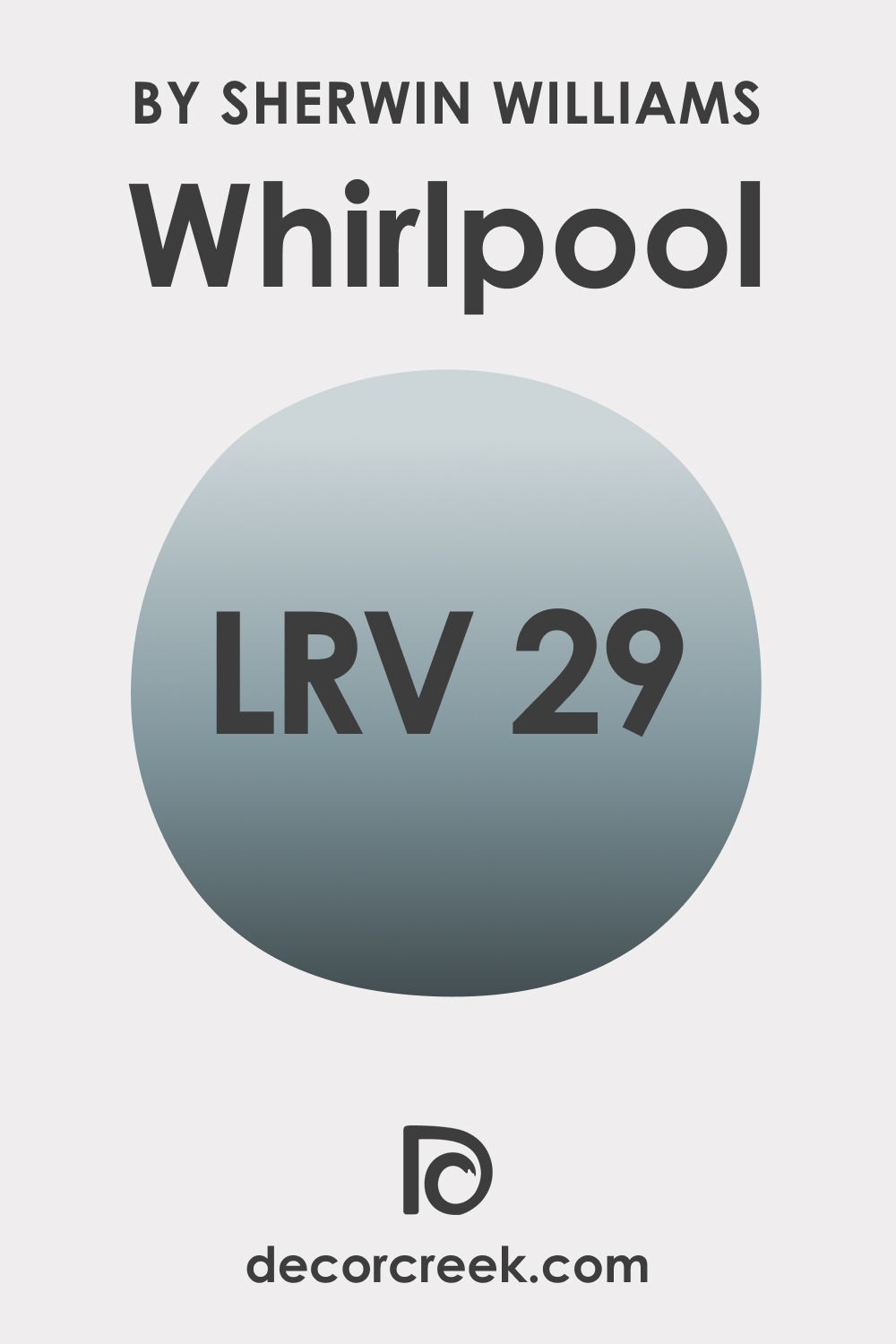 LRV – what does it mean? Read This Before Finding Your Perfect Paint Color
SW 9135 Whirlpool Trim Colors
SW Whirlpool is the color that works best with the white trim and moldings. However, it's crucially important to choose the correct shade of white. For example, we don't recommend you use warm-toned and creamy whites, as well as whites with pronounced yellow undertones! They won't pair with this cool-toned blue well.
Instead, stick with cooler whites and some neutrals that read fresh enough on your trim.
It's even recommended to use crisper whites on the trim if you want a sharper contrast! For example, you might want to consider the following color options:
SW 7757 High Reflective White
BM OC-65 Chantilly Lace
BM 02 Super White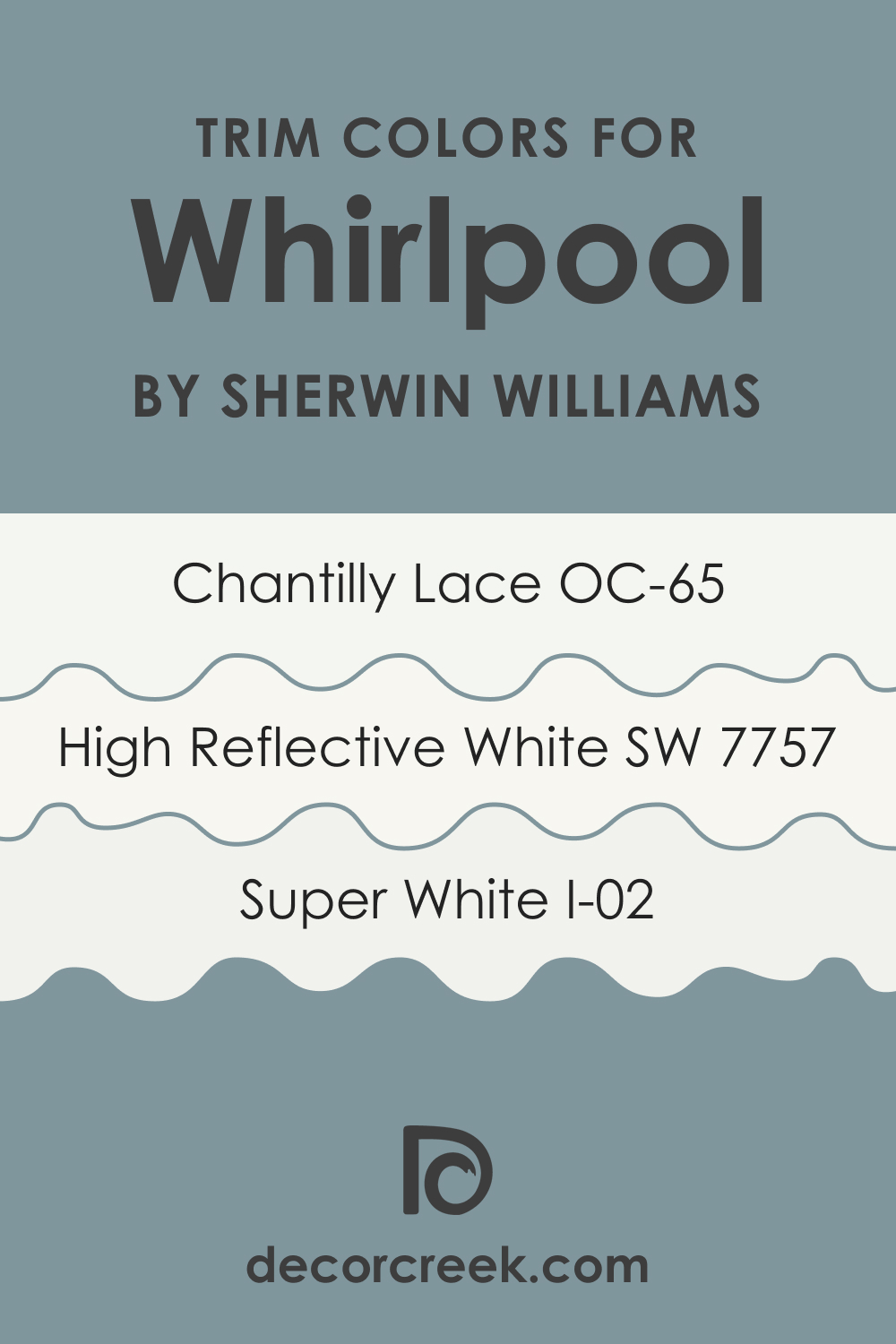 SW 9135 Whirlpool Similar Colors
Knowing similar colors that read almost like SW Whirlpool can help you find the best color substitute quickly should you need a bit different hue on your walls. Below, we have prepared a few color options that look nearly the same as SW Whirlpool:
BM 2136-40 Aegean Teal
BM 2128-40 Oxford Gray
BM HC-145 Van Courtland Blue
BM 1635 Water's Edge
SW 6242 Bracing Blue
SW 9140 Blustery Sky
SW 9151 Daphne
Of course, since each color has its unique LRV value and undertones, they will differ more or less from the SW Whirlpool. Note that before you choose the substitute blue for your home and sample the color carefully!
Colors That Go Well With SW 9135 Whirlpool
SW Whirlpool is pretty versatile and typically works well with many colors. In particular, we recommend you combine it with complementary and contrasting colors to create a harmonious color palette. In particular, SW Whirlpool will look lovely with soft neutrals like gray, white, and beige. But you can also use it with more vibrant hues like coral, mustard, or deep greens! For instance, try out the following colors:
SW 7043 Worldly Gray
SW 6381 Anjou Pear
SW 7016 Mindful Gray
SW 6207 Retreat
SW 7011 Natural Choice
SW 6179 Artichoke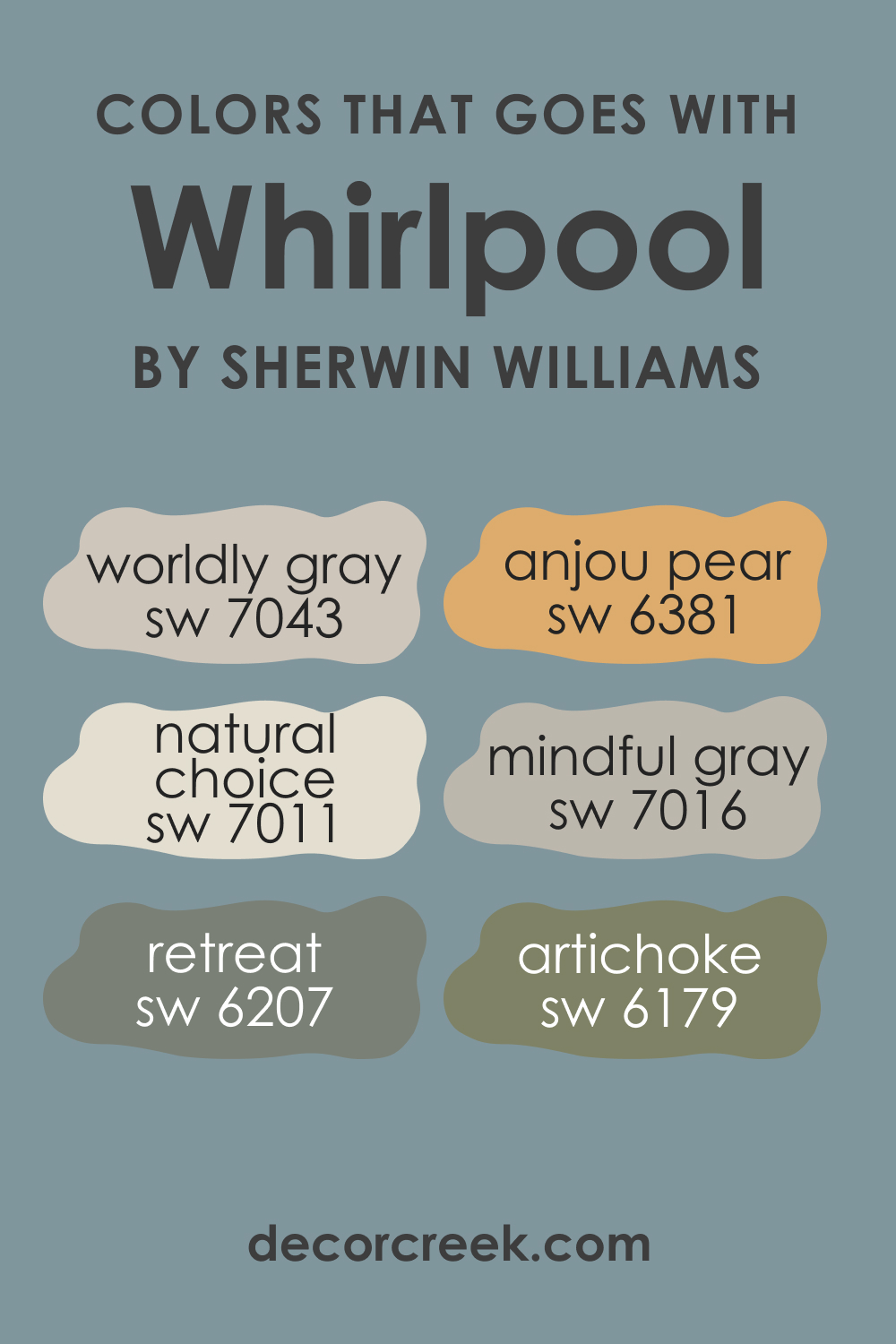 Comparing SW Whirlpool With Other Colors
It is recommended to compare the color you want to use on interior walls before using it. This will help you better see its distinctions from other colors.
Also, by comparing different colors, you can learn how distinct LRVs and undertones work in real life. Below, you can see how all this works for SW Whirlpool.
Whirlpool vs Daphne
Compared to SW Whirlpool, SW Daphne reads bluer and somewhat lighter. In its turn, placed side by side with the Daphne color, SW Whirlpool reveals its gray undertones more.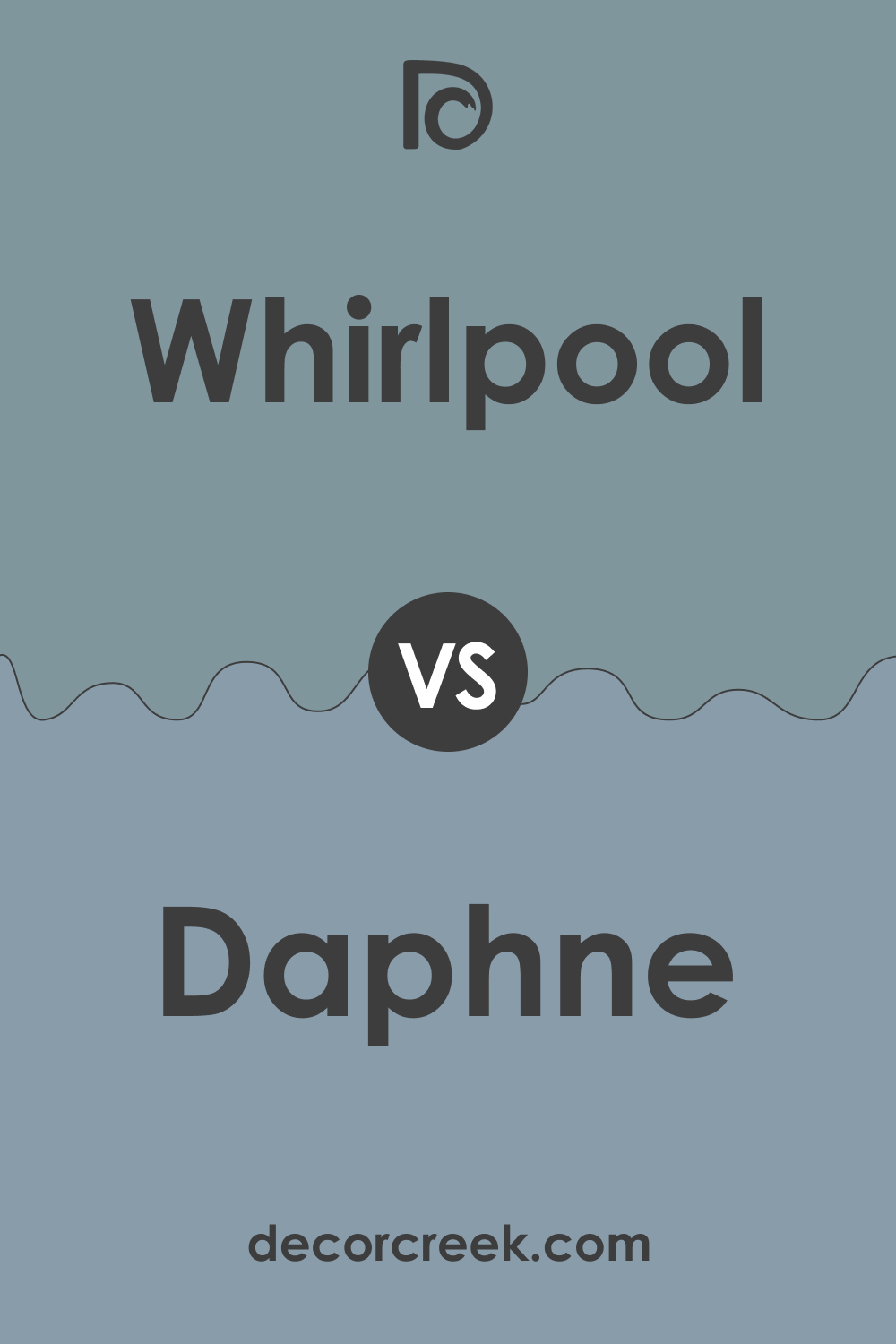 Whirlpool vs Bracing Blue
These two are quite different, although both are blue colors. SW Bracing Blue is deeper and more saturated than SW Whirlpool. Also, SW Bracing Blue reads bluer than its counterpart, which may read slightly grayish-green when placed side by side with SW Bracing Blue!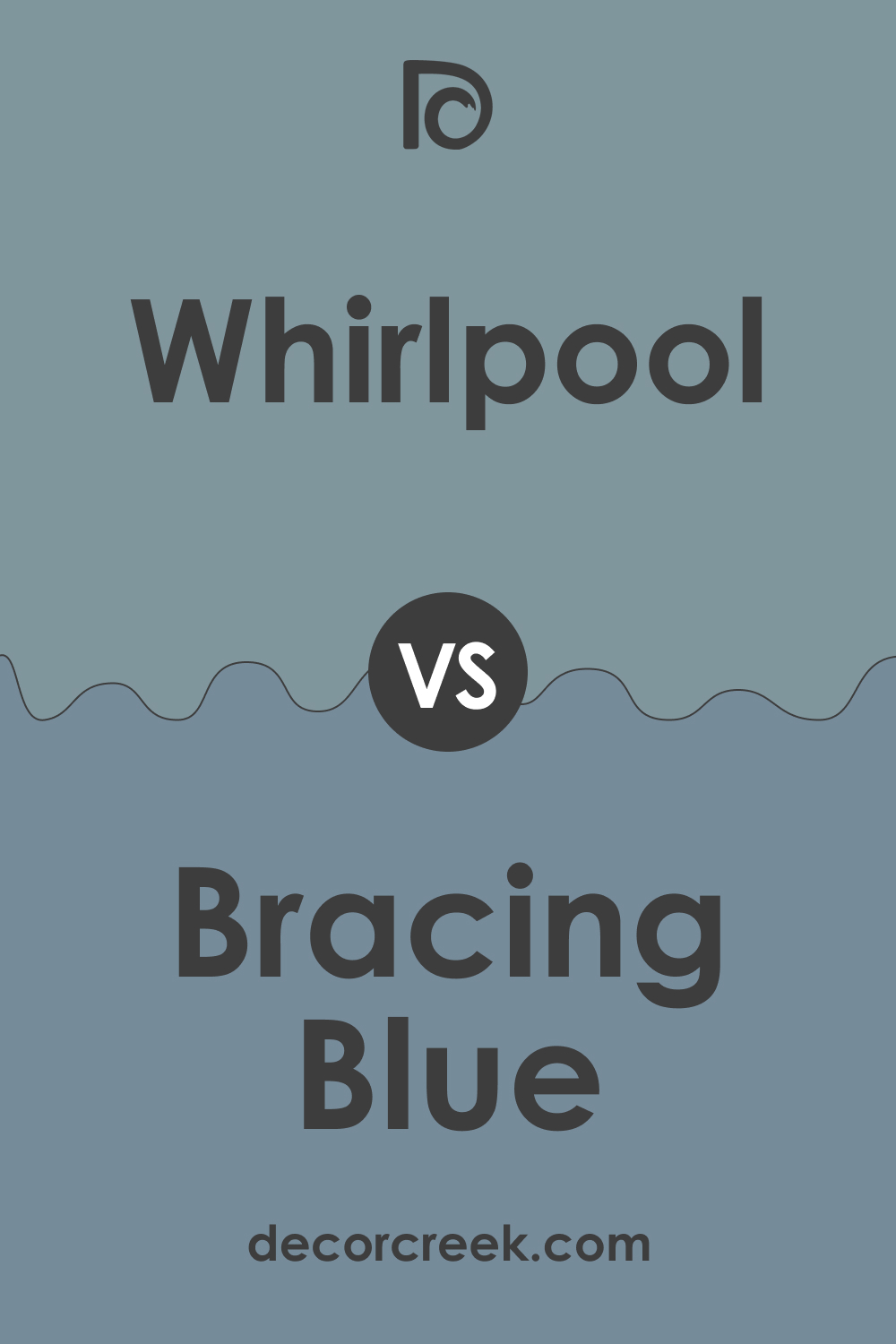 Whirlpool vs Distance
Compared to SW Distance, SW Whirlpool is significantly lighter. Also, it shows more gray undertones, unlike its darker and more saturated bluer counterpart. The undertones of these colors are also different.
SW Distance has denim and gray undertones, whilst SW Whirlpool has blue and gray.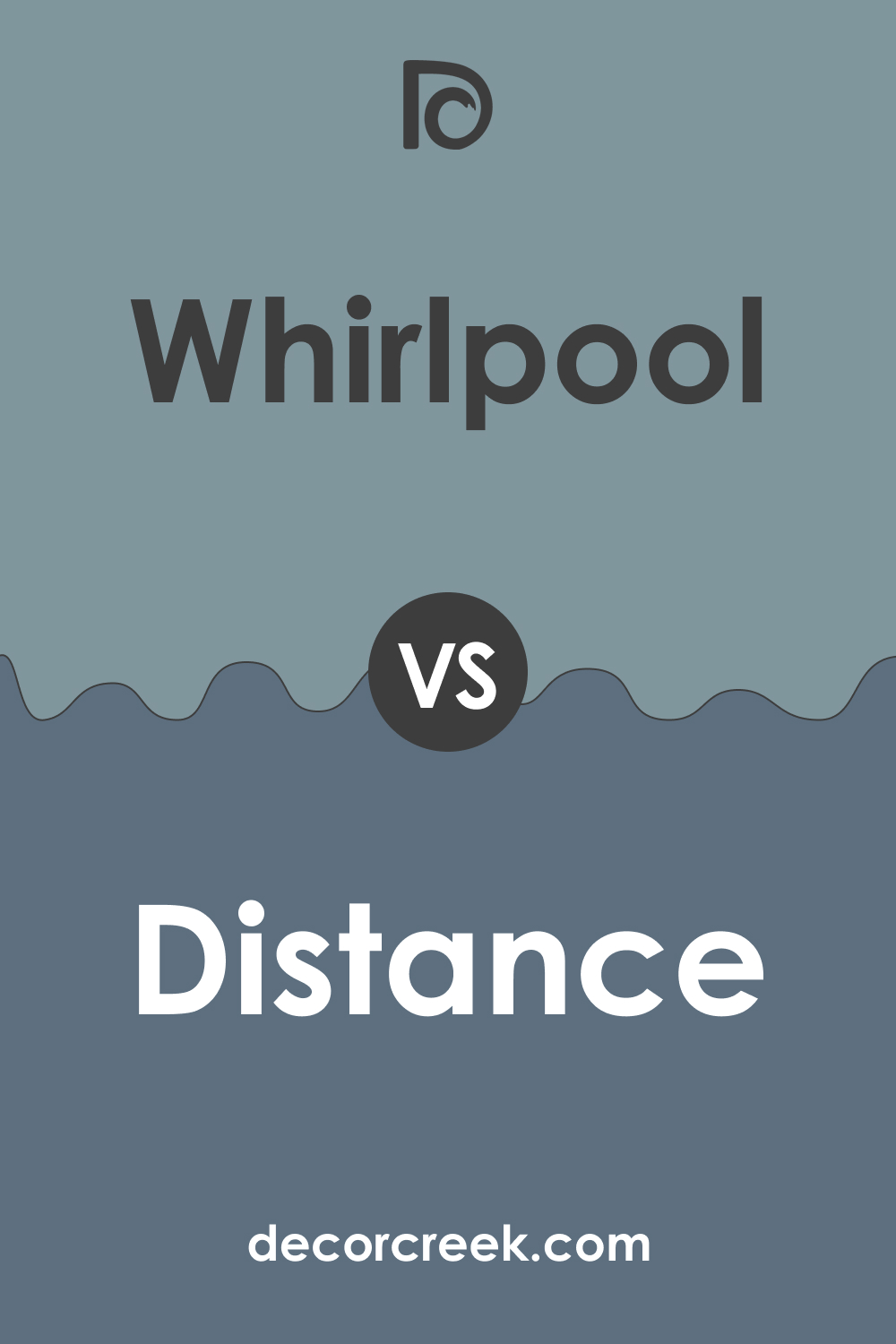 Whirlpool vs Smoky Azurite
SW Smoky Azurite is a cool-toned denim blue with yellowish and gray undertones, which already makes it different from SW Whirlpool. Also, they have different LRVs. the LRV value of SW Smoky Azurite is 25, and SW Whirlpool has an LRV of 29, which makes it a lighter color.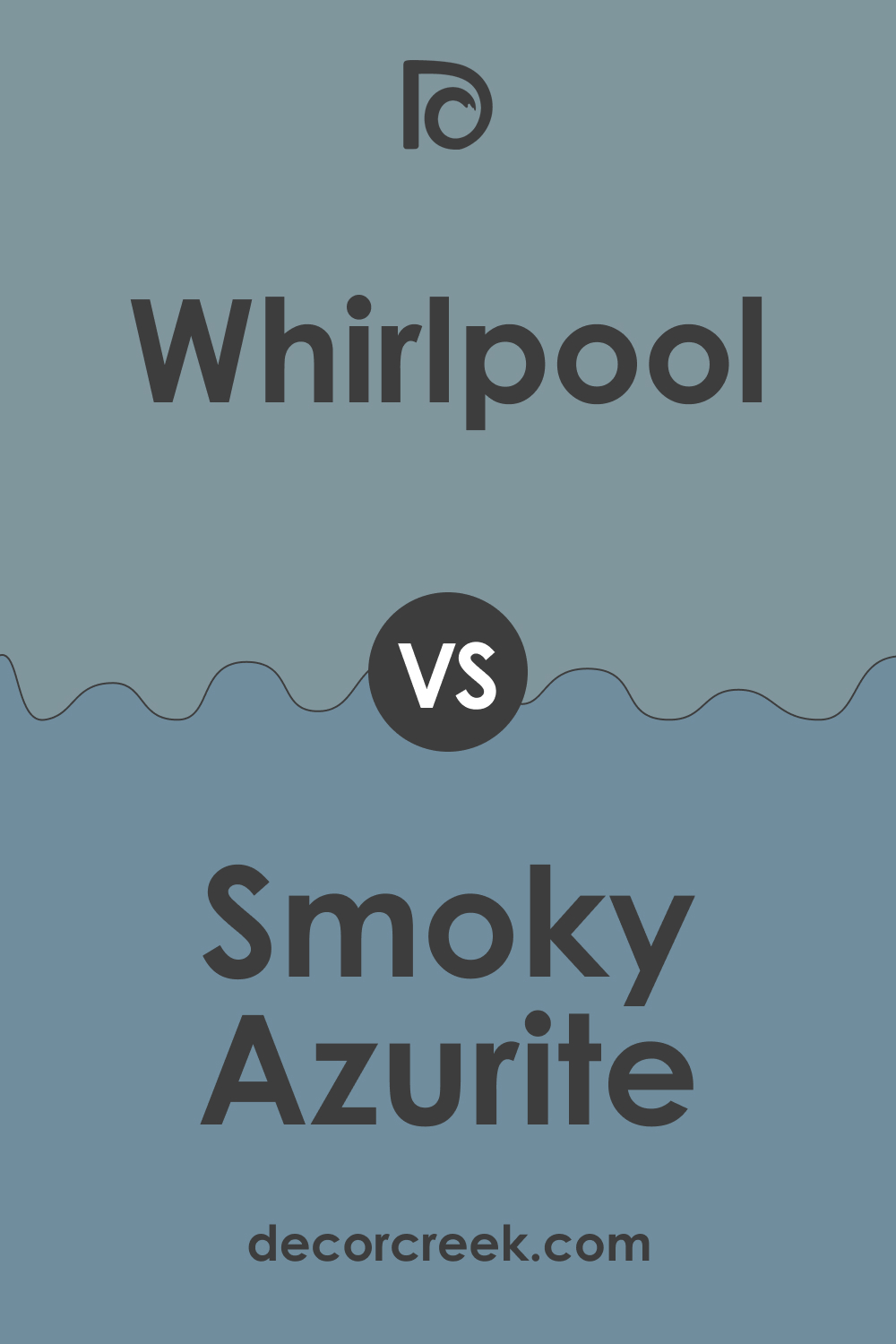 Whirlpool vs Refuge
The LRV of SW Refuge is 18. Also, this blue has noticeable greenish undertones that are easily seen right on the surface of the color. Compared to it, SW Whirlpool looks lighter and more muted, with a grayer hue exposed.
Where to Use SW 9135 Whirlpool Color In Your Home?
Despite a common belief that blue colors are difficult to use indoors, SW Whirlpool is very versatile! You can use it in almost any room, and below, we have described how it might work there.
SW Whirlpool in the Living Room
In living rooms, SW Whirlpool can create a tranquil backdrop for relaxation. Its softness can be balanced with bolder colors and patterns in furniture, textiles/upholstery, as well as artwork to make the space look visually engaging.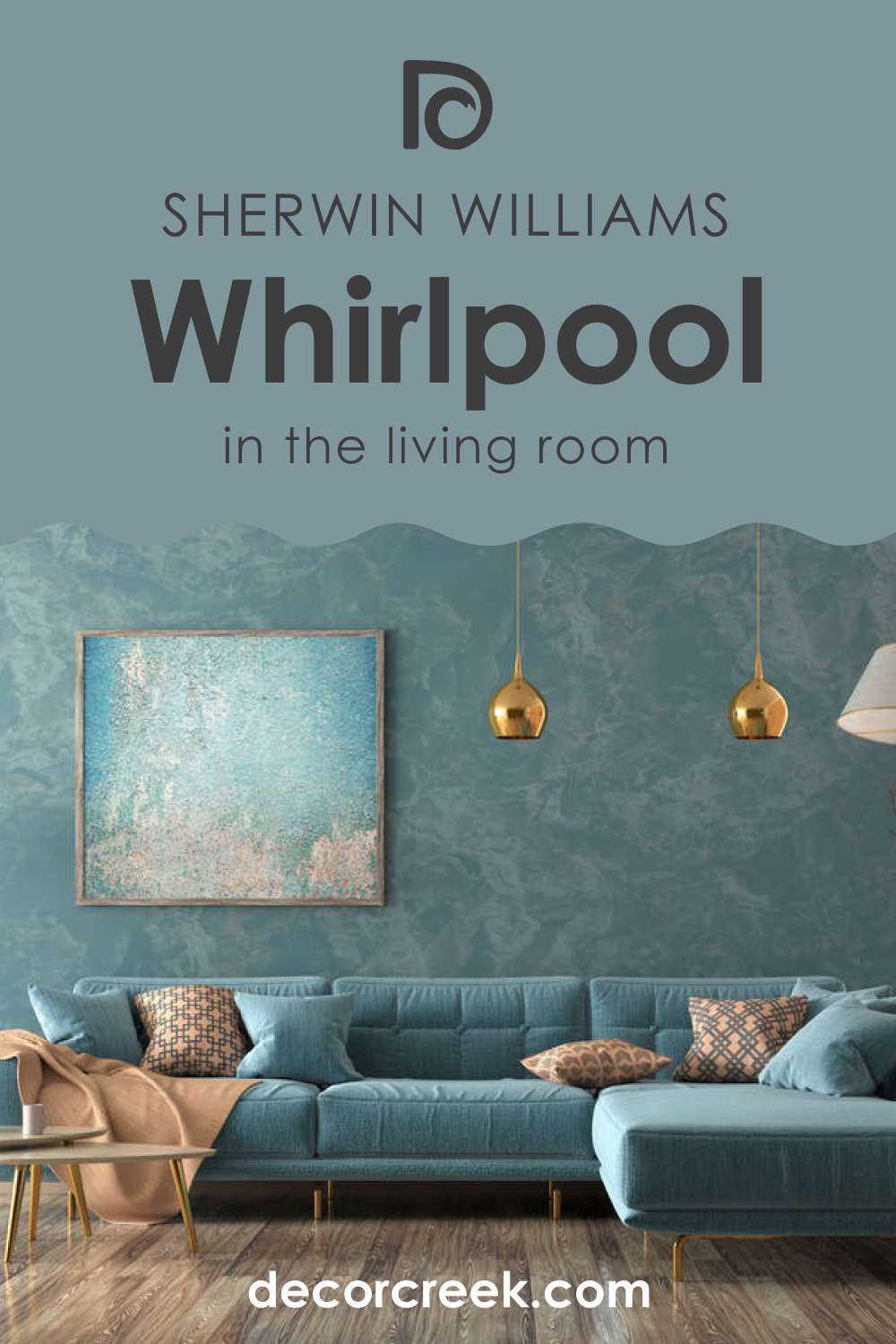 SW Whirlpool in a Bedroom
The calming effect of this blue makes it the perfect choice for your bedroom! This color will create a relaxing atmosphere without making the room feel cold and chilly.
We recommend you use SW Whirlpool as an accent wall color and pair it with complementary shades of gray, white, or beige.
However, if you are ok with bolder colors, you can choose complementary colors such as bright orange.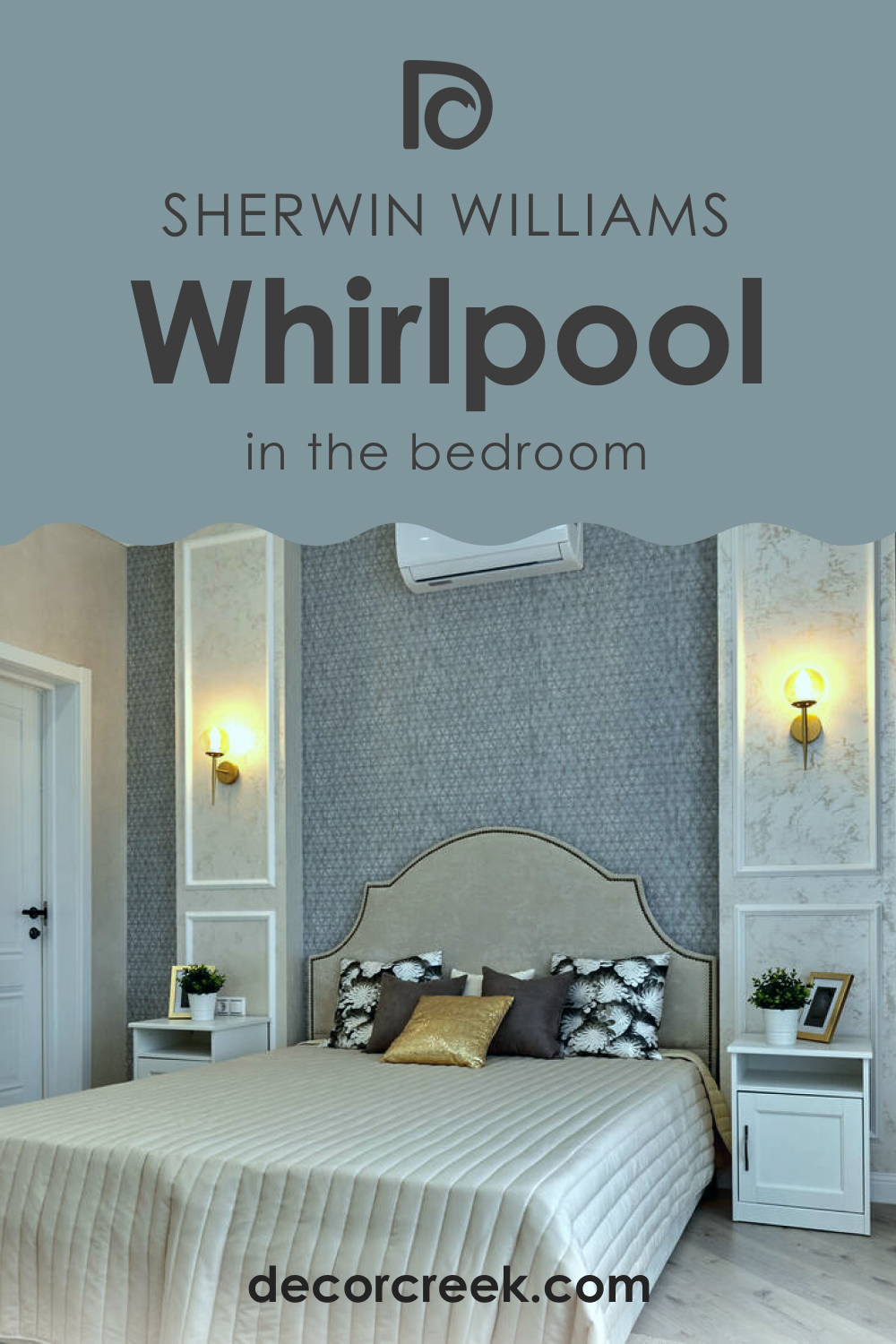 SW Whirlpool for the Bathroom
SW Whirlpool will easily transform your bathroom into a spa-like area! Its soothing and harmonizing hue works perfectly with tiles and fixtures of various materials. With this blue, you can turn your bathroom into an elegant and calming space.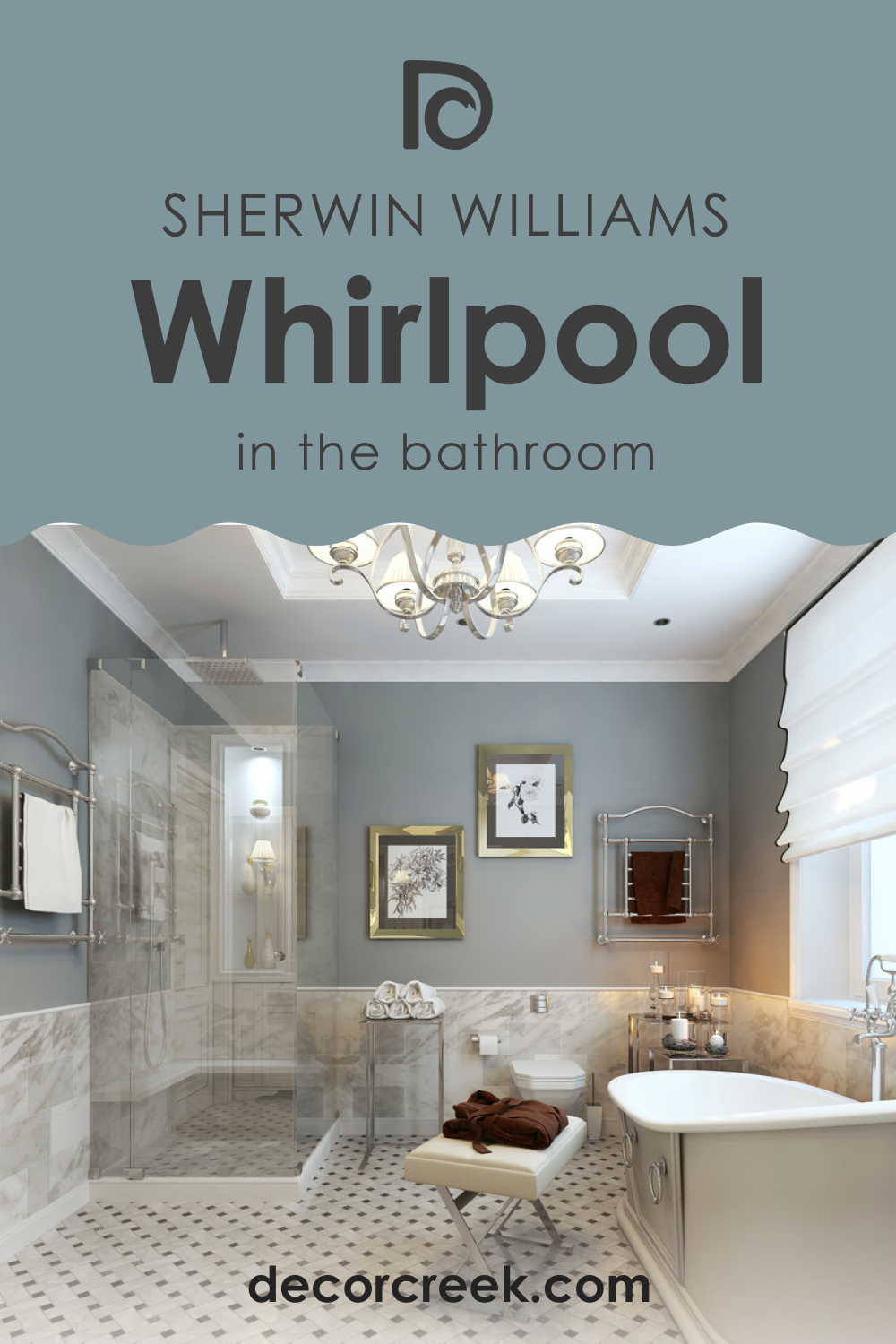 SW Whirlpool on the Kitchen
You might be surprised to learn that this soft blue will work well in your kitchen too! If you want to add a touch of freshness to your kitchen, pair SW Whirlpool with crisp white cabinetry and countertops, or use it as a complementary color for more vibrant hues.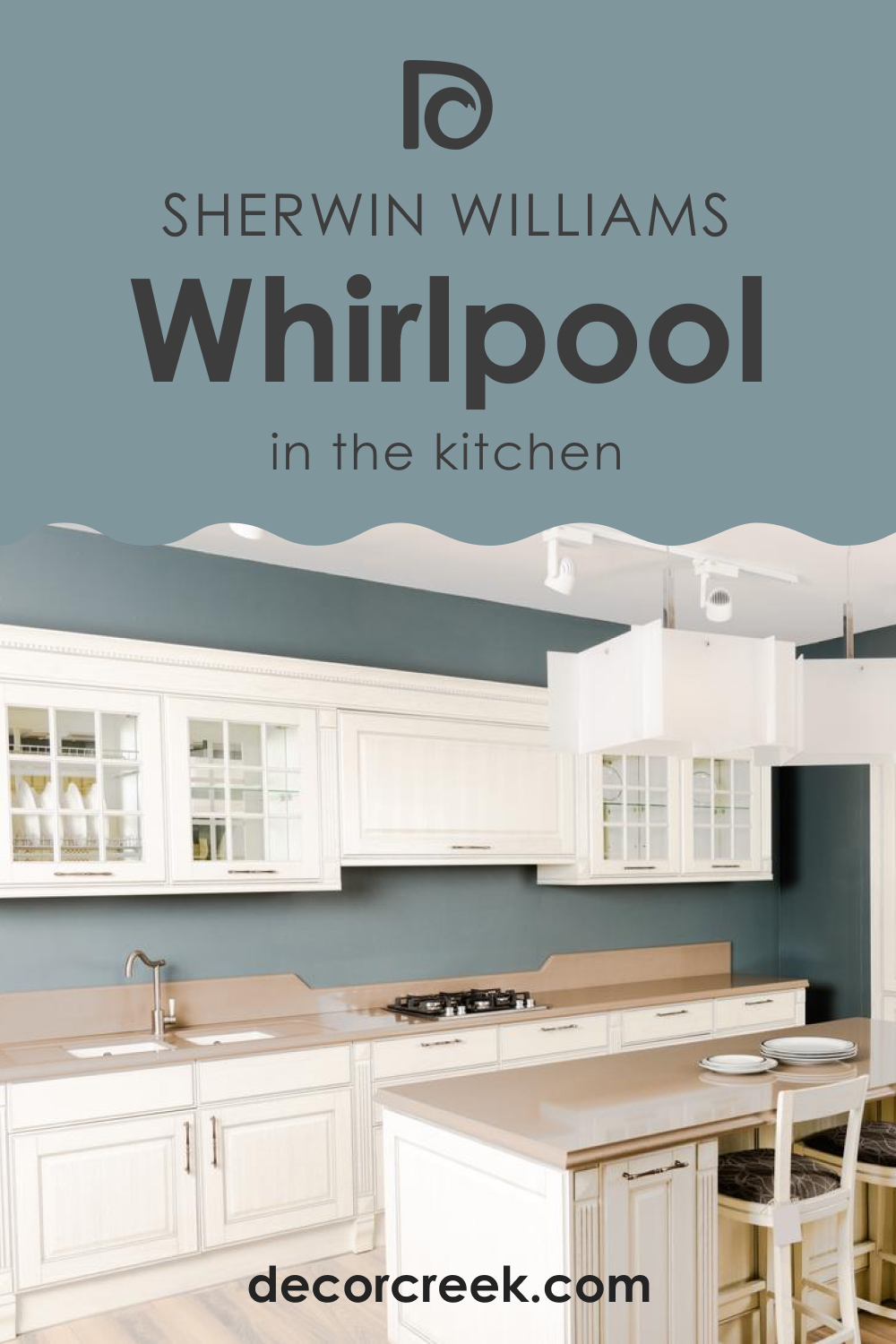 SW Whirlpool for the Exterior Use
Surprise! SW Whirlpool can also work as an exterior color! Ensure you pair it with the white trim and moldings, and your house will look fresh, stylish, and bright!
However, this blue color might work best on seaside homes and those located in sunny areas.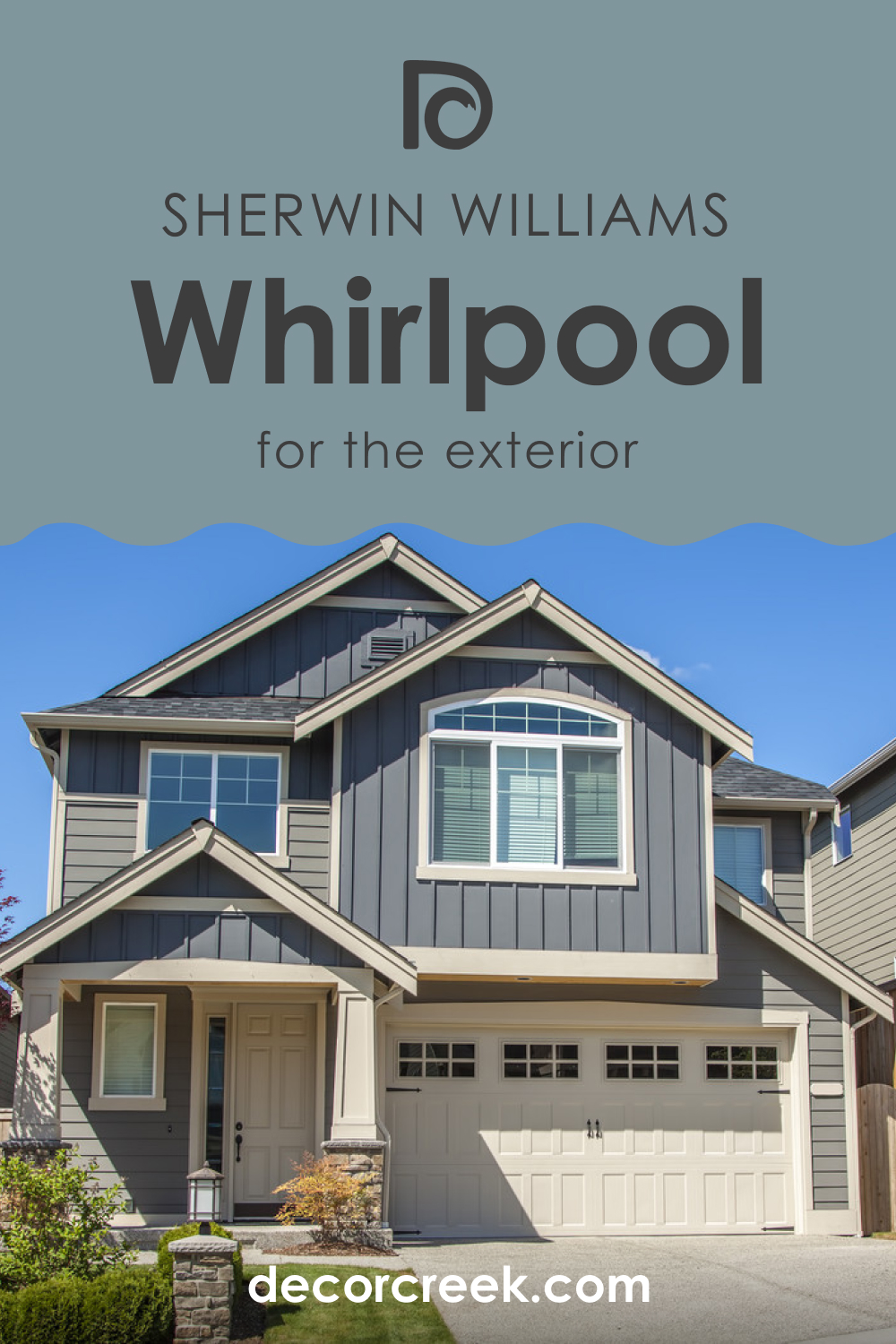 Now you know what kind of blue SW Whirlpool is. You learned its secrets, and now you can use this color in your home like a pro. Knowing its undertones, LRV, trim colors, and more, you will easily find the best place for this beautiful and calming blue, helping it reveal its true color and charm.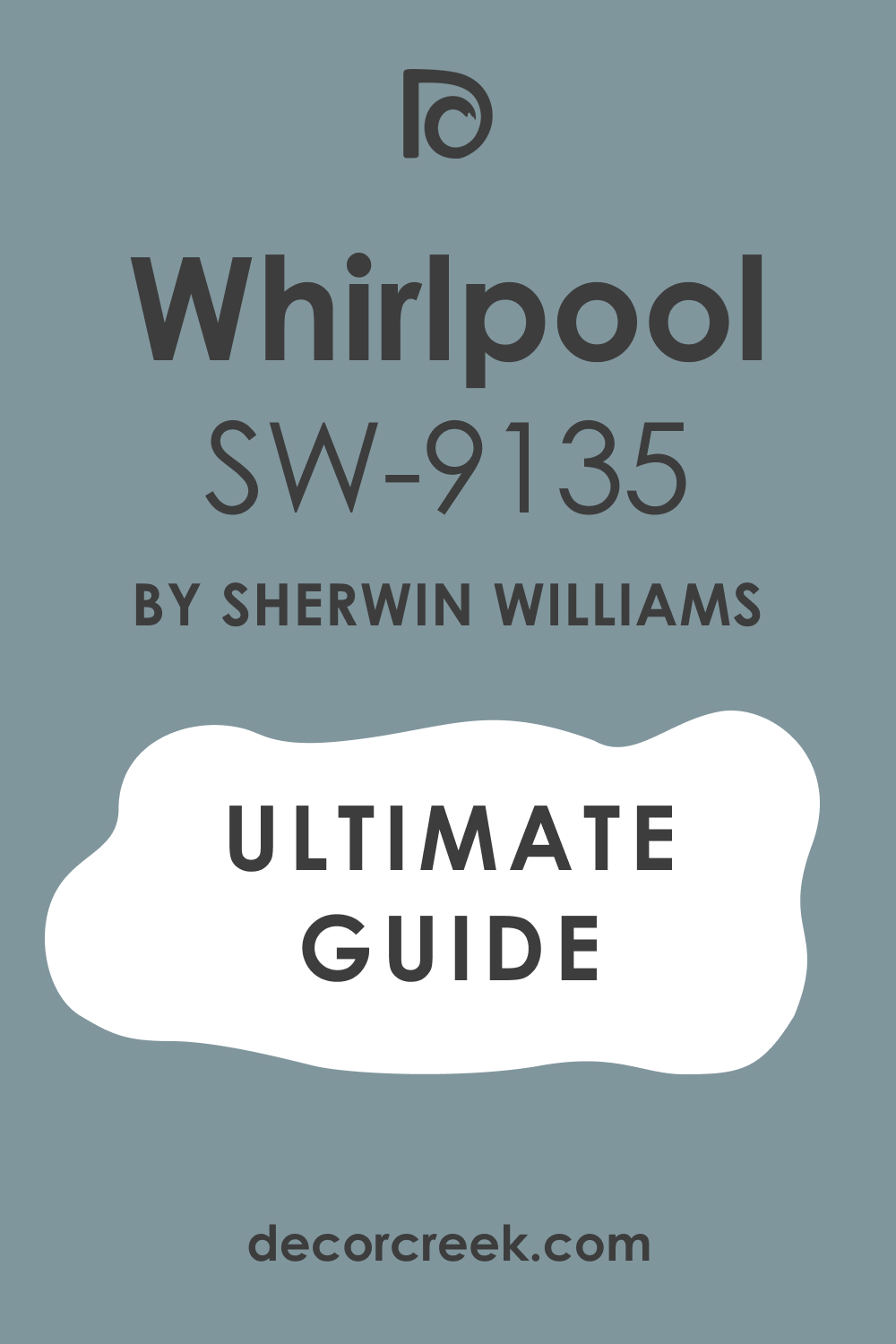 Frequently Asked Questions
⭐Does lighting affect how SW Whirlpool read on the walls?
Yes, it does. Both natural and artificial light can impact the perception of SW Whirlpool in a room.
⭐Does this blue have green undertones?
Some say it does. However, there's no visible green hue in it.
⭐Can SW Whirlpool be used as a front door color?
Yes, this blue can work well on your front door! Especially with the white exterior walls.