If you prefer calm and balanced interior palettes, you might want to consider gray as your main interior color. However, there are so many shades of it that it's often challenging to figure out which hue will work best in your home!
Today, we will tell you more about the Gray Cashmere paint color by Benjamin Moore in detail. You will learn what kind of gray it is and how it works in different rooms.
Also, we will explain what undertones it has and how it may react to light. With this and other information, using this gray hue will be much easier for you!
What Kind of Color Is Gray Cashmere 2138-60 by Benjamin Moore?
As Encycolorpedia says, Gray Cashmere 2138-60 by Benjamin Moore is a soft, soothing gray with hints of blue and green. Thanks to its delicate and soft appearance, as well as its light hue, this color can bring an uplifting note to the space where you use it.
However, due to mixed undertones, this color may work quite unexpectedly! On the other hand, it is a pretty light and airy hue that will bring soothing and calming vibes indoors.
Thanks to this airiness, the Gray Cashmere color is highly recommended for indoor use no mater the size of space it is used in.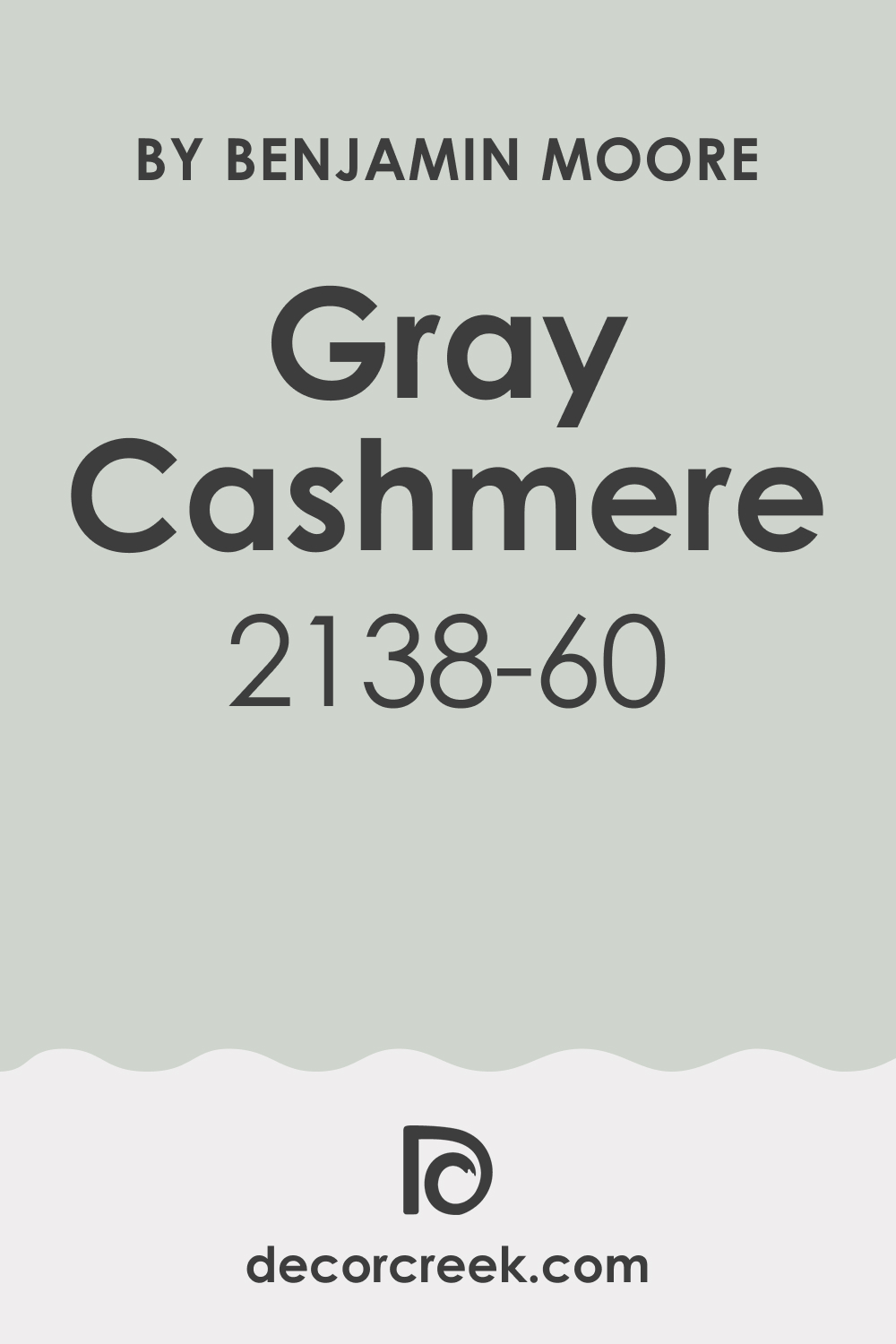 Is It a Warm or Cool Color?
Benjamin Moore Gray Cashmere is classified as a cool color because of its blue undertones. However, people often see it as a warm color because it does read much warmer than most blue-gray or violet-gray hues.
Anyway, this color will hardly make a room feel chilly and freezing cold like many crisp and cool-toned colors do. Instead, it will bring a note of freshness and airiness.
What Undertones Does Gray Cashmere 2138-60 Have?
This gray paint color has deep blue and green undertones. This is why Benjamin Moore Gray Cashmere is often classified as a muted blue-green color. Due to this muted appearance, it is typically considered gray to identify it easier.
But if you look closely at this color, you may notice that its undertones tend to read more green than gray or blue. At the same time, in cool light, this color may indeed look somewhat bluer on the walls.
Also, it tends to pick up hues from other colors! For example, when you compare Benjamin Moore Gray Cashmere with other blue and green colors, it typically looks gray.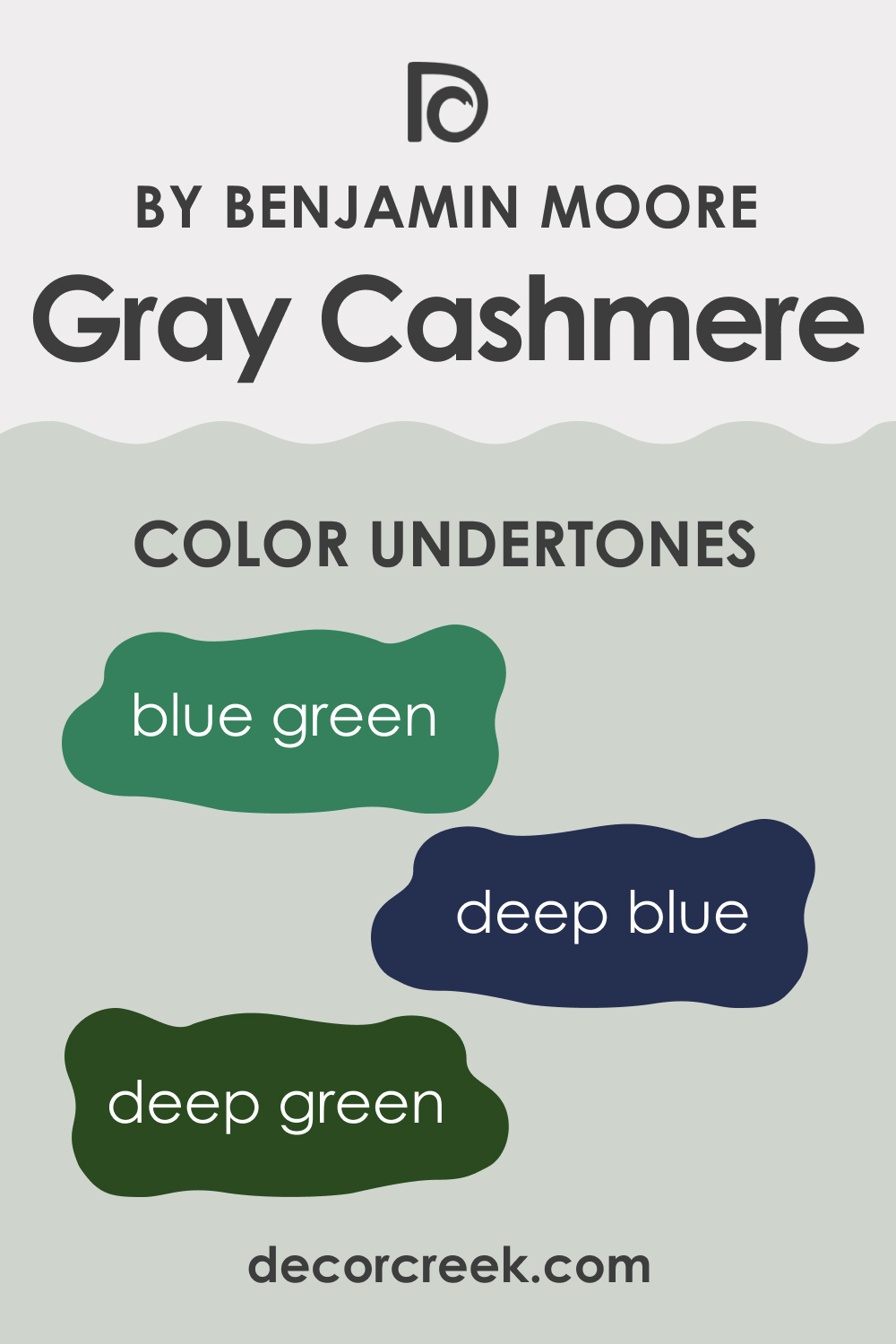 Gray Cashmere 2138-60 Coordinating Colors
Benjamin Moore Gray Cashmere works amazingly with many colors! In particular, it will pair great with cool blue whites, clean whites, and off-white colors. It will also look awesome if paired with rich mid-toned or dark blues or light neutral beige colors such as Manchester Tan.
Here are some of the tested and proven coordinating colors you can always use with Benjamin Moore Gray Cashmere and be happy with the result:
BM 2140-40 Storm Cloud Gray
BM 2146-50 Rainforest Dew
AF-560 Flint
BM 2053-10 Mallard Green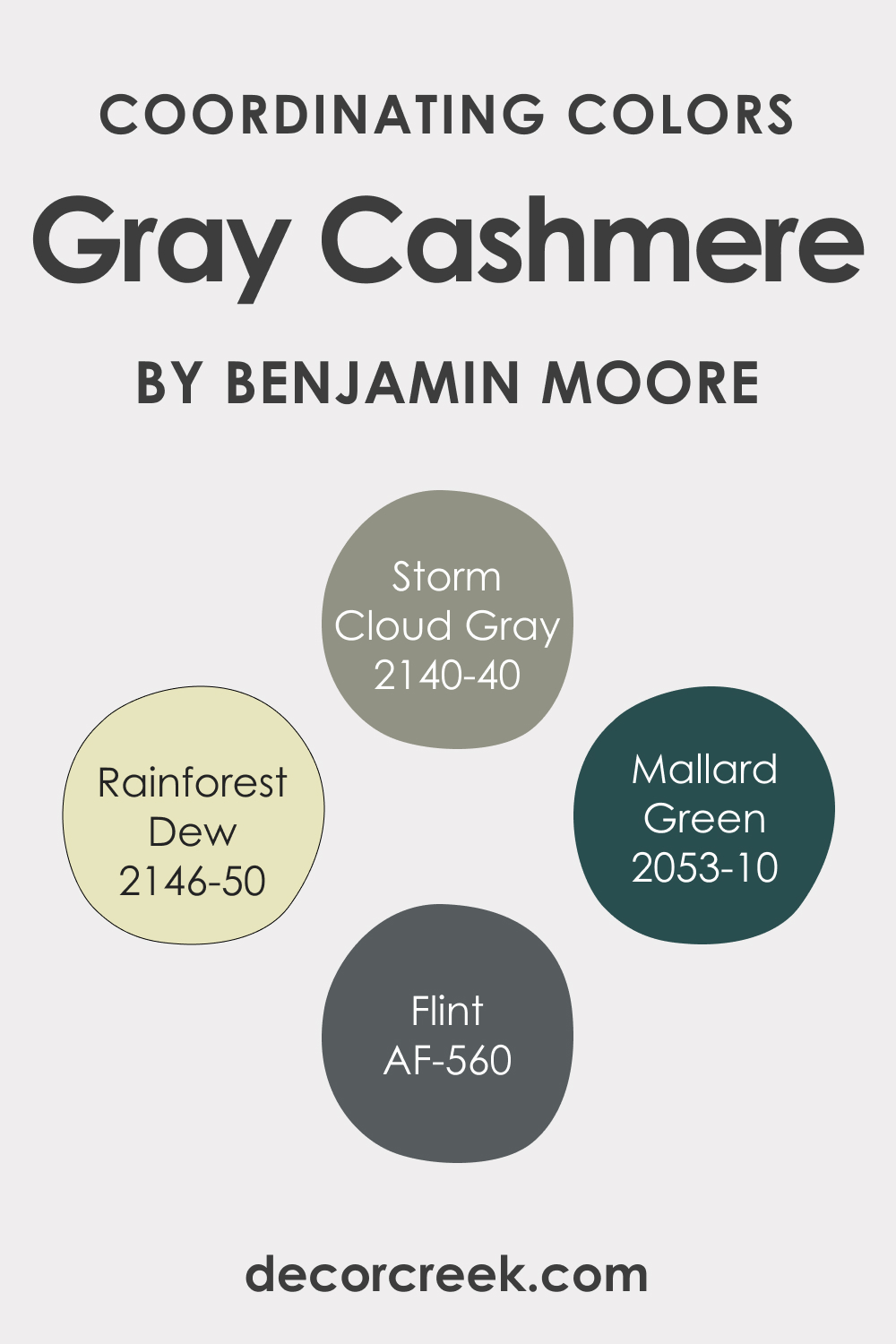 What LRV Gray Cashmere 2138-60 Has and How It Reacts to Light?
The LRV (light reflectance value) of Gray Cashmere is 65, which makes it light and bright, but still filled with color. Thanks to the LRV value that is higher than 50, this color is pretty reflective and light. This is why you can mainly use it in any room.
This paint color will typically look warm and soft in rooms filled with ample natural light, especially in South-facing rooms. In rooms with little light or cool North-facing rooms, this hue will start to read blue in color instead. Also, note that Gray Cashmere can change from green to blue throughout the day!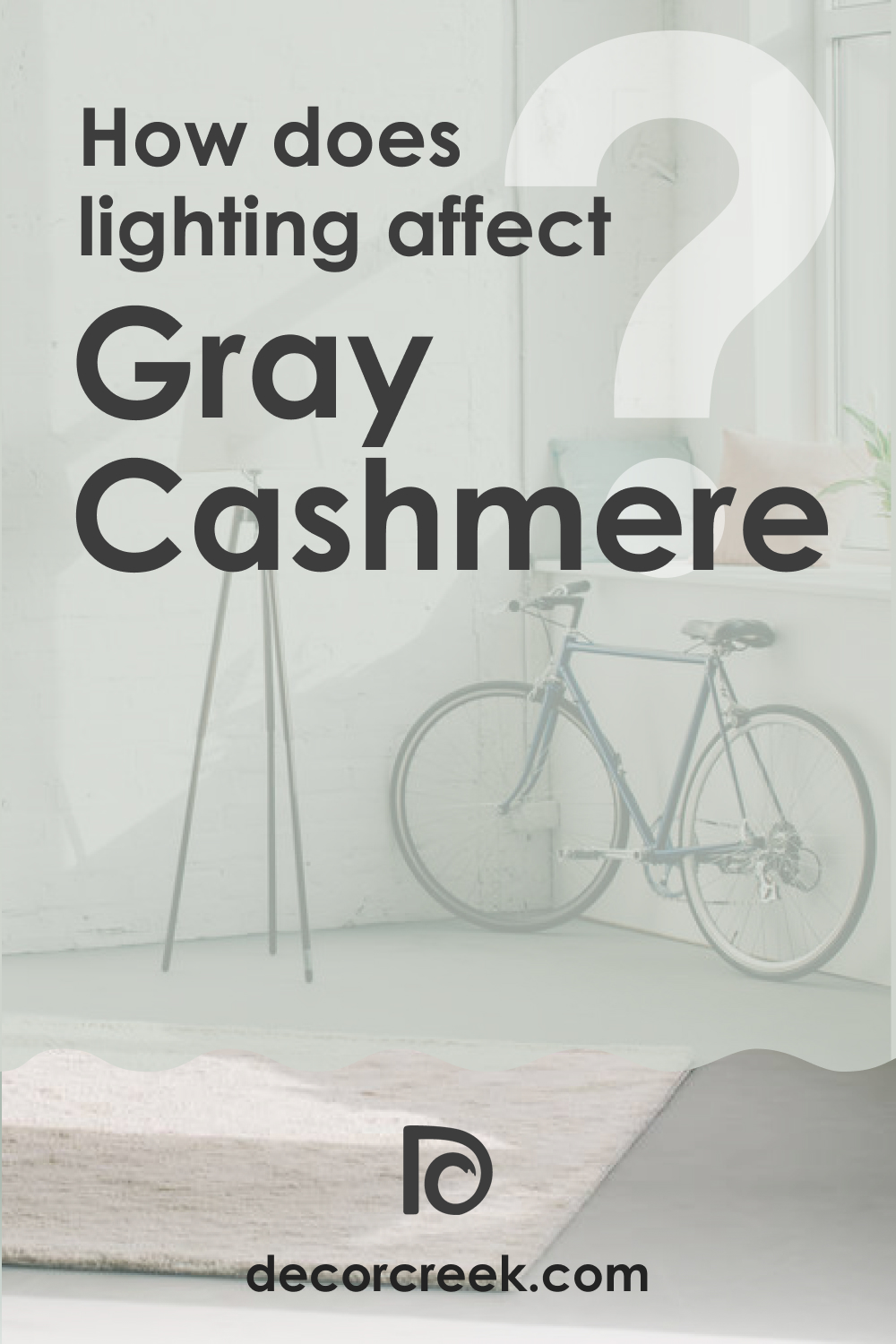 For those who don't know, LRV stands for Light Reflectance Value. This is a measurement that shows how much light a color can reflect from the surface. LRVs range from zero (black) to 100 (white).
Colors whose LRVs are over 50 are considered reflective and light, and those with LRVs under 50 are dark, reflecting less light.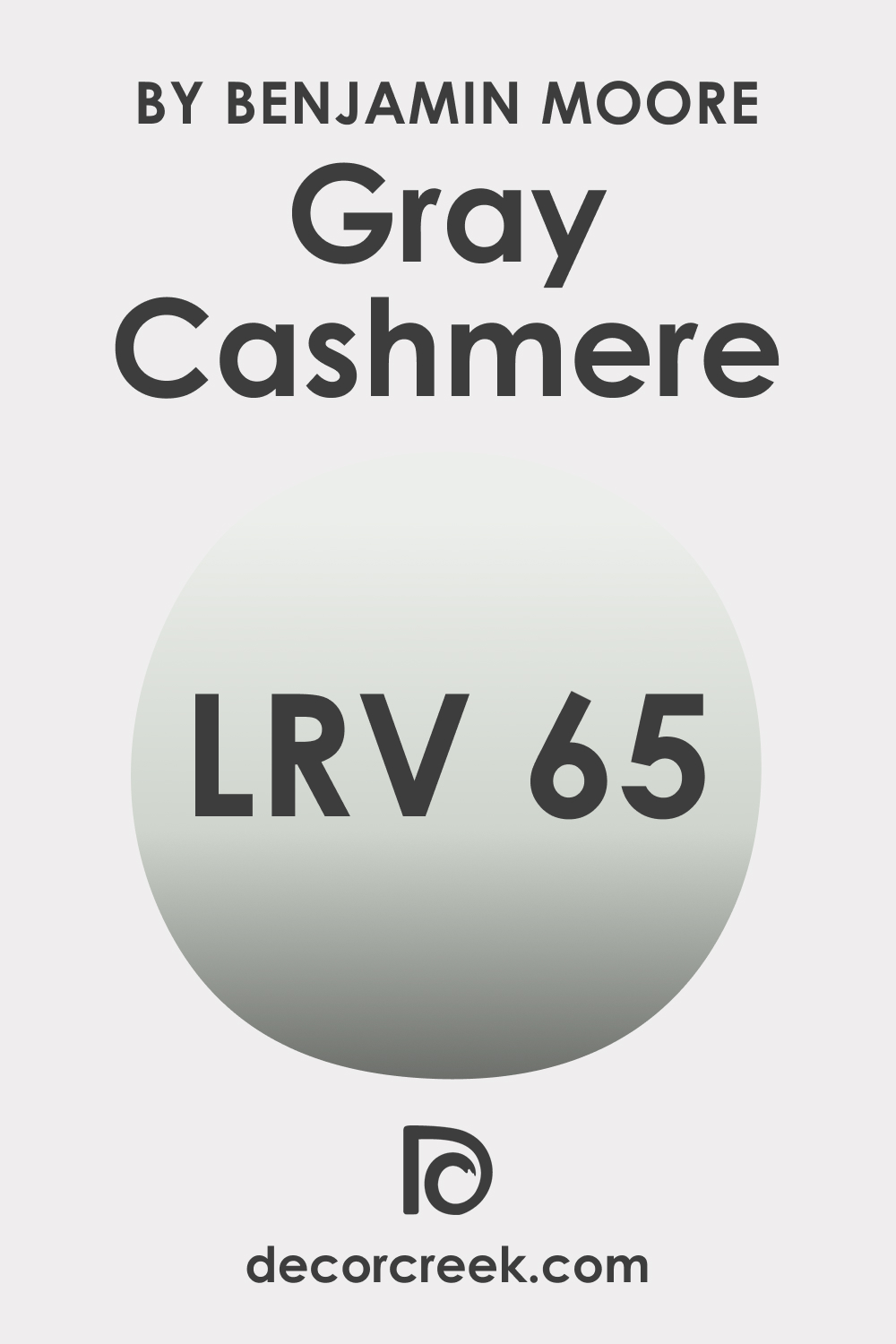 LRV – what does it mean? Read This Before Finding Your Perfect Paint Color
What Is the Best Trim Color To Use With Gray Cashmere 2138-60?
White is the best trim color to use with most hues you might want to see on your walls. Speaking of Benjamin Moore Gray Cashmere, it can pair well with many white paint colors. In particular, it will work best with cool whites and clean whites. Off-whites can also work well with this hue.
However, note that warmer of-whites and creams can display some yellowness next to Gray Cashmere! Below, we have collected several best trim colors to use with the Gray Cashmere color:
CC-30 Oxford White
CC-20 Decorator's White
OC-65 Chantilly Lace
OC-117 Simply White
OC-17 White Dove
OC-61 White Diamond
OC-130 Cloud White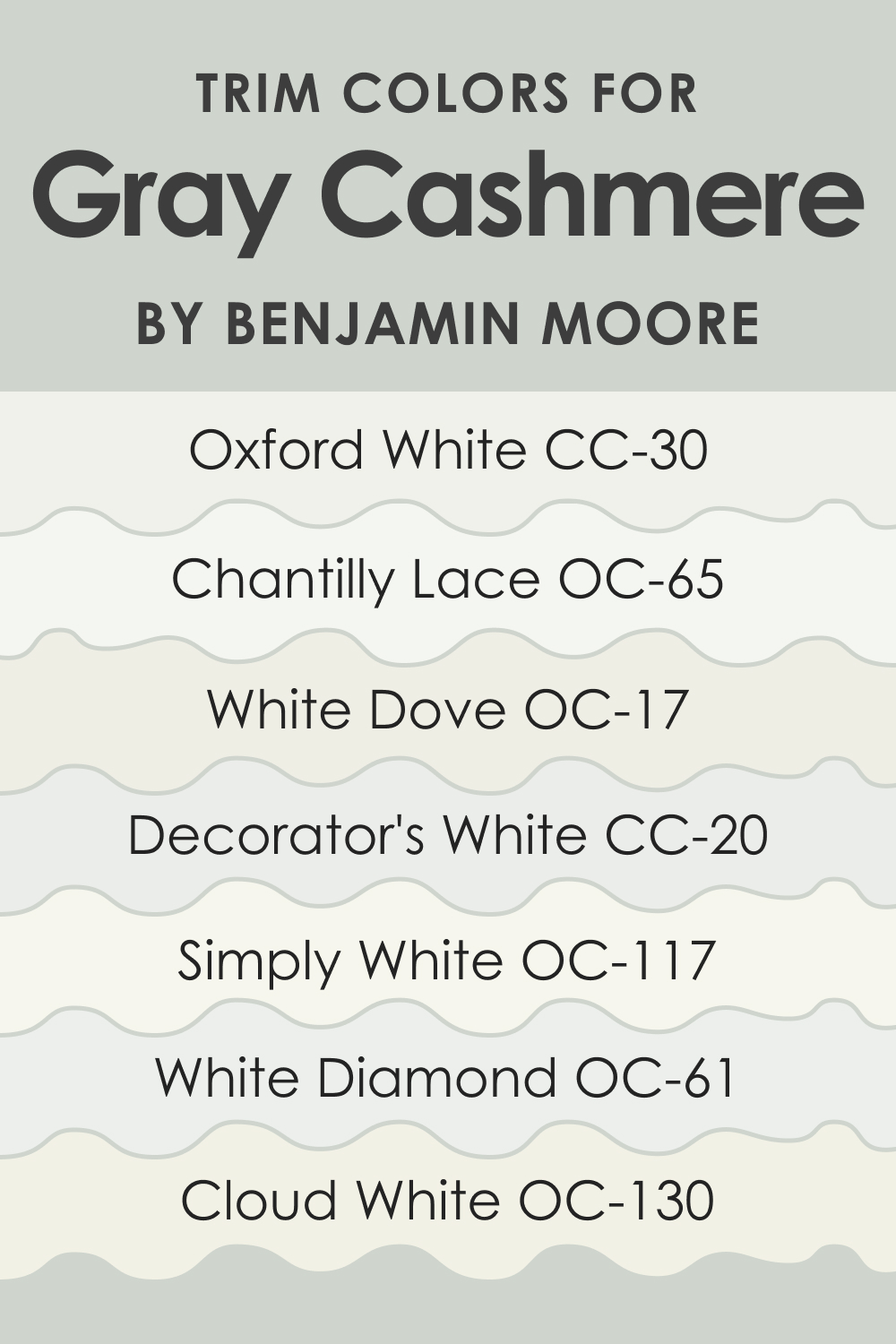 Colors Similar to Gray Cashmere 2138-60
If you are not happy with how Gray Cashmere reads in your home, the best way to fix it is to use another color that reads the same or very close to this hue. But since it can be pretty challenging to find suitable substitute colors to use instead of Gray Cashmere, we have prepared a few suggestions you might want to check out:
BM 1576 Ice Cap
BM 1569 Night Mist
BM 864 Oystershell
These are the closest color matches, which means you won't have to adjust the overall palette much.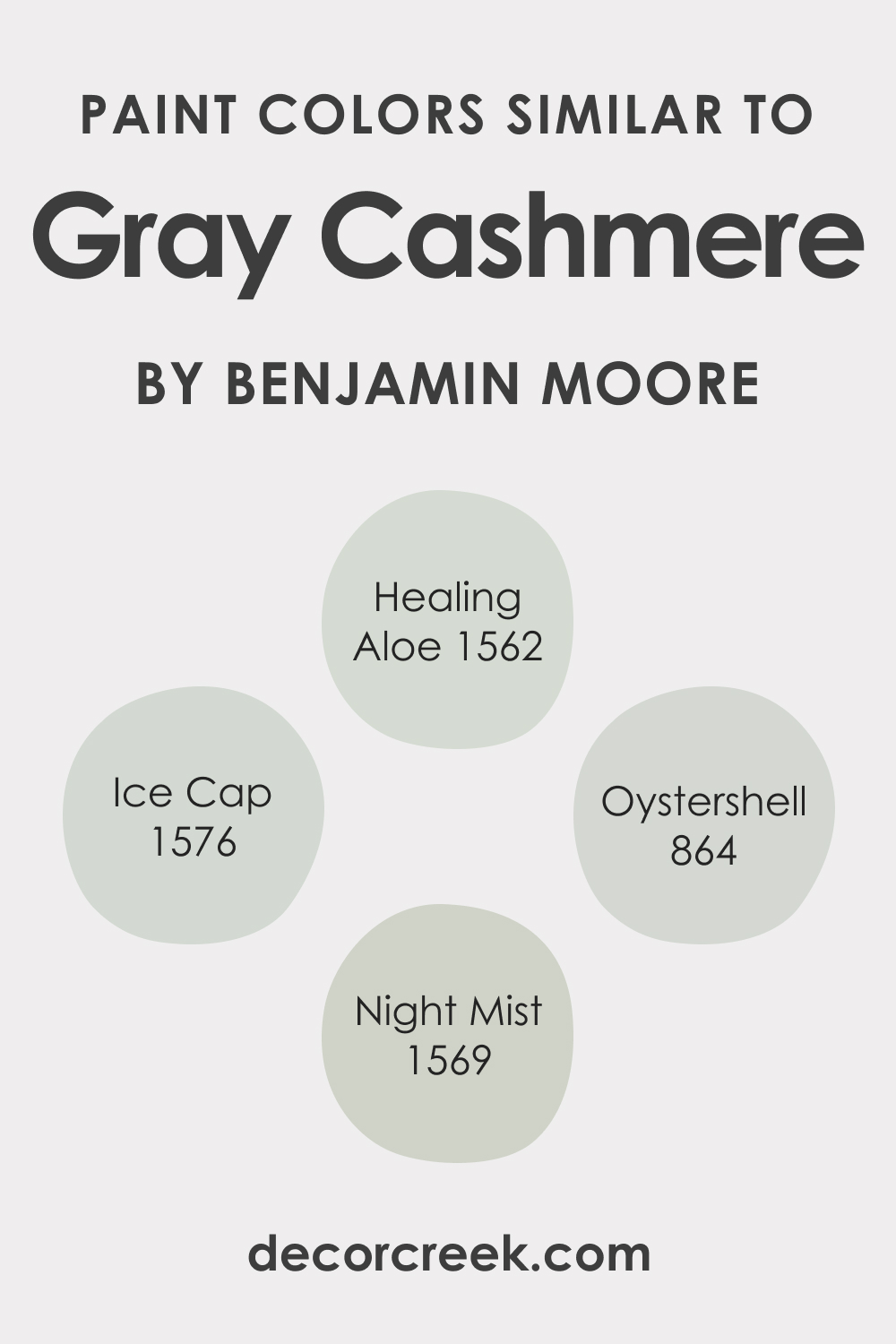 Colors That Go With Gray Cashmere 2138-60
To achieve an eye-pleasing and varied yet balanced color palette in your home, you need to know what colors will go well with the hue you use on the walls. For Benjamin Moore Gray Cashmere, we recommend you the following paint colors to make your living space more colorful:
SW 6496 Oceanside
SW 6510 Loyal
SW 6148 Wool Skein
BM Gentlemen's Gray 2062-20
BM Amazon Soil 2115-30
BM Rosy Peach 2089-20
OC-12 Muslin
HC-9 Chestertown Buff
HC-86 Kingsport Gray
Comparing Gray Cashmere 2138-60 With Other Colors
To help you better see the difference between paint colors that read the same, we recommend you read how Gray Cashmere compares to other similar hues. This will show you how distinct LRVs and undertones can make similar colors read quite differently.
Gray Cashmere vs. Quiet Moments
These colors come from the same color collection, but they do have differences. Compared to Gray Cashmere, whose undertones are prominently greenish here, BM Quiet Moments reads noticeably grayer. As a result, BM Quiet Moments also seems a bit more saturated.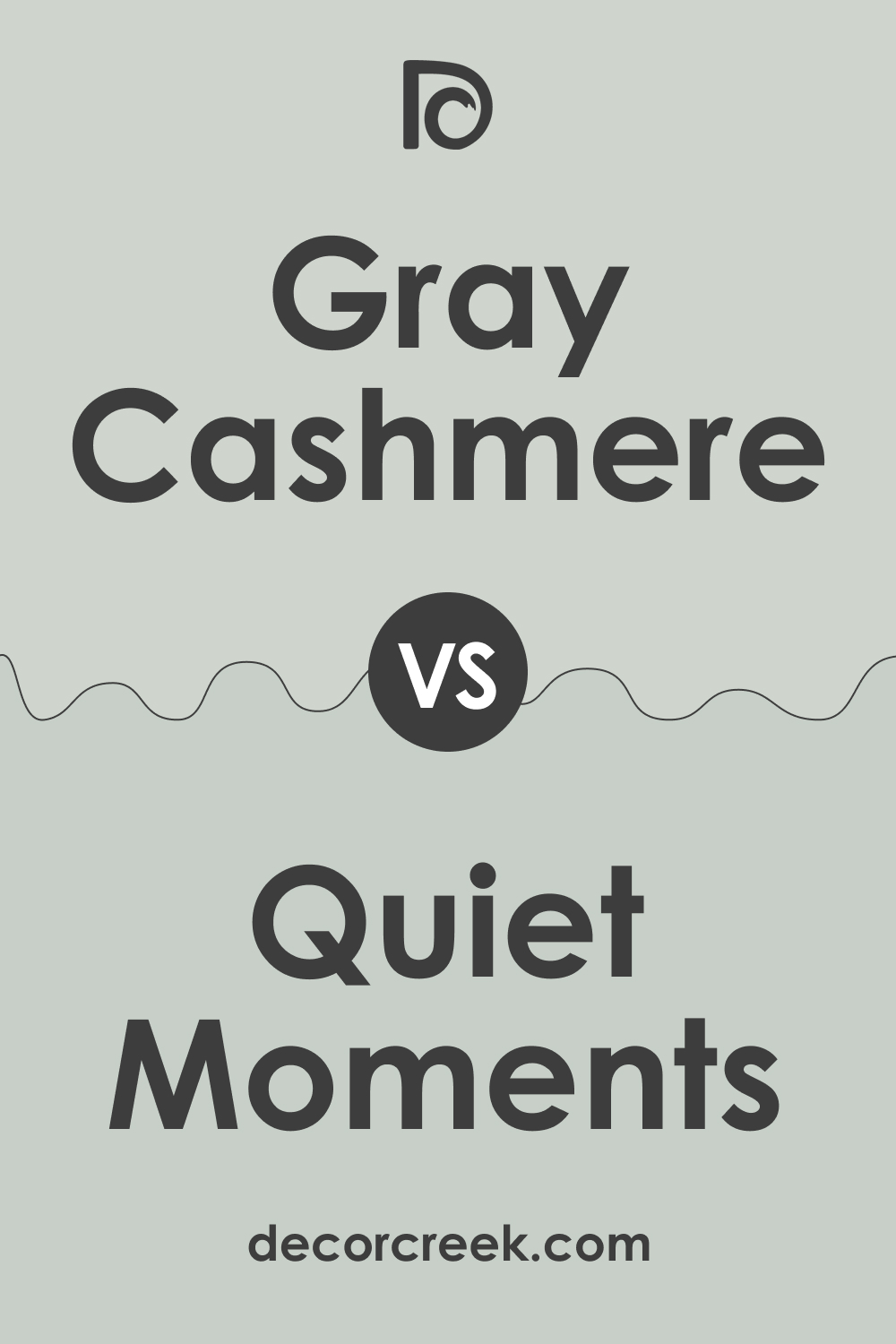 Gray Cashmere vs. Sea Salt
BM Gray Cashmere and Sherwin-Williams Sea Salt are almost exactly the same color. The LRV value of Gray Cashmere is 65, and SW Sea Salt's LRV is 63, which means they are pretty close in terms of light reflectivity. However, Gray Cashmere reads more muted, whilst its counterpart is more colorful. Also, Gray Cashmere is lighter than SW Sea Salt.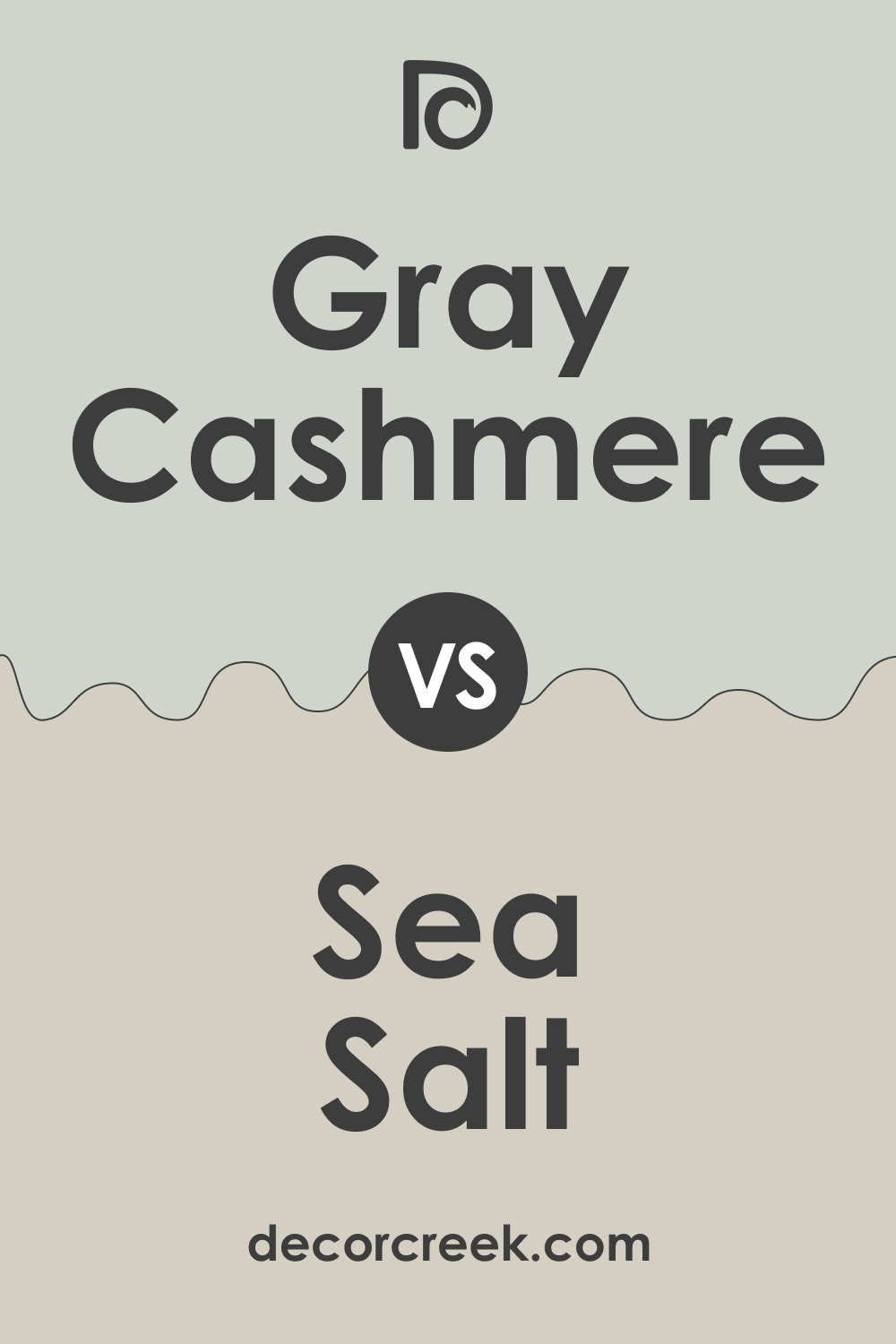 Gray Cashmere vs. Clary Sage
SW Clary Sage reads green compared to BM Gray Cashmere, which looks grayer. Also, SW Clary Sage reads more saturated and is definitely deeper in tone due to the lower LRV value of 41. BM Gray Cashmere, whose LRV is 65, reads much lighter.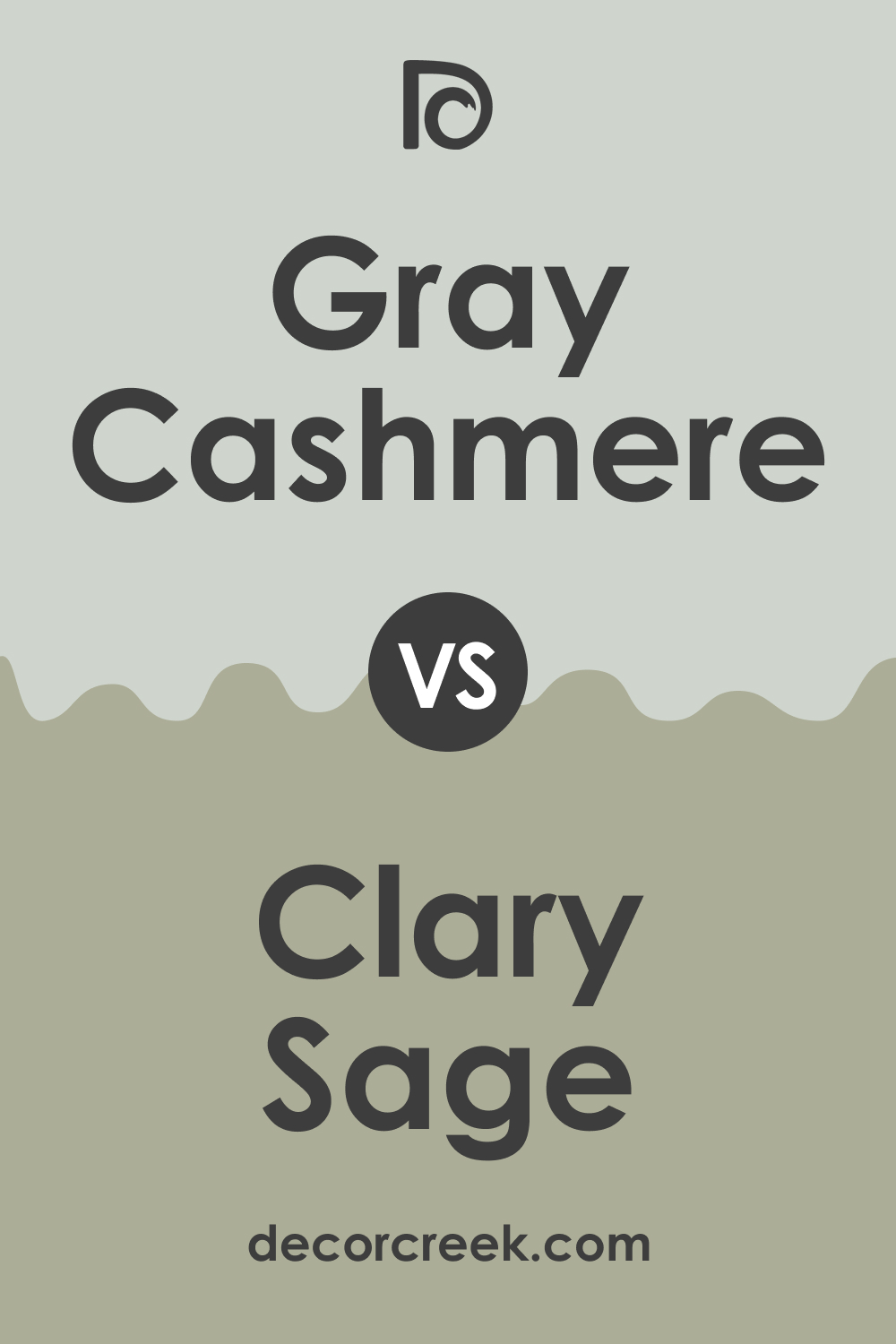 Gray Cashmere vs. Glass Slipper
BM Glass Slipper reads clear blue compared to a more muted and definitely grayer Gray Cashmere. Also, compared to BM Glass Slipper, its counterpart reveals greenish undertones pretty noticeably.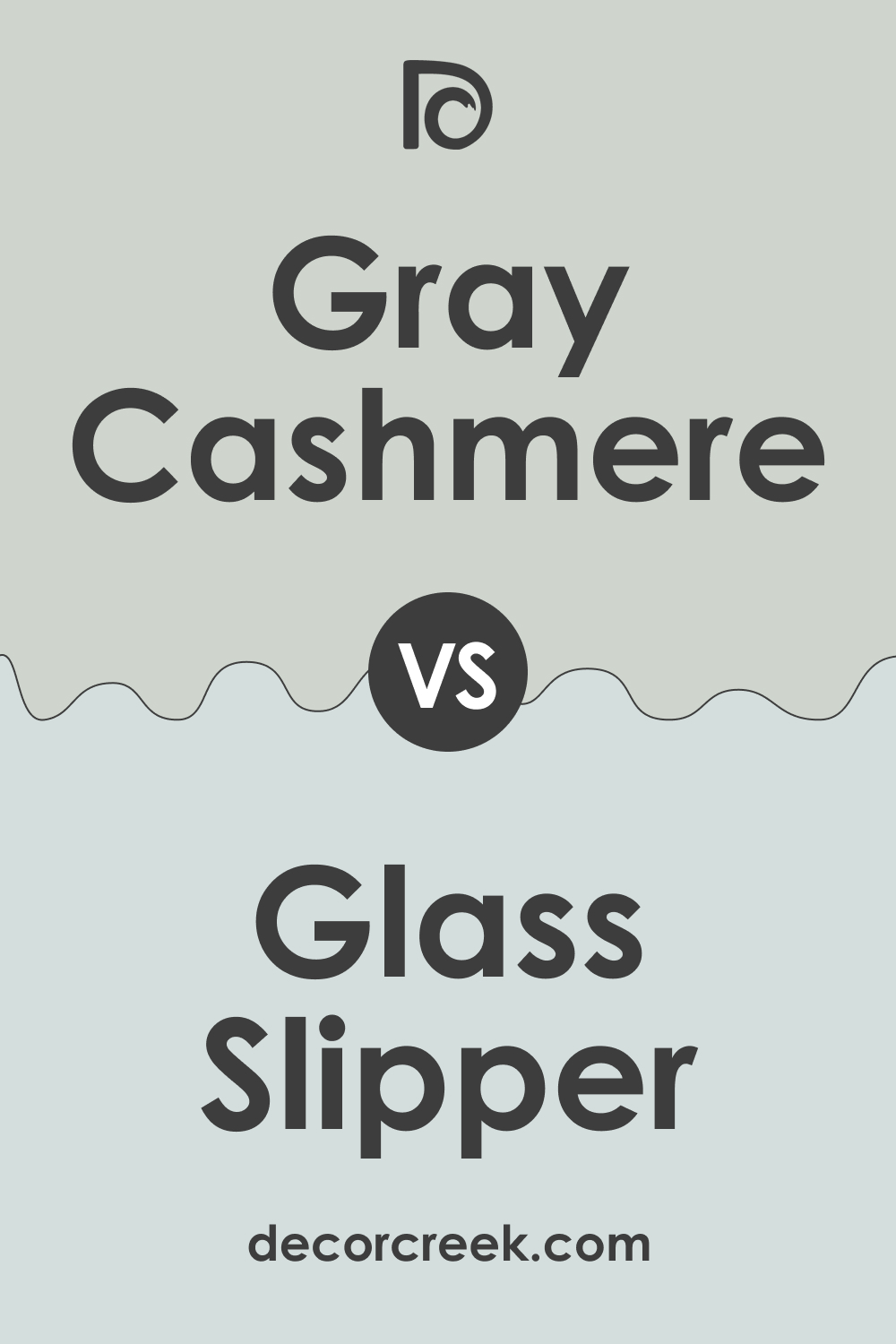 Gray Cashmere vs. Healing Aloe
Although the LRV value of BM Healing Aloe is 67 (which is not much higher than the LRV 65 of Gray Cashmere), this color looks significantly lighter. Also, BM Healing Aloe has more complex undertones of blue, green, and gray, whilst Gray Cashmere is simpler due to the green and blue undertones.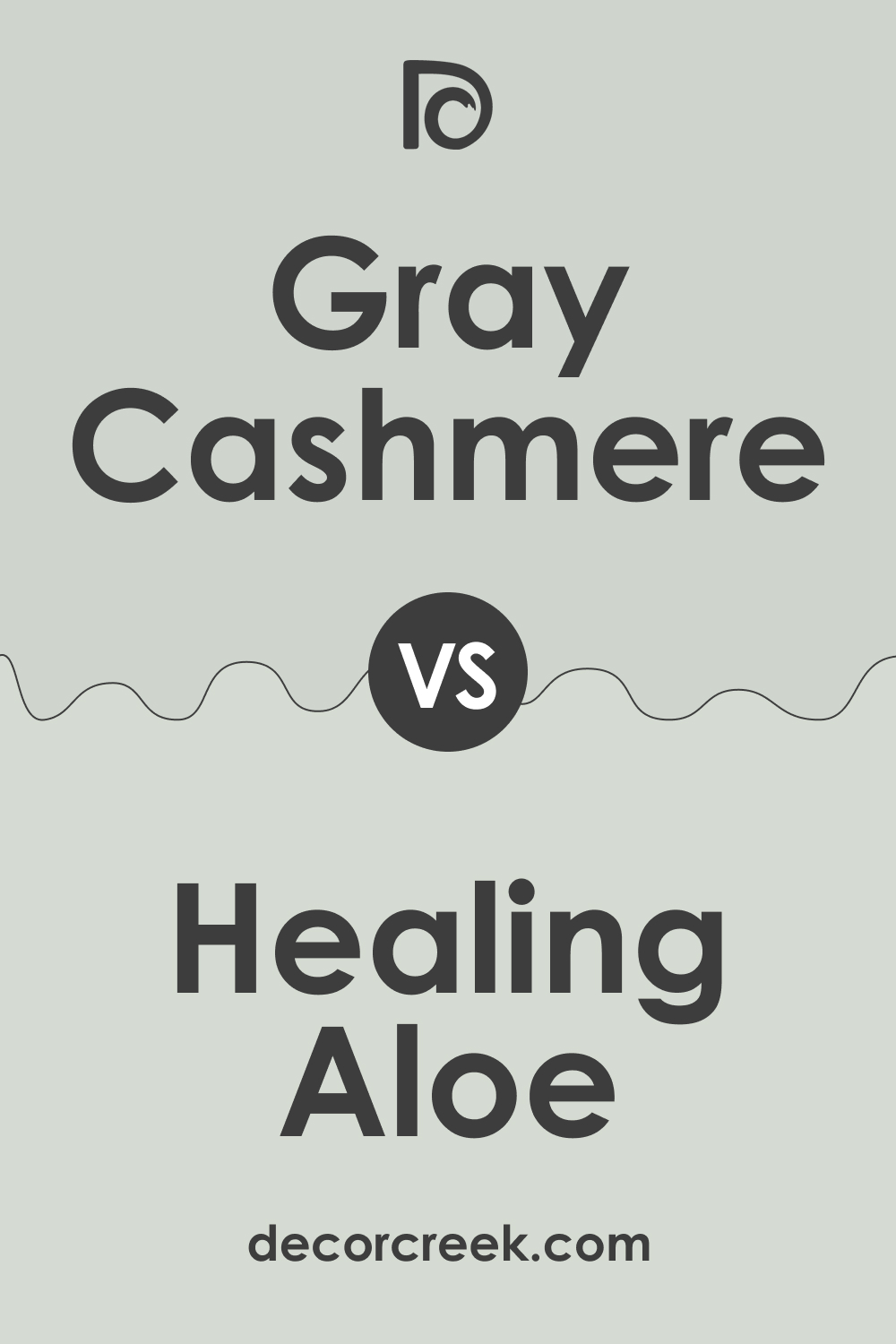 Gray Cashmere vs. Palladian Blue
BM Palladian Blue is a soft blue-green color with an LRV 60. Technically, it's darker than Gray Cashmere, whose LRV is 65, but in fact, these colors look very close in terms of brightness and reflectivity. This is due to the Gray Cashmere color's gray hue that's very prominent here.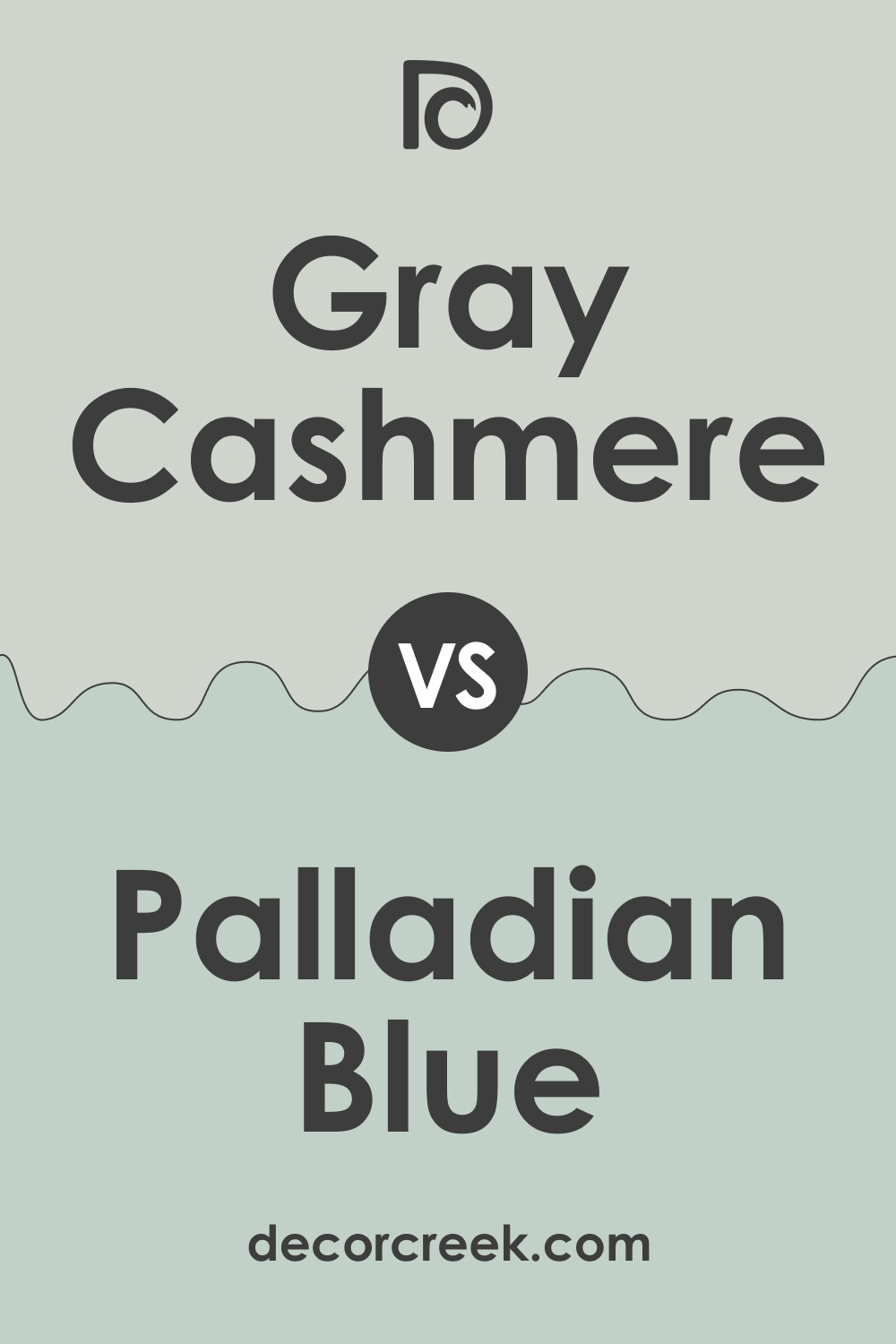 Where to Use Gray Cashmere 2138-60 Paint Color In Your Home?
Despite its tricky nature, the Gray Cashmere color by Benjamin Moore is pretty versatile! below, you can read how this lovely and calming hue may read in different rooms of your home.
Gray Cashmere 2138-60 in the Living Room
Using BM Gray Cashmere in a living room is a great idea, but only if the room is separated from the rest of the space. If you use this color in a living room that's the part of a larger area, the hue will stand on its own.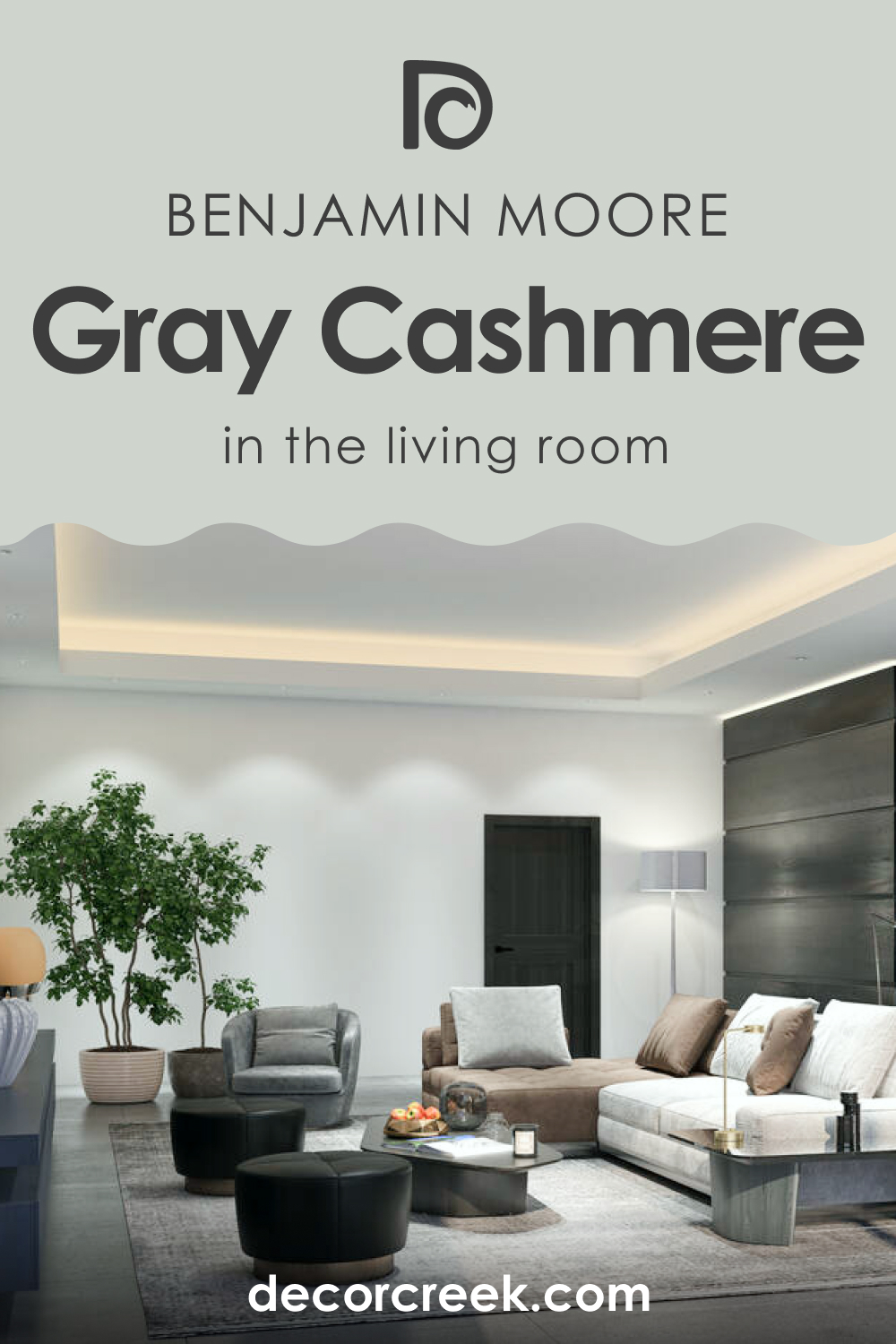 Gray Cashmere 2138-60 in a Bedroom
Depending on the light, this color may read differently in your bedroom. In bedrooms with less natural light, this color will read grayer and more muted, creating a more intimate and somewhat darker atmosphere.
In bedrooms with broad daylight, Gray Cashmere will look lighter and less saturated. But generally, it's a nice color to add a fresh and relaxing vibe to this space.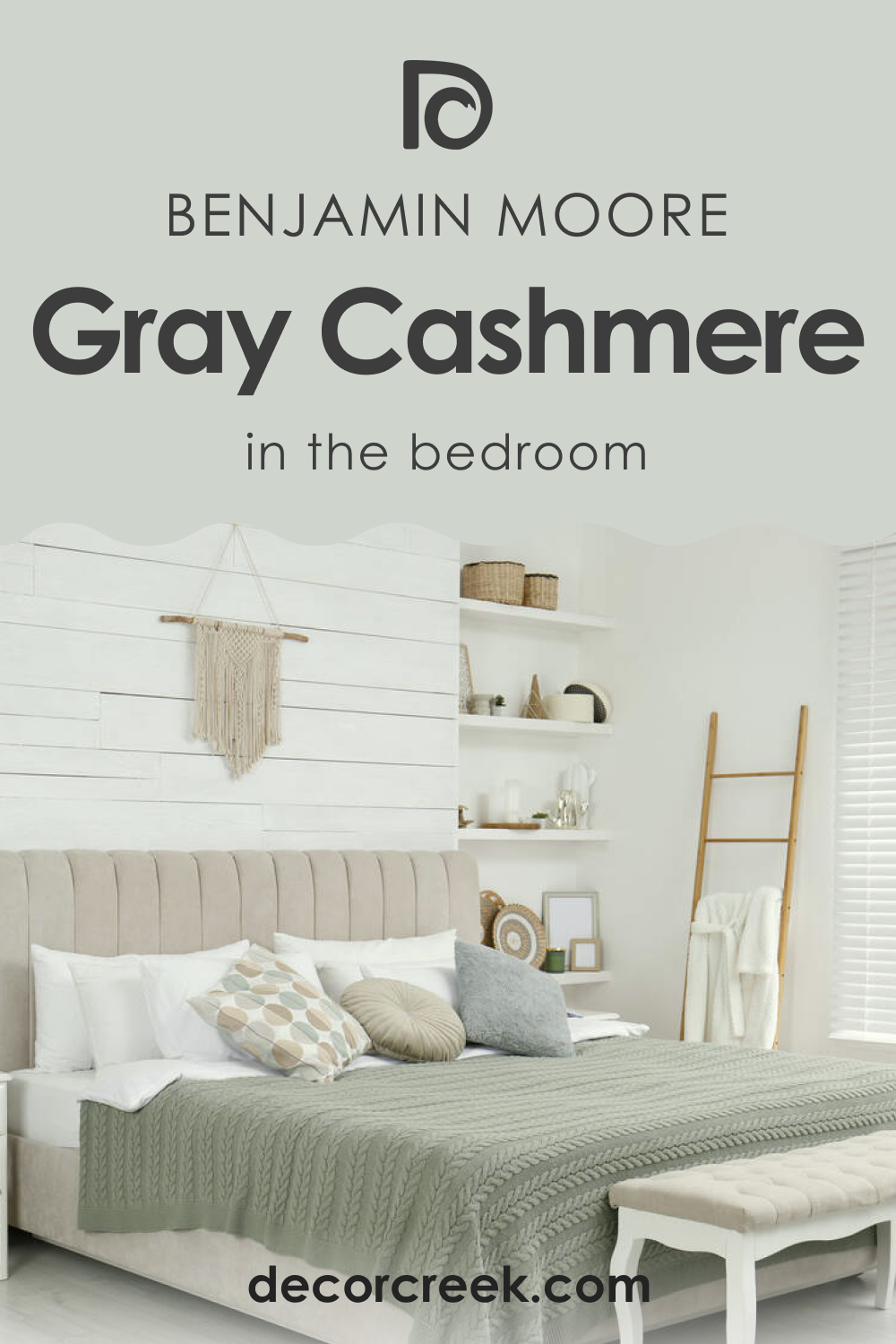 Gray Cashmere 2138-60 on the Bathroom
In bathrooms, this color often reads greenish due to the lack of ample light. But if your bathroom is well-lit with natural light, you can expect Gray Cashmere to display itself more grayish and bright!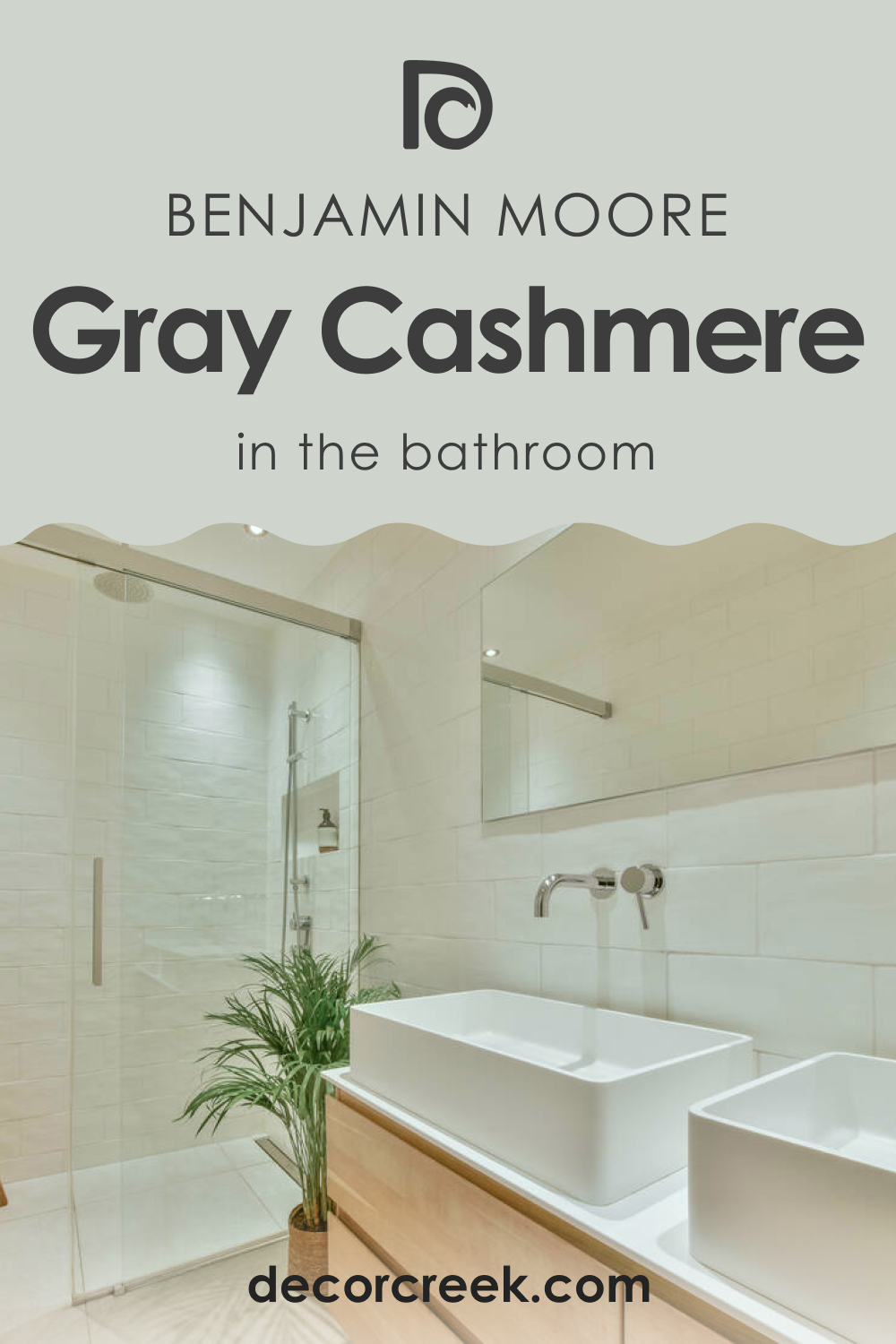 Gray Cashmere 2138-60 and Kitchen
On kitchen cabinets, this hue will always look brighter because cabinets usually use a shinier sheen than walls. With Gray Cashmere on cabinets, they will look light, soft, and lovely!
However, we don't recommend you pick Gray Cashmere as an island color because it may read too light! Also, don't pair it with earthy granite colors because this won't be a good-looking duo.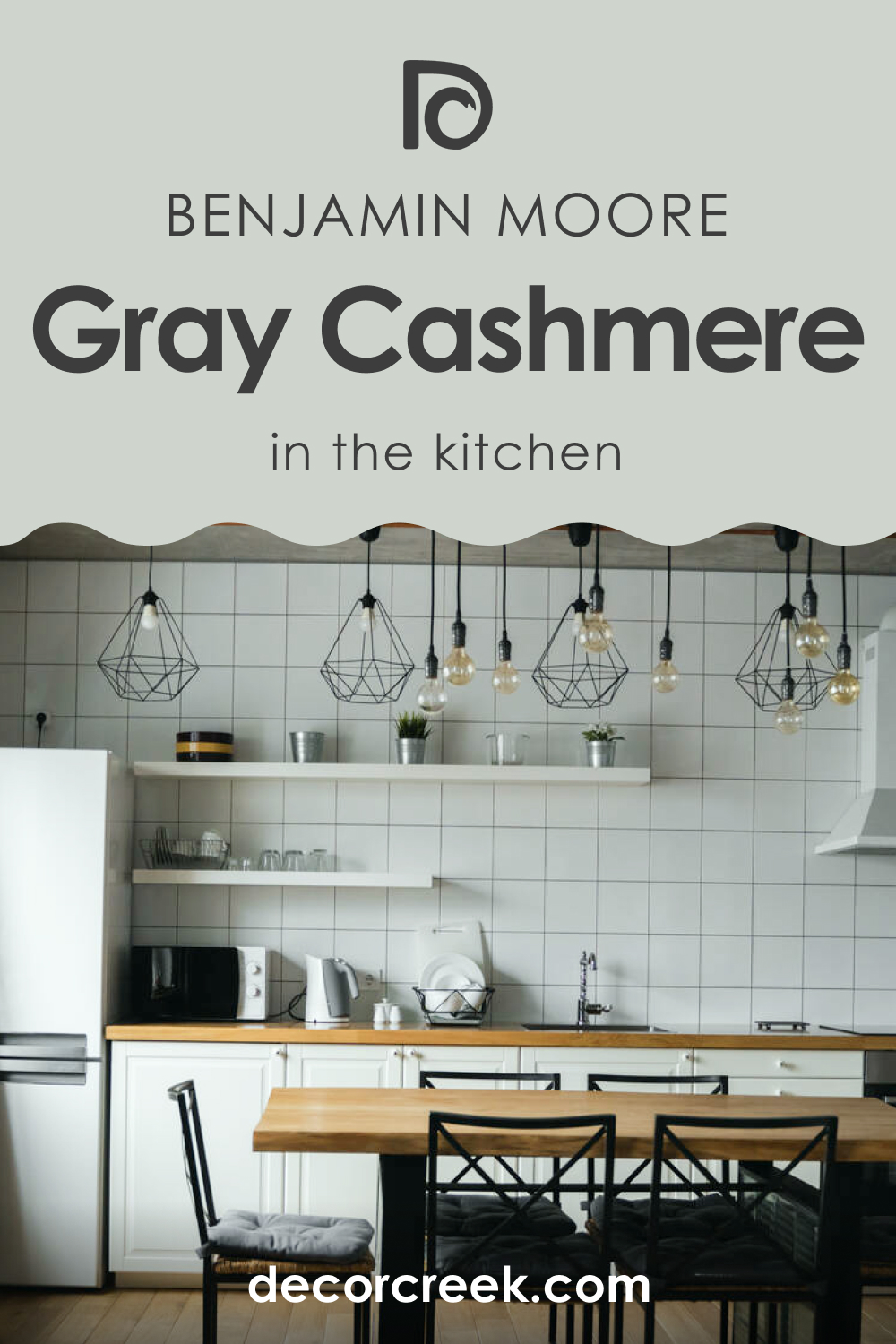 Gray Cashmere 2138-60 for the Exterior Use
In most cases, it's not recommended to use Benjamin Moore Gray Cashmere on exterior walls. The LRV of 65 is so high that this color would look like a minty white when used outside. If you really want it on your exterior, consider pairing it with a bright crisp white, and only use it if you have plenty of shade.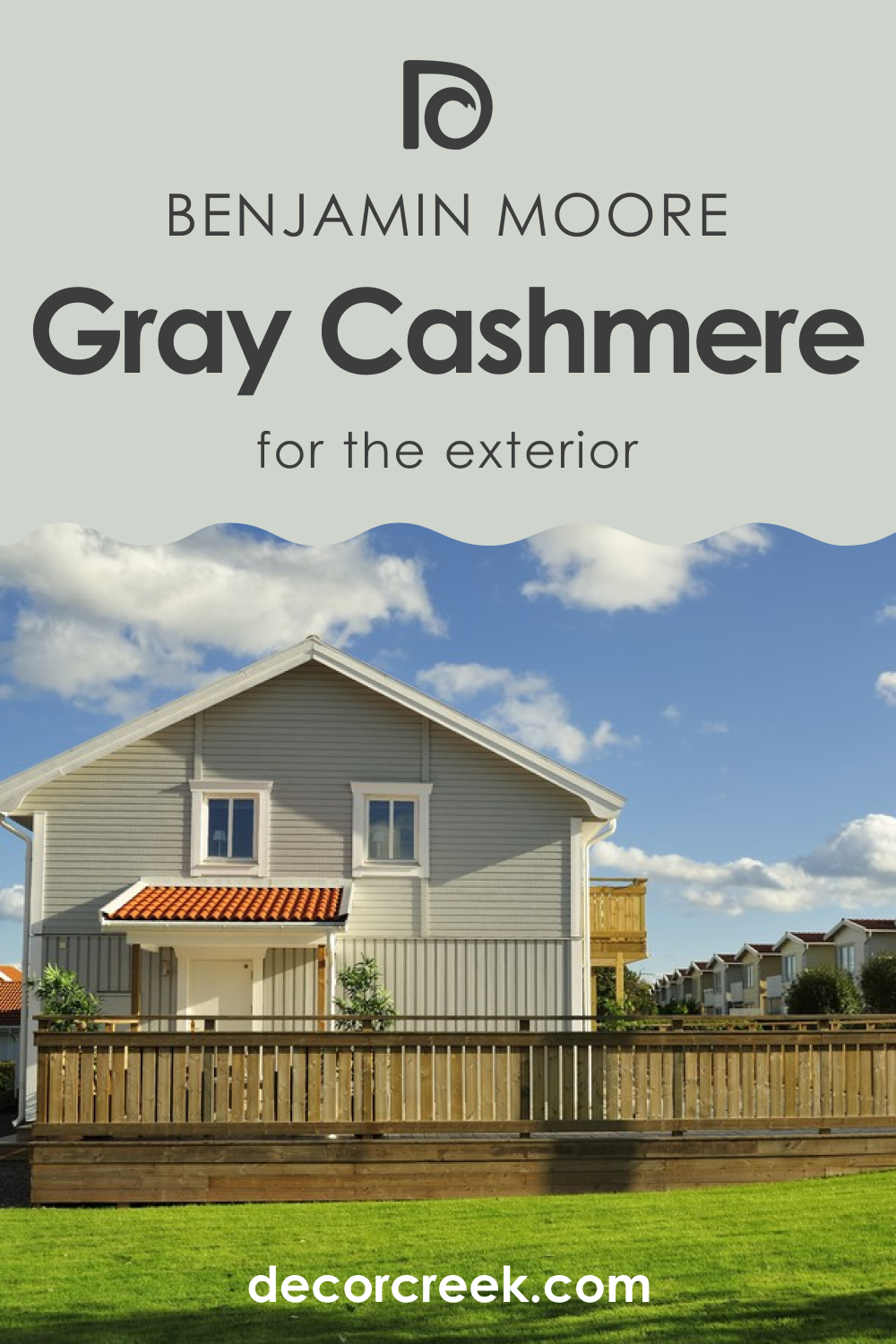 As you can see now, knowing the specifics of paint color is mandatory if you want to use it correctly in your home and make it work. This information is particularly essential when you work with such tricky colors as Gray Cashmere by Benjamin Moore!
However, now you know all about this hue and its tricks, so making it work won't be a problem.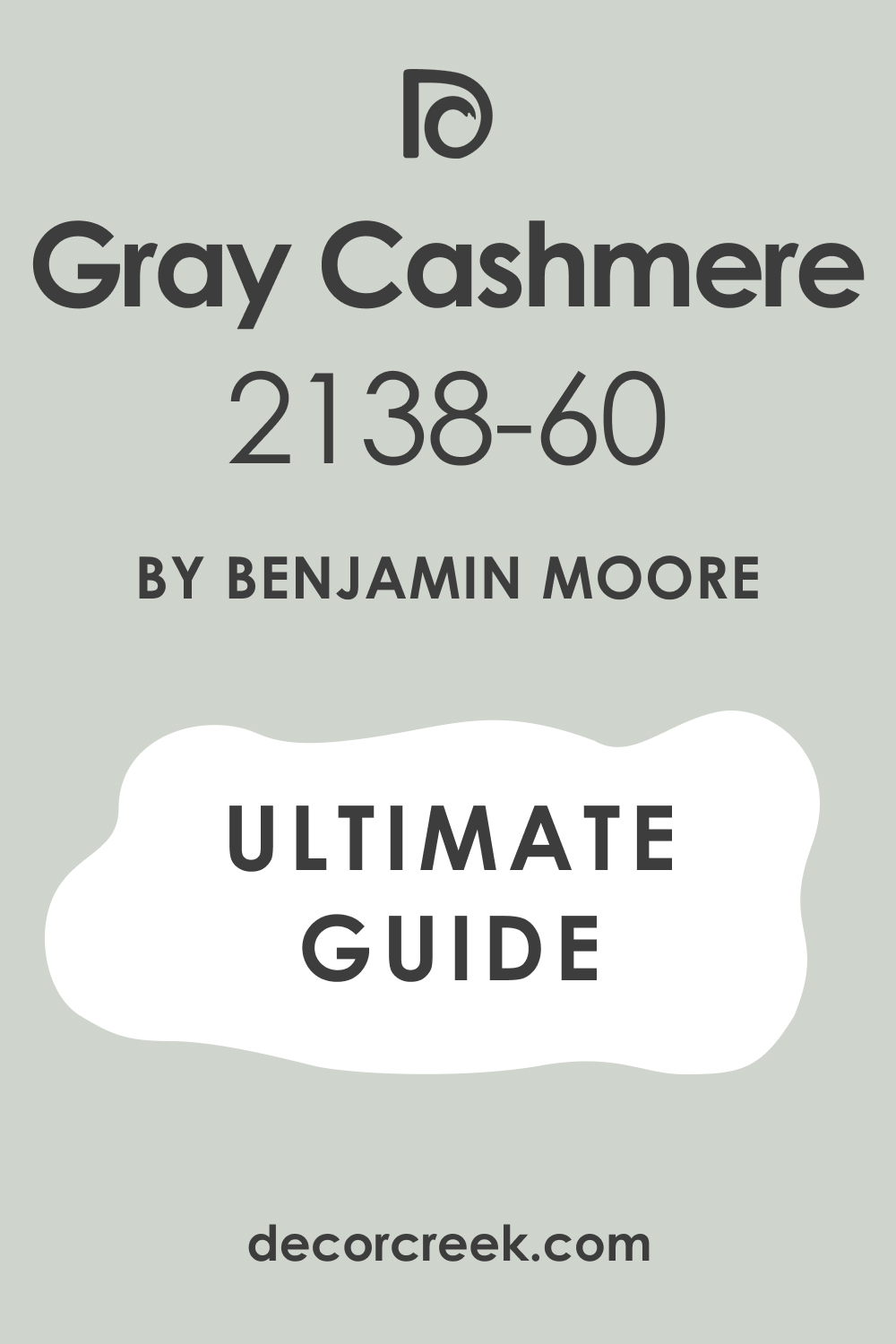 Frequently Asked Questions
⭐What color collection does Gray Cashmere paint belong to?
This paint color belongs to the Color Preview color collection.
⭐Is BM Gray Cashmere a good whole house color?
It's not recommended to use BM Gray Cashmere as a whole-house color because it's rather colorful.
⭐When should I avoid Gray Cashmere?
Avoid Gray Cashmere as an exterior color since it's too colorful and fresh.